The 10-abreast Boeing 777 trip: AMS-LHR-DXB on KLM and Emirates
For the return trip on the Airbus A380 please click on the part two link below:
Dubai's terminal 3 and the A380: DXB-LHR-AMS on Emirates and bmi British Midland // 20Jan10
Welcome at this trip report!
A few months ago me and a friend of mine had the idea of flying the Airbus A380. Because Emirates operates the A380 and Dubai is relatively close to Europe the choice was made. Unfortunately EK has no code-share agreements on flights from AMS to LHR so we had to book those tickets separately. The plan was to fly the A380 on both legs but the outbound leg was downgraded to a 77W in December. One week before our flight the 77W was downgraded to a 773. Well, I have only been on the 772 so far so I don't mind, as long as the return flight will remain an A380.
The day had come and at Sunday January 17th we met each other at the airport, 1,5 hours before departure time. Check-in was done online, seats 15 E and F and the flight would be operated by a Boeing 737-300. The departure hall was not so busy and checking in our baggage was done quickly. The departure gate was D44 and while walking to the D pier another friend of mine send me a text message that KL changed the aircrafts and that PH-BTA, a 737-400, was our new ride. No problem for me, I have flown the -300 way more times then the -400 series. Once we arrived at gate D44 the aircraft was already at the gate. PH-BTA had done a return trip to CDG earlier in the morning and was doing nothing for almost 3 hours before her next flight to LHR.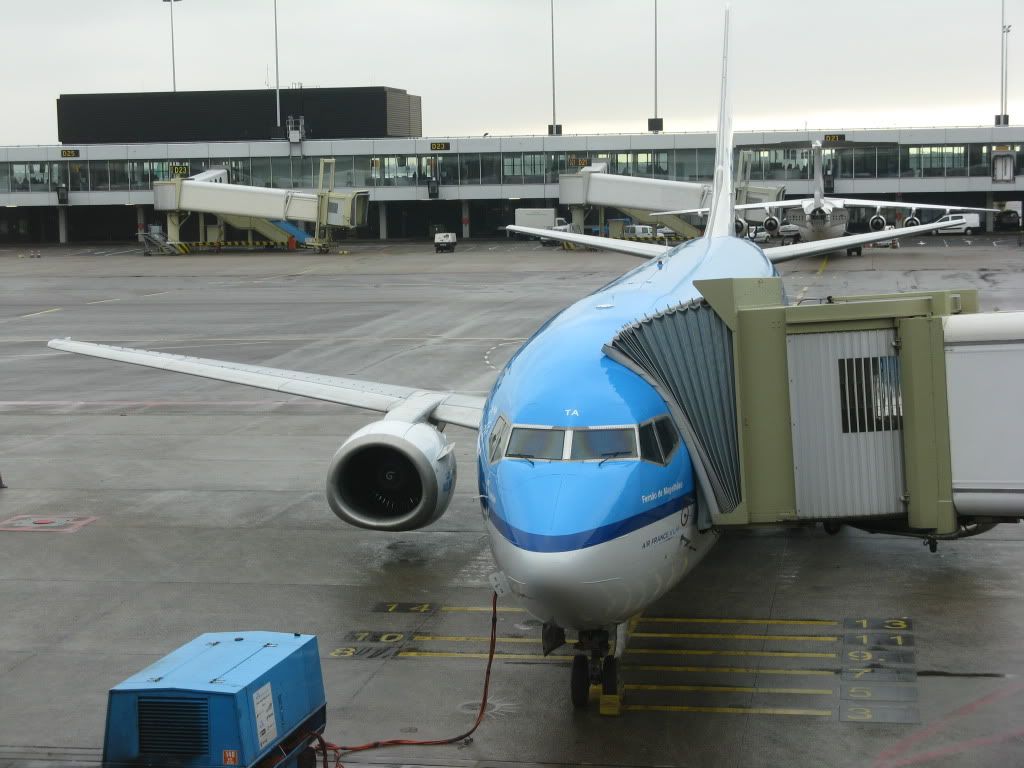 PH-BTA at gate D44, waiting for her flight to LHR

Date:
Sunday, 17Jan10
Flight:
KLM Royal Dutch Airlines // KL 1017
From:
Amsterdam // AMS
To:
London Heathrow // LHR
Duration:
1h25m
STD:
13.25 //
ATD:
13.23
STA:
13.50 //
ATA:
13.25
Aircraft:
Boeing 737-406 // PH-BTA
Seat:
Economy // 15F
Load factor:
46% // 67 passengers
While passing the ground staff I checked the computer screen and they were only expecting 67 passengers plus 2 infants. Shortly before 1 o'clock boarding started and soon everybody was onboard. The captain came on the PA and told us that the flying time today was approximately 45 minutes at 24000 feet. Pushback was on-time and runway 24 was in use for departures so the taxi time was very short. With not much other traffic around take-off clearance was given quickly and we took off at 13.31.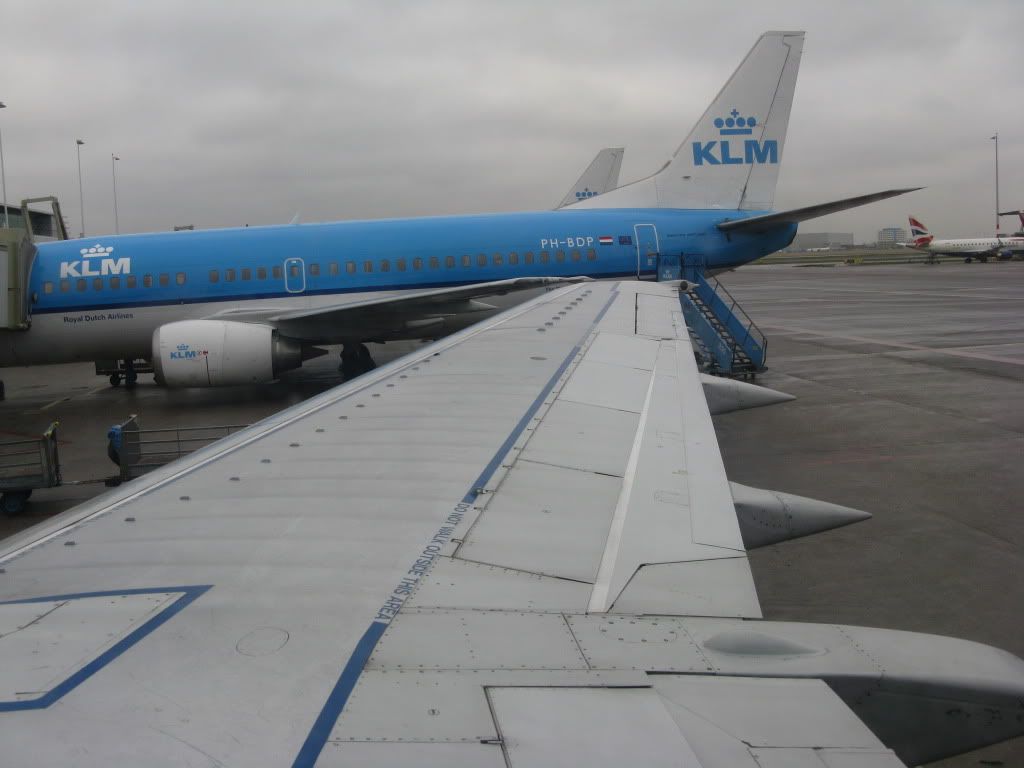 PH-BDP was originally planned for our flight, but someone at the operations department changed his mind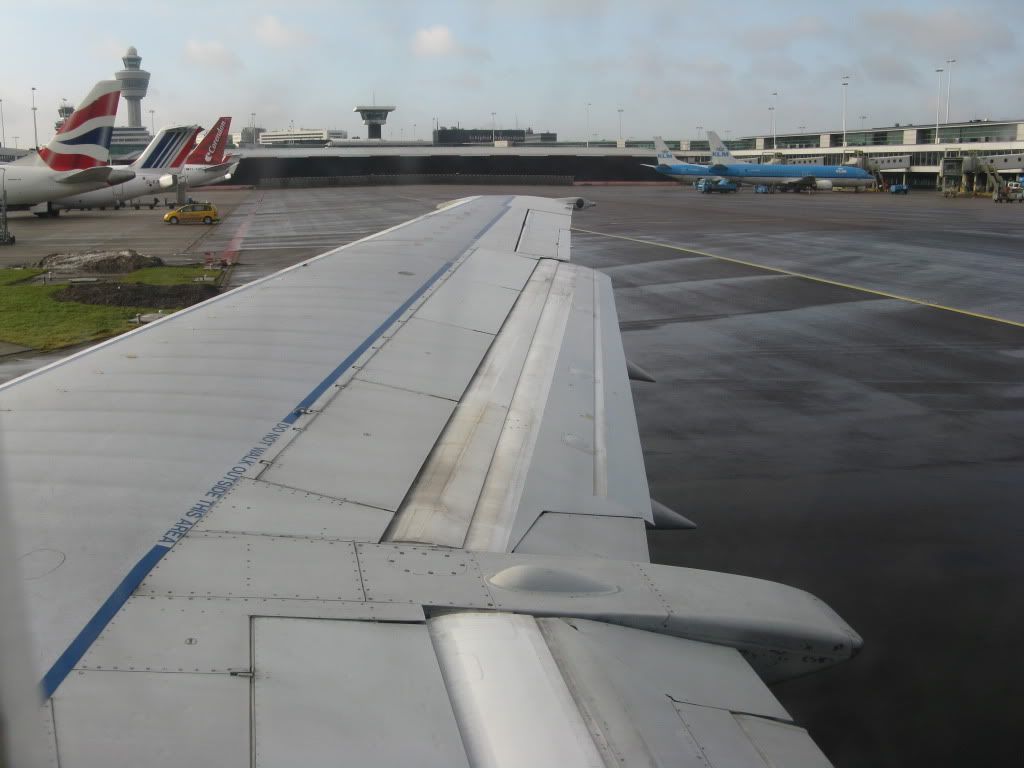 Taxiing to runway 24
Take-off movie:
http://www.youtube.com/watch?v=qPgRjXDjv7w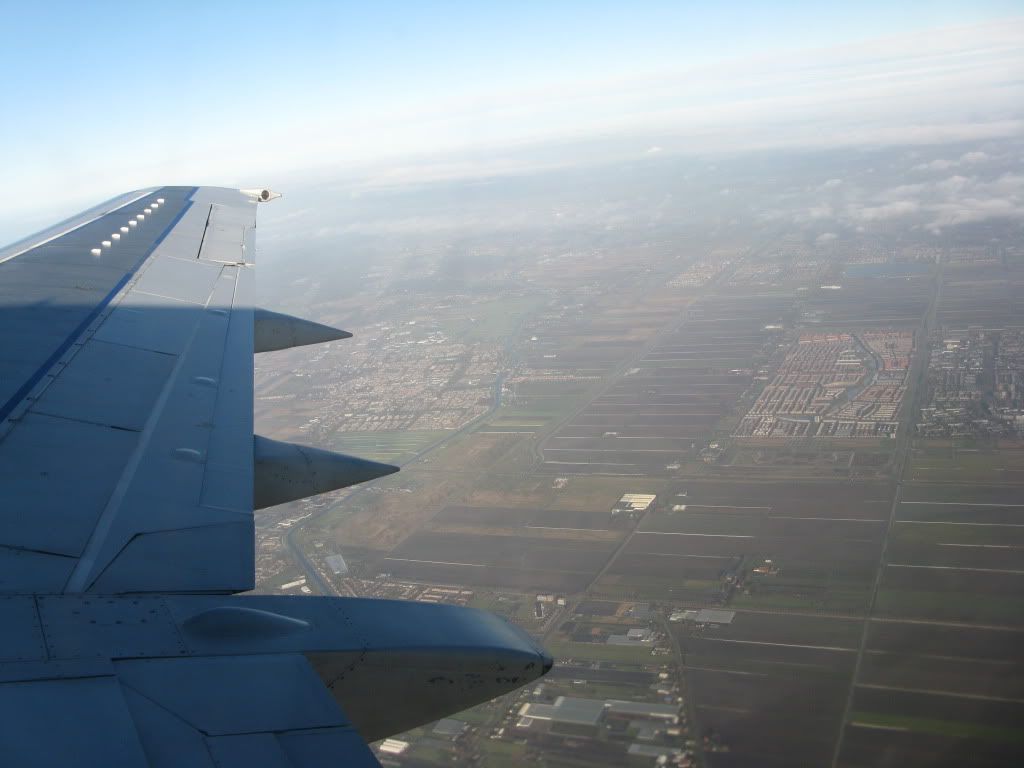 Climbing to FL240
A few minutes after take-off the cabin crew started with the service. I was expecting drinks with a cookie or something but they served proper sandwiches, well done. The package contained 2 sandwiches, one with Edam cheese and fig chutney and the other with beef. They were very tasty and it's good to see that proper board service on short flights like this still exist these days.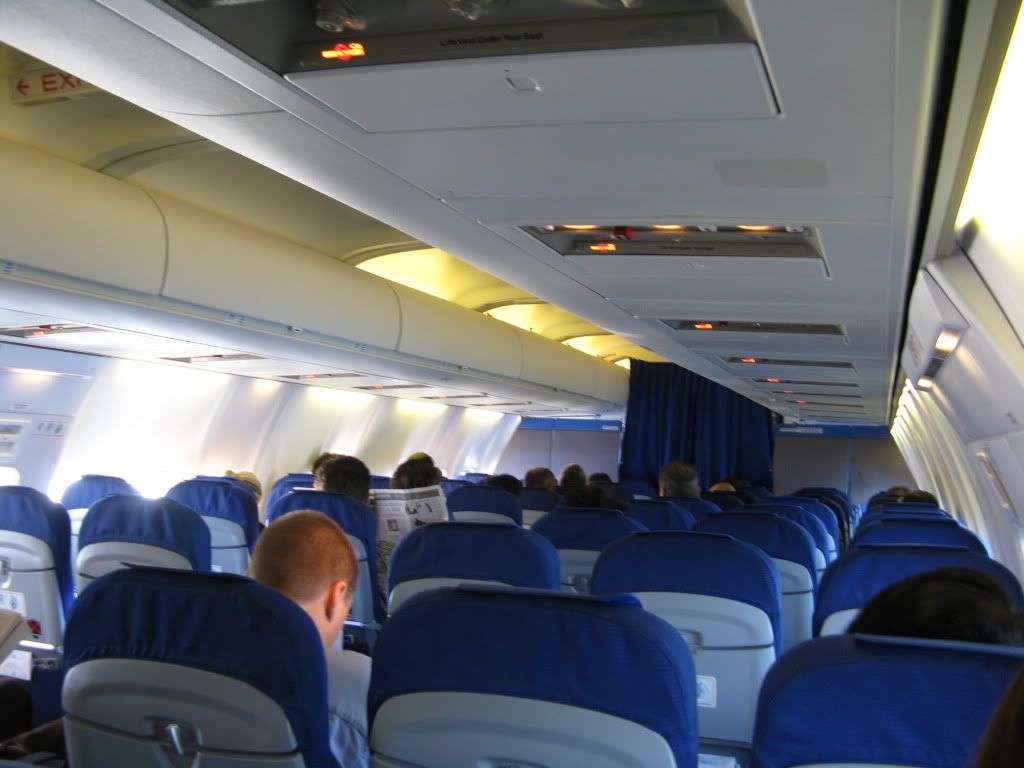 A very light load on today's flight
Lunch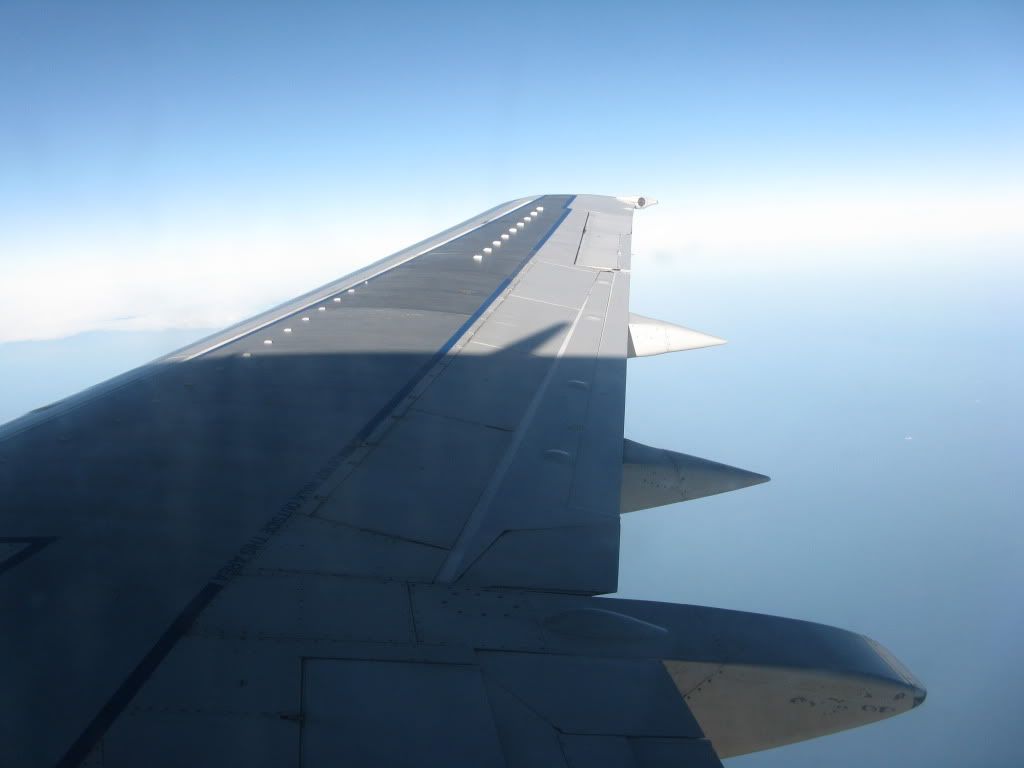 Cruising over the North Sea
Pretty soon descending was started and the first officer came on the PA to tell us that we would be landing half an hour ahead of schedule on runway 27L and that the weather was good. No holding delays today for us and thus we landed very early at 13.21. After vacating the runway it was only a few more minutes to our stand at terminal 4.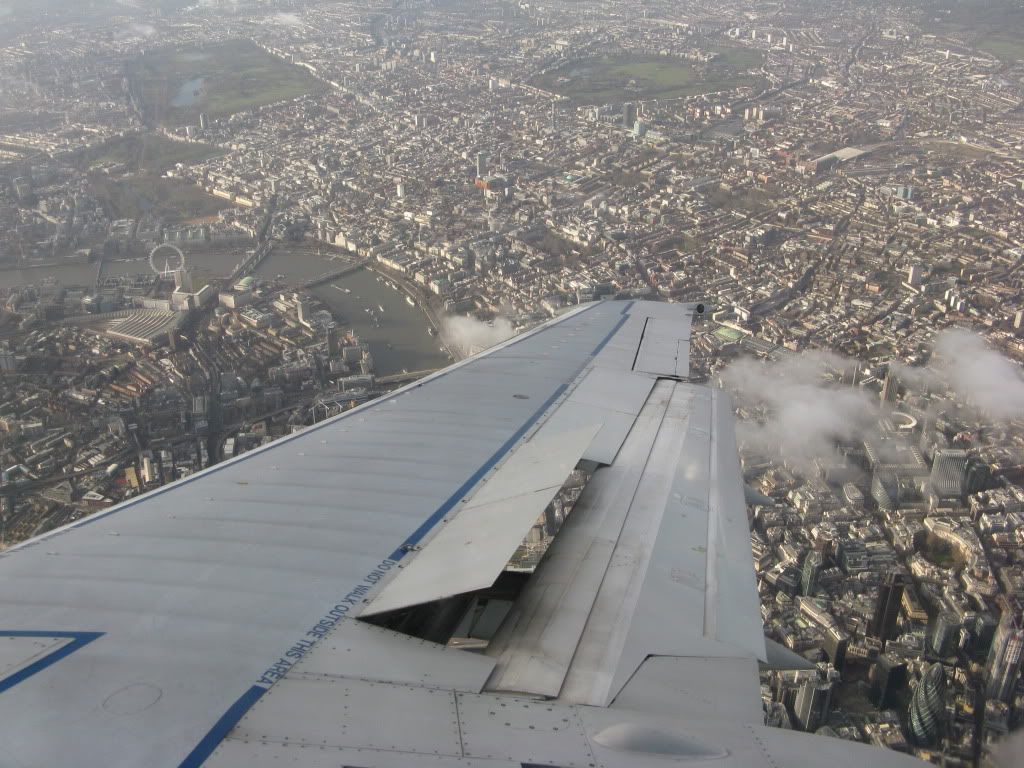 Descending over the city of London, which gave us some excellent views!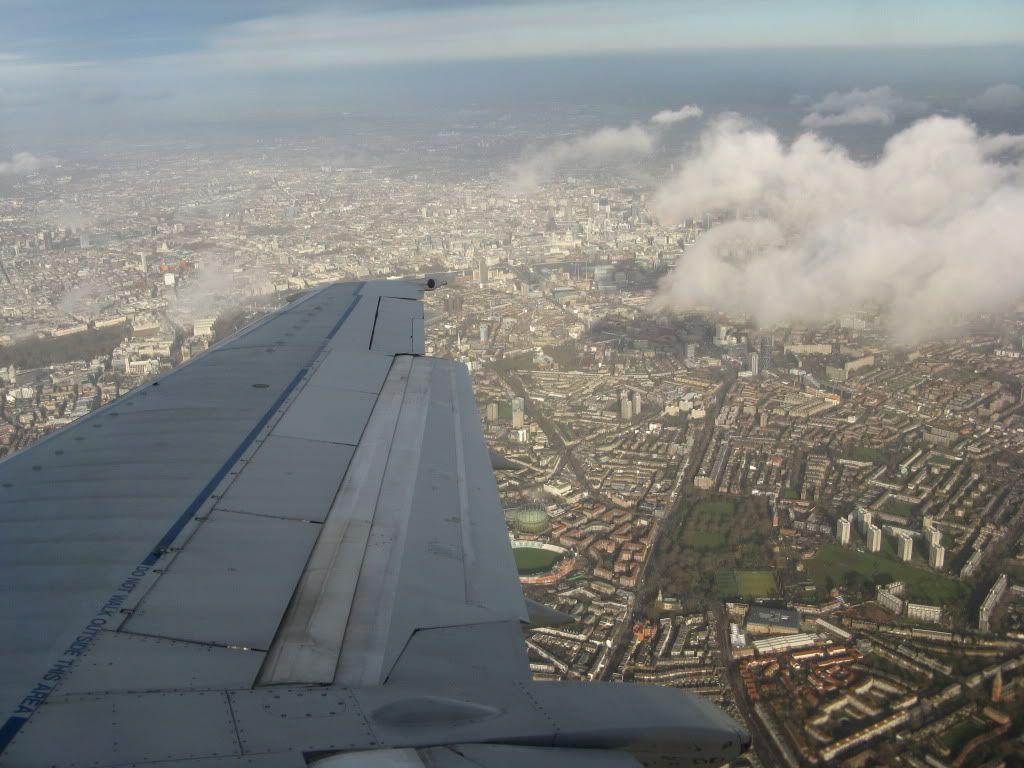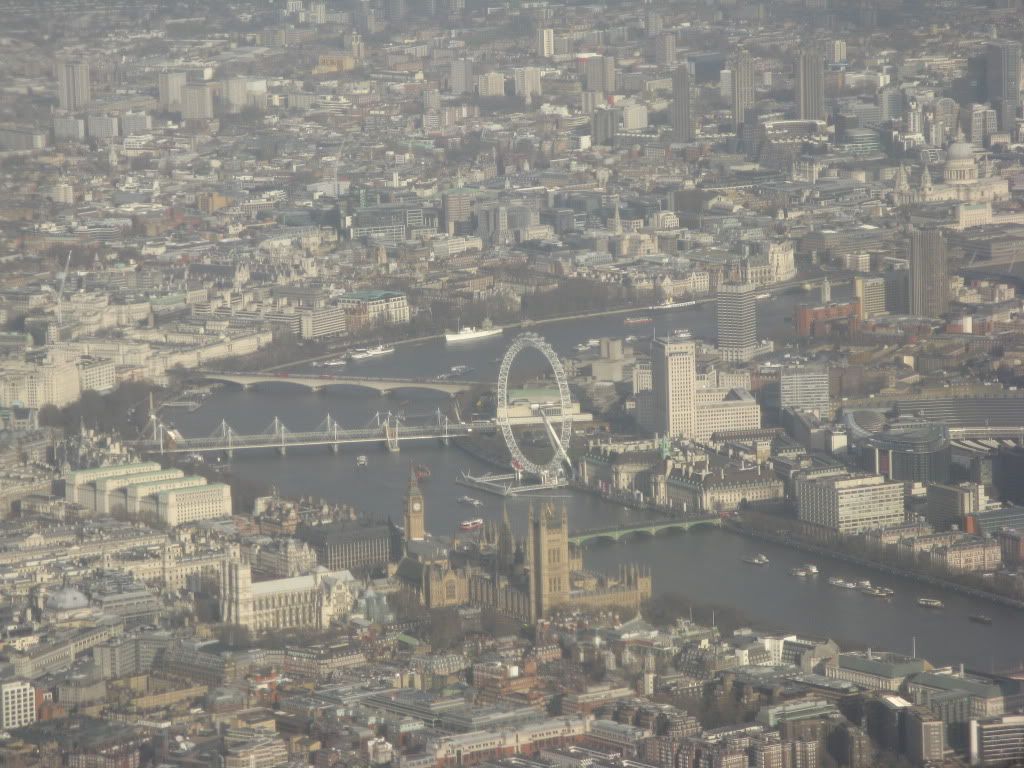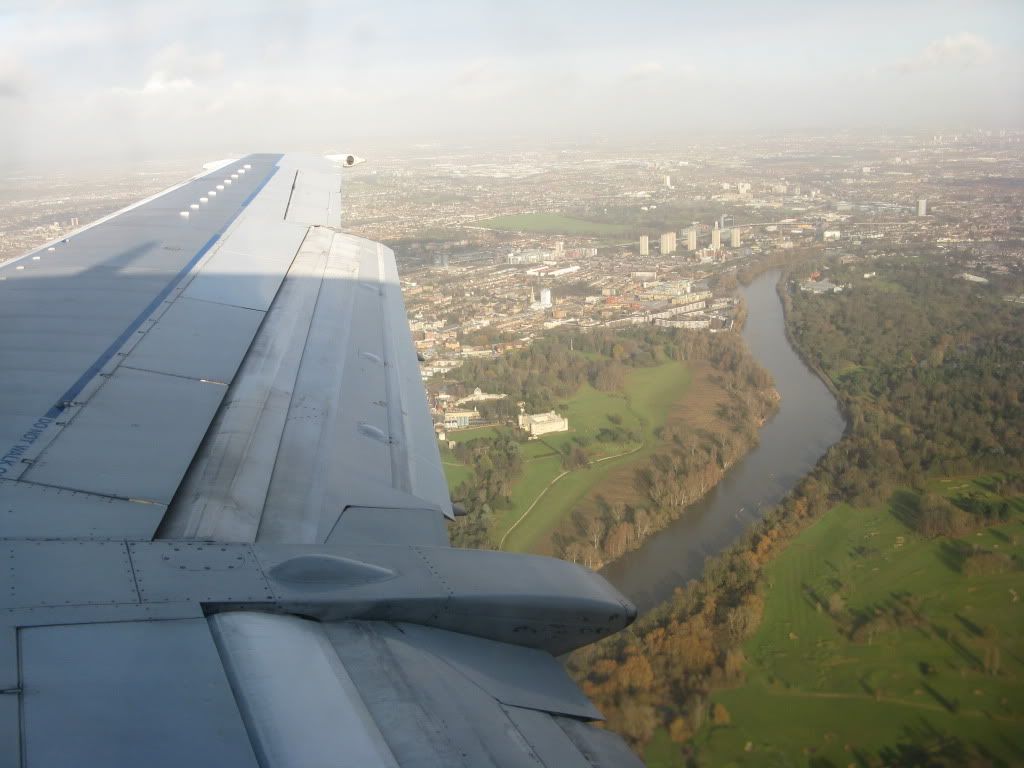 Final approach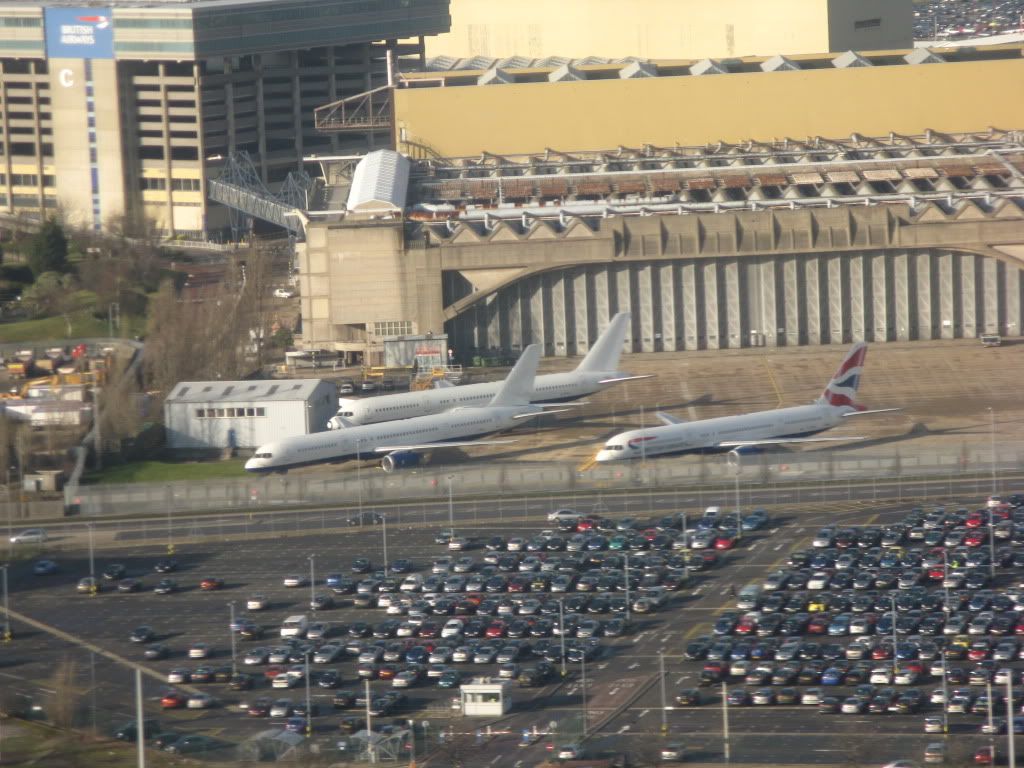 What a sad sight  
Soon they will be abused and forced to fly packages for FedEx, what a shame!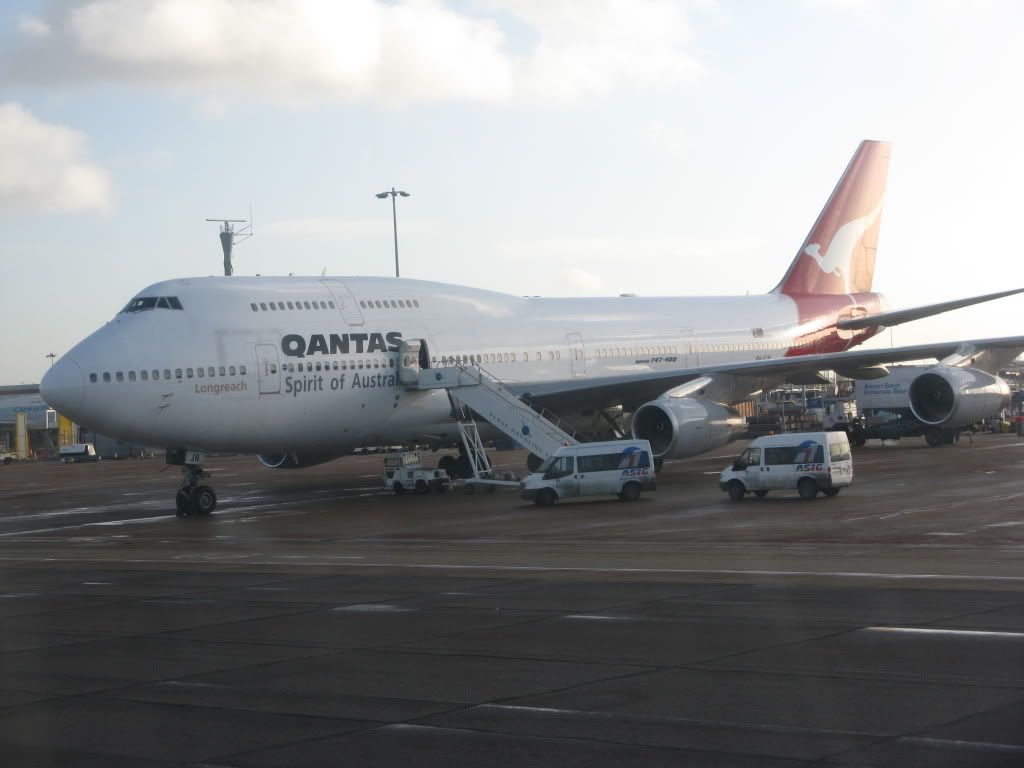 A QF 744 waiting for her evening departure back to Australia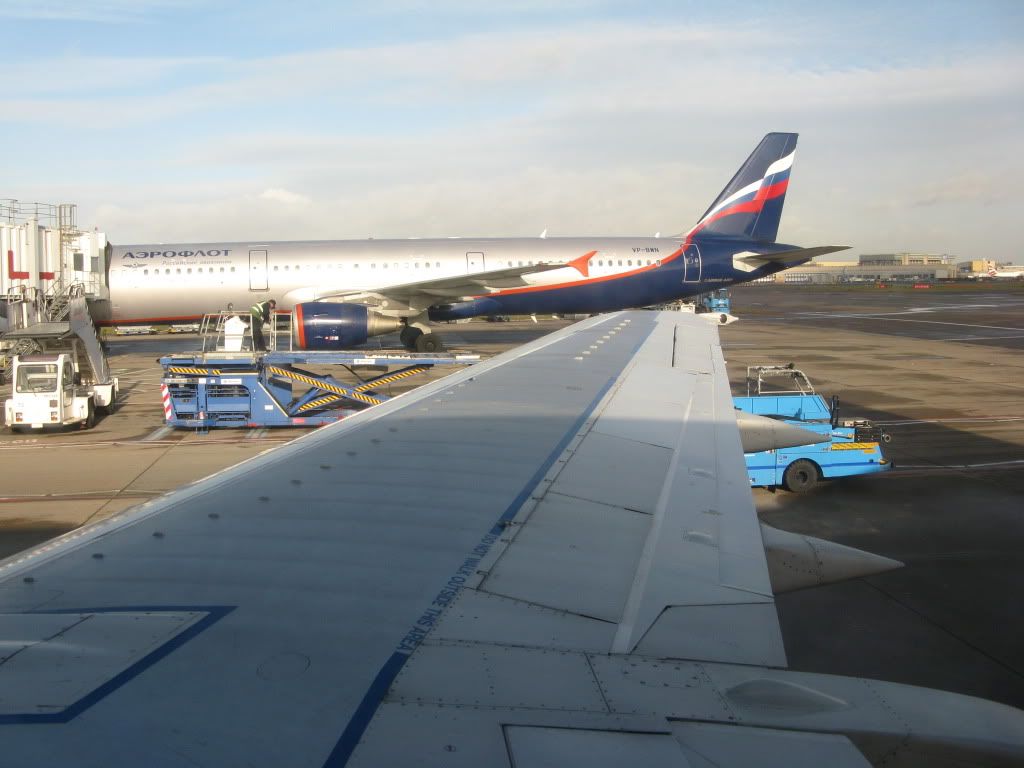 A short visit to the flight deck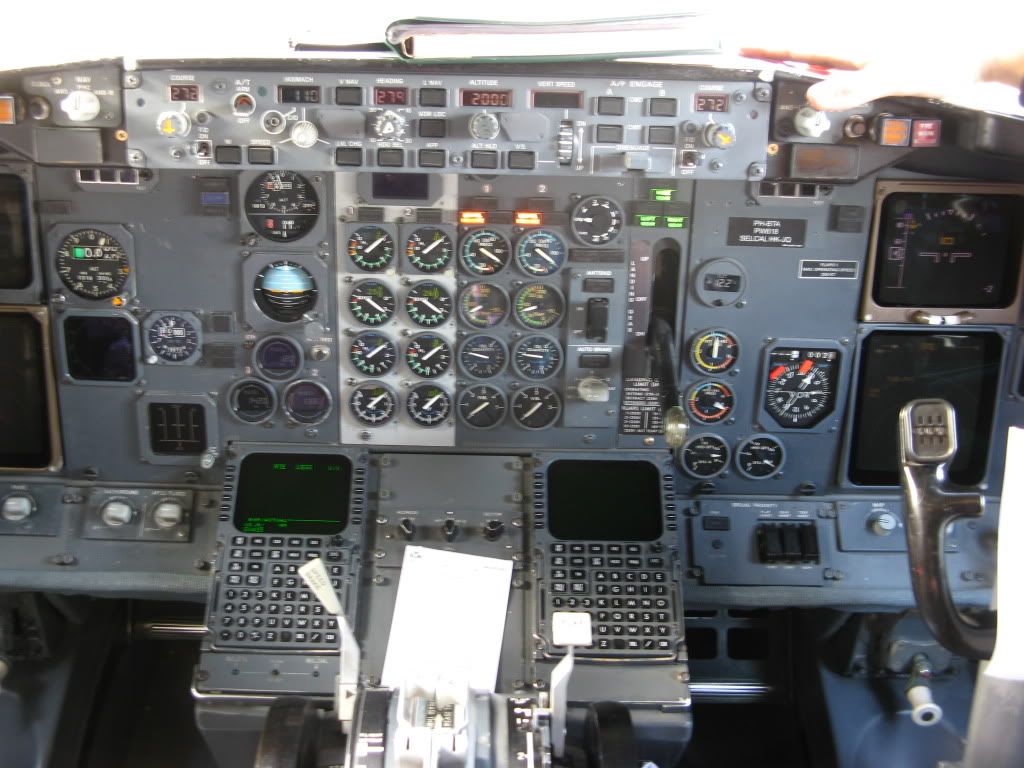 There where not many other flights arriving at terminal 4 around this time so passport control was very quiet. However, it took ages before our baggage arrived, we had to wait for more almost 30 minutes. When we got our bags finally we headed to the underground station to go to terminal 3. Check-in was done online and we had seats 42A and B. We went to the check-in to get rid of our baggage. The Emirates check-in was not busy but it took very long before two passengers in front us had checked-in. They had useless discussions with the staff about their excess luggage. Leave all your junk at home and take only stuff with you that you really need is my opinion.
The terminal 3 entrance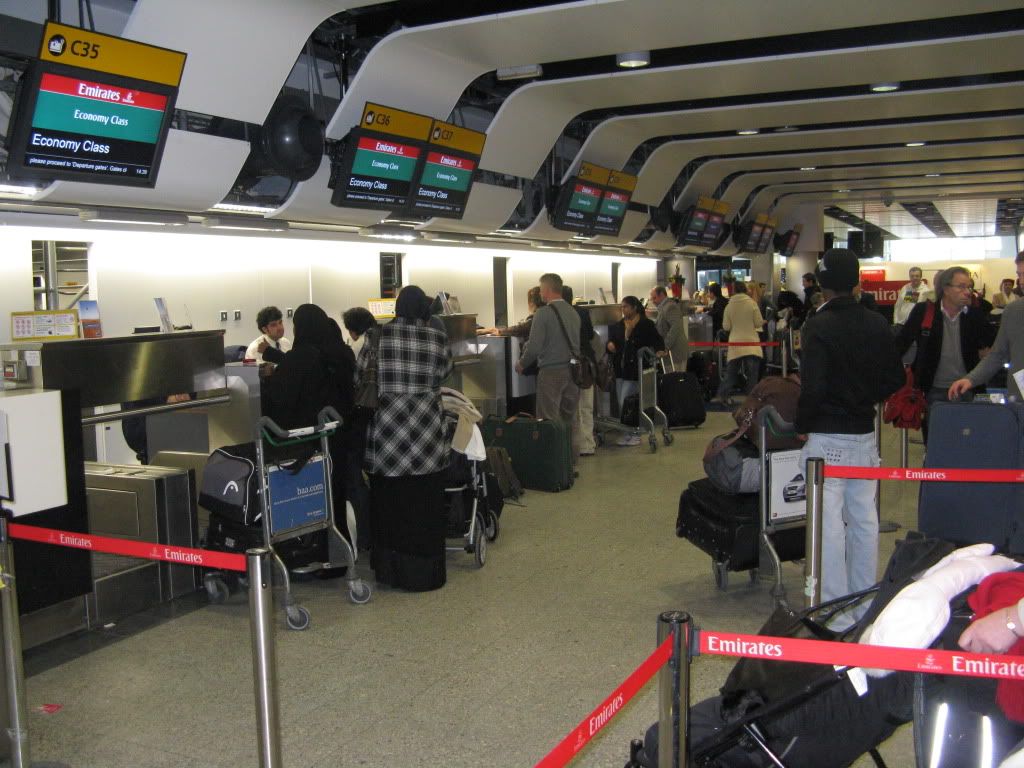 EK check-in
The security check was very busy with waiting times up to half an hour. In the departure lounge it was also quite busy with the screens showing several delayed flights. All flights to Madrid were running late and Biman's service to Dubai and Dhaka had a delay of 6 hours!
FIDS
It's busy in terminal 3's departure lounge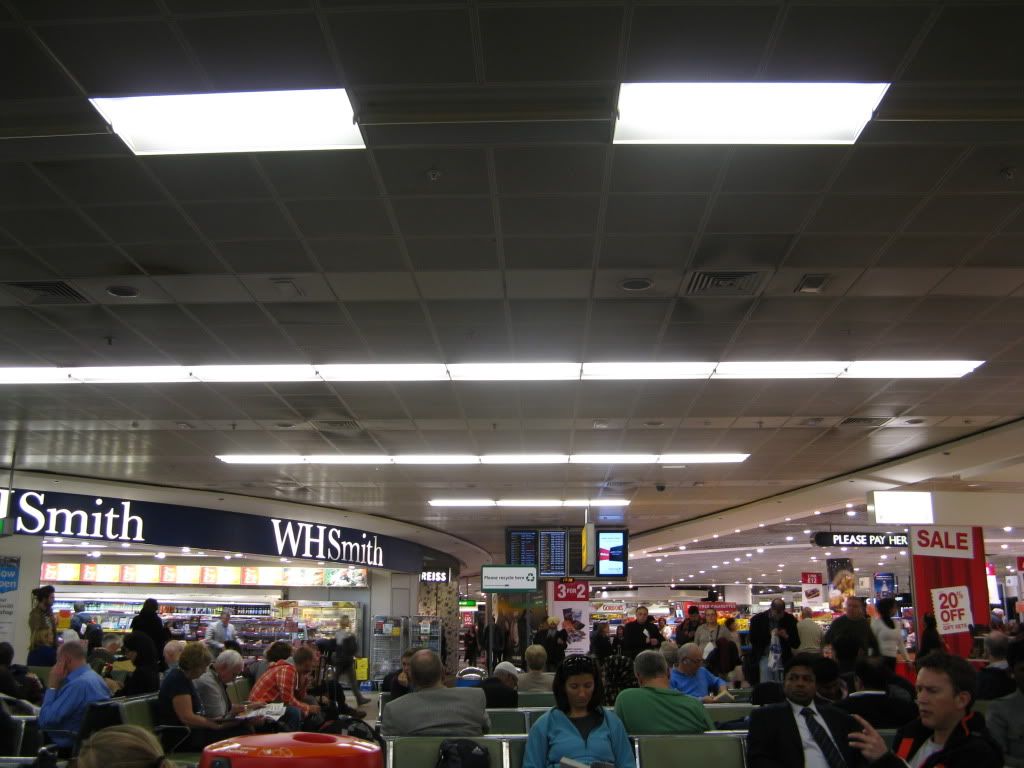 Around 6 o'clock we decided to go the gate. A few minutes later our aircraft arrived, A6-EMX, one of EK's non-ER 777-300 aircrafts.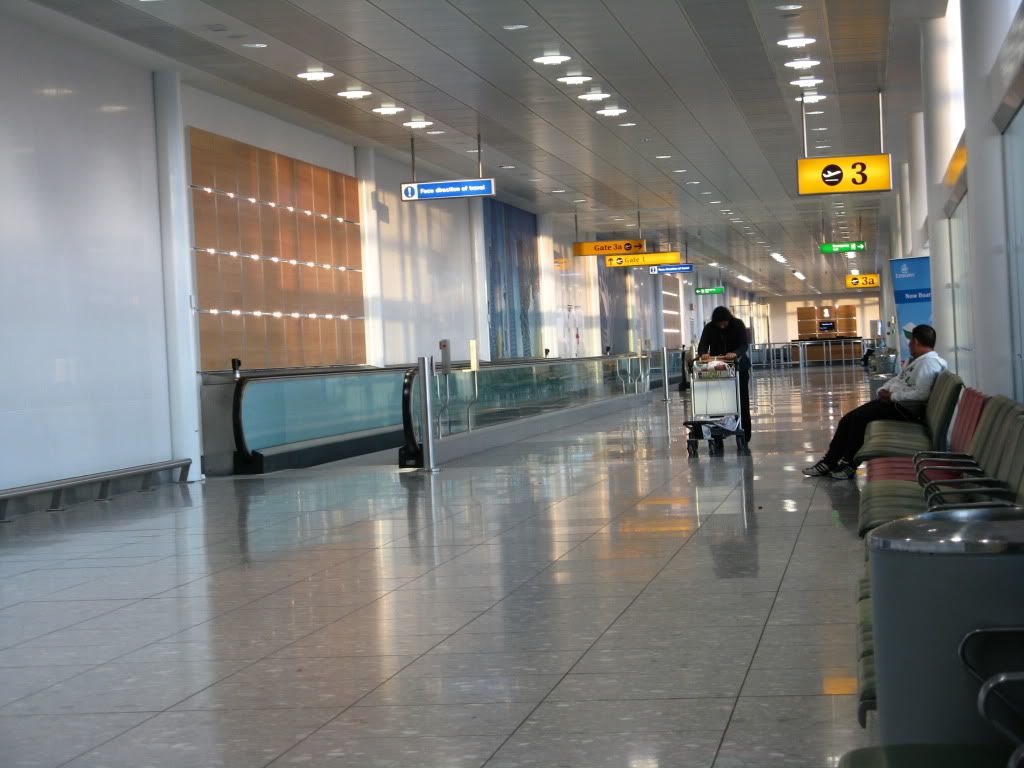 The concourse for gates 1, 3, 5 and 7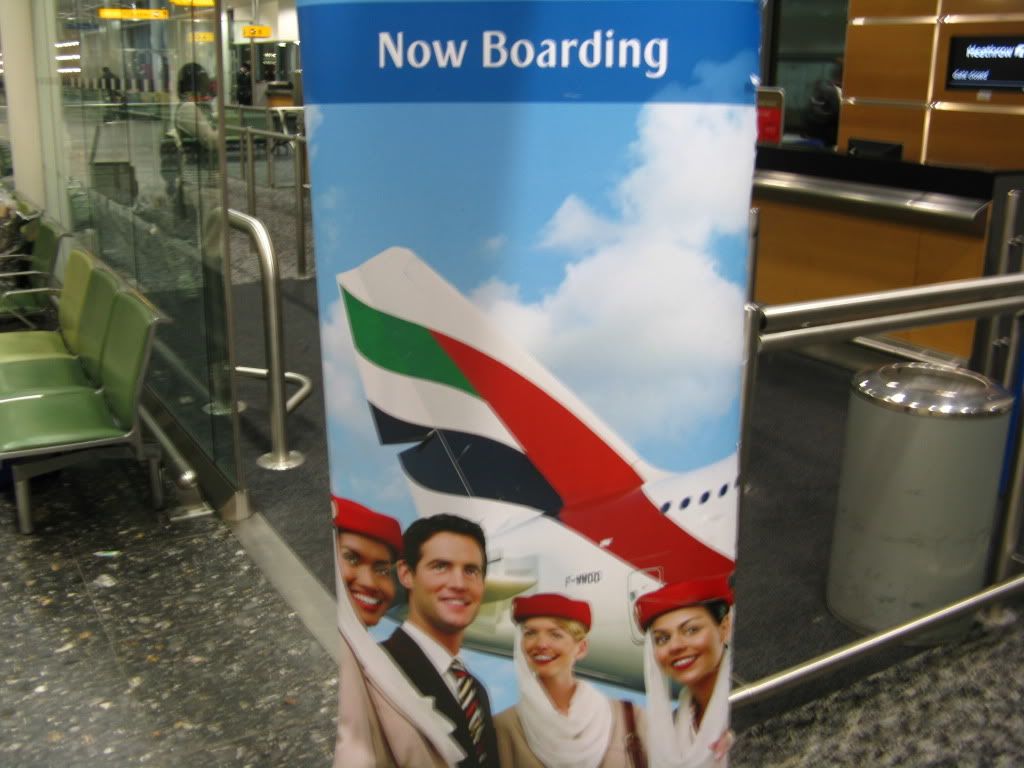 Date:
Sunday, 17Jan10
Flight:
Emirates // EK 4
From:
London Heathrow // LHR
To:
Dubai // DXB
Duration:
6h45m
STD:
20.00 //
ATD:
20.21
STA:
06.45 //
ATA:
07.20
Aircraft:
Boeing 777-31H // A6-EMX
Seat:
Economy // 42B
Load factor:
98% // F: 12 passengers // C: 42 passengers // Y: 304 passengers
Boarding
Pre-boarding started around 18.45 and about 45 minutes later boarding was announced. The flight was almost fully booked but boarding went very smooth and was completed on-time. However, the baggage and cargo loading was still in progress so that explains the slightly delayed departure. While waiting for departure, the cabin crew handed out hot towels and the menu cards.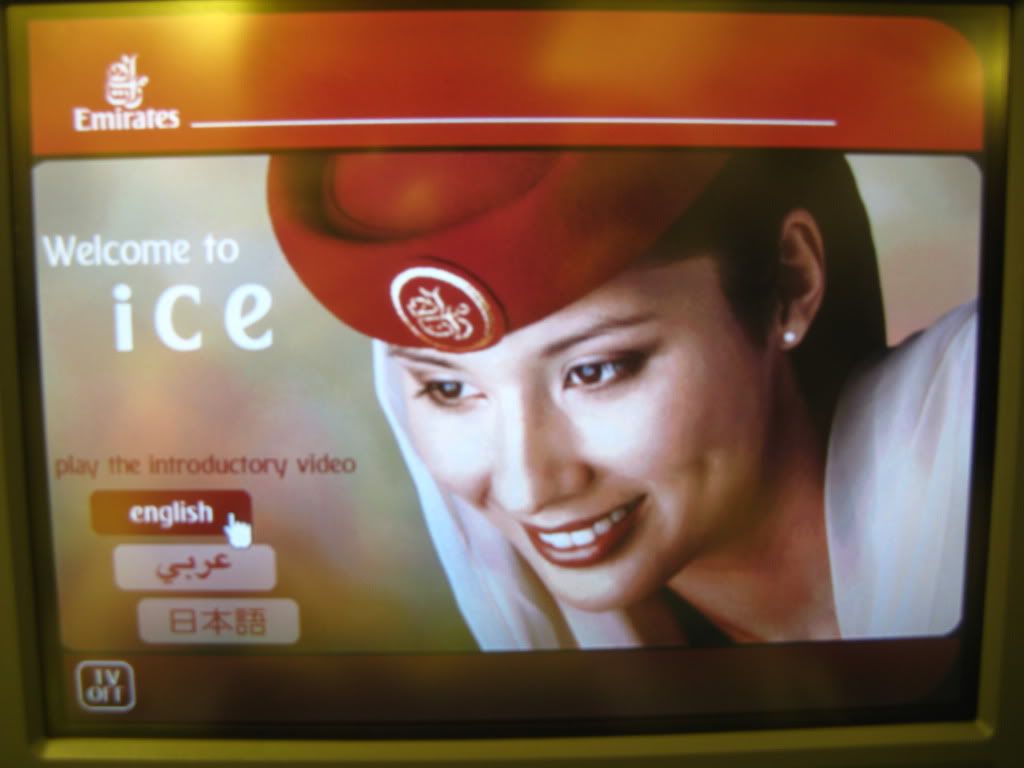 ICE, Emirates' in-flight entertainment system. This is one of the older versions with 'only' 600 channels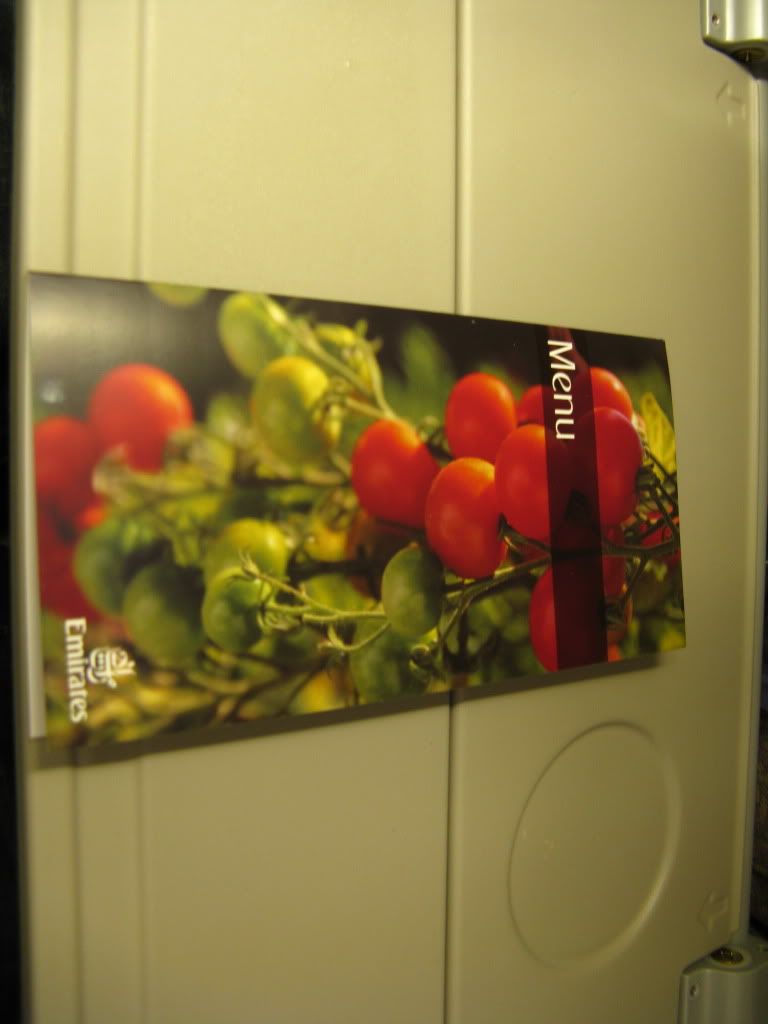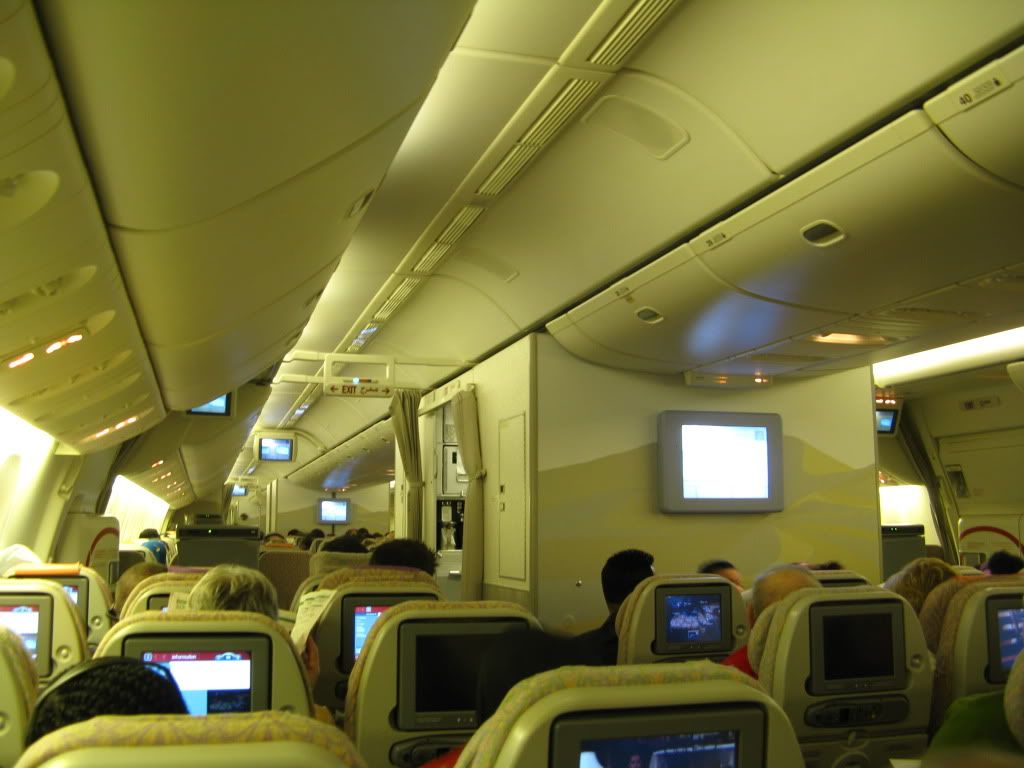 Waiting for departure
Twenty minutes late pushback started and after the two Rolls-Royce engines were fired up we taxied to runway 27L. After an AA 772 started it's take-off roll we lined up and soon after that, at 20.45, we received take-off clearance. A lot of runway was used and we got airborne somewhere near the cargo terminal. Soon a 180 degree turn to the left was made to put us in the right direction, heading towards the east. The route today would lead us over Belgium, Germany, Austria, Hungary, Romania, the Black Sea, Turkey, Iraq, Kuwait and the last part over the Gulf, straight in to Dubai. The announced flying time was 6 hours and 23 minutes, so no time to catch up the delay and a slightly delayed arrival in Dubai.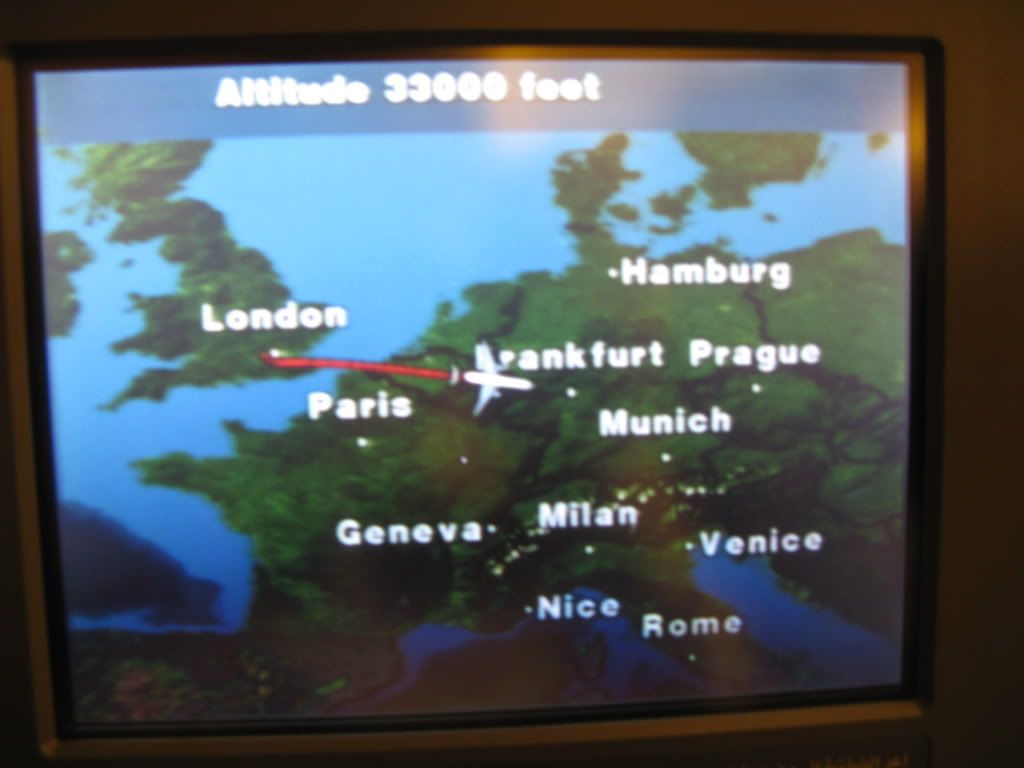 Crossing the German border
After an hour in the air the cabin crew started distributing the special meals and after that the normal meals. I decided to try the chicken in coconut sauce and it turned out that I made a good choice, the meal was excellent!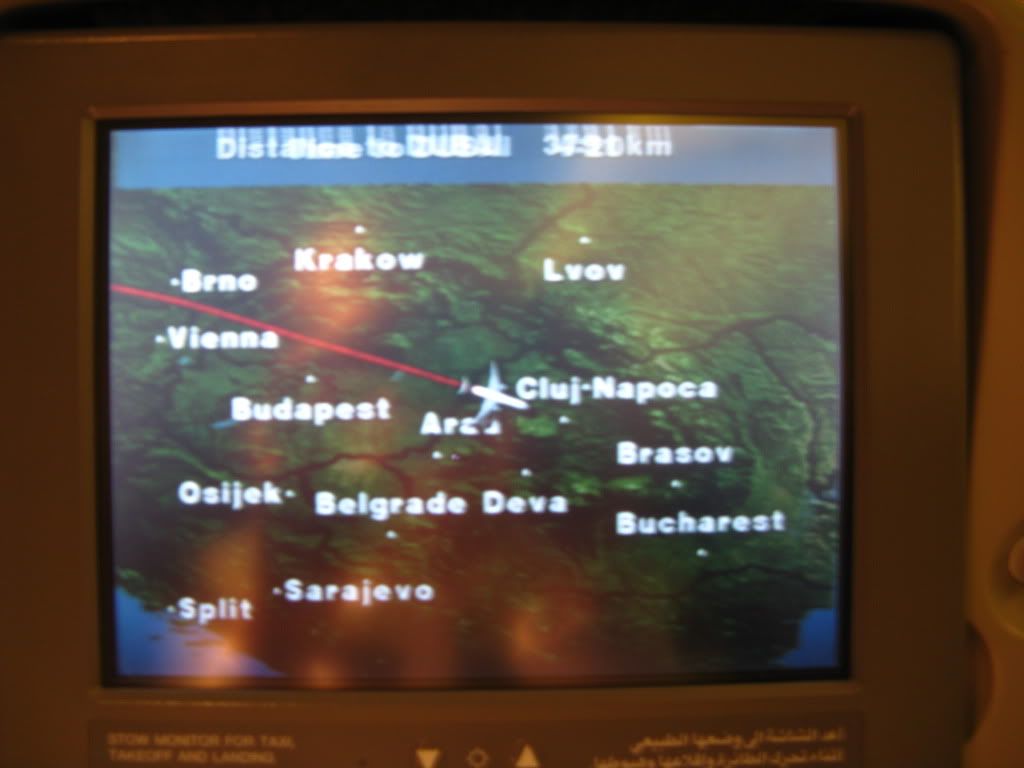 Overflying Romania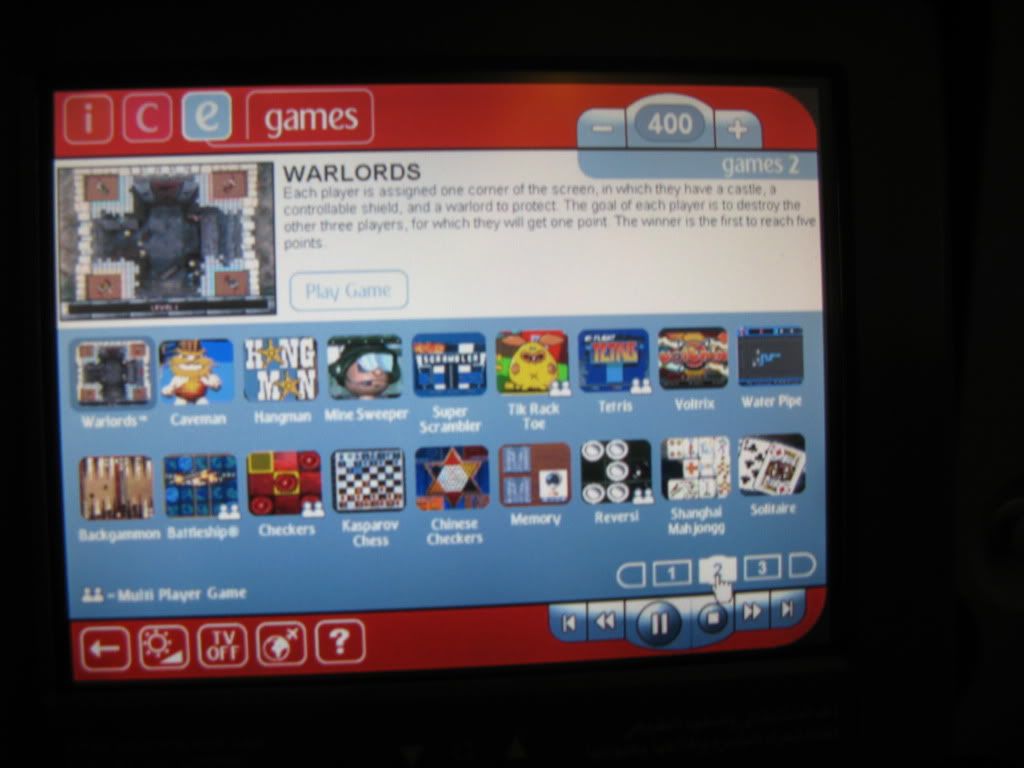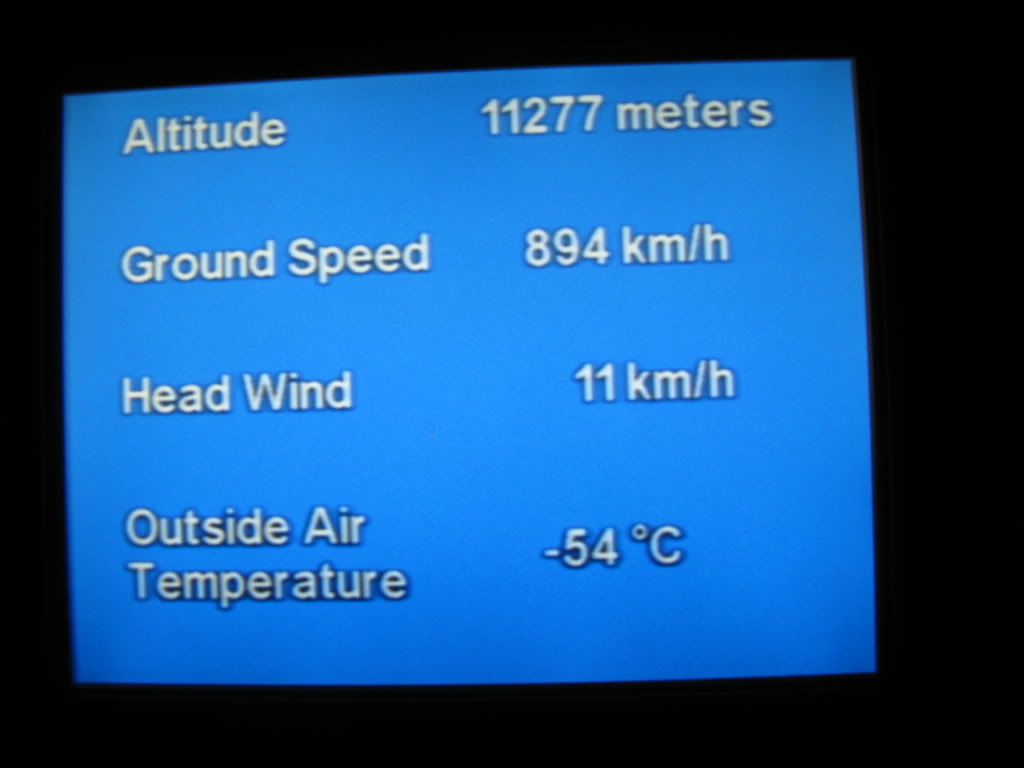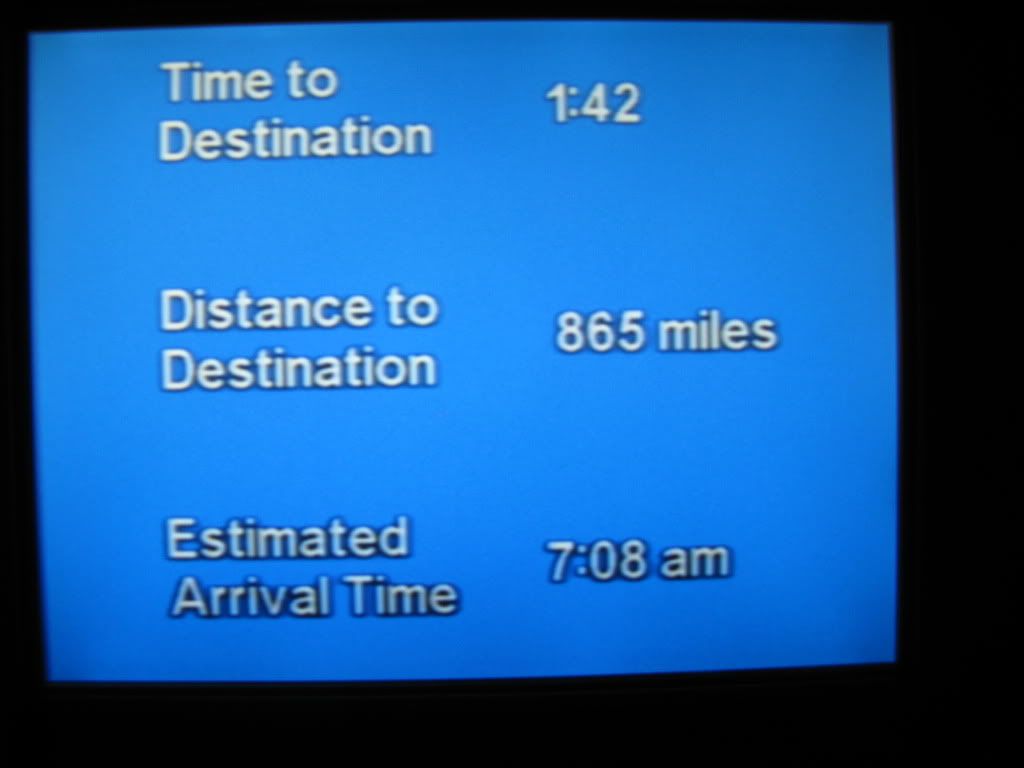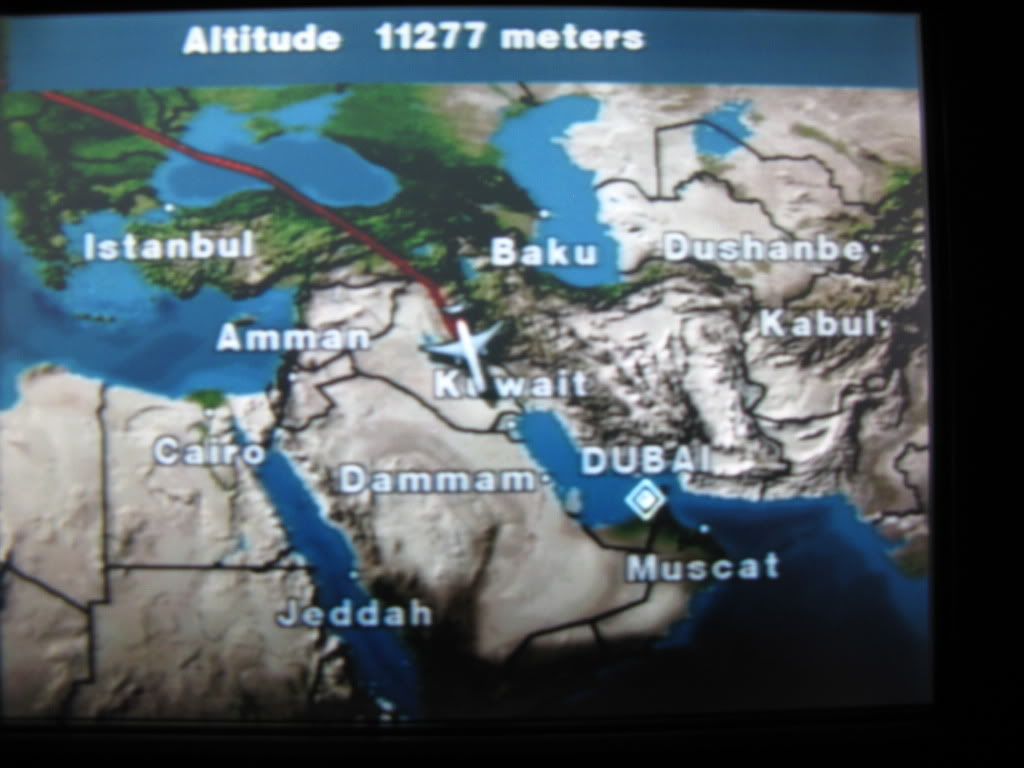 The rest of the flight I watched some Topgear and The Simpsons episodes and played Yahtzee for a while. 
With an hour to go I went to the toilet in the back and stayed in the galley chatting with the crew and some fellow passengers for the rest of the flight. We made an almost straight in approach and meanwhile sun rise started. At 07.08 we made a smooth landing on runway 12L. After landing we taxied slowly to terminal 3, stand B20.
Descending in to Dubai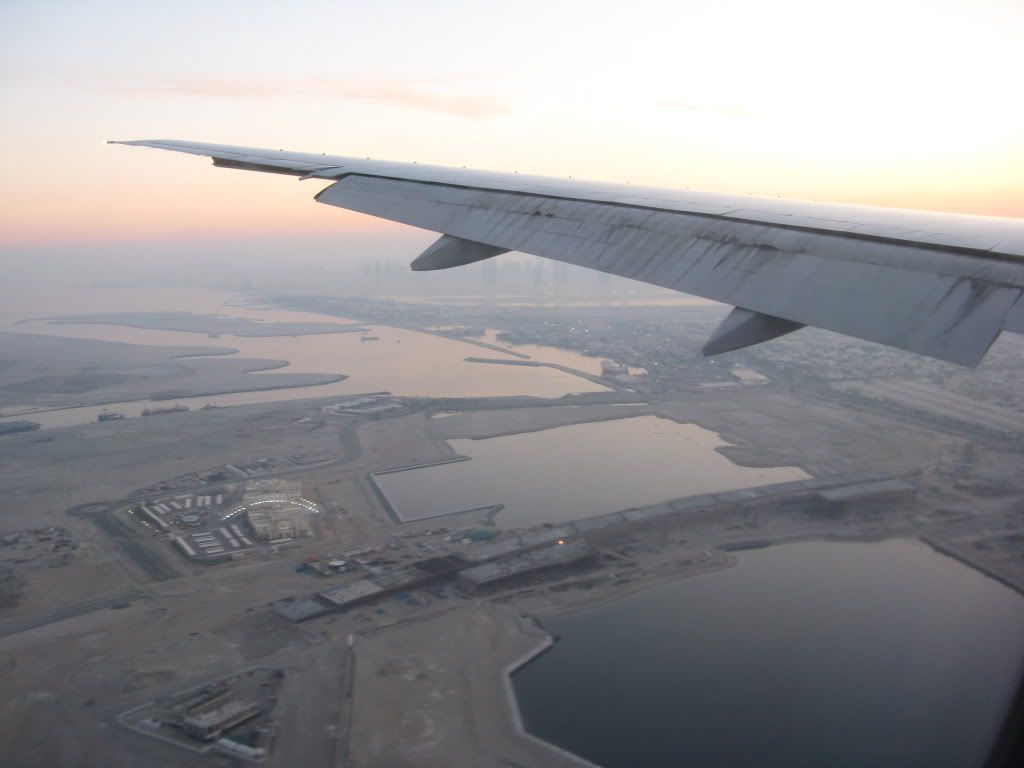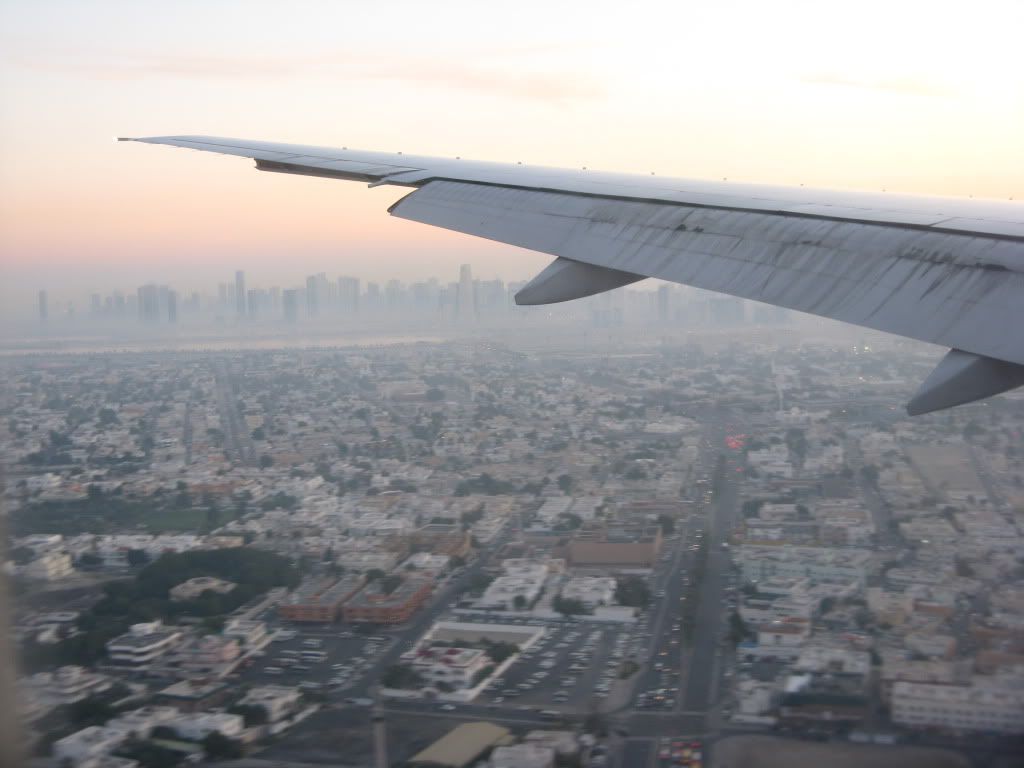 Final approach, with the tall buildings of Sharjah on the horizon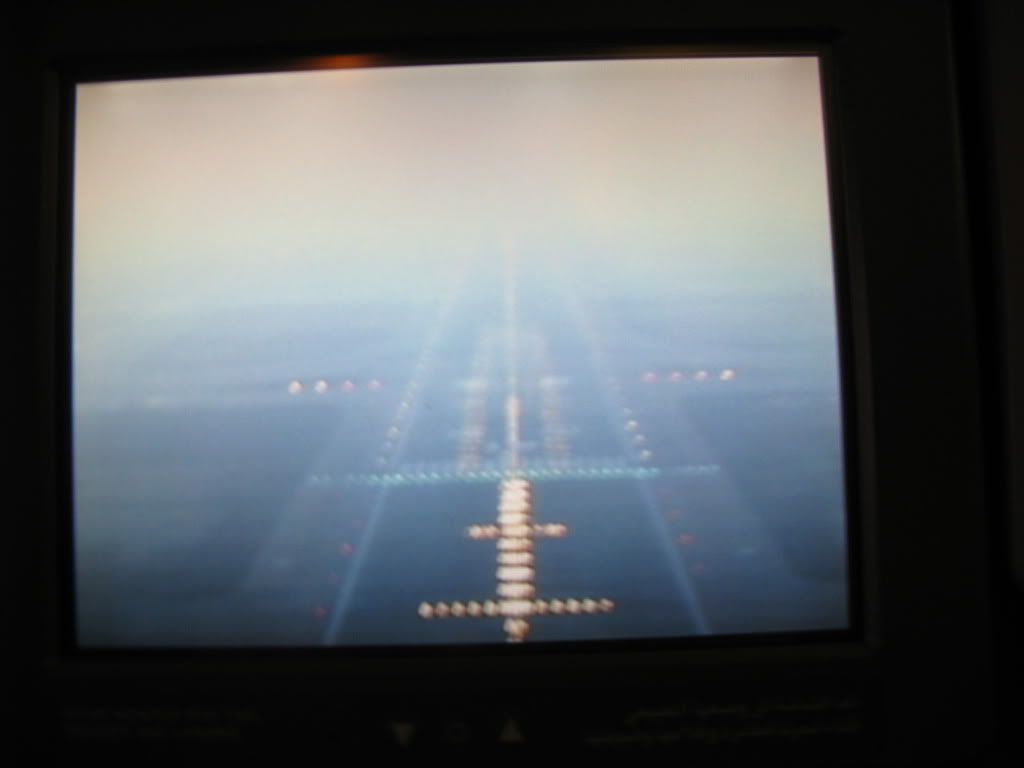 Nose camera
On short final
Touchdown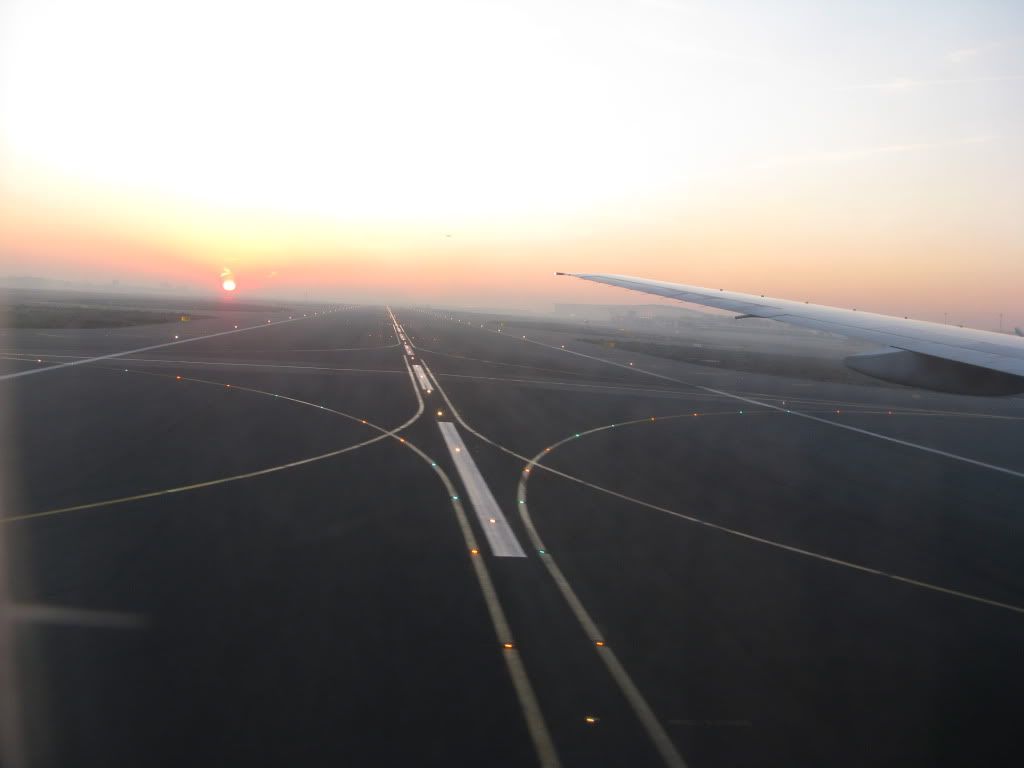 Crossing runway 12R-30L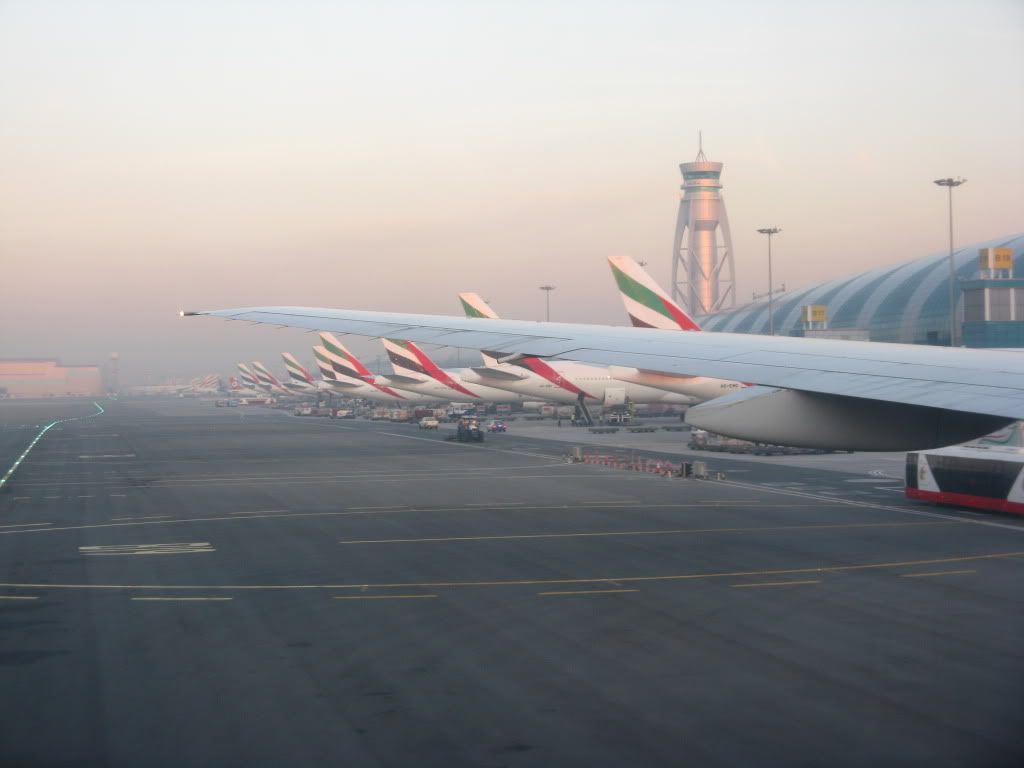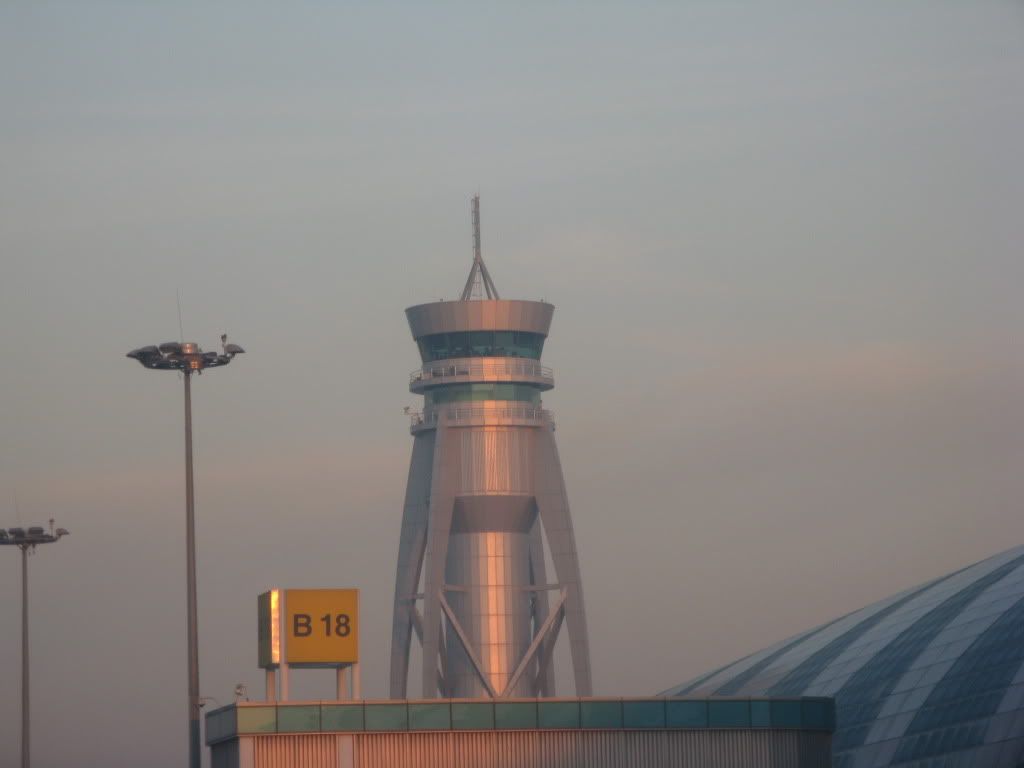 ATC tower
Actual time of arrival: 07.20 local time
Disembarking
Business class
And again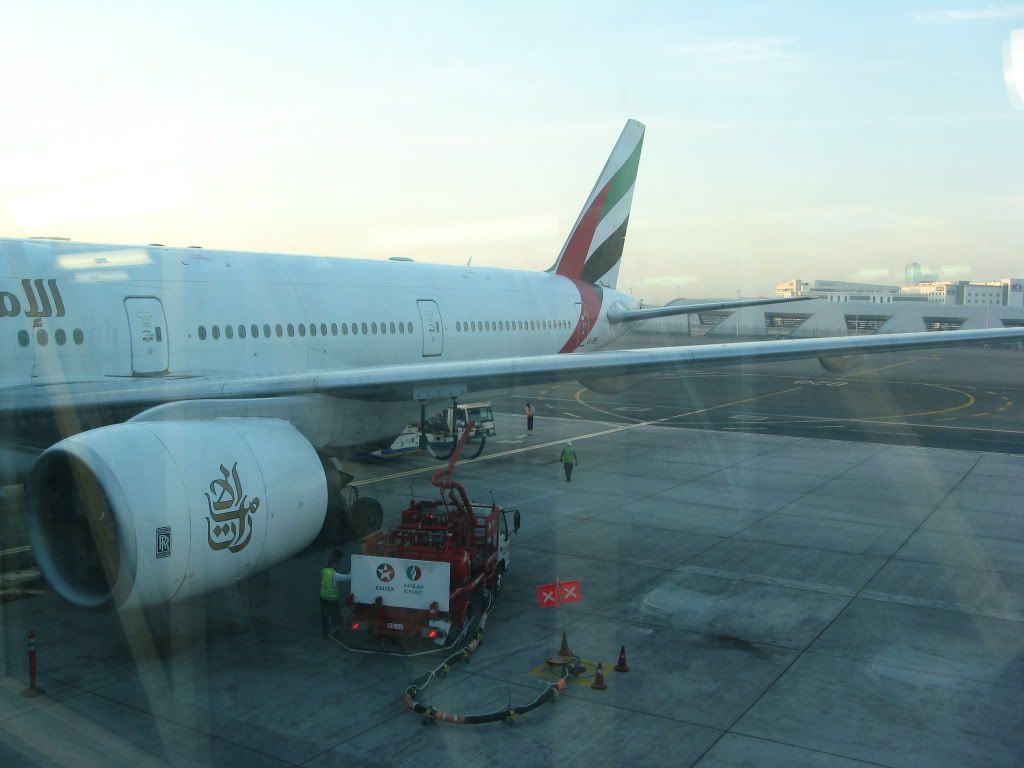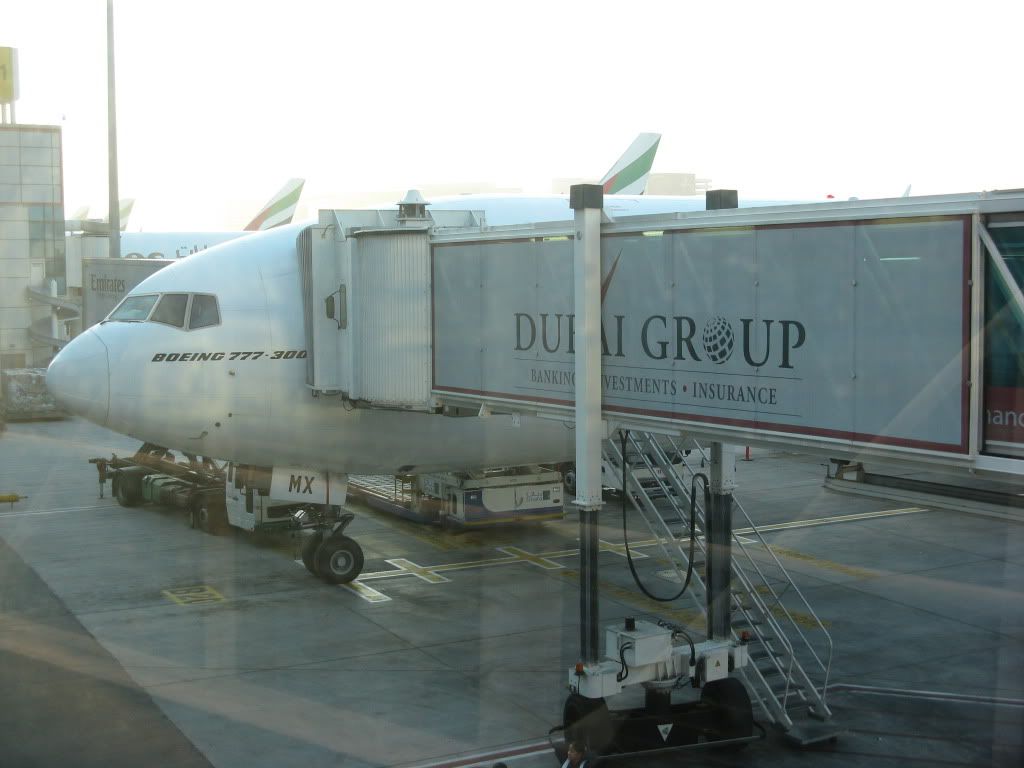 Inside the terminal most passengers were proceeding to connecting flights. We headed to customs and after we got our visa we proceeded to the baggage carrousel. Almost all bags had arrived on the carrousel already so I guess the baggage handling in Dubai must be very efficient. We picked up our bags and we grabbed a taxi which brought us to our hotel.
Inside the terminal building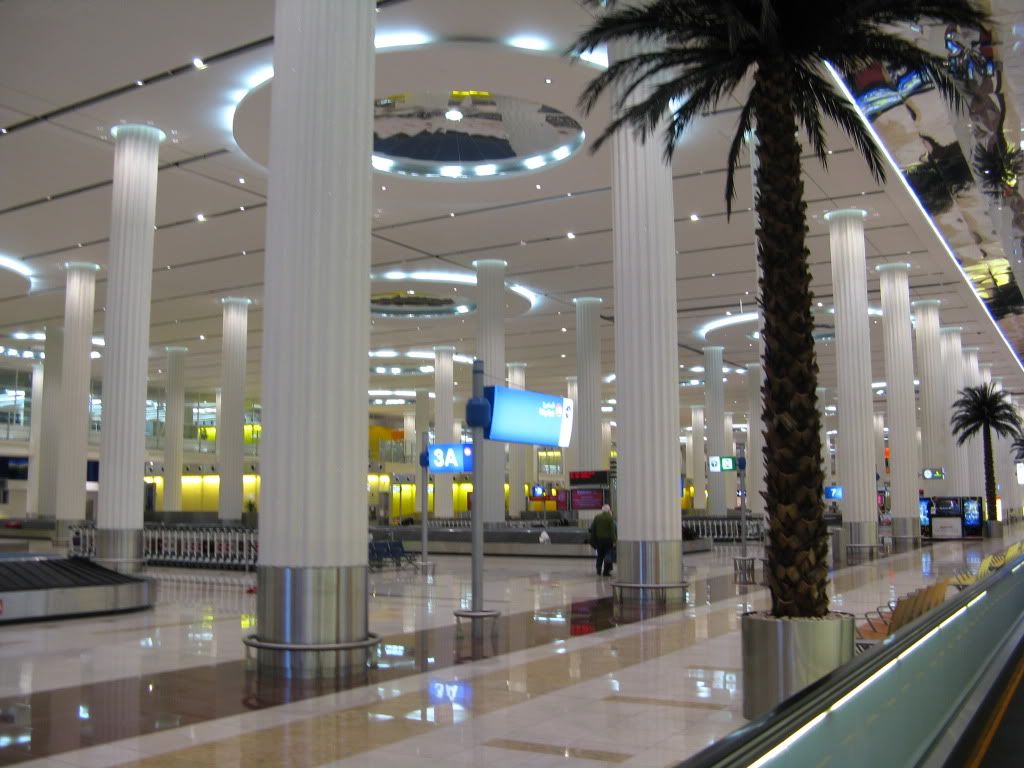 Arrivals hall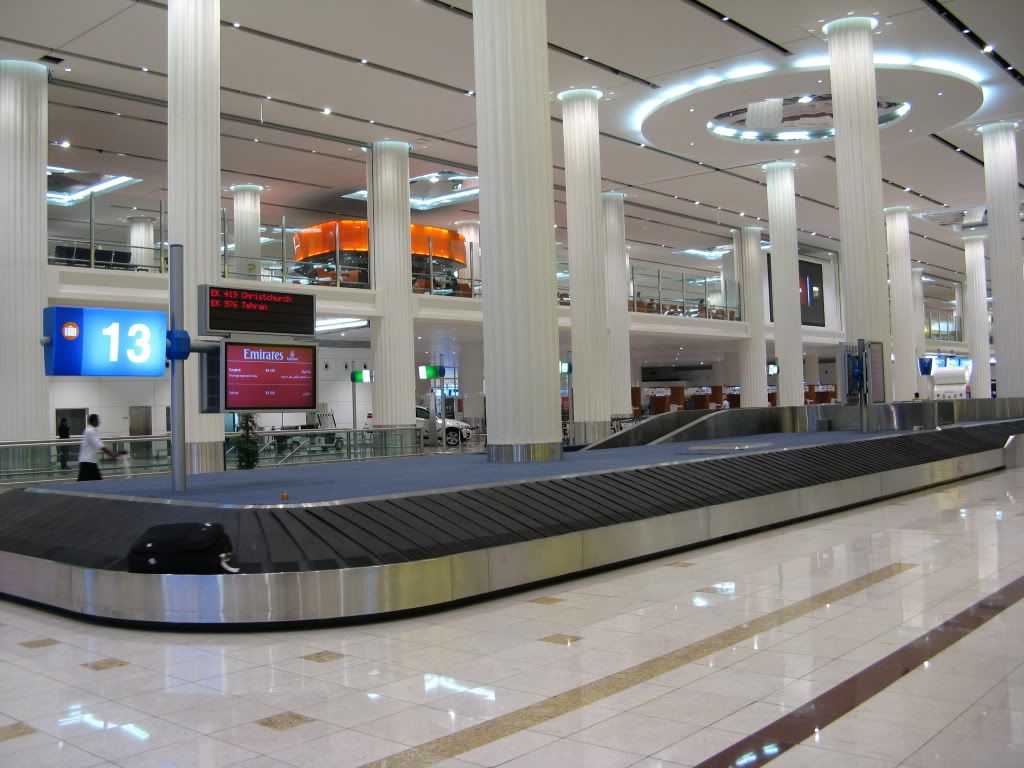 Oh, and is 10-abreast seating in a Boeing 777 really that bad? No it isn't! I had comfortable flight and I would certainly do it again.
For those who are interested I have some pictures of our visit to the Dubai Mall and the Burj Khalifa:
Dubai Metro station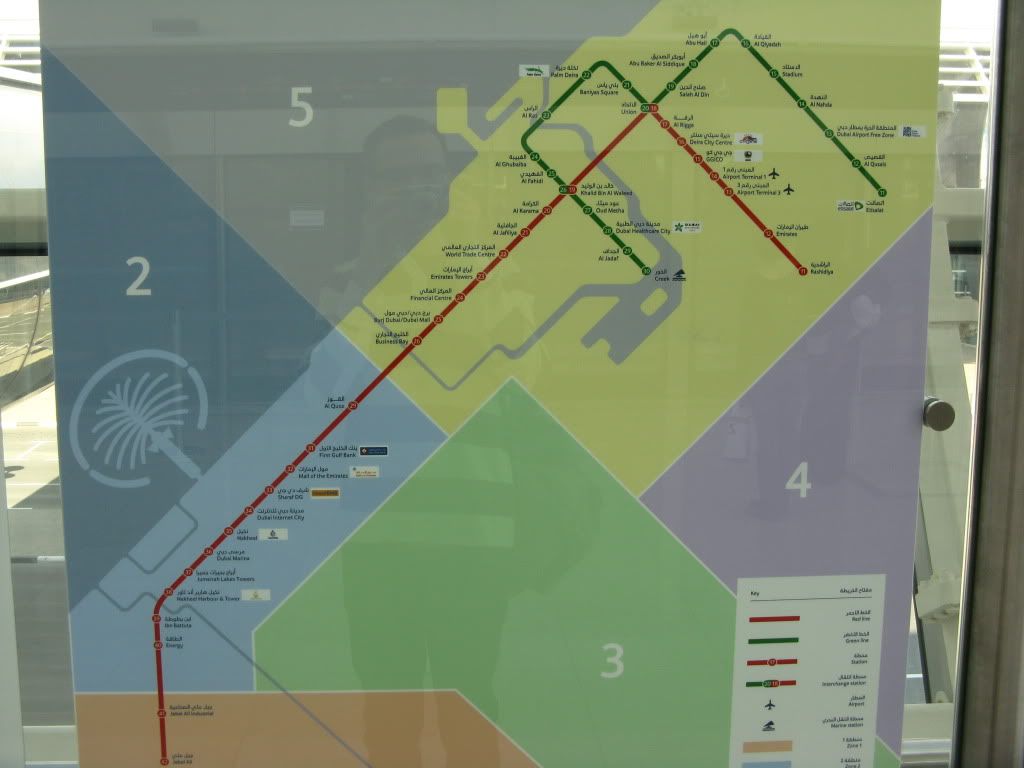 Routemap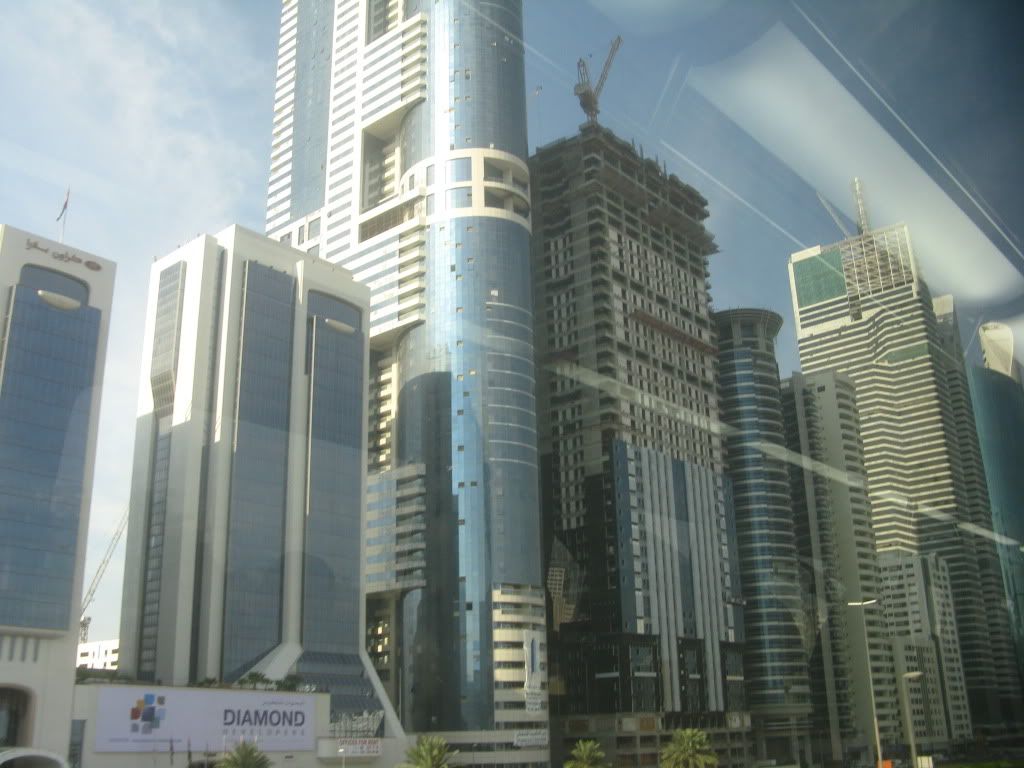 Skyscrapers at Sheikh Zayed Road
And more…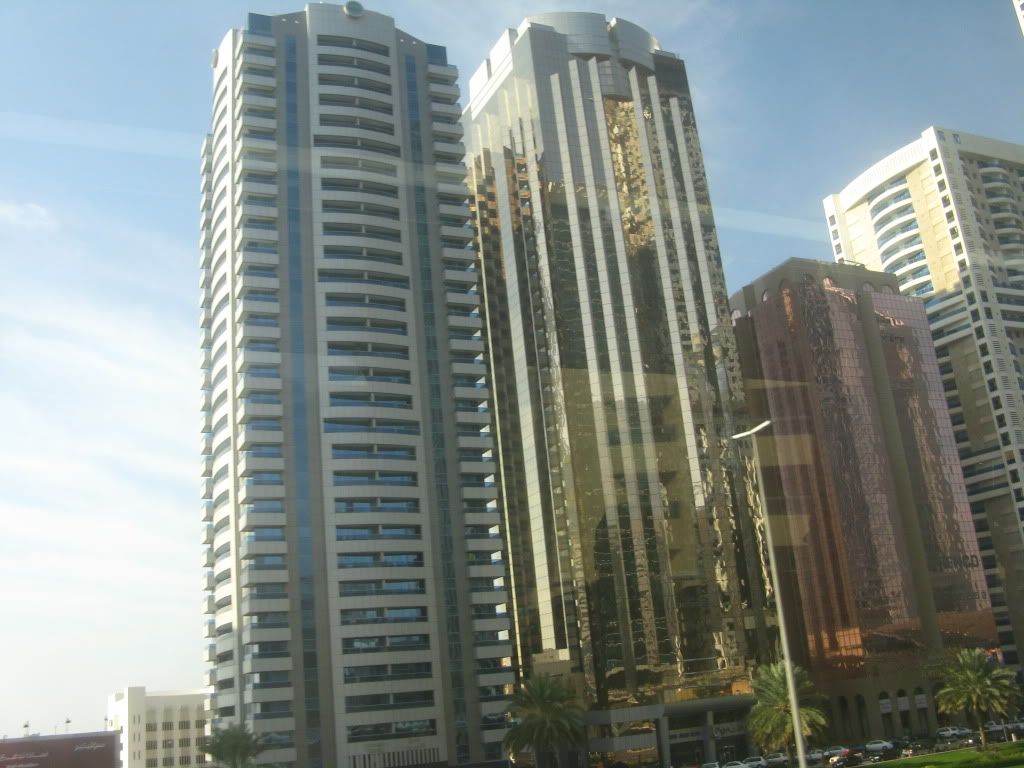 And more…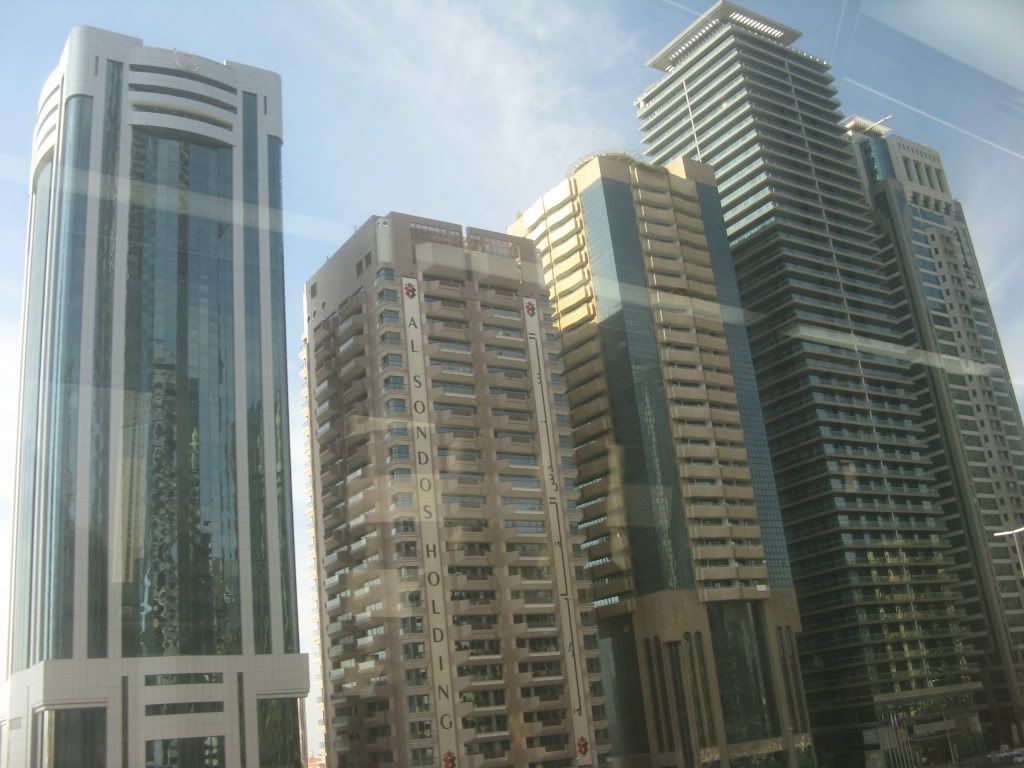 And more…
And guess what? Even more…  
And the last ones for now
Downtown Burj Khalifa, under construction
The Dubai Mall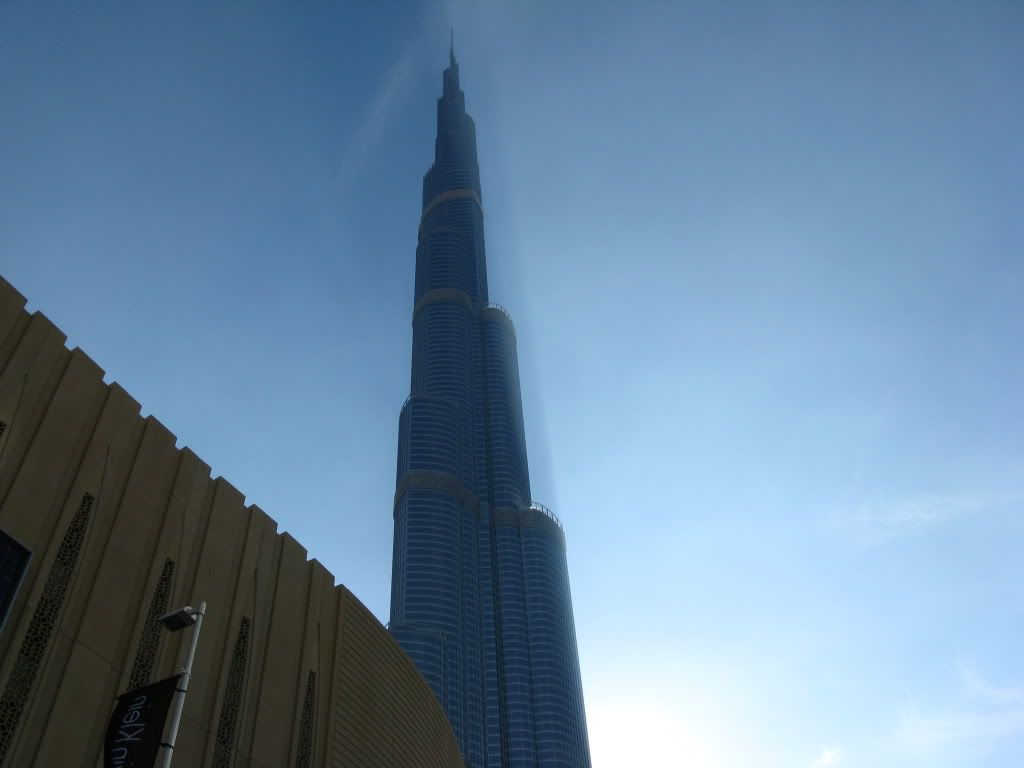 There she is, the tallest building in the world
Wow!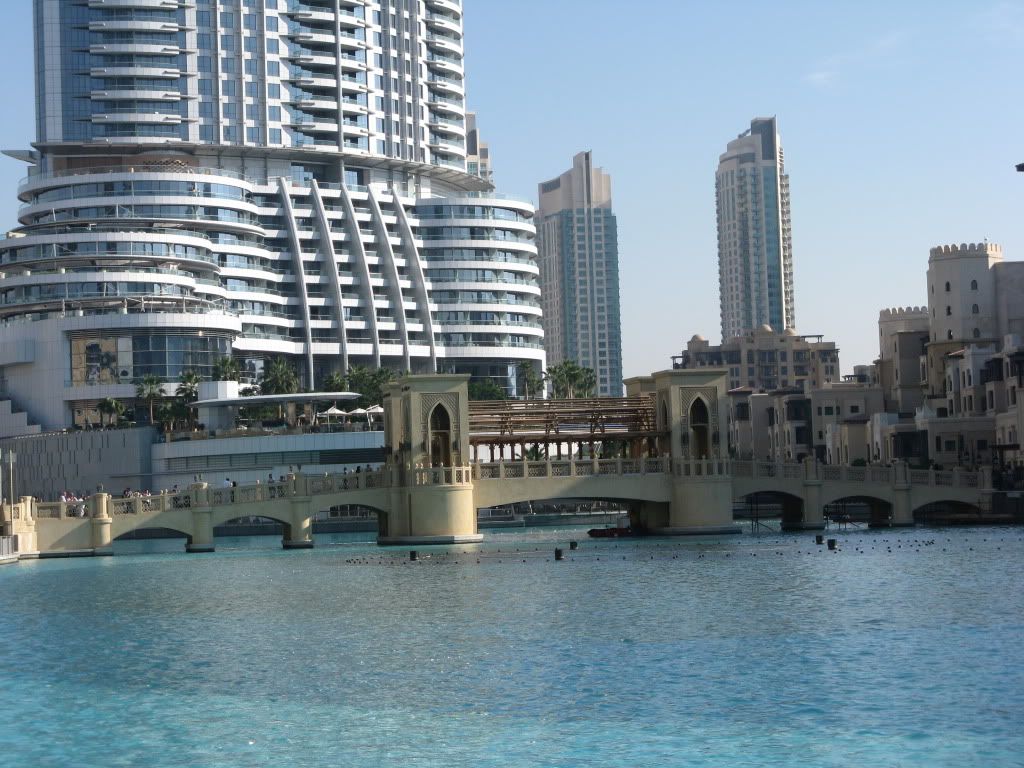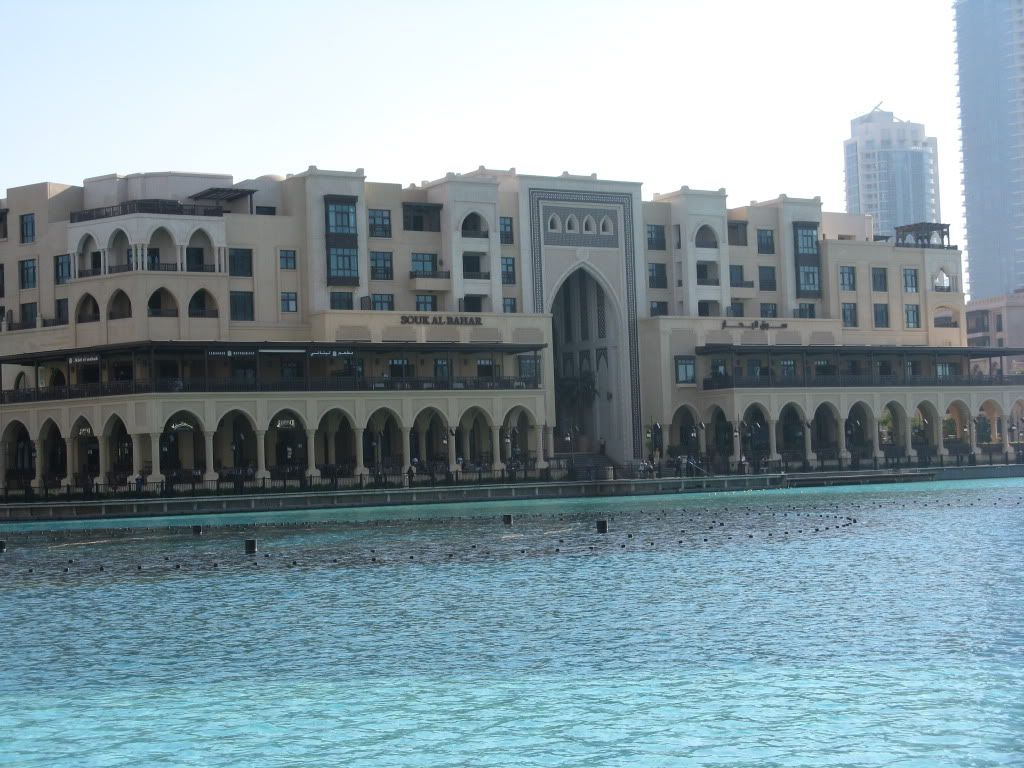 Old Town, Downtown Burj Khalifa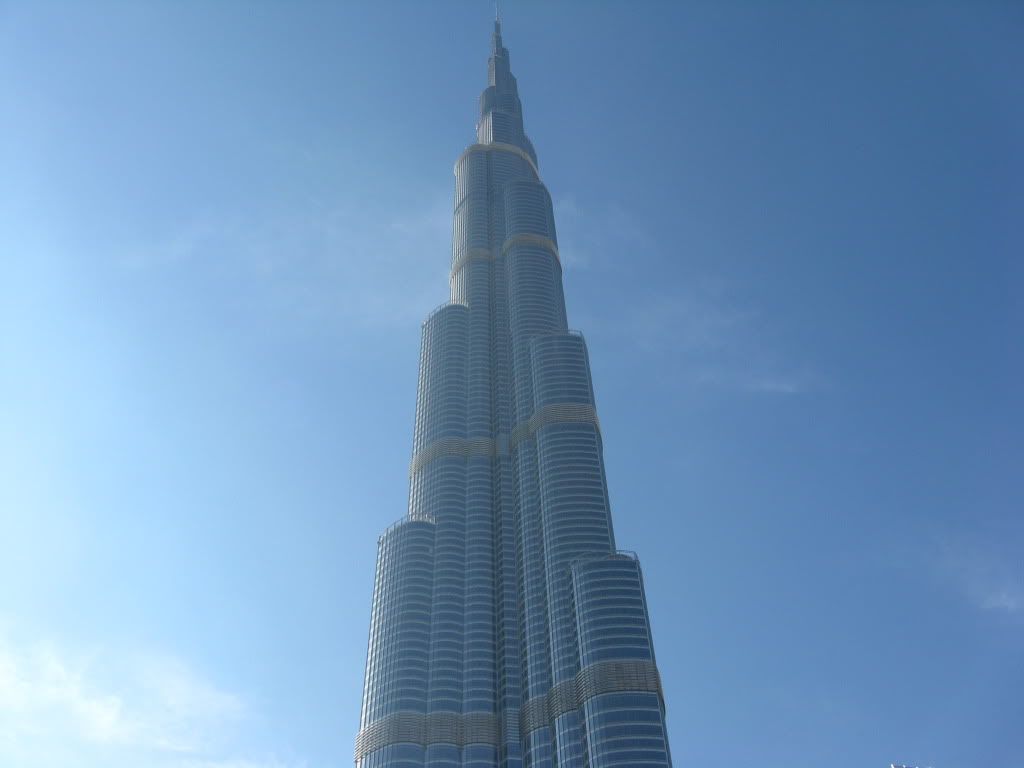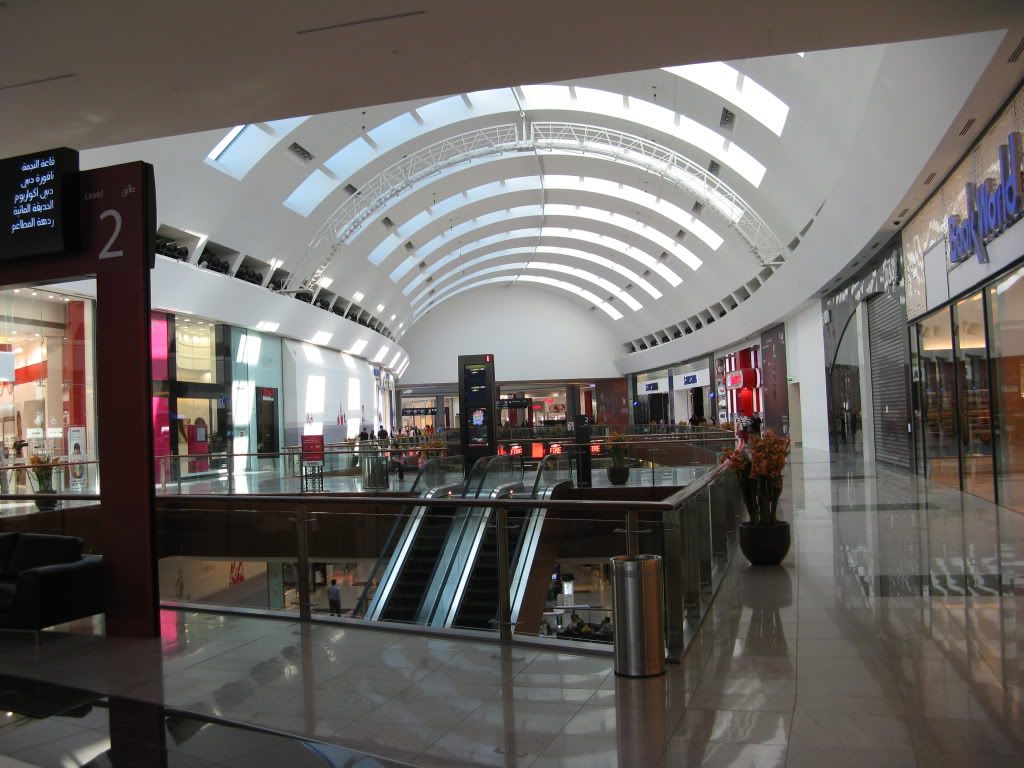 Inside the Dubai Mall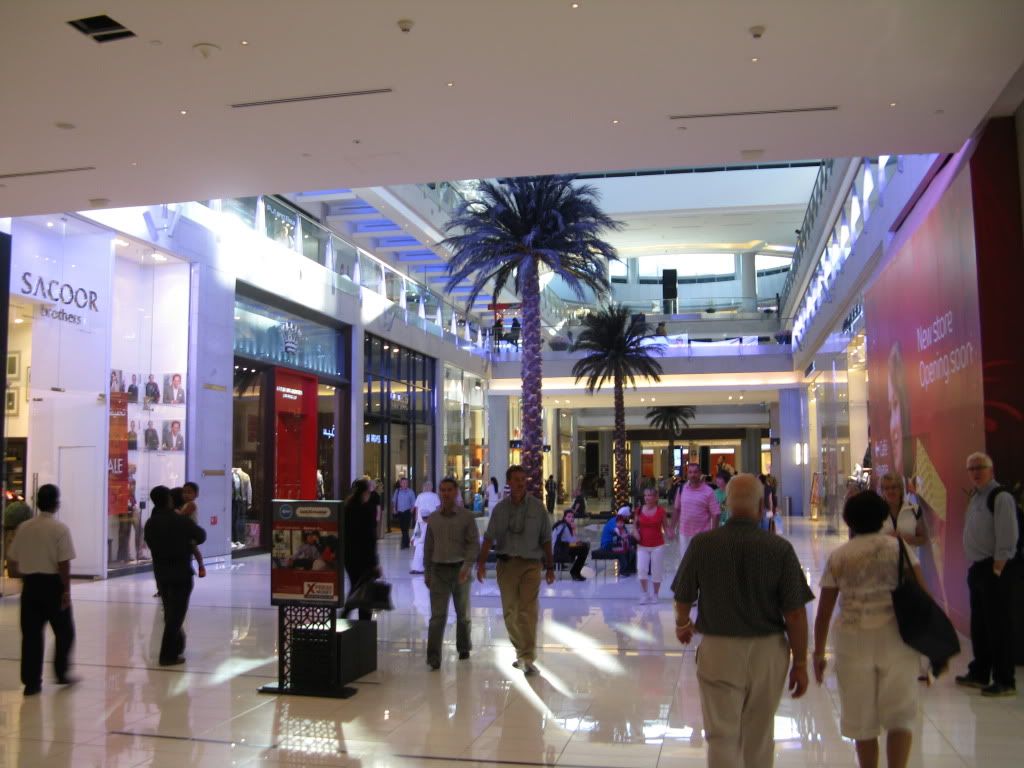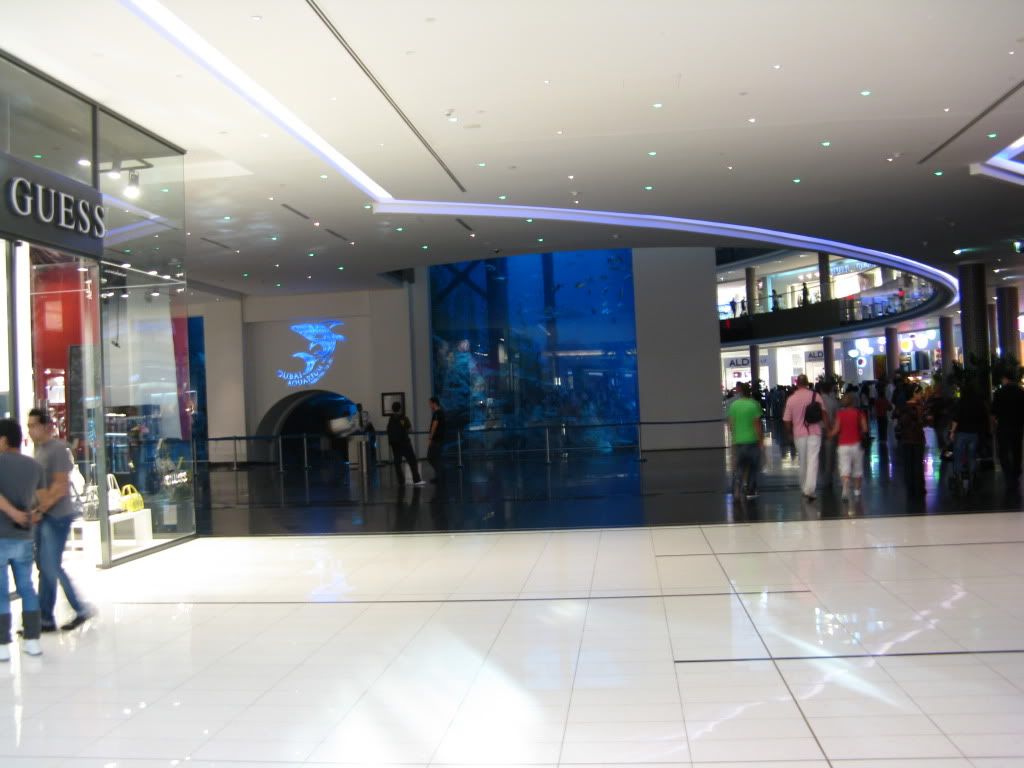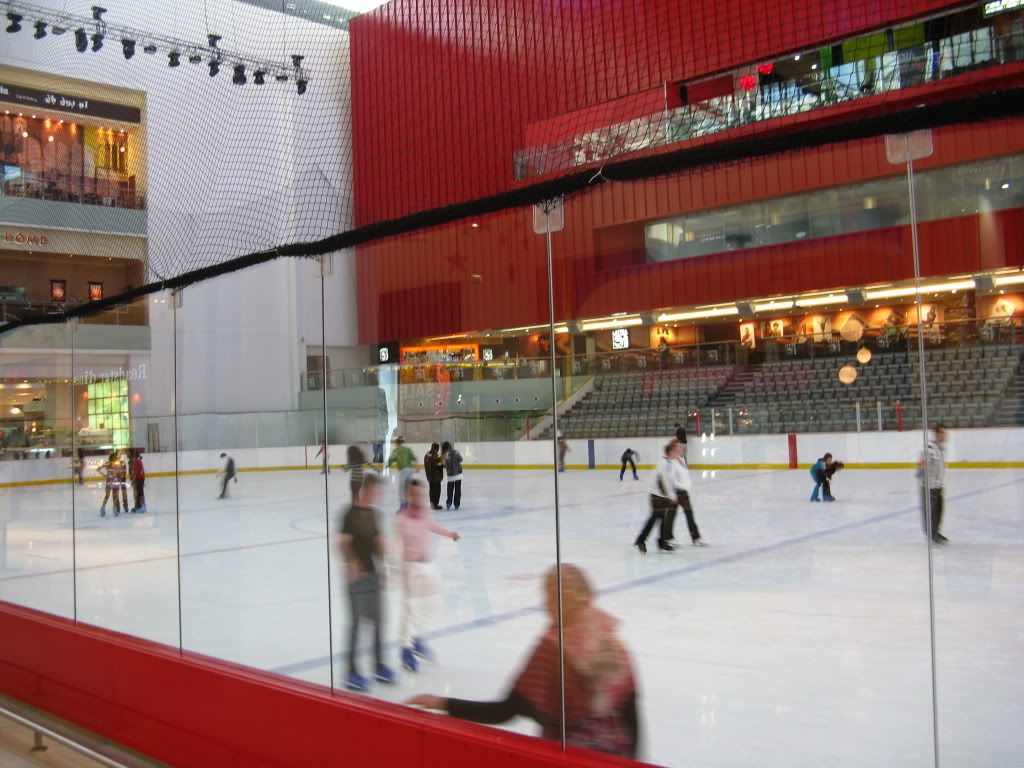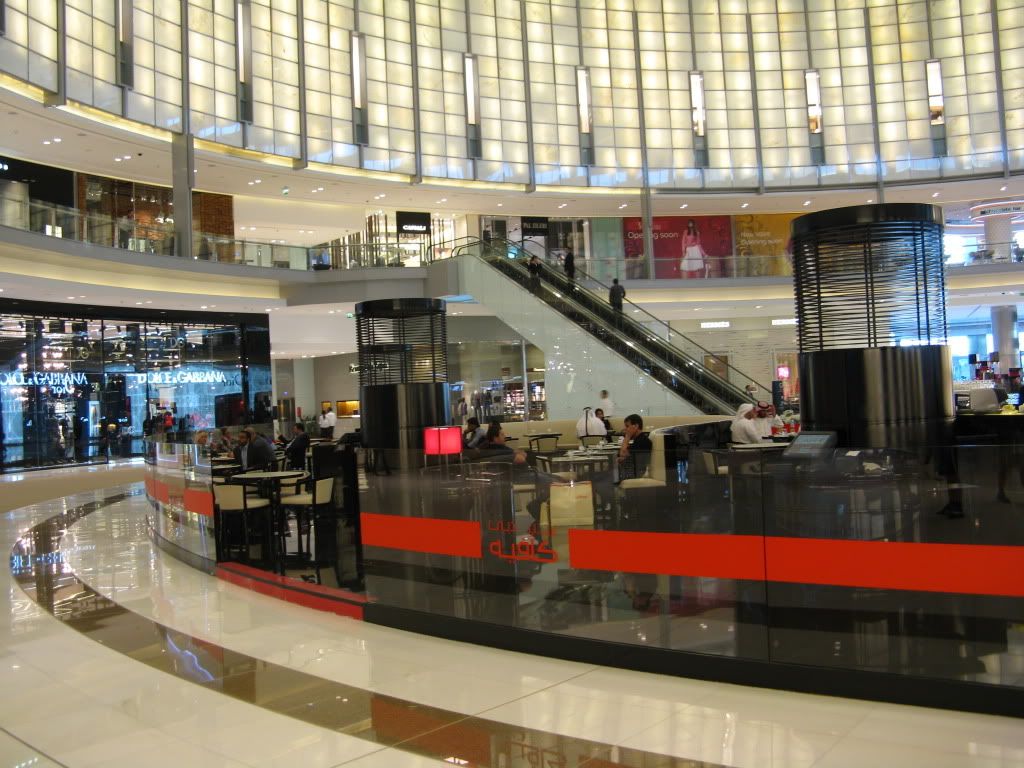 The Burj Khalifa entrance
Welcome at the observation deck, located on the 124th floor, 442 meters above the ground.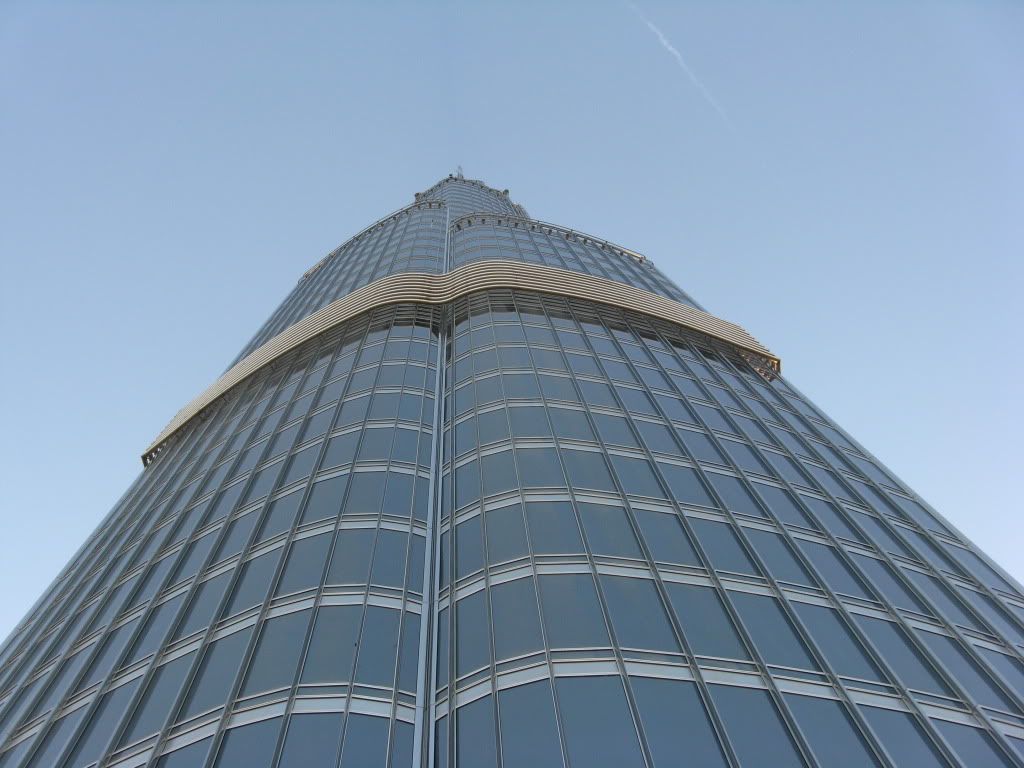 There's still 386 meters of tower left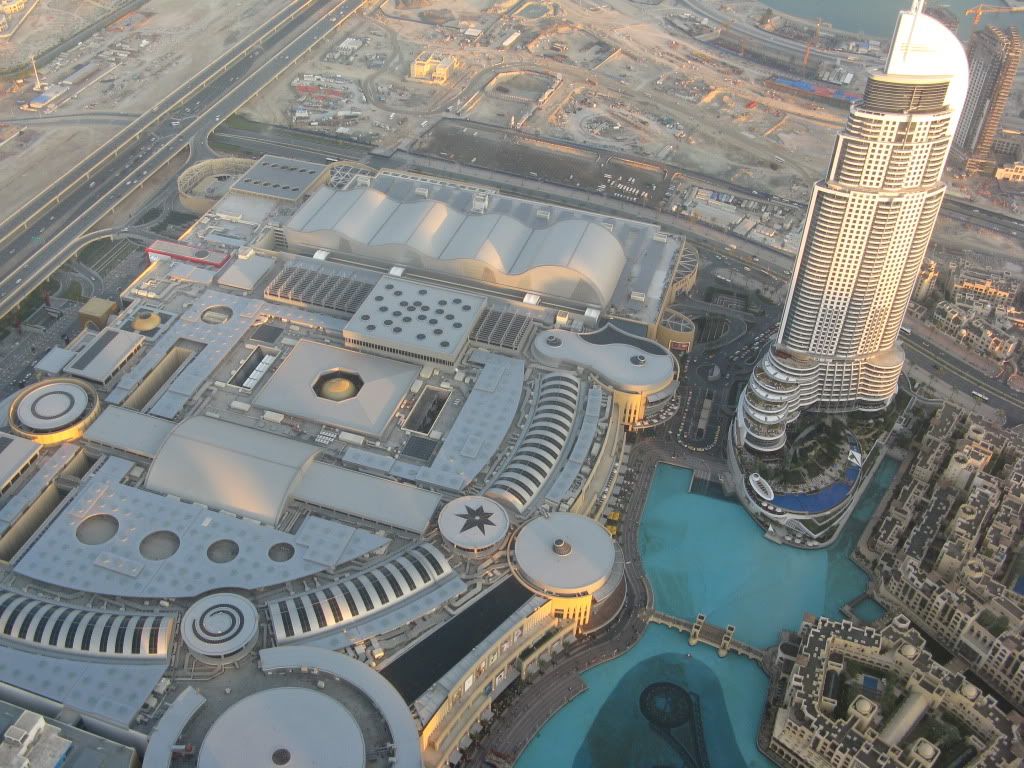 The Dubal Mall from above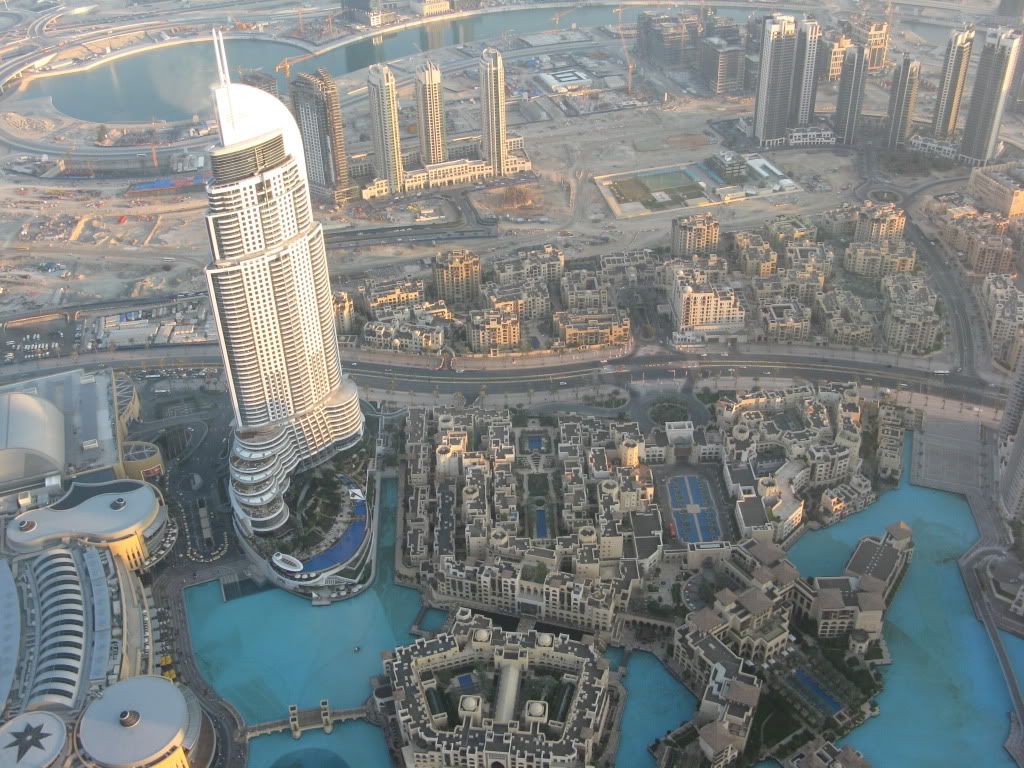 Old Town and The Address Downtown Burj Khalifa skyscraper, which is 306 meters tall.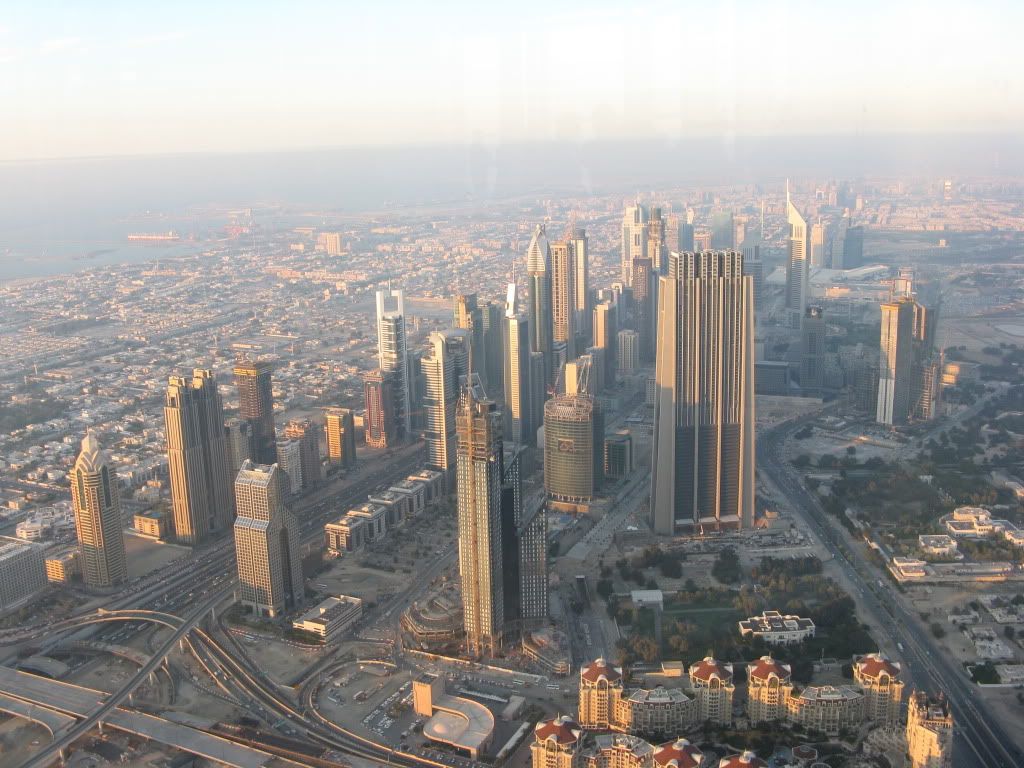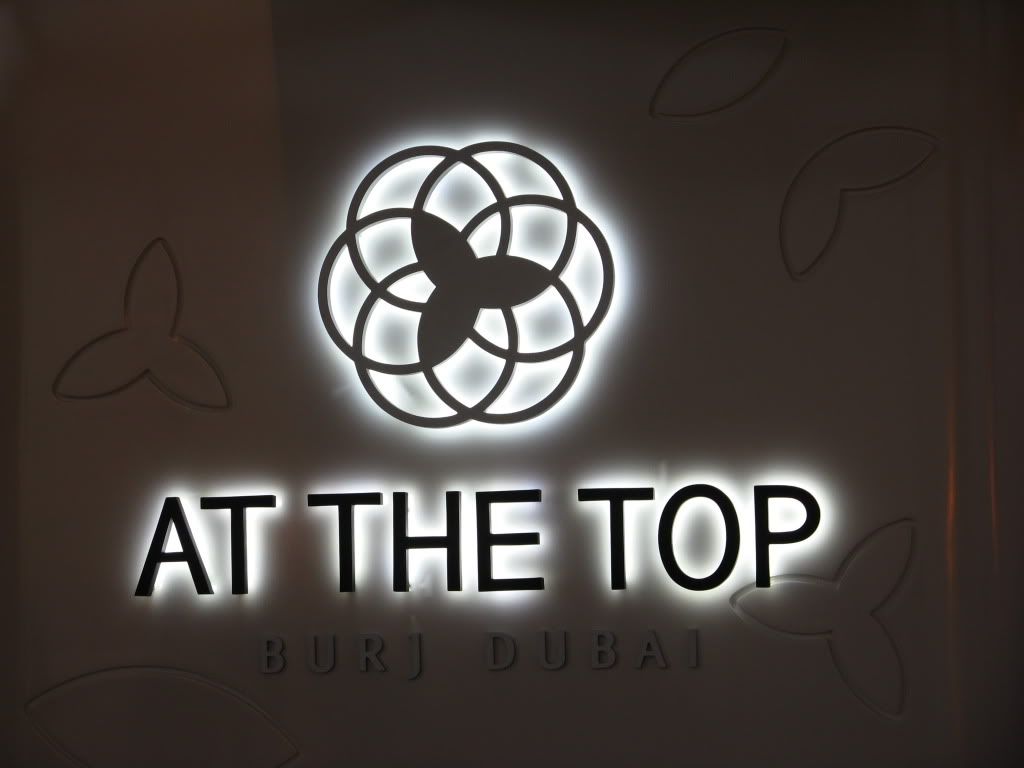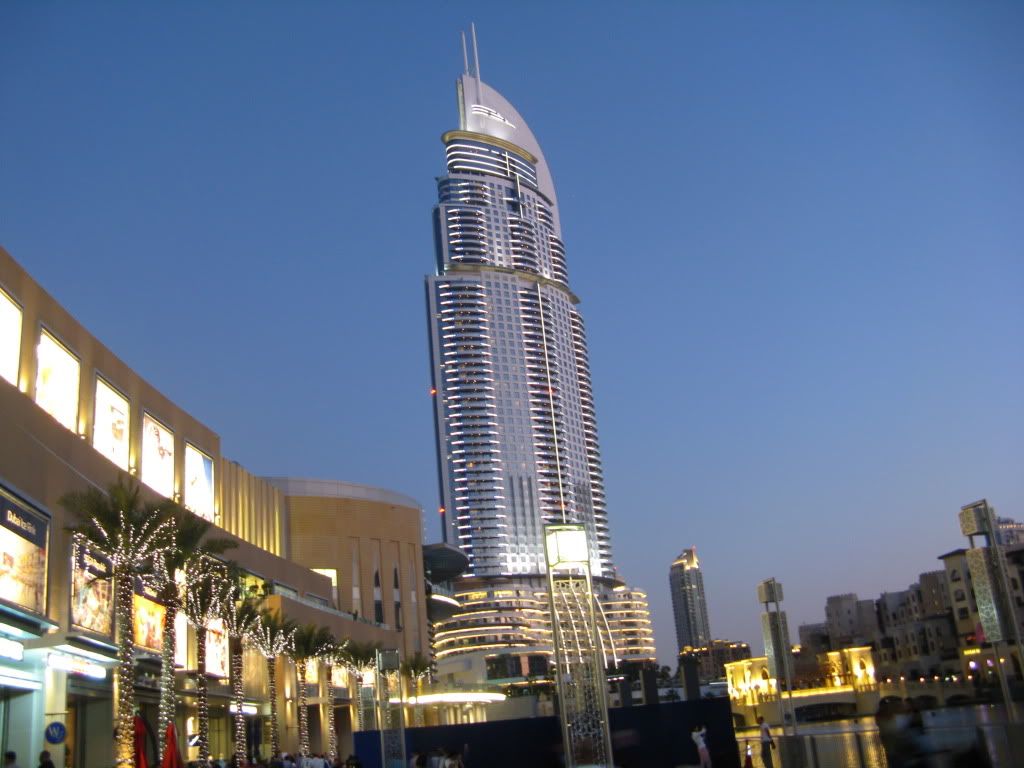 And back on the ground again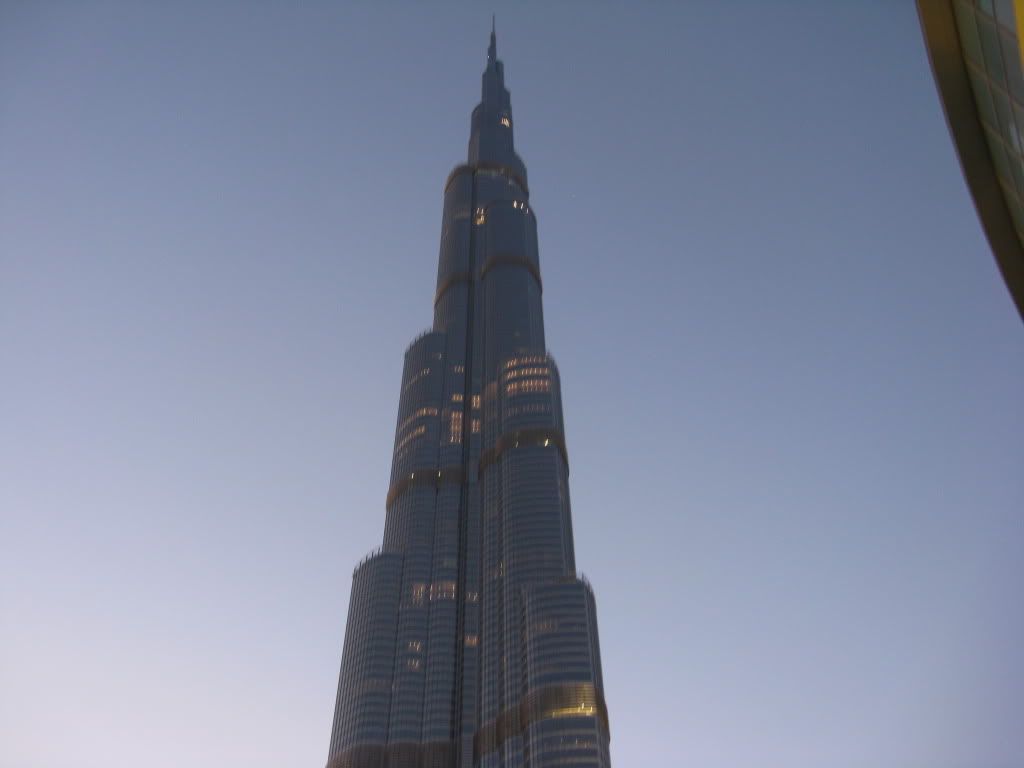 The Dubai Fountain comes alive
The fountain can shoot up the water 150 meters in the air, which makes it the highest fountain in the world.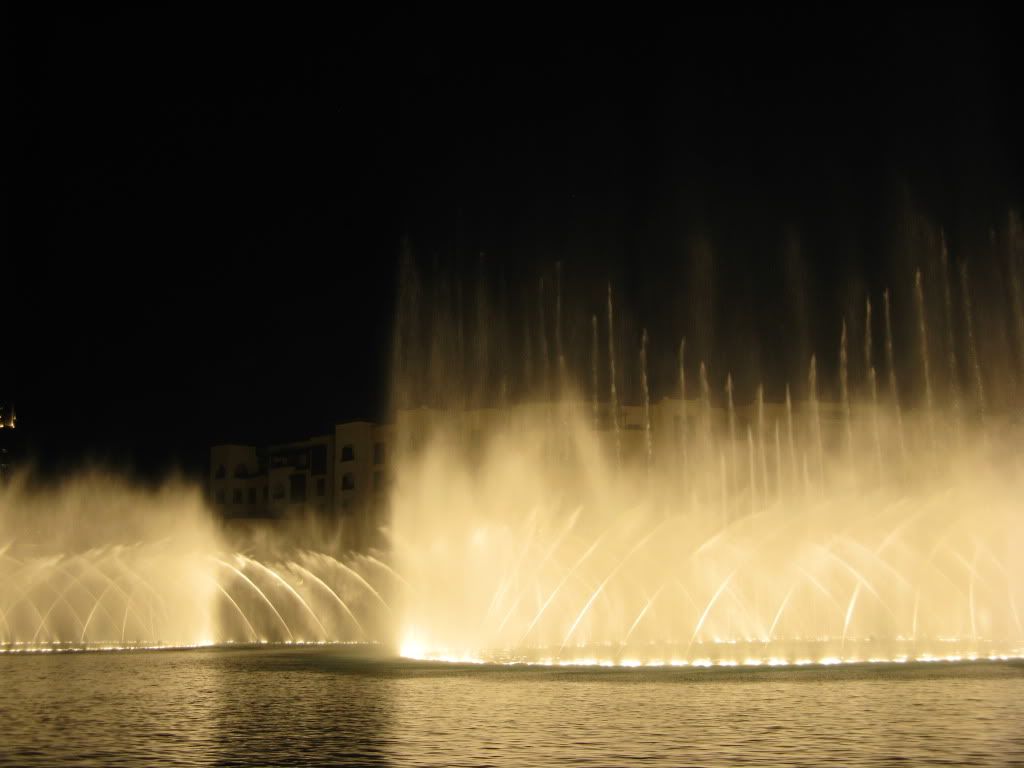 I hope you enjoyed this trip report including some Dubai sight seeing. For the return trip on the Airbus A380 please click on the part two link below:
Dubai's terminal 3 and the A380: DXB-LHR-AMS on Emirates and bmi British Midland // 20Jan10
Thank you for reading!
Best regards,
Jeroen
*Please feel free to comment or ask your questions.
Other trip reports:
AMS-LBA-LGW-AMS on LS, BE and BA // 20Jul09

Flying Norwegian, from Denmark!: AMS-STN-CPH-AMS on EZY and DY // 13May09

Flying The T7: AMS-MAN-GVA-AMS on WW, SV and EZS // 20Apr09

AMS-BHX-DUB-AMS on WW, FR and EI // 26Mar09

Destinazione Bergamo! AMS-EMA-BGY-AMS on WW, FR and HV // 21Jan09

A tribute to SkyEurope Airlines! AMS-PRG-AMS // 09Sep08

The Eire trip (part 2): AMS-WAT-GWY-DUB on EI, FR and EZY // 20May08

The Eire trip (part 1): AMS-WAT-GWY-DUB on RE // 19May08
[Edited 2010-02-01 11:49:13]