Dubai's terminal 3 and the A380: DXB-LHR-AMS on Emirates and bmi British Midland
Welcome at this trip report!
For part one please click on the link below:
The 10-abreast Boeing 777 trip: AMS-LHR-DXB on KLM and Emirates // 17Jan10
The trip starts in the middle of the night. We went to bed around midnight but because we couldn't sleep we decided to go to the airport a bit earlier. A taxi dropped us in front of terminal 3 at three o'clock. I used online check-in the evening before but there where no more window seats available. The check-in hall was very quiet and I asked the friendly ground attendant if he could arrange a window seat. He started typing but didn't say anything. I saw two new boarding passes coming out of the printer and he had good news, our new seats would be 61 A and B, hooray! Row 61 is above the wing (and the A380 wings are HUGE! 
) but at least it's better than sitting in the middle section.
Terminal 3 entrance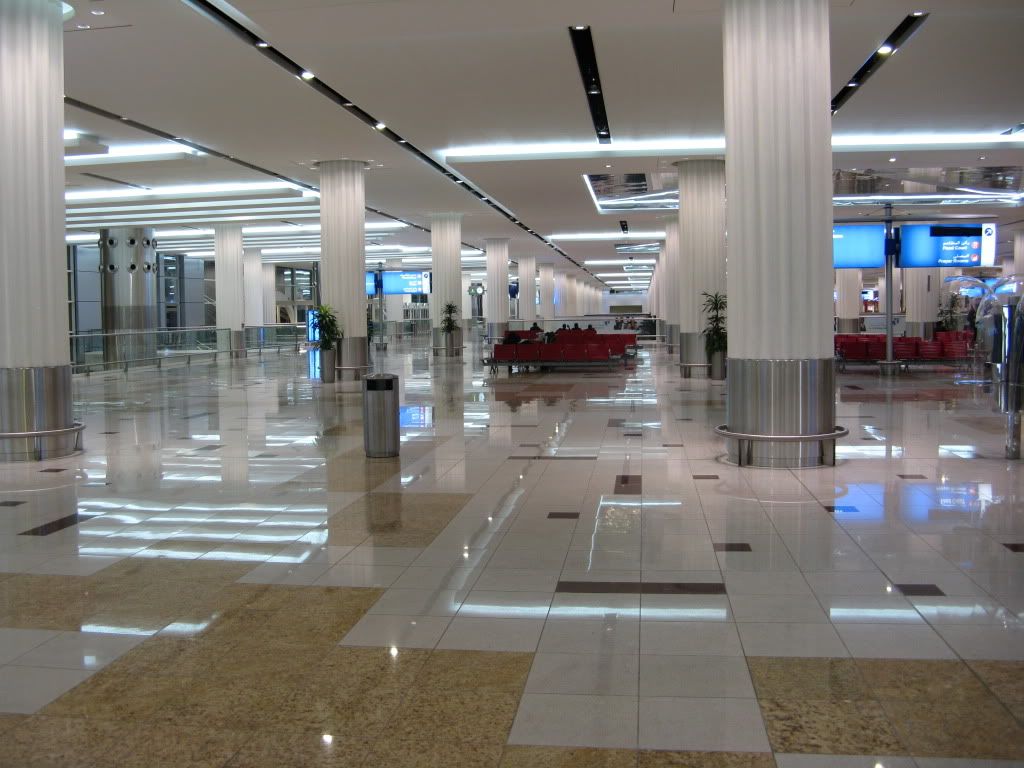 And welcome inside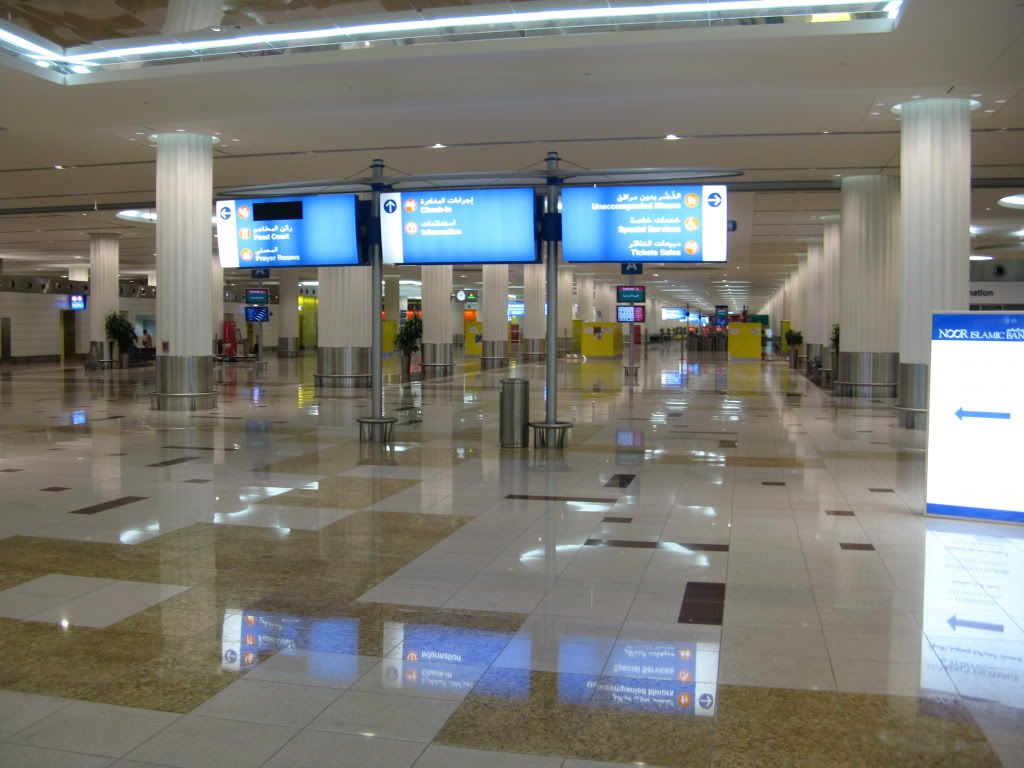 Check-in area
Check-in area
After we cleared security we walked to the gate where our aircraft had already arrived. Later at home I checked the registration on libhomeradar.com and saw that she had done a return trip to BKK before our flight. The BKK flight arrives at 00.35 and the LHR flight departs at 07.45 so a good 7 hour rest at the gate.
Elevators and escalators to the departure gates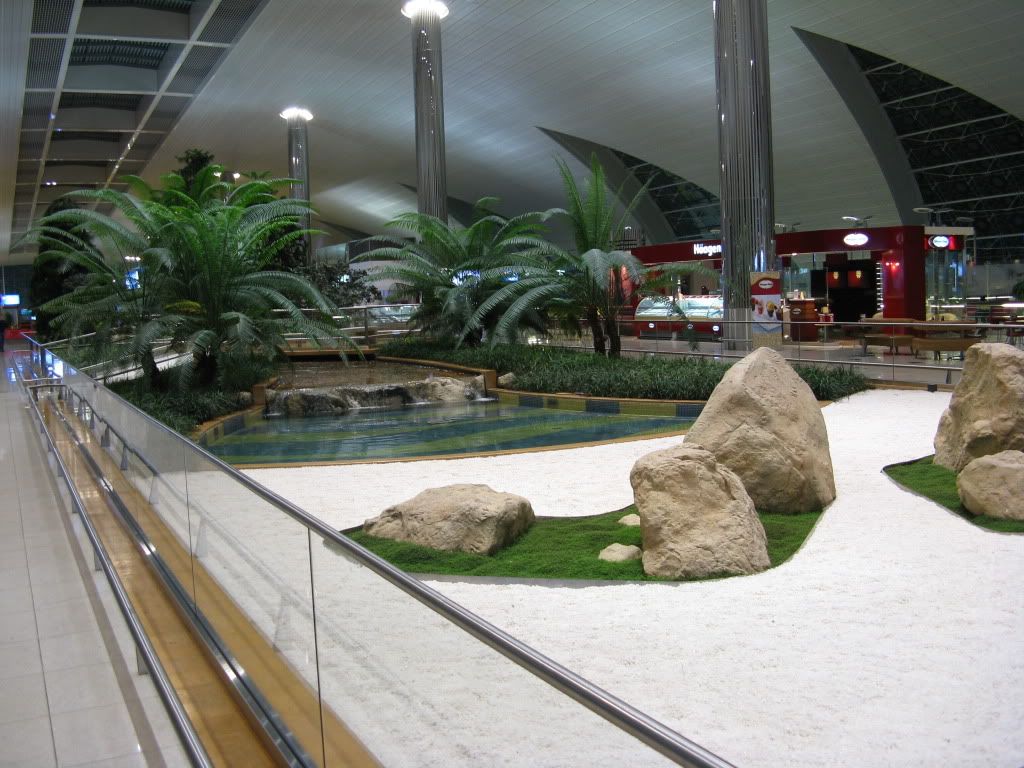 Some 'green' decorations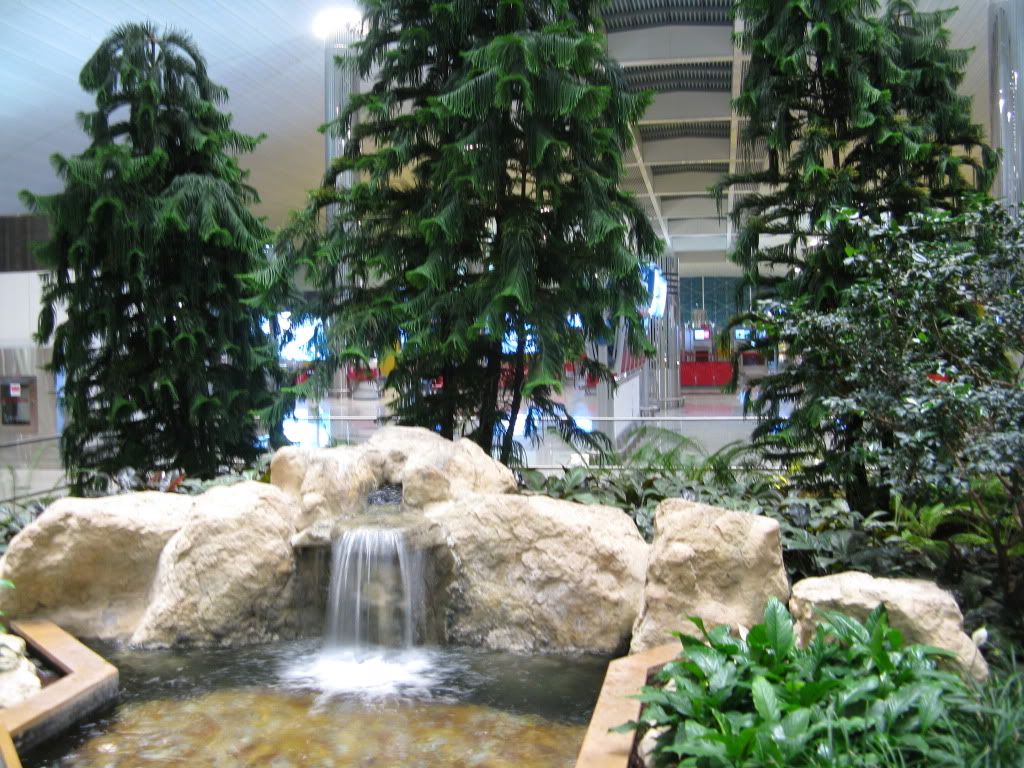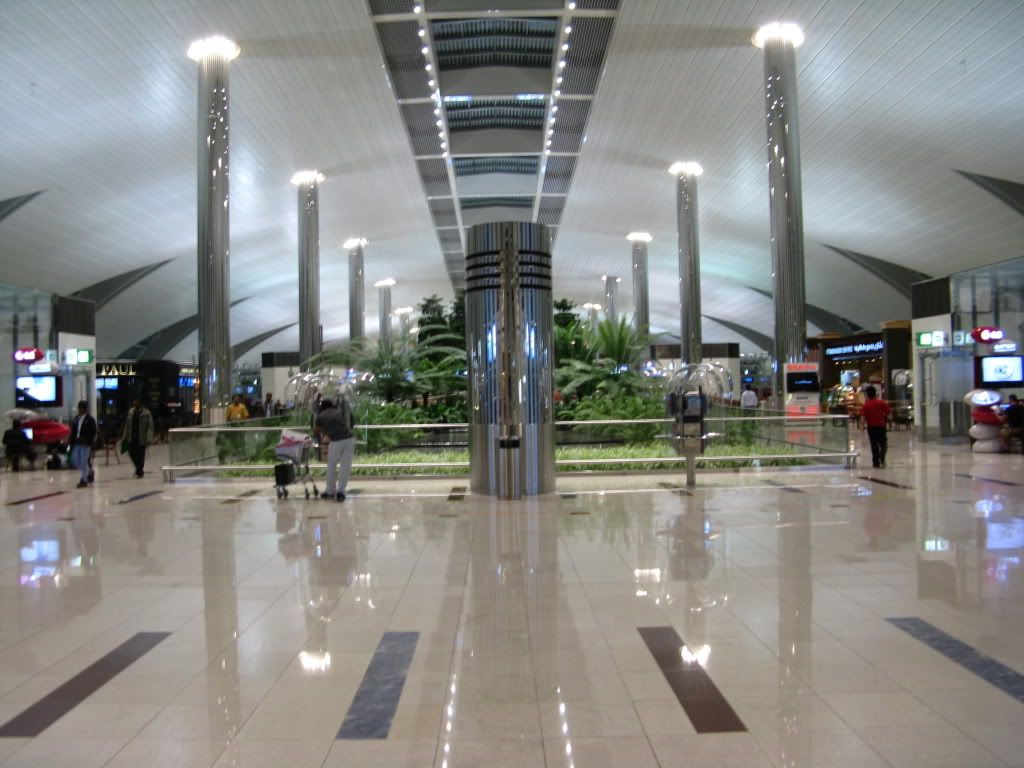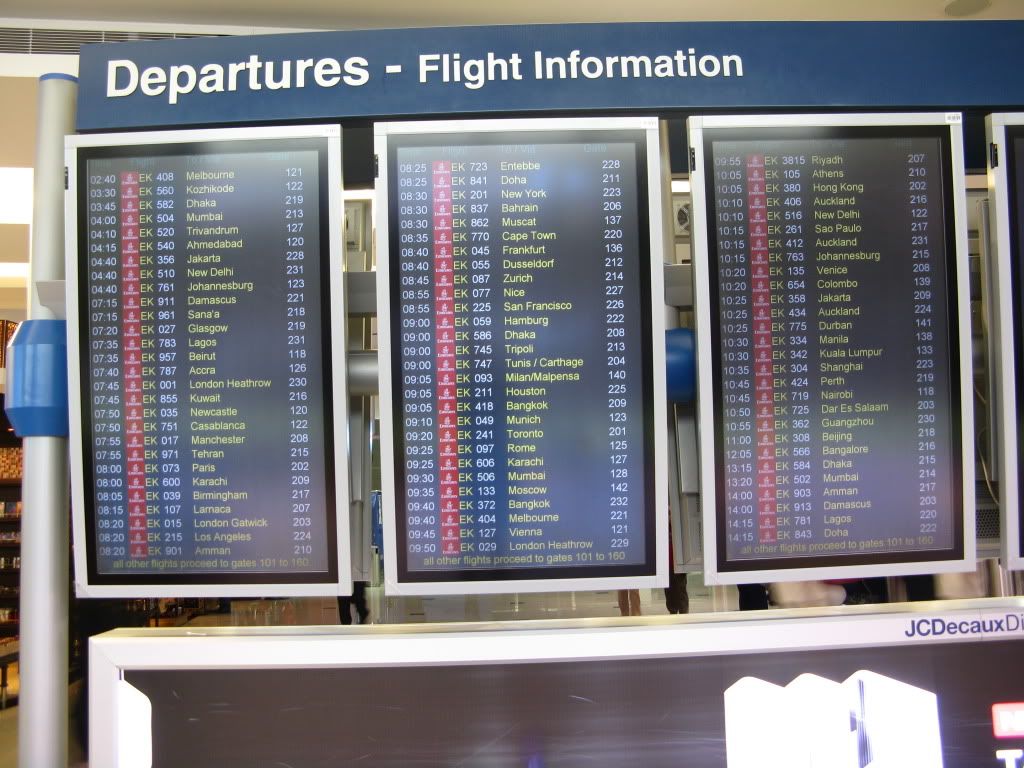 FIDS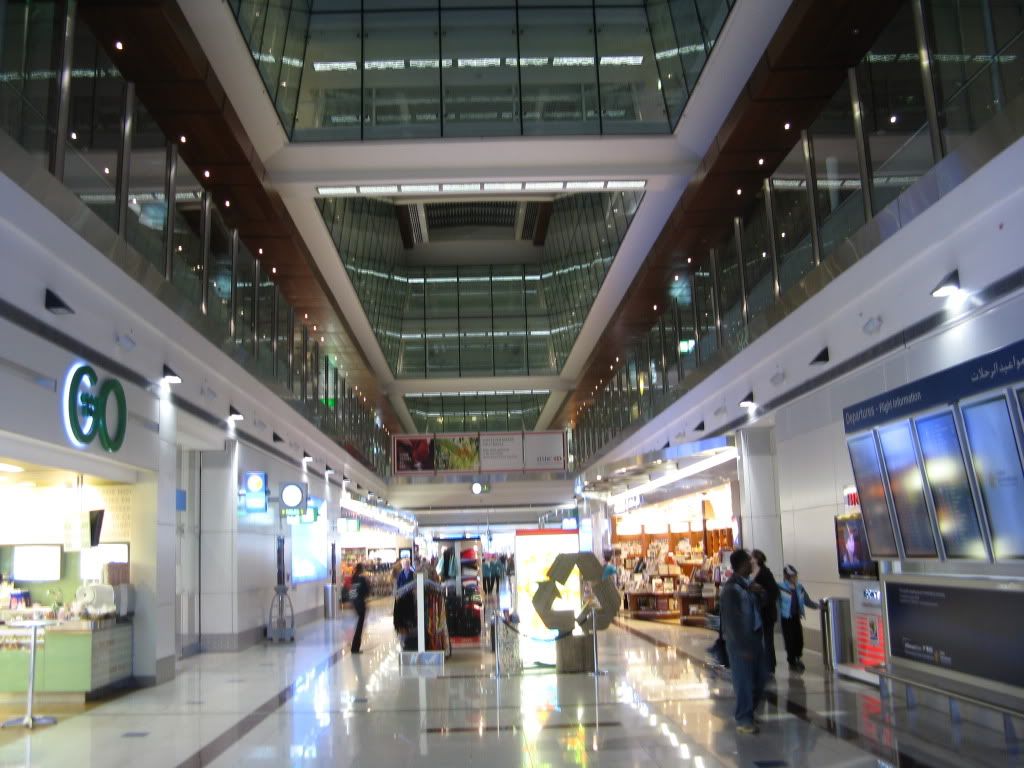 Date:
Wednesday, 20Jan10
Flight:
Emirates // EK 1
From:
Dubai // DXB
To:
London Heathrow // LHR
Duration:
7h50m
STD:
07.45 //
ATD:
08.08
STA:
11.35 //
ATA:
11.23
Aircraft:
Airbus A380-861 // A6-EDG
Seat:
Economy // 61A
Load factor:
95% // F: 12 passengers // C: 62 passengers // Y: 419 passengers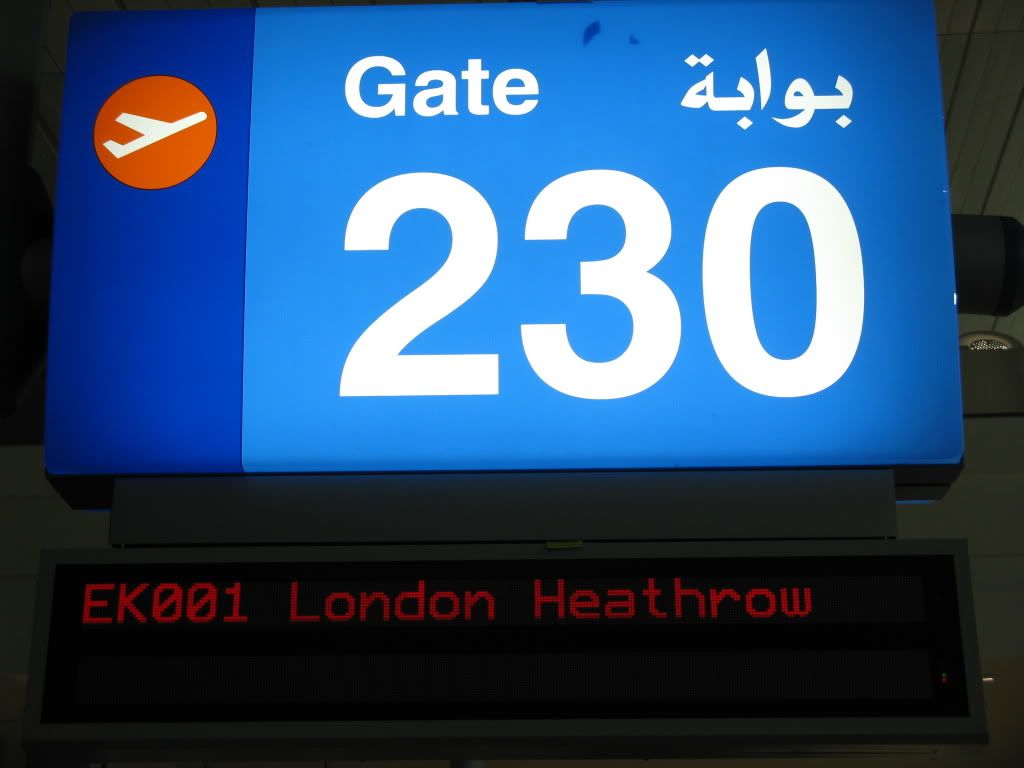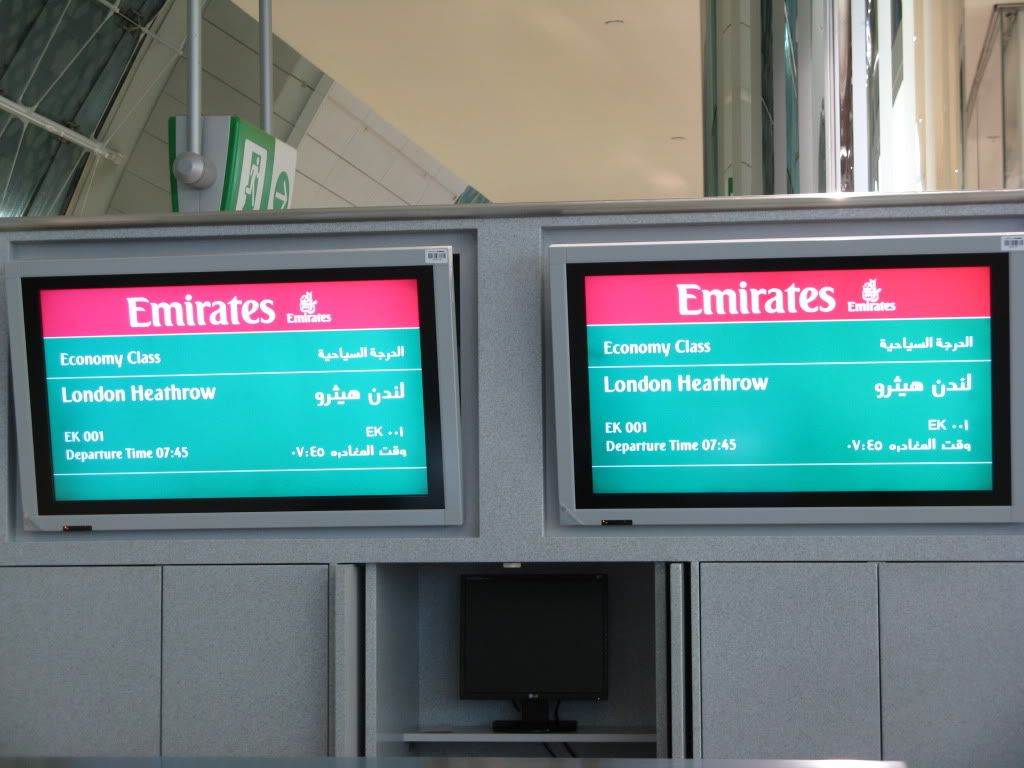 Pre-boarding was announced at 06.30. Like everything at the airport, the boarding gate was very spacious with more than enough seats for everyone. The gate area filled up quickly so the flight would be very full again. Boarding was announced at 07.10 and we boarded the giant A380 via the second air bridge. Three air bridges where connected to the aircraft, two for the lower deck for economy class and one for the upper deck for first class and business class only.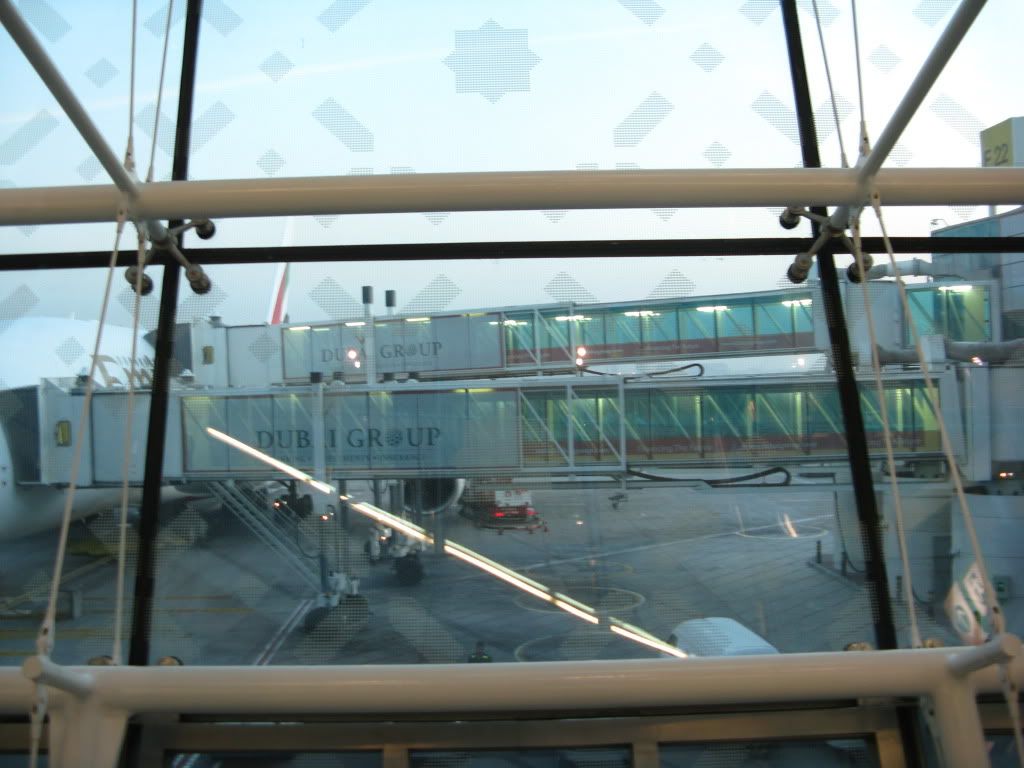 A6-EDG, our ride to London, only a few weeks old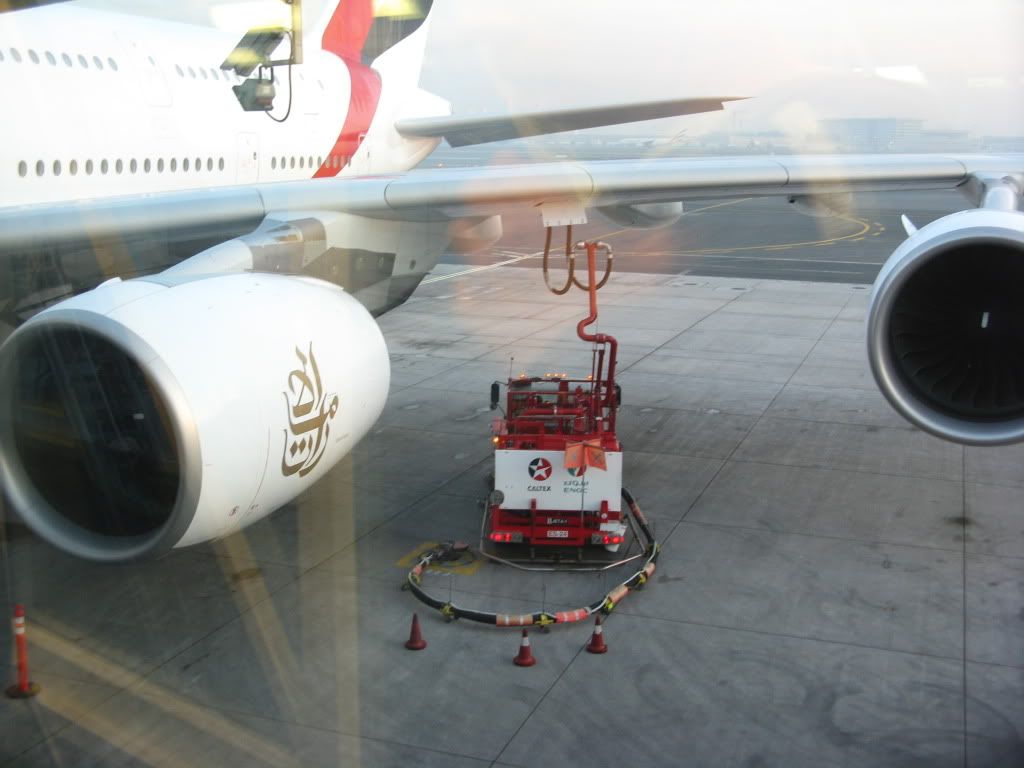 Departure was a bit delayed because the ground crew was still loading the last baggage containers. While waiting for that the cabin crew handed out hot towels. Almost 25 minutes behind of schedule pushback commenced and the four Engine Alliance engines were started. The captain came on the PA and informed us about the departure runway, climb out direction, route to LHR and the flying time. Runway 12R was in use which means a short taxi distance. After take-off we make a right turn overflying the city. The route today was via the Gulf, Kuwait, Iraq, Syria, Turkey, Bulgaria, Romania, Hungary, Austria, Germany and The Netherlands. The estimated flying time was 6 hours and 45 minutes, which is quick as the block time for this flight is 7 hours and 55 minutes.
The view from seat 61A
The newest version of ICE, with 1200 channels and lots of other features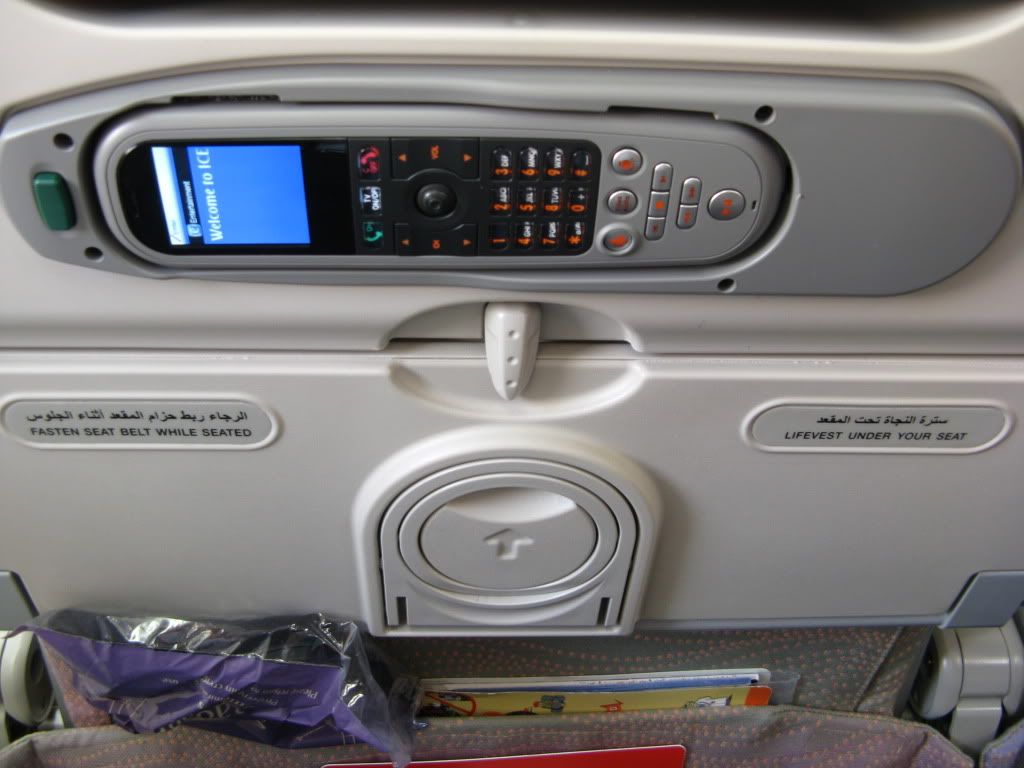 Very sharp looking remote control
The tail camera view, a very cool feature!
As said, after pushback we taxied to runway 12R. There was some other ahead of us including a XU MD83 to MKX, an EK A343 to CMN, an EK A380 to CDG and an EK B77W to MAN. At 08.29 we lined up and a few minutes later, at 08.32 to be precisely, we started the long and slow take-off roll. I was amazed how quiet the A380 is inside.
Starting the engines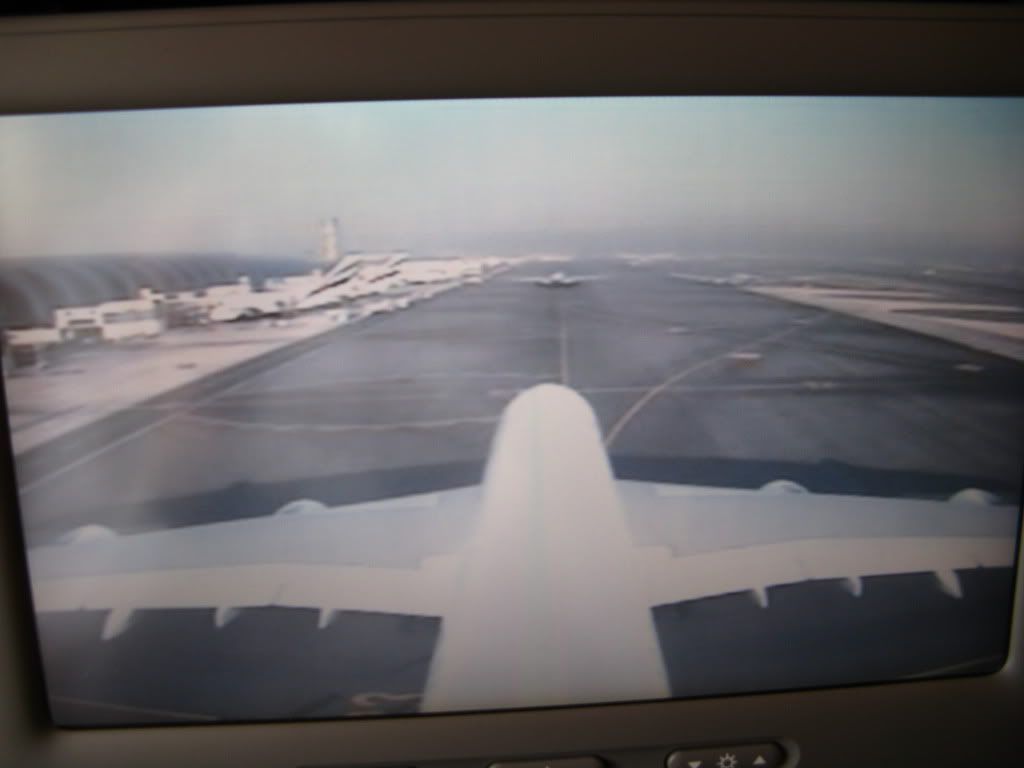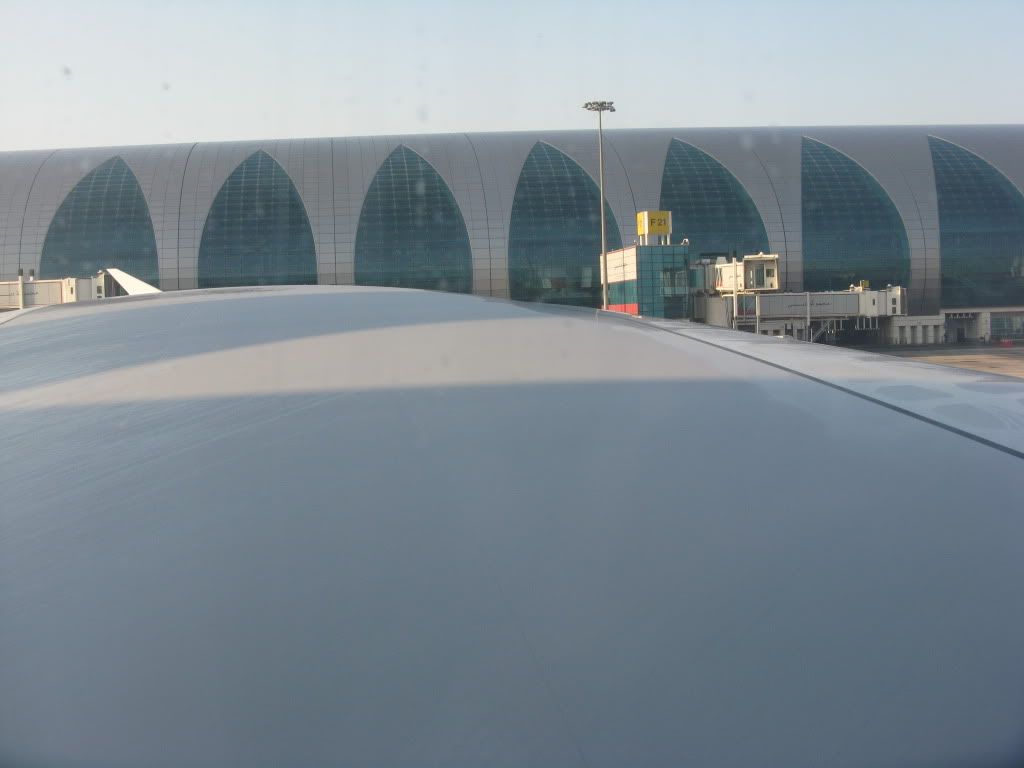 Taxiing to runway 12R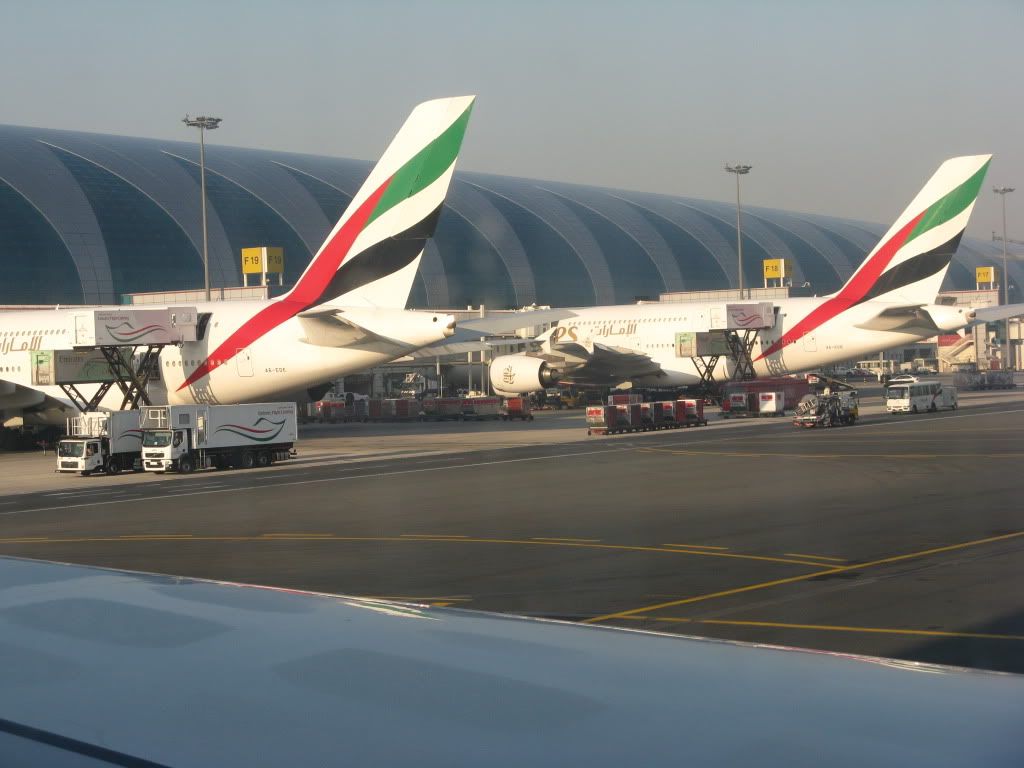 EK 412 from AKL and SYD and EK 241 to YYZ on the background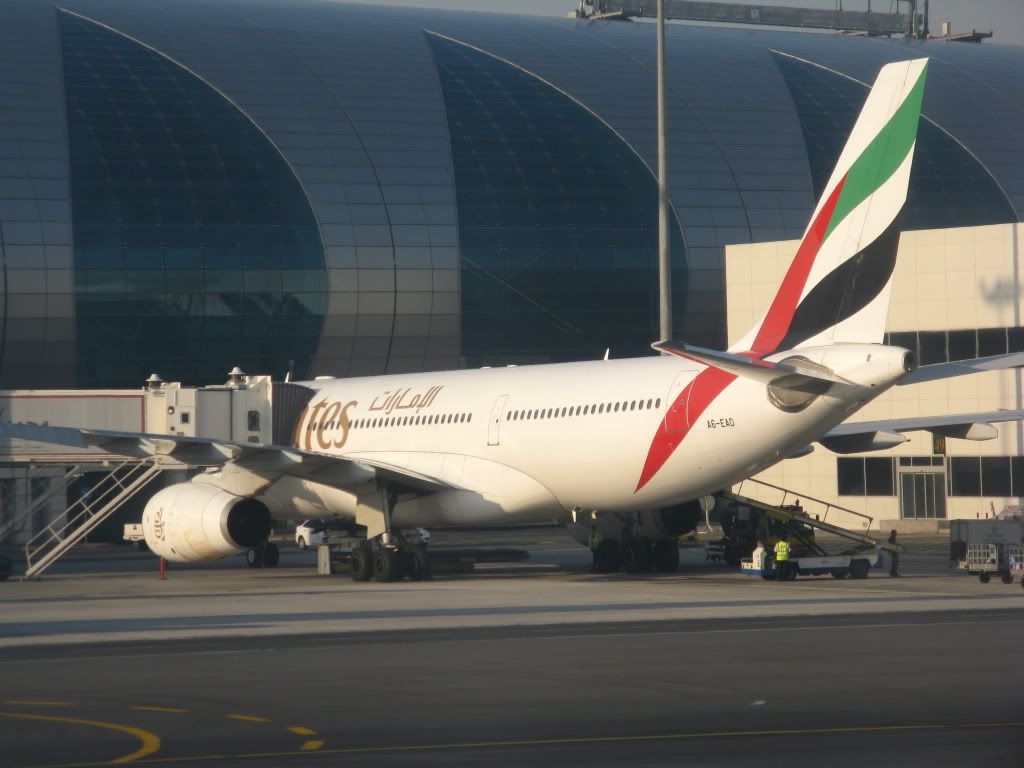 EK 747 to TUN
Take-off movie:
http://www.youtube.com/watch?v=YM5_glecbes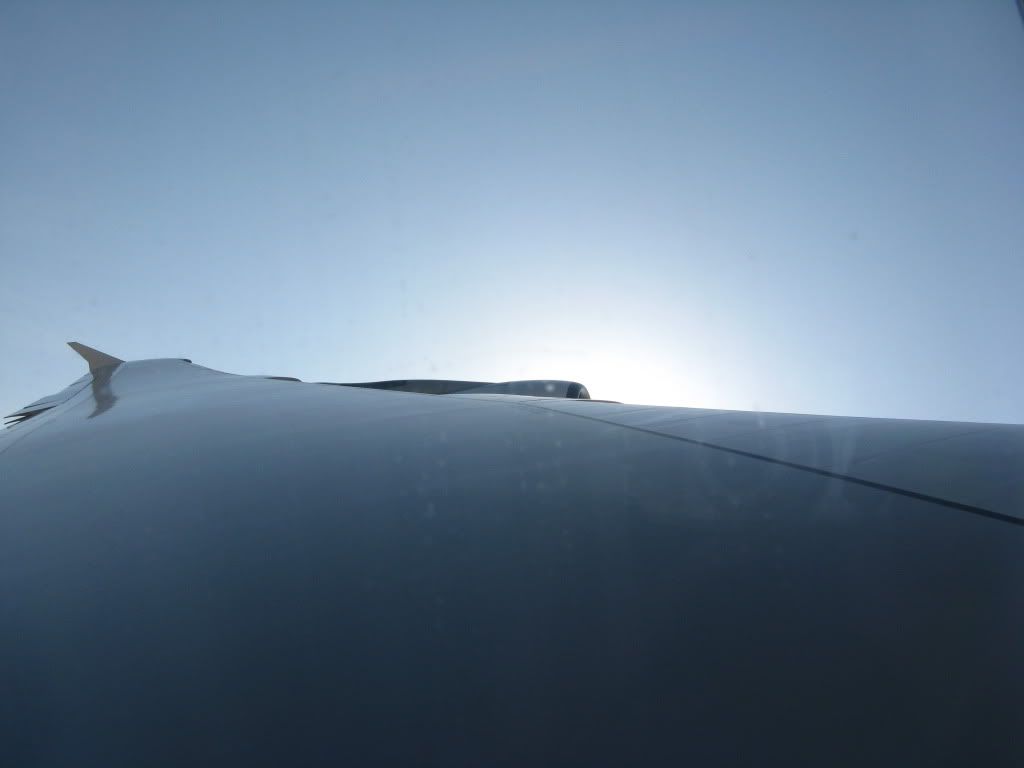 Turning right after take-off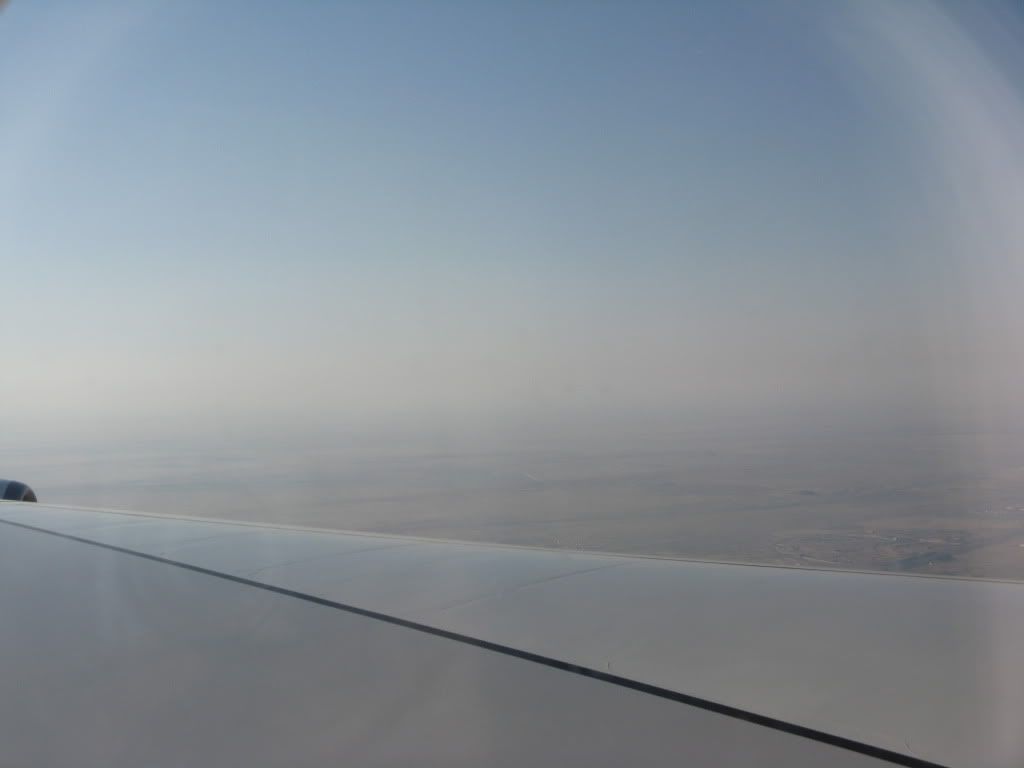 Climbing to 36000 feet
Once at cruise altitude the cabin crew handed out the menu cards. Not much later, after all the special meals had been distributed the normal meal service started. I opted for the ricotta cheese omelette, which was very tasty. My croissant was a bit deformed and the flight attendant even asked me if that was a problem, now that's what I call customer care. As long as the taste is good it's no problem for me, was my answer to her. 
She smiled and continued with her work.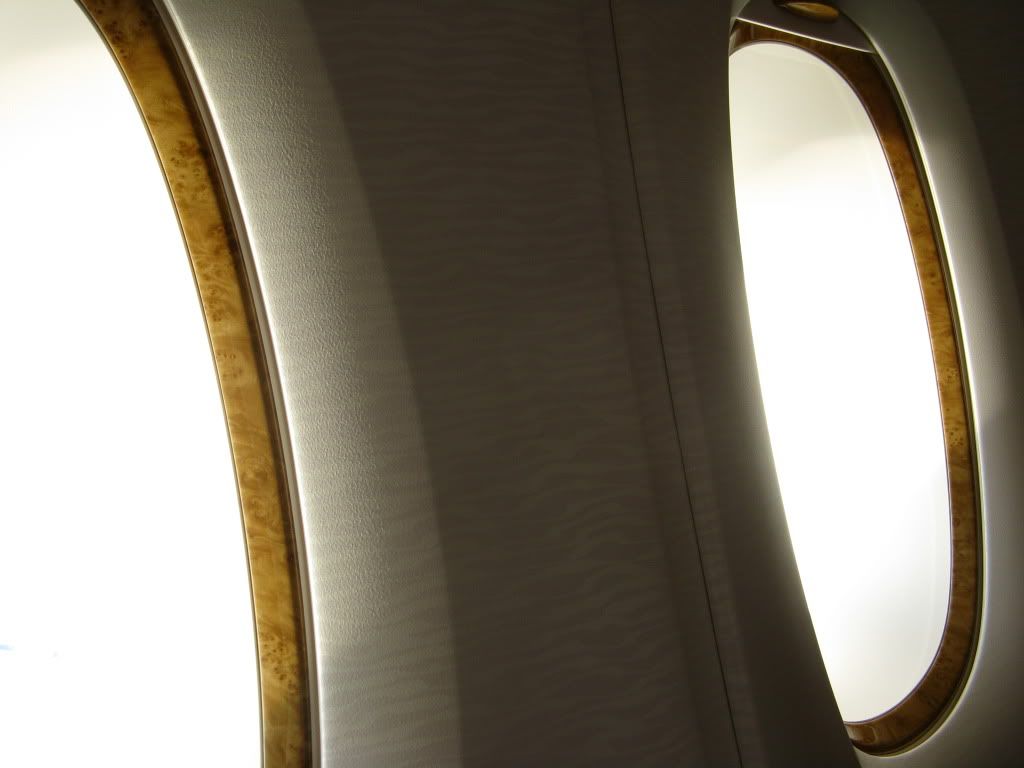 The EK A380's are fitted with wood decoration in the window frame, very stylish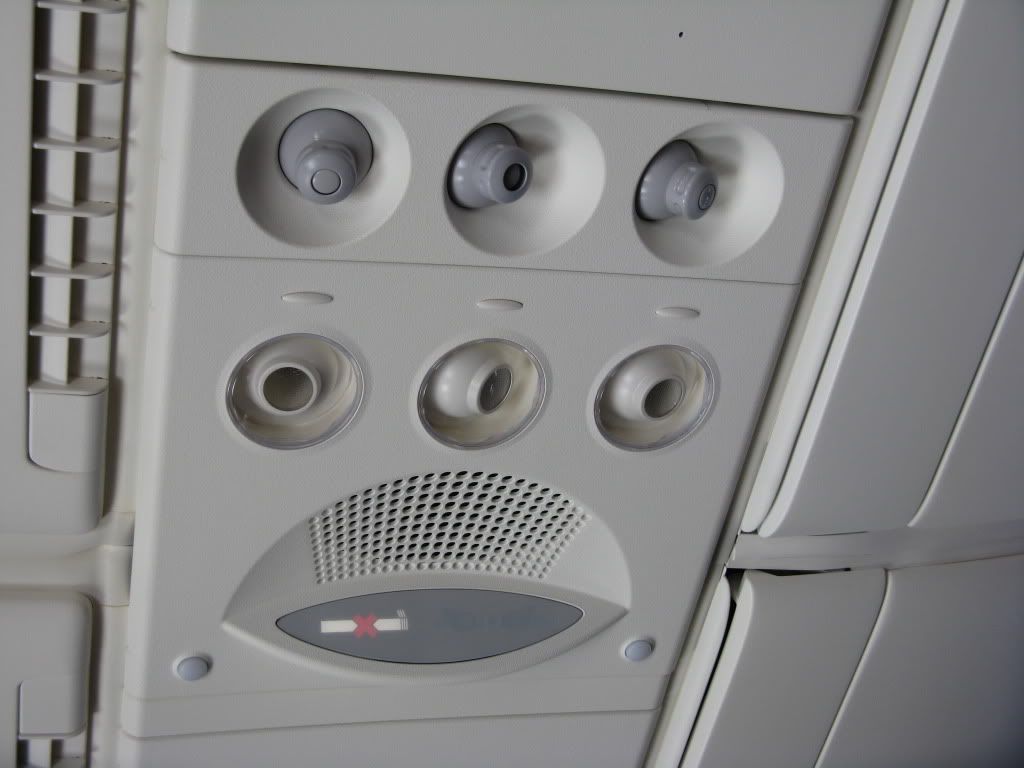 Overhead panel
The cabin with mood lighting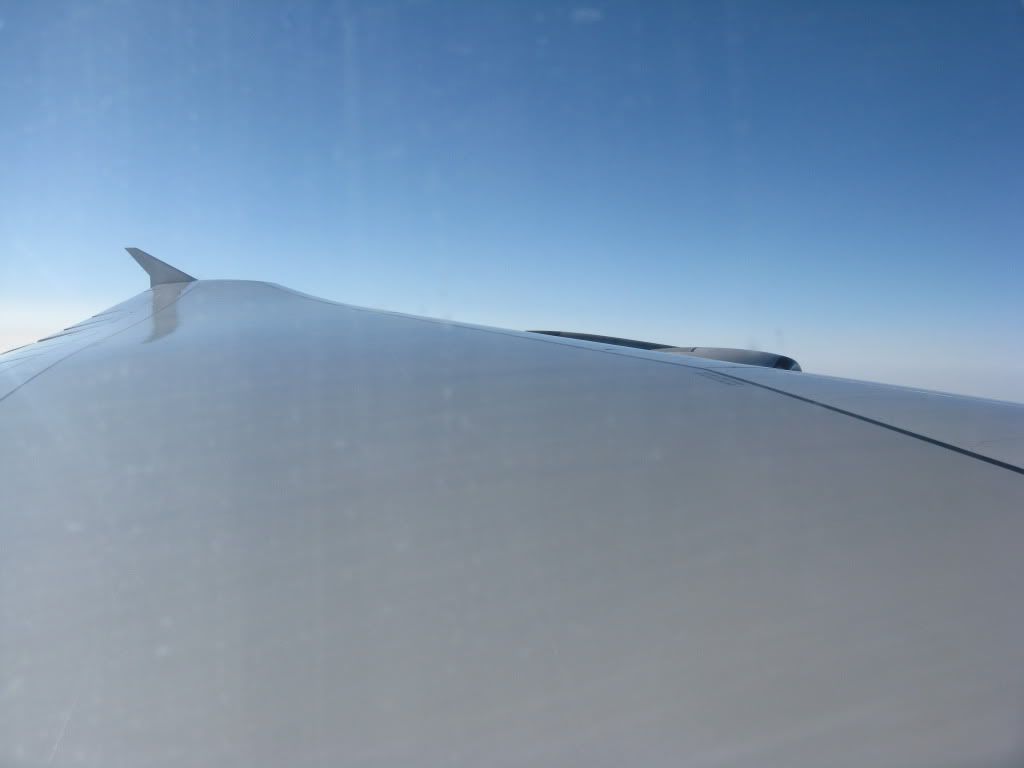 Cruising at FL360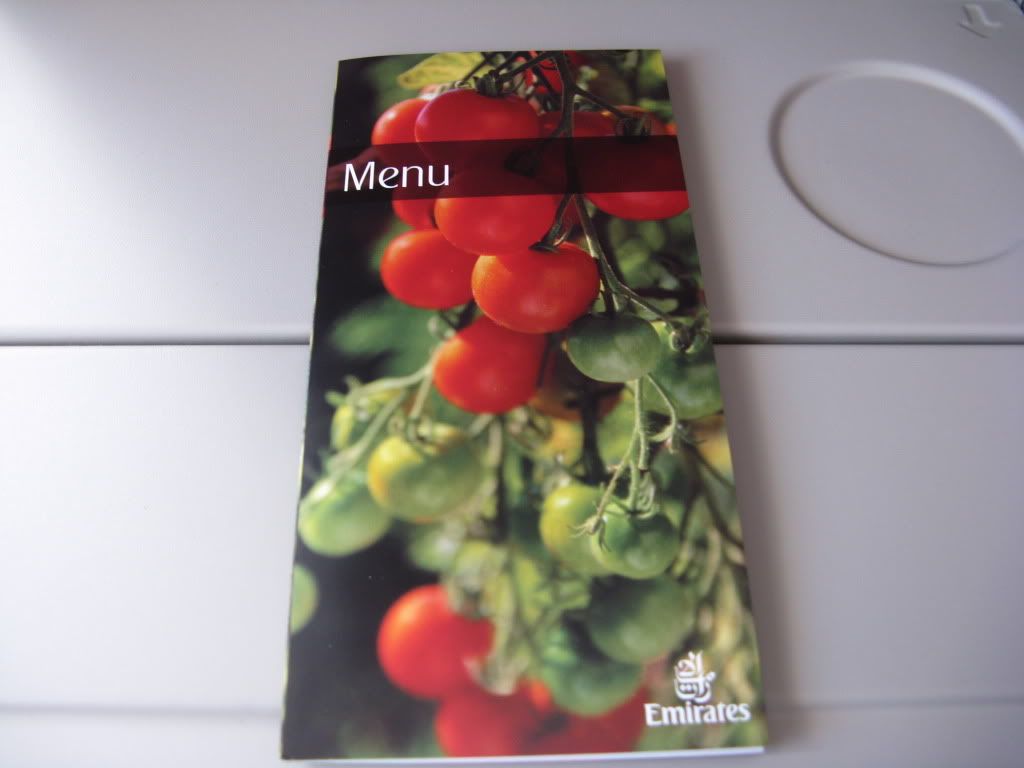 Breakfast is being served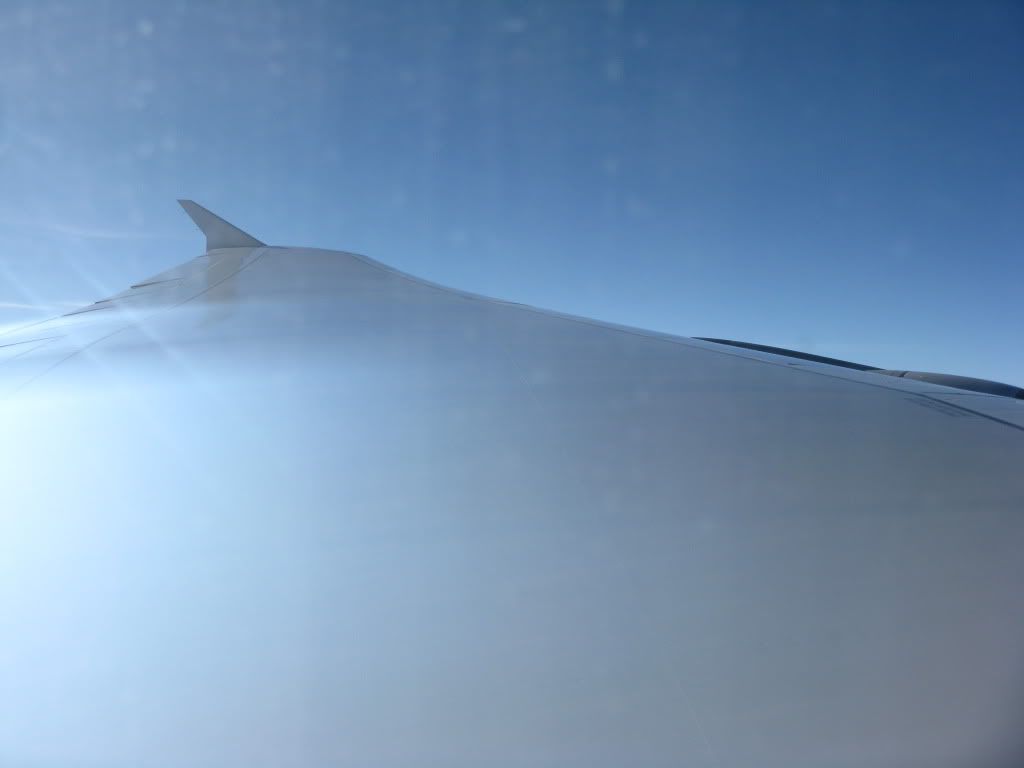 During the flight I watched some Two and a half men episodes and fell a sleep for a while. After a visit to the toilet I walked around the cabin and had some conversations with a friendly flight attendant.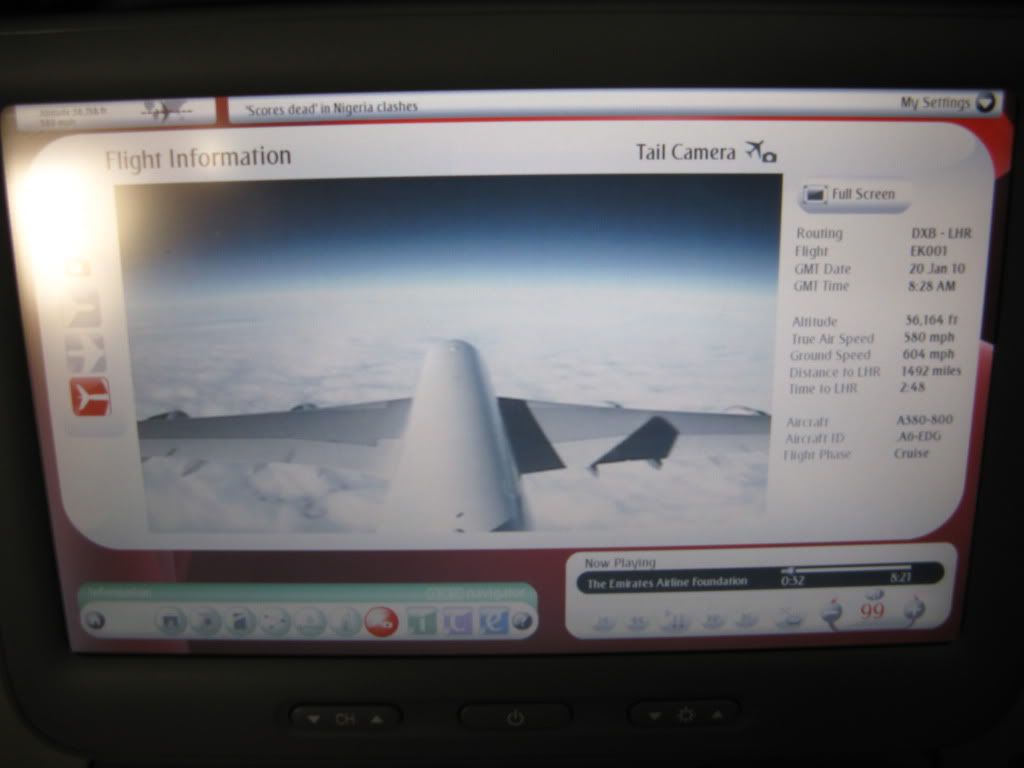 2 hours and 48 minutes to go
Tail camera view on full screen
Front stairs to the upper deck
Rear stairs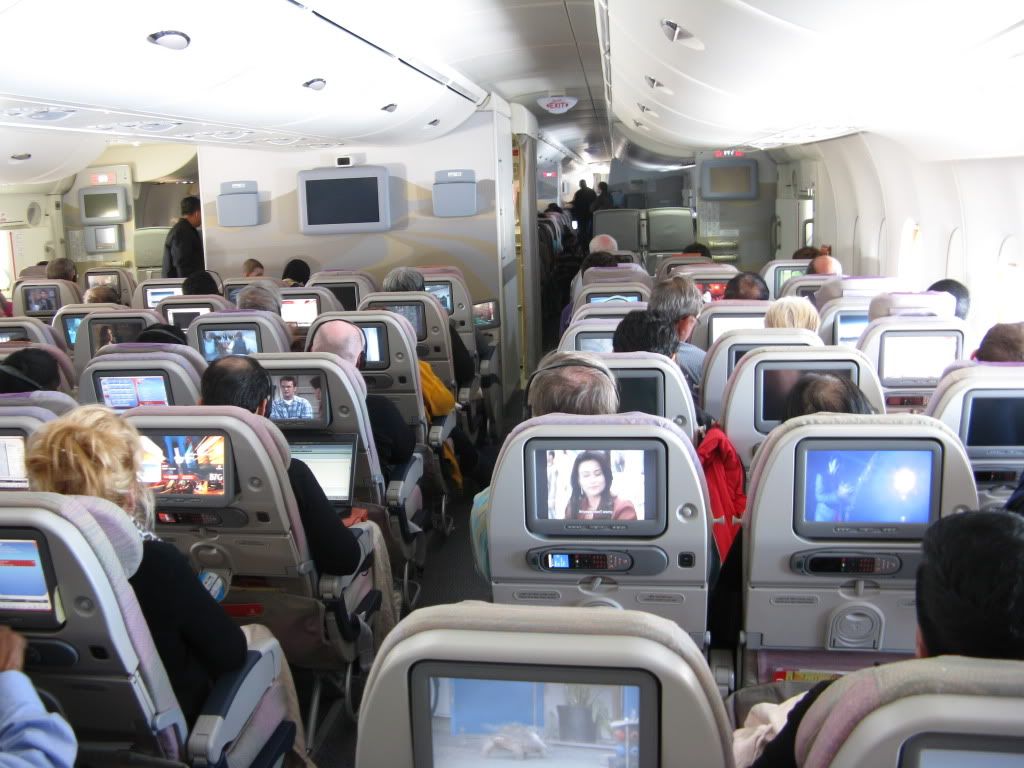 The last economy class section. There's no crew rest area in the cabin on this aircraft which means an additional 28 seats in economy class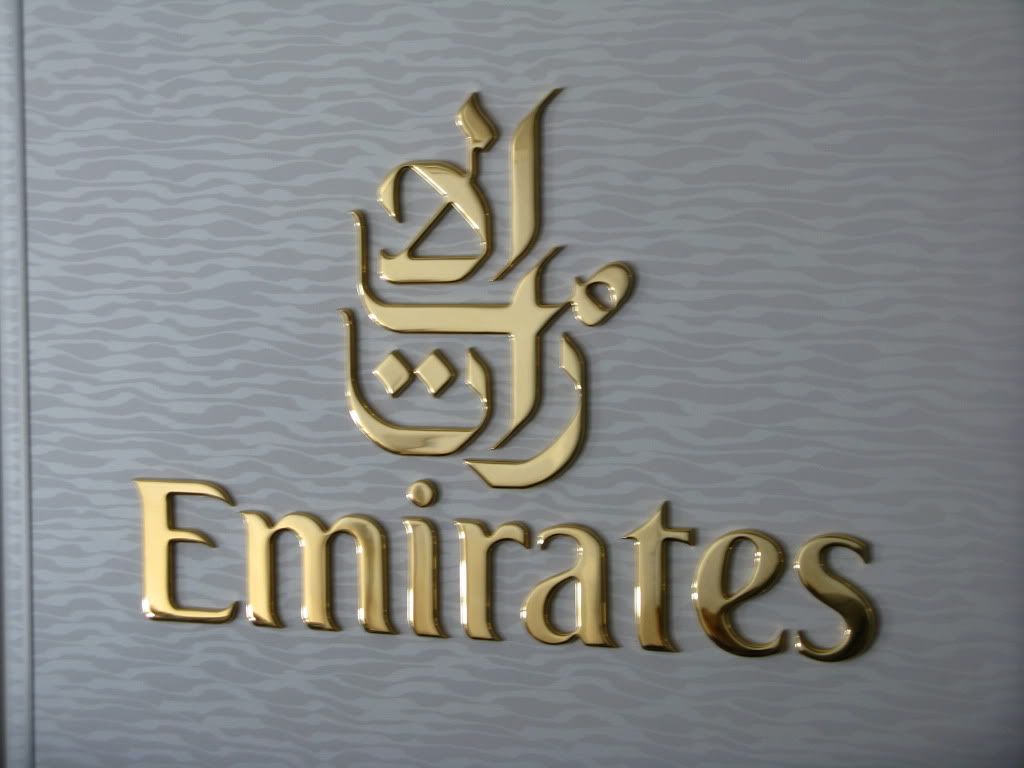 Somewhere above Vienna the pre-arrival snack was served. The snack contained a very tasty chicken tikka ciabatta and chocolate cookies.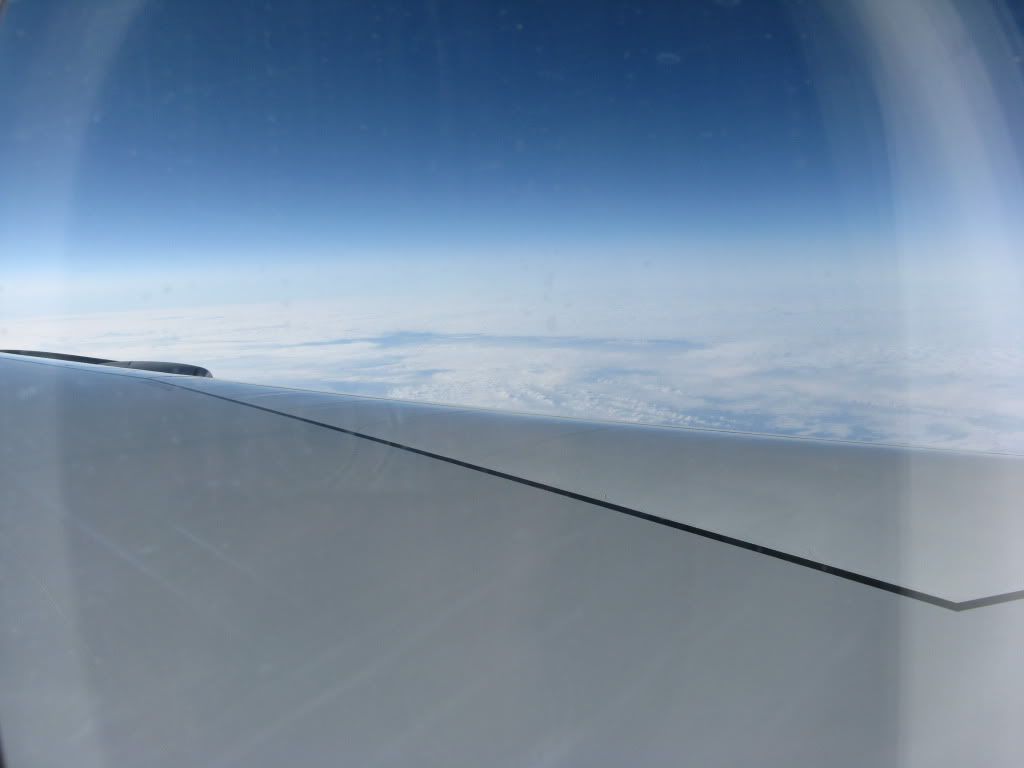 Above Austria
We've climbed to 38000 feet, with still 1 hour and 41 minutes to go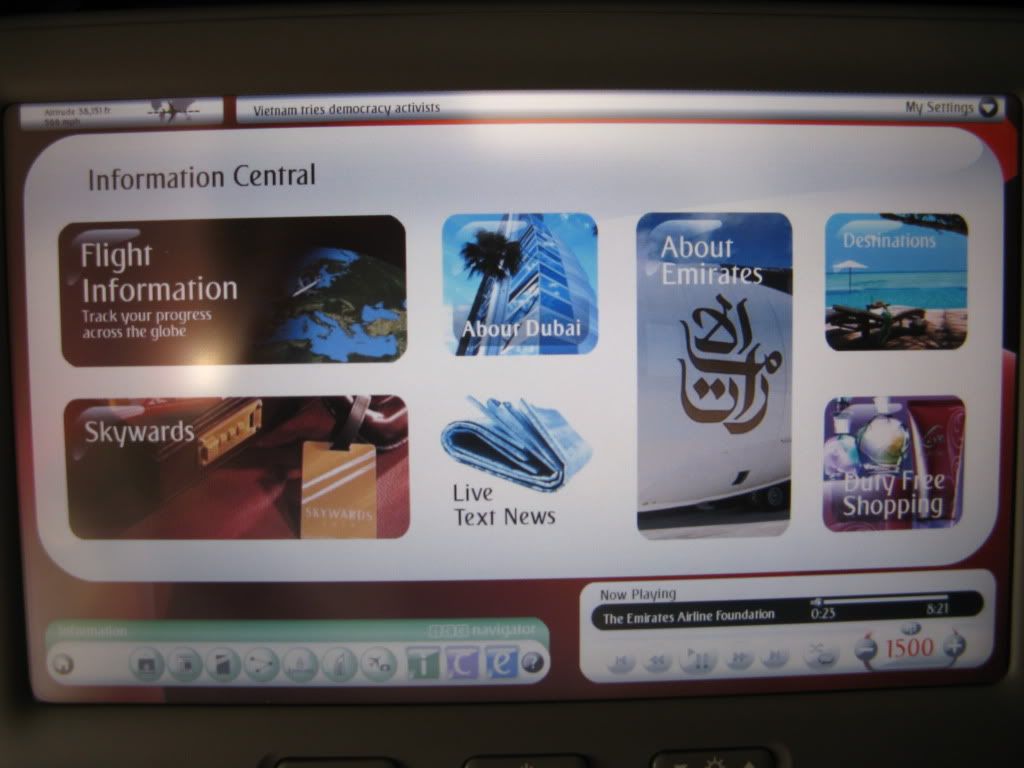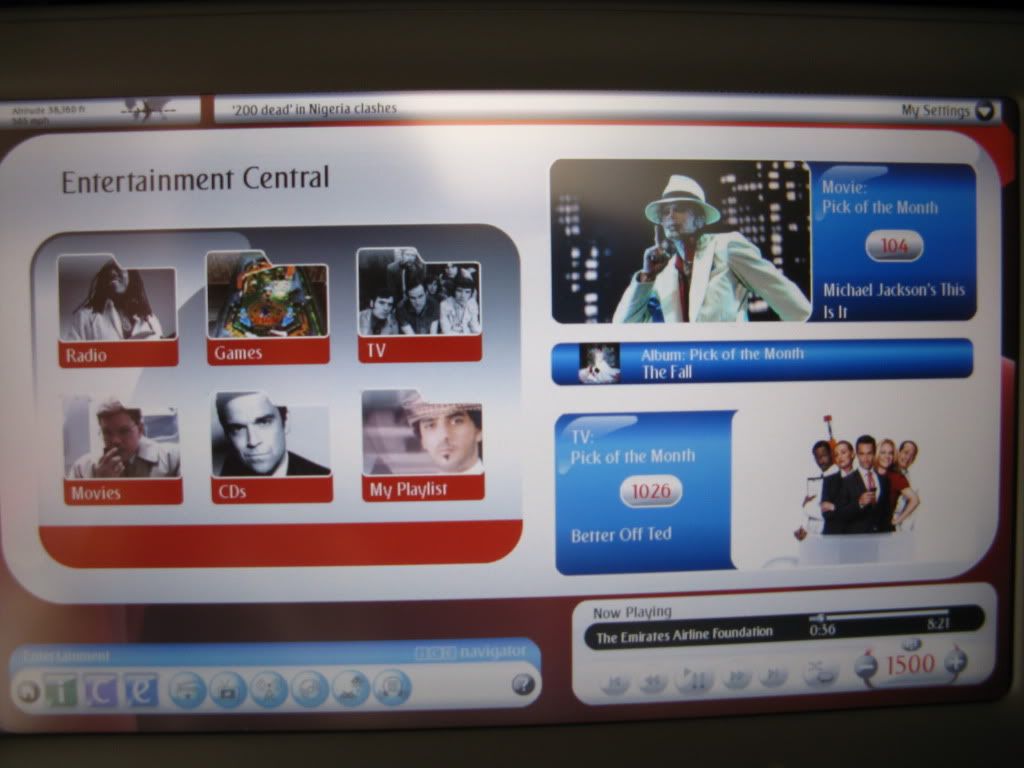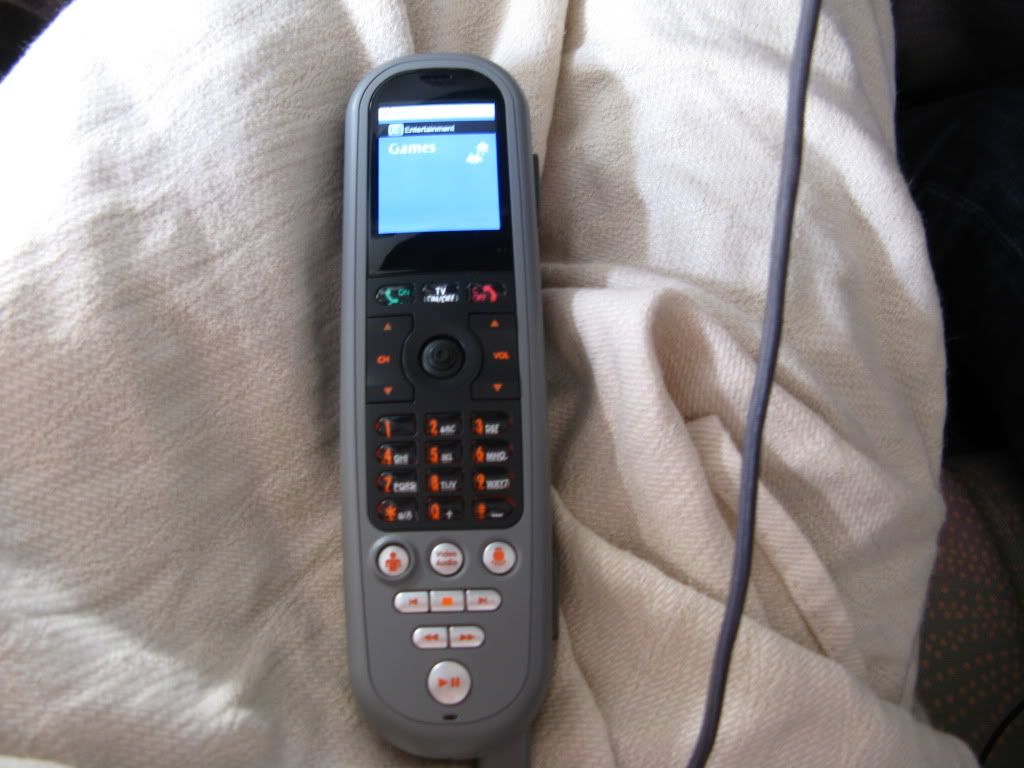 The remote control
And the other side
Pre-arrival snack
Somewhat later, somewhere above The Netherlands the captain came on the PA again and told us that we would start descending soon. The weather in London was not so good today with some moderate winds and a mix between rain and snow. Runway 09L was in use for arriving traffic but our plane landed at 09R, so a very short taxi route to terminal 3. The SQ A380 had just pushed back from stand 301 and had to wait for us. We parked next to the QF A380 at stand 307. Very cool to see all Heathrow's A380 operators next to each other at the same time. Two air bridges were connected, on for the lower deck and one for the upper deck.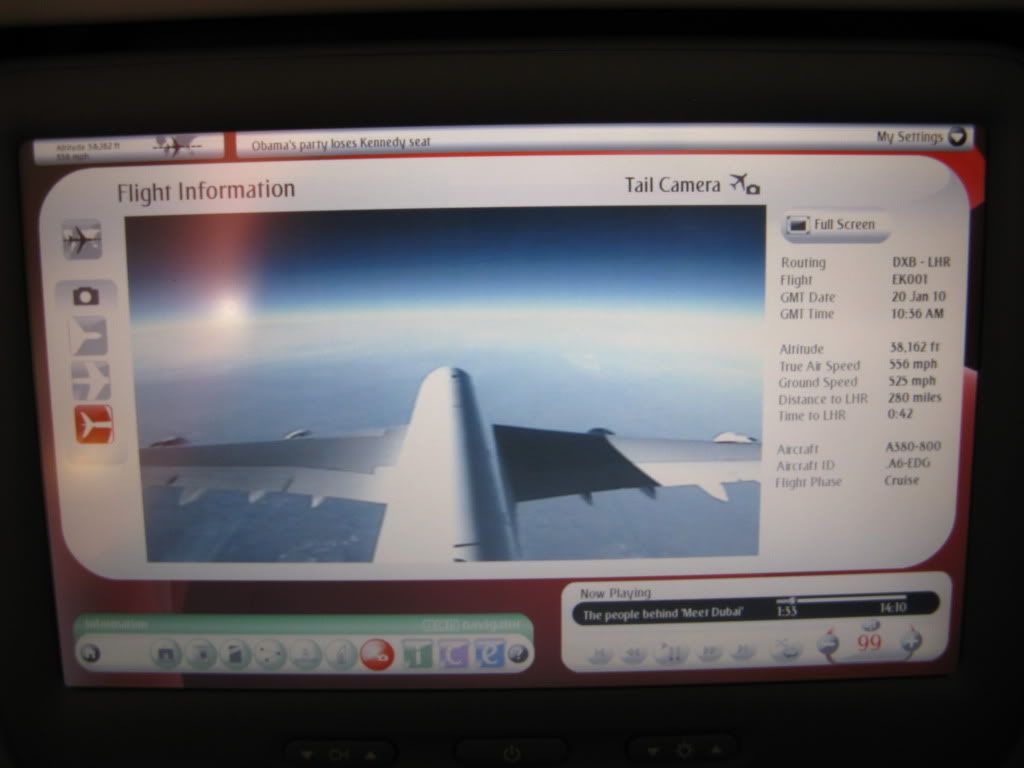 42 minutes to go, overflying The Netherlands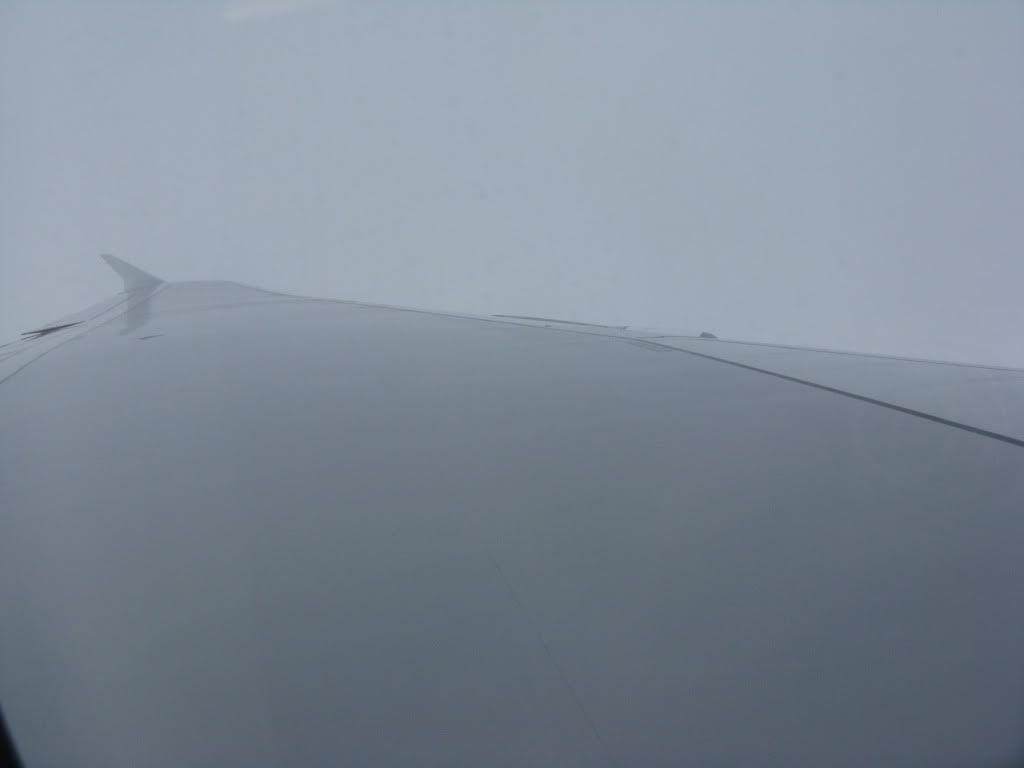 Descending
Landing movie:
http://www.youtube.com/watch?v=l0buIwiB43E
Welcome to London Heathrow
Bye bye!
It was busy at the passport control so I was expecting that we had to wait long for our bags as well. But when we arrived at the baggage carrousel most bags had arrived already to my surprise, wow!
A bit later we arrived at terminal 1 and checked-in for our flight to Amsterdam. While waiting for our flight a Biman Bangladesh DC-10 arrived, I didn't know that they were still using the DC-10 on flights to Europe, what a nice surprise. At 15.15 our gate popped up on the screen, gate 147. I was expecting G-DBCH because I always get that bird on my BMI Amsterdam flights but when we arrived at the gate an A320 was waiting. The seats on the A320 are different, they are very uncomfortable in my opinion, so next time an A319 again please!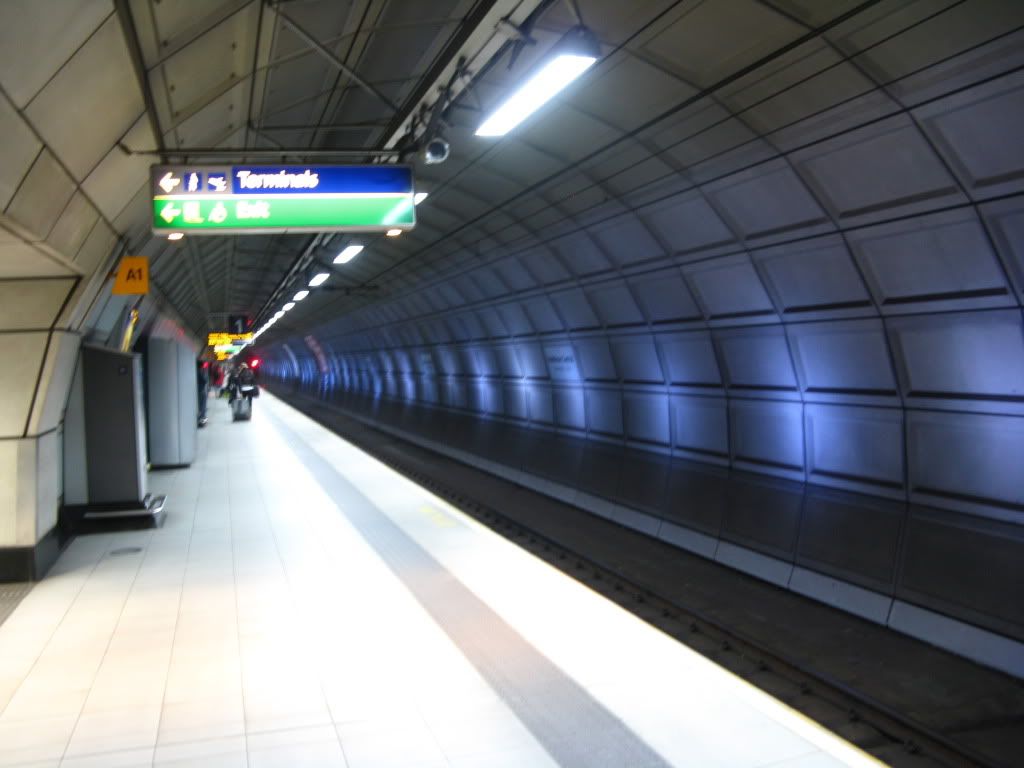 Terminal 3 Underground station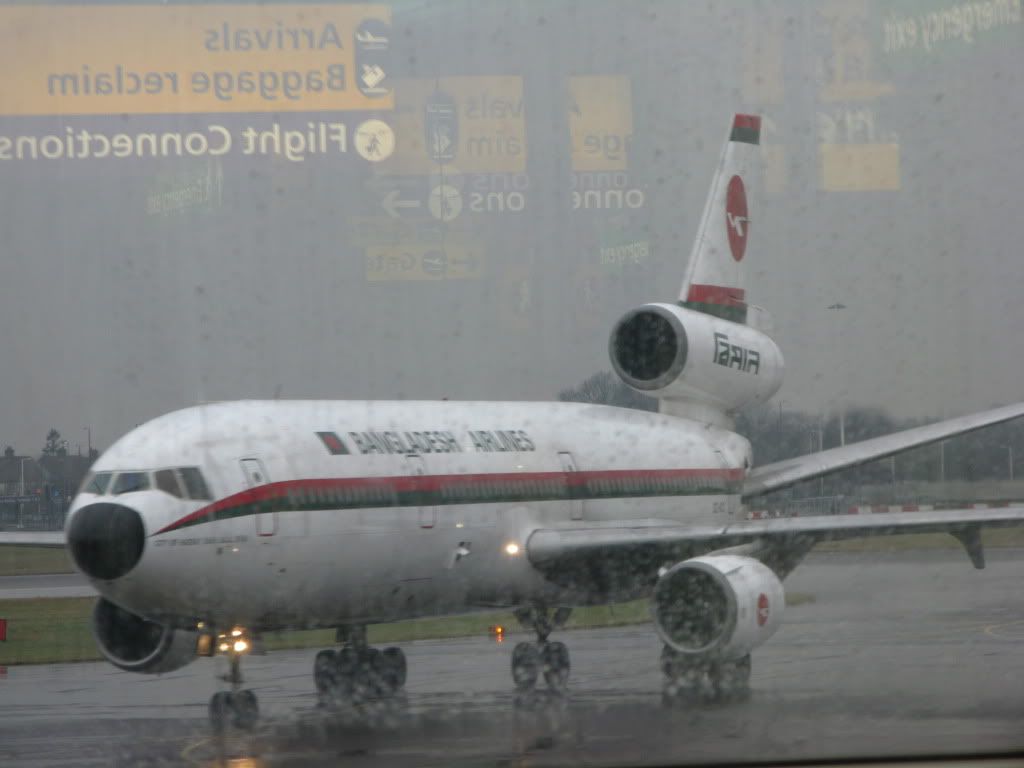 The surprise of the day
Departure lounge inside terminal 1
Date:
Wednesday, 20Jan10
Flight:
bmi British Midland // BD 111
From:
London Heathrow // LHR
To:
Amsterdam // AMS
Duration:
1h20m
STD:
16.00 //
ATD:
16.23
STA:
18.20 //
ATA:
18.39
Aircraft:
Airbus A320-232 // G-MIDO
Seat:
Economy // 9F
Load factor:
~33%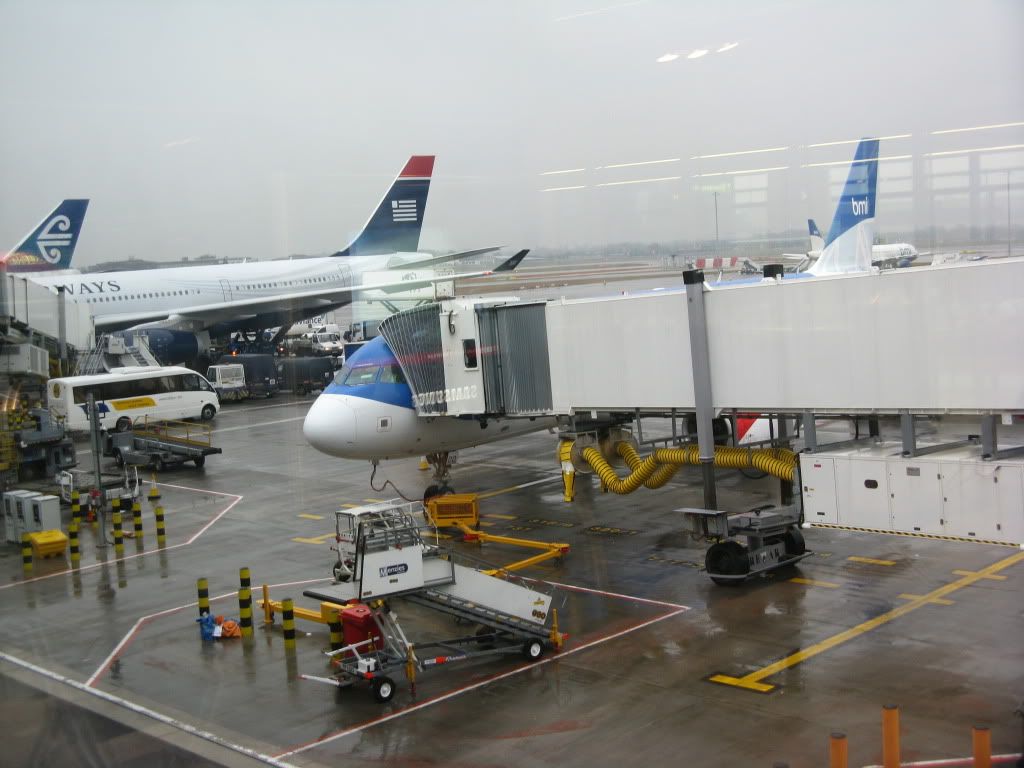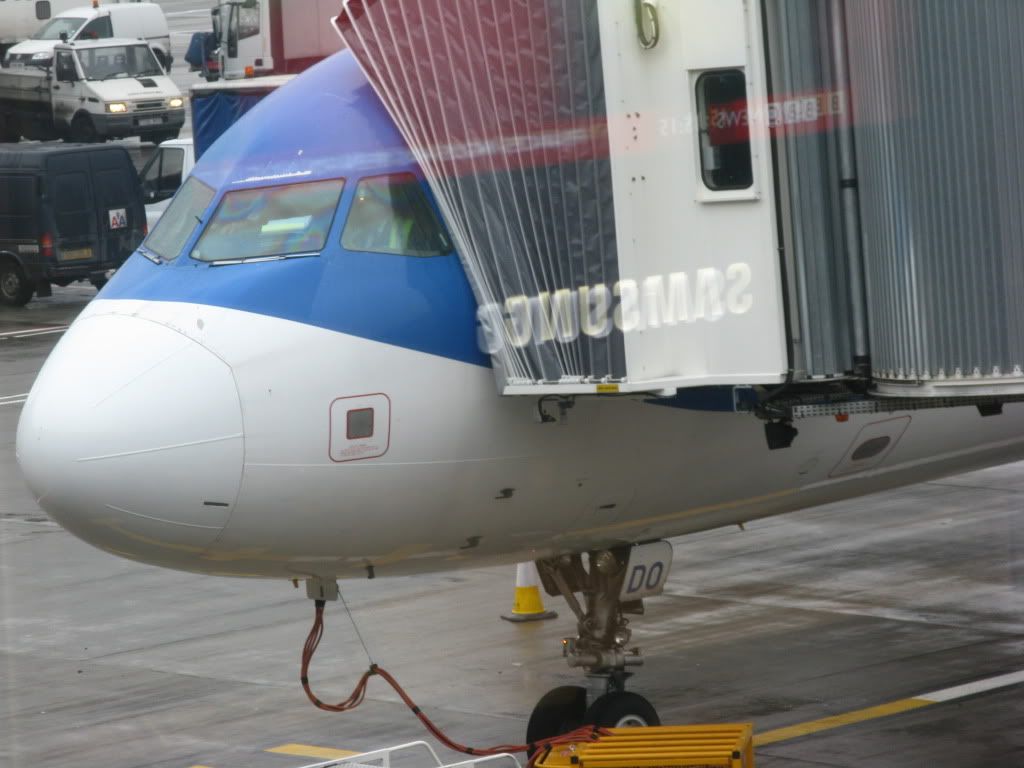 Boarding started at 15.40 and soon all passengers had boarded the aircraft. The captain told us that we had a minor technical problem that would be fixed very soon. Twenty minutes after our scheduled departure time the captain announced that the problem was fixed and we would depart immediately. Indeed three minutes later pushback started and we taxied to runway 09R, with no long queues in front of us today. Take-off was at 16.40 and we climbed to our cruising altitude, 23000 feet.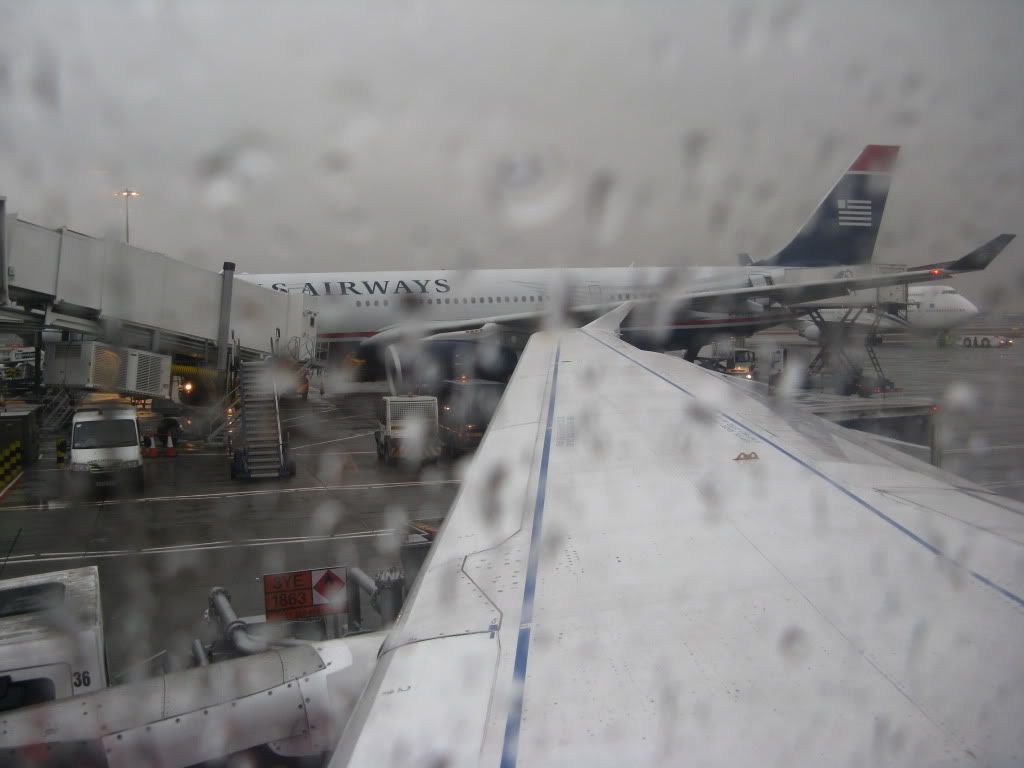 The view from seat 9F
Take-off movie:
http://www.youtube.com/watch?v=NFp38YesfHM
The board service started but no menu's where available so most passengers were a bit confused about what to order. 
I saw a nice cheese sandwich on the trolley which I ordered together with a cup of coffee.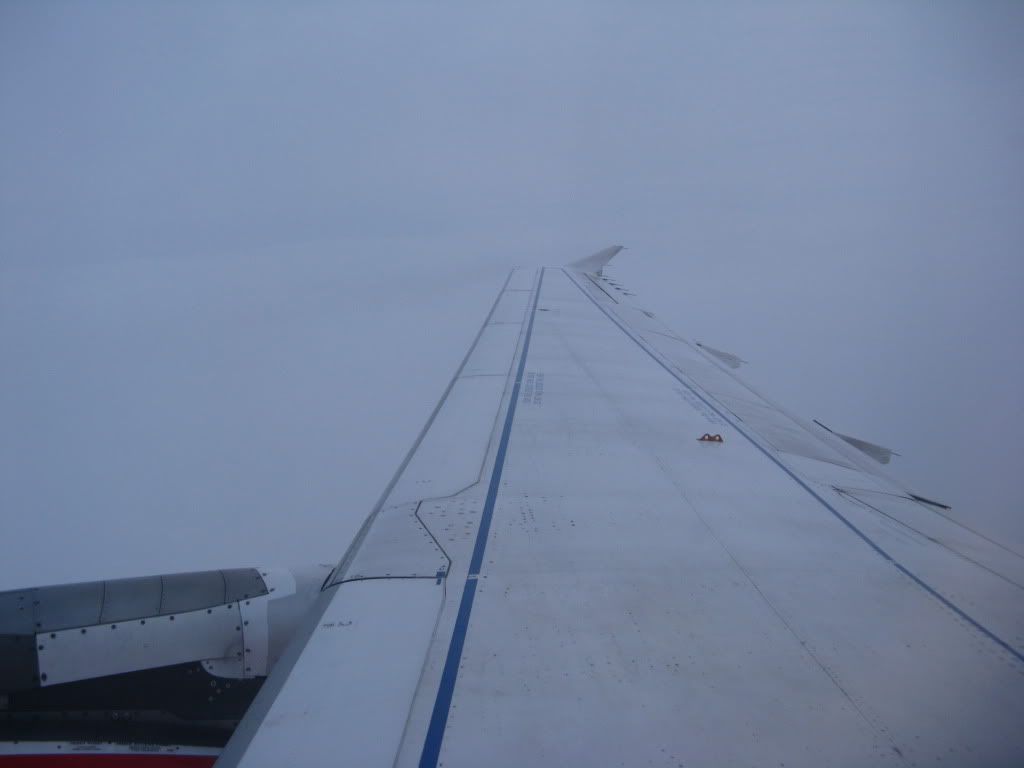 Climbing to 23000 feet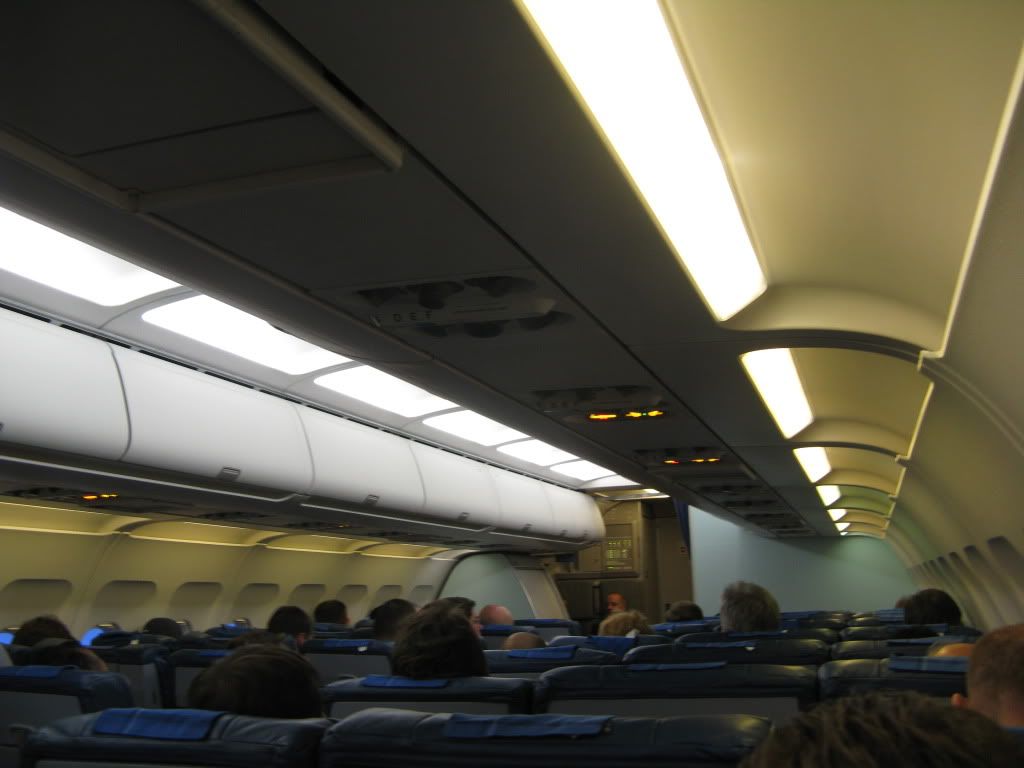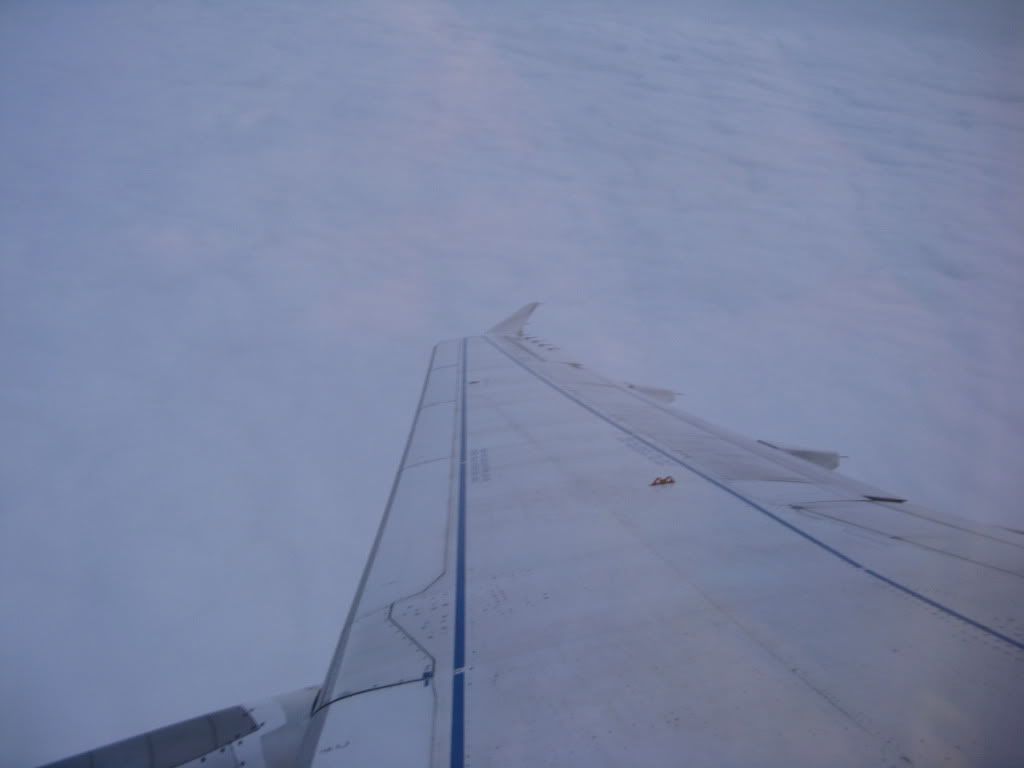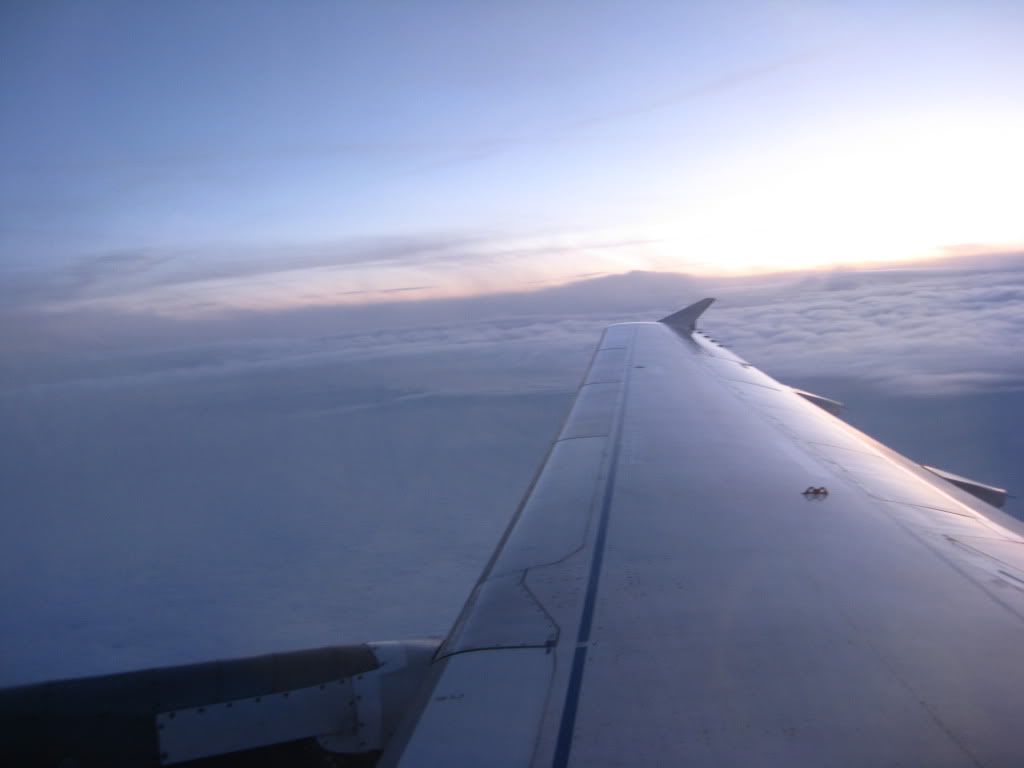 When I was still eating my sandwich descending was started. We flew to the coastline and made a left turn in northern direction to start the approach for runway 18R. We touched down at 18.25 but unfortunately runway 18C was in use as well so we had to taxi all the way around it, which means a very long taxi time. We docked in at gate D22 and headed to passport control. Meanwhile I called home that I had arrived and was almost ready to be picked up in front of the terminal. As usual at AMS, it took very long before our bags arrived. When I finally got my bag I went outside where my sister had just arrived and 20 minutes later I was home again.
Landing movie:
http://www.youtube.com/watch?v=R9cG_k1USlk
Arrived at gate D22, welcome to Amsterdam
I hope you enjoyed these two trip reports. My next trip report will feature a day trip to Dublin and London City on Aer Lingus, Cityjet and BA Cityflyer, which I flew in December 2009.
Thank you for reading!
Best regards,
Jeroen
*Please feel free to comment or ask your questions.
Other trip reports:
AMS-LBA-LGW-AMS on LS, BE and BA // 20Jul09

Flying Norwegian, from Denmark!: AMS-STN-CPH-AMS on EZY and DY // 13May09

Flying The T7: AMS-MAN-GVA-AMS on WW, SV and EZS // 20Apr09

AMS-BHX-DUB-AMS on WW, FR and EI // 26Mar09

Destinazione Bergamo! AMS-EMA-BGY-AMS on WW, FR and HV // 21Jan09

A tribute to SkyEurope Airlines! AMS-PRG-AMS // 09Sep08

The Eire trip (part 2): AMS-WAT-GWY-DUB on EI, FR and EZY // 20May08

The Eire trip (part 1): AMS-WAT-GWY-DUB on RE // 19May08