First Leg: MK943 Sydney to Frankfurt via Melbourne and Mauritius (SYD/MEL/MRU/FRA)
Scheduled Departure 7.40am
A340-300 3B-NBE 'Paille en Queue' Business Class
Second Leg: MK64 Mauritius to Frankfurt (MRU/FRA)
Scheduled Departure 8.10am
A340-300 3B-NAV 'Kestrel' First Class
Nb. This trip report has been posted for a second time
so that previously large photo files could be reduced in size. Then recent A.net site maintenance trashed the photo links so here we go again. Apologies if you've read this before. Since this trip was taken, Air Mauritius have reconfigured their aircraft and the 'First Class' cabin no longer exists.
Check out an excellent Air Mauritius Trip Report that shows their current product here:
MK: Mauritius-Antananarivo (with Photos This Time)
(by
PieterBoth
Jan 31 2010 in Trip Reports)
With many flights from Sydney to European destinations taking you typically through Bangkok, Singapore or KL, Air Mauritius offer an alternative (if only slightly longer) route for Australians to consider when traveling to Europe. It's not ideal to have to stop in Melbourne on the outbound leg, but it's only a short stop and the airfare more than compensates when compared with other Business Class fares.__MK use Air New Zealand's Business Class lounge at Sydney Kingsford Smith and it was virtually empty at 6.00am. The lounge has an excellent view from the western side of the terminal, across the tarmac to the control tower and main runway. On this particular morning, which was dark, cold and rain streaked, it provided an ideal vantage point from which to watch MK's MK942's arrival.
Food and beverage on offer in Air New Zealand's Business Class lounge is good quality and in plentiful supply. There's plenty of fresh fruit, cereals, and a reasonable selection of hot food. The lounge is tastefully restrained in its design with plenty of seating and excellent facilities.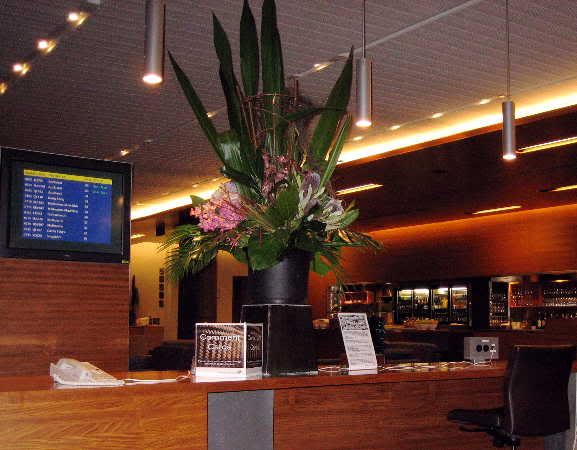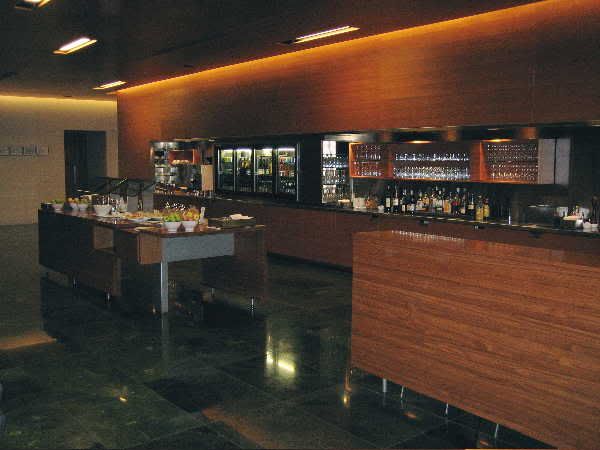 3B-NBE Paille-en-Queue quietly slipped into view just minutes after the 6 am curfew and slowly taxied past the lounge to gate 2. Although due to depart at 7.40am, a problem was announced with the aircraft's de-icing equipment leading to a delay of some two and a half hours. So, a bit more time was spent in the upstairs lounge, rather than the slightly chaotic conditions of gate lounge 2 that morning. Still, that gave plenty of time for a bit more plane spotting.
http://www.youtube.com/watch?v=JTLAaN8QLek
Air Mauritius have updated their fleet since this post was first uploaded. They now have new A340ER's and have re-fitted their existing fleet. The business class cabin shown is therefore now MK's previous product and while the seats were not the equivalent of other legacy carriers at the time, they were very comfortable, the cabin clean and well maintained.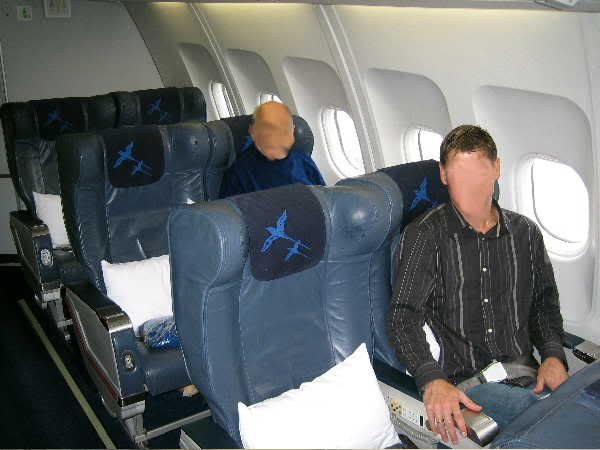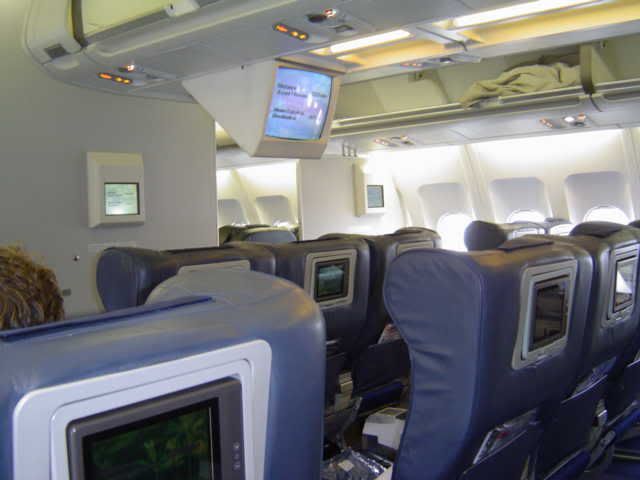 Onboard, the reception from MK flight attendants was warm and friendly. Passengers were efficiently helped to stow bags and coats. Champagne, Orange Juice and water were immediately offered, prior to departure.
The short hop from Sydney to Melbourne takes around an hour, and with a light load, Paillle-en-Queue lifted gently and quickly into the air, climbing out over Botany Bay to the south. Service began soon afterwards, but with such a short a short run, it's just light refreshments - Hors d'Oeuvres and drinks.
Canapes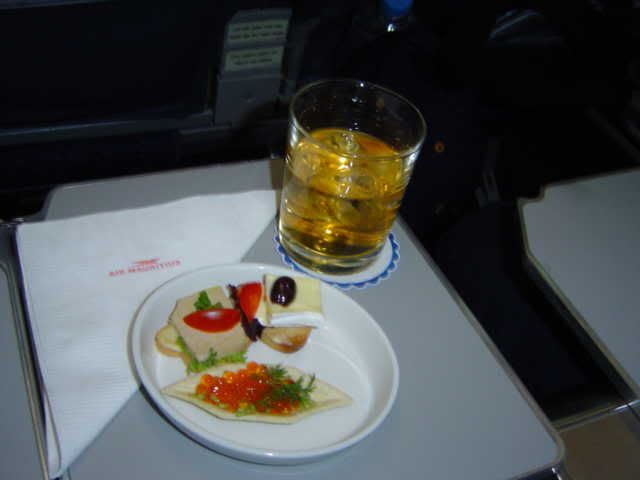 Melbourne's Air New Zealand business Class lounge is a little more modern than Sydney's, but awkwardly located underneath the terminal, looking out onto the ramp through baggage carts. Perhaps, not surprisingly, the focus is more internal than looking out onto the airfield.
3B-NBE - 'Paille en Queue' A340-300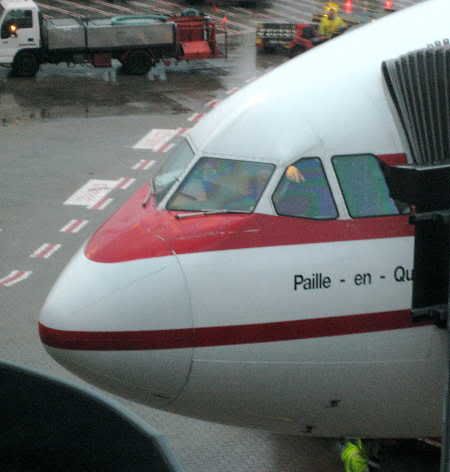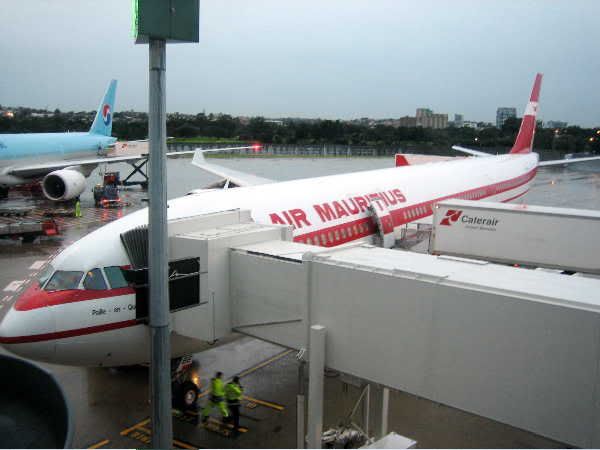 Fully laden with fuel for the next leg to Mauritius, A340 'Paille-en-Queue' lifted ponderously off the ground, after a long take-off roll, and climbed gradually into the skies above Melbourne, soon banking west for the 8391km (9 hrs 14 minutes) haul to Mauritius. Despite the A340-300's slow climb rate, a subject of much discussion in A.net forums, these aircraft are exceptionally comfortable and very quiet.
Lunch was served soon after departure, starting with Smoked Salmon and Cajun Chicken entree followed by Snapper Gremolata and alternatives. The dishes that our party of three tried were all delicious. Drinks were kept topped up by the efficient cabin crew and meals are completed with a ritual small box of two handmade Mauritian chocolates. A nice touch is the availability of Mauritian Tea -- a vanilla infused brew.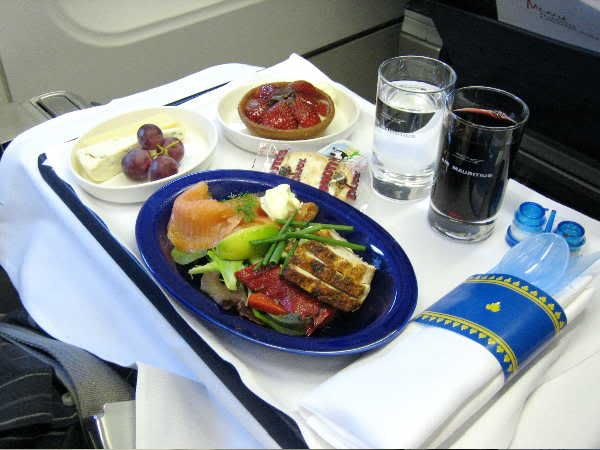 Smoked Salmon and Cajun Chicken entree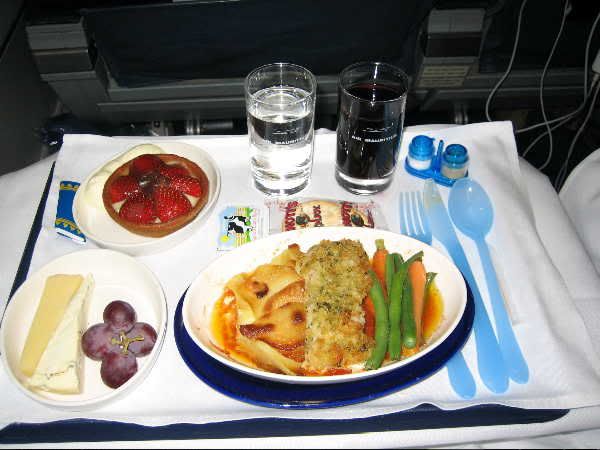 Snapper Gremolata
Having always flown the more traditional routes though Asia to Europe, this flight, with its long over-water component, was something new. Soon after crossing the West Australian coastline, you become aware that it's a long, long way to the next landing strip. The image of our aircraft heading out over the vast emptiness of the Indian Ocean on the LCD screen seemed to make us look even more alone. I'm not really sure what the longest over-water route with nowhere to land actually is, but the west coast of Australia to Mauritius must be up there as one of the longer routes. Even though ETOPS makes twins as safe (if not statistically safer) than quad engined aircraft, there's something psychologically comforting about having a few more engines.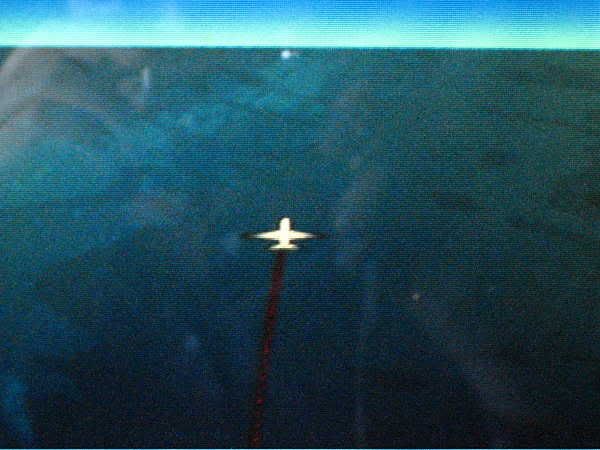 Nowhere to land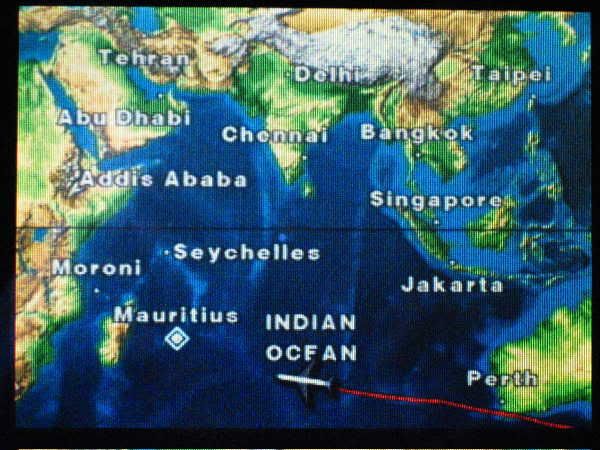 Midway of the Indian Ocean
We had strong headwinds on this flight and our indicated airspeed dropped considerably on a few occasions. A little more than half way, I took these shots.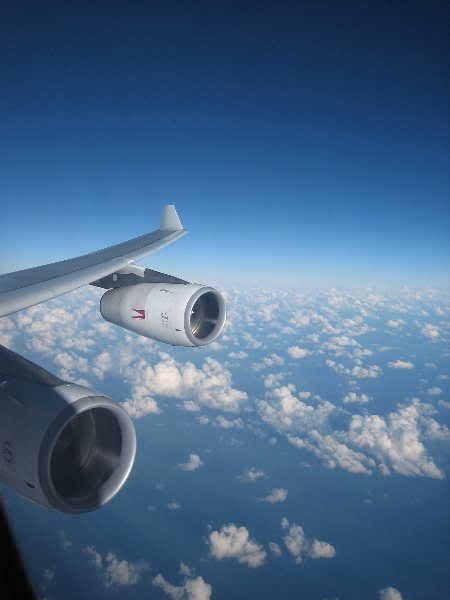 Over the Indian
http://www.youtube.com/watch?v=ydfxL6VtixU&feature=related
The remainder of the flight was smooth and uneventful, with our arrival at MRU just after nightfall. Passengers wishing to continue immediately to Europe connect with a flight straight through to Paris CDG.
Having a strong aversion to Charles de Gaulle airport at the best of times, and a sworn refusal to ever again willingly subject myself to a connection through CDG at summertime, there was no way any of our party would have chosen that option. As luck would have it, three days later, MK64 flies MRU / Frankfurt FRA -- this gave us the option of being closer to our final destination in the Netherlands and having a short break in Mauritius on the way. Besides, Mauritius sounds so exotic, you'd be crazy not to spend a few days there as a stop-over right?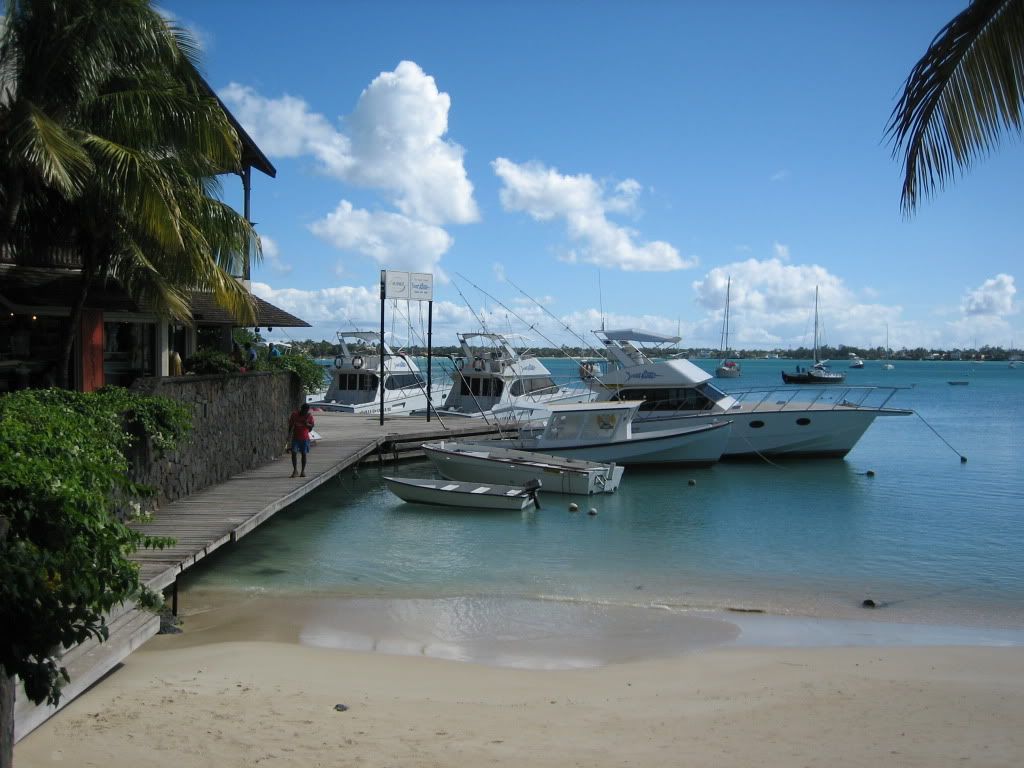 Well yes, right. But, there's a few things to be aware of. MRU airport lies at the southern end of the island of Mauritius. This part of the island receives far greater rainfall and can often be windy. The north western side of the island is recommended for more stable weather and there are plenty of resorts around Grand Baie. However, there's only one road from the airport to the capital Port Louis and on to the north of the island. So, this means all transfers are always through the capital and the traffic jams can be gruesome.
Here are some images of the island.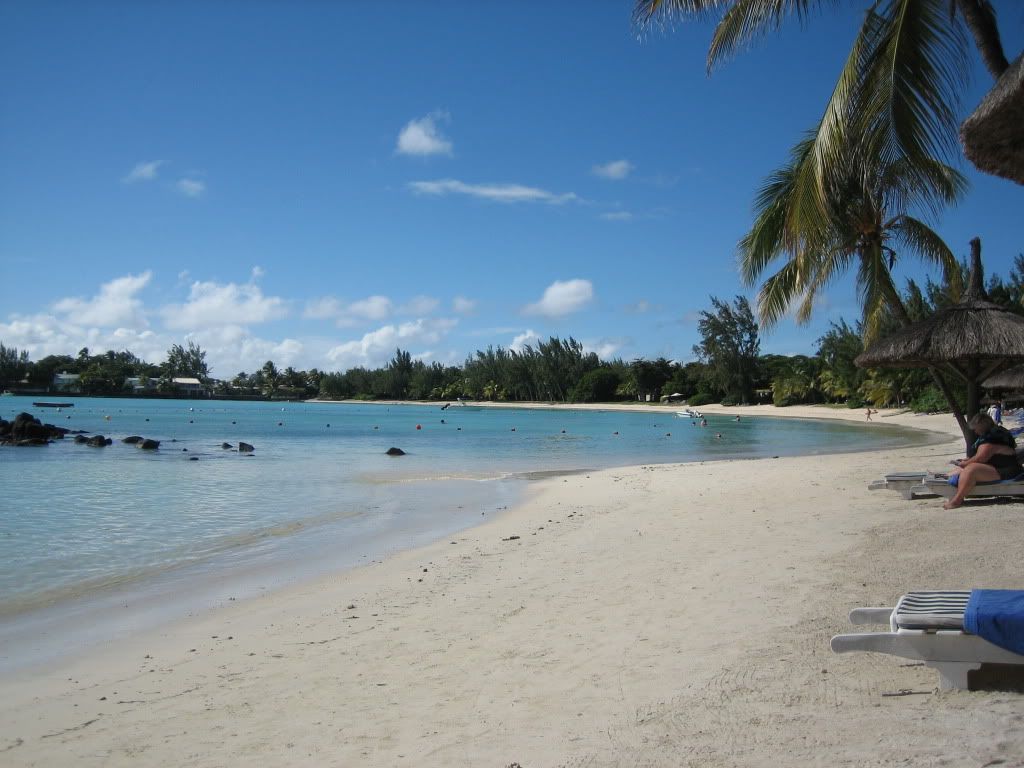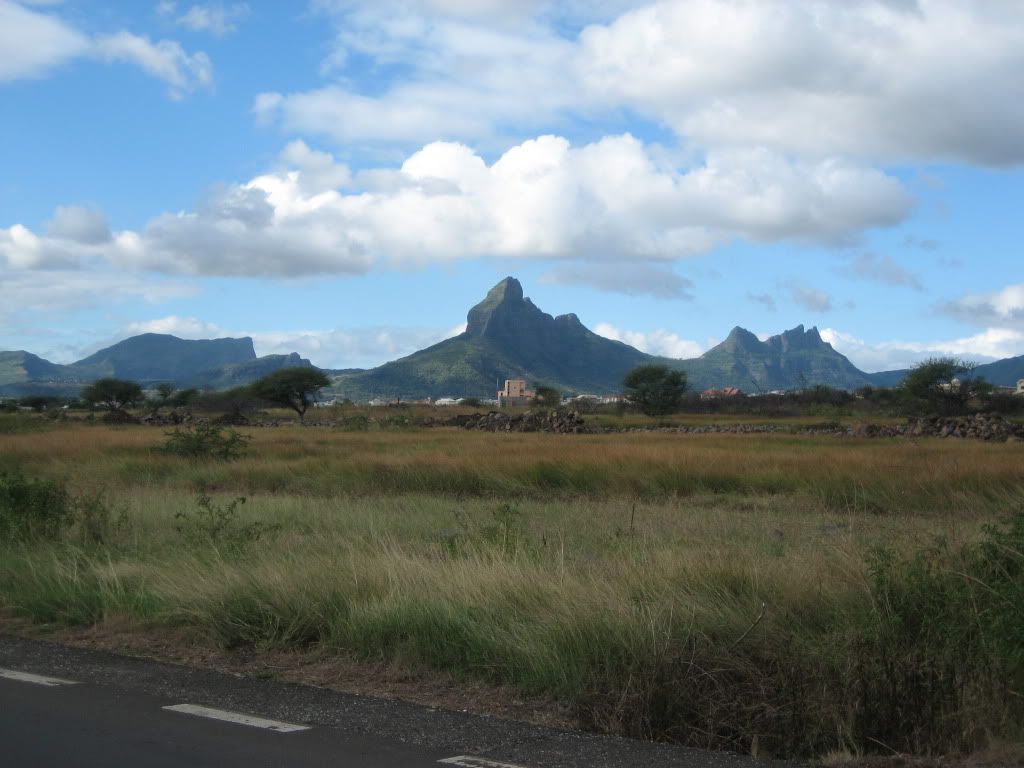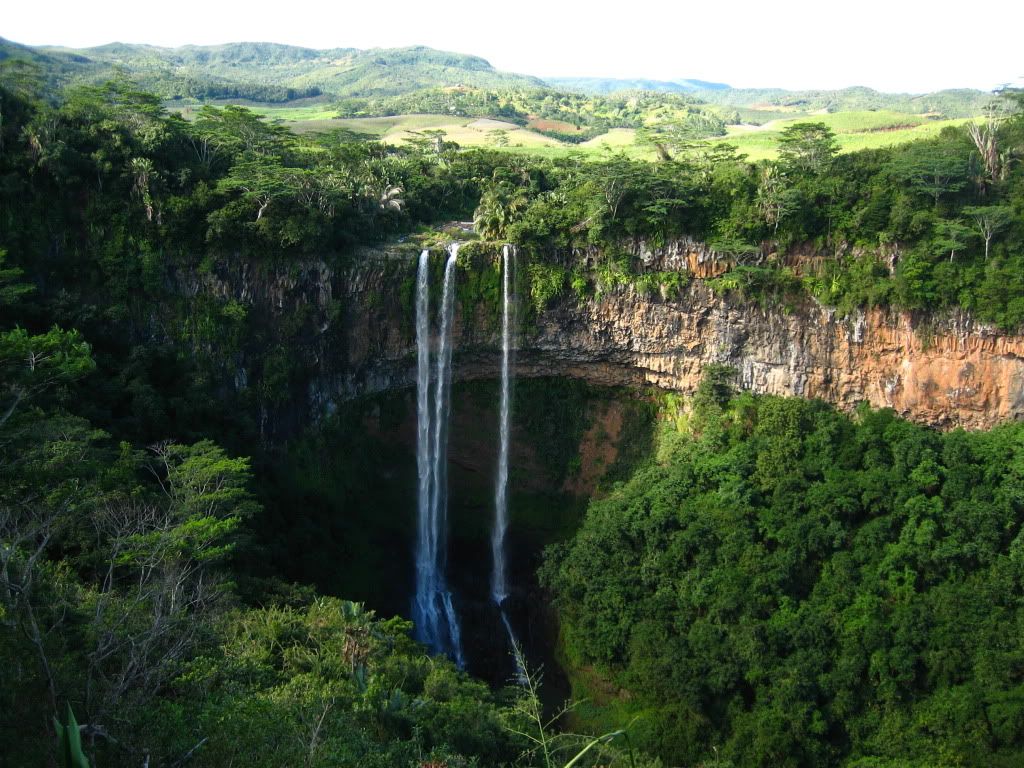 In hindsight, I'd probably try one of the resorts closer to the airport next time. If you're staying longer than a couple of days, as our party had planned for our return journey to Australia, then definitely consider accommodation in the north.
MK64 Mauritius to Frankfurt (MRU/FRA)
Scheduled Departure 8.10am
A340-300 3B-NAV Kestrel First Class
In a bizarre twist of fate, Air Mauritius upgraded all three in our travel party to First class for the Mauritius / Frankfurt leg of our journey. Tickets had been booked about six months in advance and seating allocated for our SYD/MEL/MRU trip had been 4A, 4B and 5A. Our itinerary definitely had us allocated for 1A, 2A, and 2B on the MRU/FRA leg though. Having studied the seat plans of MK's A340 fleet, both new and old, it seemed impossible that these couldn't be first class seats. A query of the travel agent made the situation no more clear. Naturally, we all just hoped for the best, but secretly expected it to be a mistake that would result in seats being re-allocated upon check-in at MRU. Nothing of the sort happened.
Porters whisked our luggage straight up to the F check-in counter and boarding passes with the same seat allocation were duly produced. So, it was off to the lounge to kill the remaining time before departure.
3B-NAV A343 Kestrel stood at the gate, awaiting departure.
First Class cabin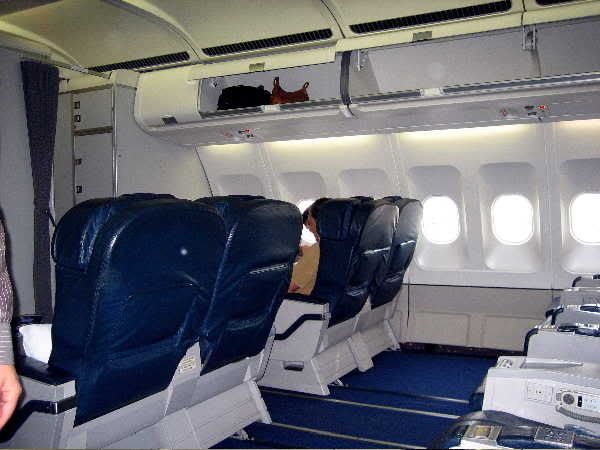 MRU / FRA is 11 hrs 20 mins flying time, so with warm, humid conditions and a heavy aircraft, we all expected a long, laborious take off roll and the A343 delivered exactly that. After taxing to the very end of the runway and completing a 180 degree turn, Kestrel came to a complete stop a little short of the Piano Keys. The engines then spooled up, before the brakes were released, and we started to roll.
As you might expect, F cabin is a little quieter and as 'Kestrel's' nose wheel lifted off, there was a noticeable vibration and slight harmonic. We lifted slowly and then, very gently, the rate of climb began to feel more positive.
Here's a youtube clip of the climb out.
http://www.youtube.com/watch?v=ao4UoZuoigw&feature=related
We banked to port and completed a 180 degree turn, providing a great view of the airport below.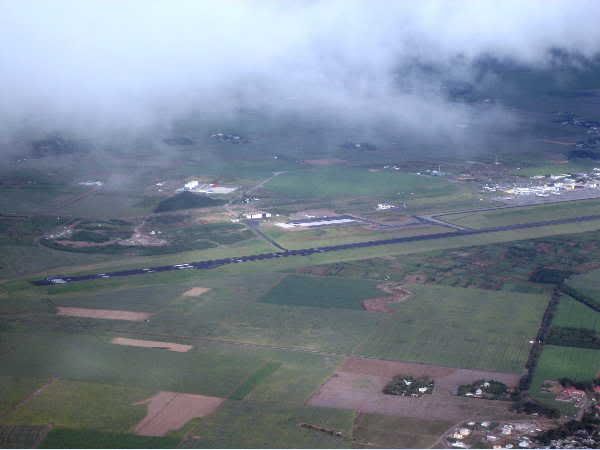 The seats in first provided enormous legroom and were very comfortable. However, they didn't recline fully, or become beds, so those accustomed to legacy carrier F class might have been disappointed. Service from the cabin crew was personal, attentive and appropriately discreet.
Photo above - Passing Madagascar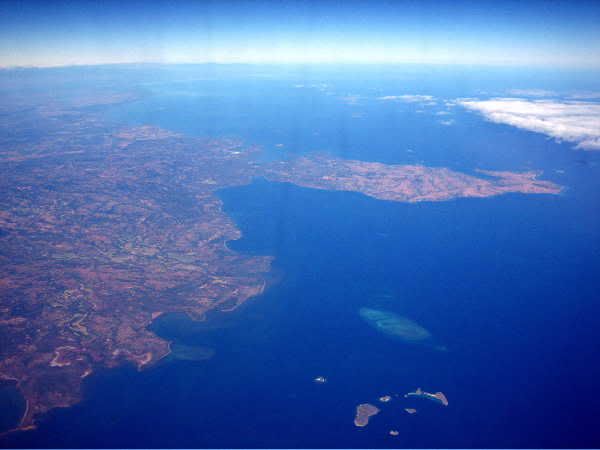 Breakfast was soon served.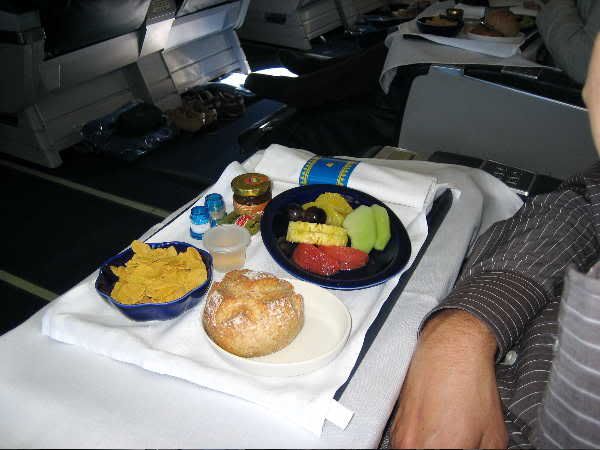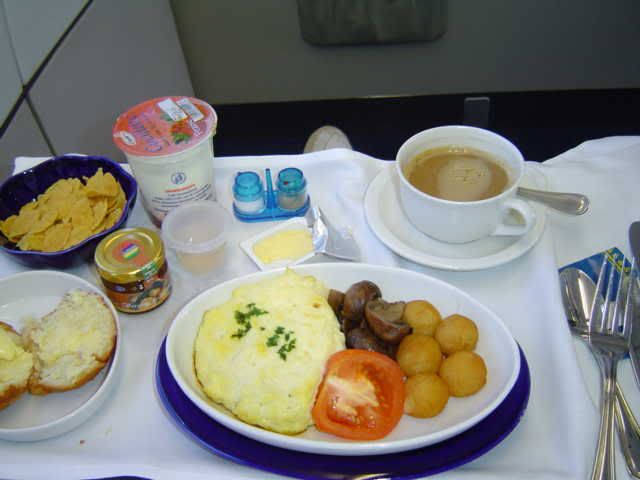 Needless to say, the views flying over the African continent are extraordinary.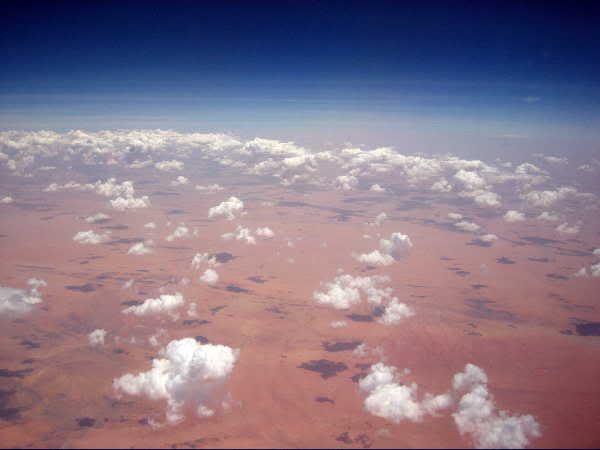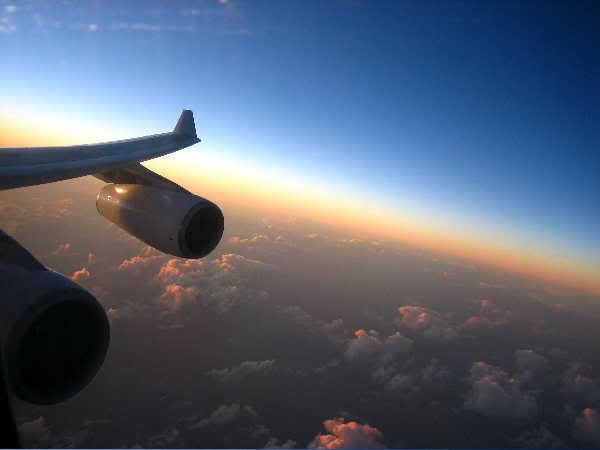 The next meal service - Appetiser.Pink Lobster Tail with Shreaded Palm Heart. I'm afraid I didn't photograph the rest of the meal. I was enjoying the champagne too much!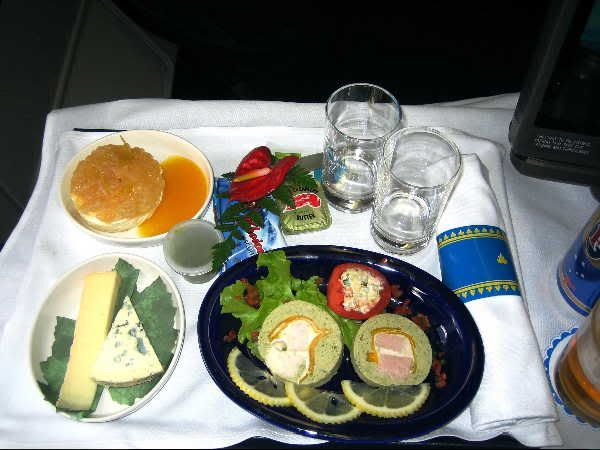 Old style First Class Cabin: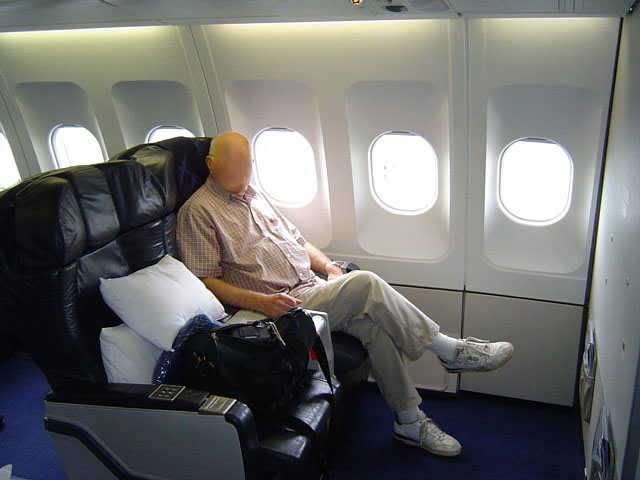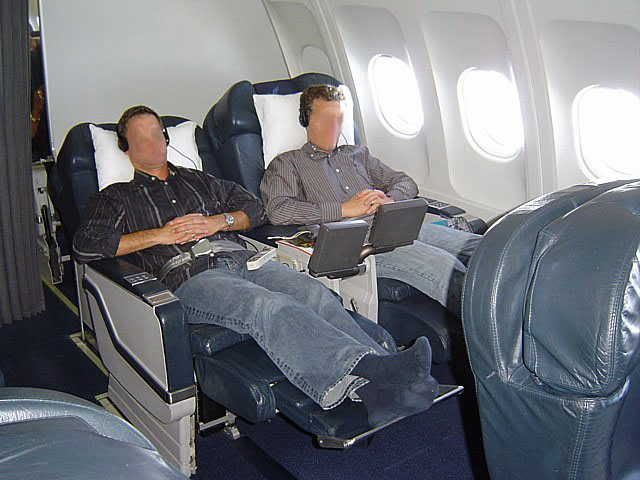 http://www.youtube.com/watch?v=MOy-BXkiPRU
Landing at FRA provided an opportunity to capture reverse thrust, bringing to an end a very memorable journey.
http://www.youtube.com/watch?v=v8v8dzC_V4o