Feedback always appreciated.
color>
Trip Report: 091
Flight Category: J-ILR (See Report End)
Date: 17 Dec-09 (See Report End)
SDT/SAT/Dur/Delay: 0215/0730/12:15 hrs
Flight:
Royal Jordanian RJ 267
, 5541 miles
Routing: AMM-YUL
Aircraft: 342
Seat: Business 'Crown' Class, 3A
I > Background:
color>
After a week of work in the MENA region, I had a long weekend prior to going back to Venezuela. Since RJ had cheap fares, I decided to go visit a friend of mine in Montreal who had just given birth. Keep in mind that I was a little nervous as RJ had long been black-listed because of the extremely poor service I had received from them in the mid-1990s, and a transit hotel where I was propositioned to sleep with a Jordanian bodybuilder (enough said). In fact, it was the cheap J fare that encouraged me to fly them and sell my standards  
.
There has been one RJ-J class report in the past on the JFK-AMM routing (A.Netter – "CARFIELD"). I believe this will be only the 2nd report on RJ's new intercontinental offering and the first on the AMM-YUL route.
II > Pre-Flight:
color>
a) Before Airport: color>
Royal Jordanian was established as ALIA (after King Hussein's first child) in 1963. It was one of the original 6th freedom carriers in the Middle East (along with GF) and was notorious for unreliable service for a majority of its existence. After privatization in the mid 2000's, RJ embarked on a new strategy of route realignment and brand repositioning. Landmark events towards these transformation were becoming an oneWorld carrier in 2007 and turning to profitability soon thereafter.
Royal Jordanian's website
www.rj.com
has come a long way and I was able to make a booking and purchase my ticket within 15 minutes. However, not having seat selection was annoying and the ability to book/edit my reservation was "almost" non-existent. I say "almost" because the online facility would "sometimes" recognize my booking. Super strange.
b) At Airport: color>
RJ's hub is the Queen Alia airport (wife of the King; not daughter of the airline fame) which is an interesting ode to Middle Eastern airport design. RJ apparently uses the "new" terminal which looks like the old terminal. At around midnight, the entire airport was dead and without proper signage, I wondered between both terminals and rude guards before finally finding the Premium check-in lobby.
I was the only one at the check-in lobby and the kind agent quickly processed my boarding pass and advised that seat 3A was much better than my pre-assigned 1A. After niceties exchanged, I went through a shabby security check and walked past the "normal" check-in desk to immigration. Here, as is customary in the MENA region, I got an ass of a officer who grilled me on my "ties to Israel". Though, fair enough, as I get grilled in Israel as well. But this man was just typical MENA officer doing you a favor.
Anyways, after my passport was checked, I went to the new terminal area … which looked sparse and not noticeably different from the crap terminal I had used in the mid 1990's. However, RJ has their flagship lounge here and I was truly impressed.
The lounge is very IKEA like, but classy with its use of colors. The food spread was nice and I particularly liked the pool table, the games room, and the several flat-screen personal use TV's. Besides free computer terminals, there was also wi-fi throughout the place. Additionally, there were dorm-type sleep rooms with lie-flat couches and separate bedrooms (additional spend) with showers. All in all, an extremely good and functional lounge, and definitely in the top 10 percent of the world.
Boarding was called on time and I made it to the gate. Here, I was "welcomed back" to old Amman with its chaotic gate hold area where all the passengers of the 340 could barely fit in. It was very much like those over-filled boarding areas at Vienna airport, but with significantly more pushy people. As boarding was called, no one respected the J class lines and this resulted in a haphazard boarding that ultimately delayed the flight by 45 minutes.
Boarding the flight, I was greeted by an elderly motherly FA who took me to my suite. One thing that you immediately notice about RJ's J class is the amount of space. Unlike fancy flat beds and privacy, the open cabin gives a sense of space that is almost nonexistent in today's new age seats. The FA then offered me a choice of drinks – OJ, water, and champagne. Given RJ serves Möet, I couldn't refuse the last choice. J load was 15% (and the pilots who had brought the flight in from IKA); Y load was 90% with lots of Hajj/Umrah returnees to DTW as this flight does AMM-YUL-DTW.
>Airport - External:
(Amman Airport)
Check-in:
(Check-in)
Airport - Internal:
(Internal)
NONE
(FIDS)
(Post Security @ AMM)
Scenes of the tarmac:
NONE
Lounge
(Flagship RJ lounge @ AMM)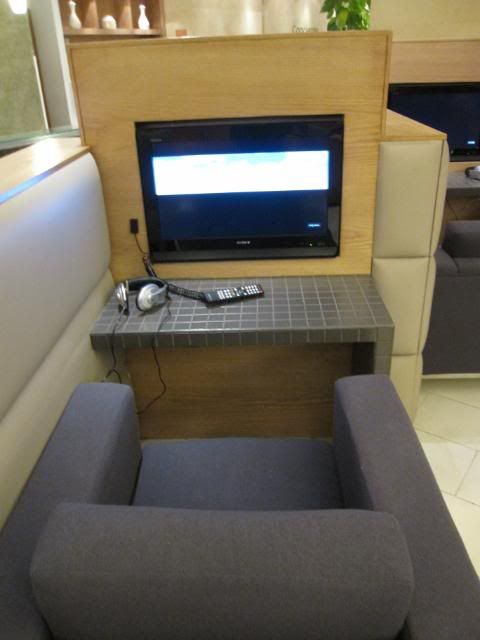 Boarding:
(Chaotic and crowded boarding gate)
(Chaotic and crowded boarding)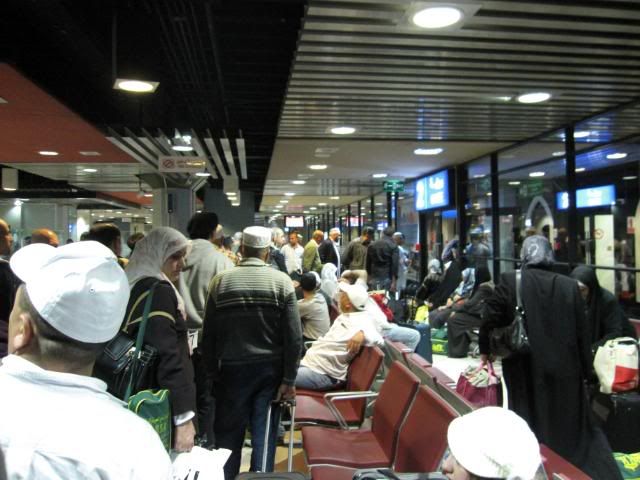 III> In-Flight:
color>
a) Service Schedule + Impressions: color>
While on the ground, beverage service is conducted. Also, purser comes with newspapers and amenity kits. Post take-off, meal cards are distributed. Then, warm nuts and hot towel, followed by a full dinner service. Finally, prior to arrival, a breakfast service.
At boarding, these two women occupied the final row of J seats. After take-off, the purser noticed they were not in the right seats and kicked them out. It was interesting to see how the purser handled it. I thought the women actually did really make a mistake as they were seated in the first row of Y.
When I woke up from my sleep, I found a complimentary gift (yes, RJ is one of the few airlines that skill do this) which was a nice touch.
b) Aircraft + Seats: color>
It is striking the difference between RJ's J and Y class cabins on their 342. While the Y cabin is worn out, its J cabin is far more presentable. As mentioned, it has an amazing level of spaciousness that permeates throughout the cabin. In fact, it is one reason why I overlooked the general lack of privacy in the cabin.
Royal Jordanian has an interesting leather seat that has an 83" pitch and a near 180 recline. Think of the recline being almost-flat … but not 100%. The white leather is surprisingly comfortable, and I did not mind the major "fold" between the back and the cushion. In fact, the absence of breaks makes it even more comfortable than some angled-flat and lie-flat experiences. One thing though, the lack of coordination between the leg-rest and the seat back means the seat is primarily comfortable only in recline and sit modes. Bathrooms were clean throughout the flight … but lacking in amenity.
Aircraft:
(342@ ORD)
(Photo courtesy Gabriel Widyna)
Views from Aircraft:
(AMM)
(Elegant hairdryers at work)
General Seat Views + Seat Legroom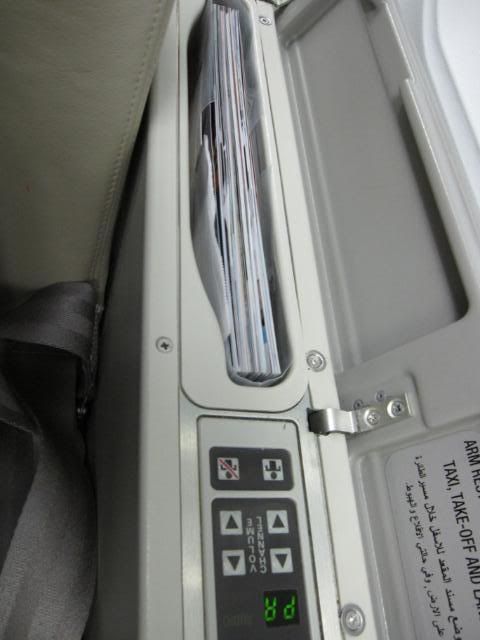 (Seat front)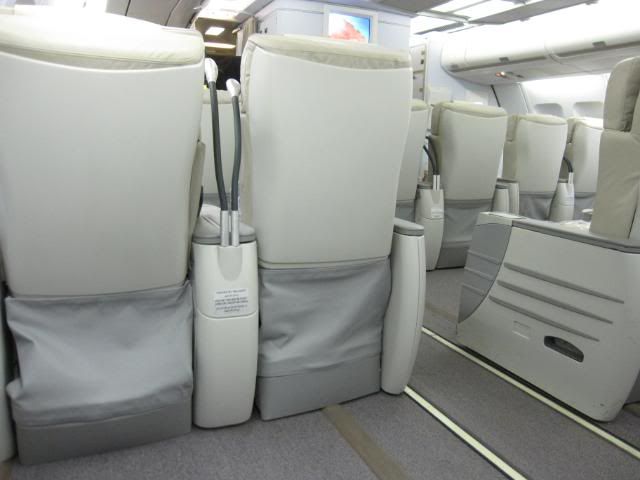 (Seat controls)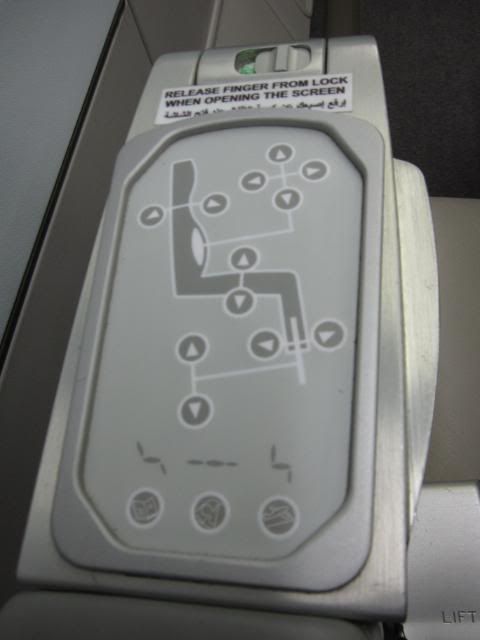 (Huge legroom …)
(Blanket provided)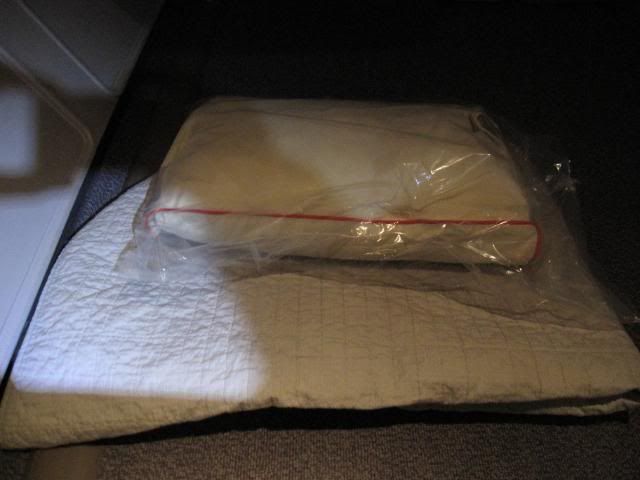 Seat Recline + Angle View: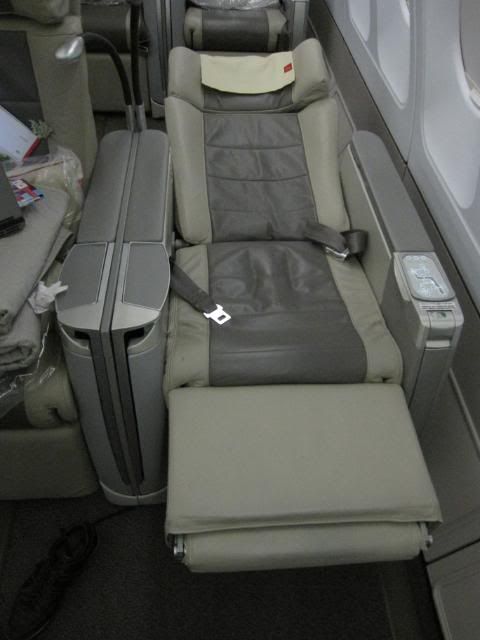 Cabin: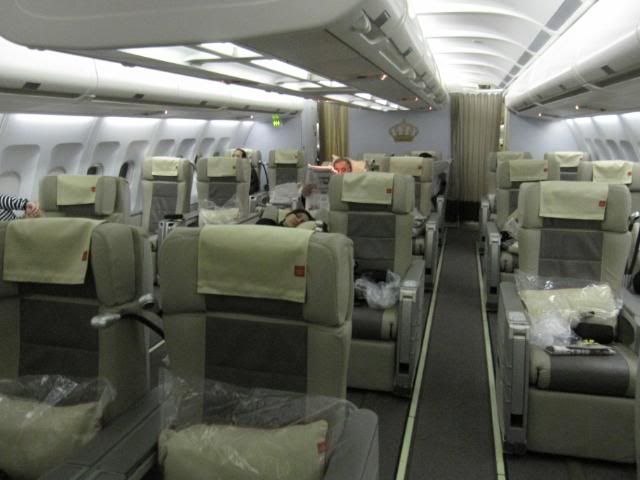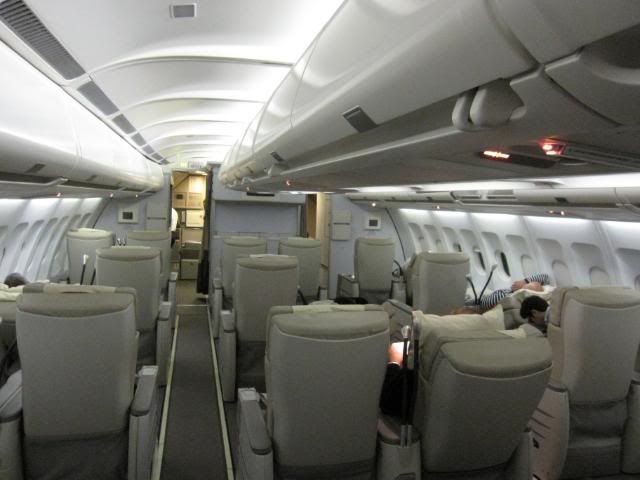 (Bathroom Amenities – or, lack thereof)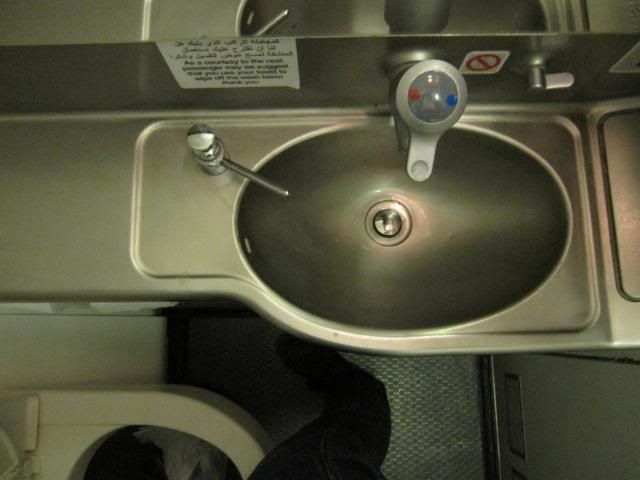 c) Meal + Beverage: color>
Dinner service commenced with warm nuts and more Möet. This was followed by nice seafood entrée. The main dish was served classically from the trolley (which I like) and included an option of 3. I chose the Indian styled chicken curry which was pretty good. The chicken was succulent … though, there could have been more vegetables. It actually seemed like an after-thought! Oh, so was the dessert. I don't understand the point of this rather lavish dinner service which is followed by a "BLAH" choice of desserts which included an economy class chocolate mousse placed in front of you from the very onset of the meal. Thankfully, the service was quick! Though, with only 5 passengers, I don't think the crew was pushed!
Prior to landing, a breakfast service commenced. I chose to sleep through it (and some of the worst turbulence I have felt I my travel life). I am told the choices included an omelet or quiche.
(Menu)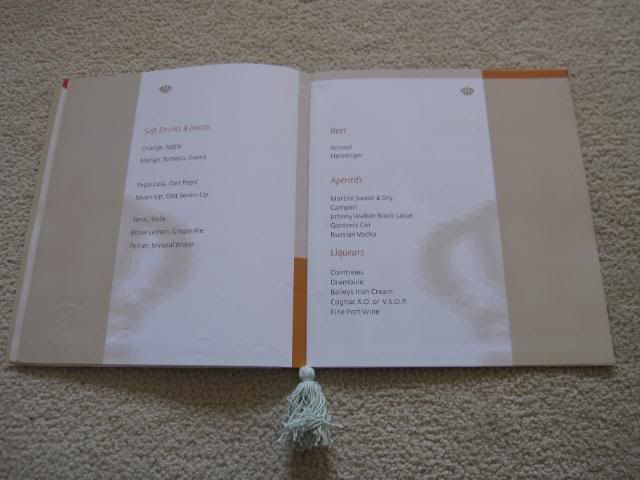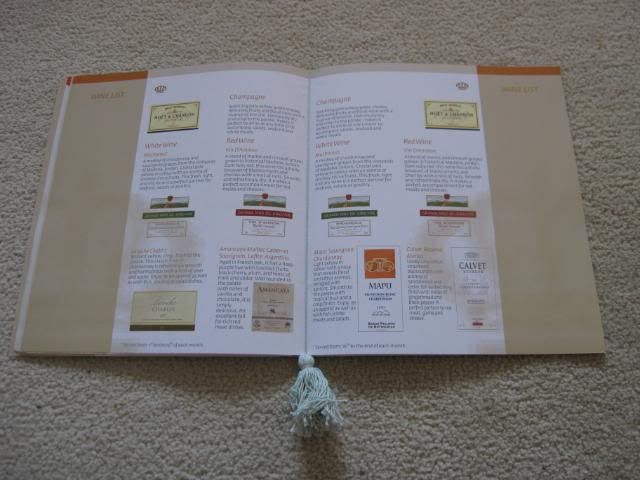 (Dinner)
d) Inflight Entertainment: color>
This is where Royal Jordanian really disappointed. IFE included average headsets to use for a very averaged size screen featuring 12 non-AVOD movies of dubious pedigree. For such a long flight, one would have expected much better … especially given that their newer 320 family models even have wi-fi access!
(Poor headsets)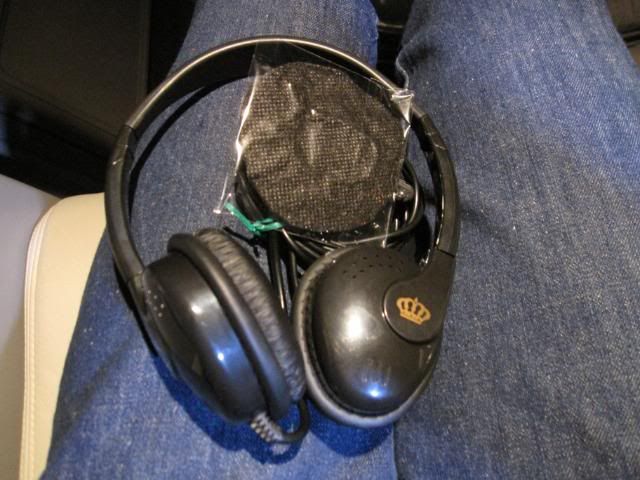 (Poor screen and offerings)
("In-flight magazines", Boarding Passes, etc.)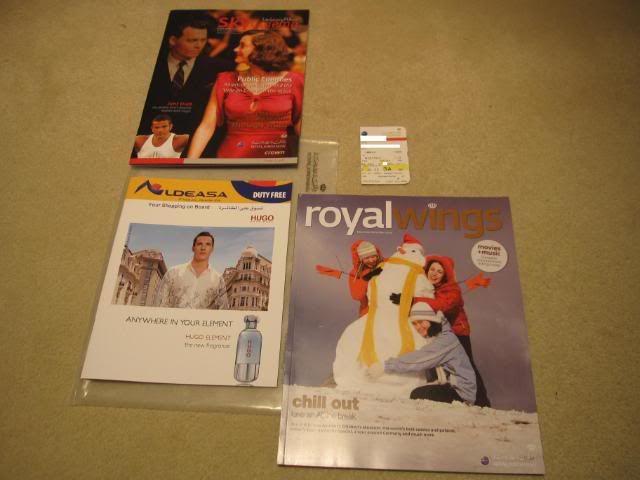 e) Crew: color>
One of the things that had irked me in the past, and my subsequent "economic embargo" of Royal Jordanian had been the absolutely shockingly rude crew I had encountered on the carrier. I am happy to note that my impression went through a dramatic transformation on this trip. Ok, let's get something right. RJ crews are not benchmark setting South/South East Asians. However, the crew on this flight did try their best to please. They were pro-active during the boarding process and always responded to the service request button without much delay.
They did lack natural warmth and I felt that they did not really understand how to handle friendly passengers (like myself) who wanted to have a conversation with them. I got a feeling that they have been abused much and so they follow what is required in the text-book, but cannot relax on the job. Also, perhaps, it is not culturally appropriate for older women to be relaxed in their service delivery?
Throughout the service, they understandably got passengers to rush through the meals. While a level of personal warmth was missing, they were professional and exceptionally nice. When I mentioned I drink a lot of water on the flight, this charming older woman got me an entire 1L bottle and said she would bring me more if desired.
Either way, the crew rose far above what I had anticipated from them. In fact, I generally found them to be more helpful than some of the rude "crazies" I have encountered on the larger GCC carriers.
IV> Post-Flight:
color>
I always forget how empty YUL can be. Immigration took a while as the Canadian immigration officer gave me "crap" for forgetting to mention that I had bought a USD 25,00 t-shirt like I had written down in the form. Come on man, it was after a 14 hour red-eye! Anyways, my bags arrived fast and I was soon off to my friends place in a jiffy.
V> Impressions + Scores:
color>
Royal Jordanian has definitely improved by leaps and bounds since my last experiences with them. They have made the most out of a rather shoddy AMM airport (and the security/immigration personnel) through a nice premium check-in area and a fantastic lounge. On board, the above-average beverages, seats, and food (poor dessert notwithstanding), left a very positive impression on me. Moreover, the crew genuinely tried to go beyond their staid training and this showed in an above-average experience. What their first priority has to be is to fix the shoddy IFE.
RJ came as a definite surprise. Finally, it is a carrier that can even try to match the hospitality of the average Jordanian. While it may not win any superlatives, its performance on this route was far more than adequate. Moreover, it can truly capture the LEVANT region and leave the Europe-Asia flows to those GCC carriers. I would fly on RJ and give them a thump up.
VI> Other Trip Reports:
color>
PREMIUM:
8.64:
Turkish Airlines (59): JFK-IST: 11/2008
8.63:
Jet Airways (88): JFK-BRU: 10/2009
8.61:
Air Canada (49): YYZ-SCL: 06/2008
8.54:
Turkish Airlines (77): GRU-DKR-IST: 04/2009
8.30:
Jet Airways (74): KWI-BOM: 04/2009
8.23:
United Airlines (72): SFO-SYD: 03/2009
8.11:
Aeroflot (33): MOW-DEL: 09/2007
8.05:
Air India (80): CCU-JFK: 06/2009
8.04:
Korean Air (40): NRT-ICN: 10/2007
8.02:
Delta Airlines (24): JFK-CDG: 08/2007
7.64: Royal Jordanian (91): AMM-YUL: 12/2009
color>
7.46:
LAN (55): YYZ-JFK: 09/2008
7.82:
Singapore Airlines (06): EWR-SIN: 09/2006
7.25:
Iran Air (88): BOM-IKA: 12/2009
7.23:
Virgin Atlantic (81): BOS-LHR: 07/2009
7.14:
Swiss (52): SCL-GRU: 06/2008
7.11:
Austrian (79): VIE-JFK: 06/2009
7.07:
Privatair (84): BOM-FRA: 08/2009
7.02:
Qatar (68): DOH-JFK: 01/2009
6.96:
Etihad (61): JFK-AUH: 12/2008
6.93:
Delta Airlines (18): SEA-JFK: 11/2006
6.84:
ConViasa (65): CCS-DAM: 01/2009
6.81:
Air Canada (17): ICN-YYZ: 10/2006
6.70:
KLM (32): EBB-AMS: 08/2007
6.36:
Privatair (60): MUC-BOS: 12/2008
6.25:
Korean Air (45): NAN-ICN: 10/2007
6.21:
Iberia (87): BOS-MAD: 10/2009
6.11:
TAP Portugal (53): GRU-OPO: 06/2008
6.00:
Gulf Air (75): BOM-BAH: 04/2009
5.88:
African Express (89): DXB-NBO: 11/2009
5.75:
Singapore Airlines (16): CCU-SIN: 10/2006
5.64:
NorthWest (46): ICN-NRT-SEA: 10/2007
5.46:
Icelandair (83): KEF-BOS: 08/2009
5.39:
LOT (54): WAW-JFK: 06/2008
5.21:
Egypt Air (73): CAI-IST: 02/2009
5.07:
TACA (66): JFK-SAP: 01/2009
4.42:
Air France: CDG-JNB (25): 08/2007
ECONOMY: Long + Medium:
9.26:
Air India (48): JFK-DEL: 02/2008
7.38:
Avianca (01): BOG-LIM: 07/2006
7.07:
Sri Lankan (62): KWI-CMB: 12/2008
6.41:
Avianca (78): JFK-BOG: 05/2009
6.41:
American Airlines (58): LHR-BOS: 11/2008
6.39:
Condor (85): SEZ-FRA: 09/2009
6.26:
Jet Blue (21): CUN-JFK: 02/2007
6.06:
Air Canada (04): YYZ-YVR: 09/2006
5.89:
USA 3000 (19): PUJ-BDL: 01/2007
5.85:
Spanair (69): MAD-LPA: 02/2009
5.79:
Air New Zealand (42): RAR-NAN: 10/2007
5.52:
Aerolineas (86): USH-AEP: 10/2009
5.46:
TAP Air Portugal (23): OSL-LIS: 05/2007
5.19:
Air Europa (70): LPA-MAD: 02/2009
5.16:
Iberia (71): MAD-BOS: 02/2009
5.11:
Air China (82): FRA-PEK: 08/2009
ECONOMY: Short
8.56:
Paramount Airways (38): BLR-MAA: 09/2007
8.56:
Kingfisher (64): HYD-CCU: 12/2008
8.24:
Kingfisher (14): IXA-GAU: 10/2006
7.87:
Indian (34): BOM-MAA: 09/2007
7.72:
Alliance Air (13): CCU-IXA: 10/2006
7.57:
Indian Airlines (10): DEL-CCU: 09/2006
7.23:
West Jet (03): YYC-YVR: 09/2006
7.15:
JetLite (37): BOM-GOI: 09/2007
6.70:
Spice Jet (09): CCU-DEL: 09/2006
6.63:
Air Fiji (44): NAN-SUV: 10/2007
6.63:
Jazeera (67): DAM-KWI: 01/2009
6.58:
Air Tran (02): EWR-MDW: 08/2006
6.48:
Air India Express (63): CMB-MAA: 12/2008
6.44:
CO Micronesia (39): ROR-YAP: 10/2007
6.41:
Pacific Sun (43): NAN-SUV: 10/2007
6.37:
Skybus (47): SWF-CMH: 02/2008
6.33:
Kenya Airways (29): NBO-BJM: 08/2007
6.33:
Sky Europe (56): LTN-BTS: 10/2008
6.31:
Indigo (15): GAU-CCU: 10/2006
6.31:
easyJet (57): BUD-LTN: 11/2008
6.22:
Air Link Swazi (28): MTS-JNB: 08/2007
6.22:
Air India (36): HYD-BOM: 09/2007
6.13:
Adam Air (07): SIN-CGK: 09/2006
6.13:
Air Rarotonga (41): RAR-AIT: 10/2007
6.00:
Transairways (27): INH-MPM: 08/2007
5.95:
Air Canada (05): ALB-YYZ: 09/2006
5.85:
SAS Norge (22): OSL-AES: 05/2007
5.81:
LAM Mozambique (26): JNB-MPM: 08/2007
5.69:
Air Deccan (12): IXZ-CCU: 10/2006
5.67:
Rwanda Air Exp (30): KGL-NBO: 08/2007
5.11:
Aero Republica (76): BOG-CCS: 04/2009
5.07:
Go Air (35): MAA-HYD: 09/2007
5.00:
Sky Airline (51): IQQ-SCL: 06/2008
4.96:
Valuair (08): CGK-SIN: 09/2006
4.78:
Air Comet Chile (50): SCL-IQQ: 06/2008
4.74:
Fly 540 (31): MYD-LAU: 08/2007
4.33:
Viva Aerobus (20): ELP-MTY: 02/2007
4.11:
Air Sahara (11): CCU-BOM: 09/2006
(Note on Codes: Y – Economy, J – Business, F – First :: I/D – International/Domestic :: SR/MR/LR – Short/Medium/Long Haul)
(Note on Date: Dates are modified to be +/- 3 days from actual flight date to not reveal actual flight pattern)
VII> Other Pictures:
color>
(Pretty good amenity kit. Now, which airline does this kit look exactly identical to?)
(Useful gift)