~ Inflight Service - Not really up there among the best and a major weakness of an otherwise decent product. Although there were exceptions, most of the crew seemed to be just doing a job, nothing more. One could even say some of the crew couldn't care less - and this was in the premium classes ~
And that was how I concluded one of my first trip reports on A.net. in Oct. 2007. Not exactly a ringing endorsement of the then very young Eithad Airways. And one that got a few people riled up.
This guy must obviously be biased!
Although my first experience on the airline (4 sectors KUL-AUH-LHR and return) was really not so bad - I was quite impressed with the flat beds in J class - it was clear that the quality of inflight service left much to be desired.
not first choice
Two years on, plans for my Christmas travel to the U.K. are well under-way before mid-year 2009. My top choice for the route is not Etihad, but an exotic milk-run: Yemenia to London from Kuala Lumpur via Jakarta, Dubai, Sana'a (overnight stay required) and Aden. It's more costly than some other airlines, while the planes are a little dodgy and low on frills but no matter, I figure, the experience itself outweighs anything I might have to forego in comfort, perceived safety, entertainment or convenience.
Well, at least that's the plan until June 30: the tragic crash of a Yemenia A310 on approach to Moroni in Comoros changes everything. The airline's already eccentric schedules go haywire, while the writing is on the wall for a possible EU ban on safety grounds. I need to find another way.
The next few months are spent weighing plenty of options, none of which can quite match what I had in the beginning. Iran Air almost tempts me with a unique B747SP ride and mandatory stay in Tehran, but it's rejected for being expensive and well, challenging. (You see, another plan being simultaneously considered is flying on from Europe to New York on AF's brand new A380. Travelling via THR just ahead of a U.S. trip wouldn't have been a very smart thing to do. On hindsight, a jaunt in Yemen would probably have been worse.)
Reluctantly, I consider "safer" options. Gulf Air has a great offer in J but I had recently flown them, so that's out. I briefly consider TG for my free upgrade entitlement (a nice perk while I still have my Star Alliance status) but the airline - more familiar old friend than exciting new lover - is not what I'm seeking for the definitive trip of the year.
European premium airlines mostly don't qualify on basis of budget, while an idea to travel on half a dozen Asian and European low cost carriers to Europe - a narrow-body trip that'll take nearly three days - gets me excited in the planning phase as I self-connect across websites from AirAsia to Air Arabia to Jazeera to TUIfly to Ryanair to easyJet... When I try to imagine what the reality of such a journey might actually entail, I chicken out.
With my transatlantic AF A380 flight now booked and paid for, my enthusiasm for multi-stop options to Europe wavers, especially if this could result in me missing the crucial flight to New York. The tide shifts in favor of reliability and comfort, but at a reasonable price. After another round of searching, Etihad is a surprising find; combining the best value in comfort - a flat bed in J - and price: from nearby BKK to LHR costs about $2,000 roundtrip (strangely, a similar EY ticket KUL-LHR-KUL costs almost double). With its significant service upgrades, I didn't think such bargains could be had anymore. So that's how Etihad out of Bangkok - with a couple of easy mouse clicks (and a growing credit card bill I try not to think about) - became my only choice.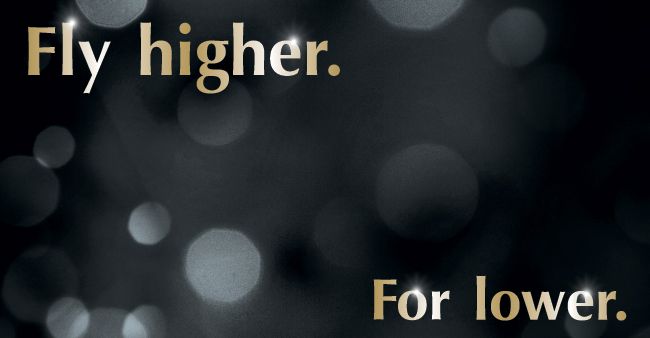 christmas eve
KUL-BKK
Twas the night before Christmas... and I recognize old St Nick, disguised as a young MH agent manning the LH check-in desk at KUL, doling out upgrades to good kids. "You're in Business Class," Santa says as he hands me my boarding pass. "Economy is overbooked... full of groups to Bangkok."
Lufthansa overbooked? I never thought I'd see the day!
I don't realize I'd said it all out loud. Santa laughs: "yes, it's not normal!"
Lufthansa is my favorite choice between K.L. and Bangkok if the schedules fit. The four-times weekly 2-hour tag-on to the FRA-BKK route is one of the region's best kept secrets: consistently one of the emptiest 747 routes I have ever been on, and one of the cheapest too. I haven't been able to work out the business justification for this tag-on (LH already code-shares on a similarly timed TG flight) - perhaps it's the cargo - but I will enjoy it as frequently as I can, while it lasts. My 192 ringgit ($57) one-way ticket tonight gets me seat 2K near the nose of jumbo... I wish it is all the way to FRA of course - but I can't complain, can I? Â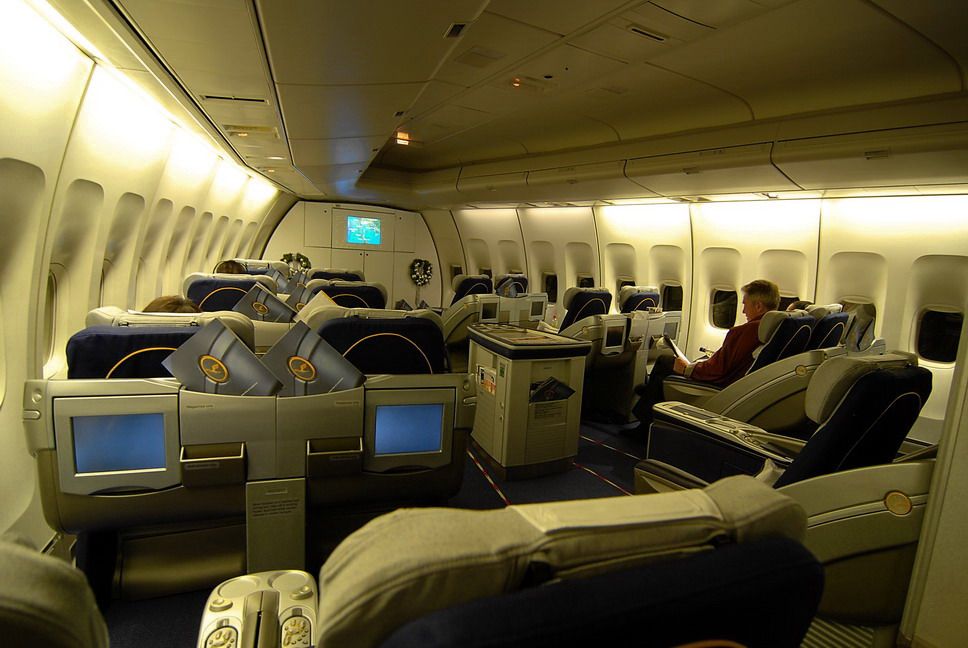 christmas day
BKK-AUH-LHR
Early morning is busy any day of the year at Suvarnabhumi. Today is no exception. A free shuttle drives me the short distance from the Novotel, a rather nice airport hotel that's also a walk-able distance from the terminal if you enjoy obstacles and puzzles, and dropped off in front of Eithad's check-in area 2 hours ahead of departure. There's enough of a chill in the air to warrant a light sweater, but it will warm up later: Bangkok's year-end weather is one of the most pleasant, and no wonder why it attracts so many visitors this time of year. Still, the airport's decorations welcoming those celebrating Christmas - and obstructing one of the main entrances - is probably not such a great idea!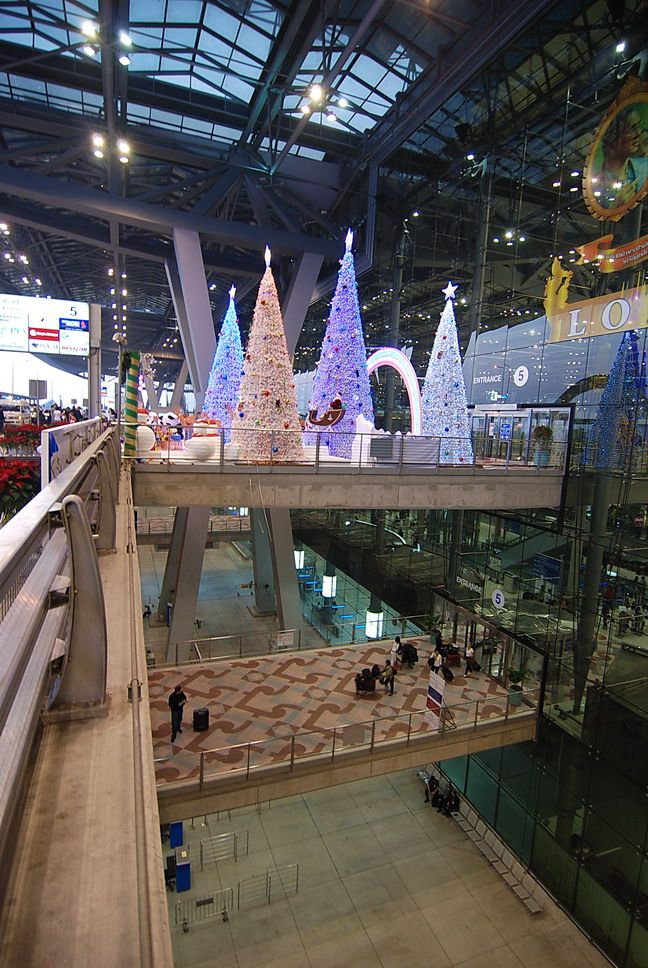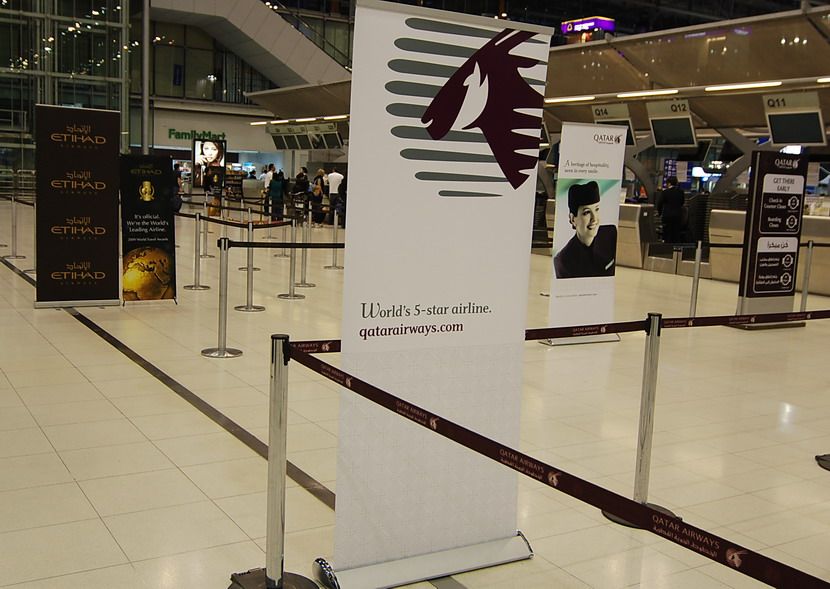 Check-in: so prominent and prolific are Qatar Airways' "World's 5-star airline" banners that I miss the obscured Eithad desks completely, walking straight past them to the next island. What a crafty QR ploy: I am sure that it's intentional. When I retrace my steps and eventually reach Etihad's Business Class check-in counter, the agent seems to have memorized the passenger manifest by heart: "Good morning... Mr Lee?" she ventures, as I approach the desk - a tad risky but very nice touch.
Check in is painless and I walk away with a whole bunch of paper. My boarding passes for the AUH flight and onward to LHR are issued without delay, as are invites for the Suvarnabhumi fast track immigration lane (very welcome during the morning peaks), TG lounge in BKK and EY lounge at AUH.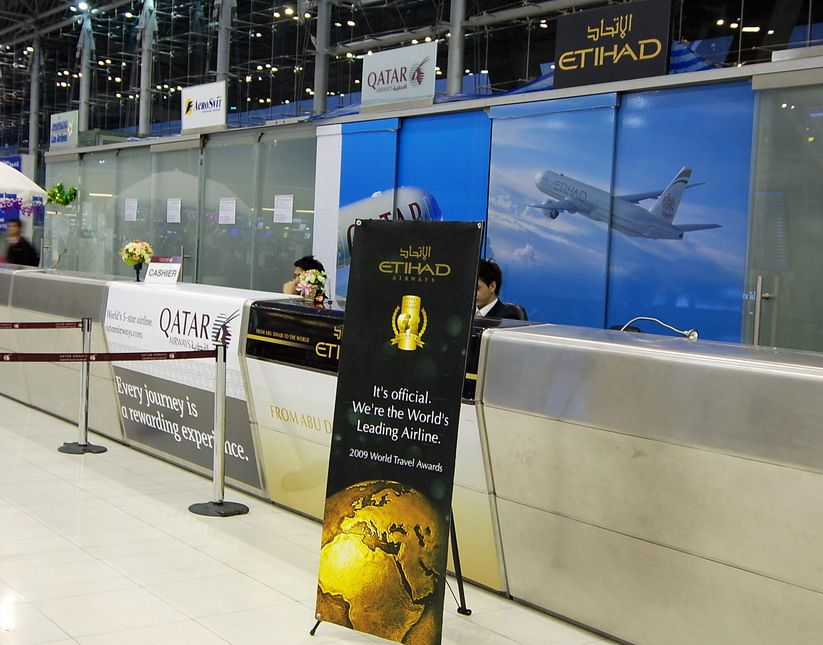 As I still have some time, I wander around a bit. I notice the two Gulf airlines - with hubs an hour apart - don't just share adjacent check-ins; they also have neighboring ticketing desks. Compared to the drab counters around them, these two keen rivals dress their desks up in elaborate fashion, and almost identically. Theirs are the only manned by guys in suits. Before this, I didn't realize the competition was so intense, but it is clear here the extent to which they vie for attention and try to outdo the other:
so what if you're a 5-star airline; we're the world's leading airline! You've got a plane backdrop? Look at ours - it's bigger!
So funny to see.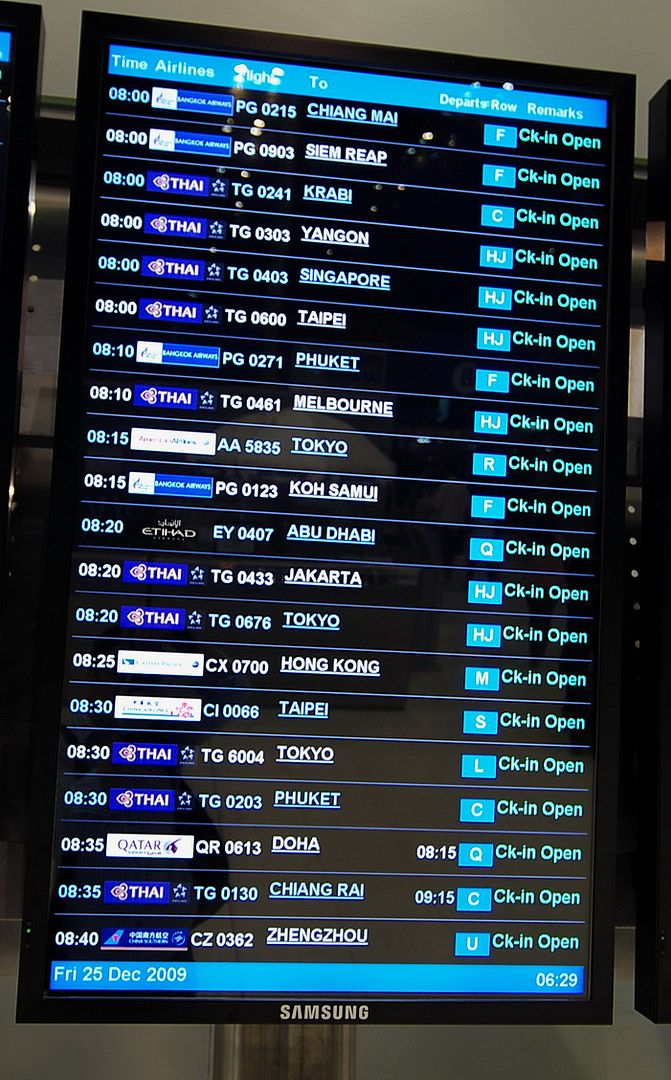 I do some searching, and it's also interesting to see how QR and EY schedule their flights from BKK. Both airlines operate double daily flights - the morning departures leave with 15 minutes of each other, while both airlines schedule their evening flights at exactly the same time. Not a coincidence, I think: there's definitely no love lost between these two.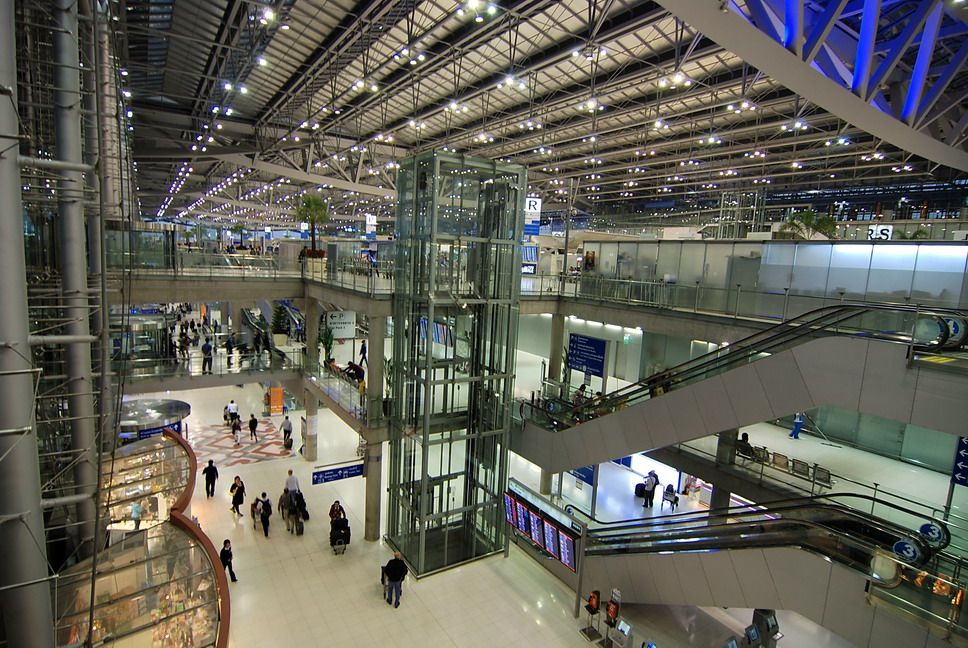 I never thought of Suvarnabhumi as a particularly user-friendly airport, but it does come out looking rather decent in photos. Here you see the three main levels (though there are far more than that) accessible to the public: the upper departures level, the lower arrivals concourse and an intermediate floor housing airline offices and a number of food outlets.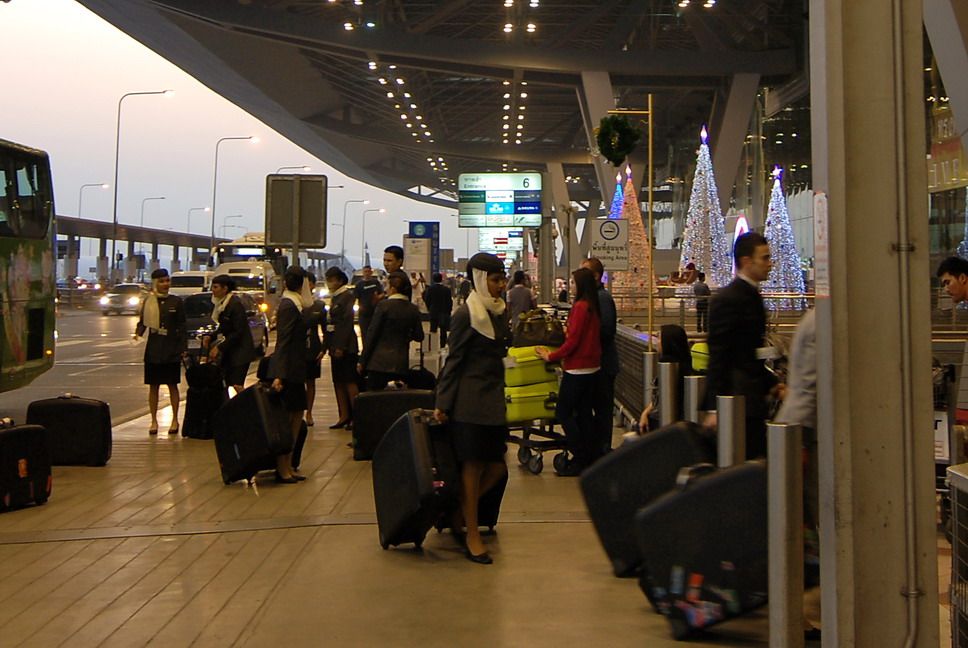 The arrival of the coach carrying the crew who'll be operating this morning's EY flight to Abu Dhabi is the cue for me to move on, head inside thru immigration and security. Even though it's a relatively quick affair through the dedicated Fast Track lane, it takes me a good 15 minutes' leisurely stroll to reach one of the TG Royal Silk lounges at Concourse E. The place is crowded (sorry no photos) not only with TG's own passengers but also with those of other "client" airlines like EY, so I don't stay for long.
And besides, it's boarding already. I walk the short distance to gate E4, which coincidentally is also the one EK's A380s use when at BKK.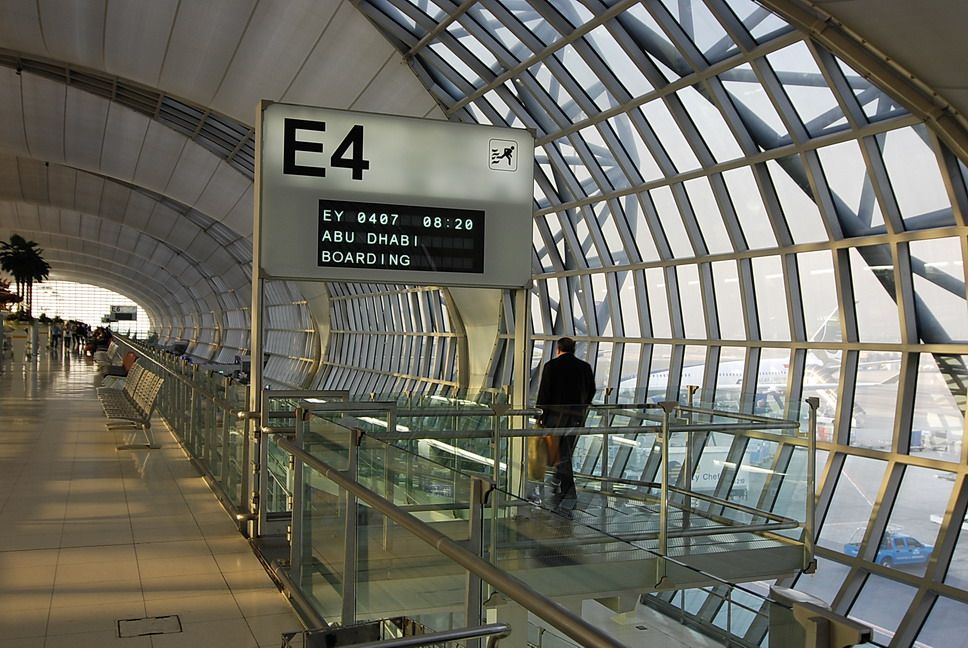 Most of the gates are occupied in the morning peak hours at BKK. Next door at gate E6 is a Gulf Air A343 boarding soon for BAH, while across at E2 is a SriLankan A332 in transit between CMB and PEK as UL 888. Also visible behind are the flights leaving from Concourse F: an AI A321 bound for Mumbai as IC 694 (I'm sorry but I still don't understand the AI/IC merger), an S7 Airlines B763 and CI B744.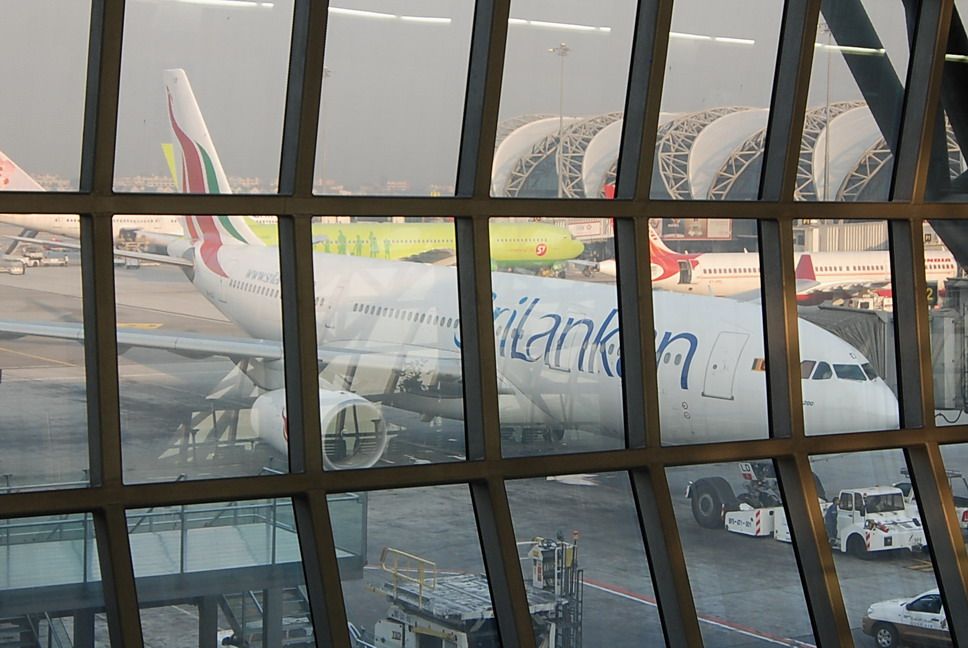 This being Christmas day, the load for the EY flight is light. I see not more than 100 fellow passengers at the holding gate, which is reachable via steel ramp, a contraption so elaborate that it never ceases to make me wonder: why? Still, when you're not in a hurry, it's quite an interesting diversion and works well for the camera.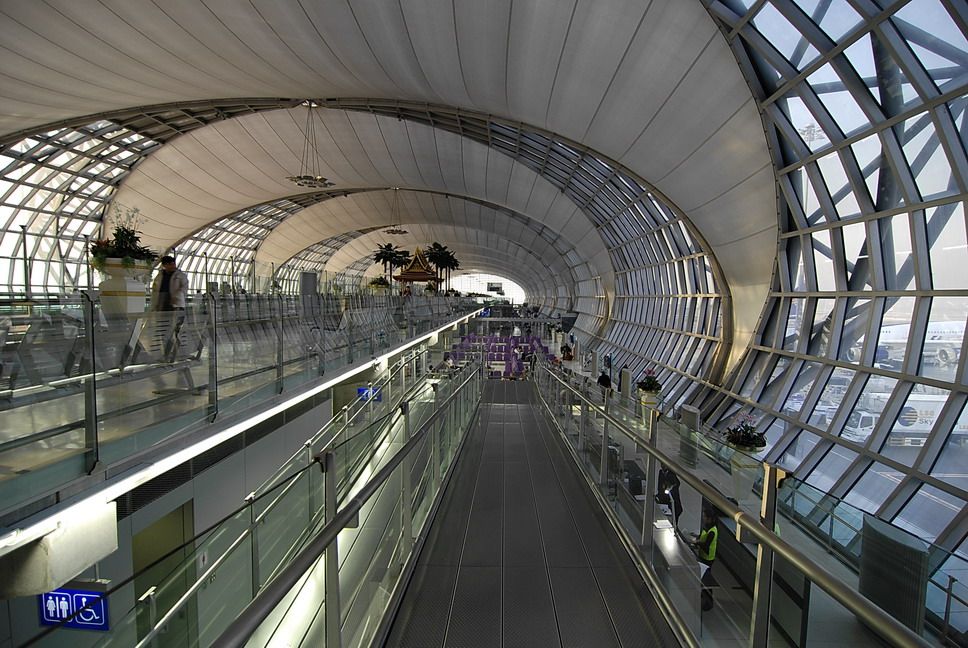 Outside, through the dirty convex glass panes, is the B77W that'll be carrying me to Abu Dhabi, looking almost ready to go. Bangkok does a pretty good job of a quick 90 minute-turnaround. A6-ETA is the first of an initial batch of five B777-3FXERs: delivered in January 2006 and barely four years old, she is already one of the oldest equipment in service with the airline - goes to show just how young a carrier Etihad is!
from Bangkok to Abu Dhabi
Etihad Airways flight 407 in Pearl Business
Boeing 777-3FXER A6-ETA
Dept: 08h13 Arrv: 11h58 (on time)
There is no one manning the separately marked J class boarding channel, so I join the one for economy class. With the light load, the queue is short and no problem at all.
A friendly welcome at the door - I even get a wave and "Merry Christmas" from a pilot donned in a Santa hat - and I'm quickly directed to my seat. Like in economy, this 28-seat cabin, which Etihad calls Pearl Business Class, is going out pretty light too. There are seven seats taken in all, a 33% load factor.
Eleven-A is the last window seat in the cabin. Like every other in Pearl Business, my seat is private, has direct aisle access, while here also delivering on the all-important window view. I think I have said this before, but it doesn't hurt to say it again: this is simply
the best
J class configuration there is. No contest, in my opinion.
Now, having said the good stuff, I think it's only fair to niggle a little over the detail. And there are a few of those. For a start, the seat is not overly wide, and some may even say it's almost as narrow as in Y: but that's the price to pay for privacy and aisle access I suppose. Next, the fittings are starting to show their age after four years - the armrest is particularly flimsy and mine seems about to collapse, while the seat cushion feels decidedly lumpy. Then there is the lack of any storage space - most of my stuff from books and newspapers to amenity kit and menus end-up strewn on the floor, while the safest place to store my glasses when I sleep is inside my shoes that are wedged between the seat and sidewall. Not so much J style as a reminder of my backpacking days actually. In fact, 11A has the unique advantage of a flat surface on the side, but that's really mainly used by the crew during service.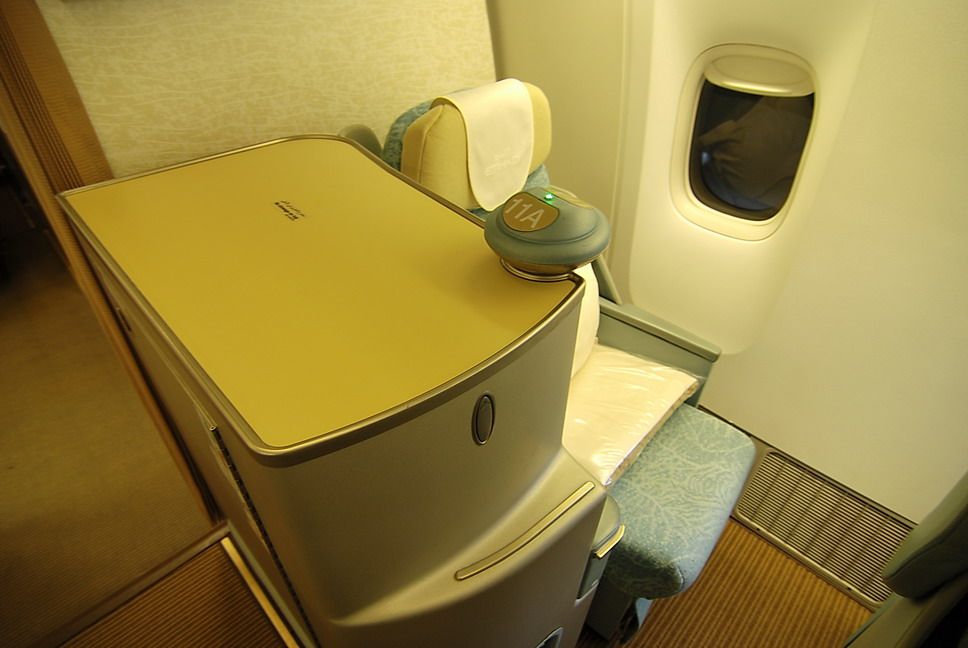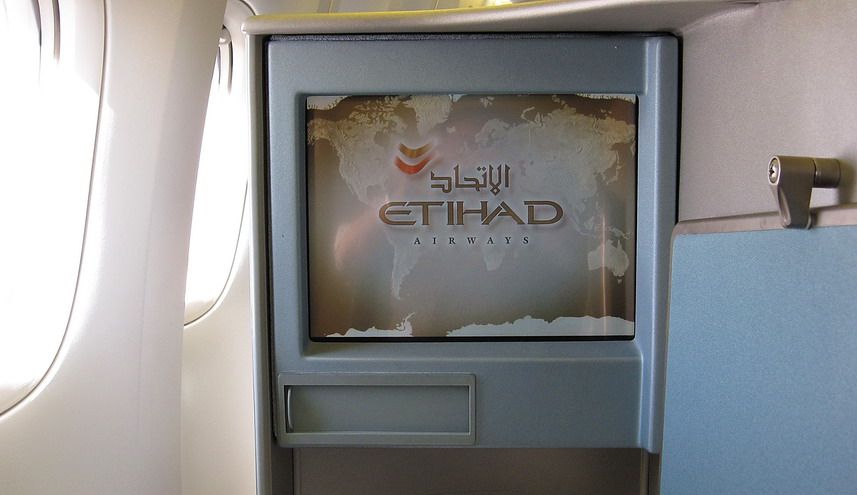 Still, the onboard service does go a long way to making up for any deficiencies. The last time I flew EY, I wasn't exactly bowled over by the service. But things seem to have changed. Rommel, dressed in a light jacket (as opposed to other cabin crew in dark suits), seems friendly and chatty when he comes over to introduce himself as 'the Food & Beverage Manager'. "Can I get you some
fresh
orange juice or
fresh
carrot or champagne?" (Heavy emphasis on the
fresh
bit throughout the service.) He explains the dining on-demand: "anything you want to eat, at any time during the flight." And obviously trained in more than just onboard service, Rommel also takes the opportunity to cross-sell EY's other benefits: "one hour is too short to enjoy our new lounge... we have a later London flight; you should try to change to that one - you shouldn't miss our spa in Abu Dhabi." I don't plan to take up the offer - and fraught with practical difficulties if I did - but that's an undeniable 'A' for effort.
Rommel brings me the usual - pre-take off drink, hot towel, newspaper, menu - as well as an amenity kit, that's becoming an ever rarer giveaway in J class these days. The handsome, unbranded dark grey pouch contains socks, eyeshades, earplugs, toothbrush, a couple of small Aigner items and a trendy bottle of Voss Norwegian still water.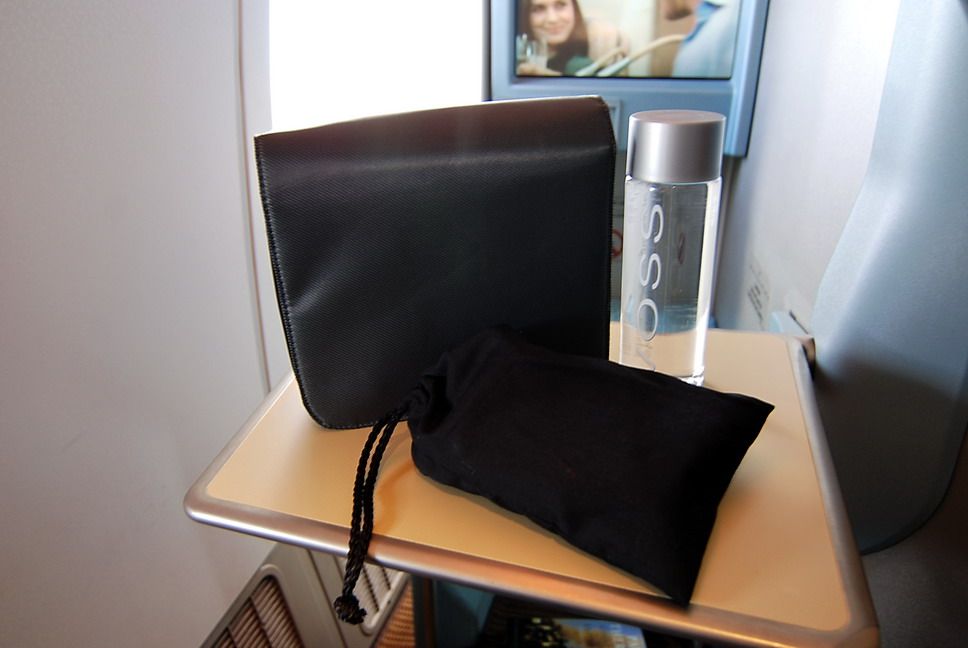 We leave seven minutes ahead of schedule to a short verse from the Quran and announcements in Arabic, English and Thai. The safety video is played in Arabic and English. As we push back, I get a better view of the bright florescent green S7 Airlines B767-300ER that's being prepared for a flight to its hub at Novosibirsk. The airline will also be an interesting but among the stranger additions this year to the oneworld alliance - now mostly comprising a sober and rather grand-fatherly collection of carriers.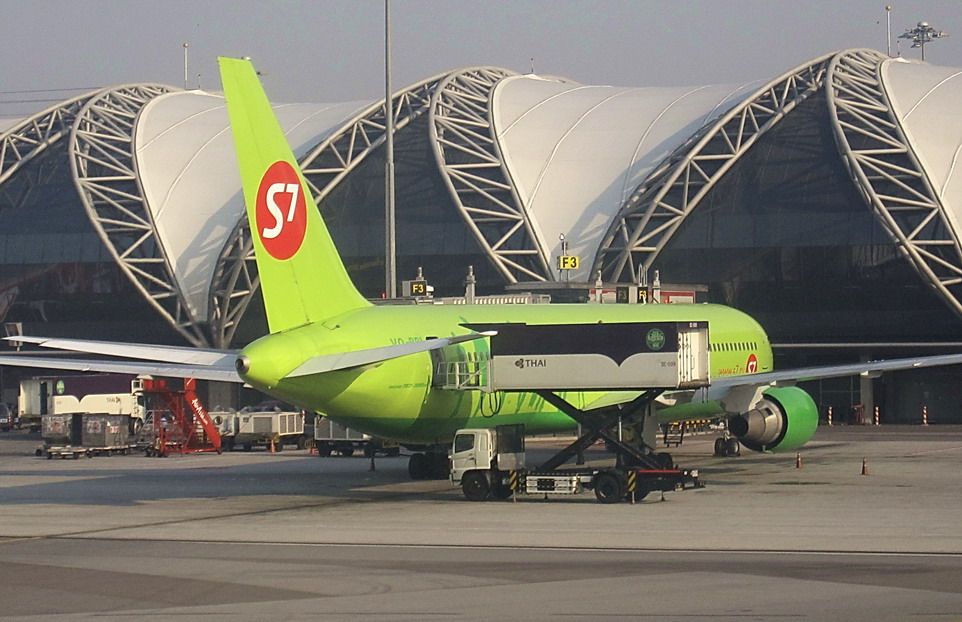 Next door to S7, is the regular morning China Airlines B744 in transit between Amsterdam and Taipei as CI 066. Like most of the machines CI uses on this route, B-18205 is one of those that have not yet been retrofitted into the airline's latest configuration. The roundabout routing for AMS-TPE via BKK is also legacy of the politics of the not-so-distant past when Taiwanese carriers had to skirt around China en route to Europe. Now of course, it's no longer an issue with CI (together with BR) flying to a number of mainland Chinese airports.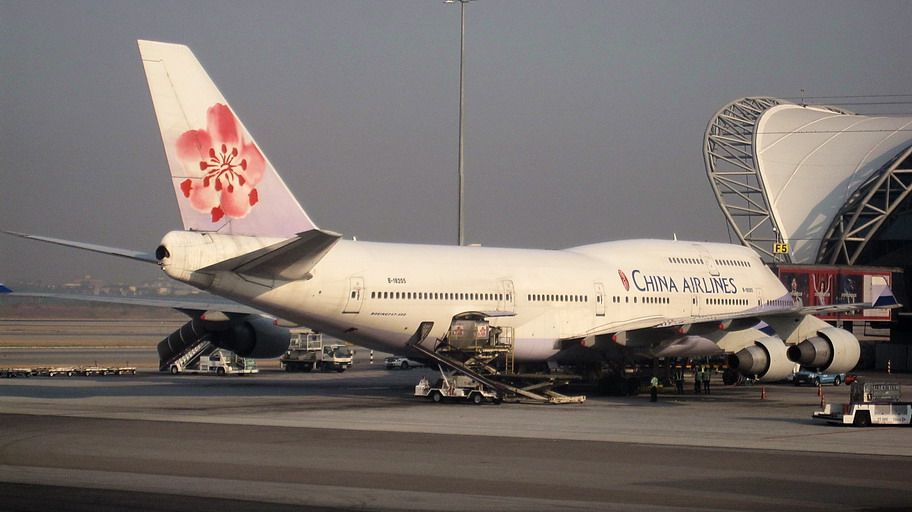 As we taxi towards 01L I spot the first of three Tiger Airways A320 flights today just arrived from Singapore, and patiently waiting for us to cross its path. Given its pedigree, home base, hubs, and routes, Tiger's achievements so far are, at best, lackluster. (Most critics are far less charitable.) Still, the airline's recent S$248 million IPO was a surprising success and puts the airline on a slightly better footing - critical with the likes of hungry rivals AirAsia and Jetstar now linking up.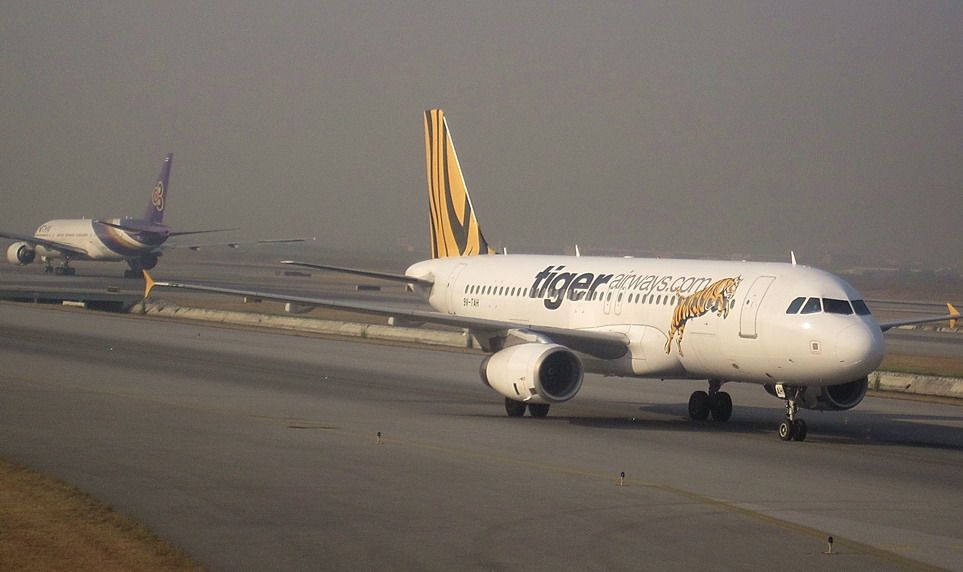 There is a short queue for take-off with the usual morning, mostly TG, traffic before we get our chance to roll onto 01L. Perhaps I had only yesterday been sat at the quiet tip of a 747, but the roar of the twin turbofans is particularly noticeable. The whine of the GE90s as they spool up is louder and more high-pitched than I remember, and as we thunder - the engines now screaming - down the runway, I am scribbling in my notebook "wow, what's that?" It's a while since I've had a more powerful (or loud) take-off - or maybe it's just because I don't get to fly the B77W often enough?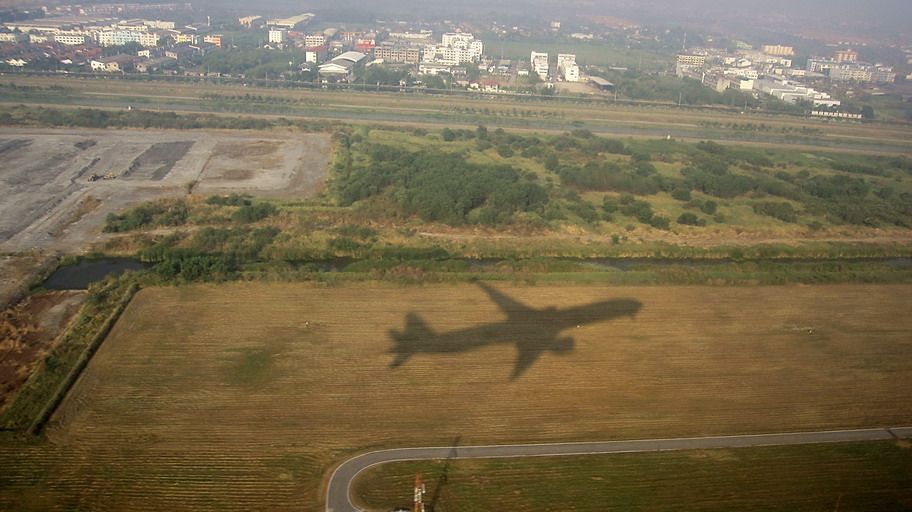 As Bangkok disappears from view and the seatbelt signs come off, service starts in earnest. The cabin lights are dimmed and mood lighting - a shade more subtle than many others - is turned on, while window shades particularly for unoccupied seats are quickly lowered by the crew. (I've noticed Middle East airlines are among the most diligent of the 'keeping-you-in-the-dark-in-daytime' brigade.) There's not a problem with me remaining defiant though, but it seems strange that at 9 am, all my fellow passengers have decided to go to bed.
Rommel comes to me first, asking if I want anything to eat - it's an obvious choice seeing I'm the only passenger still awake. The menu, which had been distributed earlier, is an understated all-white affair. Inside, the grandly-termed 'a la carte' section is really just an elaborate way of saying breakfast, and is the only full meal served on this seven hour flight. Being famished, I tell Rommel I want the full works.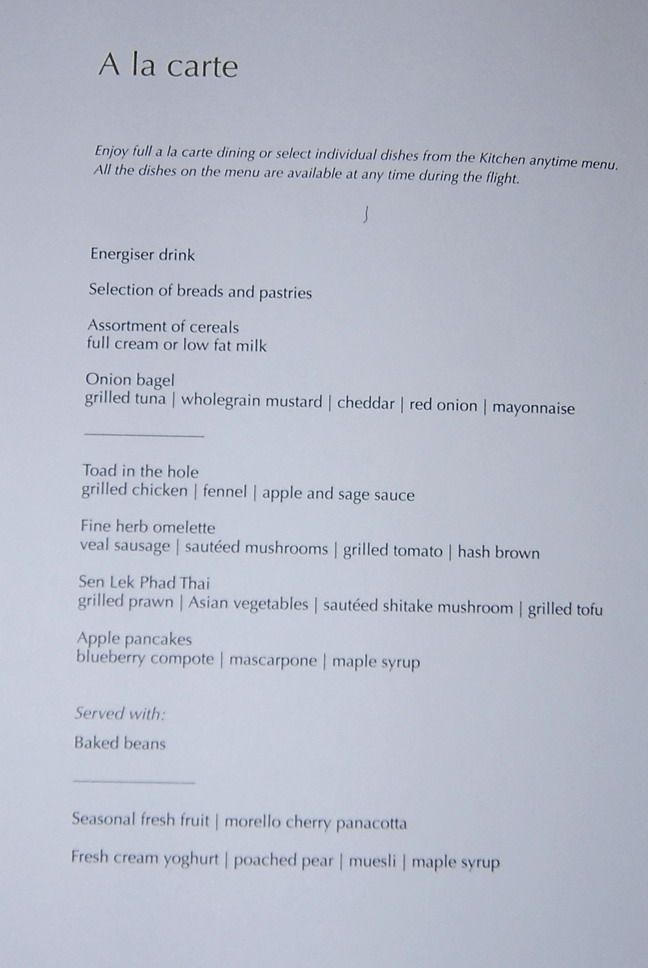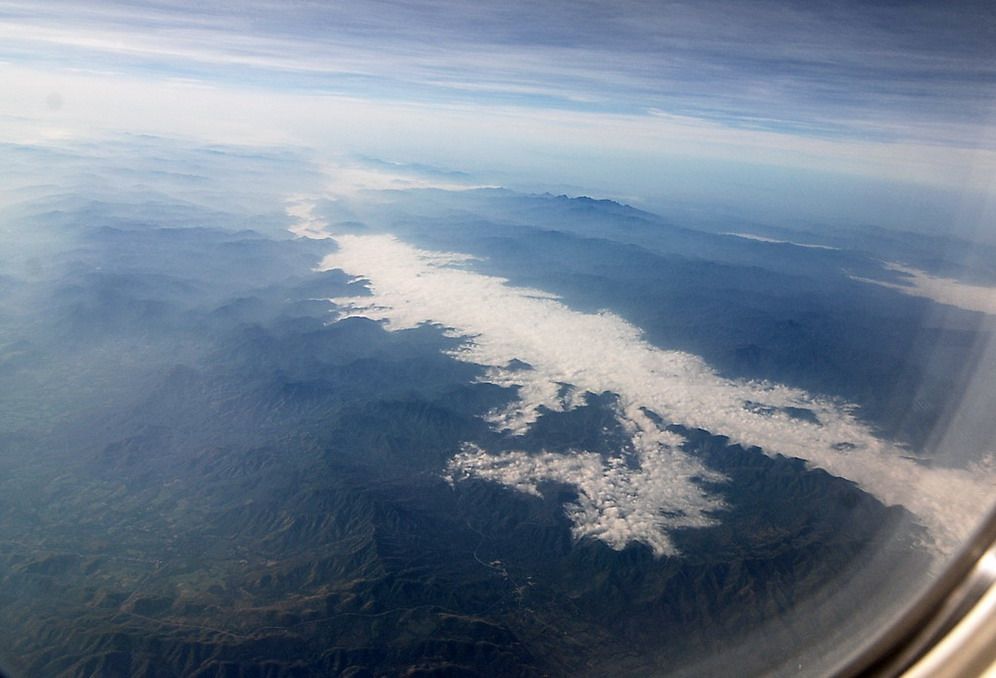 Outside, we are just slipping across the border over the Tenasserim mountain range which separates Thailand's Kanchanaburi province and Burma. It looks so serene and peaceful from way up here, of a place that is anything but. Our route is the standard westbound out of Bangkok that takes us over the port city of Tavoy, and into the Bay of Bengal.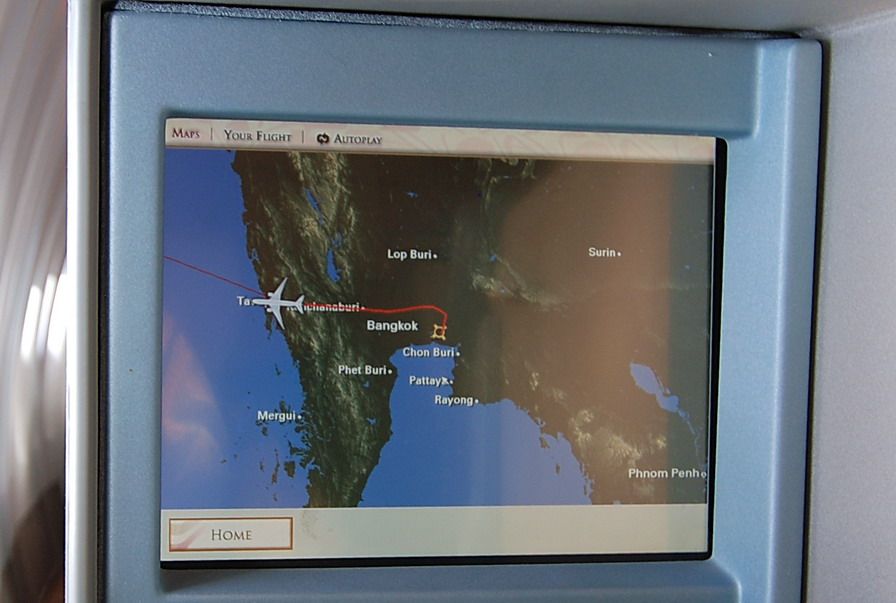 Breakfast arrives with a minimalist black-and-white offering that looks pretty pleasing to the eye. I've already had a
fresh
juice and
fresh
fruit skewers to start. Here's the croissant,
fresh
ly made toast, and a delicious energizer drink to follow. There's quite an attention to detail too - the napkin is deliberately laid out askew by the flight attendant, something I notice done at every meal on EY.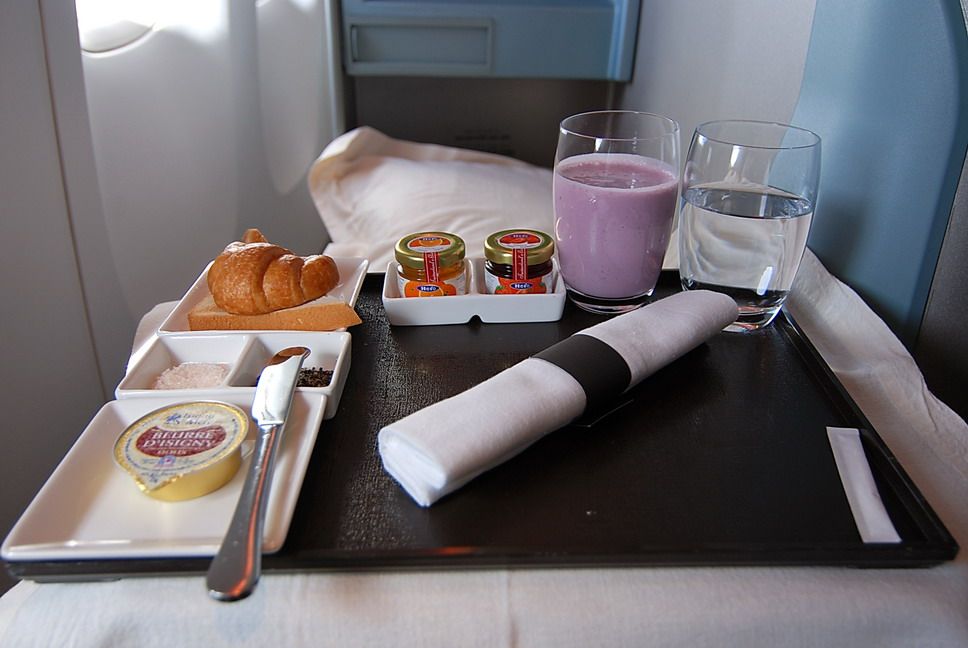 The traditional hot breakfast dish (not sure whether
fresh
ly prepared or not) - herb omelet, sausages, the works, generously proportioned - tastes as good as it looks, even for someone who's not usually a fan of egg dishes in the morning. Note that each separate course comes with a fresh set of cutlery rather than a whole bunch for the whole meal you find on other airlines. A nice detail that's more F than J, but assuming your flight attendant doesn't forget to bring 'em - which they don't on EY.
My "inspired" meal ends colorfully with a
fresh
fruit plate and yoghurt. In all, a pretty decent meal: style and presentation definitely at the higher end of the scale for J class. It's not perfect though with some small practical issues (for instance meal tray is larger than tray table or no space for an extra drink) but that's more to do with the seat design than the meal service itself - and are presumably solved when the airline upgrades its Pearl Business seats starting with the new A333s this year.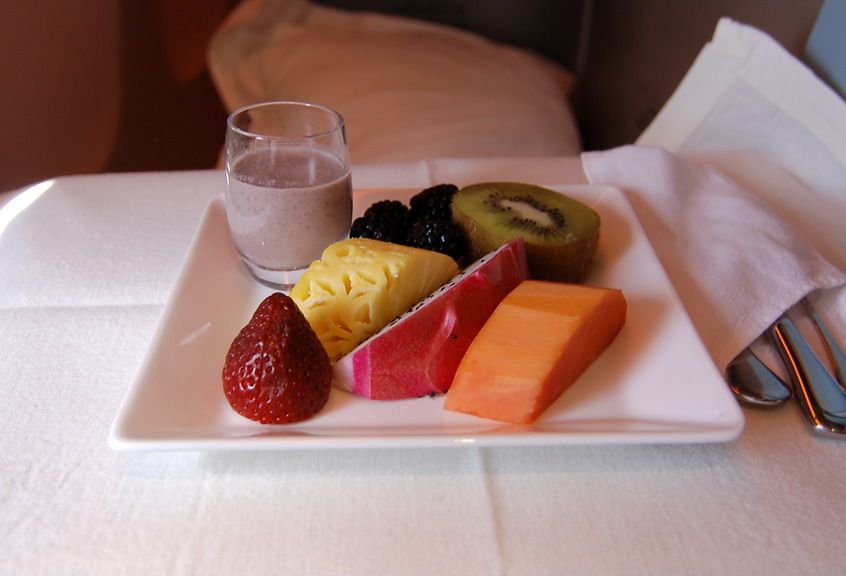 Etihad's entertainment system is called E-BOX but the interface aboard this B77W is still the older one which I recognize from 2 years back. There are entertainment options aplenty (but nowhere near in size to Emirates' selections) but as I still have a few more EY flights to take, I forego the movies for now in favor of some reading. I start with the house publication
Etihad Inflight
, a glossy bilingual magazine that dedicates a double-page spread to the airline's current and future fleet. Â 
  Among the planes on order are 10 x A380, 25 x A350 and 35 x B787, in addition to more B77Ws, A330s and A320s. Although I vaguely remember reading about these orders sometime back, I never quite tried to envision what Etihad could become in just a few years' time; and that's a sizable top class airline.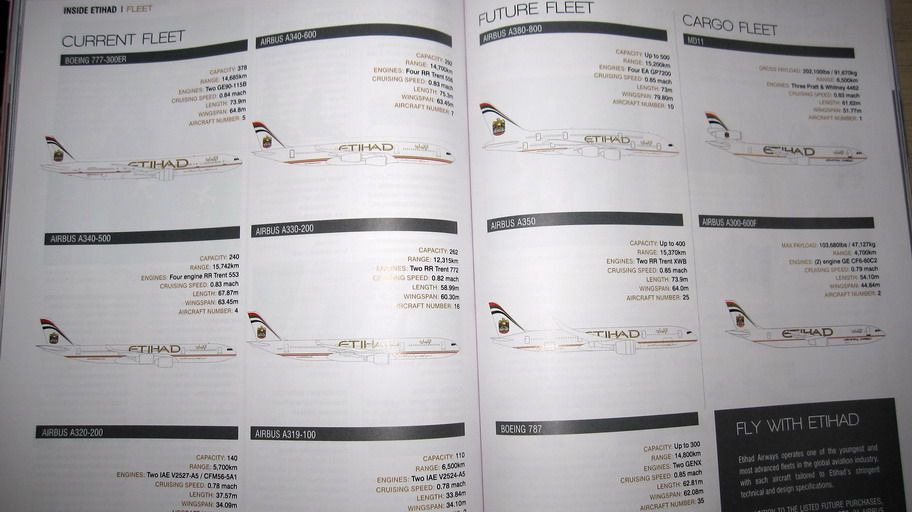 But pity poor artists: they do try hard. Planes are looking more alike these days and differences so subtle that a slipup on a 1:500 scale drawing is easy with details only airline nuts will notice (and care about). Like the CFM56s being fitted to the A340-600 that's lost a pair of doors  
 , or the over-stretched A330-200.  
  Or my favorite: the Etihad Cargo "MD11", which I'd love to see exactly like this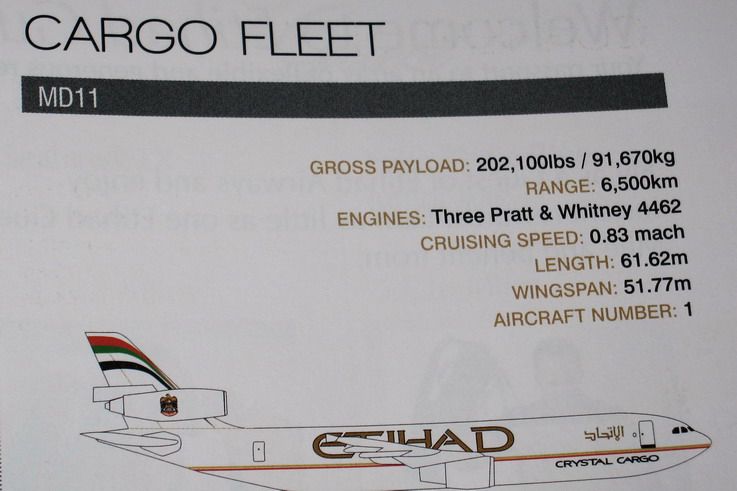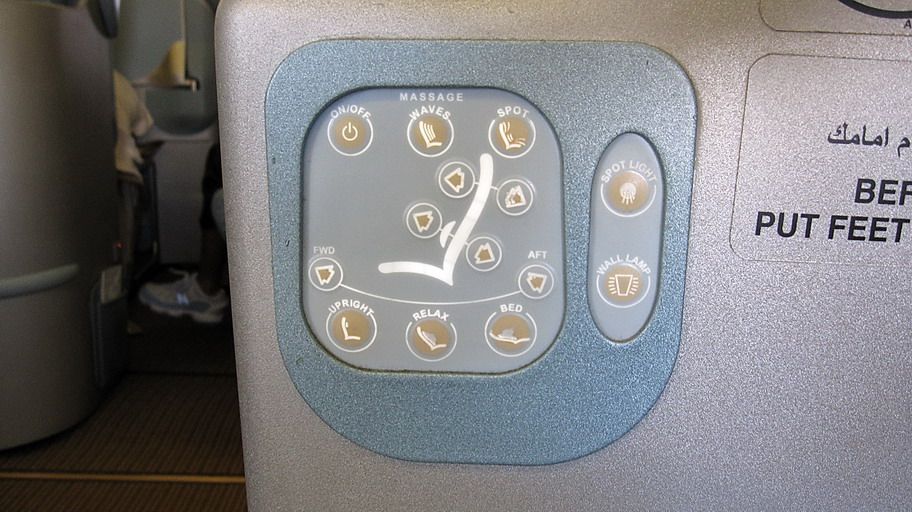 The rest of the flight is uneventful. As usual at year end, I bring my copy of the Economist Christmas edition along for the ride, but don't get too far into it before succumbing to the temptation of a flat bed. Following the example of my fellow passengers, I unwrap the comfy blanket, lower the window shades, recline my seat, don the headphones, and am asleep in moments. When I wake up - two hours later - we'd already traversed India and making good progress for the Arabian Peninsula.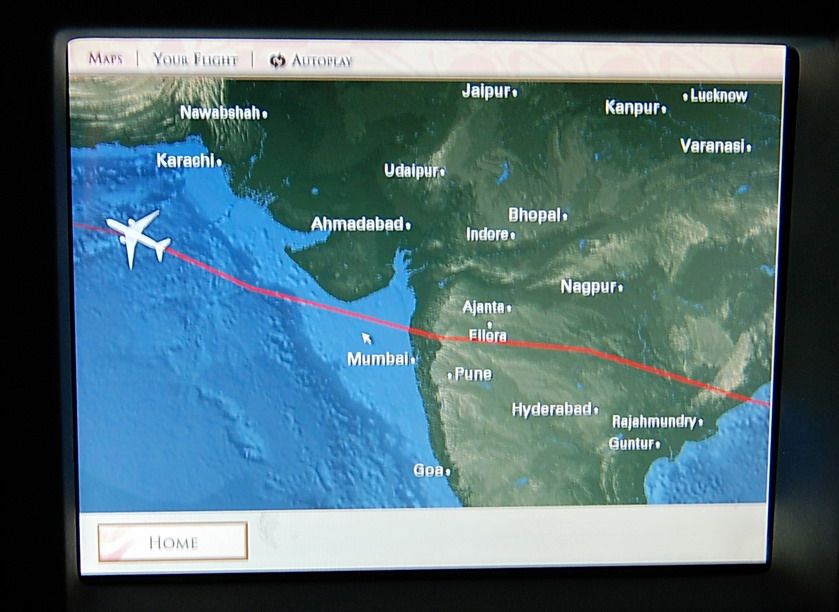 Interesting that for most of this flight during cruise (and also seen on subsequent flights), the fasten seat belt signs are on even if there is no noticeable turbulence. I wonder if that's EY policy now to keep them on: certainly, my visits to the washrooms aren't restrained by the crew in any way despite the illuminated signs. On my way back, Rommel offers to prepare something from the snacks selection of the menu, which I readily accept. The steak sandwich is delicious.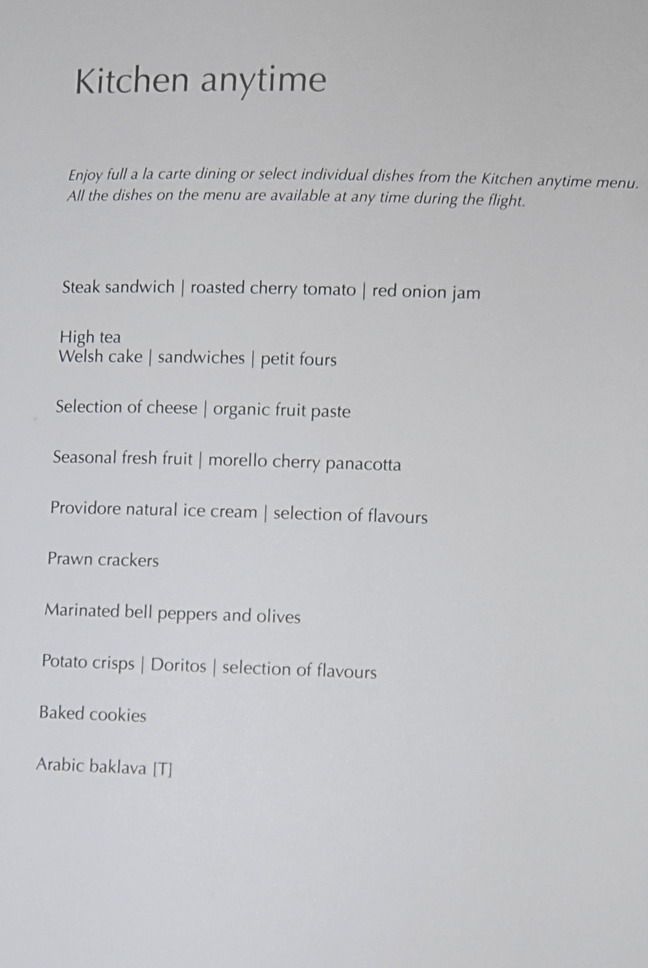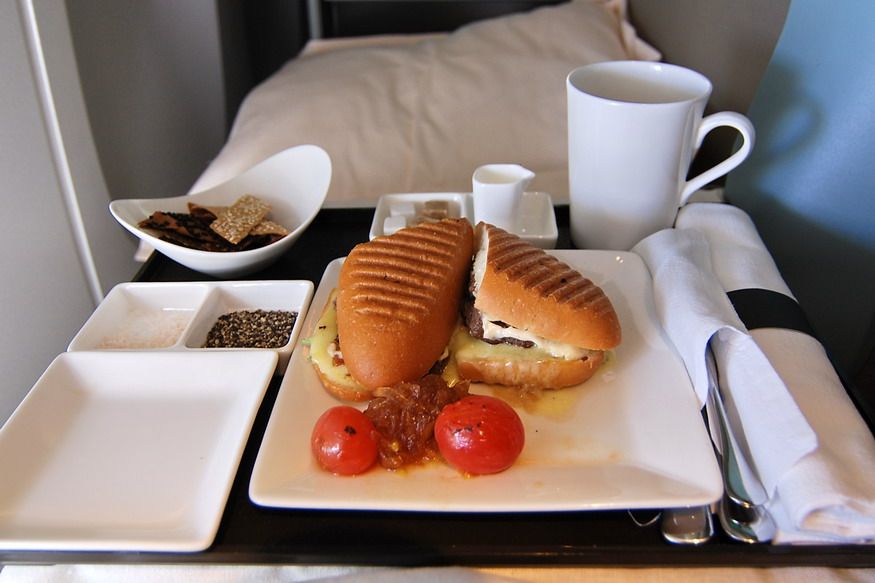 We are making good time and already over U.A.E. airspace when the cabin is being prepared for arrival. The captain comes over the blower to say the weather's a pleasant 22 C in Abu Dhabi and there'd been light rain at the airport earlier. Outside, it's like big sky country.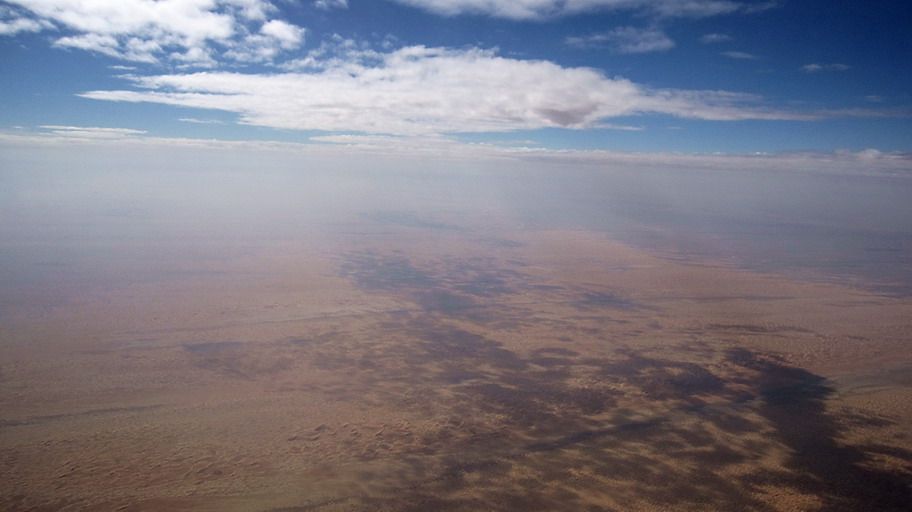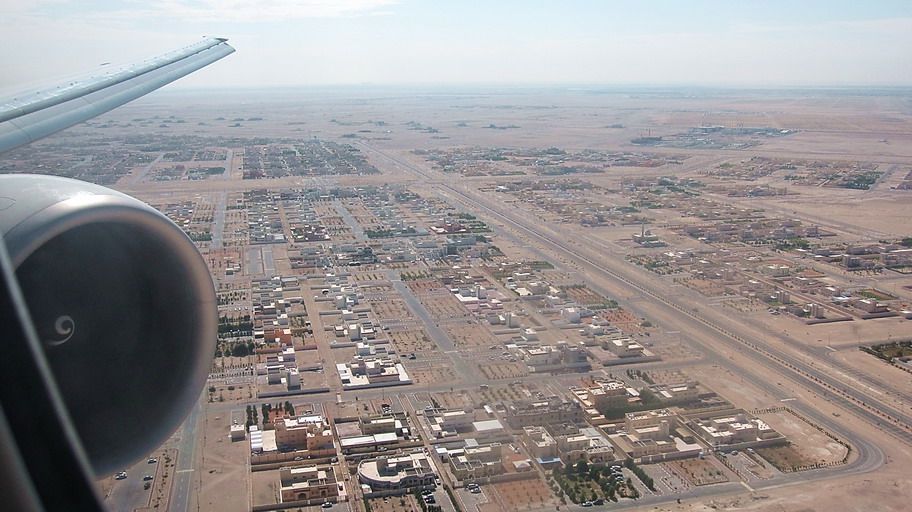 The planned housing developments on the outskirts of the capital city are clearly visible as we line up to land at AUH's runway 13R. We are about 10 minutes ahead of schedule as we make the smoothest of landings.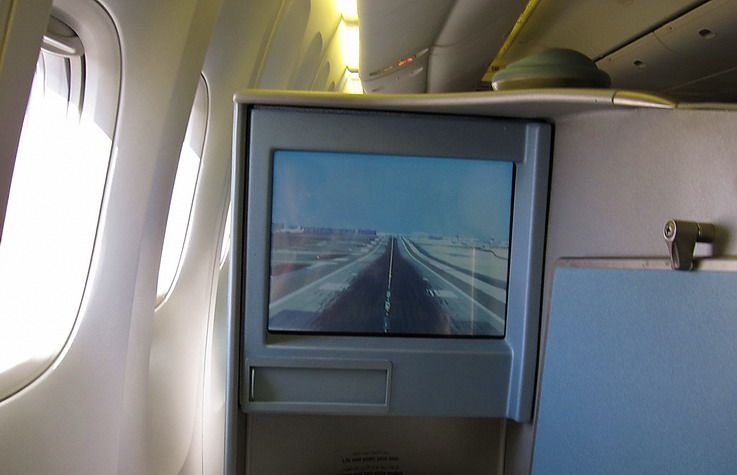 Like most EY flights from longer haul destinations, this arrival will be processed through the airport's newish Terminal 3. Thanks largely to Etihad's rapid growth, this terminal opened in January 2009 is the latest in a series of initiatives to expand the hub's capacity over the next few years. Among the most significant of these developments is the building at AUH of a large new complex known as the Midfield Terminal that will be completed 2012. I presume this new control (?) tower is part of the new development. Extensive ground works for the new terminal appear to be in full swing around it too.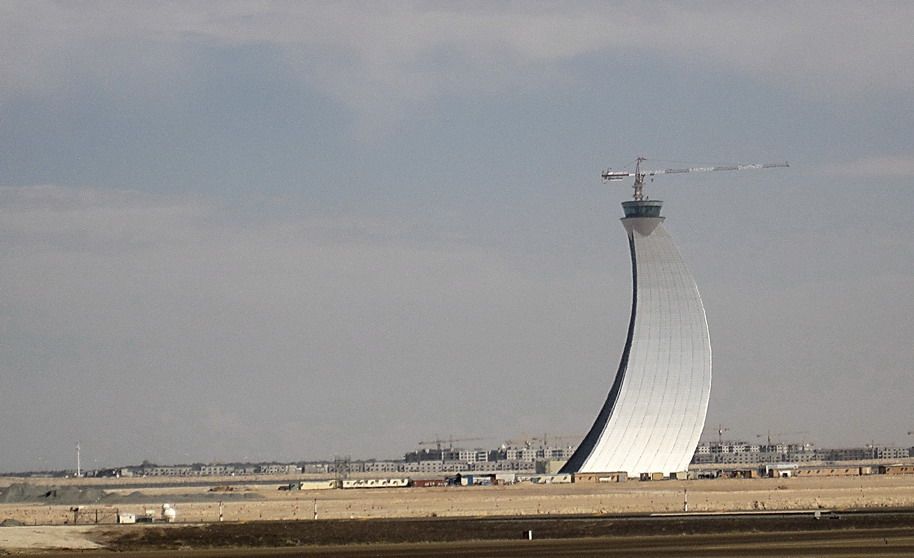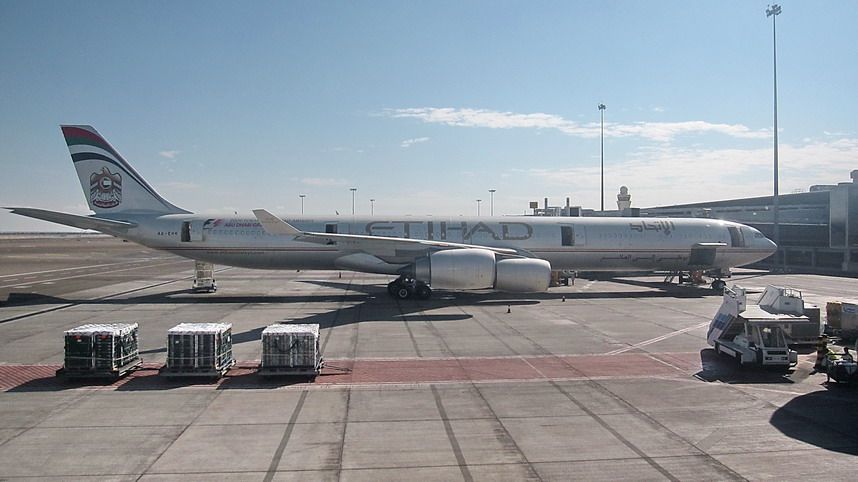 From the announcement of onward connection gates, I decipher that passengers aboard this flight are bound for London, Munich, Frankfurt and Beirut. The traffic is light at midday, so it's a quick taxi for us to reach gate 30 where A6-ETA will take a well-deserved rest. Next door, I spot a company A340-600 - it's the only one of the type I can see parked at the terminal, which leads me to guess she'll be taking me on the next leg to London. Here we are finally at the gate: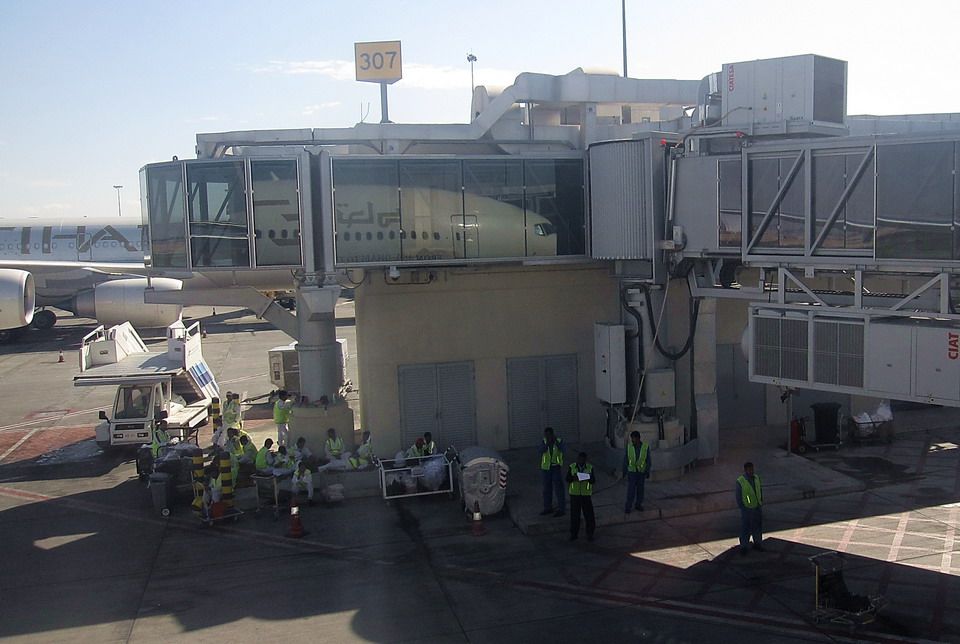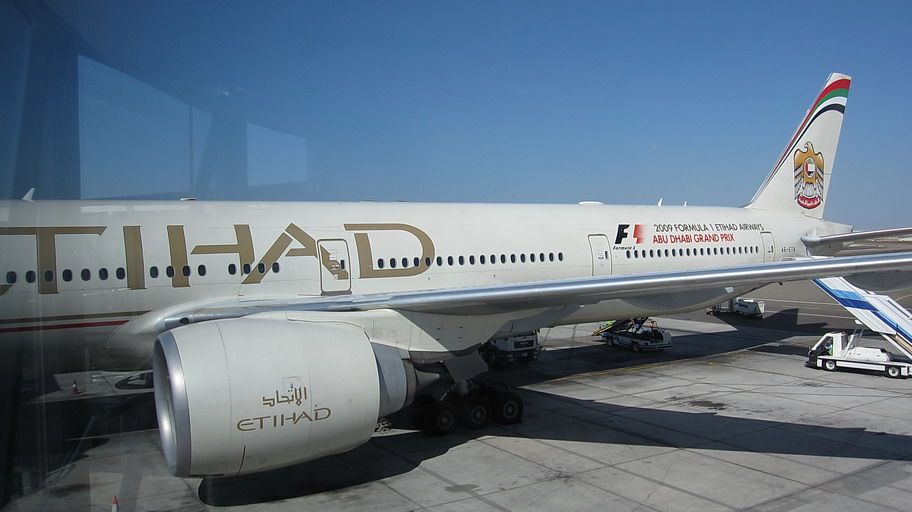 After exiting though 2L, I get an opportunity to catch a last shot (albeit a partial one) of the plane that got us here. The windows are far cleaner here than in BKK. Across on the other side is the A346 that will be doing the LHR run as EY 017.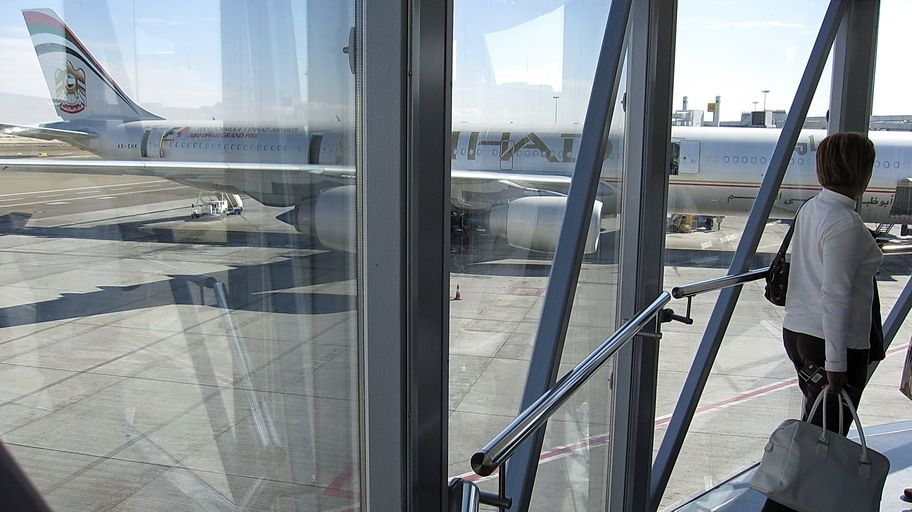 Abu Dhabi's Terminal 3 looks like an up-market shopping mall where all the outlets display posh brand names and immaculately turned out shop attendants greet you along the marbled aisles. Perhaps it's just quieter today at Christmas but the contrast with the crowds at the DXB terminals just an hour away can't be any more stark. It definitely
feels
more upmarket here.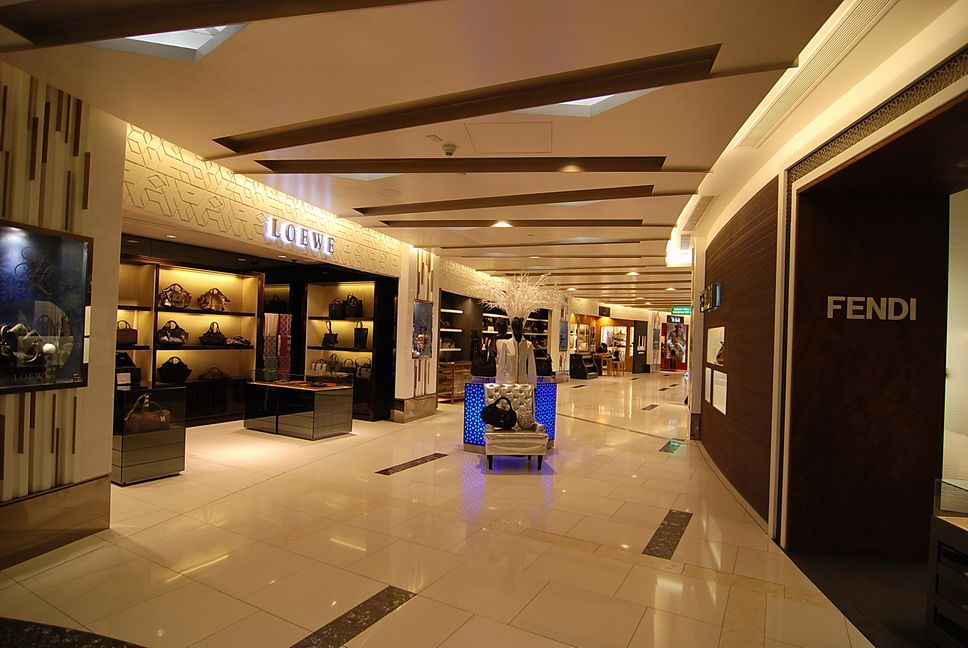 My transit in Abu Dhabi is a short one. Despite arriving a little early, I have barely an hour between flights, which is just about enough with having to queue for another security check in between flights. Usually in such circumstances, I would give the lounge a miss, but with Etihad touting the virtues of its new facility, I had to check it out.
The common entrance for the separate First and Business Class lounges is reachable by elevator, one level up from the departures concourse. A host at reception welcomes me, but says I may not have much time with the LHR flight "boarding shortly"; she also warns that boarding calls are not made in the lounge. I walk past the entrance to the much-promoted Six Senses Spa, and straight into the Business Class lounge, a plush place with plenty of different seating areas to suit your mood at the time. There are quiet convivial corners, bright and sociable living room type sofas, a large dining area with a generous buffet, and bar seating for singles - but I am drawn, as you will be, to the seats by the window with a tarmac view. As you can see, the lounge is not overly crowded today, and is quite a contrast to my last experience at EY's old lounge in 2007. I do like this classy joint very much.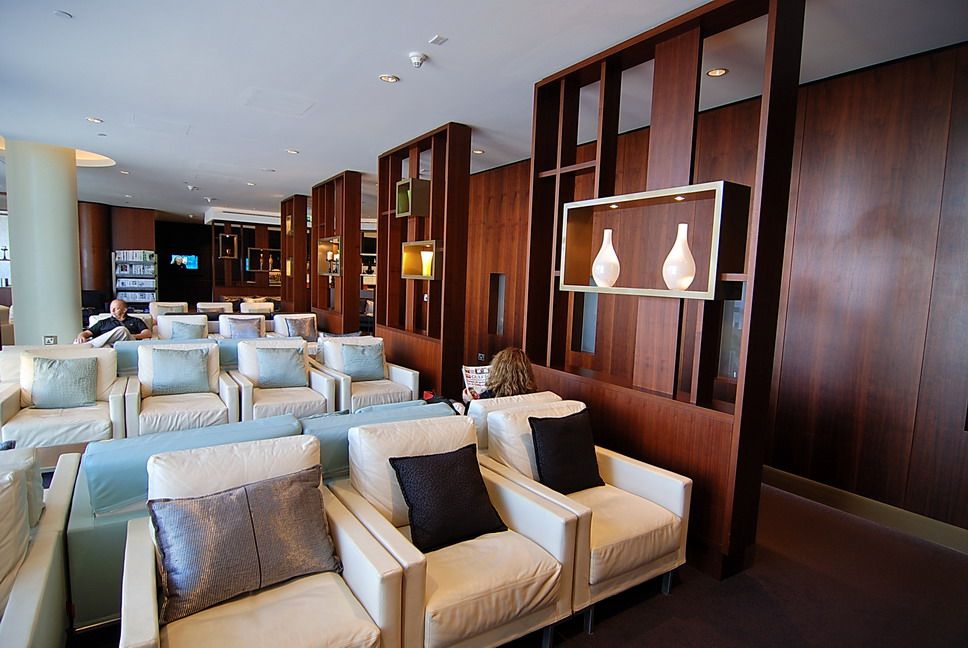 I don't get much chance to settle down. After I do a quick e-mail check and fix myself a drink, the host from reception shows up to say my London flight has started to board.
Ah, there are boarding calls after all!
I really would have liked to have spent more time in the lounge, which comes pretty well equipped, but Rommel is right: one hour is far too short for this facility.
By the way, the view from the lounge is of the old Terminal One which accommodates some of EY's short- and mid-haul flights and most foreign airlines.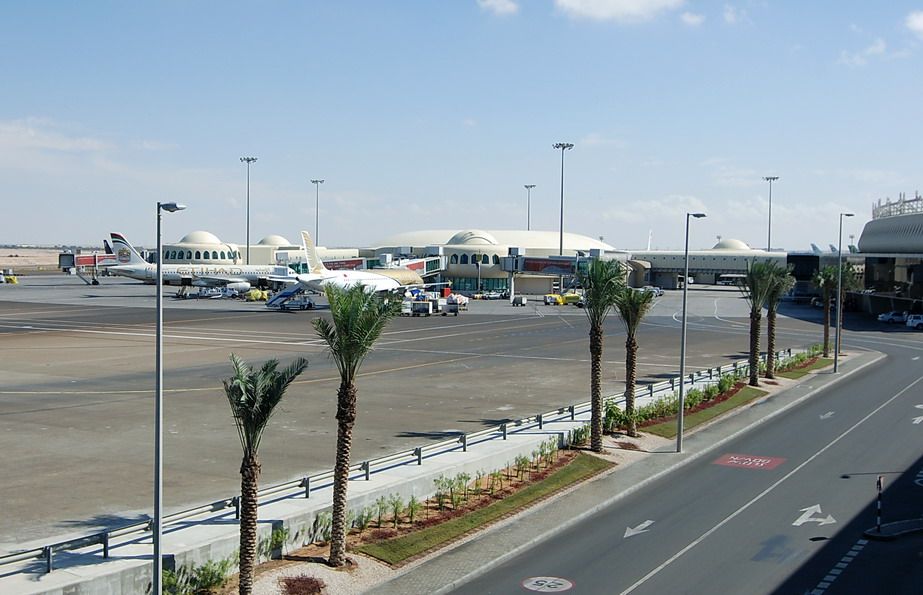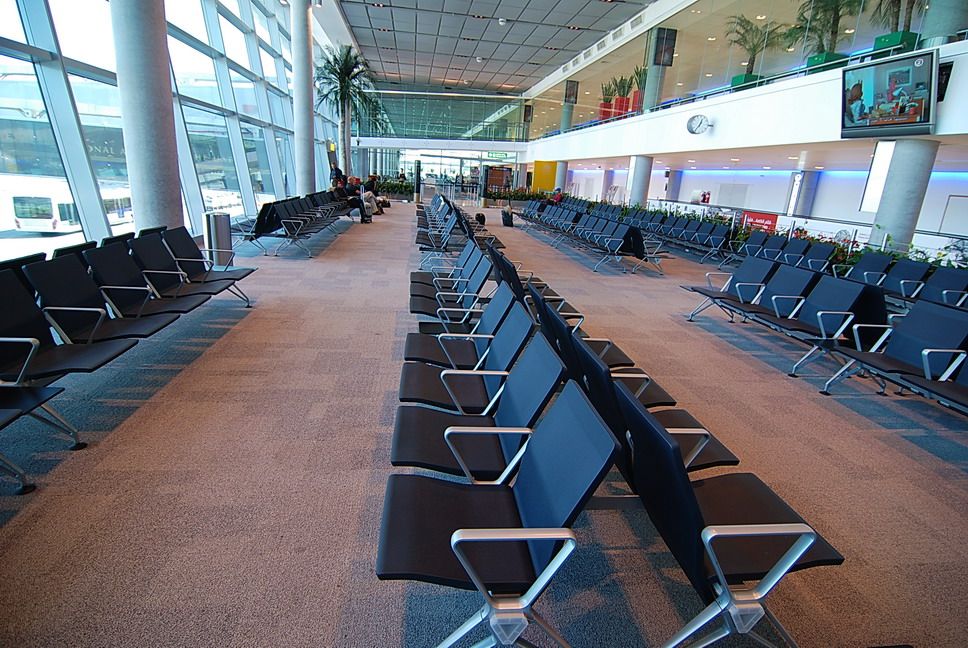 It's a short stroll to gate 29 from where my flight is boarding. The ground agents have an easy time: the flight seems to be going out light. I'm not sure if some passengers have boarded or they haven't arrived, but there are definitely not more than a dozen people here. A6-EHK, one of the latest A340-600s delivered to Etihad in August 2009, will be operating flight 017 to Heathrow this afternoon.
With no queues, we are invited to board all at once. Outside, Hotel-Kilo, like many of the newer EY planes, carries the clear, unequivocal statement cheering its oil-rich home base. I suspect it's also intended as a non-too-subtle warning shot at its cocky and much larger competitor down the road to watch it, and not get too carried away with its hub-building. Don't you just love sibling rivalry?
Bonny, a friendly stewardess, welcomes me aboard at 2L and shows me to my window seat that's just ahead of the door. Pearl Business Class on the A346 seats 30 passengers but is divided into two cabins separated by a galley and washroom complex around doors 2. The seating configuration is identical to that on the B77W, but the distance between the seat and sidewall is noticeably smaller here, making it feel a bit less spacious. But that's not a surprise though seeing the A340 is a narrower plane.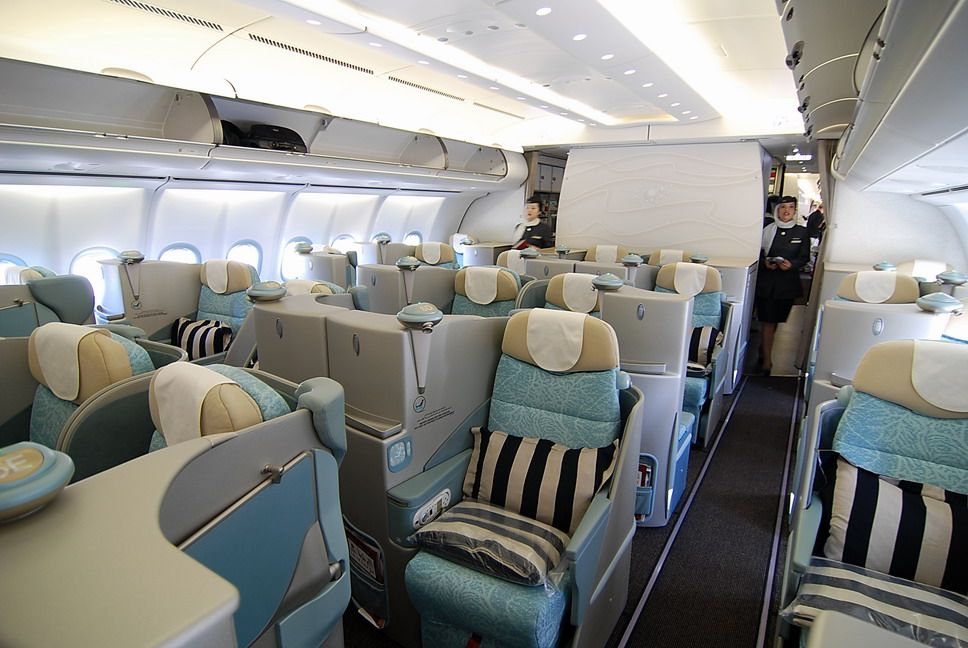 I am one of the first to board in J class and that allows me time to take a few cabin photos. Compared with my last flight, one of the most obvious differences here is the use of new black and beige striped blankets and pillows. They are pretty smart looking. The fittings and seats themselves are obviously newer and in better shape, while the absence of overhead compartments above the middle seats does wonders for the spaciousness of the cabin. The airline seems to be in the middle of a transformation program as evidenced by cabin interiors which have been spruced up with new beige curtains and lighter colored carpeting. Altogether, a much nicer look.
I am tempted to pop into First Class to steal a few pictures of the new suites, but the arrival of a large family of six to claim their luxurious leather seats ensures that the photo session will have to wait for another time. Business class also starts filling up too, with a decent load of about two-thirds full in the front cabin. The aft J cabin remains unoccupied for this flight.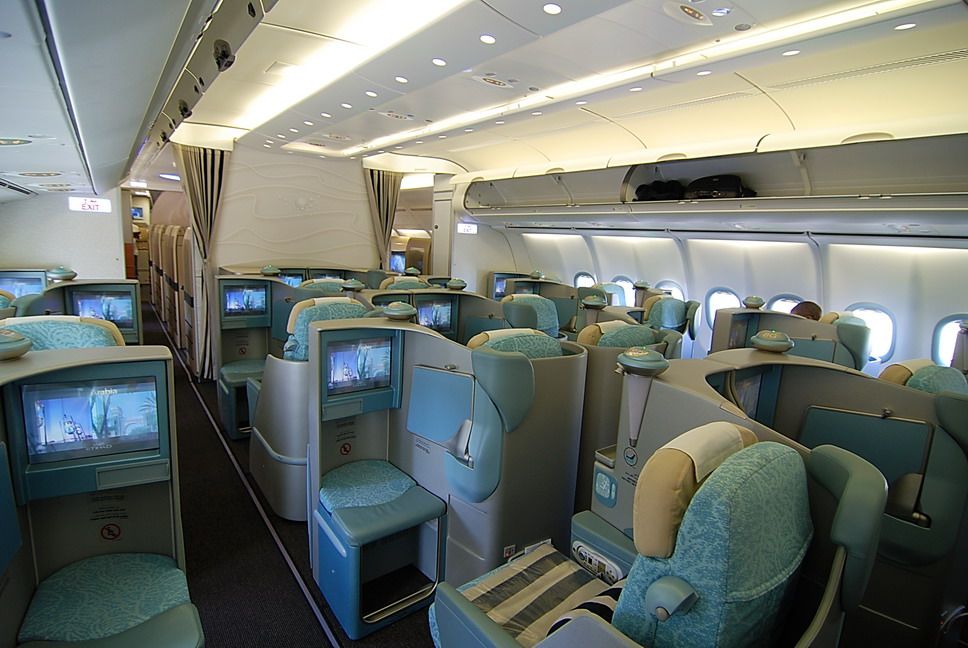 from Abu Dhabi to London Heathrow
Etihad Airways flight 017 in Pearl Business
Airbus 340-642 A6-EHK
Dept: 13h14 Arrv: 17h04 (on time)
Another early push back, this time accompanied by
fresh
chilled watermelon juice courtesy of Bonny. There's an F&B Manager aboard this flight too, but I don't catch his name as he rushes by between curtains without looking in on me. In fact, as far as I can see, he doesn't spend time with any of the J class passengers - presumably because he's quite busy enough in First Class. Not that the friendly stewardesses aren't doing a great job in Business, but there is clearly an inconsistency between the service you can expect on a 2-class and 3-class aircraft.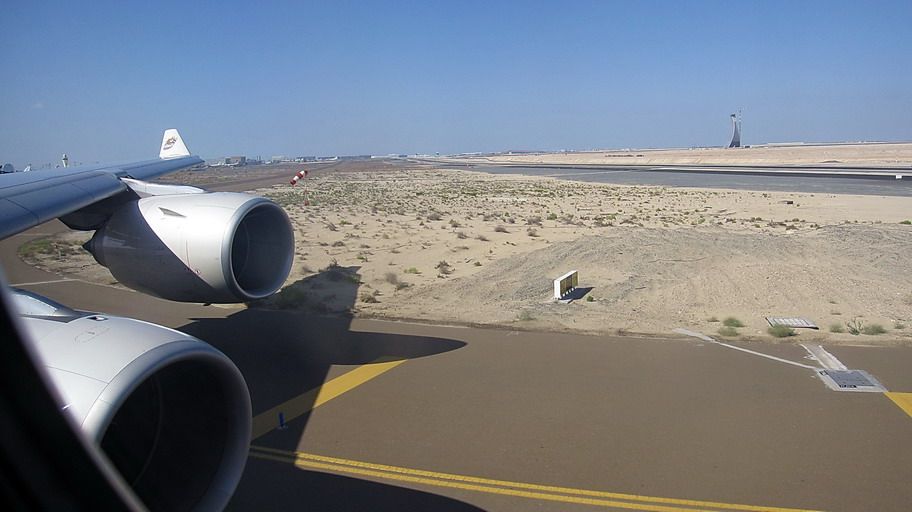 As we taxi out, the safety video fails, so we get a manual safety demo - always more fun to watch I think. Closing in on 31L, the Trents spool up - a lot quieter than the earlier GE90s - as the second phase of my long Christmas day's journey to London begins. Flight time is 7 hours and 40 minutes, about standard westbound for this time of year, and certainly not pushing the envelope for what an A340-600 can do. We lift off rather effortlessly.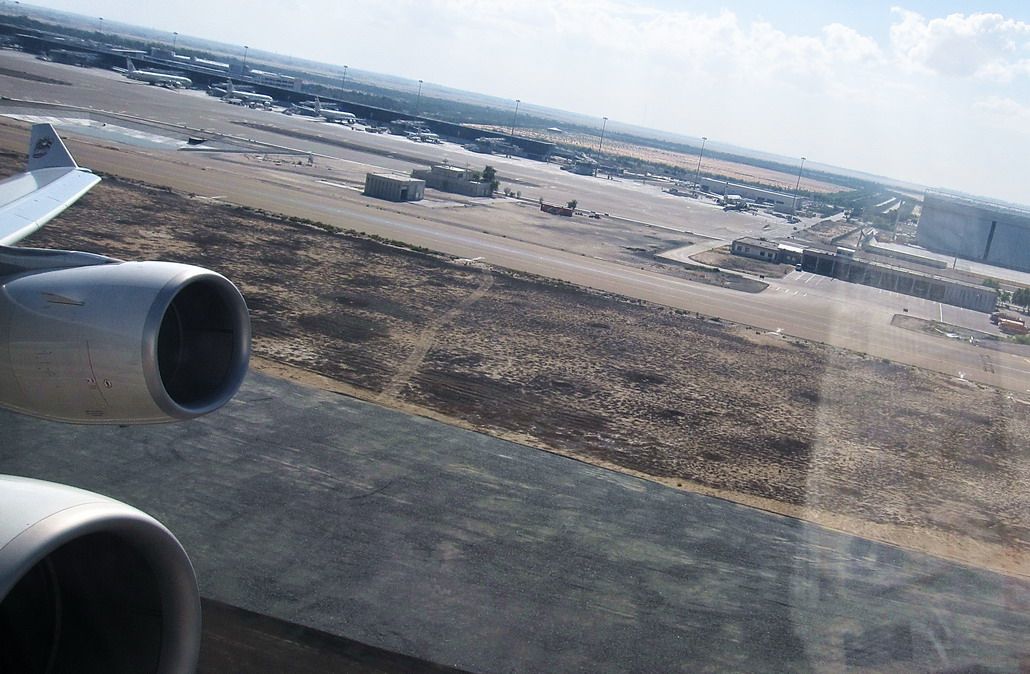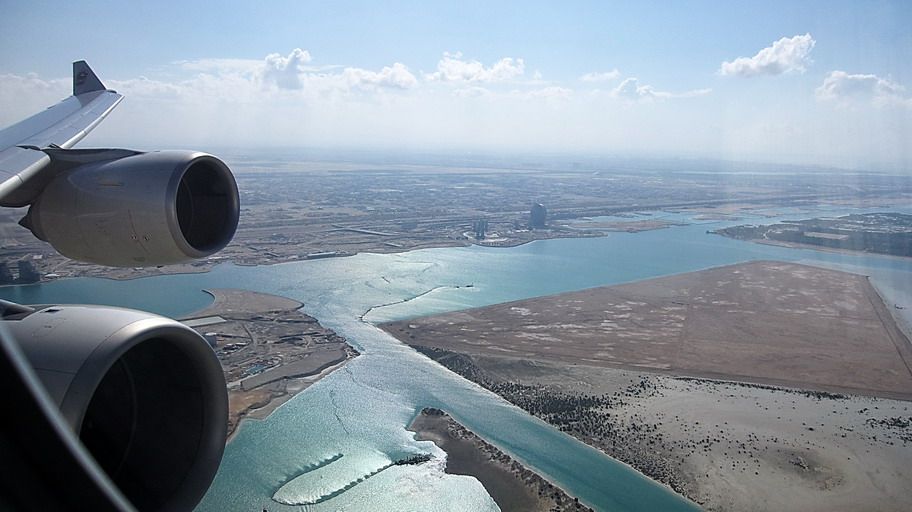 The view immediately after take-off is one of an Abu Dhabi still undergoing a building boom. Less well known - certainly I didn't realize until I checked - is the fact that the city comprise a series of inter-connected islands, while the emirate has close to 200 islands along the coast. We don't fly over the city proper but can see the towers from a distance as we gain altitude over the Persian Gulf.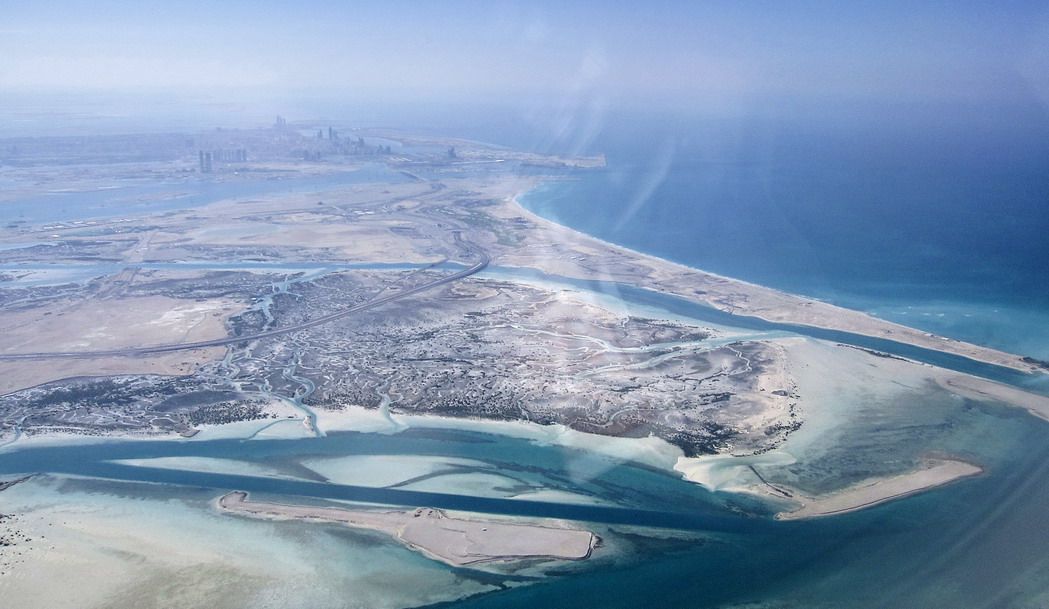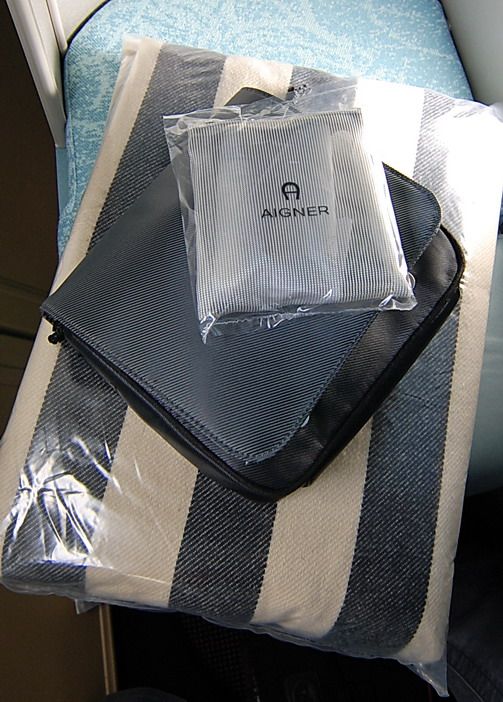 A stewardess hands out my second amenity kit for the day, and a menu in festive red. Do I want my Christmas lunch now? Why not, I say, feeling pampered and supremely contented. With Paul Theroux as my companion, I don't even have much reason to tune into the AVOD because escapism comes easy. I had bought this paperback follow-up to that definitive train-spotters' manual
The Great Railway Bazaar
many months earlier, but am glad I'd saved it for this trip:
"The best of travel seems to exist outside of time, as though the years of travel are not deducted from your life. Travel also holds the magical possibility of reinvention: that you might find a place you love, to begin a new life and never go home. In a distant place, no one knows you - nearly always a plus. And you can pretend, in travel, to be different from the person you are, unattached, enigmatic, younger, richer or poorer, anyone you choose to be, the rebirth that many travelers experience if they go far enough."
Now, which movie can top that?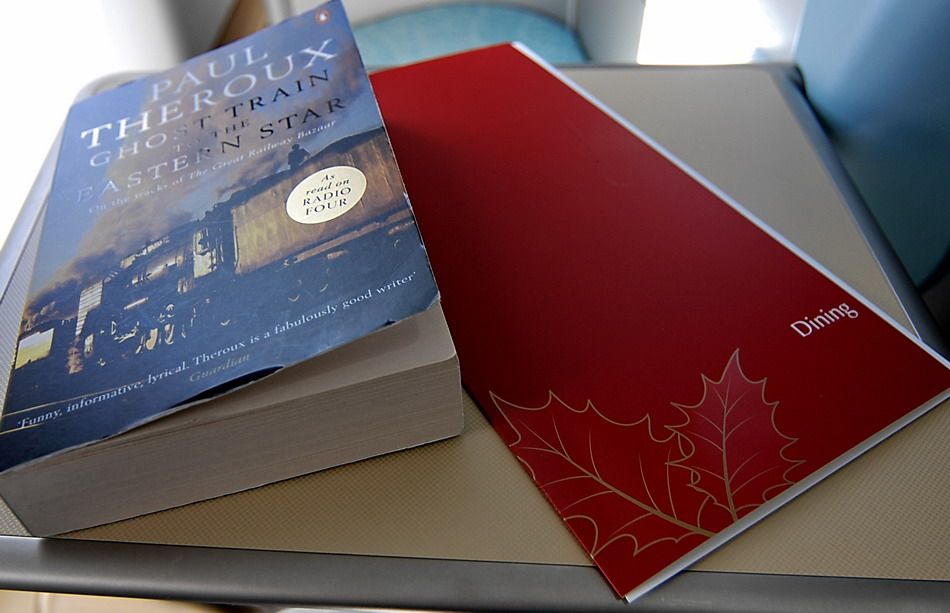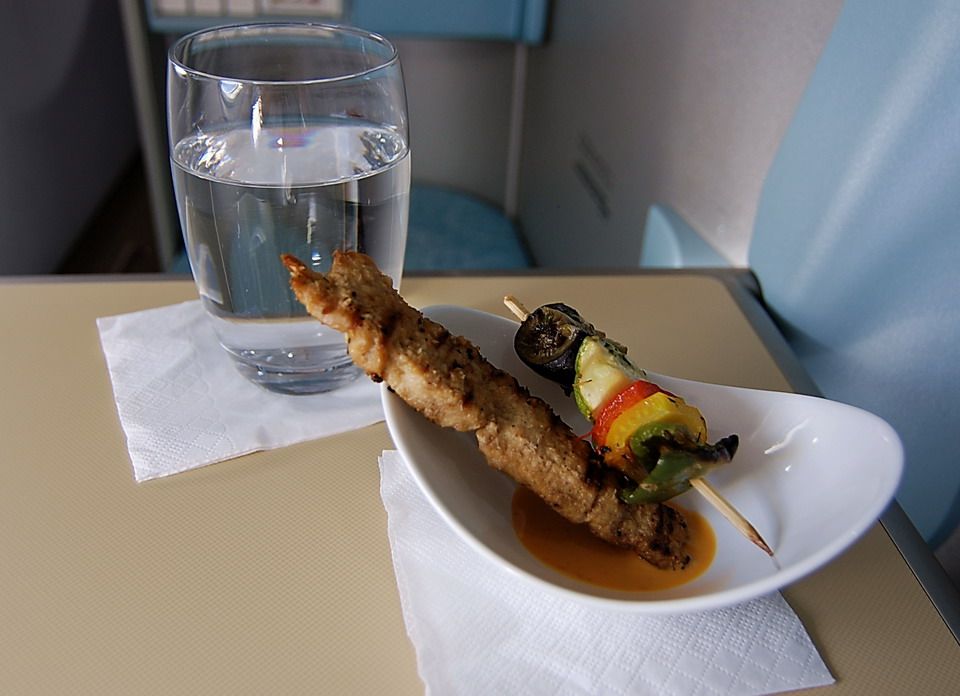 Lunch is a long, drawn-out affair, which suits me just fine today. It starts with a meat skewer with a dabbling of peanut-cream sauce, not quite kebab, not quite satay. My menu says nothing so that's the best way I can describe it, and tastes better than it looks. Meanwhile, E-BOX shows we're heading directly north-west over the gulf, while Theroux, just starting out on his epic rail journey from London, has ordered a large bowl of bouillabaisse in Paris.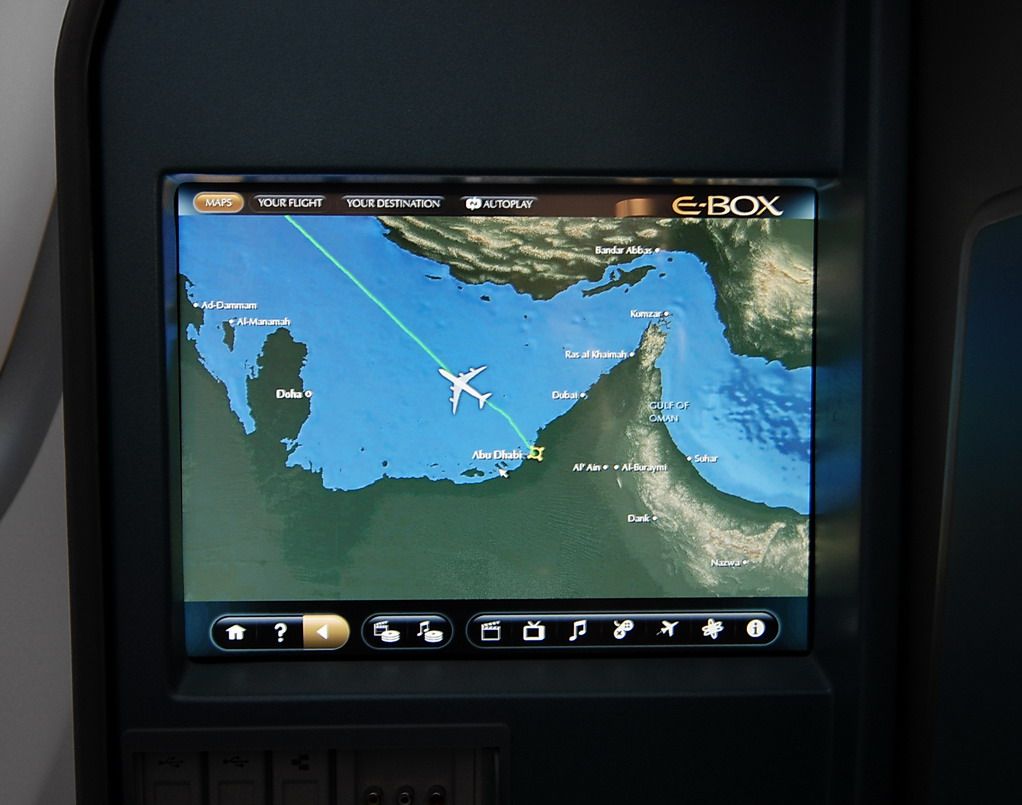 Next up is also something not listed on the menu but seems to be a staple ahead of every EY meal in J. Let's call them the mystery multiple dips served askew - though I recognize one as hummus - but they're all quite delicious. The bread is especially good.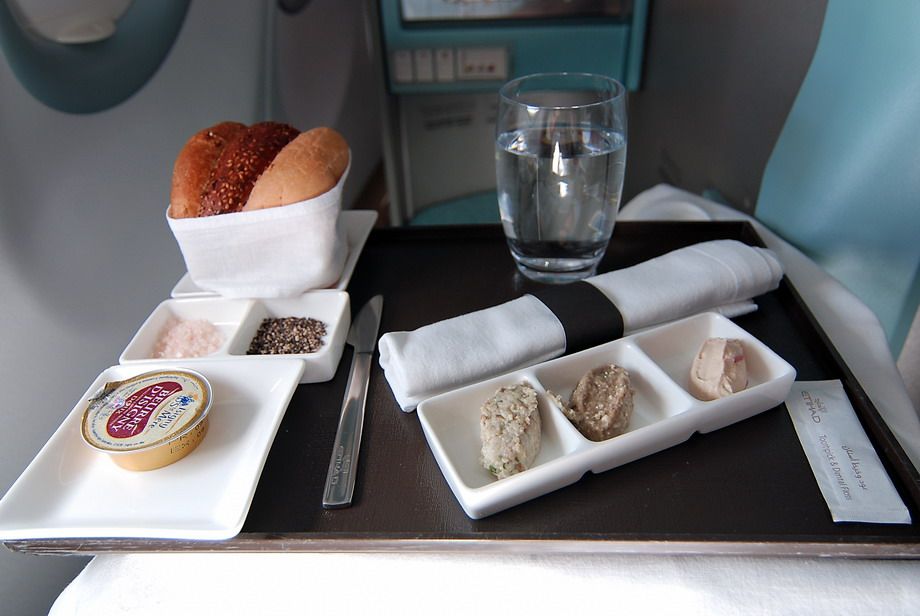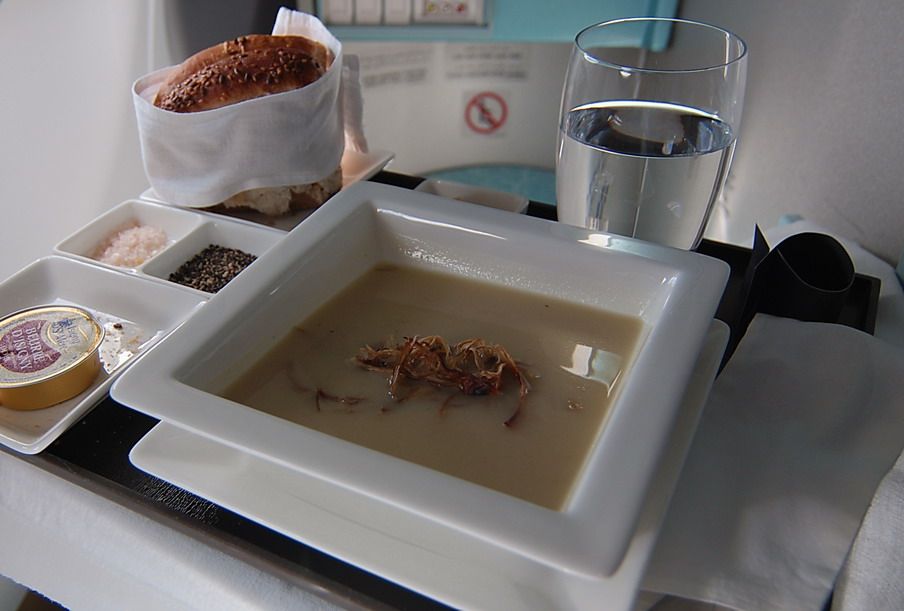 The next course is cream of roasted fennel soup. I don't know what it is about leisurely holiday long hauls and comfort foods, but I am thoroughly satisfied with my choice. Meanwhile, Theorux has polished off his lunch and is sounding abnormally charitable. But as I expect, that old cynic is only prepping us for a nasty sting in the tail:
"I finished my meal, talked with the waiters, and made a few notes. From these few hours in France I could conclude that French waiters are friendly and informative, French food is delicious, French taxi drivers have a sense of humor, and Paris is rainy. In other words, generalize on the basis of one afternoon's experience. This is what travel writers do: reach conclusions on the basis of slender evidence."
Ouch.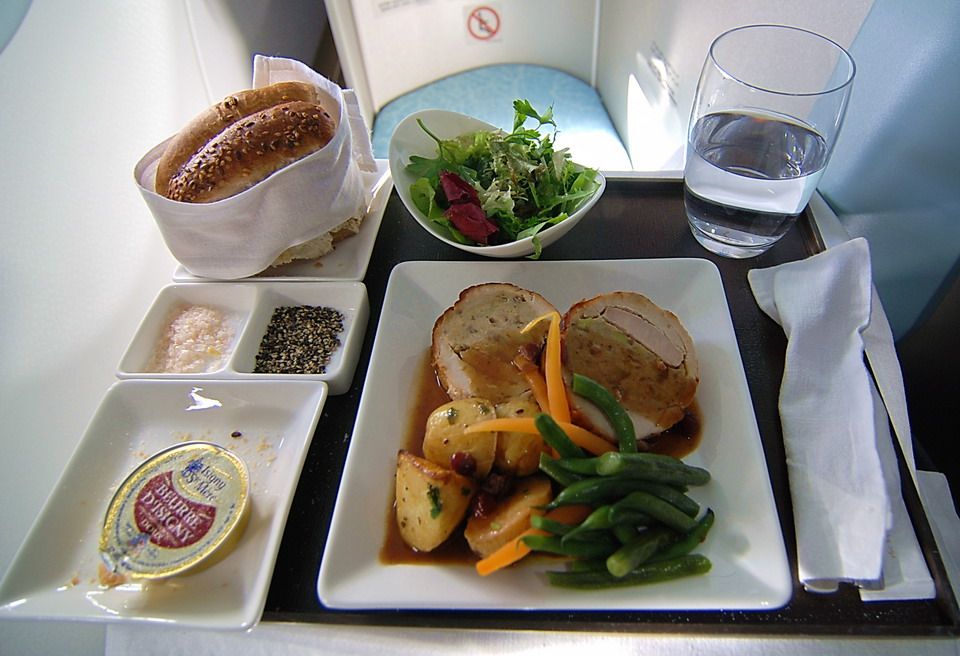 I opt for the traditional Christmas turkey with chestnut stuffing as my main course. I'm not a great fan of turkey but it just seems the only "right" dish to order today. After this ample serving, I am well and truly stuffed.
Bonny asks if I need anything more. I say no, but she insists that I try the Christmas Yule log to complete the set. "Just take your time. I will bring it in fifteen minutes. You'll be in a mood for it then," she says. The service is excellent while the desert's delicious, as with almost everything on the Etihad J menu
(or so this traveler generalizes on the basis of one afternoon's experience!)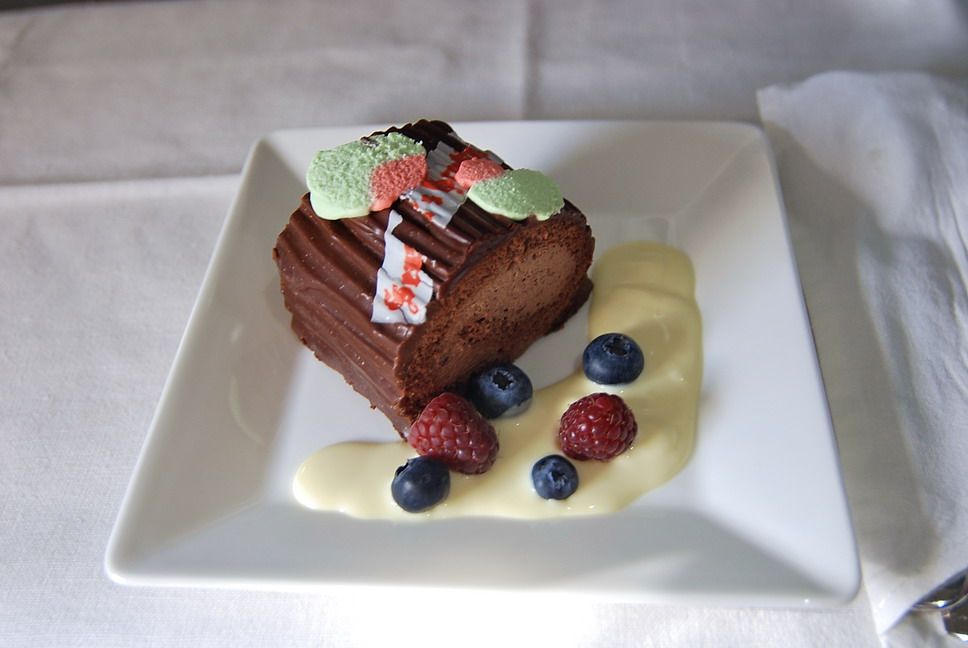 With lunch over, I take a break from Theroux (who has arrived in Istanbul), and am amazed by what I see on my PTV. We are over Iraq! Ever since I can remember, airline routes between the gulf region and Europe have skirted around Iraq, making a detour south of Kuwait into northern Saudi Arabia, then over Syria, before heading north into Turkish airspace. If overflying counts for anything, I tick off a new country today. I know I shouldn't be surprised with many airlines now starting or planning flights to Iraq but it's exciting nonetheless: I feel I want to tell somebody, except by this time, everyone else in the cabin is asleep while Bonny's probably on a well-deserved break.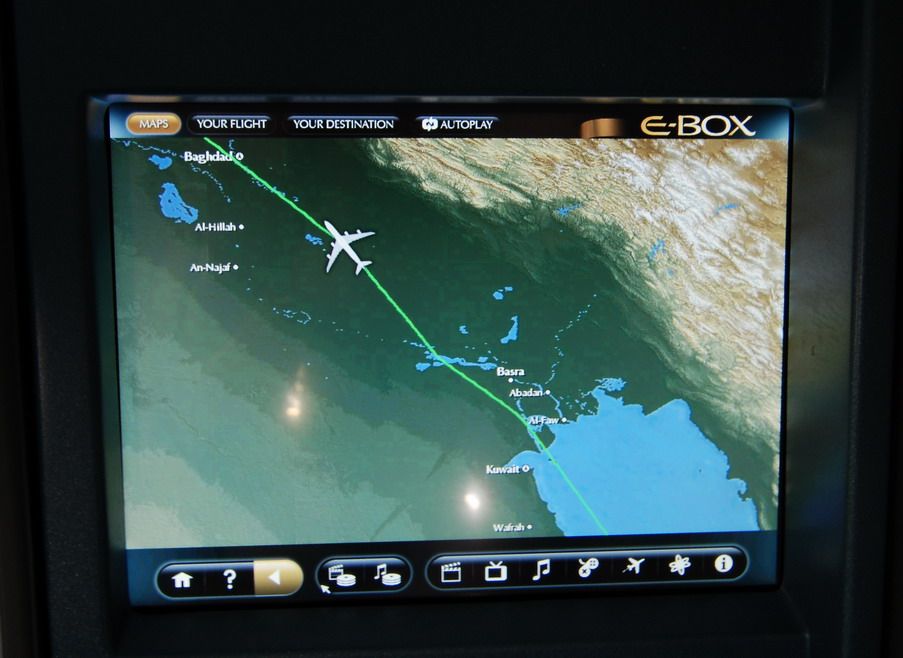 The cabin has been darkened so I am reluctant to raise my window shades too much. And in any case, the direct afternoon sun isn't making it easy to look out from the port side, so I move to a seat on the starboard side of an empty second J cabin to enjoy the view. This is my first ever glimpse of Iraq under the pleasing hum of a couple of giant Rolls Royce Trents: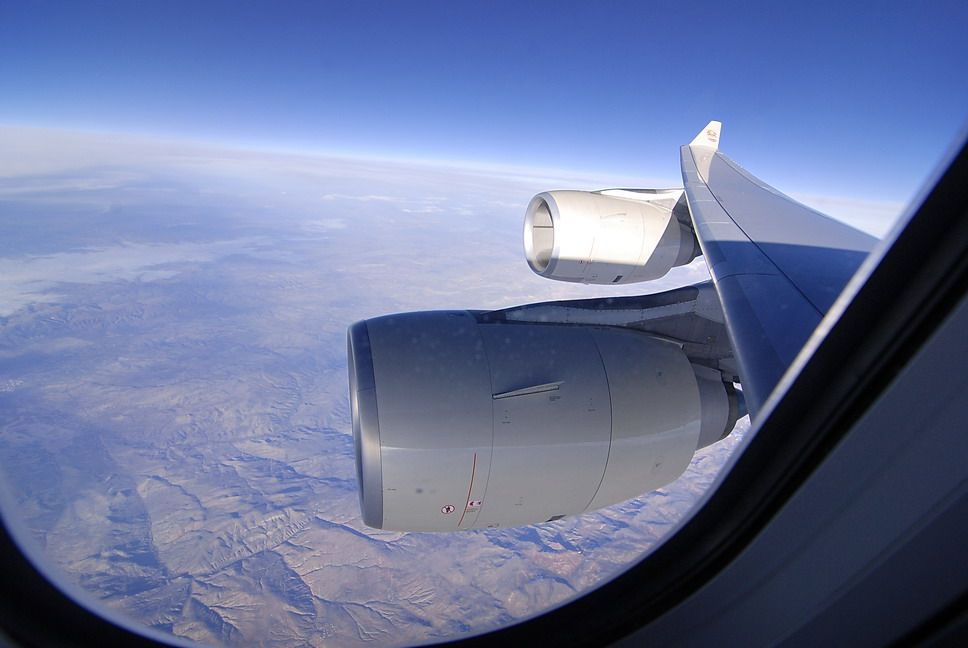 When the skies cloud over, I return to my seat, and lie back to enjoy the airshow. What's incredible about Iraq is how the names of the cities and towns we pass - Basra... Baghdad... Najaf... Kirkuk... Mosul - have all become sadly familiar from news reports.
The mood's turned a little sedated and I decide to hibernate for a little in my window-side cocoon. By the time I am conscious again, it is almost dusk over the Balkans, which means we have about two and a half hours to go.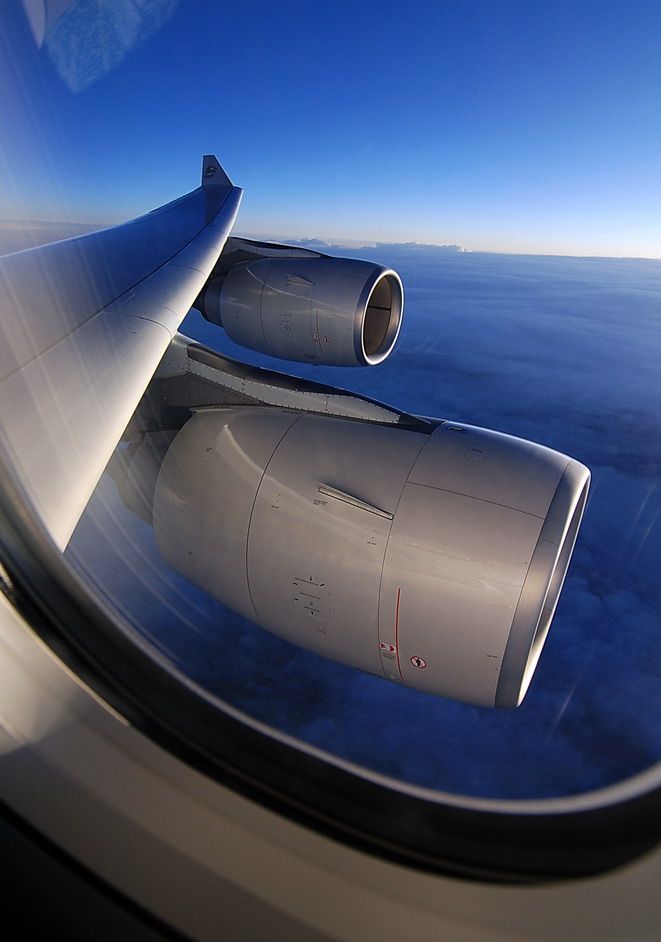 I take the opportunity to wander into economy, which feels a lot emptier than the J class cabin I am from. A few front seats are occupied but most of the rear seats remain empty and untouched. It's rather unusual that there's more pronounced mood lighting here than in Pearl Business that's largely kept in the dark.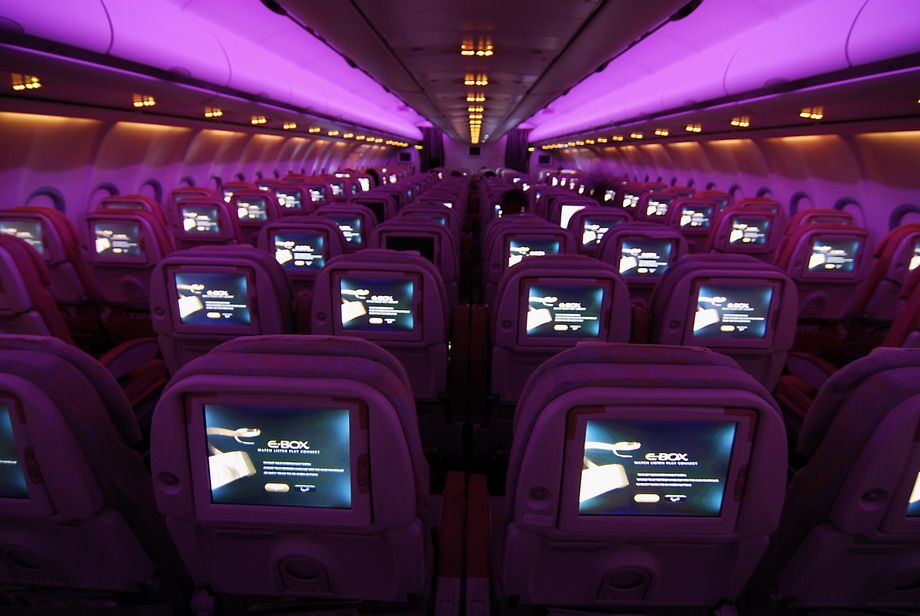 The dim lighting didn't allow for many photos but the cabin was empty enough that I could "set up" my shot with the aid of as many overhead reading lights as possible, with most (if not all) of Y class passengers not even being aware of my presence. The end-result, as you can see, is not particularly successful - but I think you get the idea.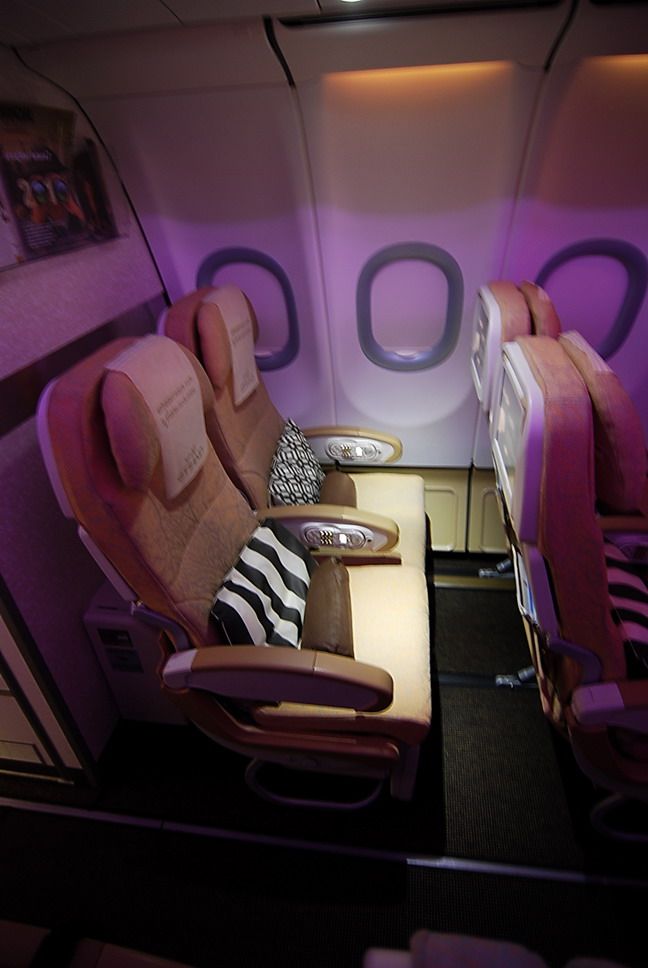 The legroom looks pretty standard, while the contrasting seat cushion designs are an interesting diversion. Those are the blankets rolled up like mini sleeping bags.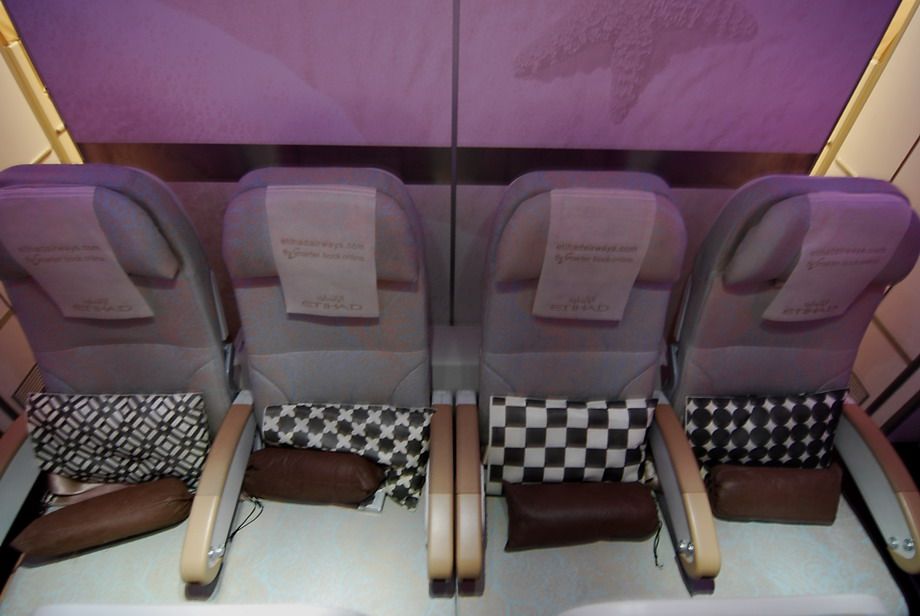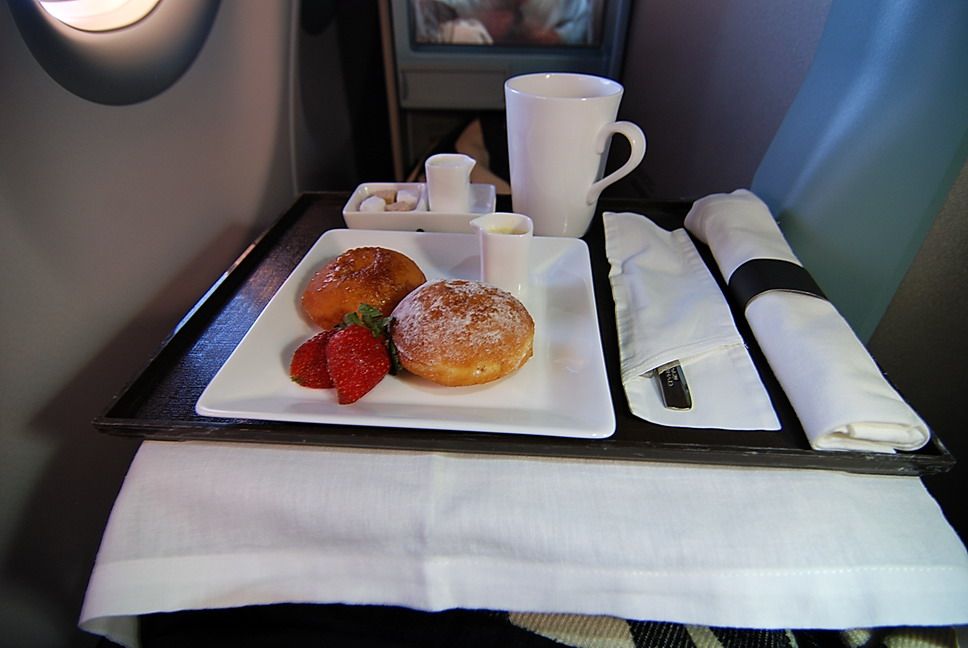 Somewhere over Germany, the sun starts to set. Bonny offers to bring me something sweet, which I don't decline: after all, what better way to end a pleasant day's flying? The skies start to clear as we cross the channel (but it's already too dark for any meaningful photos): the twinkle of lights on the Belgian coast and then in Kent, as we track westward along the Thames Estuary to a now brightly neon-lit London on Christmas night. Without ATC delays, we don't change course at all and make a beeline for 27L, landing at Europe's busiest airport on its quietest day of 2009 almost half an hour ahead of schedule.
** ** ** ** ** ** ** ** ** ** ** ** ** ** ** ** ** ** ** ** ** ** ** ** ** ** ** ** ** **
new year's eve
LHR-AUH-BKK
The airline had called up the night before to reconfirm my complimentary limo transfer at 6 a.m. The holiday has ended all too quickly, and I'm feeling inadequately recharged. In the past few days, I'd even squeezed in a quick trip to New York in order to experience Air France's new A380, but I am now inexplicably obsessed with the need to complete the trip report.
Do it right now, or you'll never get round to it!
So, that's what I do: spend the whole of my last day and night in London slogging over a rushed
AF A380 trip report
to meet a silly, self-imposed deadline just hours before my car arrives. Ahem, not very smart. Â 
 
So it's a bleary-eyed rather than well-rested Etihad premium passenger who's being driven through the quiet streets of pre-dawn West London towards Heathrow this morning. Terminal 4, EY's new LHR home, is already starting to get busy at this hour, and I am dropped off close to check-in area C, which Etihad shares with Malaysia Airlines.
But I first stop at the ticketing counter to try my luck. Having now flown six sectors on Etihad since 2007, I have accumulated just enough 'Eithad Guest' miles to upgrade from J to F on one sector the distance of LHR-AUH. Perfect, except according to EY's website, upgrades from J to F are only available for higher status members - of whom I am obviously not one. Still, there's a sign at the ticketing desk that looks promising:
I'd like an upgrade to First, please?
I ask sheepishly, expecting a rejection.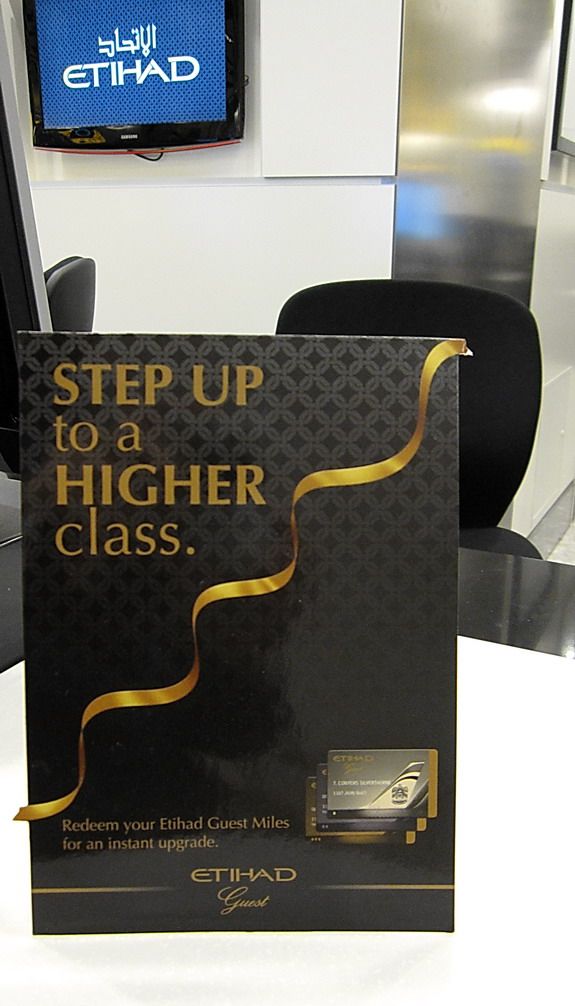 Now, the treatment here is nothing short of impressive. My card is checked and miles quickly verified: yes, I do have the required 27,000 miles needed for the upgrade and yes, there are seats available in First. A quick call to a "supervisor" and I am told to wait a couple of minutes. The supervisor shows up to tell me everything's taken care of, and even offers to escort me to the First Class check-in desk. It's sorted in less than 10 minutes: the "instant upgrade" really does work! (As for the J to F upgrades only available for higher-tier members, that apparently still applies if you want a confirmed booking ahead of your flight. On-the-spot upgrades like mine are available for all provided there are seats.)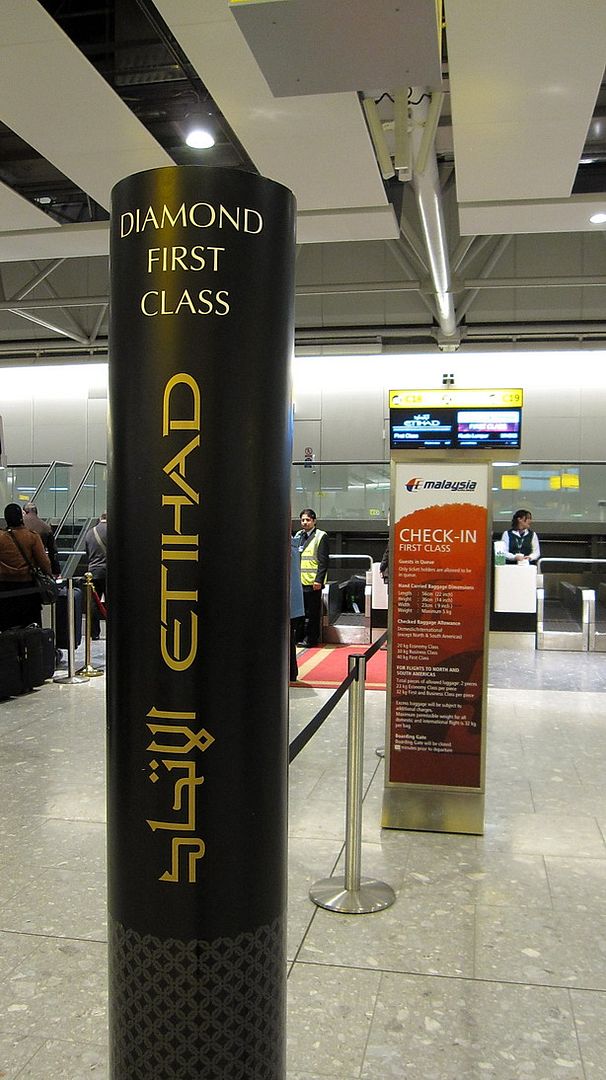 Here in London, Etihad doesn't need to vie for attention against fellow gulf carrier Qatar. The neighbor being Malaysia Airlines, there's really no contest. Diamond First Class' six foot tall Roman column easily overwhelms MH's more modest signs. Â 
Check-in is a breeze. I ask if I am on the "new" plane, hoping that I might strike it lucky a second time, but no: "the new A330 starts service on January 1st." I am missing her by a day! Still, I can't complain seeing I've managed to snag a ride on the new First suite. I am again given a whole wad of paper (including, only momentarily, the wrong boarding pass for J class) and sent on my way.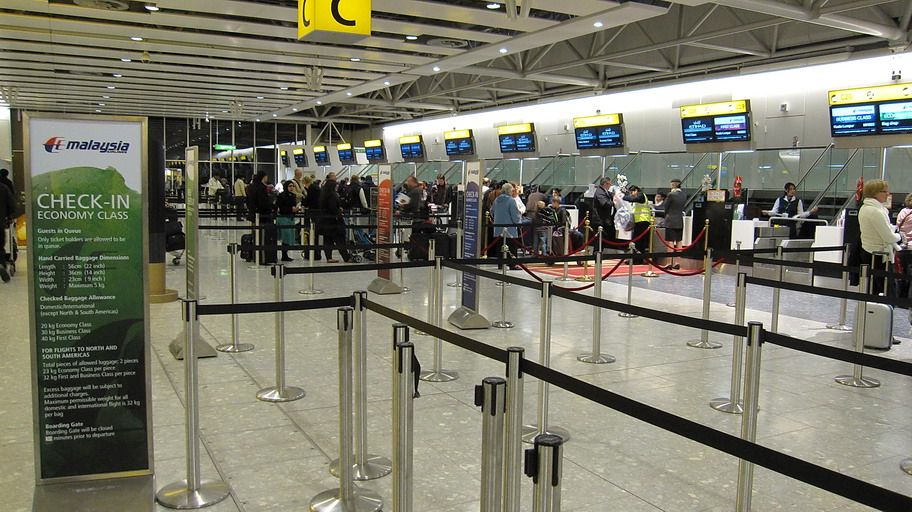 The queues are short at fast track and I am quickly airside. I am anxious to see the new, highly-acclaimed Etihad lounge, opened at end-September when the airline moved over from T3, that's occupying part of the space vacated by BA. So that's where I head immediately. The facility is close to gate 10, from where today's AUH-bound A340-600 will board.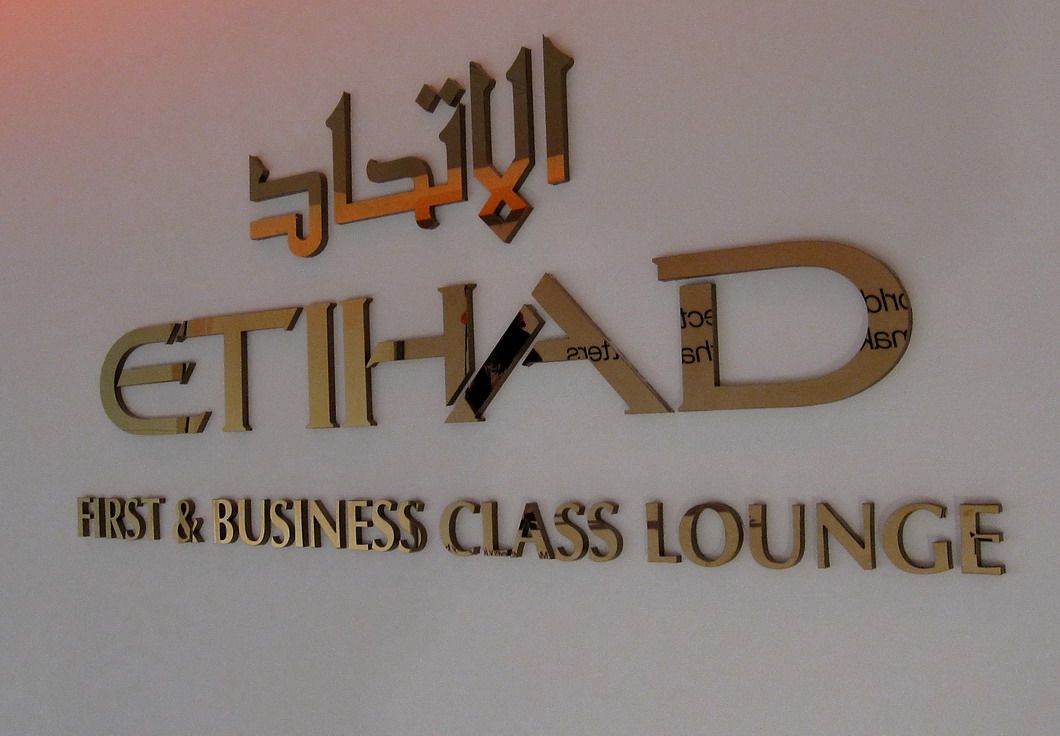 The lounge is located one floor down. Inside, the place is elegant - lots of leather and timber paneling done in quite a tasteful manner. There are no separate First and Business sections and the color of the sofas and armchairs may be a little different, but otherwise this place is if not a clone then a close relative of the airline's flagship AUH lounge. When I arrive - I suspect the F Class boarding card makes the difference - a host at reception asks if I'd been to the lounge before. "Ah, if it's your first time, may I show you around?"
I realize it's a mistake the moment I accept the offer. Now, if you haven't been on a 'tour' of an airline lounge before - as I hadn't before today - let me tell you, it's a short affair. That's just as well, because you have less time to feel self-conscious from the curious stares of more frequent travelers as the buffet or direction to the toilets are meticulously explained to you. All the standard facilities - from showers to business center - are there, but there's also a children's play room while a trendy dining area and open kitchen form the centerpiece of the facility. Like at AUH, there's also a Six Senses Spa which I am immediately invited (but decline) to try.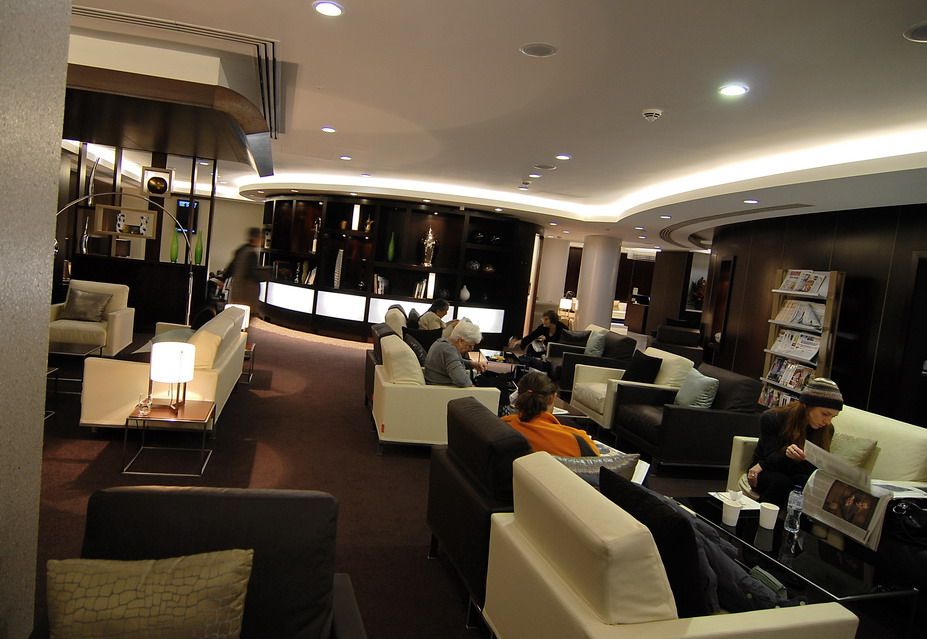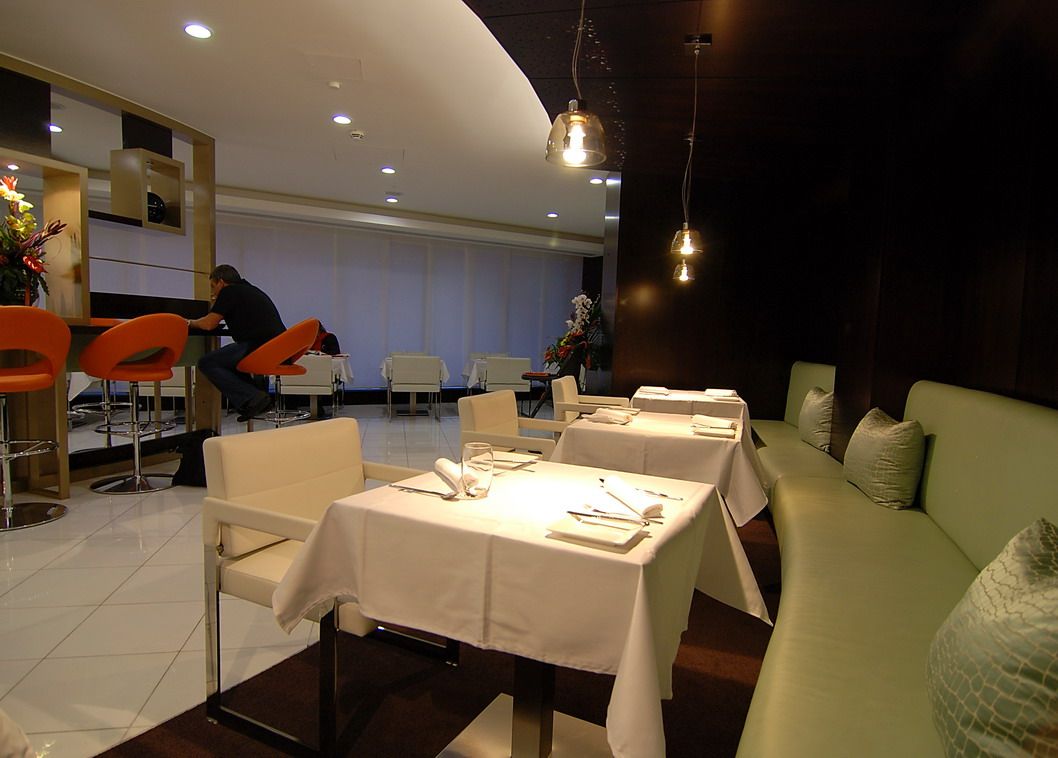 One of the most notable features is how this facility is staffed - or rather, extravagantly over-staffed. You see this sometimes in the East, but I am surprised to experience it in London. Waiting on hand and foot, the service is more hotel style than airport lounge. I could have picked up my breakfast from the self-service buffet, but instead opt to be pampered by having it delivered to my table.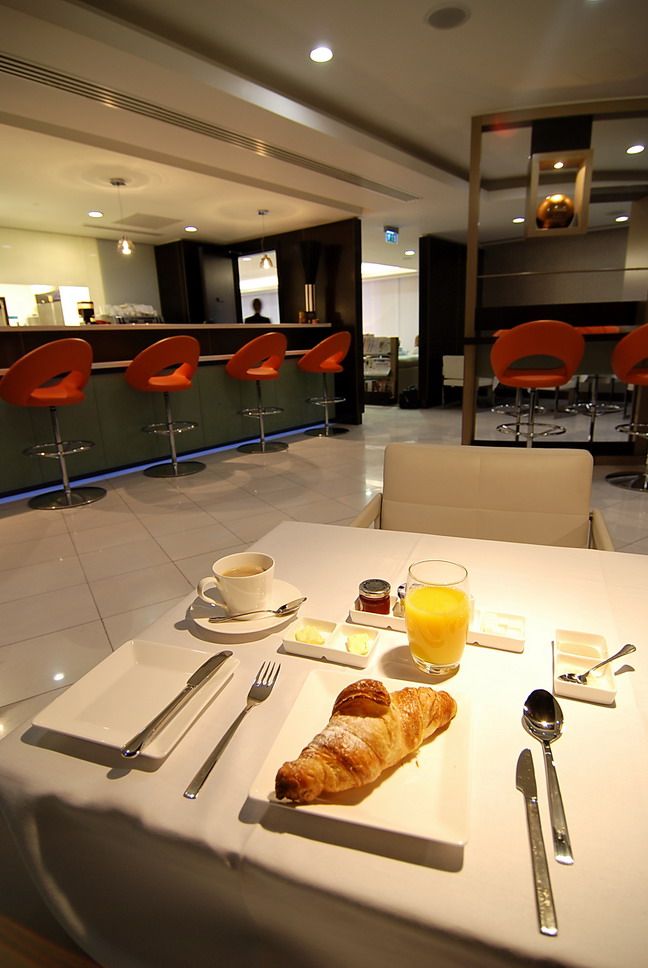 However lavish a lounge keeps my interest half an hour at most, after which I am usually longing to go. When I get back upstairs, one of the first things I see is another one of a series of aggresive adverts Etihad has put up in and around Terminal 4. I don't know about you, but I find this kind of blatant trumpeting a tad distasteful - it certainly doesn't make me suddenly excited I am today flying with the "world's leading airline". In addition to this accolade, Etihad has also picked up the World Travel Award's Leading First Class prize - if it means anything at all.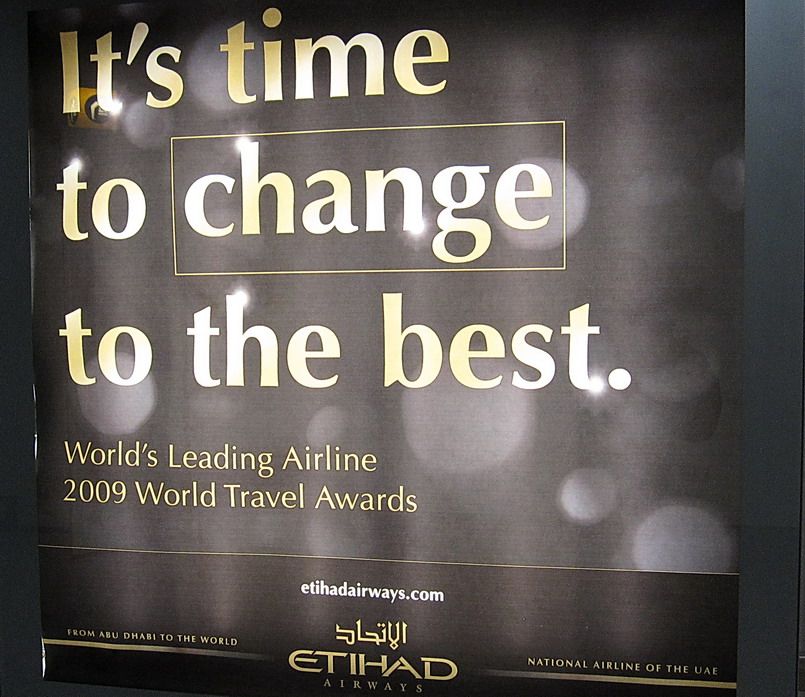 If I feel a little cranky today it's probably due to the lack of sleep. But my mood improves markedly when I look out to see a sight that lifts my spirits. KLM's B737-8K2 PH-BXA, painted in a commemorative retro livery to mark the airline's 90th anniversary in October, is parked at an adjacent gate. I know she's been around for a while, but it's the first time I am seeing her. This fantastic scheme is no less trendy today.
Here PH-BXA is pushing back for Amsterdam in the relative calm of Terminal 4 - which has been KLM's Heathrow home since the terminal opened in 1986. It is in the background - across 09R-27L - where most of the serious action at LHR happens. I spot two United triple-sevens parked at Terminal 1, and an SQ A380, EK B773 and TG B774 in Star Alliance colors sharing adjacent bays at Terminal 3.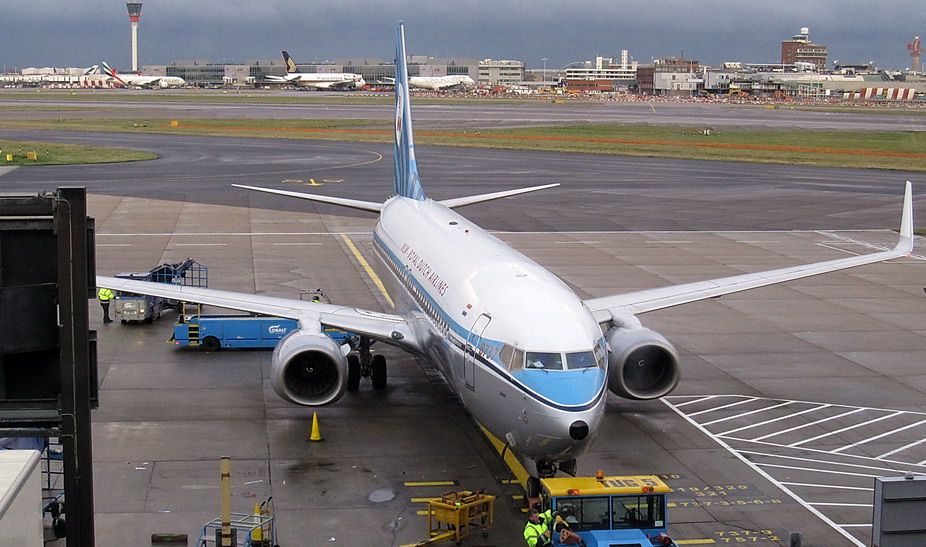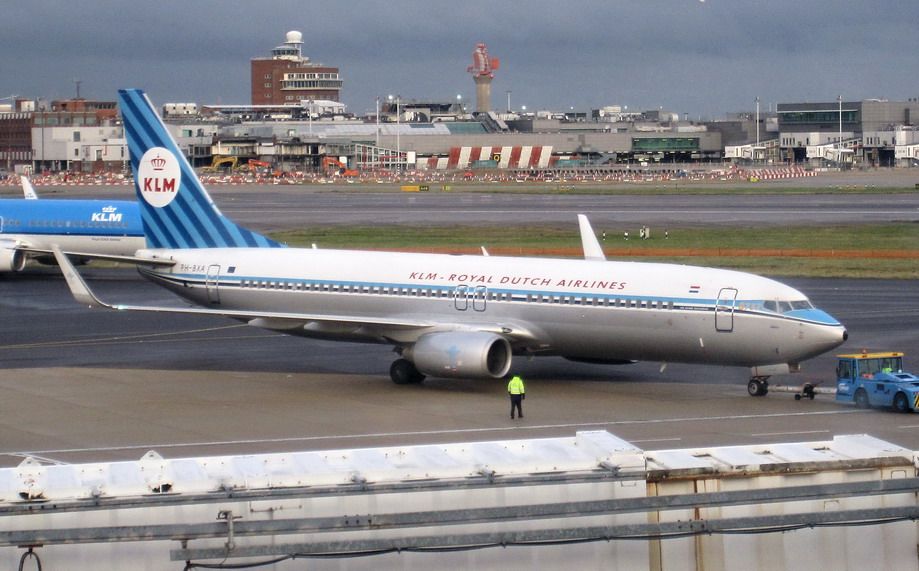 Etihad flight 012 to Abu Dhabi is boarding when I get to the gate. It looks like most of the economy class passengers have boarded because I don't see any queues. Outside, a partial, unsatisfying view of the plane carrying us there can be had, but better than no view at all, I suppose - A6-EHL is the airline's seventh and latest A346.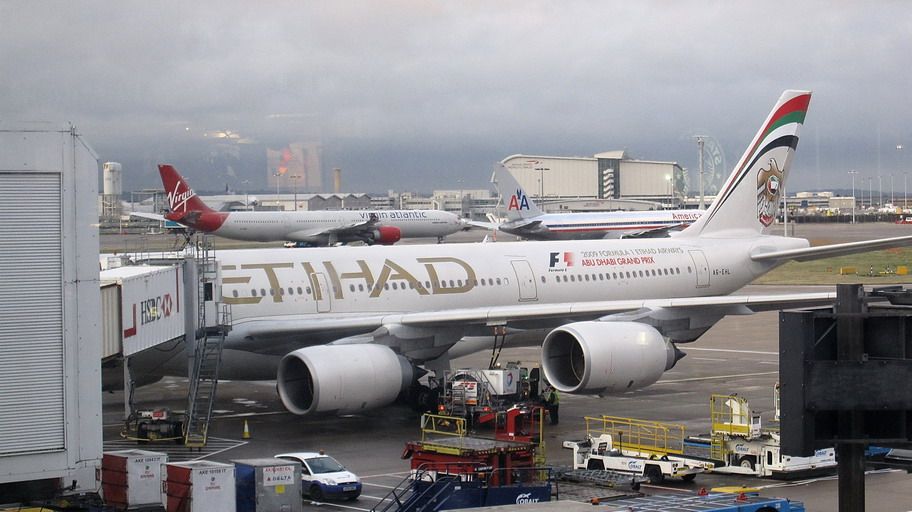 from London Heathrow to Abu Dhabi
Etihad Airways flight 012 in Diamond First Suite
Airbus 340-642 A6-EHL
Dept: 09h38 Arrv: 20h10 (on time)
Cabin manager Adbelhafid is at 2L. He shakes my hand amicably as I board - could the F Class boarding pass have made the difference? - and gets a stewardess to escort me to the front of the plane through J class, past the curtains into First. I can't be seated further forward than 1A as a passenger.
There are 12 seats in what airlines like to now call "suites" in Diamond First Class. The configuration at 1-2-1 is similar to what Etihad used to have in the same space - but the cabin has obviously been spruced up with the addition of privacy partitions and doors, and new leather seats. Although I'd only seen the interiors of SQ's A380 Suites in photos, the similarity is striking here. Could it be the almost identical cream color scheme, or the fact that the seats are made by same Italian manufacturer Poltrona Frau? All the same, it is luxurious and classy in an understated way.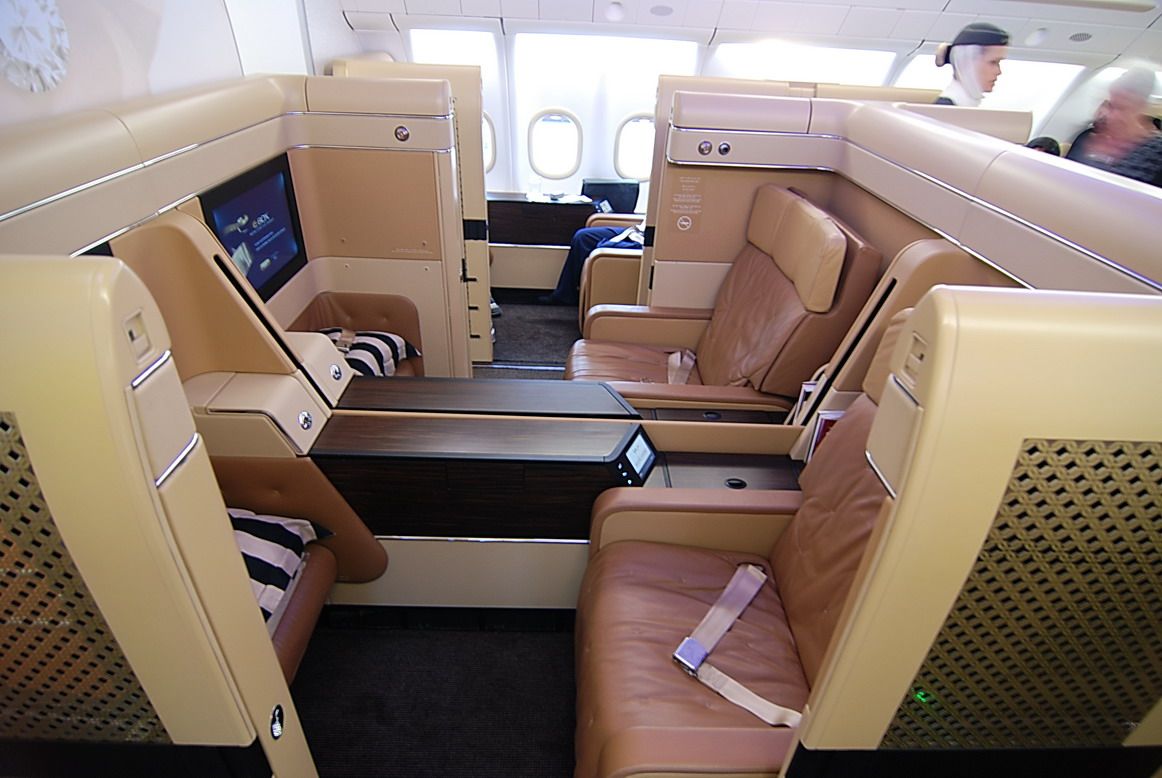 There are a total of 4 or maybe 5 passengers in First today - the privacy screens ensure that it's difficult to tell unless you ask. But I am certain that there is someone seated at 1K - a young teenager of maybe 11 or 12, but acting the part of regular First patron, who gets his bed made immediately after take off and sleeps all the way to Abu Dhabi. How sober.
And so unlike the guy at 1A who gets excited because he found a hand-written, welcome note from the Cabin Manager at his seat. A nice touch by the way... does remind me of CX though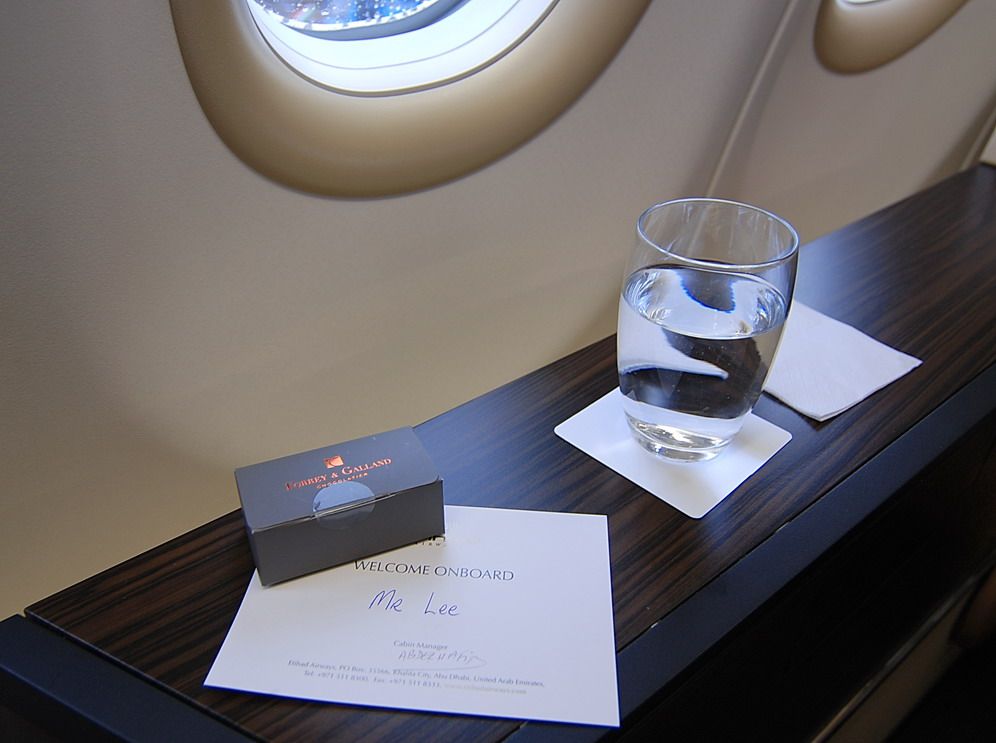 Food and Beverage Manager Carrie comes round to welcome me aboard. "Have you traveled on our new suites before?" When I say no, she proceeds to explain the features of the latest Etihad offerings. Undoubtedly the highlight is the seat (believe it or not) which is so supremely comfortable - aaah, the leather so incredibly soft and supple as you sink in - that I immediately feel that a 6-hour-plus flight wouldn't do it justice. It is really fantastic!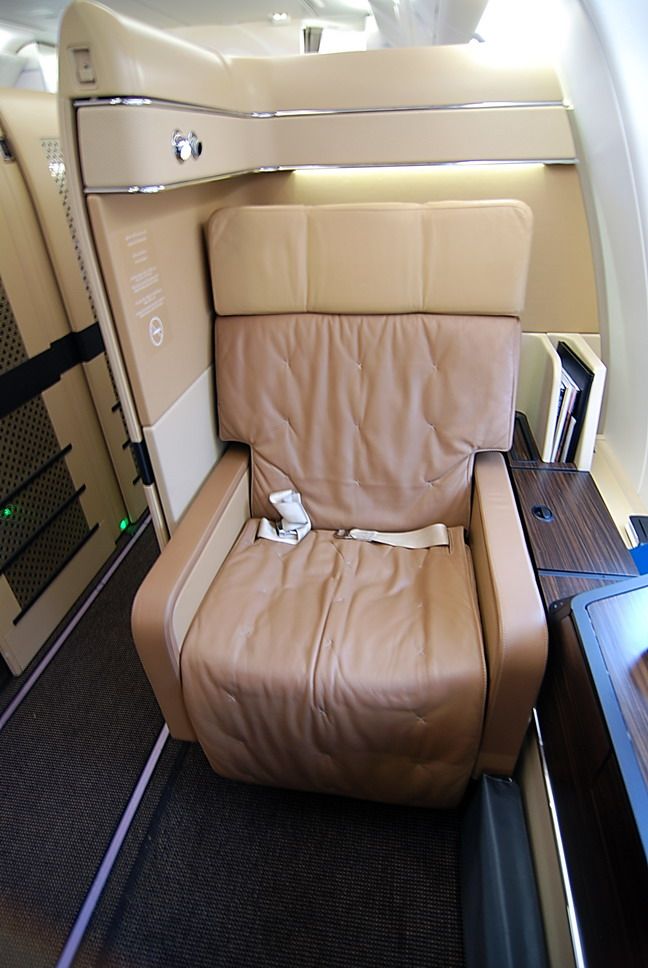 Ahead of me is a buddy seat, for a visitor and fellow diner, and the 23-inch flat screen PTV. The buddy seat also serves as the end of a 6 feet 8 inch bed when fully streched out. There's space to fit a small backpack but not a trolley bag. In fact, despite all the available room: the lack of ample, close-by storage for carry-ons is a weakness in this configuration. There are no overhead bins.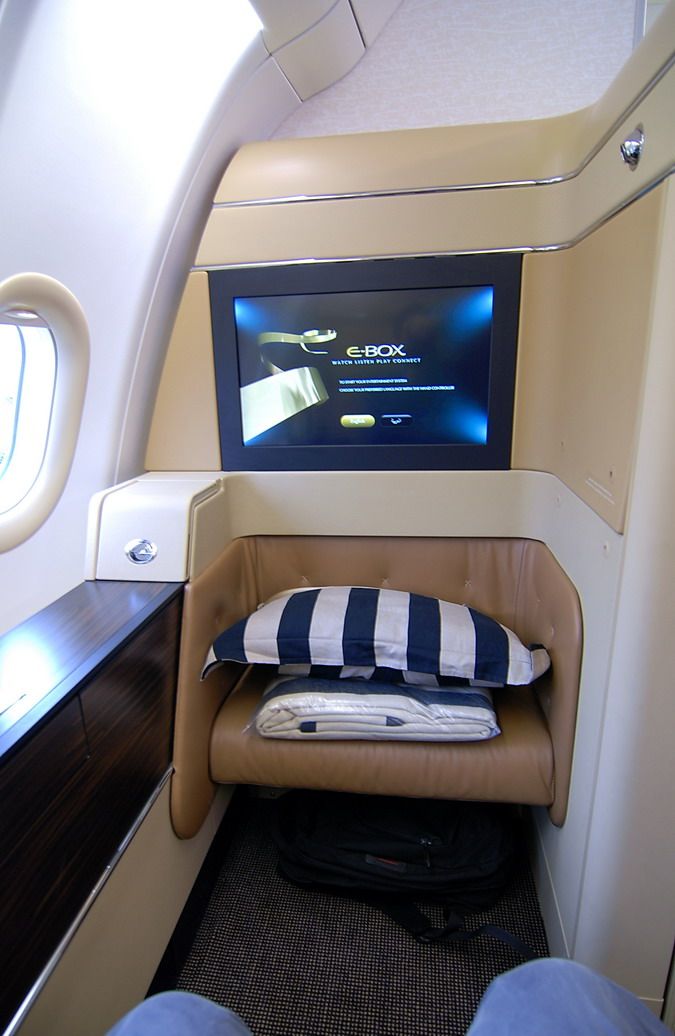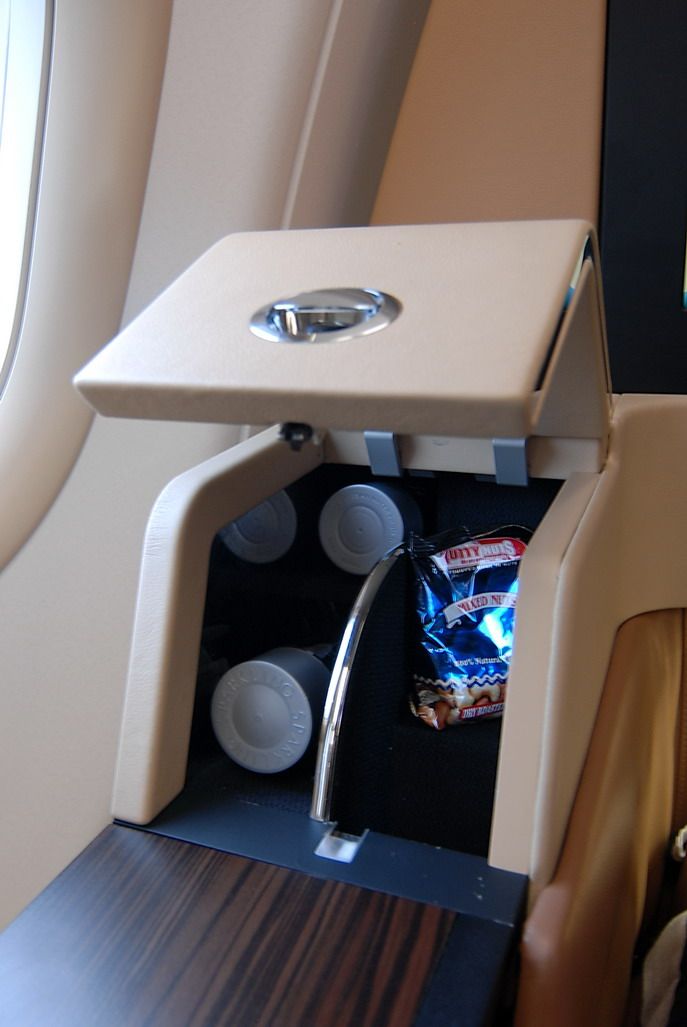 Now, how could you call this a first class suite if it didn't come equipped with a "minibar"? Obviously EK has a lot to answer for. The compartment at the side of the buddy seat contains a pack of mixed nuts and two bottles of Voss Norwegian artesian water - in still and sparkling varieties.
The compartment by my seat houses a whole series of useful stuff from PTV controls to iPod, USB ports, power point for the laptop and a pair of noise cancelling headphones that's already plugged in. The magazine rack is just behind it while an LCD panel just ahead has easy-to-use commands for seat comfort and recline, in-seat massage, lighting for a whole range of moods and do-not-disturb sign.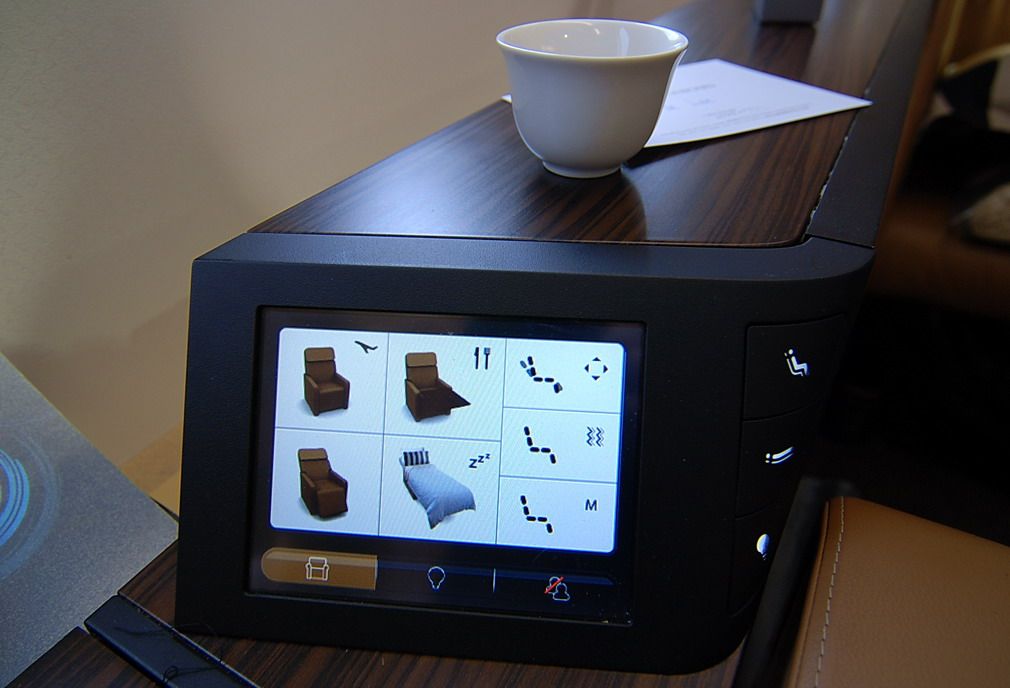 Carrie also shows me the "Portfolio" that's tucked by the side of the seat. In it is writing paper, a comment card, a multi-page guide to the suite and, a first, calling cards for both Abdelhafid and Carrie. The menu and wine list are surprisingly (and disappointingly) plain, comprising three sheets of heavy paper inserted into the folder. Three thick in-house publications share the same magazine rack.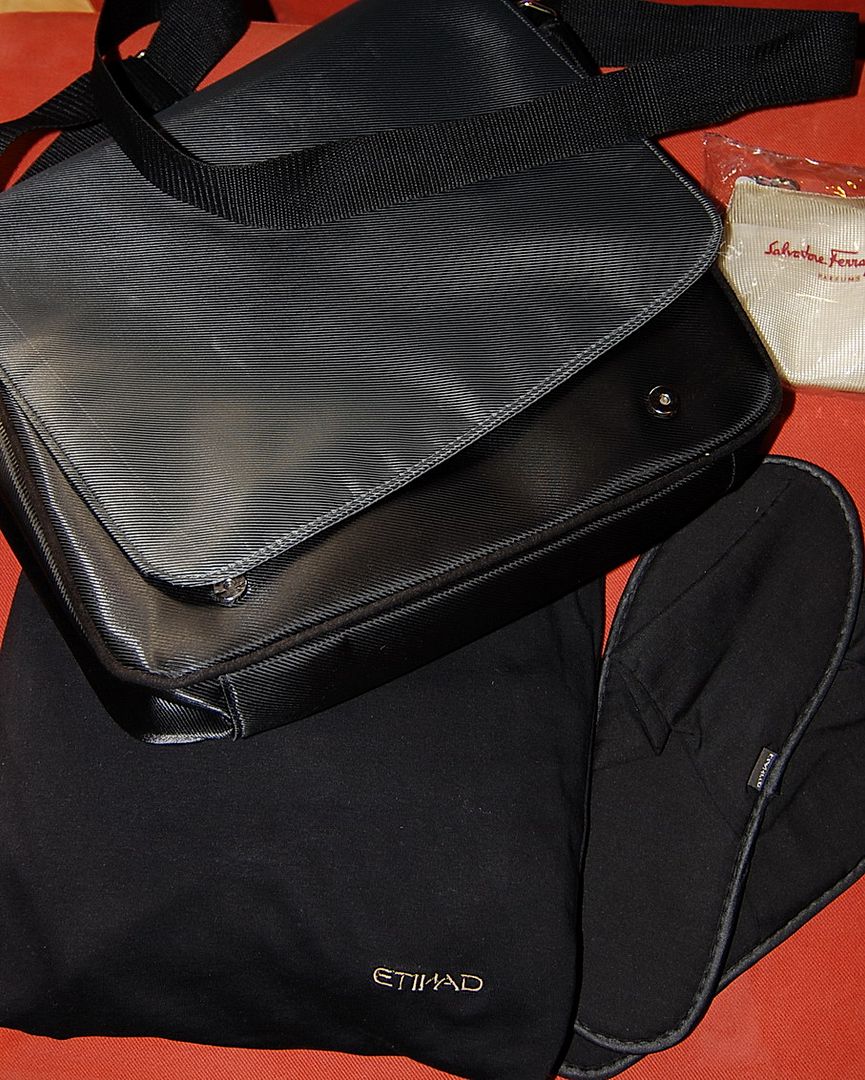 One of the key perks of traveling the premium classes is the giveaways. As an avid collector, I anxiously await the moment the crew come round with the loot. On Diamond First, Etihad doesn't just give away an amenity kit, but a grey satchel that's large enough to fit my laptop computer. It contains the usual toiletries, a pair of slippers and another