Introduction
This is part two of my trip to Italy, covering the return journey from Catania to Helsinki via Bologna, London Gatwick and Stockholm Arlanda. For background information and the inbound journey, refer to part 1.
Ethiopian Style To Rome: HEL-ARN-FCO-CTA
(by
FlyingFinn76
Feb 8 2010 in Trip Reports)
6.2.2010
Catania
A few pictures from Catania: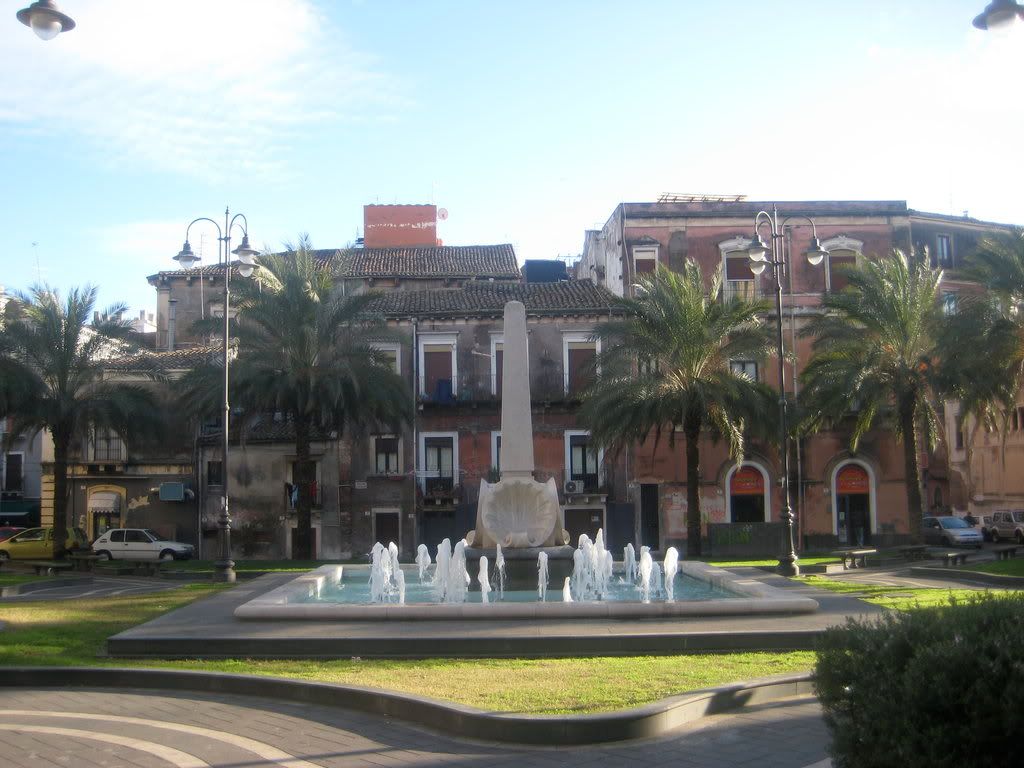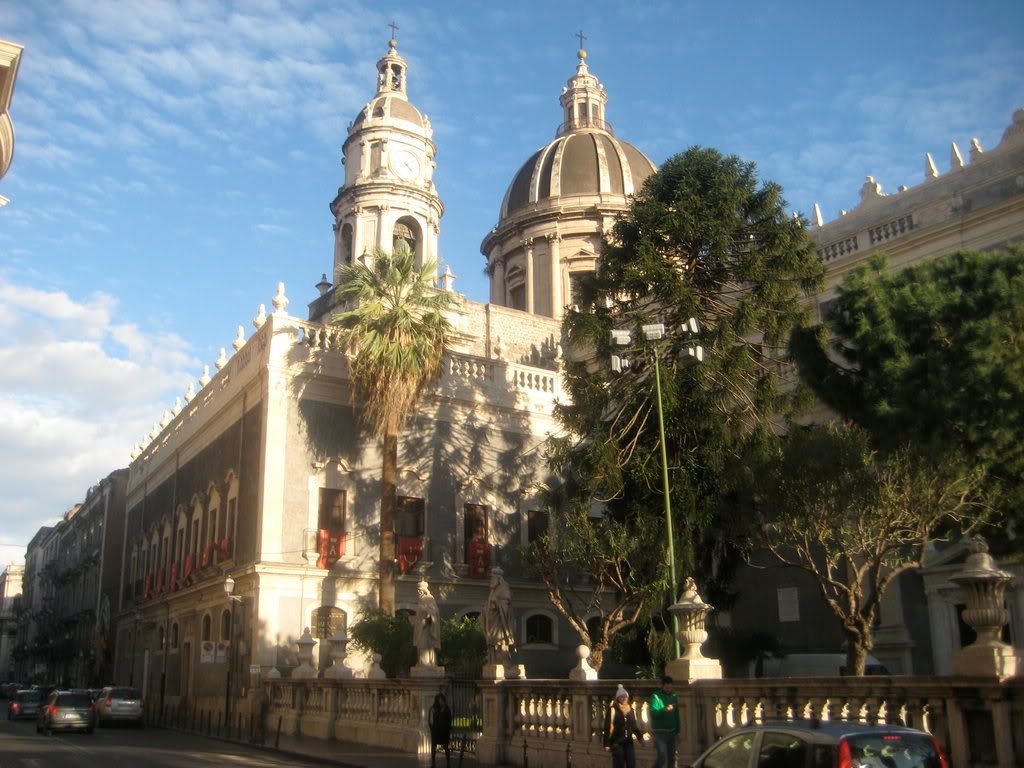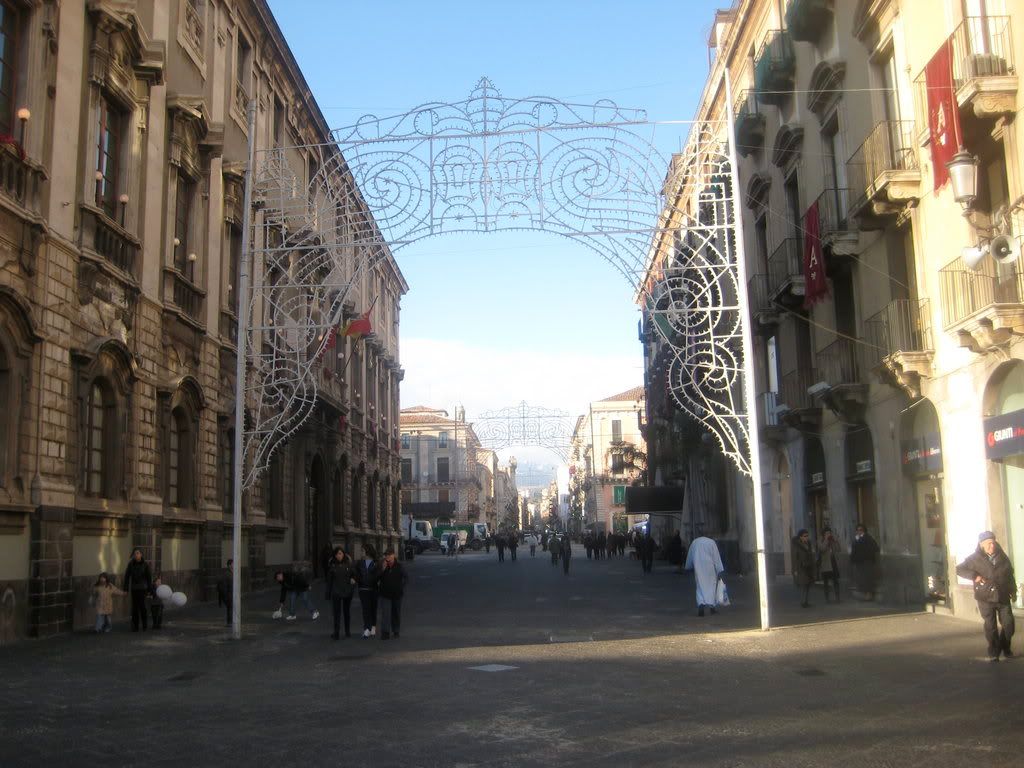 The elephant is actually made from lava from Etna's eruptions: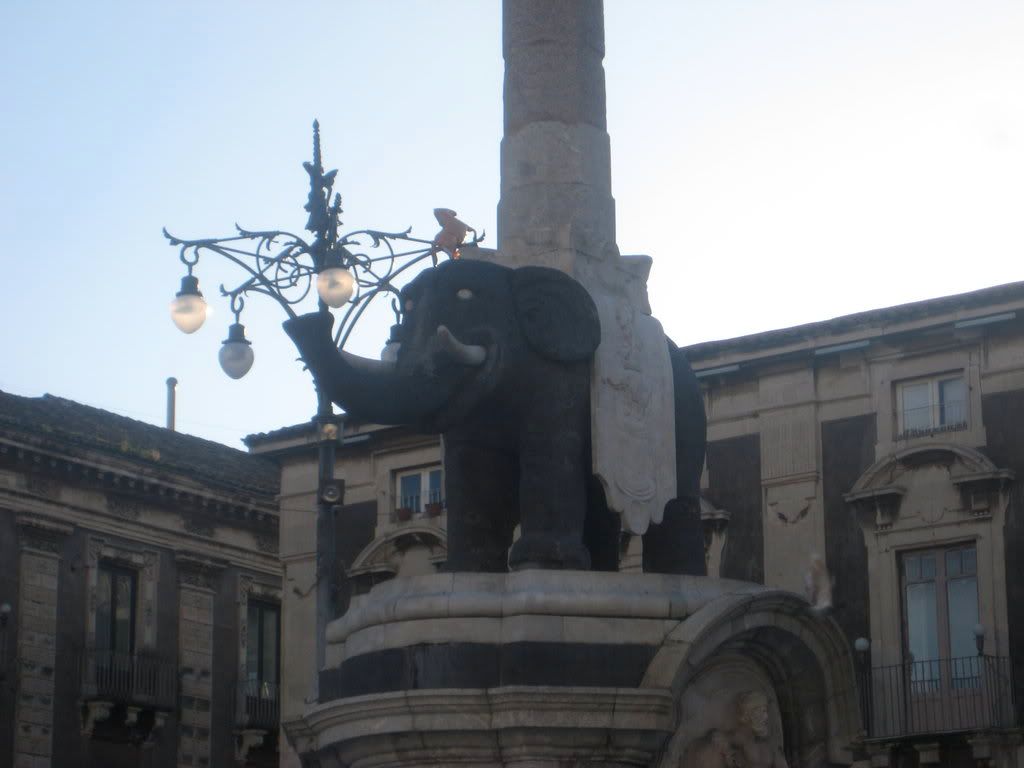 I thought the river running underneath this memorial stank, but actually there is a fish market just round the corner: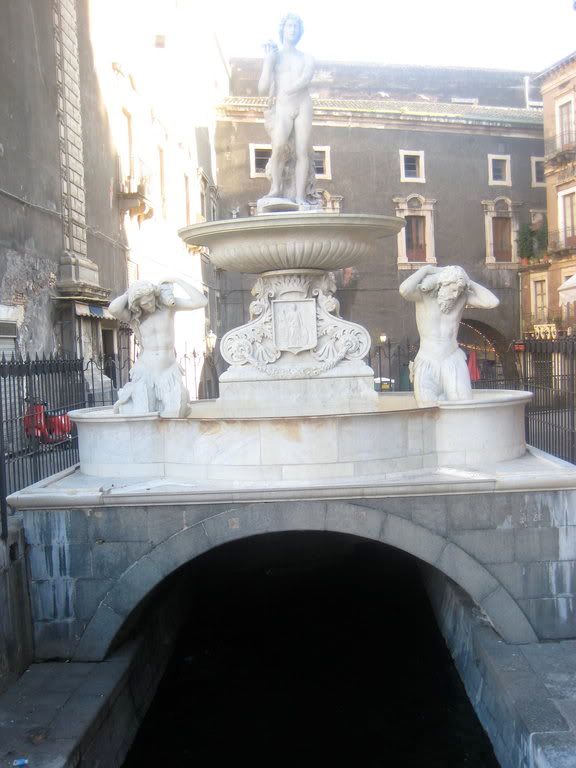 Candy, anyone?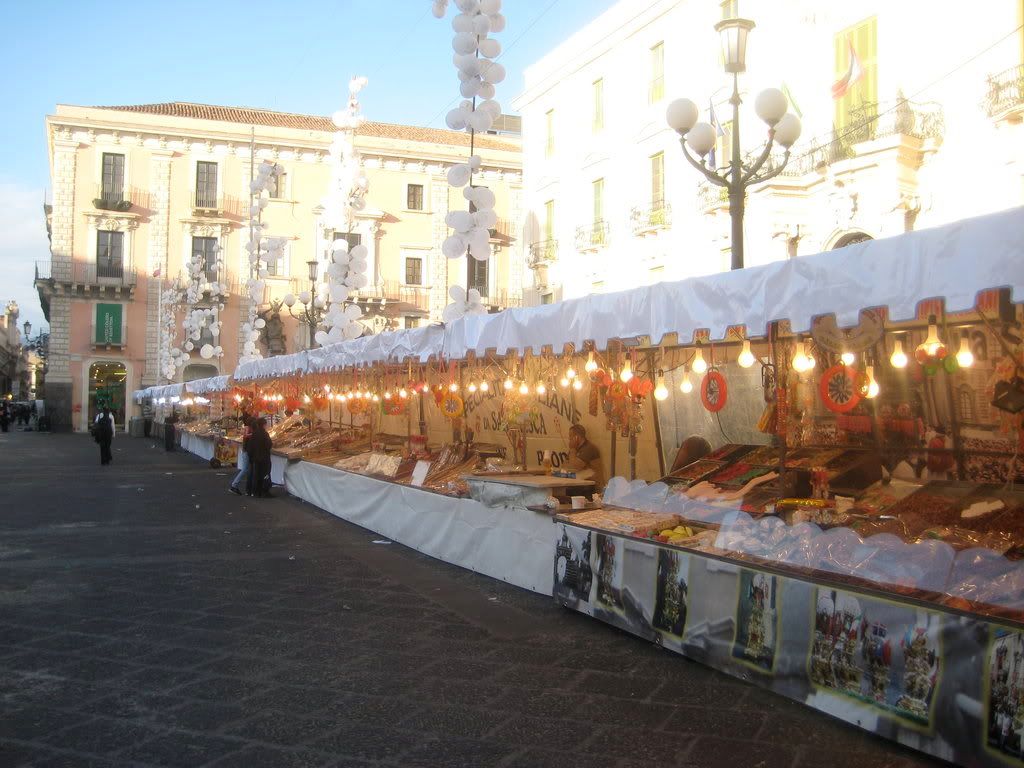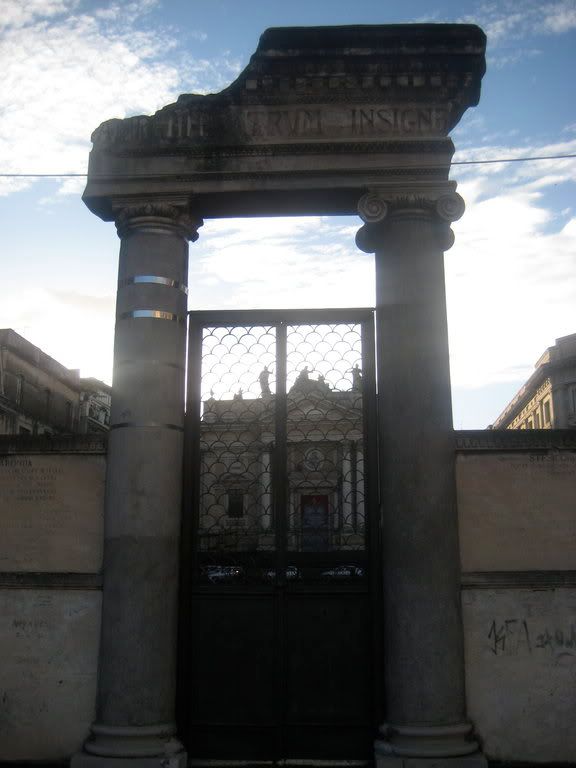 This street market went on for blocks and blocks - you could buy pretty much anything there, including pirated CDs and DVDs and shoes for 3 Euro (yes, three!):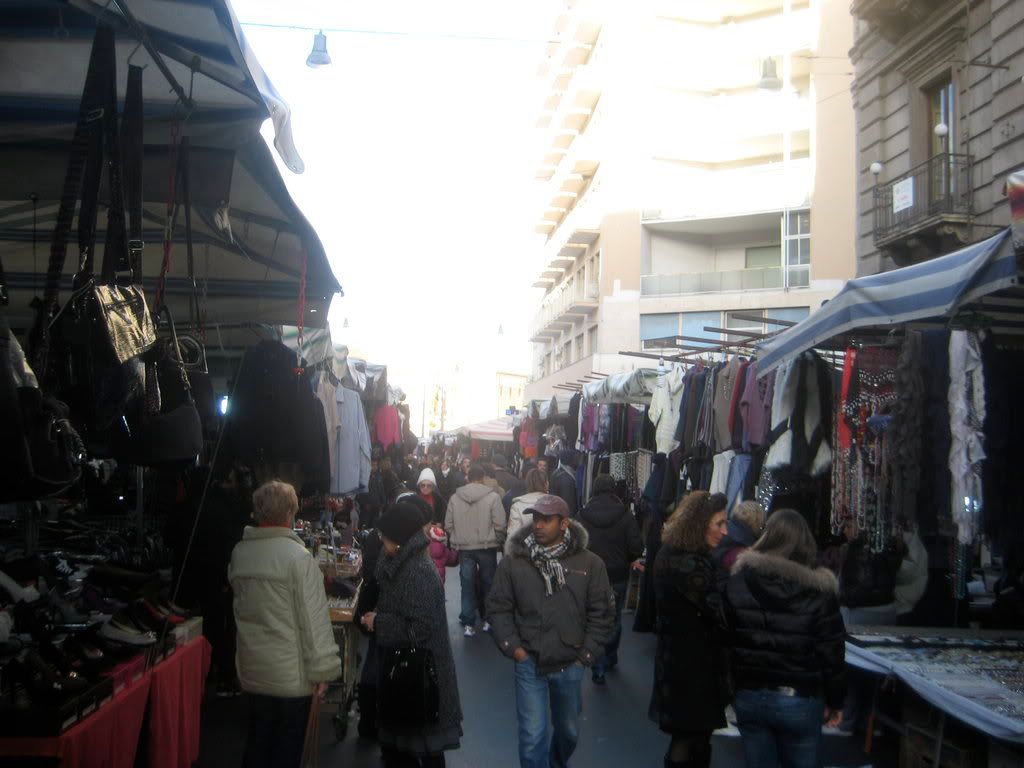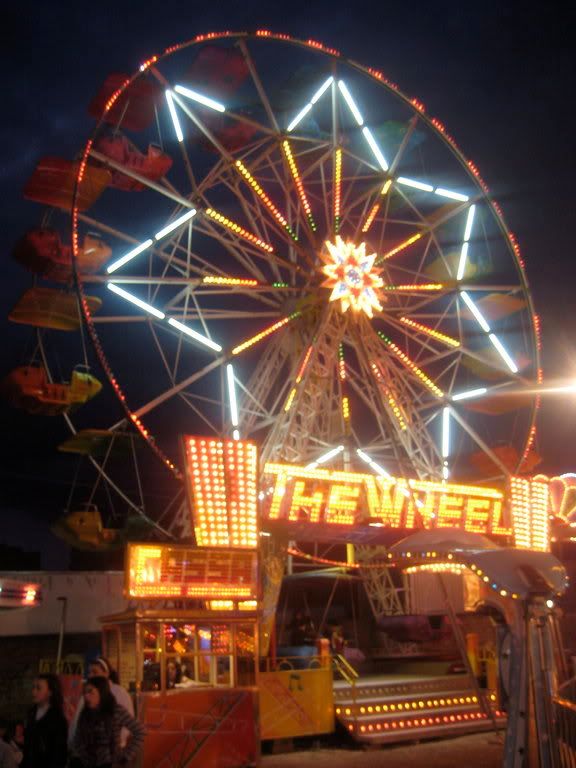 After a few nice hours in the pleasant city of Catania with quite perfect February weather it is time to head back. I make my way to the central railway station, also serving as the main local bus hub. I did look up the bus schedules from the Internet beforehand, but either I was looking at the workday schedule or they just don't respect them - I end up waiting for 40 minutes for the bus, according to my schedule there should've been two within that period... Finally the bus shows up, gets uncomfortably packed and proceeds to drive to the wrong direction! It makes a nice 15 minute tour in the packed city centre streets, finally getting back to the train station and then continues its journey towards the airport. I'm finally at the airport 1h10mins before the departure of my flight up to Bologna.
Catania Fontanarossa Airport
Only a few people upstairs queuing for check in and it doesn't take much time with three counters open. Having completed the formalities, I take a look around the airport. The terminal is quite new and pretty impressive, sure a much needed improvement over the old terminal (which still stands closed and derelict next to the new one). Security is easy once I figure out that all the people standing there are not actually queuing but just escorting their friends and family - apparently making sure that they get through safely is the behavioral norm here!
Airside the building is as impressive - but packed with people. I head to the (Autogrill) snack bar to grab a pizza slice (can't leave Italy without sampling one).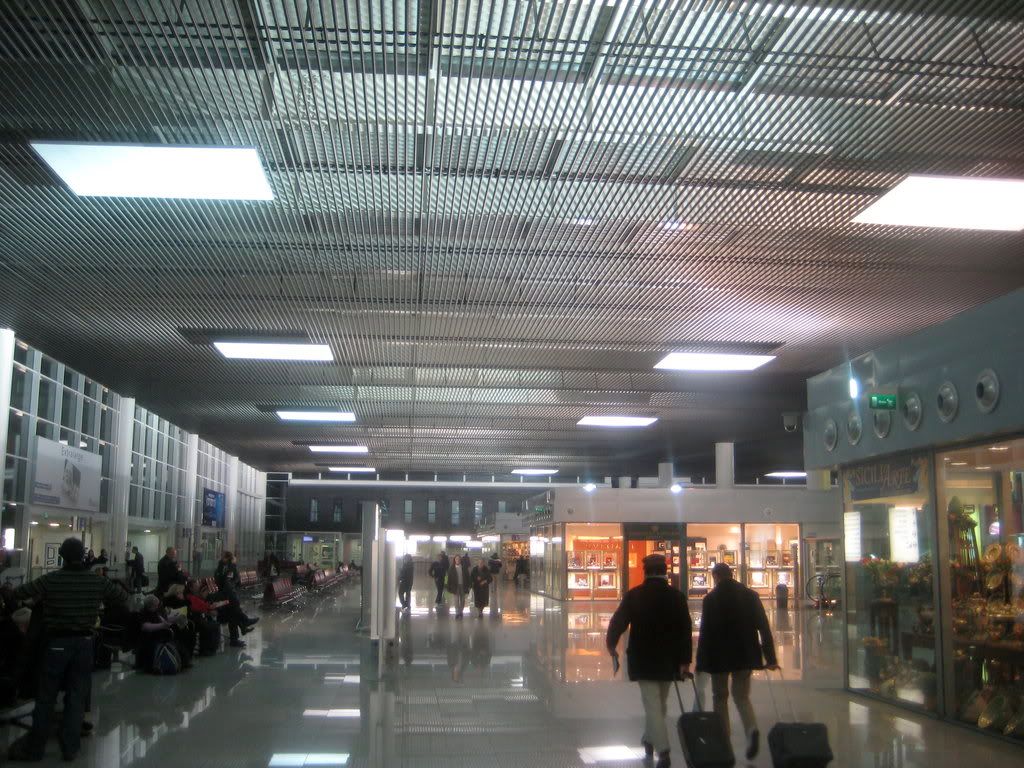 Not many flights on a Saturday night: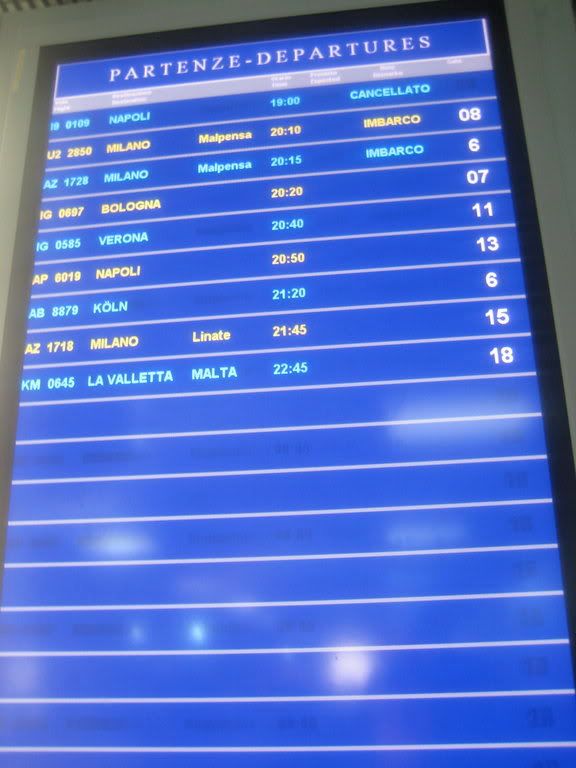 Hmm, where exactly should I go for gates 1-4?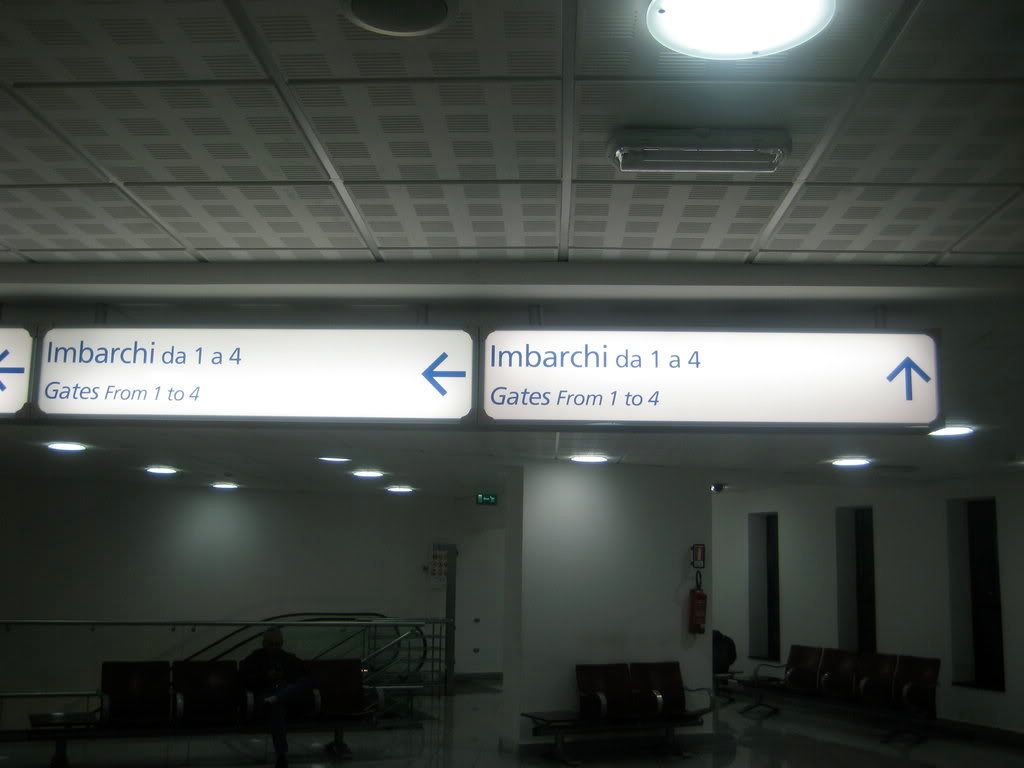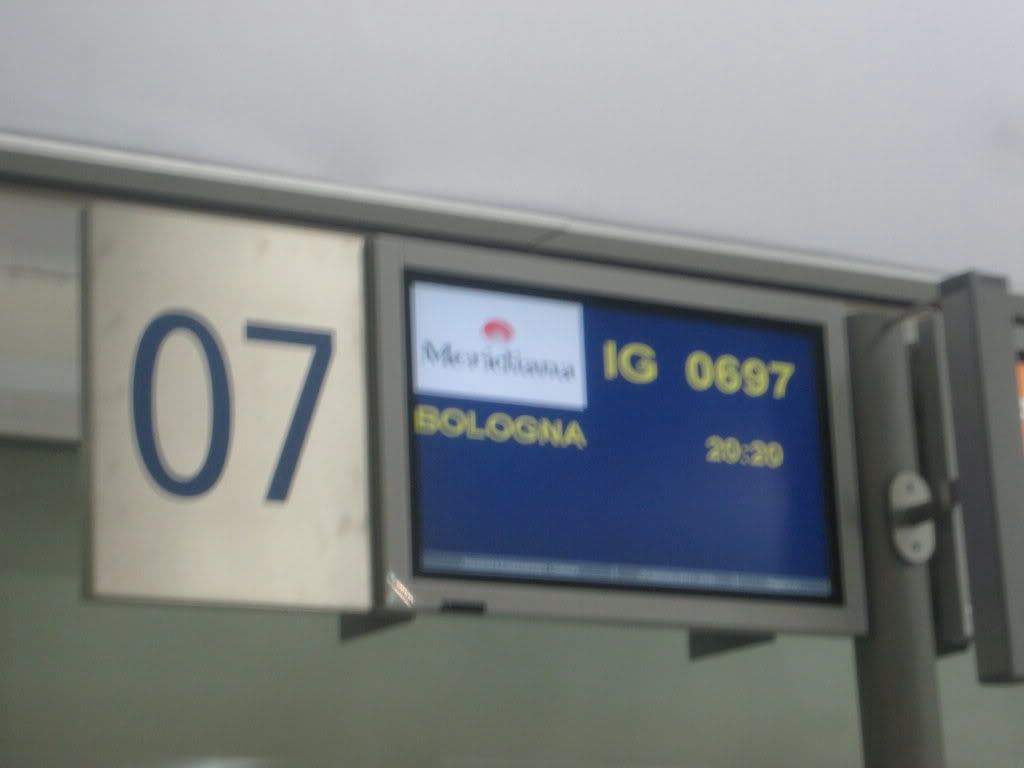 The boarding is scheduled for 19.55, so ten minutes before that I go to the gate, but there's no plane to be seen, only a huge queue for Ezy to MXP departing from the adjacent gate. After a toilet break the plane has suddenly appeared, the expected Eurofly A320. I can't see the registration from the window, bummer.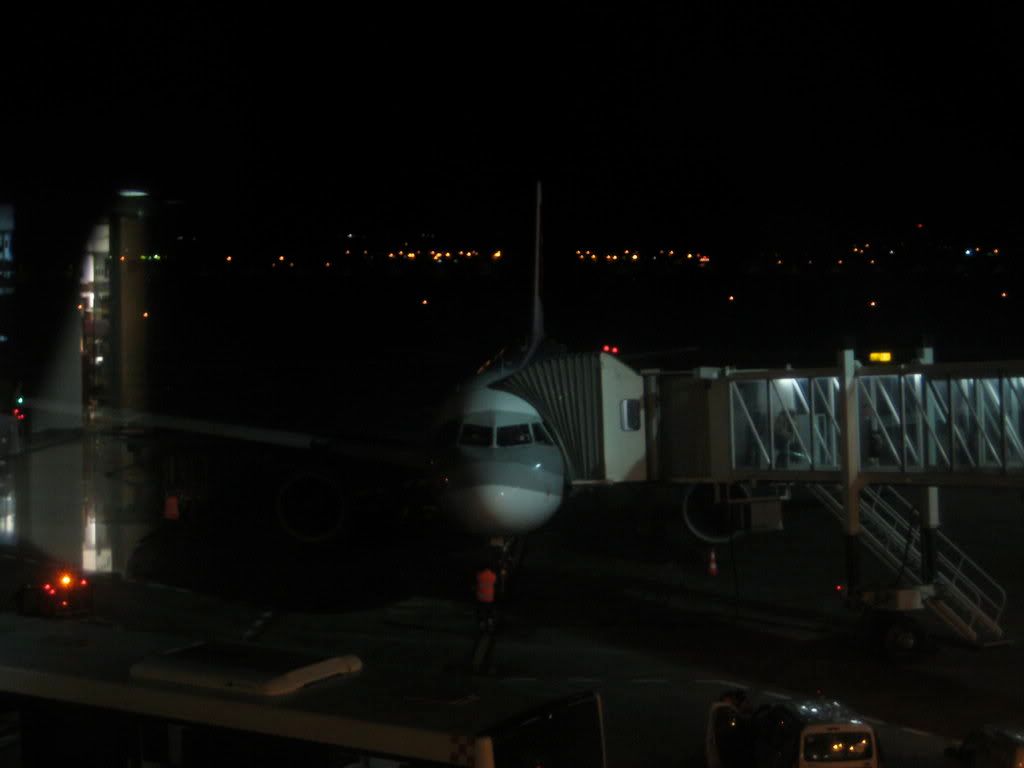 The flight status changes to boarding at 20.10, but it takes another five minutes until they really start boarding - the process is quite orderly, I guess assigned seat numbers do work their magic!
CTA-BLQ
IG697
A320 I-EEZH
Seat 27F
20.37 - 22.12
A friendly pair of female cabin crew greets everybody with smiles at the door. The plane is equipped with grey fake leather seats, with abysmal seat pitch. Well, with 32 rows and 180 seats in a single-class configuration crammed to a A320 one cannot really expect anything else. Not a good load today, maybe a third full.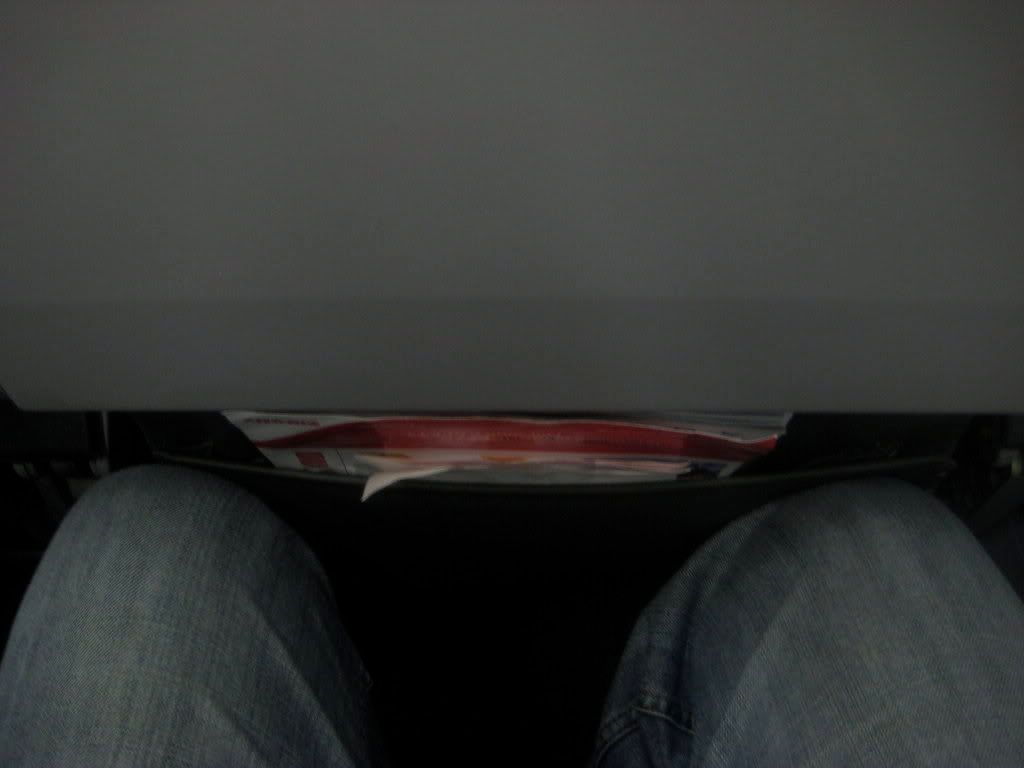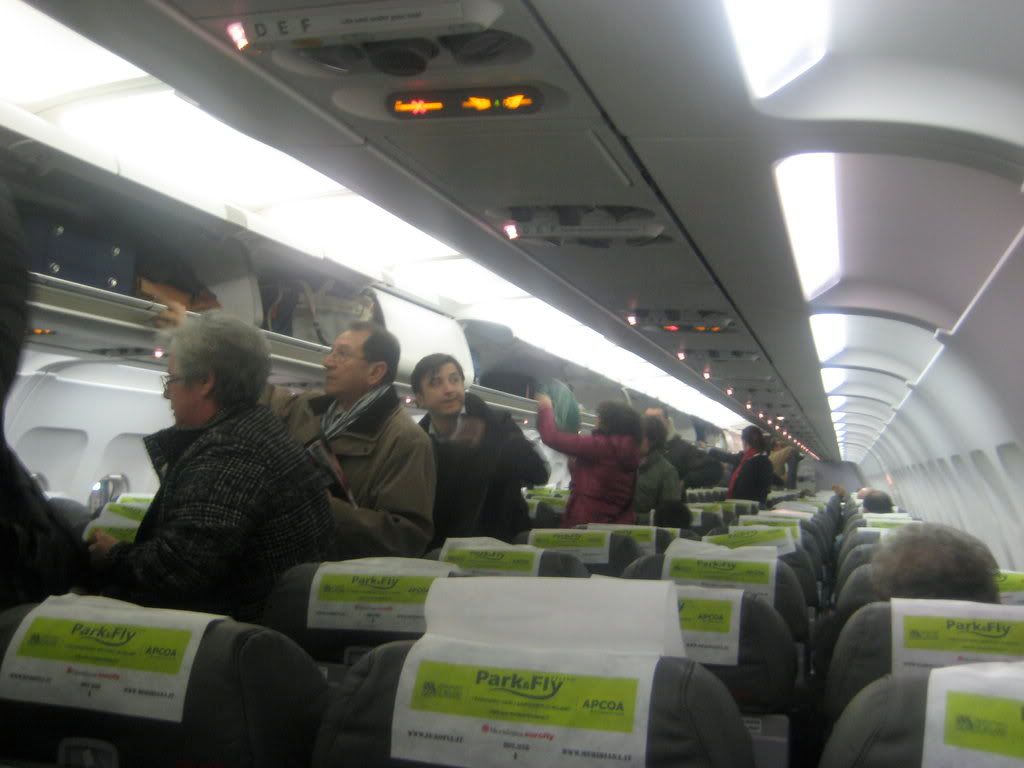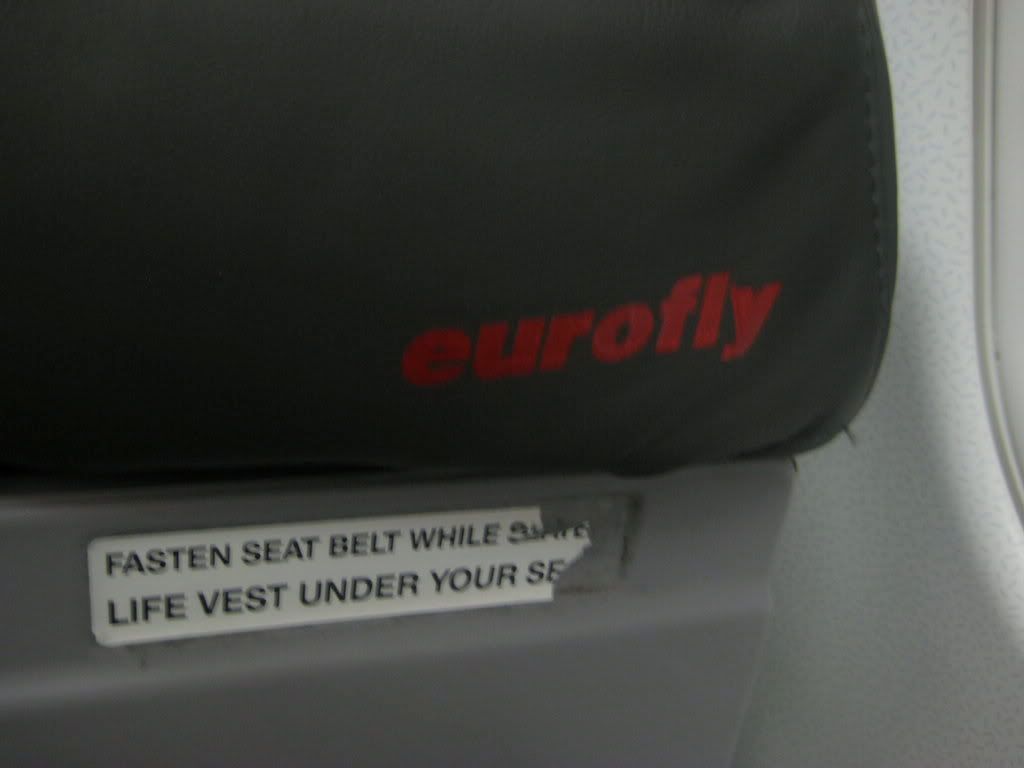 Luckily the registration is also written on the top of the right wing, and I have a prime view of it so can write it down.
After boarding is completed we sit still for a long time, no explanation or anything. Neither is the flight time ever announced. Finally 17 minutes late we pushback and the overhead screens are used for the safety demo, after which they disappear again (what, no Airshow?!).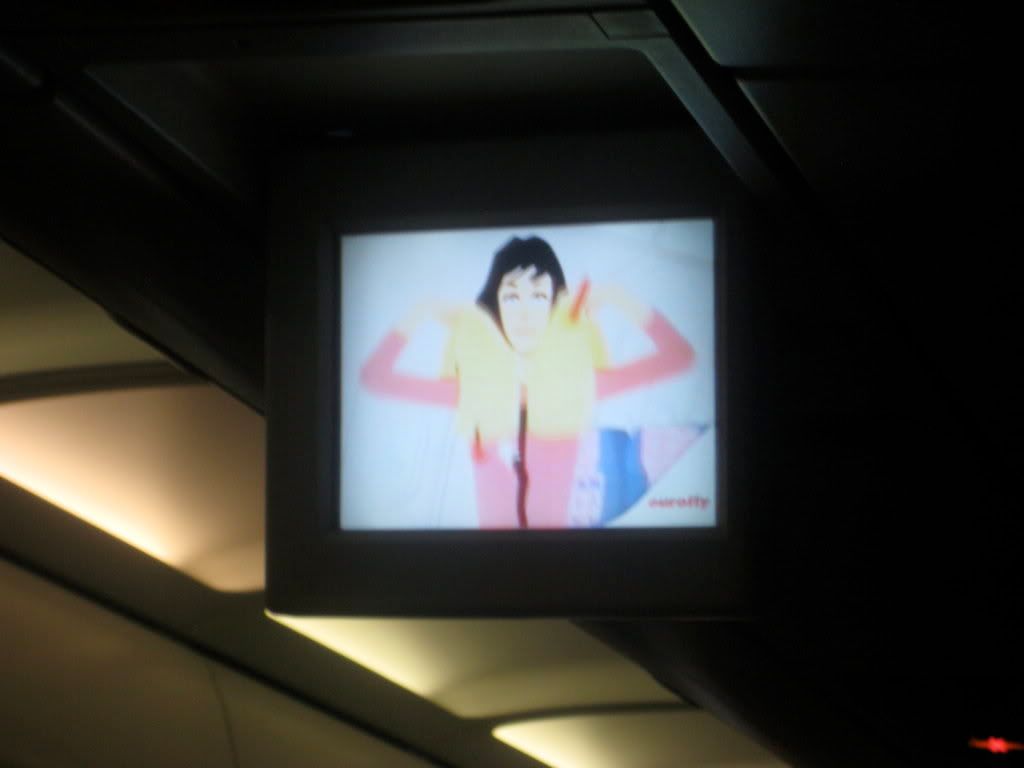 After push back it's another five minutes of unexplained inactivity, until we finally start taxiing and promptly take off from runway 26.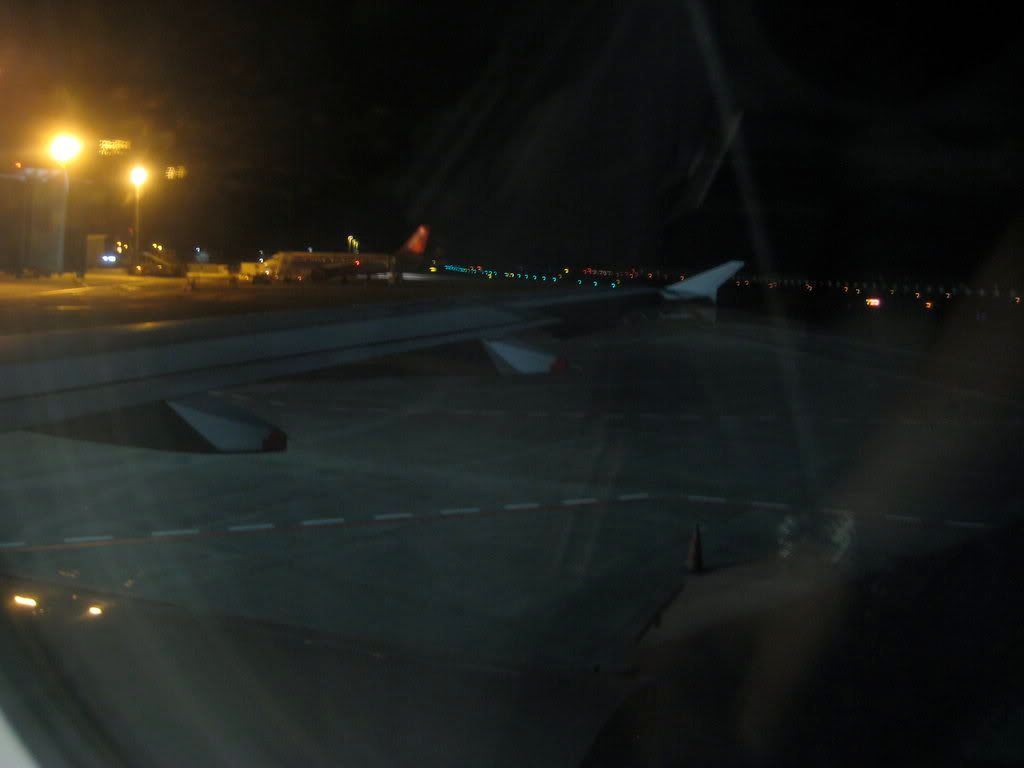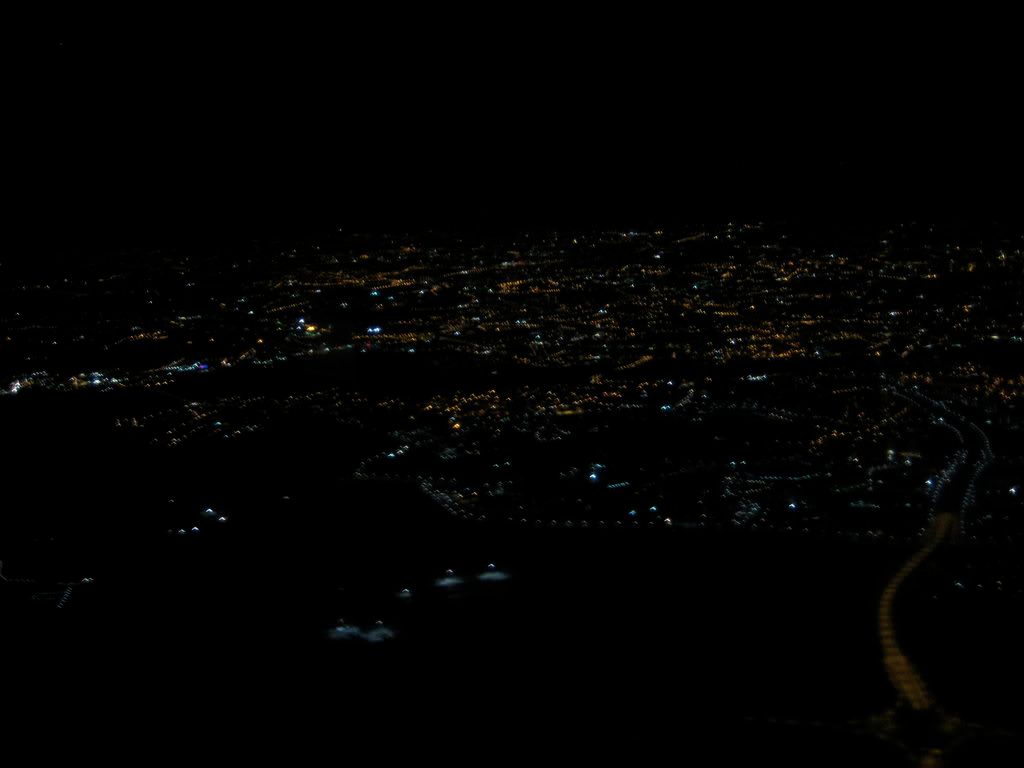 The approach here earlier today was stunning, the departure a little less so. The mighty Etna is engulfed in darkness, but the millions of lights from the city and the surrounding towns and villages make for a pretty sight, especially when reflected off the sea. After departure we make a tight right turn, overflying the northern part of the city centre to the Ionian Sea, where we turn again towards the north. A bit later we leave Sicily west of the Capo di Milazzo, with nice nightly views of the city Messina and the Strait of Messina separating the island from mainland Italy. Soon after this it gets overcast, staying so until Bologna. A few sprouts of turbulence here and there as well.
They play some boring Just for Laughs episodes on the TV screens (yes, they have made a reappearance!). Service is a drinks run, some more Coke for me.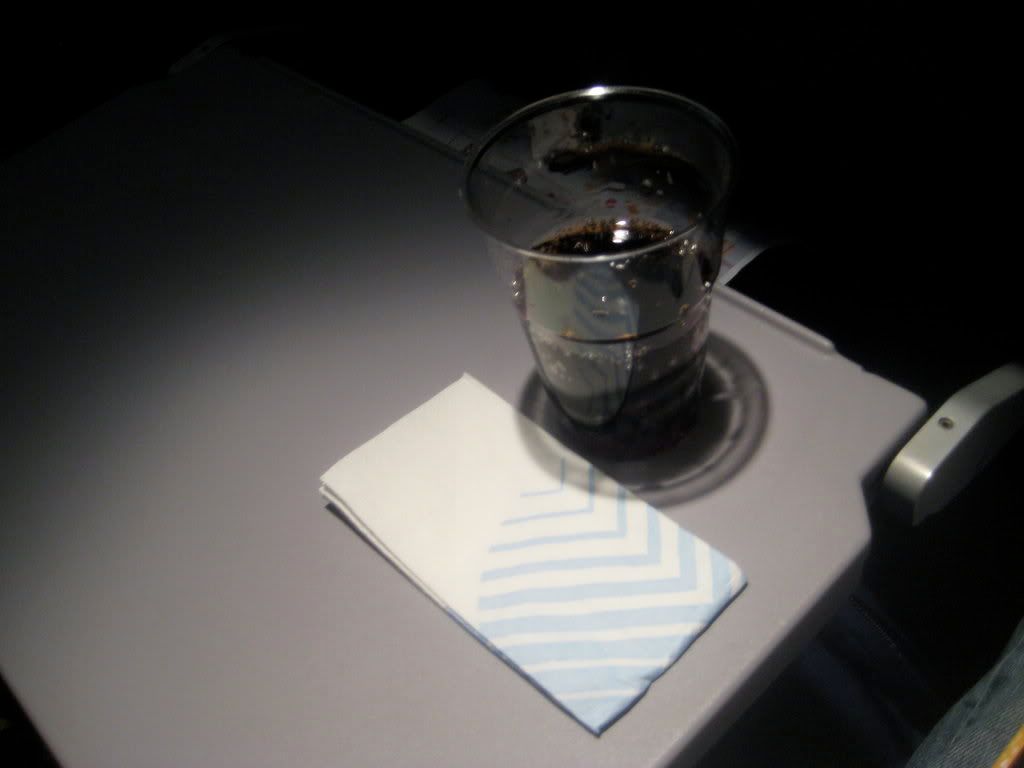 The seat is really uncomfortable, even for this short one and half hour flight. By the time we start our descent around one hour after take off my feet are hurting and I'm just feeling very miserable. It doesn't help that I'm very tired as well - when watching the final approach through the window my head keeps banging in the window whenever I nod off. They do some pretty long charter flights on these planes - I can only imagine how uncomfortable that would be!
Landing is twelve minutes late on runway 12, followed by taxi to an apron parking position next to my ride for tomorrow, G-DOCO, which arrived from LGW just before us. As soon as we stop, with the seat belt sign still on everybody jumps up and starts opening the overhead bins - the FAs ignore this completely. I choose to wait until the sign is switched off, which soon happens.
See you tomorrow!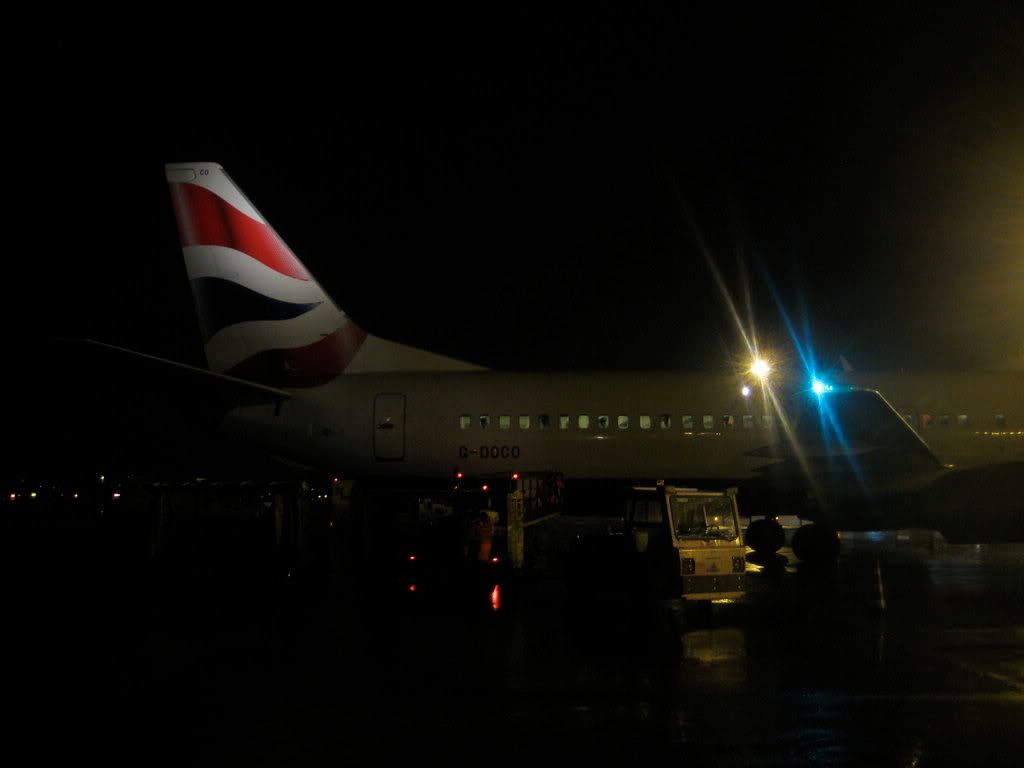 Am I alone in thinking that the the tail logo looks exactly like Microsoft's Internet Explorer icon?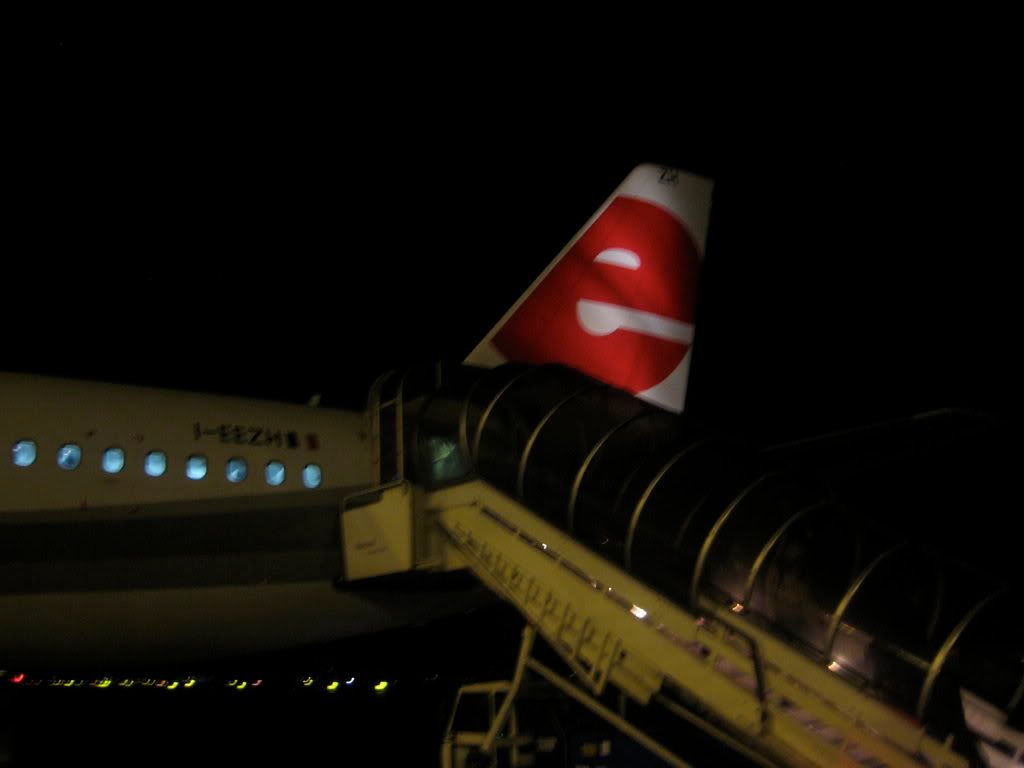 Deboarding is via both doors into freezing night air and onwards to an equally freezing bus which whisks us the short way to Schengen arrivals in no time at all. Finding the hotel shuttle stop takes considerable effort, one call to the hotel and one inquiry at the airport info desk - it is definitely well hidden! The guy leaves as soon as I get on, me being the only passenger. The ride to the Sheraton Bologna hotel (the only airport hotel at BLQ, and with a 6.40 departure I definitely want to be as close as possible!) takes a couple of minutes, check in is almost as quick and finally I'm in my room shortly past eleven for a short night of some direly needed sleep!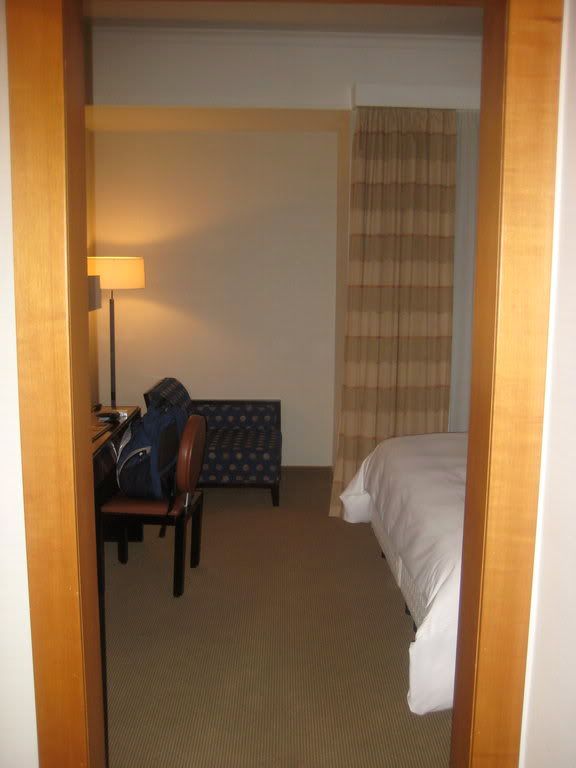 7.2.2010
I wake up at the unholy hour of 4.45, quickly freshen up and make it to the first shuttle at 5.15. It is well below zero outside, but the snow seems to have melted - just a few spots remain here and there. Another five minute ride and I'm deposited at the terminal, looking for the BA check in desks.
Bologna Airport
A horde of people is queuing for some charter flights to undoubtedly warmer places, but luckily the BA check in desks hidden behind are completely empty. The middle-aged guy at the Club Europe bids me "Good Morning", I answer "Morning - it is too early on a Sunday to call it good yet.". He asks for the credit card used to pay the trip - never had this to happen with BA! I'm given directions to the lounge, which is actually located landside at the other end of the departures level. What is even better is that the lounge has its own security check point, so anybody using it doesn't need to join the masses!
Well, the security setup pretty much the only redeeming feature of the lounge. Offerings are basic - juice, soft drinks, beer, an espresso machine and some prepackaged snacks and sweets. At least it is not packed, with only a handful of people and the front desk staff is very friendly. I grab some juice and a few packets of crackers and head for the computers to check my email and do some stuff.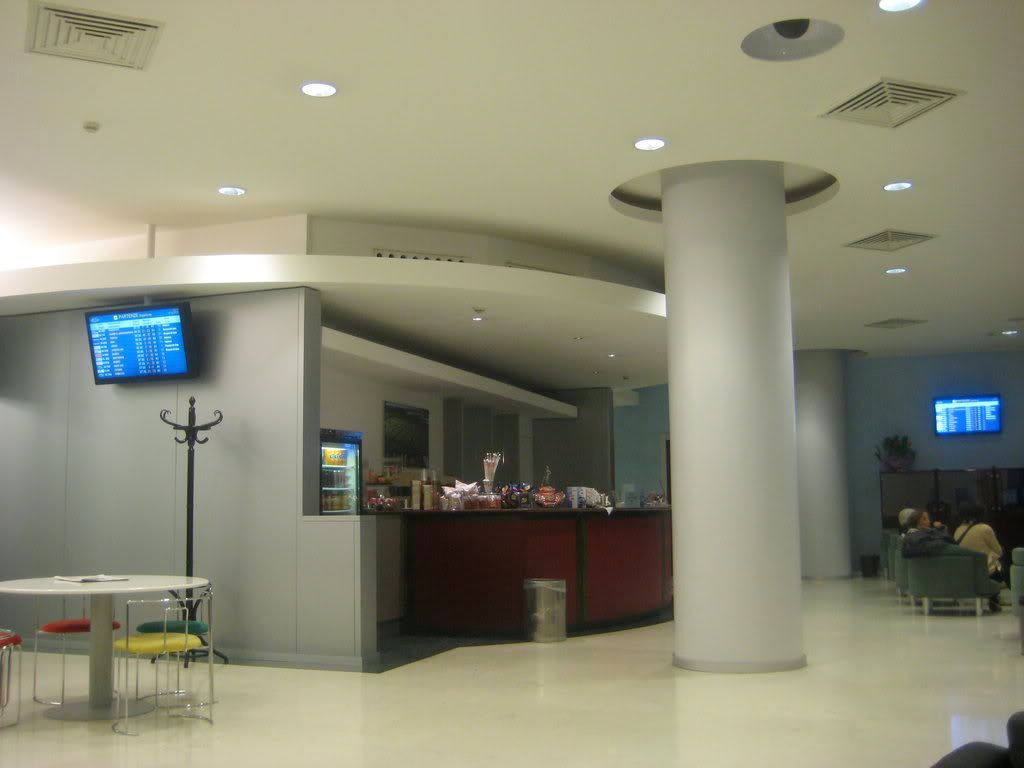 Pretty soon the flight status changes to "Go to gate" and as there's not much to the lounge I decide to head there. The private security setup is very nice with nobody else there - I could get used to this! At the passport control a few of people try to overtake me with the excuse that "their flight to London is already boarding", well excuse me, but I'm on the same flight as well. Luckily the border officer on duty is strict and sends these people to the back of the queue while inviting me forward with a big smile.
A good sign of how sleepy I still am is that I actually join the wrong queue for a minute or so - until I realize that this throng of people is actually going on a charter to SSH! Our flight is on the next gate over, with no queue anymore, so it's straight through and downstairs to the waiting, freezingly cold bus - no jetways here. The bus seems surprisingly empty, and it turns out to be that this is all there is - around 50 people in total. We drive the hundred meters or so to our plane, looks like there hasn't been a mysterious switch during the night and it still is G-DOCO, a 737-400 delivered factory fresh to BA over eighteen years ago and still in service with the same airline. First flight on this one, actually on any BA 737 for that matter.
BLQ-LGW
BA2559
B737-400 G-DOCO
Seat 2A
6.35 - 7.32
I rush to the stairs through the cold morning air and am the first to board, greeting the surprisingly perky (given the early hour at least) looking female FA. I've never really understood why BA (and British airlines in general) insist on you showing your boarding card stub to a cabin crew member while boarding - this just slows things down when unused to the routine people start shuffling for them. Once I even had to point out the BA flight number at Heathrow from my Finnair-issued boarding pass after she suggested that I might be on a wrong flight (well, I was booked on the AY codeshare number, but that's hardly an uncommon occurrence).
The cabin is fitted with the standard BA dark blue leather seats, showing this bird's age but still very comfortable - a bit of wear, tear and aging is only good for the leather! The three and half (row 1 has seats only on the DEF side, the other side is taken by the wardrobe) rows of Club Europe cabin are in 2-3 configuration with the middle seat collapsed on the left hand side. Soon it turns out that I have the whole CE cabin to myself - I ask the FA "is this it?" and she confirms, so I tell her that it already feels like a private flight.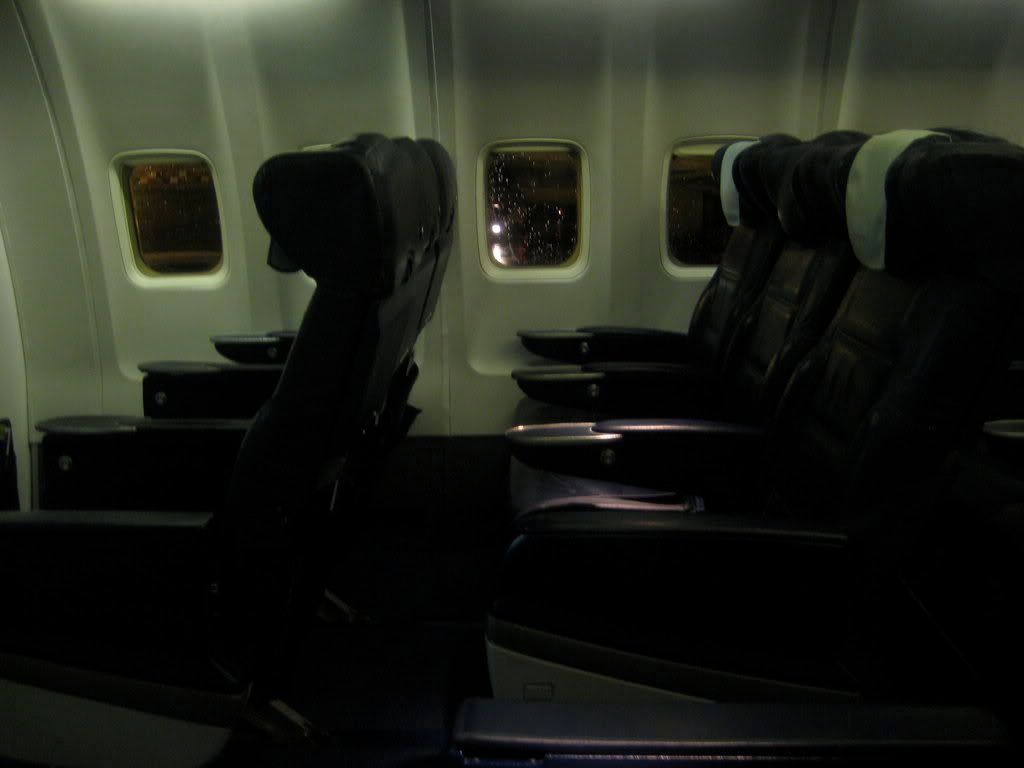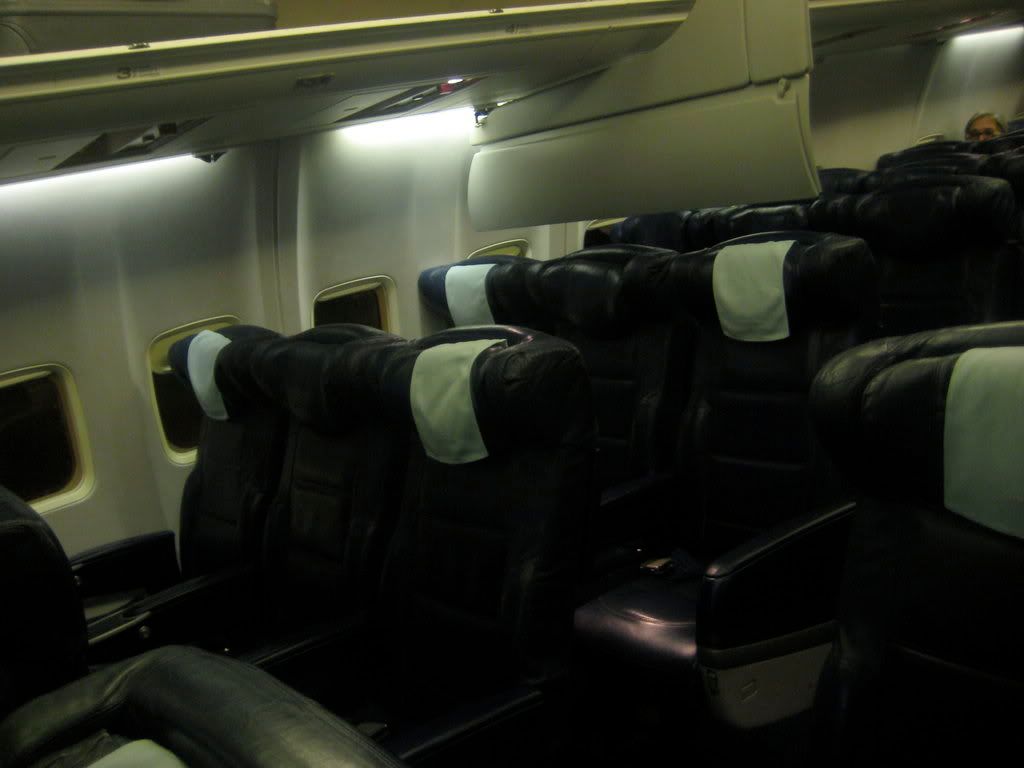 The legroom on the bulkhead seat is quite decent, although it doesn't appear so in this photo: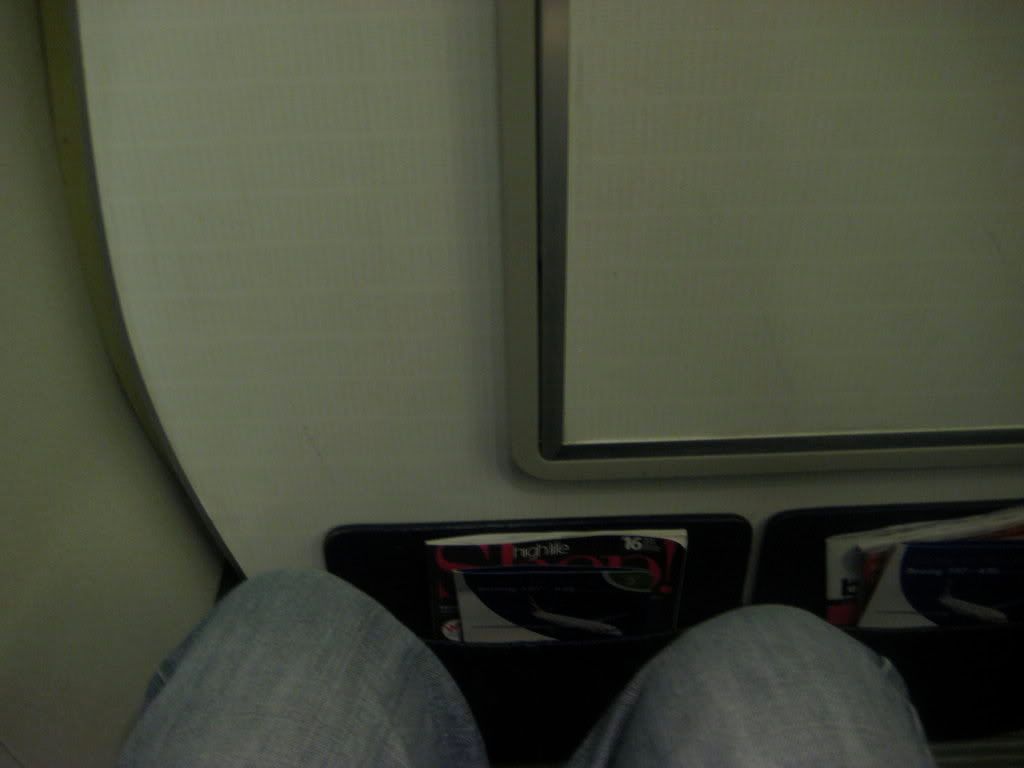 Soon our captain welcomes us onboard, giving the flight time as 1h45mins and the Gatwick weather as "foggy with sprouts of rain and three degrees". Even though a LH 733 departing for FRA next to us is being deiced we aren't - instead we push back five minutes before the schedule, start our engines and commence a rolling take off from runway 12, followed by a left turn towards the northwest.
Soon enough I'm handed the breakfast tray, then a large basket of warm rolls, croissants and assorted pastries. I'm told to get as many as I wish - but two will be more than enough. Finally I'm asked if I want tea or coffee - coffee will do nicely, thank you.
The tray contains a smoothie drink and a hot breakfast with potatoes, champions, Bratwurst-style sausage, bacon and some eggs. There's also a proper cloth napkin. I'm not a big fan of the heavy British-style breakfasts but I have to say this one hits the spot very nicely, finally waking me up from my half zombie state and giving me some energy.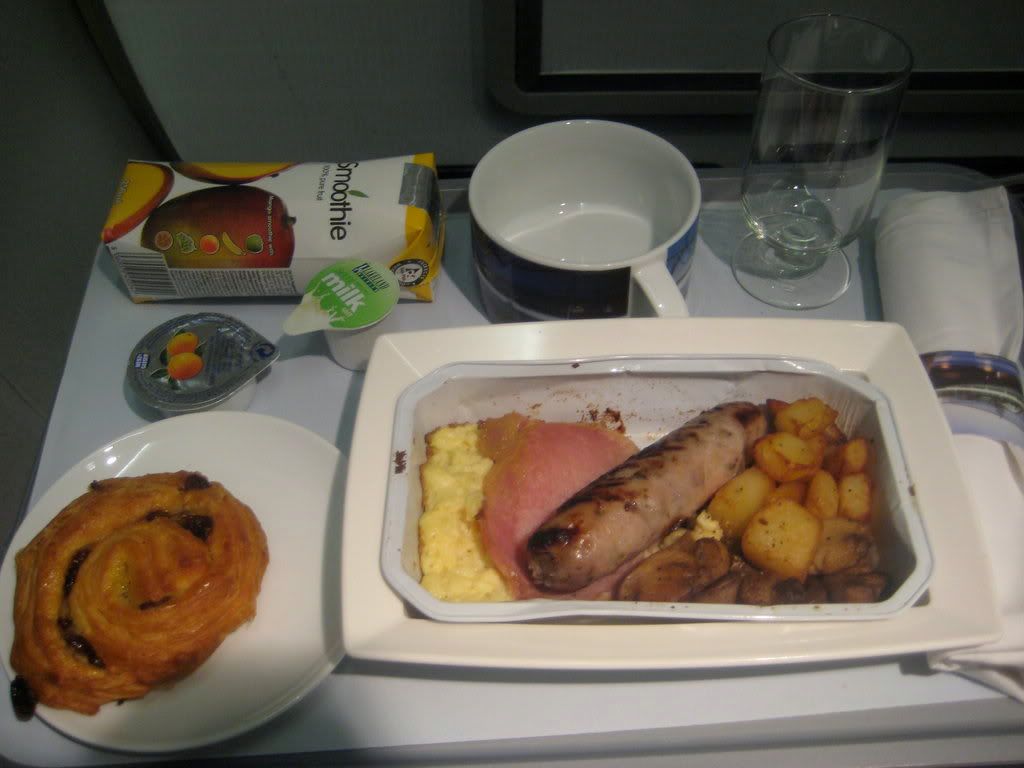 While having breakfast I'm also enjoying views of the western end of the Alps, very pretty: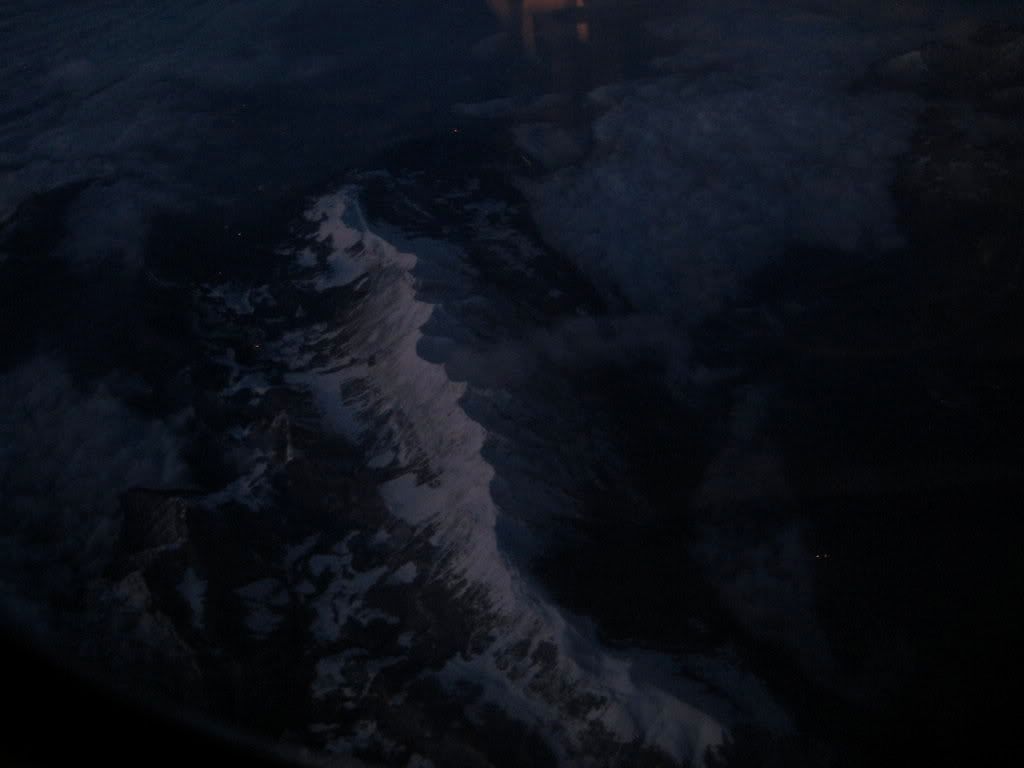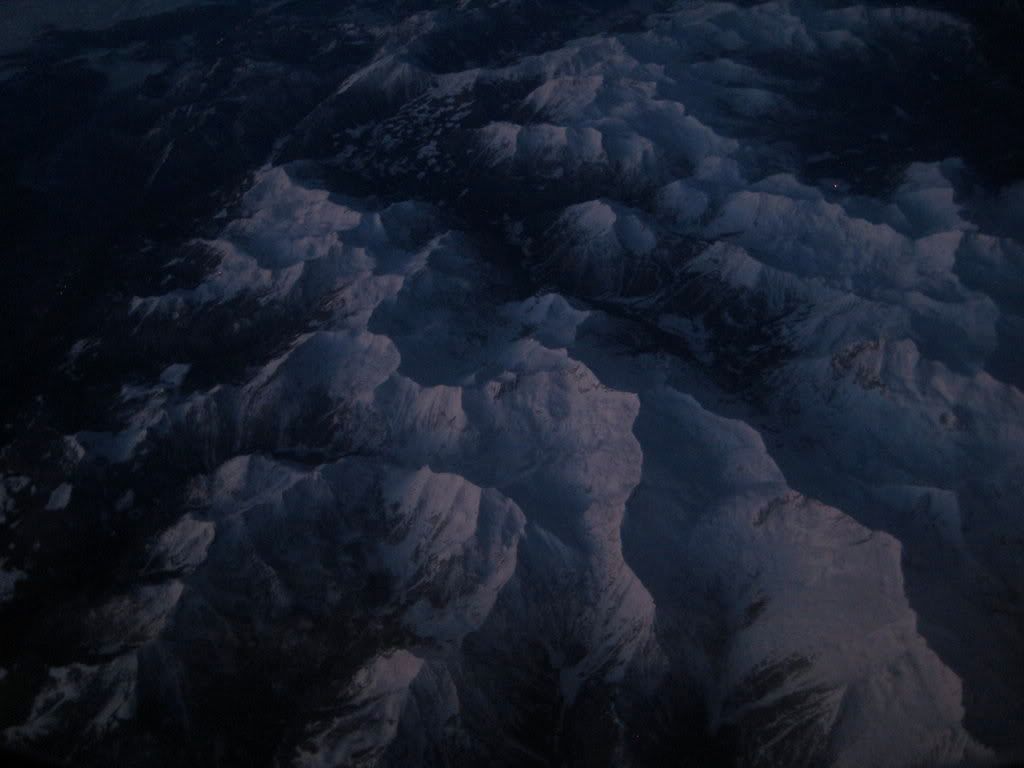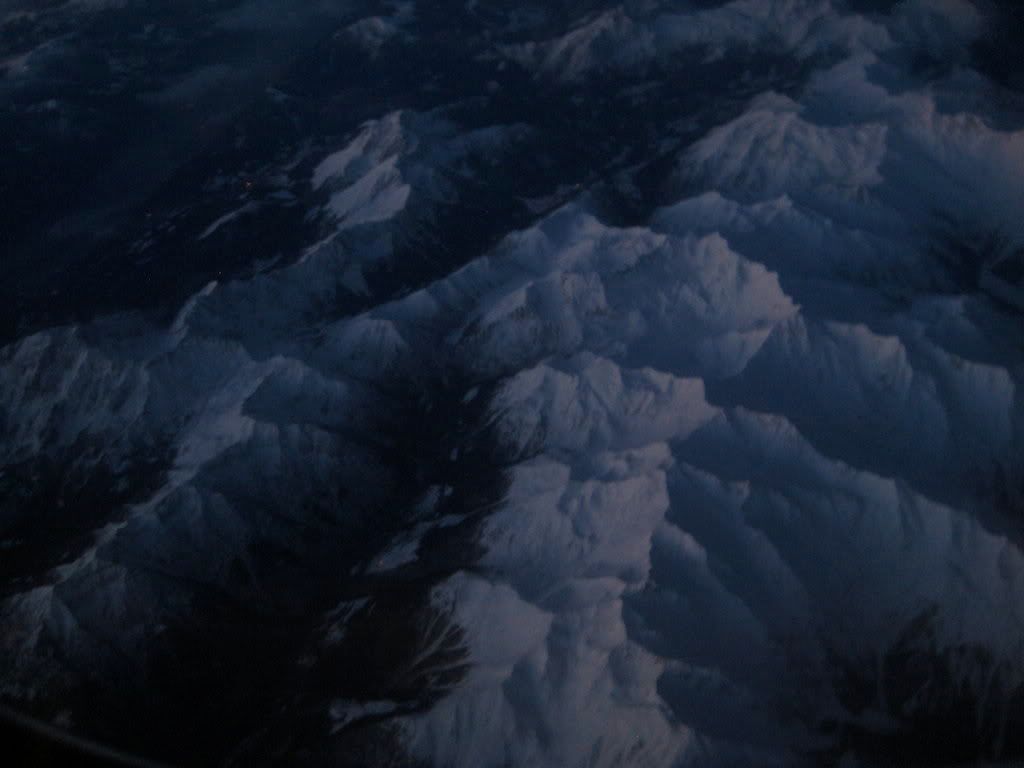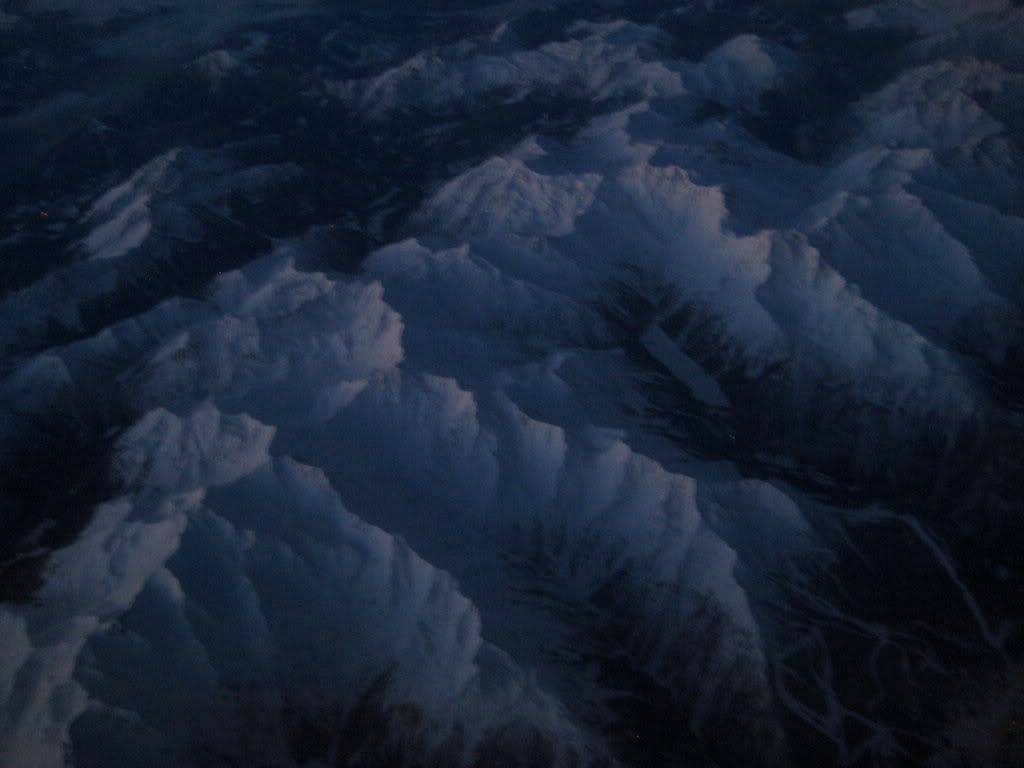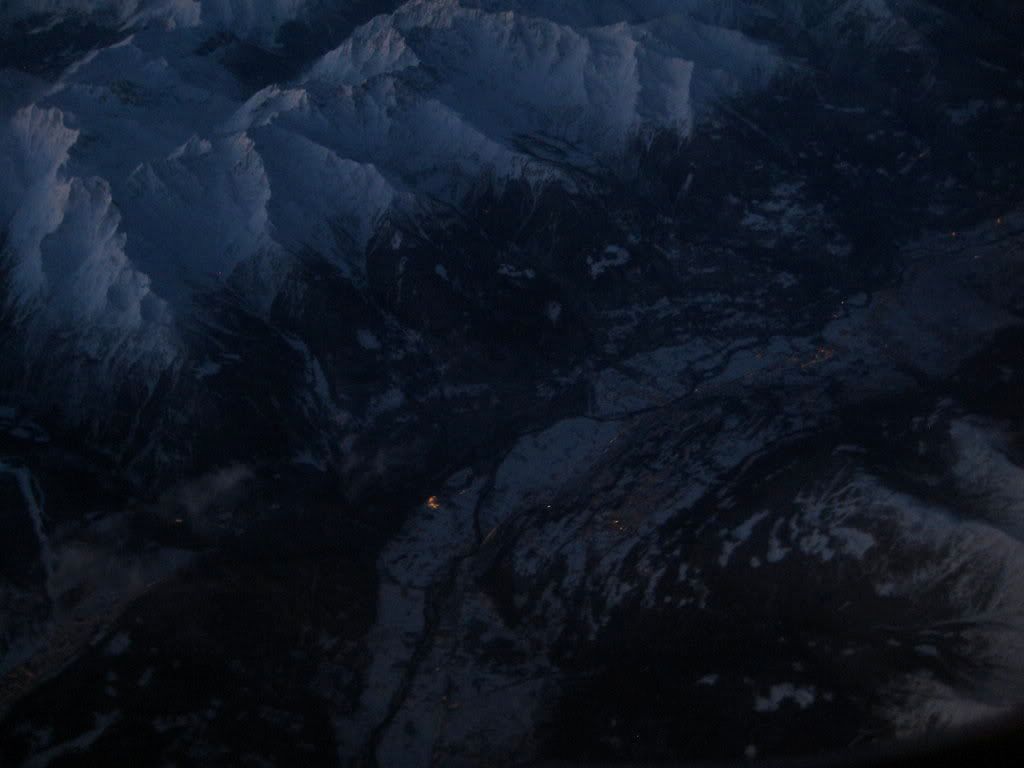 After I'm finished with the breakfast the front cabin FA picks it up and asks me if I'd like anything else - well, now we are getting on the right track: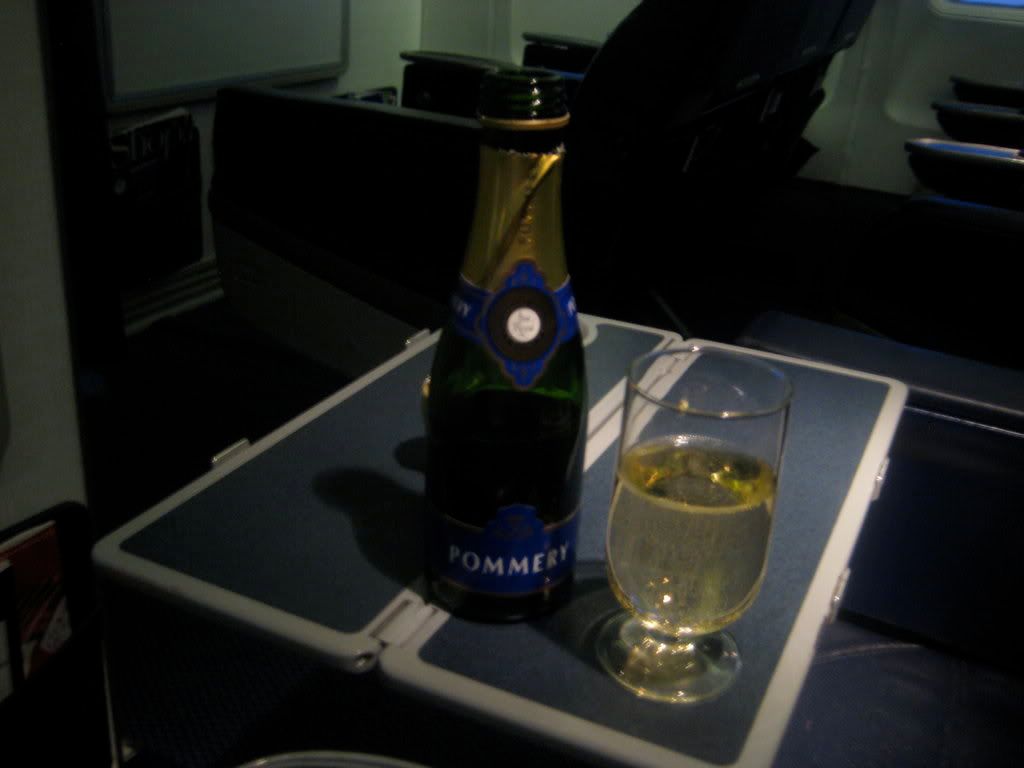 IFE for the rest of the flight for me consists of some music, Dan Brown and champagne - what more could you ask for? Well, maybe a view of the ground would be nice as well - after the Alps have passed there are only clouds to be seen. A second bottle is offered and gladly accepted at some point.
Crossing the French coastline to the Channel: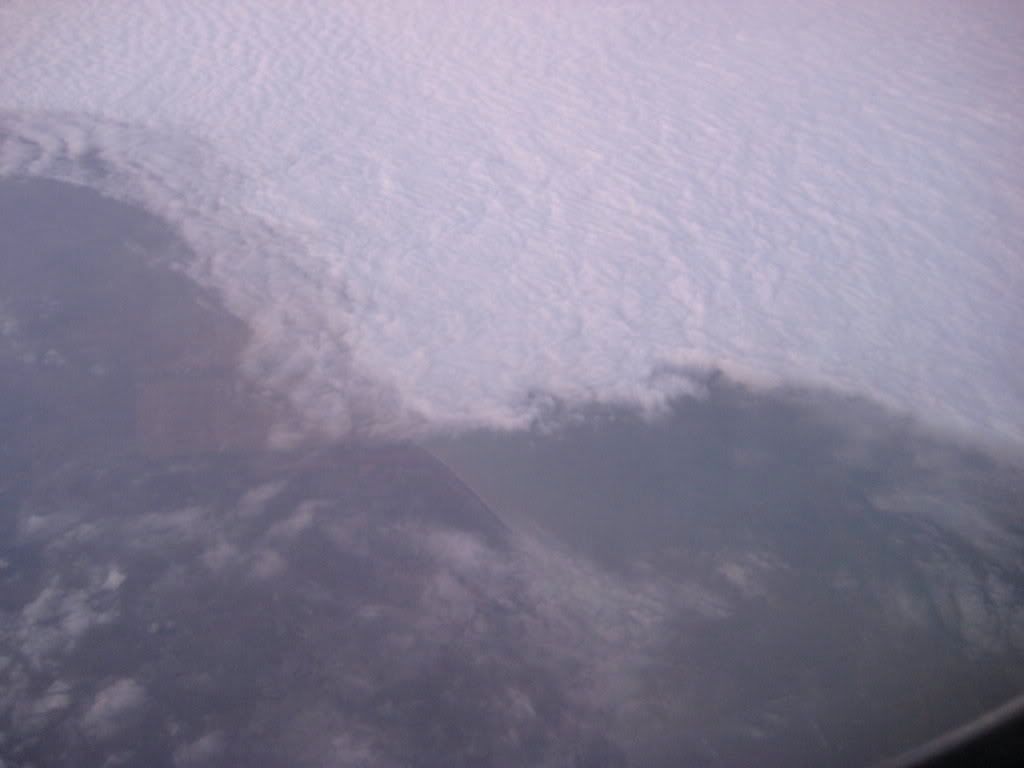 Right after this the captain announces landing in 25 minutes, adding a Ryanairesque "20 minutes before schedule!". The weather is described as "a miserable morning, still some fog and wet, three degrees. It is expected to get better later during the day, though.".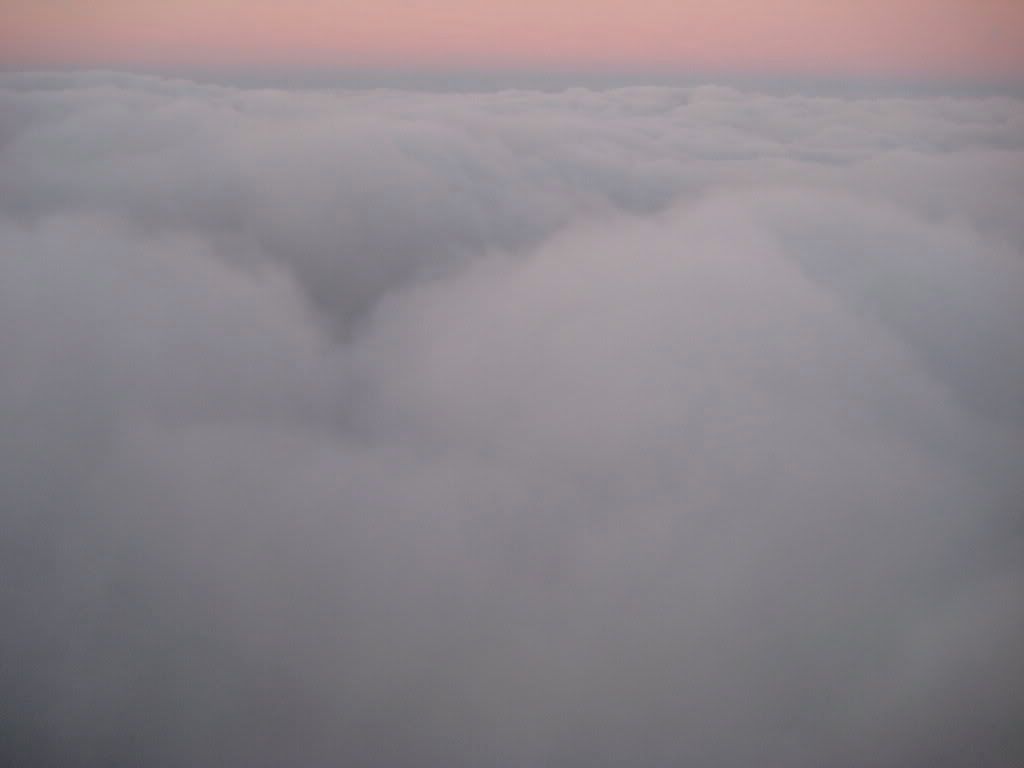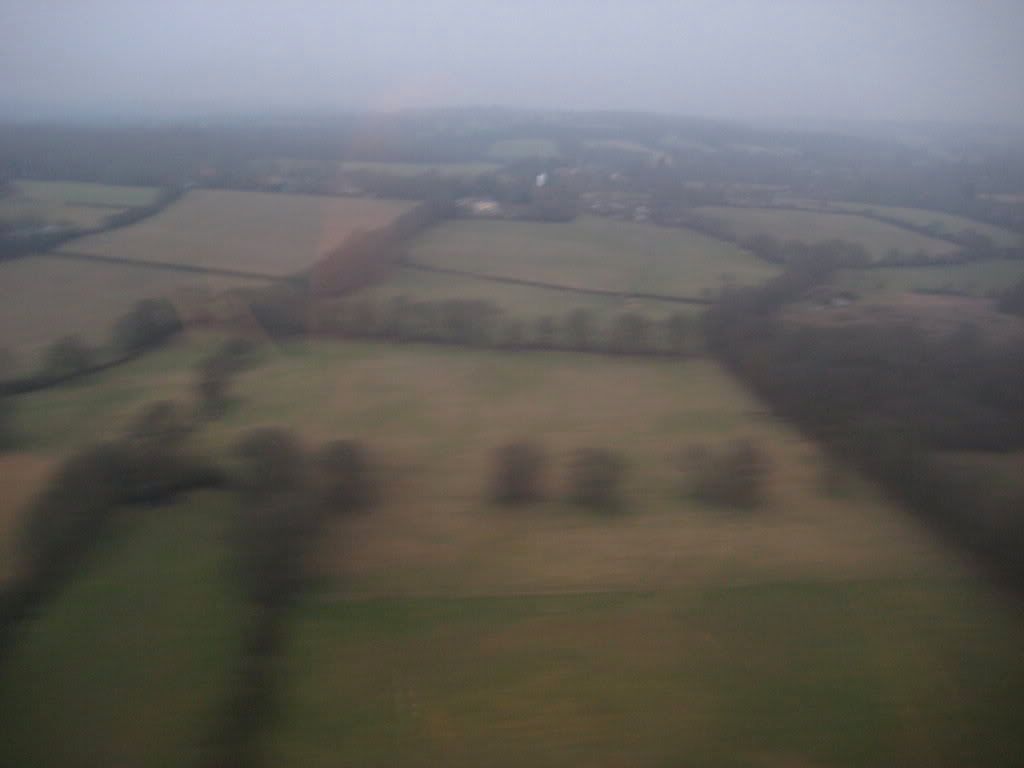 Very overcast skies here as well, we finally break the clouds only a short while before touchdown on runway 08R, followed by heavy reverse thrust - it looks like the captain is determined to make the first available exit from the runway. A couple of minutes later we stop at a jetway on the BA pier of the North Terminal, between another 734 and a triple seven, just arrived from Barbados.
I kinda like the motion blur in this pic: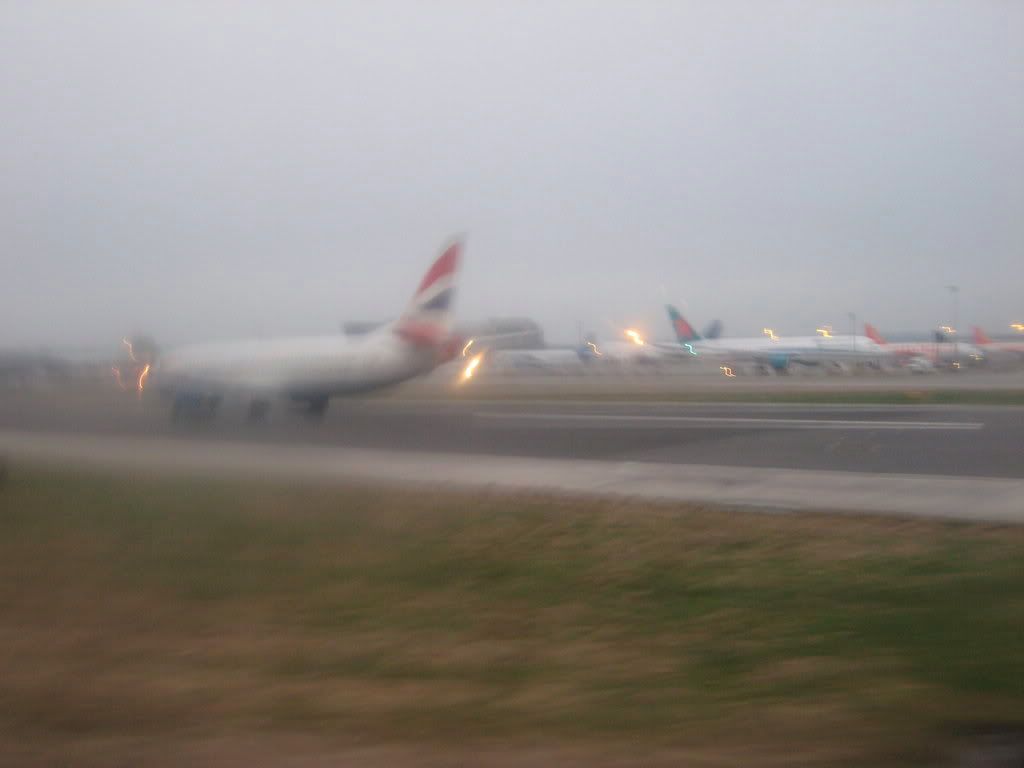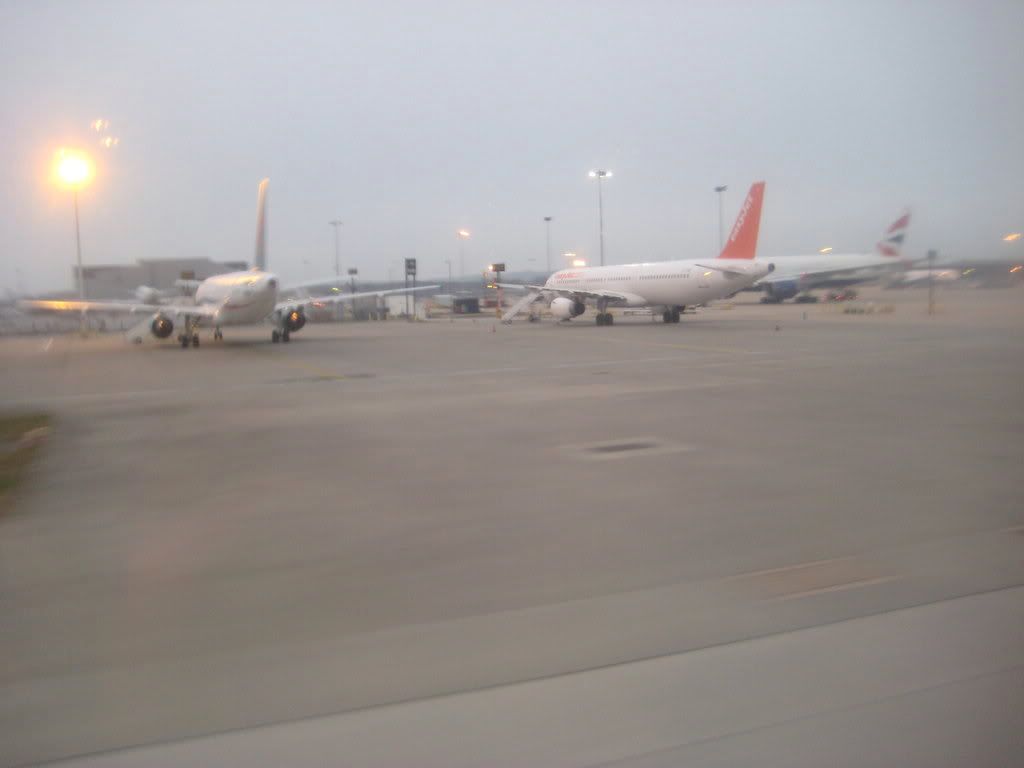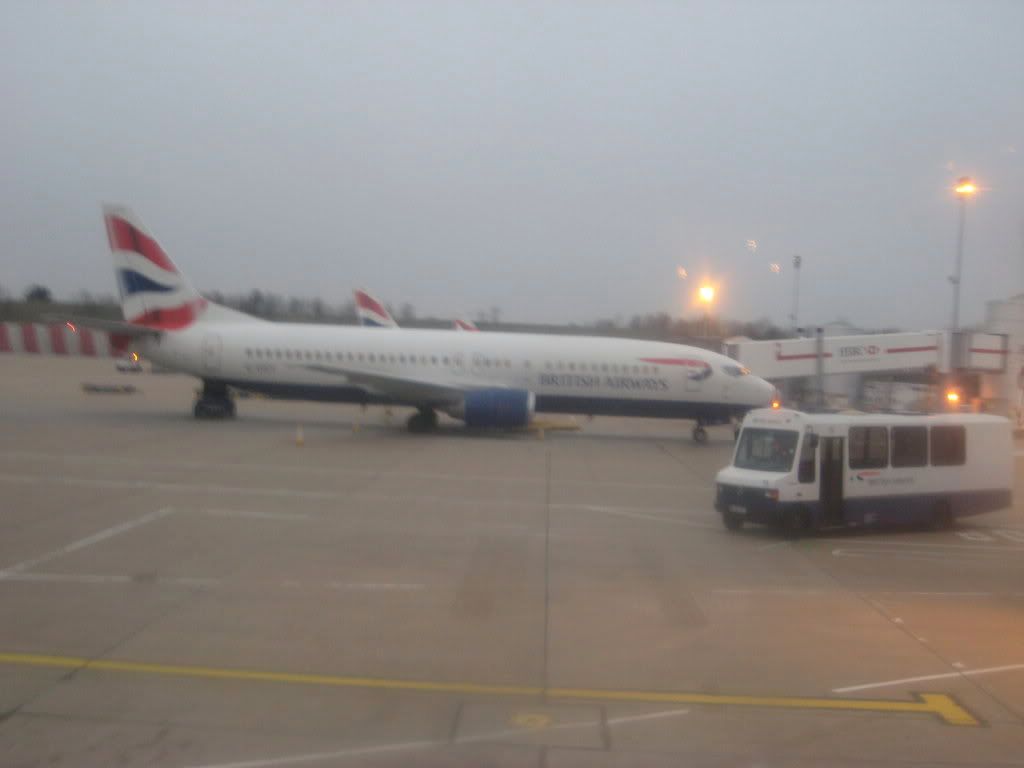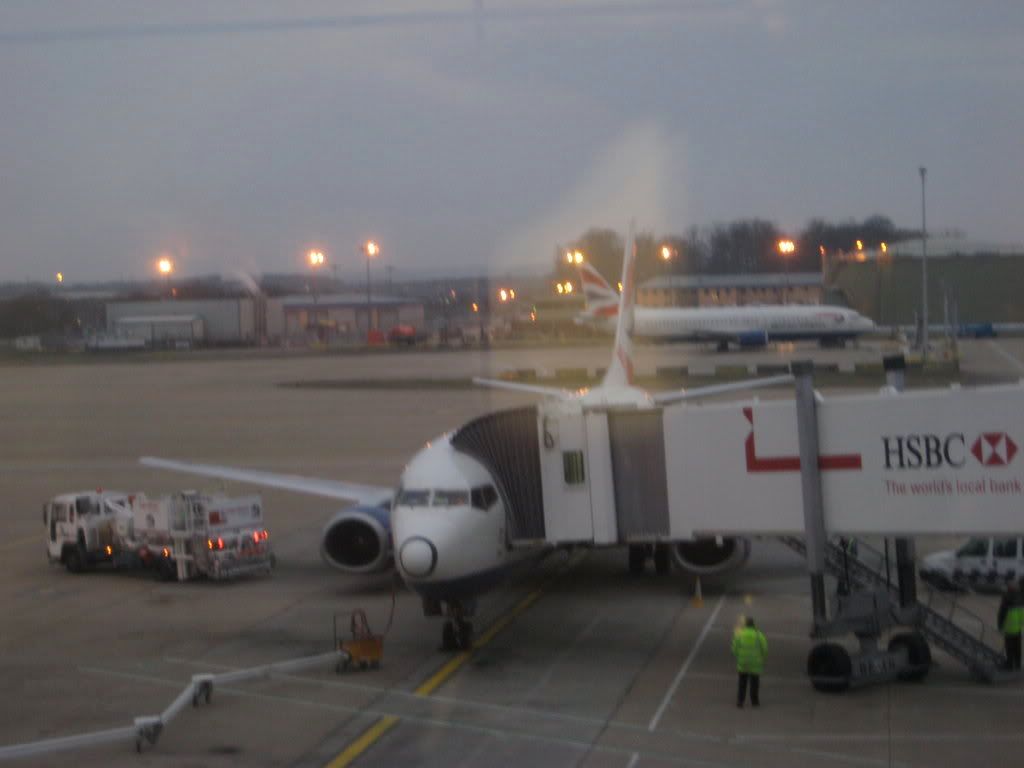 Gatwick Airport
I'm the first to deboard (traveling up front has its advantages) and am surprised by how short the walk to the immigration controls is. I guess I've gotten too used to doing it from the Easyjet gates in the new pier of the North Terminal. Not many people here at this early hour so in no time at all a friendly older chap welcomes me to Old Blighty. As I'm carrying some cash in Euros (very unusual for me - Finland being a heavily plasticized society I live almost exclusively on credit cards) I decide to get some Sterling from the exchange counter just past the immigration point - bad idea as the exchange rate is horrible and they add an unexpected three pound fee on top as well (they do have big signs about "No commission", with "on transactions over 250 GBP" written on a tiny font below it). At least we get a laugh about it with the clerk as he refuses to take my blame, shifting it to his employer, "some large Swiss corporation"...
Outside to the miserable morning (the captain was true to his words) to hop on the shuttle bus to the South Terminal, where the first task is to try to locate the check in counters in the vague hope that they would be already open. Well, no such luck, they are scheduled to open at 9.30.
Lots of flights: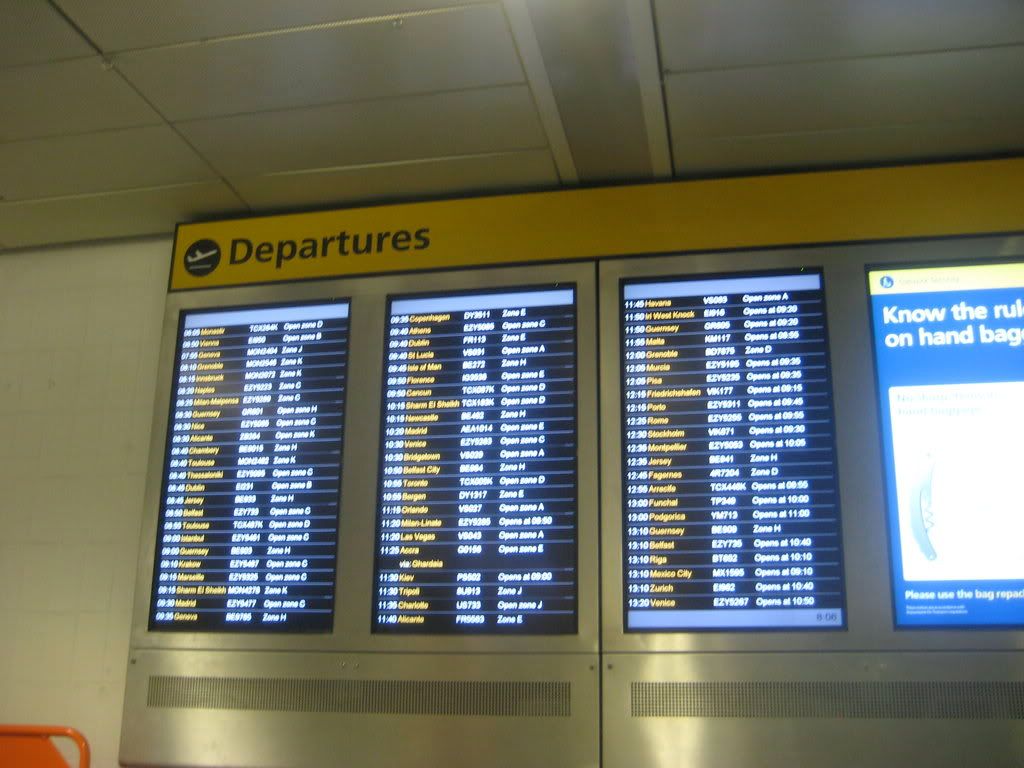 I had thought about going somewhere outside the airport for the five hour layover. Brighton would've been nice but as the train ride is 40 minutes each way it is a bit too far away. I think about going to the nearby town of Crawley, but the cold and damp weather aren't too inviting so I decide to rough it at the airport instead. First stop is upstairs at Starbucks, a venti vanilla latte and my book keep me happy until check in opens.
Around 9.30 I trundle back downstairs and eventually find the Viking Airlines check in counters, which are just being opened. The people queuing for Arlanda are exactly what I suspected - stereotypical Middle Eastern families with tons of luggage. At this point I find out that the plane is actually continuing to Sulaymaniyah in the Kurdish part of Iraq from ARN - very interesting. New counters are being opened so I'm served in no time at all by a rather pleasant girl, getting seat 2A (hmm, I suspect this will not be in Club Europe any more...). The next counter is checking in a company chartter flight to FDH - is there really demand for this? Seriously?
I decide to head past the security control which turns out to be a bit problematic as they refuse to accept us for the downstairs check point, instead we are directed to take the escalator upstairs to another security point there - never seen this one before. Not that many people there, but still very slow as the travelers today seem to be mostly older folks on their way to somewhere warm and nice. One of these days I will strip off completely naked to go through the metal detector as a protest for this security madness - too bad that in many parts of the world that will get you arrested - as a Finn I don't think it a big deal at all...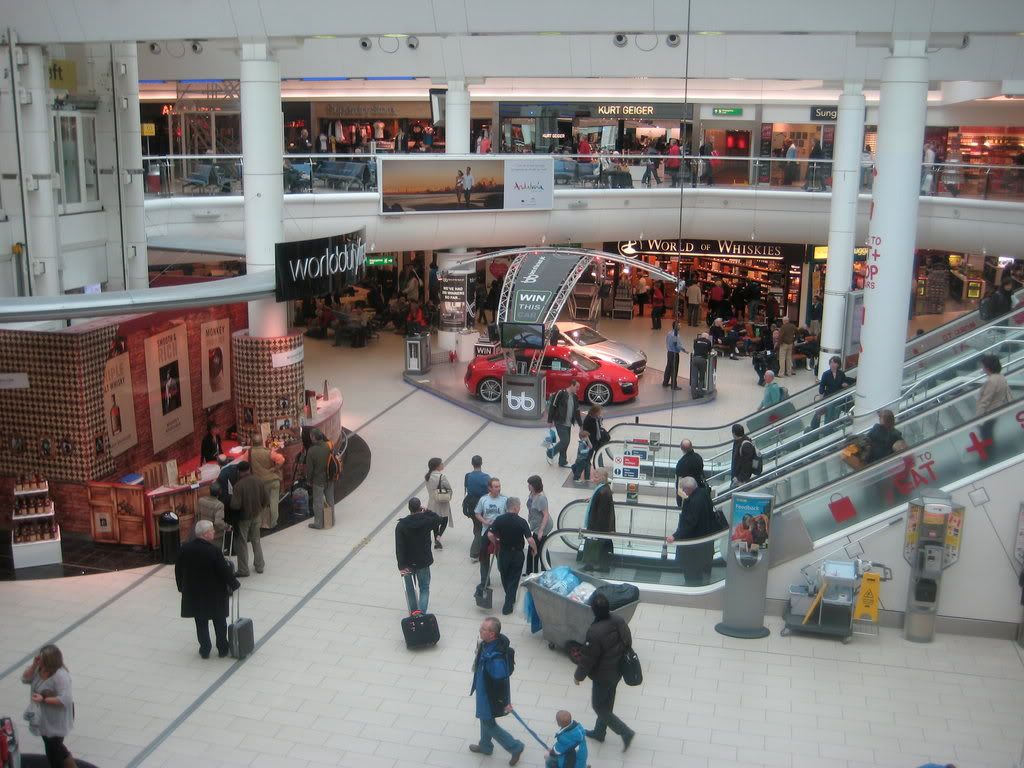 Anyway once through to the Shopping Mall (sorry, Freudian slip, meant "Departure Lounge") I head to do some shopping (a family man has to make some amends in order to be allowed some time off...). This having been done I sit down for some people watching - there are plenty of interesting specimens here. Some time later I decide to head for an early lunch, the Cafe Rouge offers decent French food and a great apron view. They try to put me to a windowless table but I'll have none of it and get my way.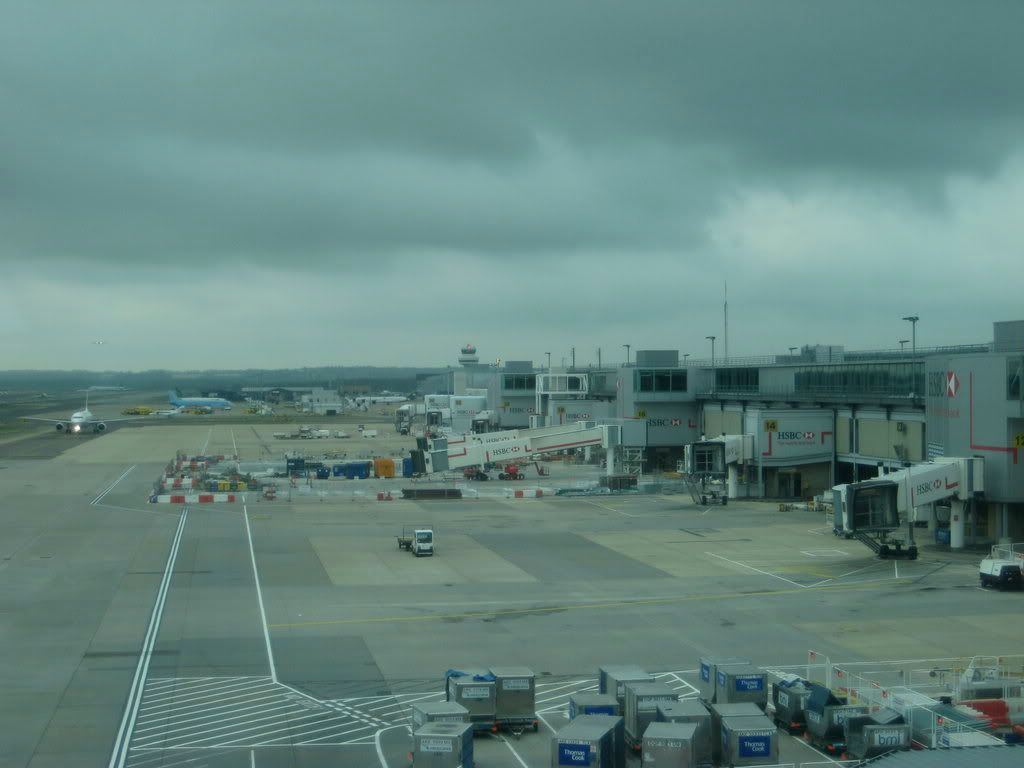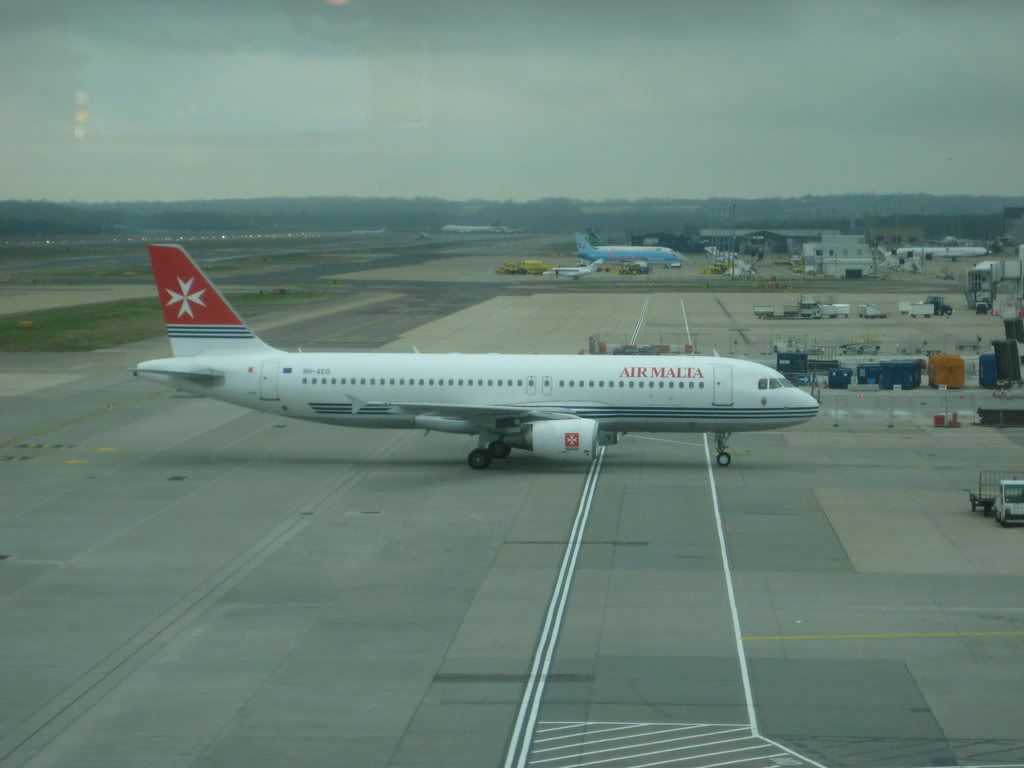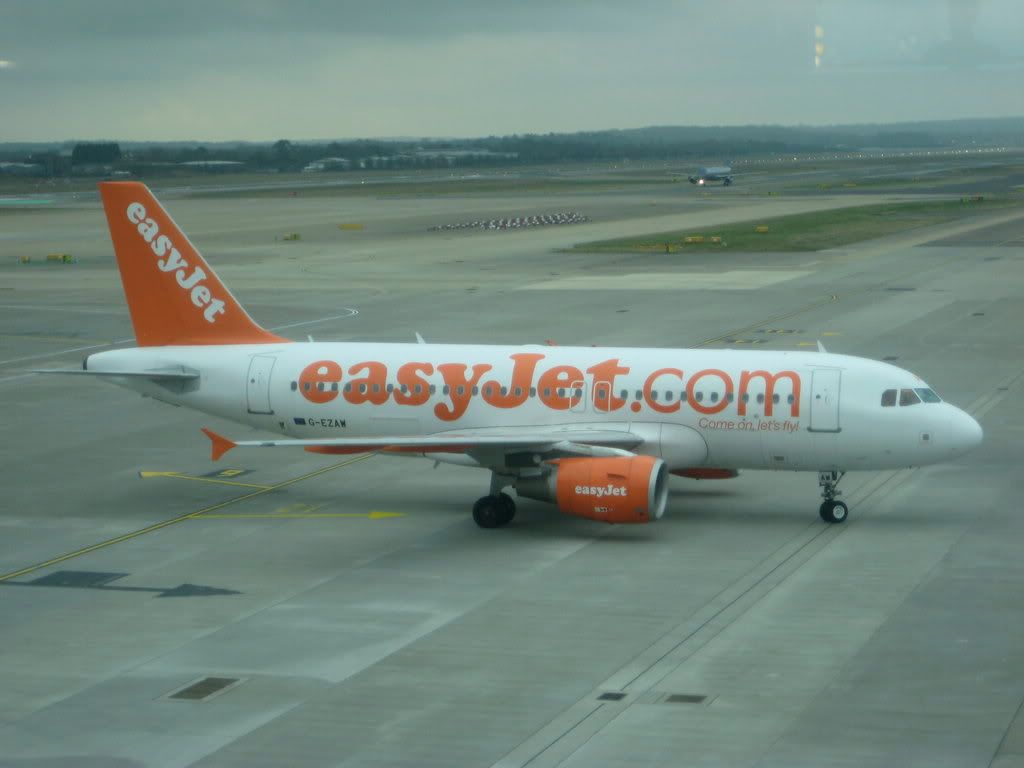 Is that a BMI plane in the old livery? What on earth is it doing here, charters?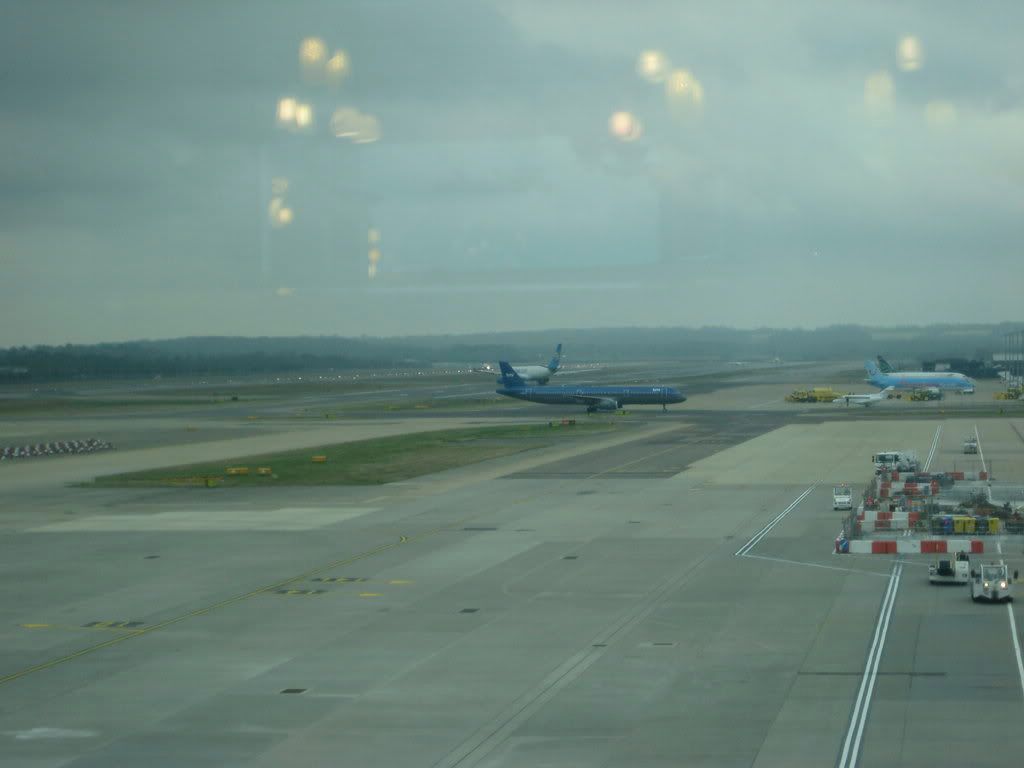 Will this classic be my ride today?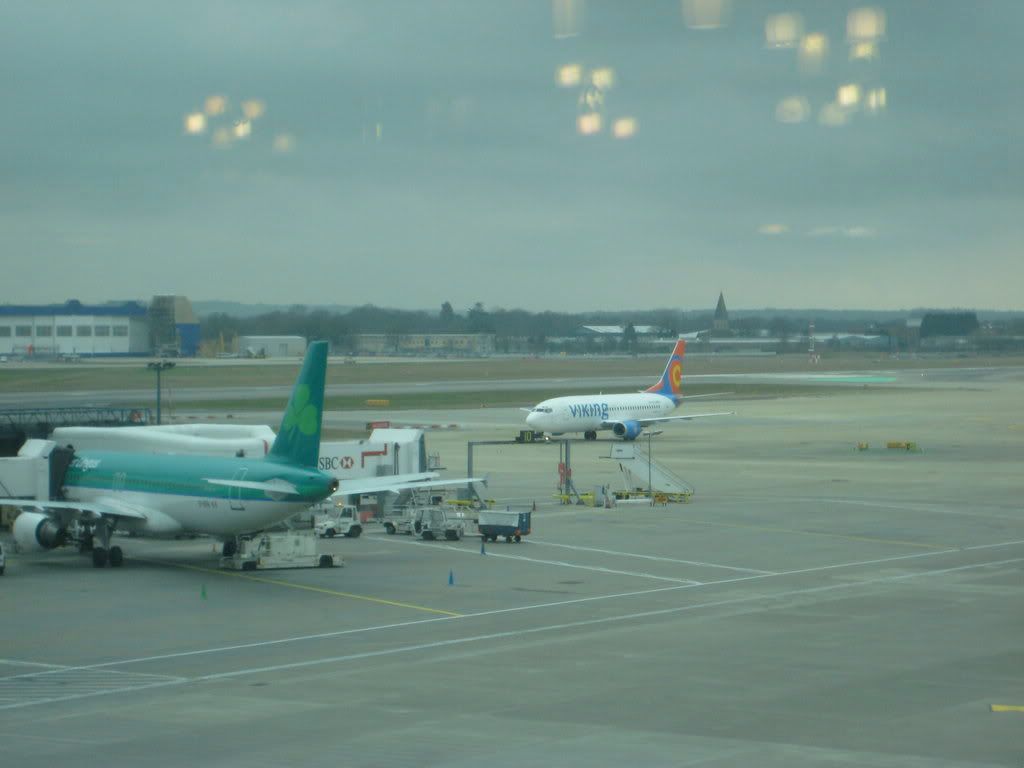 ... or this NG?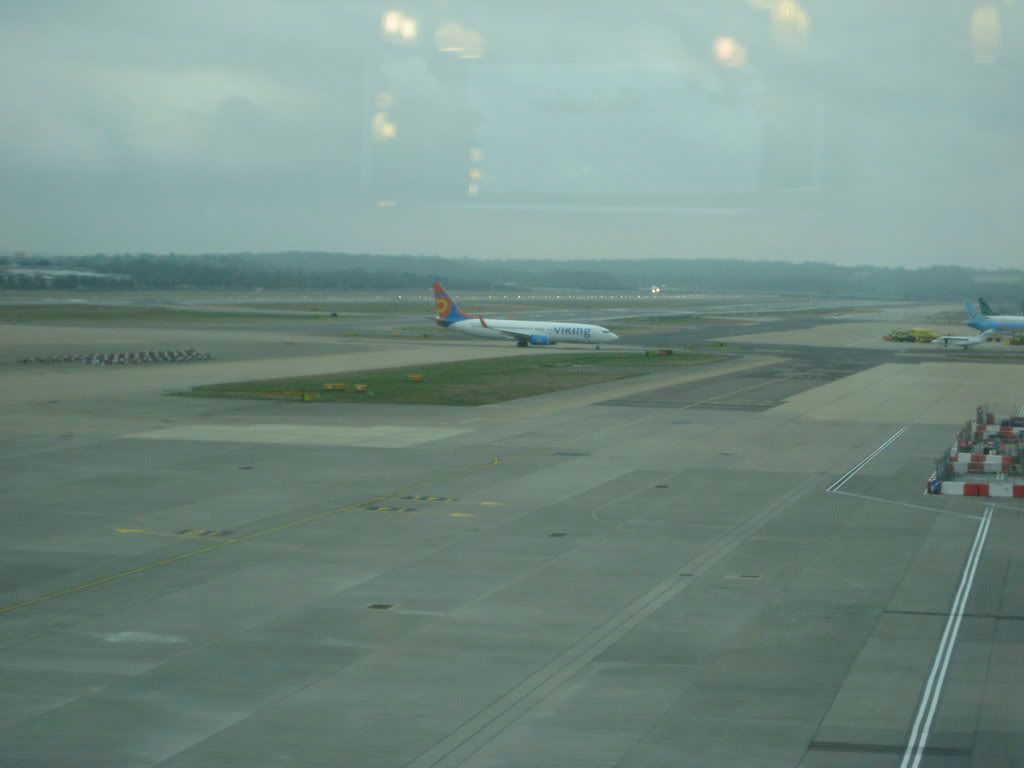 Around 45 minutes before the departure time the gate is announced and I head there. At the gate I spot our plane, SE-RHX a 737-800 model. New airline and new plane for me. After the boarding pass check I get carded and interviewed by UK customs, my answer of "Around four hours" for the officer's question about how long I have been in country raises an eyebrow, but after telling them the modest amount of cash I'm carrying today they decide that I'm probably not going to smuggle a significant chunk of their national wealth out of the country and let me proceed to the holding pen. I guess flights to Iraq do raise a few warning flags. There aren't too many people here, mainly Iraqi people, quite a lot of infants and small kids, one or two Swedes and a few Britons.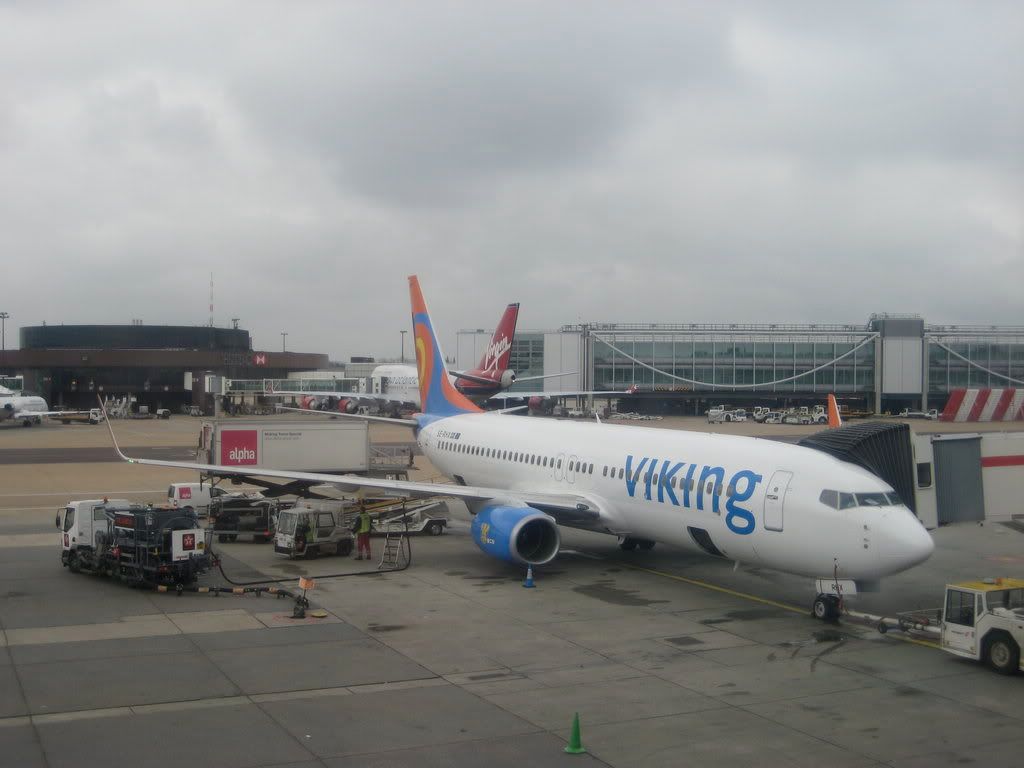 Notice the Montenegro Airlines F100 sandwiched between the two Virgin Jumbos at the satellite building: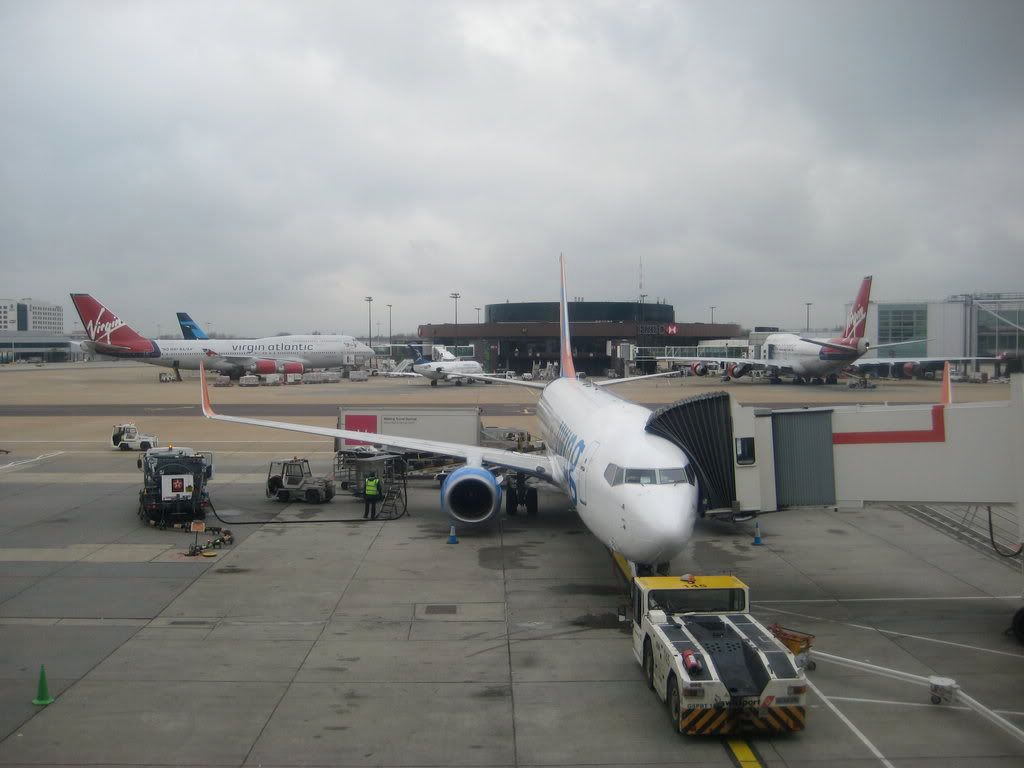 Soon boarding is announced, funnily there's nobody at the jetway door and they do it by row numbers and nobody dares to enter the plane. I wait for a while, trying to obey the row number call, but then decide that somebody has to take the lead and head to the jetway, after which everybody realizes that we are actually good to go.
LGW-ARN
4P671
B737-800 SE-RHX
Seat 2A
12.41 - 15.58
Inside I tell the young FA in the front galley "Hej", which gets her confused - only then I realize that all the cabin (and flightdeck as well) staff is actually British - I somehow assumed that they would be Swedes... Due to the confusion she doesn't even check my boarding pass - which they do for all others, though. Boarding is a bit slow as most of the passengers definitely aren't frequent fliers, they have to be shown to their seats, need help with the luggage and the infant extension belts etc. I hear the FAs announcing the load as 49 plus five infants - not too good for this sector. Actually they were still selling tickets for less than 50 EUR three days before departure - this flight would make a cheap alternative route to Stockholm, although the frequency is only a couple of times per week.
Rather nice leather seats with decent pitch in this bird.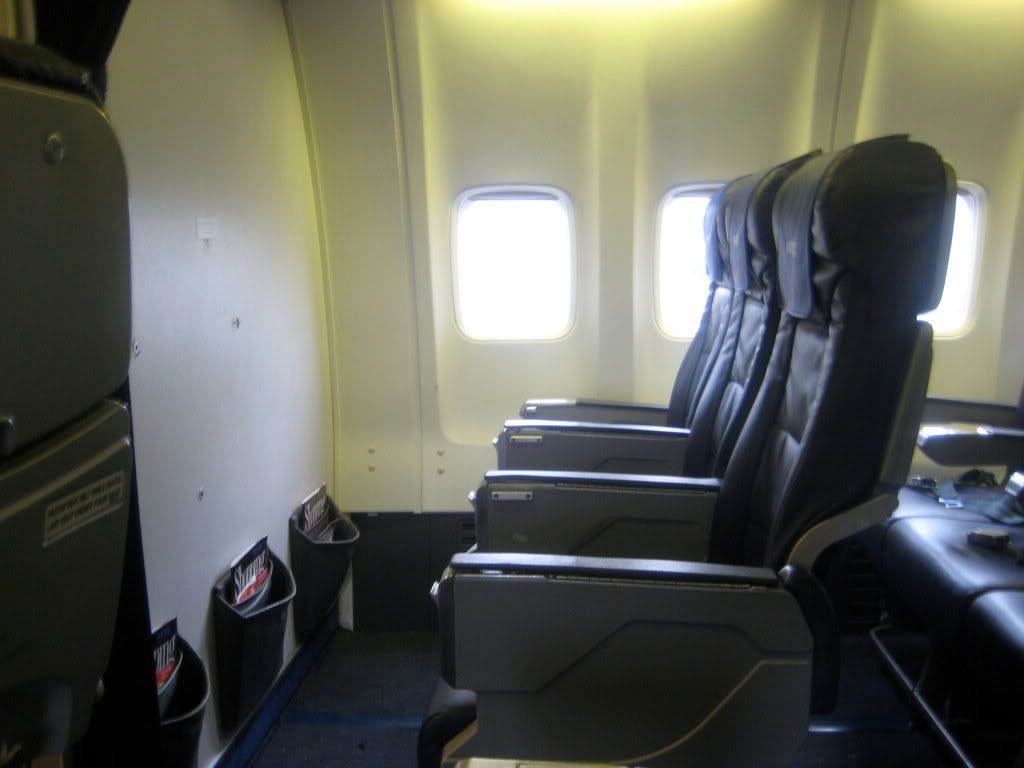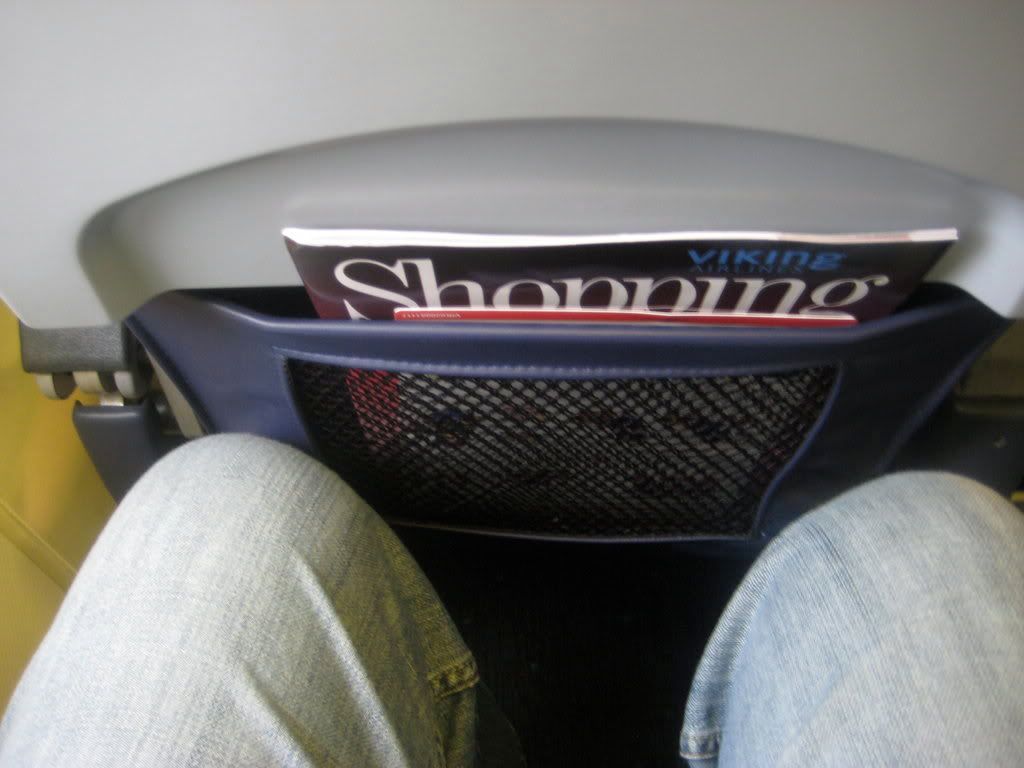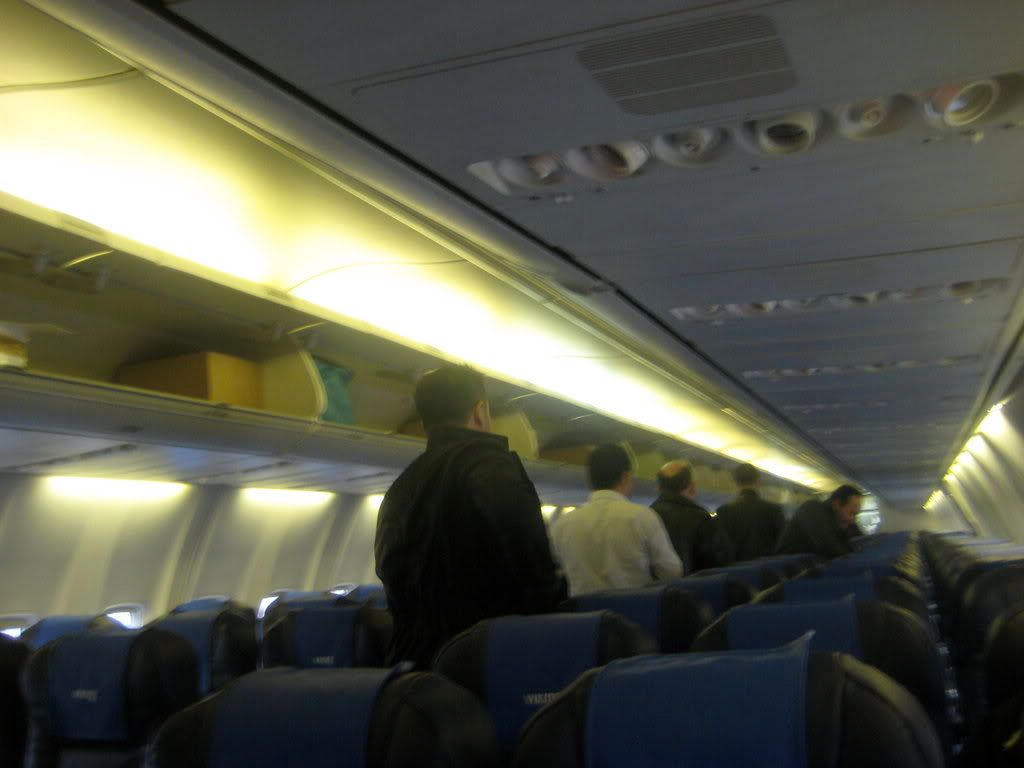 Five minutes before the scheduled departure time the front FAs try to close the door but it won't close properly. They try a few times, and then get the captain to help who asks the ground staff in the jetway to wiggle it back and forth a few times, and finally manages to close it. Hope it indeed is properly closed or sealed, or otherwise we will have an interesting flight ahead of us... Just to be sure I decide to pay special attention to the safety demo, especially the mask part.
LS doing a snow charter to Northern Finland, KAO or KTT - sorry forgot which one as there were flights for both destinations but with different companies. I so much want to take one of these flights - too bad they can only be booked as part of a helluva expensive holiday package.
So Norwegian is doing "Famous Swedes" tails now?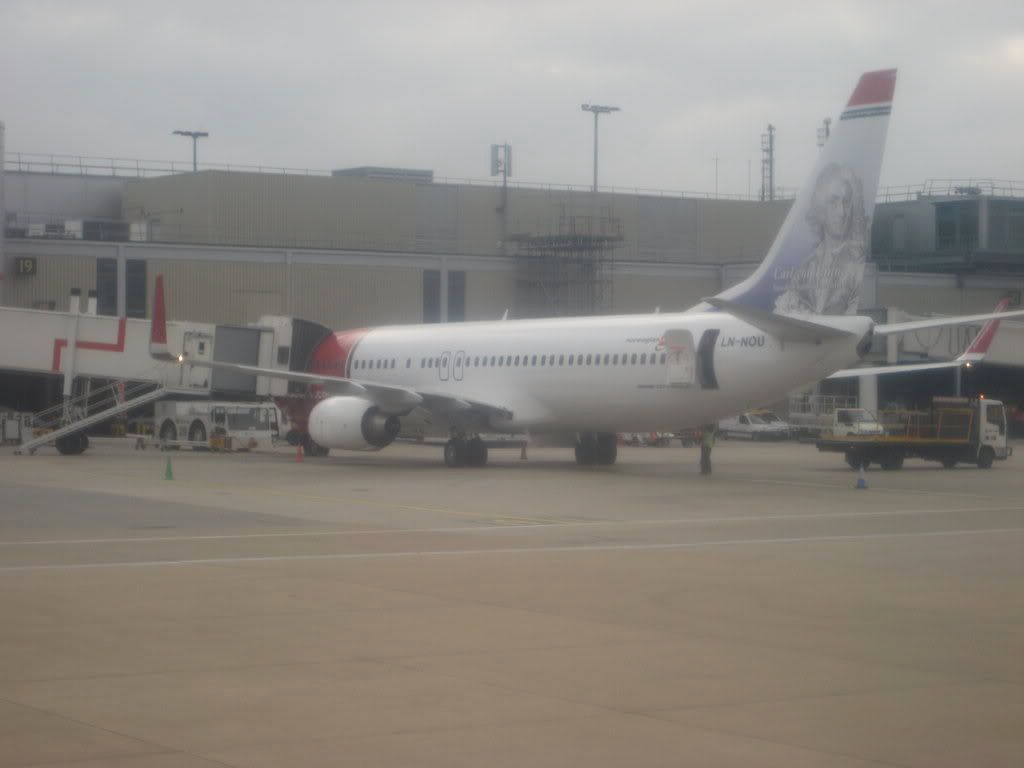 Flight time to Arlanda is announced as 2h11mins (why do they have to be so exact?). Ten minutes past the departure time the captain comes on with "In case anybody's wondering why we haven't yet pushed back it is because we are waiting for a ground crew member to help us with the procedude. Once that's done we'll get going, take off from the easternly runway, fly straight for 30 miles, turn towards Norfolk, then across the sea to Denmark and straight to Stockholm.".
One minute later the missing member apparently shows up, and we get pushed back, start our engines and take off from runway 08R.
I wonder if UA has objected on this company's name: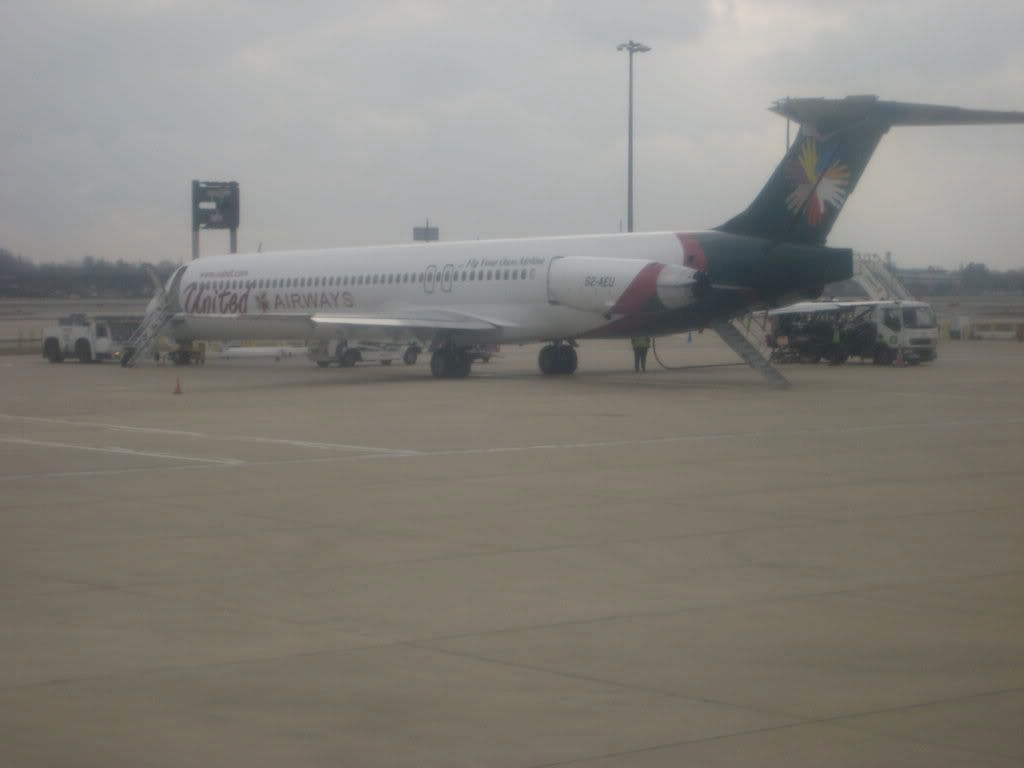 It definitely is a long way to DAC with a MadDog!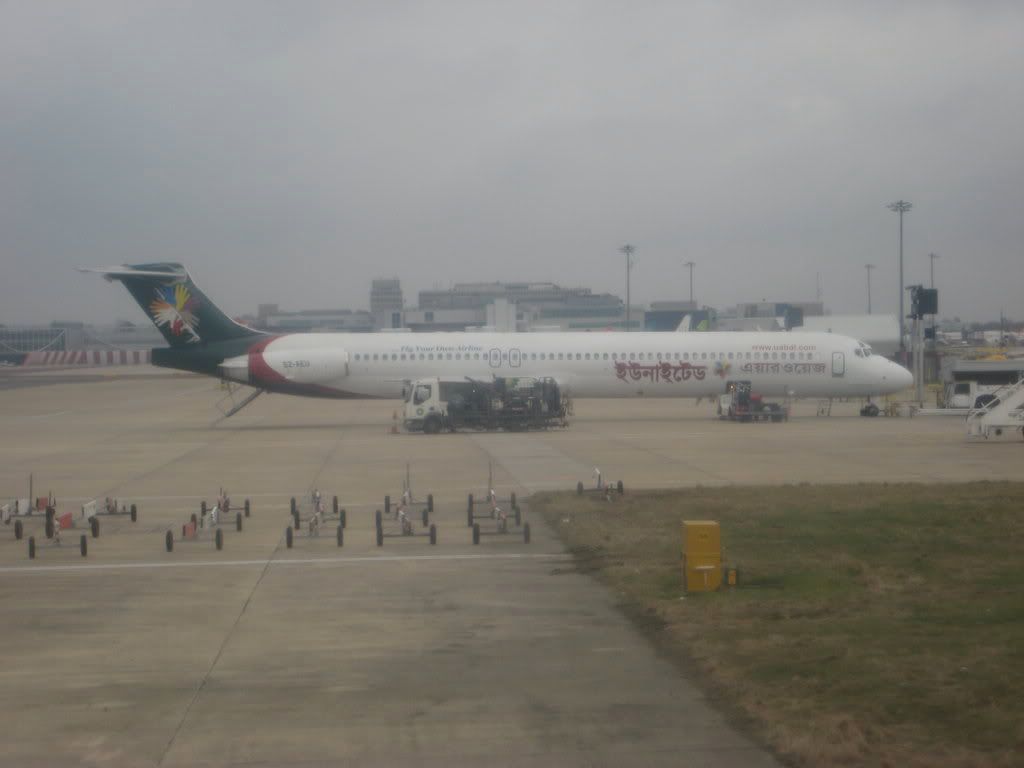 Never heard of this company before - I saw the tail when arriving earlier in the morning and mistook it for Iceland Express: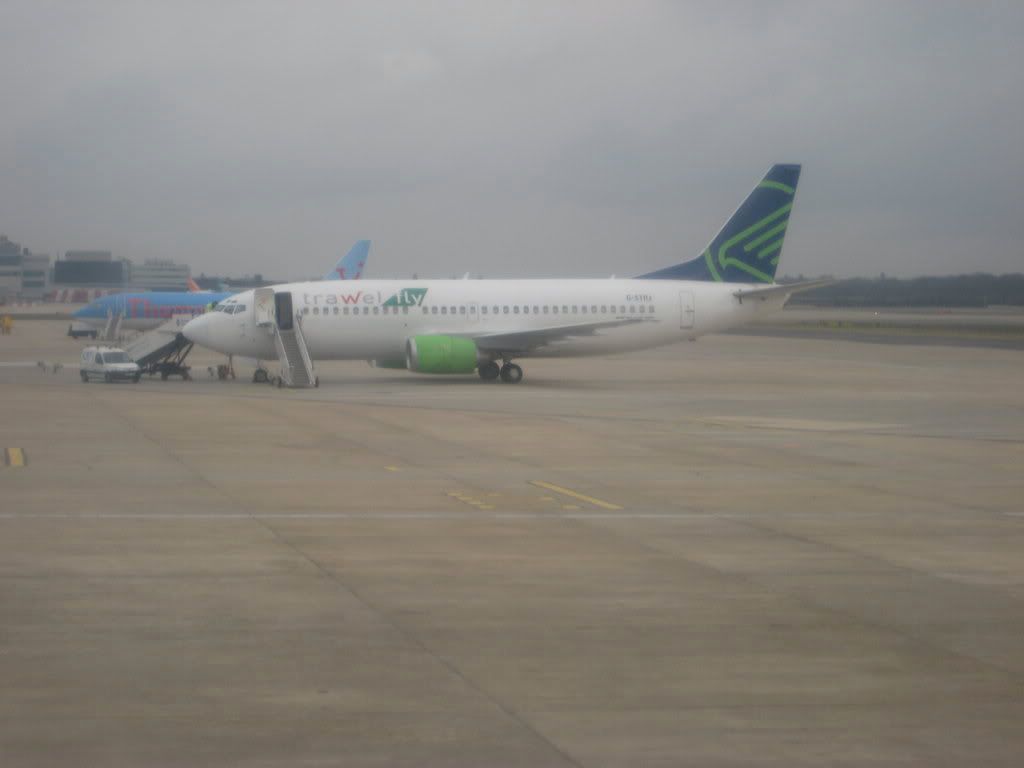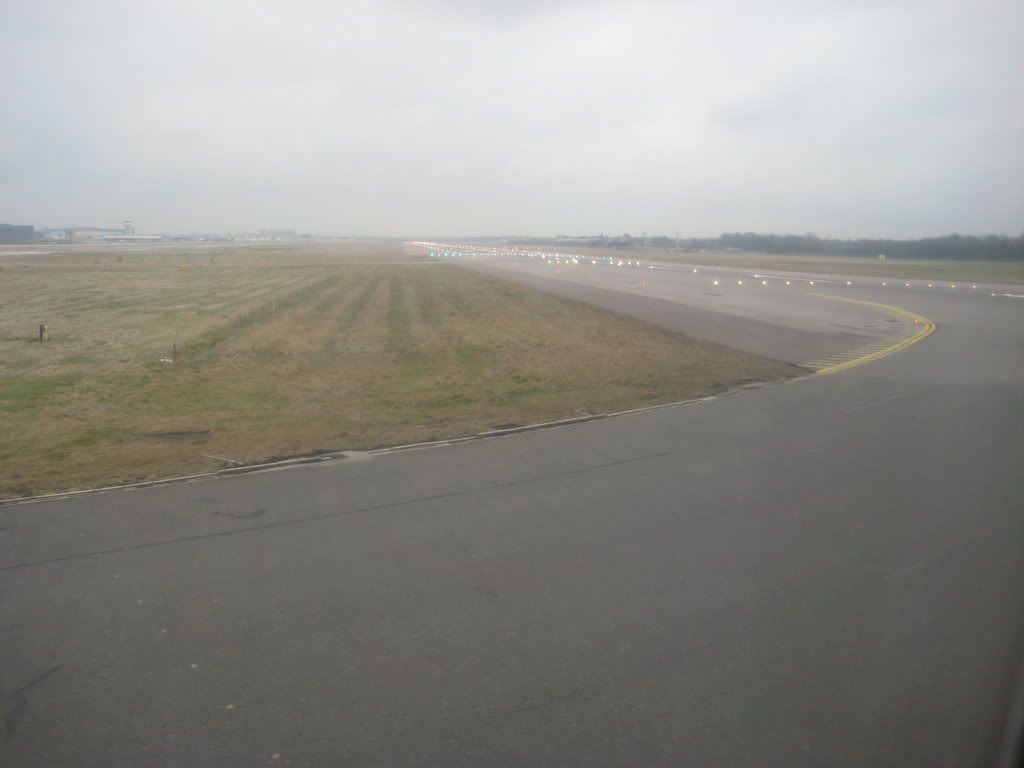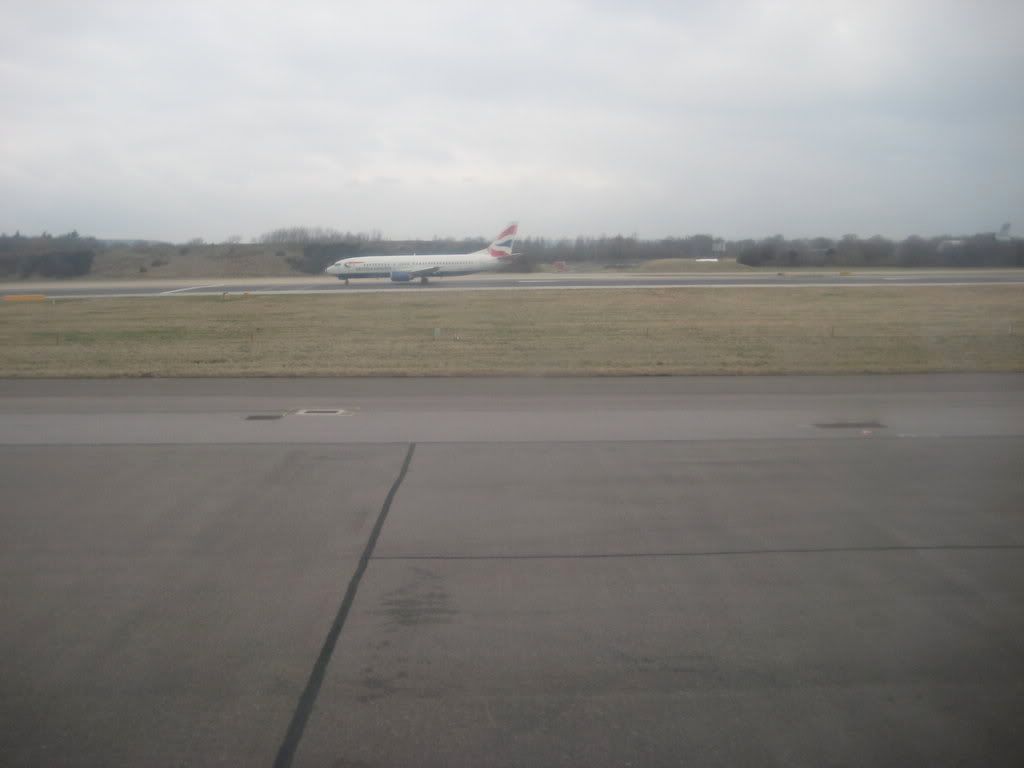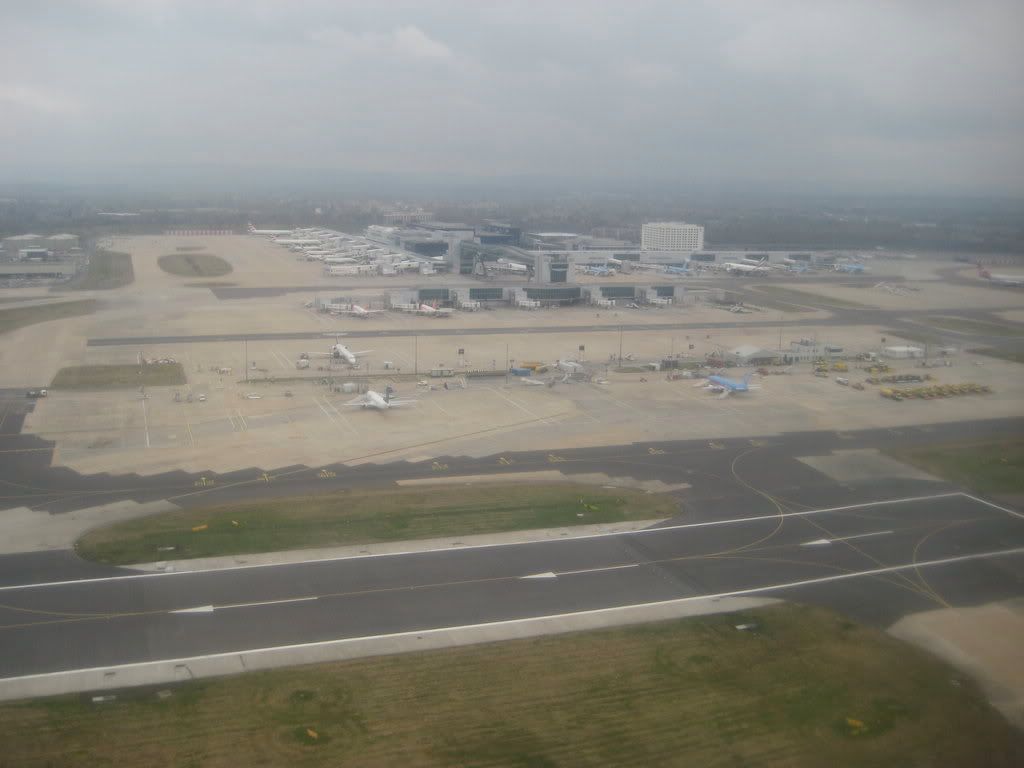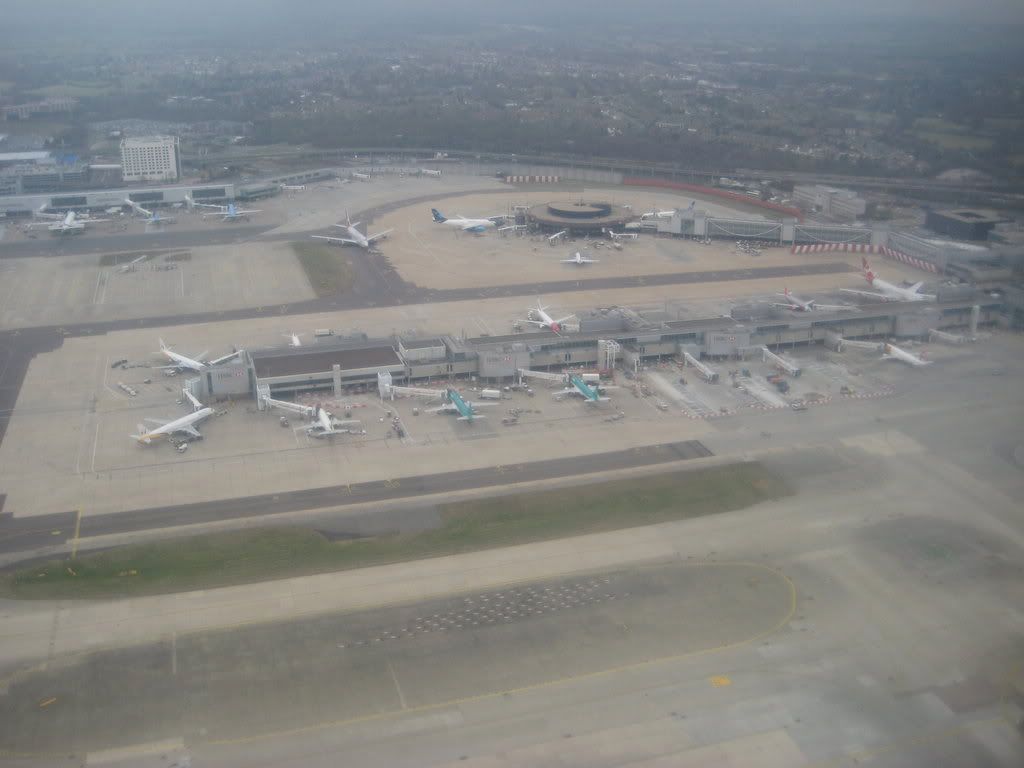 A nice overview of the South Terminal: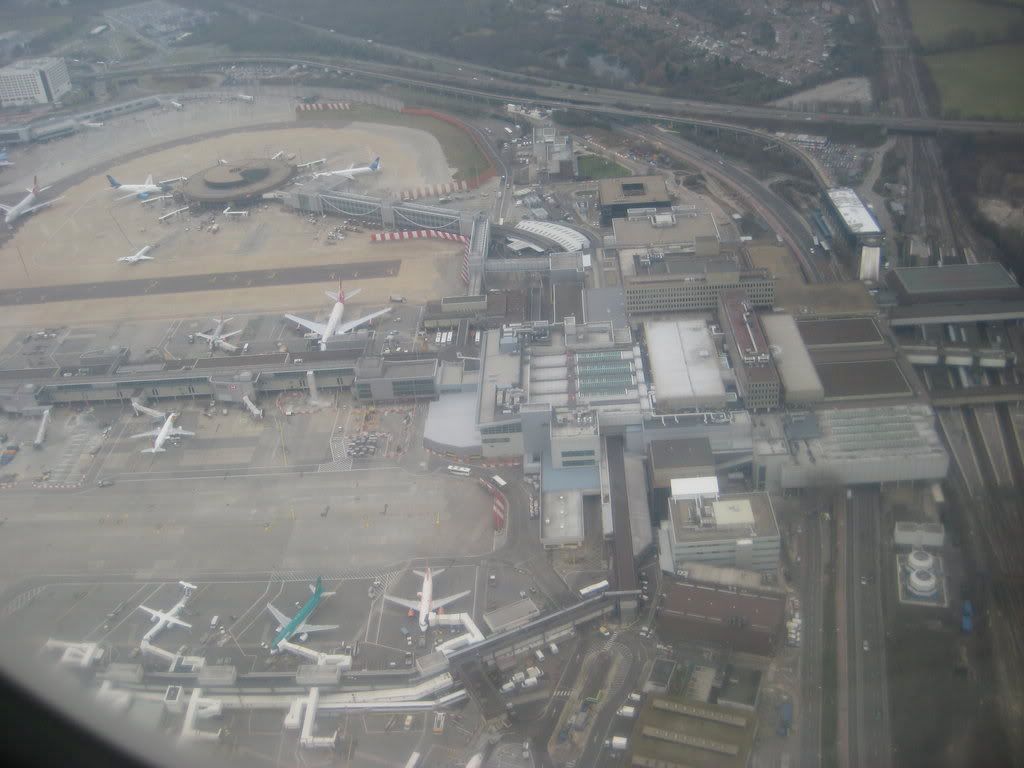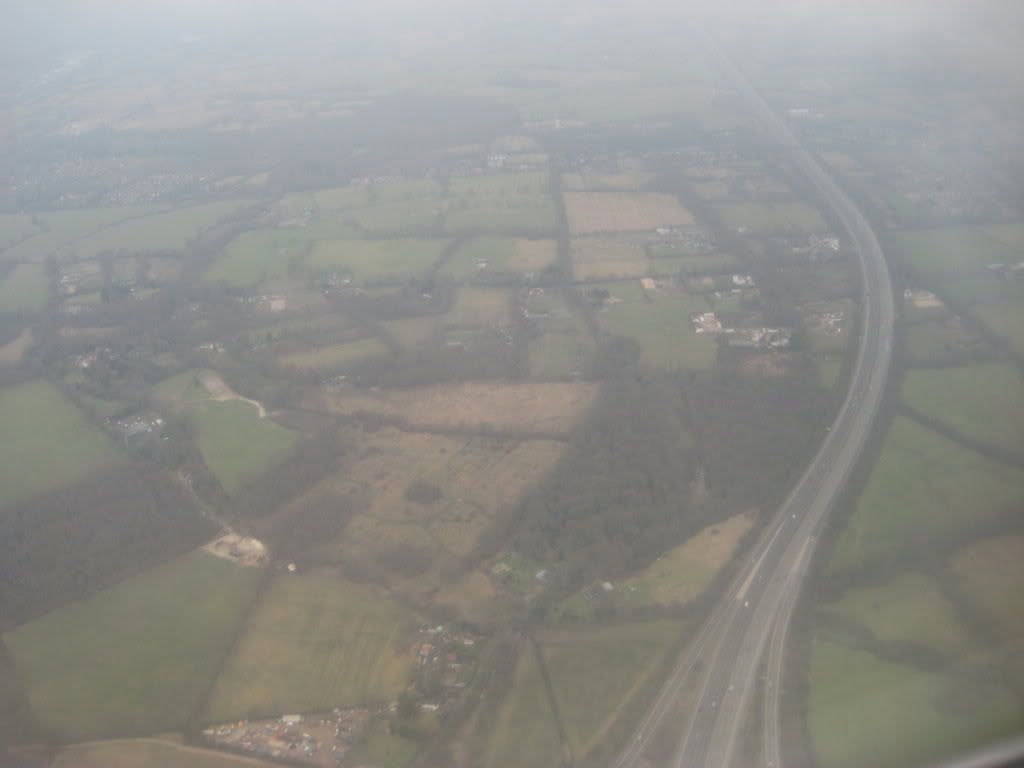 Once airborne its another overcast flight with no views of the ground until Sweden.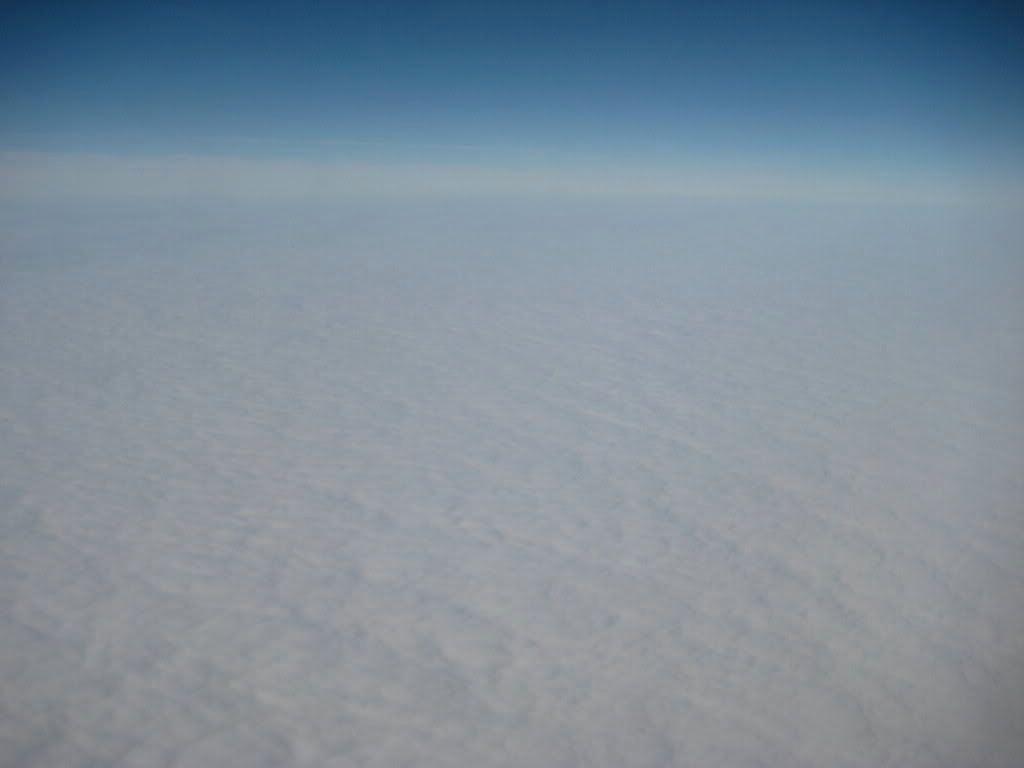 Service is free coffee or tea with a couple of packs of shortbread thrown in, with additional drinks and snacks available from the BOB cart. This is followed by a duty free cart. Not sure if there are any takers, most of the passengers are packed on the back of the cabin (so the back cabin rule worked the other way here!).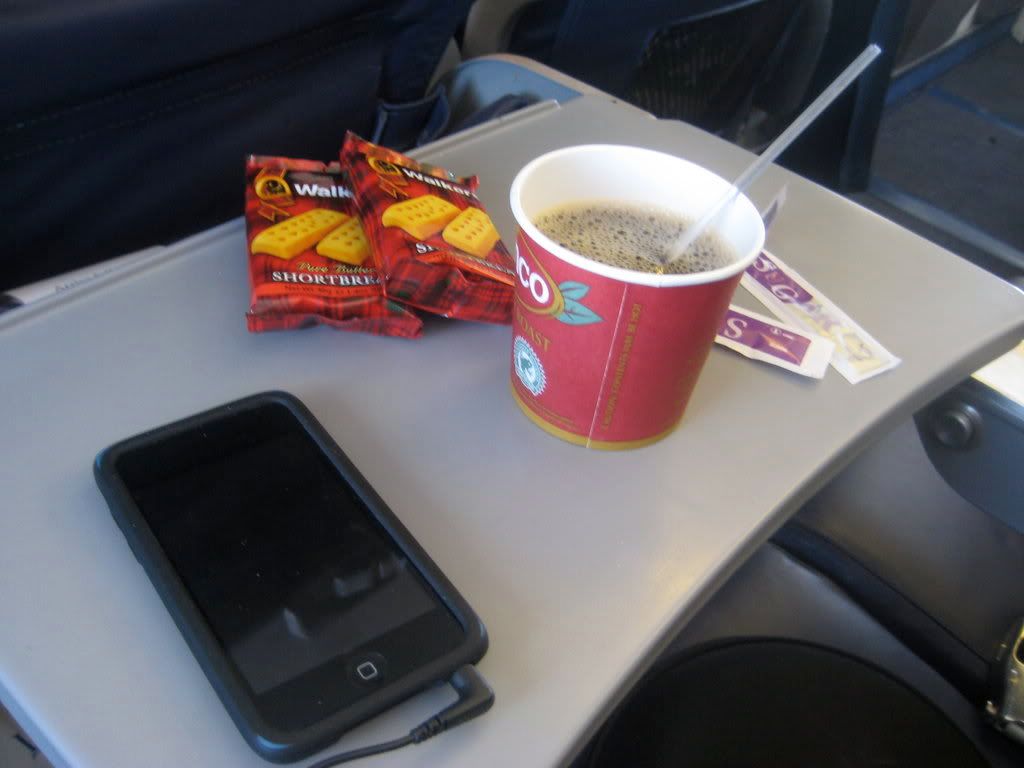 Somehow this flight passes very quickly, I'm genuinely surprised to spot the frozen surface of the great Vänern lake, meaning that we are already well into Sweden: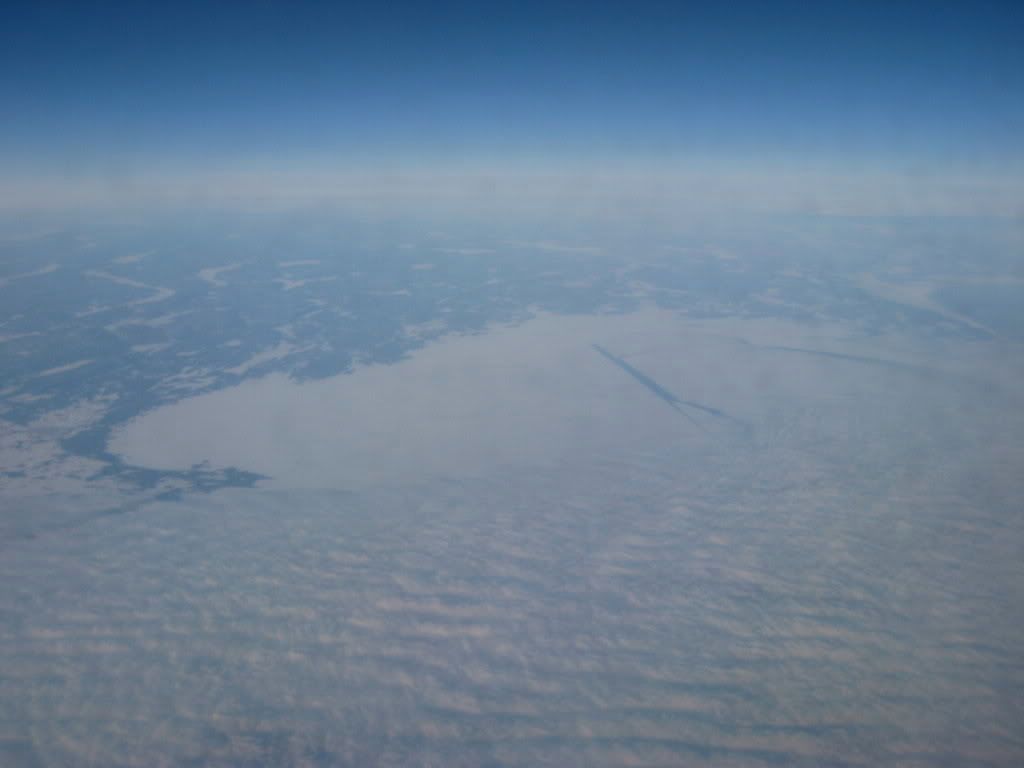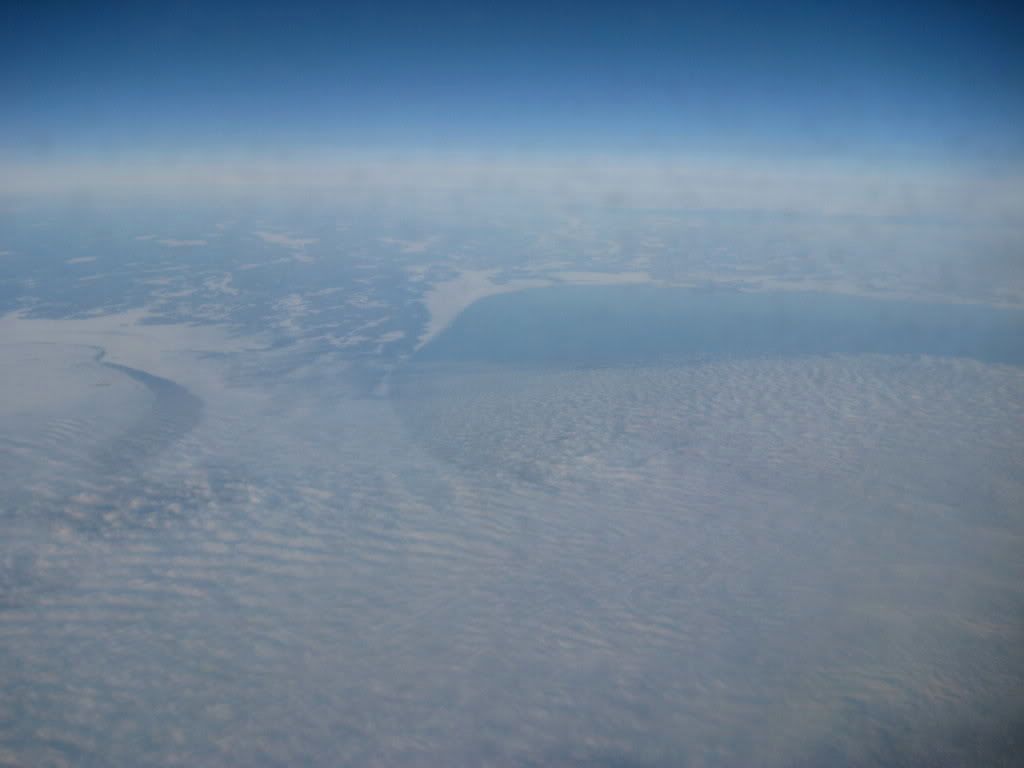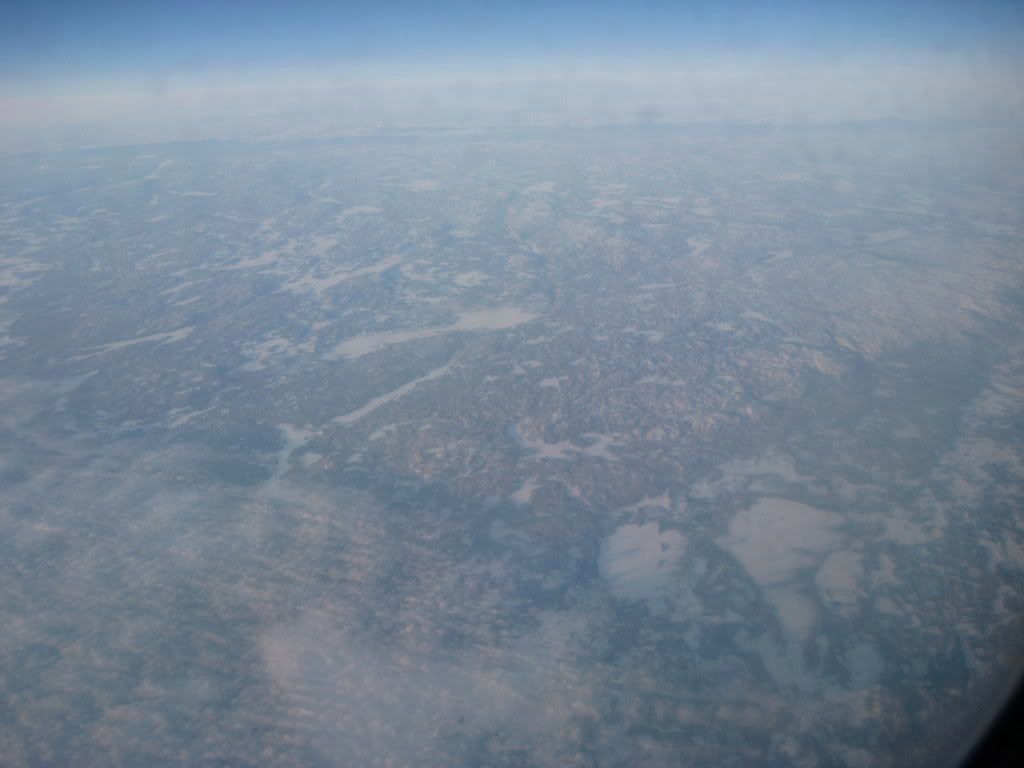 Right after passing the lake, around 1h45mins into the flight descent starts, with captain announcing our approach and landing into a cold (minus six degrees) Arlanda soon enough.
Örebro airport (ORB):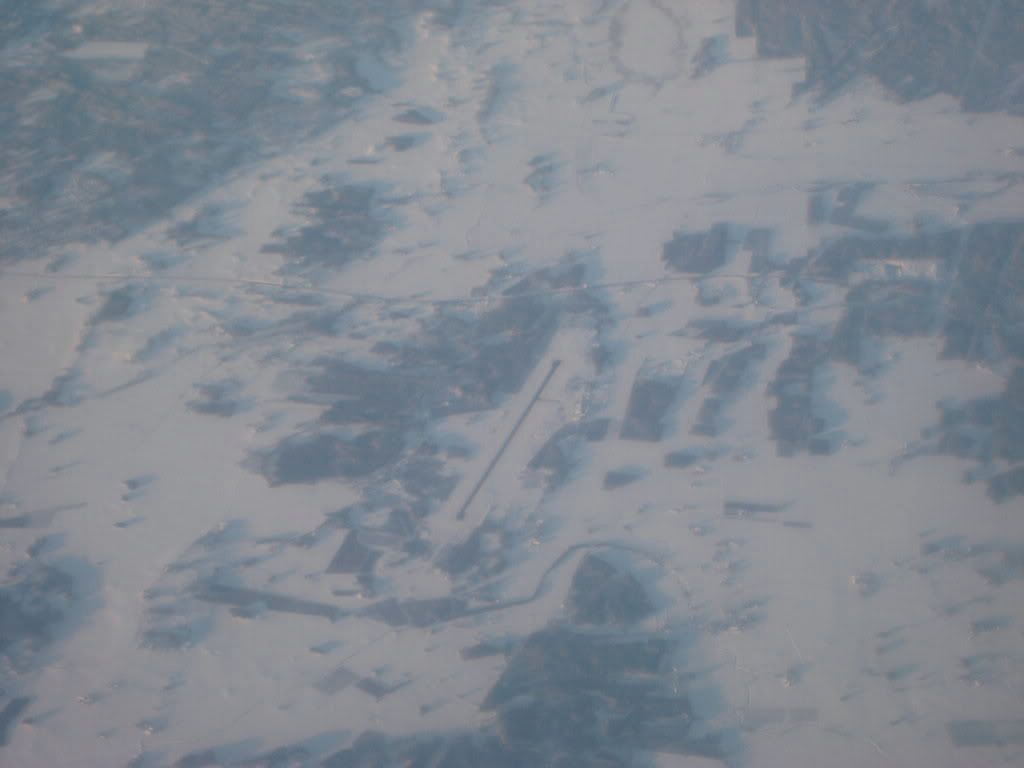 Followed by the city of Örebro: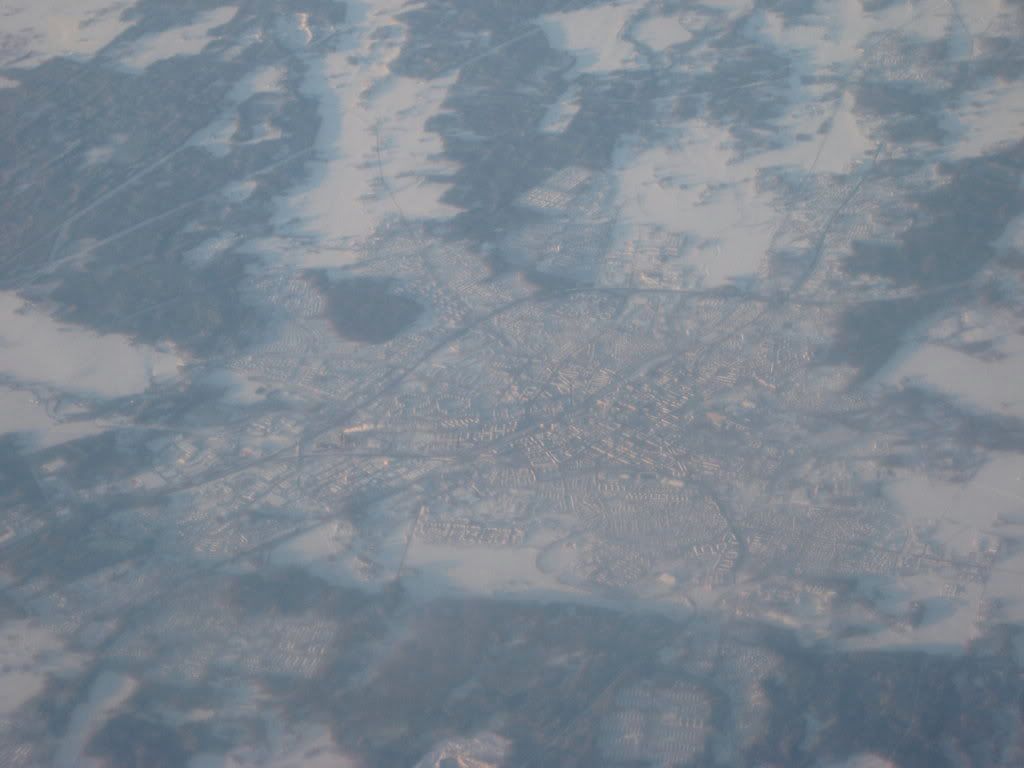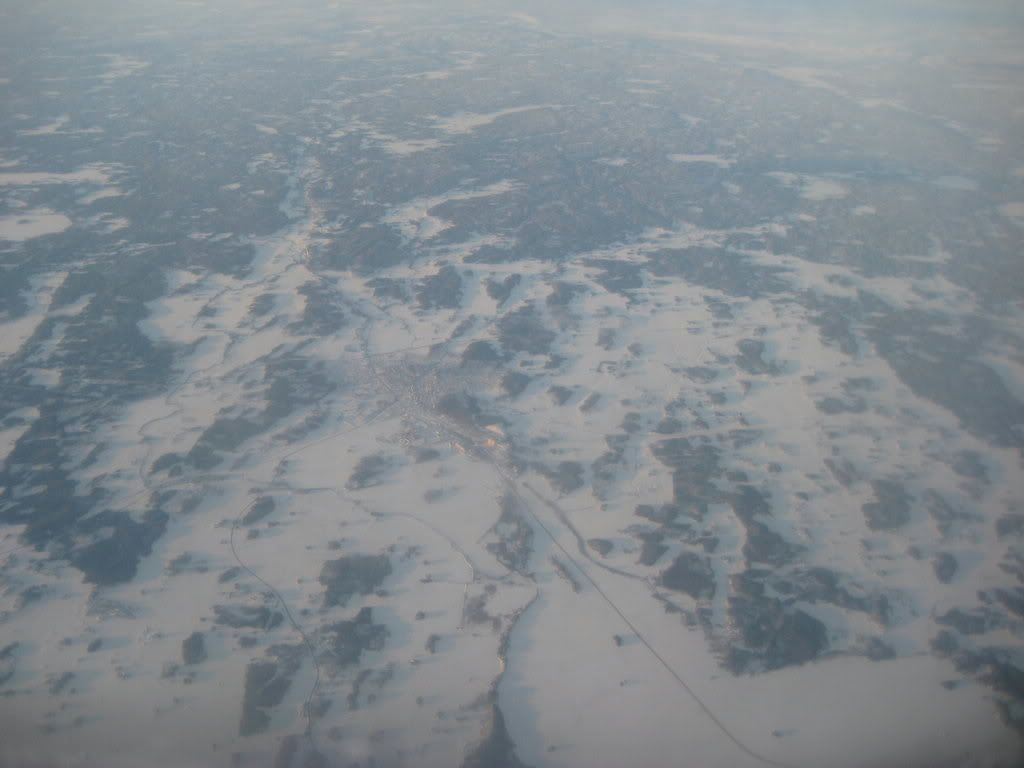 Approach takes us along the lake Mälären, this is the city of Vesterås, home to at least one member of this board. VST airport (or "Stockholm Vesteras" if you believe Ryanair) can be seen on the right: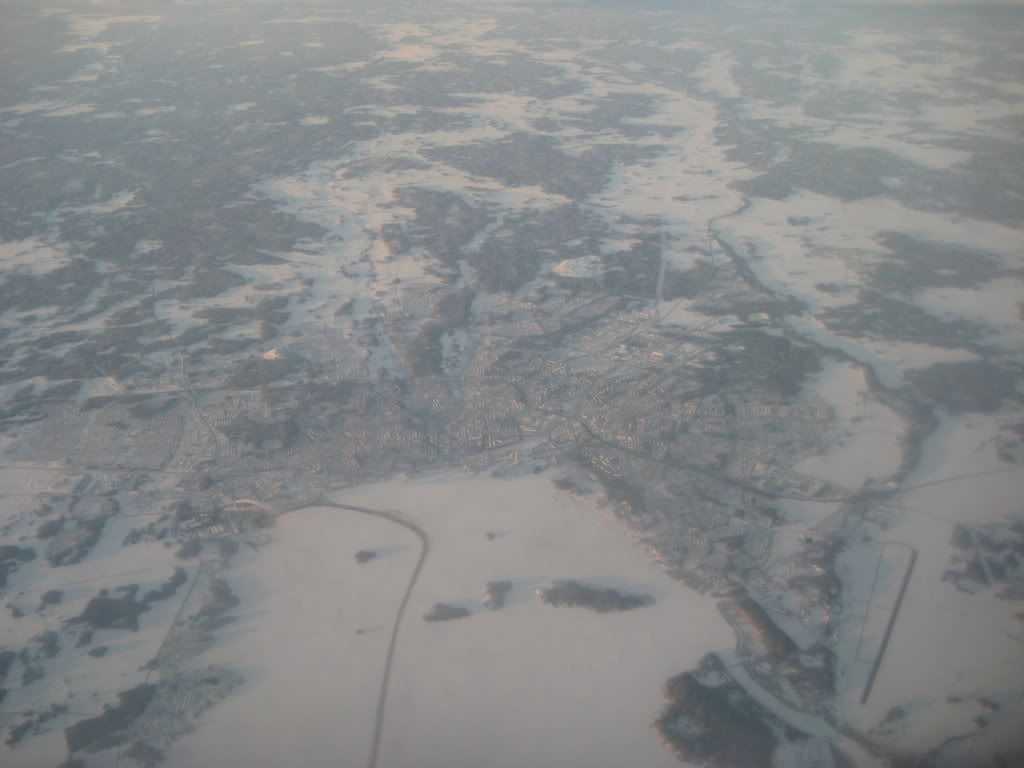 south of Uppsala, the Uppsala airport planned to be opened for commercial (read: LCC) flights this year can barely be seen on the top left corner: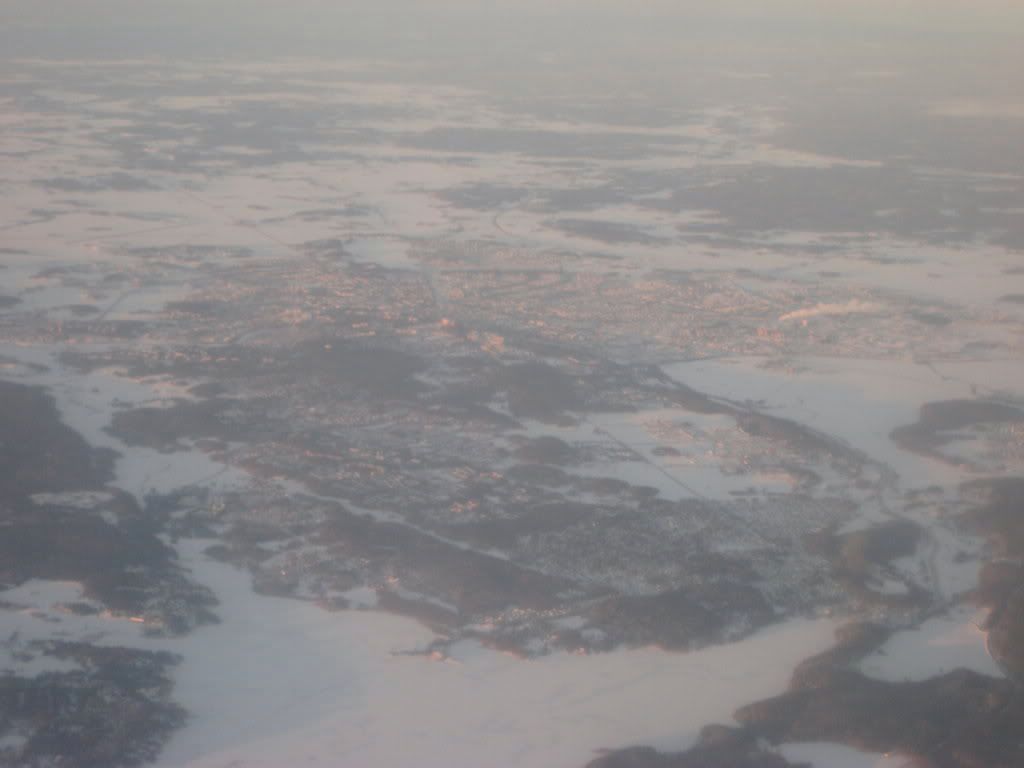 north past