Hello all,
Welcome back to my next TR installment, which may amount to my most spoiled, luxurious trip ever, on American Airlines and Cathay Pacific to Cairns, Australia. I will try to convey both my excitement in being able to experience something so wonderful, and just how wonderful it really was. Flying CX in F is truly in a class of its own when it comes to…well, just about everything, and is something I consider myself extremely lucky and privileged to have been able to experience.
Old TRs
AR: AEP-USH-AEP (with Pics And A Surprise!)
(by
Longhornmaniac
Jun 26 2009 in Trip Reports)
AR Domestic: AEP-REL-AEP (with Pics)
(by
Longhornmaniac
Jun 26 2009 in Trip Reports)
AUS-BNA (the Looonng Way). AA F/J/Y (100 + Pics)
(by
Longhornmaniac
Apr 5 2009 in Trip Reports)
AUS-ORD-PHL-AUS AA F And WN (lots Of Pics)
(by
Longhornmaniac
Apr 5 2009 in Trip Reports)
AA Y AUS-BNA; AA F TYS-AUS + 777, Pics And Vids
(by
Longhornmaniac
Oct 13 2008 in Trip Reports)
AA MSP-ORD-DFW-AUS 777 + Pics/Vids
(by
Longhornmaniac
Aug 19 2008 in Trip Reports)
AA AUS-DFW-PHL In Y; JFK-LAX-DFW-AUS In J/F + Pics
(by
Longhornmaniac
Jul 17 2008 in Trip Reports)
Viva Aerobus AUS-CUN With Pics
(by
Longhornmaniac
May 26 2008 in Trip Reports)
Flagship Detroit DC-3 With Pics And Vids
(by
Longhornmaniac
Aug 9 2007 in Trip Reports)
My First SXM Experience + Plenty Of Pics And Vids
(by
Longhornmaniac
Jun 14 2007 in Trip Reports)
AA AUS-CUN First Class (40+ Pics And Vids)
(by
Longhornmaniac
Apr 29 2007 in Trip Reports)


Background
The planning for this trip began many months prior. I decided to spend my second semester of my junior year at university abroad, studying Rainforest and Reef Ecology in the Wet Tropics of Northern Queensland. After finding a suitable program, I was then able to begin the planning for this trip. We elected to use frequent flier miles for this trip; originally, I had intended to fly Qantas in both directions, however finding award ticket availability for the outbound segment proved impossible. I saw that CX flew into CNS, and started exploring the possibilities of that. CX had availability on the days I needed (well, inadvertently a day early, but that didn't really matter!), so we booked, AA/CX on the outbound, and QF/AA on the return in May. I got so inundated both with getting ready for this trip and finishing my PPL, it really snuck up on me. So much so, I was still packing for the 3.5 month trip at about 2:30 am, 3.5 hours before my scheduled departure. I elected to stay up the entire night, with a plan in mind regarding sleep and avoiding jet lag. Stay tuned to see if it worked out!
Tuesday, January 26th, 2010
My trip began inauspiciously, and I nearly had a coronary before I even left. As I always do, I checked my flight statuses multiple times the night before to ensure everything would go swimmingly. Since I had 3 connections to make, and the first two were relatively tight, I was a little uneasy. I only had 40 minutes in DFW to make my flight to SFO, where I had a reasonably comfortable 2:20 before my flight to HKG. Everything went downhill when I noticed at about 1:00 a.m. that my AUS-DFW flight was delayed by a paltry 25 minutes. Ordinarily, I wouldn't even fret about a 25 minute delay, however this could potentially set off a catastrophic chain of events that would force the restructuring of my entire itinerary (something which I desperately wanted to avoid). A 25 minute delay would result in a misconnect in DFW, forcing me to take the later flight to SFO, that left at 8:40 a.m. This in turn would result in an ever-so-slight misconnect in SFO for my HKG flight: minimum connection time from domestic to international at SFO is 90 minutes, mine would be 85. In turn, this would result in a complete overhaul of my itinerary, having to fly through LAX, spending a full day in Hong Kong, before arriving a day late into Cairns. Suffice it to say, this was utterly unacceptable (not to mention me wanting to fly on a 747-400 since I've only done two domestic legs on 747s, never longhaul, and LAX gets the 77W). Luckily, the AAgent that I spoke with on the phone in a state that could be described as close to panic was helpful, recognized my plight, and put in an override for that 5 minutes in SFO that would ruin everything. Hopefully, the AAgent at AUS would be as kind! She also switched me, at my request, to the 6:30 a.m. flight which was on time, thus avoiding any additional delays due to crew legalities (though once the delay is in place, it's rare that an additional delay is announced due to crew legalities. Nevertheless, I decided to err on the side of caution). Now with less than an hour and a half connection, having to go through security another time switching terminals at SFO, and less than stellar weather at SFO (though not unusual), I was really getting nervous about my flight to HKG.
We left for the airport at 4:30, arriving right at 5. I walked straight up to the check-in counter, and gave my documentation to the AAgent. She noted the illegality of my connection, but after explaining to her the situation, she accepted the ridiculousness of having to change an entire itinerary over 5 minutes, and put in the additional override needed to proceed with check-in. Phew! One crisis averted. The check-in proceeded without incident, and afterwards I said goodbye to my dad for the next 3 and half months. I forgot about the new first class line for security, but luckily, there were only a couple of other people in front of me. It was really quiet at AUS, even for a Tuesday morning. Security went off without a hitch, and I made my way up to the Admiral's Club, which opened about 2 minutes after I got up there, at 5:15 a.m. I managed to catch some of the tennis which I had been watching before I left my house. I was happy to see Murray beat Nadal, but I don't like seeing players retire due to injury. I knew neither one of them would beat Federer the way he was playing, so it was really immaterial (and I was right!
). I had some complimentary muffins and water, but was really too anxious to do much else. Eventually, I made my way downstairs to gate 15, and had a chat with the AAgent there, as well as the pilot about my brand new pilot's license and my upcoming voyage. Eventually, they called boarding, and I made my way onboard.
AA 1430
AUS-DFW
MD-82
N44503

Scheduled Departure: 0620L
Out: 0613
Departure Gate: 15
Seat: 4A
Departure Runway: 17R
Off: 0629
Cruising Altitude: FL 230
Cruising Airspeed: 385 kts
Route: AUS3.AGJ JUMBO JEN9
Arrival Runway: 35C
On: 0708
Arrival Gate: C30
Scheduled Arrival: 0720
In: 0714
After stopping to have a quick chat with the pilots, I made my way back to 4A. We pushed back early, took off early, landed early, arrived at the gate early. Ordinarily, that is about all I would say for this segment, but I must make mention of the superb flight attendant and her attention to detail. On this 39 minute flight, she served 2 full beverage services, hot towels, Biscoff cookies, and mints, in addition to the pre-departure OJ and water. This kind of effort made my trip get off to the best possible start. In all my years of flying this route, I've never had a flight attendant go this far above and beyond what is considered normal for that flight. It was much appreciated, and I thanked her the best I could, with an AApplause certificate. It's not much, but she was appreciative. We approached from the south, and sidestepped for 35C, presumably to cut down on the taxi time. I liked that, because it meant a slightly better chance to catch the earlier SFO flight.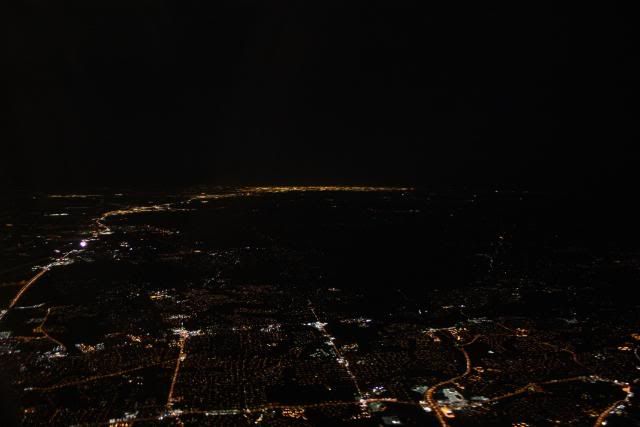 Austin before sunrise, with I-35 on the left, and San Antonio in the distance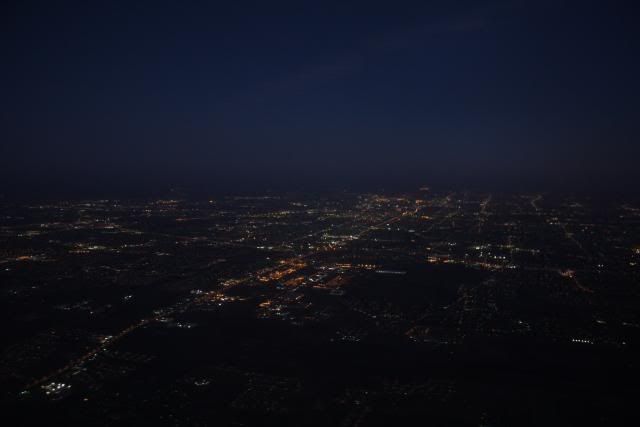 Ft. Worth before sunrise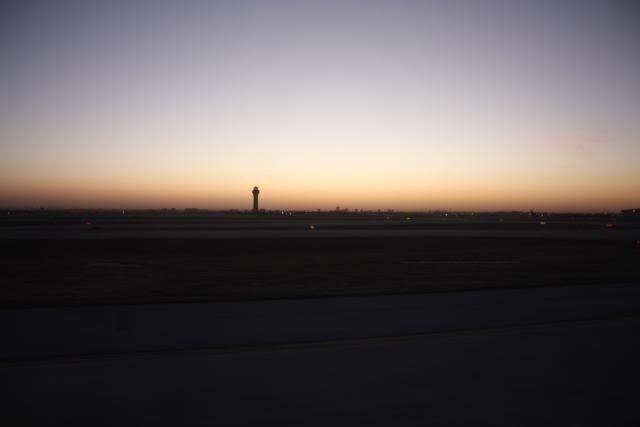 Dawn is nearly here!
After landing, I did try my hand at getting on the earlier flight to SFO, and actually made it to the gate before it left, thanks to our early arrival in DFW, but they wouldn't let me separate from my bags, as I expected. I would just have to suck it up and make do with my shorter connection at SFO.
I walked across the bridge from C2 to D40, and made my way down to D30, where my MD-83 was already waiting for me. I always hope for equipment swaps, but haven't been lucky enough to get one thus far. I sat down in the lounge, and waited for boarding, my energy fading really, really fast (keep in mind I'd been up for over 24 hours, having done a checkride [which didn't come without its own stressful issues], and packed). This flight was extremely full, with over 20 people on the standby list, but eventually they called boarding.
AA 1965
DFW-SFO
MD-83
N570AA

Scheduled Departure: 0840L
Out: 0835
Departure Gate: D30
Seat: 5F
Departure Runway: 36R
Off: 0847
Cruising Altitude: FL 300
Cruising Airspeed: 440 kts
Route: SLOTT2 TCC J76 FTI J58 ILC RUMPS OAL MOD3
Arrival Runway: 28R
On: 1020 L
Arrival Gate: 63
Scheduled Arrival: 1040
In: 1023
I sat down, and began chatting with my seatmate who was traveling to Singapore by way of NRT. Apparently, the DFW-NRT nonstops were much more expensive than traveling through SFO. I was greeted with my best view of the new 767-300 winglets yet.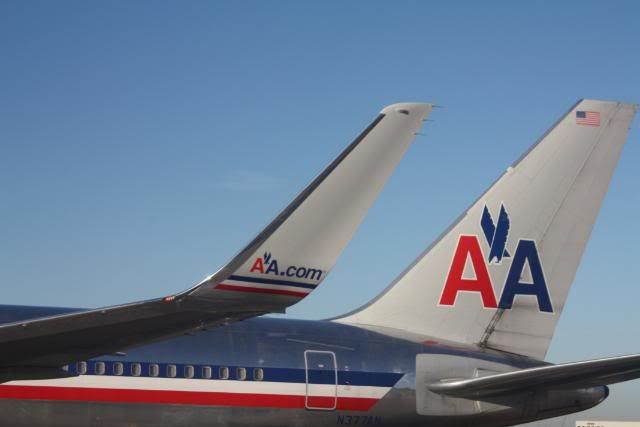 N377AN sporting the new blended winglets, very impressive!
Again, we departed early, and made a b-line for 36R. Without stopping, the JT8D-219s powered us into the Texas morning. We climbed up to 30,000 feet, as I dozed in and out of consciousness. I'm a big guy, and I can never find quite enough room to get comfortable to sleep with the domestic F. I was waiting for the food to come around, and it finally made it. I took the omelette, as I usually do. They're consistently tasty, and satisfying enough.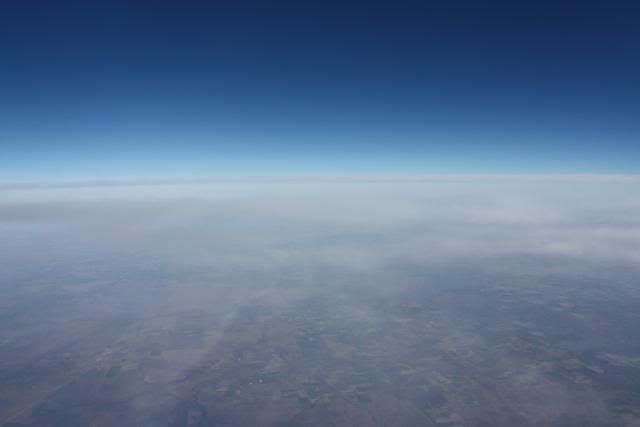 Cruising at FL300 over West Texas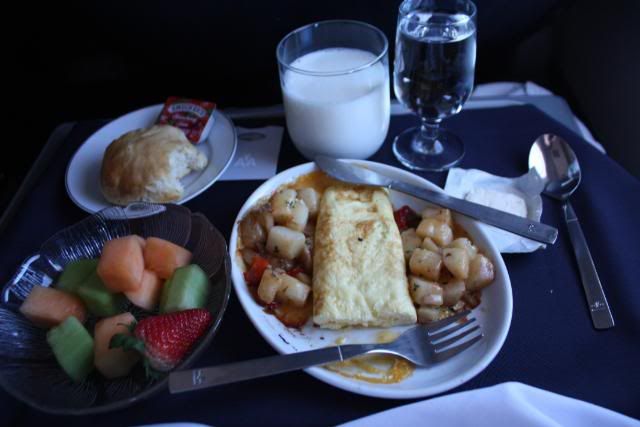 Mmm…airplane food!
I dozed most of the way, awaking at various moments to take some pictures en route.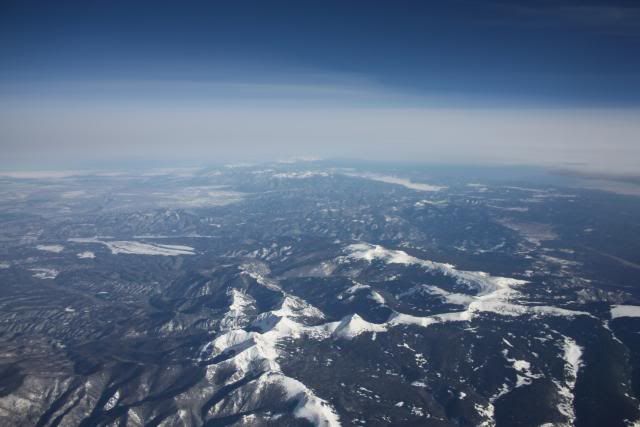 Nice view of the Rockies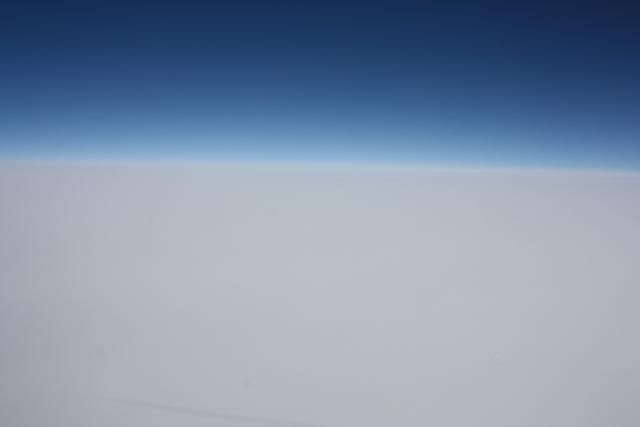 I was really disoriented when I took this picture. A few minutes prior, we'd been in a cloud, and I'd awoken to not be able to discern any directionality at all. Freaky!
Eventually, after what seemed like an unnecessarily long flight (probably a combination of my fatigue and excitement for the flight that lay ahead!), we began our descent into an icky day at SFO.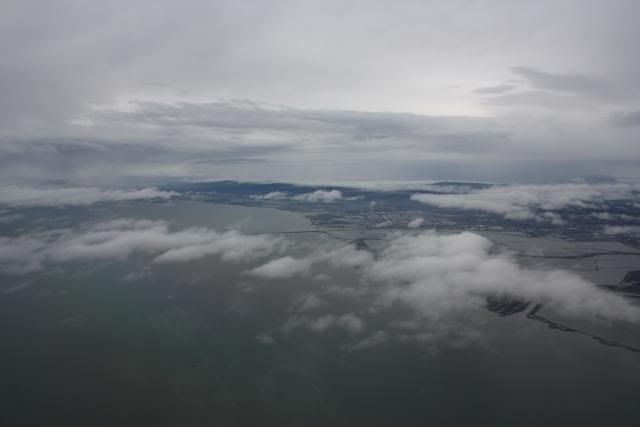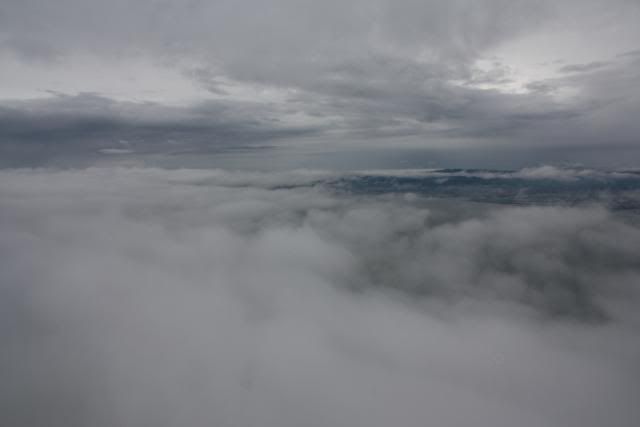 After a smooth touchdown on 28R, we made a short taxi to gate 63, where we arrived over 15 minutes ahead of schedule.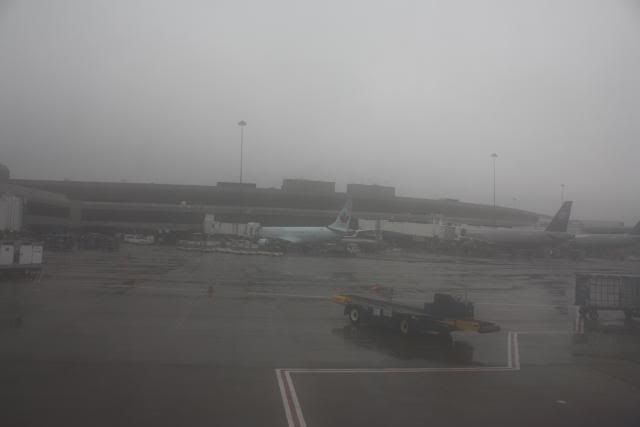 Lovely day at SFO
The early arrival gave me a little piece of mind about making my connection. I deplaned (it was cold!), and began making my trek to the A concourse of the international terminal. I decided to stop by the CX ticketing desk as I went past, which wound up being a good move, even though I had a boarding pass already. Admittedly, I stopped because I wanted my boarding pass on CX cardstock, but it almost seemed necessary for me to re-check. A friendly agent named Annie helped me, and was pleased/impressed with my organization/knowledge for what she would need. She reassured me my bags were checked through to CNS, and gave me a new boarding pass with lounge invitations. The lounge pass in HKG was for J-class rather than F, but I decided to deal with that once I arrived in HKG. I was able to bypass most of a very hectic security complex, with several departing Asian flights. I got to try my hand at the new explosive detector machine that whirls around you while spread eagle. That was…interesting. It was easy enough though, and just like that, I was on my way to the British Airways F lounge. I had plenty of time to kill, so it appeared everything was going to work out ok. Now the only thing I had to be worried about were my bags making it to CNS. The BA lounge very nice, and offered a decent view of the happenings on the northwest side of the concourse. Unfortunately, there wasn't much to see at that time of day!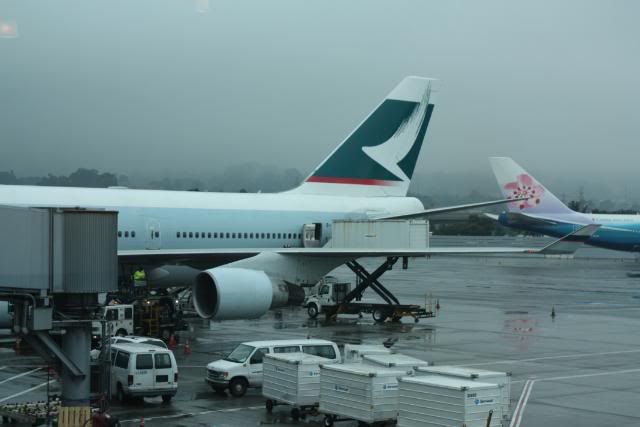 My bird, B-HKV, preparing for the 15 hour trek to HKG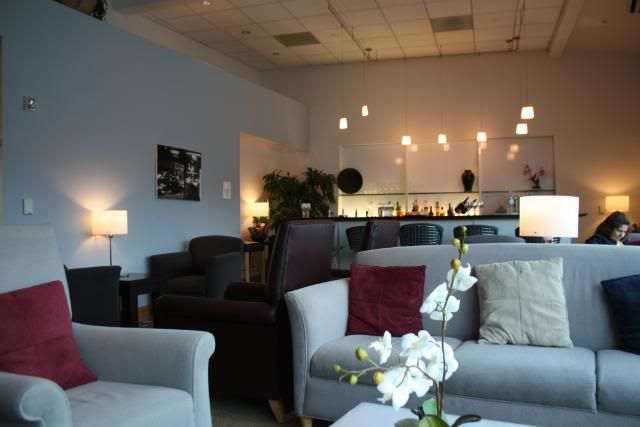 View of the First Class portion of the BA lounge.
The F lounge was separated by doors, but was attached to the rest of the lounge. It was too quiet in there for me, though I imagine most people enjoy the serenity! I made a couple of phone calls (my last cheap calls that aren't Skype for the next few months!), before wandering toward the lounge entrance to the jet way. I spoke with the lounge manager very briefly. He was a warm gentleman who seemed to be very proud of his lounge, and with good reason! I liked that the lounge had its own separate entrance away from the hectic boarding area. They announced they were ready for boarding after a few long minutes, and I jumped up to hand the agent my boarding pass. I was a little upset she tore it, handing me only the small portion, but oh well, I was on my way down the jetbridge to the nose of a Cathay Pacific 747-400! Nothing could stop my excitement from overflowing at this point!!!
CX 879
SFO-HKG
747-400
B-HKV

Scheduled Departure: 1205L
Out: 1207
Departure Gate: A6
Seat: 2K
Departure Runway: 28R
Off: 1230
Cruising Altitude: FL 300- FL 400
Cruising Airspeed: Mach .84
Route: SFO, Pacific Oceanic, Japan, NAHA, TPE, HKG
Arrival Runway: 07L
On: 1902L +1
Arrival Gate: 65
Scheduled Arrival: 1905
In: 1909
I was greeted by Heidi from the Philippines upon stepping onboard, and escorted to my seat, err suite, err cabin? I could not believe how big the 744 was, even though I'd been on two before. And that was before I got to my seat. At that point, I just got giddy. I started taking all kinds of pictures like a crazed tourist, sending MMS' to my parents and close friends, and just generally not having any idea what to do with myself. I tried to settle down long enough to stay seated for more than two seconds, but that didn't really work out too well. One other gentleman had found his way into the cabin and eventually settled in 4A, but I was wondering where everyone else was. I inquired to Heidi who told me we were it up front. I could hardly contain myself. This really was like a private jet. I tried to soak in every little detail, from the fact they had to move the linens(!!!!!) around so I could get my backpack into the storage unit at my seat to the pajamas presented in a lovely green bag. Not to mention the fact they were nice freaking pajamas!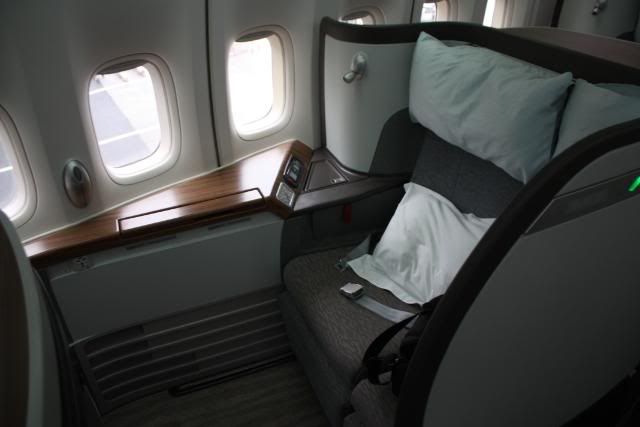 My home for the next 15 hours. It could've been 150 and I would've been happy.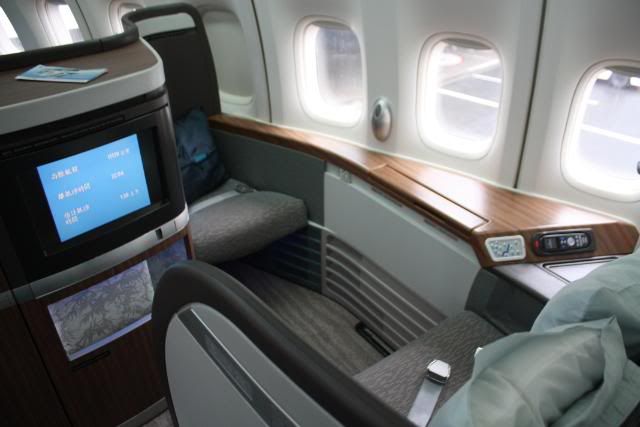 Did I mention I took a lot of pictures like a crazed tourist?!
Aforementioned pajamas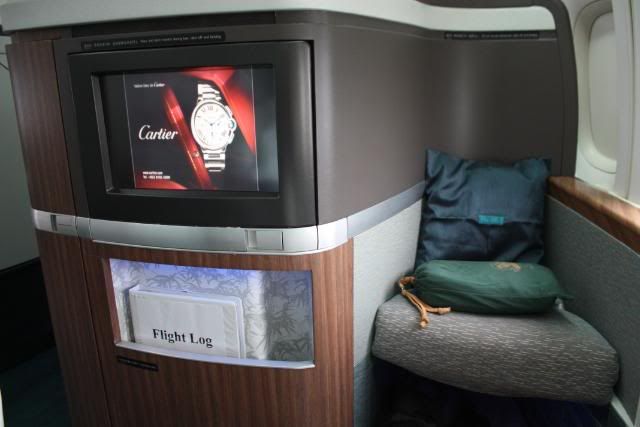 View sitting down. Biggest freaking TV I've ever had on a plane
View across to 2A. Lots of room, but no seatmate.
One of the things that surprised me the most was how I had absolutely no concept for what was going on above and behind me. I wouldn't have known if another passenger had boarded that plane, it was that exclusive. I tried to wrap my head around the fact that ~400 people were getting on board behind me, but all I could see was this private jet in the nose. It was utterly stunning. About the only bad thing thus far was they denied my request to go up to the cockpit, but suggested maybe at the end of the flight, per captain's approval.
The other flight attendant, Rosalind from Malaysia, came by to introduce herself. I could not believe the passenger: flight attendant ratio was 1:1. Something I'd never experienced, and may never again. Heidi distributed the menu and wine list, and took my order. The seatbelt sign came on, the order for ground crew to leave the aircraft, and the door closing all came in time, and we pushed back, just 2 minutes behind schedule. I was still +9 minutes for the day on departures, not bad at all!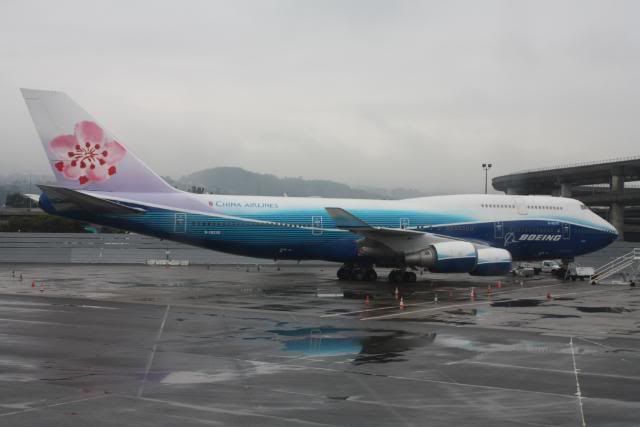 CA 747-400 in Boeing House Colors
We taxied to 28R the long way around, past the threshold of 1L and 1R and down the east side of those runways. We eventually taxied into position, and the 4 RR engines roared to life and thundered us down 28R and into the foggy San Francisco early afternoon.
The climbout was more impressive than I expected for such a heavy plane, but perhaps that's just because I can never get a good rate of climb on my PMDG 747 when it's heavy in Flight Simulator 2004, so it seemed better.
Out over the Pacific, the last land we'd cross until Taiwan…almost surreal.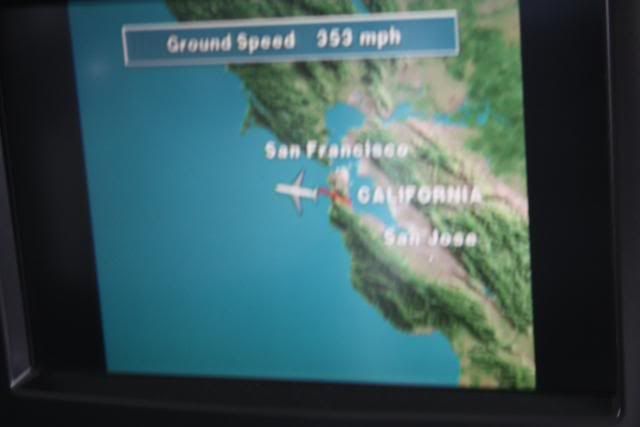 Moving Map
If only we actually had 21 hours left!
As soon as the 10,000 chime went off, Heidi and Rosalind sprung to life, first bringing my drink (milk, of course!) and nuts.
Here is the menu, with my selections in bold:
Lunch
Caviar and Smoked Salmon
International Favourites
Corn chowder with crab meat soup
Mixed Salad with tomatoes, feta cheese, kalamata olives and balsamic olive oil dressing
Herb crusted lamb-loin with garlic jus, barley pilaf, spinach and sun-burst squash
Or
Truffle scented porcini mushroom ravioli with cream sauce, sautéed chanterelle mushrooms and spinach
Chinese Favourites
Chicken soup with ginseng
Cold plate-soya beans with preserved vegetables and tofu
Stir-fried prawns with wild mushrooms and X.O. sauce
Or
Braised chicken and abalone
Served with steamed jasmine rice, kailan with mushrooms and carrots
Cheese and Dessert
Cambozola, Yellow Cheddar, Grand Cru, Herb Goat Cheese
Fresh seasonal berries with sweet rose water
Devil's food cake with vanilla ice cream and raspberry coulis
Red beans soup with lotus seeds
Tea and Coffee
Snacks
Warm steak sandwich with horseradish cream
Shrimp wontons with noodle in soup
Hot pot rice with Chinese pork and liver sausage with cure meat, served with chicken broth
Ice Cream (Häagen-Dazs)
Dinner
Starter
Fresh seasonal fruit
Main Courses
Crab stuffed sole with saffron sauce, yukon gold mashed potatoes and sautéed spinach
or
Stir-fried rainbow beef with pepper on crispy egg noodles
or
Seafood congee with spring onion pancake
Dessert
Apple crumble torte with vanilla sauce
Tea and Coffee
Pralines
Since I did not have any wine, I won't include the wine list, but PM me if you want it, and I'll gladly give it to you.
The flight was actually quite bumpy for the first several hours, and it actually impeded my soup from being served to me for a little while. I loved the turbulence, and kept thinking what it might feel like on a smaller plane.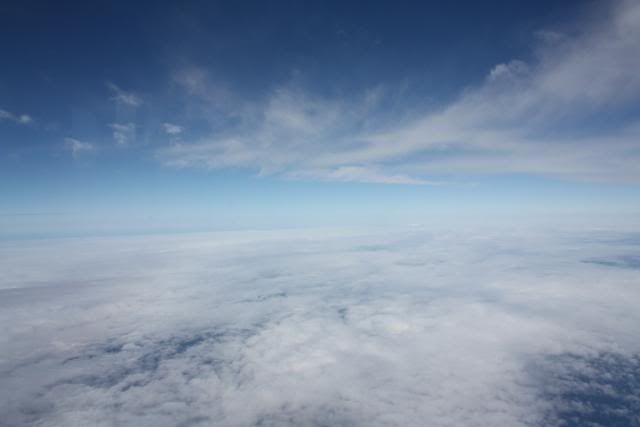 Leveled off at FL 300, for now.
Nice big desk/table.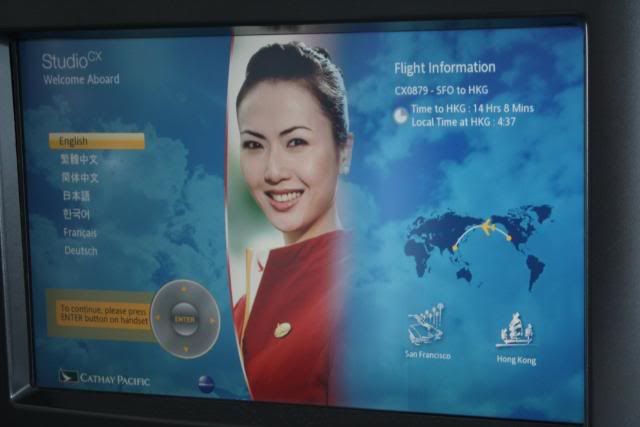 Studio CX…really great AVOD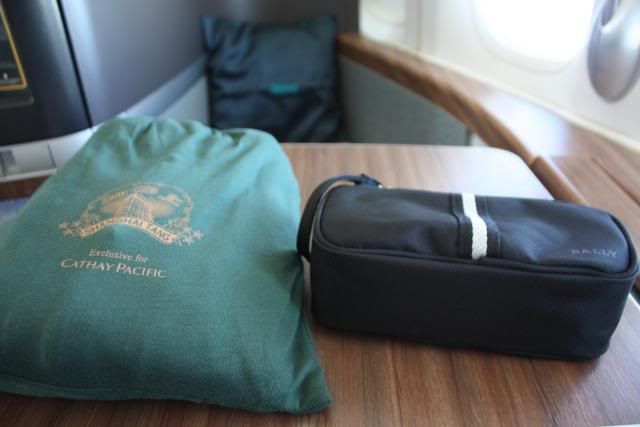 Pajamas with amenity kit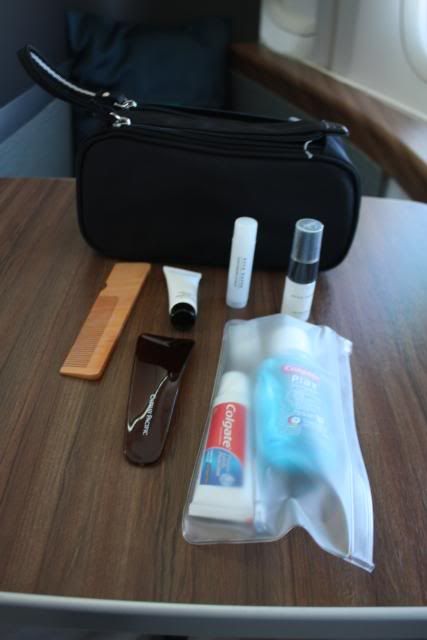 Contents of amenity kit…I actually expected a bit more, but everything was perfectly functional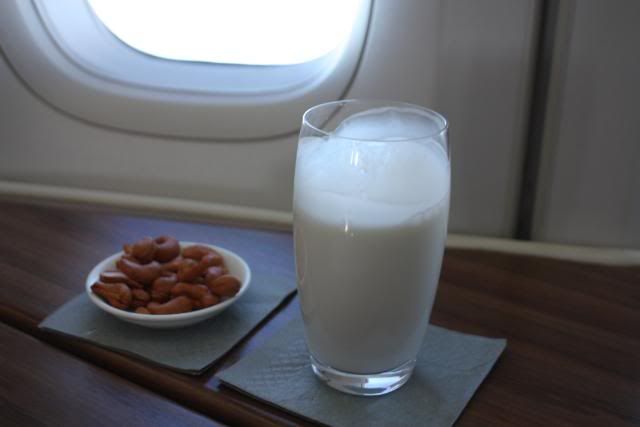 Starter of cashews and milk!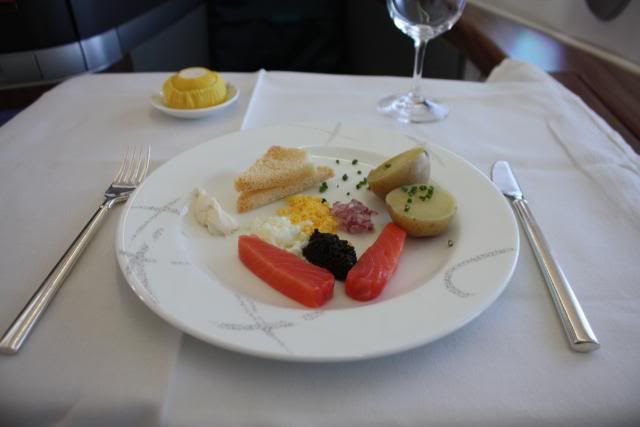 Caviar.
It actually took a fair amount of coaxing from Heidi to get me to try it, and in the end, I decided that "when in Rome, do as the Romans do." I hated it. I figured I probably would, but now I can say definitively that I do. The only thing I touched were the little toasted crackers on the top part of the plate.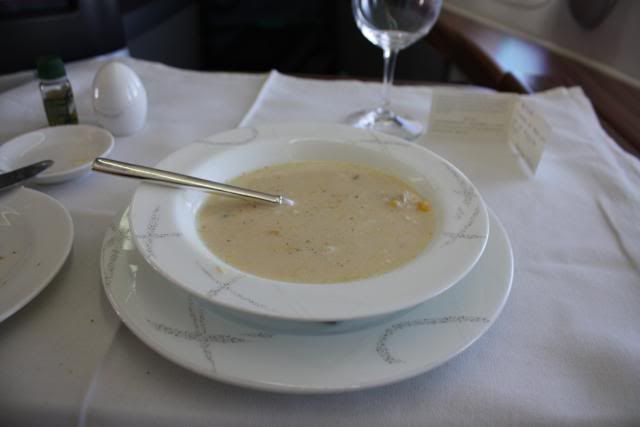 My delayed Corn Chowder…it was worth the wait. Absolutely phenomenal!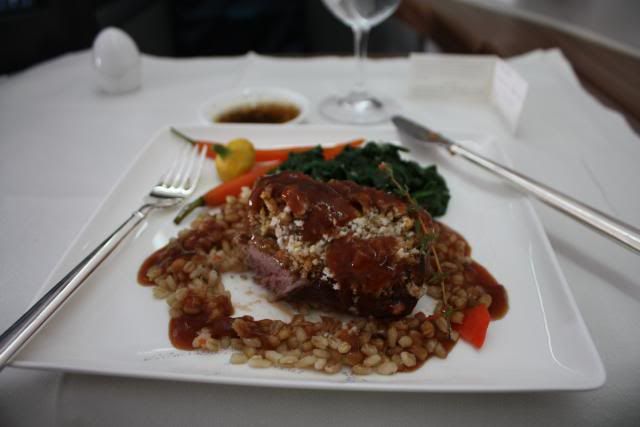 Braised lamb. Also excellent!
I settled in to watch a movie during and after dinner, and held off on dessert until later. My decision: Cloudy With a Chance of Meatballs *blank quizzical look* I have no idea why, with all the selections at my disposal, I chose that one, but I did. I loved the book as a kid, so I figured I might enjoy the movie (who am I kidding, I still am a kid!). It was alright, but nothing spectacular. After that, I decided to put my plan into action and sleep for the first portion of the flight. While I changed into my pajamas, Heidi made my "bed." Good lord I'm spoiled.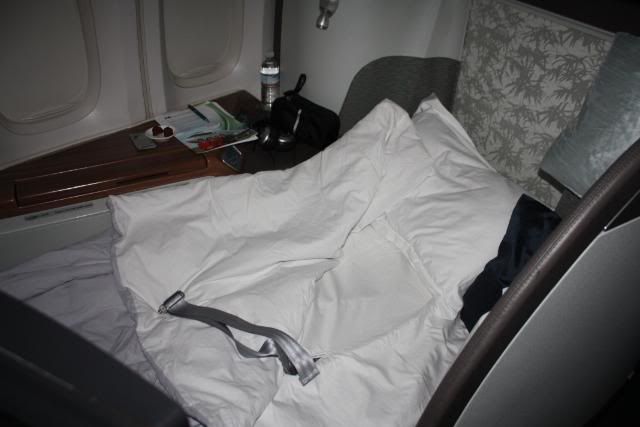 Wow.
Wow take 2. Really comfortable. I could get used to this on long haul flights!
I slept really well for about 6 hours, bummed to see that the flight was already half over when I woke up!
Shocking view outside, there was plenty of that to go around.
I was slightly hungry when I woke up, so I settled on the steak sandwich. It was quite tasty after scraping all the onions and stuff off. I'm way too classless for all of these fancy things they're putting on my food! Keep it simple!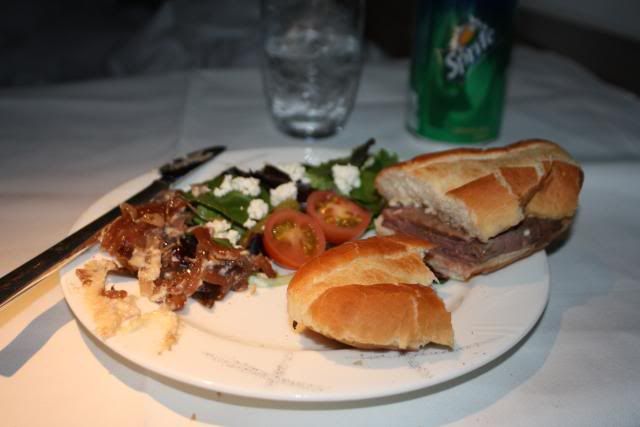 Steak Sandwich. You'll notice a theme of me only remembering to take a picture AFTER I've commenced eating! Sorry!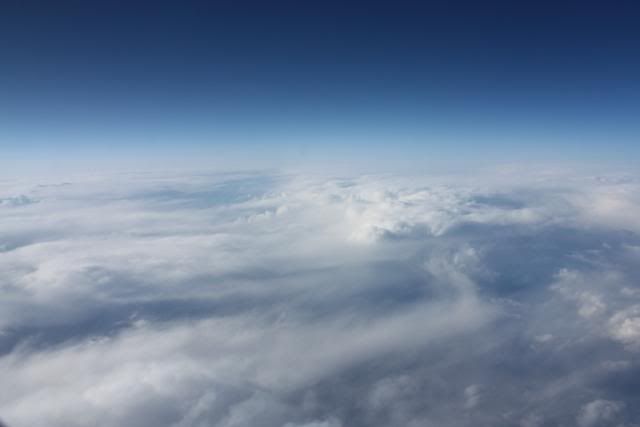 I watched some episodes of The Simpsons and Family Guy, and talked to Rosalind in the galley for a while. I eventually decided to go for my dessert, which was phenomenal, as well, if not a bit small.
Mmm…chocolate!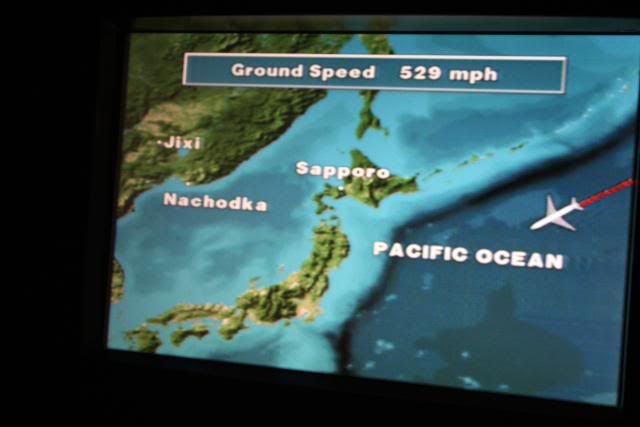 Nearing Japan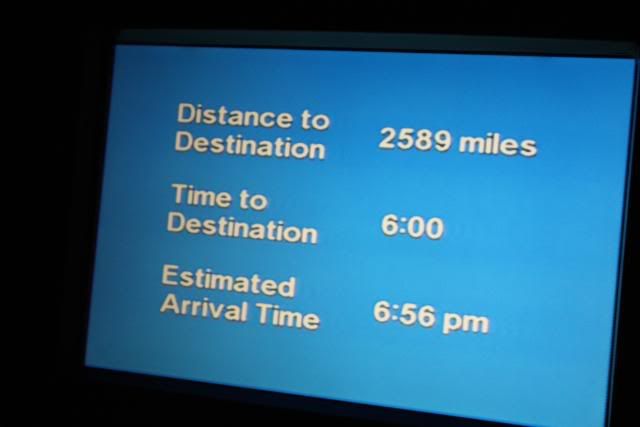 6:00 left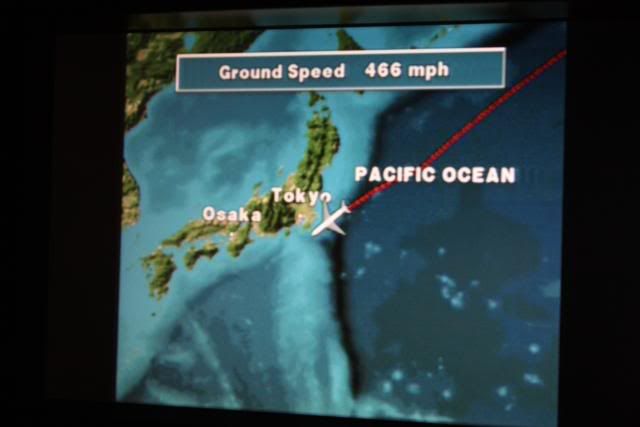 Close to Tokyo (notice how the groundspeed has changed in the last 1:30)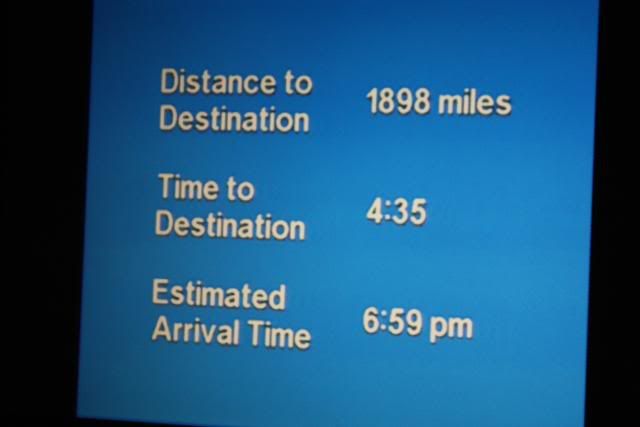 Time flies when you're having fun!
Tokyo is somewhere out there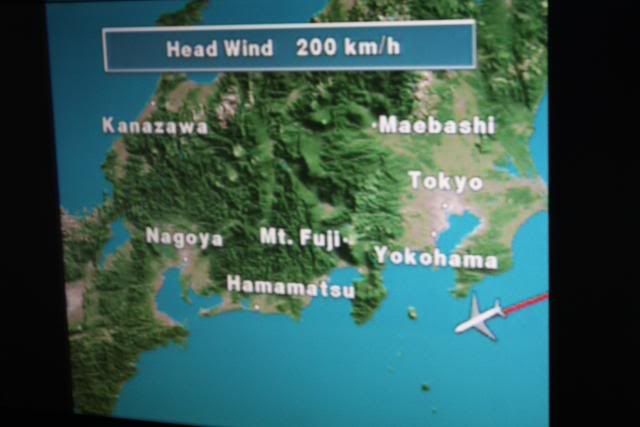 I decided to have some plain noodles (like I said, I'm too low class for all of these nice things they would normally garnish food with) with chicken broth (=ramen=college student=me…see, it makes sense!) for my 6th course of the flight.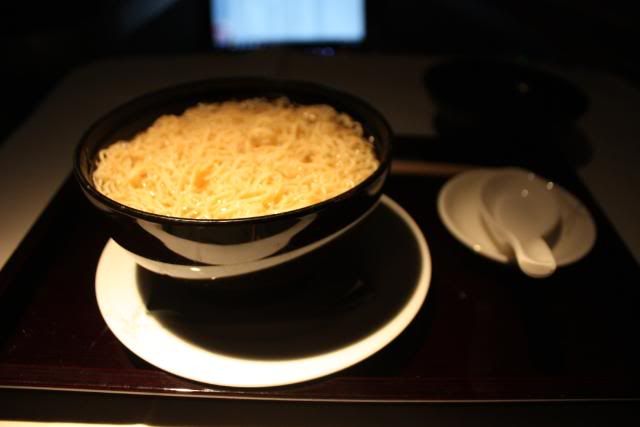 Hit the spot!
At this point I did fall back asleep for another couple of hours, strictly against my plan. I had hoped it would affect things too much, since it was more of a nap than anything, but we'd have to see.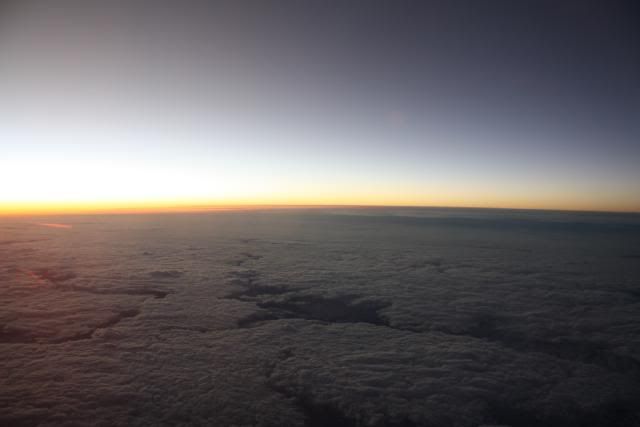 Sunset falling on China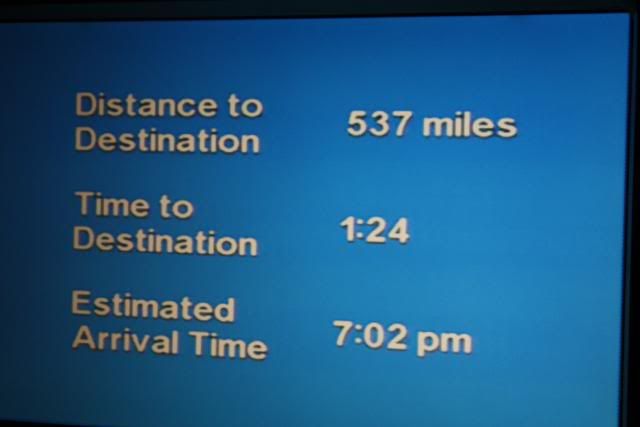 Oh no! Where did my fantastic dream flight go?!?!
I decided to change out of my pajamas before dinner, but I had to get a shot of my private bathroom beforehand.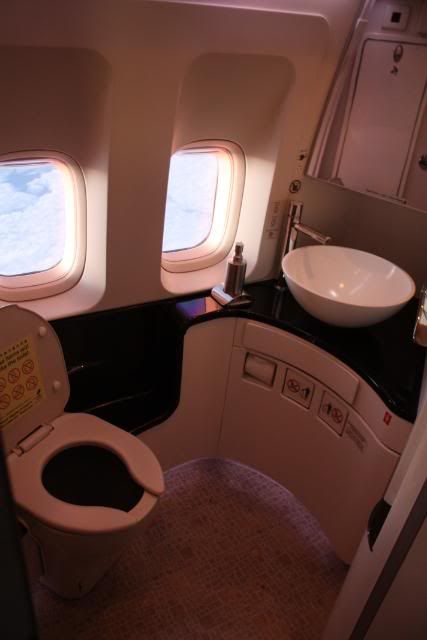 The notion of a bathroom with windows amused me greatly.
Courses 7 and 8 followed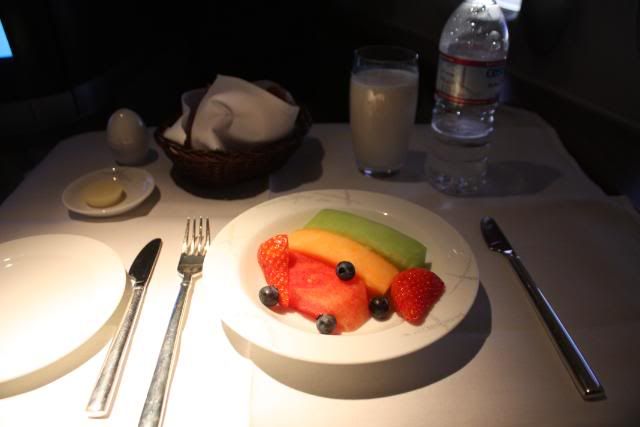 Fruit
Beef on egg noodles. Quite tasty once I scraped away the peppers and onions!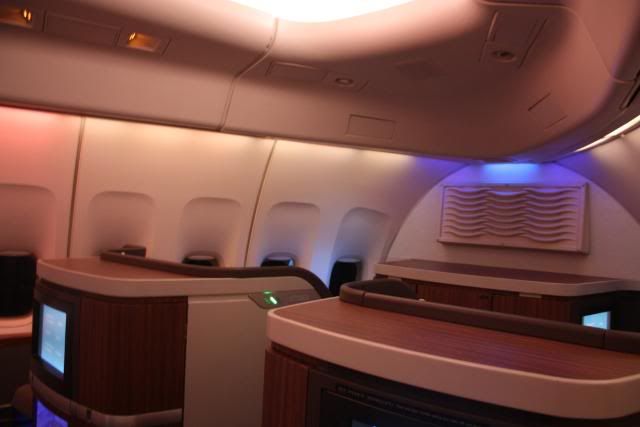 Shot of the cabin with mood lighting. I was amazed how dark the cabin was during my sleep. It was great!
Entirely too soon, we began our descent into HKG from FL 400, signifying the beginning of the end of a magnificent journey. I cannot say enough nice things about Heidi and Rosalind, they were two of the best I've ever had. They were both warm and welcoming, as if they were inviting me into their own home. They took that much pride in everything. We maneuvered around HKG, before landing from the West. I had hoped for a good view of Hong Kong during approach, but alas, it was cloudy.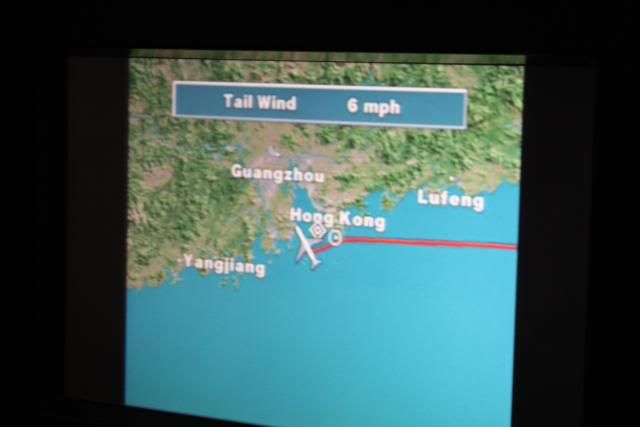 Could it really be over?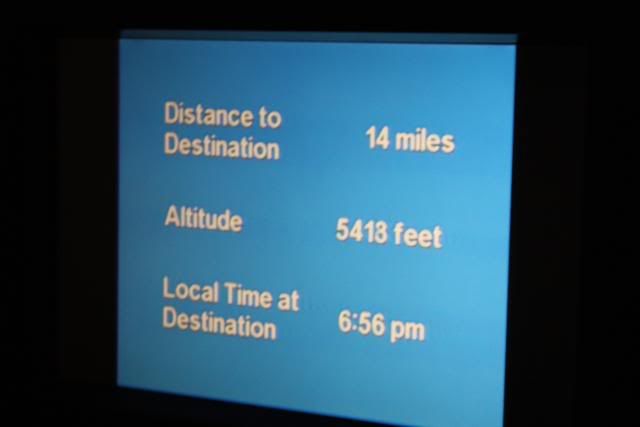 …sigh…yes, it really could.
After a nice landing on 7L, we taxied to gate 65, a relatively short taxi. We parked 4 minutes behind schedule. My request to visit the cockpit was granted after we parked, and as soon as J had cleared out, I made my way up the stairs (I love it!) to the upper deck, and the cockpit. One of the pilots was from America, which was a pleasant surprise.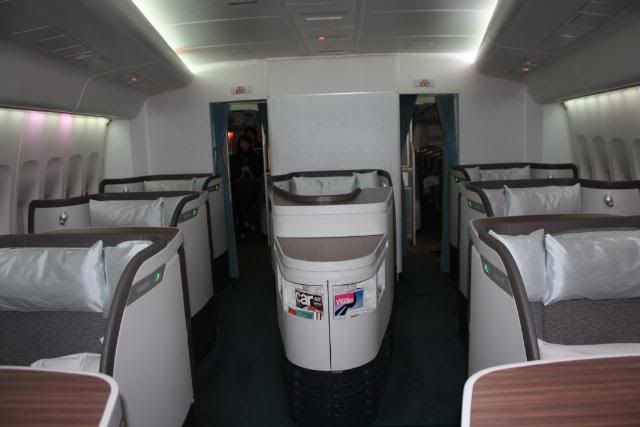 F cabin after the flight. All but 2 seats were exactly the way they appeared when the flight started!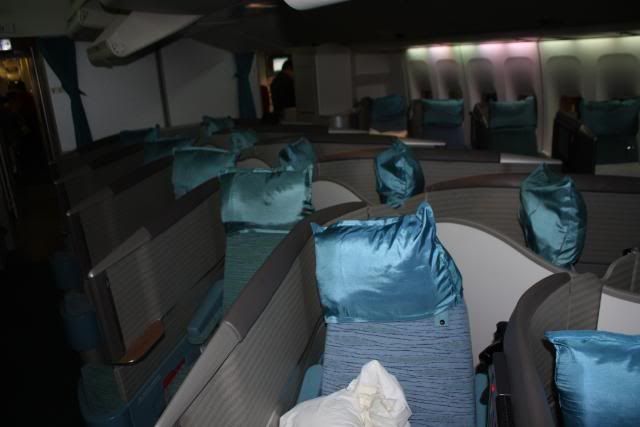 J cabin. Would be my home on my next flight to CNS.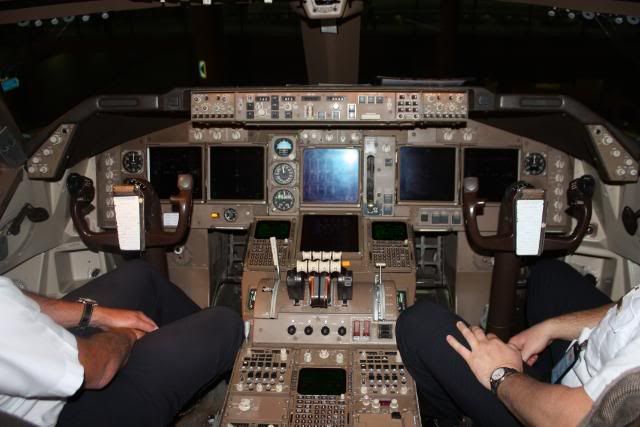 The brain of the mighty Queen.
Reluctantly, I bid B-HKV adieu, thanking Rosalind and Heidi one last time for an unforgettable experience. Because I had nearly 5 hours in HKG, my CNS gate had not been assigned. I went back through security without hassle (despite a short bag inspection), and ascended to the departures level of HKG. I was blown away by how big the concourse was.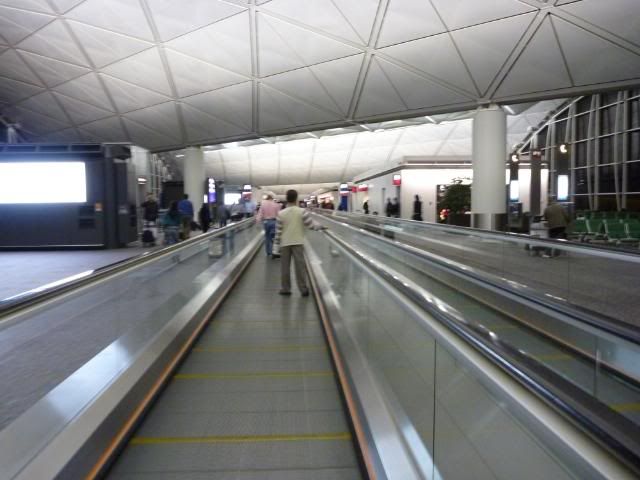 Moving walkway
Although I had heard The Wing offered better tarmac views, it seemed too far out of the way, and I decided instead to go to The Pier. I went to the F class lounge, and was admitted without issue because I had arrived to HKG in F. I couldn't wait to relax, and take a shower! I phoned my dad back in the States to let him know of my safe travels, and headed off to the showers. The shower felt heavenly, and after freshening up, I decided to explore HKG a little bit. It is truly an amazing feat of architecture. I bought a travel adaptor for Australia, since I figured 2 might not suffice. It was a good investment, since they're nearly 50% more here in Australia. I went back to The Pier, and sat down to surf the web. I had a pleasant chat with a Frenchman headed to Paris before ultimately embarking to my gate about an hour before departure, a mere 7 gates away I had discovered. I struck up a conversation with a Finnish girl traveling to Australia, who had just received an op-up. She didn't even realize it until I mentioned it, having seen her boarding pass in her hand. She'd never flown in F or J, so she was really excited! Boarding was eventually called for the full flight to CNS.
Wednesday, January 27th, 2010
CX 103
HKG-CNS
A330-300
B-LAC

Scheduled Departure: 2350L
Out: 0052 +1
Departure Gate: N70
Seat: 19A
Departure Runway: 07R
Off: 0105
Cruising Altitude: FL 370
Cruising Airspeed: 480 kts
Route: A461 WIG MIA LIP B473
Arrival Runway: 15
On: 0945L
Arrival Gate: 4
Scheduled Arrival: 0905 +1
In: 0951
Although still big, my first impression was how the A330 was so much smaller than the 747-400 I'd just flown on. Boarding seemed more chaotic, as well, but there were more than 2 people, so that's not unexpected. We loaded up, and pushed back on time, however, almost immediately, I saw several flight attendants moving briskly toward the rear of the plane, and eventually huddled together in the galley. It turns out, a young boy had fallen ill, and they had to return to a gate to offload him, his parents, and their bags. We parked at a remote stand, and some medical personnel came onboard to escort them off. I felt bad, because his parents looked absolutely incredulous in a desperate way. After about a 45 minute delay, we pushed back again, and taxied to 07R. After a very short wait at the end, we were headed "Down Under."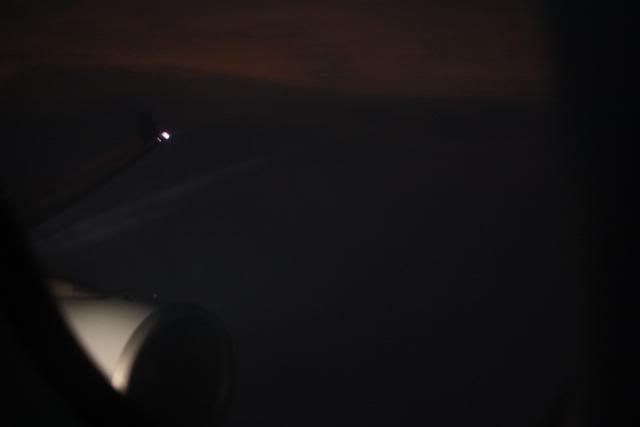 Climbing through the clouds after takeoff from HKG
Admittedly, most of this flight is fairly fuzzy, primarily because it was uneventful. The last phase of my master plan was to sleep as much of this redeye as possible, and to arrive in Cairns refreshed and free of jetlag. I turned down the meal service, and seem to have misplaced the menu, so I couldn't even tell you what was offered. Odds are it was nothing I would've eaten anyway, because had I wanted it, I probably would've eaten it, since I'm a glutton on airplanes. The herringbone style is comfortable enough, and I certainly appreciate the lie flat, but I'm an arm sleeper (meaning I sleep with my arm extended underneath the pillow), and there wasn't a whole lot of room to put it anywhere. I slept in spurts of 30-45 minutes, certainly nowhere near as well as the SFO-HKG leg. The flight seemed to trod along a bit, but it went reasonably fast. At that point, I was just excited to get to Cairns. My big luxurious flight was over, and I was ready to get to Cairns.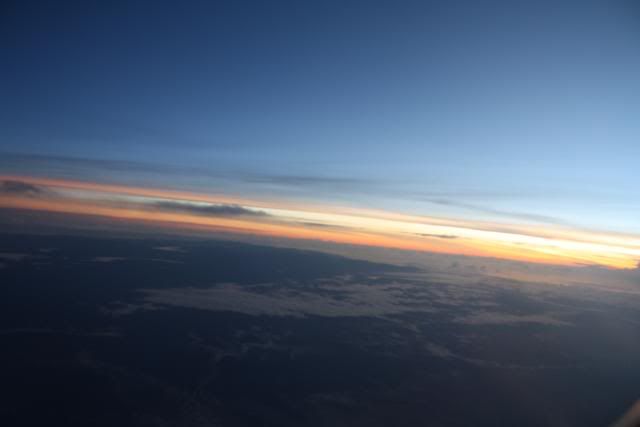 Sun rising over the Coral Sea.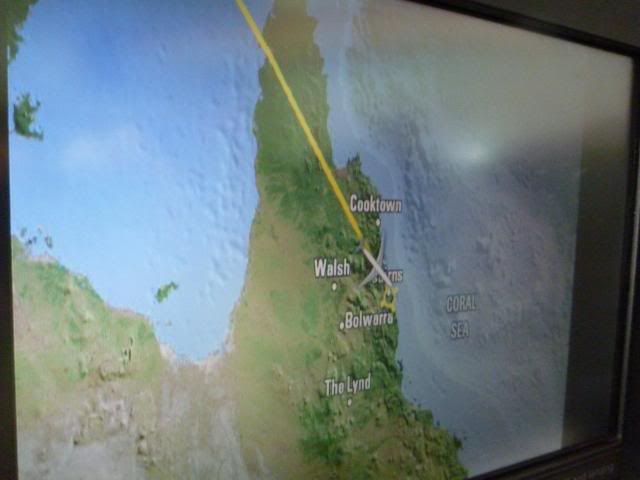 Getting close. I do like the moving map on the A330 better.
We began our descent, and dodged some storms as we approached straight in for runway 15.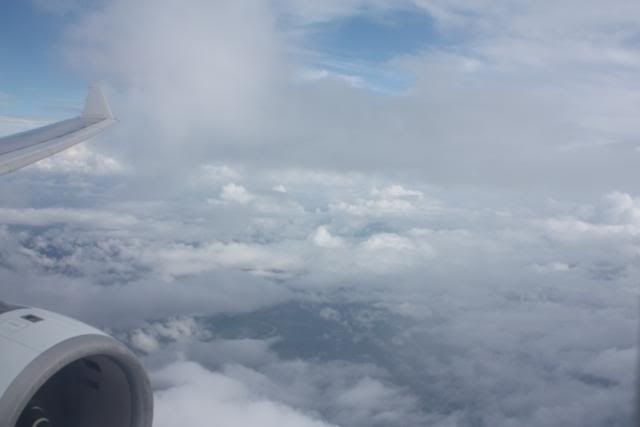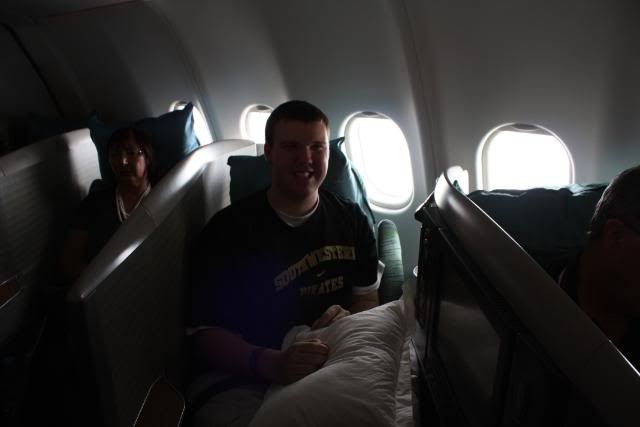 Me after a 36 hour journey.
It's the Wet Season, alright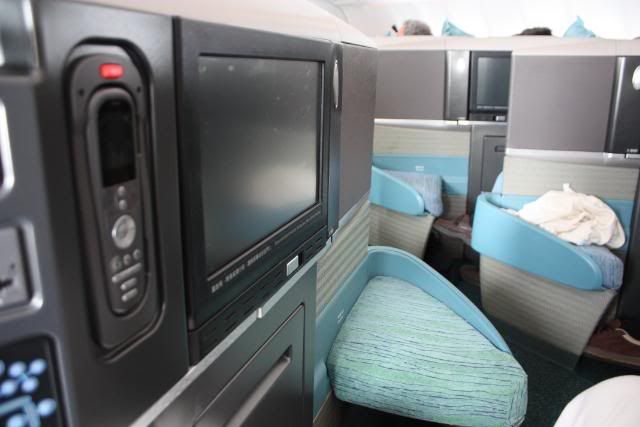 My home for the last 8 hours
The cabin was prepped for landing, the flaps and gear came down, and we were ready for landing.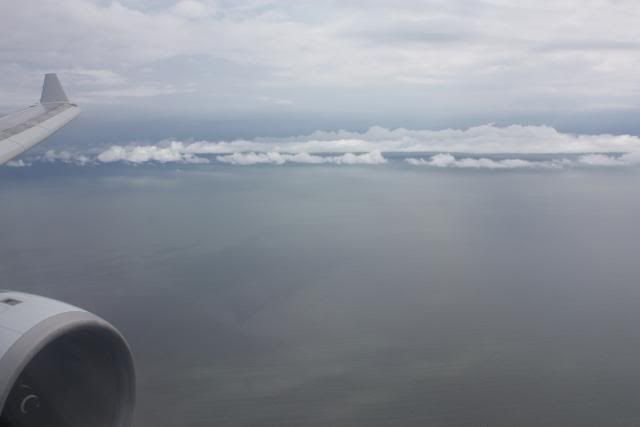 After landing, we taxied to gate 4, and parked next to a JetStar A330-200, bound for who knows where.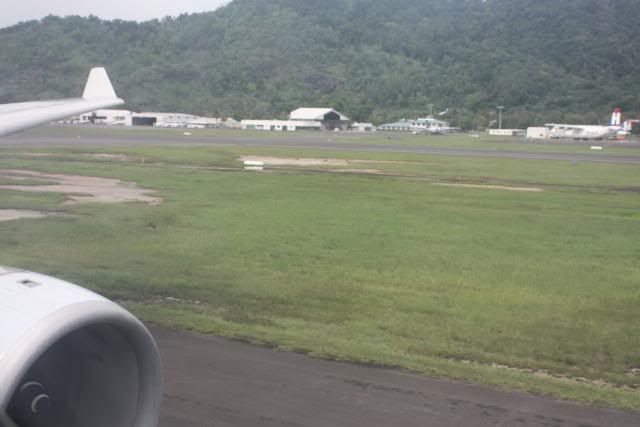 Taxiing in.
We deplaned, and I could feel the humidity that was in store for me for the next 3 months!
Passport control went really fast, and once the carousel started up, both of my bags were among the first 10 off! Great luck!!! Customs was a breeze, and just like that I was out into Cairns, ready for a semester of excitement!
Questions/Comments/Thoughts welcome and appreciated!
My next trip will be the return segment of the trip, QF in either J or F, depending on whether I can score an upgrade, in mid-May. Depending on how it goes, I may also write a short report on our trip to Lizard Island, which would be in early April. Until then, I hope you enjoyed!
I will upload the videos I took from this trip later, when I have a better internet connection.
Thanks for reading!
Cheers,
Cameron