Riding the Ultra Long-Haul Twin:
Los Angeles - Atlanta on Delta's Boeing 777-200LR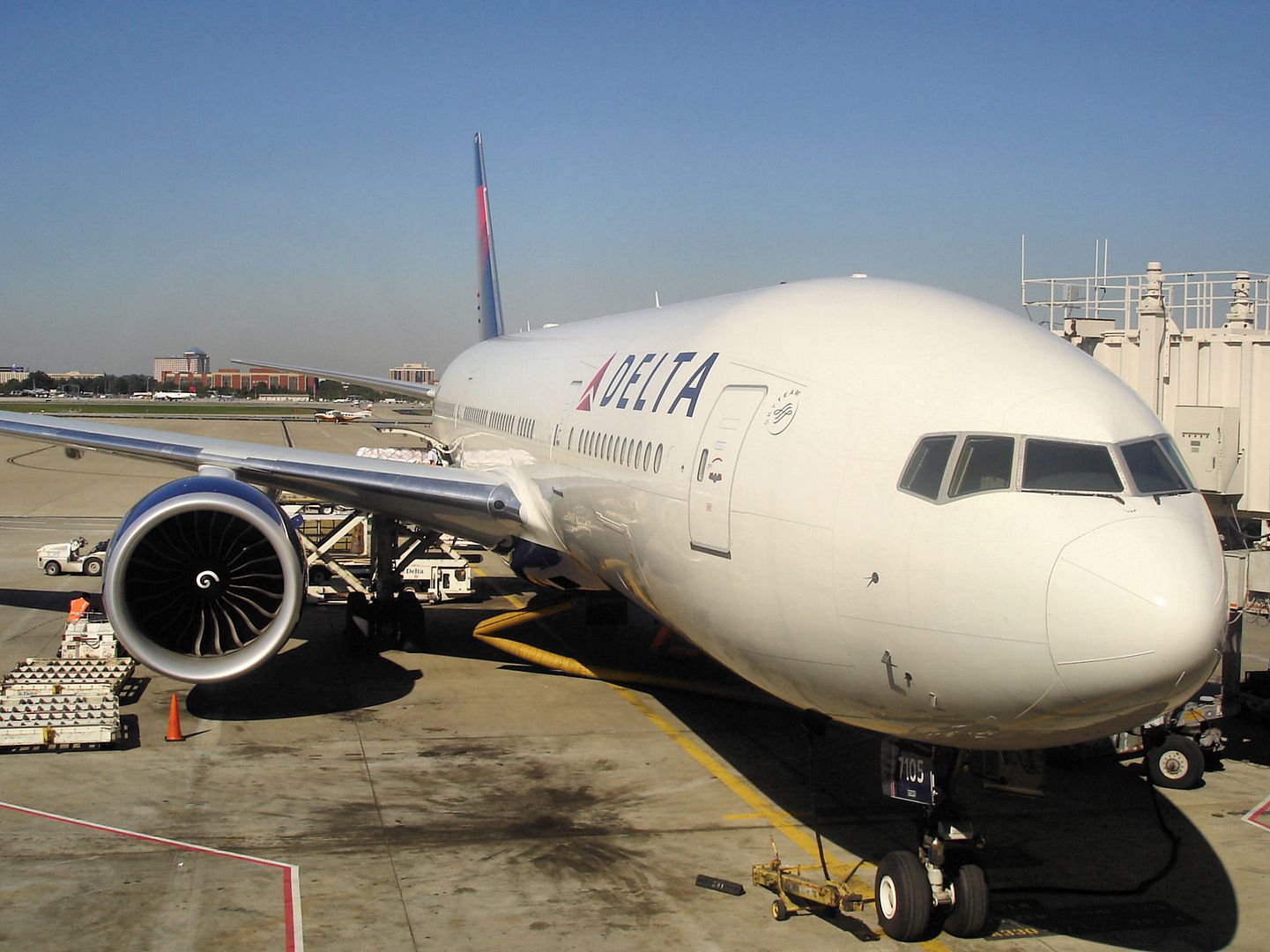 Intro
It's all about
Delta's
mighty
Boeing 777-200LR
in Part 3 of my latest trip report series. Flying on the world's longest-range airliner between Los Angeles and Atlanta was the highlight of the whole US trip.
Originally I had planned to enhance my Continental combo by some narrow-body hops in the Western part of the United States. However, I abandoned my planned domestic itinerary after finding out that Delta operates its Boeing 777-200LR six times weekly between Atlanta and Los Angeles as part of its services to and from Sydney. The variant - the most impressive in the 777 family in my opinion - is hard to get in general, so I decided to take the chance.
All those who have missed Parts 1 & 2 simply need to click here:
The Ultimate 737: LHR-IAH-PDX On CO 777 & 739ER
Pacific Coast Jaunt: 3 Carriers, E120, E140 & Fog
Background
In early September 2009 it was time to book another enthusiast trip. Flights to the United States were quite cheap in mid-October so I started searching for interesting combos. My plan was to get as many new airlines and aircraft types as possible on a five- or six-day trip. The destinations did not matter really much, I only tried to include LAX in order to meet my friend The777Man again. Some days later, after spending countless hours on airline and travel websites, my itinerary was complete:

Munich (MUC) - London (LHR) on British Airways
London (LHR) - Houston (IAH) on Continental
Houston (IAH) - Portland (PDX) on Continental
Portland (PDX) - Seattle (SEA) on United Express, operated by Skywest Airlines
Seattle (SEA) - San Jose (SJC) on Alaska Airlines
San Jose (SJC) - Los Angeles (LAX) on American Eagle
Los Angeles (LAX) - Atlanta (ATL) on Delta
Atlanta (ATL) - Houston (IAH) on Continental Express, operated by ExpressJet
Houston (IAH) - Newark (EWR) on Continental
Newark (EWR) - Frankfurt (FRA) on Continental
Frankfurt (FRA) - Munich (MUC) on Lufthansa

I booked all Continental flights together on the carrier's website - connections on both British Airways and Lufthansa were included in the combo. After that I separately added the flights on United Express, Alaska Airlines, American Eagle and Delta. The itinerary included five new airlines, five new aircraft types and four new airports - I was quite satisfied in the end after getting all the confirmation emails.
Monday, 19 October 2009
Los Angeles (LAX) - Atlanta (ATL)
Delta DL016
07:50-15:10 (08:01-14:54)
Flying time: 03:33 (hrs)
Economy Class, Seat 55J

Boeing 777-232LR
N705DN (s/n 773)
Delivered in 03/2009
1st flight on N705DN
1st 777-200LR flight
24th 777 flight
I left the pretty La Quinta Airport Hotel early in the morning and took the shuttle to Terminal 5. First of all I checked the departures screen and was glad to see DL016 would arrive from Sydney on time. It was very busy in the check-in hall on that Monday morning, but I managed to find an available kiosk. I had pre-reserved my seat at the time of booking, so there wasn't much to do. Interestingly, flight DL016 was overbooked, but I didn't think a second about taking a later flight and being compensated: I really wanted to fly on the 77L and I had to get my connecting flight to Houston later in the afternoon. After paying 20 bucks for my checked luggage again I joined an extremely long security queue - actually it wasn't easy to find the end of it.
30 minutes later I could finally proceed to the gate area and went straight to gate 58A to have a look at the aircraft: It was
N705DN
, delivered in March 2009, one of 8 777-200LRs in the Delta fleet:
The gate area was totally crowded, apparently Delta could enjoy good loads on its various early morning flights. Some time before boarding I noticed an announcement about Delta's "gourmet" buy-on-board snacks. Well, I had planned to buy a breakfast meal anyway.
I had lined up early so I was among the first Economy passengers to step on board. Friendly flight attendants welcomed me while I was walking all the way down to row 55. The comfortable all-leather slim-line seats...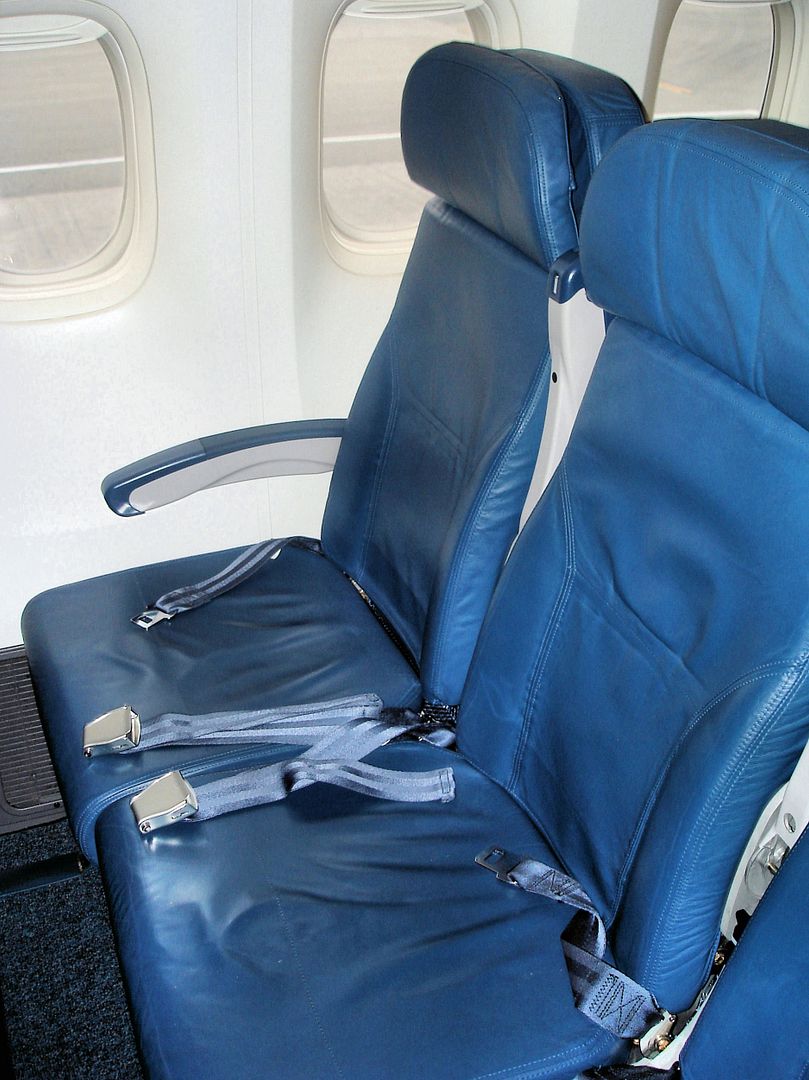 ...are equipped with 9-inch touchscreen video monitors: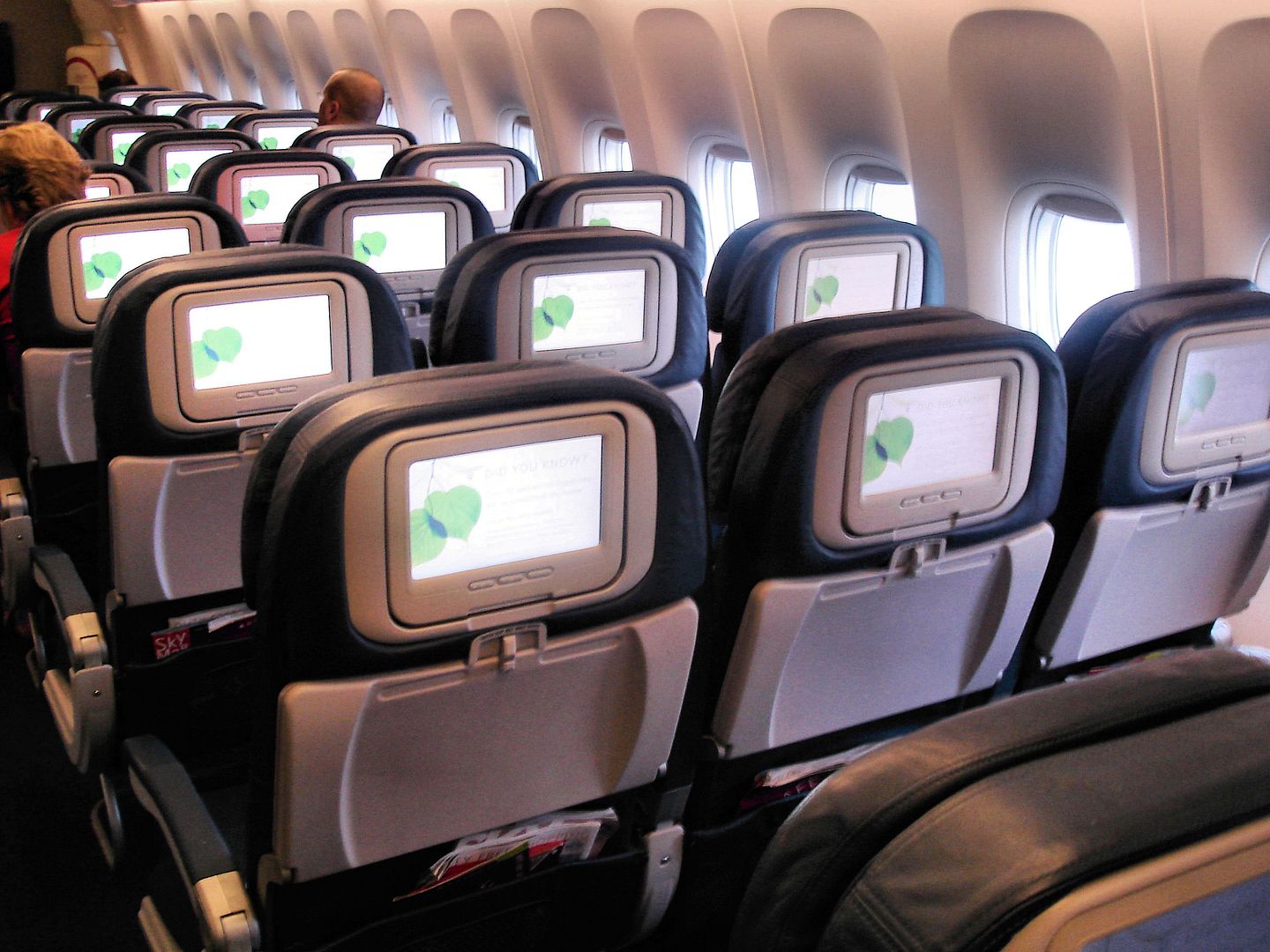 Legroom was generous, too - definitely enough to survive an ultra long-haul flight. Small IFE boxes are located under the middle seats.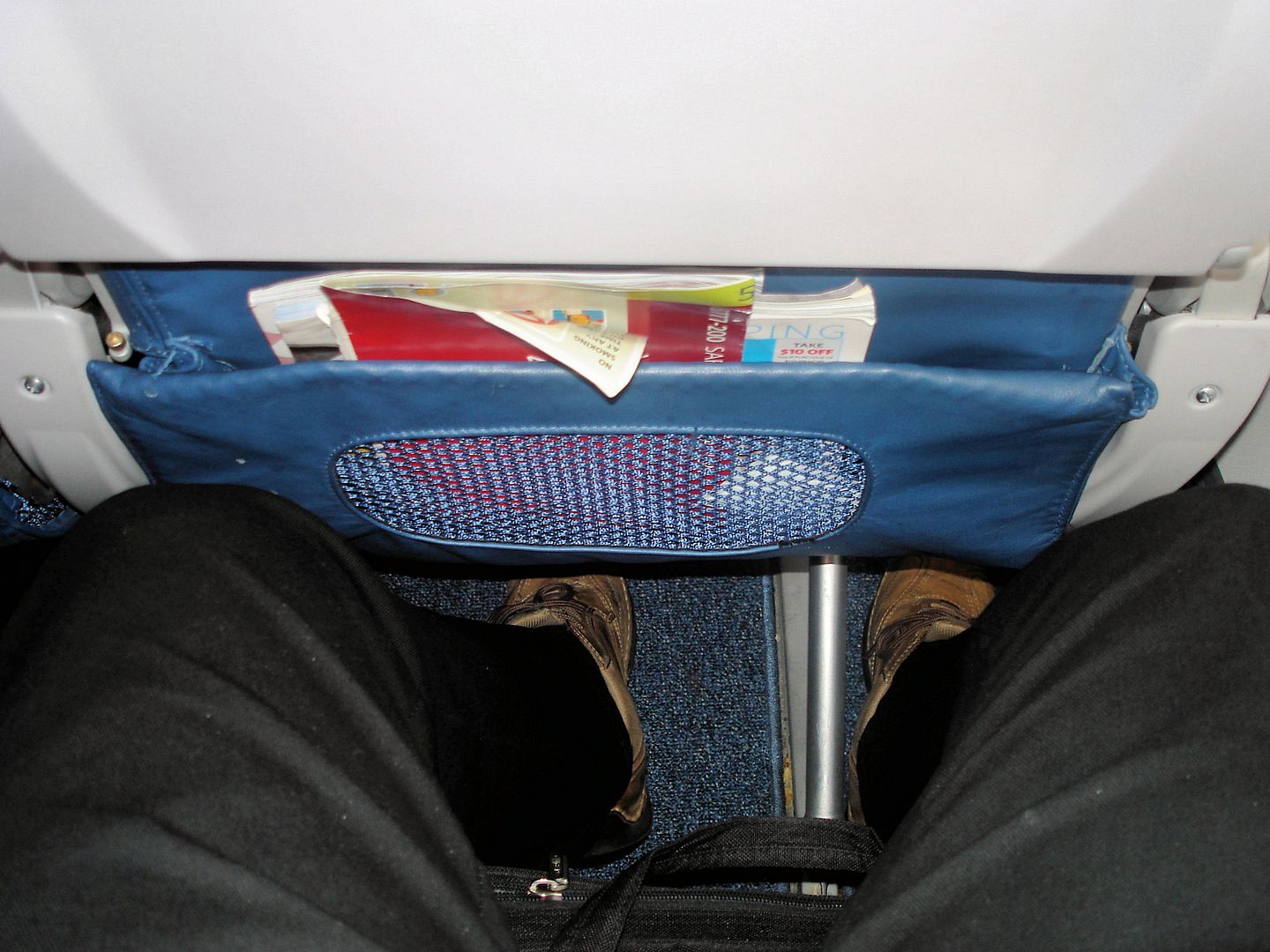 Request to hand out unneeded stuff to the flight attendants:
The flight was packed, no seat remained empty in Economy Class. A guy in the 20s took the middle seat - he was quite friendly, but gave me some worried looks when I took pictures and notes and used my binoculars.
United 757 and 777 parked at Terminal 6: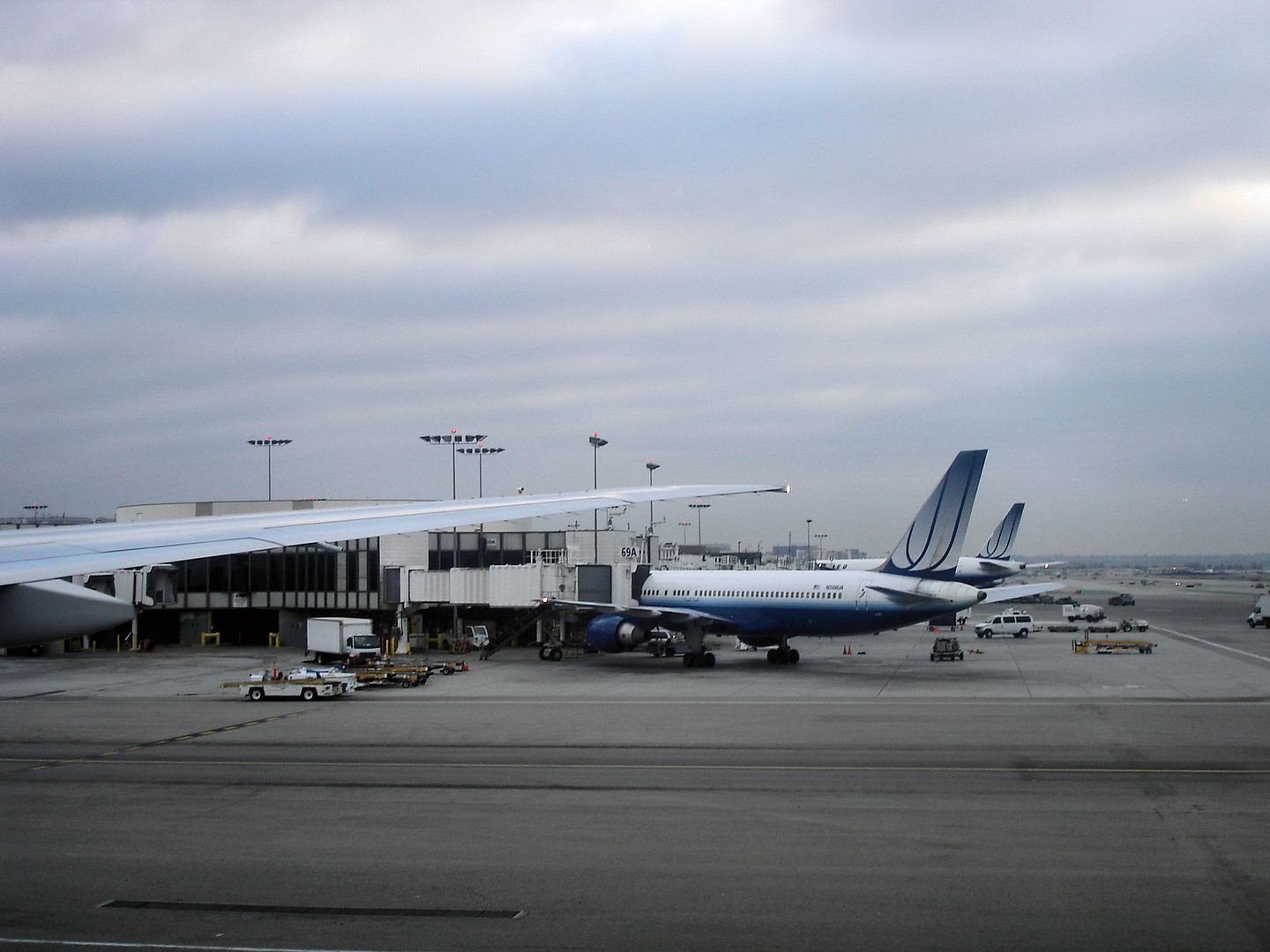 We finally left the gate eleven minutes late and I enjoyed listening to the engine start-up. The FedEx cargo area: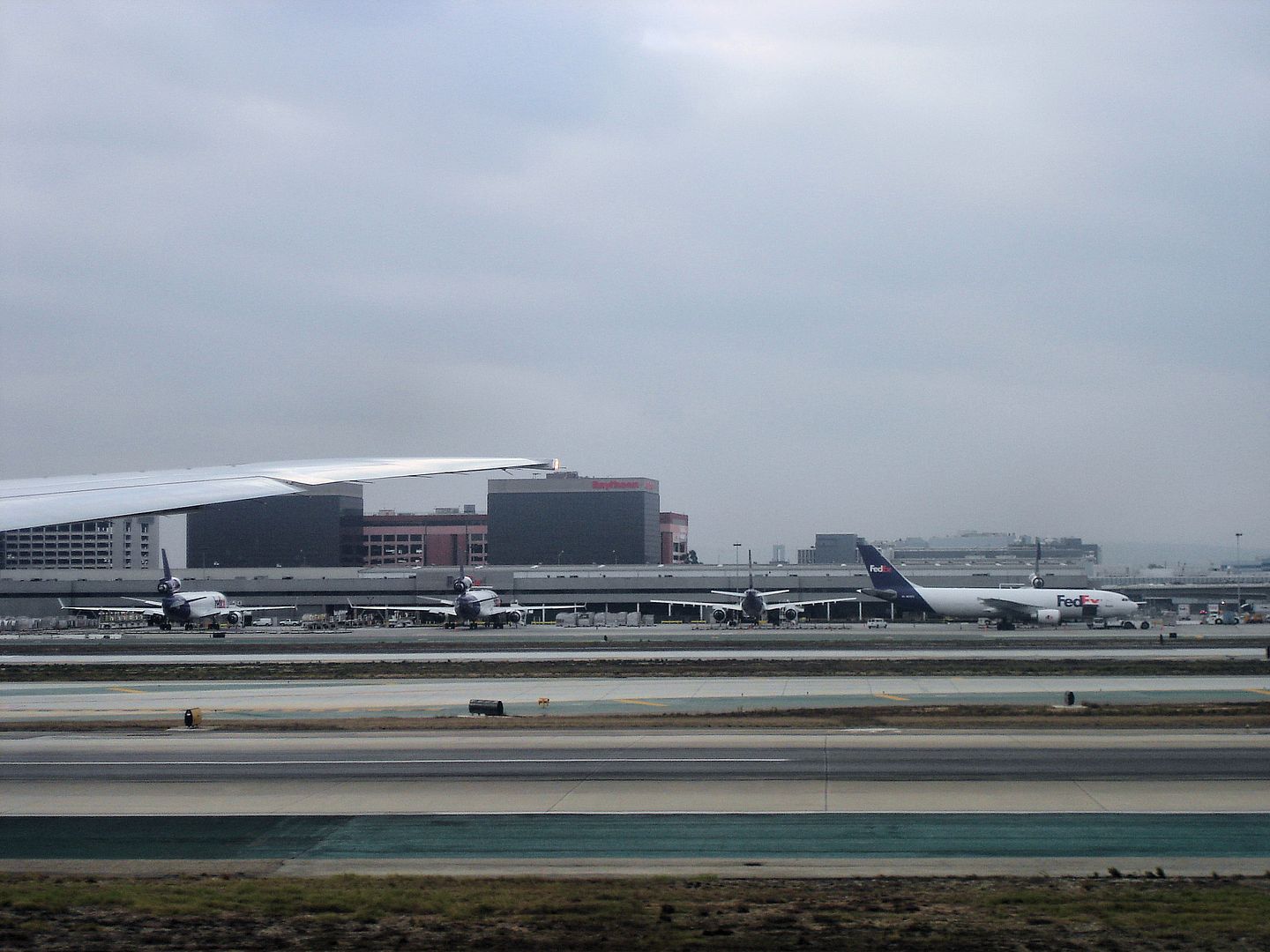 There weren't any other aircraft ahead of us, so we could roll onto the runway without waiting: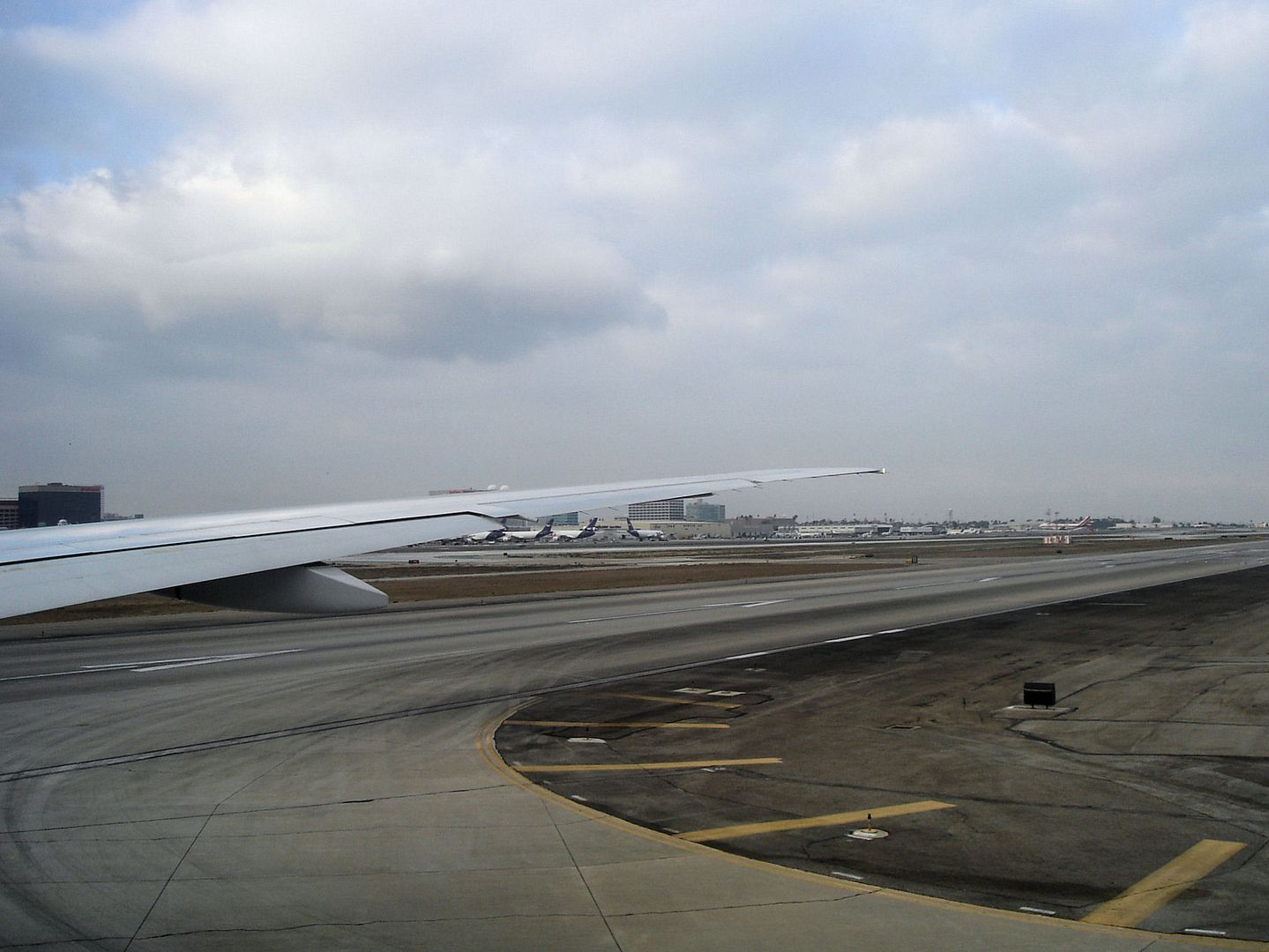 I was hoping for a powerful and noisy takeoff - but what followed was one of the least spectacular 777 takeoffs I have ever experienced.
The plane accelerated slowly and (almost) quietly, rolled and rolled and finally lifted off gently: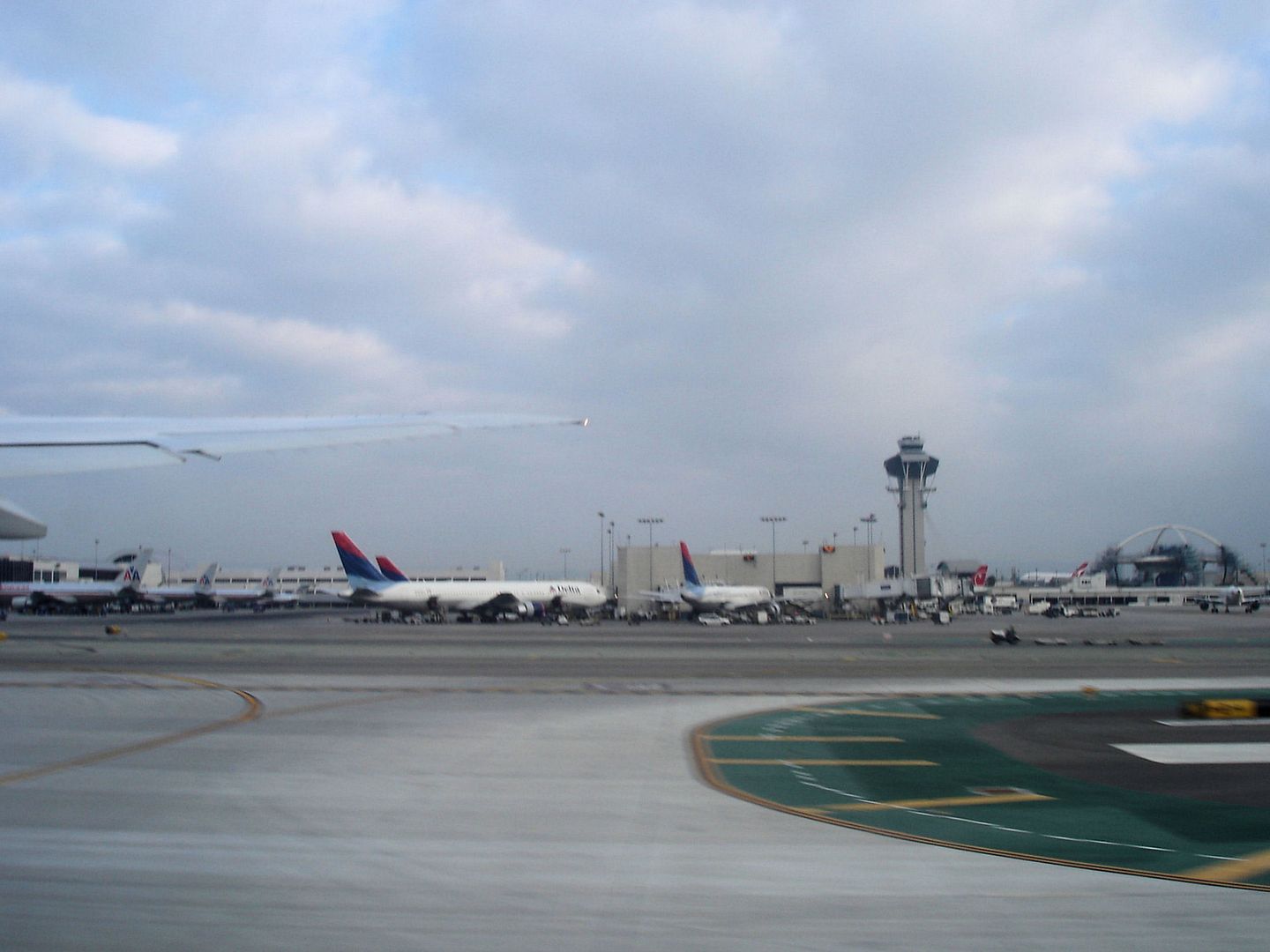 V Australia 777-300ER on the left: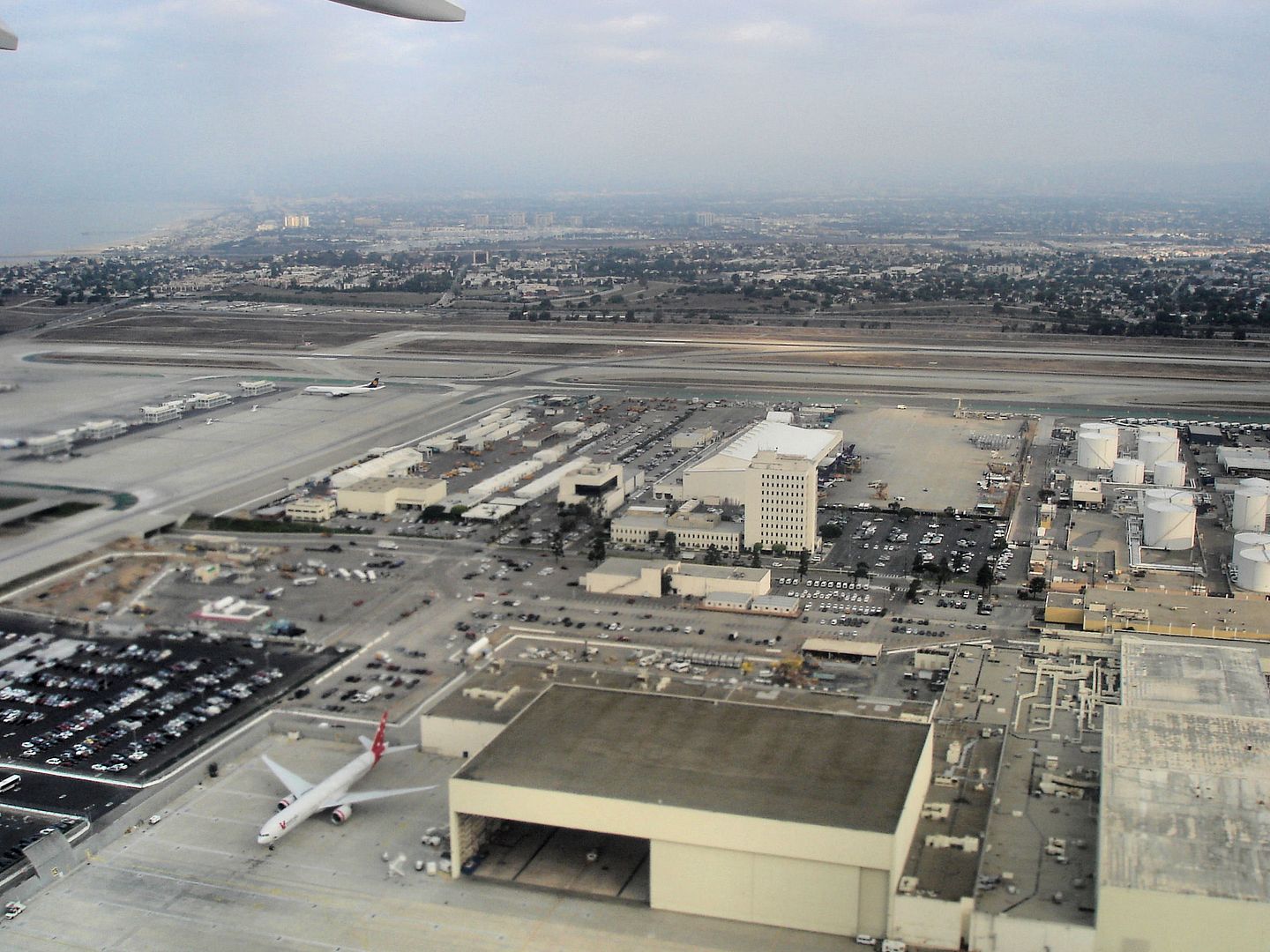 Now this was unusual - a Lufthansa A340-600 (on the right) which had apparently stayed overnight: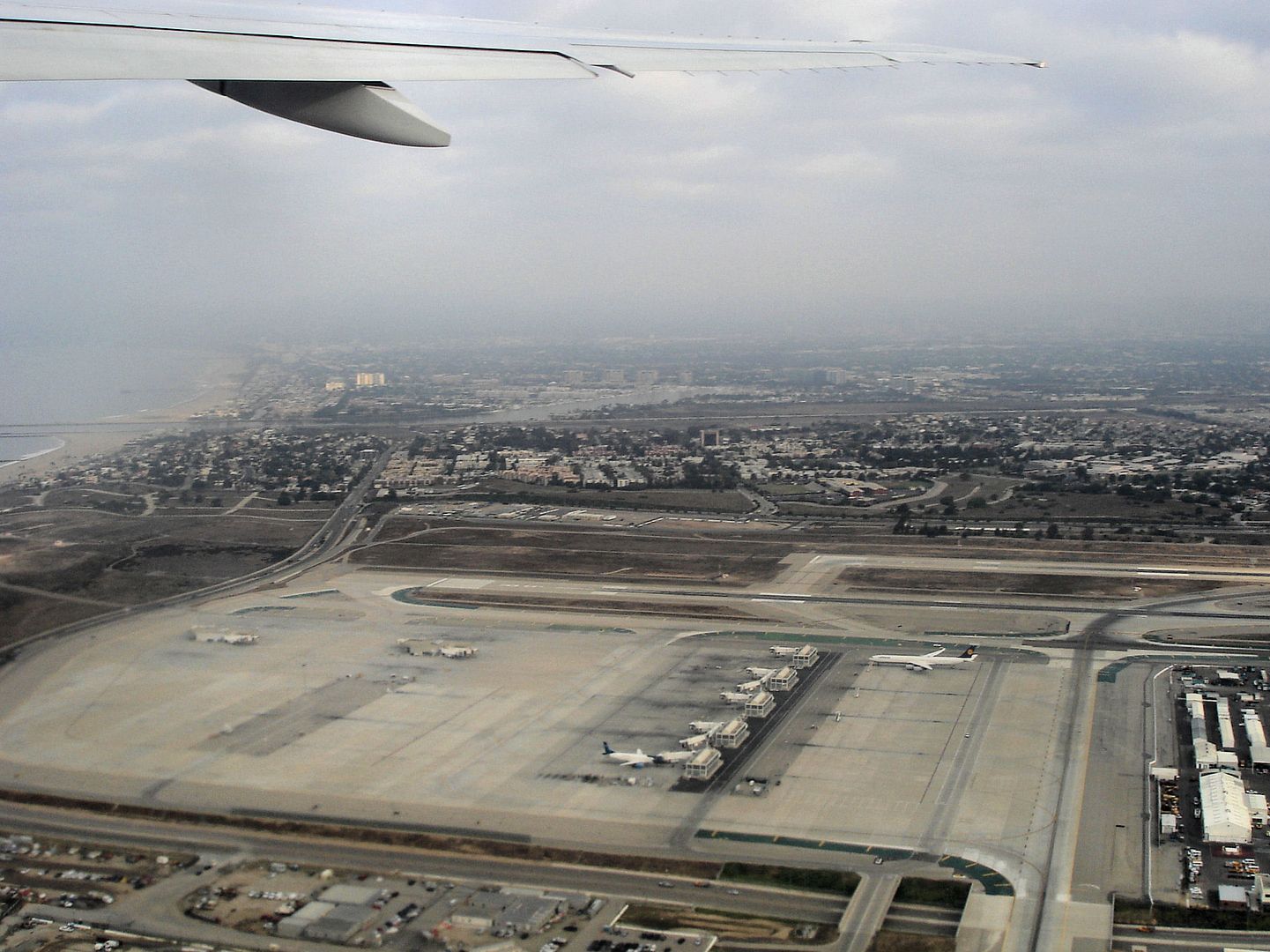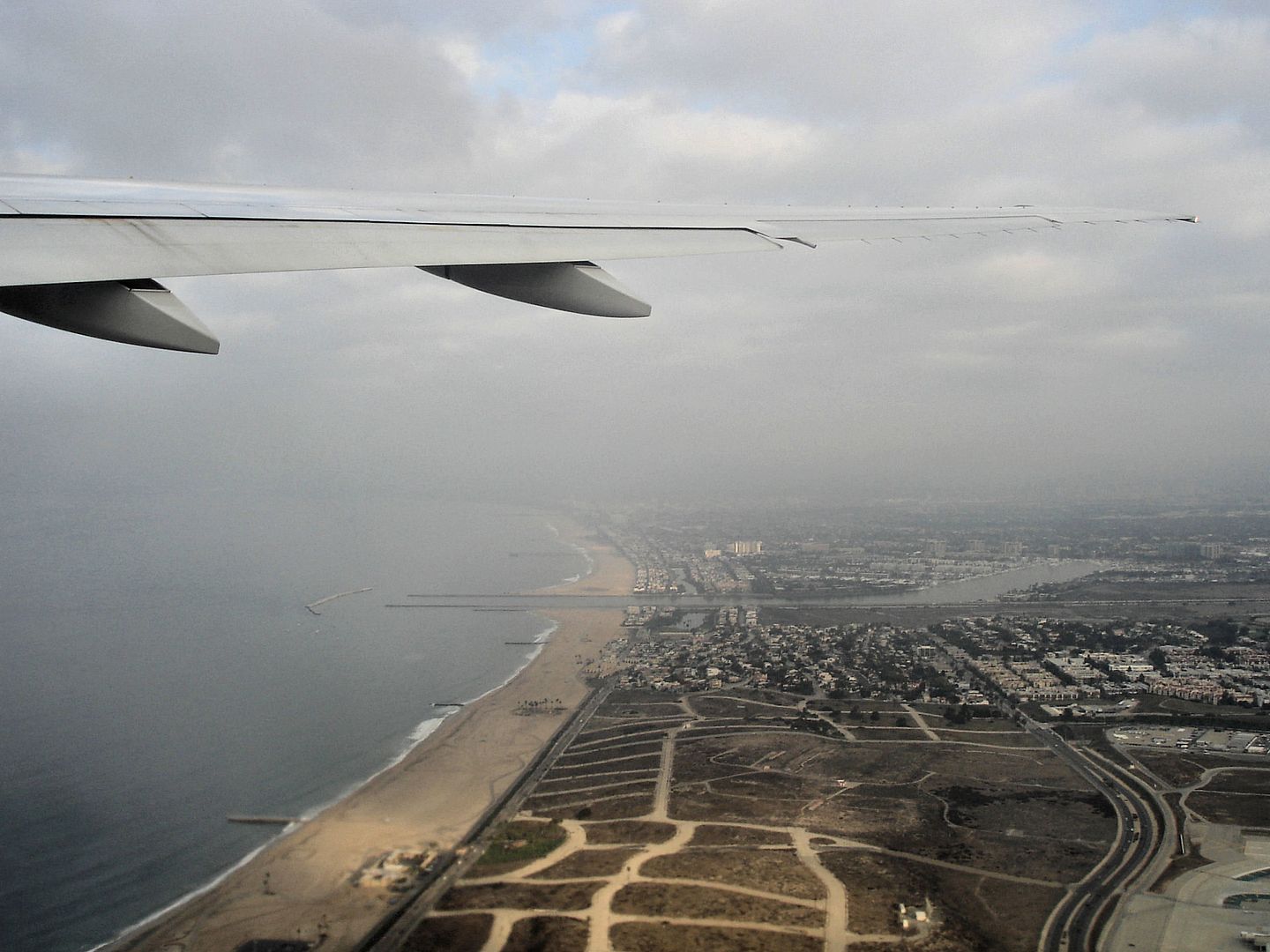 Always nice to break through the clouds - especially when the wing features raked wingtips:
15 minutes later all the clouds were gone: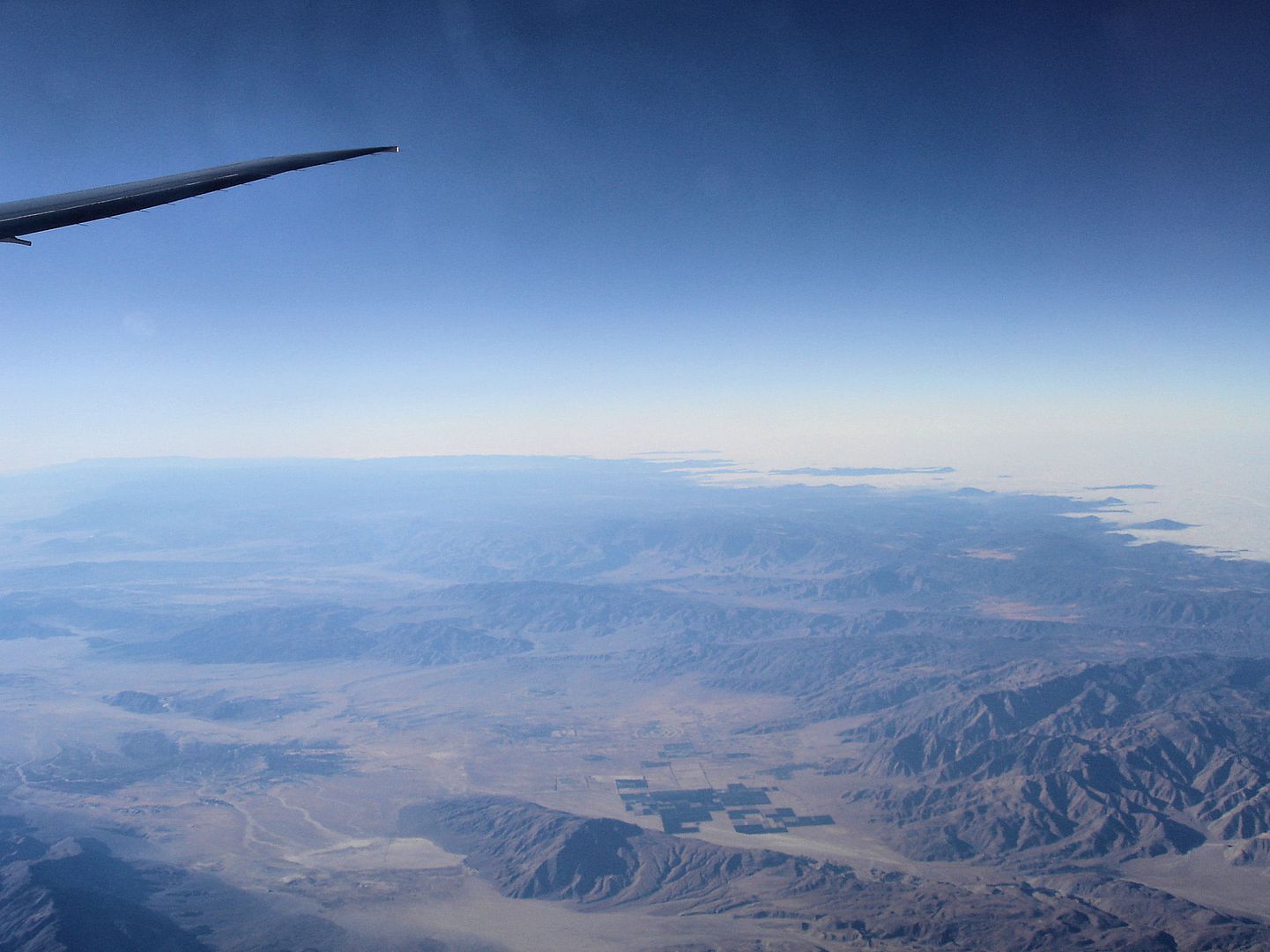 Unfortunately I was facing the sun all the time on the aircraft's right side which almost made it impossible to take any pictures of the in-seat screens. And shutting my window shade alone didn't help. So I asked the guy in front of me whether he could shut his window shade for few minutes - I was glad he agreed.
"Ever wish you could pause the movie to go to the onboard lav? Now you can watch what you want, when you want it, with our new Delta On Demand product."
That's what you can read about Delta's on-demand in-flight entertainment system on the carrier's website.
Delta on Demand
features - among others - a wide range of movies and TV series, more than 4100 MP3s (playlist builder), 10 games and HBO pay-per-view programming.
Main menu language selection: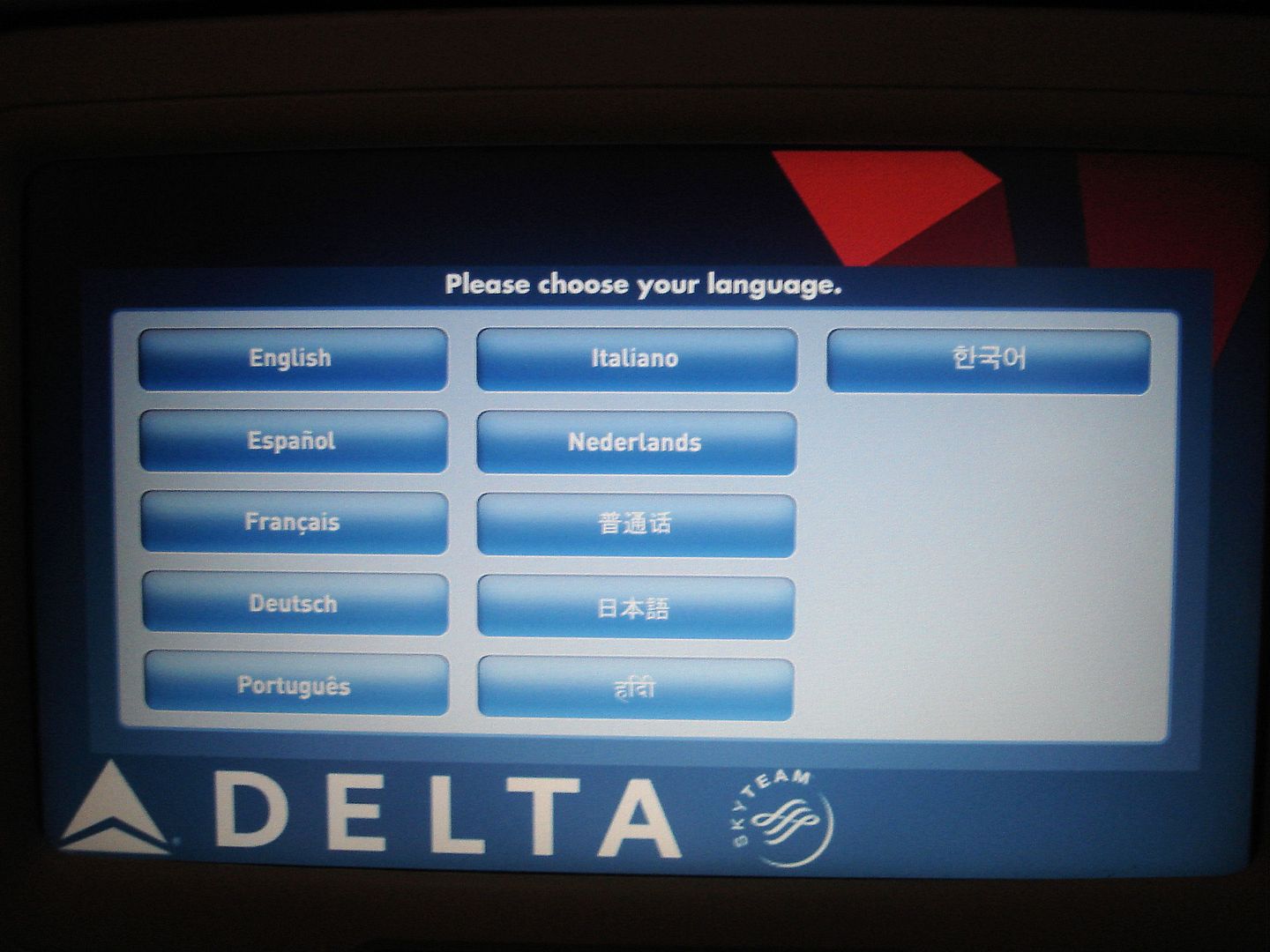 Movie categories: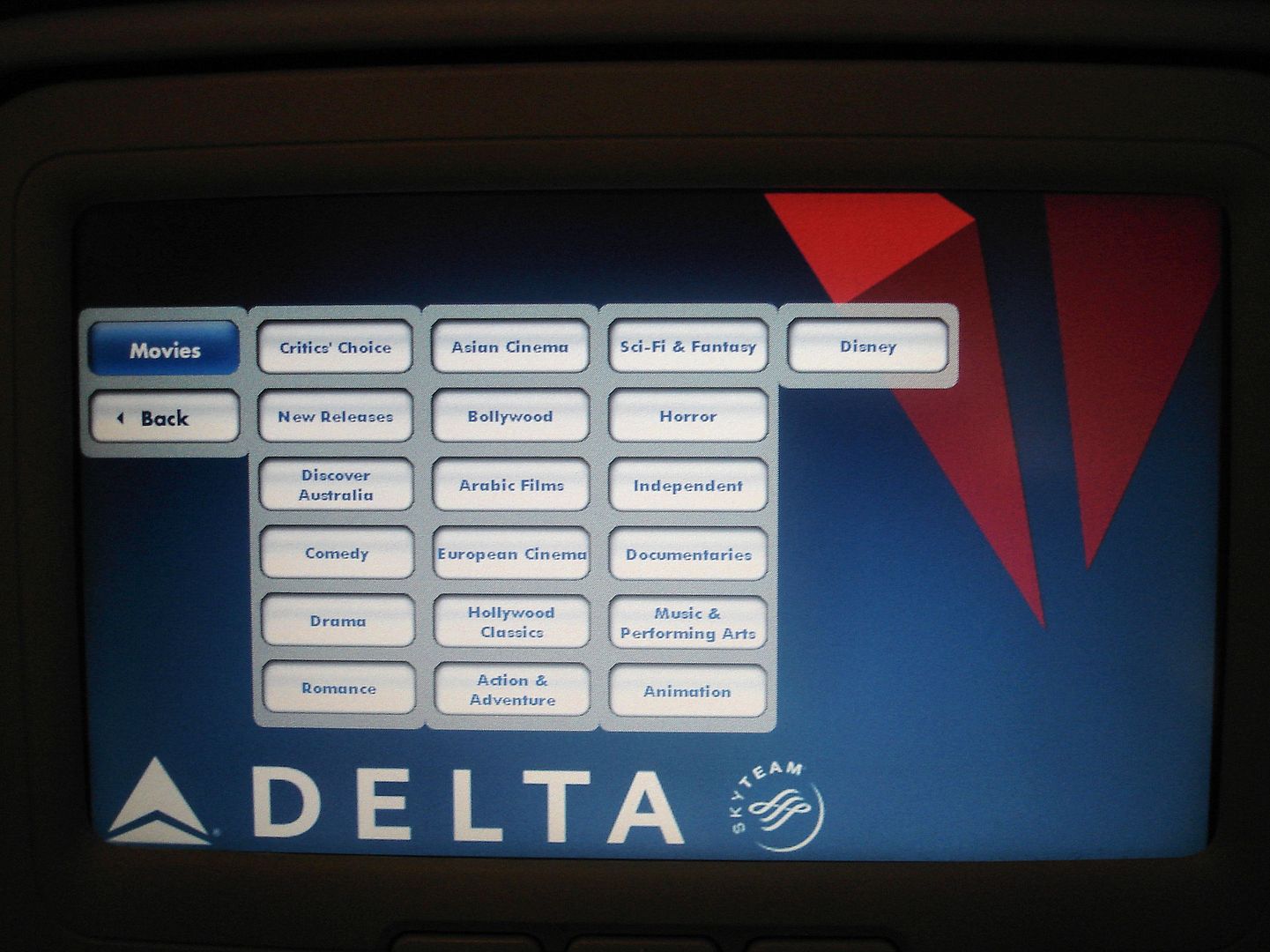 Some new releases:
The IFE programming also includes a survey and information about Delta, the Skymiles frequent flyer program, the Skyteam alliance and hub airports: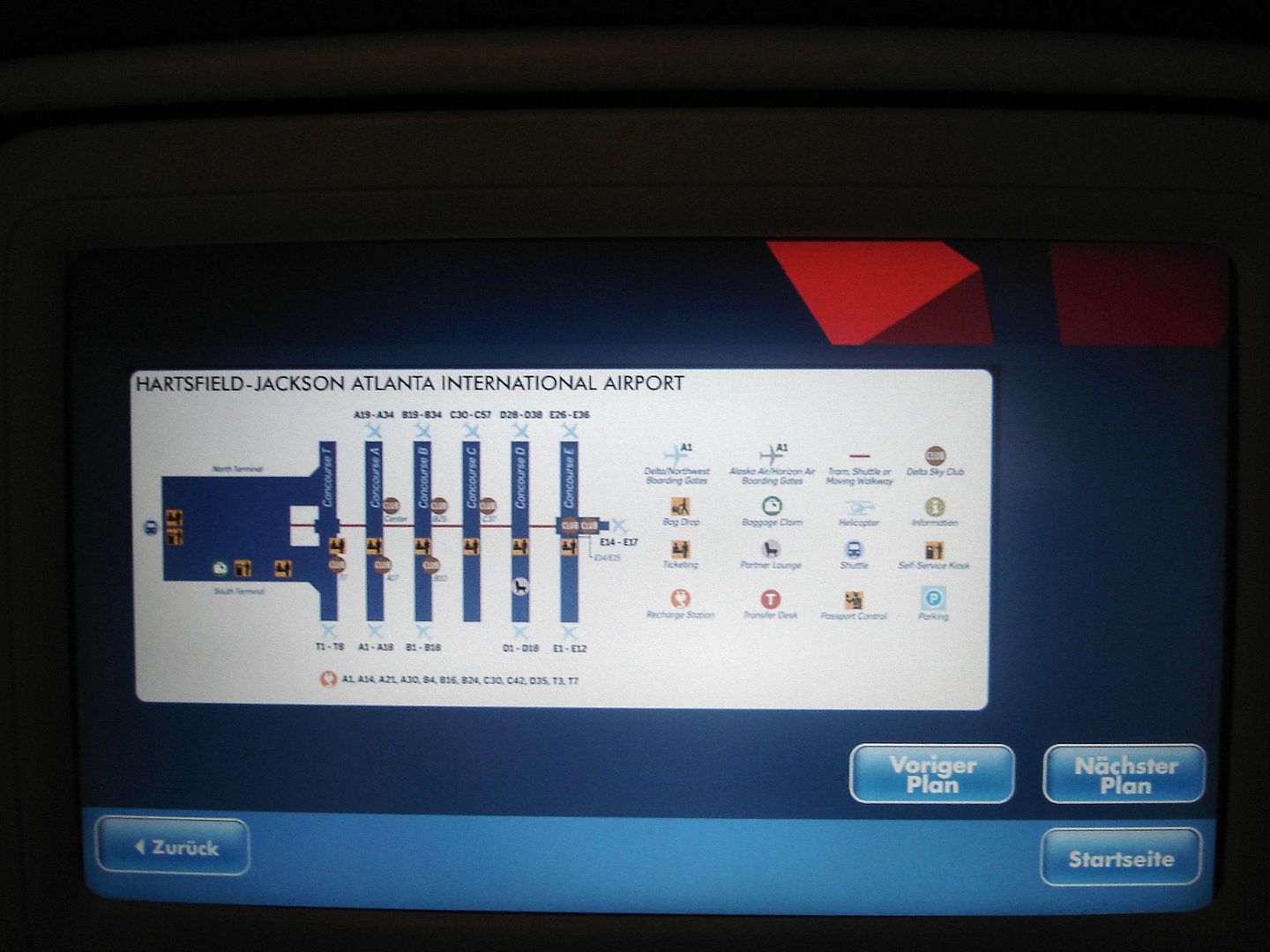 My favorite feature was the airshow programming, including maps with zoom function: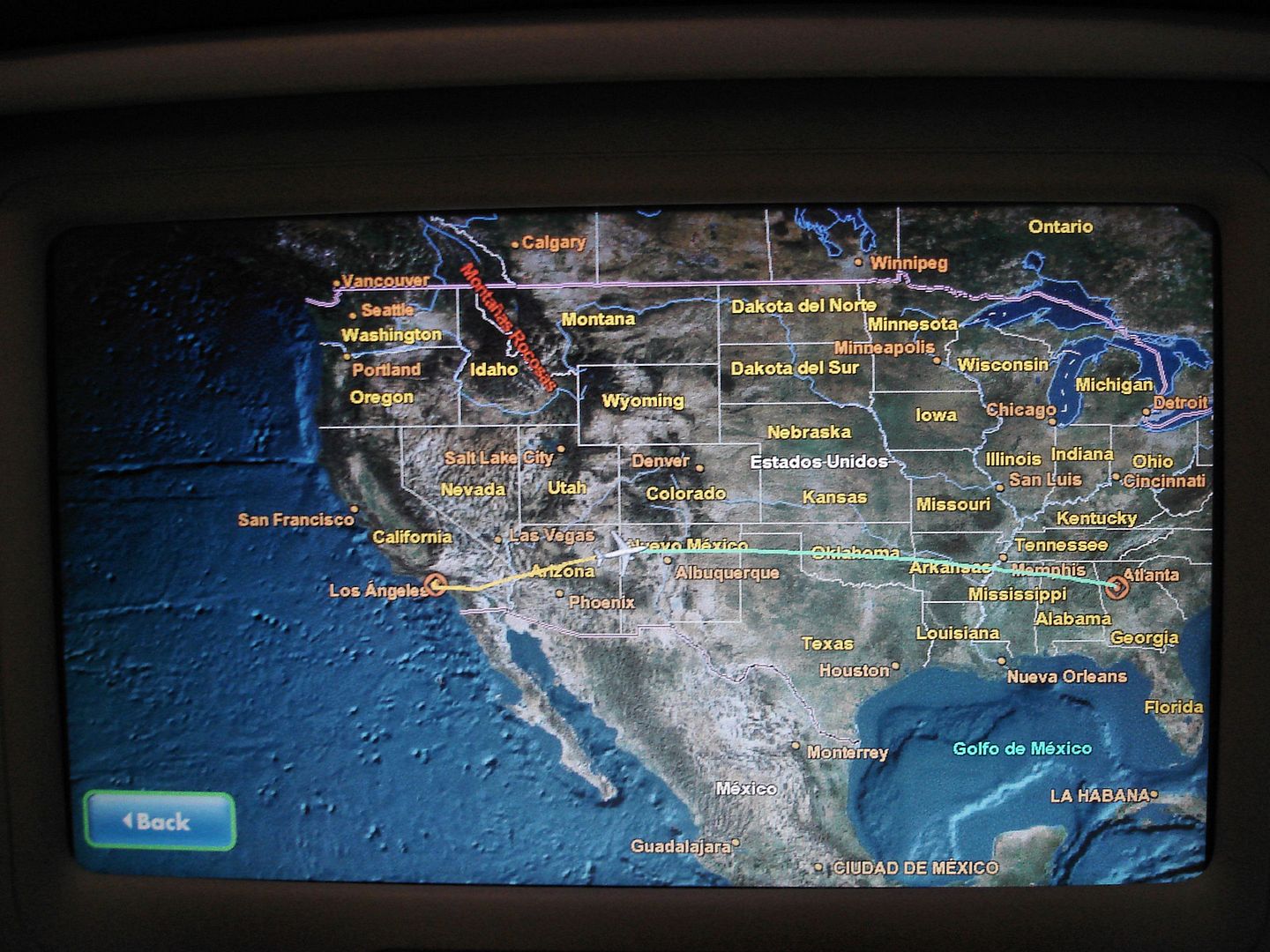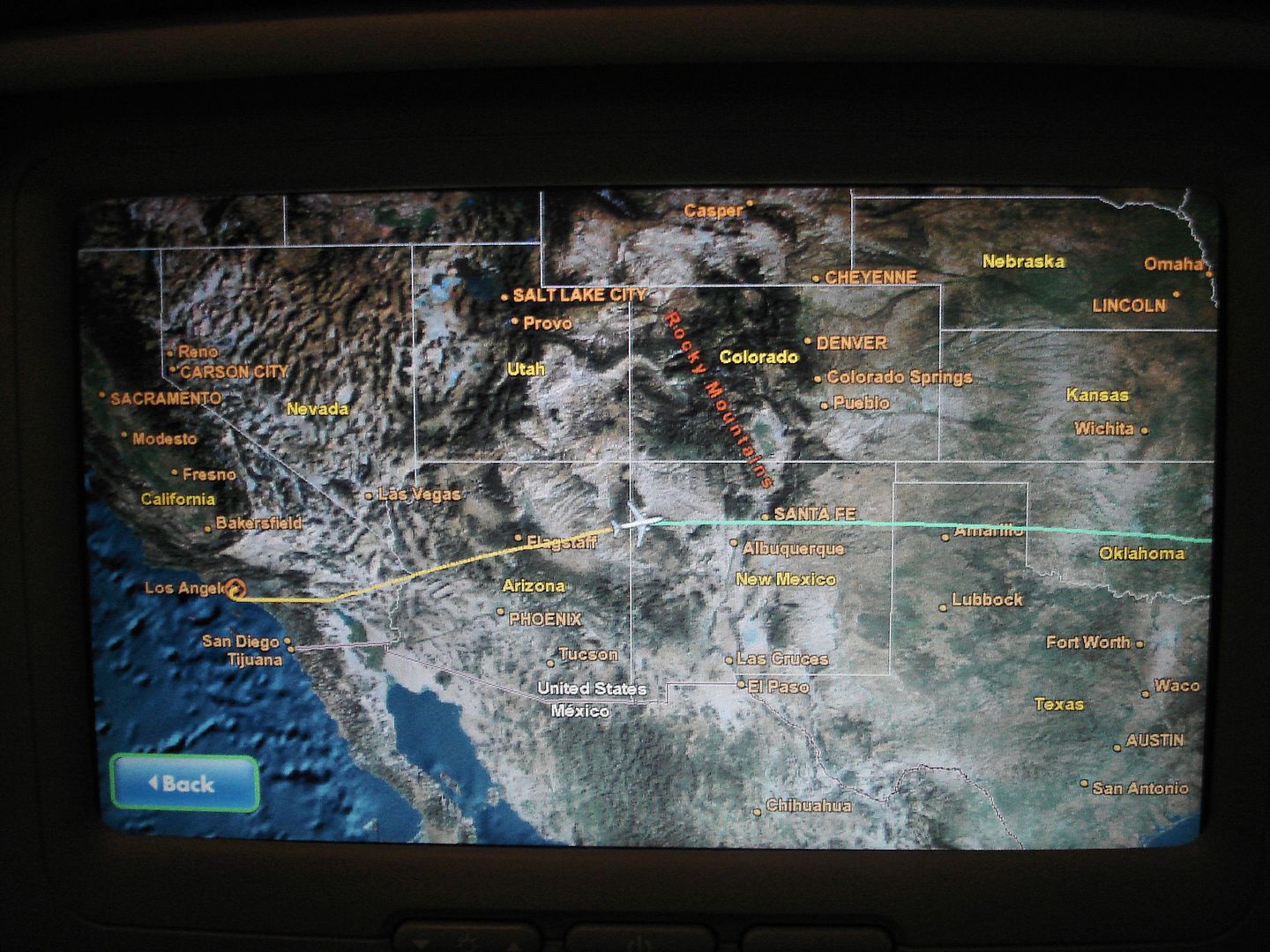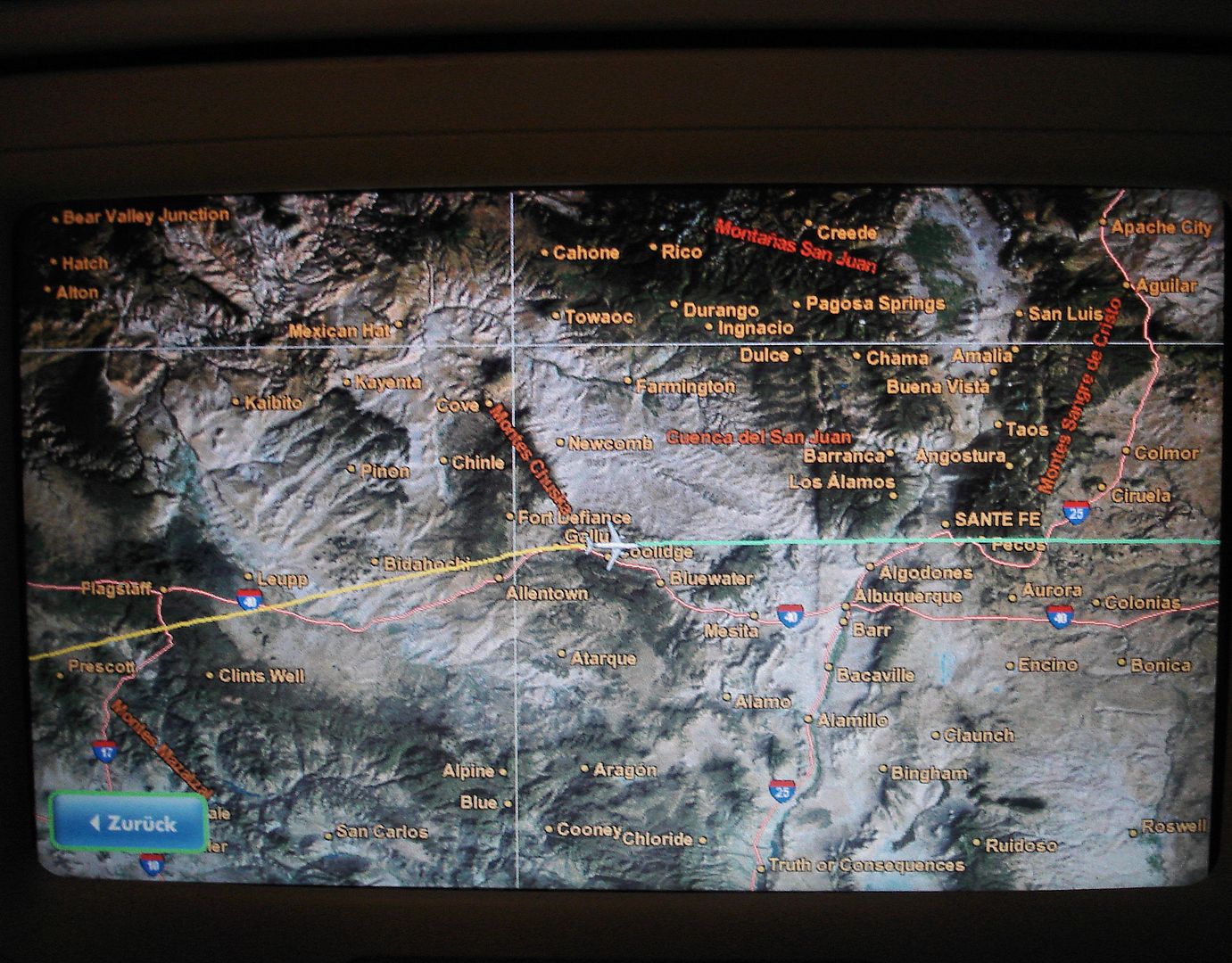 Flight information in Spanish: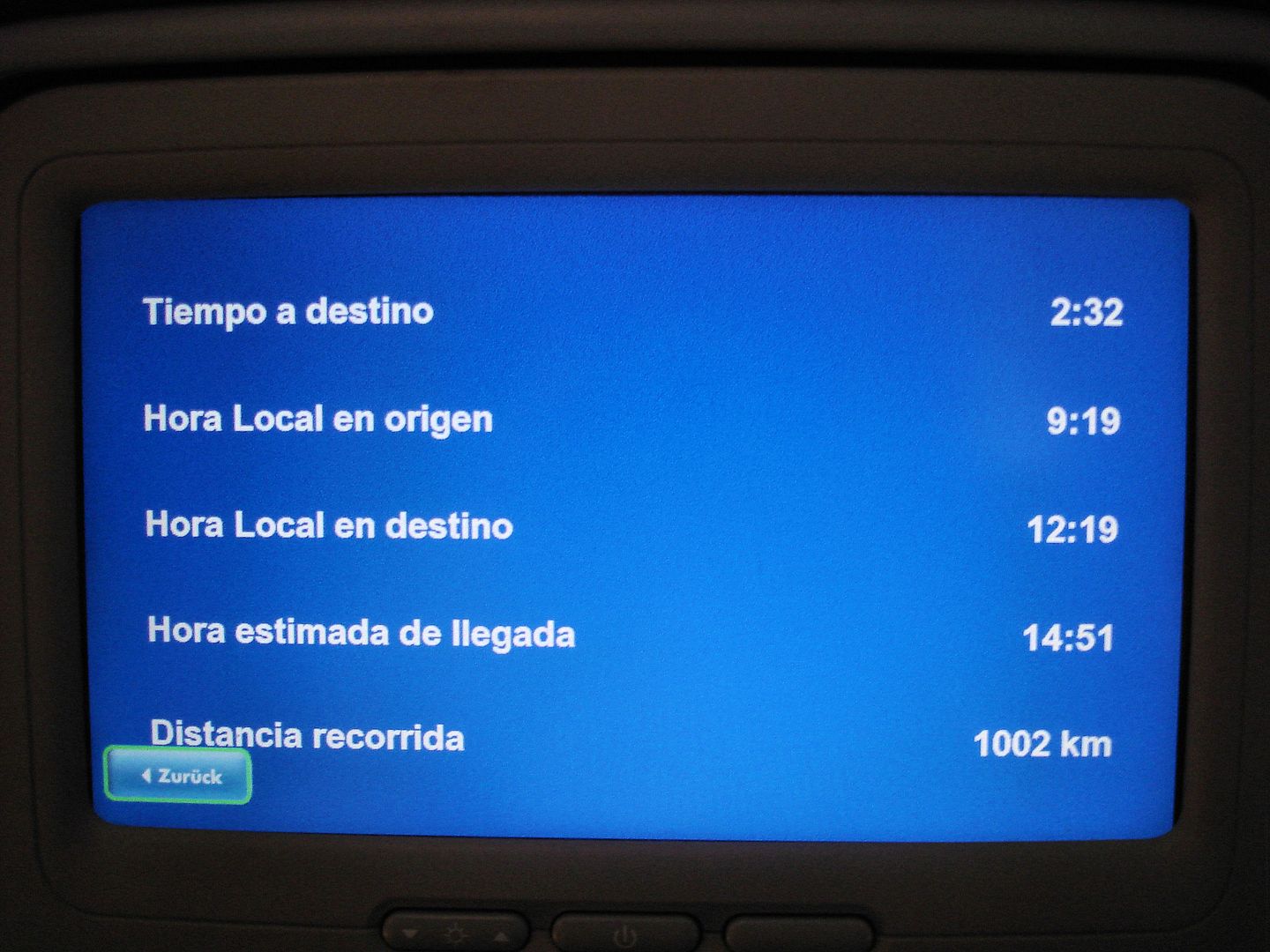 Delta on Demand
is user-friendly and keeps you entertained on long flights, but there's room for improvement. For example, the number of movies available in languages other than English and Spanish as well as the number of games could be increased. But probably I'm just spoilt by Emirates' world class
ICE
system...
Delta serves peanuts or other small snacks free of charge on longer domestic flights, but it took 1,5 hours until the first round of food - two bags of peanuts - arrived at my seat: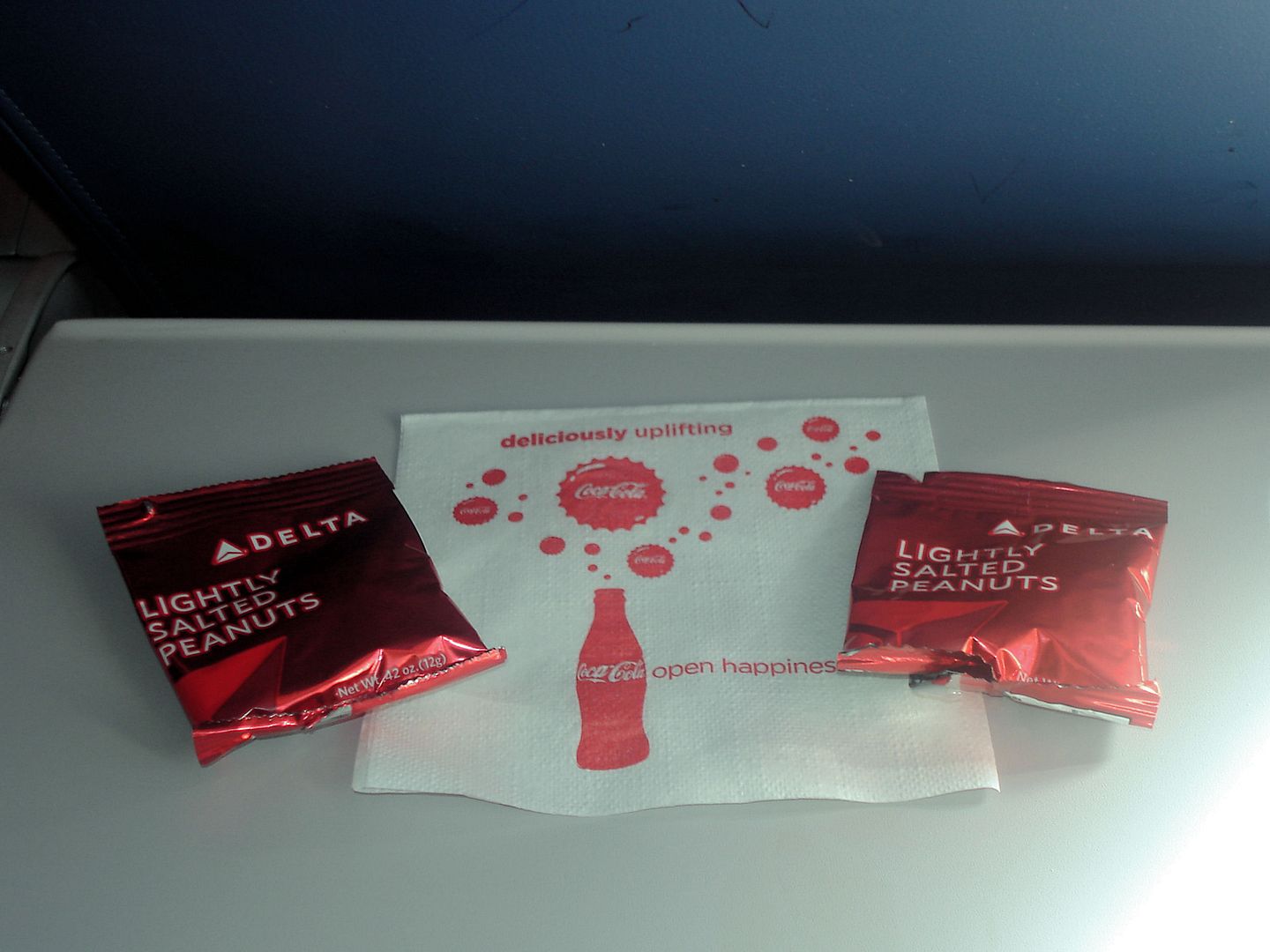 I was quite hungry and had a look at the buy-on-board menu card: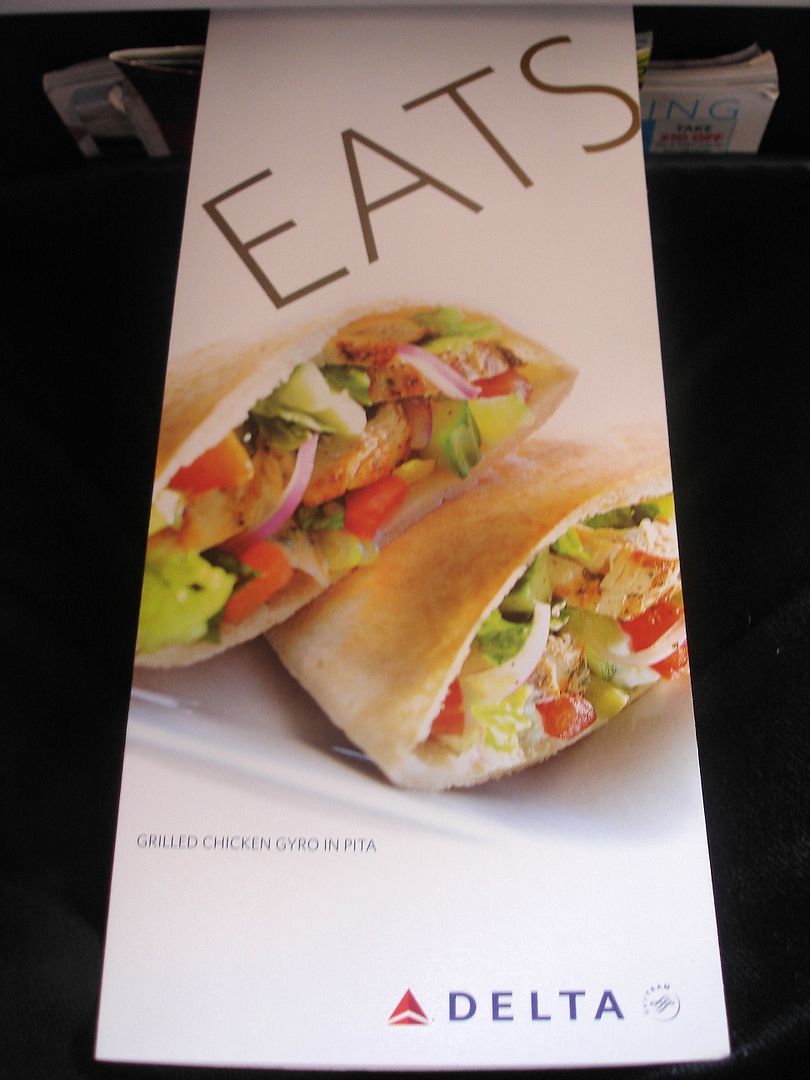 In addition to the usual snack boxes Delta offers "fresh selections". Between 5am and 9:45am only breakfast items are available (local times), so I ordered the
Fruit & Cheese Plate
for USD 6 (Gouda, Havarti, Sage infused Derby, red grapes, pecan halves, dried apricots, crackers). However, my choice wasn't available and I had to find an alternative. I decided to try the
"Almond Butter and Grape Jelly Sandwich"
for USD 4 - one of a few entrées created by award-winning chef Todd English. It looked quite tasty, but the wheat bread was a bit dry and the (Justin's) almond butter was not as creamy as peanut butter: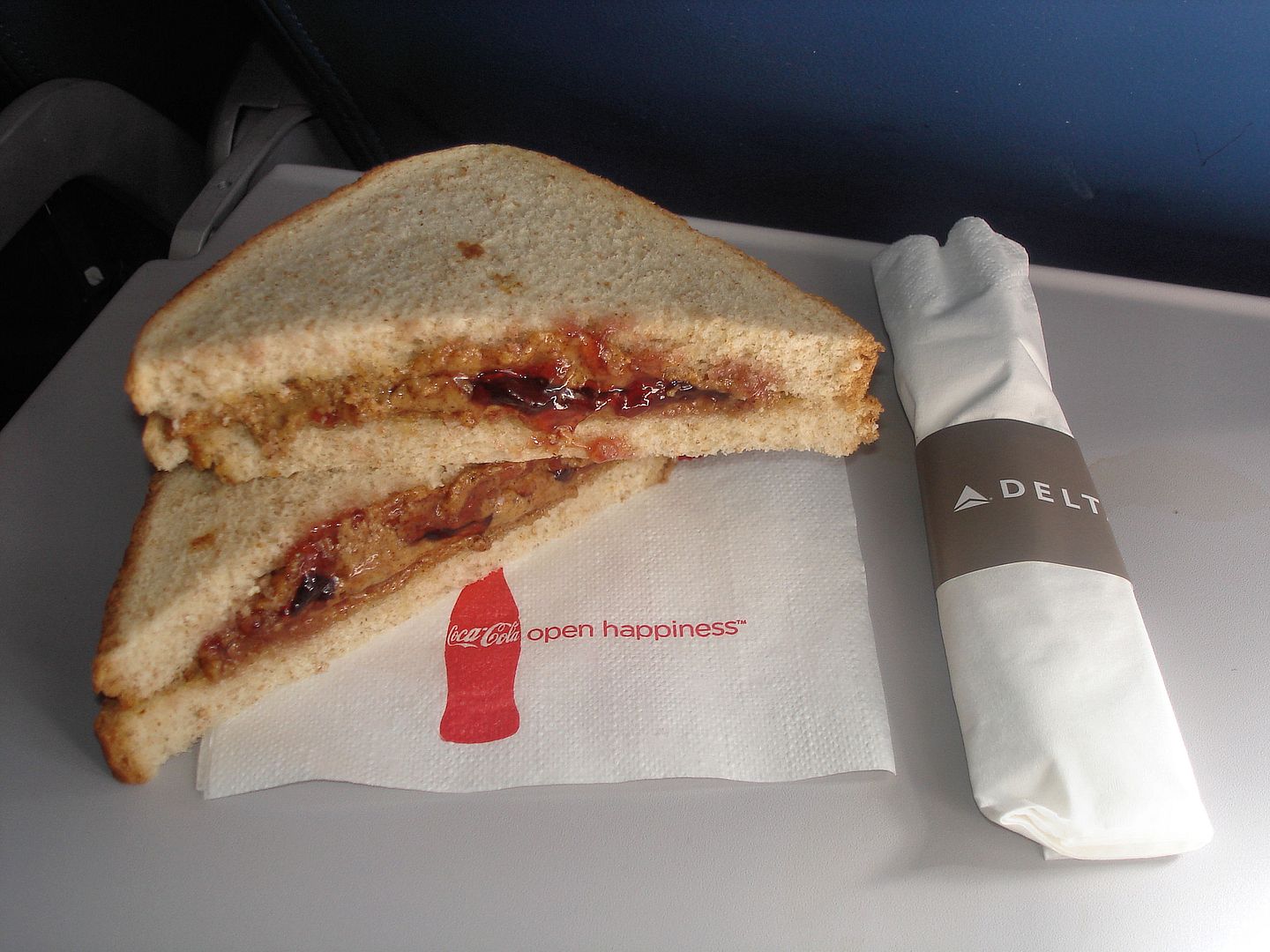 Finally the flight attendants offered something to drink. I asked for decaf and a middle-aged female flight attendant said she would get that from the galley. Two minutes later she came back and almost cheerfully said:
"We will brew it freshly for you!"
Nice! However, the disappointment followed soon: it tasted awful, not like coffee at all...
Later in the flight I walked around for a while. The cabin was packed: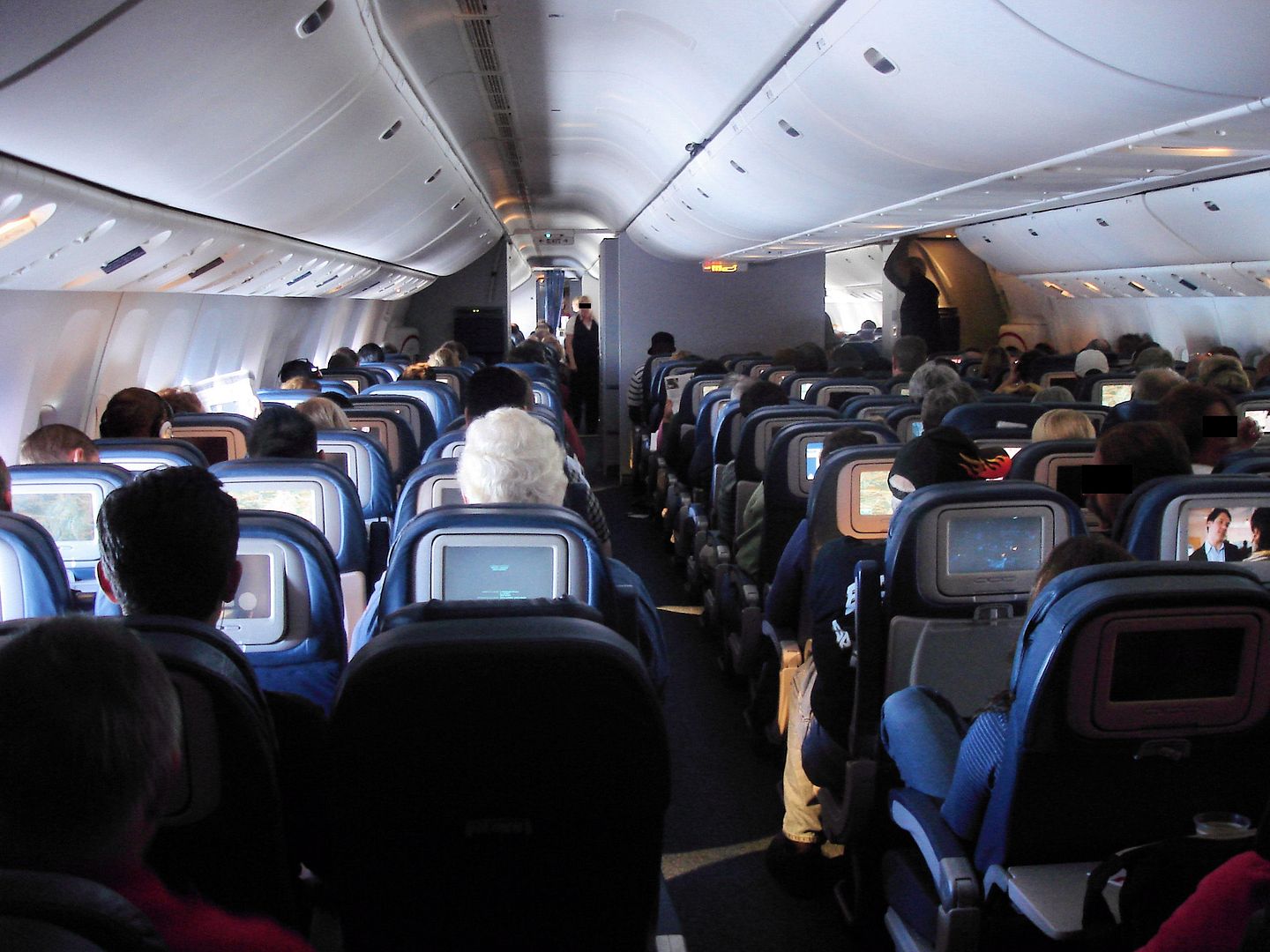 Half an hour prior to arrival the second round of drinks as well as pretzels were served - quite late actually. This time I ordered ginger ale - what would be a domestic flight in the United States without ginger ale?
Shortly after I had finished my drink the plane already started descending. 15 minutes later we were on final approach to Atlanta...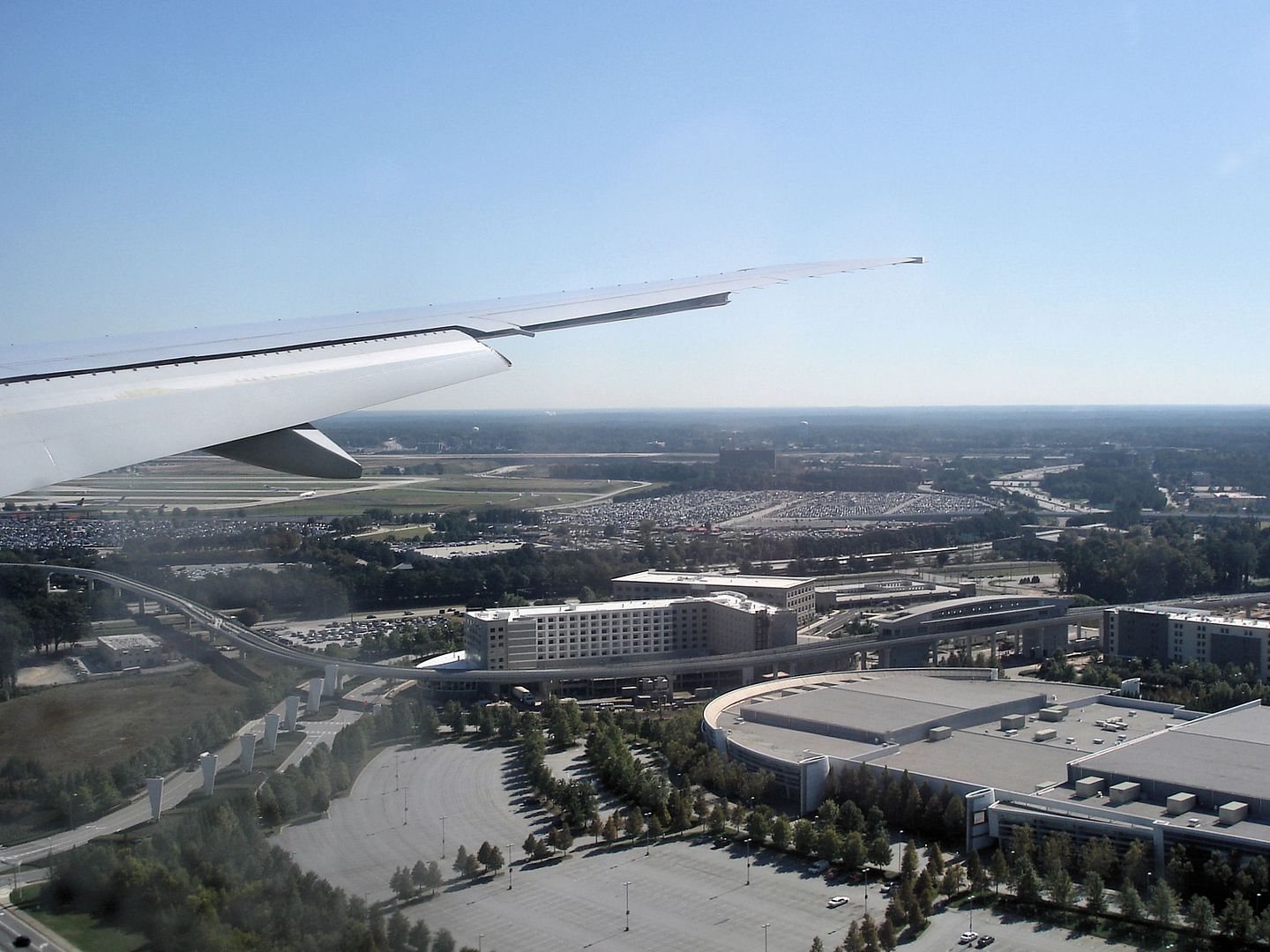 ...the home of
DELTA
: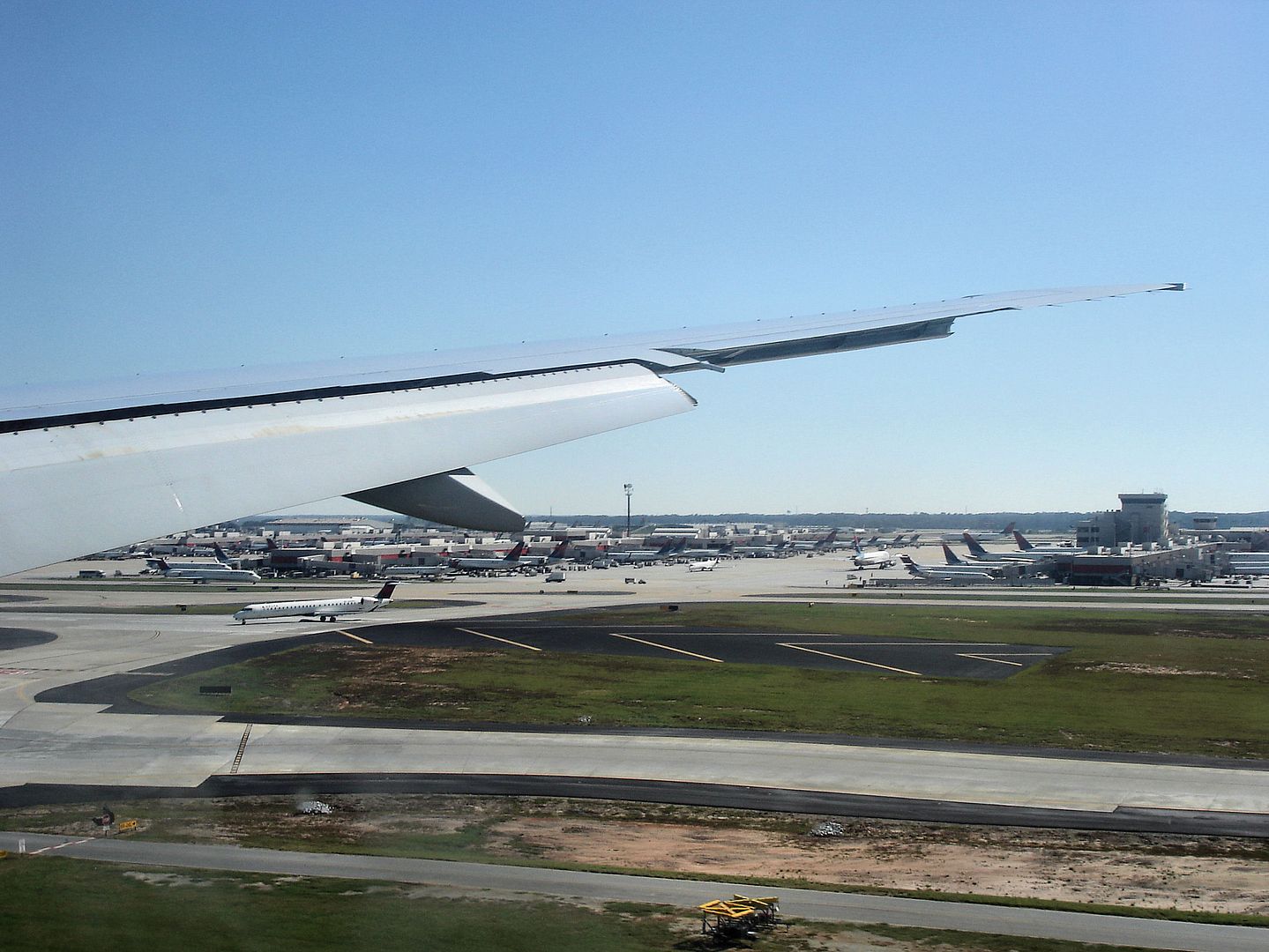 We touched down smoothly after a flying time of 3 hours and 33 minutes - too bad I couldn't spend ten more hours on that fine aircraft.
Delta 757, cargo jets and the Atlanta skyline: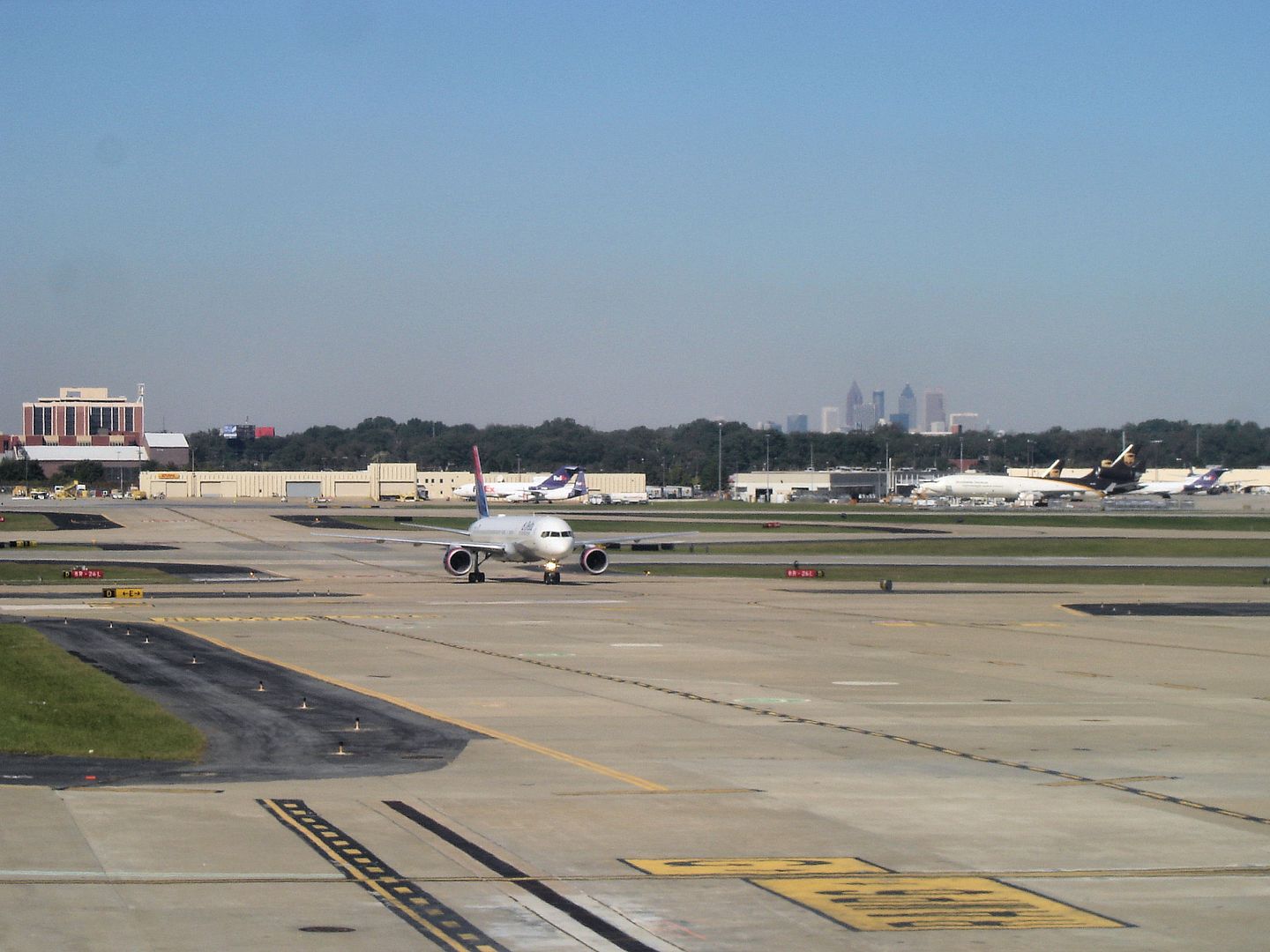 Well-known buildings: the excellent Renaissance Concourse Hotel (on the left) and Delta's headquarters (on the right):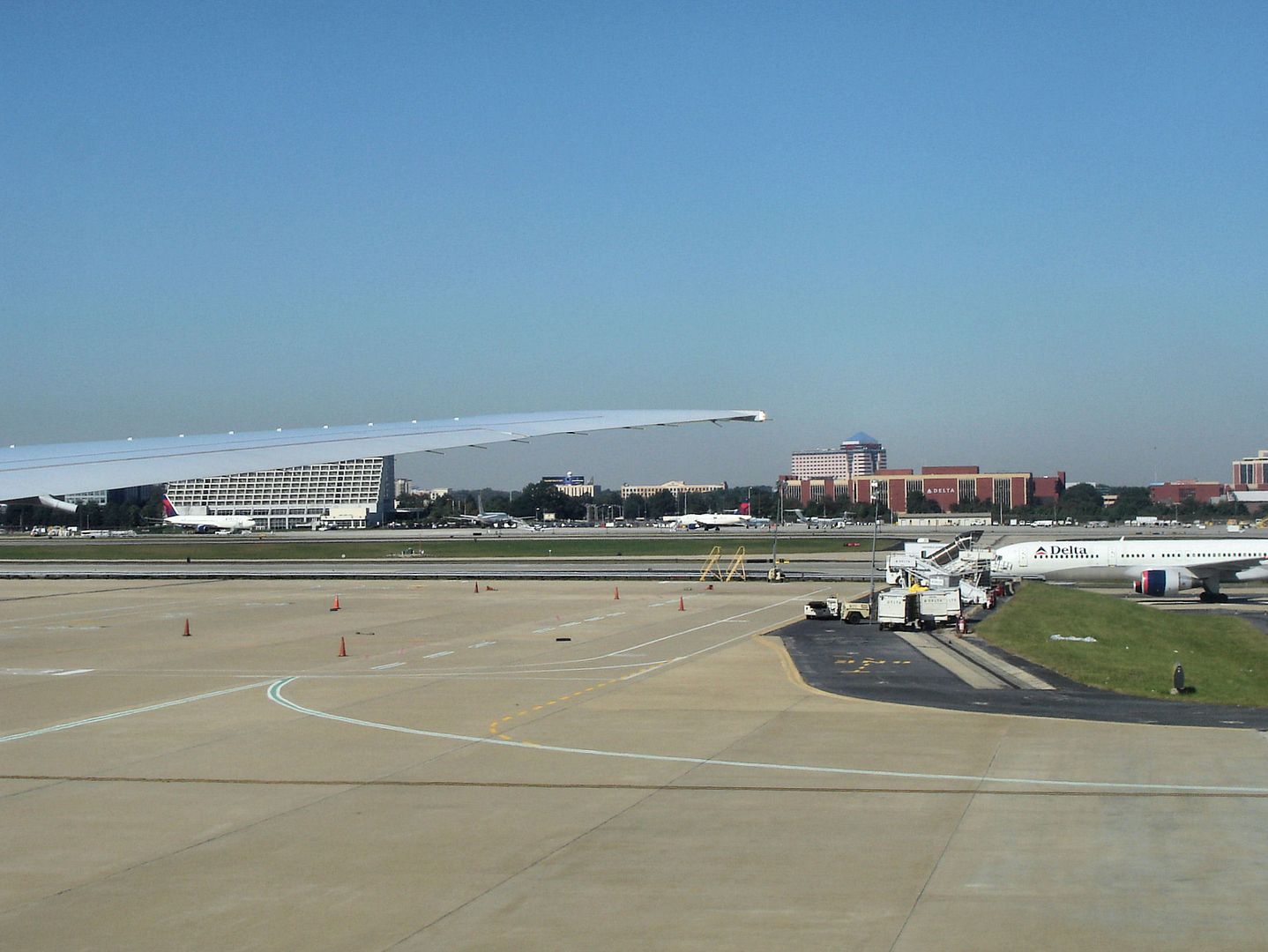 N705DN
came to rest next to Air France A340-313X F-GLZR:
Before disembarking the guy in the middle seat asked me what I would be planning to do with the numbers (registrations) - and I told him about my hobby. However, I'm not sure whether he was satisfied with my answers.
Anyway, after most other passengers had left I asked one of the friendly flight attendants whether it would be possible to visit the flight-deck. She immediately walked away in order to ask and a few moments later I got the green light by the captain. First of all I asked him about the operating differences between the 777-200LR and the 777-200ER and he told me a few aspects. Then I pointed out that the takeoff hadn't been really powerful - and he confirmed it was de-rated takeoff. He permitted me to take pictures and he even took a picture of me sitting the F/O seat.
Definitely one of the best workplaces in the business:
Great weather, great bird: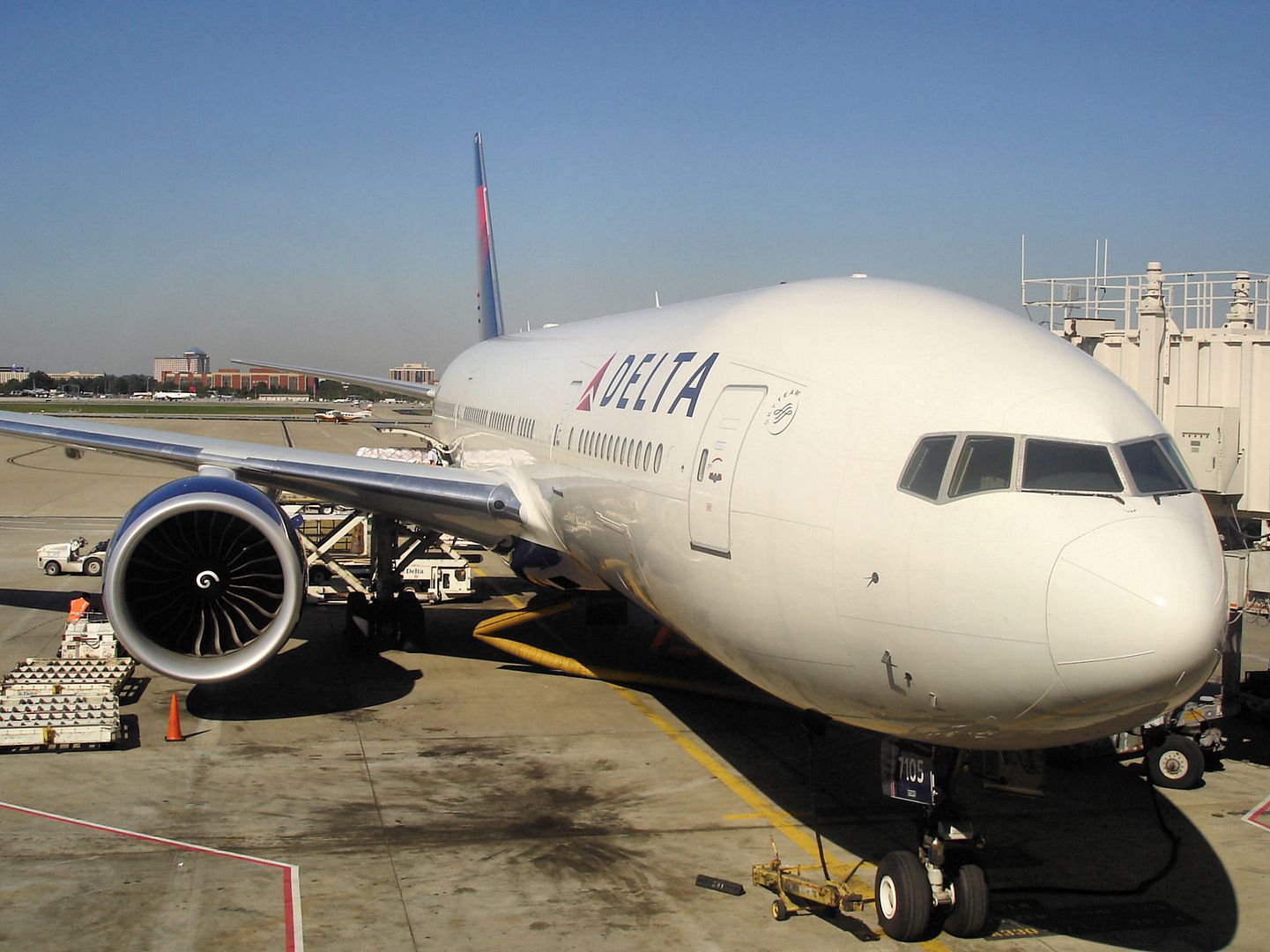 Simply impressive - the giant GE90-110B1L2 powerplant:
I grabbed my luggage and walked straight to the Continental check-in area to get my boarding pass for my ExpressJet flight to Houston - story to be continued.
Conclusion
Flying on
Delta's
Boeing 777-200LR was a great pleasure despite the low-power takeoff. I wouldn't hesitate to go on a Delta ultra long-haul trip - the seats on the 77L are comfortable and legroom is generous. Even though
Delta on Demand
lacks certain features offered by other carriers it keeps you entertained for a long time. Flight attendants and ground staff members were friendly and motivated which was another positive aspect. Drinks were served a bit late twice, but that's a minor issue. However, it was disappointing that the desired breakfast meal wasn't available on an early morning flight between two major domestic destinations.
Next report: ATL-IAH-EWR-FRA on ExpressJet and Continental
Best Regards,
PlaneHunter
P.S.: Just in case you missed them - other more or less recent reports:
Pacific Coast Jaunt: 3 Carriers, E120, E140 & Fog
The Ultimate 737: LHR-IAH-PDX On CO 777 & 739ER
Bye Bye, Hell! TRD-OSL-TXL-NUE - DY/AB/HE DH4
My Trip To Hell: NUE-CPH-OSL-TRD On Cimber & SAS
SFO-YUL-FRA: Map- & Sleepless On Air Canada's 77W
Sin City Gloss & Virgin America's Chic First Class
Seat Dilemma & Canyon Glamour: FRA To LAX, AC 763
On Par With Air France? DTW-AMS-MUC, KLM A330
Goodbye, Red Tails! DC-9-40/50 & Chicago Tour
Champagne & World Of Coke: Air France A340 To ATL
"Mission A380": Disappointing Legs On BA/BD/EI
Delights Of Doha, 773 & 77W: DOH-DXB-LHR On EK
A380 Really a Step Forward? LHR-DXB-DOH On EK
Quality & Style: HKG-LHR On Air New Zealand 744
Taiwan Trio: TransAsia, UNI Air And The Taipei 101
"The Wings Of Taiwan": EVA Air A332, 744 Combi
SHA-SZX, Shanghai 757: Delayed By The Military
PEK-SHA, China Eastern A330 & Shanghai At Night
Striking Newcomer: Berlin-Beijing On Hainan A330