Introduction
In November 2009 easyJet announced a couple of new routes from Helsinki, starting on 8th of February 2010. The destinations were a daily connection to CDG and four weekly flights to MAN. Of course I had to try to find a way to fly these new routes - doing either of the inaugural flights would've been great, but that particular Monday didn't suit my plans. The flight times were a bit problematic as well, as both flights depart late from HEL, arriving at their destinations far too late to catch any sensible connections to anywhere. Luckily this works better if one flies the other direction, so after finding a suitable open date in my calendar I quickly put together a nice little day trip to catch the MAN-HEL flight and to log a new airport, Liverpool as well by doing RIX-LPL on FR. To get down to Riga, airBaltic was obviously my choice.
After checking the train timetables between Liverpool South Parkway station and Manchester airport to make sure I had enough buffer in my plans (I did, but not too much, read on) everything was booked. All in the three flights cost around 100 EUR total.
17.2.2010
Once again, thanks to the annoying BT check in situation at HEL I'm taking a way too early bus and arrive at T1 almost two hours before the scheduled departure time of 8.45. I sat next to an AY FA doing just a r/t to FRA today and joke with her how we both knew this bus route by heart - seriously I was almost asleep for half of it and could pinpoint exactly where we were by the turns, bumps and changes in elevation with my eyes closed! Once inside I ask the only guy waiting in the queue in front of me whether we are in the wrong place owing to the non-existence of any significant queue - very unusual for this peak departure time. He agrees with me - no wonder Wednesdays often feature the cheapest air fares as well! Anyway once at the counter I get a great agent, after I voice my usual complaints about the self-service machines not working she actually says that I should try it anyway the next time and go directly to the bag drop counter to sort it out if it doesn't work. I tell her that well, the last time the instructions were something completely different and this is the reason I'm here already at seven in the morning, bleary eyed. She symphatizes and repeats the instructions, so I agree to try it. Too bad I didn't ask it in writing, I'm sure the next time (surprisingly for me, that's almost two months away!) they will give me a scalding for not being there early enough...
This FIDS is having a bad morning: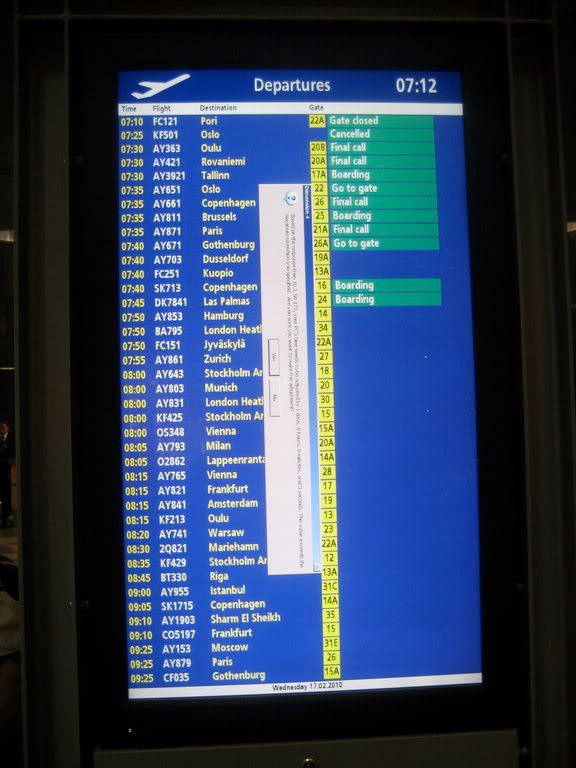 Security upstairs is almost as deserted, actually there are far more people in the so called priority lane than the two regular ones - I spot a former colleague among there and tell him that he should've swalloved his pride this time and just joined the proletariat at the normal queue. He agrees, but has to hurry for his flight to ARN, so I go for a little walk, ending up at the coffee shop over in T2 in an attempt to wake myself up. I end up spending a good three quarters sitting there, reading the morning paper and just watching people coming and going.
Hope they won't start the engine just yet: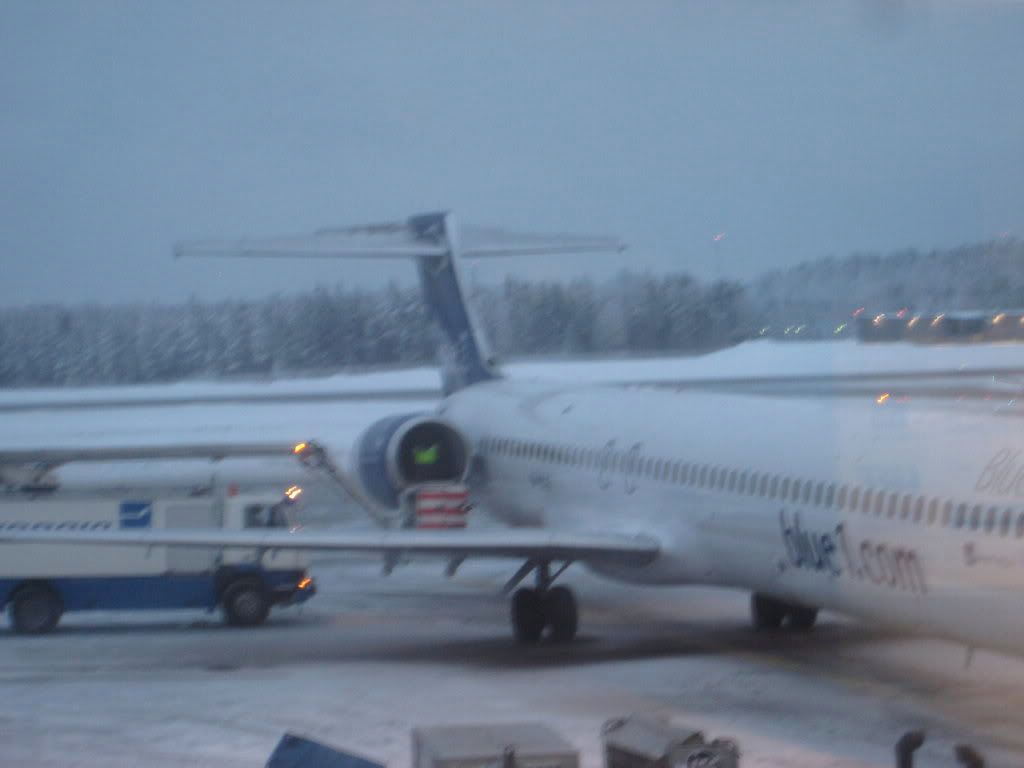 Yes, it looks like they are actually deicing the deicing truck: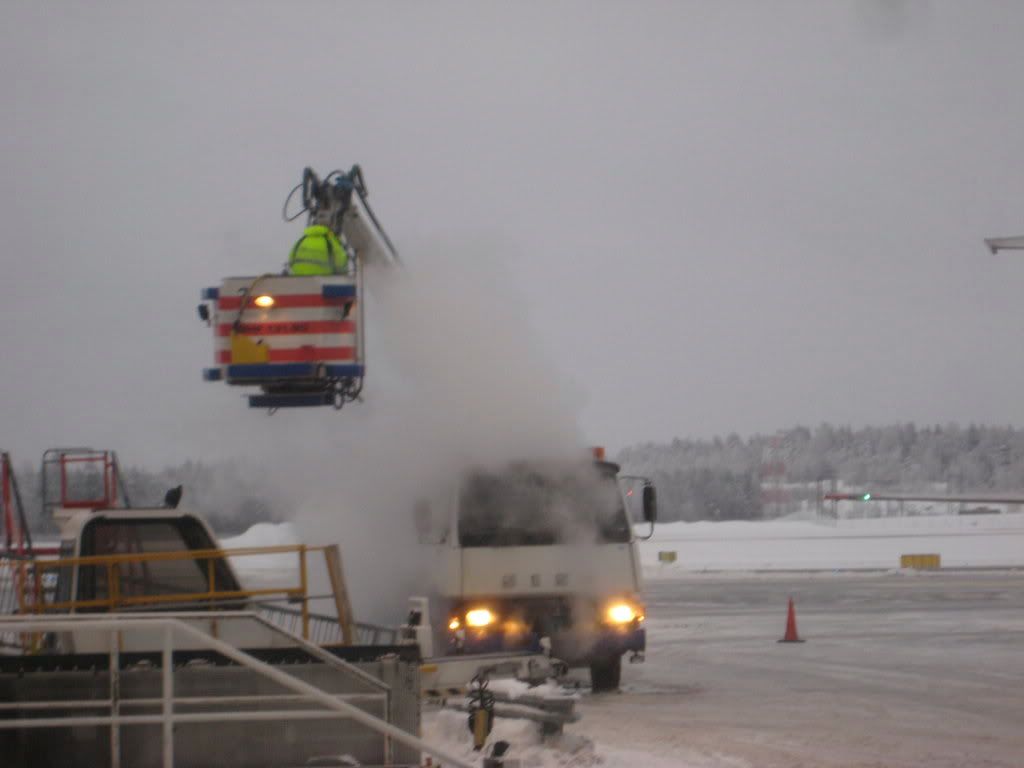 Some twenty minutes before the boarding time printed on my boarding pass I schlep it back to T1, to the usual BT bus gate 13A. Quite a few people here today, a bunch of Dutch people presumably connecting onwards to AMS (which turned out to be operated by a 757, bummer! Thanks for the heads up, Eric!) and a number of Austrians continuing to VIE. Boarding starts ten minutes early, but as usual we wait almost 15 minutes in the cold bus until everybody's on board (have I ever mentioned how I hate bus boardings for this particular reason?). While approaching our plane for a while I think there's been an equipment change as the winglets make it look a bit like the 757, but in the end it turns out to be a good old 737-300, YL-BBI, the same bird I flew on this very same flight less than three weeks ago. Third flight with her.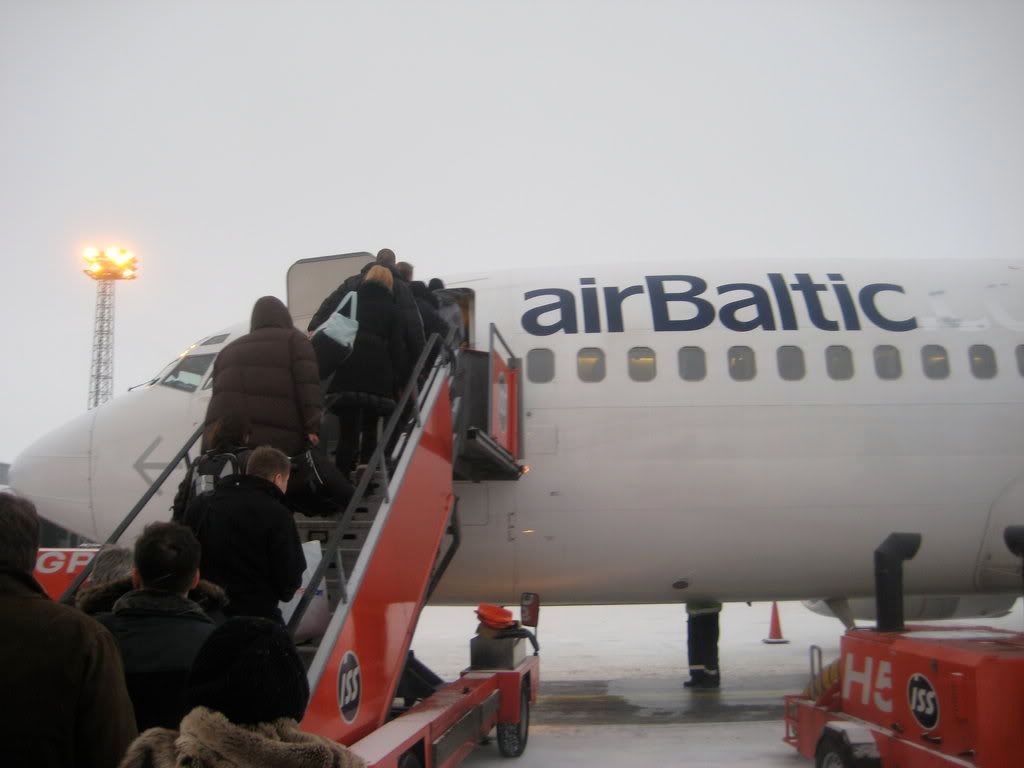 Parked next door, a very impressive UPS 767-300: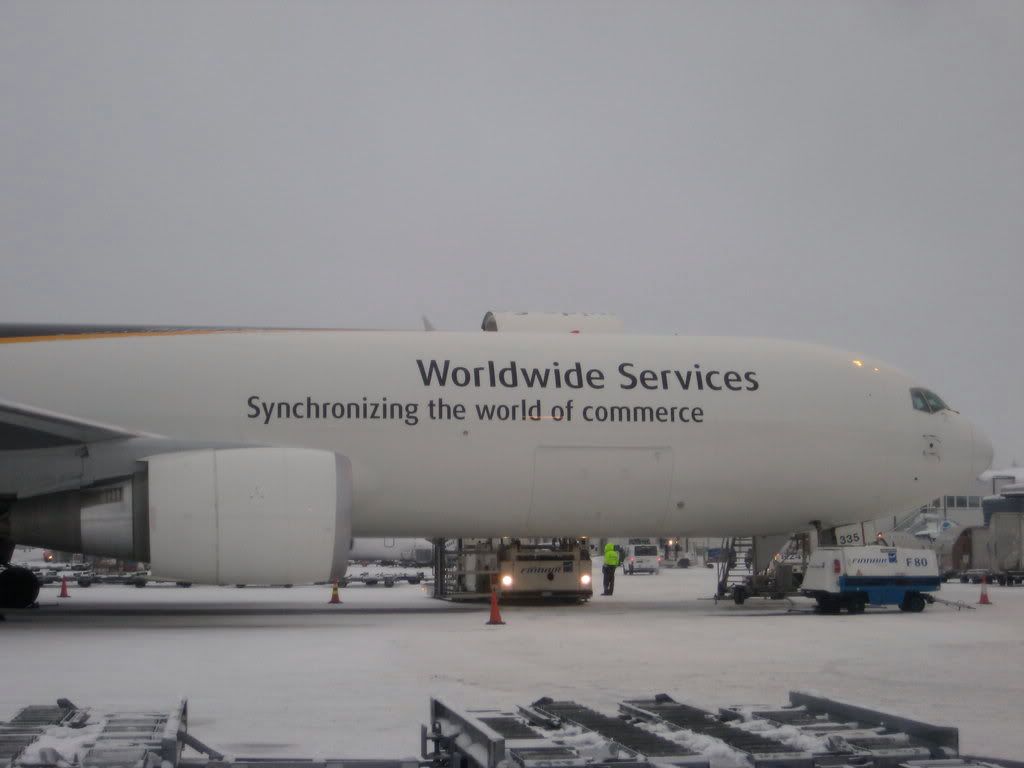 Sorry, I don't have a fisheye lense (heck, I don't even have a camera that you could use different lenses with!) and it wouldn't fit in one picture.
HEL-RIX
BT330
B737-300 YL-BBI
Seat 19F
8.52 - 9.56
Maybe I fly BT too much (or maybe it's just a small company) - I recognize at least two of the four cabin crew members today from previous flights. They don't seem to remember me, but that's okay - I wouldn't remember me either. An older Latvian gentleman is sitting on the middle seat next to me - how did this happen? Our load is less than 60%, with complete blocks of three seats vacant here and there (unfortunately for BT, it looks like this includes the whole of business class) and somebody at check-in decided to assign two complete strangers seats next to each other, with the other one being a middle seat? Oh well, this guy has the decency to move to the aisle seat the second they announce boarding completed - I give him my thumbs up and say "Paldies" - he doesn't seem to have much English. I'm always surprised by how many people have to be actively encouraged to do this simple thing - switching to a better seat I mean, not speaking English. Although you have to do that as well a lot, in Germany at least.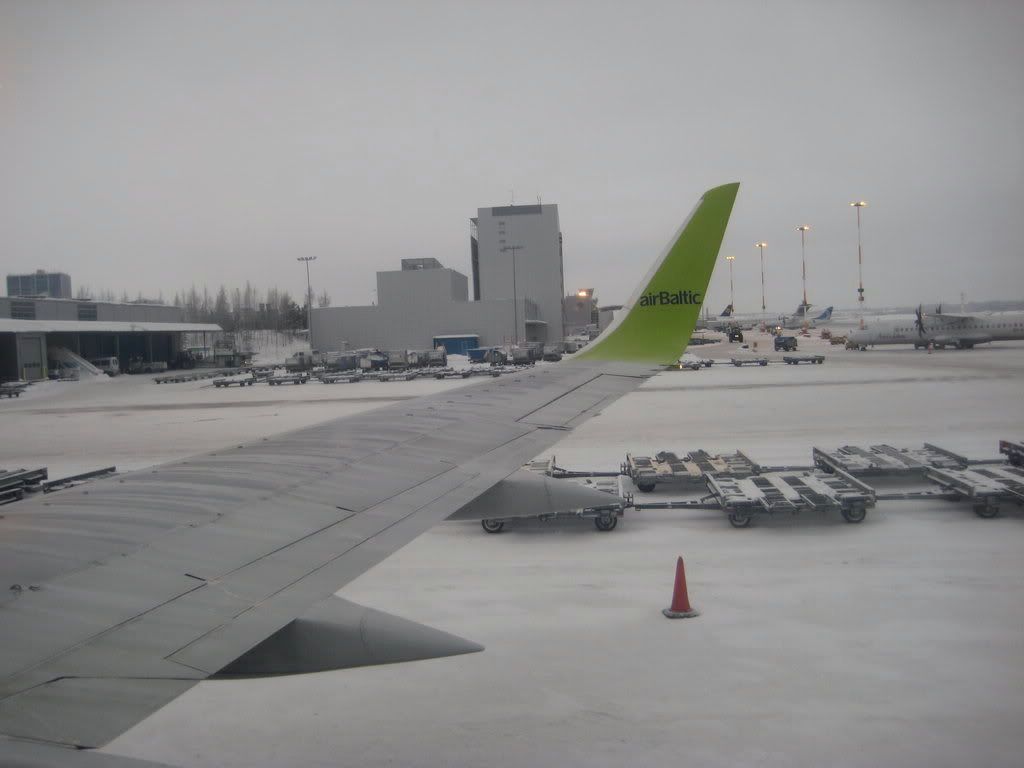 So many blue tails: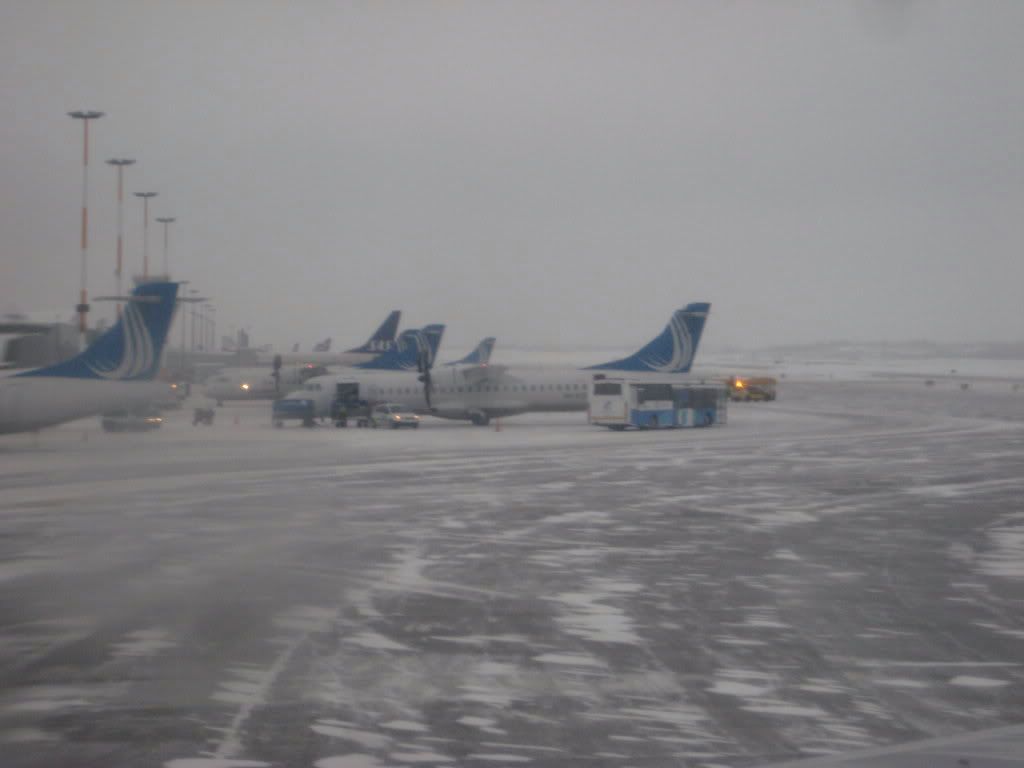 Boarding is completed in good time, but then nothing much happens. We sit at the parking place past the departure time with no explanations, finally pushing back seven minutes late. We still need to be deiced, looks like they are using the real deicing area right next to runway 22R today, so that's where we head for the procedure.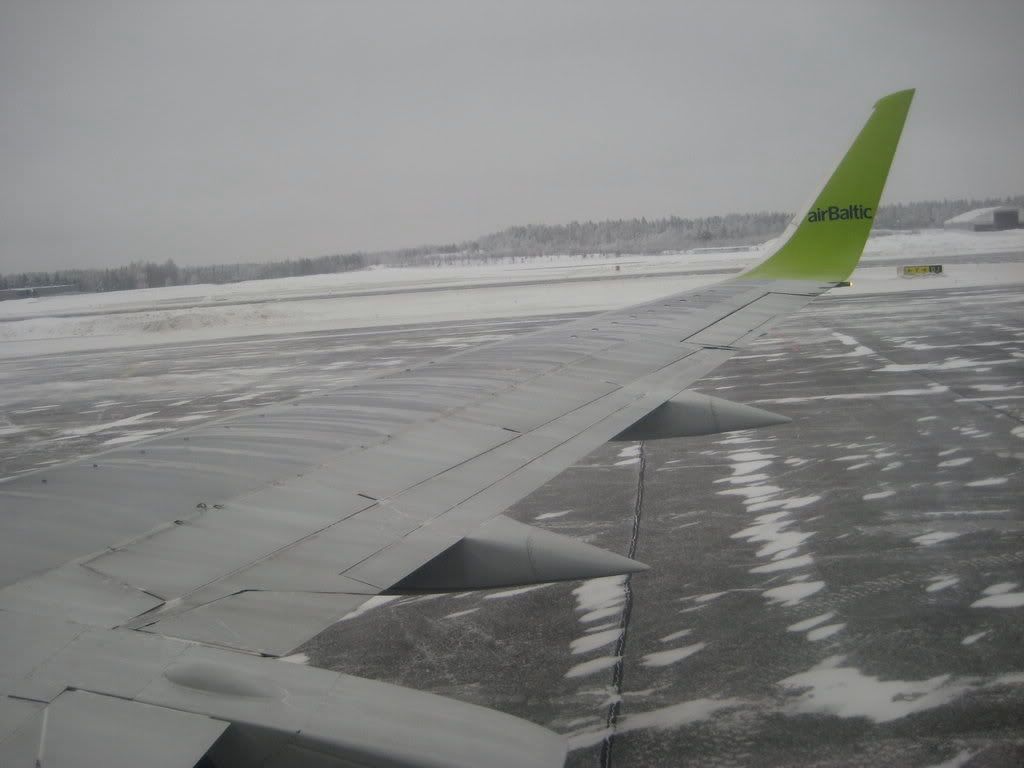 Crossing snowy runway 04R/22L: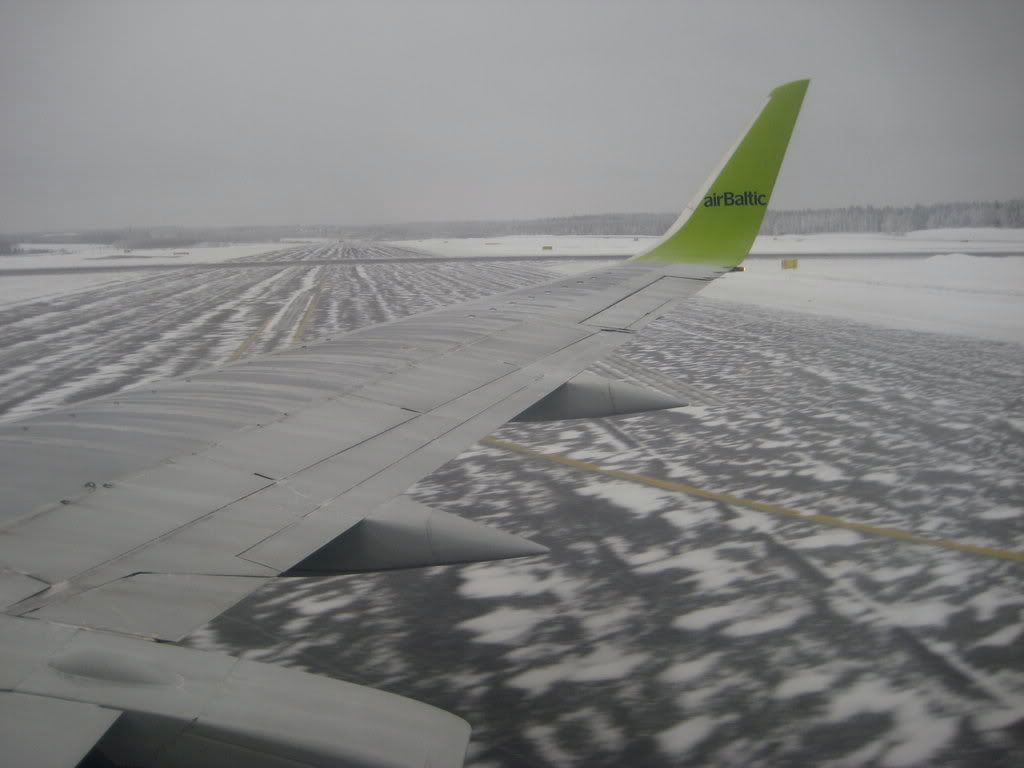 Ominously praying for their next victim: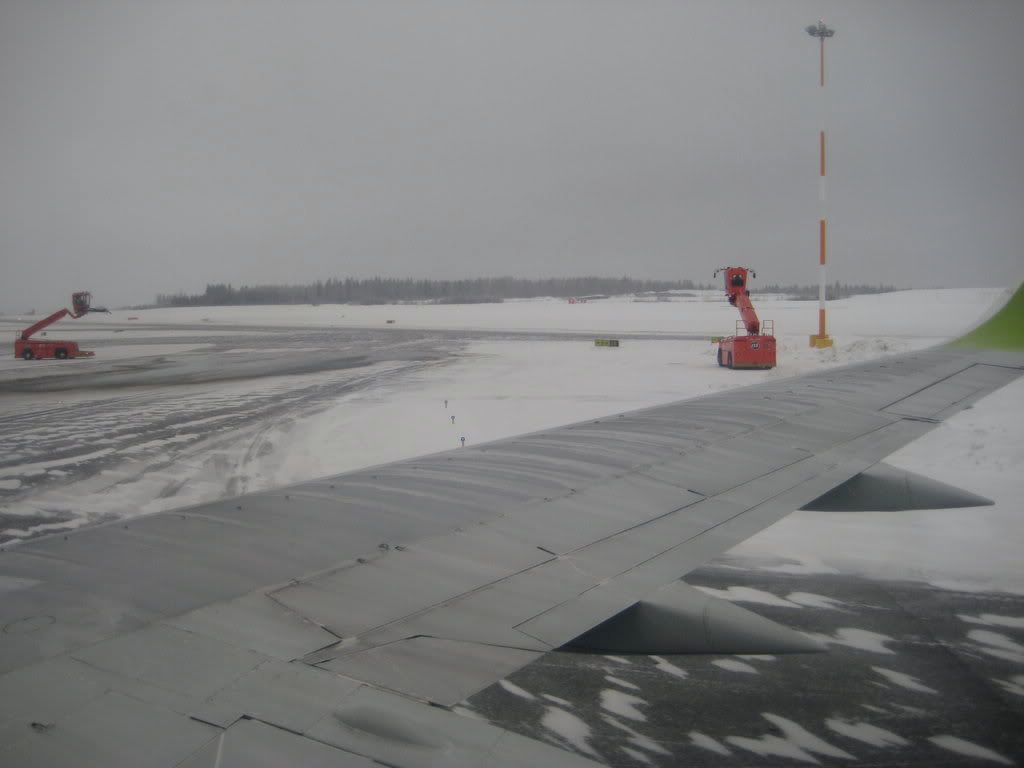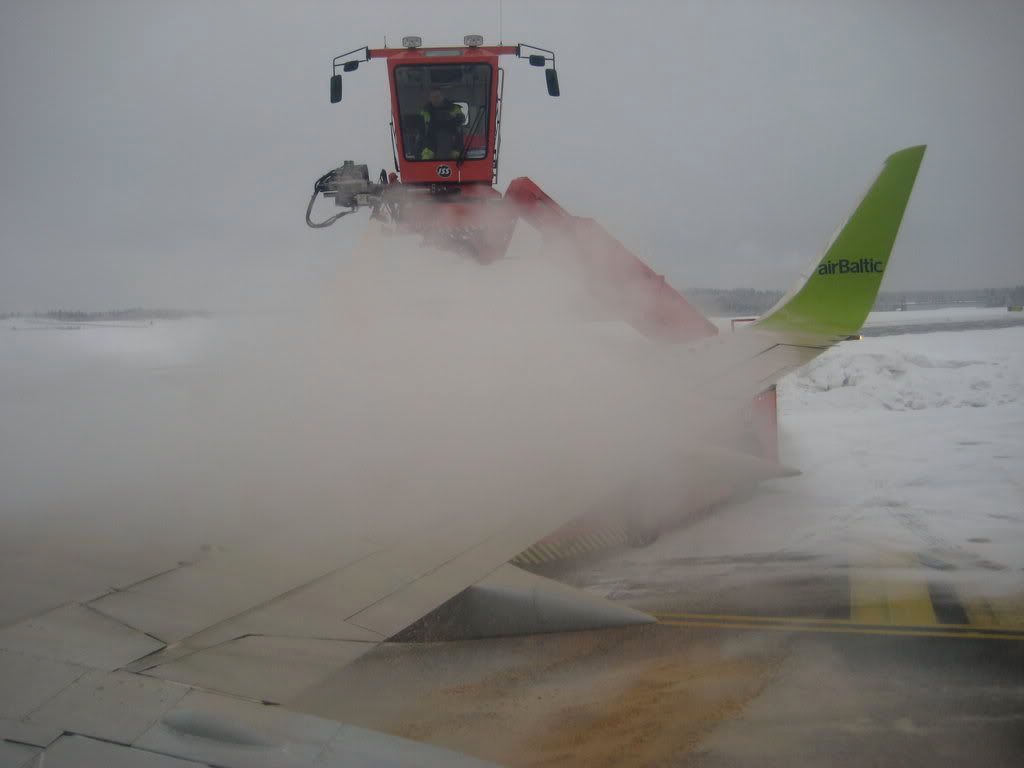 Oh look now what you have done: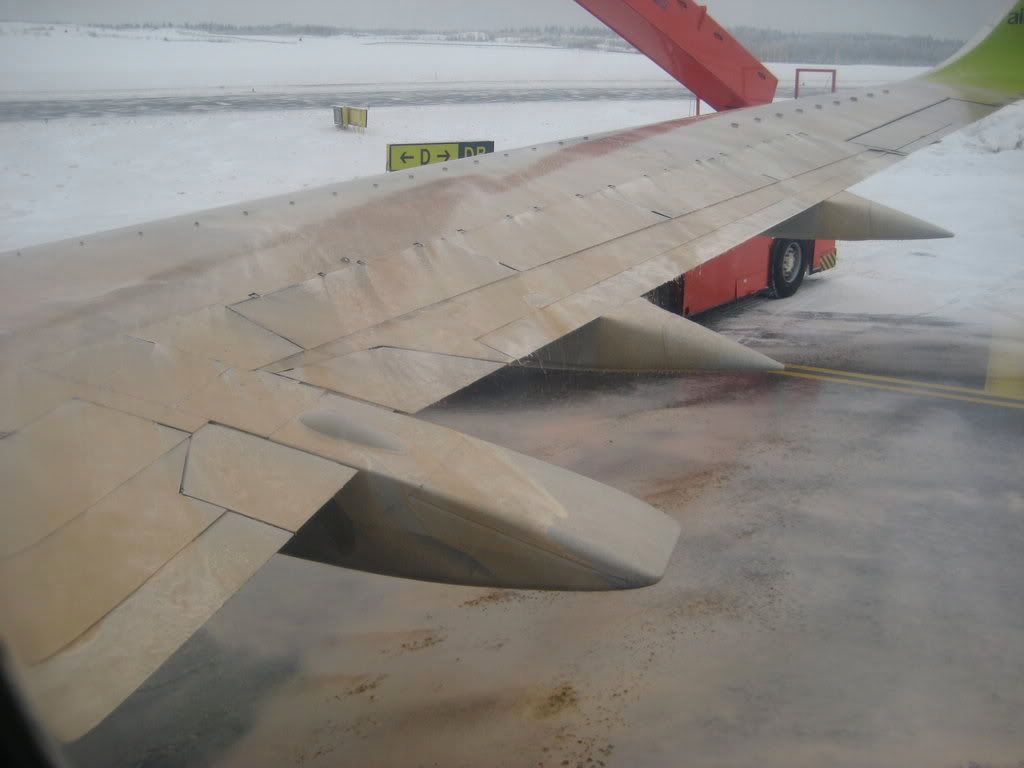 The wings having been dyed red, it's only a short hop to runway 22R, where we take off 25 minutes past the scheduled departure time.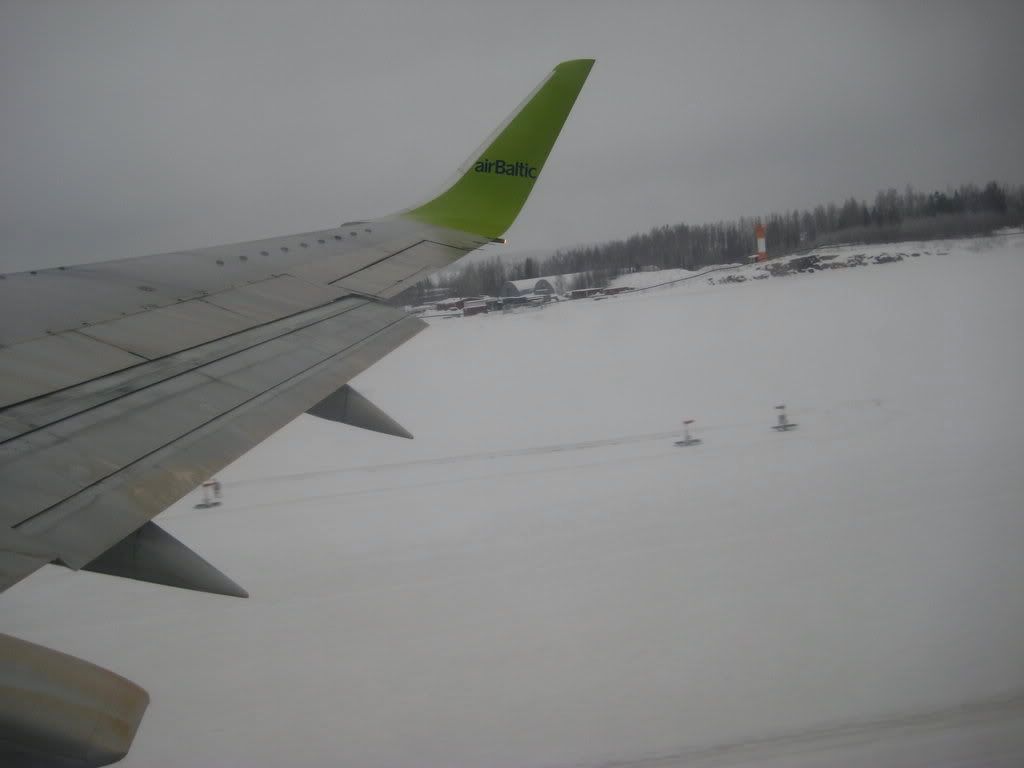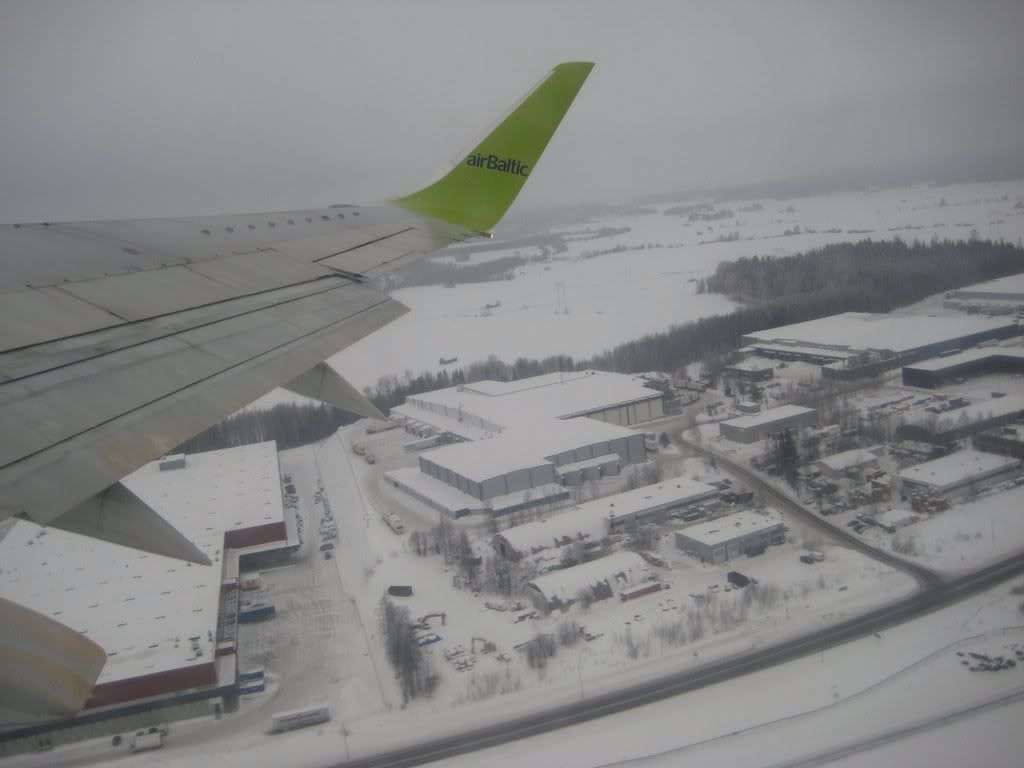 It's aother quick flight with some nice wintery views enroute, first of a frozen Gulf of Finland: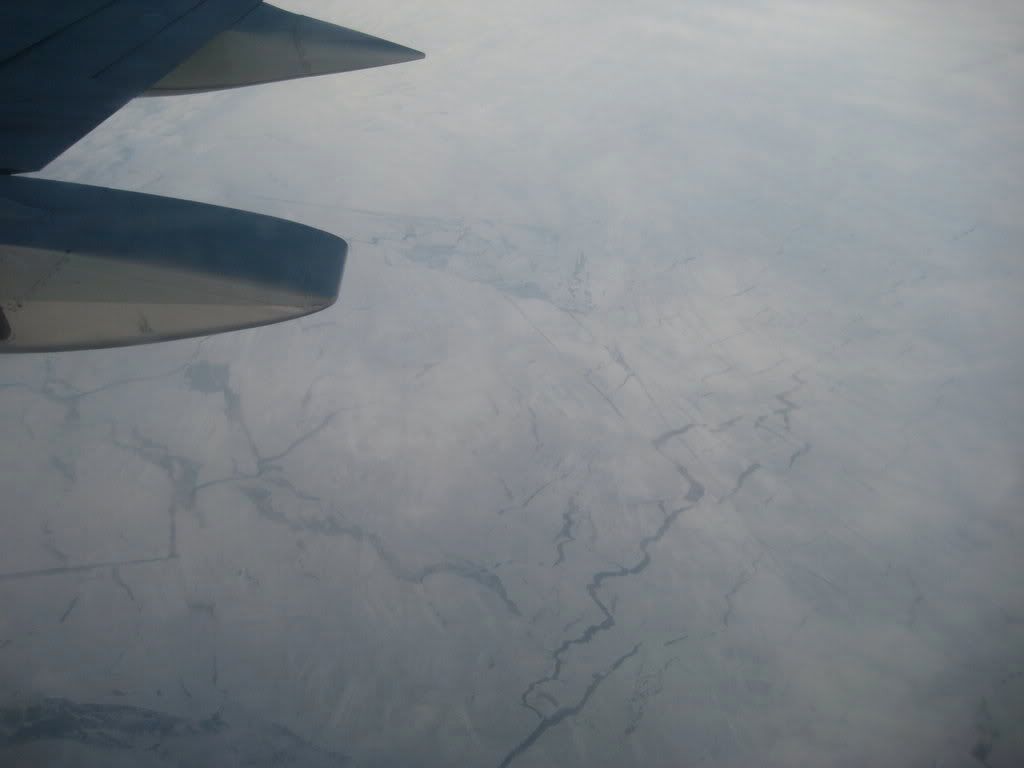 Then of Northwestern Estonia, the pier of the former Soviet nuclear base of Paldiski can be seen in the middle of this picture: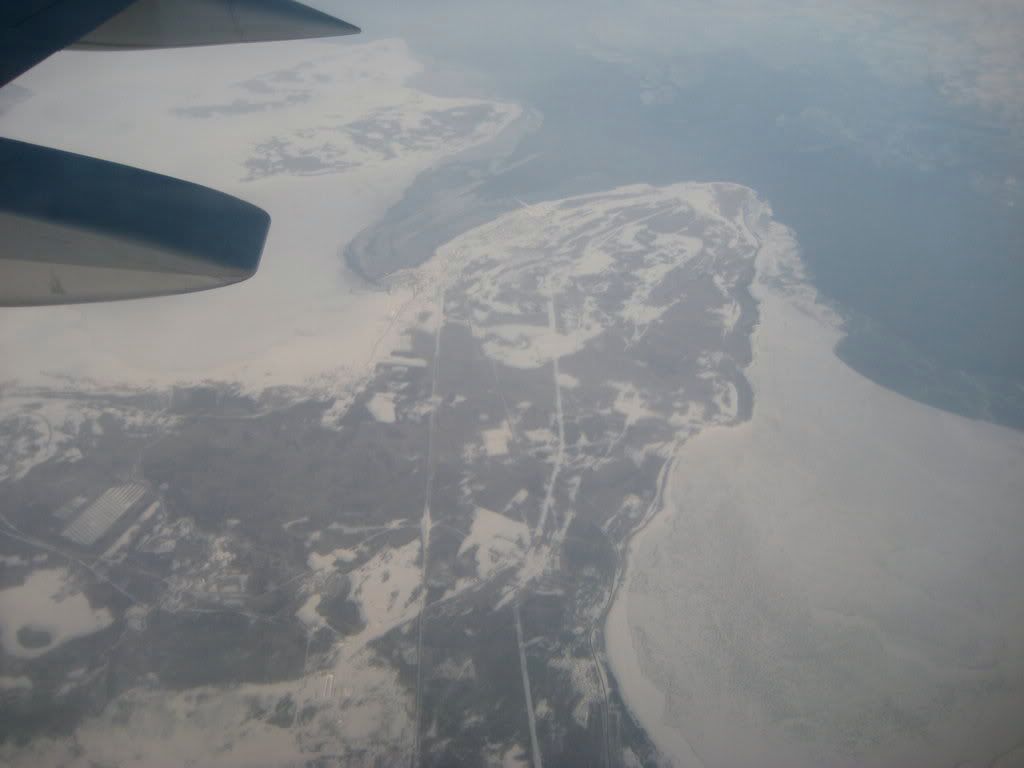 Barely 25 minutes after take off we are already descending over an icy Gulf of Riga: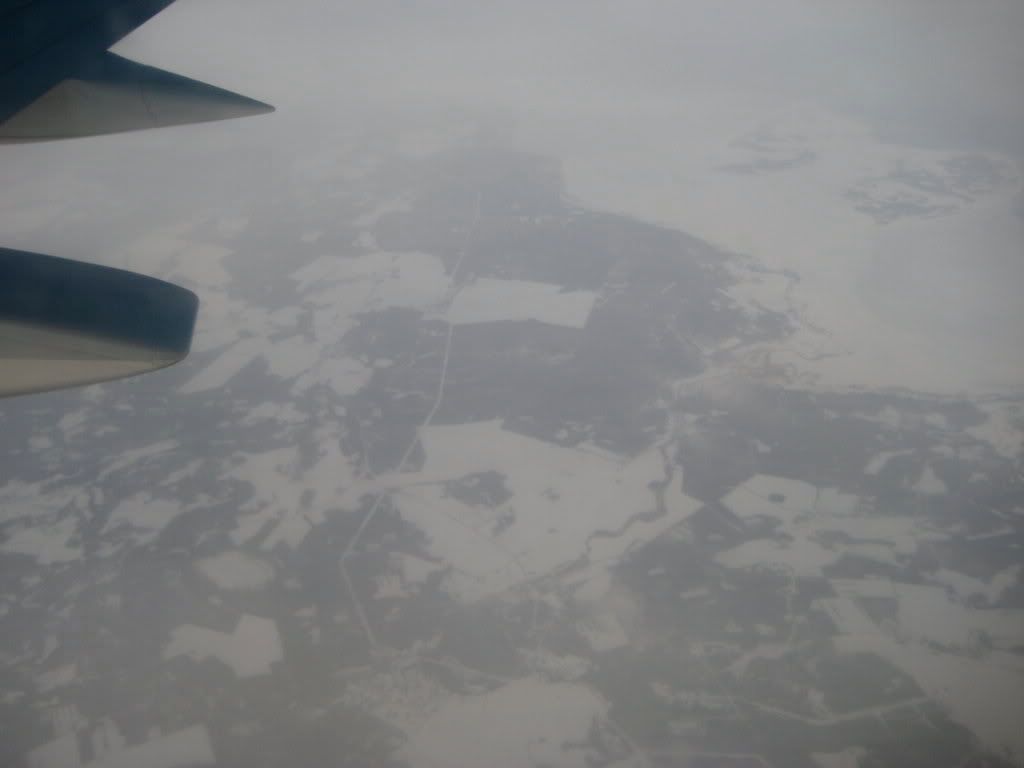 The Jurmala beaches not looking very summery right now: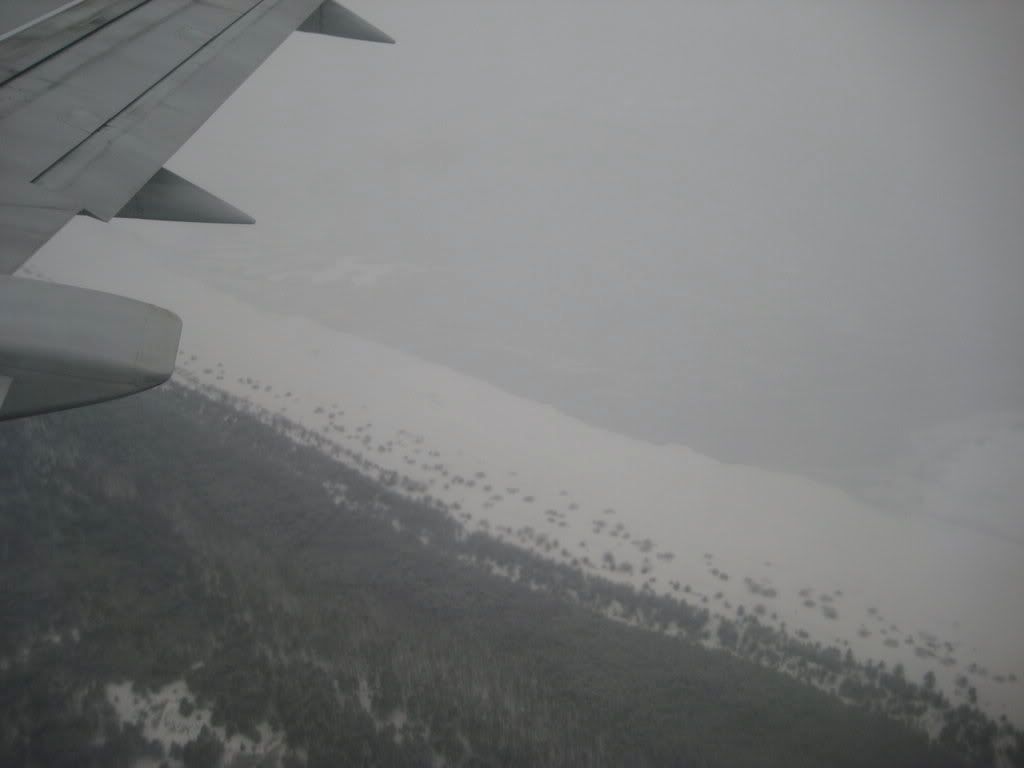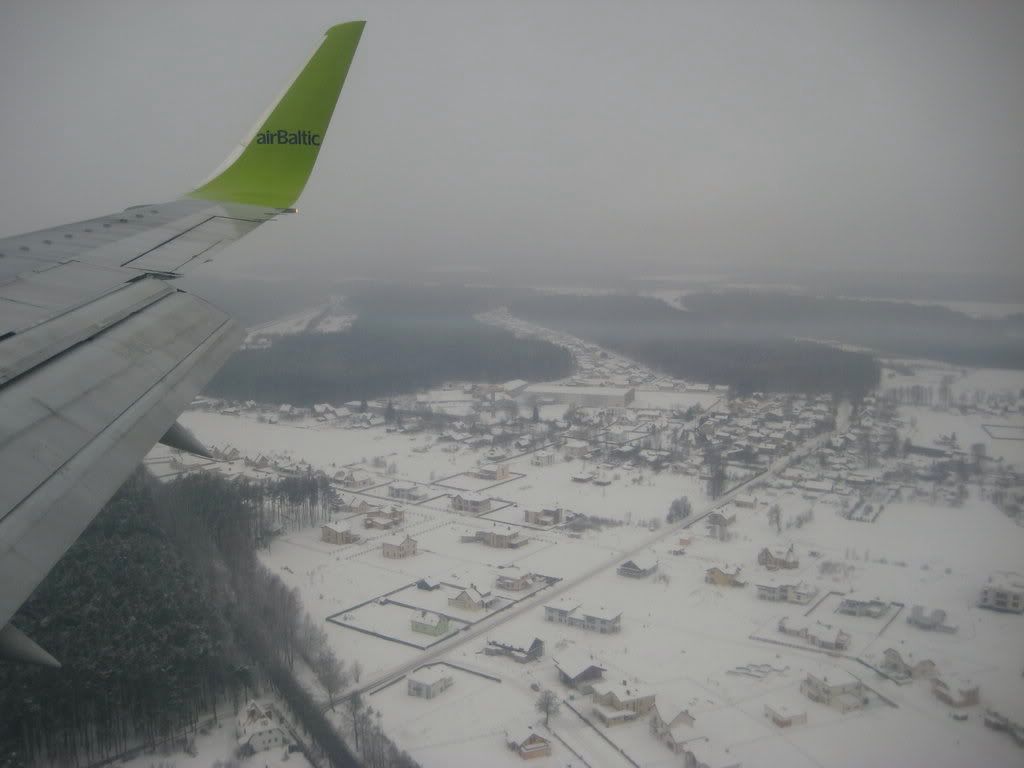 Nice vortex effect from the flaps: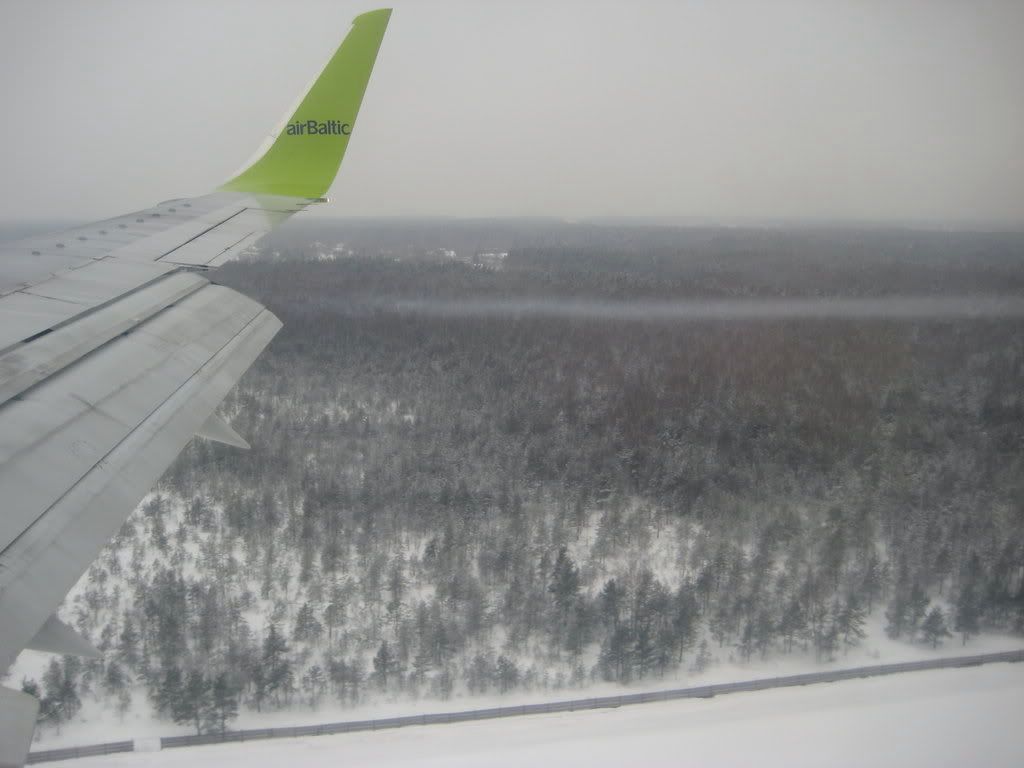 We land on runway 18 of a very snowy Riga airport after 45 minutes of flight followed by a short taxi to the end of the main pier. Looks like this bird is going to a non-Schengen destination (judging from the departures board later, I'm pretty sure it was either IST or LGW) next as it is parked a short distance from the non-Schengen D-gates and we walk over to the jetway and climb the stairs to the terminal.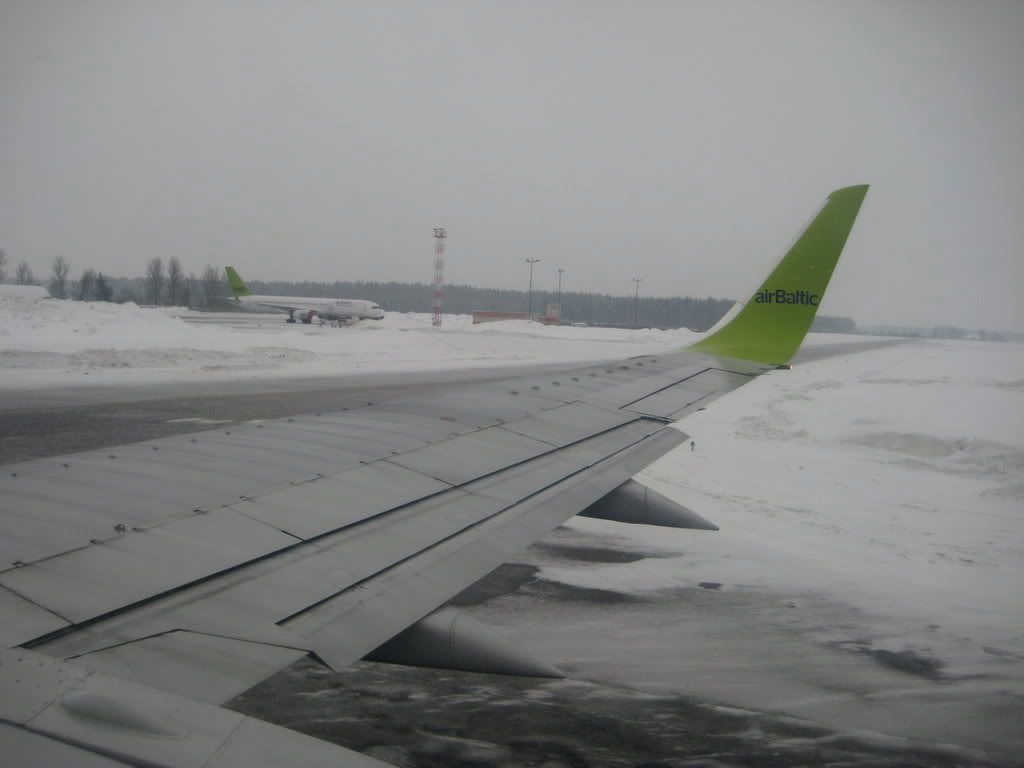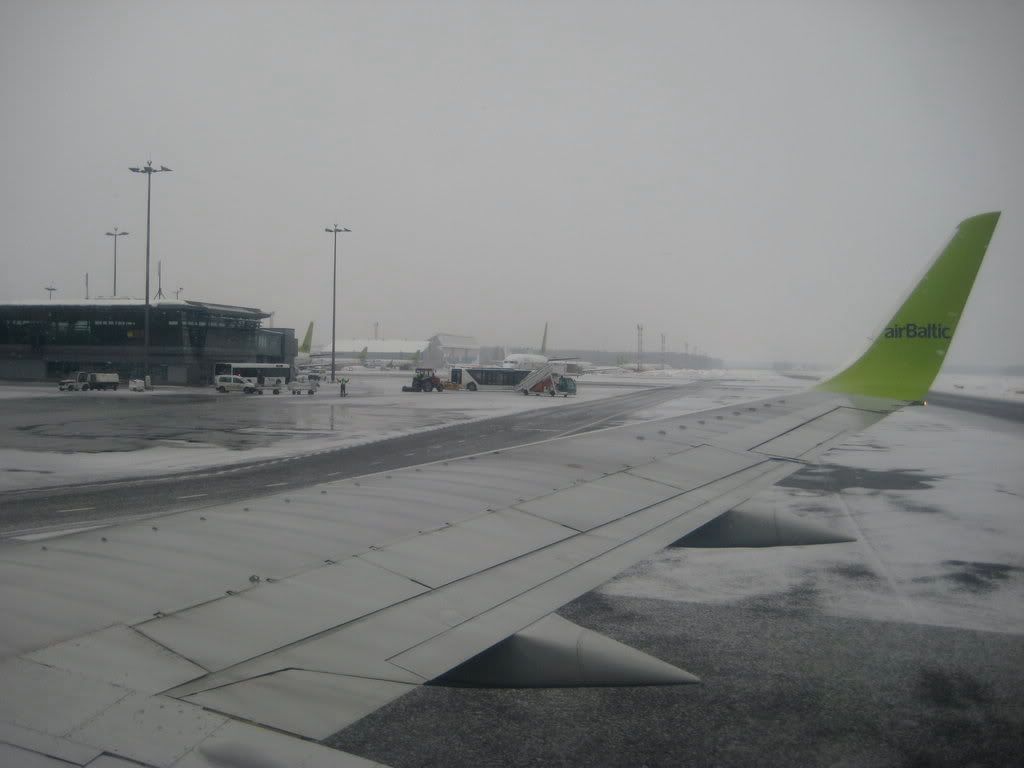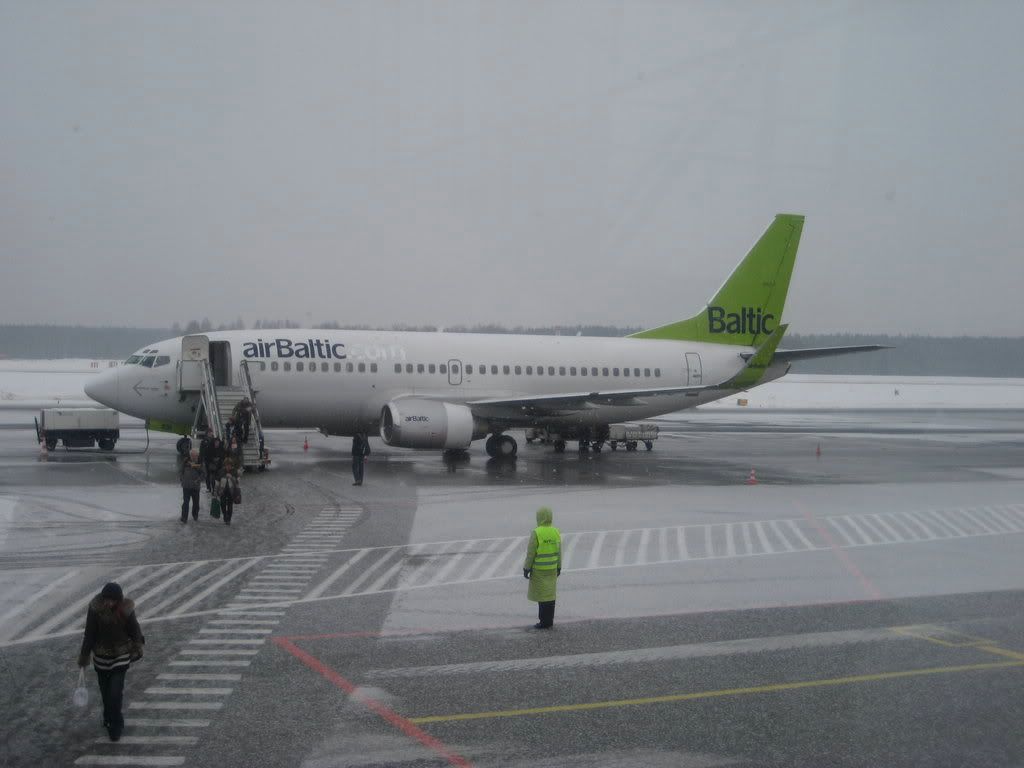 Riga Airport
Lots of people in the main pier with a number of departures scheduled within the next couple of hours. Not liking this packed atmosphere (not to mention the serious shortage of toilets they have!) I quickly pass the passport control to the non-Schengen C-gates where there are only two flights within the next hour: FR to STN half an hour before the second one, my flight to LPL.
Being a bit peckish and knowing Ryanair's food offerings to be very overpriced and mediocre, I grab a wrap and a Gingerbread Roasted Nut latte at the coffee shop instead. It is rather good even though doesn't look at all like the one in the ad: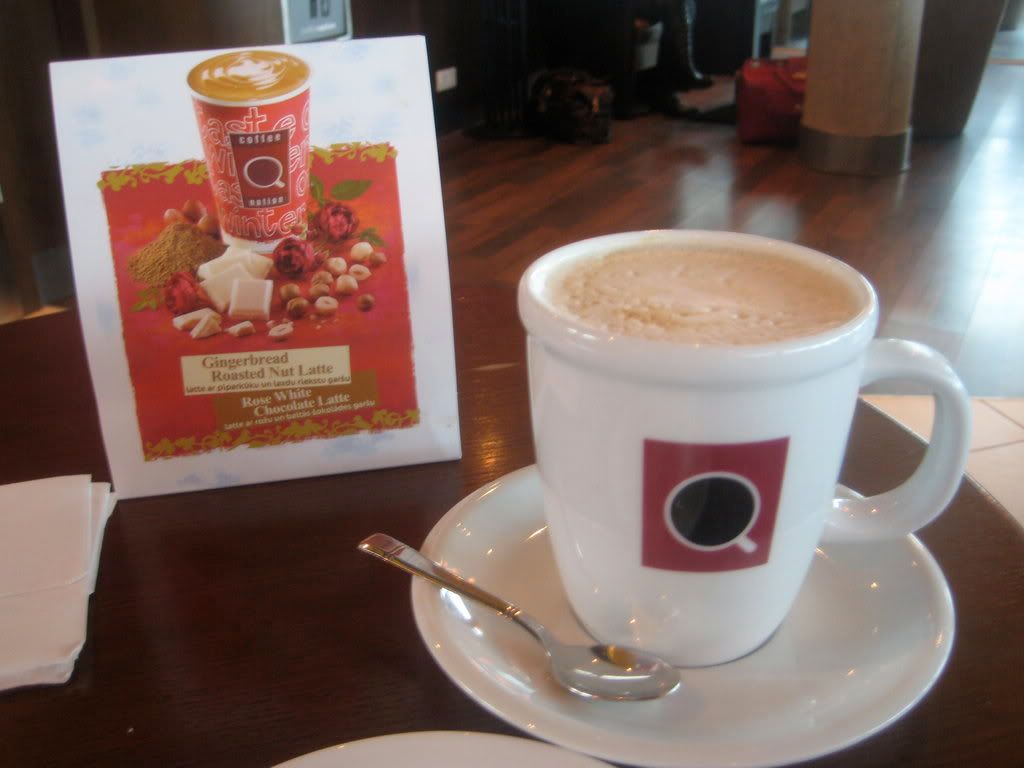 A good number of young British lads are out on a boozing trip, at least judging from the annoying noise and stories they make over the next few tables. I hope they are on the STN flight (at least I understand what they are saying, so Scousers they definitely aren't!) and not mine - luckily this turns to be the case.
After a while I retreat downstairs to the gate area, entertaining myself by watching the huge boarding scrum for STN. After that flight is closed and the monitors switched to our flight another huge queue forms in seconds. Come on, it is still 50 minutes until the departure time, the plane probably hasn't even entered Latvian airspace yet! Priority boarding sure is worth the few Euros it costs.
Boarding is a bit amateurish, one gate agent checks everybody's IDs while on the queue and writes a big "OK" on the boarding passes with a bright marker pen, but when boarding another agent asks for the IDs again - I point to the text and tell her that this was already done but she will have none of that and just mutters something I don't understand at all. They seem to have a trouble acquiring a bus as it takes a number of phone calls in rapid fire Latvian - all while the flight status keeps cycling between "Check In", "Go to Gate" and "Boarding" and their Latvian equivalents on the gate display.
Finally a bus pulls up, as usual in Riga it is reserved for priority boarders and those traveling with small children - all in all some 20 of us in that bus. Short way to the Northern apron where most FR planes nowadays seem to park to EI-DPA, a new plane for me.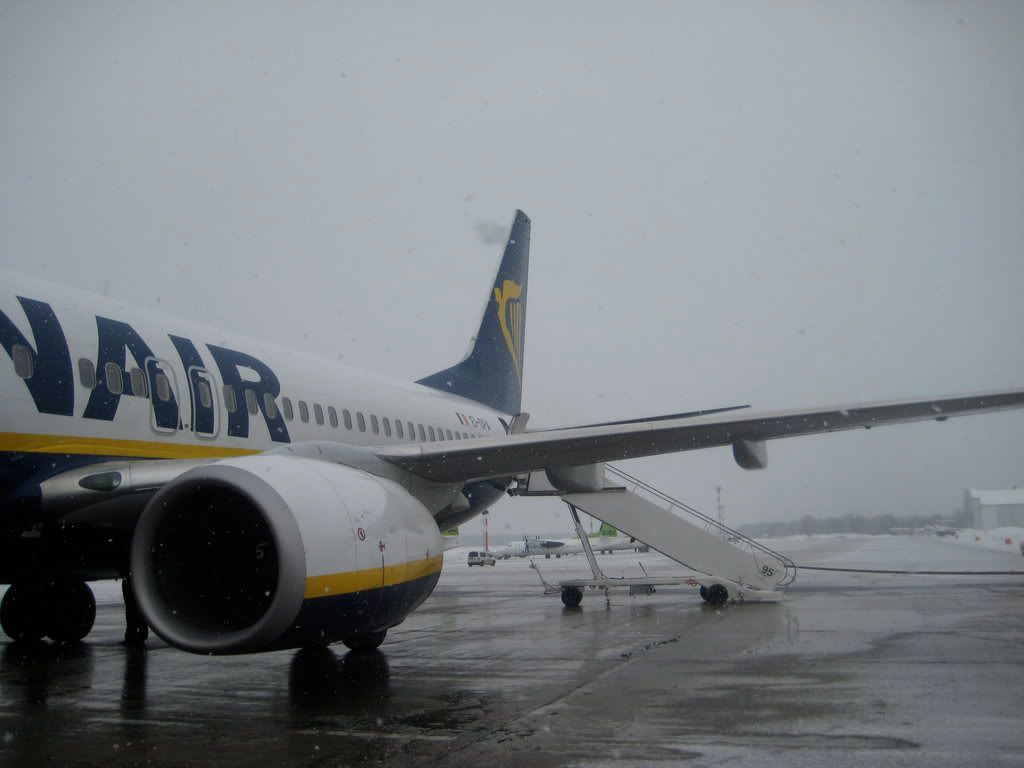 The bus stops right in front of the front steps, so for a change I board using the front door, still heading to the back of the cabin while everybody else is packed on the few front rows (so typical!).
RIX-LPL
FR9607
B737-800 EI-DPA
Seat 31F
12.01 - 12.46
A couple of busloads of passengers, some shuffling of luggage and a lot of annoying Bullseyebaggiesbeamillionairewithryanairstarfishtelecomcallingcardsetcetera advertisements later boarding is finally completed. As customary with FR, the load is very good, somewhere close to 90% I'd say. Some middle seats empty towards the back of the cabin, including the one next to me. It helps to board early and spread your stuff on that seat and hope a single traveler takes up the aisle seat - this is the case today as well.
For the two people in this board yet to see the ugly interior of an FR plane: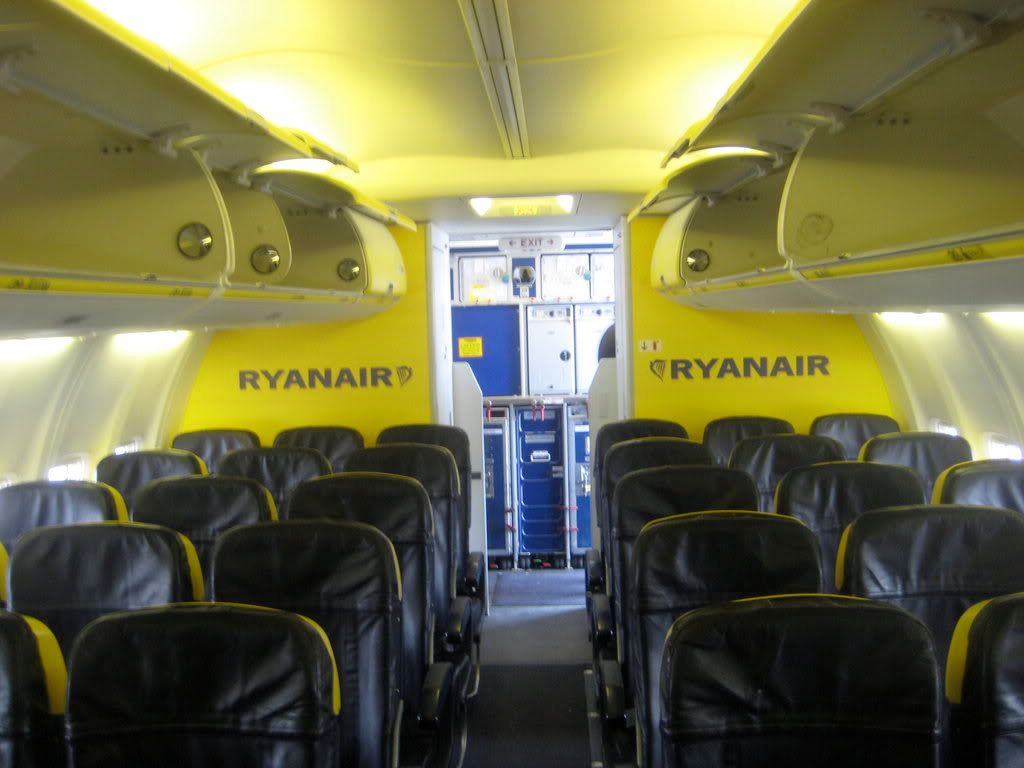 Our captain welcomes us onboard "for the flight back to Liverpool", explaining that they are just finishing the luggage loading, after which we need to be deiced which shouldn't take more than ten minutes. Flight time today will be a longish 2h55mins at flight level 360, with Liverpool having some fog, with potential showers or even snow and a temperature of two degrees.
The deicing takes a while and we end up leaving 21 minutes late, followed by a very powerful take off from runway 18. Sorry, the window was wet from the deicing: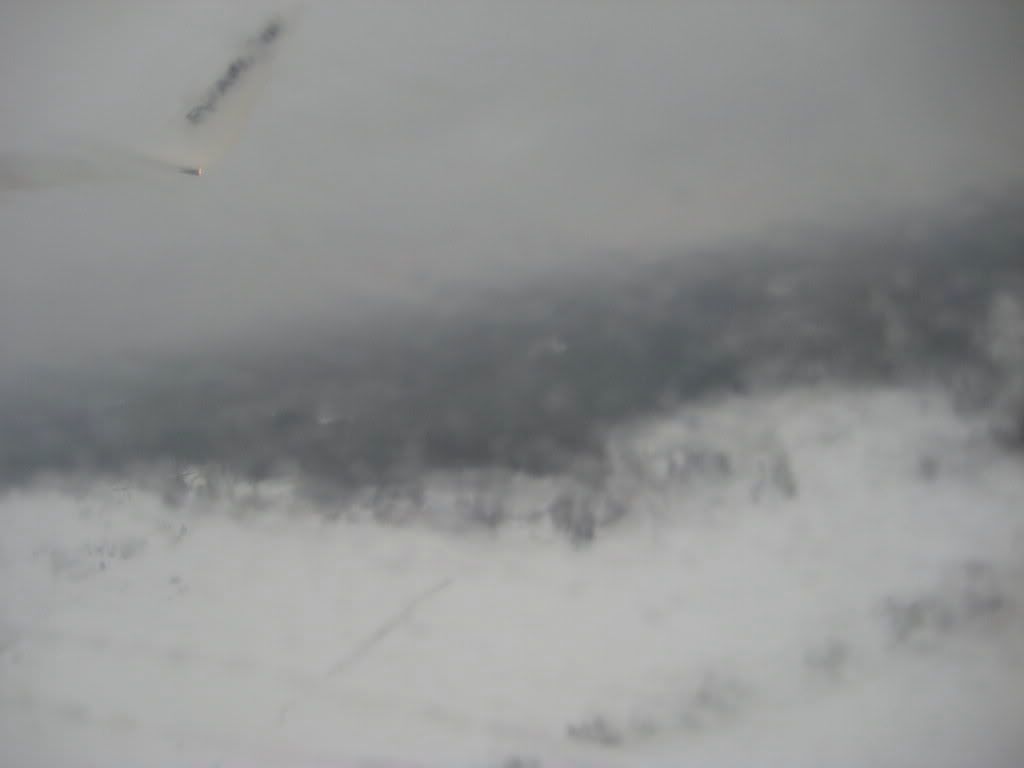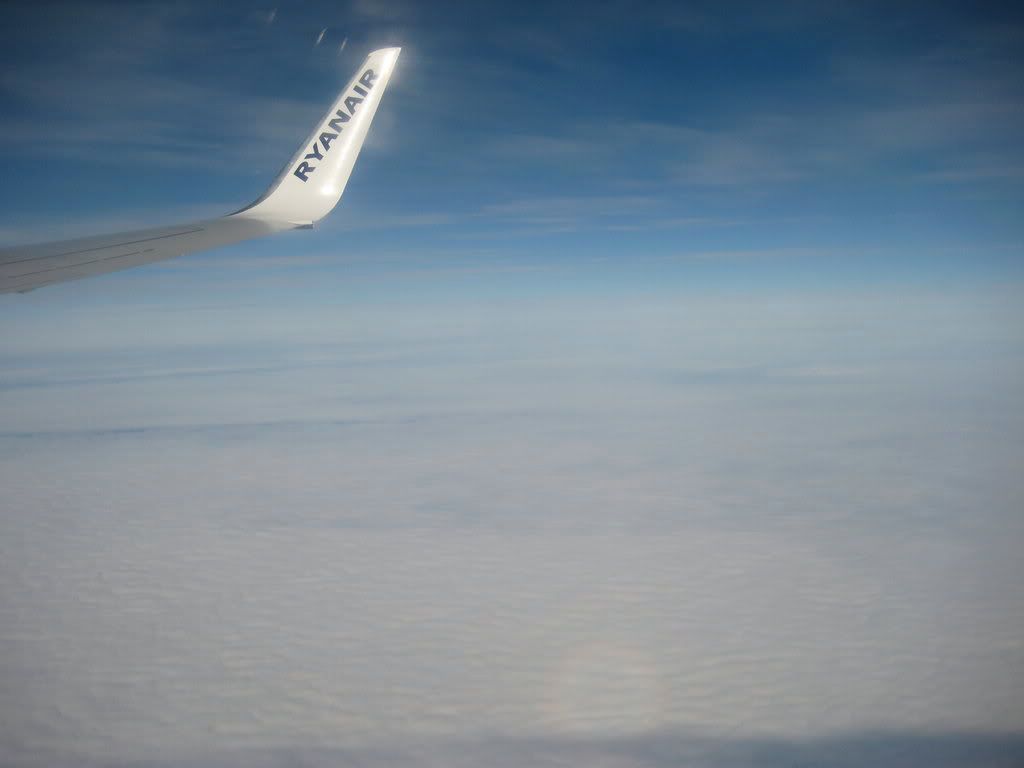 Leaving Latvia for the Baltic Sea: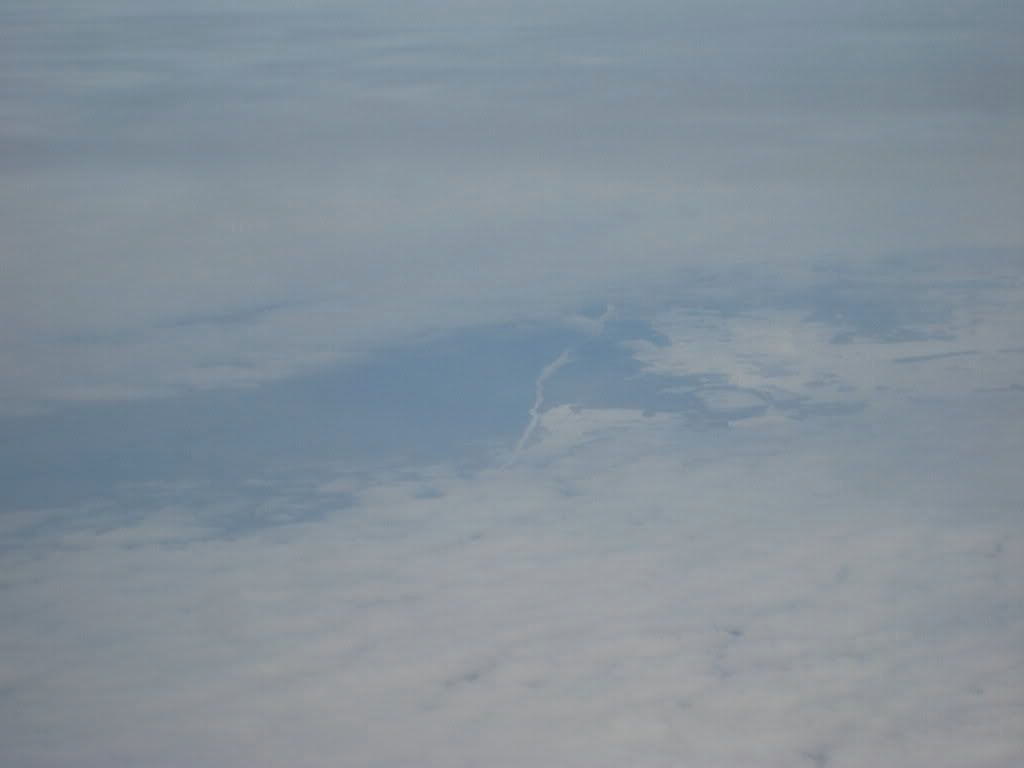 I spend the flight drinking a few overpriced beers and watching a movie with my Ipod, most of the other passengers seem to prefer sleeping. I notice that FR is advertising a "Chili Con Carne" hot meal which looks exactly like a plain microwave meal you get for an Euro at a supermarket. I'm tempted to try it just for the experience, but decide to leave for the next time. The previous time I tried hot food on FR was the "New York Style" hot dog and it was frankly quite horrible, but it was a long time ago so I'm ready to sacrifice myself again!
It stays overcast for the first two hours of the flight, with some openings over the North Sea close to the UK coast and further. While closing on the coast our captain announces that we are still "some 200 miles out of Liverpool" and will start descending soon for a "slightly delayed" arrival in still foggy Liverpool.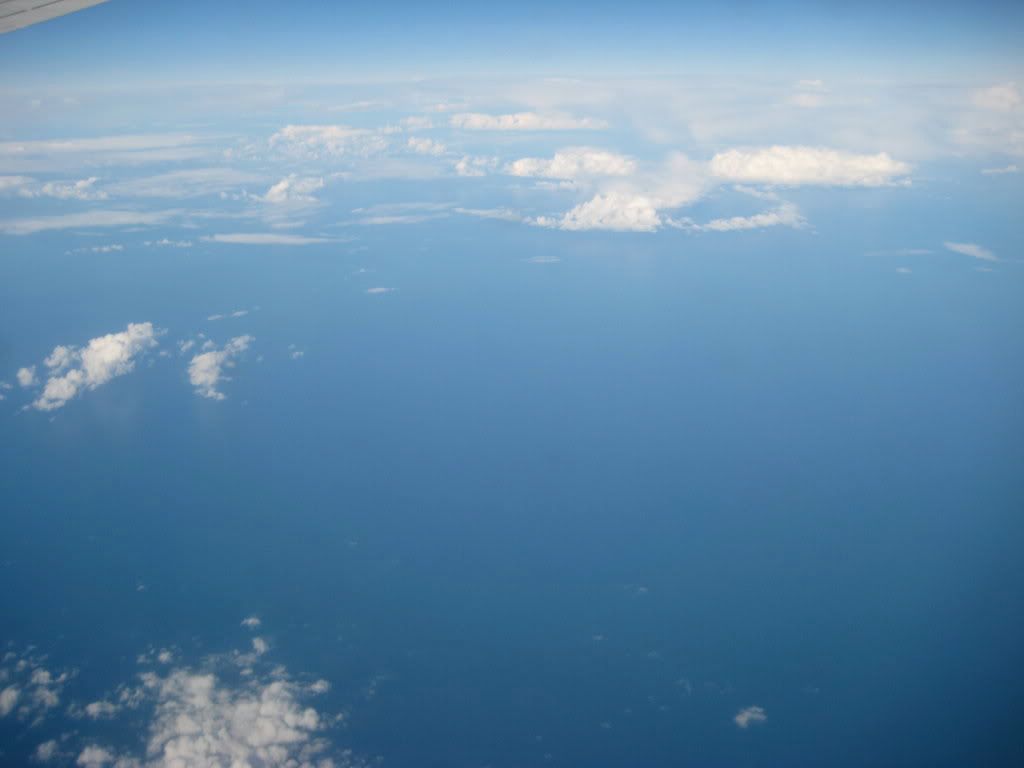 Hello UK, it's been ten days since we last met: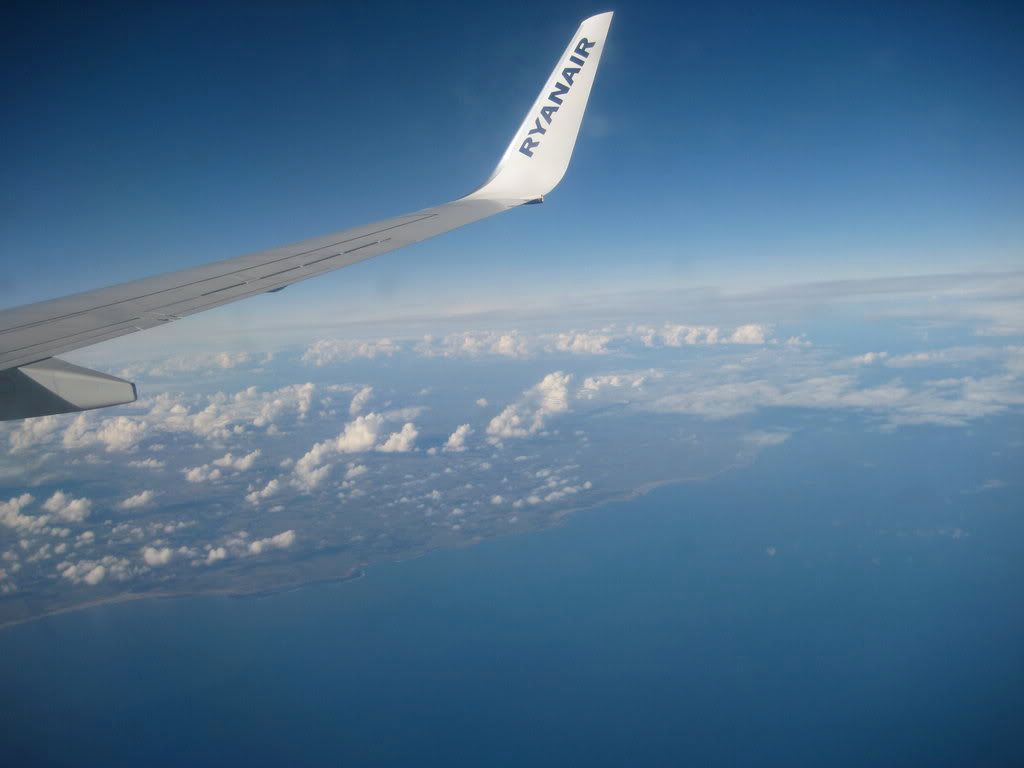 Making landfall over Druridge Bay on the Northumberland Coast. Coquet Island and the town of Amble are also visible in these photos: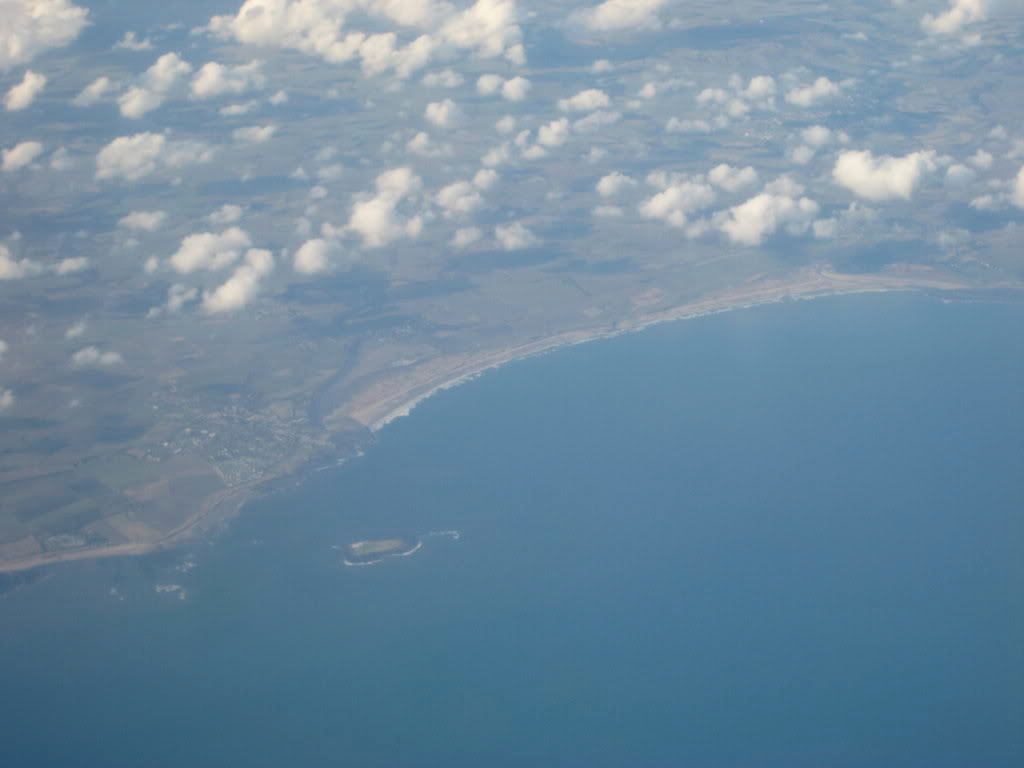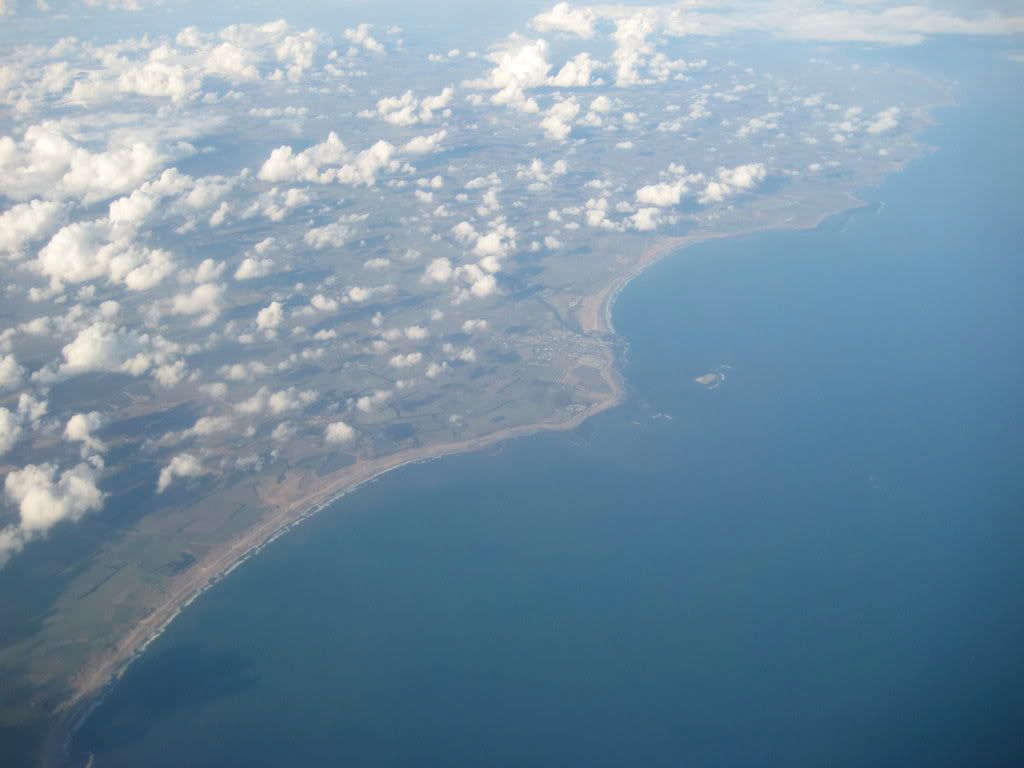 There are some nice views over the snow-covered Pennines and the Yorkshire Dales: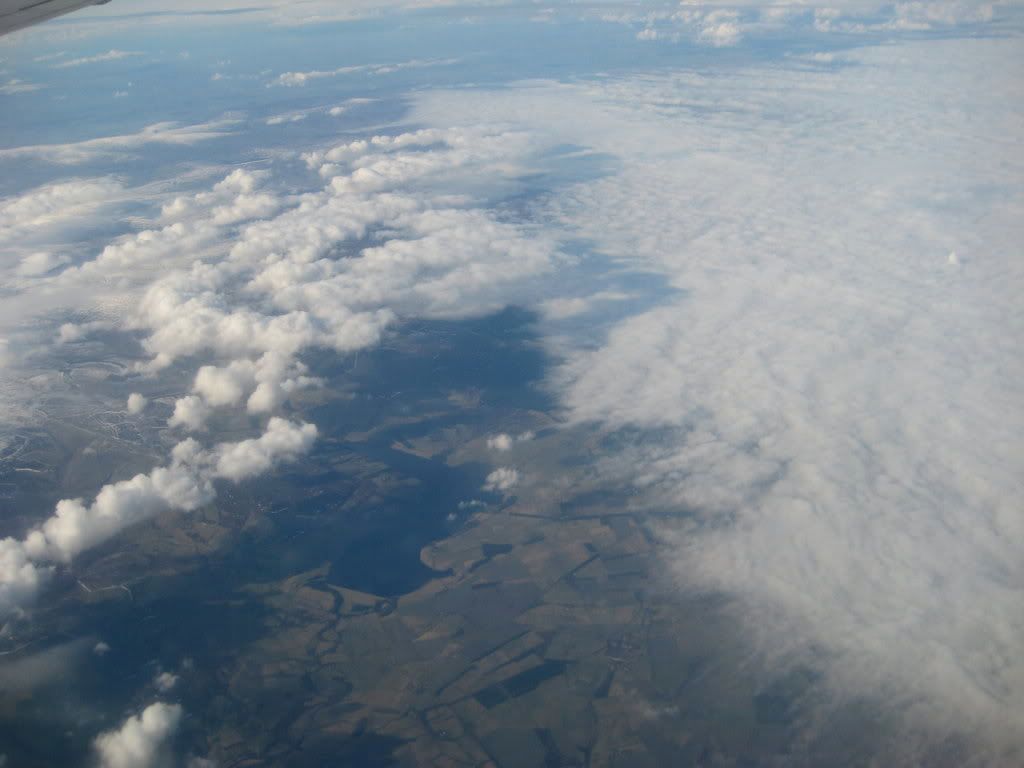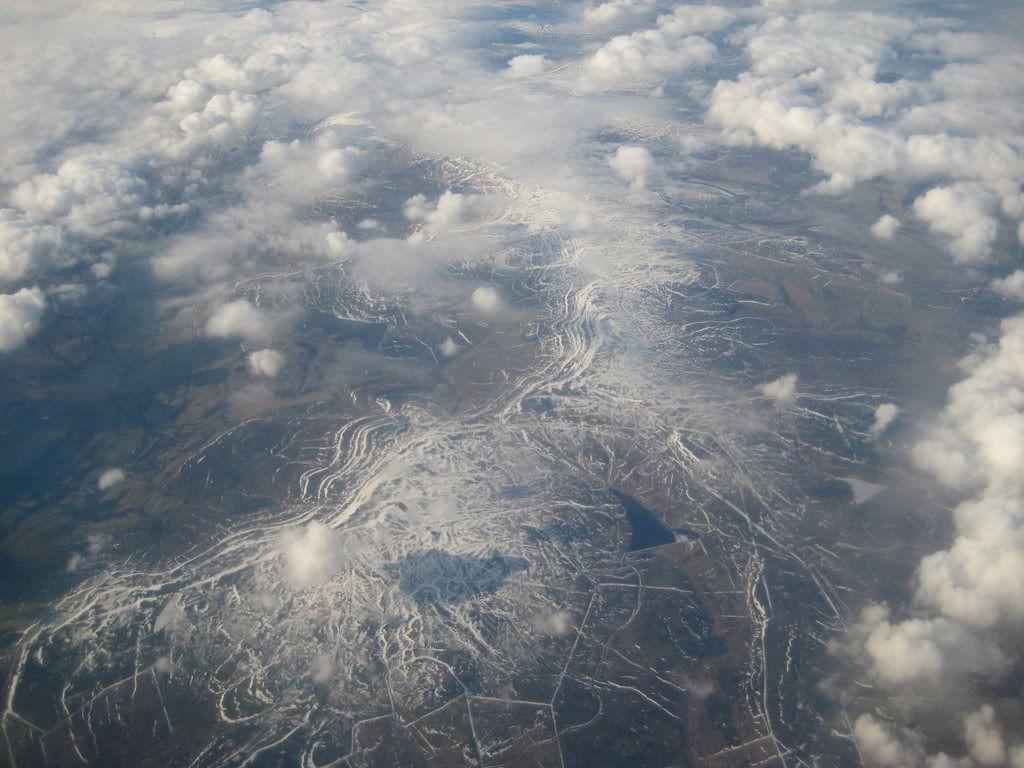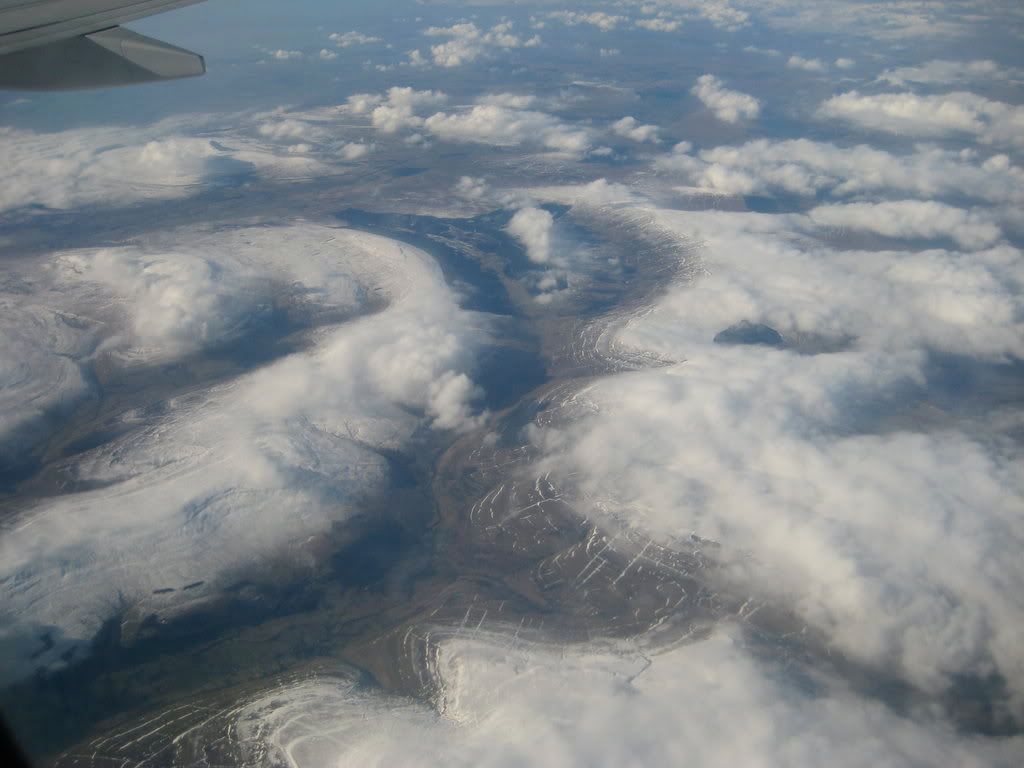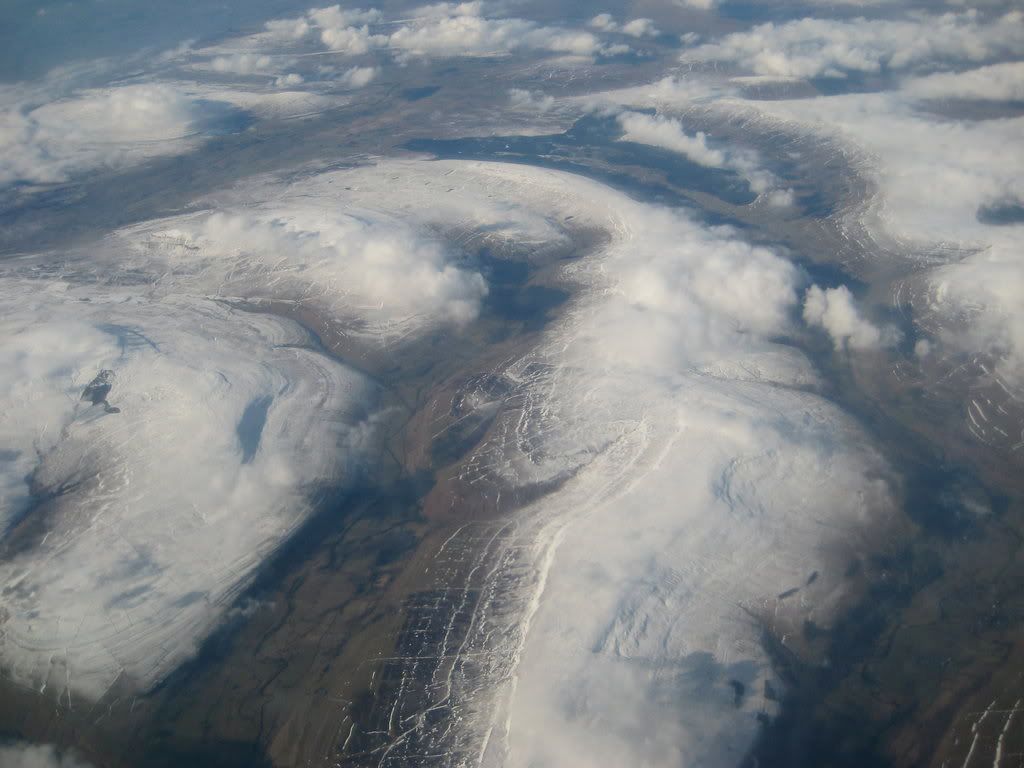 We descent over Blackburn and Preston. Samlesbury Aerodrome near Blackburn: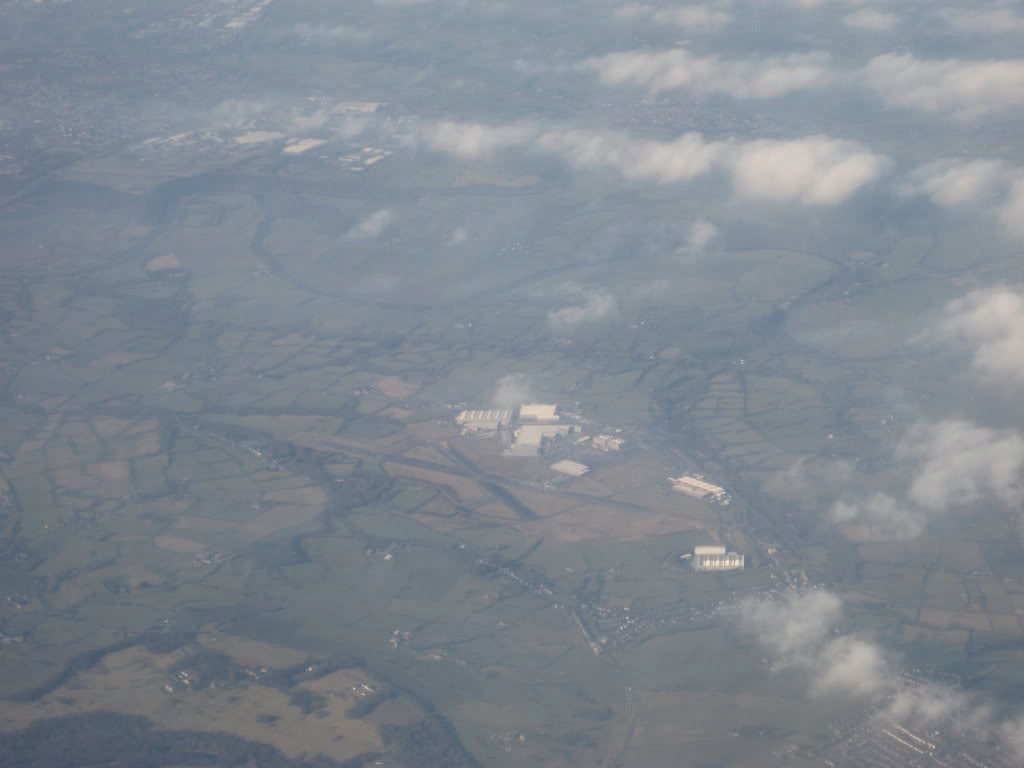 Blackburn: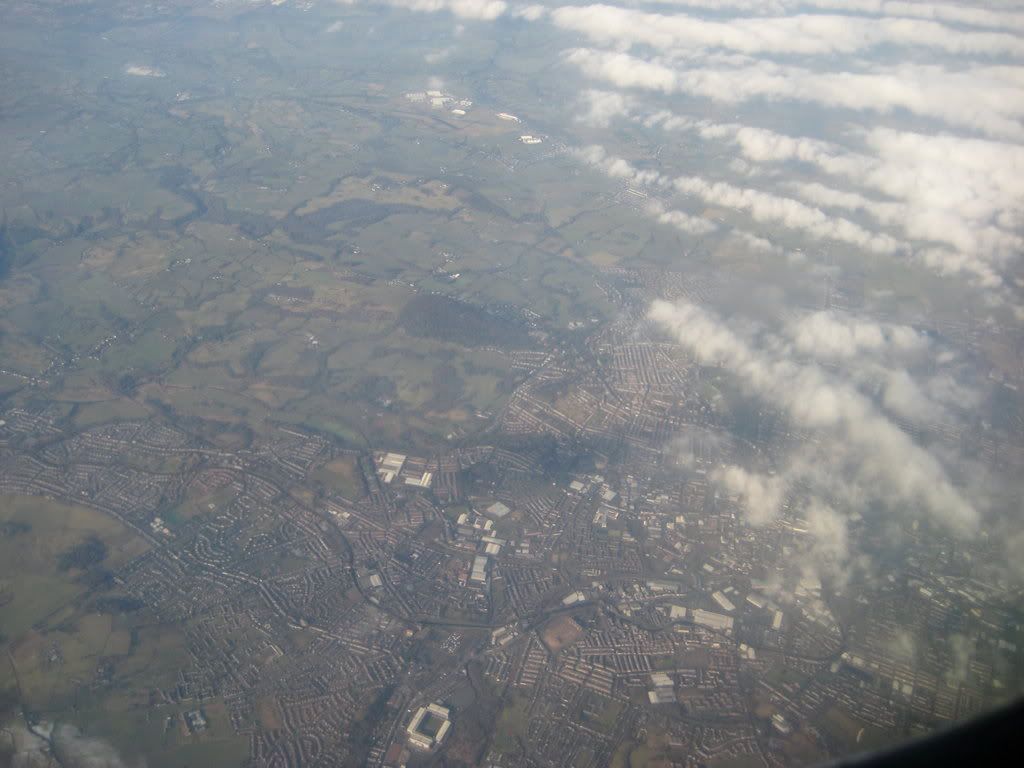 Over the West Pennine Moors: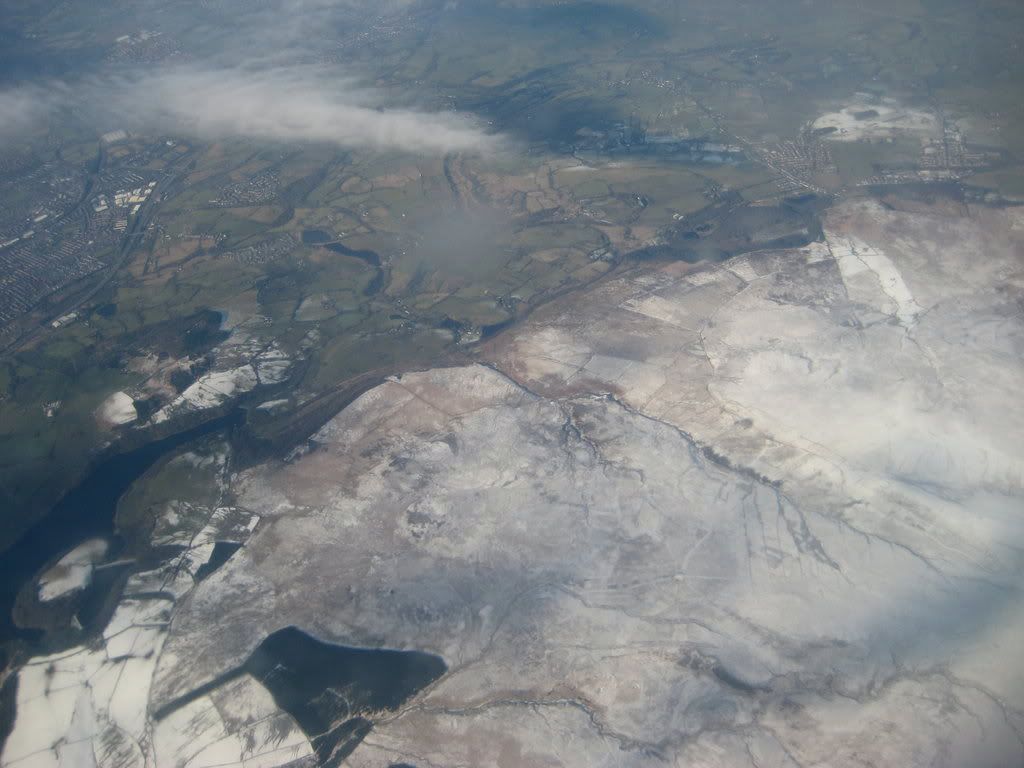 A number of reservoirs with the town of Chorley visible on top: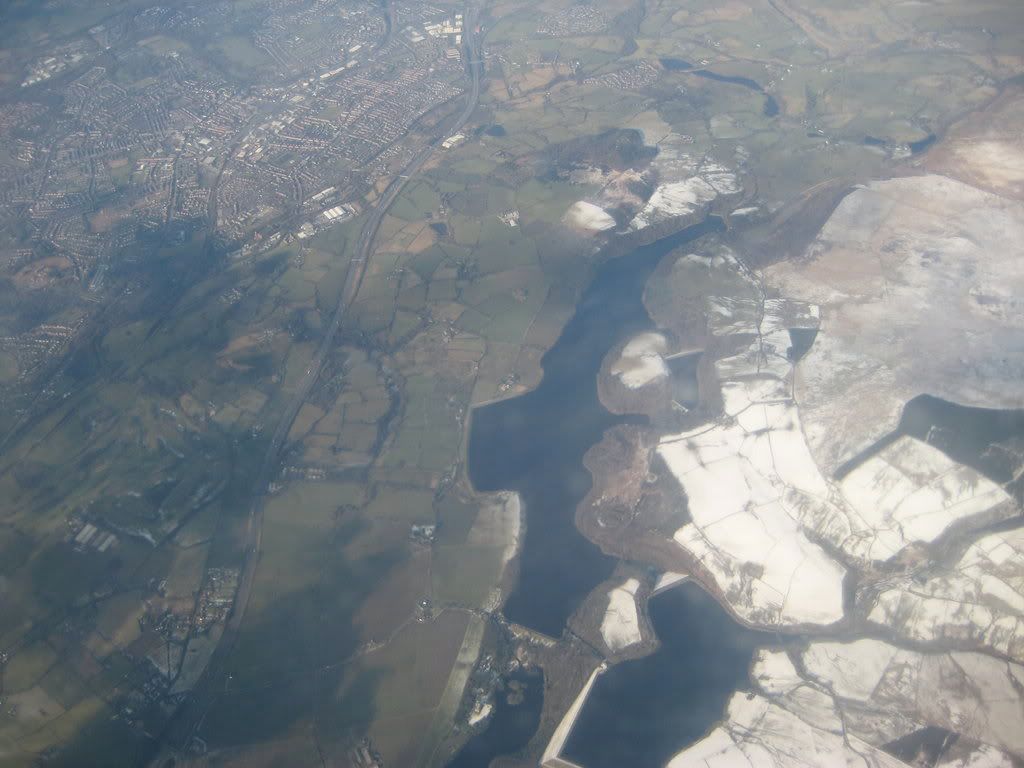 We head towards the Irish Sea which is covered in clouds.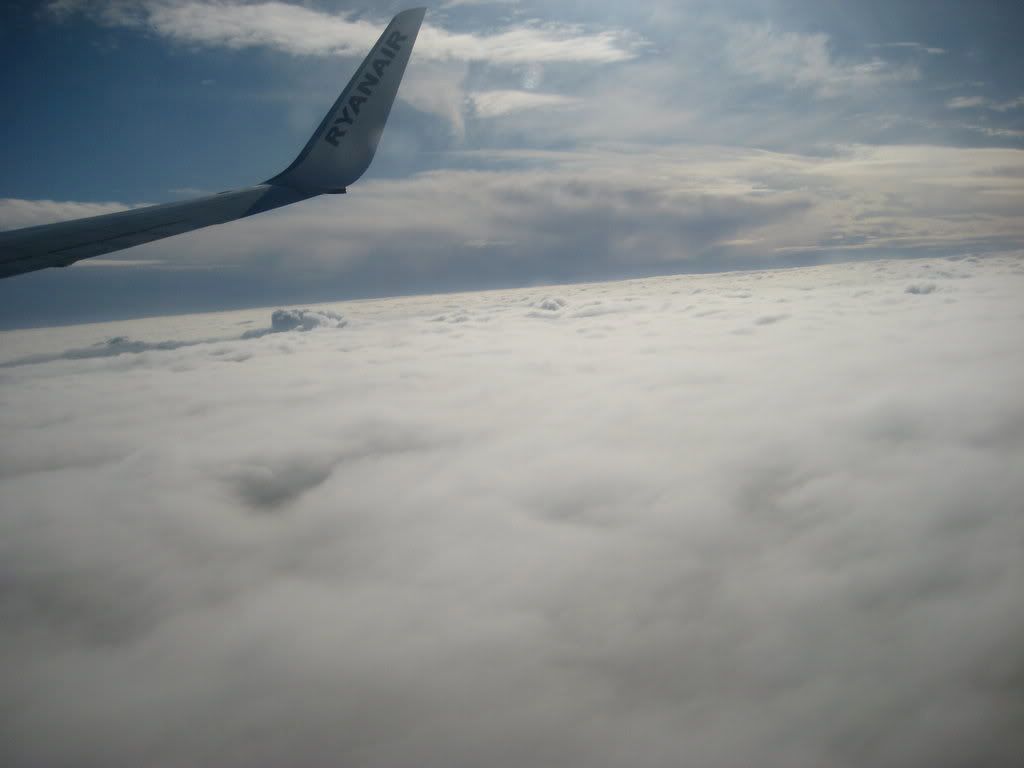 A left turn follows over the sea to line us up for landing on runway 09. We only break the clouds once we are already just a few seconds from touchdown over the river Mersey. It is actually eerily beautiful with the smockstacks from Ellesmere Port on the opposite side of the river just barely sticking out from the fog.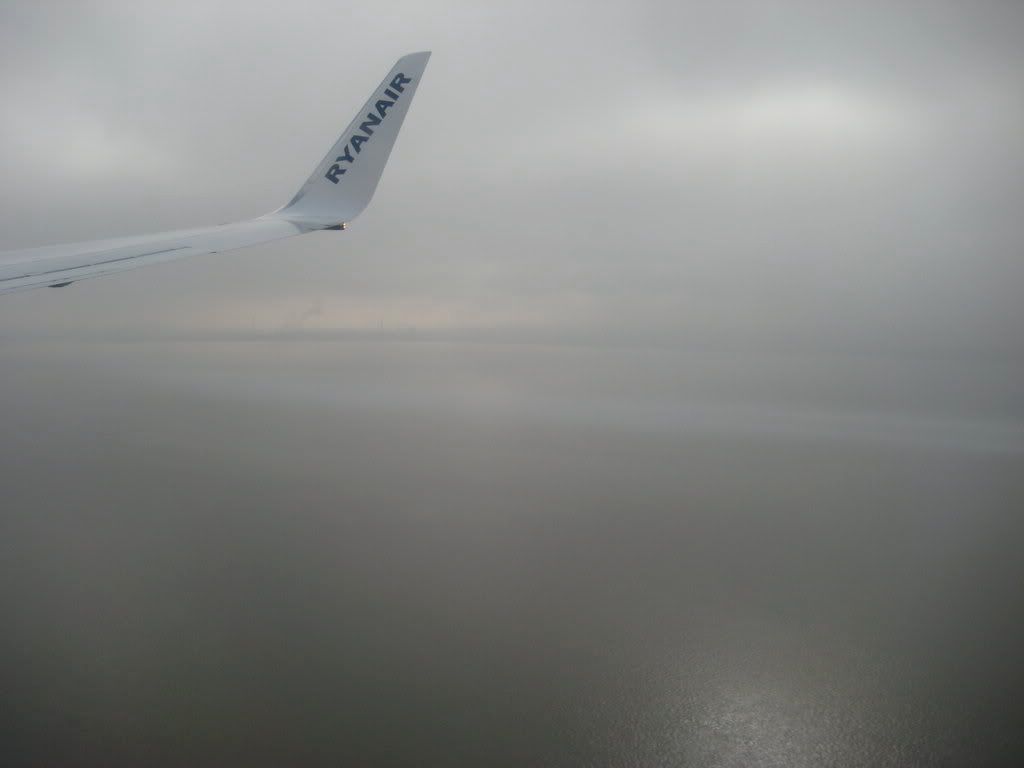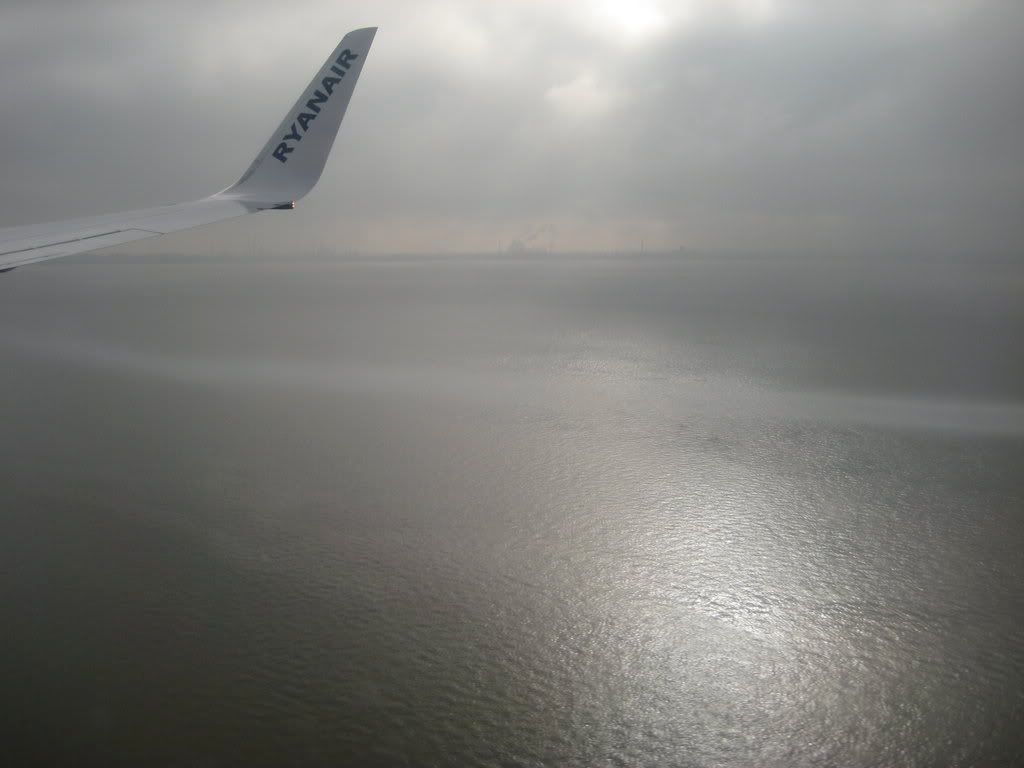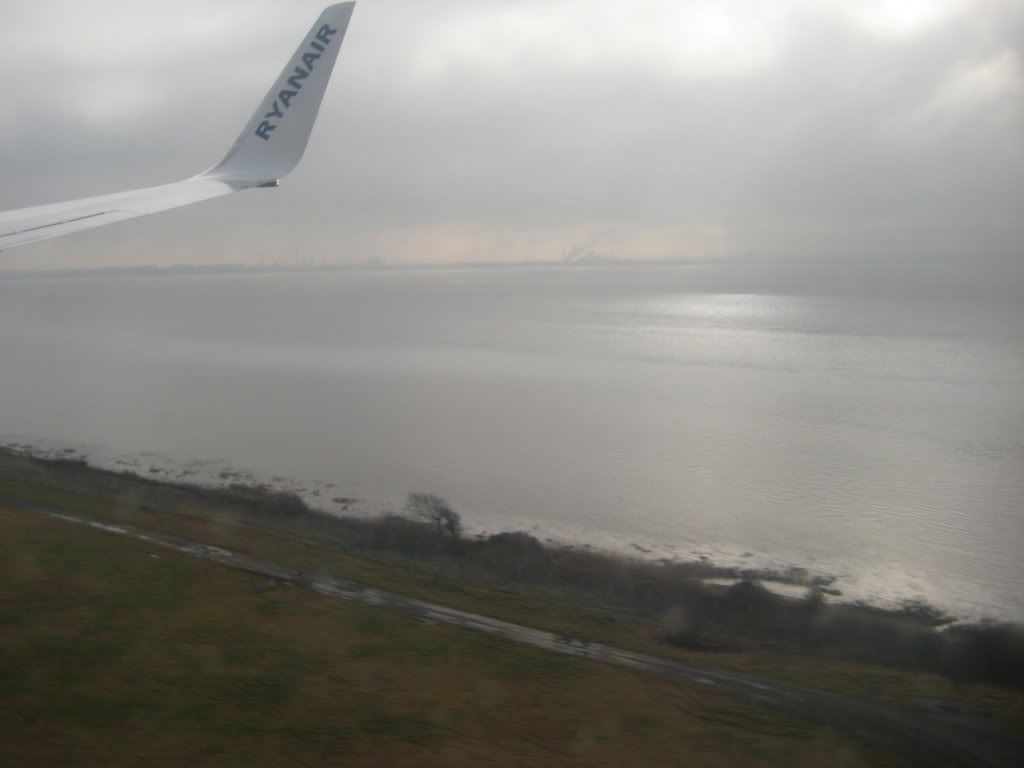 We land 16 minutes late, followed by applause from many of the passengers, but no "Early Ryanair Arrival" fanfare this time. Maybe they should introduce a "Another late Ryanair Arrival" as well.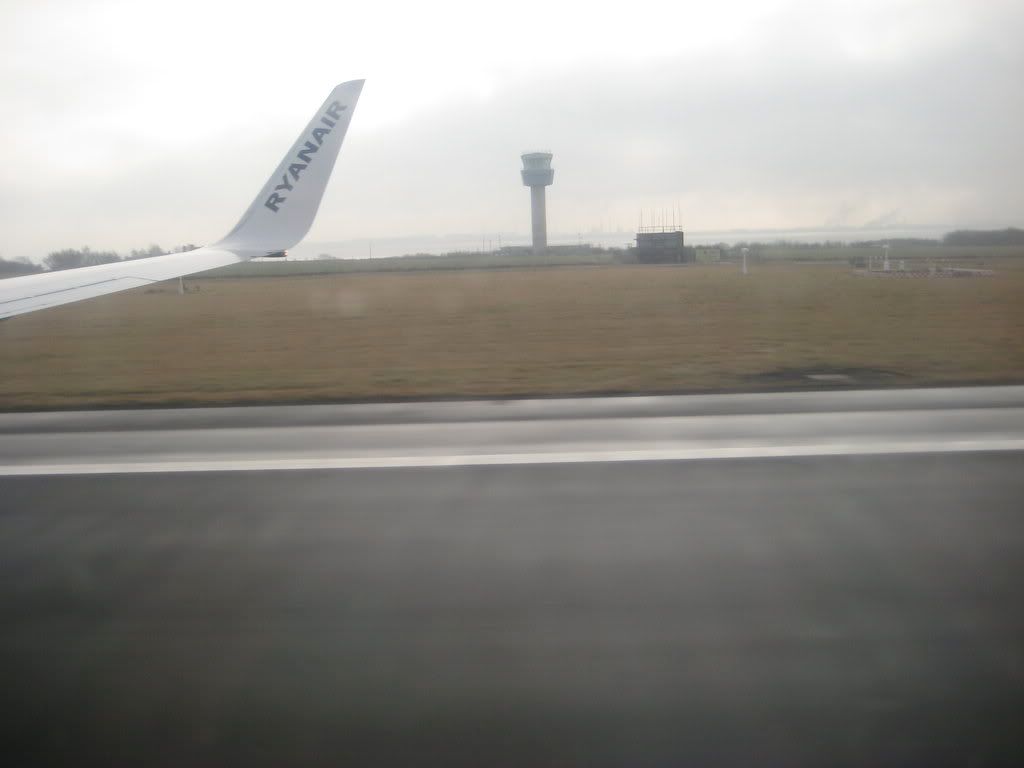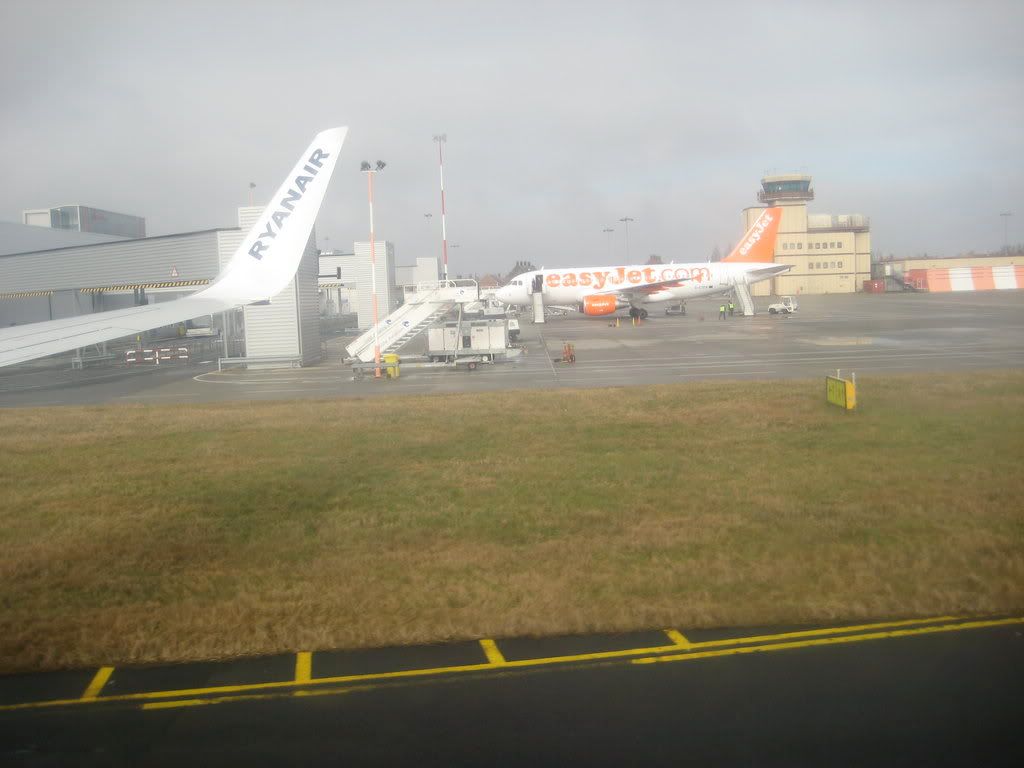 The airport is not that busy, just a couple of Ezy Airbuses and a row of parked FR Boeings.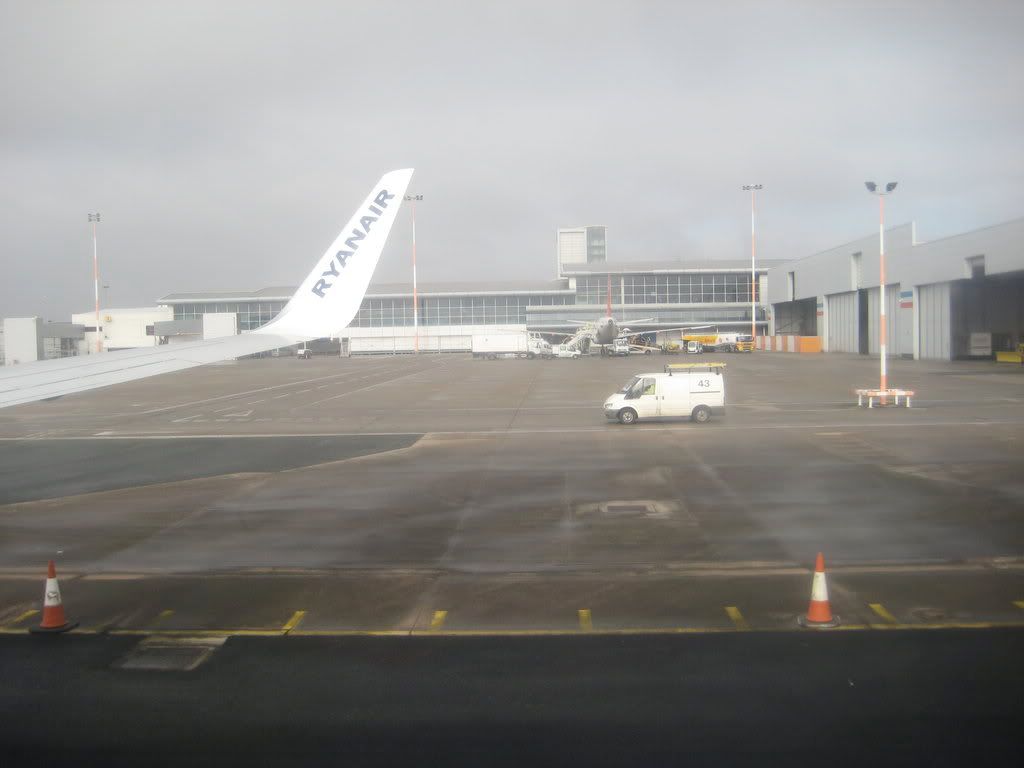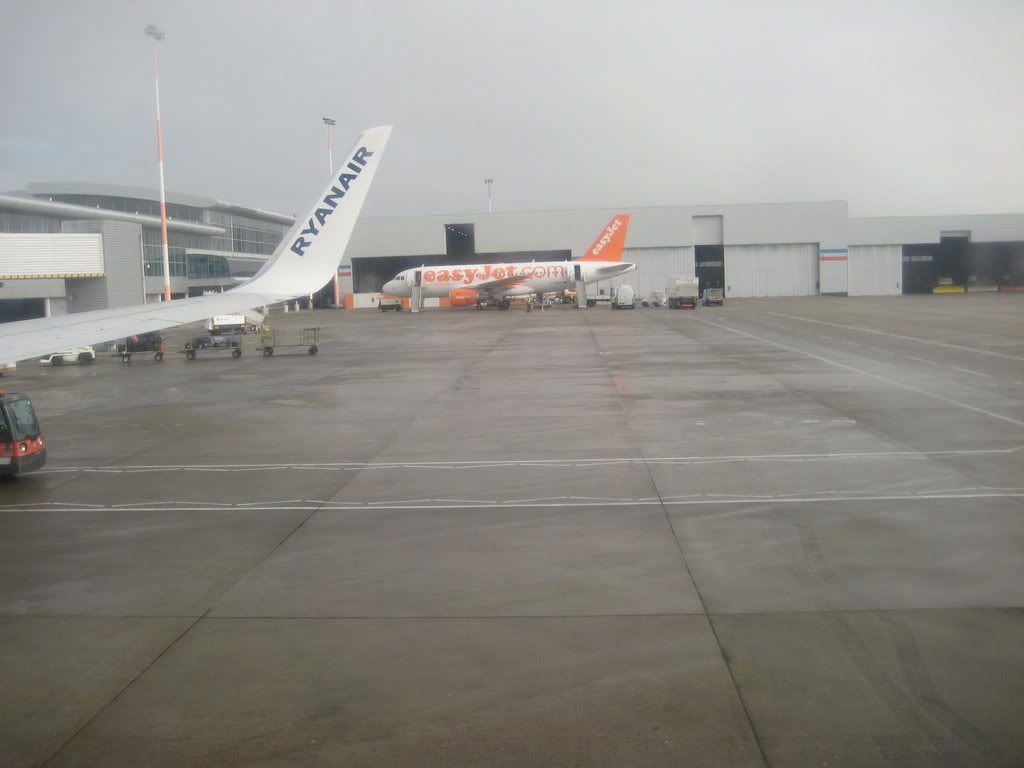 An interesting visitor parked past the Boeings - what is the Beluga doing here?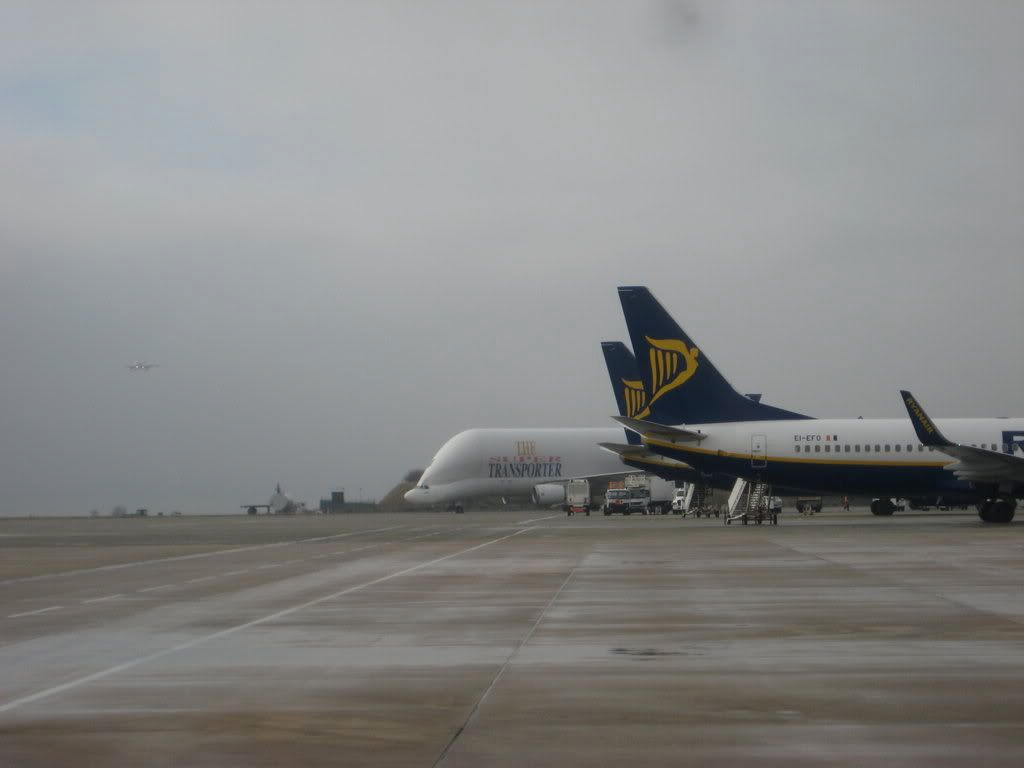 Bye: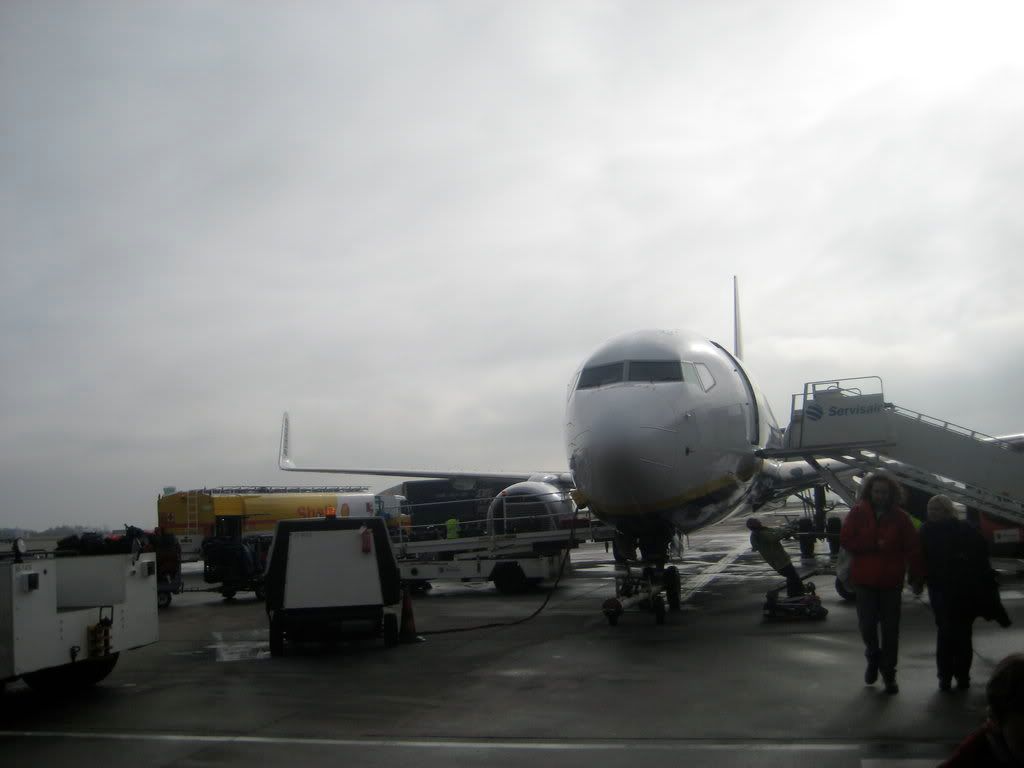 Liverpool John Lennon Airport
Short walk outside to the immigration hall which has a definite third world feel to it - small, dingy, packed with people as the Ezy passengers are also siphoned to the same queue here, at least they deboarded via the terminal building and can queue inside - the spillover from my flight has to queue outside in the coldness. Looks like the designers of the facilities here didn't take into account that it could get cold (or maybe the heating has just broken down) - there are four large electric heaters on the corners of the room: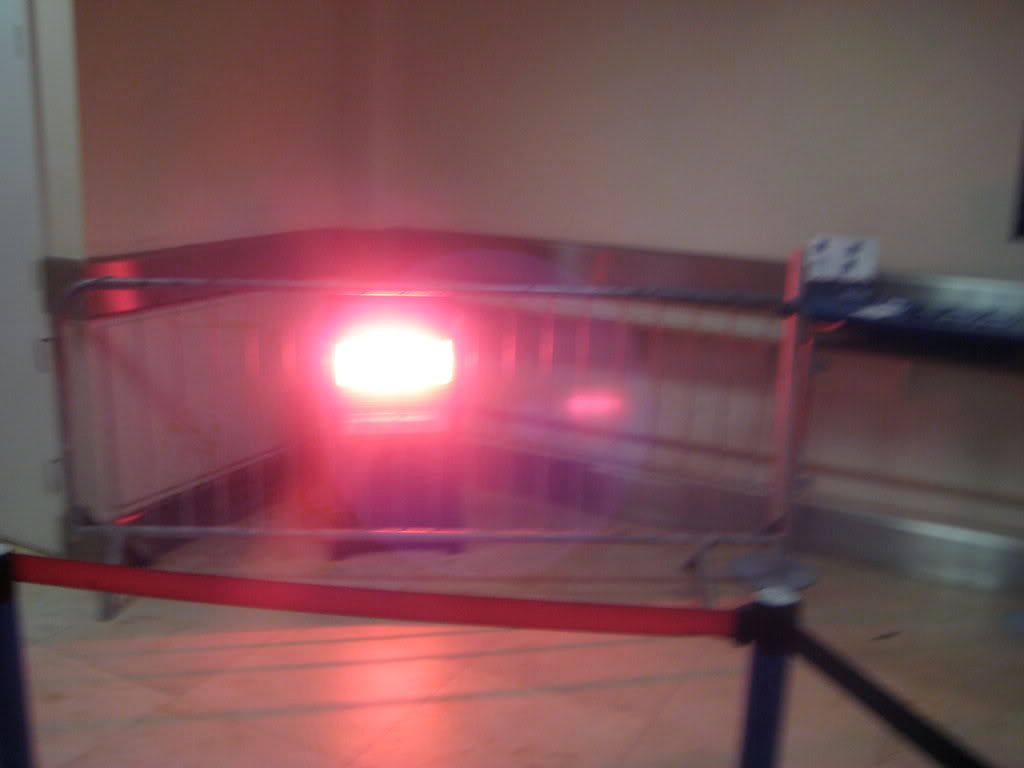 I'm happy that I powerwalked my way here as the wait is only five minutes or so, owing to my good spot in the queue.
Well, the delay meant that I had missed the train I originally intended to take for Manchester and the next one is almost an hour away - so I decide to take a look around the airport before heading for the train station. The airport looks exactly like what it is: an old, small regional airport given a haphazard face lift and resurrected as a mainly low-cost airport. Somehow it looked much better in that Easyjet TV series. There is some renovation work carried out upstairs, which results in most of the shops there being closed and people forced to walk narrow corridors made from plywood.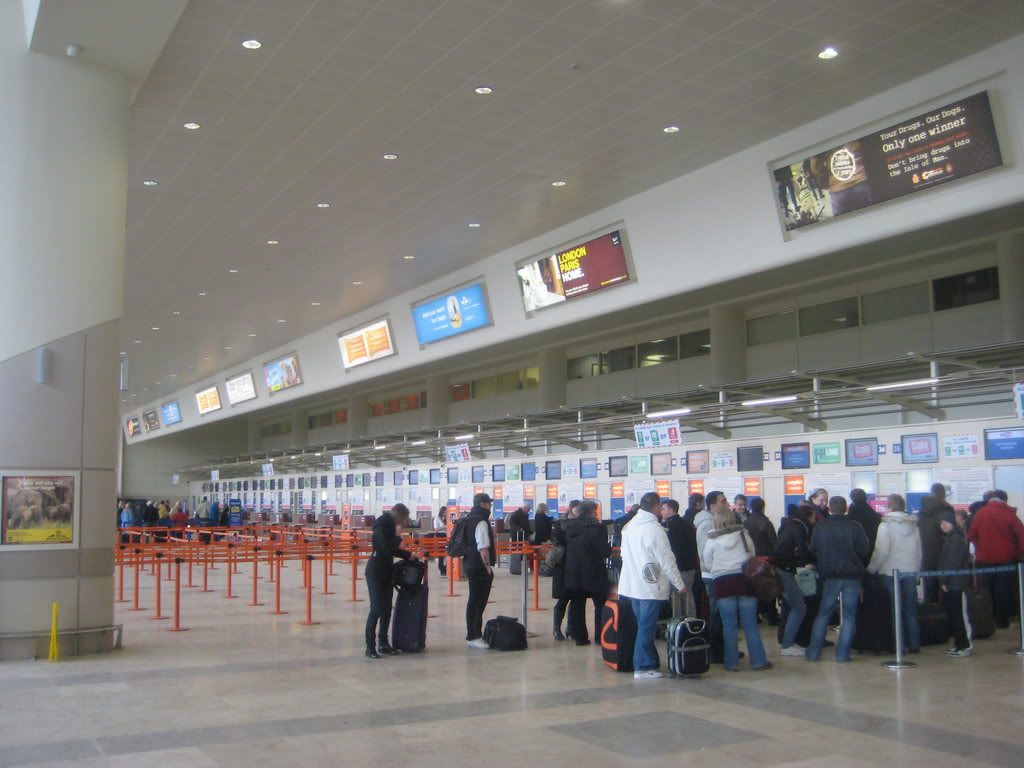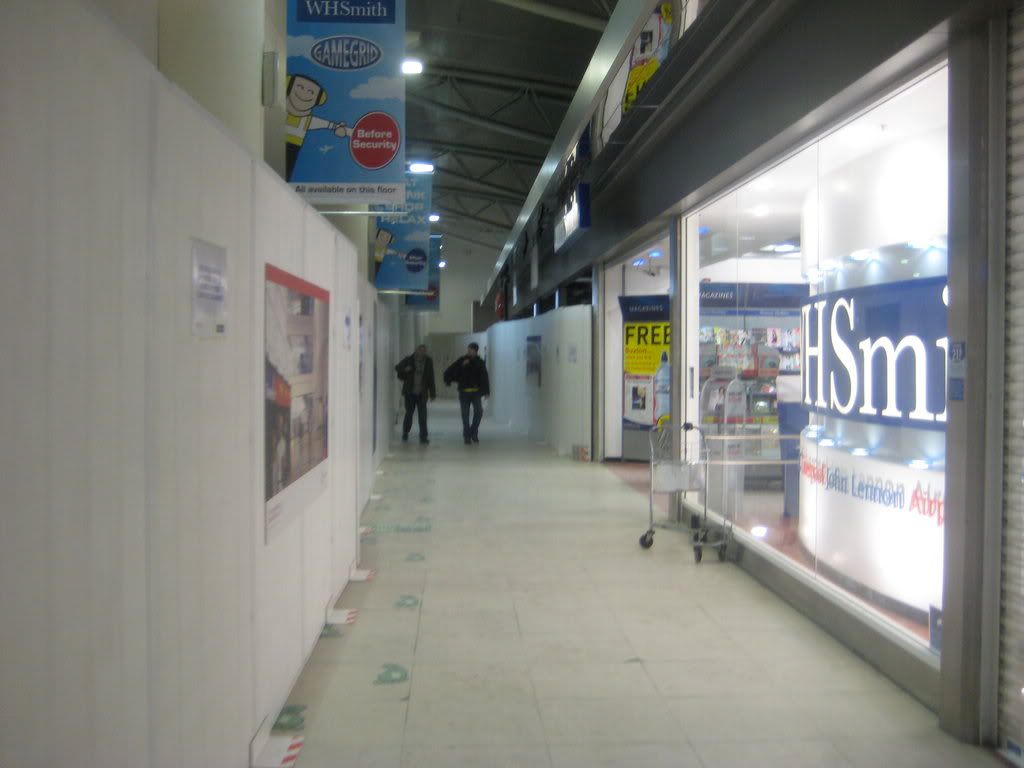 Imagine all the people etc.: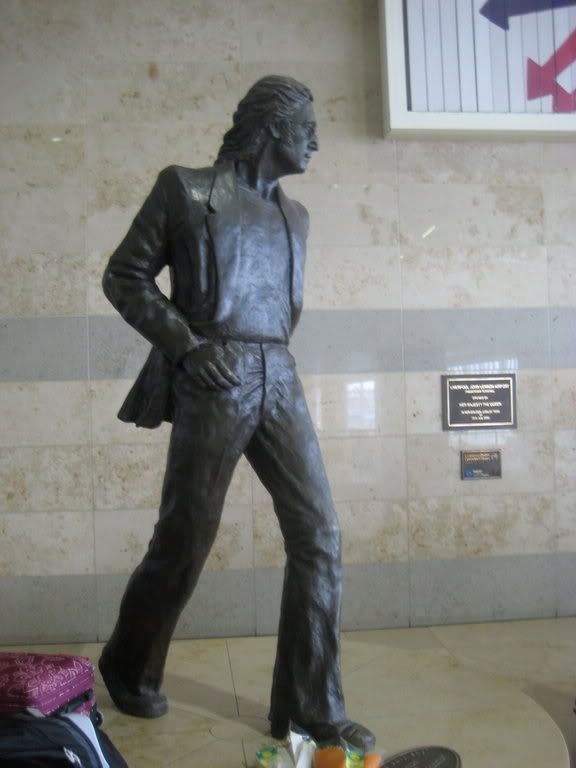 Hmmm: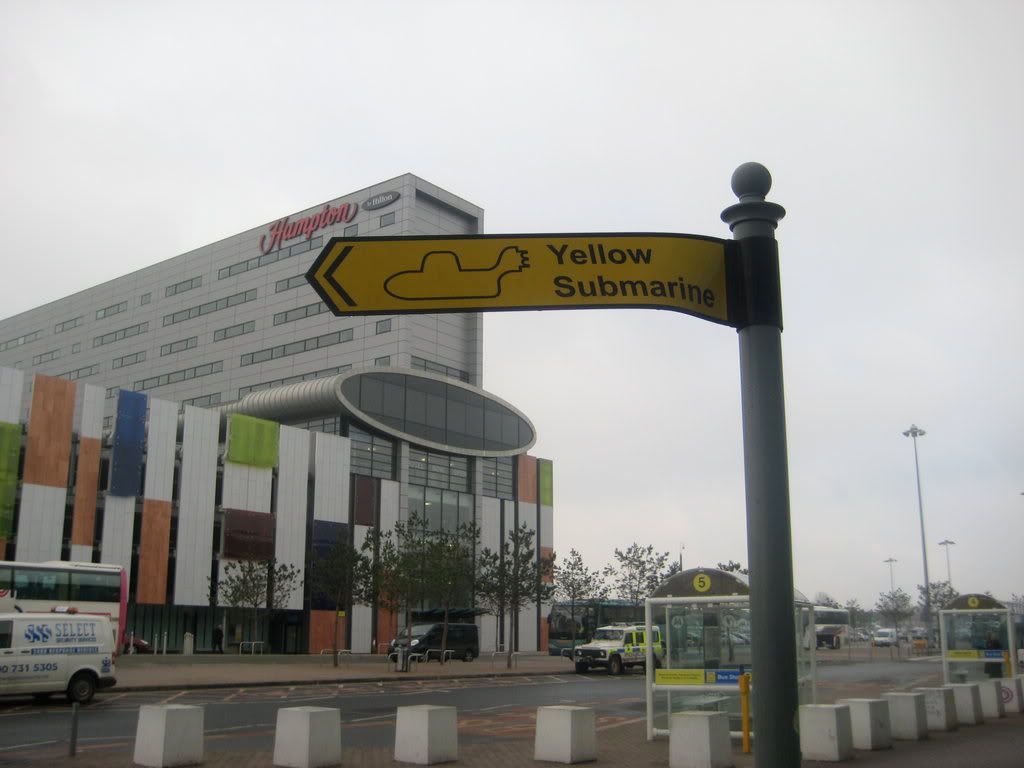 Ahh, ok: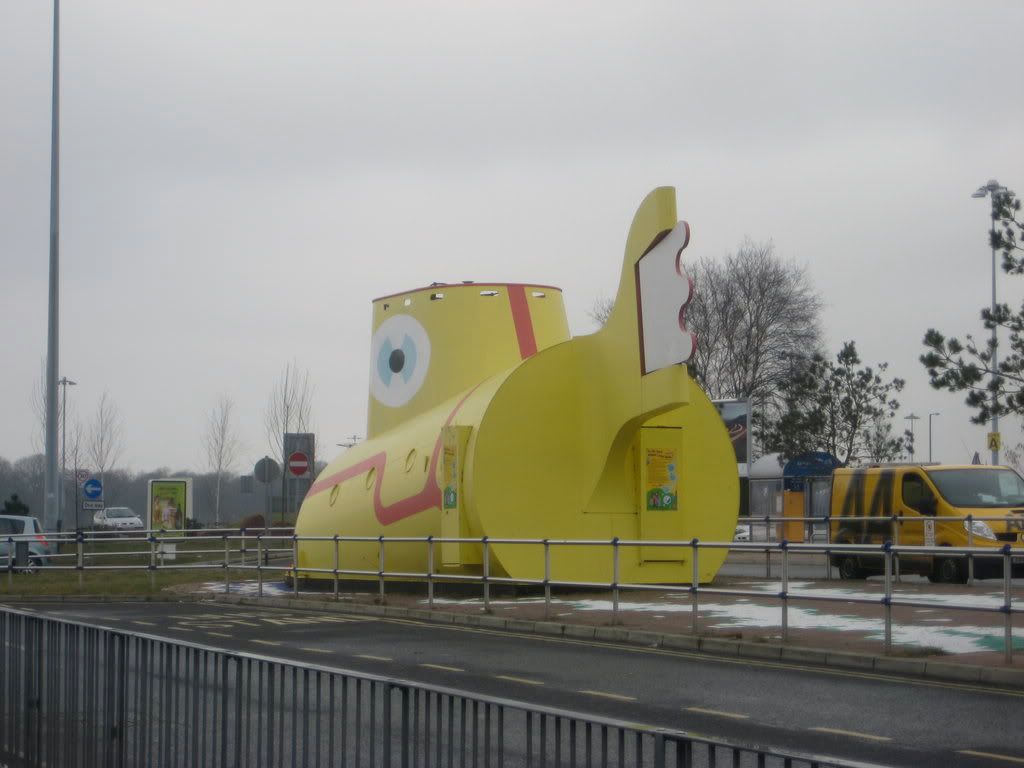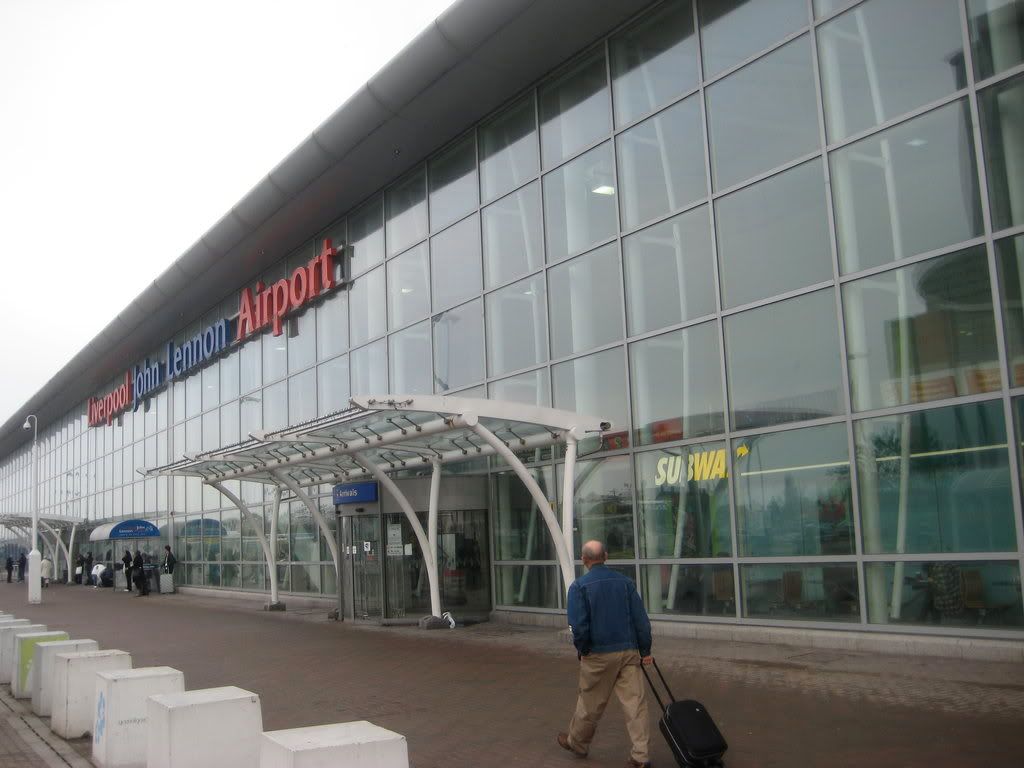 I grab a burger from Burger King upstairs for the road and head outside. The Raillink 501 bus soon arrives and being the only passengers I'm quickly dropped off at the Liverpool South Parkway station, where I thank the driver for the private £1.70 taxi ride. As far as small train stations in the UK go, this one is actually quite nice. I buy a single ticket to Manchester airport from the ticket office for almost twelve quid, which is way more than the base fare for my FR flight.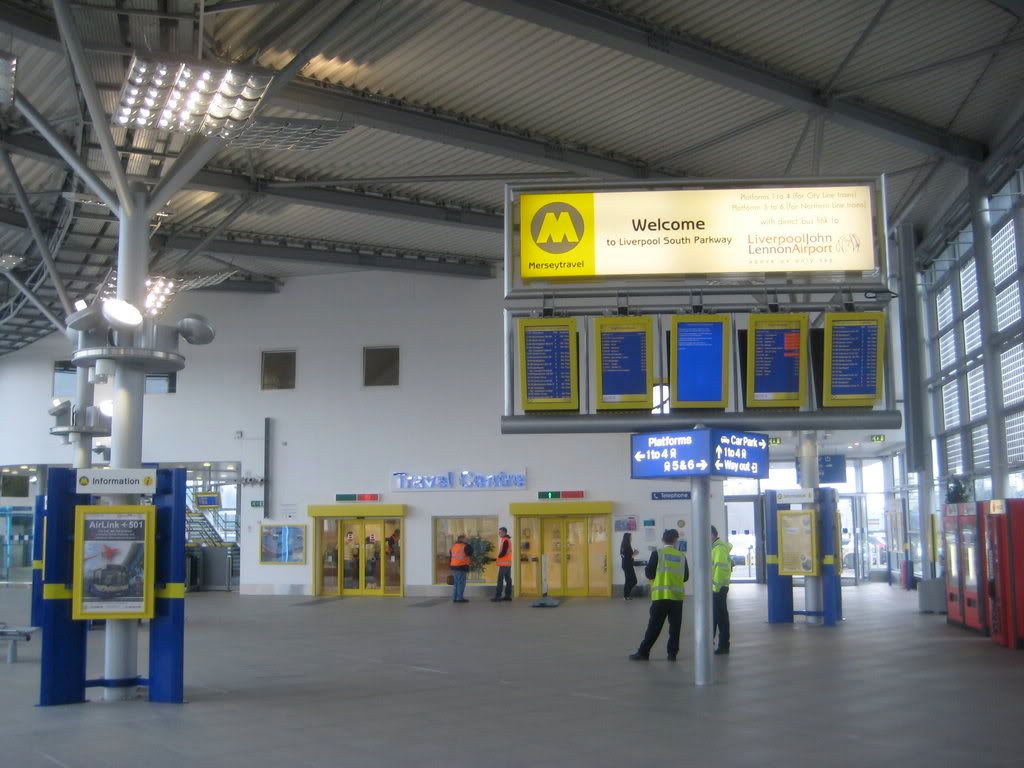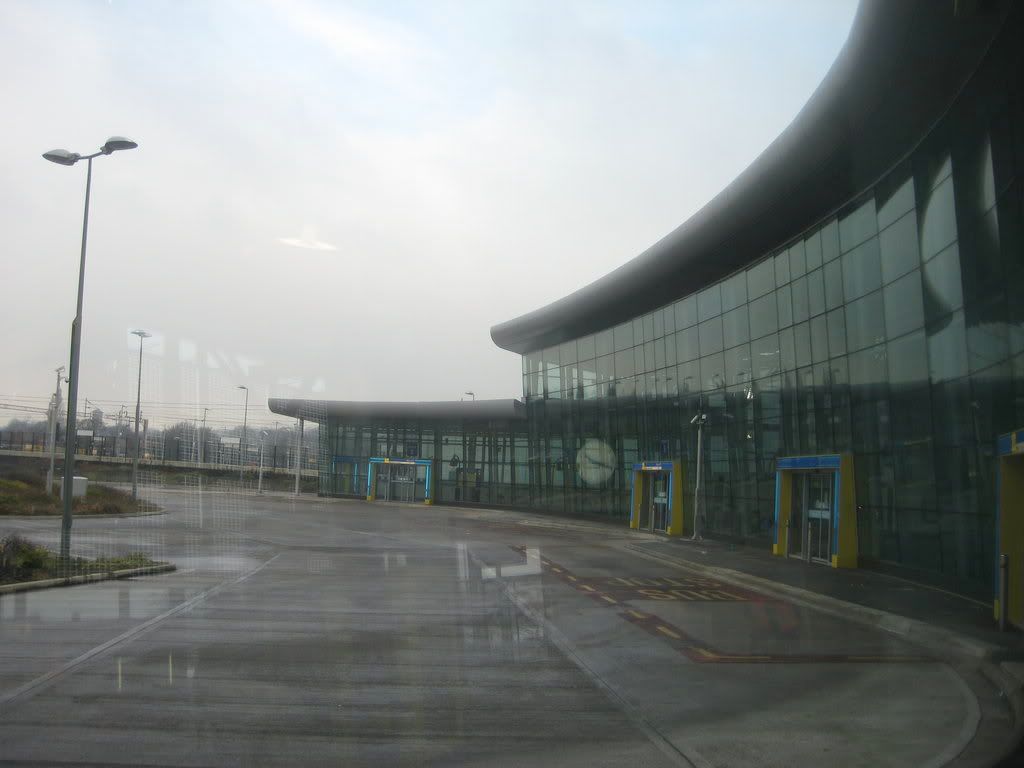 The train finally shows up, not too badly delayed. Man, these DMUs are ugly: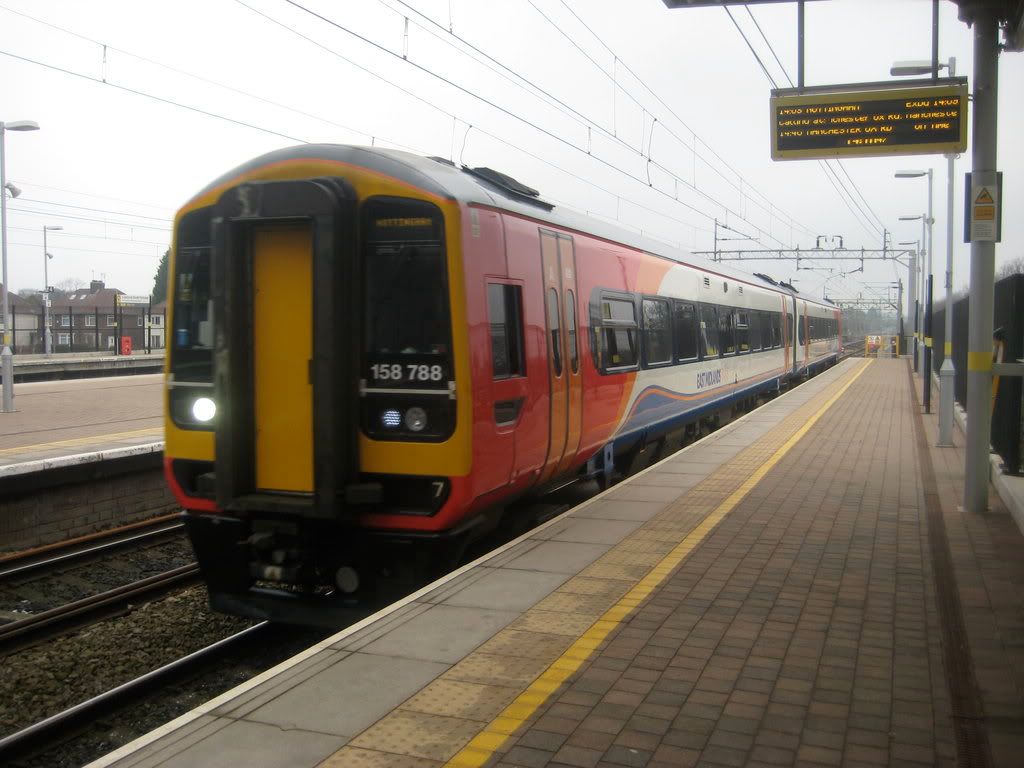 35 minutes later I step off at Manchester Piccadilly station, spend some time trying to find the train to the airport - the displays here are even more confusing and messed up. Finally I sit in something I (and a number of other passengers as well) assume is the right train, only to be ejected a few minutes later by an employee barking that the next train (that wasn't on the platform when I boarded) is the one actually going to the airport. Ahh, train travel in the UK is always such a delight.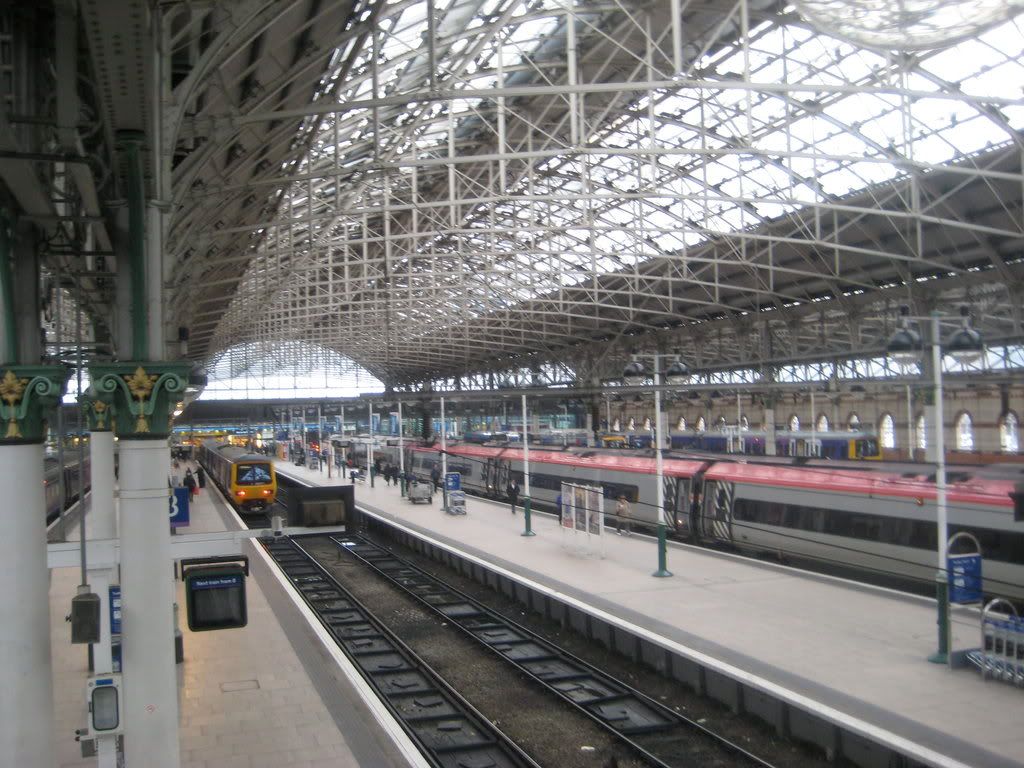 This train fortunately turns out to be the correct one, and the ride over to MAN is quite pleasant and pretty much on time, arriving there around 1h10mins before my flight is scheduled to depart.
Manchester Airport
The escalator from the main station level to the terminal walkway is broken and there are no signs about where the elevator or stairs are. Luckily a number of other people here are more accustomed to MAN airport and I follow them around the corner to the elevator which surprisingly seems to work.
All the check in counters at the train station seem to be closed: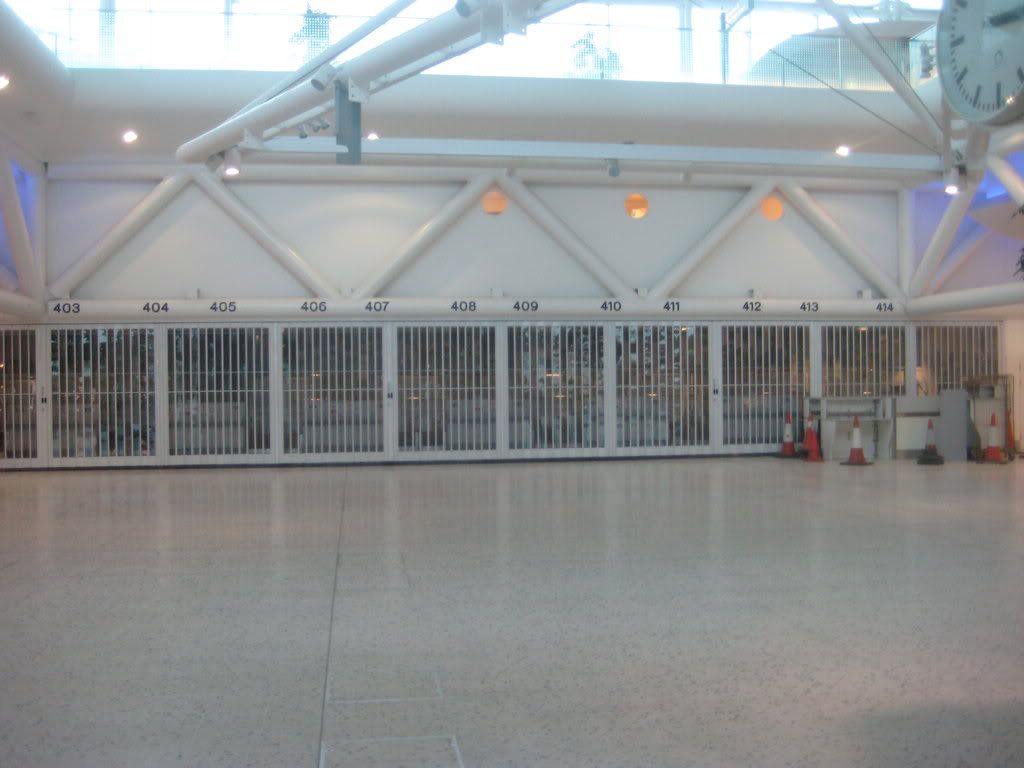 My train, the a.net member favorite Bewley's Hotel in the background. I will be staying there this June as well:
Top