P E R S O N A L - I N T R O
This is my first trip report.
I have enjoyed reading trip reports on this forum for a long time and have lived vicariously through them. I've flown in first class on the most prestigious airlines in the world. I've flown to exotic locations all over the planet. I've experienced flights on some of the last aircraft of their kind still in service....all by reading your trip reports.
This is my small way of trying to give something back to the community. Maybe my short trips on CRJs within the U.S. will seem exotic to those who normally fly on A380s across oceans.
I must also beg your forgiveness for the poor pictures. They were all taken with my Treo 755p. Unfortunately with the culture of fear that has gripped the U.S. aviation industry, a minority male traveling by himself taking pictures with a normal camera would be asking for trouble.
B A C K G R O U N D
I live in Upstate New York, about a 4 to 5 hour drive from New York City. Within two hours are several airports, small regional ones such as ITH, ELM, and BGM, and a few larger ones such as SYR, ROC, and BUF. Last year I flew enough to obtain Gold Elite status on Northwest Airlines and Platinum Medallion status on Delta Air Lines. Delta and Northwest have now merged to create "The Premiere Global Airline" if the marketing is to be believed.
On January 31st, 2010 their operating certificates were merged and Northwest Airlines ceased to exist. Unfortunately I had a credit voucher from Northwest Airlines which I knew I would have a difficult time getting Delta Air Lines to honor. I had kept an eye out for any interesting flights I could use the credit towards before the Northwest Airlines website blinked out of existence.
It was a surprise when I saw a very cheap ticket from ROC to DFW via DTW and back in the same day. As I had never been to DFW before, and being a true northerner who had never been to Texas before, I figured it would be worth the trip.
Six days before the flight I checked on-line and sure enough my upgrades cleared for the flights between DTW and DFW which had first class cabins. It was odd that I hadn't received an email alerting me to the good news. Sure enough I checked an OLD email account and there was the email. This was not to be the only small computer problem I would notice during the trip.
On January 30th I set out in -4 F (which is -20 C) weather to drive to ROC. I went to the economy lot and at the automated gate I took my ticket and waited to hear from the attendant bark out "Row H!" I drove to "Row H" and found several empty spots. Within 1 minute of parking a shuttle van arrived and the driver handed me a slip with "Row H - Spot 22" written on it. This car to curb service from the economy lot is one of the great perks of ROC and is just one of the ways we Upstate people have adapted to life in the cold cruel dark winter! It was a short 10 minute ride to ROC with another couple heading to Florida on JetBlue. A quick rule of thumb, if the shuttle driver has to get out of their seat to help you with your suitcases you should definitely tip them a dollar or two. I didn't require his help but still left him a dollar in gratitude for picking me up so quickly in the cold January weather!
The ticketing area was quite busy as there are many early morning flights departing from ROC. Here is a picture I took in the evening on my return when the ticketing area was empty:
The area is one long expanse with counters on either side of the one central security check point entrance. On one end of this expanse is a very cool public lounge.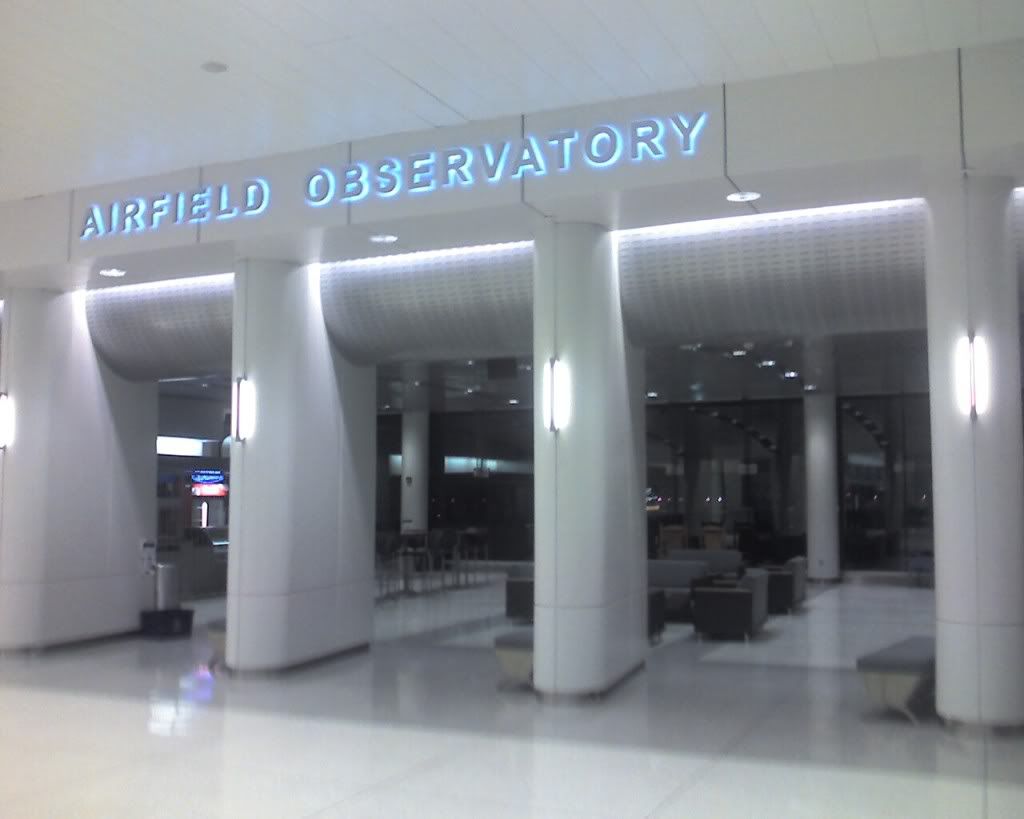 There is a very nice seating area with excellent views of the runway during daylight hours.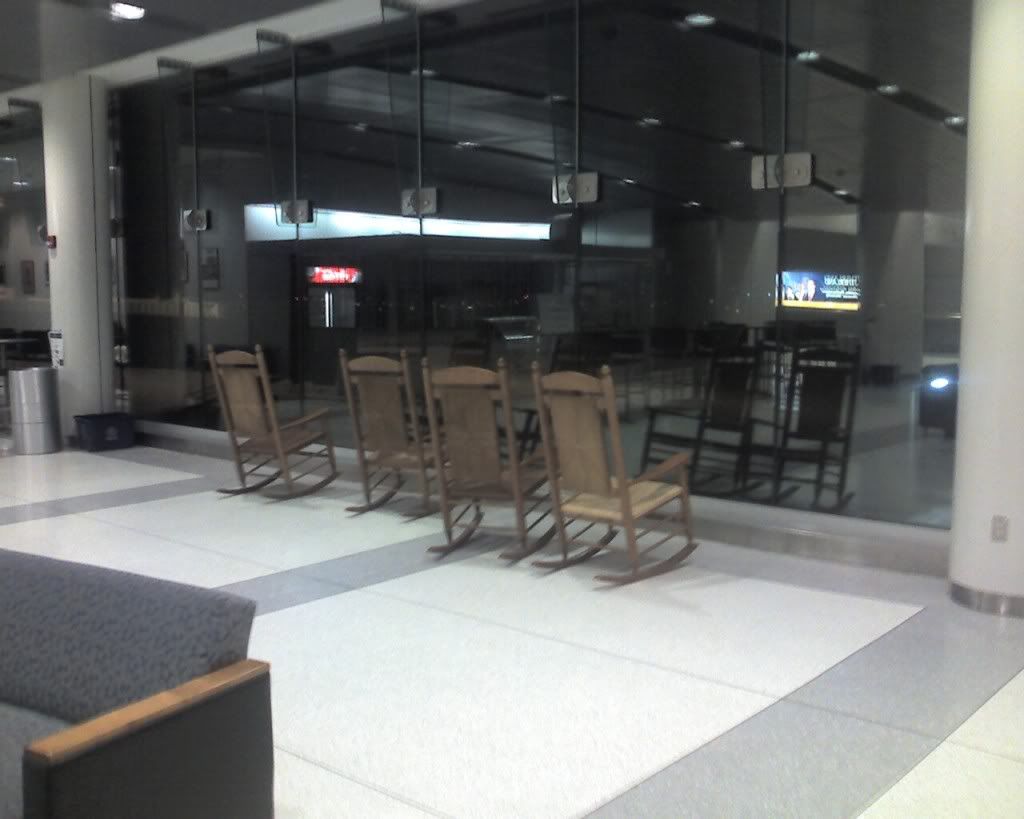 I had plenty of time so I was not concerned with security. After having my boarding pass and my ID verified with the magic light I was sent to the shortest line. Unfortunately I was behind a young couple with a newborn baby complete with all the baby STUFF including the baby's SUV buggy. Whatever happened to simple strollers?
Sure enough they had all manner of large liquids that security told them had to be checked or discarded. There was a brief discuss as to whether hand lotion was a "liquid" which the TSA official assured them it was. To her credit the young mother turned to me and laughed and admitted that they don't fly much...
One important tip for getting through TSA is to know what you are doing and to demonstrate this knowledge by getting out your laptop and little bag of small liquids, taking off your shoes and coat, and having it all set up in the plastic bins and ready to go. Usually when they see this the TSA will not be surprised when you walk through the metal detector without setting it off. This morning I even got a smile and a "have a nice trip" as I collected my items on the other end.
Clearing security lead to a large plaza that runs parallel to the ticketing area which has several food vendors and a decent sized seating area which has a view of the tarmac between piers A and B.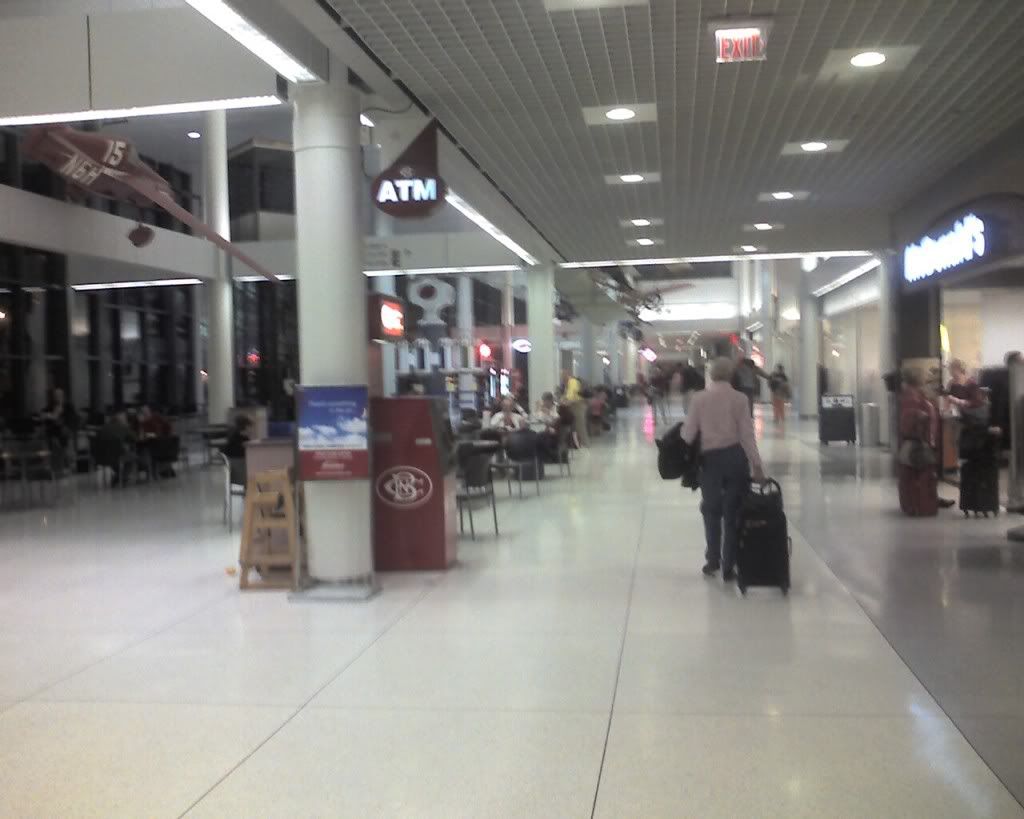 Heading toward my gate in pier B, I reached the end of the plaza and was confronted by a construction area. Fortunately they at least had pictures showing what the area will look like once it is completed!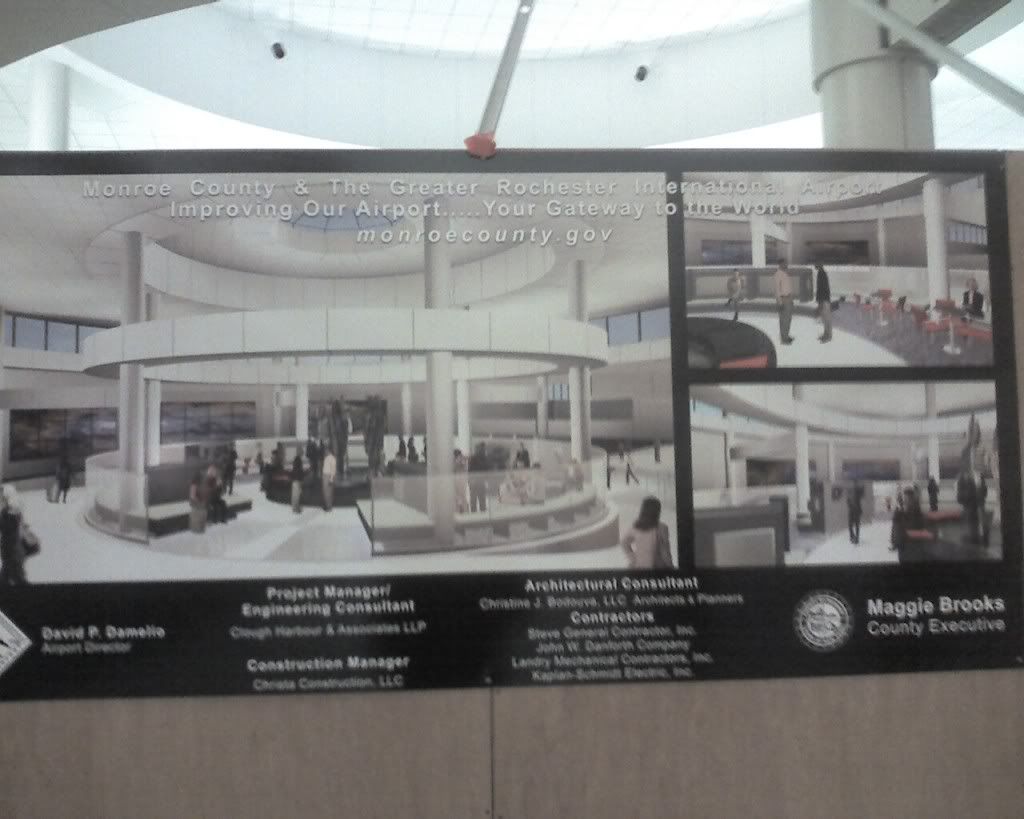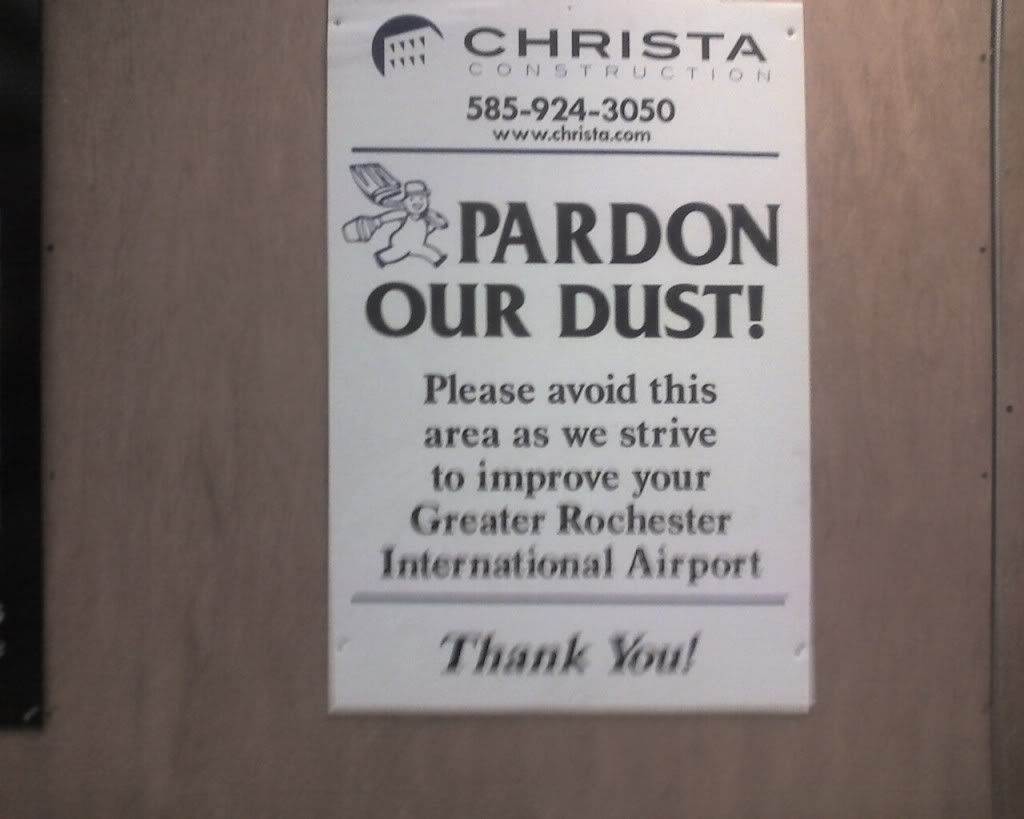 Along the outer walls of this circular area were large signs for the local hospital.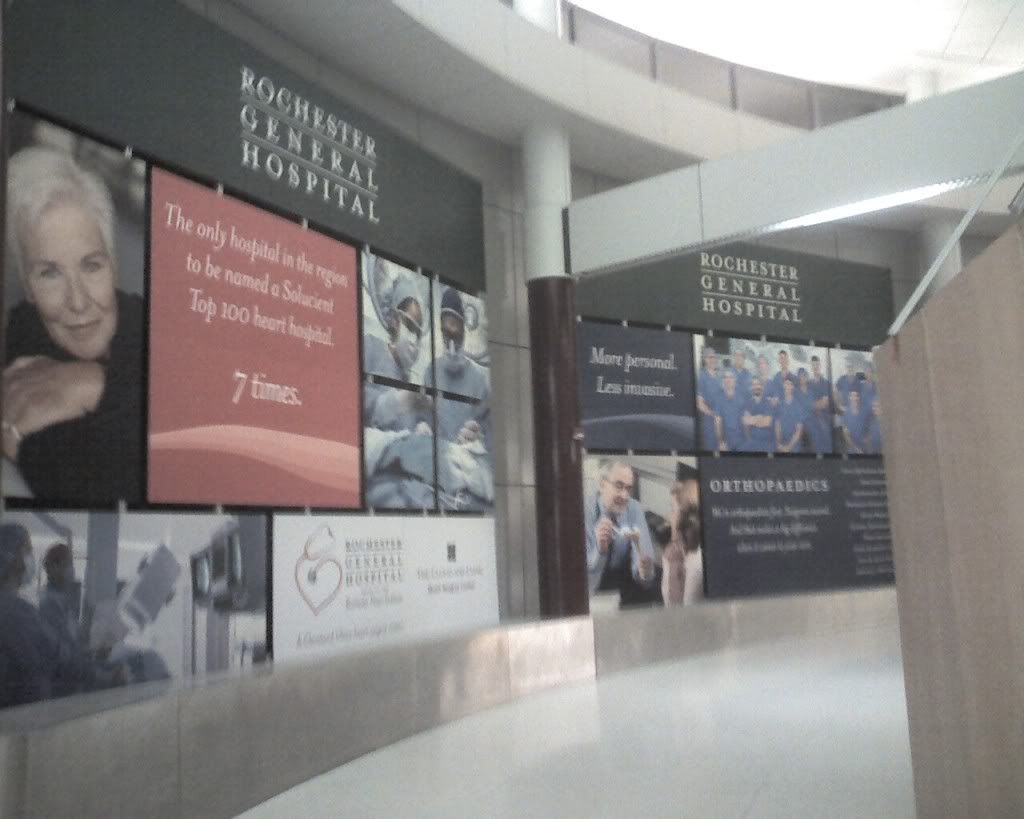 Pier B is short and fairly typical.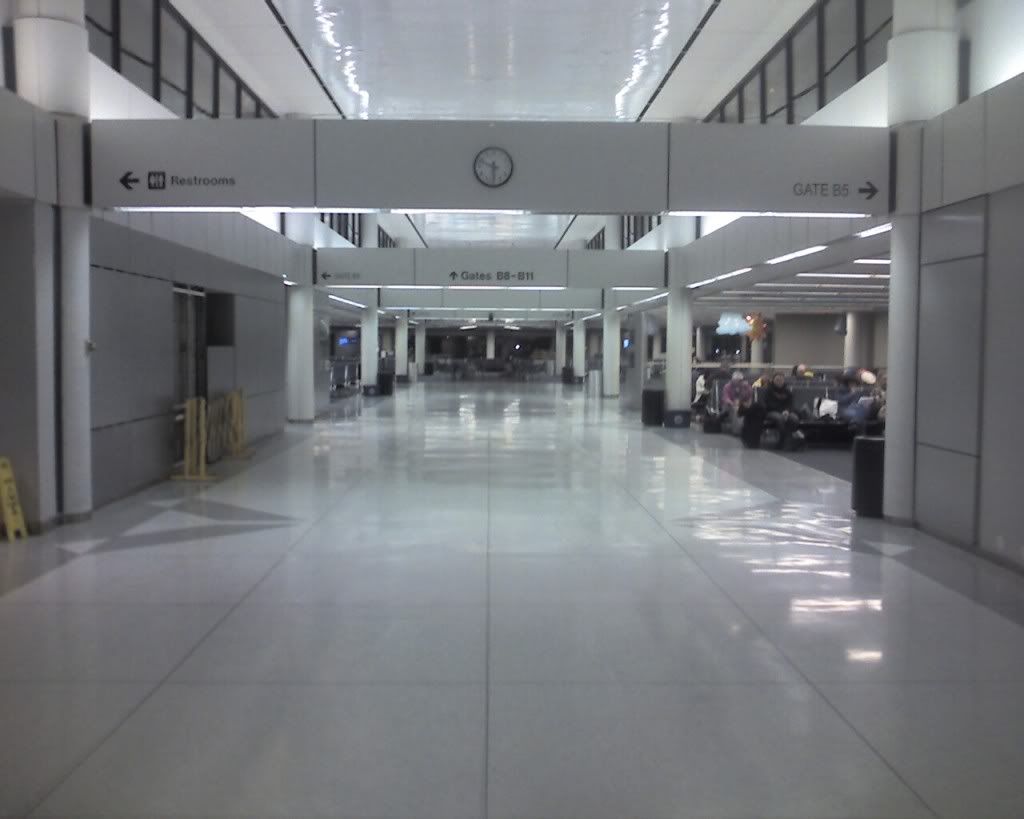 It does have a rather impressive bathroom. This was the first airport bathroom I had seen with a flight information display IN the bathroom itself!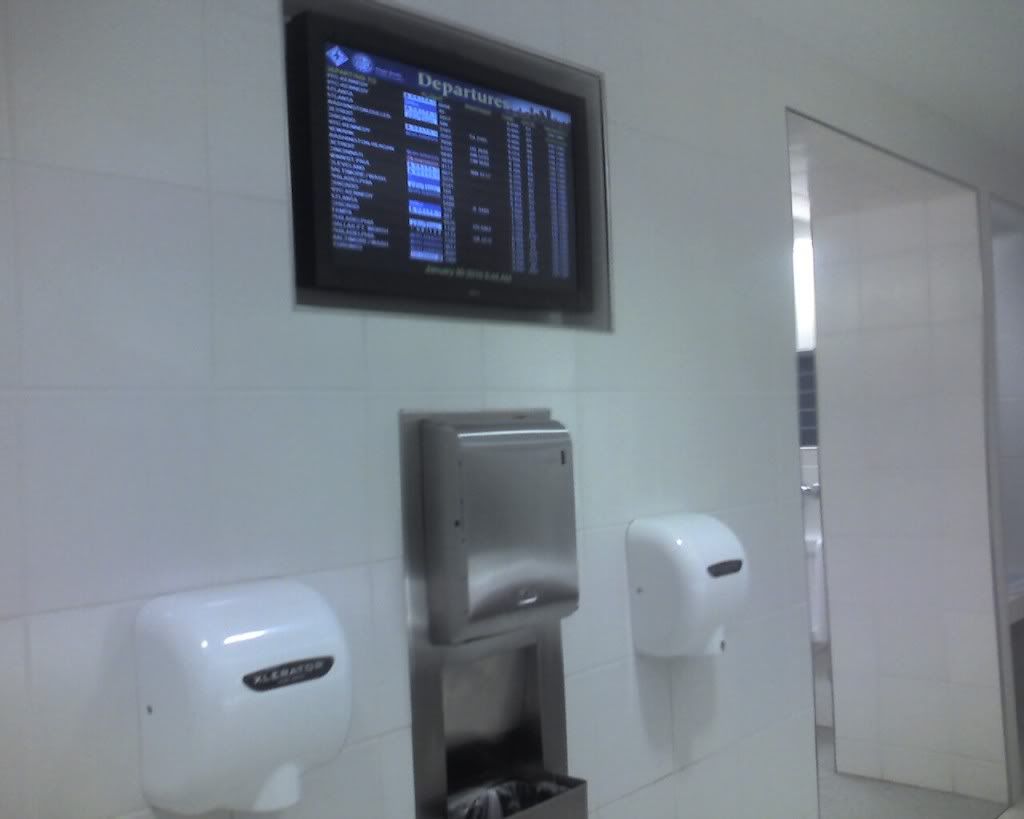 Notice my only carry on bag, my black backpack with my bright yellow "Flyertalk.com" priority tag, sitting on the counter.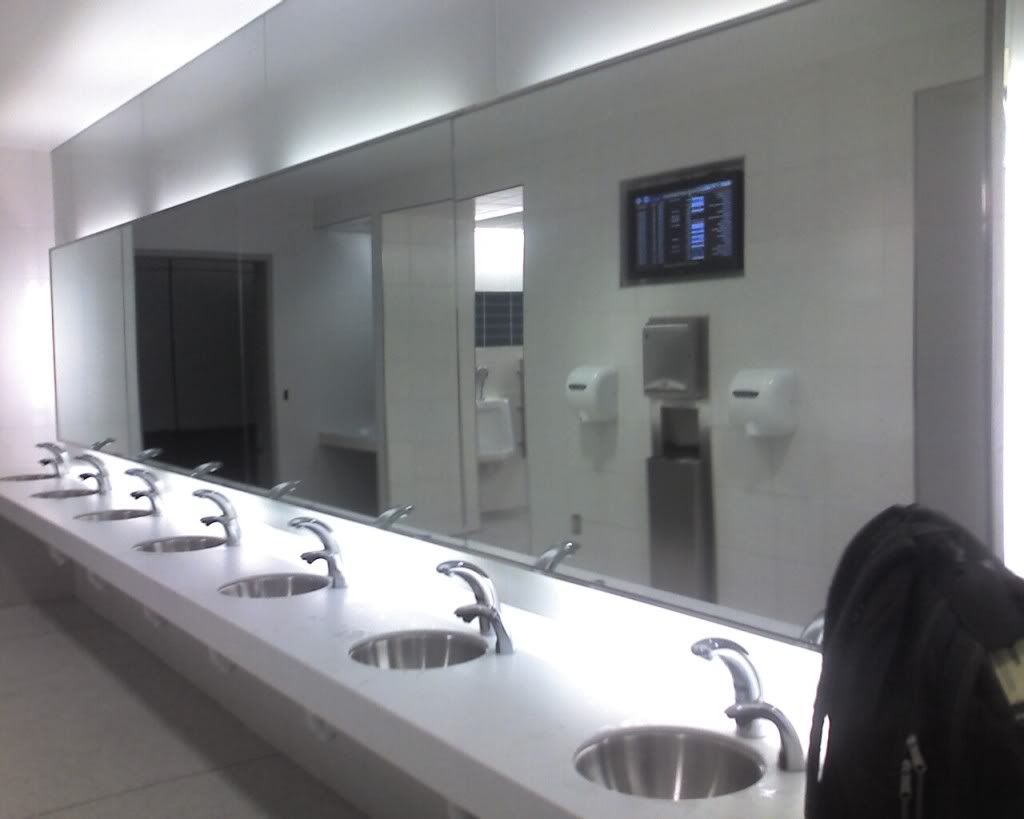 Near my gate was another typical flight information display.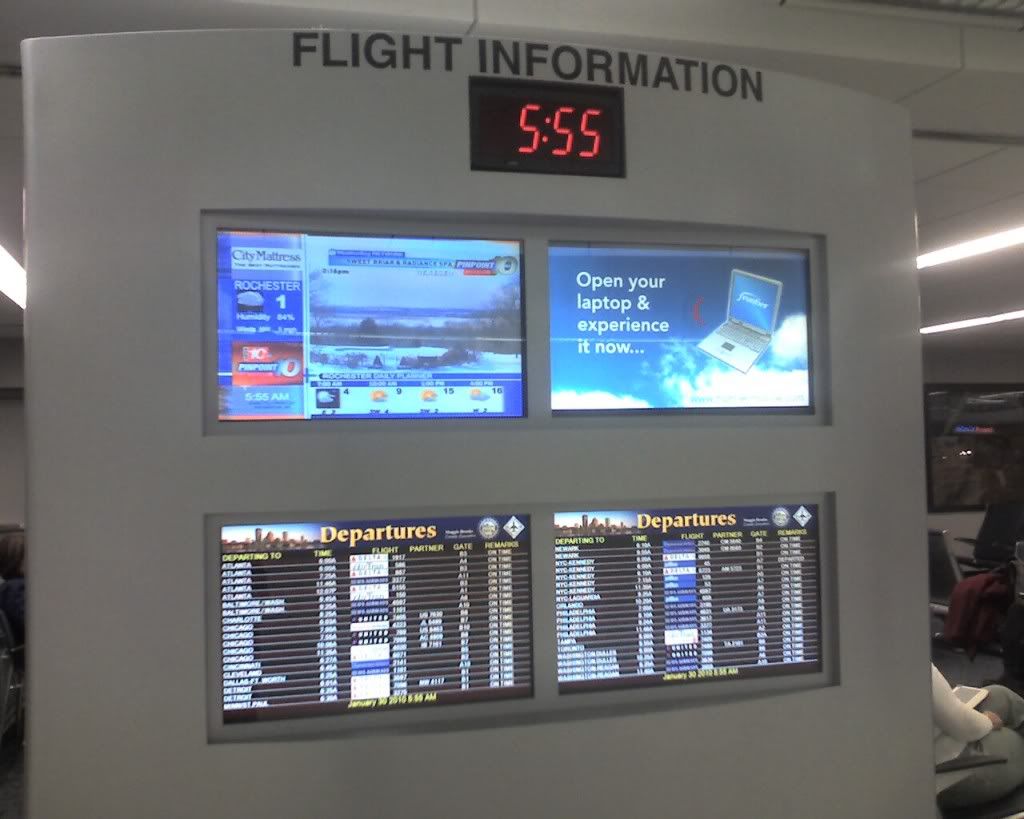 But what caught my eye was the fact that it said there were TWO flights to Detroit leaving from the same gate about 25 minutes apart!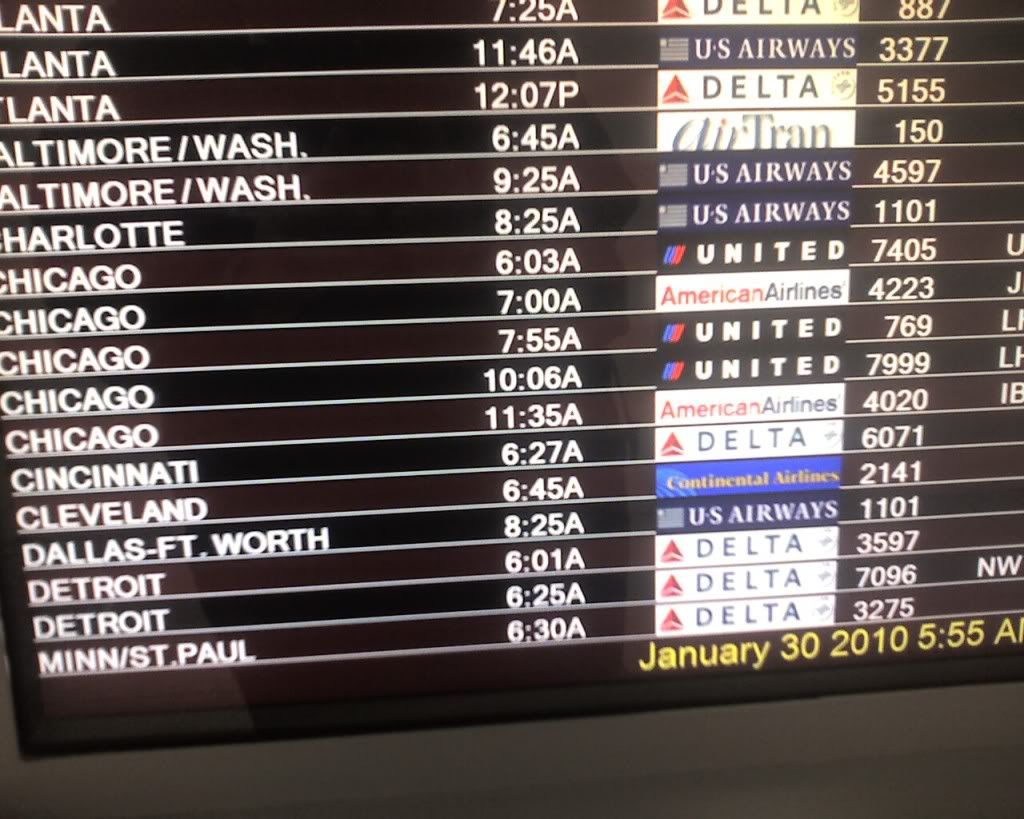 I approached the podium and asked if the flight was overbooked. One of the useful tricks I've learned from Flyertalk is that if you are flexible, ALWAYS be pro-active and ask if they might need volunteers.
I noticed that on the screen behind the podium they had the flight number for the 6:01 am flight displayed but they had a PIECE OF PAPER with "JFK" written on it TAPED onto the screen over where the screen said DETROIT.
Wow! This is Delta's IT at its finest! (Since the resolution is so low I haven't bothered to blur out any faces)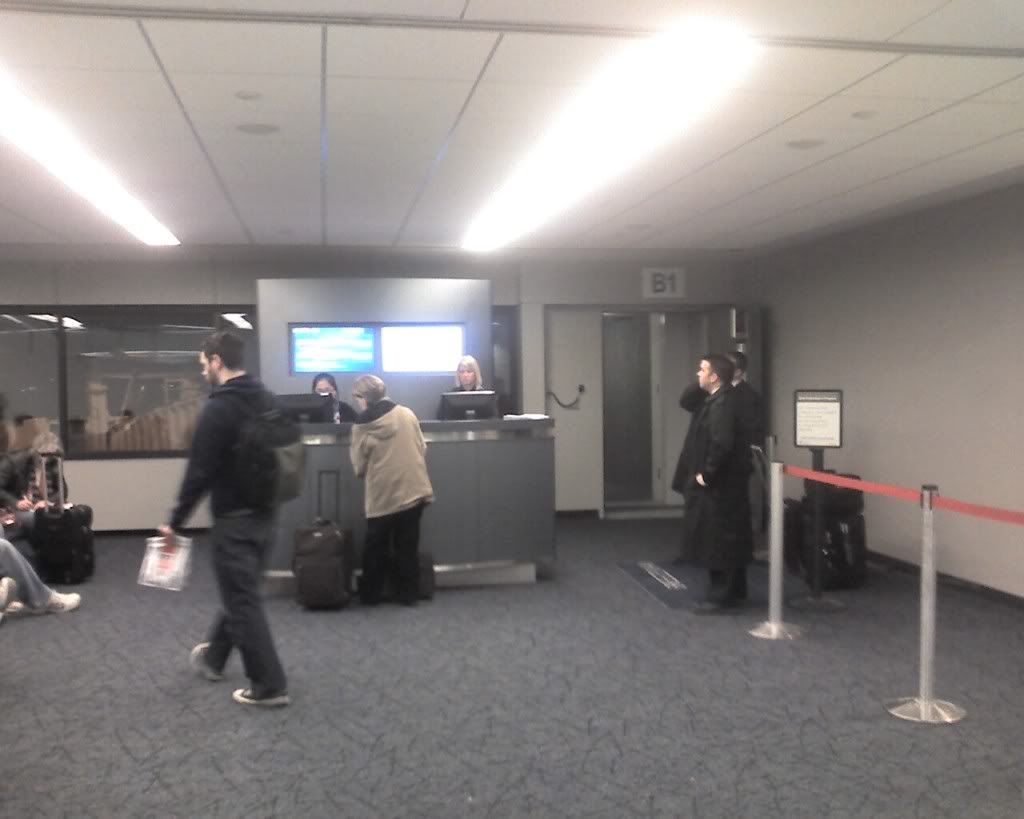 While I was at the podium I asked if there would be a problem getting two flights out just 24 minutes apart from the same gate. The agent assured me both flights would be out on time and asked why I thought it would be a problem. I mentioned issues I'd had at BUF with this same situation. She smiled and admitted she had heard stories about BUF's issues with gates. I'll spare you all the story, but if anyone wants to know just ask and I'll post it in a reply.
I had time to walk back to the central plaza, past the construction site, and was able to get a picture of my CRJ-200 to DTW and the CRJ-200 to JFK, which had the jet-way attached.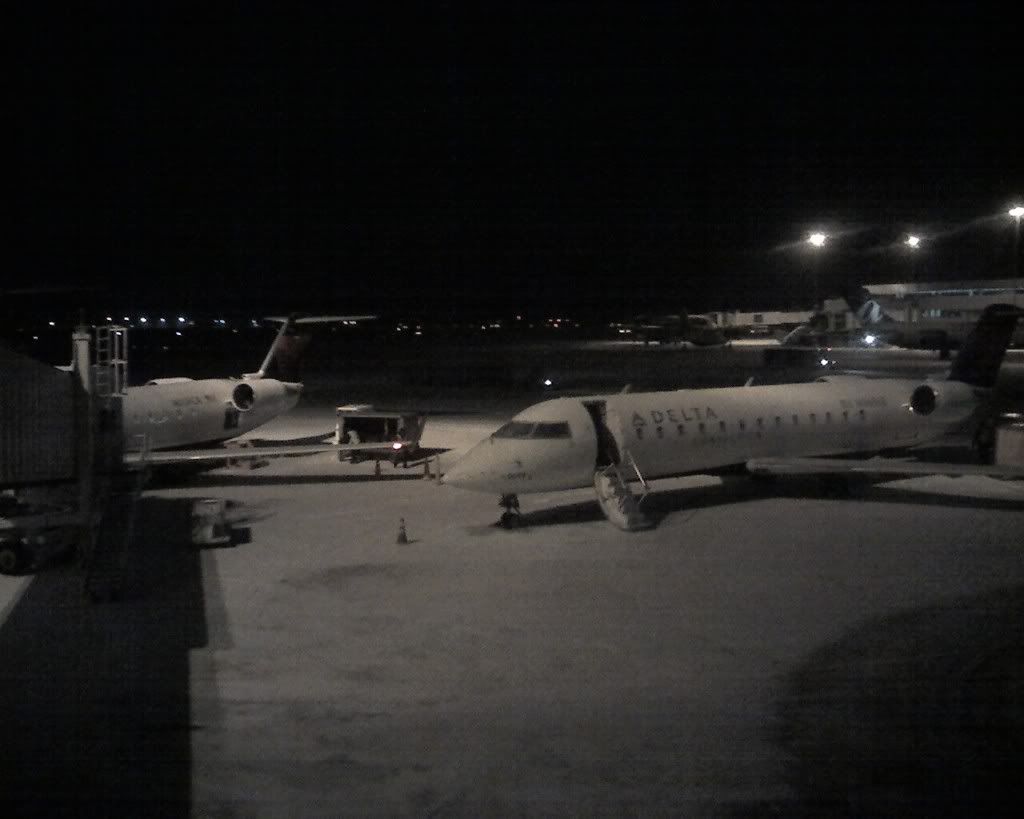 You'll notice how they are spaced apart and a good distance from the pier. This was done quite intentionally and was quite clever.

NW 4117
ROC to DTW
CRJ-200
N8659B
Scheduled Departure: 6:20 am
Push Back: 6:35 am
Takeoff: 7:05 am

Scheduled Arrival: 7:45 am
Actual Arrival: 8:00 am

The 6:01 am flight to JFK finished boarding and the jet-way was pulled away and was then slowly maneuvered through quite a large angle to connect to my CRJ-200 to DTW. In this picture you can see the wheels under the jet-way are turned at an angle to allow it to swing and the tip of the wing of the JFK CRJ-200 is on the left of the picture.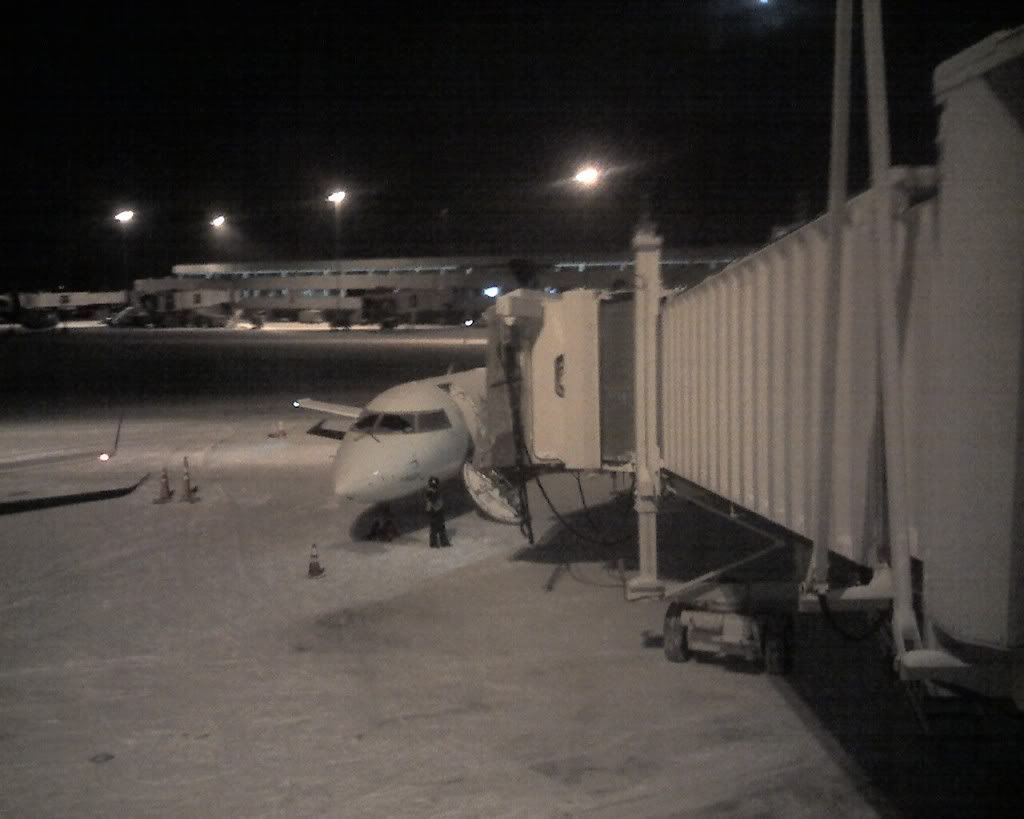 Boarding commenced at about 20 minutes before departure. I was among one of the first on board as I had a Zone 1 boarding pass. It was COLD on that plane!
After boarding I managed a quick picture to show the curtain that was doing a completely inadequate job of keeping the cold out!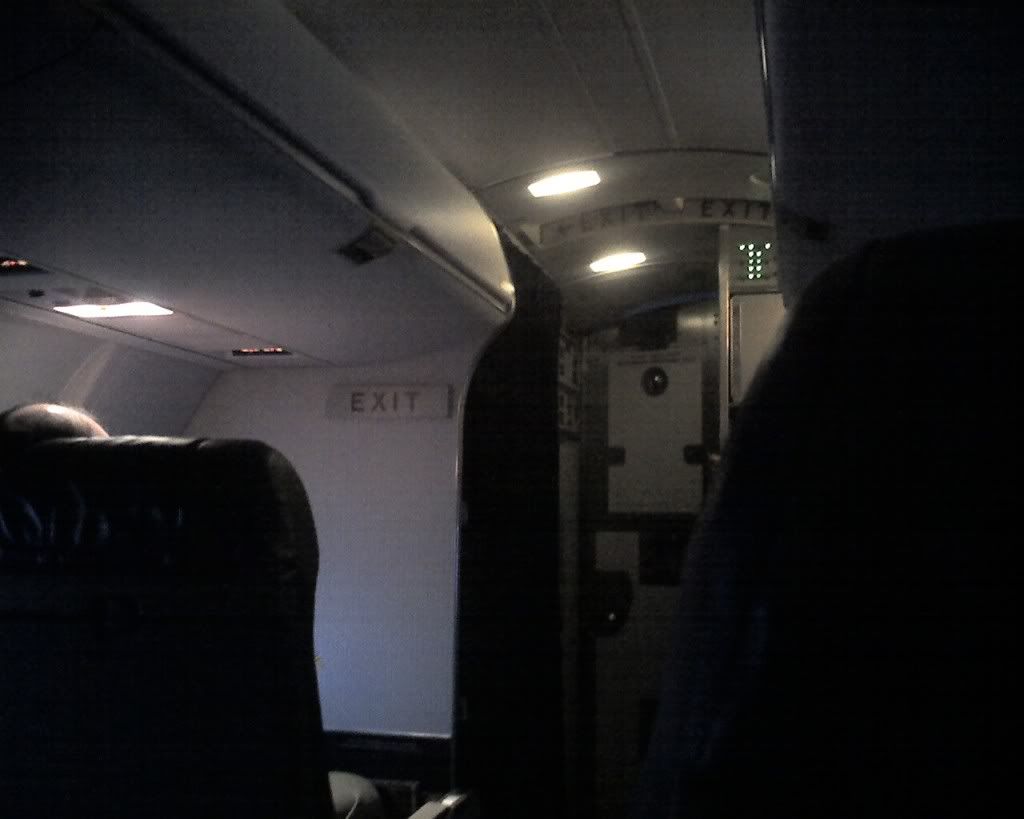 We sat for a while until they finally closed the door. The pilot came on and apologized for the delay explaining there was a problem with the paper work, Delta's IT strikes again!
After de-icing we finally took off at 7:05 am. The flight was full and the lone FA did a quick beverage service offering soda, juice, coffee, and small snacks. Most people declined and sat back and tried to get some sleep.
I did mange one picture across the aisle to show just how useless the windows on a CRJ-200 truely are...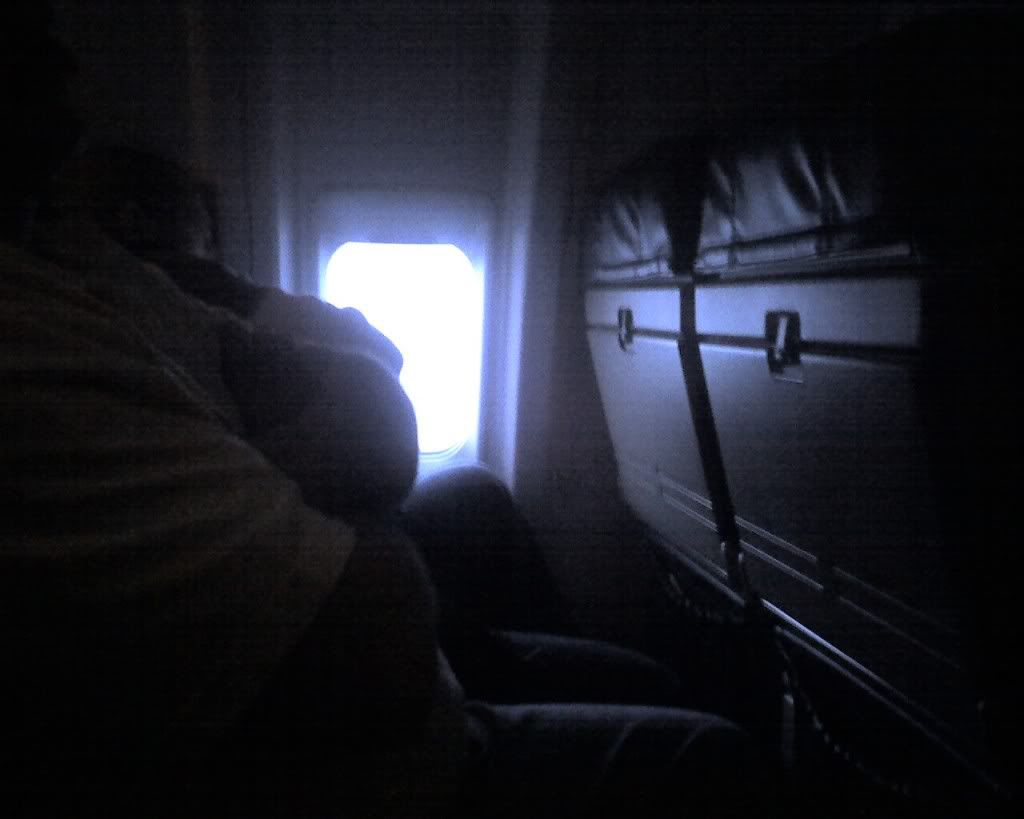 They are small and located at about elbow height... Ironically the aisle seats on a CRJ-200 afford a better view out the windows than the actual window seats due to how low they are compared to the passenger seated at the window seat!
The flight was short and uneventful. It was interesting that the seat belt sign stayed on for the entire 55 minute flight. This has been a growing trend I've noticed on my US flights... The problem being that when the fasten seat belts sign stays on for the entire time, people just learn to ignore it!
At DTW we pulled into gate B10 as shown in this picture that also vividly illustrates the dots on all of DTW's windows that make plane spotting from within the airport a nightmare!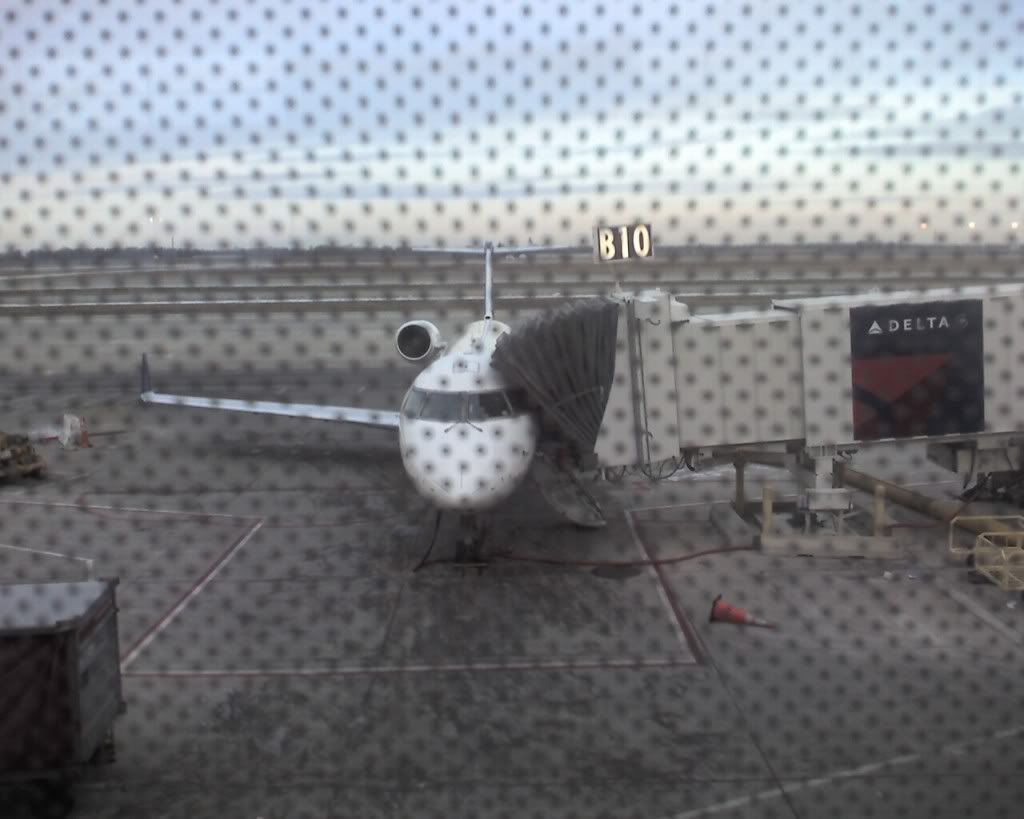 Heading up the jet-way, at the bend was the shelving unit for valet checked bags to be retrieved.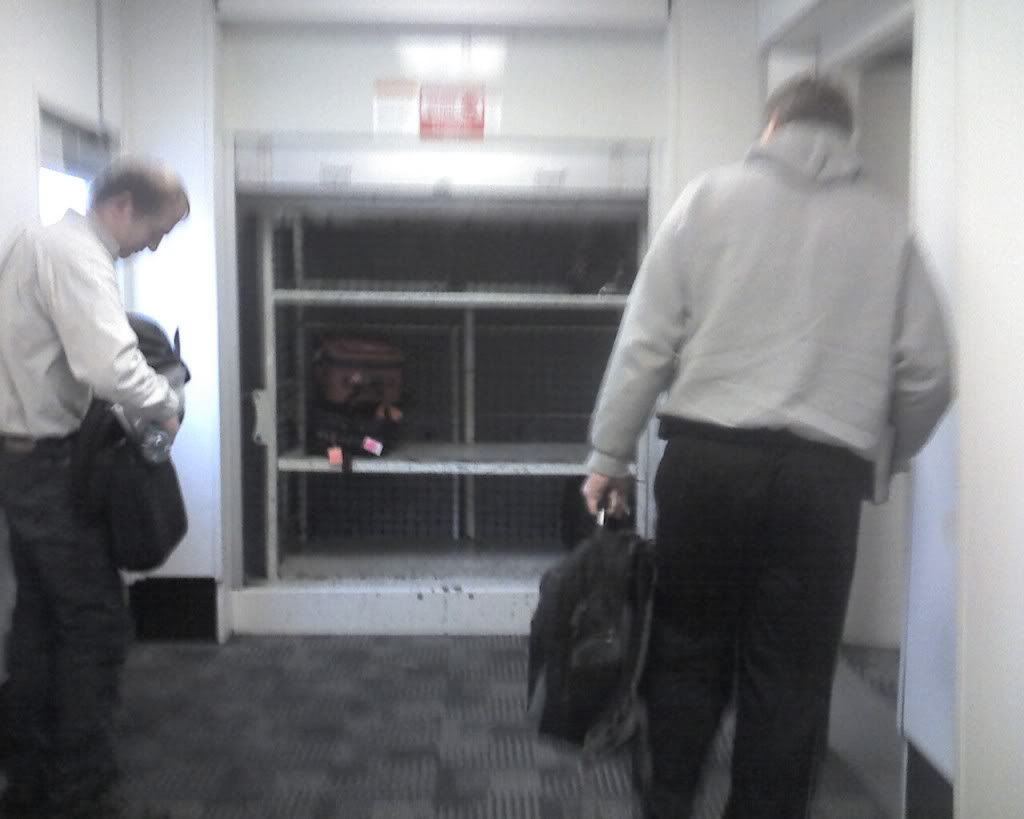 Let me digress and give a little primer on one of the "joys" of traveling by regional jet in the United States. The overhead bins on these jets are SMALL, far too small for most normal carry-on baggage. If you have carry-on baggage then you get a special "valet check" tag for your bag at your gate. If there is no jet-way you walk out to your regional jet and leave your tagged bag on a cart near the steps. The bags on stored in the back of the plane and are brought out at the destination airport for immediate retrieval by the passenger when leaving their regional jet.
If you depart or arrive at a gate with a jet-way they either ask you to wait right at the entrance of the jet-way OR they ask you to continue to the shelves that are built into the jet-way.
This system is different than gate checking your carry-on baggage because you take it with you when you leave your regional jet. So people who might be flying ROC->DTW->LAX would take a regional jet from ROC->DTW and valet check their carry-on baggage at ROC. They then retrieve their valet checked baggage at DTW and then go to their flight from DTW->LAX and take it with them onto their mainline (large) jet to LAX.
Each day several people who are not use to this system arrive at DTW and leave their valet checked bags behind thinking they were gate checked, only to find when they arrive at their final destination, say LAX, that their carry-on bag was left back on the shelf at the jet-way of their ROC->DTW regional jet flight!
Anyways sorry for that digression....
Having arrived at DTW a little late I didn't have time to take too many pictures, however I did take more on my return through DTW so I will just post all those pictures here...
With the merger Delta took over the Northwest World Gateway, also know as the McNamara terminal at DTW. It is a BEAUTIFUL facility and is one of the best in all of the United States.
The regional jets use the B/C concourse which is one long parallel.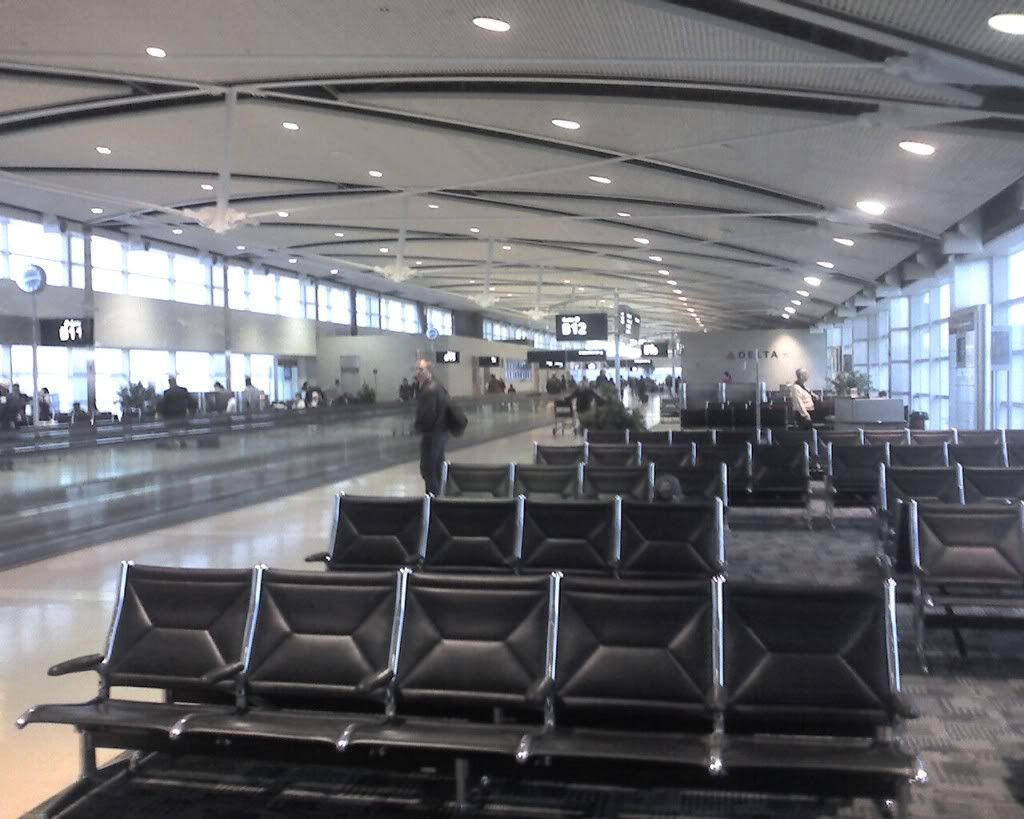 It is very passenger friendly, and as Northwest Airlines had many flights between Asia and DTW the signage often has Japanese in addition to English.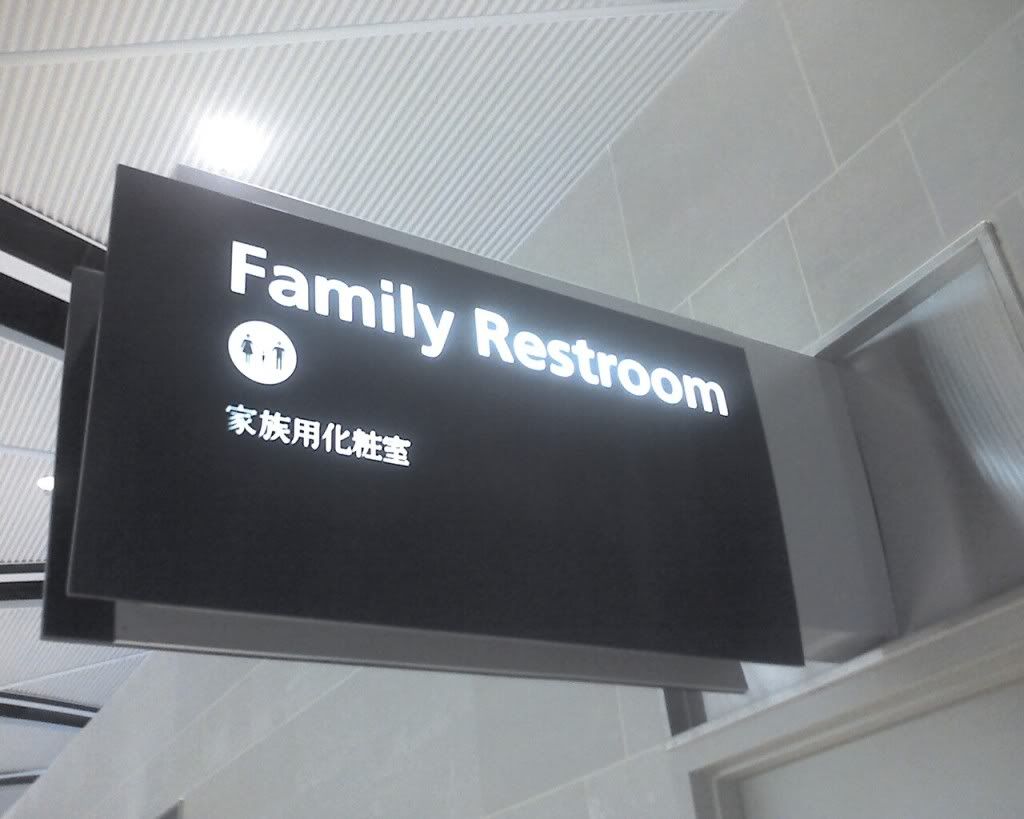 At the far B end of the B/C parallel is an open lounge area.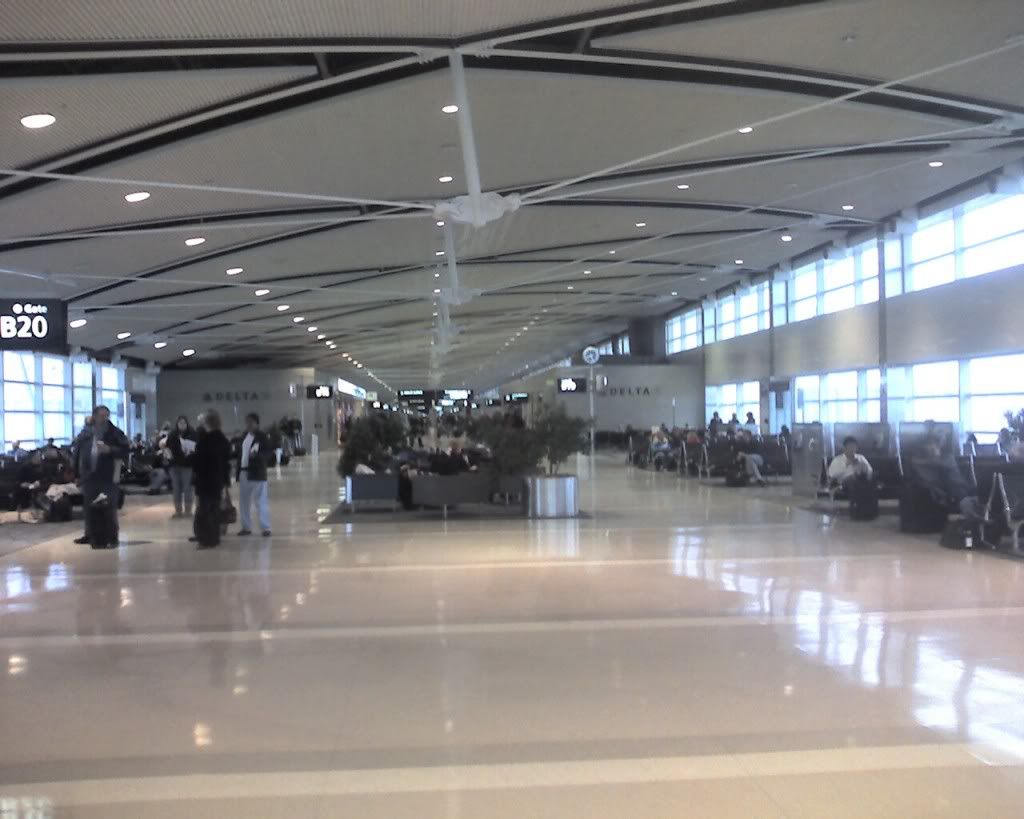 Looking outside from the B end of the B/C parallel affords a view of a good collection of snow removal equipment that is vital to DTW operations in winter. I also got a shot of a CRJ-200 in its original Northwest Airlink livery.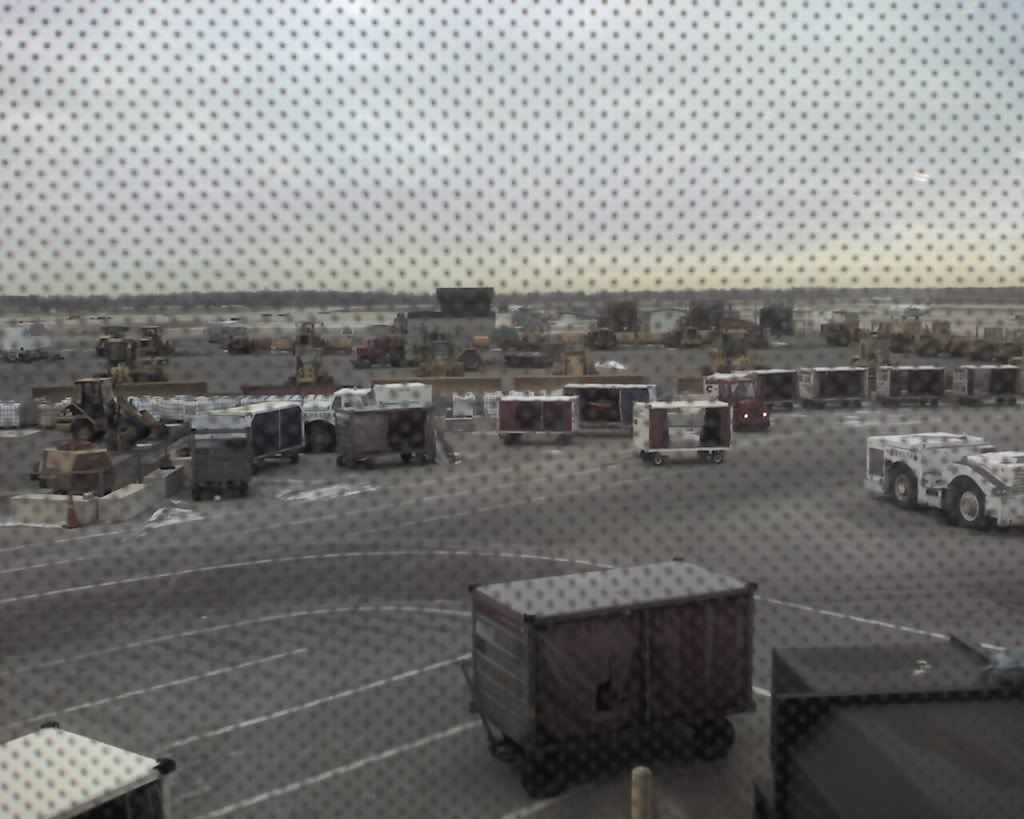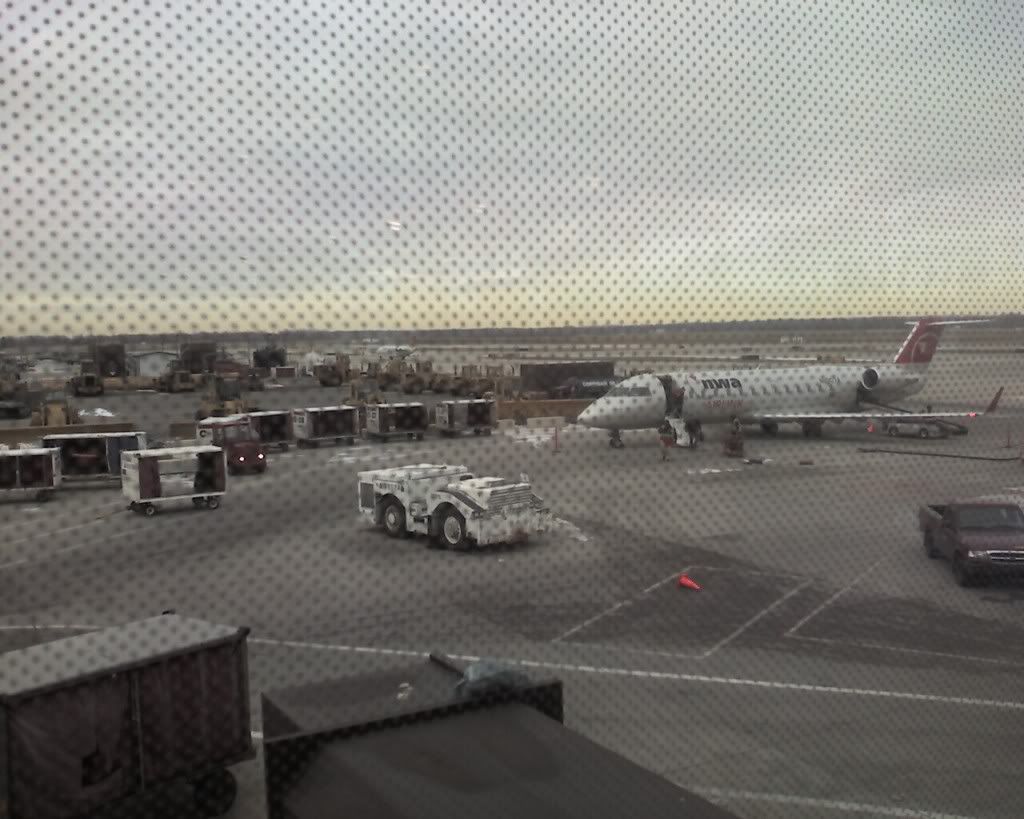 Walking all the way to the other end, the C end of the B/C parallel, shows a drop down with many ground level gates.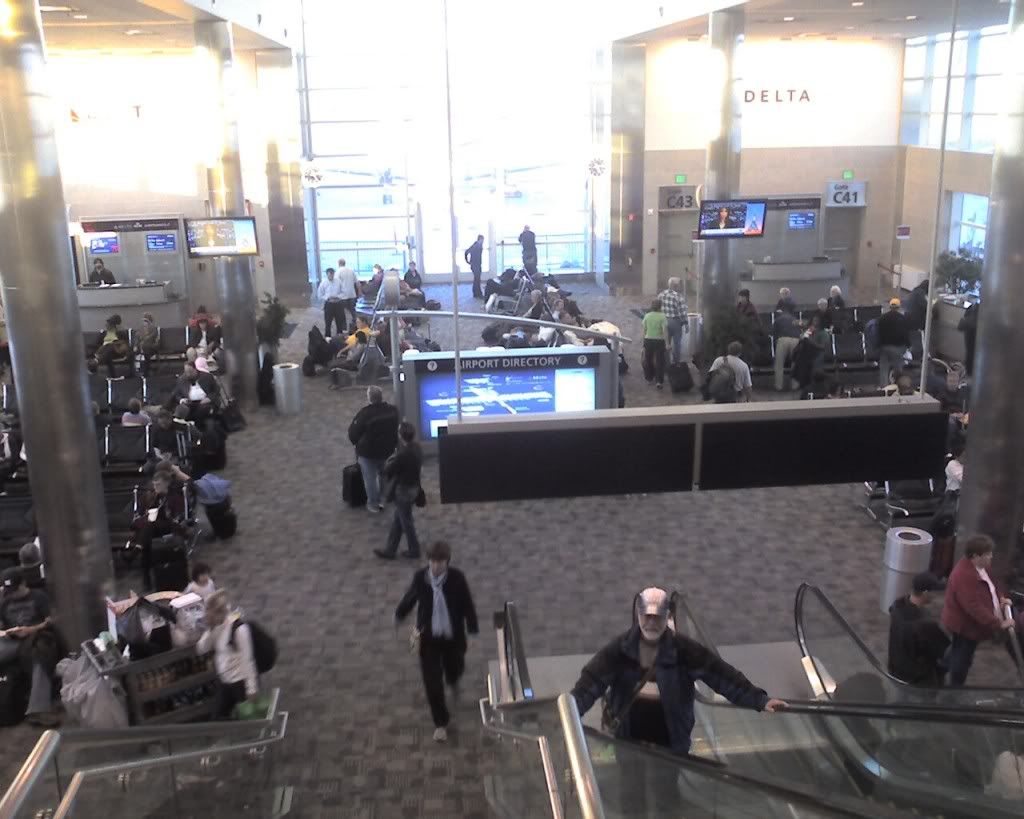 From the very end one can see the new North Terminal in the distance. It is the home of pretty much all airlines NOT named "Delta Air Lines" which have service to DTW.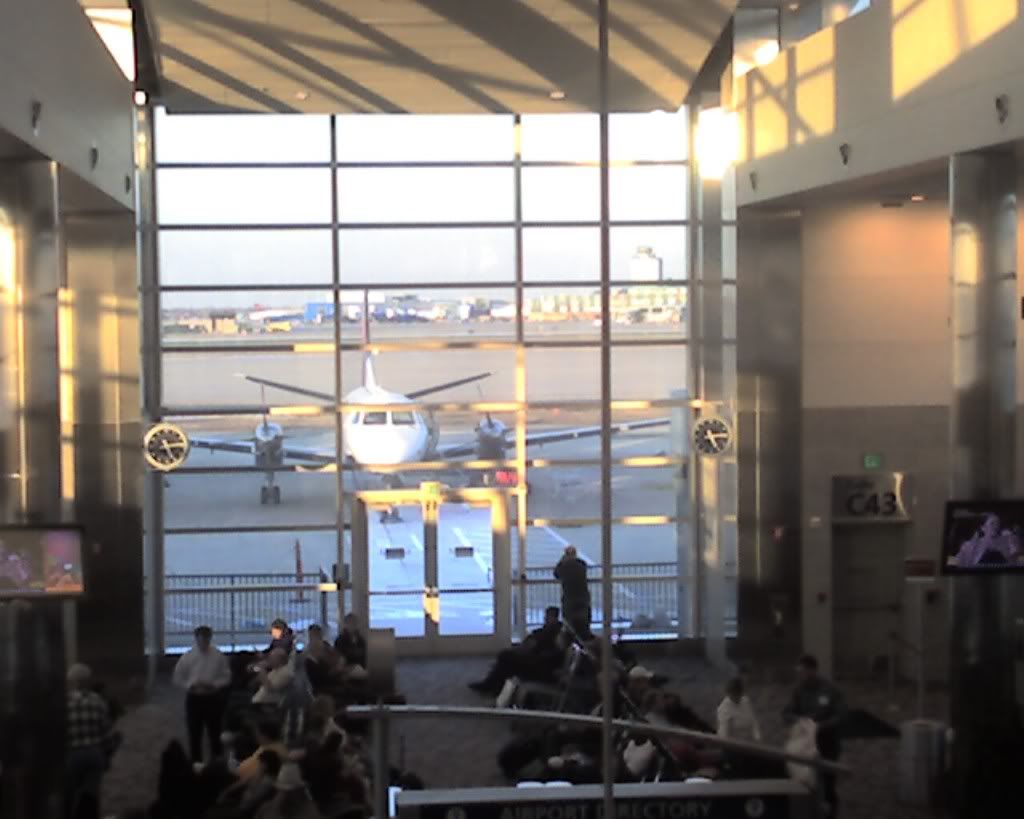 In the middle of the B/C parallel is the tunnel over to the A parallel.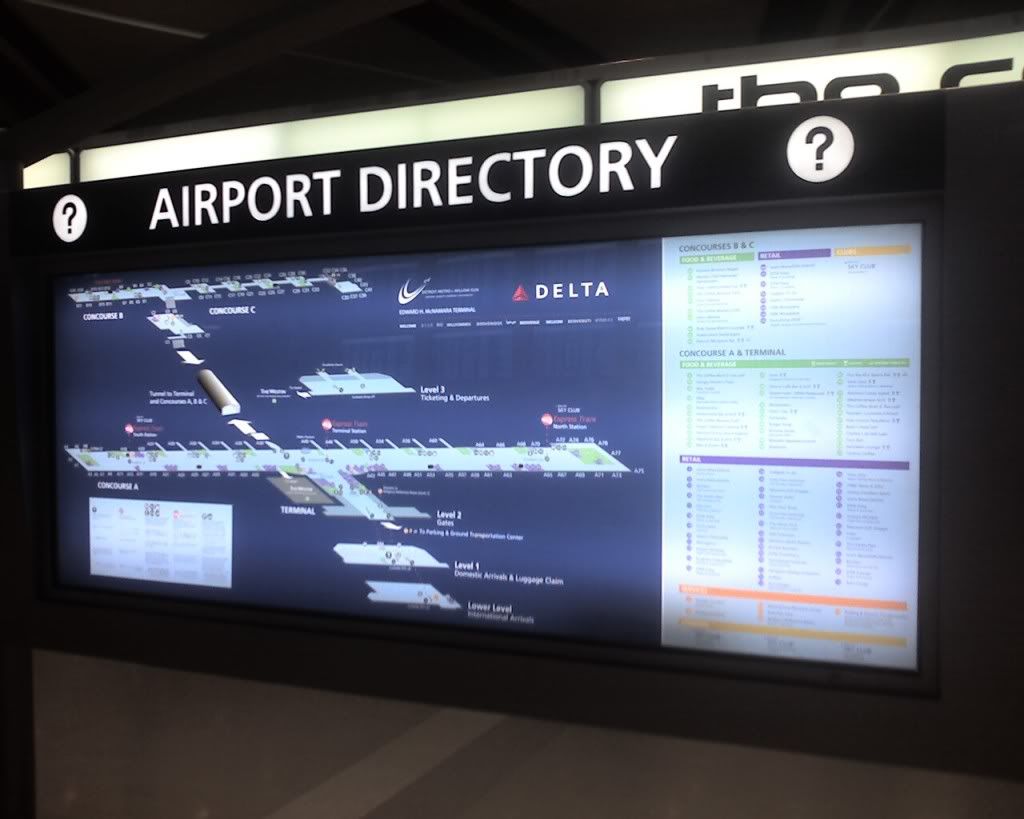 Here are the escalators down to the tunnel.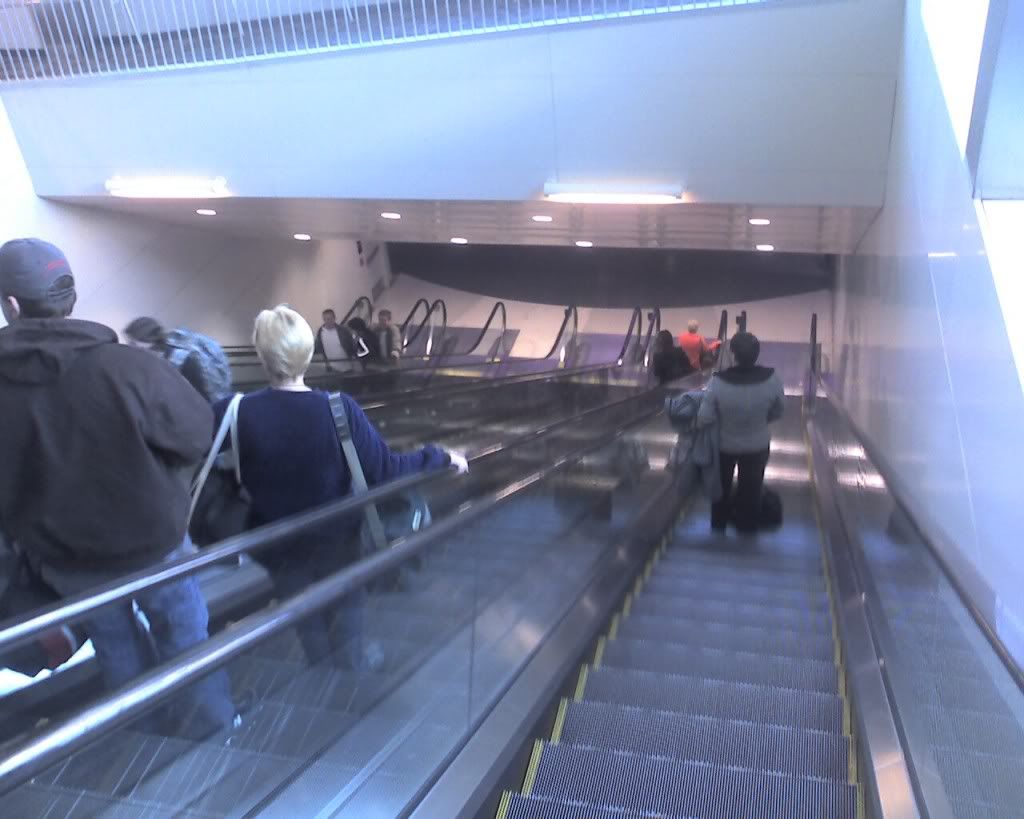 And here is the tunnel.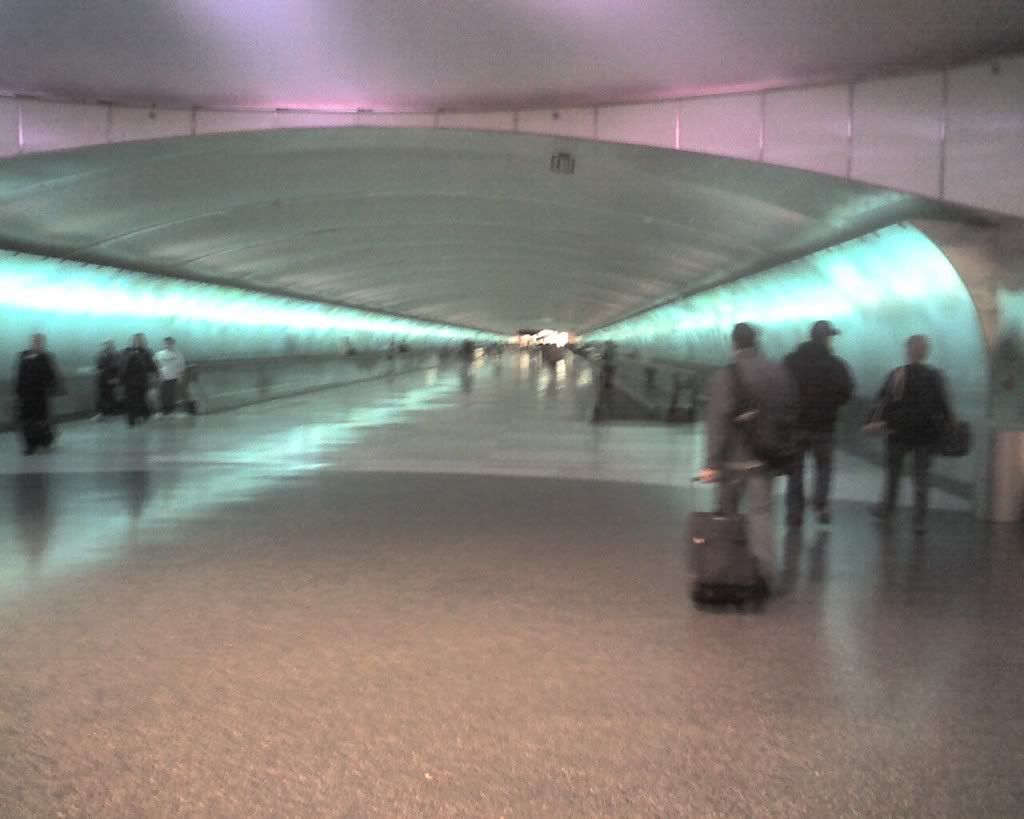 Words and pictures CANNOT do it justice...it has to be seen to be truly appreciated...there are numerous videos on youtube...here is a good one:
http://www.youtube.com/watch?v=Y8oVaj8yQbo&feature=related
The light and sound show lasts about 15 minutes and continually loops.
Interestingly enough, you can "pause" the show if you think it will be too much for you: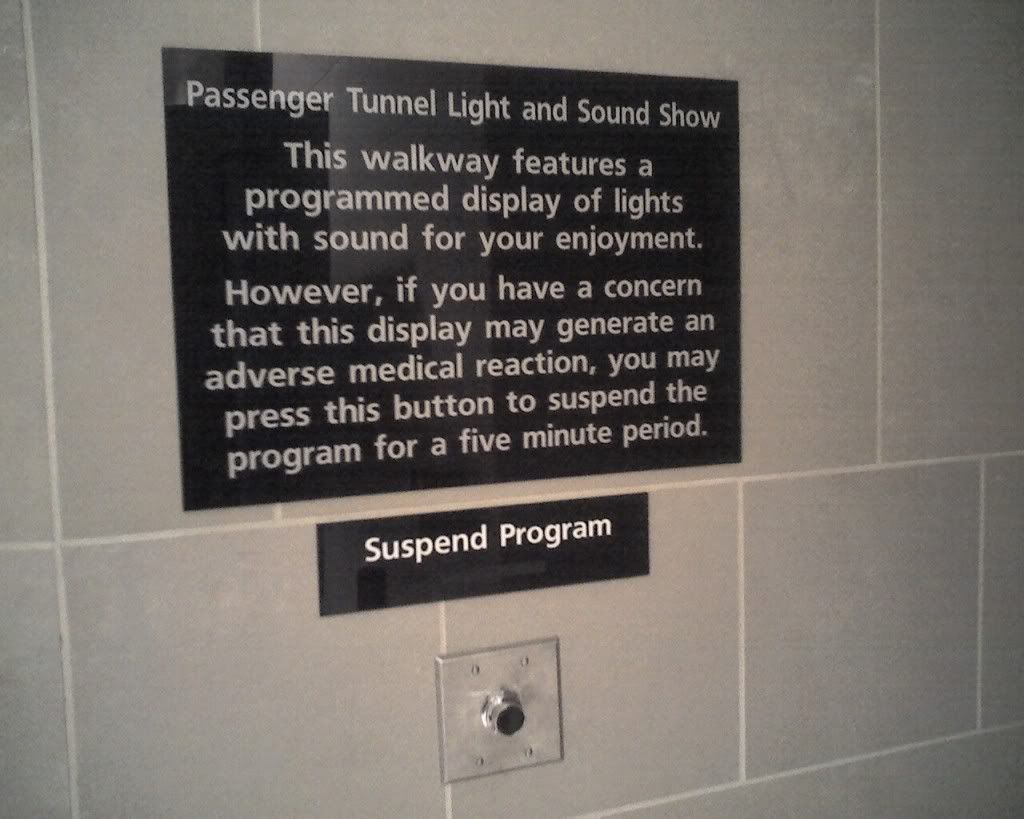 Making your way through the tunnel you then go up the escalators to the middle of the A concourse...
Here is a youtube clip showing the view as you come up.
http://www.youtube.com/watch?v=5EW7eneuRws
This leaves you in the middle of the A concourse. I didn't have time to take too many pictures or ride the tram that runs along the length of the concourse.
Here are two pictures giving a feel for the size and openness of the concourse.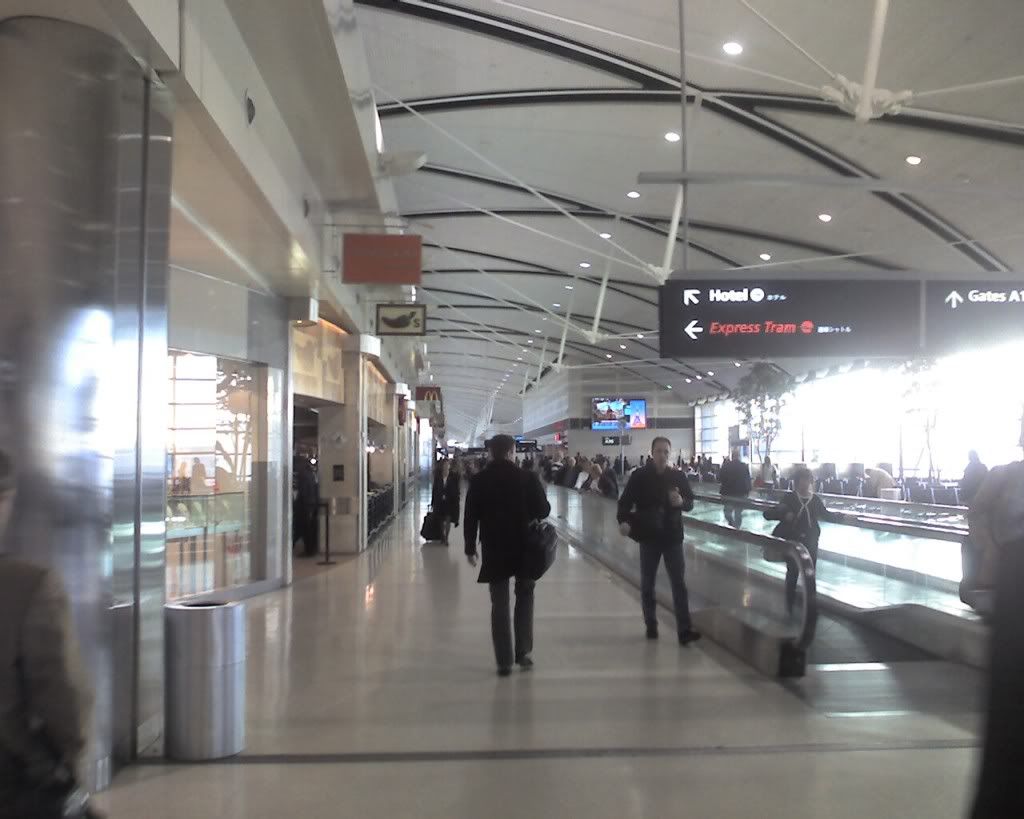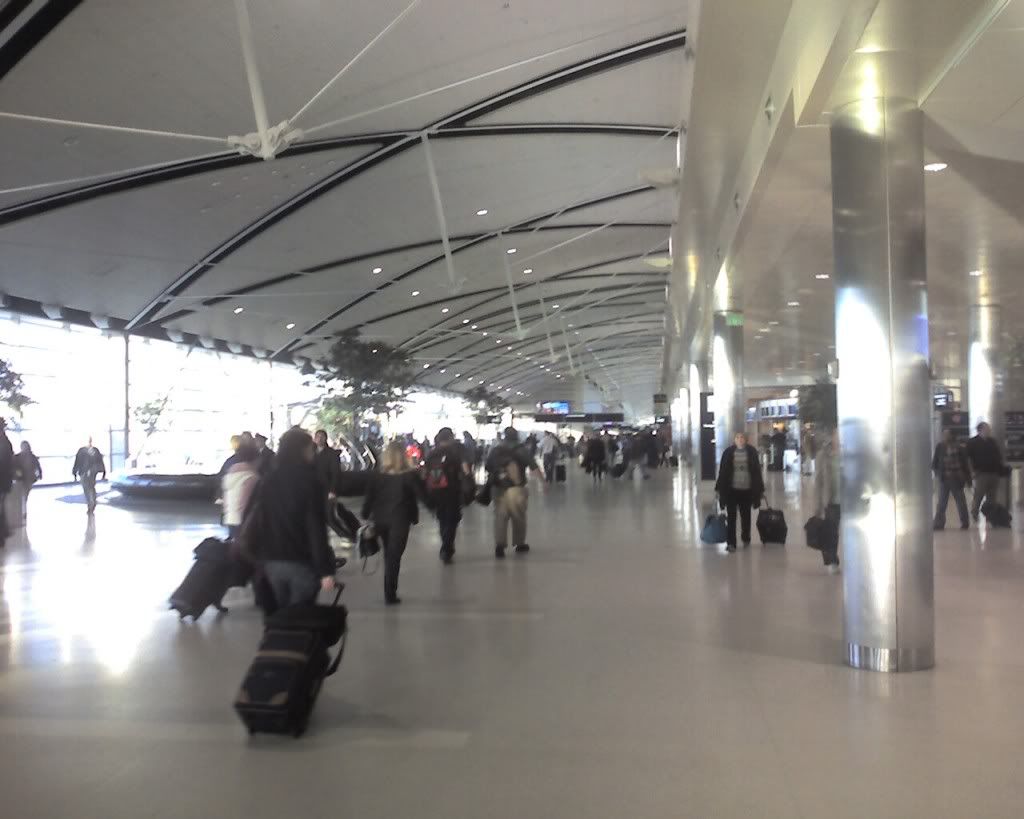 Here is a view from the middle of the concourse, looking back towards the B/C concourse. In the foreground are the escalators up to the tram and the back of some flight information displays. In the background is the fountain and another lounge area.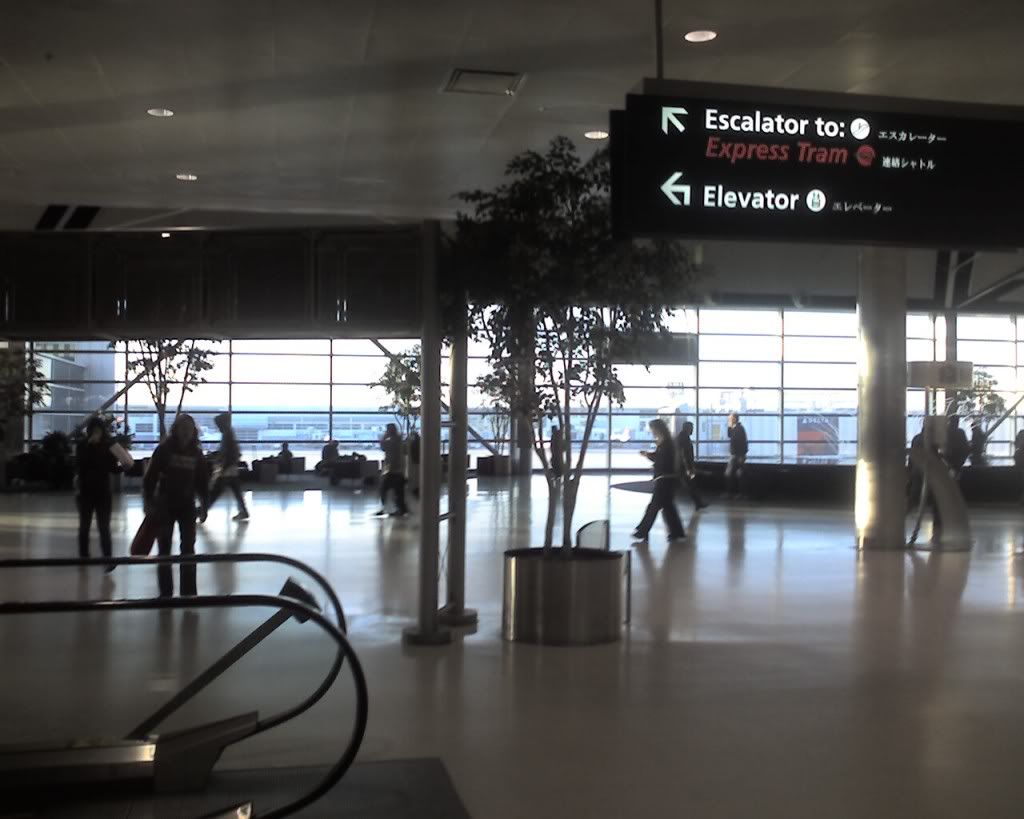 Here is a view of the front of the same flight information displays.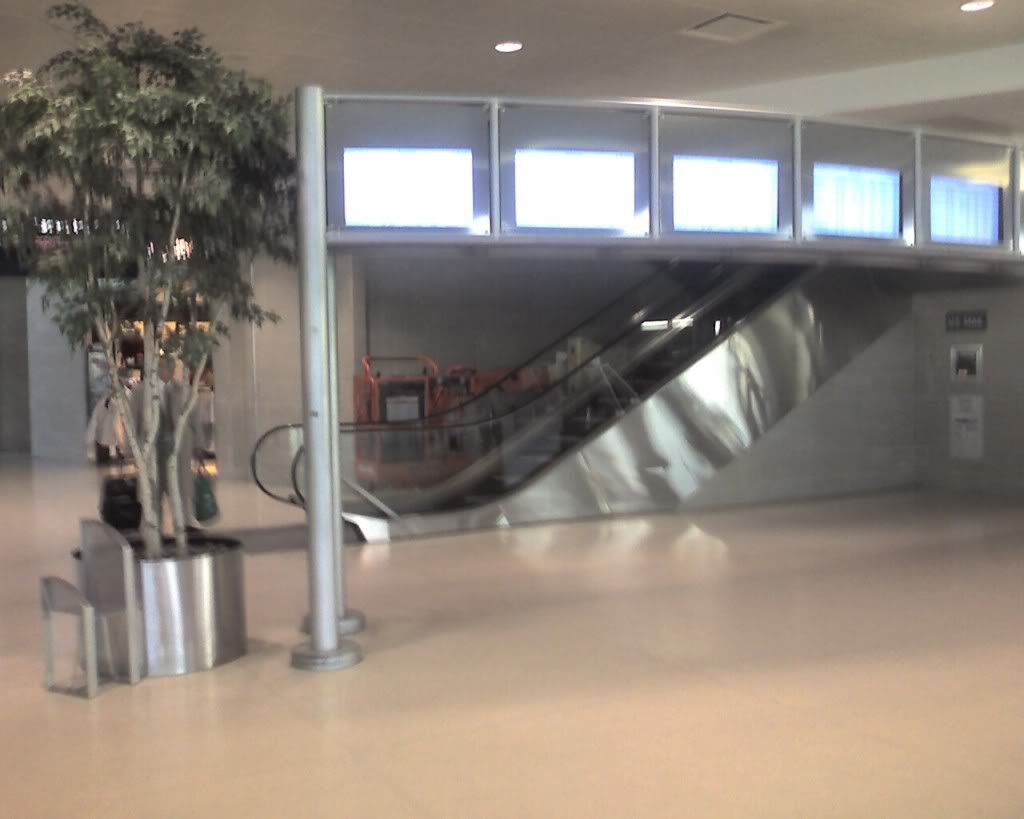 Notice the planter next to it and that the planter has BLANK rocks in it.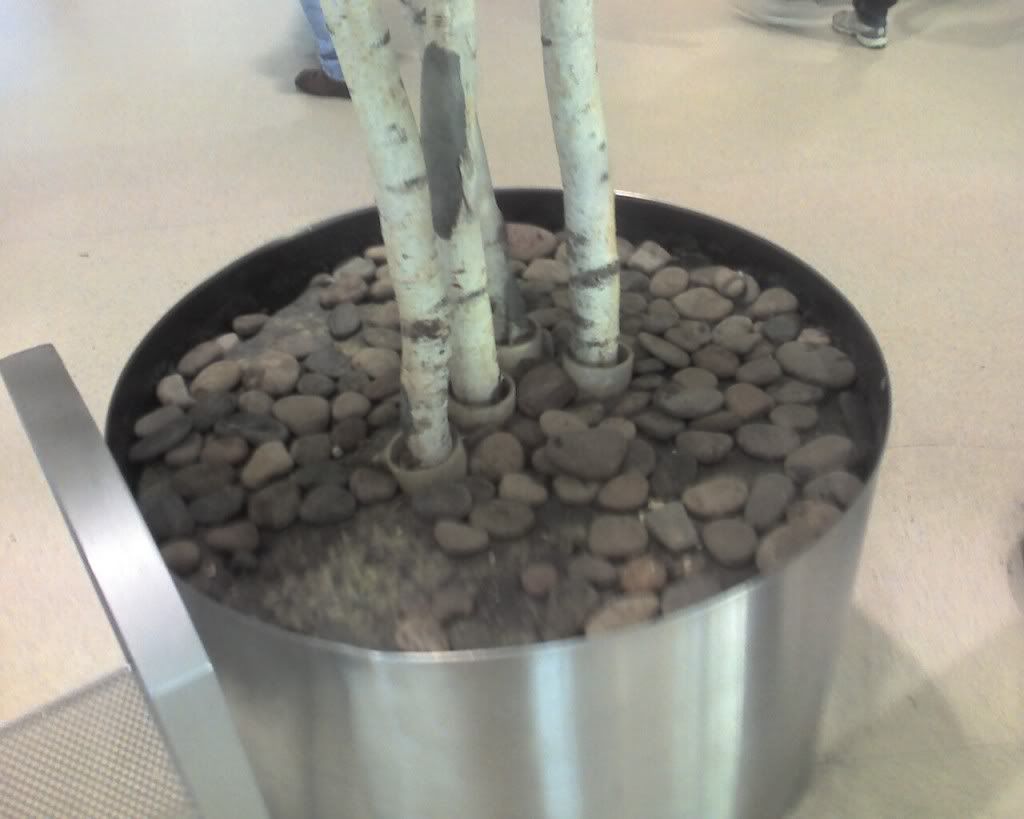 What many people do is take a BLANK stone from these areas and write a message on it. Most people also date their message. They then leave their individualized rock in the planters in the lounge area next to the fountain. This view of the fountain is very similar to the photo used in the "Up in the Air" movie poster!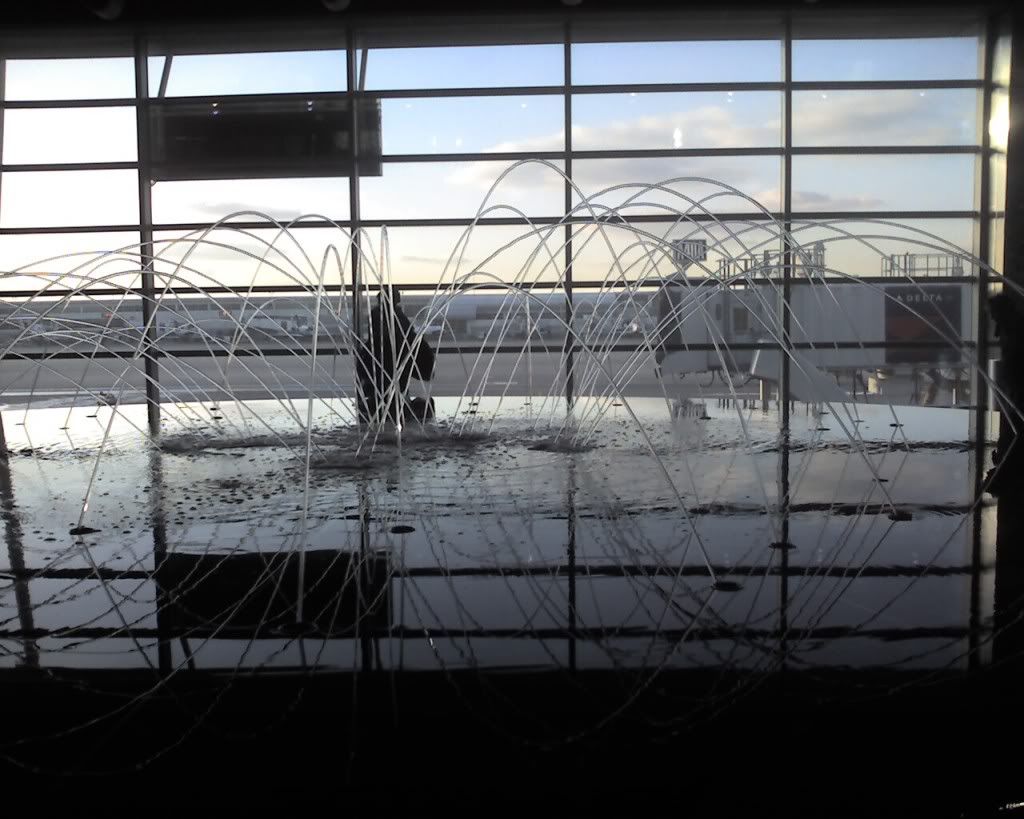 See any special rocks in this picture?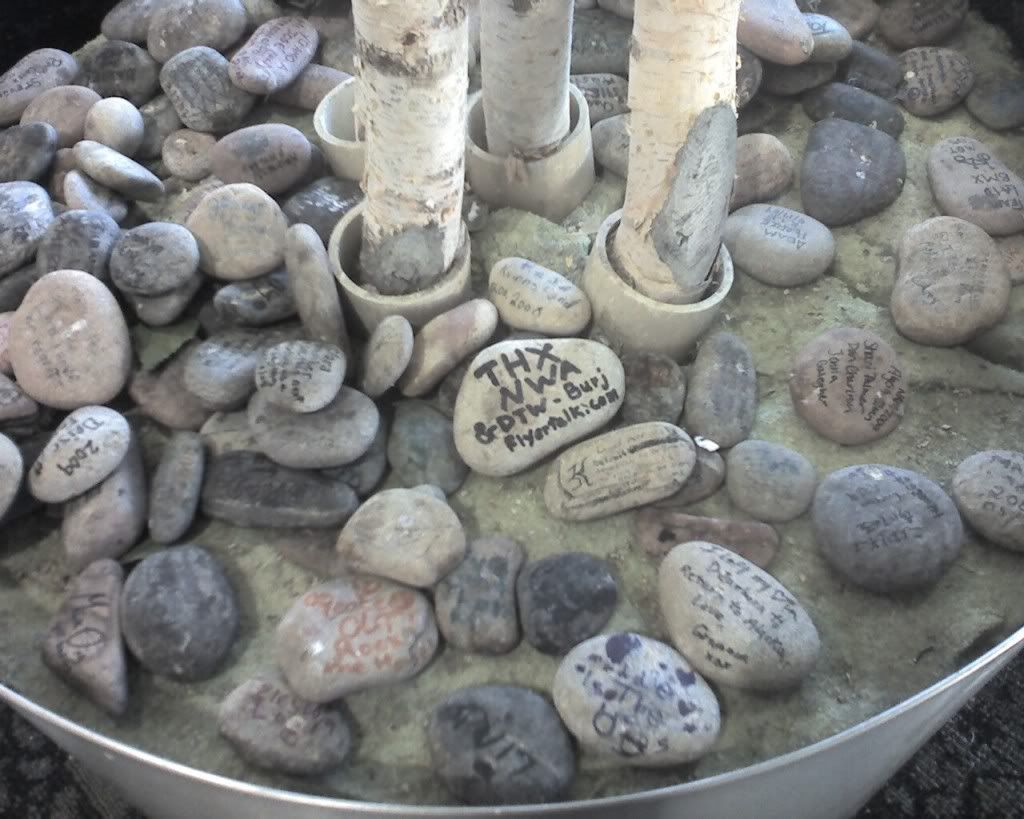 Many of the rocks have messages in Japanese or Chinese, again a testament to the terminals status as a gateway to Asia!
If I had to speculate I would guess this custom of leaving messages on the rocks was started by Asian passengers with long layovers at DTW!
I am going to take a break here. I will continue this Trip Report later today with the next leg of the trip, the CRJ-900 flight from DTW to DFW and all the pictures I took at DFW!
Getting this first part posted was very difficult because I called my album in photobucket "DFW" however when I actually used "DFW" in the body of the trip report, the link to the photos stopped working! It took me quite a while to figure that out!
TO BE CONTINUED!