Bound for the pyramids on the A346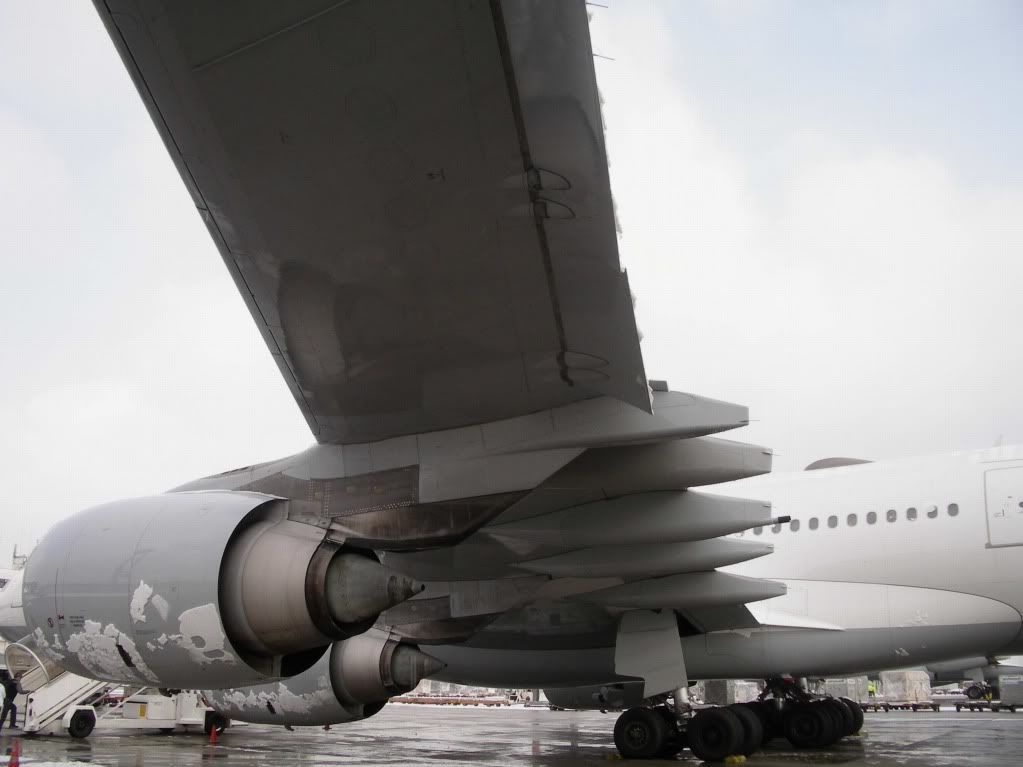 Ahlan wa sahlan, dear readers,
like every year, sooner or later, it´s enough for me with that middle european, ever lasting, never ending winter weather.
My recent story was one of these winter forced interrupted one´s
Secured The Contact F100, But Missed My Connection
(by
FLIEGER67
Feb 18 2010 in Trip Reports)
Where to go and escape from here?.
Egypt sounds interesting, never been there and also nice metal to book.
So, it wasnt that cheap, but anyway I´ve decided to go.
Booking was done via Egypt airs website, some 200.-- Euro´s cheaper return, than booking one way and some 800.-- Euro´s cheaper than booking the same connection
on our major german homecarrier without the usual sunday night stay.
In the end I´ve payed some 200.--. Euro´s per leg. It´s definitely a money making route, more about it later.
Sunday, 14.02.2010






Service Egypt Air 9002 operated by Lufthansa
Scheduled: 13.25 // 18.25 = 4 hours (1 hour time distance)
Actual: 14.55 // 19.45 = 3 hours, 50 minutes
Leaving home by car much earlier than usual at around 7.00 am, but its winter here, so more time seems better.
Check-in was done online via LH´s website, quick and easy.
An interesting notice was, that the system responded, I´ve been already checked in without any action from myself.
The only minor complaint was, that all window´s further in the back from row 51 gone taken.
Some snow, but ok till Heidelberg, where the sky opens its doors and snow falling much more than expected. Need some more time and reached my usual parking location, Tourcare at around 10 am.
Shuttled quickly to terminal 1 and joined the queues for baggage-drop-off.
Not that long at all, only some five minutes to wait.
A first view to that lovely board shows the usual winter situation, lots of delays here.
Temperature was -3 degrees and it was wet in FRA after earlier snow.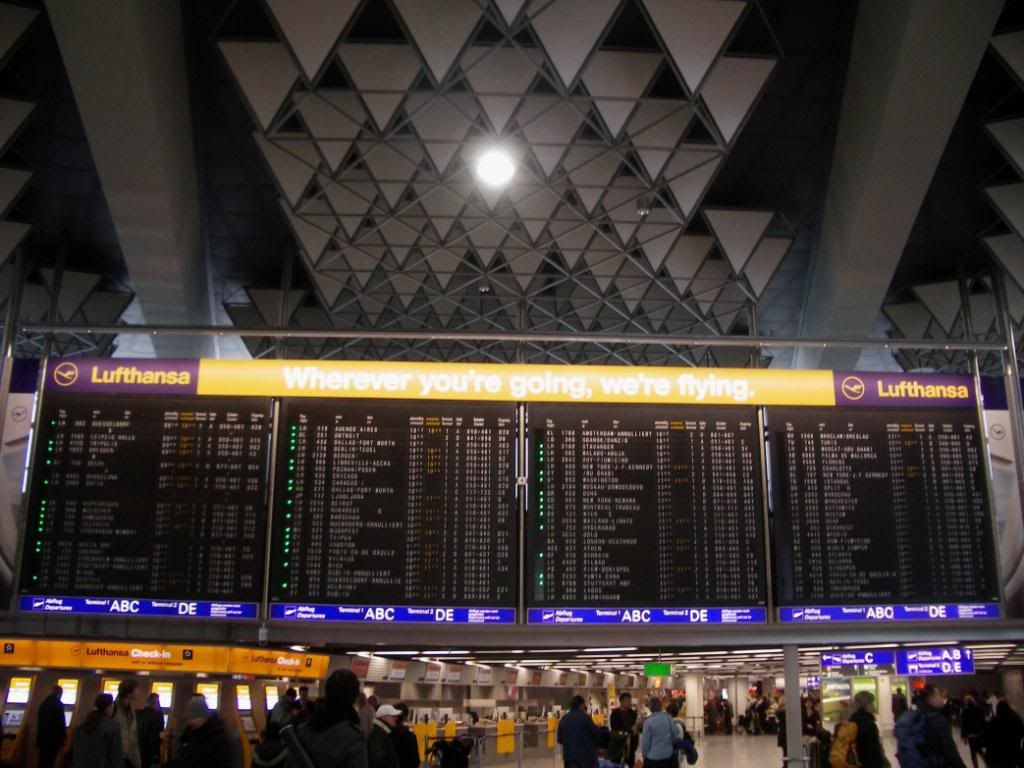 The friendly female there was somewhat surprised that also the boarding pass for my next flight was printed out. She checked it properly, but I was again without action checked in for the next flight.
I´ve asked for a seat change, but she told me also that the plane is fully booked and all the seats gone taken.
Well, joined the next queue at security, some ten minutes more to wait and arrived in the Terminal 1 B area.
A good way to walk and also to check for some relaxed seating to follow the snowy action outside.
Quatar bound for, well, Quatar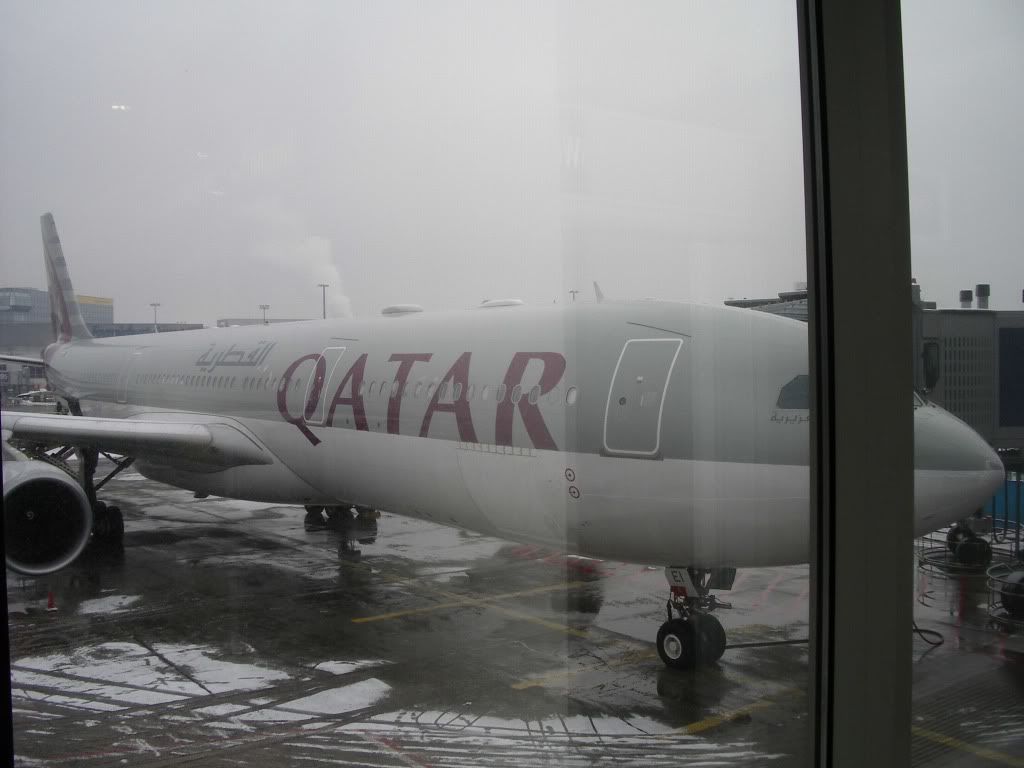 The operations board showed me my plane on the way to CAI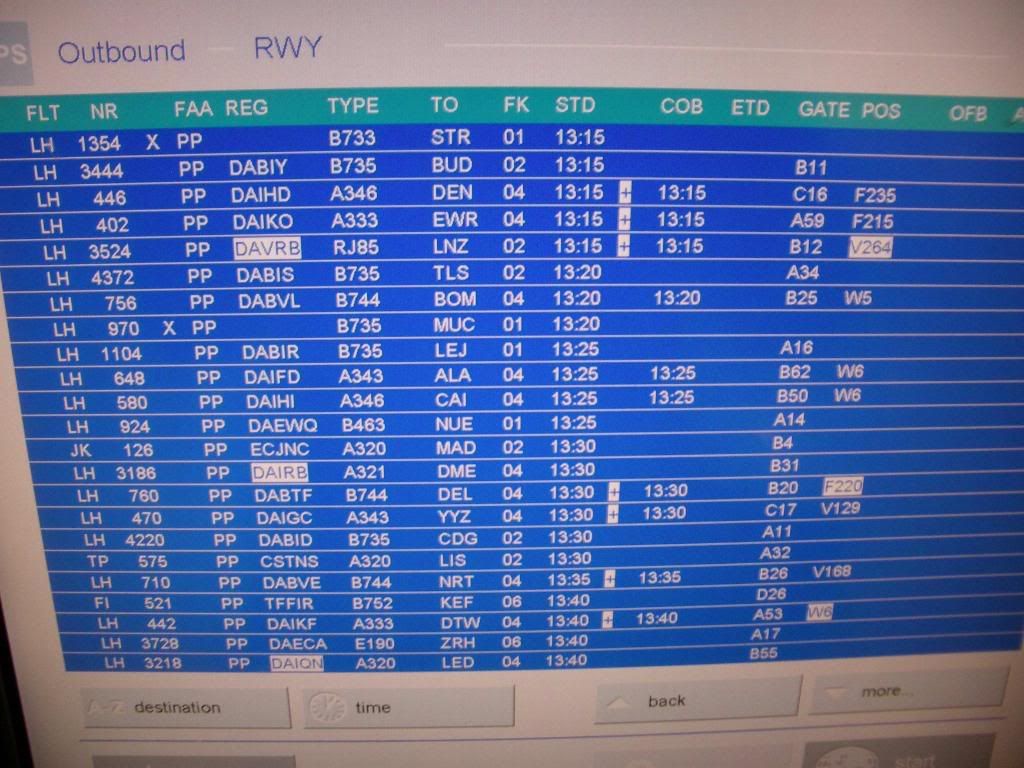 And the first page with a couple of delays
More delays and cancellations here on the external screens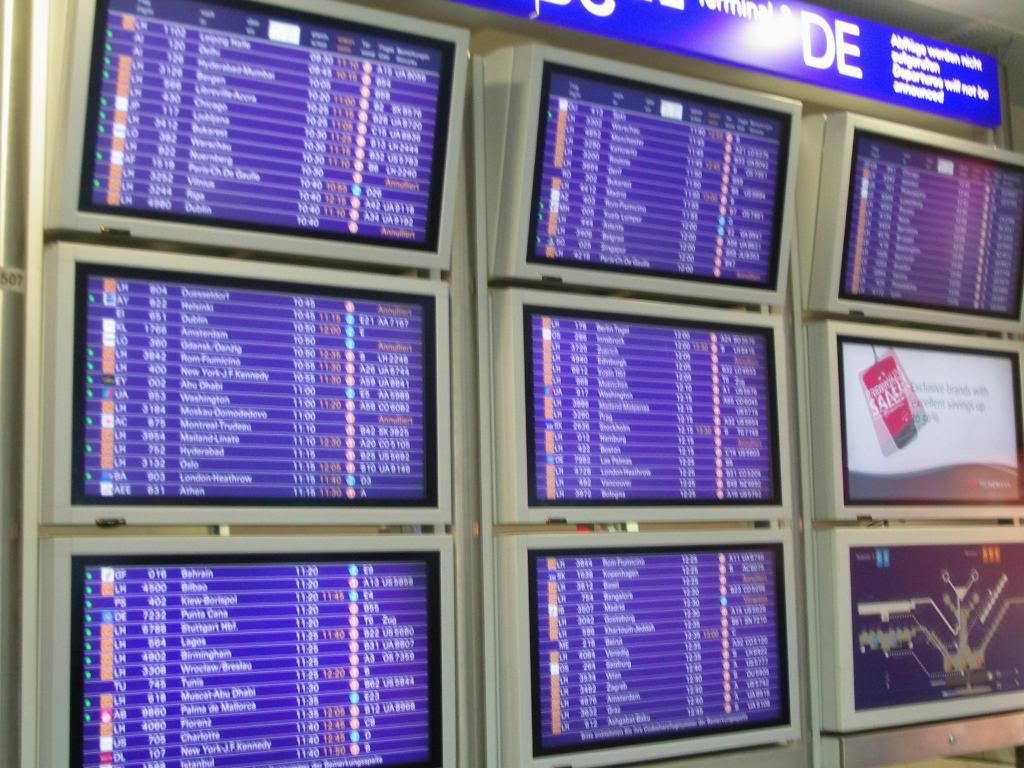 It looks like a hard day for the de-icers here with all that widebody planes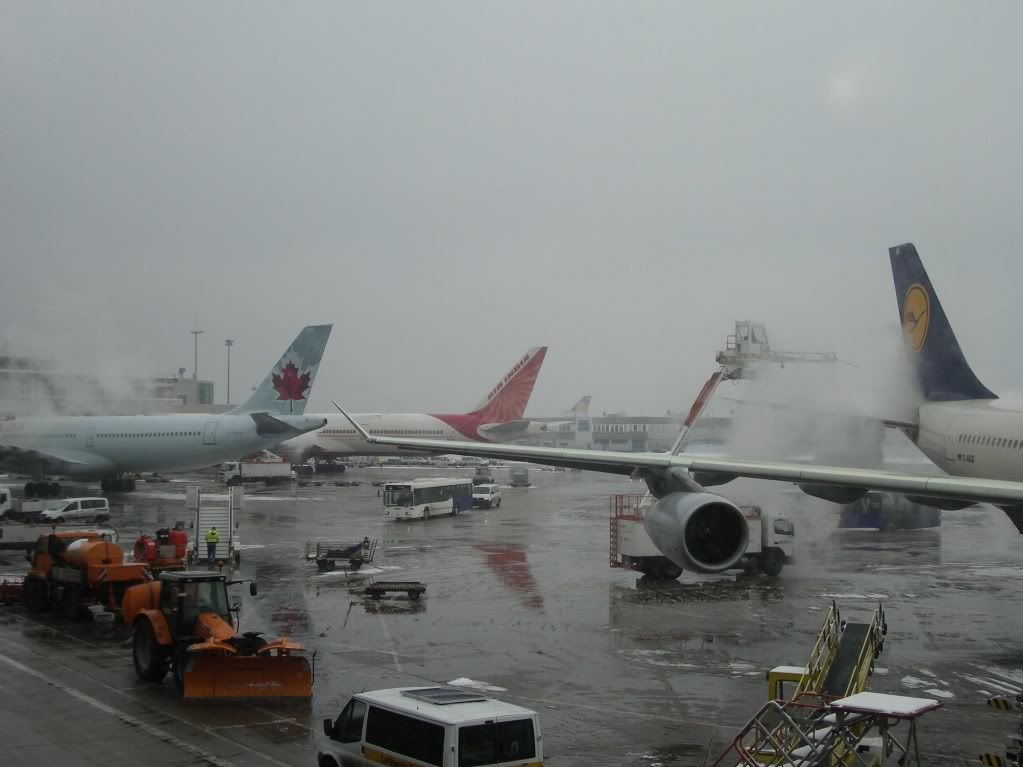 LH´s A343 at the gate
Tunis Air arrived also with an hour delay from TUN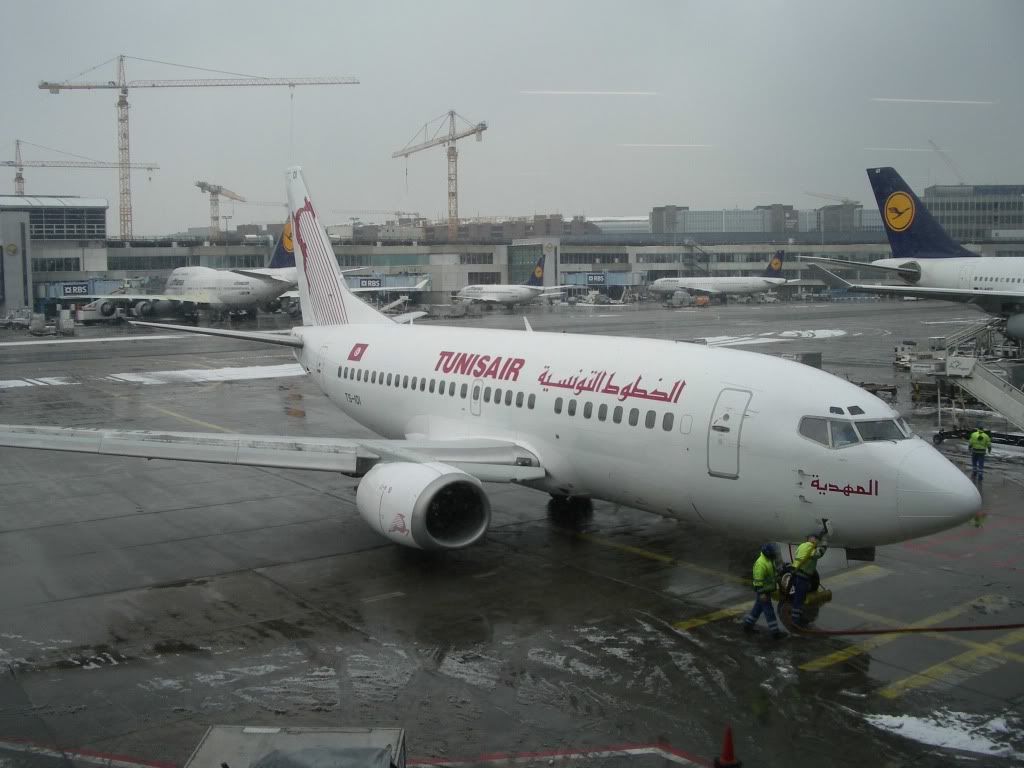 Continental´s 764 ready to go for IAH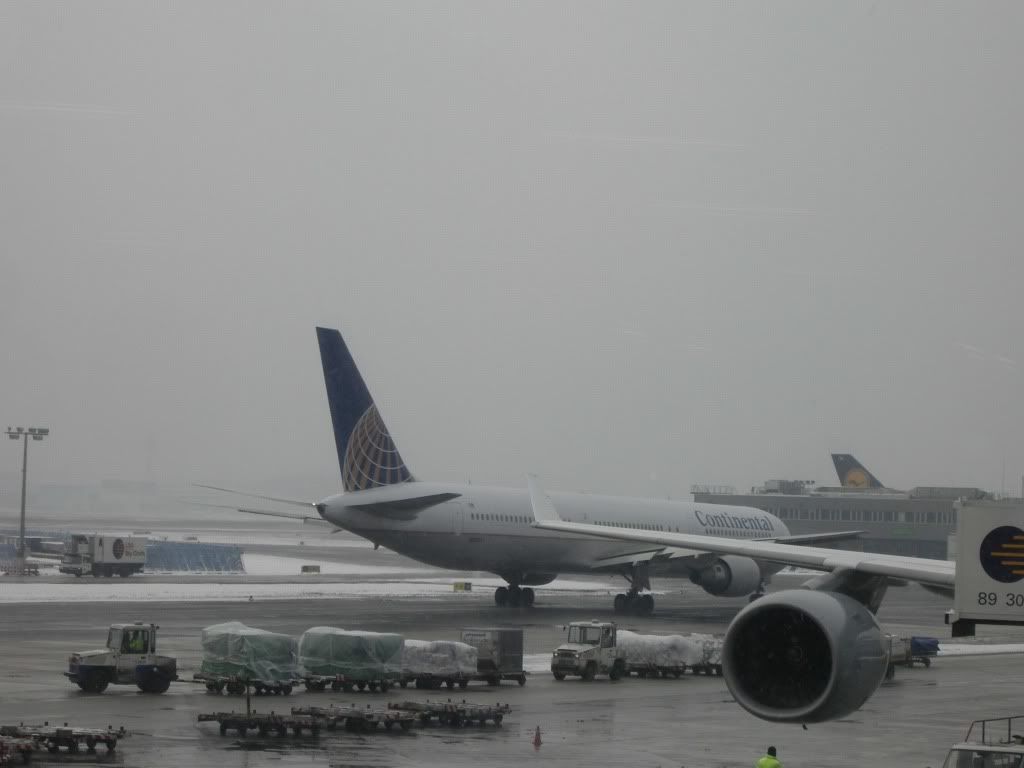 And MEA just arrived from BEY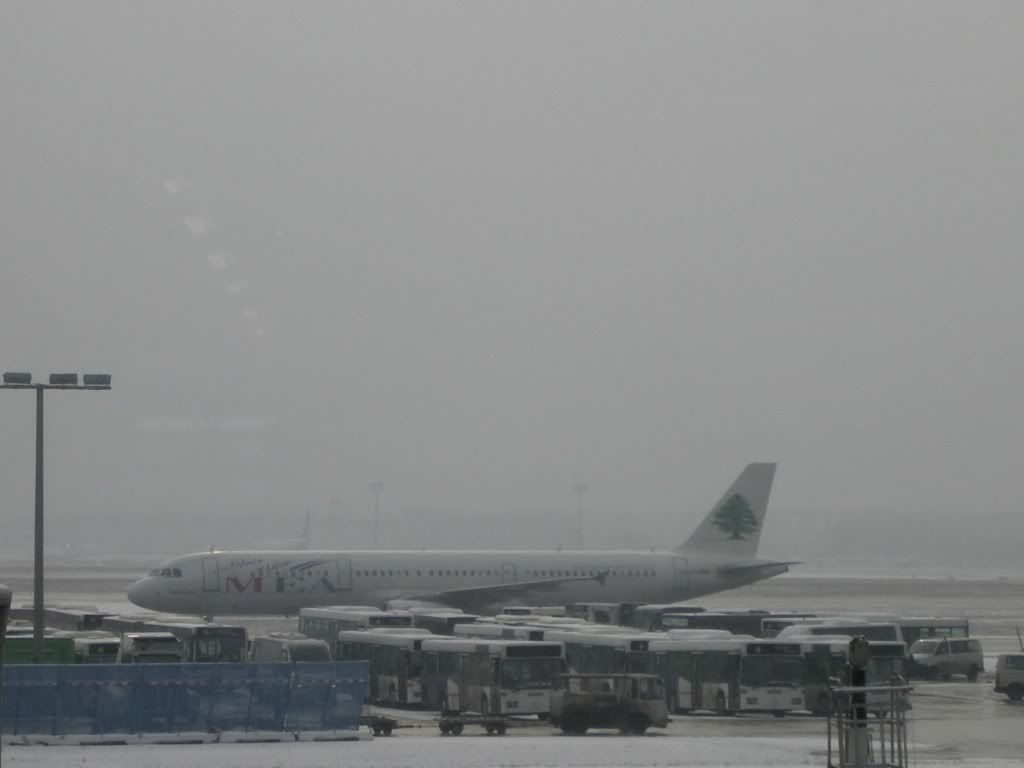 AC heading for another snowy place
Some 30 minutes prior to boarding I´ve decided to head for the gate B50, on the groundlevel,
that means bus boarding today.
Usually warm welcomed, but not really today with that cold and wet weather conditions.
The gate agent announced that boarding will start some minutes later than scheduled while we had to wait for delayed connecting pax.
The sometwhat usual hub interruptions.
And also the waiting list was huge, so it seems they shuffled some other pax from earlier delayed or cancelled flights to this one.
A chance for me to go for the last row?. We will see!.
I was with the last pax from the gate area.
A long way to go along the whole cargo apron till nearly the entrance for runway 18.
Loading freight on Aerologic and something from China
till we reached my snow covered plane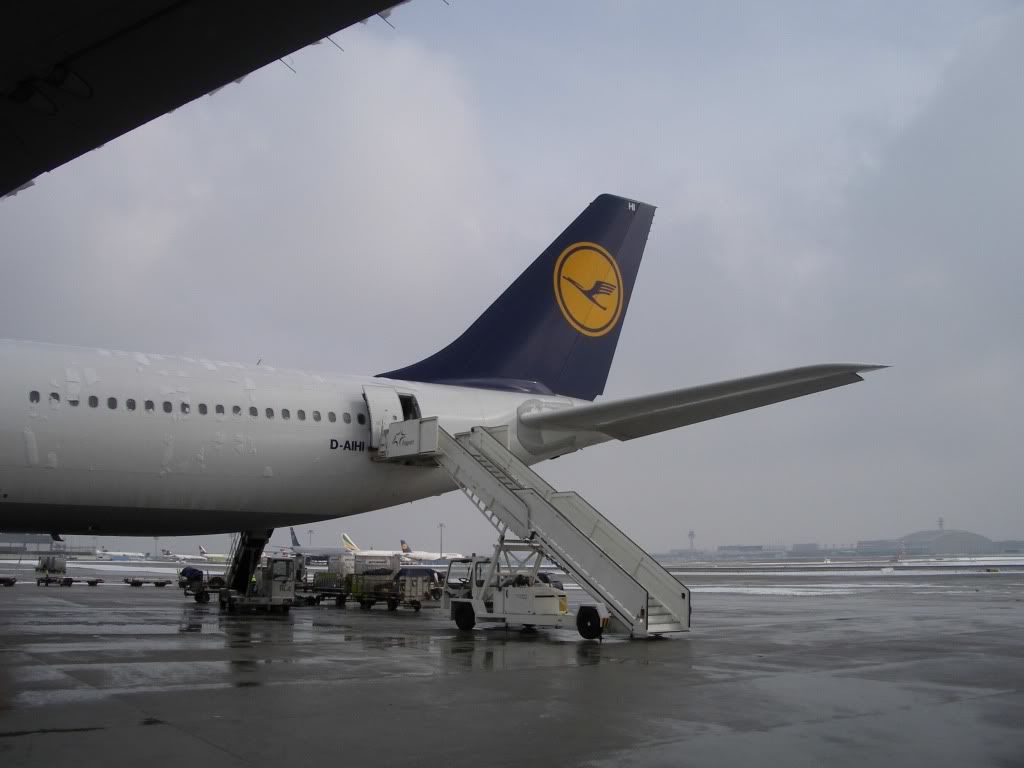 D-AIHI, as announced on the internal screen.
The scheduled A346, delivered at 27.04.2004 to LH and named "Mönchengladbach".
Leg no. 3 for me ontype and a new registration.
Walking under the heavy wing, something what I really like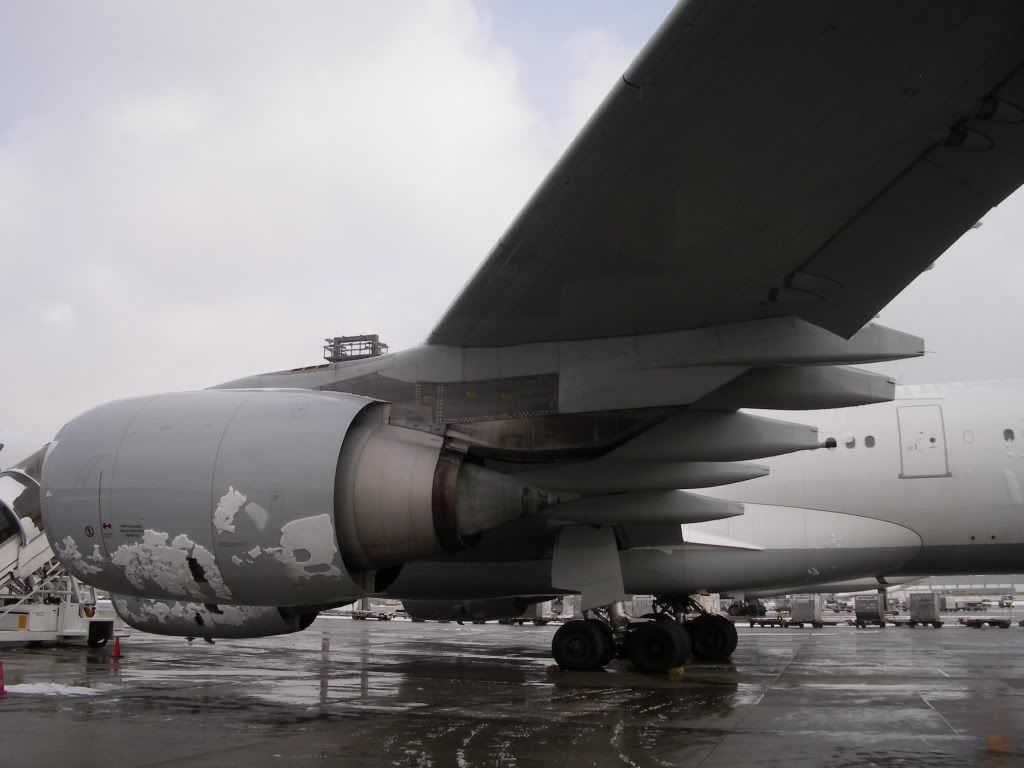 and close to the massive engines
Snow falling from the engines, it seems no earlier de-icing action here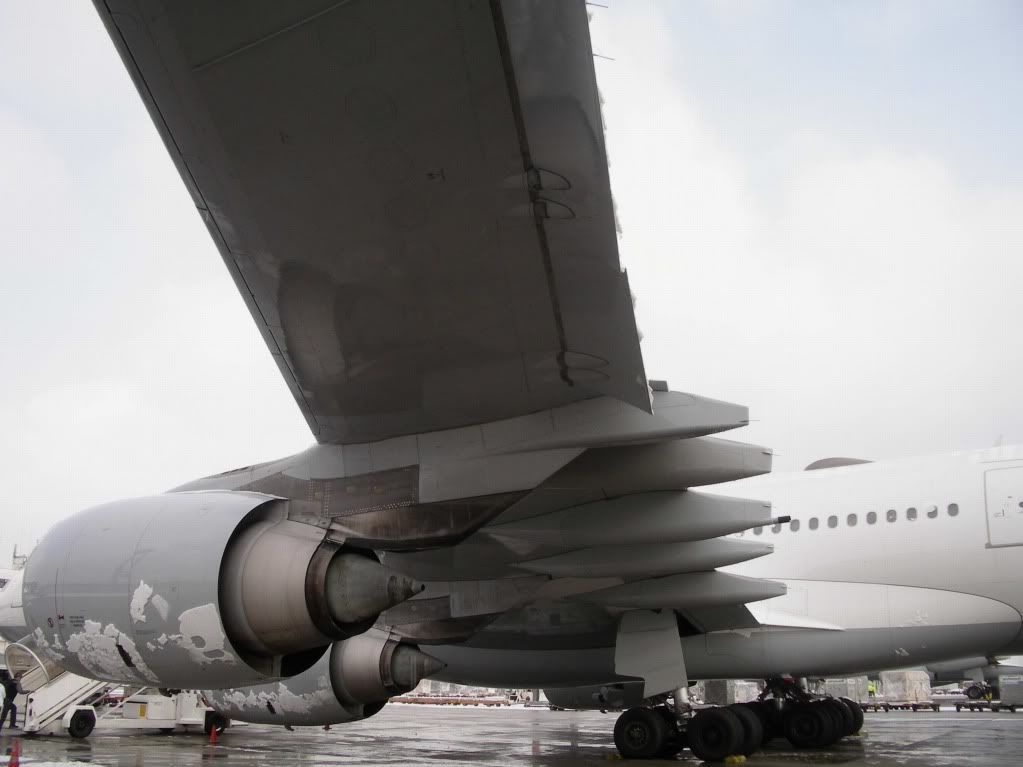 Gulf with the A332 on the way for runway 18 and Bahrain
And boarded finally by the rear stairs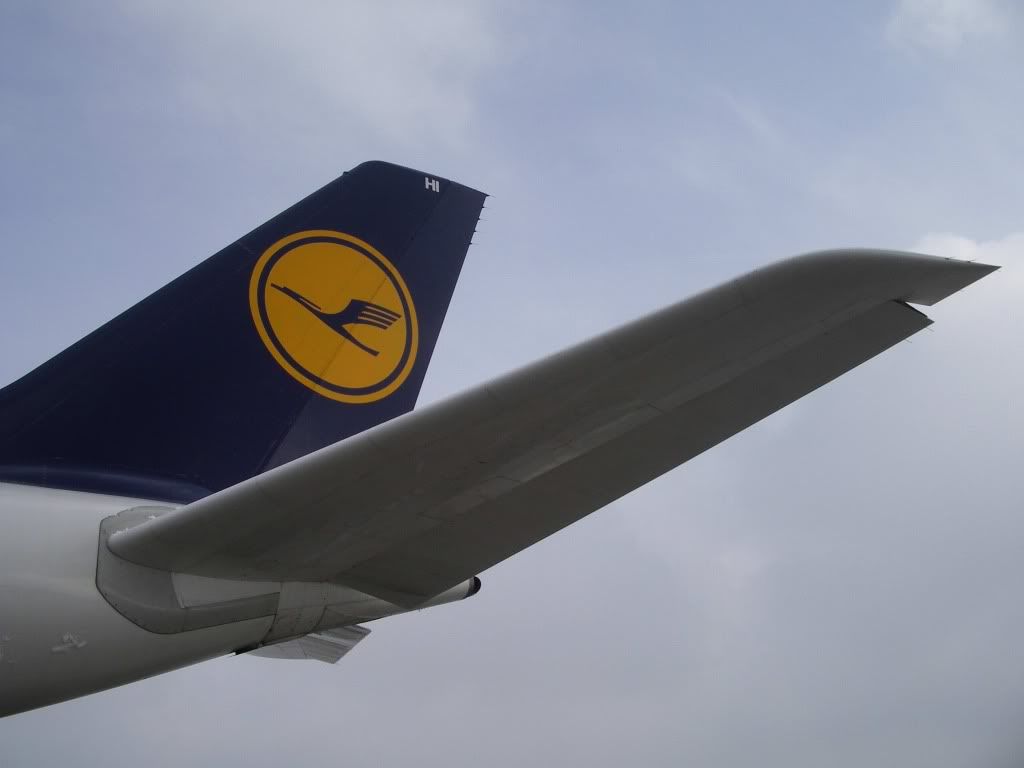 with a close view to the massive wing and engines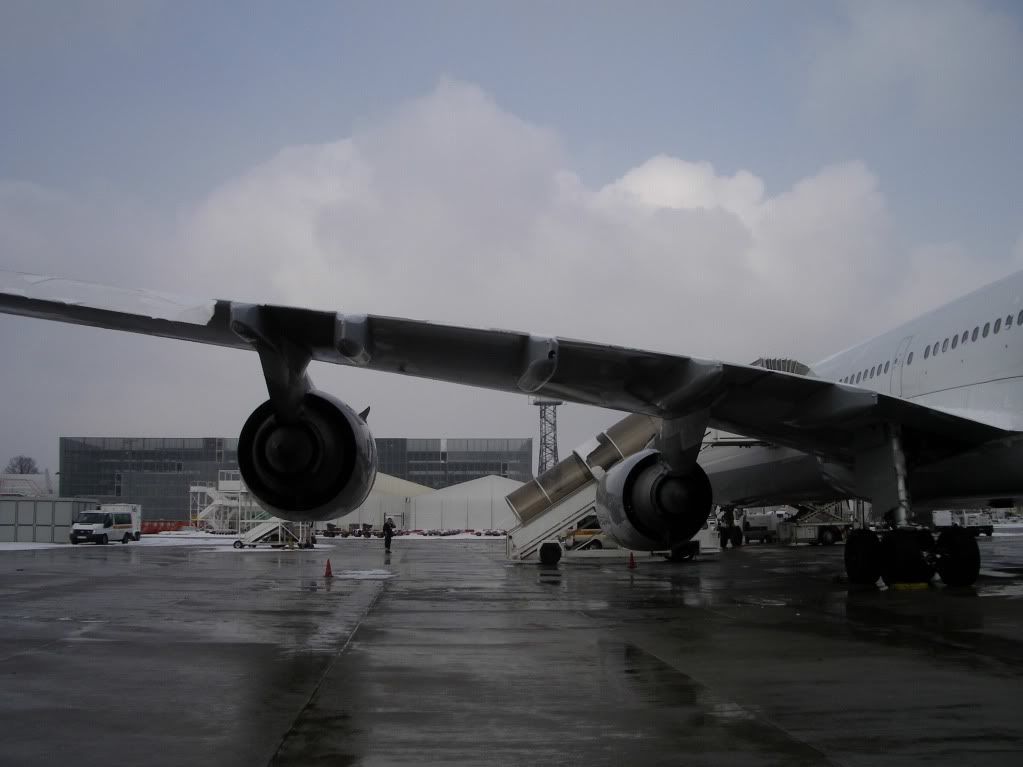 Also SIA´s classic 747 heading for runway 18
The cabin welcomed me with bright grey fabric seats, acceptable legroom, ok so far.
My seatmate was a young egyptian guy, calm and also ok so far.
Load was 100%, not a single open seat to spot, at least in the rear cabin.
From my impression lot´s of US pax heading to CAI on LH these days.
The captain welcomed us during late boarding with the information that we had to wait for some more late pax from connecting flights and also de-icing will need some time, so our deparure "will not that long later than scheduled".
That was the one and only comment from the front, nothing else along the whole flight.
I´ve counted four female and three male FA´s in the eco cabin.
Well, ok, but noth that super friendly, it seems typical LH standard.
Especially the female lead FA annoyed me with her ongoing announcements what they all do for the first and biz pax and what´s left for passengers in "tourist class".
I hope that LH sometimes mention that a good number of former biz pax nowadays fly eco, but anyway they fly LH.
De-icing need ages, so it feels and finally with one and a half hours delay we´re ready to go, also from
the 4000 meters runway 18 for the announced 3 hours 30 minutes to CAI
Now it was time to check the safety card and in comparison also the inseat video screen.
The route was good to follow at 39000 feet going above MUC-KLU-SPU-DBV-TIA-ATH-JTR and further east of Crete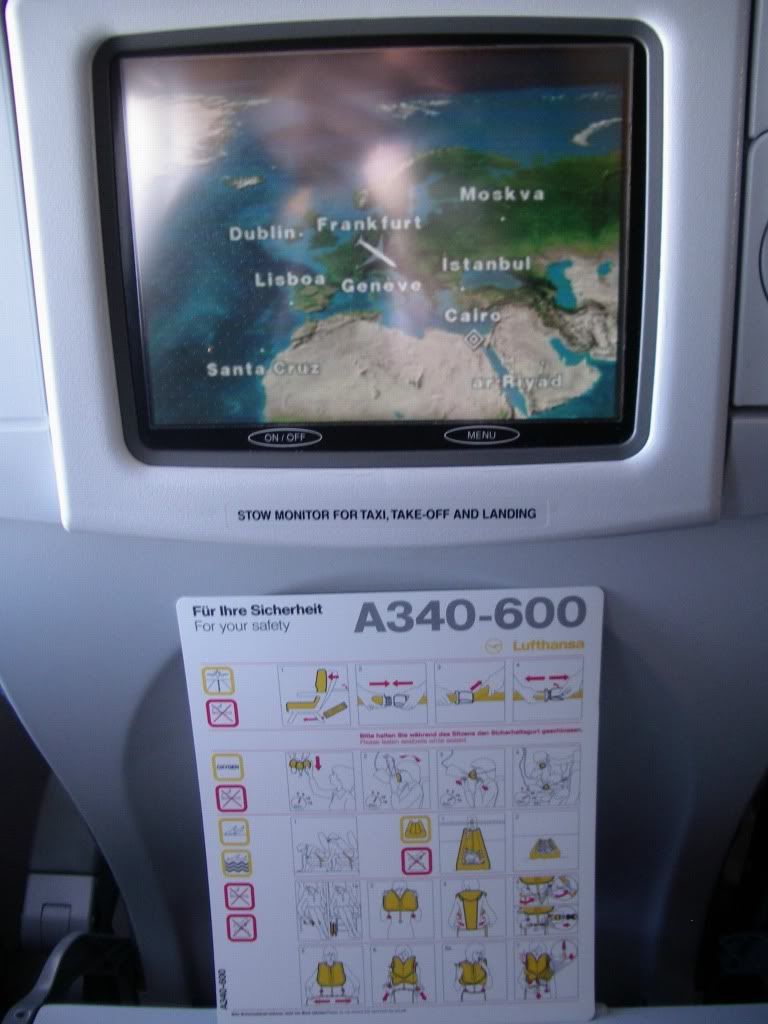 Clouds all the way down to the south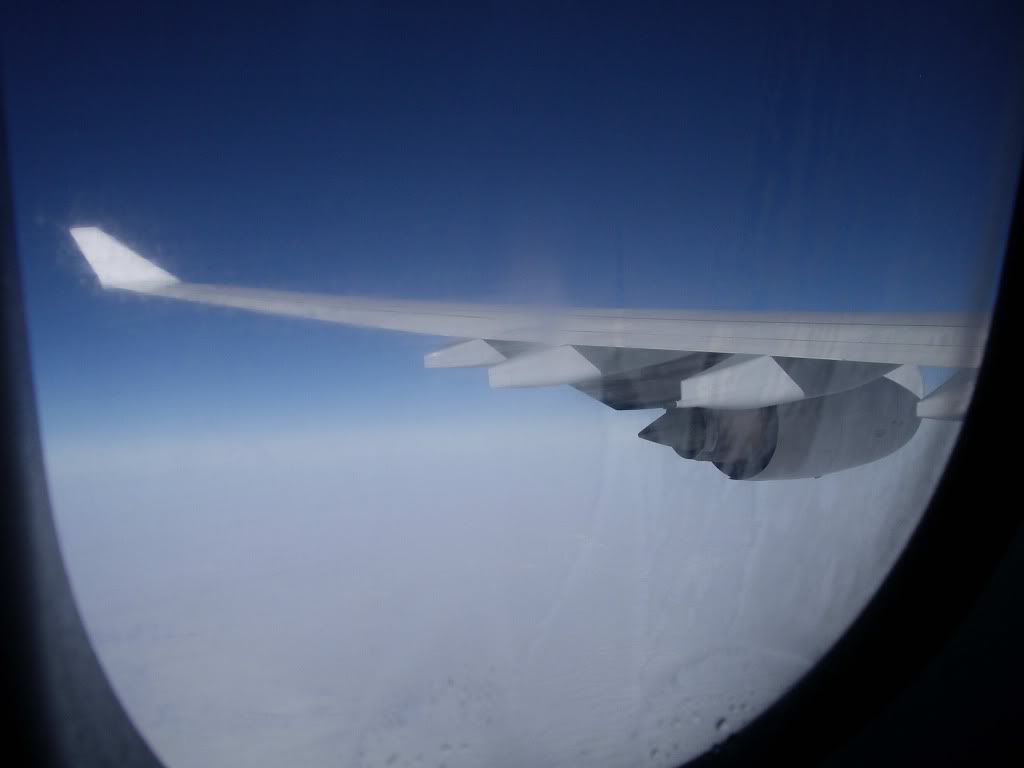 Welcome to LH´s media world, so was the advertising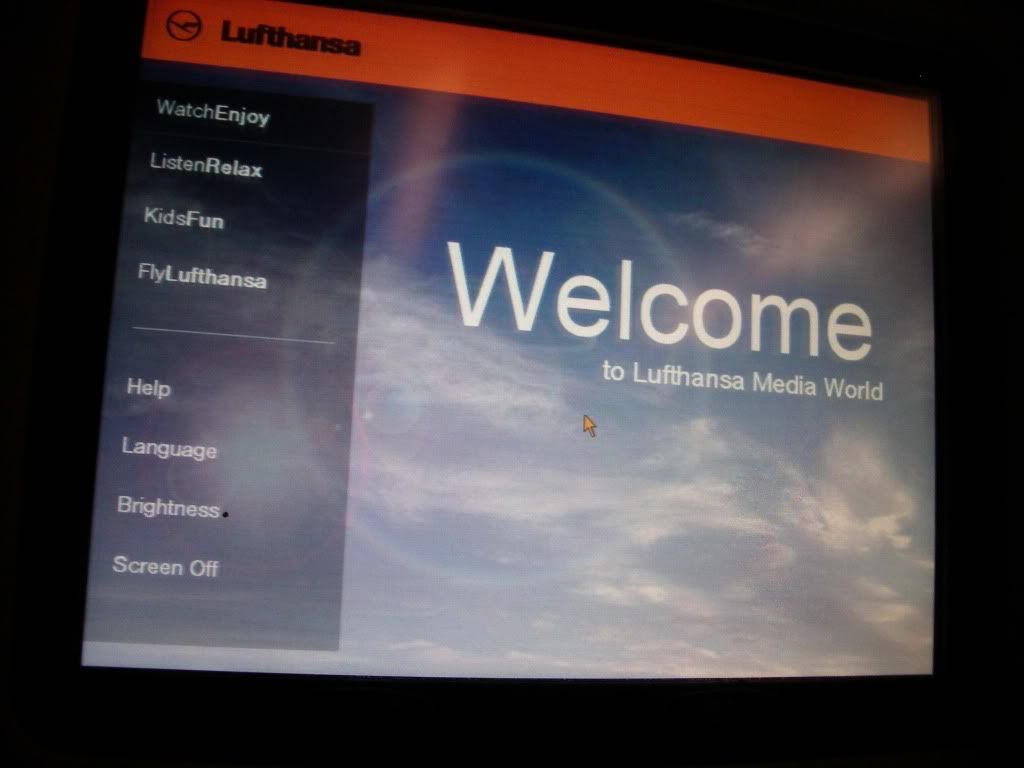 Twelve movies only, not the real wide choice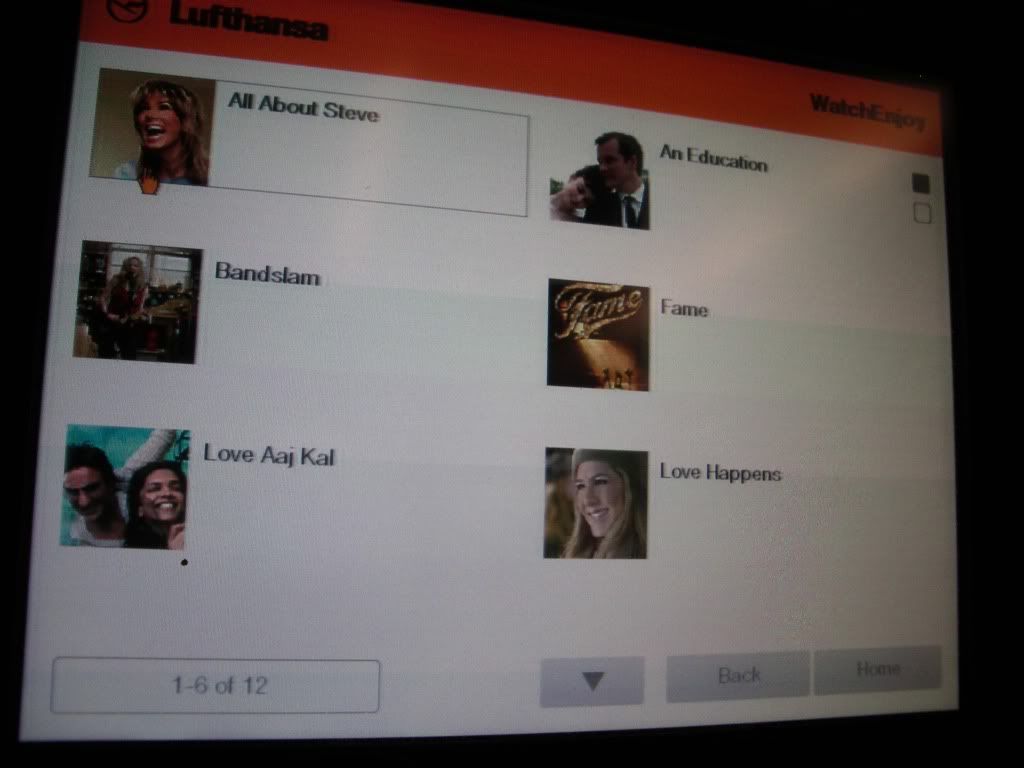 The lower level restroom design is a really good thing from my point of view, less queues in the aisles
Going down there
And further above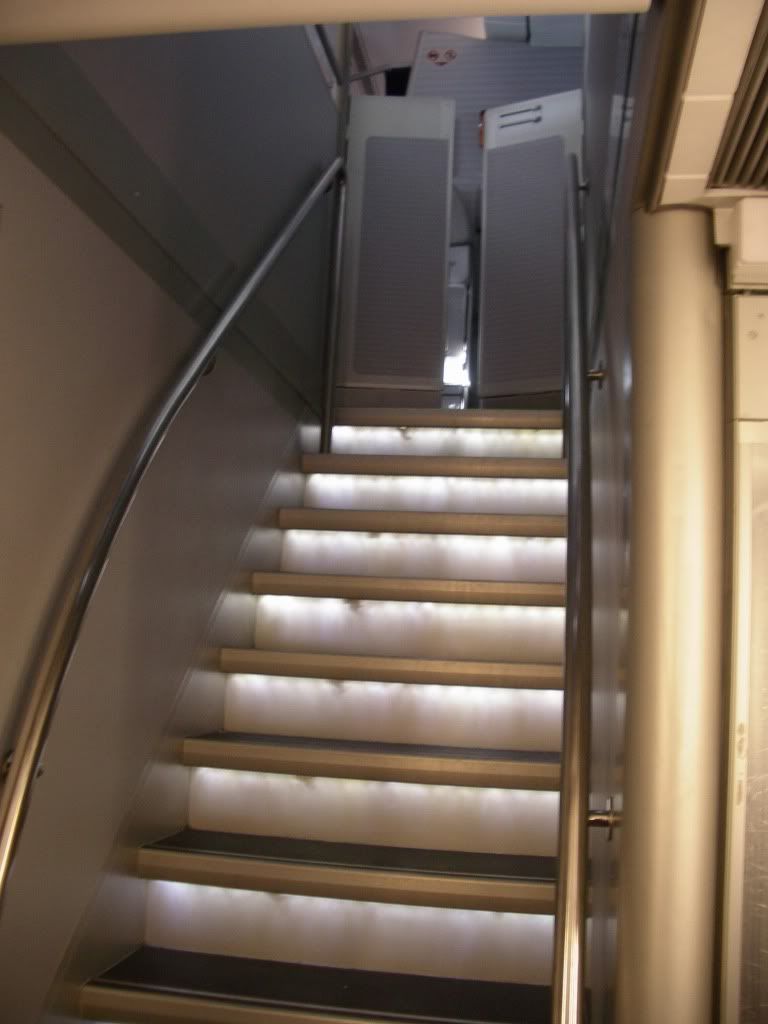 Some mountains breaking the clouds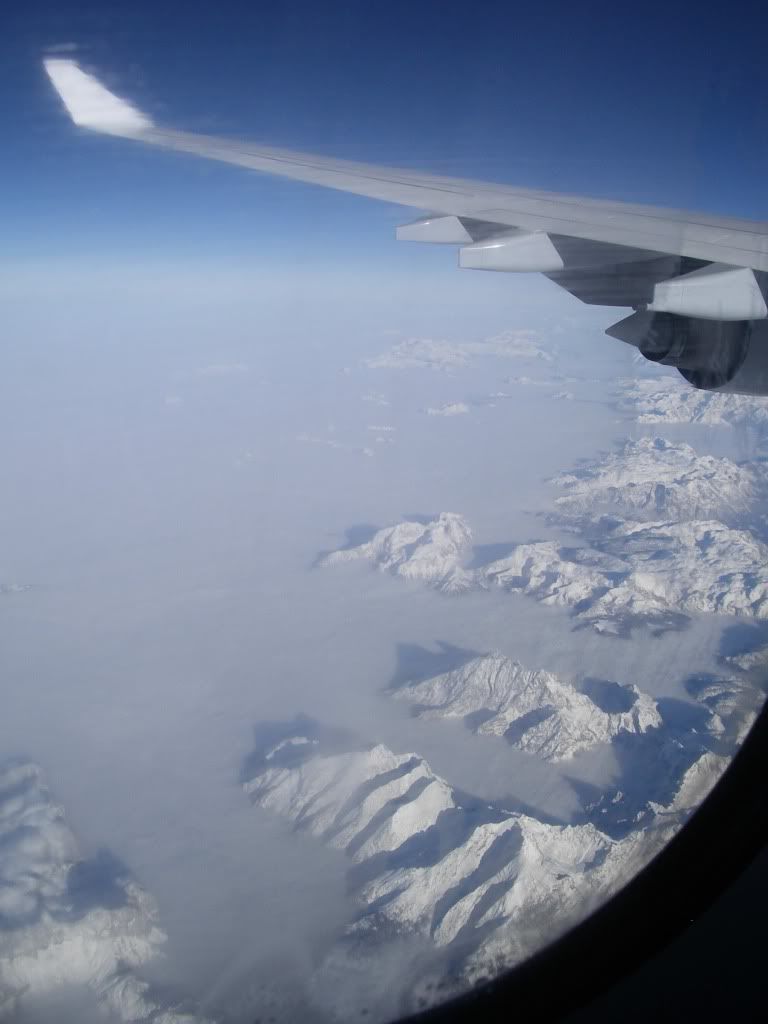 It was the choice between beef and lamb, till my row.
Well there are a good number of rows behind and there was no more beef, only lamb.
The metal cutlery was a nice gesture, anyway I stick with butter and the breadroll.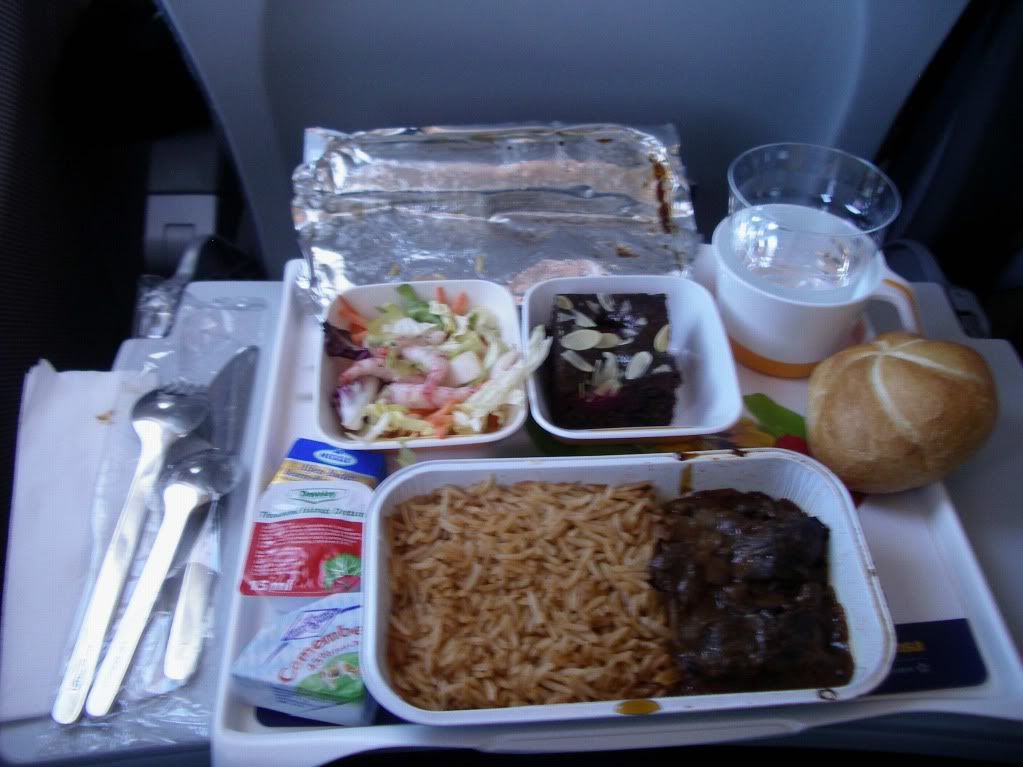 A shiny winglet view short prior to sundown above the med.
The whole flight was calm and some 30 minutes prior to touchdown on CAI´s 3999 meters runway 05C
we started the approach.
Welcomed by a well climated night, it was perfect clear sky and 26 degrees.
Thats what I´am searching for.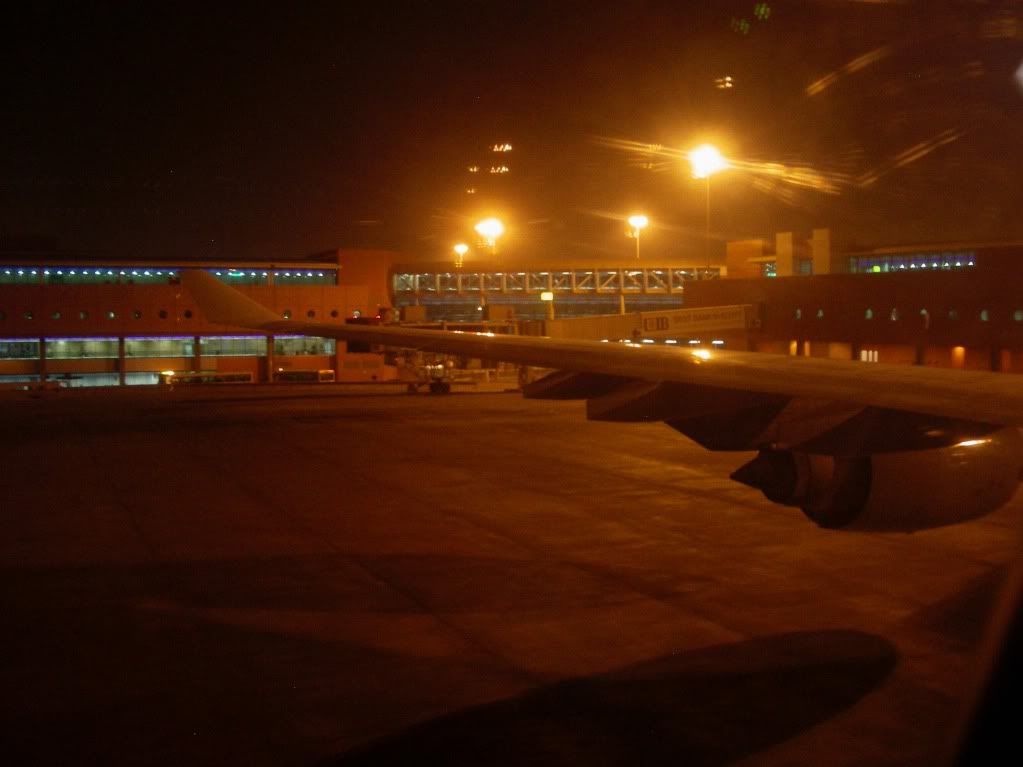 Leaving my seat alone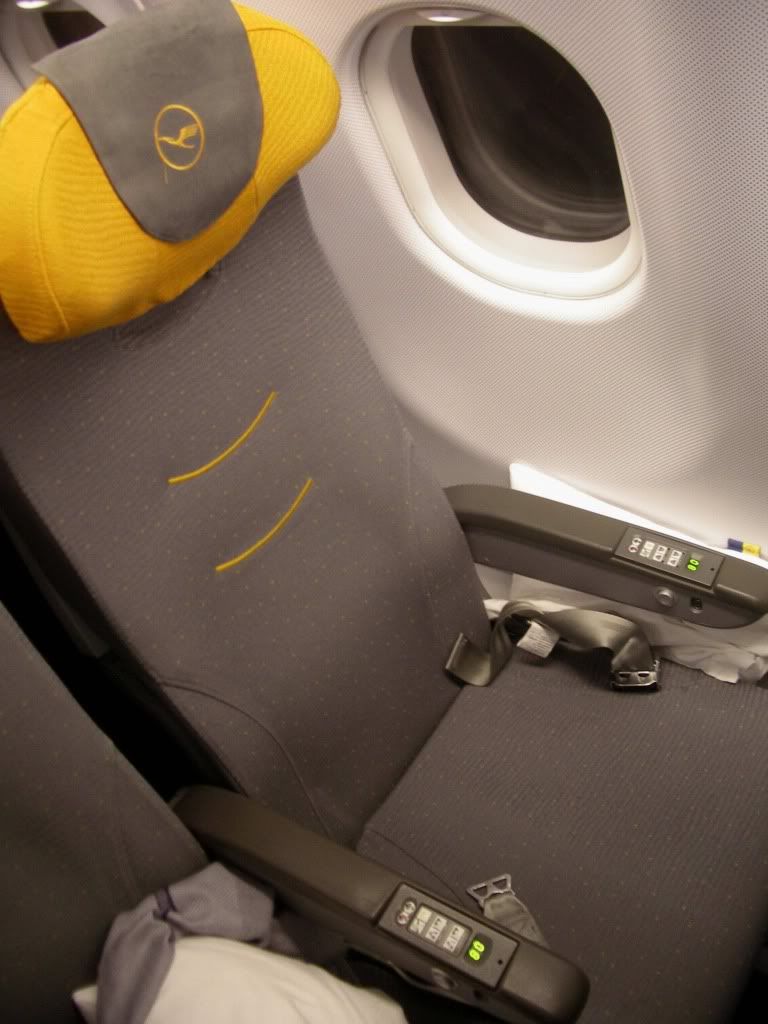 A long way to walk now.
What me really surprised was the number of maybe travel agents waiting with signs prior to immigration along the way.
Immigration was easier than expected, some five minutes to queue at the bank counters where they cashed 15.-- Dollars for the visa form.
No time thereafter at the desk where a friendly egyptian guy stamped my passport and so I was in Egypt.
Some more minutes for my bag and out in the warm night.
Where I was immediatelly approached by the taxi mafia.
As usual I dont contact with them and walk to the taxi rank, not here at CAI T3, walking up and down in front off the terminal and there wasnt a taxi rank. Not at all.
So away from the young guys, wearing sunglasses at night and fake Rolex watches.
A man in his sixties offered me a ride, some fare agreements as usual.
He asked one of his colleagues about my hotel, the Radisson Blu Heliopolis which he dont really knows where it is located.
And finally on the way to the parking space where a close to the age of its driver smelly Peugeot waited.
Well, reached my hotel after a couple of nearly crashes and a discussion with a police officer, looking for some "baksheesh", so it seems.
The hotel was a nice surprise, newly opened some three months ago, superb designed and friendly staff at all.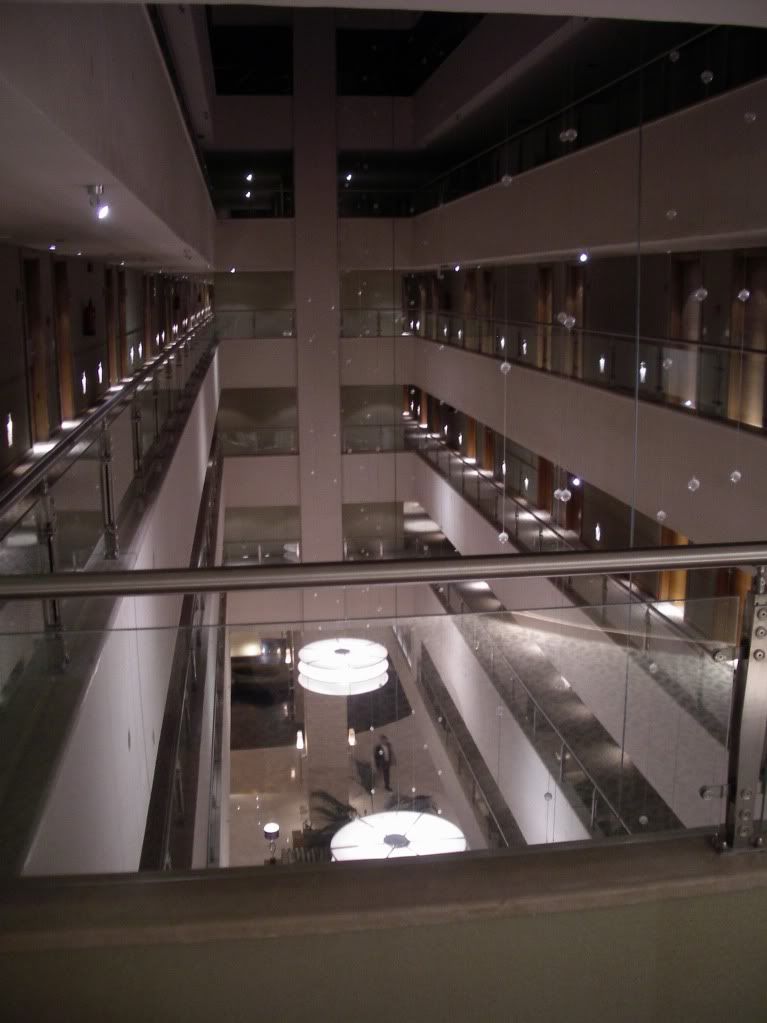 Also my room at the forth floor, well desidned and spacious
.
Planned was a nightly visit to the pyramids where they held every sunday night the pyramids light show,
not that I want to attend the show.
No, but I´ve read that its also possible to have a view from outside to the shiny pyramids.
But with LH´s delay that wasn´t possible.
So I´ve decided for the bar, also as usual for me, but not the place to go here, guys in suits and the girls in they´re fifties, smoking long cigaretes, no way.
What about a visit from above, the hotel brochure showed a rooftop pool at storey 9.
Stepping out the escalator in complete darkness, some seconds till my eyes gone ok and immediatelly noticed that there will be rooftop pool in the future, but not nowadays.
Turned around and noticed further that, where usually the escalator panel is located, only some lose wires hanging out of the panel.
Well there are mostly stairs near an escalator, climbed above construction material in the low light, checked the doors and finally found one open which looks like stairs.
Walking slowly down, open wires hanging from the ceiling, construction material all around and finally noticed that storey four
was fixed and everything above was construction site.
So, enough adventures for today, enjoing the bathtub and going in closer contact with the mattress now!.
LH was ok, the delay weather related, interesting metal, but much to expensive from my point of view
for a 3 hours, 30 minutes flight.
IFE was nothing special in comparison to other airlines and also the service level was not that high.
Maybe better on Egypt Air?.
Well, if nothing goes wrong, that will be online in a couple of days.
Comments welcome,
Markus (FLIEGER67)