Feedback always appreciated.
color>
Trip Report: 092
Flight Category: Y-DSR (See Report End)
Date: 25 Dec-09 (See Report End)
SDT/SAT/Dur/Delay: 0955/1220/02:25 hrs
Flight:
Felix Airways F0 9151
, 684 miles
Routing: SCT-RIY-SAH
Aircraft: CR7
Seat: Economy, FS
I > Background:
color>
I have not taken a proper vacation in 2009 and decided to take 2 weeks off to travel to a random collection of countries that I am sure would raise travel flags. Anyways, Yemen was one of the places I wanted to go to … especially after having my plane develop a snag in SAH earlier in the month. Moreover, the island of Socotra had always raised my curiosity and I made it a mission to get there in 2009. Interestingly, I was there during Christmas and arrived on Christmas day after the whole "hijack" attempt of the DL/NWA flight. I think I realized how fortunate I was as security was severely tightened and my Sheraton hotel in SAH turned to an overnight fortress. Thankfully, I escaped to Socotra which was just serene and one of the most amazing places I have EVER been to in my life. In fact, I rank it was one of the top 5 islands in the world. And, I have had my share of island hopping!
I believe this will be the first TR on Felix Airways, and the first to feature Socotra, Sana'a, or Yemen.
II > Pre-Flight:
color>
a) Before Airport: color>
Owned by a rich Saudi investor, Felix Airways is a Sana'a based airline that has been spreading in the region with a bunch of CR7's and finally offering competition to the basket-case known as Yemenia. Interestingly, locals still apparently prefer IY because of the "meals it offers."
Felix Airways's website
www.felixairways.com/
is an "interesting" booking tool. You can see flight times and availability and "pretend" to do booking … only that you cannot. After going through all the steps, it tells you to call their call center. I did so, and was able to book a round-trip with the acknowledgement that I would be able to pay for and receive my e-ticket at the airport in SAH. Of course, no seat selections and all those other "regular" things many of us take for granted from airline booking engines.
b) At Airport: color>
After a truly memorable vacation in an incredible country, it was time to head home. I had vaguely heard of the attack and knew that I would be grilled in many countries about my Yemen visit. However, I cannot simply let terrorism win now can I? Must travel, and defeat those bloody terrorists!
Ok, so I get dropped off at the incredibly laid-back Socotra airport terminal. Check-in was a breeze, and so was security. At check-in, my boarding card was already there with my ticket "number". The CR7 had already arrived and we were called to boarding shortly thereafter. The captain was an engaging Yemeni who insisted women board first.
Upon entering, I was greeted as a family member as the crew was exactly the same I had on my outbound flight. Y load was a dismal 10% - though, loads became 90% on the flight from RIY to SAH filled with oil workers and expats heading back to their various homelands.
Airport - External:
(Socotra Airport)
-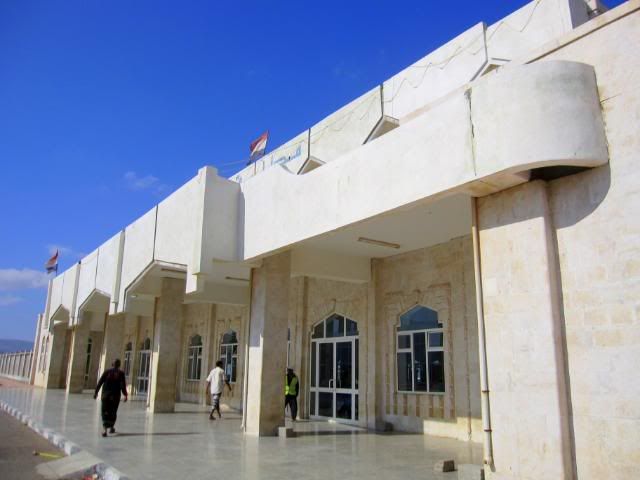 Check-in:
(Check-in)
Airport - Internal:
(Internal – Arrivals section)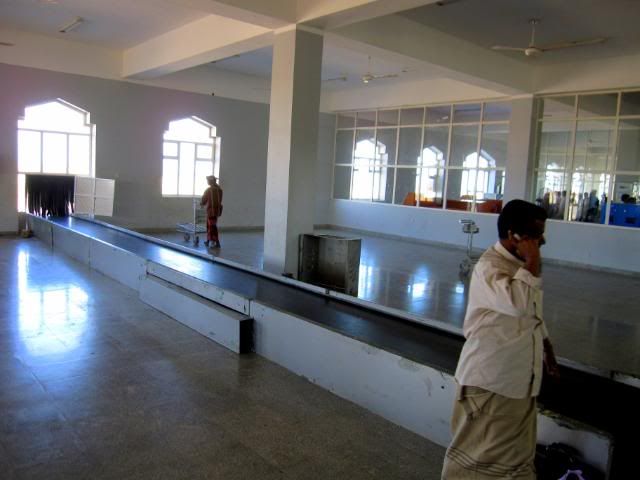 (FIDS)
NO FIDS
(Post Security @ SCT)
Scenes of the tarmac:
NONE
Lounge
NONE
Boarding:
NONE
III> In-Flight:
color>
a) Service Schedule + Impressions: color>
Water runs on both legs. Since the crew liked me, they brought me OJ. Nothing more.
Now, regular readers of my TR understand my very little tolerance for rude behavior. And, I have had a remarkably "drama-free" run for a while. This changed on the flight with one of the oil executives from TOTAL (didn't know they were in Yemen). This Frenchman boarded at RIY in a poor mood and started yelling at the crew when there was no space in the CR7 for his oversized carry-on. When the crew offered to check it in for him, he got even more upset and started yelling in French about how the country was "made of terrorists" and "everyone was a thief". He kept on using French curse words and did was still bitter after the crew volunteered to keep his bag strapped on some empty seats at the end of the aircraft. Now, I have usually little tolerance for this kind of behavior … especially when it comes from certain people. As he was going on being animated, I went to him and said in French that if he did not calm down or stop insulting his hosts, I would have no choice but to report him as a "disturbed passenger" and have Yemeni police await him at SAH. And, I reminded him Yemeni prison is no honeymoon. He calmed down. The crew thanked me. Life was good. I felt smug. Things moved on. But seriously … some people, I just cannot keep shut.
b) Aircraft + Seats: color>
Felix Airways CR7 were well maintained and the livery made it look clean and new. The leather seats inside were slim-ish, but comfortable to sit in. Seat pitch was generous for a RJ; however, the seats did not recline! Overall, they were satisfactory considering the stage-length of their flights. I felt the bathrooms could have been maintained better during the flight.
Aircraft:
(CR7@ SCT)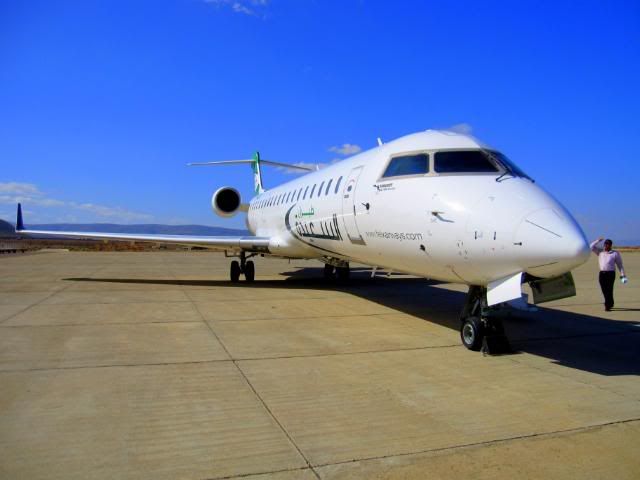 -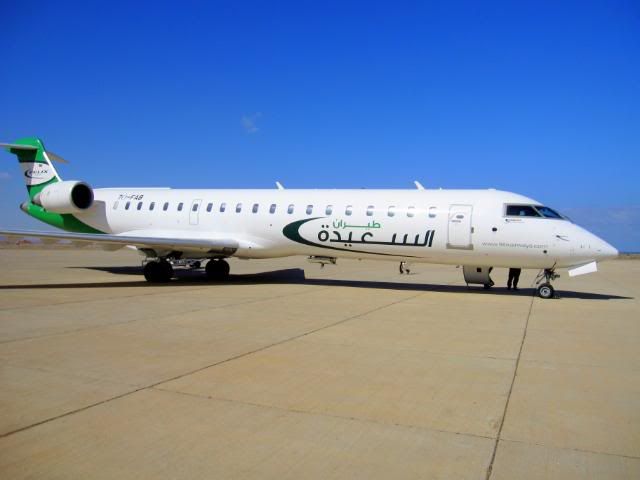 Views from Aircraft:
(SCT)
(RIY)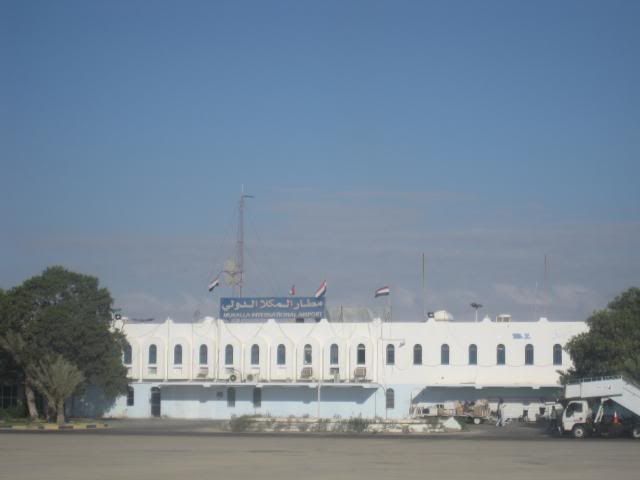 (Socotra approach)
-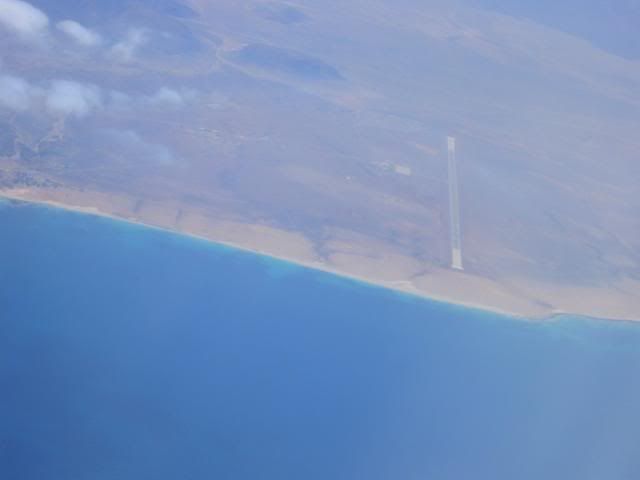 (Mainland Yemen)
(Sana'a Approach)
-
General Seat Views + Seat Legroom
(Decent legroom …)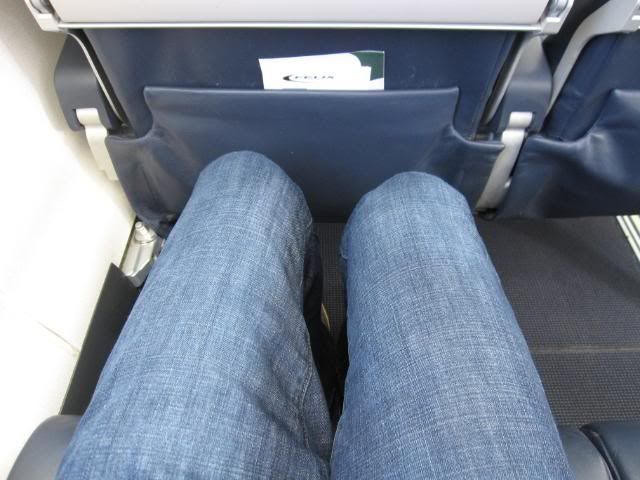 (Blanket provided)
NONE
Seat Recline + Angle View:
Cabin:
-
-
(Bathroom Amenities)
c) Meal + Beverage: color>
Given that the entire flight is almost 2:30, the lack of a snack option was disappointing. Just having water is very poor when your competitor gives you a full meal service (though, IY does lose money). Rumors are that a BOB option would be starting soon.
(Juice was not for everyone)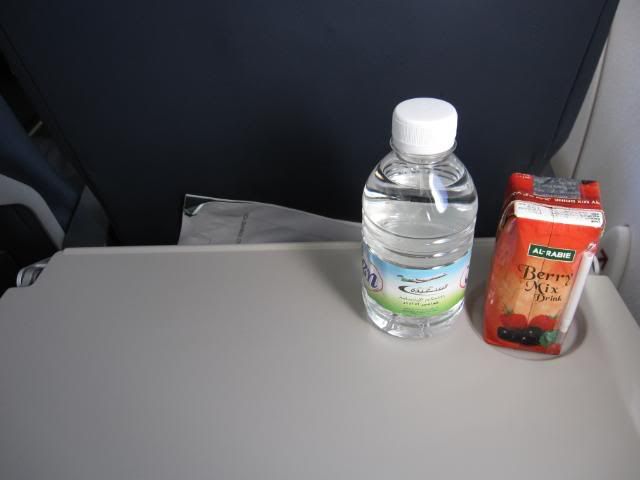 d) Inflight Entertainment: color>
No IFE. No magazine. Again, the rumor is that Felix will be getting an in-flight magazine soon. In fact, I met the guy who is apparently taking photos for the magazine.
NONE
("In-flight magazines", Boarding Passes, etc.)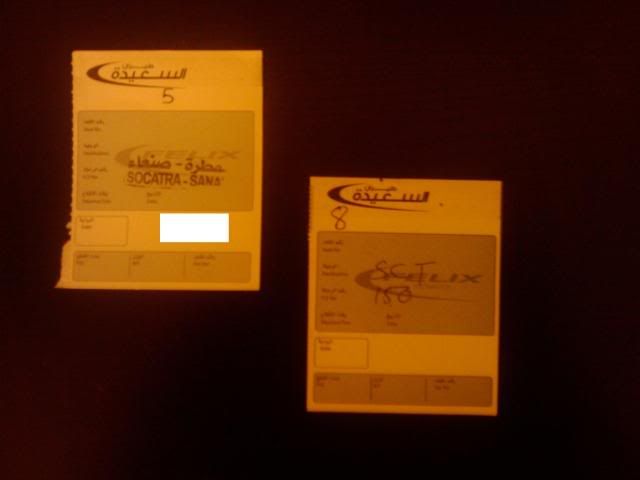 e) Crew: color>
The young Felix crew was nice. They really did not have much to do and so I feel I did not get a good sense of how they would perform in a "real" flight. I liked the fact that they remembered me and brought me an OJ. Moreover, their welcoming me as a part of their family went a long way in demonstrating their kindness.
I must take this opportunity to talk about the Captain. He was probably the nicest person I have ever had. He welcomed us personally and told us in detail about the route. Moreover, he told us every site the aircraft would take and would descent down and tell us things like – "on the starboard side, is the island of XXX. In 1900's this was the landing point for ships to YYY". After take-off, he pointed out the SCT runway, the old-town in the island, where the pirates are, the different tribal lands of Yemen, the city of Sana'a. It was almost like getting a private jet trip. Moreover, it was nice as he told us the best window for pictures. Finally, his knowledge of the region's history and his desire to share his country was truly laudable. He invited several people in the cockpit for different lengths of the flight. Hands down, the most incredible captain I have encountered. Very impressive!
IV> Post-Flight:
color>
There is apparently a new Sana'a terminal "opening soon". Those familiar with the Mid East will recognize that "opening soon" has very little concrete timeline. In the current while, Sana'a is a fantastically old-school terminal where the bus takes you to the locked building and amidst a lot of shouting someone opens it up. Aaw. Bags came fast and I soon made it across to the check-in side for my EK connection to DXB with on-wards to GRU. BTW, the EK lady was super confused and confessed that it was her "first boarding pass to GRU" in all her life. Haha.
(Views of tarmac at SAH)
-
-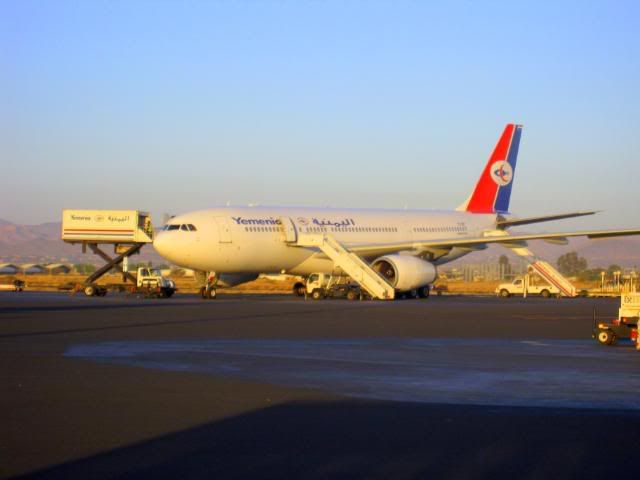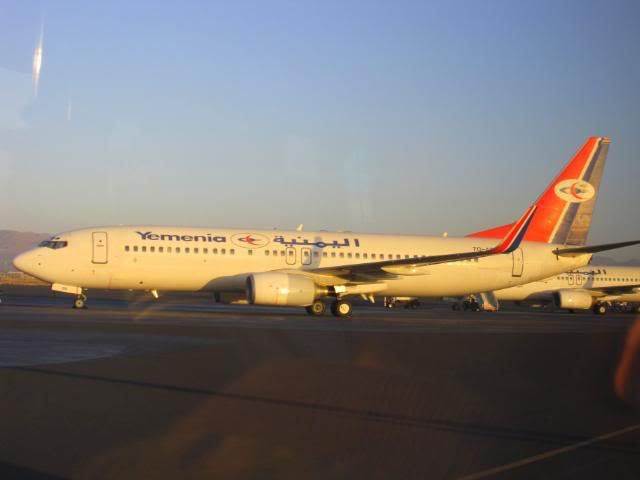 -
-
-
V> Impressions + Scores:
color>
Felix Airways gets the job done. It provides basic, clean, and timely service between two points. None of their service is going to win any awards, and I am fine with that. However, they must offer something to eat on these flights! Crew left a positive impression ... and so did the incredible country of Yemen. For the route and nature of flight, I would definitely fly Felix again and give them a thump up.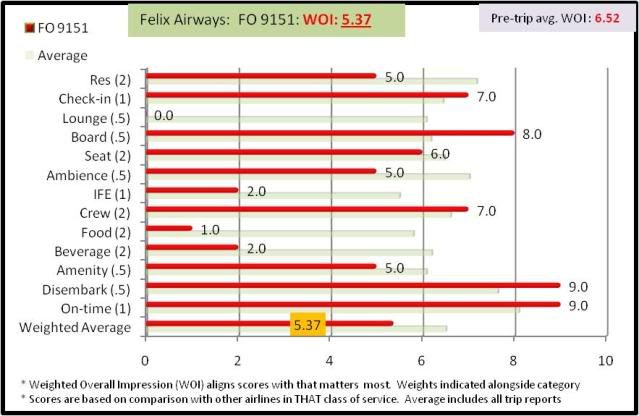 VI> Other Trip Reports:
color>
PREMIUM:
8.64:
Turkish Airlines (59): JFK-IST: 11/2008
8.63:
Jet Airways (88): JFK-BRU: 10/2009
8.61:
Air Canada (49): YYZ-SCL: 06/2008
8.54:
Turkish Airlines (77): GRU-DKR-IST: 04/2009
8.30:
Jet Airways (74): KWI-BOM: 04/2009
8.23:
United Airlines (72): SFO-SYD: 03/2009
8.11:
Aeroflot (33): MOW-DEL: 09/2007
8.05:
Air India (80): CCU-JFK: 06/2009
8.04:
Korean Air (40): NRT-ICN: 10/2007
8.02:
Delta Airlines (24): JFK-CDG: 08/2007
7.64:
Royal Jordanian (91): AMM-YUL: 12/2009
7.46:
LAN (55): YYZ-JFK: 09/2008
7.82:
Singapore Airlines (06): EWR-SIN: 09/2006
7.25:
Iran Air (88): BOM-IKA: 12/2009
7.23:
Virgin Atlantic (81): BOS-LHR: 07/2009
7.14:
Swiss (52): SCL-GRU: 06/2008
7.11:
Austrian (79): VIE-JFK: 06/2009
7.07:
Privatair (84): BOM-FRA: 08/2009
7.02:
Qatar (68): DOH-JFK: 01/2009
6.96:
Etihad (61): JFK-AUH: 12/2008
6.93:
Delta Airlines (18): SEA-JFK: 11/2006
6.84:
ConViasa (65): CCS-DAM: 01/2009
6.81:
Air Canada (17): ICN-YYZ: 10/2006
6.70:
KLM (32): EBB-AMS: 08/2007
6.36:
Privatair (60): MUC-BOS: 12/2008
6.25:
Korean Air (45): NAN-ICN: 10/2007
6.21:
Iberia (87): BOS-MAD: 10/2009
6.11:
TAP Portugal (53): GRU-OPO: 06/2008
6.00:
Gulf Air (75): BOM-BAH: 04/2009
5.88:
African Express (89): DXB-NBO: 11/2009
5.75:
Singapore Airlines (16): CCU-SIN: 10/2006
5.64:
NorthWest (46): ICN-NRT-SEA: 10/2007
5.46:
Icelandair (83): KEF-BOS: 08/2009
5.39:
LOT (54): WAW-JFK: 06/2008
5.21:
Egypt Air (73): CAI-IST: 02/2009
5.07:
TACA (66): JFK-SAP: 01/2009
4.42:
Air France: CDG-JNB (25): 08/2007
ECONOMY: Long + Medium:
9.26:
Air India (48): JFK-DEL: 02/2008
7.38:
Avianca (01): BOG-LIM: 07/2006
7.07:
Sri Lankan (62): KWI-CMB: 12/2008
6.41:
Avianca (78): JFK-BOG: 05/2009
6.41:
American Airlines (58): LHR-BOS: 11/2008
6.39:
Condor (85): SEZ-FRA: 09/2009
6.26:
Jet Blue (21): CUN-JFK: 02/2007
6.06:
Air Canada (04): YYZ-YVR: 09/2006
5.89:
USA 3000 (19): PUJ-BDL: 01/2007
5.85:
Spanair (69): MAD-LPA: 02/2009
5.79:
Air New Zealand (42): RAR-NAN: 10/2007
5.52:
Aerolineas (86): USH-AEP: 10/2009
5.46:
TAP Air Portugal (23): OSL-LIS: 05/2007
5.19:
Air Europa (70): LPA-MAD: 02/2009
5.16:
Iberia (71): MAD-BOS: 02/2009
5.11:
Air China (82): FRA-PEK: 08/2009
ECONOMY: Short
8.56:
Paramount Airways (38): BLR-MAA: 09/2007
8.56:
Kingfisher (64): HYD-CCU: 12/2008
8.24:
Kingfisher (14): IXA-GAU: 10/2006
7.87:
Indian (34): BOM-MAA: 09/2007
7.72:
Alliance Air (13): CCU-IXA: 10/2006
7.57:
Indian Airlines (10): DEL-CCU: 09/2006
7.23:
West Jet (03): YYC-YVR: 09/2006
7.15:
JetLite (37): BOM-GOI: 09/2007
6.70:
Spice Jet (09): CCU-DEL: 09/2006
6.63:
Air Fiji (44): NAN-SUV: 10/2007
6.63:
Jazeera (67): DAM-KWI: 01/2009
6.58:
Air Tran (02): EWR-MDW: 08/2006
6.48:
Air India Express (63): CMB-MAA: 12/2008
6.44:
CO Micronesia (39): ROR-YAP: 10/2007
6.41:
Pacific Sun (43): NAN-SUV: 10/2007
6.37:
Skybus (47): SWF-CMH: 02/2008
6.33:
Kenya Airways (29): NBO-BJM: 08/2007
6.33:
Sky Europe (56): LTN-BTS: 10/2008
6.31:
Indigo (15): GAU-CCU: 10/2006
6.31:
easyJet (57): BUD-LTN: 11/2008
6.22:
Air Link Swazi (28): MTS-JNB: 08/2007
6.22:
Air India (36): HYD-BOM: 09/2007
6.13:
Adam Air (07): SIN-CGK: 09/2006
6.13:
Air Rarotonga (41): RAR-AIT: 10/2007
6.00:
Transairways (27): INH-MPM: 08/2007
5.95:
Air Canada (05): ALB-YYZ: 09/2006
5.85:
SAS Norge (22): OSL-AES: 05/2007
5.81:
LAM Mozambique (26): JNB-MPM: 08/2007
5.69:
Air Deccan (12): IXZ-CCU: 10/2006
5.67:
Rwanda Air Exp (30): KGL-NBO: 08/2007
5.37: Felix Airways (92): SCT-SAH: 12/2009
color>
5.11:
Aero Republica (76): BOG-CCS: 04/2009
5.07:
Go Air (35): MAA-HYD: 09/2007
5.00:
Sky Airline (51): IQQ-SCL: 06/2008
4.96:
Valuair (08): CGK-SIN: 09/2006
4.78:
Air Comet Chile (50): SCL-IQQ: 06/2008
4.74:
Fly 540 (31): MYD-LAU: 08/2007
4.33:
Viva Aerobus (20): ELP-MTY: 02/2007
4.11:
Air Sahara (11): CCU-BOM: 09/2006
(Note on Codes: Y – Economy, J – Business, F – First :: I/D – International/Domestic :: SR/MR/LR – Short/Medium/Long Haul)
(Note on Date: Dates are modified to be +/- 3 days from actual flight date to not reveal actual flight pattern)
VII> Other Pictures:
color>
(Sana'a Airport)
-
-
(Beautiful Sana'a)
-
(Amazing Socotra)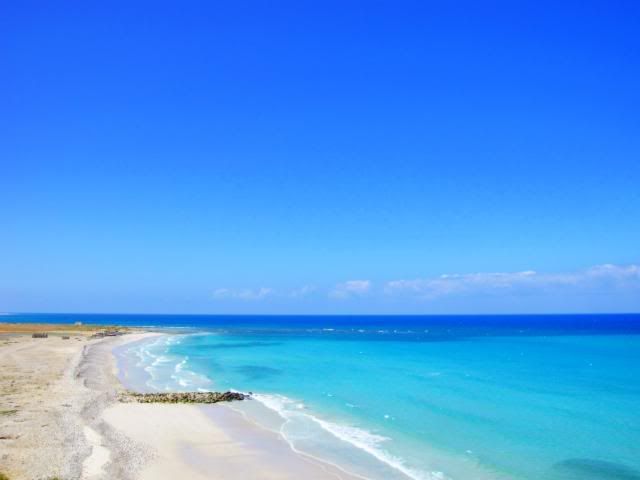 -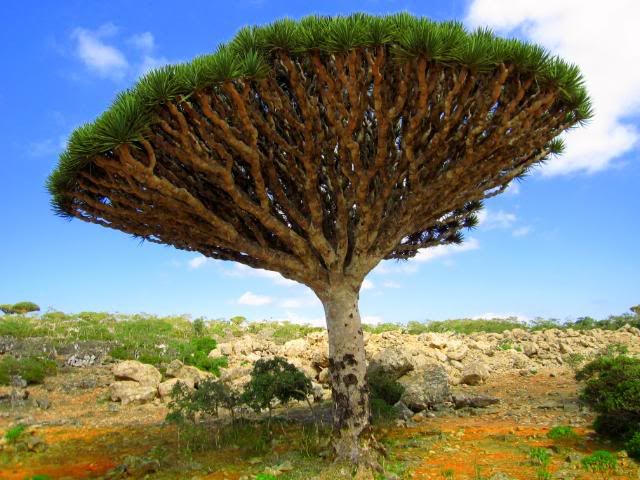 -
-
(Dolphins and whales came up to the island I was staying and greeted me in the morning)
[Edited 2010-02-27 16:22:50]