Hello!
Welcome to my sixth tripreport. A few months after my Berlin trip, I started getting a little restless and wanted to go out and fly again. I decided very soon that it would be Vienna. I've been to Austria 5-6 times and I like it and the Austrians
And not to forget, the Sacher cake
Moreover, I have never flown to Austria and I have long wanted to fly with Austrian Airlines.
So, a month before I booked my trip with departure date the 19th of October and home again the 23th. Since I take every chance to fly, I naturally wanted to fly from my home airport-Karlstad. From here we have two scheduled destinations, Stockholm-Arlanda and Copenhagen-Kastrup. Austrian tickets from Copenhagen was cheaper so I decided to ride from CPH. In addition I had the opportunity to fly the Saab 340 to CPH which I haven´t flown with for many years, and I like the Saab better than the Fokker 50, which operates the Stockholm traffic.
At 04:15 my alarmclock rang on the morning the 19th and I took a taxi to the airport where I arrived at 05:30. My flight departed 06.10.
Check-in was quick and I went straight to the gate and sat down with the morning paper. the boarding started at 05.55. We were greethed at the door by a young F/A that I had never flown with before. Boarding was quick, 19 people on board. The door was closed and our F/A started the safety demo. A short taxi to runway 21. We took-off 6.28 to the south and quickly climbed to our cruising altitude, 20 000 feet. We flew southwest passing Gothenburg and than over the westcoast of southern Sweden.
Flight information
Flight: JZ0702 KSD-CPH
Airline: Skyways Express operated by Avitrans Nordic
A/C Saab 340
Dep time: 6.28
Arr time: 7.30
Fl Time 1h and 2min
Cruising altitude: 6000 m 20000 feet
Cruising speed 520 Km/h 280 knots
Load: 55% 19 0f 34
Boarding, sorry for the quality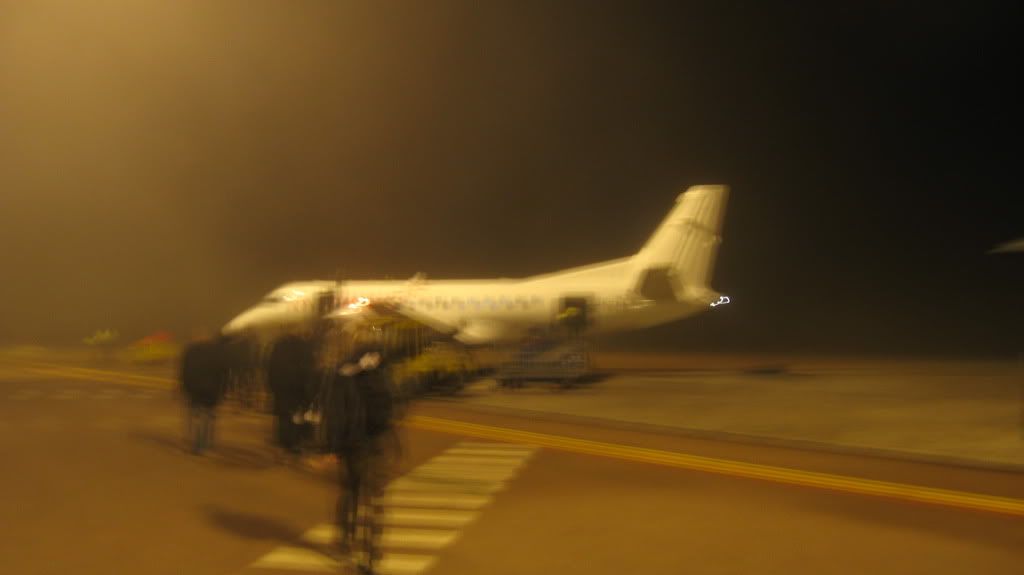 Wiew from my seat
Cabin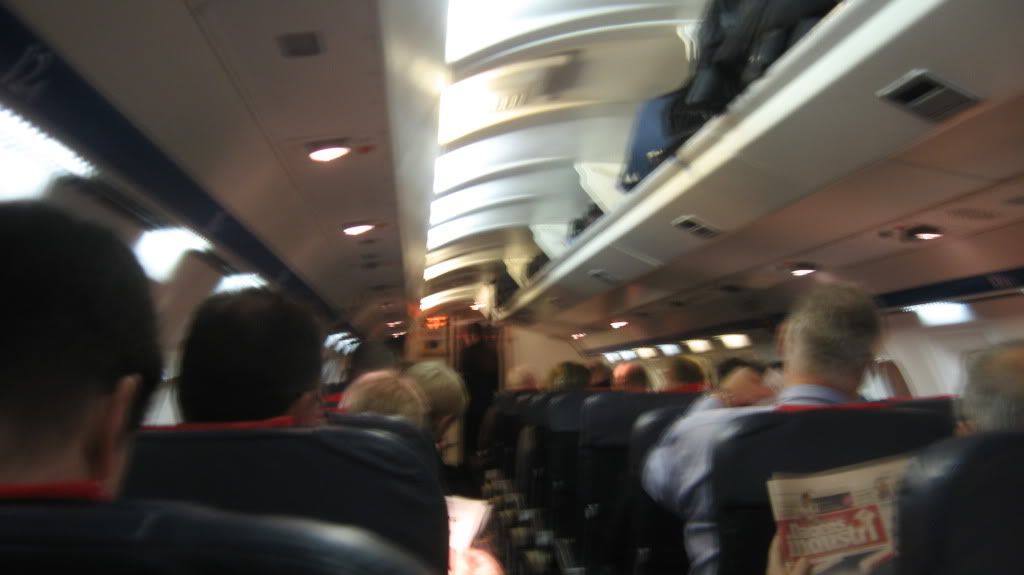 When passing 10 000 feet the seat belt sign was turned off and the F/A started her cabinservice. We were offerd hot drinks and a sandiwich.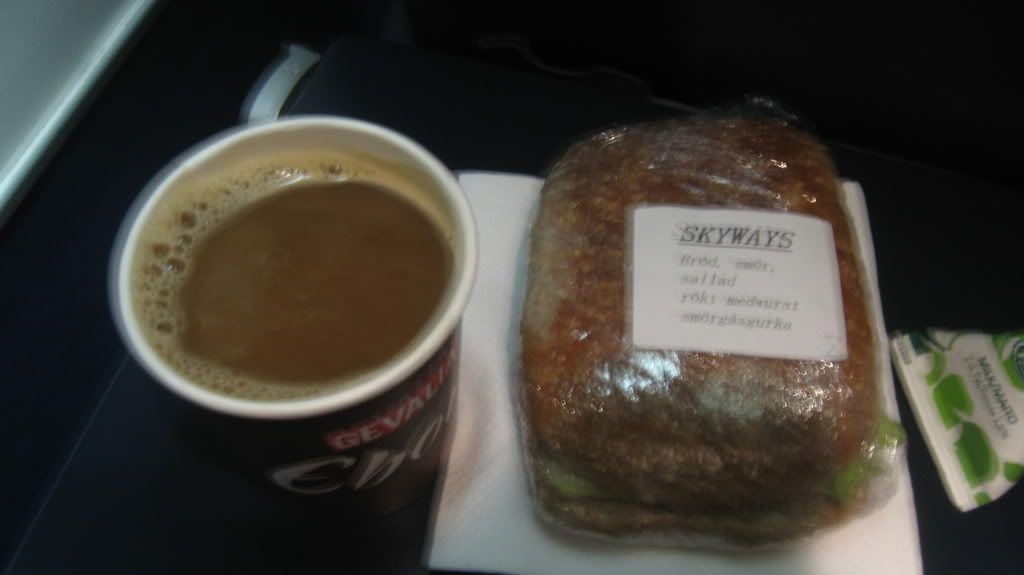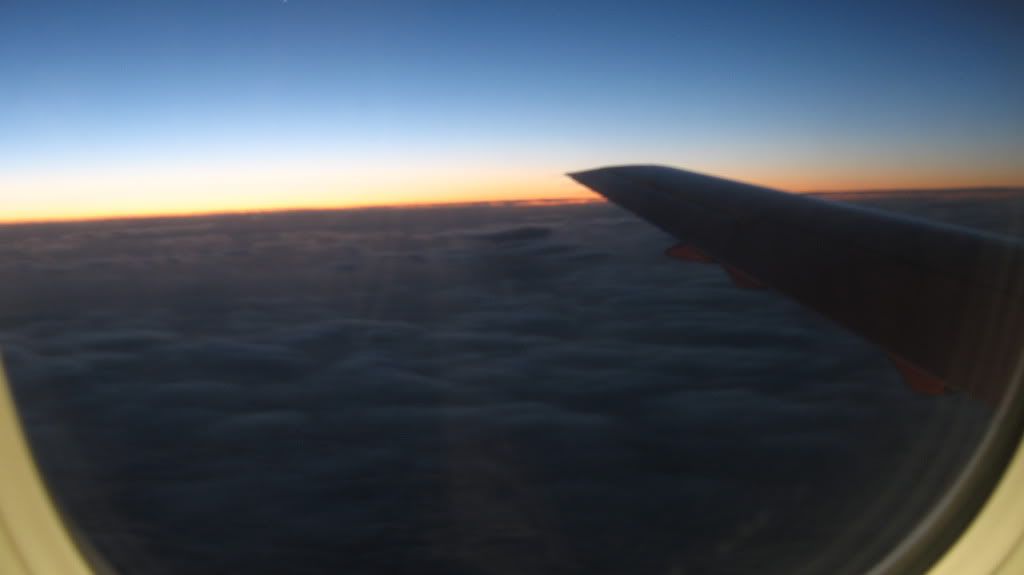 Malmö, a city in Southern Sweden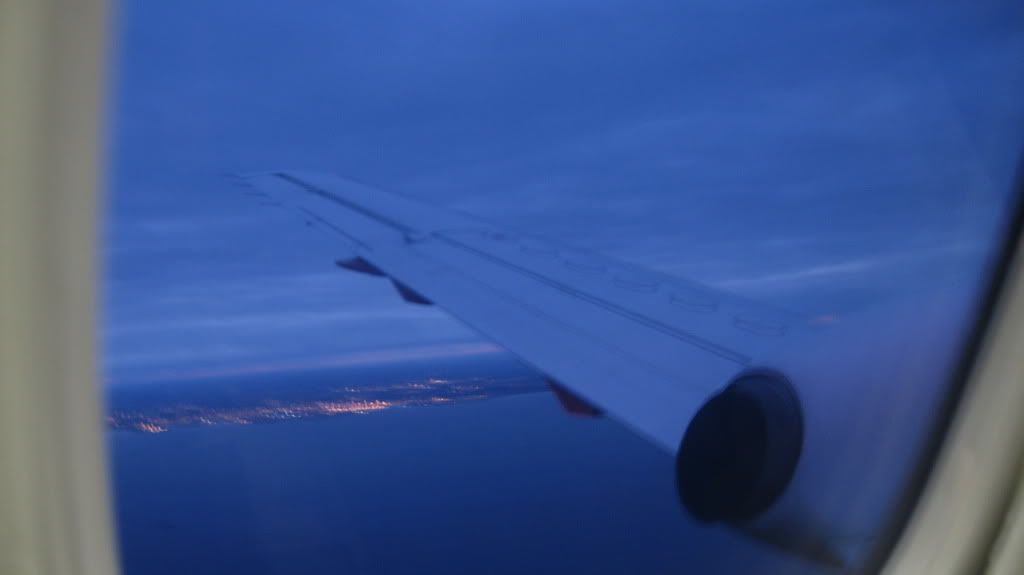 ´
The flight was quick and after passing Gothenburg we started our decent to CPH. Landed on runway 22L at 07.30
Landing video:
http://www.youtube.com/watch?v=ome9cYkppCU
A Wideroe Q400 next to us
Continued below