Egyptian style CAI-FRA scheduled on the A332
Ahlan wa sahlan, dear readers,
if you missed the inbound leg to CAI, here´s the link
Bound For The Pyramids On The A346
(by
FLIEGER67
Feb 24 2010 in Trip Reports)
Sunny and warm weather conditions, unbelievable for us Europeans, 28 degrees and only light clouds, welcomed me after an very early breakfast at th hotel.
The first impression in the breakfast room was like I´am in Asia.
A large tour group from Korea was there and so it seems, no one else.
Some more pictures from the hotel and the surroundings and than it was time to pick up my belongings,
check-out and returning to the airport.
Heliopolis from the non-fixed rooftop area
Spot the airport in the distance
The nice hotel terrace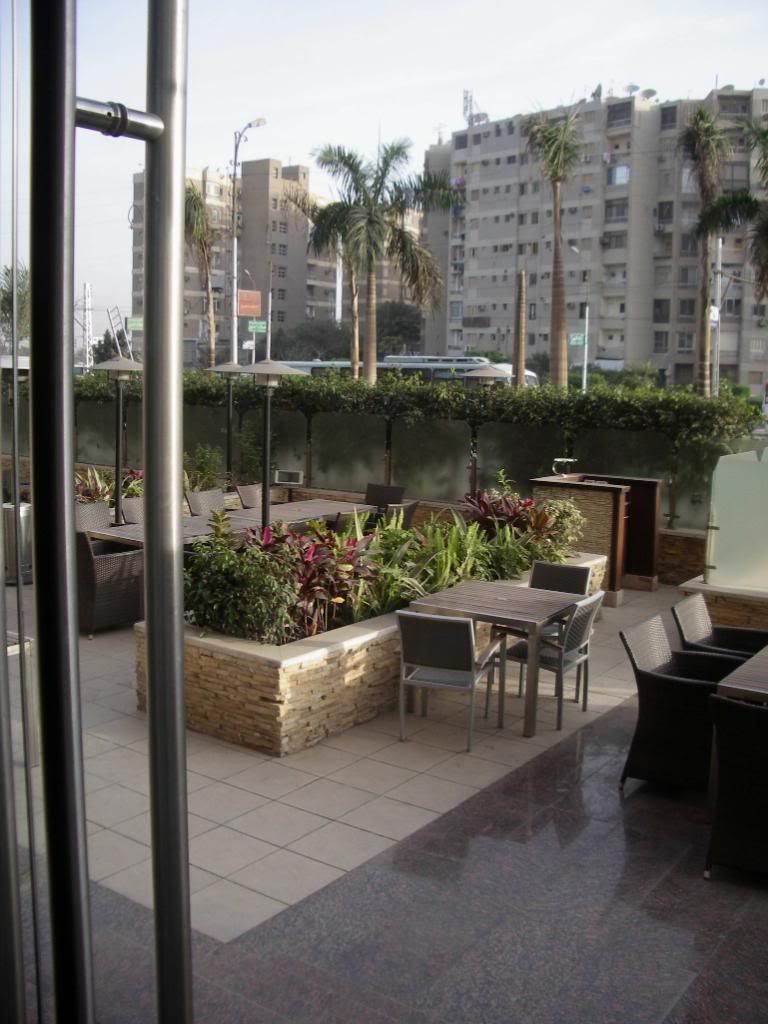 Hotel interior
The hotel front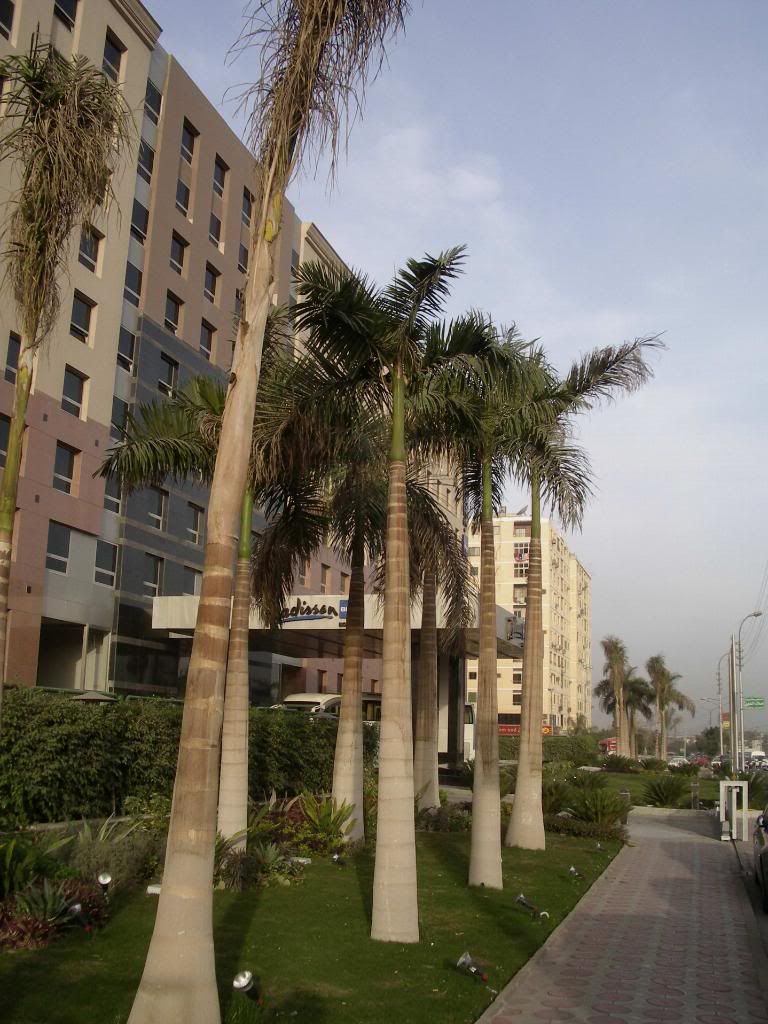 Traffic, old Peugeots and donkey cars
This time the hotel arranged the transfer for me, much appreciated here.
Without any hassles at the airport some two hours prior to departure.
Monday, 15.02.2010





Service MS 785 operated by Egypt Air
Scheduled: 10.35 // 14.10 = 4 hours, 35 minutes (1 hour time difference)
Actual: 10.40 // 14.15 = 4 hours, 35 minutes
CAI Terminal 3 is an impressive building, large, spacious and clean landside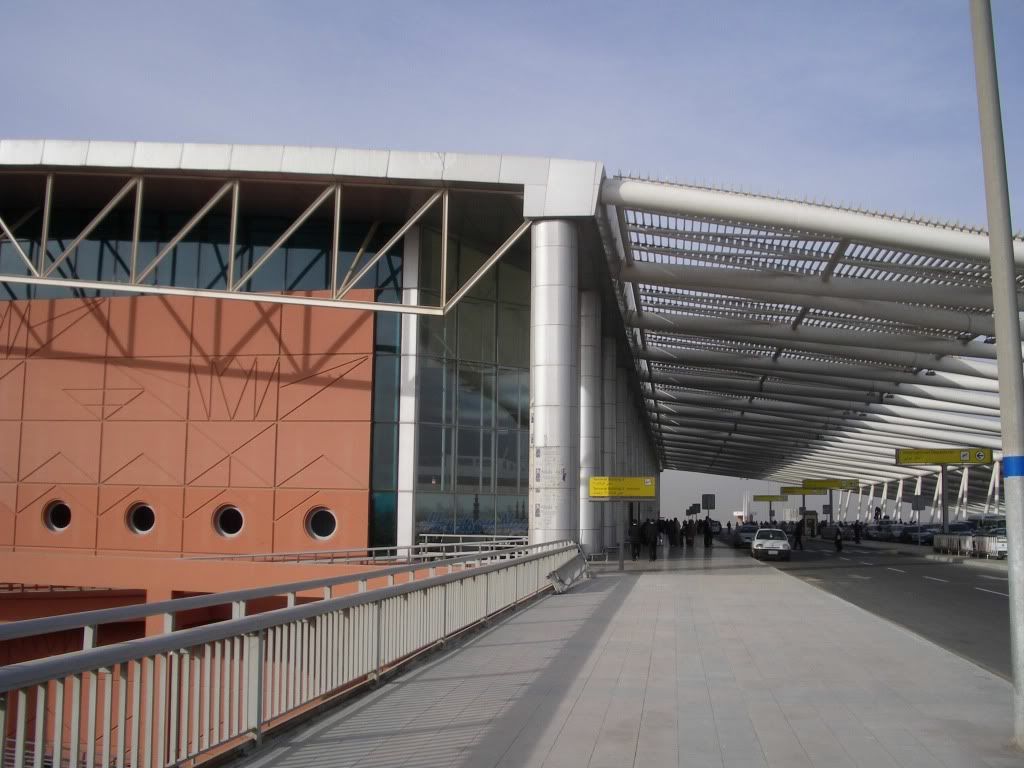 And CAI is also the second busiest airport in Africa at all.
No. 1 is still hold by JNB´s Tambo airport.
There wasn´t any control at the entrance, but when you walk in direction check-in desks you need to pass a baggage check, where all the suitcases gone screened.
No problem and further to the desks, MS to FRA and MUC at the same counters.
No time to wait, a young male at the biz counter waved me in.
I´ve asked to change my window seat for the last row, no problem and so I´ve hold an classic boarding pass with seatnumber 39A some seconds later.
Also no time to wait at security, it seems I was lucky today.
And again at passport control, no wait, where a very friendly female officer stamped my passport.
CAI T3 offers nice views through the tinted windows to the apron from the central building,
with a good number of MS planes parked side by side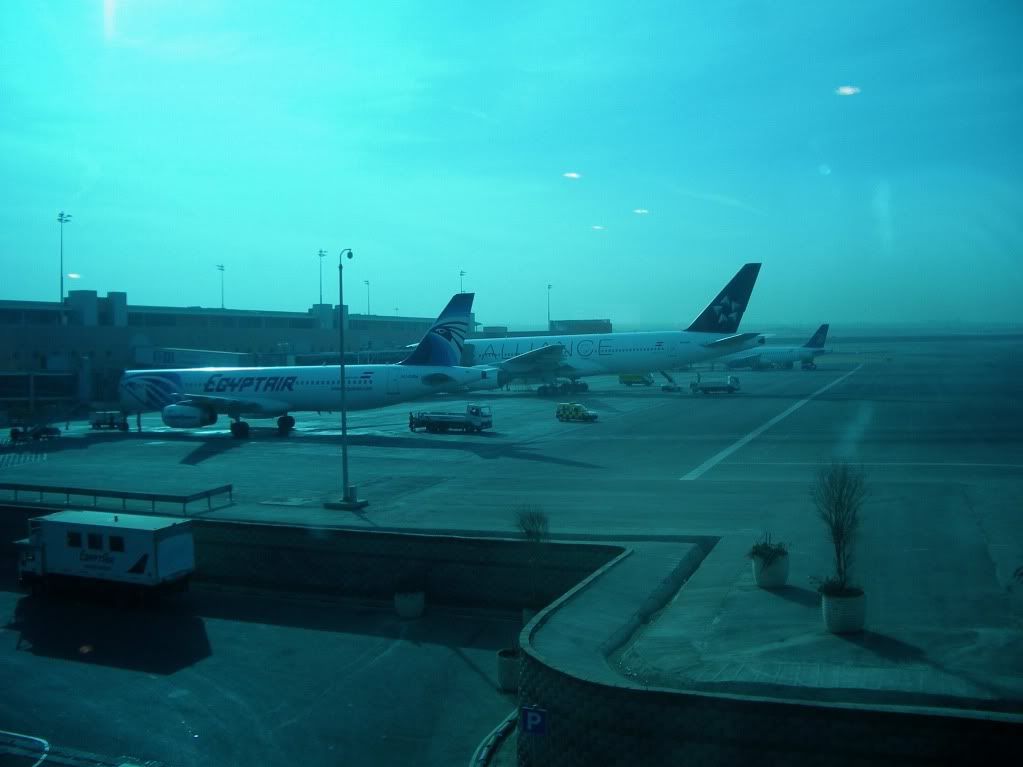 And the other side with especially that A342 caught my attention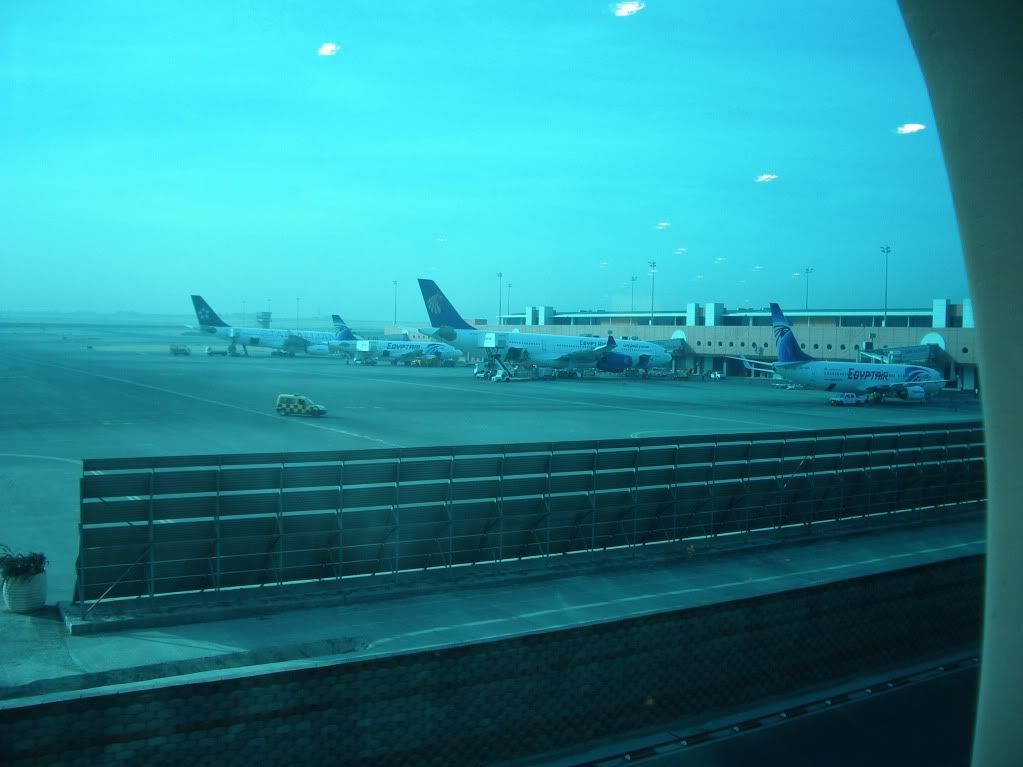 Walking down to locate my gate along the old terminal 1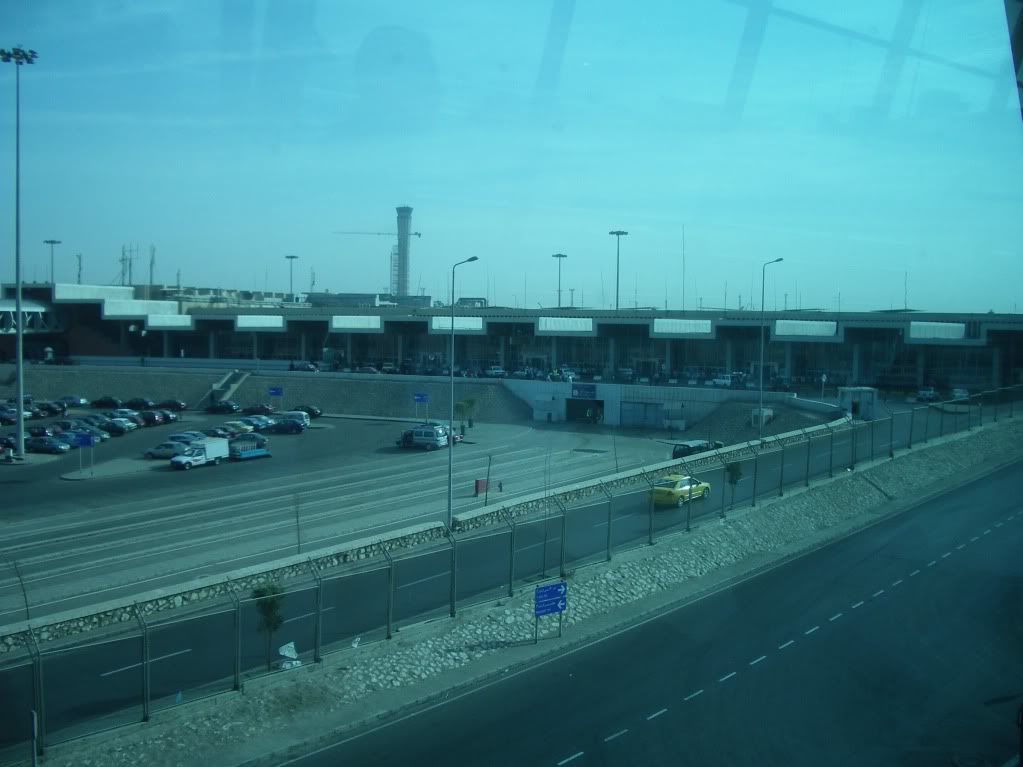 and with a nice view to that compilation of MS planes
A view to the screen shows a number of MS departures
and another view with my flight from gate F8 on schedule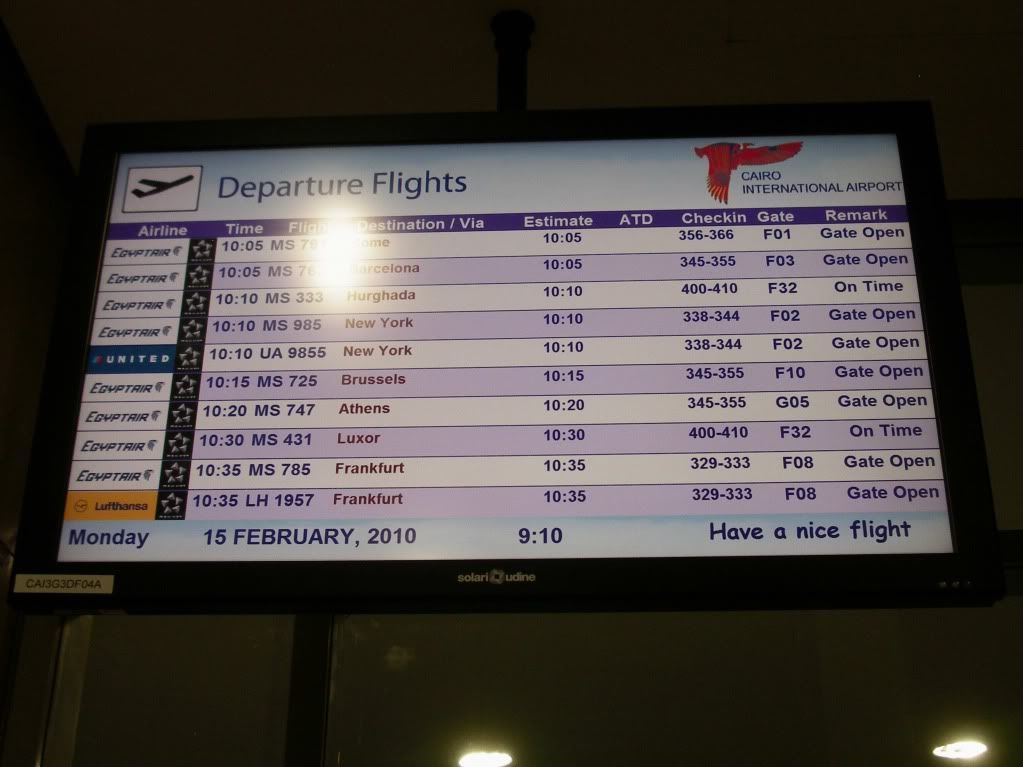 Definitely nice terminal architecture here, opened only in spring 2009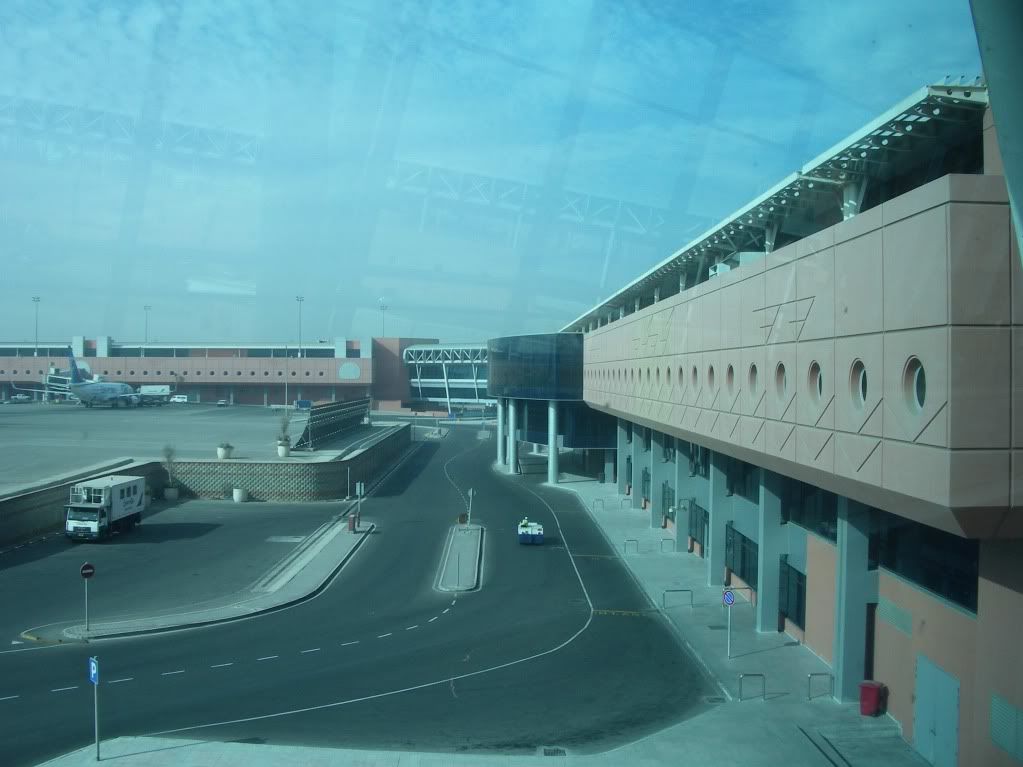 A good number of pax all around, looks like a busy day fo the airport and especially MS here.
Guess, what´s my favourite machine?
CAI operates like some UK airports with that wait-in-lounge system.
Boarding passes checked at the entrance to the gate waiting area and also another security check.
I´ve dont asked about the machine type for my flight and in accordance with the row numbers it might be a
widebody machine for FRA?
But no way, a first view from the gate windows showed me a 737-800 parked at the finger.
What a disgrace, the scheduled A332 or much better a switch to the A342, that will be perfect.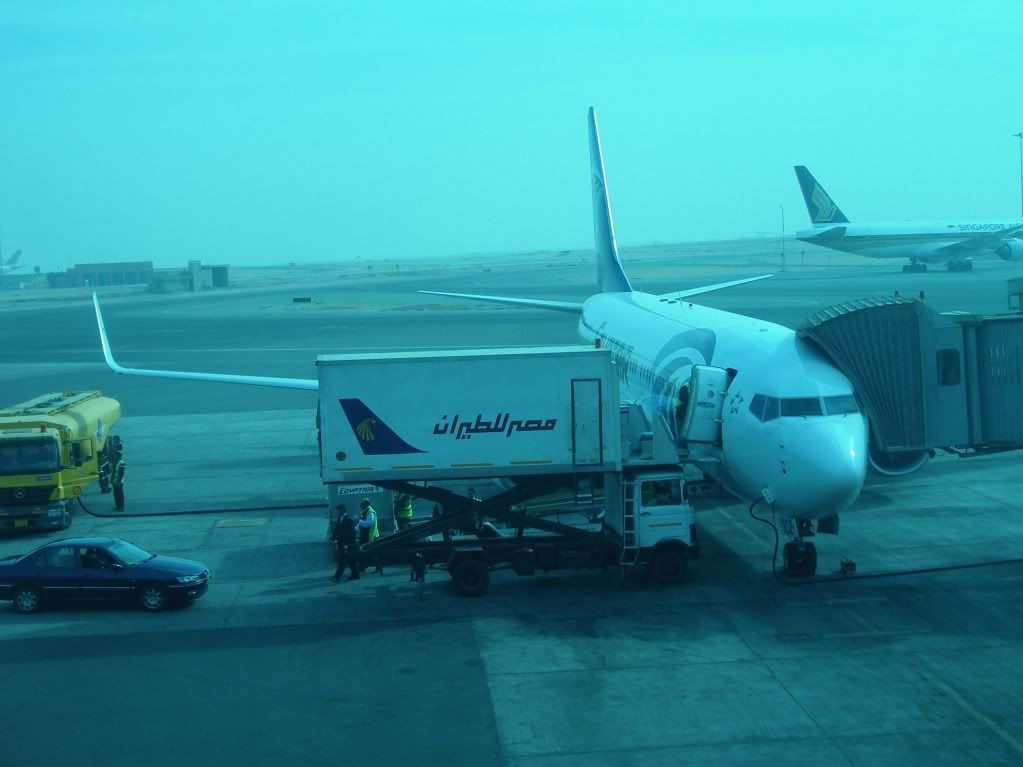 Another MS heavy heading for the runway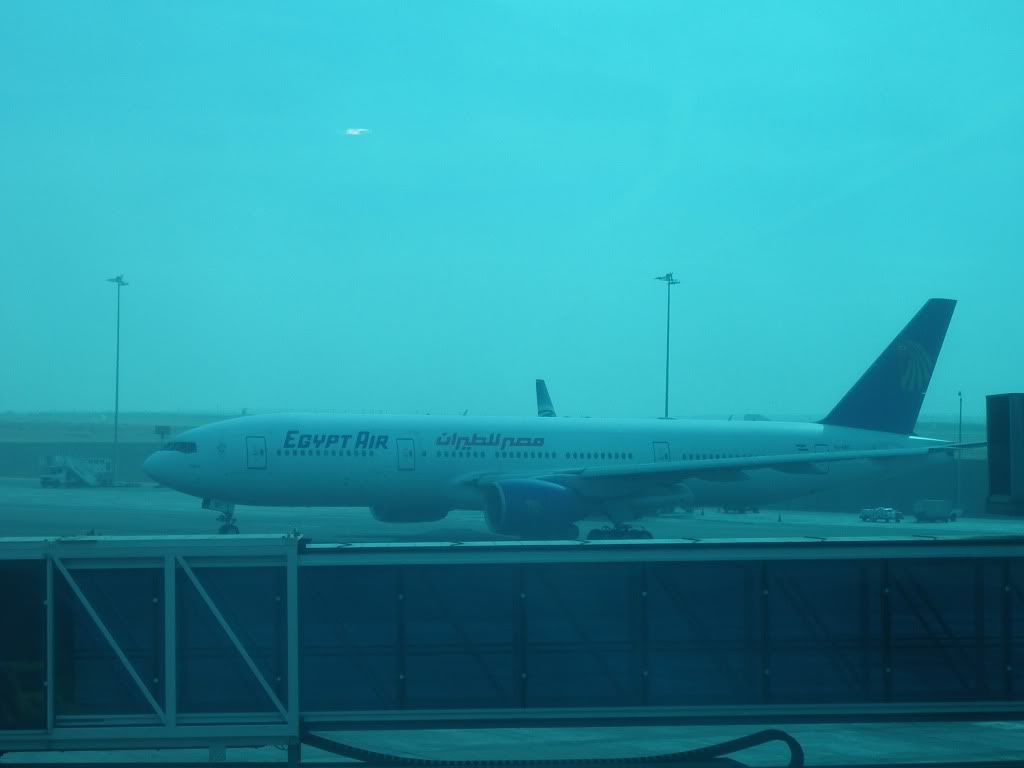 A SIA 777-200 parked on the apron leaving later for DXB and SIN with an desert painted Hercules
going on another military mission above.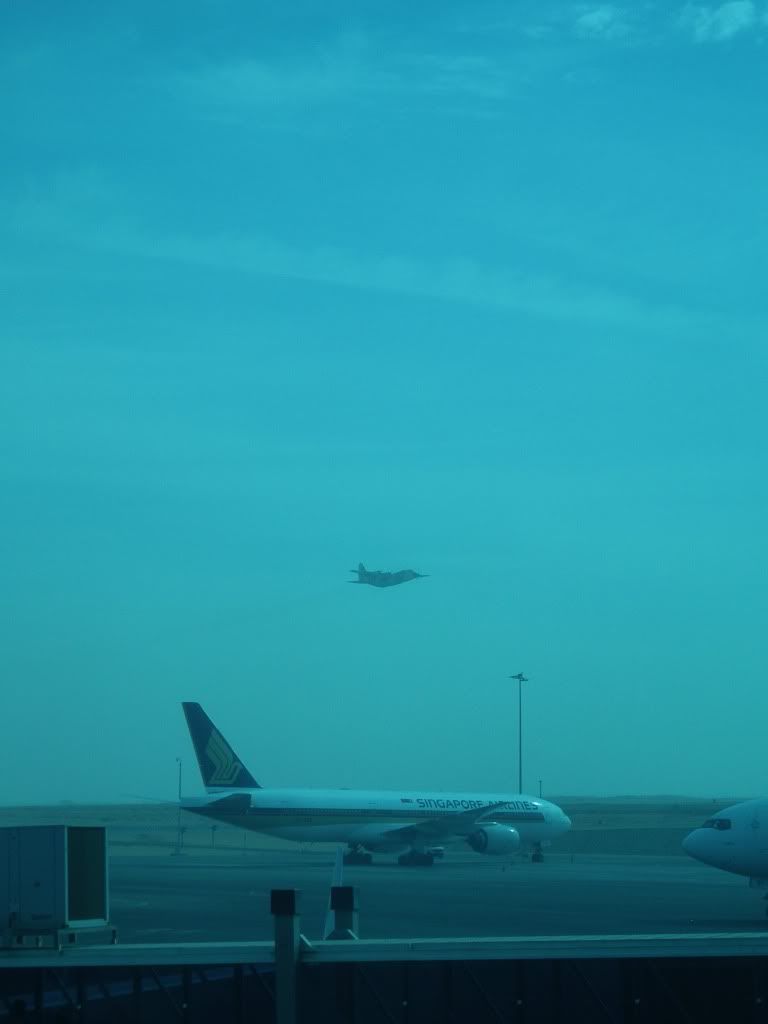 Much lower than the civil planes
And the guys working my machine with good egyptian stuff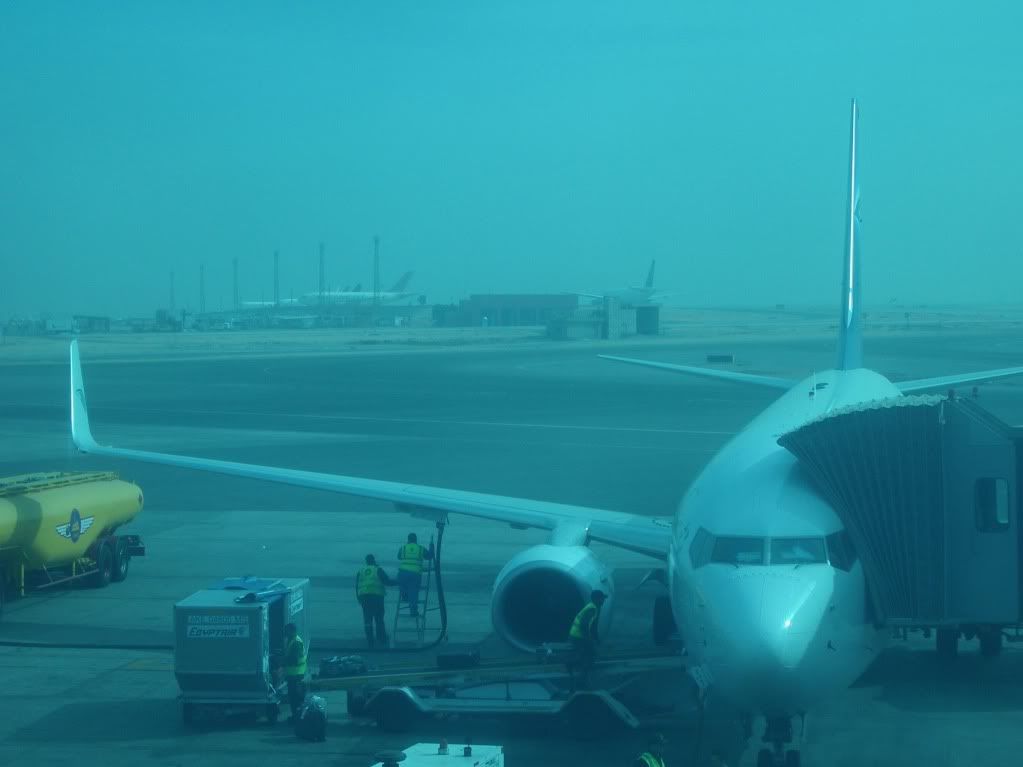 Count that workers on the apron. Such a huge number of service staff, unbelievable in Germany.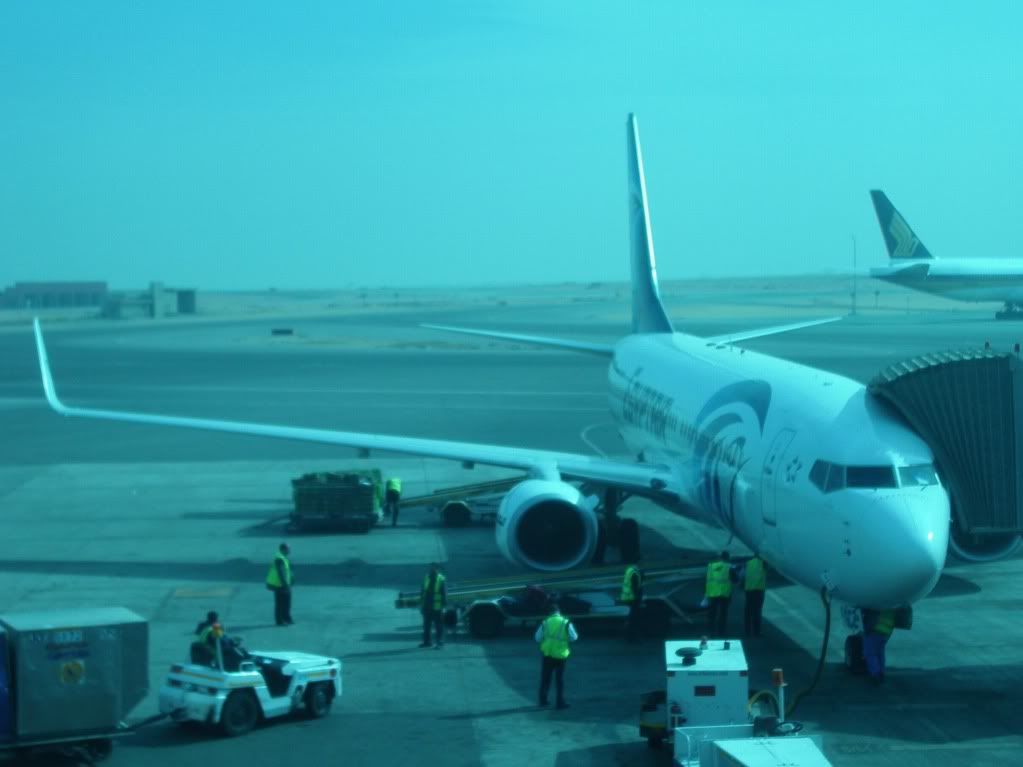 SU-GCZ was the 738´s registration, delivered new to MS at 07.02.2009,
leg no. 43 for me ontype and a new registration.
A Saudi triple arrived soon thereafter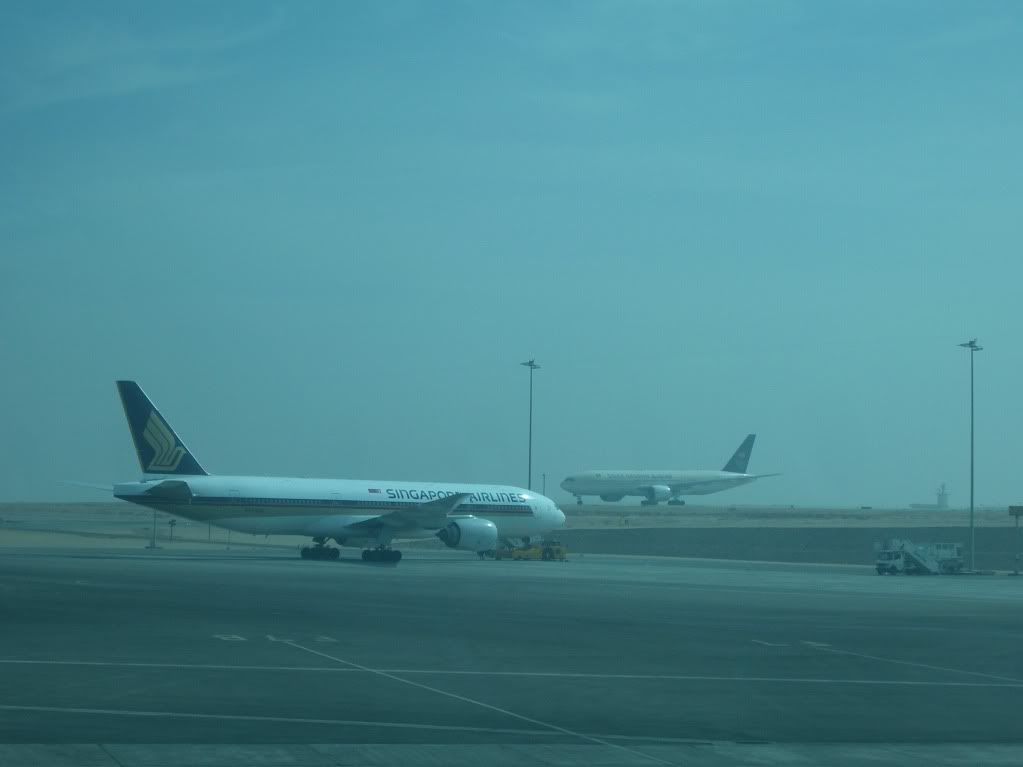 And earlier than expected, boarding started for my 4 hours, 15 minutes ride to FRA.
I like these egyptian coulours
Another view to the SIA machine towed to the gate beside me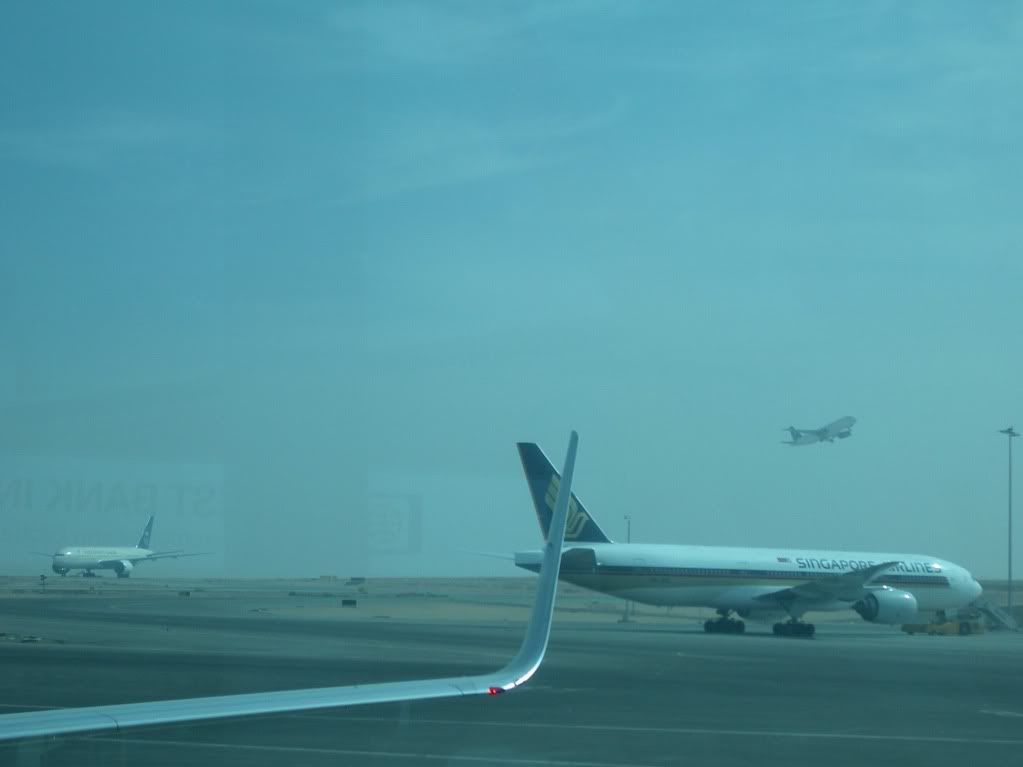 And a last glance of that good looking A342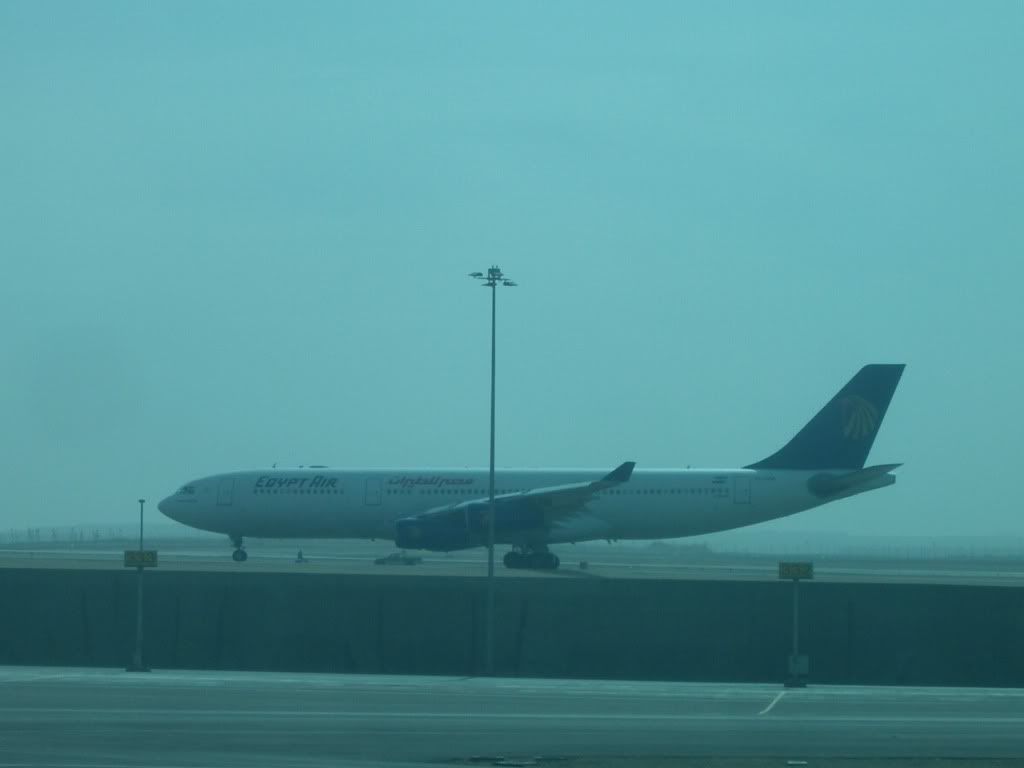 The cabin was fitted with mixed blue green fabric seats, legroom ok and also clean so far.
Three female and also three male FA´s doing the service here, ok, but nothing special.
And also three security guys joined my flight.
The load factor was 100%, nothing else expected with that downgrade from the much larger A332,
also the two seats beside me in the last row taken and much to my disappointment, one of the security guys took 39D, not the best look forward for nice pictures.
But he´s doing a good job, reading his newspaper, drinking beer and that along the whole flight.
Were heading for the 3999 meters runway 23C with a view to another Saudi machine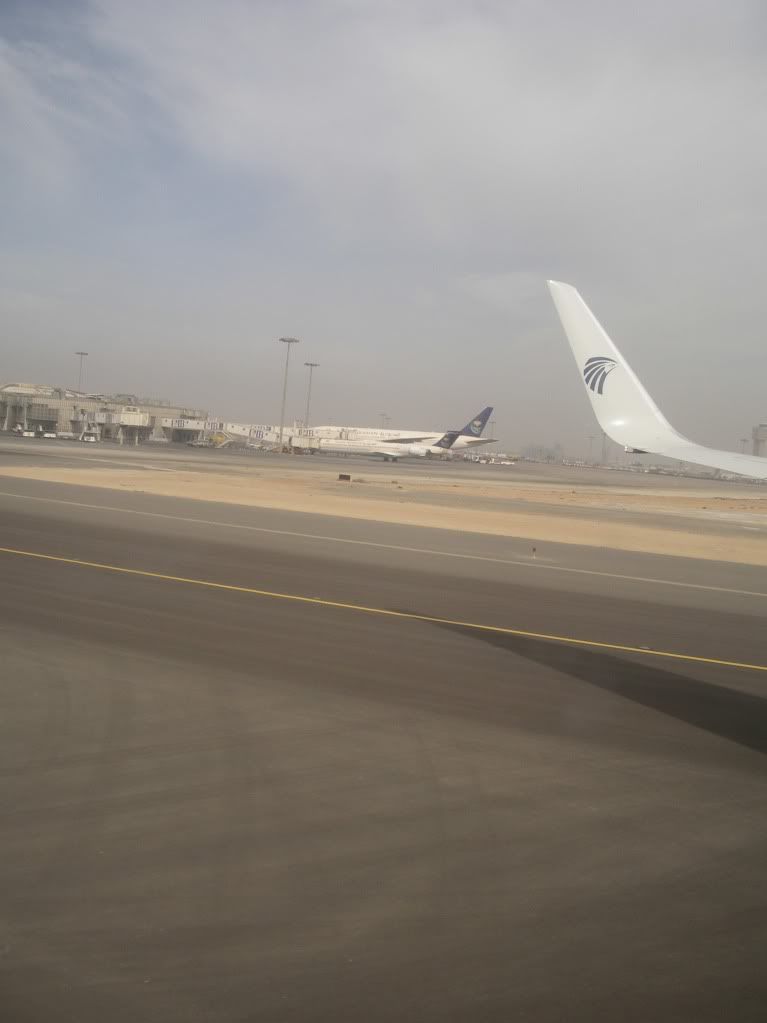 and also the long time parked Midwest A310
A long departure follows, it feels like running on the A340
with a very nice view above the sandy city surroundings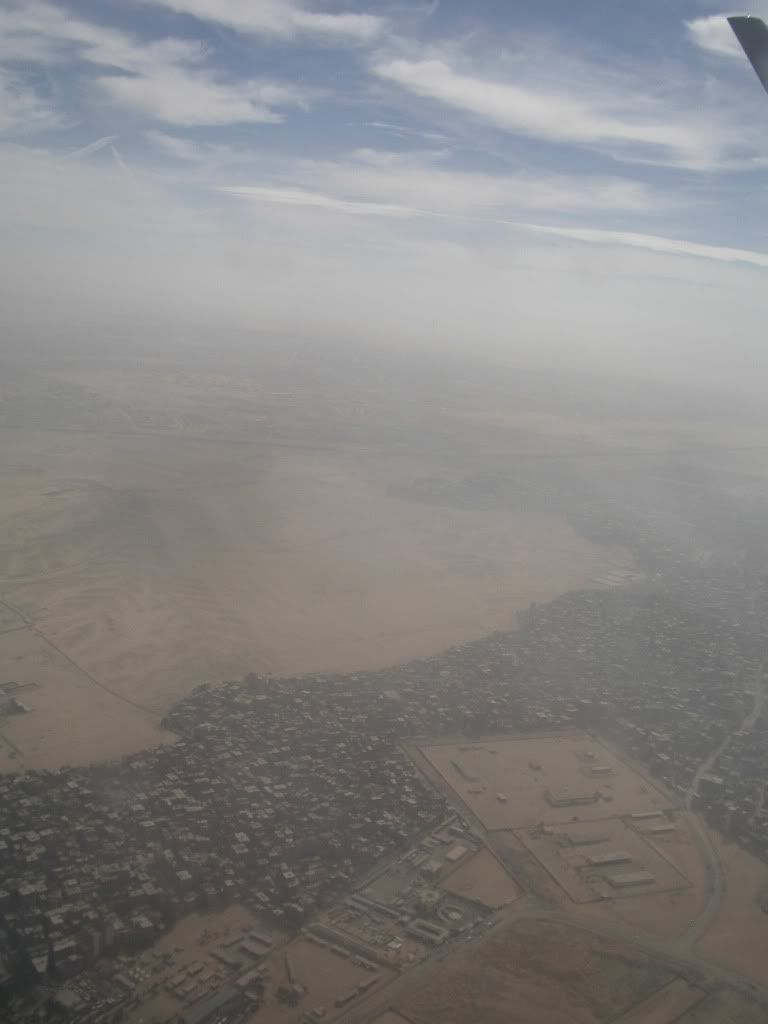 the nile river and the city itself
and warm welcomed, the pyramids directly between the green city and the yellow desert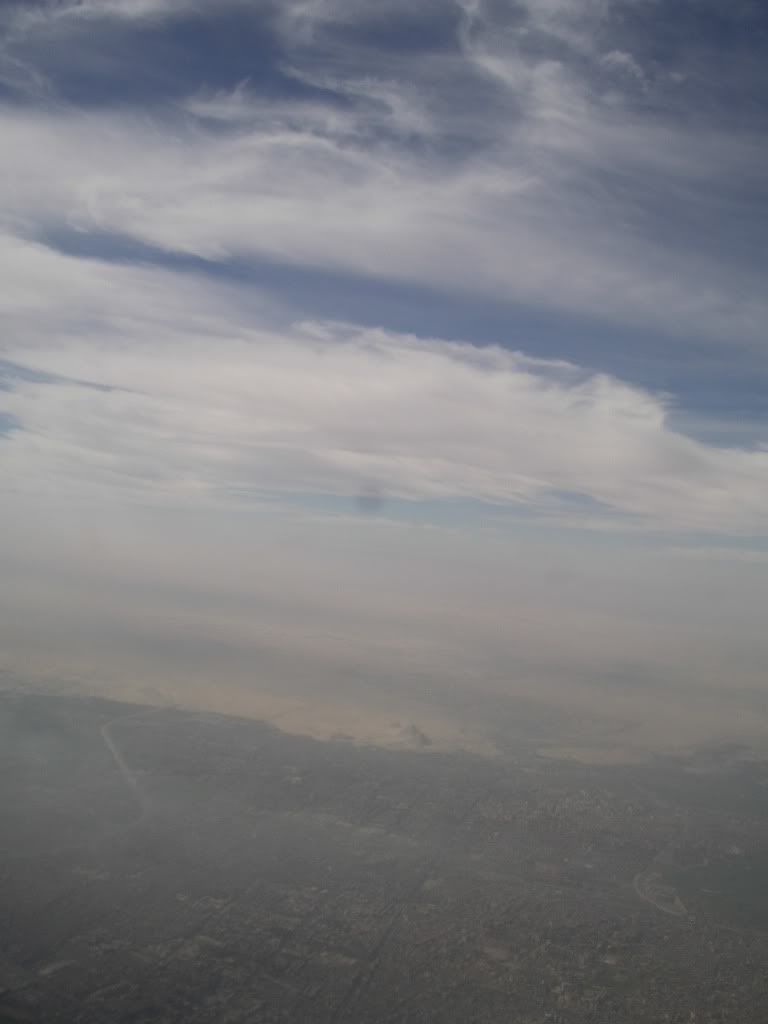 Well, thats what I call a nice departure routing
And a last view to the mighty historic sights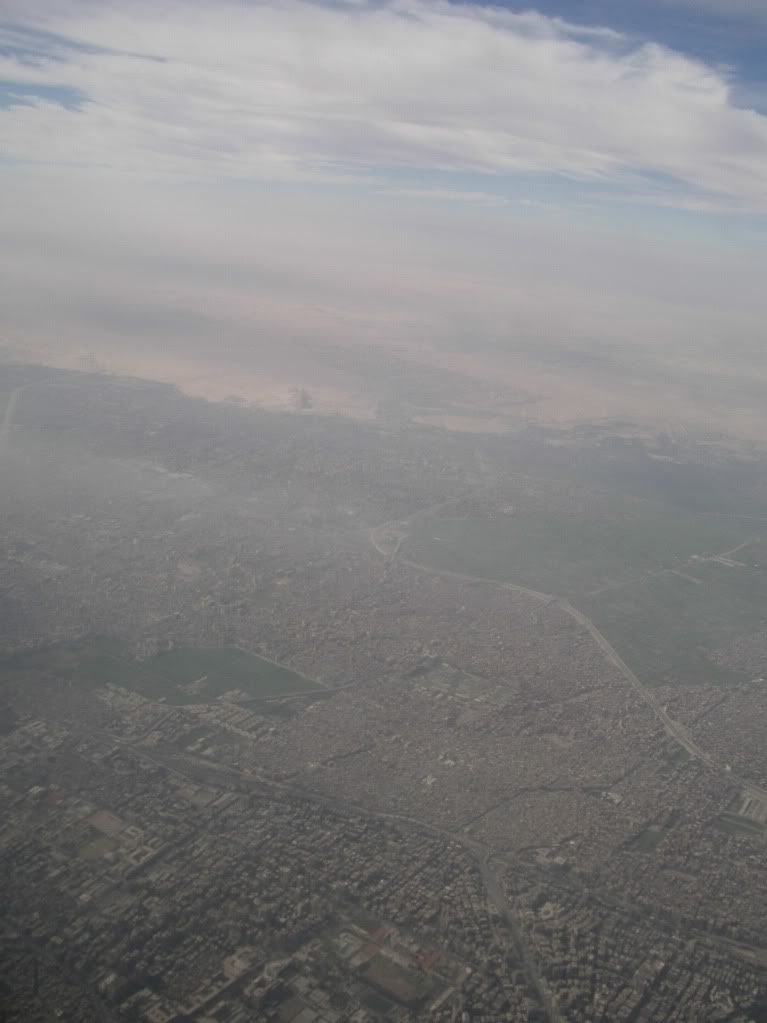 Following the nile valley in direction Alexandria, the landscape differences good to follow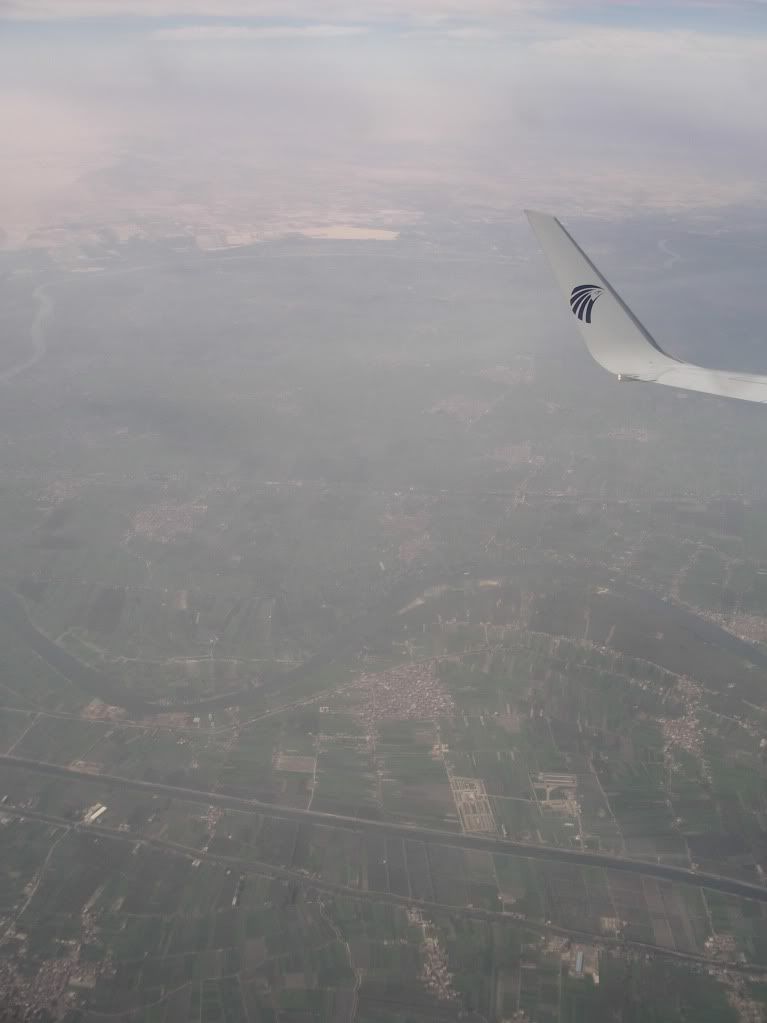 Impressive that colour change here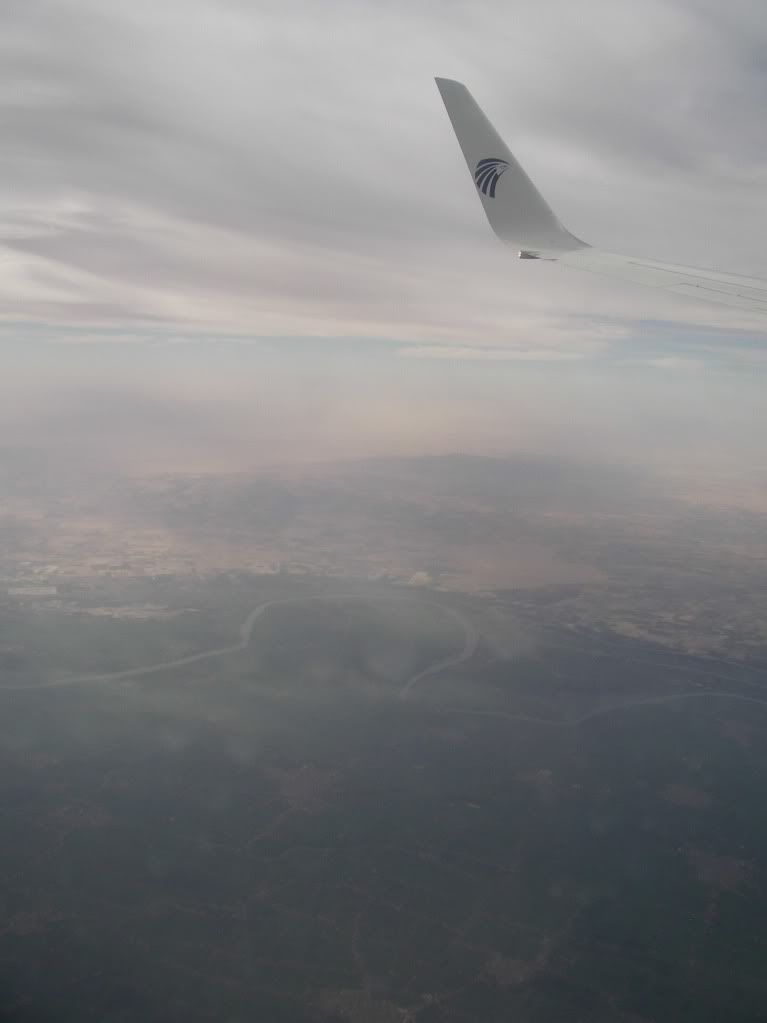 Close to Alexandria and the med now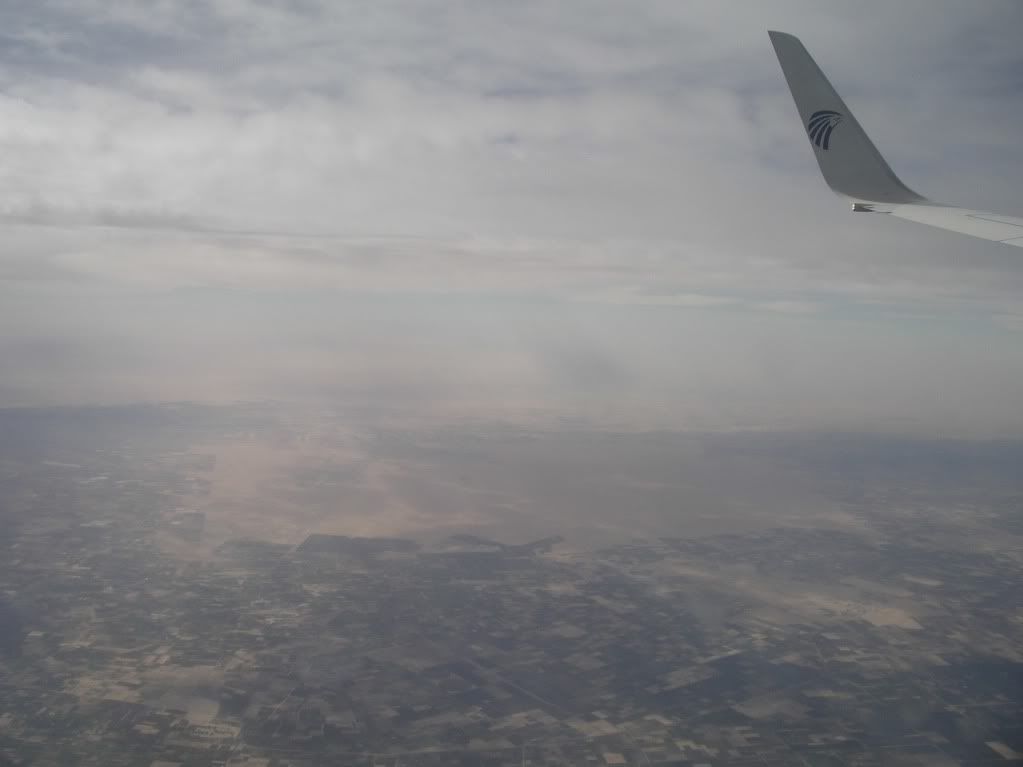 And that was my time in Africa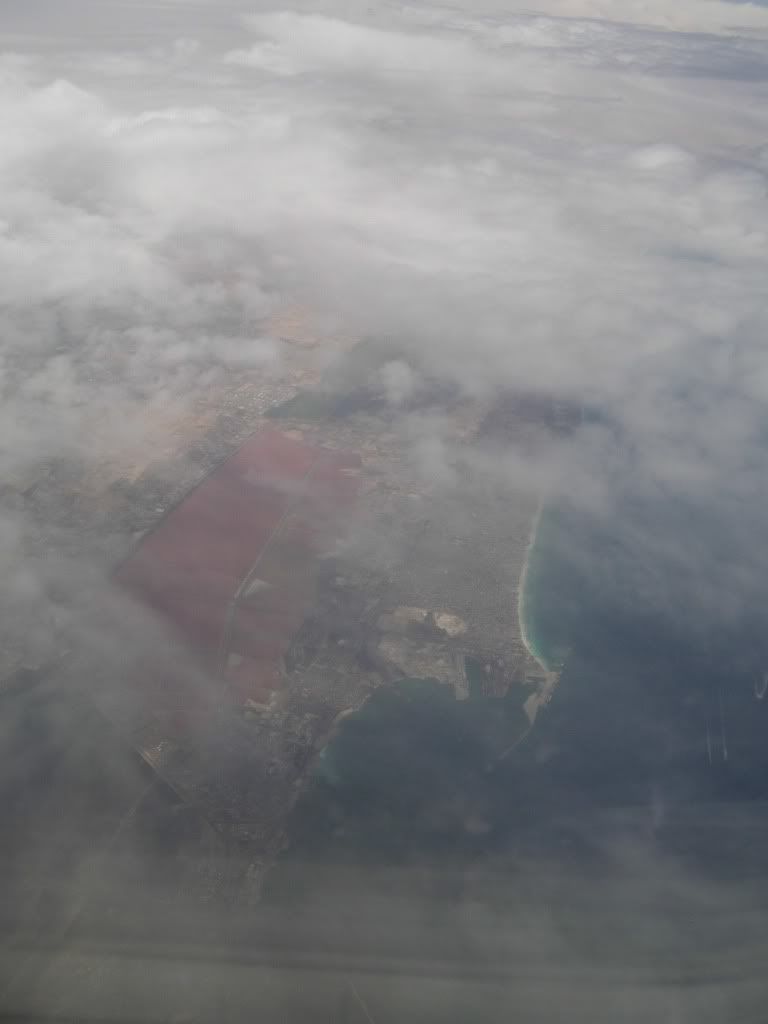 The egyptian pilot welcomed us with a detailed information talk short after departure
and also short thereafter a first round of drinks and peanuts started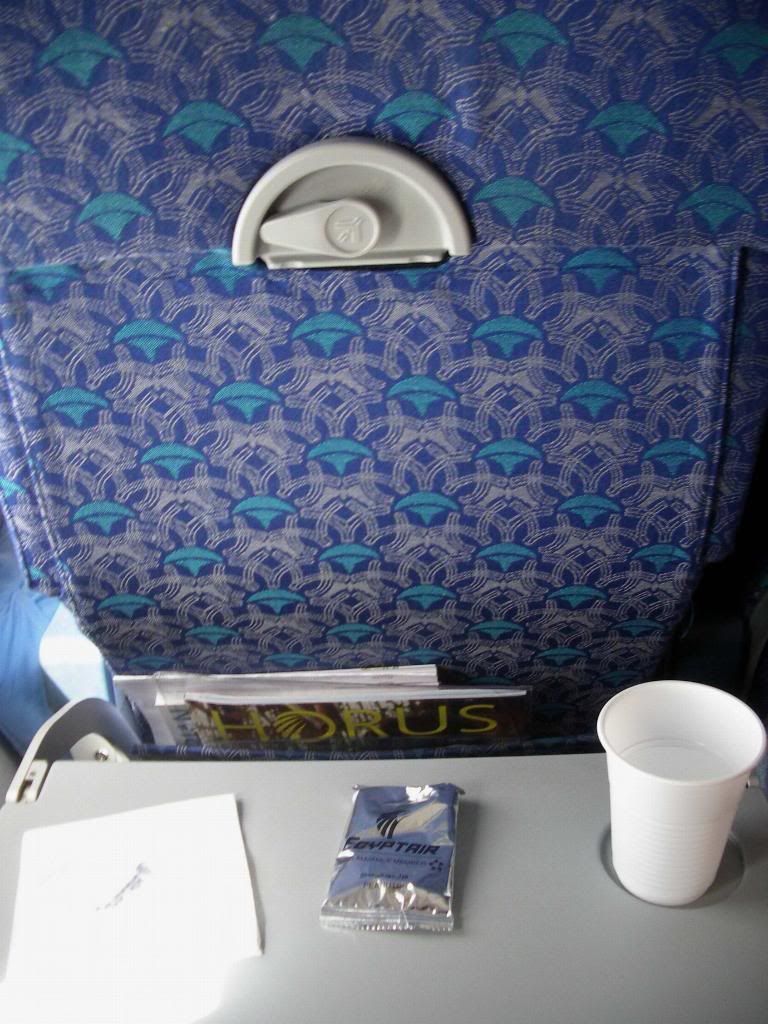 Were going further to Crete-ATH-TIA-SJJ-ZAG-GRZ and MUC at 36000 feet.
Crete with some snowy mountains here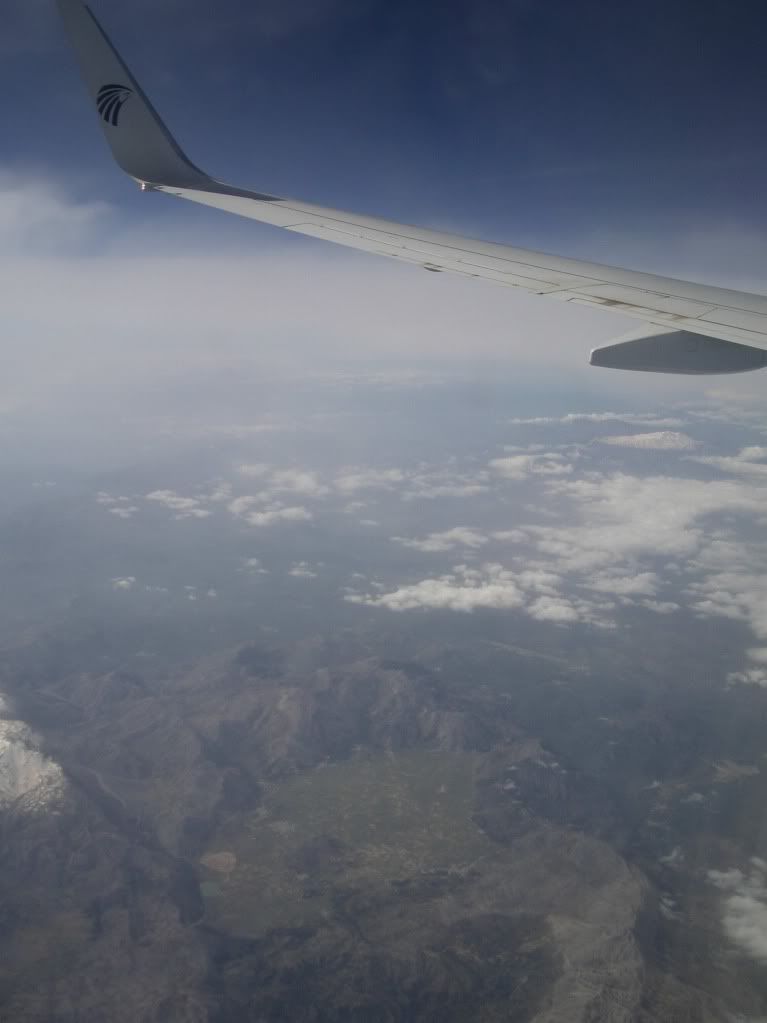 Another view above that nice greece island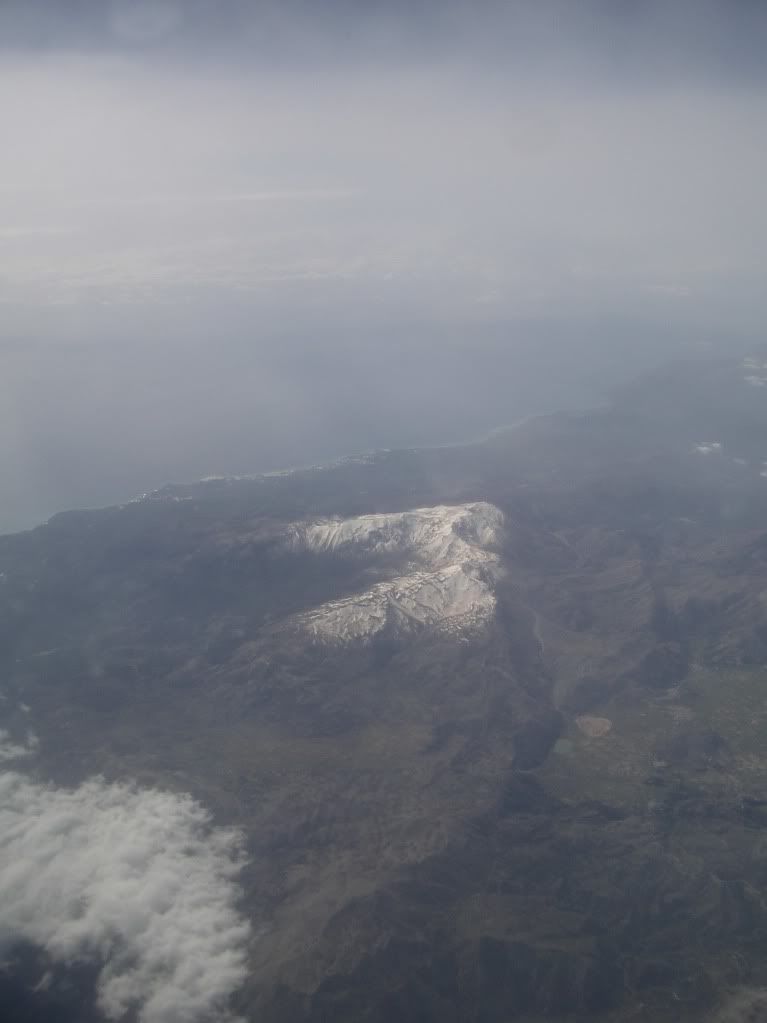 and also the town and the airport of Heraklion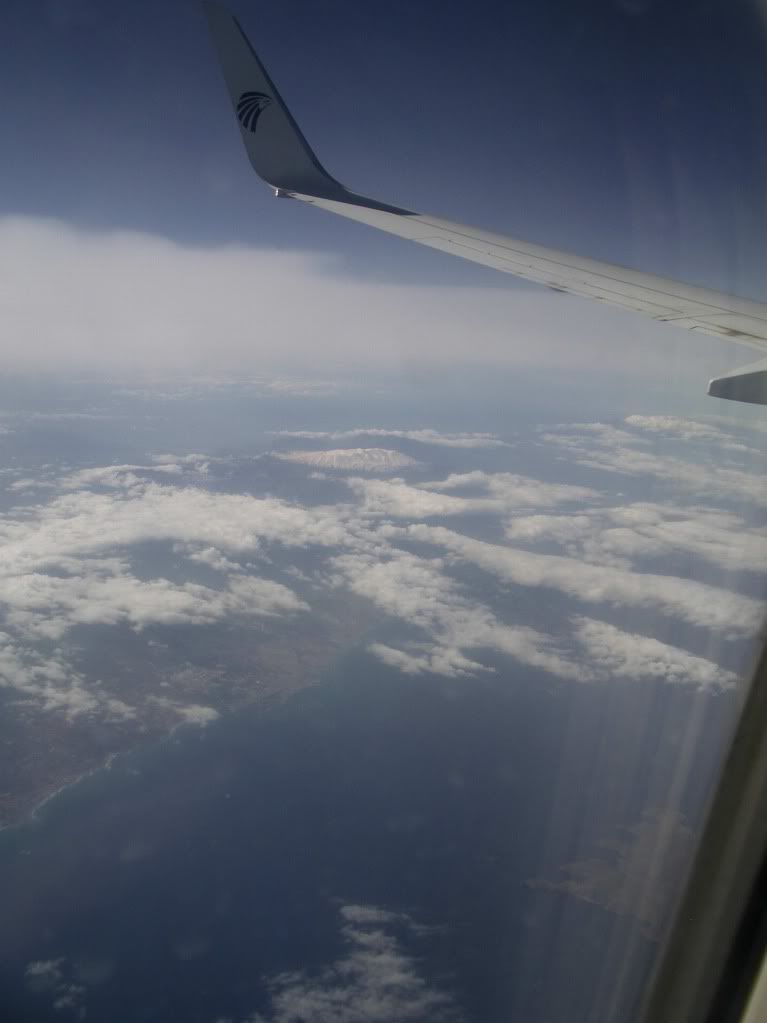 Not to forget the usual view at the safety card
and a view to the cabin itself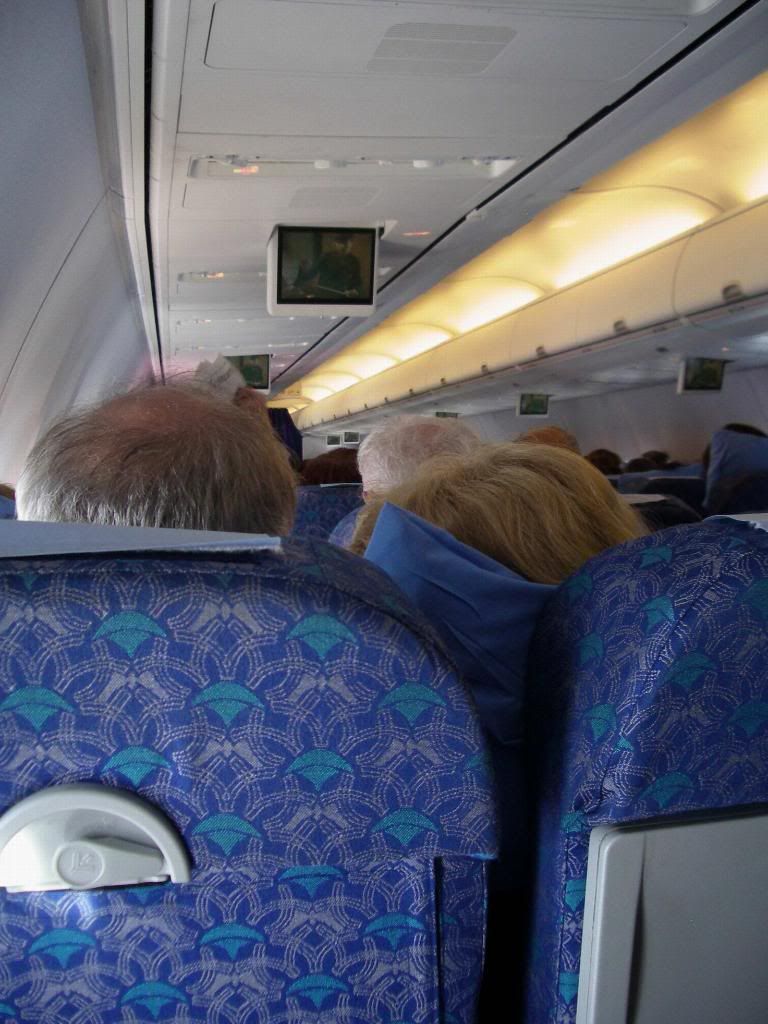 The guy in the middle seat beside me was a kind of heavier one, so comfort was somewhat limited on these flight.
Reaching now mainland Greece somewhere around Athens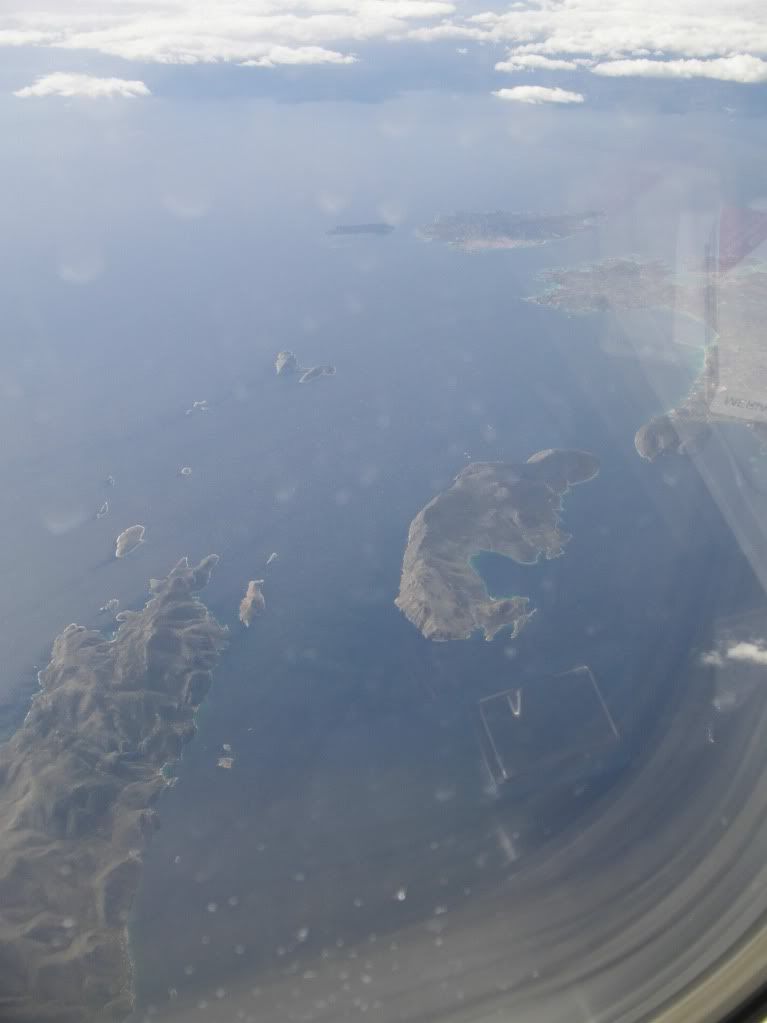 where the FA´s serviced the main menu.
Looking better than LH´s yesterday isn´t it?.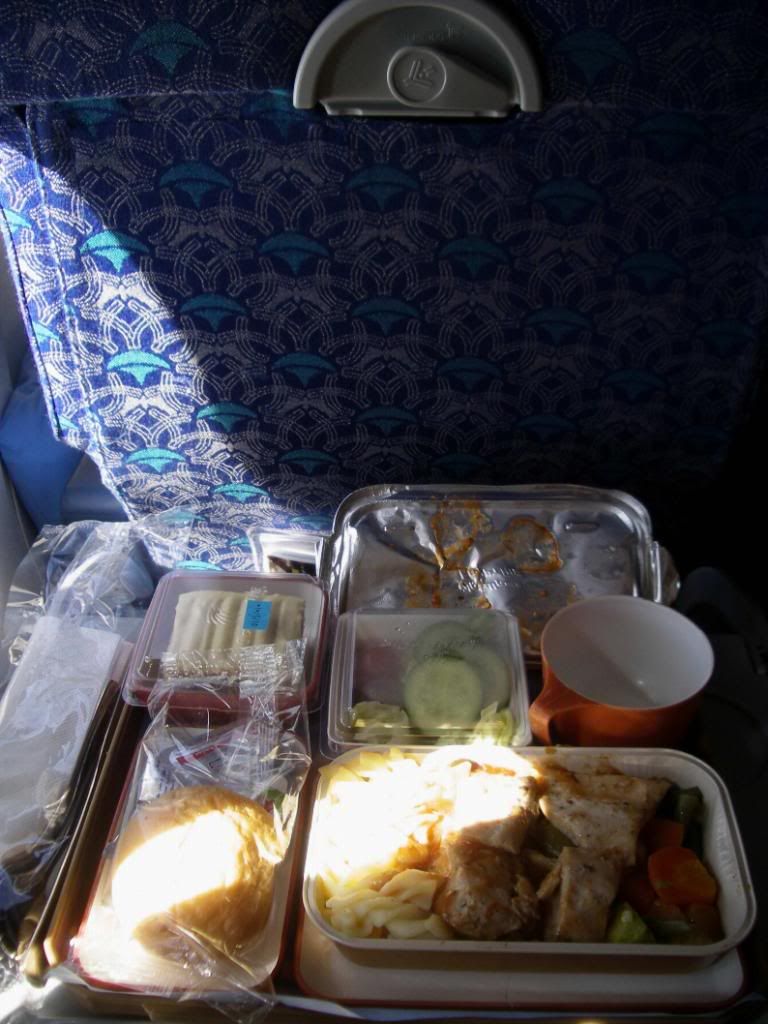 With that fully loaded plane it need´s ages till they cleared the tray´s, immediatelly followed by a heavy line
for the restrooms.
Weather around the alps looks also not bad here
Not far thereafter we passed MUC and the approach into FRA´s 4000 meter runway 25R started, where we landed finally nearly ontime back in snowy Germany, with according to the lead FA´s announcement - 1 degrees and high clouds.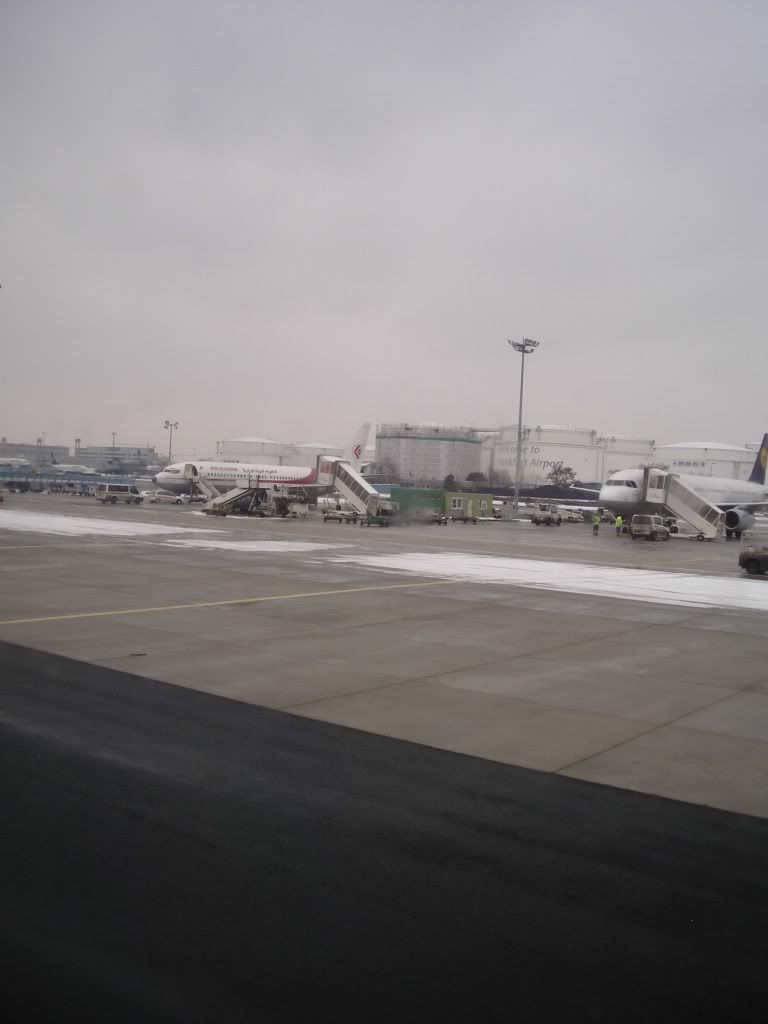 A goodbye picture to my seat
and a last view to my plane after disembarking at a finger gate into Terminal 1 B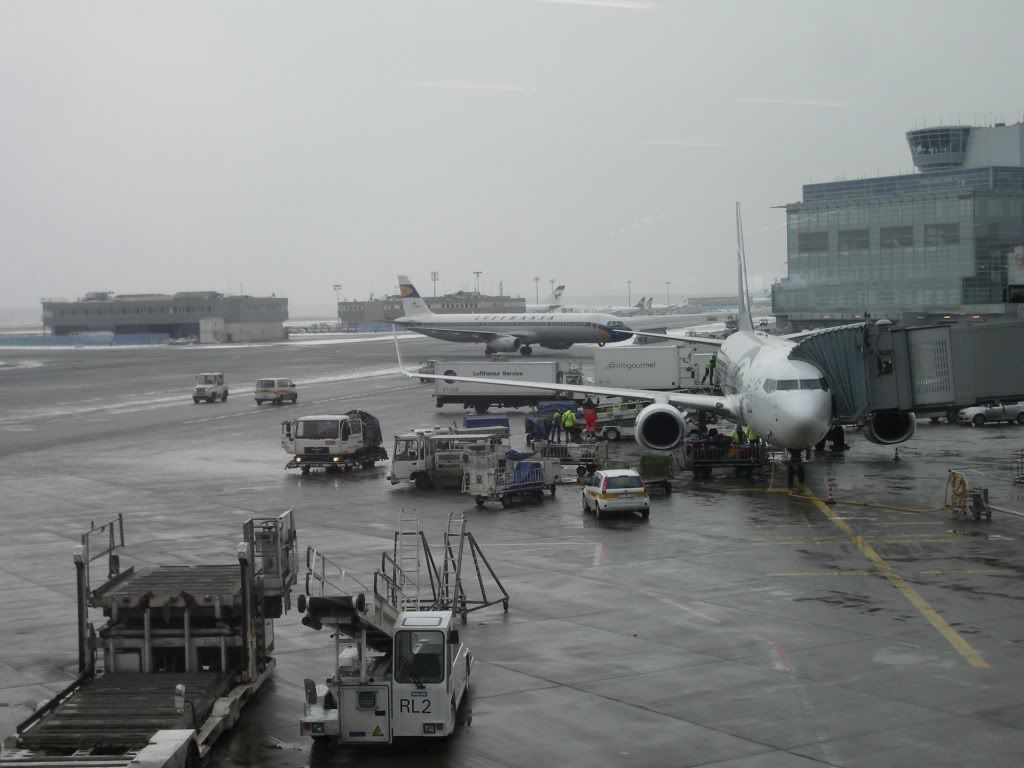 with well known D-AIRX in the background.
Not that long to wait at immigration today and a surprise, at least for me, at baggage reclaim.
Only a low number of pax there, so it seems the majority heading further on connecting flights
with me awaited more point to point traffic on this route.
My overall impression about MS was good.
CAI T3 is a nice piece of airport architecture, the plane in good conditions, ontime, the only complaint was the downgrade from the A332, something missing in my log till now.
So, a busy schedule ahead, 41 legs to go during the next three months.
Countries in order to visit:
Morocco
Italy
Tunisia
Italy
France
Spain
Poland
France
Bosnia
and the UK.
"A rough landing in Marrakech on RAM", that will be the title for the next story.
Comments welcome
Markus (FLIEGER67)