Continental Scores Again:
ATL-IAH-EWR-FRA on ERJ 145, 757-200 and 767-400ER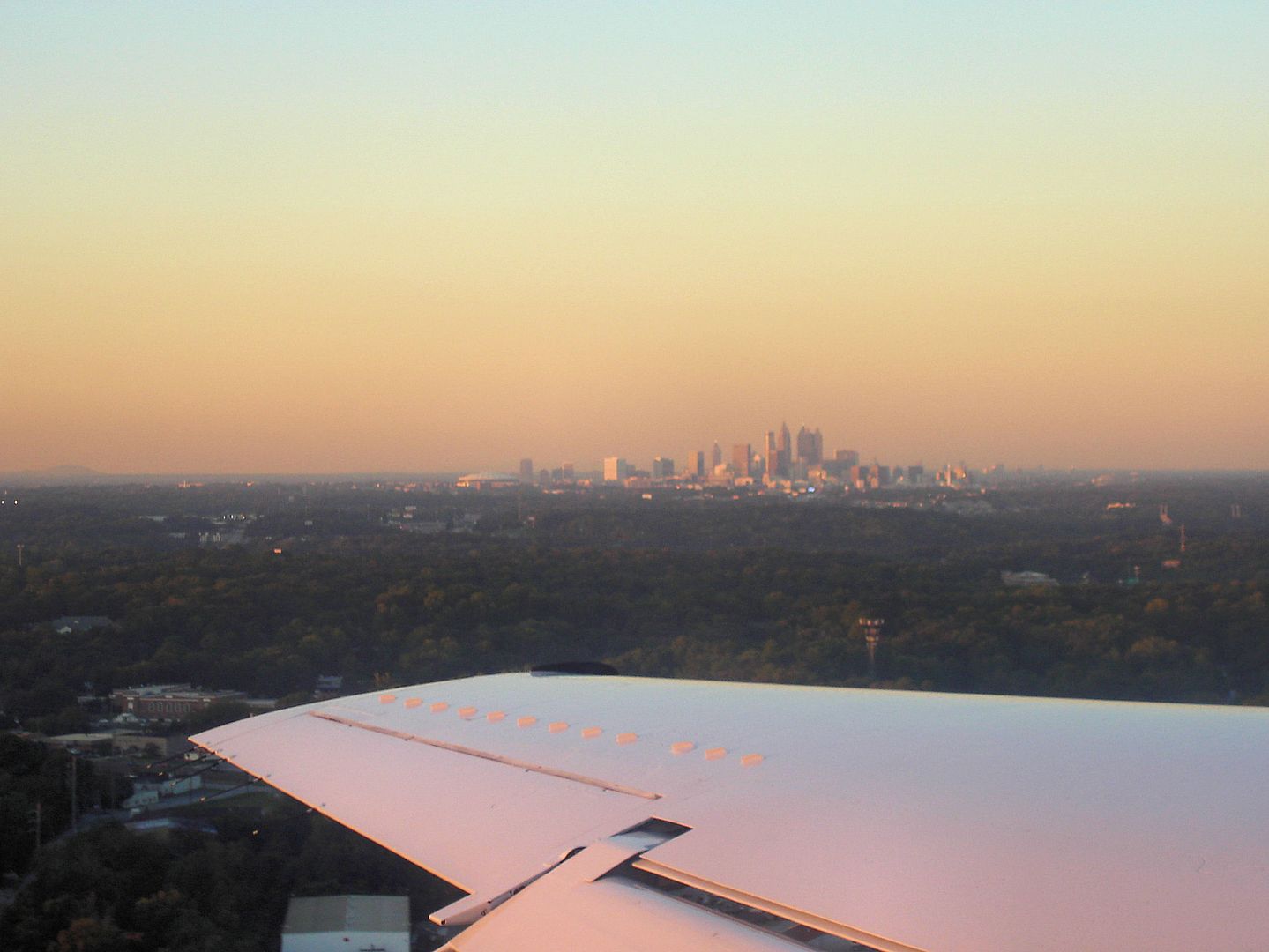 Intro
The focus will be on
ExpressJet's ERJ 145
and
Continental's 757-200
and
767-400ER
in the last part of my latest trip report series. It had already been clear in the early stages of trip planning that I would choose Continental's EWR-FRA service because the 767-400ER was still missing in my log. However, instead of picking an ATL-EWR connection for my return journey I decided to add another stop at Houston before heading eastwards again. Why? Going zigzag (ATL-IAH-EWR) would get me on another new carrier (ExpressJet) plus a 757-200 instead of one common 737 classic - at no extra cost!
All those who have missed Parts 1, 2 & 3 simply need to click here:
The Ultimate 737: LHR-IAH-PDX On CO 777 & 739ER
Pacific Coast Jaunt: 3 Carriers, E120, E140 & Fog
Riding The Ultra Long-Haul Twin: Delta 777-200LR
Background
In early September 2009 it was time to book another enthusiast trip. Flights to the United States were quite cheap in mid-October so I started searching for interesting combos. My plan was to get as many new airlines and aircraft types as possible on a five- or six-day trip. The destinations did not matter really much, I only tried to include LAX in order to meet my friend The777Man again. Some days later, after spending countless hours on airline and travel websites, my itinerary was complete:

Munich (MUC) - London (LHR) on British Airways
London (LHR) - Houston (IAH) on Continental
Houston (IAH) - Portland (PDX) on Continental
Portland (PDX) - Seattle (SEA) on United Express, operated by Skywest Airlines
Seattle (SEA) - San Jose (SJC) on Alaska Airlines
San Jose (SJC) - Los Angeles (LAX) on American Eagle
Los Angeles (LAX) - Atlanta (ATL) on Delta
Atlanta (ATL) - Houston (IAH) on Continental Express, operated by ExpressJet
Houston (IAH) - Newark (EWR) on Continental
Newark (EWR) - Frankfurt (FRA) on Continental
Frankfurt (FRA) - Munich (MUC) on Lufthansa

I booked all Continental flights together on the carrier's website - connections on both British Airways and Lufthansa were included in the combo. After that I separately added the flights on United Express, Alaska Airlines, American Eagle and Delta. The itinerary included five new airlines, five new aircraft types and four new airports - I was quite satisfied in the end after getting all the confirmation emails.
Monday, 19 October 2009
Atlanta (ATL) - Houston (IAH)
Continental CO2363, operated by ExpressJet
18:40-19:50 (18:37-19:39)
Flying time: 01:41 (hrs)
Economy Class, Seat 17A

Embraer ERJ 145LR
N16951 (s/n 063)
Delivered in 06/1998
1st flight on N16951
3rd ERJ 145 flight
4th ERJ flight
86th airline
Immediately after my arrival from Los Angeles on DL016 I grabbed my luggage and walked straight to Continental's check-in area. There was no need to hurry, but I wanted to get back to the gate area for spotting as soon as possible. When I arrived at the counters I noticed a guy in the early 20s loudly shouting around, apparently addressing a distant Continental check-in agent. The latter didn't reply much and seemed to be uninterested in the guy's talk - apparently they had already had a discussion. Some moments later two police officers showed up and talked to the young guy, calming him down quickly...
Anyway, the Continental agent - who was very friendly - assisted me while I was entering my data into a check-in kiosk. Interestingly, the flight turned out to be overbooked, too - actually the third such case during my trip. Unfortunately, the agent couldn't tell me any details about alternative flights or a possible compensation. I knew my flight would be the last one to Houston today, so it was likely I would be offered a significant re-routing. However, I didn't want to see my 767-400ER flight on the next day being replaced. I agreed to think about giving up my seat, but later in the afternoon I decided to keep it.
After passing security I took the train to Concourse D and took a seat at the northern end where I had good views of the traffic on runways 26L and 26R. Due to the high number of movements it was hard to get all the registrations - and trying to be discrete with my binoculars didn't make it easier. Within about two hours I got a total of 59 new registrations, mostly Delta and Atlantic Southeast.
My aircraft arrived on time - too bad it was a common ERJ 145LR and not an ERJ 145XR.
N16951
- one of a total 244 ERJs in the fleet - was delivered in June 1998: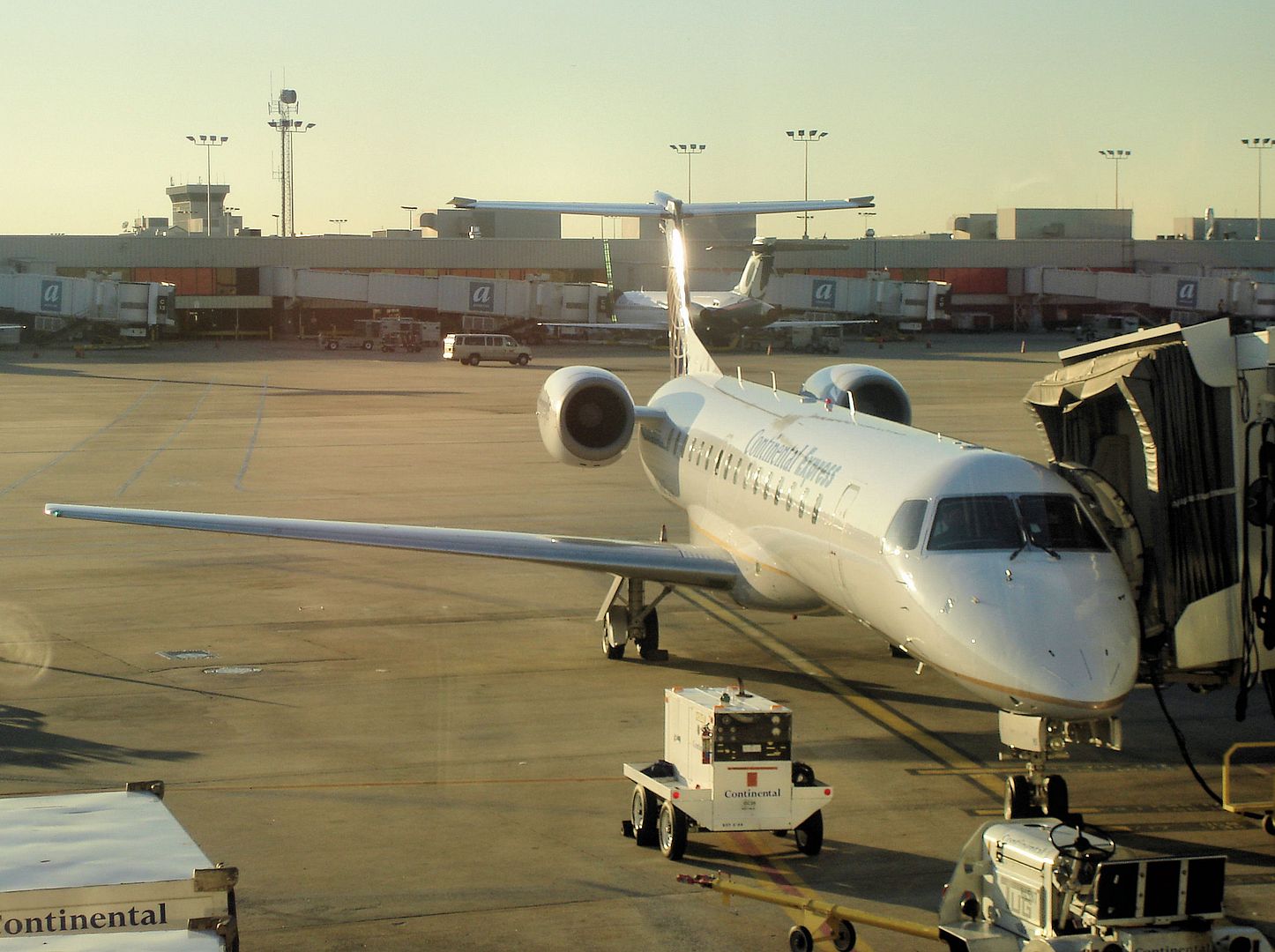 A friendly flight attendant in the 30s welcomed me on board and a few moments later I arrived at my seat 17A. The cabin was equipped with comfortable gray and blue leather seats:
Legroom seemed to be a bit better than on the American Eagle ERJ 140 - but what I found a bit annoying during the whole flight was the creaking sound whenever I leaned back.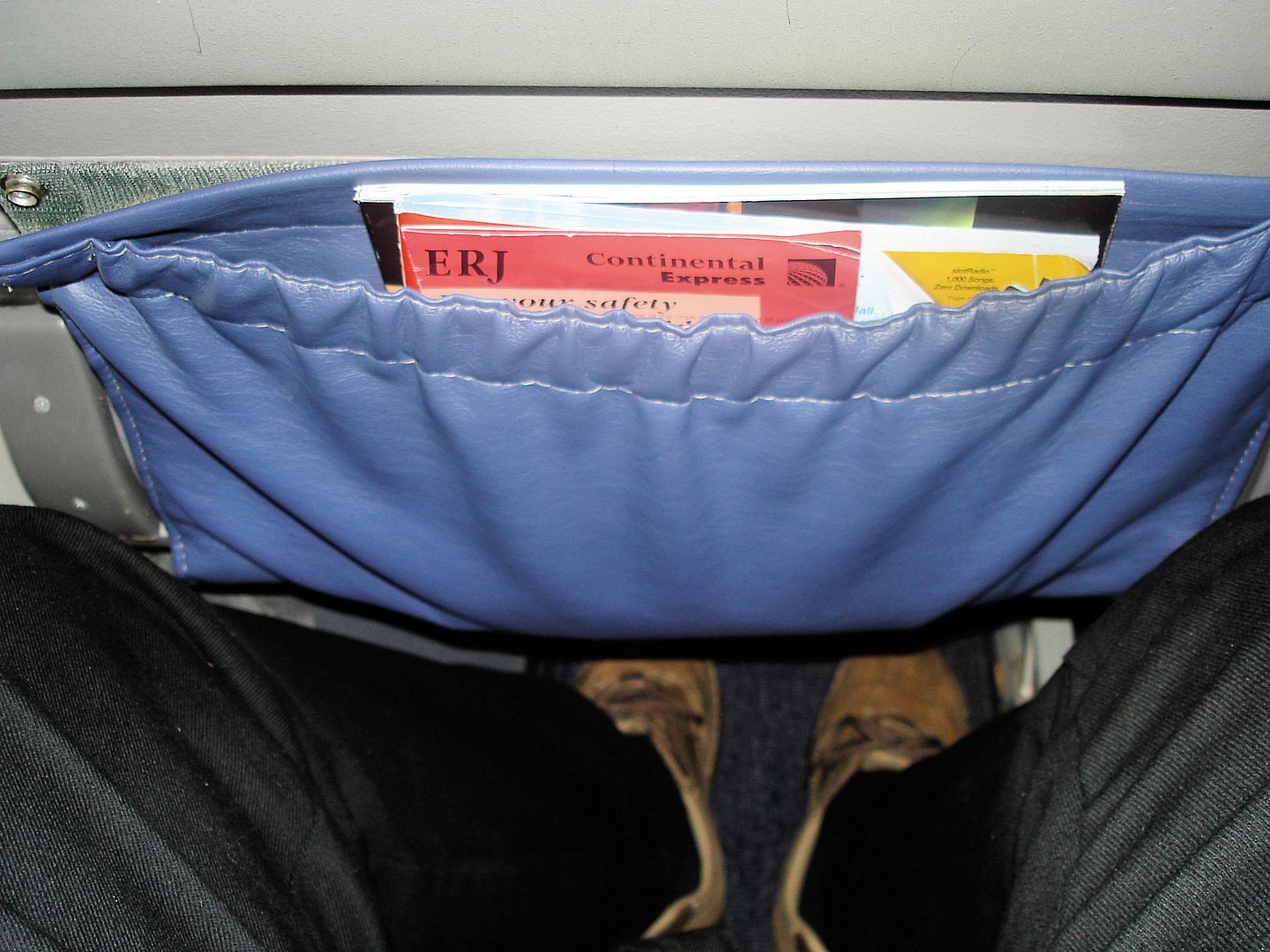 Parked next to us was N17640, a 737-500 equipped with winglets and most likely bound for Newark: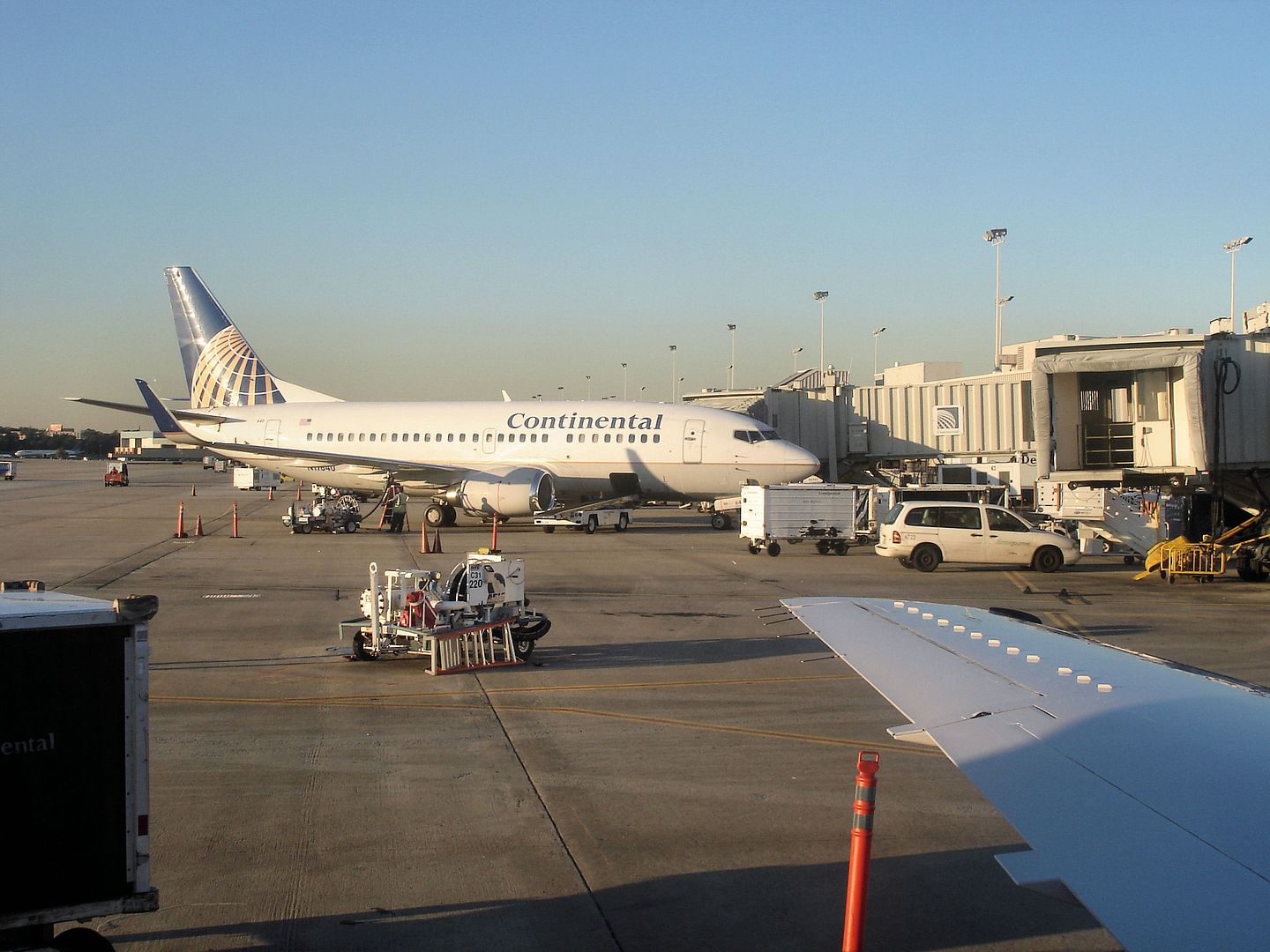 My good mood was shaken a bit when I realized who was taking a seat some rows in front of me: the guy who had met the cops some hours before. Well, I hoped for the best...
CRJs in Delta colors dominating the scene: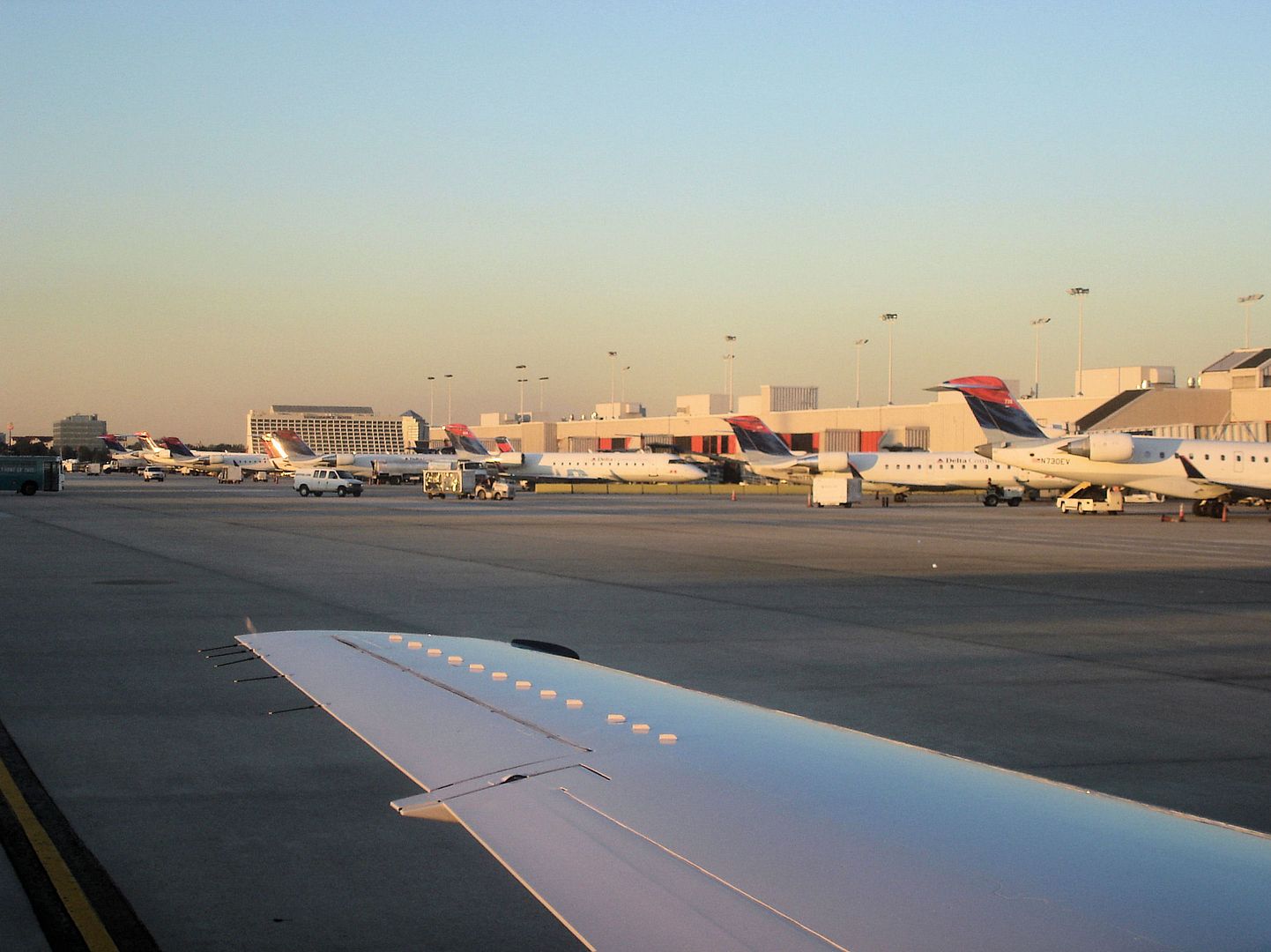 The takeoff on the ERJ was unspectacular as expected - but views of Atlanta during sunset were great: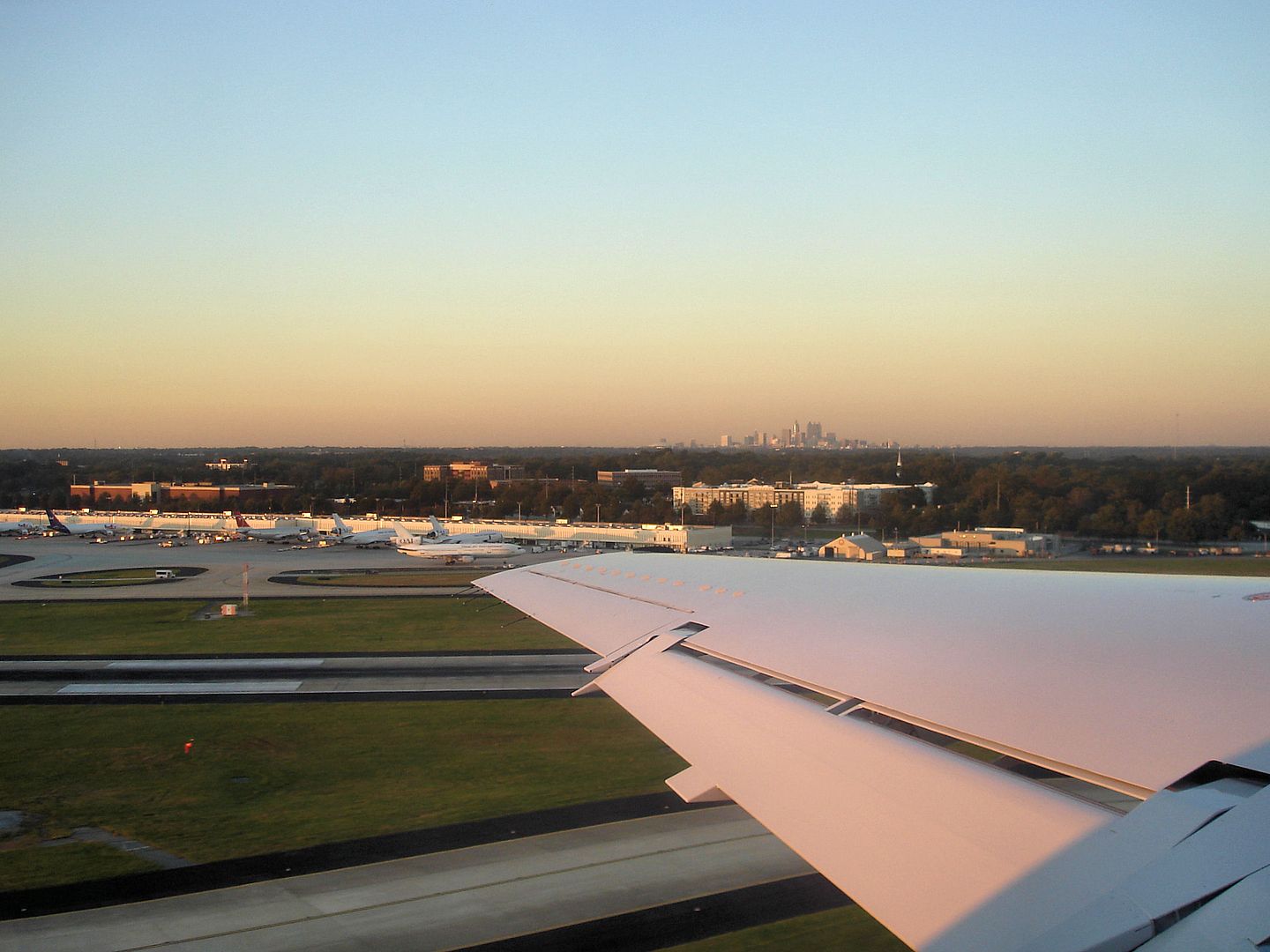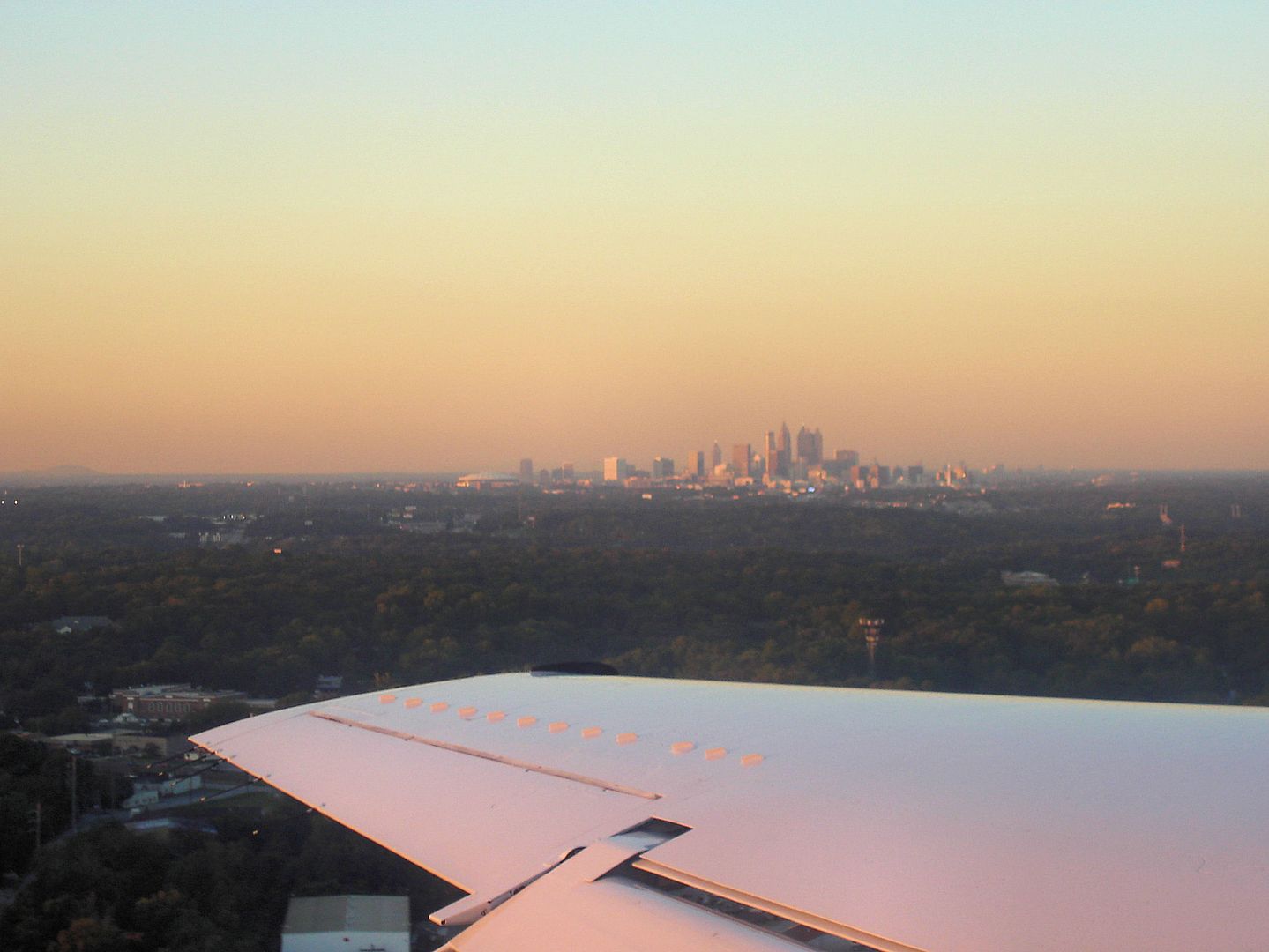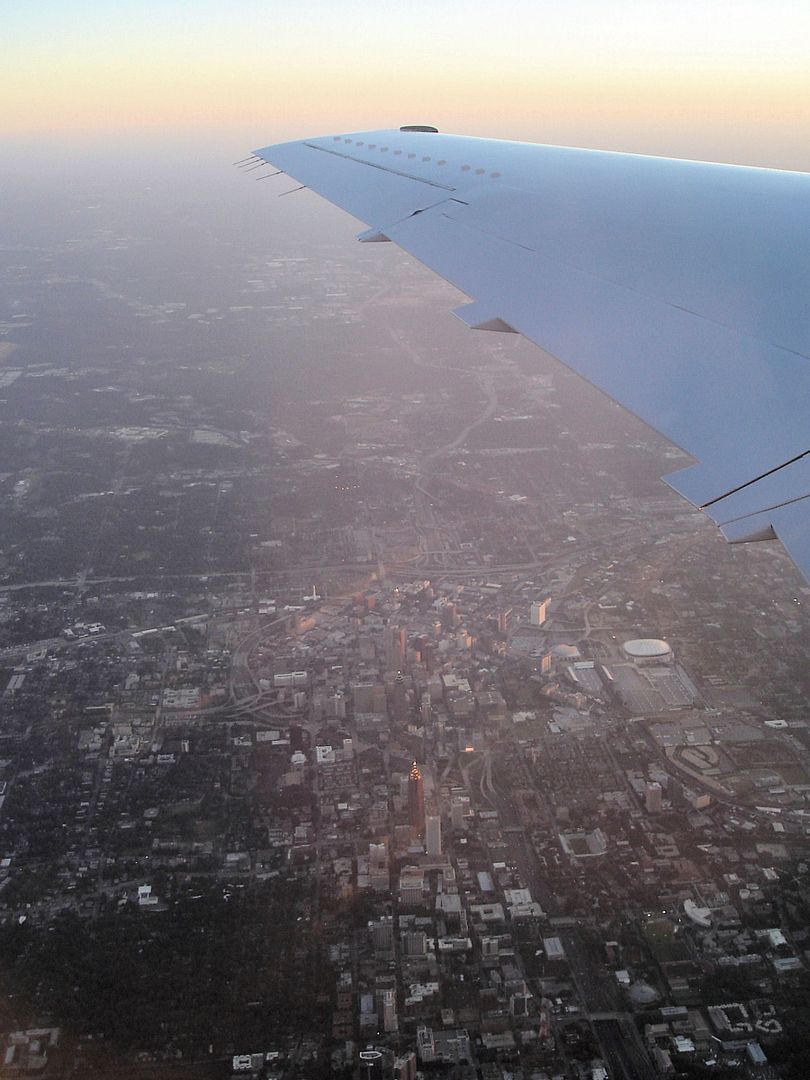 Free drinks and pretzels were served - of course I ordered a chilled ginger ale. Alcoholic drinks were available for five bucks.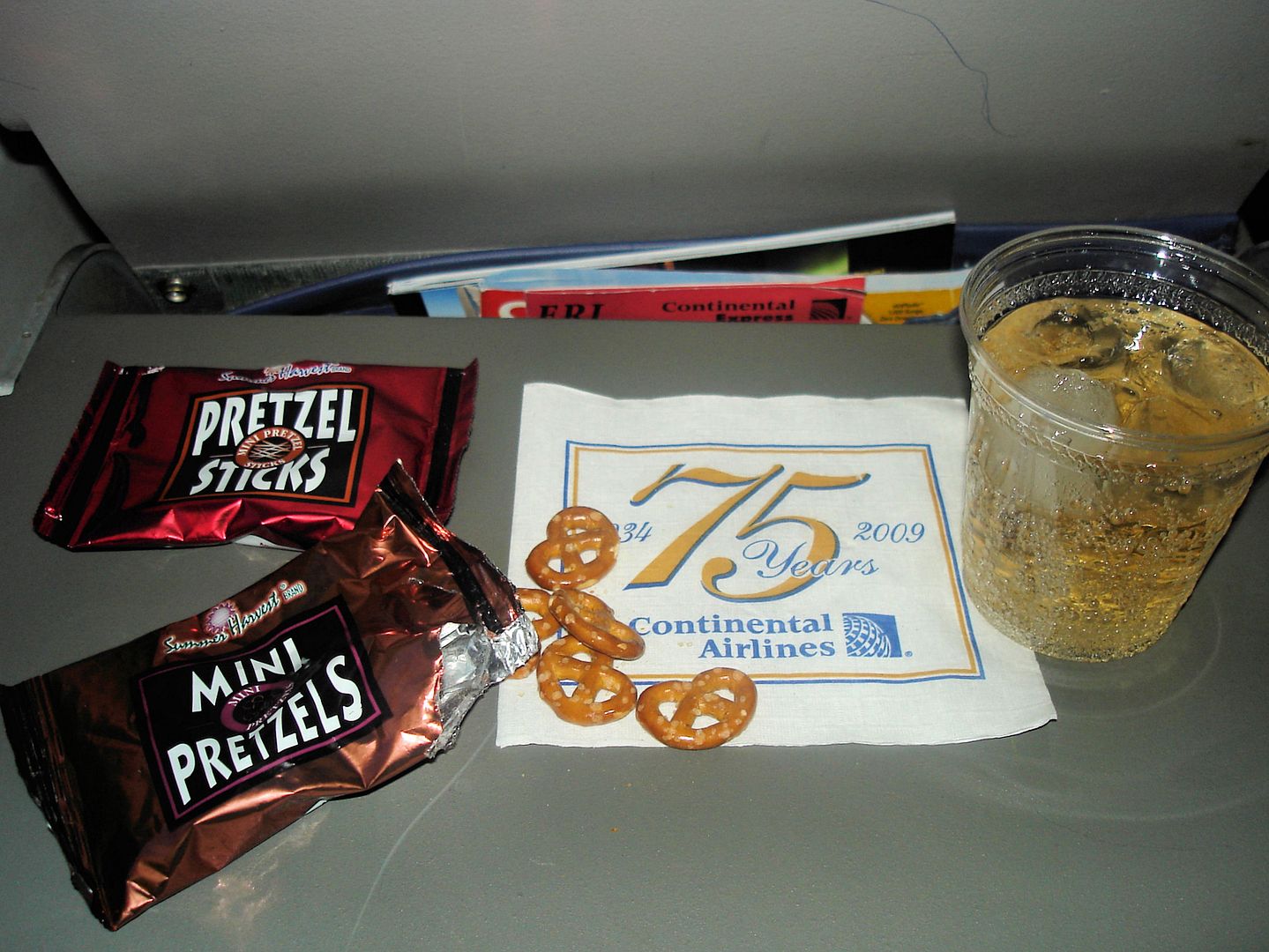 The young guy some rows in front of me started talking insistently to the flight attendant and the latter didn't seem to be very happy about that. Who knows what he wanted. Some time later the guy suddenly jumped up and started babbling - he had managed to spill his drink over his shorts and the seat.
The flight attendant showed up and they had another discussion. Then he placed his beer can on the floor next to his seat - for whatever reason - and walked to the lavatory. After returning to his seat he started talking to the passenger sitting on the other side of the aisle and didn't stop until arrival. The addressee, a middle-aged man, probably from Indian descent, actively took part in the conversation, but I'm not sure whether he was very amused...anyway, I looked out of the window for the rest of the flight and enjoyed the sunset: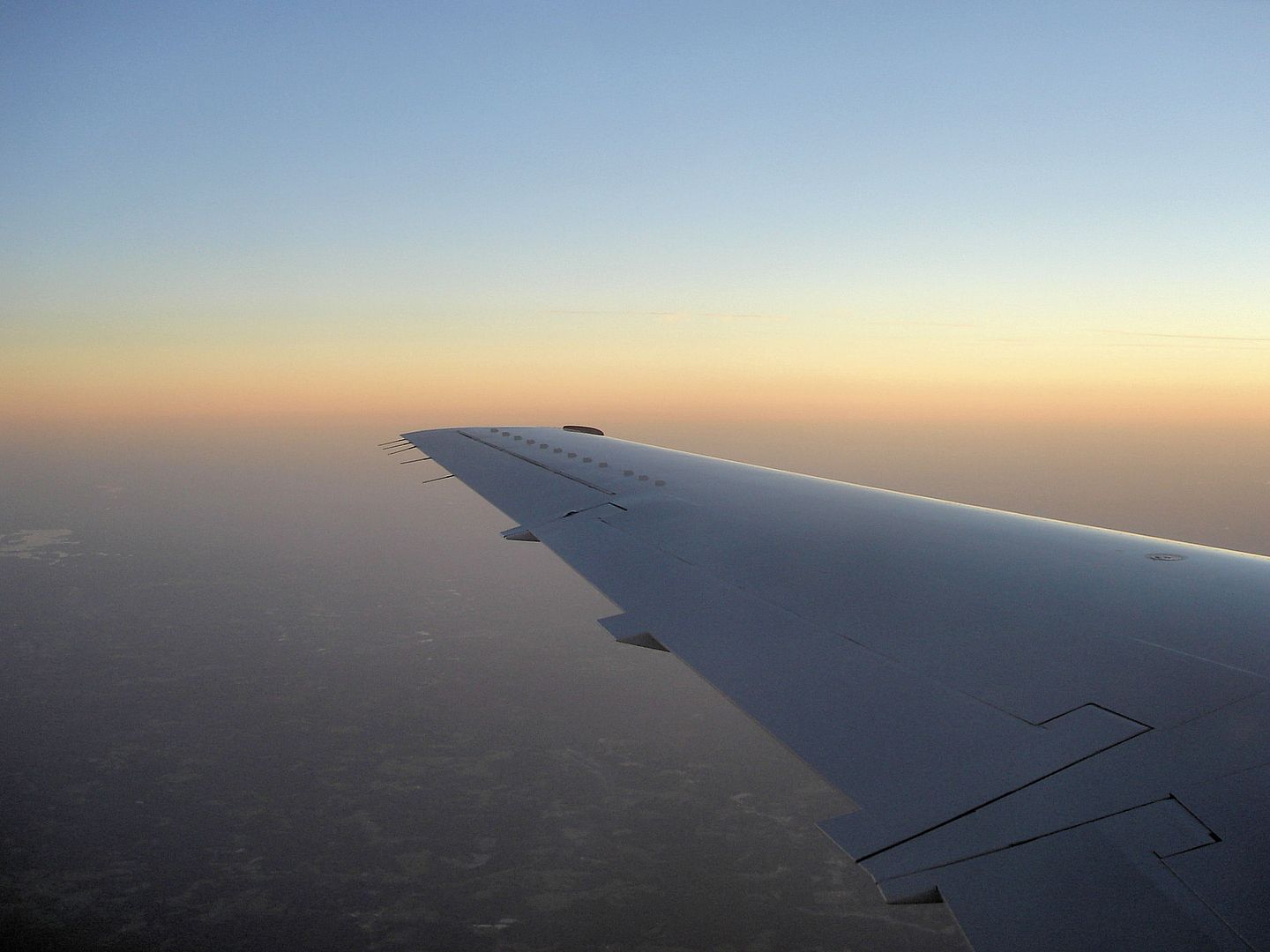 We touched down after a flying time of one hour and 41 minutes. Since it had become dark I didn't spend any more time at the airport and tried to get the shuttle to the (relatively new) Super 8 IAH West/Greenspoint.
I was hoping that the shuttle would pass on a tour, but after waiting for a while I decided to call. Interestingly, the receptionist said that the airport shuttle wasn't available due to a lack of a driver. He told me to take a taxi and ensured the hotel would pay for it. The next problem was that the taxi driver had no clue where the hotel was located at - even though I had shown him the original Super 8 directions map. He asked me to call the hotel again, but I declined, explaining that my German mobile phone wouldn't work in the US. Of course it did - but I was not willing to spend some extra money just because a local taxi driver was unable to find a local hotel. So he called and the receptionist told him where to go. However, the driver missed an exit and so it took more than 20 minutes in the end until we finally arrived. The taximeter showed more than 20 bucks and I asked the driver to give me a receipt - which he wasn't enthusiastic about. I showed the receipt to the receptionist and, fortunately, he handed out the money to me immediately.
Tuesday, 20 October 2009
Houston (IAH) - Newark (EWR)
Continental CO50
13:05-17:57 (13:37-18:02)
Flying time: 03:07 (hrs)
Economy Class, Seat 32F

Boeing 757-224
N18112 (s/n 653)
Delivered in 02/1995
1st flight on N18112
9th 757-200 flight
10th 757 flight
When I checked out several hours prior to departure I was glad to hear that the hotel shuttle would be available this time. 20 minutes later I entered my data into a check-in kiosk, but had to call an agent due to a well-known problem: names not matching. Anyway, after a few moments I received my boarding passes and headed to Concourse E. Unfortunately, I couldn't see any arriving or departing aircraft from the area around my gate E17. I had more than two hours left, so I started walking again to find a good spotting spot. After some 20 minutes I took a seat in a deserted area at the front end of Concourse C. It wasn't an ideal place, but I wasn't in the mood for searching any longer. Mostly ERJs were passing for a while, but later larger aircraft showed up on the taxiways, too.
After returning to Concourse E I found
N18112
being prepared for flight CO50. The plane is one of 41 757-200s in the fleet and was delivered in February 1995: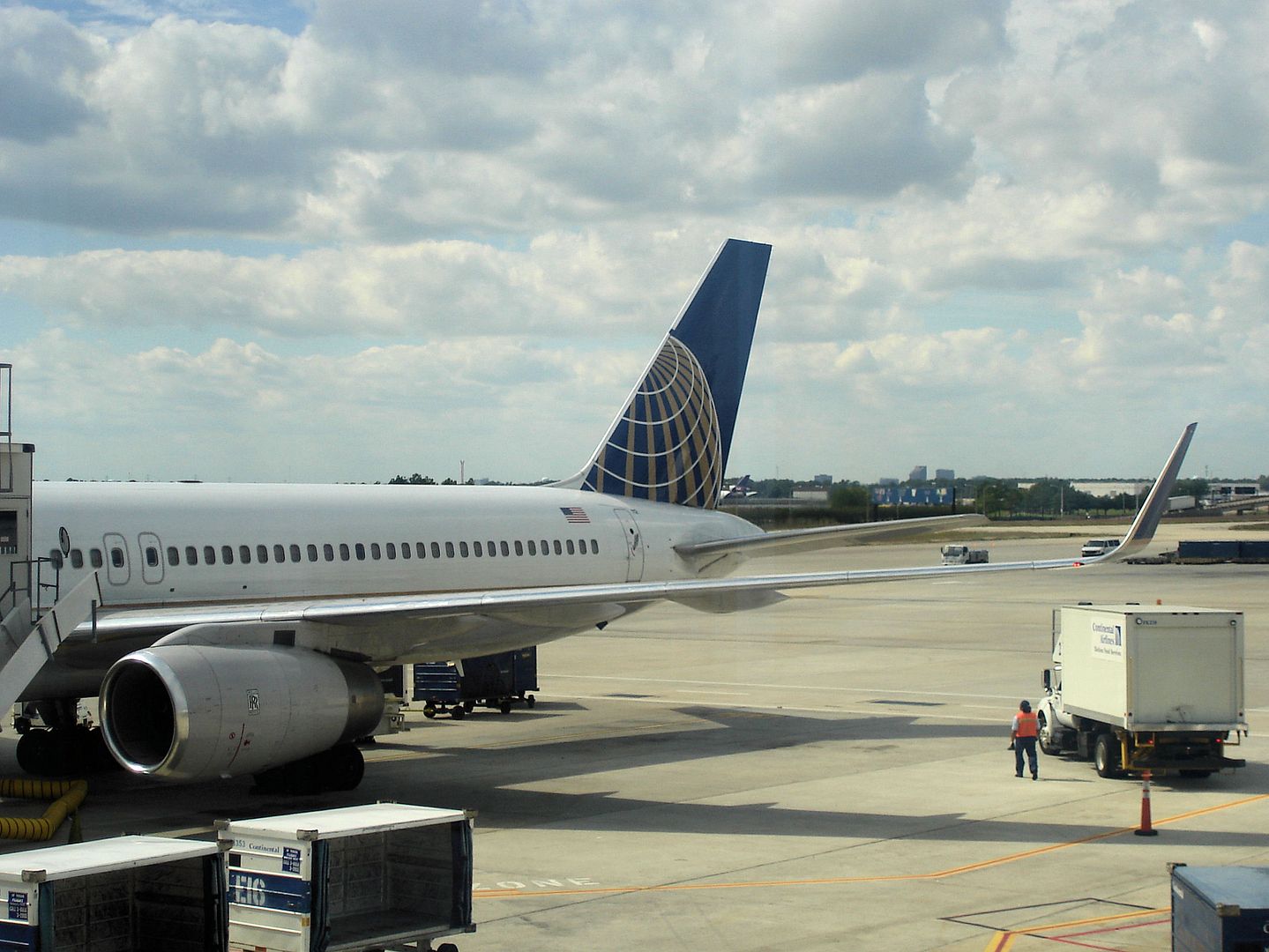 Friendly flight attendants welcomed me on board and I took my window seat in row 32. The plane - which is also used on transatlantic routes - was equipped with new seats...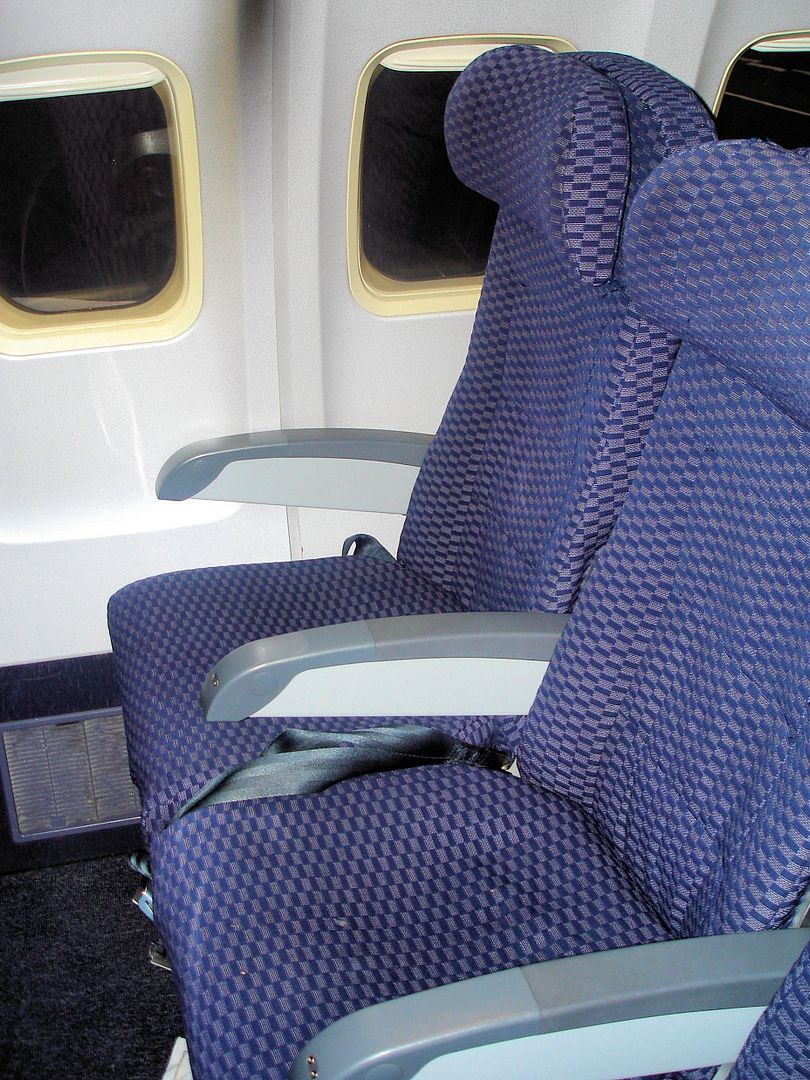 ...and Continental's new AVOD IFE system with 9-inch screens:
Seat pitch itself was as generous as on the 777 - but the 757's IFE box was not only much smaller, but also located under the middle seat. However, the 757 seat was harder and narrower.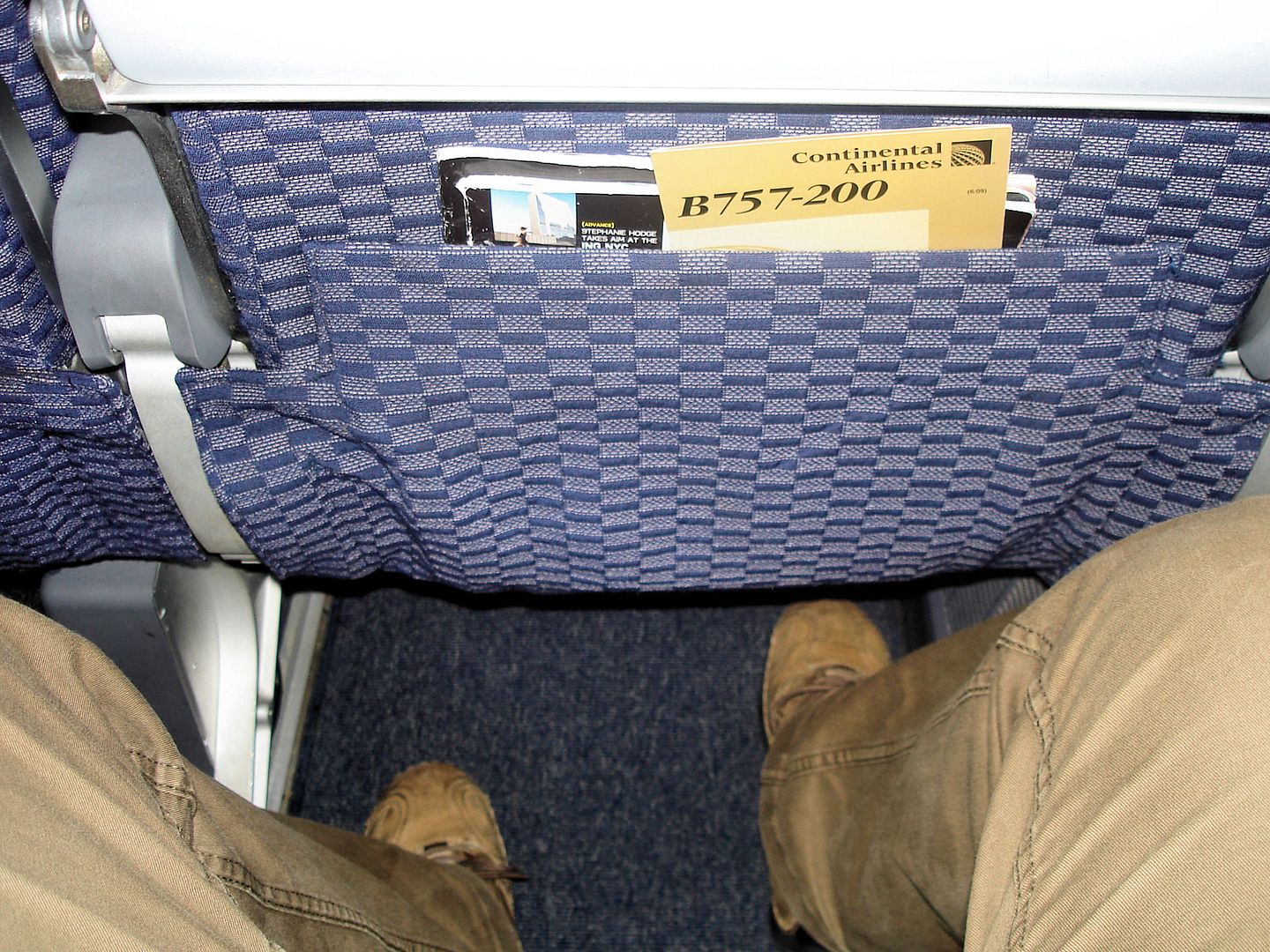 I found it interesting to see that all window blinds had been closed on the aircraft's right side - apparently a measure to prevent the sun from heating up the cabin.
New-style map: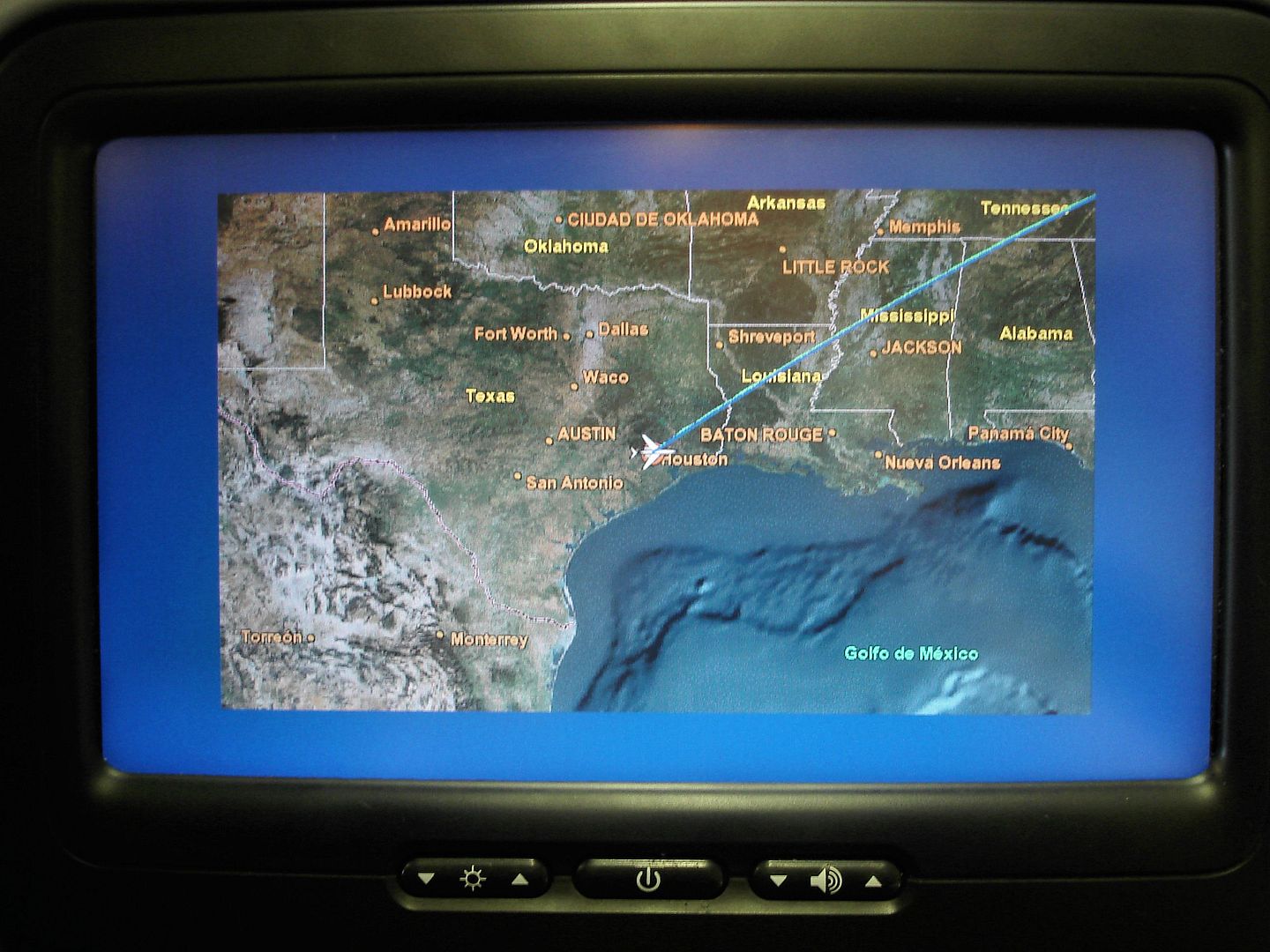 My hope for an empty middle seat was finally destroyed when a tall middle-aged guy showed up very late. According to a following phone call he had gotten the seat on short notice...anyway, I found it quite disrespectful that he didn't greet while taking the middle seat and I was absolutely shocked by his smell. Apparently that guy - seemingly a businessman - hadn't brushed his teeth for days. How awful, shame on him!
After boarding had been completed the purser announced a slight delay due to "a few maintenance issues". I didn't mind at all because the departure directions had been changed and many aircraft used the nearby taxiway. I could write down one plane after the other and it wasn't even necessary to use the binoculars. The smelly guy seemed to be a bit irritated by my actions, but I couldn't care less. In the end I had logged a total of 61 new registrations at IAH on that day.
Continental 777-200ER N69020 arrived at the gate next to us shortly before push-back: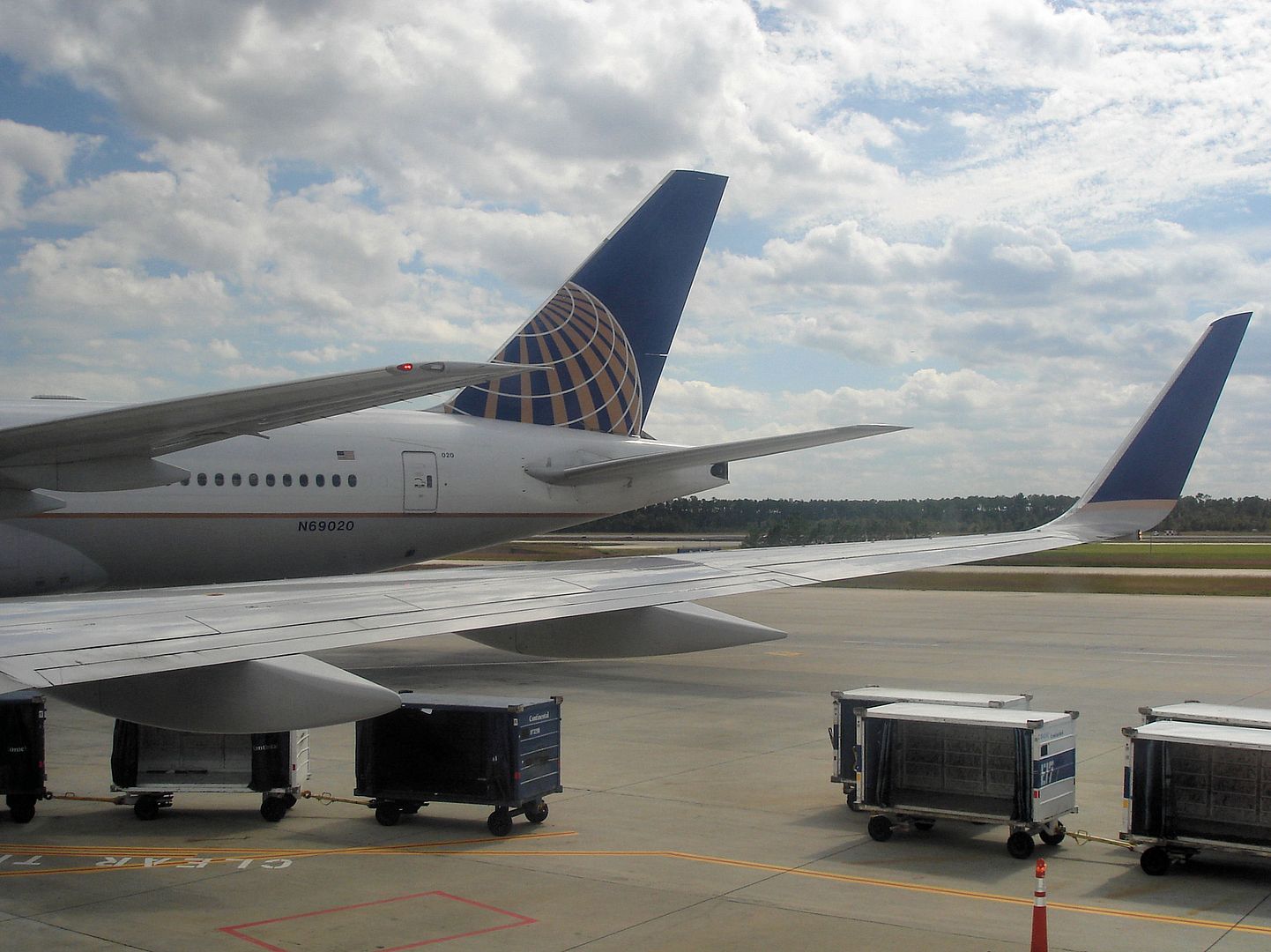 We left the gate 32 minutes late, but could enter runway 9 almost without waiting. Powerful takeoff to the east: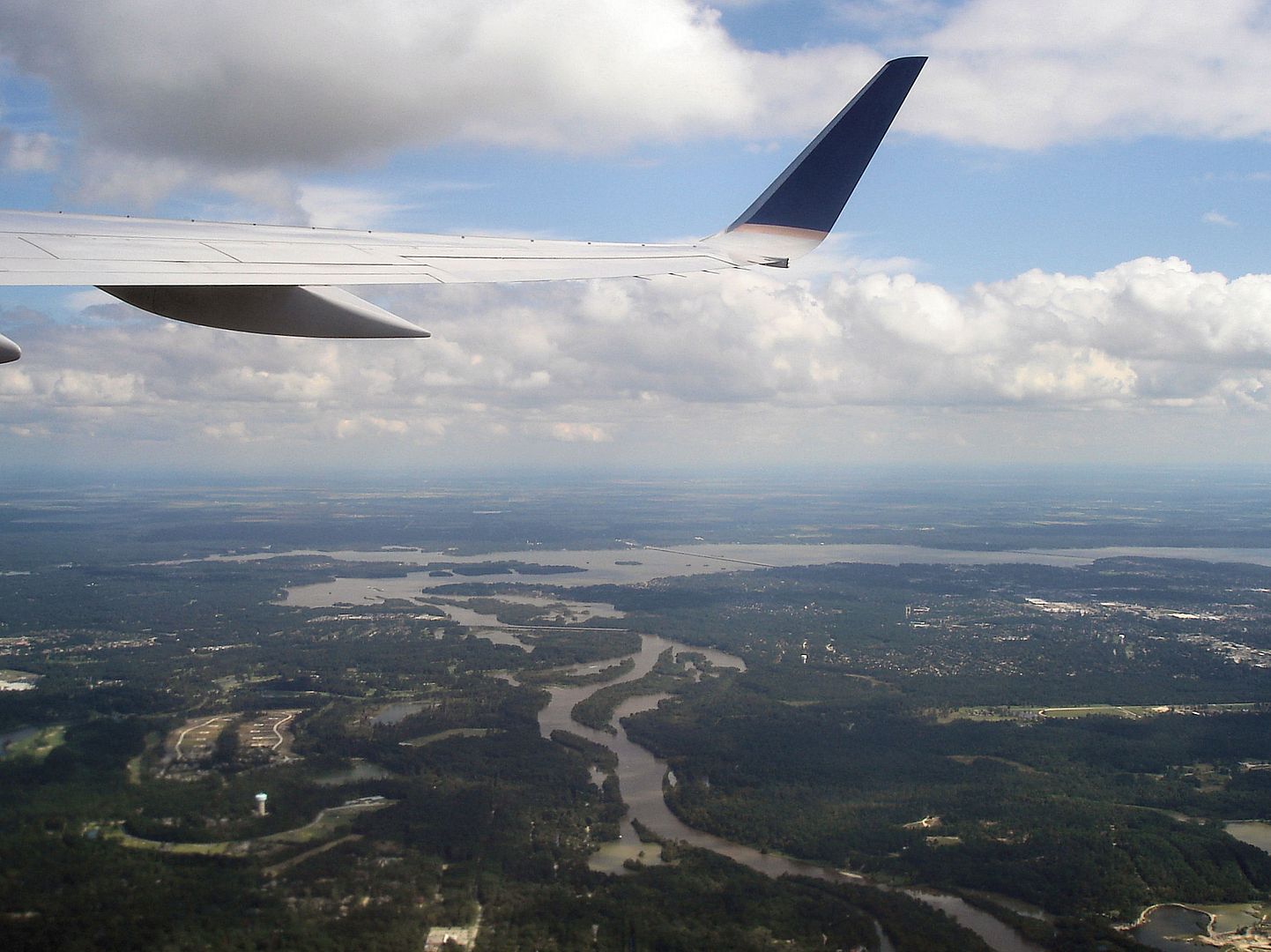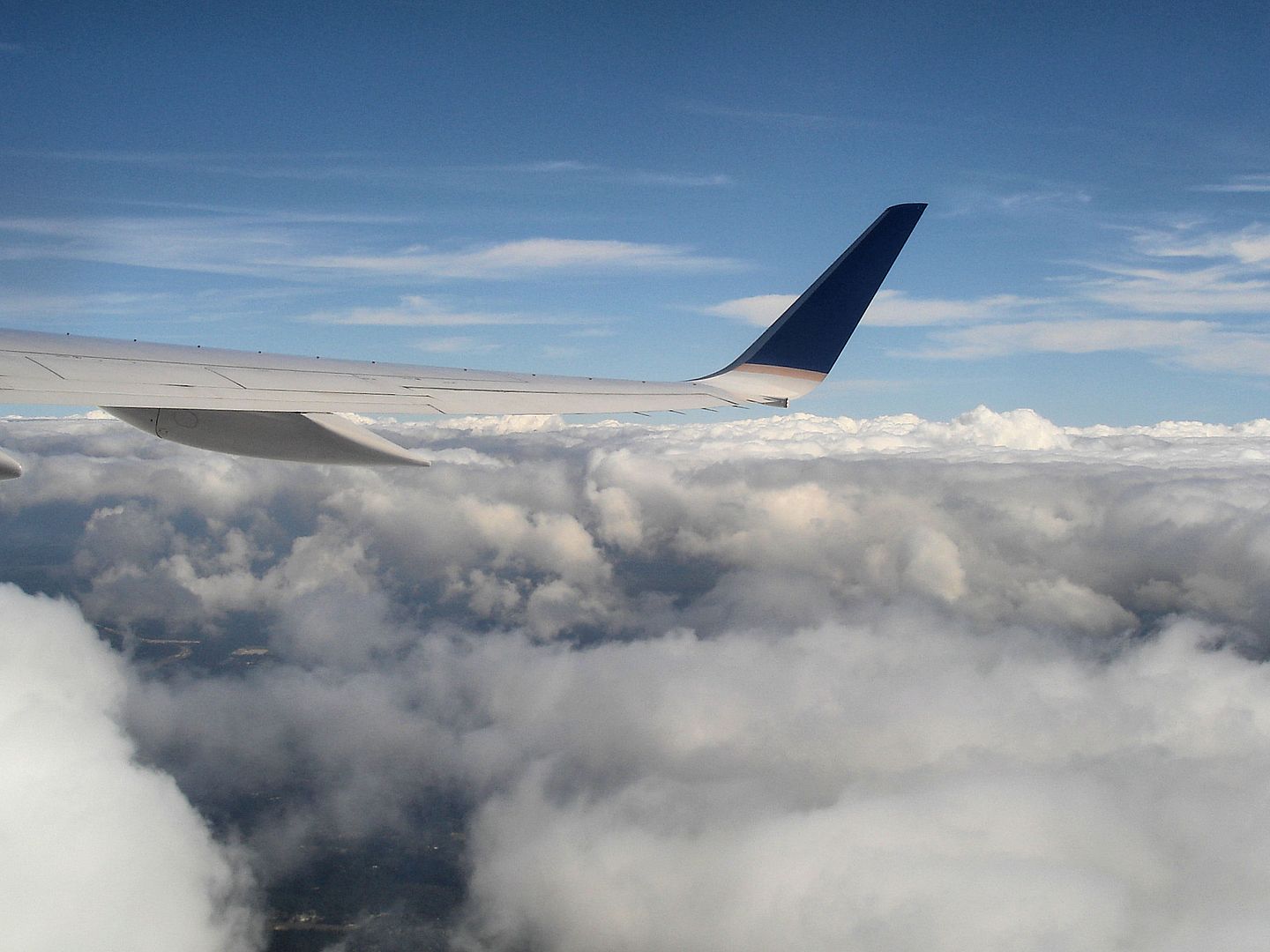 Continental's AVOD (Audio Video On Demand) entertainment system on the 757 offers less choices than on the 777, but there are still 40 films, 60 television shows, over 2000 music tracks and 20 interactive video games to choose from. Headsets were available for one dollar. Movies main menu: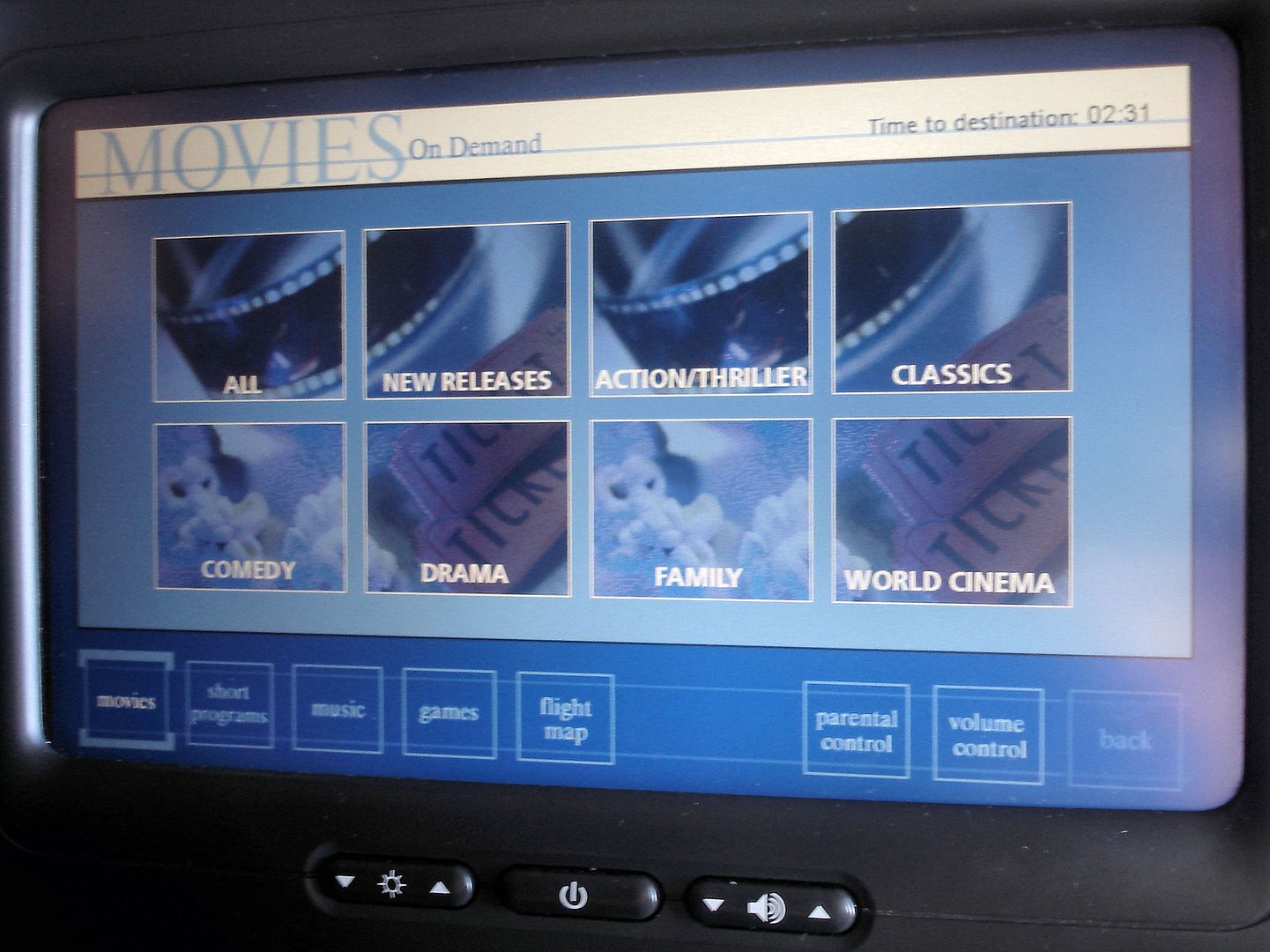 My favorite feature: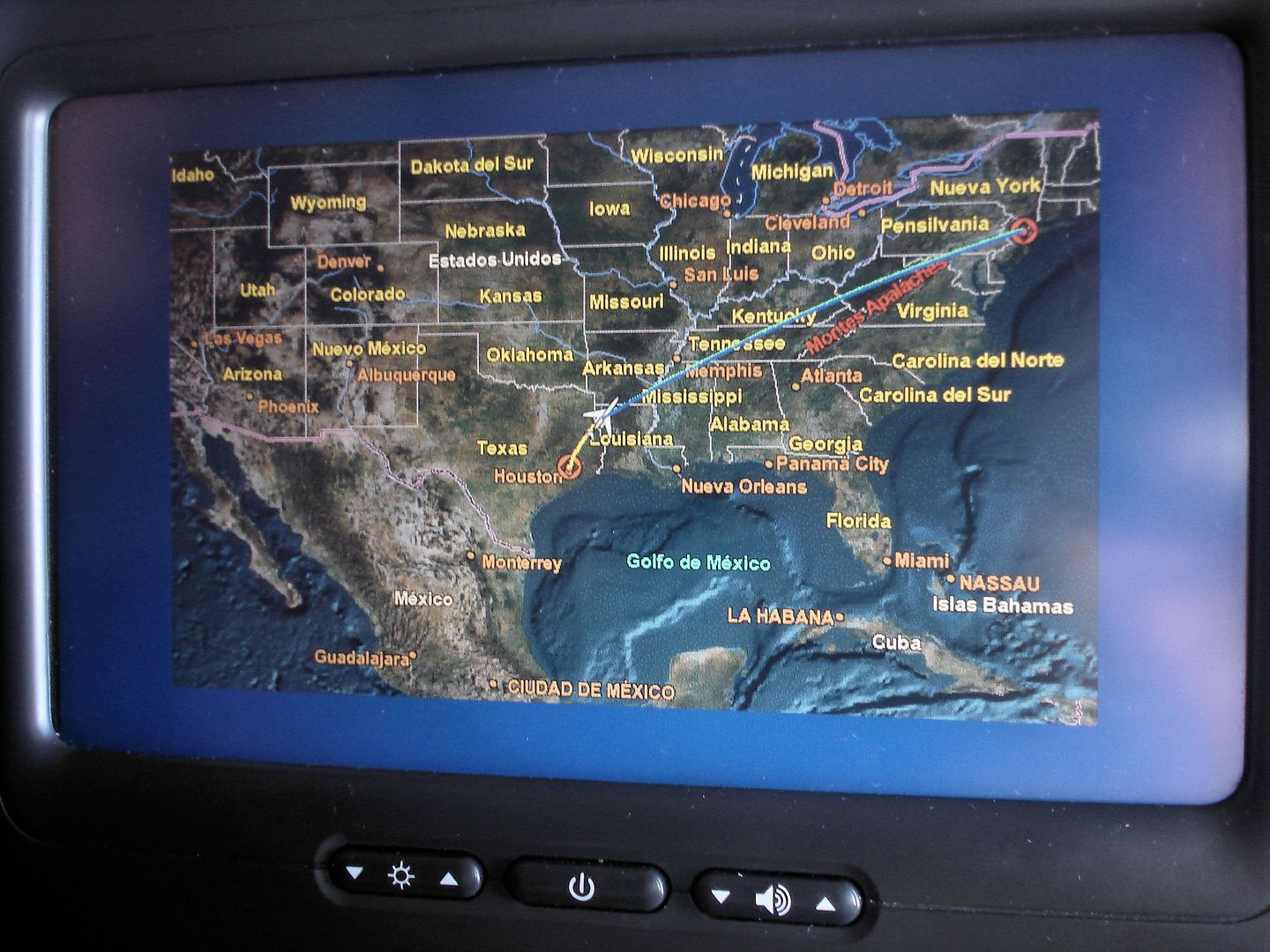 After hamburgers on the Houston-Portland flight Continental offered cheeseburgers this time. Again I was surprised by the good taste of the meat. The salad wasn't bad either: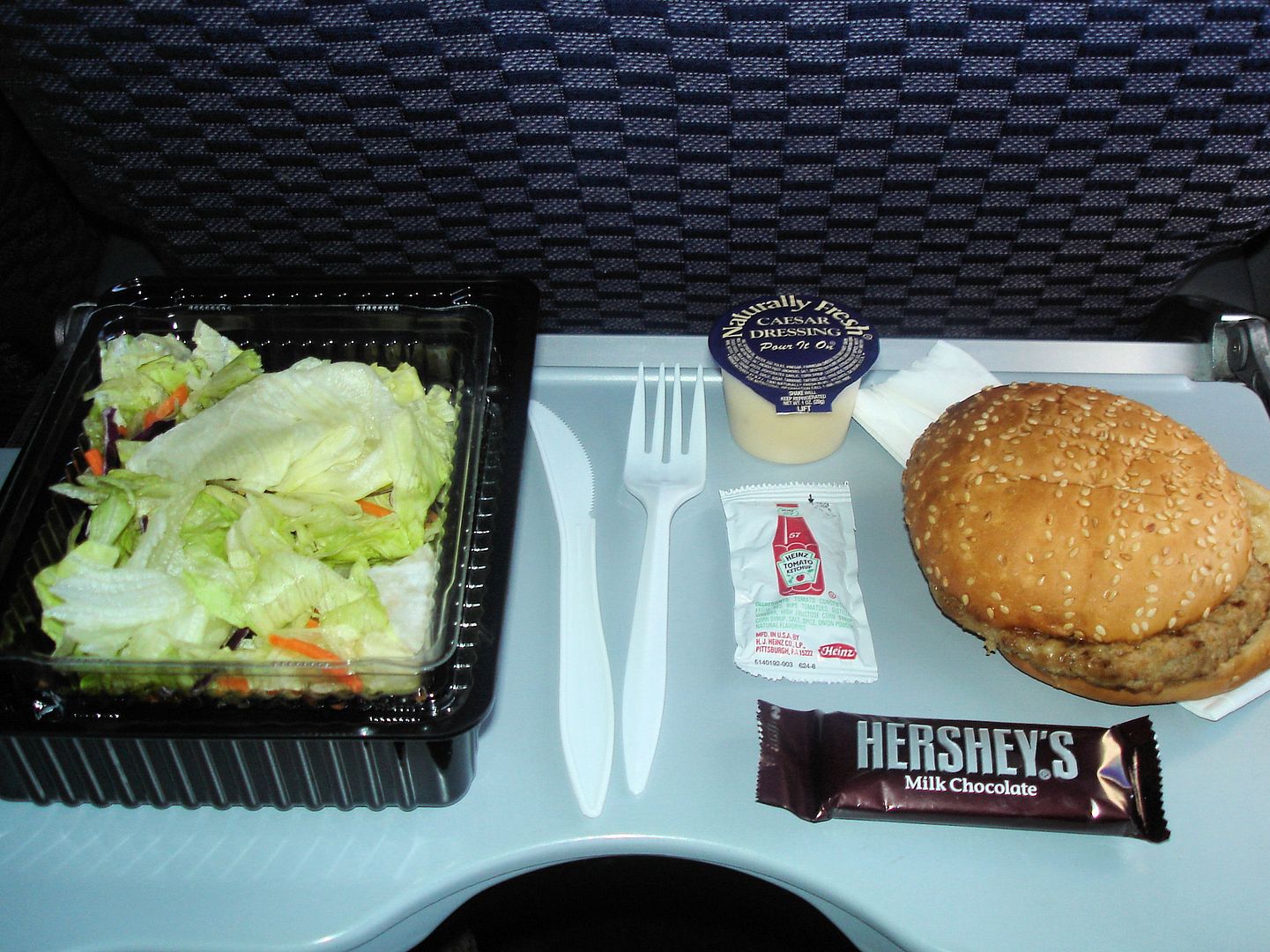 The smell of the guy next to me was a permanent annoyance, but I still tried to enjoy the flight. Nice scenery: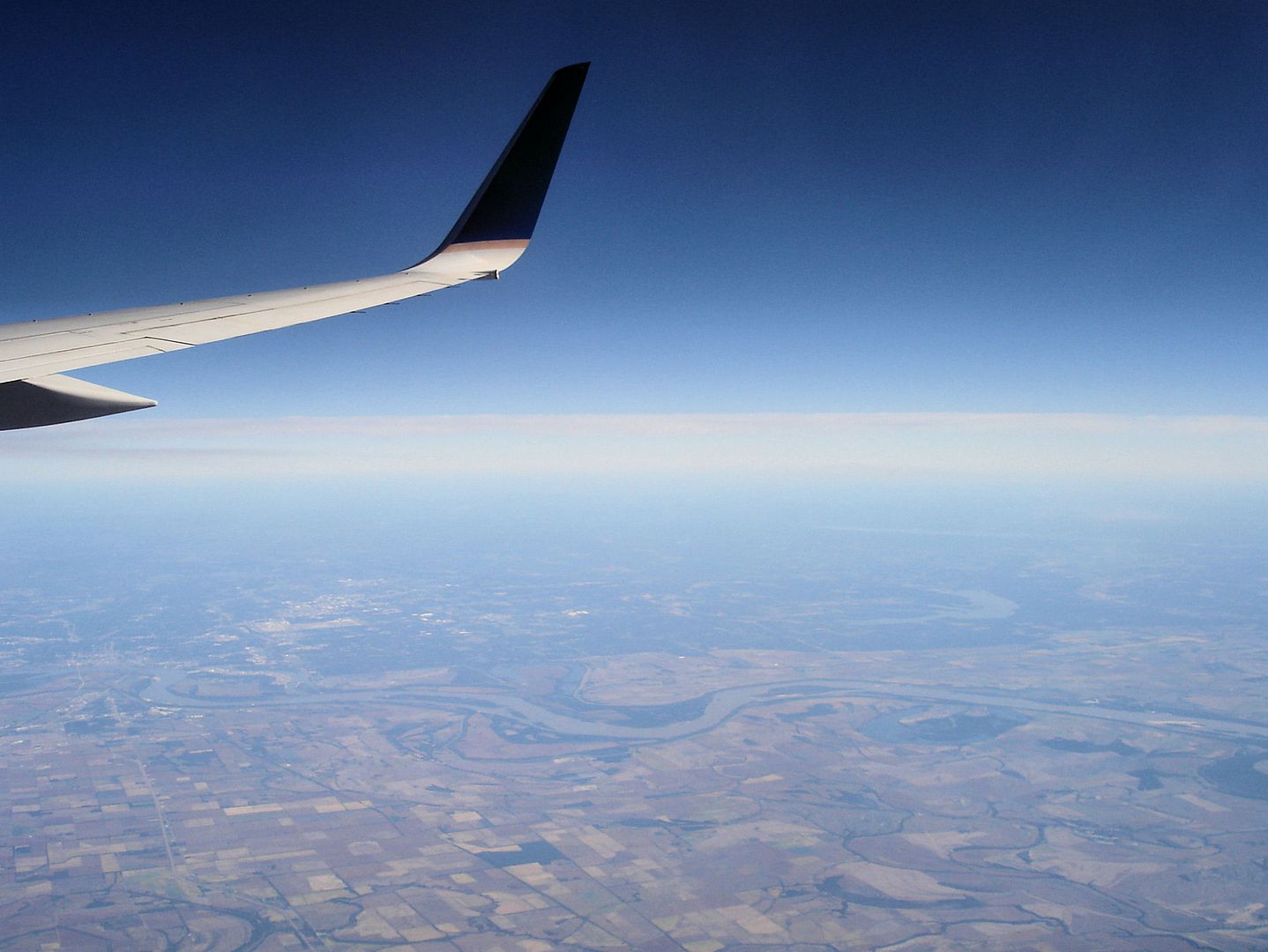 Does anyone know which city that is?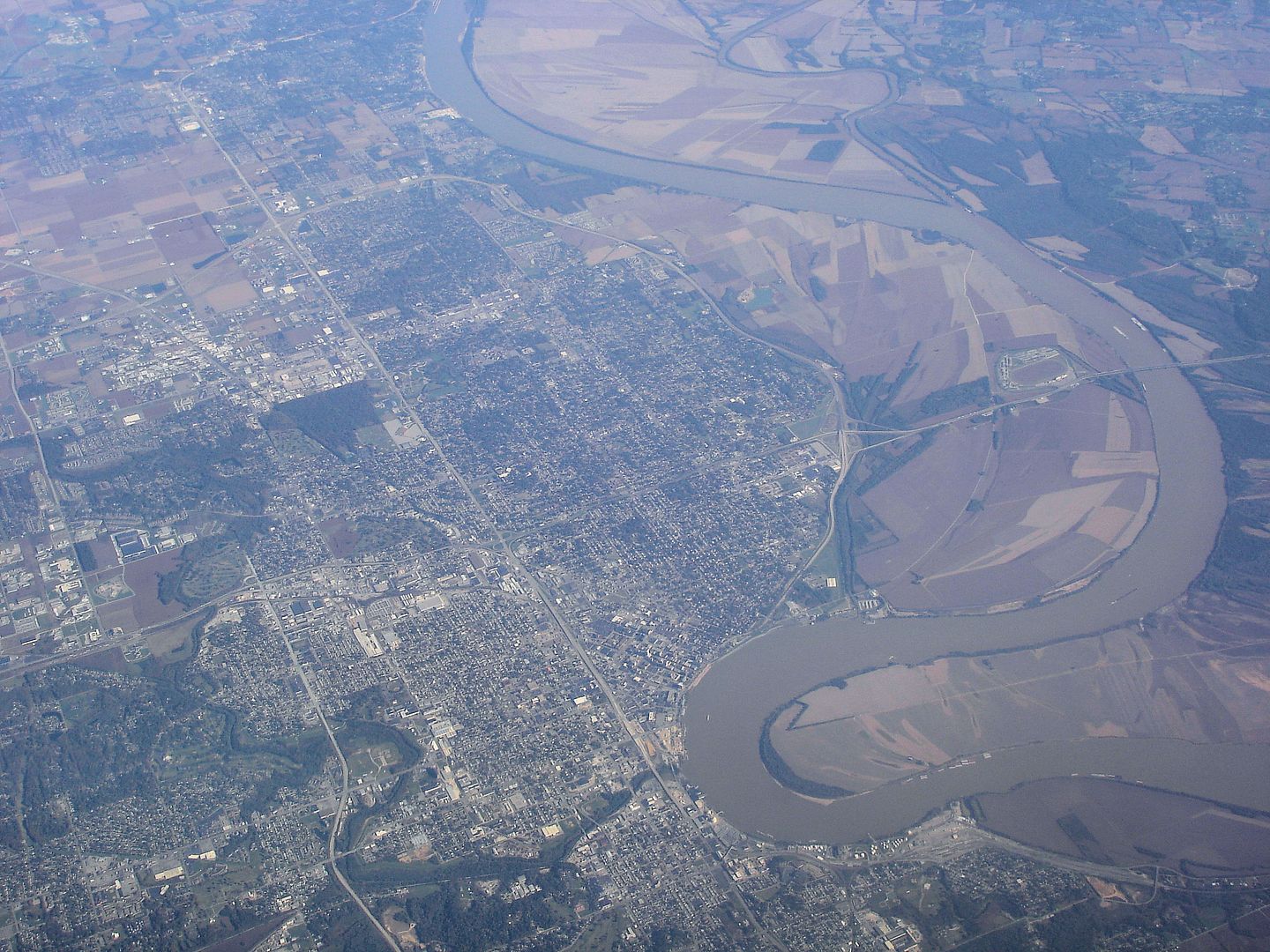 Approach to Newark in beautiful evening light: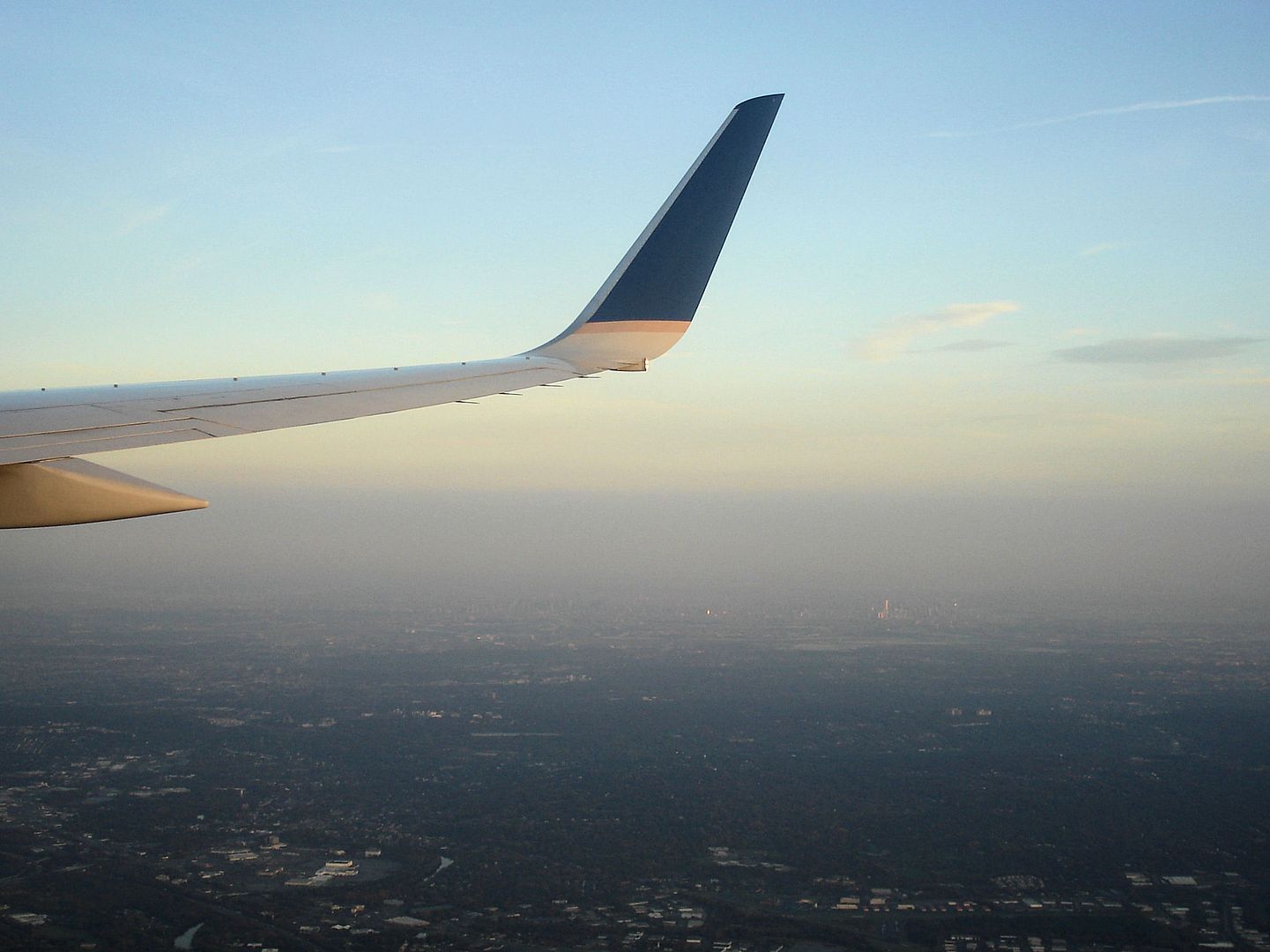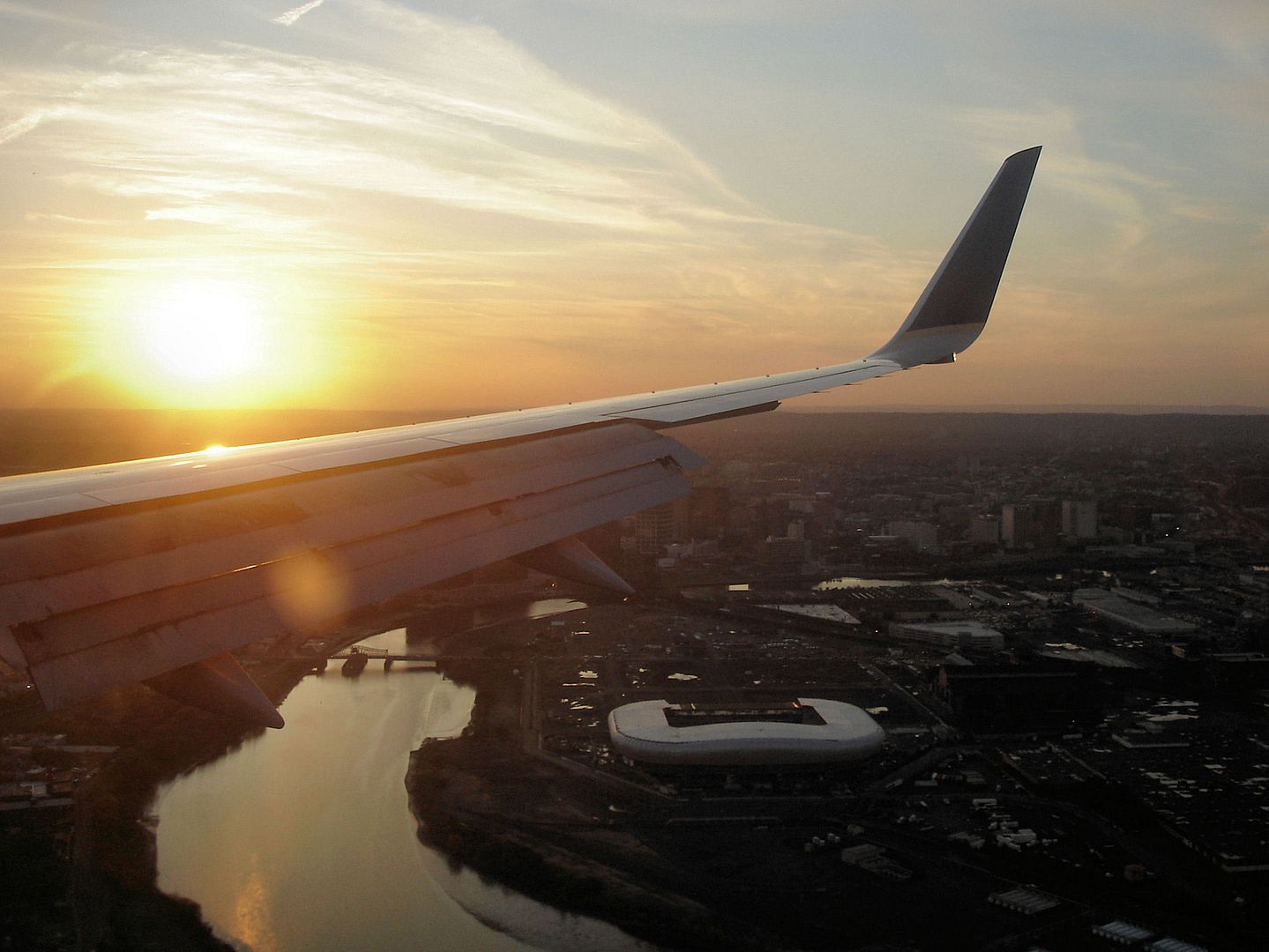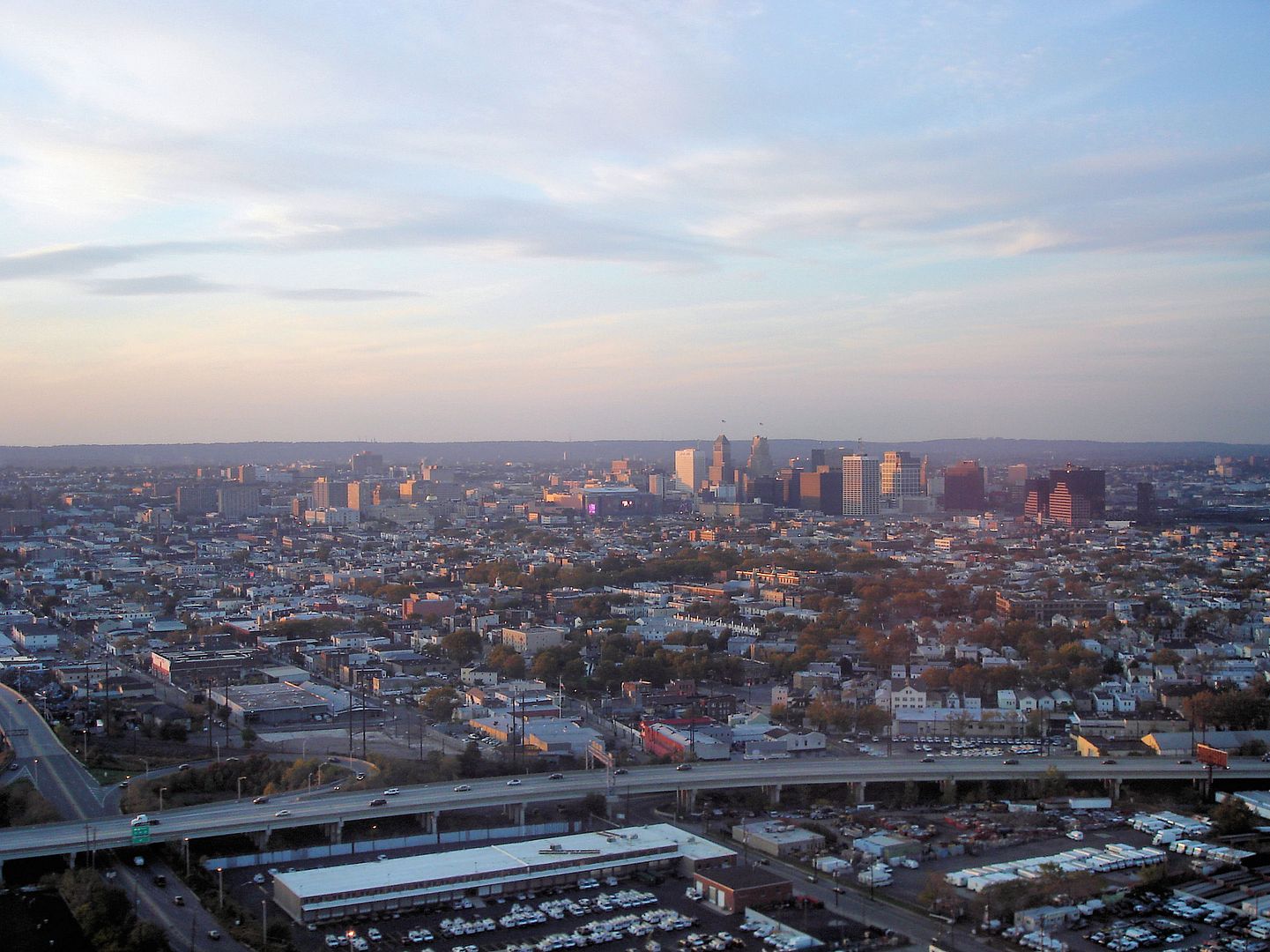 We finally touched down after a flying time of three hours and seven minutes.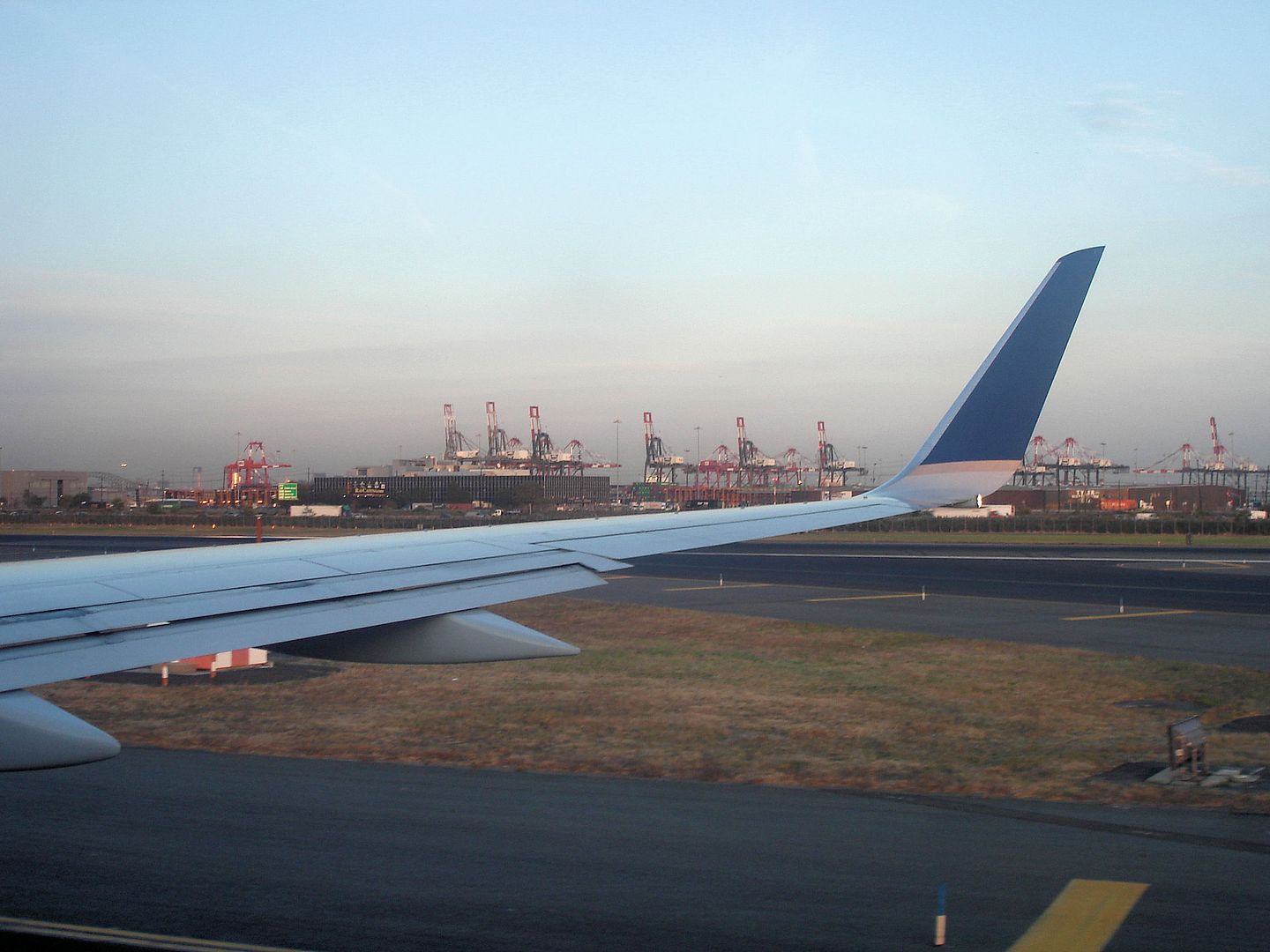 SAS A340-300 enjoys priority: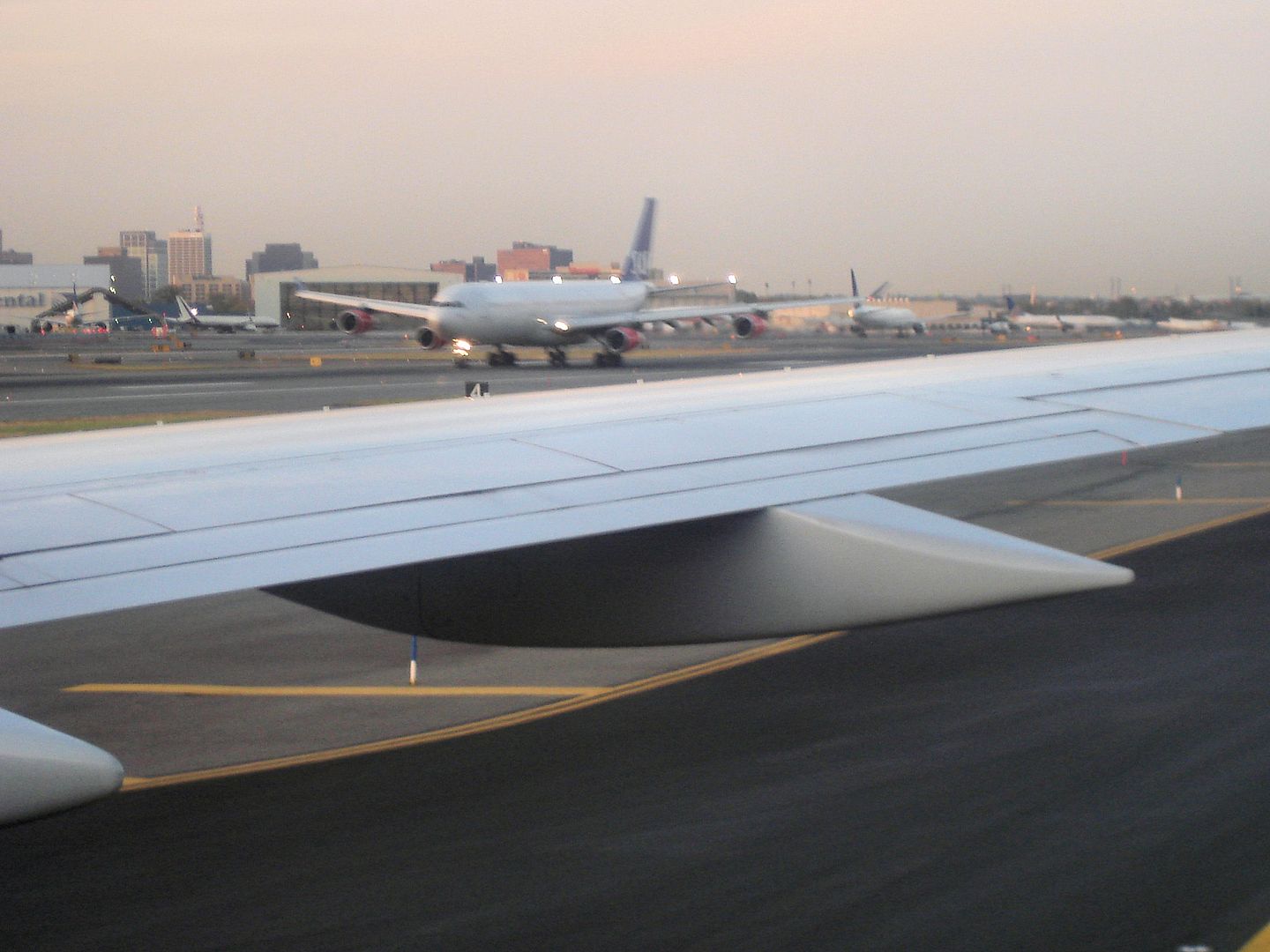 Despite the delayed departure we arrived at the gate only five minutes behind schedule.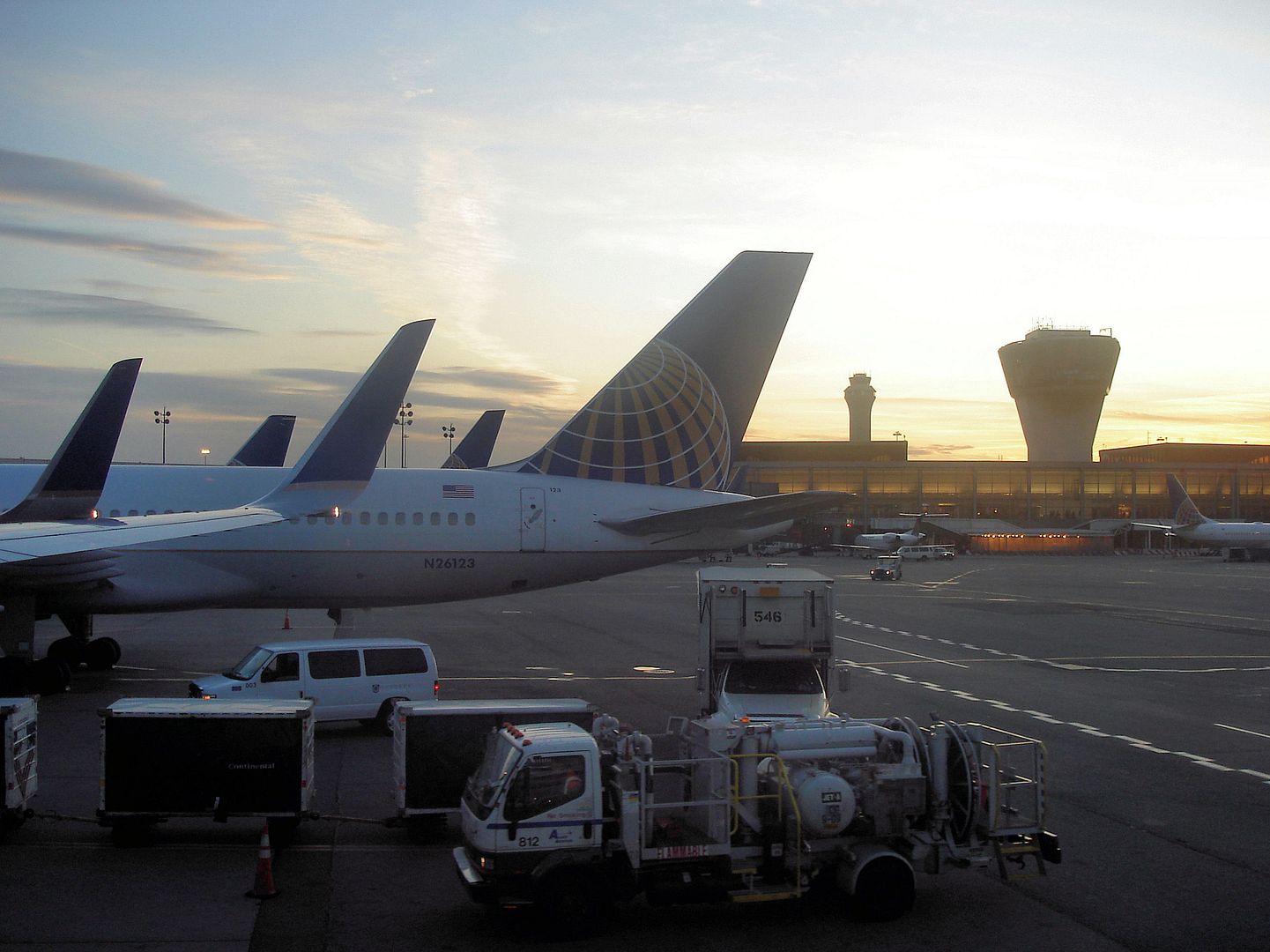 Tuesday, 20 October 2009
Newark (EWR) - Frankfurt (FRA)
Continental CO50
19:25-09:25 (19:40-09:07)
Flying time: 07:03 (hrs)
Economy Class, Seat 44A

Boeing 767-424ER
N68061 (s/n 868)
Delivered in 03/2002
1st flight on N68061
1st 767-400ER flight
12th 767 flight
Transferring at Newark was very convenient despite the masses of passengers passing through Terminal C. It was only a matter of about 20 minutes to reach my gate C128. Due to the darkness and the position of the aircraft it didn't make sense to take a picture, but I could identify the registration of the desired Boeing 767-400ER: the plane was
N68061
, delivered in March 2002.
Spotting was nearly impossible anyway so I tried to board the aircraft as soon as possible. Again, friendly flight attendants welcomed me while I was walking down the aisle. Continental's 767 fleet hasn't been retrofitted yet, so it wasn't surprising to find old-style seats...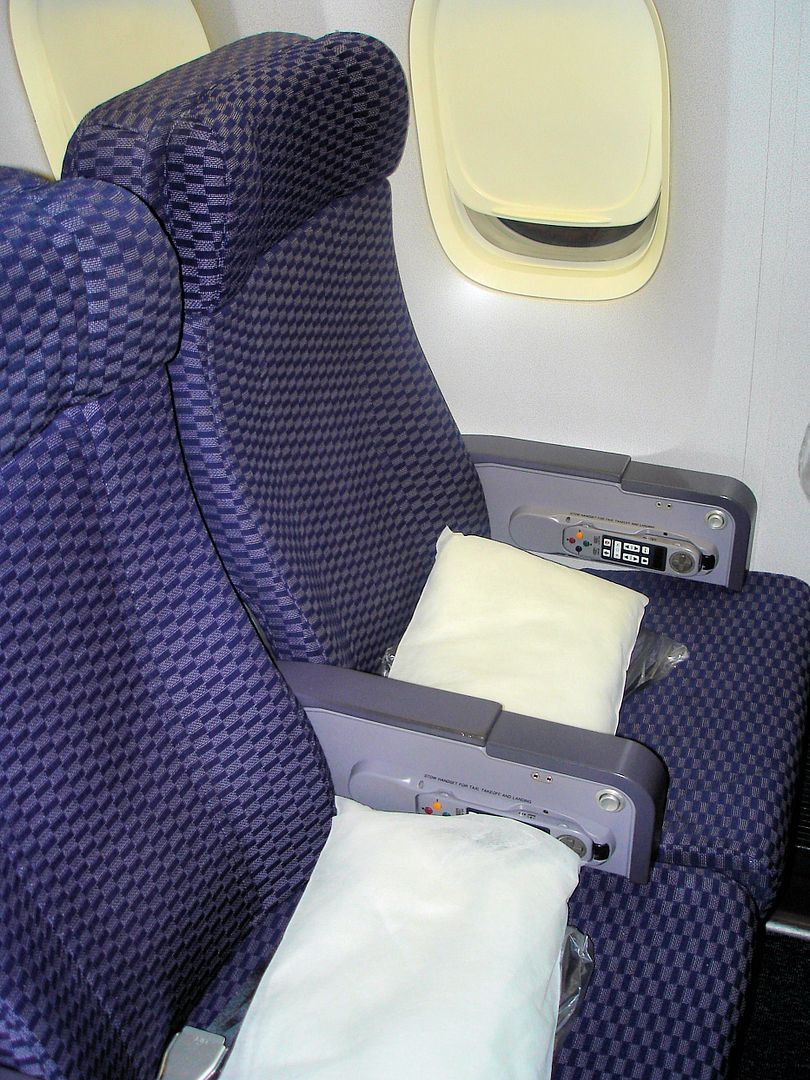 ...with small PTVs:
Nevertheless, the old seats were not as hard as the newer models. Seat pitch was sufficient, but a large old-style IFE box reduced legroom: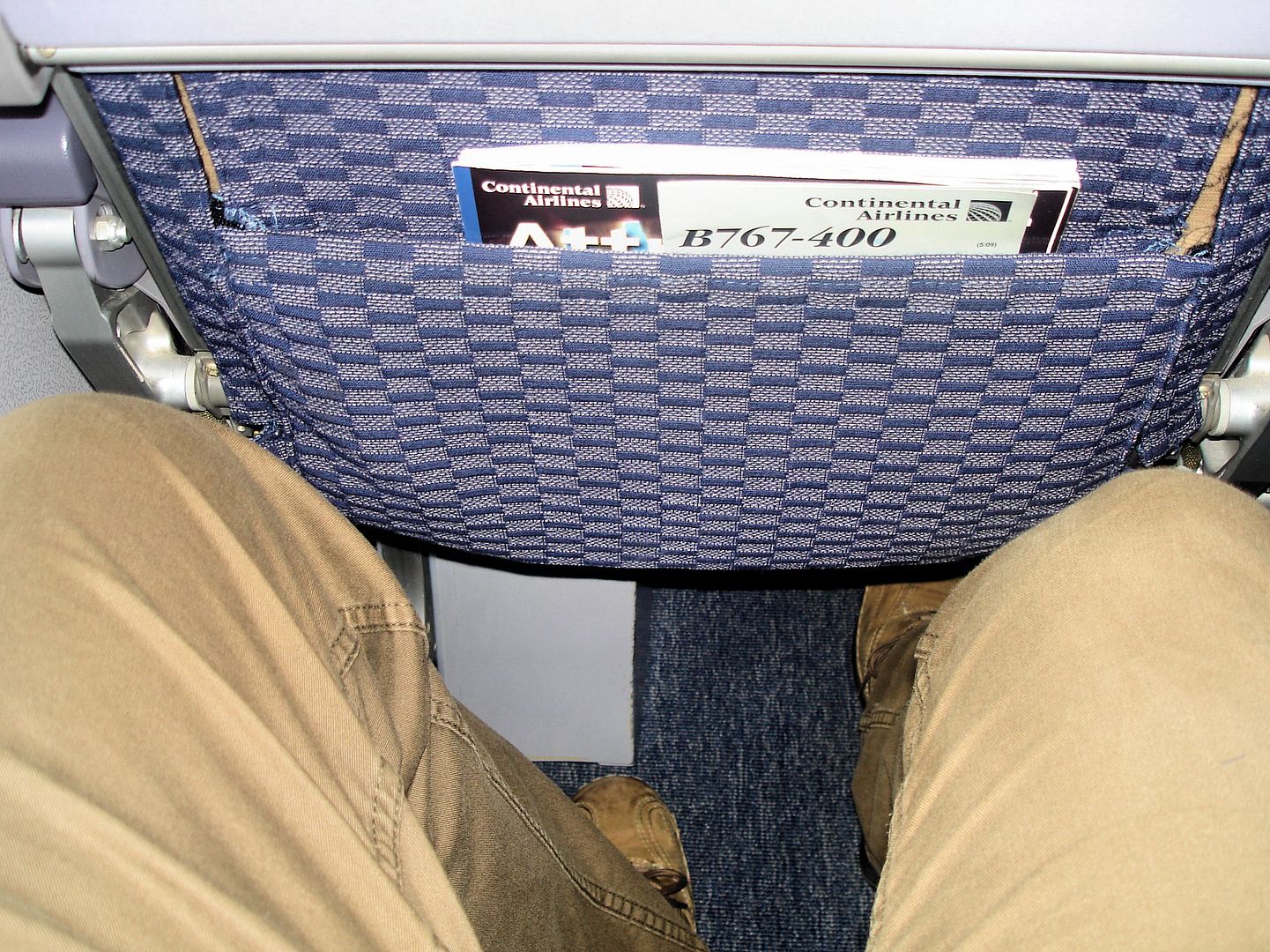 However, I found the box less annoying than the newer variant on the 777. The aisle seat remained empty, so the box didn't bother me at all during the flight.
The purser informed about a slight delay, referring to "maintenance procedures" and signatures yet to be attached to some forms by the mechanics.
N68061
finally left the gate 15 minutes behind schedule and soon powerfully took off into the night sky.
Flight attendants served pretzels and drinks as soon as we had reached the cruising altitude. Ginger ale for me, of course: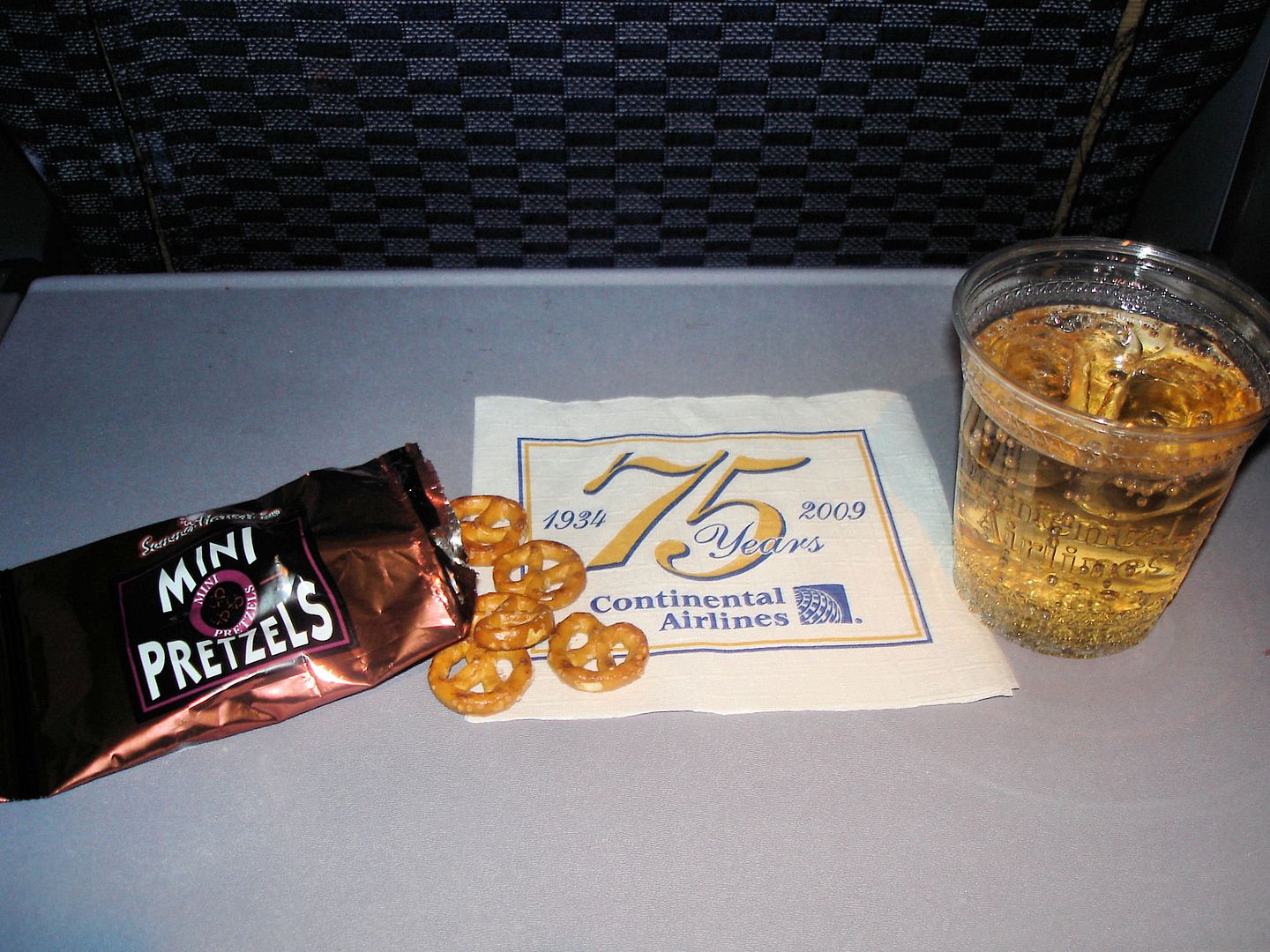 Now it was time to have a look at Continental's old IFE system which features eight channels of multi-lingual video programming, 20 channels of audio programming and ten games. Small screen: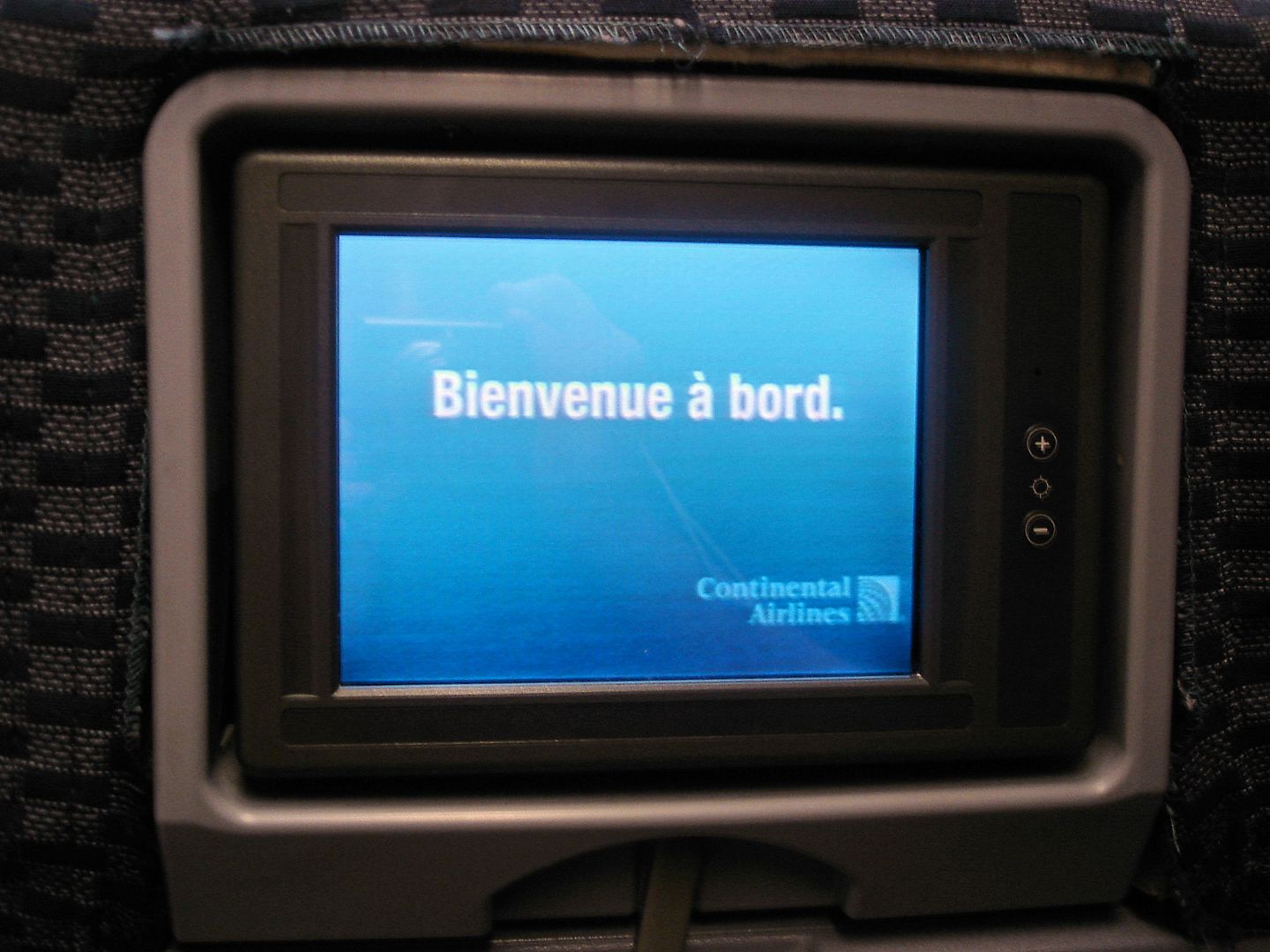 The old-style handset was still fully functional:
All I needed on this night flight was the airshow channel anyway: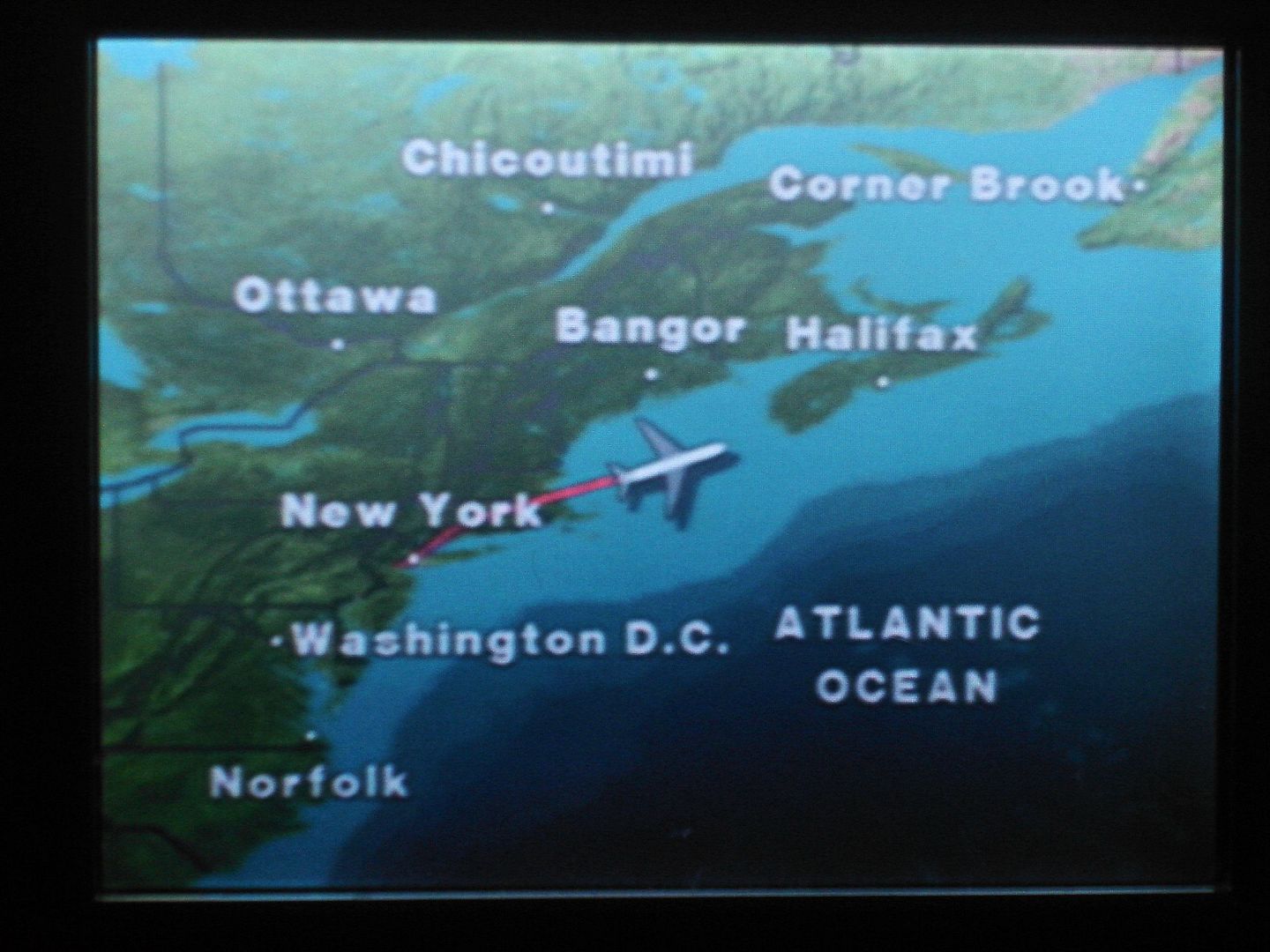 Dinner was served about one and a half hours after departure. "Chicken or pasta?" was the key question and I opted for the former: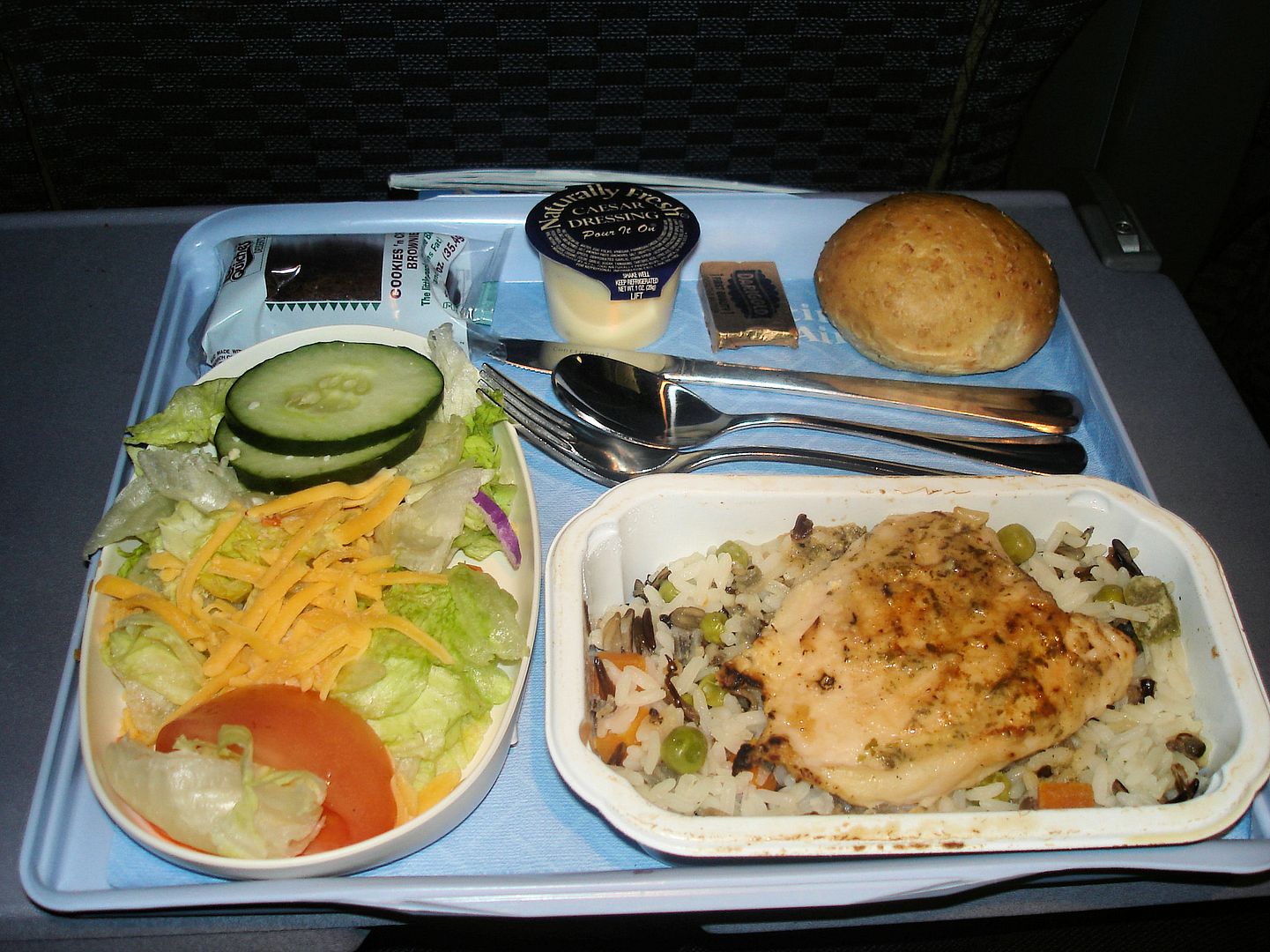 Both the marinated chicken breast and the vegetable rice tasted very good, much better than the food on the LHR-IAH sector. I couldn't complain about the salad either - however, the cookie and chocolate brownie was simply too small.
Before trying to get some sleep I took a cabin shot. The 777-style interior is a great feature on the 764...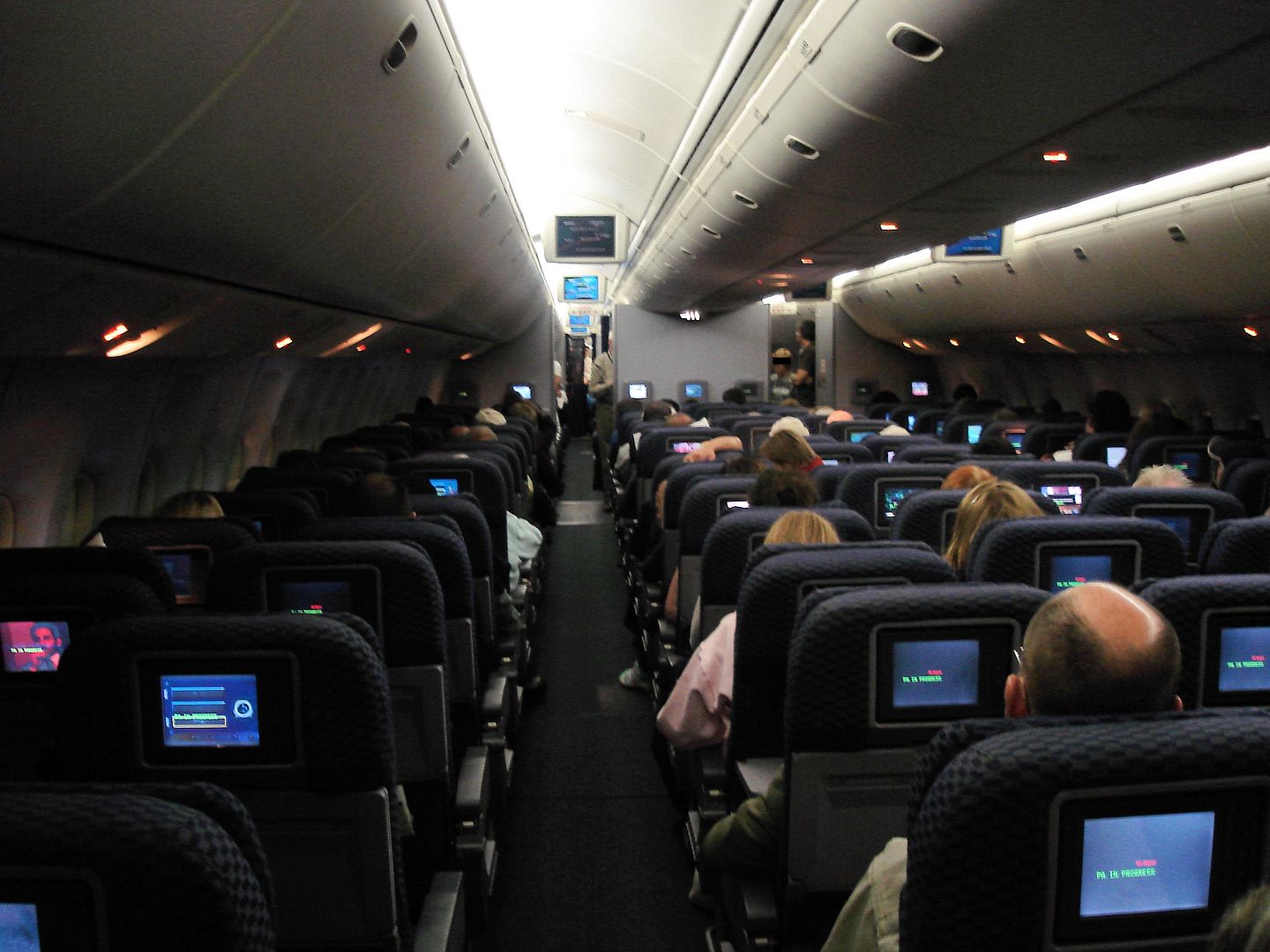 ...as well as the raked wingtips - here pictured during sunrise a few hours later: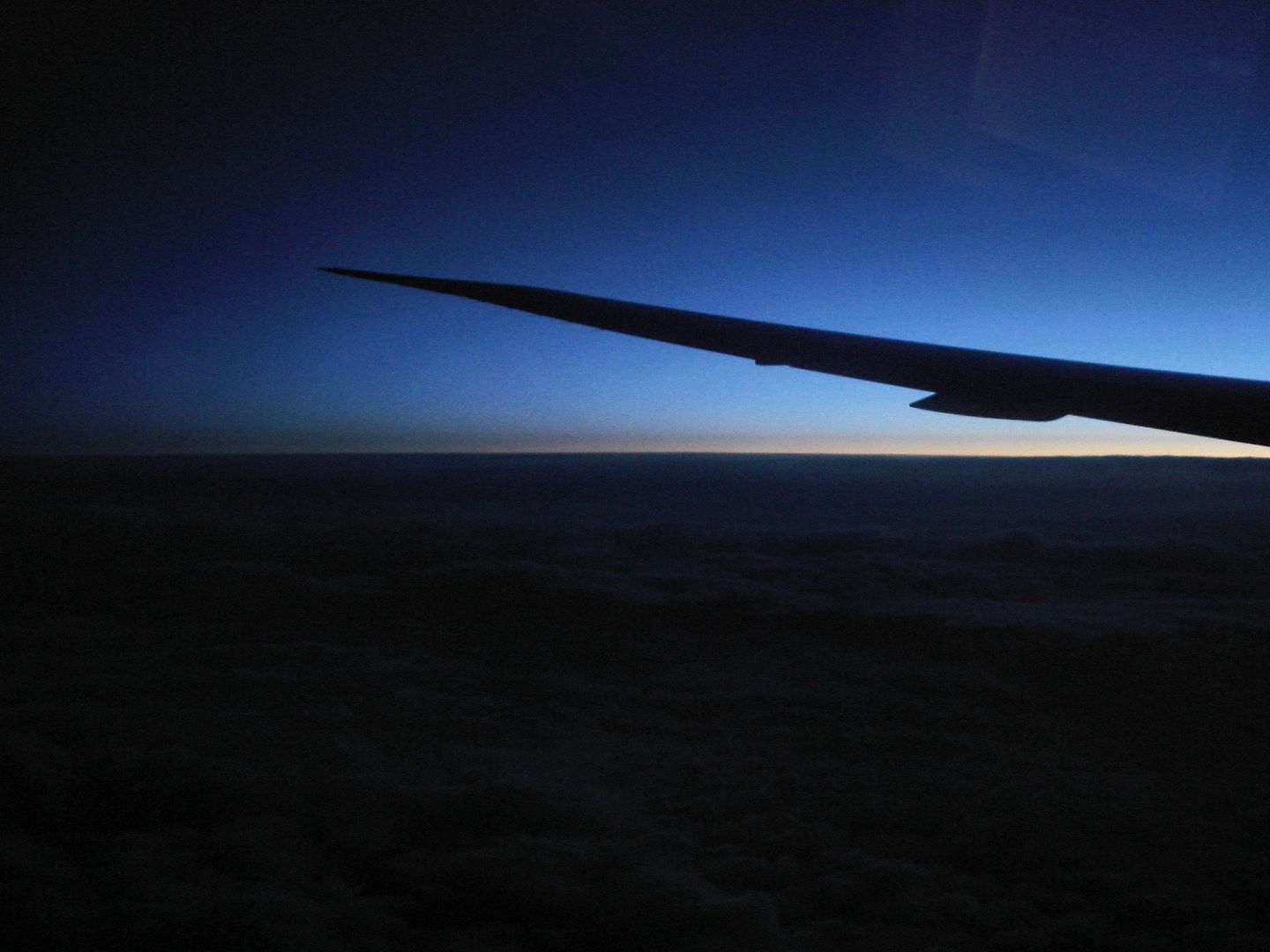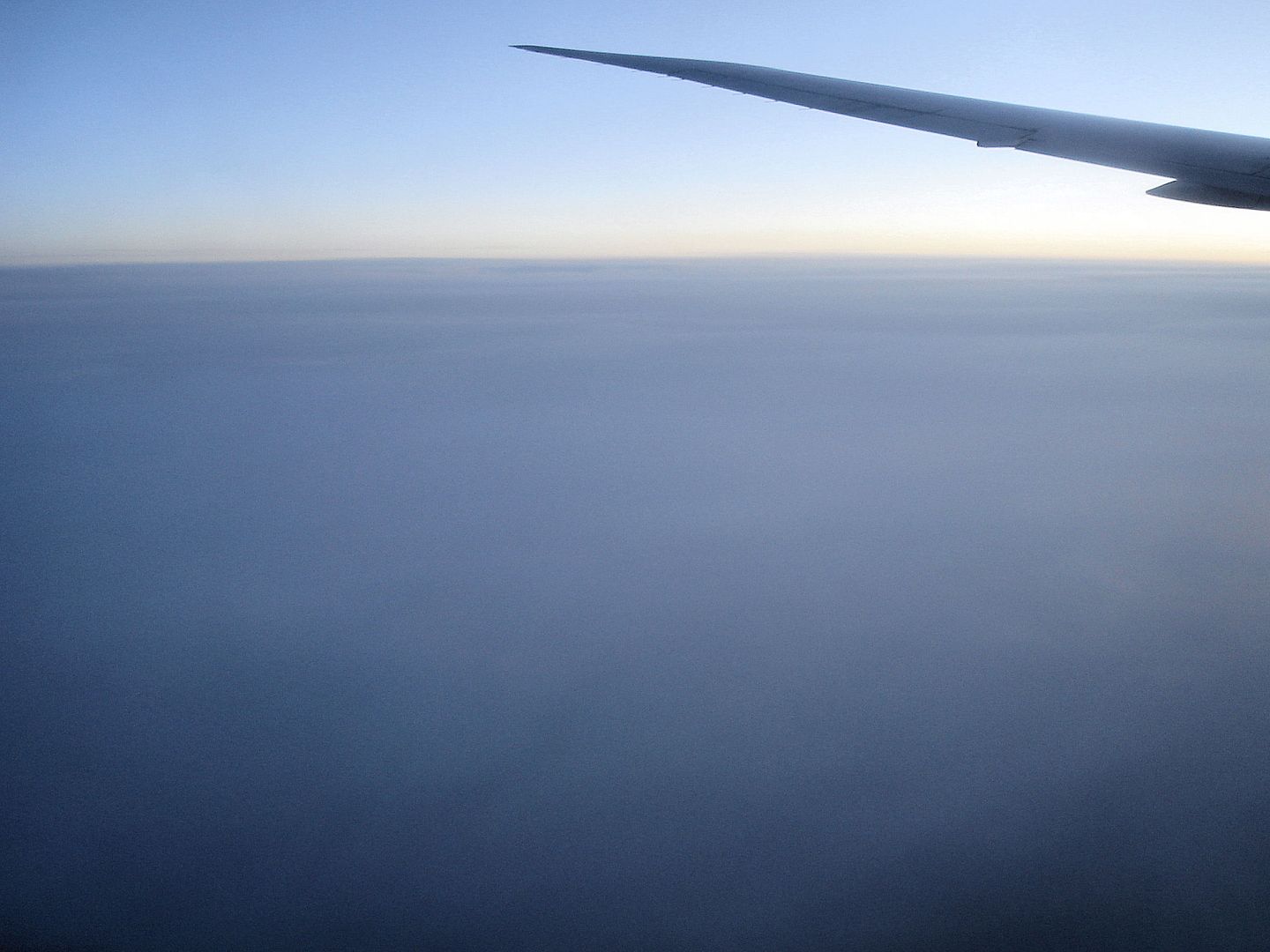 Less than an hour prior to landing a small and tasty breakfast was served. Fresh fruit and a croissant were absolutely sufficient:
Nice light effects during approach: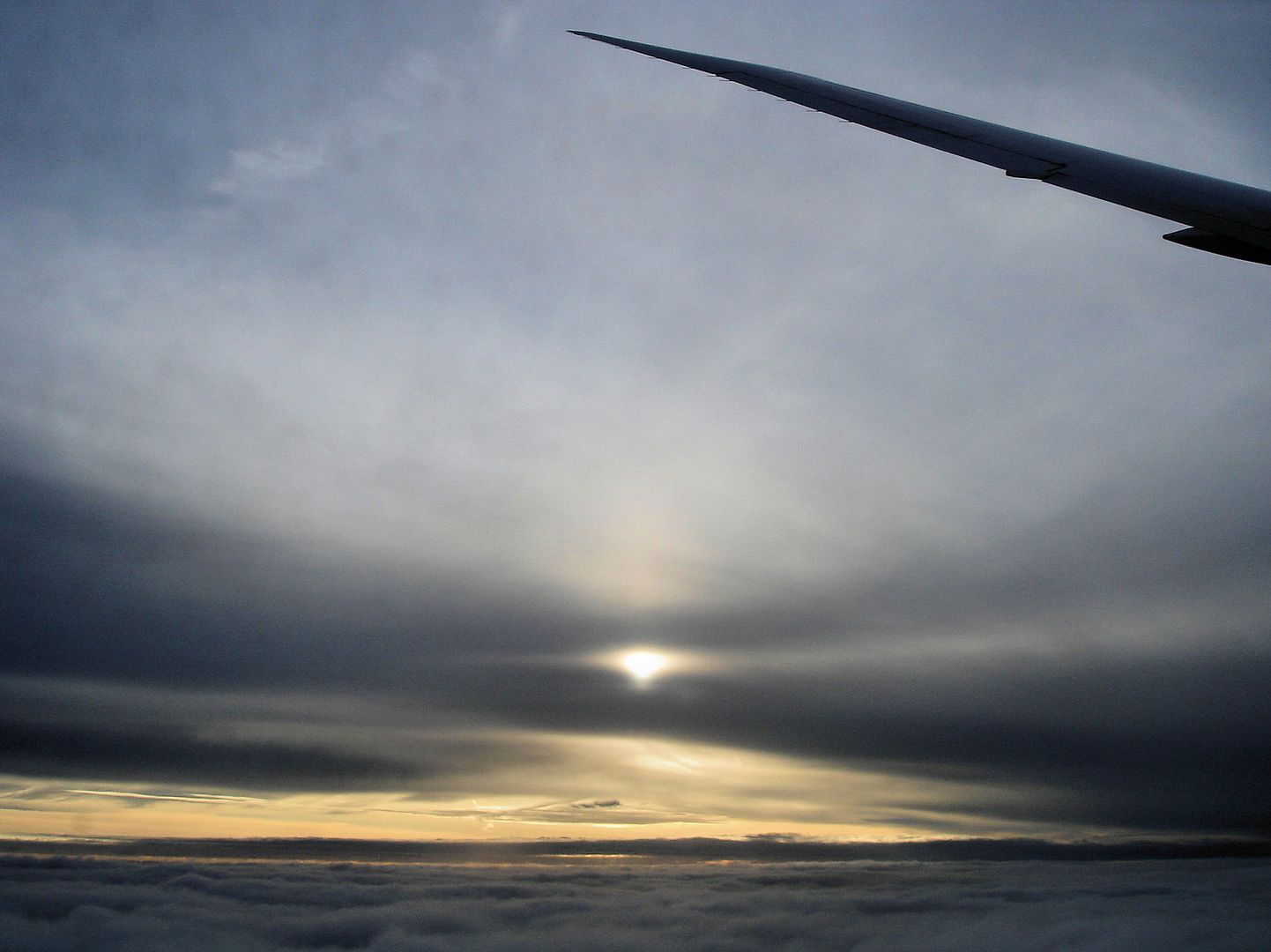 Thick clouds: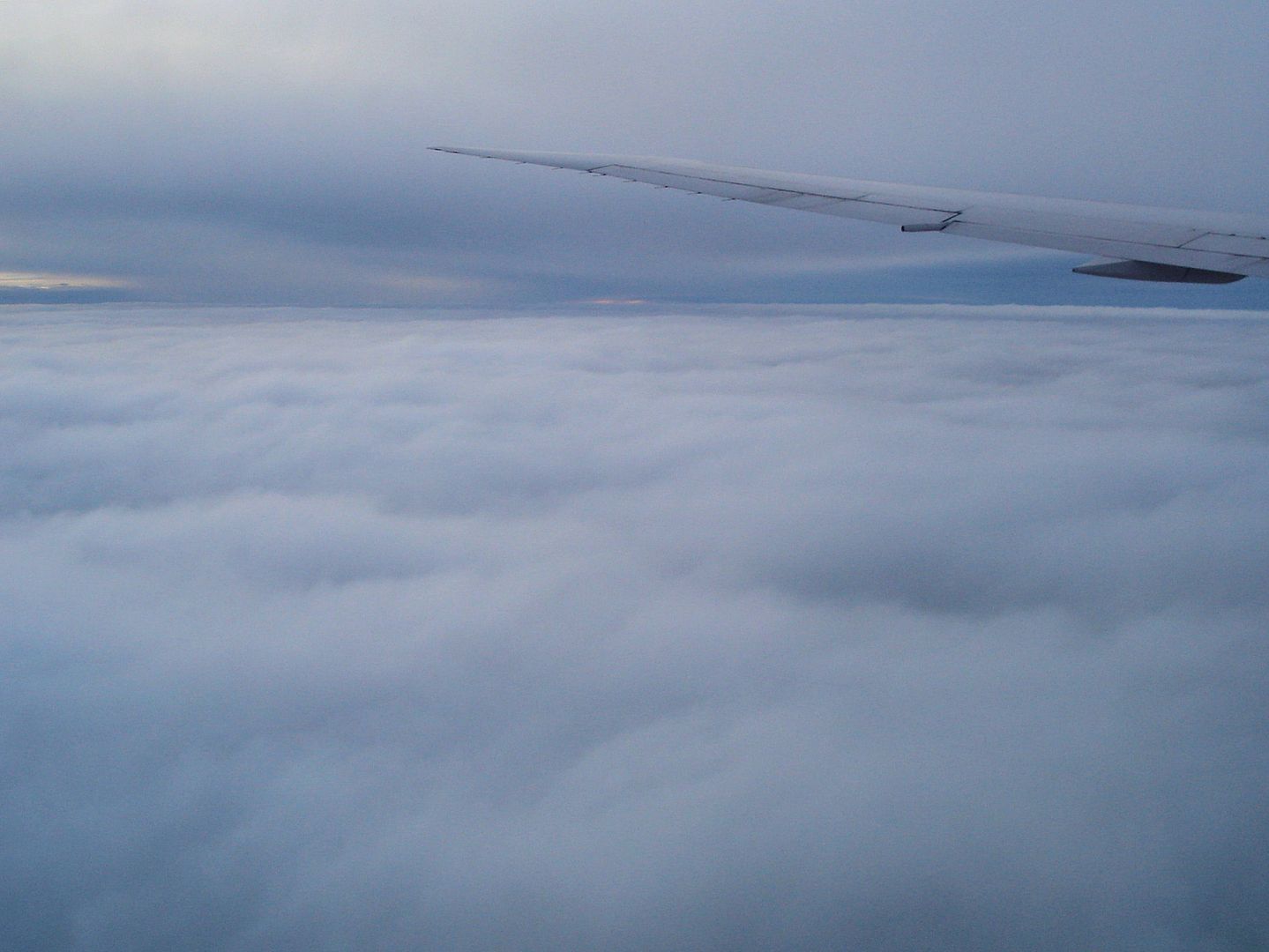 The city of Mainz...
...and the Ticona polymer factory: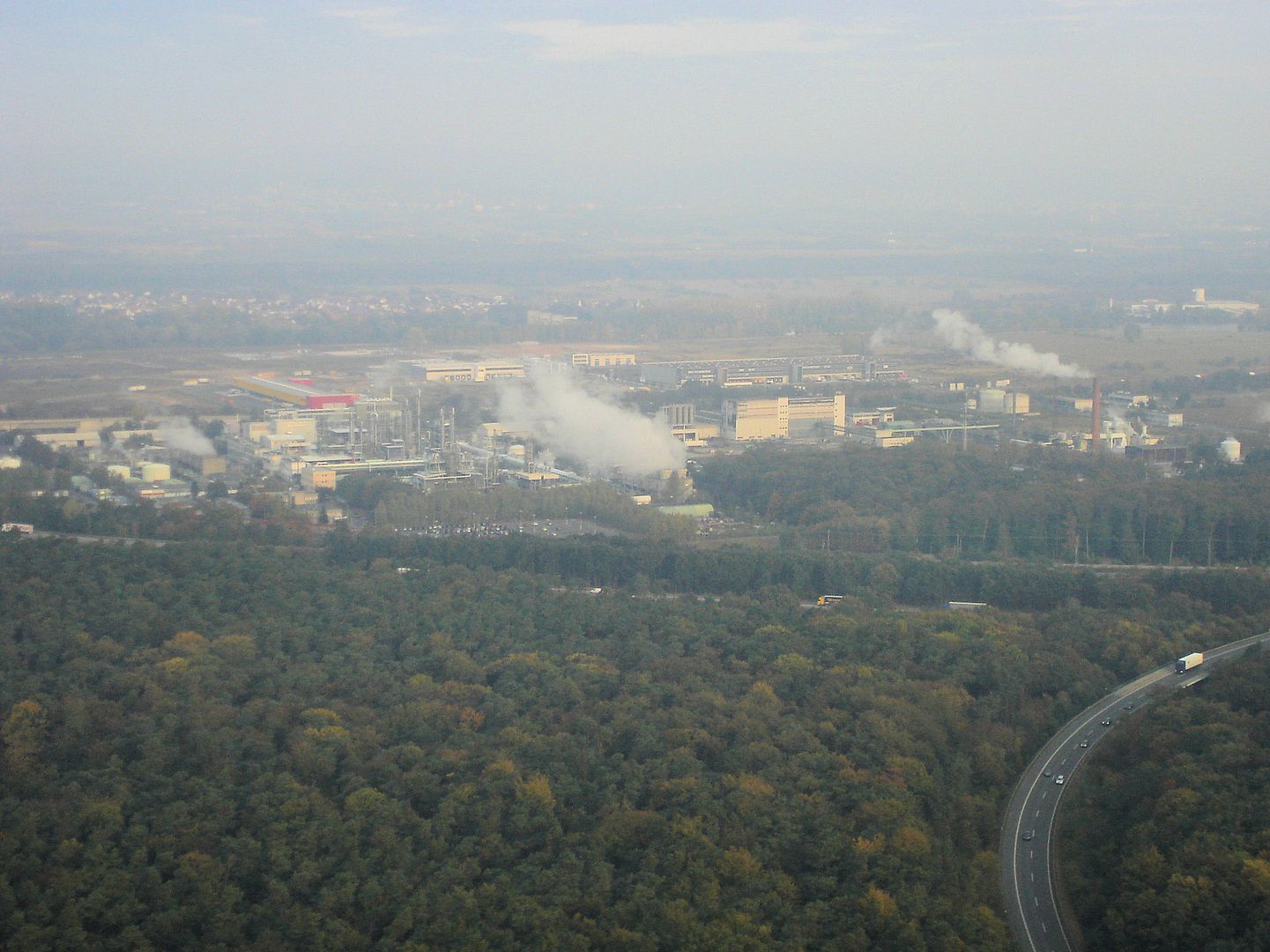 Only a few more seconds to go: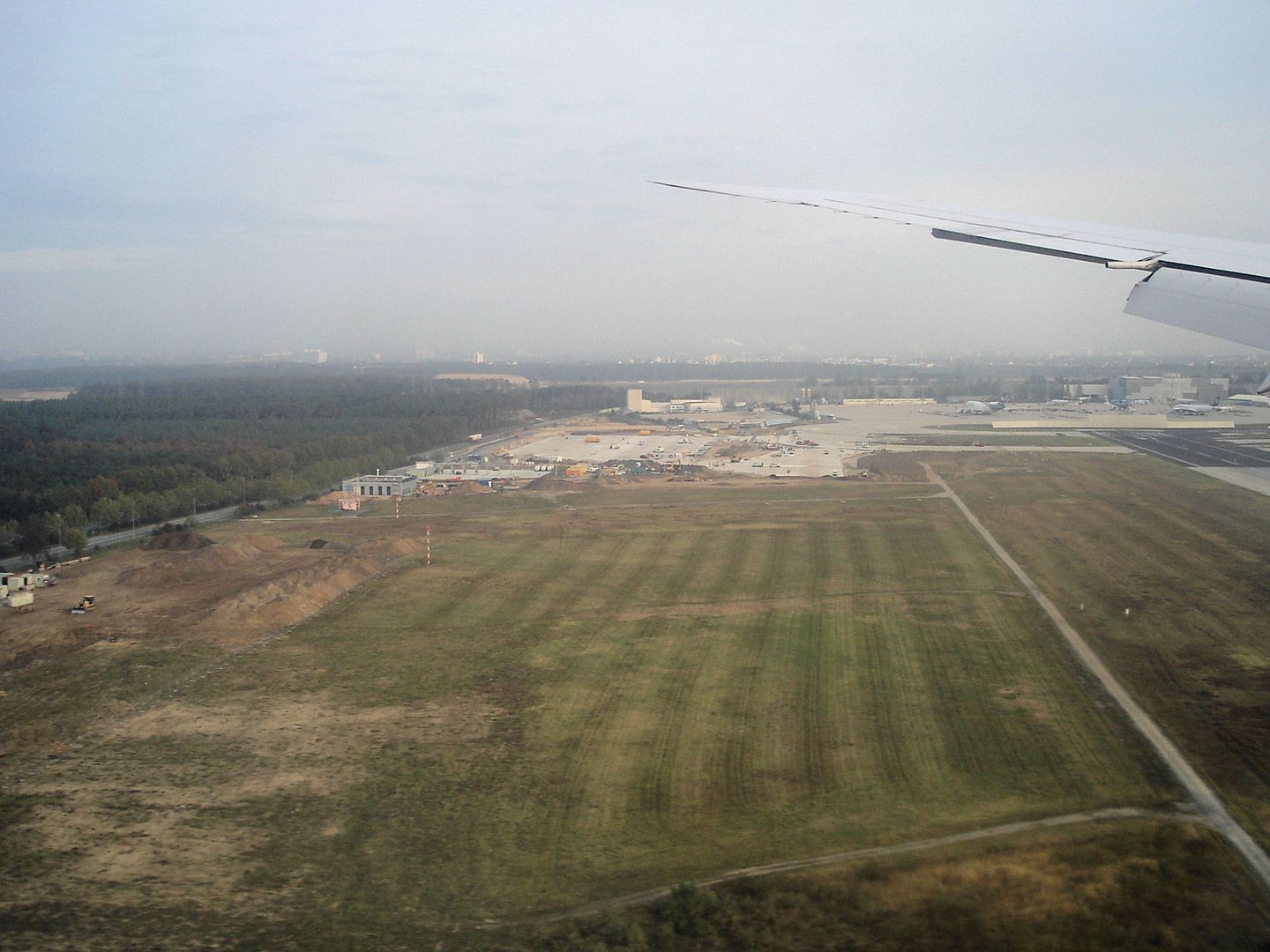 We touched down on runway 07R after a flying time of seven hours and three minutes. At the same time Singapore Airlines 747-400 9V-SPP (bound for New York) was accelerating on runway 07L: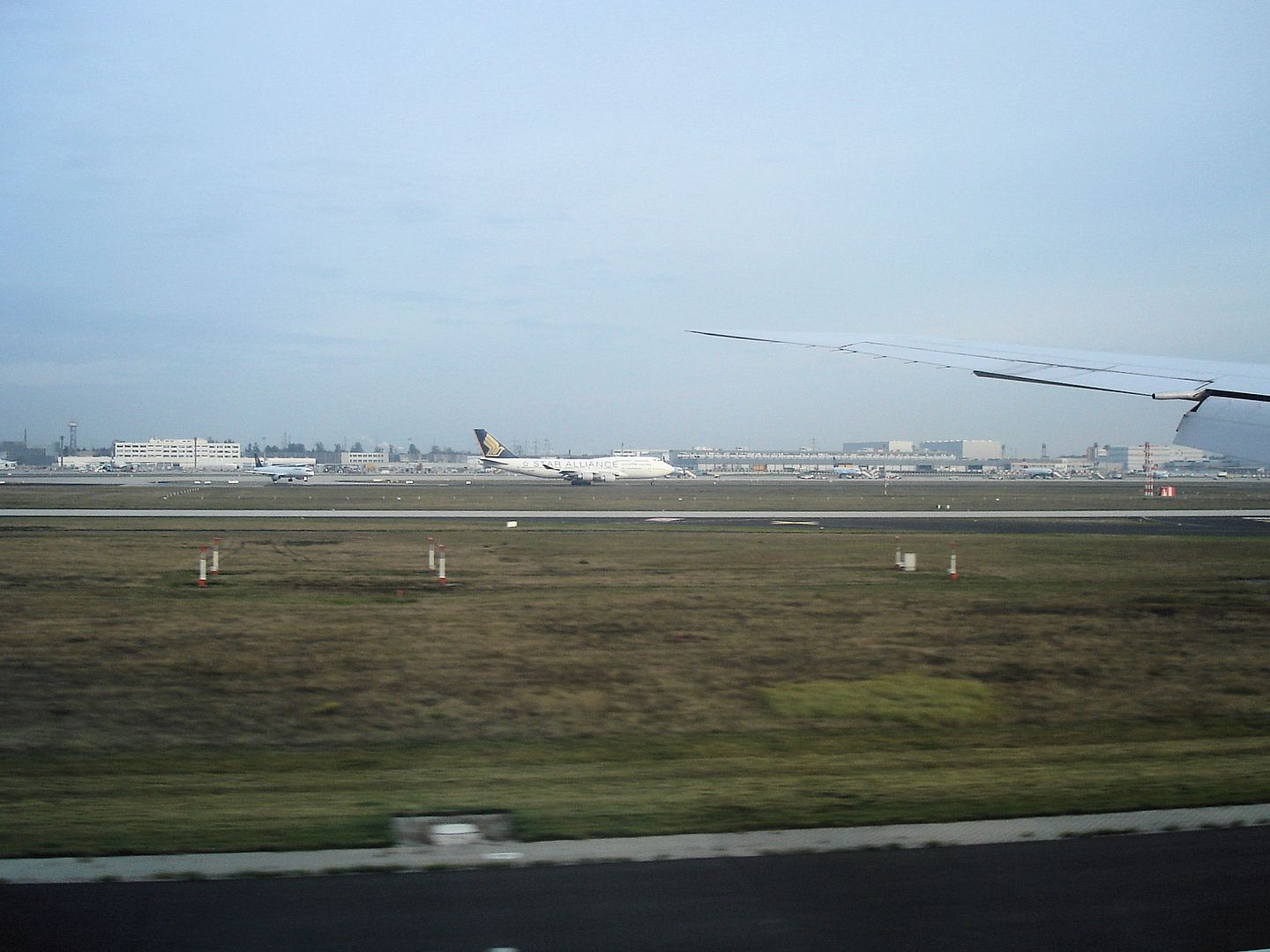 Busy Terminal 2 apron: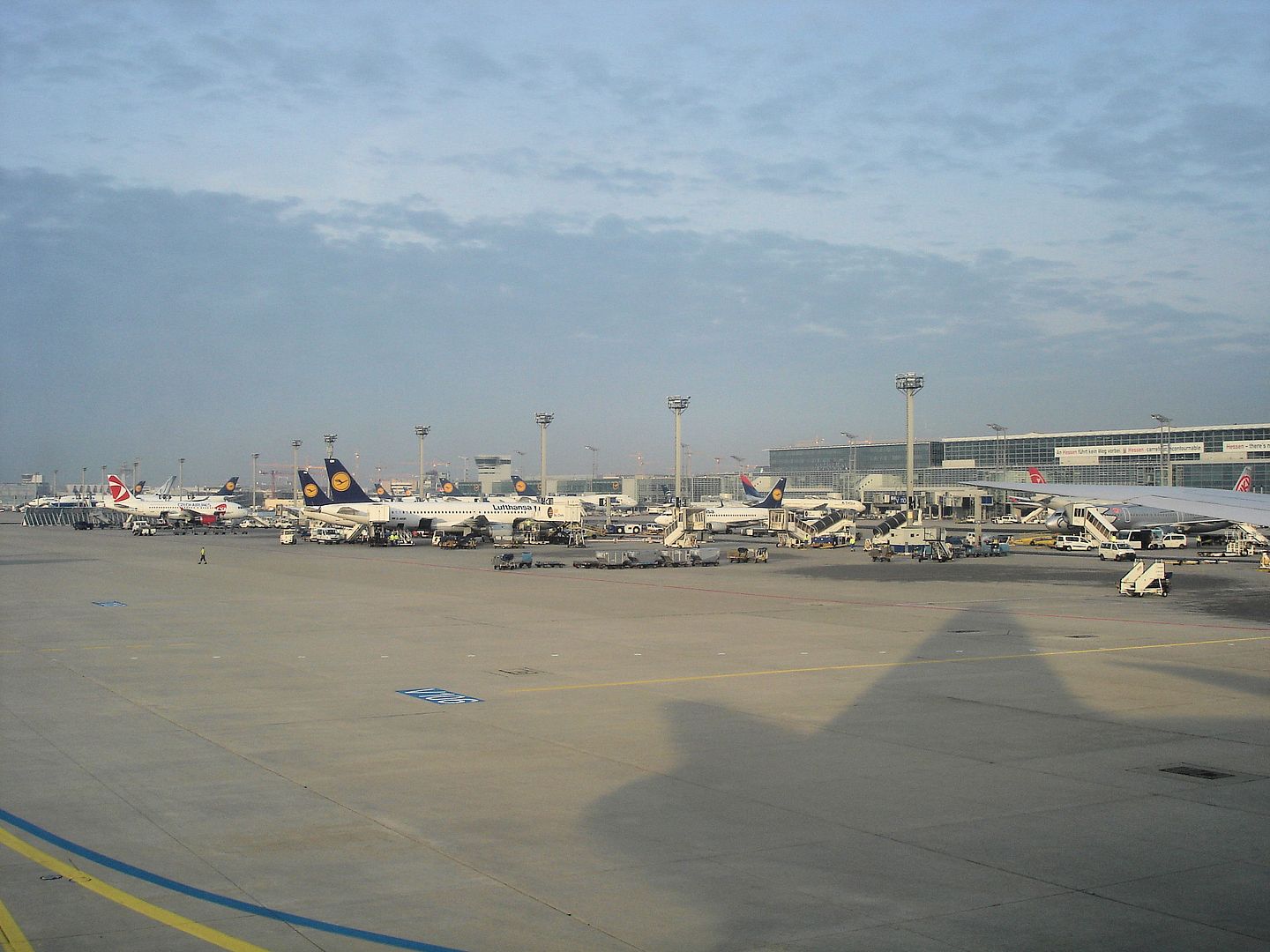 N68061
came to rest next to Gulf Air A330-200 A9C-KF and Northwest A330-300 N820NW - the plane which would become a target for terrorists only two months later: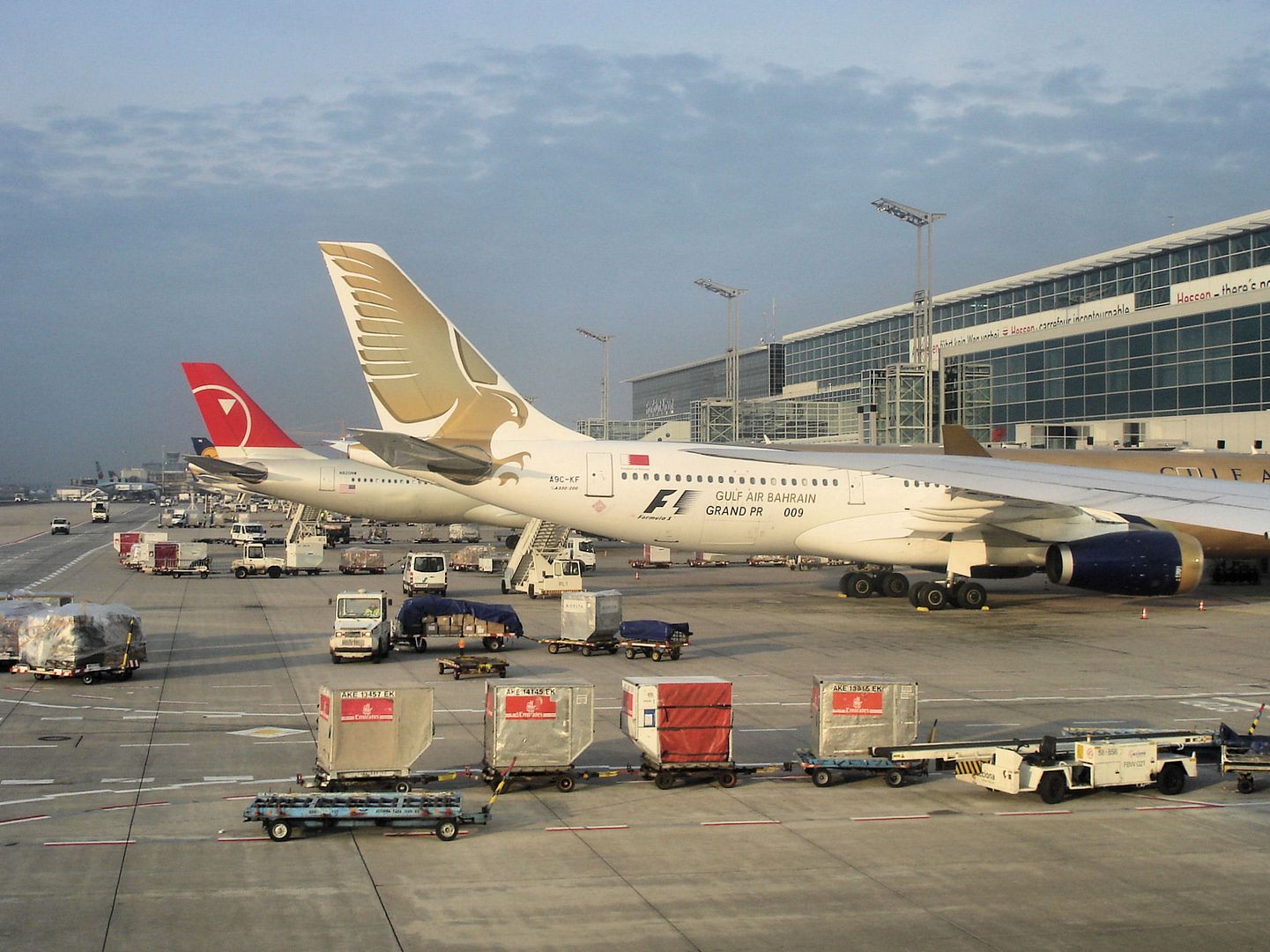 After disembarking I took the Skytrain to Terminal 1, passed security again and took a seat at a glass front for some spotting. Two hours later I continued on to Munich on Lufthansa flight LH968 which was operated by
D-AISR
, an A321-200 delivered only three months before - definitely a nice surprise at the end of the tour.
Conclusion
My positive impressions of Continental were confirmed on my return trip: friendly staff, clean and comfortable cabins and decent IFE. In contrast to the offerings on the LHR-IAH flight the catering on the long-haul sector was really good this time. ExpressJet offered a decent product, too, but I wouldn't want to take the ERJ on flights longer than two hours.
As for the whole tour in general - it was a great success. I got five new airlines and five new types, added eleven new planes to my flightlog, visited four new airports, flew on nine new routes and spotted 306 new registrations. No doubts, it won't be easy for me to beat that.
Best Regards,
PlaneHunter
P.S.: Just in case you missed them - other more or less recent reports:
Riding The Ultra Long-Haul Twin: Delta 777-200LR
Pacific Coast Jaunt: 3 Carriers, E120, E140 & Fog
The Ultimate 737: LHR-IAH-PDX On CO 777 & 739ER
Bye Bye, Hell! TRD-OSL-TXL-NUE - DY/AB/HE DH4
My Trip To Hell: NUE-CPH-OSL-TRD On Cimber & SAS
SFO-YUL-FRA: Map- & Sleepless On Air Canada's 77W
Sin City Gloss & Virgin America's Chic First Class
Seat Dilemma & Canyon Glamour: FRA To LAX, AC 763
On Par With Air France? DTW-AMS-MUC, KLM A330
Goodbye, Red Tails! DC-9-40/50 & Chicago Tour
Champagne & World Of Coke: Air France A340 To ATL
"Mission A380": Disappointing Legs On BA/BD/EI
Delights Of Doha, 773 & 77W: DOH-DXB-LHR On EK
A380 Really a Step Forward? LHR-DXB-DOH On EK
Quality & Style: HKG-LHR On Air New Zealand 744
Taiwan Trio: TransAsia, UNI Air And The Taipei 101
"The Wings Of Taiwan": EVA Air A332, 744 Combi
SHA-SZX, Shanghai 757: Delayed By The Military
PEK-SHA, China Eastern A330 & Shanghai At Night
Striking Newcomer: Berlin-Beijing On Hainan A330
[Edited 2010-03-06 01:18:49]