I got the idea fort his short-trip when I received a Swiss E-mail-newsletter in October 2009. They were offering flights during winter to Marrakech or Casablanca for EUR 265.00 (return incl. all taxes, departing from all airports in Germany served by Swiss). Marrakech was a destination I had always wanted to visit, so I decided to take this opportunity and booked a three-day trip for February 2010. OK, you might get to Marrakech on FR even cheaper, but none of the two departure airports in Germany (HHN or NRN) is close to my hometown Stuttgart. Besides, when booking Swiss I would be able to try out their holiday airline Edelweiss Air who would operate the flights between Zurich and Marrakech in code-share with Swiss. Edelweiss Air operates their flights to Morocco usually as triangle flights combining the three destinations Casablanca, Marrakech and Agadir in different ways, so you have the choice between nonstop flights or stopover flights, depending on the day of the week. I searched for a combination where I would have a stopover at Casablanca on my flight to Marrakech and one at Agadir on the return flight. Like that I would be able to explore all three airports and I might see a bit more of Morocco (a country I had never visited before) at least from the air.
Connecting flights from Stuttgart (STR) to Zurich (ZRH) are offered six times every day. I decided against a 50-minutes connection at ZRH on both ways. Instead, I booked an earlier flight from STR to ZRH and a later connection from ZRH to STR. This would allow me some time for spotting at ZRH and I wouldn't have to hurry to catch my flights. Well, at least that was the plan, but things would change…
I live very close to Stuttgart Airport; a train-ride takes only 10 minutes. Because of that I decided to use the late-night check-in option that is offered by LH and their partner airlines at STR and other German airports. At 18:00 on the evening before my flight, the LH check-in counters weren't too busy. A friendly agent checked me in. She told me that she wasn't able to view any seat chart for the Edelweiss Air segment, so she could only provide the seat number given out by the system. Luckily I had been able to enter a seating preference during booking, so I got seat 14F for the flight from ZRH to Morocco. The agent told me that according to her system my flight would be operated by American Falcon. The experts among you might remember that American Falcon was an Argentinean charter- and low-cost airline which was active between 1998 and 2005 and which used to have the same two-letter code as Edelweiss Air (WK). Obviously LH's system isn't really up to date here… Anyway, I got my two boarding passes and was reminded to show up at the gate for boarding at 05:20 (brrr!):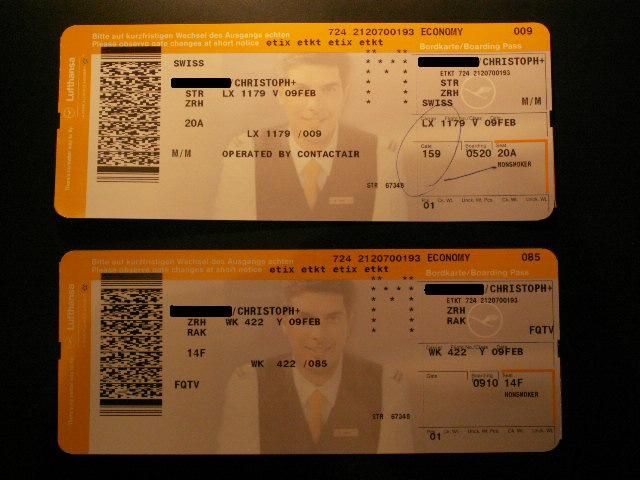 That's what I did, and here the situation still looks good: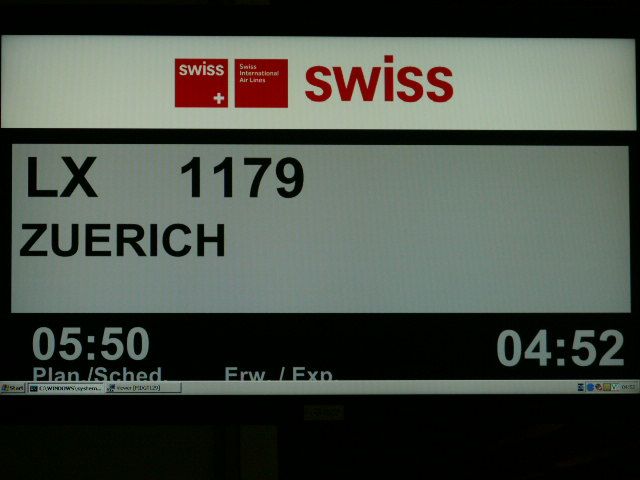 The early morning flight is scheduled to be operated by Contact Air with a Fokker 100. Contact Air operates two aircraft of this type on behalf of Swiss. One of them always spends the night at STR which is Contact Air's home base, together with other Contact Air aircraft that are operated for LH.
At 05:35 the gate agent made an announcement. She told us that additional maintenance works at the aircraft would be necessary as the door didn't close. We would get the next information at 06:00 which was shortly after the scheduled departure time at 05:50. A few passengers with connecting flights asked to be rebooked to LH via MUC or FRA, but this wish was negated at that time. At 06:10 we got the information that the flight was cancelled. Passengers were asked to contact the Swiss ticket counter and collect their luggage from the belt.
I was among the first passengers who reached the Swiss ticket counter. Other than one might expect, ticketing for LX at STR isn't done by LH, but by our local handling agent Stuttgart Ground Services who operates a ticket counter in Terminal 1 for several airlines (among them Condor, FlyBE, Blue Air and of course Swiss). Two employees were ready to serve about 50-60 passengers which took some time of course. Two passengers booked to Darussalam were asked to contact the agents immediately; obviously that connection was particularly tight.
I could already guess what would happen with my booking – I would probably be rebooked to the next STR-ZRH flight, the one I hadn't booked initially because of the short connection. And that's exactly what happened – the friendly agent first checked me out for both segments and then gave me a receipt with the new flight times so that I could check in again. As a small compensation I also got this drinks voucher for EUR 7.50: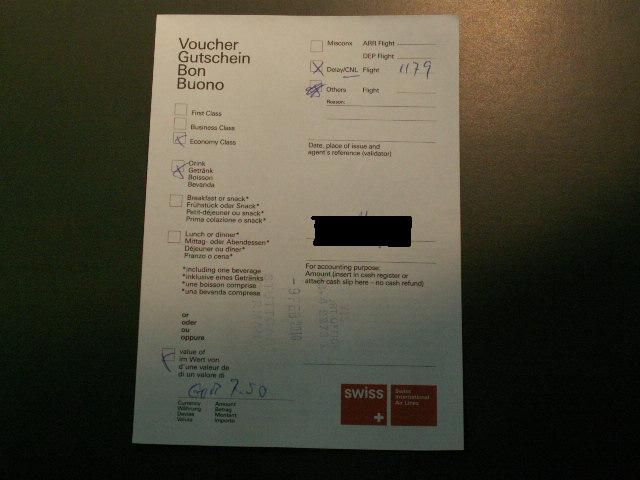 I was asked to contact LH baggage tracing in order to get back my trolley which was still on the luggage belt. So I went downstairs to the arrivals level, just to find out that LH baggage tracing was still closed, so there was no way to get to the luggage belts. Through a glass door I saw a policeman of "Bundespolizei". I knocked on the door and told him about my problem. He promised to look for my luggage and hand it over to me (I had to show him my passport), but he didn't let me enter the baggage area. At that moment several other passengers from my flight arrived with the same problem. The policeman told us that he couldn't search for our entire luggage and that we should find a solution with LH or LX. So I went upstairs again, together with an other passenger who wanted to travel to BHX and who had been re-booked to FlyBE. This time we contacted the LH ticket counter. The agent informed a colleague who should handle the situation, so we went downstairs again. This LH-agent just opened the door to the luggage area and let us in – the same door where the policeman didn't allow us to enter. Somehow strange – does LH have more authorities than the police? I didn't really understand the problem here anyway as the luggage area is separated from the gate area by security doors and you can't get through there. Anyway, I collected my luggage and went upstairs again (some exercise in the early morning is good for your health!) to check in again. This was done without any problems (I got seat 14F for the Edelweiss flight again, the same seat as the evening before) and I passed security check for the second time this morning. After exchanging my drinks voucher into a coffee and a muffin I reached gate 159 once again.
Tuesday, 09 February 2010
Stuttgart (STR) – Zurich (ZRH)
Airline: Swiss
Flight number: LX 1165
Scheduled departure time: 08:20
Scheduled arrival time: 09:05
Type of aircraft: Avro RJ 100
Registration: HB-IXV
This aircraft was built and delivered to Crossair in 1995. In 2002 Crossair became Swiss and HB-IXV joined the Swiss-fleet as well.
And here are some pictures of HB-IXV from Crossair times:
.
While waiting I could view D-AGPK, the Fokker 100 that should have operated my flight, taking off empty to ZRH. Obviously they had fixed the technical problems. Only a few moments later, boarding for the second flight to ZRH began and a bus took all passengers to our Avro RJ 100:
.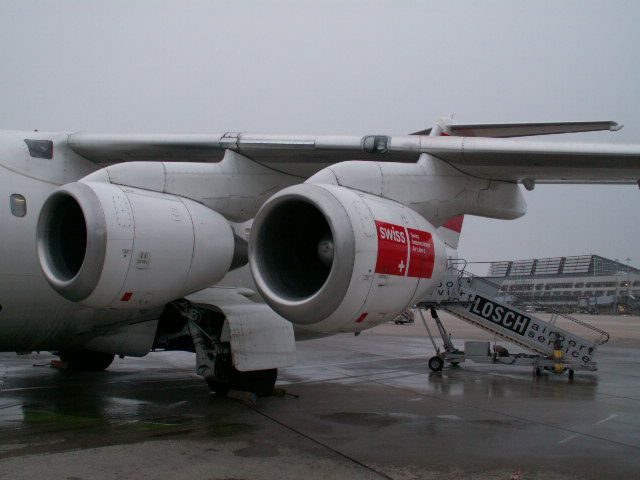 .
Load factor was around 80%. I would have expected more passengers because of the cancelled early morning flight, but obviously most people had been re-booked to other airlines, mainly LH. We taxied to runway 07 and took off in eastern direction:
.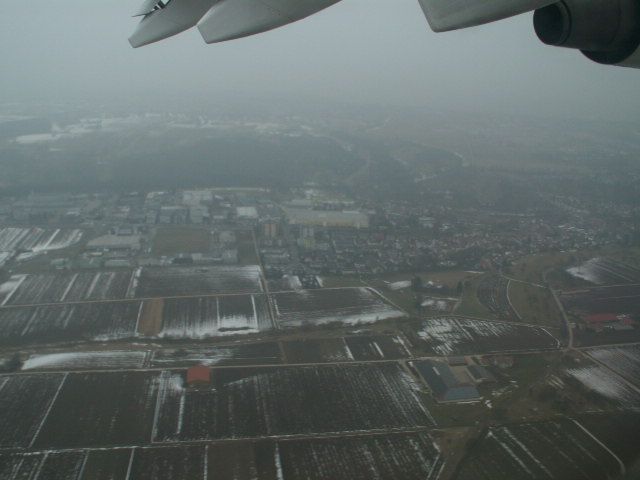 After a short time we were above the clouds. Finally the sun again: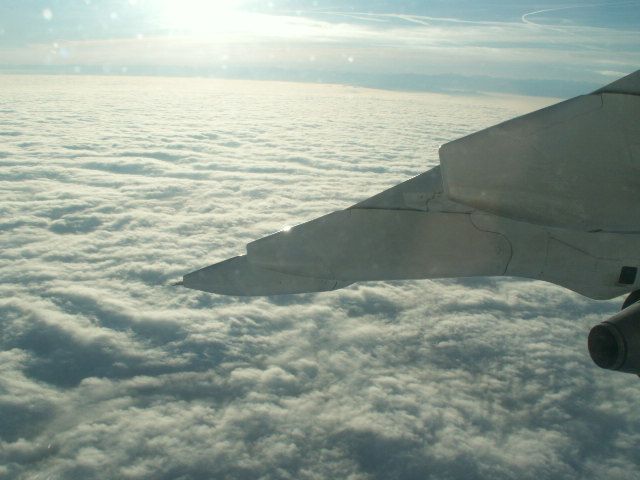 Flight time was only 25 minutes, so the two flight attendants had to hurry to get through with their service. Every passenger got a bottle of water and a small chocolate – just right for the short flight time in my opinion:
Shortly after we were already approaching ZRH: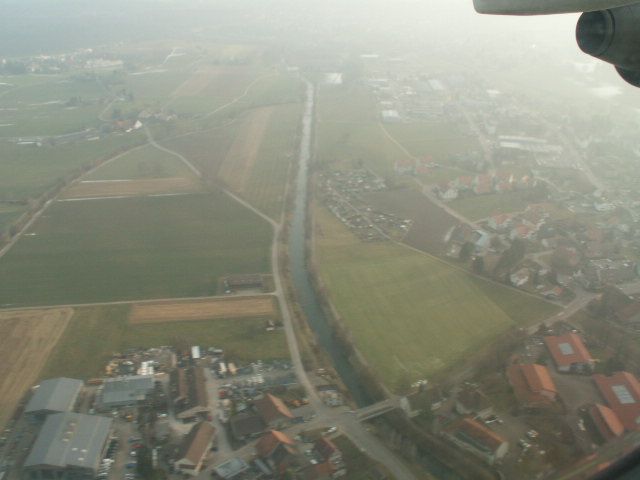 .
The purser announced the gate numbers for many connecting flights, among them Marrakech. Landing was on runway 14 which seems to be typical for most times of the day. We left the aircraft at a parking position on the apron:
.
A bus took all passengers to Terminal A. After passing passport control I took the Skymetro to Terminal E: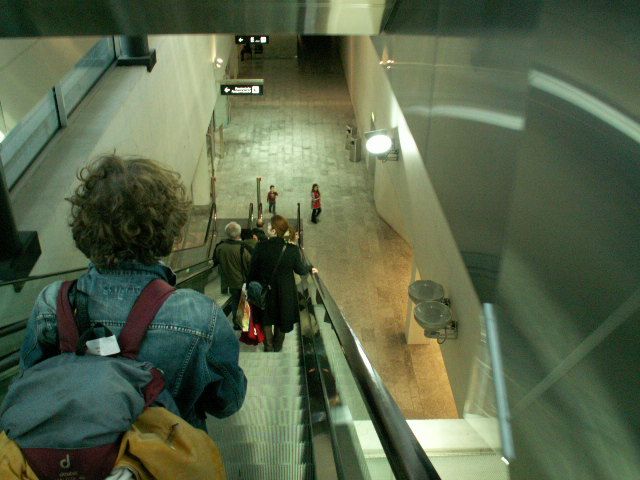 .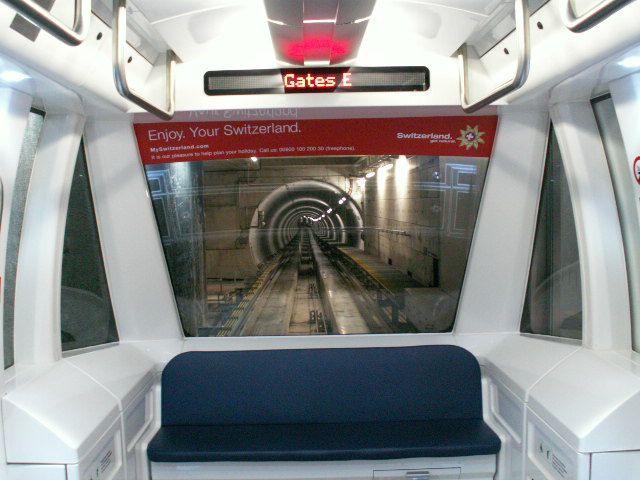 Terminal E:
Here I had to pass security check, then I reached gate E64 just when boarding started:
.
Tuesday, 09 February 2010
Zurich (ZRH) – Casablanca (CMN)
Airline: Edelweiss Air
Flight number: WK 422
Scheduled departure time: 09:55
Scheduled arrival time: 12:10 (time difference was -1hour so scheduled flight time was 3:15)
Type of aircraft: Airbus A 320-200
Registration: HB-IHX "Calvaro"
This aircraft was built and delivered to Edelweiss Air in 1999
I saw many LH boarding passes at the gate – obviously this flight is very popular among travellers from Germany. Unfortunately, there weren't any good photo opportunities: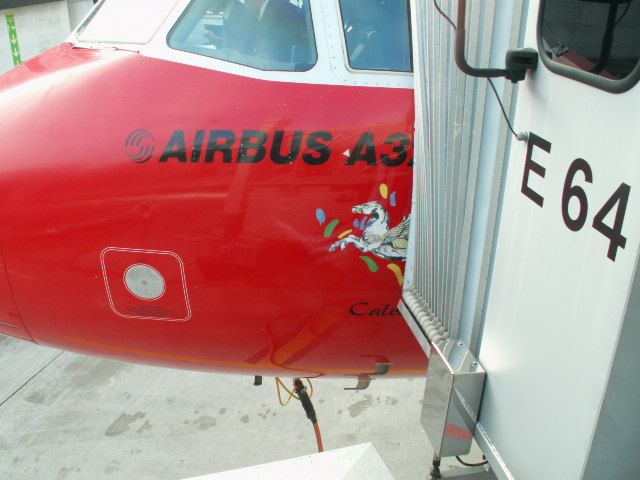 The flight attendants welcomed us on board and offered two different Swiss newspapers ("Tages-Anzeiger" and "Blick") and a few magazines. The first three rows were reserved for Business Class where the middle seat remains empty. I took my seat in row 14:
(This picture was taken at a later time.)
The crew of today's flight was introduced on the screens; here you can see the First Officer:
I find it a good idea – it makes the flight a bit more personal and is still possible on smaller airlines like Edelweiss.
The cabin filled up quickly; load factor was around 90%. The two seats next to me were taken by a Swiss couple. The great majority of the passengers were Swiss or German which I found a bit surprising – I would have expected some more Moroccan passengers, especially for Casablanca. All announcements were made in German, French and English; the safety video was shown in English language only. We were pushed back on time, but then the action stopped. The captain came over the microphone and told us that one of the two engines couldn't be started. A technician was called and we were pulled back to the gate. The technician found out that there was a defect at the starting valve (I don't remember the exact English expression). He would have to find a replacement part and would try to attach it within 45 minutes. Passengers should stay on board. Cabin crew distributed drinks and salty snacks; on the screens they showed "Just for laughs" (what else…). Besides, entry cards for Morocco were given out – also a way of spending some time. At 11:00 the captain brought the good news that the problem had been solved and that we could take off now.
All in all, the situation was handled in a professional way – I felt well informed at al times. The second push-back took place at 11:10, so there was a delay of 1:15 at that time. We took off from runway 28. Here you can see Terminal E which is exclusively used for Non-Schengen flights:
.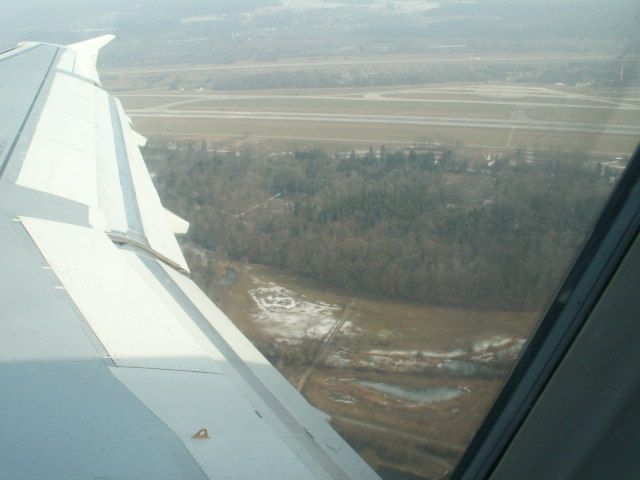 Soon we were above the clouds so there wasn't much to see outside. So I turned my attention to the entertainment programme. They didn't show a film (which I didn't really miss), instead there was the usual stuff like Disney cartoons, comedy programmes and lots of adverts for products from the in-flight shop, always interrupted by the air-show which I highly appreciated. Besides, there were nine audio channels with music for every taste. Headphones could be purchased, however they weren't offered actively. I had brought my own ones anyway.
Shortly after take-off a hot meal was served:
The main course was "Trutenpiccata" (turkey) with noodles and vegetables, served with salad, bread rolls which you could choose from a basket, and an "Appenzeller Biberli", a traditional Swiss cake for dessert: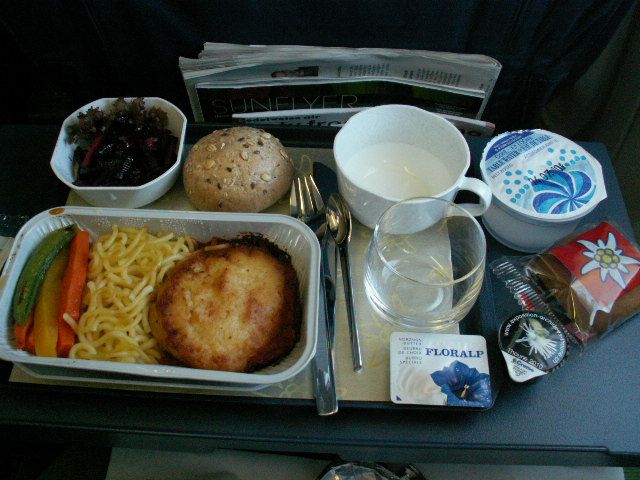 The presentation with metal cutlery was very good. According to their in-flight magazine Edelweiss wants to offer typical Swiss meals. The food was very good indeed, only the noodles were a bit dry. I ordered a "Rivella" to drink, a kind of lemonade which is also typical Swiss. Alcoholic drinks were offered for sale. The money was collected at the end of the flight. Obviously they want to create an atmosphere like in a restaurant. However, in the end many passengers were surprised that they had to pay something – not everybody listens to the announcements.
Duty-free sales after lunch didn't draw much attention. Outside there wasn't much to see until we reached Malaga, then it became a bit clearer:
The City of Malaga:
We passed the Mediterranean See near the Street of Gibraltar and reached Morocco. In the West I had a nice view to the Atlantic coastline: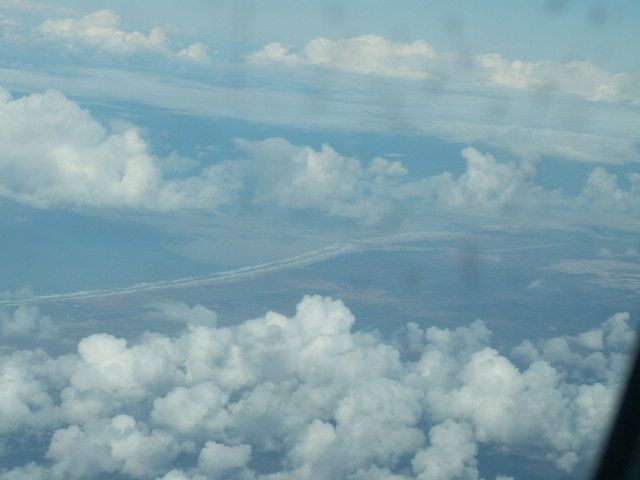 Soon we were approaching Casablanca. The first impression of the country was surprisingly green:
Some kind of factory:
.
We touched down on runway 35L: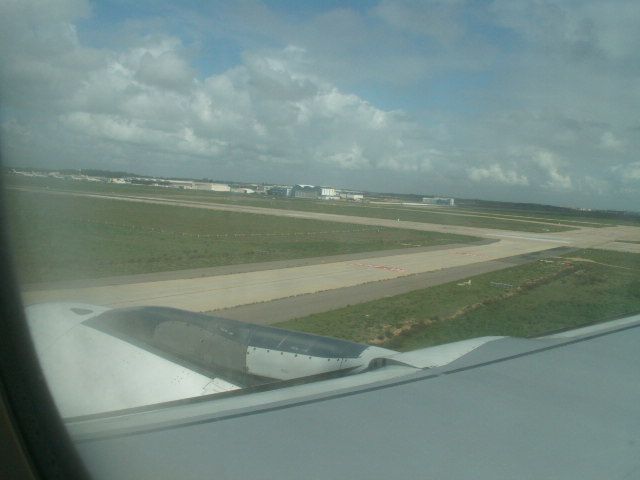 Royal Air Maroc is dominating the airport:
We reached our parking position with a delay of a bit less than one hour. Only passengers for Casablanca should leave the aircraft here. Passengers bound for Marrakech should stay on board. To reduce some delay, ground time was shortened to 30 minutes. Only about 40 passengers left the aircraft. The aircraft was re-fuelled; during that time, all hand-luggage of the transit passengers was identified by the cabin crew. About 30 new passengers boarded the aircraft and we were ready for push-back again. The bigger turn-around with cleaning would take place at Marrakech.
Tuesday, 09 February 2010
Casablanca (CMN) – Marrakech (RAK)
Airline: Edelweiss Air
Flight number: WK 422
Scheduled departure time: 12:55
Scheduled arrival time: 13:40
Type of aircraft: Airbus A 320-200
Registration: HB-IHX "Calvaro"
On our way to the runway:
Taking off from runway 35R: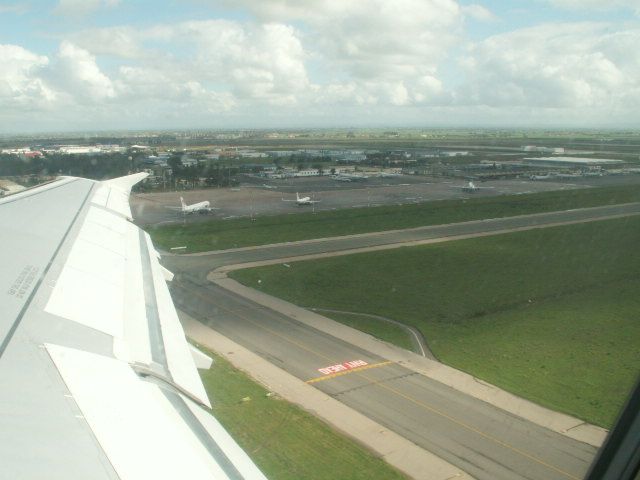 Terminal extension:
Stored B 747-200 and B 737-200 of Royal Air Maroc:
.
The flight from Casablanca to Marrakech takes only 20 minutes:
There was no service on this short flight.
A suburb of Marrakech: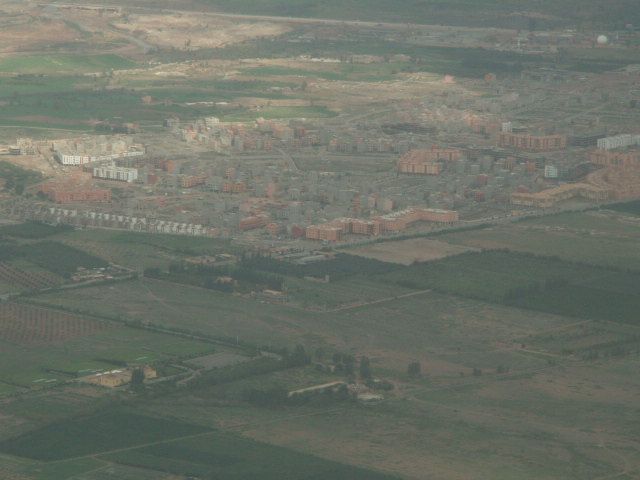 Plantations:
Final approach: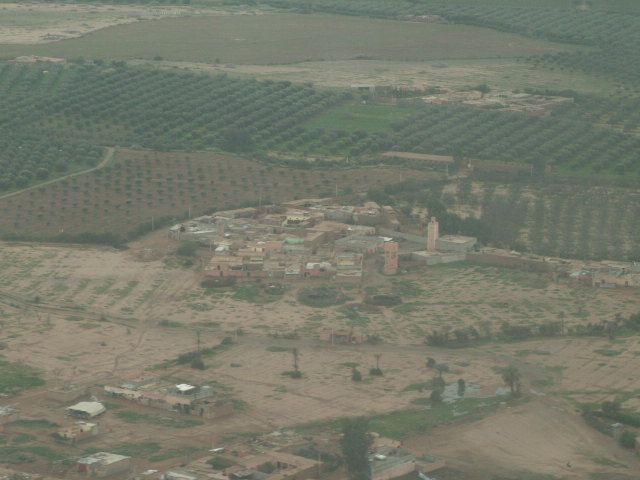 We touched down on runway 10 and taxied to a parking position in front of the terminal building. The delay could be reduced to 40 minutes. The purser apologized once again and wished a nice holiday in Morocco. The captain was present at the door as well to say good-bye to the passengers. There are no jet-bridges at Marrakech, but we could walk the short distance to the arrivals facilities.
Immigration was agreeable and quick; about ten counters for passport control were staffed while there was no other arrival at that time. Luggage arrived quickly as well, and soon I was on the way to my "riad", a small hotel in the old town.
I found the City of Marrakech really fascinating – a really beautiful, lively, typical oriental city. Here are some impressions from my destination as well:
Storks on the old city wall – a typical scene everywhere in the city: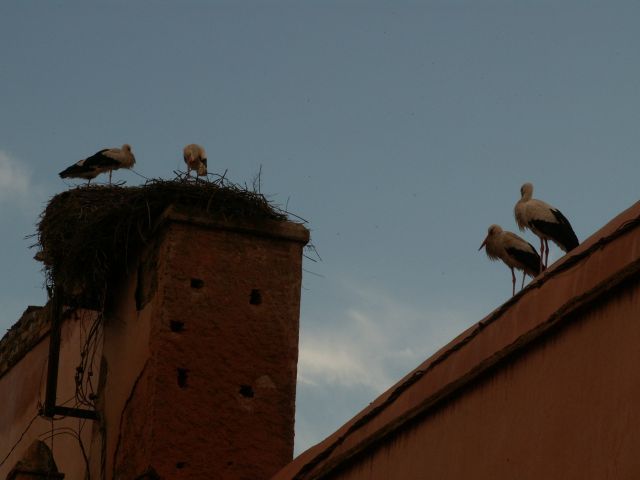 The station:
Orange trees are also very common:
Koutoubia, the largest mosque in the city:
Everybody uses the street with one's own speed:
Bab Agnaou, the most beautiful city gate: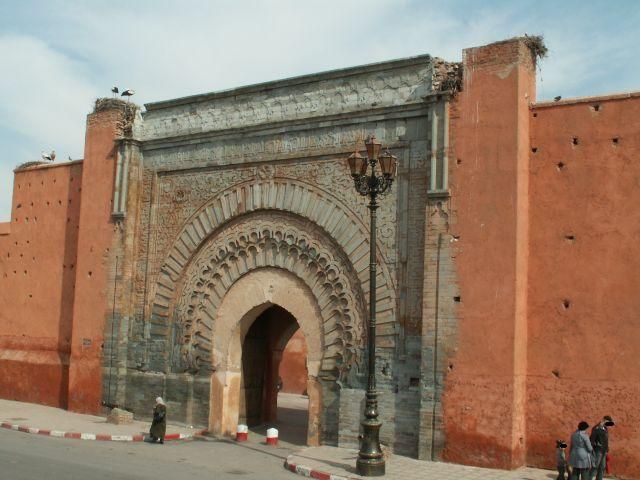 Present in Marrakech as well: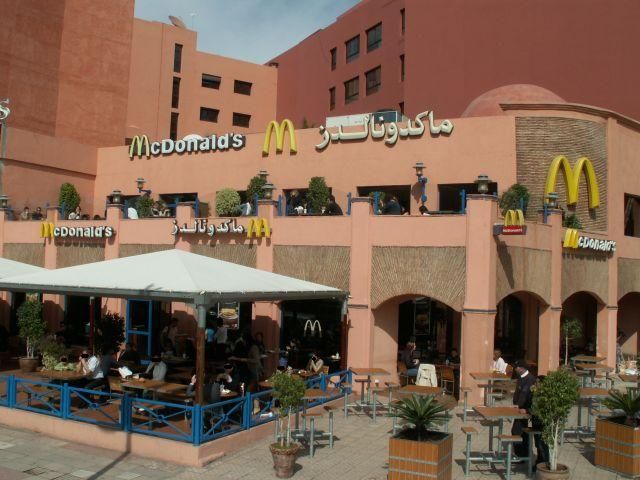 Palm forest outside of the city:
Palais el Badi, a former sultan's palace: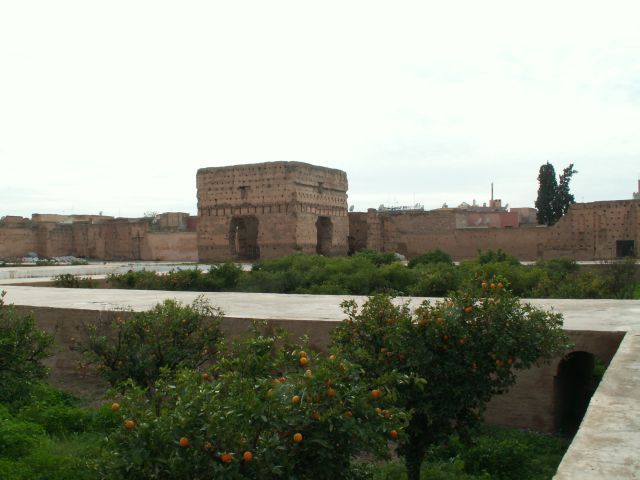 Lots of old Mercedes cars, used as taxies:
Palais Bahia, the vizier's palace:
.
Madrasa Ben Youssef, a former Koran School:
In the Souks: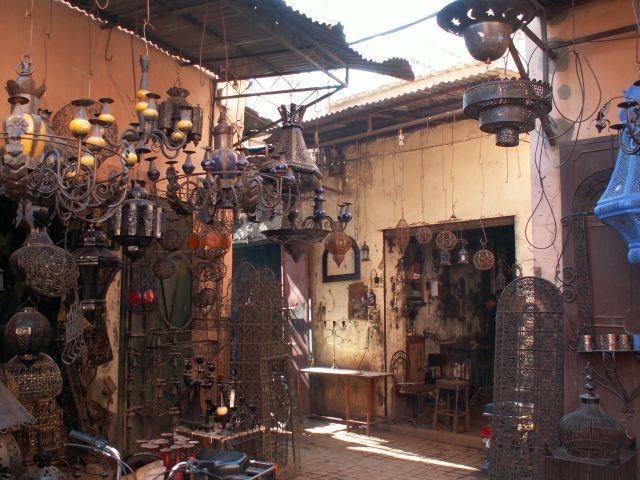 .
.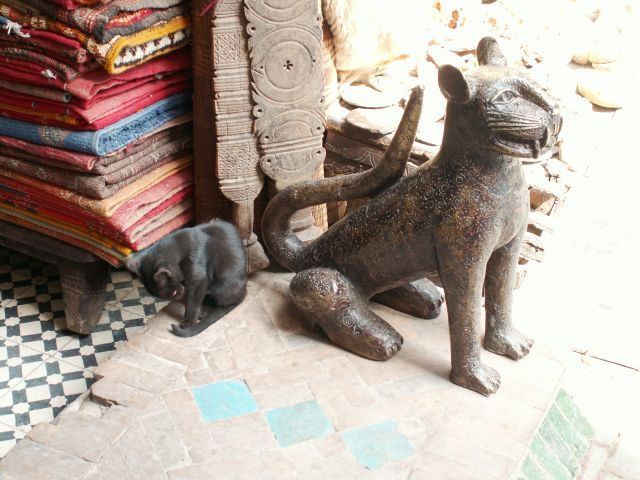 Jardin Majorelle, a botanic garden:
My last pictures show Jemaa el Fna, the most famous place of the city. This is the heart of the city, you can find market stalls, artists, fortune-tellers and in the evening they build up food pavilions where you can have dinner:
.
After three days it was time to go back.
Friday, 12 February 2010
Marrakech (RAK) – Agadir (AGA)
Airline: Edelweiss Air
Flight number: WK 456
Scheduled departure time: 13:00
Scheduled arrival time: 13:40
Type of aircraft: Airbus A 320-200
Registration: HB-IHX "Calvaro"
This aircraft was built and delivered to Edelweiss Air in 1999
I arrived at the airport early in order to have some time to look around. The first impression was really positive. The terminal is modern and spacious:
.
.
Moroccan folklore in the terminal building: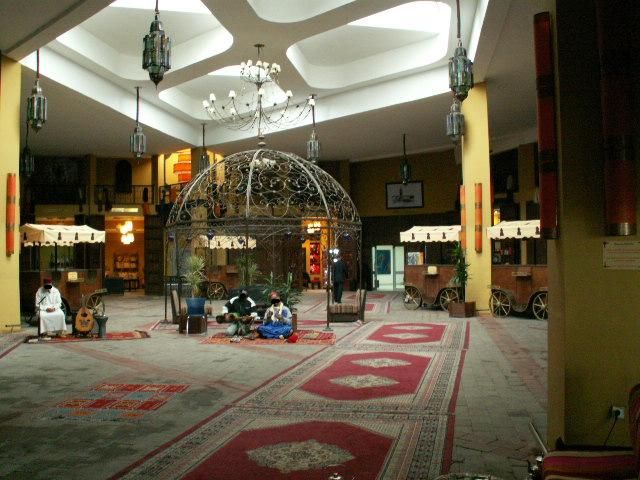 .
Ryanair has become number one airline at Marrakech:
Some flights had massive delays, especially from / to Europe which might have resulted from the new onset of winter on that day. Check-in for my flight to ZRH opened two hours before departure with two counters (one of them reserved for Business Class, one for Economy Class). Ground handling was done by MAP handling groundforce, a Moroccan company. I got my boarding passes for Marrakech-Zurich and Zurich-Stuttgart, the same seats as on the outbound flights.
I passed security check and passport control and entered the gate area: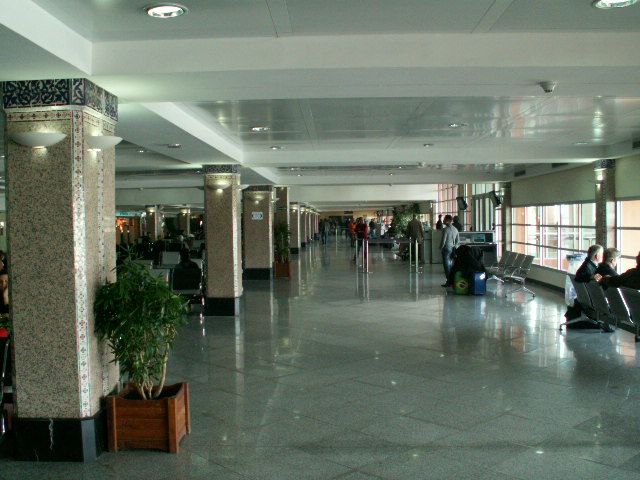 Because of the many delays the area was quite crowded.
Easyjet and Royal Air Maroc waiting for their departures: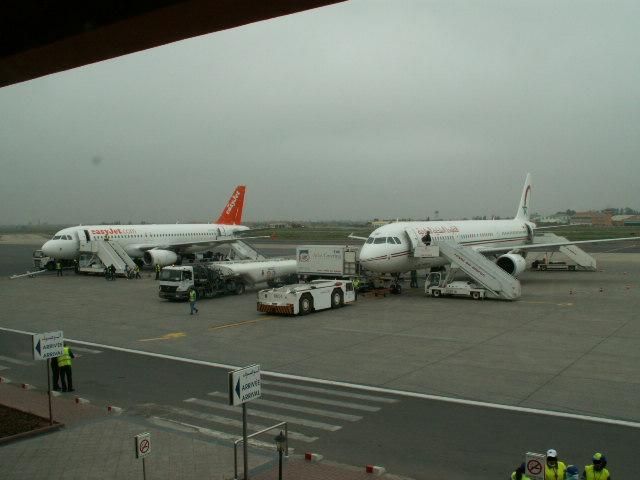 Edelweiss couldn't escape from the wave of delays as well and the scheduled departure time was delayed for 30 minutes. At 13:10 the red and white aircraft landed from ZRH. It was once again HB-IHX, named "Calvaro", the same aircraft that had already taken me from ZRH to RAK:
.
With only three A 320 aircraft in the Edelweiss fleet, chances for getting the same aircraft again weren't that small. As the big turn-around of the aircraft would take place at Agadir this time, boarding started only five minutes after arrival: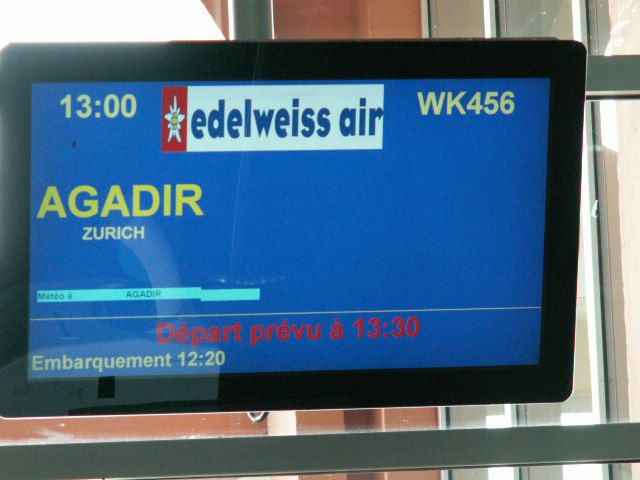 Passengers could walk the short distance to the aircraft once again:
I was the only one who used the door at the back: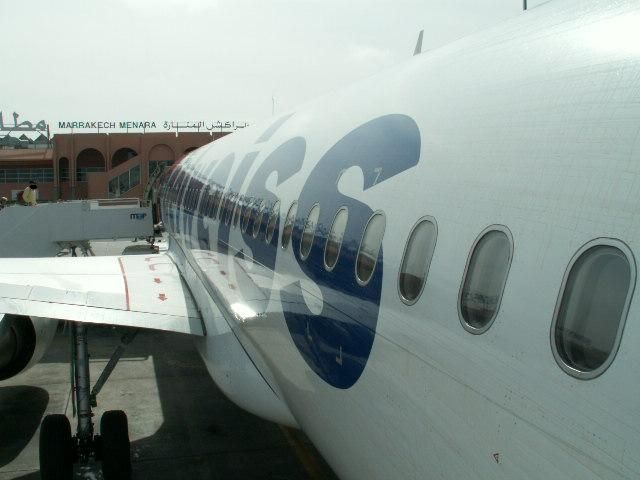 A friendly flight attendant welcomed me and informed me that there would be free seating on the short segment to Agadir. Seat reservations would be valid only from Agadir to Zurich. I chose a seat on the left side in the back of the cabin:
Load factor on the domestic segment was only around 50%, but the aircraft would fill up at Agadir. The captain made a welcome announcement as well and apologized for the delay which resulted from bad weather at ZRH. They had to wait for some connecting passengers and the aircraft had to be de-iced. By the way: it was the same cockpit crew as on the outbound flight but a different cabin crew.
We taxied to runway 28 and took off in western direction:
.
.
Soon we reached the Atlas Mountains:
The flight across the High Atlas was very impressive: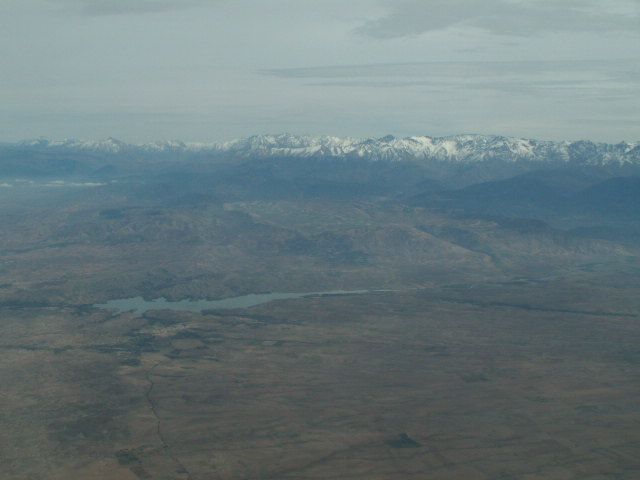 .
.
.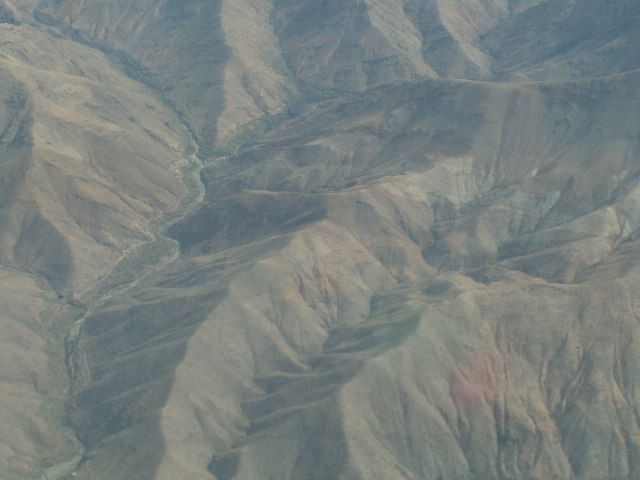 .
The empty cabin:
Shortly before Agadir the landscape became more flat again: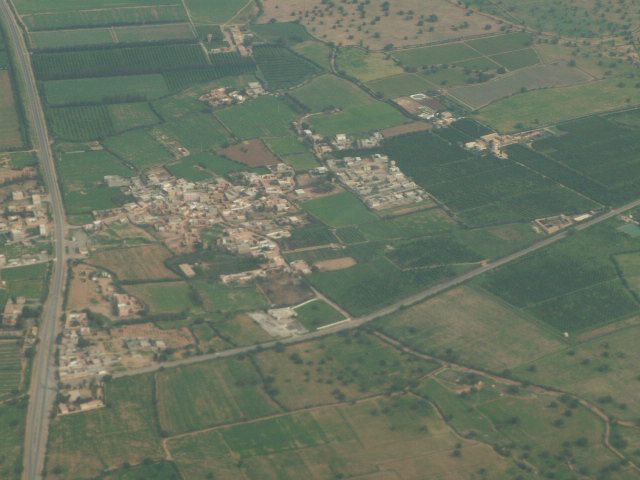 .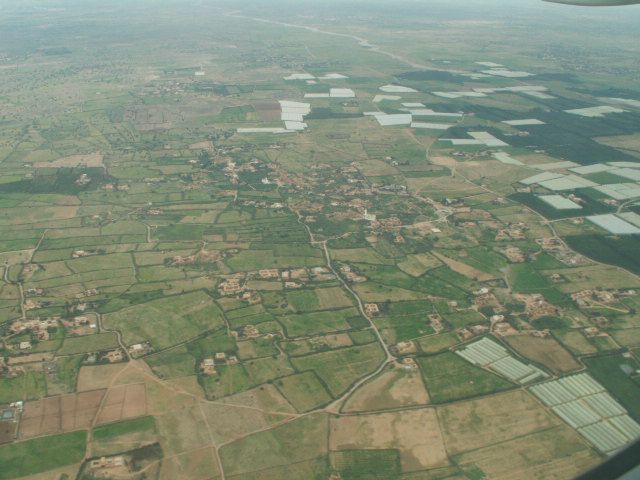 .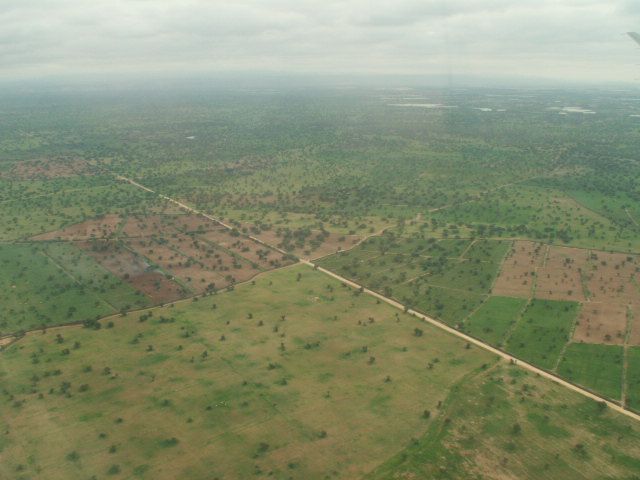 Final approach:
We touched down on runway 28 and taxied to our parking position: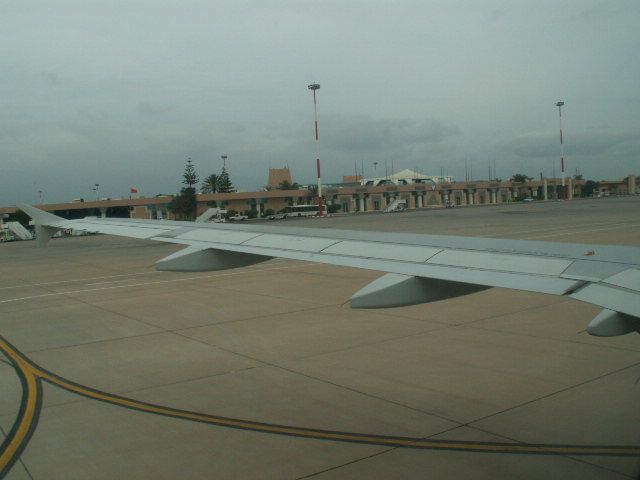 .
The airport of Agadir wasn't busy at all – the only aircraft present apart from ours were a Cessna Citation registered on the Isle of Man and a military transporter. The purser announced that passengers for Agadir should leave the aircraft first, using only the exit at the back. When they had left, passengers for ZRH should disembark as well, using only the front exit. Ground staff distributed re-usable transit boarding passes to all passengers and escorted us to the transit area. We had to pass another security check, and then we reached the regular gate where the passengers starting their journey at Agadir were already waiting.
Friday, 12 February 2010
Agadir (AGA) – Zurich (ZRH)
Airline: Edelweiss Air
Flight number: WK 456
Scheduled departure time: 14:25
Scheduled arrival time: 19:00 (time difference was +1hour so scheduled flight time was 3:35)
Type of aircraft: Airbus A 320-200
Registration: HB-IHX "Calvaro"
Boarding started with the transit passengers. The transit boarding passes were collected again and the "real" boarding passes and the passports were checked once again. Then we returned to HB-IHX: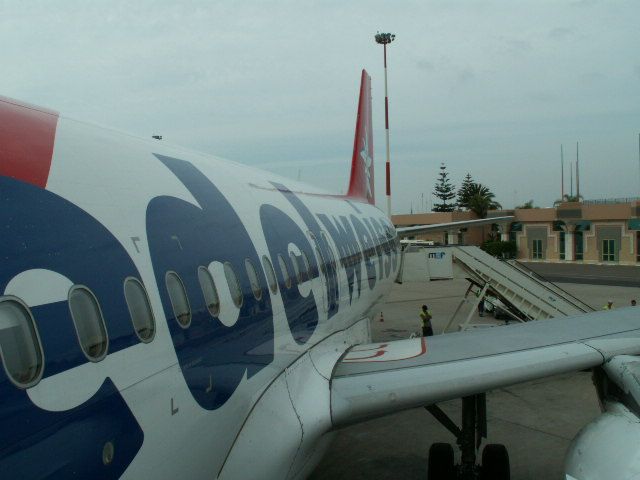 Now the flight was fuller, load factor was around 90%. The middle seat next to me remained empty while a French passenger who was part of a group took the aisle seat. Take-off was from runway 28 again: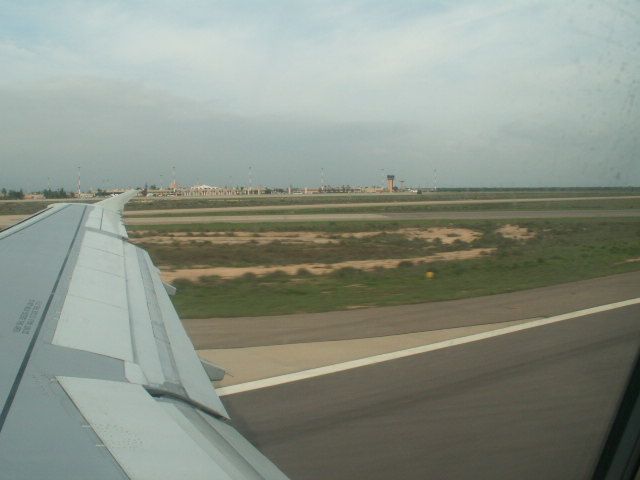 .
.
The City of Agadir and Agadir Airfield:
The Atlantic coastline South of Agadir:
.
Meal trays were distributed:
This time they offered chicken with hash browns and vegetables, bread rolls (not visible in this picture) and chocolate pudding for dessert:
Food was delicious again. After the meal they started duty-free sale which was quite successful this time.
On the screens they showed a report about building projects in the City of Zurich, followed by exactly the same Disney cartoons like on the outbound flight. Outside it was clouded, but when we reached the Pyrenees, it became clear and there were some beautiful views:
.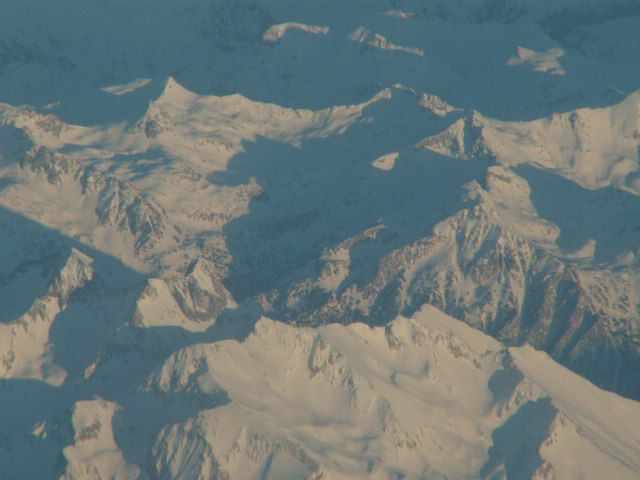 Then it started getting dark outside: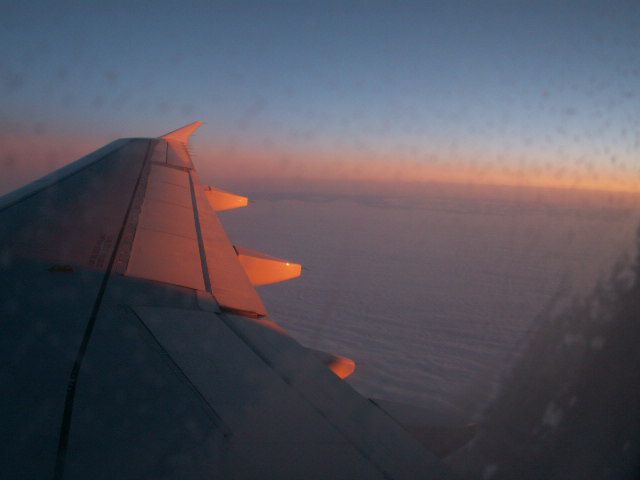 Our flight route:
Shortly before landing information for connecting passengers were shown on the screens: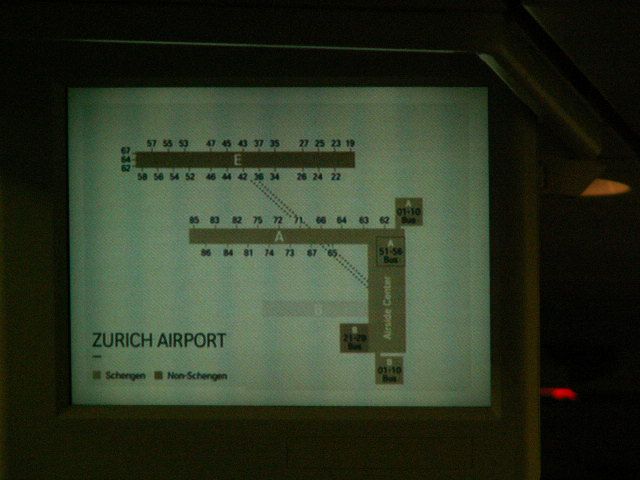 .
We touched down on runway 14 and taxied to Terminal E where we reached our gate at 19:25 which meant a delay of 25 minutes. No problem for me as I had a connection time of about three hours anyway. When leaving the aircraft I took a photograph of this picture at the cabin wall: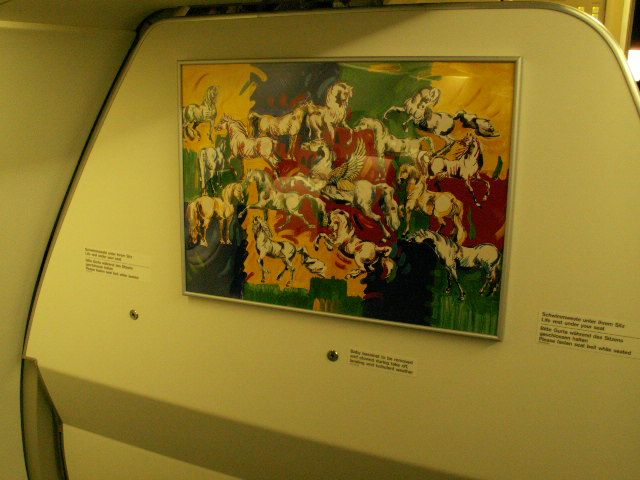 Terminal E wasn't busy at all: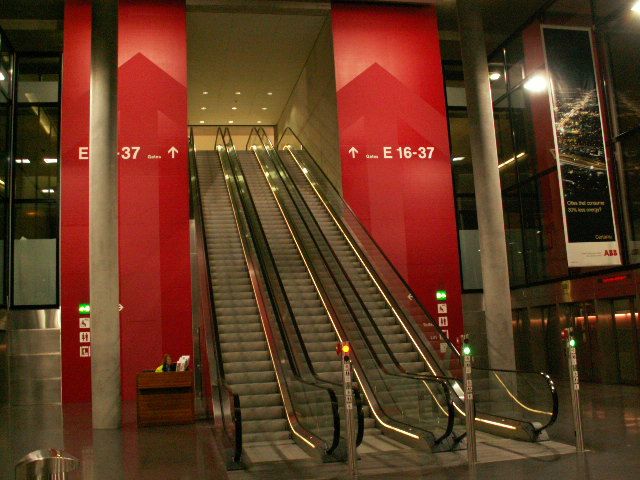 I had the Skymetro for myself as well:
Terminal A: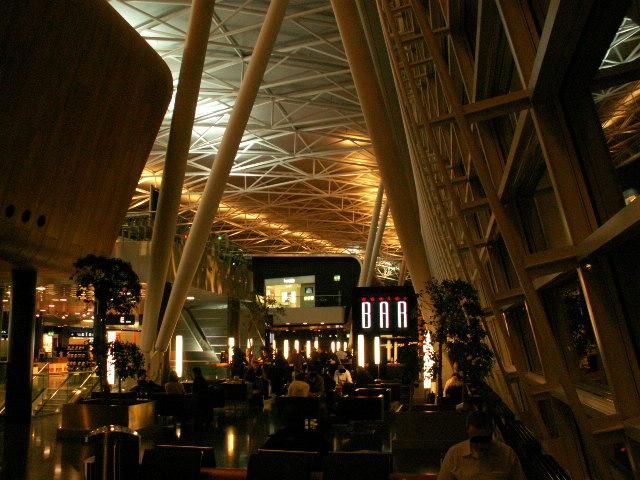 .
.
Friday, 12 February 2010
Zurich (ZRH) – Stuttgart (STR)
Airline: Swiss, operated by Contact Air
Flight number: LX 1178
Scheduled departure time: 22:40
Scheduled arrival time: 23:20
Type of aircraft: Fokker 100
Registration: D.AGPK
This aircraft was built in 1990 and delivered as N 868US to US Air (later US Airways). In 2003 Germania bought several Fokker 100 aircraft, among them this one, and operated them under its own brand for a short time. From 2004, D-AGPK was leased out to Air Berlin. In 2008 it was taken over by Contact Air who operates the aircraft on behalf of Swiss, mainly on the routes from ZRH to WAW, VCE and STR.
And here are some pictures of D-AGPK with its previous operators:
.
Flight schedules had been mixed up due to the winter weather; many flights had massive delays. However, my Contact Air Fokker 100 had arrived from PRG on time:
So my flight to STR would depart on time as well:
The gate area filled with passengers, among them many with stand-by boarding passes who had missed one of the earlier flights to STR due to delayed connecting flights. Because of that, boarding started early, about 30 minutes before departure. I took my seat 20A in the second last row. Other than in the last row there was still a window, but you couldn't see much more than the engine. Not a problem for a 20 minutes flight at night and with bad weather, but on a longer segment during day I would prefer a seat further in front.
There was no empty seat on the whole aircraft and the two flight attendants had some difficulties in stowing the masses of hand luggage brought by some passengers. In the end some larger trolleys were stowed in one of the toilets.
The captain made a welcome announcement as well and we were ready to go. We took off from runway 32; that is the other direction of runway 14 which is usually used for landings only during day-time.
The flight was short and uneventful; every passenger got a bottle of water and a small chocolate once again.
At STR we touched down on runway 07 and taxied to a parking position on the apron, far away from the terminal buildings. It took some time until all 100 passengers had boarded the only bus that took us to Terminal 1. Luggage arrived quickly and shortly after midnight I was sitting in a train home.
Conclusion:
This was a great short trip to escape the winter in Germany for three days. The City of Marrakech is definitely worth a visit – I liked the city a lot and found it really fascinating. Edelweiss Air is a nice little airline with a friendly service and a high-class product for a holiday airline. I would like to fly them again if my destinations and their route map should fit once again.
Thanks for reading my report. Questions and comments are always appreciated.
Regards
Christoph