Introduction
Here's yet another trip that started as the cheapest 29 EUR ticket to TXL on Air Berlin, booked some 8 months in advance. Berlin being my favorite city in Europe I first thought just to spend the weekend there, but at some point I discovered a number of carriers were running red eye flights to Turkey departing in the middle of the night and arriving early Sunday morning. This sounded like a good idea at the time, as it allowed me to spend the late afternoon and night in Berlin and avoid a hotel cost (not that they are particularly expensive in Berlin), so I started investigating more.
In the end I settled for Sun Express from Schönefeld to Sabiha Gökcen, the secondary Istanbul airport in the Asian part of the city, departing at 2.50 AM and arriving 6.30 AM for 69 EUR. Interestingly the booking emails came all from Condor and even my e-ticket printout was a standard Condor one with their logos etc. The early arrival allowed perfect connections to a number of European departures a few hours later, so I decided to try Pegasus, another Turkish LCC, both new carriers for me. They offered flights to a wide variety of European cities, in the end I settled for STN as that was the longest flight, was available for around 50 EUR and I hadn't been to the Essex low cost hub airport for almost 20 years.
Stansted of course offers tons and tons of alternatives for getting home, mainly in the low cost form. For whatever reason in the end I decided to just book a ticket to HEL on the later BA flight from LHR - I guess I felt a little lazy for taking another connection on the way home and this plan had enough buffer to cater for medium delays on the incoming flight. Price at a bit under 100 EUR also wasn't bad for a traditional carrier.
Later I was watching the potential BA cabin strike developments very closely as the my travel date had a high probability of being affected, but luckily they didn't announce the dates in time, so I was saved. If that had happened I'd probably ended up on AY 25 minutes before, but you never know.
6.3.2010
With a nice afternoon departure for a chance I could spend a cosy morning with the family playing in the snow and fixing some lunch before leaving for the airport around 13.00. 20 minutes later I get off the bus at Terminal 1 only to be greeted by this sight:
The arrivals display confirms the the inbound is expected to be around 40 minutes late. Looks like some trouble in Germany, the weather probably acting up again.
Oh well, nothing I can do about it so I pass empty security and while away the delay with a few pints.
Turkish landing: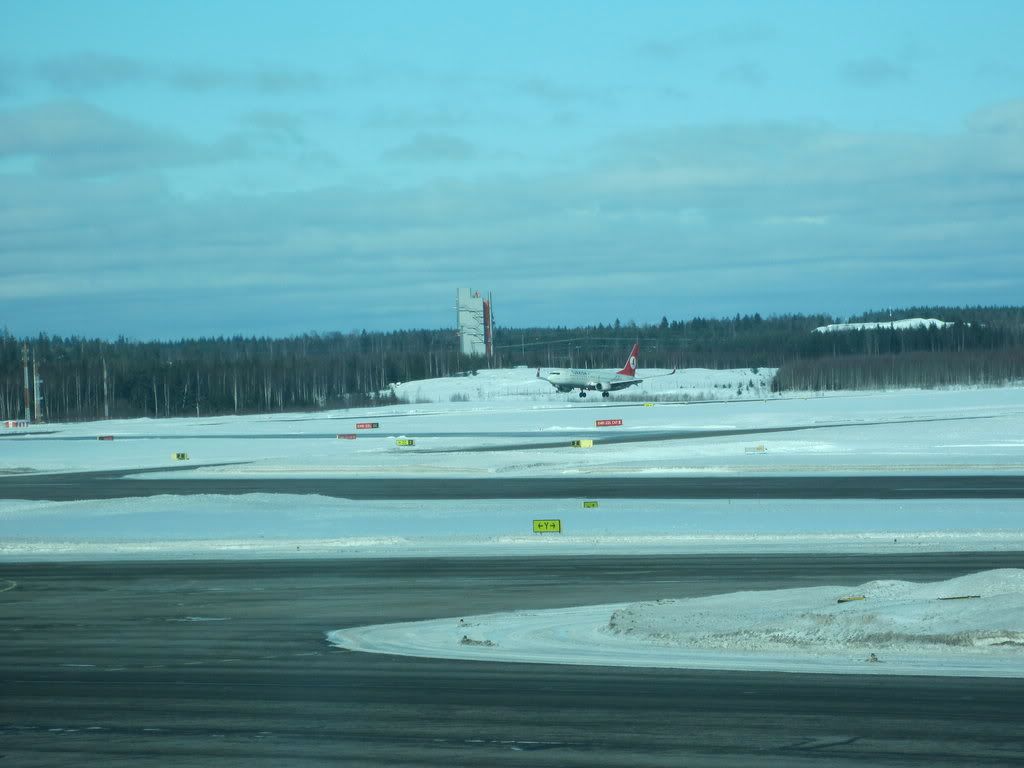 Around 14.25, five minutes before the original scheduled departure time I spot the plane landing: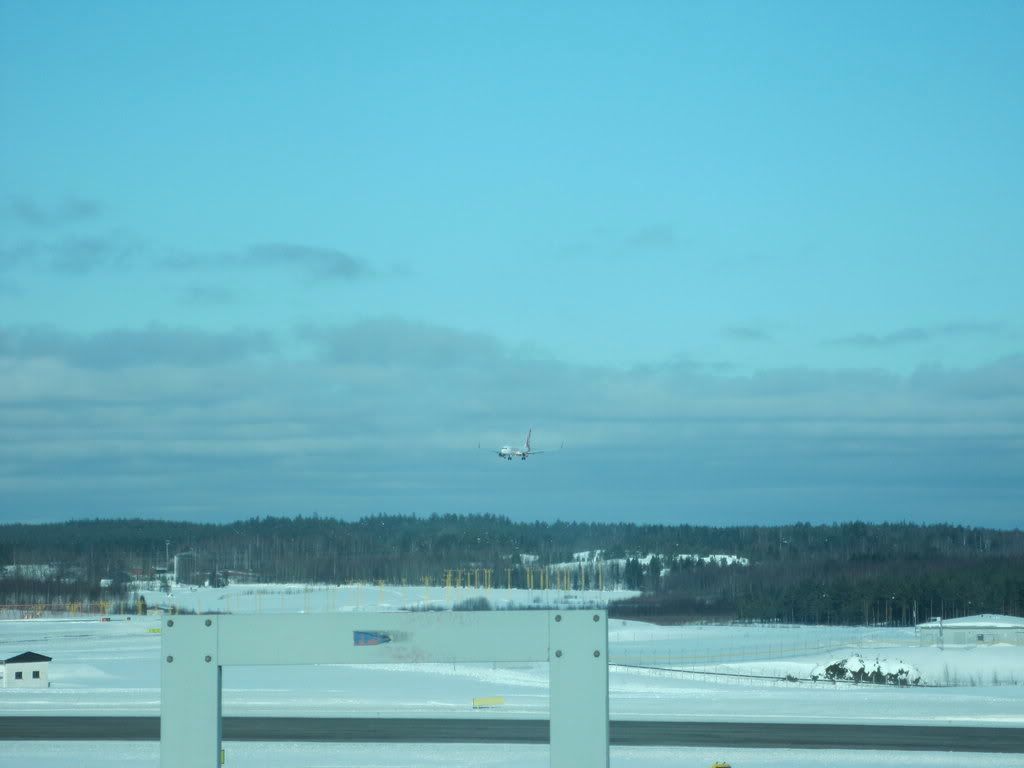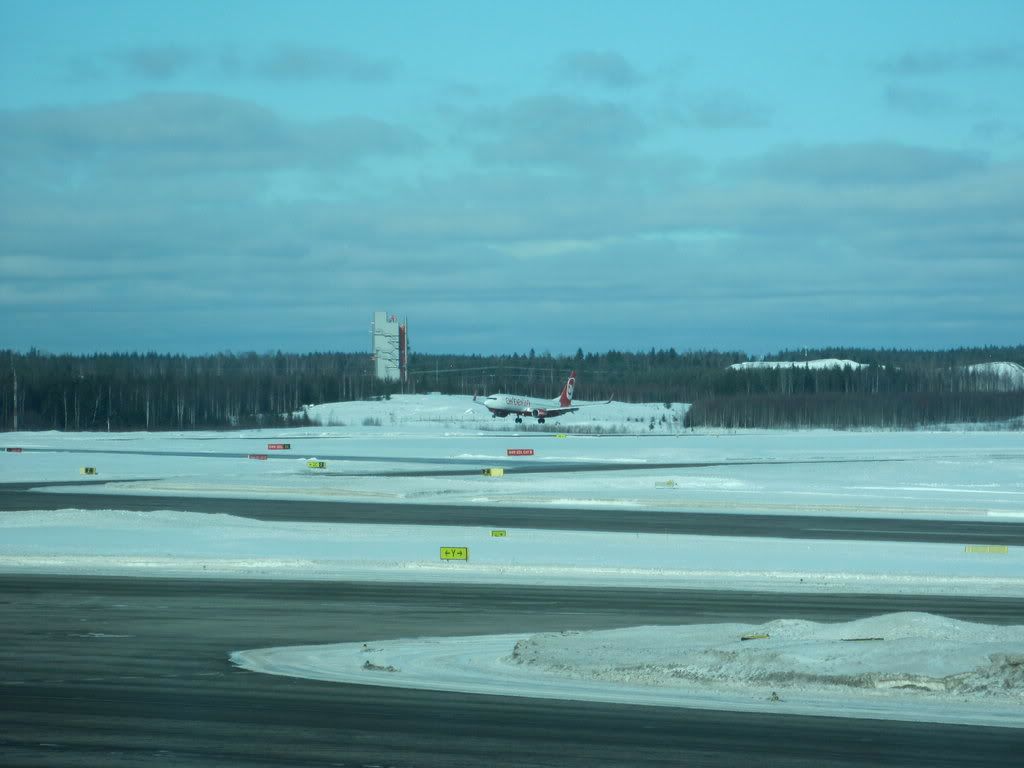 A few minutes later the plane arrives at gate 23: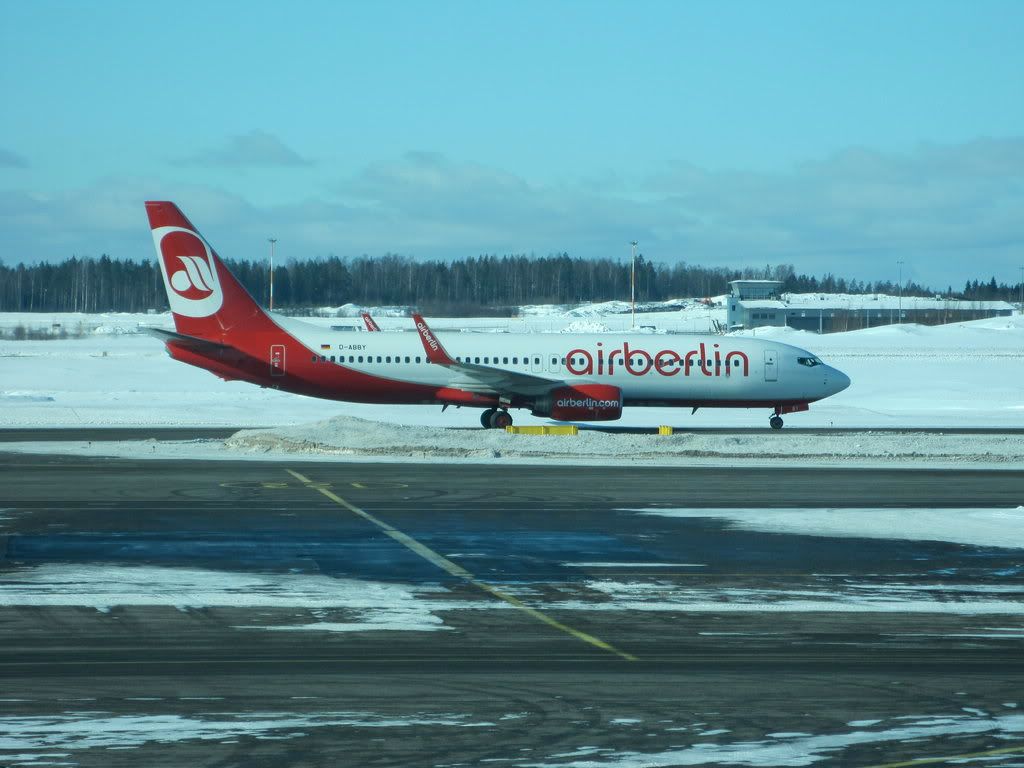 Finnish Air Force Casa C-295 passing by on the background: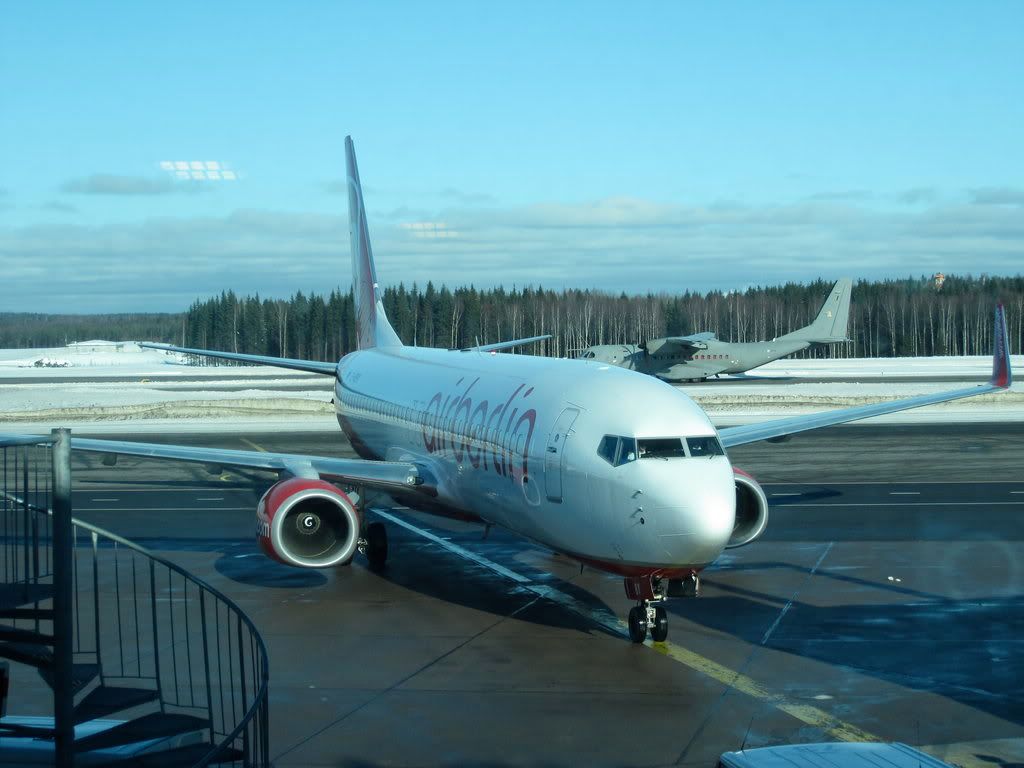 It is carrying the registration D-ABBY which I think sounds vaguely familiar and sure enough, I've flown before with her, DUS-HEL back in December 2007. You tend to remember these funny registrations like D-ACNE and HA-LPA (That's Finnish for "cheap", happens to be a WizzAir A320 as well!) So my second flight on this one.
Boarding starts around 14.50, not too many people around the gate area and this is later confirmed onboard, the load is only around 40%. I'm the very first one to board the plane.
HEL-TXL
AB8309
B737-800 D-ABBY
Seat 24A
15.08 - 15.51
The OLCI seat map was showing a 737-700 the day before, where I picked 24A, a window seat on the last row after confirming with Markus that he wouldn't be on this flight. Well, the actual equipment turned out to be a -800, so I was nowhere near the last row, which was okay by me as the last rows were occupied by group of noisy teenagers on some sort of school trip.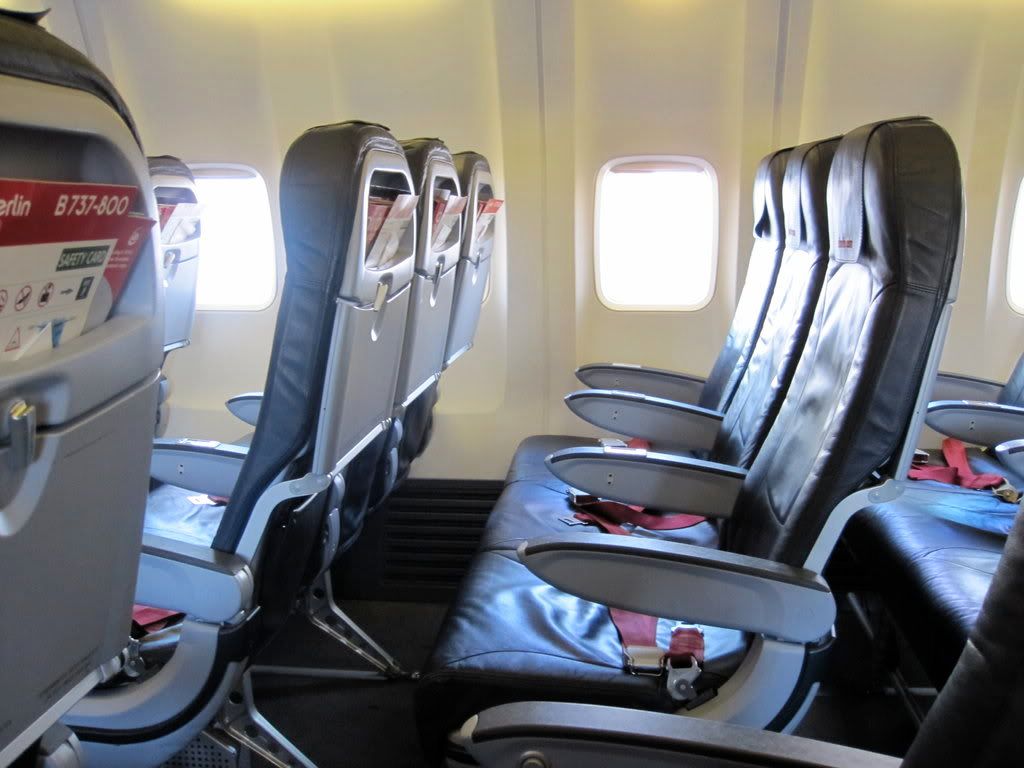 Cabin shot taken later while enroute: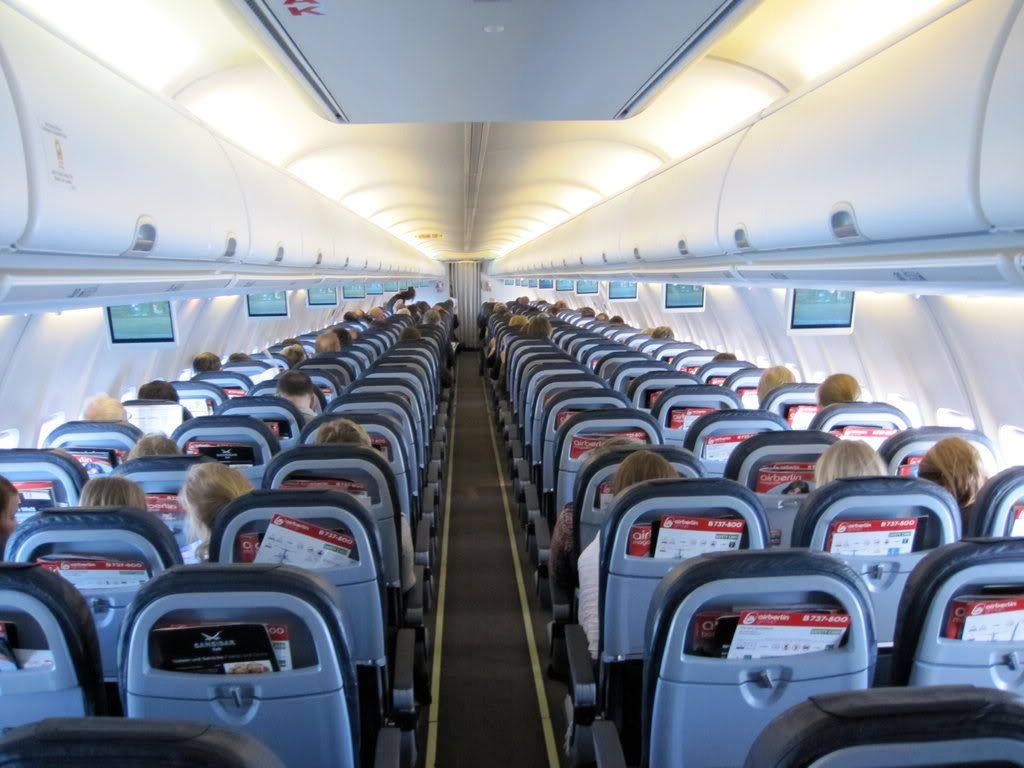 The captain explains the delay being caused by some weather issues at FRA where the plane came to TXL before operating the leg to HEL. Flight time today will be around 1h45mins. We push back 38 minutes late, no need to deice today so in no time at all we perform a rolling take off from runway 22R. Some nice views of the capital region and Gulf of Finland on departure: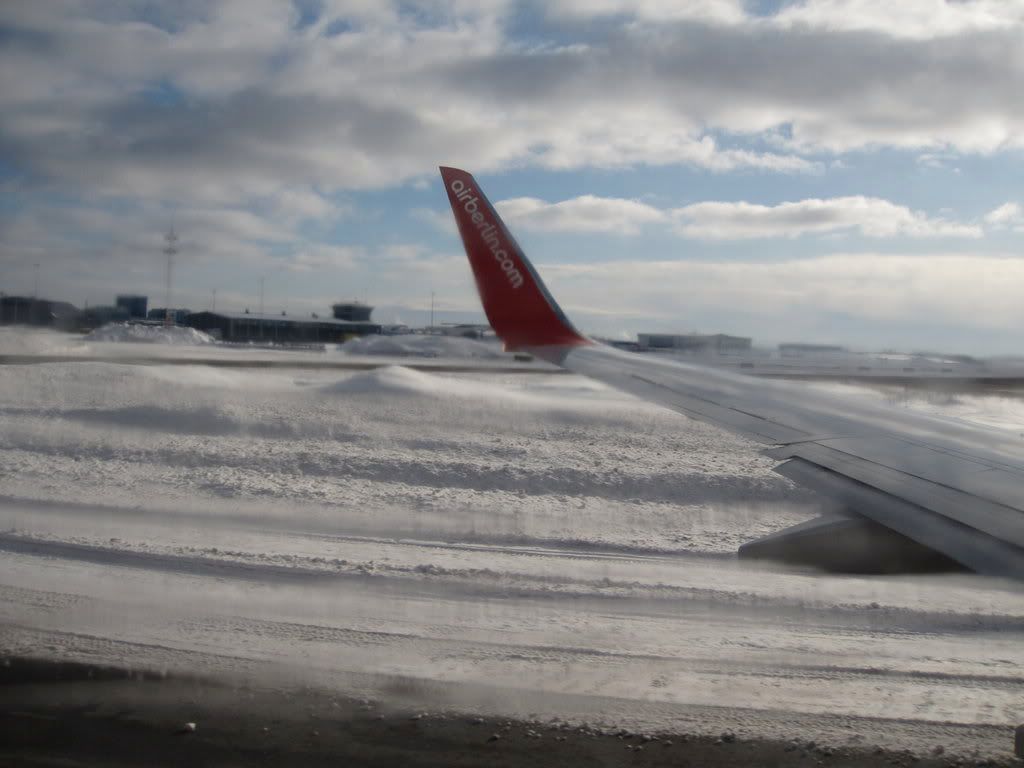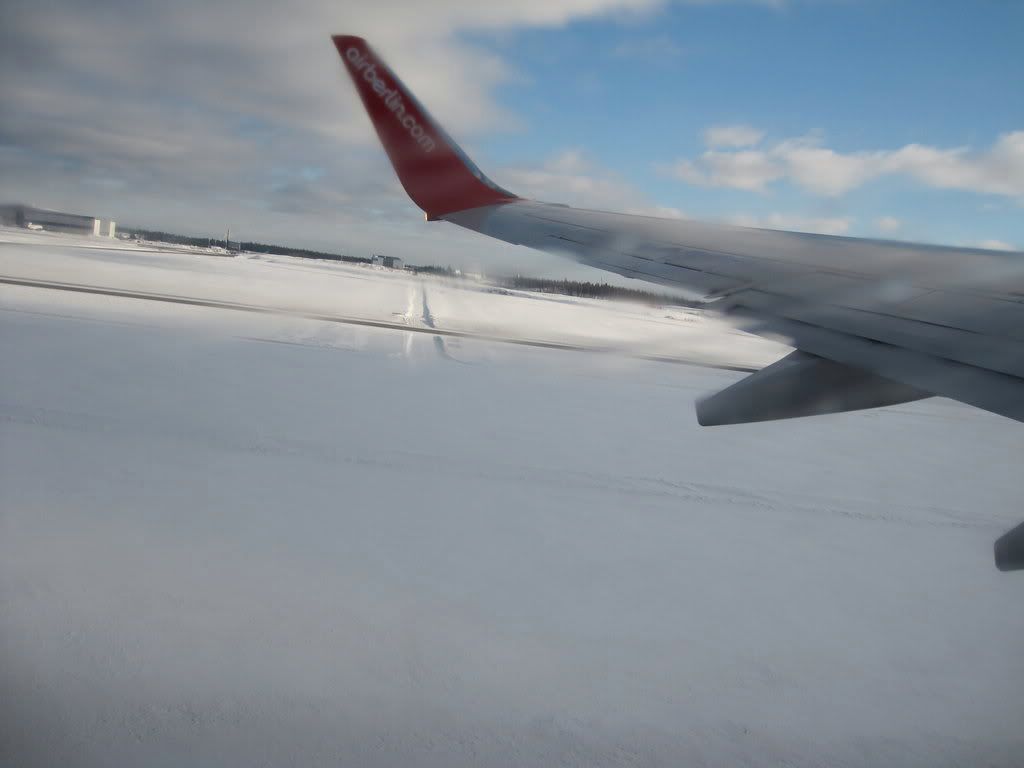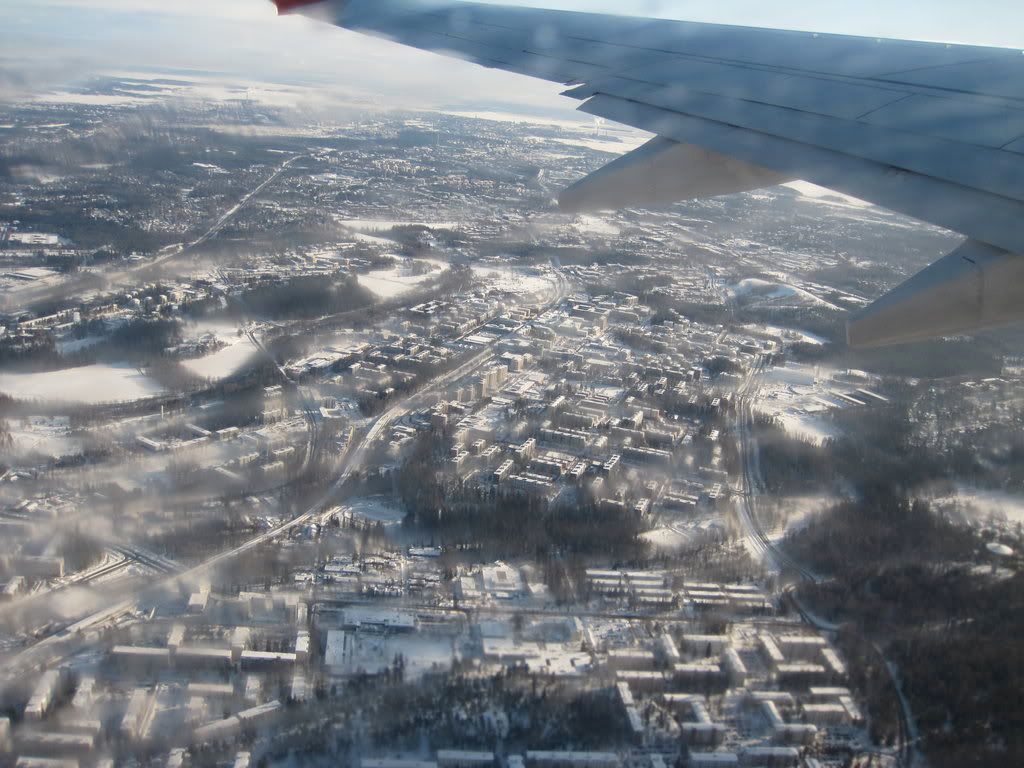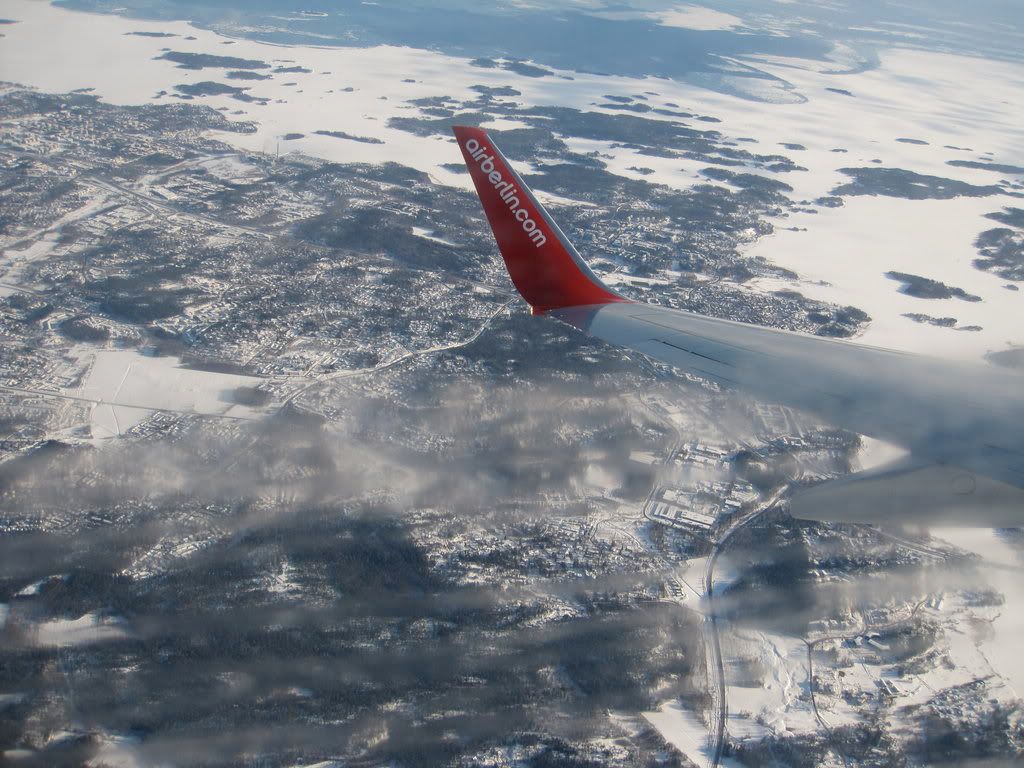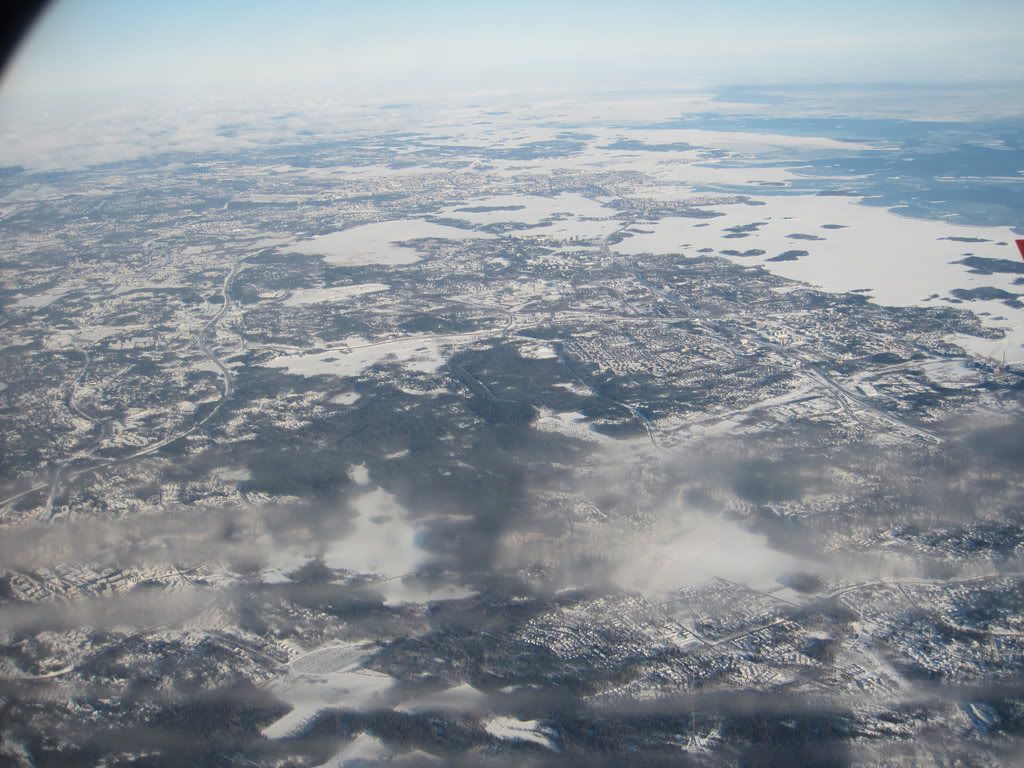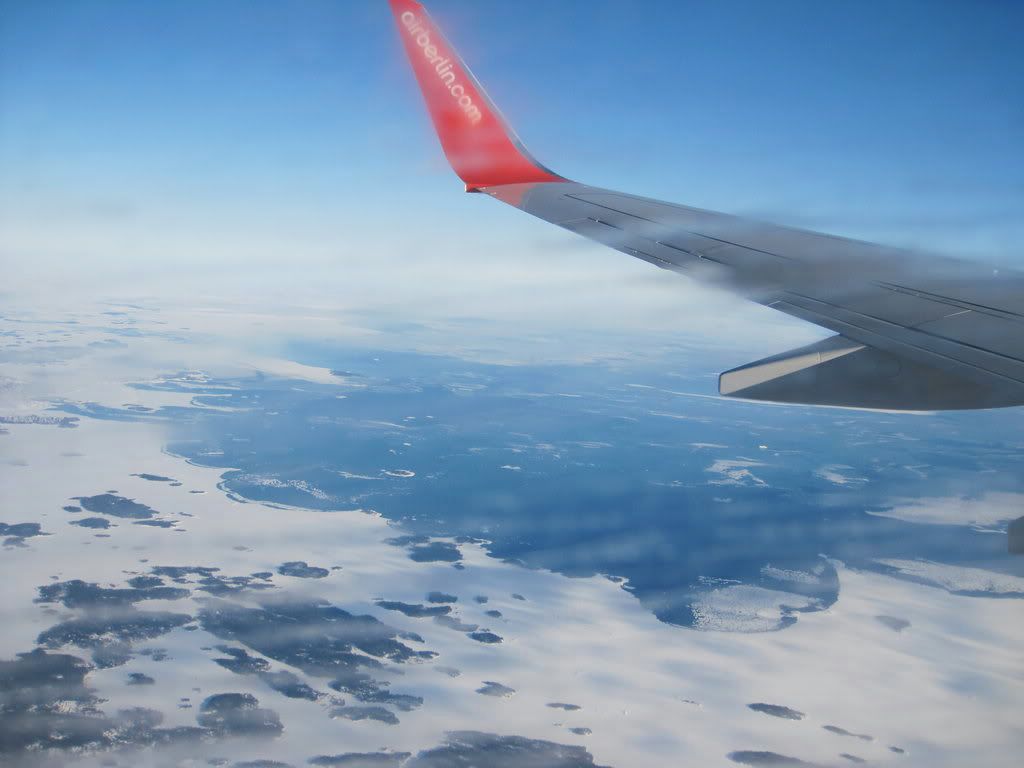 Further we fly past the Estonian west coast, directly over the island of Saaremaa - the smaller island of Muhu in the foreground: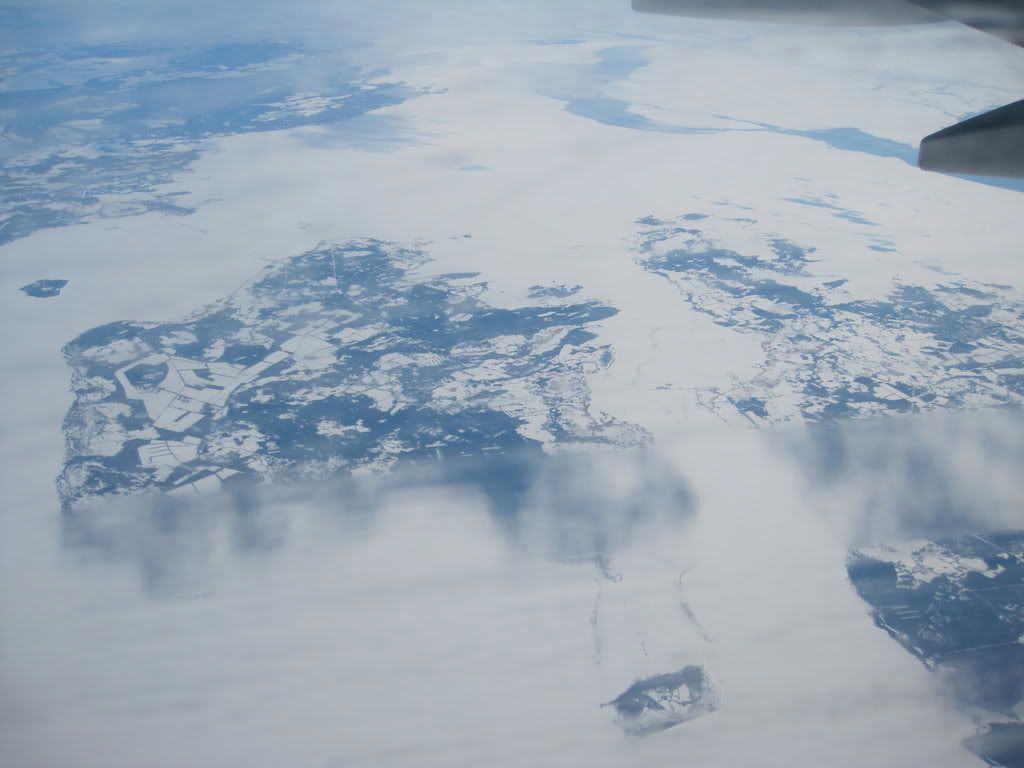 Some passing traffic, maybe inbound to TLL: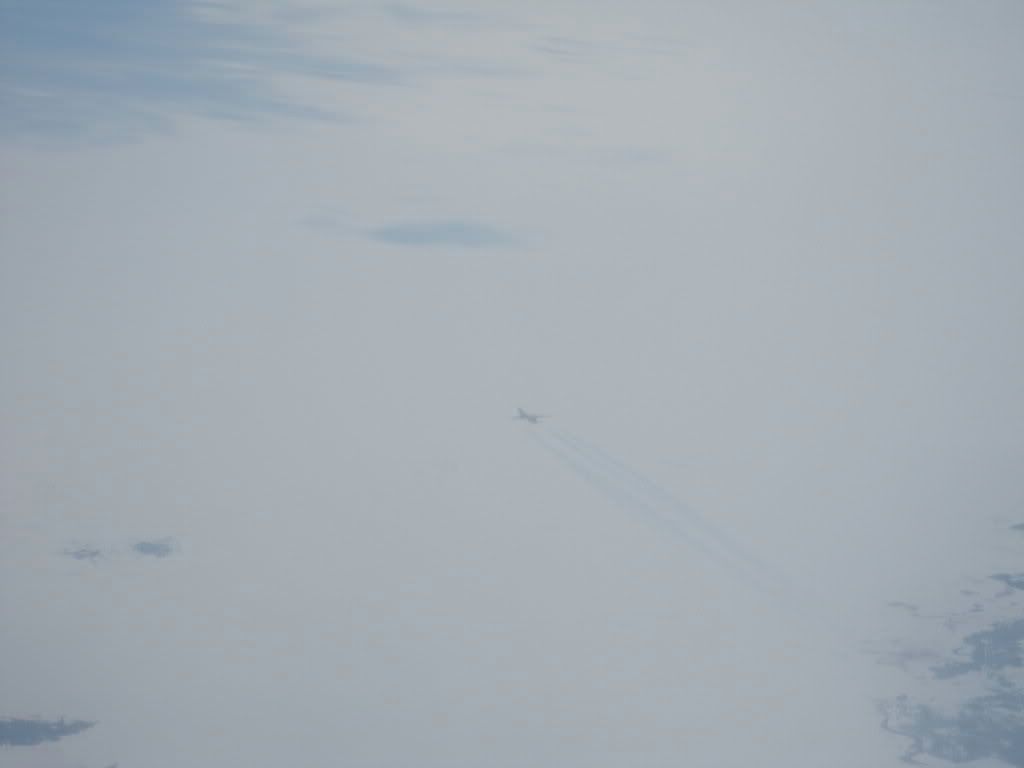 Kuressaare, the largest town on the island of Kuressaare. The runway of URE airport is clearly visible: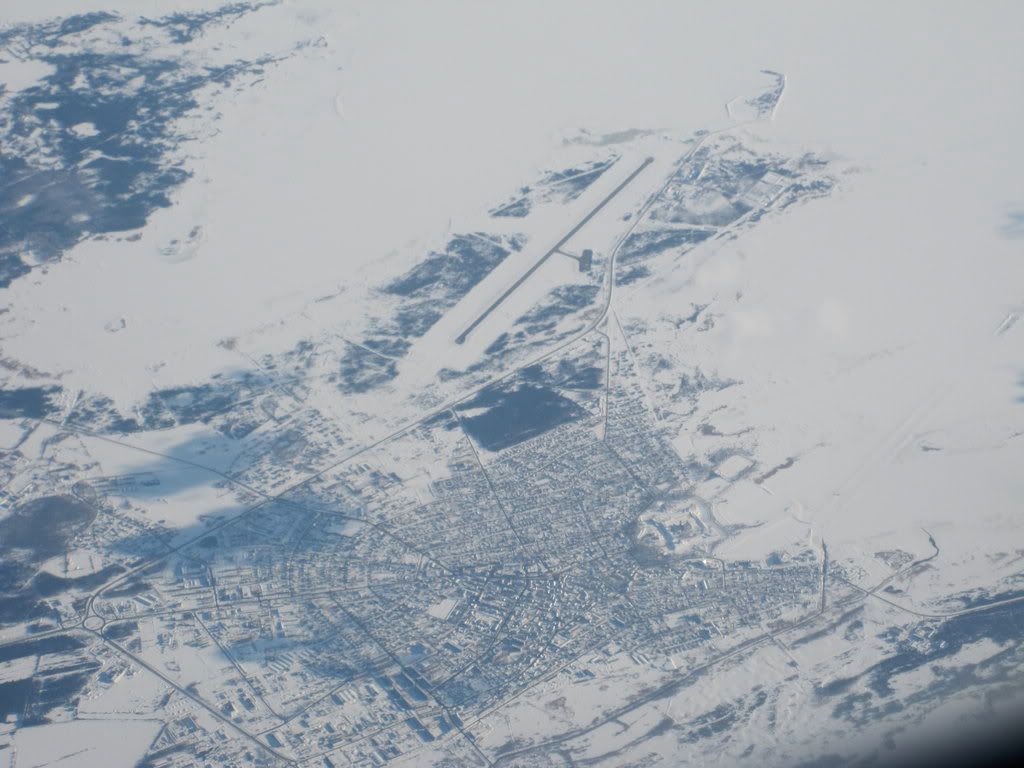 Passing the Latvian west coast near Ventspils: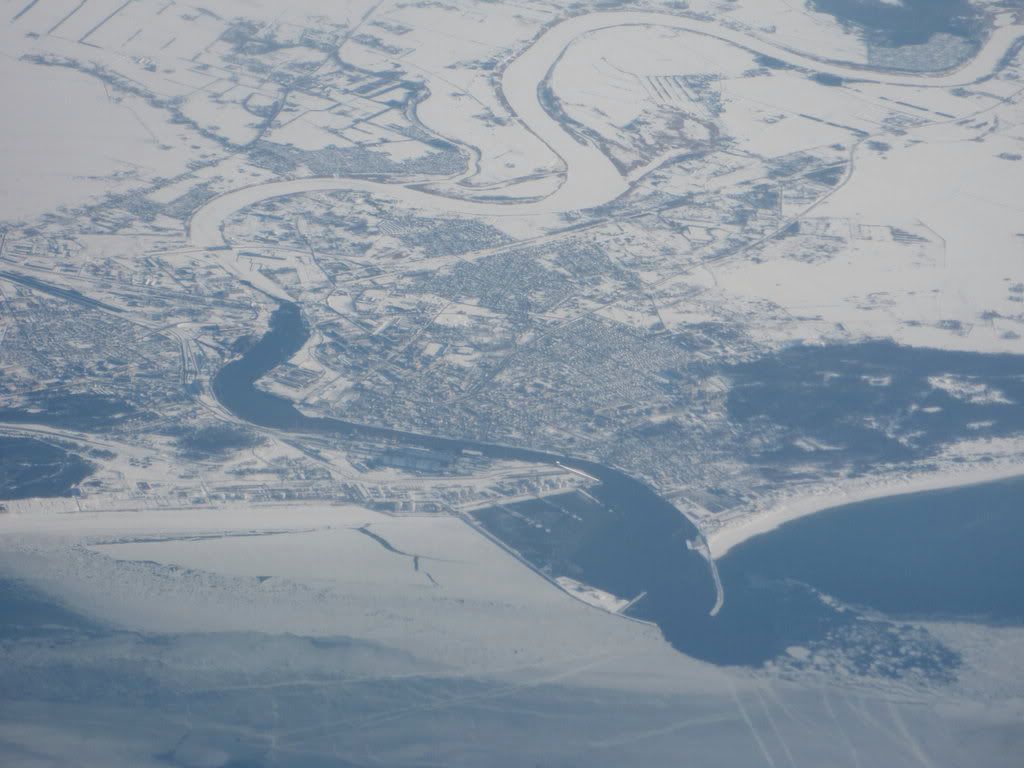 Looks like they haven't bothered to keep the runway at VNT airport clear from the snow after BT as the single operator there withdrew their flights to RIX there last year - shame as I flew out of there back in 2008 and it was a great small flight and airport.
Liepaja: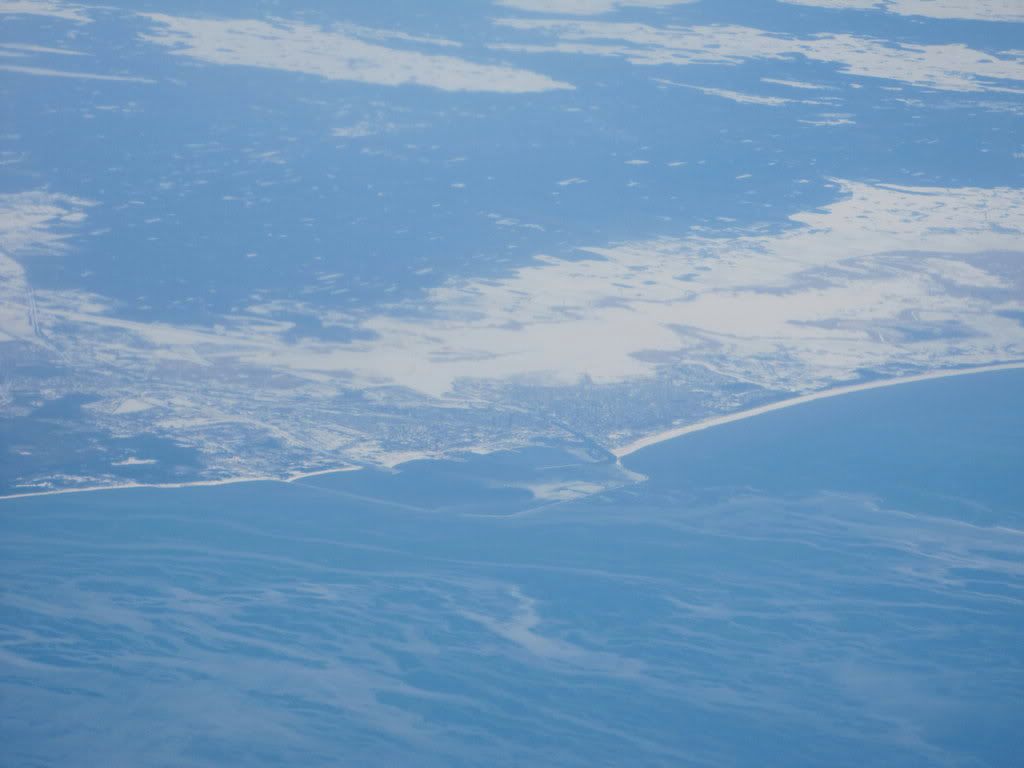 Service is the standard Air Berlin cheese or turkey sandwich, this time with a bagel-like bread: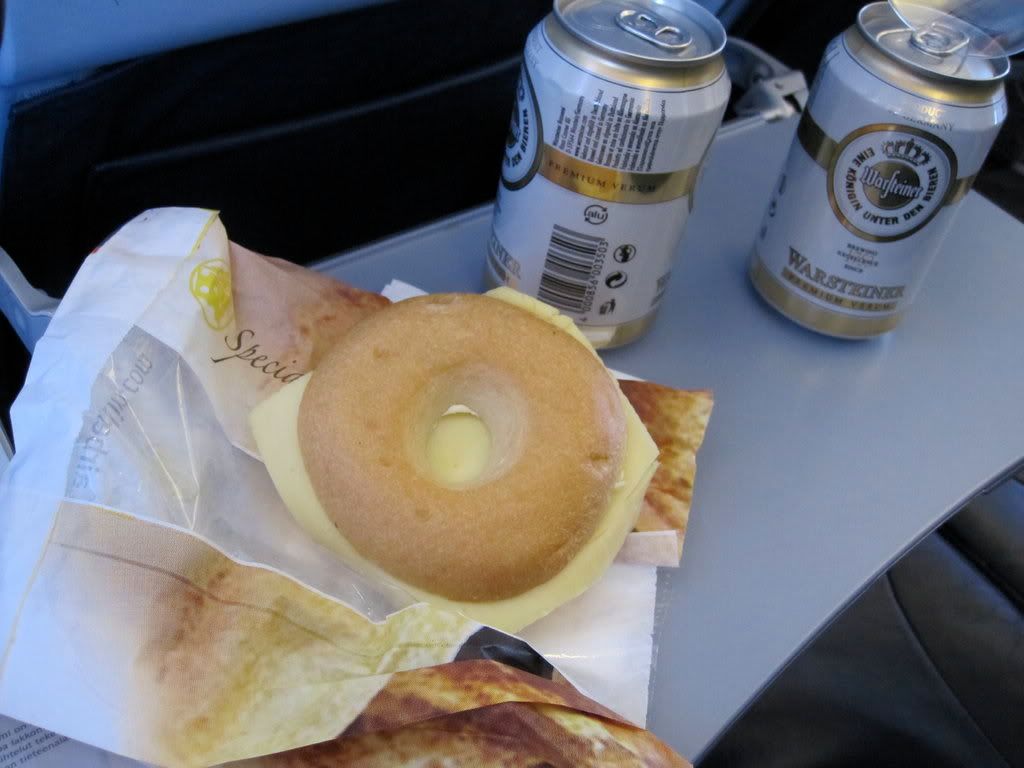 Not bad, although they should really consider some other brand of beer than Warsteiner.
It's a quick flight, I don't even get to finish my newspaper before we start our descent around 1h15mins into the flight. Looks like we are coming from the west for a landing on the 08 runways (bugger, I picked an A seat for the great views over the city the more usual landings on the 26 runways offer).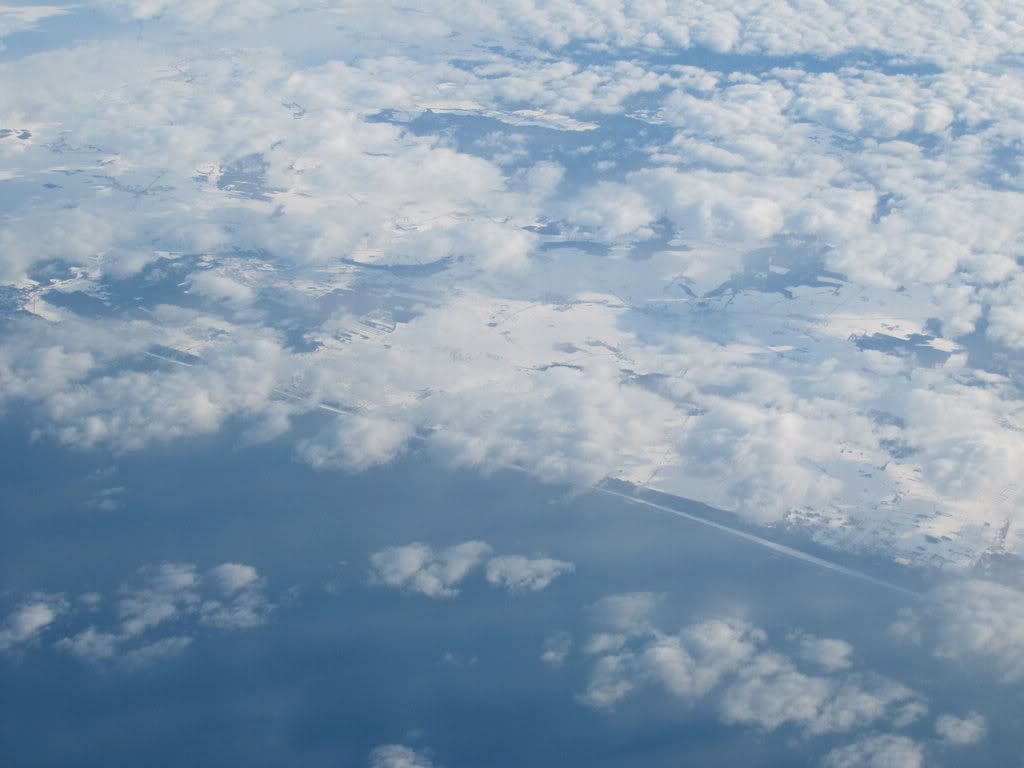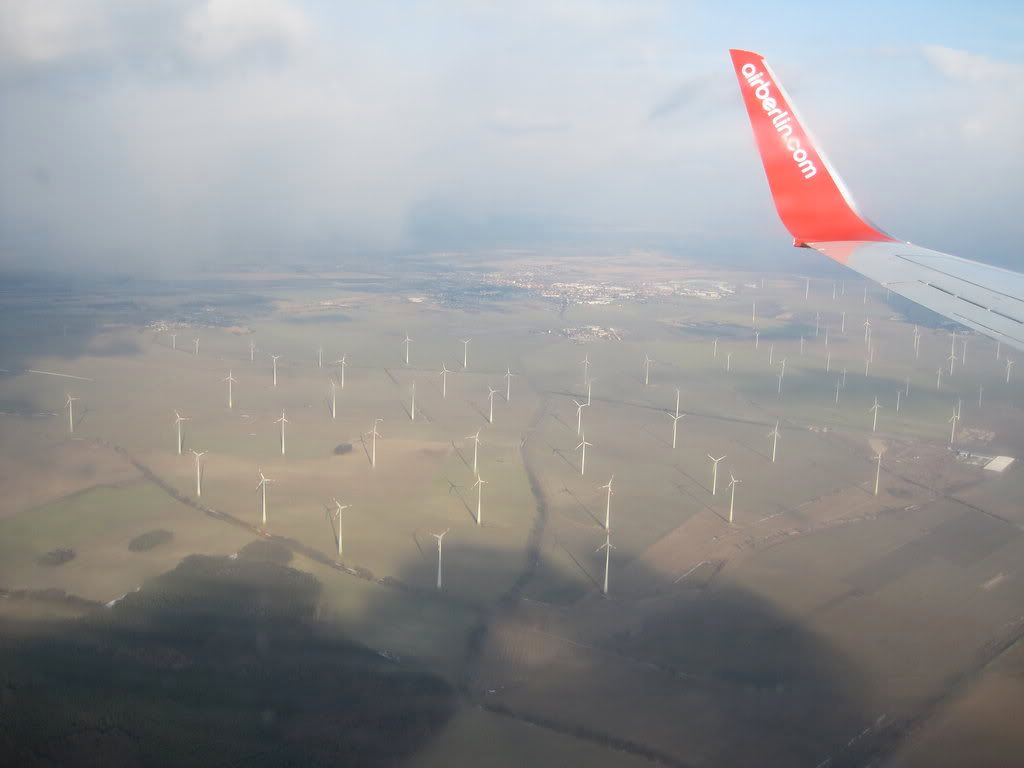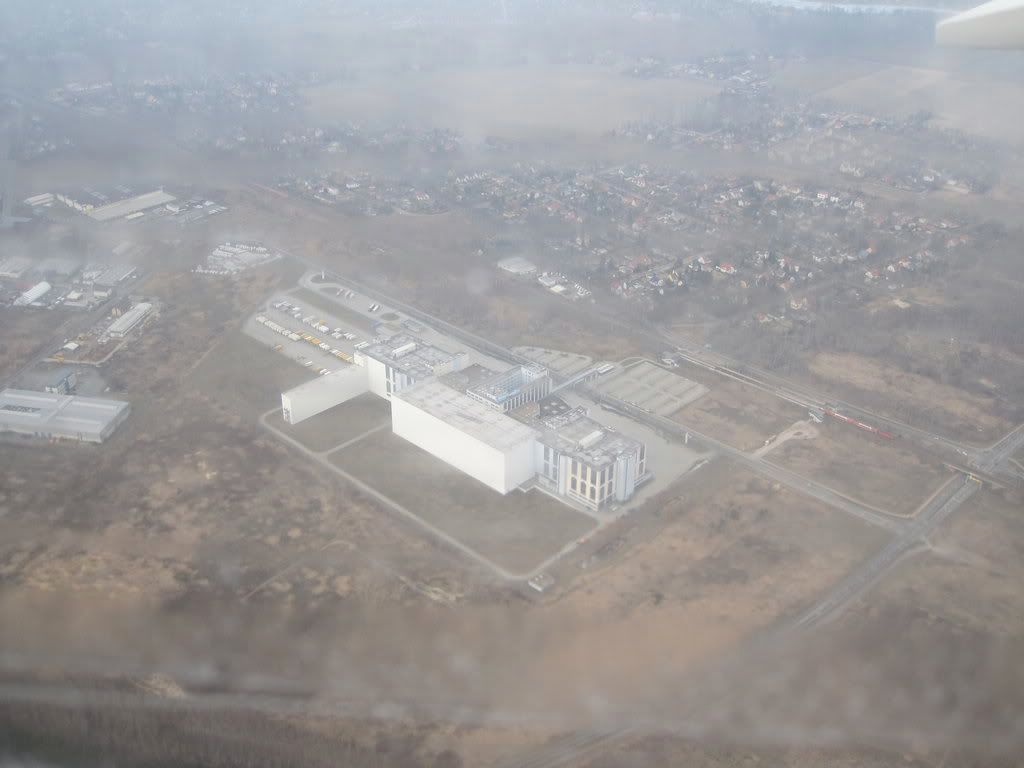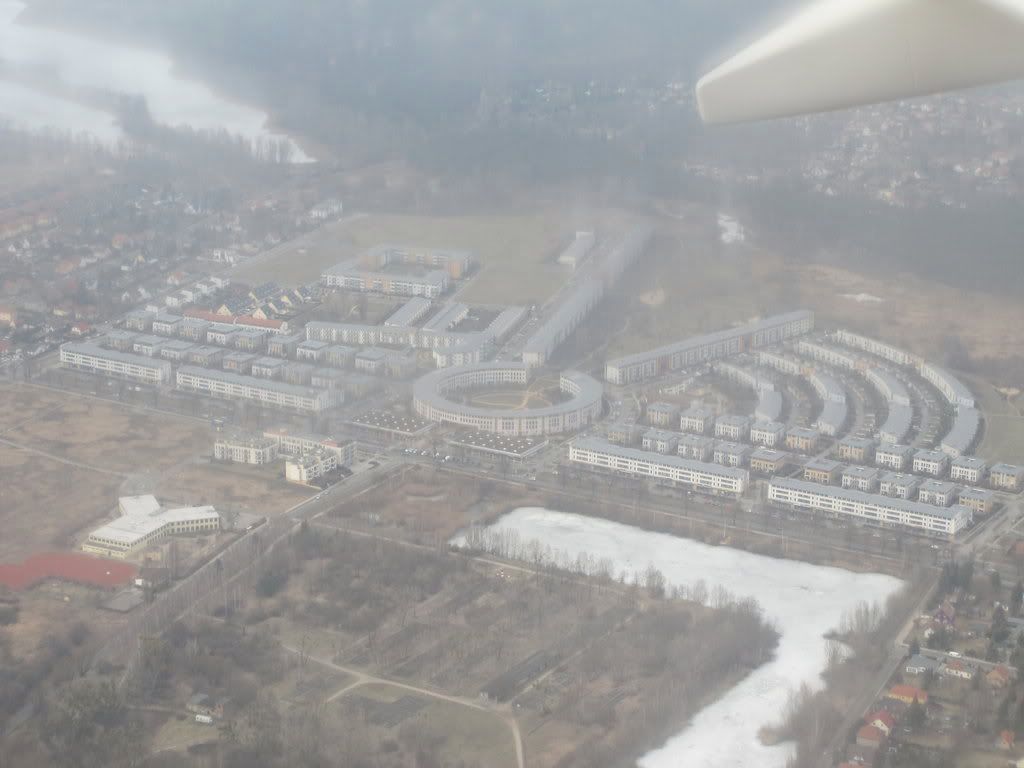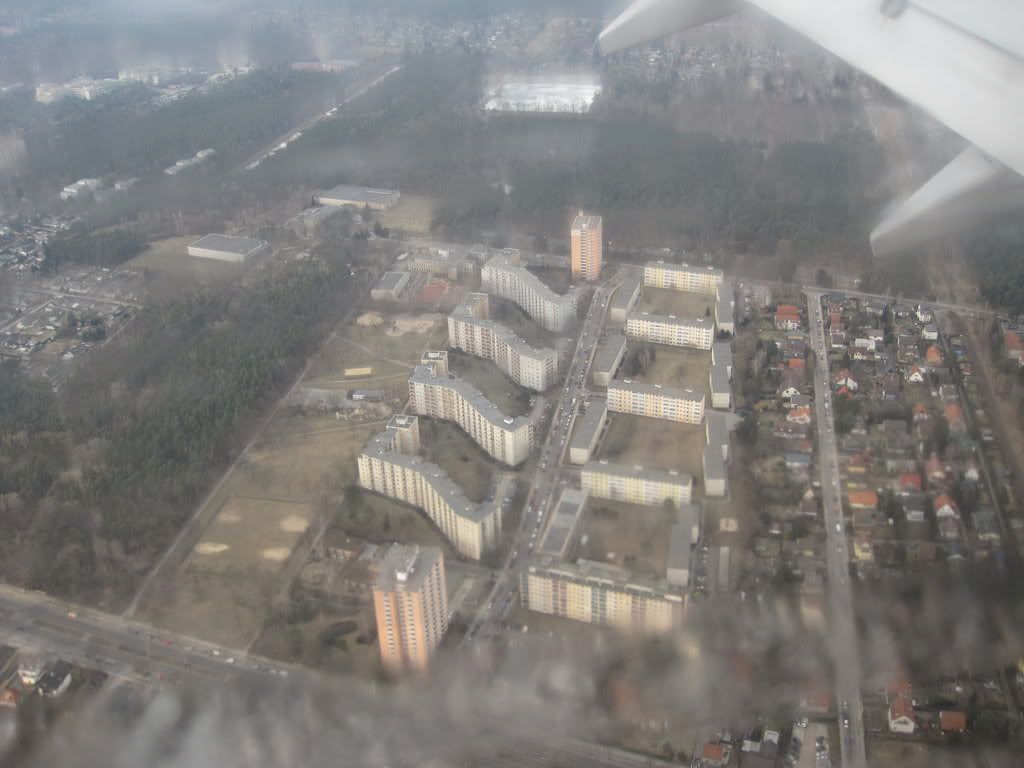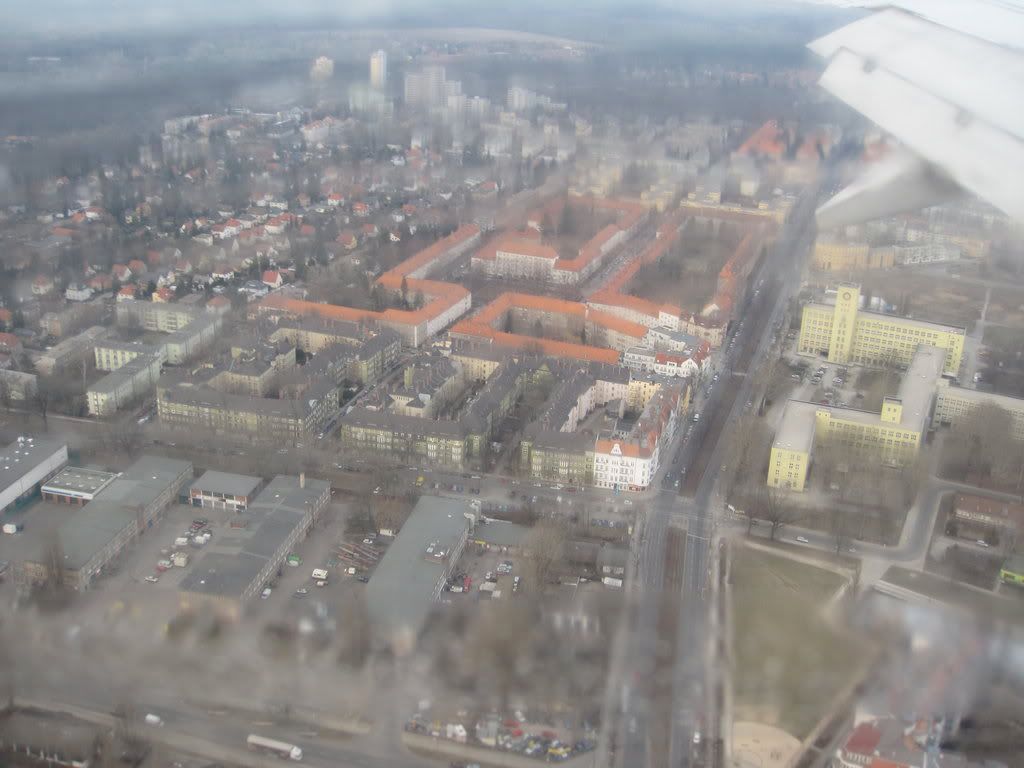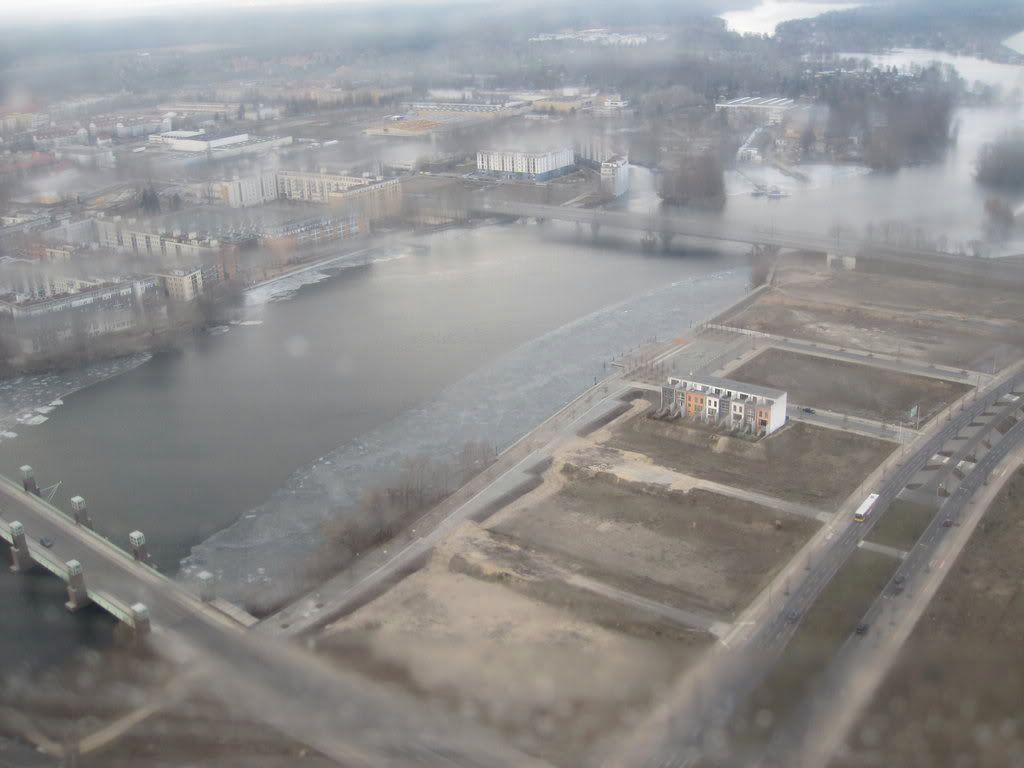 The landing is very rough on runway 08L after some 1h40mins of flight and a few minutes later we dock to a jetway on the main terminal building - much preferred over the shack like terminal annex AB usually uses at Tegel.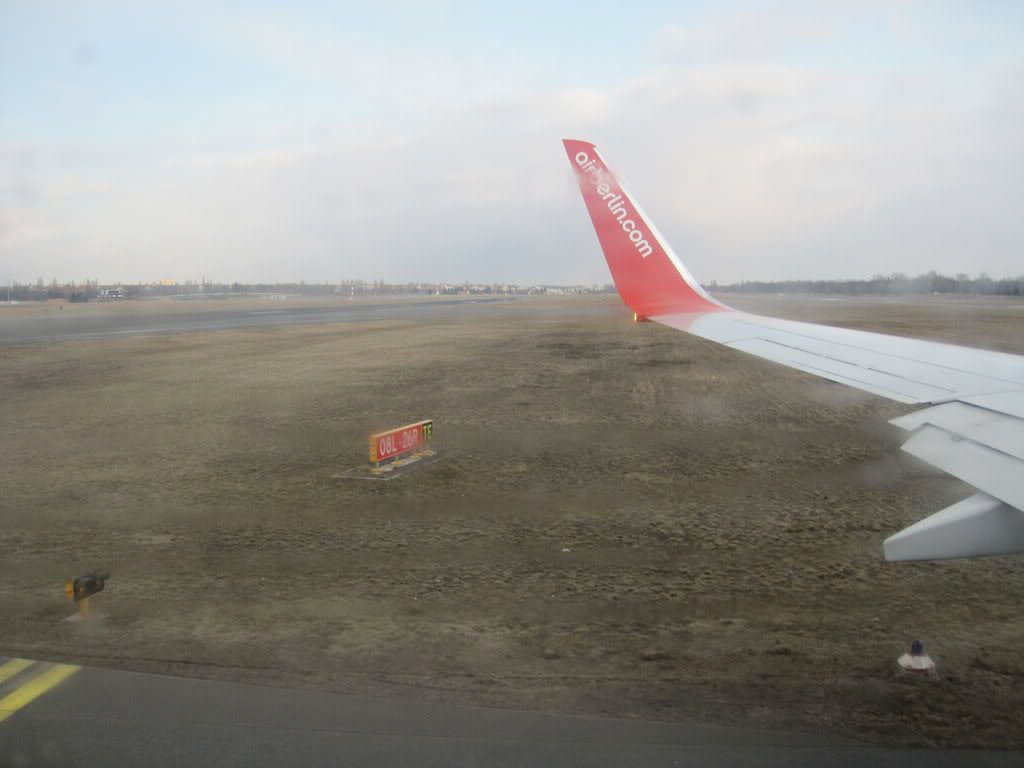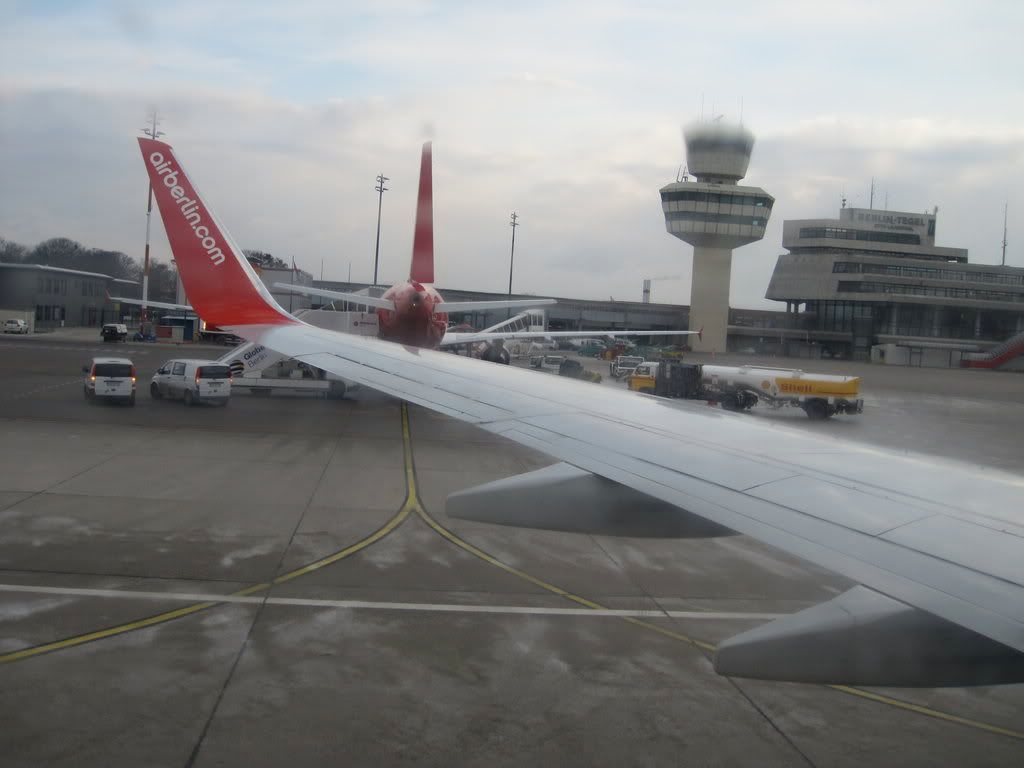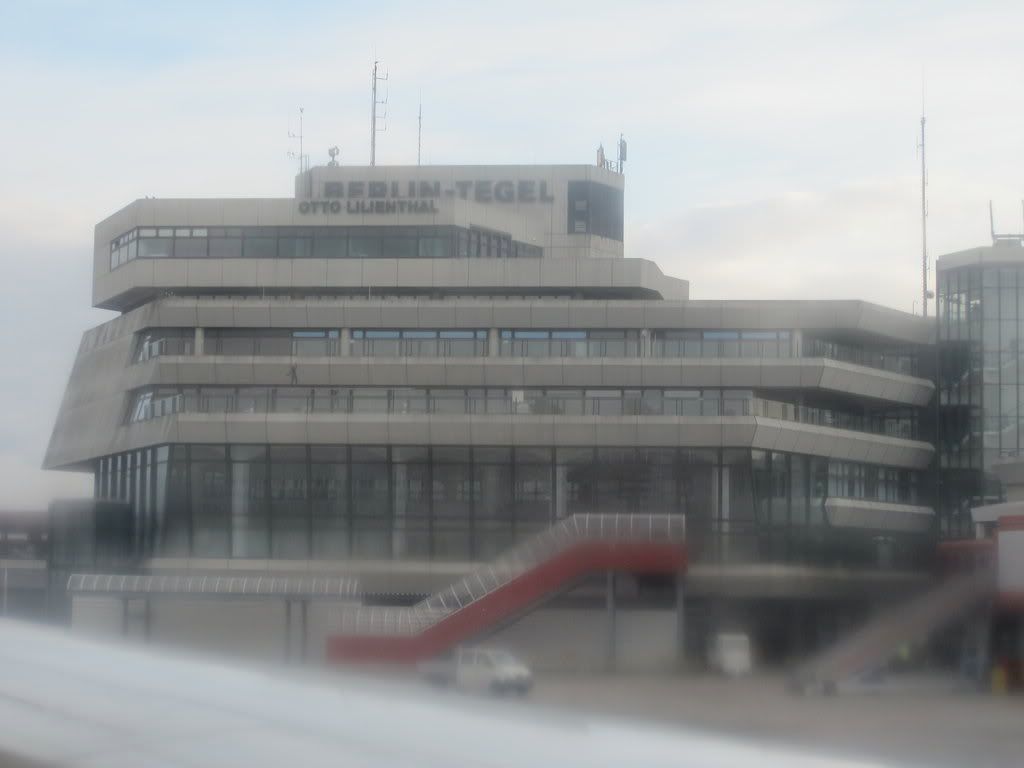 I go outside, buy a day ticket for the public transportation system which will also cover my transfer to SXF later during the night and hop on the first convenient bus which happens to be the 109 to Zoo Bahnhof.
Berlin
Ahh, Berlin - my favorite city in Europe. With shock I realize that it's been almost five years since my last real visit here - if you don't count a few transfers in the airport or between the train station and airport - sorry old friend, I promise to be back for a decent visit soon! The weather today is not bad, it is a bit cold with a bitter wind but most of the snow has gone even though it is snowing ever so slightly.
After getting off the bus I walk around the Zoo station area for a while, before deciding to walk all the way through Tiergarten to Mitte.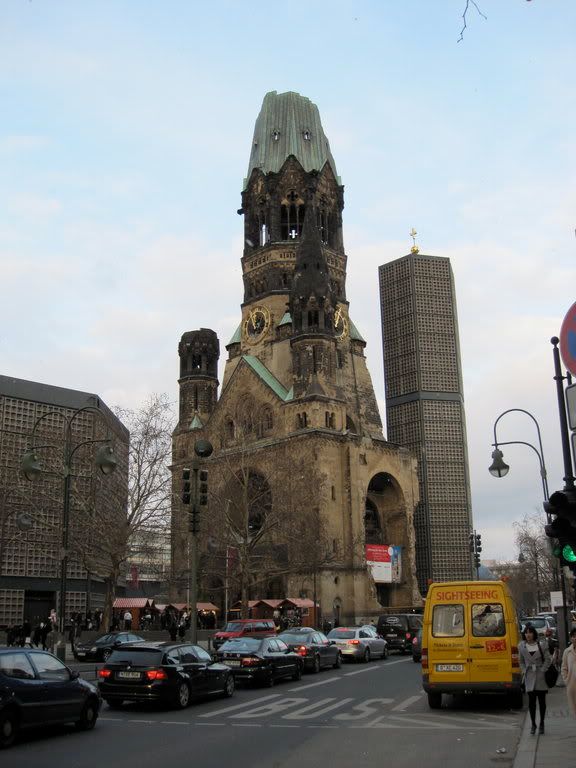 Berliner Currywurst, always so good: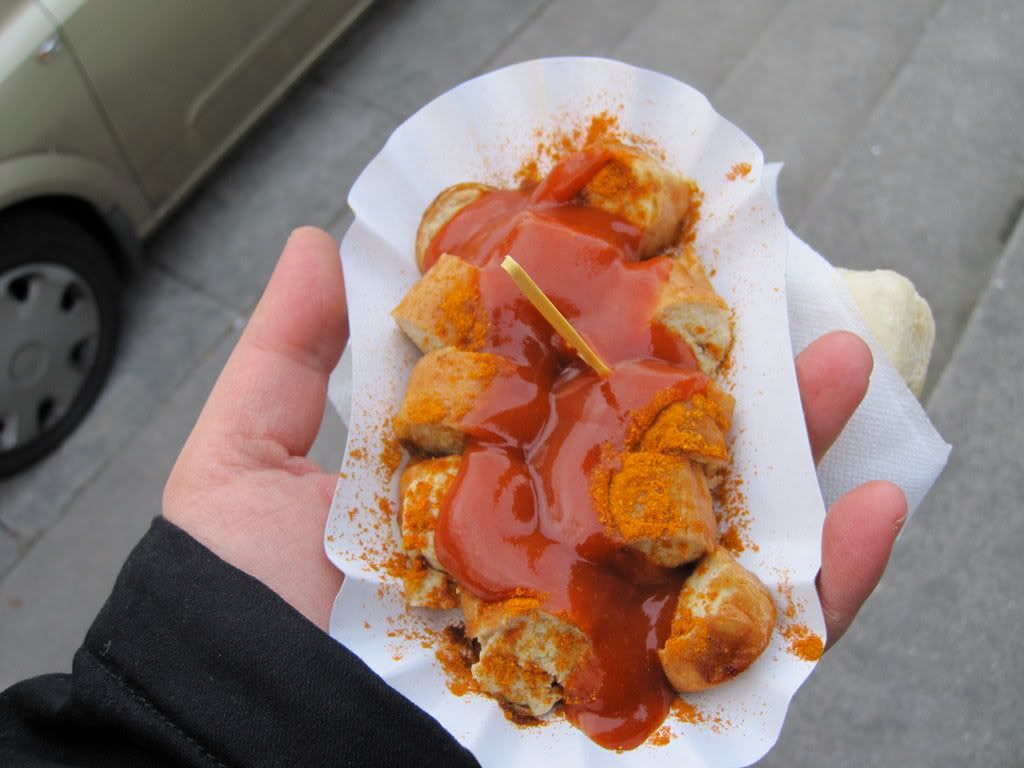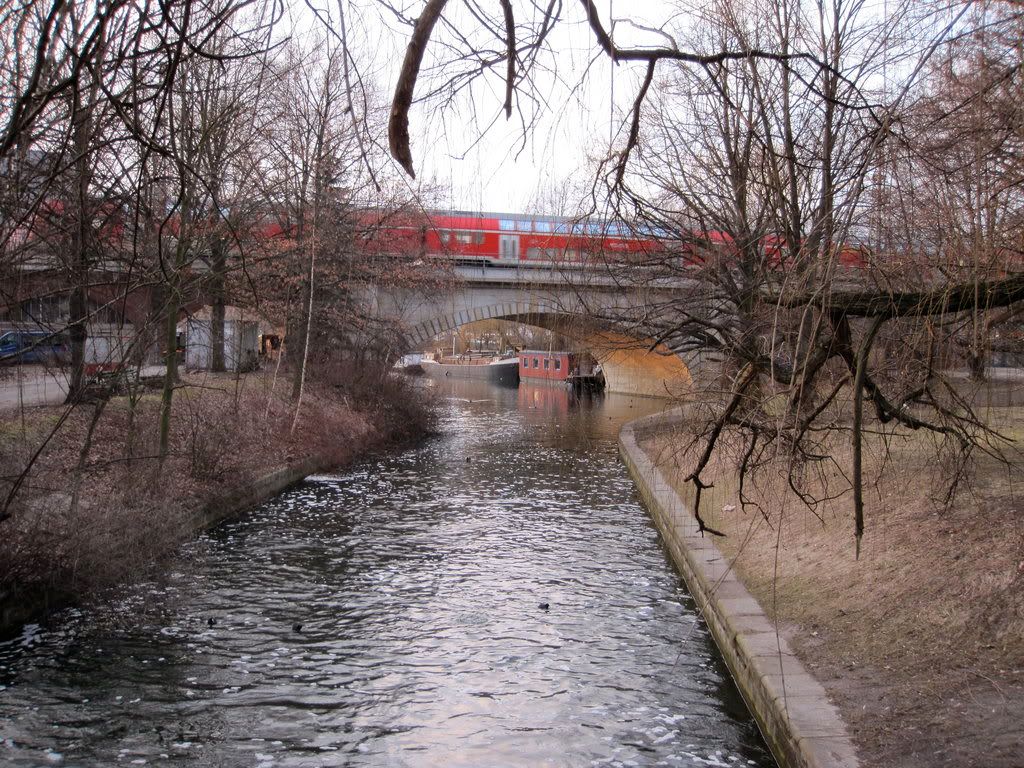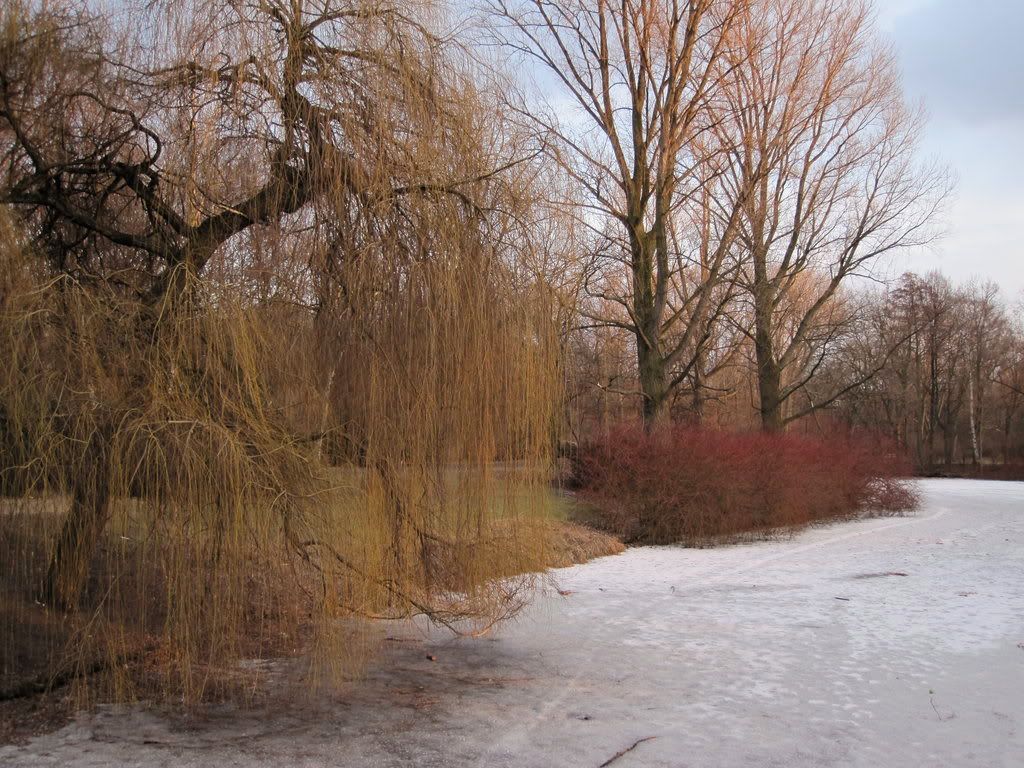 Siegessäule in the middle of the Tiergarten: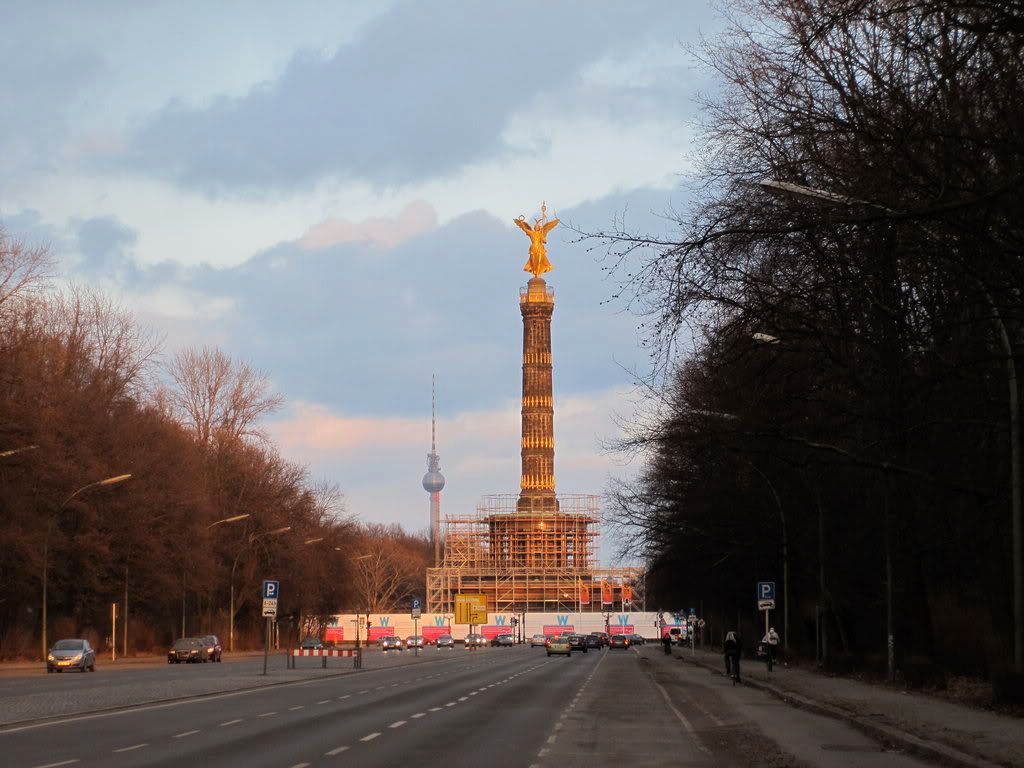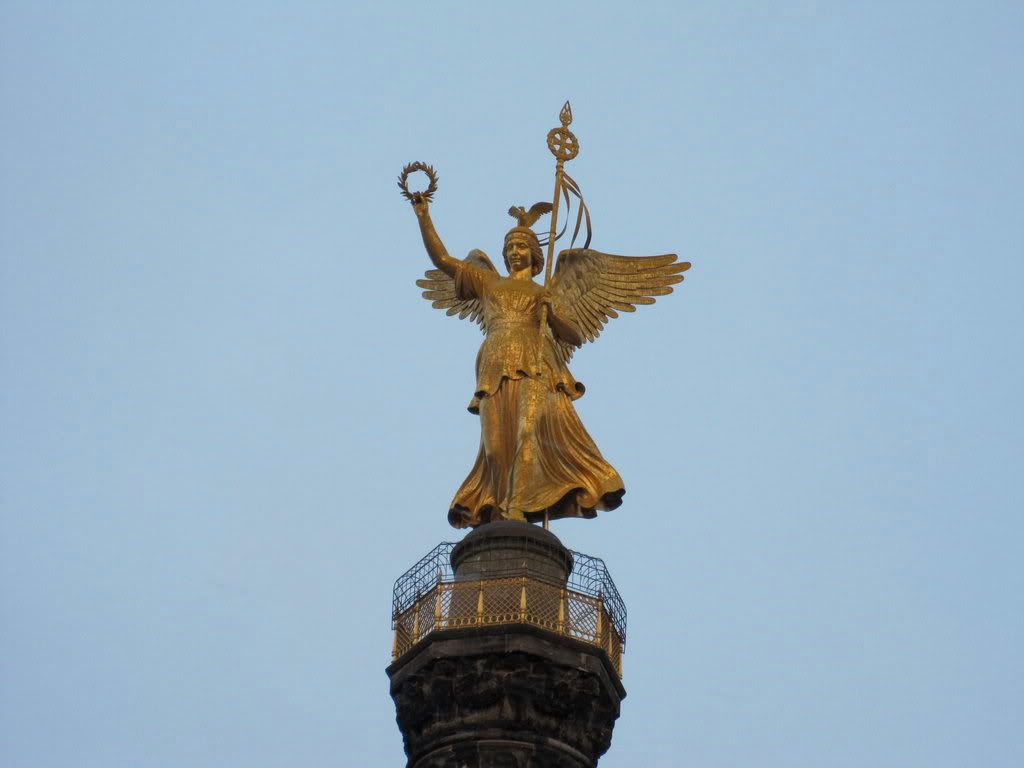 Brandenburg Tor in the far end of the Strasse des 17. Juni, bisecting the Tiergarten park: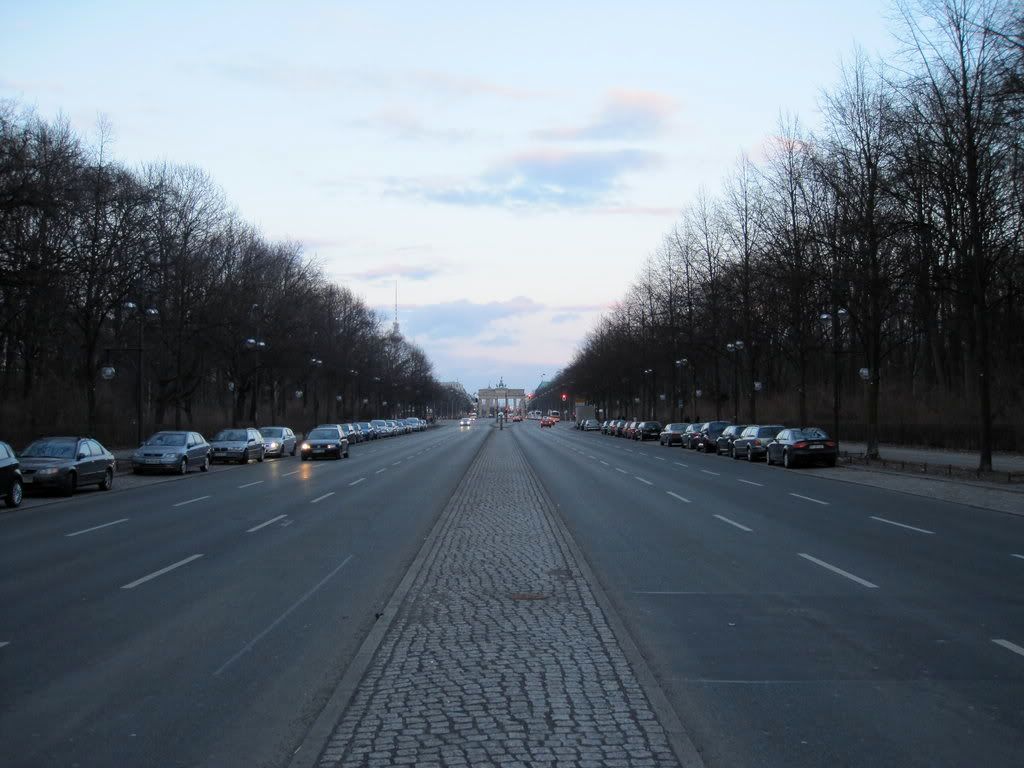 The Soviet Second World War memorial, looking as intimidating as only a Soviet war memorial can: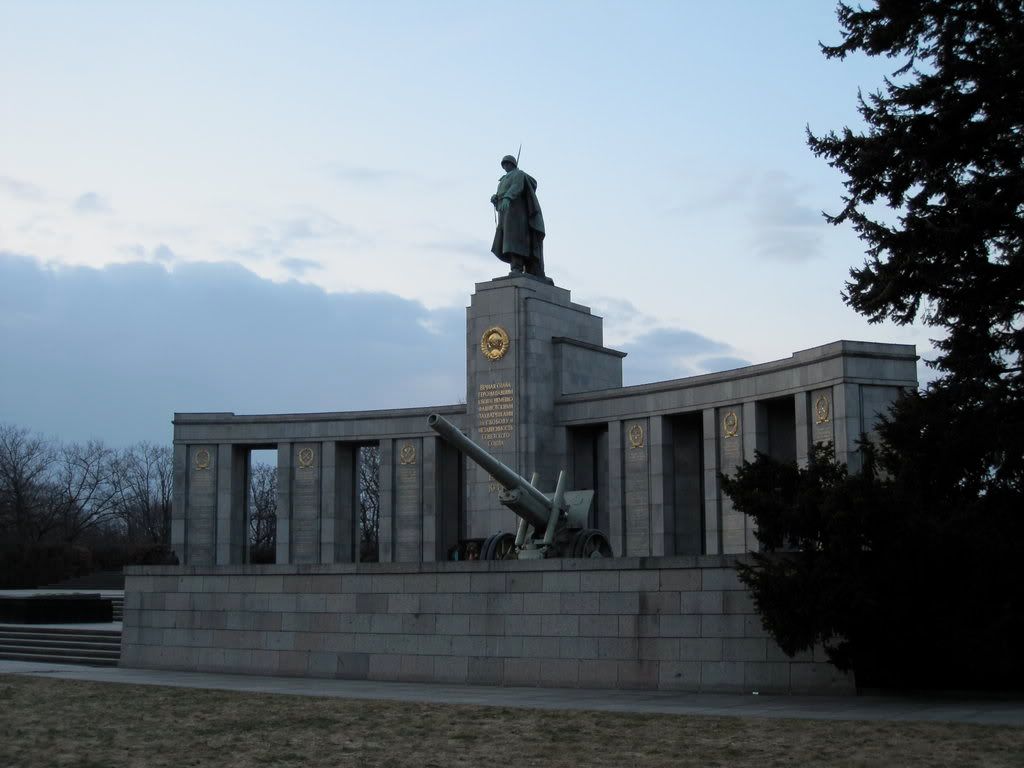 Reichstag or the German Parliament building: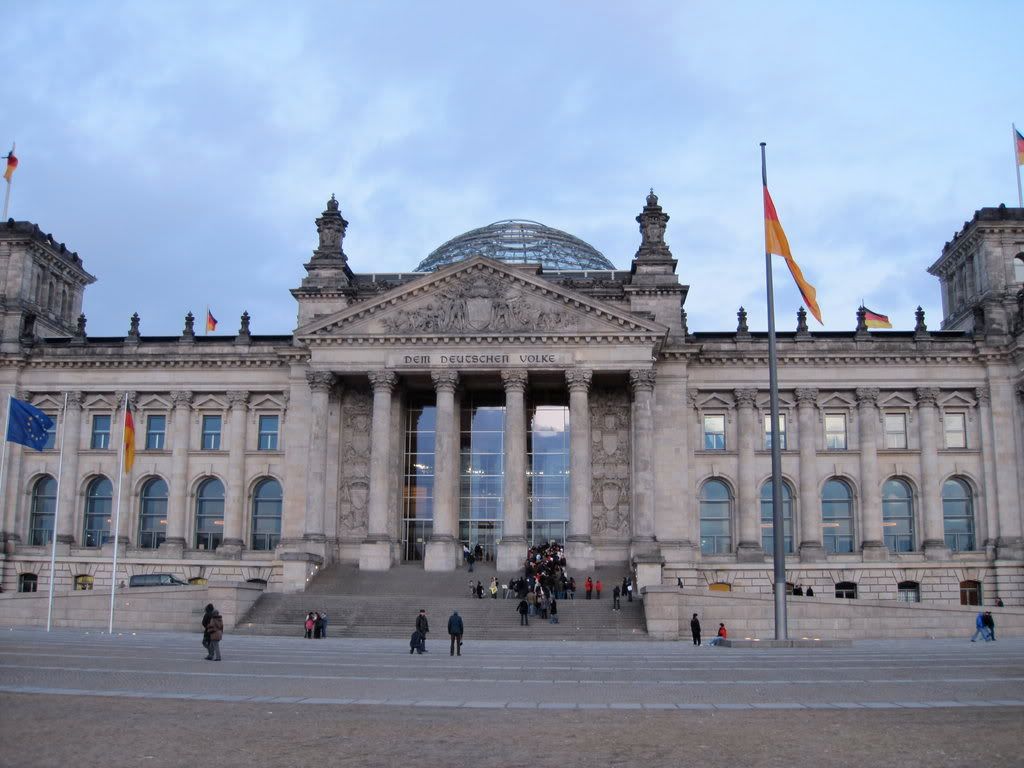 The impressive Berlin Hauptbahnhof in the distance: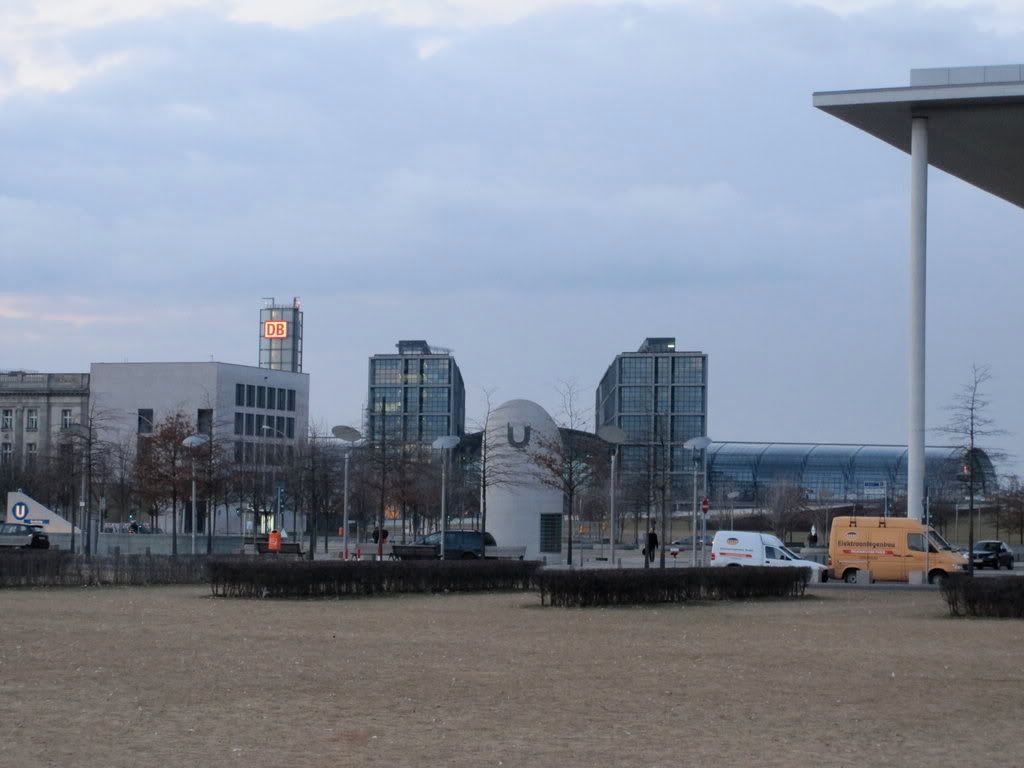 Ampelmännchen!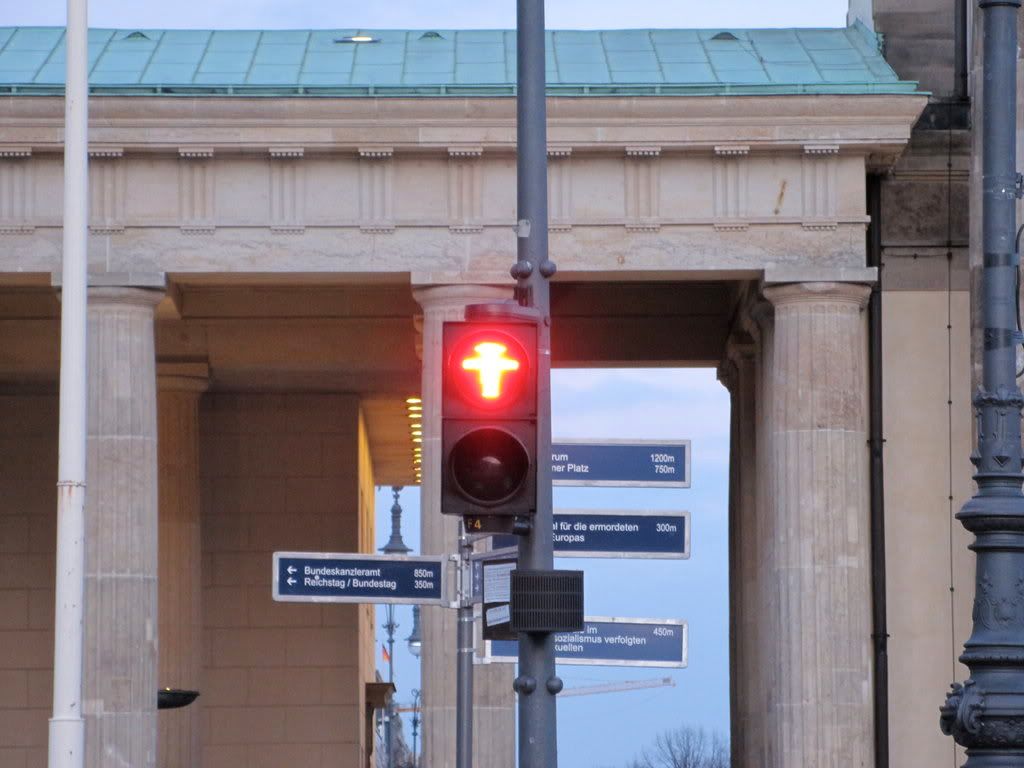 Brandenburg Tor: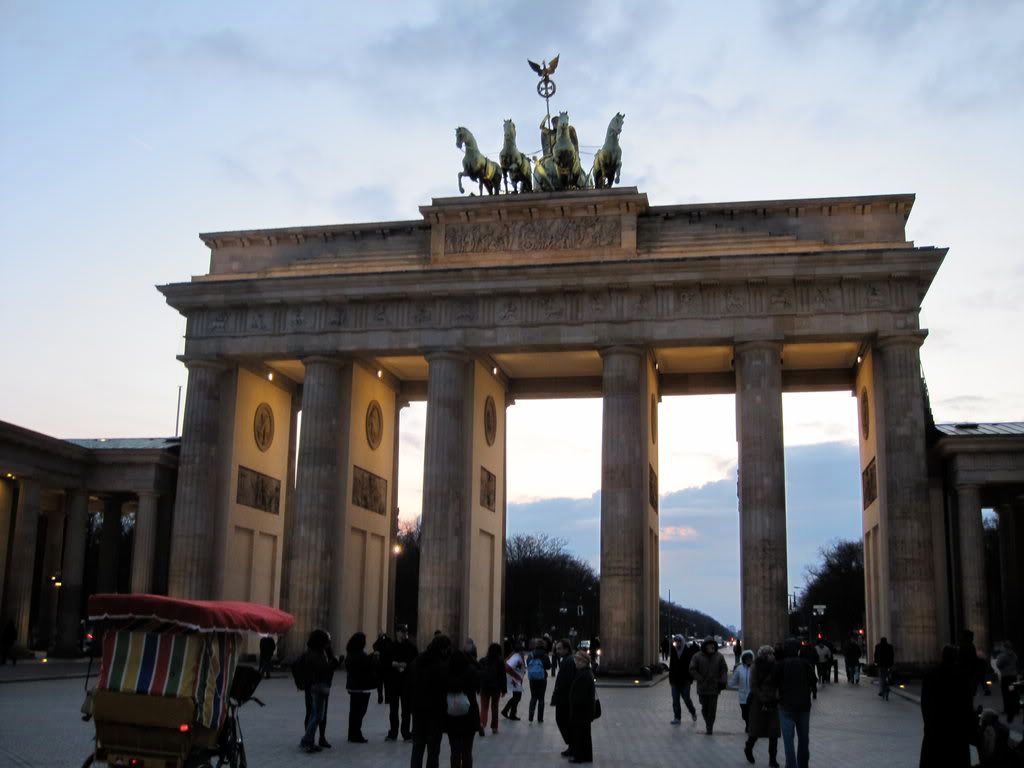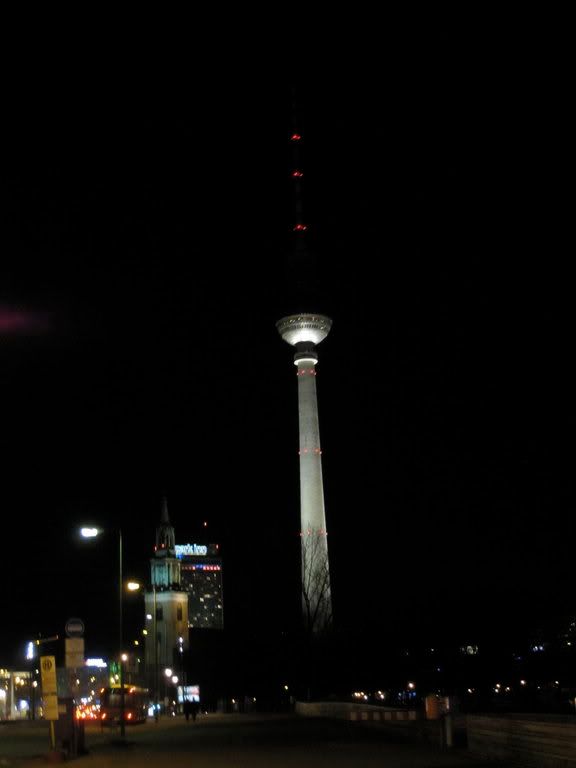 Rotes Rathaus, looking errr.. red: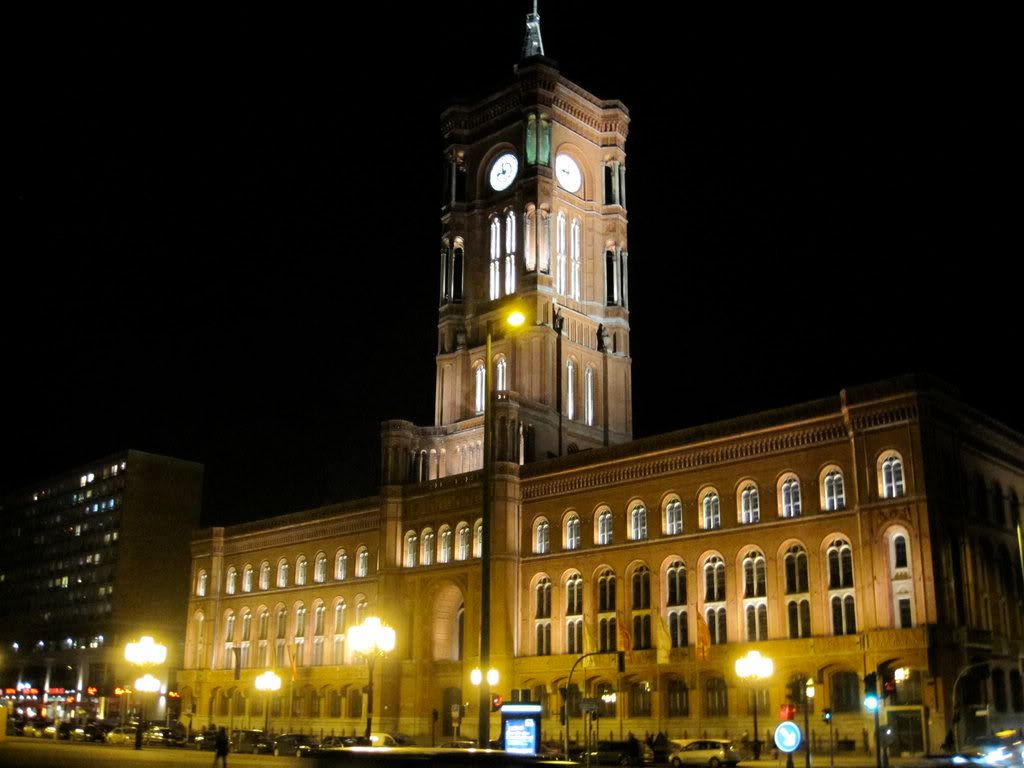 Later on the night I grab a great steak dinner at Block House near Unter den Linden and decide to start heading towards Brandenburg International, oh sorry, wrong year, I meant Schönefeld airport. A combination of U-Bahn from Alexanderplatz connecting to an S-Bahn at Hermannstrasse get me there around 22.45, way too early for my flight but I'm getting tired and want to see if I could find a place for a nap at the airport.
The last (and only) time I was at SXF was in 2005, looks like this place has grown since with a new terminal building for Germanwings next to the main terminal.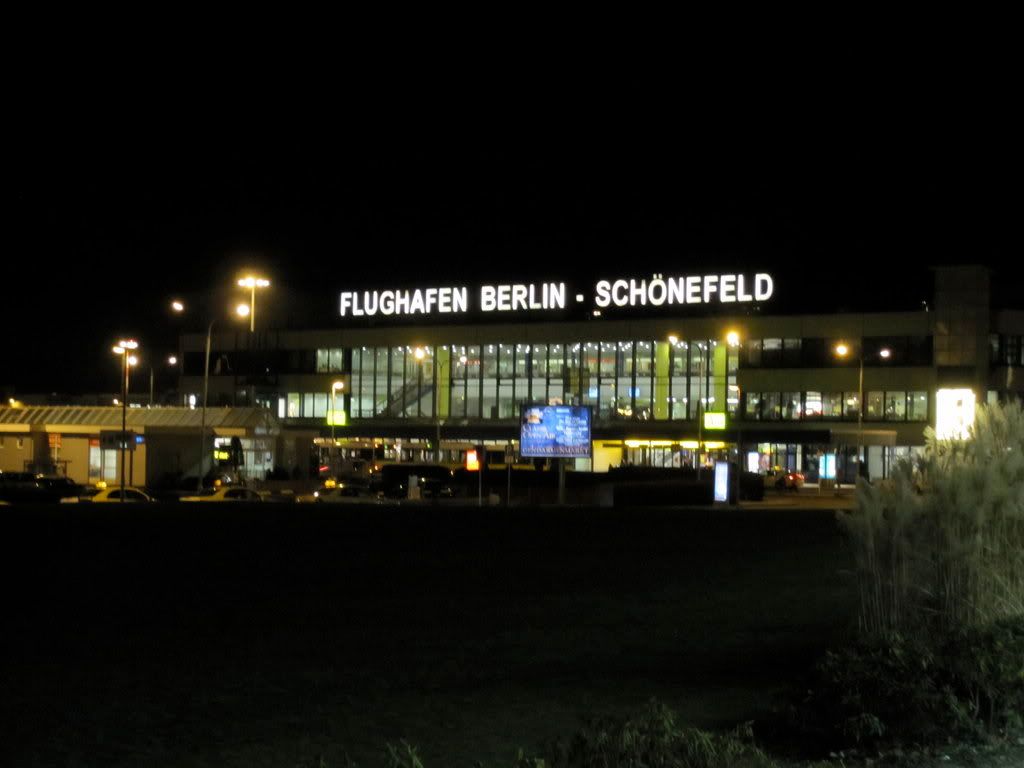 Oh dear, more delays - something I could do without at this late hour: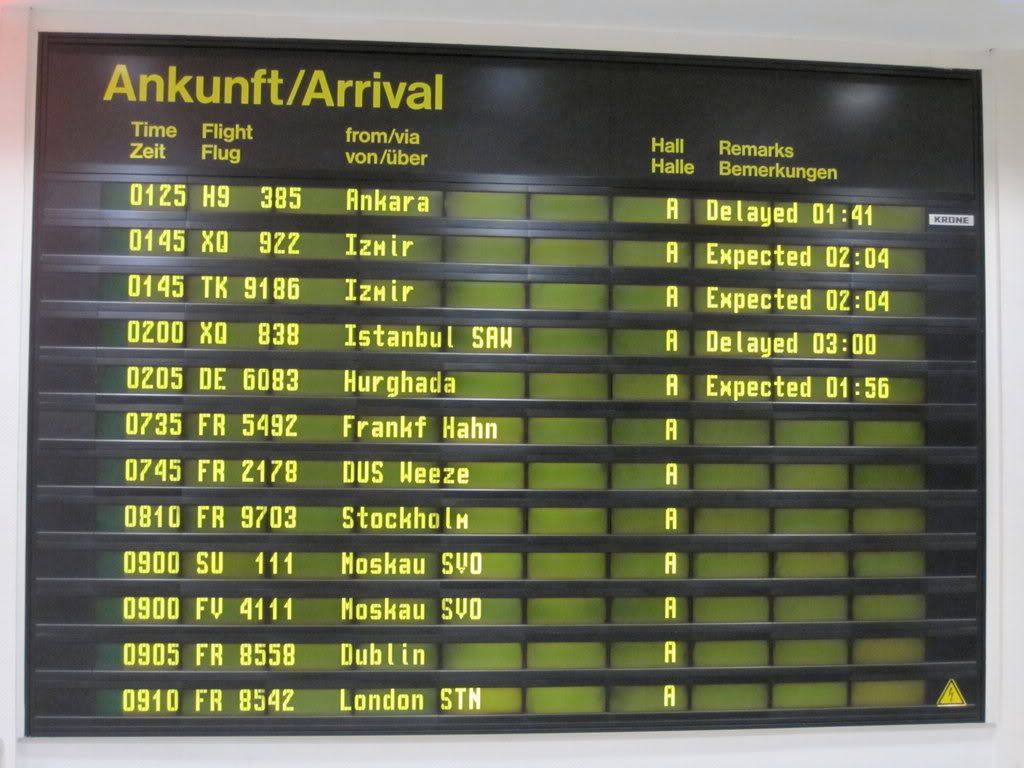 The check-in desks are not scheduled to open for another couple of hours, so I grab a final beer of the day at the bar upstairs and find a quiet bench on the top floor, set my mobile to wake me up in time and lie down for some shuteye. The bench is not very comfortable, but I still manage an hour of sleep.
7.3.2010
By this time the check in has opened. Interestingly they are x-raying all luggage before the check in - something which I'm used to in the less developed nations but definitely not in Germany. There's a bit of a queue for this as there are three Sun Express flights to Turkey scheduled around the same time, with lots of Turkish families traveling and tons and tons of luggage as usual. The x-ray machines, photo taken before the rush.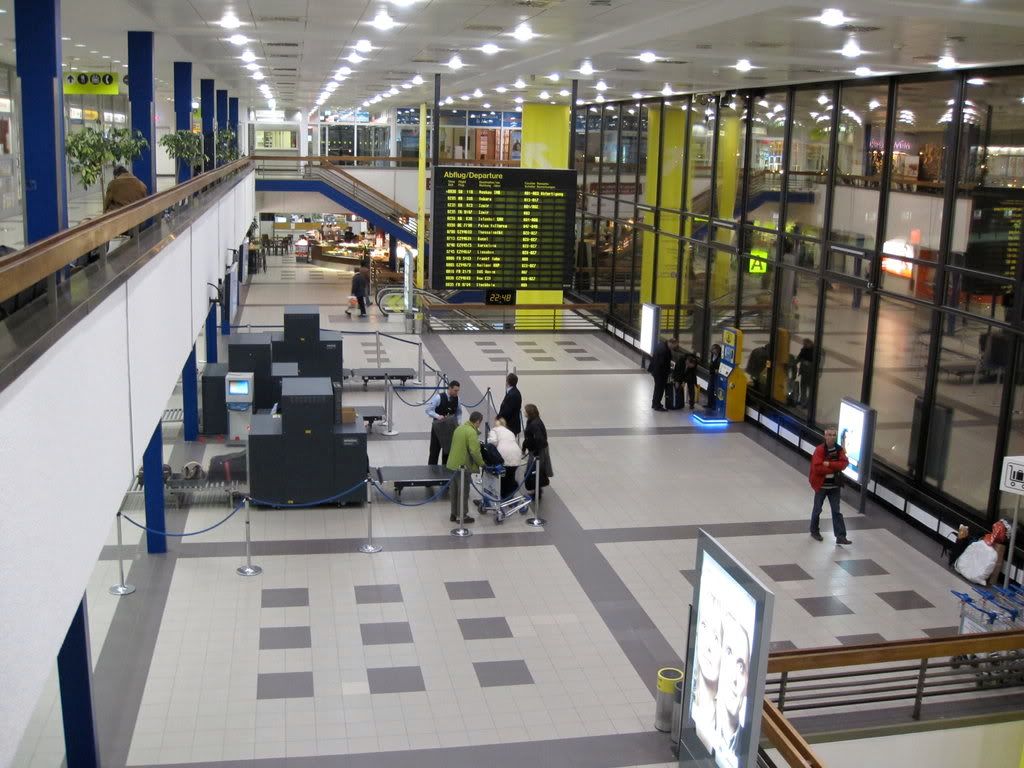 After a while I get through the chaotic queues to the counter, where the girl is happy to give me an exit row window seat, concluding with "Here you go, there's an hour delay". Thanks.
Through security to the rather spartan airside part where pretty much everything is closed apart from the duty free stores. I buy a bottle of water, find another uncomfortable metal bench to sleep on, set my alarm and drift off to dreamland once again. Five minutes before the alarm is supposed to go off some German bloke wakes me up, asking "Istanbul?" and pointing to the flight status now showing "Go to gate" on the monitors. I tell him that I have an alarm but thank him anyway, try to clear my groggy head and aching muscles (man, those benches really aren't very comfortable) and join the queue for passport control taking place at the gate.
From the window I see that our plane has indeed arrived and is docked to a jetway, I can't make out the registration though. Well, it will be a new one for me, that's for sure.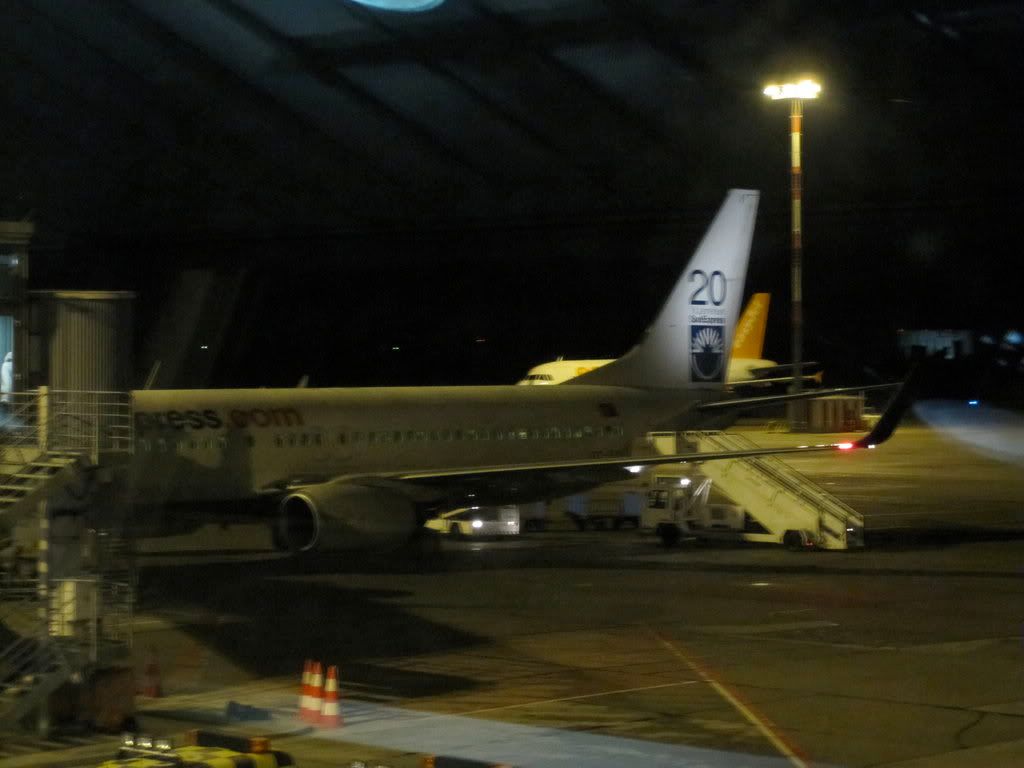 Boarding starts around 3.40, is quite orderly at the gate but very chaotic onboard, with people stowing their carry on luggage here and there, yelling at each other, blocking the aisle and whatnot.
SXF-SAW
XQ839
B737-800 TC-SUI
Seat 16F
4.08 - 7.35
The plane is equipped with dark blue leather seats, quite comfortable. Leg room looks rather tight on the regular rows, of course no complaints on the exit row. It looks almost full with only a few empty seats - still they were selling tickets on this flight for 49 EUR two days prior... As already mentioned, mostly Turkish passengers with a few Germans here and there.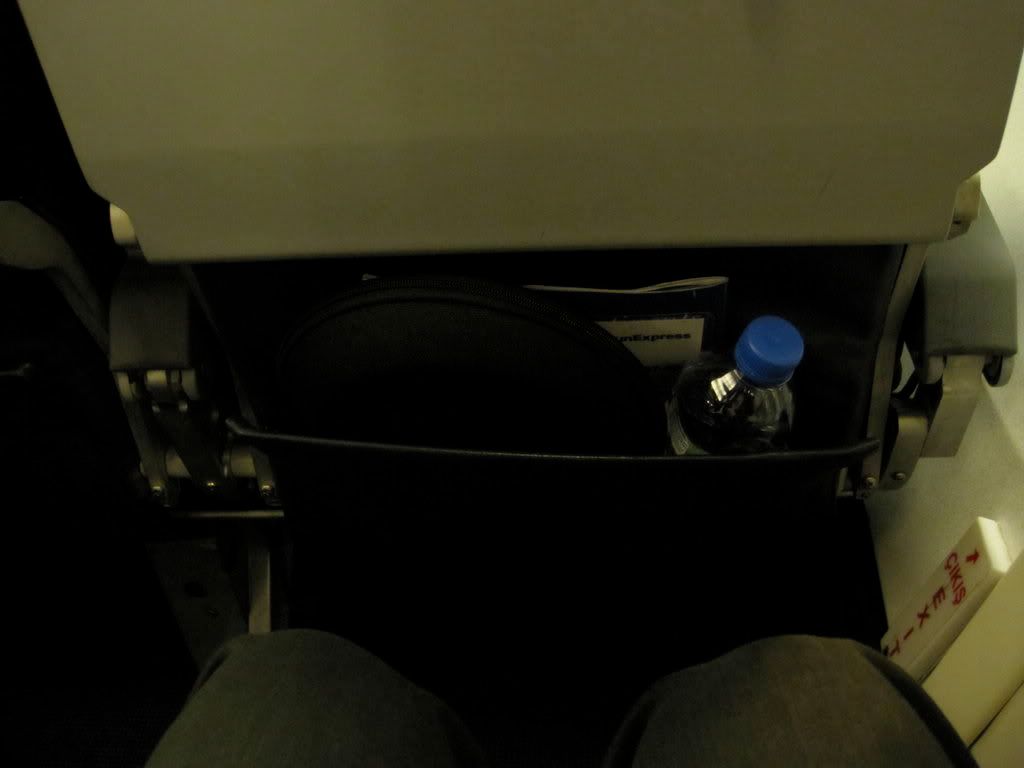 These cabin pictures were taken upon arrival at SAW: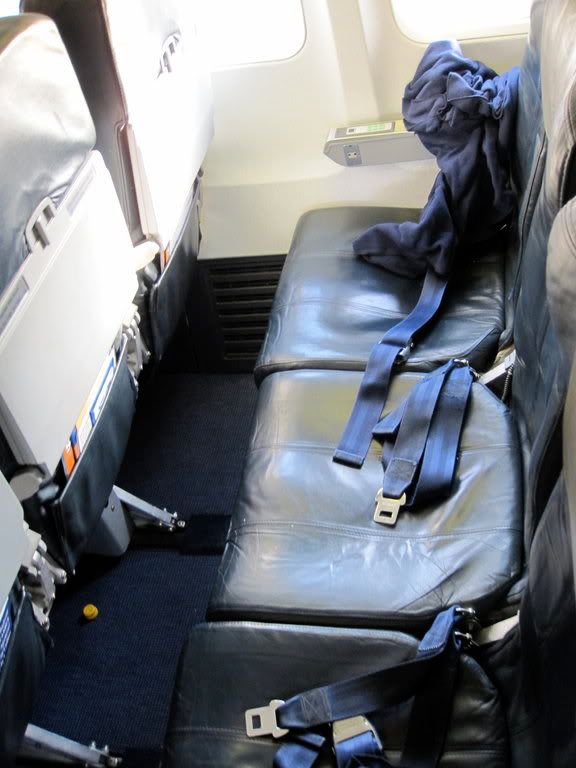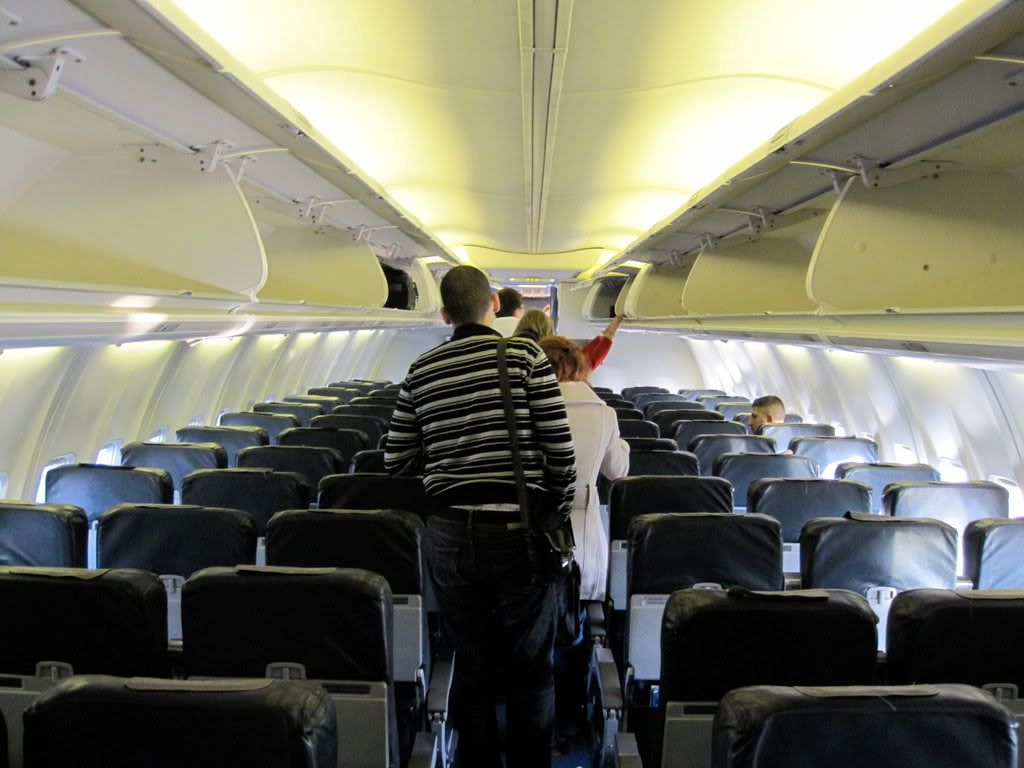 The chaotic boarding takes its time, a couple of older men a few rows before seem to piss the purser off for some reason as there's a lot of angry rapid fire Turkish being shot back and forward between them, I guess it has something to do with their oversized pieces of luggage. Finally everybody's settled and we push back 1h18mins late. No explanation is ever given about the delay, actually the flight deck crew makes no announcements at all during the flight. The cabin crew does theirs only in Turkish and German, no English at all. Safety demo is from the drop down LCD screens and is also presented in English.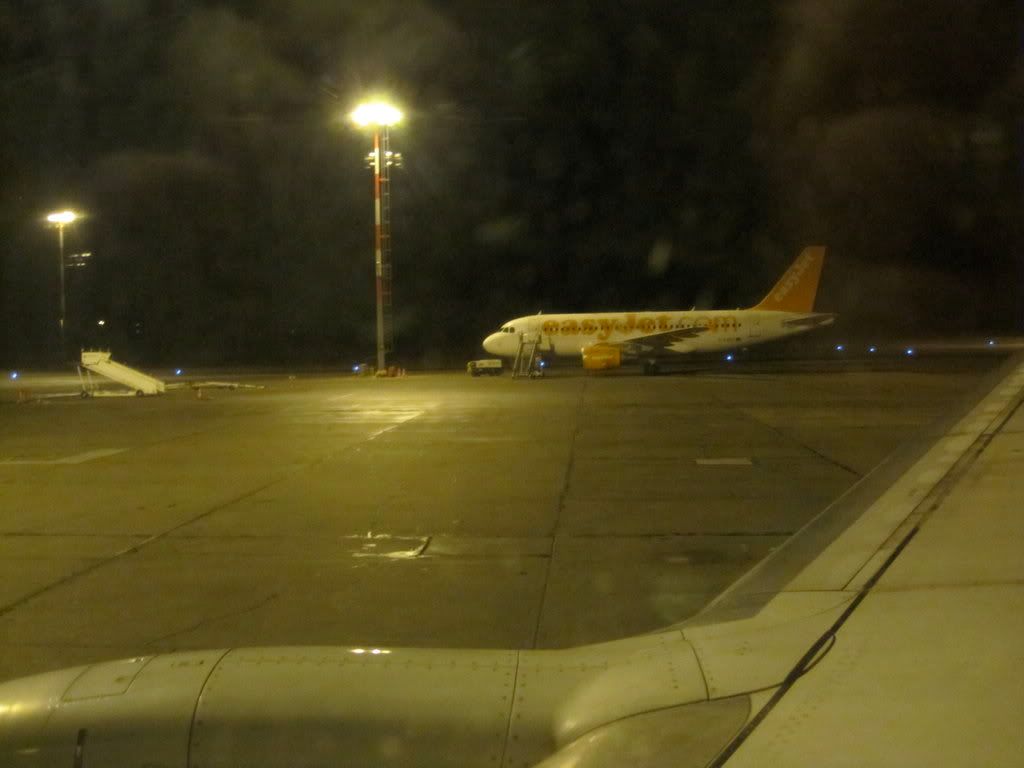 Taxi to runway 07 takes a good ten minutes past a number of night stopping Ezy and Germanwings Airbuses. After take off we fly straight to the northeast for a while before turning towards southeast towards Turkey.
BBI slowly taking shape: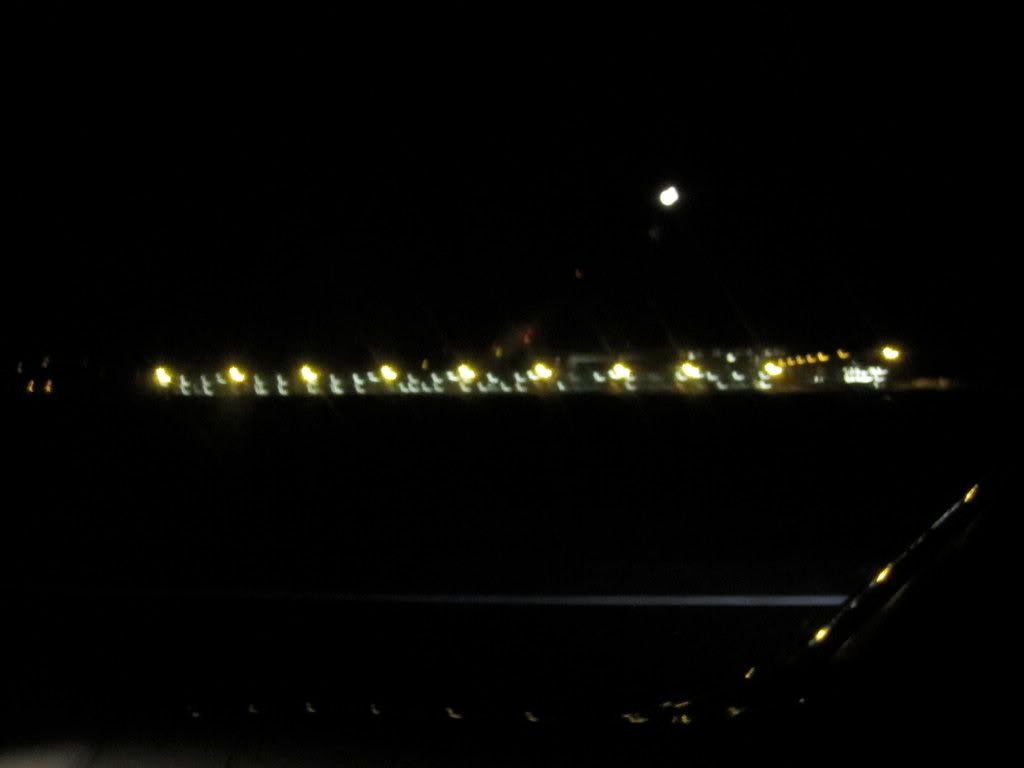 Pretty soon after take off I fall asleep. I really have no idea about the service on this flight, while waking up for a while I saw a drinks cart and a number of people, including the couple next to me had some sort of snack box in front of them which seemed to contain at least bread, a pastry and olives but don't know if it was free or cost something - there is a menu card with rather steep drink and snack prices in the seat pocket though. Anyway it is lights out for most of flight for me - they seem to play something that looks like a Turkish sitcom on the overhead screens.
I'm woken up by the engines spooling down around 7.05 (Turkish time, one hour ahead of German time), and watch out the window to be greeted by bright sunshine, we are over the Black Sea at the moment: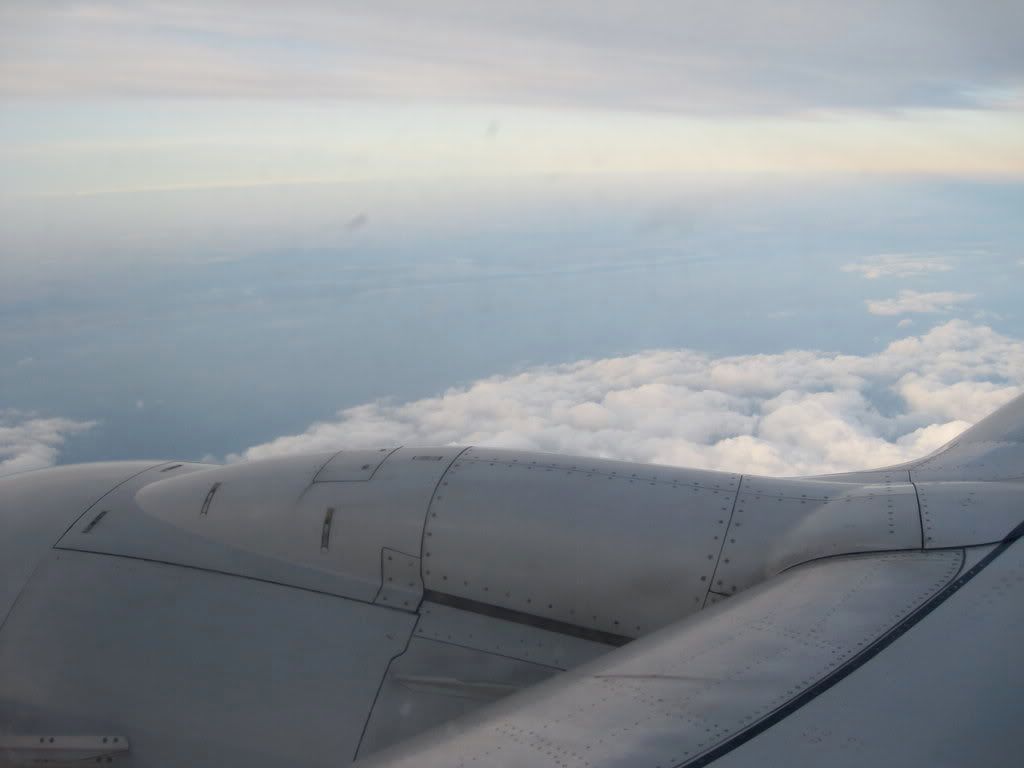 The registration is also written on top of the wing, allowing me to log it, yay: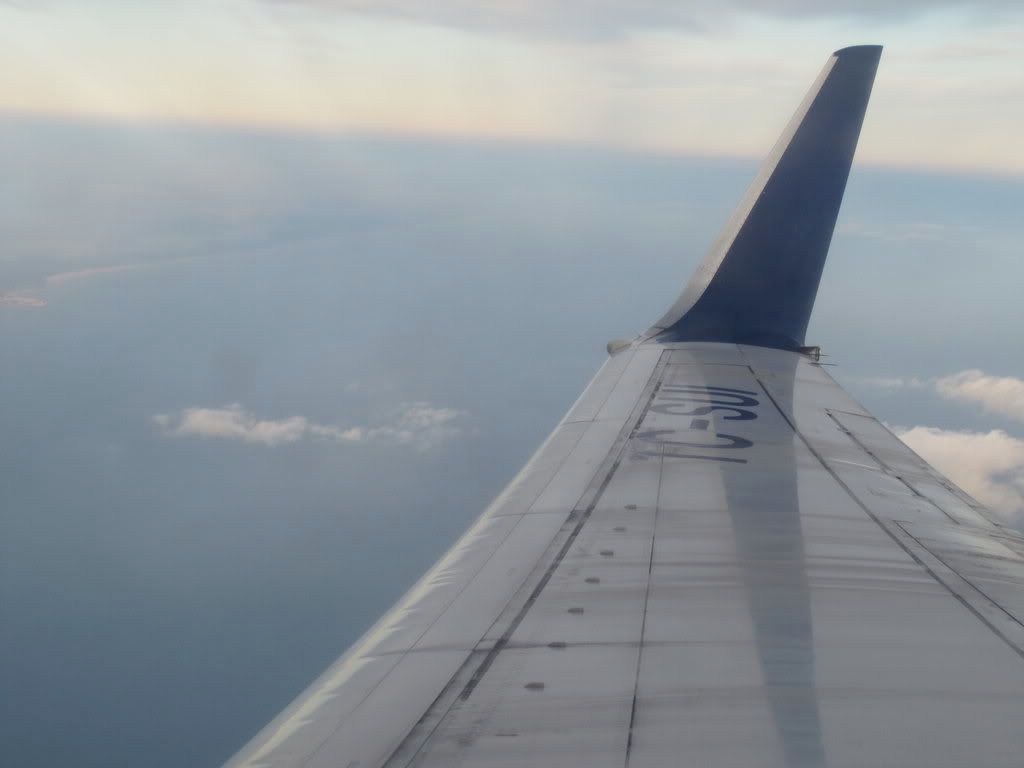 Hello, Turkey: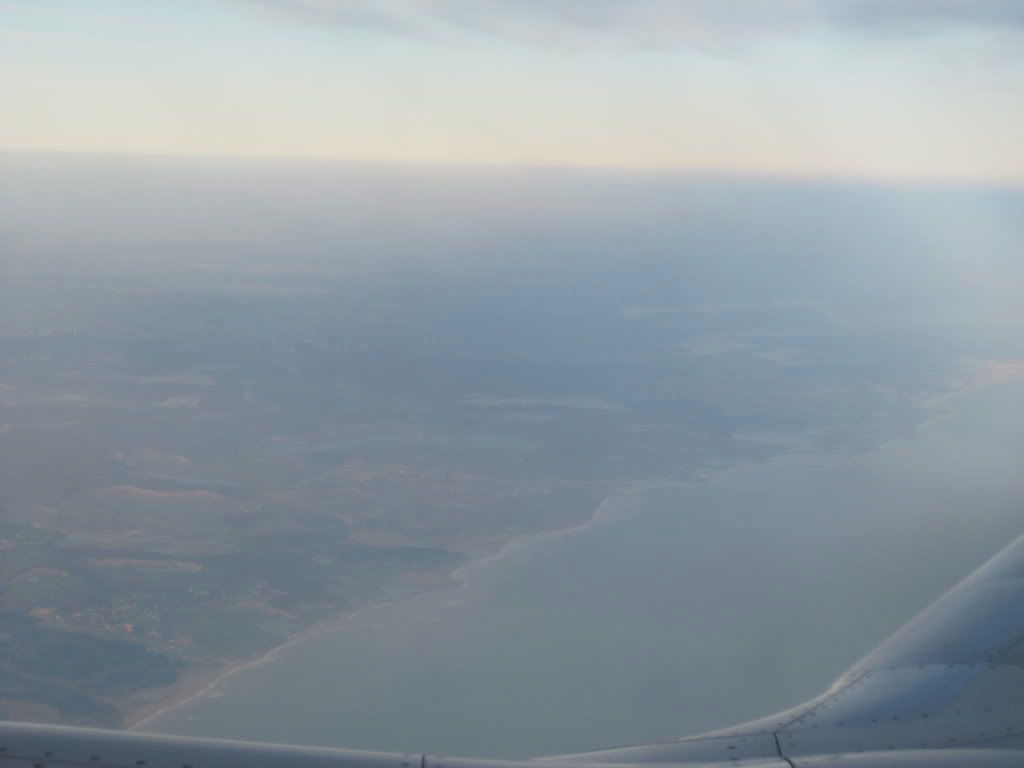 From here we descent towards the north coast of Turkey, pass the eastern part of Istanbul with some great views over this huge sprawling city: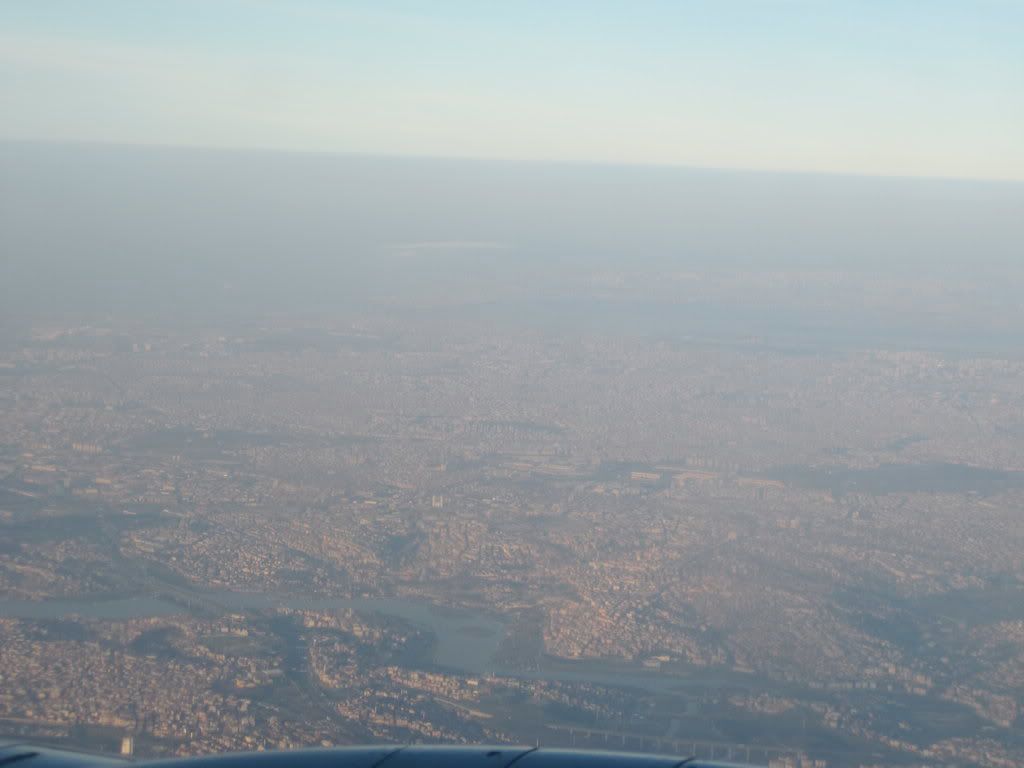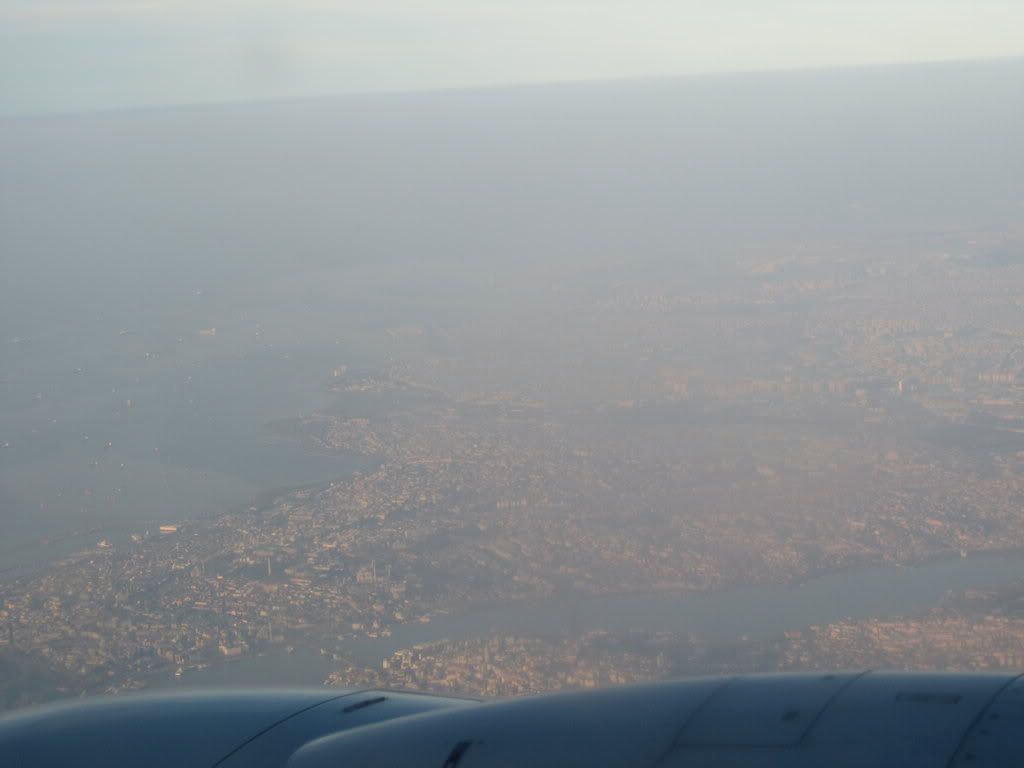 Hagia Sophia and Sultanahmet mosque clearly visible in the city centre: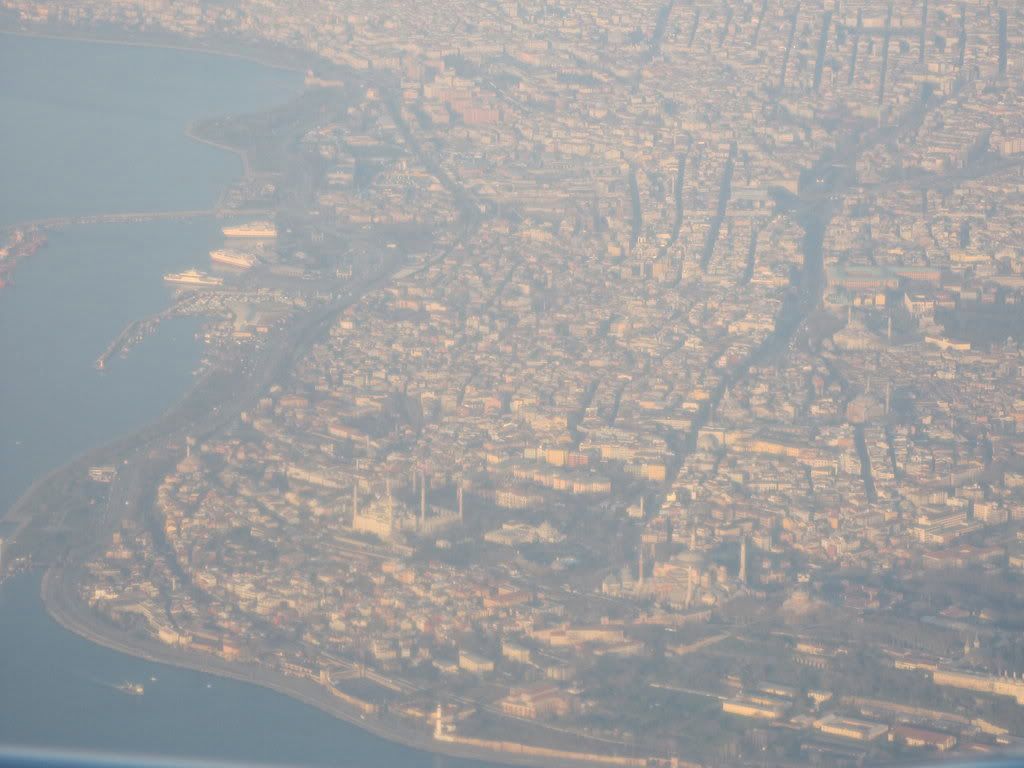 As usual, lots of ships in front of the city. One can just about make out Atatürk airport (IST) in the distance hidden by the haze: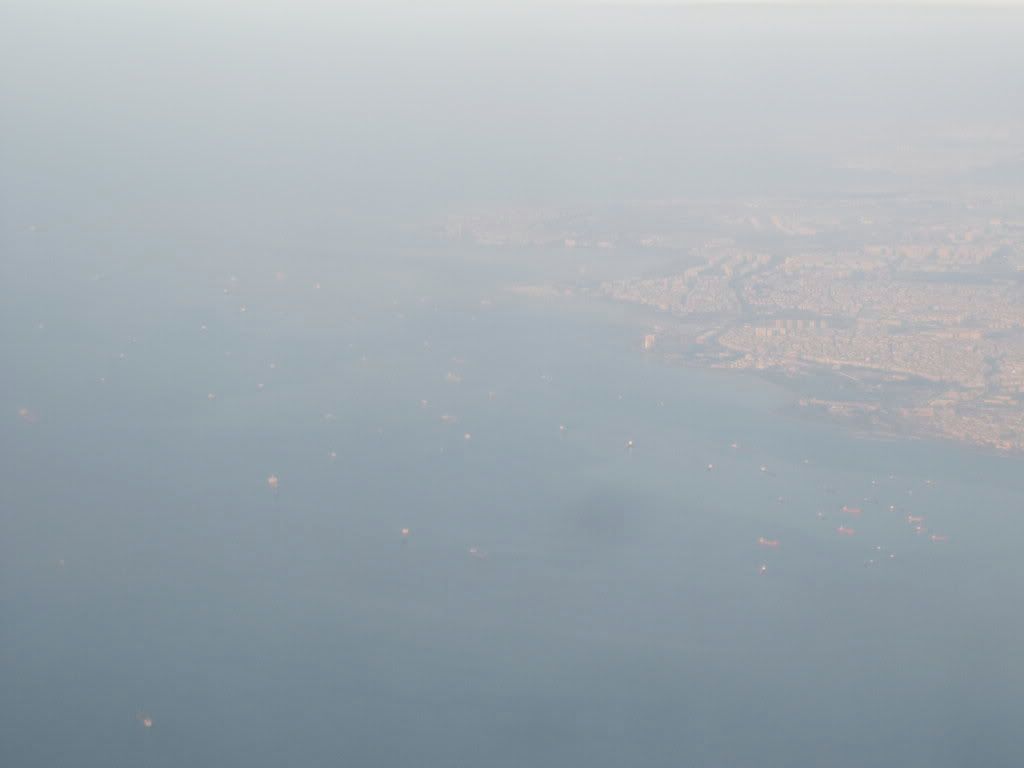 The two westernmost of the Princes' islands: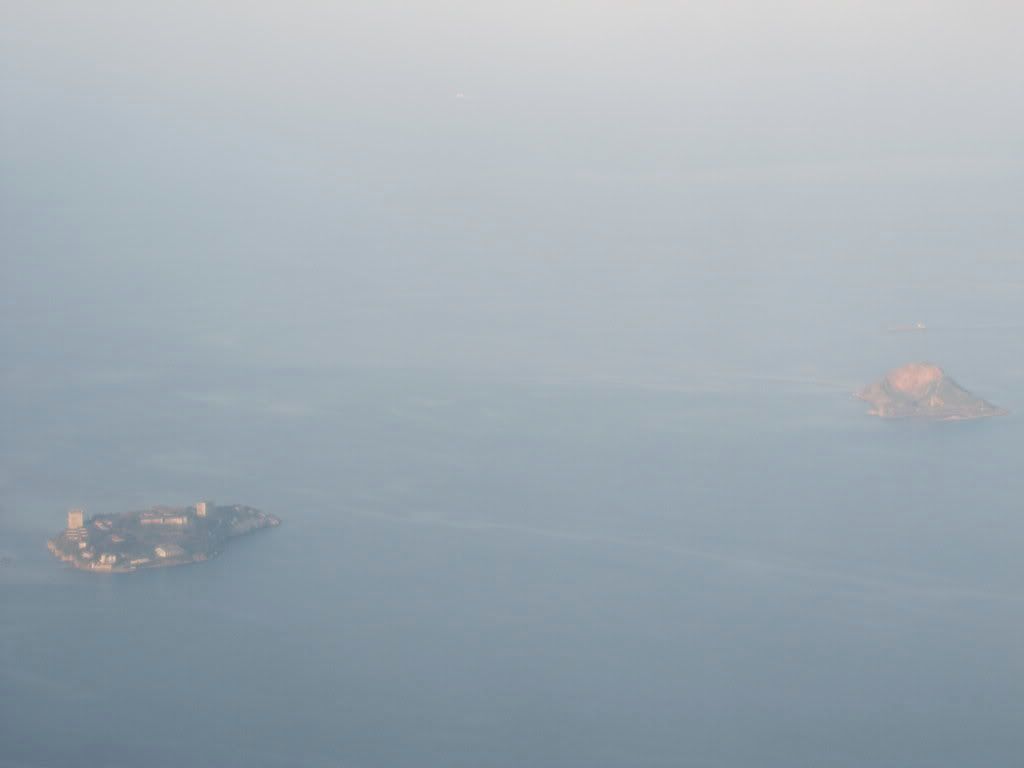 Over the Sea of Marmara a low altitude left turn follows to line us up with runway 06 at SAW, where we land after a flight time of 2h15mins.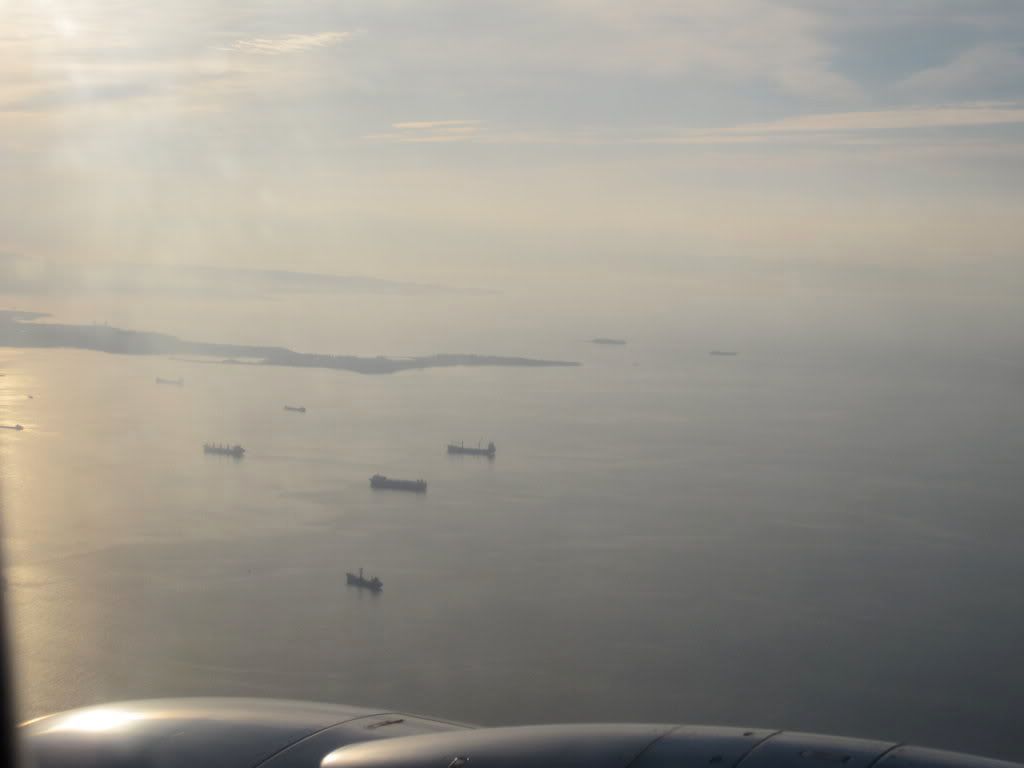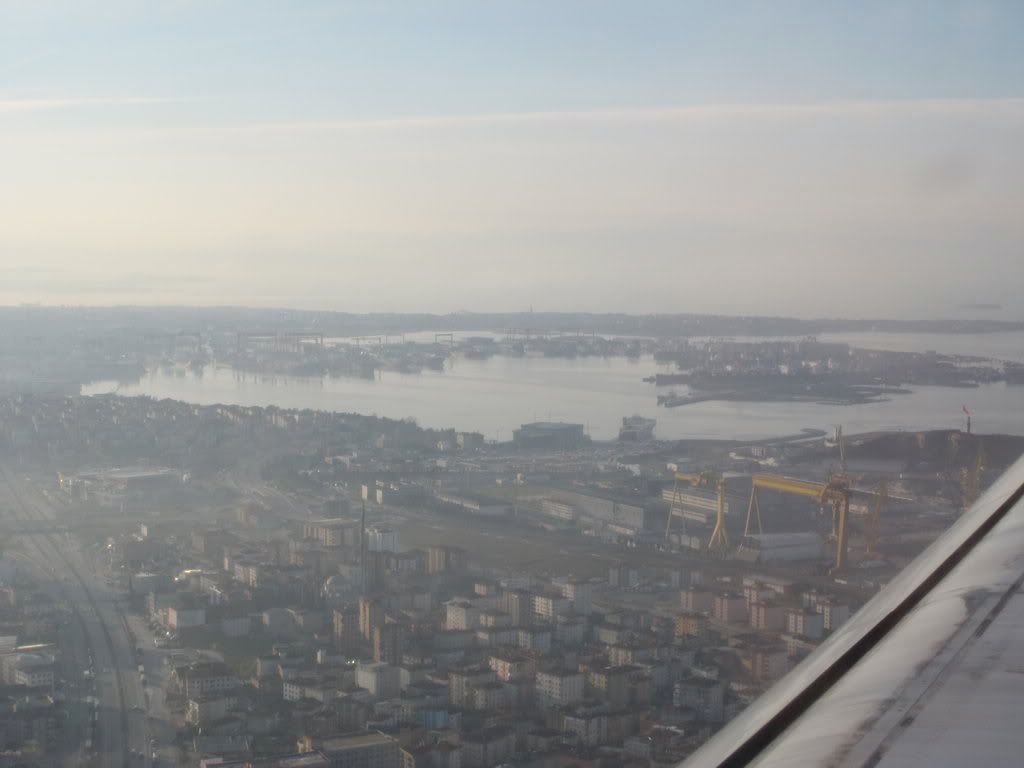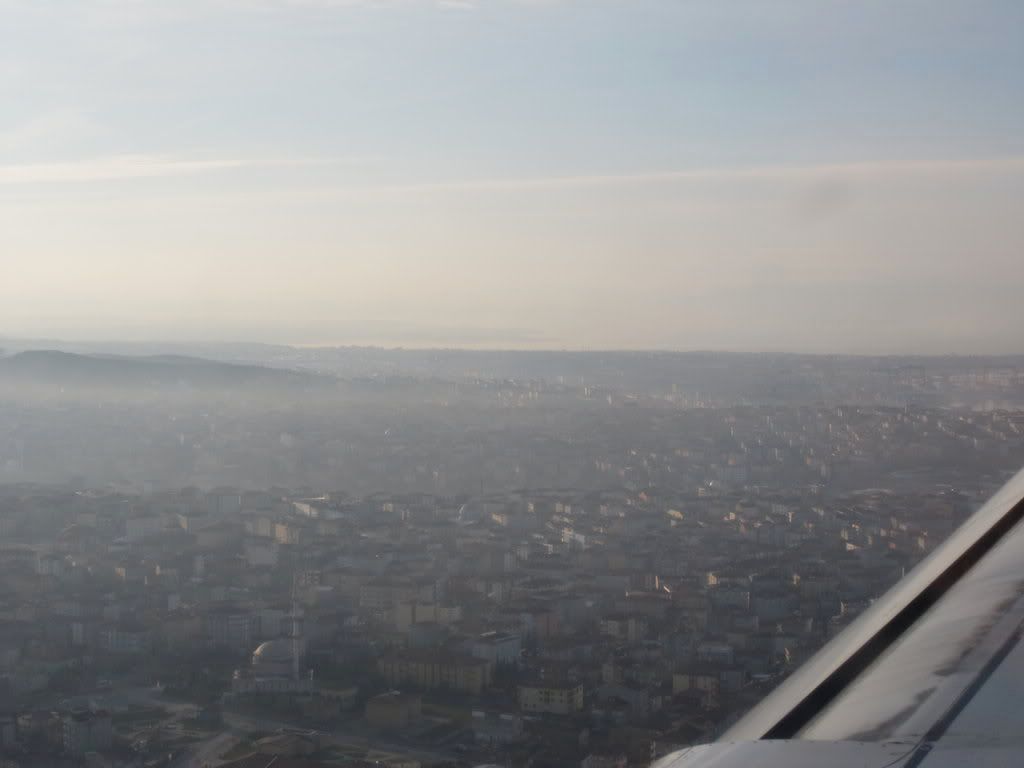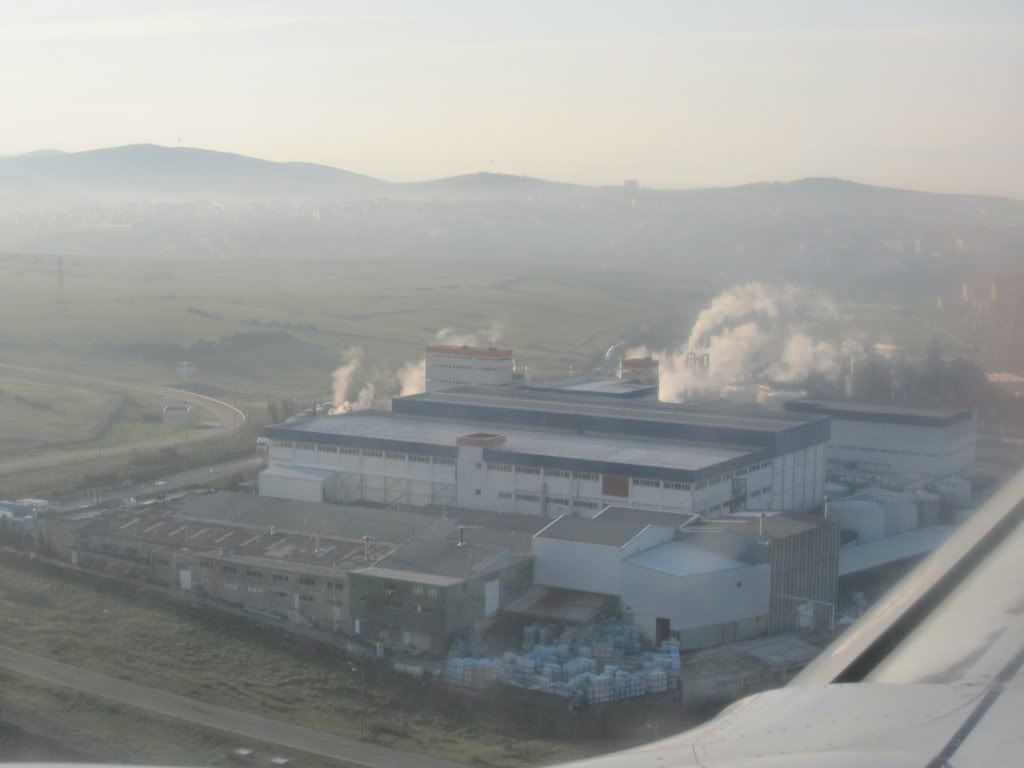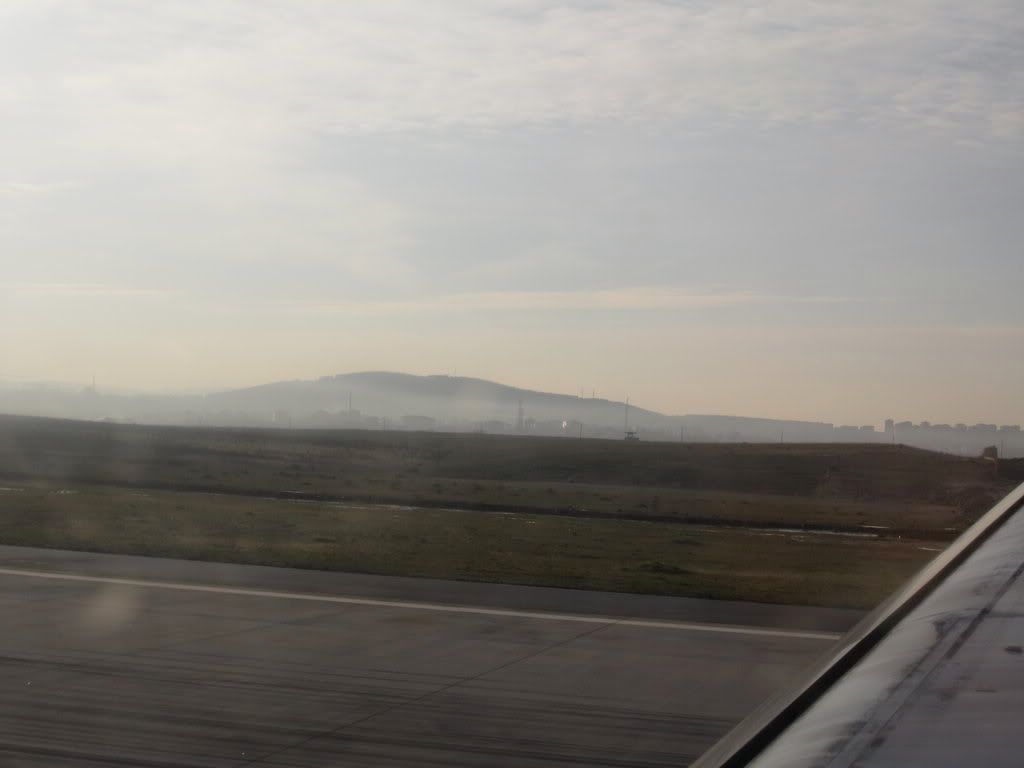 We get an apron parking position. When deboarding I can't find my passport anywhere - I am pretty certain I put it in my shirt pocket at Berlin and get mildly panicked about it. I tell one of the crew members about this and they proceed to tear my seat apart trying to find it (well, my over analytical engineer mind is already working for a plan B - namely having to find somebody to help me to make an airside connection to my Pegasus flight instead of passing immigration - that's how my brain seems to work under exceptional situations). Luckily the purser comes up and tells me in stern voice to check my all my coat pockets again, and sure enough, I find the password in the chest pocket. I thank the crew and apologize a couple of times for the hassle, explaining it with the lack of sleep and grogginess.
Nice special color scene on this company plane on the next gate: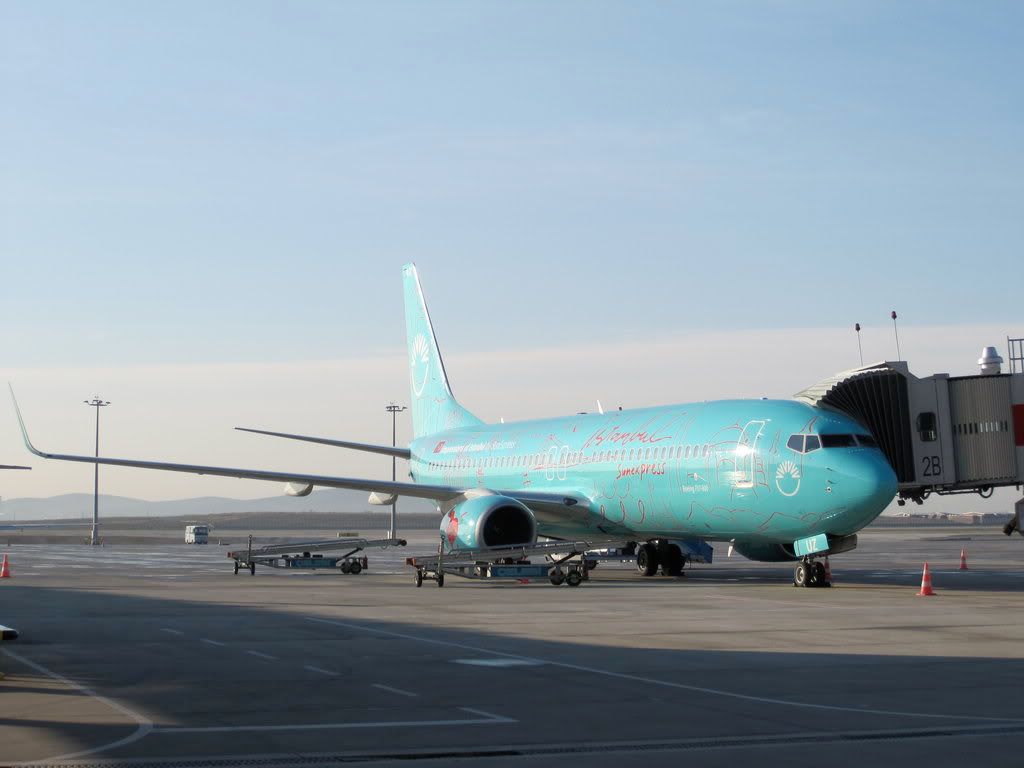 Sabiha Gökcen Airport
The bus for the rest of the passengers has already left, so one of the ramp agents gives me a ride in a regular car - I joke with him about it being a taxi, although I'm not sure how much he actually understands English. The hassle means that I'm pretty much the last one on the passport queue, but fortunately they have a lot of counters open and it doesn't take too long until I'm stamped into the country - fortunately Finnish citizens do not need any a visa for Turkey.
The way to the passport control: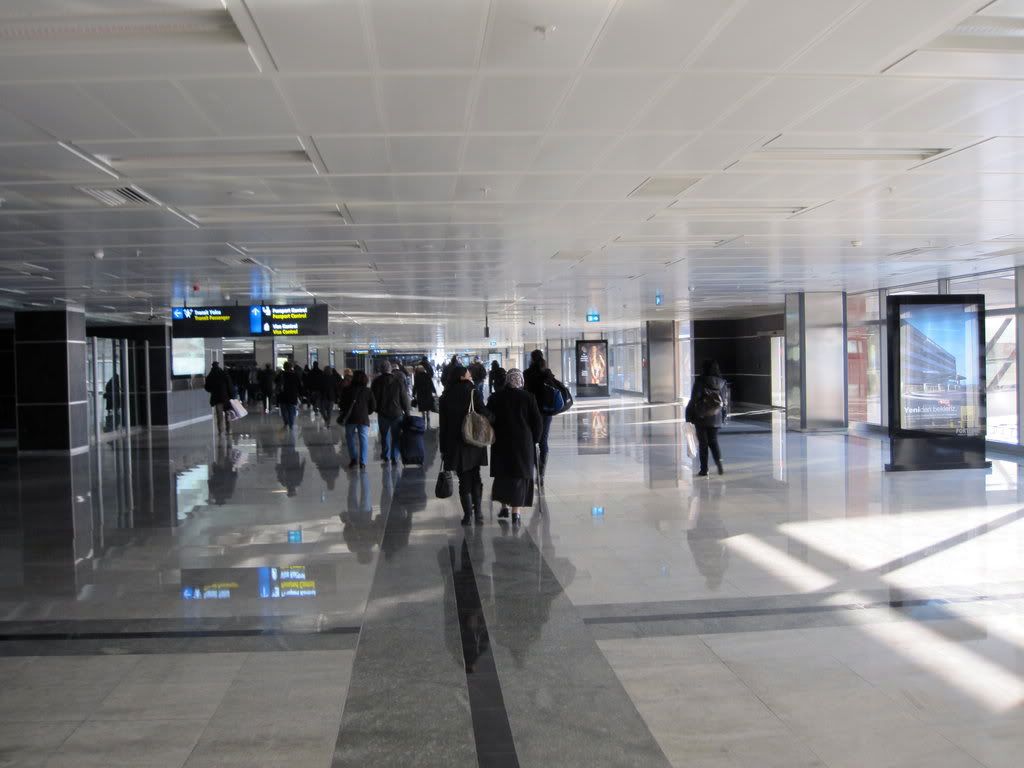 Interesting visitor:
First stop in the arrivals hall is an ATM to get some Turkish Liras, then I go outside to enjoy the sunshine and warmth (relative, I know) for a while. The new terminal building is quite impressive actually.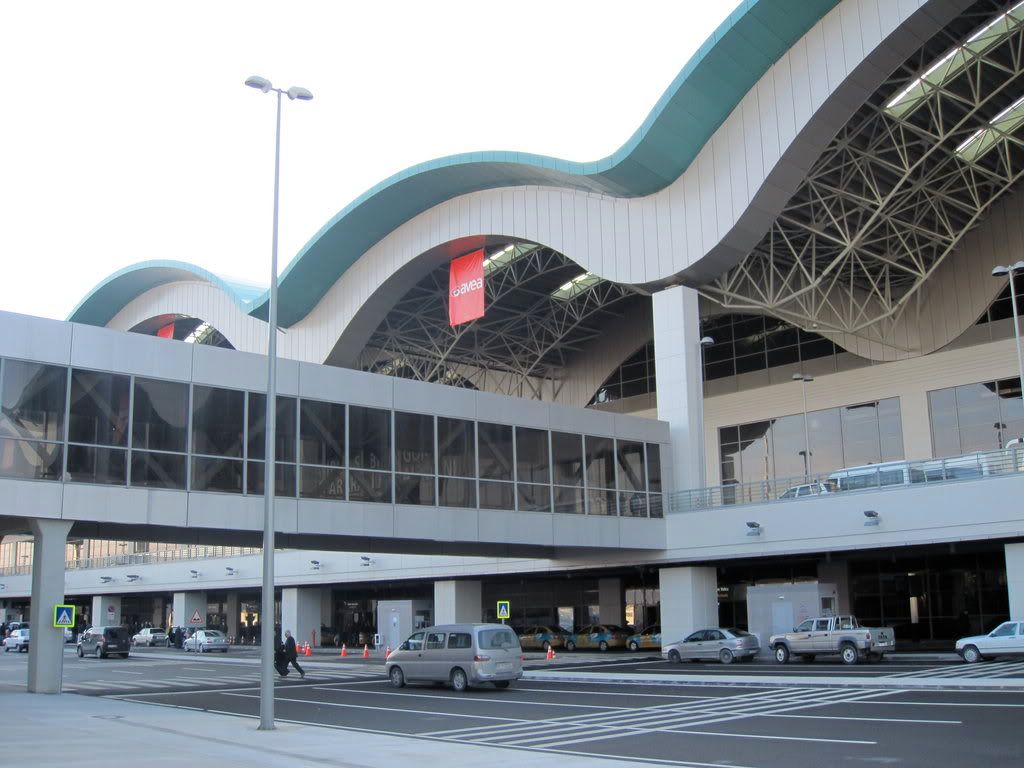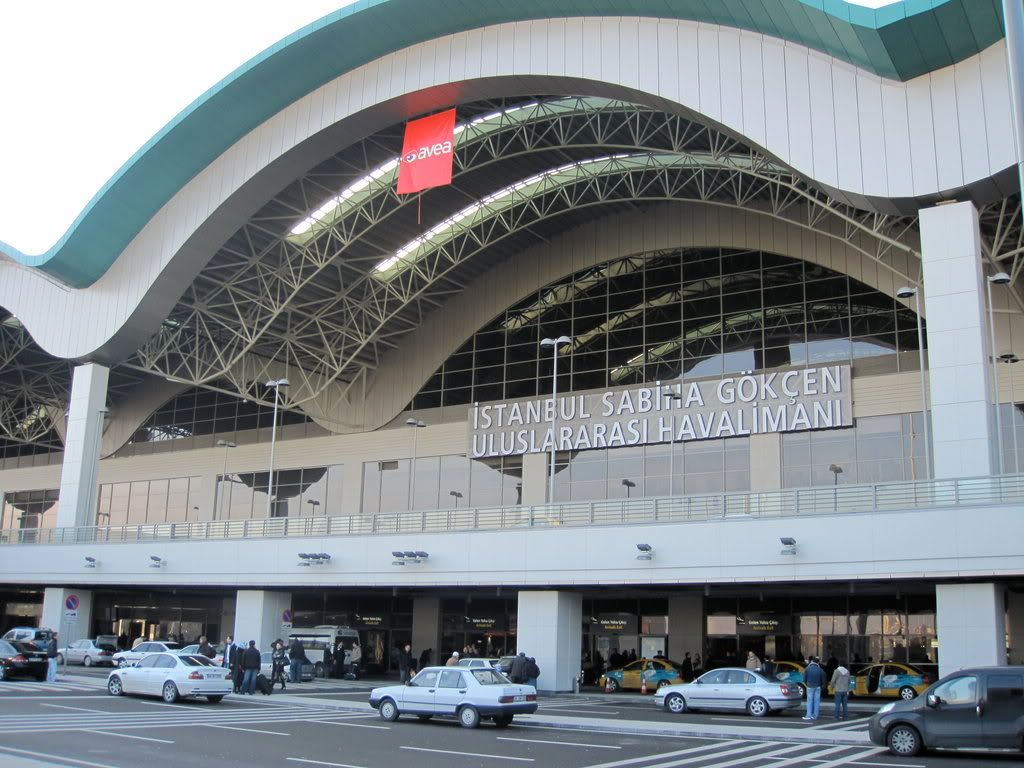 To access the check in counters one needs to go through a security check. The terminal inside is rather impressive as well, sorry for the blurry picture: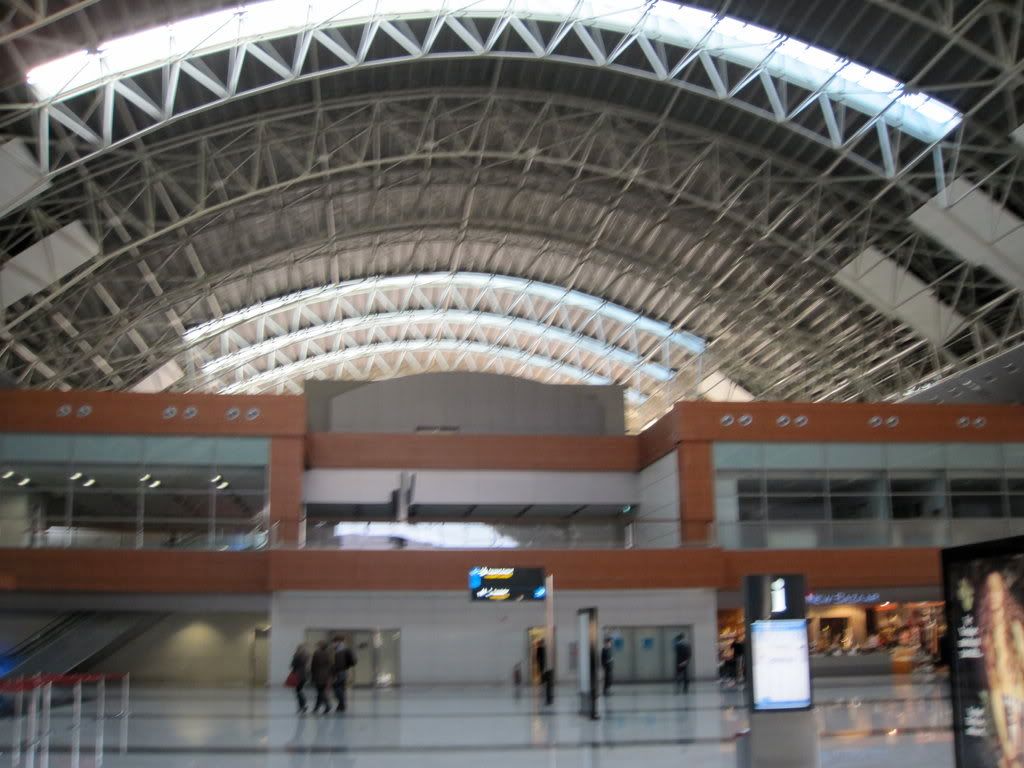 I find a self service machine and pick a seat on the second to last row on what looks like a well occupied flight, at least judging from the seat map. Then it's time for a bit of a breakfast at one of the numerous cafes: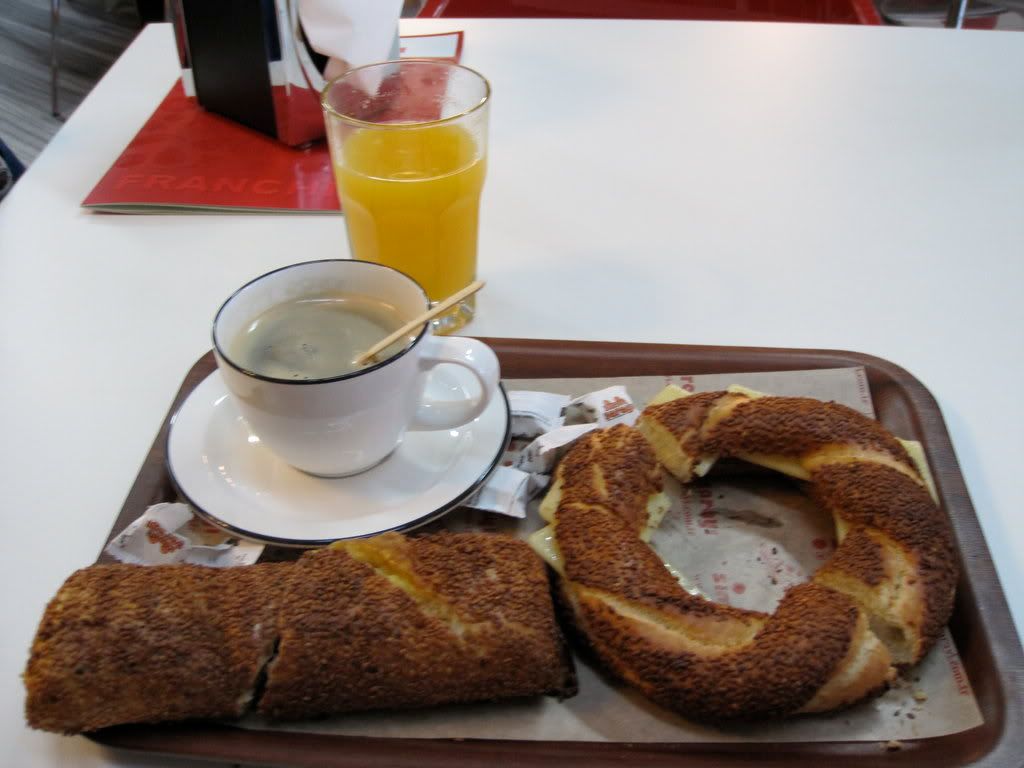 It hits the spot nicely, but at around 10 EUR it is very overpriced by Turkish standards. Most of the prices at this airport turn out to be the same way.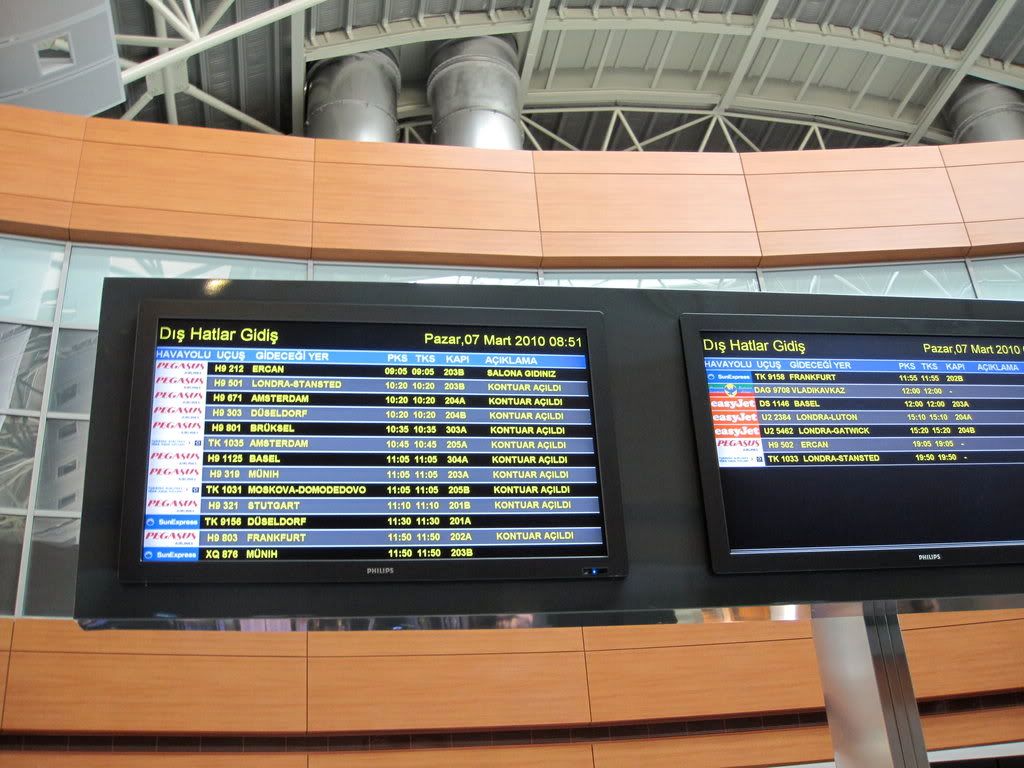 Soon I decide to head to the departure area, passing passport control on the way. Total time spent in Turkey was around an hour. I do a bit of a shopping before heading for the toilets to refresh up a bit. I get a few funny sights from the other passengers, but a clean shirt, clean teeth and a fresh face sure make me feel a bit better!
Just like at IST airport, security check here takes place when entering the gate holding area. I hate this kind of setup, especially as it means I can't bring even a bottle of water to the plane - there's no vending machine or anything at the holding pen. At least there's a toilet, but I'm not really sure if the water here is good for drinking or not. After the security check I get interviewed by a security official. First he asks for my passport, eyes it suspiciously, including my Chinese and Saudi Arabian visas (don't ask) and asks if I have another ID - that's a bit weird but I show him my national ID card as well. Next he asks "Are you police?" - "No, why would I be?" - no answer, but finally satisfied he stamps the boarding pass and sends me off.
Turkish A319 arriving: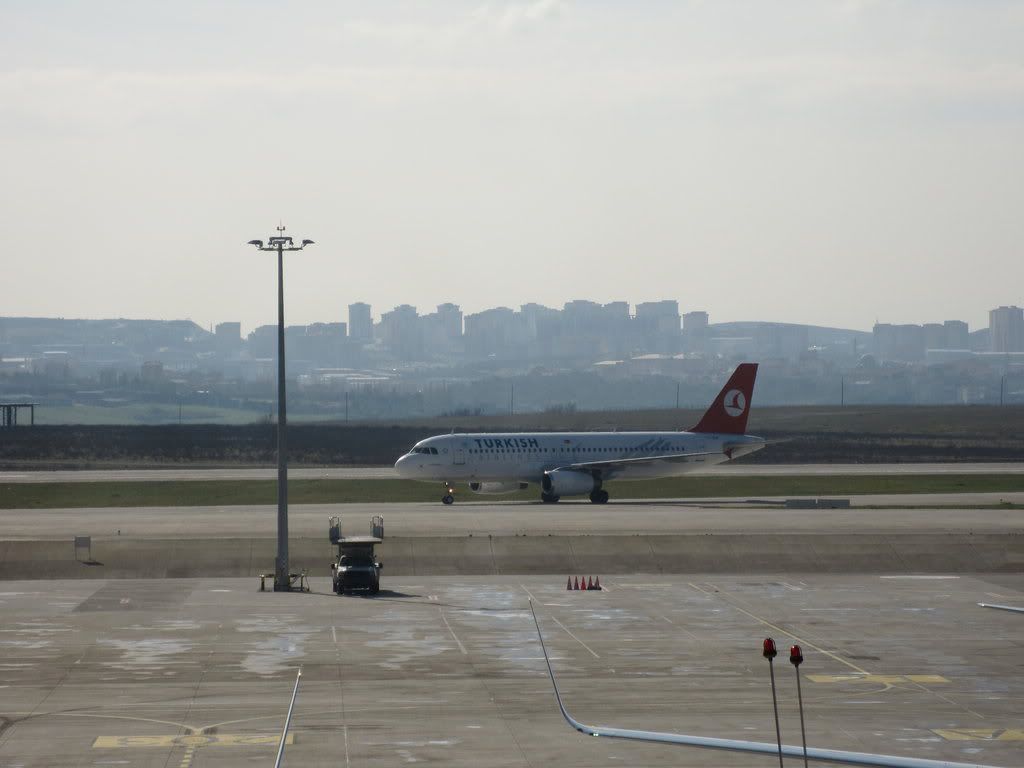 In the Greek mythology Pegasus was a flying winged horse - well today is probably his sick day as a shiny Boeing arrives at our gate instead around 40 minutes before the scheduled departure time. TC-AAN was delivered new to Pegasus in late August 2009, making it a bit over six months old by this time. Obviously a new one for me.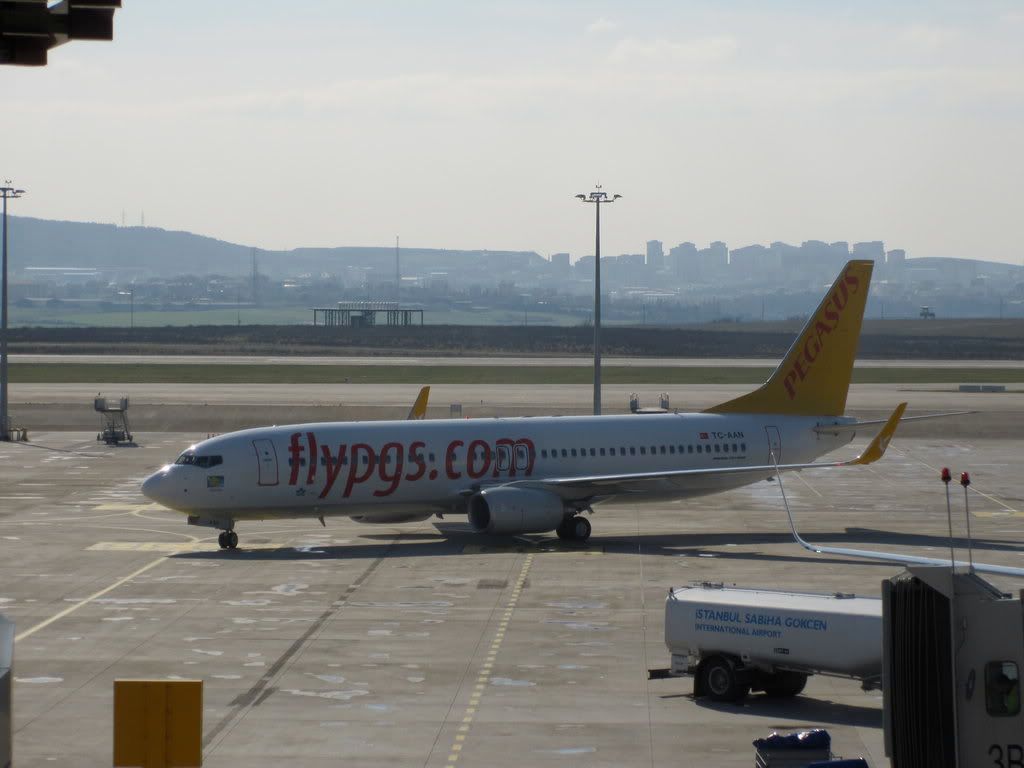 Lots of yellow Pegasus tails: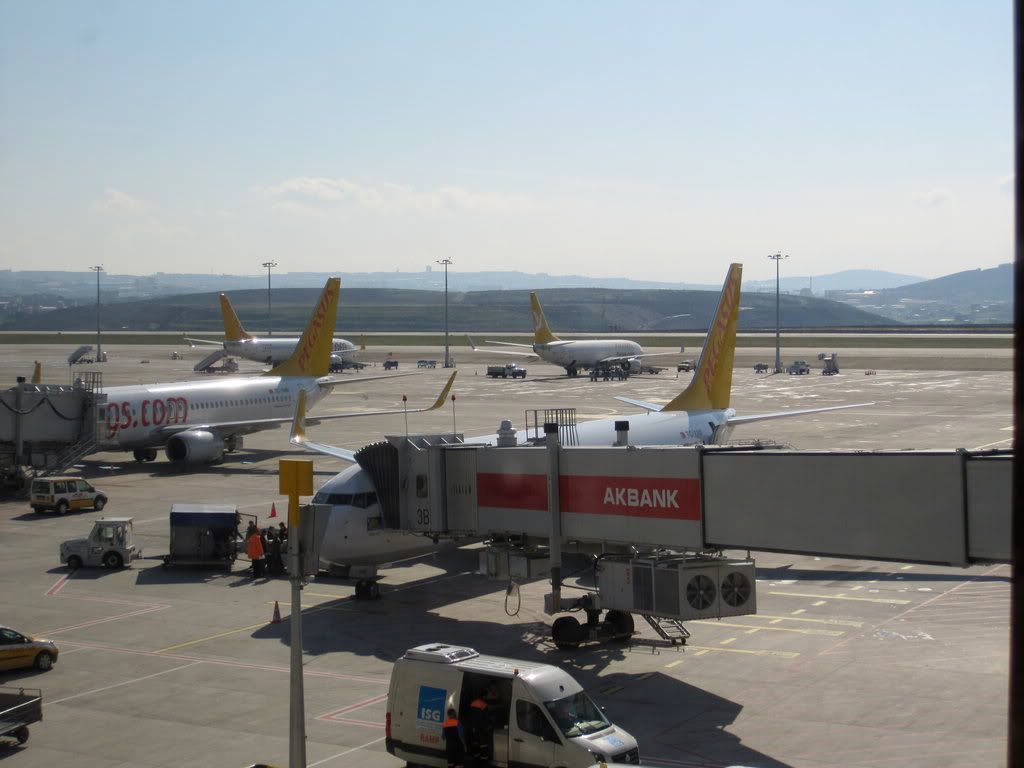 SAW-STN
H9501
B737-800 TC-AAN "Merve"
Seat 31A
10.27 - 12.10
Boarding via jetway starts 20 minutes before departure, around 10.00. It's another rather chaotic affair with lots of cabin luggage, people yelling at each other and blocking the aisle, making it difficult to make my way to the second to last row. The thick dark blue fake leather seats are comfortable enough, although the seat pitch is a bit lacking. Lots of ads in the cabin give it a bit of a cheap look.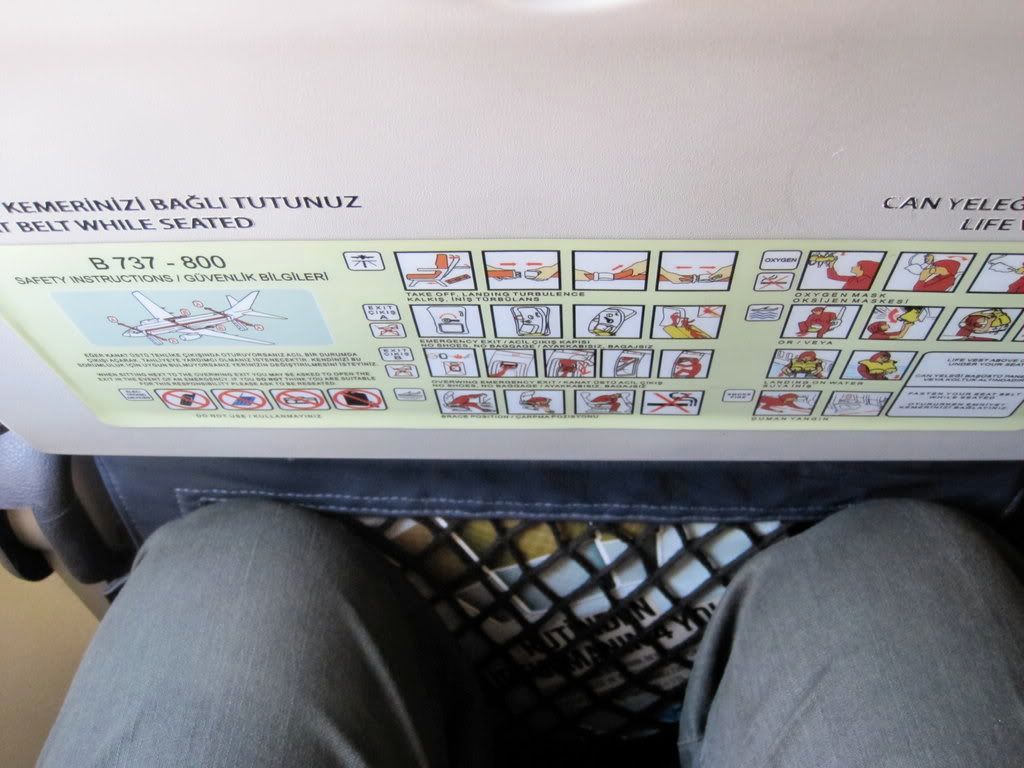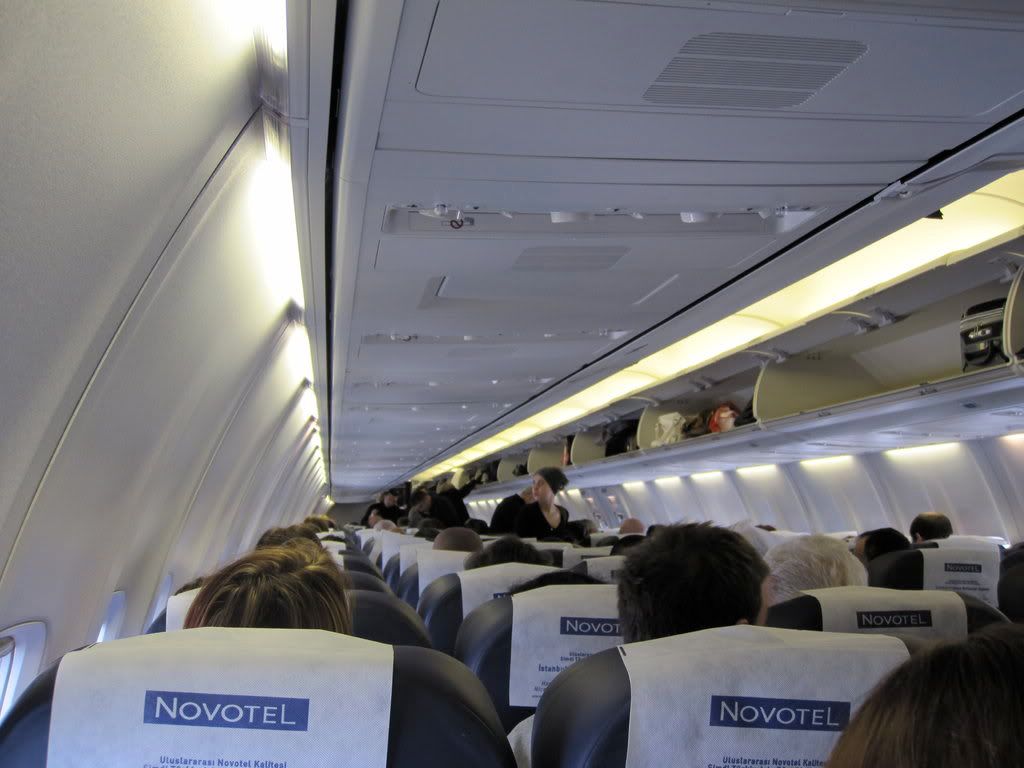 Top