SQ 15: SAN FRANCISCO to SEOUL: BOEING 777-300ER: BUSINESS CLASS
The plane to Seoul: 9V-SWA
Surely I wasn't the only one with mixed emotions. The start of this trip was somewhat anti-climatic. My purpose was to get to Asia in order to fly on All Nippon's inagural "
Inspiration of Japan
" from Tokyo to JFK which was subsequently cancelled. I decided to travel anyway as it would have cost me more money to cancel the flight than go. I am glad I went (shocking)
Check in for my flight was a cinch and I had some time to sepnd in the lounge. The lounge review is on my blog. When I boarded, my first thought was: "Wow! This cabin is real high end..."
It was decorated with trim and wall art and was very appealing aesthetically. I walked through the First Class Cabin while boarding and snapped a few quick pics:
At that point, a flight attendant welcomed me on board and escorted me to my seat. I said "wow" again, this is the widest airplane seat I have ever seen. I did a separate report on the seats, also on the blog. And a first for me: listening to passengers walk through the business class cabin oohing and ahhing. Business Class Seat:
climbing out of San Francisco
Truth be told, as it always is on Planereality, the seats, upon close inspection, did appear somewhat worn out... nothing major though. The leather was roughed up in spots and there was some blemishes on the ptv and the plastic that surrounded it. I asked the fa to give it a wipe down which she gladly did, but the results were mediocre.
Business Class was only 30% full. Champagne and juice were offered, menus passed out and hand towels (mine was cool at best) distributed. Food was very, very tasty; the fillet had a great sauce, but not overpowering the meat. Salmon 3 ways was perfect. There was a warm towel service after dinner and dessert was ice cream and cheese. Surprising that no amenity kits were offered but rather just some sock that had a fixed semi-hard foot which made them more like slippers. The FA's did hand out eye masks.
Singapore Sling
menu
salmon
fillet
slices of heaven
short-rib
For entertainment, Singapore's KrisWorld offers plenty of movies, music and games, but no airline I have flown comes close to Qatar Airways in terms of quantity of movies. On the flip side, the noise cancelling headphones provided were the best I have used. Although UBS ports were at each seat I was unable to play my I-Pod through the KrisWorld system, but was able to re-charge it.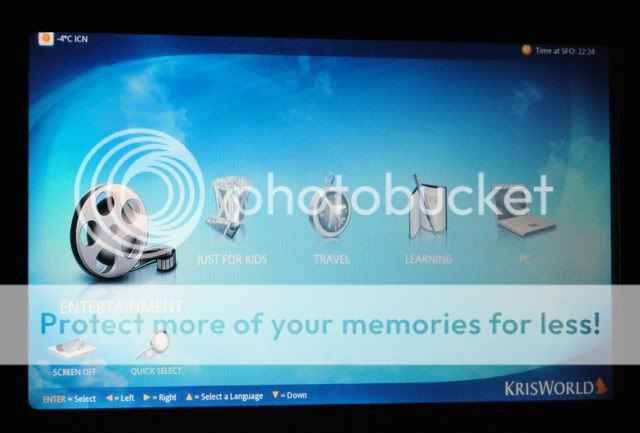 headphones, eye mask & socks
Perhaps it goes without saying that the service was excellent during the entire flight. In particular, the flight attendants asked if I was "ready" each time, before serving me any food or drinks. Flying on Singapore Airlines will never get old.
[Edited 2010-03-12 11:44:49]
[ Diamond: edited to correct column spacing and alignment ]
[Edited 2010-03-12 12:19:40 by diamond]