Turkey for 1.5 Hours: Leipzig - Antalya - Leipzig
on Sky Airlines 737-400 and 737-800
Intro
"Smile in the Sky"
- that's the slogan of
Sky Airlines
, a Turkish holiday carrier based in Antalya. Today I'll give an impression of that airline and I will answer the question whether it made me smile. Actually I had planned to compare
Sky Airlines
and
SunExpress
in this report, but the former not only operated the inbound flight SHY759 from Antalya to Leipzig/Halle, but (unfortunately) also the outbound SunExpress flight XQ723 from Leipzig/Halle to Antalya. At least different aircraft types were used.
Background
Some weeks after returning from my US trip I found myself in flying mood again. My intention was to make one more trip involving at least one new carrier before the long winter break. I didn't want to spend a whole weekend for that, so I started searching for daytrip options. After some failures a Condor newsletter caught my attention - the airline was promoting cheap flights on its whole network. What I found most interesting were one-way flights to Turkey for less than 50 Euro - operated by SunExpress which was still missing in my log. I checked flying options from Munich and Nuremberg, but couldn't create a reasonable itinerary for a number of reasons.

Rather coincidentally I had a look at Leipzig/Halle Airport which I had never used before - and I couldn't believe what I found on a Sunday: a morning flight to Antalya on SunExpress for 46 Euro and an afternoon return flight to Leipzig/Halle on Sky Airlines for 72 Euro. The fares were quite low considering that the departure day would be only ten days away. I figured out that 105 minutes would be enough for the transfer and quickly booked both flights on Condor's and Sky's websites. Two new airlines, a new airport and a new country on one day - of course I couldn't resist. Interestingly, my father had found the idea of a daytrip to Turkey quite funny and agreed to come with me.
Sunday, 22 November 2009
Leipzig/Halle (LEJ) - Antalya (AYT)
SunExpress XQ723, operated by Sky Airlines
09:35-13:45 (09:38-13:46)
Flying time: 02:50 (hrs)
Economy Class, Seat 27F

Boeing 737-8BK
TC-SKH (s/n 2231), named "Rainbow"
Delivered in 04/2007
1st flight on TC-SKH
15th 737-800 flight
25th 737NG flight
48th 737 flight
87th airline
SunExpress doesn't offer an online check-in and I hadn't wanted to spend 10 Euro per person for a seat reservation - so I had to make sure to be at the airport at least two hours prior to departure. However, when we arrived at the check-in area in the so-called "Zentralterminal" (central terminal) at 07:30 I couldn't believe what I saw: At least 100 people were already lined up in two queues in front of the SunExpress counters.
Most of them were German senior citizens, complemented by some families and only two men apparently from Turkish descent. Most of them were equipped with large suitcases - I guess my father and I were the only ones just carrying hand luggage. The queue was moving slowly and after some 30 minutes I heard one of the check-in agents saying something about Sky Airlines to other travellers. My guess was she was talking to them about their return flight...
Some minutes later it was our turn. First of all I asked the agent whether window seats would be still available and, fortunately, she confirmed. Then I requested two seats at a window in the back of the plane and she asked whether I meant two seats in one row or two window seats in different rows. Two seats next to each other of course, I replied…
Here's the following conversation which I found quite amusing:
Check-in agent: "How many pieces of luggage do you want to check in?"
PlaneHunter: "None."
Check-in agent: "Oh, do you want to buy everything in Turkey?"
PlaneHunter: "No, we'll stay just for a short time."
Check-in agent: "Aha."
Then she handed out the boarding passes to us and surprised me with the statement:
"You will fly with Sky Airlines today."
That was quite a disappointment considering that I would not get SunExpess and end up on Sky Airlines twice. Why couldn't SunExpress contract another carrier, but exactly the one which I had already chosen anyway?
I was relieved a bit when the agent answered my question about the aircraft type:
"It's a 738."
I knew there's only a single 737-800 in the carrier's diverse fleet, so it would be still something special.
We left the central terminal (which includes a train station) and walked to the new Terminal B. Walkway between these two buildings: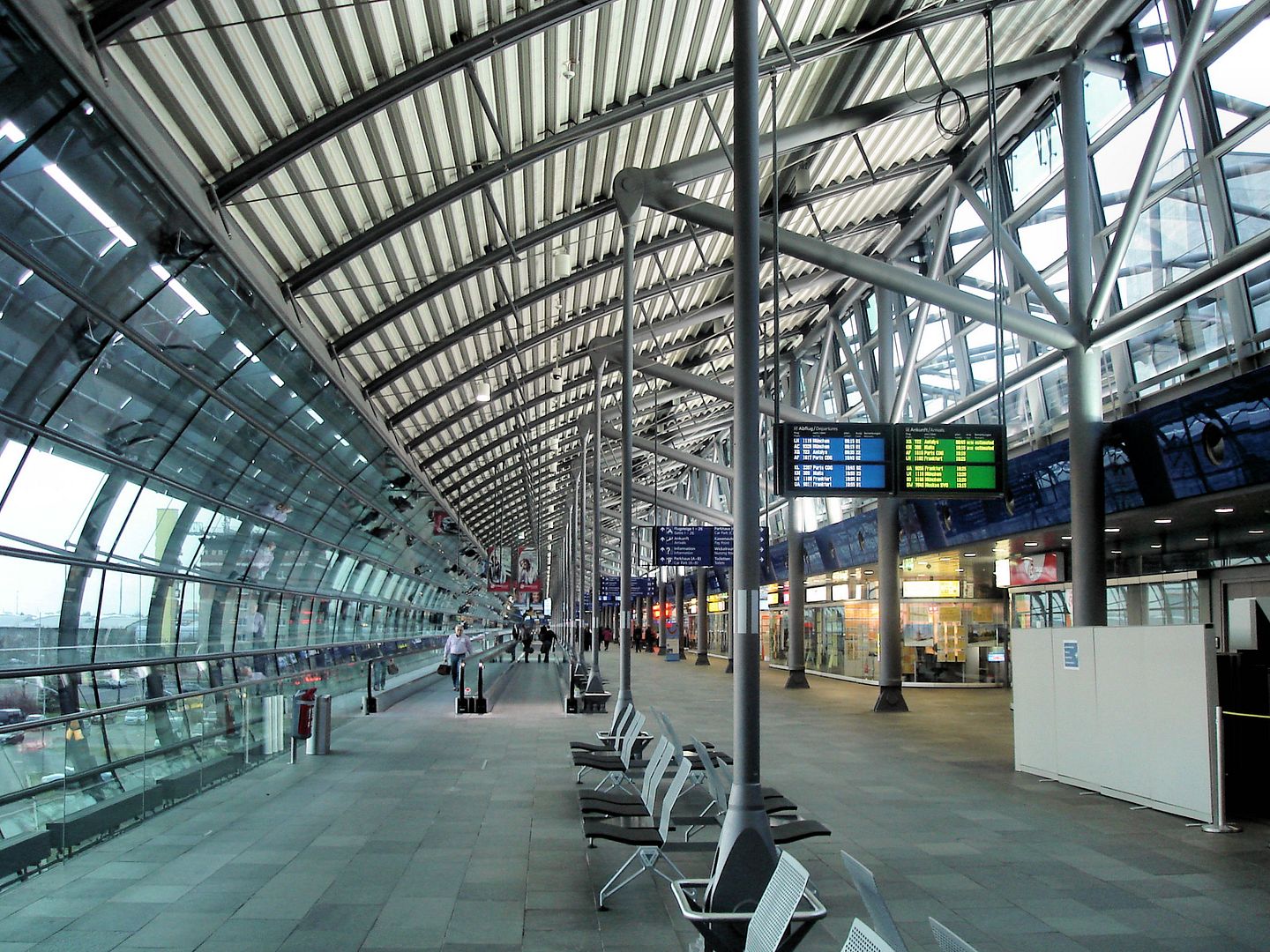 Before clearing security I realized that the agent had given us window seats in different rows (22F and 27F) - despite my clear request for two seats abreast.
I didn't want to go back to the counters and decided to point out the problem at the gate. However, the layout of the gate area prevented me from doing so. What's strange is not just the fact that the waiting area (with seats, but without viewing opportunities) is separated from a kind of boarding zone (viewing opportunities, but no seats). The gate counters in the boarding zone are located behind glass doors - and the agent didn't open the door until boarding was started...
In March 2008 DHL moved its European hub from Brussels to Leipzig/Halle, so freighters of all kinds dominate the scene: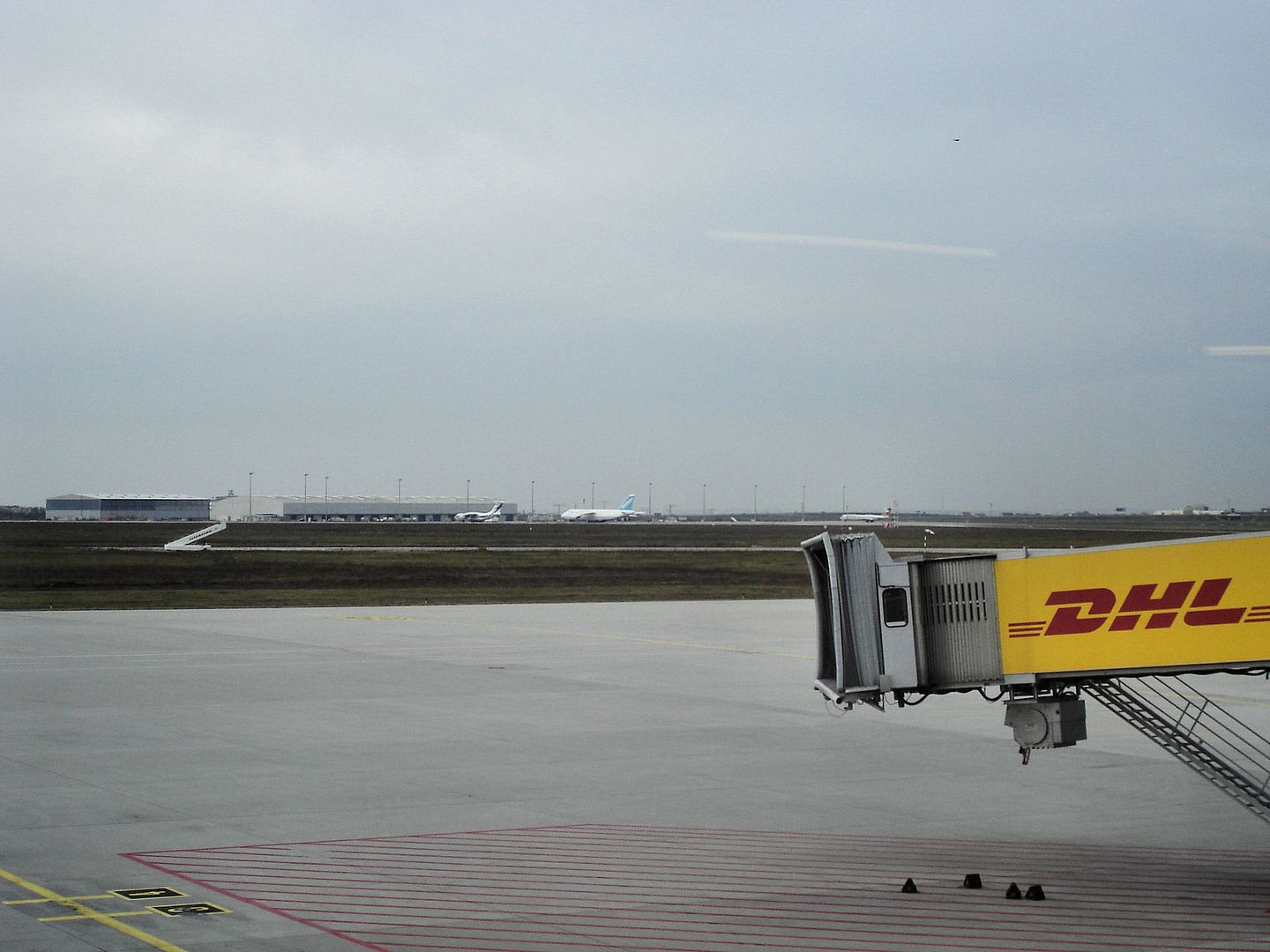 That old building is used by the airport administration and hosts a restaurant and a viewing deck: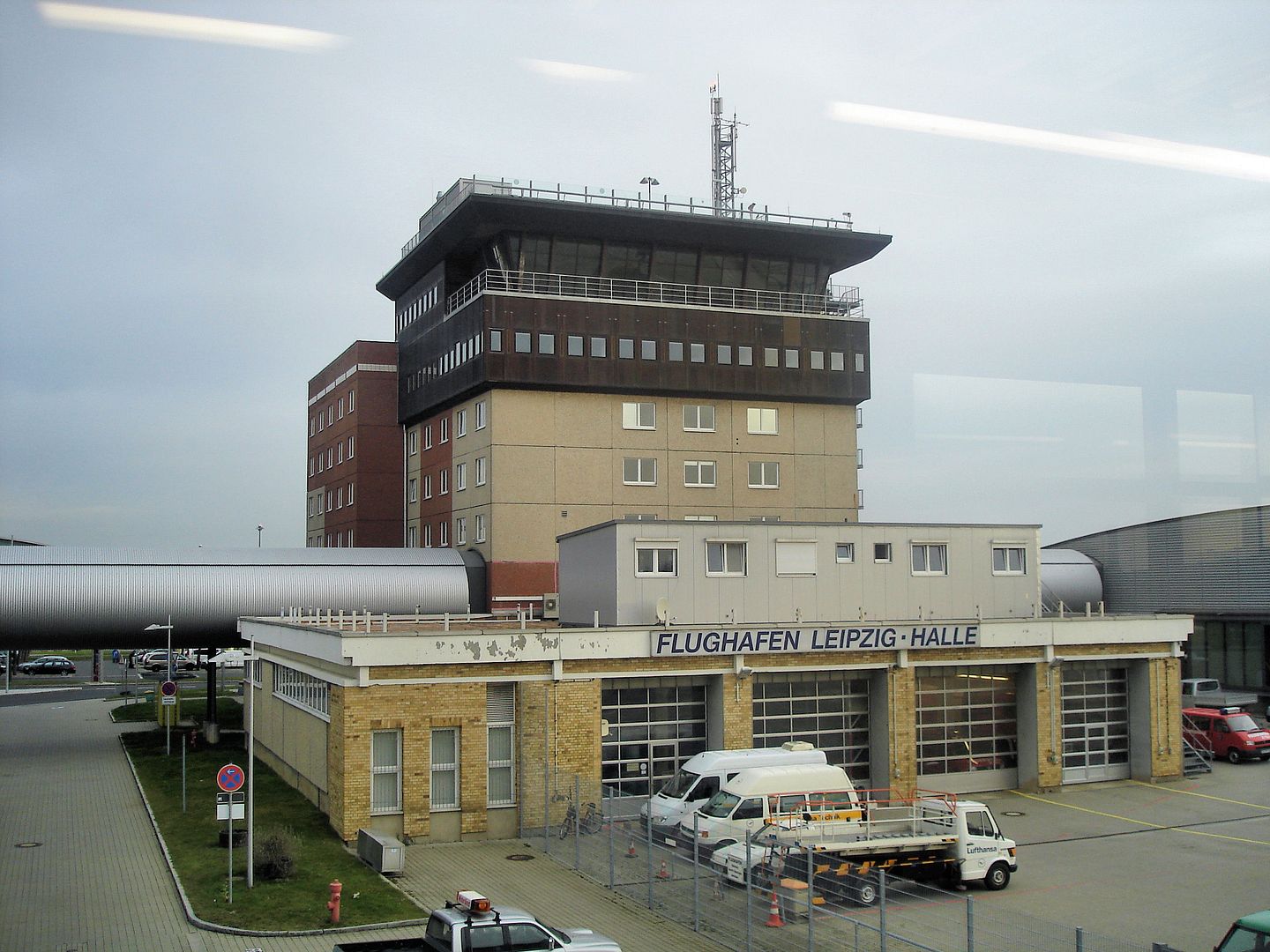 TC-SKH
, Sky Airlines' sole Boeing 737-800, arrived from Antalya on time: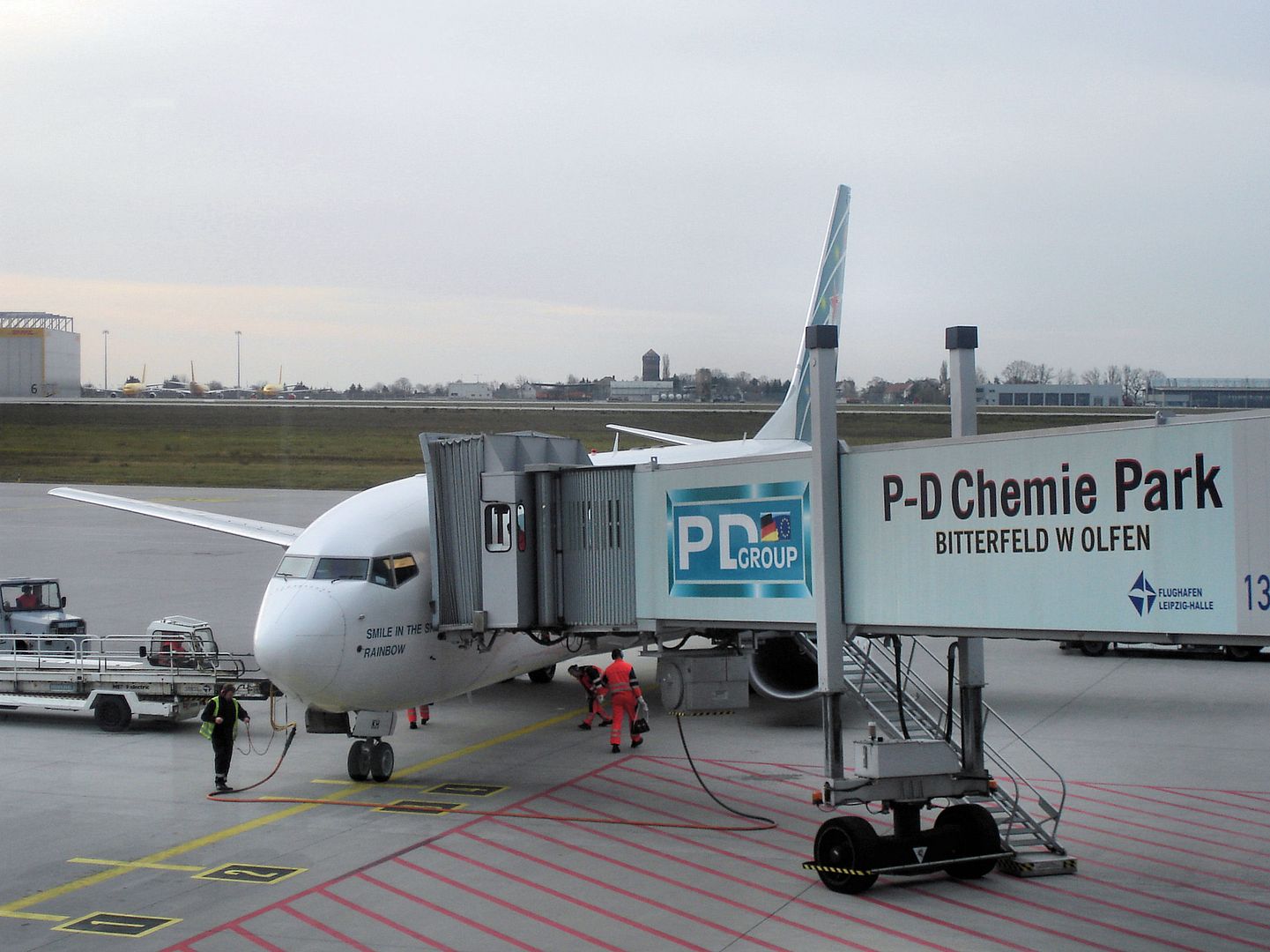 The plane - not yet equipped with winglets - was delivered factory fresh in April 2007: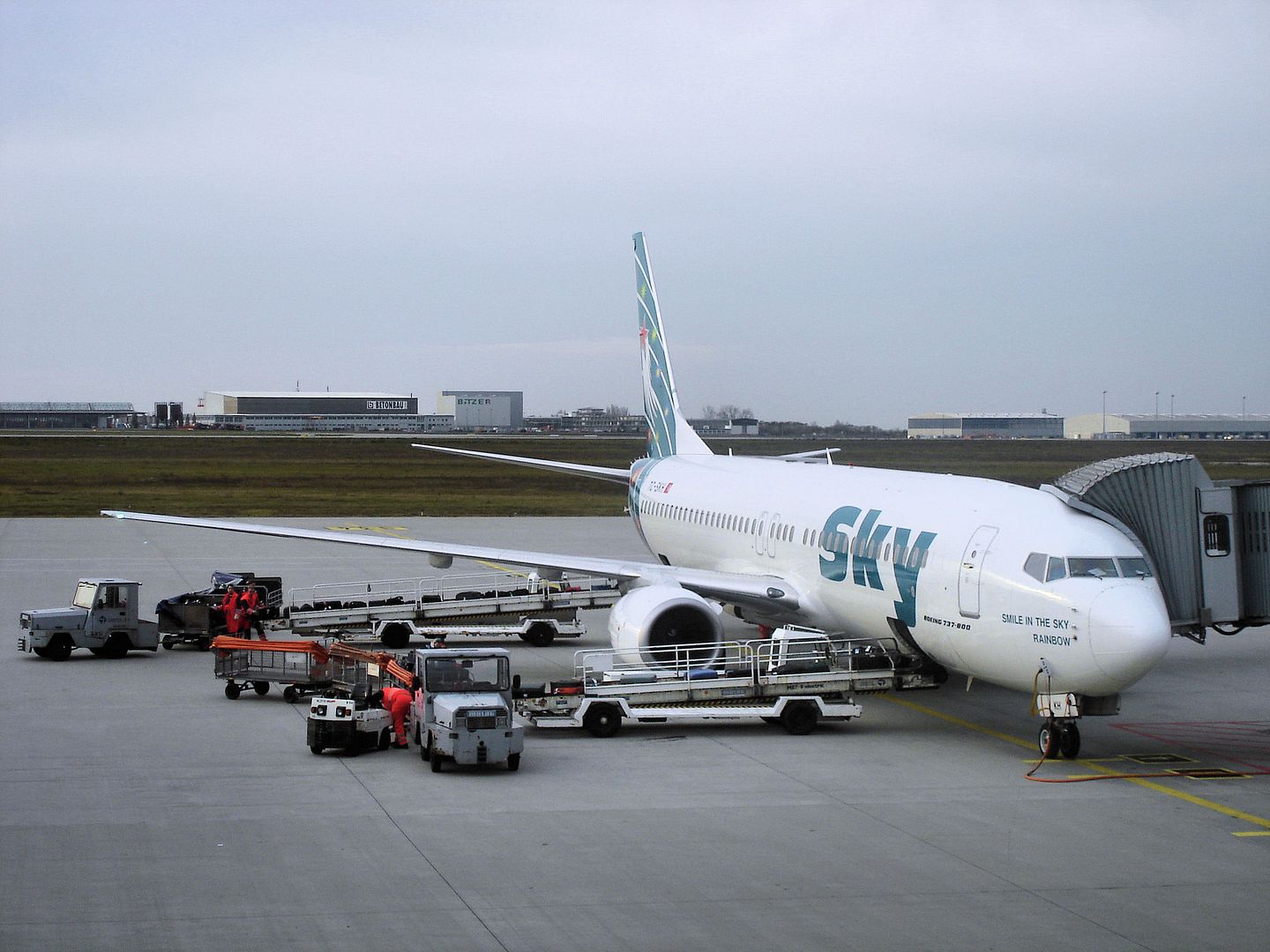 As soon as the agent - the same one who had checked us in - opened the glass door for boarding I told her about the problem with our assigned seats.
"I don't know how that could happen"
, she said, but immediately added:
"There's nothing I can do now. Please ask the cabin crew."
So I addressed a young female flight attendant in the middle of the cabin. I wasn't sure whether she would understand German, so I chose English. It was clear soon that she wasn't comfortable with English, but then an older flight attendant showed up and addressed me in German. I told her about our problem, but she quickly explained that switching seats would only be possible after takeoff. Both weren't overly friendly in that situation and, honestly, I wasn't interested in any more discussions, so we decided to stick with the assigned seats. At least we couldn't complain about the lack of windows...
The plane was equipped with dark blue leather seats which weren't bad in general - except for the fact that my backrest flipped back and forth a bit.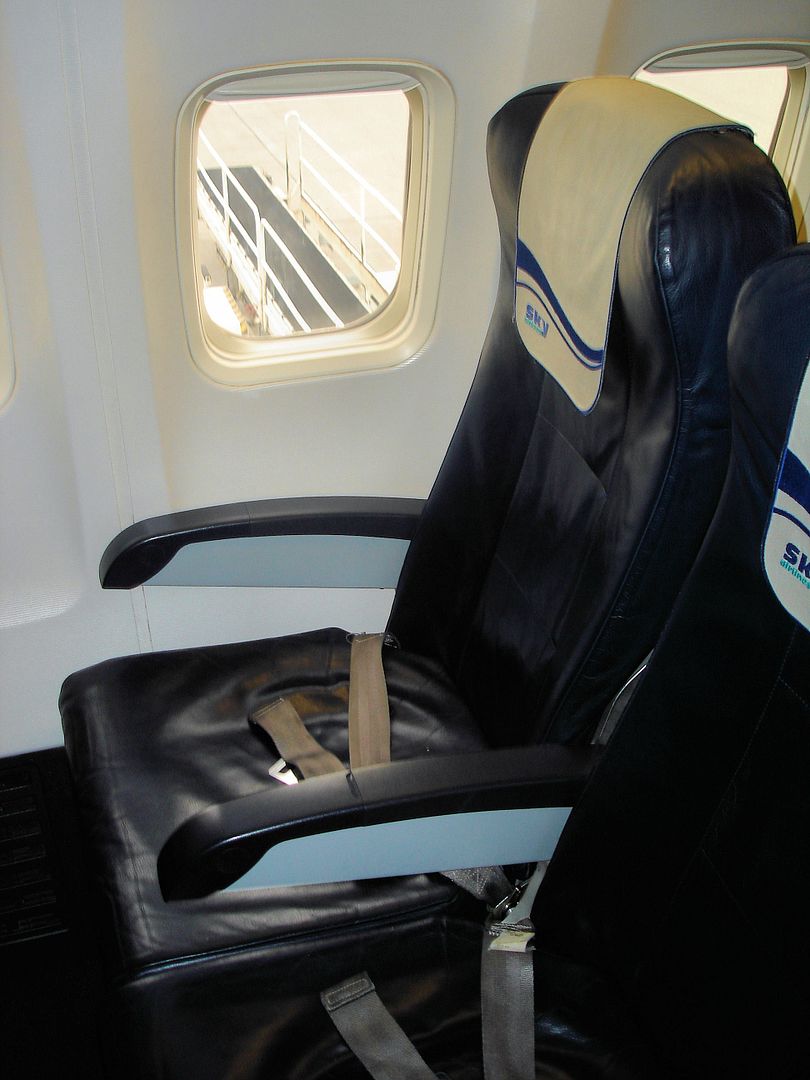 Legroom was not generous, but still acceptable: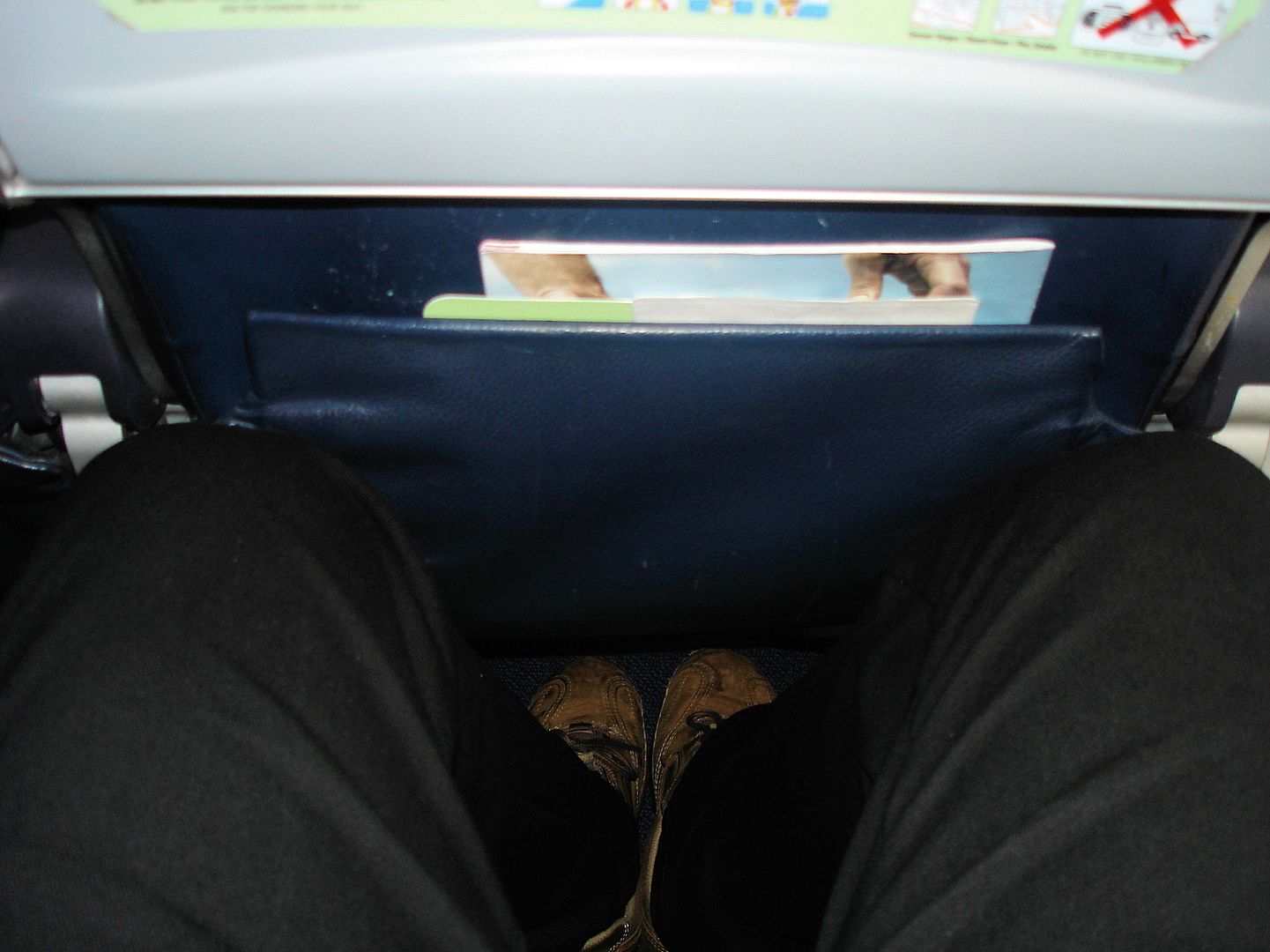 Safety instructions could be found on the seatback - in addition to the regular safety card in the seat pocket: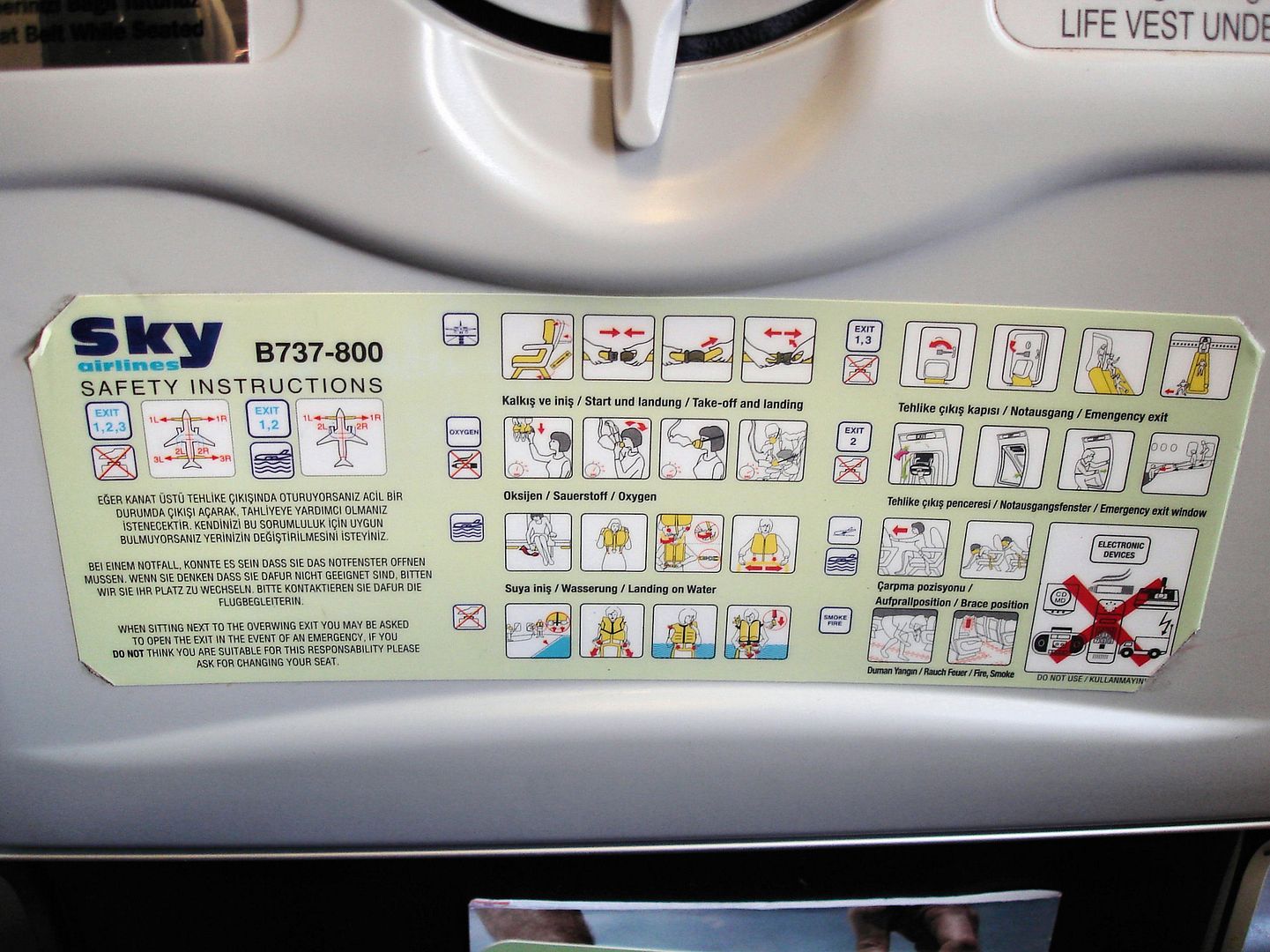 Ads on the tables: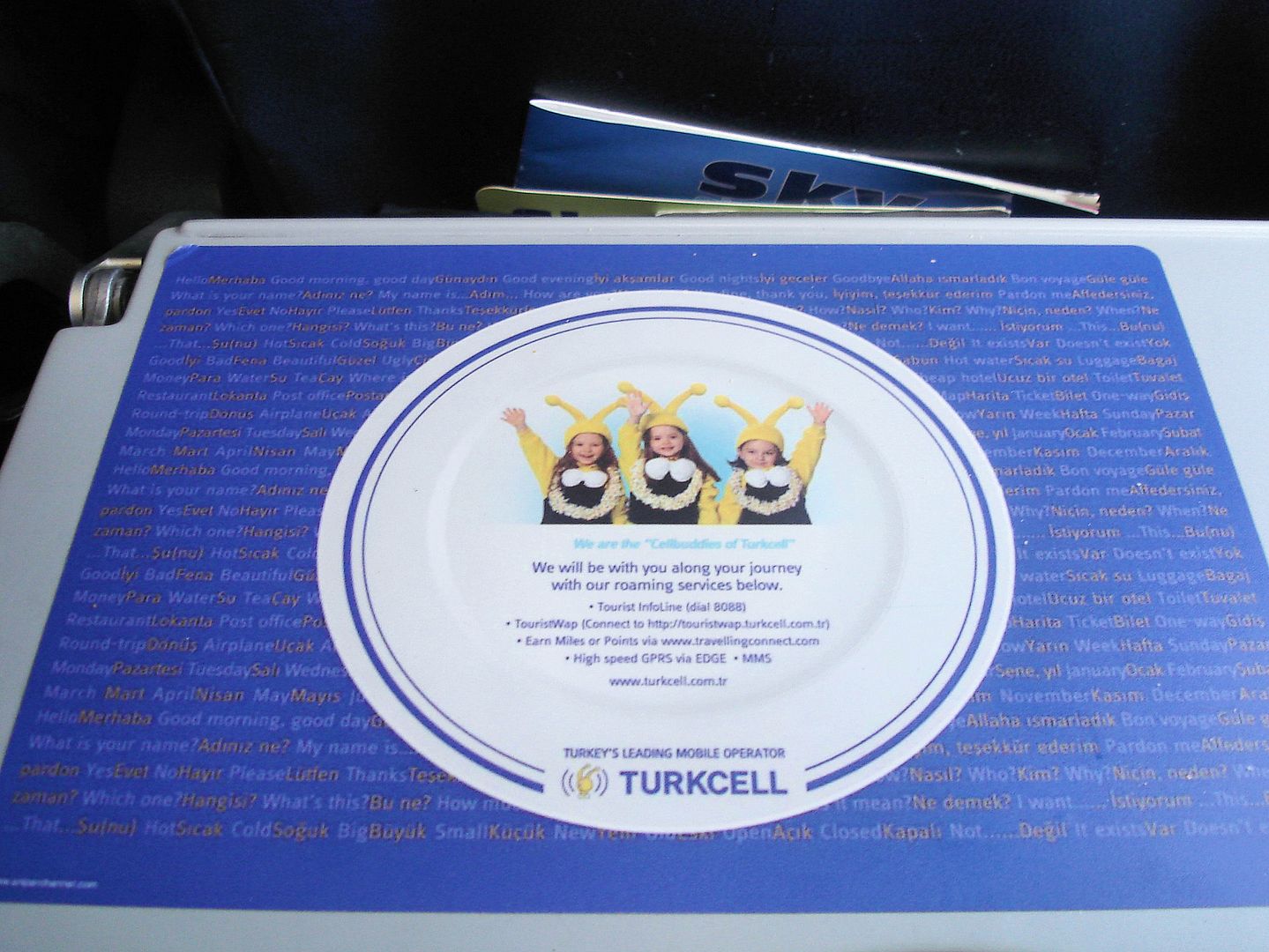 I couldn't find an in-flight magazine, but a nice duty free magazine showing all of the carrier's different tails - each of the 13 aircraft in the fleet has another color scheme:
There were permanent announcements during boarding and one of them was aimed at those people who usually need lots of time to store their stuff:
"Please don't block the aisles, our time is limited."
That's exactly what I thought, too, considering my limited ground time at Antalya. It was absolutely important to depart on time.
The flight was packed, apparently just a few seats remained empty. A couple in the mid 30s took the seats next to me, but they were quite friendly, so I didn't mind. Interestingly, when the man tried to take a picture of his wife the older flight attendant showed up and told him that using the camera would only be allowed after take-off. Ok, I was warned...
All announcements could be clearly understood from a technical point of view which is not necessarily common. However, some sentences were spoken at fast rate. After all passengers had taken their seats the purser welcomed everyone on board, kids were even addressed separately (
"Dear kids..."
). The purser then referred to a breakfast service and informed that alcoholic drinks would be subject to a charge.
Then I overheard a conversation between a young couple (experienced holidaymakers) and a young man who had never flown before (all seated behind me). They first talked about flying in general and then long-haul flights in particular. The couple was well informed: When the young guy asked about the longest commercial flight the couple referred to the service between Singapore and New York. Then all of them started to wonder what would happen if the plane had to make an emergency landing when flying "over the North Pole".
"That would be bad",
was the collective conclusion...
I was glad that we left the gate almost on time, only three minutes late. DHL tails everywhere: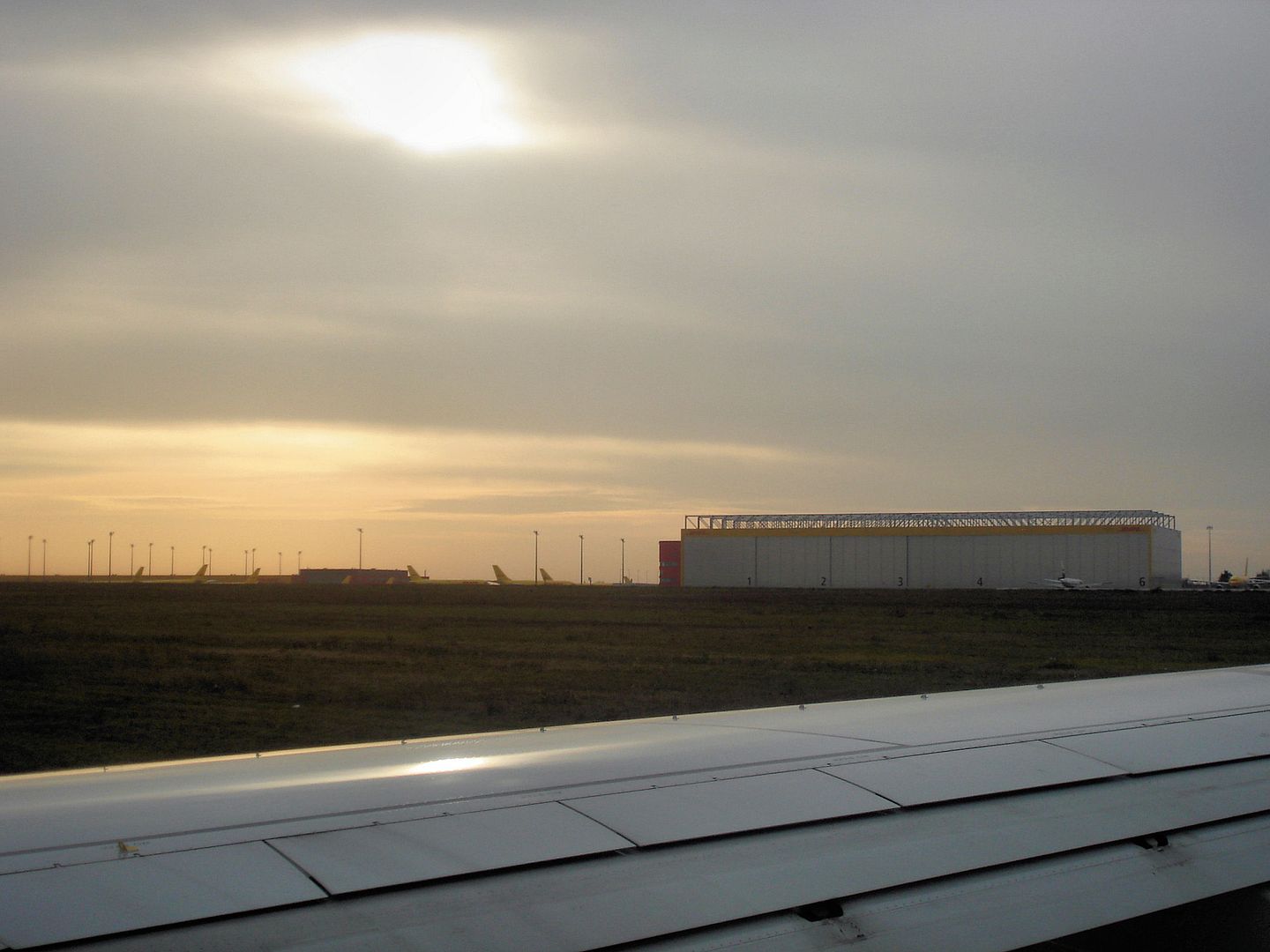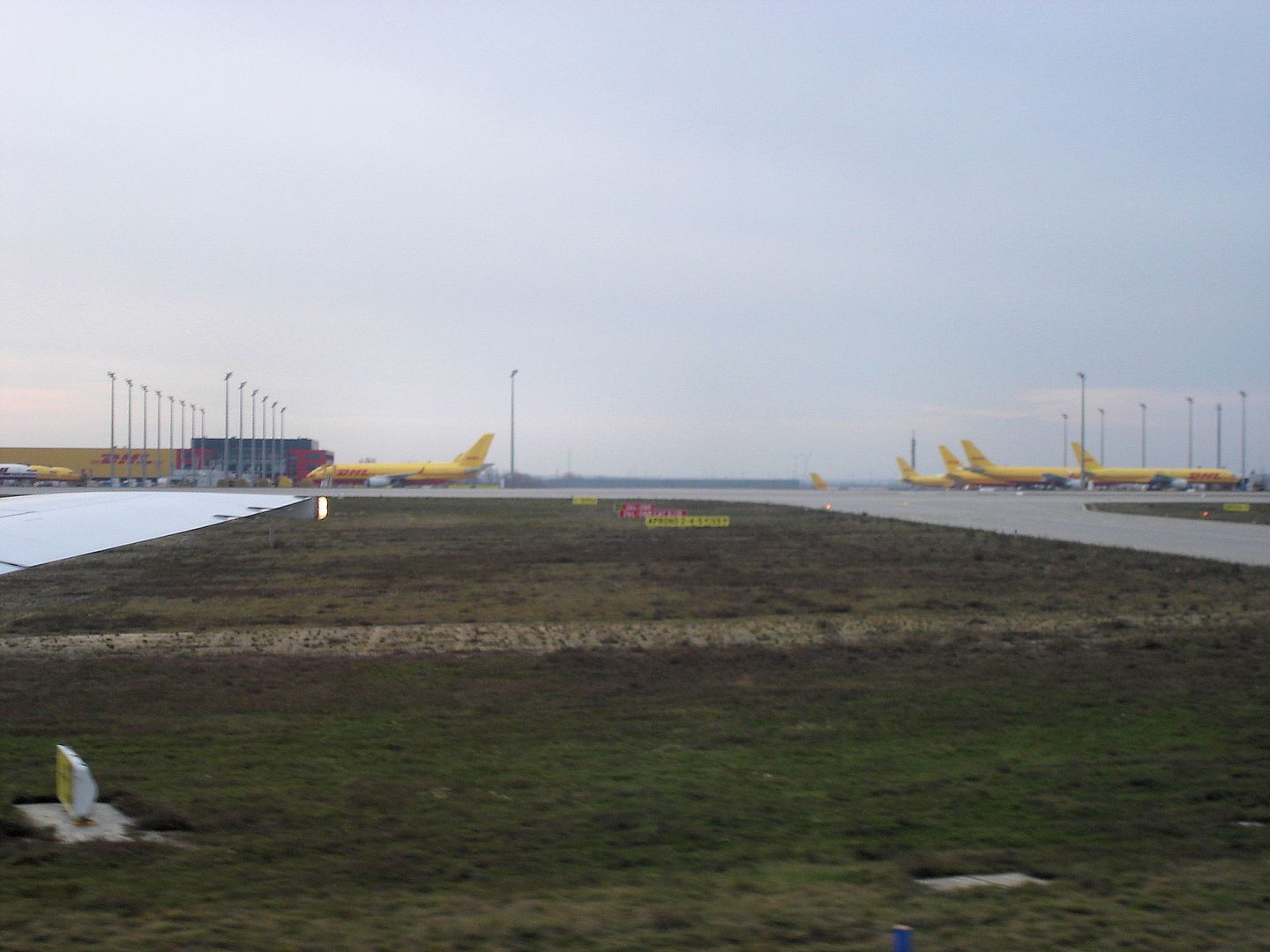 But not just EAT and DHL Air planes were parked in the cargo area. Some interesting visitors were Bluebird Cargo 737Fs, an ACT A300F and a Polar Air Cargo 747-400F: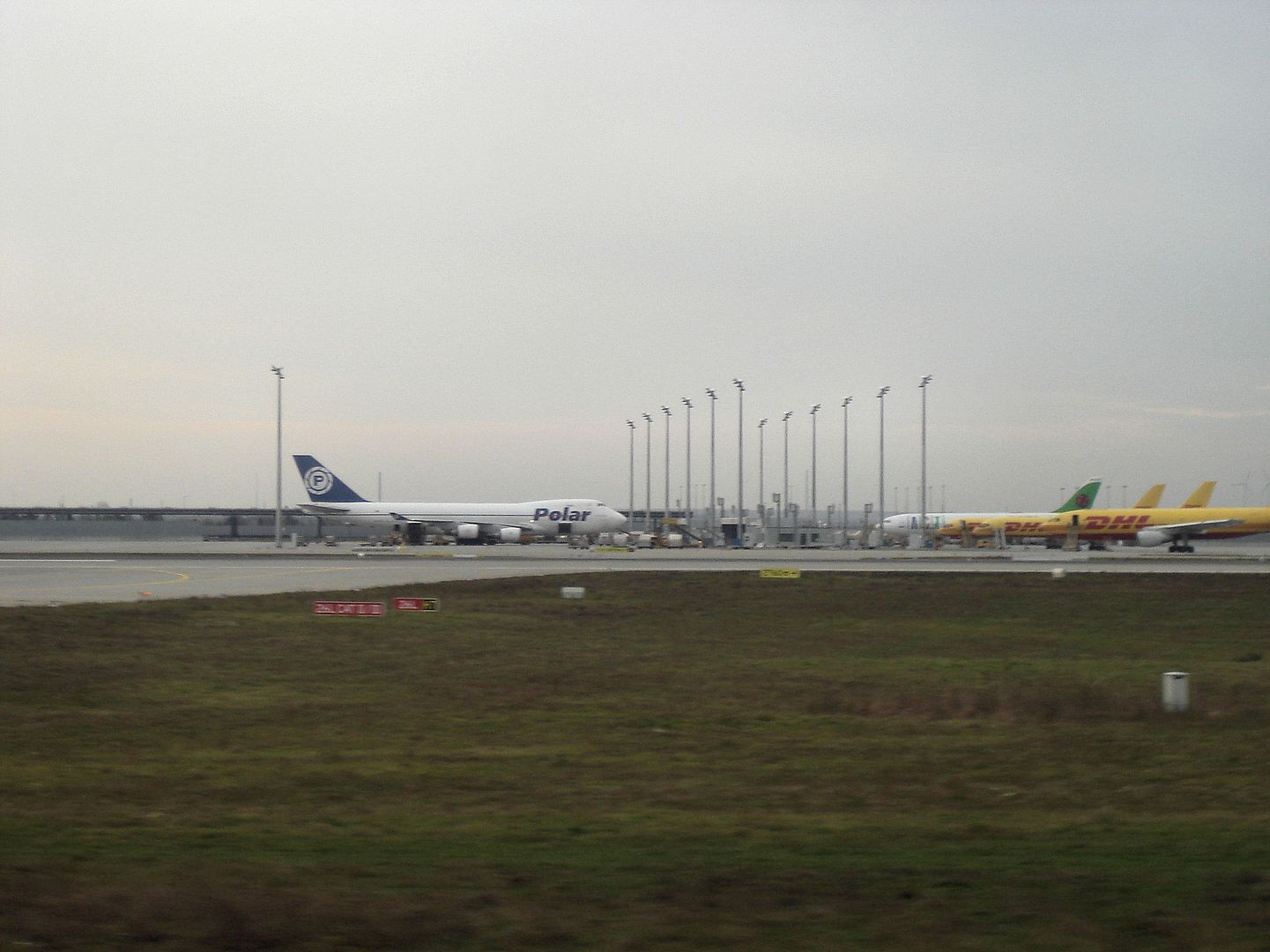 During the 738's powerful take-off I also spotted a North American 767-300ER and a World Airways trijet:
These two carriers and others operating US military charter flights to and from Iraq and Afghanistan intensively use Leipzig/Halle for technical stops and crew change purposes. It has been reported that up to 80 flights with US troops pass through LEJ per month.
Climb-out into a gray sky: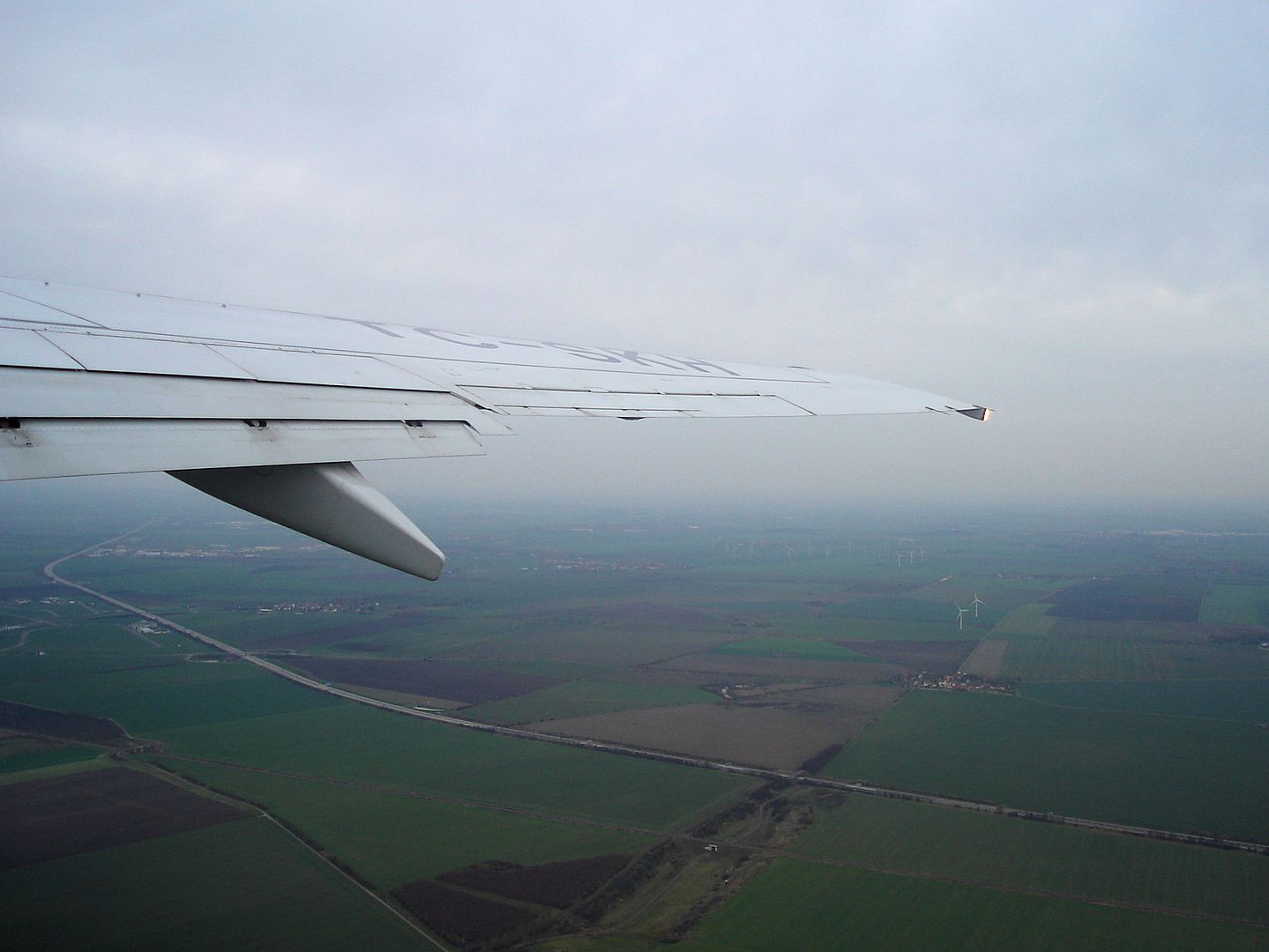 The
Leunawerke
(= Leuna works), one of the biggest chemical industrial complexes in Germany: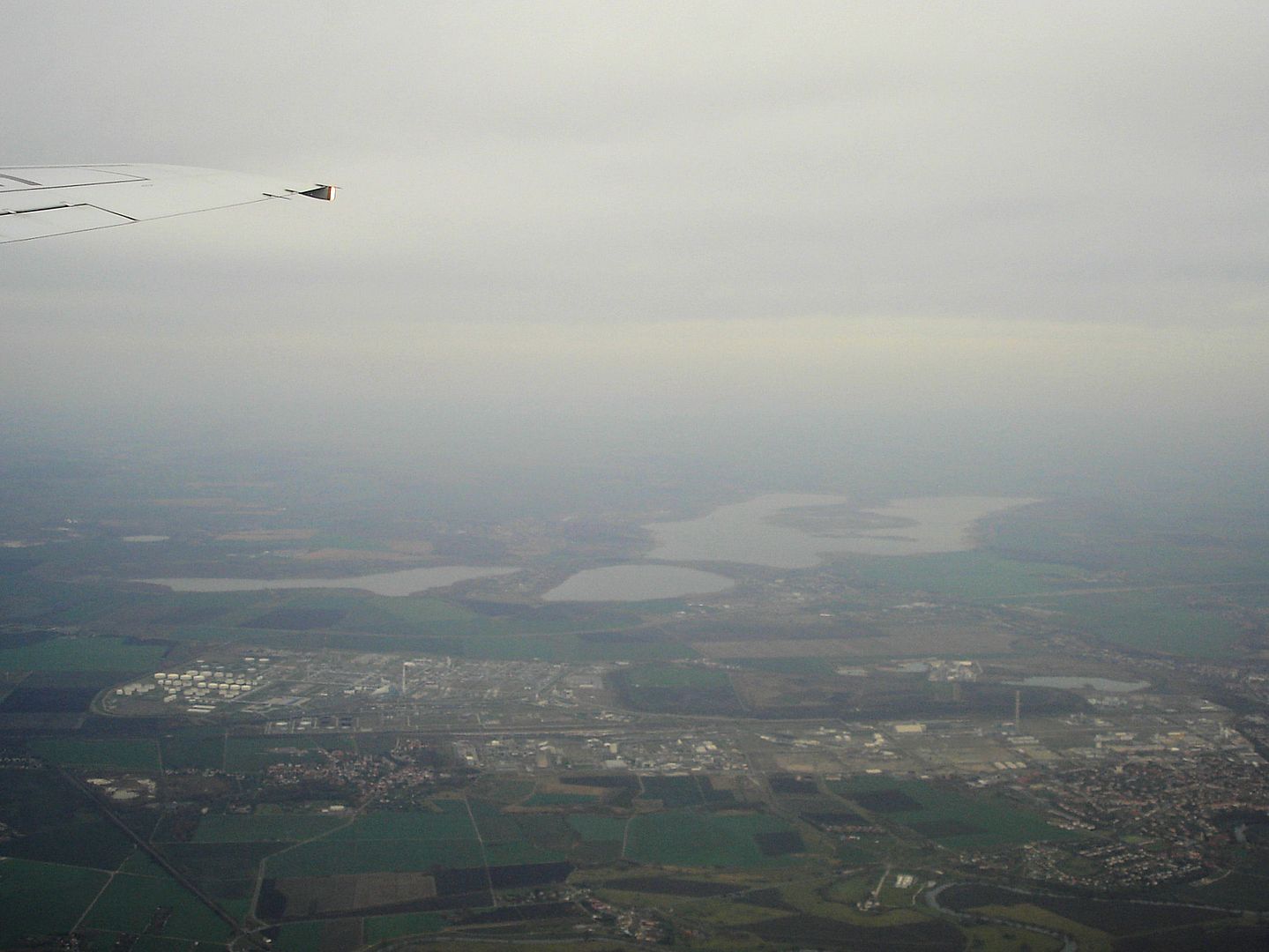 Large brown coal mine on the right: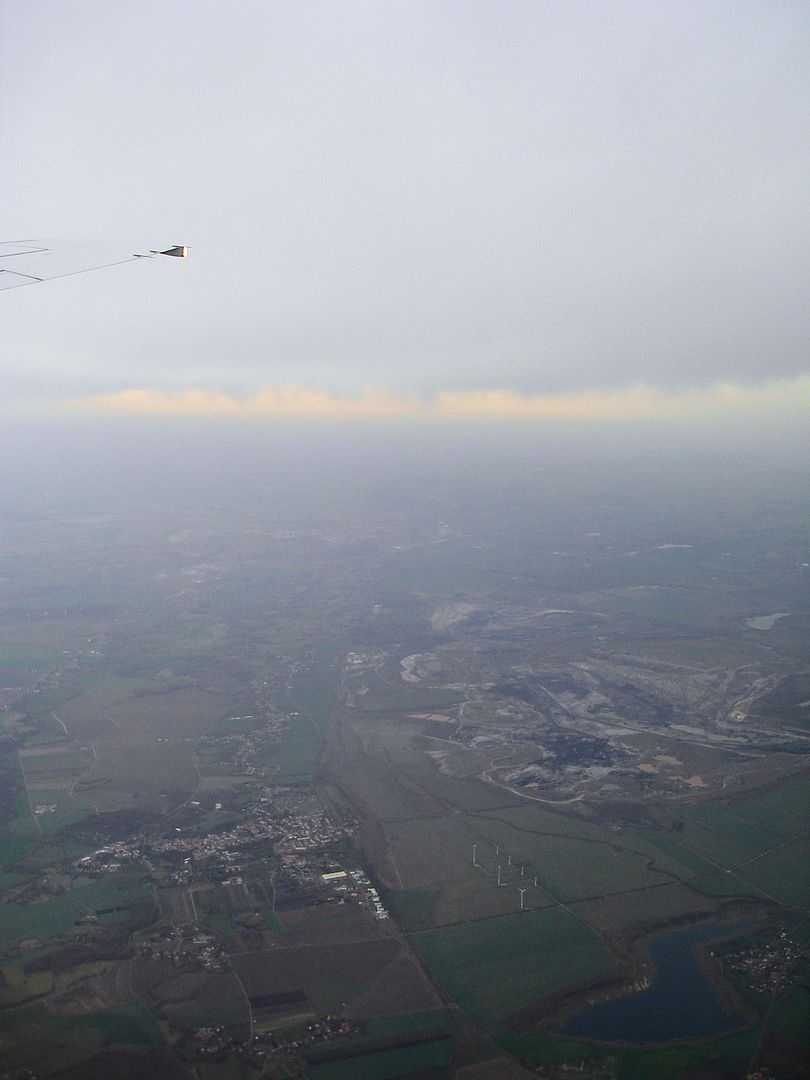 Germany soon disappeared under a dense layer of clouds:
Interestingly, the seatbelt sign wasn't switched off until at least 27 minutes after take-off. Passengers standing up were sent back to their seats. There hadn't been a turbulence announcement so I'm wondering about the reason.
Anyway, as soon as the seatbelt disappeared the flight attendants started serving a (SunExpress) breakfast. Just as advertised on the SunExpress website the tray contained warmed bread rolls, turkey ham, cheese, vegetables, jam and butter as well as a muffin: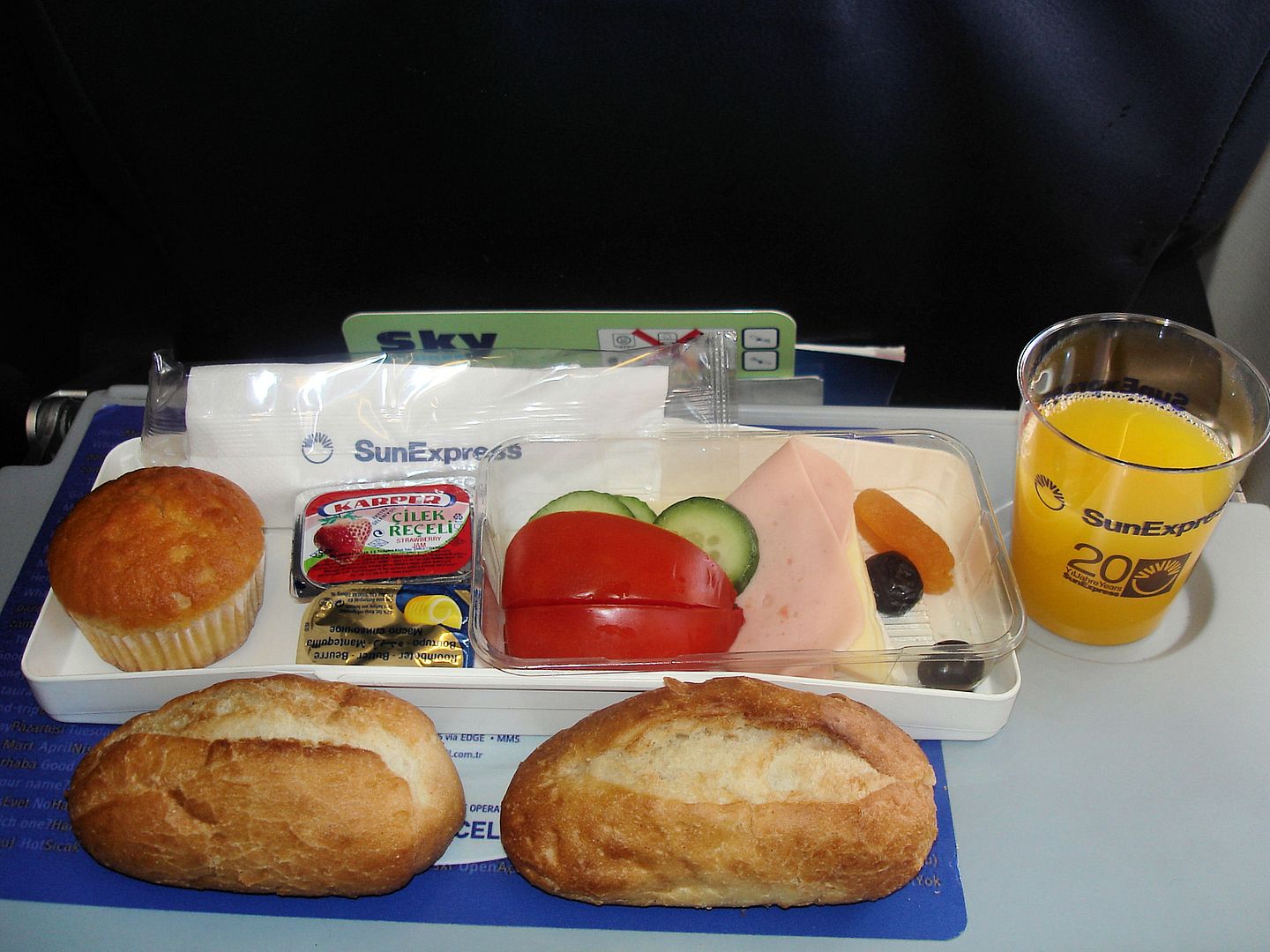 The breakfast wasn't a culinary delight, but it wasn't bad either (apart from the tasteless jelly). It was definitely filling - the lady next to me even offered me her muffin, but I had to decline. Another round of drinks followed shortly after breakfast, but not again later in the flight. Unfortunately, I don't know about the catering on Sky Airlines' own morning flights.
Due to the lack of an IFE system and hence the absence of an airshow I had no idea about our exact routing during the flight. I checked some maps on the computer at home and I guess these mountains are in the borderland between Bulgaria and Greece:
Unfortunately, I was facing the sun most of the time which reduced the picture quality. The isle of Thassos:
There was an announcement by the captain while we were already cruising over Turkey, but it was hard to understand. The approach to Antalya with some turns over mountainous terrain was very enjoyable, but the sun prevented me from taking good pictures. It became better again after a while:
Greenhouses as far as the eye can see: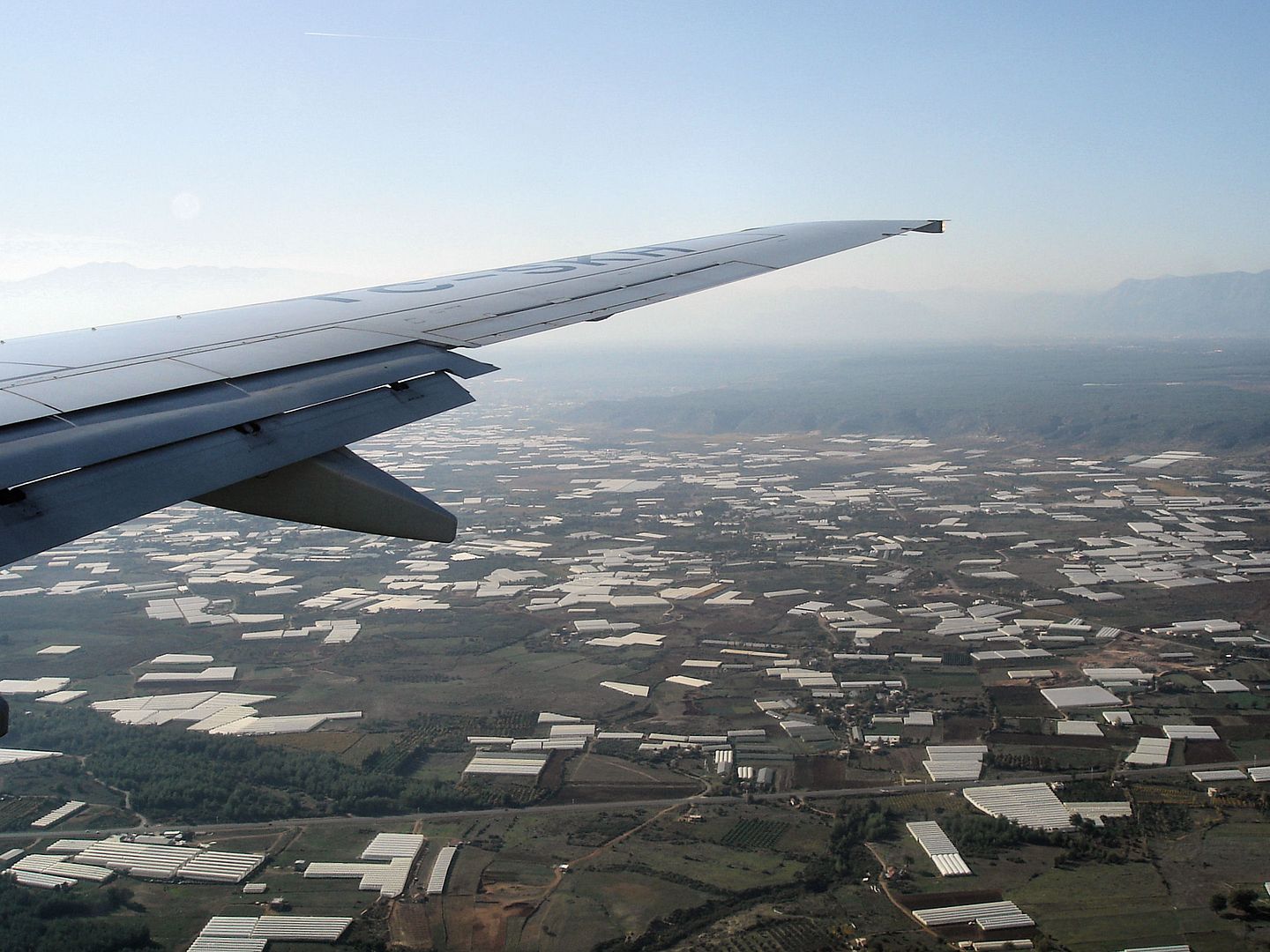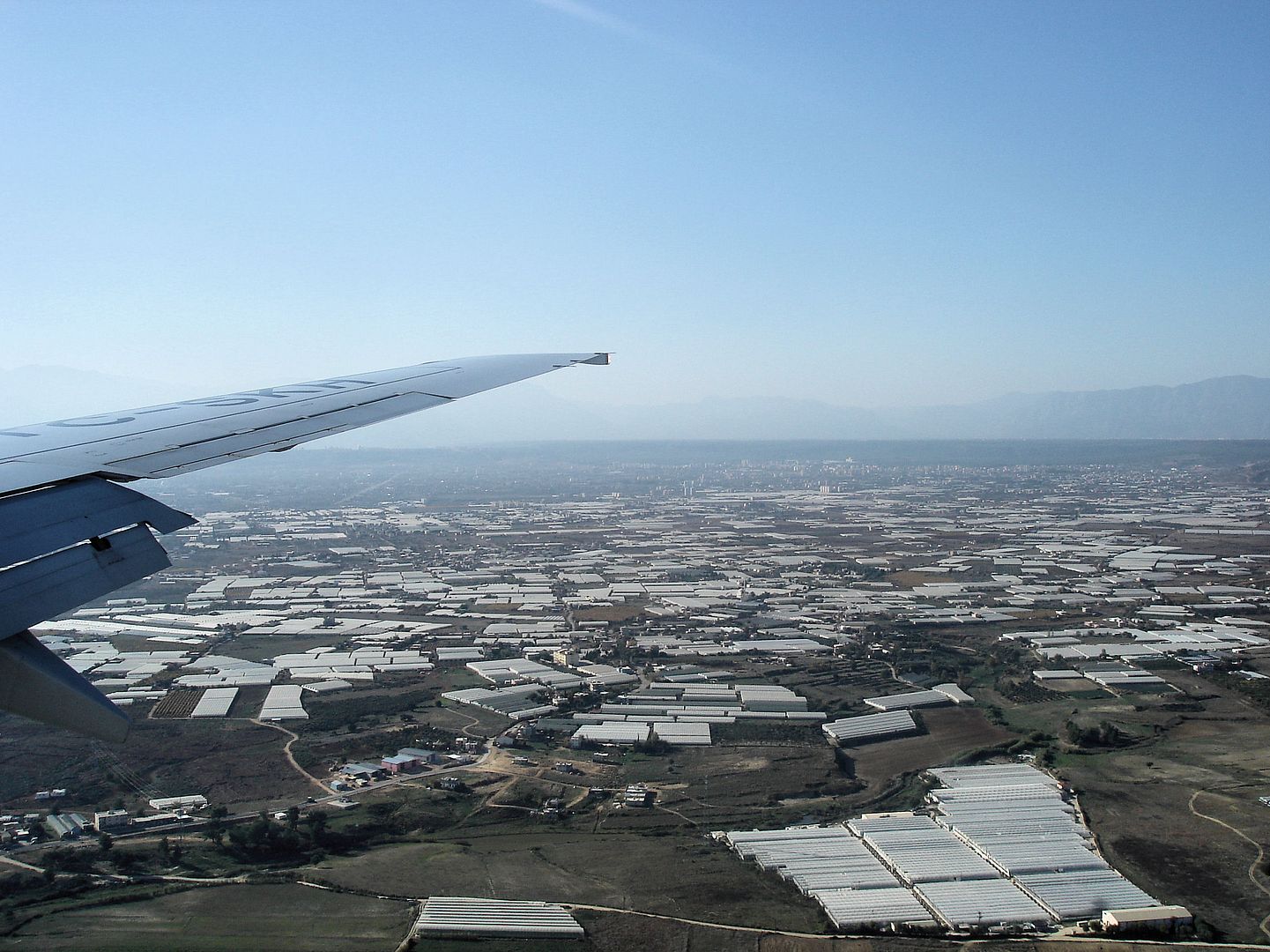 The IC Airport Hotel: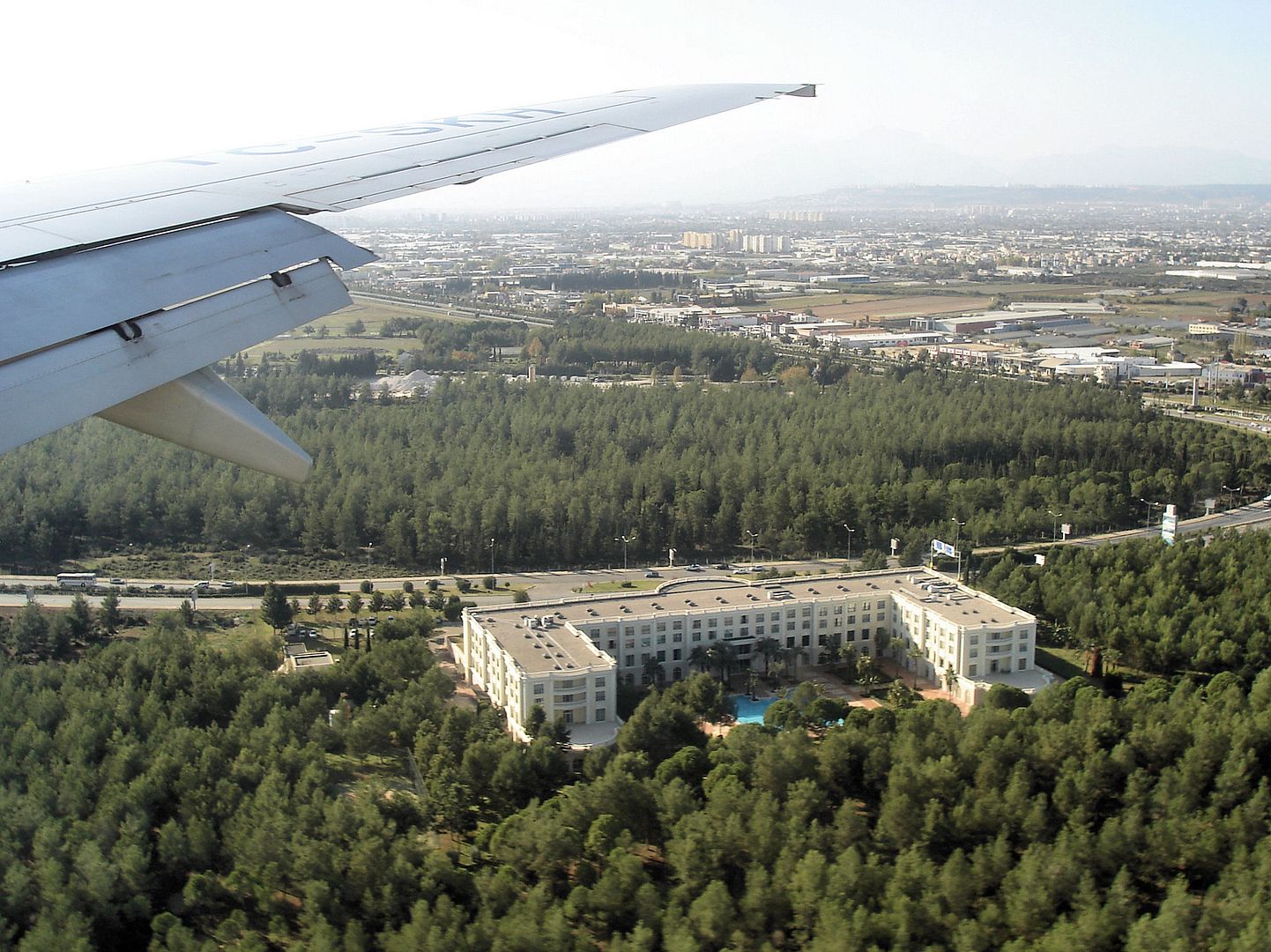 Terminal 1: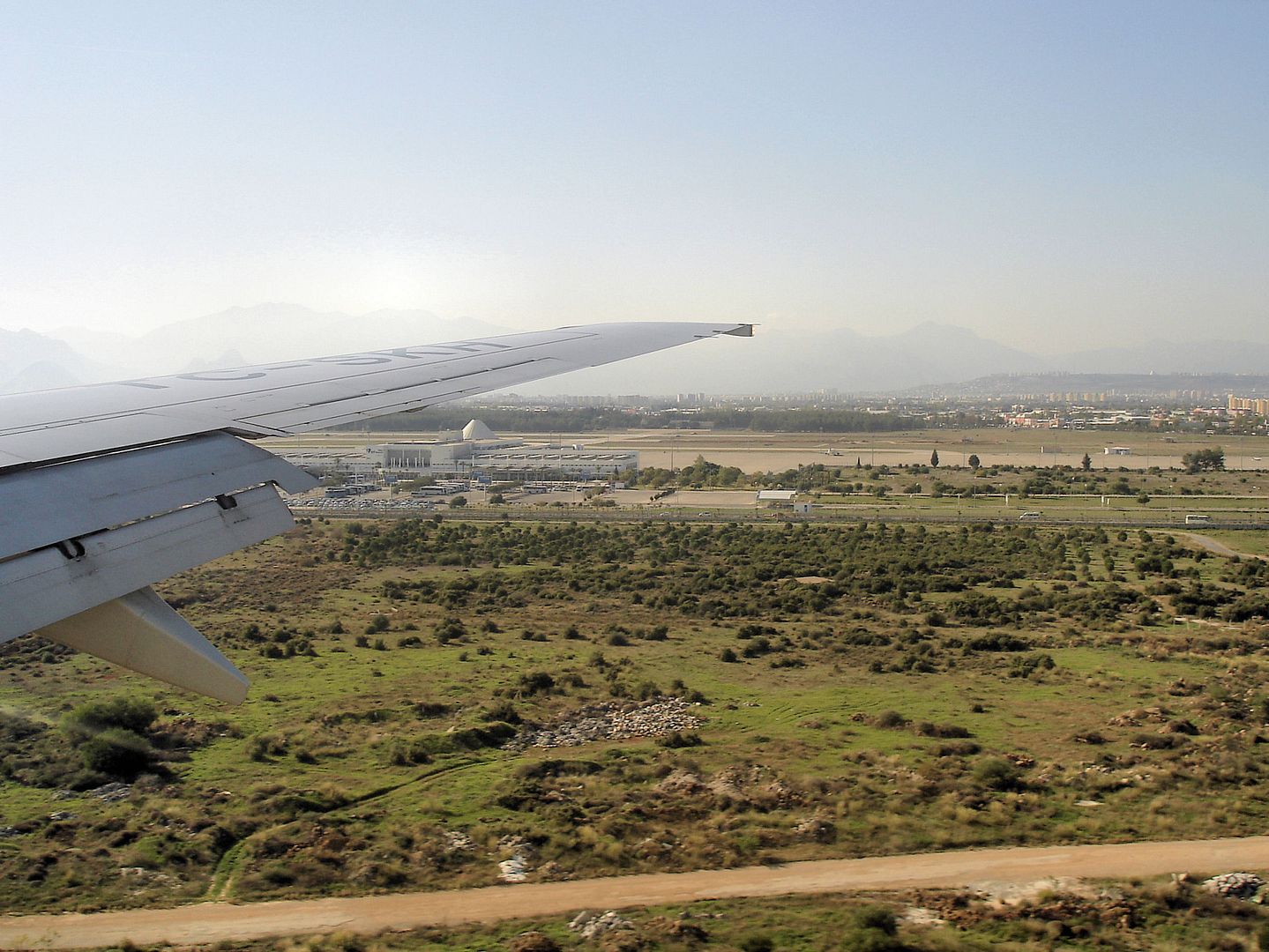 We touched down on runway 18L after a flying time of 2 hours and 50 minutes. People throughout the cabin immediately started clapping - and they did it again some minutes later after the crew's farewell message.
The presence of many interesting birds kept me busy while we were taxiing to the gate: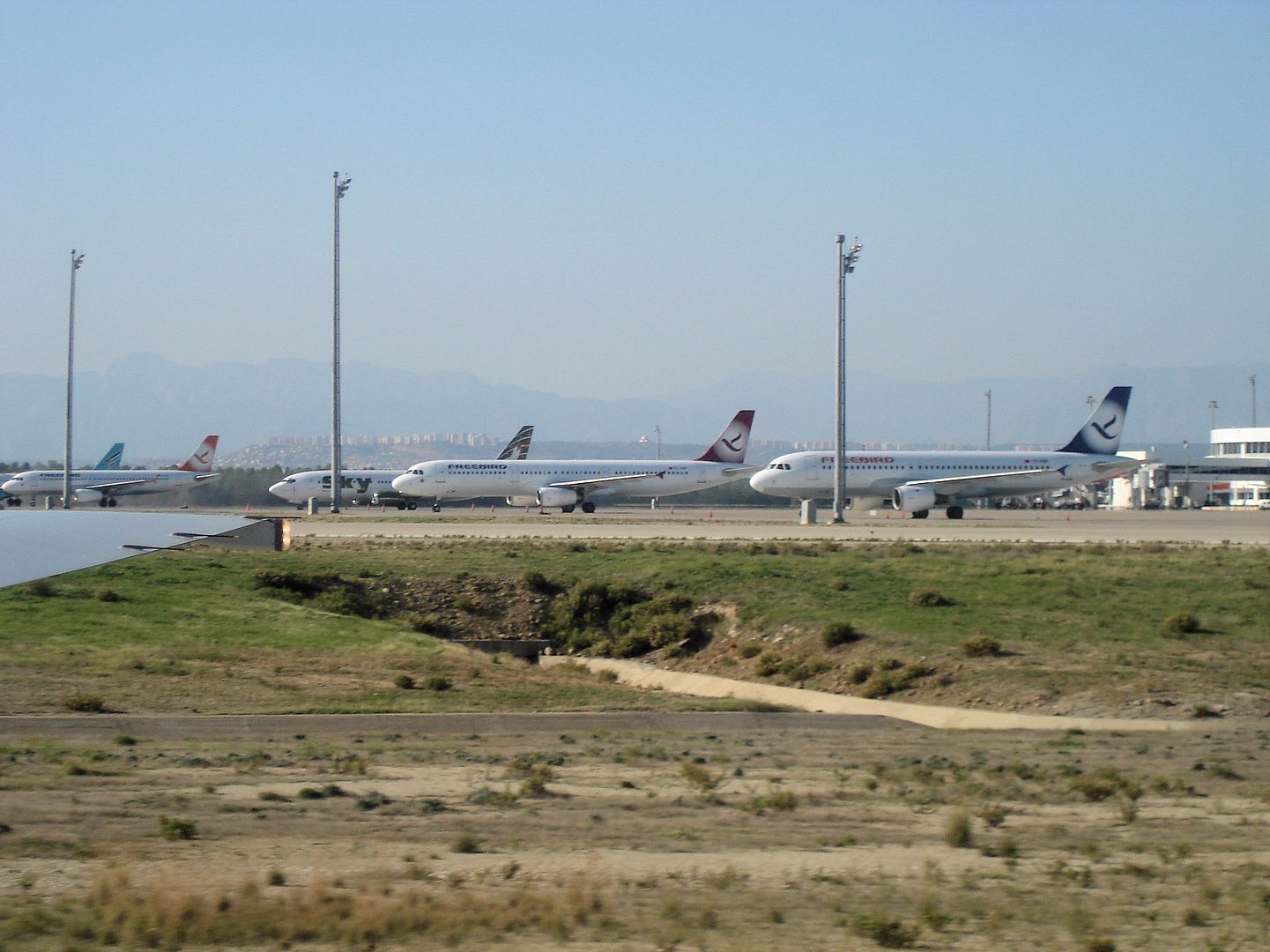 Sky Airlines operates from Terminal 2 (picture), but our SunExpress flight was destined for Terminal 1.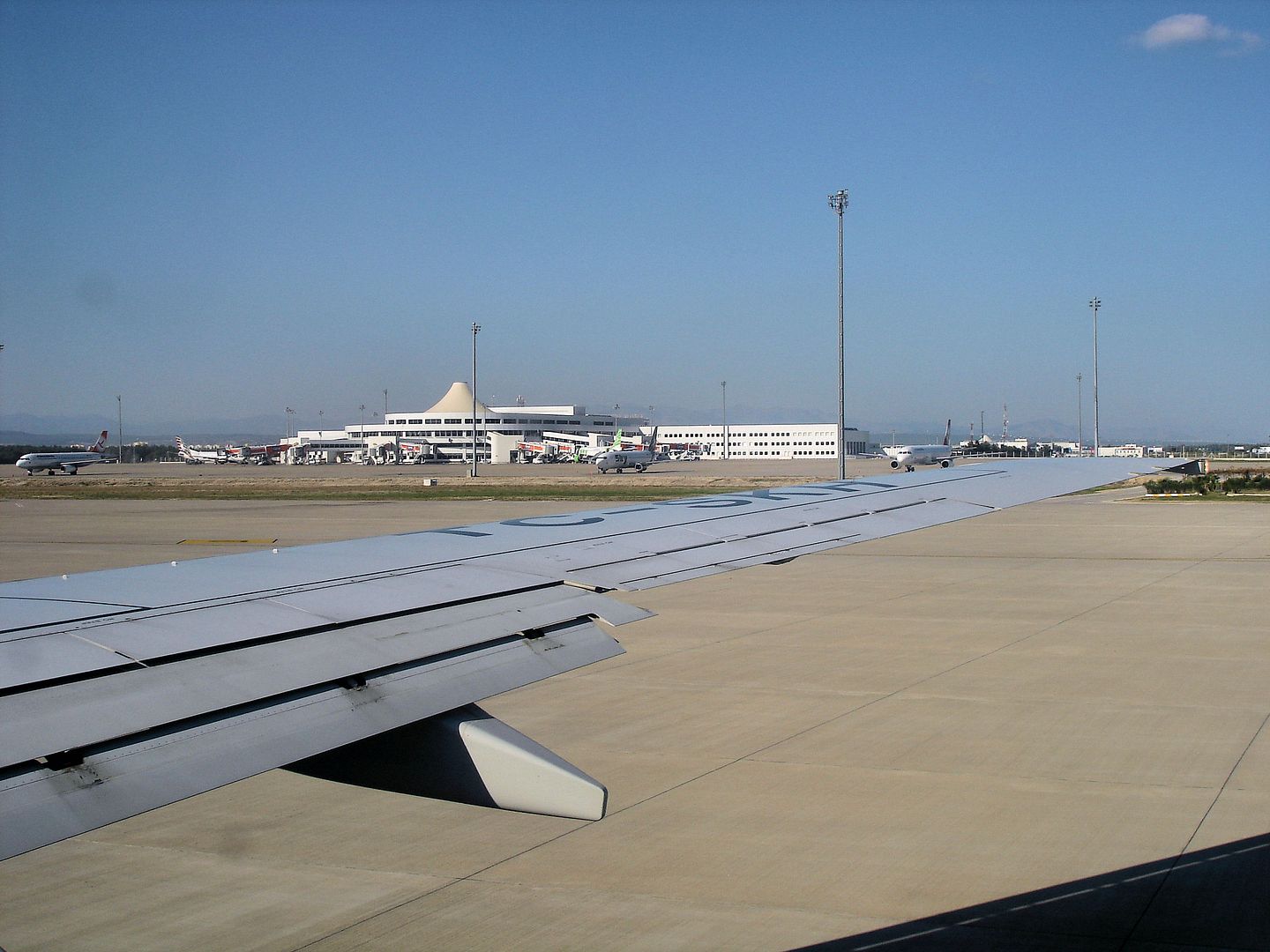 Anyone interested in exclusive connecting flights?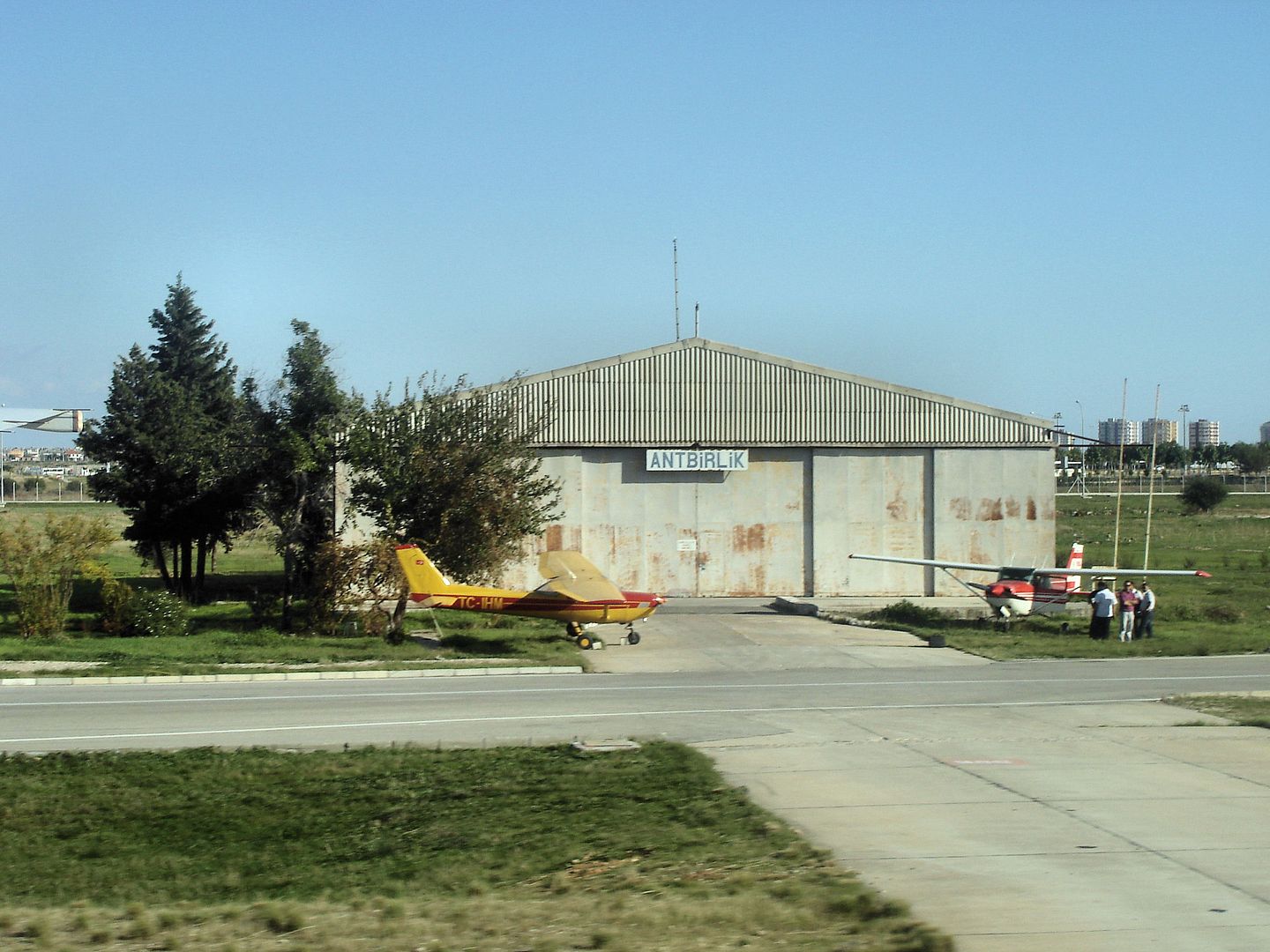 Our 737-800 finally came to rest next to Sky Airlines 737-400 TC-SKD - probably also operating for another carrier today: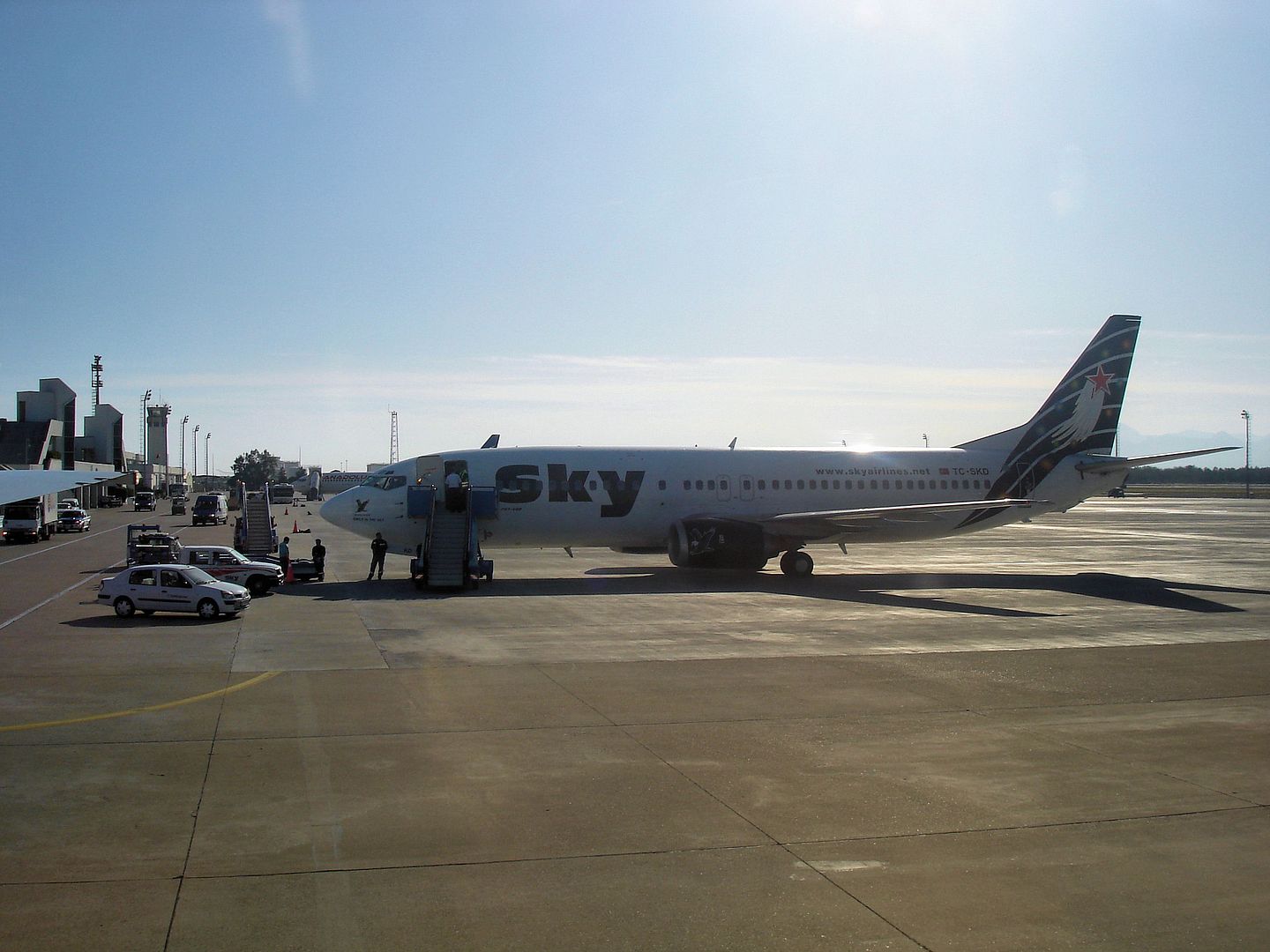 We arrived only one minute behind schedule - so there was plenty of time left for the transfer. Also parked at Terminal 1 was TC-SGJ, currently the one and only Airbus A330-300 in the Turkish Airlines fleet. It's leased from Saga Airlines: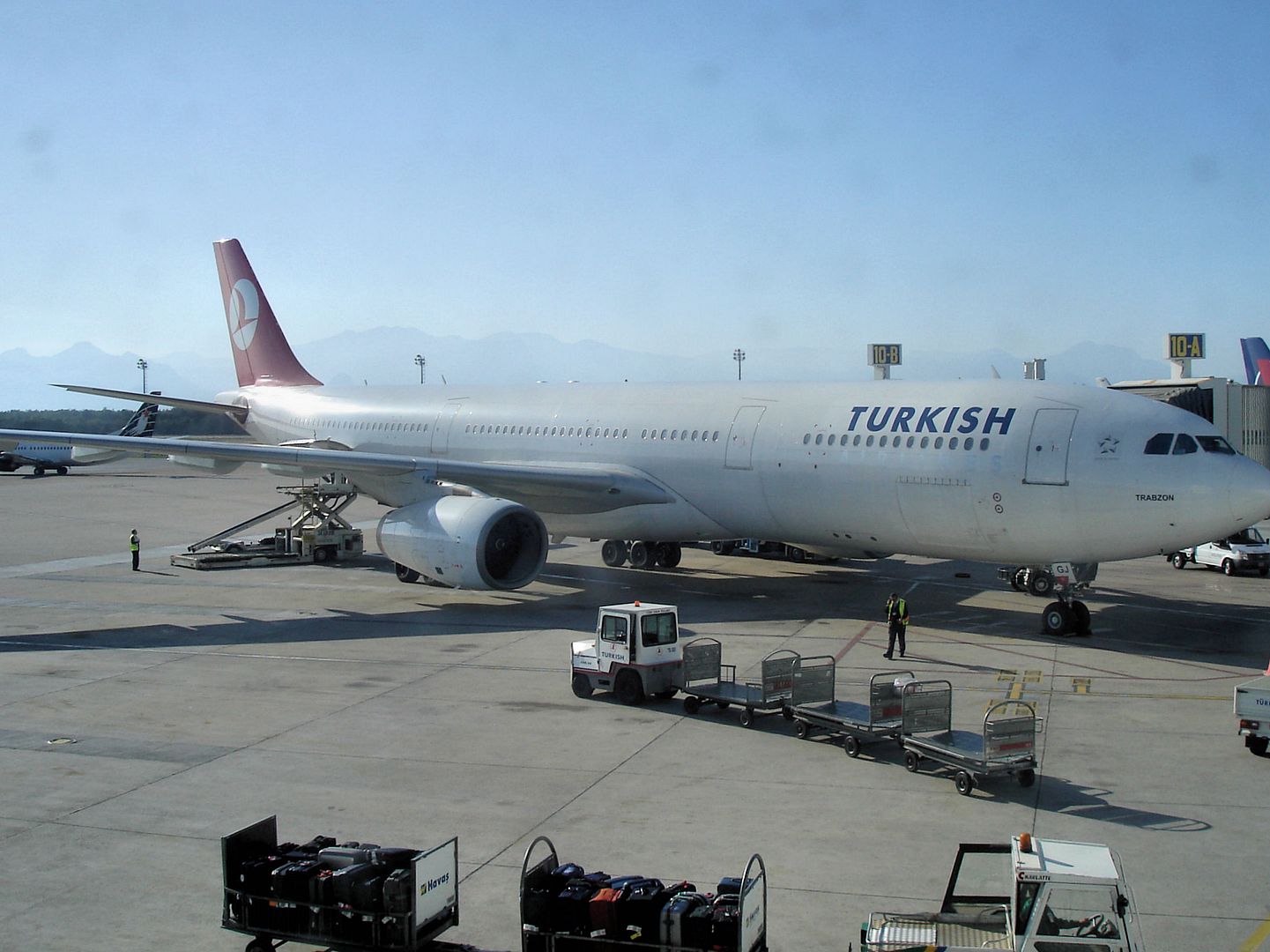 Due to the lack of any lines we could pass through immigration within two minutes. Since we had only taken along our ID cards the officer handed out stamped immigration cards. Welcome to Turkey - for less than 100 minutes!
After stepping into the Terminal 1 arrival hall I went to an information counter and asked whether our Sky Airlines flight to Leipzig would definitely depart from Terminal 2. The lady confirmed - and she also answered my second question about a shuttle bus. She told us to go outside, but it was impossible to find a sign or anything else. I asked a policeman who sent us towards a waiting taxi. The driver offered to take us to Terminal 2 for 5 Euro and we agreed considering we had to get there quickly. And no, walking wasn't an option due to the relatively big distance between the terminals.
Sunday, 22 November 2009
Antalya (AYT) - Leipzig/Halle (LEJ)
Sky Airlines SHY759
15:30-18:05 (15:34-17:58)
Flying time: 03:04 (hrs)
Economy Class, Seat 29B

Boeing 737-4Q8
TC-SKG (s/n 2195), named "Gold"
Built in 12/1991, first delivered in 01/1992 to Cayman Airways as VR-CAA
1st flight on TC-SKG
5th 737-400 flight
24th 737 classic flight
49th 737 flight
Former appearances:
View Large
View Medium


Photo © Thomas Posch - VAP
Antalya Airport's Terminal 2 was opened in 2005 and is almost identical with Terminal 1 opened in 1998. Check-in hall:
I was quite surprised that the two check-in counters for flight SHY759 were almost deserted, only few people were waiting in line. My conclusion was that most passengers had already checked in.
I handed out the printed reservation confirmation to one of the female agents and it seemed as if she didn't know what to do with it. Well, it was written in German because I had booked the flight on the so-called "German Sky Airlines" website - but all she needed were the names and/or the booking code, right? After a short conversation with her colleague she knew what to do - and she accepted my request for a window and a middle seat in the back of the aircraft. A few moments later I was glad to find out that we would sit in the last row.
At passport control I was glad that the officer didn't have a look at the stamp on the immigration card - he could have asked some questions about the purpose of our very short visit to Turkey...
After a visit to a duty free shop we went to the gate where a large crowd of German tourists was already waiting. I tried to take a picture of our aircraft, but the layout of the building and the gate area made it impossible. All I could see was a part of the tail - but that was enough to identify the aircraft. The golden tail indicated that we would fly on
TC-SKG
, a Boeing 737-4Q8, built in December 1991, first delivered to Cayman Airways in January 1992 and later transferred to Carnival Airlines and Olympic Airways.
Parked next to our plane were a Sky A320 and a Sky A321: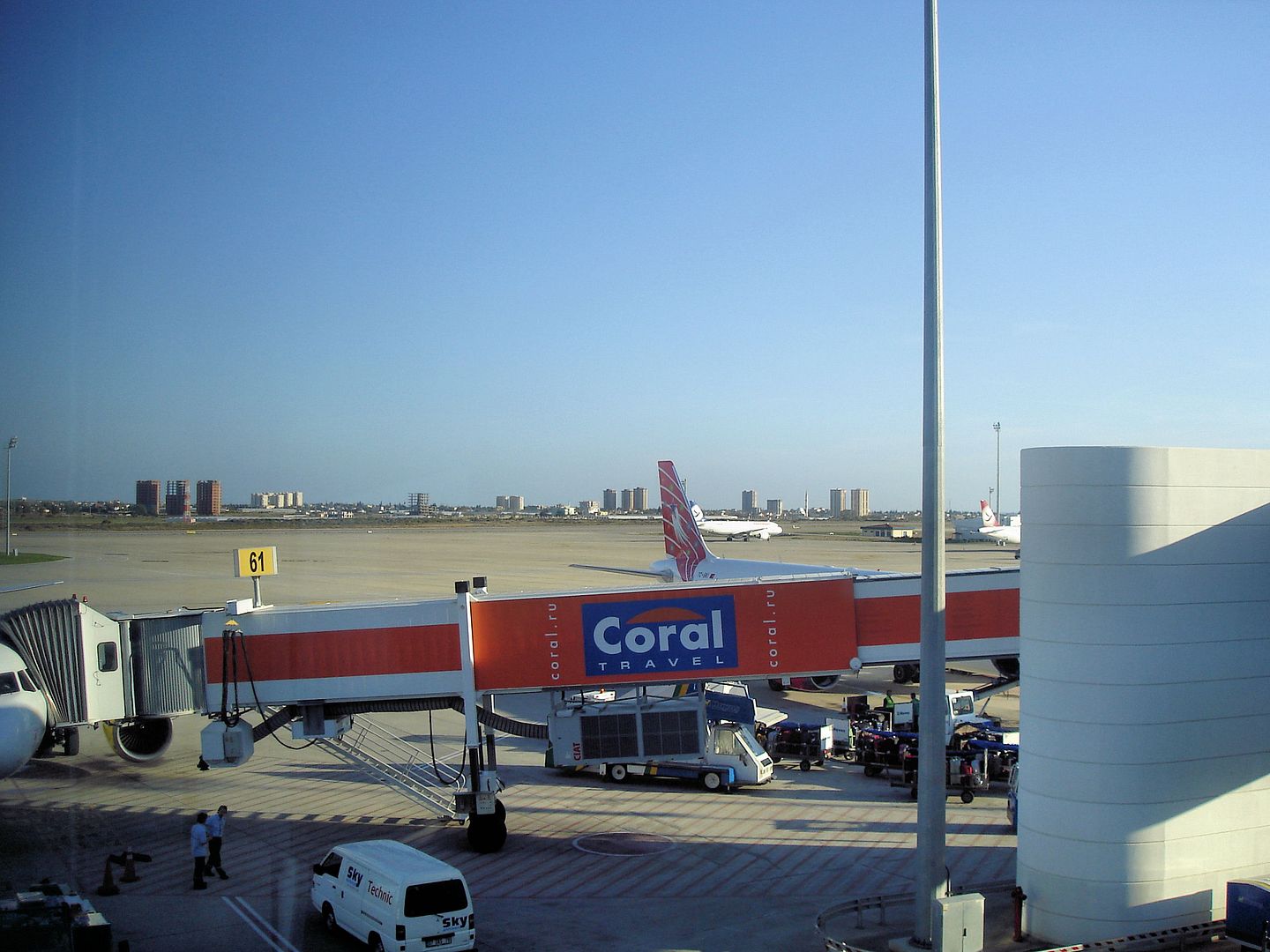 There weren't any empty seats left in the gate area, but I kept standing at the window which was better for spotting anyway. I managed to log 15 new registrations during the short stay at Antalya, including the two Sky Airlines 737-900ERs.
Prior to boarding a young airline agent asked for attention and loudly told the waiting passengers in German that they would need their passports or ID cards again - other than originally stated. Of course that caused some muttering in the crowd...anyway, we decided not to join the long queues yet. I preferred to continue spotting for a while.
Finally, after most people had taken their seats in the cabin, we stepped on board. Welcome message in golden letters:
I'm wondering whether the message color corresponds to the tail color on other Sky Airlines aircraft, too.
One flight attendant offered mint candy at the entrance, another friendly flight attendant immediately approached us, had a look at our boarding passes and accompanied us to the last row. That was nice, but definitely not necessary. I guess it's useful for certain occasional flyers.
The cabin was packed and I didn't see any empty seats except for ours. A grumpy-looking German pensioner was occupying the aisle seat - considering the reserved response to our greetings he wasn't amused about our appearance.
I was very surprised to see that the cabin was equipped with red leather seats - which were very comfortable:
However, legroom was not sufficient at all: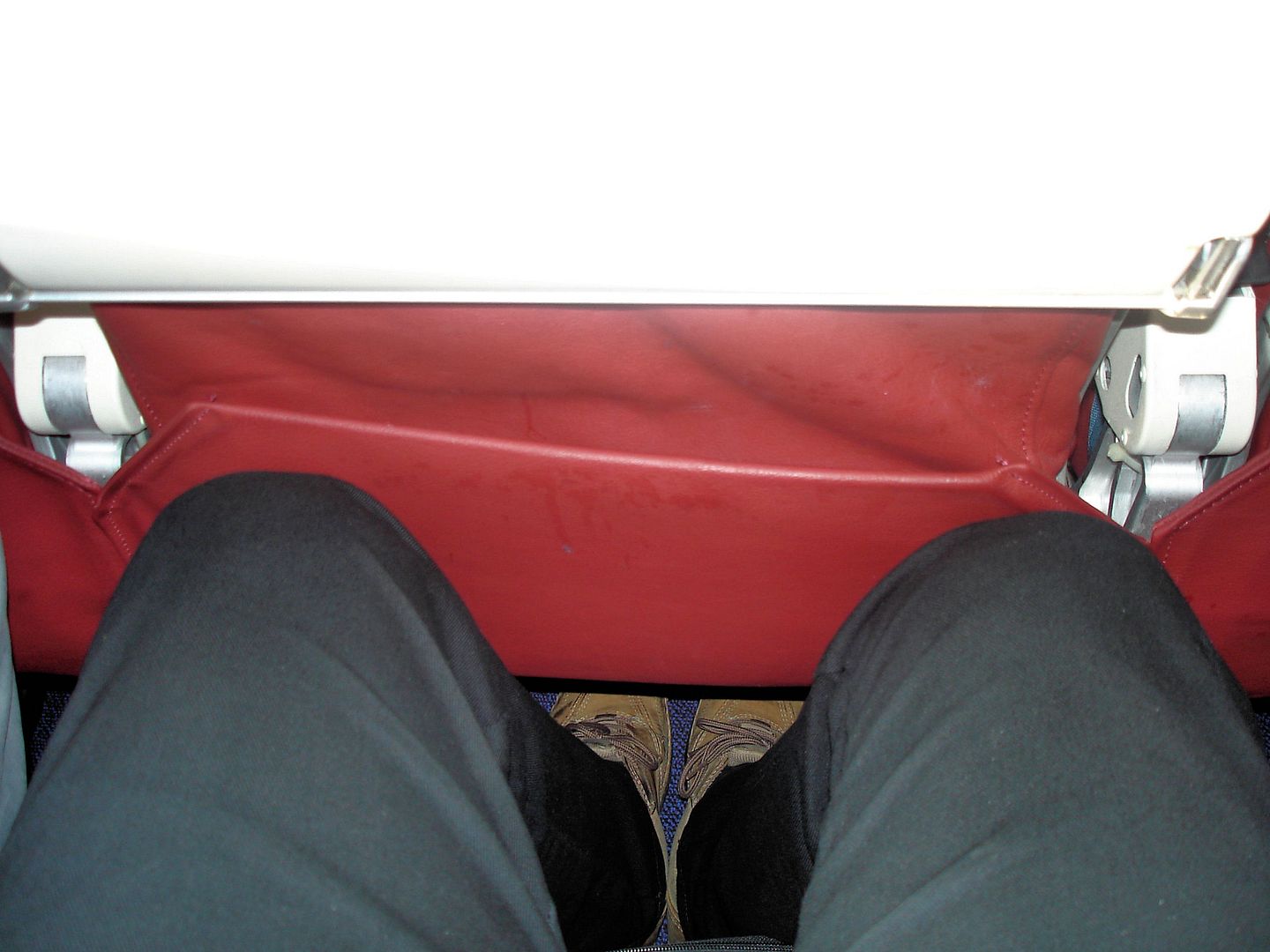 The old-style video monitors remained inactive all the time: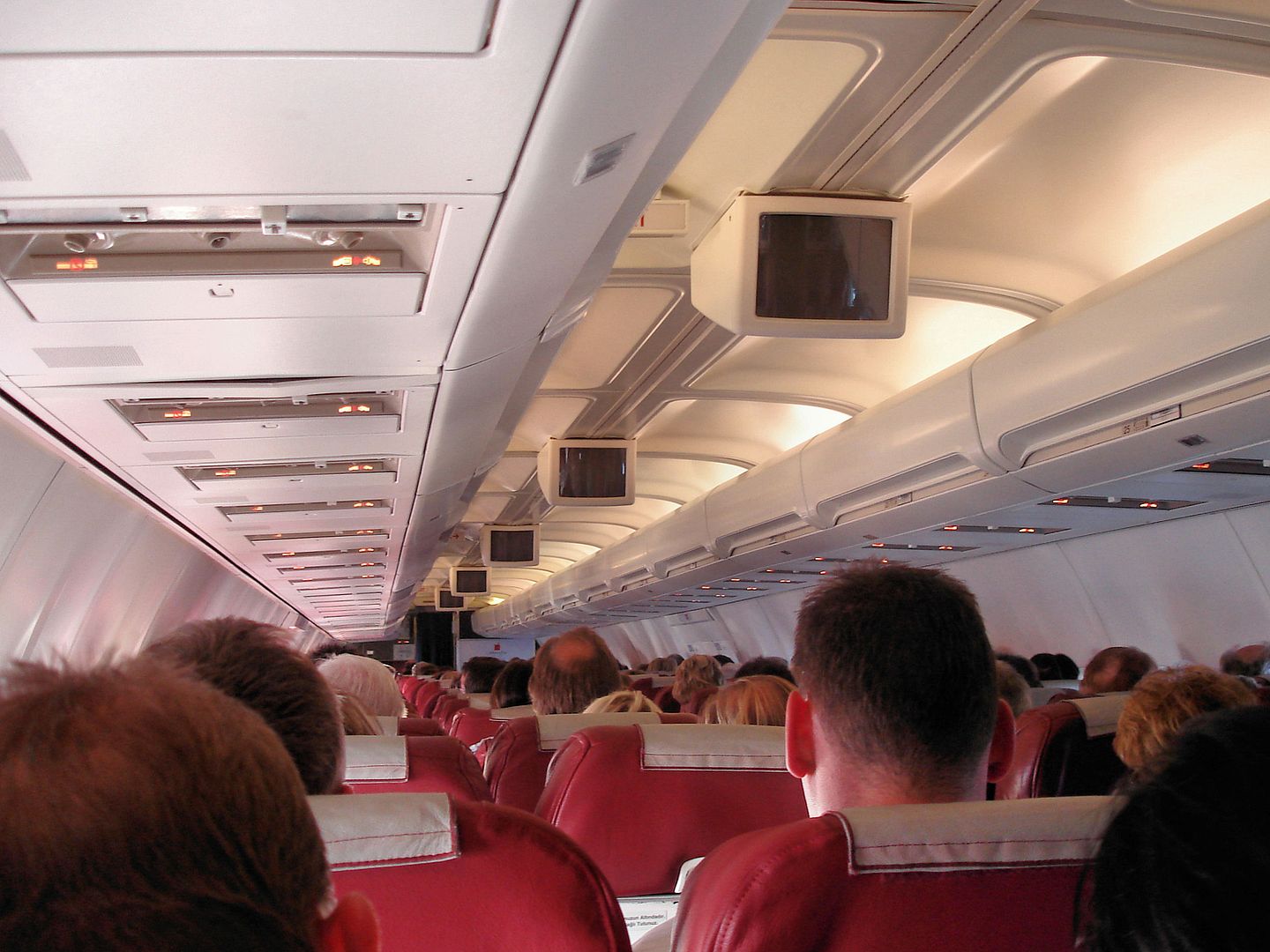 We left the gate four minutes behind schedule and started taxiing to runway 18L. Sky Airlines A321-200 TC-SKI with
"antalyaspor"
sticker: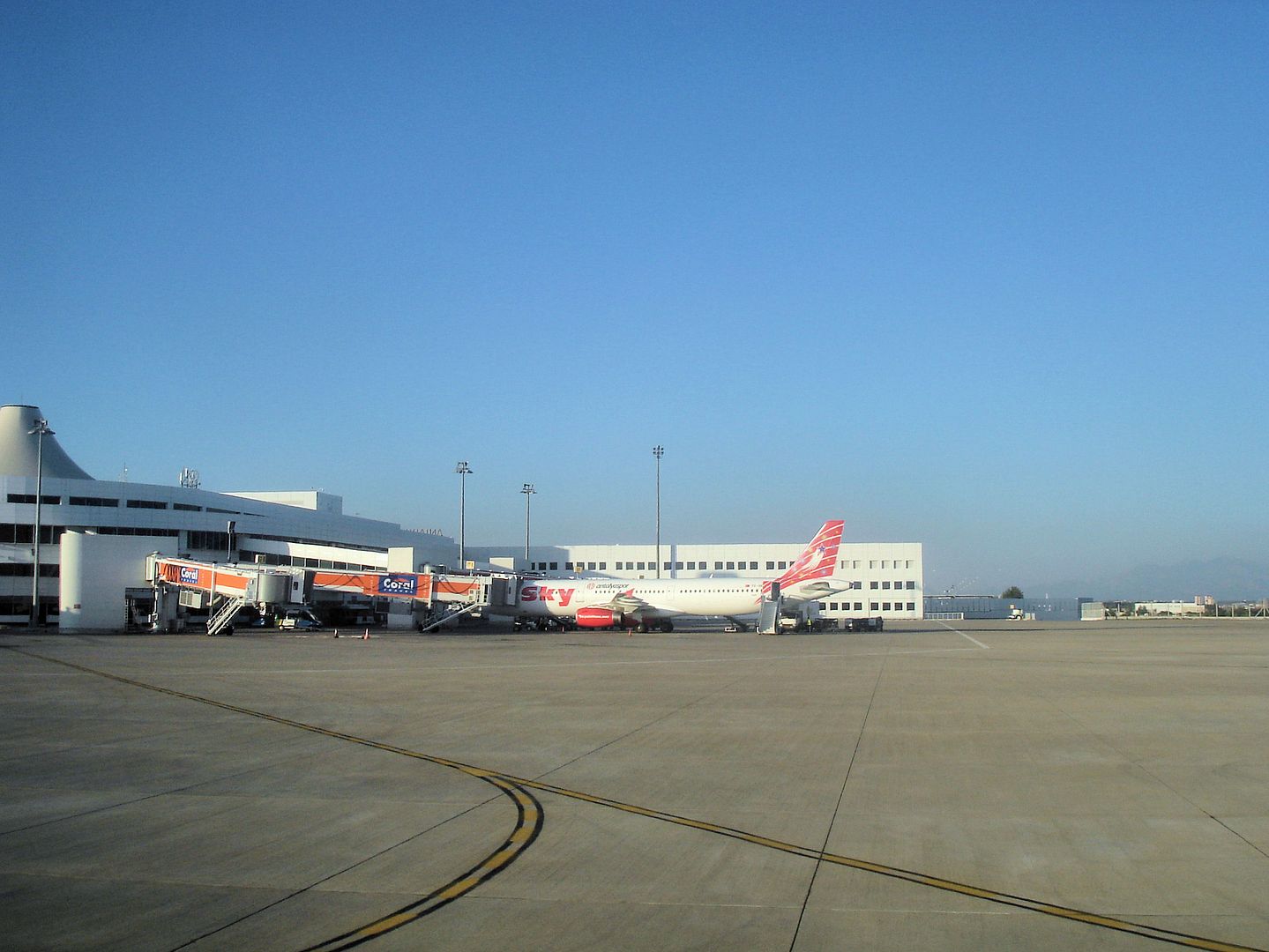 TC-SKG
lifted off after a long take-off roll: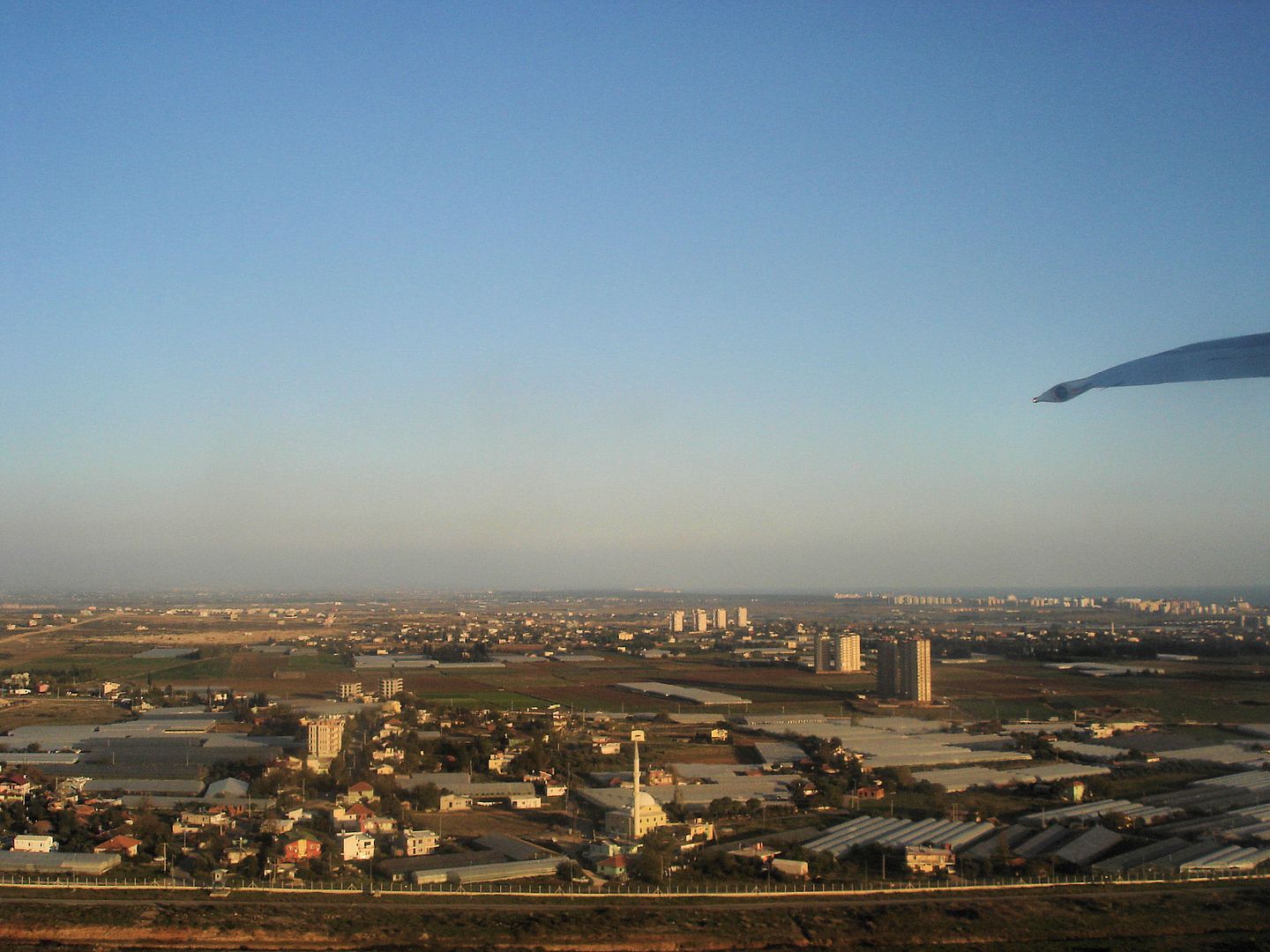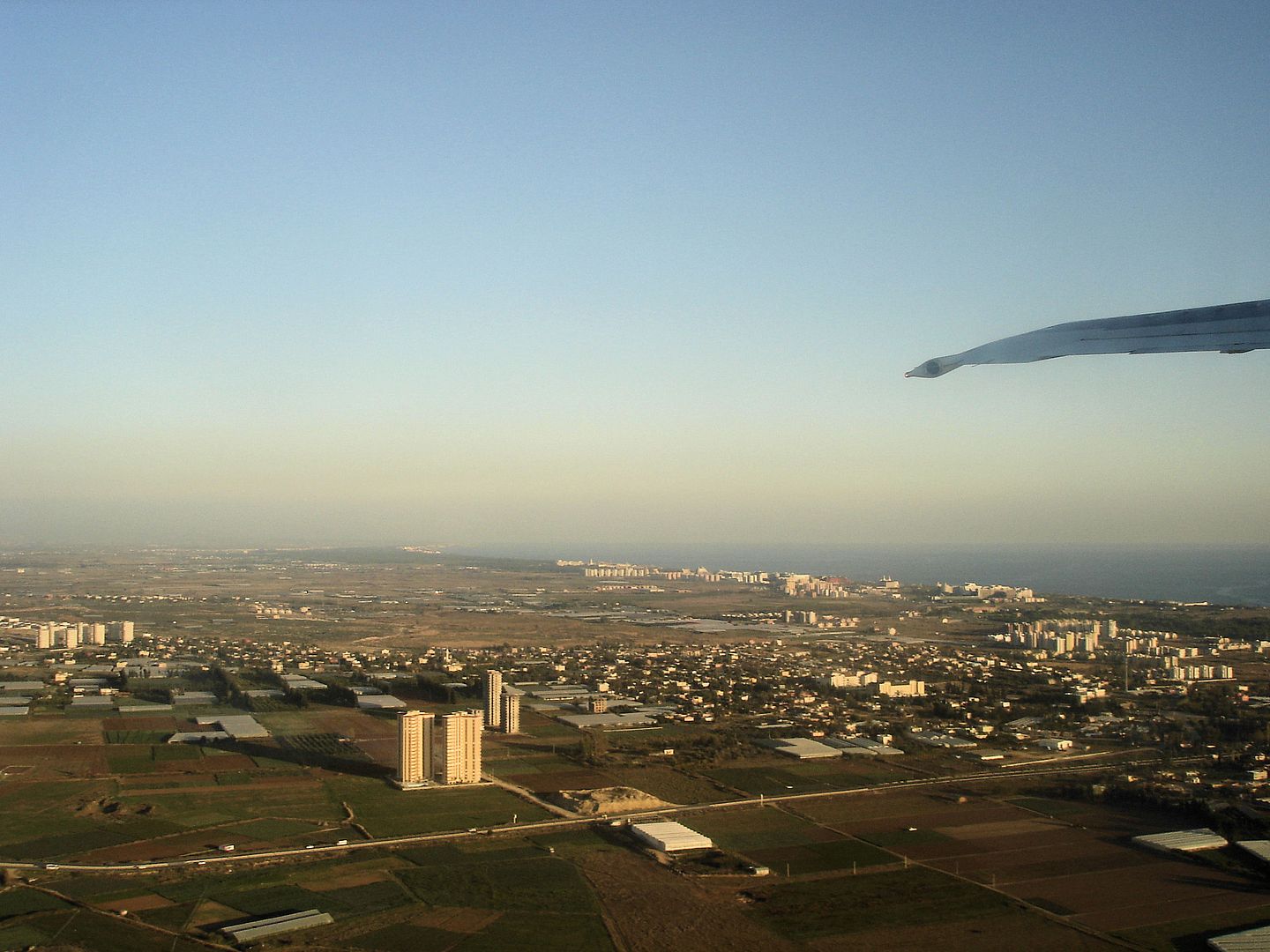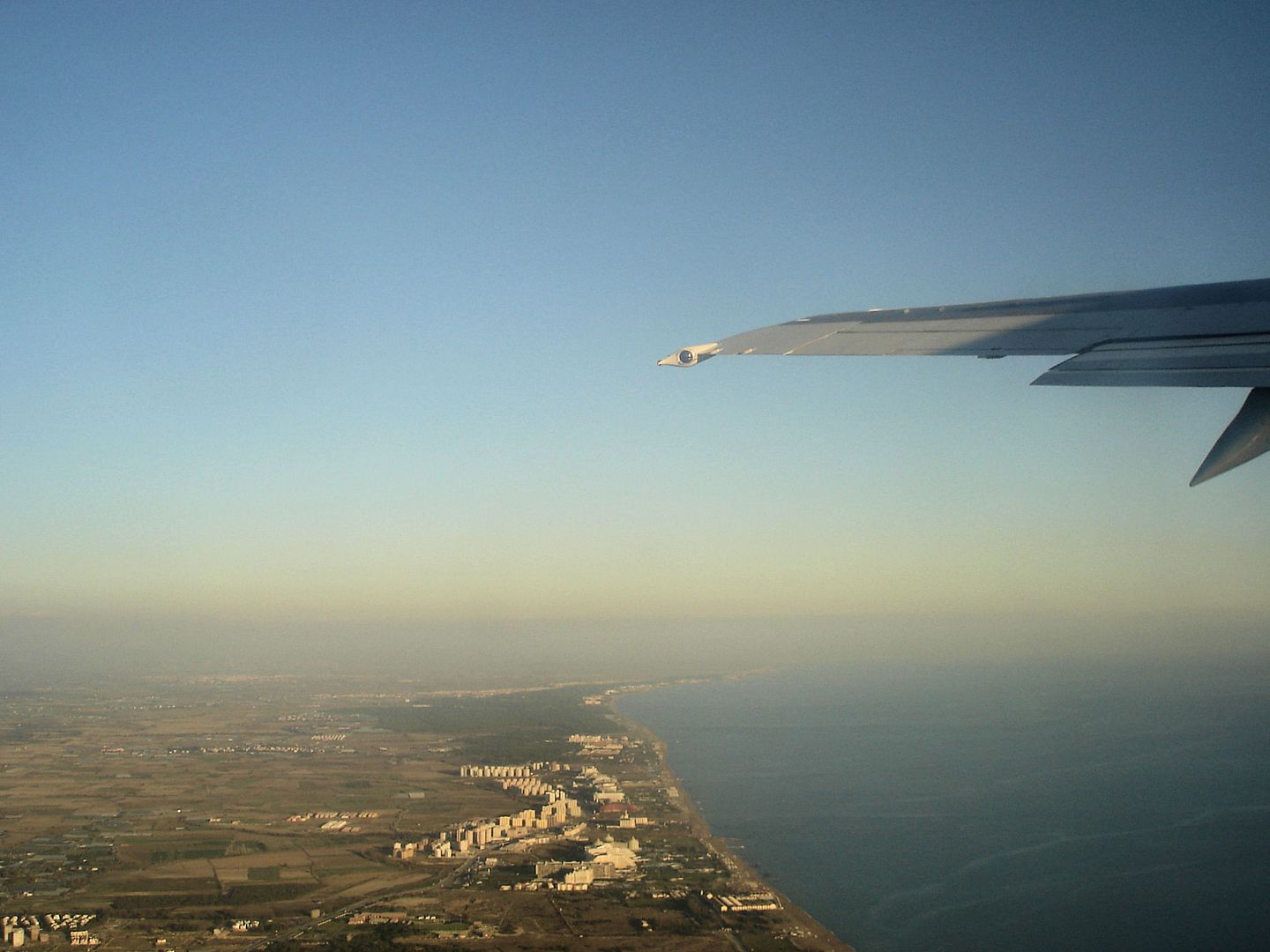 About 30 minutes after take-off flight attendants offered drinks (wine and Turkish Efes beer available for 2 Euro) and distributed snack packs - which looked like amenity kits:
They contained a cheese sandwich with dill pickles, a marble cake and a refreshment towel. Again, the food wasn't a culinary delight, but not bad either.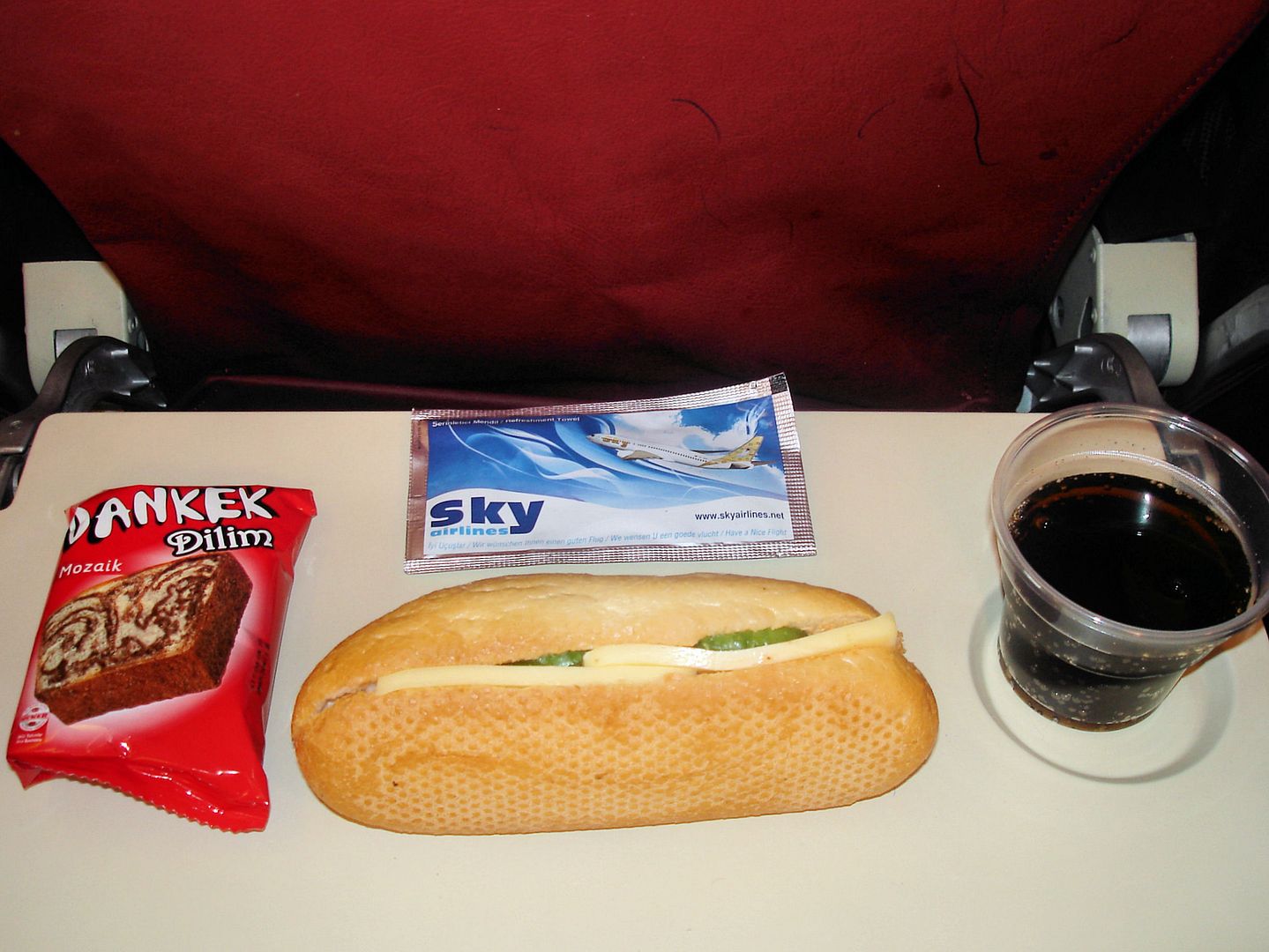 What I found most interesting was the refreshment towel packaging: it showed exactly the plane which we were flying on: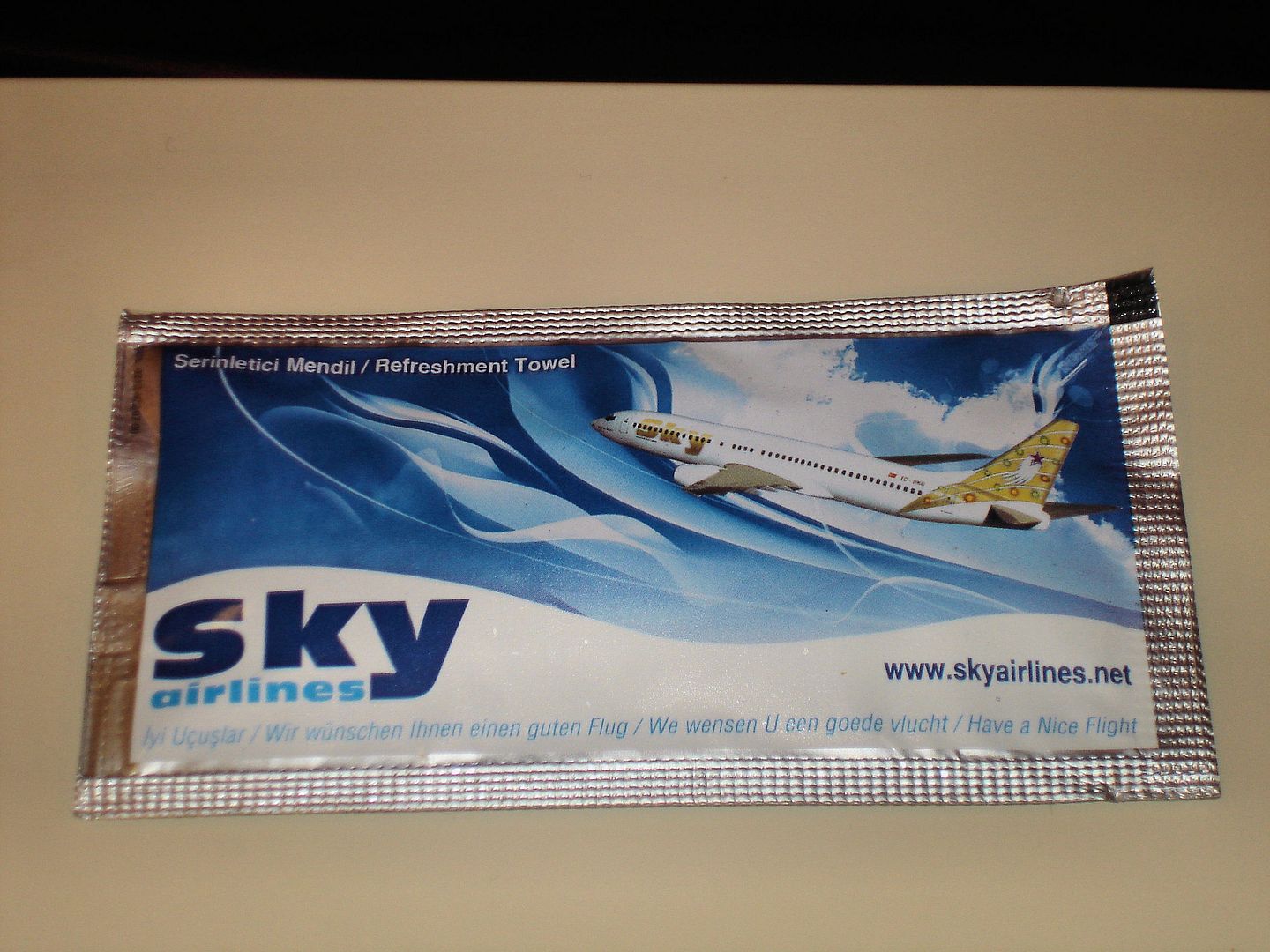 Now I'm wondering - does Sky Airlines have 13 different packaging variants?
The remainder of the flight was rather uneventful - I kept reading most of the time and took some notes for this report. "Mr. Grumpy" next to me observed my behavior (taking pictures and notes) suspiciously, but I couldn't care less. There were two announcements by the captain during the flight, but again they were hard to understand.
Beautiful sunset: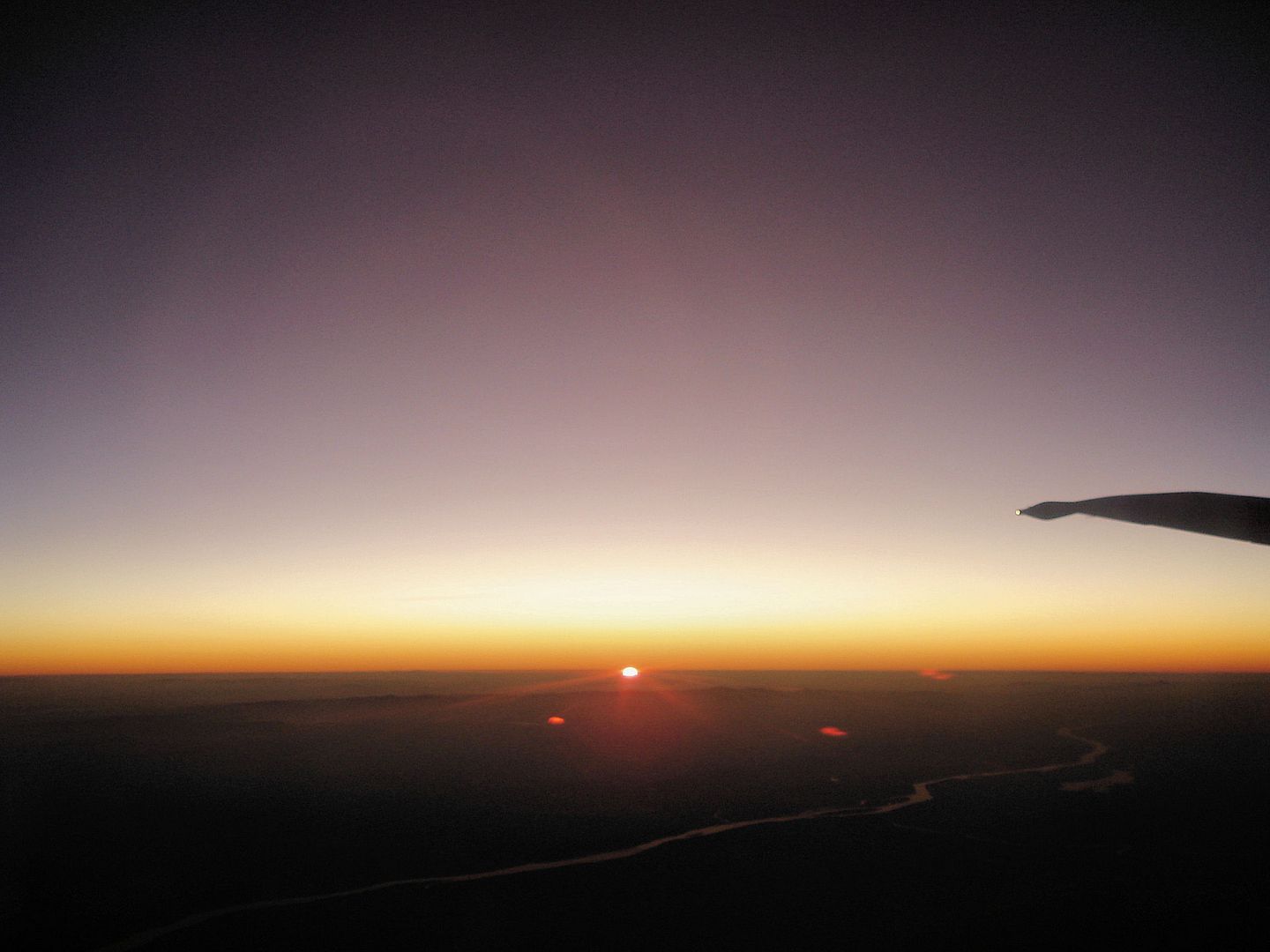 We touched down at Leipzig/Halle Airport after a flying time of 3 hours and 4 minutes and again the passengers started clapping immediately. Well, I guess that often happens on holiday carriers.
After disembarking I took one more picture of
TC-SKG
which has been appropriately named
Gold
: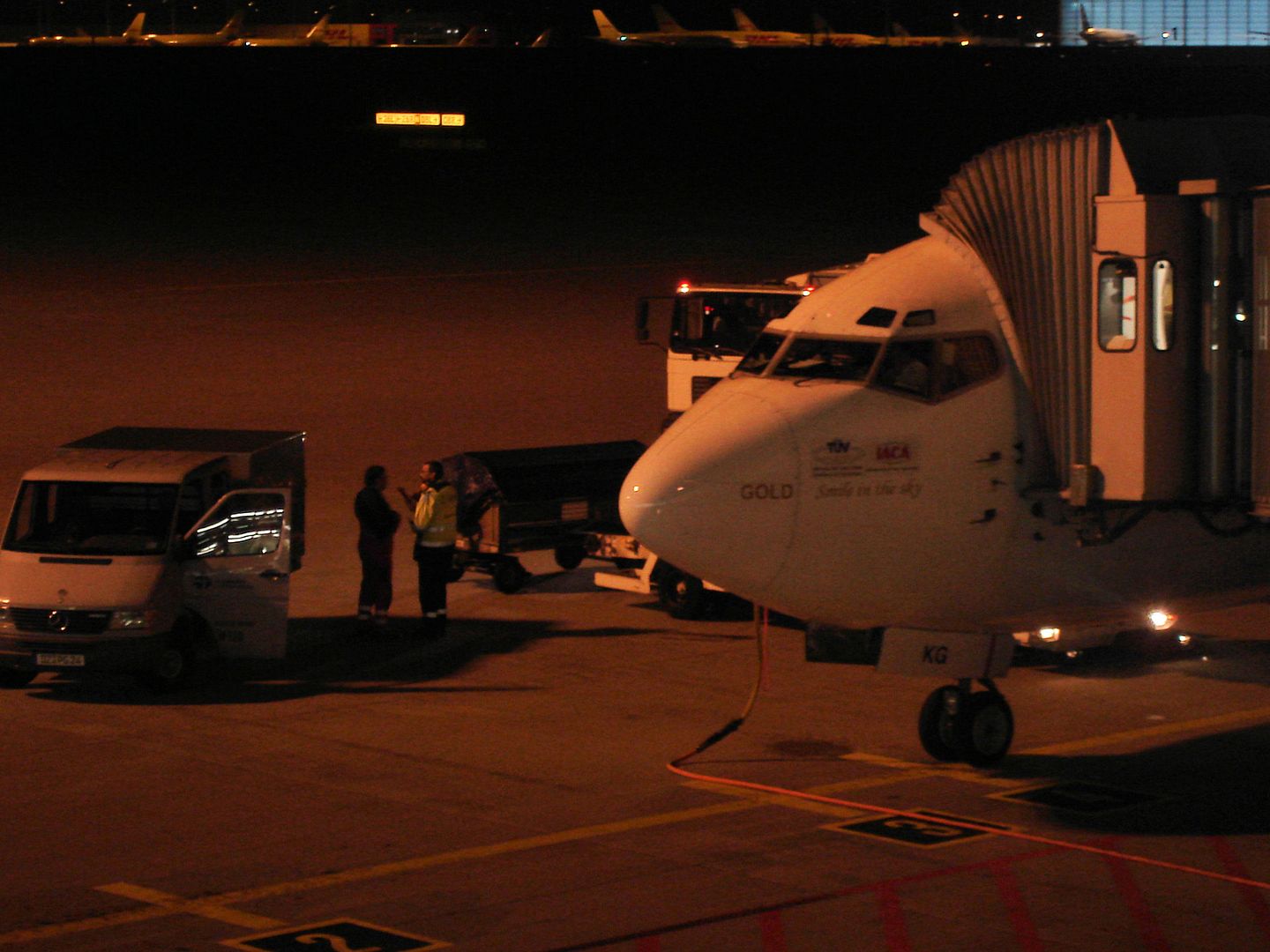 Conclusion
Flying on holiday carrier
Sky Airlines
was definitely an interesting experience which did make me smile a bit in the end. What I found positive were the mostly friendly flight attendants, the clean cabins and the comfortable seats. However, negative aspects were the limited low-cost style legroom and the total lack of in-flight entertainment considering that many flights take three hours and longer. It would be interesting to know how the used A320/A321s and the factory fresh 737-900ERs are equipped. SunExpress' and Sky Airlines' catering could be improved - but what they serve is still much better than nothing, of course.
It was definitely disappointing to miss SunExpress, but getting one new carrier and two of its types was not too bad either. The short trip was still worth it. Maybe I'll try again to get SunExpress later this year, together with another new carrier...
Best Regards,
PlaneHunter
P.S.: Just in case you missed them - other more or less recent reports:
CO Scores Again: ATL-IAH-EWR-FRA On ERJ, 752 & 764
Riding The Ultra Long-Haul Twin: Delta 777-200LR
Pacific Coast Jaunt: 3 Carriers, E120, E140 & Fog
The Ultimate 737: LHR-IAH-PDX On CO 777 & 739ER
Bye Bye, Hell! TRD-OSL-TXL-NUE - DY/AB/HE DH4
My Trip To Hell: NUE-CPH-OSL-TRD On Cimber & SAS
SFO-YUL-FRA: Map- & Sleepless On Air Canada's 77W
Sin City Gloss & Virgin America's Chic First Class
Seat Dilemma & Canyon Glamour: FRA To LAX, AC 763
On Par With Air France? DTW-AMS-MUC, KLM A330
Goodbye, Red Tails! DC-9-40/50 & Chicago Tour
Champagne & World Of Coke: Air France A340 To ATL
"Mission A380": Disappointing Legs On BA/BD/EI
Delights Of Doha, 773 & 77W: DOH-DXB-LHR On EK
A380 Really a Step Forward? LHR-DXB-DOH On EK
Quality & Style: HKG-LHR On Air New Zealand 744
Taiwan Trio: TransAsia, UNI Air And The Taipei 101
"The Wings Of Taiwan": EVA Air A332, 744 Combi
SHA-SZX, Shanghai 757: Delayed By The Military
PEK-SHA, China Eastern A330 & Shanghai At Night
Striking Newcomer: Berlin-Beijing On Hainan A330
[Edited 2010-03-13 06:17:01]