Feedback always appreciated.
Please let me know if you like the new banner format
I > Background:
So after spending an amazing week in Socotra (Yemen), it was time to go to Rapa Nui. Probably not the most conventional city pair (wonder if MIDT will capture my SCT to IPC data), but this was my vacation. I had then EK on SAH-DXB-GRU, and then connected on to LAN on GRU-SCL-IPC. Return was IPC-SCL-CCS. This report will focus on the return sector.
There has been several IPC trip reports – but it seems that none originates in IPC. I might be wrong. Anyway, here is my own take of this unique route.
II > Pre-Flight:
a) Before Airport:
LAN is a Santiago, Chile based airline that has evolved from its strictly Chilean roots to become a pan-American entity. In a continent lacking consistent service, LAN has carved a niche by not necessarily providing amazing service … but by providing a consistent and reliable product that gets you from point A to B without any significant headaches. It is an extremely well-managed airline, and has some great staff members in its route planning and revenue management team. Moreover, it has a strong sales team in key markets and a visionary leadership … which seems to be non-existent in Latin America.
Ticketing for the flight was done on the extremely well designed and easy to use LAN website at
www.lan.com.
The site is crisp and clear, and one can view their booking later and do modifications. Additionally, it allows online check-in and my biggest requirement, seat selection! Though, exit row seats cannot be selected even for LAN "Comodoros" … and even during on-line check-in.
b) At Airport:
After an amazing time in Rapa Nui, it was time to leave. We had a rental car and were able to drop it at the unique and open terminal at IPC. All bags are scanned prior to check-in and the large queue took forever to process. We avoided the long check-in queue due to me being a "Comodoro" (the most pretentious name of "status"). The check-in agent was very sweet and did her best to accommodate the three of us in seats together. Moreover, when asked, she went out of her way to find me LAN bag stickers – including going to the back office. Ultimately, though she was not able to find the same, I was impressed by her niceness.
Check-in done, we went through security to the open waiting area with a nice café and great views of the tarmac. It was cool seeing the 763 land and being brought so close to us. The entire feeling was nice and relaxing … despite having partied hard the night before and having a severe hangover.
Anyways, boarding was very haphazard and probably the worst "mob" scene I have witnessed in a while. I thought it was strange as more people should be "relaxed" after a vacation. LAN did not have any priority boarding for J passengers, or "elite" members. All very disappointing.
The walk to the aircraft was one last photo opportunity and a great chance to take in the scenery. Upon entering, there were no real welcomes – and the crew seemed distracted. There were nowhere in the Y cabin and the chaotic boarding meant a delay of over 20 minutes to get off. Y load was 85%.
>Airport - External:
(Rapa Nui Airport)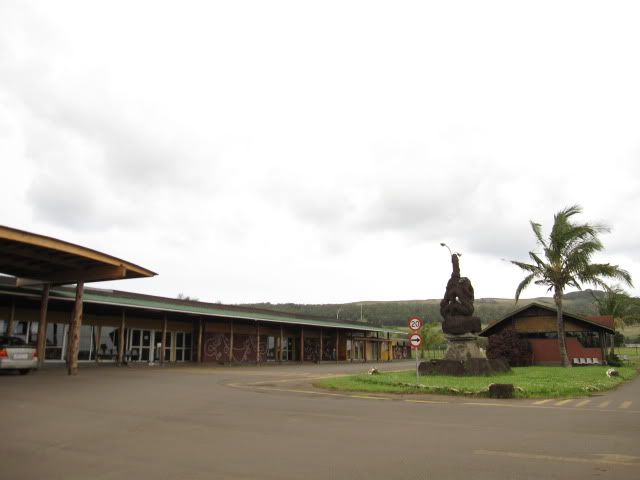 Check-in:
(Check-in)
Airport - Internal:
(Internal)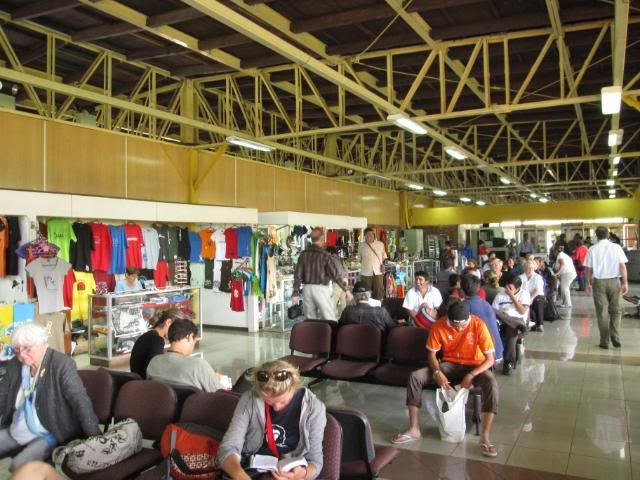 (FIDS)
NO FIDS … well, the airport kind of has none.
(Post Security @ IPC)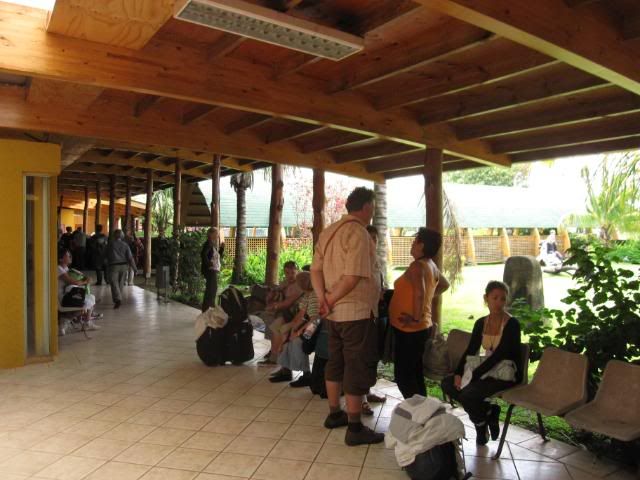 Scenes of the tarmac:
(Arrival of our bird – the day before)
Lounge
NONE
Boarding:
(Area: Best in the world!)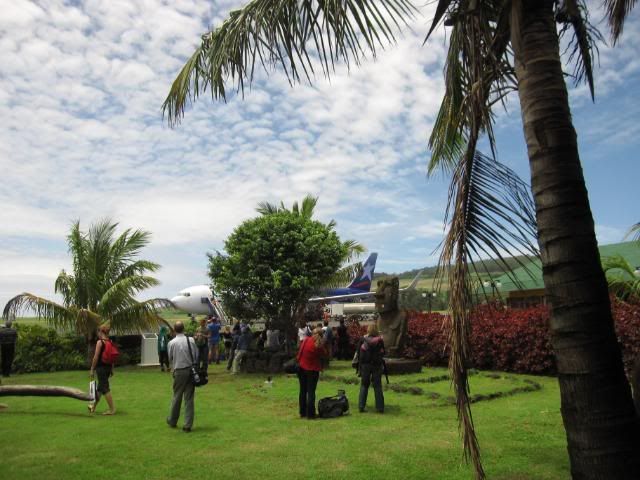 ("ILBST" Very much in action)
III> In-Flight:
a) Service Schedule + Impressions:
Lunch service after take-off. One water run prior to landing.
b) Aircraft + Seats:
LAN Chile's 763's were well maintained and sported the 80th anniversary logo. I like LAN's corporate colors and think that their aircraft look extremely smart. Inside, their cloth seats were relatively comfortable and featured above-average pitch. Seat recline was generous and definitely above industry average. Also impressive was the level of cleanliness throughout the cabin including in the bathrooms. Definitely good value for Y class.
Aircraft:
(763 @ tarmac @ IPC. Night shots at arrival. I love how the colors were!)
*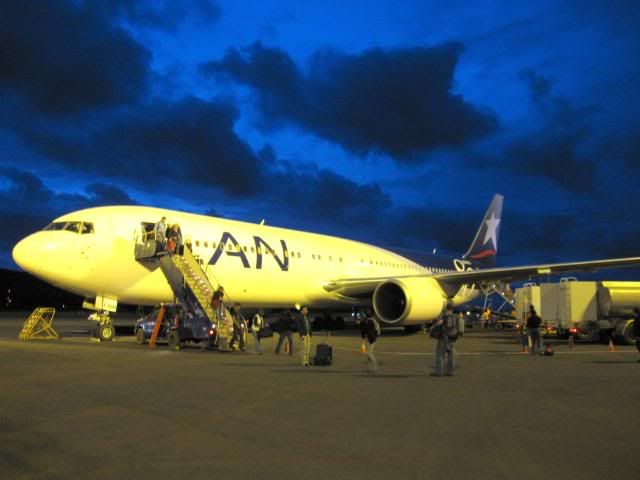 *
*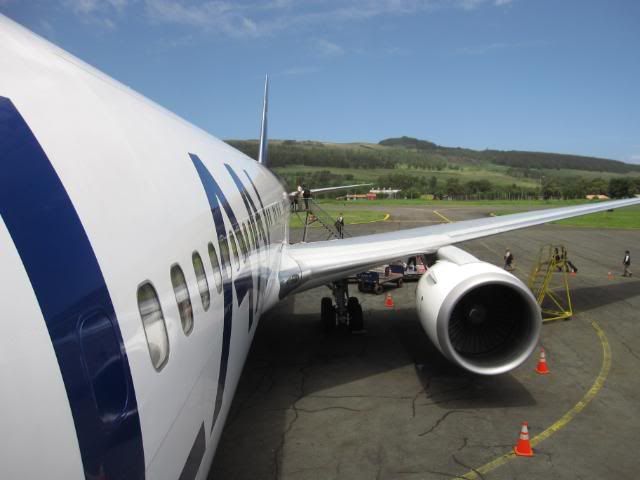 Views from Aircraft:
NONE
General Seat Views + Seat Legroom
(Seat controls)
NONE
(Front of seat)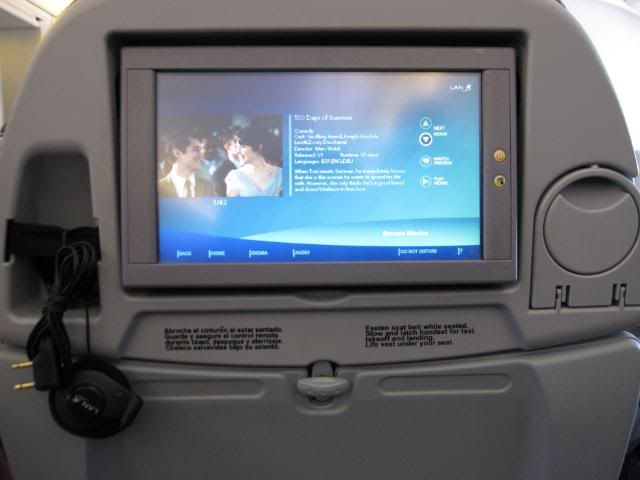 (Decent legroom …)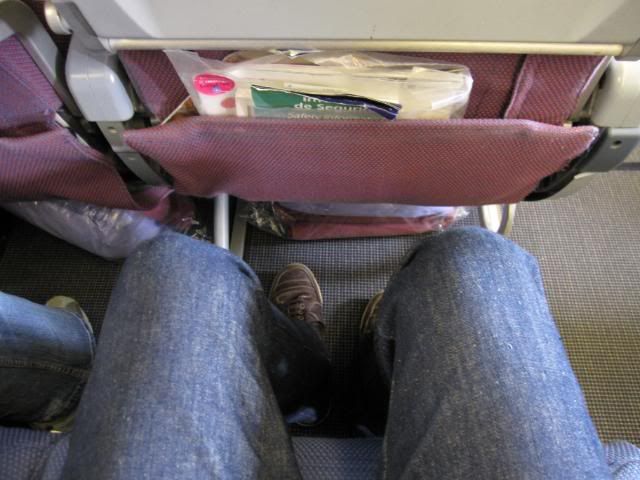 (Blanket provided – lots of problems of theft of blankets in Chile?)
Seat Recline + Angle View:
*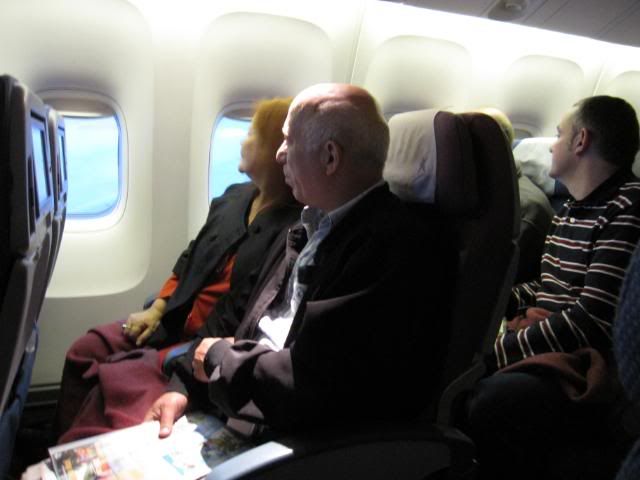 Cabin:
*
(Bathroom Amenities)
NONE
c) Meal + Beverage:
Meal service was lunch and consisted of two options – pasta or fish. The fish was salmon served with nondescript salad and very mushy mashed potatoes. The salmon itself was not bad … just strange to have got the identical meal on the inbound sector as well. The bread was extremely hard; and, the dessert sugary. Overall, a rather disappointing affair. Compensating for this was a generous beverage service including several wine and hard liquor options.
(Meal)
(@ Galley)
d) Inflight Entertainment:
LAN is definitely the market leader when it comes to IFE in Latin America. I recognize this does not say much … but, credit should be given to the airline for investing above what is required to do business in the continent. Their IFE system "IN" features around 43 movies, and the collection is actually pretty impressive. What is shocking however is that none of the movies are from Latin America or other parts of the world. It is sad that we in Latin America spend so much time being defensive about the use of Spanish and whine about being influenced by the U.S., and cannot find any movies to offer in the language. There are some great movies coming out of Mexico, Brasil, Argentina, etc. … why can't we showcase these movies? I hope someone in LAN is reading this and actually does something to change this. While reviewing their IFE selection, perhaps LAN can also recognize that we exist in a larger global society and give us some movies from around the world? Ok, rant over. Hehe. Besides the IFE, LAN's in-flight magazine is also good and the approx. 5 hour flight passed by fast.
*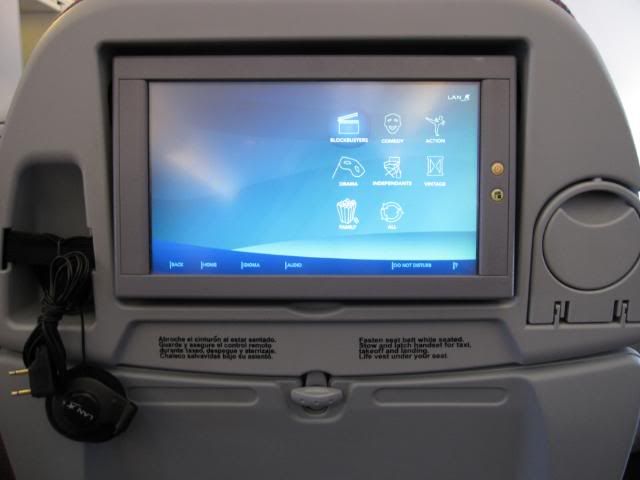 *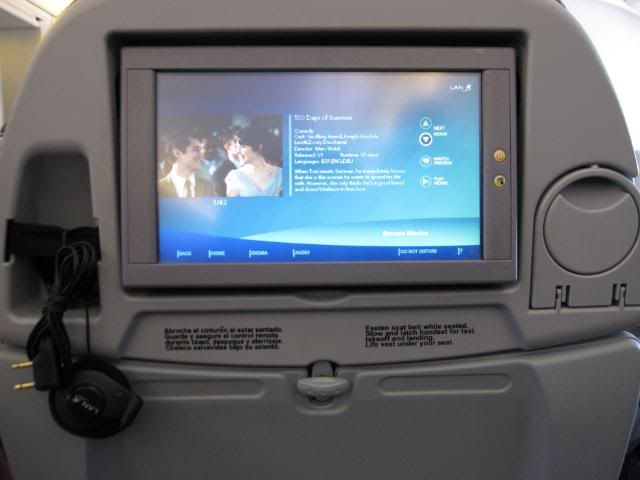 (A whole lot of water)
(Good music collection)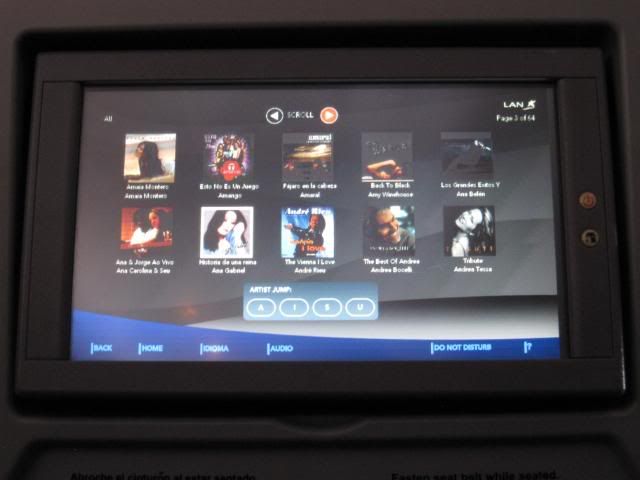 ("In-flight magazines", Boarding Passes, etc. – Can someone please explain why I got a RB ticket-jacket by the agent in FIH?)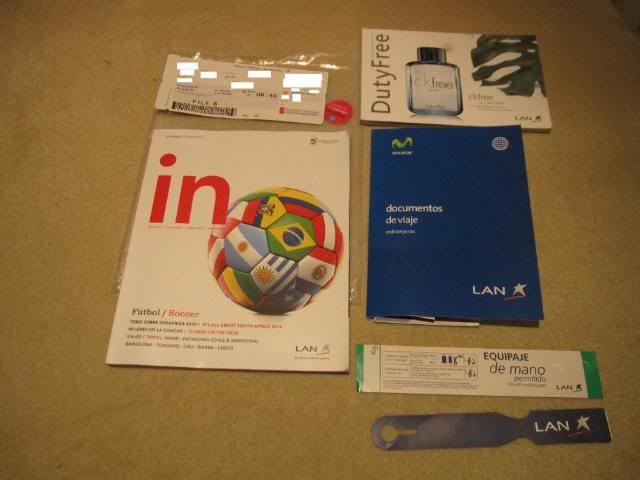 e) Crew:
This continues to be my biggest pet peeve about LAN. While my last reviewed LAN flight (J class on YYZ-JFK), LAN had decent crew, this flight saw the crew revert back to behavior that I see on LAN everytime … and I usually put in over 75,000 miles on the airline. Indifferent crew who efficiently do their mandated service and then hide in the galley gossiping. While the Chileans are not known in the Continent for being the most gregarious group, the LAN crew can do a little bit by going beyond and being a little more welcoming. Would it really hurt to be in the cabin during boarding? Would it really hurt to smile? Would it really hurt to care about the passengers instead of throwing down the meal? Would it really hurt to actually answer the call button? If LAN Chile cannot figure it out, send the crew for some training to LAN Argentina, or LAN Ecuador, or LAN Peru! I know this sounds harsh … but the Argentineans, Peruvians, and Ecuadorians who I have had as crew have a sense of warmth that is missing from the mother carrier.
I know LAN is capable of producing good crews. At the end of the flight, one of the crew members had their first flight … it was touching when the senior purser made an announcement of this and asked passengers to clap in her recognition. Why can't this kind of warmth be displayed towards the passengers?
IV> Post-Flight:
Santiago airport is a pleasant affair. Arrivals into the domestic terminal was fast. Bags came relatively quickly and we were on the curb within 35 minutes.
V> Impressions + Scores:
LAN gets the job done. Their Y class hardware is actually very good with comfortable Y seats, generous legroom, and good recline. Moreover, they have an industry-leading (in Latin America) IFE that sets them apart (ok, so they should have better movies). Where LAN failed to deliver is on the "softer" things. While the food could be improved, more immediately something needs to be done with their robotic crew who have zero iota of charm. LAN might not be a world benchmark airline; however, it still is probably one of the best carriers out of Latin America. Definitely would fly them again … a thump up.
VI> Other Trip Reports:
PREMIUM:
8.66:
Brussels Airlines (93): FIH-BRU: 01/2010
8.64:
Turkish Airlines (59): JFK-IST: 11/2008
8.63:
Jet Airways (88): JFK-BRU: 10/2009
8.61:
Air Canada (49): YYZ-SCL: 06/2008
8.54:
Turkish Airlines (77): GRU-DKR-IST: 04/2009
8.30:
Jet Airways (74): KWI-BOM: 04/2009
8.23:
United Airlines (72): SFO-SYD: 03/2009
8.11:
Aeroflot (33): MOW-DEL: 09/2007
8.05:
Air India (80): CCU-JFK: 06/2009
8.04:
Korean Air (40): NRT-ICN: 10/2007
8.02:
Delta Airlines (24): JFK-CDG: 08/2007
7.64:
Royal Jordanian (91): AMM-YUL: 12/2009
7.46:
LAN (55): YYZ-JFK: 09/2008
7.82:
Singapore Airlines (06): EWR-SIN: 09/2006
7.25:
Iran Air (88): BOM-IKA: 12/2009
7.23:
Virgin Atlantic (81): BOS-LHR: 07/2009
7.14:
Swiss (52): SCL-GRU: 06/2008
7.11:
Austrian (79): VIE-JFK: 06/2009
7.07:
Privatair (84): BOM-FRA: 08/2009
7.02:
Qatar (68): DOH-JFK: 01/2009
6.96:
Etihad (61): JFK-AUH: 12/2008
6.93:
Delta Airlines (18): SEA-JFK: 11/2006
6.84:
ConViasa (65): CCS-DAM: 01/2009
6.81:
Air Canada (17): ICN-YYZ: 10/2006
6.70:
KLM (32): EBB-AMS: 08/2007
6.36:
Privatair (60): MUC-BOS: 12/2008
6.25:
Korean Air (45): NAN-ICN: 10/2007
6.21:
Iberia (87): BOS-MAD: 10/2009
6.11:
TAP Portugal (53): GRU-OPO: 06/2008
6.00:
Gulf Air (75): BOM-BAH: 04/2009
5.88:
African Express (89): DXB-NBO: 11/2009
5.75:
Singapore Airlines (16): CCU-SIN: 10/2006
5.64:
NorthWest (46): ICN-NRT-SEA: 10/2007
5.46:
Icelandair (83): KEF-BOS: 08/2009
5.39:
LOT (54): WAW-JFK: 06/2008
5.21:
Egypt Air (73): CAI-IST: 02/2009
5.07:
TACA (66): JFK-SAP: 01/2009
4.42:
Air France: CDG-JNB (25): 08/2007
ECONOMY: Long + Medium:
9.26:
Air India (48): JFK-DEL: 02/2008
7.38:
Avianca (01): BOG-LIM: 07/2006
7.07:
Sri Lankan (62): KWI-CMB: 12/2008
7.00: LAN Chile (94): IPC-SCL: 01/2010
6.41:
Avianca (78): JFK-BOG: 05/2009
6.41:
American Airlines (58): LHR-BOS: 11/2008
6.39:
Condor (85): SEZ-FRA: 09/2009
6.26:
Jet Blue (21): CUN-JFK: 02/2007
6.06:
Air Canada (04): YYZ-YVR: 09/2006
5.89:
USA 3000 (19): PUJ-BDL: 01/2007
5.85:
Spanair (69): MAD-LPA: 02/2009
5.79:
Air New Zealand (42): RAR-NAN: 10/2007
5.52:
Aerolineas (86): USH-AEP: 10/2009
5.46:
TAP Air Portugal (23): OSL-LIS: 05/2007
5.19:
Air Europa (70): LPA-MAD: 02/2009
5.16:
Iberia (71): MAD-BOS: 02/2009
5.11:
Air China (82): FRA-PEK: 08/2009
ECONOMY: Short
8.56:
Paramount Airways (38): BLR-MAA: 09/2007
8.56:
Kingfisher (64): HYD-CCU: 12/2008
8.24:
Kingfisher (14): IXA-GAU: 10/2006
7.87:
Indian (34): BOM-MAA: 09/2007
7.72:
Alliance Air (13): CCU-IXA: 10/2006
7.57:
Indian Airlines (10): DEL-CCU: 09/2006
7.23:
West Jet (03): YYC-YVR: 09/2006
7.15:
JetLite (37): BOM-GOI: 09/2007
6.70:
Spice Jet (09): CCU-DEL: 09/2006
6.63:
Air Fiji (44): NAN-SUV: 10/2007
6.63:
Jazeera (67): DAM-KWI: 01/2009
6.58:
Air Tran (02): EWR-MDW: 08/2006
6.48:
Air India Express (63): CMB-MAA: 12/2008
6.44:
CO Micronesia (39): ROR-YAP: 10/2007
6.41:
Pacific Sun (43): NAN-SUV: 10/2007
6.37:
Skybus (47): SWF-CMH: 02/2008
6.33:
Kenya Airways (29): NBO-BJM: 08/2007
6.33:
Sky Europe (56): LTN-BTS: 10/2008
6.31:
Indigo (15): GAU-CCU: 10/2006
6.31:
easyJet (57): BUD-LTN: 11/2008
6.22:
Air Link Swazi (28): MTS-JNB: 08/2007
6.22:
Air India (36): HYD-BOM: 09/2007
6.13:
Adam Air (07): SIN-CGK: 09/2006
6.13:
Air Rarotonga (41): RAR-AIT: 10/2007
6.00:
Transairways (27): INH-MPM: 08/2007
5.95:
Air Canada (05): ALB-YYZ: 09/2006
5.85:
SAS Norge (22): OSL-AES: 05/2007
5.81:
LAM Mozambique (26): JNB-MPM: 08/2007
5.69:
Air Deccan (12): IXZ-CCU: 10/2006
5.67:
Rwanda Air Exp (30): KGL-NBO: 08/2007
5.37:
Felix Airways (92): SCT-SAH: 12/2009
5.11:
Aero Republica (76): BOG-CCS: 04/2009
5.07:
Go Air (35): MAA-HYD: 09/2007
5.00:
Sky Airline (51): IQQ-SCL: 06/2008
4.96:
Valuair (08): CGK-SIN: 09/2006
4.78:
Air Comet Chile (50): SCL-IQQ: 06/2008
4.74:
Fly 540 (31): MYD-LAU: 08/2007
4.33:
Viva Aerobus (20): ELP-MTY: 02/2007
4.11:
Air Sahara (11): CCU-BOM: 09/2006
(Note on Codes: Y – Economy, J – Business, F – First :: I/D – International/Domestic :: SR/MR/LR – Short/Medium/Long Haul)
(Note on Date: Dates are modified to be +/- 3 days from actual flight date to not reveal actual flight pattern)
VII> Other Pictures:
NONE
[Edited 2010-03-14 10:30:04]