This trip took place in January of 2010. I would have written a report sooner but was just too busy to take the time. I still remember all of it anyway, and the pics helped too
I decided rather last minute to take a trip to Kaohsiung Taiwan to visit my brother and my new sister in-law that I had yet to meet. I managed to find a pretty good deal on expedia on AC and JL via YVR and NRT. I threw caution to the wind and booked it without even having the time off work arranged yet, but that wasn't a big deal.
Disclaimer: Some of the photos, especially take-off shots, were taken with my cell phone. The others with my Canon Rebel T1i, hence the disparity in image quality.
Anyway, here goes:
Date: Jan 13, 2010
Fllght: AC 207
Fromt/To: YYC-YVR
Departure: 0915
Arrival: 0942 (YVR time)
A/C Type: Embraer 190
Registration: Unknown
Class: Economy
Seat: 13F (Window)
I arrived at the airport with a fair bit of time. I had already checked in online so I only needed to get my bags checked. The line up at AC's bag check wasn't very long and within 10 minutes my bags were checked and I was on my way to security. Security wasn't lined up at all and I was able to proceed directly to an X-ray with no delay whatsoever. I went through the metal detector without setting it off but something in my carry-on sparked the interest of the lady watching the X-ray screen. She opened my bad and told me that the plastic bag my liquids were in was too big. All of my liquids were in containers under 100ml and the bag I used was a clear plastic one. I have traveled with it many times before. So I had to split up my toiletries into two plastic bags (one with liquids, the other with my razor etc) that they provided. It's so stupid and I'm really getting tired of the inconsistent rules with security these days!
Anyway, after that BS I made it to my gate (12) and decided to relax in one of the big comfy chairs that nobody seemed to notice. My A/C was towed to the gate not long after I arrived. Couldn't get a good view of the A/C so no reg I'm sorry.
Boarding was announced on-time and I quickly got settled in my seat (13F). AC's E190's have excellent economy seats. Here's the view from my window at the gate with an AC 763 parked beside me at gate 14: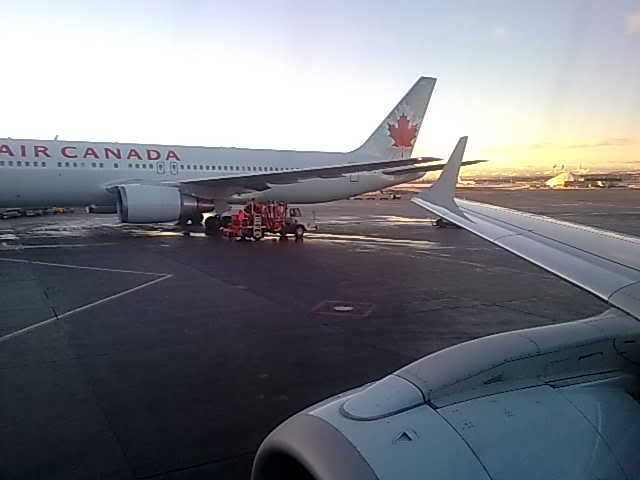 The flight being a routine domestic hop to YVR, boarding went like clockwork and before I knew it the doors were closed and push-back began for an on-time departure. We taxiid out to runway 16 and the little E-190 blasted off: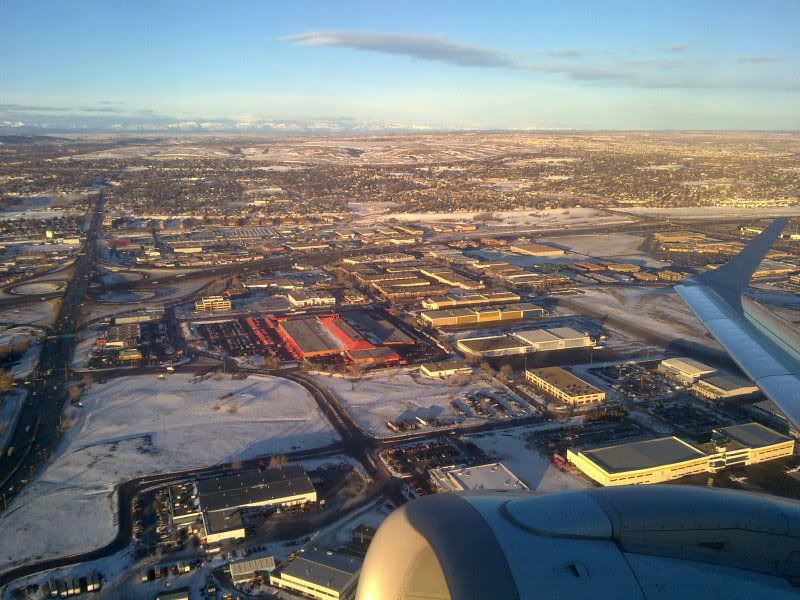 Views of Calgary during climb: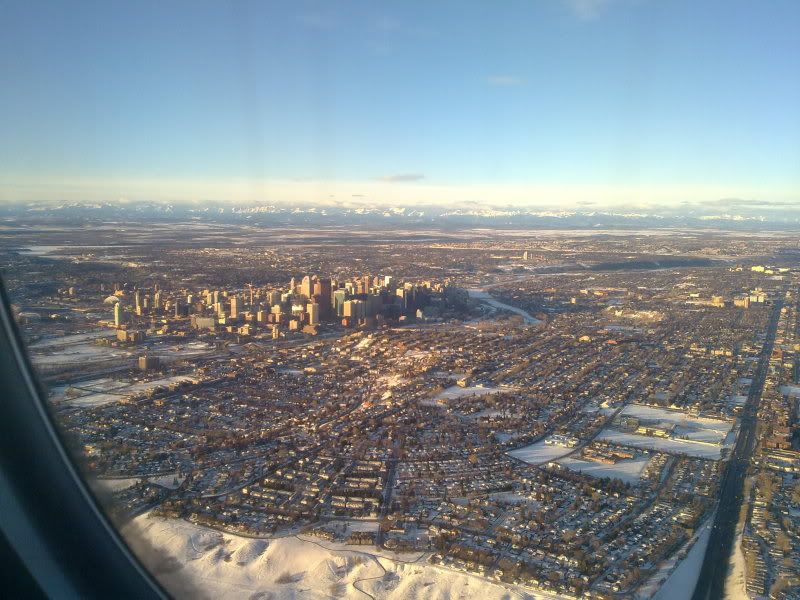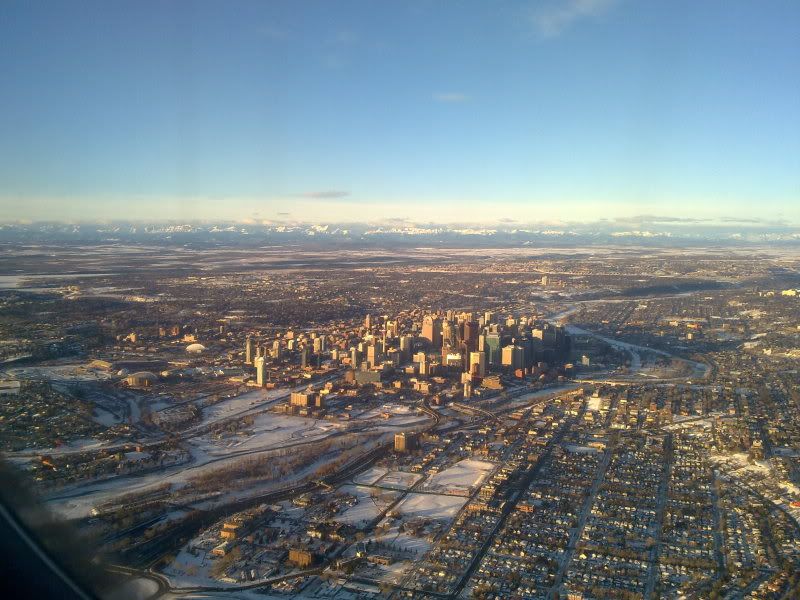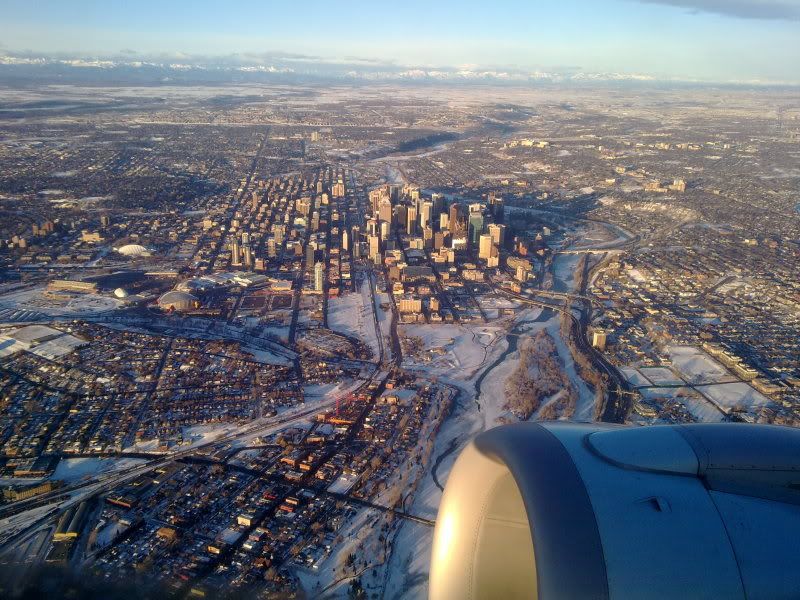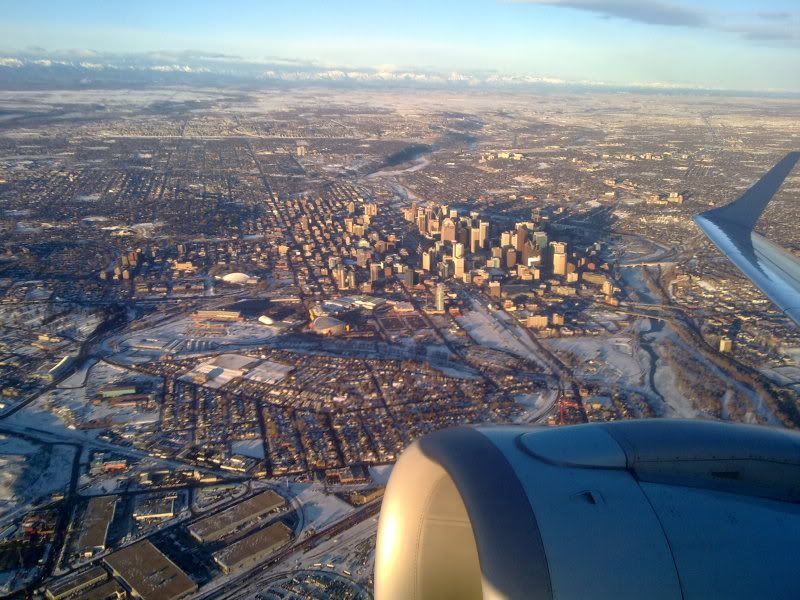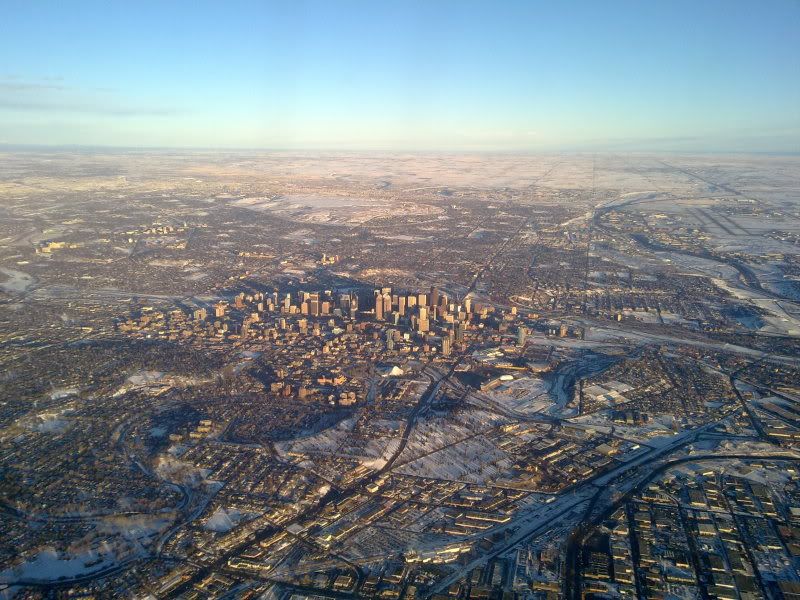 Over the rockies now: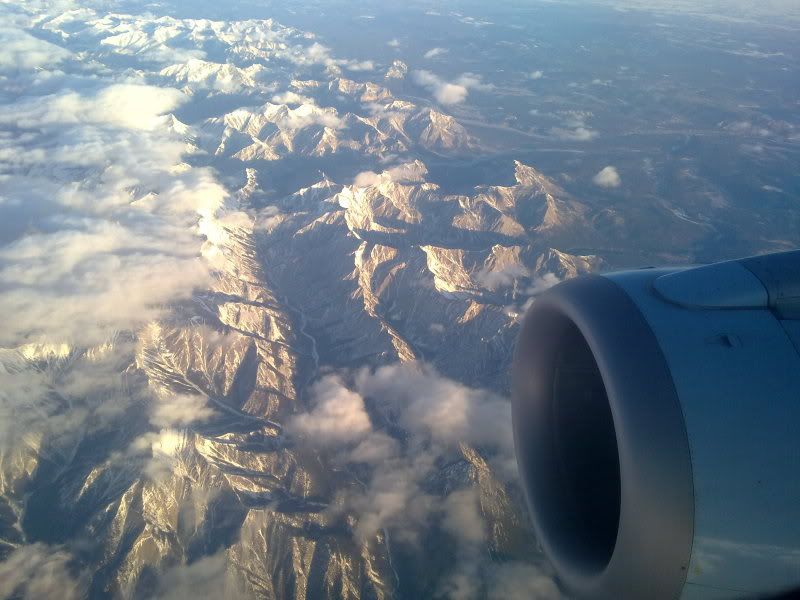 The decsent into YVR was cloudy, rainy and pretty bumpy. I didn't get any pics of it.
Landing in YVR was on-time. Luckily I had a couple of hours to connect because the walk to my gate for my JL seemed to go on forever. Once I reached my gate I had to get my boarding passes printed (I had checked in online). After getting boarding passes for my next two flights I decided to explore YVR international terminal a bit. YVR in my opinion is the nicest airport in Canada, and one of the nicest in North America.
Here's some pics I took while wandering around:
My gate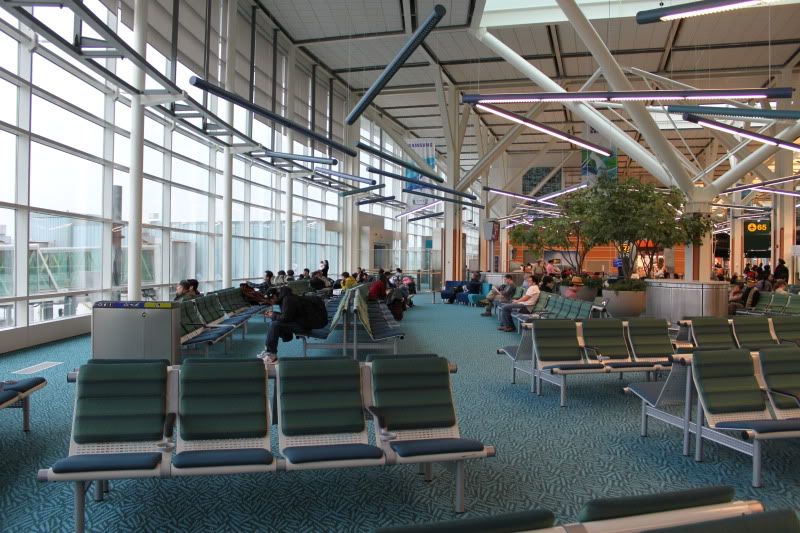 My beast 744 to NRT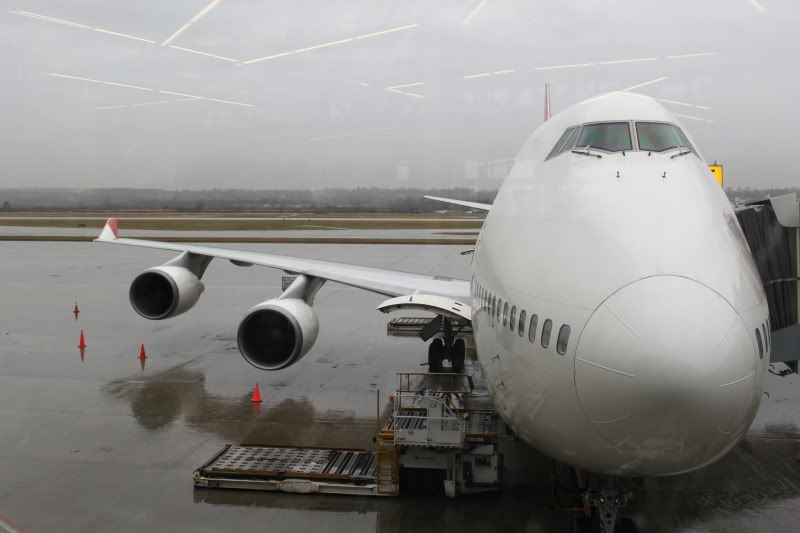 Duty free shopping in YVR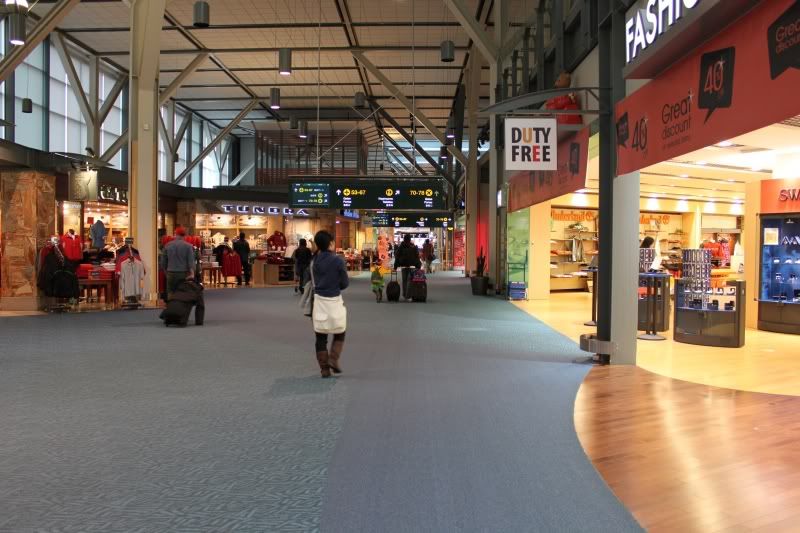 Large aquarium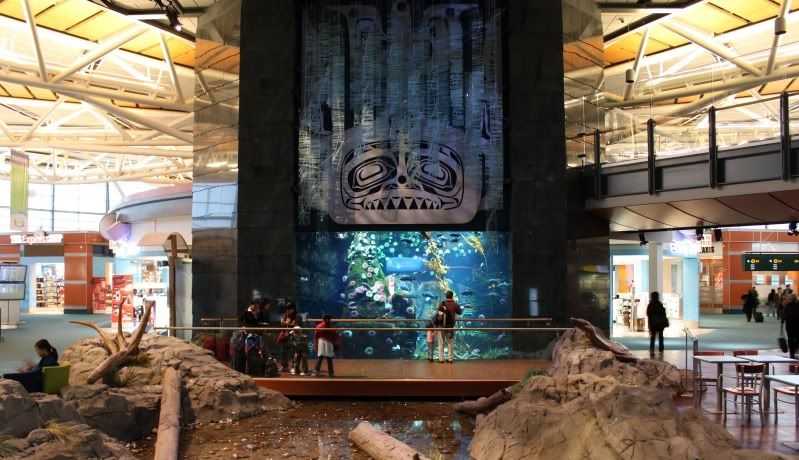 Philipinnes 343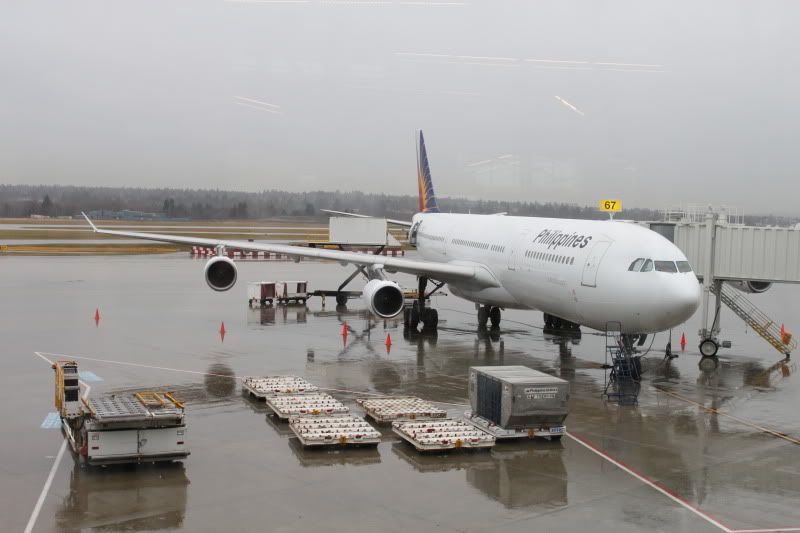 Westjet 738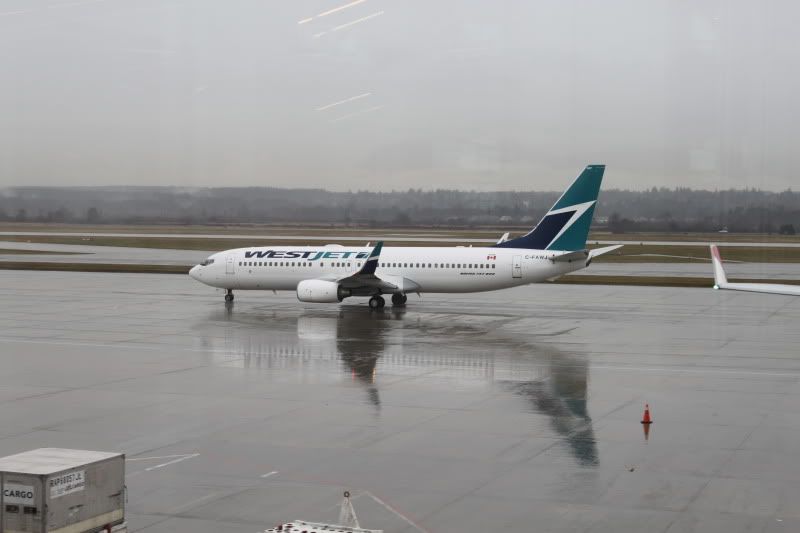 Boarding commenced on-time and luckily for me the lady that was seated next to me switched seats so I had an empty seat next to me for the flight.
Date: Jan 13, 2010
Flight: JL 017
From/To: YVR-NRT
Departure: 1130
Arrival: 1453 +1 day
A/C type: Boeing 747-400
Registration JA8076
Class: Economy
Seat: 48K (window)
This was my first time flying JL. The F/A's were very friendly and seemed to be everywhere hehe. My only complaint was how tiny the seats are. I'm not a big guy at all (about 5'6") and I felt cramped. I don't know how somebody 6 foot or so could stand it.
We pushed back on time, and for some reason unknown to me I wasn't taking pictures. Probably because of the weather (pouring rain). However, I REALLY regret not taking video of the take-off as it was an awesome sight from my seat seeing the engines throw up so much spray. I did however take a few climb-out pics with my phone:
Take-off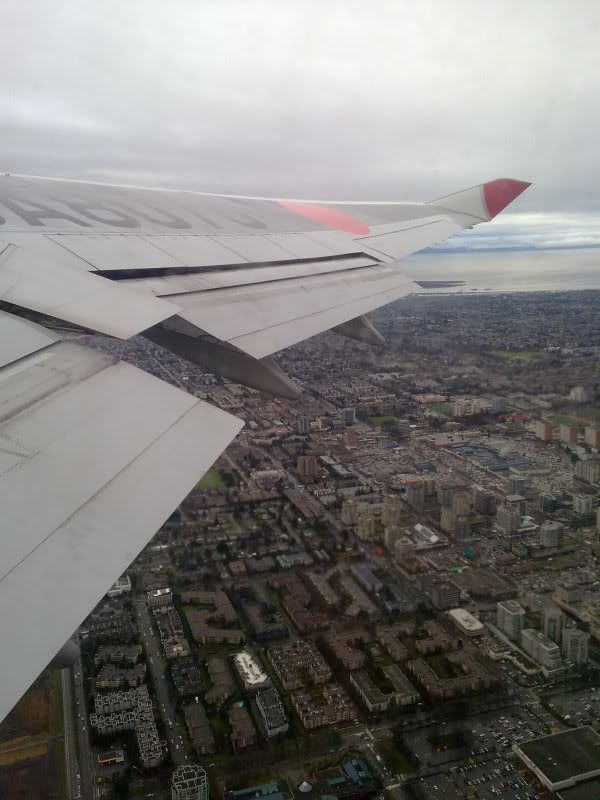 Breaking through the clouds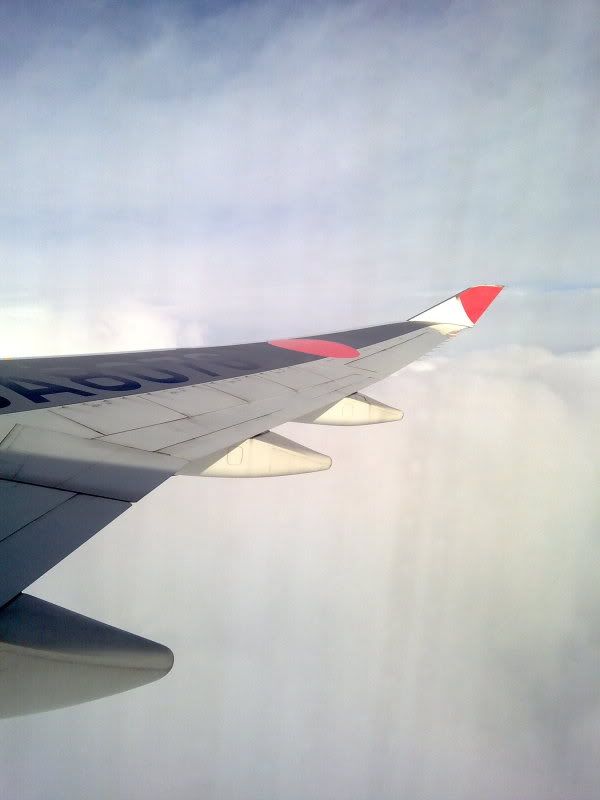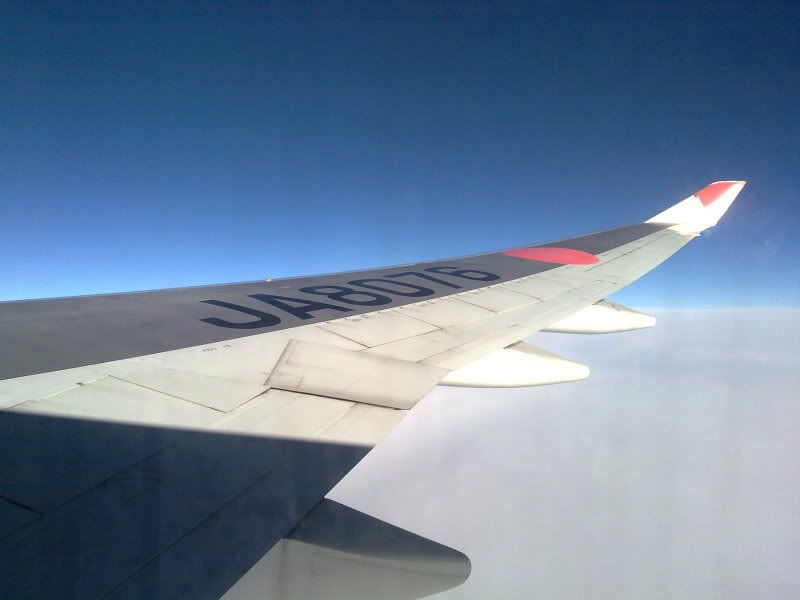 Once we reached cruising altitude the flight took on a very smooth calm feel. I relaxed and watched "Surrogates" with Bruce Willis. Took a few cruise pics as well: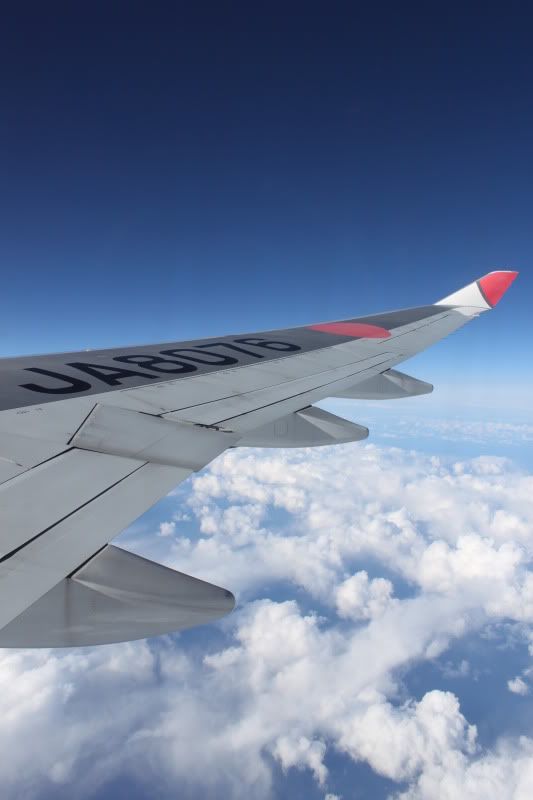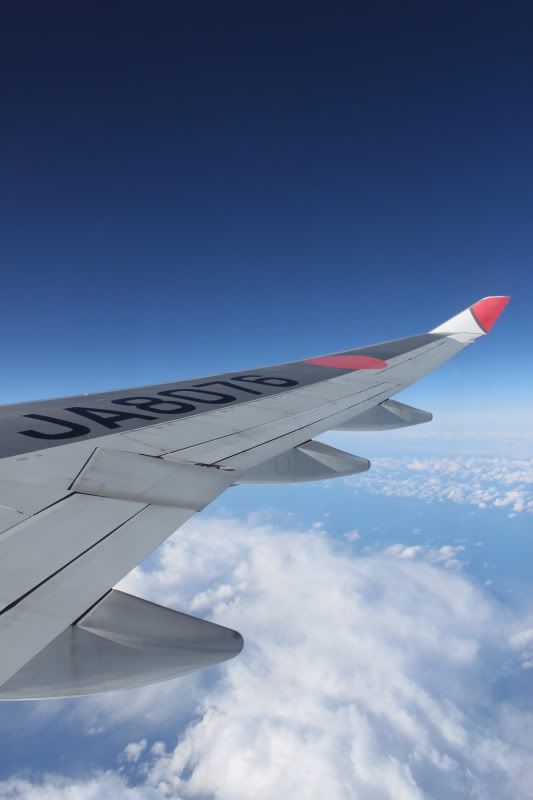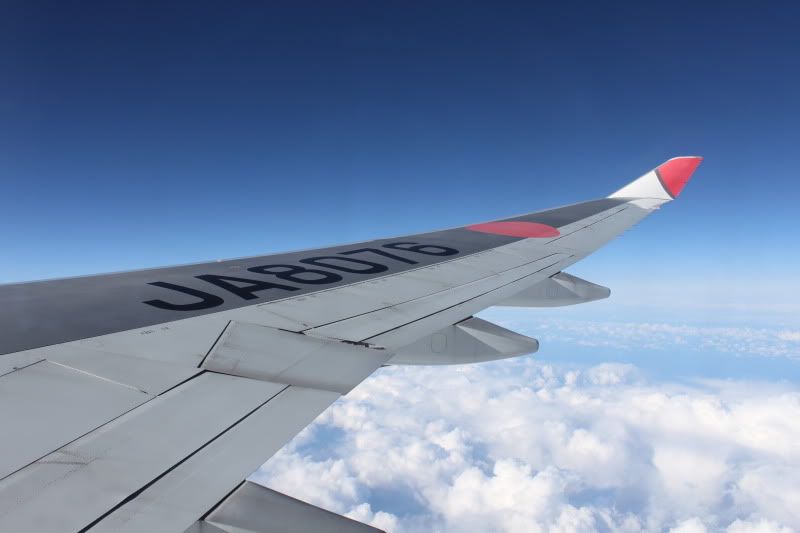 After a few hours the first meal was served. It was a choice of pork or fish. I chose the pork dish with a diet coke: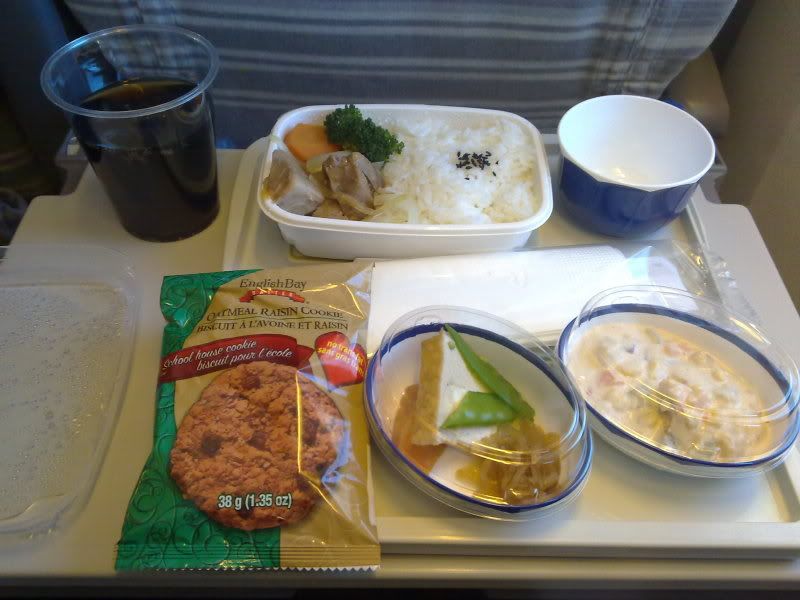 The pork and rice was delicious and the cookie was good too. The tofu and the wierd spicy potato salad weren't to my liking though.
After the meal trays were cleaned up I caught some zzz's while listening to the audio tracks in JL's IFE system. I always make a point of listening to the local music of foreign carriers, it's a nice change from the top 40 crap in North America. After sleeping for a couple of hours I checked the inflight map to see how much progress we had made and noticed we had crossed the international date line:
Getting closer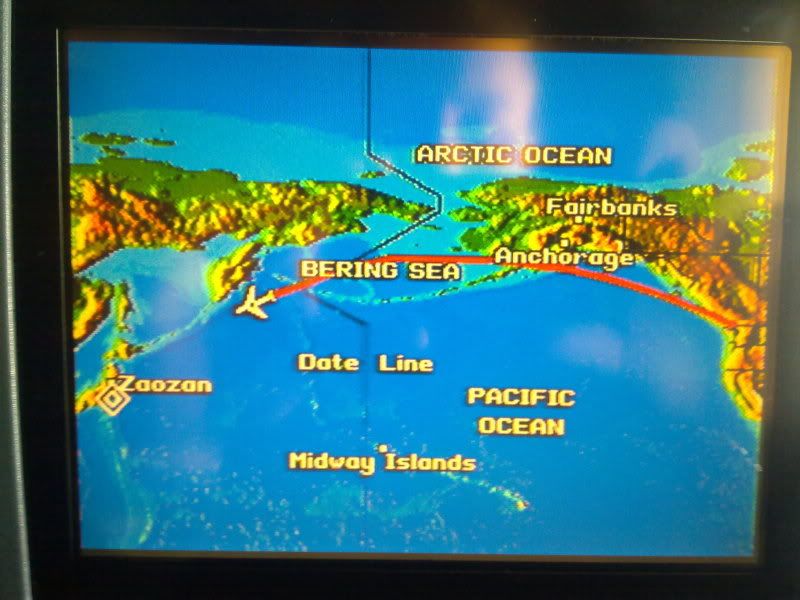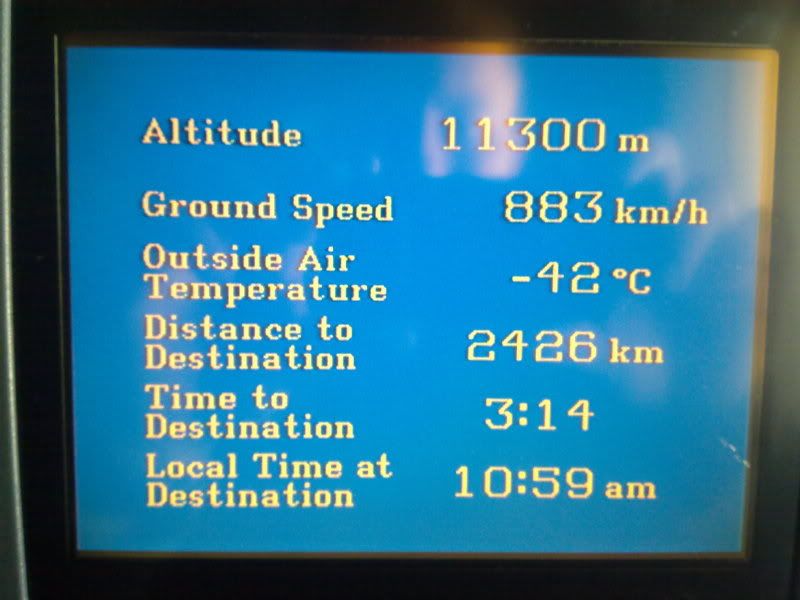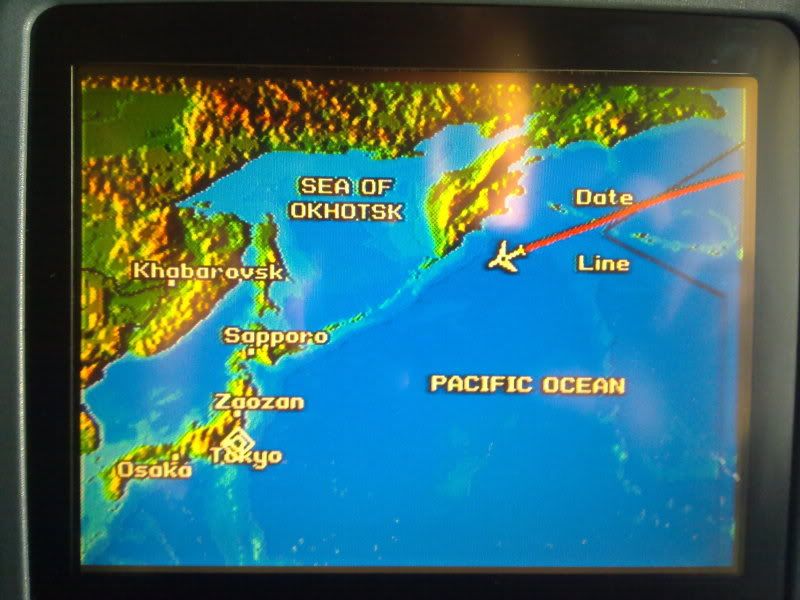 Shortly after waking up the second meal was served. This was basically just a Tuna sandwich and some yogurt. The sandwich was decent though. I again asked for a diet coke.
The flight seemed to be going by quickly, and before I knew it we were descending into NRT!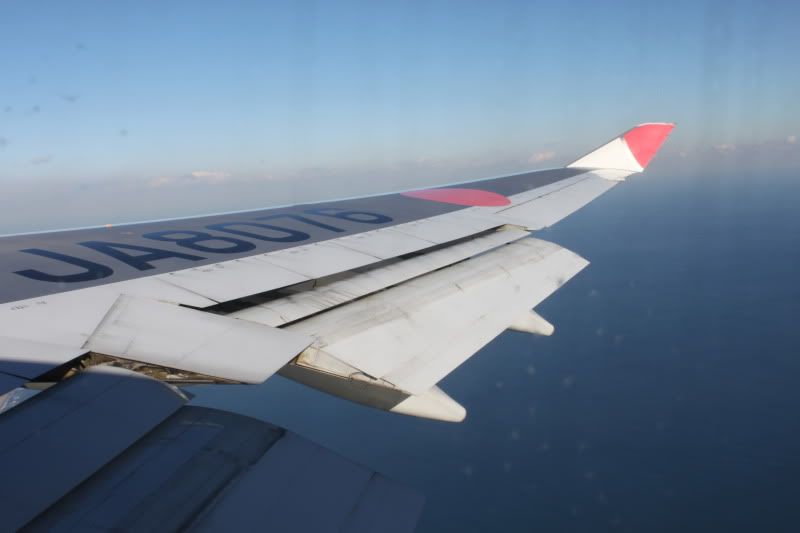 Approaching the Japanese coast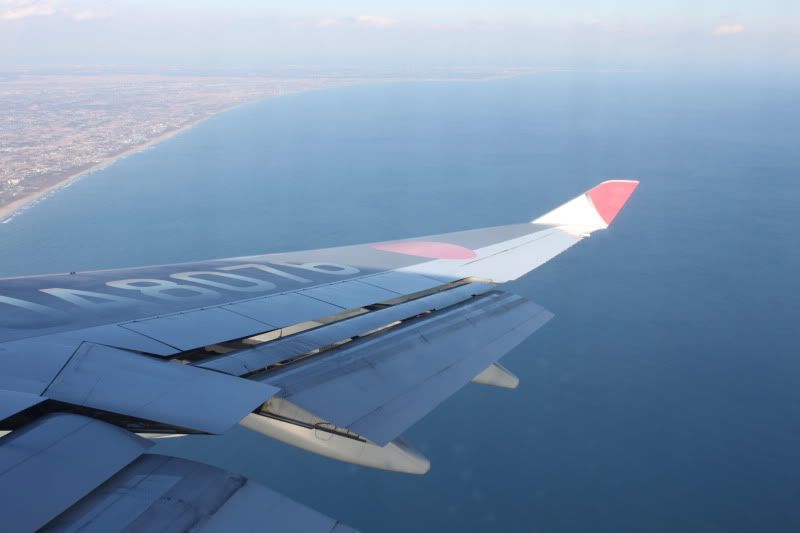 It was a bit bumpy on approach, but the landing was smooth and on-time. I took a couple of pics while taxiing. There's no landing shots because I video taped it instead
Taxiing, widebodies everywhere: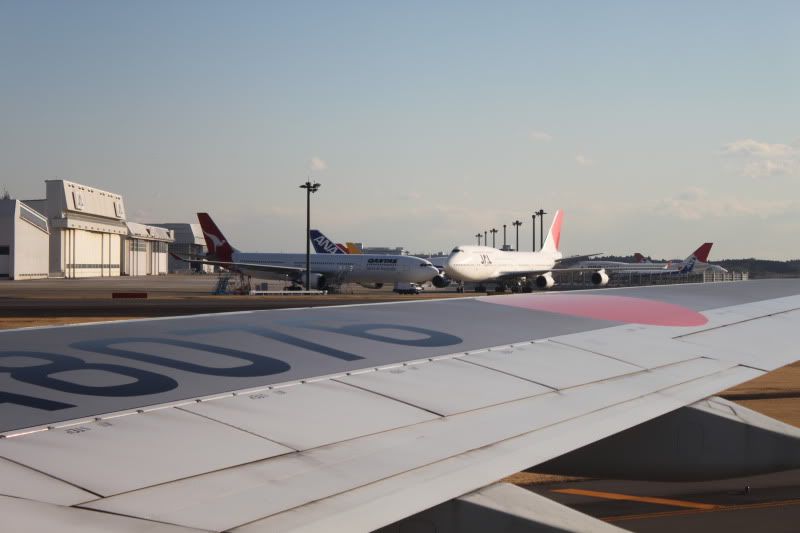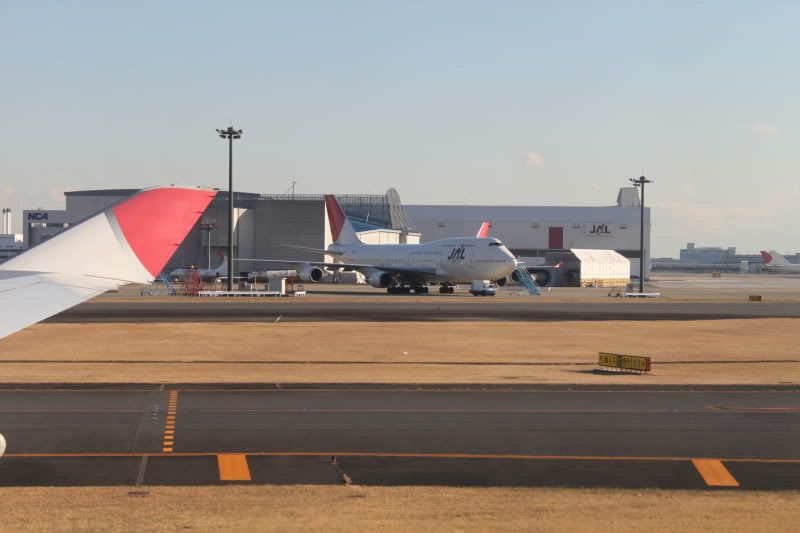 I videotaped the approach and landing using the 720p video capture of my Rebel T1i. Here it is and be sure to watch in HD!
http://www.youtube.com/watch?v=Ve5ycavB6FQ
After disembarking from the 747 I decided to explore NRT Terminal 2 as I had almost 4 hours to kill before my flight to KHH. Lots of great spotting at NRT. I was hungry and found this place called "Cafe Bowl Bowl" that had excellent views of the ramp at terminal 2: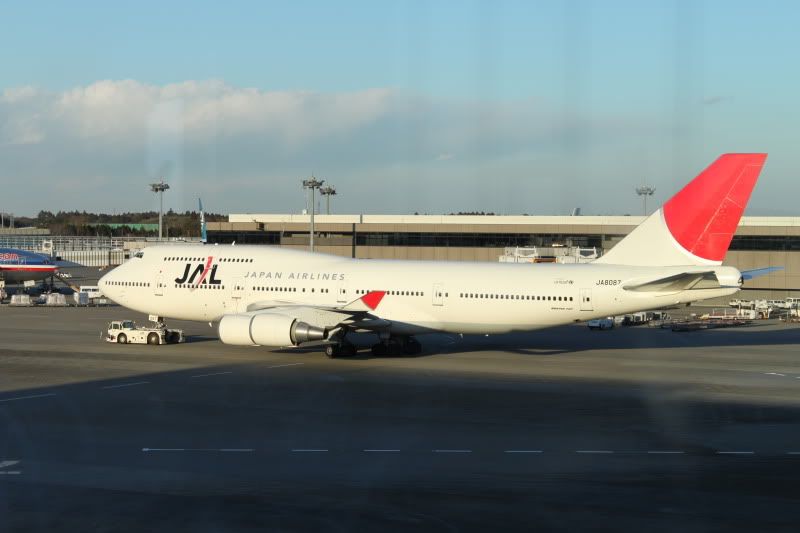 While eating my food and staring out the windo I noticed a plane I had never seen before. It was an Iran Air 747SP. I quickly grabbed my camera and took pics as it was pushed back next to the JL 744 that was being towed: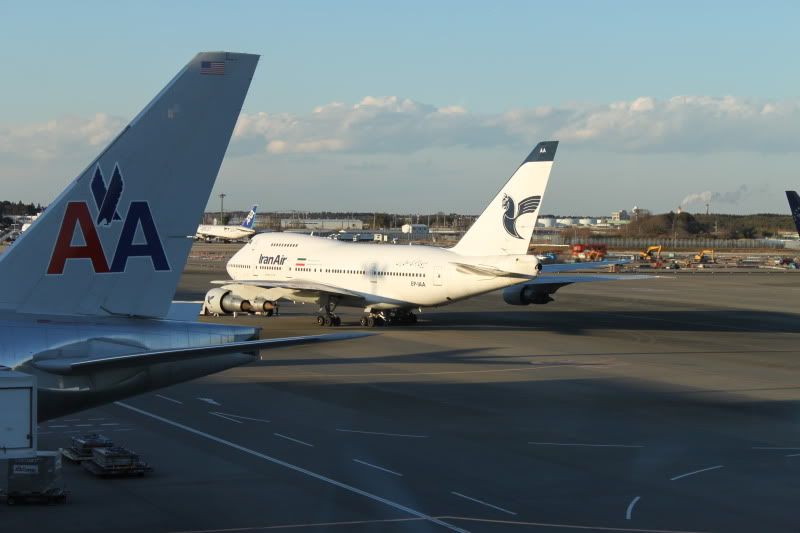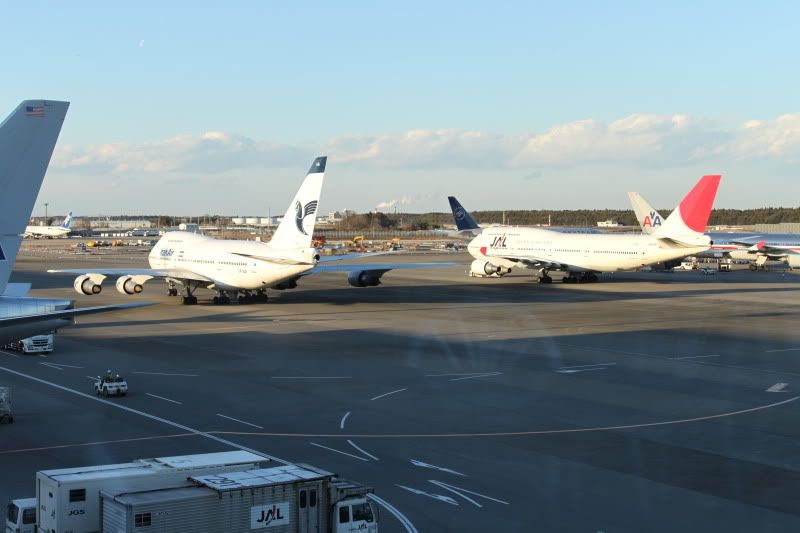 Here's an AA 777: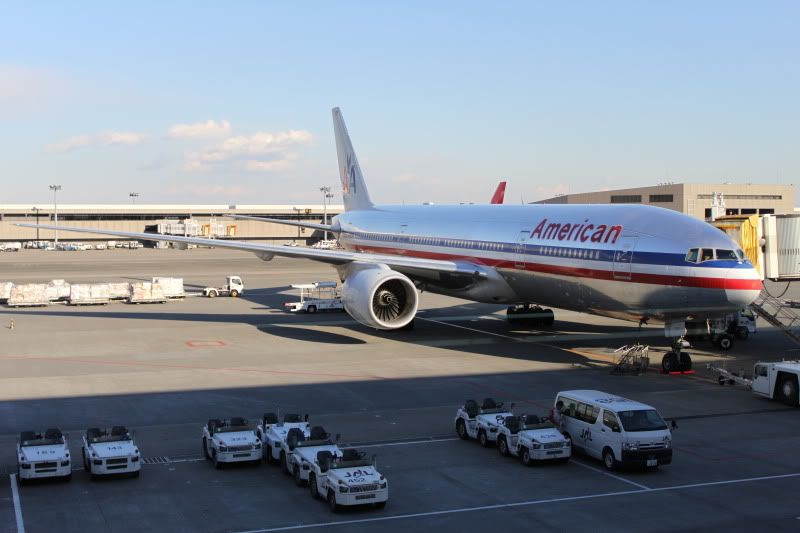 After exploring I was getting pretty exhausted to I decided to head to my gate and relax until it was time to board. The gate area was deserted which was fine by me!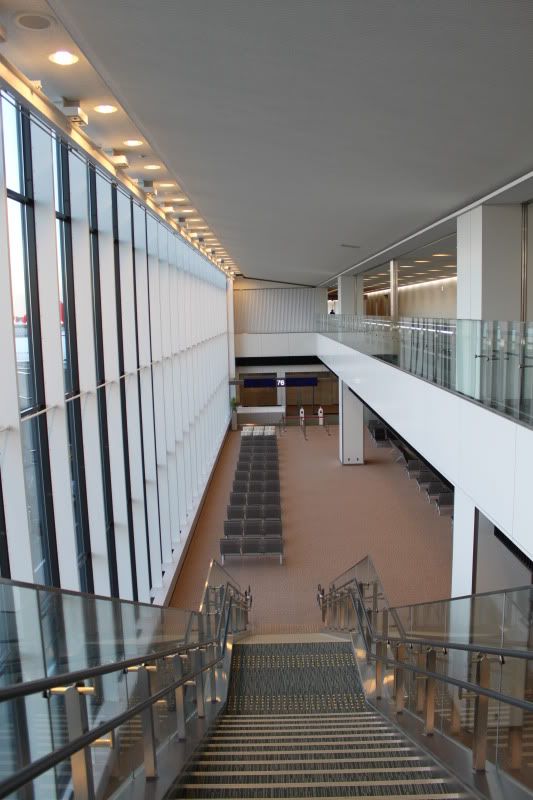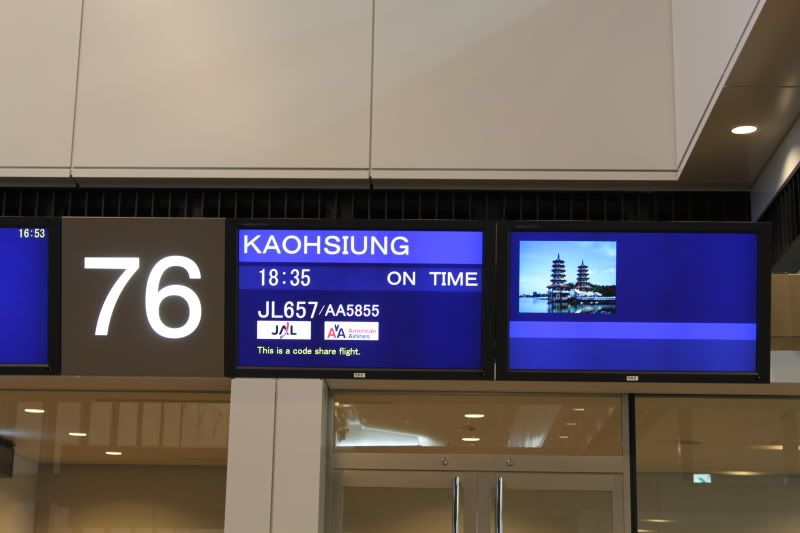 My plane was already at the gate.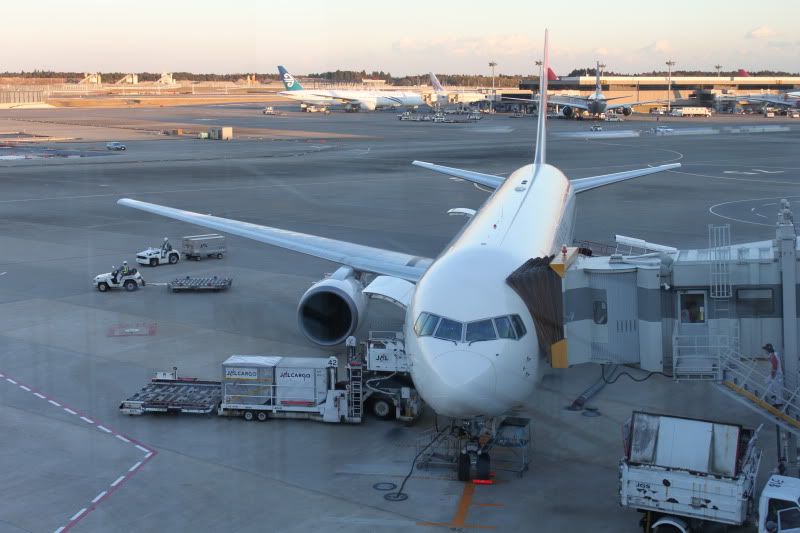 CX 744 sitting next door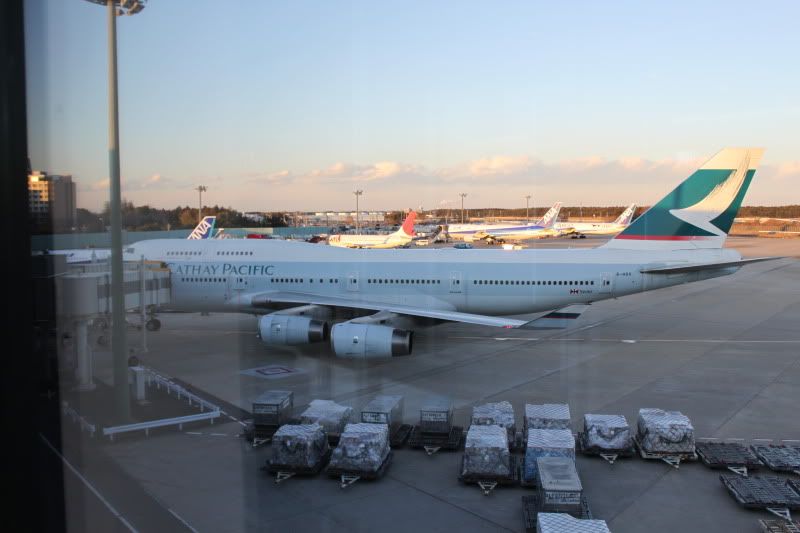 Passenger slowly trickled into the gate area, but even as boarding time was approaching there wasn't that many people around. Looked like it was going to be a fairly empty flight. I sent my brother a quick text saying I was about to board and onto the plane I go!
Date: Jan 14, 2010
Flight: JL 657
From/To: NRT-KHH
Departure: 1855
Arrival: 2155 (local)
A/C type: Boeing 767-300
Registration: Unknown
Class: Economy
Seat: 58A (window)
I ended up having almost the rear of the A/C all to myself, which was nice. The Captain announced that take off would be a bit delayed as were number 15 or so in line and that the previous flights had reported pretty choppy air on the route.
With a roaring take-off we were blasting into the night sky. I didn't take any pics because it was pitch black outside. After a long spiraling climb out we were enroute to Kaohsiung. It was a bit bumpy, but I was so exhausted I fell asleep for most of the 4 hour flight. Landing was a bit heavy and I immediatly noticed the smog smell of Kaohsiung. It seems to have gotten stronger since last time I was there, maybe it was just a bad day.
The airport wasn't very busy and I got my bags and cleared customs without hassle. My brother picked me up and we took a cab to his apartment. We chatted for a bit and then I went to bed for an excellent night's sleep.
I always try to get flights that arrive in Taiwan at night. Much easier to get rid of jet lag when you can have a full night's sleep immediately upon arrival.
My trip was mostly just to visit my bro so I didn't do a lot of sightseeing, it was also my third time there, so I had seen everything pretty much, though we did take a day trip to Taipei on their new Hight Speed Train to check out Taipei 101.
The ten days went by quickly and before I knew it, it was time to return home to the boring grind that is life in Canada
The night before my flight, my brother took me to this cafe by the side of the runway at KHH. The whole point of the cafe is to watch airplanes while eating, the cafe had airline memorabilia all over the place! It was great! Here's some shots, but they aren't the best quality because it was night, and I'm still a novice with the DSLR:
Entrance to the cafe/park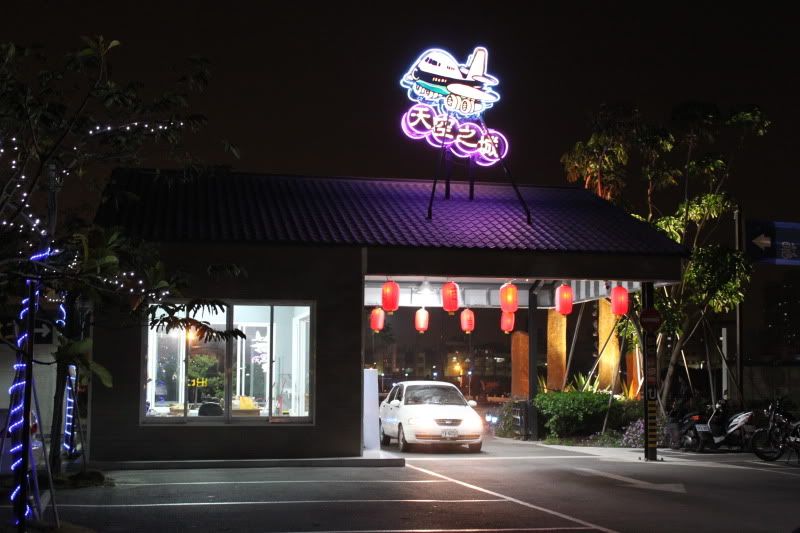 The cafe with radar behind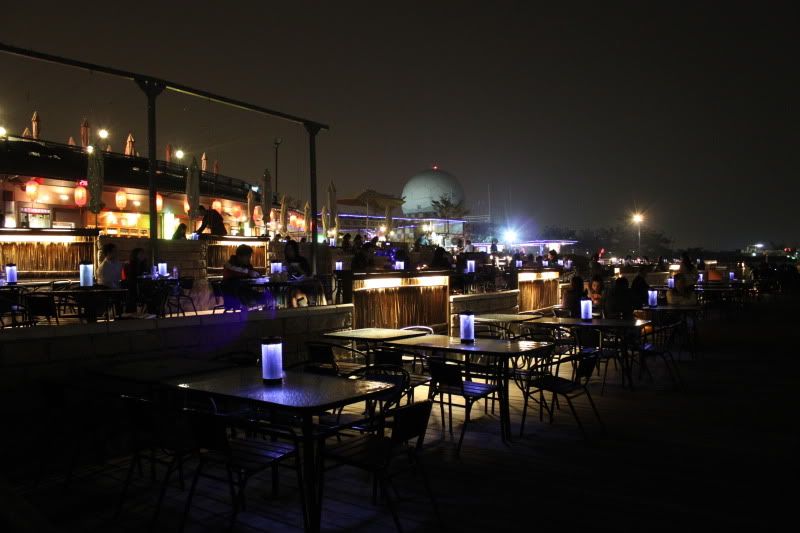 Bar style seating at the front with a view of the runway and the airport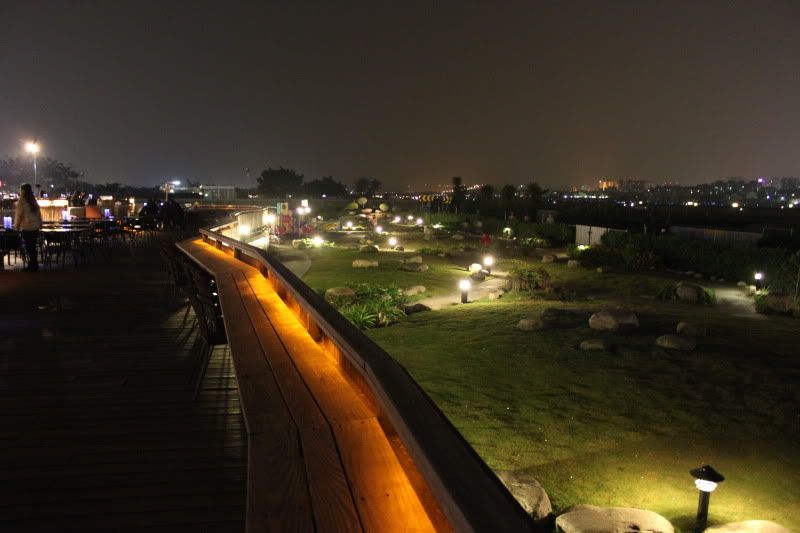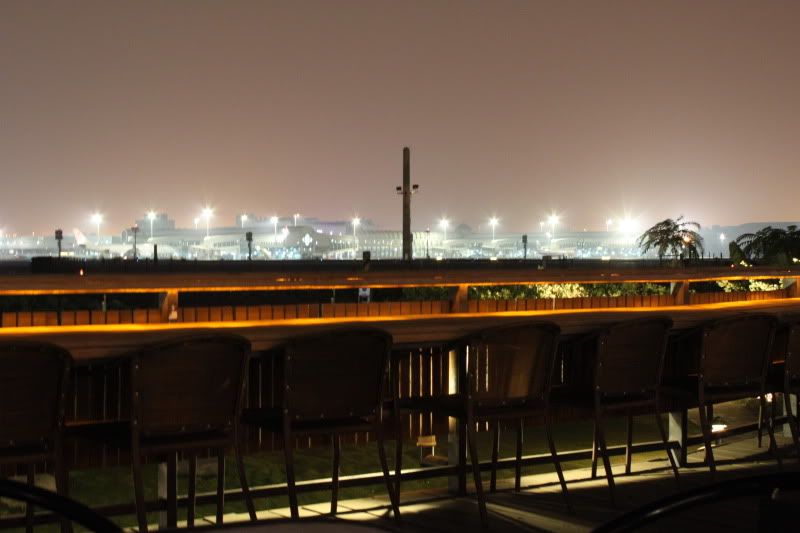 Here's two pics showing the view of A/C from the cafe. They didn't turn out well, but I thought this could give you an idea of how awesome that cafe is: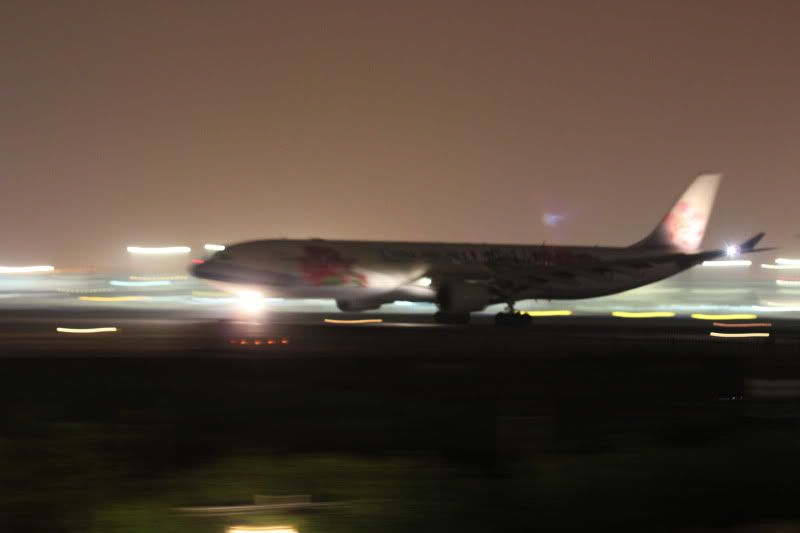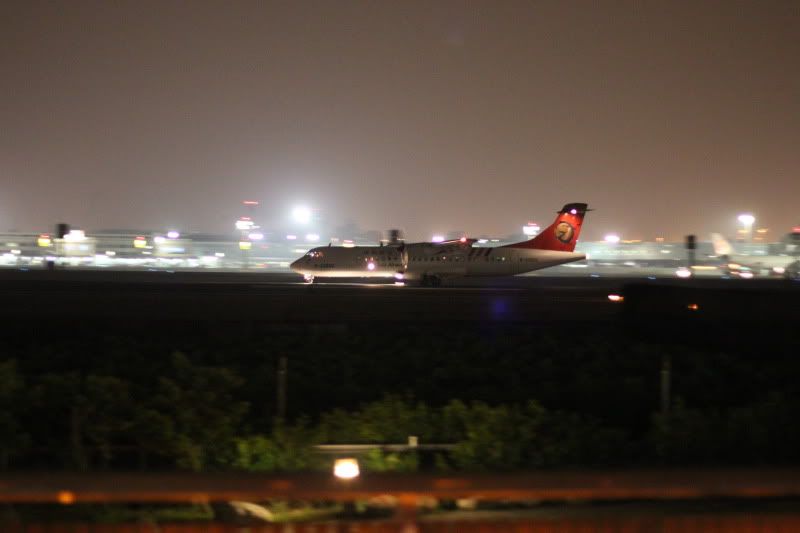 Sign at the cafe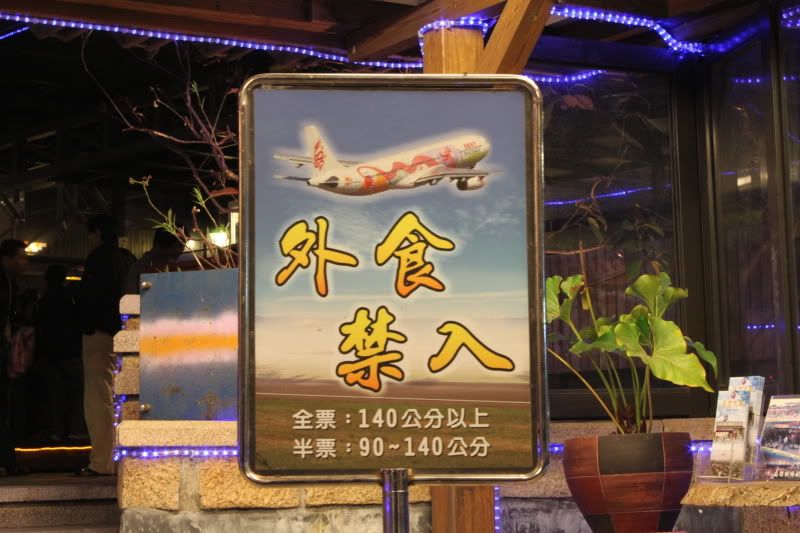 The next morning the time had finally come to catch my flights home. The route home was the same as the route to Kaohsiung only in reverse. KHH-NRT-YVR-YYC.
After a fairly speedy check-in I proceeded through passport control and security with no problems. And as usual used my time before boarding to do some exploring.
Kaohsiung international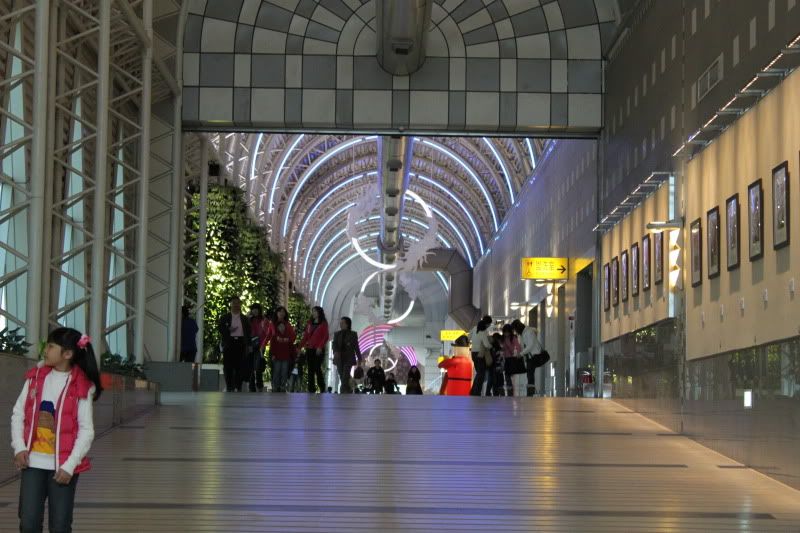 China Airlines A330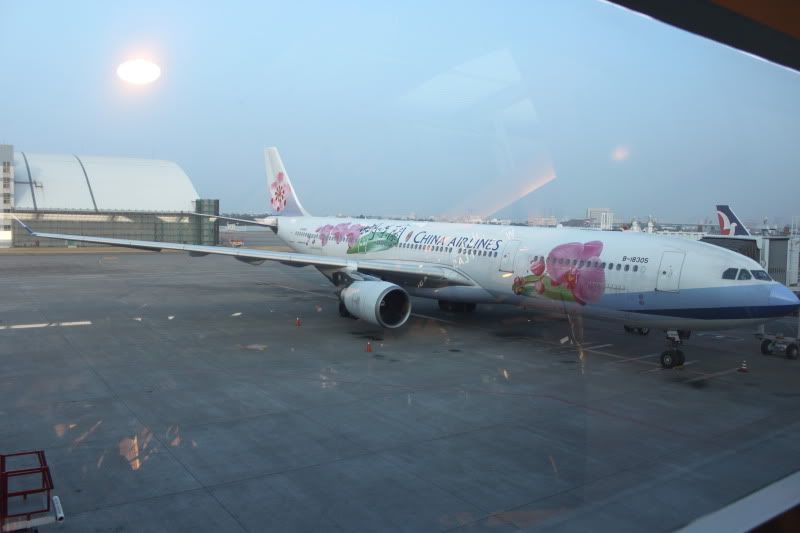 FAT MD-80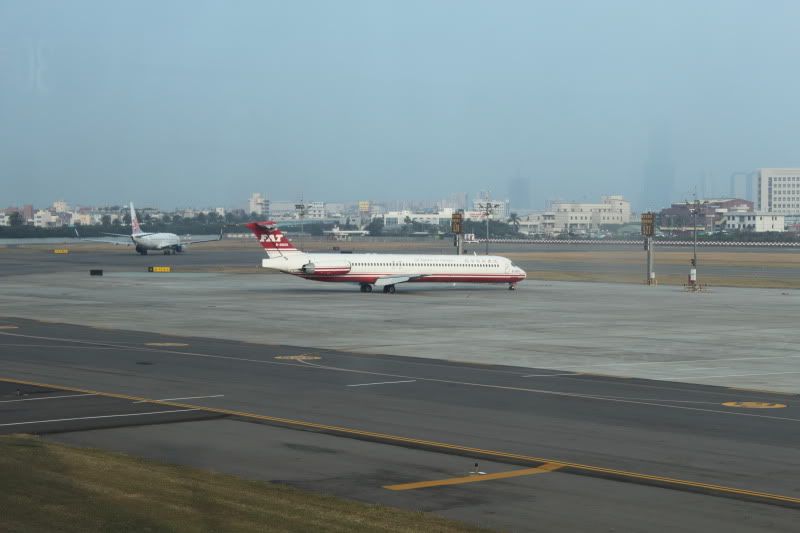 Follow Me Jeep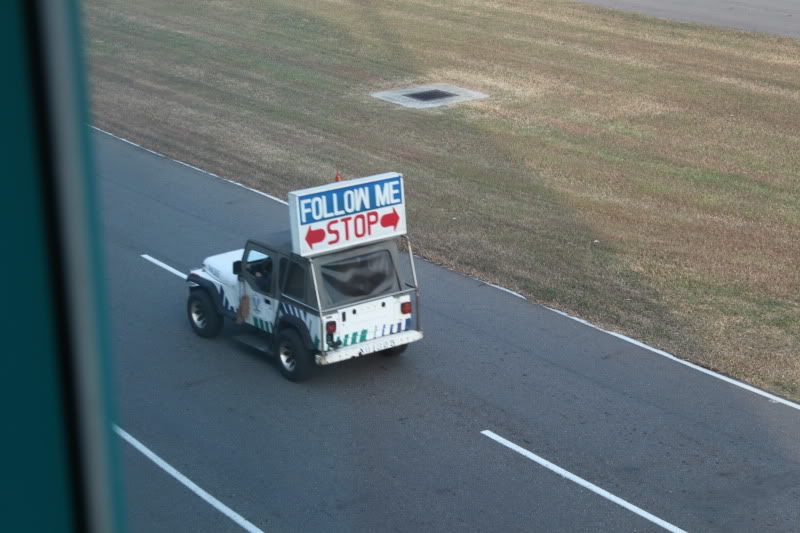 Boarding was announced on-time and when my rows were called I boarded the A/C. This flight was 100% full.
Date: Jan 24, 2010
Flight: JL 658
From/To: KHH-NRT
Departure: 0850
Arrival: 1300 (local)
A/C type: Boeing 767-300
Registration: JA8987
Class: Economy
Seat: 55K (window)
Despite being full boarding was going like clockwork and as usual the JAL f/a's were very professional and efficient.
Pushback was on-time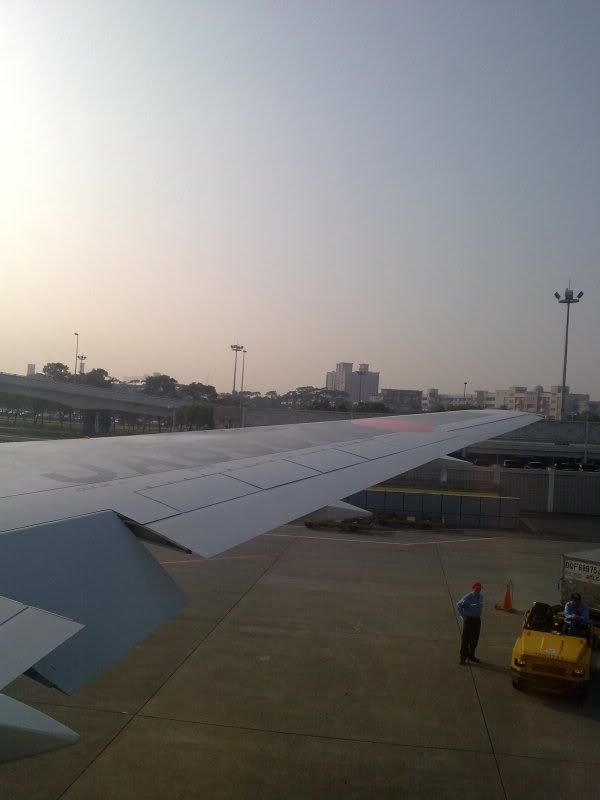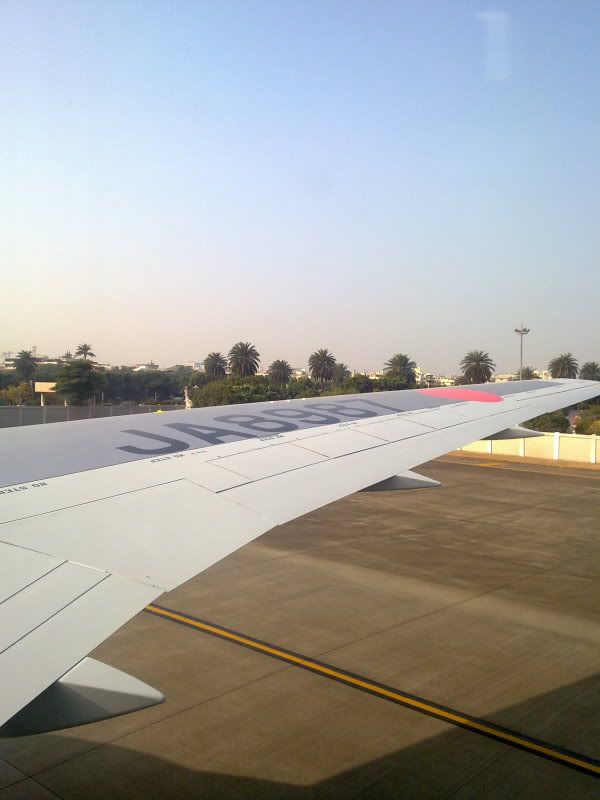 Take-off and climb out, you can really see the smog over the area as you climb out of it!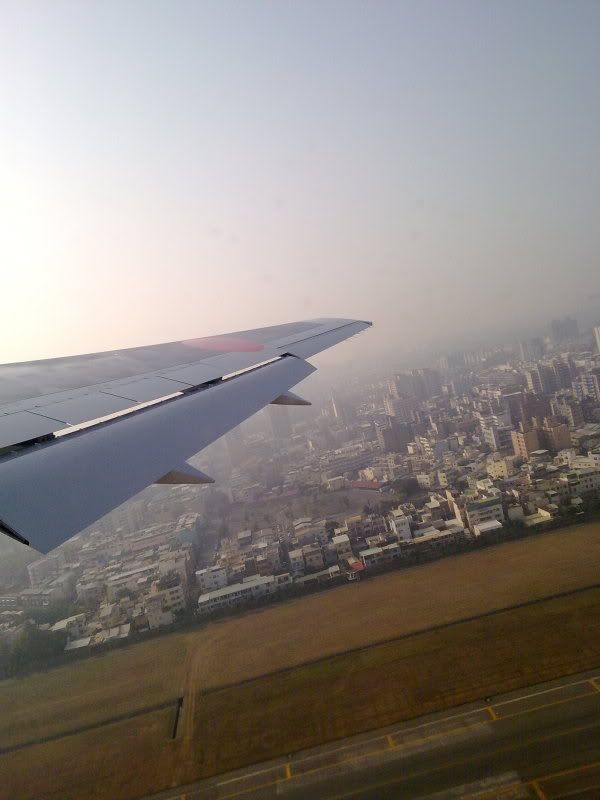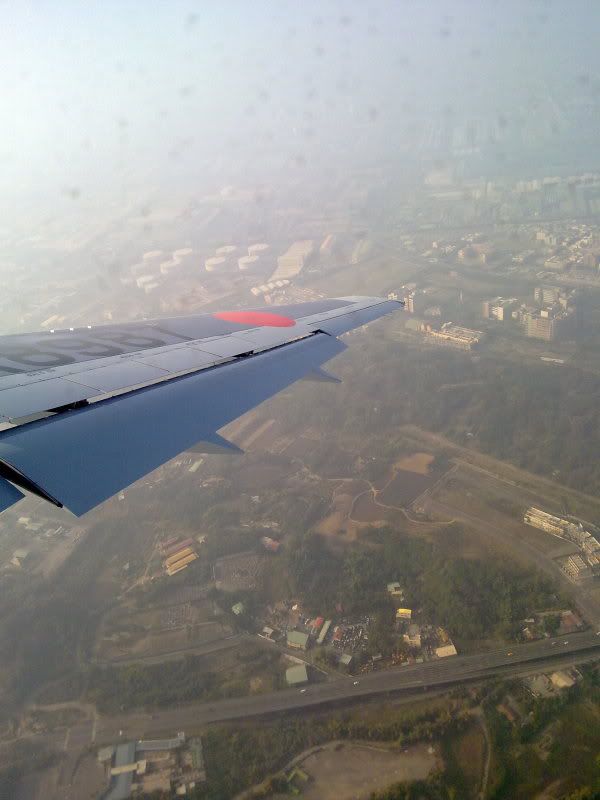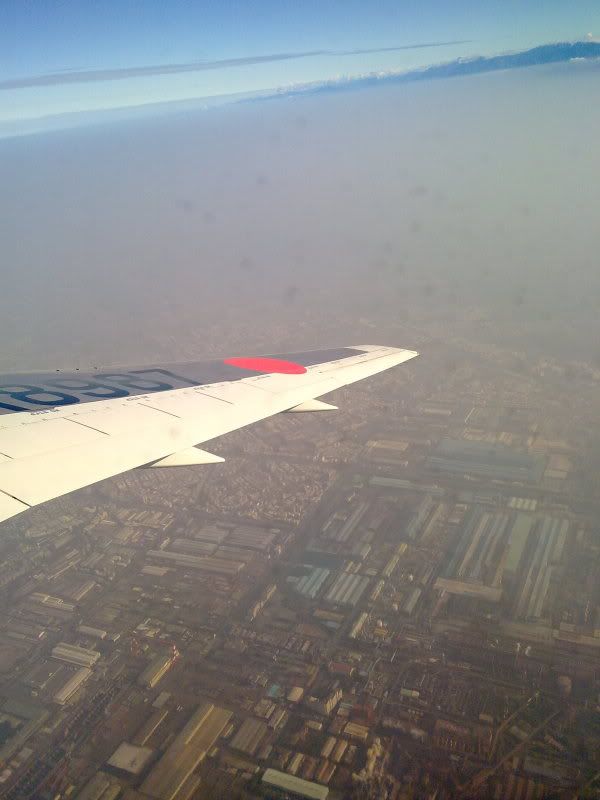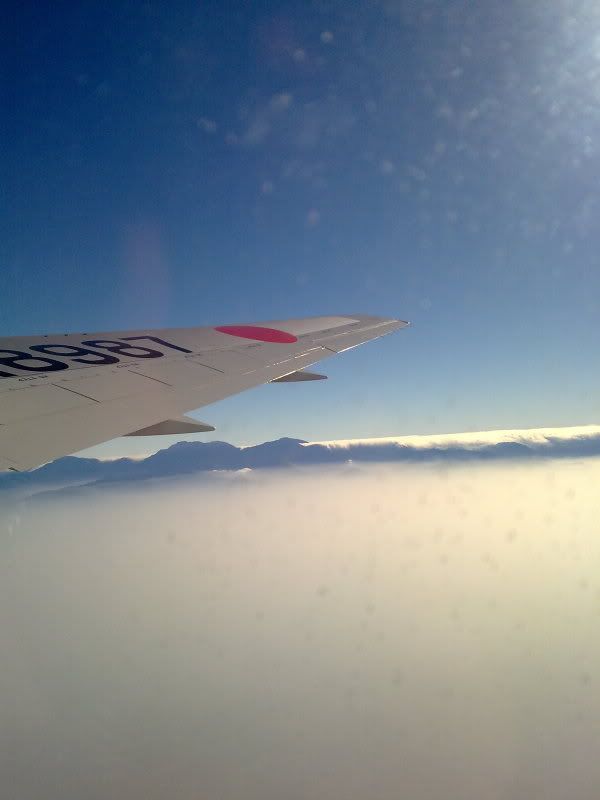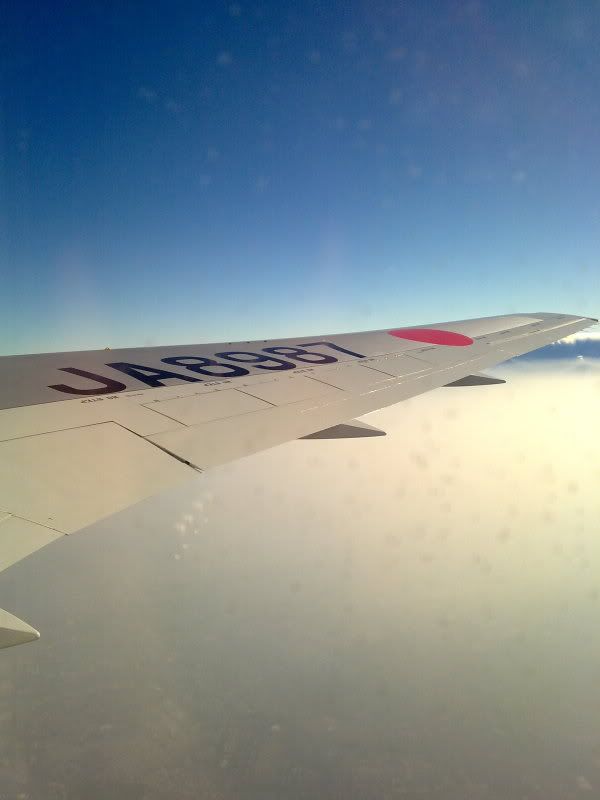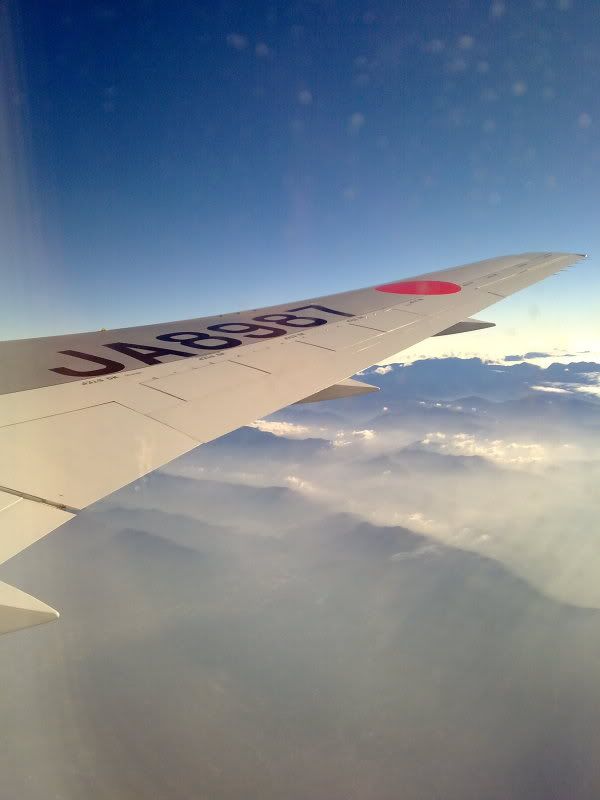 Some pics from cruise: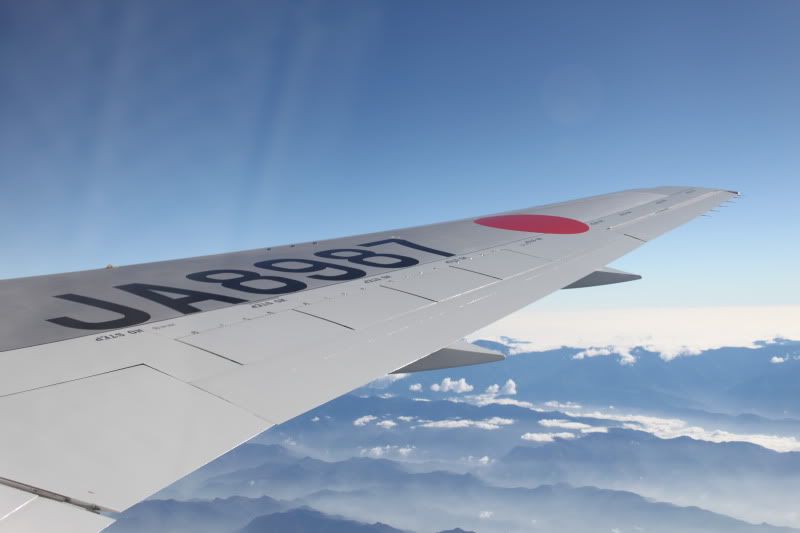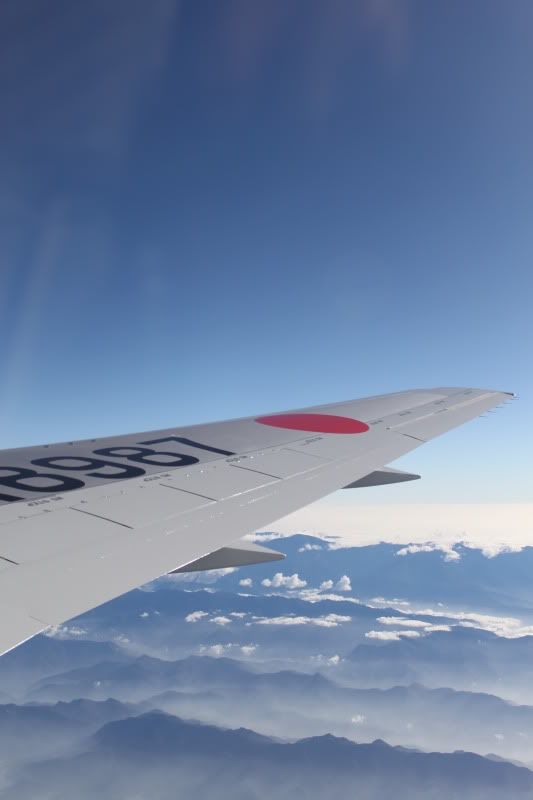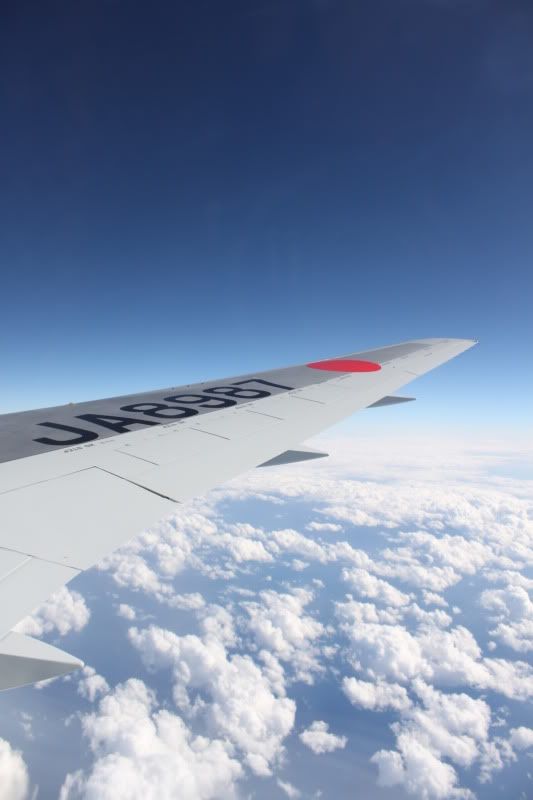 During cruise the spoilers were used a bit. Can somebody explain why? Here's a pic:
It was a pretty bumpy approach into NRT, but the landing was good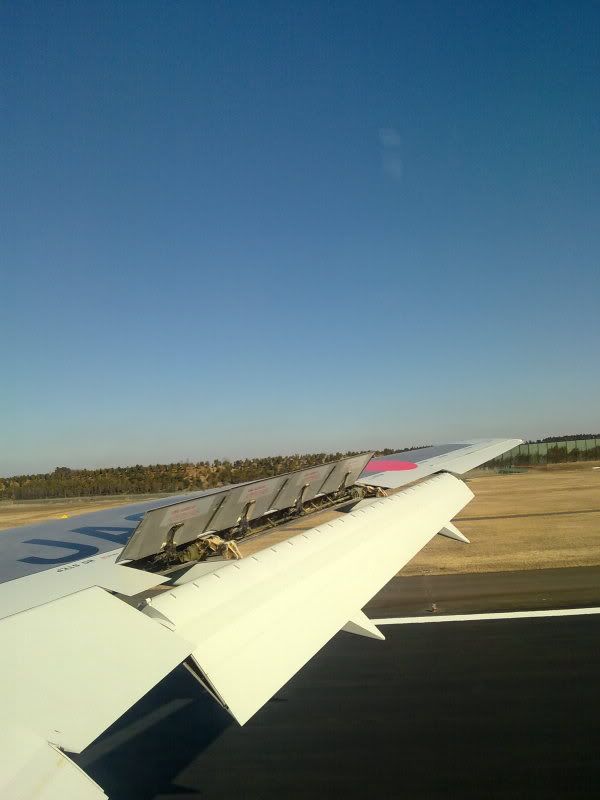 Once again I had several hours to kill in Terminal 2, so I of course did some more exploring
China Eastern A330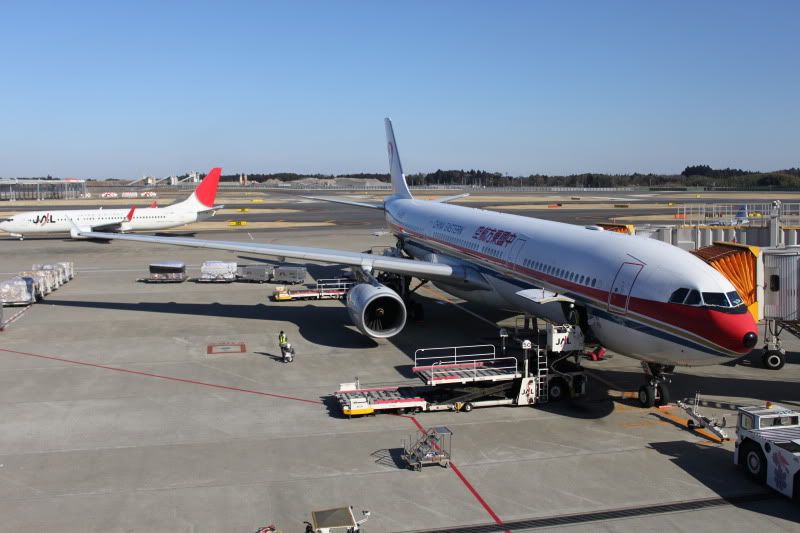 JAL 737-800 and the rampers giving the traditional bow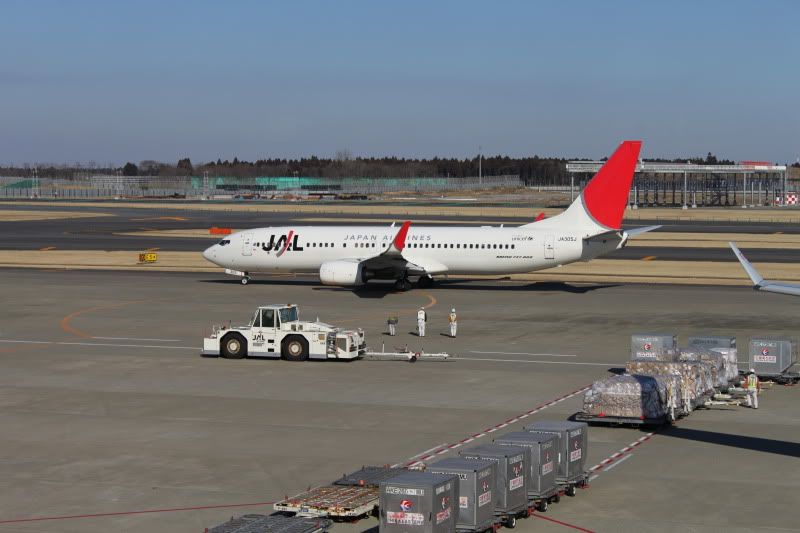 China Airlines 747-400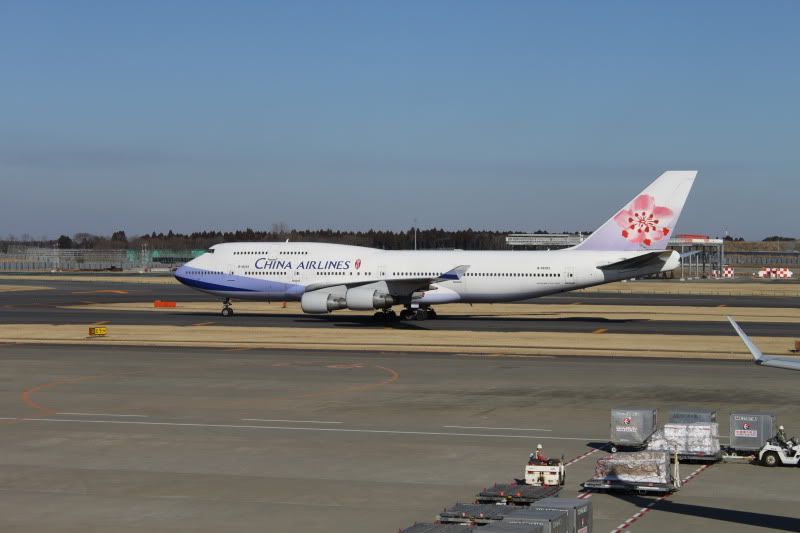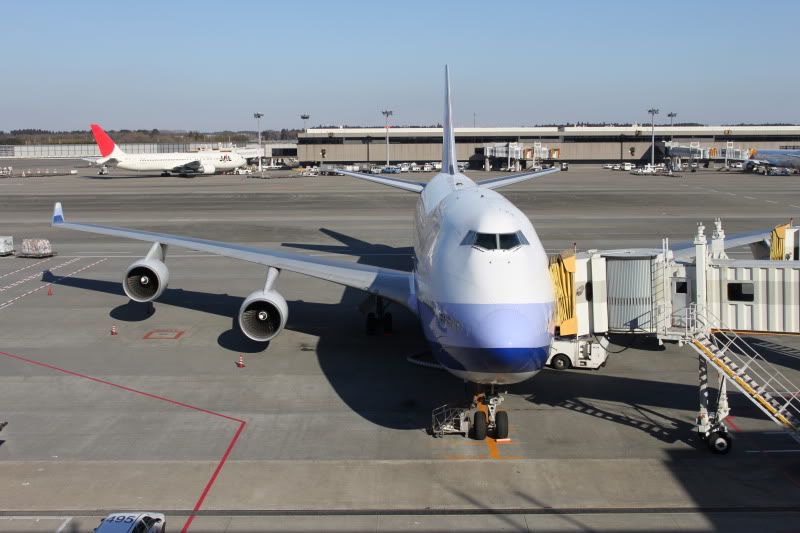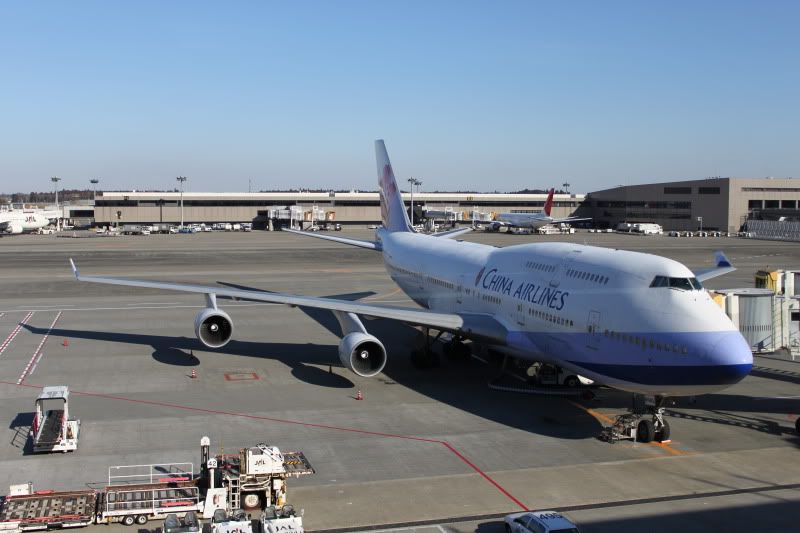 Asiana A330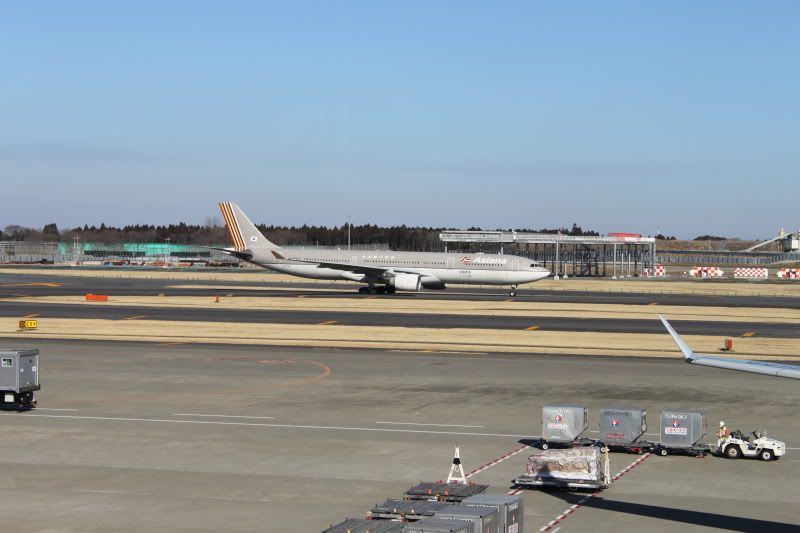 After wandering around for a bit, I decided to go to the free Yahoo internet cafe in Terminal 2. This is really a great service and some of the computers have a great view of the ramp as well!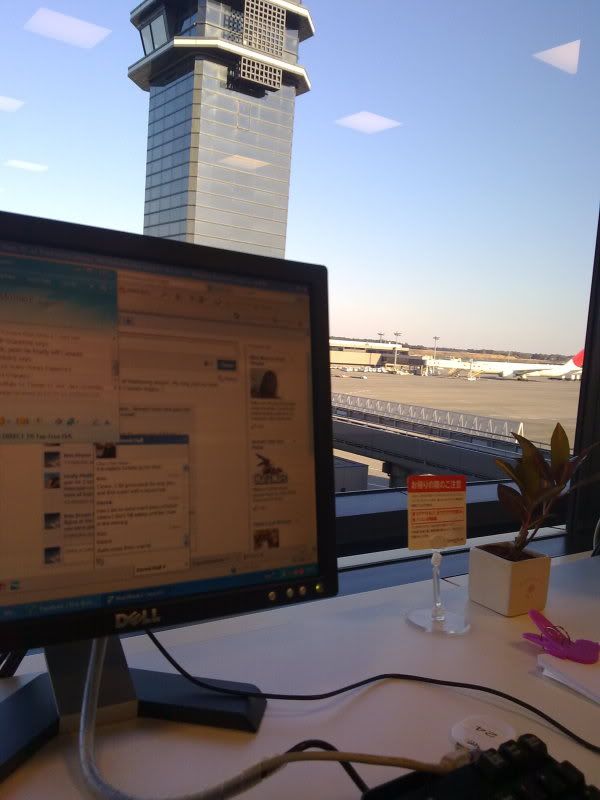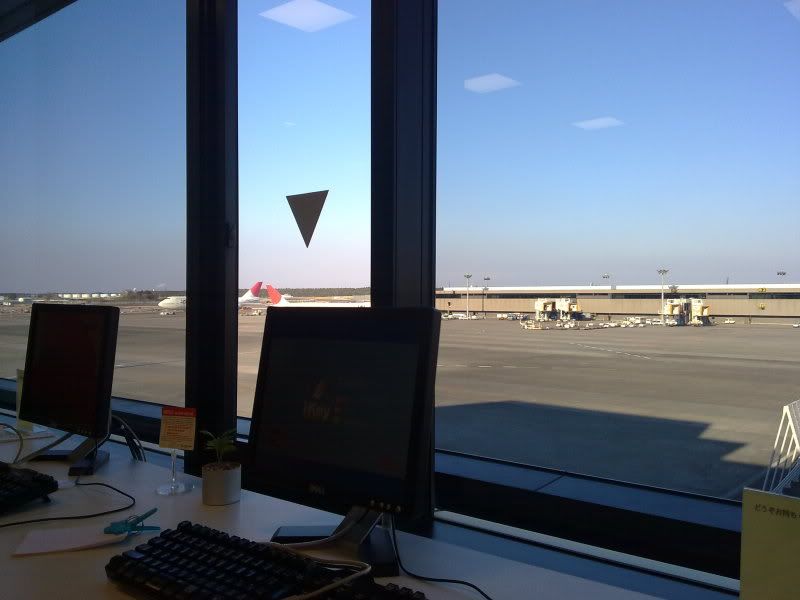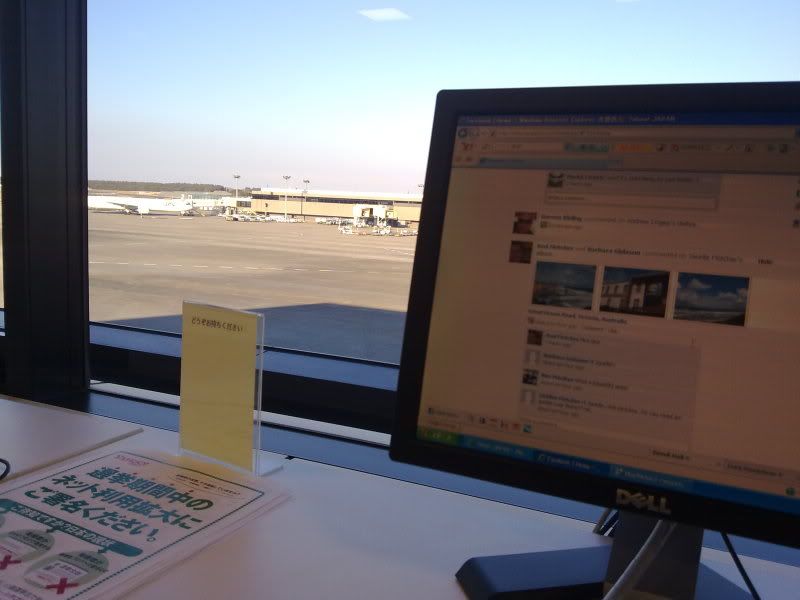 After checking some emails and chatting a bit with some friends I was getting hungry. Time to head to my beloved Cafe Bowl Bowl where once again the view did not disappoint!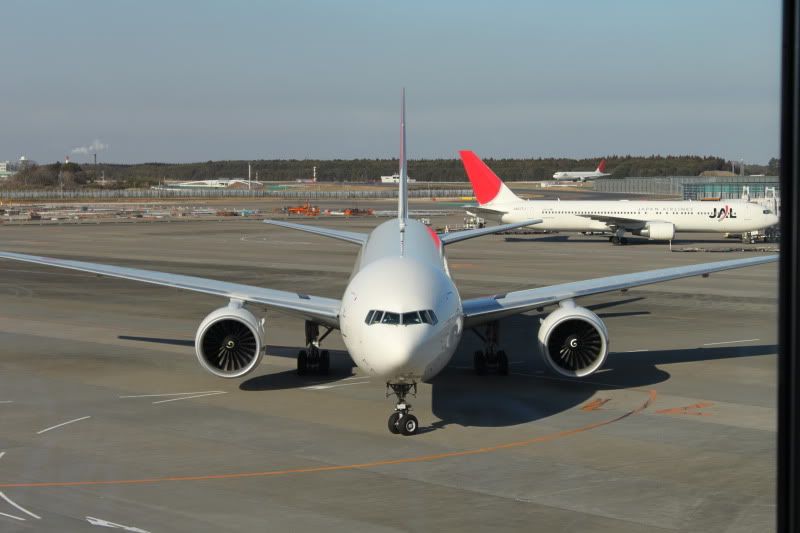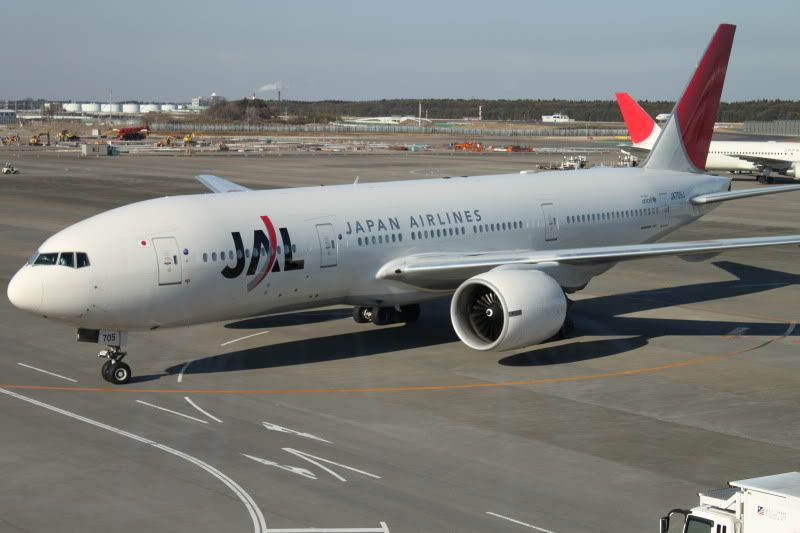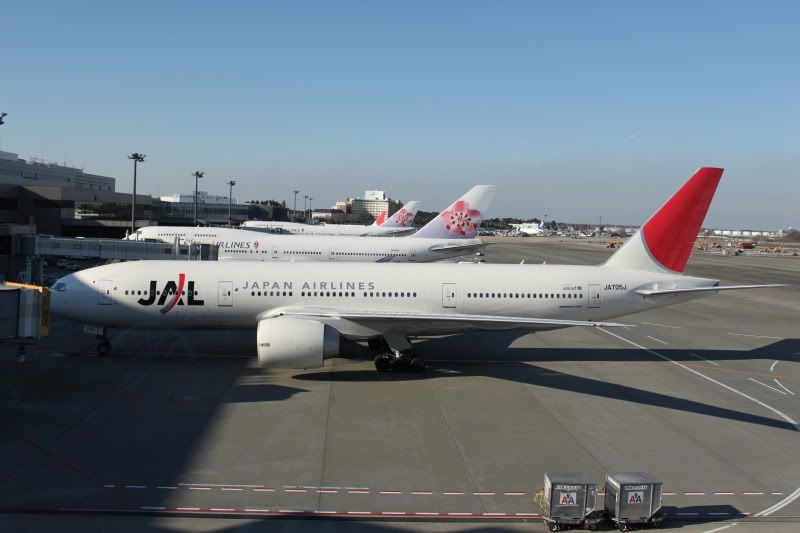 After eating I decided to head to my gate. Arriving at the gate I noticed it was pretty crowded already. My A/C was already there and low and behold it was same 747 that carried me from YVR-NRT 10 days ago!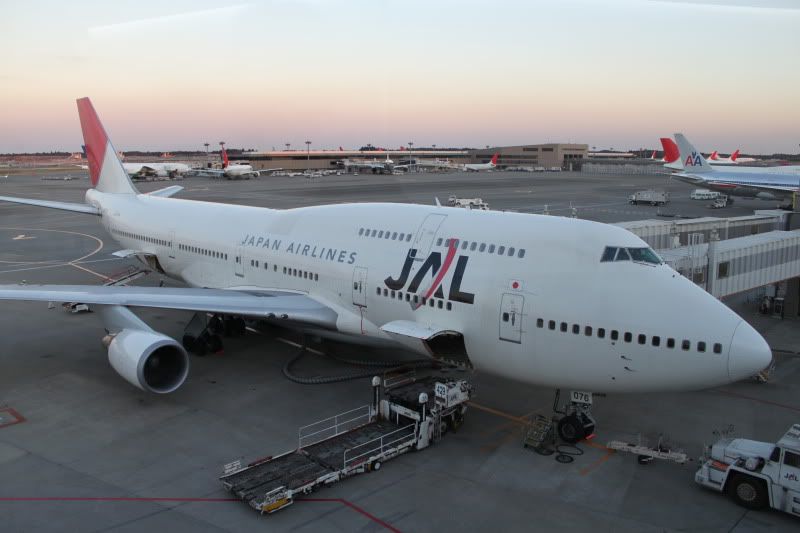 Boarding was delayed by about 15 mins due to mechanical issues. Once on board and in my seat I noticed mechanics working on engine number 1. They did a run-up and then I guess gave it the all clear.
Date: Jan 24, 2010
Flight: JL 018
From/To: NRT-YVR
Departure: 1740 (actual around 1800)
Arrival: 0910 (YVR time)
A/C type: 747-400
Registration: JA8076
Class: Economy
Seat: 47A (window)
Flight pushed back about 20 mins late due to delayed boarding. Luckily though, the middle seat was empty and the aisle seat was occupied by a gorgeous Korean woman around my age or slightly younger. Too bad her english was almost non-existent
Smooth take-off into the night, I fell asleep pretty quickly only to be woken up by pretty heavy bumps. These continued for quite a while and the pilots were changing altitude trying to find smoother air. Finally it went away and the F/A's continued on with meal service. I honestly cannot remember what the meals were. I was so exhausted I just tried to sleep most of the flight.
Approach into YVR was typical, lots of clouds around and a smooth landing. After going through customs and getting asked the usual BS questions I made my way to the AC connection desk to get my boarding pass and check my bags for my flight to YYC. That done I proceeded to my gate only to the find out my flight had been cancelled due to mechanical issues and we were all to que for a boarding pass on the next flight an hour later. Sigh, ah well. Such is life
Received my boarding pass, got a middle seat but I didn't care. I was really tired and just wanted to get home. It's just an hour flight anyway and I've done the YVR-YYC run 100 times.
Didn't get much info on this flight. All I know is it was Flight AC 212 and the tail number was also 212. The type was an A320.
Spent the quick flight chatting with my seatmate (attractive older female). Next thing I know we're descending into YYC for a smooth landing and quick taxi to the gate. Met up with my mother and sister and waitied for my bags.
All in all, I really enjoyed my flights. The only drawback to JAL was their tiny seats in Y. But their staff are amazing and extremely professional and attentive. I really wish them luck through their bankruptcy issues.
I hope you guys enjoyed this report, sorry for the lack of detail for the return flighs, but I should add that two days before coming home I was informed my grandmother had passed suddenly, so I was kind of in "just get home mode".
Regards,
Kris
[Edited 2010-03-20 17:41:30]