Hello Everyone,
Last fall, I moved to the United Kingdom, so my US-LON routes have reversed whenever I choose to fly home…typically to ATL or LAX. I have many pix from my past travels, but have yet to post them on here…yes, I am lacking, especially as I really do have some good pics to share.
In January, I found a great deal LHR-LAX-LHR on DL – about $655 RT! In choosing my flights, I opted LHR-AMS-LAX on KL, as it got me into LAX in the early afternoon vice the evening flights on DL metal. It also gave the chance to fly on a 747 for the first time in many years and served as my first experience with KLM.
KL Flight #1000, 738
Departure: Scheduled: 635am; Actual: About 645am – The Captain had announced they were waiting for a few bags to be taken off of the a/c, as there were pax who had not made it on board.
Seat: 10F – standard 737 window seat.
I really like the LHR T4 dedicated check-in for SkyTeamBusiness/Elite travelers. It was early (5am) and dropping my bags went smoothly; bags were tagged with Priority tags and I was on my way to security. At this early hour, security was not too insane…although other travelers ahead of me who did not understand the concept of removing outerwear, belts, etc. was a bit annoying. Fortunately, things still went pretty quickly and I was through security in about 10 minutes.
I headed to the SkyTeam Lounge. Every time I visit T4, I am happy to have access to the lounge. The front desk was very polite, which has been typical during my visits. I dropped my stuff, and enjoyed some breakfast. The variety here is very good – fruit, yogurt, cheese, baked goods, and a wide range of hot food, to include pancakes, strawberry crepes, and bacon baps (bacon and a tomato on a roll).
After visiting the lounge, I headed to my gate. The gate agents announced boarding for pax with children and those needing assistance and I continued to wait. Then, I think, there was an announcement for rows 20 and higher, but the boarding scene became one of the biggest messes I've ever seen. Wanting to have my bag in the overhead, I merged with the mob…the mob was not observant of priority or regular lines….or they were all priority flyers. Anyhow, I boarded, put my bag in the overhead and took my window seat. The flight was very full – maybe 1 or 2 open seats. Also, something to note…row 8 has a curtain in front of it above the seats to "separate" the cabins….just something to keep in mind if you're on one of these a/c.
A few pics:
At the gate - LHR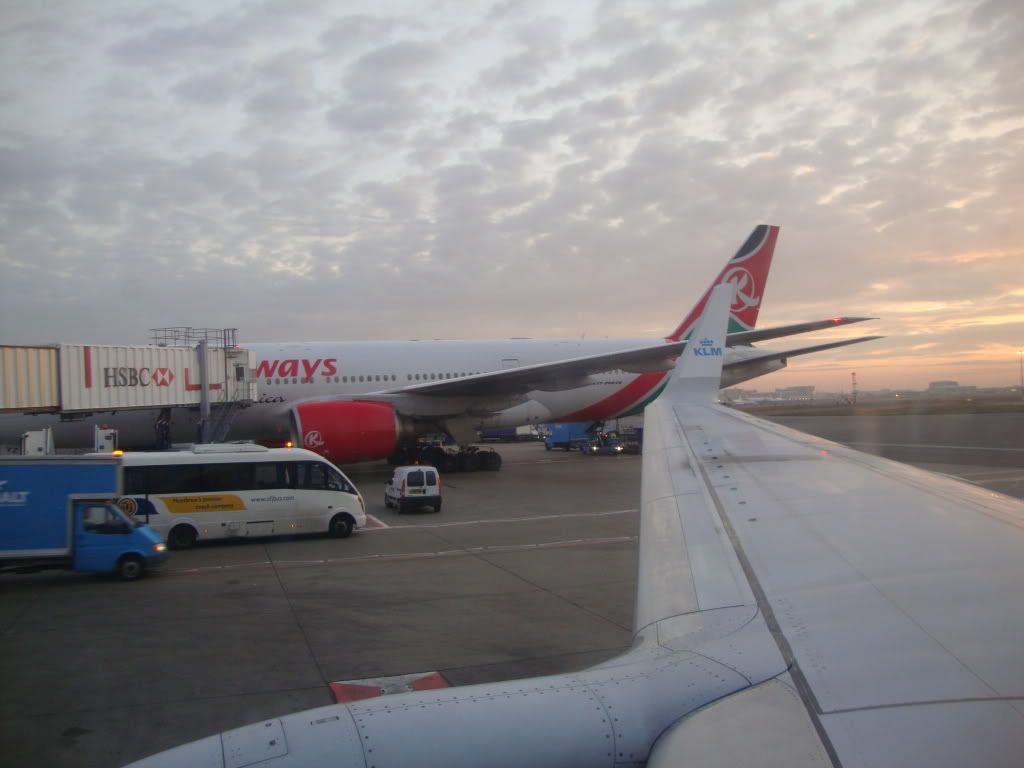 KL 737 Legroom: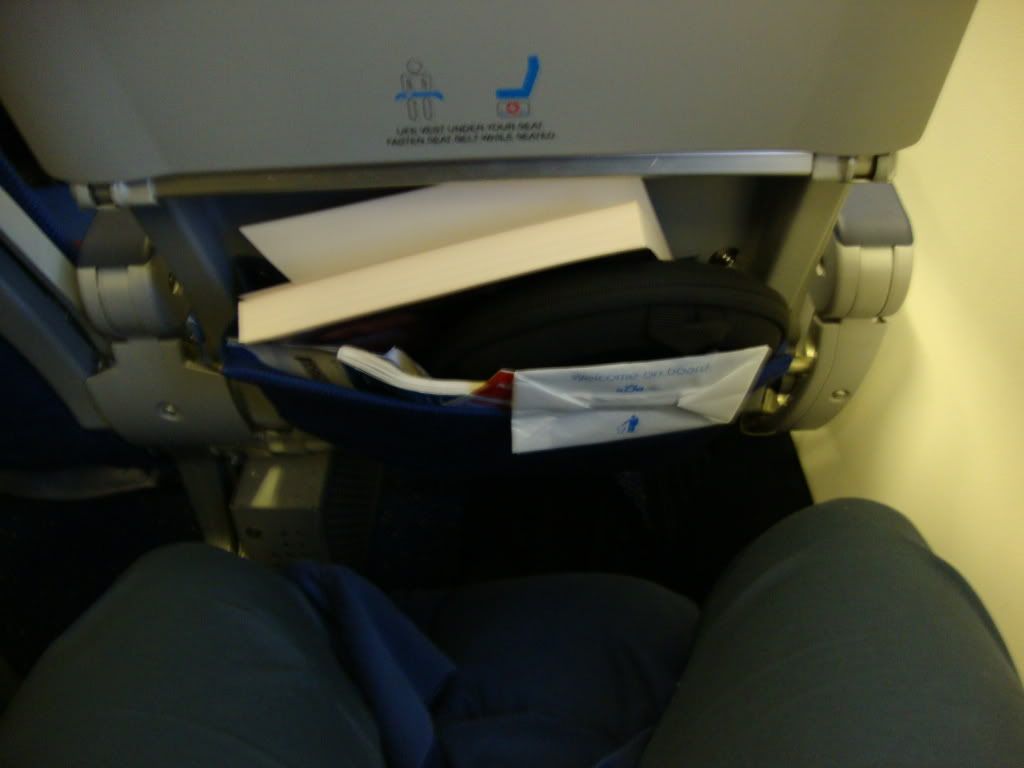 Take off:
LHR Take off
NW of London in the early morning: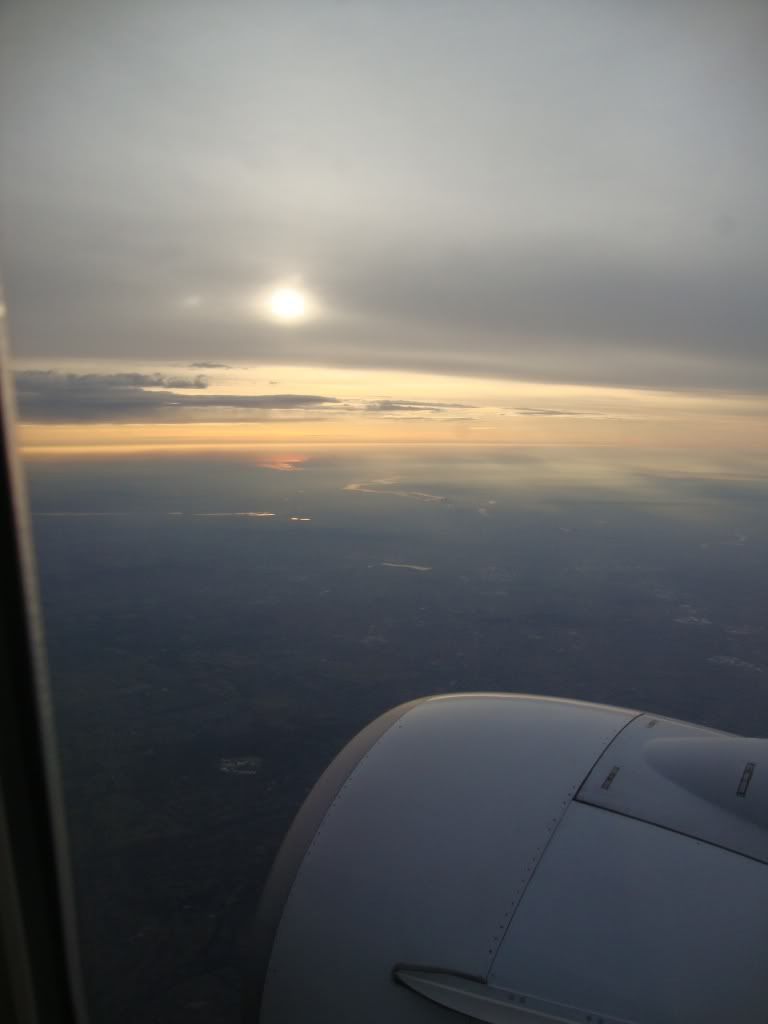 Inflight Snack – A small egg sandwich and a pastry. Not bad for a 45 min. flight
Landing:
Over the coast: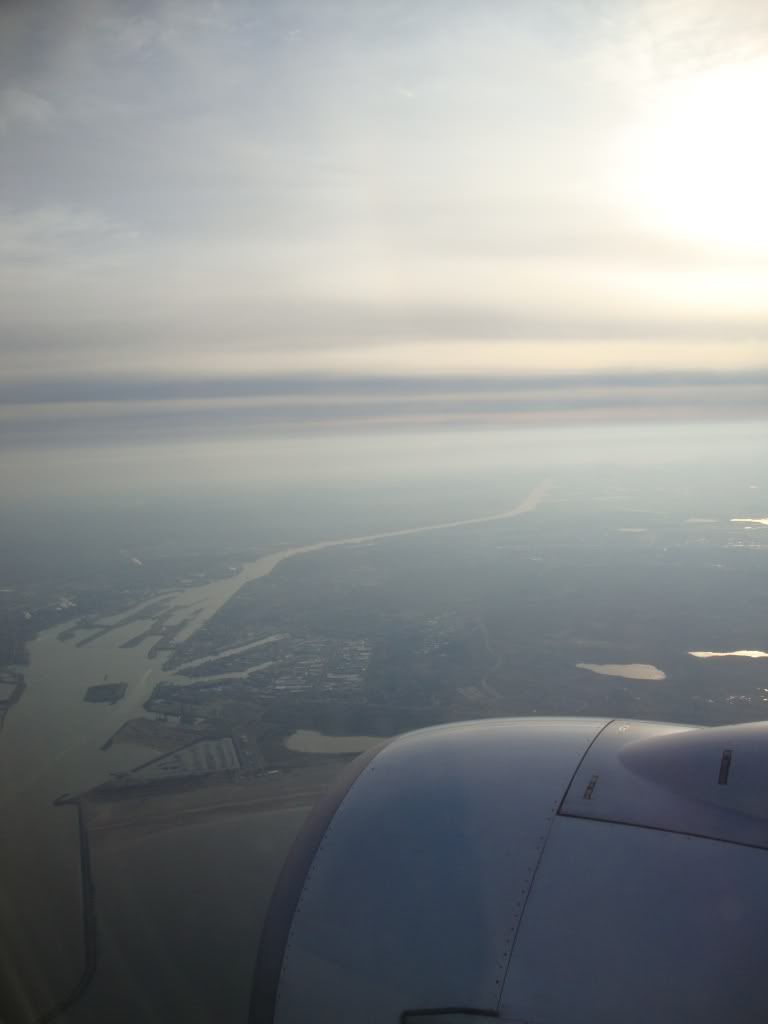 Approach: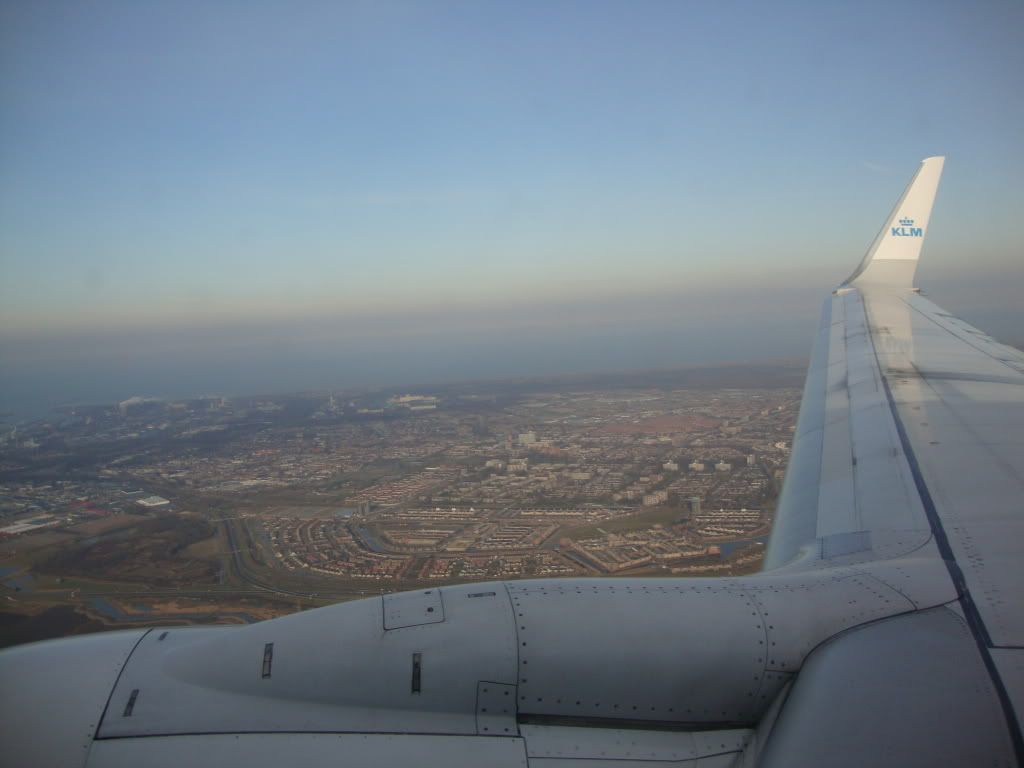 Video of landing:
AMS Landing
Taxi at Schiphol:
Over the motorway:
Welcome to Schiphol: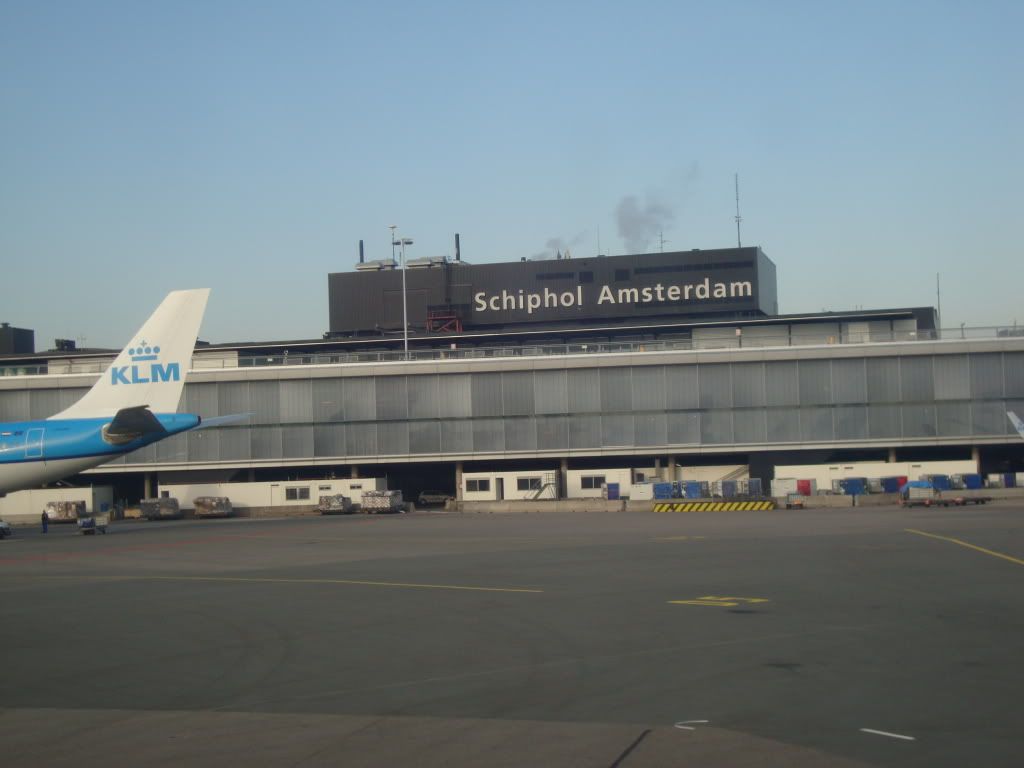 KL 747: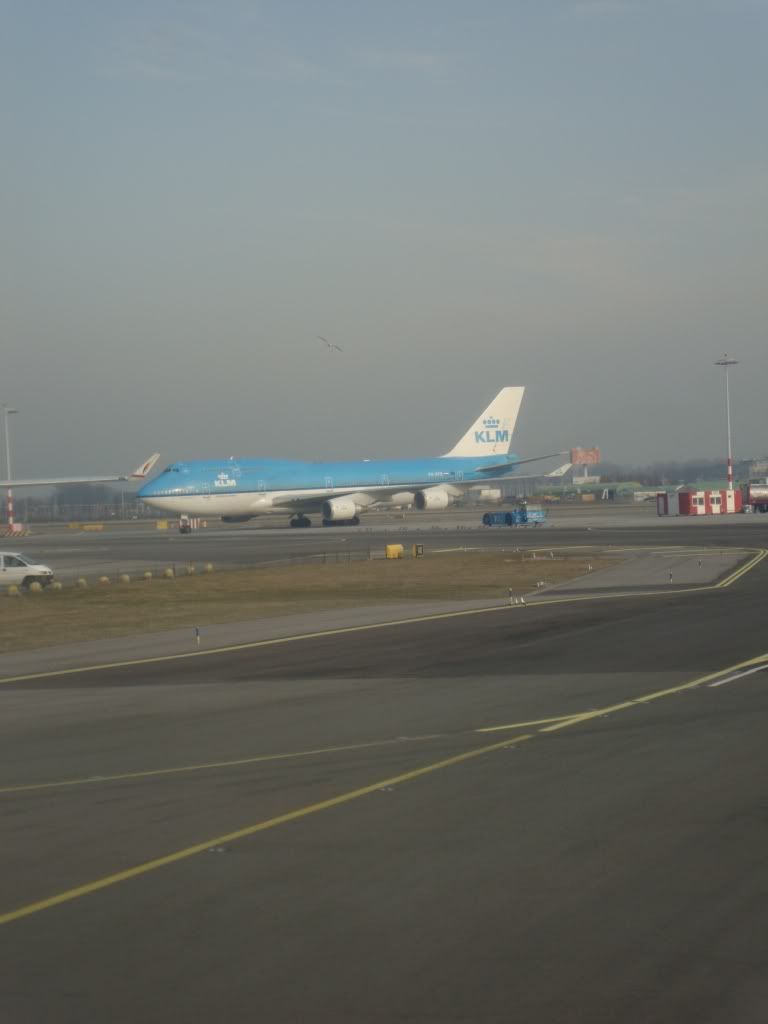 KL MD-11's: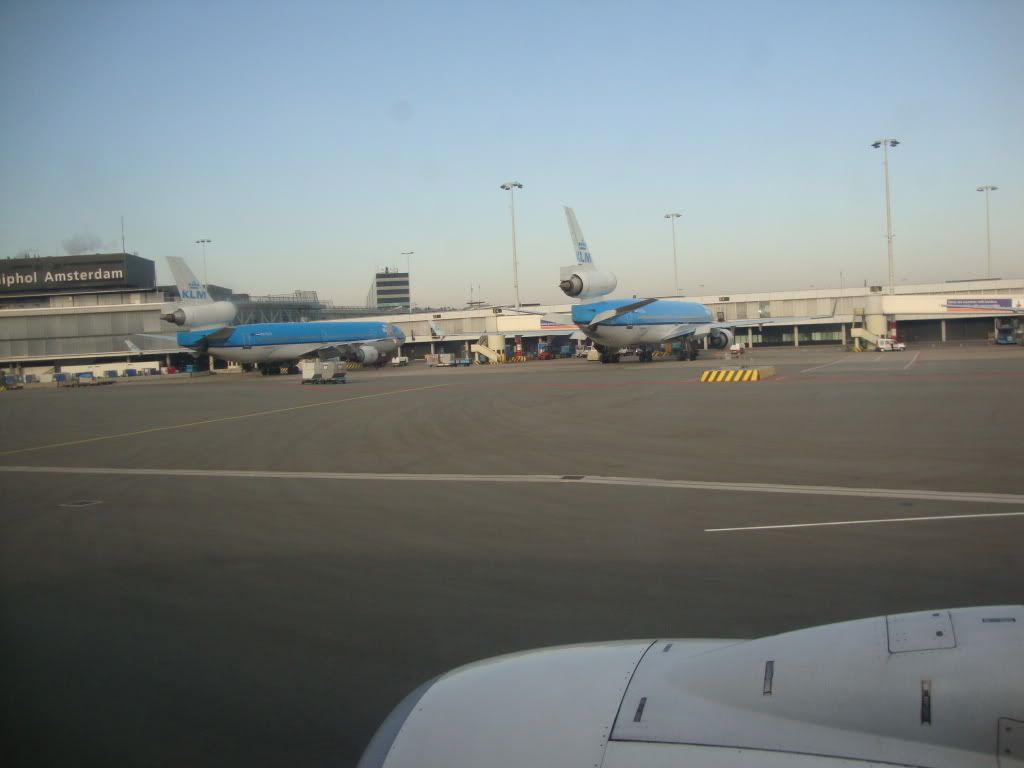 Thoughts on this flight:
Overall, the service was good. The FA's were friendly and I thought they did a good job for such a short flight! I will be flying LHR-AMS-OSL in late March and expect it'll be about the same as this flight. I felt like the taxi in AMS once we landed took forever, but it was not too big of a deal.
Upon arrival in AMS, I did feel rushed – I had not been there before and needed to trek from Concourse D to F. As it was my first time in AMS, I did not know how long this would take. I did stop in one of the shops to get my family some stroopwafels (caramel filled wafer cookies), a "real sugar" Coca-Cola for my sister in LA, and a water for myself. I go to check out and the woman tells me I cannot take the liquids on the plane with me, so I just purchased the cookies and headed towards the gate. I know AMS has had security issues recently, but it did irritate me that I could not take these items with me.
It took about 10 minutes to get to my gate area. I used the priority line for my initial passport check and then proceeded (the short way) to the secondary security screening. As I approached the x-ray, the crew came in, which created a little delay…but nothing too terrible. After putting my belongings through x-ray, I received the full pat down from a security guard, and was on my way. Fortunately, for my sister anyway, there was a Coke vending machine past x-ray and I purchased her precious drink.
She does not typically drink soda anymore, but enjoys the ones made in Europe with real sugar on the occasion she or I see each other. I did not mind purchasing the drink, but they do run about 1,30EUR more out of the vending machine, than at the shops in the airport…I thought this was pretty messed up!
The boarding area was pretty full, with more people waiting to go through the security check. KL has a "gated" off seating area for Business/Elite pax, so I took advantage of it. As I waited (about 20 min), the gate area got increasingly full.
AMS-LAX Flight:
KL 747-400 Combi
Departure: Scheduled: 1035; Actual: 1050ish
Seat: 15A – Economy Comfort Window Seat
My "big blue bus" to LAX – City of Dubai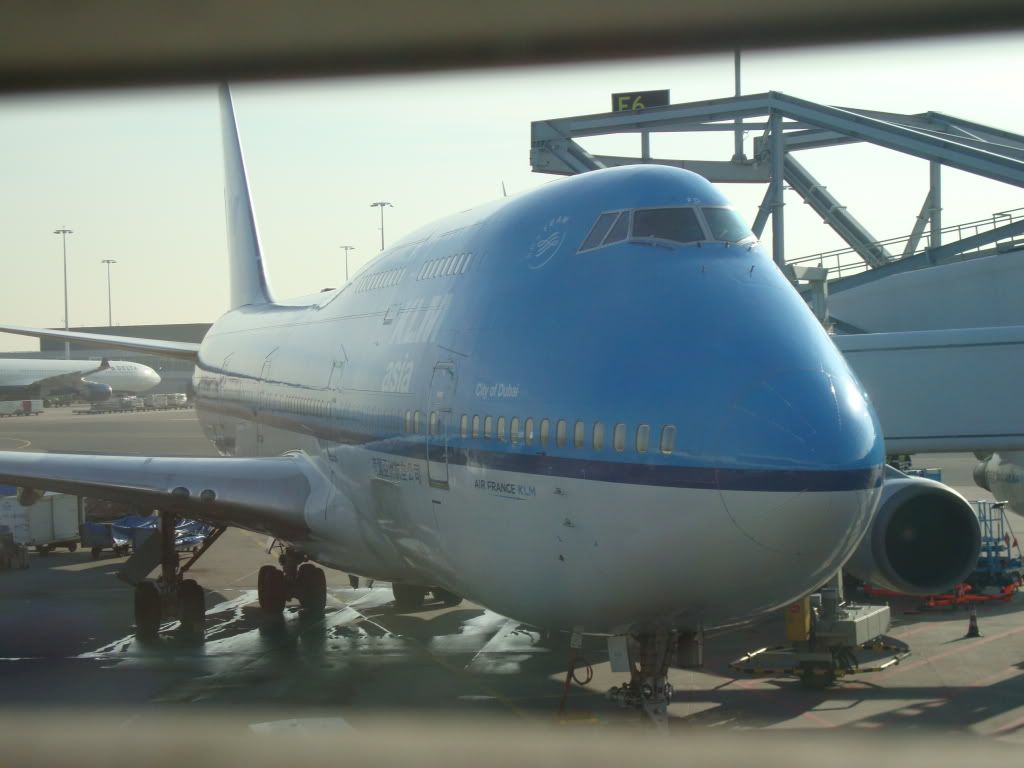 Ah, the 10.5 hour leg of my trip! Normally, I connect through ATL going to LA, but since I wanted to make the most of my time off, elected for this flight.
Boarding for this flight was much smoother than my LHR-AMS leg. They called for pax with children and those who needed assistance, then for Business/Elite pax. I boarded through one of the forward doors, near the stairway, turning to the left for the Economy Comfort section.
When I did online check in, I opted to pay 60EUR for Economy Comfort – better recline and more legroom. EC is its own cabin. The only window seats are the A seat. There are ABC and then DE. In the ABC section, A has more legroom than B or C due to the a/c curvature….thanks Seatguru! The DE seats are next to the bulkhead in the center of the plane – there's about a foot of distance between the E seat and bulkhead….so pax cannot really lean against it if they want to sleep. We had a dedicated flight attendant…I'm sure she helped other pax, but she was the primary one in EC. The seat was comfortable and I liked the extra recline a lot.
Economy Comfort: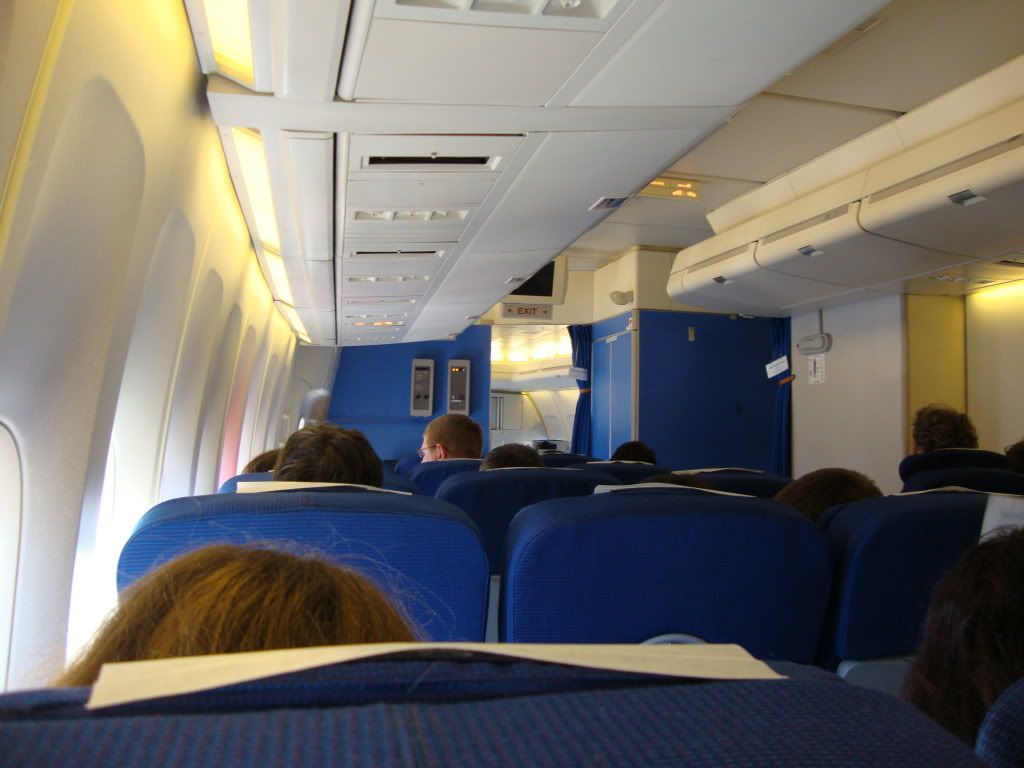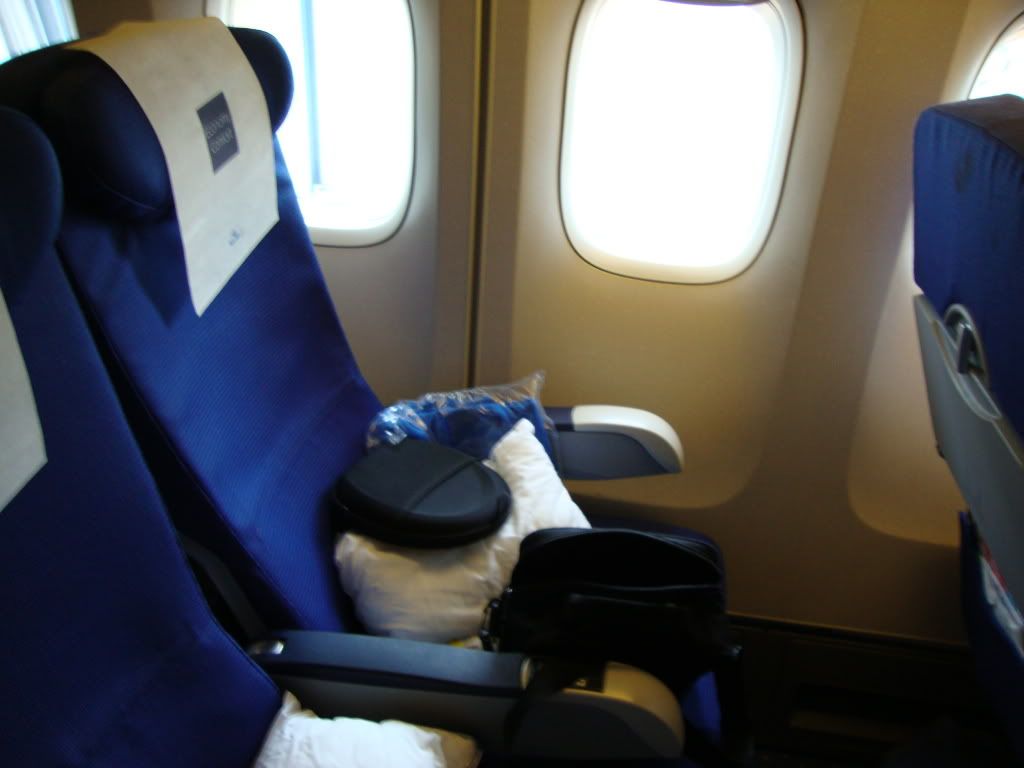 Legroom: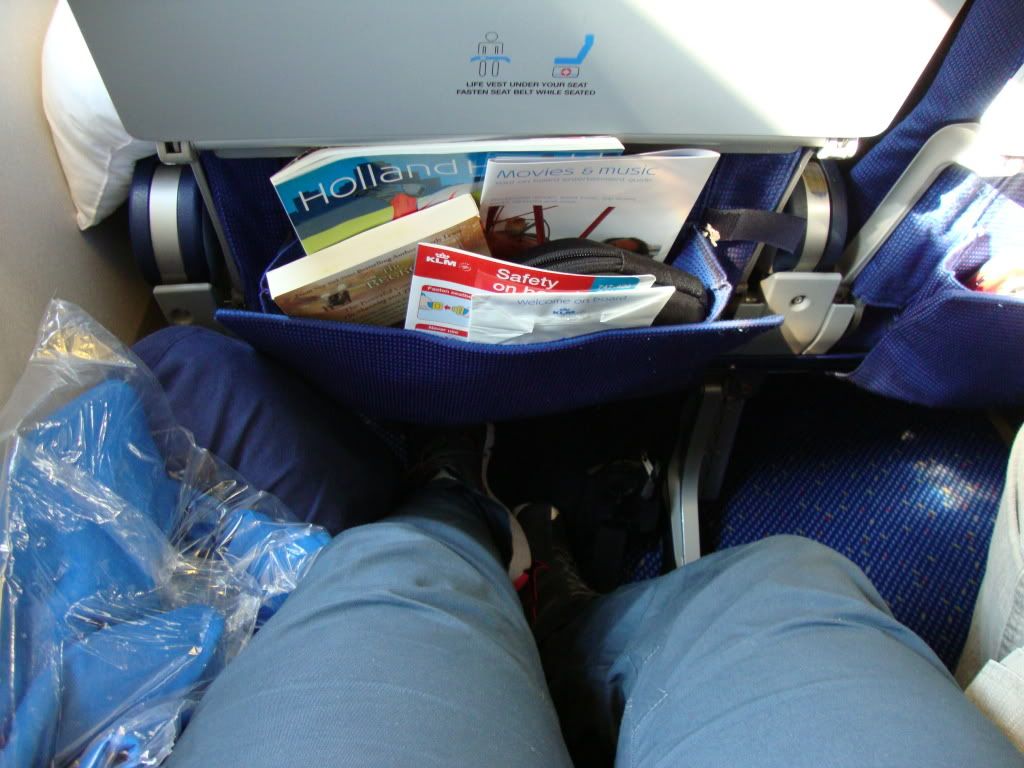 View from my seat at the gate:
Pics from our taxi to take off:
DL A330's:
EasyJet:
Malaysia 747:
Take off:
AMS Take Off
Netherlands' Coastline: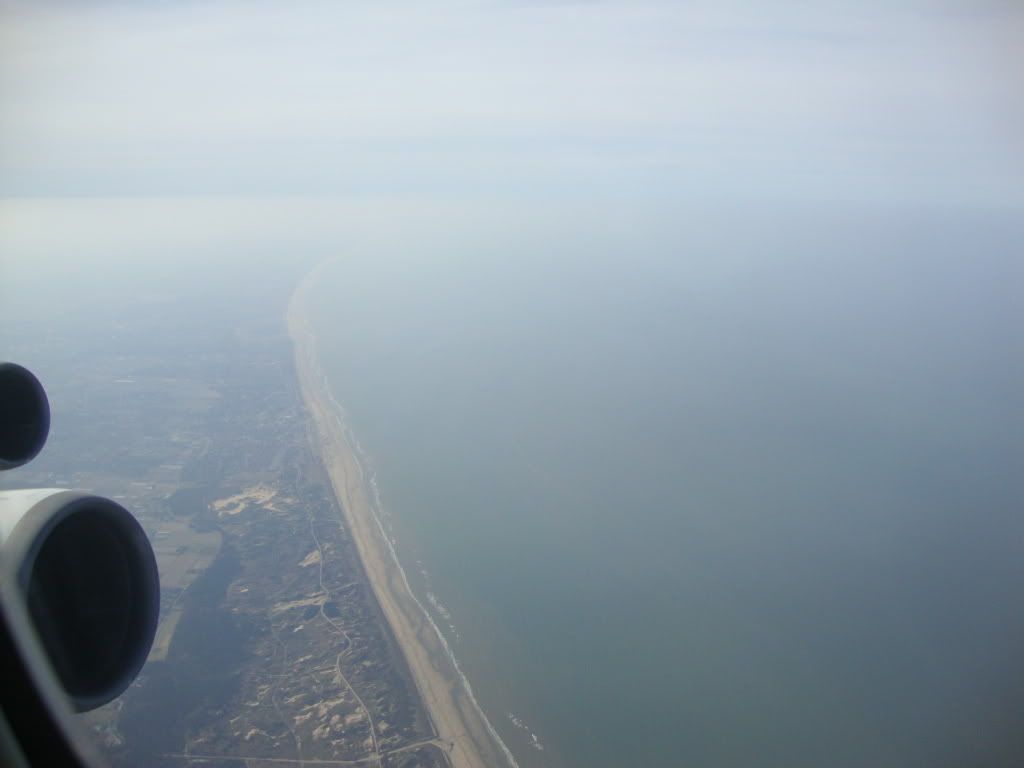 Inflight:
I slept for about 4-5 hours after the main meal service. The 747 has overhead video screens…a combination of movies and tv shows were played during the flight. I was kind of surprised they had 2 cartoon movies and 1 regular movie. The view of the screen from my seat was so-so, but I had plenty of entertainment with me. 
Main Meal:
There was the option of beef or pasta and I went with the beef. Overall, the meal was pretty good and had a decent presentation and taste.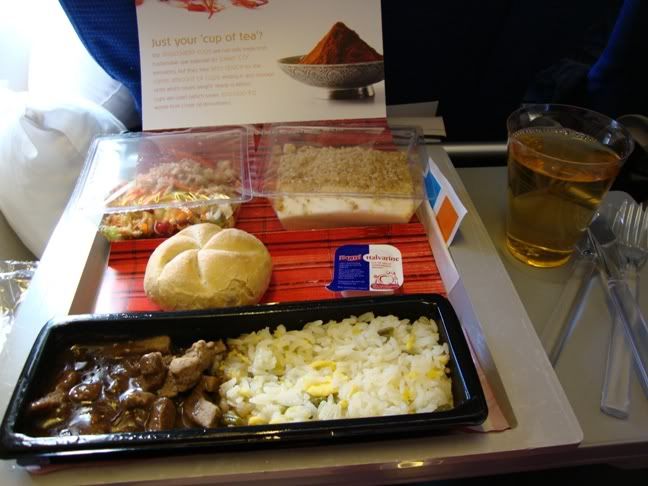 Pre-arrival Snack:
They served a combination of a hot tomato-mozarella quiche, fruit, and salad about 2 hours before landing. It was alright…nice to have a mix of hot and cold food.
Looking toward the Grand Canyon: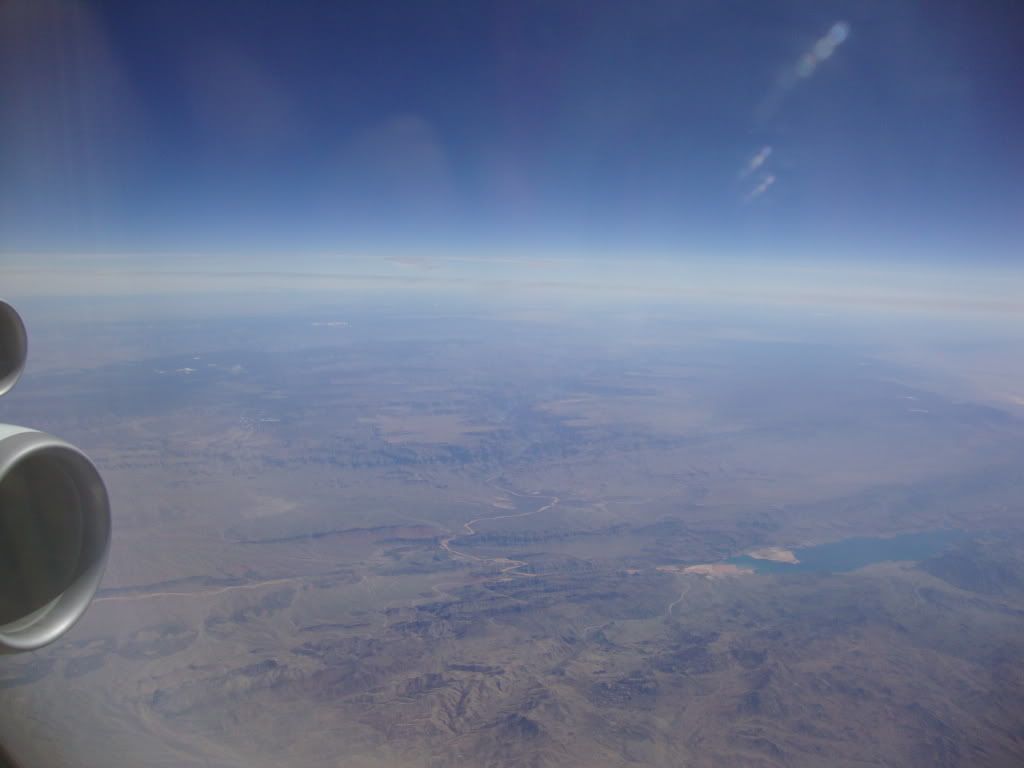 Landing:
On approach to LAX, over the Chino Hills, which are normally pretty brown, are very GREEN this year! Thanks to El Nino, there's been a lot of rain in SoCal….and the green grass is definitely growing!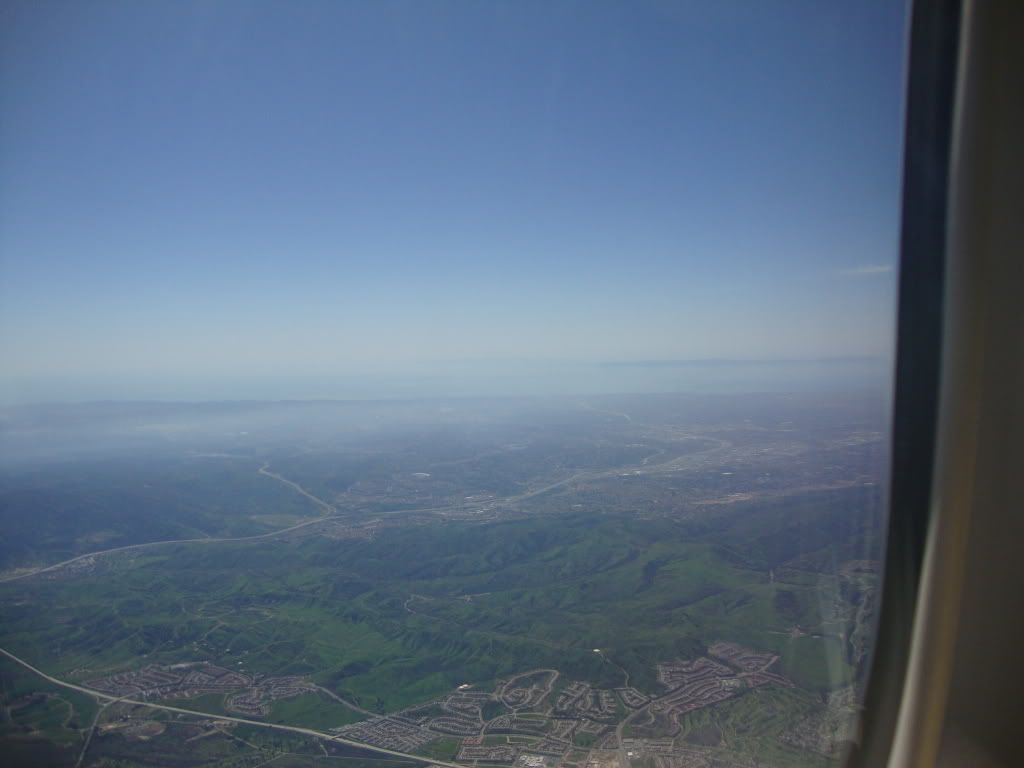 Landing at LAX
Taxing to T2 at LAX…a pair of Qantas A380's: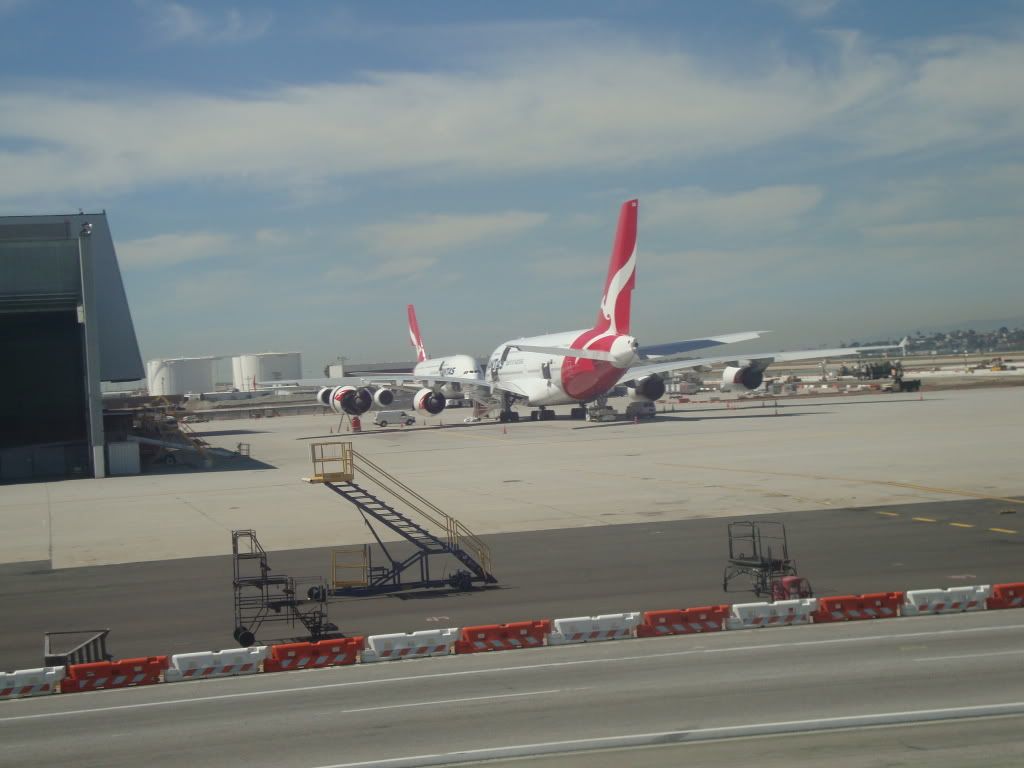 LAX - Qantas A380s"/>
Upon arrival in LA, we taxied to the gate, promptly deboarding. I thought it was interesting that they held economy pax from leaving the plane until all business class pax had left. It took me about 5-10 min to get through customs and I waited about 10 min. for my bags. The "priority" tags must have worked…as my two bags were the first off the plane….definitely unusual in my experience. :-P
Although I am not a huge fan of 10+ hour flights, I would definitely take advantage of this routing again. It was nice to get into LA fairly early in the day to enjoy a sunny SoCal visit!
Anyhow, that's it for this leg of my journey. I'll post additional pics of my visit once I get them uploaded.
Thanks for reading!
robin