Six circles around the Aetna and a shorty A.net meet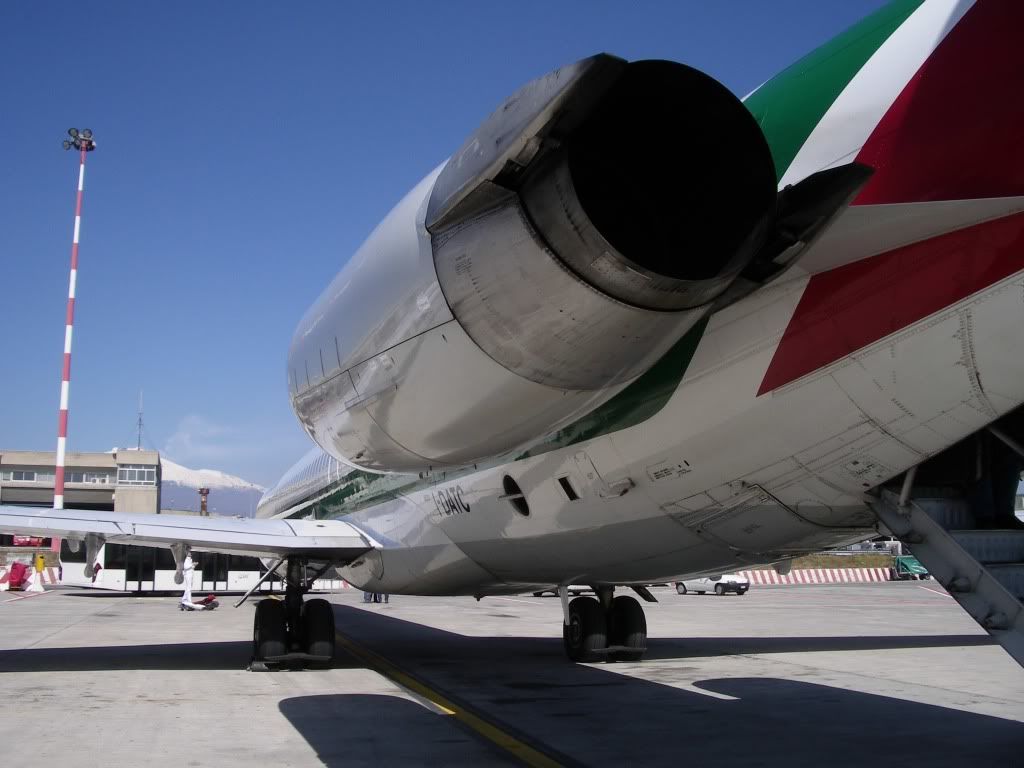 Ciao, dear readers,
collecting something new is always the aim during my travels.
The focus for this day was on two new italian airlines, well,
at least one is in my log now, the other missed due to some flight time changes and rebookings.
Some four weeks gone, since I was last on a plane
Personal Service On To And BritAir´s F100
(by
FLIEGER67
Mar 15 2010 in Trip Reports)
and now it was time to go for Italy, once more.

1.)
Thursday, 18.03.2010
"Stuttgart-Echterdingen"
"Zuerich"
.
Service Swiss LX 1179 operated by Contact Air
Scheduled: 05.50 // 06.35
Actual: 05.55 // 06.30
A pretty early start in that day, leaving home at around 4.00 am, no traffic and arrived
in record-breaking 25 minutes at STR´s car park.
Check-in for the first leg of the day was done online Wednesday evening via the Swiss website.
LX redirected me to LH where the flight shows up, 19A, directly before the engine with the two seaters
was free for me, quickly secured. I like the 2-3 seat layout.
Leg one and two are the non-used segments from my trip to Bologna in January.
Fare per leg less than 50.-- Euros, not bad for a quality airline in comparison to the so-called lo-costers,
booking was done via Exp.de.
No time to wait at T1 security and a first view on the screen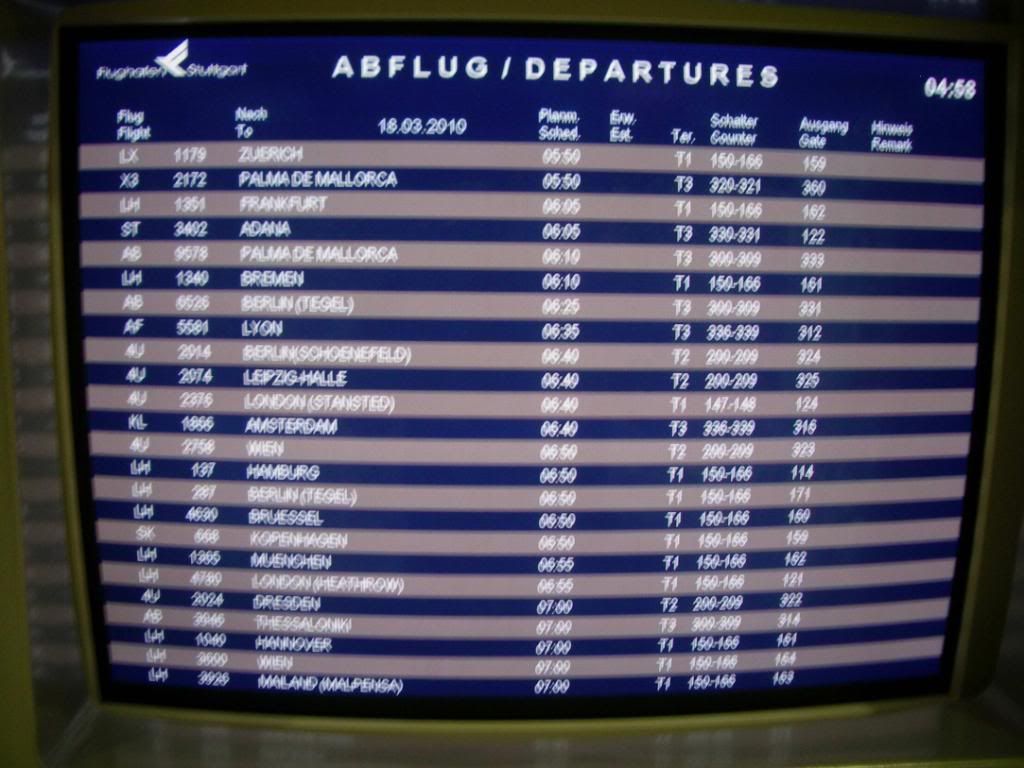 Easy to locate my flight, top of the board, scheduled for 5.50 am, not bad, when we know that
STR´s night curfew allows departures from 06.00 am.
Barcelona seems popular this morning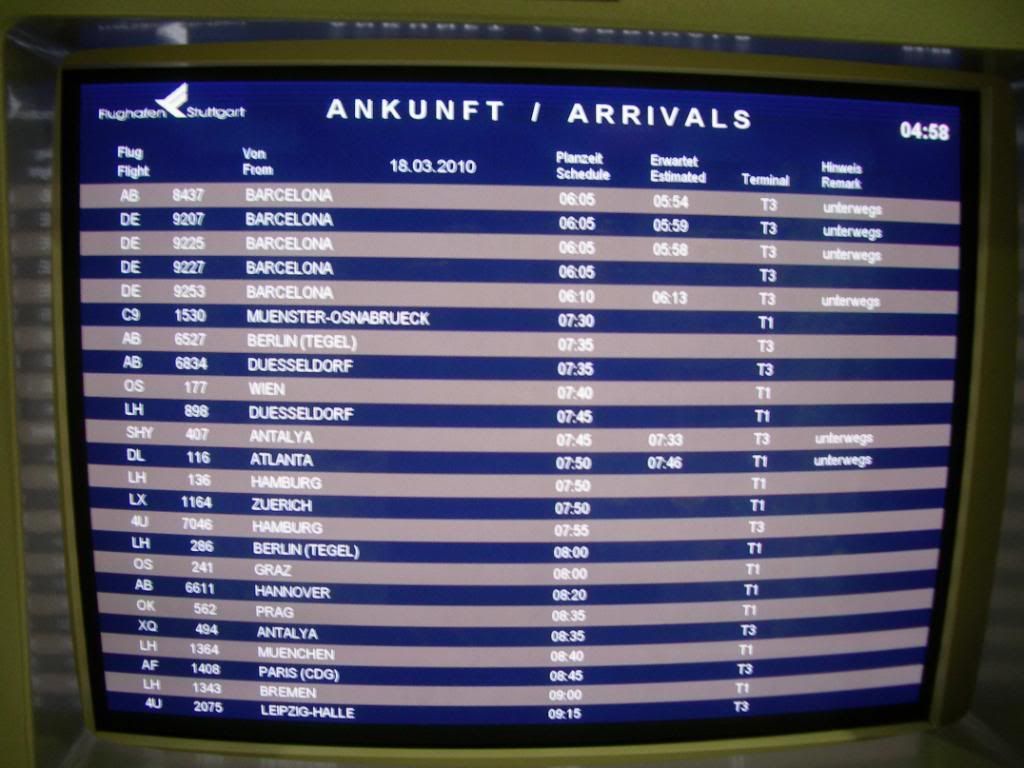 with all that soccer fans returning from the match in Spain.
Deserted terminal 3 early in the morning
159, the gate for my flight was on the ground level in terminal 1, bus boarding today.
No delay announced, hopefully Contact goes ontime today.
Not like Christoph/ContactAir´s experience on the very same leg some weeks ago.
And also there was something more to do at ZRH during my short connecting time there.
The bus drives around the dark apron and stopped at this machine with the Star Alliance theme.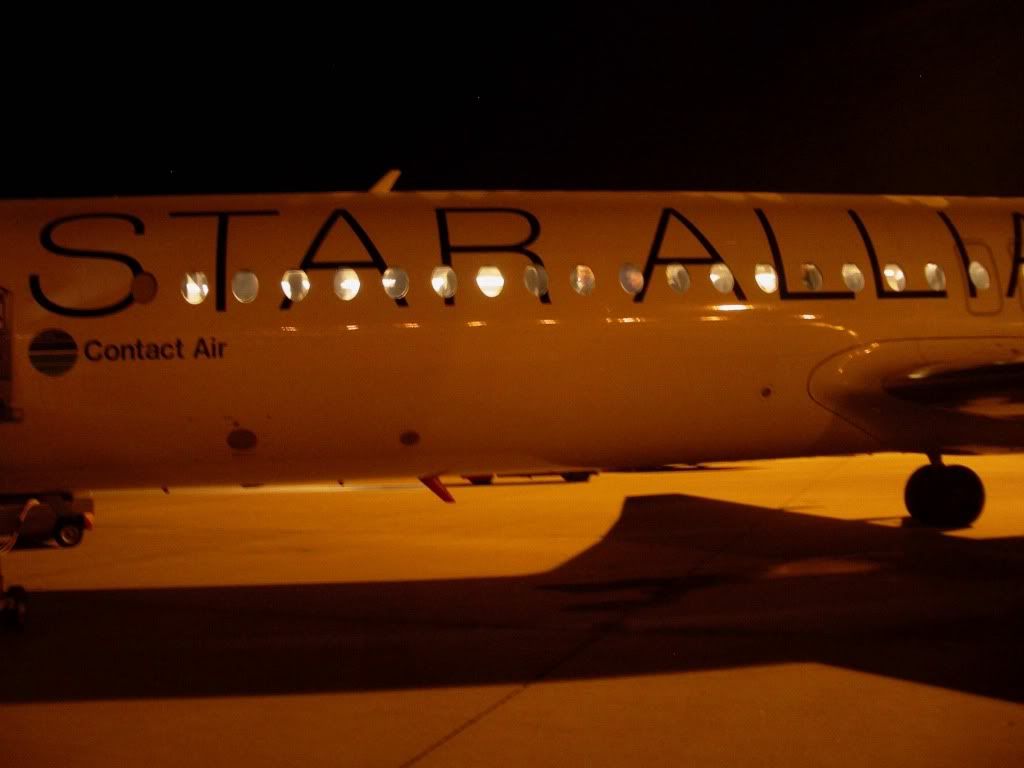 D-AGPH, the scheduled Fokker 100 and a machine with a interesting history.
Delivered at 13.07.1990 to US Air, changed to US Airways at 27.02.1997.
Registered in Germany from 09.02.2004 first with Germania, from 21.03.2006 in service with DBA,
taken over by airberlin at 09.12.2006 and finally to Contact Air at 01.02.2008.
This machine is the oldest example of the 8 F100´s in Contact´s fleet, beside five soon to leave AT45´s.
Leg no. 12 for me on type and a new entry to my log.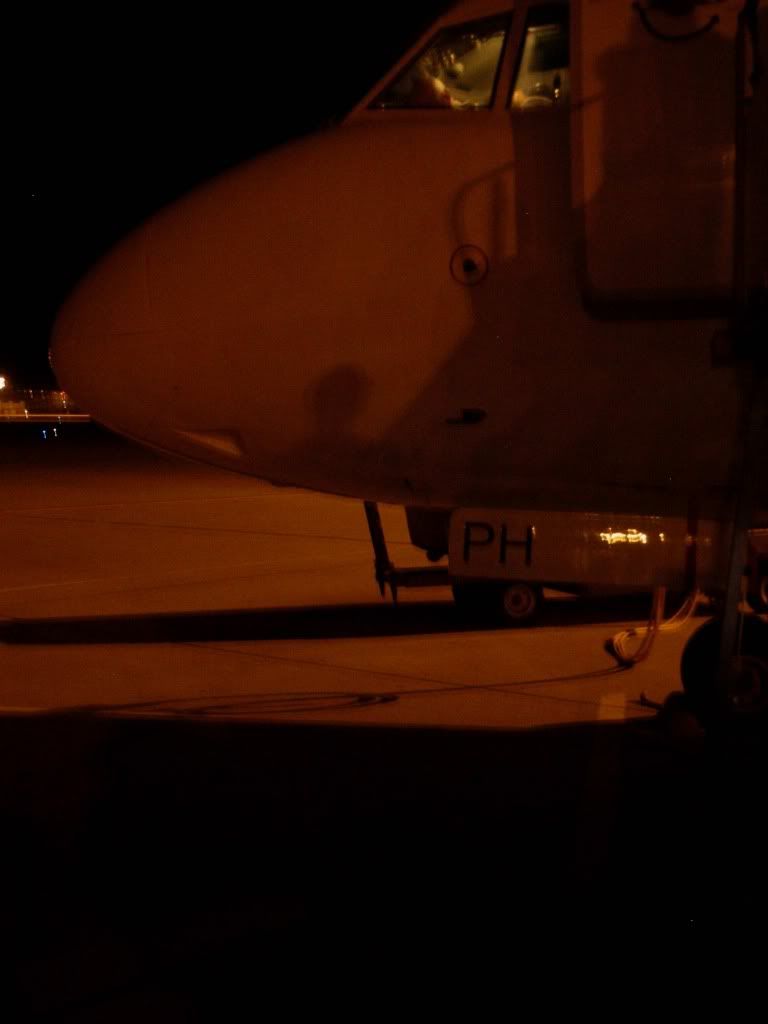 I´ve boarded late, as usual and the aisle seat wasn´t occupied, so good comfort for me.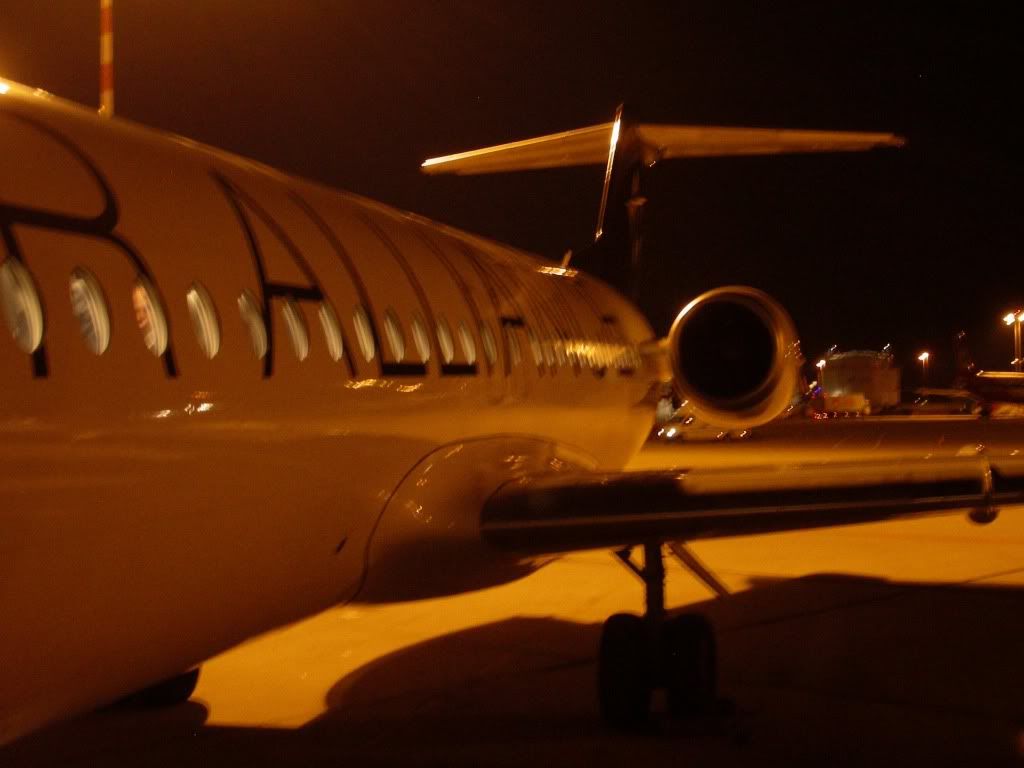 The safety card showed no integrated stairs this time, like my other Contact flight in February.
The cabin fitted with oldfashioned, dark grey leather seats, clean, legroom ok.
Very noisy as expected.
The german captain with a short welcome during boarding, some weather details and informations around the flight, ok so far.
Departure from the 3345 meters runway 25 with a powerful and very short takeoff run.
Temperature around + 2 degrees centigrade, clear sky, it seems spring is around the corner here.
No info around the route and also the flightlevel, but it seems pretty low.
Two friendly females today in service, really ok.
48 pax, that means load factor around 50 %.
Service was a free water bottle, nothing to eat during this announced 25 minutes leg.
The sun rises above Southern Germany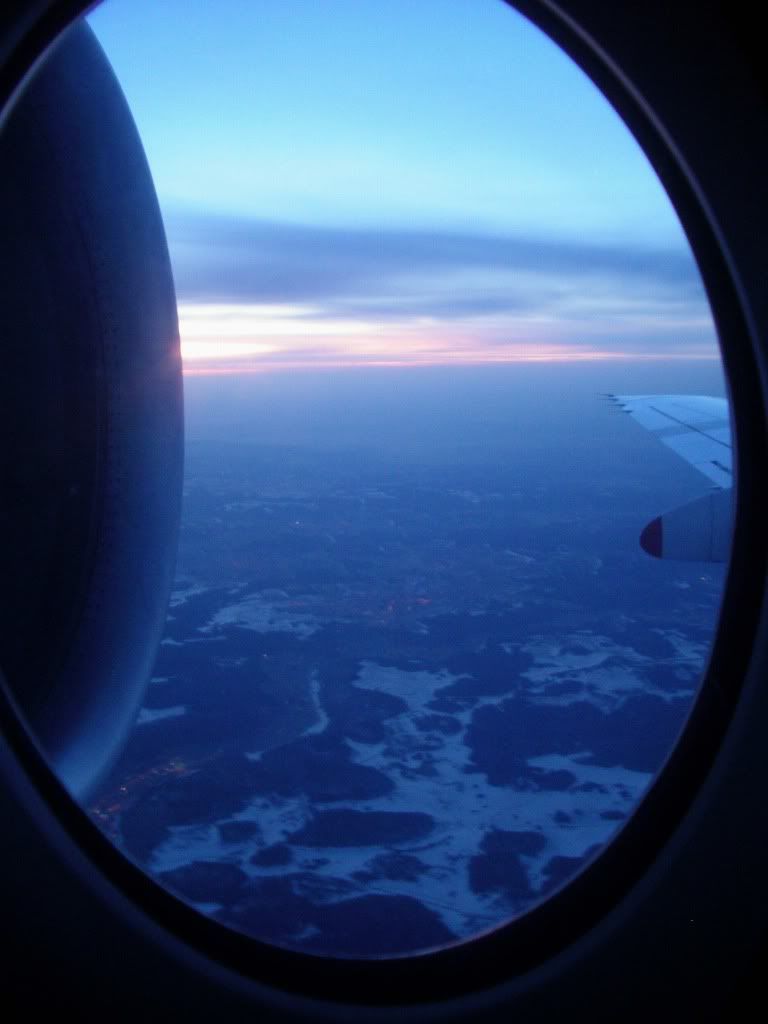 And soon thereafter we´re reaching Swiss airspace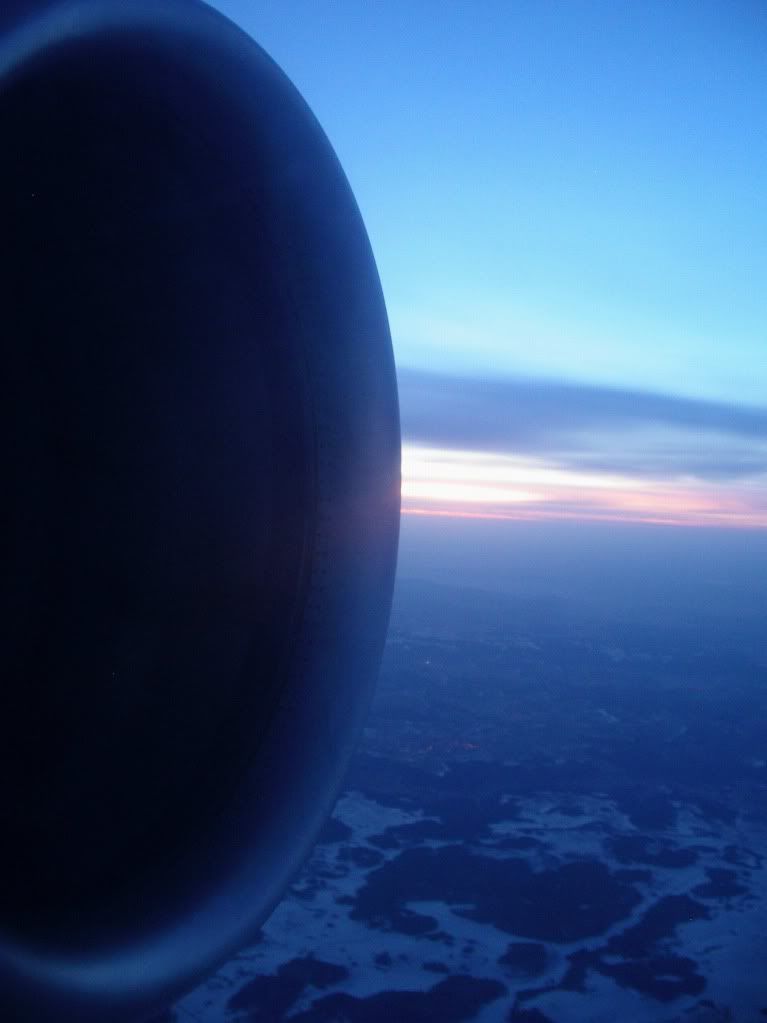 with some lakes around close to ZRH
Approach was above the city into the 3700 meters runway 34, a first for me here at ZRH.
Some light clouds at ZRH and + 3 degrees centigrade.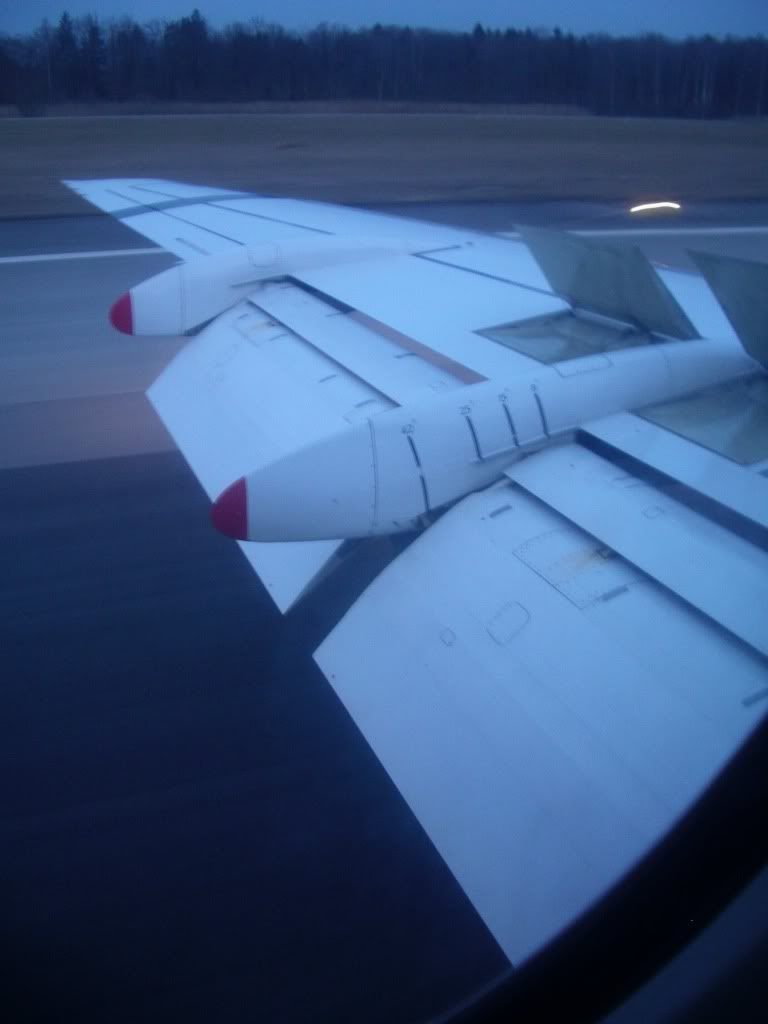 That means a long way to go for taxi till the main terminal
where we finally docked at a gate beside a couple of LX machines.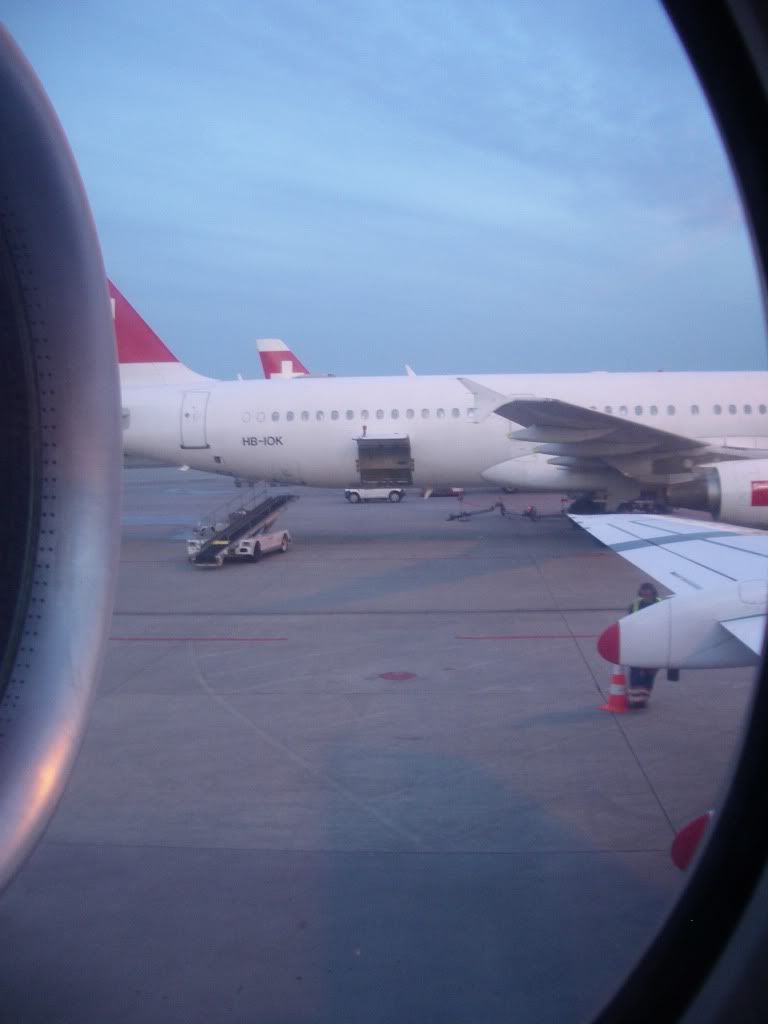 My seat during disembarking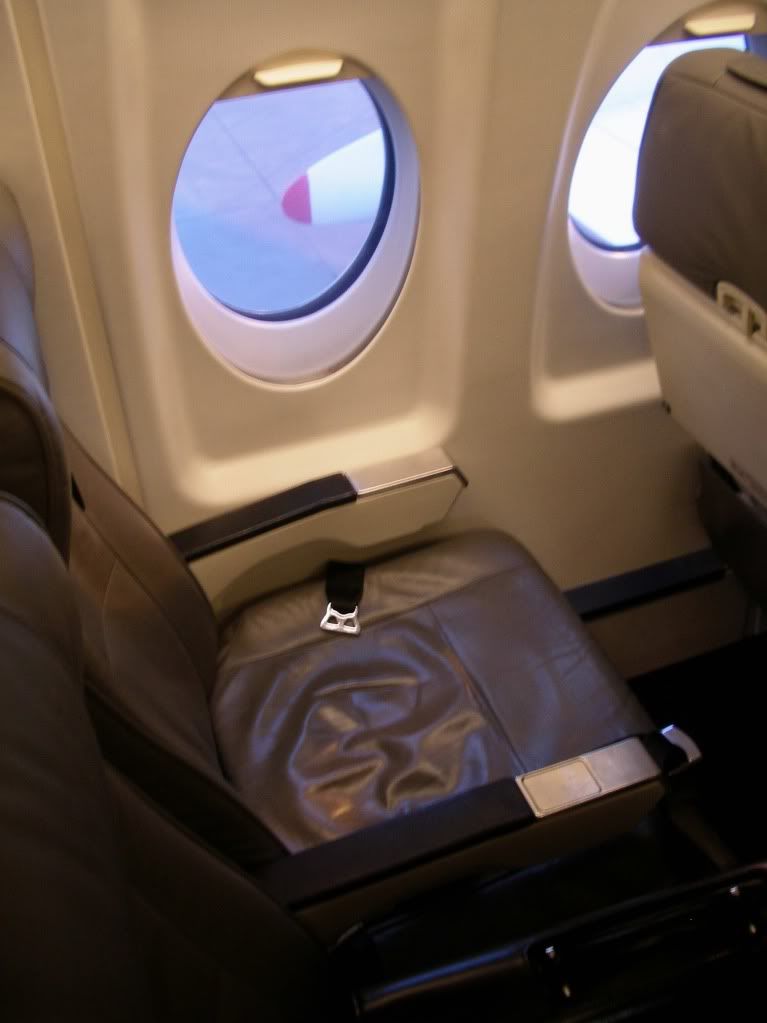 So, the first leg was ontime, welcome to ZRH.

2.)
Thursday, 18.03.2010
"Zuerich"
"Rome-Fiumicino-Leonardo-da-Vinci"
.
Service LX 1726 operated by Swiss
Scheduled: 07.20 // 08.55
Actual: 07.30 // 08.40
Very friendly member Infodesk is always well informed about my travel plans.
A short meet from gate to gate that early morning seems possible.
At first we missed each other while I´ve reached the gate area without another security check,
but finally we had a nice chat at my departure gate A62.
Hannah, hope you´re ok when you follow my story, that was a really nice shorty meet at ZRH.
My flight shows "Go to gate"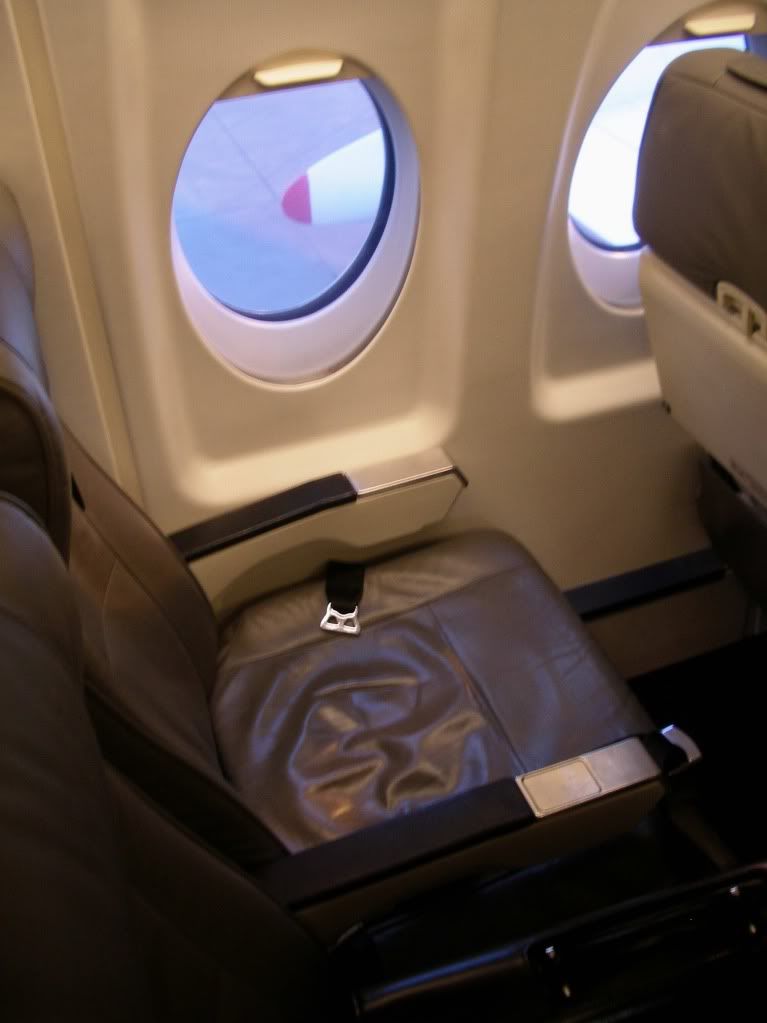 And very soon thereafter, again as one of the last pax, I´ve boarded my machine for FCO.
A short step back to check-in for this leg.
The LH system responded: "You´re Check-In for this leg wasn´t possible" and showed some LH telephone number.
I´ve called immediatelly and the friendly agent there tried it again together with me, not succesful,
she also checked the flight, ok.
Finally she informed me, that my service is completely excluded from online check-in, strange isn´t it?.
I´ve done it earlier in the morning at STR, no time to wait there and also without a problem, seat 35F, the second last row this time, with the last row occupied.
HB-IJX was my plane. The newest entry to the LX A320 fleet, delivered at 30.04.2002 to LTU from Germany and in service for Swiss since 30.04.2009.
One of 20 actually in the fleet and named "Davos".
Leg no. 53 for me on type and a new entry to my log.
Ready to go with +4 degrees and light clouds from the 2500 meters runway 28 while another plane performing the usual approach from the northwest.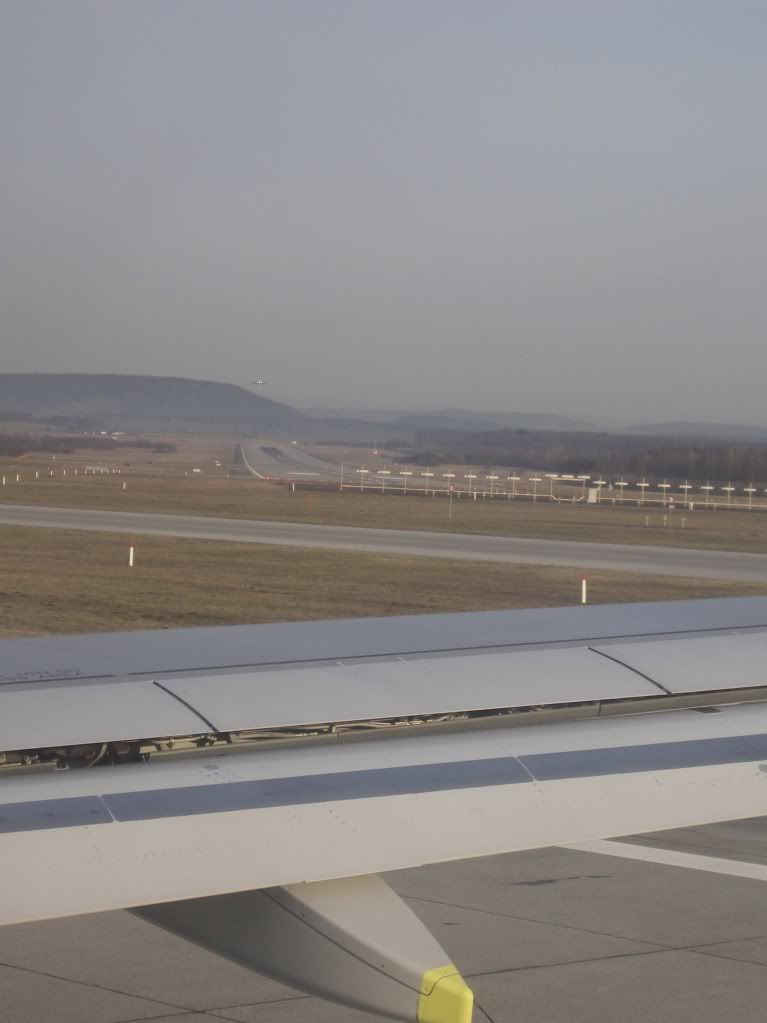 Flight time was announced with 1 hour.
The cabin spotless clean, legroom ok and fitted with comfortable dark grey leather seats,
Load was 122 pax, around 80% and the whole row was free for me, again comfortable here on LX.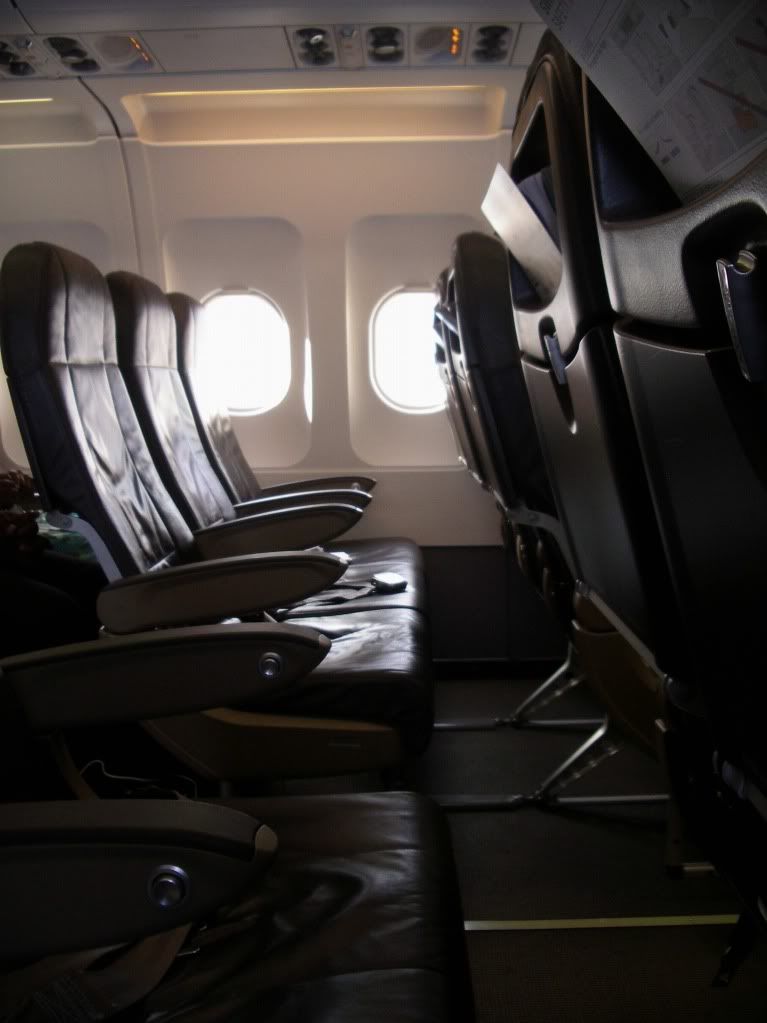 Also the safety card looks like new
Flight details good to follow on the modern style drop down screens.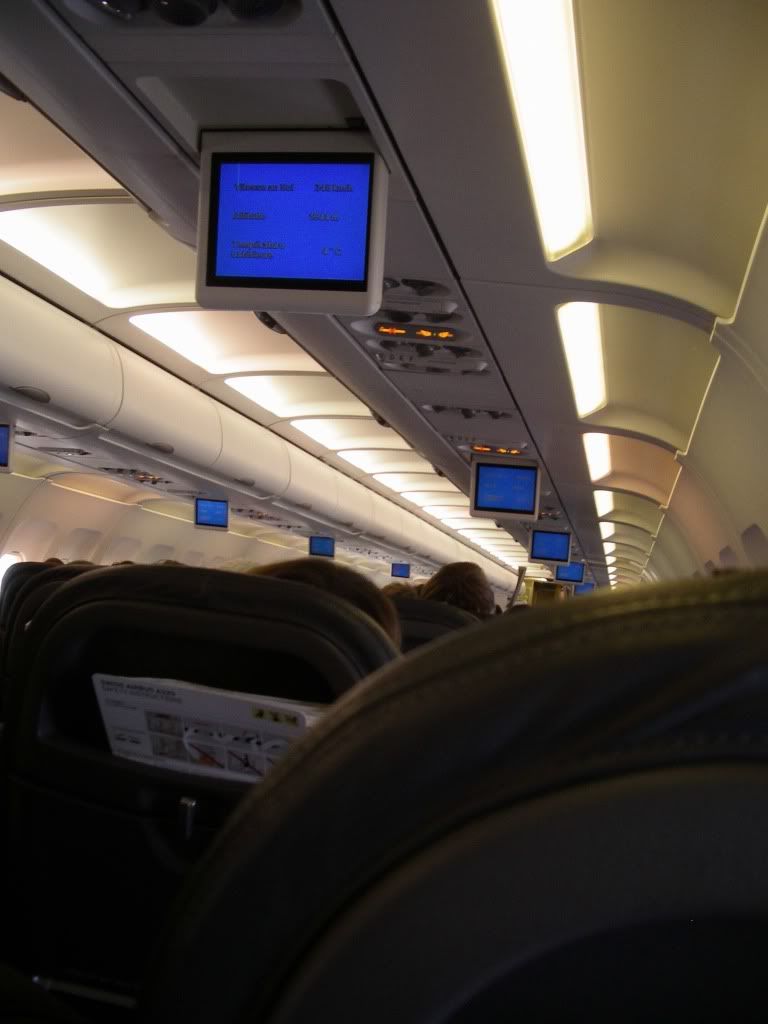 Four females, interesting, two from Germany and one male in service, friendly so far.
Cockpit crew was from Switzerland, the captain with a friendly and detailed welcome during taxi.
The route was above Milano and Pisa at 32500 feet.
Some lakes short after departure from ZRH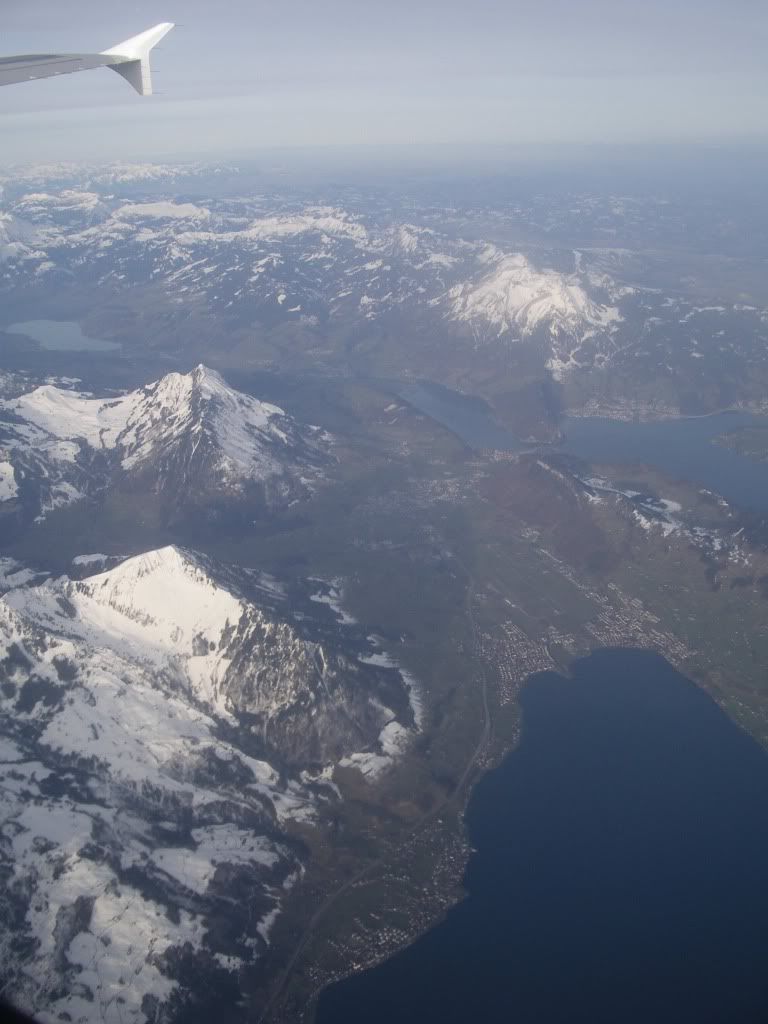 Service was a free croissant and coffee/water, absolutely ok for me during this time of the day.
And also the magazine interesting
Reaching the med around Pisa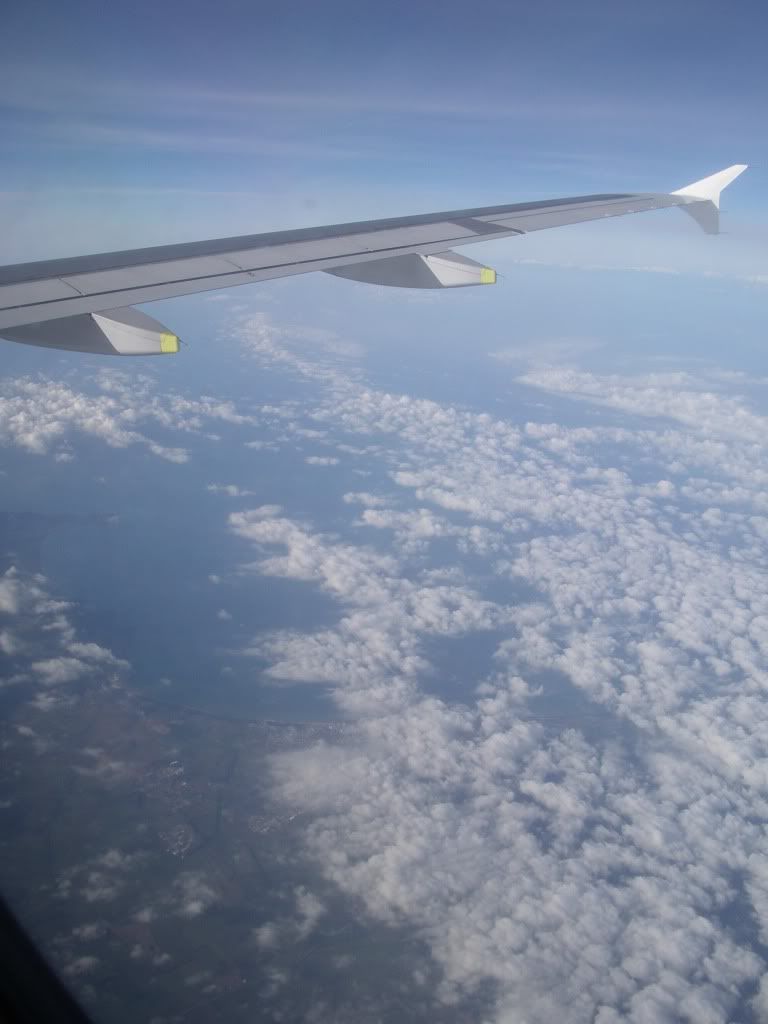 The captain told us more about the weather during approach.
Landing at FCO was on the 3900 meters runway 16L.
A sunny welcome with 9 degrees in Italy.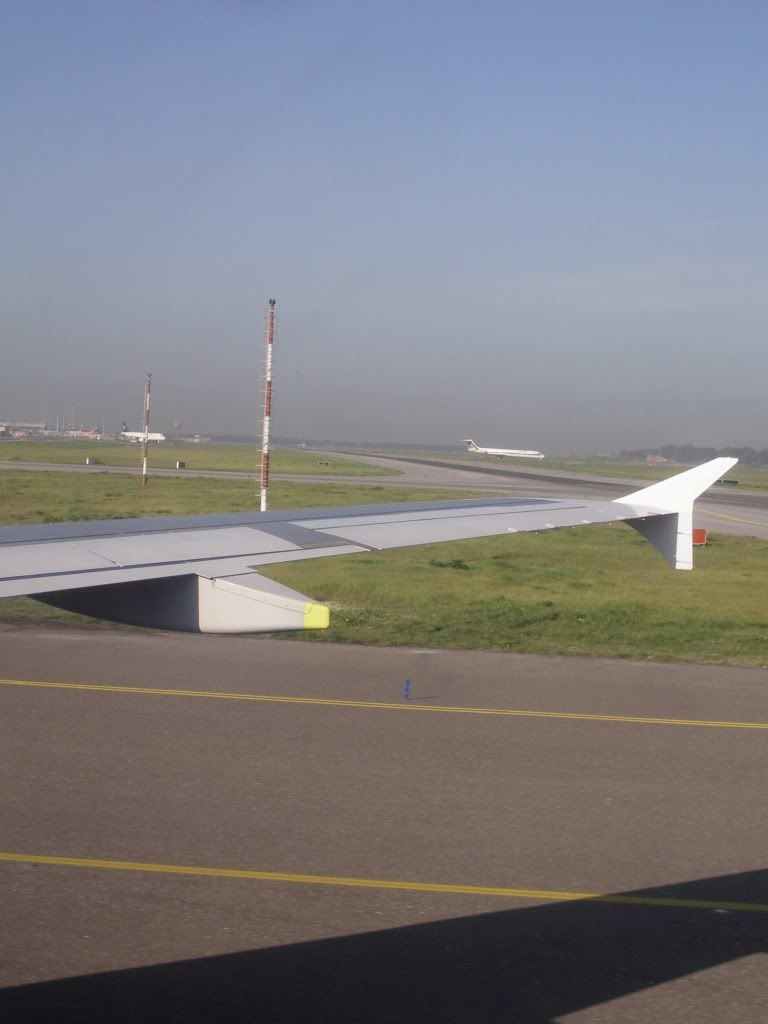 Air One at the gate beside
And my seat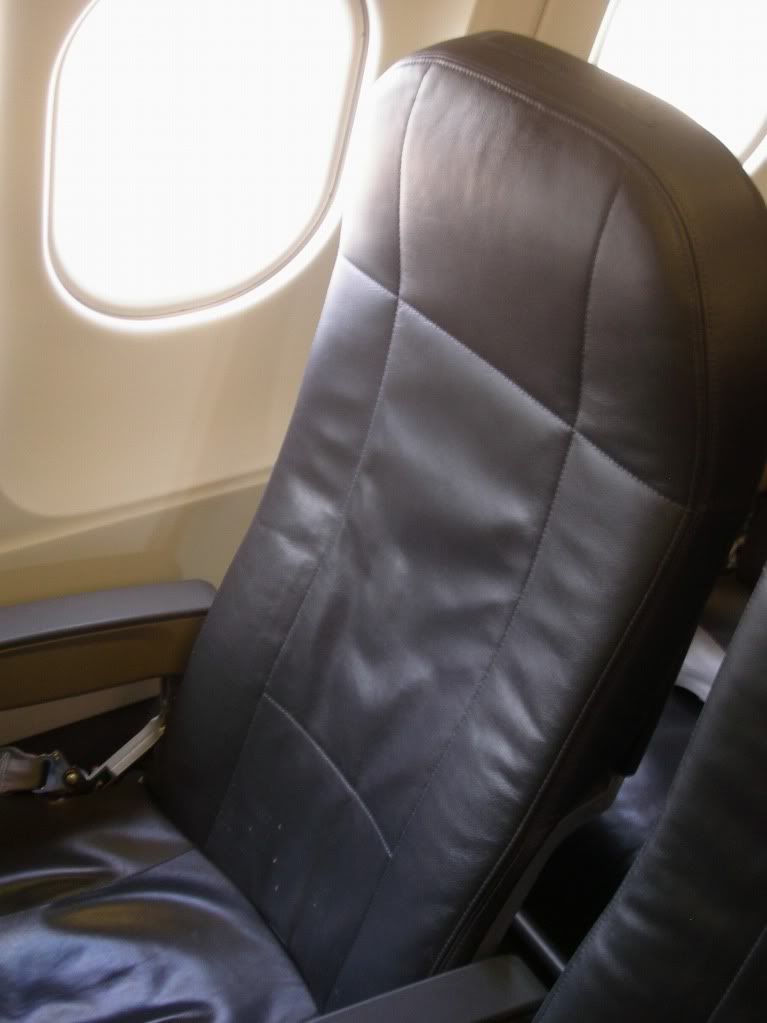 The last and only chance from the finger gate to picture my plane

3.)
Thursday, 18.03.2010
"Rome-Fiumicino-Leonardo-da-Vinci"
"Catania-Vincenzo Bellini"
.
Service AZ 1739 operated by Alitalia
Scheduled: 10.05 // 11.30
Actual: 10.45 // 12.00
Some more plane pictures while walking from arrivals in the D area to my next gate in the B area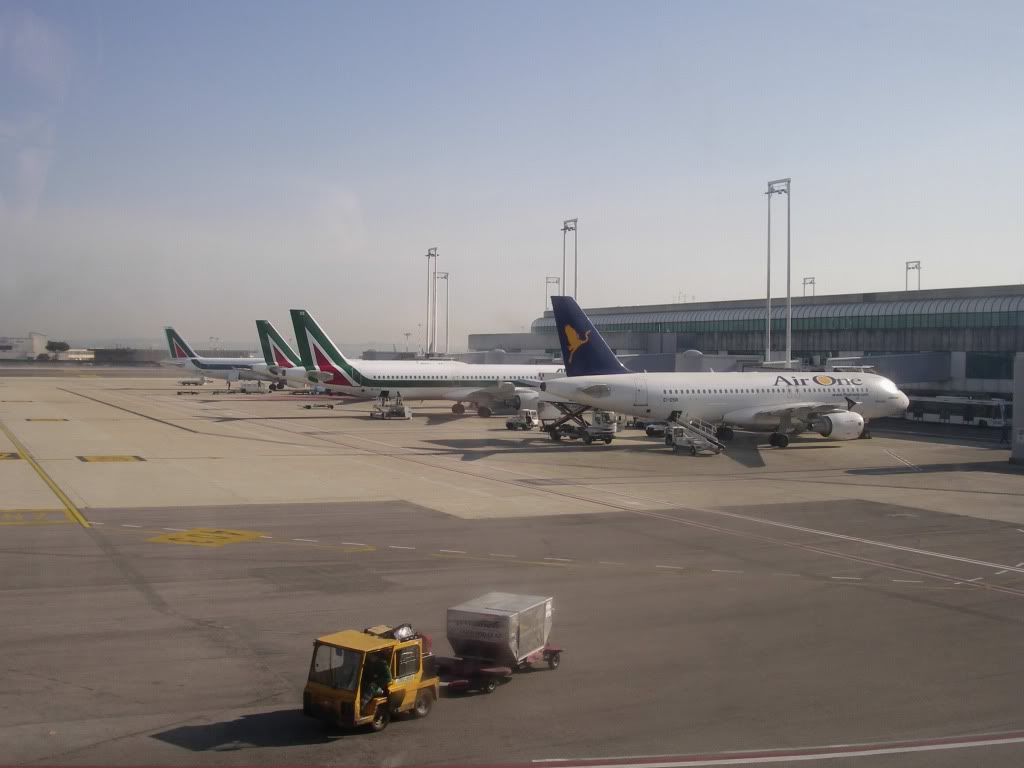 Where is my flight?
Ah, here it is from B11.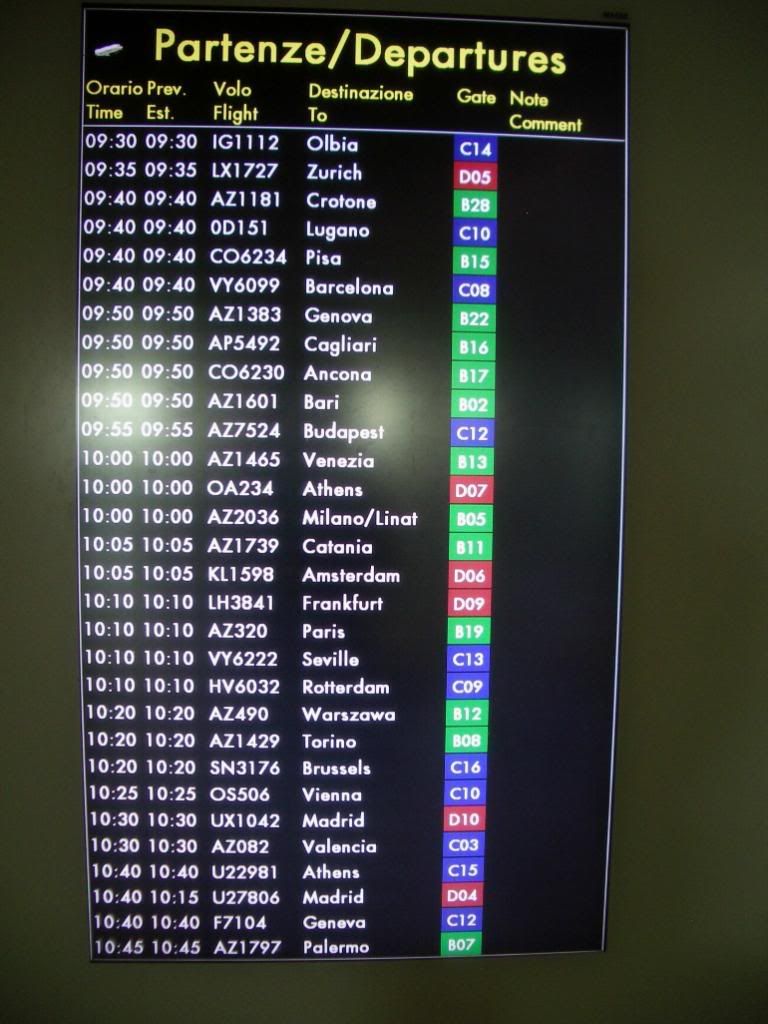 Nice metal to view from the B gates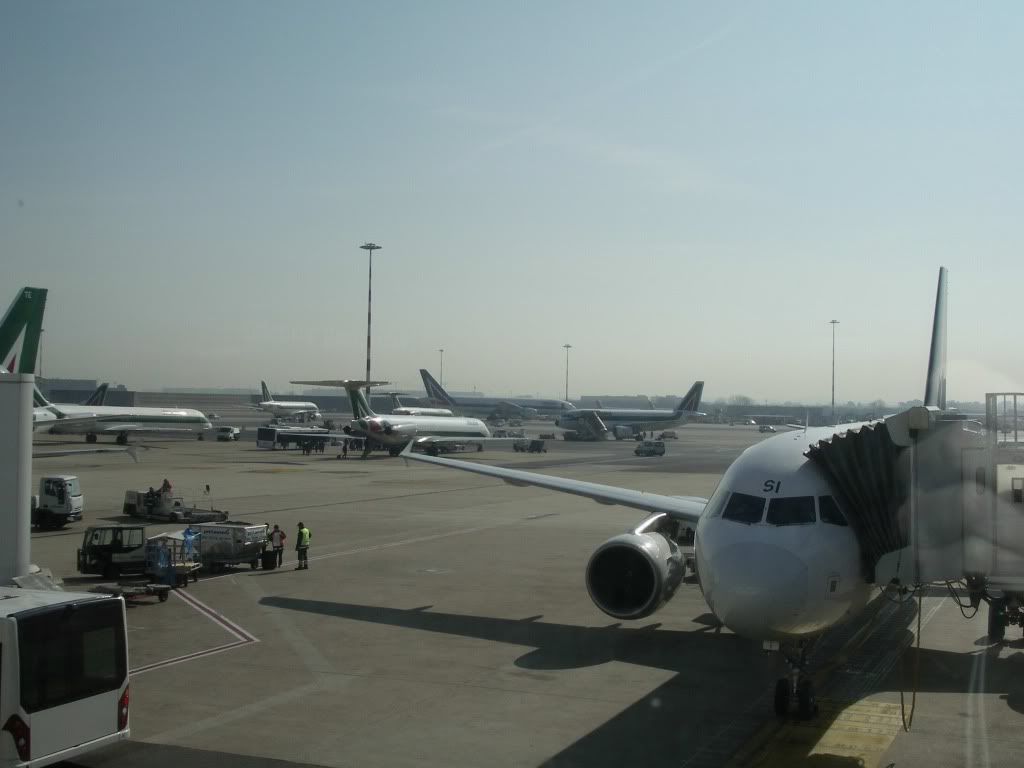 This flight was also booked via Exp.de, cheaper than on the airlines website for around 40.-- Euros.
AZ caught my attention, while they parked the most of their MD machines, but finally operated 19 examples till now.
And my flight was scheduled on the MD.
The gate changed to B20 on the ground floor, that means bus boarding.
FCO is not the spotter friendly place, but Area B is much, much better than D.
Seating space is limited, dirt and construction material at nearly every corner,
well thats FCO.
At least, boarding was called ontime and what a joke, we had to wait for some minutes till the second bus arrived and shuttled to the other side of the road. Believe it or not, in the bus, doors closed, driving five meters, where the ramp agent waited and waved us off the bus.
It seems, that was the shortest bus ride ever in my whole life, till now.
Up the stairs to the finger gate and down to the waiting plane.
I-DATC the scheduled and warm welcomed MD82, one of the highlights around these trip.
It was delivered at 02.05.1994 to AZ and is named "Foggia".
Leg no. 8 for me on type and once again a new registration.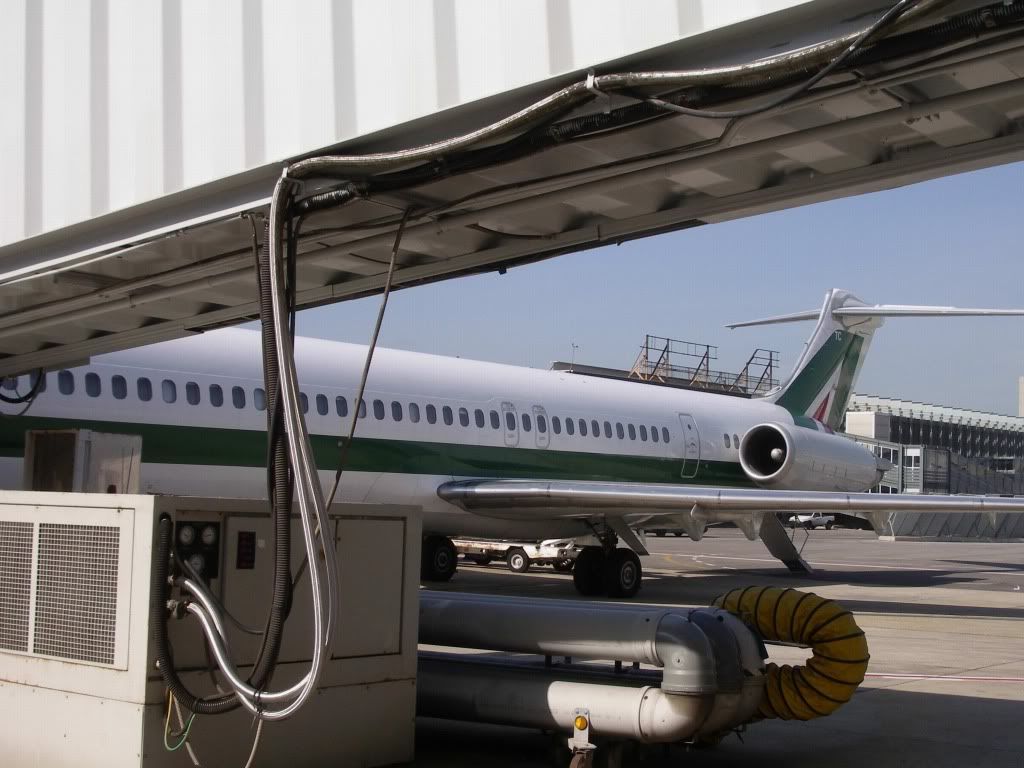 Pretty oldfashioned and worn out fabric seats, good legroom and once again as expected,
really noisy on the MD.
A view with the cabin ceiling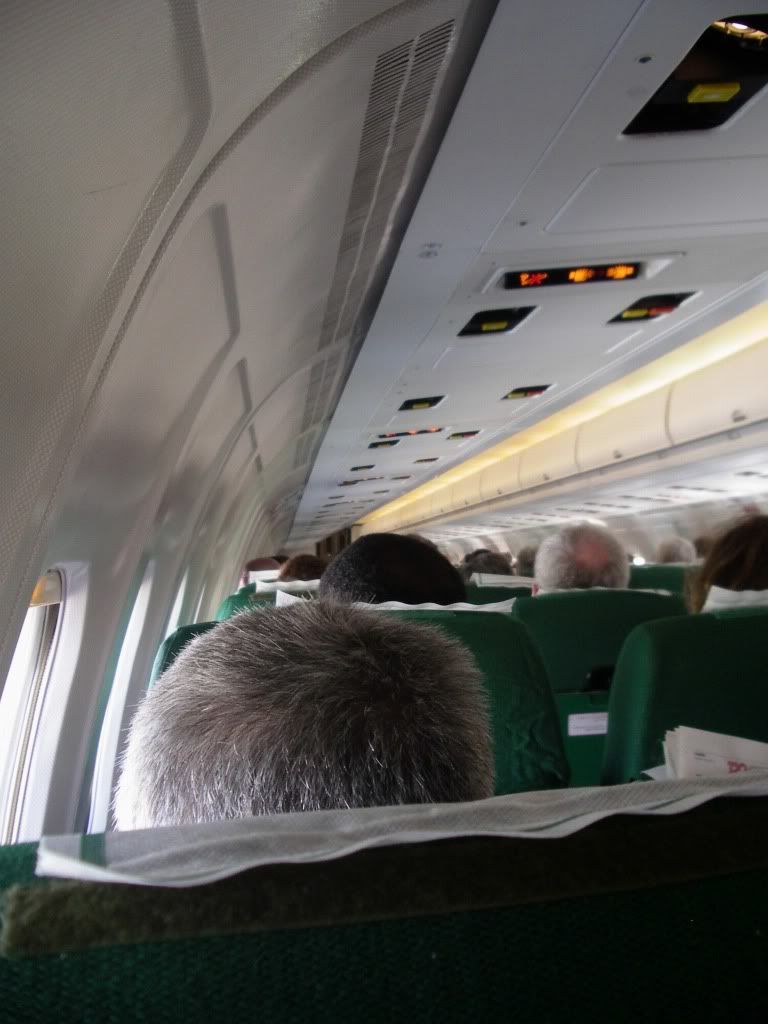 The safety card shows MD80, but it was an MD82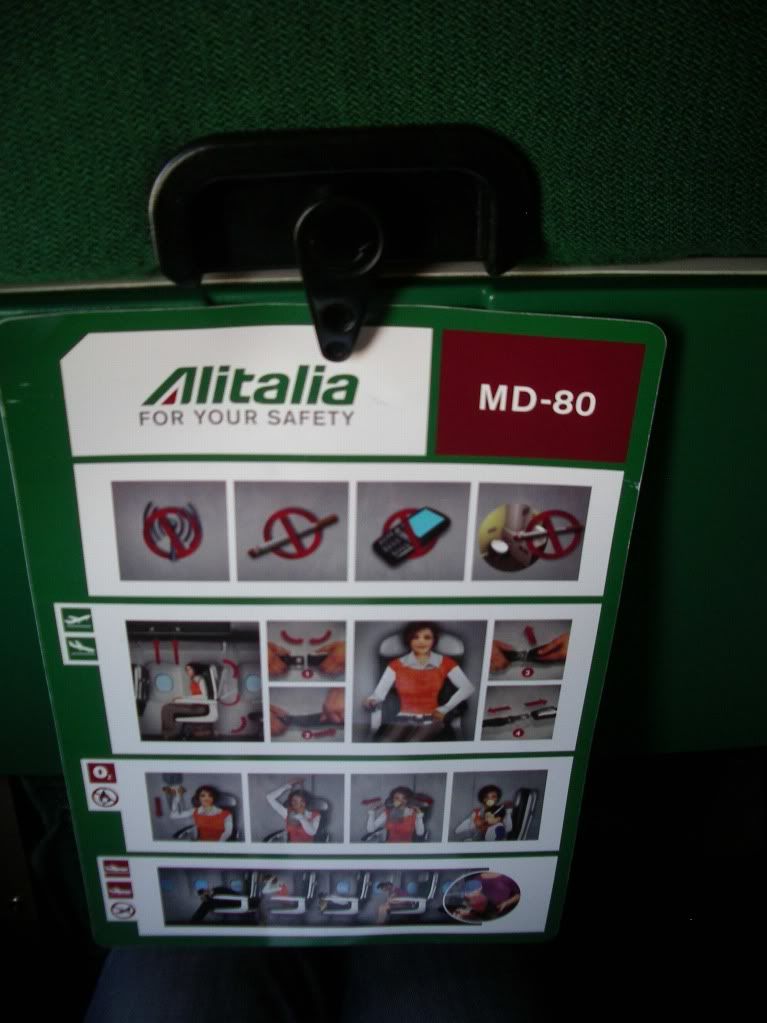 31 A was my seat, secured during online Check-In at AZ´s website, quick and easy to use.
It was the last row prior to the galley in the rear of the cabin and close to the engines.
The load was close to 100%, also the aisle seat beside me was taken by an elderly american male.
Three male, one female FA on this service, ok, but not that especially friendly, AZ old style!.
The italian captain with a short welcome during boarding with departure and weather informations.
He told us also about some missing papers till our departure.
We´re not the only plane here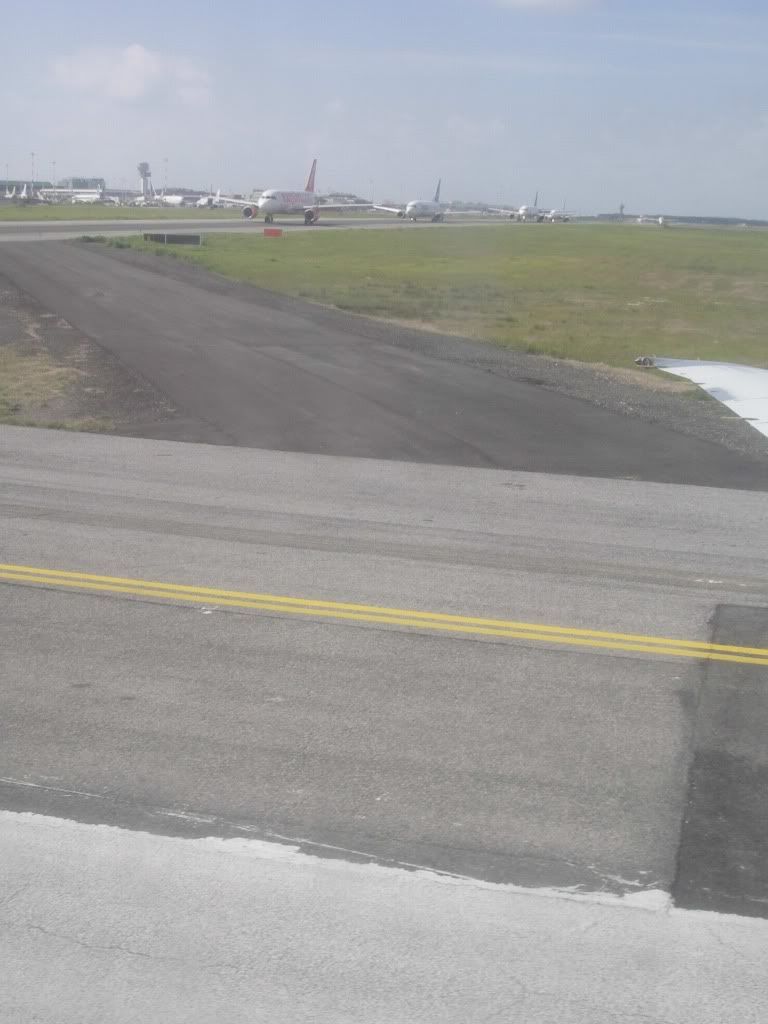 Departure from the 3309 meters runway 25 with an immedially left turn short thereafter for the 55 minutes to CTA.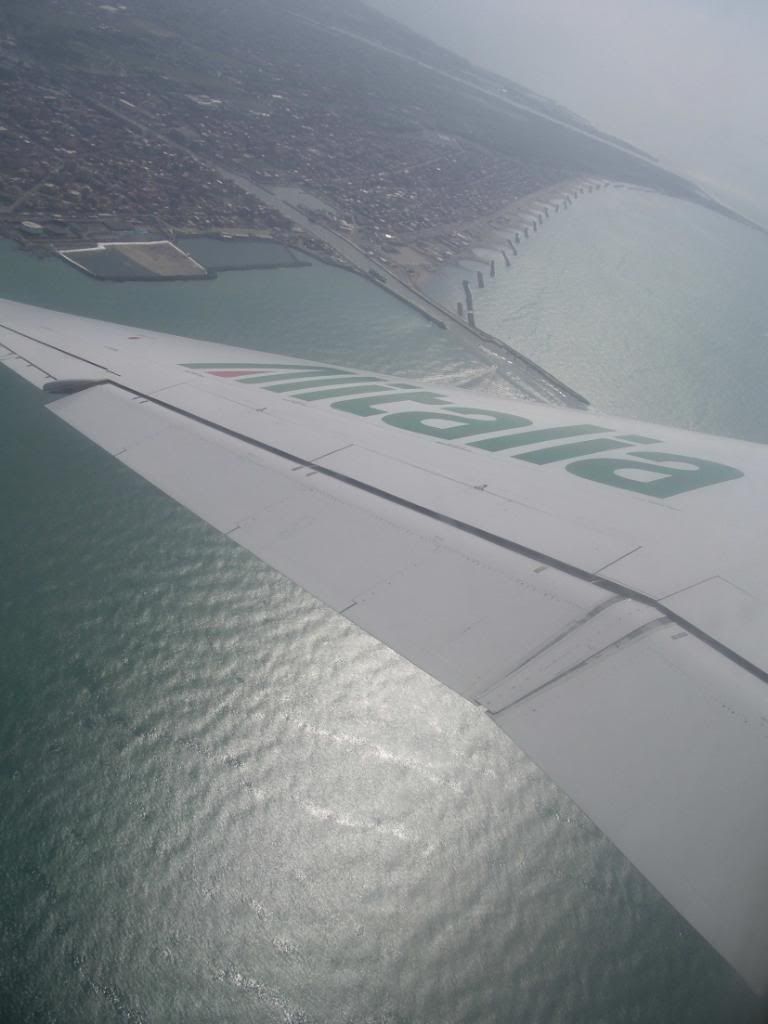 It was sunny with 12 degrees centigrade.
Nice blue and green contrasts
The eolian islands ahead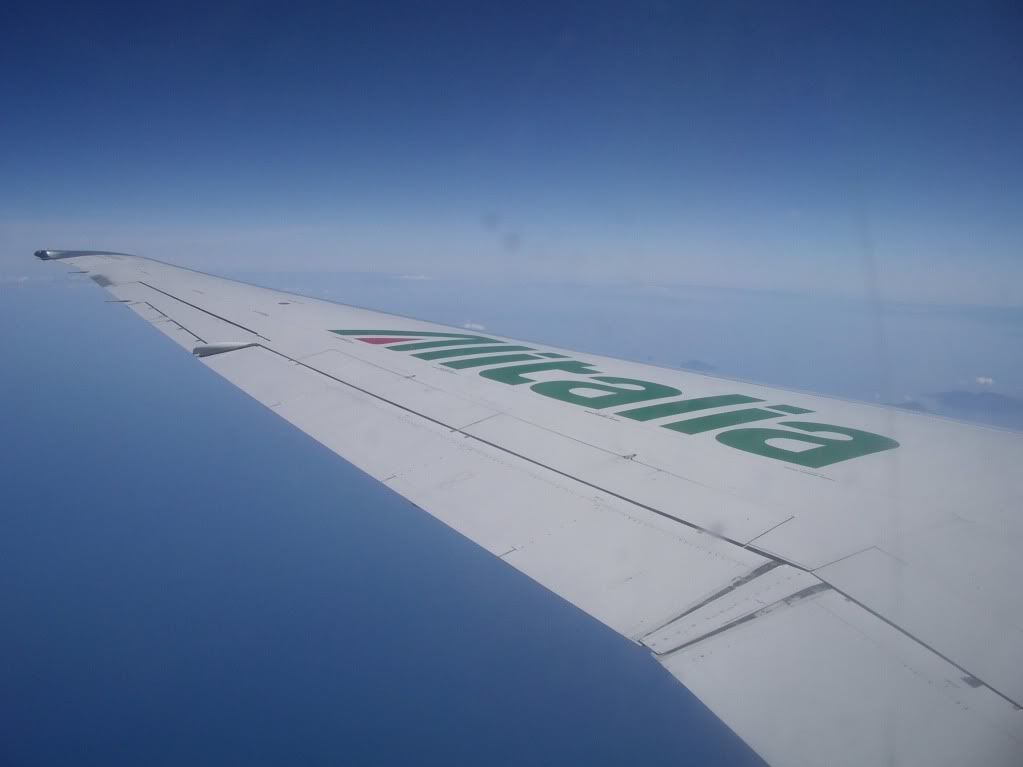 It looks like the Stromboli vulcanoe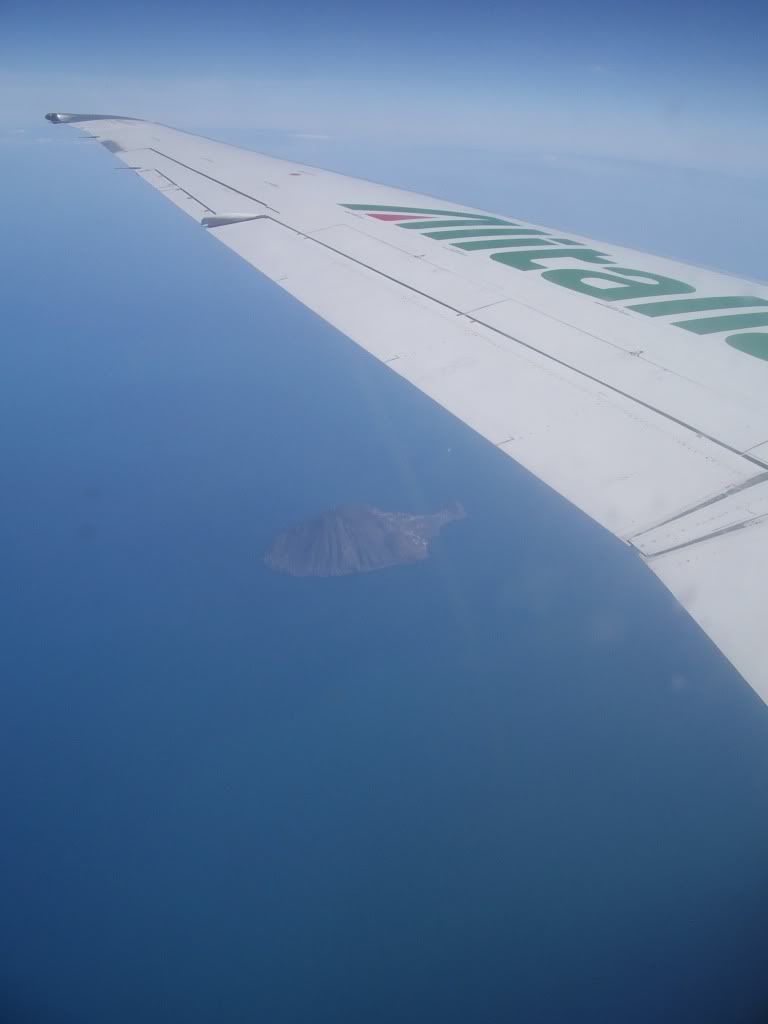 Now we reached Sicily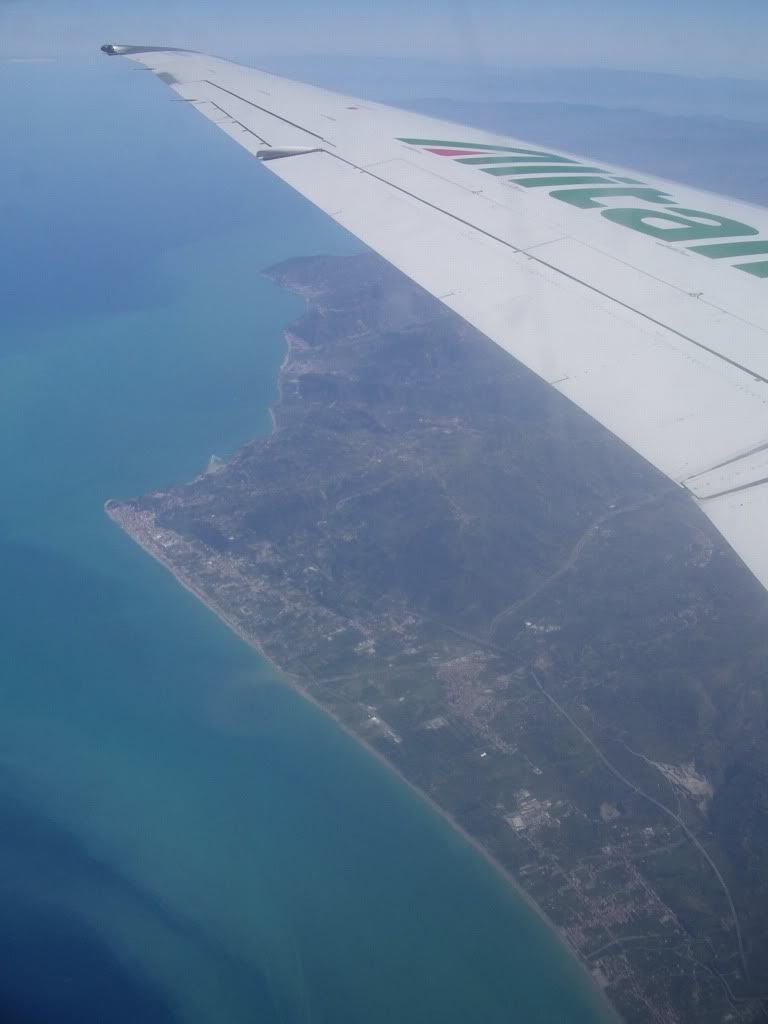 And some snowy mountain ahead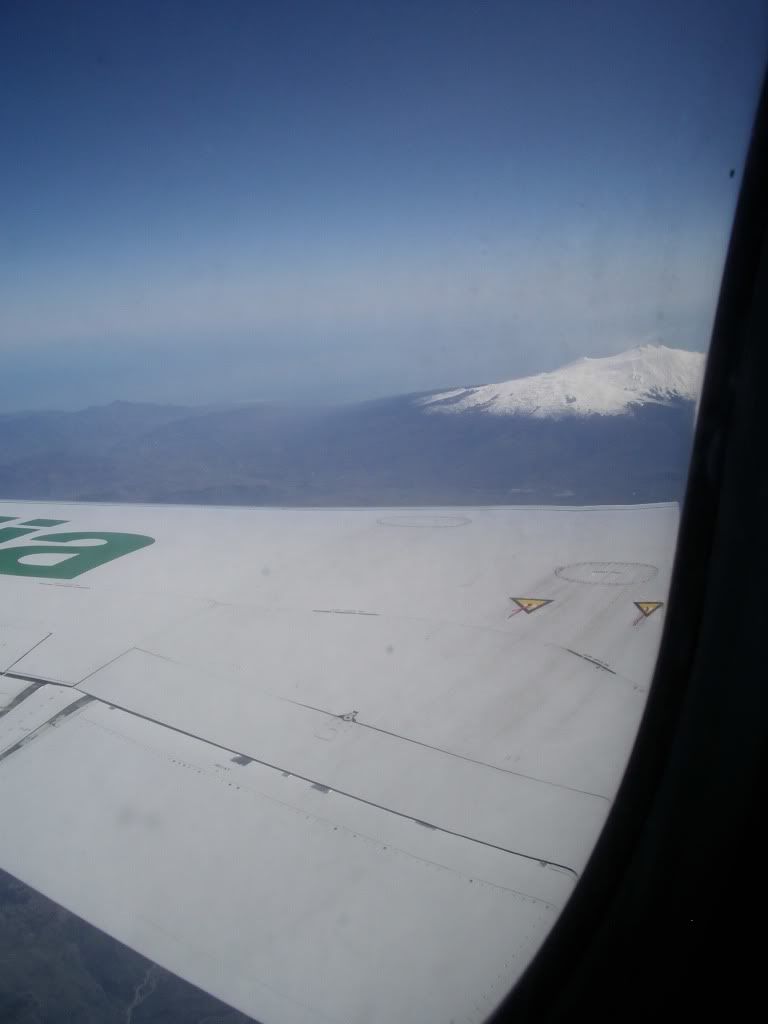 With some trails of smoke from the top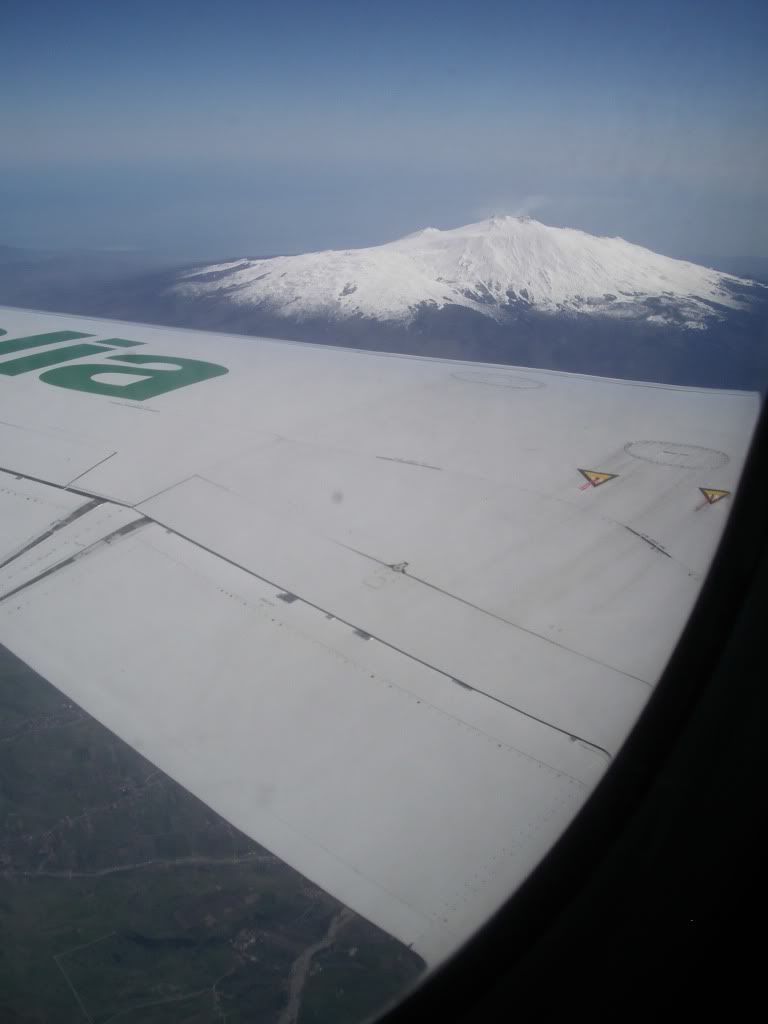 Lucky me, the right side of the plane
The pilot told us some informations during approach.
Service was biscotti and free drinks.
No flightlevel information here.
Alitalia and the Aetna side by side
We´re going closer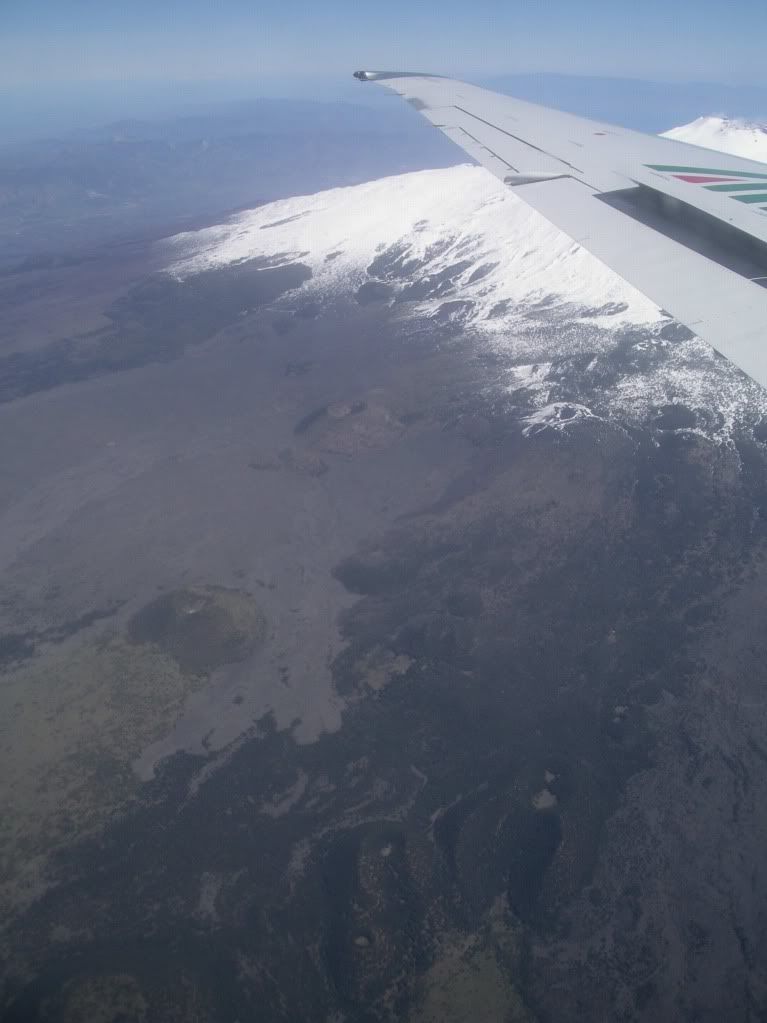 And passed the top of this magic vulcanoe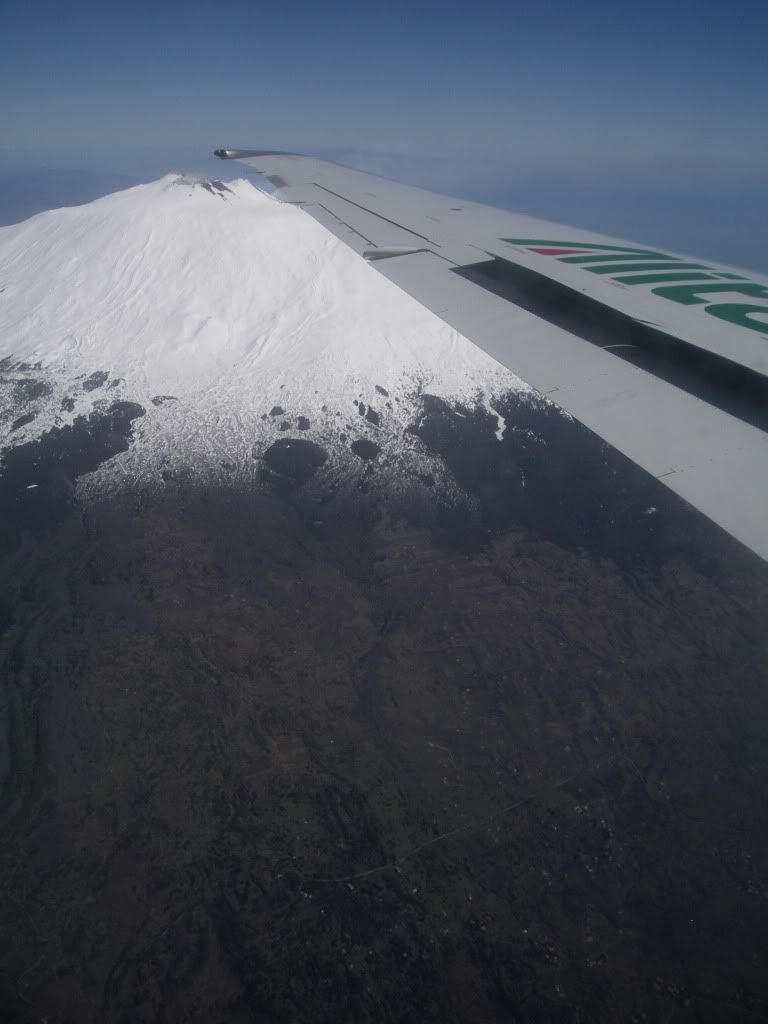 Above the city of Catania
And turning with both together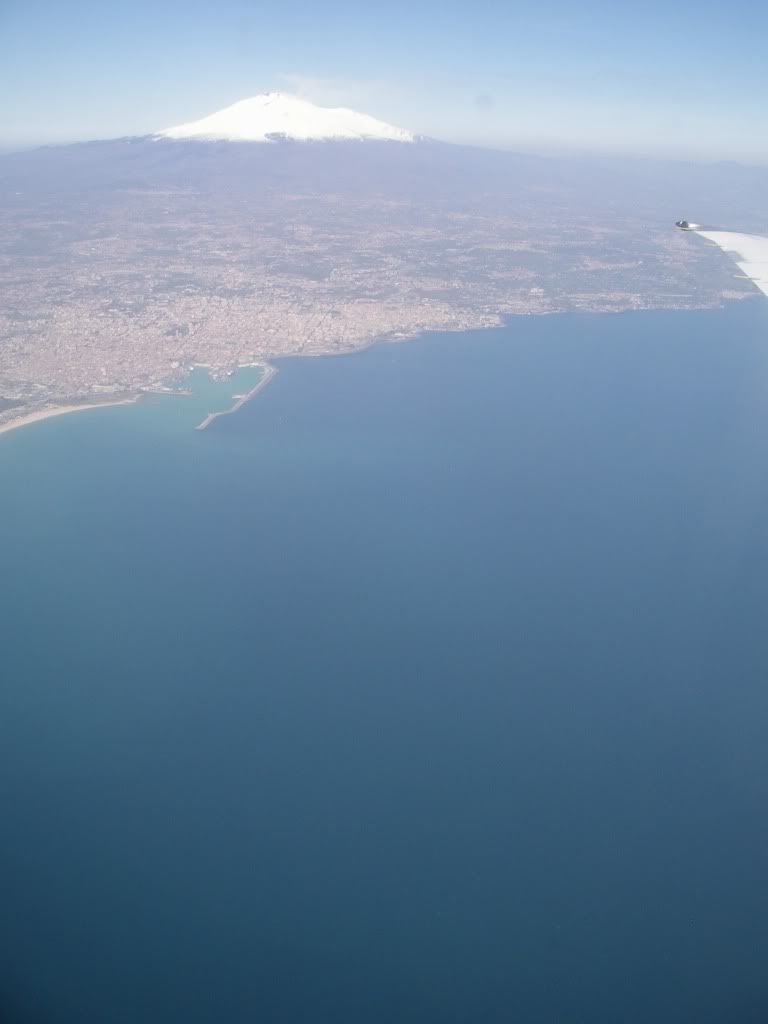 Touchdown was hard and heavy on the 2435 meters runway 26, finally some 30 minutes late.
More better weather conditions, 18 degrees and sunny here in Sicily.
What about Windjet´s new machine?.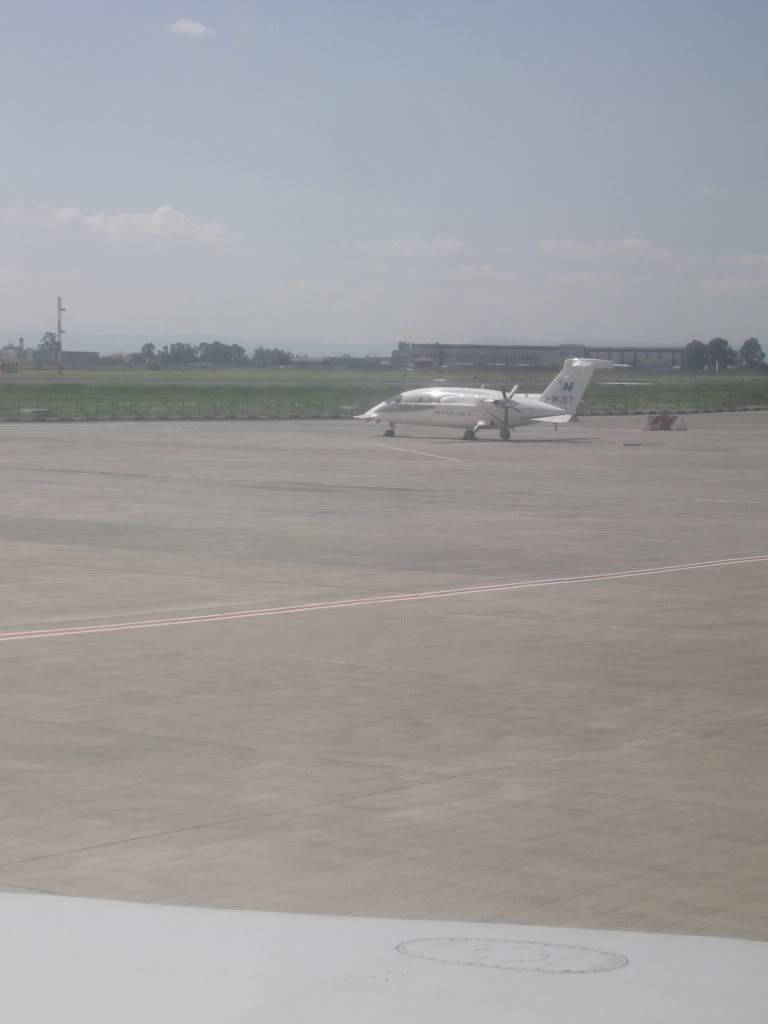 Leaving my seat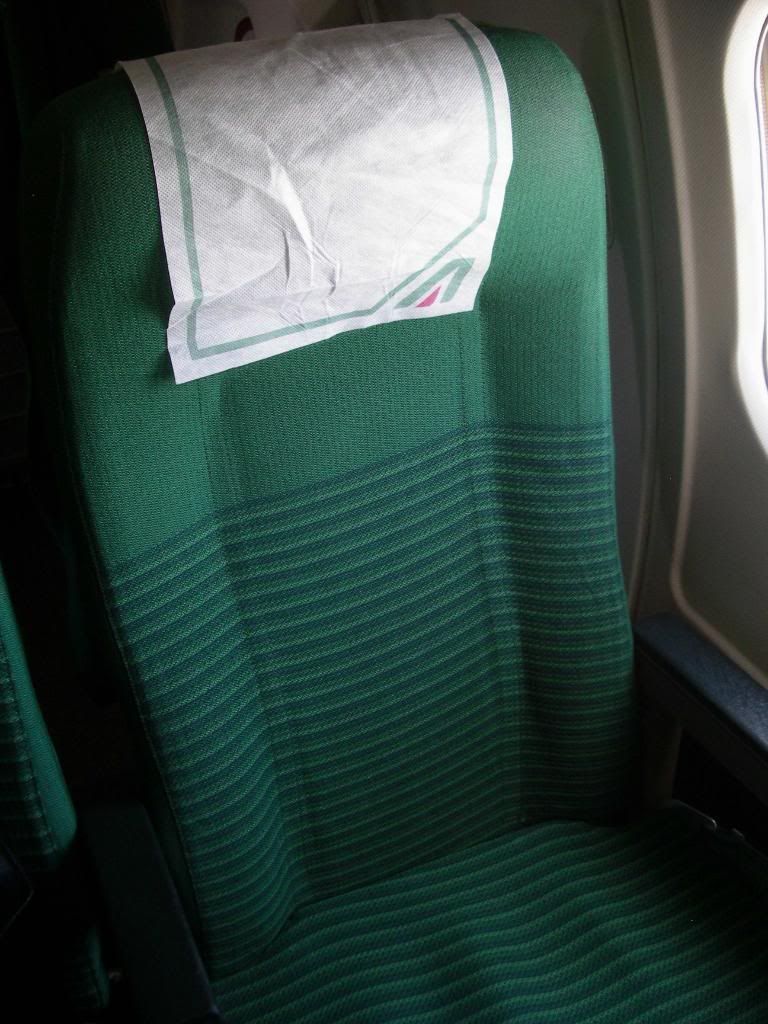 And disembarking by the rear integrated stairs
Is there a more stylish way to leave a plane?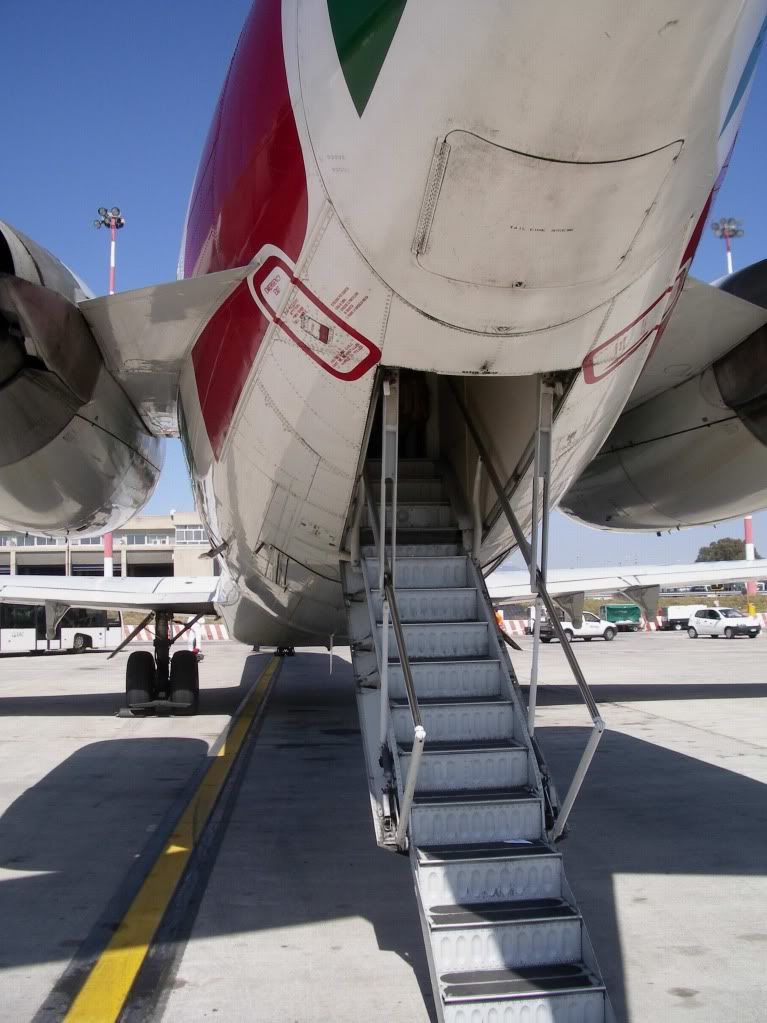 Very close to the engine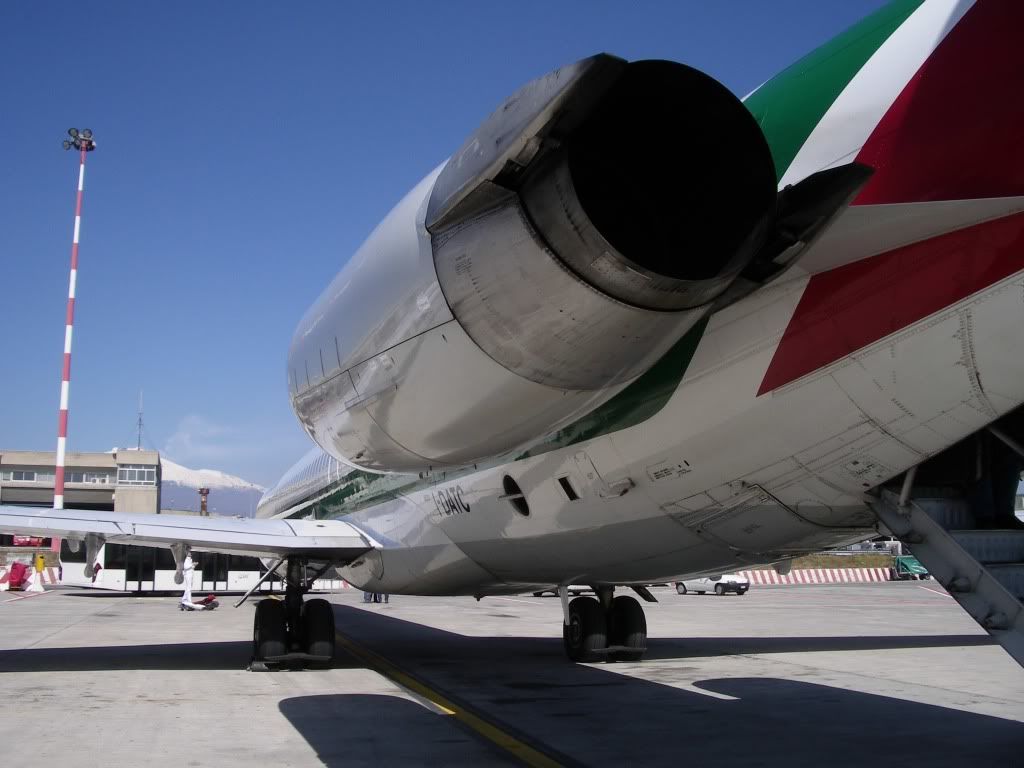 Looks like in good conditions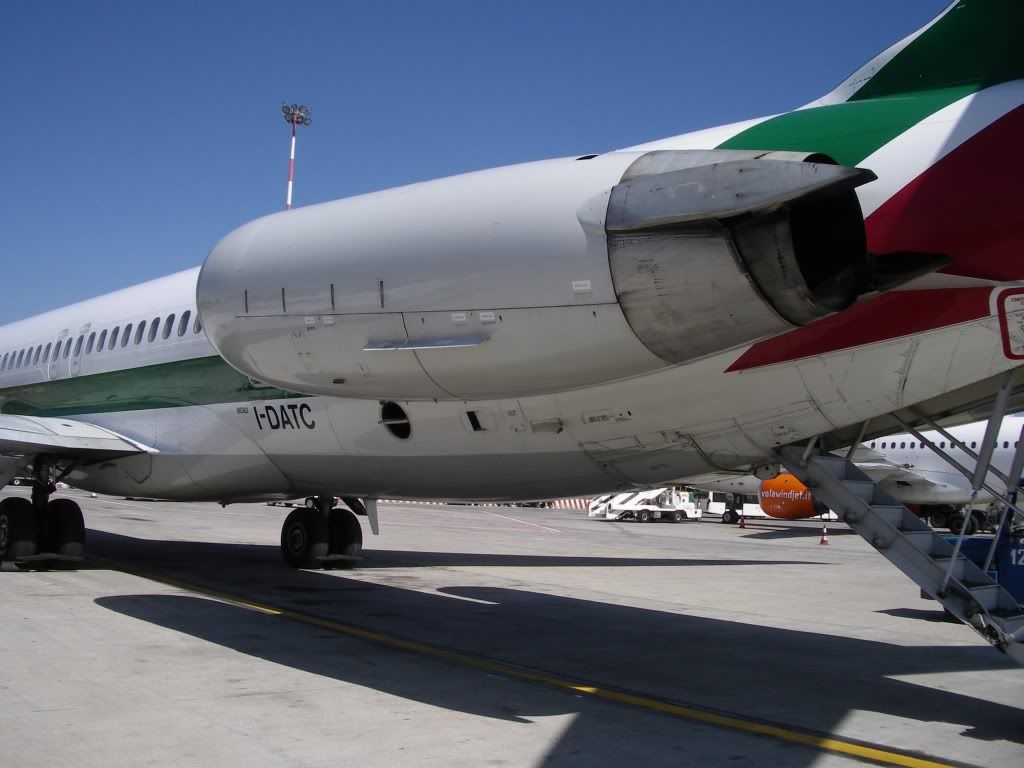 Windjet parked close by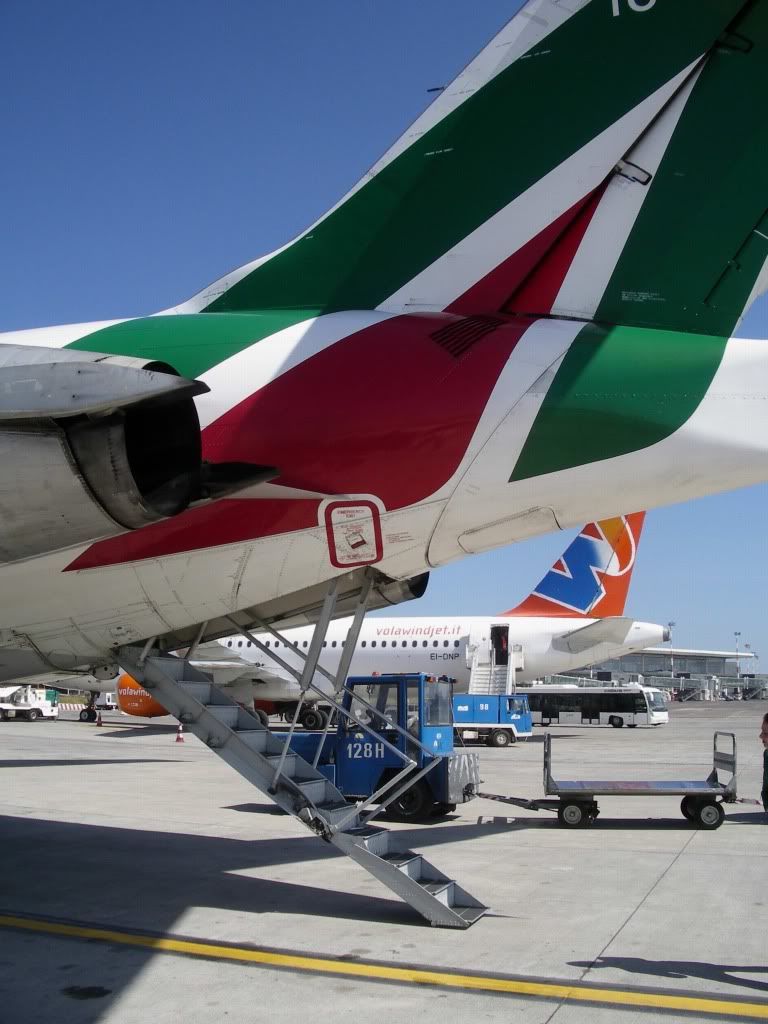 The nice AZ colours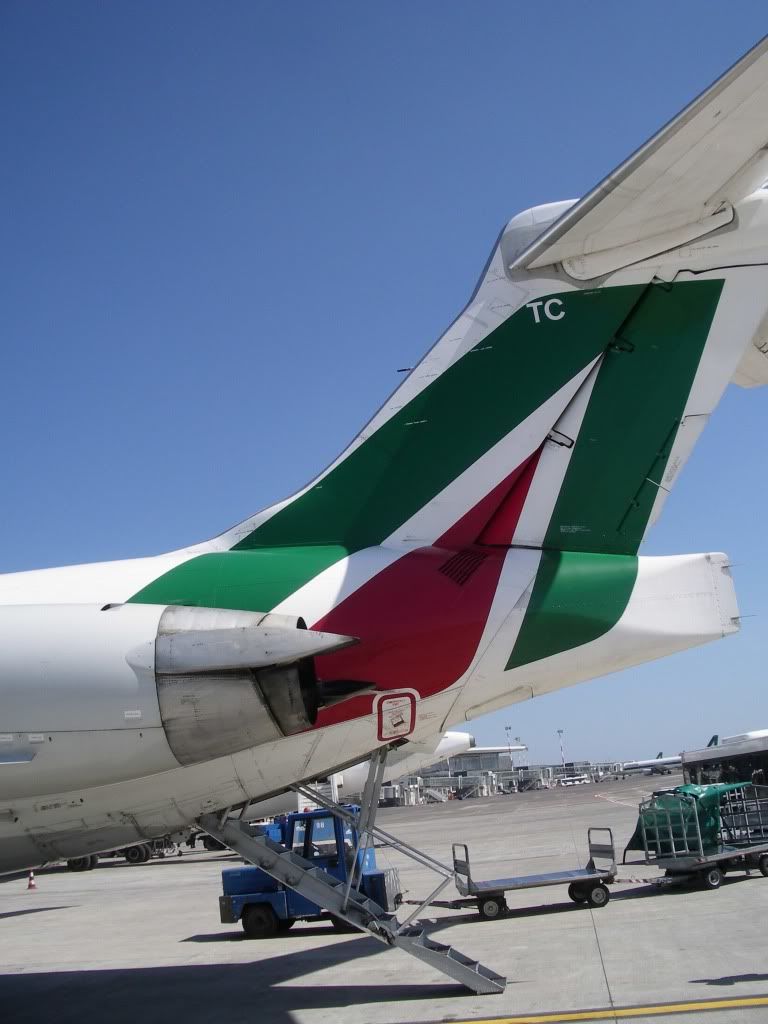 A pretty long bird
The final view
from the bus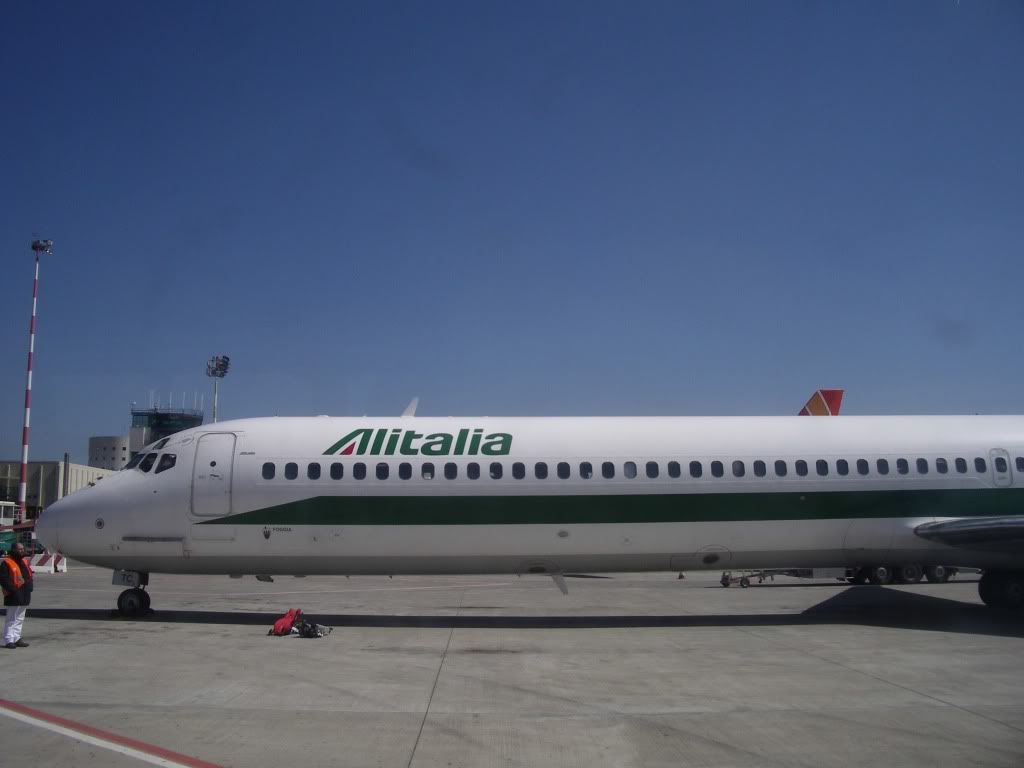 Nose close up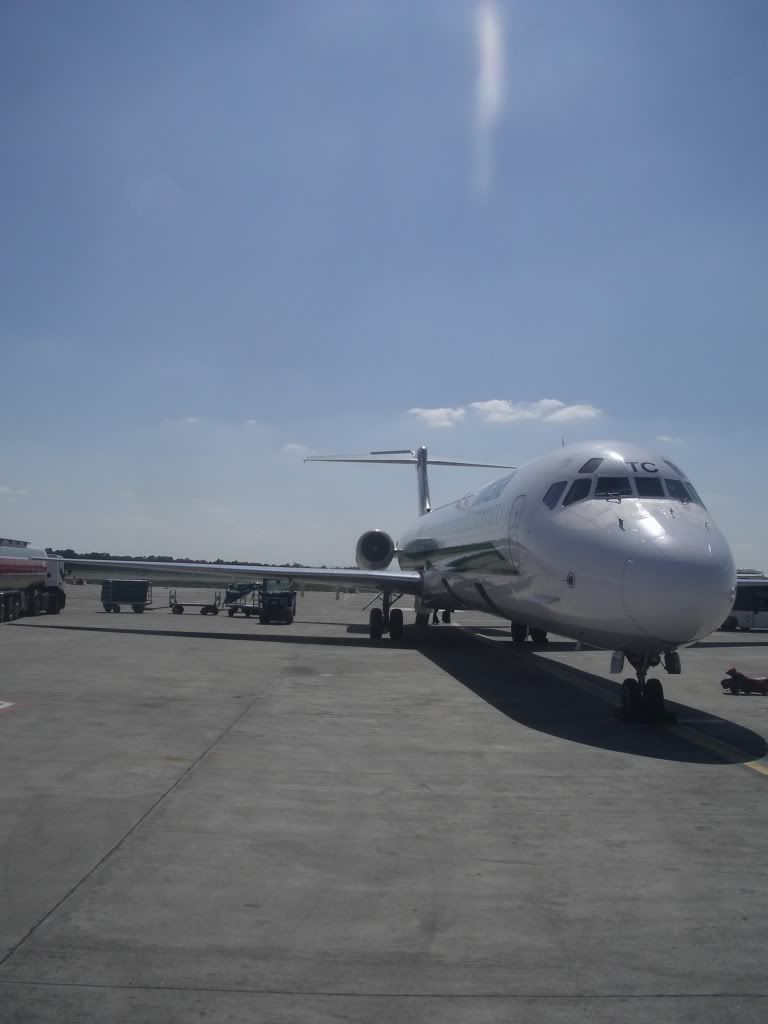 And where is the new addition to my log?.
That will be the next airline.

4.)
Thursday, 18.03.2010
"Catania-Vincenzo Bellini"
"Rome-Fiumicino-Leonardo-da-Vinci"
.
Service Blu-Express BV 1777 operated by Blue Panorama Airlines
Scheduled: 13.00 // 14.20
Actual: 13.10 // 14.20
Breathing some fresh and warm sicilian air, that was the thing to do here.
The new terminal is also fresh and airy
Not that much to see here about Blue Panorama or Blu-Express.
It´s a fully private owned company operating mainly touristic flights to holiday destinations around the med
but also a good number of long haul charters.
The fleet is all Boeing and reaches from the 737-300 till to the 767-300 , in total 12 planes.
The flight fits perfectly into my schedule and it was really cheap.
Less than 20.-- Euros booked also here cheaper than on the airlines website via Exp.de.
Online check in was possible, the system shows a seat selection button, but it doesn´t work.
So I´ve decided to check the counters, two staffed with only another female customer in front.
The middle aged agent checked my status, finally ok and told me that it was free seating on that service.
Free seating, something what I really dislike. But anyway to the security check, back in the terminal pax area.
A view to the screen showed my flight leaving from gate 6 without a delay information.
We will see.
Also the gate area, comfortable seats and good views to the apron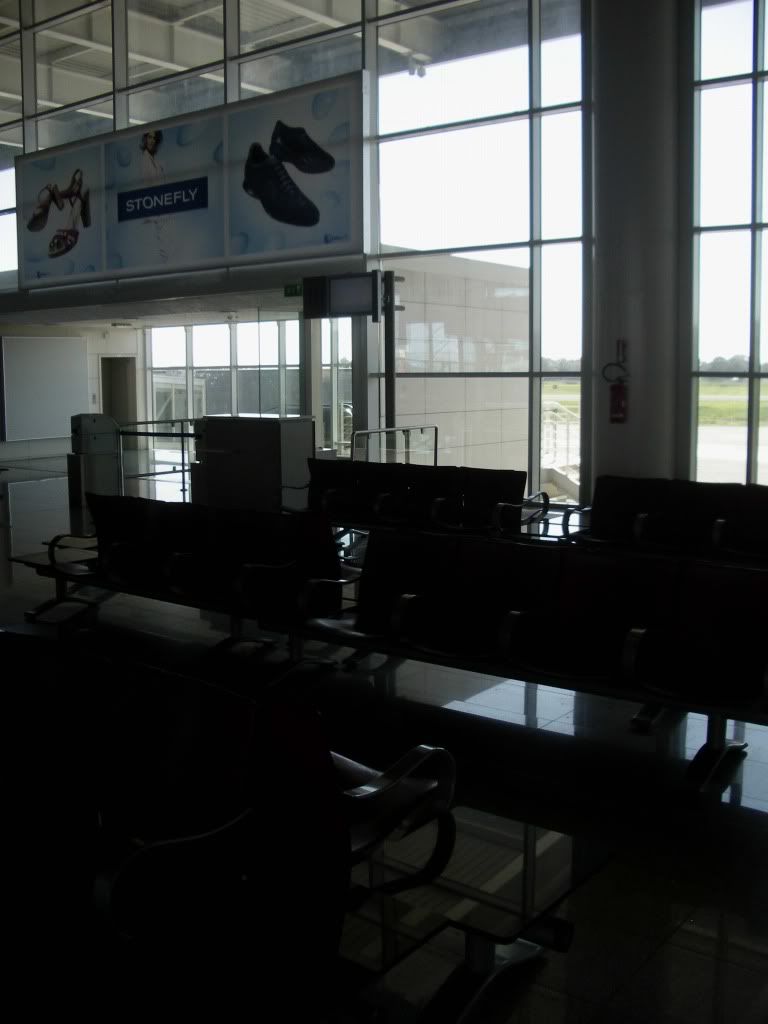 My machine heading back for FCO
Boarding was somewhat interesting. I recognized the guy from check in at gate 9, 6 still on the screen which shows boarding, but nothing at the gate screen.
No other flight shows boarding at this time, people heading for gate 9, I´ve asked another passenger if this is Blu to Roma and he told me that he also asked another pax and so it seems.
Down to the bus, the second one for me, where we had to wait some 15 minutes till the rest of the pax arrived.
A first view to Blu-Express from the bus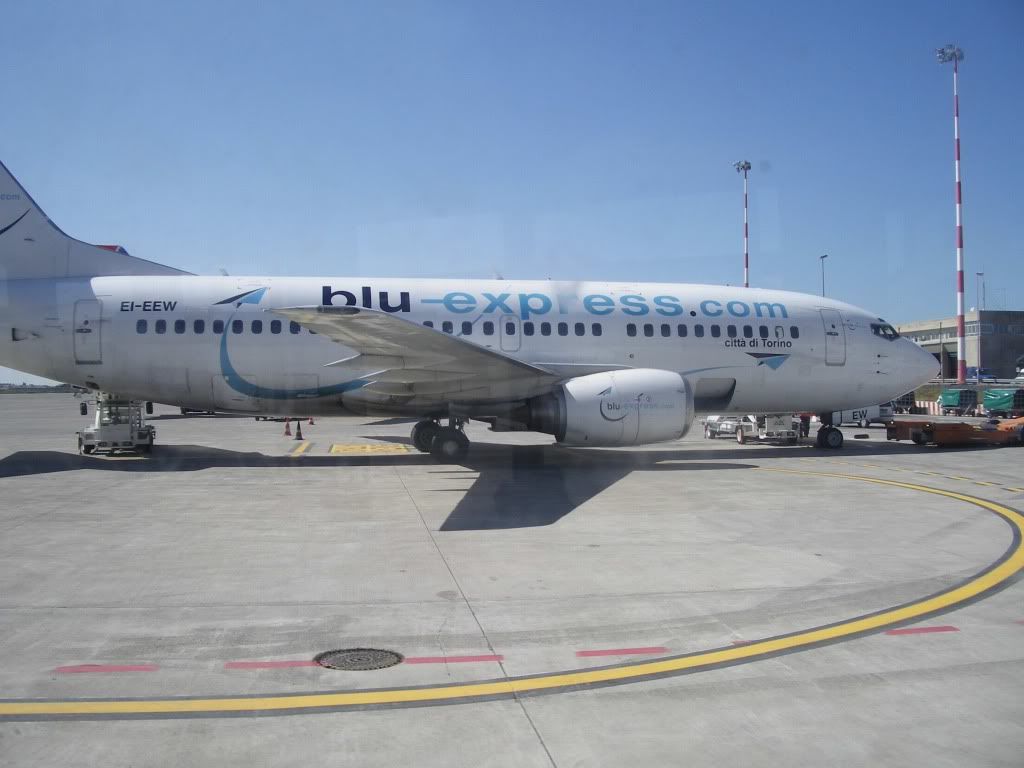 and also a tail shot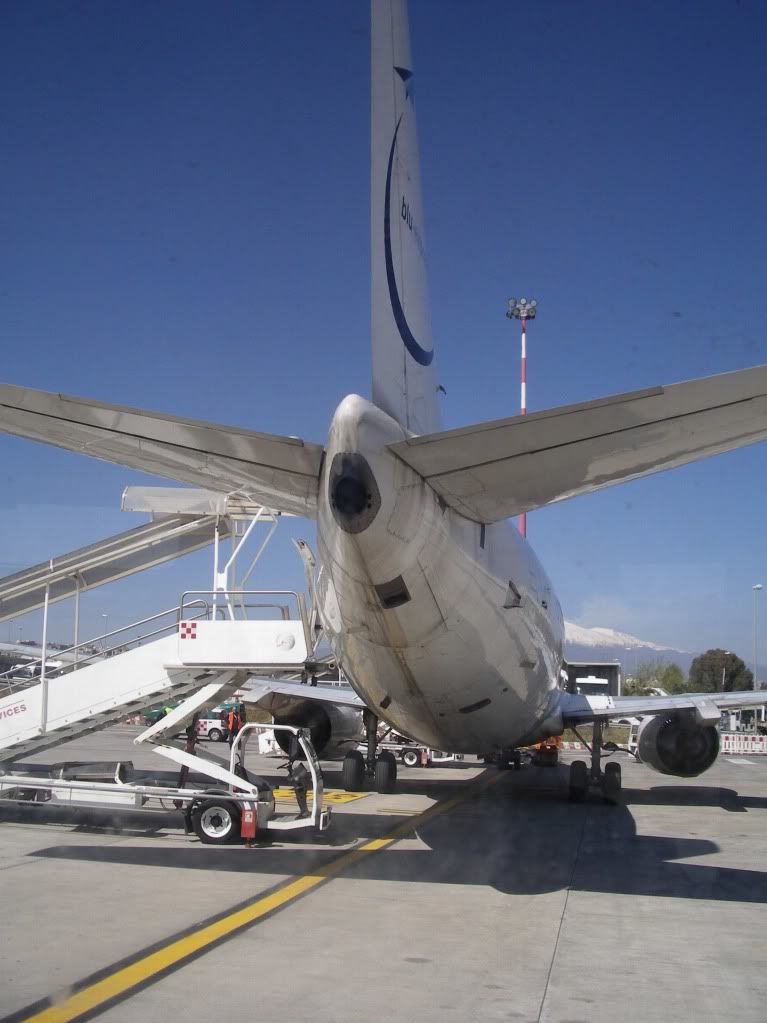 EI-EEW was the registration.
A pretty oldfashioned 737-300, one of the 3 examples in the fleet, named "Citta di Torino".
Delivered at 02.09.1987 to Canadian Airlines and leased immediatelly out to Transbrasil.
To Europe at 25.10.1995 for Air Europa and further on to Lithuanian Airlines at 23.05.2002.
What about Asia?. From 15.06.2003 in service with Air Asia and back to Europe at 31.07.2009 for Blu- Express.
Leg no. 40 for me on the 733 and a new registration.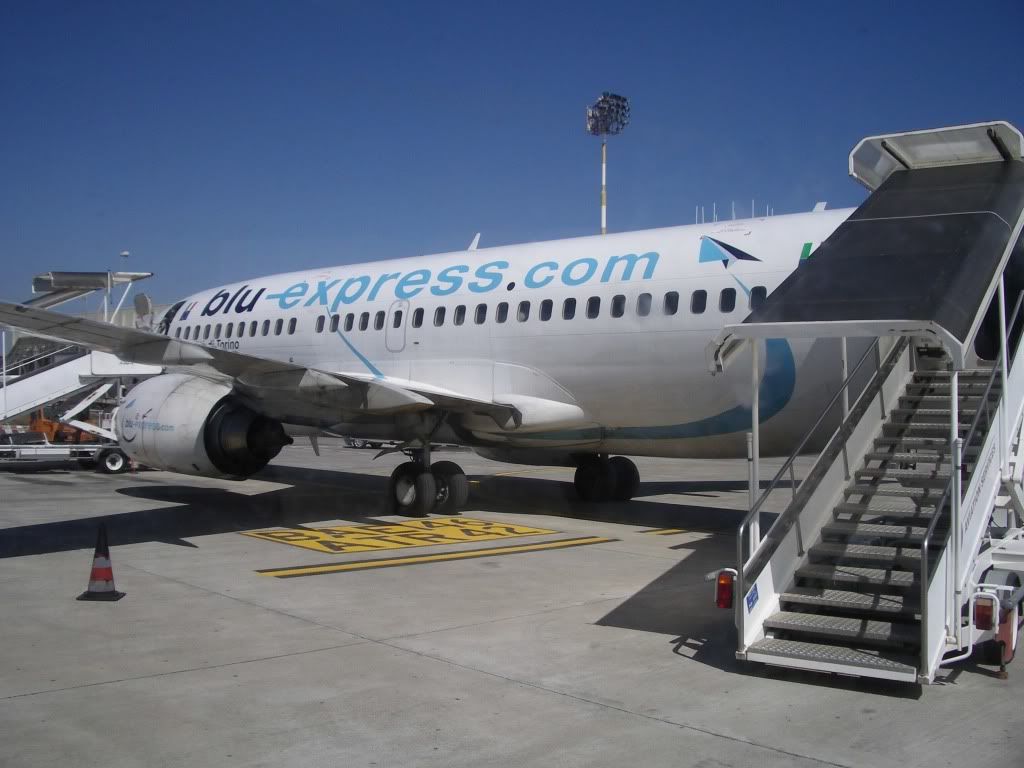 No need to hurry for me, I was prepared for a no window flight here.
Boarding by the rear stairs, welcomed by a really good looking young FA and noticed immediatelly that the last row was free, so it seems the usual situation, pax queueing at the front door and more open seats at the rear. Load was in the end around 90% and a middle aged Italian guy occupied the aisl