The Next 5 Star Carrier?
Munich - Muscat - Dubai on Oman Air A330-300 and 737-800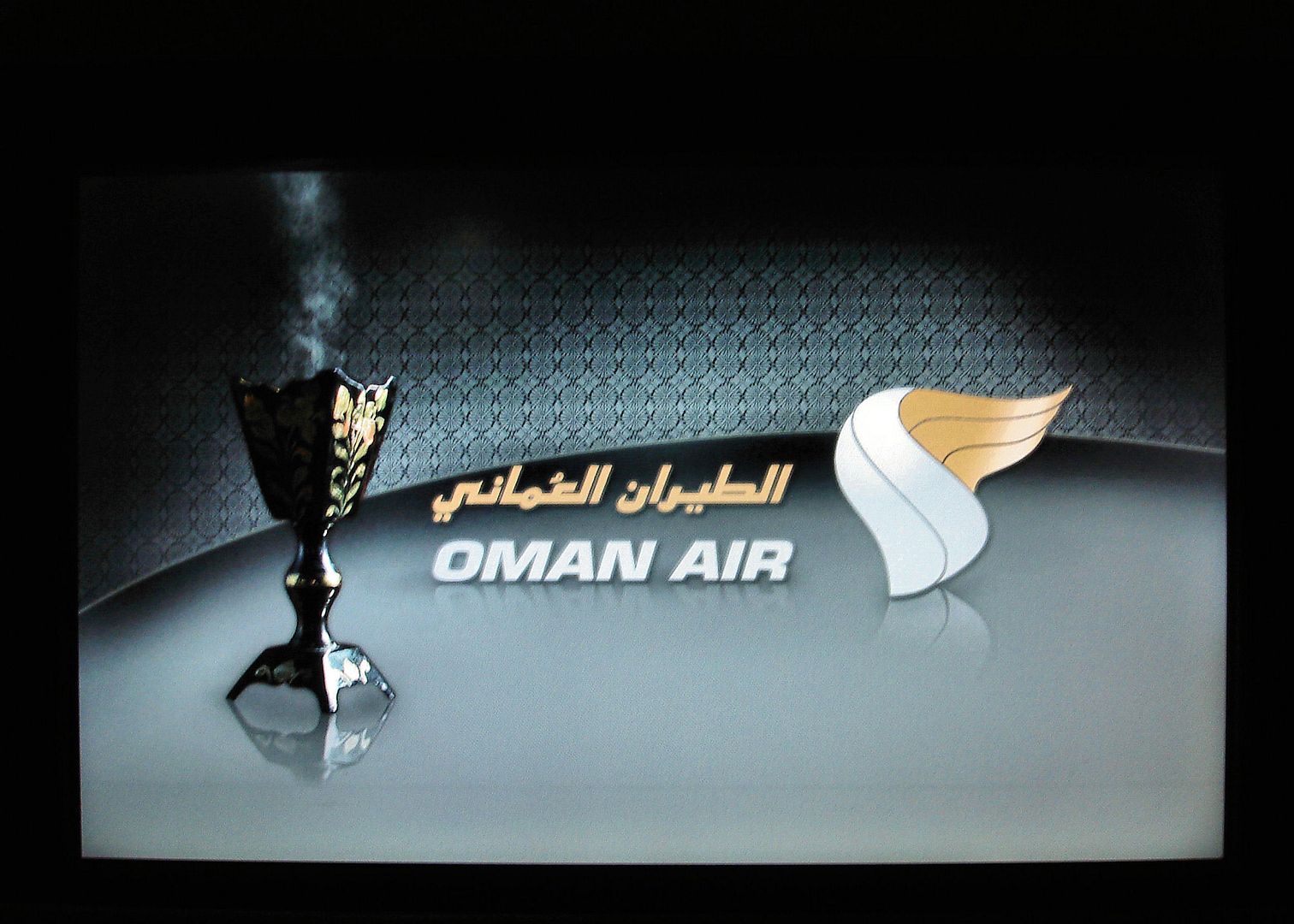 Intro
"The new Wings of Oman"
,
"Change is here!"
and
"Celebrate Change With One Great Airline"
are auspicious slogans recently used by
Oman Air
, the Omani national carrier. Now let's see what's behind: My latest report will give an impression of the products and services offered in Economy Class on a trip between Munich and Dubai. While the Munich-Muscat sector was operated by six-month old Airbus A330-300, the Muscat-Dubai leg was operated by one of the newer Boeing 737-800s. Of course I will also elaborate on the transfer at Muscat International Airport.
Background
In early January my brother and I decided to go on a sightseeing trip to Asia by the end of February. Our focus had been on Hong Kong from the very beginning, but we also wanted to enhance a possible trip by another city. My brother suggested to pick Dubai so that we could visit the new Burj Khalifa. I agreed and started searching for the most interesting flight options. It didn't take very long until I found an unbelievable fare offered by a most interesting carrier: Munich-Muscat-Dubai return on Oman Air for 260 Euro!

Oman Air is a newcomer to the German market - it started flying to Frankfurt (four times weekly) and Munich (three times weekly) in fall 2009, using its new A330-200s and A330-300s. According to various reports the Munich flights have often operated at low loads, so probably the low fare was intended to increase brand awareness. I really wanted to try Oman Air and then started searching for adequate flights between Dubai and Hong Kong. The plan was to spend one night in Dubai each time on the outbound journey and the inbound journey. The whole trip shouldn't last more than one week, so it was clear we wouldn't be able to spend more than three nights in Hong Kong.

It wasn't difficult at all to find interesting and affordable flights between Dubai and Hong Kong. However, satisfying options were rare between Hong Kong and Dubai. Problematic were either high fares or unfavorable flying times. Leaving Hong Kong too early would have drastically reduced the sightseeing options - and leaving too late would have been risky regarding the onward flights between Dubai and Munich. We also couldn't just add one day due to the limited frequencies between Muscat and Munich.

In the end we decided to fly back from Hong Kong to Munich without stopping again in Dubai - it was the most convenient option and absolutely free of risk. So we booked MUC-MCT-DXB on Oman Air and added separate flights on two other airlines between Dubai and Hong Kong as well as between Hong Kong and Munich. Btw - the low Oman Air fare was not available on the carrier's website, but ebookers and other travel companies did definitely sell the flights for the incredible price of 260 Euro. Even though the final itinerary consisted of only six flights, it included two new airlines and four widebody jets (details to follow in the next parts).
Thursday, 25 February 2010
Munich (MUC) - Muscat (MCT)
Oman Air WY122
22:15-07:35 (22:04-07:13)
Flying time: 05:48 (hrs)
Economy Class, Seat 40K

Airbus A330-343X
A4O-DB (MSN 1044)
Delivered in 10/2009
1st flight on A4O-DB
7th A330-300 flight
19th A330 flight
88th airline
I hadn't reserved particular seats in advance because Oman Air offers a web check-in for most of its flights. About 12 hours prior to departure I tried my luck and was soon surprised about the convenience of the web check-in facility. I entered our data, picked the desired seats on the A330 and the 738 and printed the boarding passes for both flights - it was a matter of just a few minutes.
Later at the airport we joined a small queue in front of the Oman Air counters and had to wait for about 10 minutes. A friendly female agent took our self-printed boarding passes and replaced them by the standard boarding passes. I asked her about the passenger load and she told us that the flight would be half empty - good for us, but definitely bad for the airline.
After passing security I immediately went to the window front at our gate and spotted
A4O-DB
- the first Airbus A330-300 delivered to Oman Air in October 2009: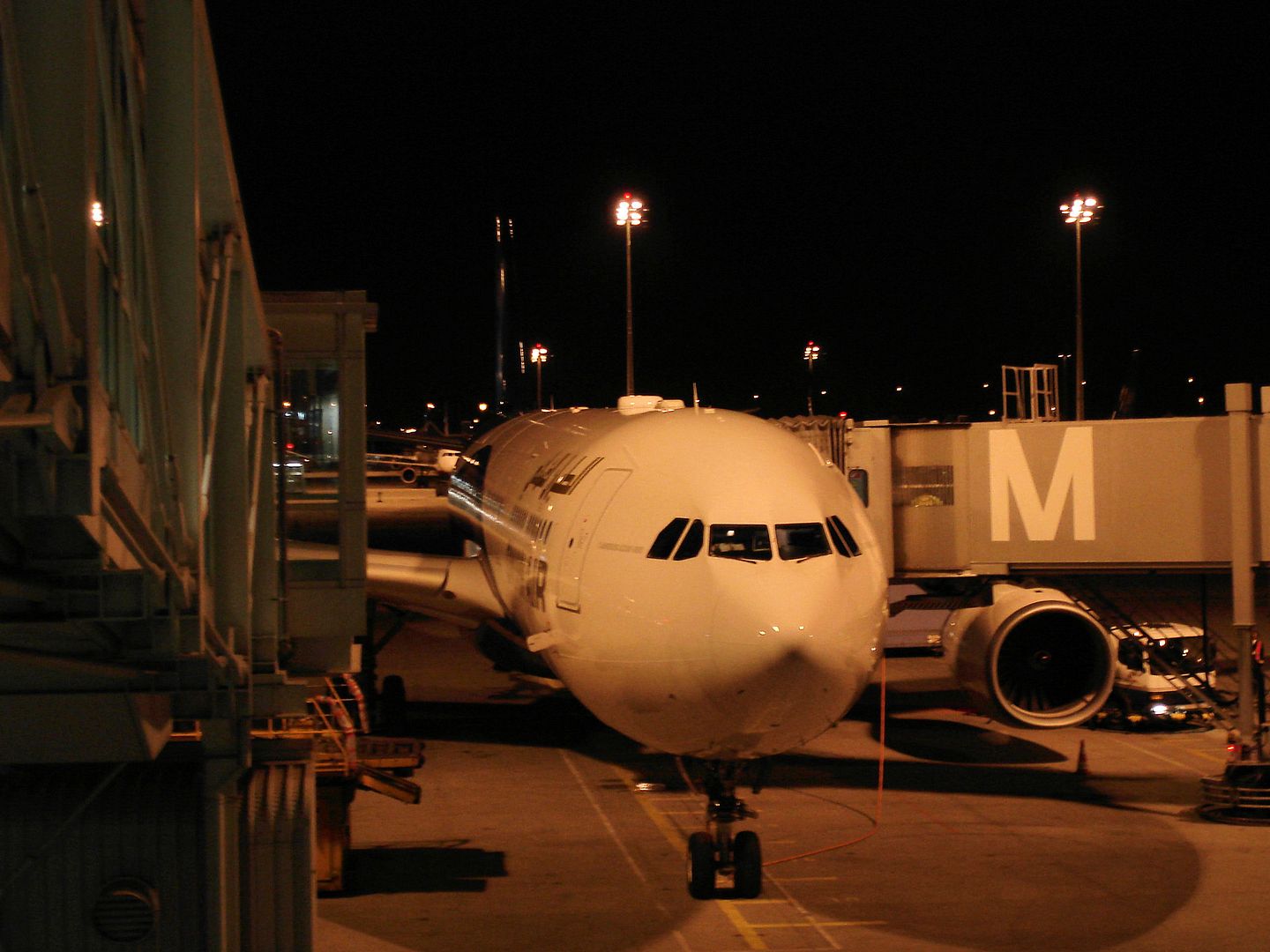 Oman Air's widebody fleet currently consists of two Airbus A330-243s (Business/Economy) and three A330-343Xs (First/Business/Economy), all delivered between September 2009 and March 2010. Six more A330-200s are on order between June 2010 and 2012. A332s fly to Munich on Tuesdays and Saturdays, a A333 is used only on Thursdays.
Friendly flight attendants welcomed us in the colorful and spotlessly clean cabin - the females were of Southeast Asian descent, while the males were of Arabian and (probably) Indian descent. The colorful seat design may look odd at first sight, but I found it pleasant after a while: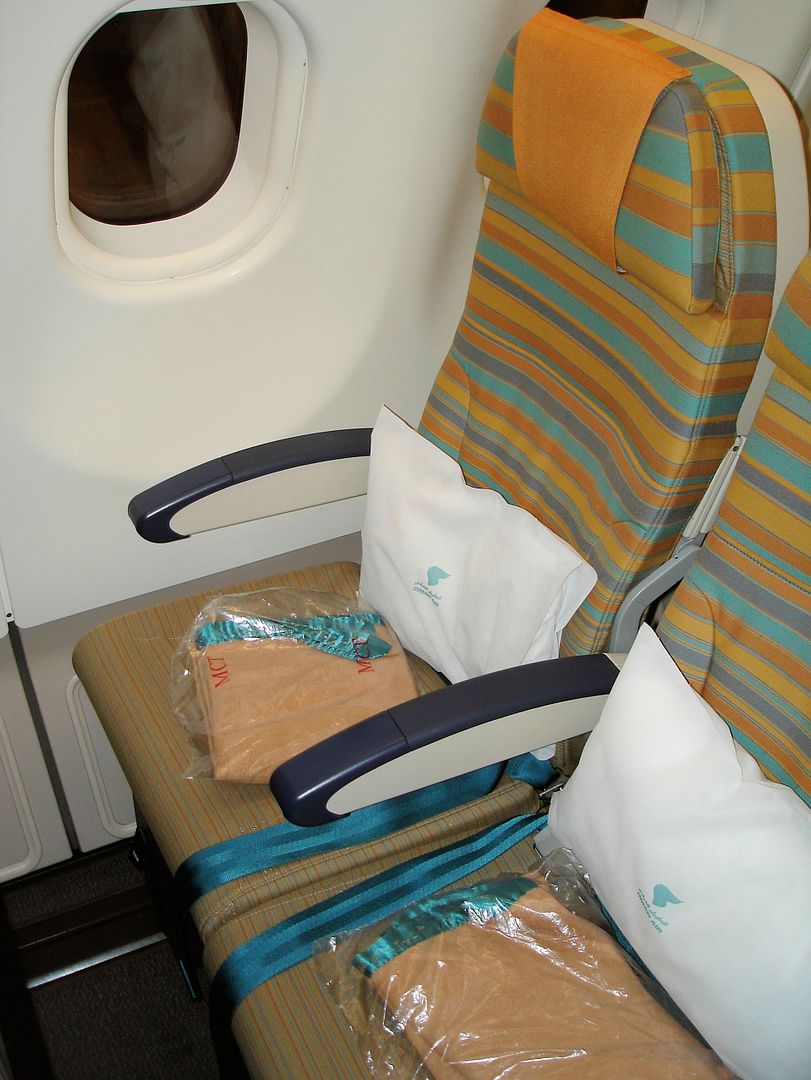 All seats are equipped with adjustable head and foot rests, bi-fold sliding tables and 10.6-inch seatback-mounted LED screens. Passengers also find a USB and RCA video multi-plug at every seat and an Ethernet socket (RJ45) and PC power port for every double seat.
While the upholstery is a bit hard, legroom (34 inch) is generous: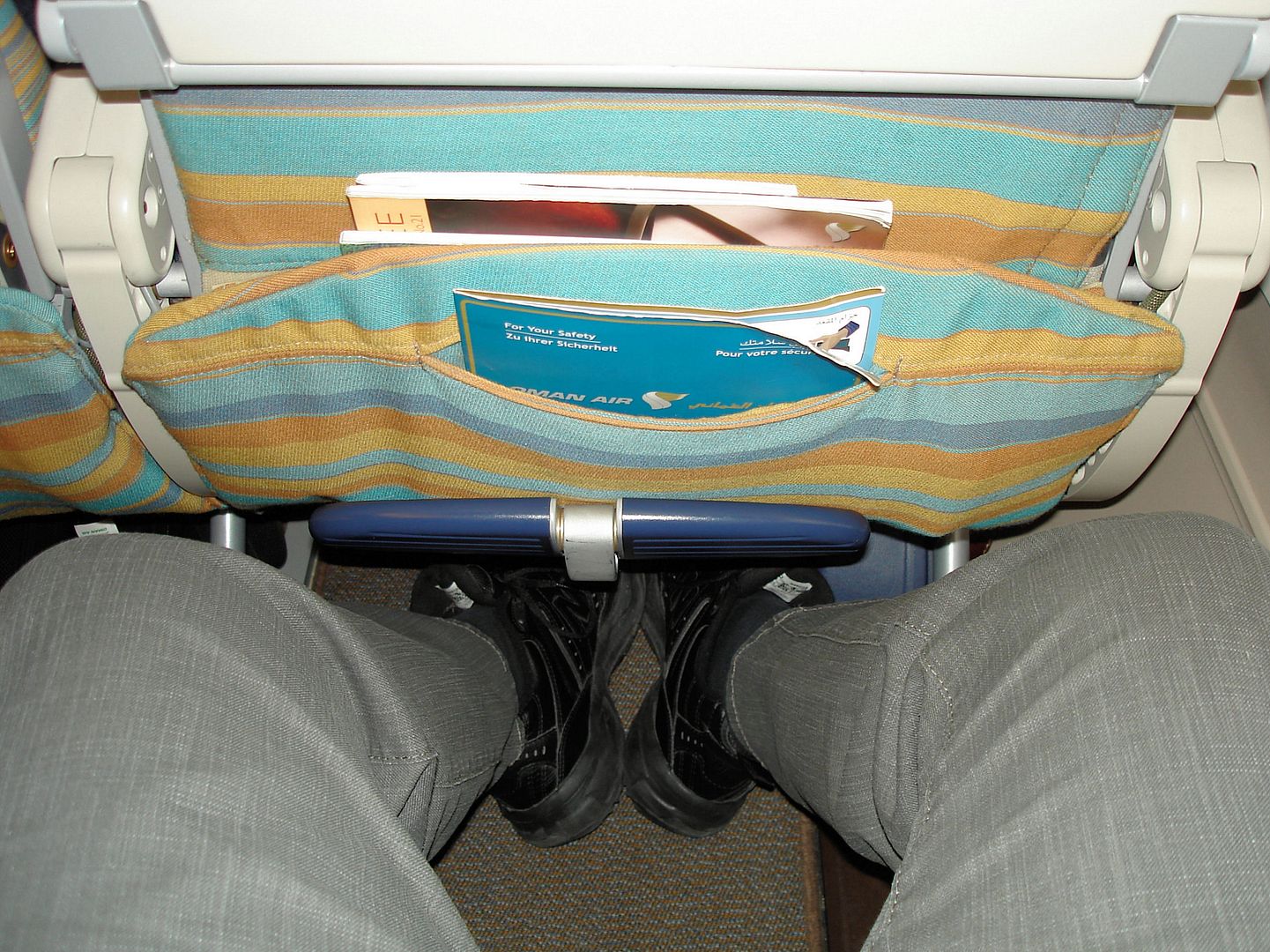 The small IFE box under the window seat doesn't pose a problem:
State-of-the-art seatback:
Unfortunately, the touchscreen responsiveness was not as good as it should have been, so the handset turned out to be very useful:
I wasn't absolutely satisfied with the headphones either, but they did their job:
34 pages strong IFE guide:
Welcome screen with animated smoke - really nice: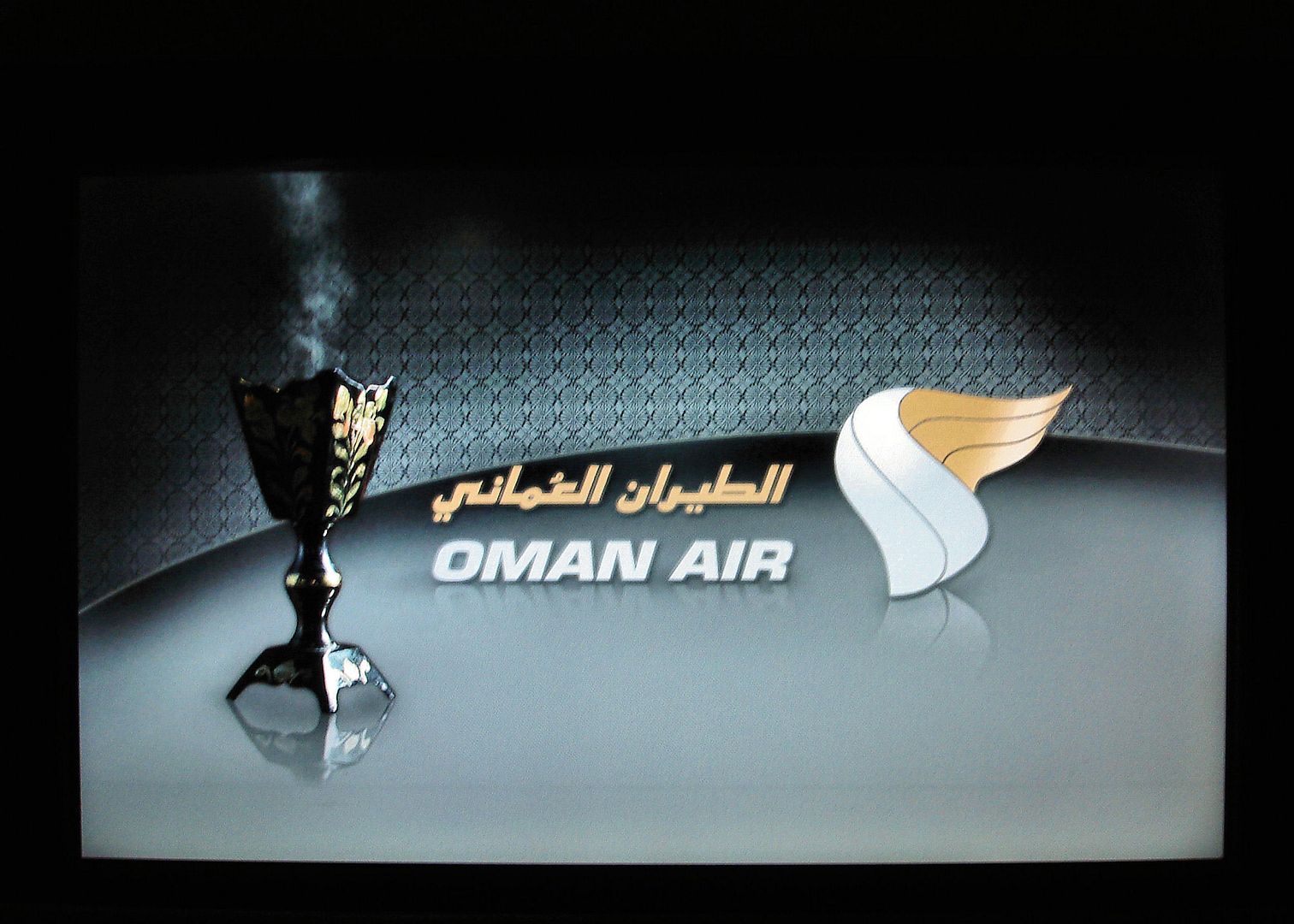 The
Thales i5000
in-seat Audio Video on Demand (AVOD) system was already operational during boarding. Main menu: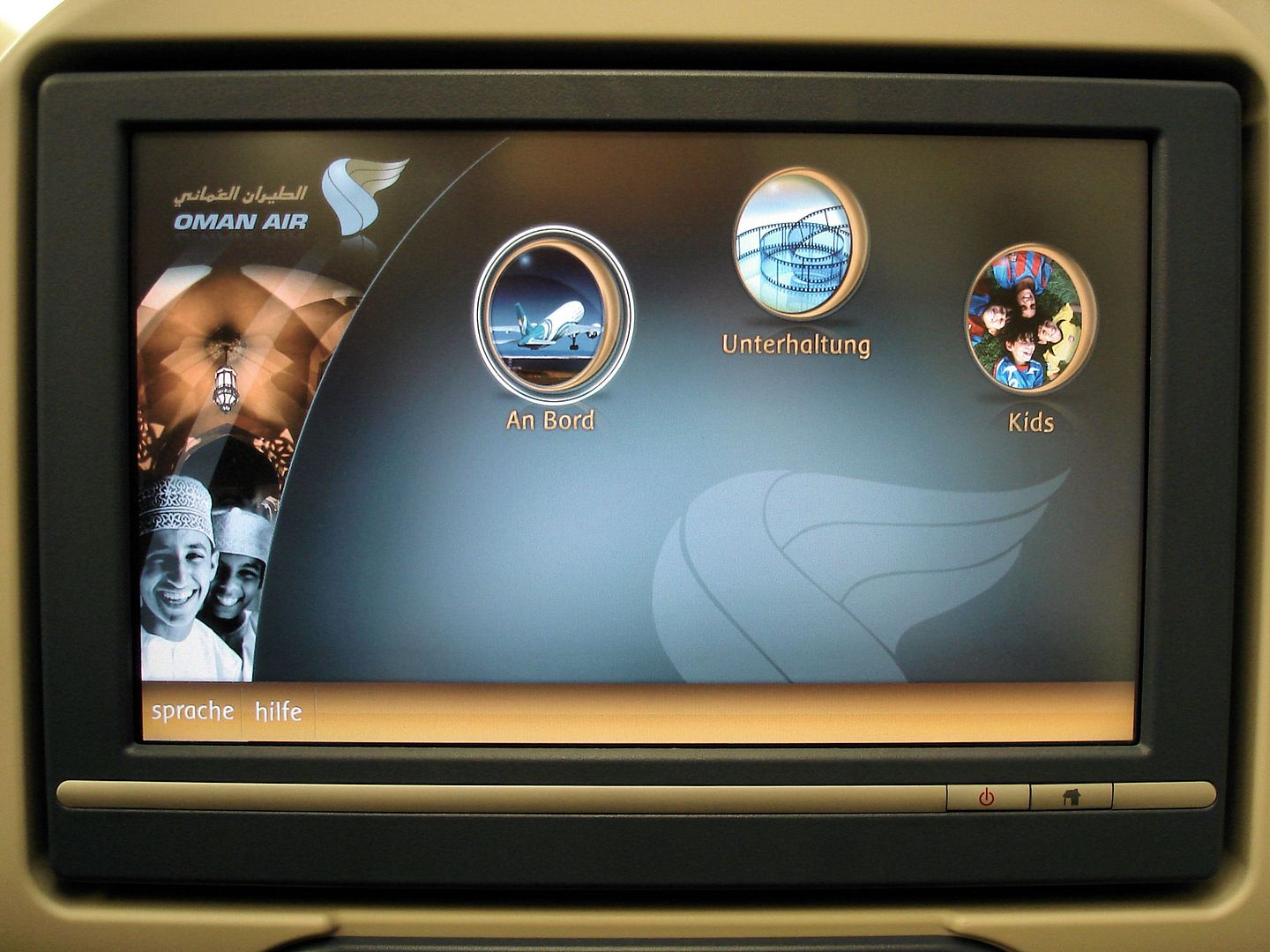 Airshow...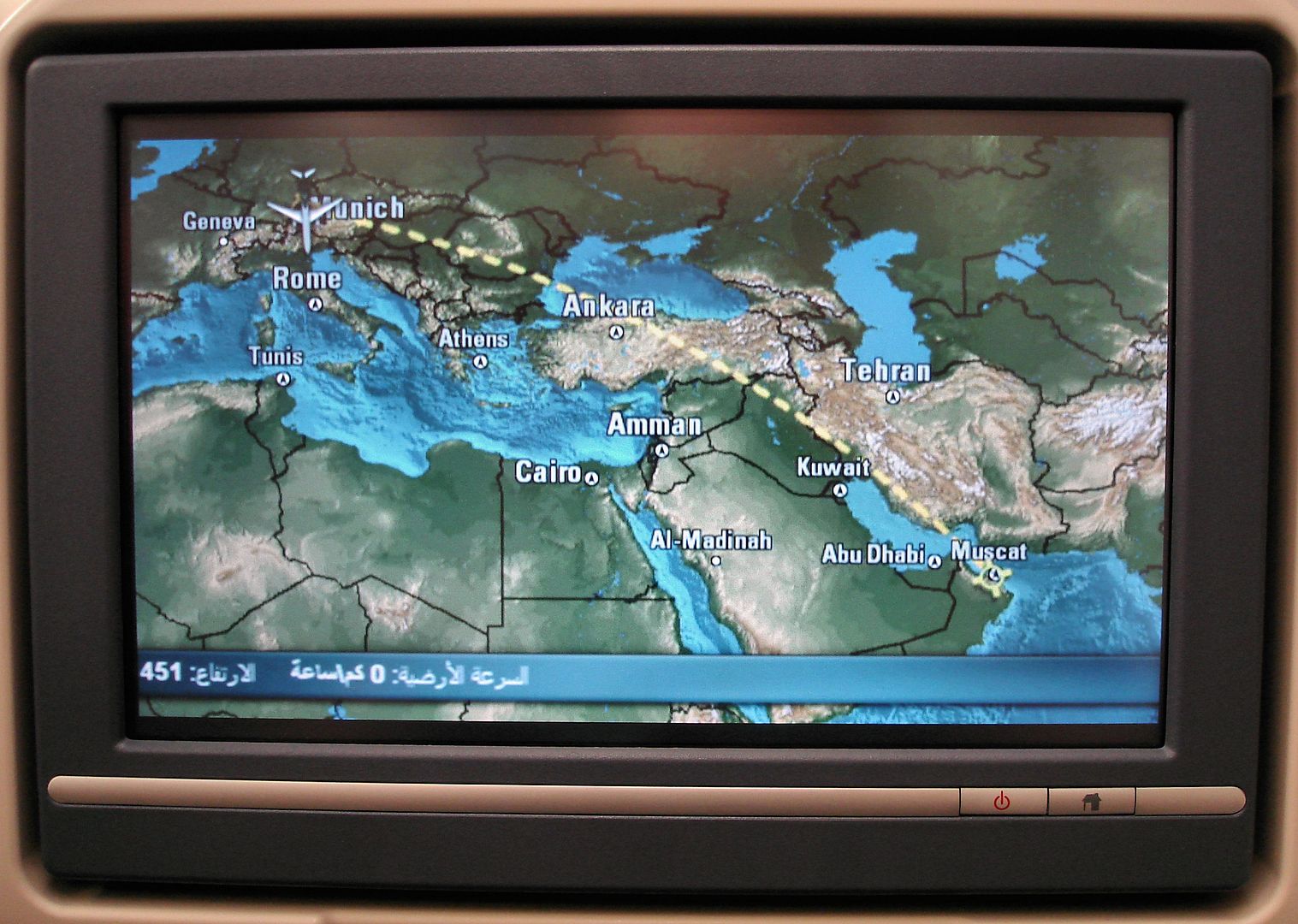 ...and front camera: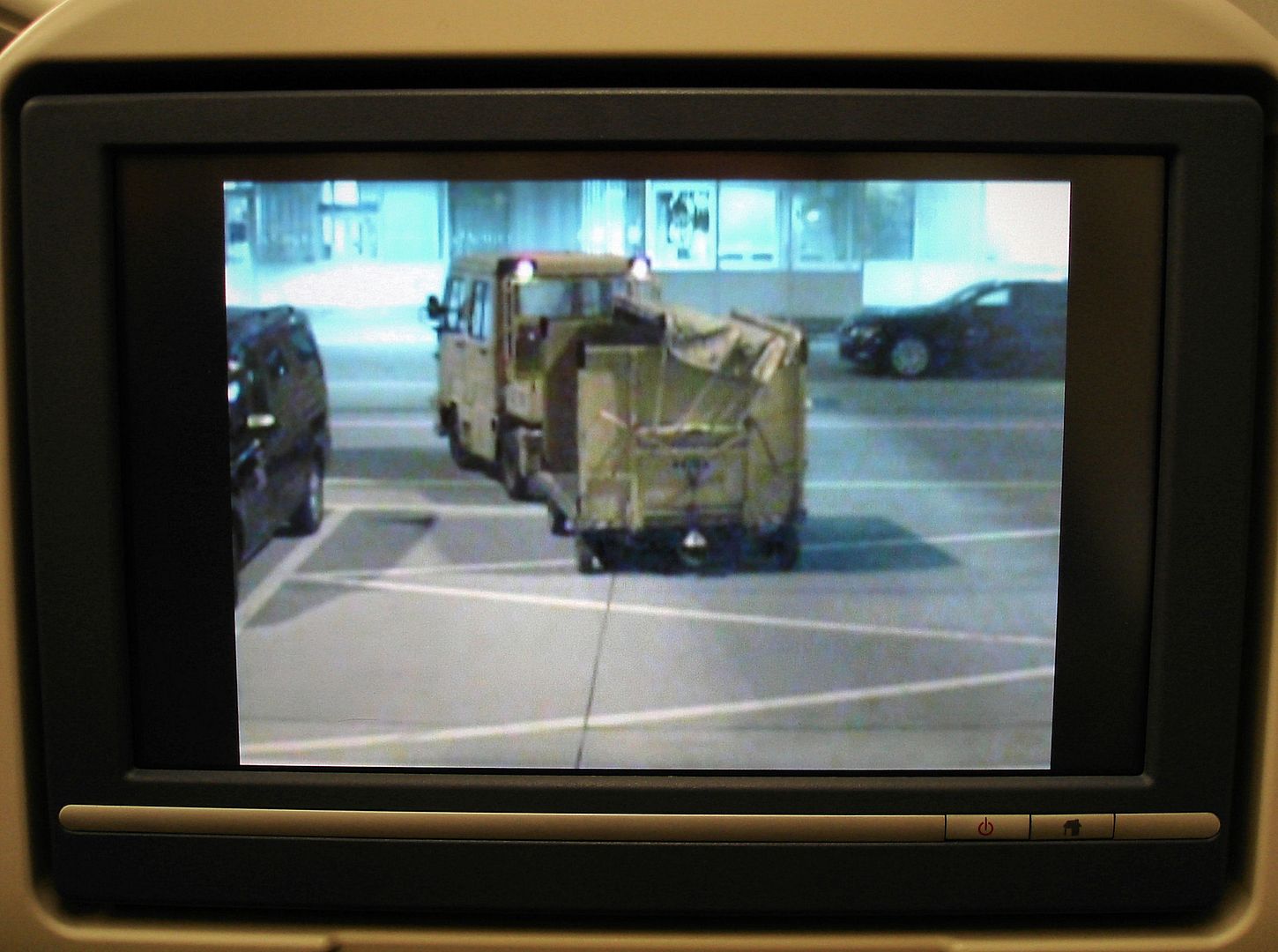 Boarding was completed quickly and a member of the airline's "Munich Airport team" spoke a farewell message. One sentence was really interesting:
"Enjoy the service and the good food!"
That sounded very promising!
Then the captain - probably an Omani - made an announcement and informed about a flying time of 5 hours and 40 minutes and a cruising altitude of 41,000 feet.
Many rows remained empty, so my brother moved to row 41 behind me. Now we could stretch out and enjoy watching the cute safety video:
A4O-DB
was pushed back 11 minutes ahead of schedule and it soon started taxiing to runway 26L. Front camera view: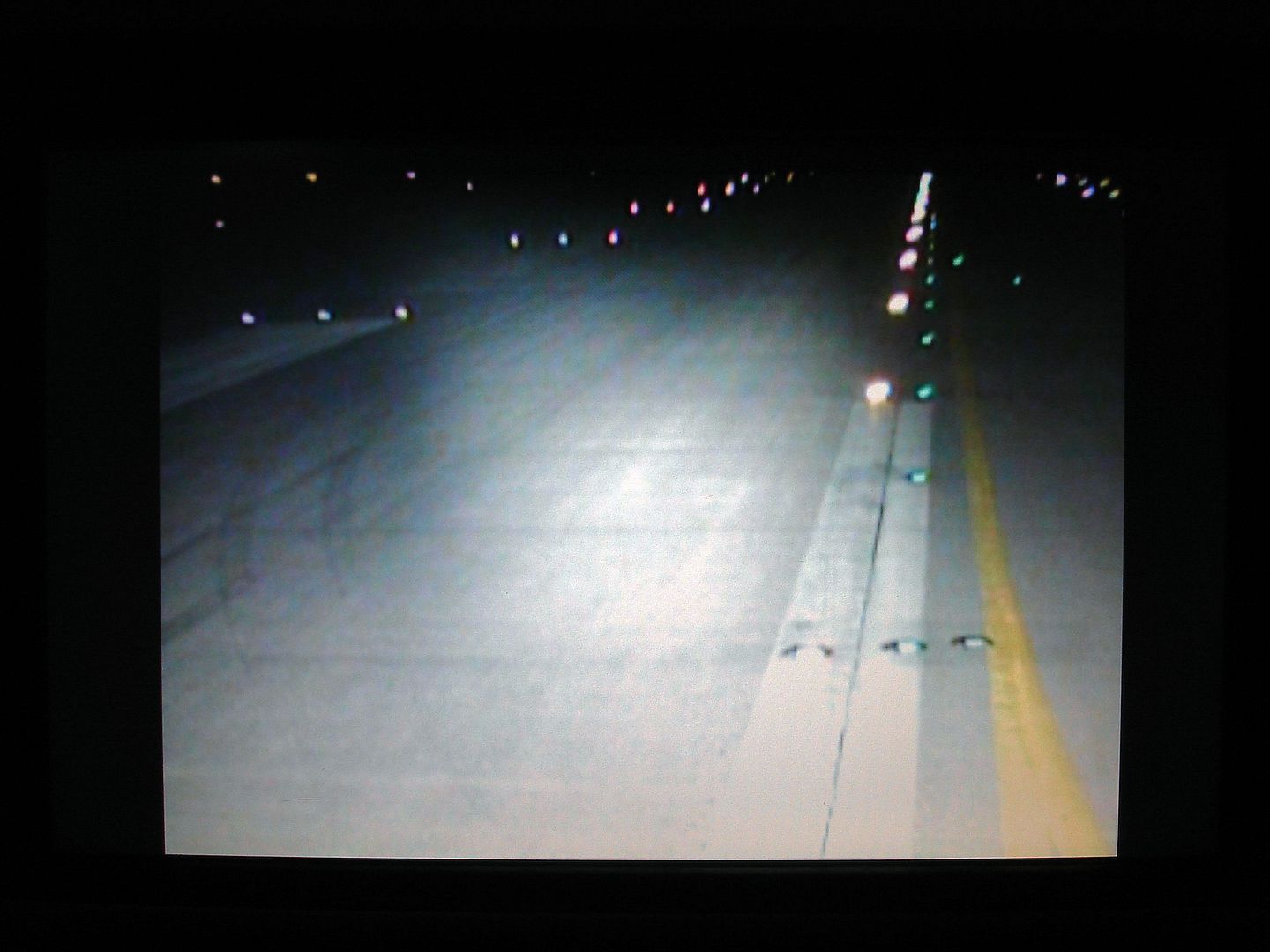 Finally the RR Trent powerplants howled and
A4O-DB
took off into the night sky - time to say goodbye to the cold German weather for a few days!
State-of-the-art airshow: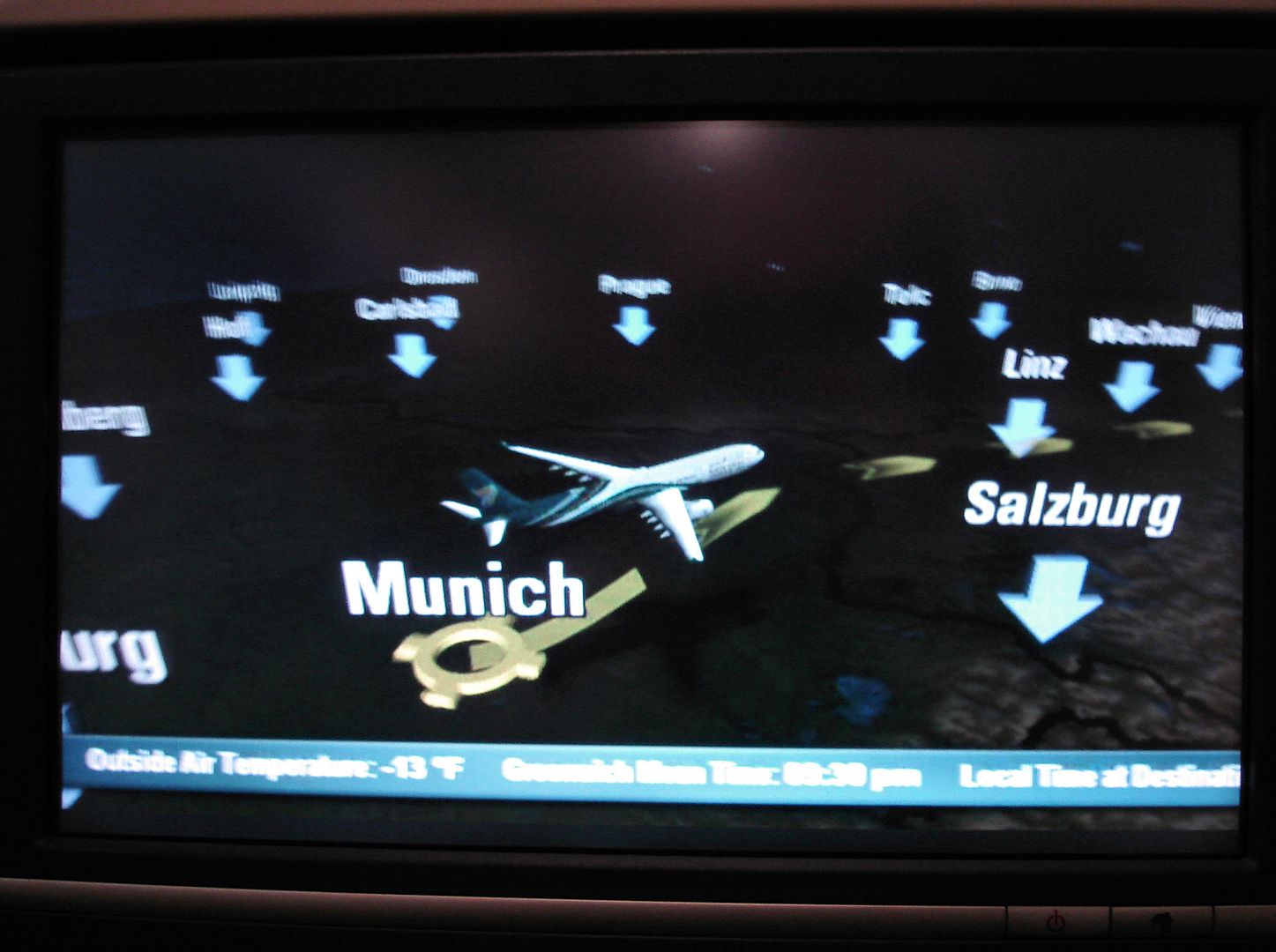 The direction of Mecca:
Only a few minutes after take-off flight attendants distributed menu cards...
...and shortly after that we even got amenity kits, containing an eyeshade, socks, earplugs and a toothbrush set. This was very impressive - I hadn't received such a kit on similar night flights on Emirates and Etihad:
The flight attendants quickly started serving dinner and I was surprised to have a choice of three main courses: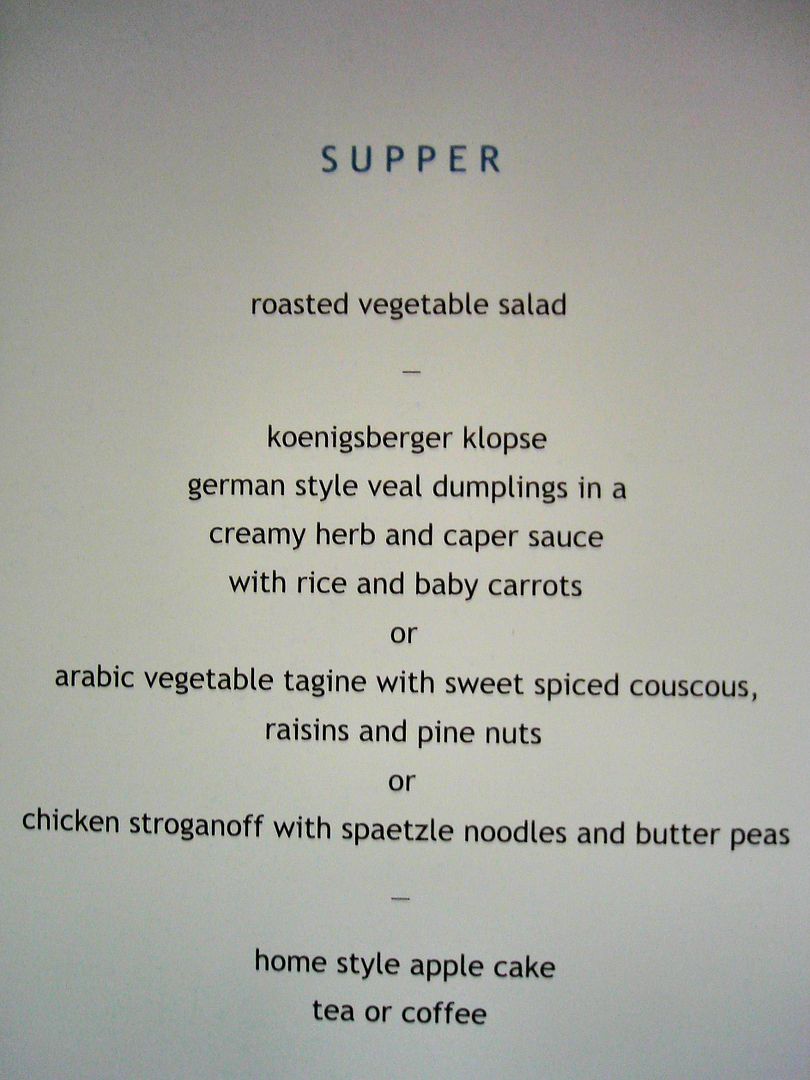 My brother and I decided to order the "Koenigsberger Klopse":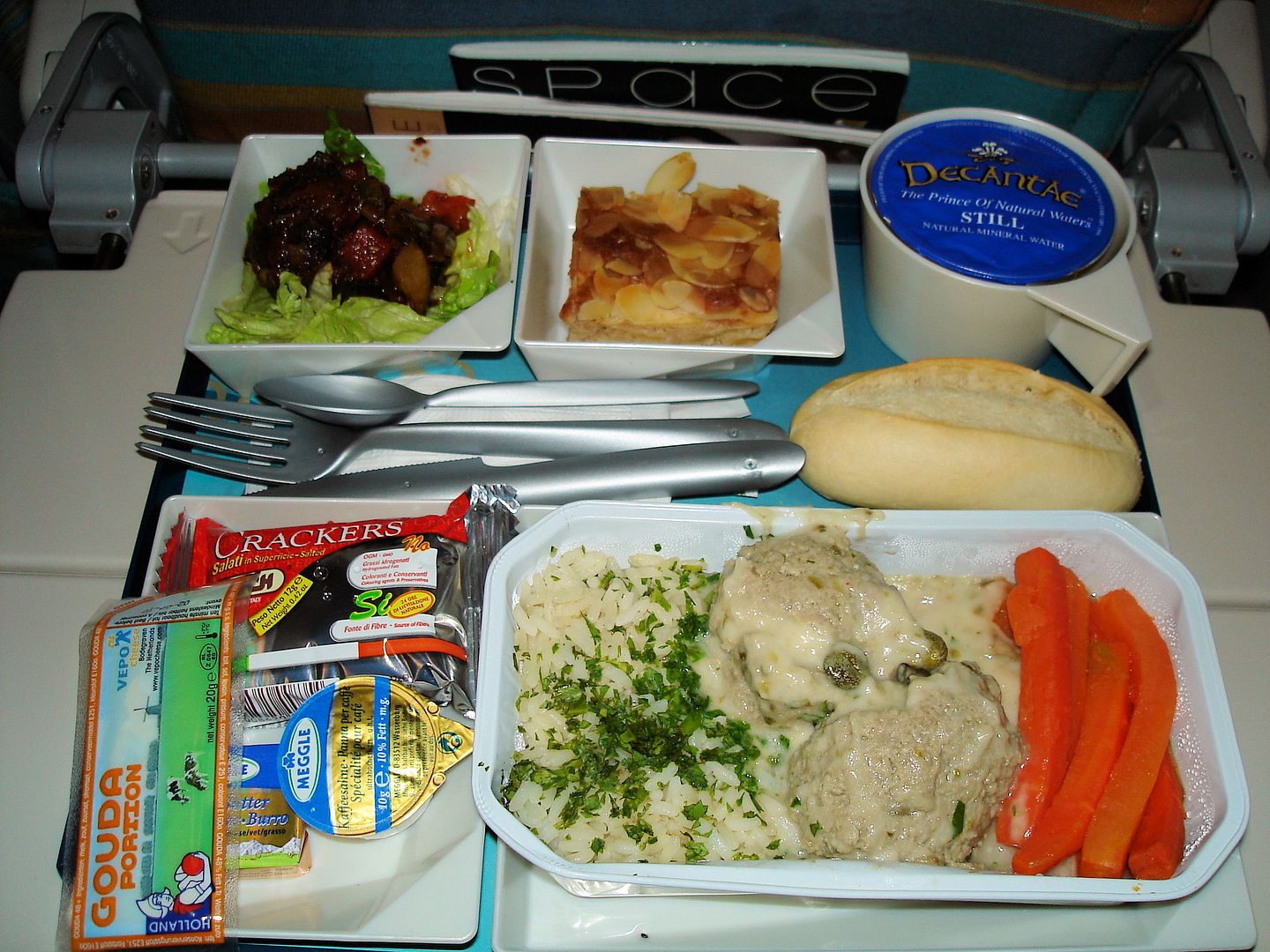 The meal was not only filling, but also absolutely delicious. Everything tasted very good, and I also liked the presentation. A wide range of drinks was available, too, including beer and wine. There was absolutely no reason to complain about anything!
Oman Air not only passed the
"PlaneHunter Ginger Ale Test"
- it even exceeded my expectations by serving a Schweppes Ginger Ale: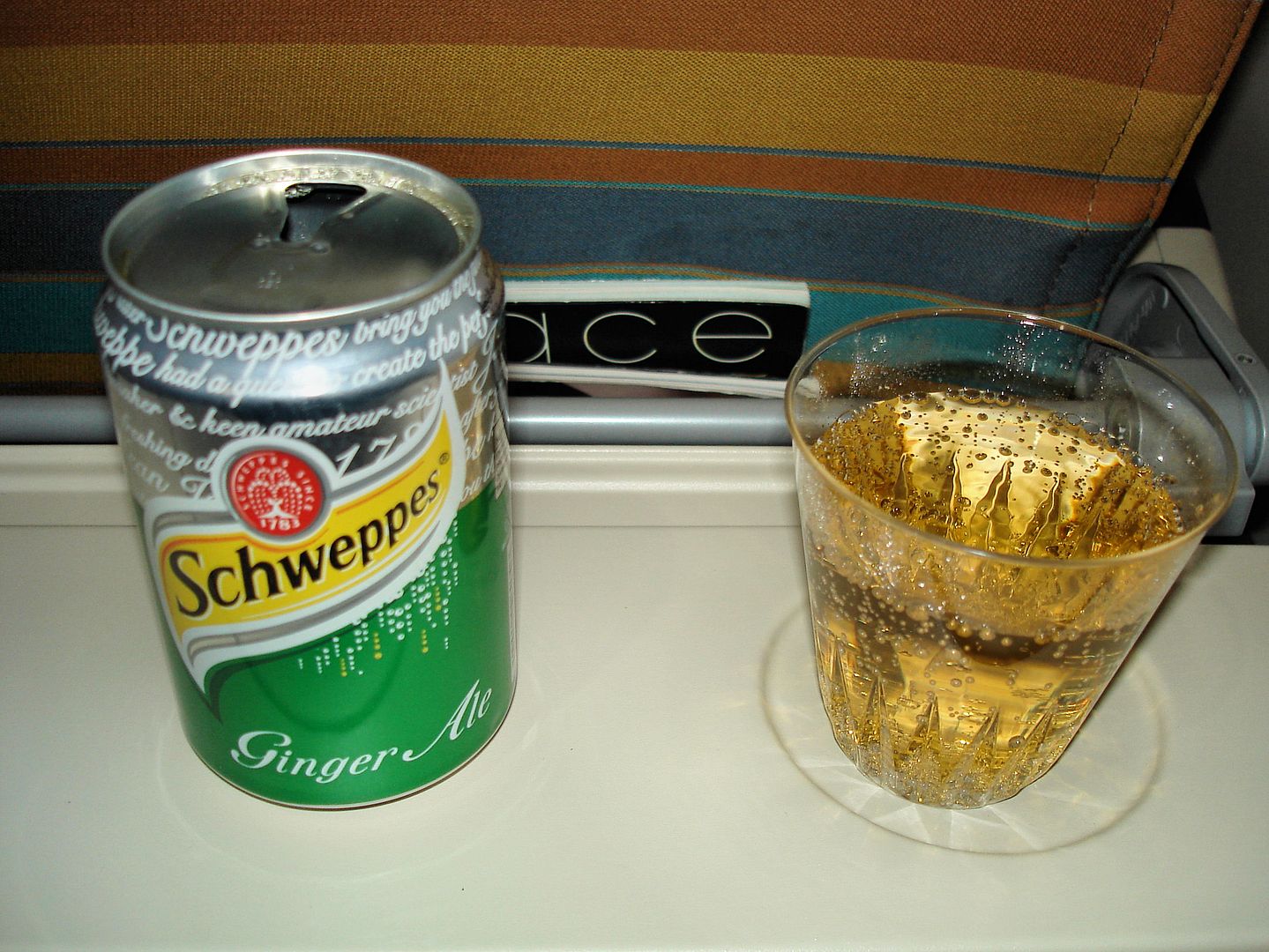 The catering had really impressed me, but I was a bit disappointed by the female flight attendant serving coffee and tea. She quickly took away my tray (containing milk and sugar) and only handed back the filled cup. Then she turned around without asking for sugar or milk. And all that without a smile. Some more customer serving training is required to prevent that, it seems.
After dinner it was time for an extended IFE session. Movies main menu: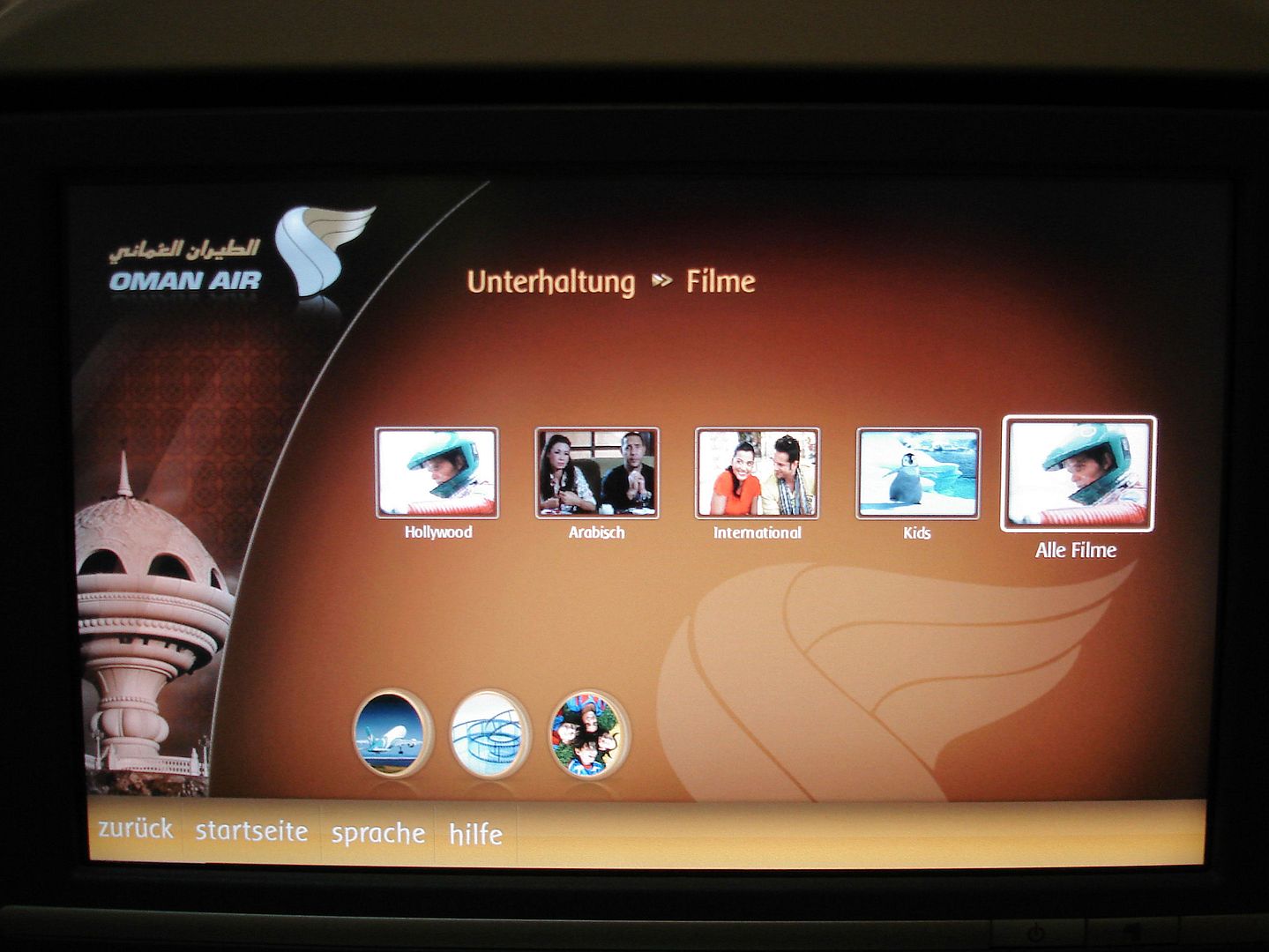 The entertainment system offers a choice of nearly 90 movies in different languages (including movies from India, Germany etc.), dozens of TV features (Arabic and English), 100 music albums and 38 interactive games. However, certain features were not available, e.g. on-board shopping:
Translation:
"Please accept our apologies that this feature has to be temporarily deactivated."
Of course I also had a look at Oman Air's Live TV offerings:
This is
Al Jazeera
: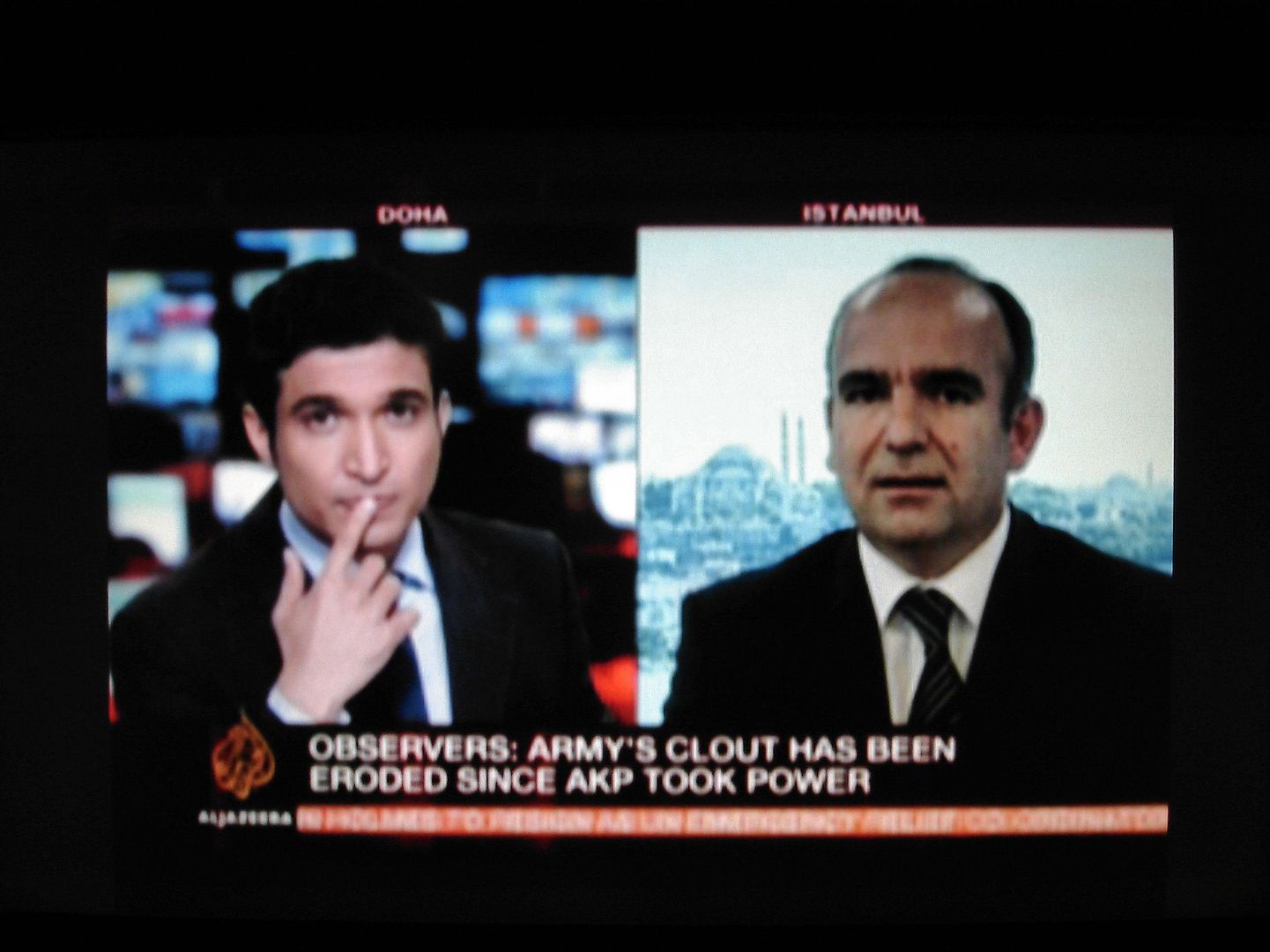 Having Live TV on intercontinental flights is already quite impressive, but Oman Air has meanwhile become the first airline in the world to offer both mobile phone services and WiFi broadband internet on board its flights. Details and prices can be found here:
http://www.omanair.com/wy/aboutus/ab..._media_presrelses/releases_342.htm
When I tried to switch back to the airshow after a while all I got was this: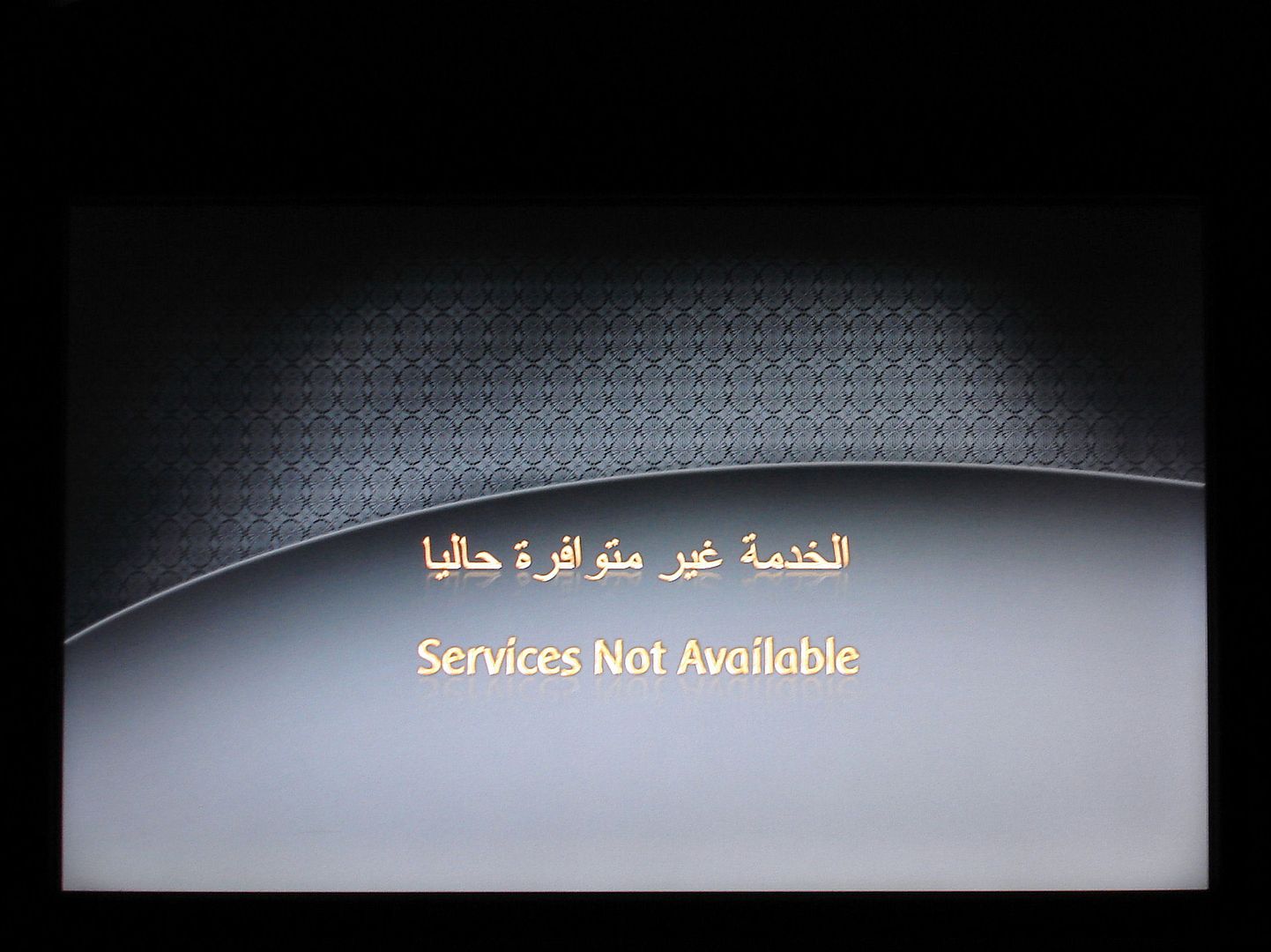 The airshow remained unavailable for about 1.5 hours - almost exactly the time needed to cross Iranian airspace. It was back again when we were heading towards the UAE coast. I don't know whether the airshow had been deactivated on purpose - spontaneously I had to think of news reports about the dispute over the term "Arabian Gulf". According to various reports a few days prior to our departure Iran had threatened to ban airlines from using its airspace if they refer to the waterway between Iran and Arab states as the "Arabian" instead of "Persian" Gulf. Well, who knows. I only noticed the "Gulf of Oman" on the Oman Air maps, but neither "Arabian Gulf" nor "Persian Gulf".
Oman Air's IFE system is easy to operate and can keep you entertained for a very long time, but it still cannot match Emirates' latest version of
ICE
in terms of quality and quantity. However, I'm sure Oman Air could increase the number of available options.
Before trying to get some sleep I took a cabin shot - I'd prefer soft mood lighting over complete darkness: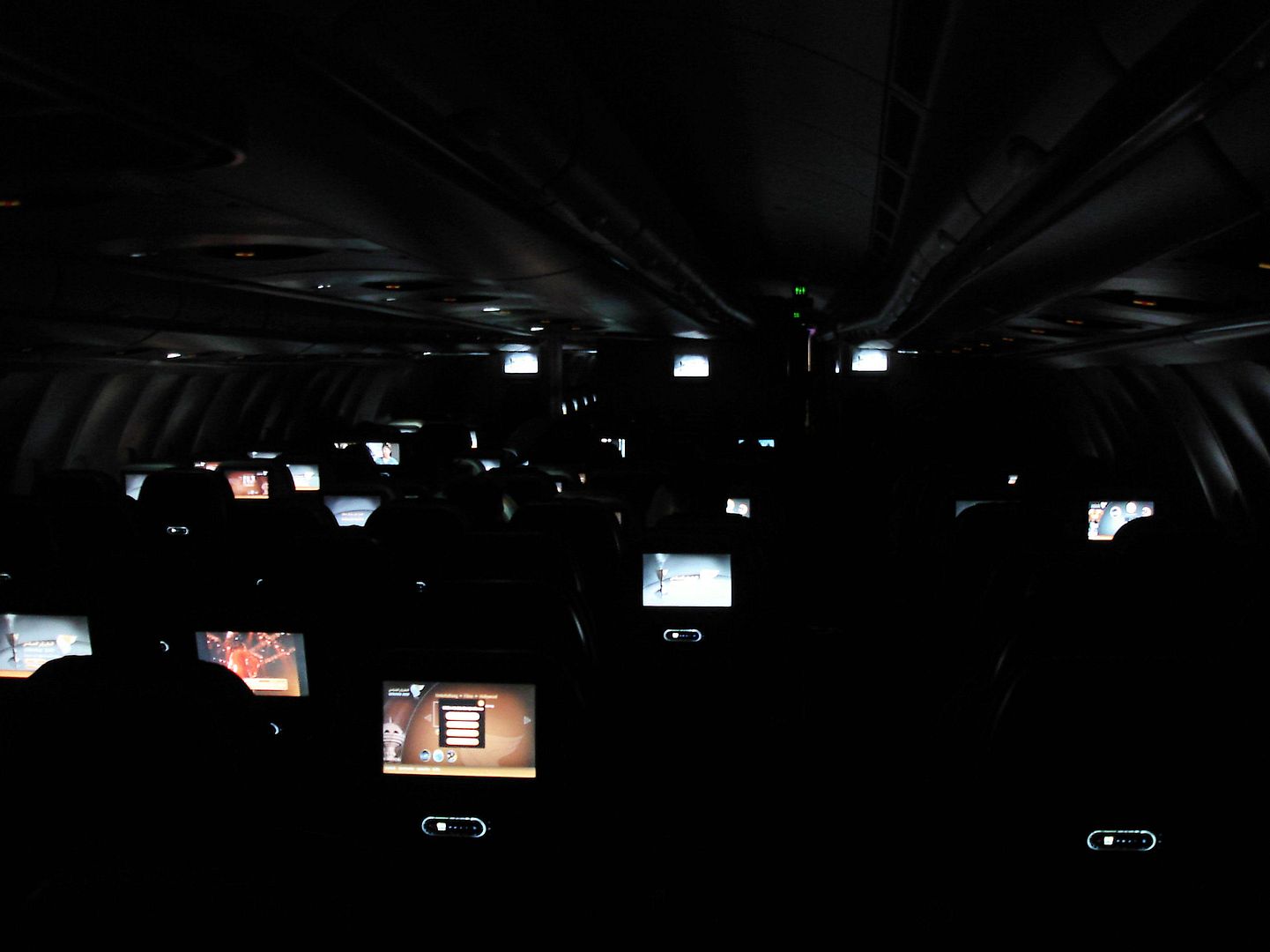 The same shot some time later: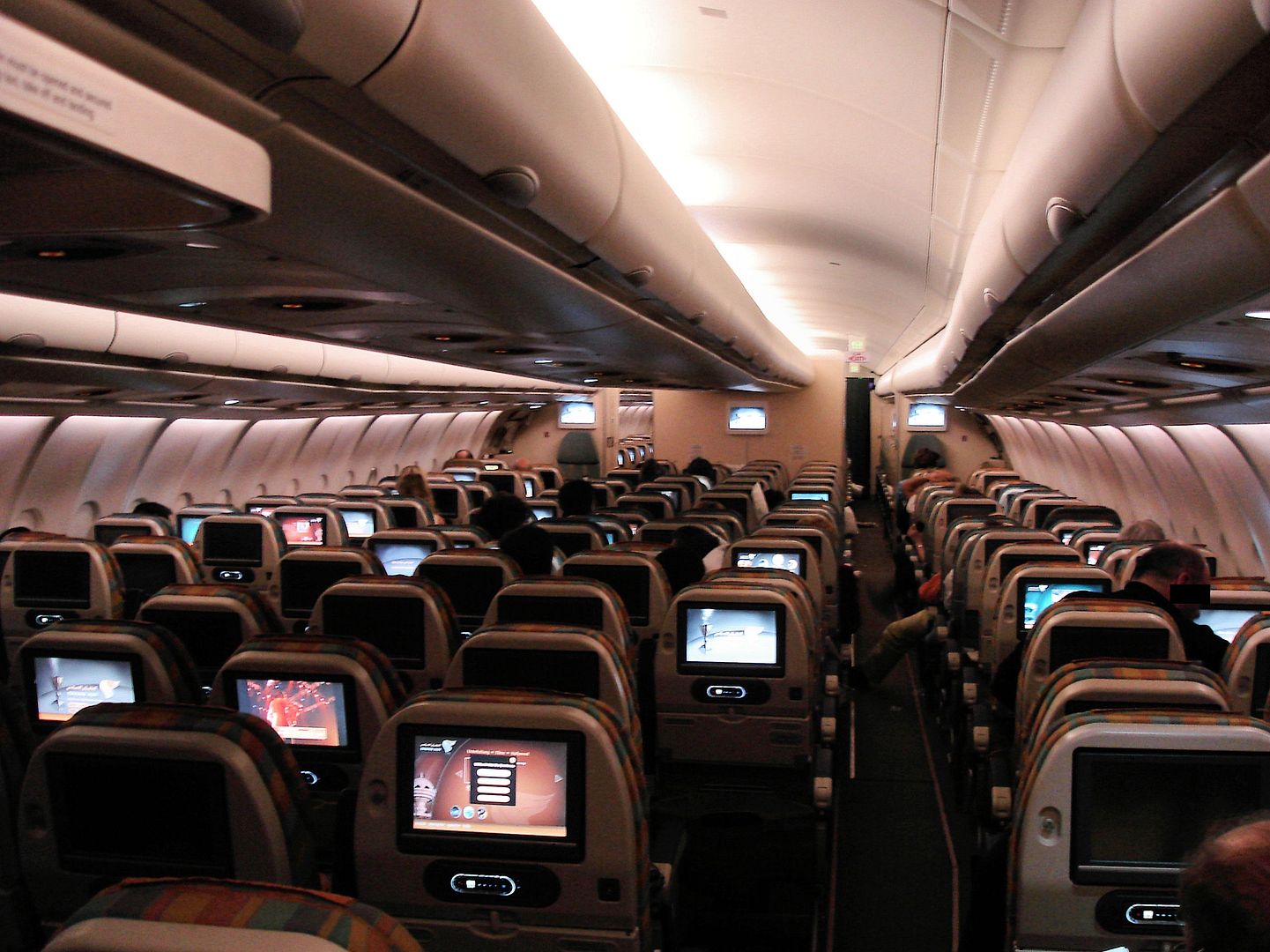 Less than four hours after supper the flight attendants started serving breakfast. I was very impressed to see that Oman Air even offered a hot breakfast option on that overnight flight - unlike Emirates and Etihad:
The hot meal was my preferred choice:
Again I can only praise the airline for serving well-presented and delicious food - everything tasted very good. However, I was really full after finishing that extensive breakfast.
According to the revived airshow we were about to overfly Dubai...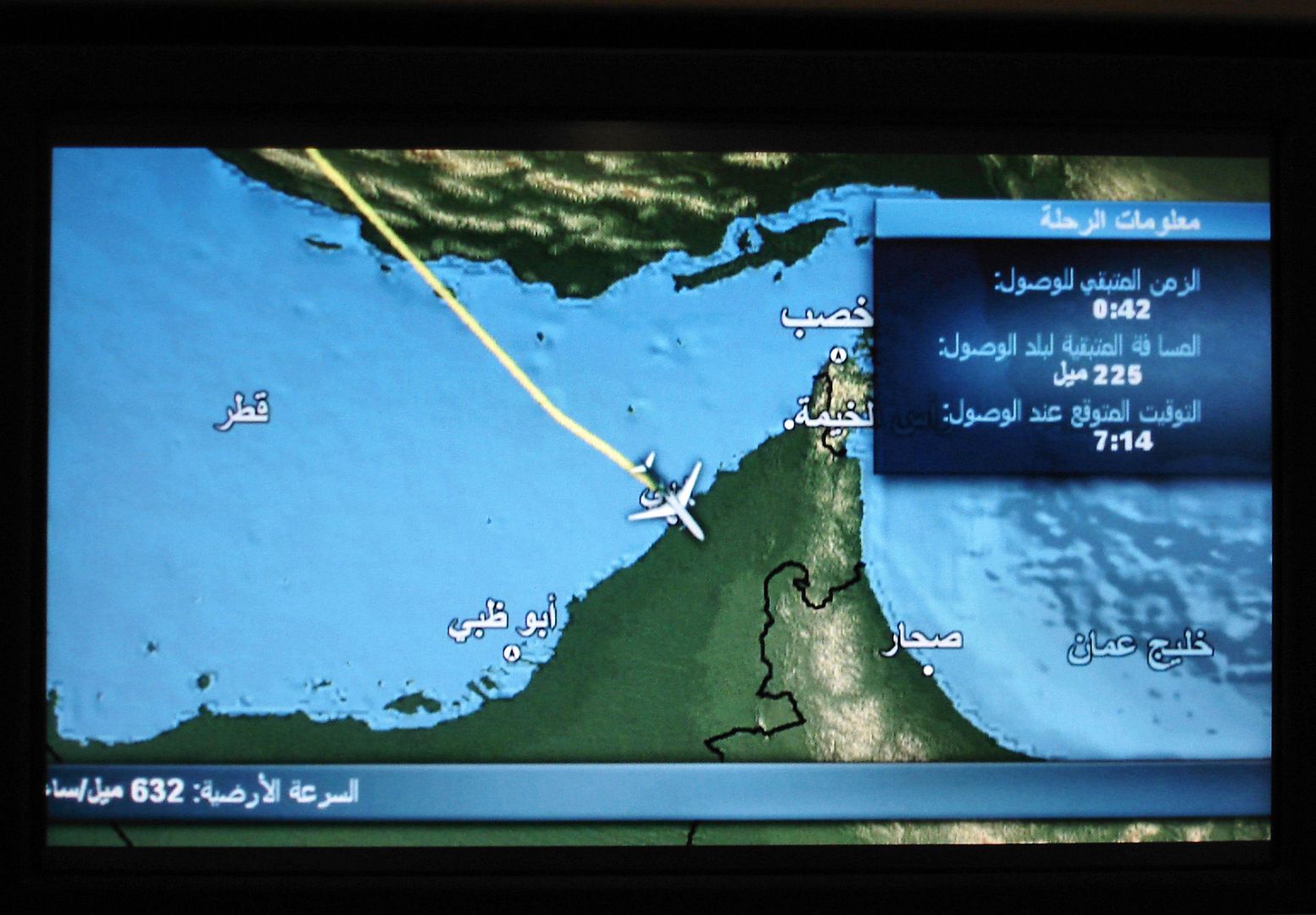 ...and I was lucky to find out that we were perfectly seated to see the famous artificial islands: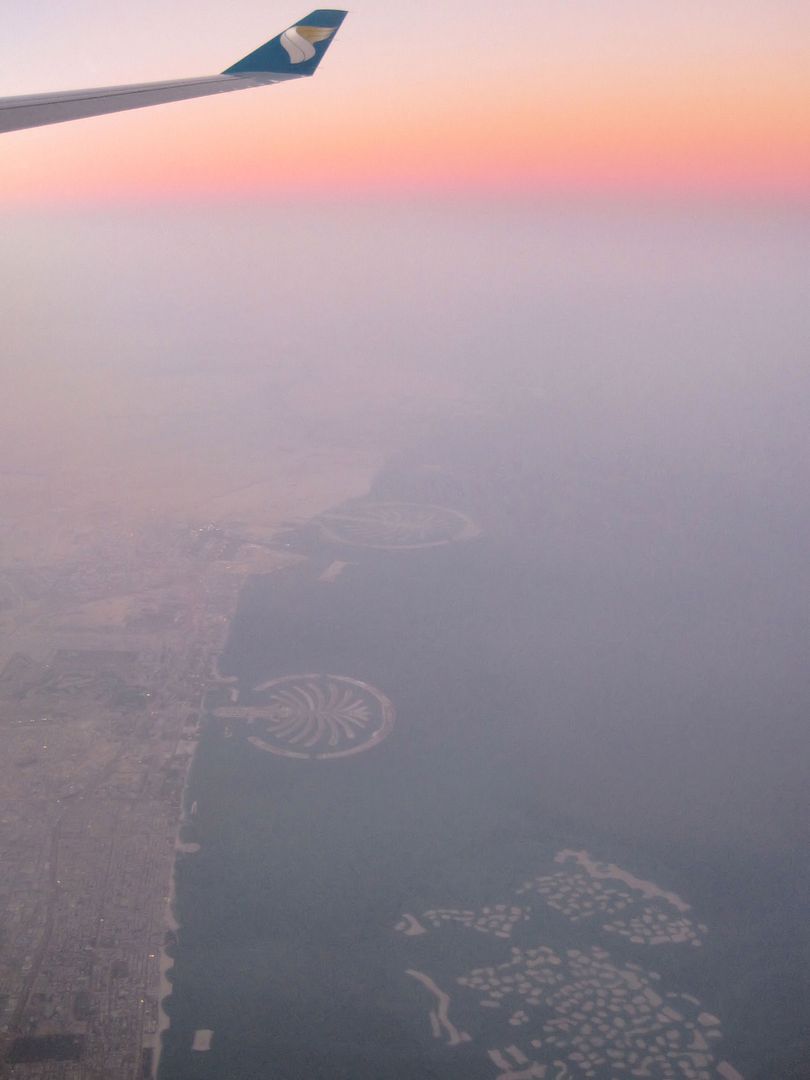 Only 30 more minutes to go: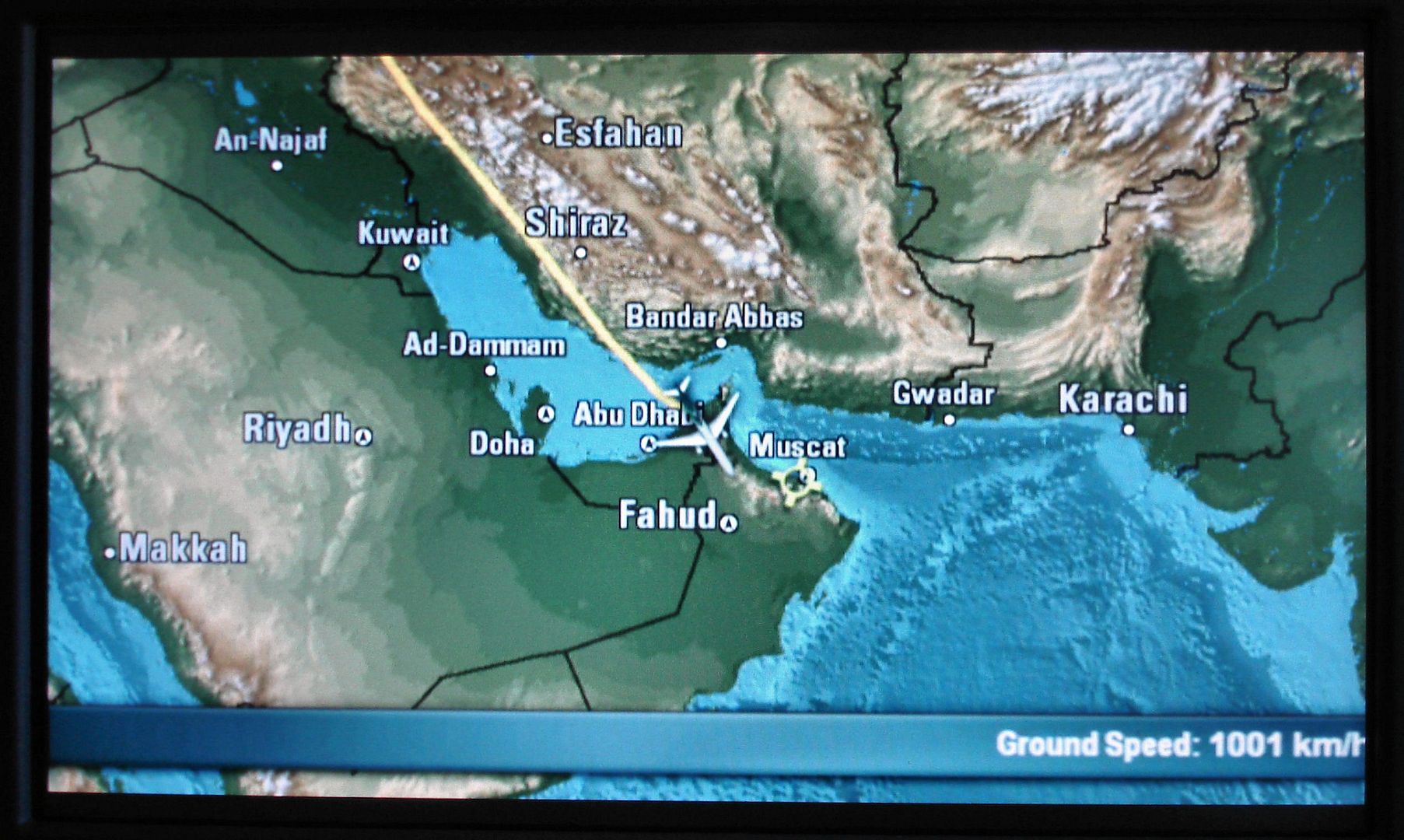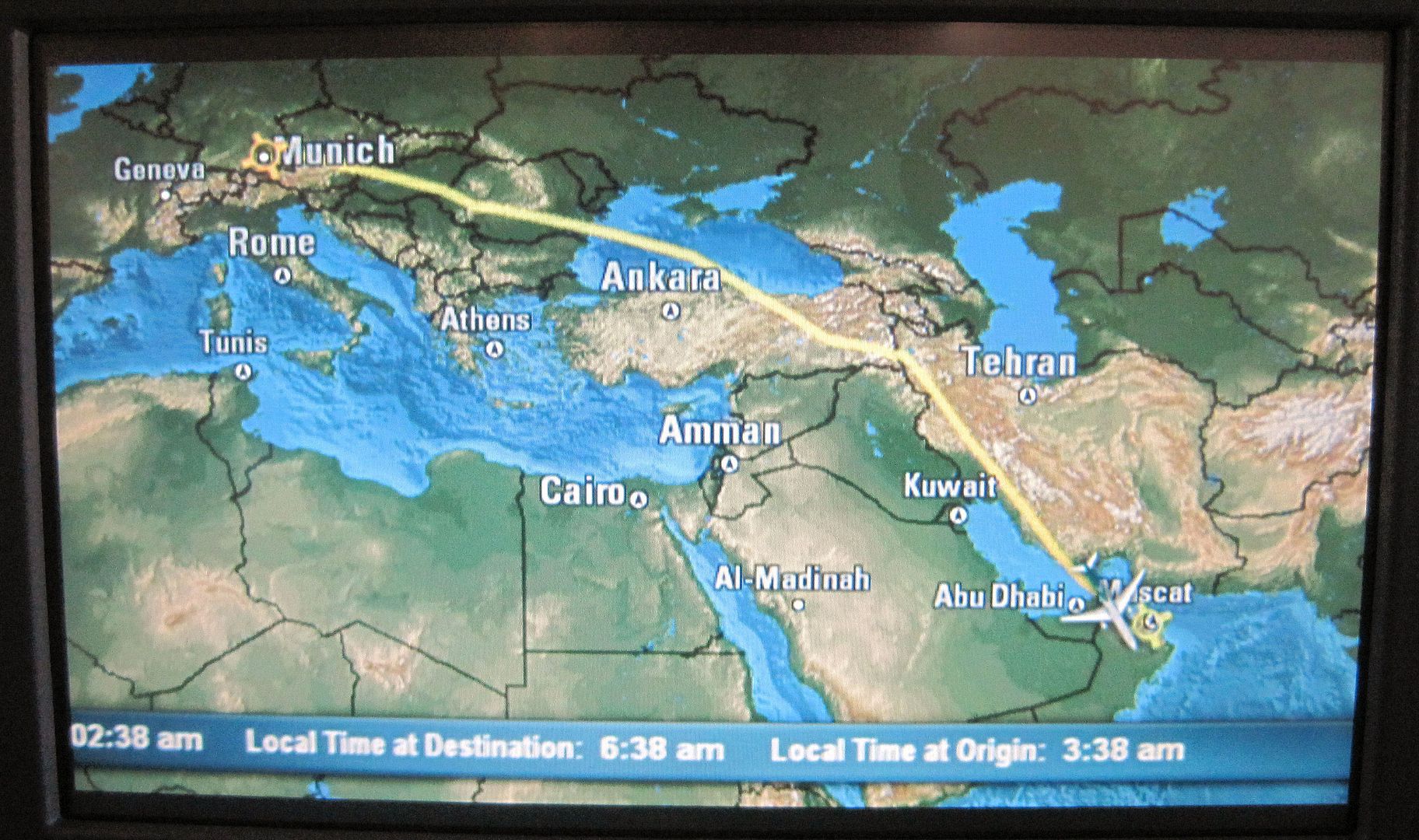 Beautiful sunrise...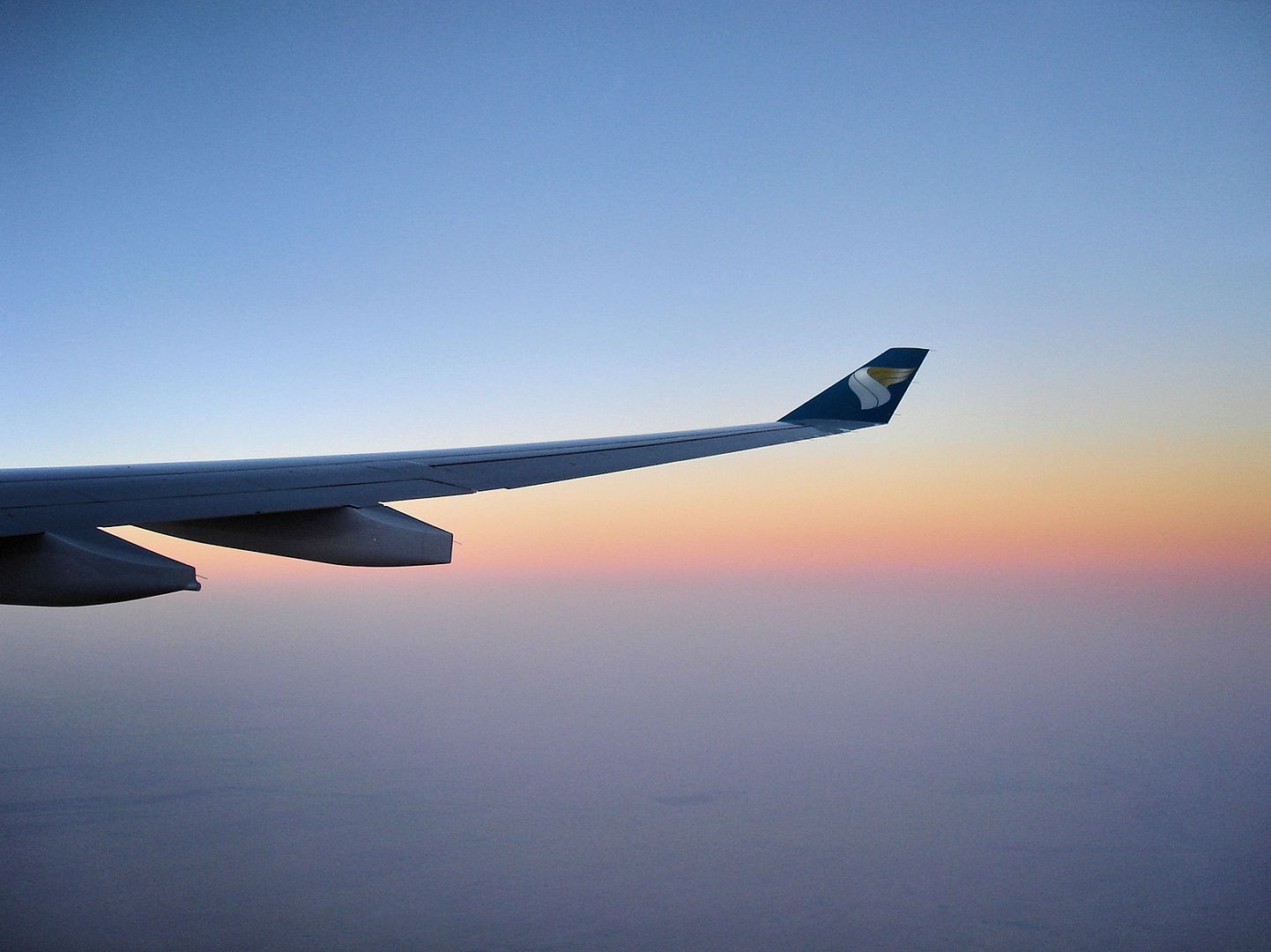 ...pretty winglet: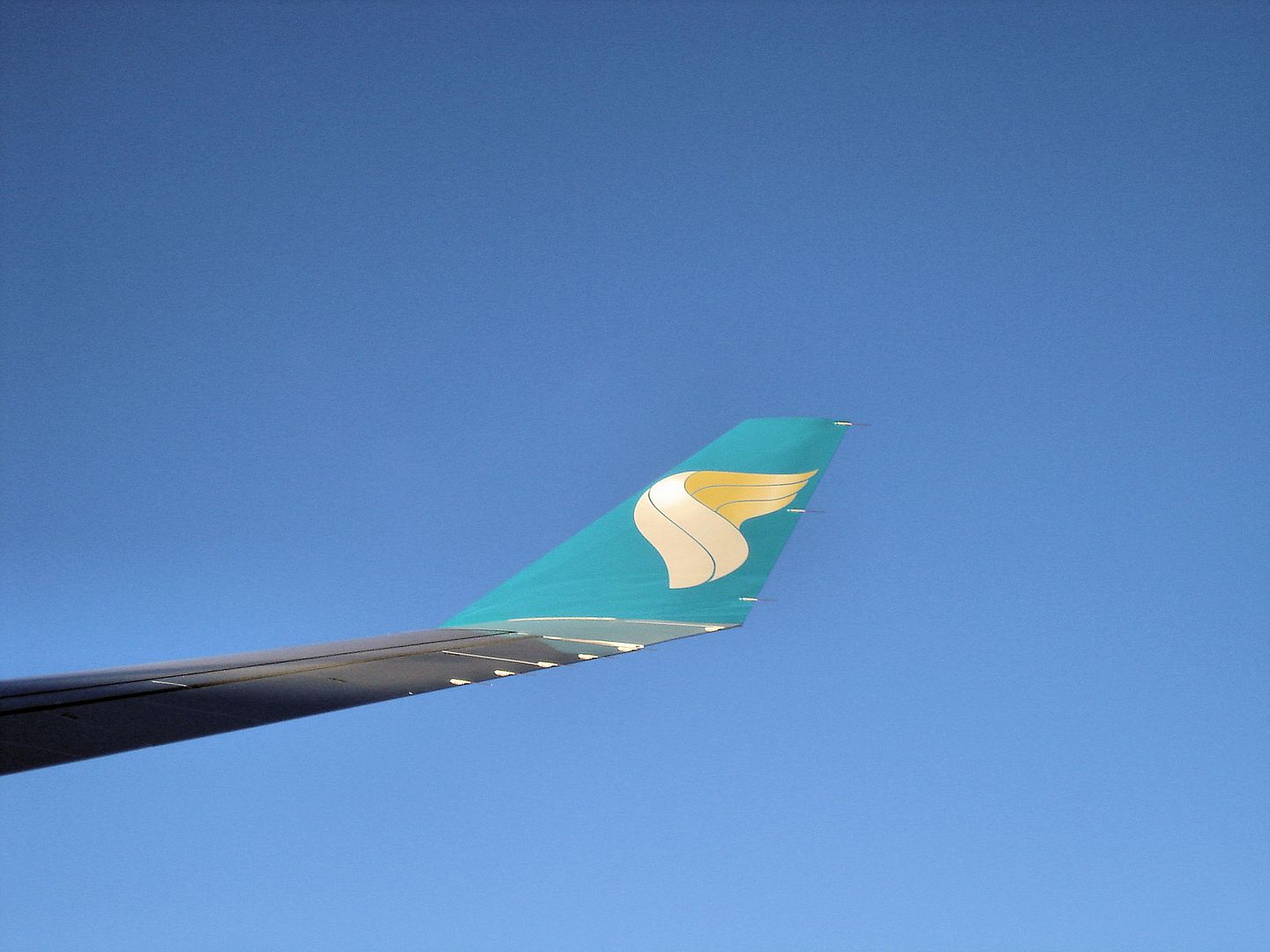 Mountains and thick clouds:
Ten minutes later Muscat International Airport showed up on the right: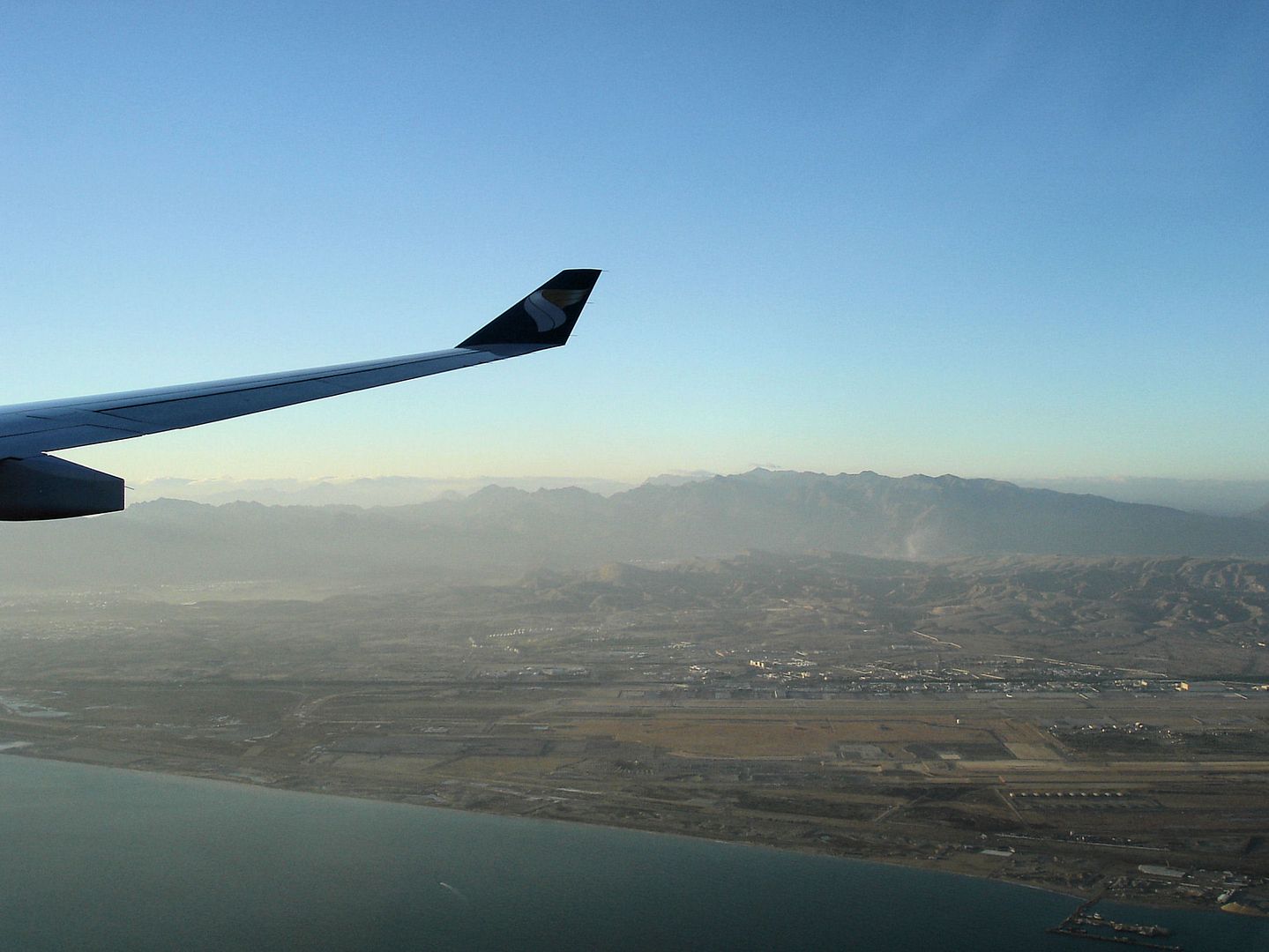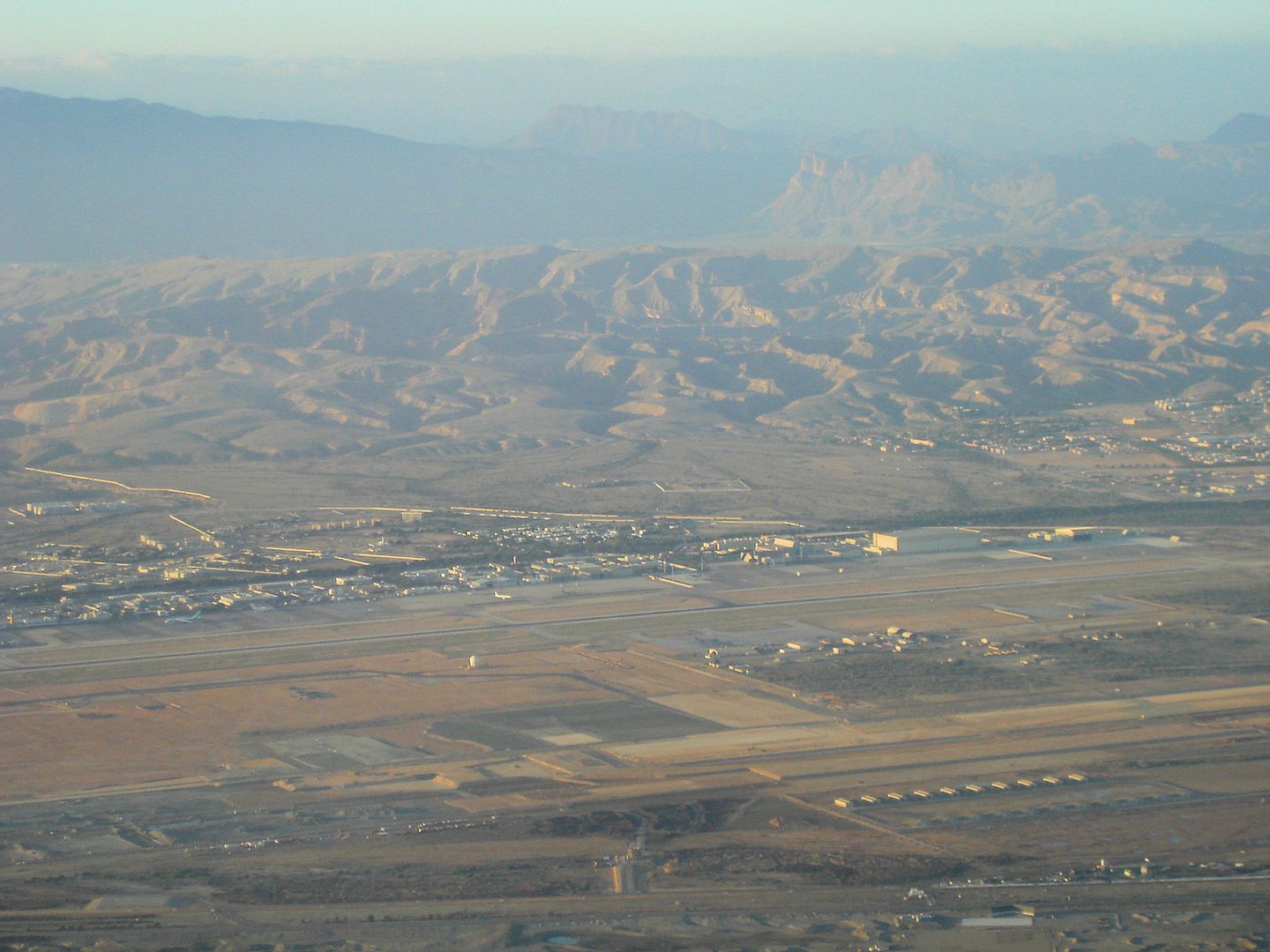 Right turn for final approach: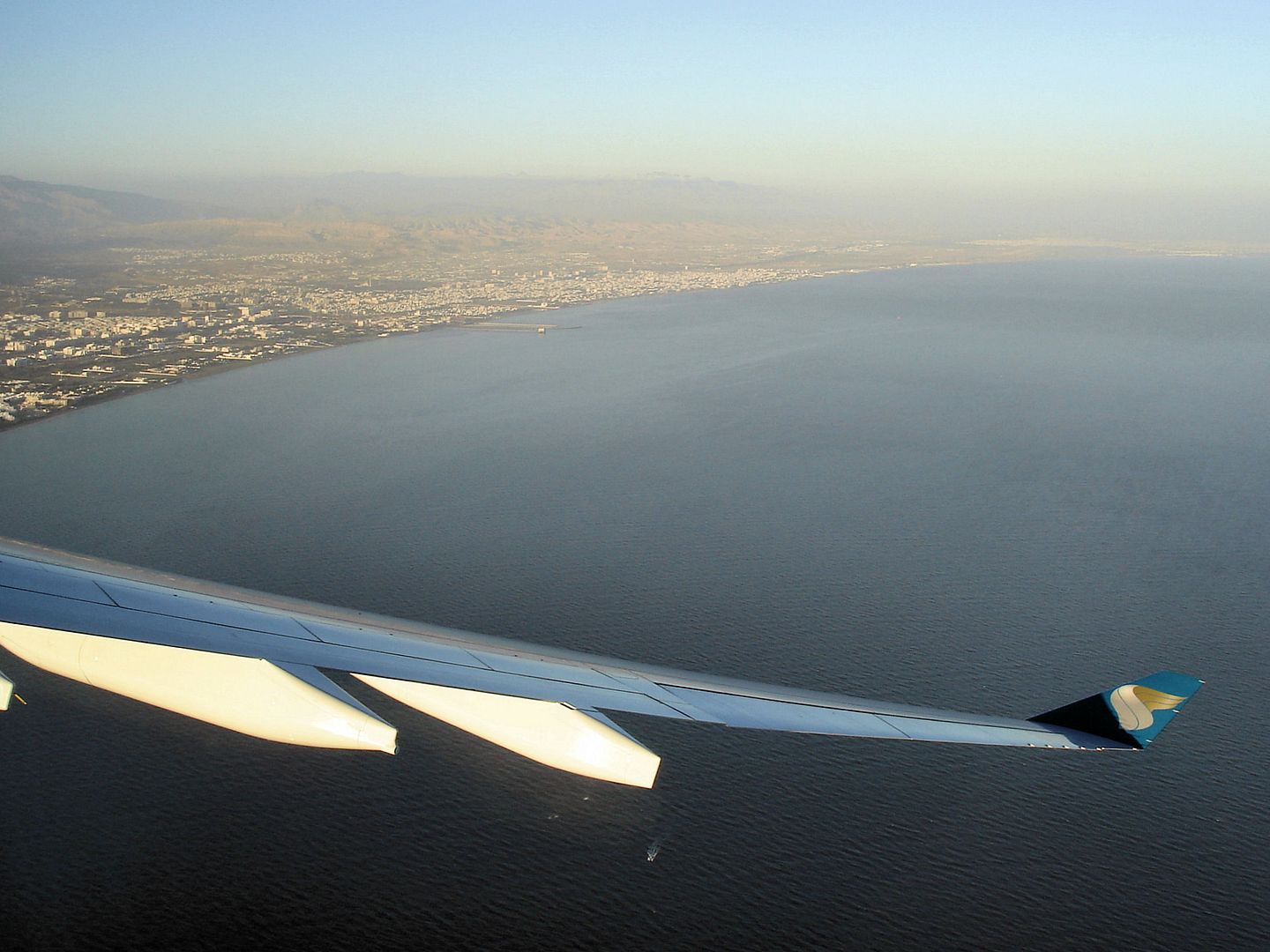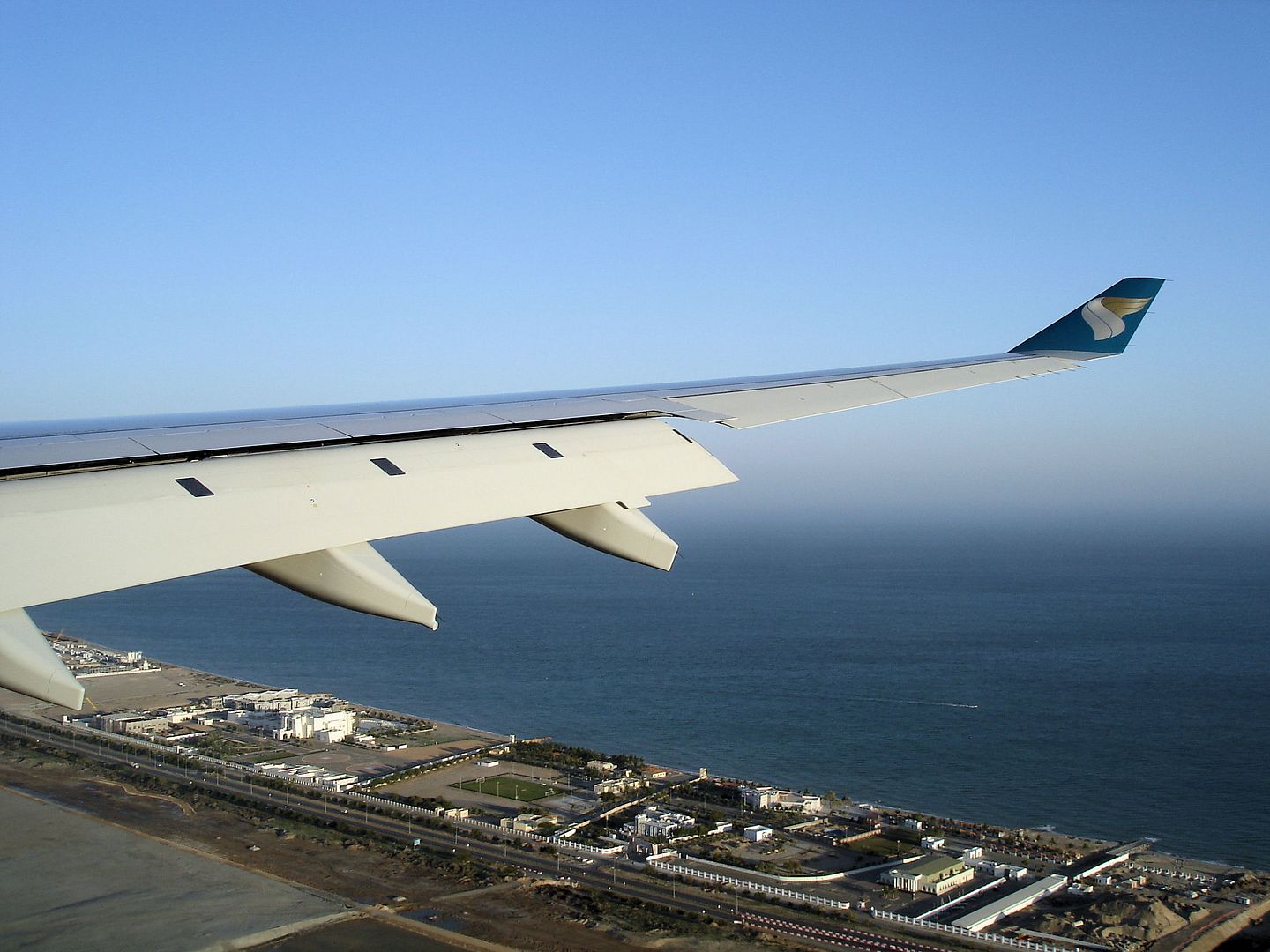 Camera view of runway 26: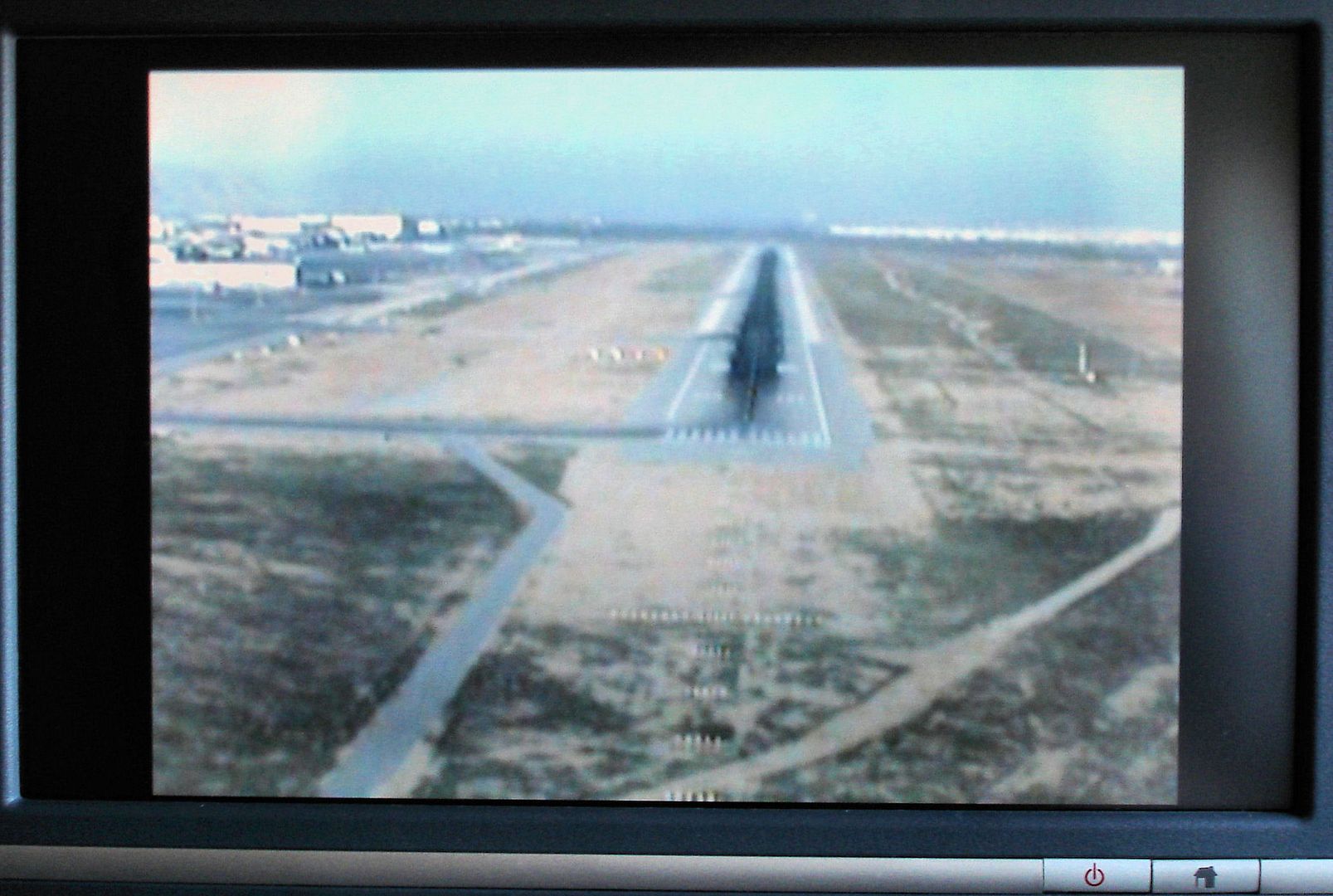 We touched down after a flying time of only 5 hours and 48 minutes - too bad the flight on this nice plane was already over.
The airport was still quite deserted in the early morning, but some planes caught my attention, e.g. Royal Air Force VC-10s...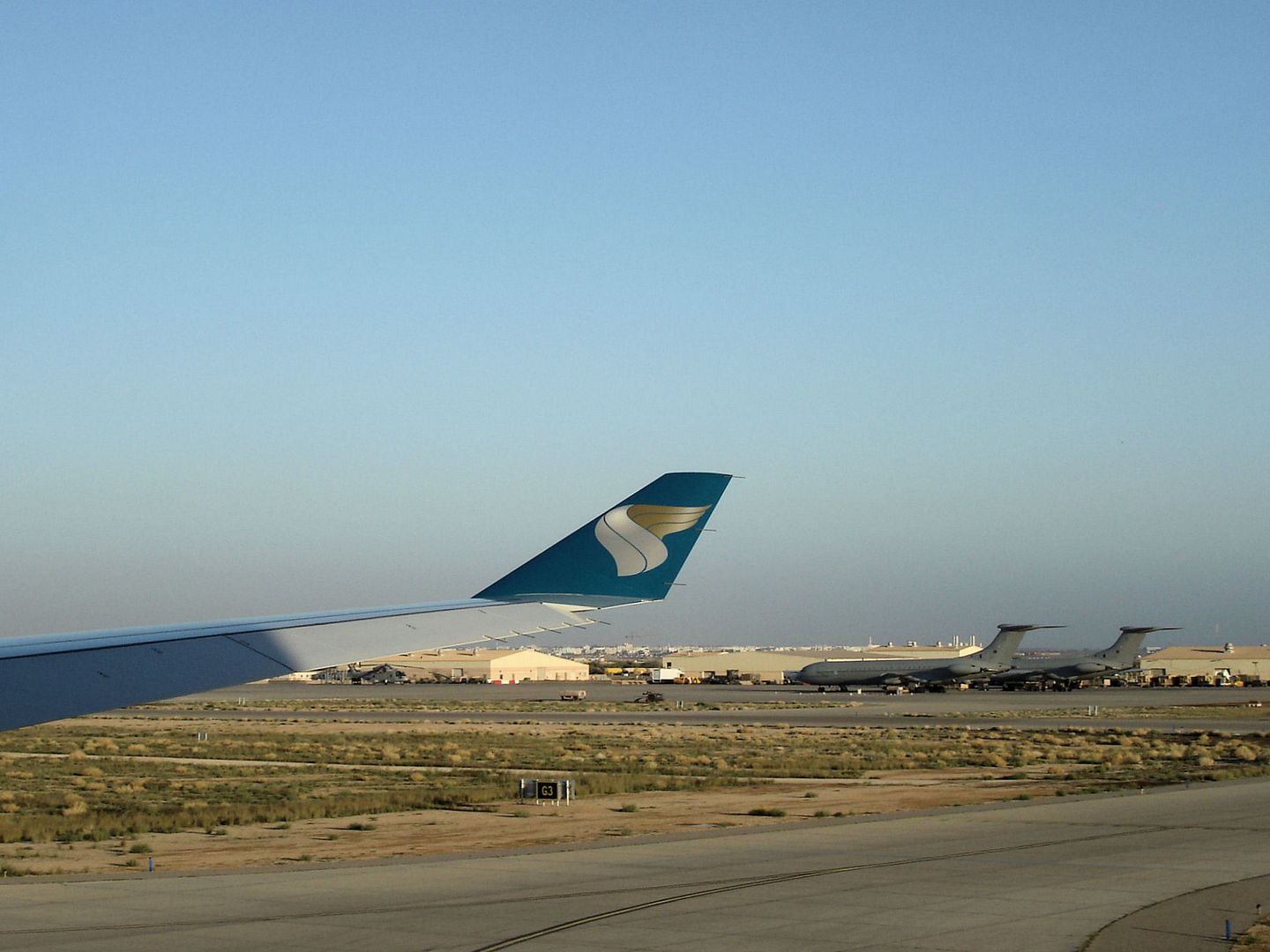 ...a Royal Air Force of Oman Airbus A320...
...an Egypt Air Force De Havilland DHC-5 Buffalo...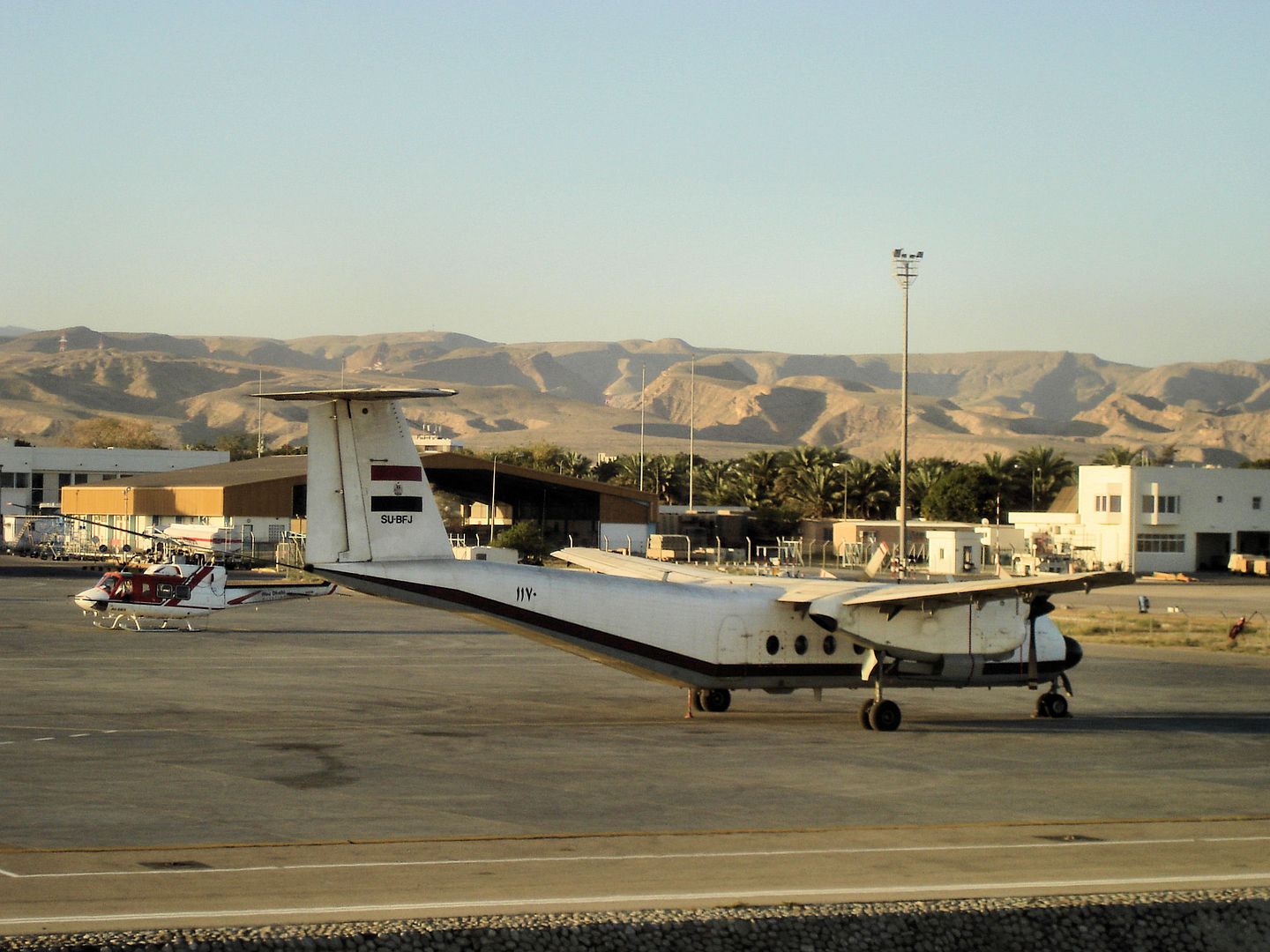 ...and a Volga-Dnepr Antonov An-124-100: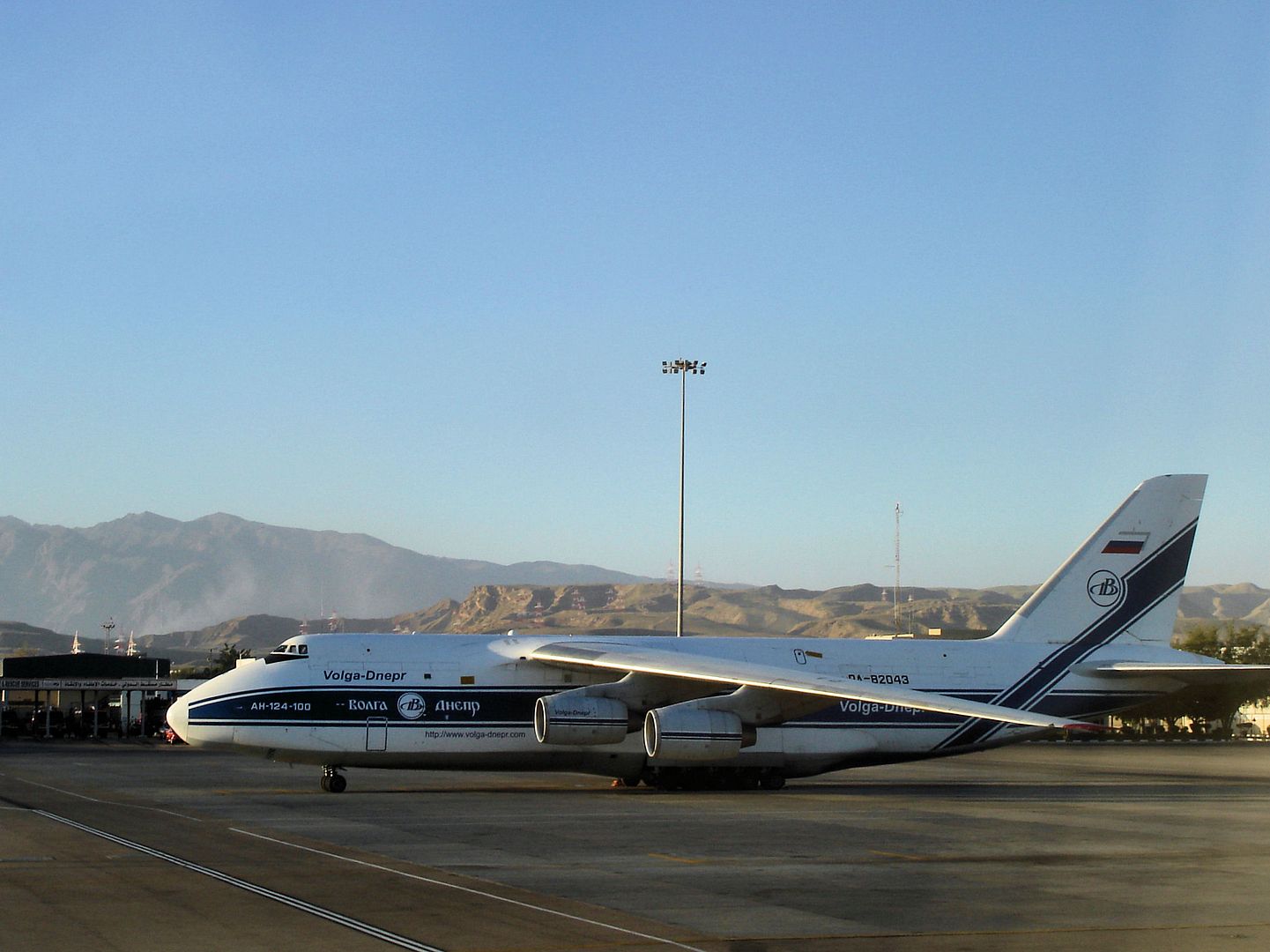 We reached our final parking position 22 minutes ahead of schedule:
Pretty buildings: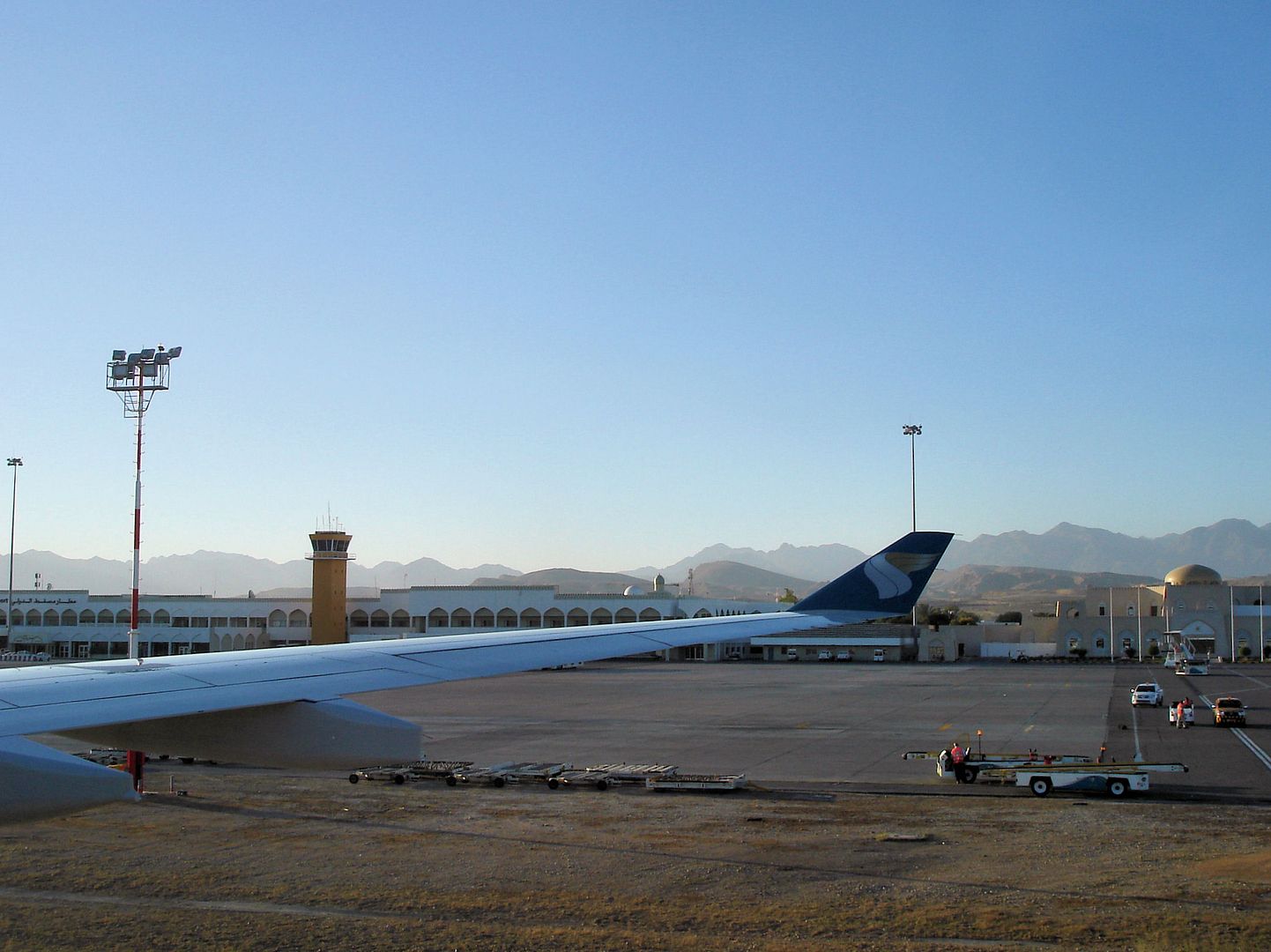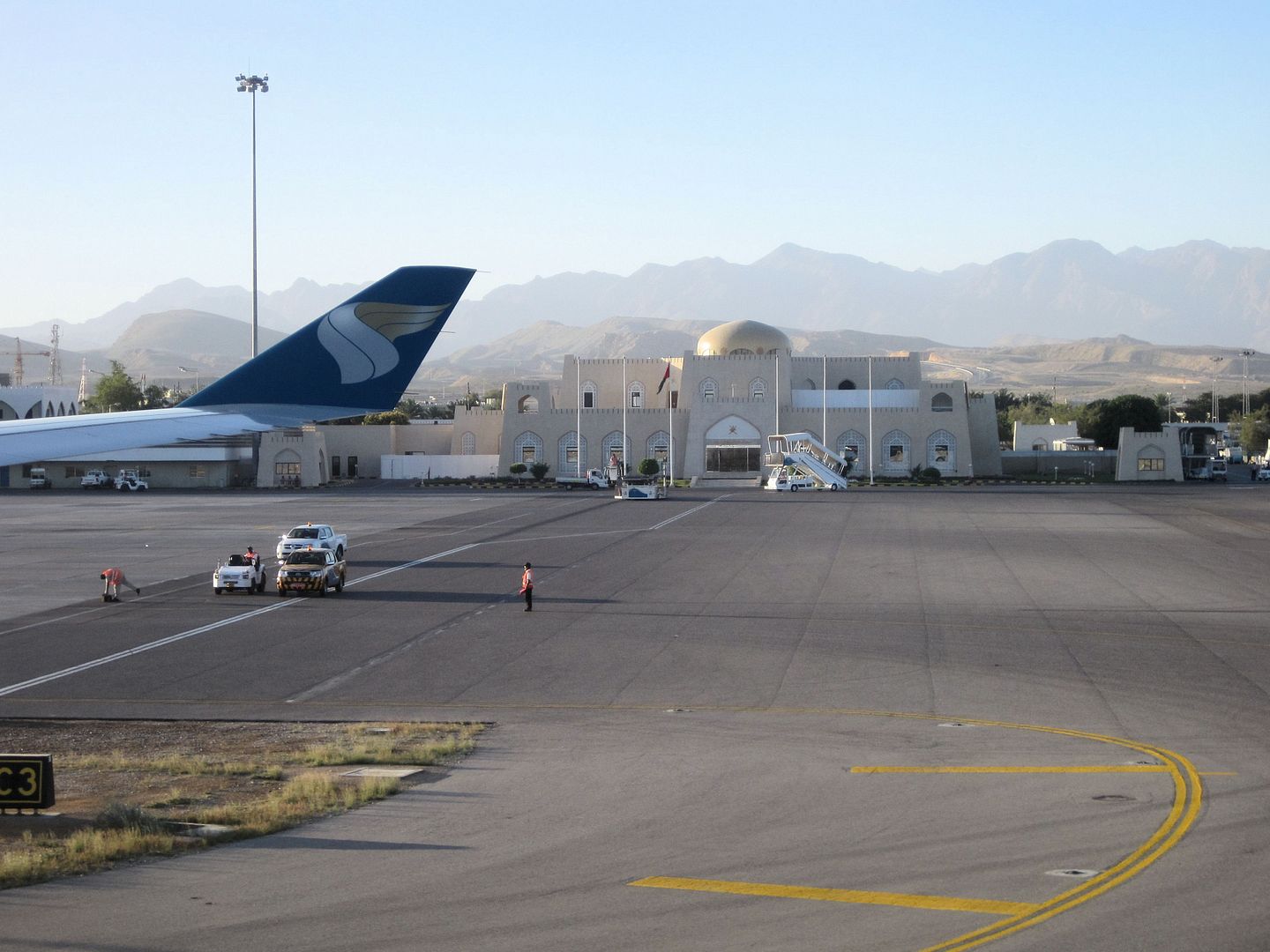 During disembarking I took a picture of the new Oman Air Business Class seat: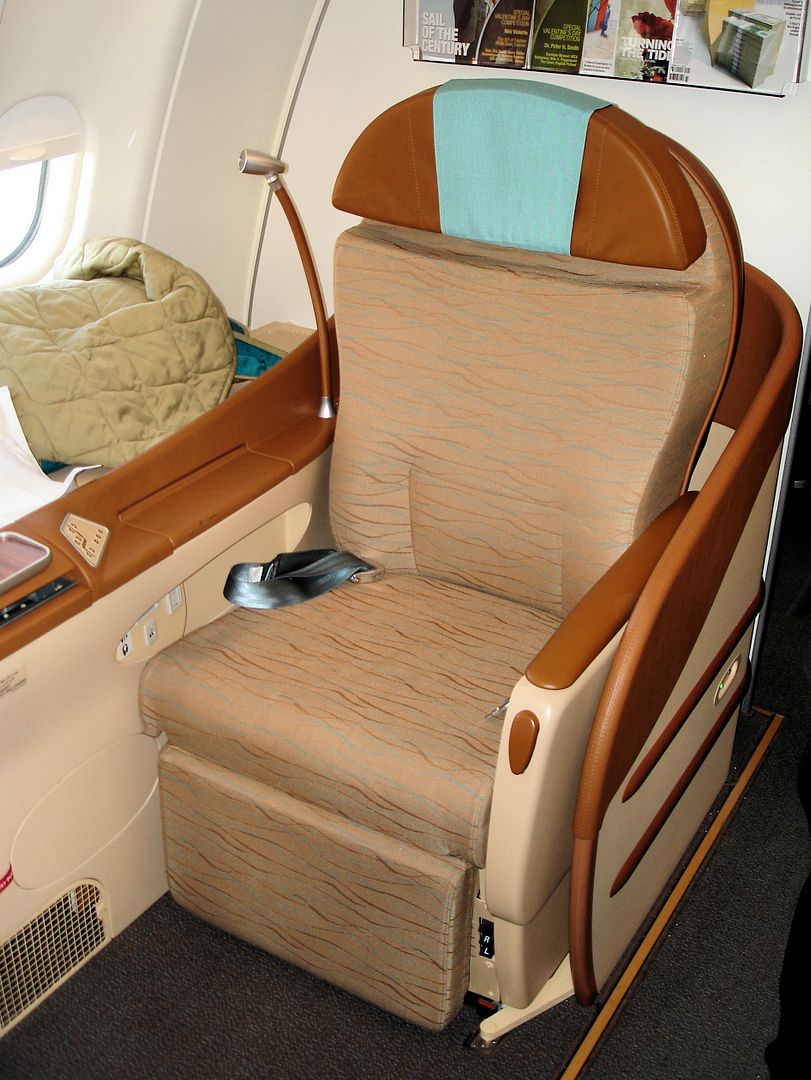 There are no jetbridges at Muscat Airport which is good for enthusiasts: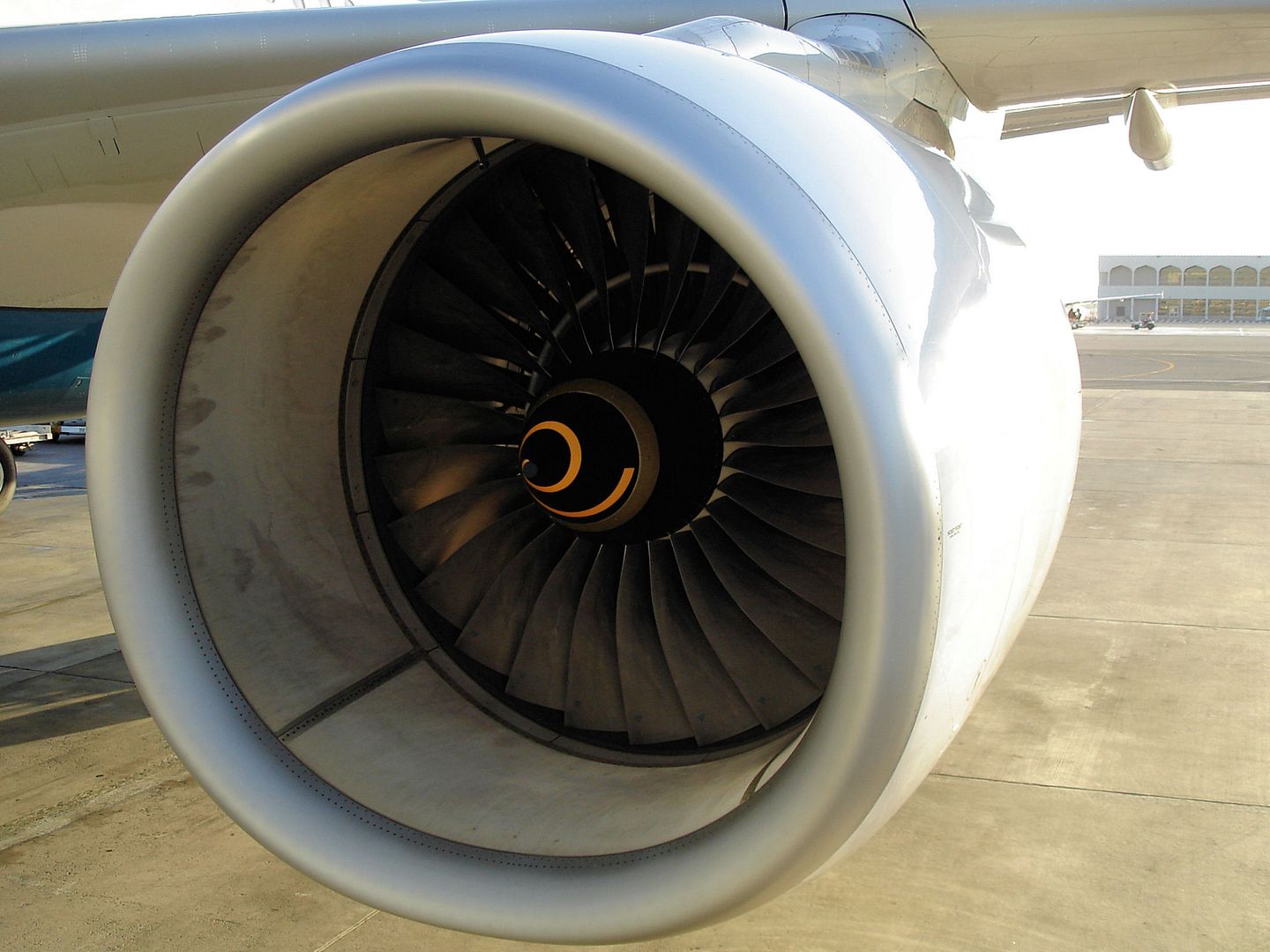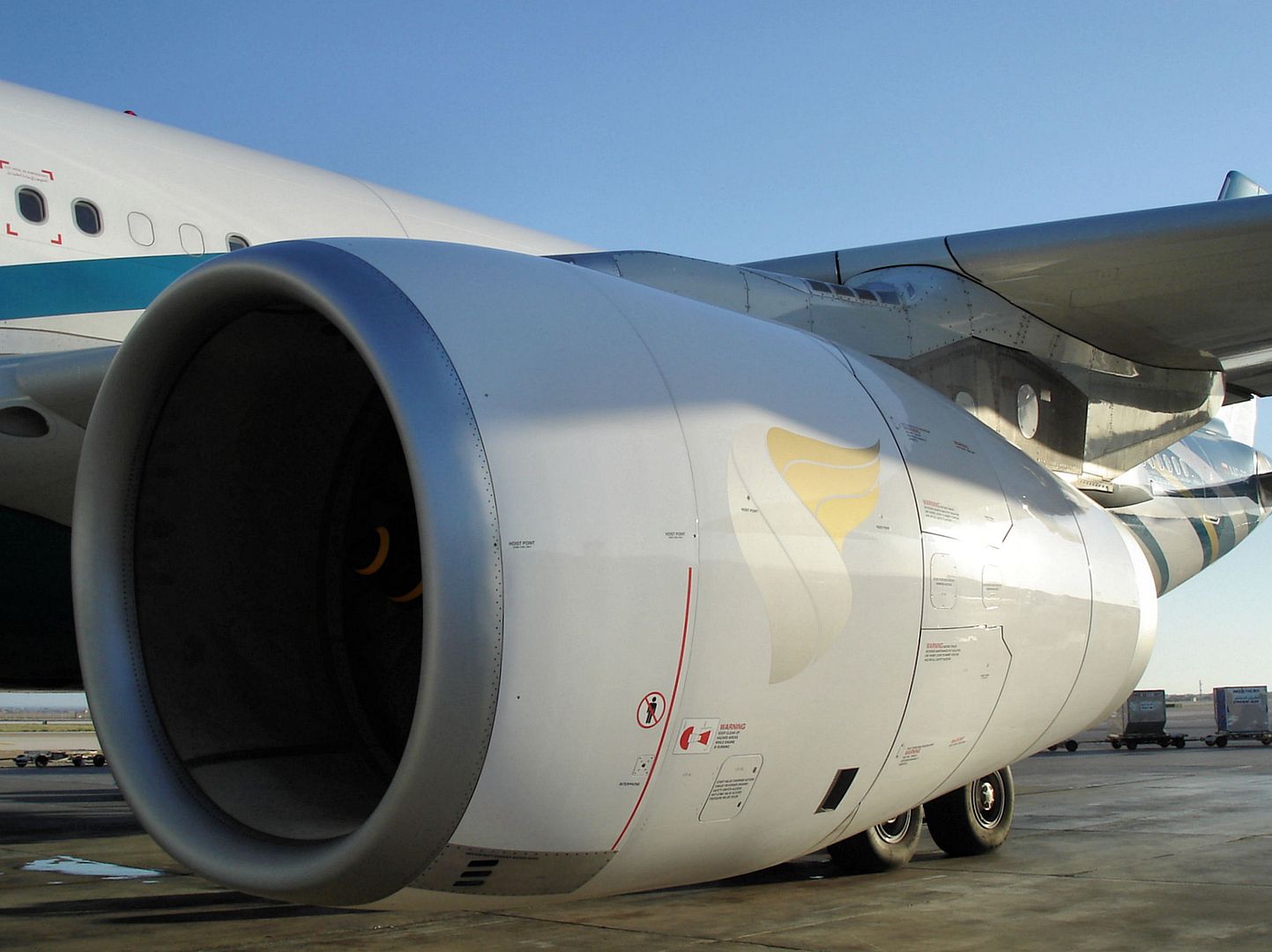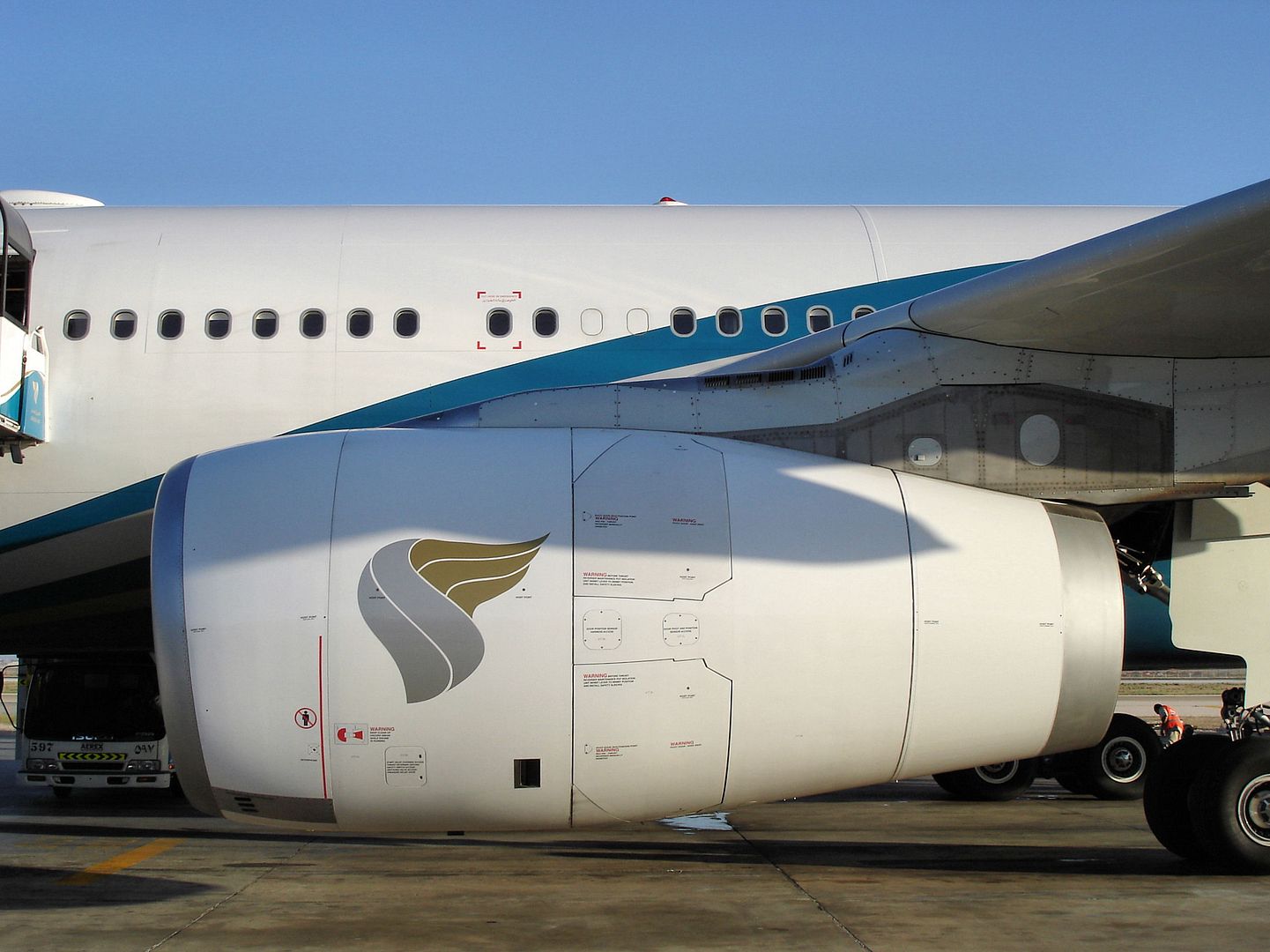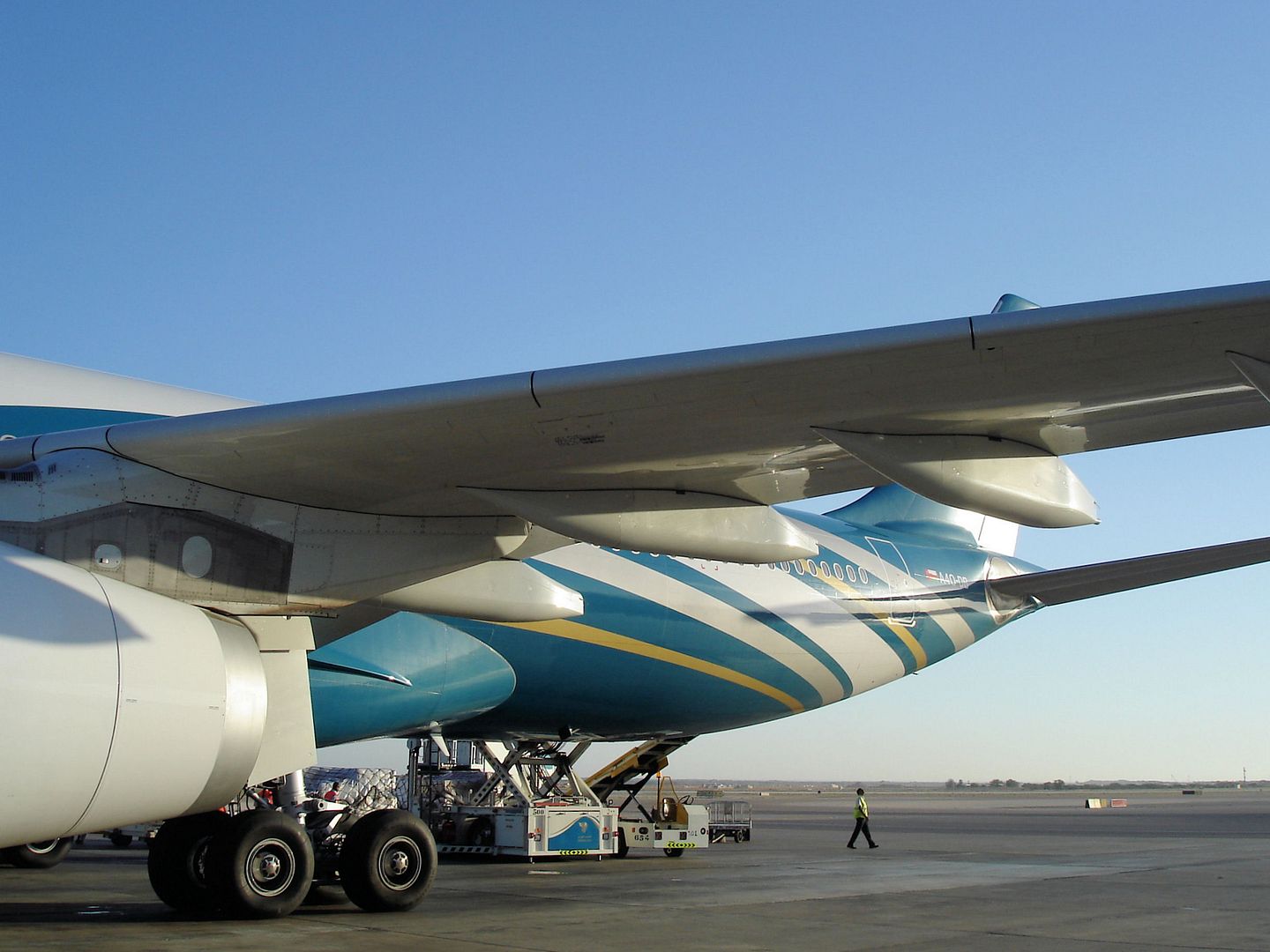 The bus ride to the terminal building was very short so I couldn't collect any more registrations. After taking the first escalator an Oman Air employee handed out billets to all transit passengers - which turned out to be breakfast vouchers! Unbelievable - Oman Air wanted to feed us again. Later we found out that the vouchers could be used in a cafeteria or a fast food restaurant. When we were finally able to eat again, the cafeteria was completely full and we went to the fast food restaurant. The voucher was only valid for a fatty meal consisting of fried chicken pieces, fries and a soft drink, but it was still nice to get something for free.
Transfer at Muscat International Airport
Changing planes at Muscat is very convenient because the airport is quite small and neatly arranged. It may not be as modern and funky as some others in the region, but the facilities are clean and you find everything you need.
Low ceiling, light floors: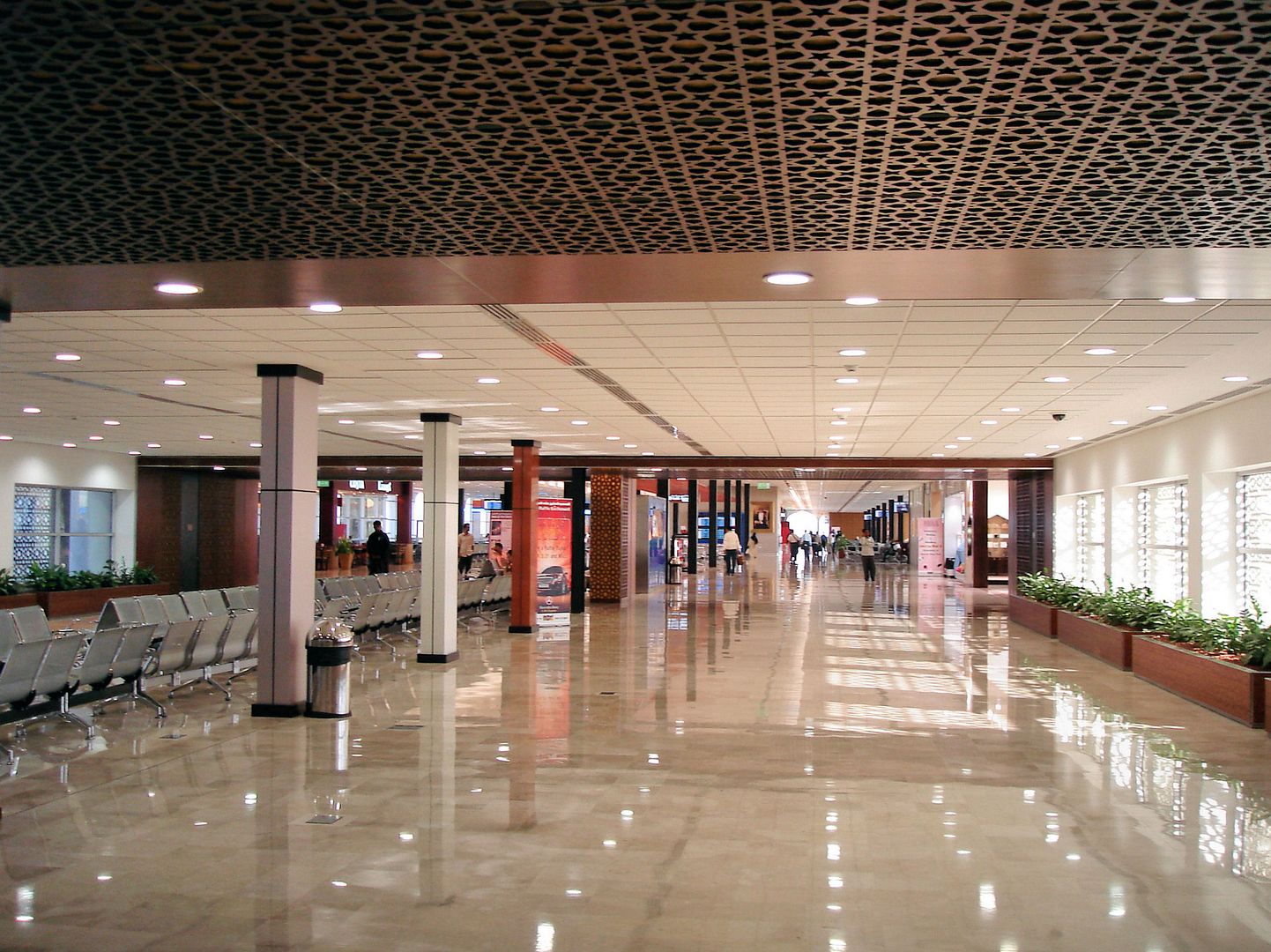 Dunkin' Donuts on the right, kids' play area on the left:
A large picture in the terminal shows
Sultan Qaboos ibn Said Al Said
, the ruler of Oman: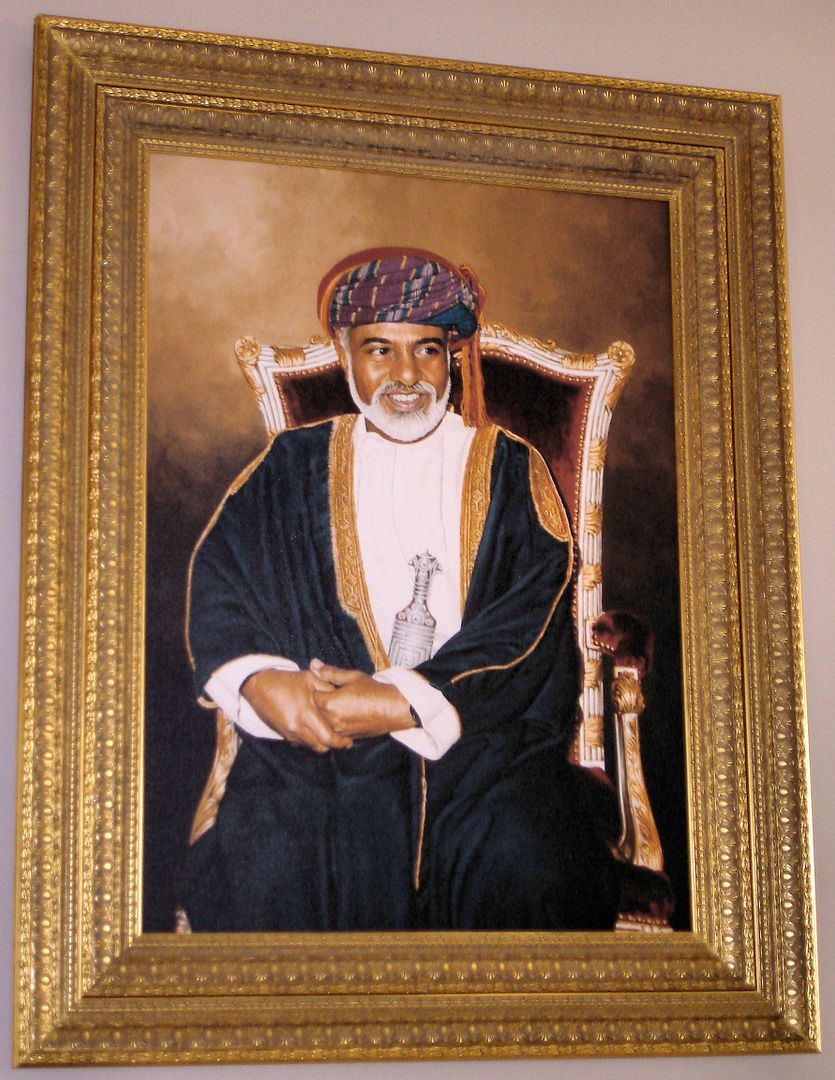 You can overlook large areas of the apron and the runway from the terminal, but the building's layout and toned windows make it difficult to take good pictures:
One good spot can be found at the front end of the terminal building. This is A9C-AE, one of the newer A320s in the Gulf Air fleet:
Numerous Oman Air 737s and a Qatar Airways A321: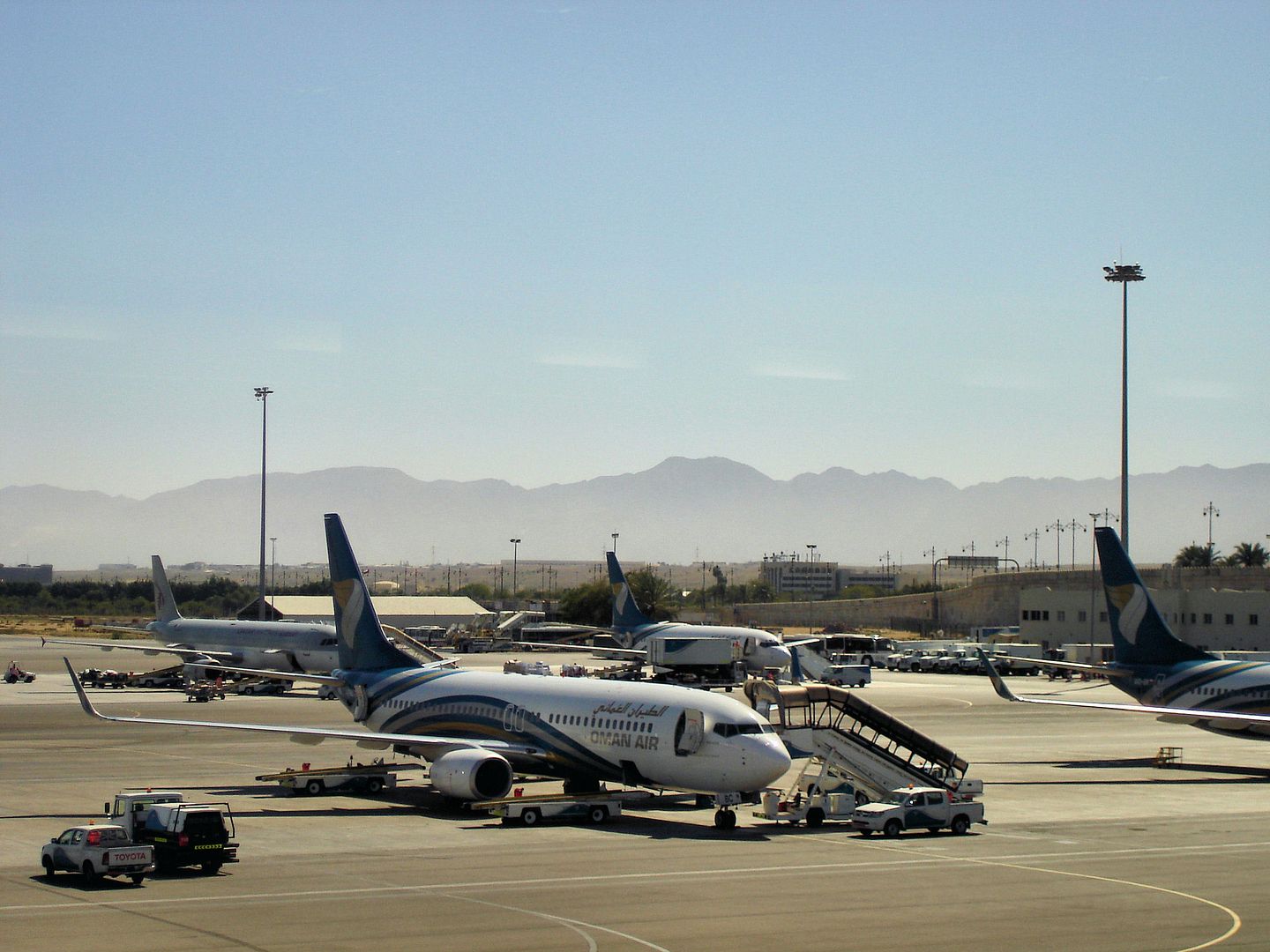 An Emirates A330-200 had joined the Oman Air crowd on the other side:
Muscat Airport is not as busy as others in the region, but I managed to log 20 new registrations, including 15 Oman Air planes.
I hope that spotting opportunities at the airport will be as good as today after its modernization and expansion. It is planned to upgrade the airport to 12 million-passenger capacity by 2011 and subsequently to 48 million. The expansion project will include a new modern terminal and a new runway that can handle the Airbus A380. It will also include a new control tower with a height of 90 meters, 32 aerobridges and a new cargo terminal.
Friday, 26 February 2010
Muscat (MCT) - Dubai (DXB)
Oman Air WY605
11:15-12:25 (11:15-12:14)
Flying time: 00:44 (hrs)
Economy Class, Seat 34A

Boeing 737-8Q8
A4O-BD (s/n 2804), named "Muttrah"
Delivered in 02/2009
1st flight on A4O-BD
16th 737-800 flight
26th 737NG flight
50th 737 flight
View Large
View Medium


Photo © Hediye
(Pictures of A4O-BD are not available in the database, the images above show sister ships)
Our gate was only three minutes away from my spotting spot, so it was enough to go there shortly before boarding would be started. We didn't line up to get onto the first bus, so I could take some more pictures. Our A330-300 had meanwhile been joined by another A330-300 (inbound from London Heathrow) and an A330-200. I still didn't know at that point of time that the 737-800 on the right would be ours: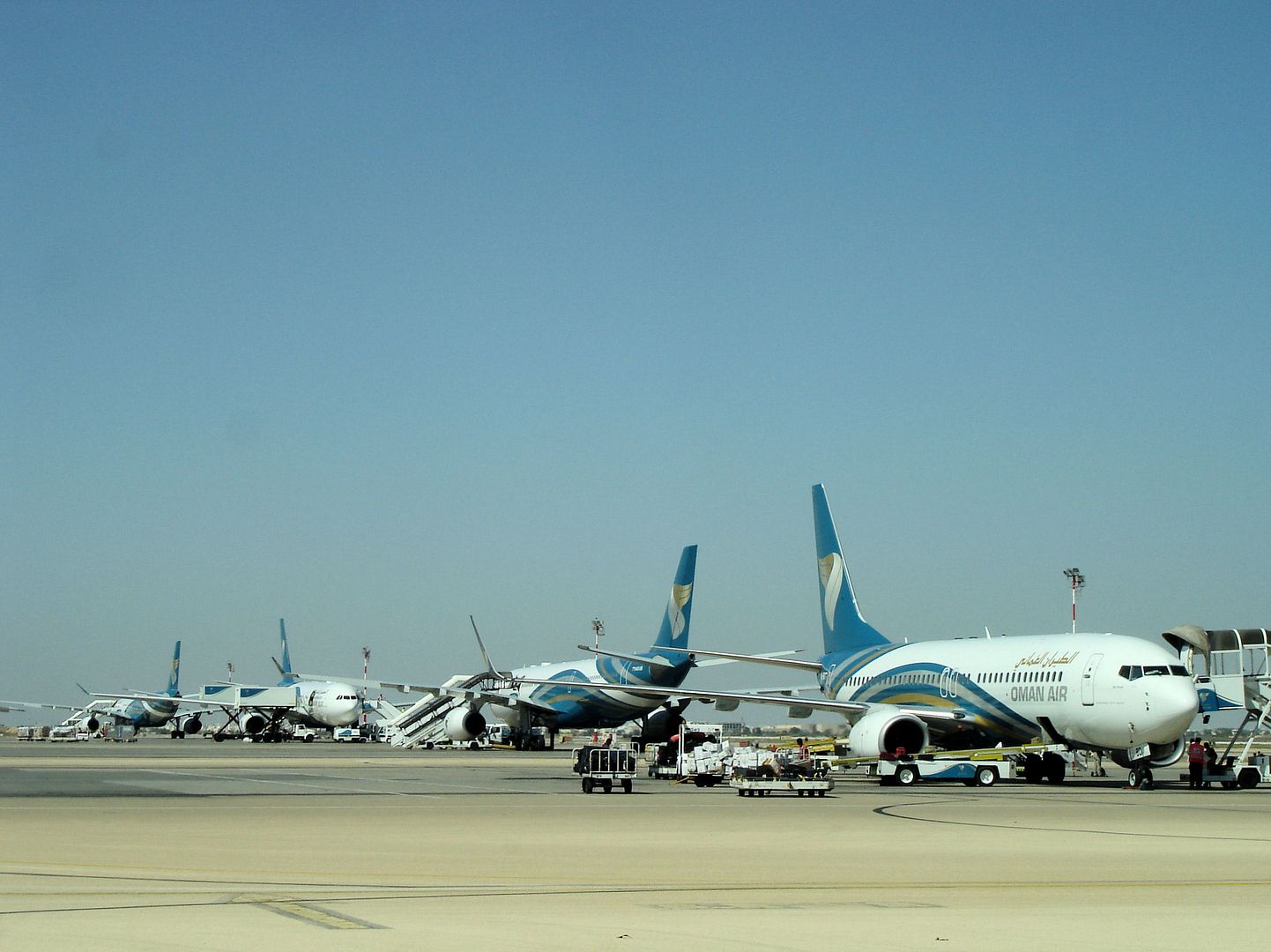 We finally took the last bus which brought us to
A4O-BD
, a Boeing 737-8Q8 delivered in February 2009, one of 13 frames in the fleet: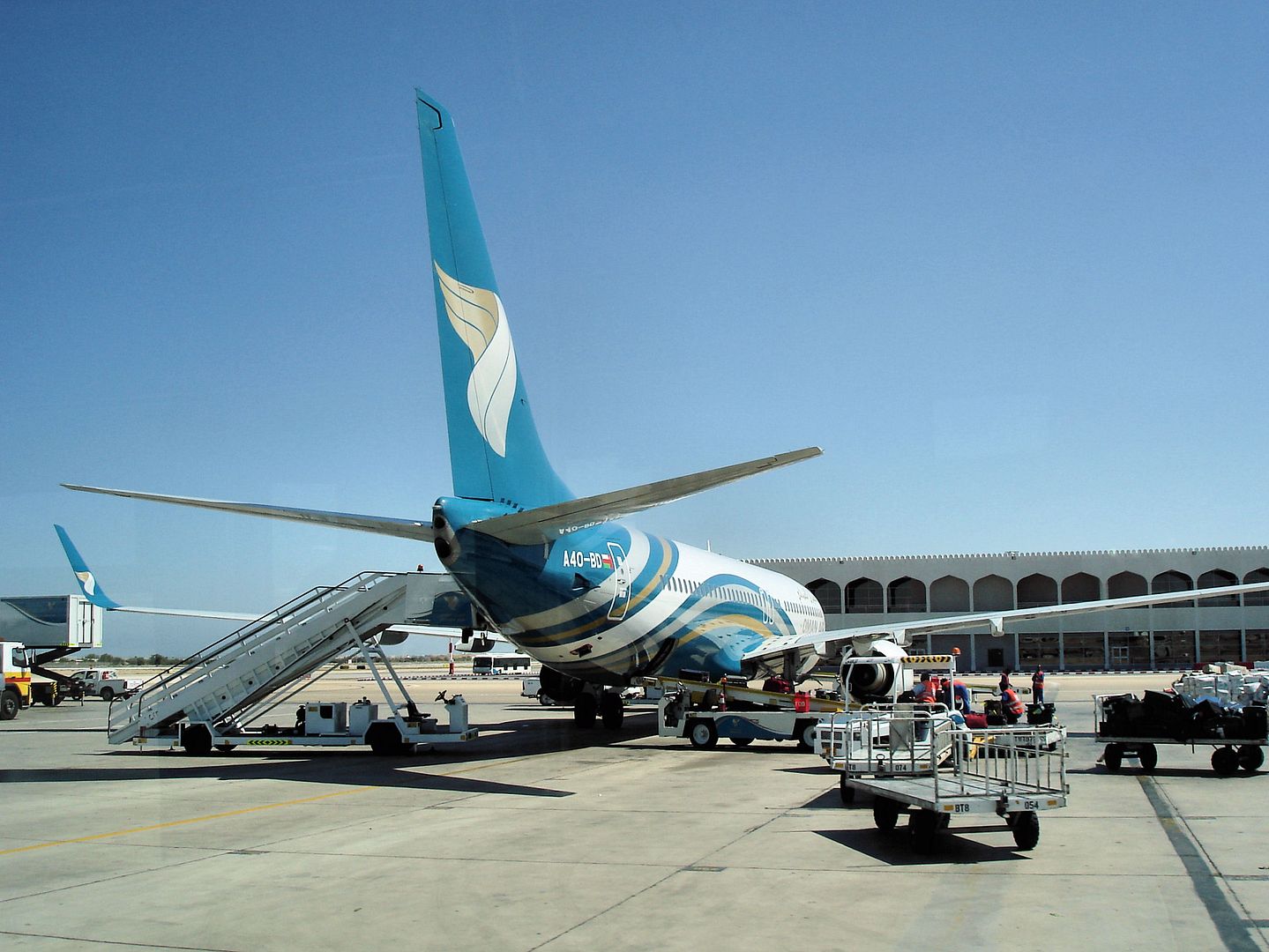 Great color scheme: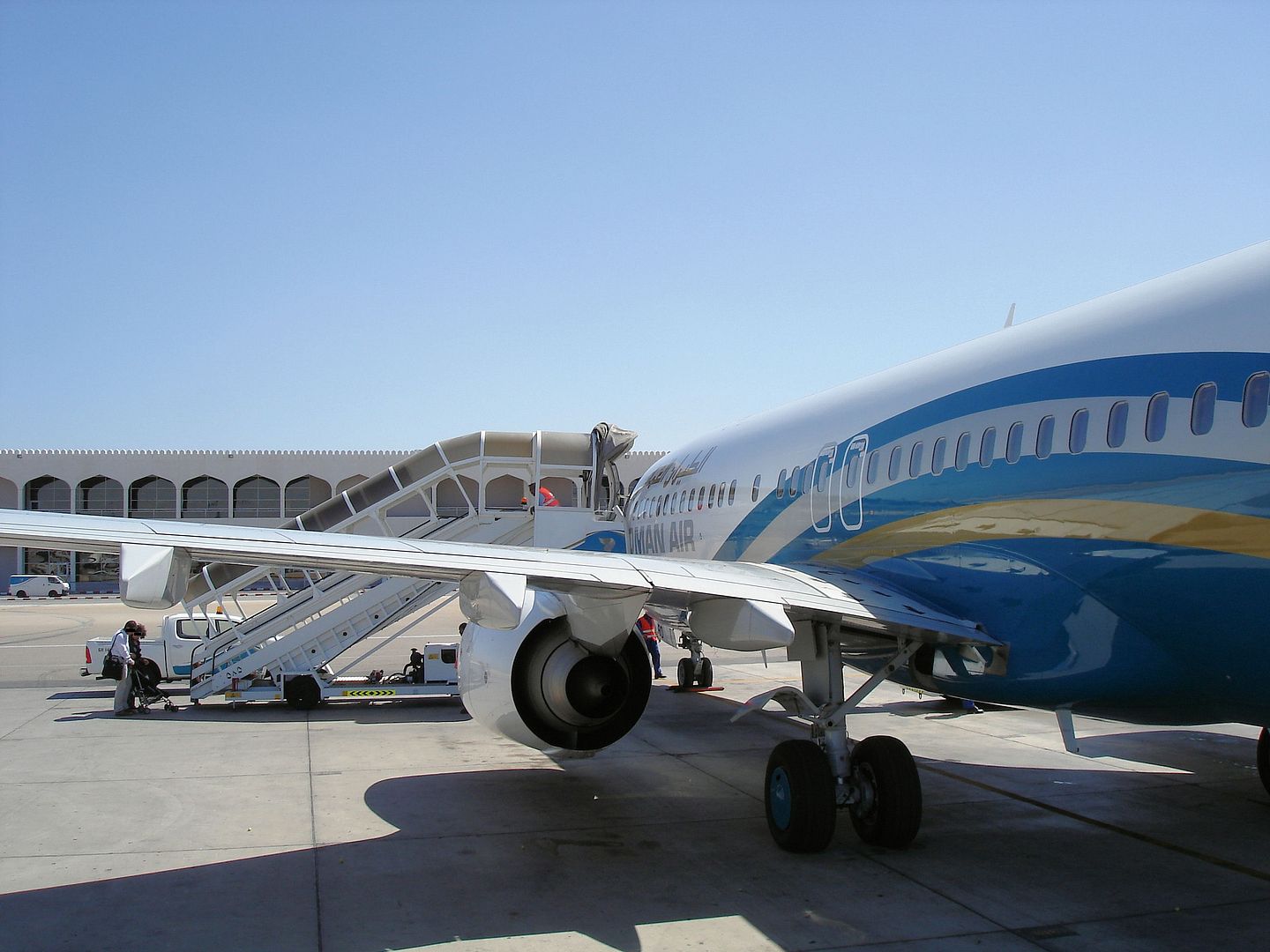 We were welcomed by a friendly flight attendant who didn't mind about taking pictures at all. During the web check-in process I had picked the second last row where a pilot was now already occupying the aisle seat. However, the flight wasn't full (70 to 80 percent load) and several rows were totally empty so I asked whether we could switch to other seats. The flight attendant kindly agreed and I took the last row on the left side, while my brother took the last row on the right side. Excellent!
The blue and turquoise cloth seats are very comfortable - and despite the short flight duration pillows had been placed on each seat: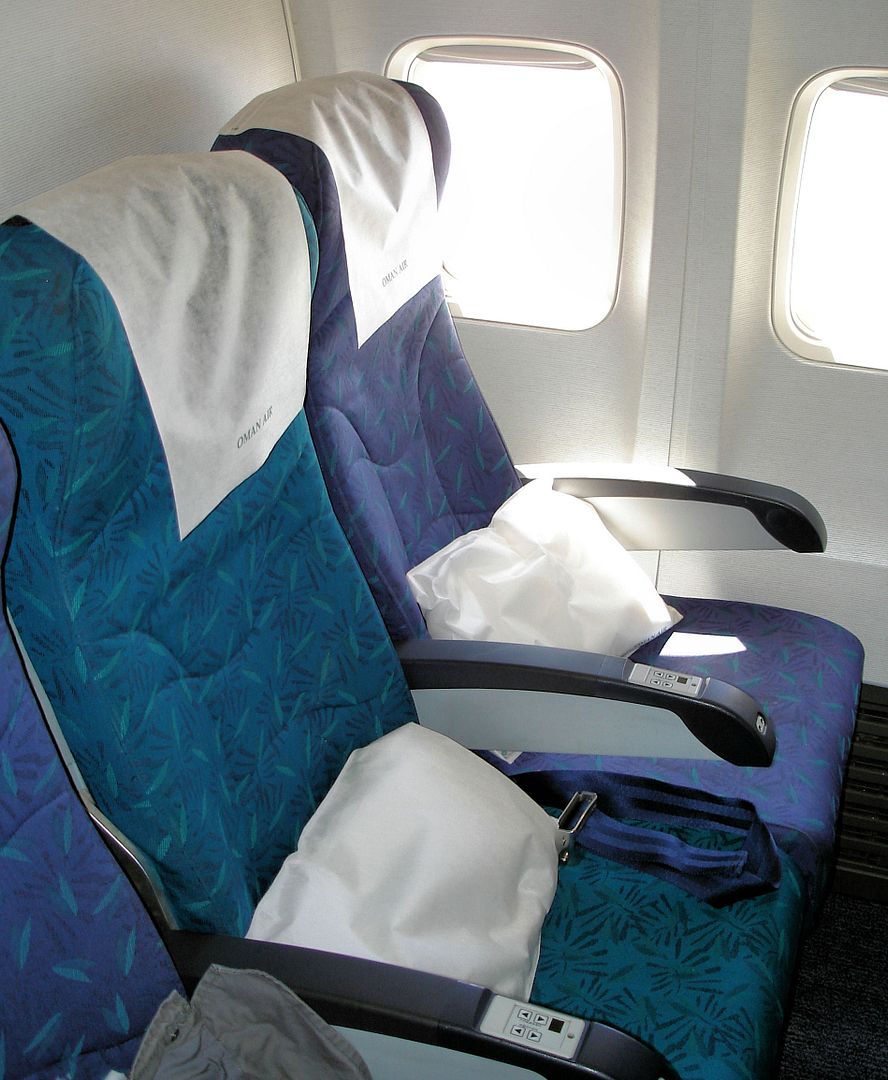 Legroom is generous, too - I guess I had never felt so comfortable on a 737 before: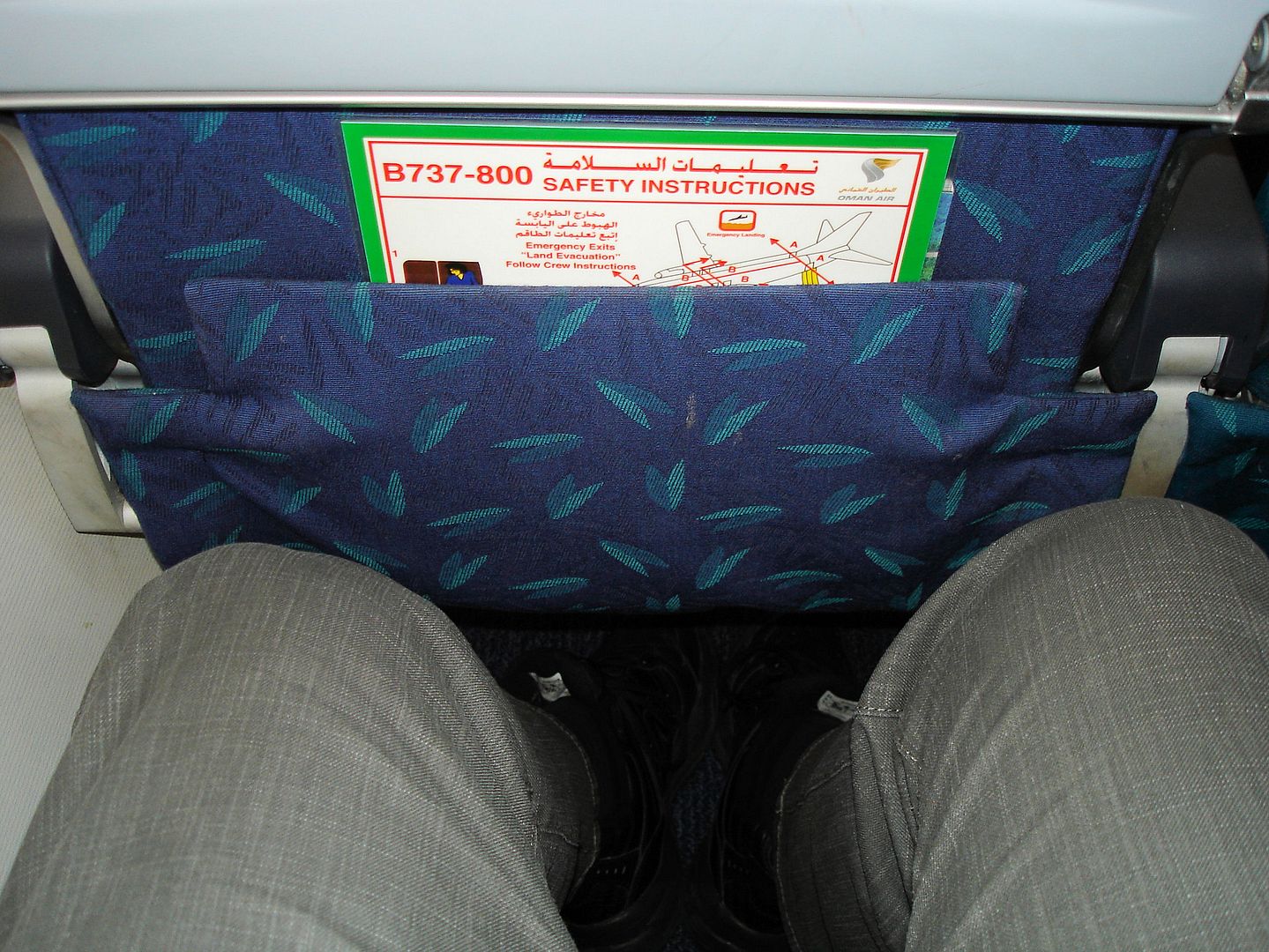 The IFE box under the middle seat shouldn't pose a major problem for anyone:
Cabin view
(picture taken later during the flight)
: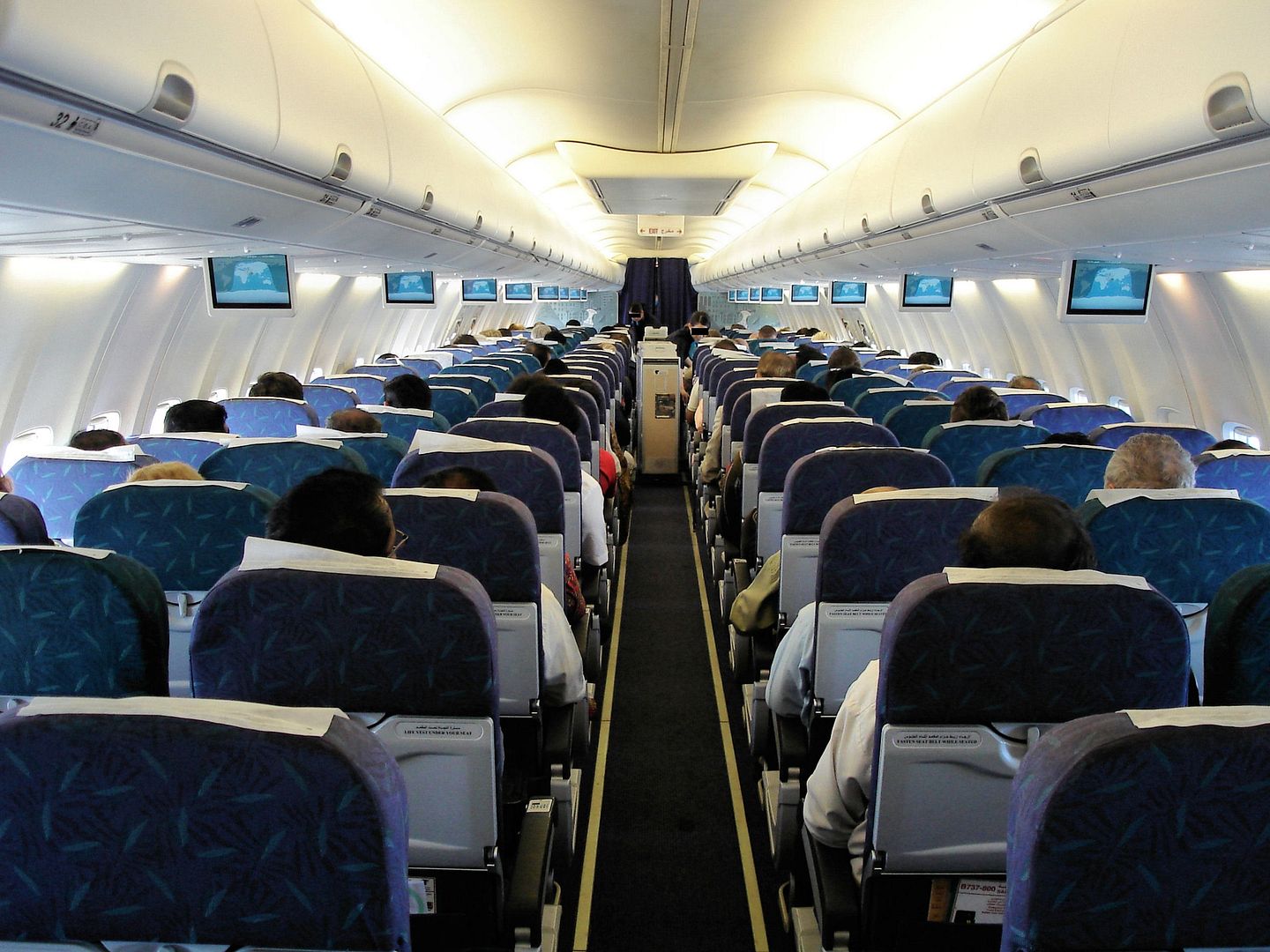 The plane is equipped with fold-out screens - and I was glad to see that a state-of-the-art airshow was available:
Neuschwanstein Castle
on the in-flight magazine's cover - the story dealt with Munich and sights in Bavaria: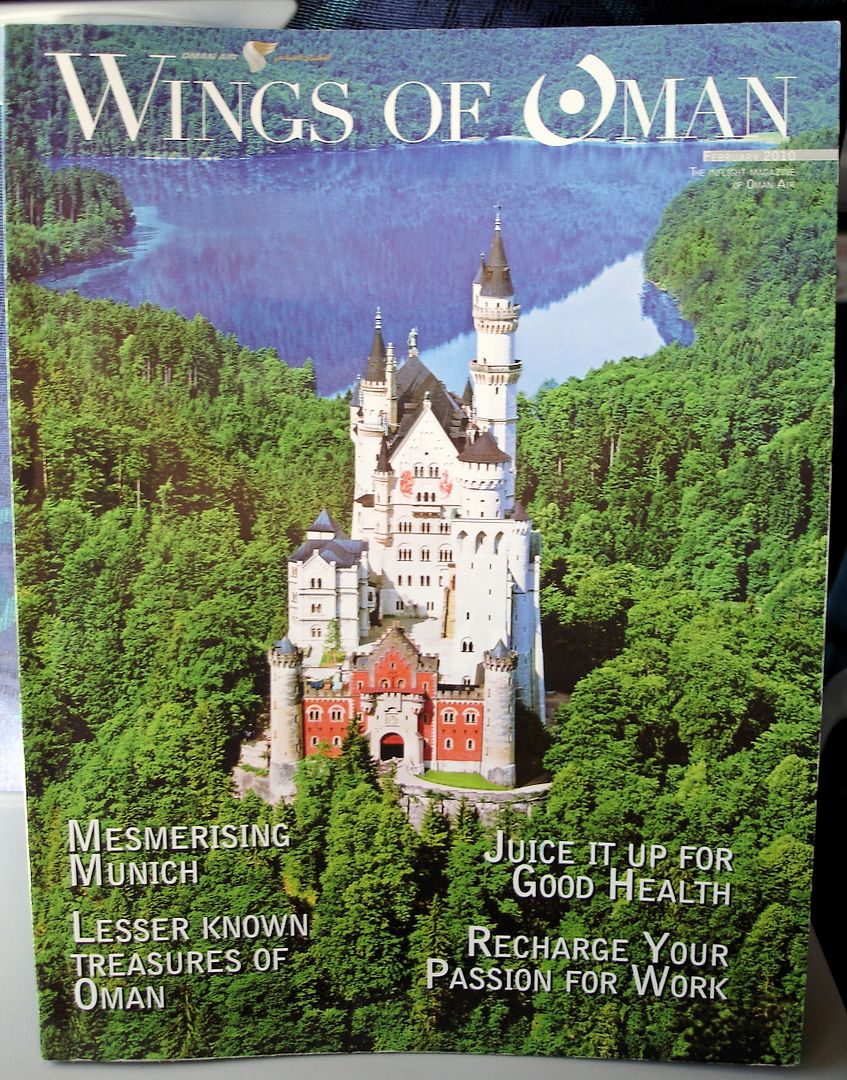 Sister ship A4O-BB being refueled - I couldn't get enough of these colors:
Our 737 left the parking position exactly on time and powerfully took off from runway 26: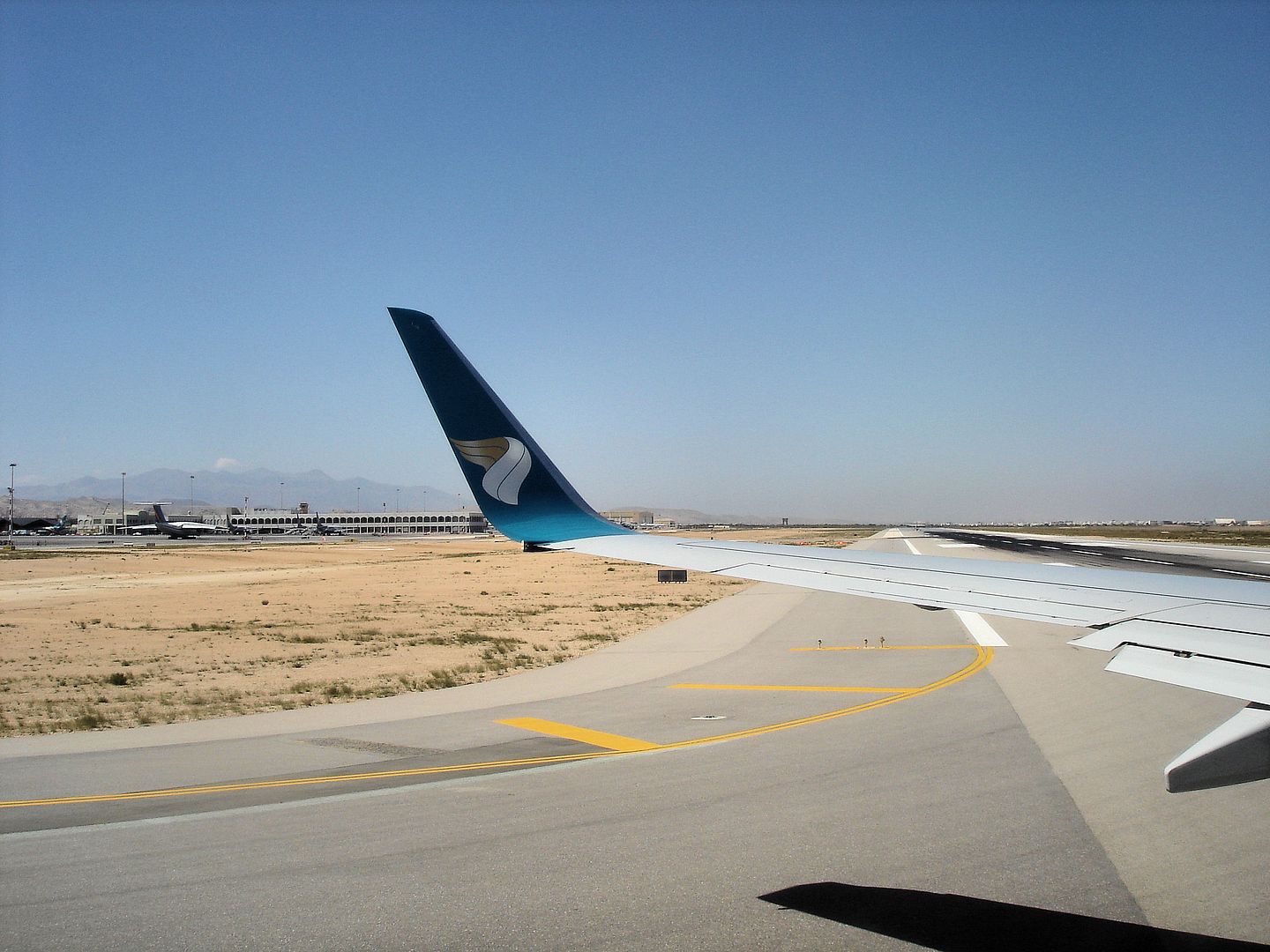 Goodbye,
A4O-DB
: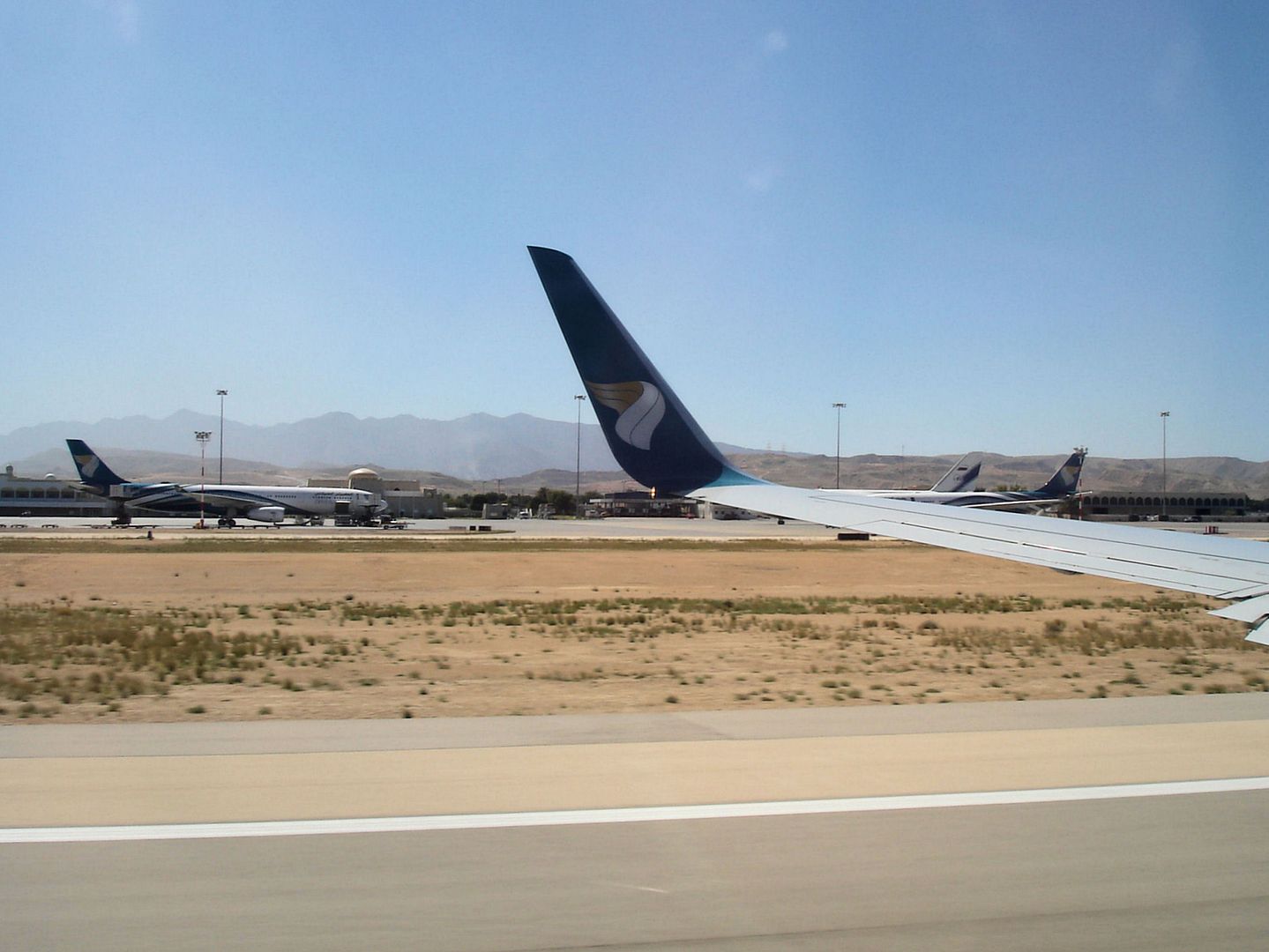 Military apron: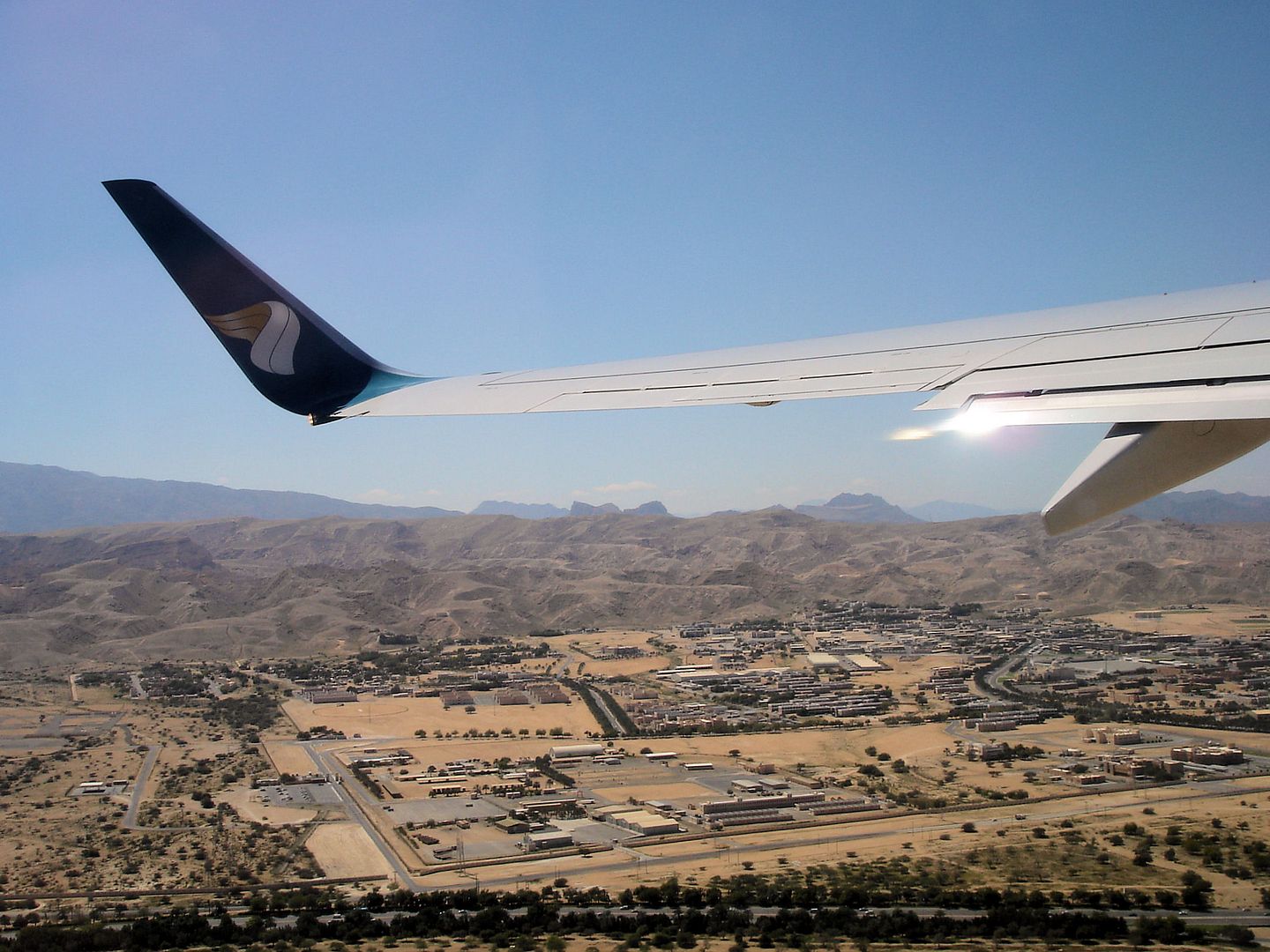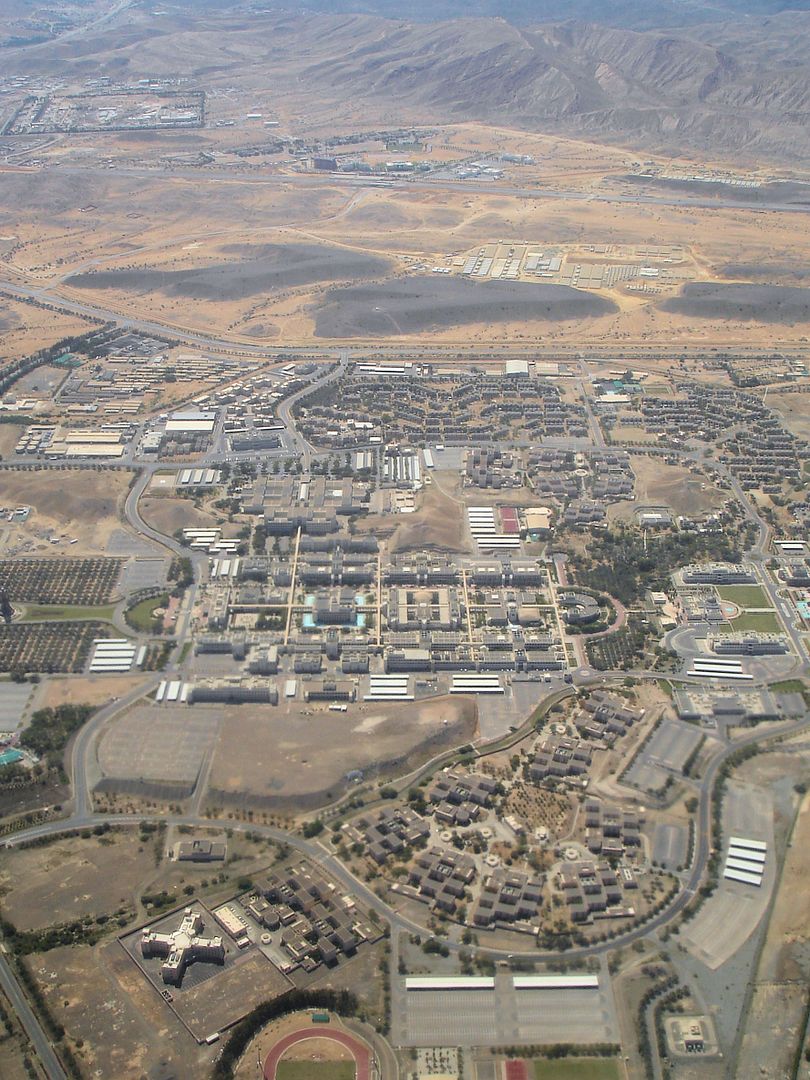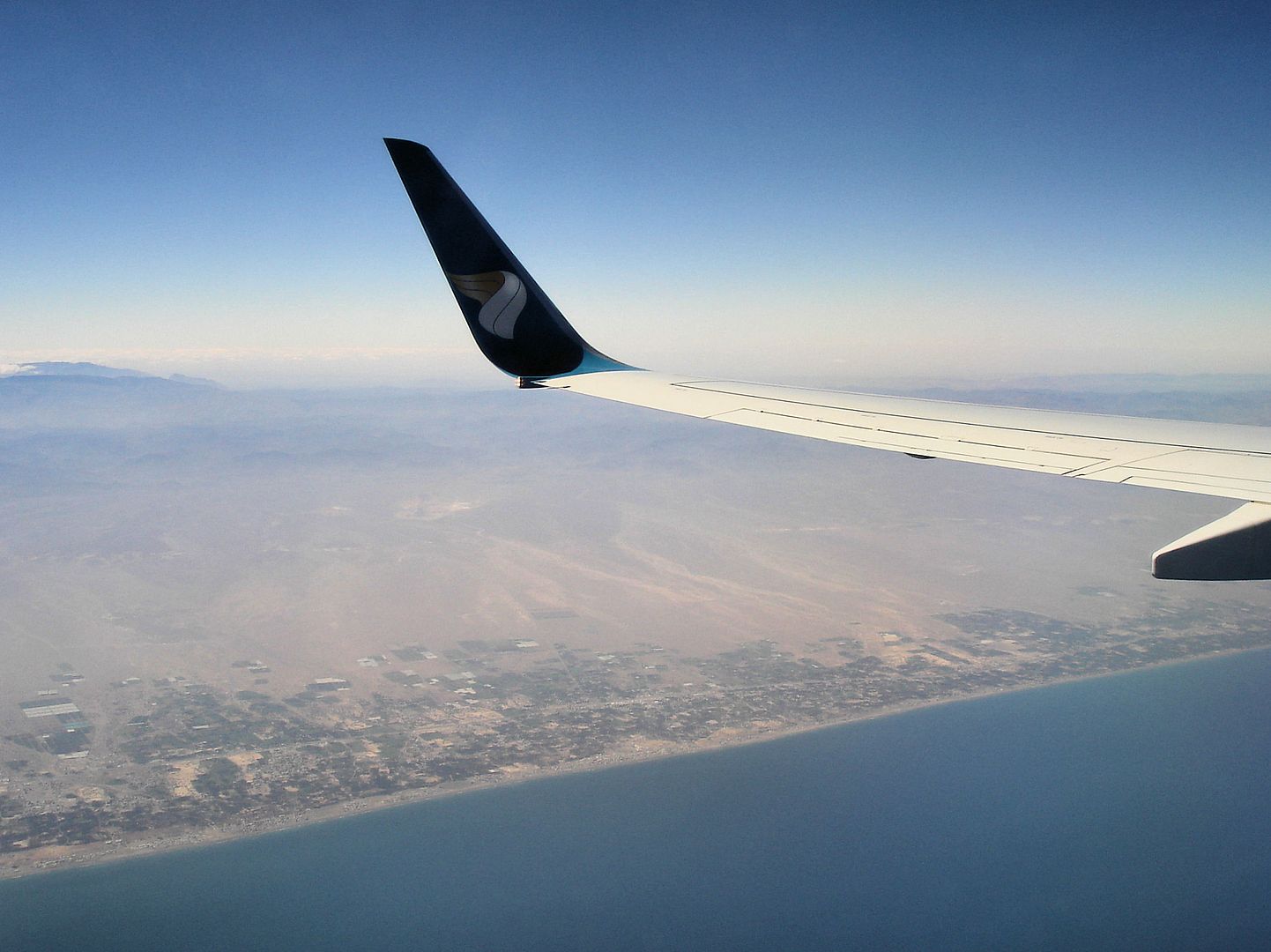 Shortly after take-off the flight attendants started serving a snack - not just some peanuts, but a tray with water, a mixed fruit juice, a tuna and tomato sandwich and a small Mars bar. We were impressed again: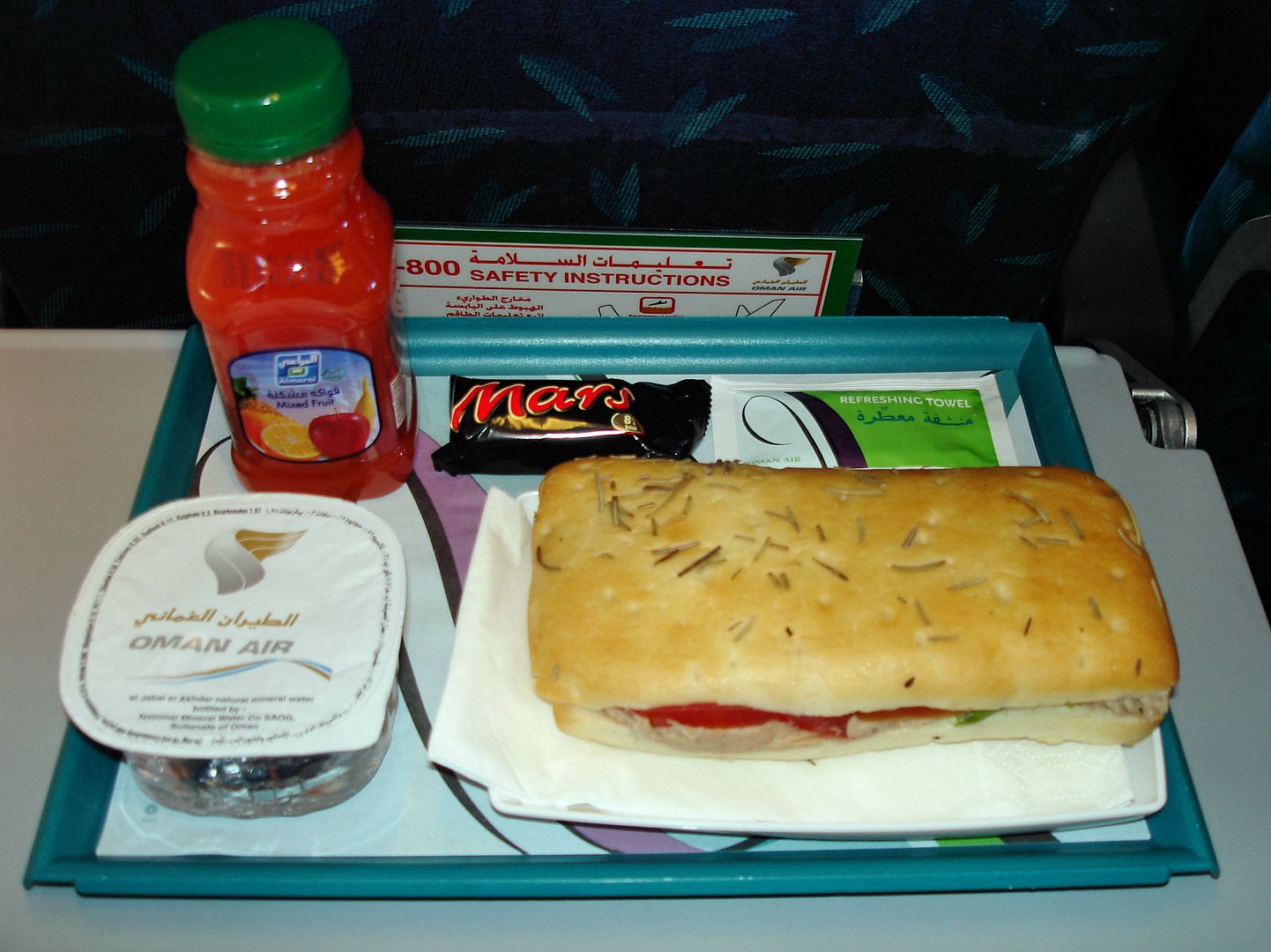 The sandwich was large and thick and tasted very good - we were really full again after that "snack". The juice was too sweet, though.
Nice scenery - it was such a pleasure to see the desert after the long and cold German winter: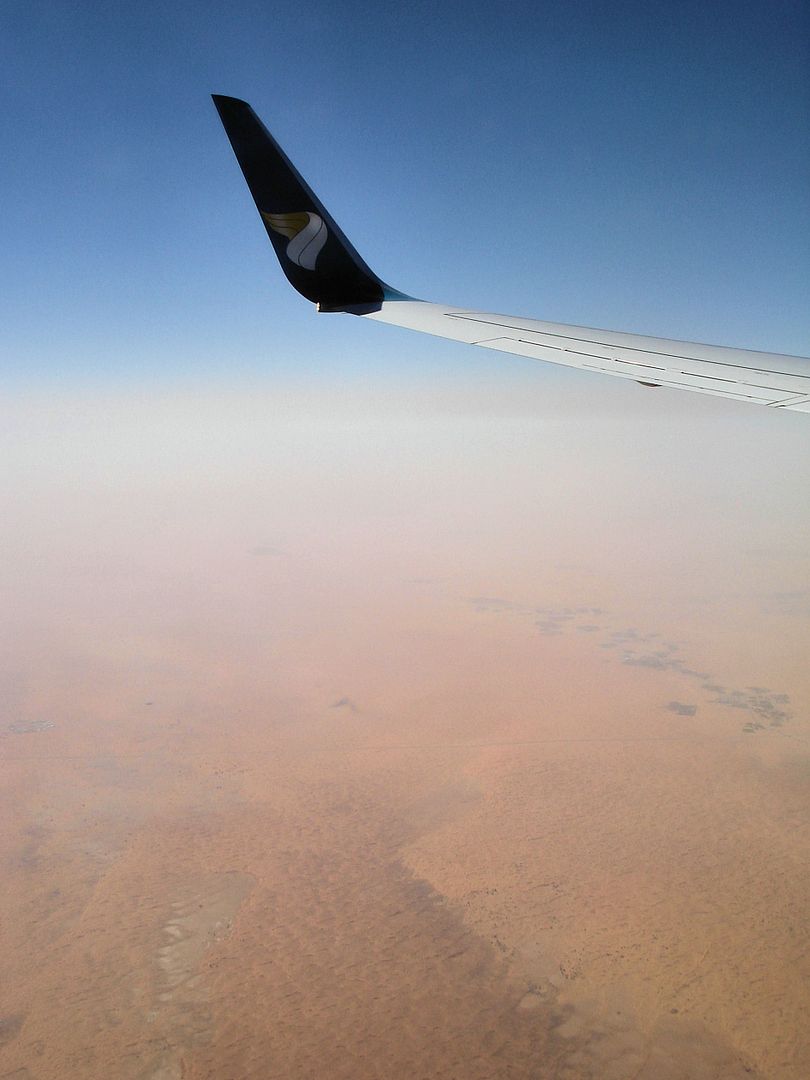 "Road art" in the middle of the desert: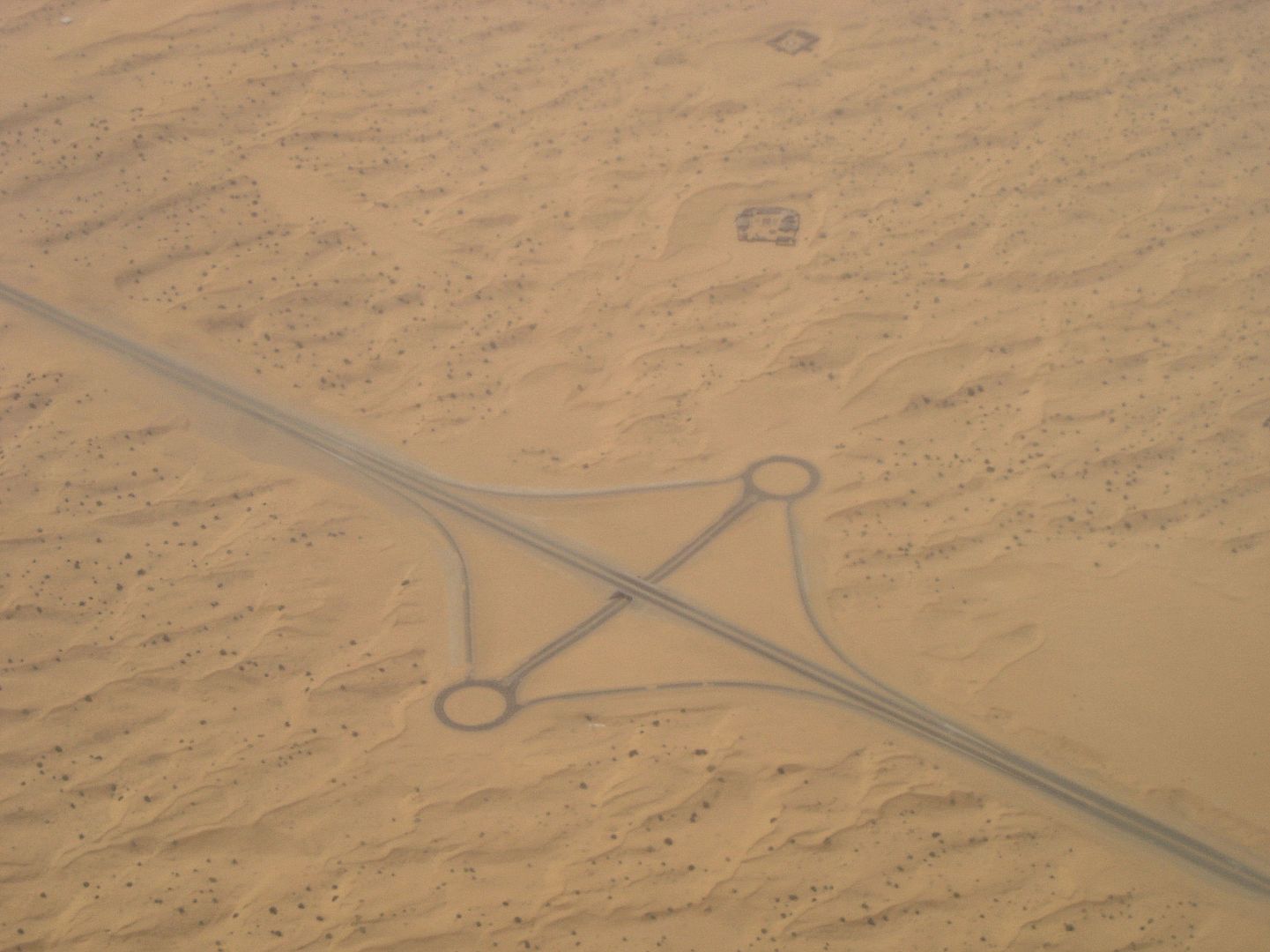 Shortly after I had finished eating the plane already commenced the approach to Dubai. Lots of space for future projects: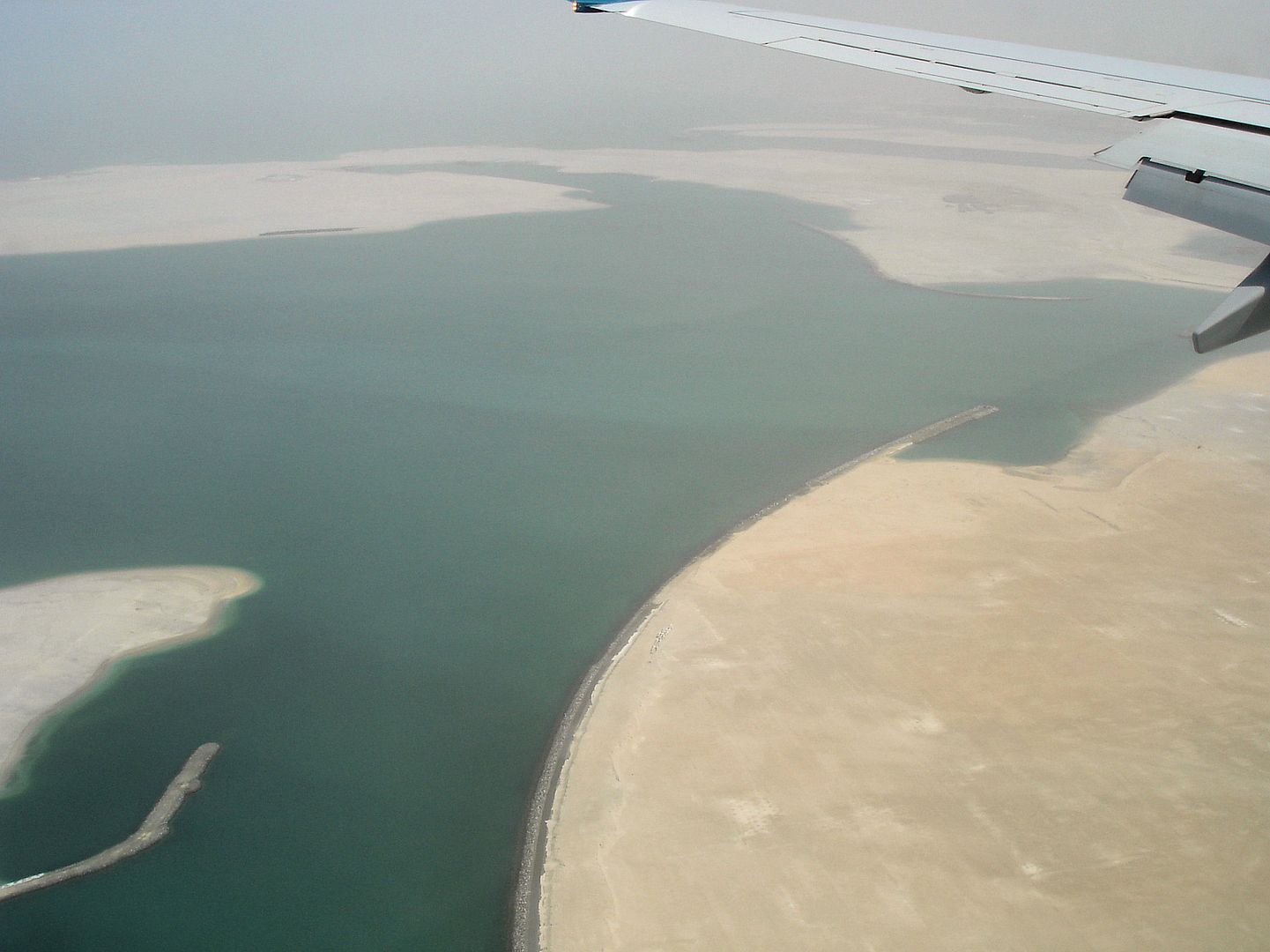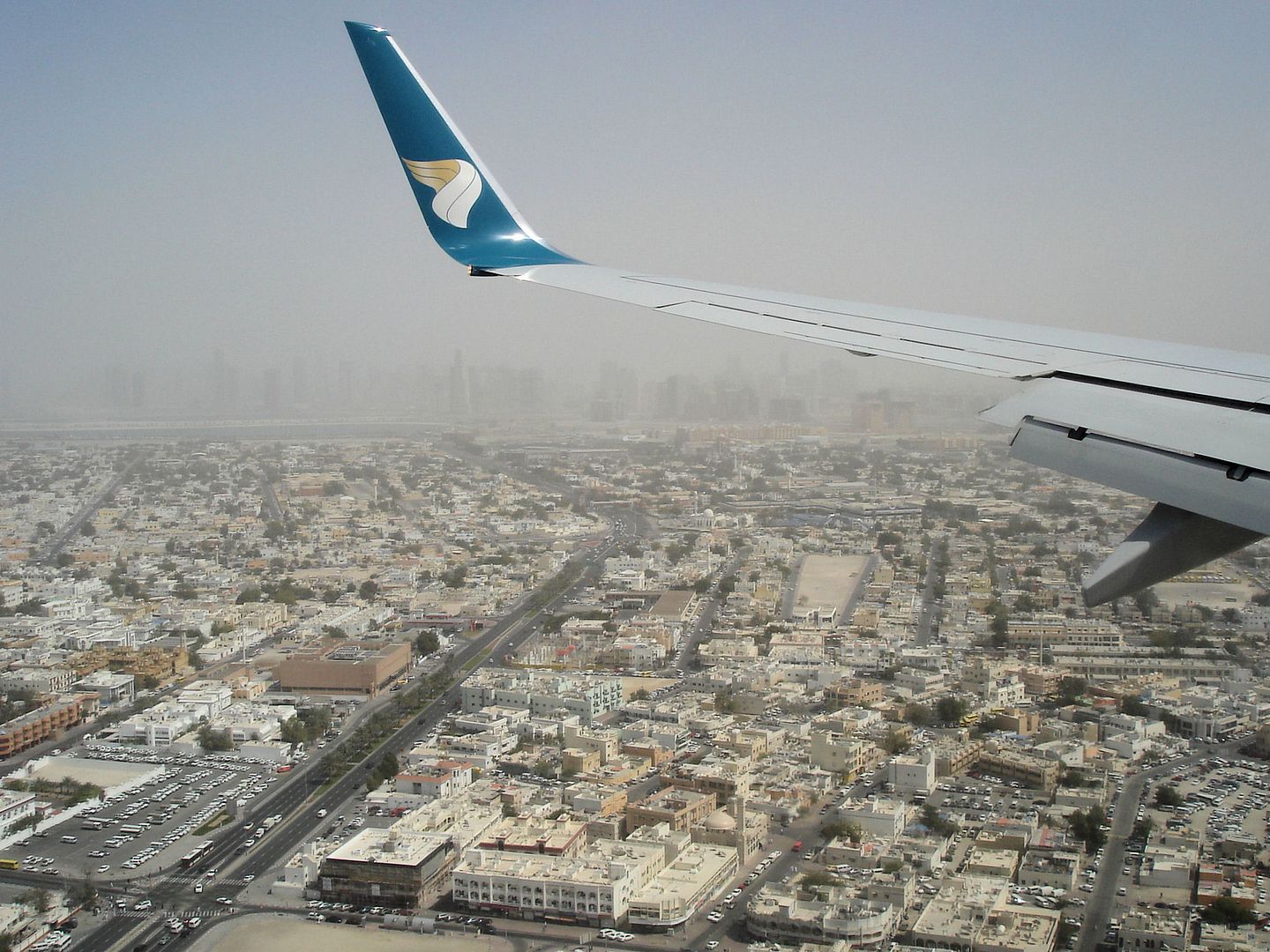 Al Ittihad Road:
Cargo ramp: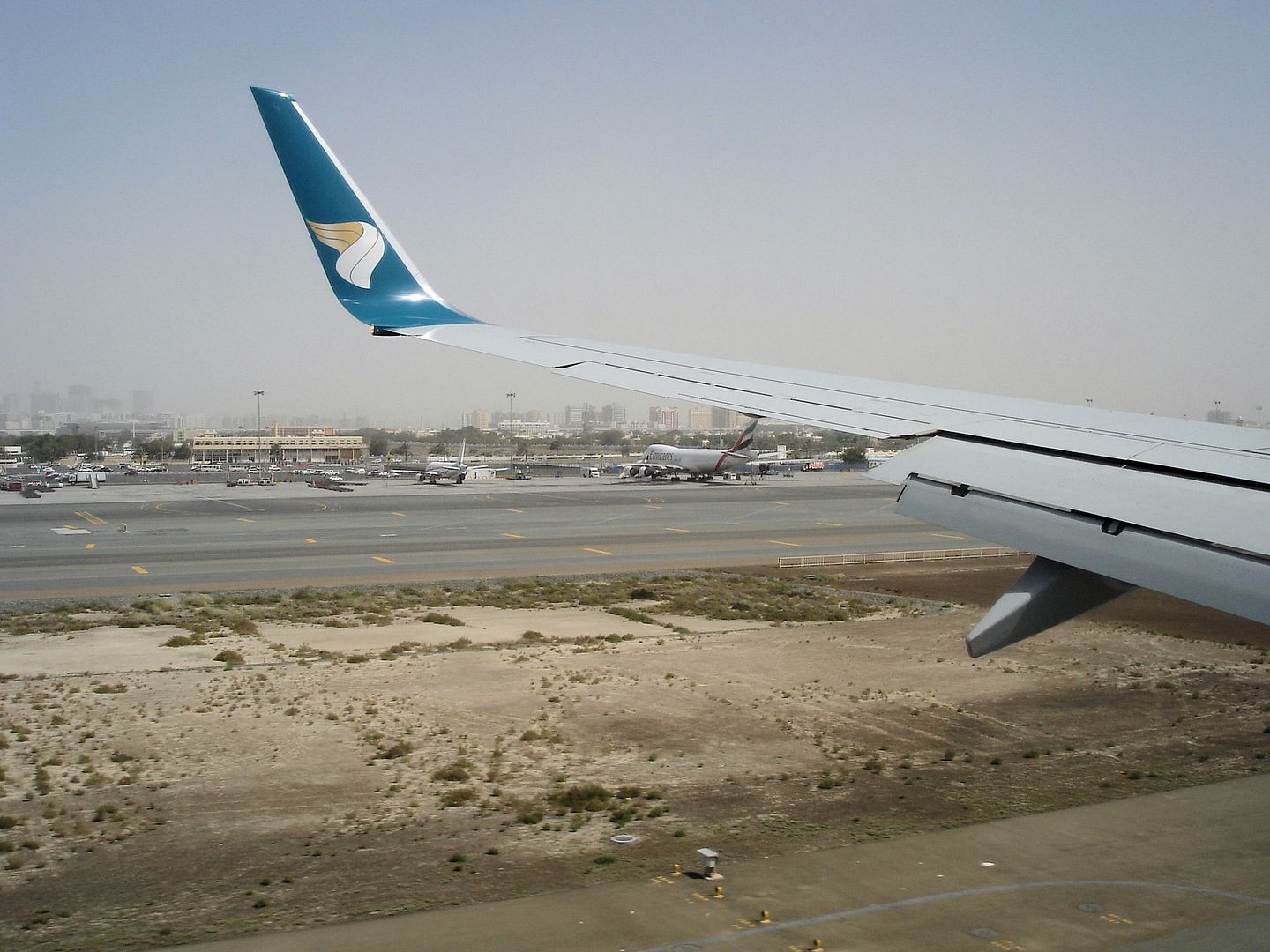 A4O-BD
touched the ground after a flying time of 44 minutes. Yet another terminal expansion: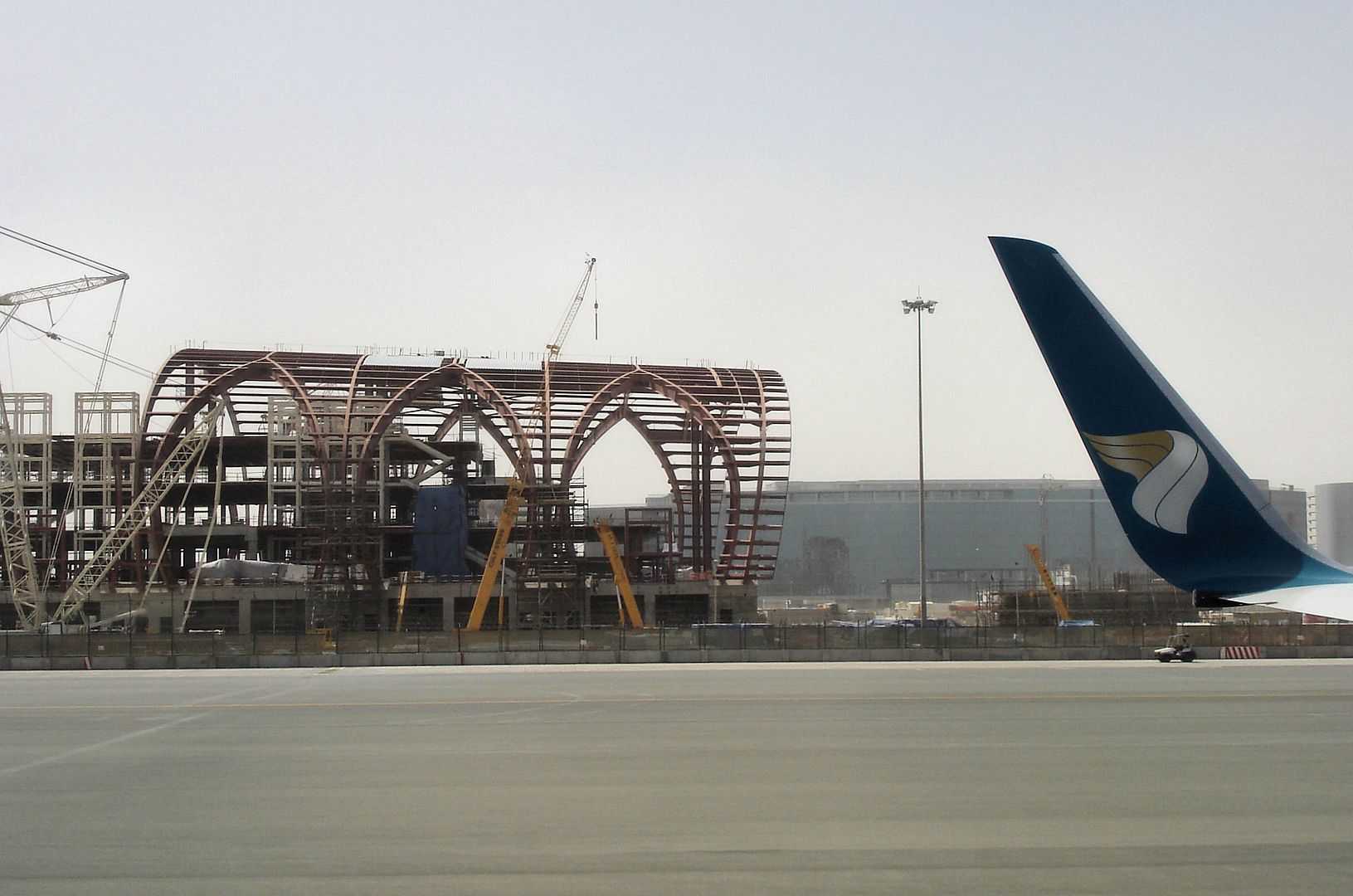 The striking ATC control tower and one of many Emirates tails:
Unfortunately, we didn't taxi very long, so I couldn't get many new registrations. Air France A340-300 and Uzbekistan Airways 767-300ER:
We arrived at our gate 11 minutes ahead of schedule. Parked next to us was Gulf Air A330-200 A9C-KB in special Formula 1 colors: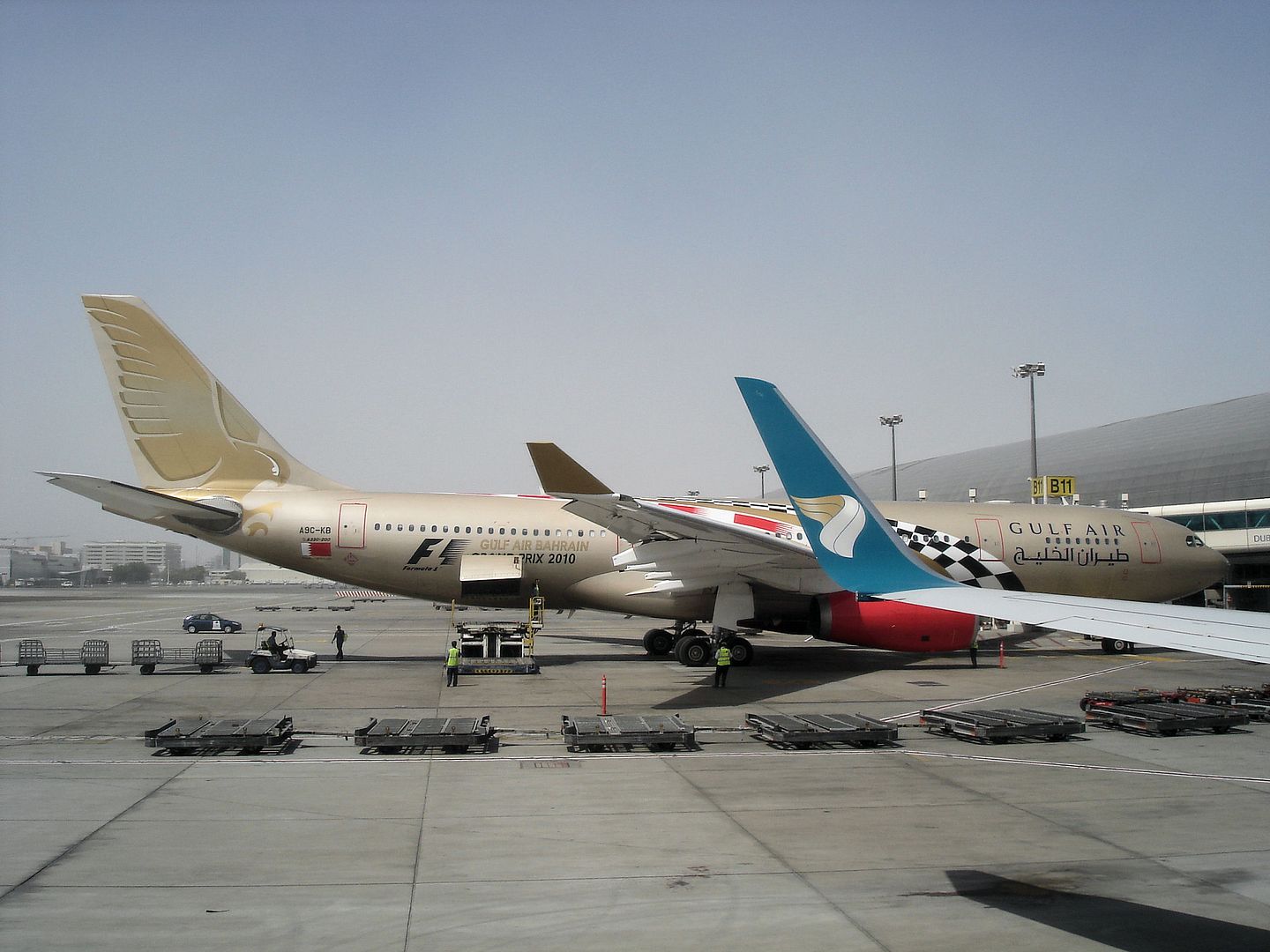 Very nice bulkhead wall design on our 738:
When we reached the door a flight attendant wanted to see our boarding passes again because the plane was about to continue to Abu Dhabi.
The well-known terminal hall:
Clearing immigration and customs took only a few minutes. Finally we stepped into the pleasant dry heat and took a taxi to the
Hilton Dubai Creek
which is an excellent hotel.
Story to be continued...
Conclusion
My Munich-Muscat flight on
Oman Air
belongs to the most enjoyable ever. The company's new A330s are equipped with state-of-the-art interiors offering a high level of comfort. Economy Class passengers can enjoy plenty of legroom and the advanced IFE system keeps them entertained for a long time. Live TV and WiFi broadband internet access are remarkable features which aren't common yet in the industry.
The cabin product on the 737-800 cannot be called spectacular, but the seats are comfortable and legroom is absolutely sufficient, too. Personal TV screens would be welcome, but they are not necessary for short flights. However, I guess it's only a matter of time until the 737 cabins will be somehow upgraded.
The catering in general was superb both in terms of quality and quantity and beats most of the offerings I had experienced before. I was also positively surprised by the carrier's excellent web check-in facility and the convenient transfer at Muscat Airport. Ground staff members and flight attendants were mostly friendly - however, there's still some room for improvement.
If
Oman Air
continues to focus on quality it can become a true five star carrier. It will be very interesting to follow the airline's growth in the next few years with a total of 23 jets on order (six A330s, six 787s, seven 737s and four E175s). However, considering the number of potent airlines in the neighborhood, we may see be a fierce competition in the years ahead. I really hope the best for Oman Air which has become one of my favorite carriers.
Best Regards,
PlaneHunter
P.S.: Just in case you missed them - other more or less recent reports:
Turkey For 1.5 Hrs: Daytrip To AYT On Sky Airlines
CO Scores Again: ATL-IAH-EWR-FRA On ERJ, 752 & 764
Riding The Ultra Long-Haul Twin: Delta 777-200LR
Pacific Coast Jaunt: 3 Carriers, E120, E140 & Fog
The Ultimate 737: LHR-IAH-PDX On CO 777 & 739ER
Bye Bye, Hell! TRD-OSL-TXL-NUE - DY/AB/HE DH4
My Trip To Hell: NUE-CPH-OSL-TRD On Cimber & SAS
SFO-YUL-FRA: Map- & Sleepless On Air Canada's 77W
Sin City Gloss & Virgin America's Chic First Class
Seat Dilemma & Canyon Glamour: FRA To LAX, AC 763
On Par With Air France? DTW-AMS-MUC, KLM A330
Goodbye, Red Tails! DC-9-40/50 & Chicago Tour
Champagne & World Of Coke: Air France A340 To ATL
"Mission A380": Disappointing Legs On BA/BD/EI
Delights Of Doha, 773 & 77W: DOH-DXB-LHR On EK
A380 Really a Step Forward? LHR-DXB-DOH On EK
Quality & Style: HKG-LHR On Air New Zealand 744
Taiwan Trio: TransAsia, UNI Air And The Taipei 101
"The Wings Of Taiwan": EVA Air A332, 744 Combi
SHA-SZX, Shanghai 757: Delayed By The Military
PEK-SHA, China Eastern A330 & Shanghai At Night
Striking Newcomer: Berlin-Beijing On Hainan A330
[Edited 2010-03-25 15:30:29]