Hello everyone! This is my very first trip report on airliners.net, therefore I hope that I will get the help of you guys in commenting on how the trip report can be improved!
Background
After 10 years, I finally decided to pay a visit to my relatives in China. My hometown is in a small town in the Guangdong province, Shantou. It has an airport there but it does not serve any direct flights from Singapore and I really wanted to take SQ there. =D A few weeks before the trip, I applied for my KrisFlyer account (well, just for the fun of it) and made the booking to accumulate the first mileage in my account.
Booking
The booking was done via the SQ website which is very user-friendly. You can choose whatever destinations you want easily and the price is laid out nicely from the ticket price, fuel surcharge to airline surcharge. Despite the astonishing price of $843 SGD, I still proceeded with the booking as I really wanted to travel on SQ instead of TR or CZ on this route. There was a glitch whereby my gender was unable to be selected and therefore I could not continue with the booking. I made a call to the Singapore Airlines office in Singapore to make a booking instead, but while going through the call menu I discovered that a $25 SGD surcharge will be charged upon for making a booking via the call center. When I explained the situation to the call operator, she kindly told me that I will not be charged for the booking due to the glitch in the website. Talk about a 5-star airline! =D
The Actual Day
The day I've been waiting for has finally arrived. 2 of my buddies went to the airport with me as it is my very first trip alone. Leaving the comfort of my home for somewhere so far away is not something I thought I'd actually do in my life! Checked in at the beautiful Changi Airport Terminal 3 whereby SQ has their dominance. After less than 3 minutes of queuing up, I got to the counter, checked in my baggage and went on to have a small chat with my buddies before going into the immigration area.
Flight 1
Route: SIN-CAN
Aircraft: Boeing 777-212ER
Registration: 9V-SVM
Gate: A9
Seat: 31A (bulkhead)
Class: Economy
Scheduled Departure: 8.05am
Actual Departure: 8.07am
Scheduled Arrival: 12.05pm
Actual Arrival: 11.56am
P.S. Can someone teach me how to insert those small thumbnail photos? Thanks!
I headed to my boarding gate, A9 in Changi Airport Terminal 3. I'm really surprised by what the airport I'm so familiar with has to offer! The whole floor is sparkling and not even a speck of dust is present. When I reached the gate, my plane is already parked nicely and waiting for us.

9V-SVM at the gate

UA's B777 (still in old colours) heading for Narita

Another SQ B777, 9V-SVJ
Boarding commenced shortly and the door was closed. After a brief taxi to runway 02L for takeoff. Next to me was a lady and a Caucasian at the aisle seat.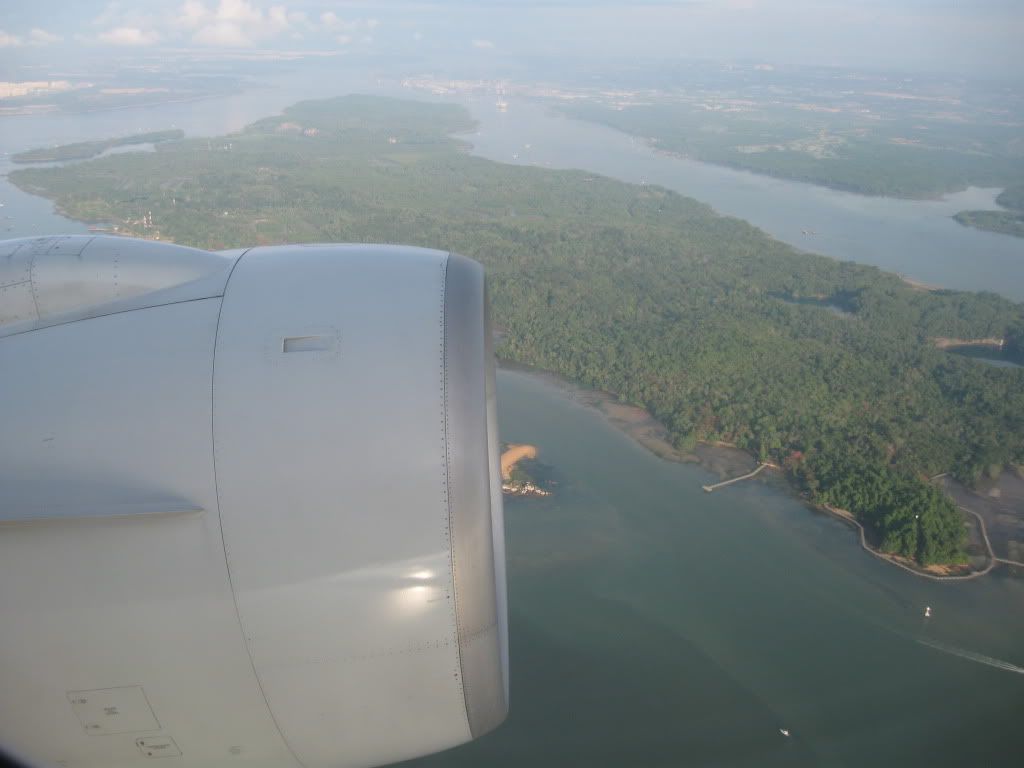 Pulau Ubin

Leveling off and awaiting instructions from ATC before climbing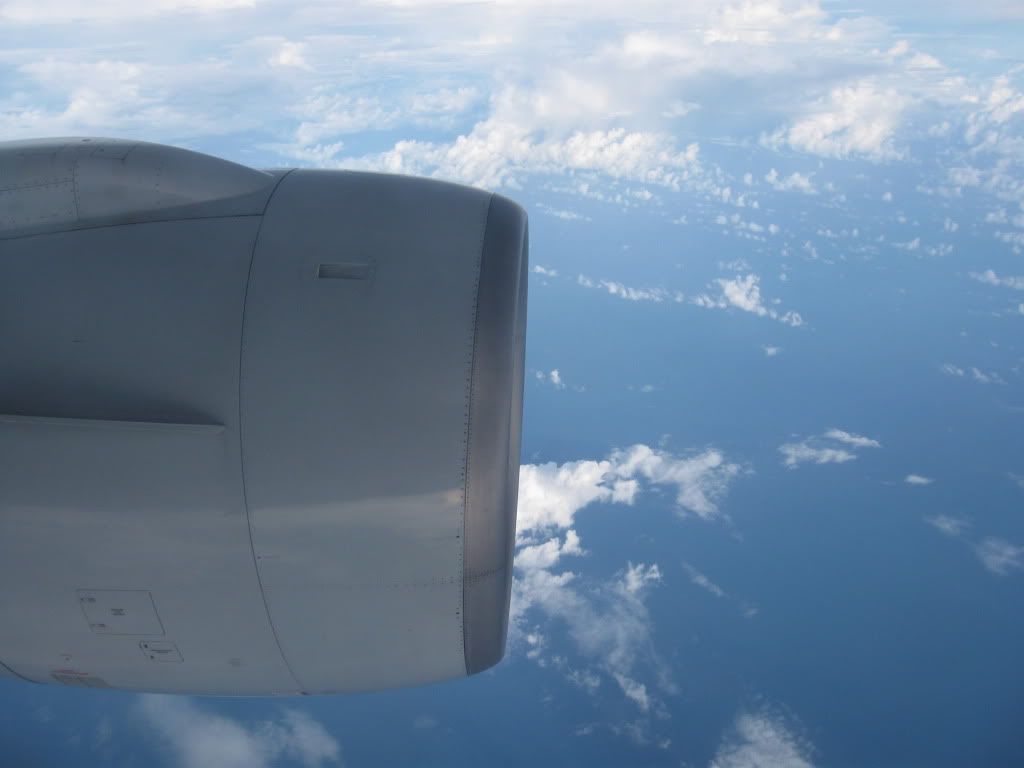 At cruising altitude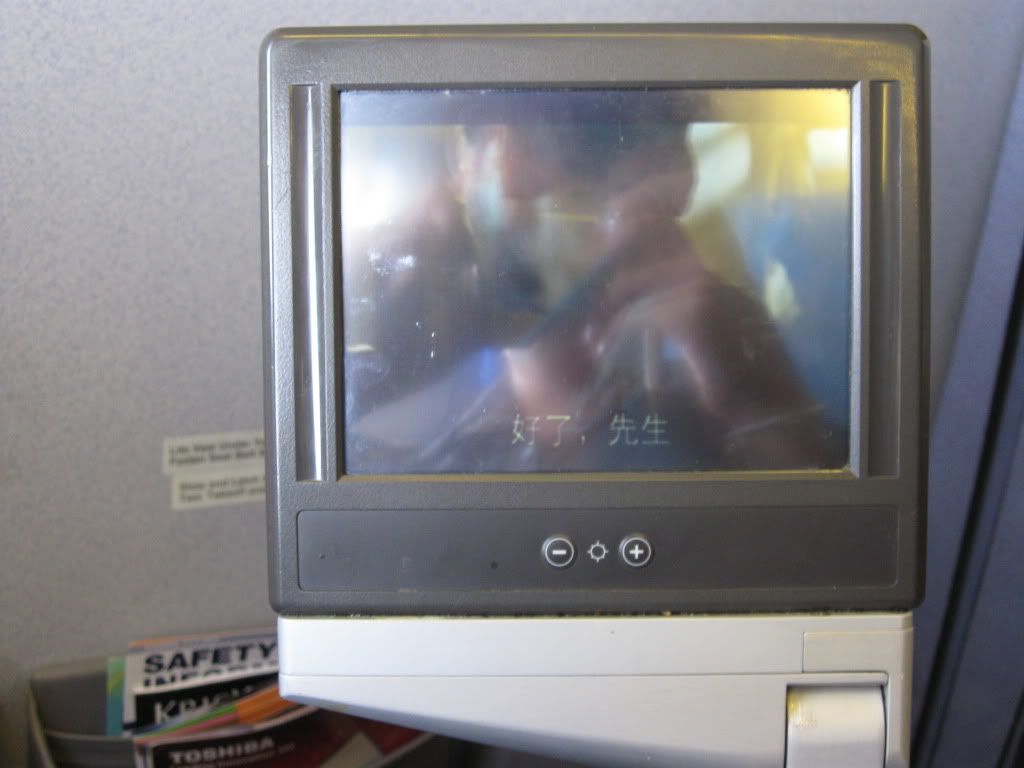 The PTV in the stowed in the handrest, you can adjust it to almost any angle you want
About 30 minutes after takeoff, breakfast was served. There were 2 choices, the western or the oriental choice. I chose the western choice and it was omelet with sausages, potatoes and mushrooms. Drink was English tea and orange juice. A delicious fruit salad was included in the menu for dessert too!

Breakfast for this medium-haul flight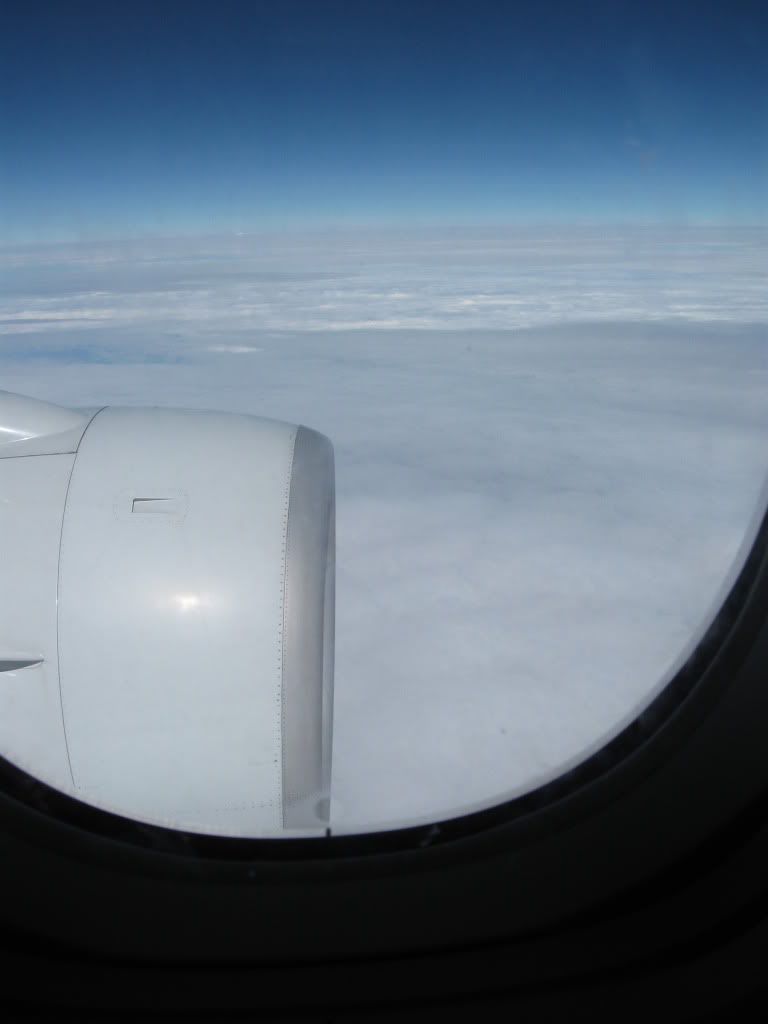 Nearing the top of descent
About 20-30 minutes prior to landing, we started the descent. While descending, I saw some other planes in the same airspace as us. Not a common sight for me and I was definitely quite shocked! However as the descend proceeded, I began to doze off due to lack of sleep the previous day. Before I actually managed to doze off, I see the land of Guangzhou greeting me! Of course, I was anticipating to meet my relatives whom I have not seen for 10 years. The weather was foggy and temperature was about 15 degrees Celsius. A smooth landing was executed by the captain on runway 02R in CAN. After a brief taxi, we pulled up at the gate.
Return Trip
Flight 2
Route: CAN-SIN
Aircraft: Boeing 777-212ER
Registration: 9V-SVN
Gate: A9 (same as in SIN!)
Seat: 47A
Class: Economy
Scheduled Departure: 1.15pm
Actual Departure: 1.12pm
Scheduled Arrival: 5.25pm
Actual Arrival: 5.09pm
The return trip was something I wasn't anticipating as I was really wanting to stay in China longer than I have planned. The life here is just too good to leave behind! =( However, we have to move on eh? Checked in for the flight 48 hours prior and got randomly assigned a seat. I wanted to change it to 31A again but it was already taken so I chose 47A, the "twin seats" in Economy.

9V-SVN, 9V-SVM's sister ship bringing me back to Singapore
Boarding took longer this time, or probably I was seated at the back row of the first Economy section so I boarded the aircraft first and I waited longer for the others to board. Doors closed, taxied to the runway and back to Singapore!

The flight right after ours was to Kuala Lumpur, about 160nm from Singapore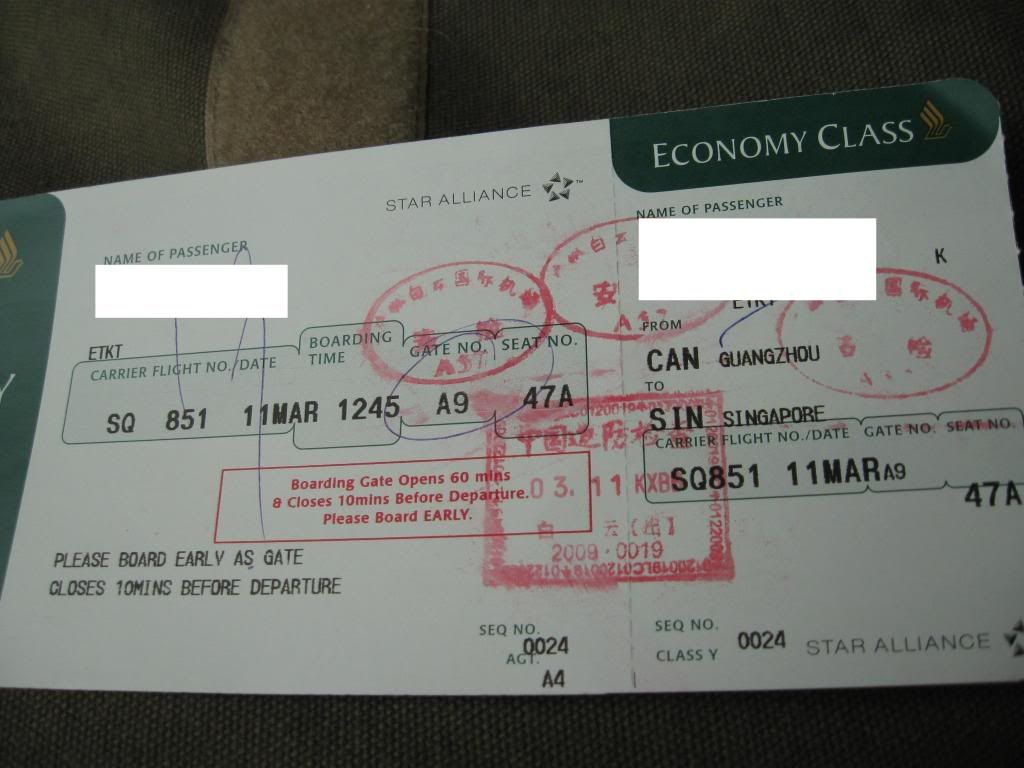 My boarding pass. Look at the number of "decorations" on it!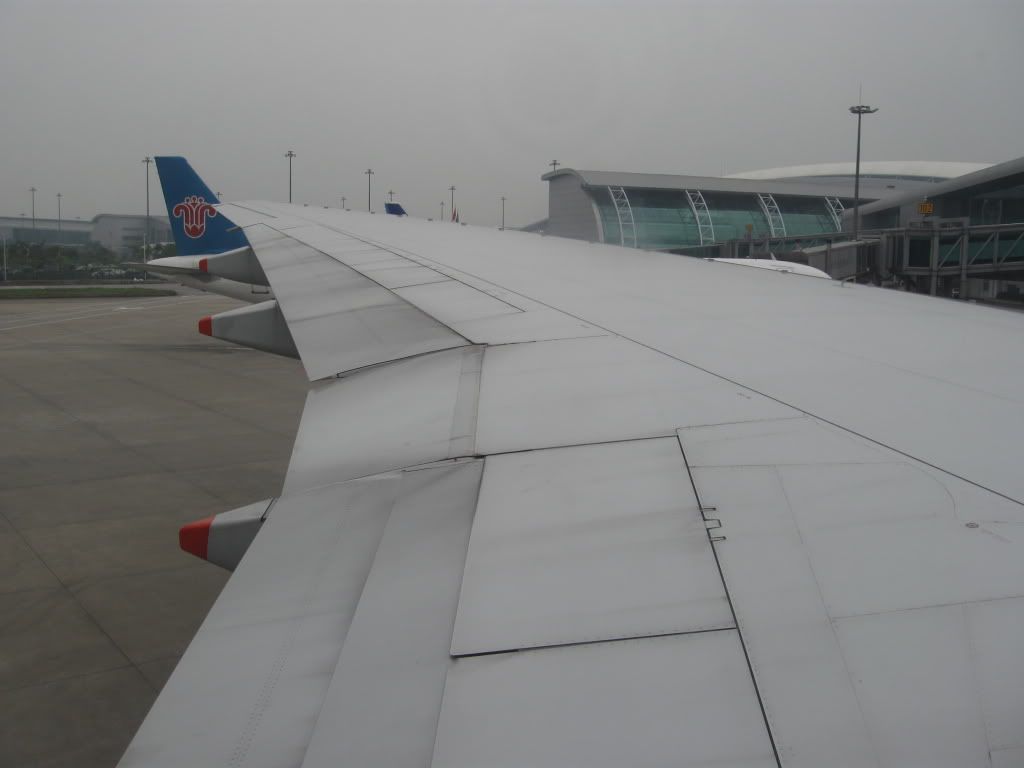 Ready for pushback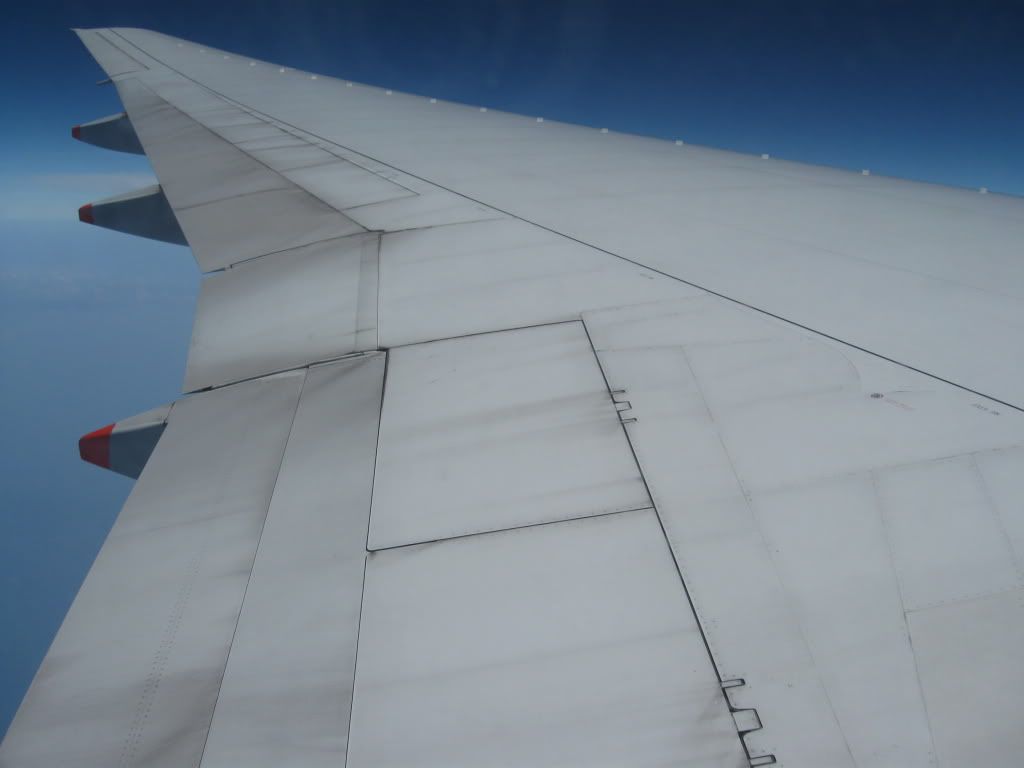 Climbing to cruise level

At cruise level
While waiting for lunch to be served, I played around with KrisWorld and read the menu for Economy Class.

Fresh looking Economy Class menu
Lunched was served and the choices were the same, western and oriental. I chose western again. This time, it was mashed potatoes with chicken with Tiger Beer as drink and cheese and biscuits as appetizer / snack.

Mouth watering lunch!
We began our final descent into SIN and I was excited to go home and be in my comfortable room.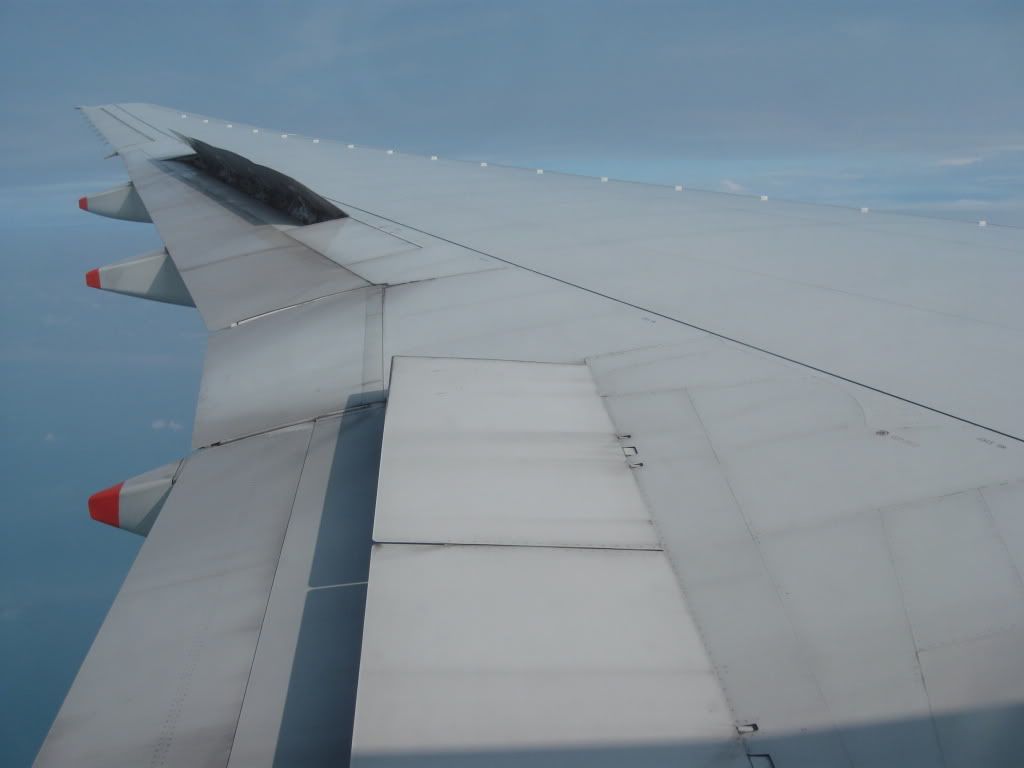 Spoilers deployed to help slow us down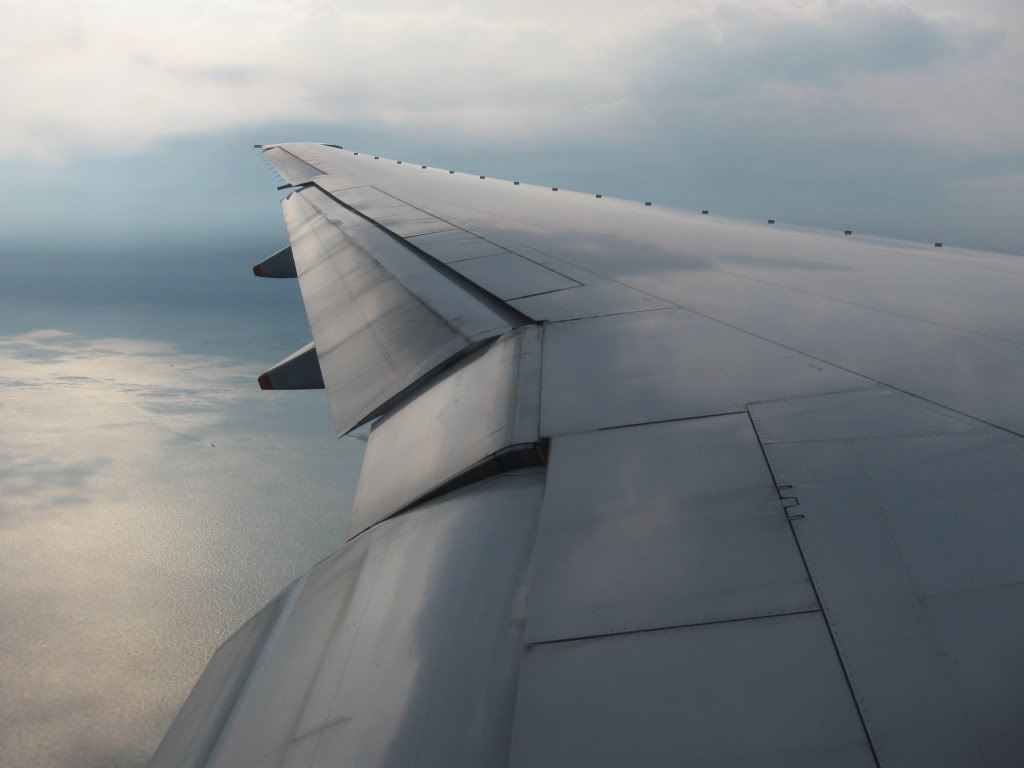 On final approach to SIN
This marks the end of my China trip and this SQ trip report. Being my first report, do tell me which parts need to be improved and I will improve it in my second trip report!
Next trip report: TG Business Class SIN-BKK-PVG-BKK-SIN and CZ Economy Class SHA-SWA-SHA in June 2010
[Edited 2010-03-26 05:35:57]
[Edited 2010-03-26 05:45:43]