I love lengthy trip reports but unfortunately due to lack of time I would have to keep this one fairly short, and I will let the photos do most of the talking. I was fortunate to fly on Porter airlines the day after they opened their brand new terminal at Toronto Island Airport (YTZ) and I would like to share my experience I had with them. To my knowledge, there are two more TRs on PD on a.net, but both of them came before the opening on the new facility at this unique and exciting airport.
I had to be in Montreal for a couple of days (I was intending to attend a Garou concert at Joliette a town about an hour northeast of Montreal) and I was very excited to find out that PD was offering me the best deal out of Chicago (MDW in particular), with a stopover at YTZ.
Fast-forward to the day of departure. I had no idea about the new terminal at YTZ until I was told so at check in, which only excited me more. I was annoyed by the lack of windows at our gate (A3) as I was very eager to have a good look at PD's Q400. The flight was a breeze, the load factor was about 50%, the crew very nice and friendly. We were offered the customary snack box and the 1.5 hours to YTZ went by in no time.
Porter check in counter at MDW
Cabin view on boarding
Chicken wrap and salad
Fried veggie chips and beer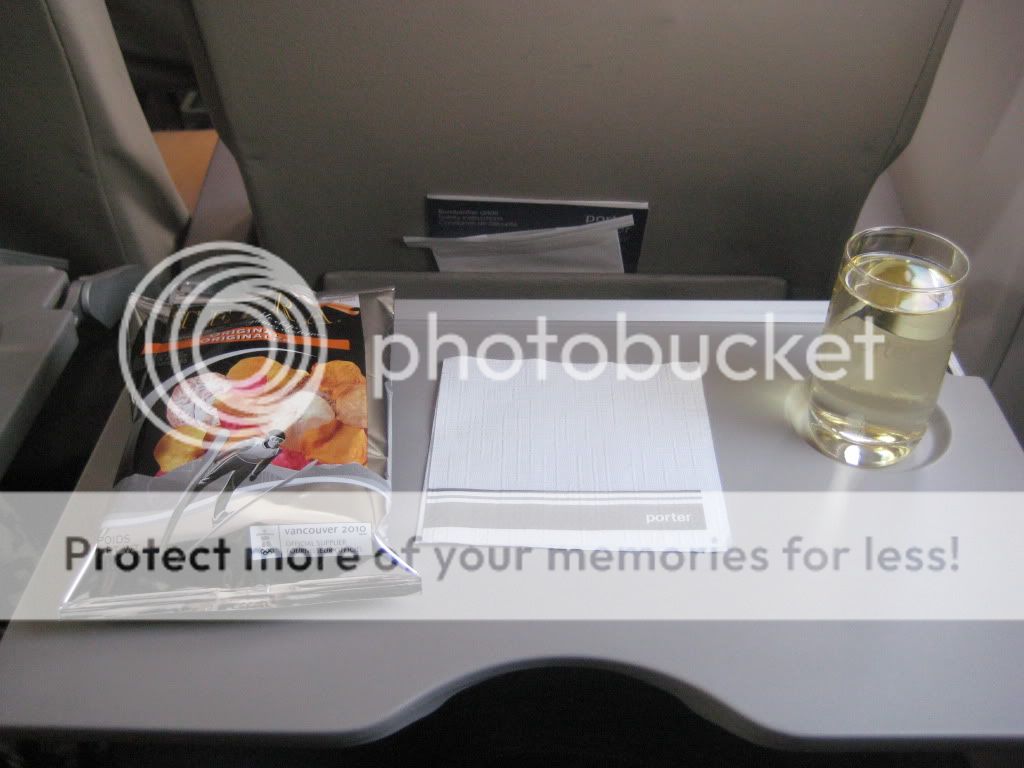 ...or wine (Both photos are actually from the second leg. No alcohol was served on the morning flight from MDW).
Generous leg room for a 6'3'' person
Flying over Detroit
I was fortunate to be sitting on the left side of the aircraft so I had a really nice view of Toronto's skyline on approach and just before touchdown. The views of the skyline were spectacular from anywhere in the small airport and it has hard to put my camera down.
Moments before touchdown
Great views
The old tower building
We had decided to make our layover at YTZ long enough to allow us a visit to downtown, so after clearing immigration we headed to the ferry terminal. The crossing took barely a couple of minutes and at the other end we were waited by PD's complimentary bus to downtown. After spending a couple of hours there, we decided that it was time to head back and check out the lounge.
Ferry terminal on the island side
The ferry in the middle of its barely 2-minute long crossing.
Porter's complimentary bus to and from downtown
The lounge was made up of several cubicles with 4 comfortable seats and a table, huge armchairs near the windows, a desk with PD representatives ready to take care of any passengers' issues, a internet unit (with about 20 or so terminals) and a complimentary refreshments area. There are 10 or so gates in the new building and they can be reached through one of three Doors, labeled A, B and C.
Porter's lounge
More views of the waiting area
The information desk with the refreshments area on the background
Internet area
Free refreshment time!
How about a cold drink?
FIDS
Views to the apron
Our bird at YTZ
The flight to Montreal (YUL) was uneventful and the only difference compared to the one from MDW was that we were served complimentary alcohol (Beer or wine) and a fried veggie snack rather a lunch box. The crew on both flights (and also the two return flights, which I will not cover here) was excellent and very helpful with any requests.
View of Parc Olympique on approach
Our bird at YUL
Overall it was a great experience flight with PD, I would now list them as one of my very favorite airlines and I look forward to fly with them again.
And by the way, Montreal is a great city, I would recommend it to anyone. I bet it is even better during the summer.
Notre Dame Basilica Interior
ICAO bulding
Old Port
For more Montreal photos:
http://www.flickr.com/photos/29044442@N08/
I apologize for the brevity of this TR. I will be more than happy to answer any specific questions regarding any aspect of this trip that I have not covered.
Thank you Porter!