Hello everyone, I'm back here again to post a second trip report but mostly with archived photos so you will not be able to find the infamous leg shot and more here, but rest assured I'll include them for my next flight in June 2010!
Background
It came as a random thought to have a short overseas trip with friends in March 2009. When deciding on a place to go to, we had several random locations from Perth, Taipei, Vietnam, Thailand until we finally decided on Hong Kong. Since we will be on a budget tour, the first airline that comes into mind is Jetstar Asia, the only LCC that serves the SIN-HKG-SIN route at that time (Tiger Airways just started it in Feb'10). Having traveled with them before and being very satisfied with them, we decided to go on and book the tickets.
Booking
Booking was done via the Jetstar Asia website at
www.jetstar.com
where you can purchase flights for both Jetstar Australia and Jetstar Asia. Direct destinations served by Jetstar is as far as Melbourne (via Darwin). For our flight, we saw that it had a very attractive offer at $233 SGD per person (incl taxes) so everyone passed me their money and I started booking immediately. Upon booking my own tickets, the price actually skyrocketed to $350 - $380 per person. Seems like I got the last place of the discounted seats! After collecting the remaining balance from the others, I proceeded on to book their tickets and we split the cost, which was quite unfair for me but I guess it's customary to do so.
The Actual Day
I had just arrived from CAN the day before (check out the SQ trip report from me) at 5pm and after a 20-hour stop in Singapore, off I go to the airport again for a flight to HKG, which is nearby to CAN but I chose to come back to SIN anyway. Who would say no to more flights at cheap prices? Took a taxi down to Changi Airport in preparation for our flight. It was a 100% load factor today for the flight. Check-in took quite long since we actually "hit" the peak hour of the check-in time, 2 hours before departure. After 15 minutes of queuing, we finally got to the counter. When we were confirming our seats, I noticed that one of the seats I chose for my friend was not recorded, I guess I did not press the "confirm seating" button when I was choosing seats for them.
Flight 1 - 12 March 2009
Route: SIN-HKG
Flight Number: 3K 695
Aircraft: Airbus A320-232
Registration: 9V-JSD
Gate: C23
Seat: 18B
Class: Economy
Scheduled Departure: 3.45pm
Actual Departure: Unknown
Scheduled Arrival: 7.25pm
Actual Arrival: Unknown
Flight Duration: 3 hours and 40 minutes
Having lots of time to spend before the boarding time, we went to a cafe to have afternoon tea before proceeding to our boarding gate. The food in the airport is not cheap, but at the same time not too expensive. However, it is not really worth the value if you ask me. When we reached the boarding gate, boarding has not commenced yet. The waiting room was quite full and a couple of people are standing around, but we are thankful that we are flying from Terminal 1 and not the Budget Terminal. (Jetstar Asia and AirAsia are the only LCCs that uses Terminal 1 now) About 20 minutes from the time of departure, boarding was called and we boarded the plane. Everyone was called at once, no back-row priority boarding or whatsoever. The seats were very small for a tall guy like me (188cm). IIRC, the seat pitch is only about 29 to 30 inches while the SQ flight I took the day before had 34 inches. What a major difference!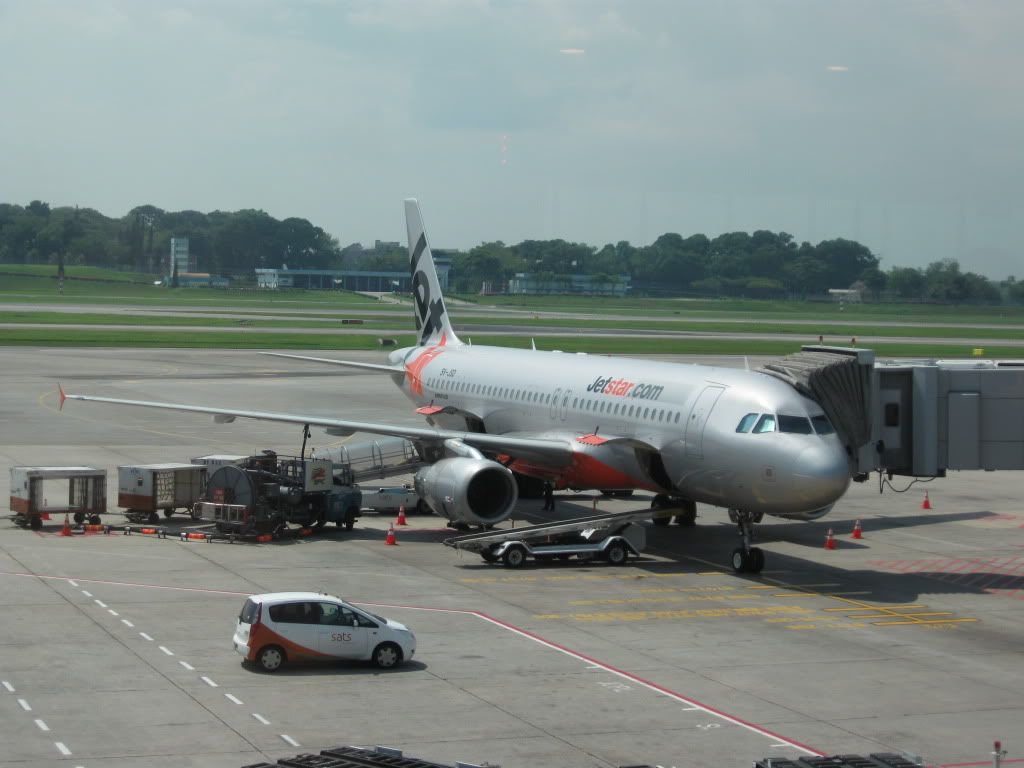 9V-JSD awaiting to start her next mission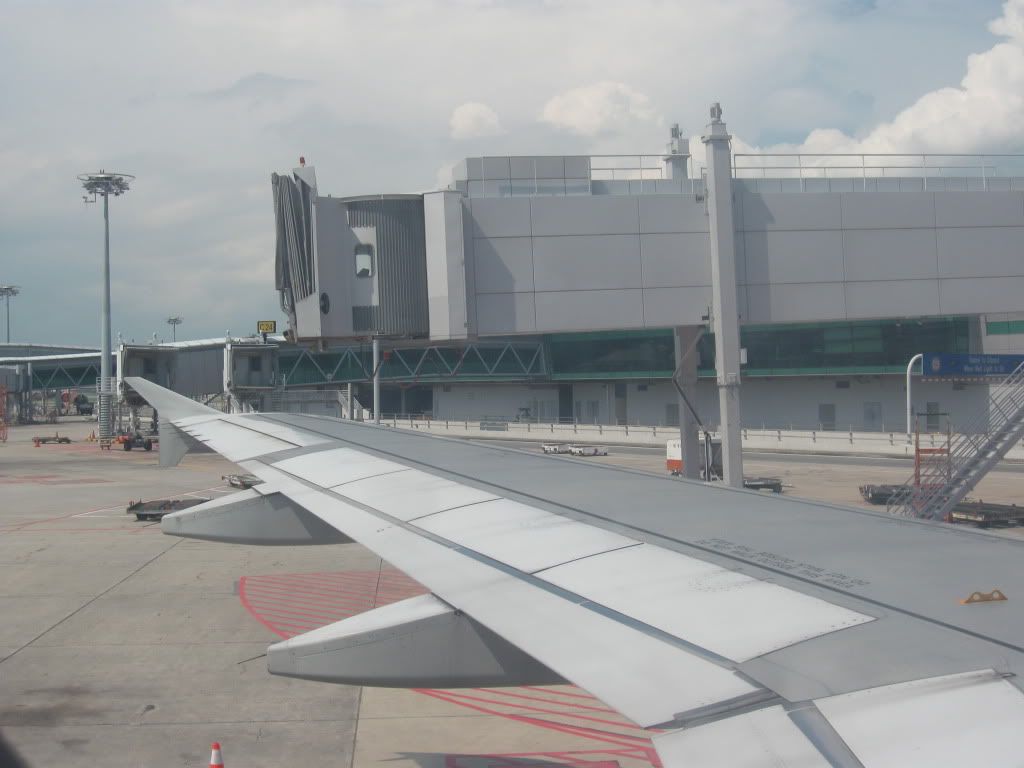 Seated in my seat, 18B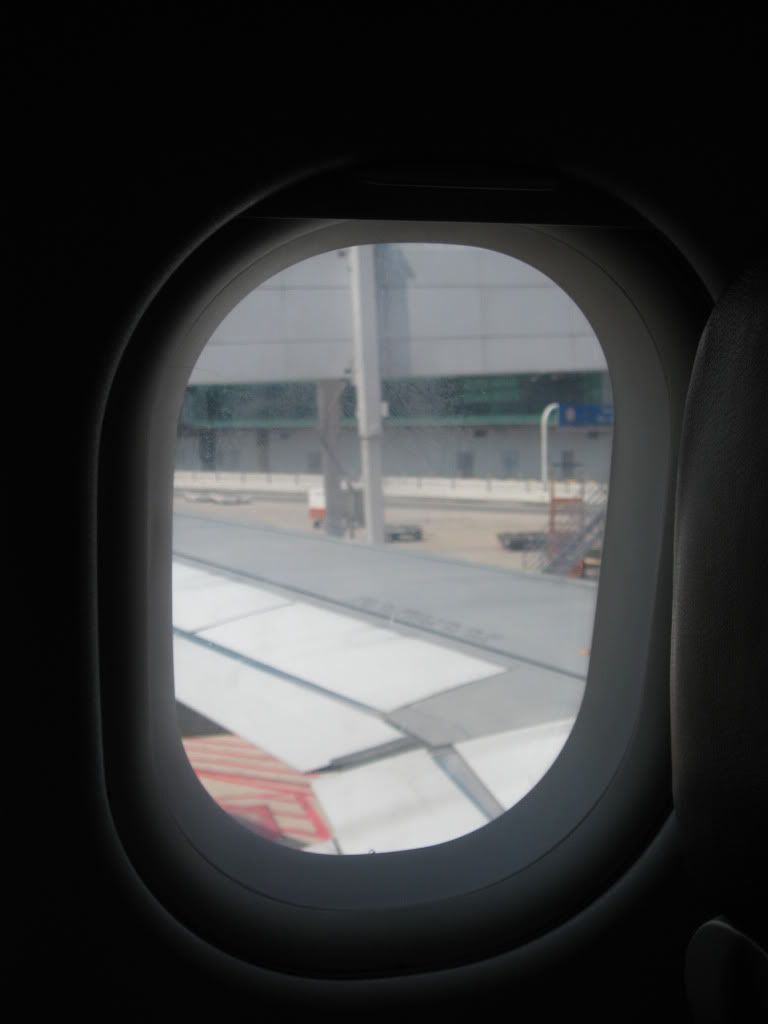 Window view
Pushback commenced on time and soon we taxied to runway 20C for the departure to HKG.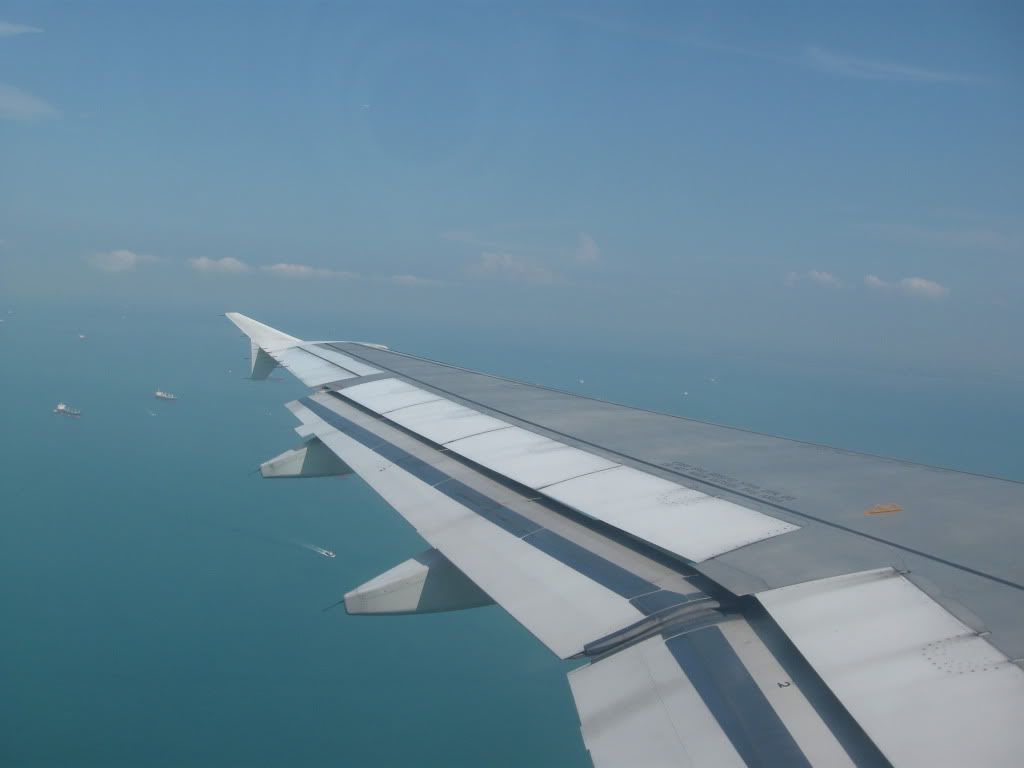 Shortly after takeoff - The flaps are still down
About an hour into the flight, the meal service started. Feeling peckish and slightly hungry as I skipped lunch, I bought a main dish - Macaroni with Chicken and Cheese for $8 SGD.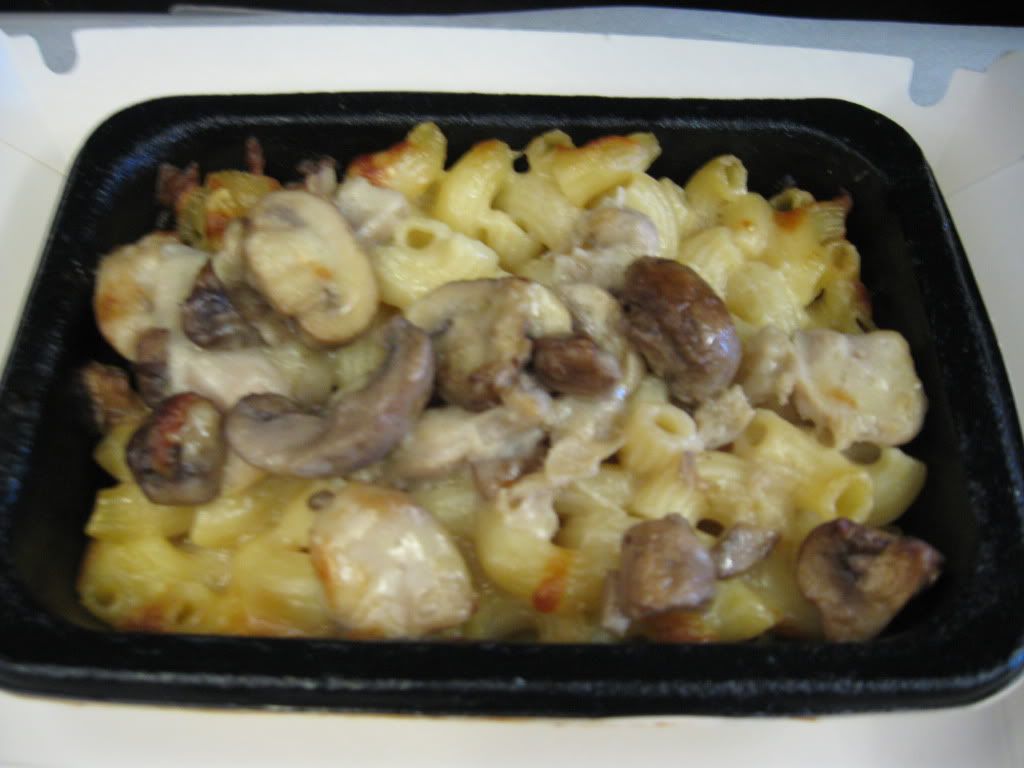 Macaroni with Chicken and Cheese - Quite delicious!
After the main meals service ended, they started selling some snacks and the in-flight duty free items. To pass time, we bought a pack of poker cards and a snack pack for $3 and $6 respectively. The poker cards were very nice with an A320 behind each card and sky blue colour as the background. Certainly a collectible! The snack pack consisted of a pack of Chewy (energy bar), KitKat, Honey Gold Flakes and Nescafe Coffee. With totally no in-flight entertainment, we played card games for several hours till it was time for the descent into HKG.

Masking myself with the poker cards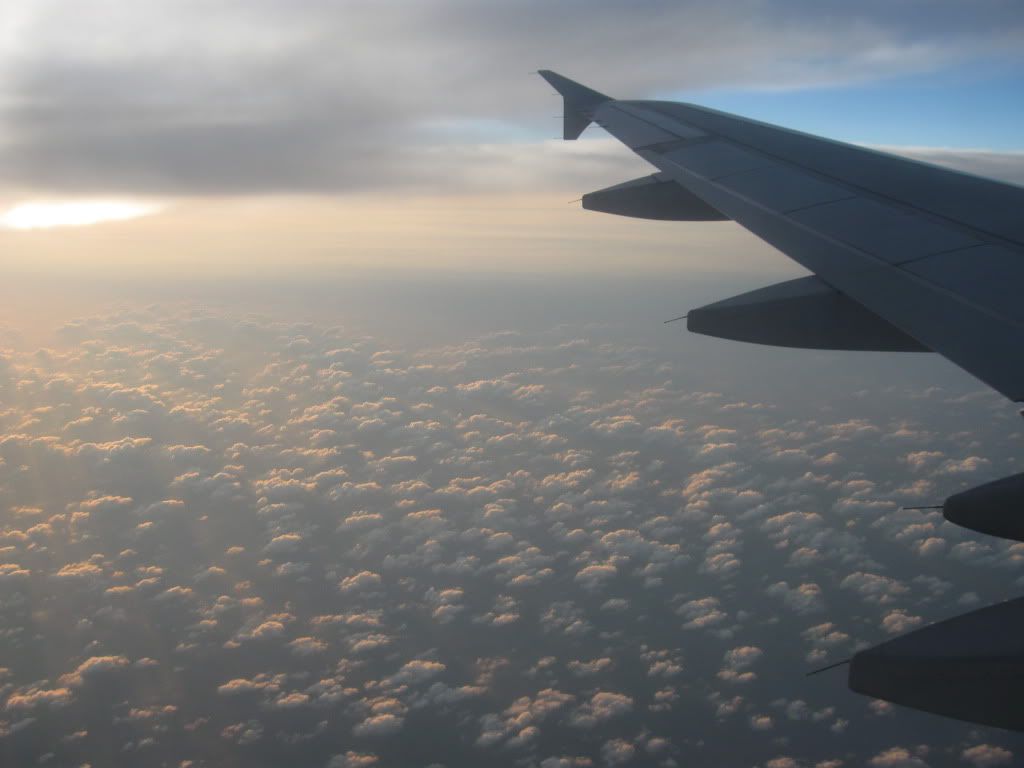 Sunset over Vietnam (estimated)
The turbulence was strong as we descended into HKG. When on finals, we experienced certain bumps and drops which I really loved it, that makes a flight very exciting! We touched down hard on runway 07L on HKG and taxied to a remote stand, awaiting the bus to bring us to the terminal.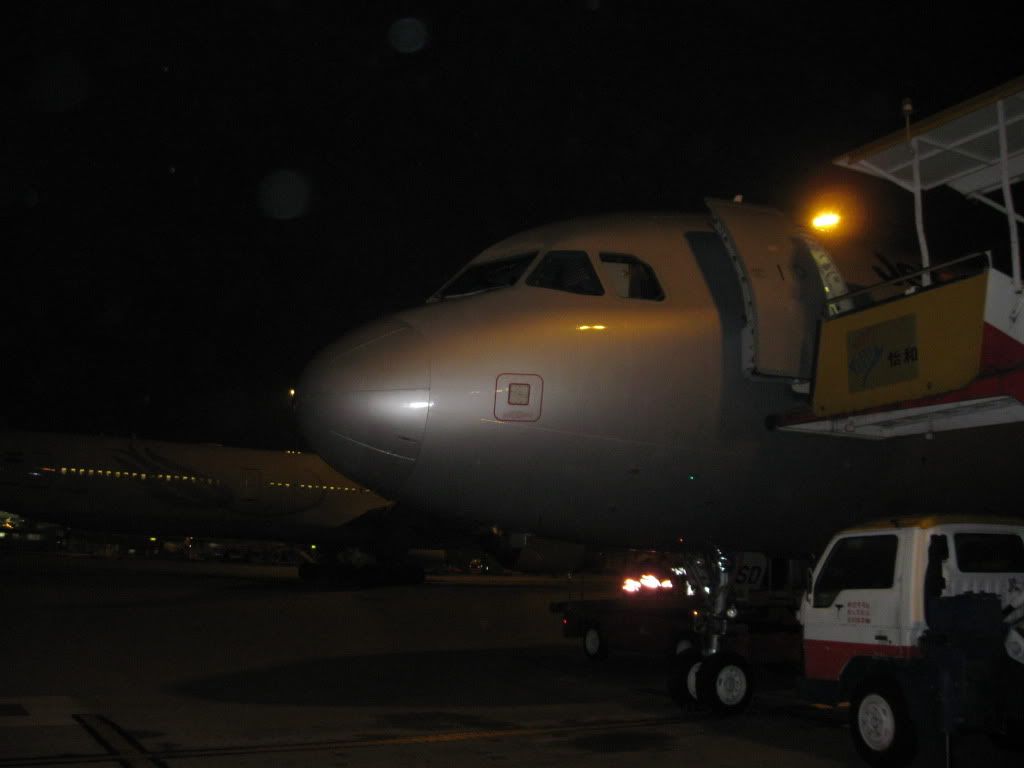 Arrival in HKG
Transportation cost in Hong Kong is very expensive, even more than that of Singapore's. Therefore, we could not take a taxi to anywhere we want. Mostly, we depended on the MTR (train) and buses to get around. To get from the airport to our hotel (Dorsett Far East Hotel), we took bus 31A from HKIA direct to the hotel for around 25 HKD (I forgot the actual price). The airport bus has a very interesting name, Airbus. Sounds VERY familiar, eh?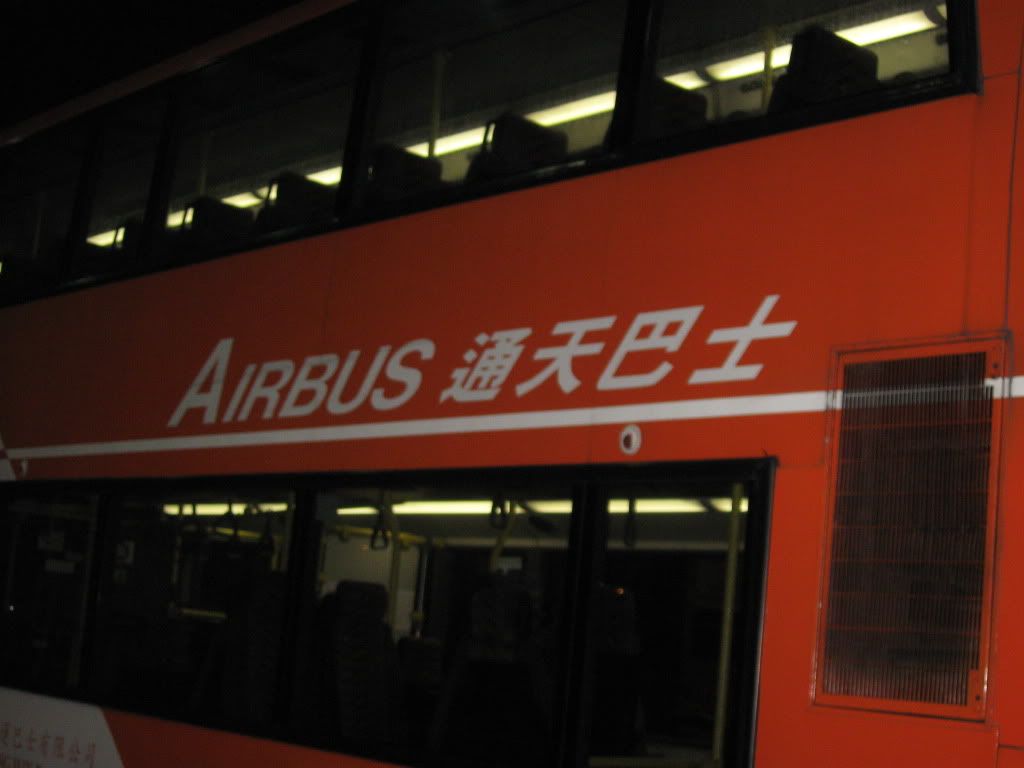 Large windows, double deck, A380?
The bus ride from the airport to the hotel takes about 45 minutes and it was already 9pm when we reached the hotel. After settling down, we went on to take the minibus to a nearby restaurant to have our supper. The food here is slightly more oily than in Singapore but still acceptable. Chinese tea is always welcomed with the food to clear the oil!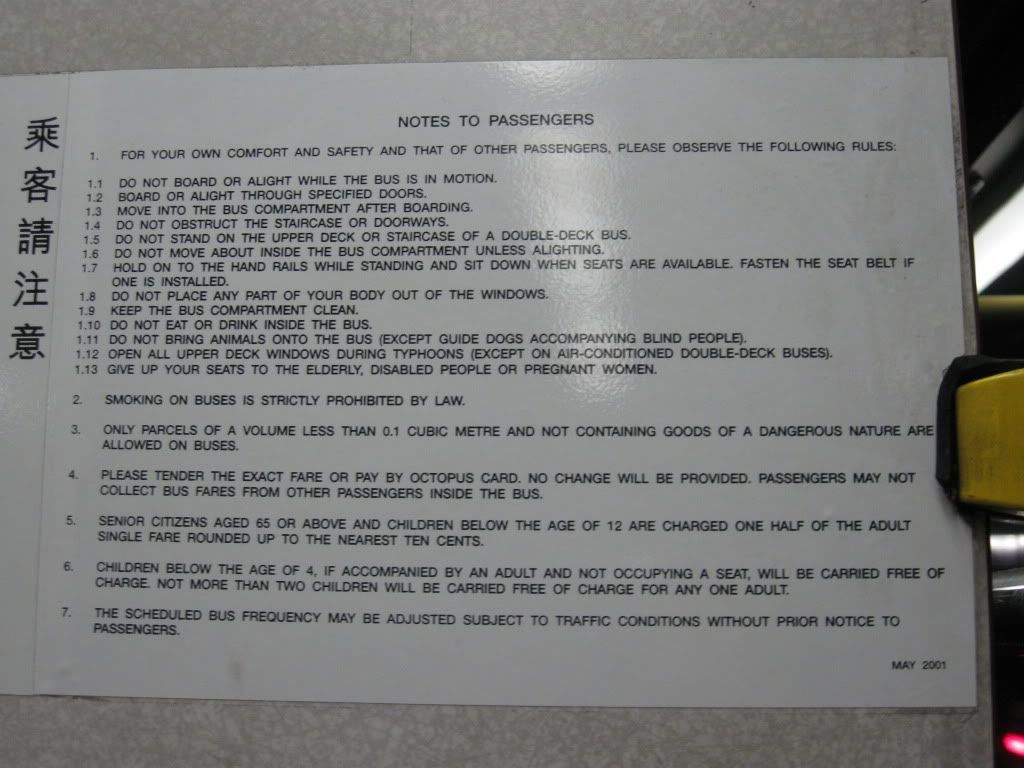 A notice inside "Airbus"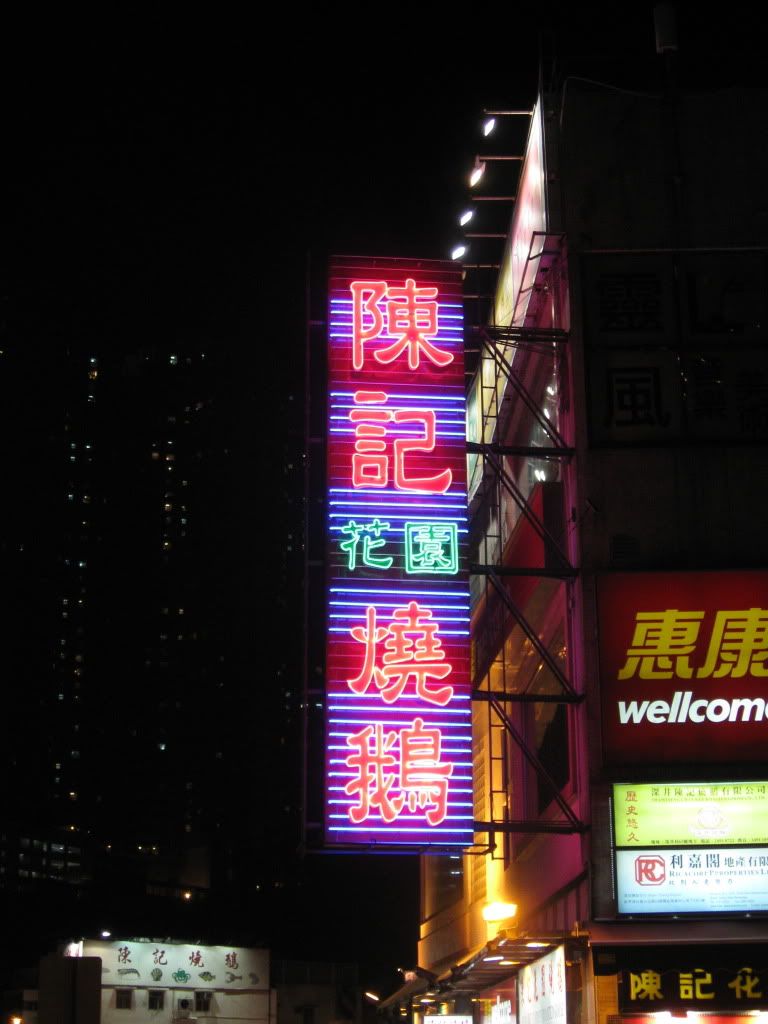 A restaurant selling Roasted Geese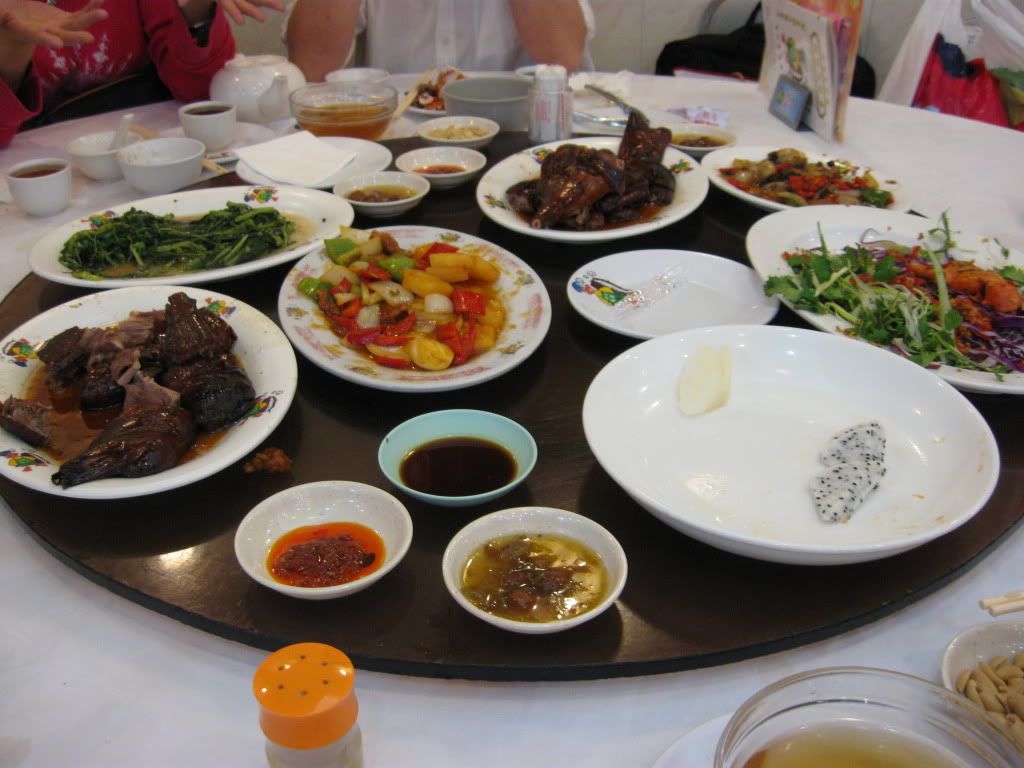 Our wonderful supper!
On day 2, we decided to pay a visit to the famous Ocean Park (which I went to in 1999 but I was very young so I had no impression of it). To get there, we have to take the MTR from Tsuen Wan Station to Admiralty Station (coincidentally, there is also a station of that name in Singapore) and transfer to the Ocean Park bus. One thing to note about; Single deck buses are very rare in Hong Kong due to its large population (highest population density in the world) and the expensive transportation costs.

Boarding the MTR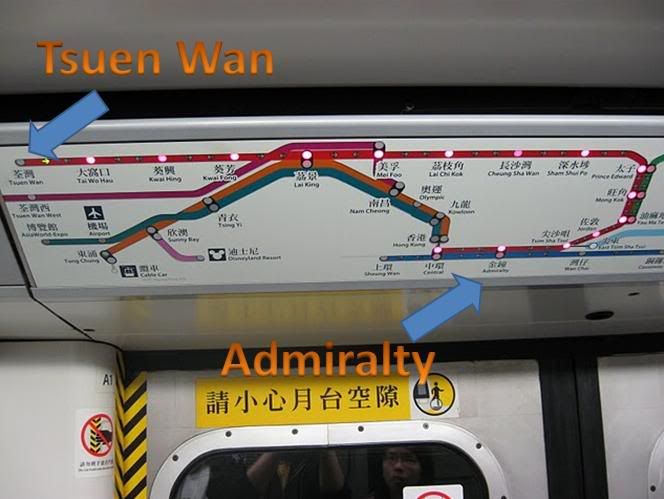 Our origin and destination
Upon reaching the station, we had to buy our Ocean Park tickets and take bus 925 to the park.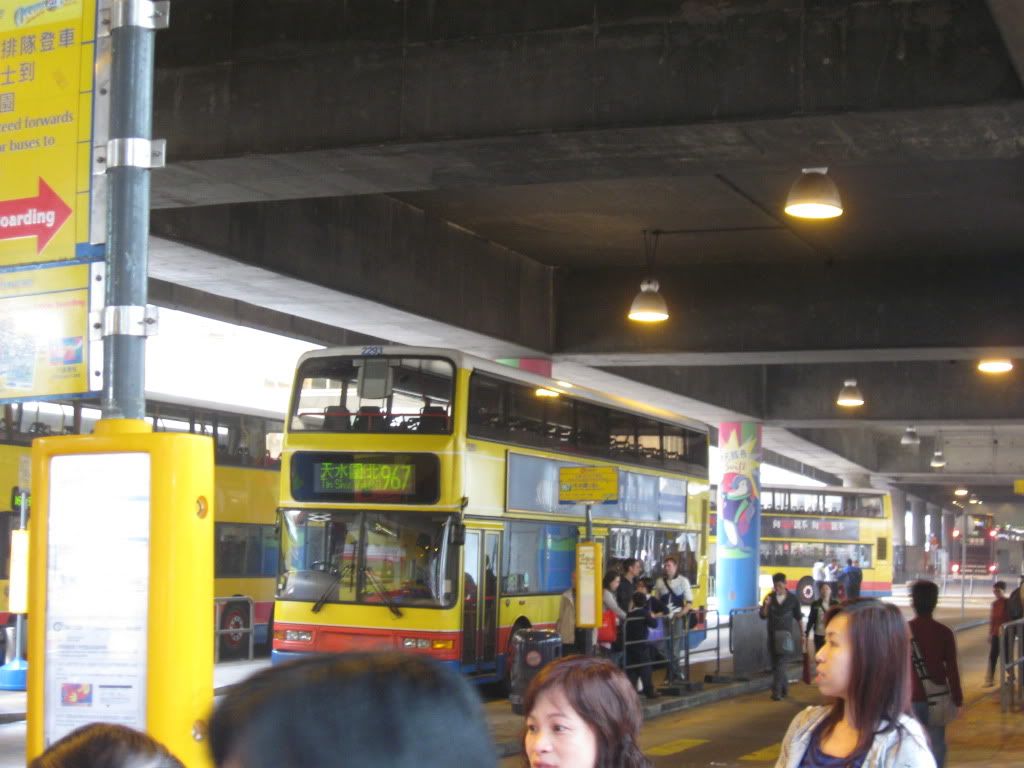 At the bus terminal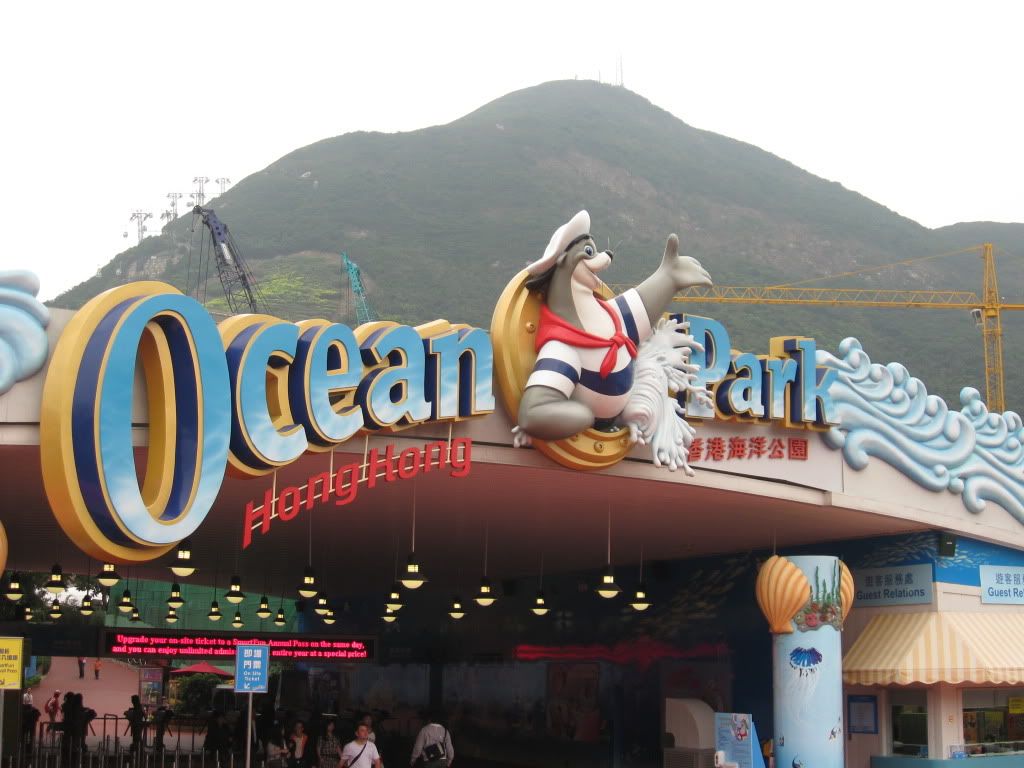 We reached Ocean Park!

A very scary rollercoaster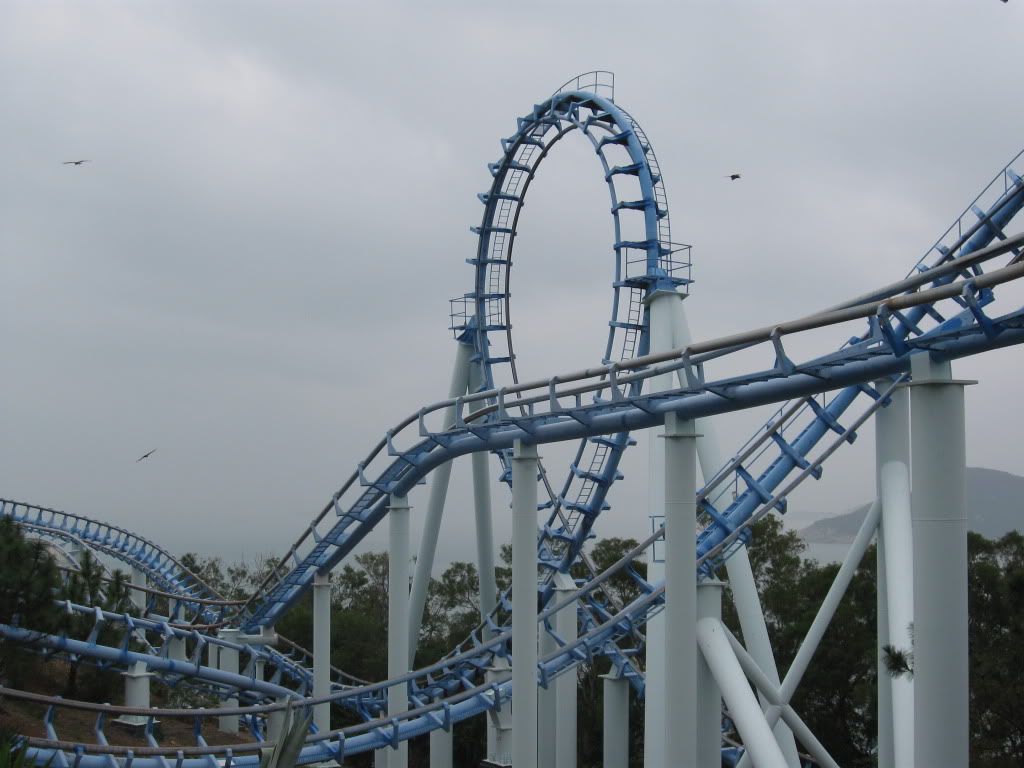 My very first looping rollercoaster ride in my life!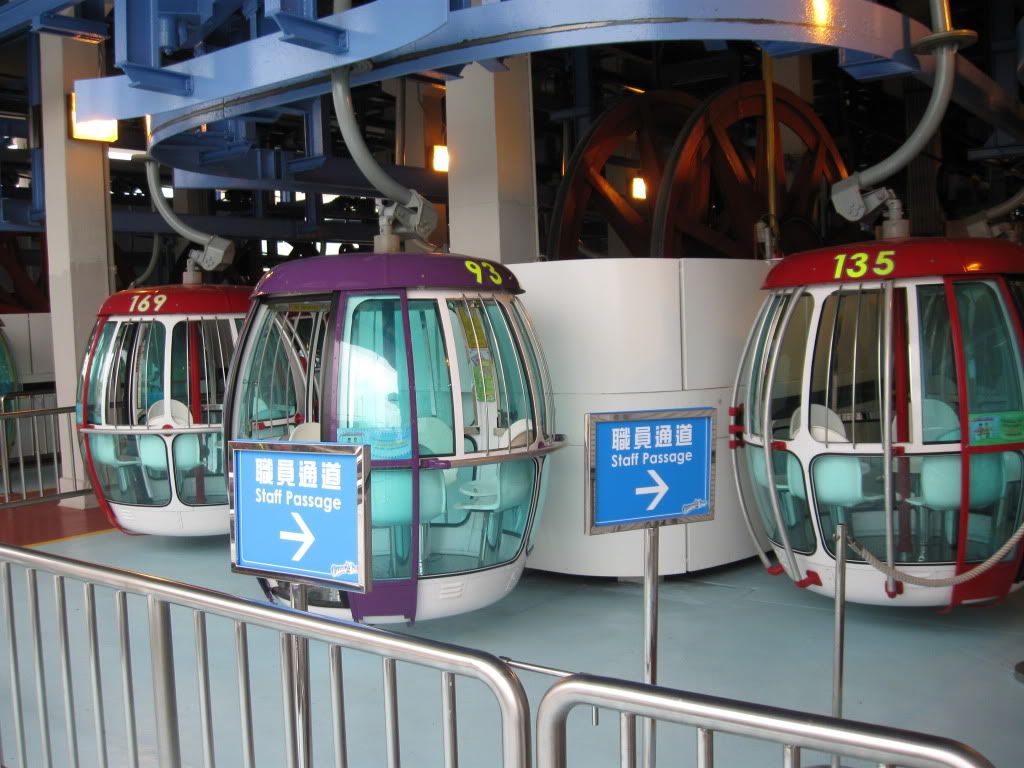 Cable cars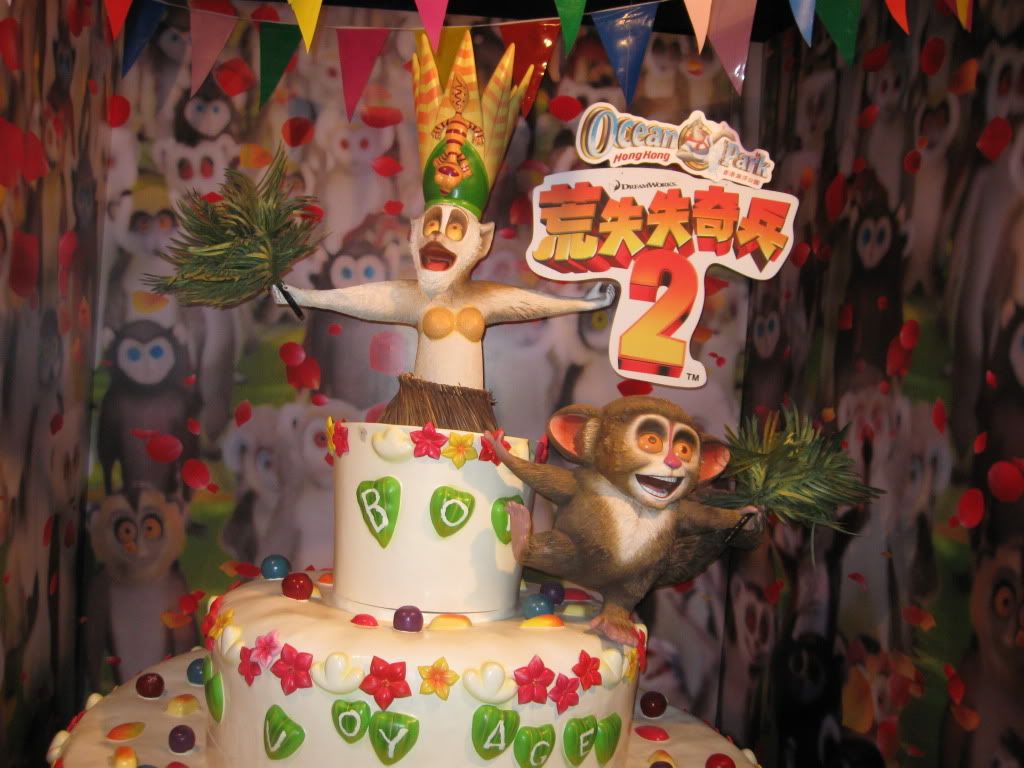 Madagascar 2!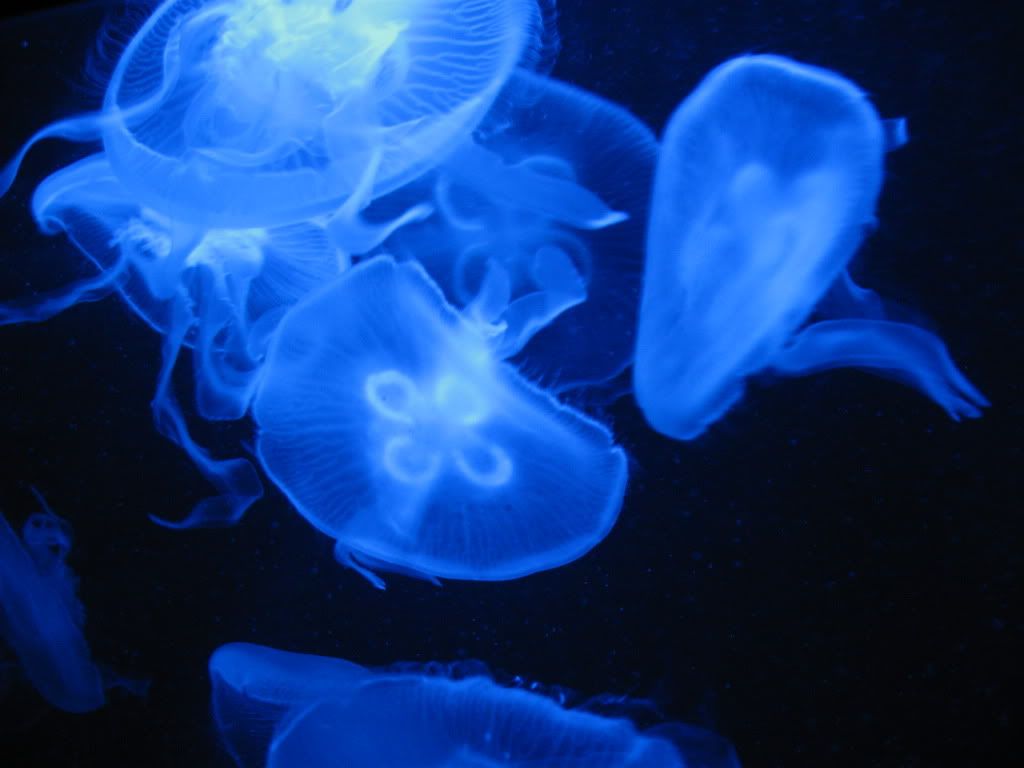 Jellyfishes
Here are some more shots of my remaining days in Hong Kong!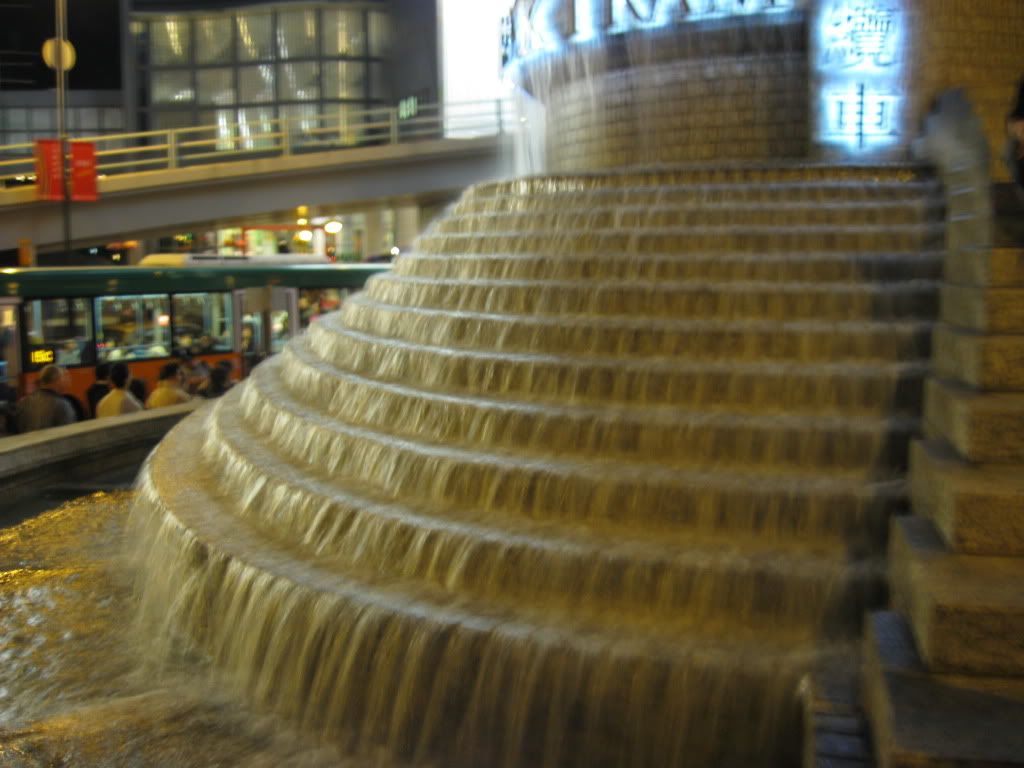 Peak Tram to Victoria Peak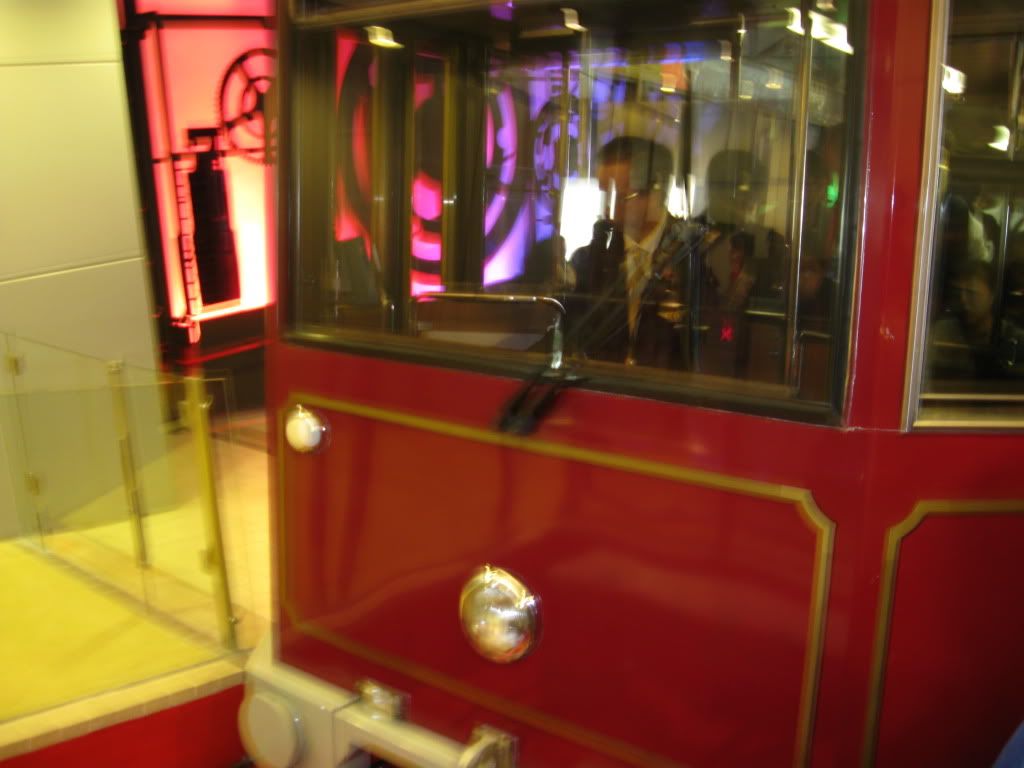 The tram pulling into the station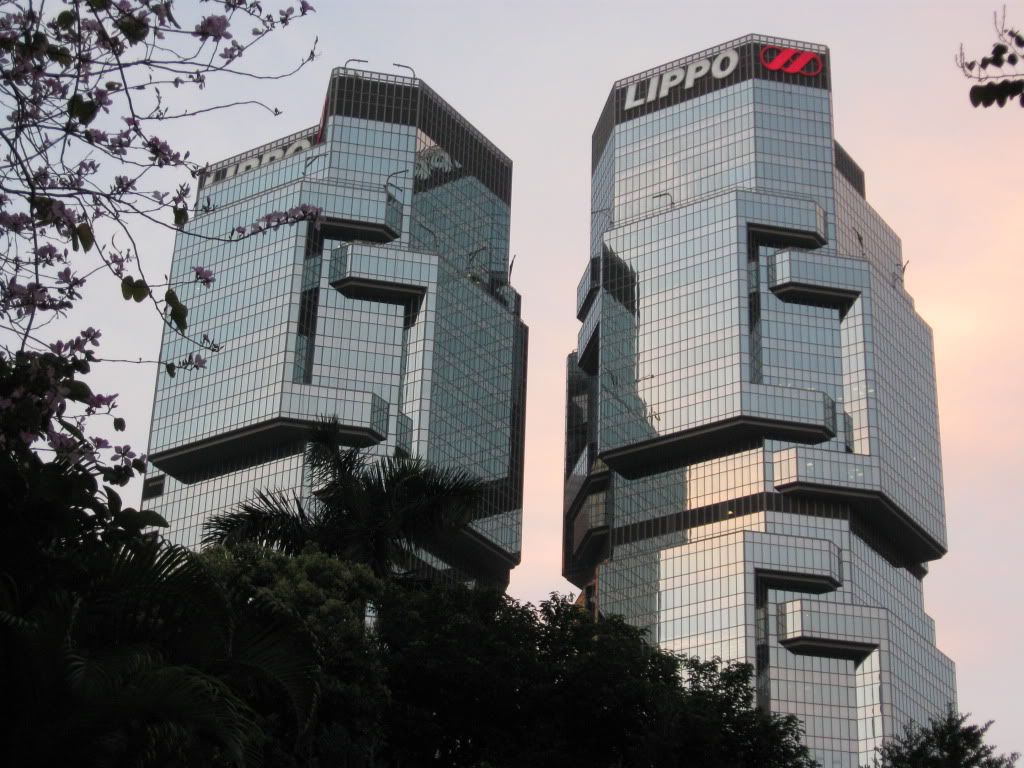 Lippo Building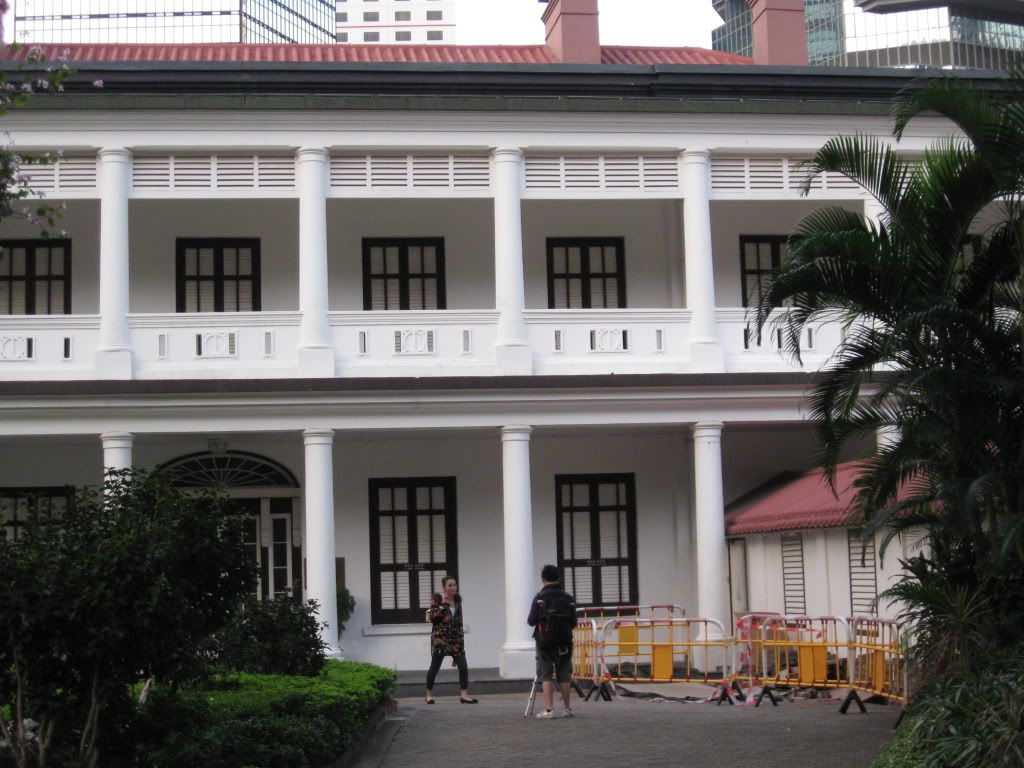 A museum that's not open for the day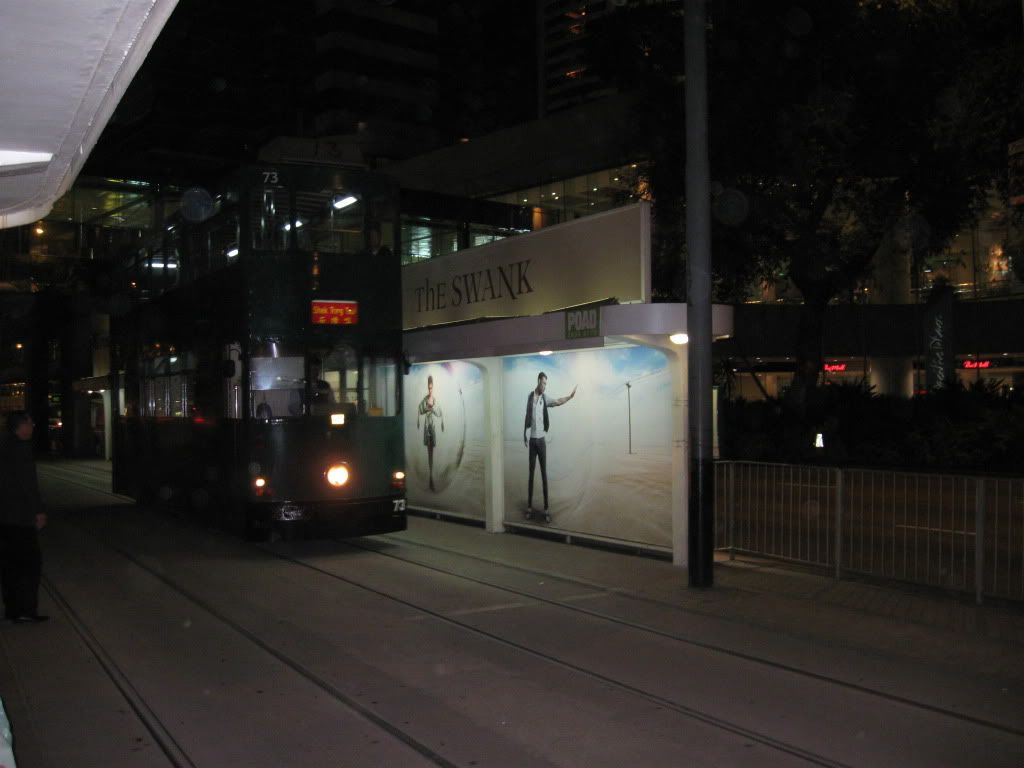 The only Double Decker electric trams left in the world!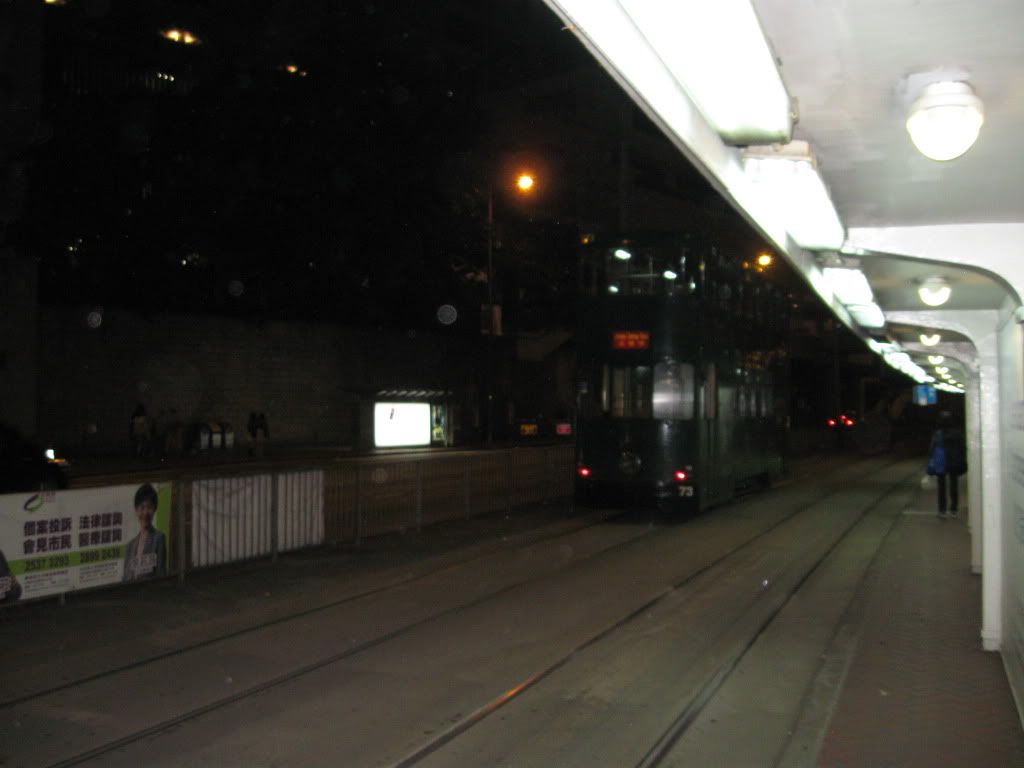 The tram leaving the station
Finally after 6 days, it's time to head home for Singapore! Our flight was at 11am so we woke up early at 7.30am to do some last minute packing and catch Bus 31A to HKIA again. I even wished that I could have time to visit the aviation museum and buy some airplane models. However upon reaching the airport, we were almost lost while trying to find Terminal 2 where 3K operates from. When we checked in, it was already 10am and we had a sense of urgency to rush to the boarding gate ASAP to take the bus to the plane. We had to take the inter-terminal transit train from T2 to T1 for boarding as T2 is only a check-in facility. When we reached our gate, there was a long queue so our rush was in vain.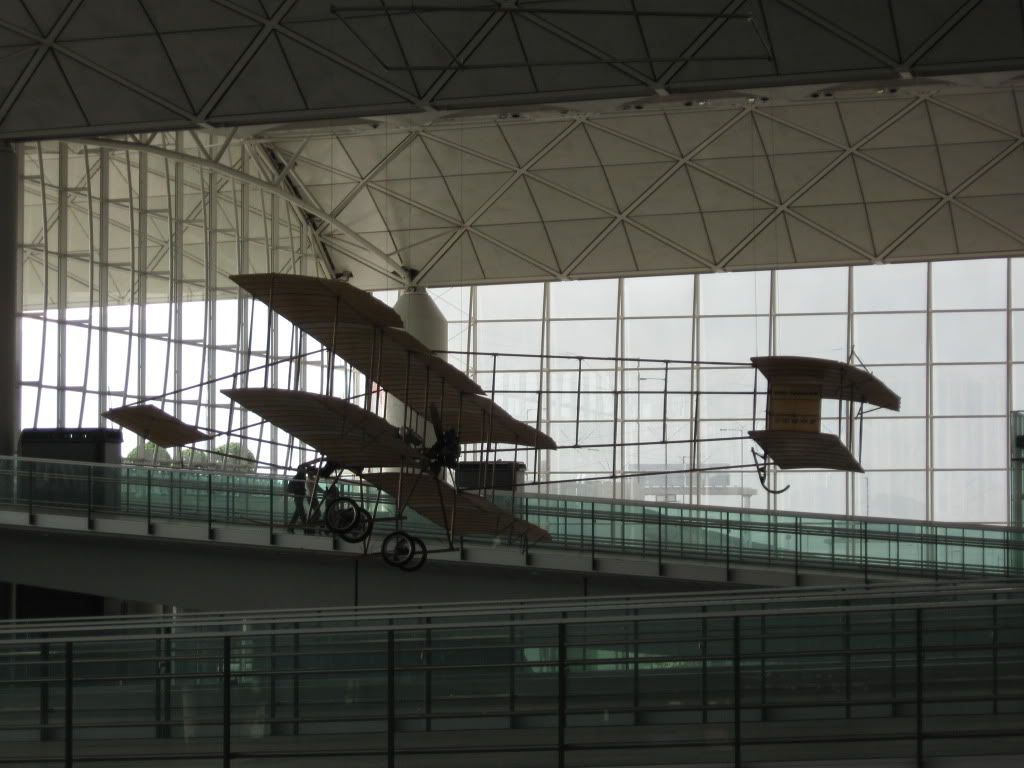 The famous glider in HKG (I forgot the name)
Flight 2 - 17 March 2009
Route: HKG-SIN
Flight Number: 3K 692
Aircraft: Airbus A320-232
Registration: 9V-JSC
Gate: Unknown
Seat: 17E
Class: Economy
Scheduled Departure: 11.05am
Actual Departure: Unknown
Scheduled Arrival: 2.40pm
Actual Arrival: Unknown
Flight Duration: 3 hours and 25 minutes
The aircraft was parked at a remote gate again which means we have to take the bus again. The ride did not take too long but I did manage to capture a few pictures.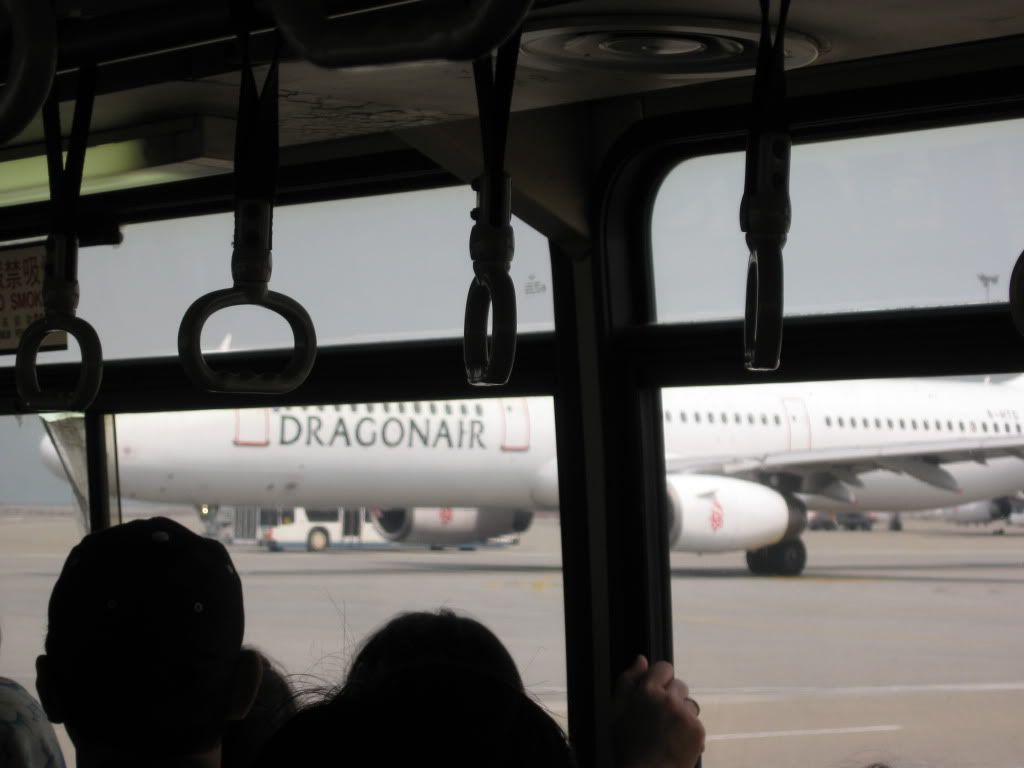 Inside the bus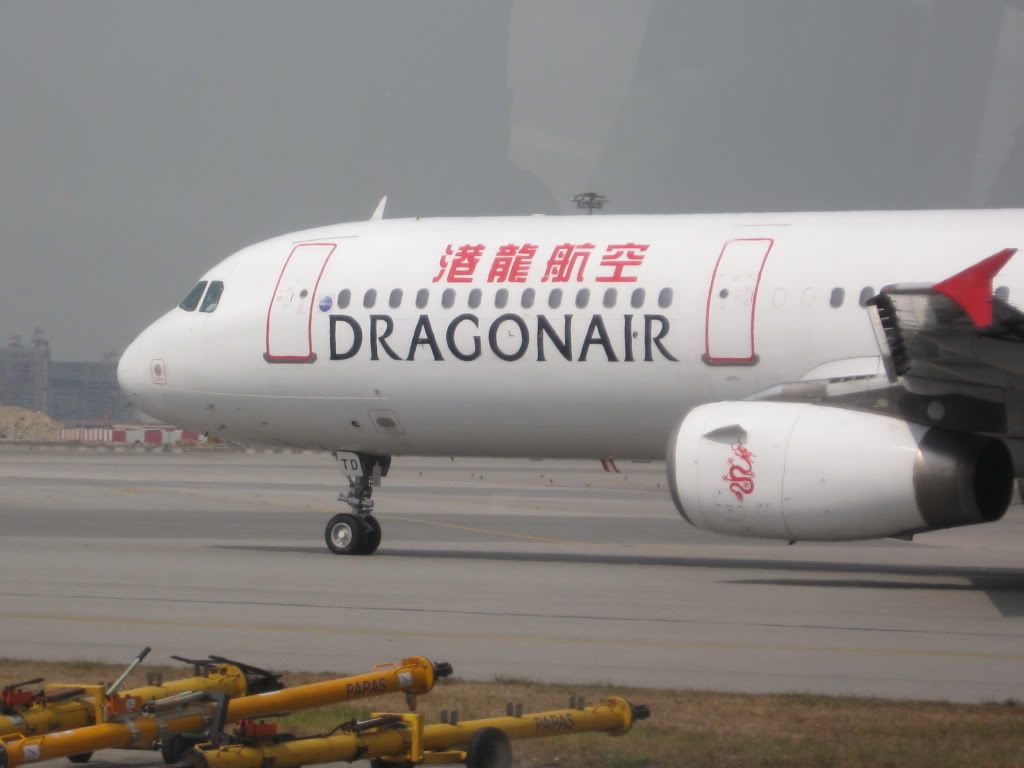 Dragonair Airbus A320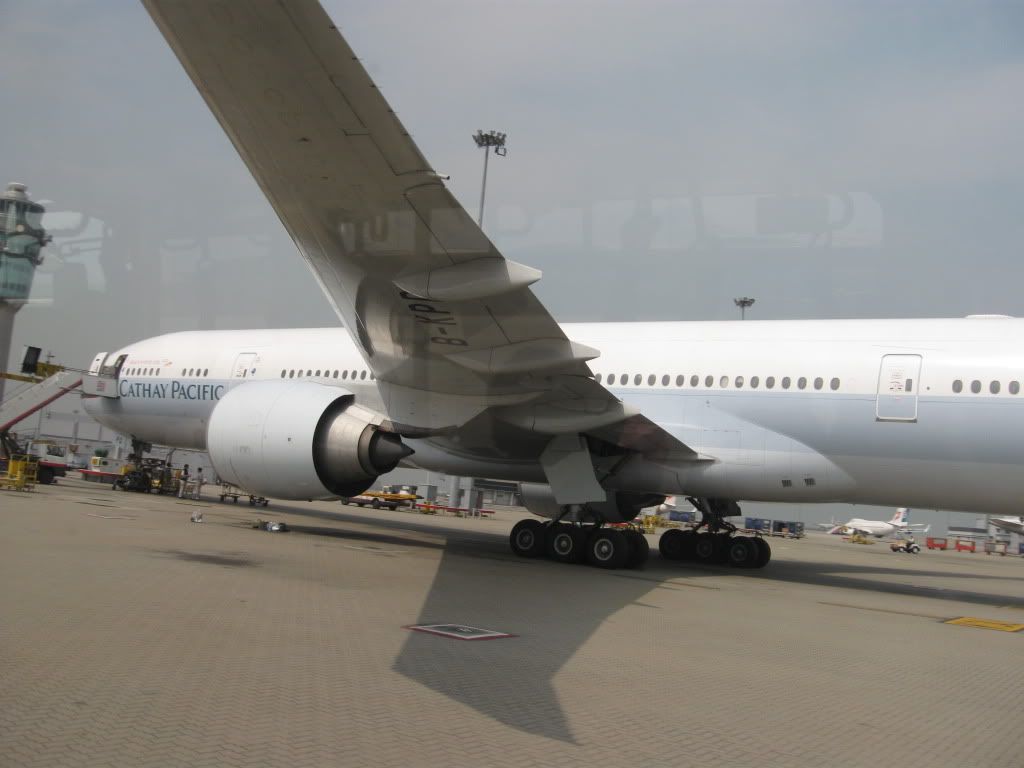 Cathay Pacific Boeing 777-300ER B-KPD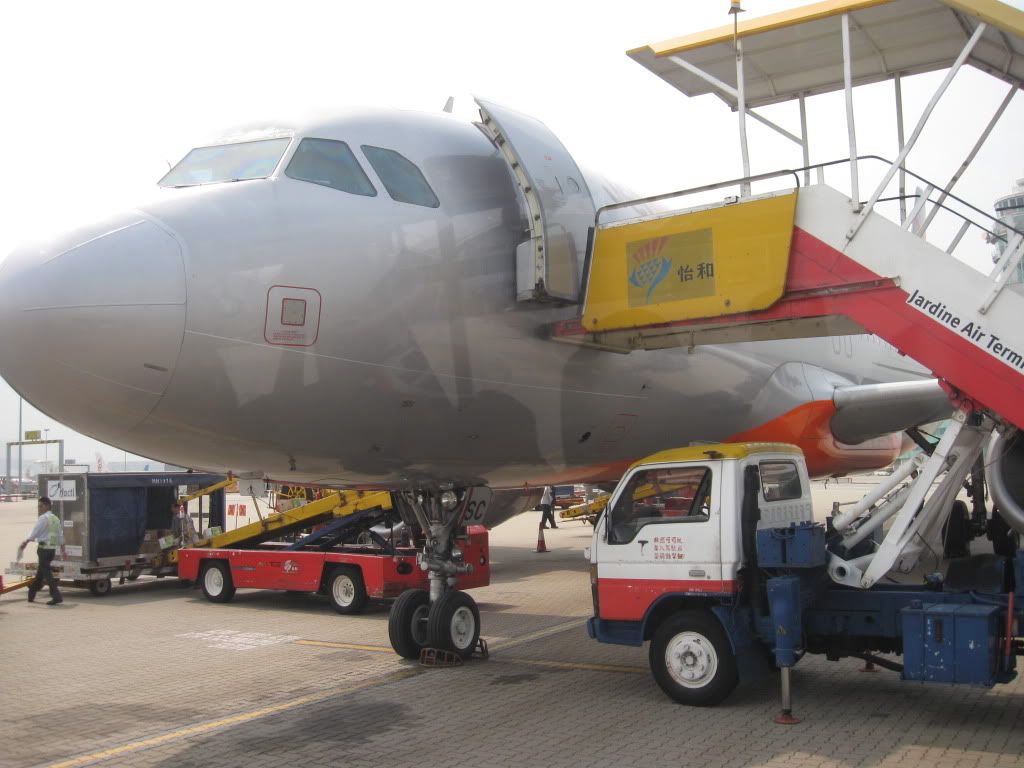 9V-JSC (another sister ship again) being prepped for the flight back to SIN
After alighting from the bus, I tried to take pictures from the tarmac but I was stopped by the security. Therefore, I waited till I was on the plane before attempting to take more pictures. Boarding was soon completed and I heard the engines being started before pushback commenced. To my surprise, we taxied out straight away from the stand without any pushback, I guess that's the advantage of being at a remote stand. Soon, we lifted off runway 25L and off to Singapore we go! This flight is lighter than the outbound flight, load factor of about 80% - 90%.

Shortly after takeoff - Flaps retracted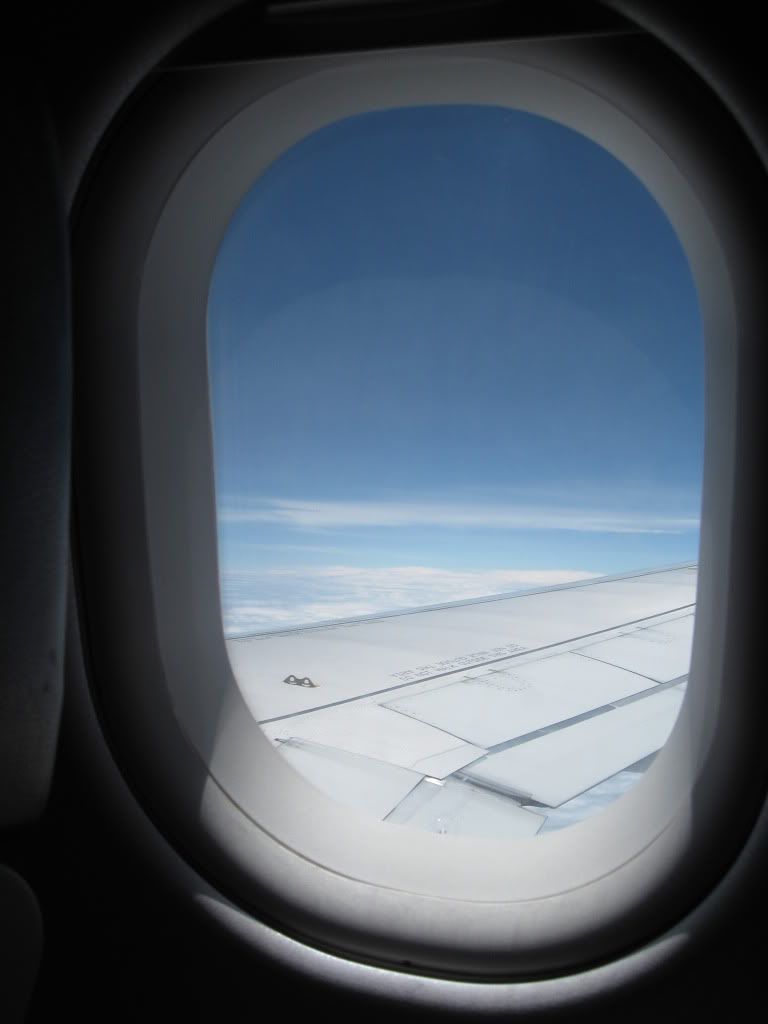 Still my favourite kind of shots - out the window!
Again, about an hour after takeoff, meal service began. This time, I bought Curry Baked Rice ($8) and a can of Pepsi ($3) which was just sufficient to whet my appetite.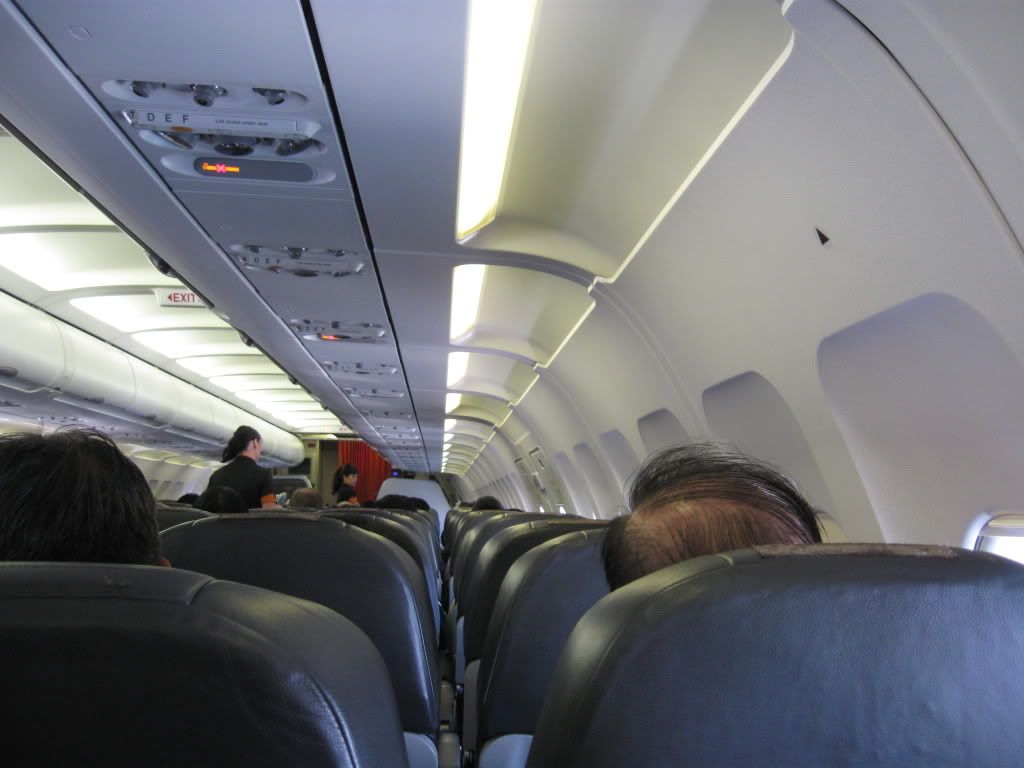 Cabin crew serving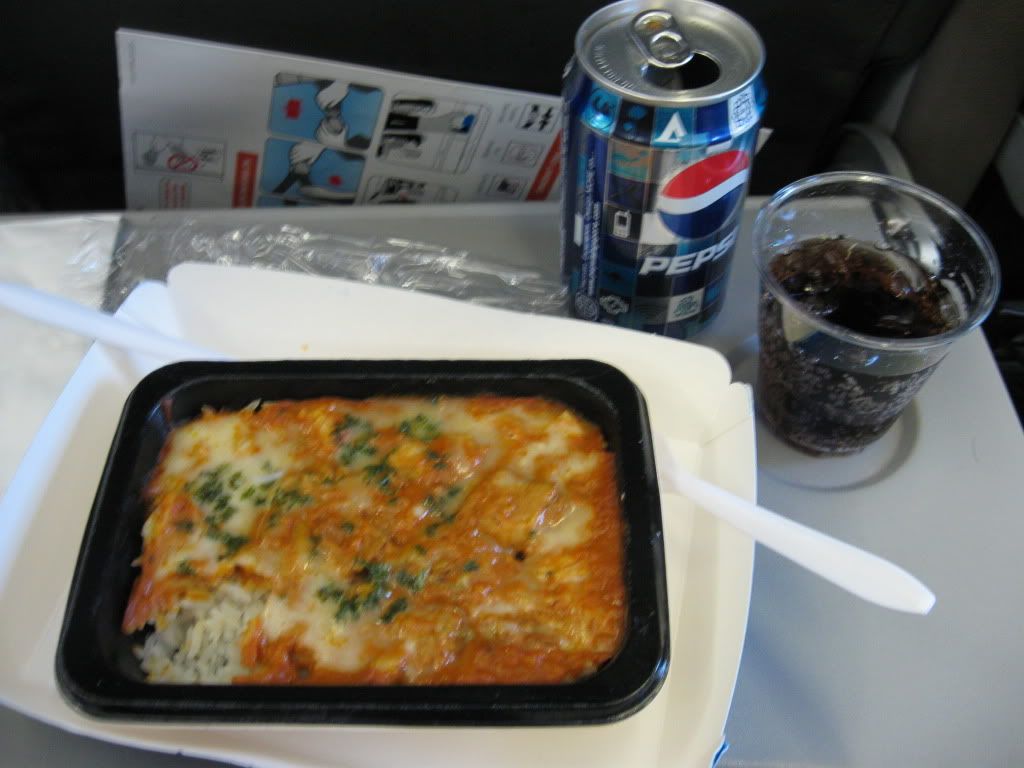 My lunch on the plane
After the meal service, it was time for snacks and in-flight duty free shopping again. This time, I bought the little keychain that makes the engine sounds when the nose is pressed for $7. Since we were mostly tired, we settled down for some sleep instead of being hyperactive and play cards for the duration of the flight. Me being bored and not tired, it's time to take pictures around! When my friend woke up after some sleep, she was hungry so we decided to buy a Turkey and Cheese sandwich to share.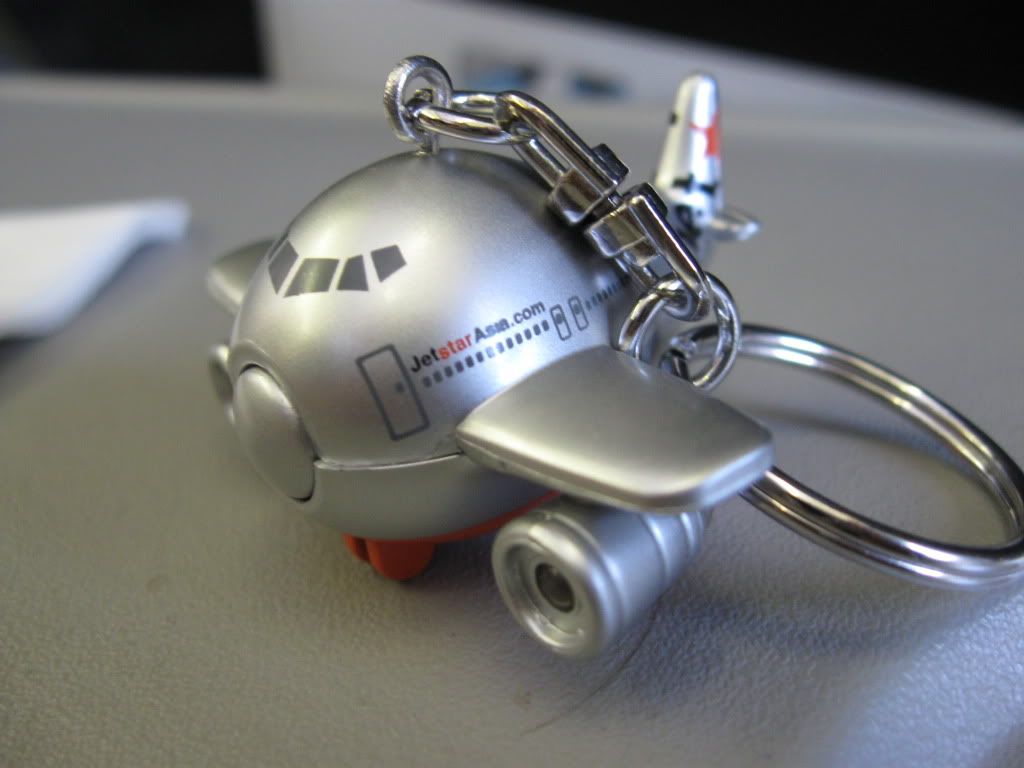 The Jetstar Asia keychain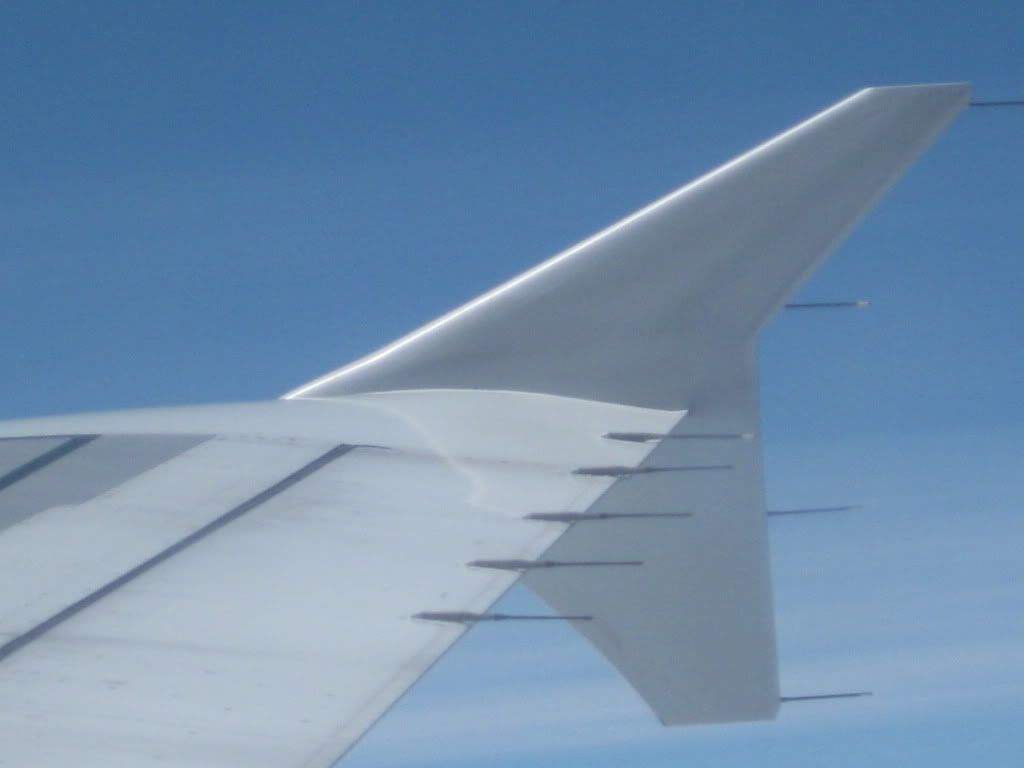 Beautiful winglets on the A320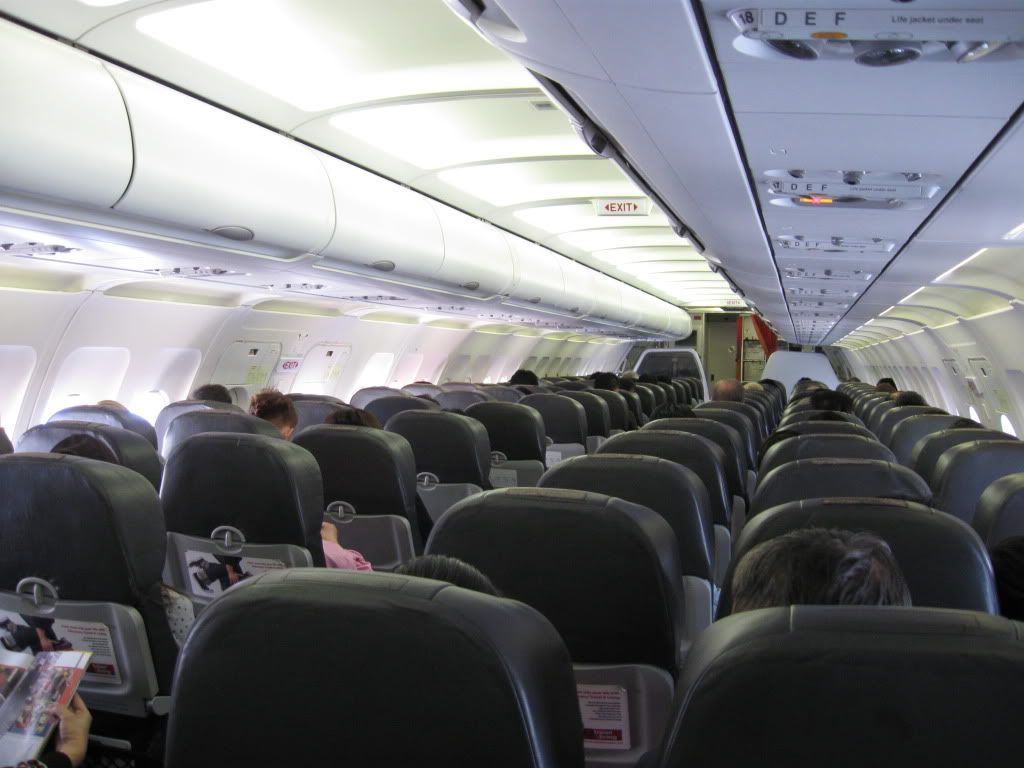 The not-so-full cabin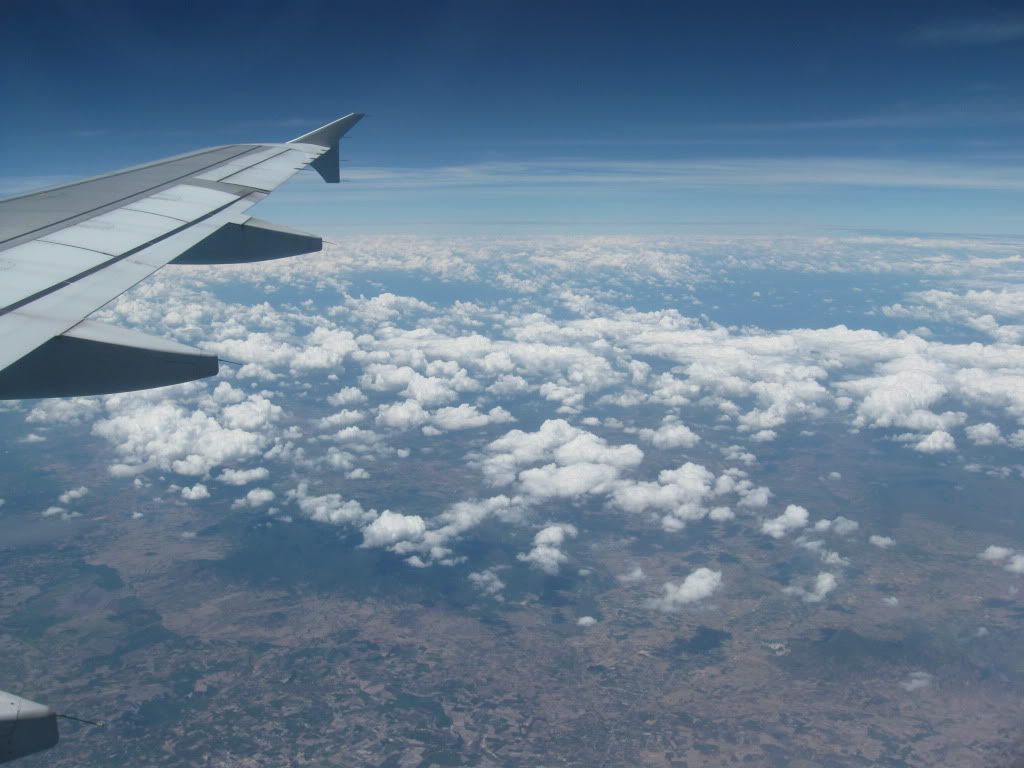 Marvellous landscape beneath us!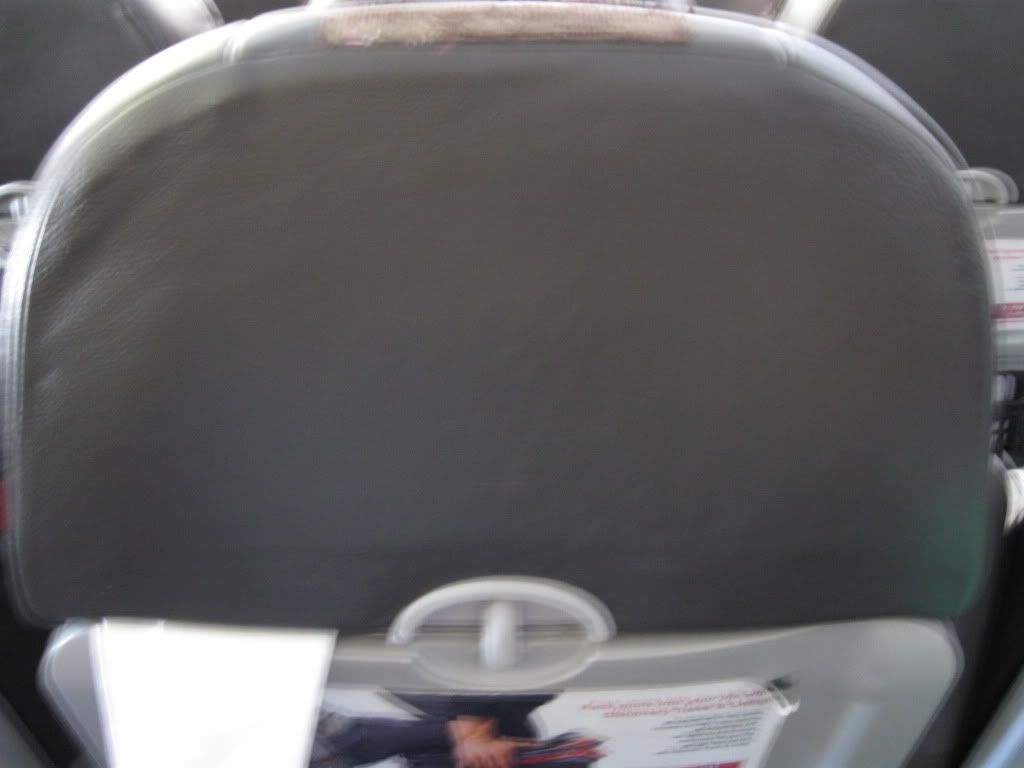 My view for the entire flight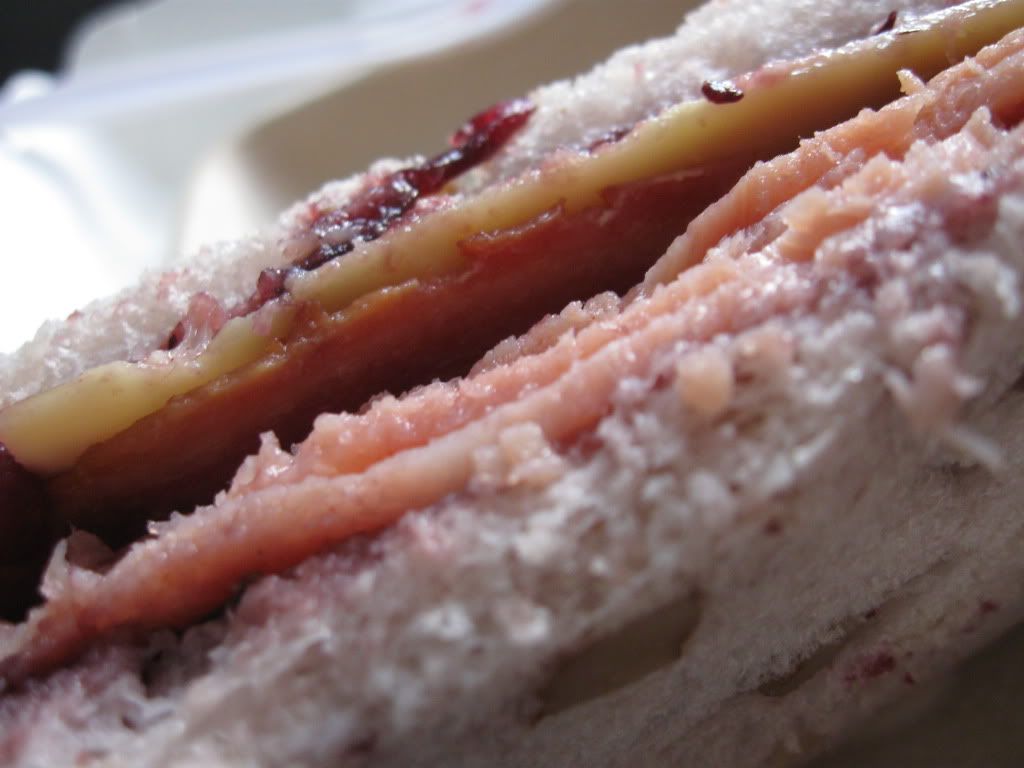 Turkey and Cheese Sandwich ($8)
30 minutes before arrival, the Captain came on the PA and advised that we are going to start our descent. Soon, I see Singapore in the distance. Excited to be at my home again! The landing was a bit rougher than normal but not much to complain about. The video of the landing can be found
here
.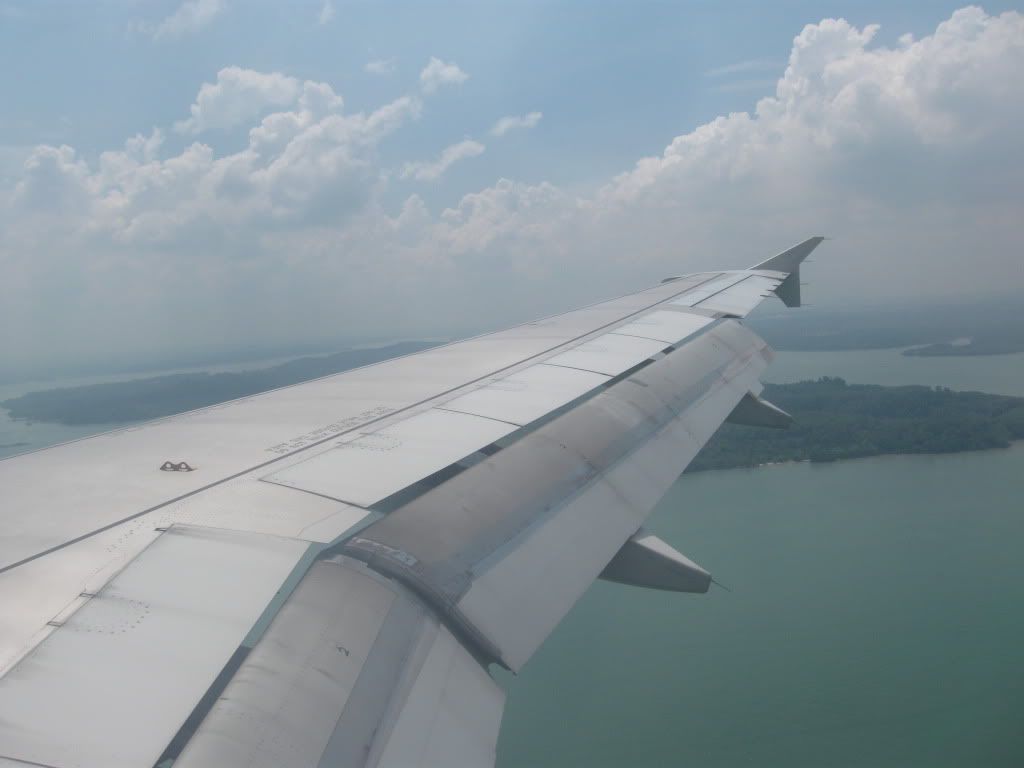 On final approach - Full flaps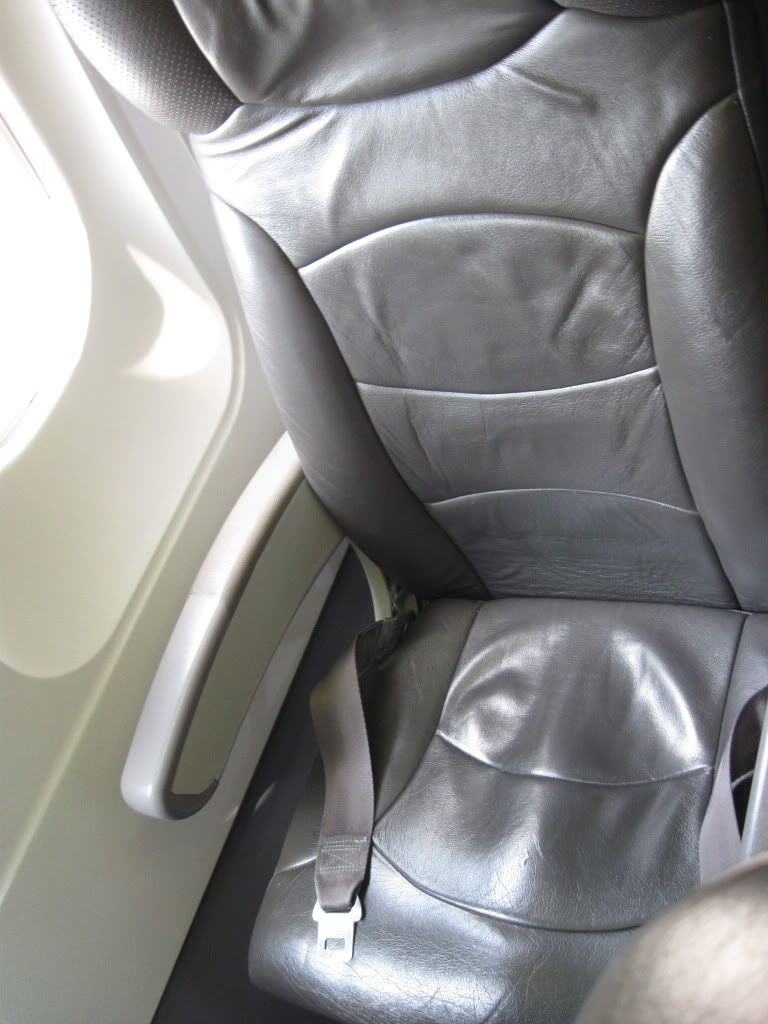 The seat that was quite comfortable but could do with more legroom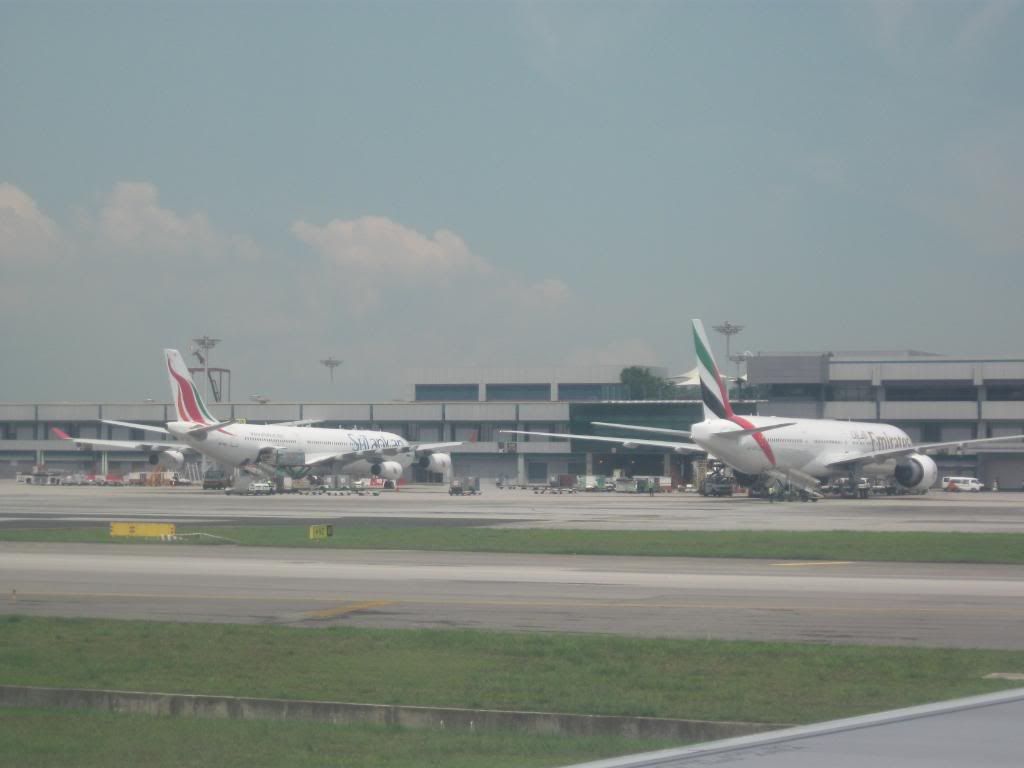 Some planes in SIN, seen while taxiing

This is the end of my trip report. As usual, do tell me what needs to be improved and what is good so I can keep up and write better TRs in the future!
Past Trip Reports
Flying 5 Star - SQ SIN-CAN-SIN (2009)
(by
Initious
Mar 26 2010 in Trip Reports)