A320 Business Class SYD/AKL
B777 Business Premier AKL/RAR/AKL
A320 Business Class AKL/SYD
There are times in life where a holiday location is chosen, not for the array of experiences that might fill an agenda, but for the peace and tranquillity that might be found in their absence. Such a location is the Cook Islands.
Across the International Date Line from Sydney, not all that far from Tahiti, the 15 islands of the Cooks span a region larger than Western Europe at 2.25 million sq km, yet amount to a total land mass of just 240 sq km. They're largely overlooked and certainly off the map of major hotel chains such as Hilton, InterContinental or Hyatt.
The largest island of the group, Rarotonga, covers little more that 76 sq kms and is the launching point for tiny jewel-like hamlets such as Aitu, Aitutaki, Penrhyn, and Palmerston. Discovered by the Spanish in 1595, Cook first passed by in 1773 and the islands eventually became British Protectorates, were later annexed by New Zealand (1901) and have been self governing in free association with New Zealand since being granted independence in 1965.
Pacific Blue (Virgin) and Air New Zealand service the Cook Islands from Australia's eastern seaboard, Pacific Blue offering direct SYD/RAR connections and Air New Zealand through Auckland. Air New Zealand will commence a direct SYD/RAR B767 service in August. For now, a range of different aircraft in the Air New Zealand fleet service the route – Airbus A320s, Boeing 767s and their Boeing 777-200ER.
Having always enjoyed flying with Air New Zealand, we decided to overnight in Auckland
en-route, specifically so we'd have the opportunity to take NZ's 11.20am B777 service to Rarotonga and try 'Business Premier'. Choosing these arrangements offered the advantage of a mid-afternoon A320 departure from Sydney - seeing you into Auckland just before 9pm local time - and a civilised 11.20am departure from Auckland the following day.
Business Premier is not available on Air New Zealand's A320 Trans Tasman services, but an eight seat Business Class cabin is provided - two rows separated from economy by a bulkhead. Having arrived at the airport at 12 noon allowed ample time for an un-fussed wander through the newly expanded airside shopping facilities, followed by lunch in Air New Zealand's lounge.
Check-in opened at 12.30pm precisely, manned by Qantas staff instead of Air New Zealand. Bags were checked within five minutes and, Express Path customs vouchers in hand, it was off to customs.
Having cleared customs in another five minutes, it was off to the TRS office to claim back tax paid on duty free goods purchased in the weeks before this trip. The TRS office hasn't received a great deal of thought in the airport's latest upgrade. It's now found near Gate 32, just beside the toilets, and is a grungy, claustrophobic little place, staffed by officers devoid of personality, accurately reflecting their newfound circumstances.
Work remained underway in parts of the airside retail area and its expansion has certainly been significant. As others have commented, passengers now take a circuitous route through a myriad of duty free stores, franchised food and merchandise, punctuated by a cavernous shopping-mall-style atrium with glass ceiling.
With Air New Zealand's lounge near Gate 63, there's a good 10-15 minute hike to be had, that now incorporates a fish-bowl-like section where soon-to-be-departed passengers are paraded past a glass wall, dividing airside and the public food court, where the not-so-soon-to-be-departed and assorted ring-ins are gathered. You wouldn't want to be running late!
Arriving at the lounge, we were greeted by an elegantly attired woman in her mid-fifties who, with grand flourish and a very upmarket tone, welcomed us to the lounge and asked whether we'd require the complimentary wireless Internet service. Providing us with appropriate details, we were invited to take a seat, enjoy the food and beverages, and assured that she would announce our flight, 'just the very moment' NZ118 was ready for boarding.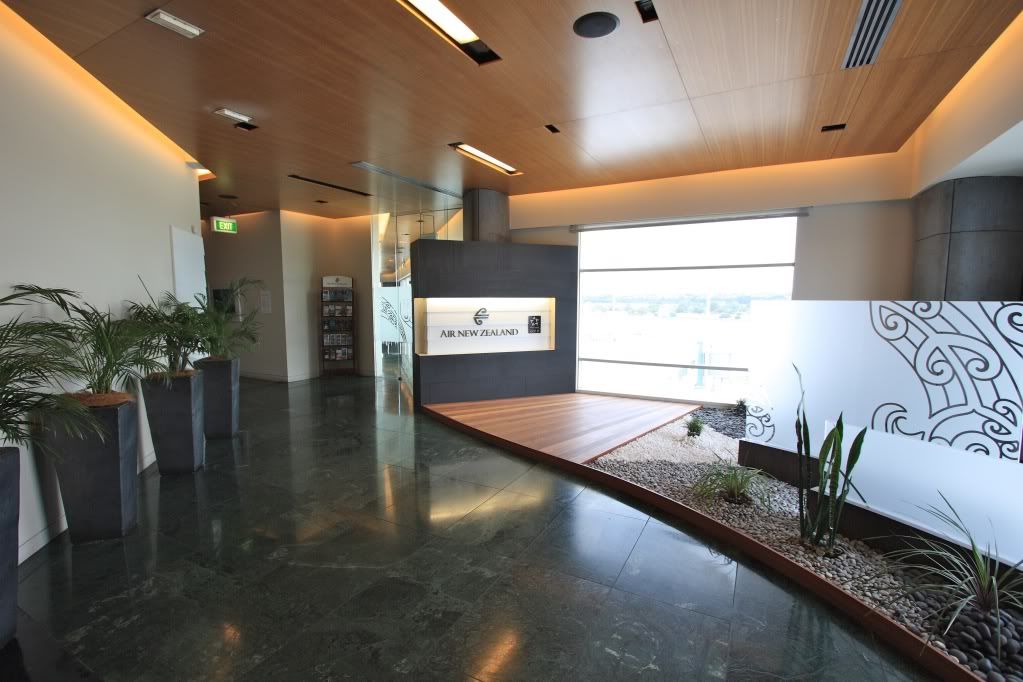 She wasn't kidding! For the next two hours, occupants of the lounge were regaled with Ms Upmarket Lounge's polished pronouncements, encouragements and 'last and final calls' to all and sundry. It's rare to encounter people who make something of such positions but Ms Upmarket Lounge brought a refreshing injection of professionalism, purpose, and sense of occasion to the lounge that afternoon and Air New Zealand is very lucky to have her.
First stop, the bar.
Having found a good vantage point, overlooking the temporarily closed east/west runway, it was back to the buffet to browse through the available options. Soup, hotcakes, fresh pasta, roasted tomatoes, Garden and Greek salads, all stood alongside chicken and salad baguettes. An assortment of sausages and salsa, savoury muffins and a pot of hot dogs and assorted condiments – cheese, caramelised onions, tomato sauce etc – were also on offer.
Almost every type of beverage imaginable stood by, and, there was even a fridge full of deserts, in addition to the ones shown here.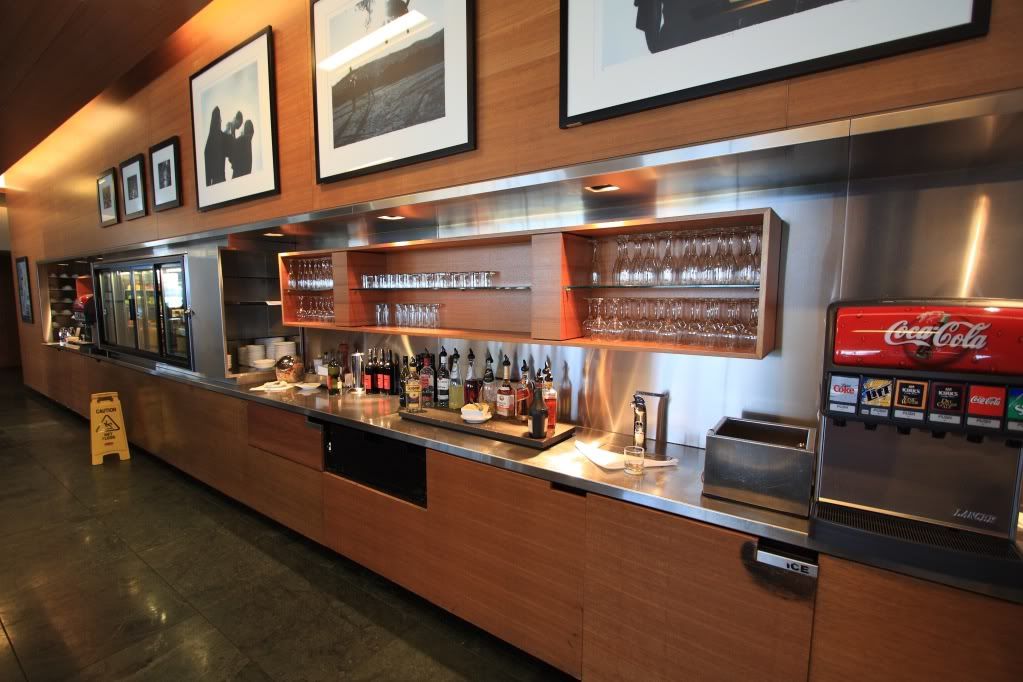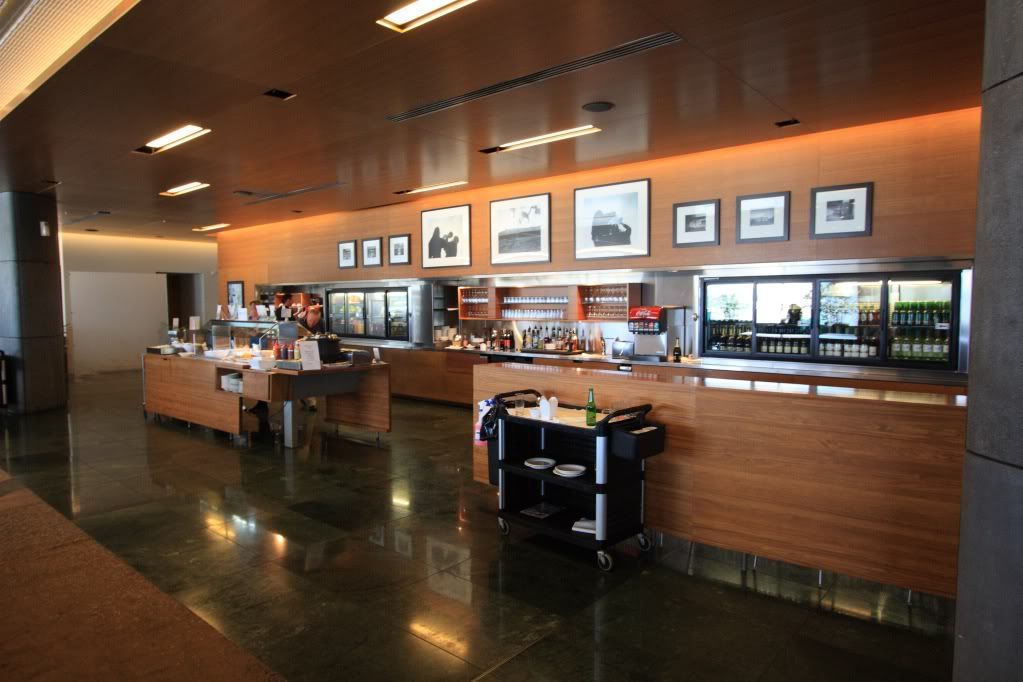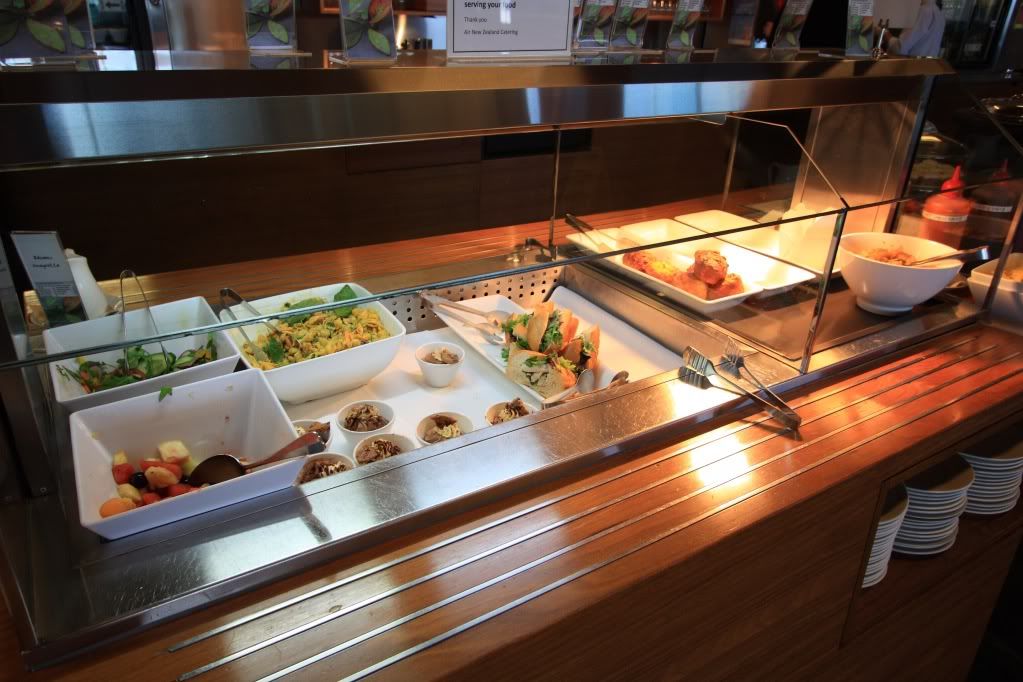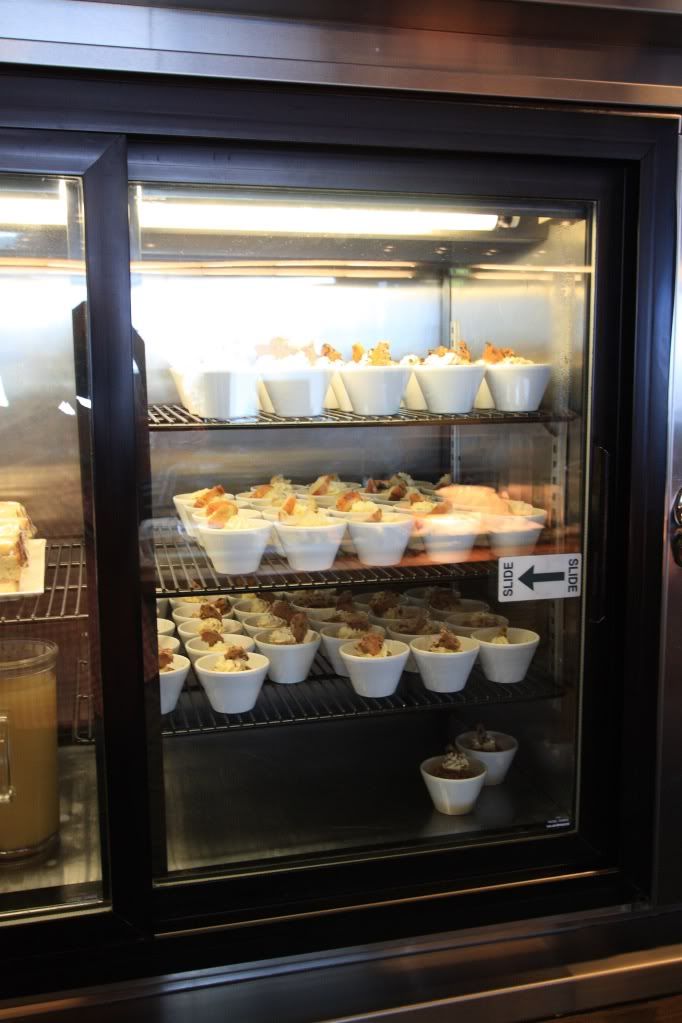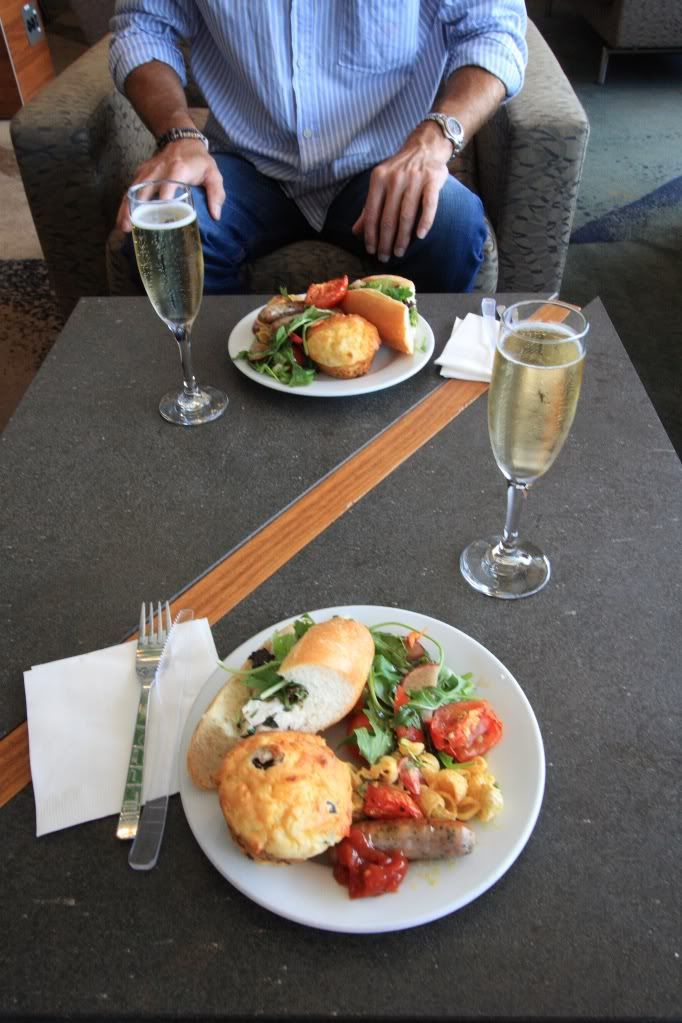 As seems to be the case most days at Sydney Airport, a Singapore Airlines A380 sits on the hardstand on the far side of the field, near the old control tower. Keeping it company was a Virgin Atlantic A340-600 and two British Airways B747s. While eating lunch, the A346 and A380 were tugged across the field, the A346 finding its home directly beneath the lounge.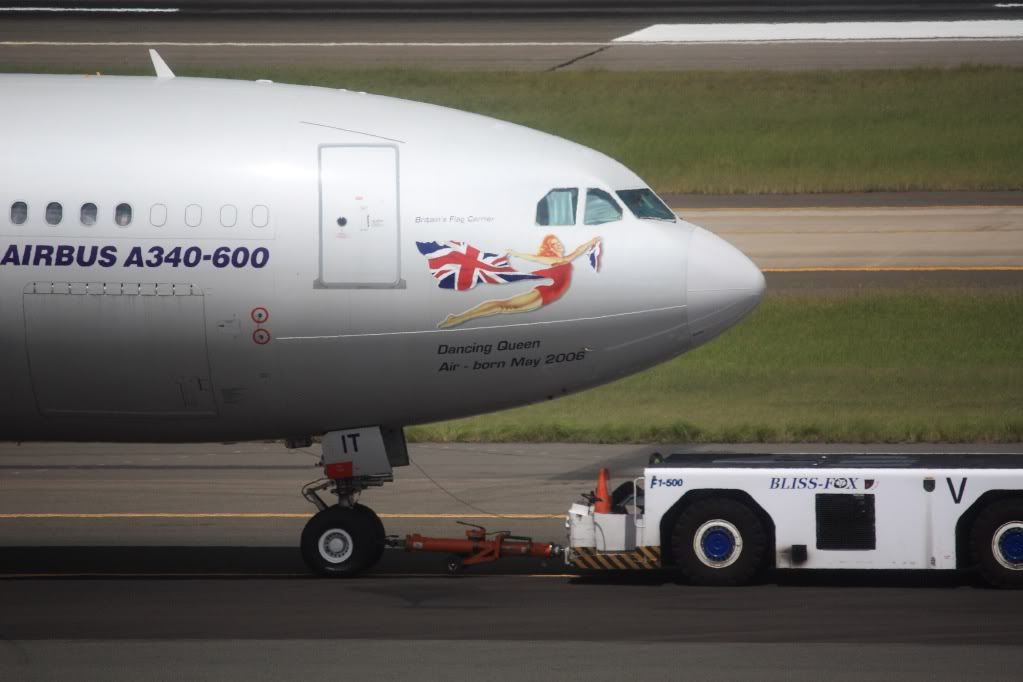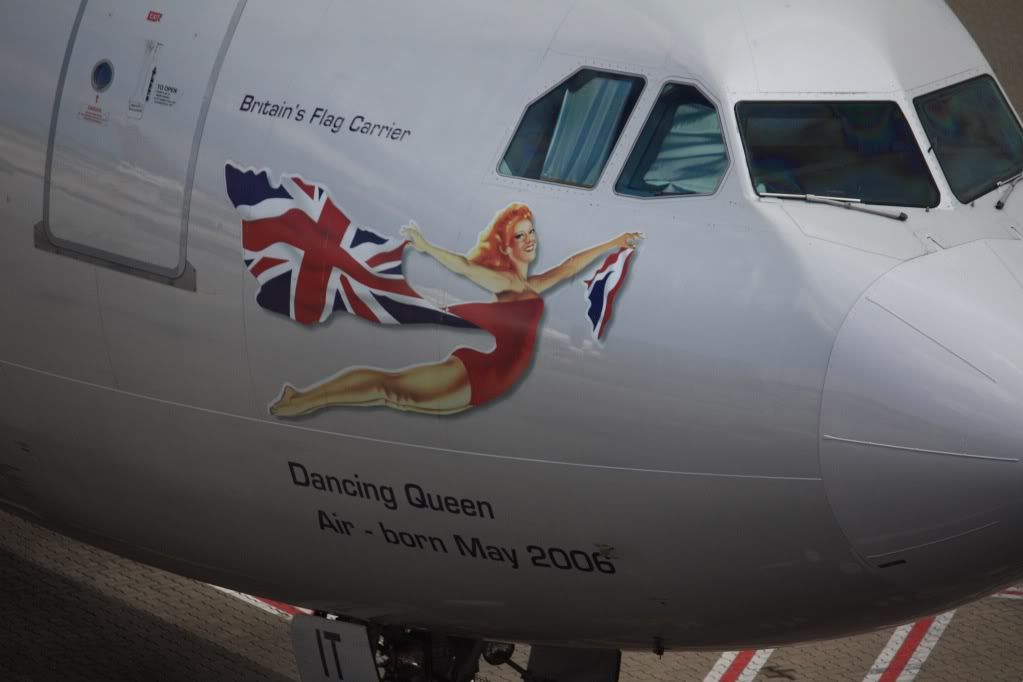 Air New Zealand's lounge is a very comfortable, well-equipped place to spend a few hours. There's an enclosed business centre, laptop benches with charging stations scattered here and there, a separate children's play room and well appointed showers and toilet facilities. Plus, there are power points conveniently scattered all about.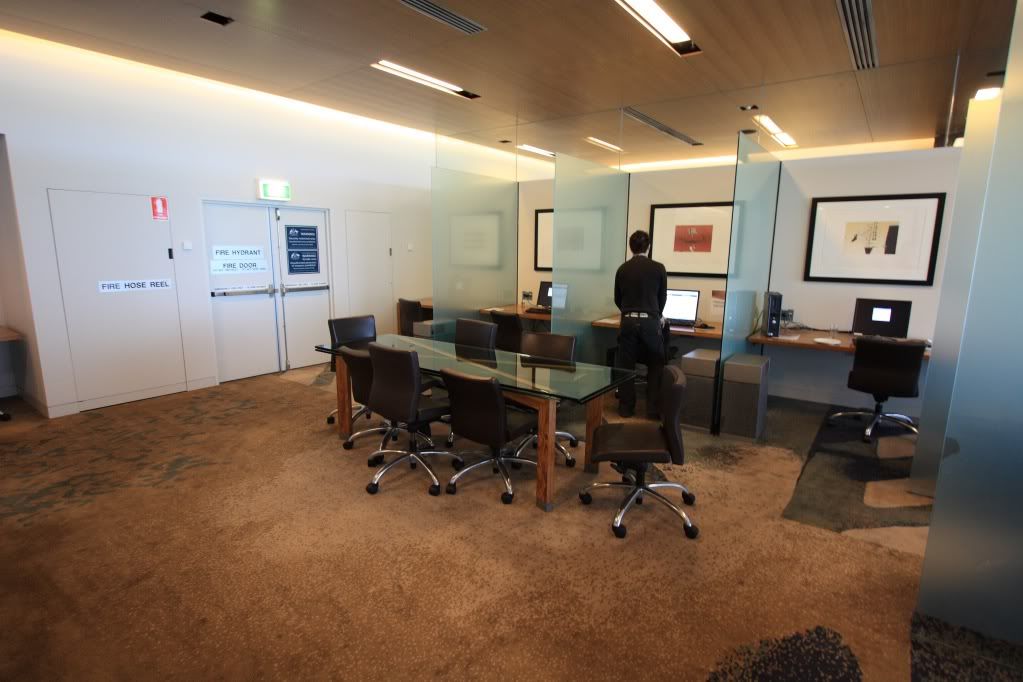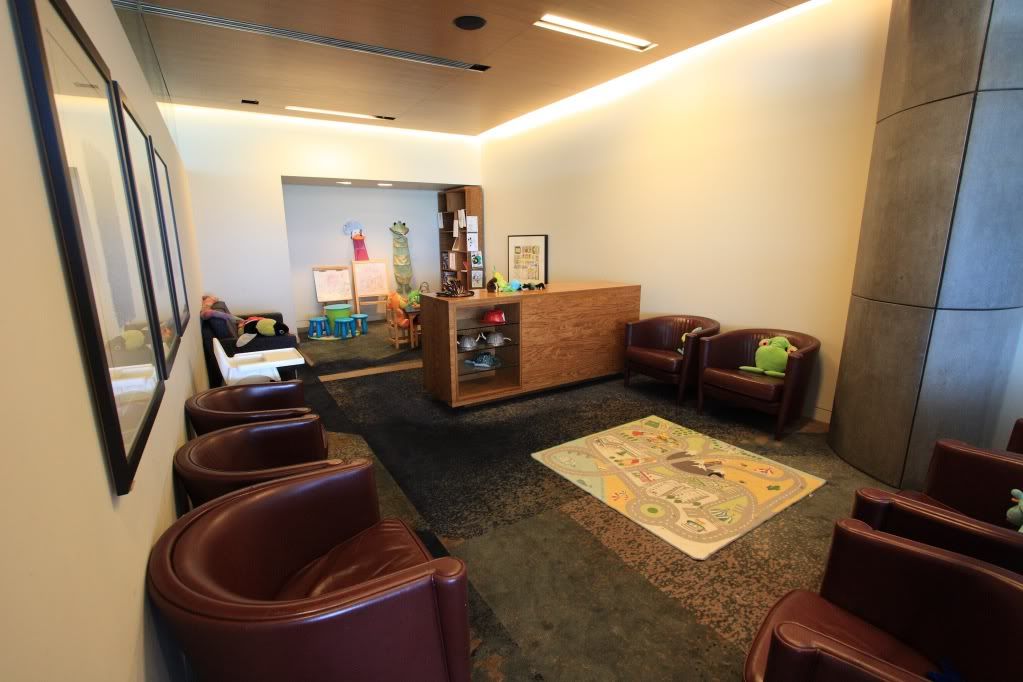 At 2.30pm precisely, our A320 (ZK-OJO) touched down and taxied past the lounge, en-route to Gate 63. Boarding commenced at around 3pm and, having arrived at the gate, an orderly boarding process was underway, but as usual, the business class line appeared to have more than the potential eight occupants of the business cabin standing in line. At just that moment, one of the gate-check staff (Qantas again) announced that all economy passengers should move to the left queue and, miraculously, several did and a pathway opened.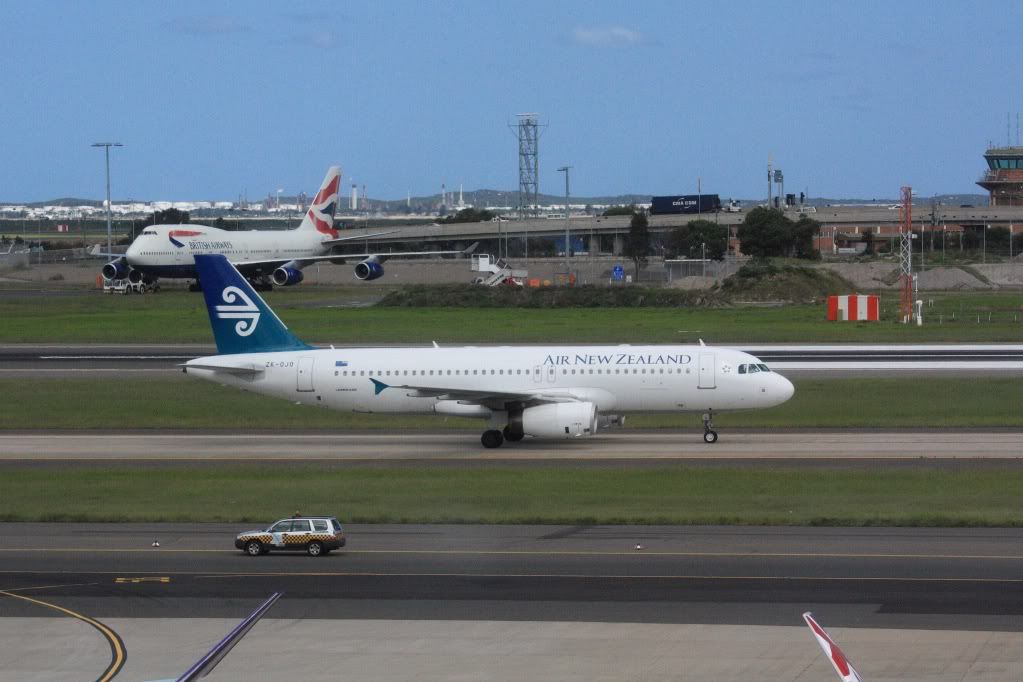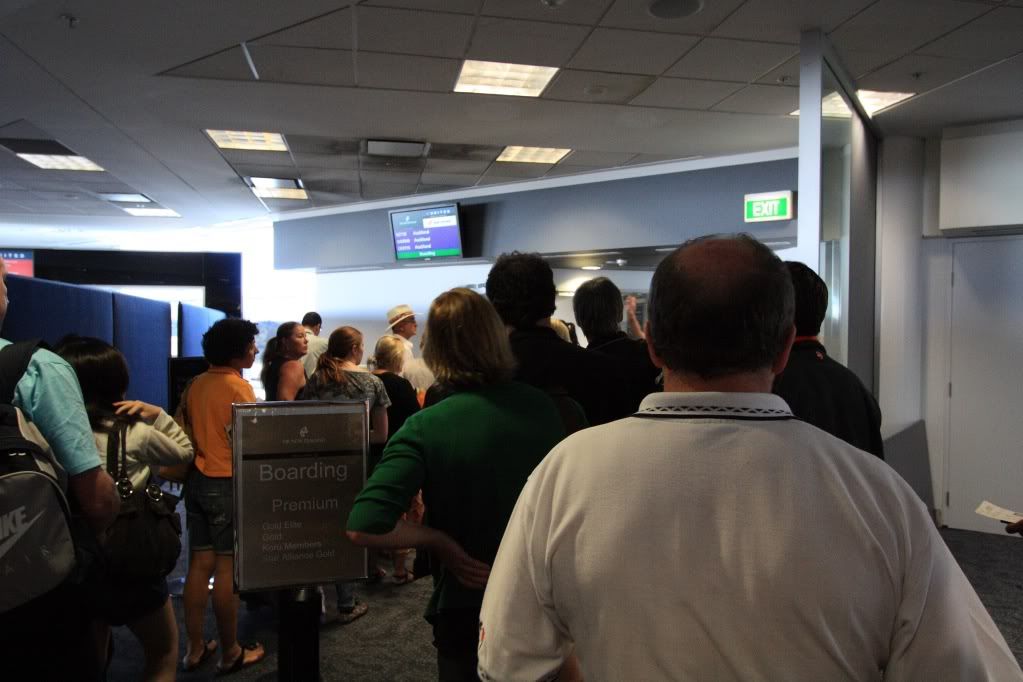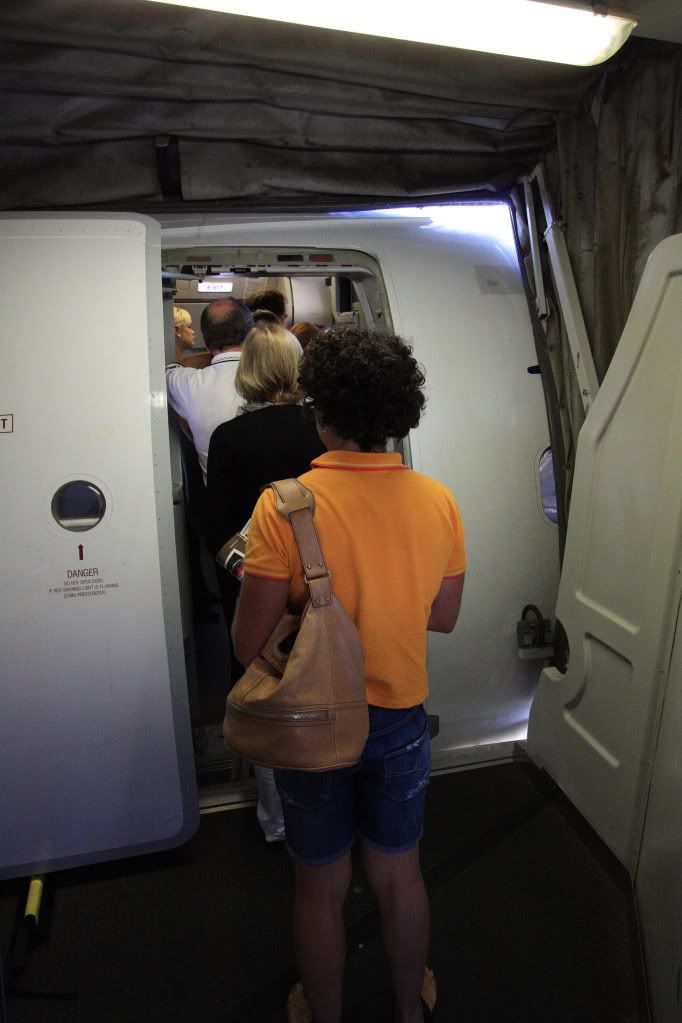 AIR NEW ZEALAND BUSINESS CLASS - NZ118
SYD/AKL (Sydney to Auckland)
A320-200
25 February 2010
Scheduled Departure: 15.30 hrs
Push back: 15.36 hrs
Flight Time: 3 hours and 5 minutes
Aircraft Type: A320-200
Registration: ZK-OJO
Delivered 29 March 2008
Seats: 2A & B
Captain: Michael Bartlett
First Officer: Andrew Gleeson
Take off roll: 15.52 hrs
Rotate: 29 seconds
Moving down the aerobridge, we were soon aboard, and, no sooner having settled into our seats, were approached by Vicki, who explained that she would be looking after us today and would we like a copy of today's New Zealand Herald each? 'Better that way as then there are no fights' said she. Returning almost immediately with the promised papers, Vicki politely enquired as to whether we'd like some juice or Champagne. Having suggested the latter, Vicki gave a knowing flick of her index finger and a nod of the head that implied 'of course, but naturally' and immediately returned with two glasses and menu cards.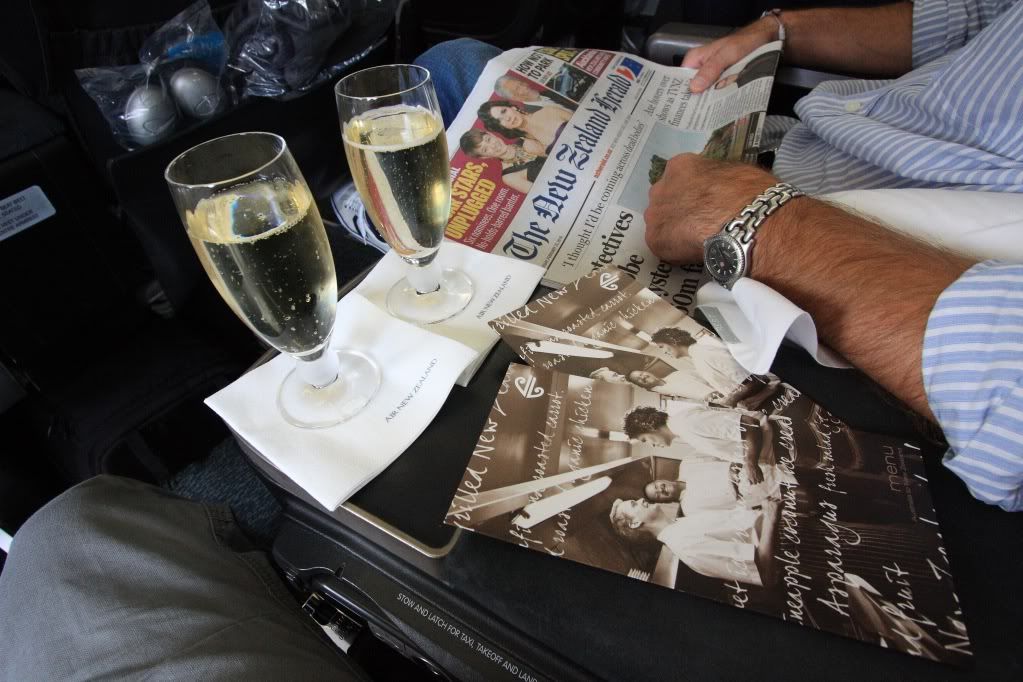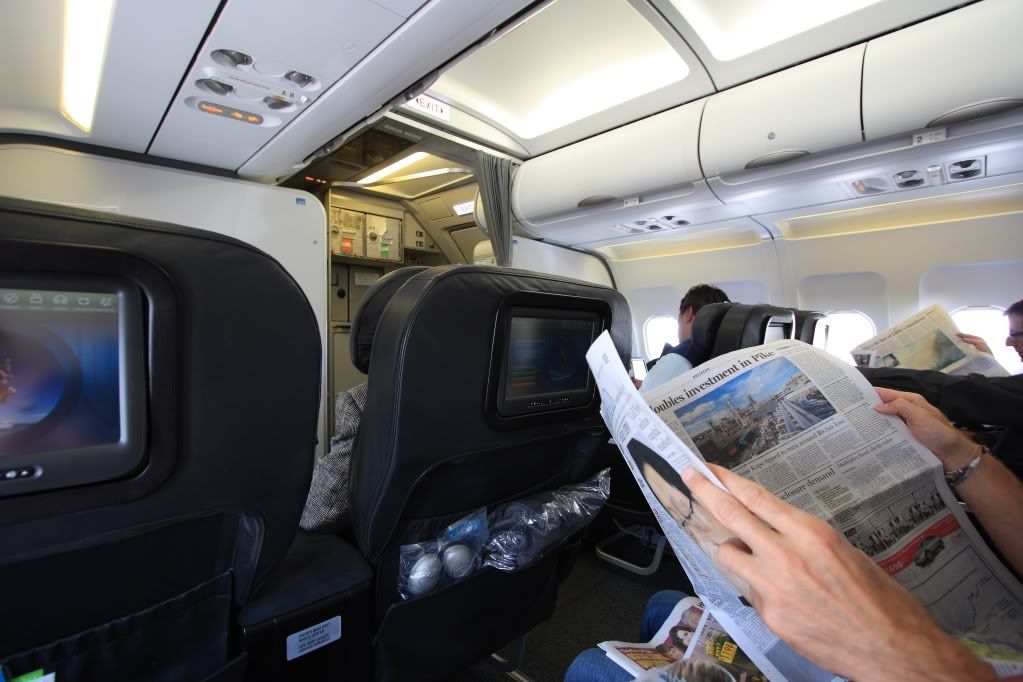 Just after all passengers had boarded and the door had been closed, the safety video was run and it's a classic Air New Zealand twist. If you've not seen 'The Bare Essentials', then take a moment to watch it here. Painting uniforms on naked Flight Attendants is certainly a fresh approach to making travel-jaded passengers pay attention.
http://www.youtube.com/watch?v=diytGIKwC6U
Just afterwards, the flight crew welcomed everyone aboard and announced that departure would be to the south from the third runway, that we'd be cruising at 37,000 feet and that we could expect light south westerly winds and 23 degrees on arrival in Auckland.
The aerobridge pulled back from the fuselage and pushback commenced at 3.36pm with a firm jolt. It's a long 16-minute taxi out to the third runway, as you can see in this video. Crossing the main runway, you taxi past the new control tower, over General Holmes Drive and then turn to port for the final run to the northern end (on this occasion) of the third runway.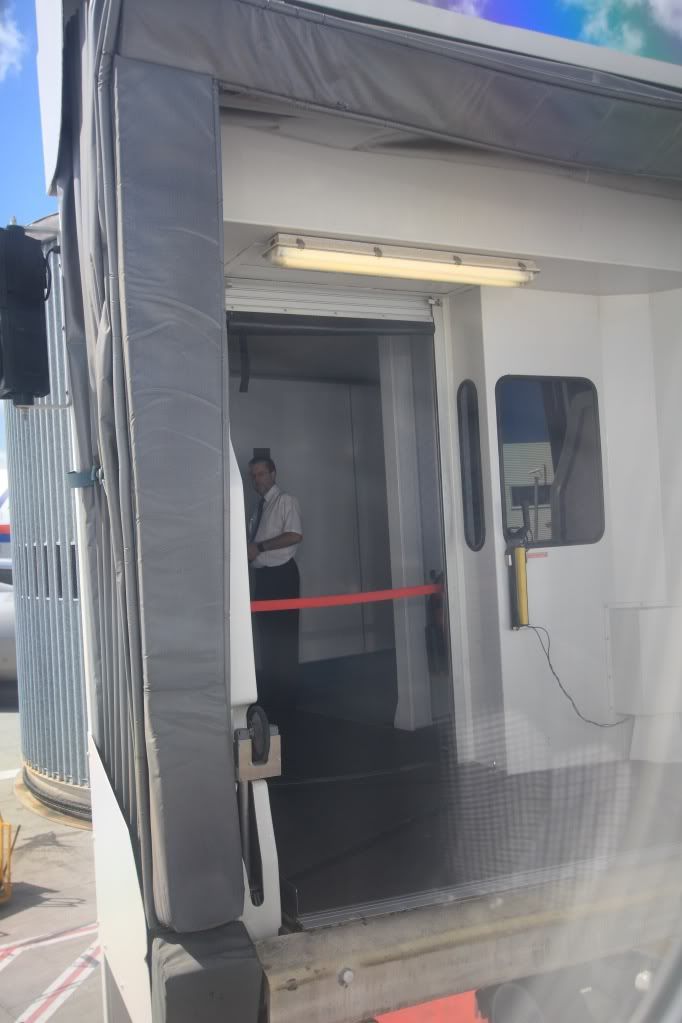 http://www.youtube.com/watch?v=MEzcOdGnrZs
Turning across the piano keys at 3.52pm, the International Aero Engines (IAE) V2500s spooled up and that familiar, purposeful, loud whine filled the cabin. Oscar Juliet Oscar thundered down the runway and rotated after 29 seconds.
http://www.youtube.com/watch?v=cMHnIc9o1NA
ZK-OJO climbed rapidly over Botany Bay, banking to port almost immediately, providing a clear view of the massive construction works underway that signal the expansion of Sydney's major shipping port. Leaving the east coast behind after about two minutes, the intimate ambience of the small Business cabin begins to reveal itself. Here's the obligatory leg-space and cabin photograph.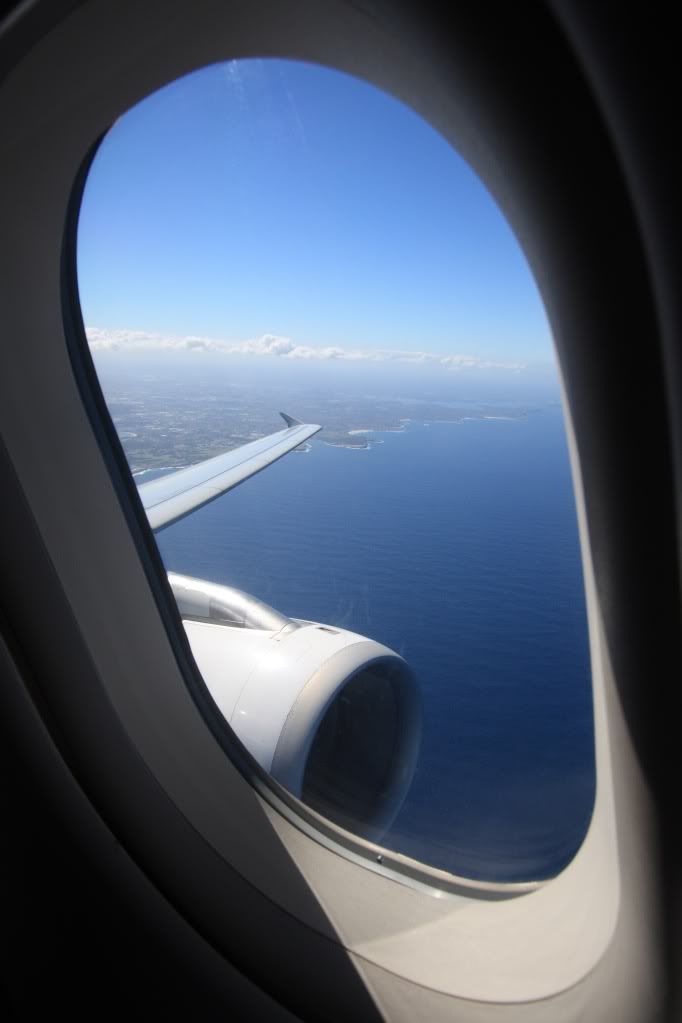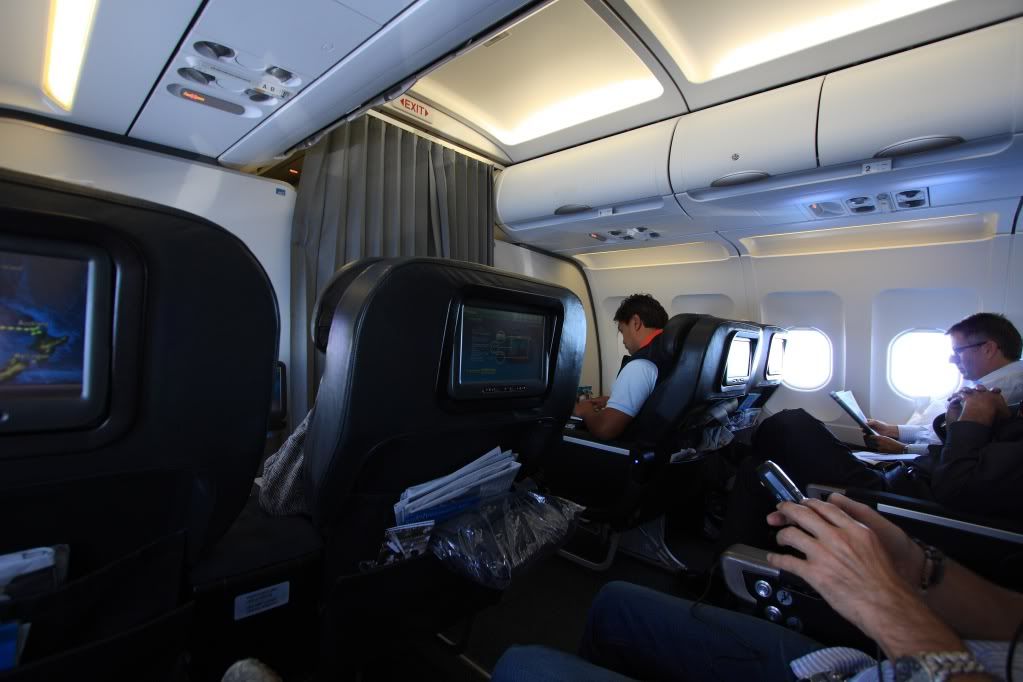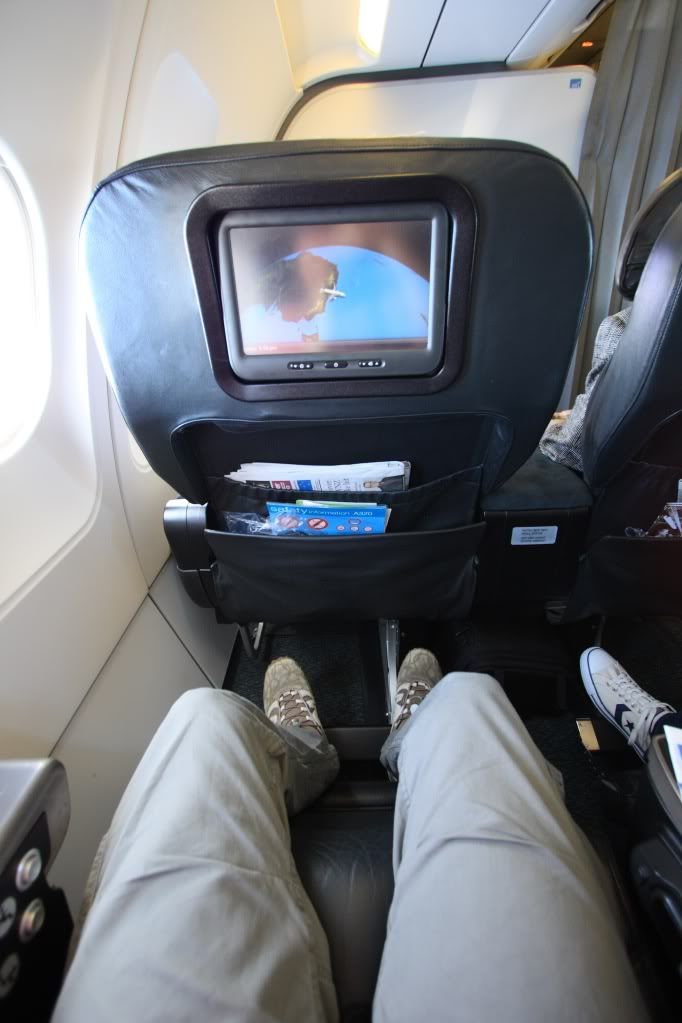 Six minutes after take-off, Oscar Juliet Oscar had reached a height of 3845m and a speed of 675km/h. Ten minutes after lift-off - 6248m and 772km/h, with an indicated climb rate of 441 metres per minute. Twenty nine minutes later, OJO had reached Top of Climb, levelling out at 11,277m, with a speed of 833km/h.
Vicki had returned to the cabin, distributing refreshing hot towels and taking orders for the dinner service, long before this point. She'd also efficiently replaced the drinks removed before take-off, which this time were accompanied by Air New Zealand's unique Cassava Chips.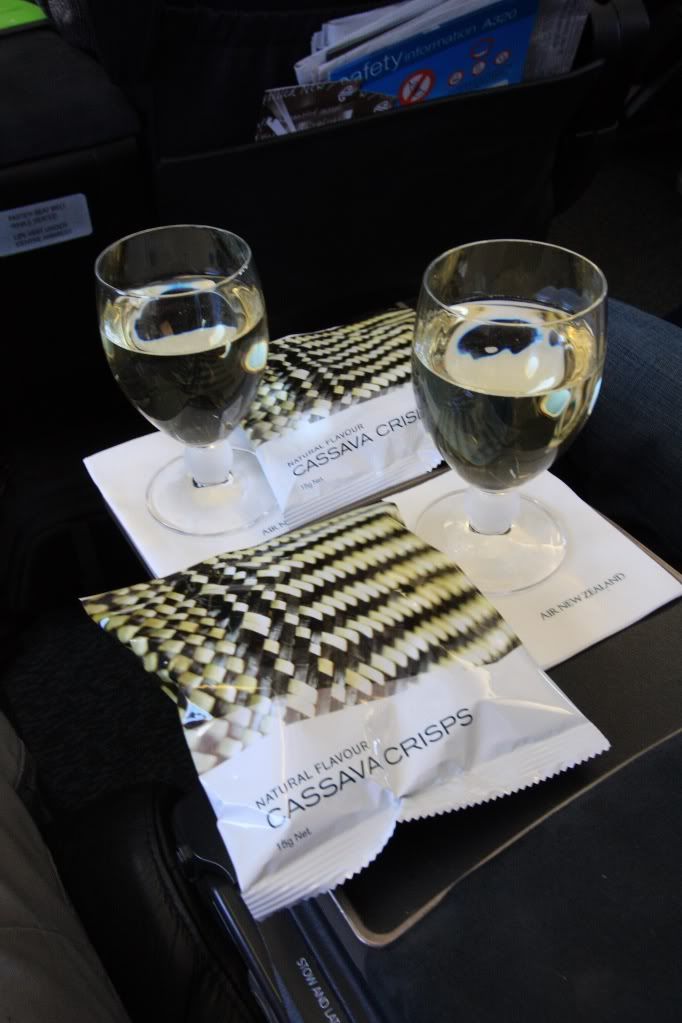 Tablecloths were placed and an entrée of seared tuna on red onion compote, snapper gremolatta and a single prawn with salsa was served – superb!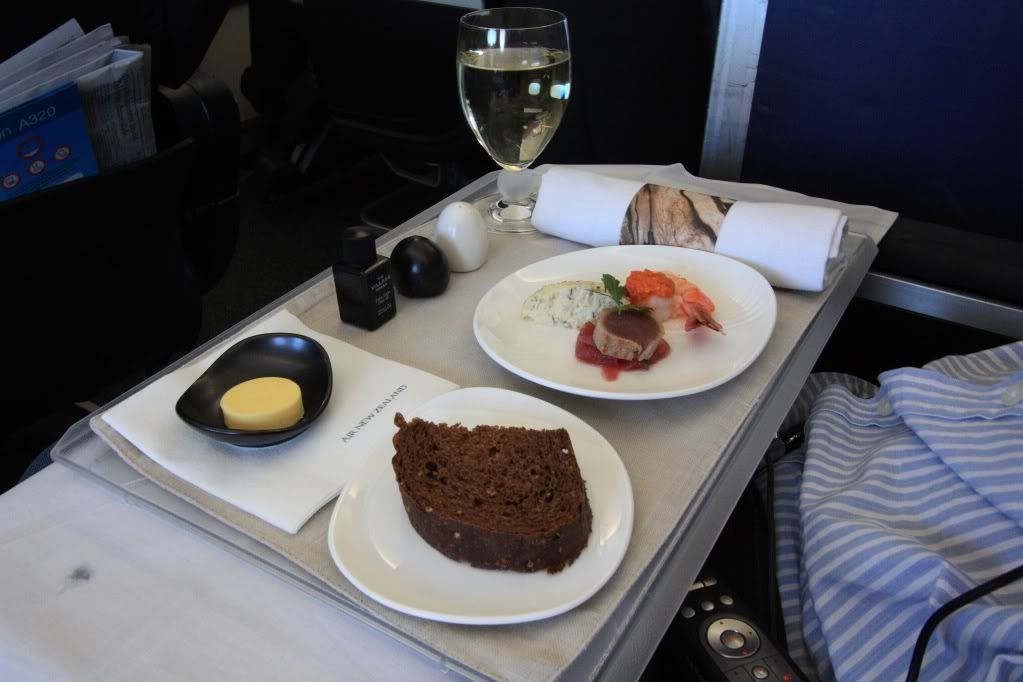 We love the small, oddly shaped china salt and pepper shakers and Noritake that Air New Zealand uses, the choice of warmed breads, and the way butter is served at room temperature. Plus, there's the option of enjoying a tiny bottle of Hawkes Bay olive oil, if preferred. Recently relaxed post-9/11 Australian aviation security laws mean knifes are no longer required to be plastic, so a full suite of metal cutlery can once again be enjoyed!
Three choices were available for main course. Our choices were:
Beef with Paris Rogue Butter and oven baked vegetables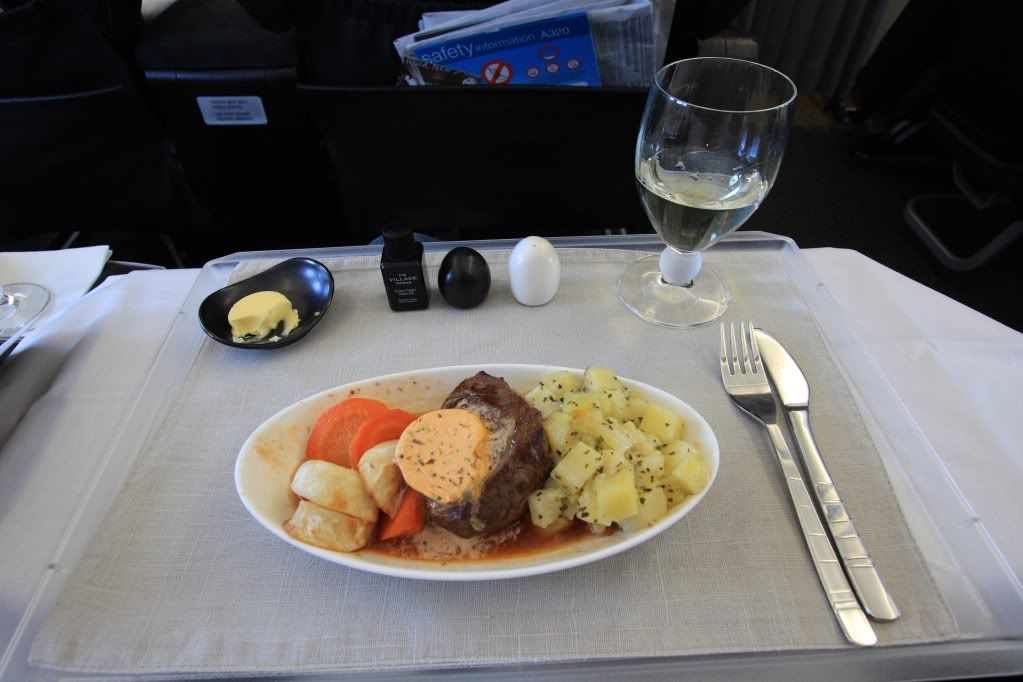 Macadamia crusted Salmon with braised leeks, potatoes and witlof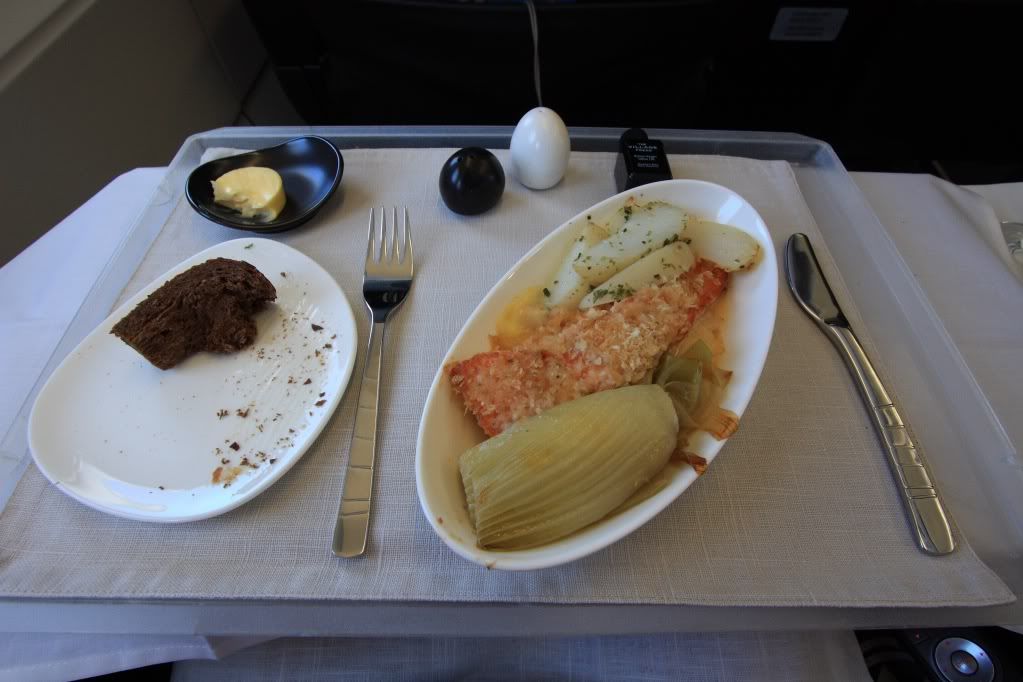 NZs IFE system is exceptional. Movies are available 'on-demand' – that goes for economy as well – and there's an surprising array on offer for such short hops like this trans-Tasman run. It seems that, other than a slightly larger touch-screen in business, there's no difference in the range of movie options available to both classes, a nice, egalitarian NZ touch.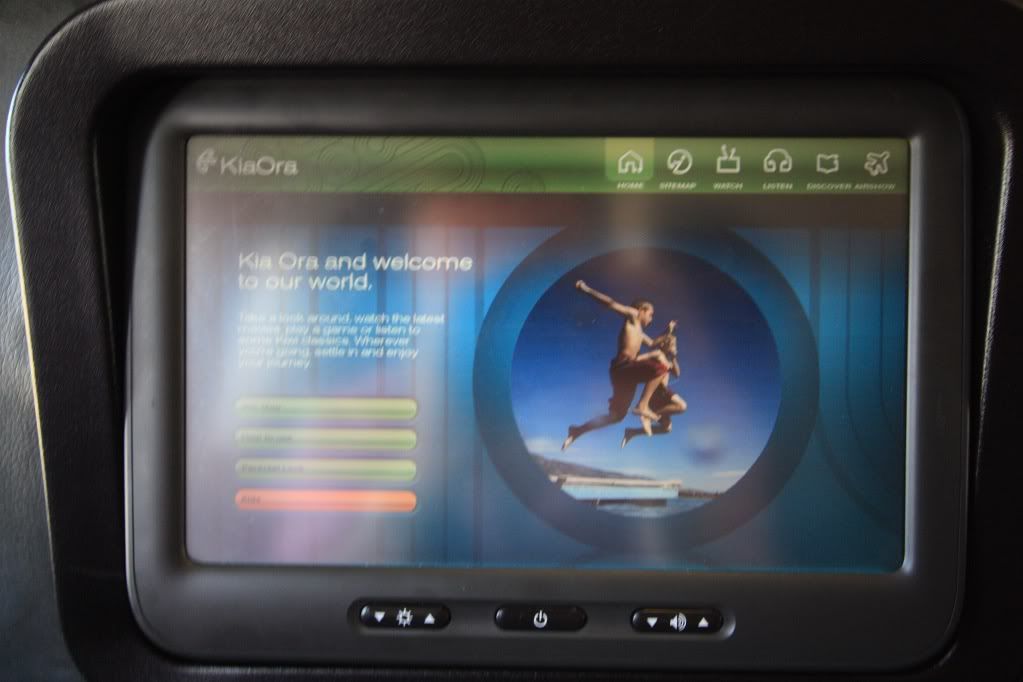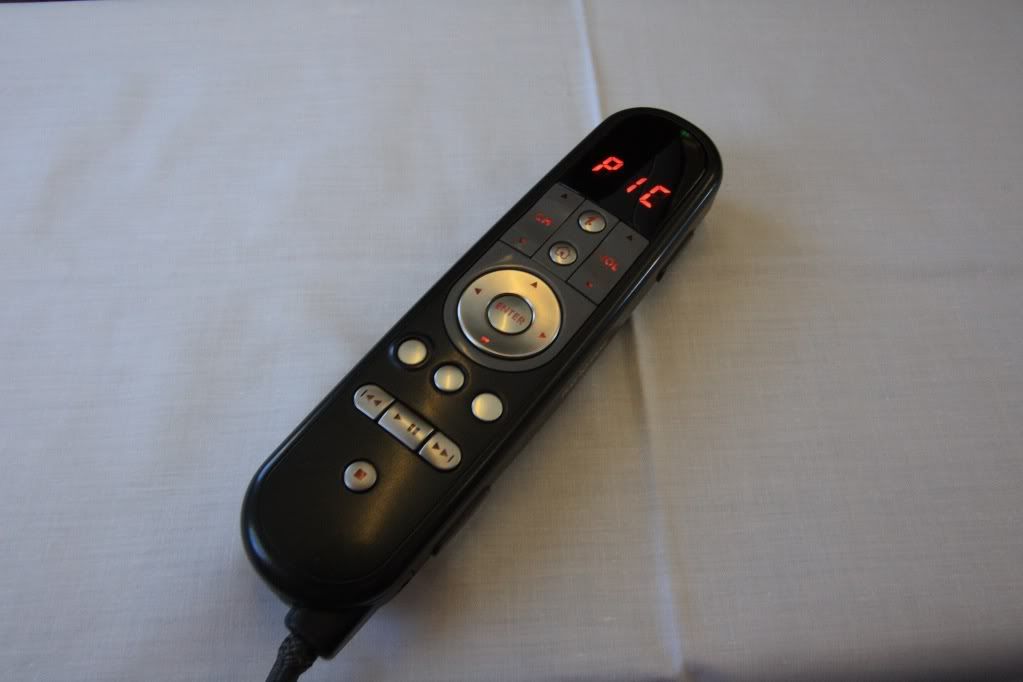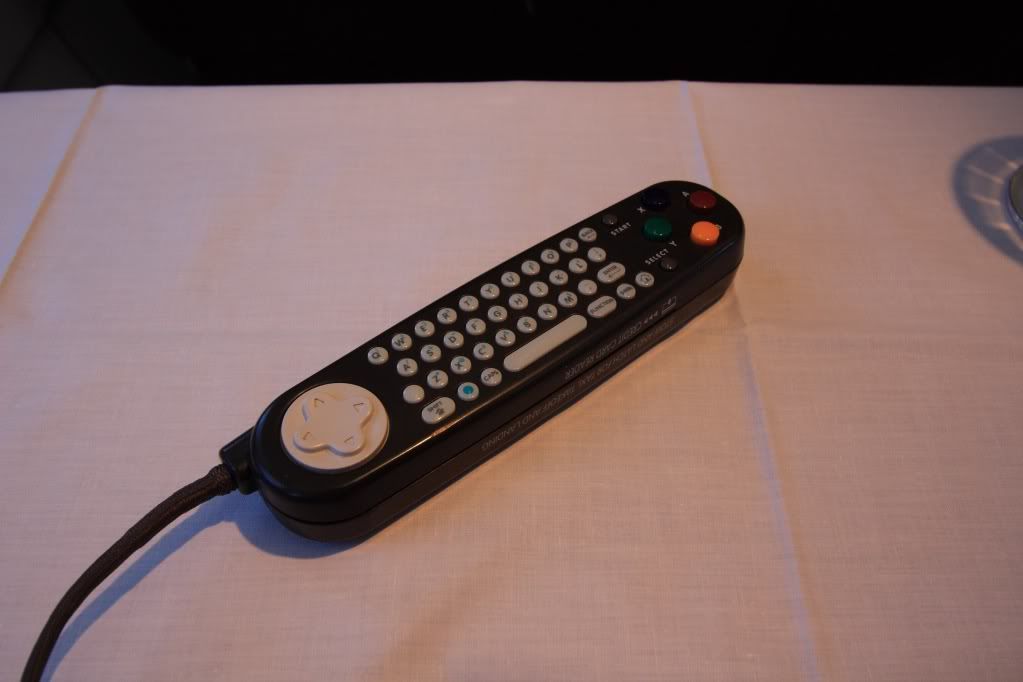 A choice of two deserts was offered – a passionfruit cheesecake or ice cream (two types divided by a wafer of almond bread). Each was delicious! Coffee and chocolates followed, and then cheese, crackers and a fig.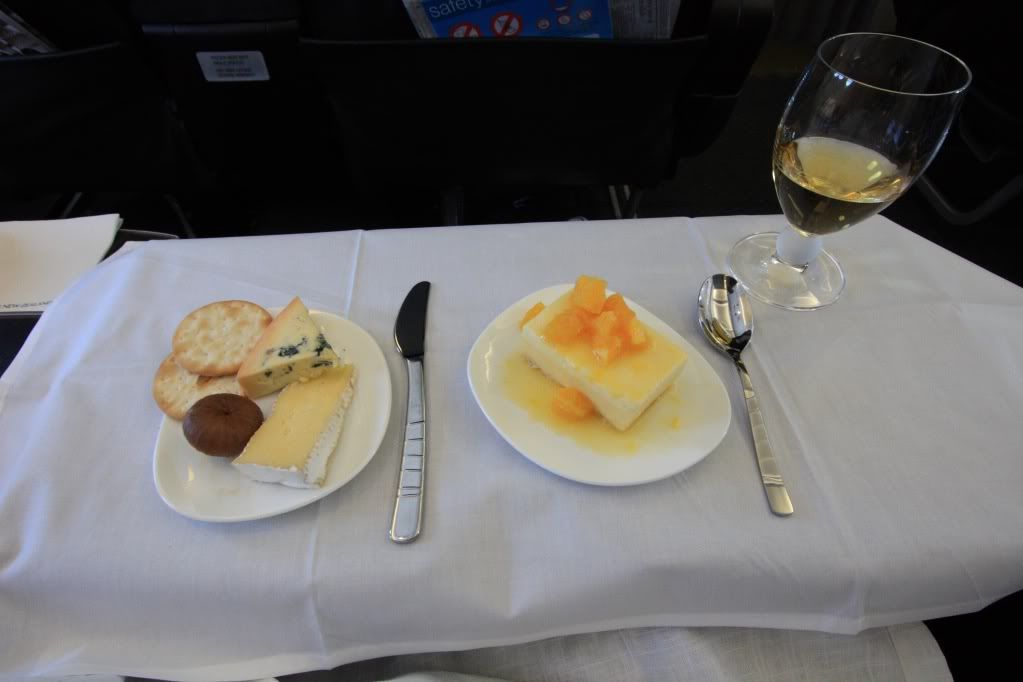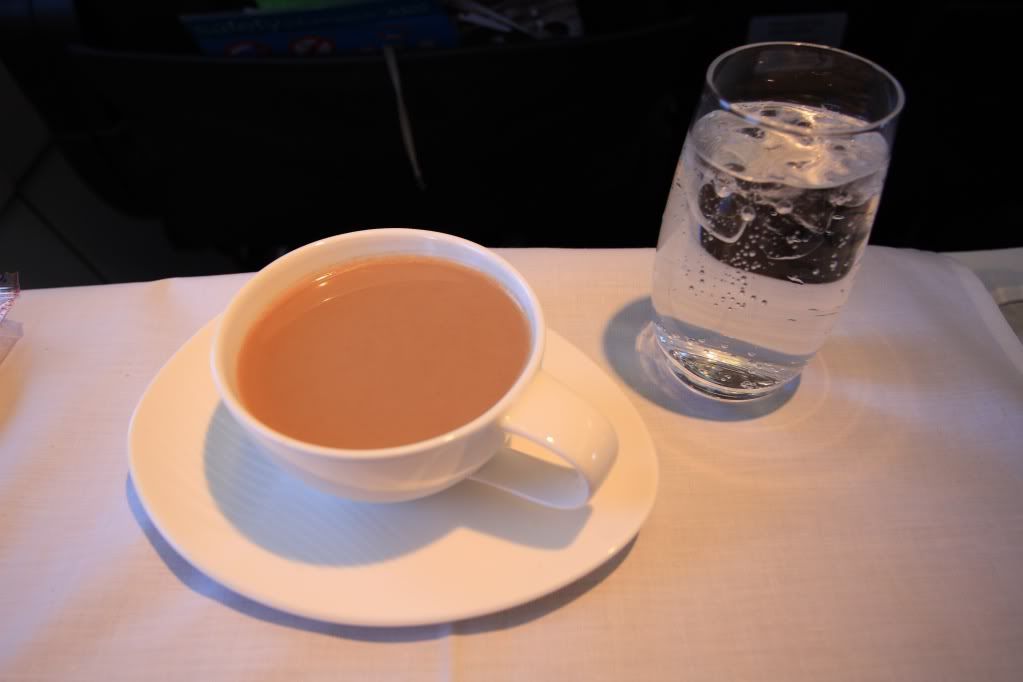 Savouring the Blue Vein and Brie, a quick glance out the window showed a near full moon, brightly lit against a deep blue upper atmosphere. Not being far from the coast of New Zealand and, flying away from the setting sun, the sky was quickly darkening.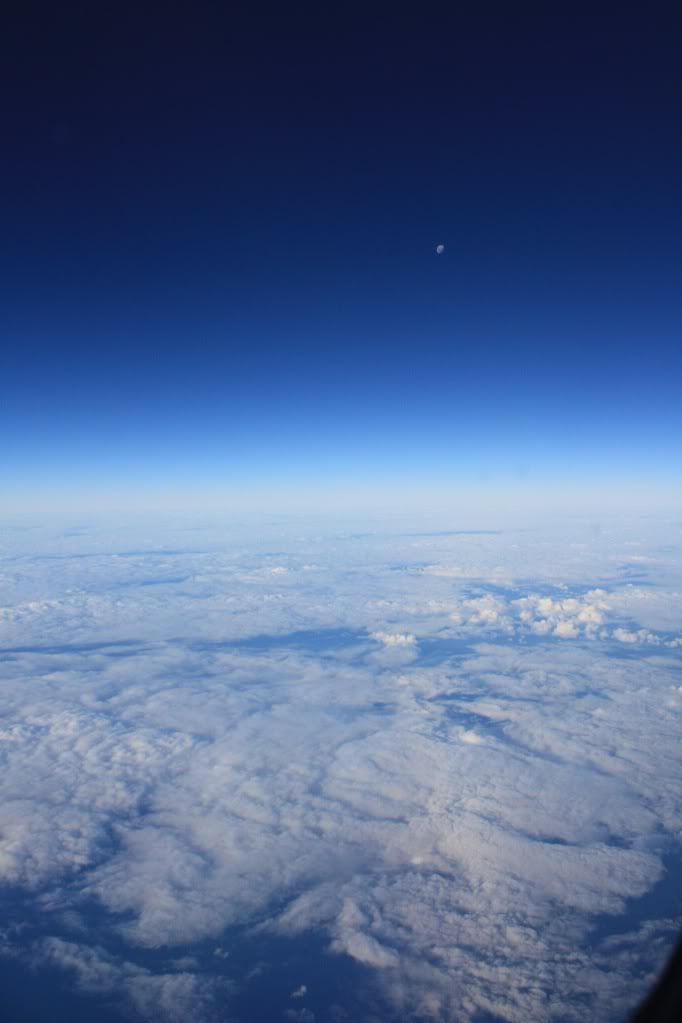 The colours presented, flying in this light, created a frosty view of the engine nacelle and wing rail.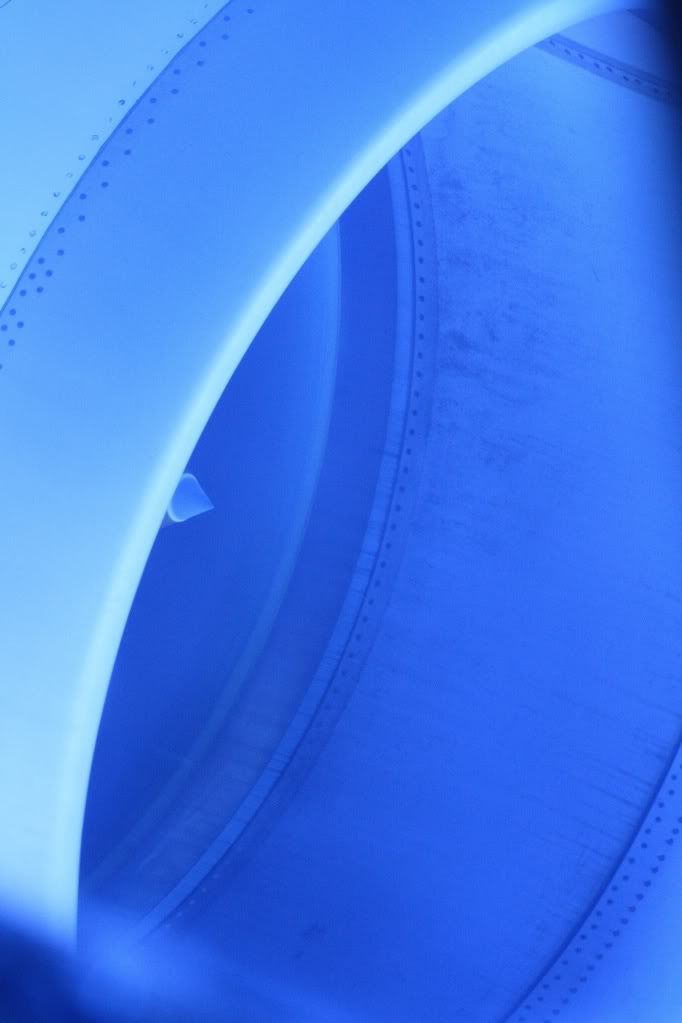 At 6pm, wristwatch still on Australian Eastern Standard Time, Captain Bartlett announced we'd shortly commence our decent. At 6.13pm, the engines spooled down, suggesting Top of Decent had been reached. Soon enough, the west coast came into view and we crossed the shore of Aotearoa, the 'Land of the Long White Cloud', at 32,100 feet. It was almost dark but through openings of broken clouds, the lights of Auckland homes were visible.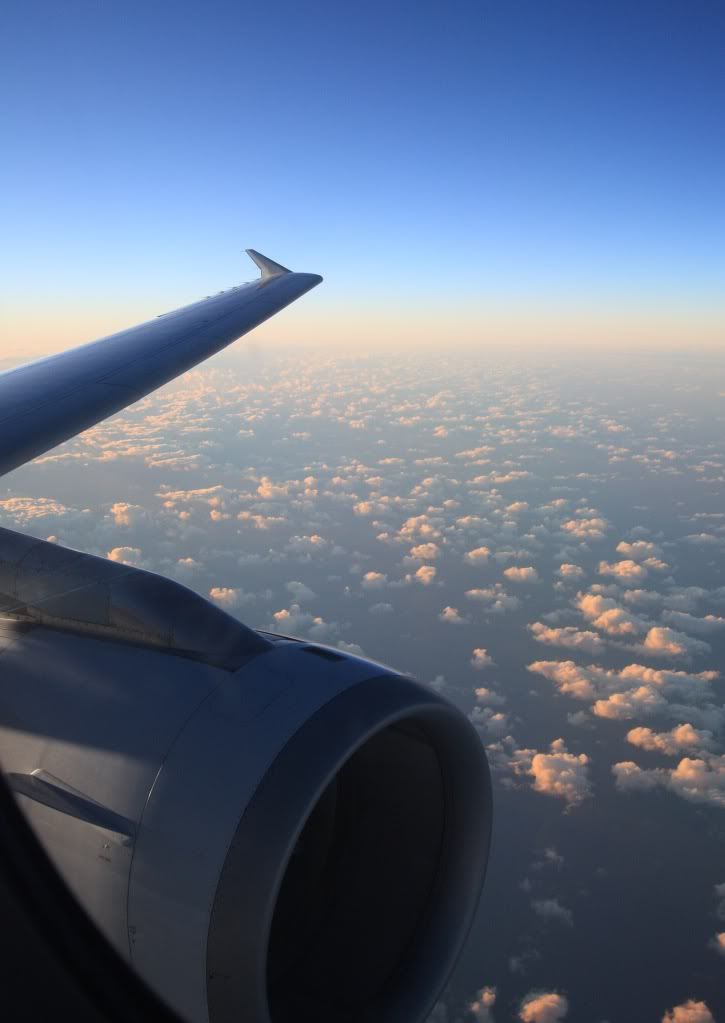 The next news from the cockpit was that we'd touch down at 8.18pm local time. At this point, the IFE had us dropping through 2994m. At 485m, wheels were down and moments later the runway came into view. A smooth landing followed and, moments later we were at our gate.
There was such a stampede for the baggage carousel, you'd have sworn this was the end of a 17 hour fight, but many of the speediest amongst us peeled off at the artfully positioned duty free trap. This part of every journey always provides a fascinating insight into the human condition – the baggage carousel, the great social leveller of aviation. There's scarcely an airport in the world where you're not met by a lifeless conveyor belt when you get there. Even if your bags are carrying 'Priority' tags, there's no guarantee they're going to make it onto the carousel any faster than any other passenger's, so no matter who you are or where you were seated, it's all the same to the carousel.
Passengers, formerly subject to the unreal class structure aloft, stand aimlessly, or jostling for pole position, intent on getting even by beating those through customs that were positioned in front of them, alongside them, kicked the back of the chair, wore glasses, or simply annoyed them in someway. Some stare, some seem lost, and others seem to think nobody else exists, or, that they are made of glass. The Commodore awaits that passenger who is always drawn to the exact spot where his trolley has been positioned. Almost on-cue, that passenger arrives, takes their rightful place, directly between the Commodore's cart and the belt, completely obscuring the view. A wry smile creeps across the Commodore's face as he ponders the absolute certainty of this passenger. No matter where in the world, this one feature of travel seems as assured as that of death and taxes.
AIR NEW ZEALAND BUSINESS PREMIER - NZ46
AKL/RAR (Auckland to Rarotonga)
B777-200ER
26 February 2010
Scheduled Departure: 11.20 hrs
Push back: 11.18 hrs
Flight Time: 3 hours, 55 minutes
Aircraft Type: B777-219ER
Registration: ZK-OKB
Delivered 10 March 2005
Seats: 3A and 4A
Flight Service Director: Yvonne Curtis
Take off roll: 11.35 hrs
Rotate: 45 seconds
Having arrived at Auckland Airport at 8.10am, the dedicated 'Premium Check-in' was open for business, located just adjacent to the main Air New Zealand check-in area. A spacious lobby leads to a series of roughly half a dozen check-in desks and several tables are available opposite, to organise one's affairs if necessary.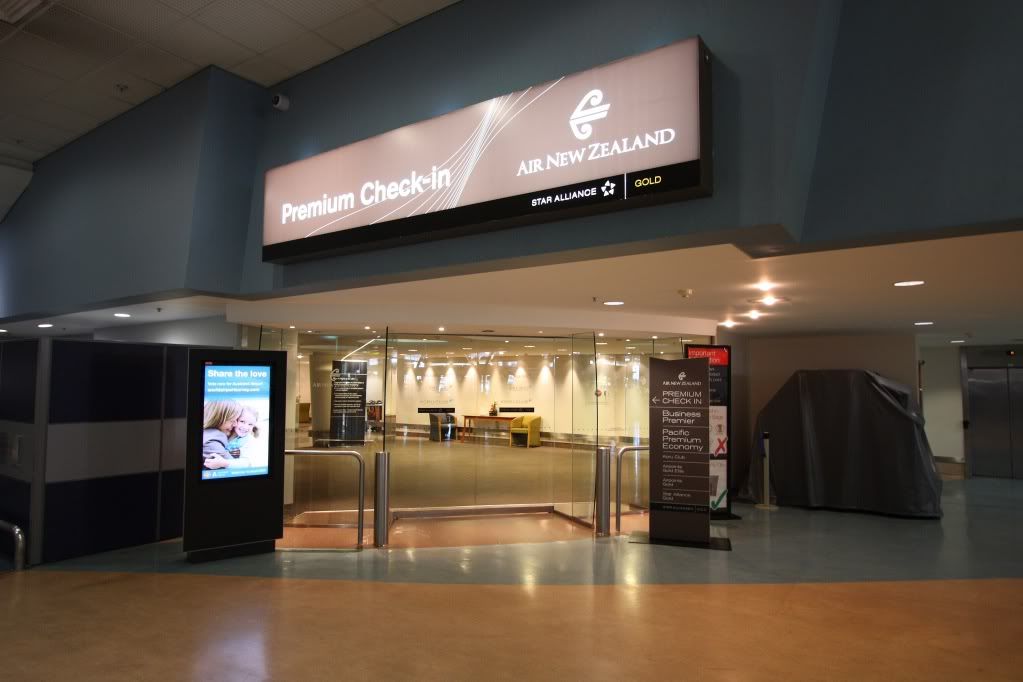 Almost empty when we arrived, bags were checked within minutes. The customs hall can be conveniently accessed directly from the Premium foyer via a dedicated lift, so there is no need to return to the main hall unless you wish to shop in the main part of the terminal.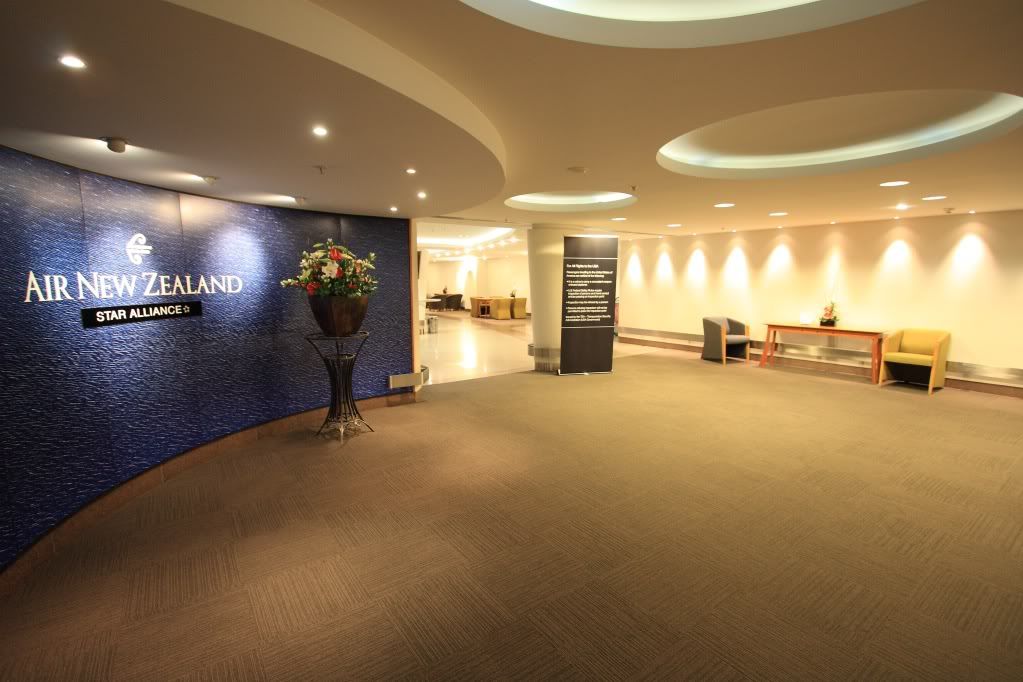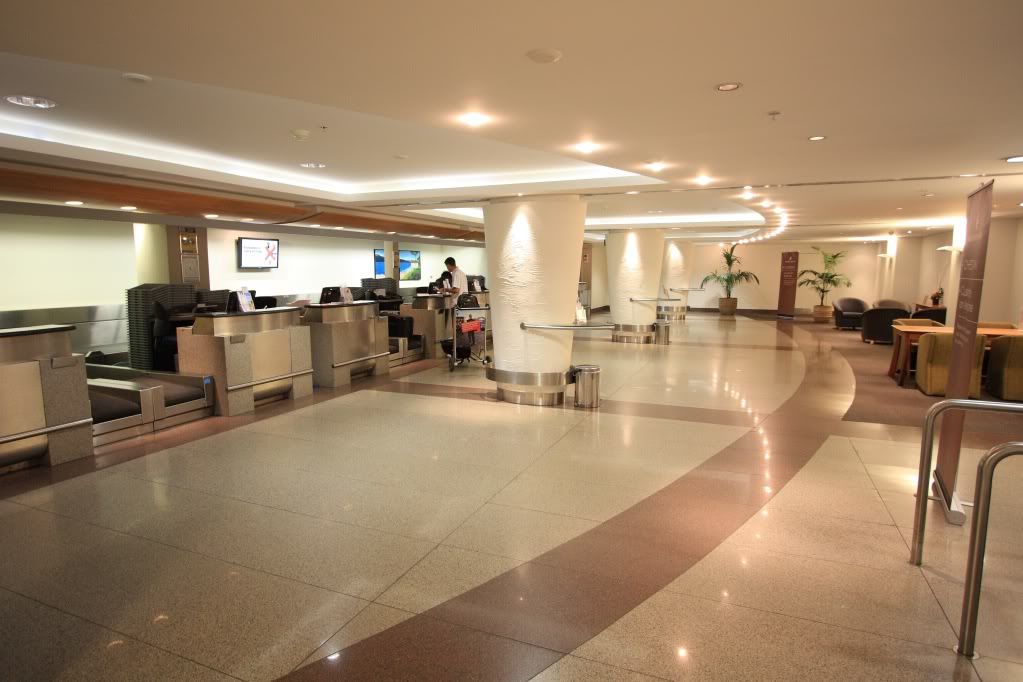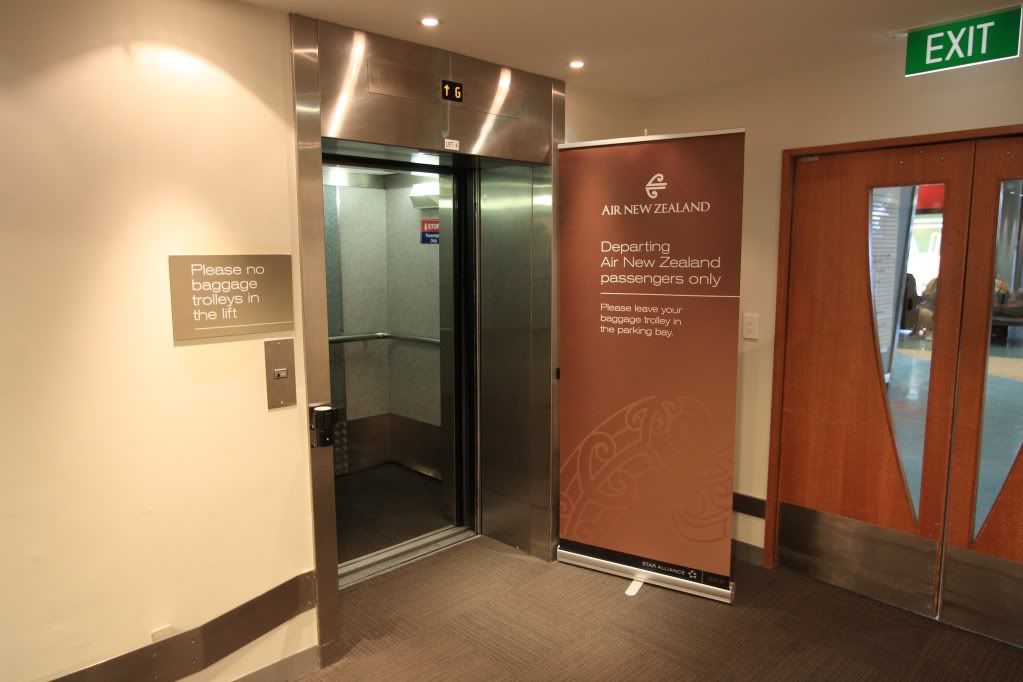 Leaving the lift one level above, passengers are guided directly to one of two dedicated desks and processed immediately. After this, the path leads directly to the baggage x-ray area. Due to current renovations, those entering the customs hall through Premium join the head of the general queue in an embarrassing head-on collision. As you would expect, this may not always be met with the welcome of those at the head of the queue. Fortunately, on this occasion, there appeared to be polite acceptance of the situation, which says a lot about the civilised disposition of New Zealanders in general.
Beyond customs, Auckland Airport is also undergoing renovation. Hoardings hide construction work and emerging passengers are currently met with two duty free stores that have been in existence for some time. Prices are uncompetitive at AKL. Air New Zealand's lounge is around to the right, upstairs from Emirates and alongside Qantas.
The lounge provides a large, spacious area, perhaps a little larger than that at Sydney, but with very limited views of the airfield. While a portion of the runway can be seen, it's a very remote feeling as you look, through glass, down over the airside duty free shopping area and then through a second layer of glass to the field beyond.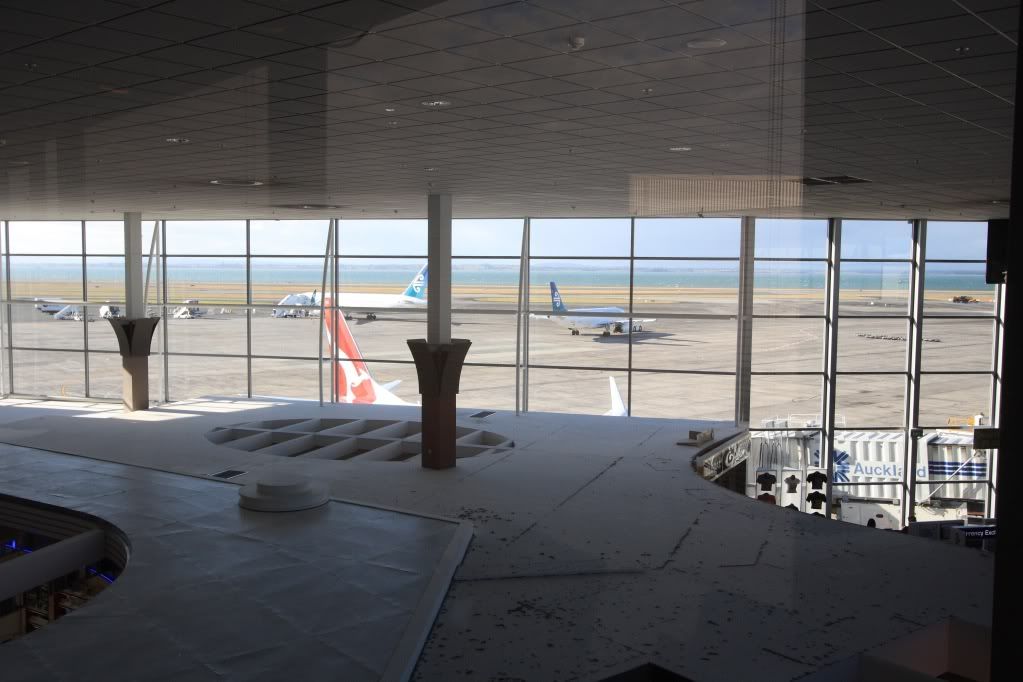 A similar range of food is available to that of Sydney Airport's lounge and multiple bars are amply stocked. There are three tastefully decorated areas, one of which is mobile phone free. Complimentary wireless internet is offered and access conveniently employs the same codes as the Sydney lounge.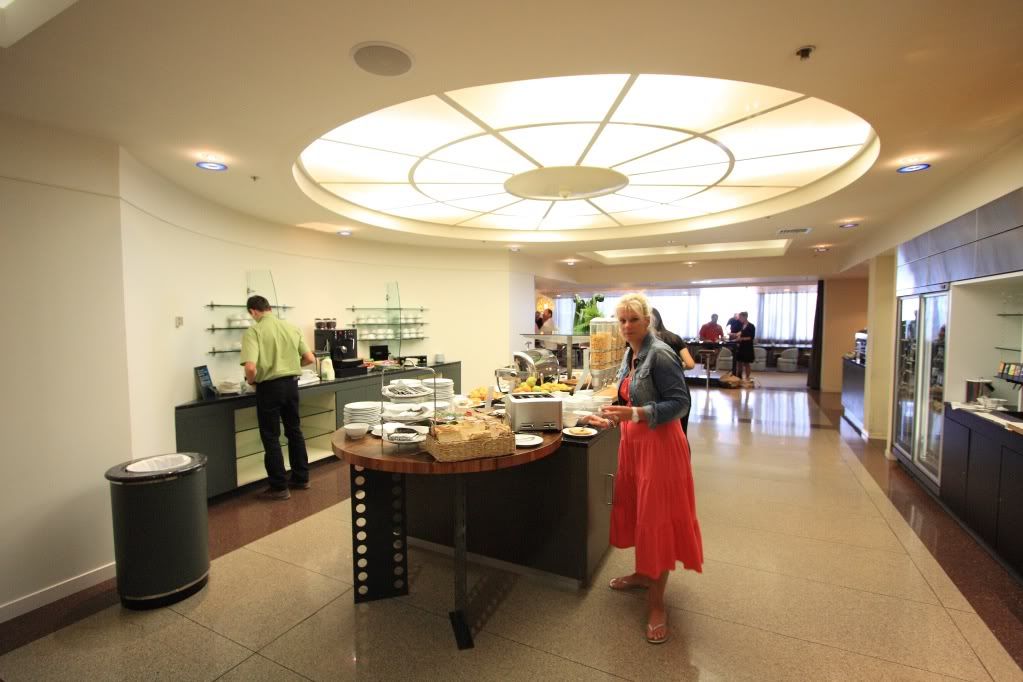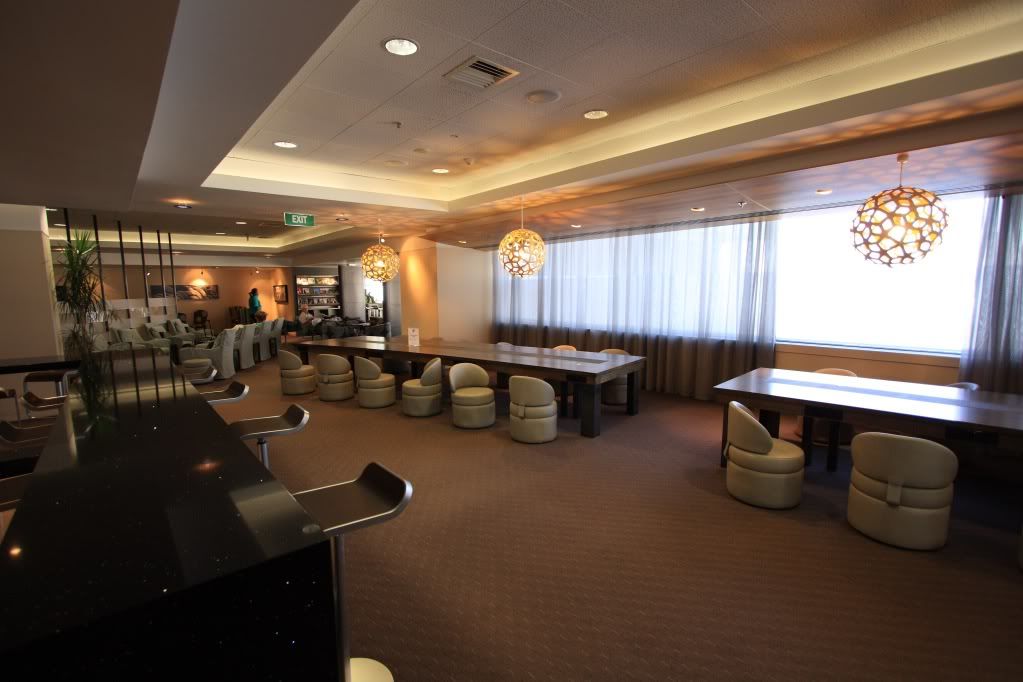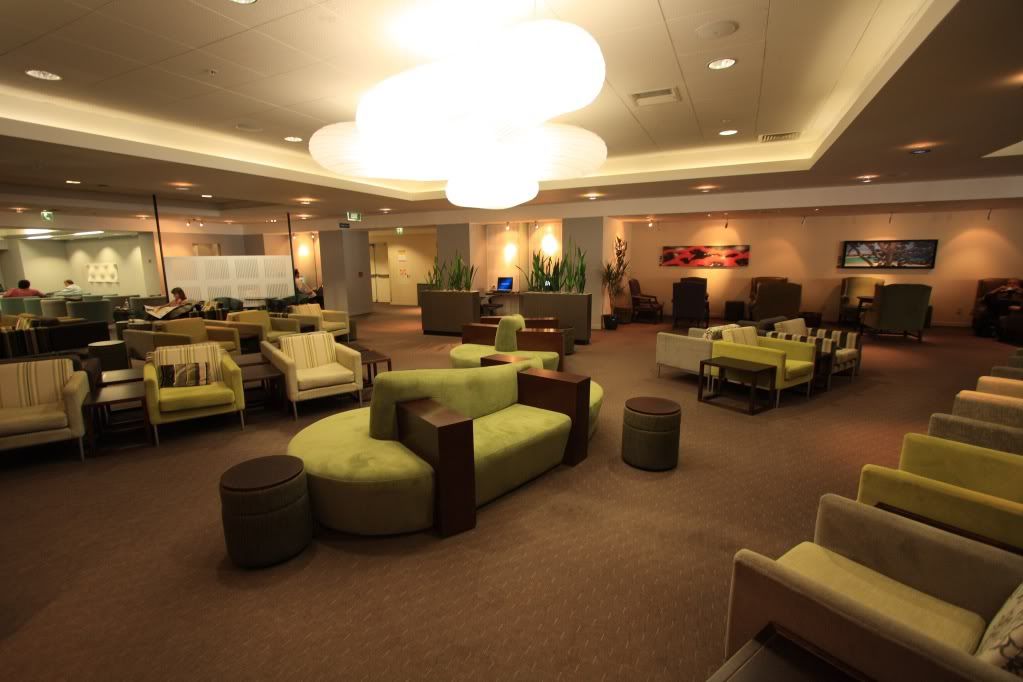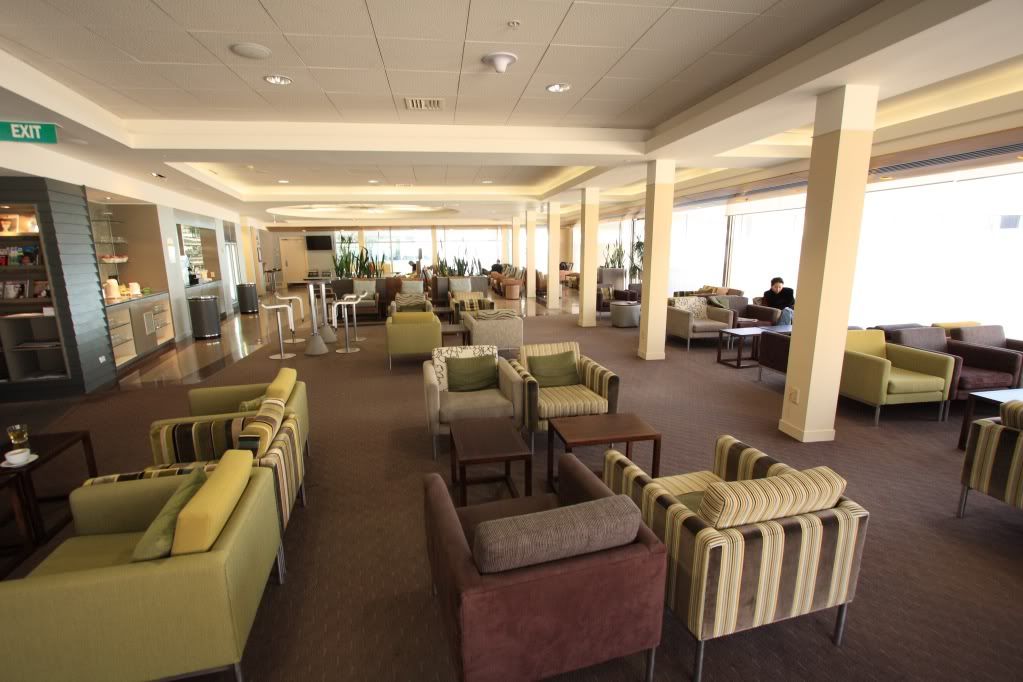 After leaving the lounge, we take the opportunity to view the field from the long aerobridge leading to the impressive new gates where the Emirates A380 departs. Took a one-way flight from AKL to SYD last year on Emirates' A380 and it's a mighty impressive machine. Aerolineas Argentinus A340 stood ready for departure and we were reminded of the recent debacle that saw one of their A340's stranded for over a week at AKL while awaiting an engine replacement. Across the field sits an example of one of Air New Zealand's B767s, newly retrofitted with Winglettes.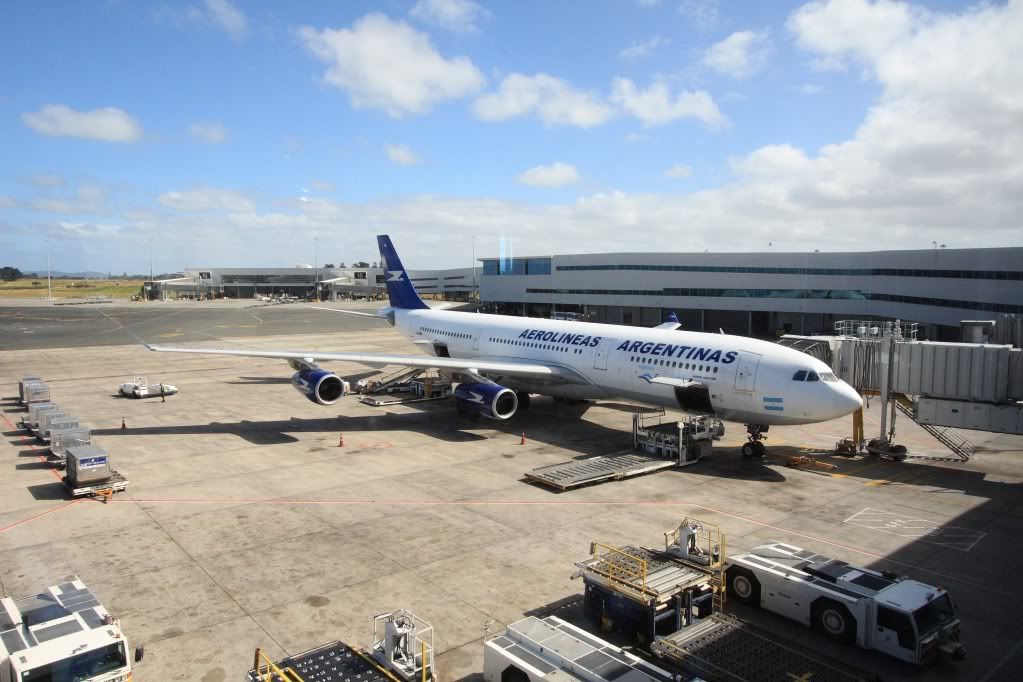 NZ46 (ZK-OKB) can be seen standing at Gate 5 and, as boarding is due to commence, we make our way towards the gate, stopping to take these photos from the seating area above but not before noticing the glamourised Chocolate Fish on sale in the catering area. Anyone familiar with New Zealand corner stores from the 1960s will remember the boxes of Chocolate Fish (with a white Marshmallow centre), artfully positioned near the cash register for impulsive children or their parents to fall victim to. In those days, they were unwrapped – imagine that. These days, they've been clothed with a kaleidoscope of gaudy foil suits.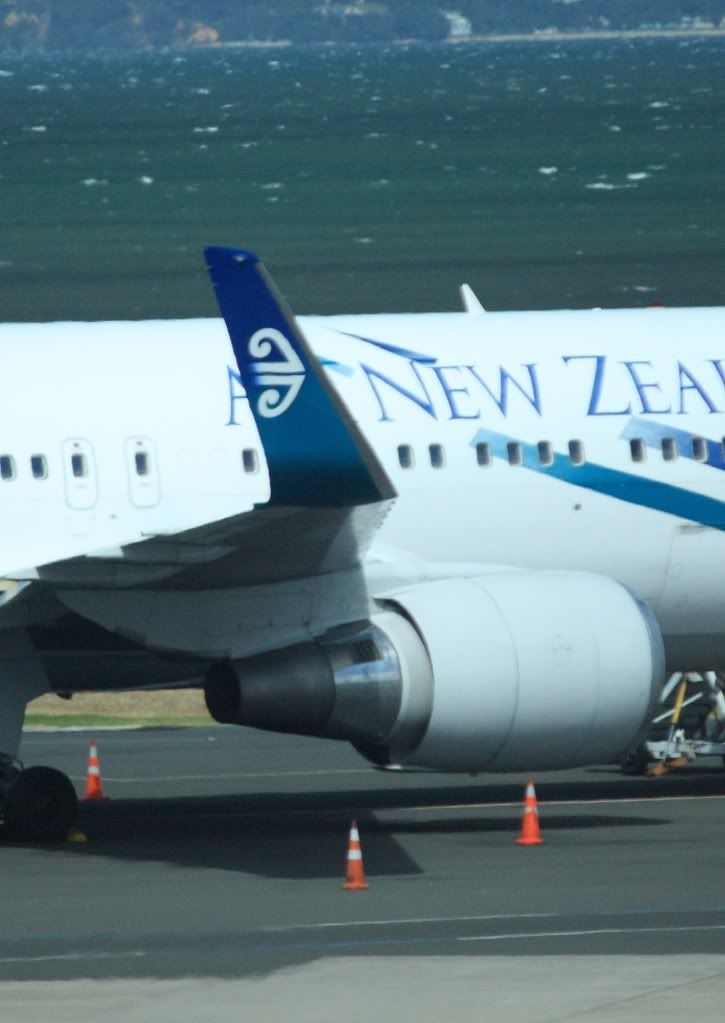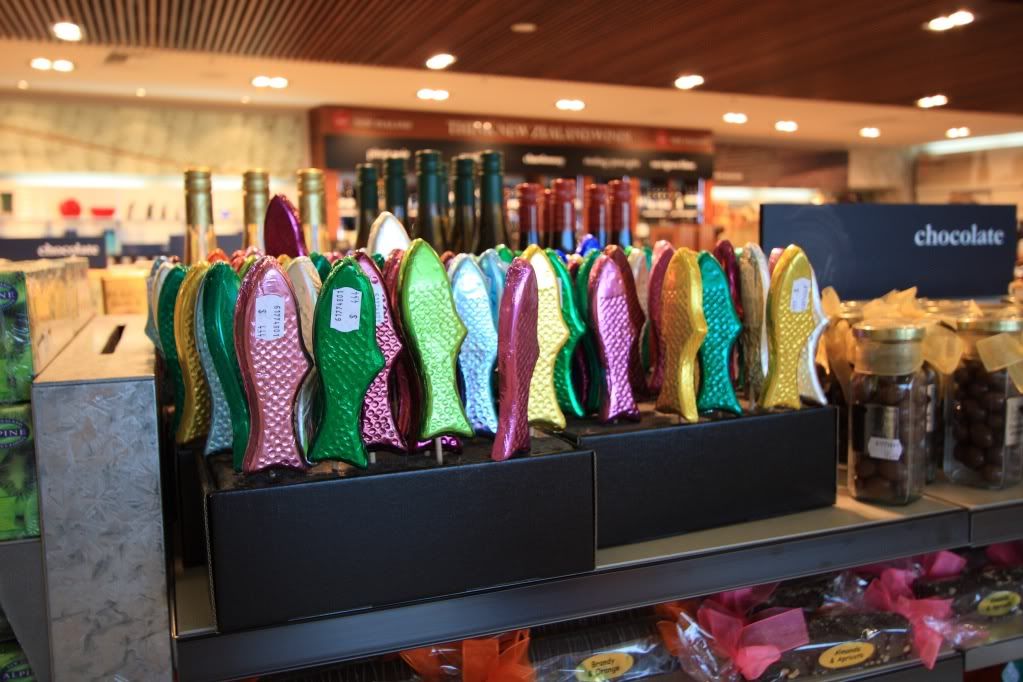 Descending the escalator to Gate 5, boarding had just commenced. Business Premier's race was clearly defined and skirting gathering passengers, access was easily gained to present boarding passes. There was a nice view of our four years young 777 from the glass aerobridge as we approached door 2A.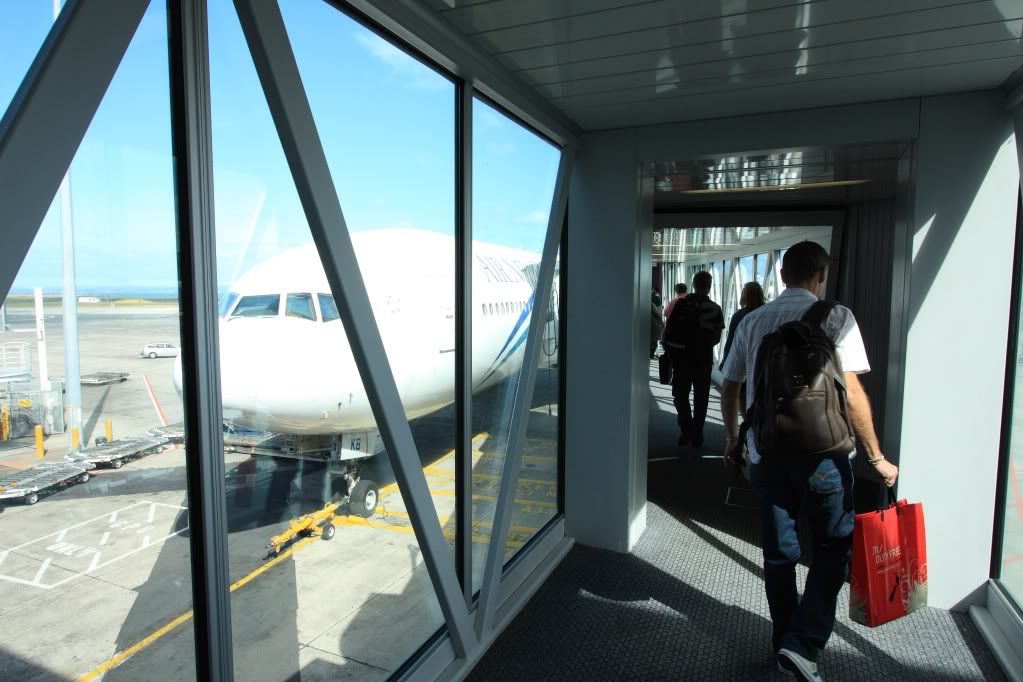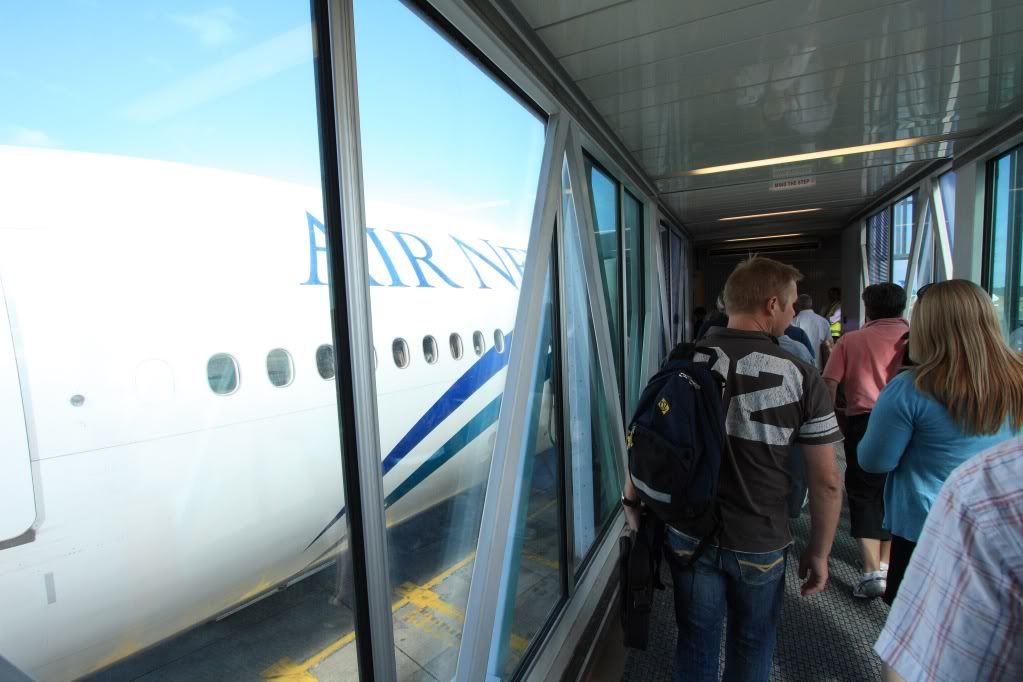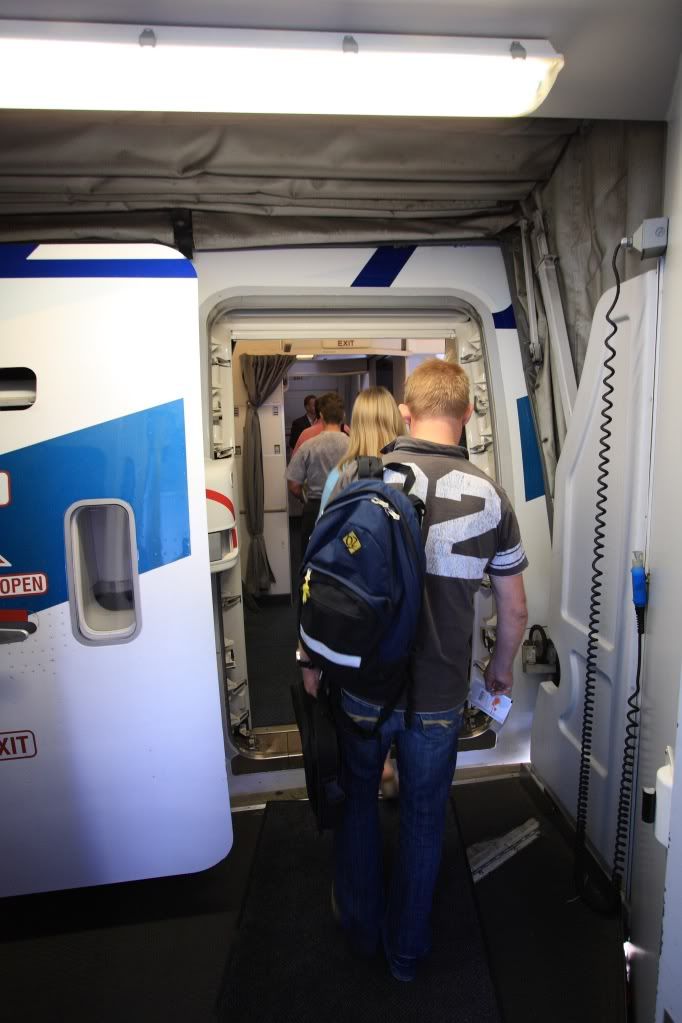 Greeted by name, we were invited to turn left, and a glimpse of the cockpit was snared as we took our seats. First impressions of the Business Premier cabin were that it is much more open and spacious than the impression received from photos in the Airliners.net photo database. The dividing walls between the Virgin Atlantic licensed seat design are not as obtrusive as they appear in many photographs.
Taking a moment to peruse the tri-fold brochure that explains the various features of the
lie-flat seat, the comfort of the design was immediately noticeable. There are several storage compartments immediately at hand, the leftmost forming a stow-away armrest that is perfect for point and shoot cameras and other small oddments – it pops up at the push of a button and stows fully when pushed downward. More space is available between the armrest and window. There's a deeper bucket immediately alongside the seat cushion, beneath the LCD screen and flip-out remote control storage compartment. Books, magazines and newspapers are easily stored there.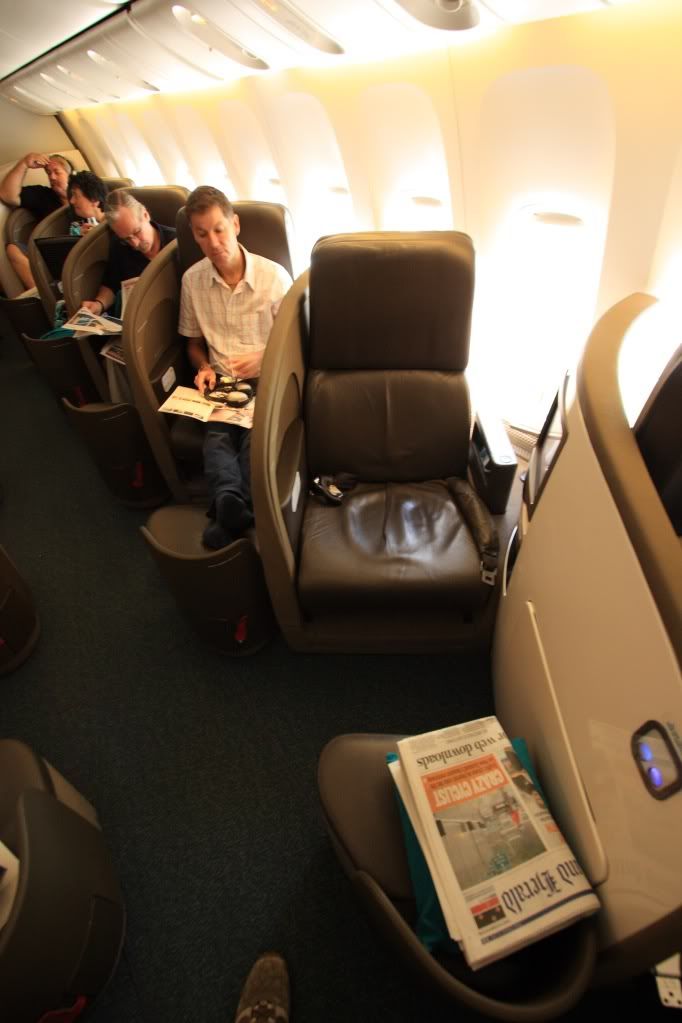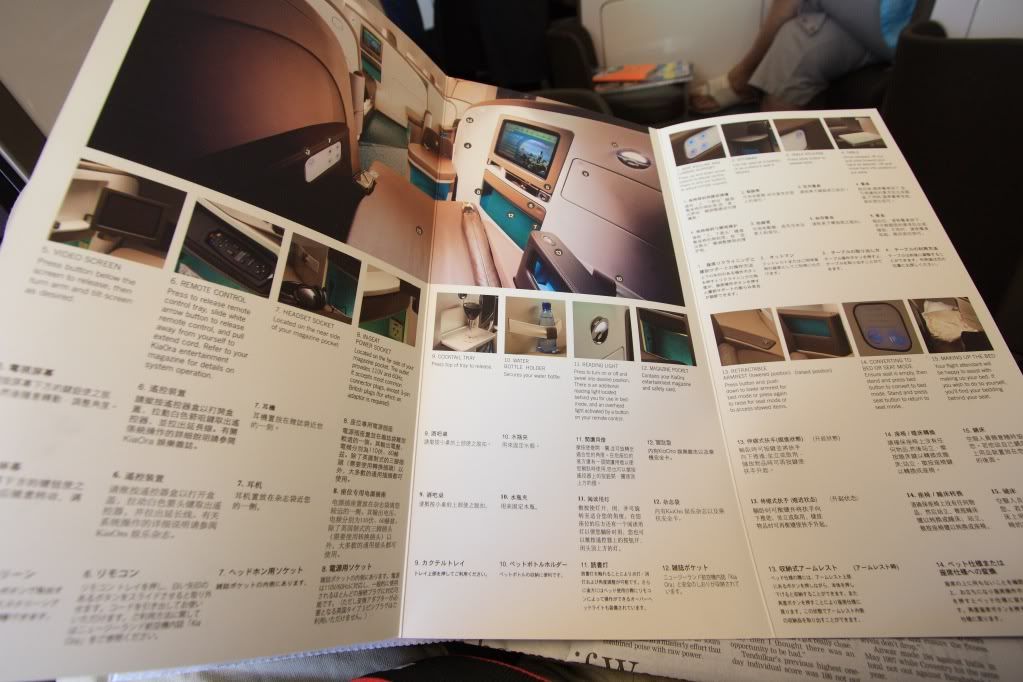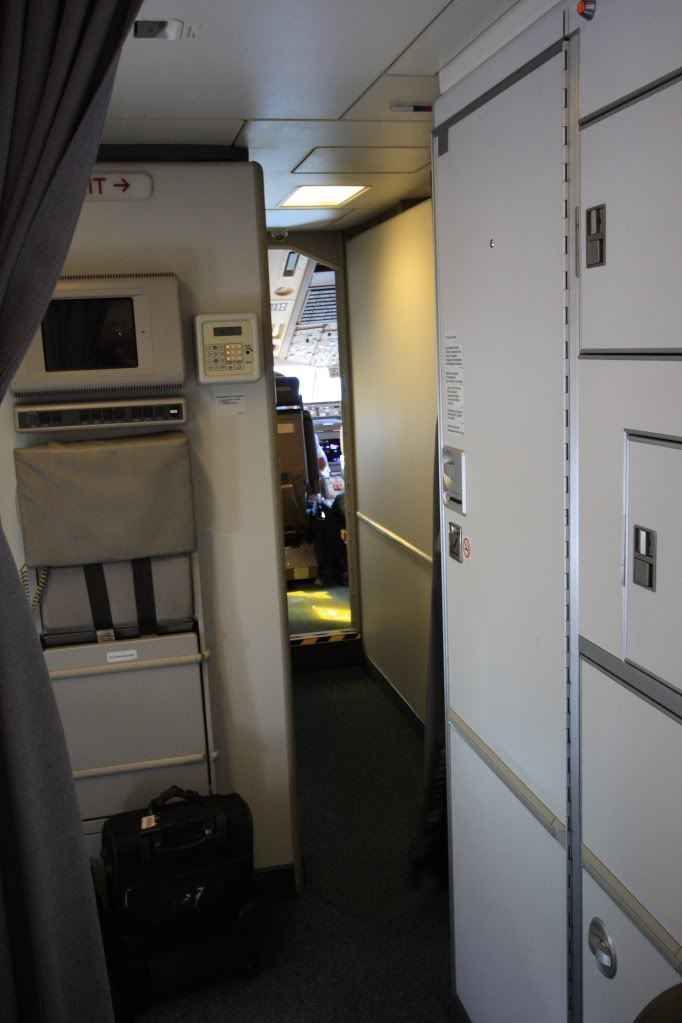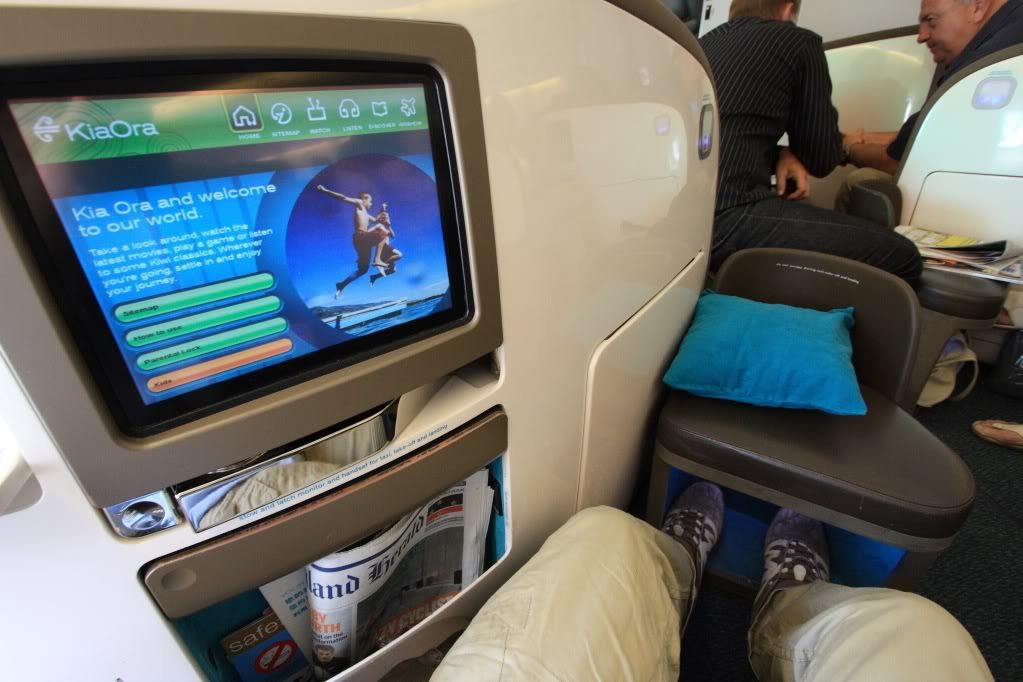 Pre-flight drinks were offered as passengers settled in and a small, flip-out tray table immediately left of the LCD screen, makes for an ideal horizontal surface when your tray table is stowed.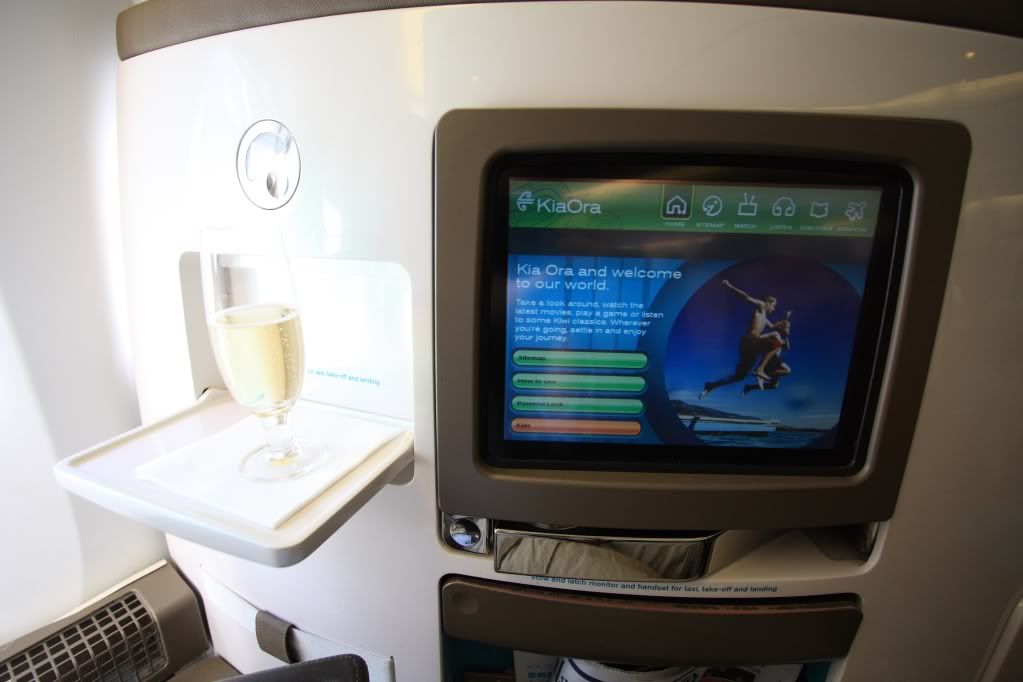 The aerobridge motored clear of the fuselage and we pushed back two minutes ahead of scheduled departure at 11.18am. The safety demonstration, which appeared to be a more sober version than that of yesterday's trans-Tasman A320 service (no 'Bare Essentials' here), started playing with a digital staccato that made it incomprehensible.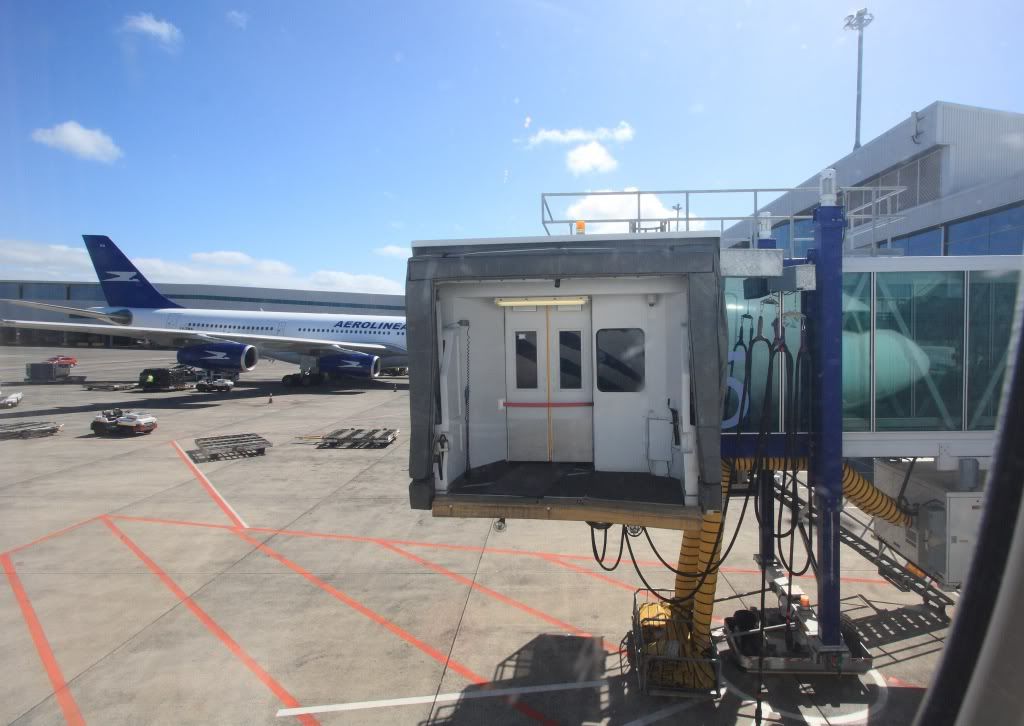 The first engine started at 11.21am and, by this stage, the safety demonstration had been paused and an apology issued. 'Ladies and gentlemen, as you've no doubt noticed, we seem to be having some difficulty with the safety demonstration. We'll just re-set the system and begin again shortly. Engine two spooled up and we begin rolling.
Take two of the safety demo began and it was soon clear that the system was not in the mood for cooperation, the vision and audio remaining as fractured as before. A third attempt was made before it was decided that there was to be a manual demonstration.
A little confusion took place as life jackets were distributed and FAs took their safety demo stations – it was clear it had been a while since a live demonstration had been necessary. Meanwhile, we were well on our way towards the southern end of the taxiway and time appeared to be running a little short.
Interestingly, pre-flight announcements advised that Business Premier passengers were permitted to 'choose their own seat position' for take-off, as opposed to the normal seat upright, tray-table stowed and armrest down requirement.
The manual demo began, like a walk down memory lane, this time with a live voiceover. Everyone performed his or her duties faultlessly, as you'd hope or expect. Drinks were hurriedly collected and turning to starboard, the aircraft came to a gentle stop just short of the threshhold. There was a bit of traffic around so we now waited to be cleared for takeoff as a Dash 8 and Boeing 737-300 landed.
At 11.35am, Oscar Kilo Bravo began rolling, turned onto the runway and, without pause, very gently increased thrust to take-off power. Those huge Rolls Royce RB211s are extremely quiet and our take-off lacked a sense of urge. After 53 seconds, we rotated. It's possible that with just under four hours flying time to Rarotonga, we're not heavily loaded with fuel and the option of a relaxed, economical, auto-thrust take-off has been programmed.
Watch a summary video of the entire trip here:
http://www.youtube.com/watch?v=4exUS_RF2ZI
For a large aircraft, the B777 is no upward mobility slouch, unlike the A340, having reaching 5205m within eleven minutes of take-off. Twenty minutes saw us through 9601m at a speed of 888km/h. By 12.01pm, we'd reached 11,277m and were streaking across the sky at 900km/h with an outside temperature of – 51 degrees centigrade.
It was time to get a little more comfortable so the IFE screen was released from its stowed position with the push of a button. Swivelling out on a chrome arm, it extends to a comfortable viewing distance. One odd thing about NZ's 777s IFE is that the LCD screens are not touch sensitive, unlike the screens in the recently re-fitted seats of its A320 fleet.
Show screen shots and in flight information shot which is one of the last ones taken.
Menu cards and hot towels were distributed with the commencement of in-flight service and, once again, a small packet of Cassava Chips accompanied first round drinks.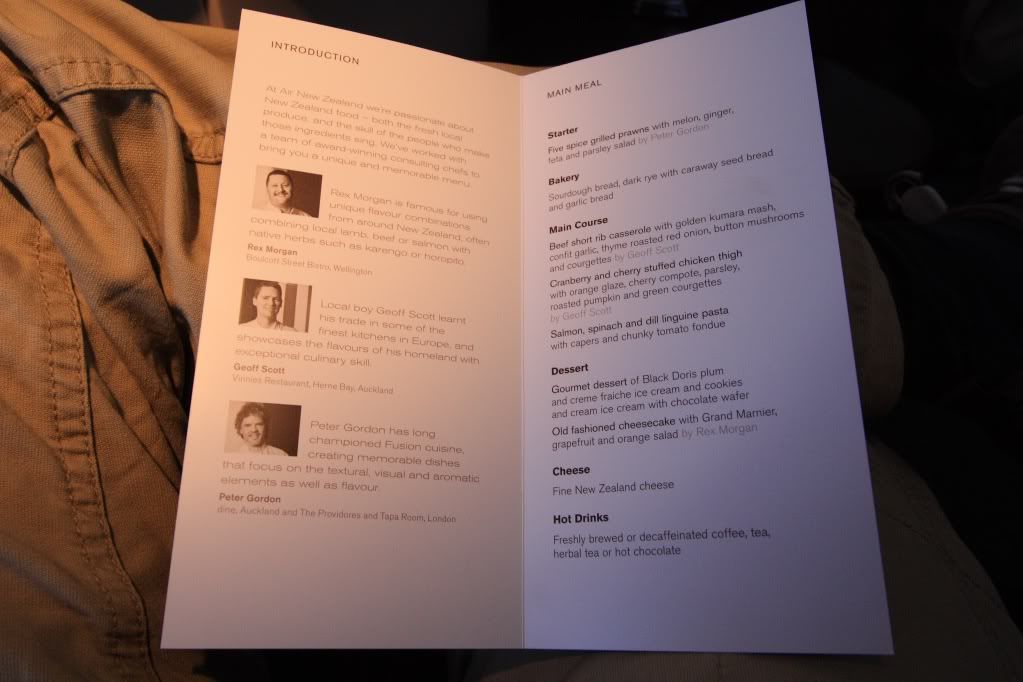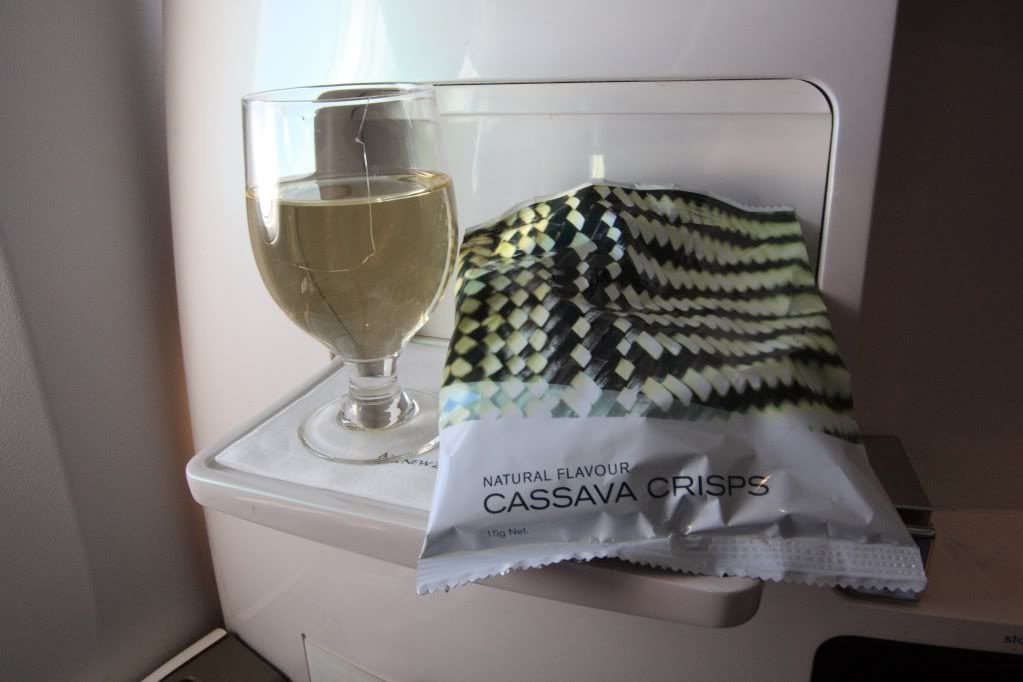 The meal service began with an entrée – five spice grilled prawns with melon, ginger, feta and parsley salad. However, there was a surprise in store – a stowaway was onboard. Having reached for the cutlery, which is wrapped in a linen napkin, there was a slightly wet sensation at one fingertip. Turning the napkin roll over, a harmless, inch long, bright green little caterpillar was discovered. A slight wriggle suggested it was uncomfortable with being discovered.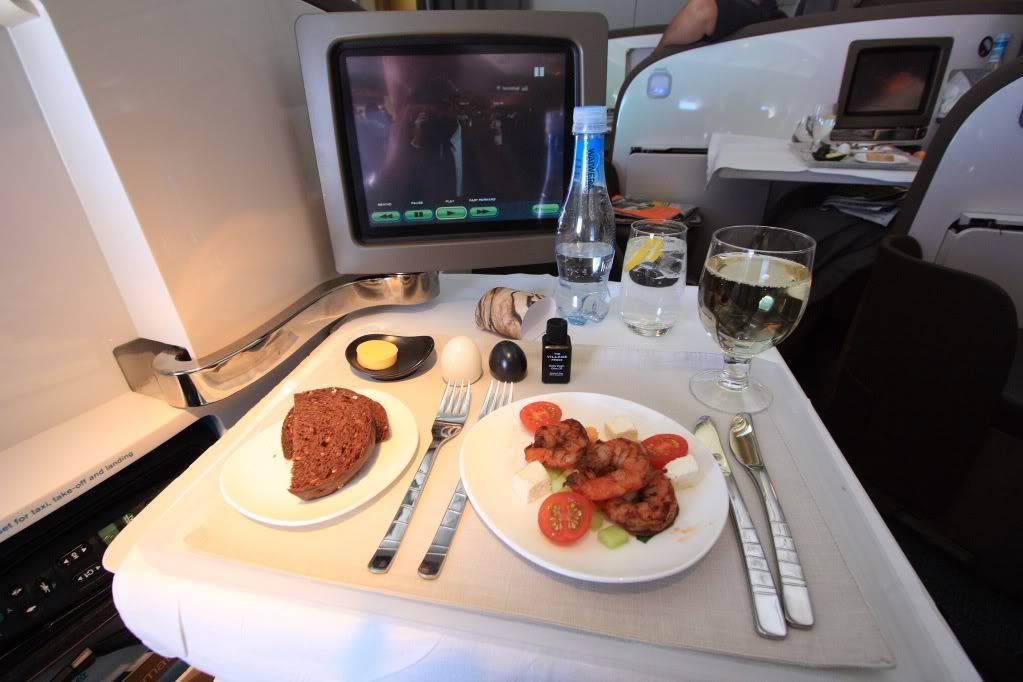 Finding this funny (after all, the caterpillar wasn't in the food), I made the mistake of sharing the discovery with my partner before making photographic evidence, much to Air New Zealand's almost certain relief. Having noticed the hilarity emanating from rows three and four, our flight attendant returned to see what was so funny. Instantly mortified, she grabbed the still rolled up cutlery and napkin. By now, the second FA serving in the port side aisle came to see what was going on and pulled a face of mock-horror when shown the critter that was the source of the commotion. Our friend was then whisked away to a fate unknown in the galley.
Sincere apologies were issued and both FA's agreed sagely that it was potentially going to be one of those days. After the upset with the safety demo, they openly wondered what was coming next. But it was all good fun and nobody took it too seriously. In fact, the poor caterpillar's survival of its ordeal to that point is possibly testament to the freshness of Air New Zealand's food.
A choice of three main meals were offered:
Beef short rib casserole with golden kumera mash, confit garlic, thyme roasted red onion, button mushrooms and courgettes.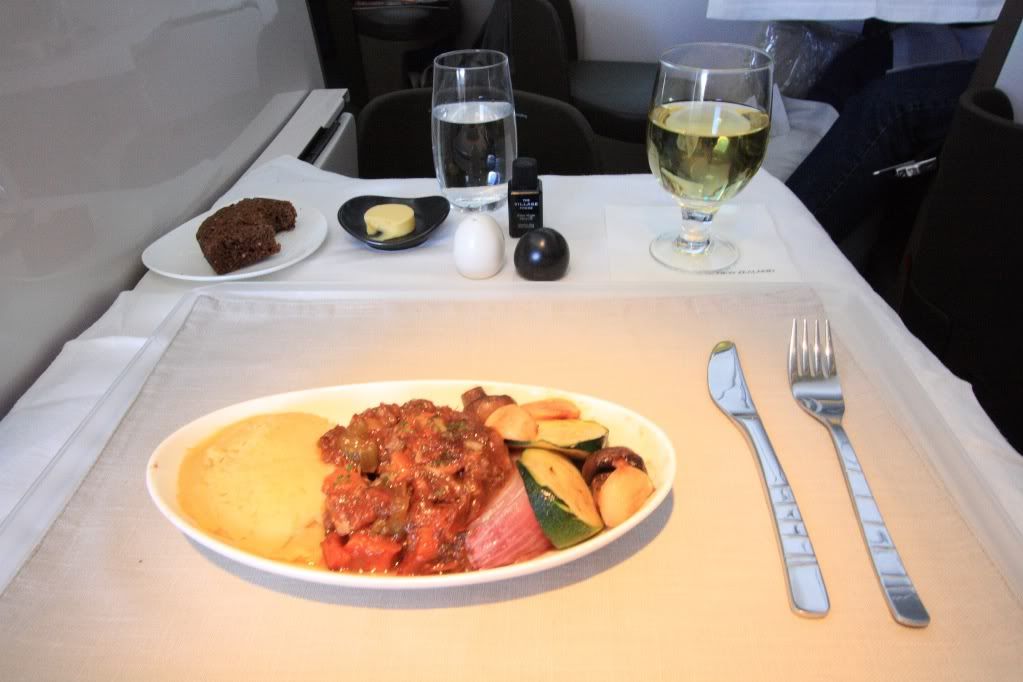 Cranberry and cherry stuffed chicken thigh with orange glaze, cherry compote, parsley, roasted pumpkin and green courgettes.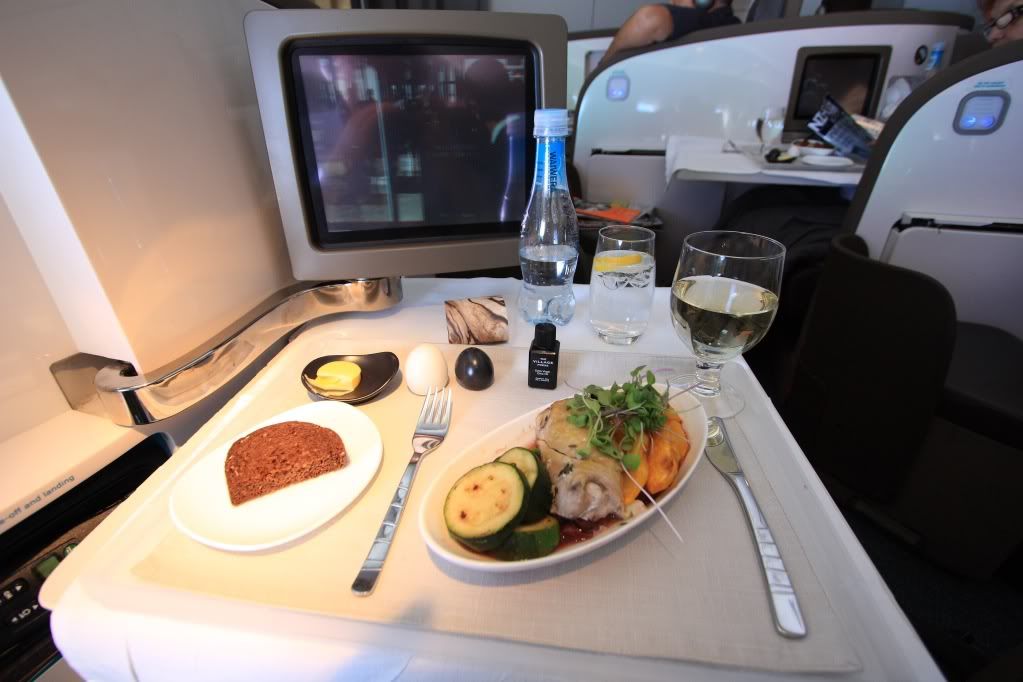 Salmon, spinach and dill linguine pasta with capers and chunky tomato fondue was the third option.
During main course, a flight attendant returned to once apologise profusely for the caterpillar incident and offered a complimentary bottle of Champagne, or anything else I might like, as compensation. A bottle of Champagne Piper Heidsieck soon arrived and was gratefully received.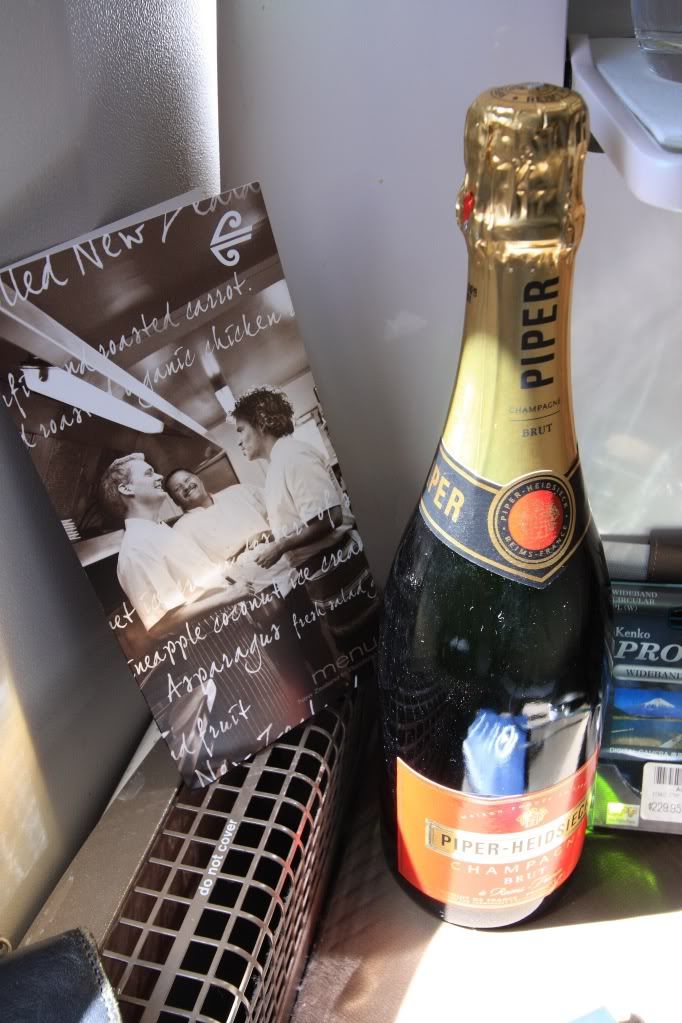 Dessert options were:
Gourmet dessert of Black Doris plum and crème fraiche ice cream and cookies with cream ice cream with chocolate wafer.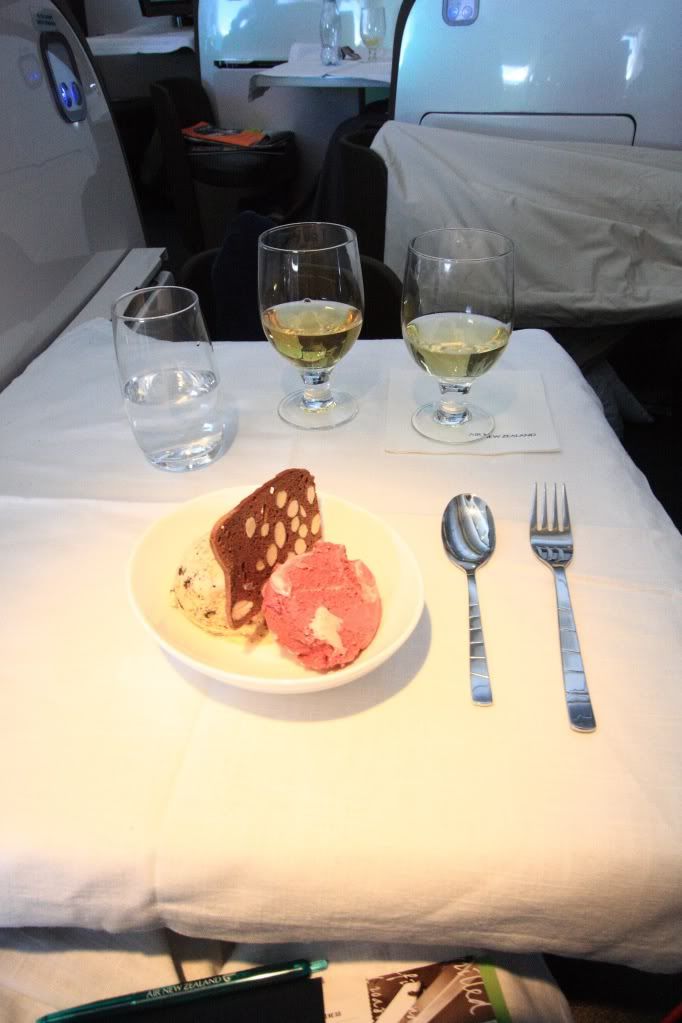 Or,
Old fashioned cheesecake with Grand Marnier, grapefruit and orange salad.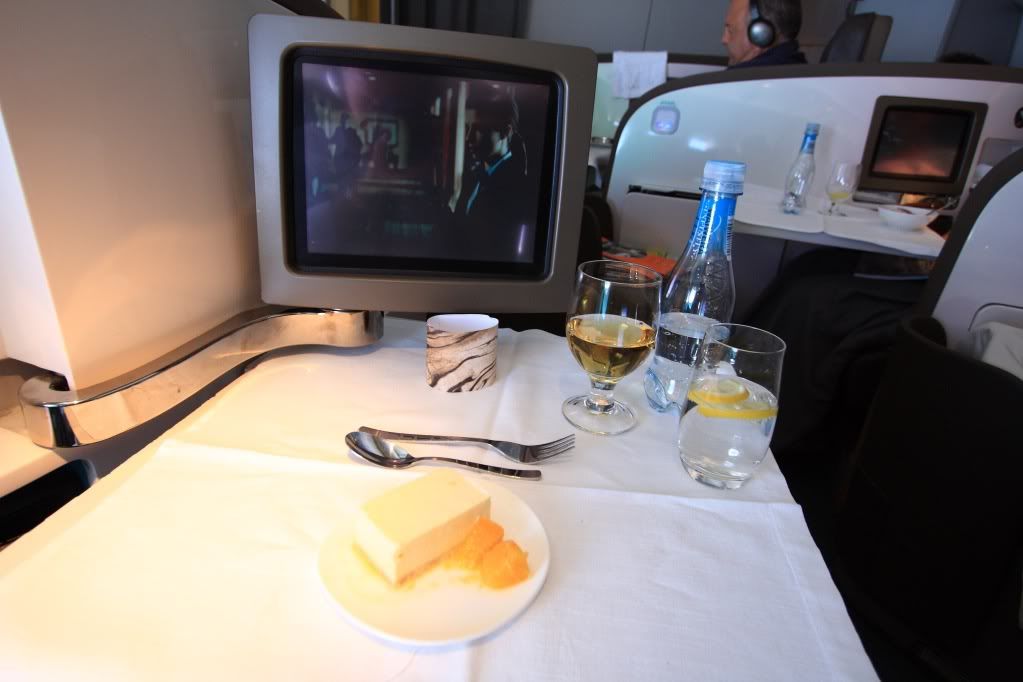 All of which was followed by a selection of fine New Zealand cheeses, fresh coffee and a chocolate.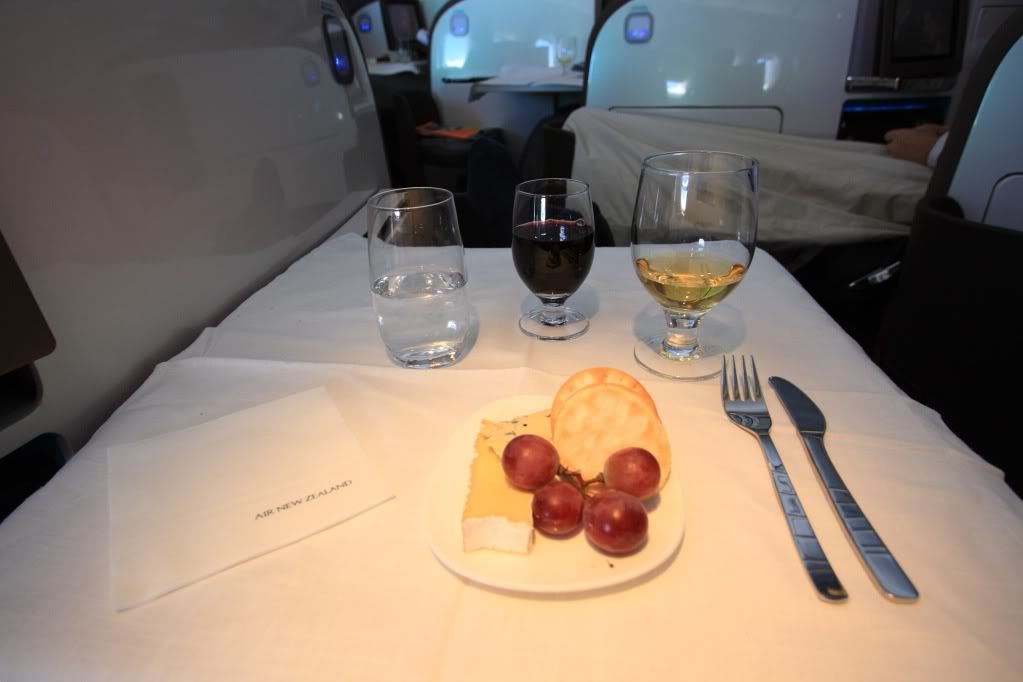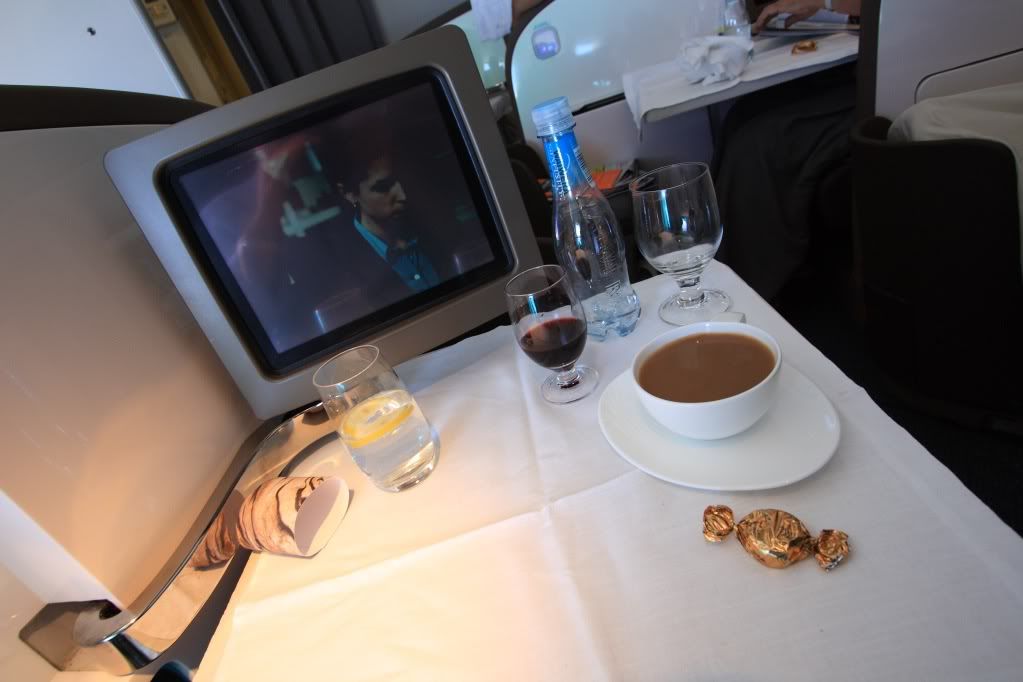 Feeling like a stretch, I took a walk around the aircraft stopping at door 3B where the access to the lower lobe crew rest was visible.
Part Two:
Air New Zealand Business Premier - Part Two
(by
TheCommodore
Mar 30 2010 in Trip Reports)
[Edited 2010-03-30 05:28:50]