Disclaimer
The title of this report refers to Air Southwest in the UK, and the Southwestern part of the country. It does not cover Southwest Airlines in the US. Thank you.
Introduction
Back in November 2009 Ezy was having another sale and I just meant to casually browse the fares and availability... yeah right. Of course I ended up booking a HEL-LGW flight for the princely sum of 17.49 EUR all-in for the last weekend in March. It was the last day of the winter schedule so the Saturday flight still arrived at a reasonably early time in Gatwick allowing many connection possibilities - they have really messed up the Saturday schedules in the summer season, now it arrives too late in the evening to be usable for anything but getting to London without overnighting at the airport.
Anyway I had wanted to fly Air Southwest for quite some time now and this seemed to be a good opportunity for that. SZ serves exactly two airports from Gatwick on triangle flights, Plymouth and Newquay. Late March was probably a bit too early for the latter, so I settled for PLH, getting a ticket for 45 quids. Since Plymouth airport is served by only Air Southwest, that kind of narrowed down my choices for the return trip. In the end I decided to book a flight via NQY to DUB as it left a bit later in the day and thus allowed me to spend a relaxed morning in Plymouth. This ticket cost exactly the same 45 pounds.
Finally to get home from DUB I initially booked the FR flight to TMP. This route was suspended for the winter schedule and this would be the first day of it reopening for the summer season. Well, that didn't happen. Some weeks later I got an email from Ryanair advising me that this flight would not be operating anymore, and offering either a full refund (how generous of them, not even a "processing fee" or "flight cancellation surcharge"!) or a rerouting from an alternate departure point. I tried calling their call center a few times to see if they would transfer me to the DUB-RIX flight which was conveniently timed and offered a late night connection back home on BT, but never got through. In the end I just applied for refund online and booked the new flight myself - unfortunately the flight was twice as expensive than the TMP one, actually the 77 EUR is the highest amount I've ever paid for a Ryanair ticket. To close the gap I booked the late night BT flight and was all set to go.
27.3.2010
Unlike my last time taking this flight I was actually able to do OLCI, so I am in no hurry to get to the airport and spend the morning doing various household chores. I managed to misread the bus schedules as well, so I am running a bit behind my planned schedule when arriving at T1 around 11.00 for my 11.50 departure. The main security check point in T1 has a surprising number of people queuing (for a Satuday noon, that is), so I decide to try the other security point in departure hall 4 which usually is deserted. Well, not today as the Easyjet check in counters here still have a sizable queue and all the Ezy passengers are queuing here. In the end it really isn't too bad and I'm through in less than five minutes. Through passport control to the non-Schengen side to try to locate a fellow a.netter AYA333 who would also be taking this flight. I manage to find him, together with some of his friends, trying to avoid the usual questions about my peculiar travel habits... Yeah, some people just don't get it. AYA333 also tells me that the check-in staff had some problems getting the computers to work, I guess that explains why they were so late checking in people.
The plane arrives around 10 minutes early, and we proceed to the gate to ensure a good queuing position. Today's ride is G-EZBN, another new reg for me. The whole boarding procedure seems to be in shambles, it takes a very long time especially with the female agent who probably is some sort of trainee. We manage to board reasonably early, so there are still vacant exit rows and I quickly grab 11F with AYA333 in 11C. He comments that it is his first time on Ezy exit row, but later confesses that it won't be the last time. Score one, another convert!
.
HEL-LGW
U28966
A319 G-EZBN
Seat 11F
12.24 - 13.16
Six middle seats in the forward part of the cabin are blocked off by the sort of table/drinks holder thingy LH and some other airlines use in business class, so looks like our plane today is limited to 150 seats to allow it to be staffed with only three cabin crew members. I later ask a FA about this and she confirms. People trickle onboard very slowly, and we are a good ten minutes past our scheduled departure time before everybody is settled in. The load is good, I'd say around 90%. Luckily the middle seat between us two stays vacant, it pays to board early and occupy the aisle and window seat!
The obligatory knee shot: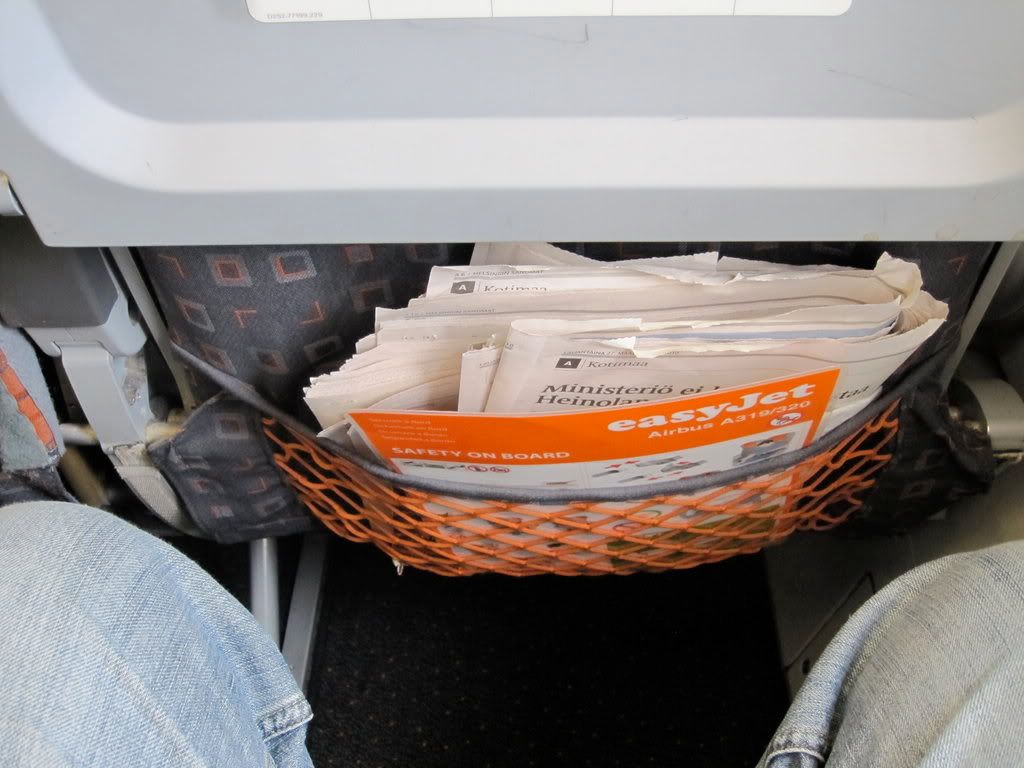 AYA333 wanted to have his as well: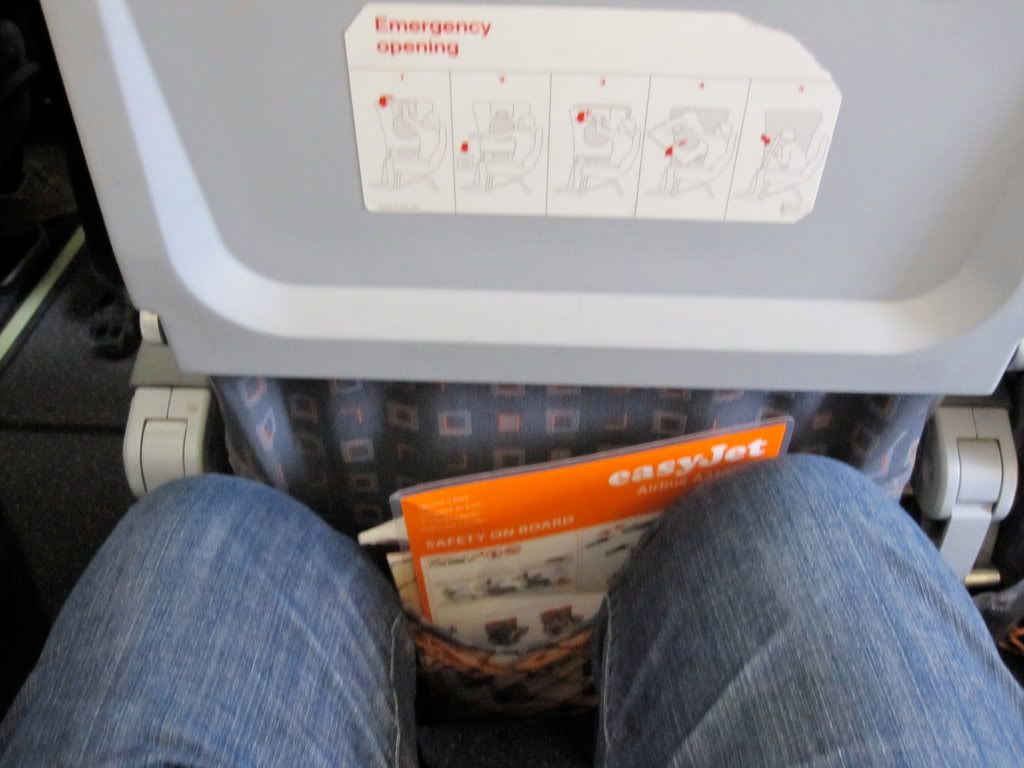 The captain gives his welcome speech while standing in the front galley - I think Ezy is pretty much the only airline where I've seen that a few times before. The baggage loading is still expected to take some time, and due to the fog around us (that is quite common during the Finnish spring when temperatures turn above zero, it is raining and the snow starts to melt adding some additional humidity to the air) our taxi to the runway will be quite slow. We will be taking off "at a southeasternly direction" which I assume to mean a rare runway 15 departure. Flight time is expected to be around 2h50mins.
Yucky weather at Helsinki: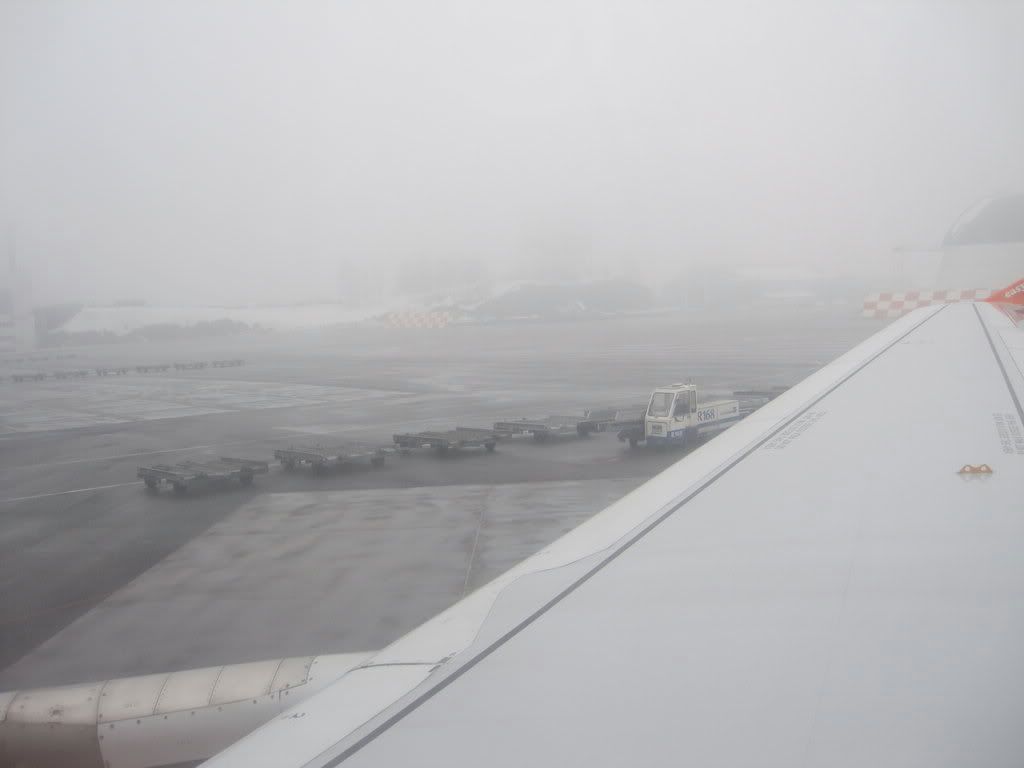 The baggage loading sure takes a long time, and eventually we push back 34 minutes late. As promised by the captain, taxi is quite slow, and we indeed are taking off from runway 15. Too bad the clouds are hanging really low so there are no views - the departure pattern from this runway takes us very close to my house and I wouldn't have minded a few shots from the air!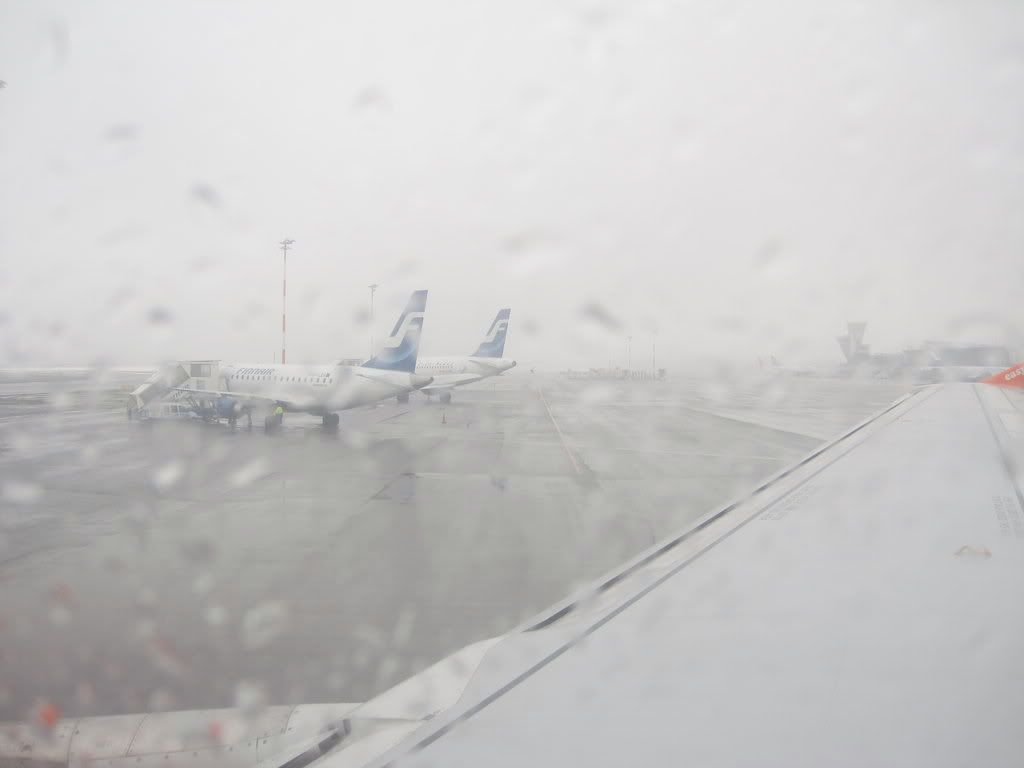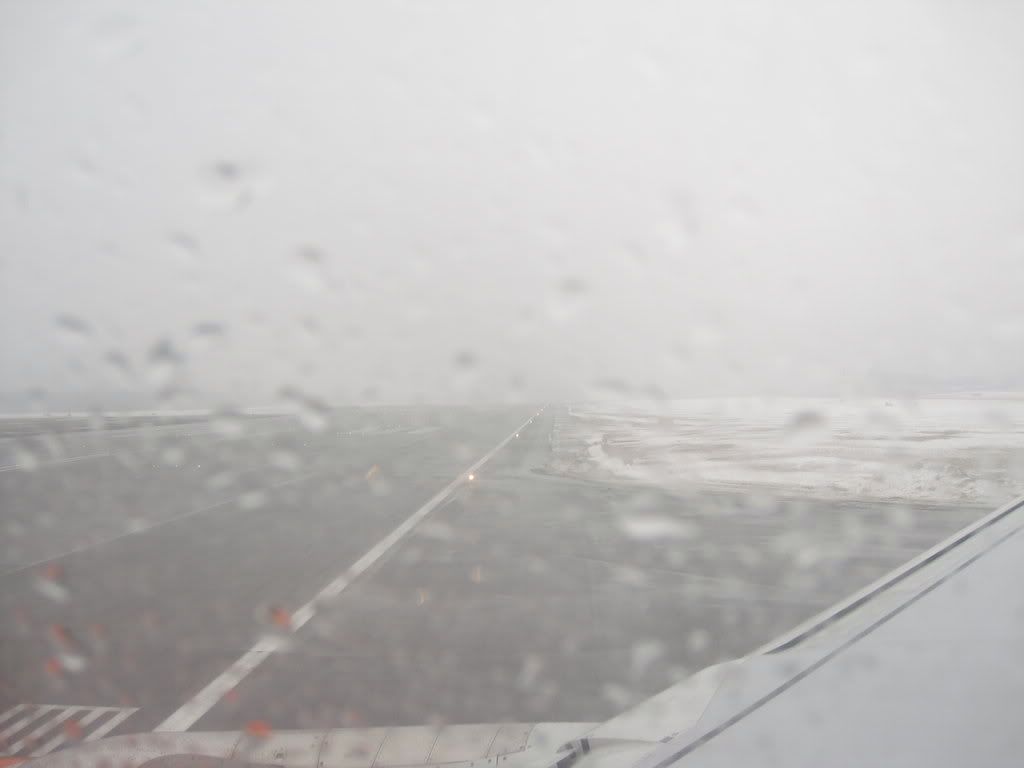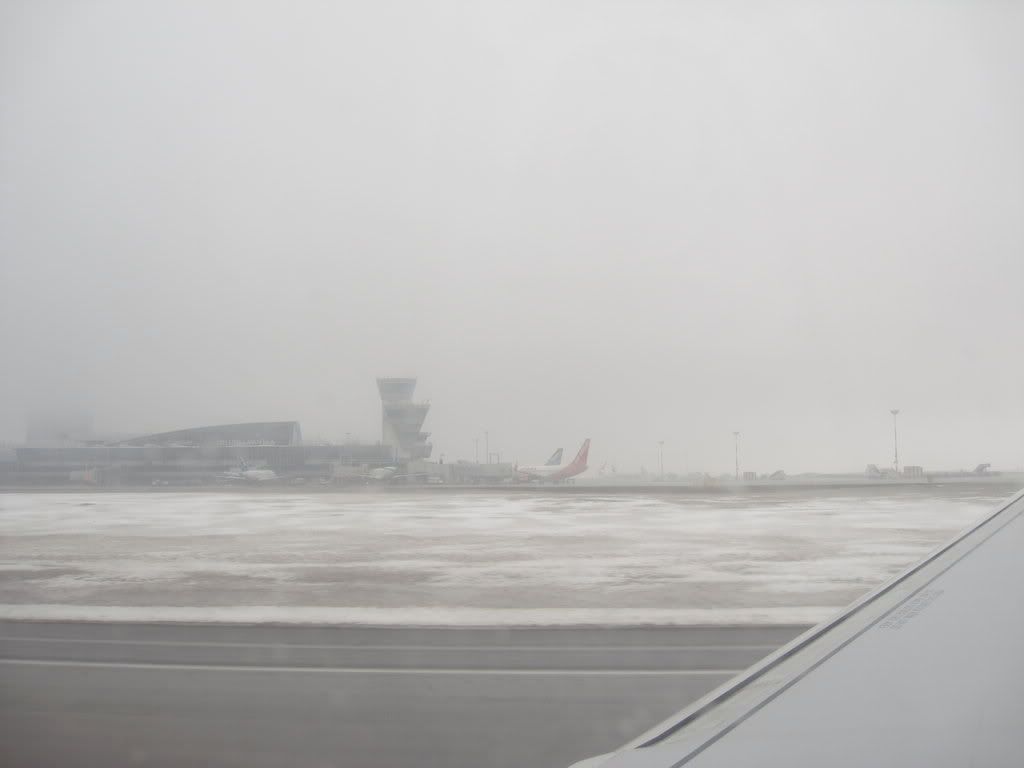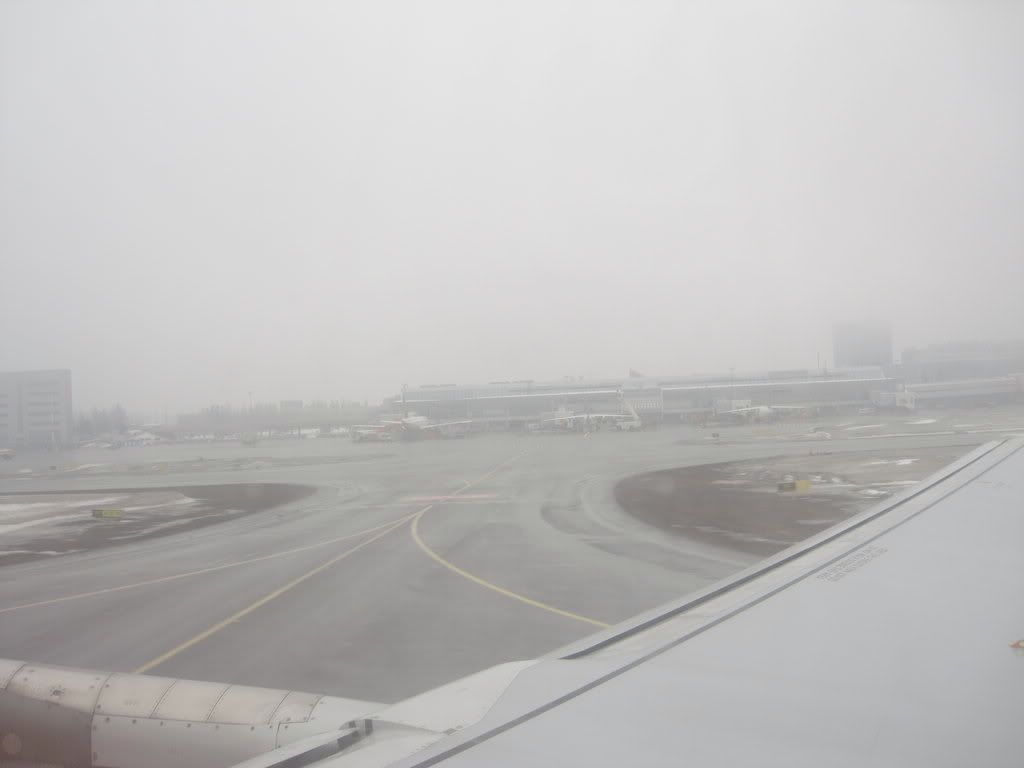 Not much to say about this flight, spend a lot of time discussing with my fellow traveler and not so focused on other things. When the service carts finally reach us in the middle of the plane the only real food they have left is the hot bacon baguette - never my first choice but I have to settle for it since I'm getting hungry. Well, I shouldn't have - it is exactly what the name tells you - a baguette with bacon with nothing else. It comes with a couple of sachets of ketchup to give it at least some taste - but how about some salad, mayo, or anything? I definitely won't be having this one again.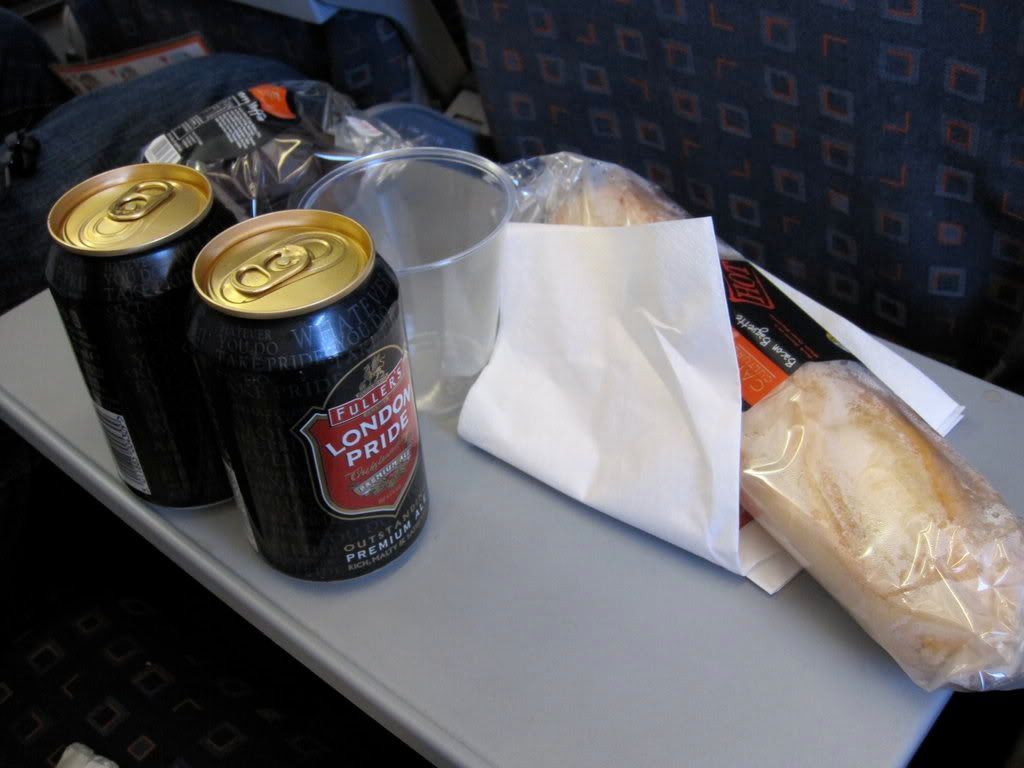 It stays overcast for most of the flight, at some point there are a few views of something which I assume to be snow-covered Southern Sweden, and over the North Sea there are a couple of openings with sea views and lots of ships visible.
After a bit over two hours of flight over the North Sea I feel descent starting, but it takes a very long time. We finally land on runway 26L after around 2h45mins of flight, followed by a taxi to the remote F pier in the North Terminal that easyJet uses.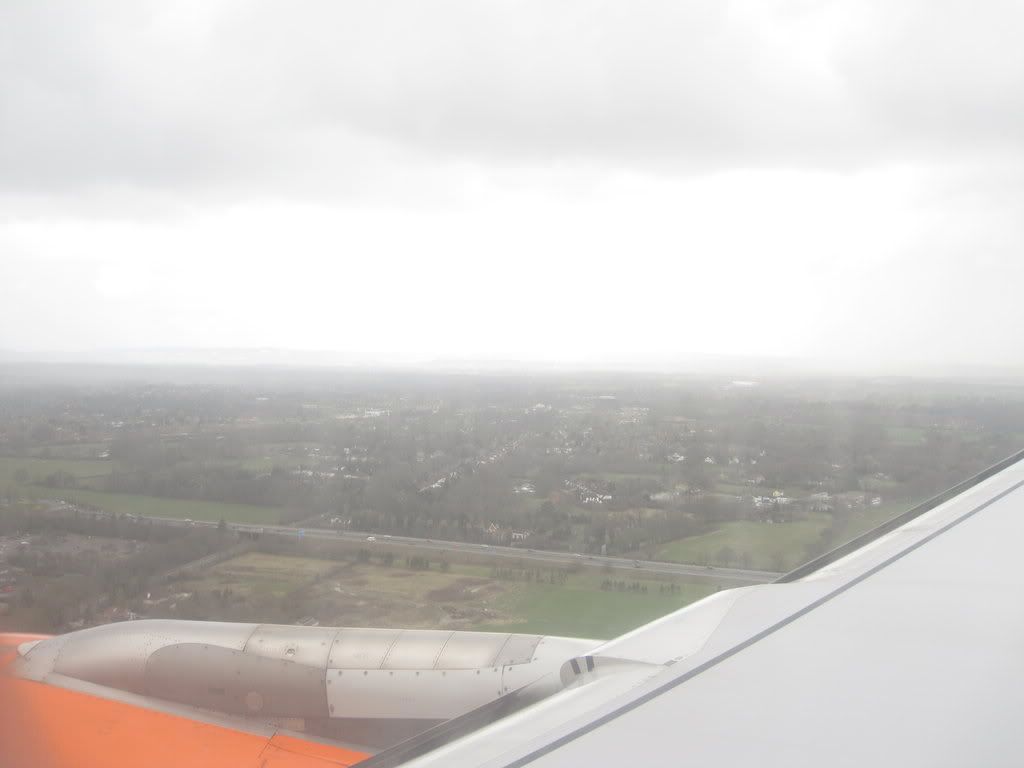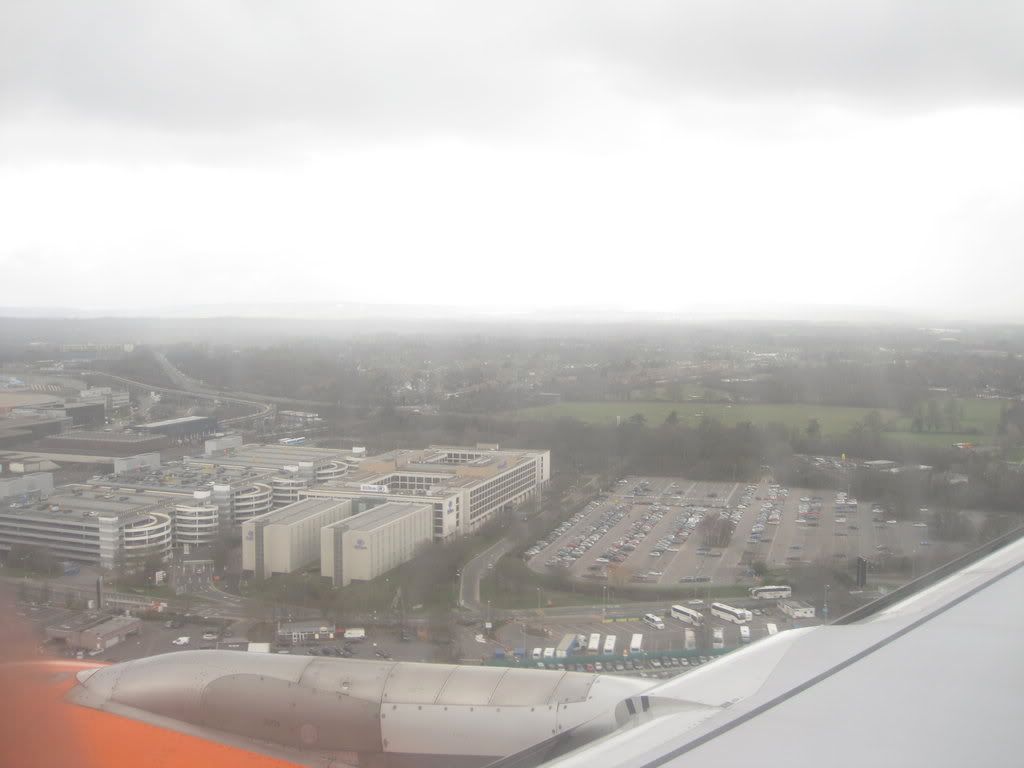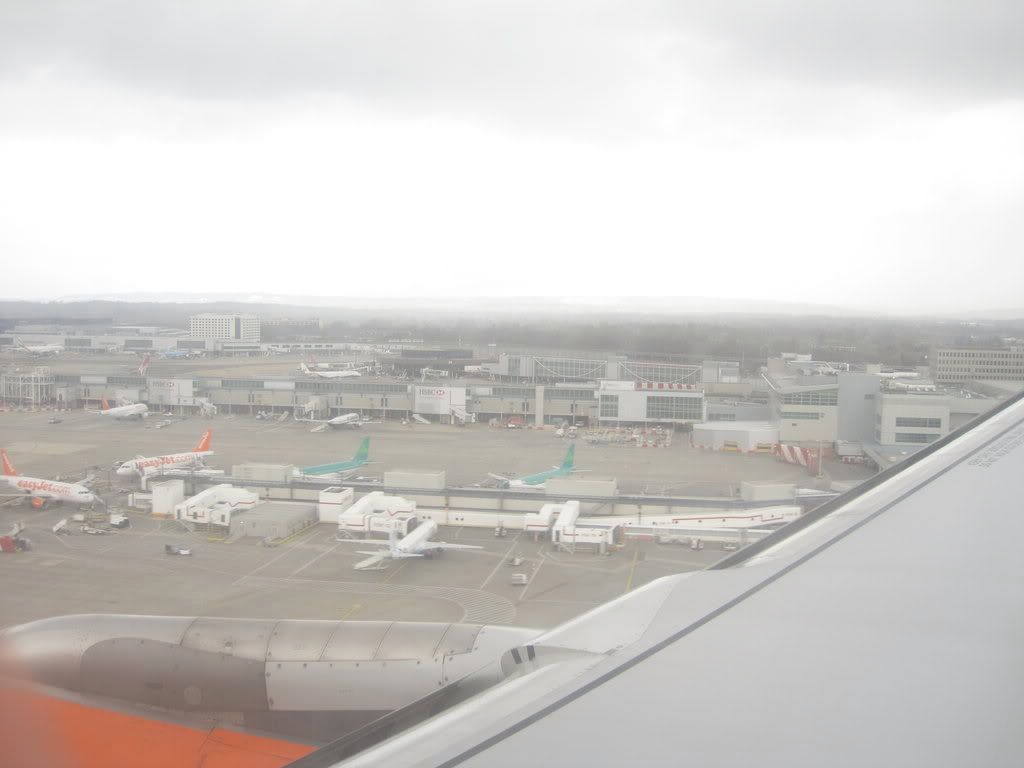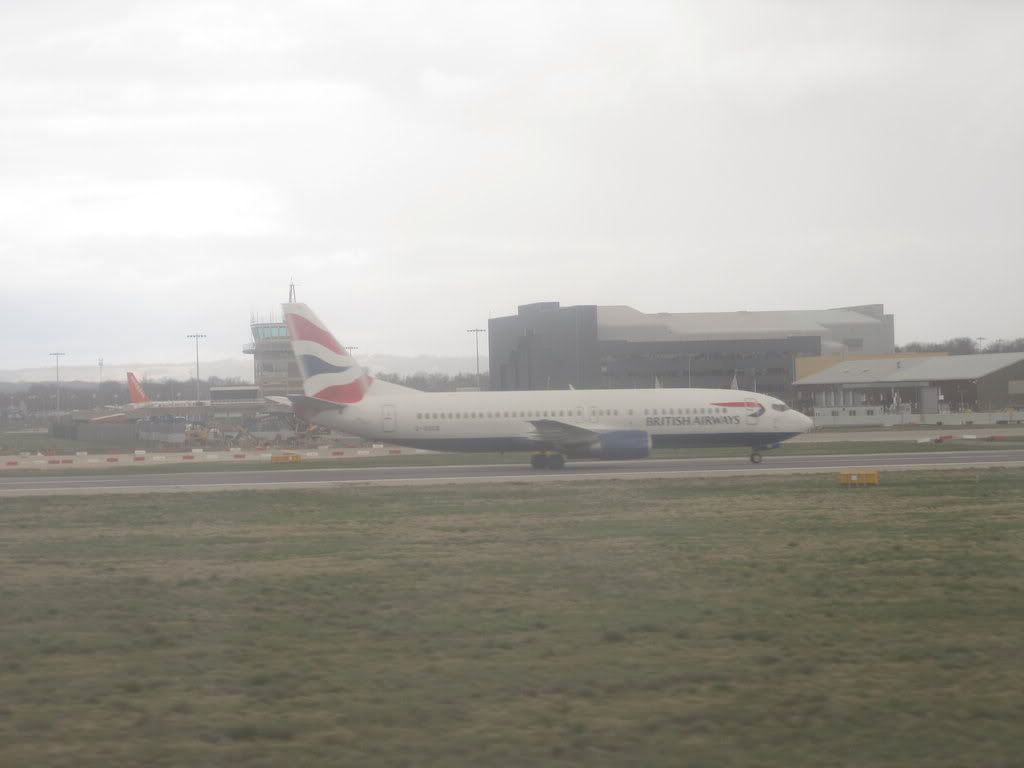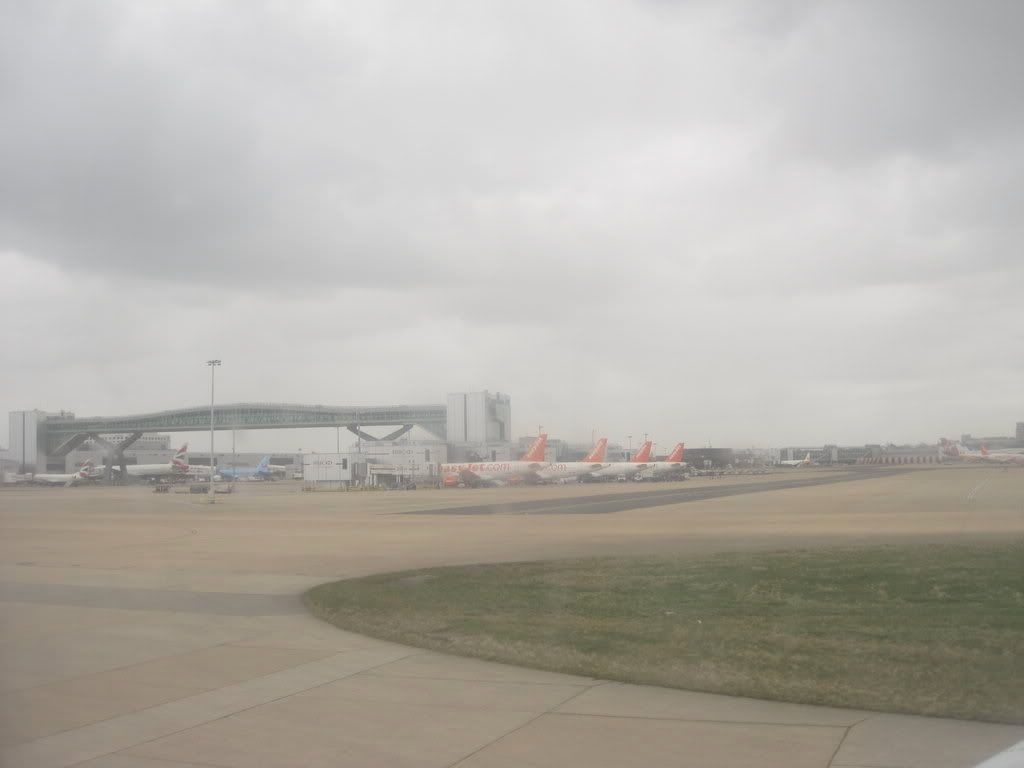 Gatwick Airport
As always, it is a bit of a hike to UK immigration from the remote pier, but the nice views from the bridge compensate a little. Here's an Ezy A321 from an unusual perspective:
After an effortless immigration I bid adieu to AYA333 who has a checked bag to wait for and is off to explore Nothern France and Belgium with Eurostar and make my way back to the departures level - Air Southwest doesn't offer an OLCI feature at least for now. Conveniently they are in the North Terminal as well, so no need to play around with the shuttle buses. I find the check in desks easily at the corner of the BA zone D, but they are yet unoccupied, so I make my way to a pub for a refreshing pint instead. When coming back around two hours before departure the desks are open and staffed by BA staff, even my boarding pass is printed as a standard BA boarding pass.
Bit of a queue at the Ezy North Terminal counters: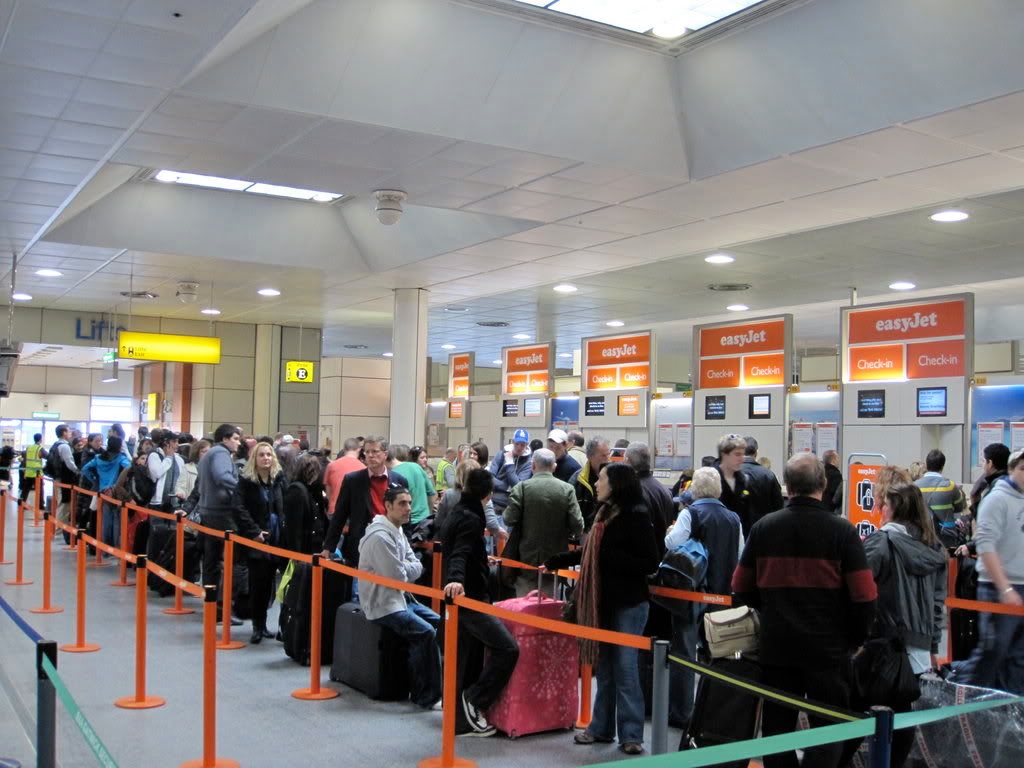 Lots of flights: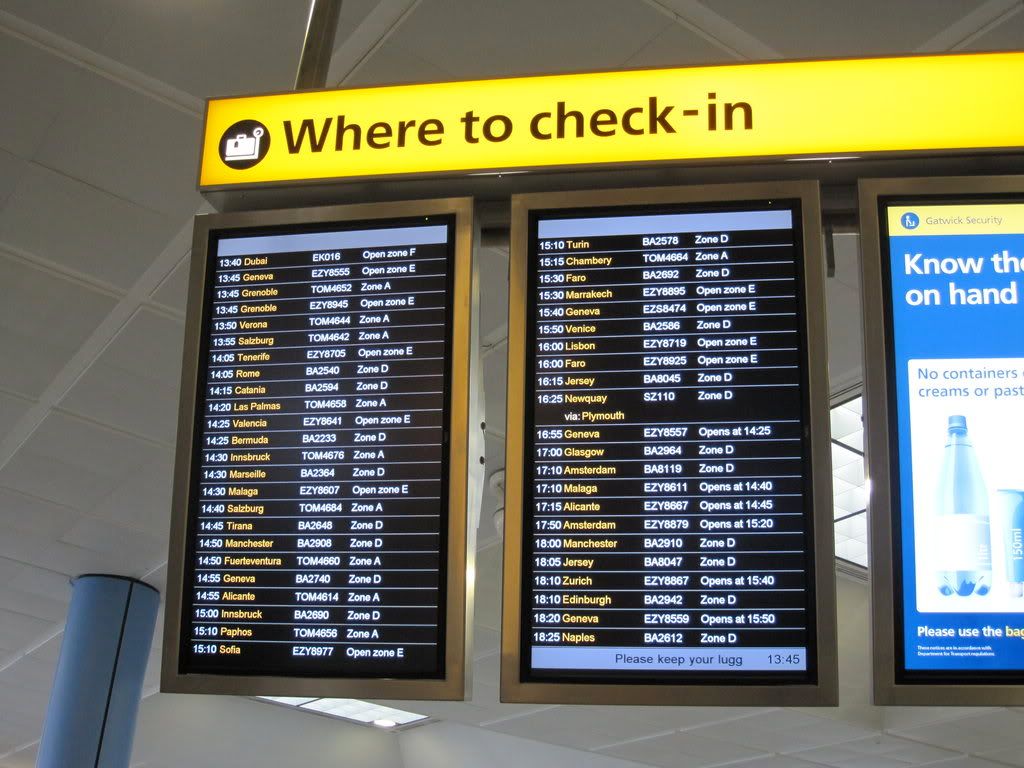 Through security to the airside and upstairs to the Armadillo Cafe for a bit to eat. Still having time, I grab another pint at LLoyd's. Finally, at 15.45 "go to gate" is announced for my flight, so I make my way to the gate area 55 which turns out to contain lots of separate subgates at the BA part of the terminal.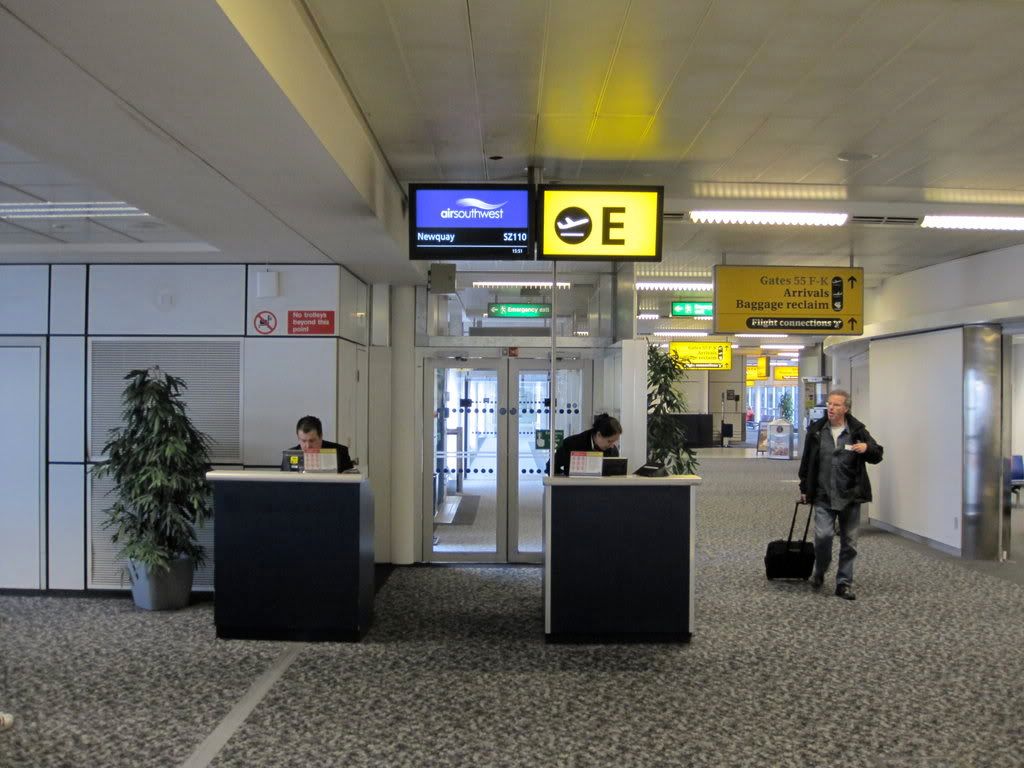 I grab some free magazines and newspapers, courtesy of BA from one of the many racks, buy a latte from Nero's Coffee at the gate area and sit down to wait for boarding, our Dash 8-300 having just arrived: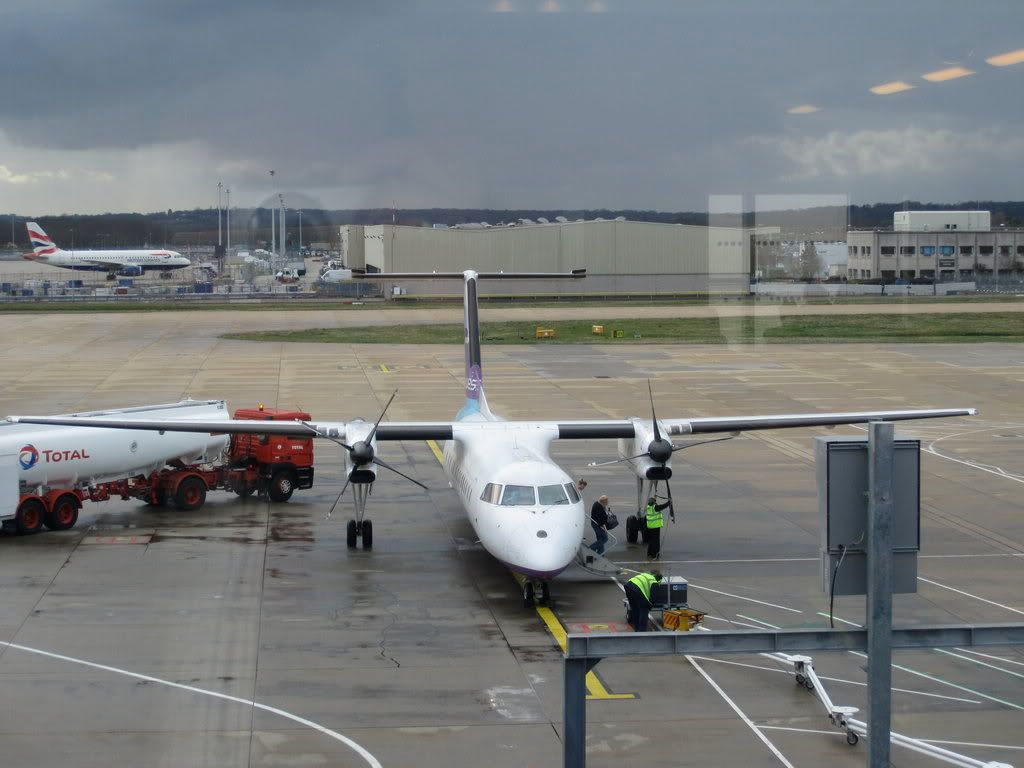 Boarding starts at around 16.05 and is a very quick affair - down the stairs to the tarmac and onboard. G-WOWA is obviously a new reg for me.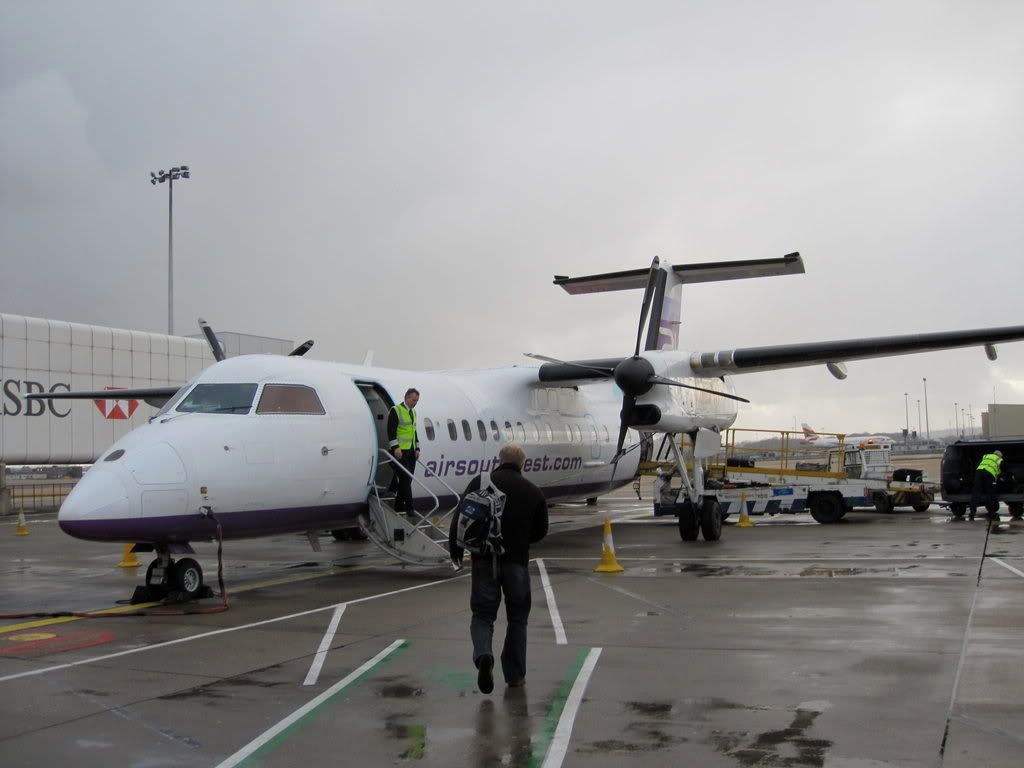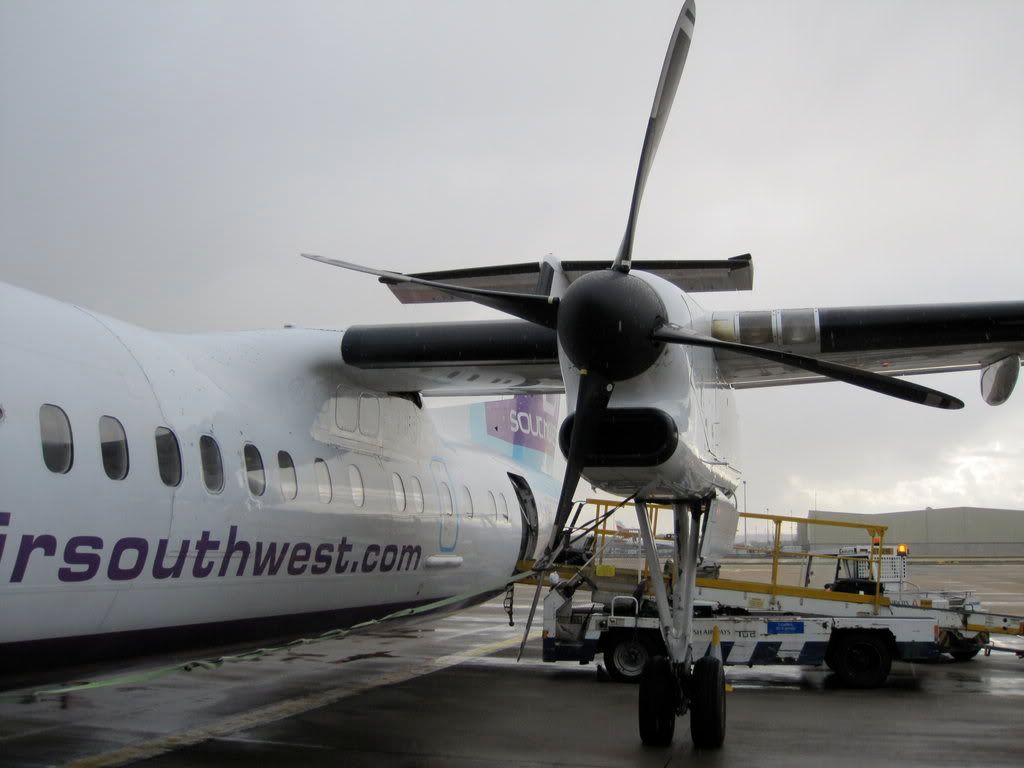 LGW-PLH
SZ110
Dash 8-300 G-WOWA
Seat 9A
16.15 - 17.15
The first thing I notice that there are two flight attendants on this flight - I wonder why as there are less than 50 seats so one would be sufficient. The seats are rather nice dark blue slimline fake leather ones, with good legroom. Load is around 50%.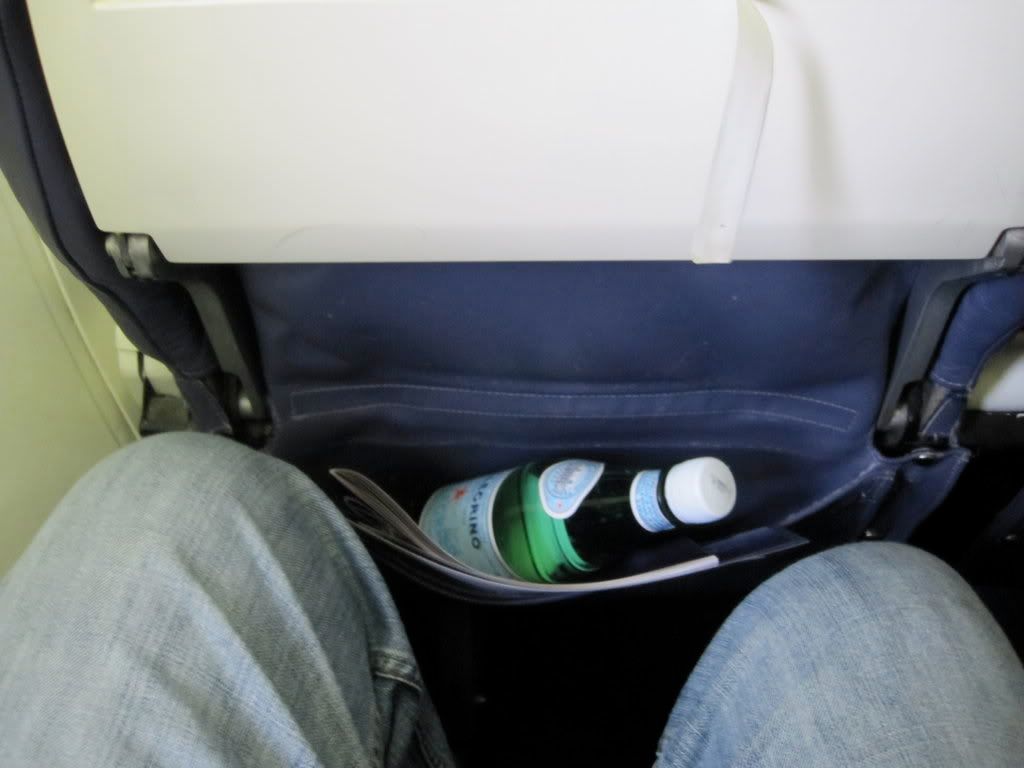 Our captain announces that "We are ready to go a bit early to the West Country, calling first at Plymouth and then continuing onwards to Newquay. Flight time to Plymouth is expected to be 45 minutes.". We indeed push back 10 minutes early, but this advantage is eaten up by the slow taxi to the active and holding short for some arriving and departing traffic. Still we take off from runway 26L right at our scheduled departure time.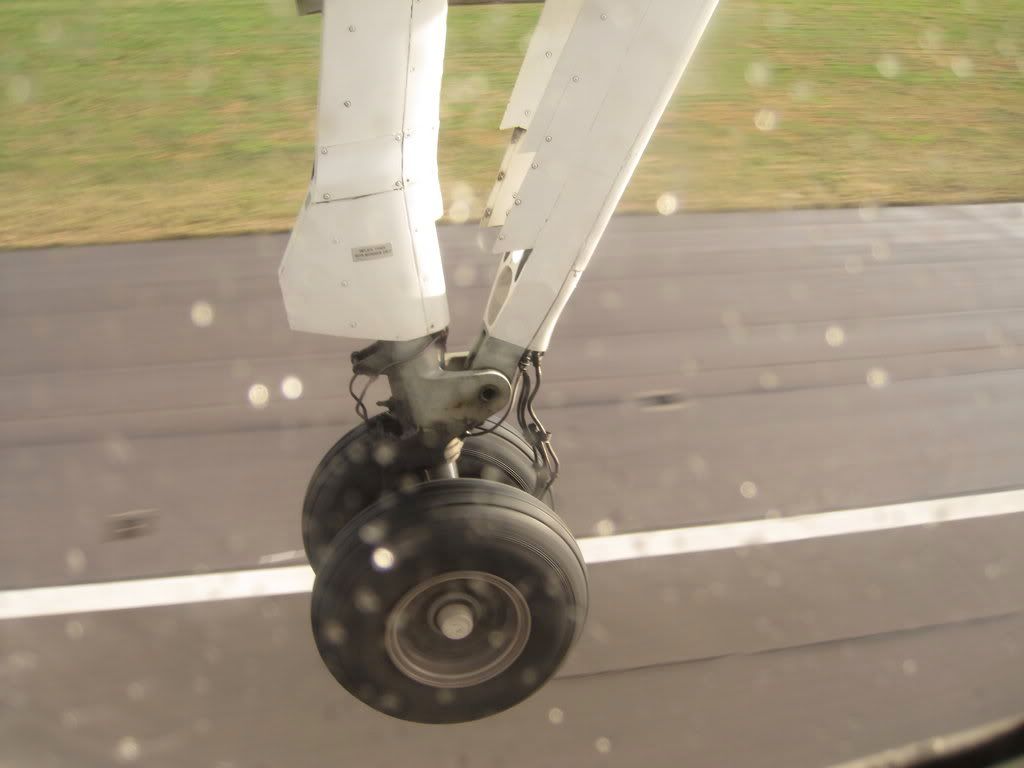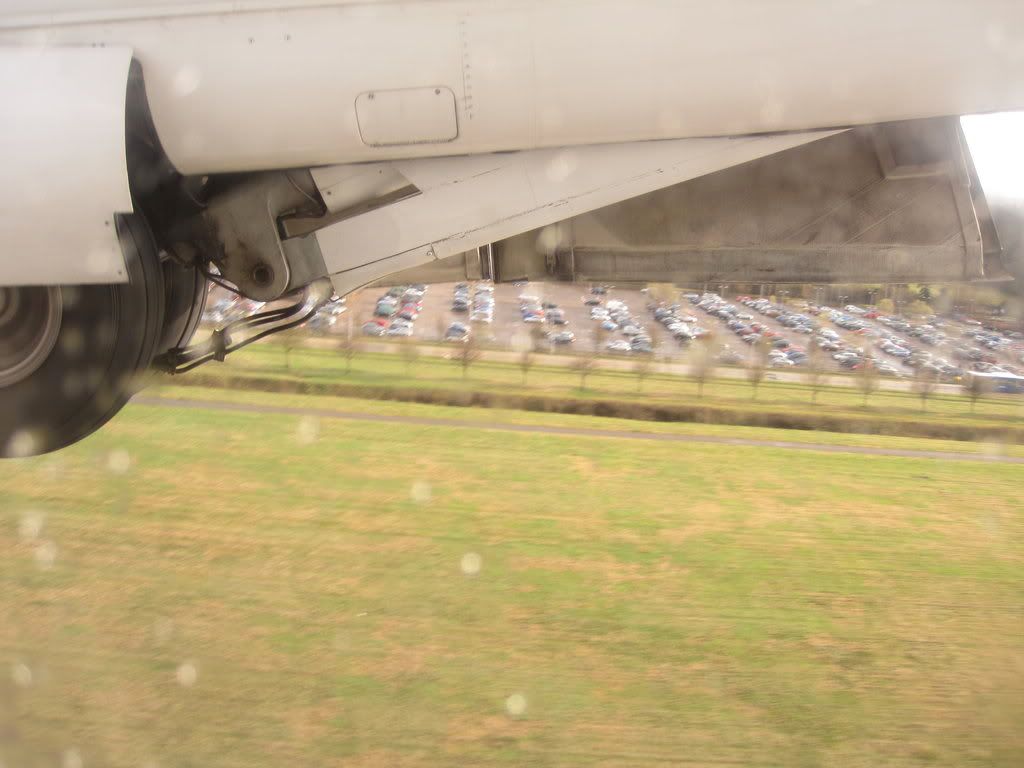 Yes, the tiny white dots are sheep: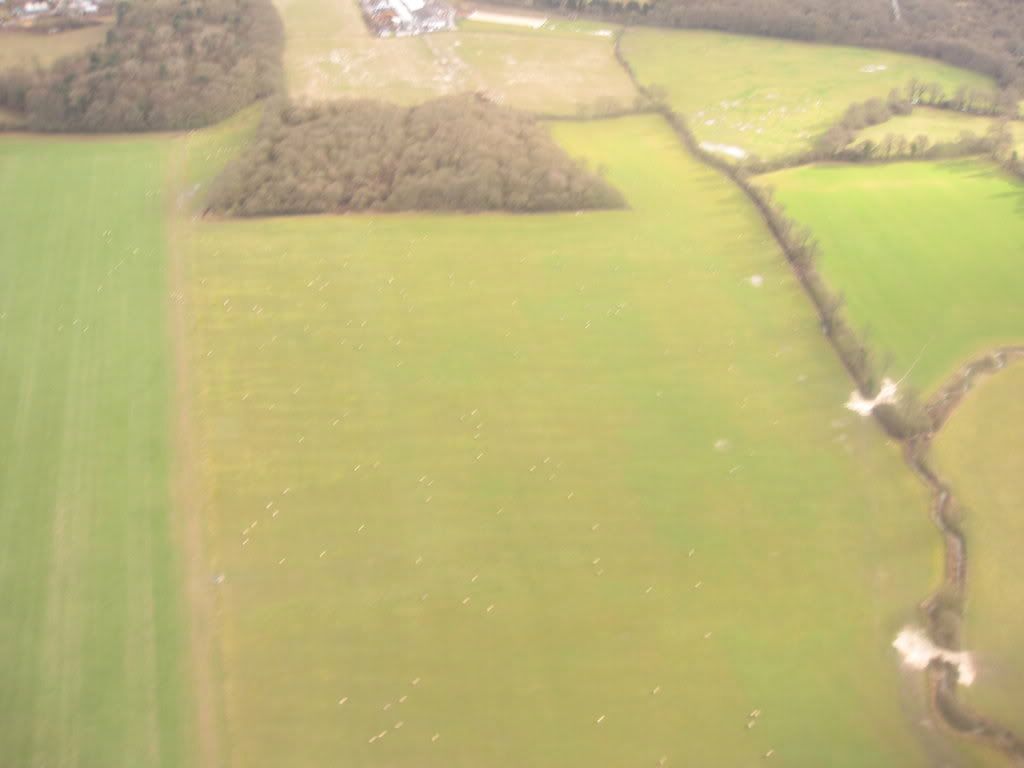 Immediately after take off we turn left towards the coastline, allowing some nice views of Crawley: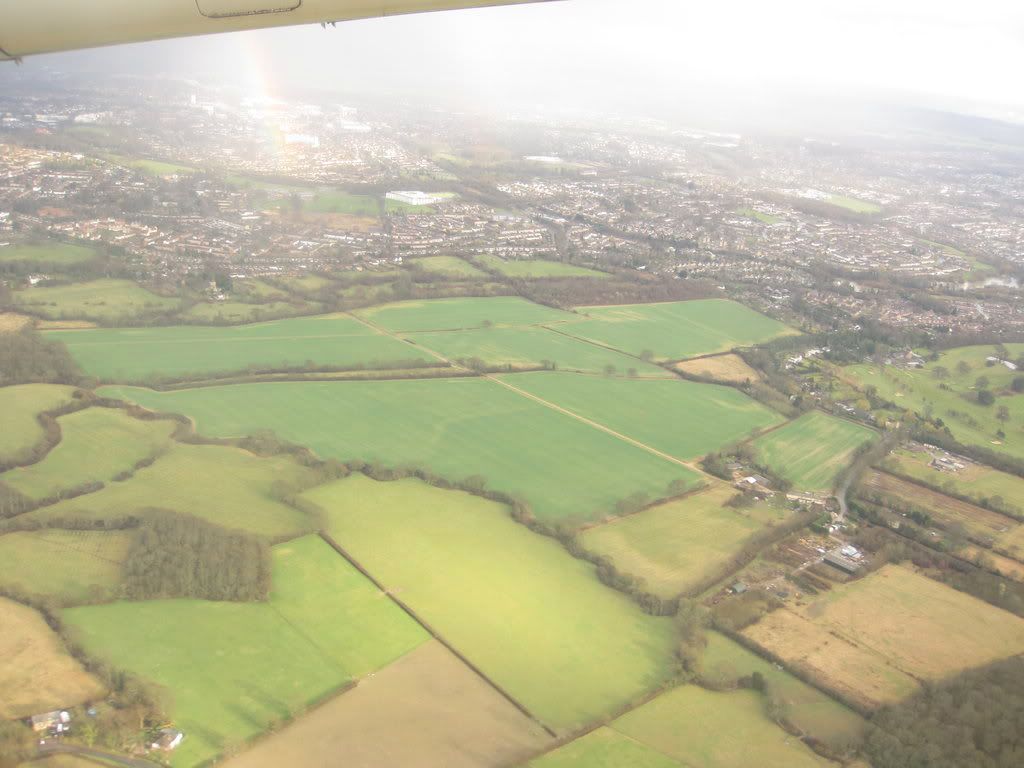 Notice the rainbow - yes, there were drizzles abound: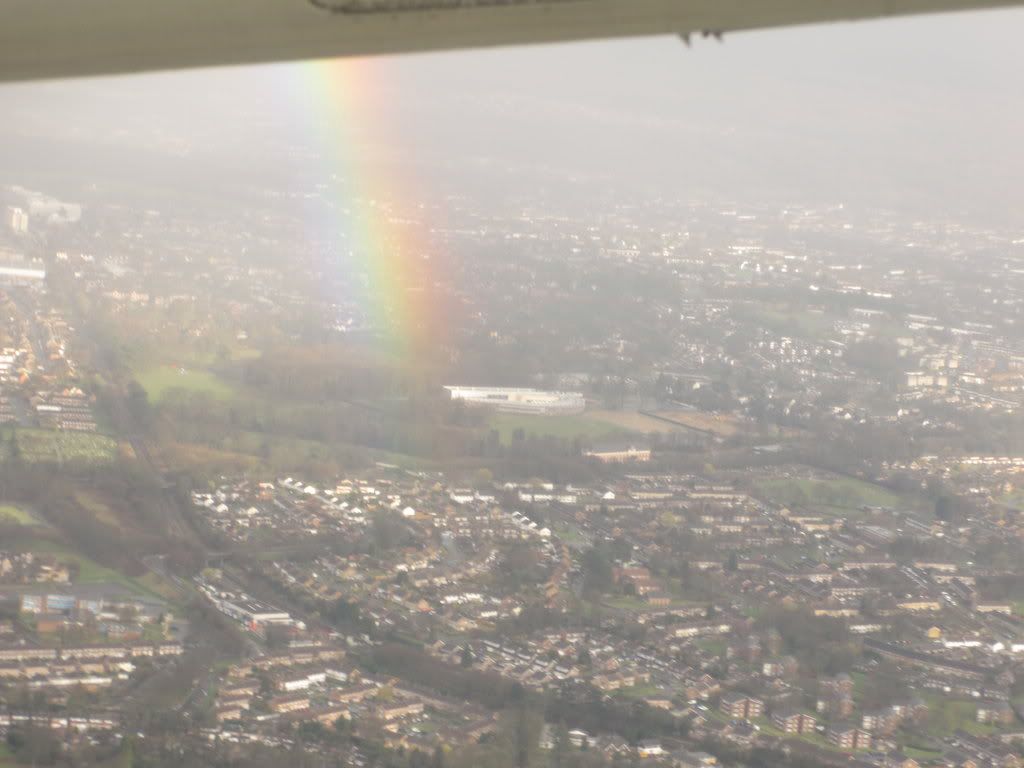 The climb rate is quite moderate, I don't know if we have an ATC restriction or if it is just typical for the -300 series Dash.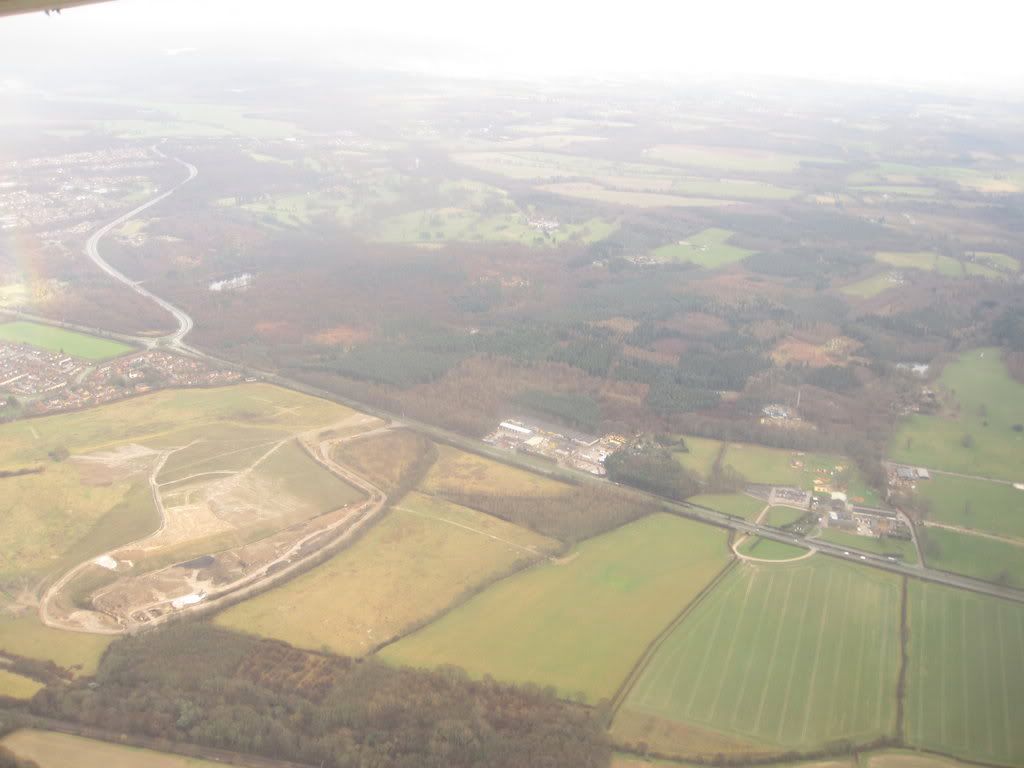 Routing is along the southern coast of the UK, directly over Portsmouth, between Southampton and Isle of Wight and over Bournemouth. After Bournemouth it gets overcast so no views of Exeter which I assume we also overflew.
I like this engine shot: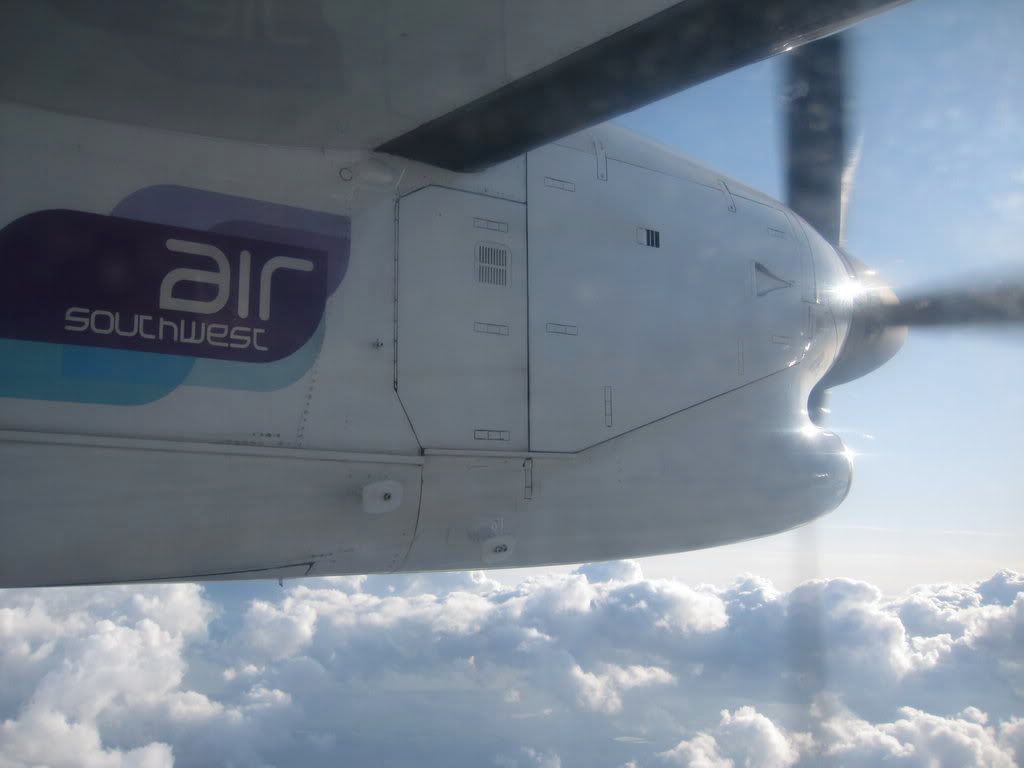 Near Portsmouth:
The closed down RNAS Lee-on-Solent:
Isle of Wight: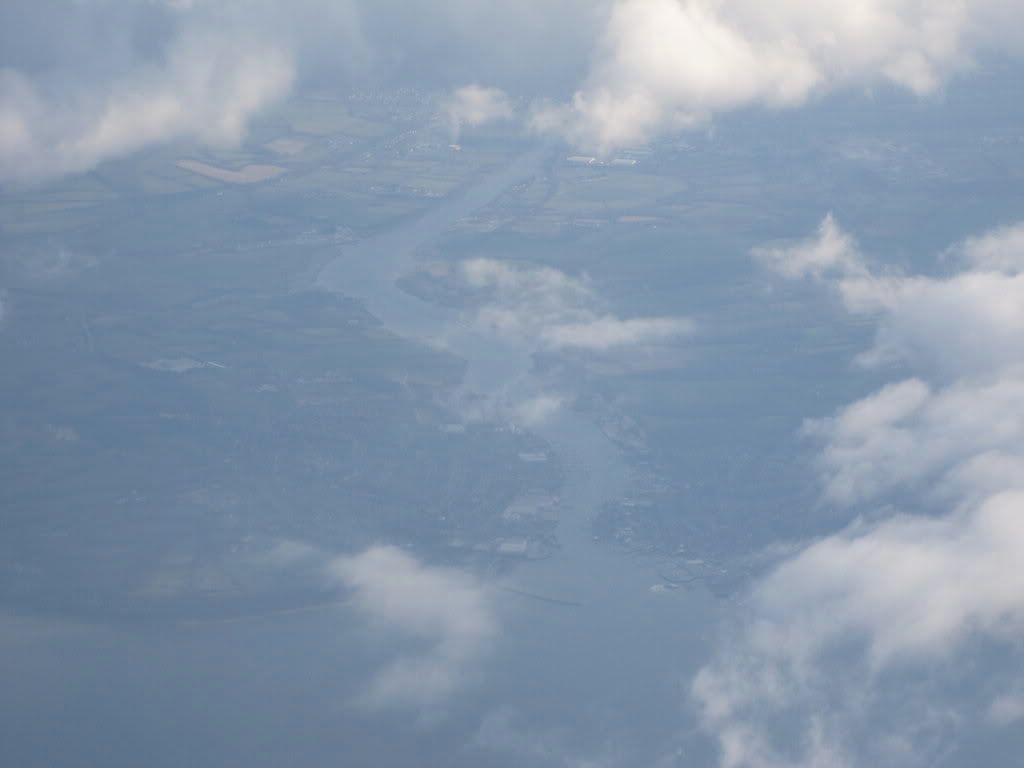 The largest oil refinery in the UK, Exxon Mobil's Fawley facility: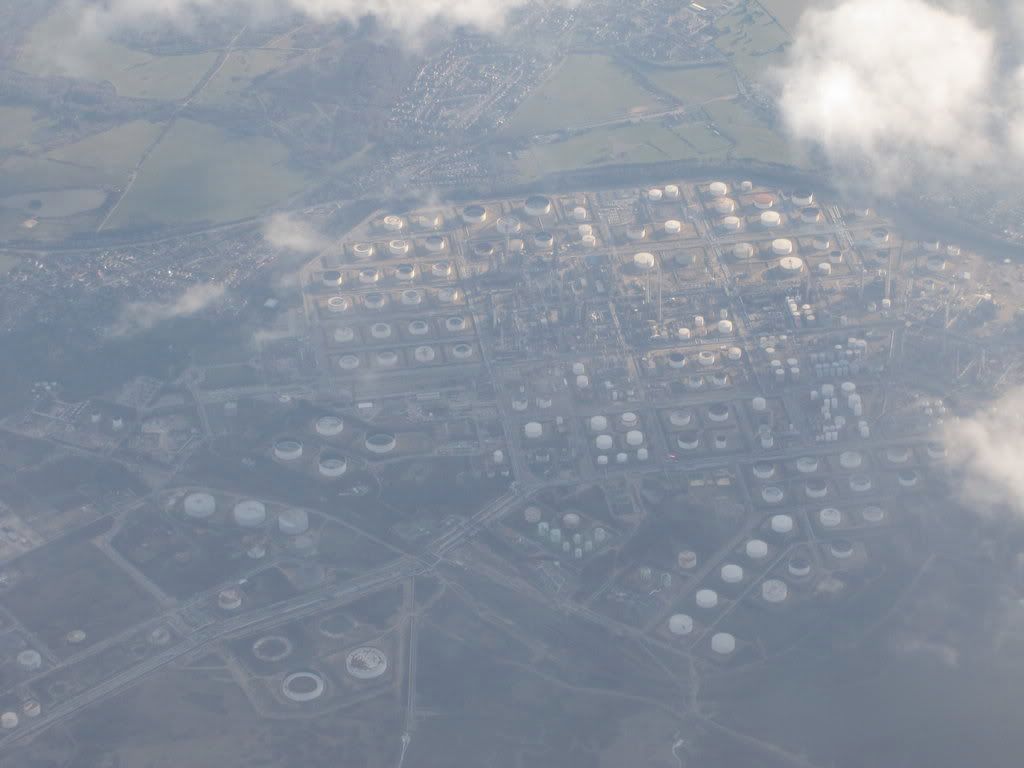 BOH, a couple of heavies parked on the crosswind runway: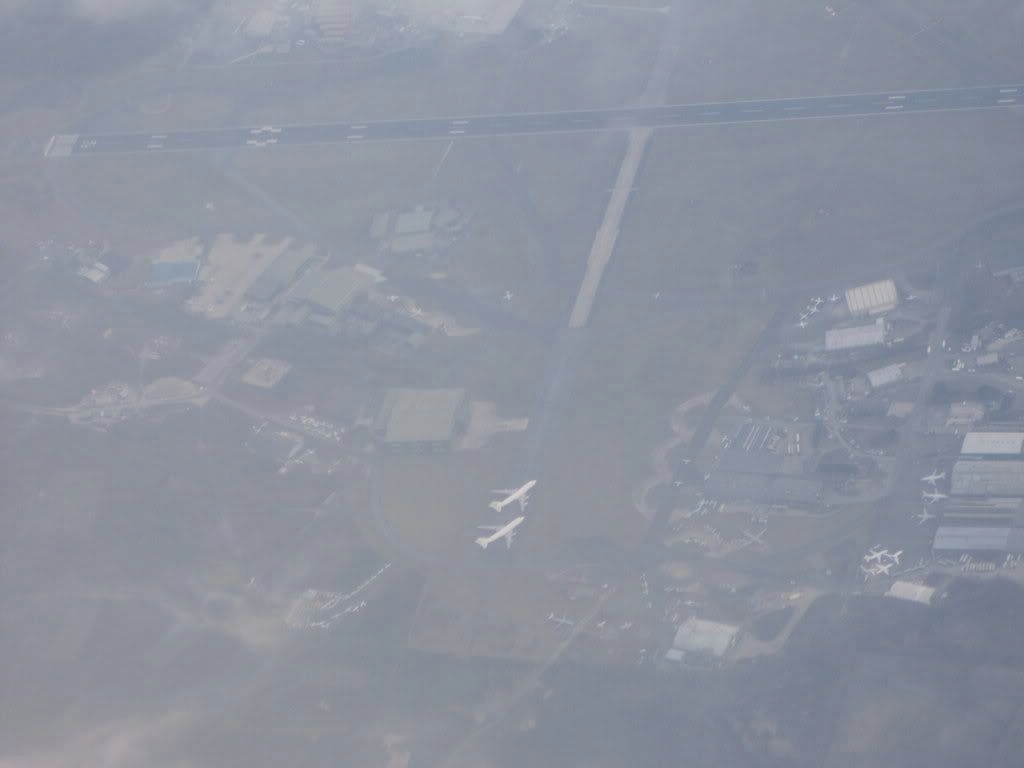 Service is a BOB run with rather reasonable prices, not that there are many takers. The FAs also go through the cabin asking if anybody needs to preorder a taxi at Plymouth airport, I ask "Is it raining there?" which puzzles the attendant a bit, until I explain that I'll take a taxi if it is, otherwise not. She admits that she doesn't know, so I let it pass.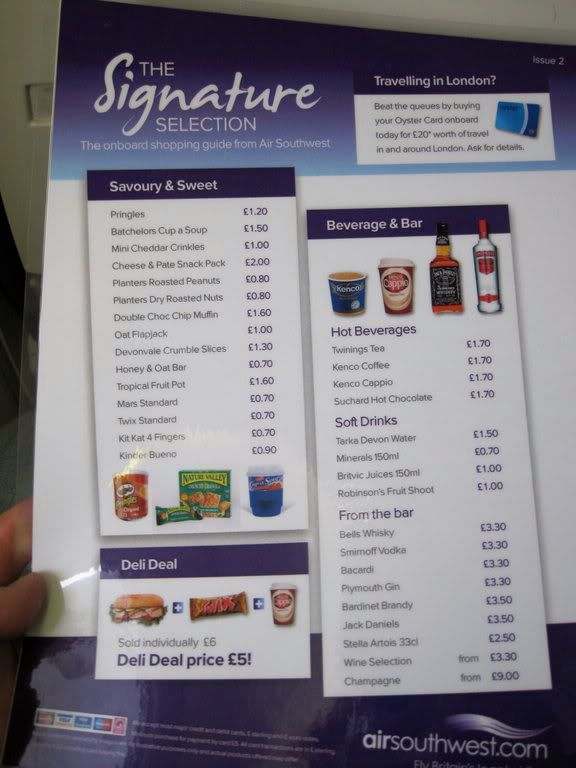 25 minutes after take off the captain is on the horn again, telling us that "we are 70 miles out of Plymouth, expected to be at stand 17.20, ten minutes ahead of schedule". Soon afterwards descent starts, and once we break the clouds there are some pretty views of the Plymouth conurbation.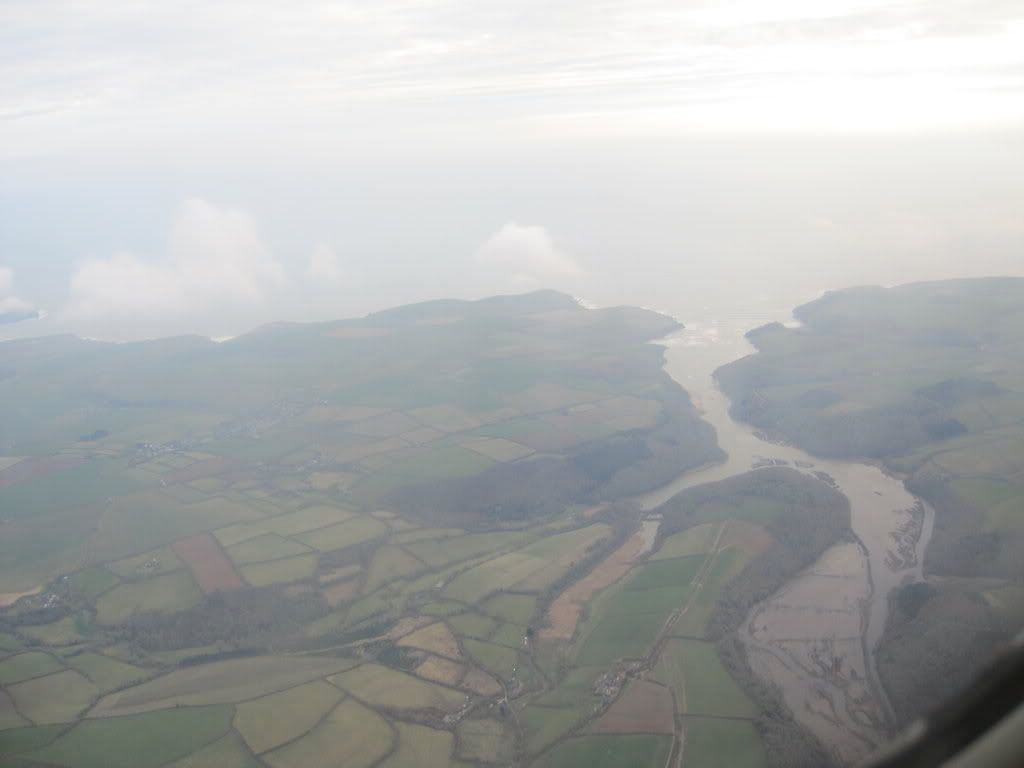 That looks like a farmer's private landing strip to me: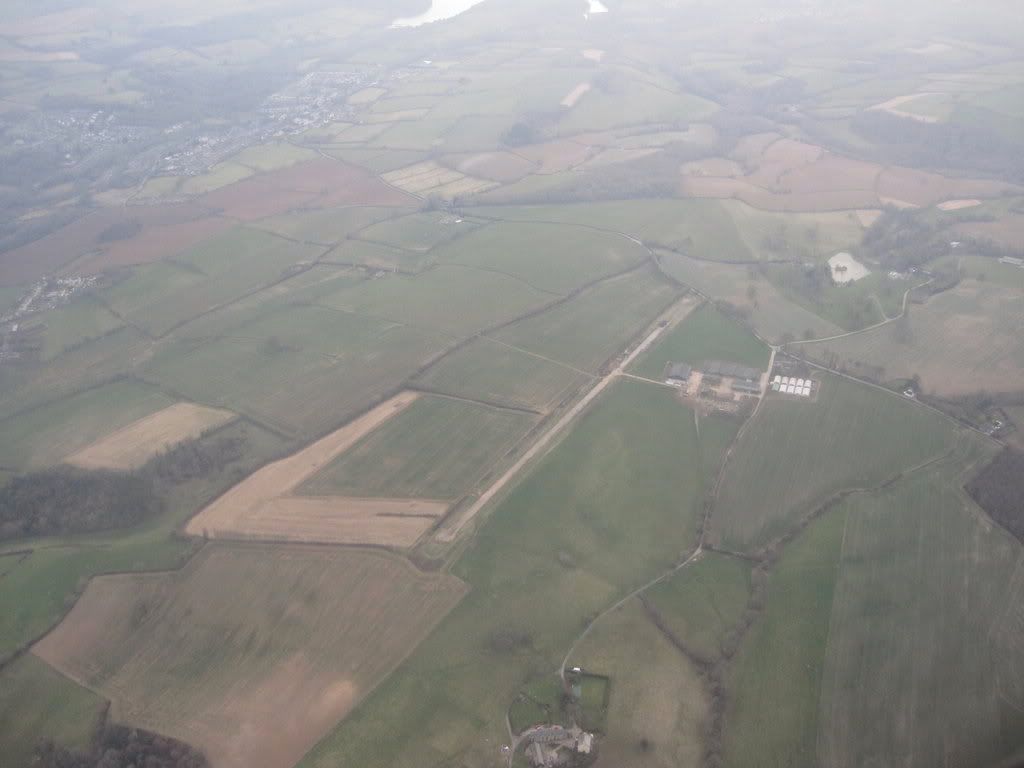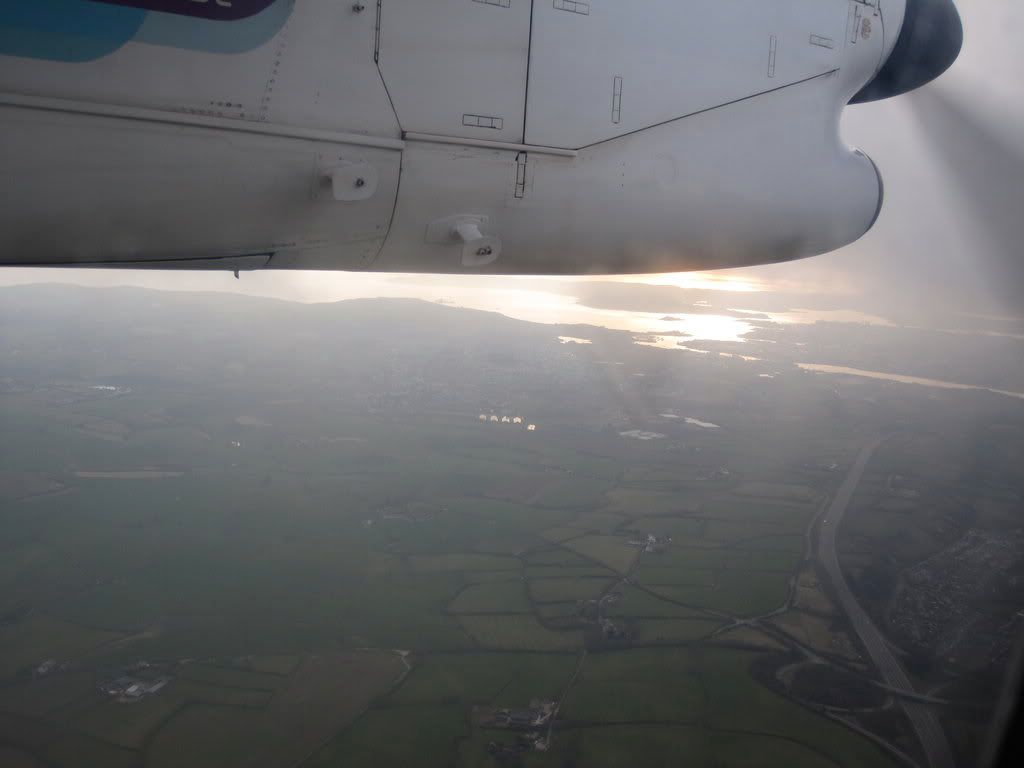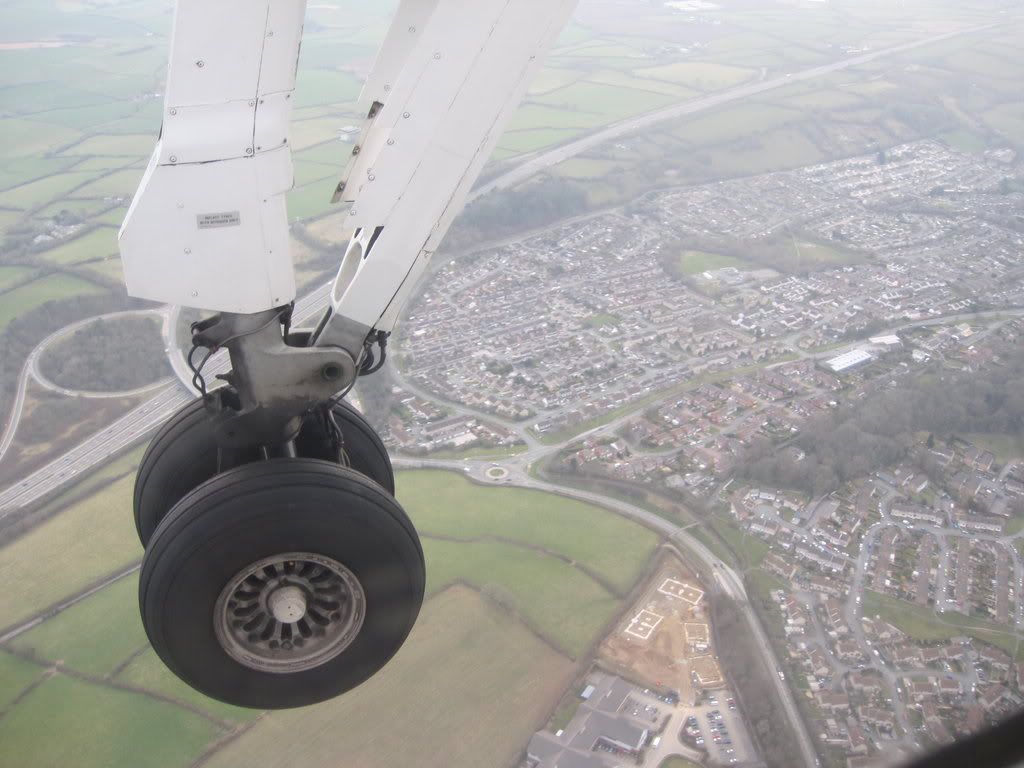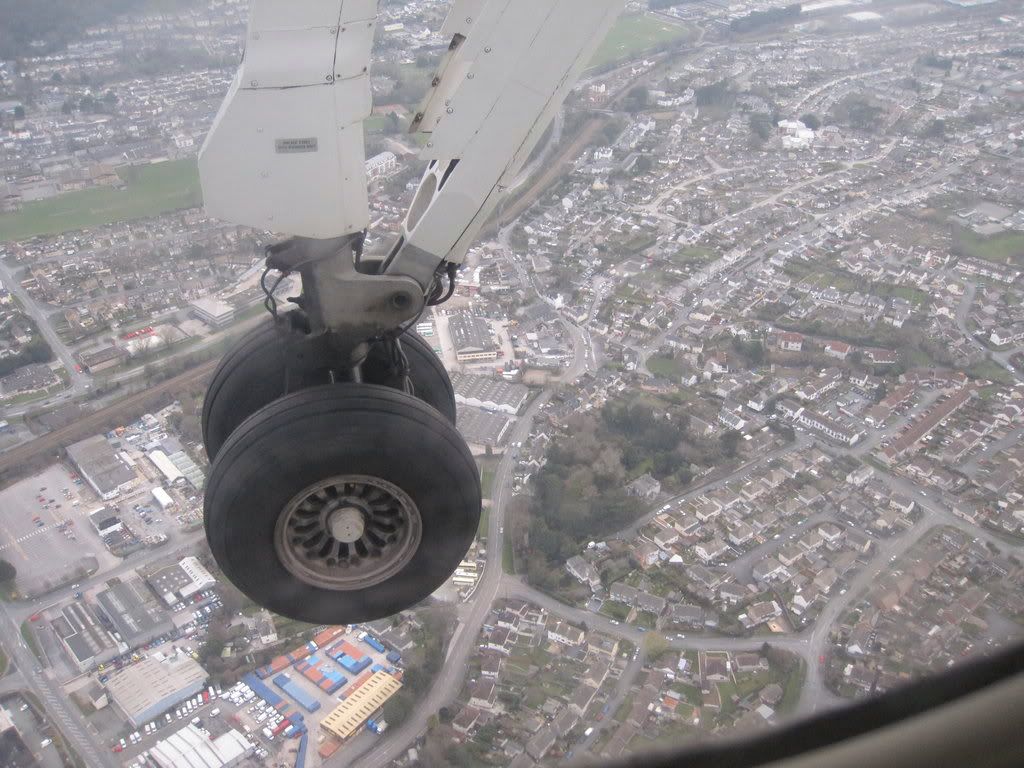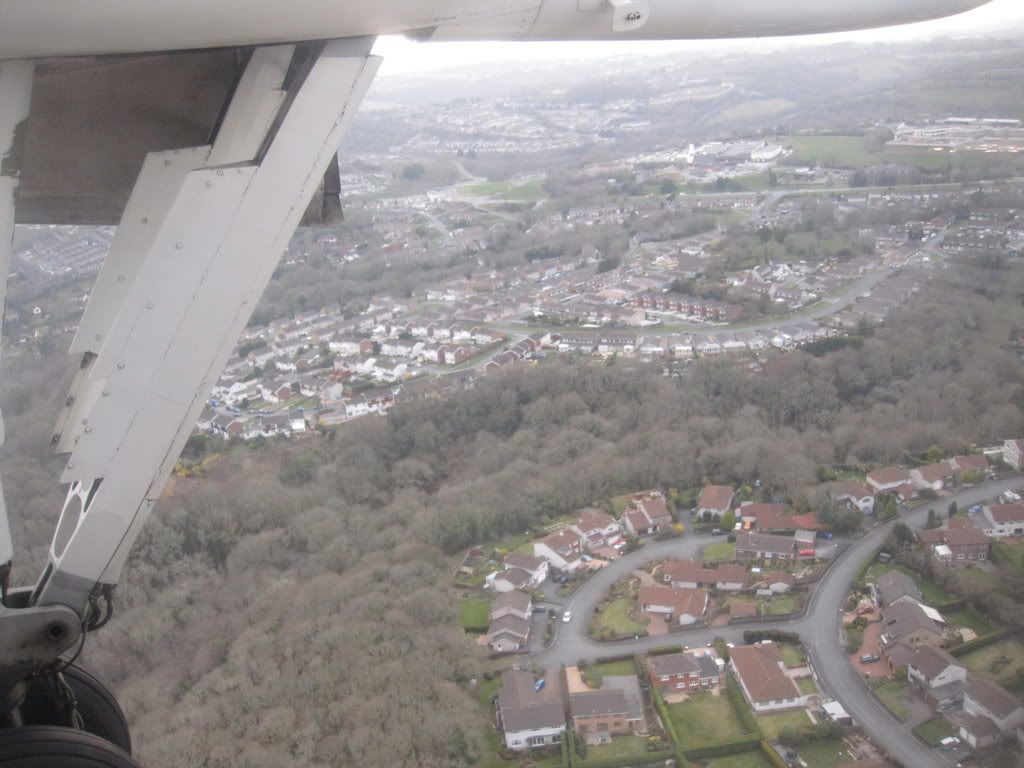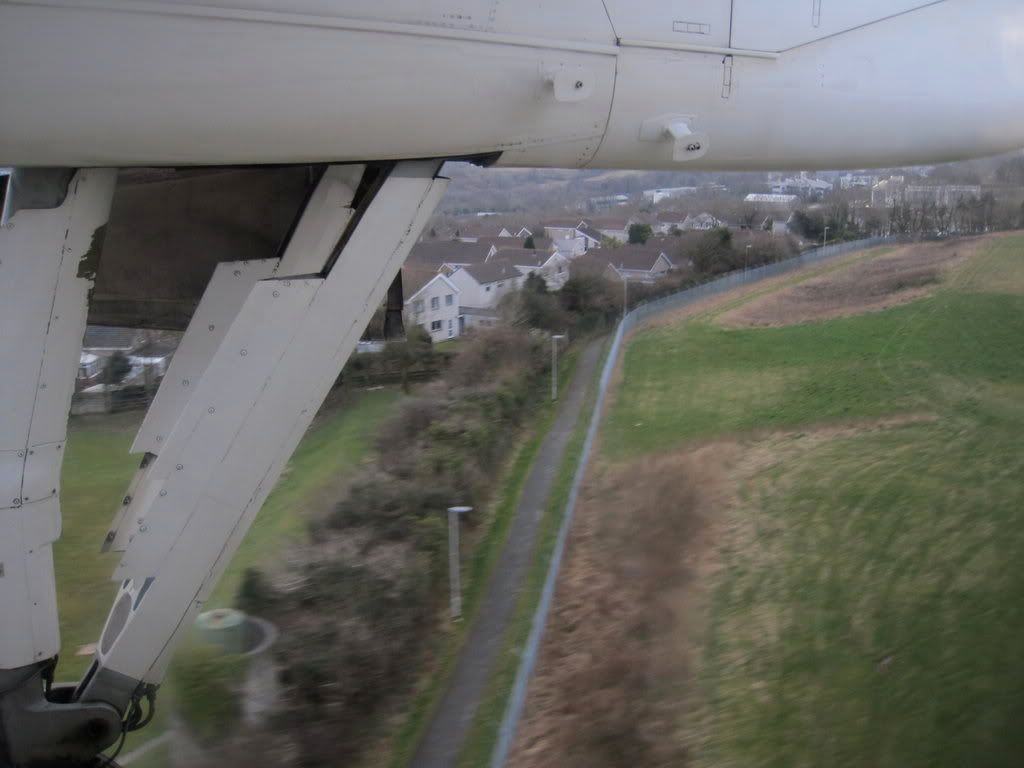 Landing is after 45 minutes of flight on runway 31, and we stop in front of the tiny terminal. The passengers continuing to Newquay are asked to sit still during the groundstop. The terminal is really cute and small, reminds me of Norrköping airport in Sweden for some reason, although this one is a bit smaller.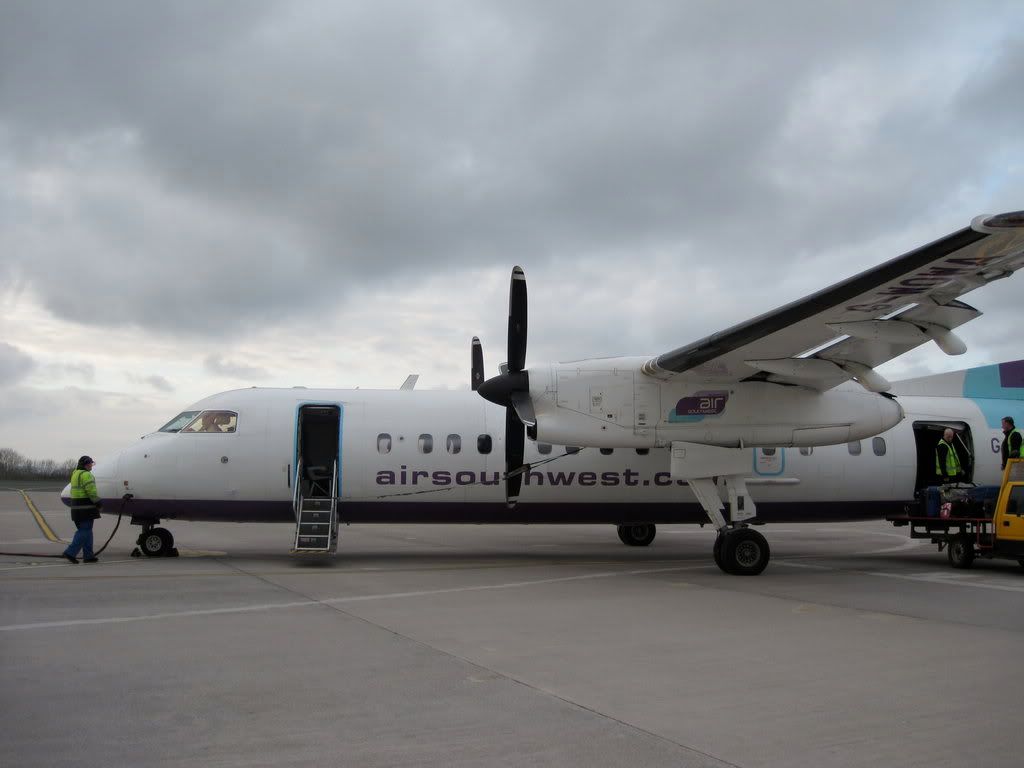 It is not raining, so I decide to save some money and walk the ten minutes to the nearby Derriford Roundabout, where there are a number of bus services to the city centre, and in no time at all a bus pulls to the stop, charging me two quids for the ride. The ride is a bit slow as there's some congestion along the way, but still I make it to my hotel at the city centre just after 18.00.
I'm staying at the Jury's Inn hotel, a rather nice and newish property with great value for money at 59 pounds for the night. I had a good experience with this chain in Nottingham last year, so had really no hesitations booking with them again. Too bad the experience is not as smooth this time, as the front desk clerk cannot find my reservation. Fortunately they still have rooms available, so he makes a new booking instead, phew.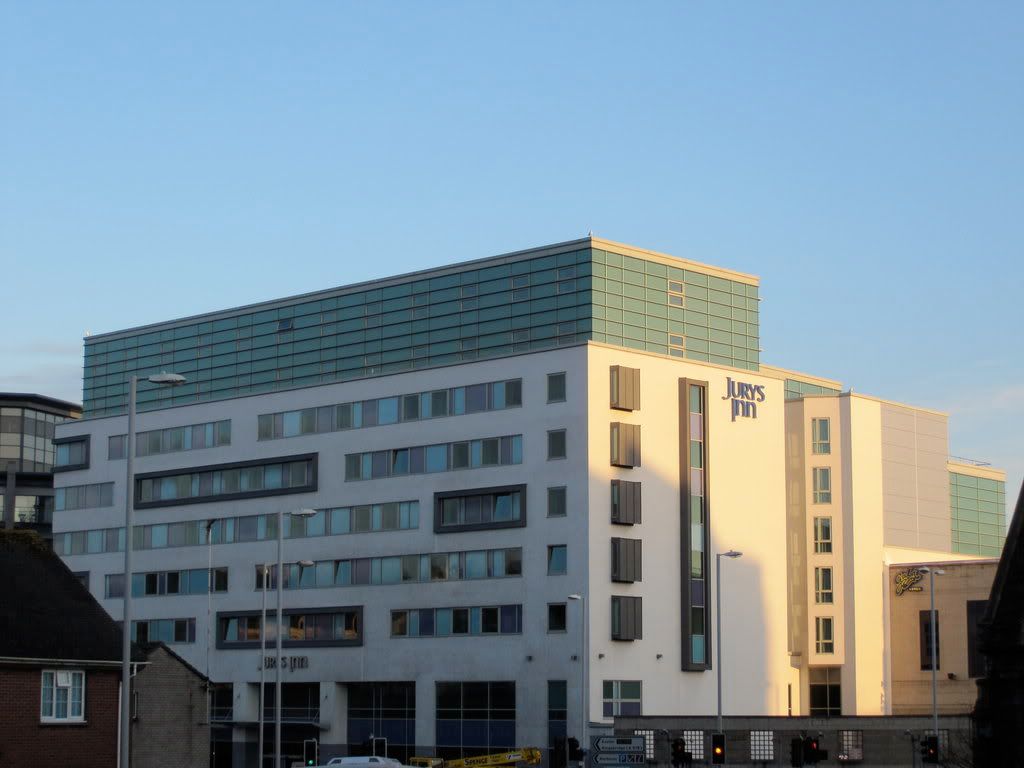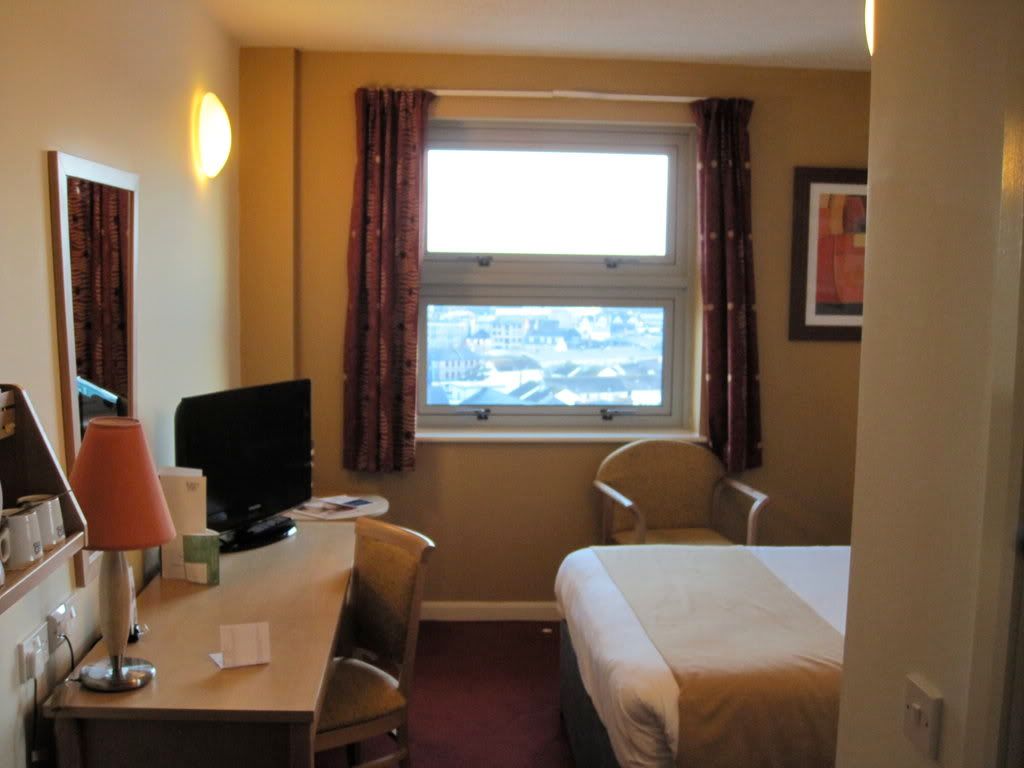 Not a bad view from my room on the 8th floor: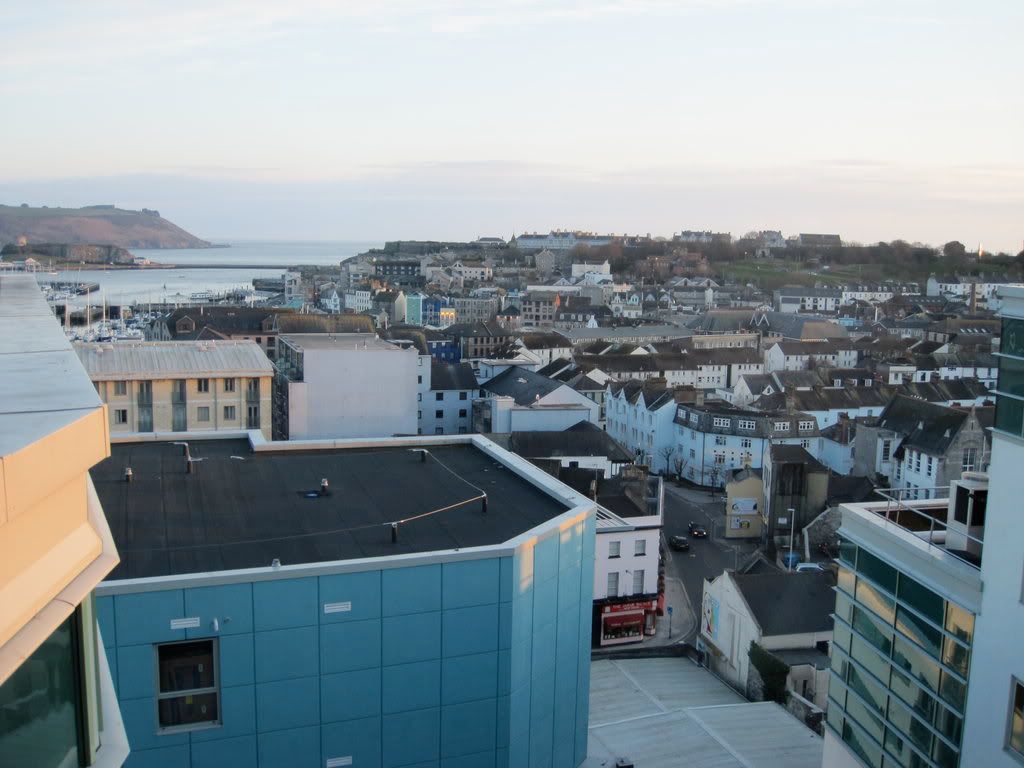 Plymouth
Not too much time to spend here, but from the little I see it looks like a city worth exploring a little more throughly, especially during the summer time. The Hoe area, the Citadel and the Barbican being the obvious highlights here. Some pictures, mostly from my morning walk on Sunday.
Yes, that is student housing. Yes, those are kitchen windows. Yes, those are empty bottles: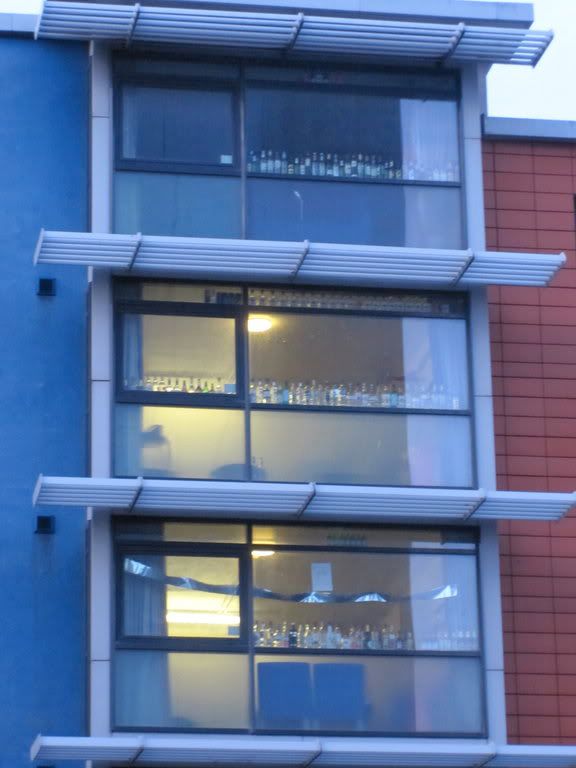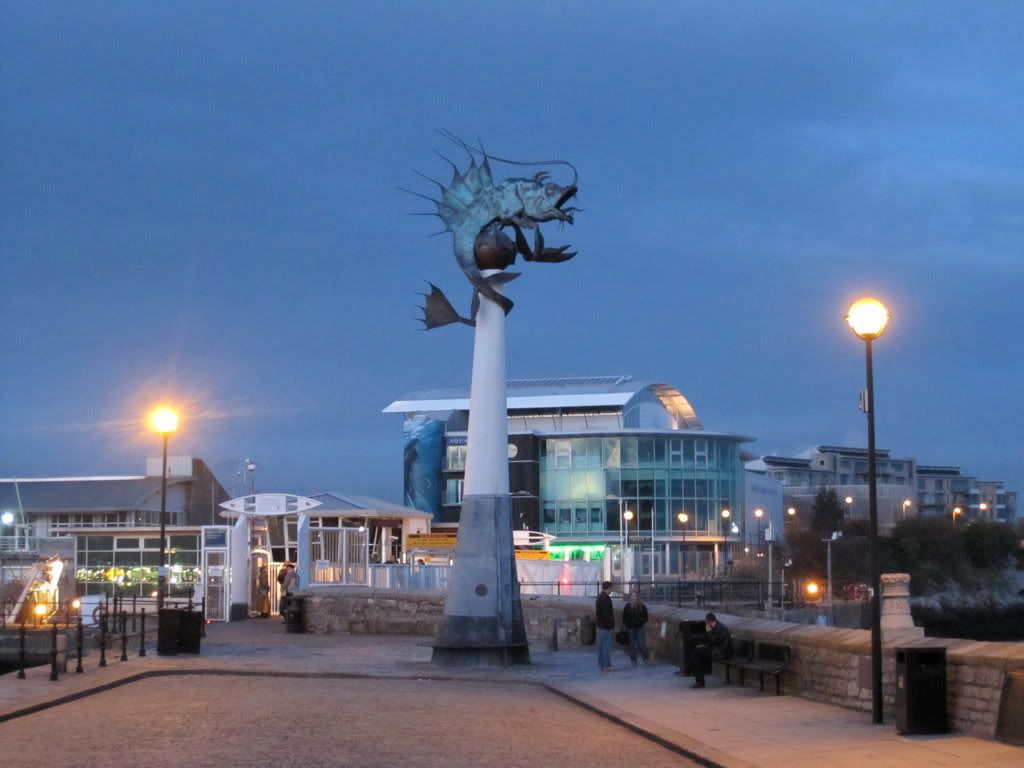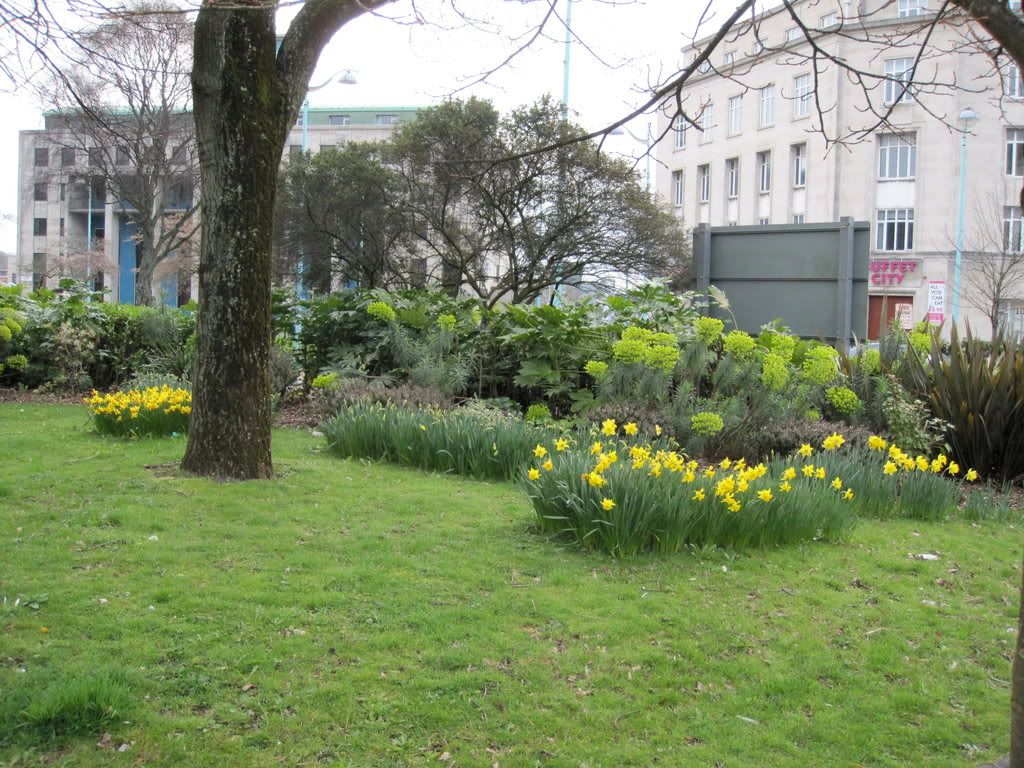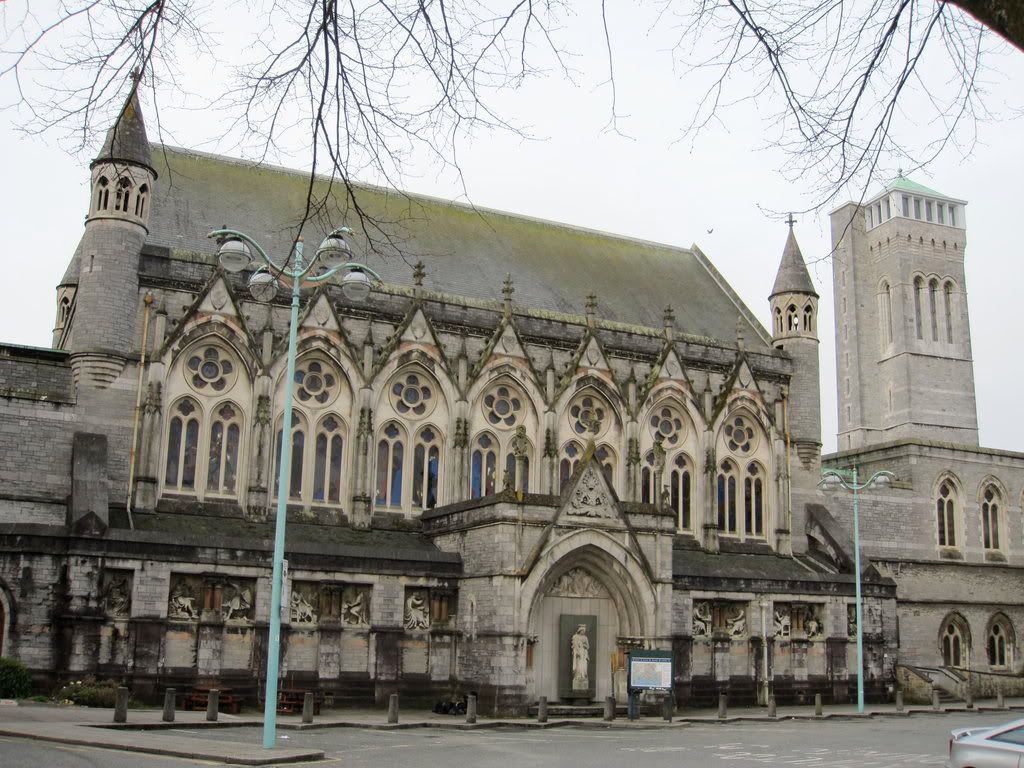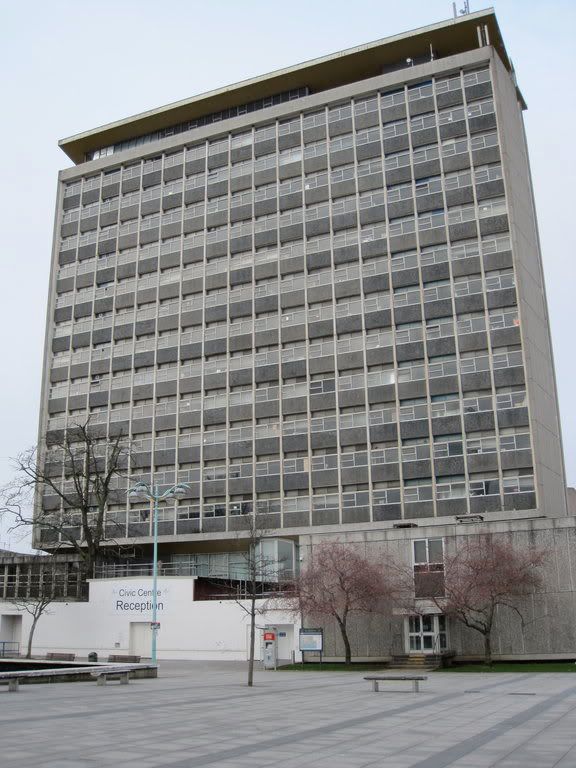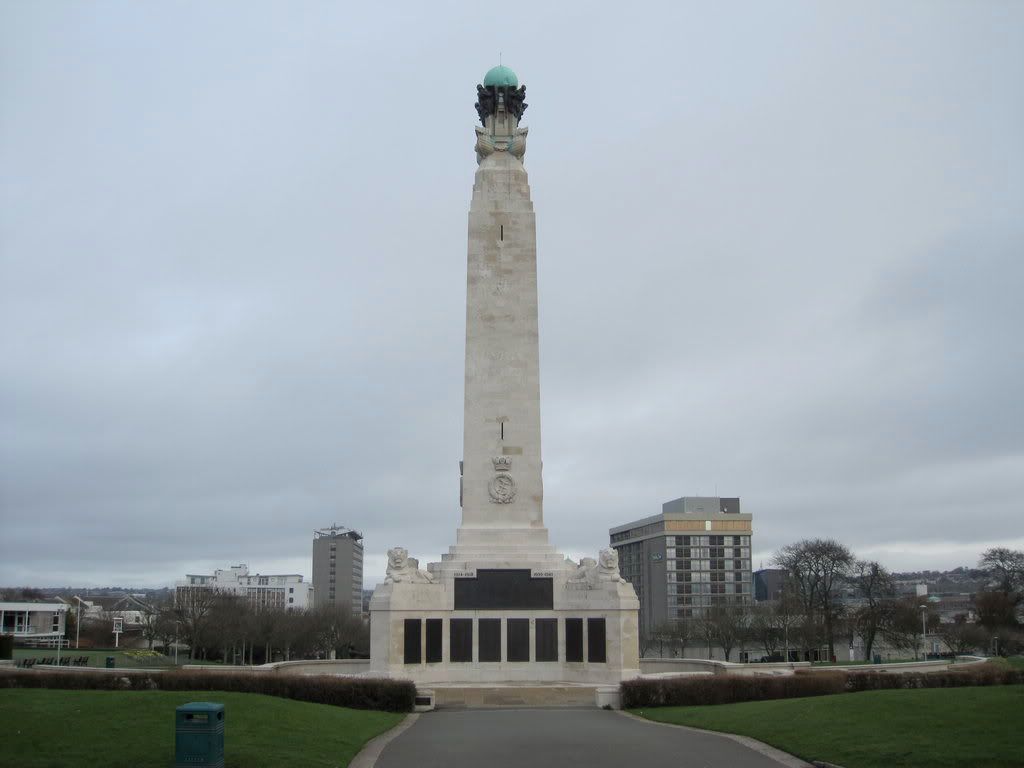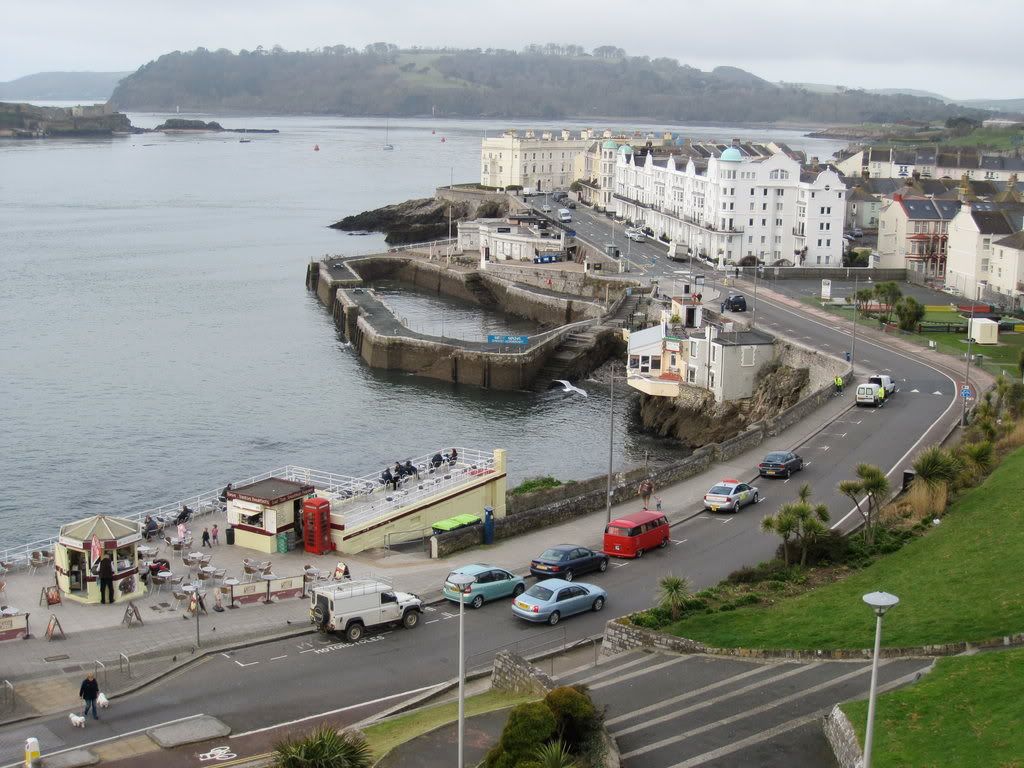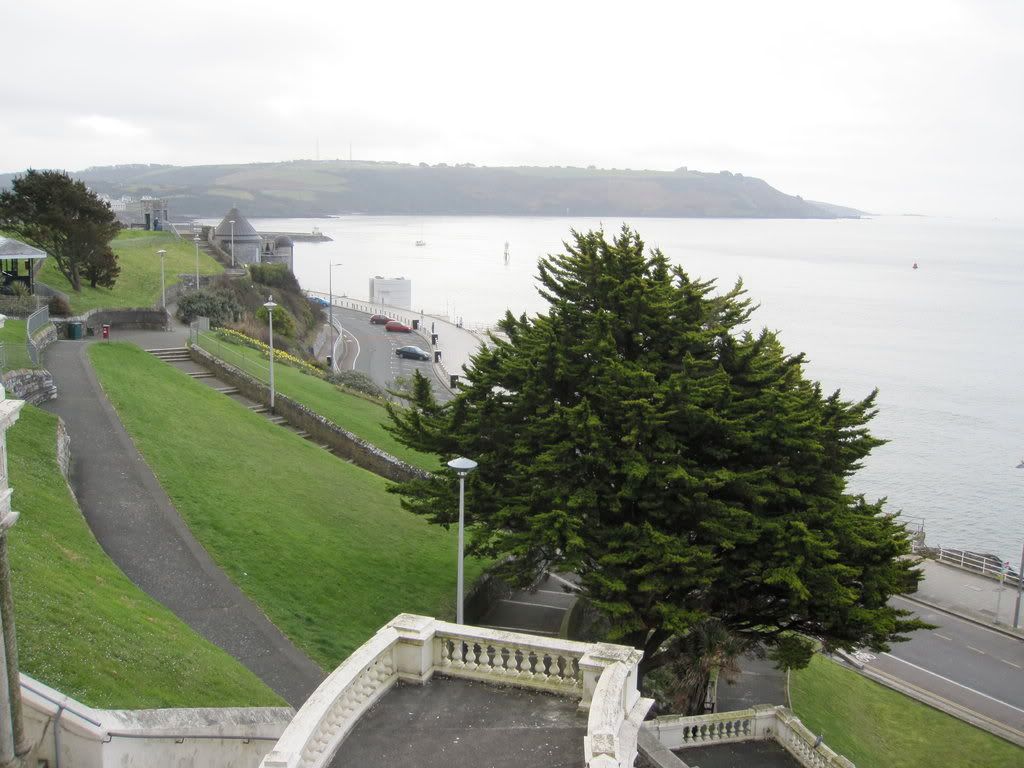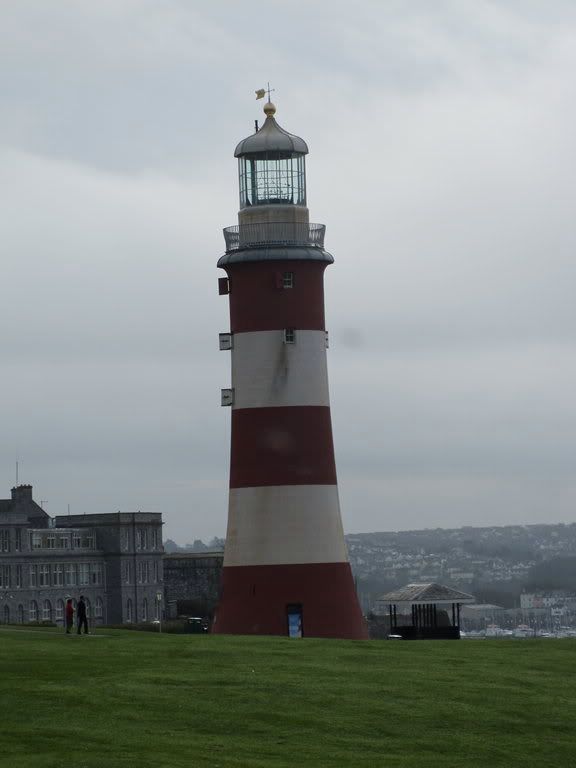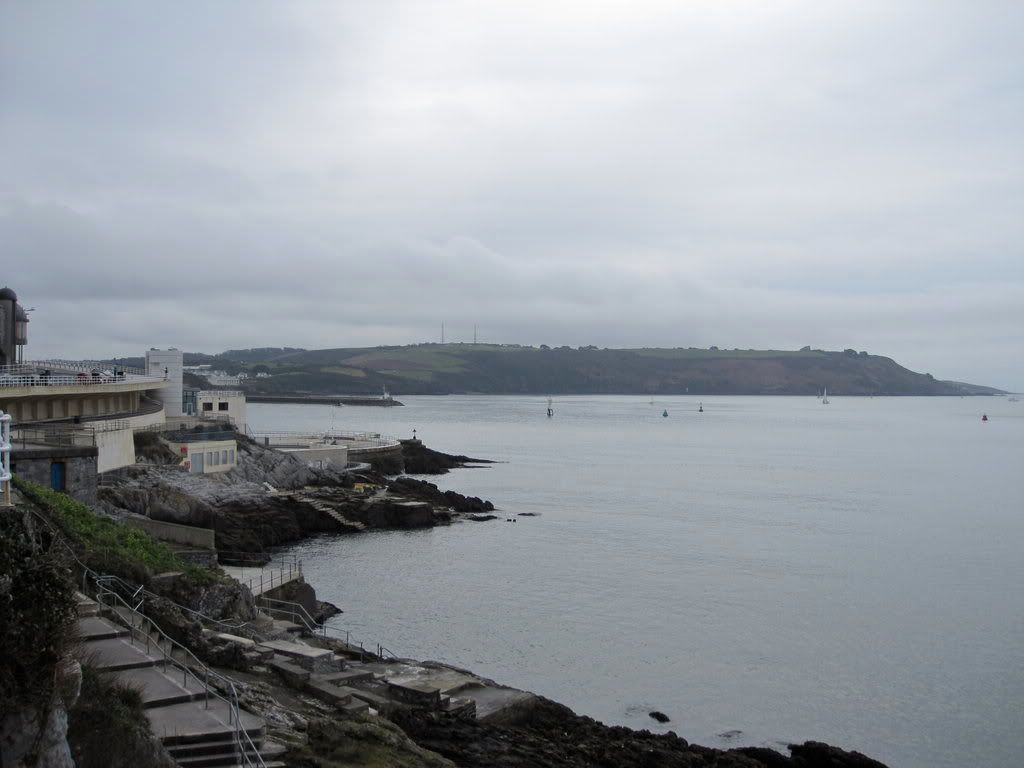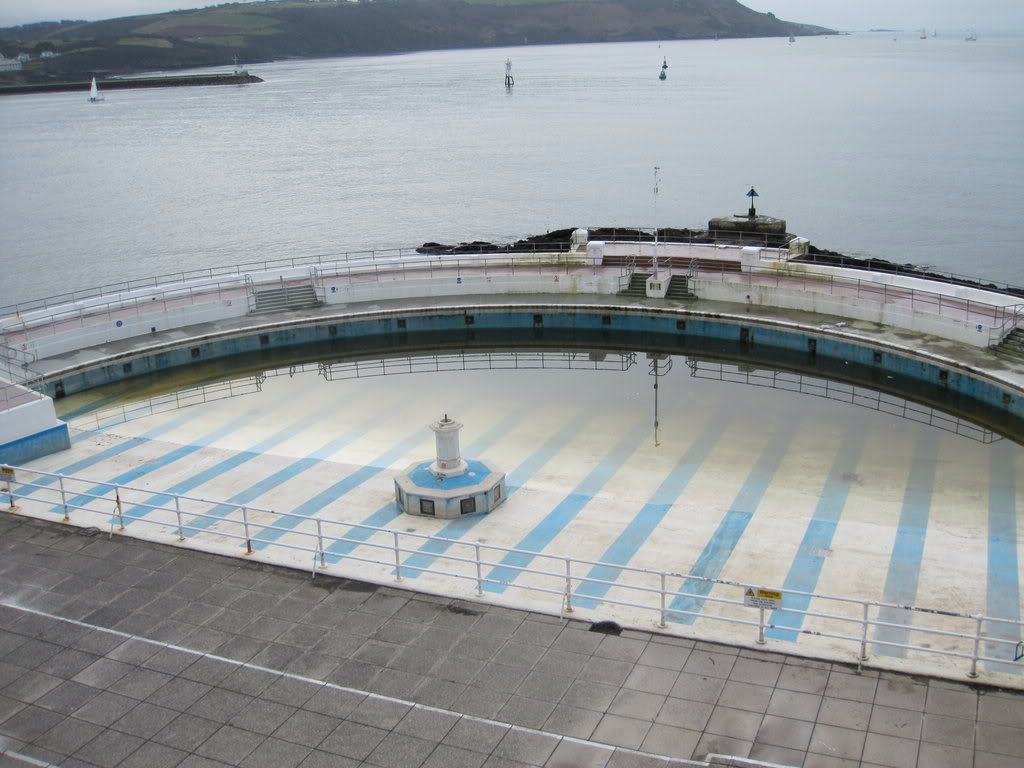 28.3.2010
When I posted the trip details for this trip I got a message from another a.net member, Okko. He turned out to be another Finn with lots of passion towards aviation (don't we all?), living and working in Dublin for an aircraft lessor. We tried to fix up a meeting at Dublin, but as he was actually visiting the London area during that particular weekend in the end we sorted it out by him flying down to PLH from Gatwick on the morning Air Southwest flight, and then continuing to Dublin with me on the same flight, calling also at NQY. So a little after 10 on Sunday morning after Ive taken my walk I get a call from him, I give him the directions to my hotel and a while later he appears there on a taxi. Rest of the morning is spent on interesting discussion about many things, of course mostly on the subject of aviation since that seems to be what both of us passionately like. We also make a short walk around the Barbican to give him at least a small glimpse of Plymouth, a first for him as well.
Just after 11.30 it is time to head for the airport, so we get a taxi, I ask the driver to make the detour through the Hoe to give a little bit more of sightseeing before heading to the airport. We reach the Plymouth City Airport to use its proper name right at noon, half an hour before departure. The check in girl advices thar we are the last ones to check in and that the plane is already here (so it seems) with everybody else onboard already just waiting to go (which turns out NOT to be the case). We get hand-written boarding passes, our backbags weighted (my 9.5 kilos doesn't seem to be a problem) and ushered through security to the plane. The departures lounge is tiny, but it doesn't really matter as we can just make our way to the plane through the open door at our leisure. The ship is G-WOWC, luckily a different one from the ride yesterday.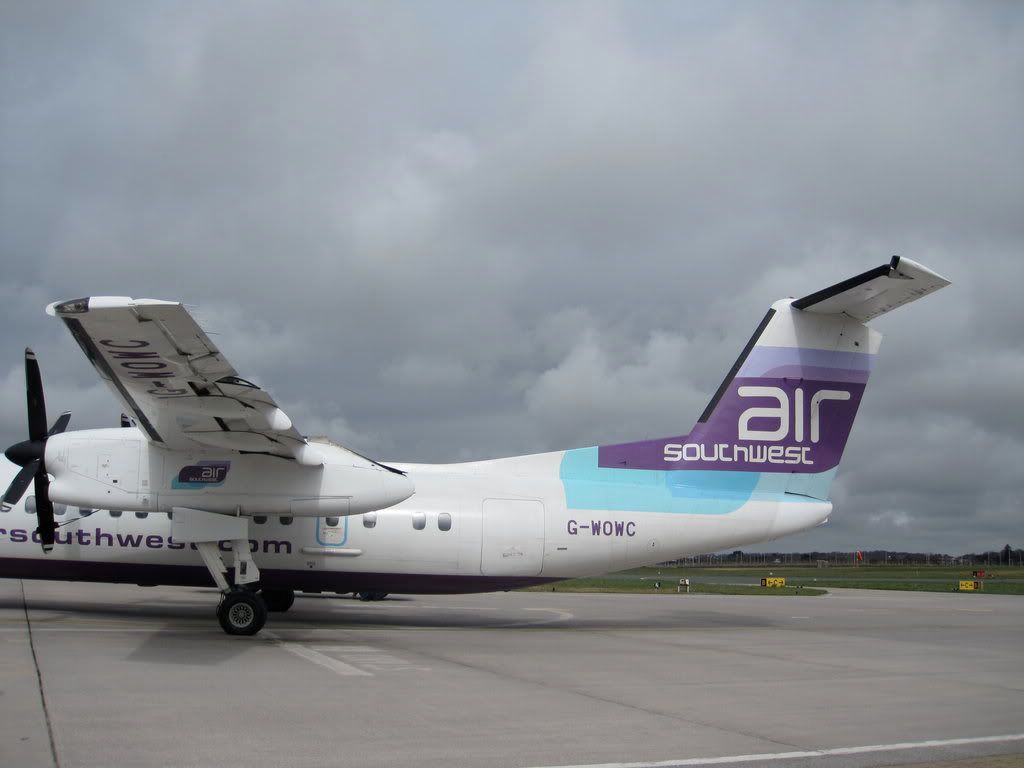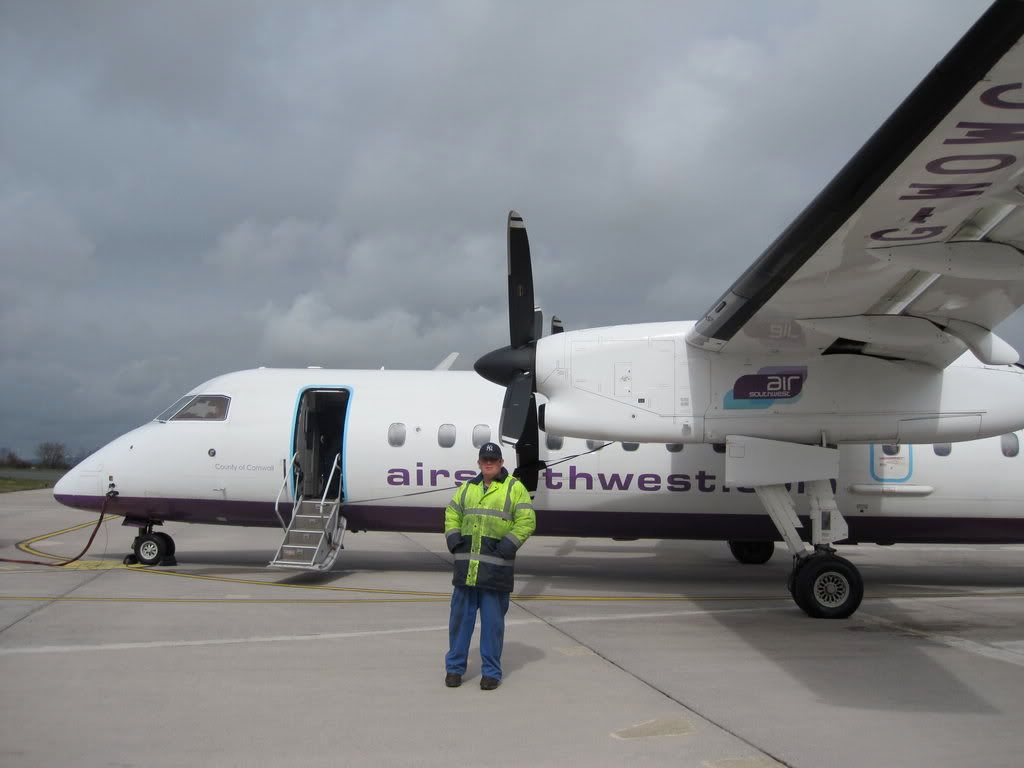 PLH-NQY
SZ585
Dash 8-300 G-WOWC
Seat 12D
12.14 - 12.33
This plane apparently got in from Cork, so some of the passengers are continuing to NQY from there. Unfortunately we couldn't get any window seats as it will be quite full from NQY to DUB. Luckily 12CD are empty, so I grab 12D instead of my assigned 12B for this short hop to have a window and make some photos. Some people still board after us, that much for "everybody being onboard already".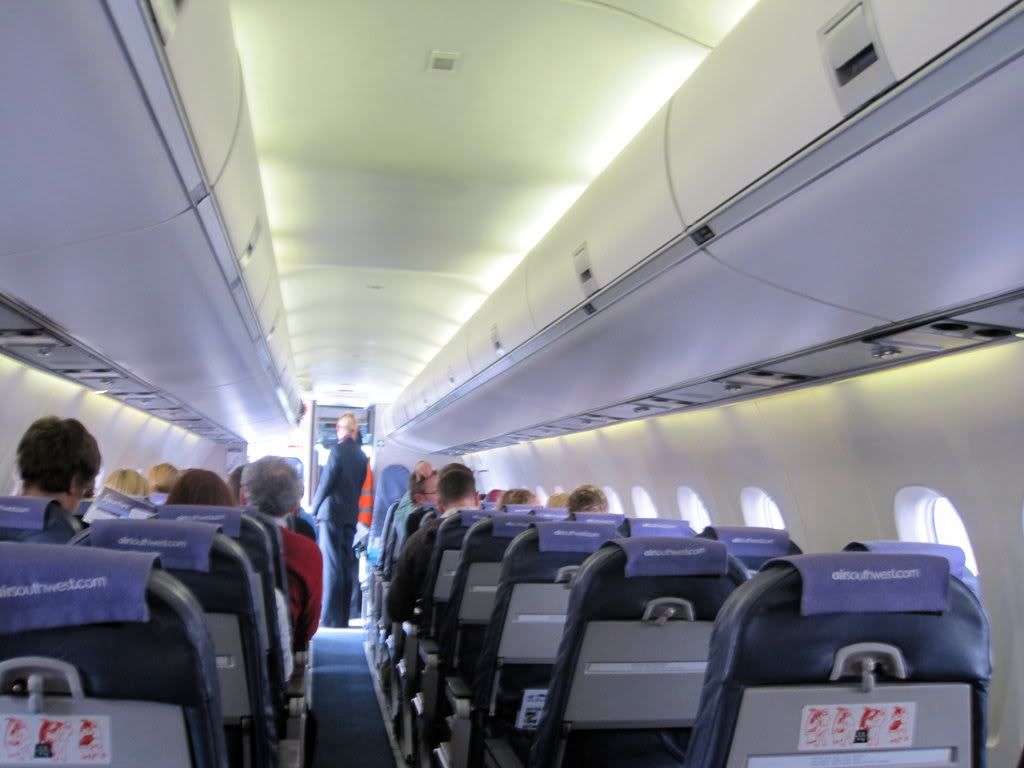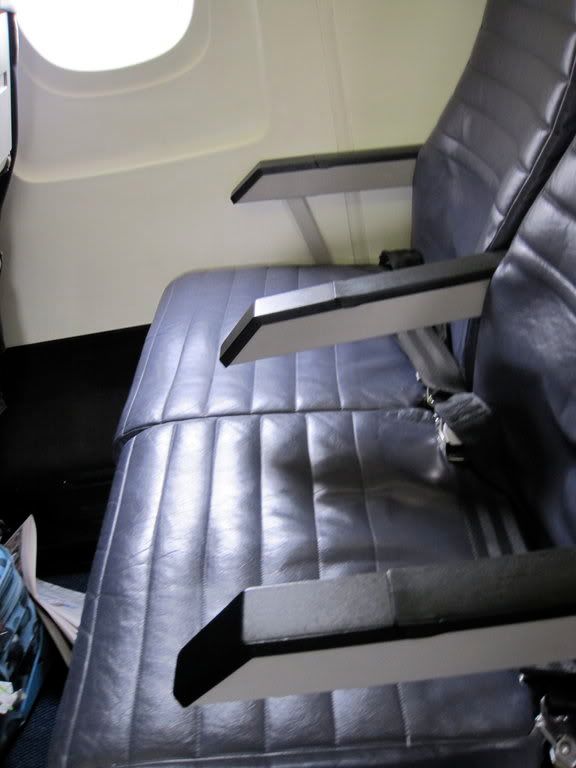 The captain announces the flight time to NQY as 10 minutes, although in reality it is around almost 20. Two FAs on this flight as well. Not that there would be service on this short hop.
We depart 16 minutes before schedule, just barely fifteen minutes after arriving at the airport - you gotta love small airports! Acceleration is very powerful, I guess the pilot flying is applying almost full power before releasing the brakes as the runway is not that long here.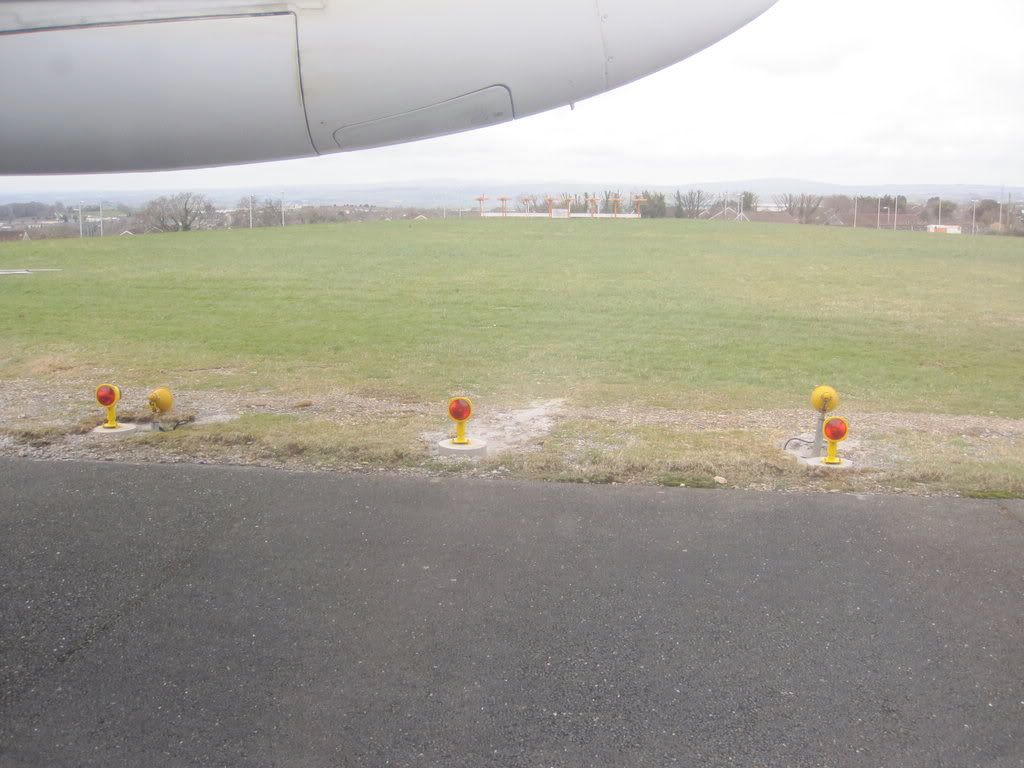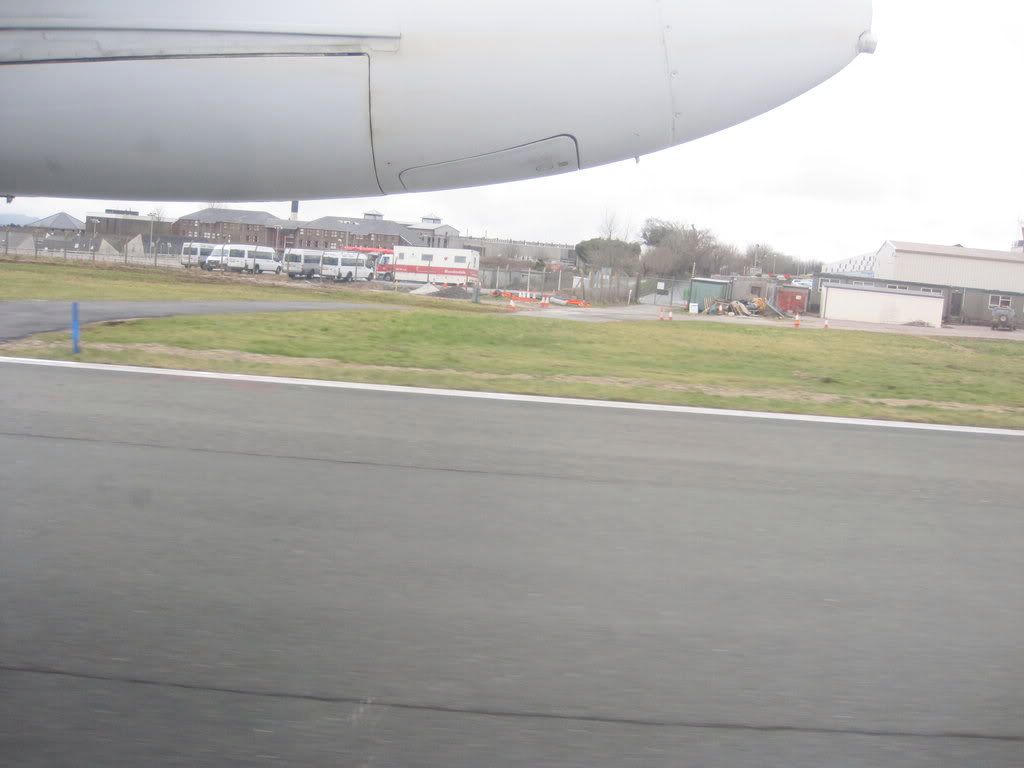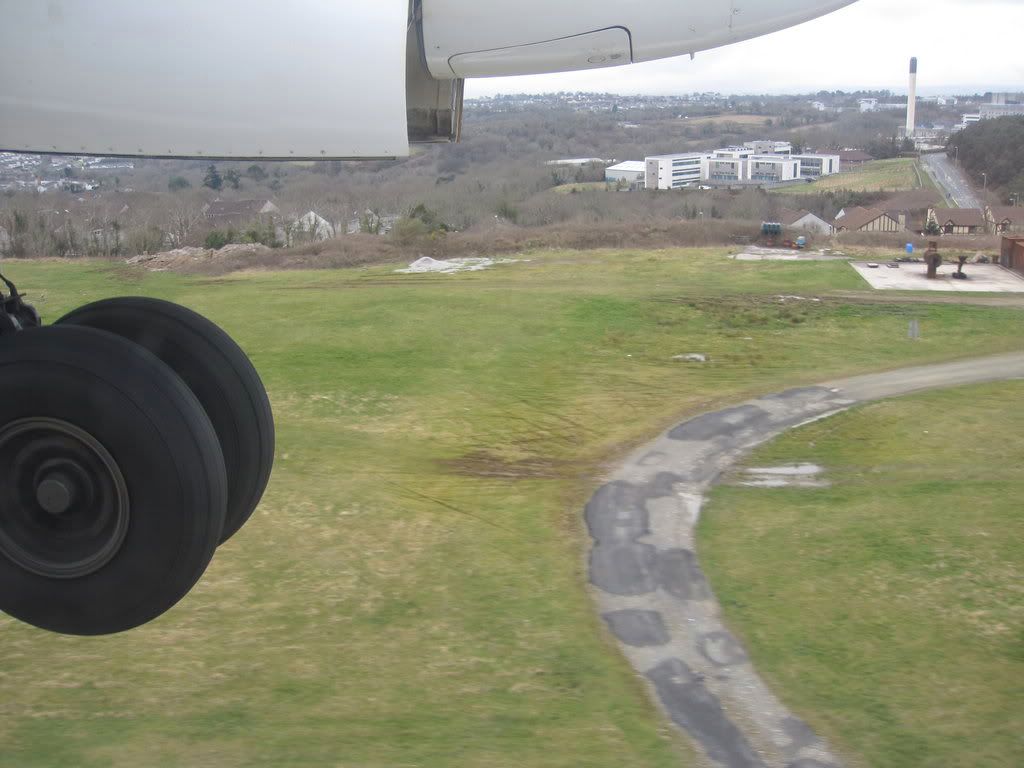 Take off is from runway 13 towards the southeast which has us making a right hand 180 degree turn right over the city centre, which great views over the city: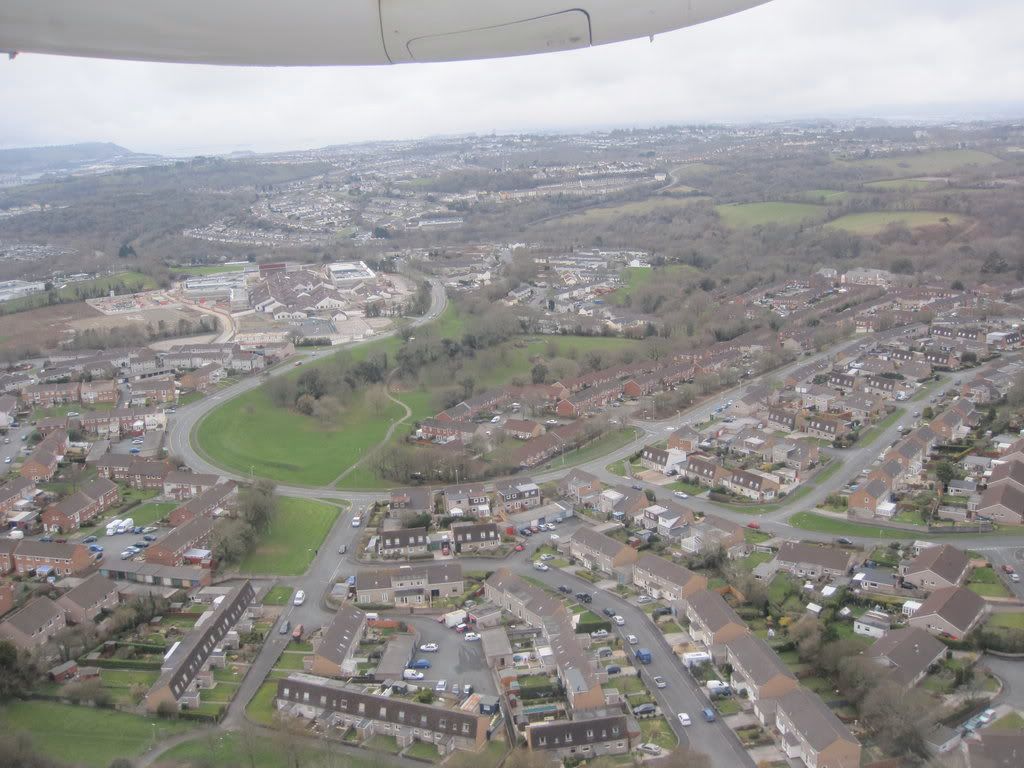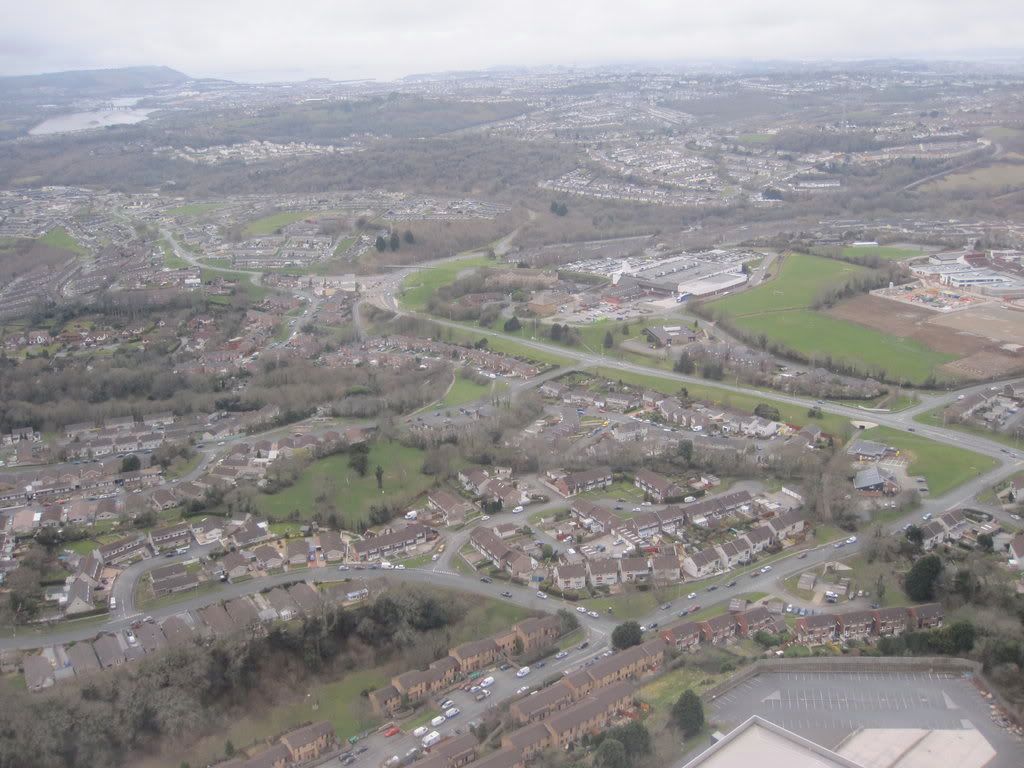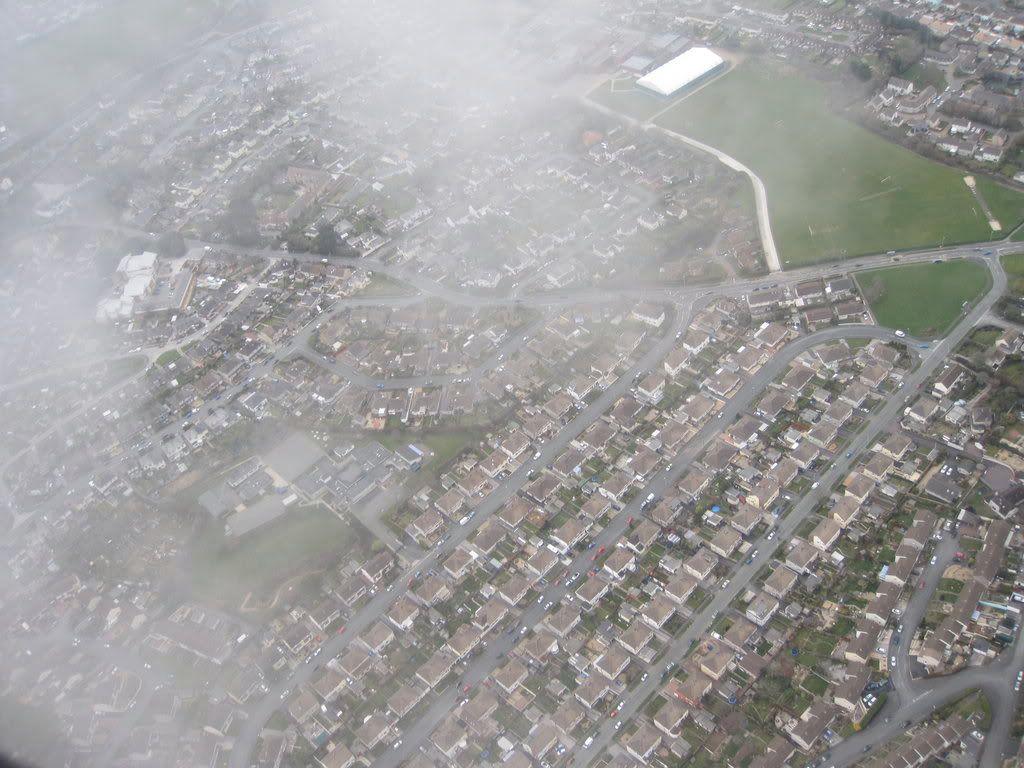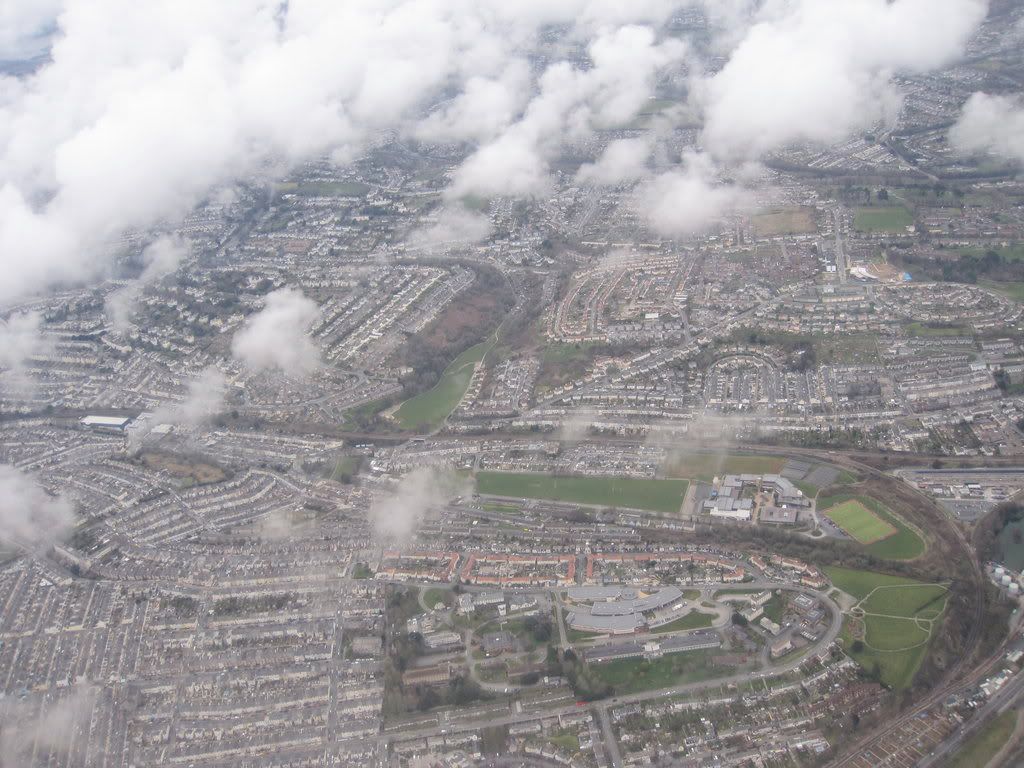 And further of the huge Royal Navy docks area: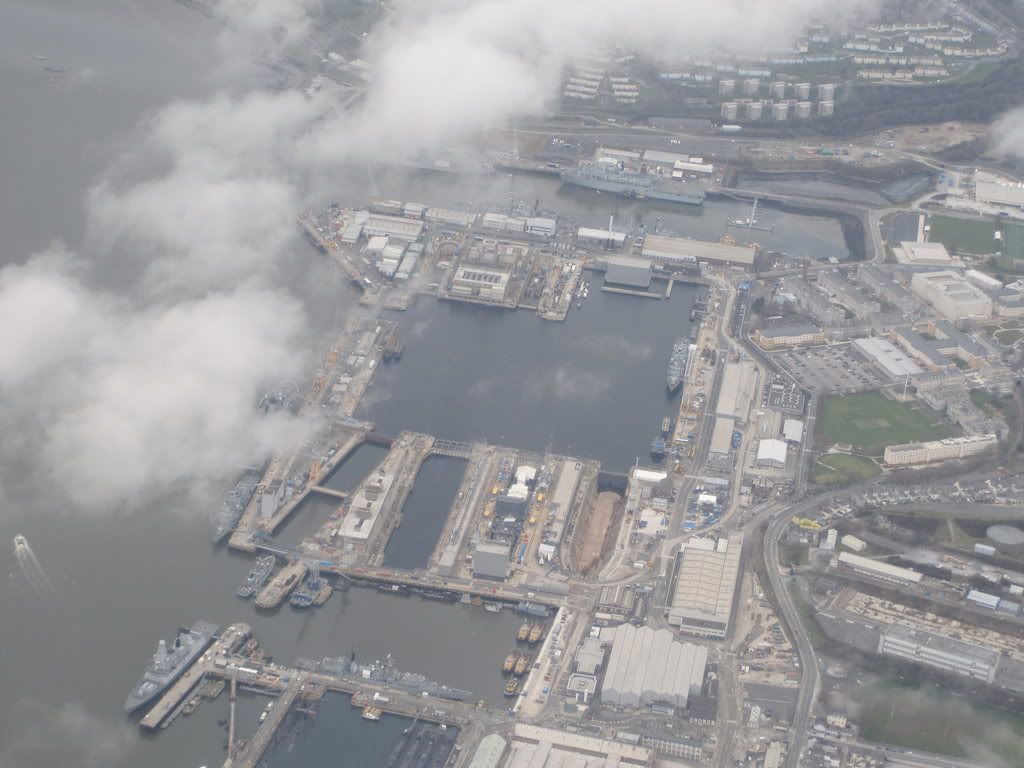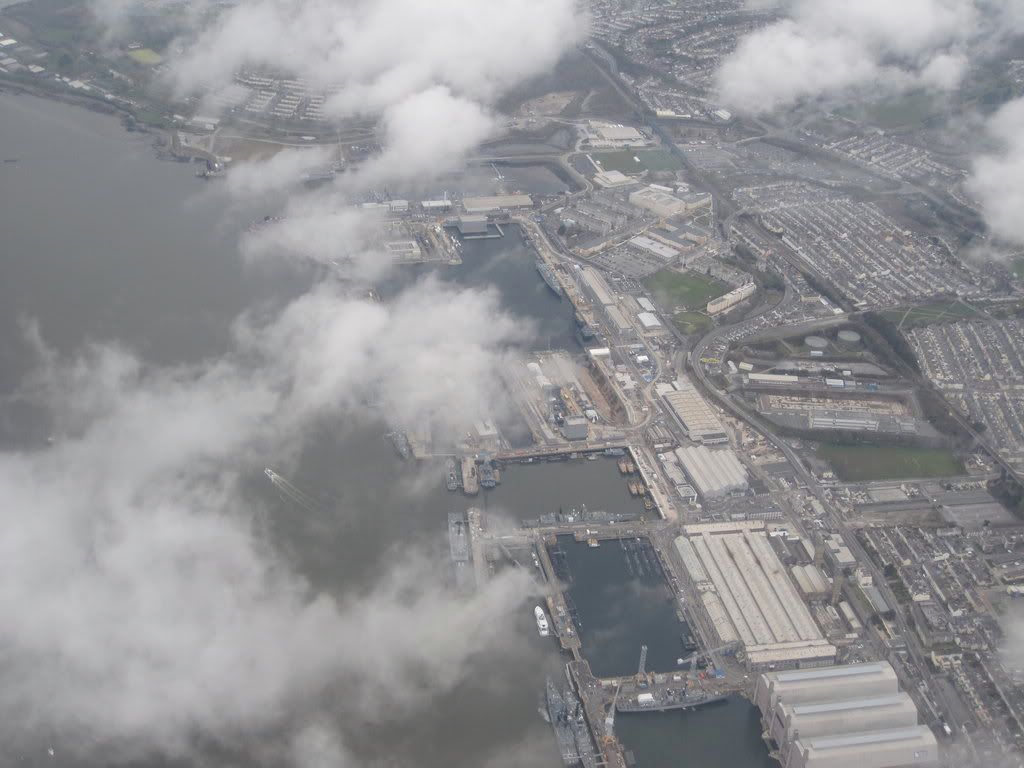 Clouds are hanging rather low, so no views after Plymouth even though we cannot be cruising very high. Barely ten minutes later we are descending again, breaking the clouds over the sea just off the Cornish coast, where we make another 180 degree turn to the left this time to line us up with the runway 12 at RAF St Mawgan, sorry Newquay Cornwall airport.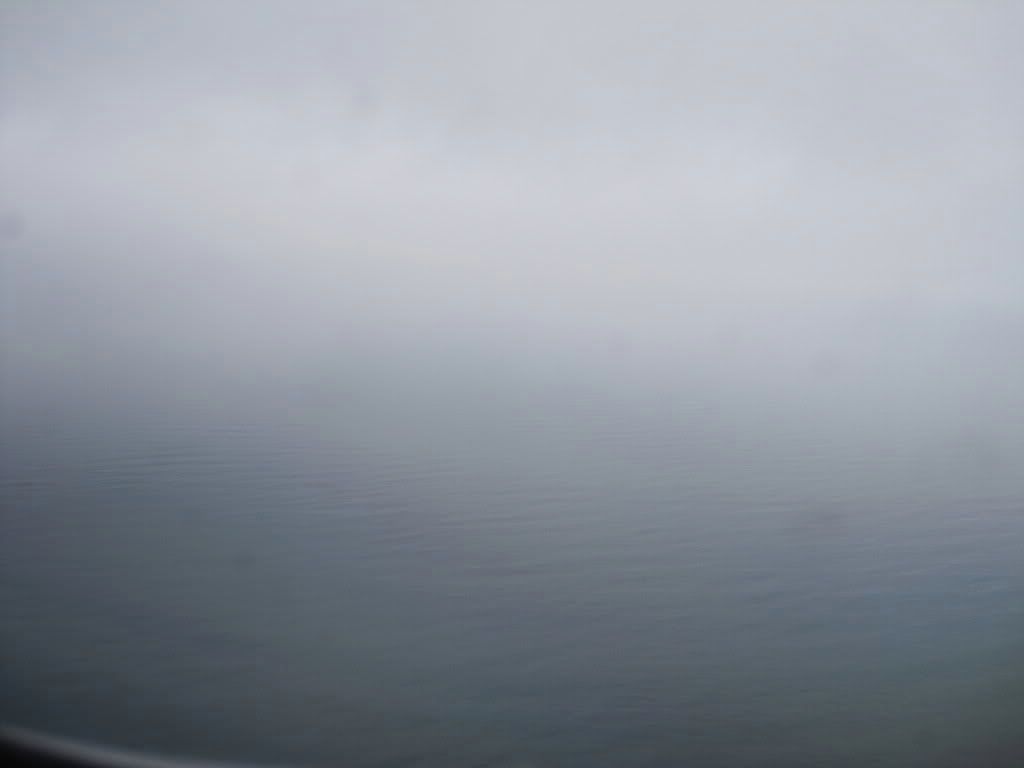 Nice beaches on short finals: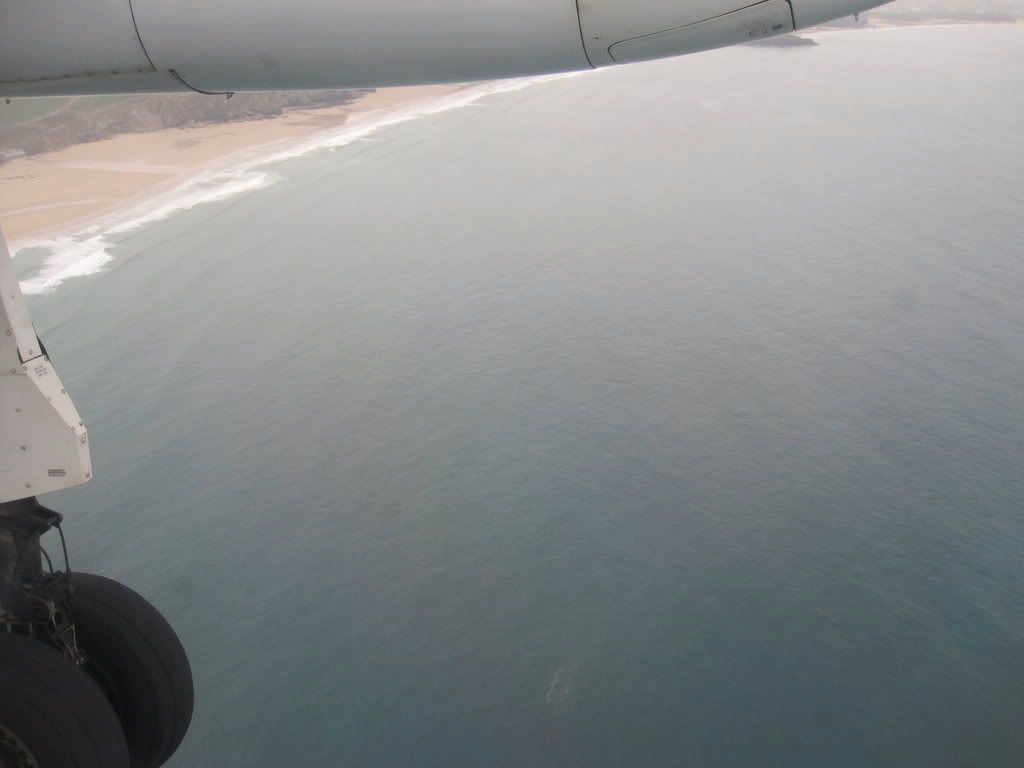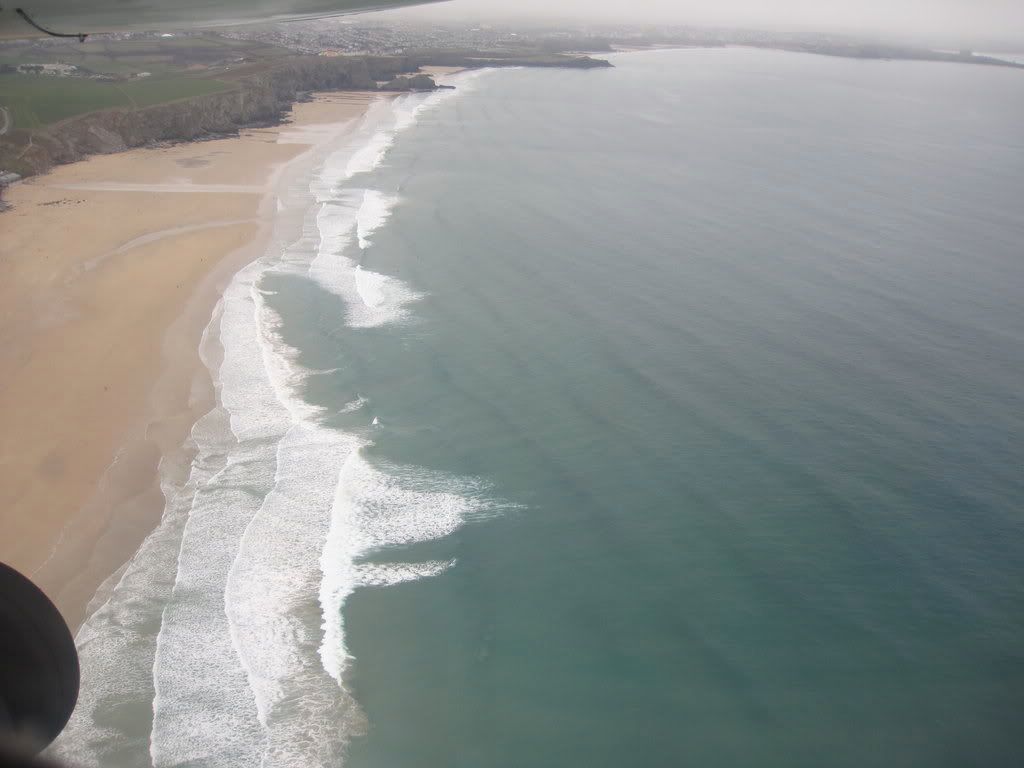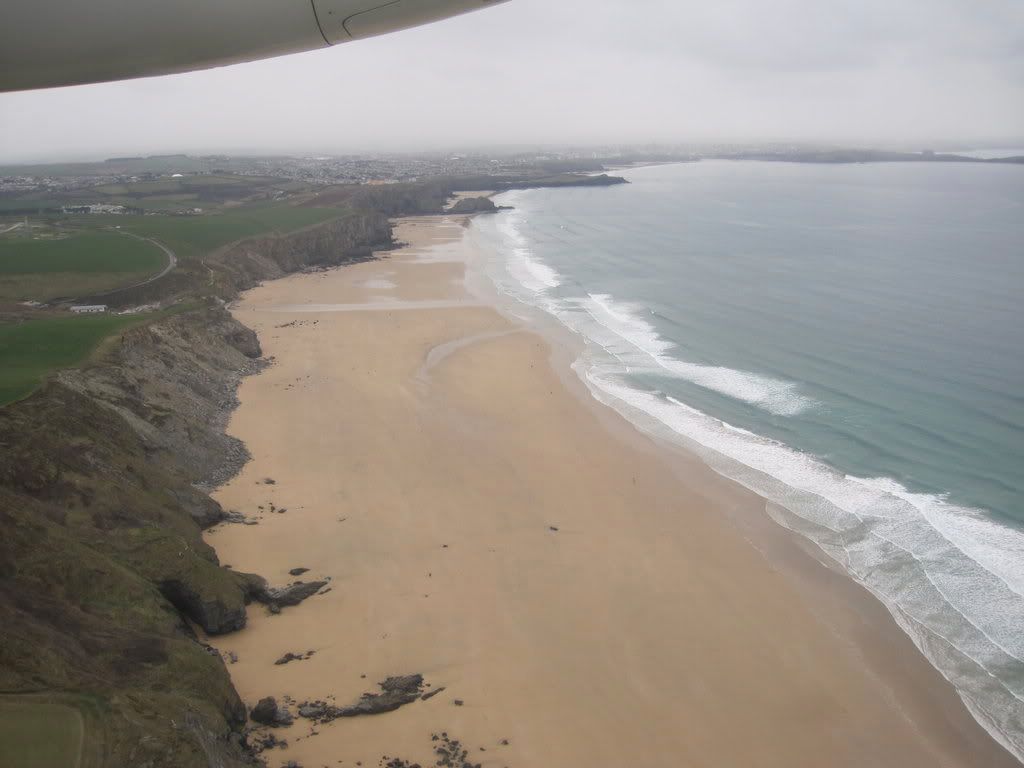 What's that - looks like a trailer park: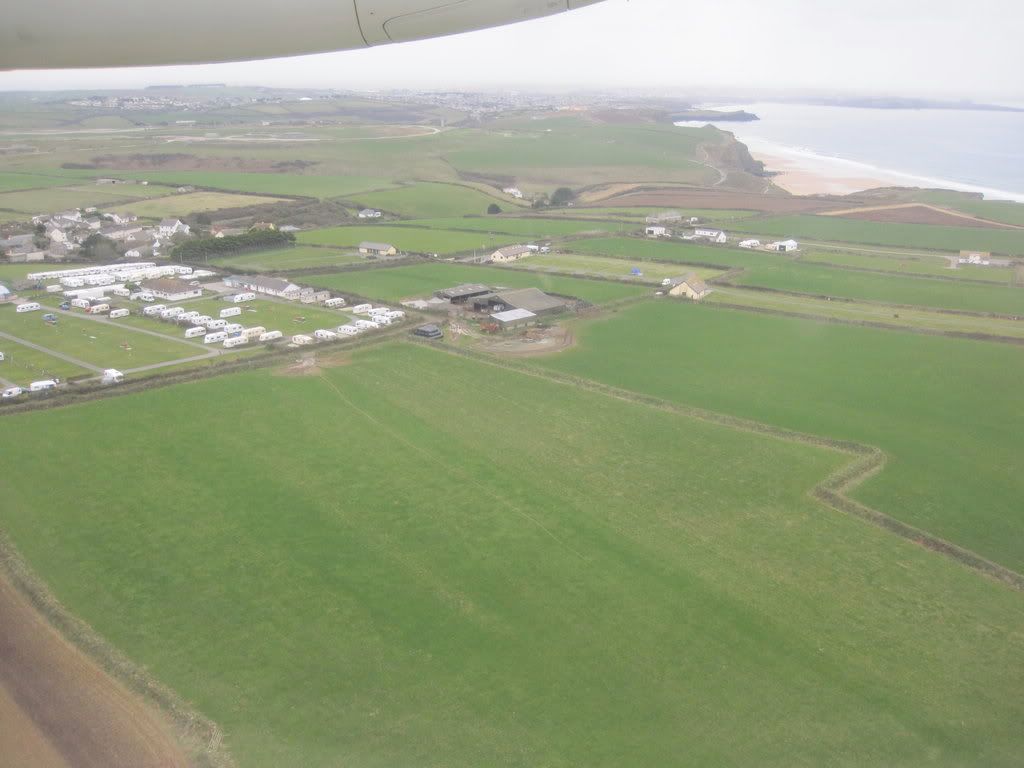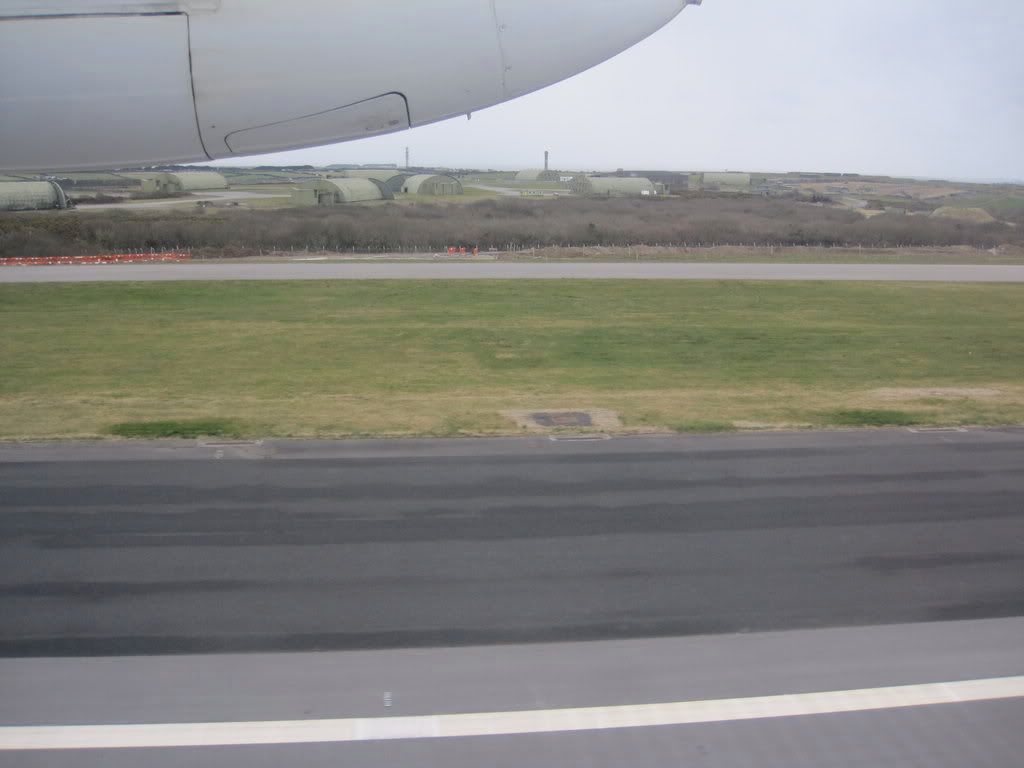 Touch down is 19 minutes after departure, with the flight time of maybe 17 minutes. There's plenty of runway here from the military days, so no need for any hard breakings. Instead we take our time to slow down, finally turning off and heading for the apron.
I really wanted to snap a smoking tire photo but wasn't fast enough and got this instead: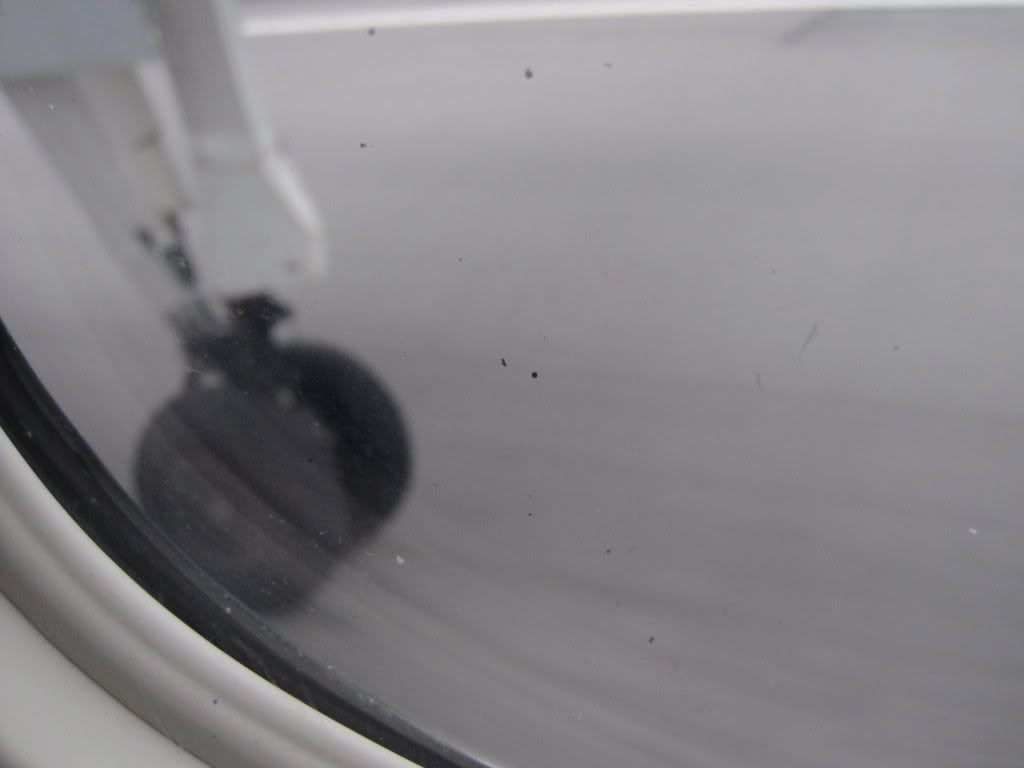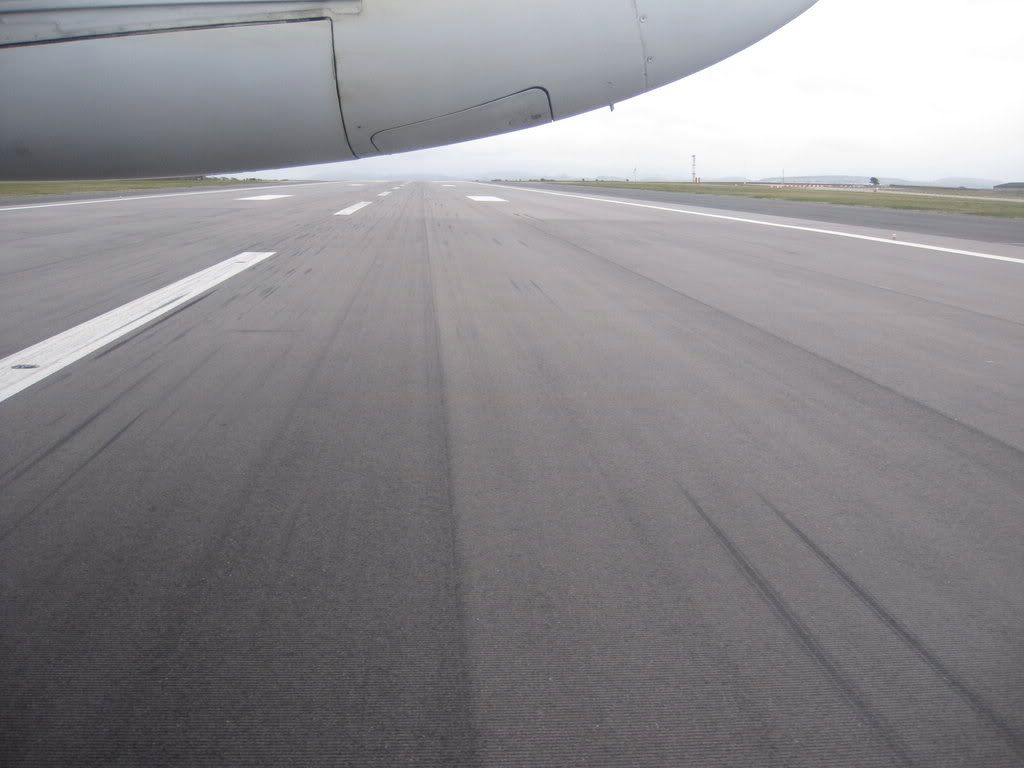 Once stopped, a number of people get off, and finally new ones get onboard. As mentioned by the check in agent at PLH, it is quite full with all the window seats being occupied (apart from the one facing backward on the forward emergency exit but I'm too lazy to go there) and most of the aisle seats as well. Load somewhere around 80% I reckon.
NQY-DUB
SZ585
Dash 8-300 G-WOWC
Seat 12B
13.01 - 14.00
The ground stop takes around 25 minutes, and afterwards we are off again, this time taking off to the opposite direction from runway 30, followed by a right turn towards the north.
This time there's a BOB run, thanks for the Stella, Okko! Otherwise we spend most of the flight talking again about various things, although trying to talk with Okko sitting right behind me will surely give me a sore neck later on. Our routing seems to keep us mostly over the Irish Sea until final approach into Dublin. There are some nice views of the Welsh coast and something which could be the Isle of Man on our right hand side, and of Dun Laoghaire and further the city of Dublin on the left side. Unfortunately I couldn't really take any pictures since I was on the aisle seat.
To my surprise the Irish weather looks great - early spring sunshine with only scattered clouds. I ask my seatmate if we are actually in Ireland at all - she seems to agree with me... Landing is on runway 28 after a bit under an hour of flight, followed by very heavy reverse thrust. For a while I'm scared that we are going to hit something and this is a final attempt to prevent a catashrophe, but luckily it looks like the pilot just wanted to make the first available exit instead.
Taxi is rather short to the whatever pier the small round thingy at ground level is nowadays called.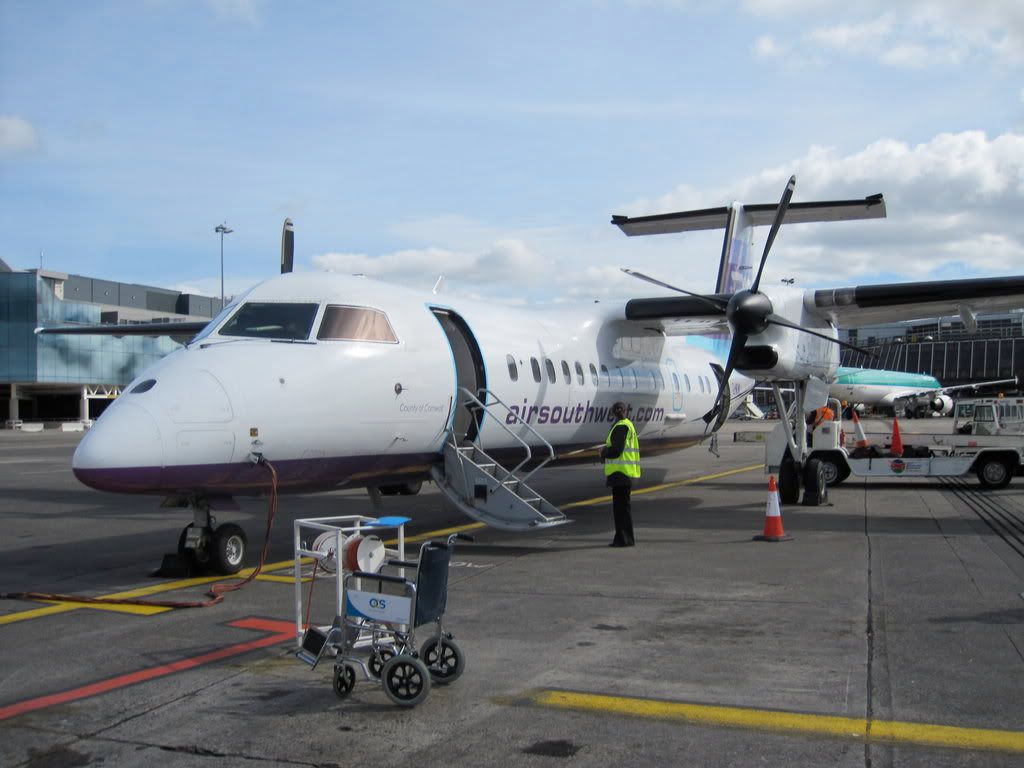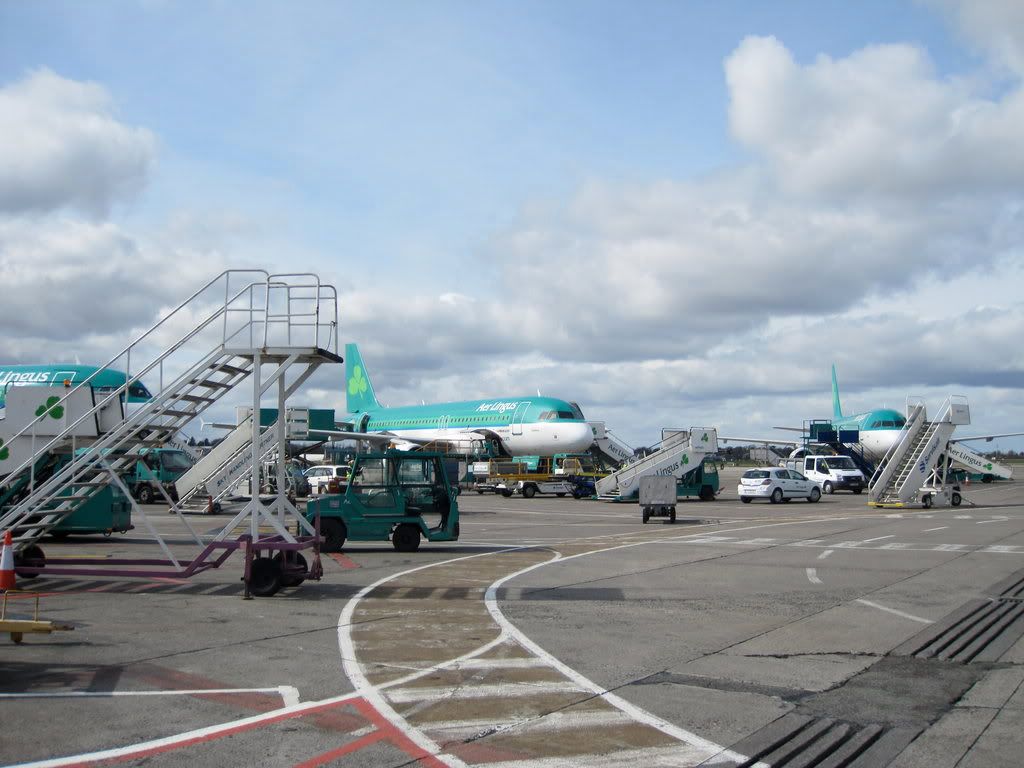 Dublin Airport
Deboarding to the apron and a short walk inside, followed by a bit longer walk to Irish immigration where they couldn't care less about my Finnish ID card and finally to arrivals. Okko is not in any hurry to leave, so we hit the food court upstairs for some very mediocre but amazingly overpriced lunch, followed by more interesting chatter and finally some Starbucks. Eventually he has to go, so we bid farewell, agreeing that we should try to get together for some further airline adventures. Thanks man, I had a blast!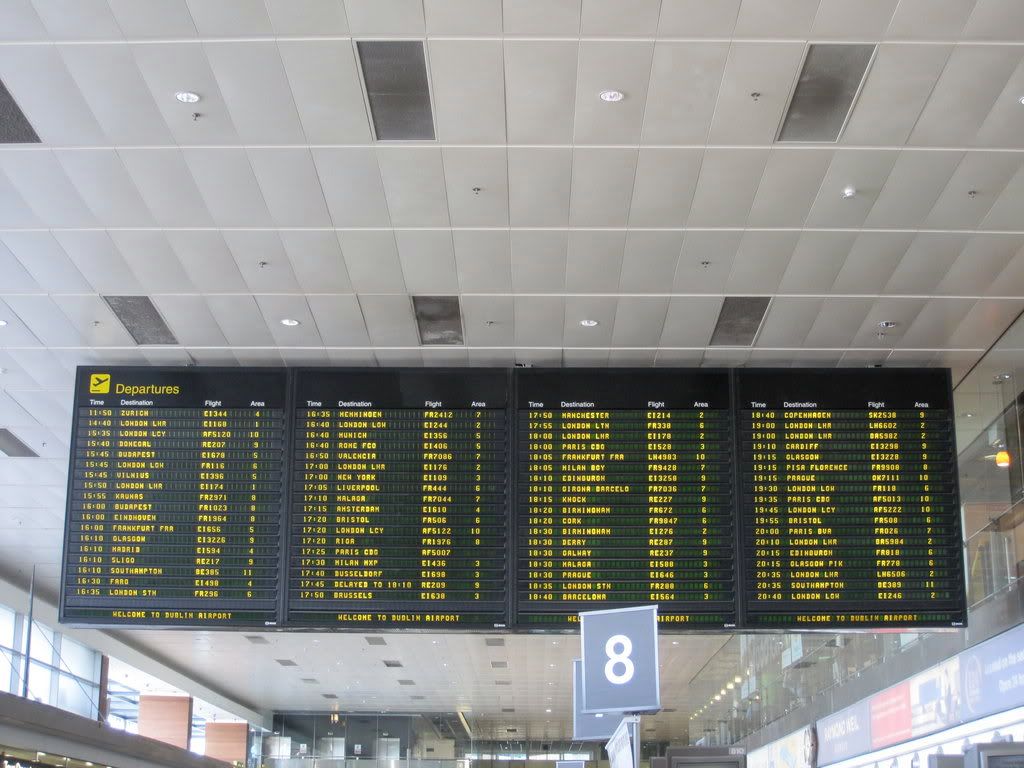 Meanwhile, I decide to head to the gate. The security queues are they usual messy Dublin ones, but they move surprisingly fast. The female robot (sorry, security agent) monotonously repeating "take off your belts, jackets and boots while queuing" is not very amused about my offer to take off my jeans as well.
Today's gate is initially 109 which is in the newest Pier D, quite a hike from the main terminal, and a first for me.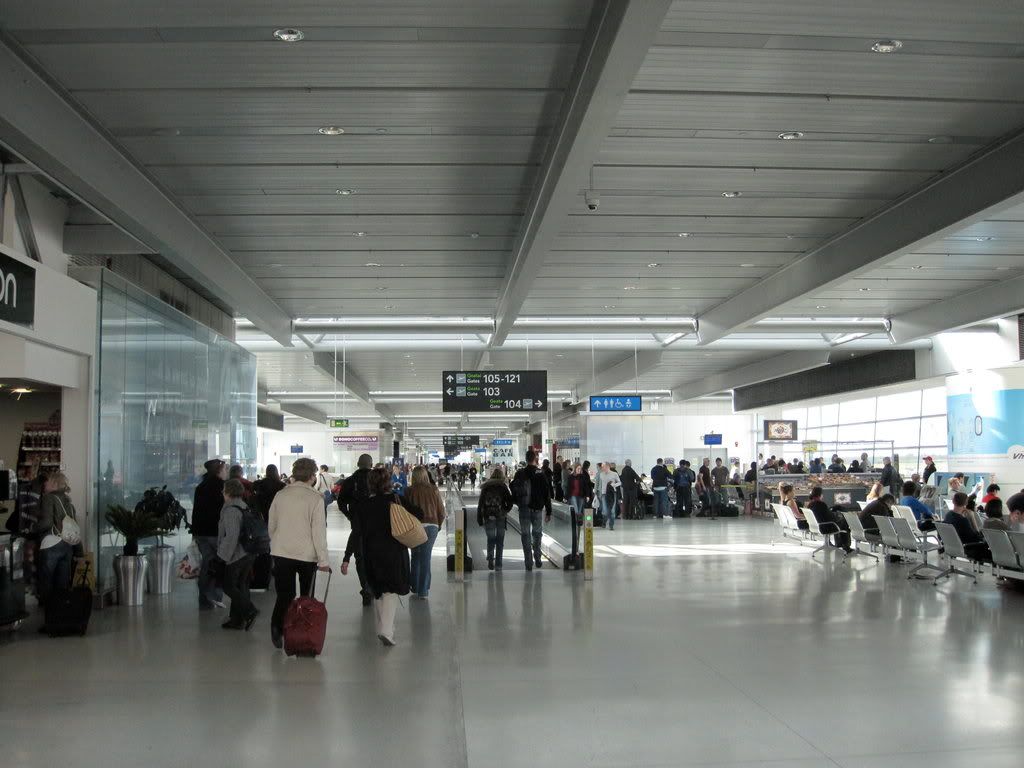 Top