Introduction
Always expanding, airBaltic announced another new Finnish route just before last Christmas. The new route would connect the city of Vaasa on the western coast of Finland with Riga, starting with the summer schedules in late March 2010. Obviously I had to fly that route, and booked a ticket for early May due to some scheduling issues making it unsure if I could do it earlier. Well, a few weeks later they came out with another destination, this time the city of Umeå in Sweden, just a short hop across the Gulf of Bothnia from Vaasa. Technically, this flight would operate as RIX-VAA-UME and back, with the plane overnighting at UME. Well, I couldn't resist flying this route as well, could I? Especially with fares of 19 EUR each way, it was really a no-brainer. This time my schedules had cleared up somewhat, so I could actually fly on the inaugural flight on both directions - yay! The connection to VAA was booked on Finncomm and from VAA on Blue1, this combination offered the best schedule and price for less than 60 eur per leg was not bad either.
While this might sound like a bit of an odd route, I think there actually might be some potential here. The cities of Vaasa and Umeå have historically had quite strong ties together, and some sort of ferry connection has existed between the cities for a very long time. Back in the eighties the ferry traffic peaked at over two million yearly passengers, but that thing has been on the decline since both Finland and Sweden joined the EU - the driving factor behind the ferry traffic was of course duty free alcohol and tobacco and to a lesser extent certain foodstuffs that were much cheaper in the other country. I think the VAA-UME route was last operated by Finnaviation back in the 80's as well, but I'm not sure.
29.3.2010
After a bit short and tiring workday (especially considering that I had arrived home from my last trip around 1.30 AM that morning) I get home, pack up my stuff and am off again to catch the bus to the airport, arriving at Terminal 2 just after 19.00 for my 20.15 flight. Not that I really need to be here this early, but I want to spend some time at the Finnair lounge - I wonder when will the next round of cost cuts remove the access for those passengers booked on the FC fight number instead of the AY codeshare... (touches wood).
The second daily peak departure wave is long gone so the lounge is almost empty. I grab some noodle salad and a glass of surprisingly decent Chardonnay - considering it comes from a tap, that is - and settle for some last minute work making full use of the free Wifi offered (actually both the lounge and the airport nowadays offer their own).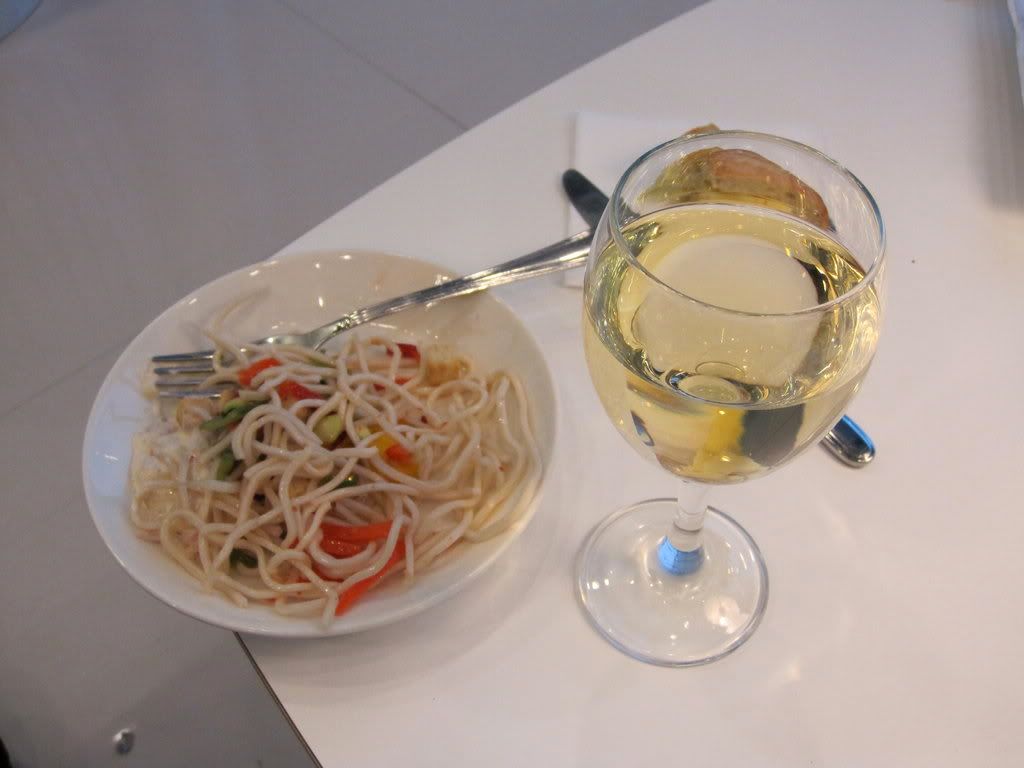 Air Åland Saab, operated by Avitrans Nordic standing outside in the dire weather: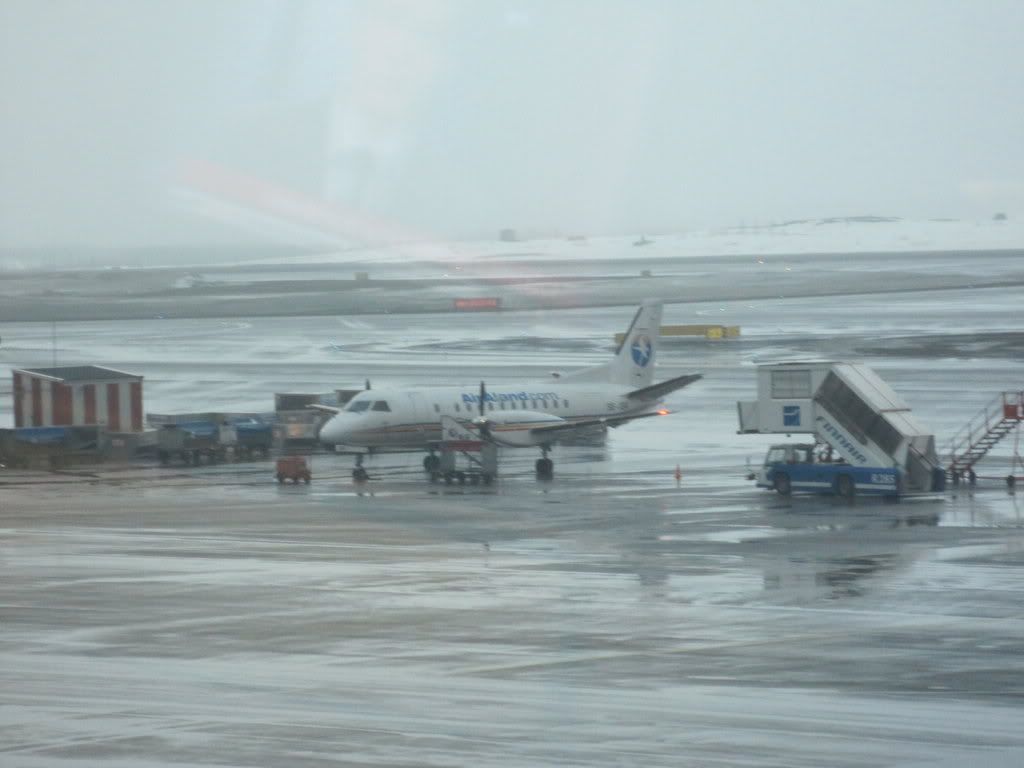 One of the two AY Embraers operated by Finncomm - that livery looks so beautiful: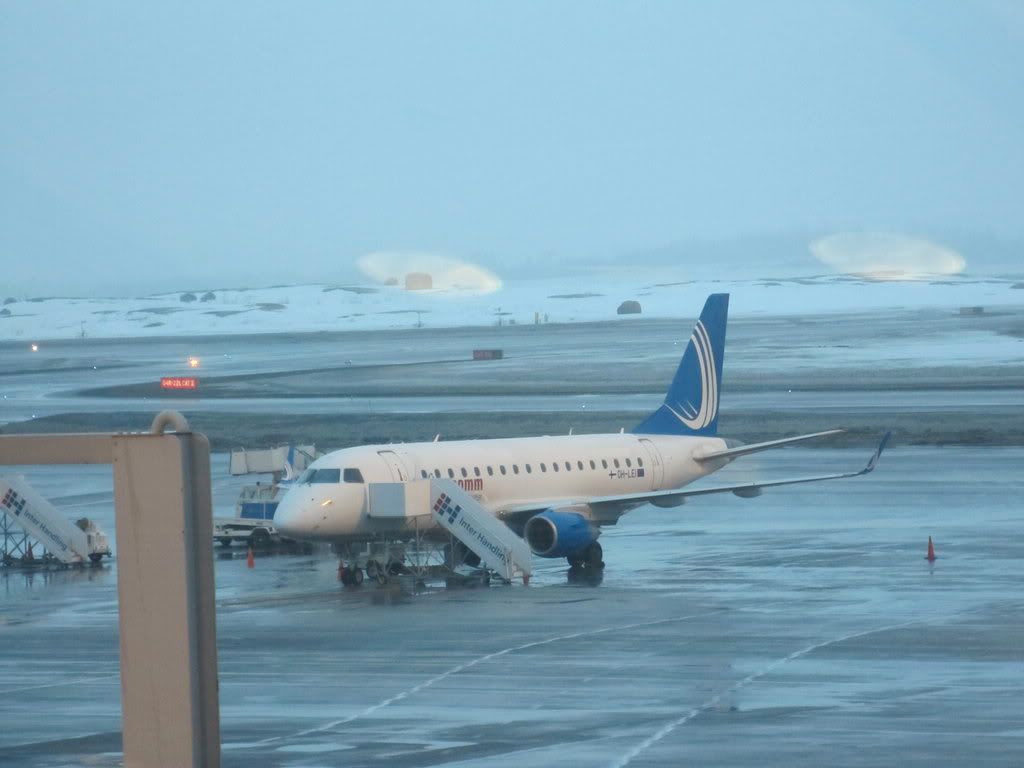 At some point the flight status changes to "Estimated 20.55" - okay, not too bad, I have a decent buffer at Vaasa. Besides it gives me more lounge time!
Nice that they have some proper computers here: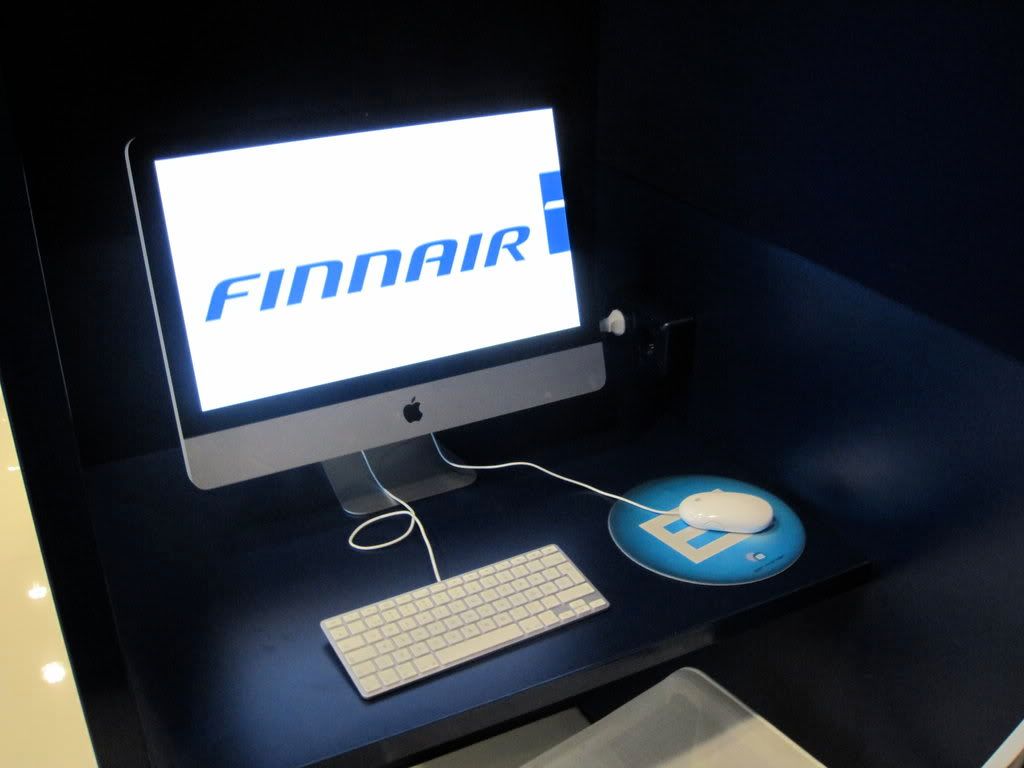 The flight status changes to "boarding" at 20.30, by that time I'm the only guest in the lounge. It's a bit of a hike to gate 19A so I end up being the very last person to board and kept the other pax in the bus waiting. The gate agent actually asks if I'm traveling with somebody named XY as "you both have the same kind of tickets" - whatever that means. Anyway since I don't know anybody with that name I deny, and apparently the guy is a no-show as the bus pulls off right after I board.
To my surprise, we stop in front of Tango Kilo, an ATR 72-500. The schedule was showing a 42-500 still a couple of days earlier. Not that I mind at all, this is actually the last ATR on Finncomm's fleet that I've yet to log - so this flight will make my collection complete for a while again!
HEL-VAA
FC227
ATR 72-500 OH-ATK
Seat 17A
20.48 - 21.39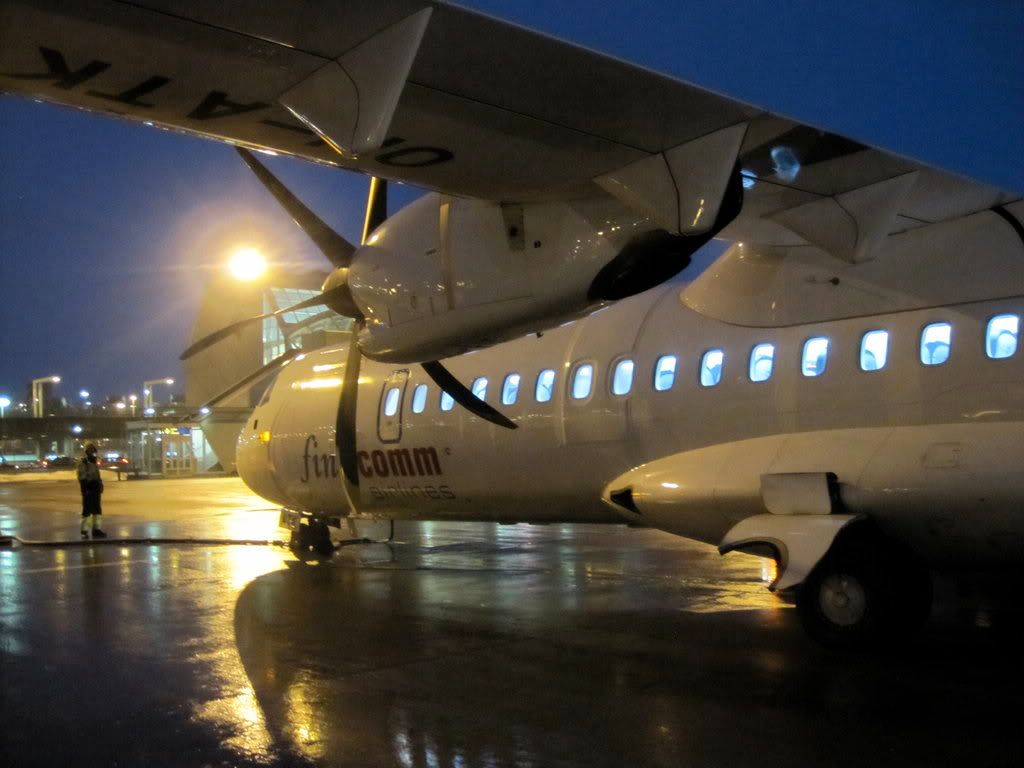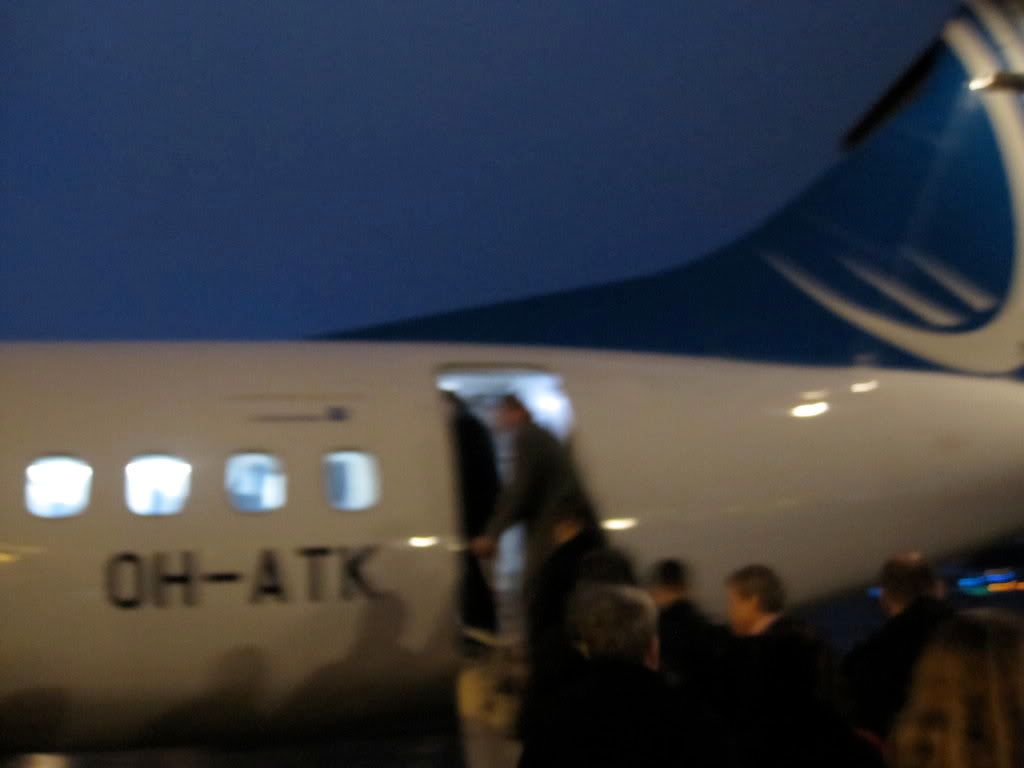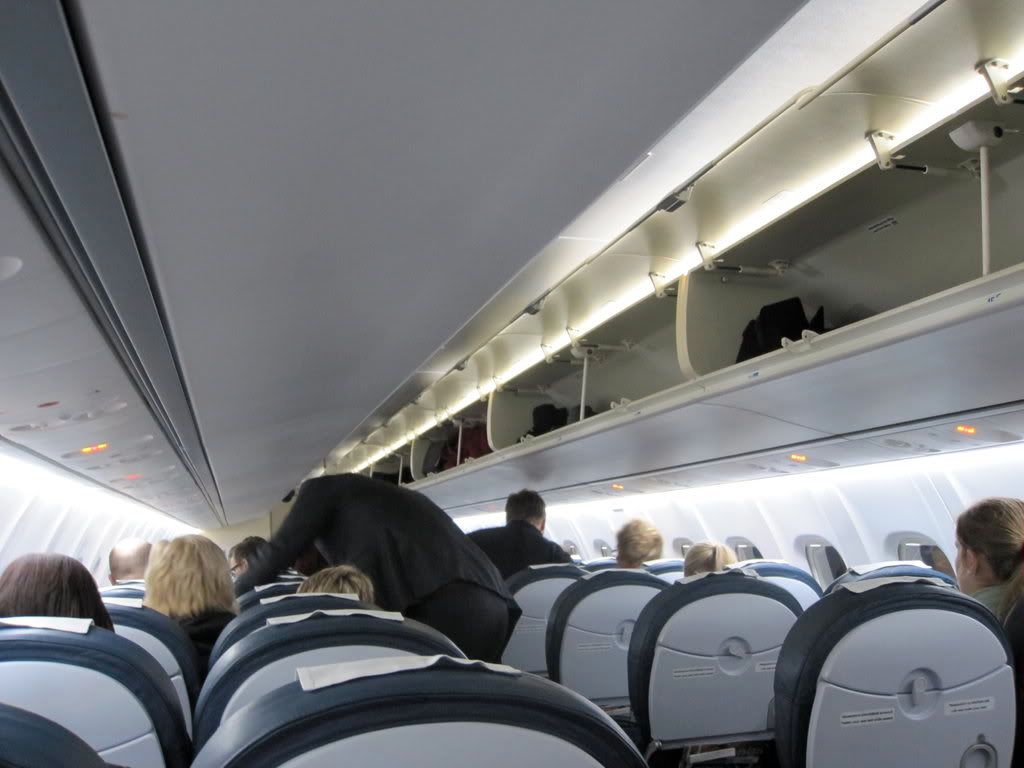 Plane is a bit over half full (or empty for the pessimists in you), I'd say around 45 pax. Two pretty young female FAs - as is very often the case with FC - see why I like this airline so much?
. I overhear the other girl calling the cockpit and speaking English to the phone - so I guess at least half of the flight deck crew is not Finnish on this flight. Flight time is announced as 50 minutes, and we push back with a delay of 23 minutes.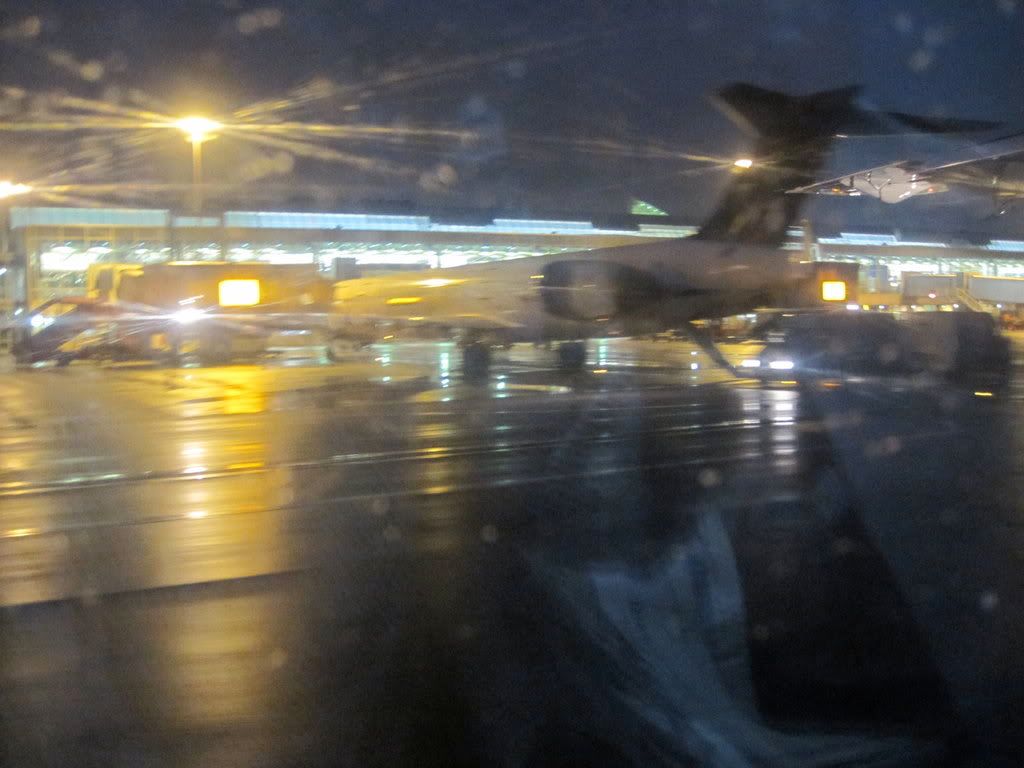 Looks like the Helsinki tower takes a pity on us and we are allowed to take off from 22L instead of the usual departure runway of 22R, which is a considerable taxi distance away. The weather is not that nice today, so after making a right turn towards the northwest we disappear into the murk.
Dark view of Vantaa, the city where I live:
Service is another standard FC domestic one - coffee, tea, juice or water and a small rye bread sandwich. Salami this time, not bad at all.
While cruising our Swedish (mystery solved) captain comes on, announcing in English that we are cruising at six thousand meters with 20 minutes to go until landing in Vaasa. He apologizes for the delay which was caused by the plane coming half an hour late from the previous flight, from Vaasa as well. Apparently the weather there is a bit scruffy, with light snow and below zero temperatures. The same is repeated in Swedish.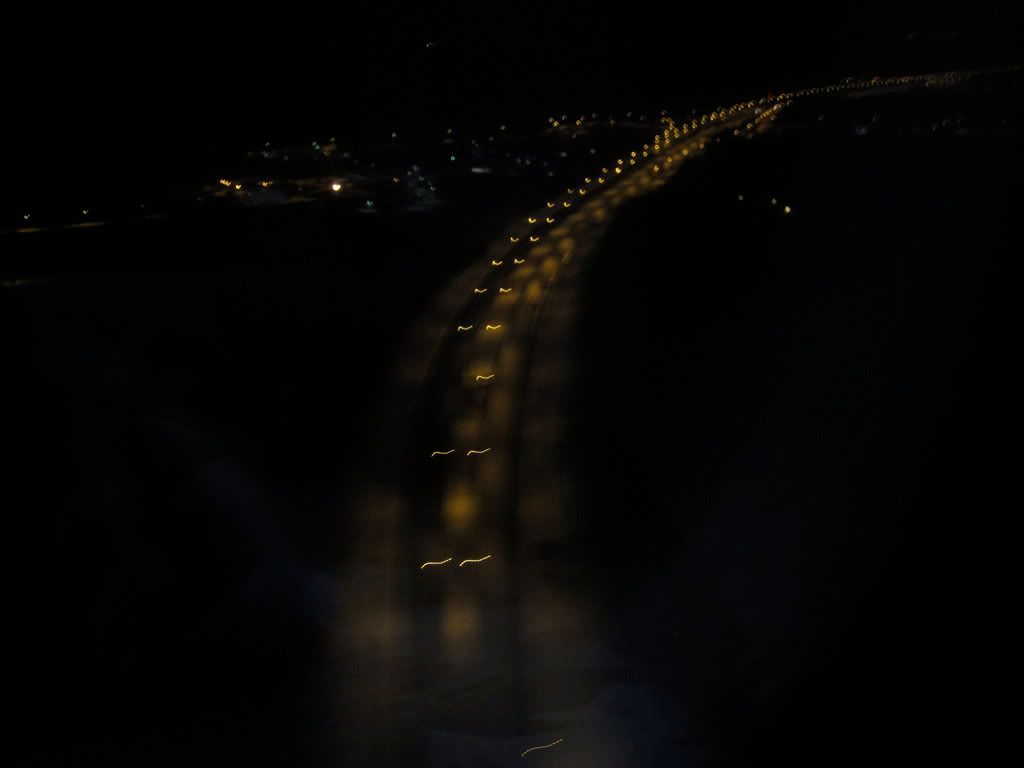 Our approach is a bit bumpy while descending through the clouds, but finally we land smoothly on runway 34 after a 45-minute flight. We stop on the apron between a Golden Air Saab 2000 operating the KF flight to ARN and my next plane, the BT 737. 737?! Yes, the whole RIX-VAA-UME route is supposed to be operated on Fokkers, but looking at the schedules at least within the first month of operation quite a few Boeings are scheduled instead. Well, better for me - a 69 mile flight on a 737 is always interesting. BT didn't bother to adjust the flight times, so the plane is already sitting here, over an hour before the departure time of the next leg - at this point I'm hoping they some inaugural celebrations inside to entertain the pax.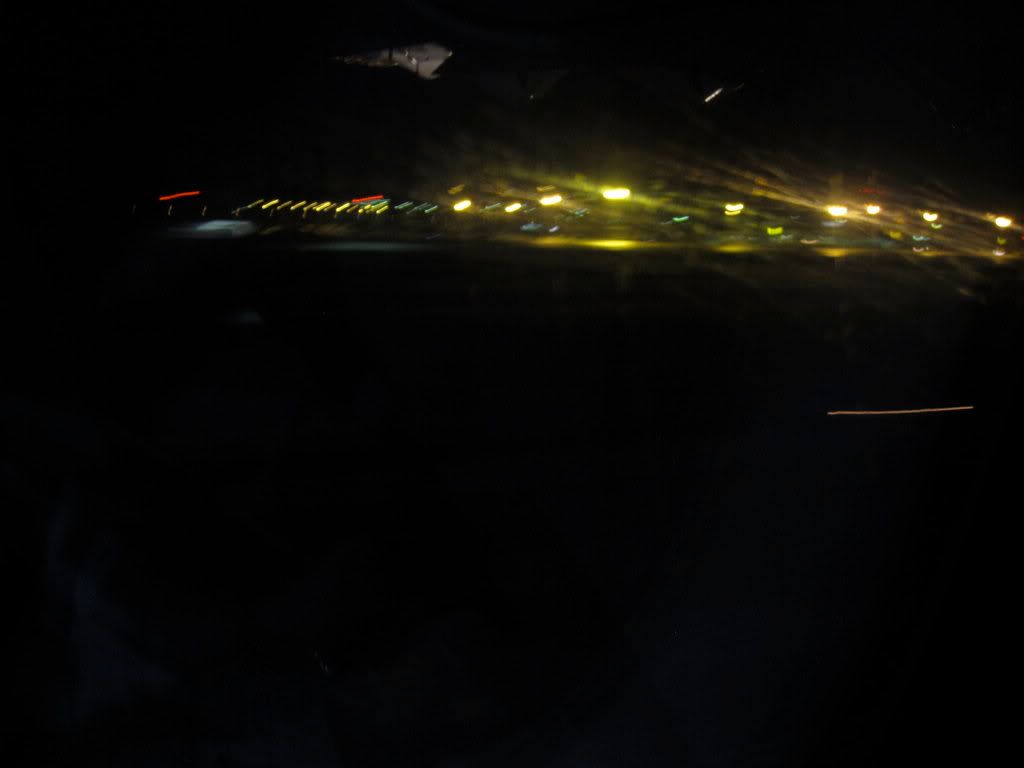 Deboarding to the apron, I snap a few pictures while walking through the snow (ouch) to the terminal. Sorry for the dark pictures, it's not like we have the midnight sun already in March.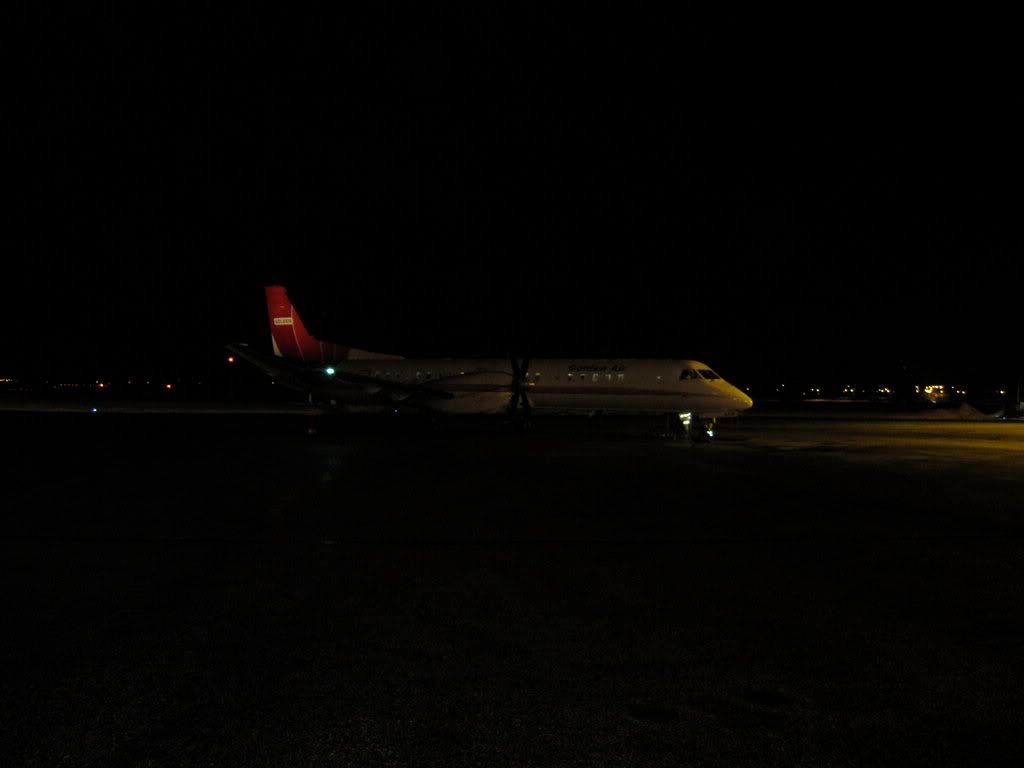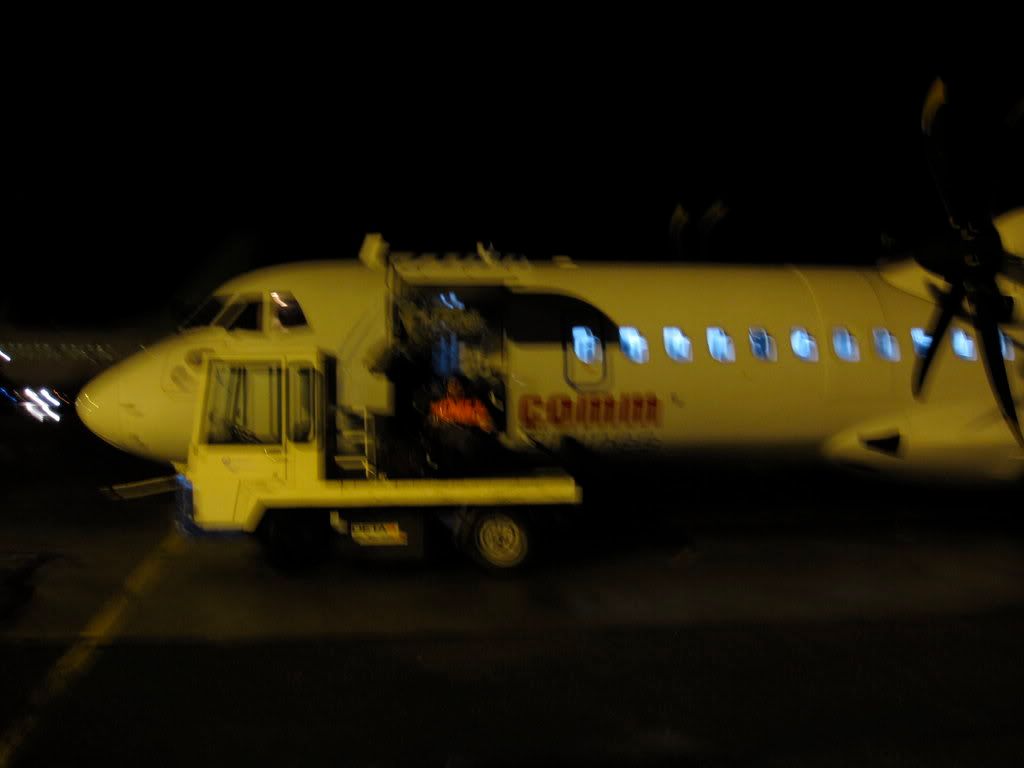 Vaasa Airport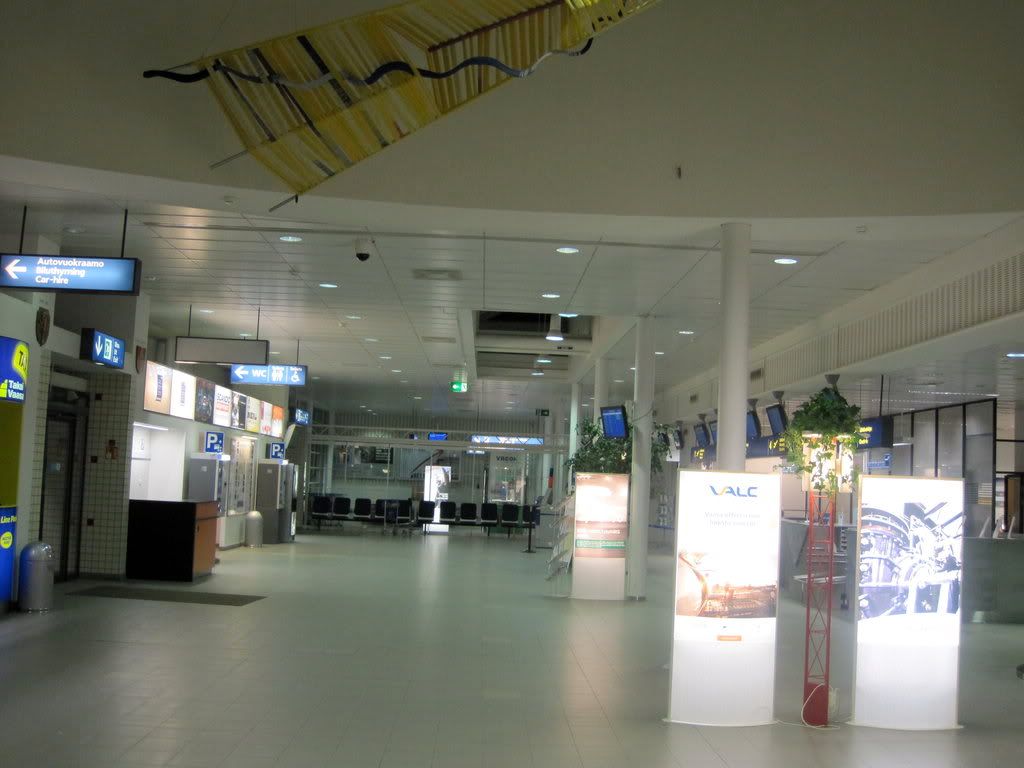 First stop is the check-in desk where I get a boarding pass with sequence number one and some random aisle seat. I try to ask for a window seat, but apparently the system doesn't show the seats allocated at RIX for the through passengers so it's a bit of a crapshoot. Apparently there aren't too many passengers onboard, so the agent tells me just to switch seats while onboard. Or at least that's what I assume she's saying - her Finnish is not very good - these communities around Vaasa city (which if mostly Finnish) are some of the strongest bastions of the Swedish-speaking minority in mainland Finland. Vaasa airport is pretty much the only airport in Finland where I've been forced to speak Swedish with my own fellow countrymen refusing to speak Finnish with me...
The last flights of the day:
Anyway the landside cafe is already closed and with nothing better to do I head again through security to the gate area. I start chatting with a very nice and friendly gate agent handling the BT flight about BT, KF (she used to work for them) and other things. She is very excited that they sent in a 737 and that the flight time will only be 20 minutes - I answer that just the previous day I flew a shorter and faster flight (PLH-NQY) - sometimes I can be such a killjoy! After I tell her that I'm coming back on the same plane the very next morning she asks if I'm the one traveling on an ID ticket - I answer that "No, but at 19 EUR each way it's pretty darn close to an ID ticket!" which she agrees with. I ask if there are any special celebrations today or tomorrow - apparently not which is a shame. Come on Finavia, I know it is not a very Finnish thing to do but sill a bit of a show and celebration wouldn't hurt anybody, would it?!
While we are chatting both the DC Saab and FC ATR leave - except that OH-ATK never gets to the air, it taxies to the end of the runway and ten minutes later comes back to the apron - looks like a mechanical to me. Fortunately it happened now and not in HEL in which case I'd been delayed even more.
Soon the other pax show up as well, there are a total of 5 passengers boarding at Vaasa. Boarding starts half an hour before departure at 22.15 - the other gate agent does all the announcements only in Swedish (see what I mean?).
We walk through the wet apron to YL-BBJ, a wingletted -300 that I first flew in January BRU-RIX. These will become my second and third flights on this bird then.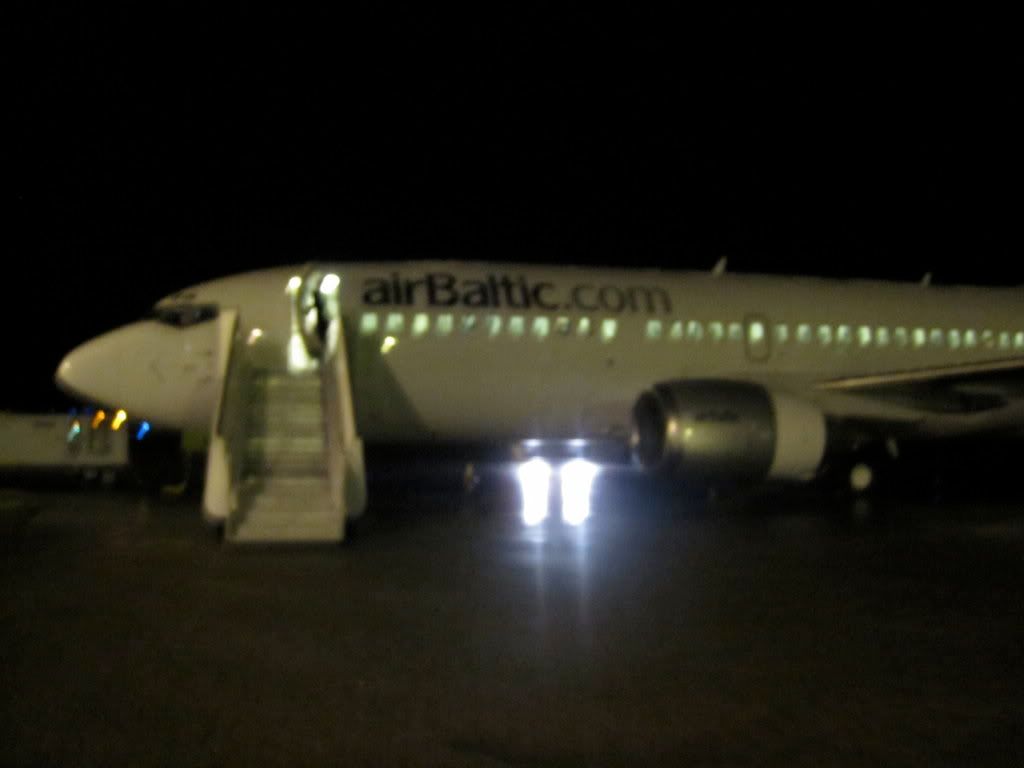 VAA-UME
BT1357
B737-300 YL-BBJ
Seat 14A
22.41 - 22.04
At the front door I ask the FA how long they have been waiting for - "half an hour". There are around 20 pax onboard, nothing hints at any celebrations taking place here. I decide to grab a seat just past the exit row at row 14, on the way I tell the pretty young FA standing on the exit row "Sorry to keep you waiting" which gets me "That's okay, welcome aboard" and a shy smile.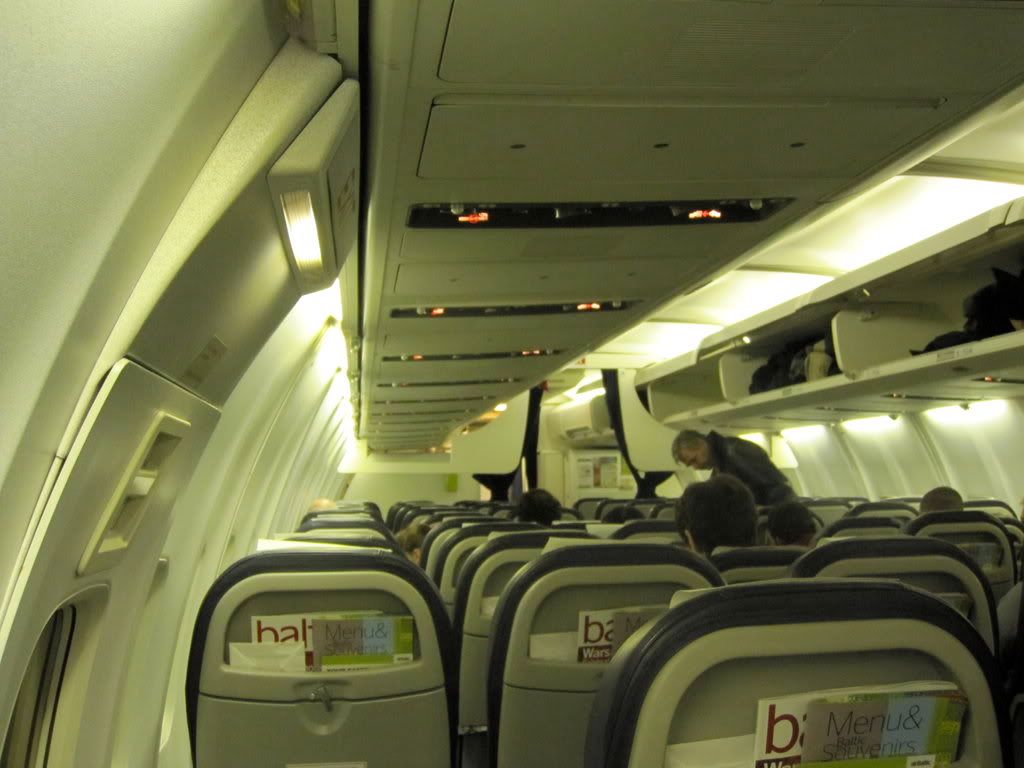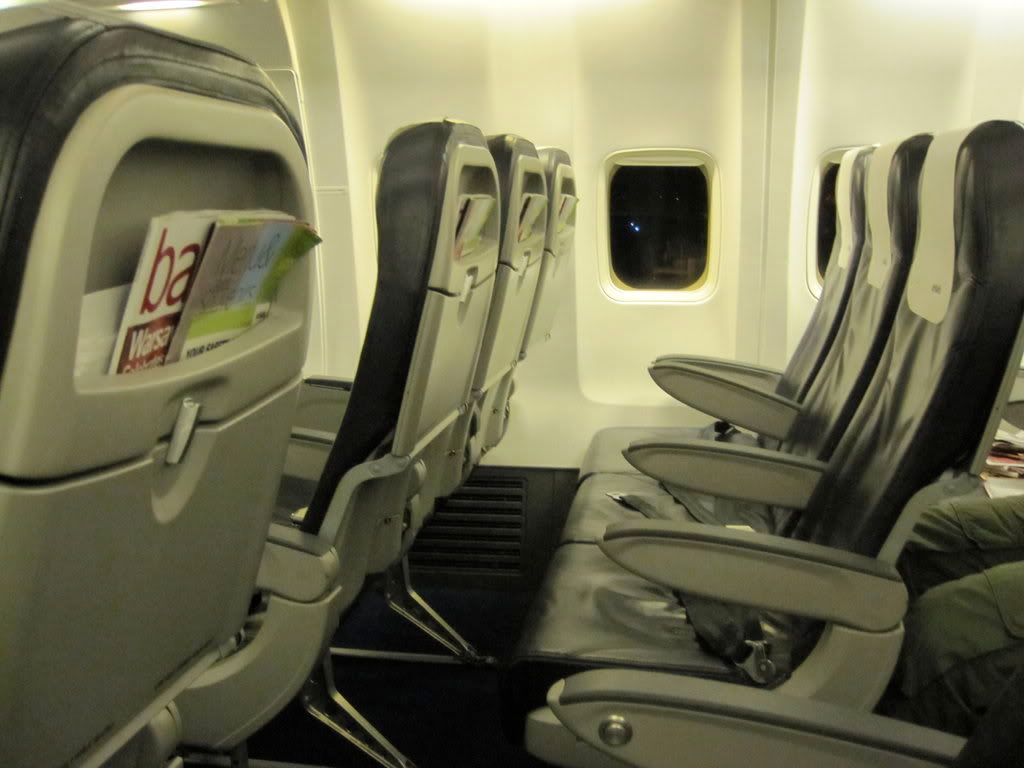 This being the inaugural flight (not that you'd notice if you didn't really know it) things aren't running very smoothly, the ground staff runs back and forth to the cockpit with the paperwork and everything seems to take a long time. Finally we depart four minutes ahead of the schedule - OH-ATK is still sitting on the apron with the ground staff doing something around the plane, let's see if she is still sitting here the next morning.
We hold short of the runway for five minutes, the reason becomes apparent once a KF Avro lands - it will overnight here and depart back to HEL early in the morning. After the runway is clear we taxi all the way to the end, turn around and take off from 34. Right after departure we turn left towards Sweden, overflying directly over the city centre. Too bad there are some clouds right there, so I can't get a decent photo of the city all lit up.
As expected, no service on this short hop. The seat belt sign stays on for the whole flight.
10 minutes after take off we are descending again through the darkness, breaking the low clouds on short finals and coming in for a very fast and rough landing on runway 32, landing after some 18 minutes of flight, a good 37 minutes before we even departed - timezones are sometimes funny... The pilot flying is determined to stop us as fast as possible so heavy reverse thrust is applied, I'm happy to have my seat belt on as the braking is really powerful.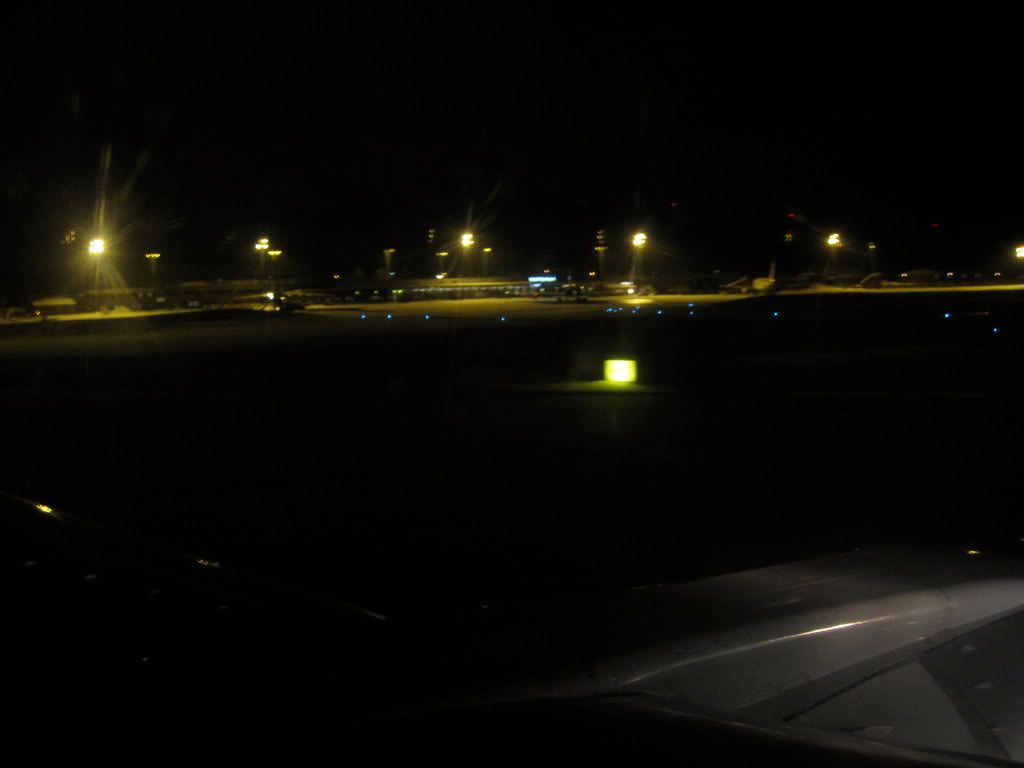 Very snowy outside, we taxi to the apron past overnighting planes from all the three biggest carriers serving this airport - a TF Avro, SK MD-80 and a DY 733.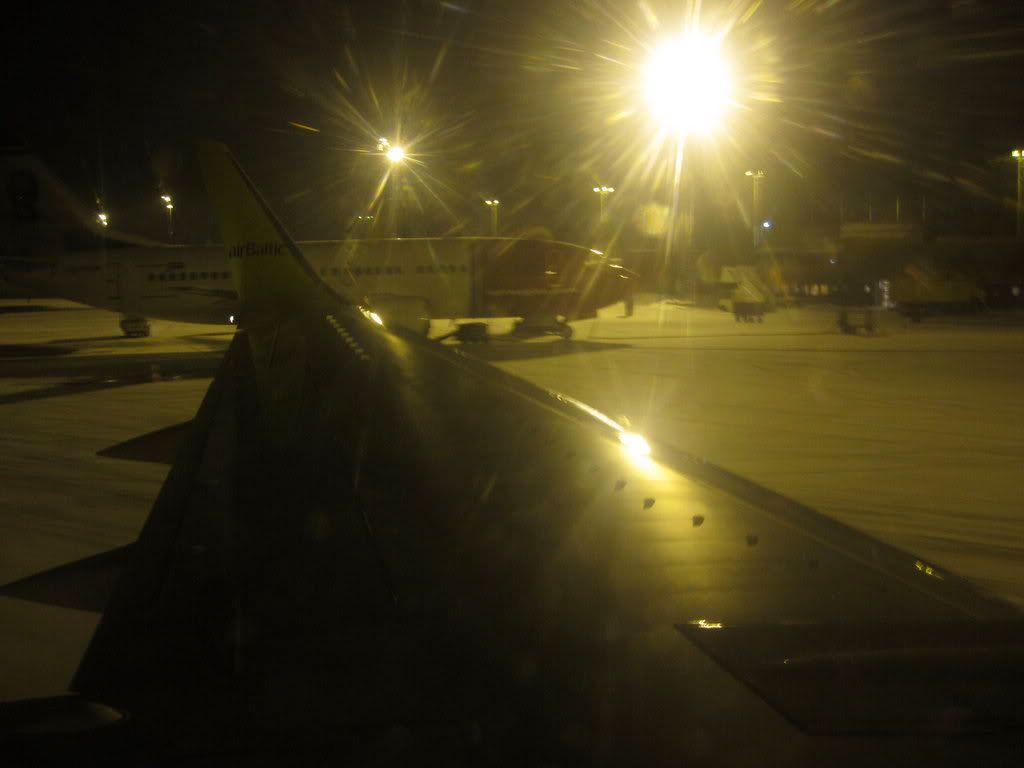 Yes, that is a red carpet: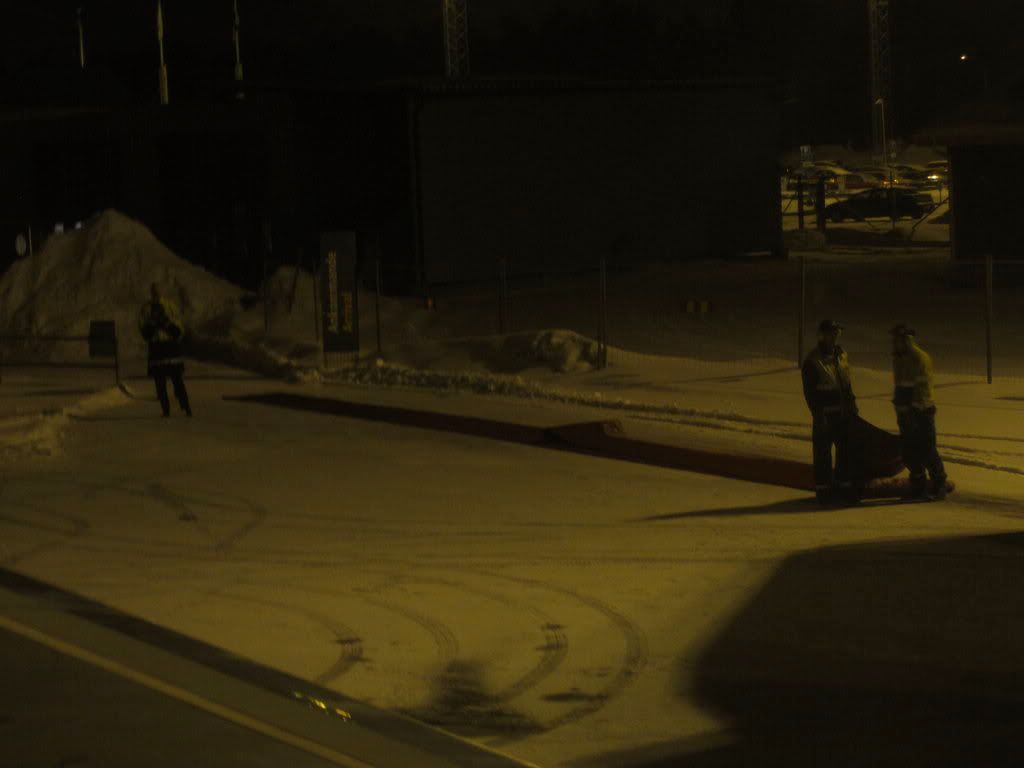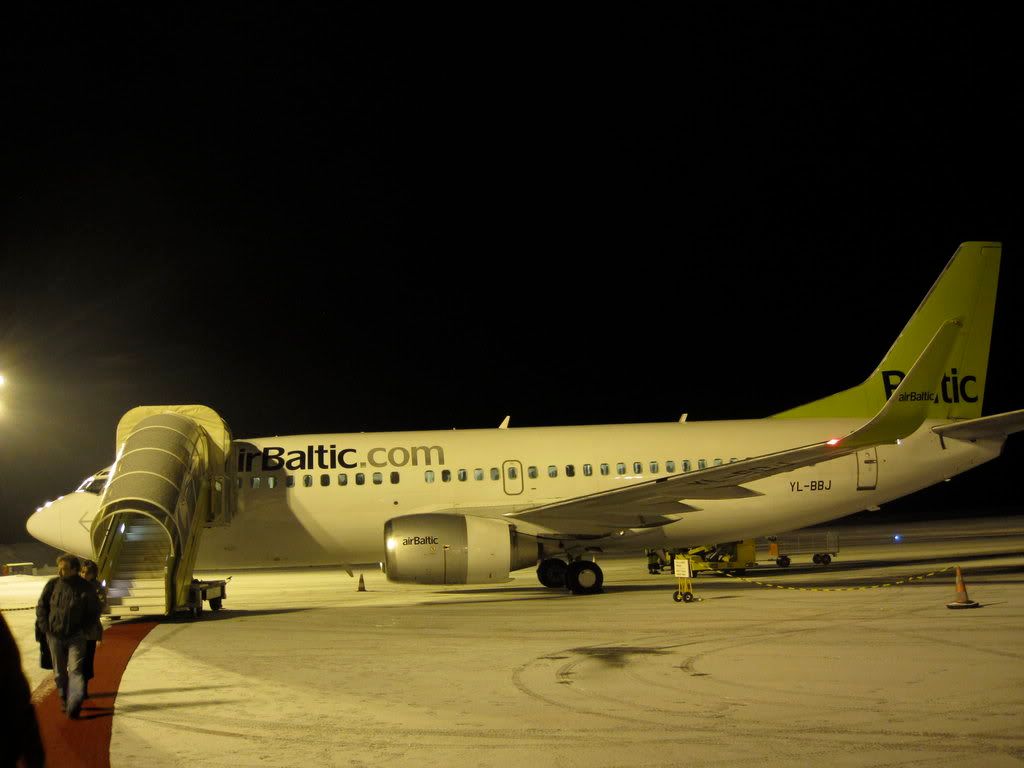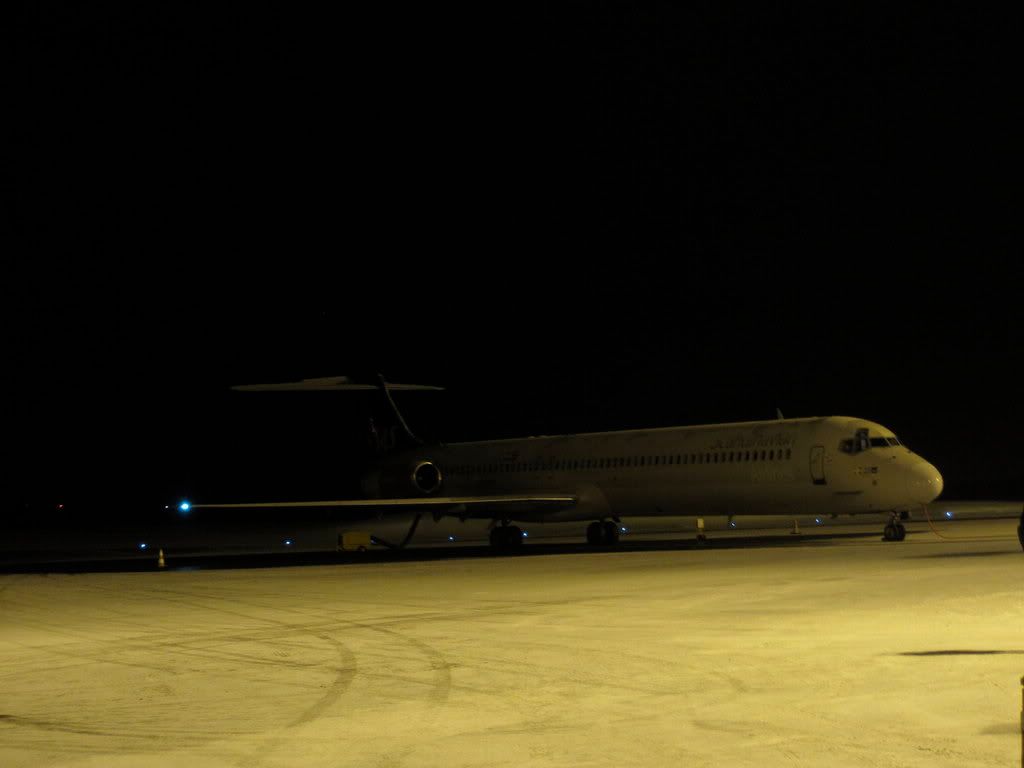 Now that is classic: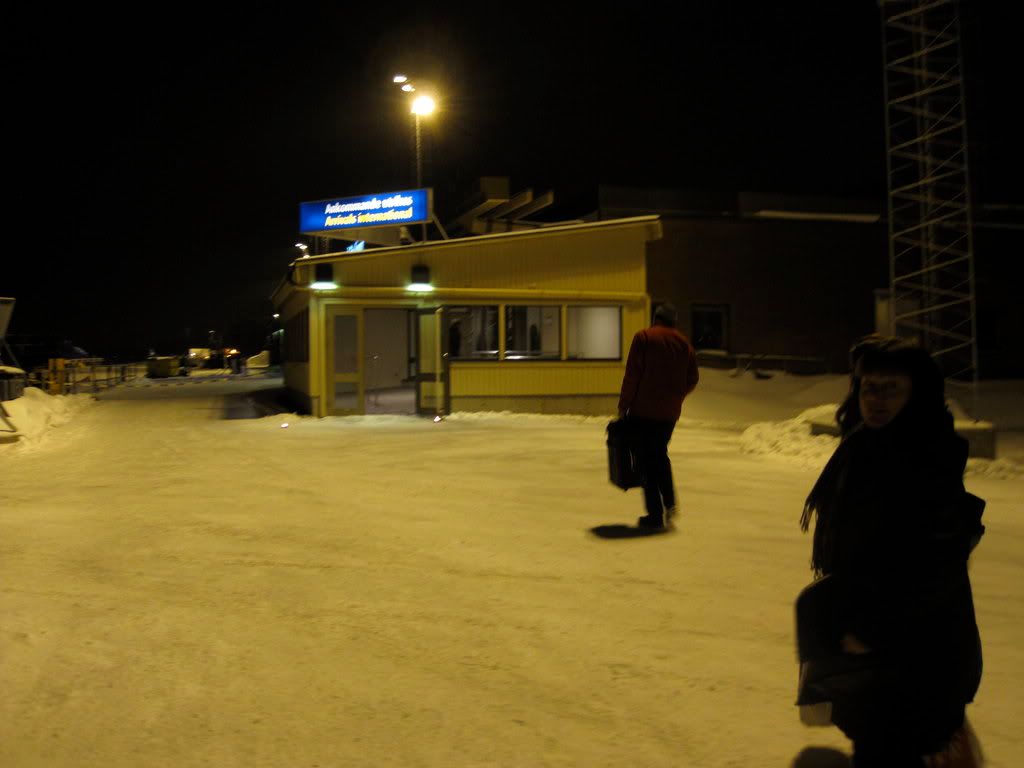 When walking from the plane to the terminal (along the red carpet, of course!) a lady is taking pictures, I smile and ask if they treat all of their pax to the red carpet - I can't really make out her answer but it is something funny and friendly of course - after all this is Sweden where everybody's always happy and nice! At the baggage hall they actually have set up a table with some Swedish cider (the non-alcoholic variety). I chat a bit with the girl serving it, apparently there will be something similar for the flight next morning - nice.
Soon it is time to head outside, find a vacant taxi (it's far too late for the bus service to be running any more) and try to find my hotel which the taxi driver has never heard of (never a good sign!). To my amazement we manage to do all this in Swedish - my high school Swedish teacher would be proud of me! I also preorder a taxi from her for the next morning.
Umeå
Umeå isn't exactly blessed with budget or even mid-range hotels - the usual chain ones wanted over 100 EURs for a room which is a bit pointless for a stay of around 6 hours, most of which is spent asleep. Luckily I (or Google) found the "Hotel Gamla Fängelse" which offered single rooms for only 380 SEK, about 38 EUR. The catch here is, that translated to English the hotel name is actually "Old Prison", which is exactly what it is, hence the trip report title. This sounded like an interesting experience, so I booked a room - amazingly the hotel would be unstaffed at the late and early hours of my stay, so they sent me an access code for the door and asked for my home address so that they could send me the invoice afterwards - no credit card details or anything asked! Now that doesn't happen every day..
It definitely looks like a prison: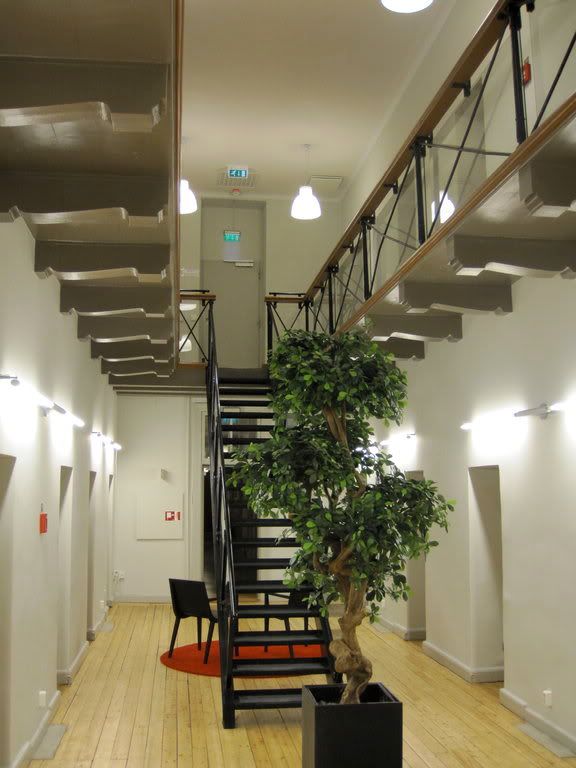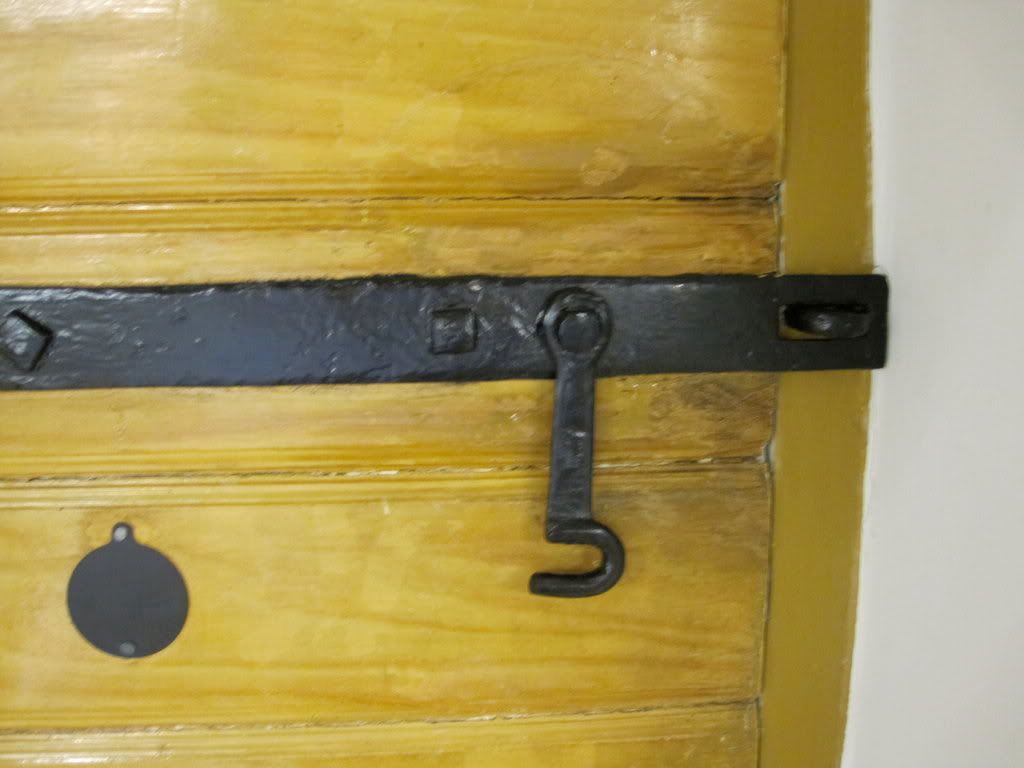 I somehow think this TV isn't from the prison days: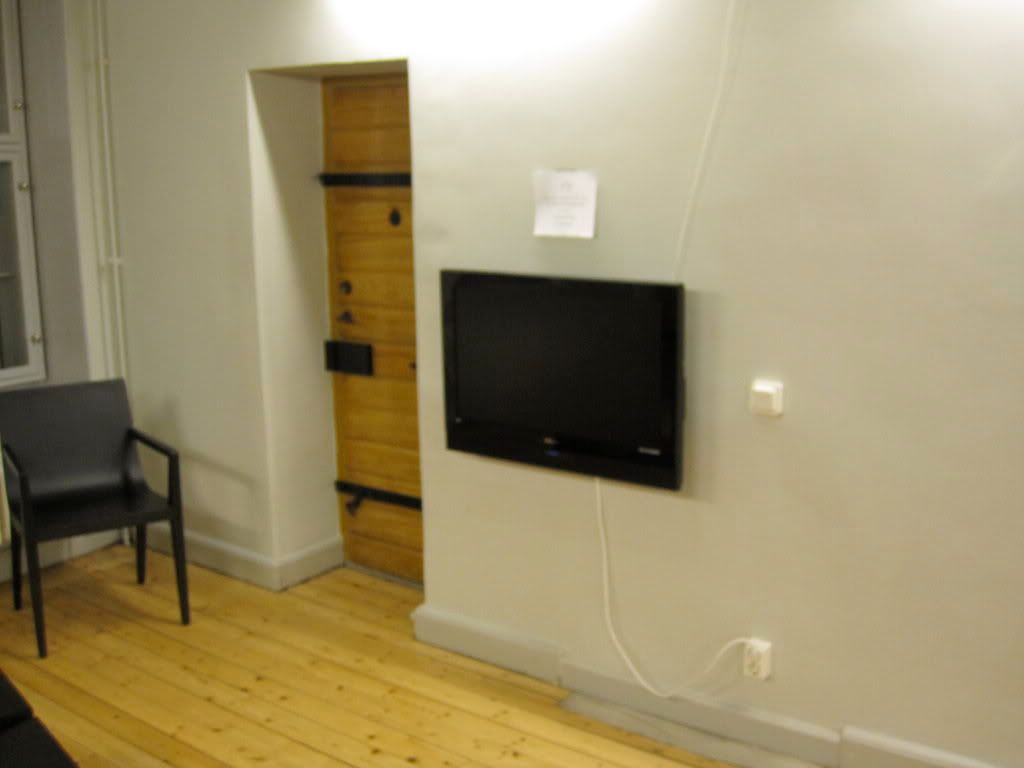 My cell - the toilets and showers are shared facilities on the corridor: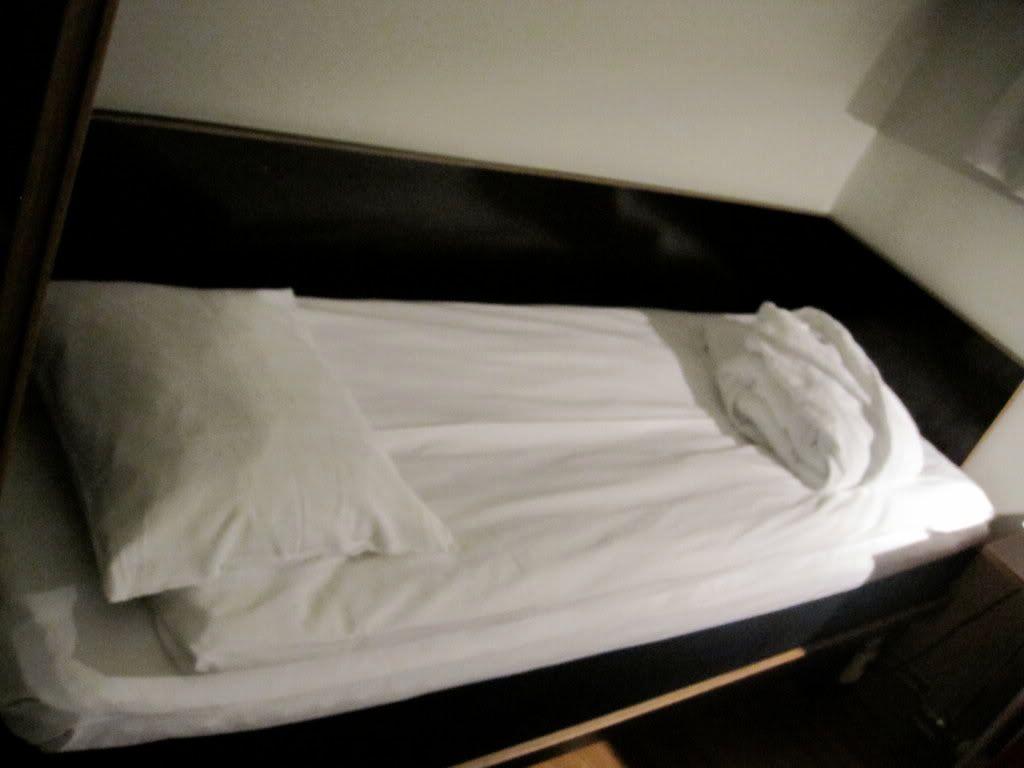 Too bad I forgot to bring my black and white striped pajamas - would've fit right in!
30.3.2010
After a night of too little, too patchy sleep (the sound proofing here isn't very good) I wake up at OMG o'clock in my cell, luckily the door key is inside the room so I can actually get out and take a quick shower before I head out, where my prebooked taxi is already waiting. It's a short ride to the airport, where I'm around 4.50, 50 minutes before the departure time.
Umeå City Airport
I love how they are nowadays calling every airport less than ten kilometers from the city centre a "City Airport". Bit of a queue for the check in, there's always a learning curve for the staff with a new airline, route and procedures, I guess. While queuing the BT flight staff walks in, it's the same bunch from yesterday's flight. I think they are pushing the rest period definition a little here... Soon enough I get a standard SK (who are doing the ground handling) boarding pass, complete with *A logo and "BT*B" as my frequent flyer information.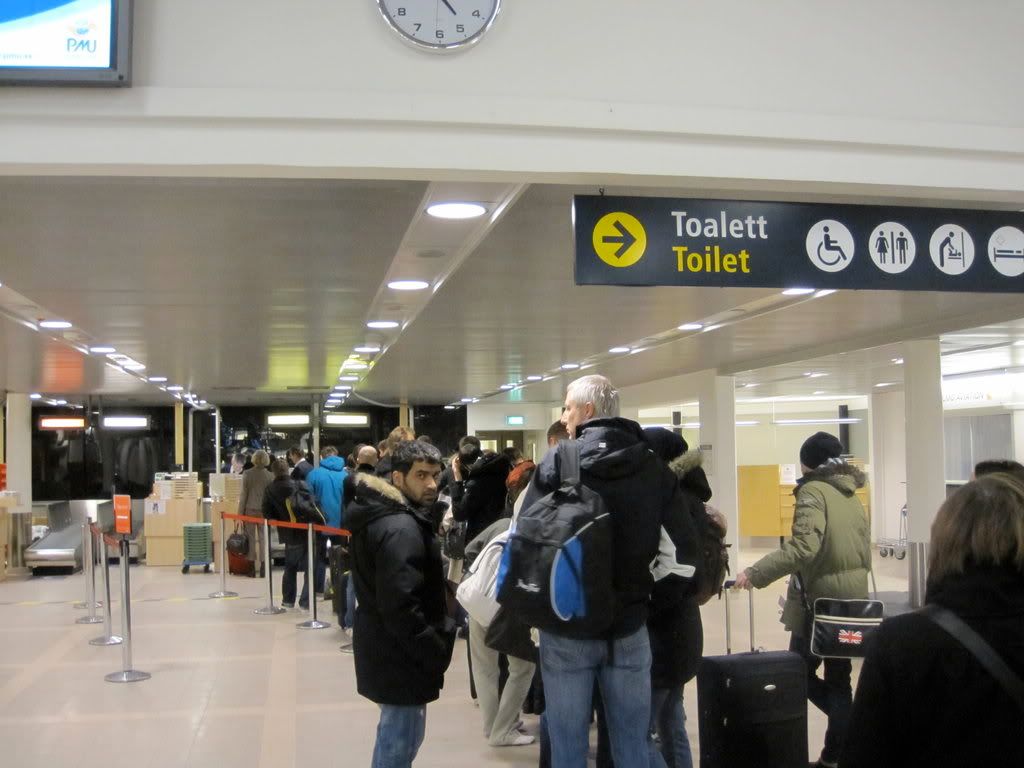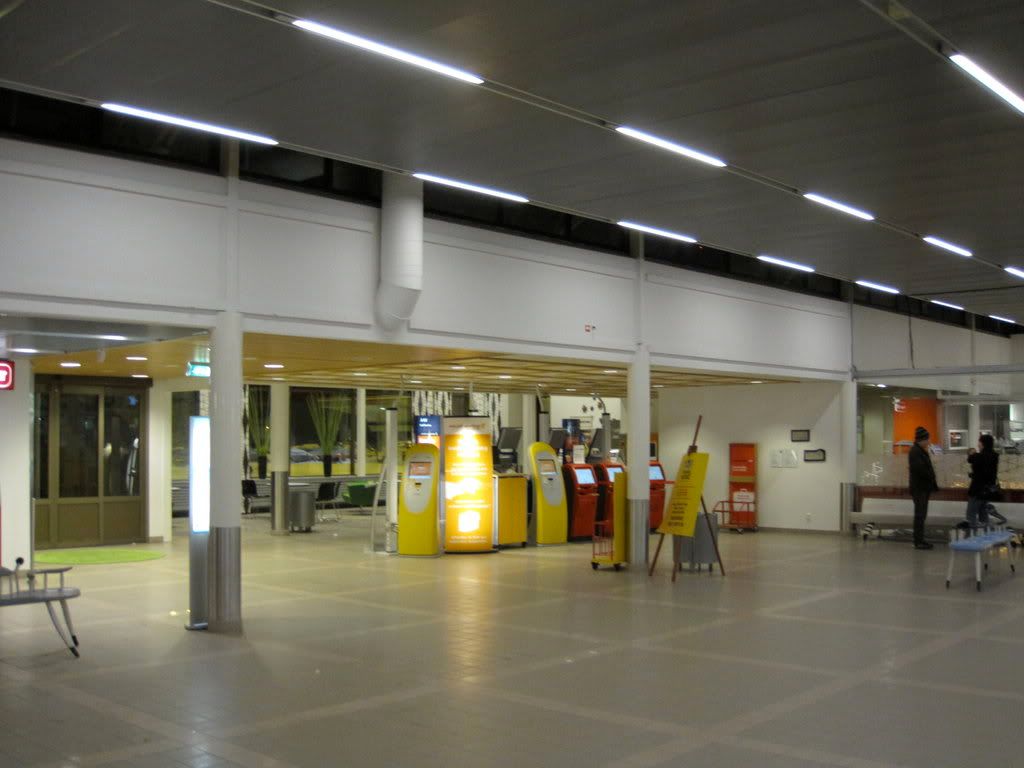 Err, where's the passport control?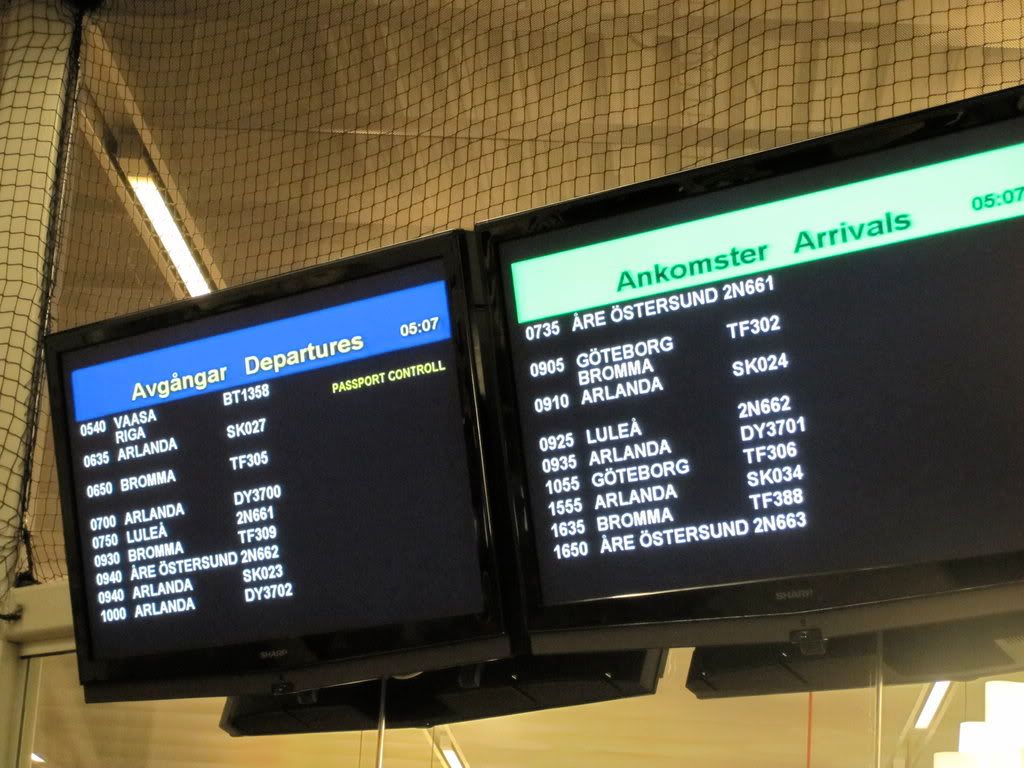 At security they make me take my shoes off, I wouldn't have minded a bit of "handling" by the girls here - in Sweden they usually don't have any gender limits on who screens who. Right inside the departure lobby there's another table with the same Swedish cider, a PR girl and another lady who I recognize as the same one taking the photographs outside the previous night. We start talking about this route, the upcoming BT route to LLA and other things, and it turns out that she is actually the airport manager and remembers me from the incoming flight as well. I take a picture of her with the celebration table, too bad I'm still half asleep and don't realize that I should ask whether she allows it to be posted here or anything. Oh well, let's see if I can contact her through the airport's official website, always a good time to do a bit of a PR work for this website!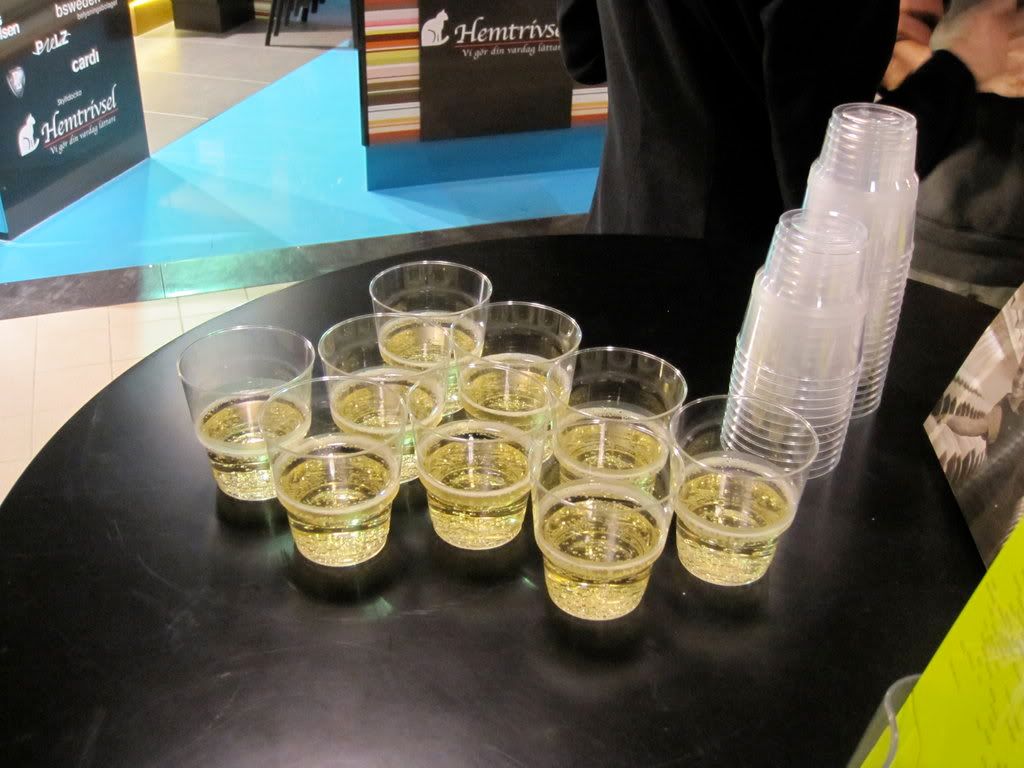 Out chat is cut short by the boarding call around 5.20, so I bid farewell to the friendly lady and head through the snowy apron to our remote aircraft. Nobody has changed the registration during the night, so it is still YL-BBJ from yesterday. A West Air Sweden ATP is taking off for another cargo run, probably fying for the Swedish Post as I'm walking there.
TF Avro looking very snowy: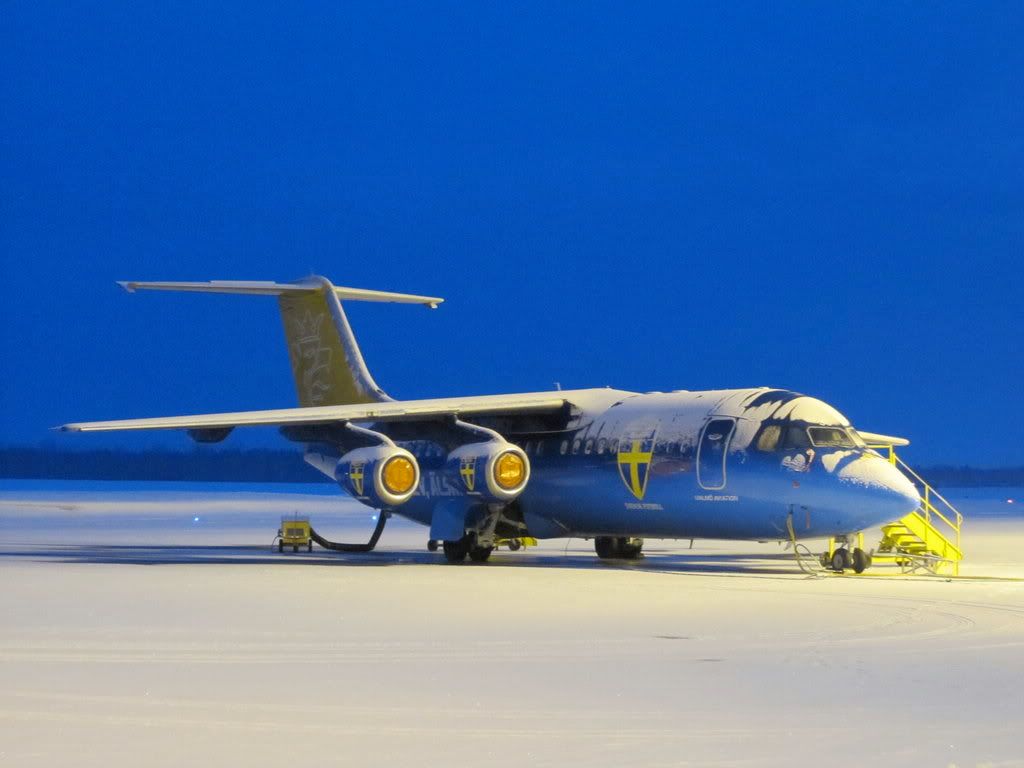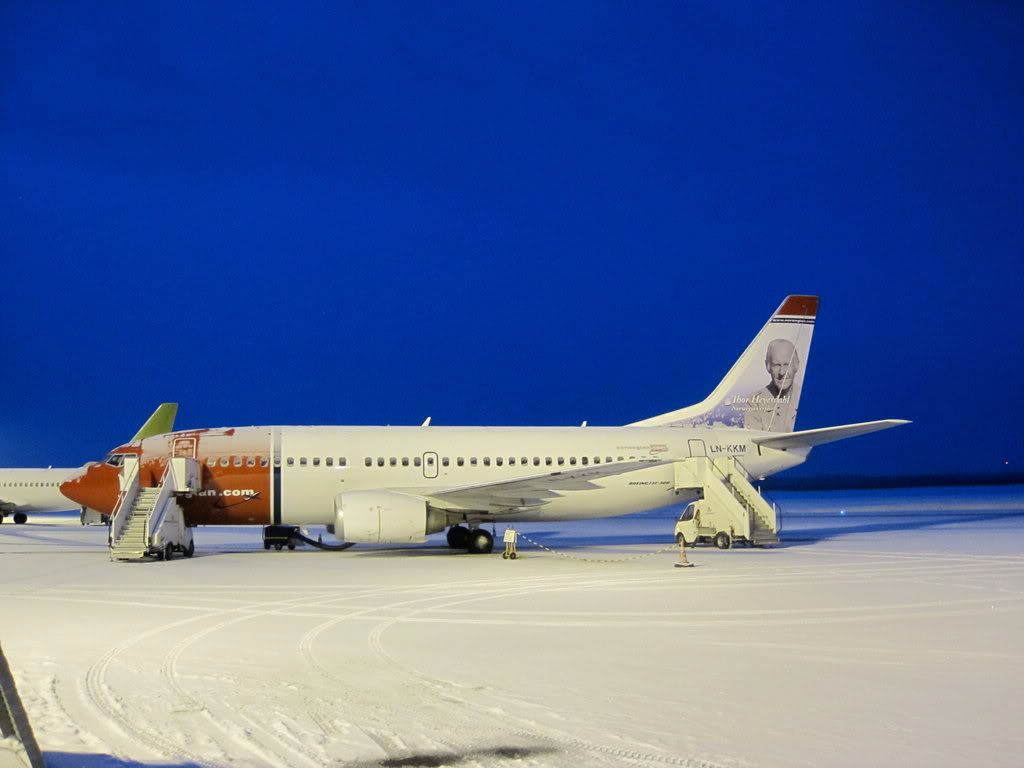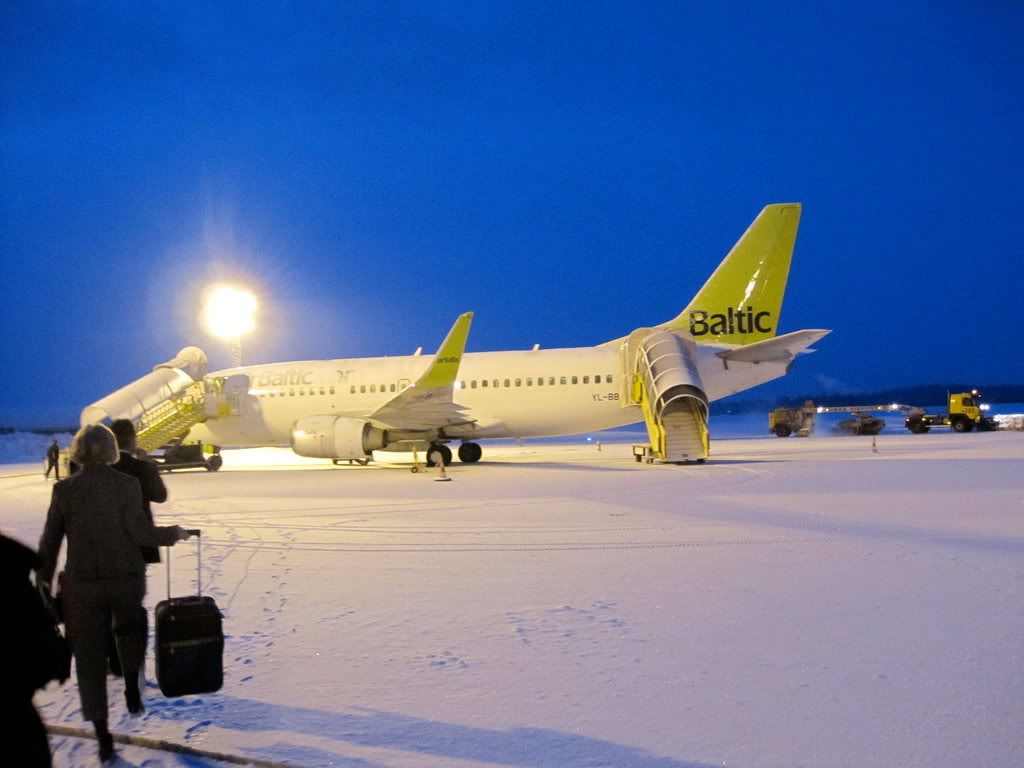 The cavalry heading to remove the snow: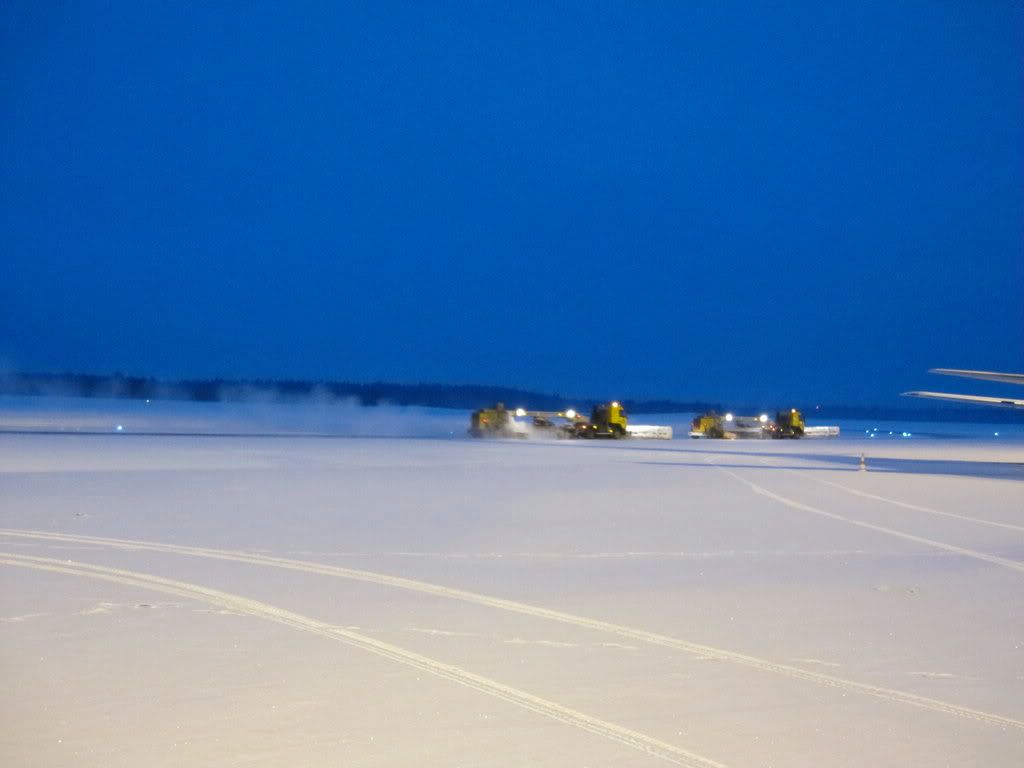 UME-VAA
BT1358
B737-300 YL-BBJ
Seat 19A
5.50 - 7.18
I had an aisle seat assigned, but the load is light so I move to the window seat instead. There are around 40 people onboard, actually later a news piece on the new route quoted the pax figure ex-UME as 37. Nobody in business class. A FA tells me that there are more people joining in Vaasa, but is satifsied after I tell her that that's where I get off. Lots of snow on our wing: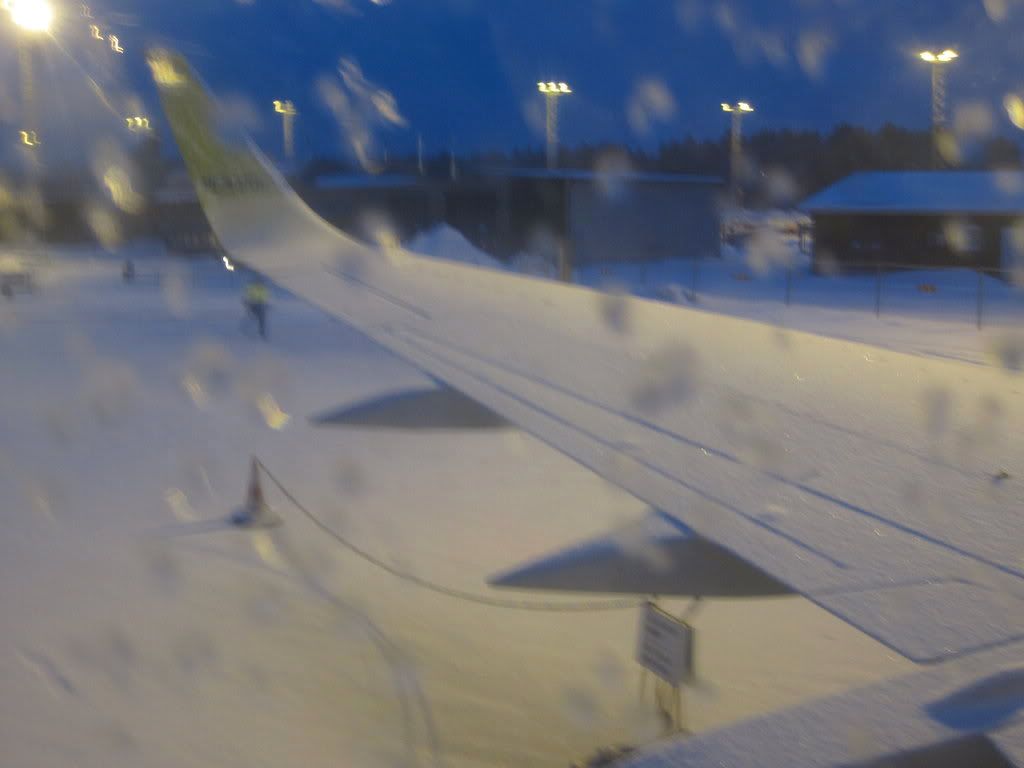 I doze off for a while, and when I wake up the snow is gone, looks like we got deiced during that time. The flight time is announced as 20 minutes, and we depart some ten minutes late, I guess clearing the snow took a while.
We taxi all the way to the end of the runway, turn around and shoot to the sky from runway 14.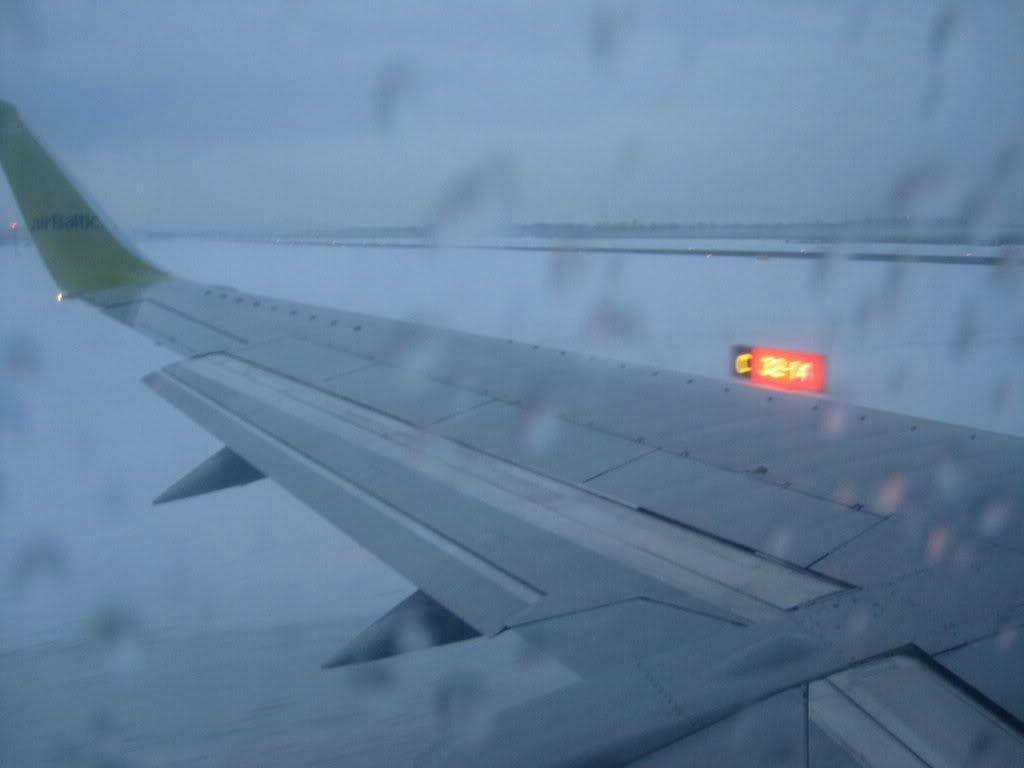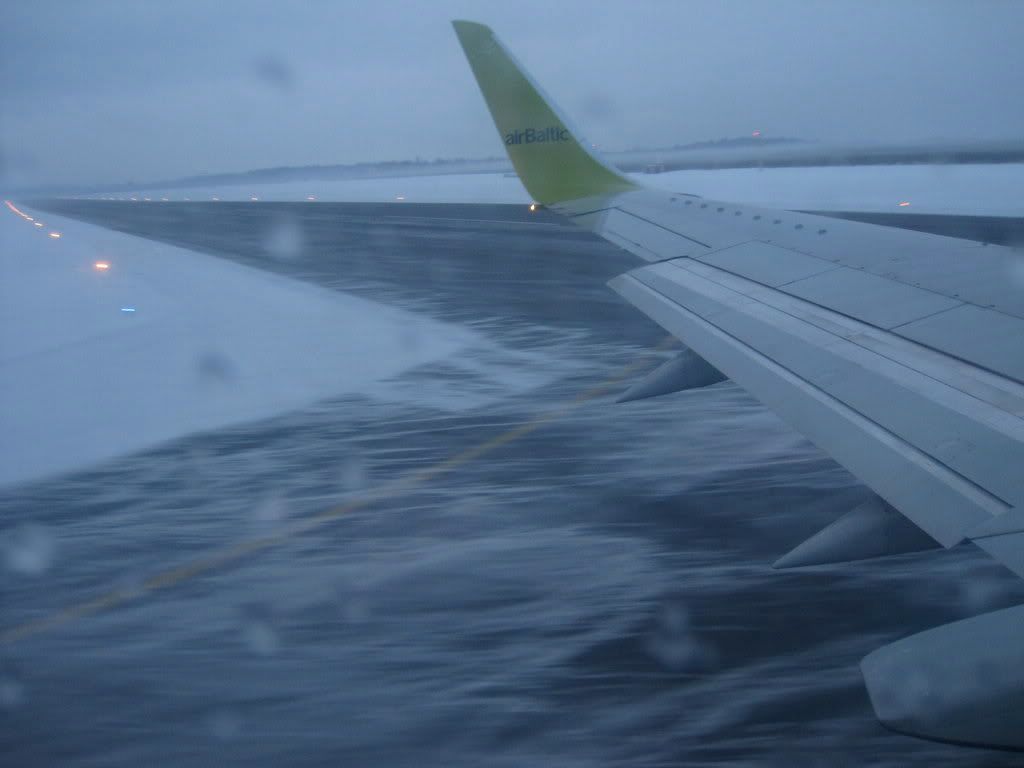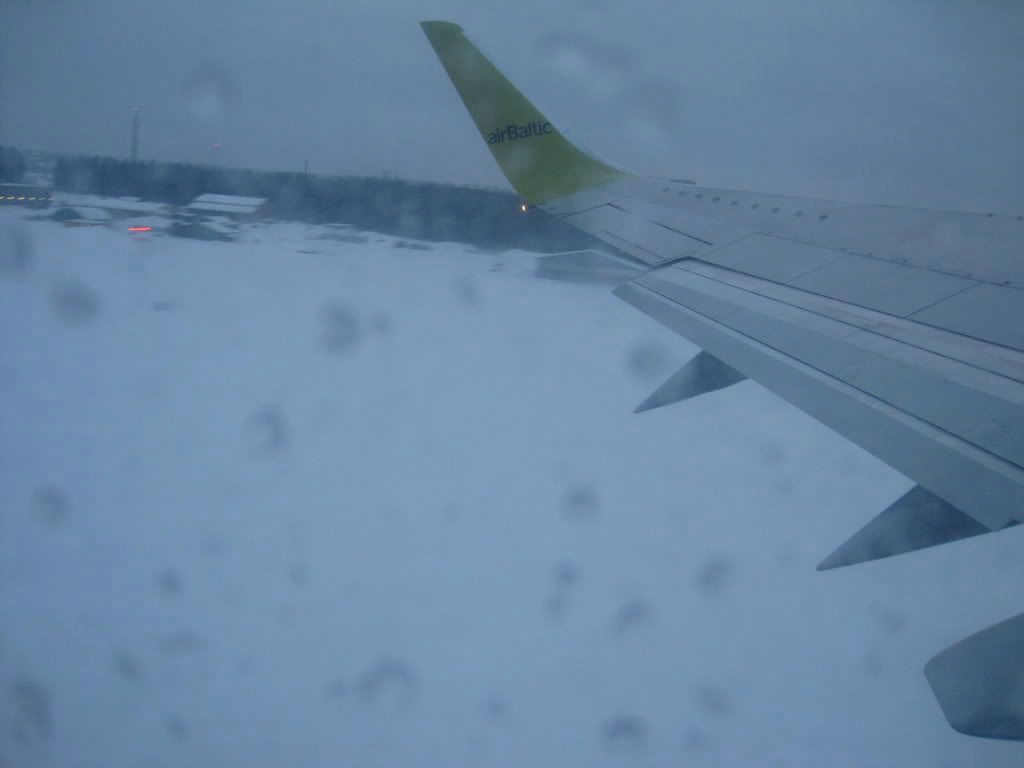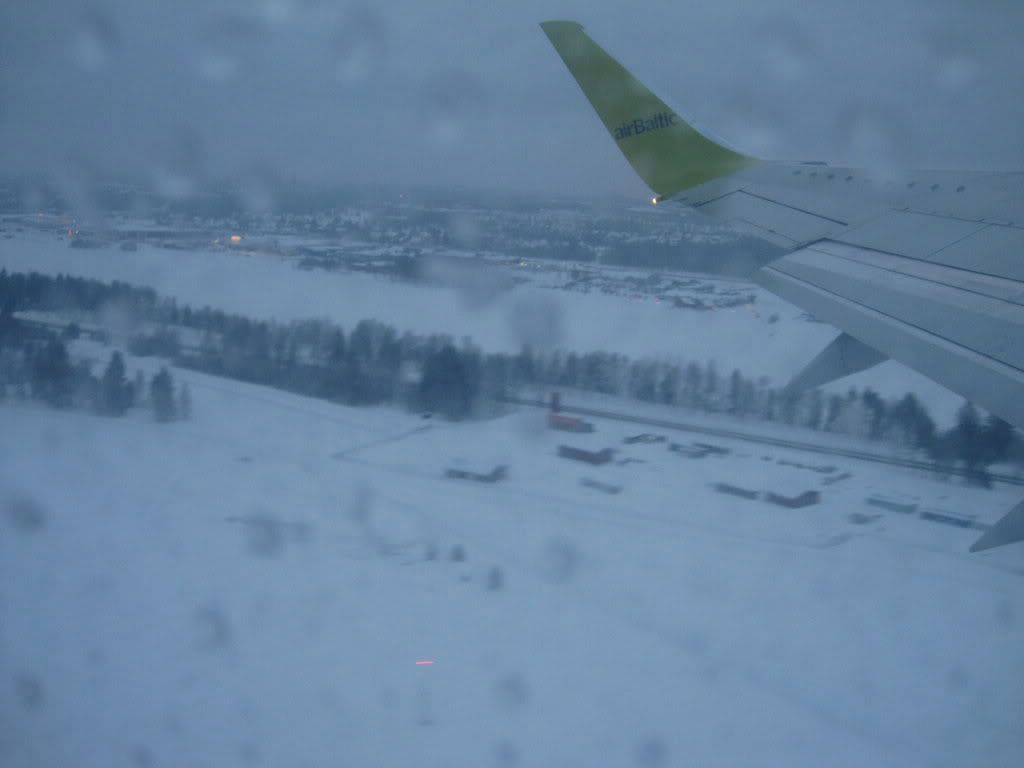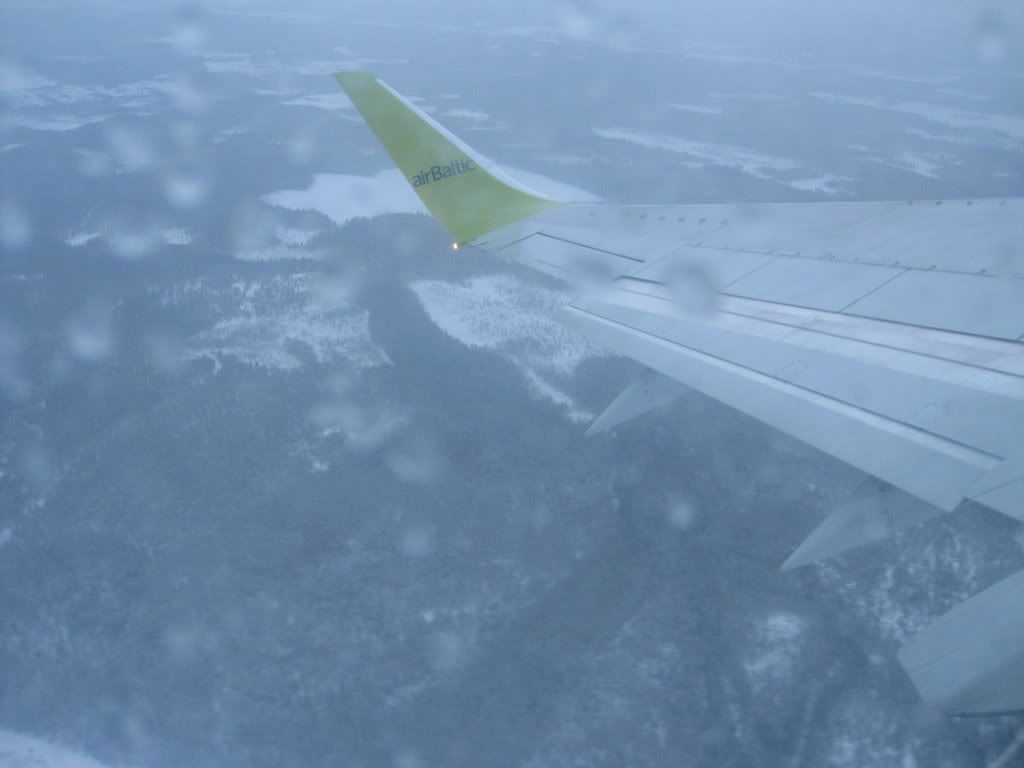 Bye Sweden: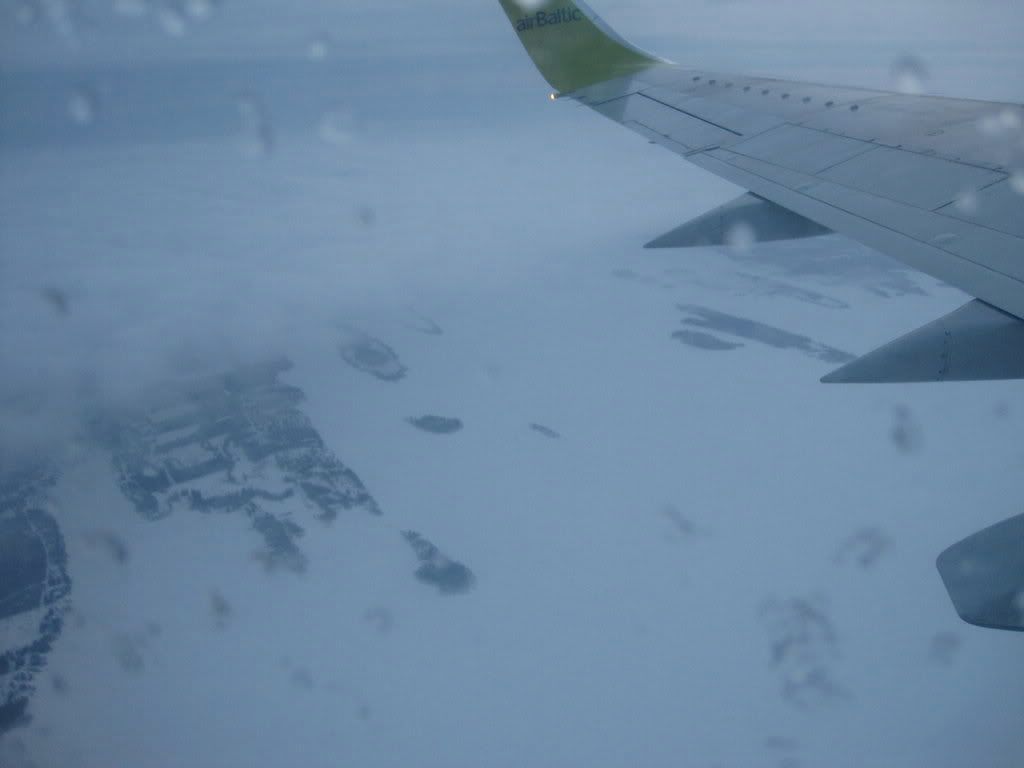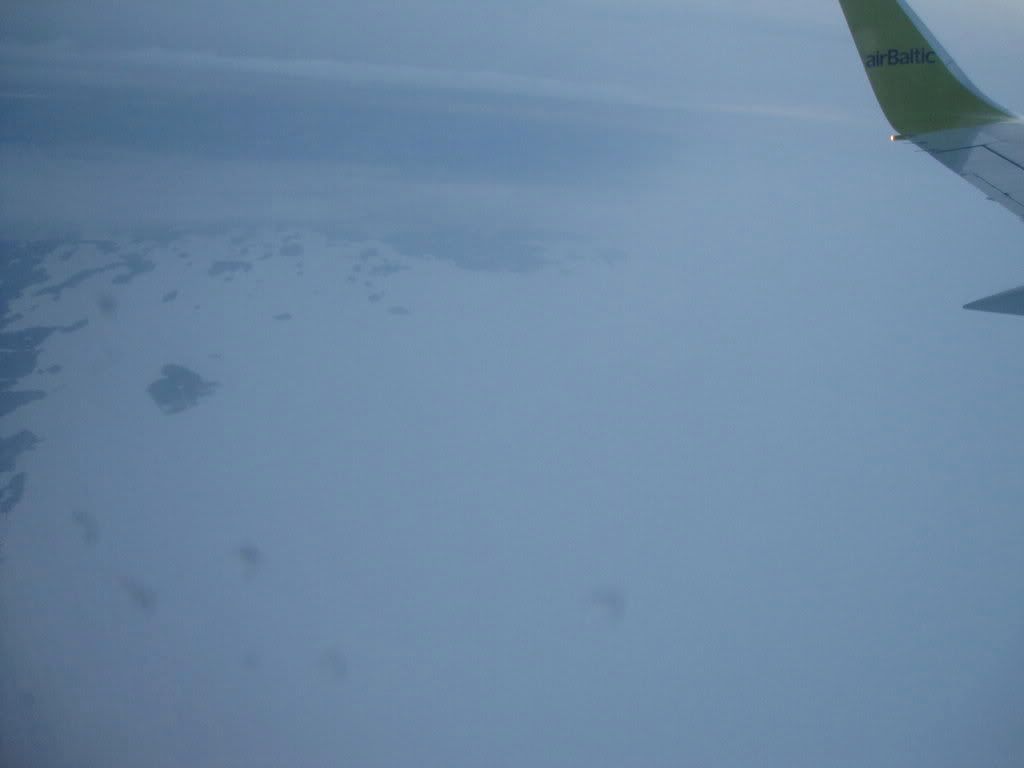 The seatbelt sign again stays on for the whole flight, we never get that high before descending again.
The ice slowly giving way to Miss Spring: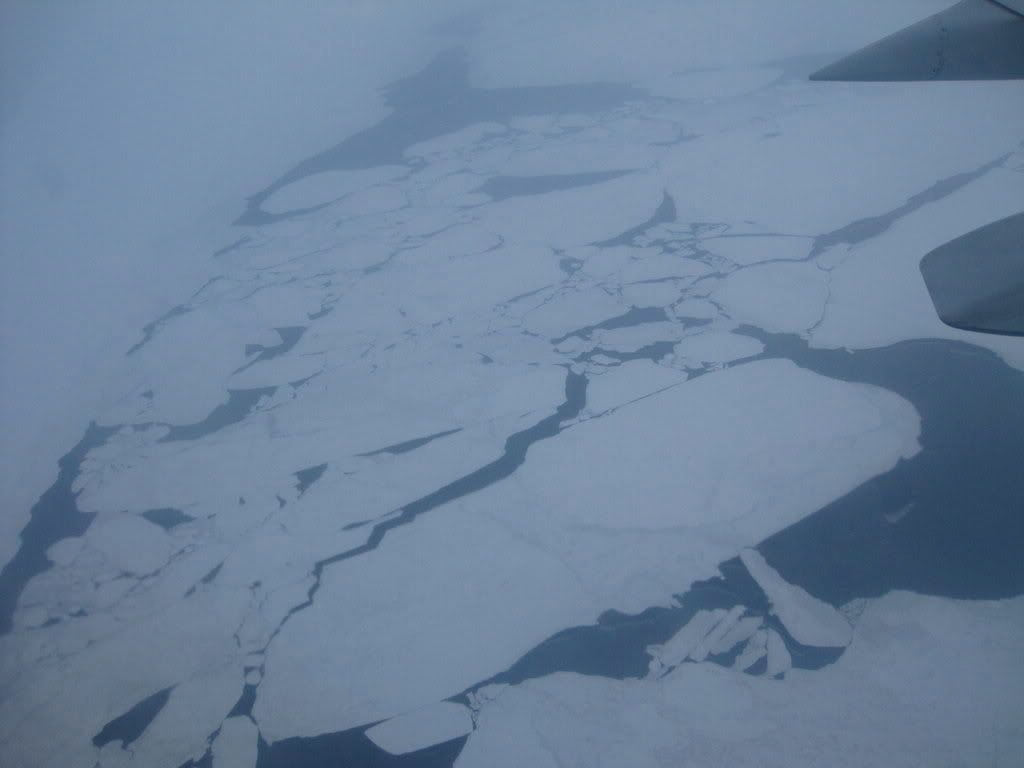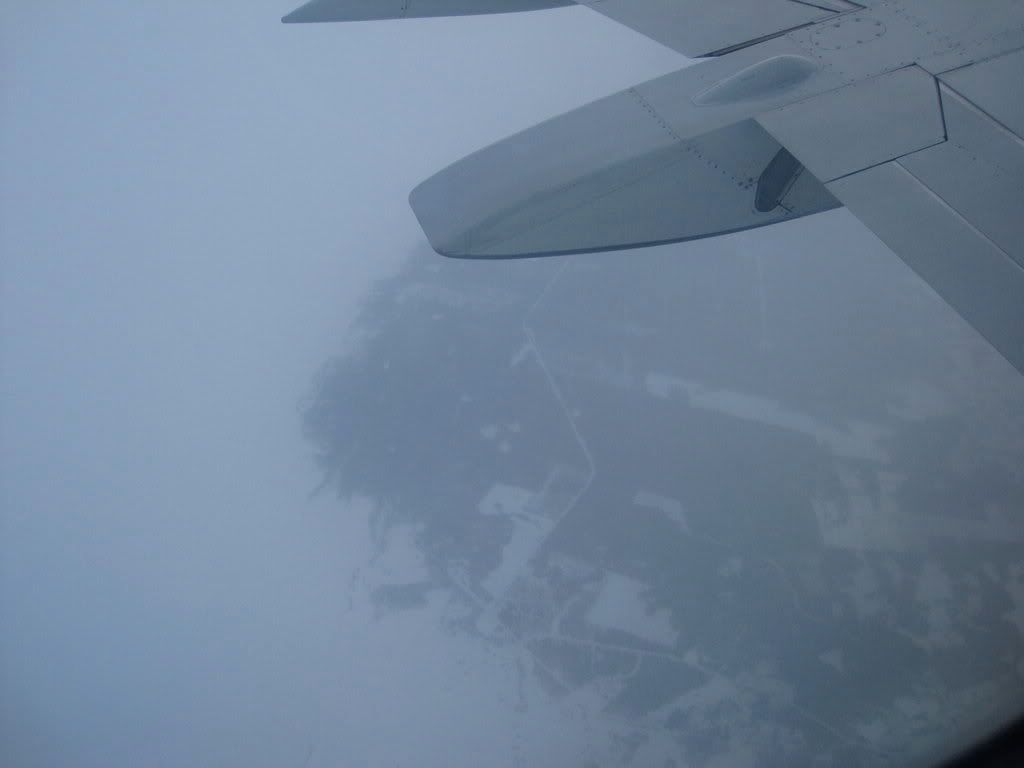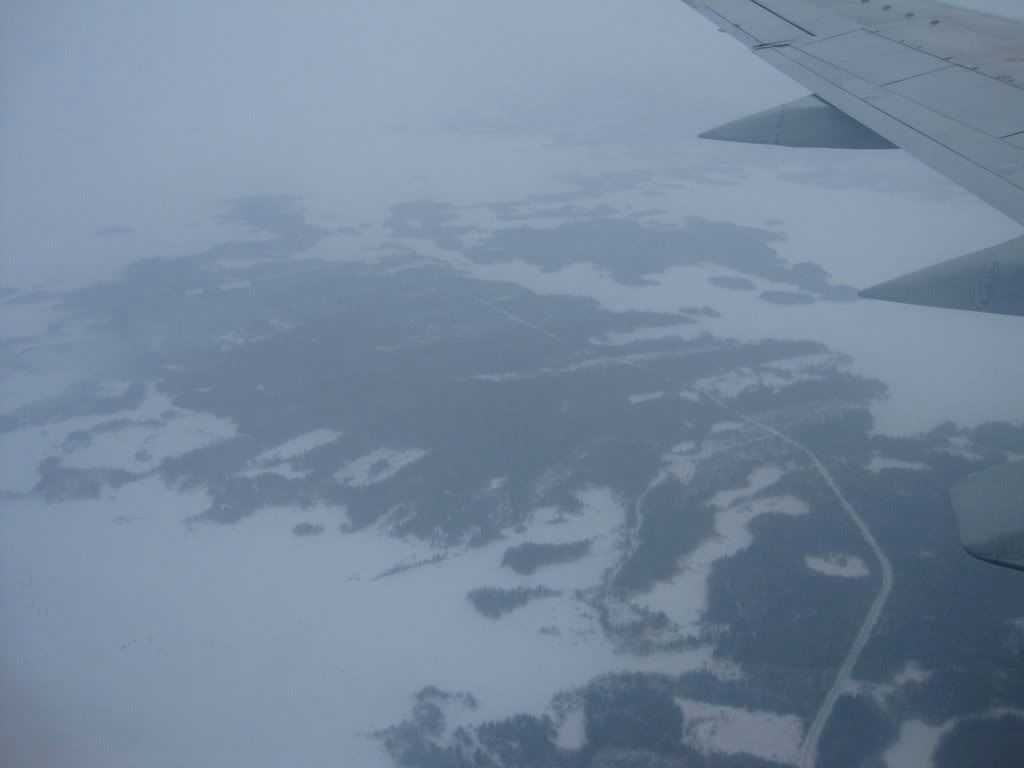 Before our approach we make a lazy circle in a holding pattern somewhere north of the airport before turning towards the southeast and landing on runway 16 after almost 25 minutes in the air.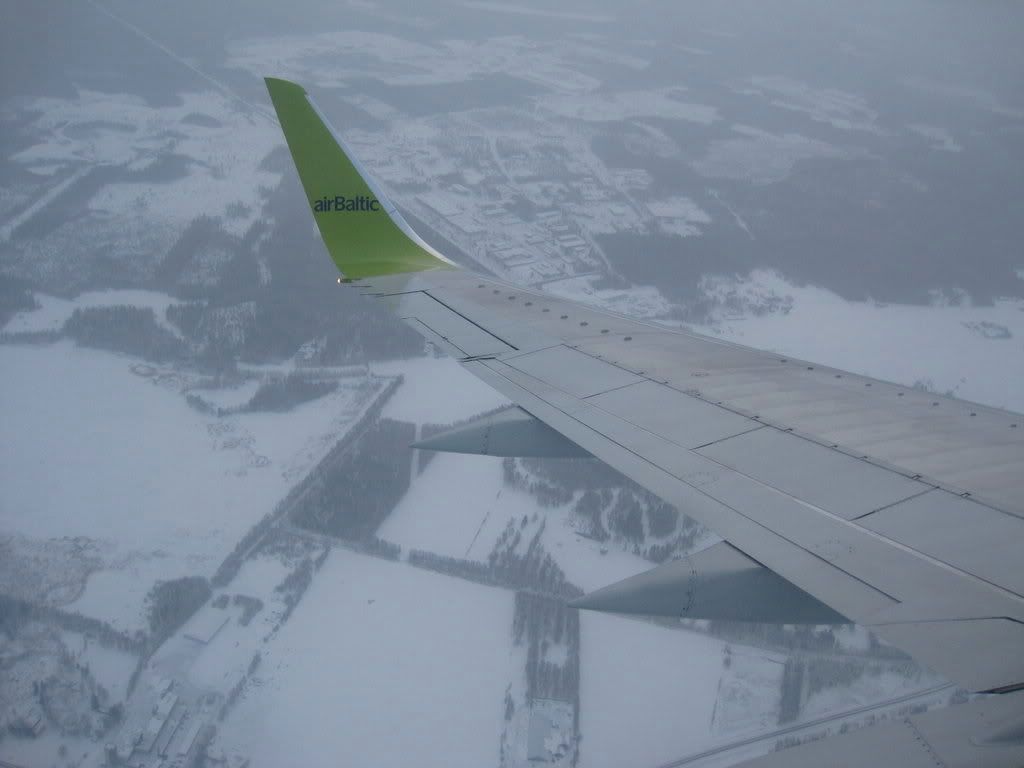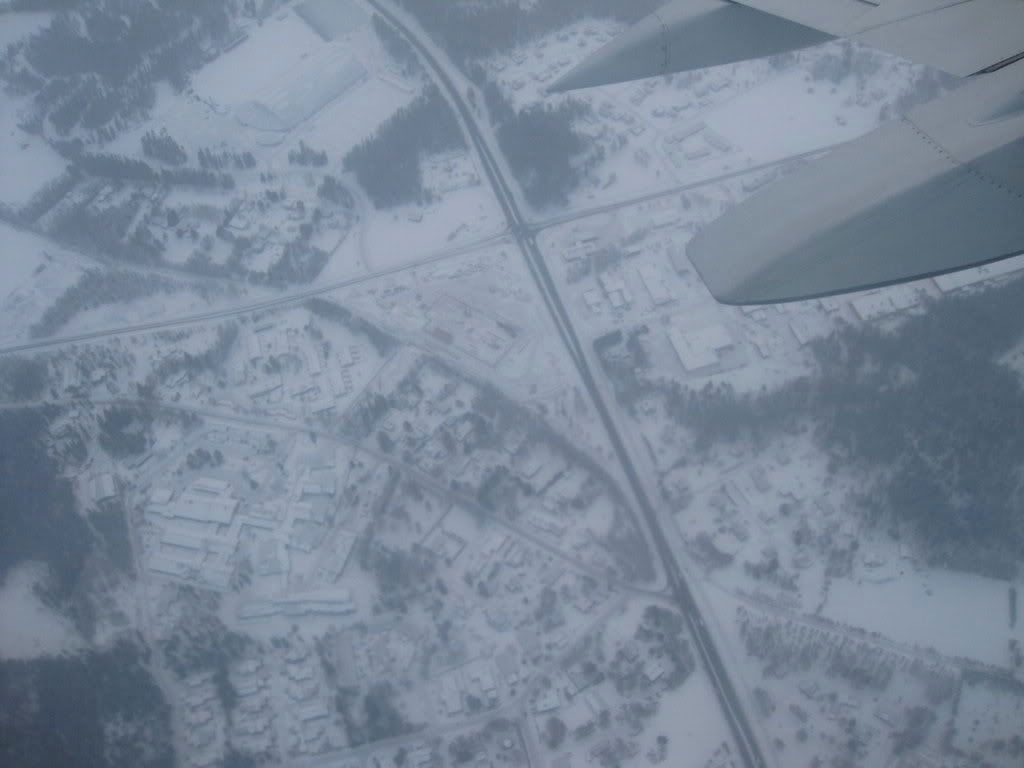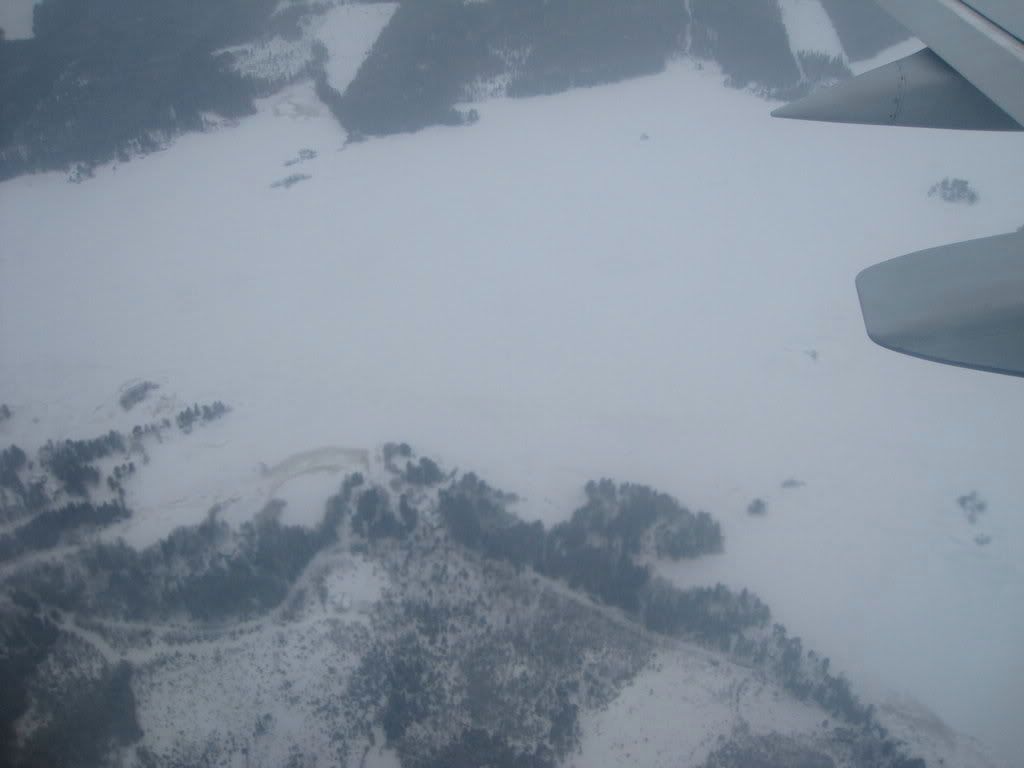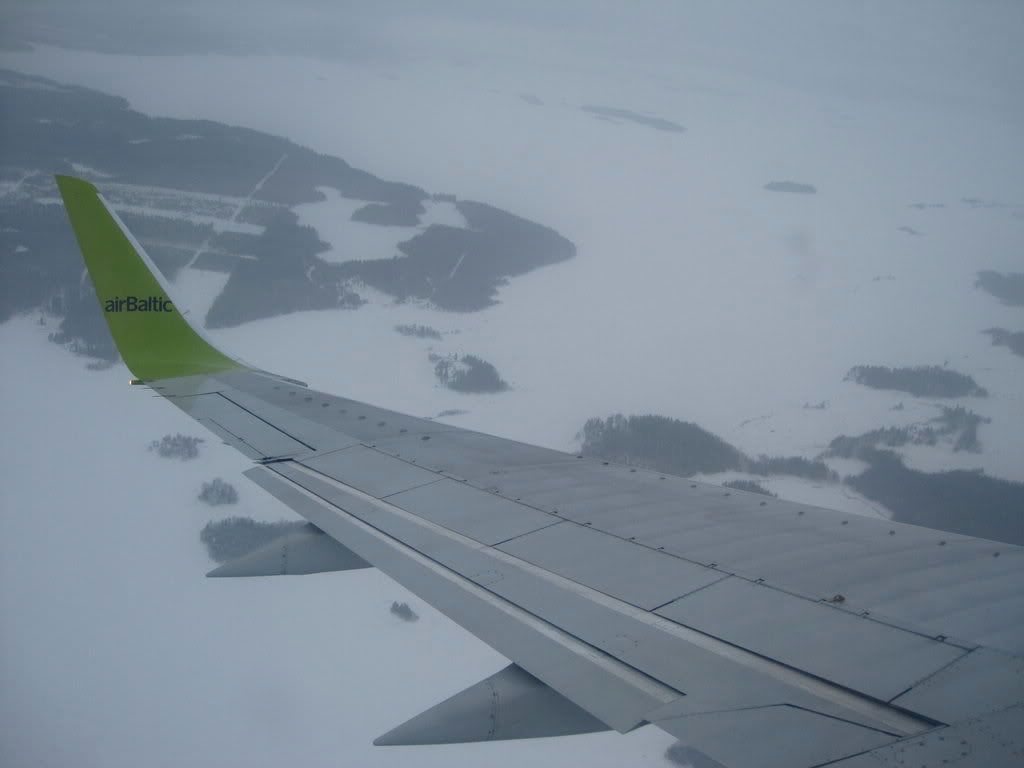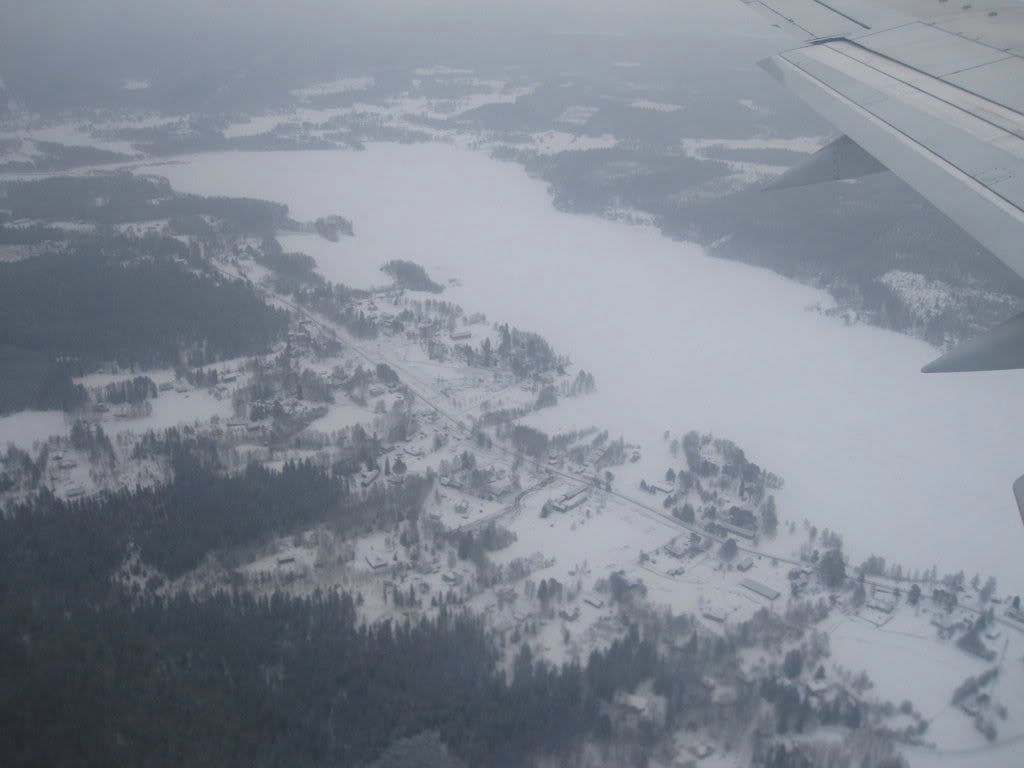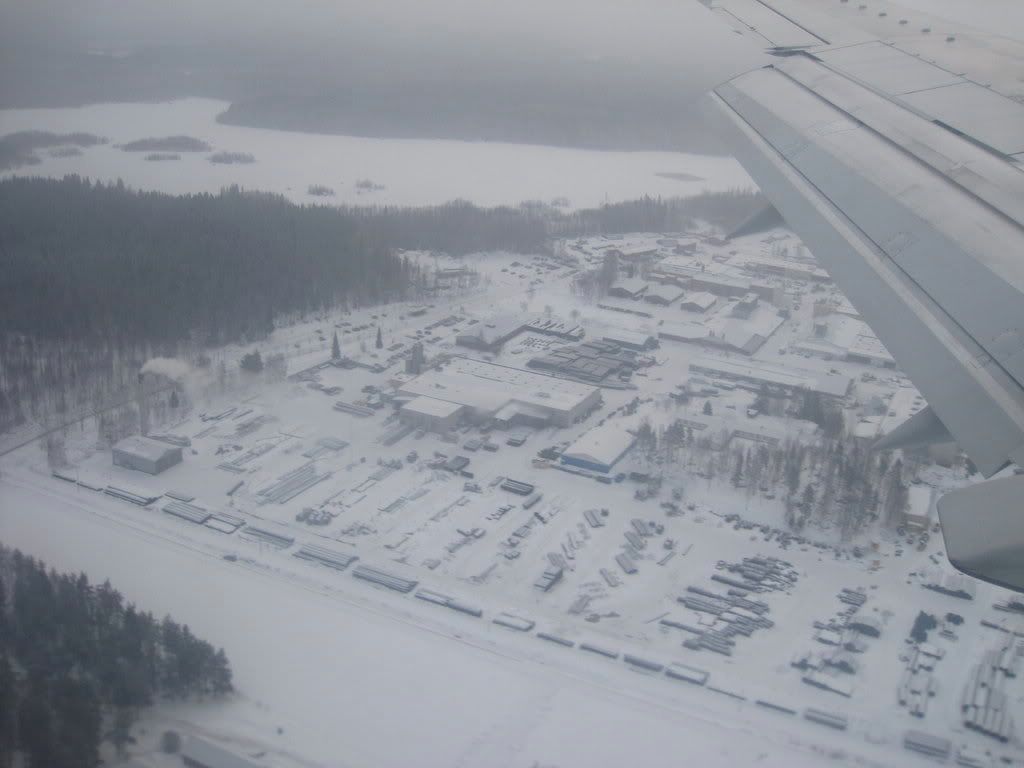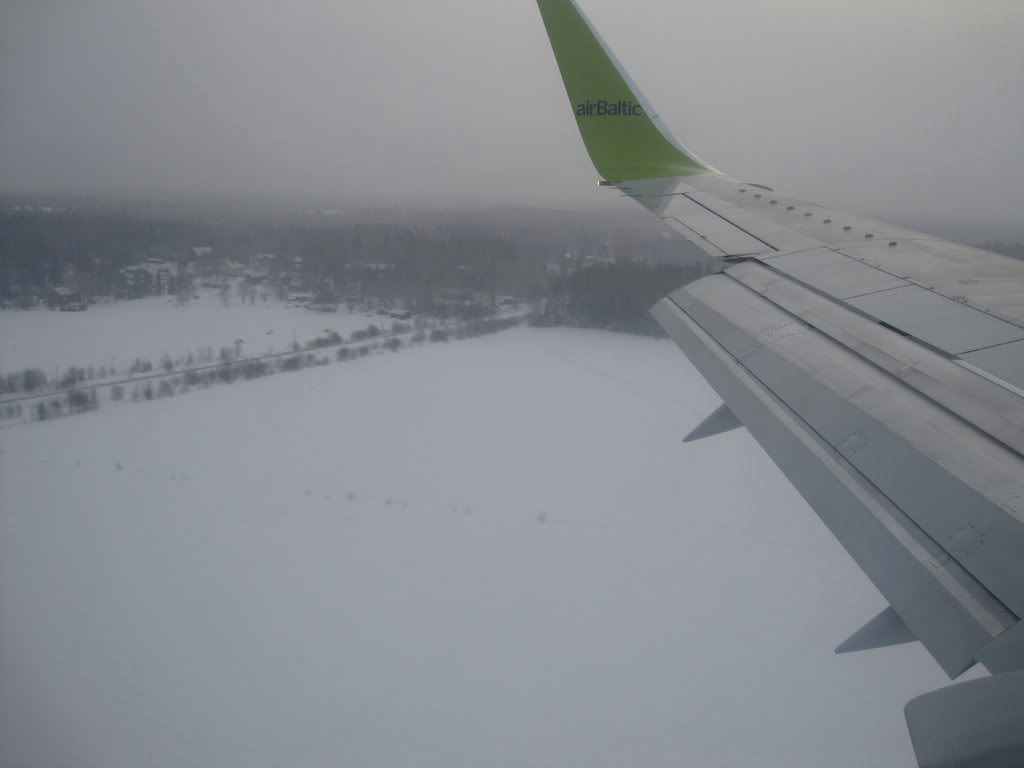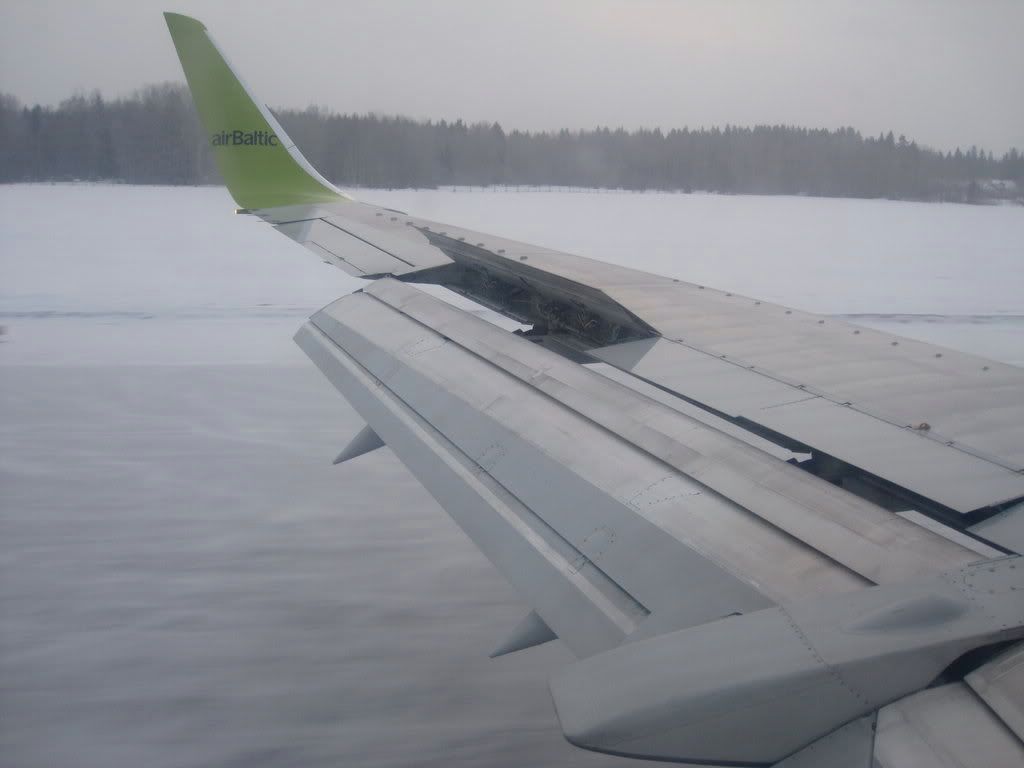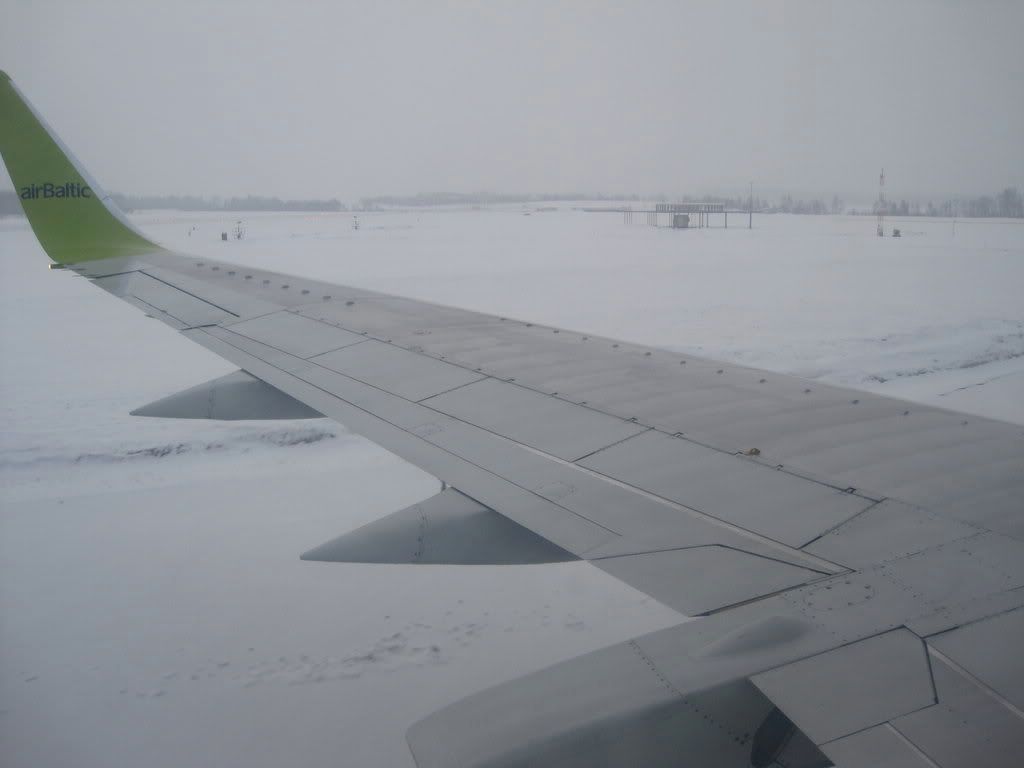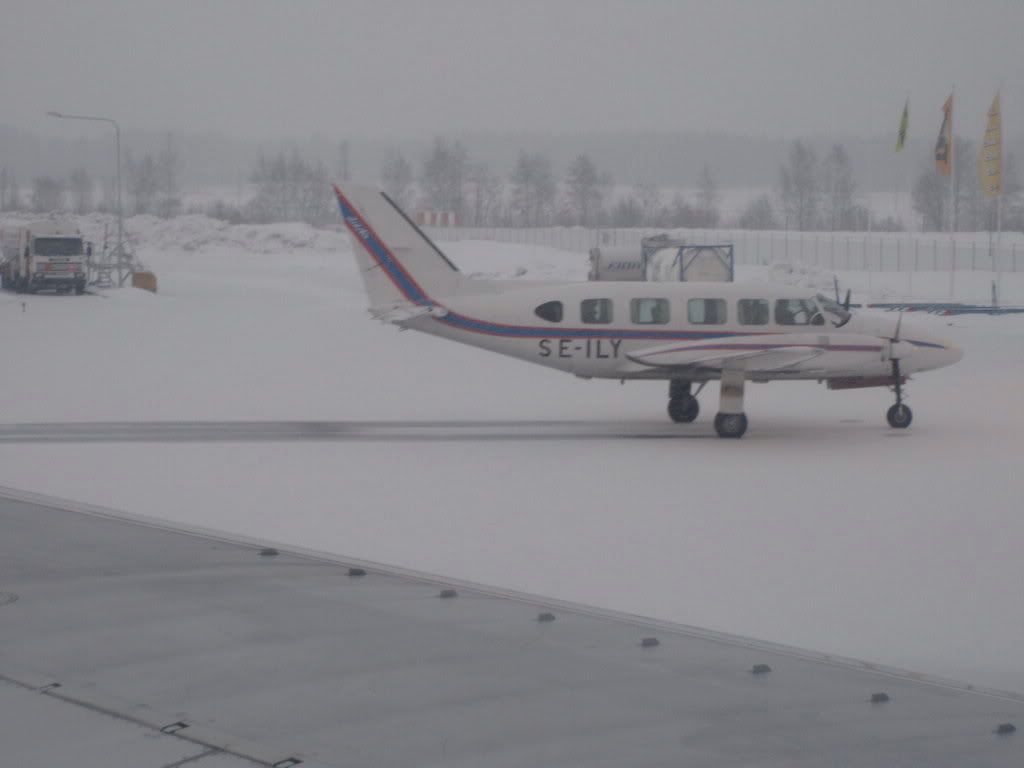 On the apron a just arrived AY E170 is deboarding, I guess our holding pattern had to do with allowing it to land first - great flow control here...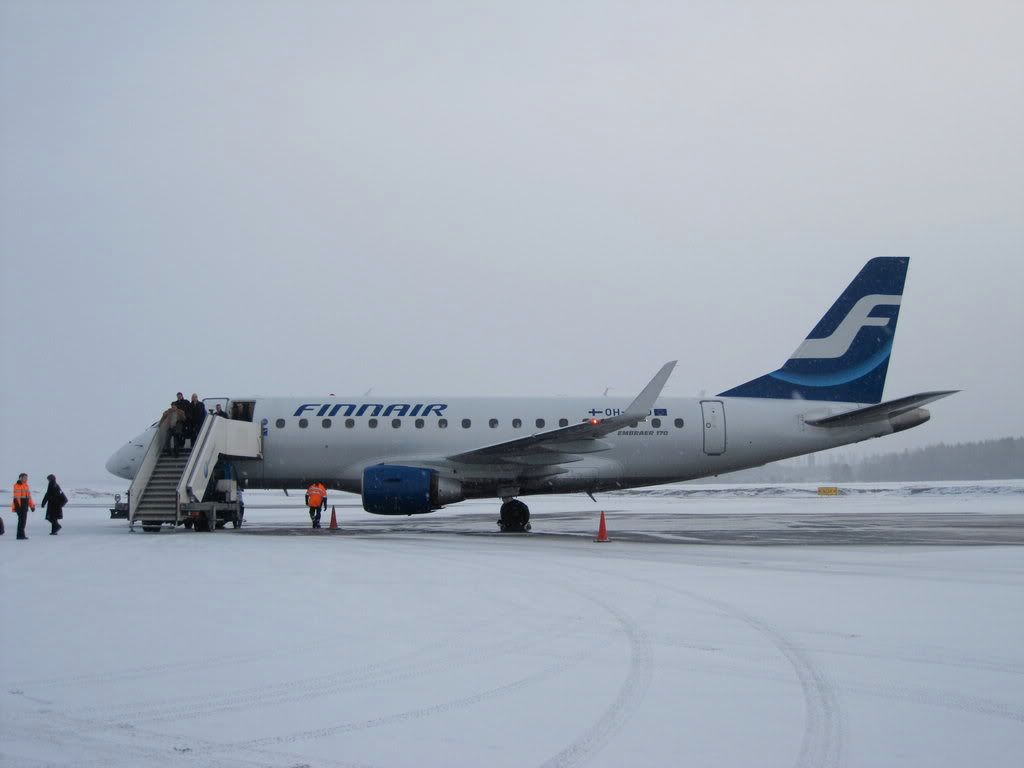 I count 15 pax deboarding, the rest stay onboard to RIX.
Bye: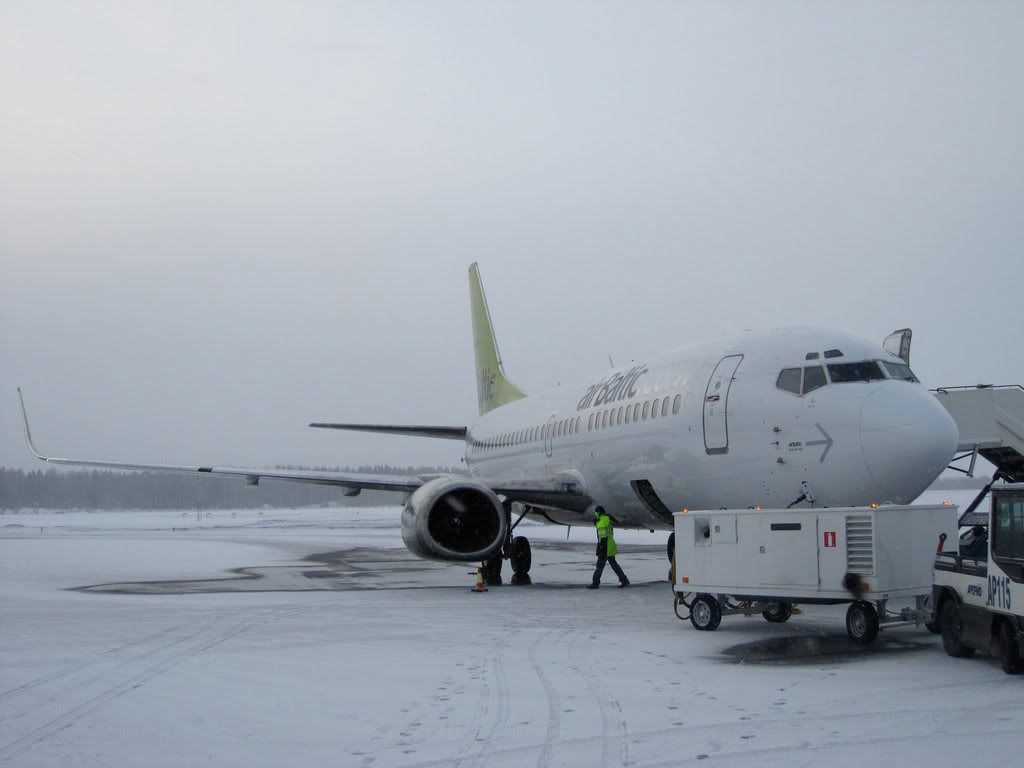 Vaasa Airport, Take 2
At the terminal I grab some breakfast and coffee from the now open coffee shop, making full use of the free Wifi again. At the security check the same guy from last night is handling the machine, although he doesn't seem to remember me. Once I make it to the gate the plane, OH-SAQ has arrived. Another flight on this soon-to-leave-the-fleet CityJet Avro, my fifth in fact.
Boarding starts at 8.05, the gate agent is the same great one I had last night and remembers me, saying "Here you go again", I answer that "Well, I have to get to the office somehow". I didn't know they codeshared with BD on domestic Finnish routes: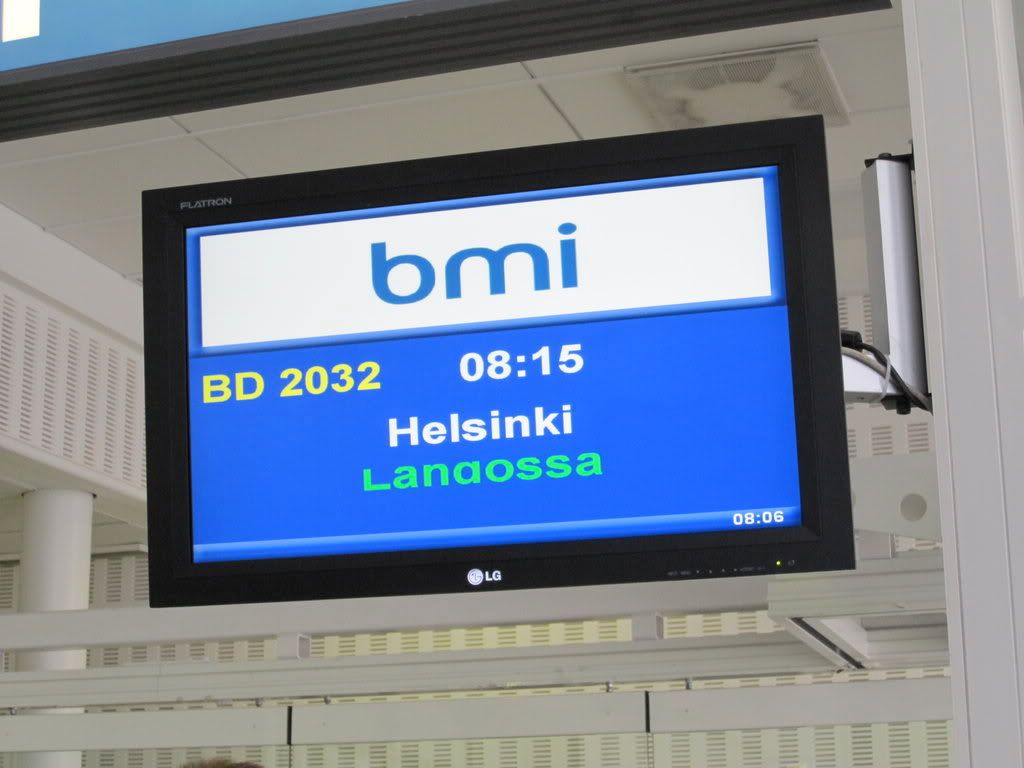 YL-BBJ is still here, being deiced for her departure: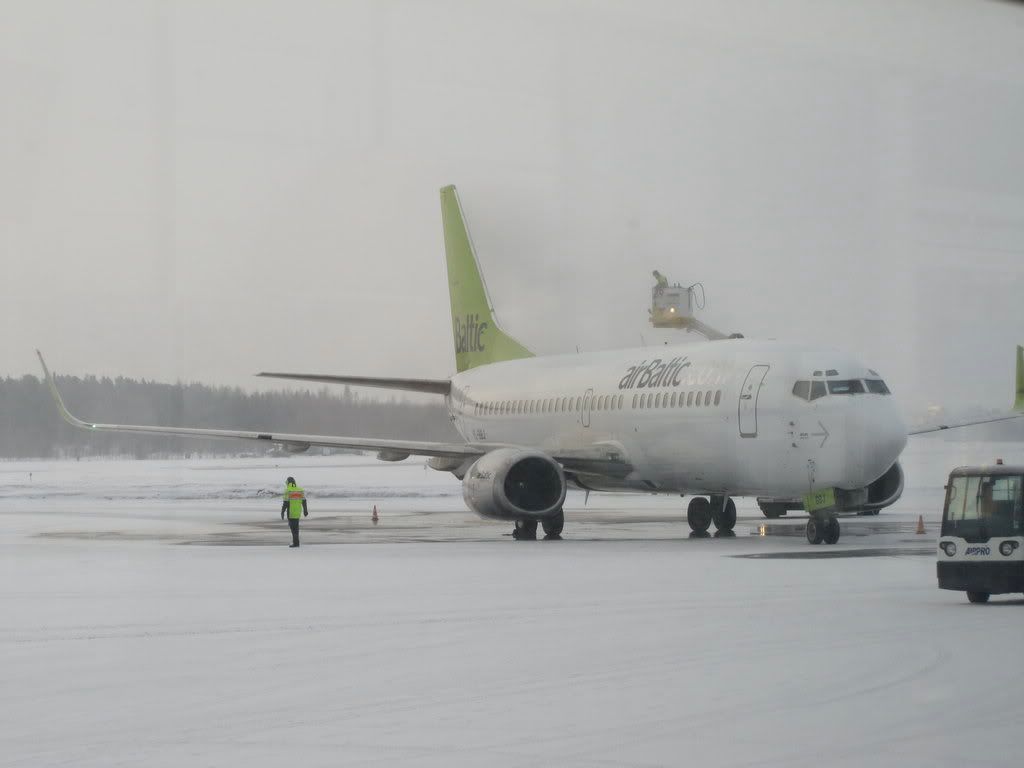 VAA-HEL
KF282
ARJ-85 OH-SAQ "Inarijärvi"
Seat 15A
8.24 - 9.01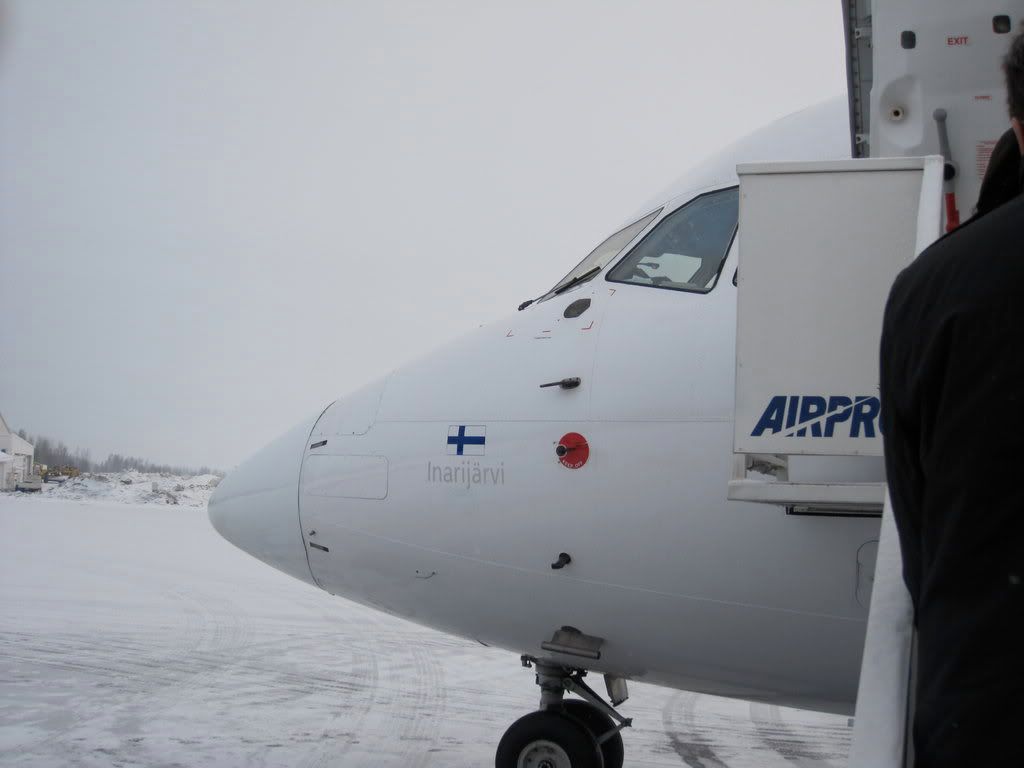 The purser is greeting everybody in Swedish first, only switching to Finnish after I greet him in Finnish. Lots of the passengers are Swedish-speaking, the socioeconomic structure here is a bit geared towards the Swedish-speakers if you ask me... There are rows of economy extra, which are half occupied, with something like a 60% load factor for the economy class.
When doing OLCI the previous day I picked seat 15A, this is the first row where the configuration is 2-3 due to the curvature of the hull. It is a bit weird sitting between the seats in front of me: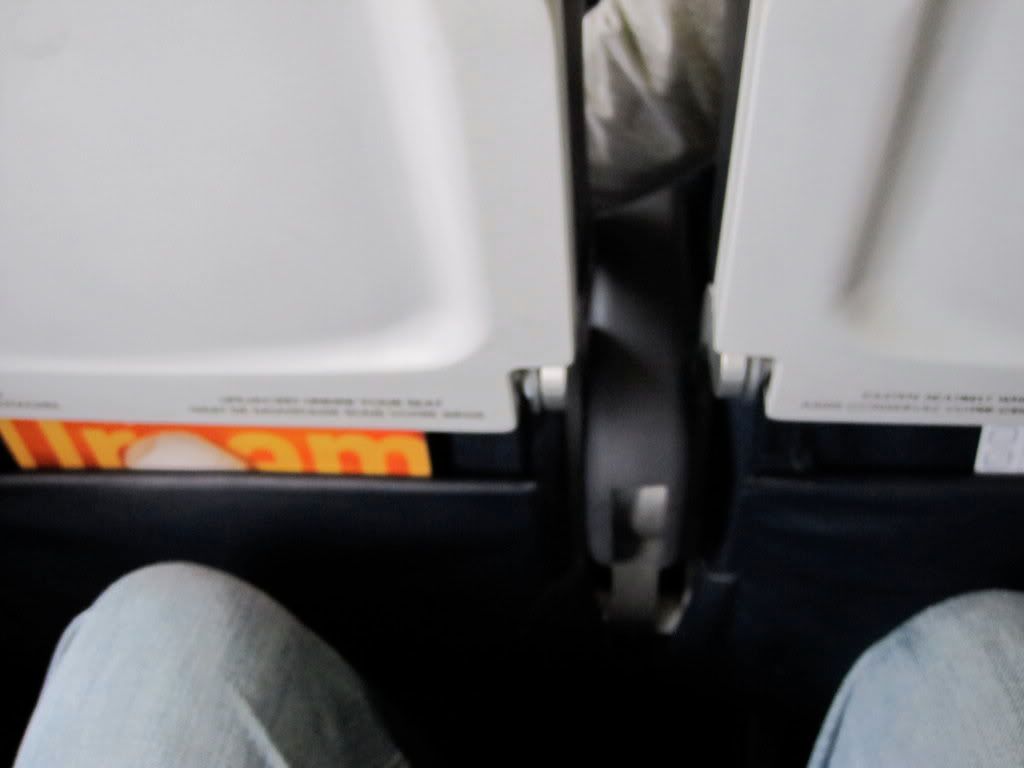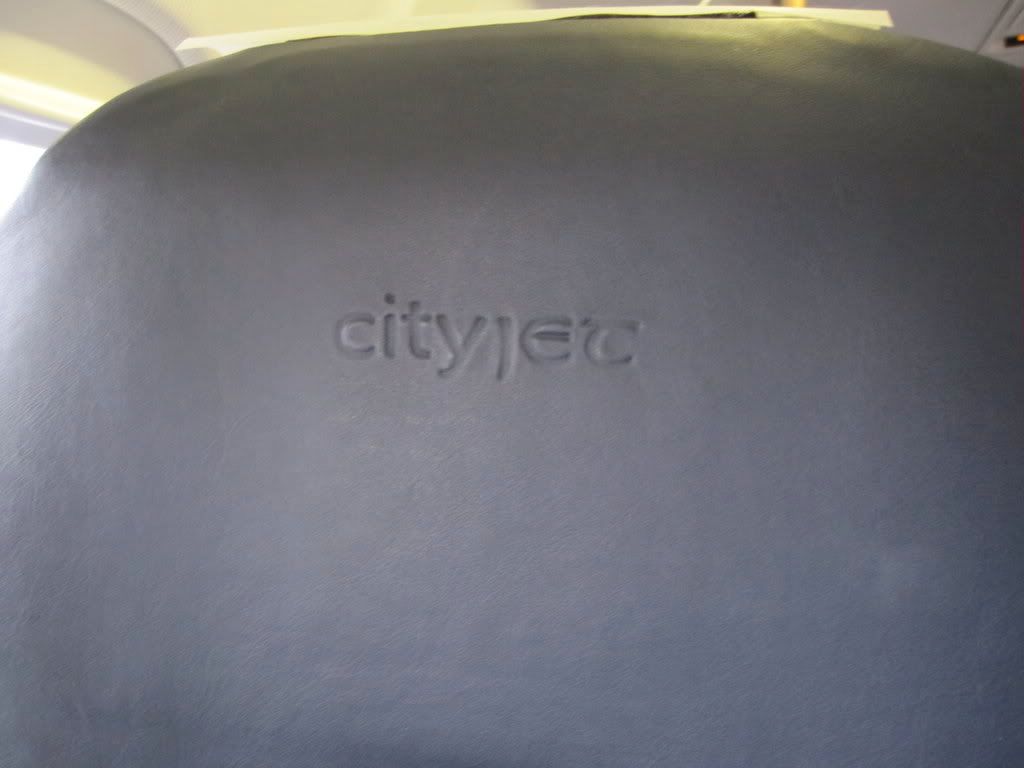 This seat is definitely better than the blocks of three, as there is lot of space between the seat and the wall. Of course it helps that I don't have a seat mate as well.
Our captain announces the flight time as 45 minutes, with the news that we will be around 5 minutes late at HEL as the weather there is quite bad with low visibility which limits the flow of incoming planes. Finally going after an hour of ground time: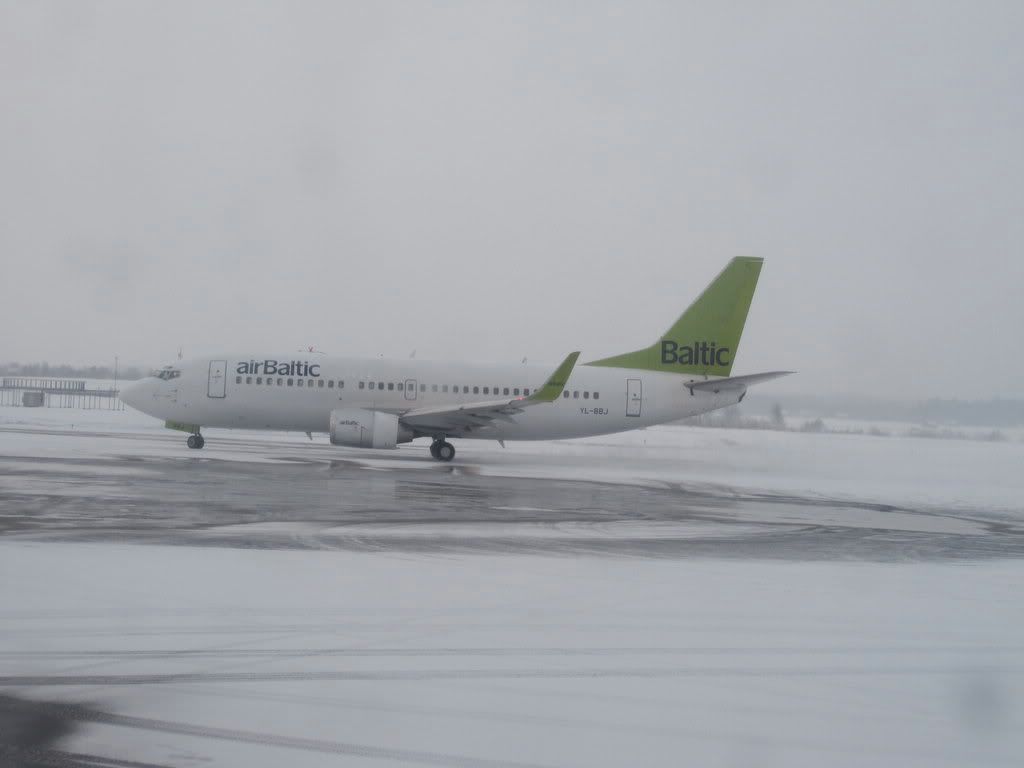 Deicing follows: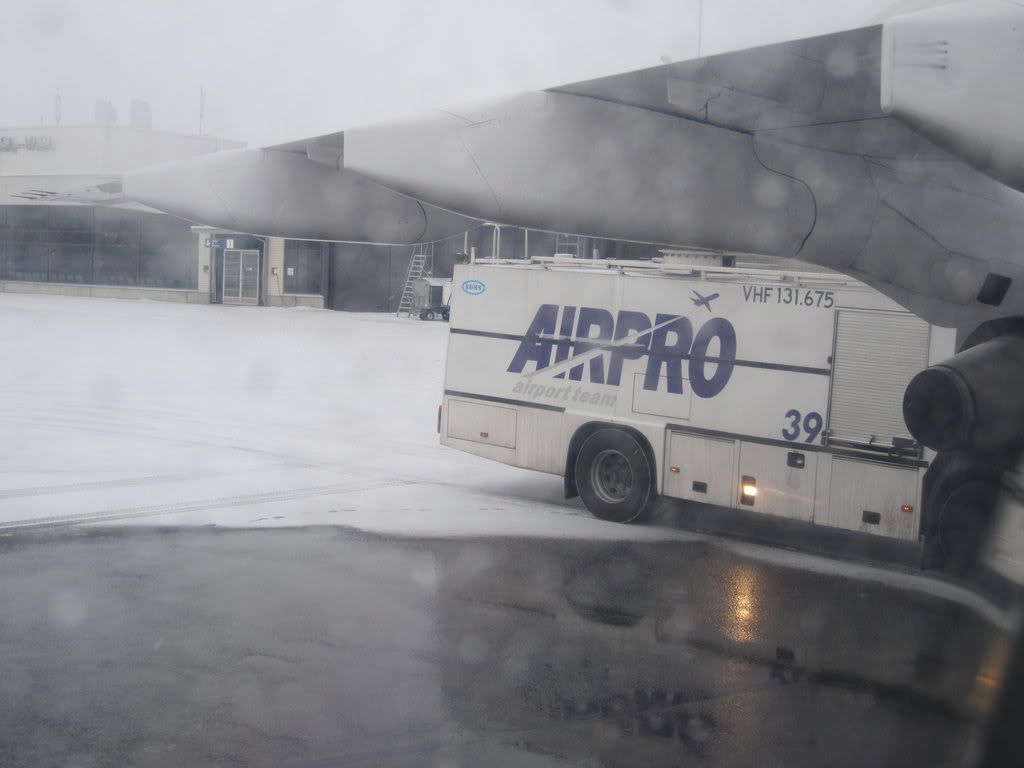 We start our engines and start taxiing to the runway nine minutes late, taxi all the way to the end, turn around and take off from 14. Sorry, no good pictures as the windows are covered with water.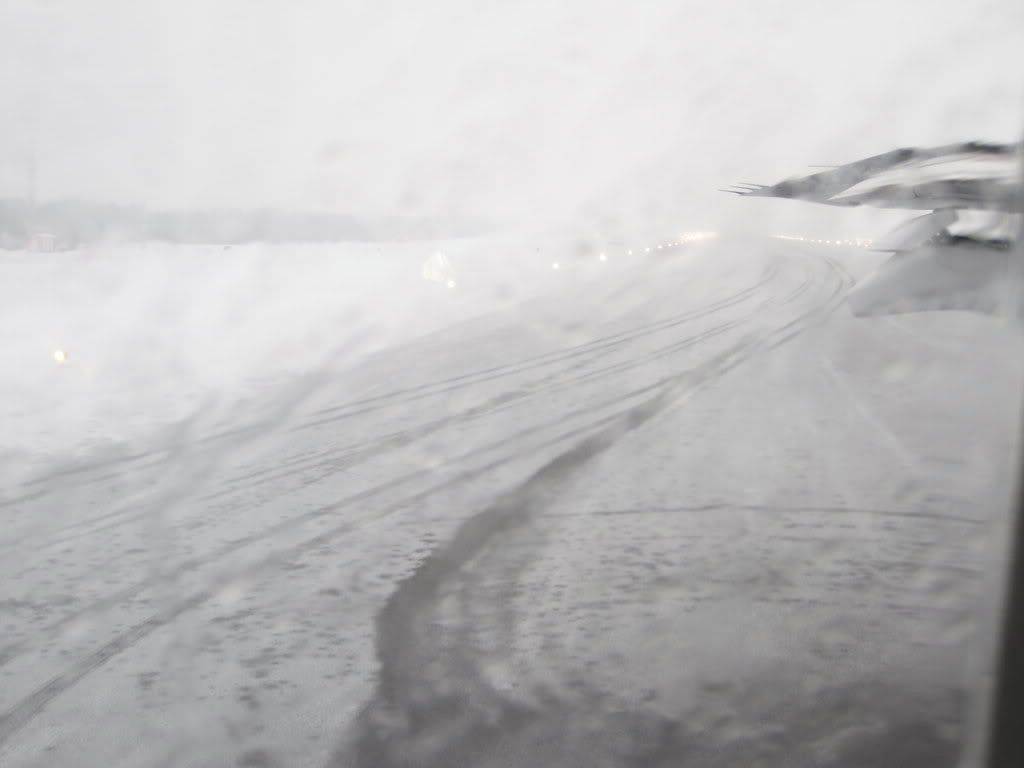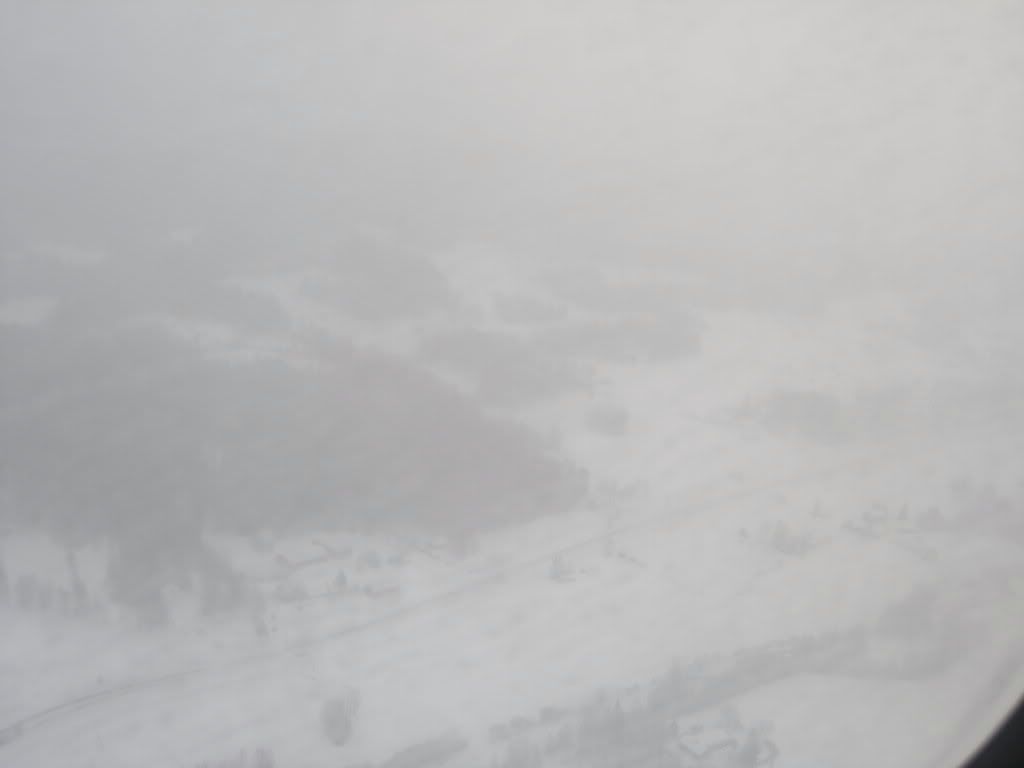 Right after take off I close my eyes, open them once to see the coffee cart getting nearer but can't be bothered to get anything and finally wake up just a minute or so before touchdown on HEL runway 15. The weather definitely is ugly today: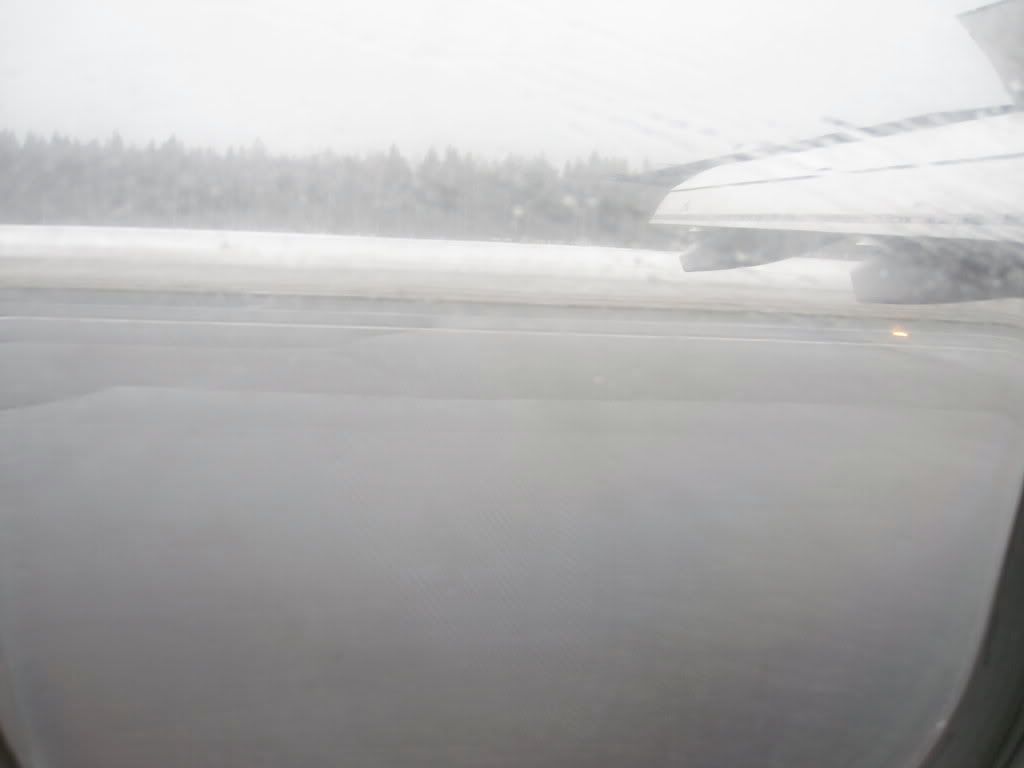 Short taxi to gate 12 at T1, where we park next to these blue tails: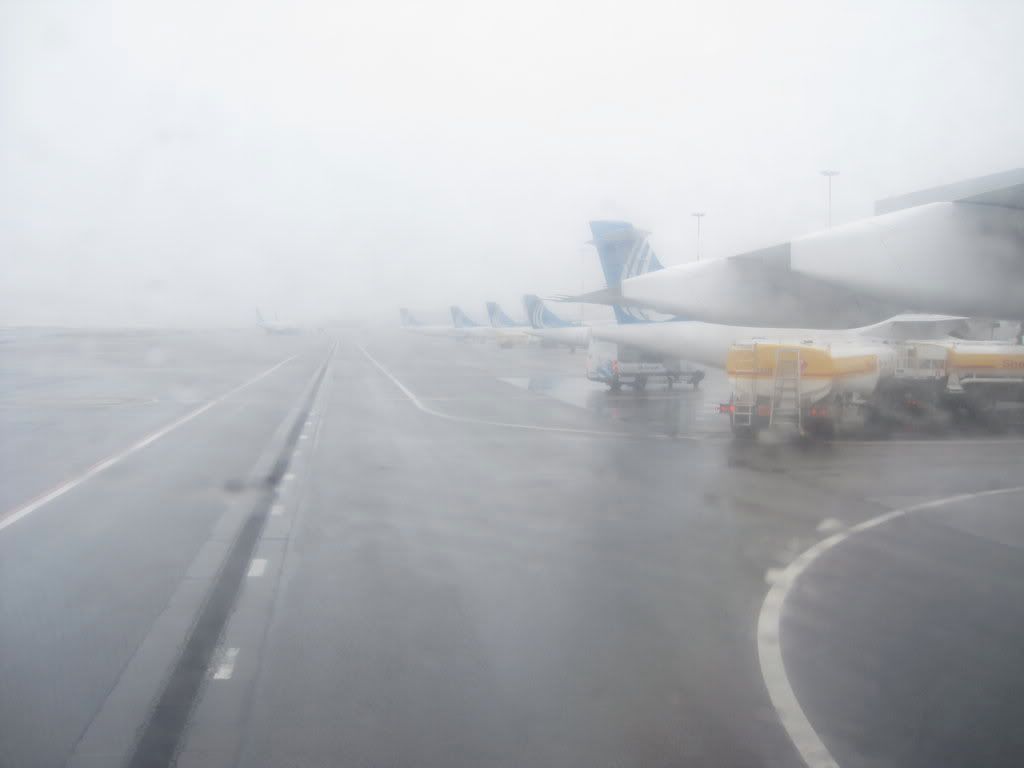 By jetway to the terminal, the next bus is 15 minutes away so I decide to spend some money on the faster Finnair bus, doze the whole way to the city centre and finally make it to the office just past ten, ready for another exhausting day.
Conclusions
Well, another nice trip, albeit with a far too short night. The prison sure was an interesting experience, and Umeå looks like quite a nice city to visit during the summer time. I've actually been there a few times as a kid and teenager but can't really remember anything. Right now is not the season to visit, for me at least, far too much snow there. No new airports this time, did UME with LF and TF back in 2007 already.
Inaugural flights are always great, too bad there wasn't much of a party thrown here. Finavia's performance on this front was way lame, the Swedes at least tried to do something! BT had actually thrown a party already a few days earlier, they flew a special charter service RIX-UME with a Fokker with some of their management, the mayor of Riga, the members of press and other invited guests. Now that would have been my kind of flight!
As for the carriers, well, standard domestic flights really. I prefer Finncomm, the ATRs are very comfortable rides and the girls usually very nice (ok, they have some male FAs as well but not too many).
As for airBaltic - you can't comment much on a pair of 20 minute flights, can you really? And besides I'm getting biased towards this pet airline of mine...
The very next day will see me on yet another trip, doing TKU-RIX-TMP with some trains and a nice surprise thrown in from BT! Stay tuned!
Happy contrails!