Introduction
WizzAir, the Hungarian (or "Central European" like they themselves like to be called) low cost carrier started operations in Finland back in 2008. For the first two years the only route they operated was TKU-GDN a few times per week. For 2010 they finally launched a number of new routes from TKU, while at the same time adding RIX to their network. As I nowadays regard Riga as a secondary home airport for me this was of course interesting news. They didn't establish a base at RIX (yet?), instead it would be served on W-pattern flights from other spoke destinations. One of these destinations happened to be TKU, with the airline flying GDN-TKU-RIX-TKU-GDN. So I searched for a suitable date and finally settled for the last day of March, a nice evening departure allowing almost a full workday beforehand - the price with priority boarding and the various fees was a reasonable 17 EUR.
To get back from RIX airBaltic was the logical choice, too bad at the time I was booking, the only connection to HEL that would work was the notorious last flight of the day which I've already taken way too many times - the departure time of 23.55 and arrival time just past one doesn't appeal to me that much so I searched for alternatives. In the end I figured out I had enough time to catch the TMP flight and could then train it down from there, so this is what I booked for less than 40 EUR.
Of course some time later BT revised their summer schedules, adding a new evening departure that would've fit in my plans perfectly, but well... I was stuck with my choice and decided to rough it. At least they changed the equipment to a 733 from the originally scheduled Fokker.
Now comes the interesting part: a couple of weeks ago airBaltic was running a competition in Facebook as they usually do when they are announcing new routes and ask people to guess them - offering free tickets and upgrades as prices. Well, I sort of got a tied second place on this competition (the route was ARN-OUL, BTW) and was offered a business class upgrade for "my next flight on BT from RIX". That would've been my RIX-HEL last Sunday coming from DUB, but a biz upgrade on that midnight flight would've been a bit pointless so I asked to be upgraded on this TMP flight instead, and this is what happened. I got an interesting "Upgrade Voucher" in email the day before the flight with my (mispelled) name and the flight details - I have no idea what this is, maybe it is used for mileage upgrades or something. I printed it out in case somebody would need it, but this didn't really turn out to be the case. Maybe I will frame it and put it on my living room wall (not that the wife would allow that!).
31.3.2010
Ahh, more travel ahead of me, having arrived from my quick overnight in Umeå just the previous morning... I sneak out of the office just past 14.30, walk the short way to the main railway station in Helsinki and board my Intercity train to Turku. I spend the comfortable journey catching up on some work with the laptop until the battery dies - the seats all have power sockets but of course I forgot the charger at the office, silly me. Anyway after almost two hours we reach Turku at 17.00.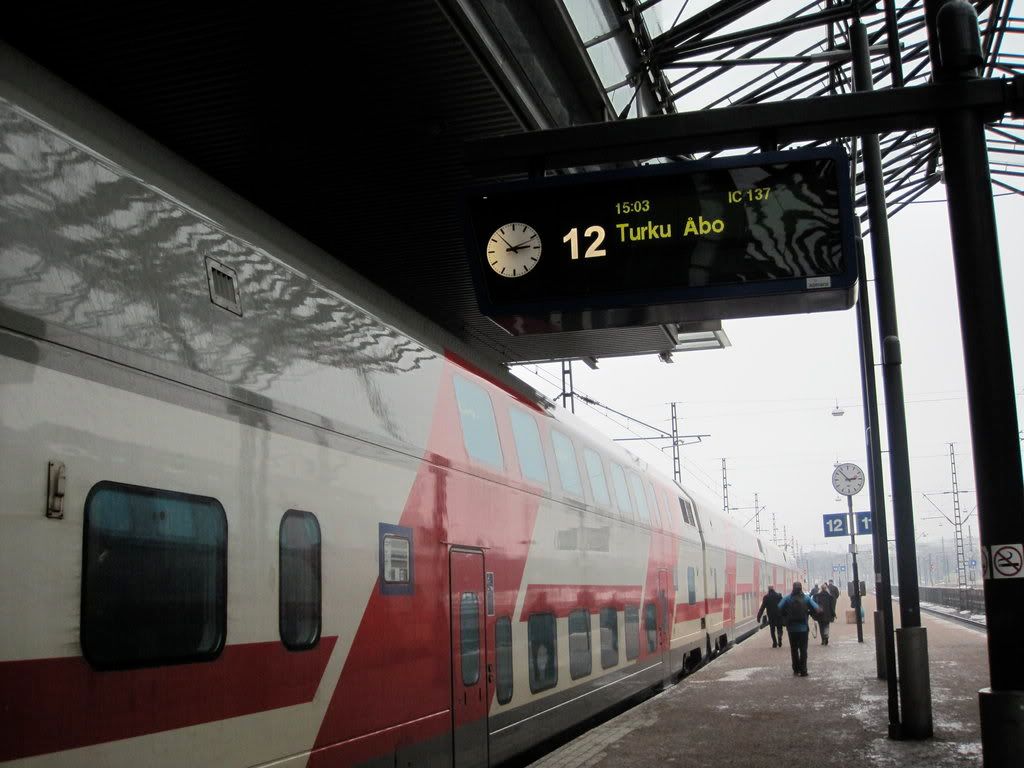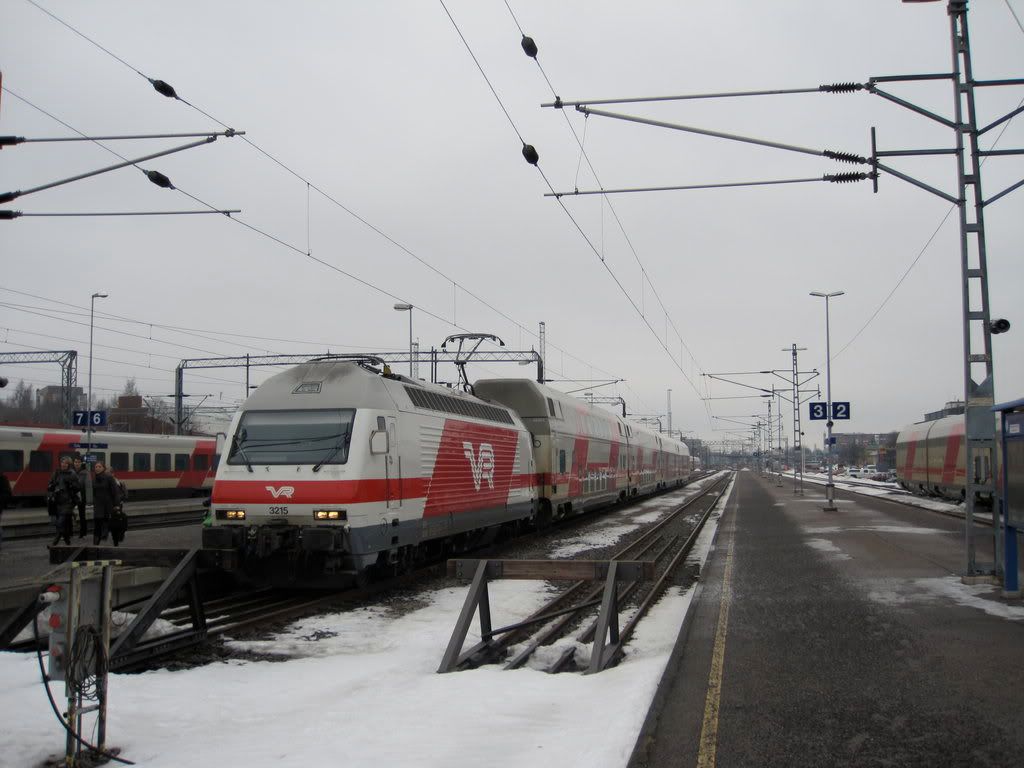 I walk the short way to the main market square, grabbing a sandwich and a soda from a convenience store on the way. This is the only remaining tram in Turku: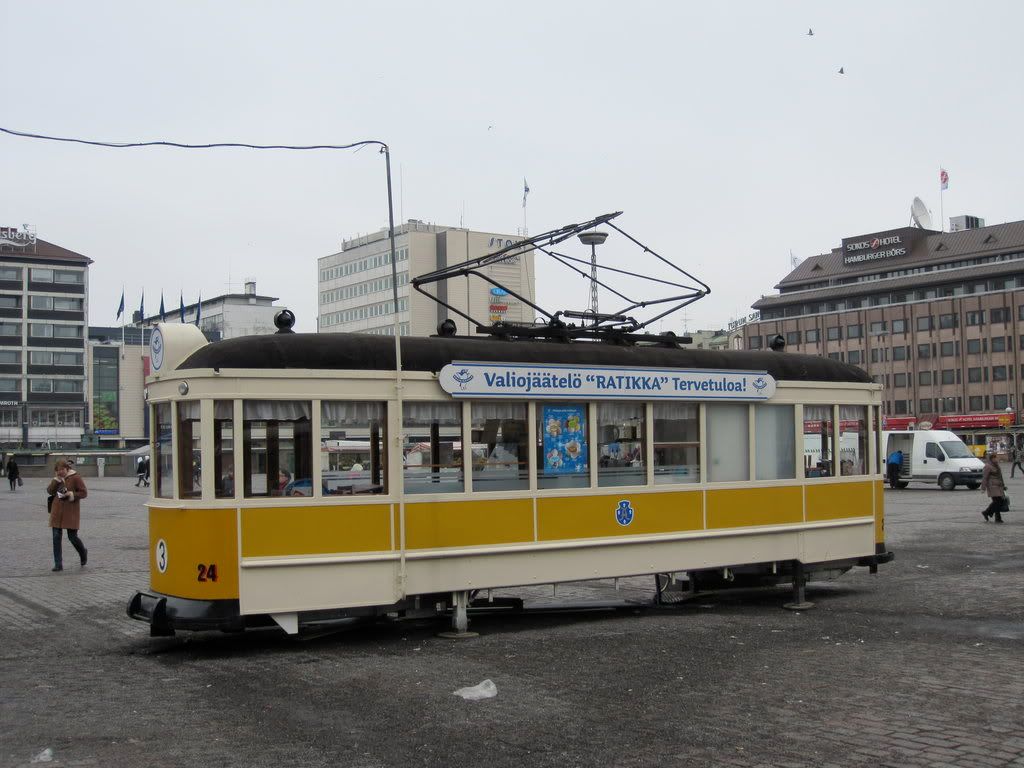 The last time a month ago it wasn't here, looks like the spring is slowly but surely approaching!
Anyway I eat the food while waiting for the bus and once it arrives hop on the 17.25 service that makes the extra detour via Turku "Terminal" 2 as well. Less than half an hour later I and a bunch of other fellow travelers get off in front of this so-called terminal: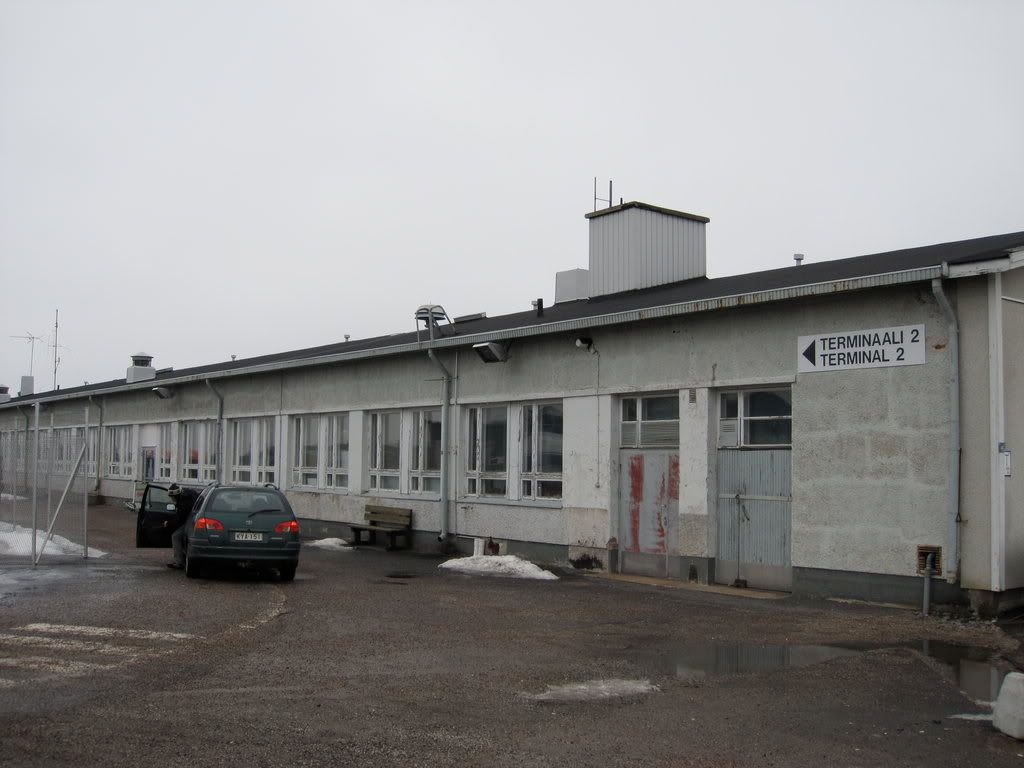 My Hungarian friend claims that BUD T1 is the "world's ugliest airport terminal", I haven't been there yet (give it four weeks, actually), but I think this old cargo terminal would do very well in that competition!
The real terminal for real airlines who are not too cheap: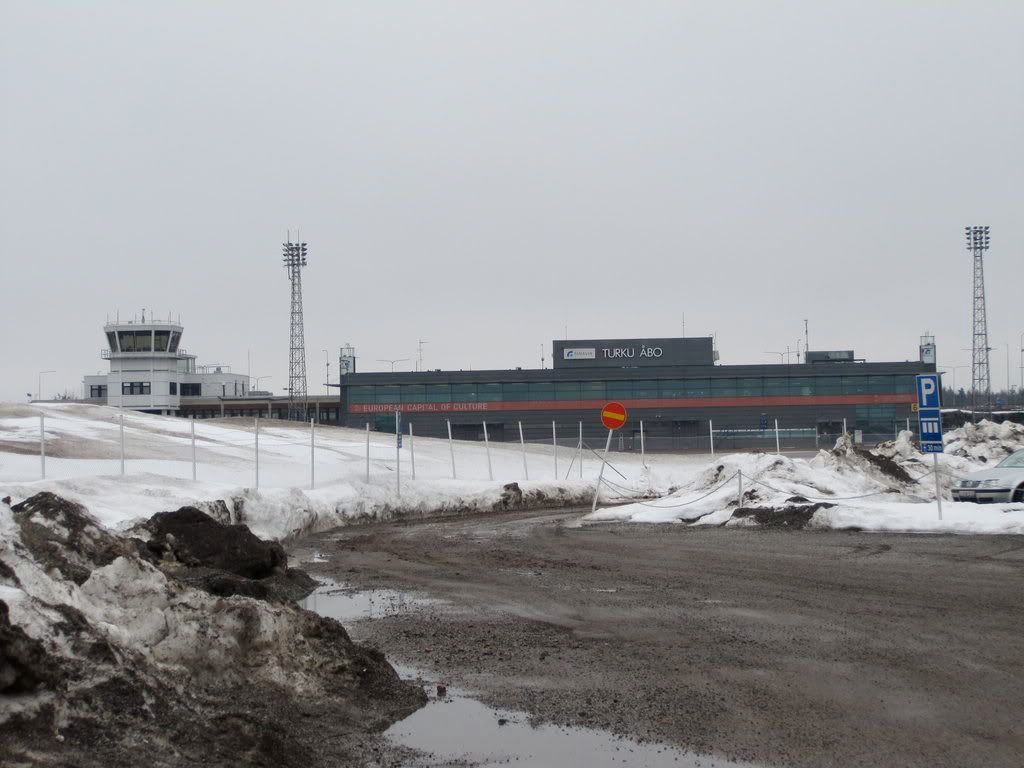 TNT 737 parked in front of the new cargo terminal - TKU has quite a sizeable cargo operation: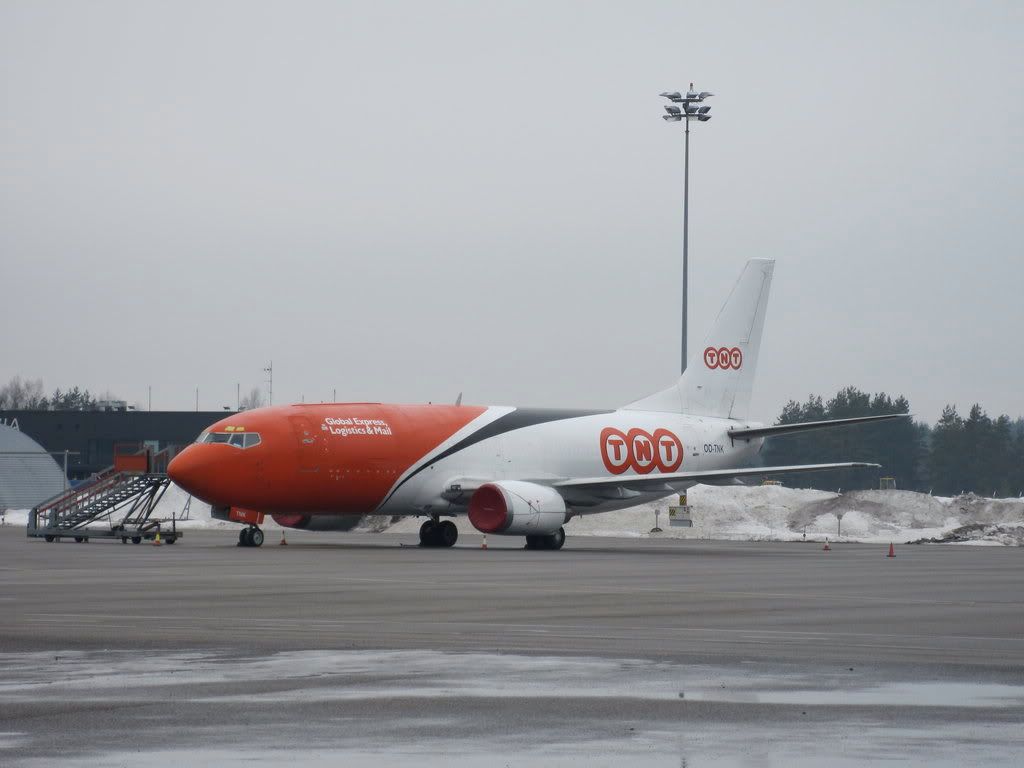 Inside it doesn't get much better: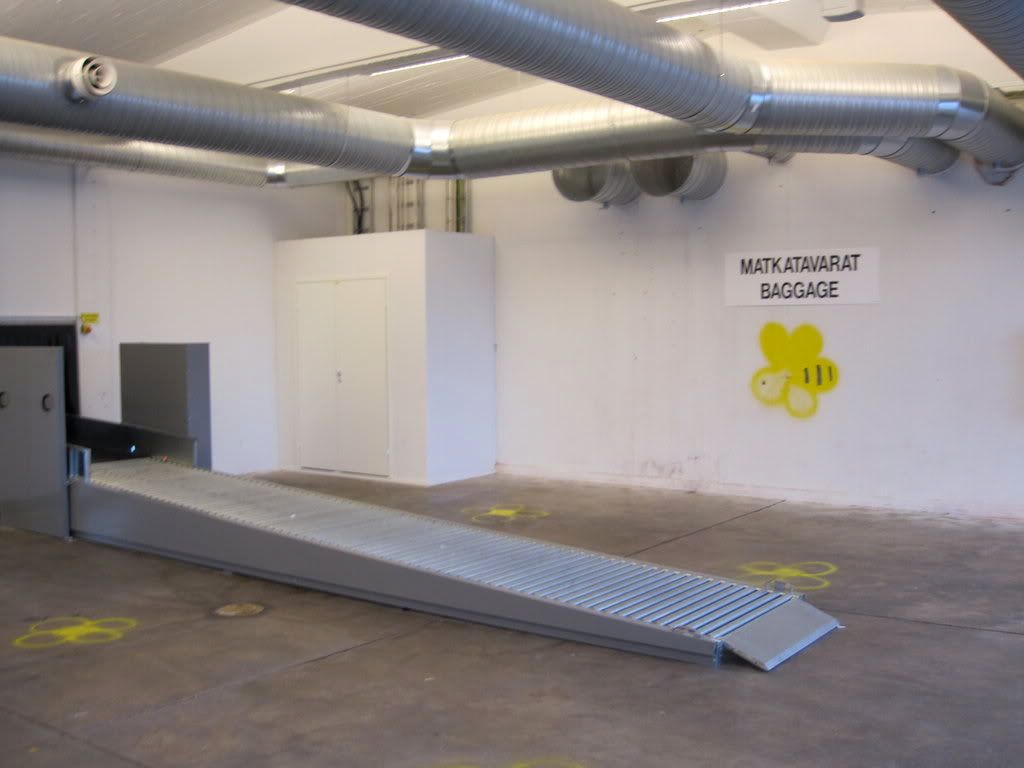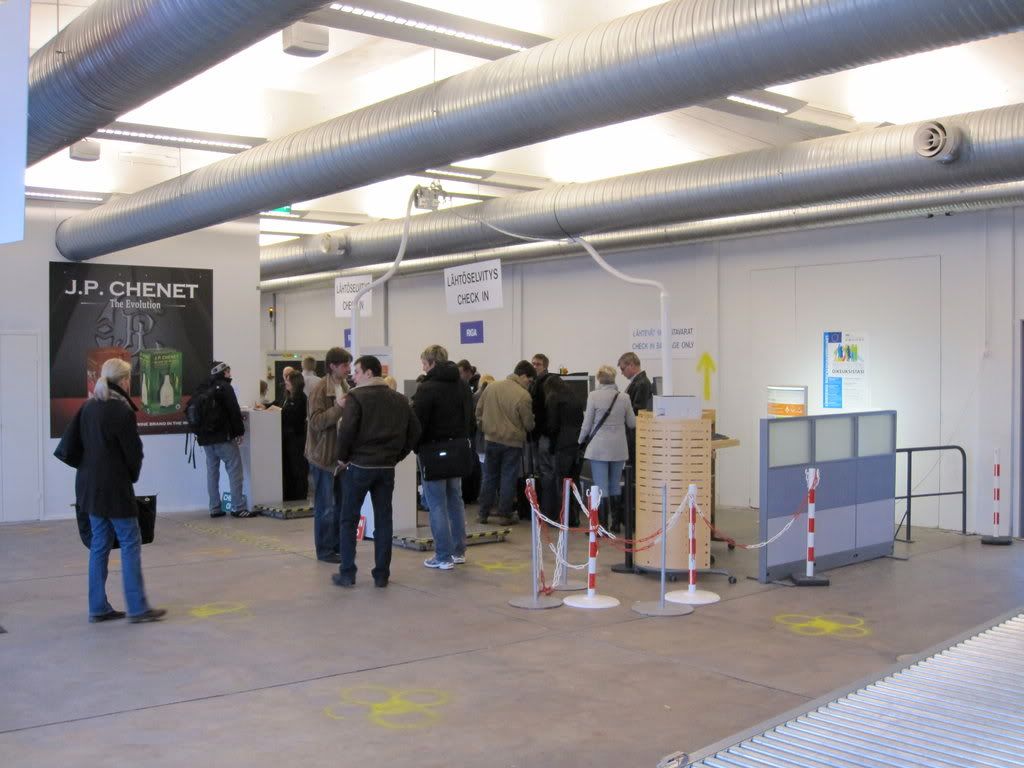 I ask one of the girls in the office whether the incoming plane from GDN is on time - the answer is that it should land within five minutes, so yes, definitely. Good for me, I don't have too much time in RIX and any delay on the incoming flight could complicate things...
The sorry excuse for a terminal doesn't even have a toilet landside and I really feel the need to go - security takes ages with lots of inexperienced travelers so I'm in a bit of pain when I finally get though and dash for the facilities. The airside of the building is no better, I was here before almost exactly two years ago flying to GDN and not much has changed. I heard the plane arriving while in the security queue, and they are now deboarding. Right next to the "gate" (well, a door to the apron with a small podium next to it) are a couple of leather sofas labeled "Priority Boarding" so I sit down there.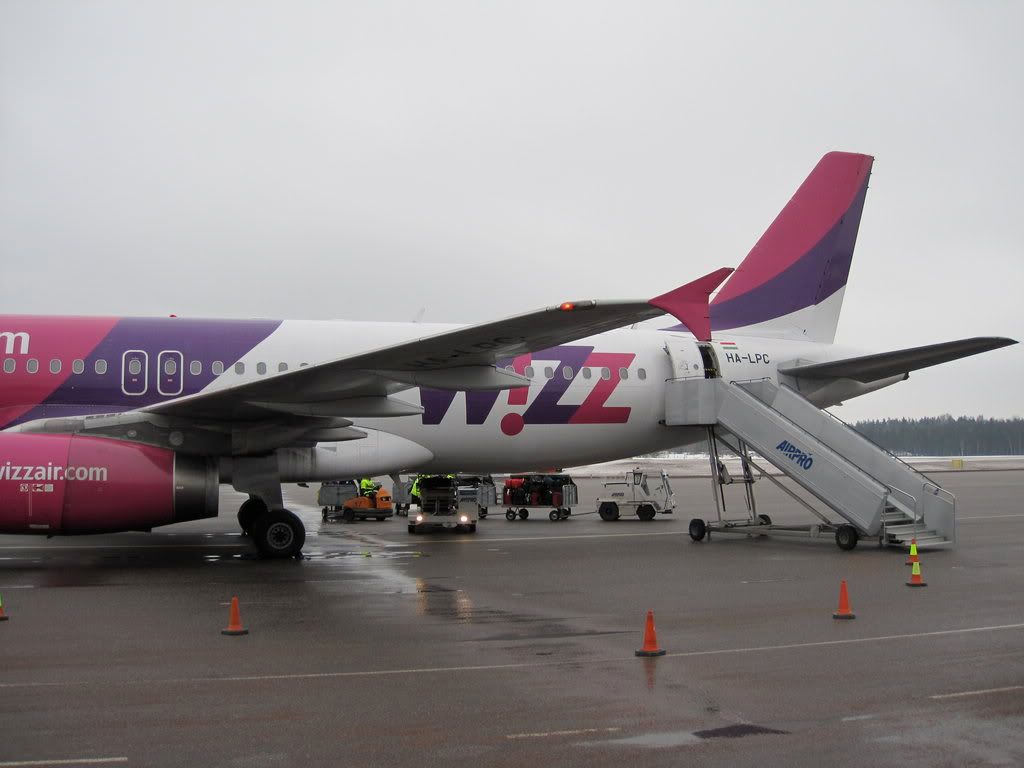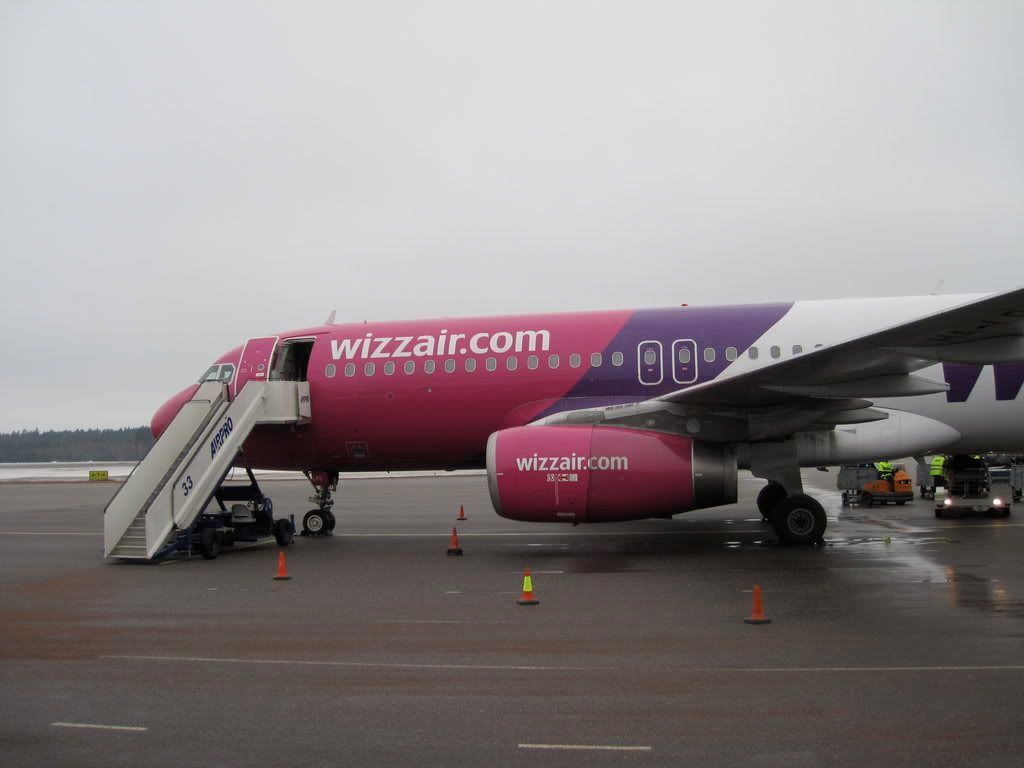 One of the gate agents right next to me pages me to contact the gate staff, I raise my hand and she asks for my OLCI boarding pass (yes, Wizz finally introduced this high tech feature of the modern age!) and my ID. I ask if I'm the only one doing OLCI, nope, but apparently all the others had baggage to check and had visited the check-in desk. She tears off half of the boarding pass paper (keep it dear, I have a spare copy!) and hands the rest back to me.
A few minutes later priority boarding and some sort of larger party is called for, I'm the very first one to walk out the door and onboard through the back door, catching the heavily made-up Polish FA still preparing the back galley.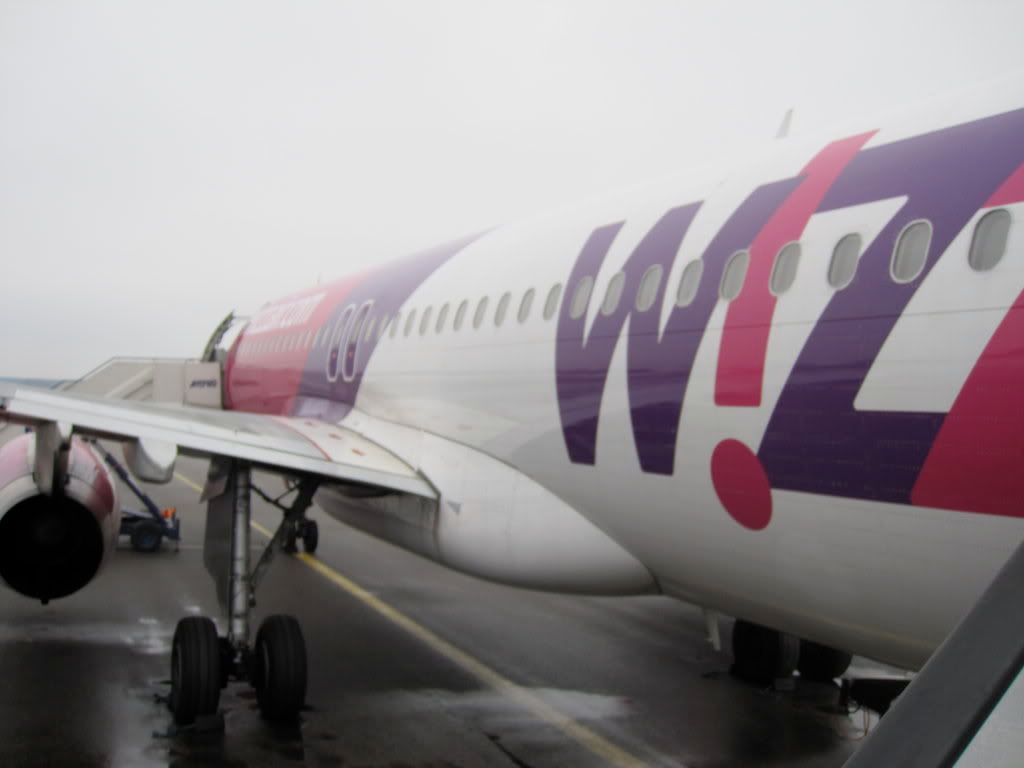 TKU-RIX
W6678
A320 HA-LPC
Seat 28A
18.35 - 19.20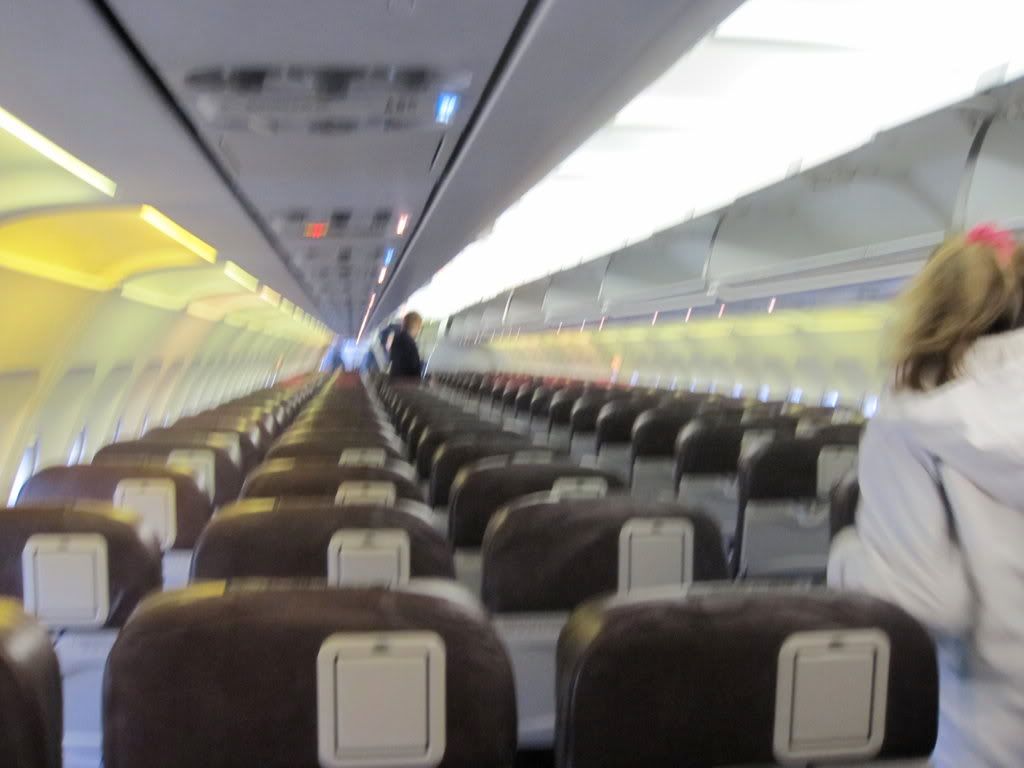 Theoretically one has to pay extra for exit rows and bulkhead seats with Wizz - I decide not to bother and sit down on one of the last rows instead. Boarding is your usual low cost scrum, and soon I'm surrounded by some really annoying middle aged people - okay, maybe it is just me but I just can't stand that Turku dialect everybody is speaking.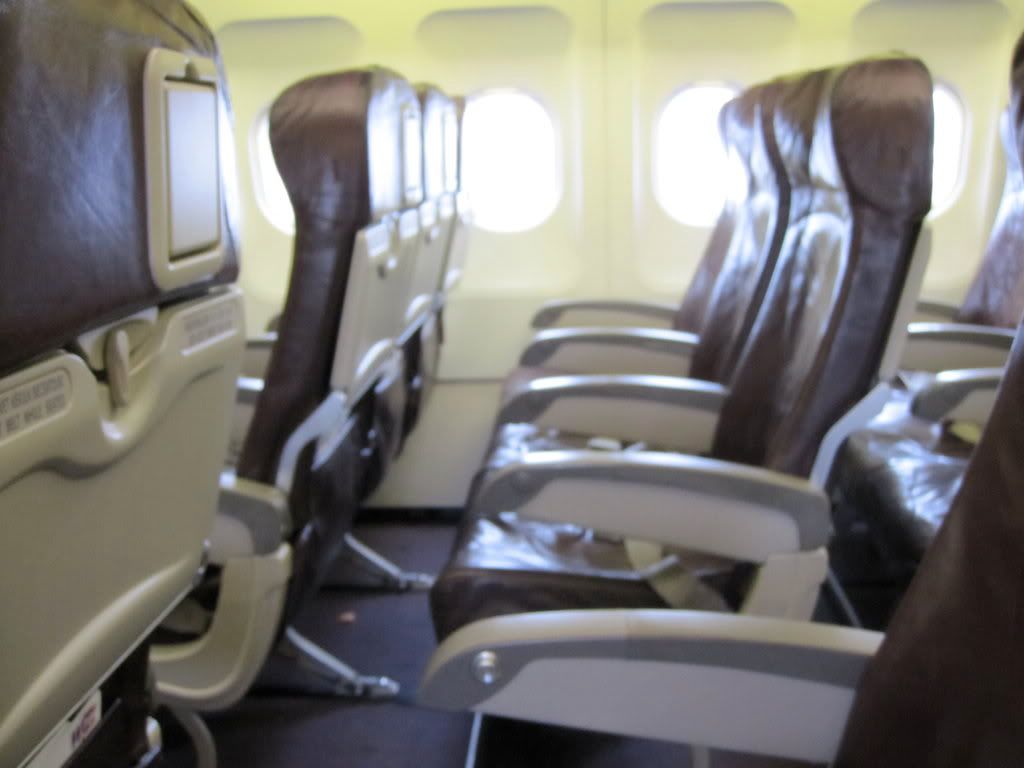 Legroom is not great: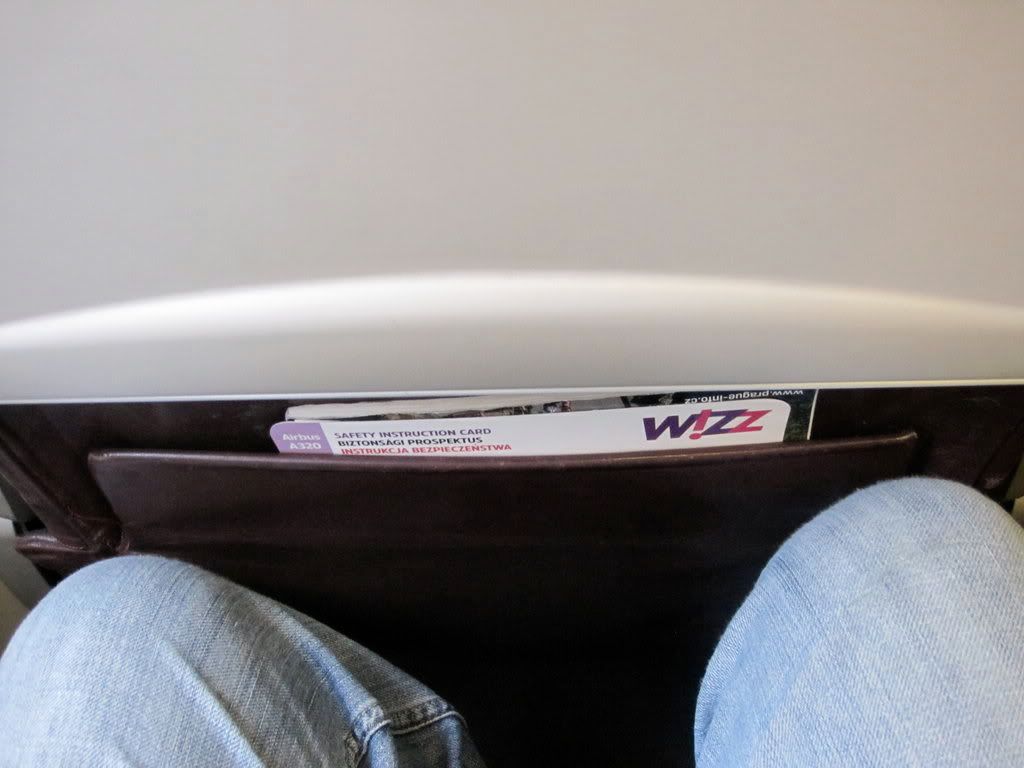 Interesting place to put a cup holder: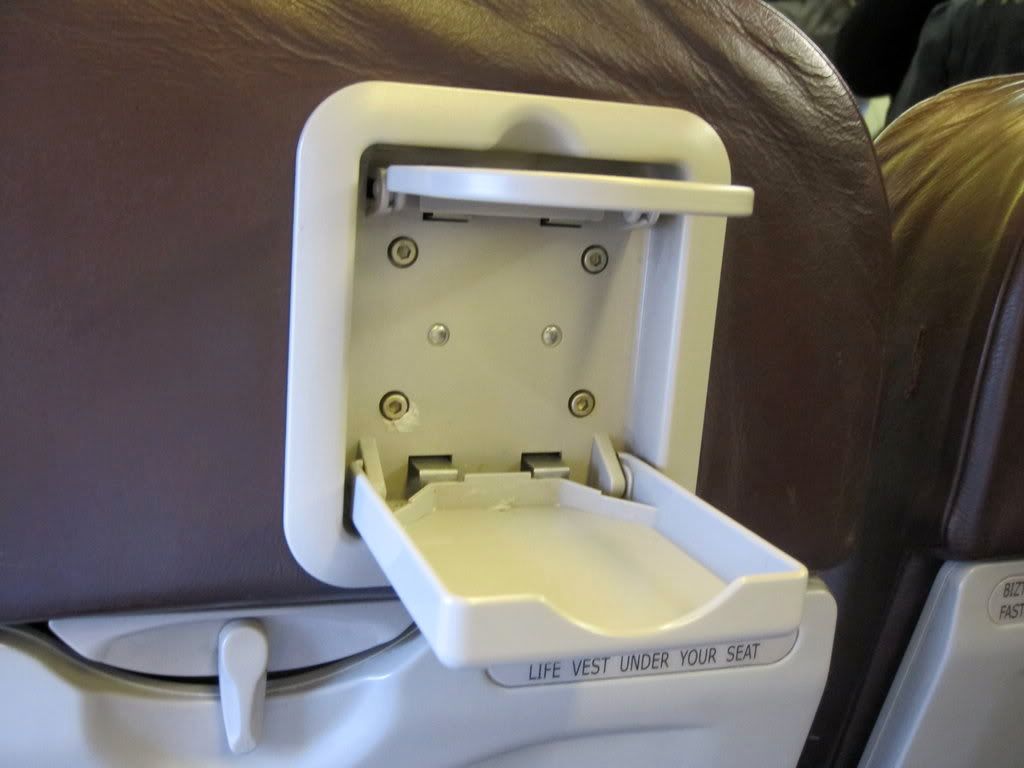 It looks like to a completely full flight, quite well done - I'm surprised actually considering there is competition from BT on the RIX run.
Flight time is announced as 50 minutes. We manage to depart five minutes before the schedule, taxi the long way to runway 08 and take off.
Bluebird Cargo, another regular visitor: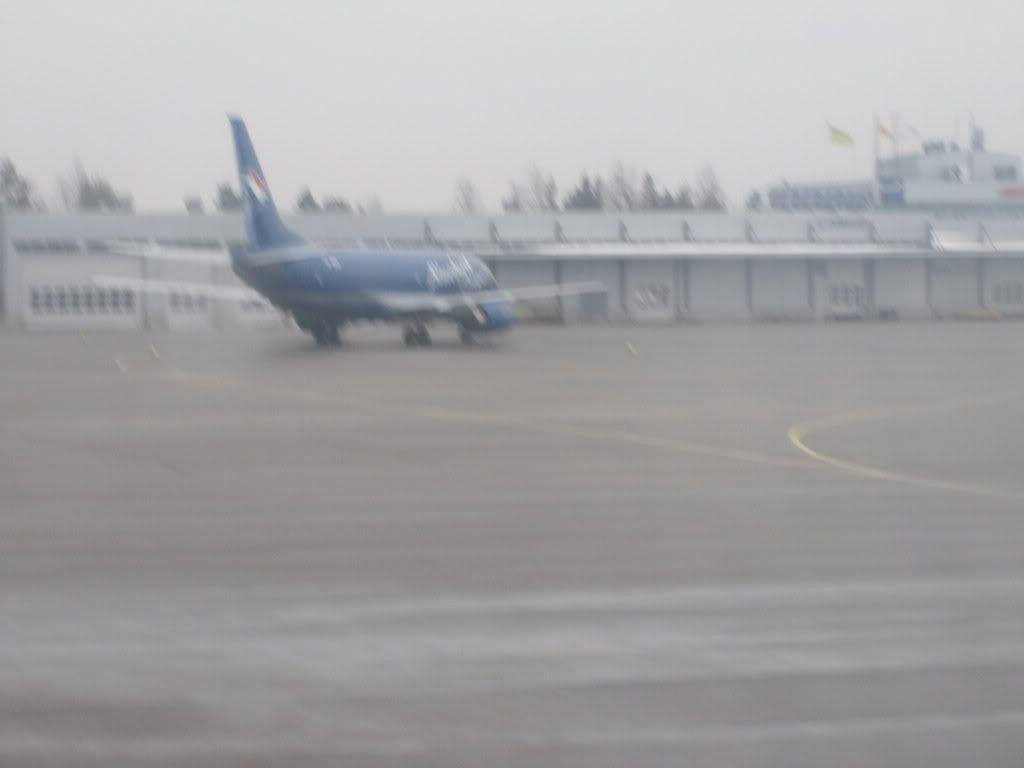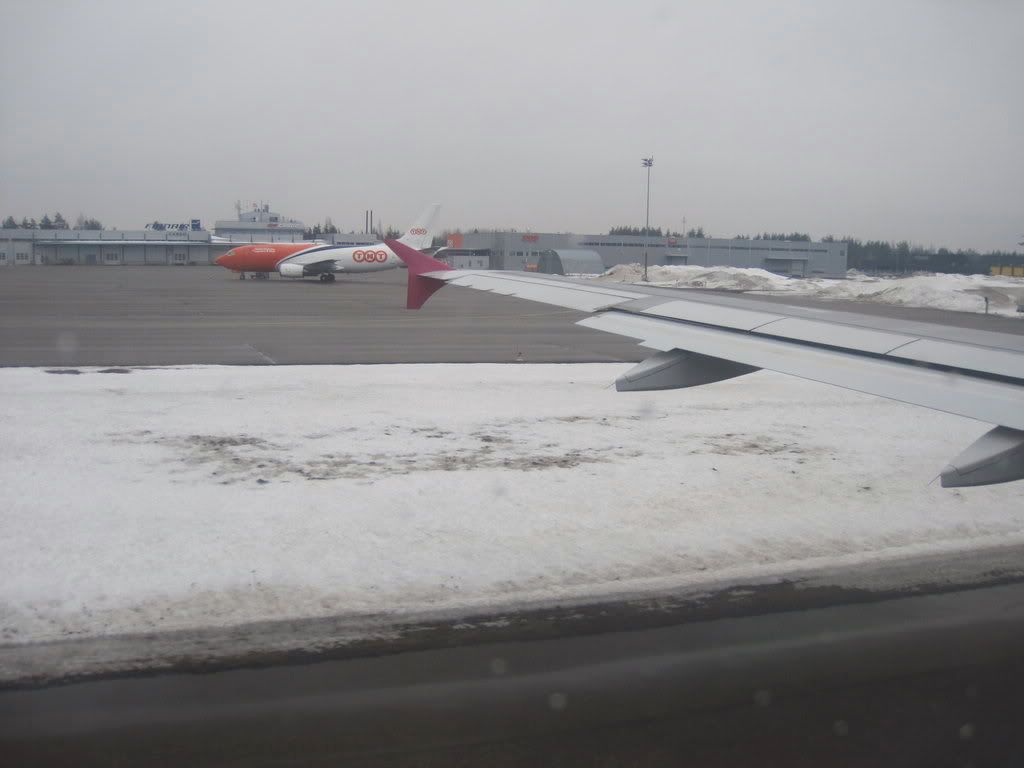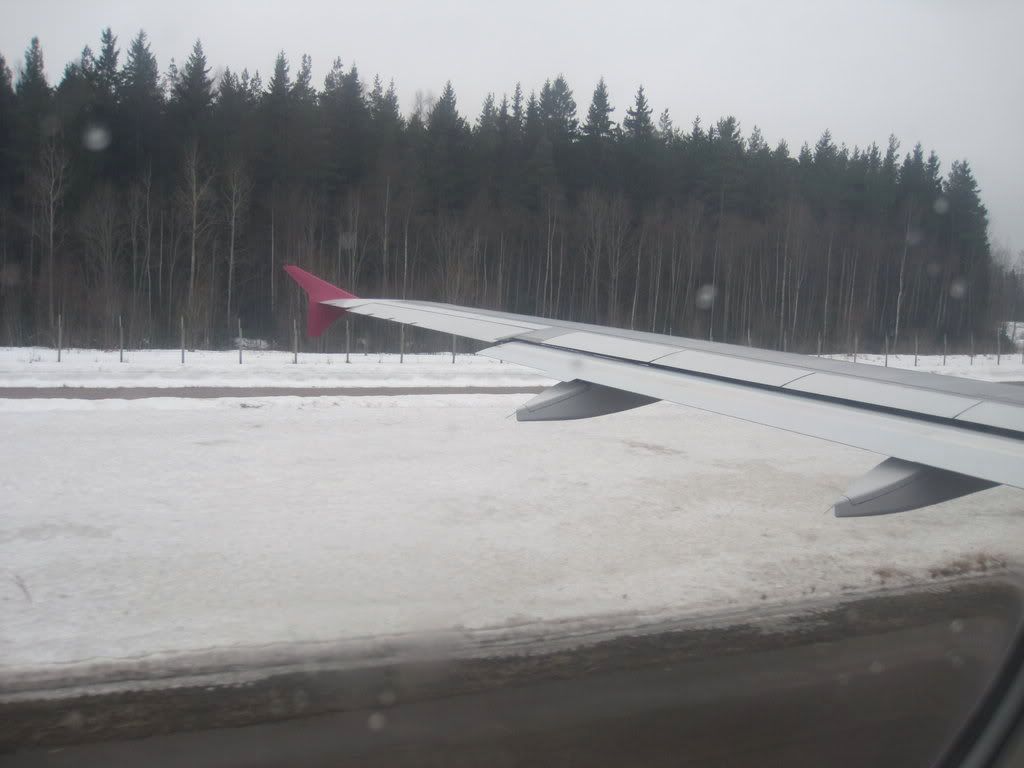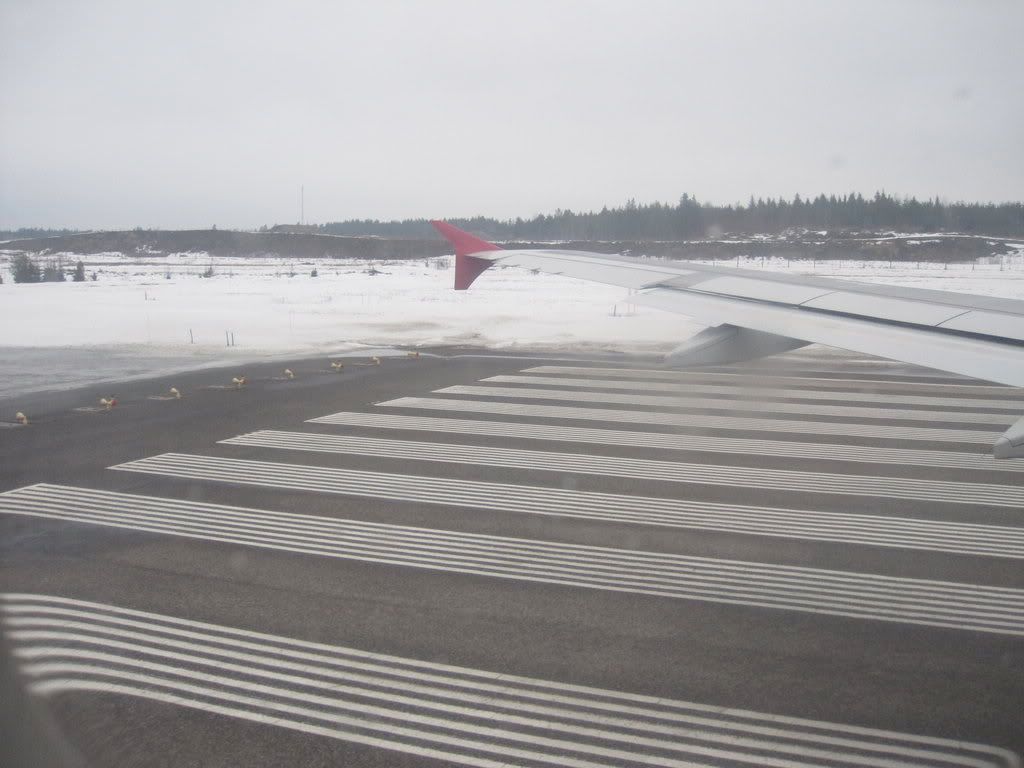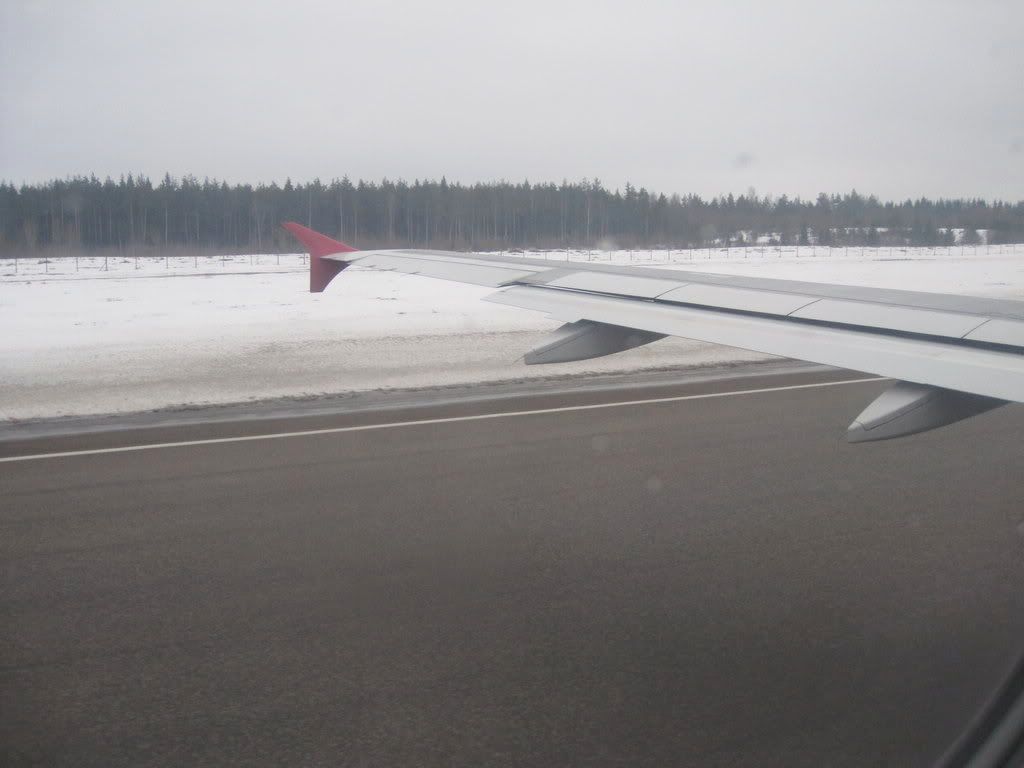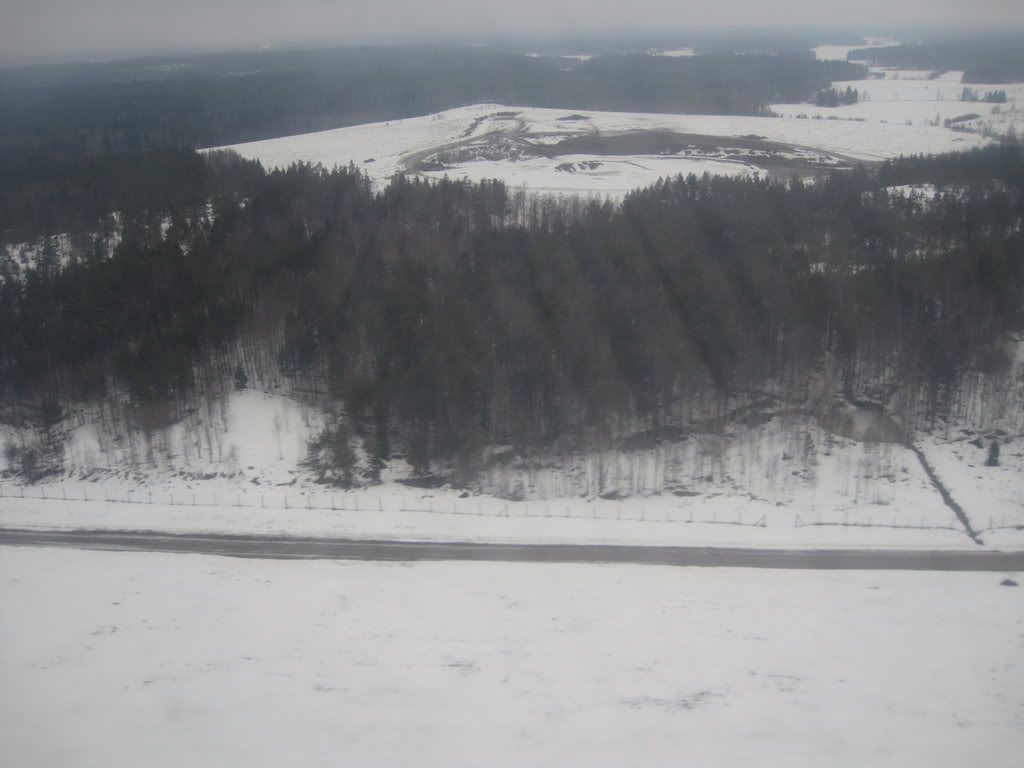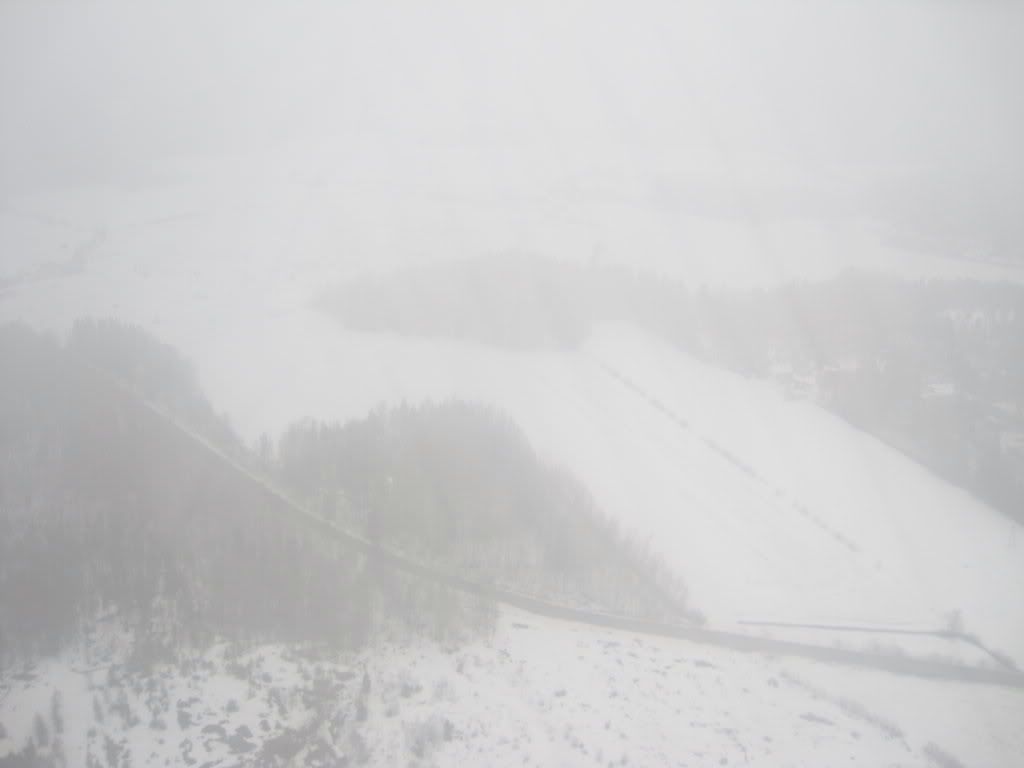 Right after the seat belt sign switches off they make a weird announcement about smoking onboard not being allowed (ok, that's not the weird part) and "Anybody caught doing so will be handed over to the police in Riga and arrested". Quite a threat, but then again quite rightfully so.
Still lots of snow in Finland: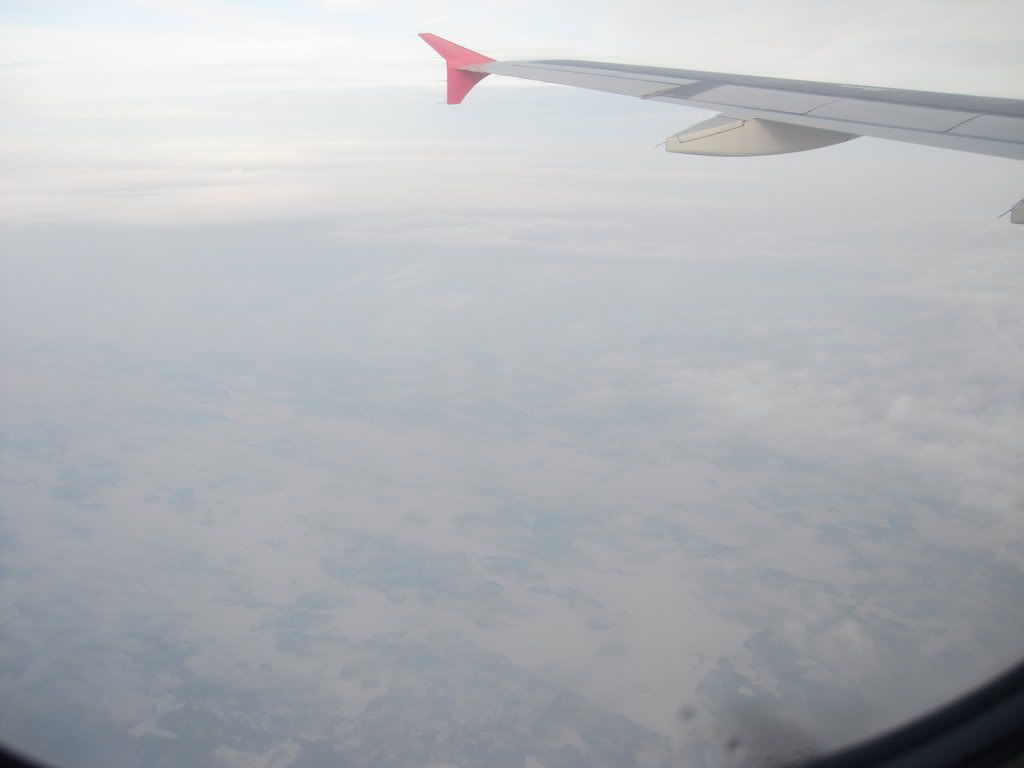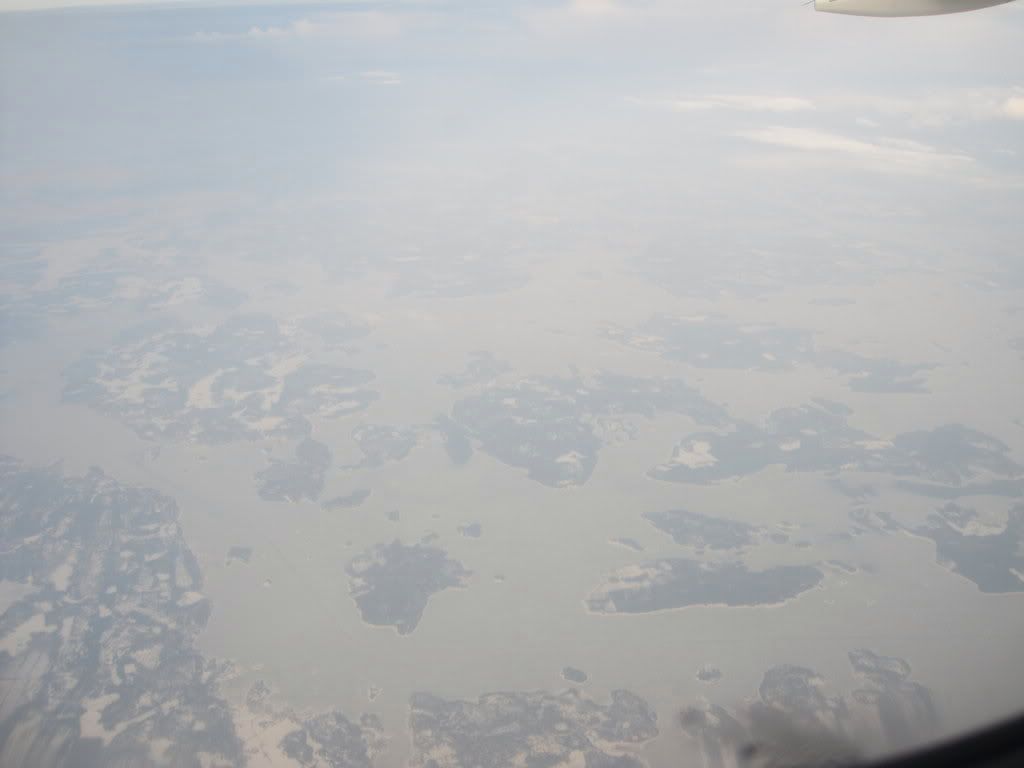 Leaving Finland, this is Hankoniemi, the phallic-like peninsula sticking to the Gulf of Finland: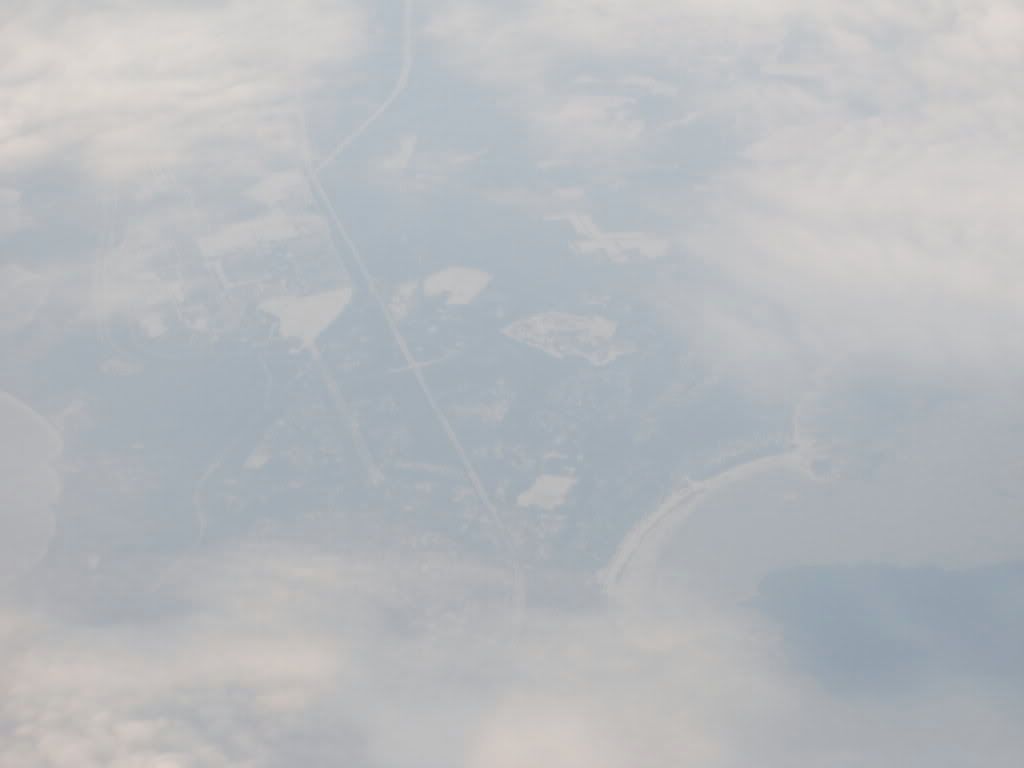 Hello, Estonia:
The city of Haapsalu down there:
Right over Estonia the first officer announces our imminent descent to Riga, expected to land there at 19.20, 20 minutes ahead of schedule. He described the Riga weather as "beautiful", I can't quite make out the temperature he mentioned, I think it was "seventeen degrees" but surely that couldn't be, could it?
By the time the few working seat belt signs in the cabin - yes, most of them are completely dead with only a few working - light the BOB cart has made it about two thirds down the aisle and is quickly packed up. They seemed to be doing quite a good business here, with many people buying some drinks. It never reached my row, not that I would've wanted anything anyway.
The Gulf of Riga still frozen over: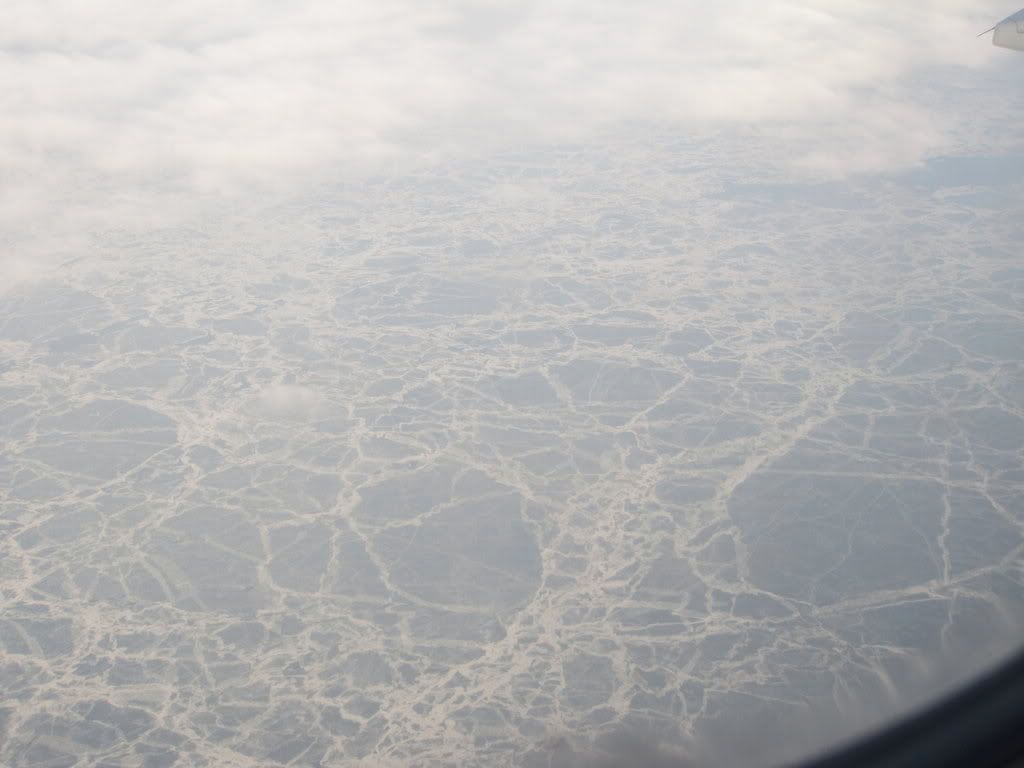 But slowly melting towards the coast: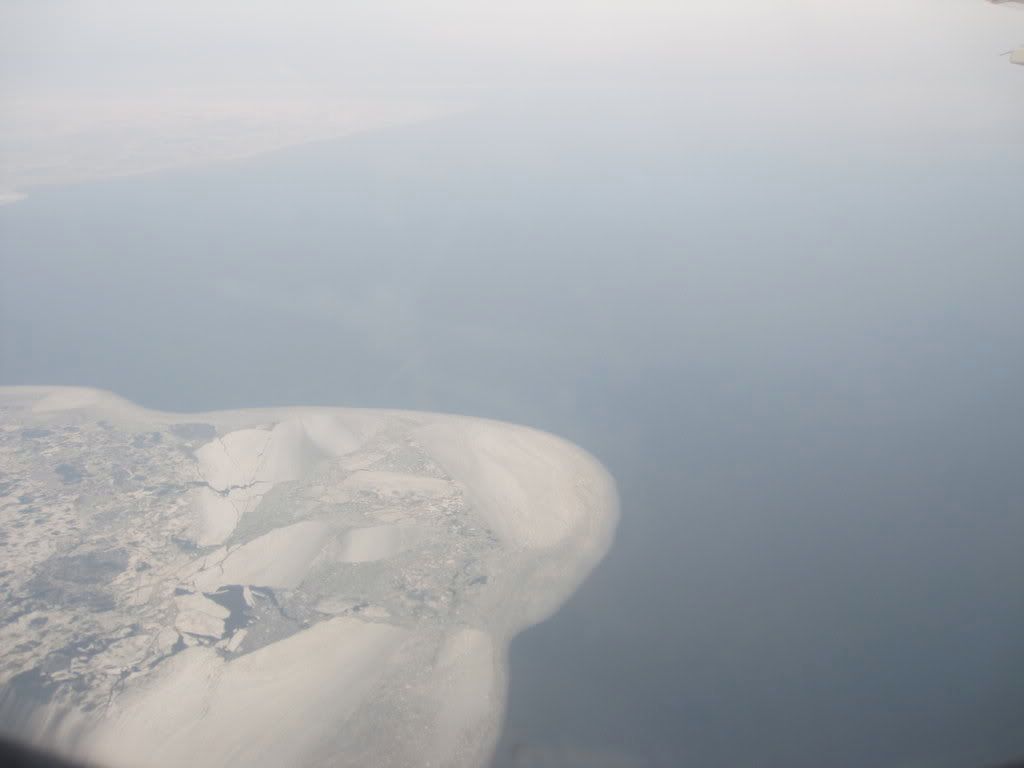 Hello, Latvia:
Mouth of the Daugava river: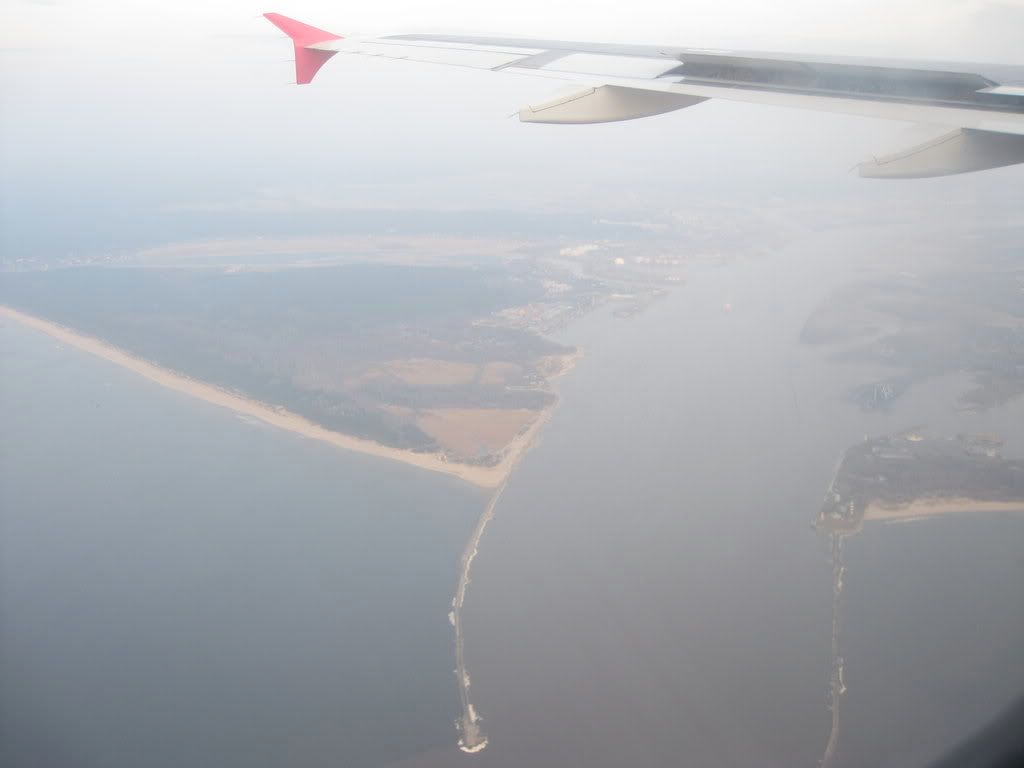 Urban sprawl, Latvian style: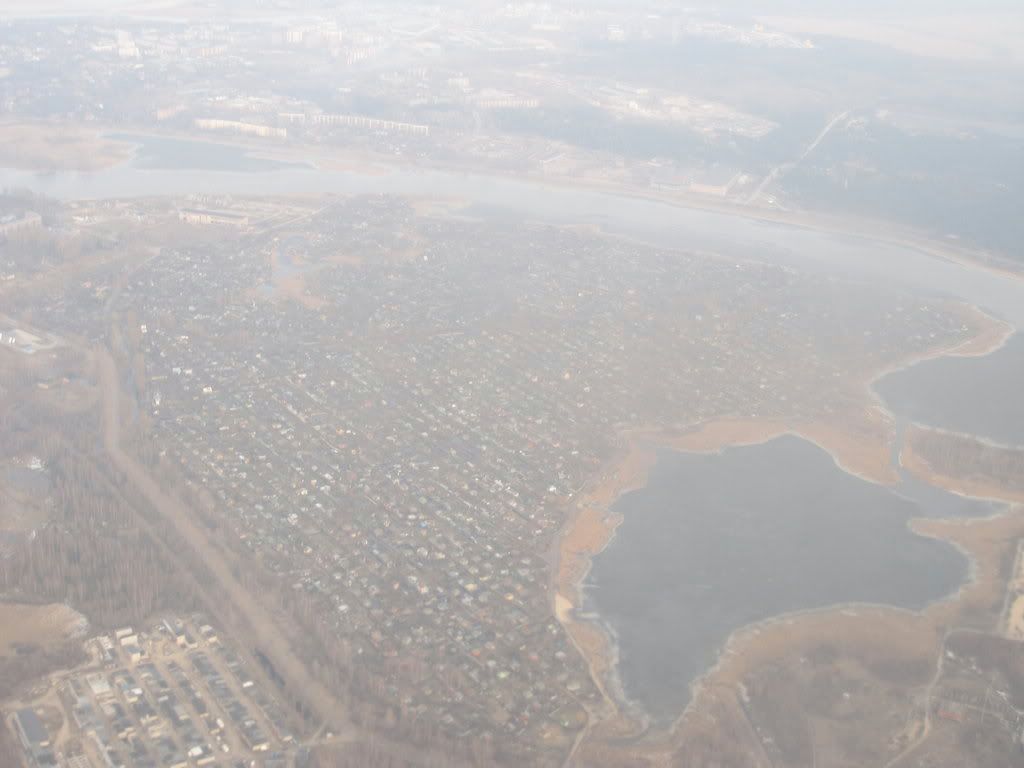 Not much snow here anymore: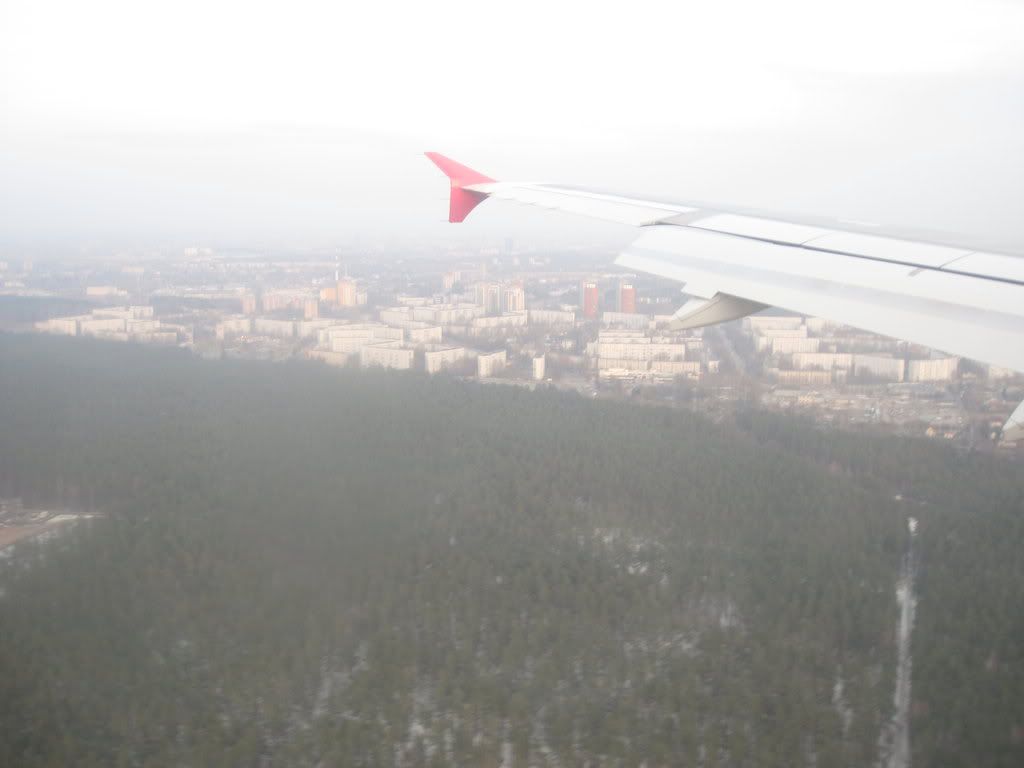 The highway and railway heading to Jurmala from Riga: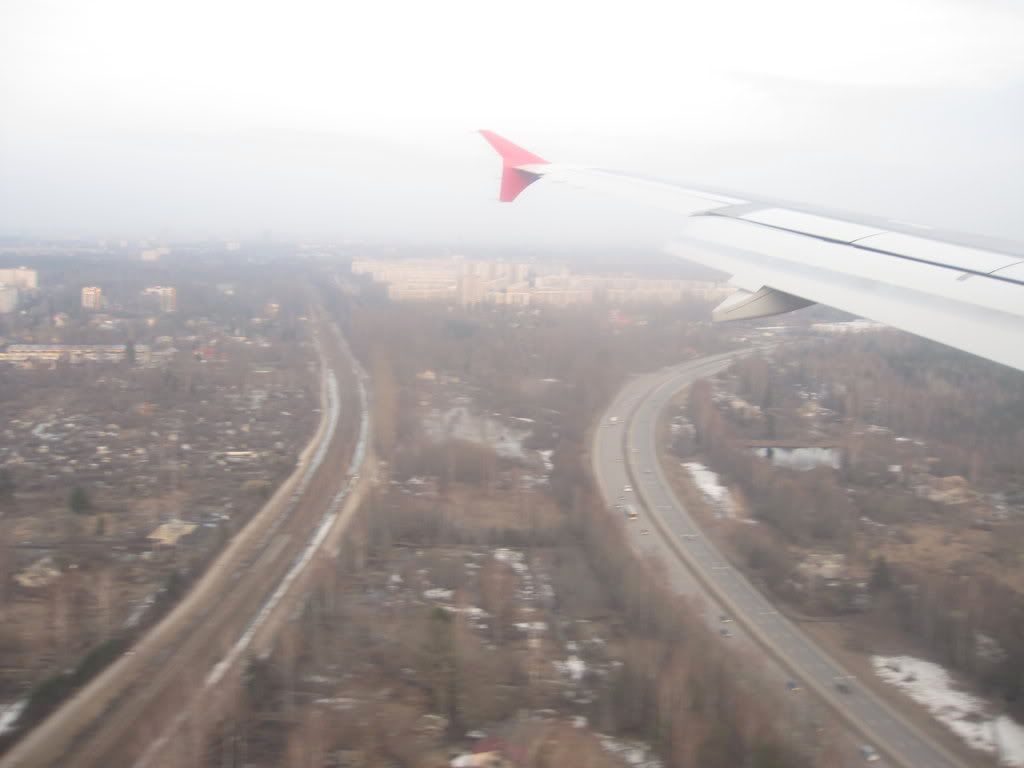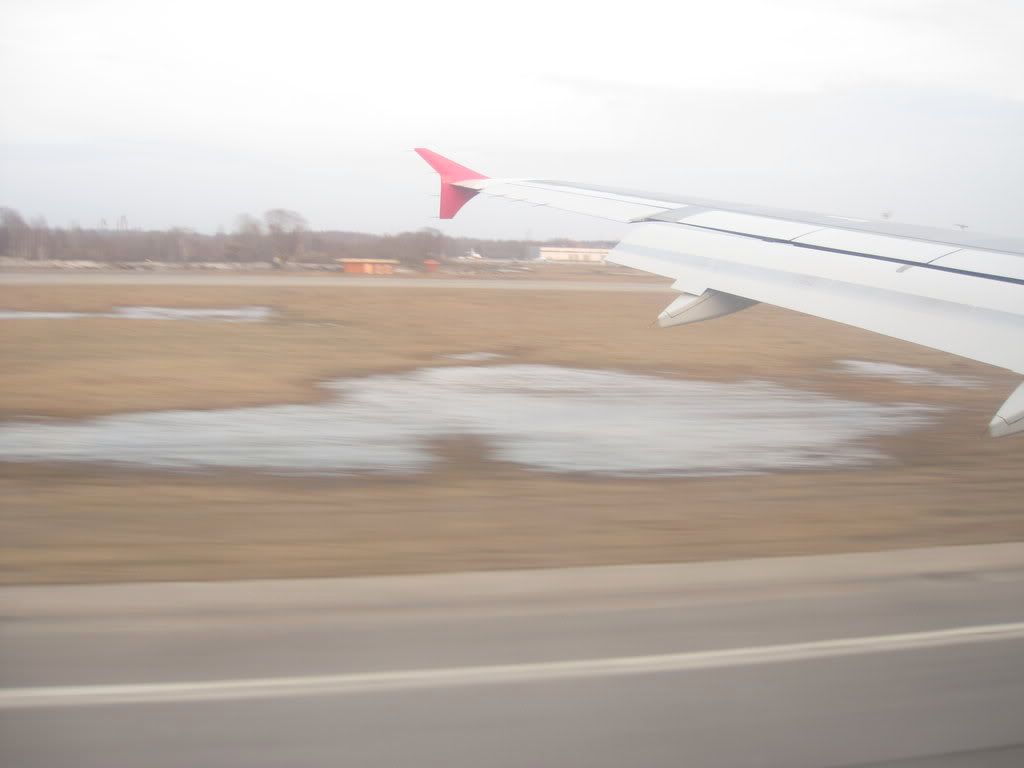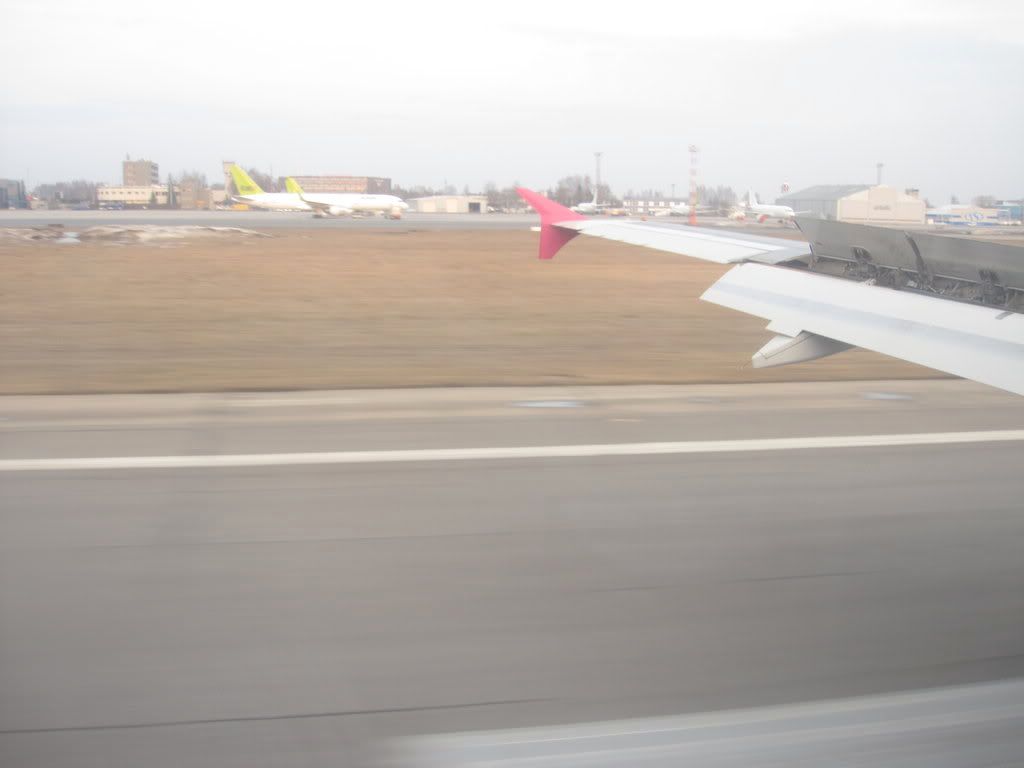 Final approach is very bumpy, even though there doesn't appear to be much wind of any kind. We land on runway 18 after a flight time of 40 minutes. I see something interesting during the taxi: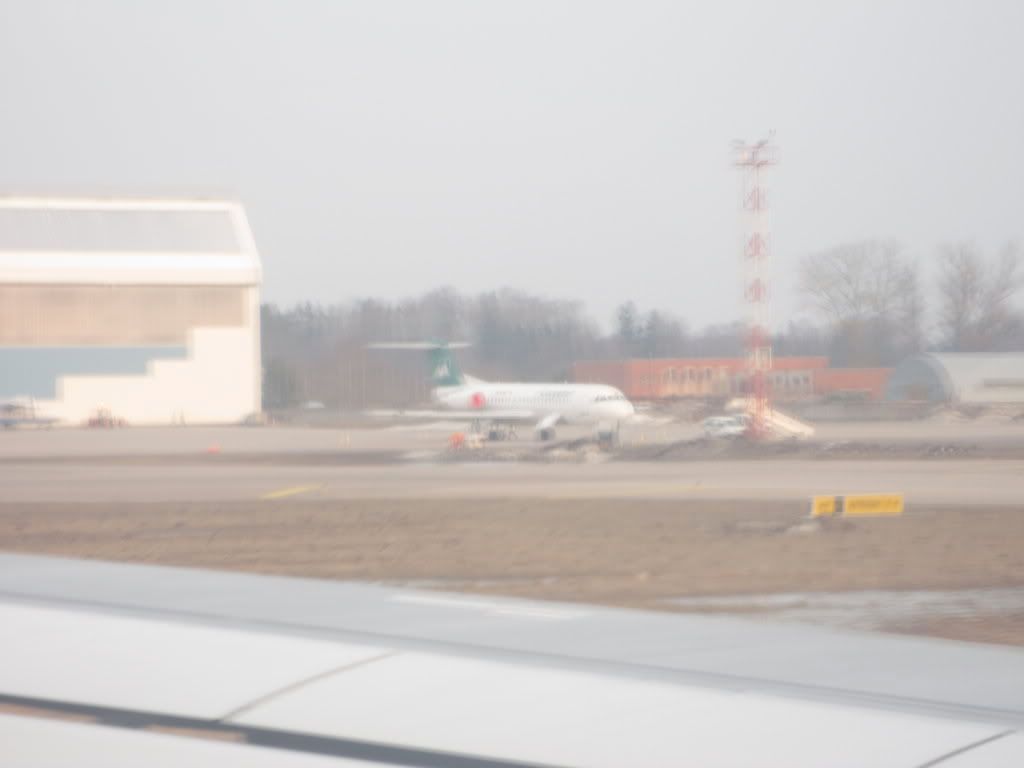 That's a Carpatair F70 (ex-MA) wetleased for BT to cover for the delay in the Dash deliveries. I'm trying to fix an itinerary to catch that bird.
Riga Airport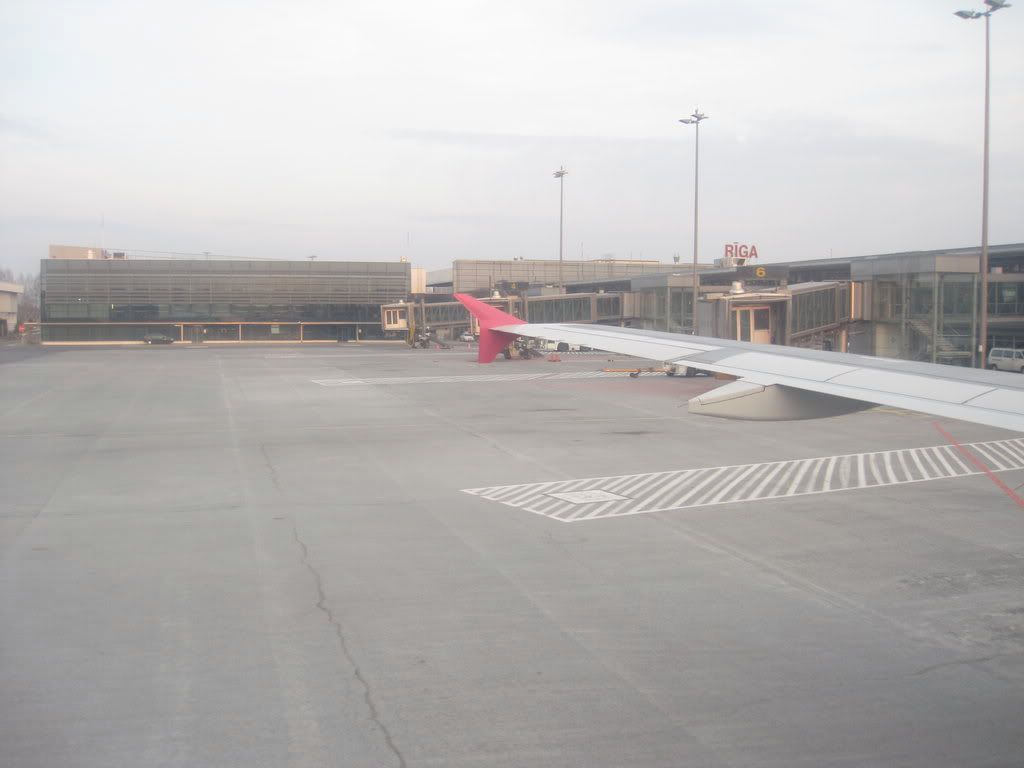 We stop in the end of the B pier and deboard to the apron. It indeed is very warm outside, I think the 17 degrees might've been quite close.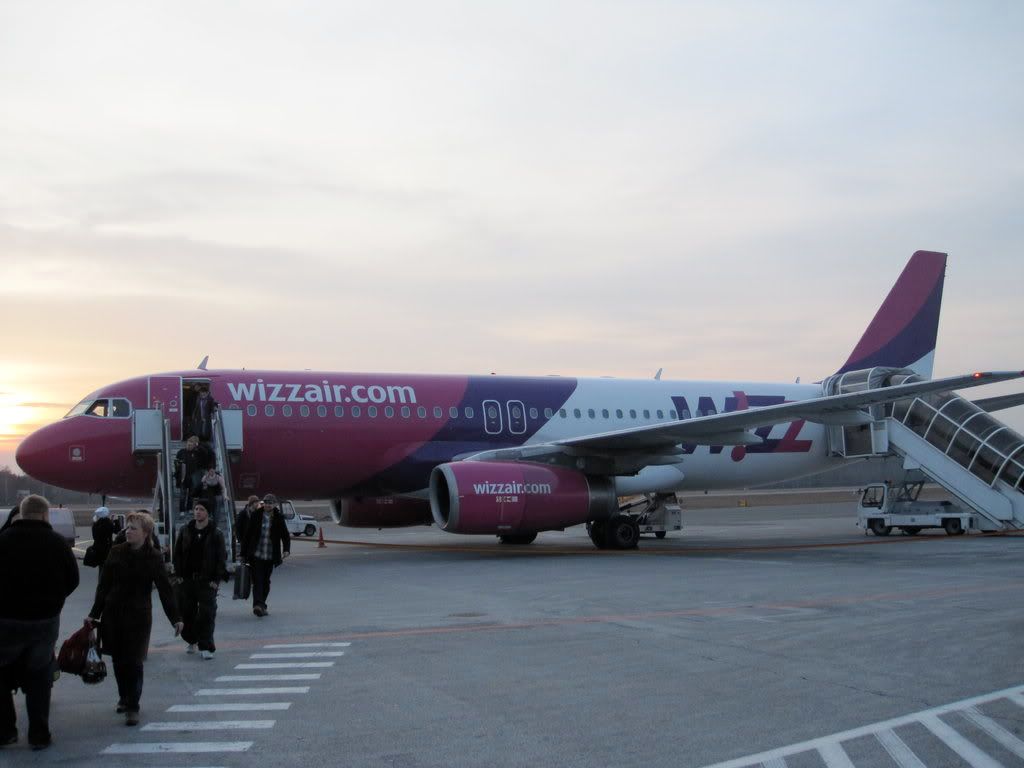 At the terminal I'm heading to the transit desk but stop at the gate for the TMP/KUO (it will continue to my hometown of Kuopio from Tampere) as it is on the way to ask the girl to print me a boarding pass (the upgrade screwed up the OLCI). She tries to direct me to the transit desk, but I tell her that she's much nicer than the people there (nothing bad with a bit of flirt to get what you want
). I hand in my upgrade voucher but she stares it quite not understanding what an earth it is (well, it's not that clear to me either, honestly). Few clicks, a confused "but you are already checked in!" and finally she gets it, "Sir, you have been upgraded!", grabs a preprinted boarding pass from the desk and hands it to me. I ask when do we expect to board, she says "The plane is not here yet" (Yes, I can see that) - but should be arriving "in five minutes", I say that "You know, I just want to maximize my lounge time" and smile.
I head to the sacred domain of the airBaltic Business Lounge, where a friendly and smiling girl happily admits me in.
airBaltic Business Lounge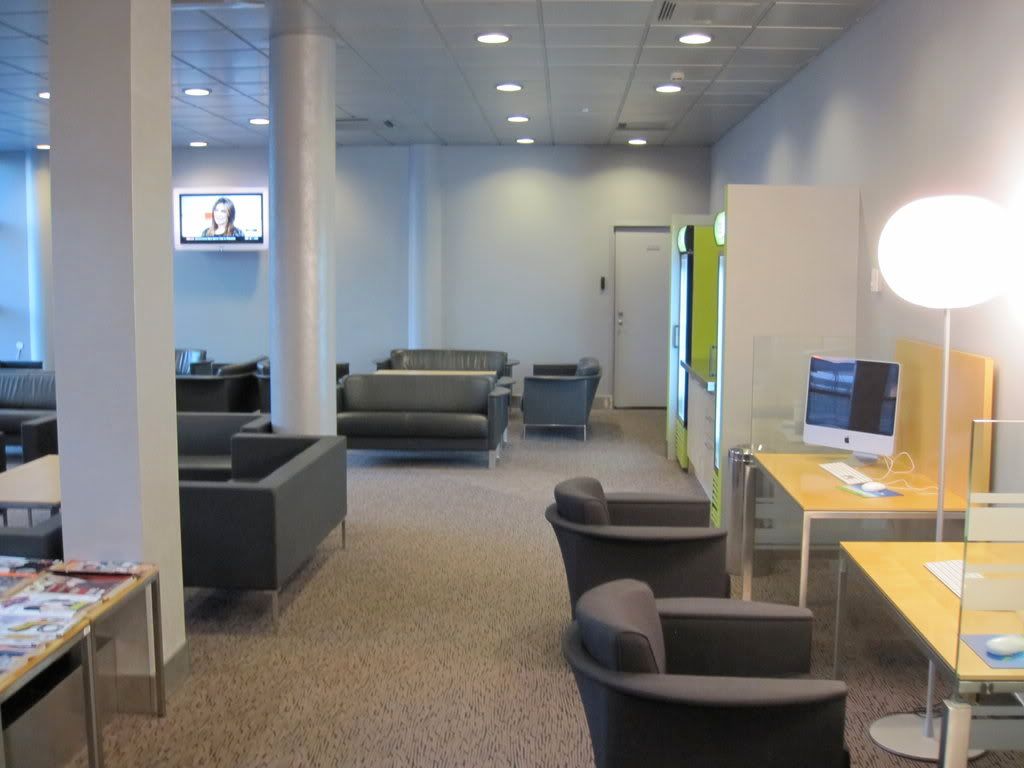 My first time here, and I'm definitely way impressed. Just two other guests apart from me (dunno about the upstairs, there's a whole another level there where I didn't bother to go, at least it should offer great views of the northern apron) are here and both of them leave pretty soon. I love this lounge, can't wait the few months in which I have enough BT segments booked to get me a shiny enough BalticMiles card to grant me access here every time I'm flying BT ex-RIX...
Water bar with different bottled waters from more and less exotic countries: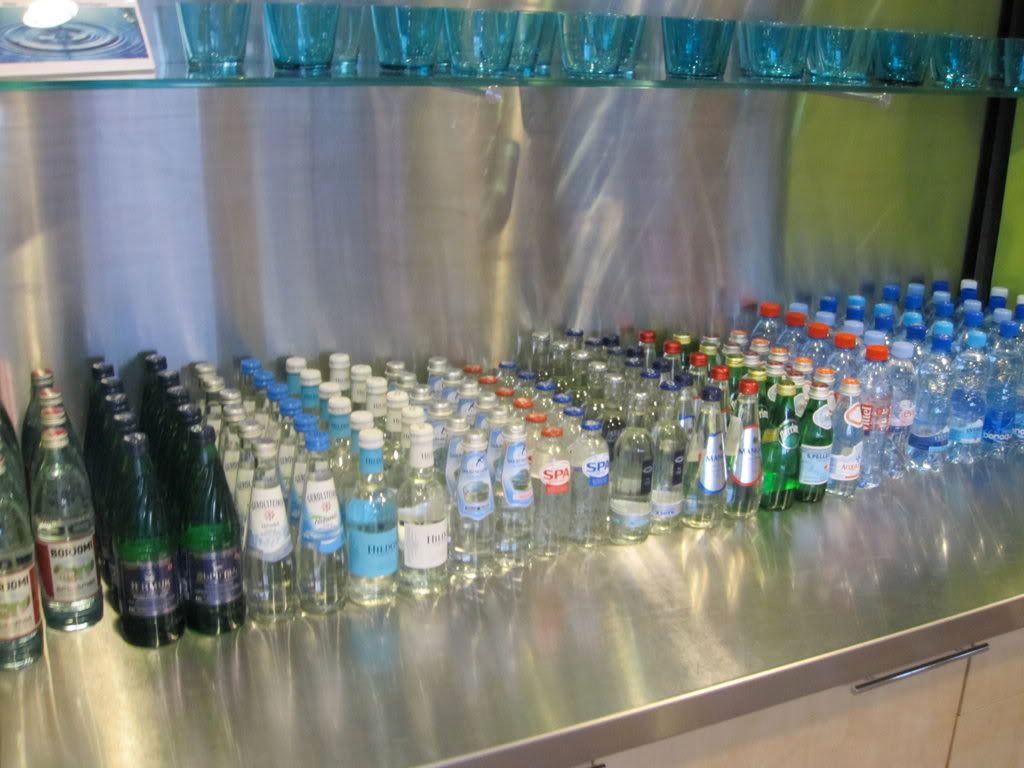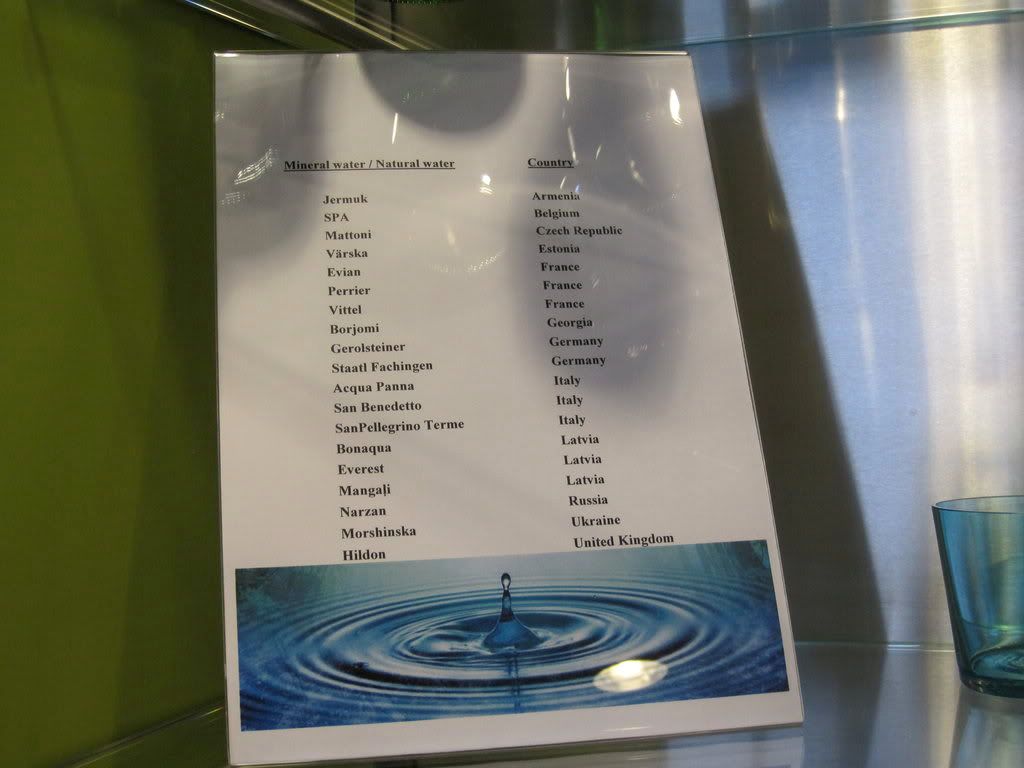 I grab some sandwiches, snacks and wine and head for the (real) computers to do some email and stuff. Interestingly the browser has many porn sites in its history - come on, at least be a bit discreet.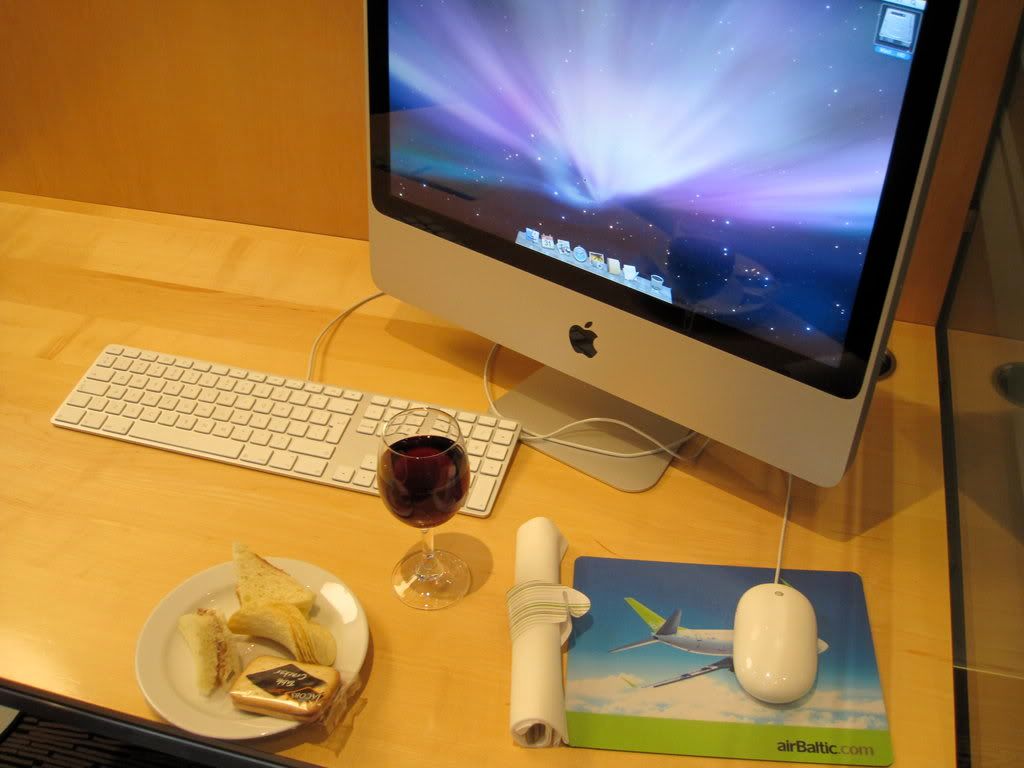 FIDS: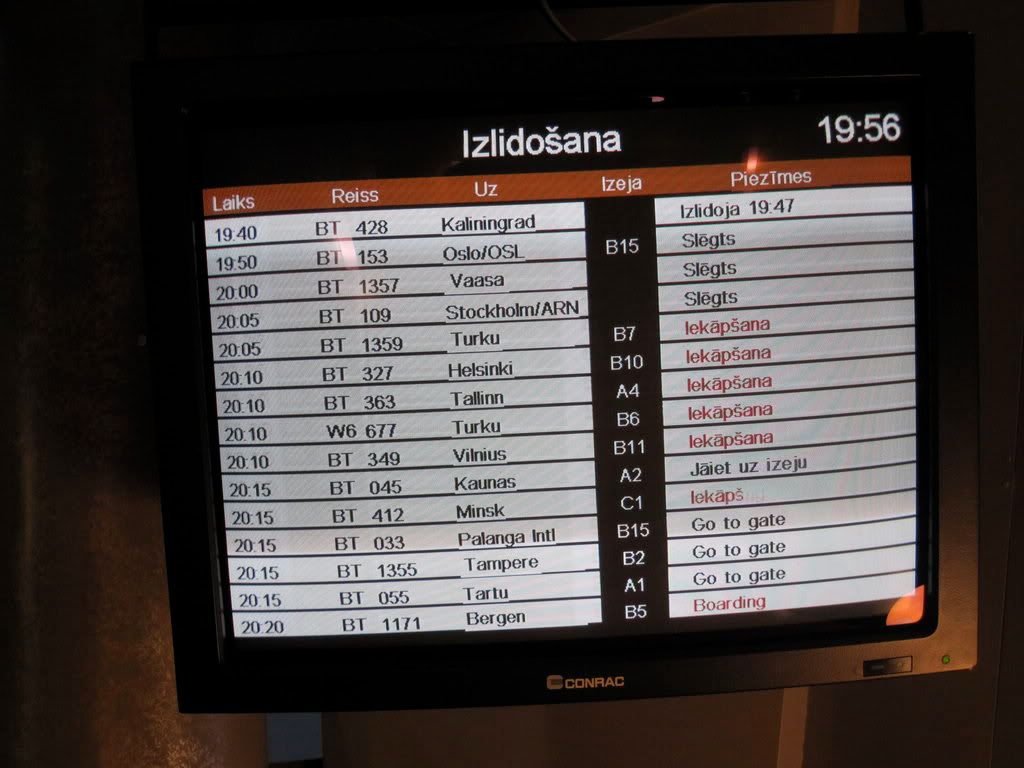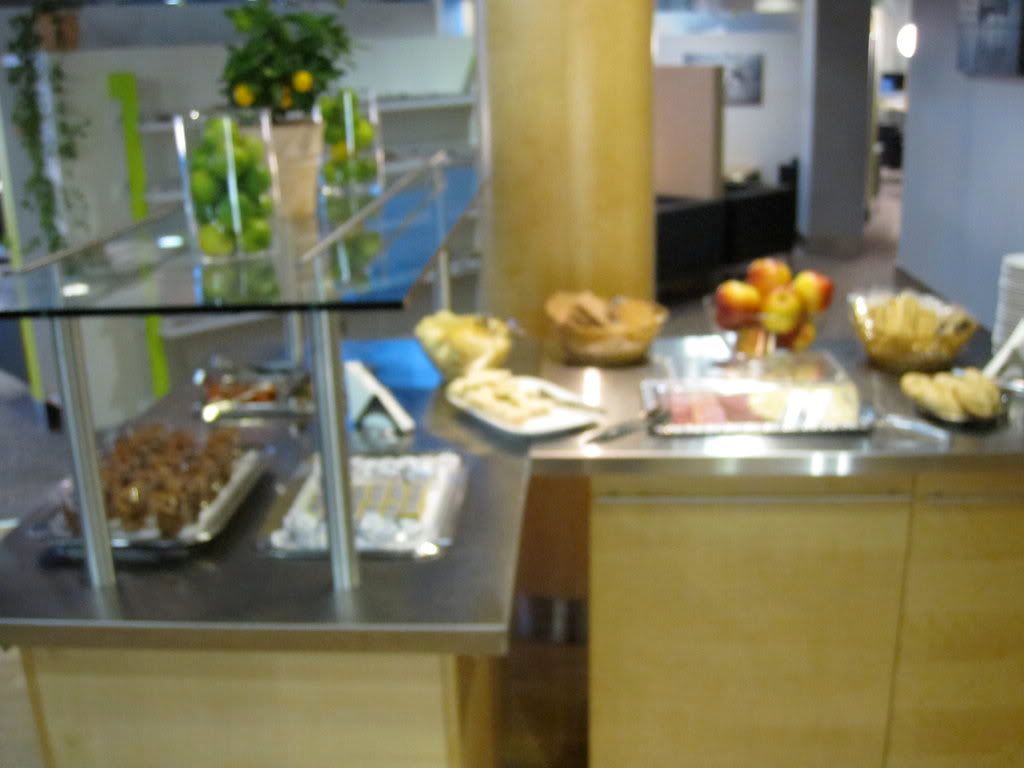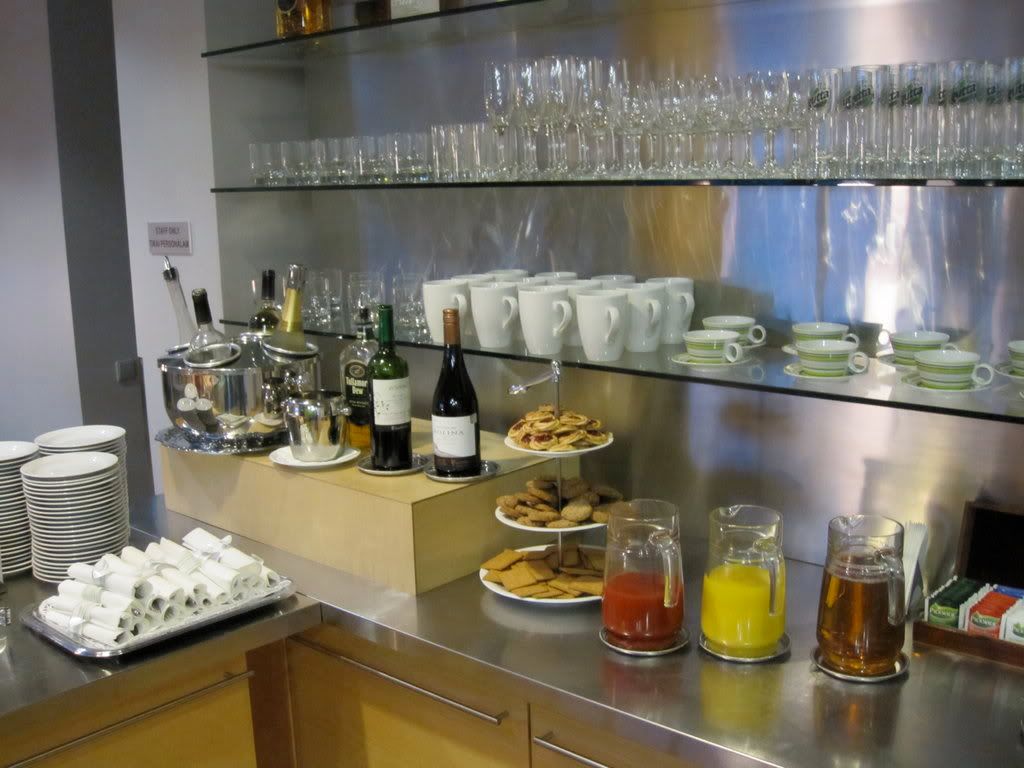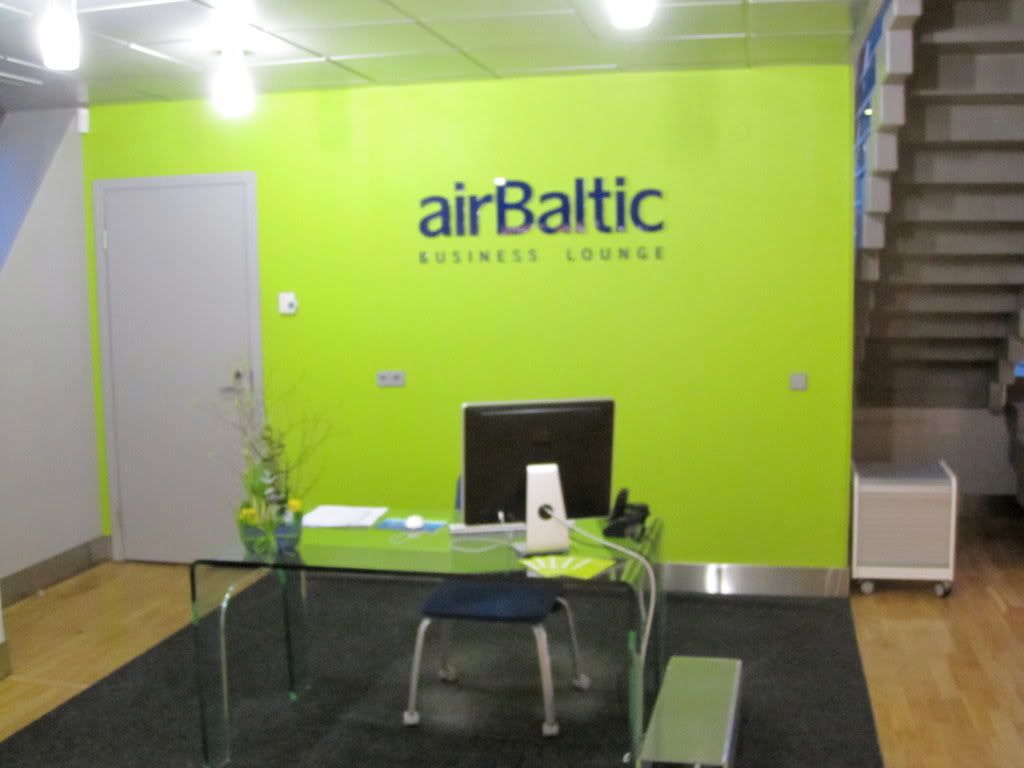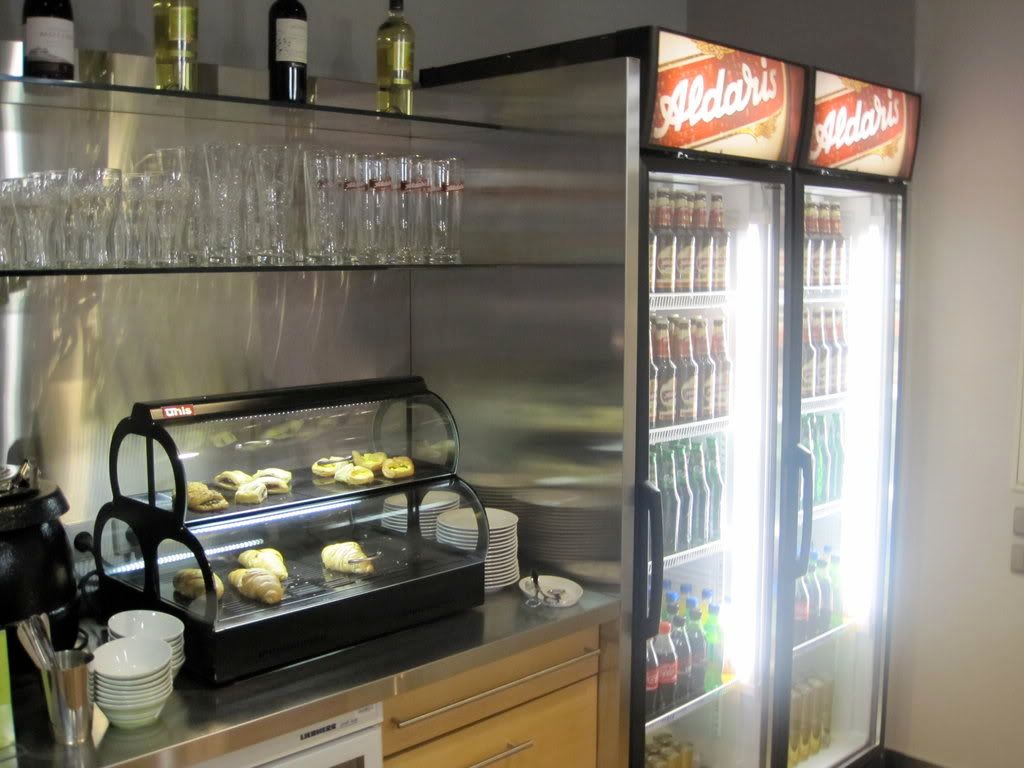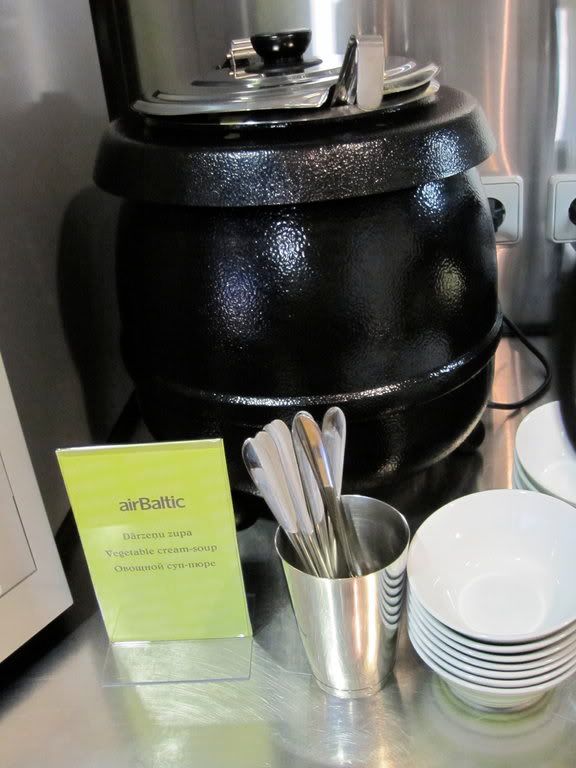 That's Prosecco in a can - a weird but not completely unworkable idea: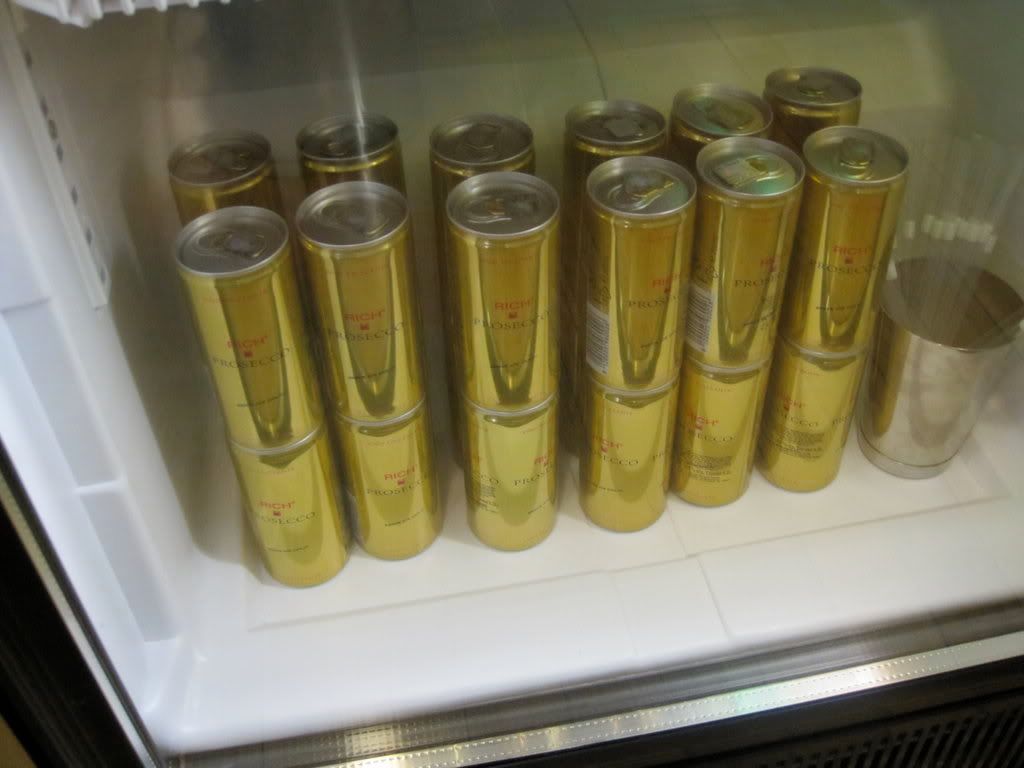 I see my plane arriving after around 15 minutes - so much for the "five minutes" the gate agent talked about. YL-BBL, logged by me back in January for RIX-LGW, so second flight with her.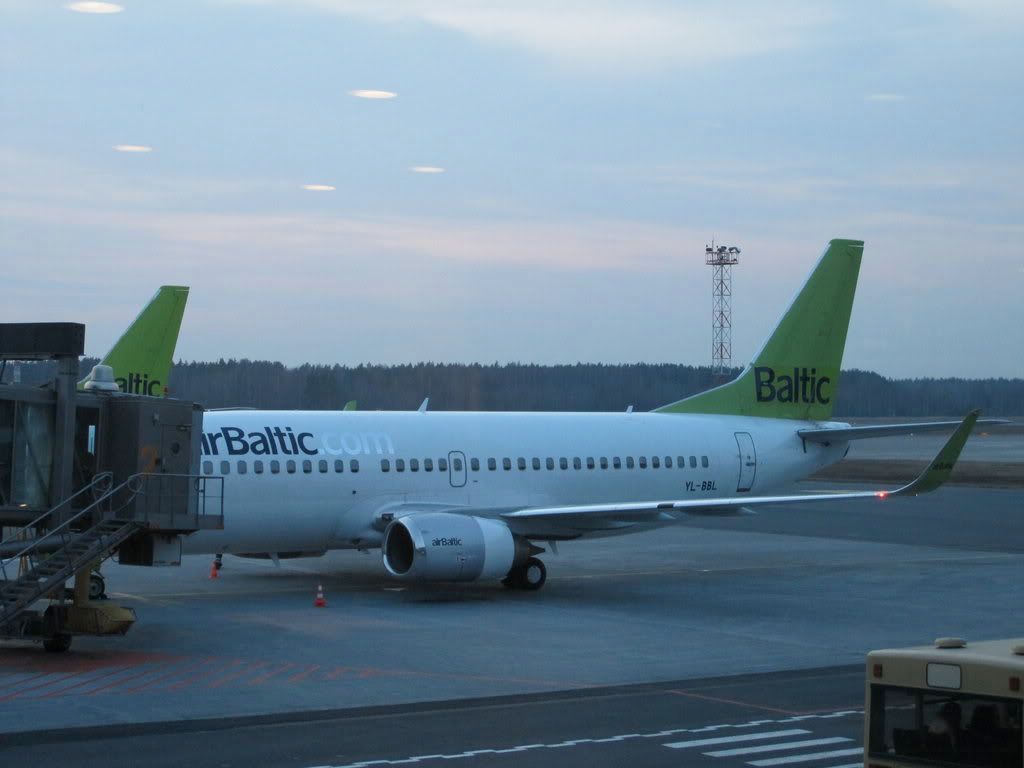 A bit later one of the lovely girls here comes to me, advising that "boarding is commencing, so you should start slowly heading towards the gate". I take a look out of the window: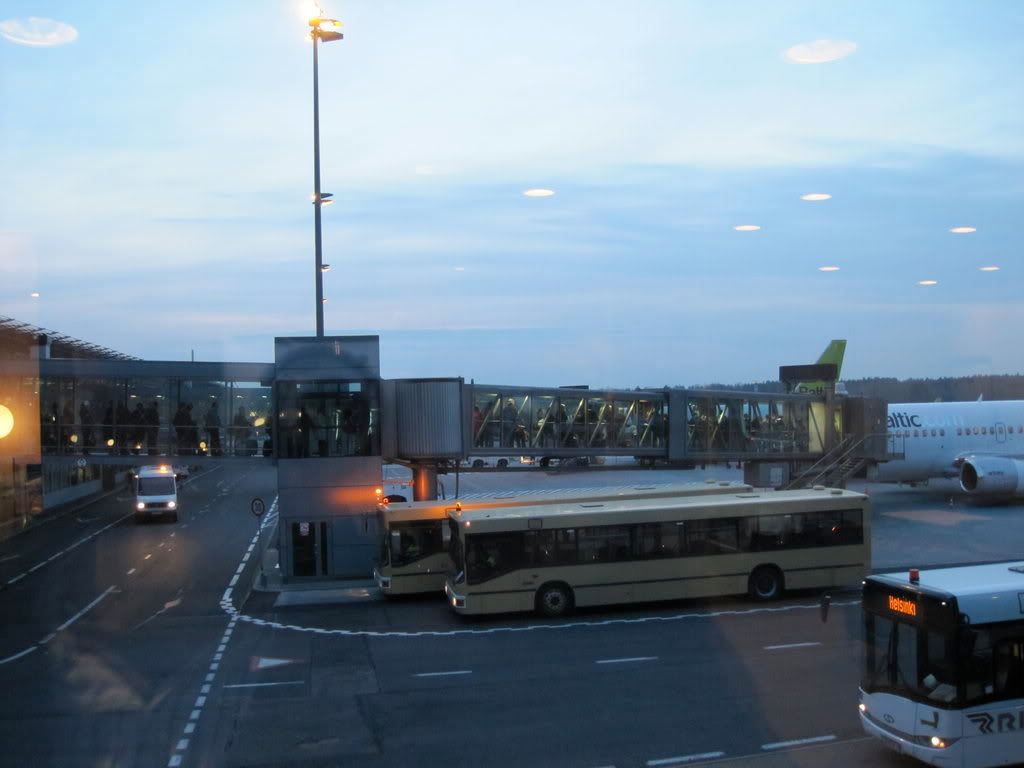 ...and figure out that it'll still be a while
A bit later I head to the gate, apparently being the very last one to board. The jetway is still blocked by the very slowly moving queue: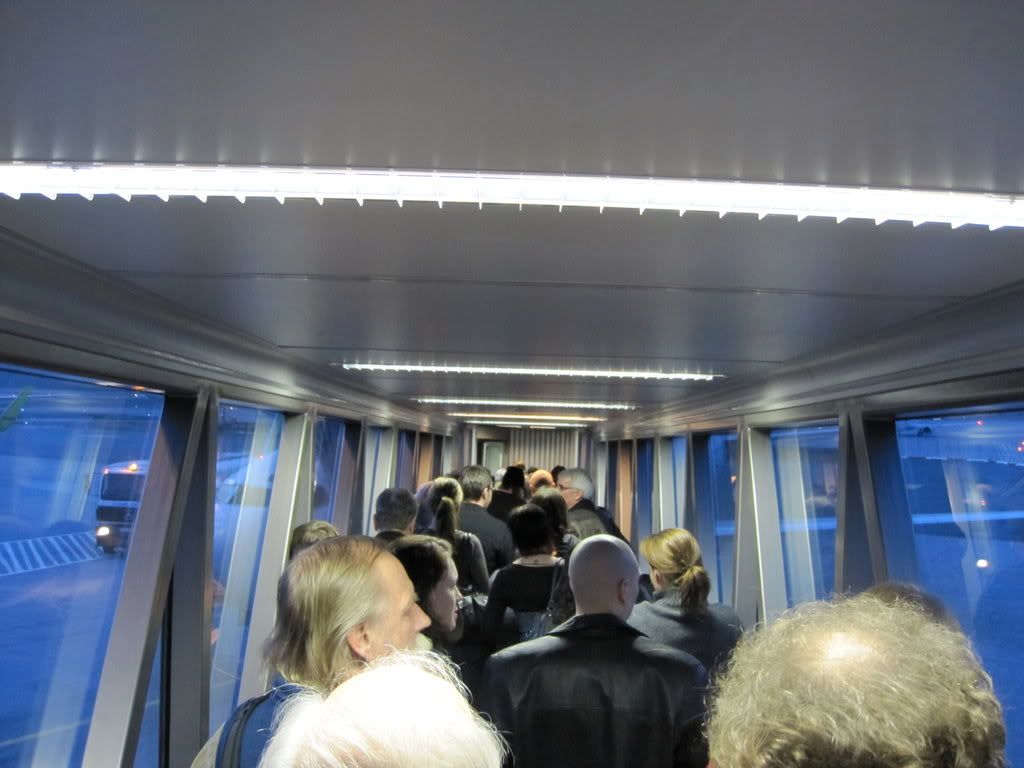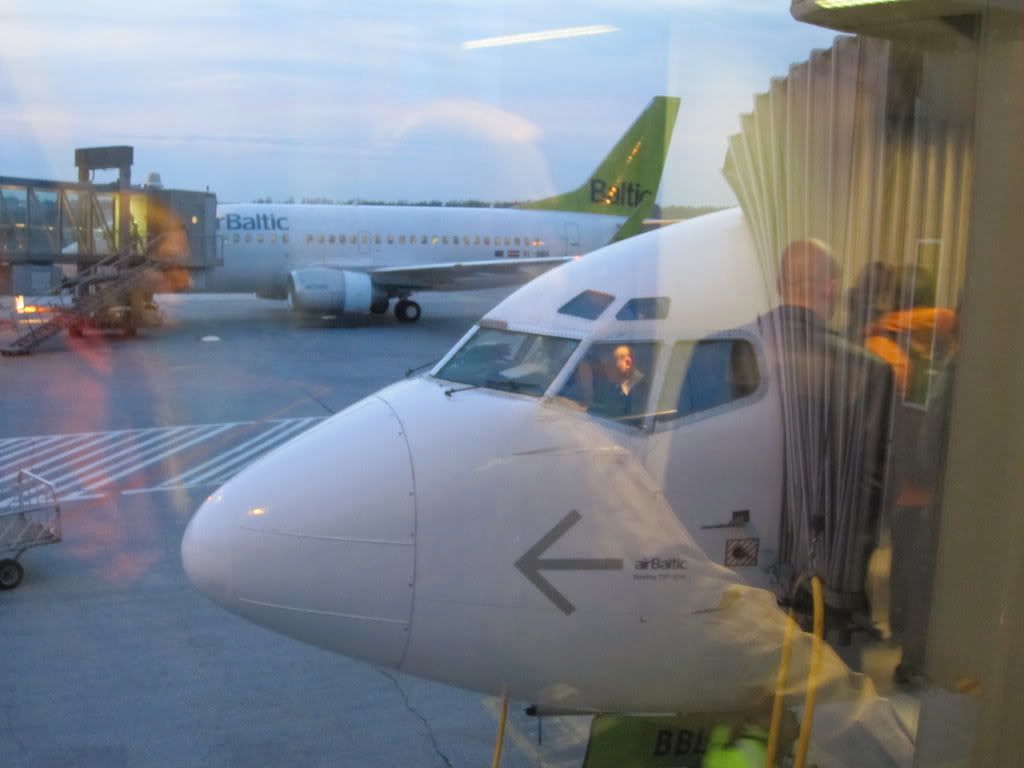 RIX-TMP
BT1355
B737-300 YL-BBL
Seat 2A
20.24 - 21.24
I'm assigned 2D, but since it looks like I'll be the only one in business class I move to the window seat instead.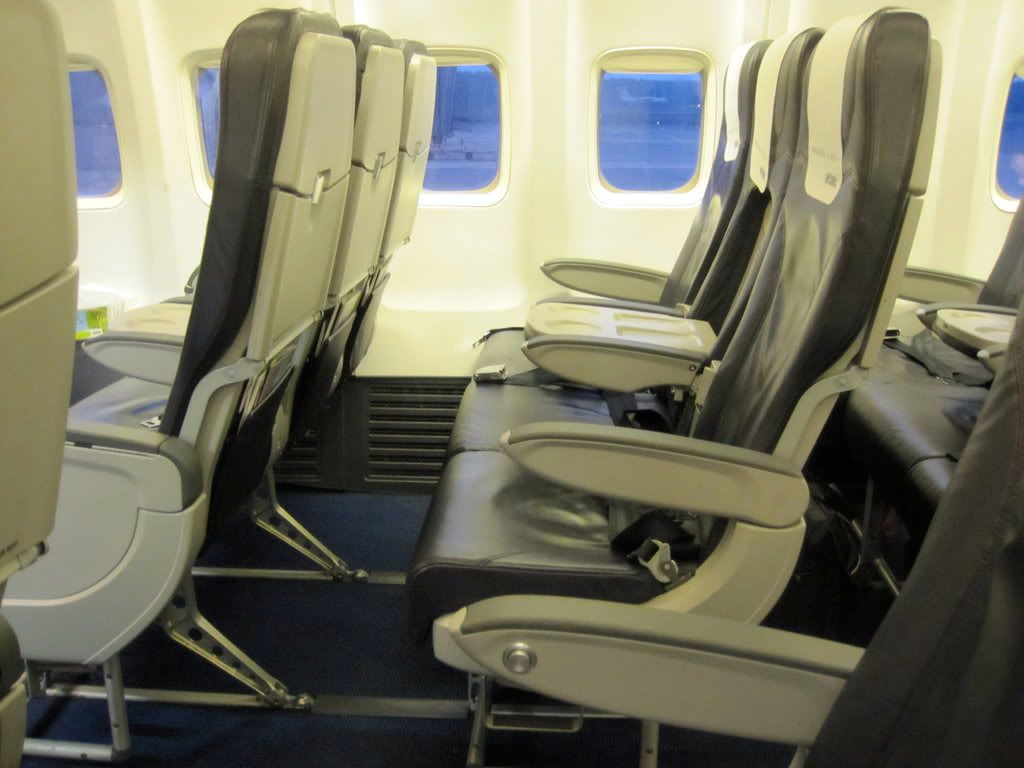 Right after I sit down I'm offered a pre-departure drink, the choices being OJ, water or sparkling wine. Not hard to guess what my pick is, although I don't see any sparkles in it - I joke about this with the FA who takes it dead seriously and answers "It is fresh, I am sure". Sorry gal, I didn't mean to offend you.
The middle seat is blocked with the drink holder/tray thingy: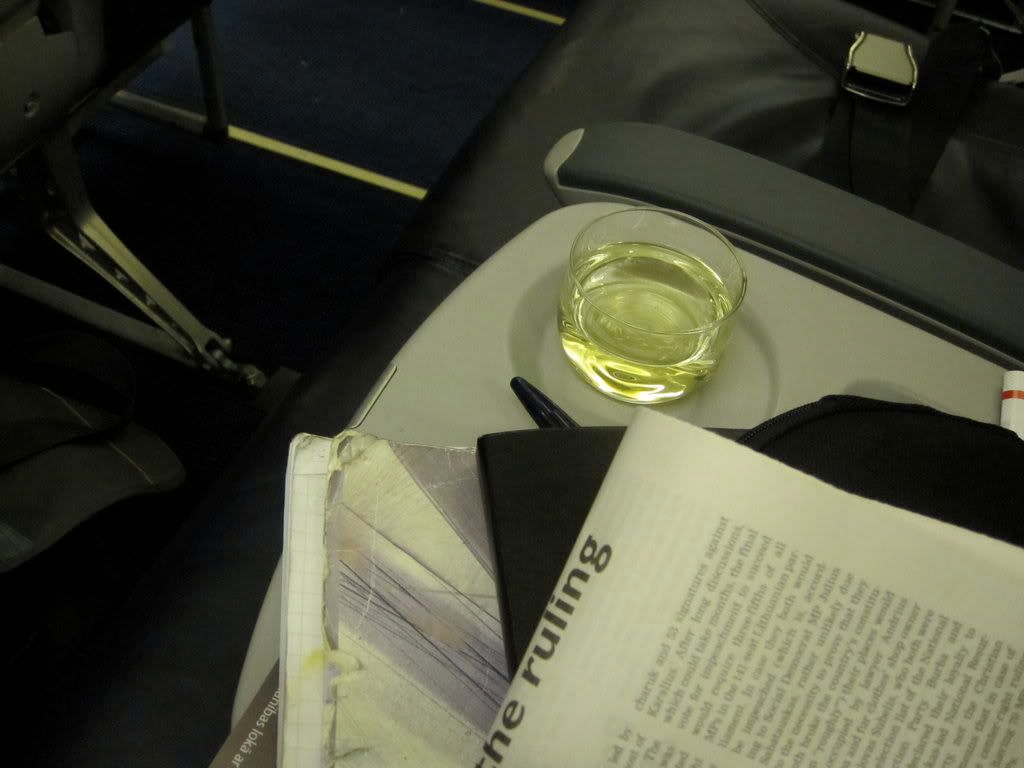 Back of the curtain it looks like to be a completely full flight, but of course I'm not really sure. From a hidden stash somewhere I'm offered English language newspapers - the normal choices available on the front seats are pretty much always in Latvian and Russian only.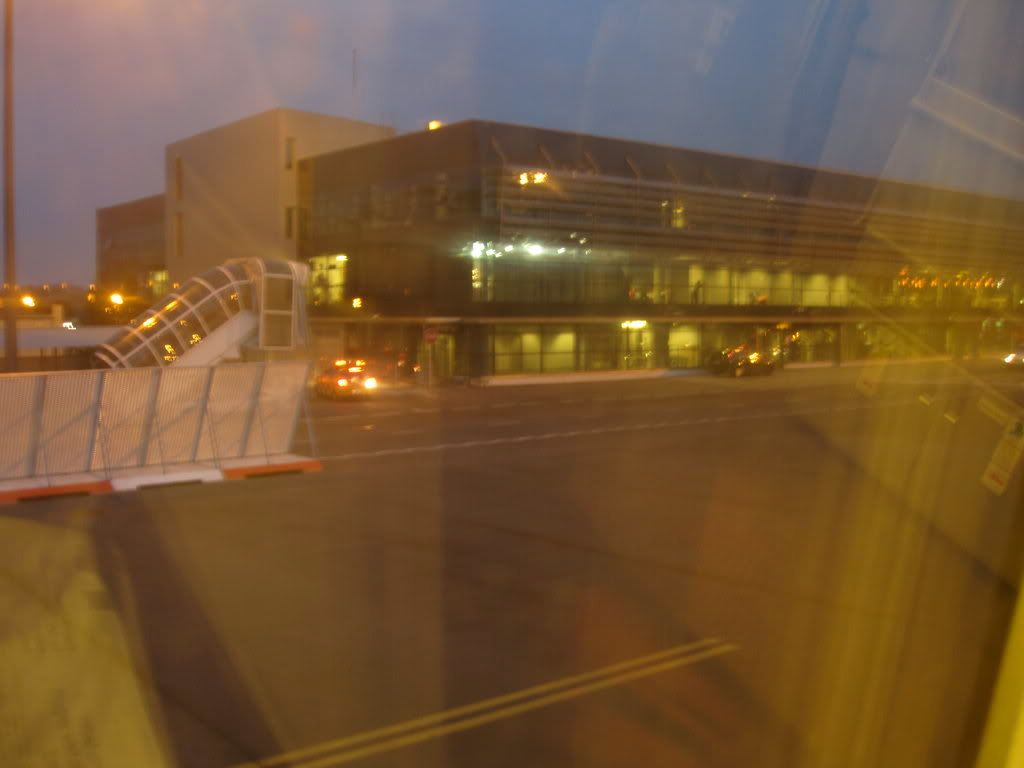 We push back nine minutes late, taxi and holding for some other traffic takes another ten minutes before we finally take off from runway 36.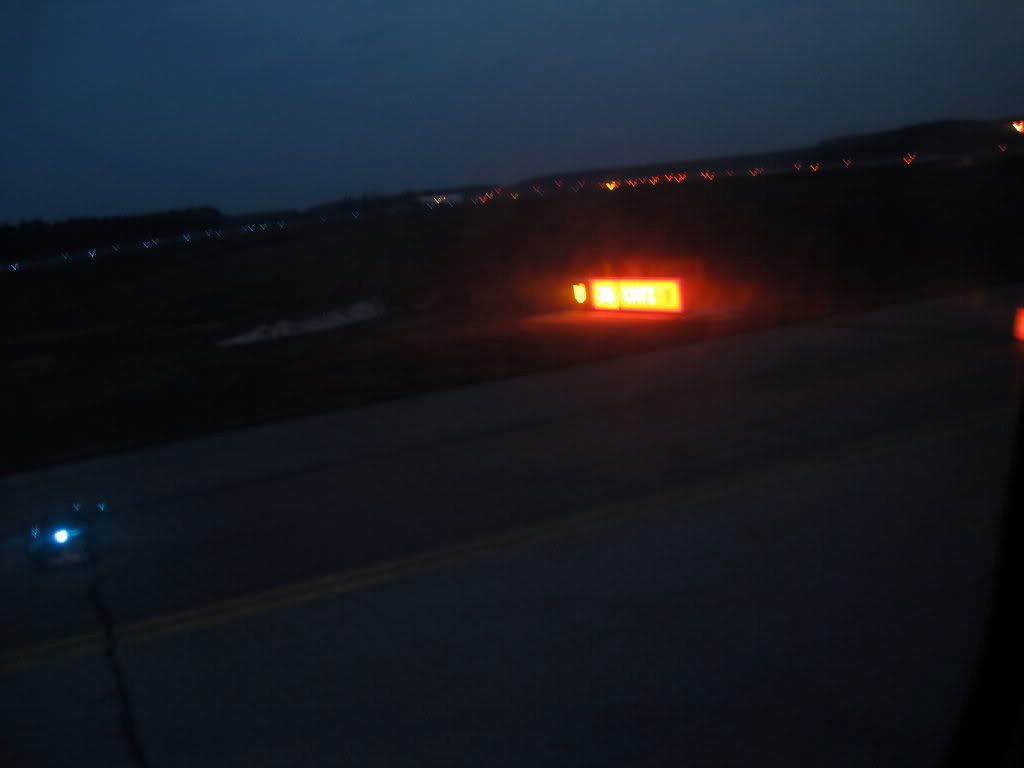 The Jurmala highway, this time just light spots in the darkness: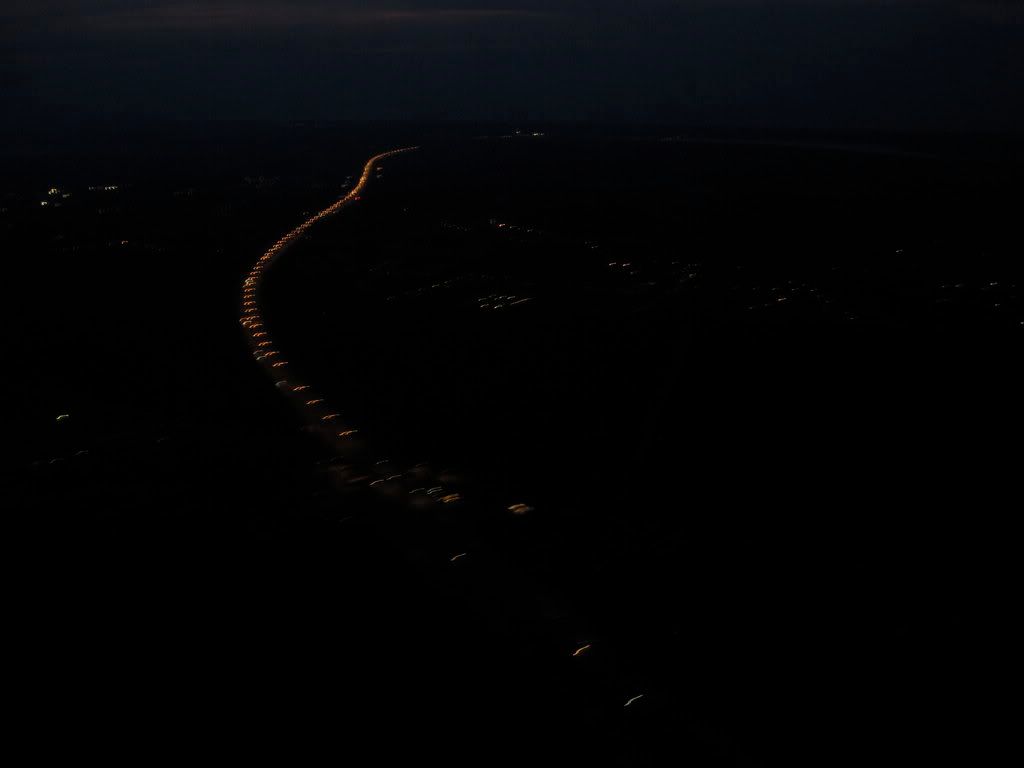 The setting sun: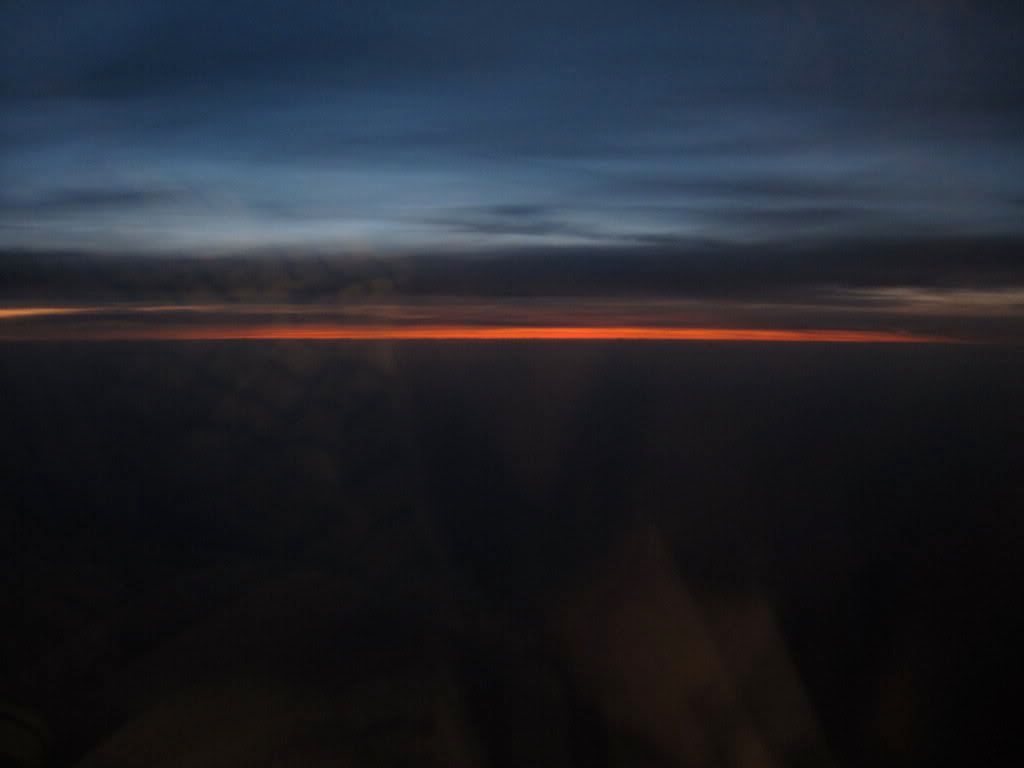 Right after the seat belt sign is switched off the FAs spring into action. The other one heads back to the economy class, closing the curtain and I'm left alone with Katrina, the senior FA. Service starts with a hot towel: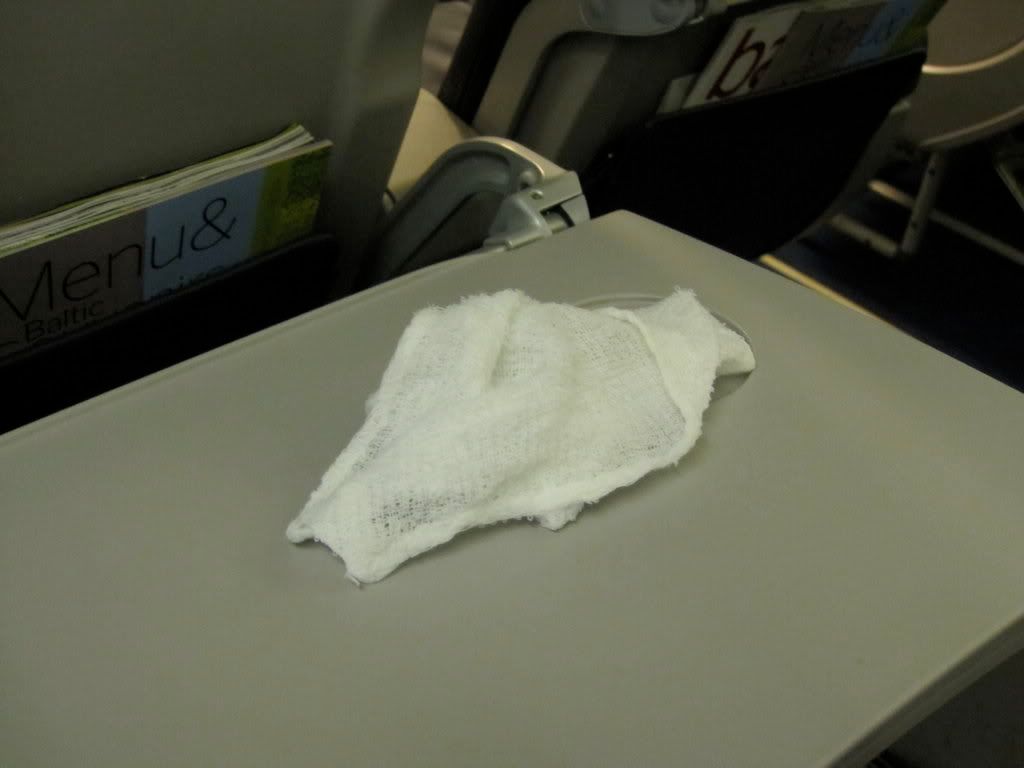 ...followed by the meal tray, today consisting of a very nice cheese and ham sandwich on rye bread and a fruit salad: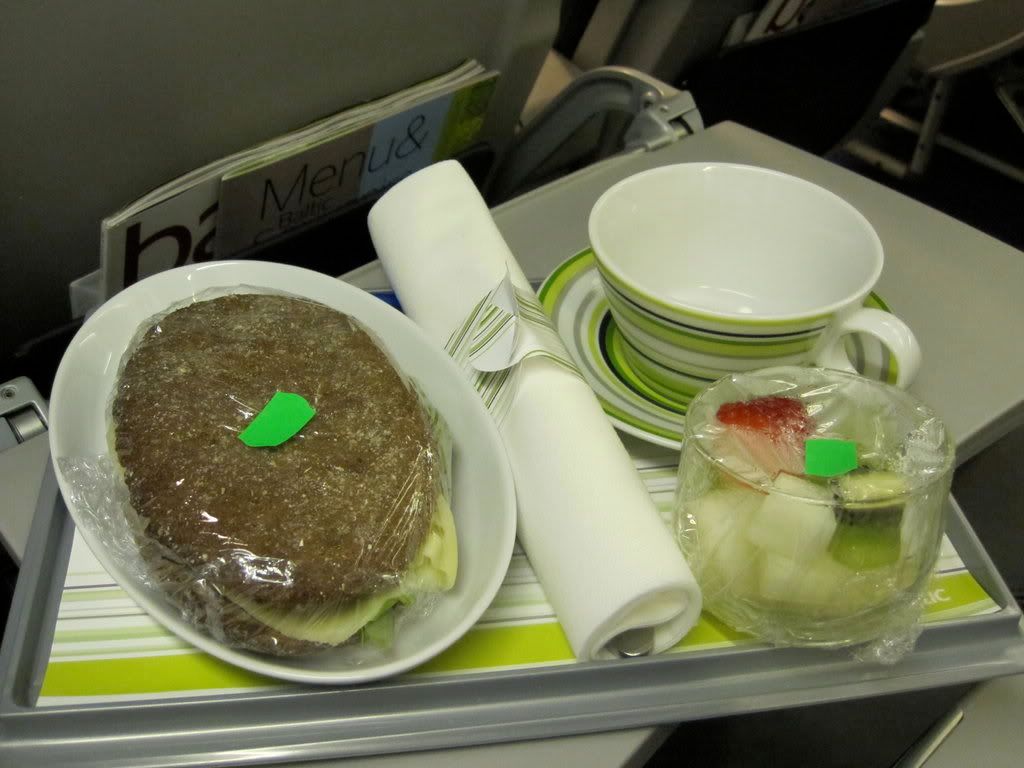 To drink I opt for red wine and some sparkling water, notice the presentation on the water: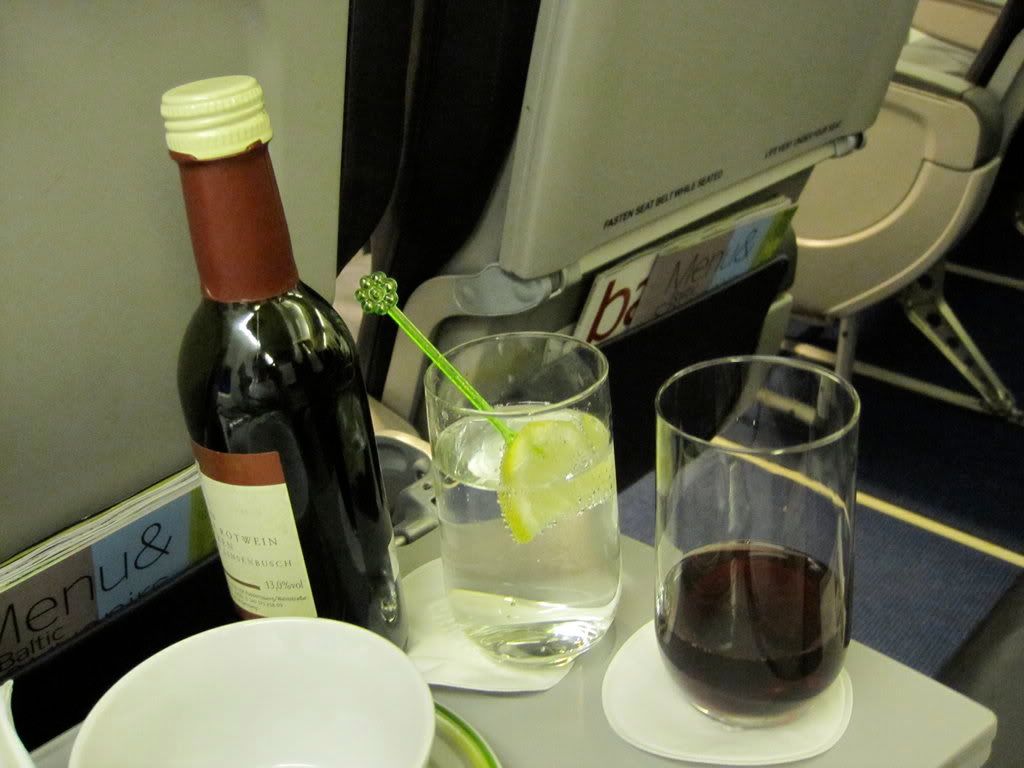 They had a choice between Chilean or German red wine - the latter sounds so much like an oxymoron I just have to try it - turned out to be very good: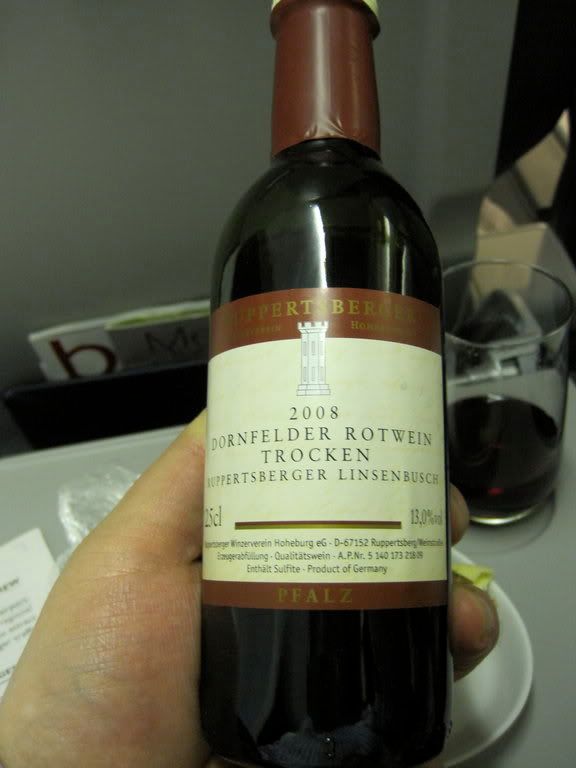 To finish off, I opt for tea. Using tea bags seems a bit cheap, but at least these are high quality and there is a choice of many different flavors. The water temperature is just perfect. I love the cup design: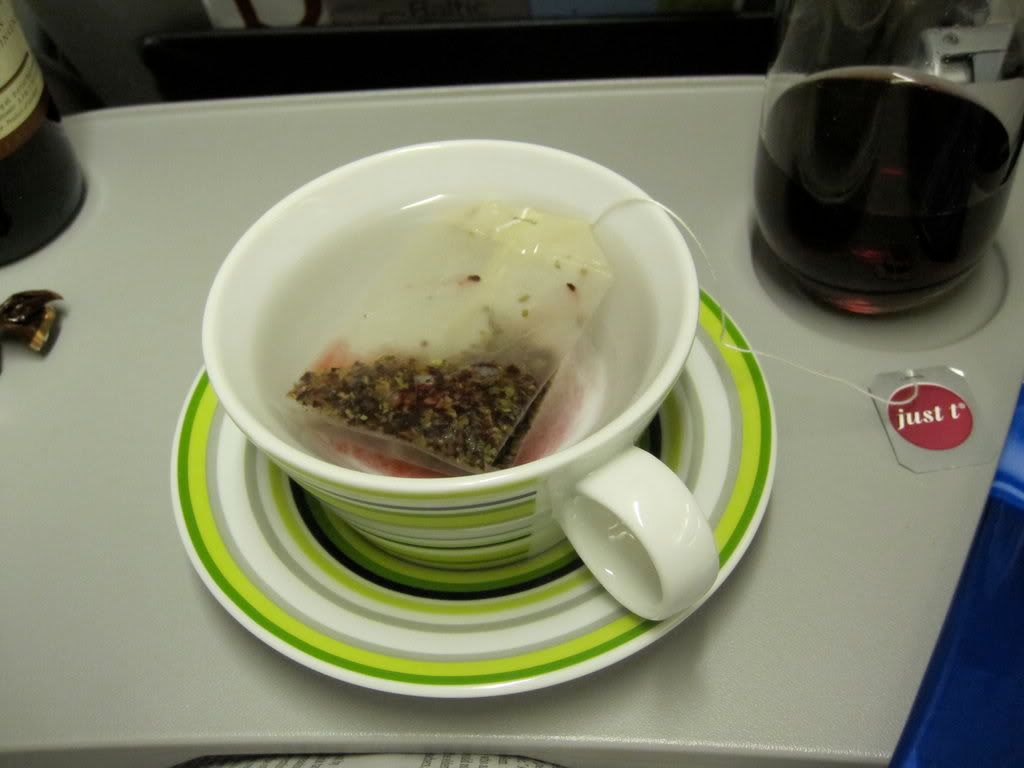 More drinks are constantly offered, as chocolate candies a few times. I finish with the Latvian national drink, a Riga Black Balsam: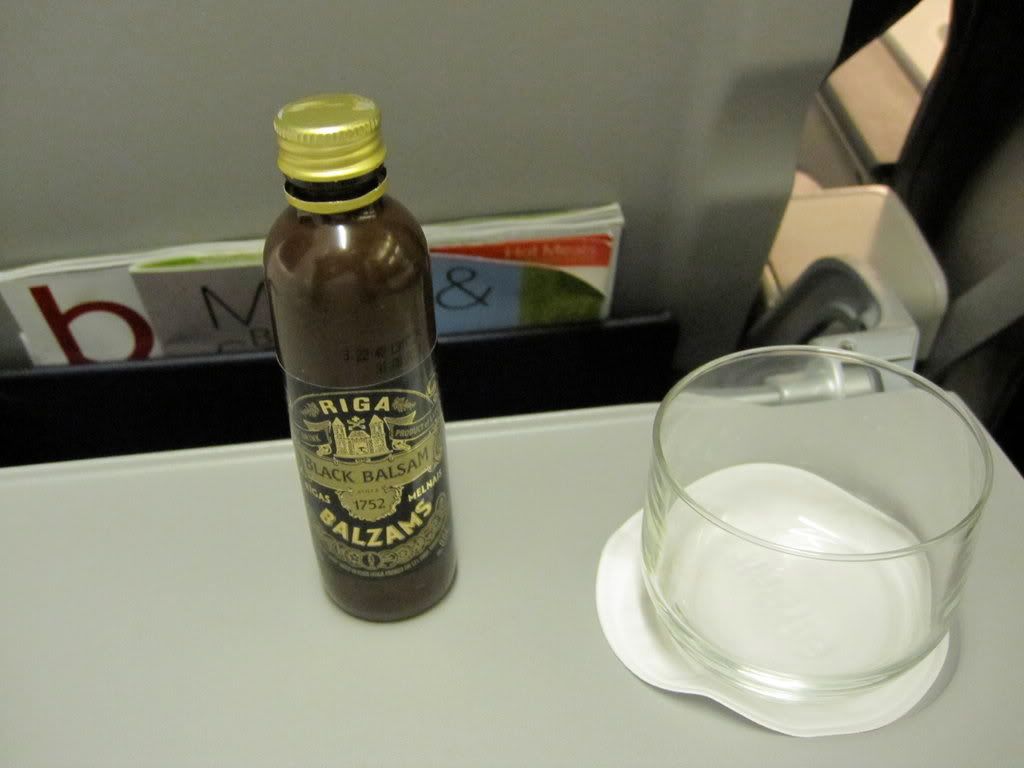 Think of it as a Latvian version of Jägermeister and you're pretty close.
While zoning out I realize that the jumpseats definitely reveal the plane's original operator, Ezy: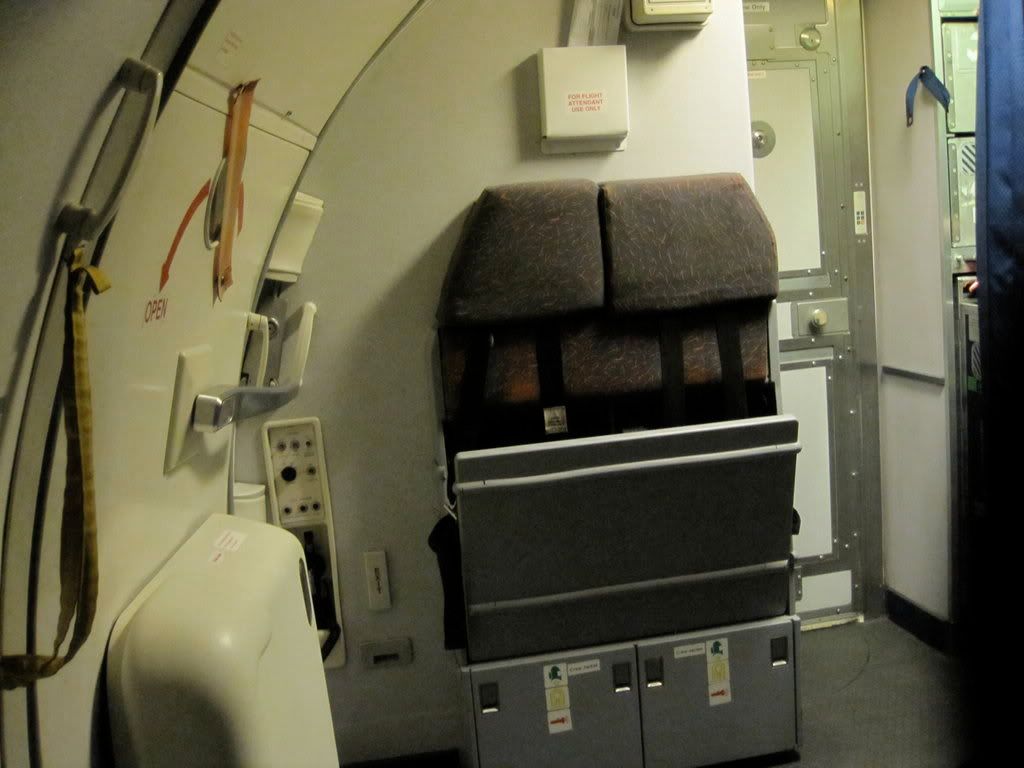 In no time at all we are already descending, finally landing on TMP's wet runway 24 exactly an hour after pushback. While waiting for the doors to open I tell the FAs that I'm sad it was such a short flight and chat a bit about their continuing journey to KUO, mentioning it as my home town.
Tampere Airport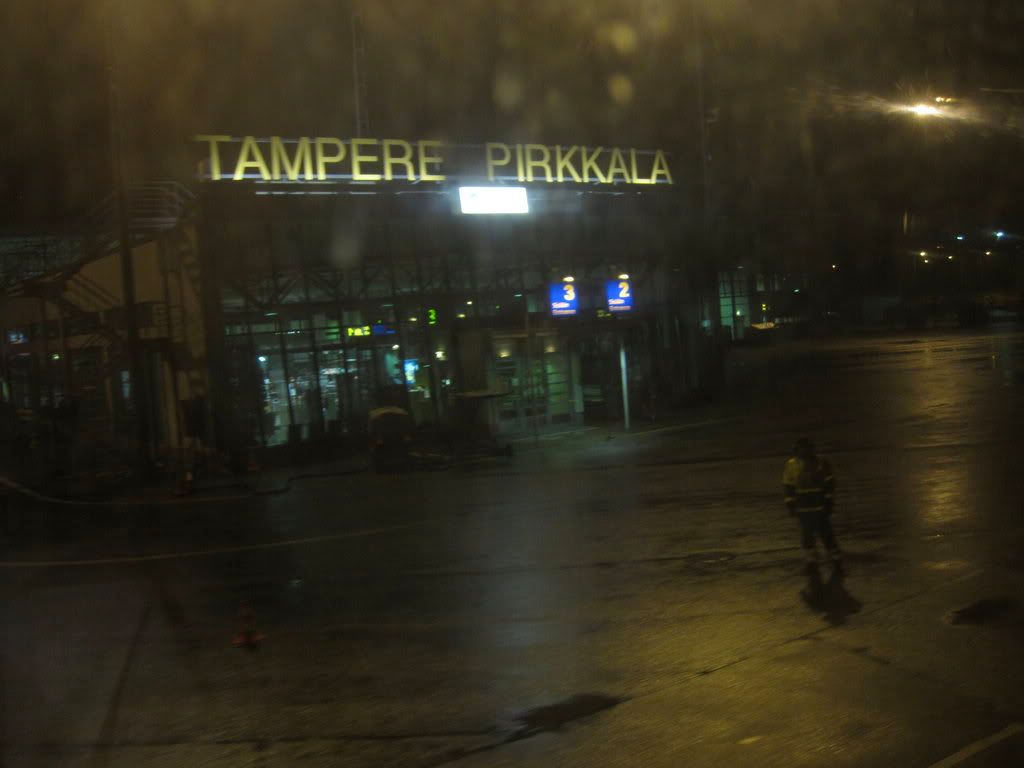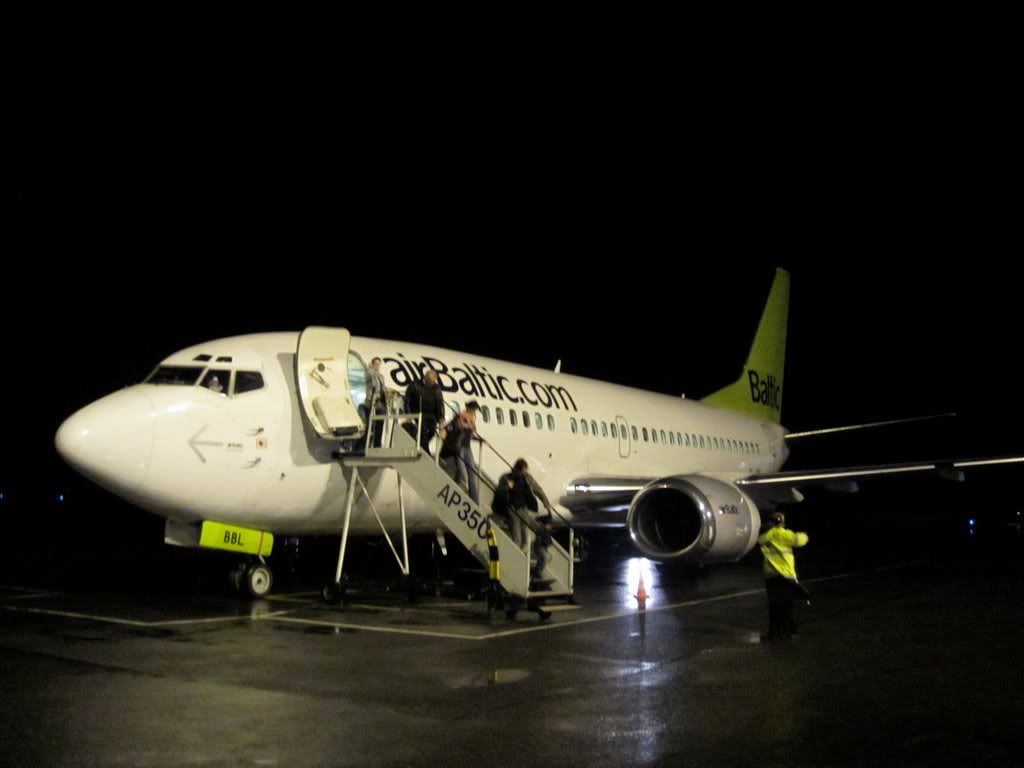 Around a half of the pax deboard here.
Finnish Customs is again greeting us with sniffer dogs (I have a theory that they just don't have that much to do in these regional airports so they take full advantage of all available flights), but this one doesn't seem to find the smell of my sweat too interesting so it lets me pass. Outside I check my watch and decide to try to make the earlier train back home - there's a later one which I could reach by using the bus service, but the bus is another 45 minutes away. I talk with a taxi driver, he agrees to act as an "Airport Taxi" - they have this special setup for a fixed 15 EUR fee (quite reasonable, actually) to the city center. The catch is that you have to share the taxi if there are any other takers, so we have to wait a while once everybody's off. Well, this service is not that well known, and everybody else seems to be getting a regular, metered taxi so in the end it is just me and the driver - this has happened to me many times before, maybe they should try to spice up the marketing a bit...
Anyway the motorways and roads are deserted at this late hour, so I make it to the train station a good ten minutes before departure, buy a ticket from a self-service machine and head to the platform. The train is suppsed to depart at 22.02, soon there's an announcement that the arrival is delayed until 22.01, apologizing for the delay and inconvenience. Delay? What delay? Inconvenience? What are you talking about? Ahh, sometimes you gotta love Finland...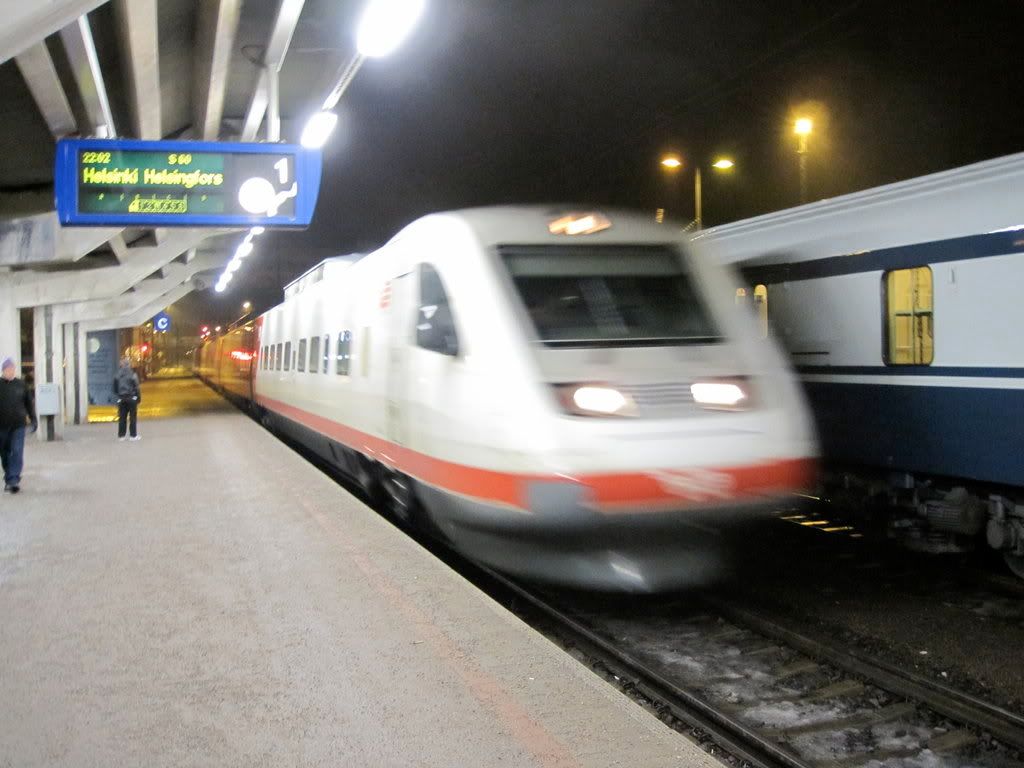 The train pulls up, I board, spend the journey in the restaurant car listening to the annoying but at the same time very hilarious antics of a drunken bunch of hockey fans (apparently there was a big match today in Tampere) and some other guys, one of them proudly announcing many times to be a check-in agent for Finnair... An hour and a quarter later I hop off the train at my local station in Tikkurila, make the 10 minute walk home and conclude another trip.
Conclusions
I'm actually very surprised by the good load on Wizz, I'd assumed that the BT competition would be a significant factor here. Maybe I just have underestimated the common folk's view of LCCs and airlines in general. Let's see what happens with this route in the future. It's actually a bit funny to consider that when I first heard Wizz coming to RIX I assumed they'd be serving it from their hubs in Eastern Europe - but instead they treated it as an Eastern destination by itself, served from their Western airports. See, Wizz is very much a East vs. West airline, it's bases are all in the East and almost all the routes connect these with the West... I guess that just shows how your view of the world can change during the years.
Well, it's not a secret that I'm a big fan of airBaltic, these business class and lounge experiences just made that feeling stronger. Very impressive service, I loved every minute of it!
The next trip was supposed to be a quick Stockholm jaunt in the form of HEL-BMA/ARN-HEL in a week's time, but right now it looks like the company might be going bust so that trip is quite unlikely to happen. Not that it matters as it looks like I might have to cancel that anyway. In that case the next trip is another one featuring Wizz and RIX, with some haggis thrown in as well: HEL-RIX-LTN-EDI-LHR-HEL in one and half weeks...
Happy contrails!