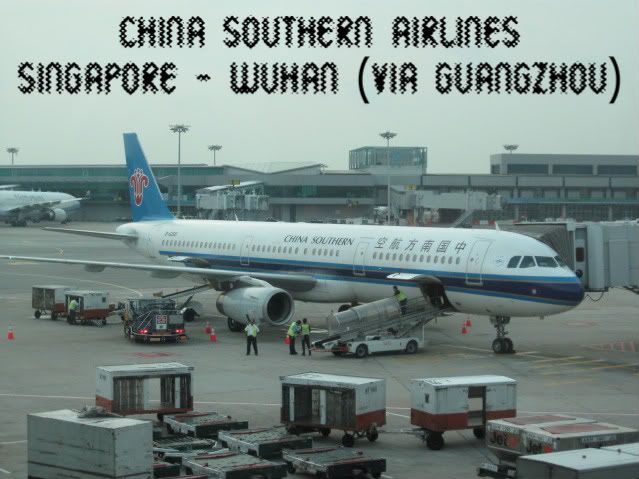 Yet another of my archived trip reports on an airline that is not very commonly seen on a.net, China Southern Airlines, enjoy!
Note: I flew the same route on SQ just 6 months ago, you can compare both the trip reports.Ironically, both the departure and arrival times are only 5 minutes apart (SQ at 8.05am while CZ is at 8.00am).
Flying 5 Star - SQ SIN-CAN-SIN (2009) (by Initious Mar 26 2010 in Trip Reports)
Background
While I was in Guangzhou in March 2009 (I did a trip report for that), my friends contacted me and asked if I would like to go to an overseas immersion trip to Wuhan, Hubei, China for 6 weeks. Before actually setting off to Guangzhou for that trip, I met my other friends who were actually setting off for that city in China (the batch before us). It's not very far from my hometown in China, but definitely very far from Singapore. After some discussion with my parents, I finally decided to have a go at the trip. 6 weeks is long, but it will pass by very quickly with friends around, isn't it?
After sending in our application forms, we had to go through a rigorous selection process. The first step was to write an essay on why we want to go on the immersion trip. Other criteria was not revealed to us, but I guess it was according to results, attitude and performance in class. Finally after a 2-month selection process, all of us got chosen for the trip which got me elated.
Booking
Booking was done by the school for a special student price (including a 30kg baggage allowance in Y class) but I heard the price was roughly $850 SGD. Our routing for this trip will be SIN-CAN-WUH-CAN-SIN on China Southern Airlines. I knew about which airline we were going to take before even signing up so the flight was not something I really look out for, but I'm still interested to see what CZ has to offer.
The Actual Day
Excited, nervous, scared and curious about what was going to happen for the next 6 weeks. I opted not to sleep the night before as I had to report to the airport at 5.30am. However, my body gave in at 3am so I slept till 4.30am before doing some last preparations. Met my friend (whom sent me to the airport for my CAN trip) and took the taxi to the airport, this time with a heavy heart. Reached the airport and we had a surprise birthday celebration for a fellow friend. Finally at 7am or so, we got issued our boarding passes and had some last words with our families before departing Singapore on a 6-week journey. At 7.30am, it was time to bid farewell to our families for 6 weeks. This is the first time I am leaving my country for so long, so I walked into the departure area with a heavy heart.
Flight 1 - 1st September 2009
Route: SIN-CAN
Flight Number: CZ 352
Aircraft: Airbus A321-231
Registration: B-6265
Gate: C16
Seat: Unknown
Class: Economy
Scheduled Departure: 8.00am
Actual Departure: 8.24am
Scheduled Arrival: 11.50am
Actual Arrival: Unknown
Flight Duration: 3 hours and 50 minutes (scheduled)
After passing immigration, we walked to our gate and noticed that there was a long queue at the security check. Therefore, we decided to sit outside the gate and wait for the line to clear before entering. Upon entering, the good news stuck me; there was a HUGE glass window that allows a superb view of the airplane. Being someone who likes taking photos of planes, this was great news for me!

Close-up of B-6265 at the gate waiting for us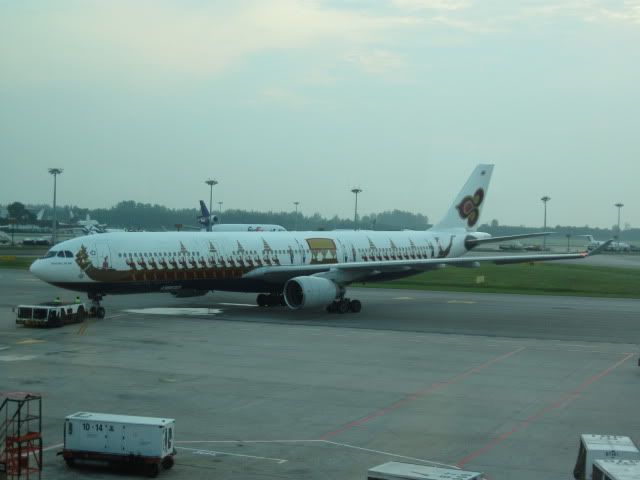 TG Airbus A330-300 HS-TEK still in Royal Barge livery pushing back as TG402 to Bangkok (I'm taking this flight in June). This a/c has since been painted back to TG's new livery.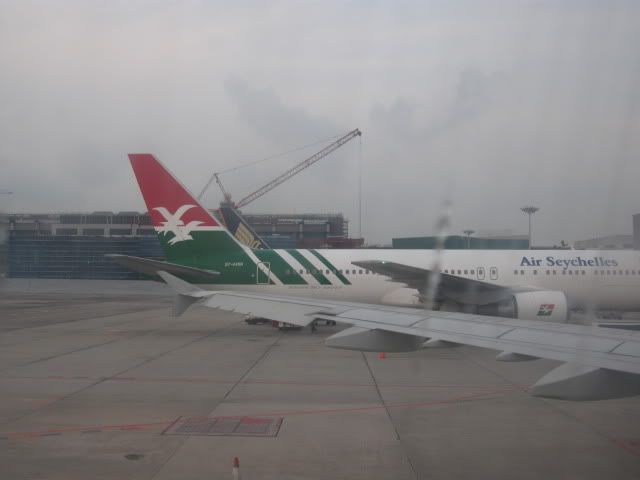 Air Seychelles Boeing 767-300ER S7-AHM just beside us being prepared for a flight back to Mahe
Upon entering the plane, I found that it was very well maintained. The cabin was sparkling clean and the seats were not torn out or anything. After some delays, we pushed back and headed to the runway for departure. We were delayed at some points until we finally took off at 8.24am. Expecting the crew to serve drinks about 10-15 after departure as I was very thirsty, it did not happen. It was until 45 minutes after departure until we actually saw any crew!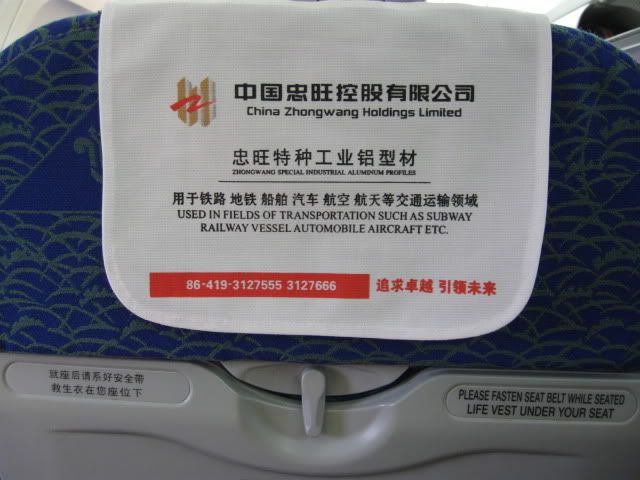 Advertisement on every seat

Shortly after departure from SIN

20 minutes after departure, no crew to be seen

Shades halfway down due to the glaring sun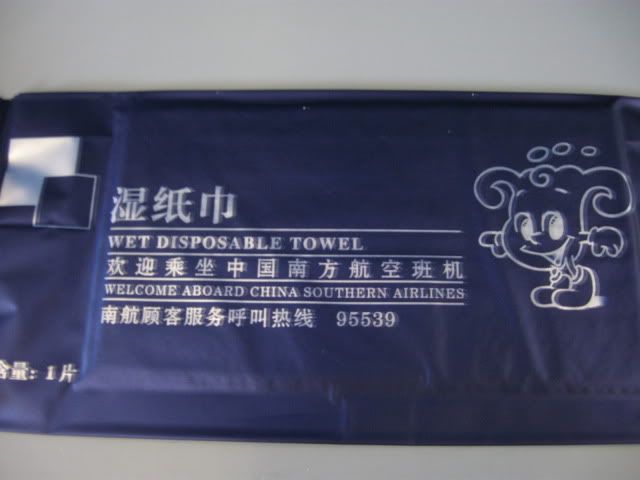 Wet tissue given out
Finally, drinks came on the traditional service cart. Since I was sitting in a middle seat, I let my friend sitting at the window seat order his drink before ordering mine. After he ordered, my friend at the aisle seat unknowingly ordered before me so I waited for my turn. When my turn came, I was passed a cup of Sprite. I did not order anything and I got the "death glare" from that male FA. Here's how it goes.
The whole conversation was in Chinese
FA: *passes me a cup of Sprite*
Me: I did not order any drinks yet.
FA: So WHAT do you want to drink?
Me: A cup of milk please.
FA: *pouring the milk very unwillingly and passed me without saying anything*
This was not the end yet. There was more to come.

My cup of milk

Packet of nuts handed out
About 90 minutes after departure, a hot meal was offered. I opted for the fish option but was disappointed in what I got. The fish was soggy, the appetizer (which I don't even know what it was) tasted very sourish and had a very awful taste in it. This is the first time I ever left behind any food on a plane. To finish it off, the dessert was like 10 teaspoons of sugar added to a single bowl. It was very very sweet, although I managed to finished it off.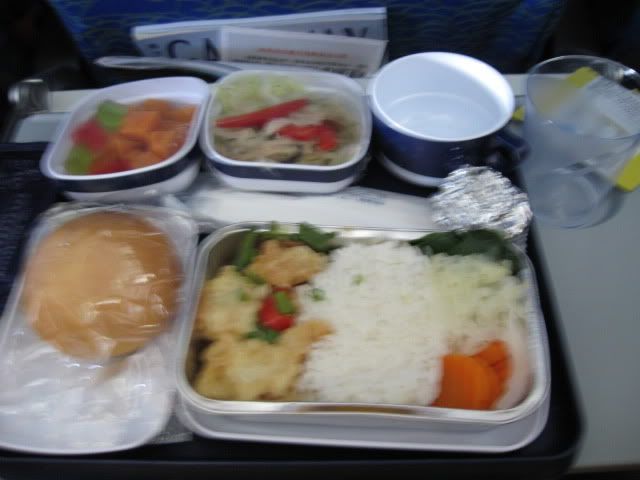 The awful meal (sorry for blurred image)
Since there was no IFE, the rest of the time was spent chatting and taking photos. Alright, there was actually IFE and the headsets were left in the seat pockets. However, the headsets were not working at all and it was difficult to see the small overhead screen so it was as good as having no IFE.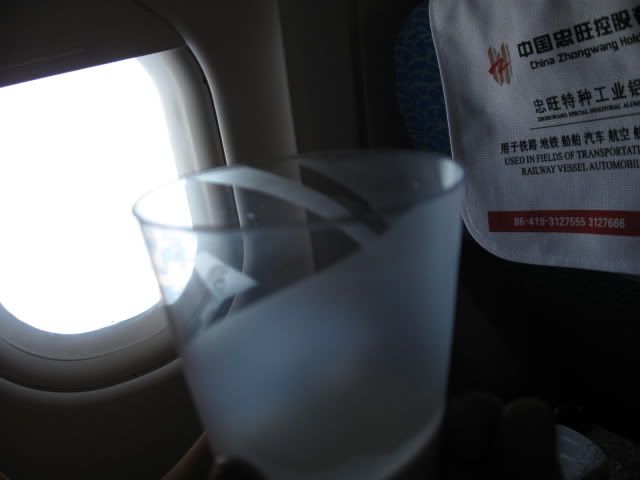 Settling down for another cup of milk after breakfast
An hour prior to arrival, a short clip of the art of Chinese tea was shown on the TV screens. Being a fan of Chinese tea (I'm actually drinking some while writing this report), it was hard to give it a miss. I opted for 铁观音 which means "Iron Goddess of Mercy" in Chinese. It's the most common kind of Chinese tea alongside with others such as 乌龙茶 (Black Dragon Tea), 普洱茶 (Pu'Er Tea) and 龙井茶 (Dragon Well Tea). Sorry for the English names, most of them are directly translated.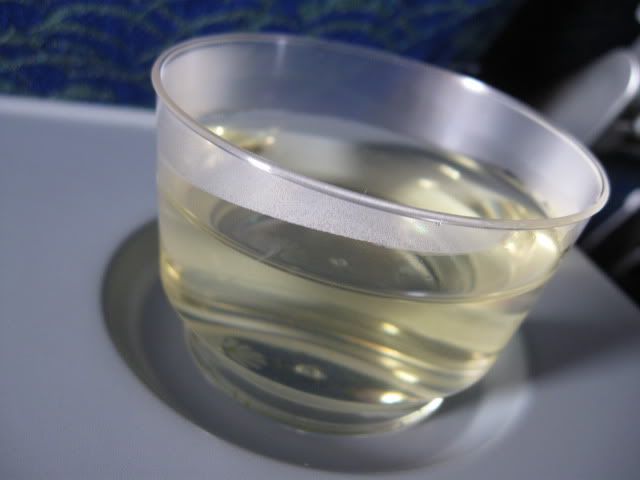 Chinese Tea offered an hour prior to arrival

Descending into CAN
The landing in CAN was the smoothest landing I ever experienced in my life (the only plus point).The plane was to continue to SHE with the same flight number but the passengers who were bound for SHE was told to deplane and clear immigration before getting onto the plane for the domestic leg.

Our aircraft parked
After arrival in CAN, we had to get our boarding passes for the domestic sector. Since I had a name change on my document, I needed to wait and go to another counter to get the boarding passes. At the first station where most of them got their boarding passes, I passed my passport to the agent and he said that I needed to wait without giving any reason. After 5 minutes, I passed him my passport again and he said that I had to wait as I needed to go to another counter to get my boarding pass. Finally I got my boarding pass and discovered that I was in the bulkhead seat, which I was elated. Lots of legroom for the 90 min hop to Wuhan!
Score for this flight
Flight 2 - 1st September 2009
Route: CAN-WUH (Wuhan)
Flight Number: CZ 3344
Aircraft: Boeing 737-81B
Registration: B-5191
Gate: Unknown
Seat: 4A (bulkhead)
Class: Economy
Scheduled Departure: 5.30pm
Actual Departure: Unknown
Scheduled Arrival: 6.55pm
Actual Arrival: Unknown
Flight Duration: 1 hour and 25 minutes (scheduled)
I was very excited for this flight as it was my very first flight on a Boeing 737, and on my favourite of the series, Boeing 737-800!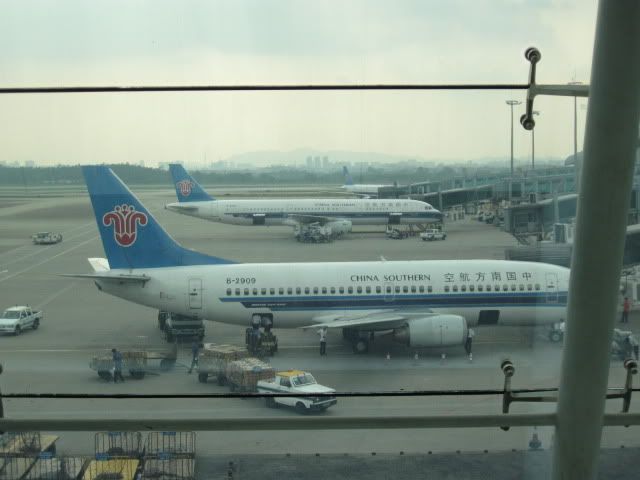 China Southern domestic aircrafts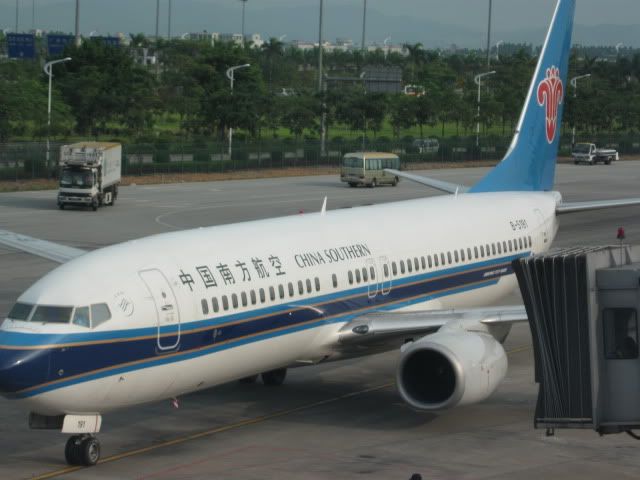 B-5191, our Boeing 737-800 pulls up into the gate
We pushed back and went on our way to Wuhan. From my seat, I could catch a very clear view of the engines spinning.

CFM56-7B27 engines on our aircraft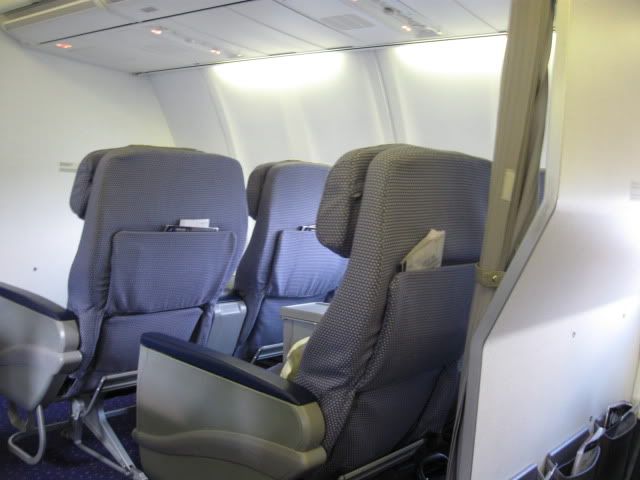 Besides having a clear view of the engine, I also had a clear view of Business Class which was just in front of us. There were no Business Class pax on this sector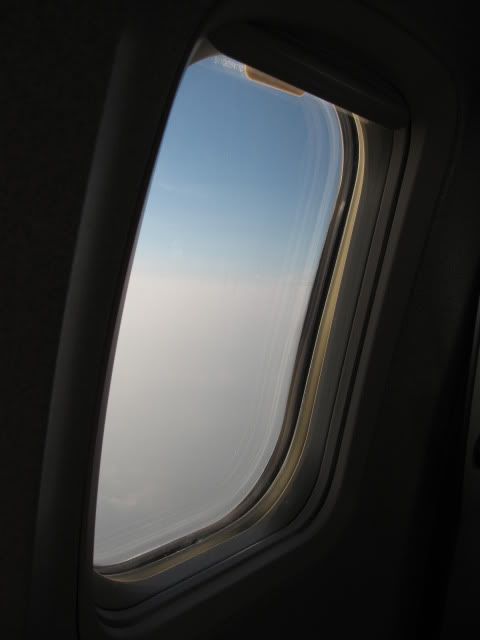 I love Boeing's windows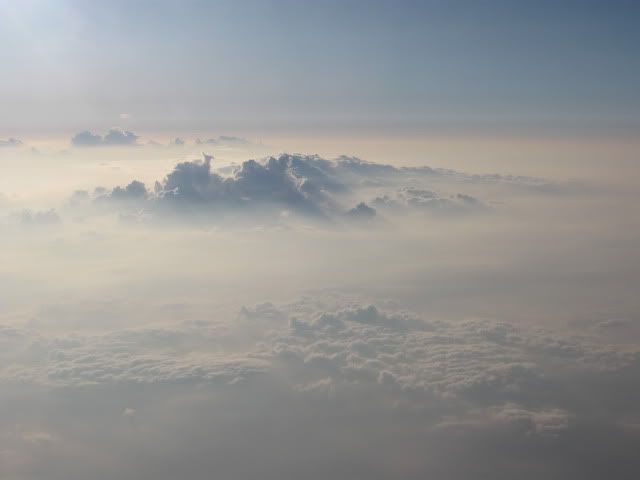 Beautiful clouds en-route
Despite being a short flight, a light dinner was served. The food was much better than on the domestic sectors. The noodles were tasty and the snack box provided had some buns and snacks in it which were more than enough for this flight.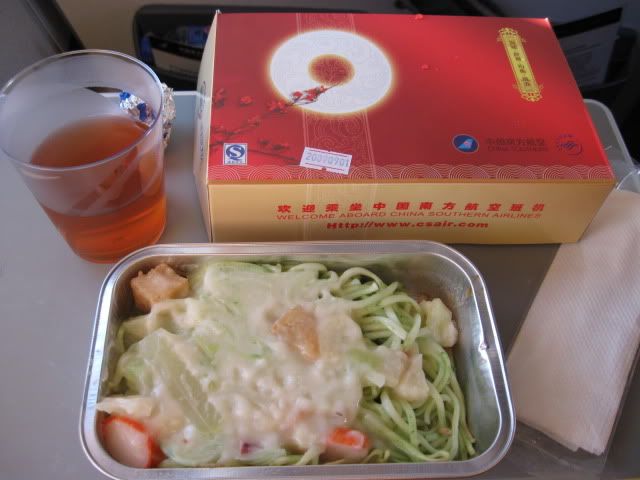 Light dinner served onboard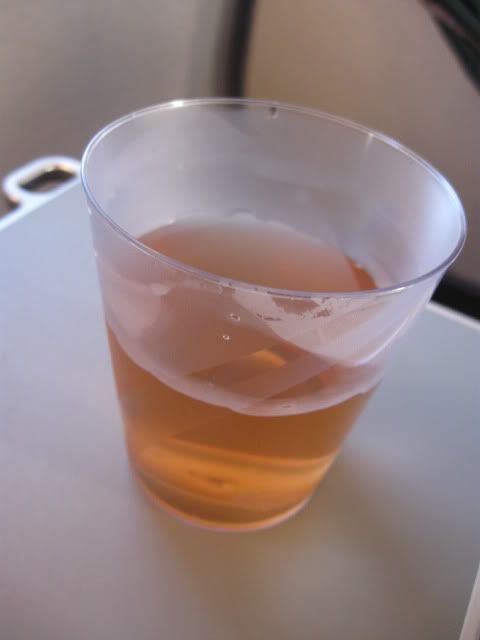 Chinese tea, anyone?
The landing in Wuhan was a tad harder than normal but still acceptable. It was a night landing so I did not take any pictures.
Score for this flight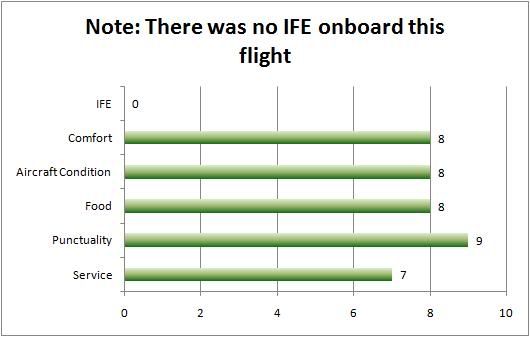 ======================================================================================
Some photos taken in Wuhan and trips we went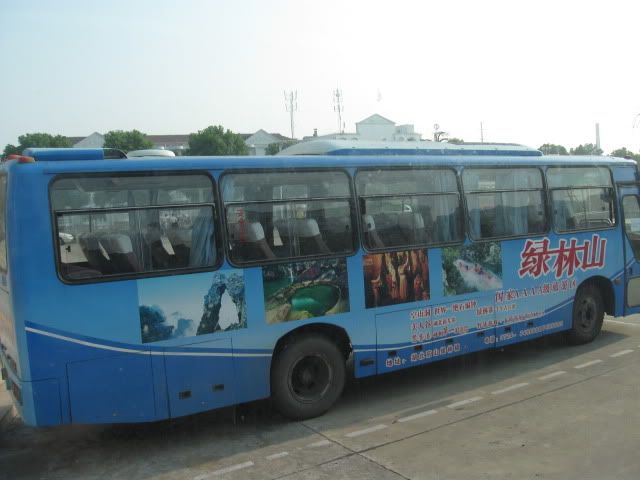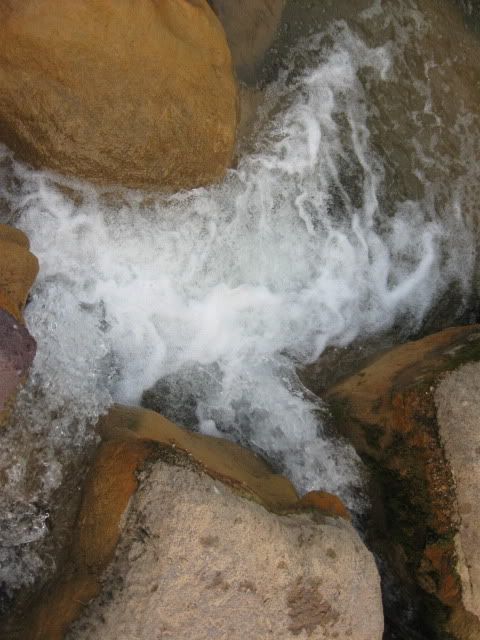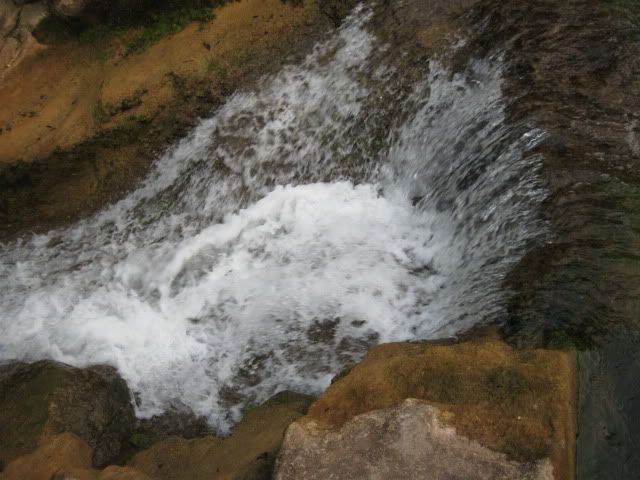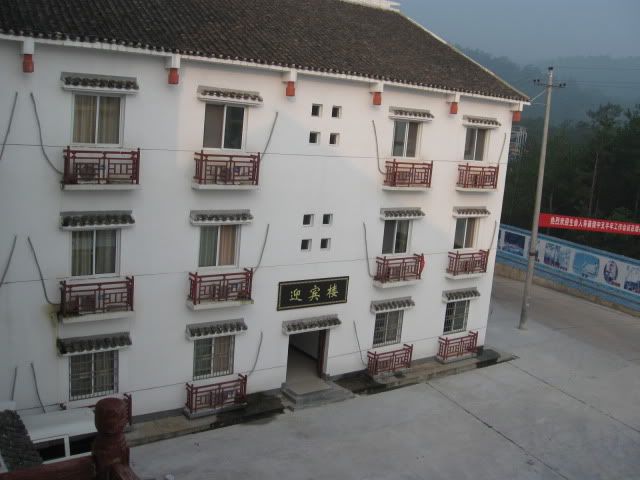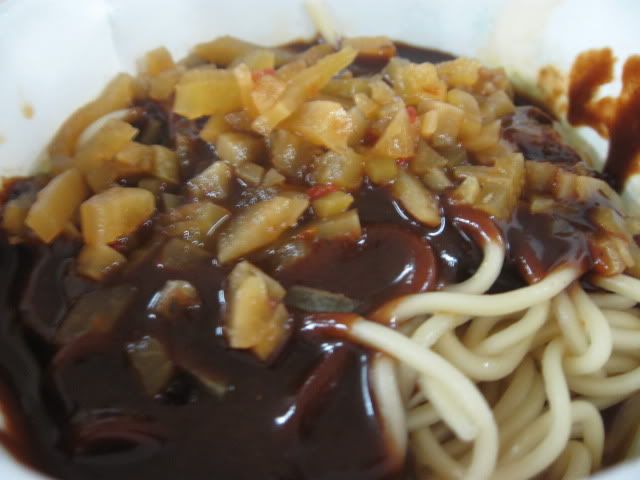 热干面 (Hot dry noodle) One of China's 5 famous noodles, originated in Wuhan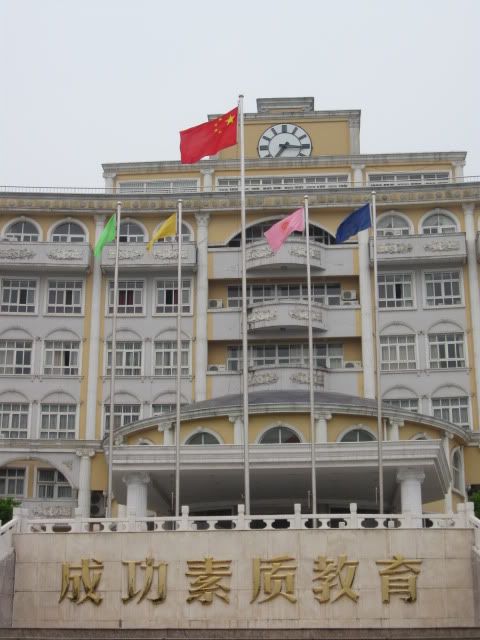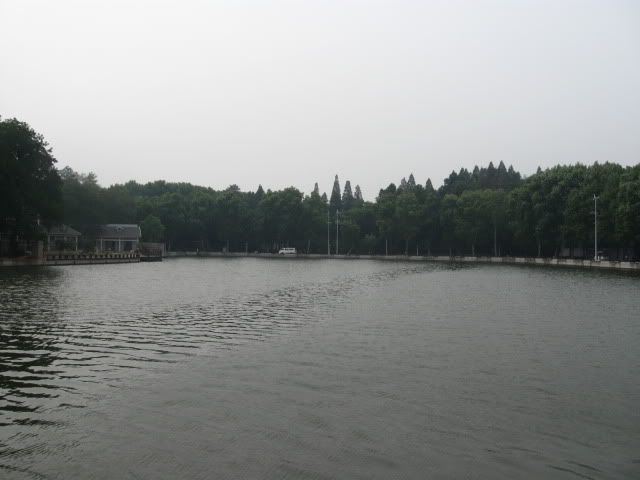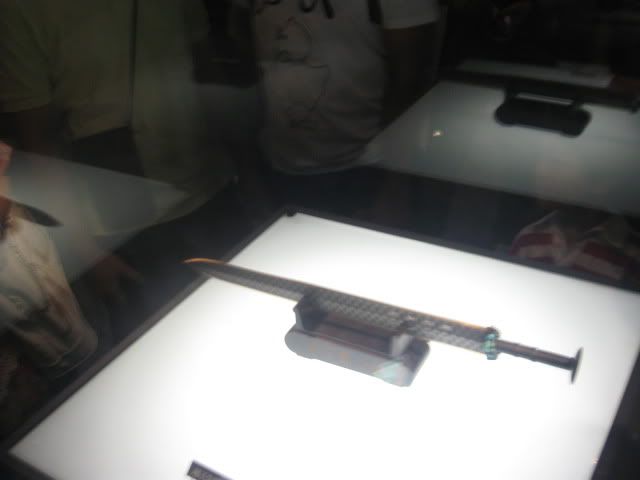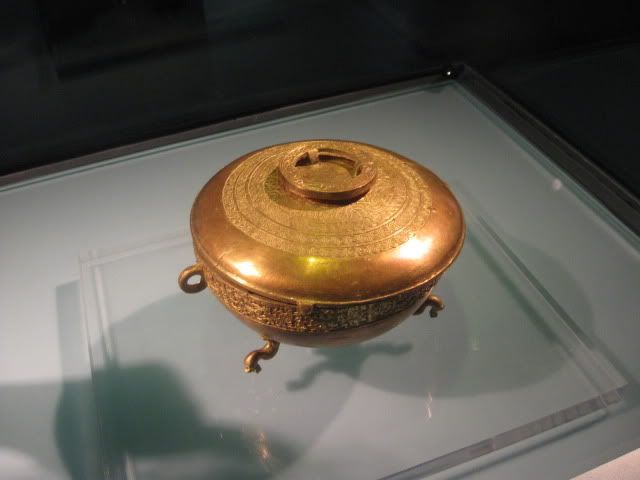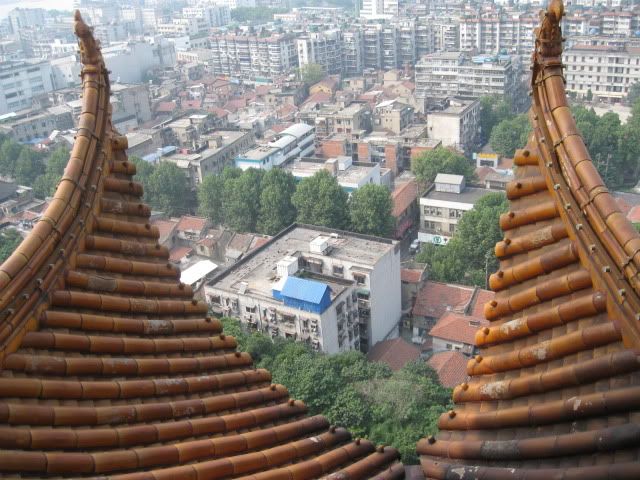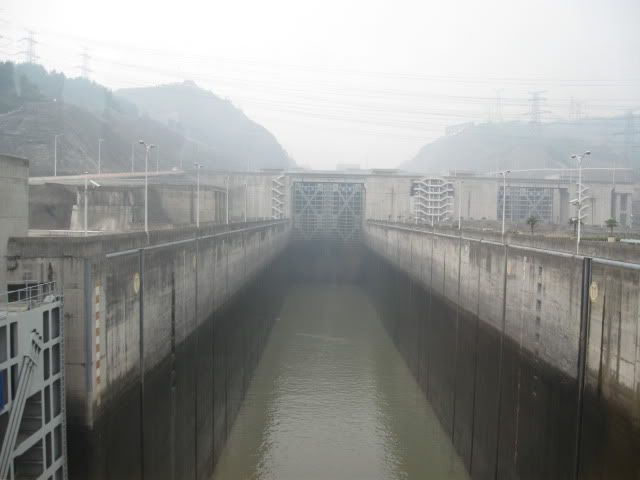 Three Gorges Dam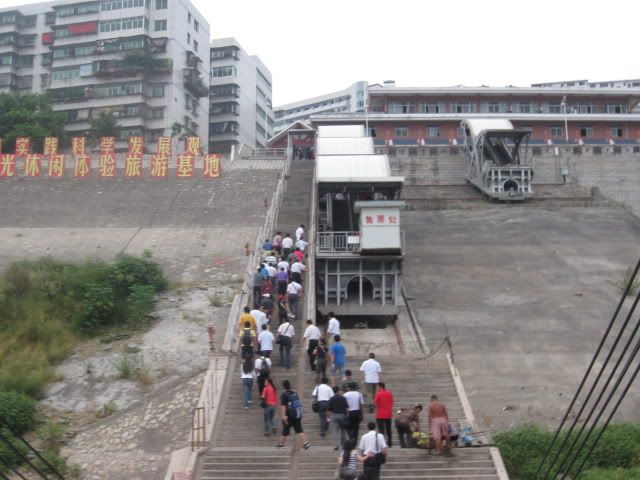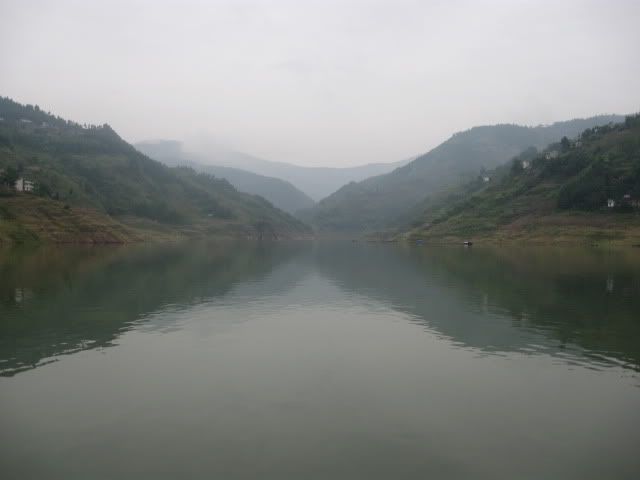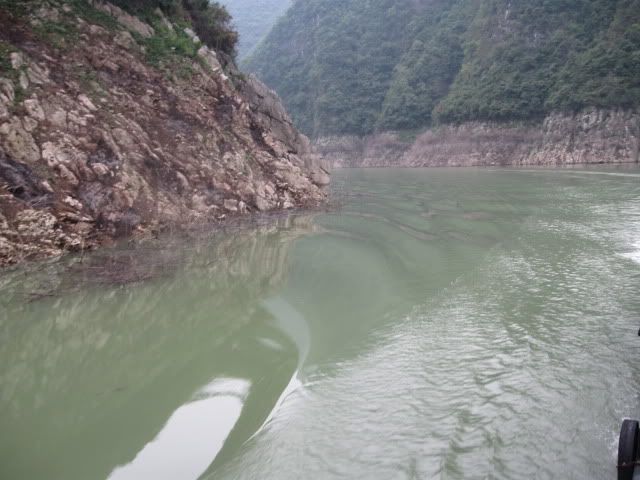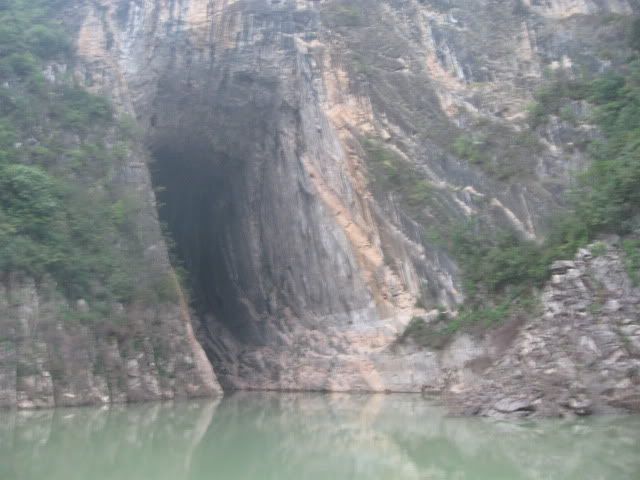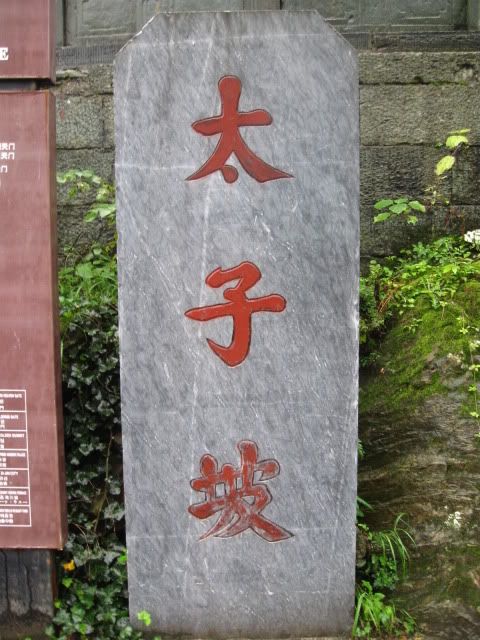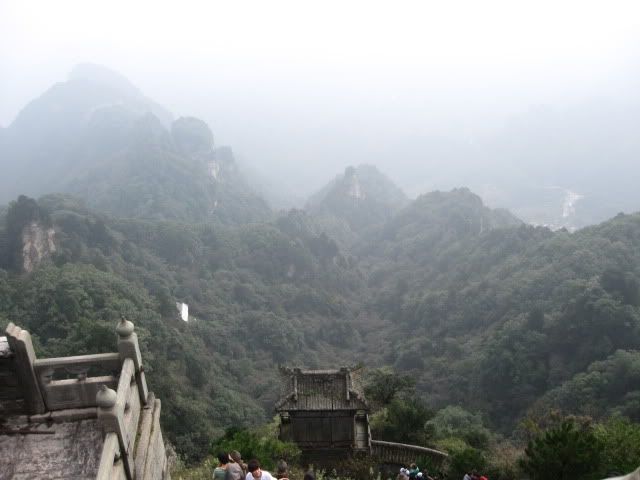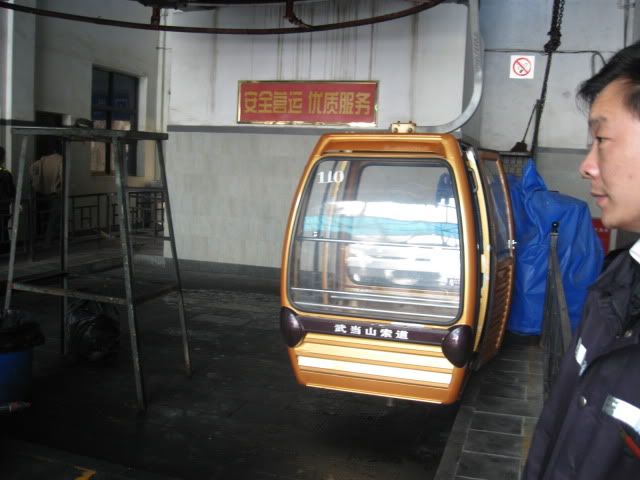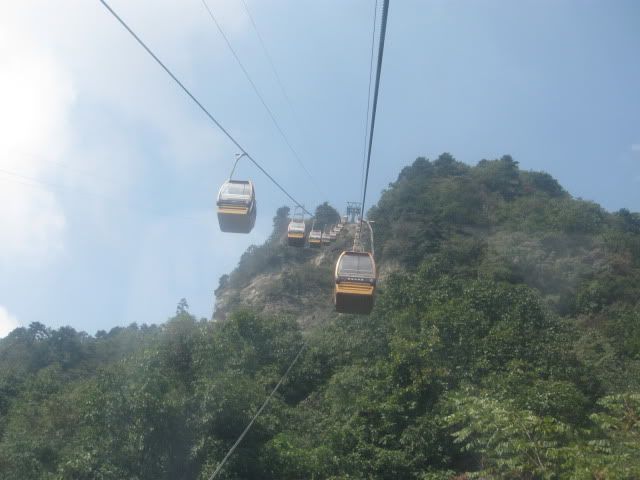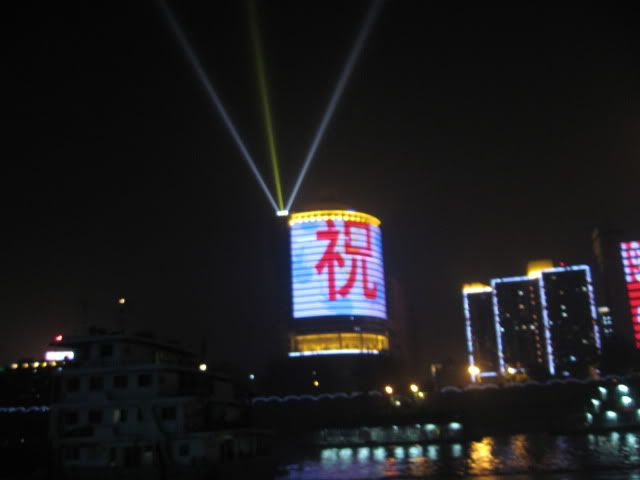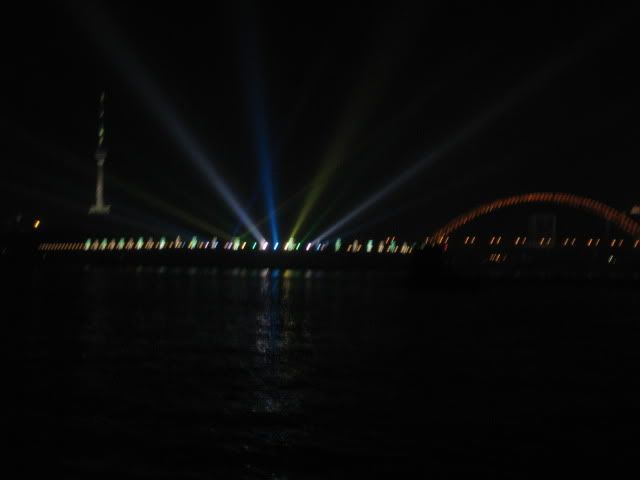 Hope you guys enjoyed this TR!
Previous TRs
Flying 5 Star - SQ SIN-CAN-SIN (2009)
(by
Initious
Mar 26 2010 in Trip Reports)
Sardines In A Can - Jetstar Asia SIN-HKG-SIN
(by
Initious
Mar 29 2010 in Trip Reports)
[Edited 2010-04-02 08:16:00]