Feedback always appreciated.
I > Background:
I was on a project in Kathmandu and since the night-life did not appeal to me, decided to make a 3-day weekend to Addis Ababa. On the outbound, I had flown to DEL and picked-up ET from there. On the return, I decided to go via BOM as the flight times were far more convenient.
There has been one ET TR of late, and I believe this will be the first report on ET's J class product
II > Pre-Flight:
a) Before Airport:
Ethopian Airlines is an airline headquartered on the grounds of Bole International Airport in Addis Ababa, Ethiopia. It is the national airline of Ethiopia, operating scheduled international passenger and freight services to over 57 destinations worldwide, as well as domestic services to 17 destinations and passenger and cargo charter flights. It is rumored to begin entry to Star Alliance by end 2010.
I bought my ticket on the Ethiopian Airlines website at
www.ethiopianairlines.com.
It is a well-designed site which is neatly laid out and easy to use. It choked several times to use my foreign credit card and I ended up just receiving a PNR. Since I work in the industry, I recognized it was not ticketed as no numbers were showing up. Thankfully, I called their Delhi office and was informed my fear was justified. I convinced the lady to hold my PNR and was able to purchase the same at the airport. I fail to understand why bother to provide an e-ticket facility at a global airline when it has no international credit card ability. Even more baffling as a significant part of ET's traffic is connect markets. Oh, and no one could pre-assign me seats.
b) At Airport:
Addis Ababa was what the doctor ordered after the monotony of Kathmandu. It is a neat crazy city and the country of Ethiopia is fascinating with lots of great sites. However, all "short" good things come to an end and I was soon on my way back to KTM. The airport shuttle dropped me at the rather nice Bole International Airport. Here, a long security line later, I was checked in by a nice guy who issued me my boarding pass and lounge invitation. I requested he tag my bag "priority" and he smiled and answered "of course sir. And, thank you for the business."
Immigration was quick and I soon was talking to the folks flying to Beirut … little would I know that very aircraft would crash on the return flight from the Lebanese capital. ET's flagship lounge was a little dingy for my taste but had all the right things … including decent food, beverage, and alcohol … hehe. Prior to boarding, security was done and my Indian visa was checked a few times over. I was impressed that the boarding gate had color coded "lanes". These color coded stickers were placed on our boarding cards. How very organized I thought … but of course, when boarding started, it was a whole different story. "ILBST" which was most often spotted in Europe lately, was very much alive and it was a little too chaotic even for my taste.
Upon entering the aircraft, I was amazed at how disorganized the entire process was. Crew was running around and there was a haphazard assortment of jackets being taken and drinks being given. There was not a single smile or warmth amongst the crew – whatever happened to the awesome Ethiopian hospitality I had encountered all during my stay? It might not matter to ET as they are probably making good money … load was 100% in all cabins.
>Airport - External:
(Bole International @ ADD – pretty impressive)
*
Check-in:
(Check-in – rather empty J check-in)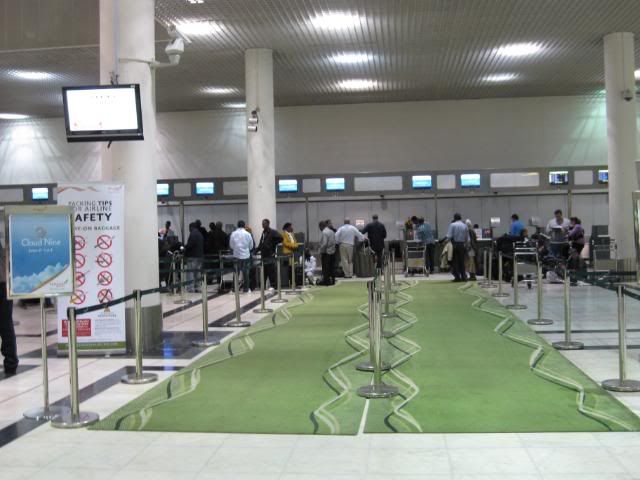 Airport - Internal:
(Internal)
(FIDS – ill-fated aircraft to BEY that night)
(Post Security @ ADD)
Scenes of the tarmac:
NONE
Lounge
(ET's flagship lounge)
*
*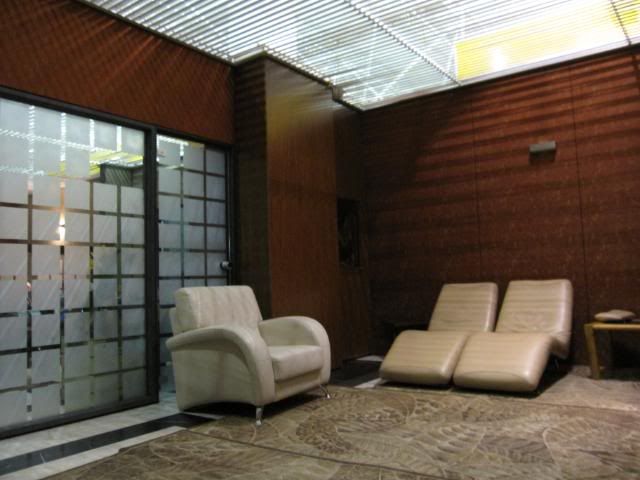 *
Boarding:
(Calm before the storm…)
(…and then "ILBST" swings into gear)
III> In-Flight:
a) Service Schedule + Impressions:
Soon after take-off, service commenced with menus being distributed. Magazines were then distributed, followed by a drink service (OJ/Champagne/Water), the skimpiest J class towels, and then amenity kit. Finally, a very long dinner service.
b) Aircraft + Seats:
Ethiopian's 767 were very old school and featured severely old school seats. The controls and features were showing their age and this was manifested through non-working lights, not-flushing bathroom, etc. The seat recline was decent … but the weird legrest made me feel like I was at the gynecologist. Emirate's current 330's were the only place I have had the same feeling! It is not a pleasant feeling and did not translate into much sleep during the flight. Bathroom was equally dingy with the yellow-1990's lighting not doing much to add to the overall ambience of the flight.
Aircraft:
(762 @ tarmac @ ADD)
Views from Aircraft:
*
(Any idea what this unmarked 747 is? PH?)
General Seat Views + Seat Legroom
(Seat)
(Seat controls)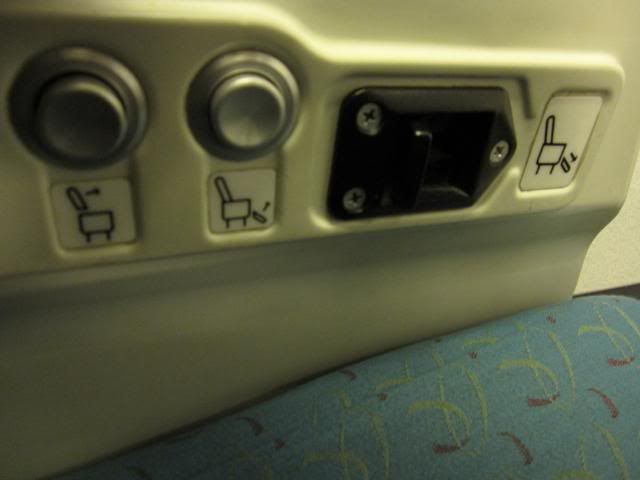 (J Bulkhead seat)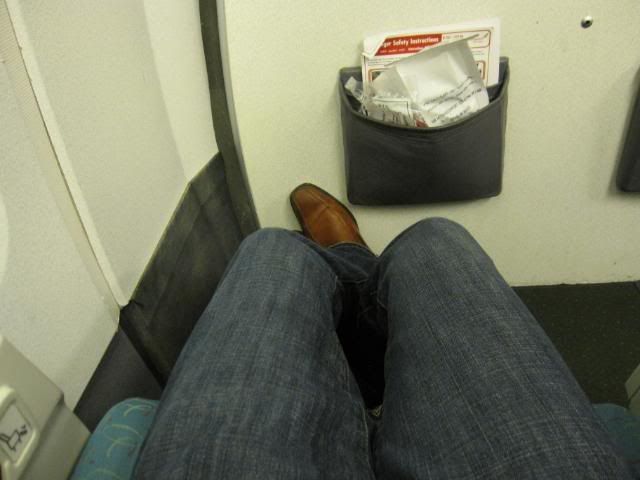 (Blanket provided)
Seat Recline + Angle View:
(I am here to visit the doctor)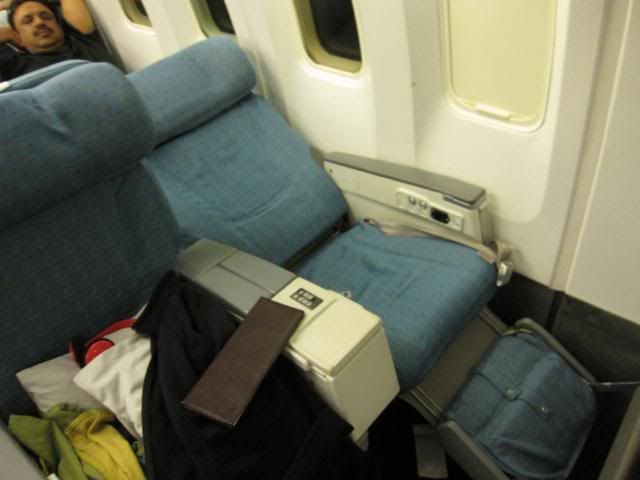 *
Cabin:
*
(Bathroom Amenities)
NONE
c) Meal + Beverage:
Meal on board ET included a full dinner option during the flight. It started with a diet Coke poured out with a premix snack which was just a little too bland for my liking. Then, came a non-descript salad which felt like the crew had put together with ingredients that are ages old. Followed by this disappointing salad, came the highlight. Ethiopian Injera accompanied from the trolley by an assortment of specialties. This was actually very good and I should have asked for more … but, I had to leave space for the main course. Initially, I was shocked that the actual "main" course had only two options – and none of them were vegetarian on a flight to India. When it arrived, I realized the food was as bad as the offerings. The chicken I had was disgusting. It was like slabs of chicken were thrown with some tomato sauce and some Indian spices thrown on it. While there was adequate types of alcohol available, J class menu's should identify the branding and vintage of alcohol being offered. I mean I am glad the menu had "champagne" (crew had to go get the bottle as they were clueless on what type it was) and "vodka", but knowing who made them would be nice for those of us who care about drinking decent vodka and that made in someone's back yard. Overall, a rather disappointing affair.
(Menu – I remain convinced it was printed using a home printer)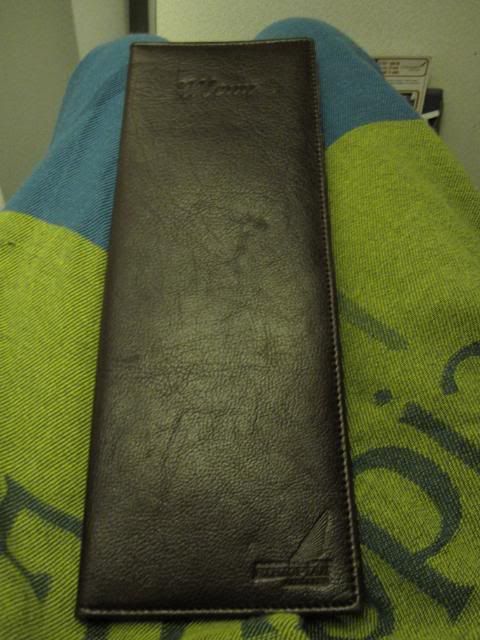 *
(Dinner service)
*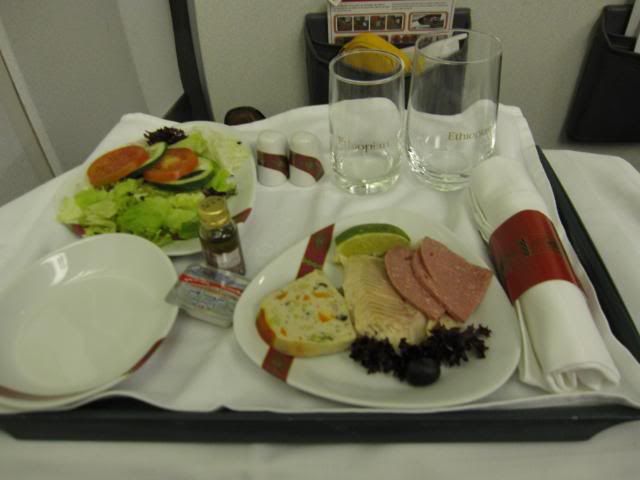 *
(Yummy Injera)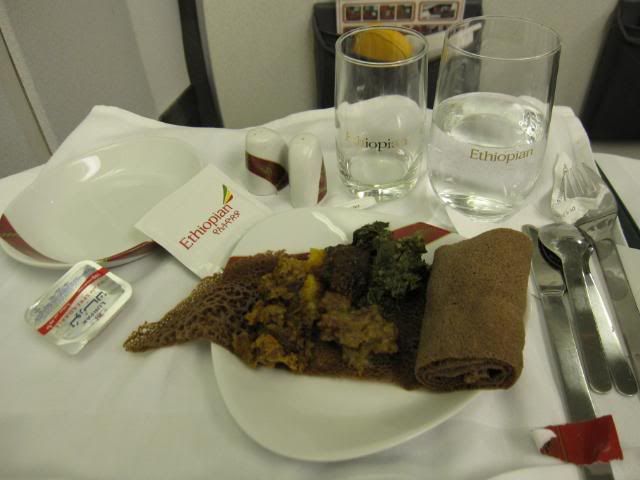 *
(Nasty Main)
*
(LCC's have done better desserts)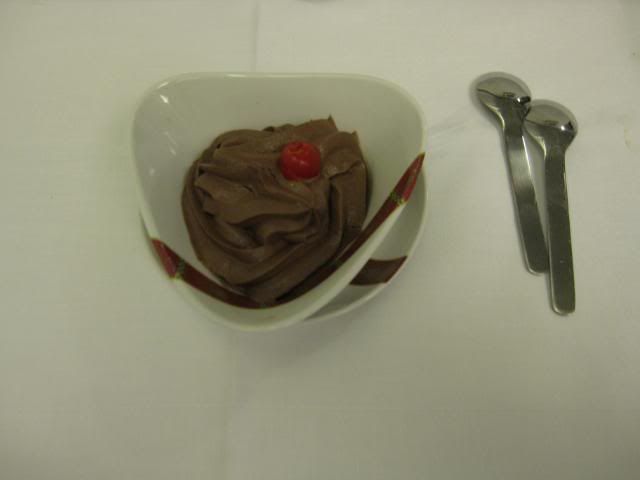 d) Inflight Entertainment:
Ethiopian uses an ancient overhead system that is complimented by bright cheap headphones. Some nondescript movie flickered on the main screen that I did not bother to watch. The in-flight magazine was a decent read.
(You can watch a movie on this flickering screen…)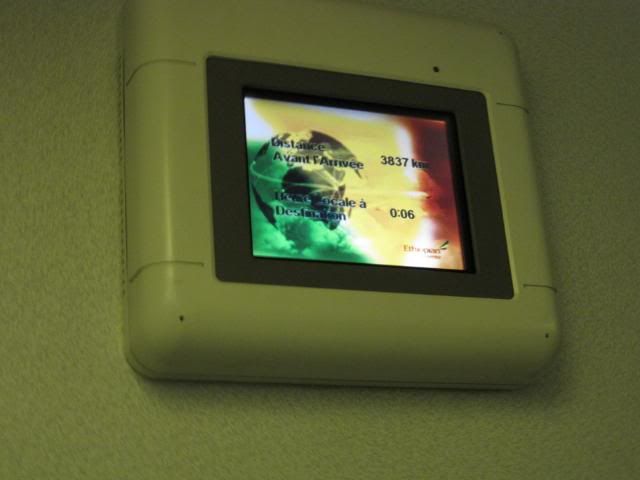 (…using these charming bright headphones…)
(…and change channels hypothetically using these controls)
("In-flight magazines", Boarding Passes, etc. – Lots of nice little "old school" goodies like those DND stickers, the pad made of flimsy paper, etc.)
e) Crew:
Disappointing. As a country with such warm hearted people, I am beginning to wonder if the ET crew were Ethiopian themselves! Seriously, not only did they not have any warmth or smiles, their service delivery also sucked. For all the criticism I have for LH crew, they usually efficiently deliver me food and do a decent service delivery (ok, not in Y, but I don't blame them as they have an absurd amount of pax:crew ratio). At ET, the lack of charm was "complemented" by poor service delivery. Besides the chaotic boarding process, the meal service took 2 hours 20 minutes!!! It was probably the longest meal service I had in my life. I mean, does there really need to be 46 minutes between my Injera and main course? And, for those who travel on J for business, you know that a "red-eye" lasting 4:50 with a 2:20 meal service is not very pleasant.
IV> Post-Flight:
I continue to be surprised by how much Bombay airport has improved. My bag was on the trolley before I reached and immigration took less than 5 minutes.
V> Impressions + Scores:
To be honest, I am truly disappointed by Ethiopian. I used to believe that this was an African airline that could be great. Perhaps, it was this particular flight, but I was left very unimpressed with ET's overall offering. Their hard product is ancient with seats, IFE, etc. belonging to a different era. Worse, their soft product is equally unappealing. I fail to realize why a country were warmth comes naturally can product such disastrous crews. Ethiopian will continue to be profitable as it provides one of Africa's few means of connecting to the world efficiently. They have a visionary Chairman and are blessed with a rather modern connecting hub at ADD. However, post Star Alliance entry, the question remains whether ET can notch up their product offering or will they continue to be the poor provider like its fellow Star member north. I would recommend ET if you need a "reliable" option to get you from point A to B (and it involves Africa.) Thumps down.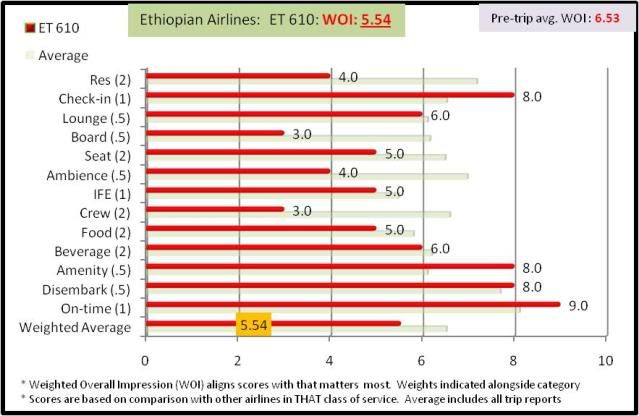 VI> Other Trip Reports:
PREMIUM:
8.66:
Brussels Airlines (93): FIH-BRU: 01/2010
8.64:
Turkish Airlines (59): JFK-IST: 11/2008
8.63:
Jet Airways (88): JFK-BRU: 10/2009
8.61:
Air Canada (49): YYZ-SCL: 06/2008
8.54:
Turkish Airlines (77): GRU-DKR-IST: 04/2009
8.30:
Jet Airways (74): KWI-BOM: 04/2009
8.23:
United Airlines (72): SFO-SYD: 03/2009
8.11:
Aeroflot (33): MOW-DEL: 09/2007
8.05:
Air India (80): CCU-JFK: 06/2009
8.04:
Korean Air (40): NRT-ICN: 10/2007
8.02:
Delta Airlines (24): JFK-CDG: 08/2007
7.64:
Royal Jordanian (91): AMM-YUL: 12/2009
7.46:
LAN (55): YYZ-JFK: 09/2008
7.82:
Singapore Airlines (06): EWR-SIN: 09/2006
7.25:
Iran Air (88): BOM-IKA: 12/2009
7.23:
Virgin Atlantic (81): BOS-LHR: 07/2009
7.14:
Swiss (52): SCL-GRU: 06/2008
7.11:
Austrian (79): VIE-JFK: 06/2009
7.07:
Privatair (84): BOM-FRA: 08/2009
7.02:
Qatar (68): DOH-JFK: 01/2009
6.96:
Etihad (61): JFK-AUH: 12/2008
6.93:
Delta Airlines (18): SEA-JFK: 11/2006
6.84:
ConViasa (65): CCS-DAM: 01/2009
6.81:
Air Canada (17): ICN-YYZ: 10/2006
6.70:
KLM (32): EBB-AMS: 08/2007
6.36:
Privatair (60): MUC-BOS: 12/2008
6.25:
Korean Air (45): NAN-ICN: 10/2007
6.21:
Iberia (87): BOS-MAD: 10/2009
6.11:
TAP Portugal (53): GRU-OPO: 06/2008
6.00:
Gulf Air (75): BOM-BAH: 04/2009
5.88:
African Express (89): DXB-NBO: 11/2009
5.75:
Singapore Airlines (16): CCU-SIN: 10/2006
5.64:
NorthWest (46): ICN-NRT-SEA: 10/2007
5.54: Ethiopian Airlines (95): ADD-BOM: 01/2010
5.46:
Icelandair (83): KEF-BOS: 08/2009
5.39:
LOT (54): WAW-JFK: 06/2008
5.21:
Egypt Air (73): CAI-IST: 02/2009
5.07:
TACA (66): JFK-SAP: 01/2009
4.42:
Air France: CDG-JNB (25): 08/2007
ECONOMY: Long + Medium:
9.26:
Air India (48): JFK-DEL: 02/2008
7.38:
Avianca (01): BOG-LIM: 07/2006
7.07:
Sri Lankan (62): KWI-CMB: 12/2008
7.00:
LAN (94): IPC-SCL: 01/2010
6.41:
Avianca (78): JFK-BOG: 05/2009
6.41:
American Airlines (58): LHR-BOS: 11/2008
6.39:
Condor (85): SEZ-FRA: 09/2009
6.26:
Jet Blue (21): CUN-JFK: 02/2007
6.06:
Air Canada (04): YYZ-YVR: 09/2006
5.89:
USA 3000 (19): PUJ-BDL: 01/2007
5.85:
Spanair (69): MAD-LPA: 02/2009
5.79:
Air New Zealand (42): RAR-NAN: 10/2007
5.52:
Aerolineas (86): USH-AEP: 10/2009
5.46:
TAP Air Portugal (23): OSL-LIS: 05/2007
5.19:
Air Europa (70): LPA-MAD: 02/2009
5.16:
Iberia (71): MAD-BOS: 02/2009
5.11:
Air China (82): FRA-PEK: 08/2009
ECONOMY: Short
8.56:
Paramount Airways (38): BLR-MAA: 09/2007
8.56:
Kingfisher (64): HYD-CCU: 12/2008
8.24:
Kingfisher (14): IXA-GAU: 10/2006
7.87:
Indian (34): BOM-MAA: 09/2007
7.72:
Alliance Air (13): CCU-IXA: 10/2006
7.57:
Indian Airlines (10): DEL-CCU: 09/2006
7.23:
West Jet (03): YYC-YVR: 09/2006
7.15:
JetLite (37): BOM-GOI: 09/2007
6.70:
Spice Jet (09): CCU-DEL: 09/2006
6.63:
Air Fiji (44): NAN-SUV: 10/2007
6.63:
Jazeera (67): DAM-KWI: 01/2009
6.58:
Air Tran (02): EWR-MDW: 08/2006
6.48:
Air India Express (63): CMB-MAA: 12/2008
6.44:
CO Micronesia (39): ROR-YAP: 10/2007
6.41:
Pacific Sun (43): NAN-SUV: 10/2007
6.37:
Skybus (47): SWF-CMH: 02/2008
6.33:
Kenya Airways (29): NBO-BJM: 08/2007
6.33:
Sky Europe (56): LTN-BTS: 10/2008
6.31:
Indigo (15): GAU-CCU: 10/2006
6.31:
easyJet (57): BUD-LTN: 11/2008
6.22:
Air Link Swazi (28): MTS-JNB: 08/2007
6.22:
Air India (36): HYD-BOM: 09/2007
6.13:
Adam Air (07): SIN-CGK: 09/2006
6.13:
Air Rarotonga (41): RAR-AIT: 10/2007
6.00:
Transairways (27): INH-MPM: 08/2007
5.95:
Air Canada (05): ALB-YYZ: 09/2006
5.85:
SAS Norge (22): OSL-AES: 05/2007
5.81:
LAM Mozambique (26): JNB-MPM: 08/2007
5.69:
Air Deccan (12): IXZ-CCU: 10/2006
5.67:
Rwanda Air Exp (30): KGL-NBO: 08/2007
5.37:
Felix Airways (92): SCT-SAH: 12/2009
5.11:
Aero Republica (76): BOG-CCS: 04/2009
5.07:
Go Air (35): MAA-HYD: 09/2007
5.00:
Sky Airline (51): IQQ-SCL: 06/2008
4.96:
Valuair (08): CGK-SIN: 09/2006
4.78:
Air Comet Chile (50): SCL-IQQ: 06/2008
4.74:
Fly 540 (31): MYD-LAU: 08/2007
4.33:
Viva Aerobus (20): ELP-MTY: 02/2007
4.11:
Air Sahara (11): CCU-BOM: 09/2006
(Note on Codes: Y – Economy, J – Business, F – First :: I/D – International/Domestic :: SR/MR/LR – Short/Medium/Long Haul)
(Note on Date: Dates are modified to be +/- 3 days from actual flight date to not reveal actual flight pattern)
VII> Other Pictures:
(Rather decent…and BRIGHT…amenity kit)