Now that I have your undivided attention

Part I:
Boise to Portland
Portland to Seattle
Seattle to Fairbanks
Fairbanks to Seattle

Part II and beyond:
Seattle to Anchorage
Anchorage to Kotzebue
Kotzebue to Nome
Nome to Anchorage
Anchorage to Cordova
Cordova to Yakutat
Yakutat to Juneau
Juneau to Seattle
Seattle to Boise


...
Okay, you can stop looking at that picture above...
Like, really, you can stop now...
...

8,136 miles...
10 cities...
13 segments...
In 55 hours...
Non-rev...
Spring break...

Because I'm certifiably insane!

...
Hey, are you paying attention!?! Quit looking at that damn picture!!! I know you love girls, and I know you love beer, which put the two together and it makes for one damn fine picture, but this trip report is srs bsns, PAY ATTENTION TO ME NOW POR FAVOR!!!
All right, time for me to distract your mind and send you back to this trip report...how about this?
I bet there's at least a few people here who find this picture more attractive than the one above...

Ahhh, much better! After all, this is AIRLINERS.net, not girls-serving-beer.net; though if there is a website like that, it would pretty much rule the internet forever.
Prologue: Boring Exposition
Ahem, so where to begin?
First of all, this was one of the best trips I've ever taken in my life. I took over 1,300 photos on this trip of airplanes, airports and the scenery in between. Compiling and editing the photos was a difficult task, and writing this trip report will be rather grueling, but this trip was an insane amount of fun, and I've had such a blast looking over the photos and writing about it, I don't even care if nobody reads it. I would GREATLY GREATLY appreciate comments, whether you love or hate it. Really, I am accepting of all comments, as I just love hearing feedback of all different opinions. And no matter what you say, I will value it and respect it.
By the way, I invested like 8 hours editing these photos, so if you aren't clamoring to tell me that this is by far the best trip report on airliners.net period, then I will personally find where you live and smack you upside the head.
So our story of Airport and the trip up to Alaska begins on March 31st, at around 11:00pm. It was getting toward the end of Spring break, and I was doing what any typical College guy does at 11:00pm.
Ewww, no, I wasn't doing THAT! Gross! No no no, I was just alone and lounging around my computer. It was me and my right hand on my joystick. And I was just......
NO, I was not doing that, either! I was playing Flight Simulator X, sheesh!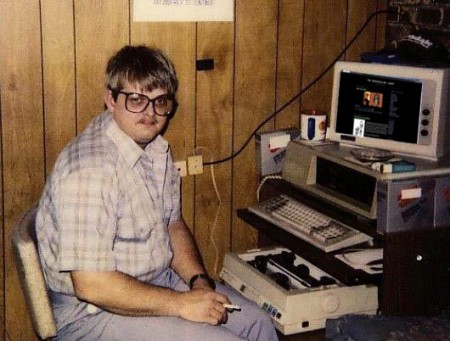 I probably looked like this, except a little bit more nerdy...

ANYWAY, you still with me sicko? I was in my apartment and I was playing flight simulator. By this point I was getting a really strong urge to fly somewhere. Once I was done on flight simulator, I started reorganizing photo albums of mine, and decided that I MUST stop wasting this precious free time I have, and must fly somewhere.
Now, as a preface, I am an incredibly lucky individual. My Dad is a captain for Horizon Air, and as such I get non-rev benefits on Alaska and Horizon Air. Which makes it possible for me to fly them for free so long as there are open seats. Unfortunately, it tends to be incredibly difficult to find a cool trip where all segments have a comfortable amount of open seats. But, I don't complain at all, because that means AS/QX is makin' bacon! To me, that's far more important to getting to my destination on time.
I'm a very leisurely traveler. I don't travel unless I know that I can be stuck somewhere for a few days and still be all right. I'm very laid back and as you've probably guessed by now, I love to fly. And I love to hang around airports. Probably to the unacceptable extreme.
So anywho, here I was, deciding to fly somewhere the next day. But where would I fly? I looked at loads to Hawaii...full! I looked at loads to Boston, New York, Washington D.C., Miami, Orlando, Chicago. Full, full full!
But then, I recalled a fantastic trip I made last year to Barrow, Alaska. A trip to do some sightseeing in the most scenic State in the union, as well as being able to say that I visited the northernmost city in North America, which to date has not served me any luck in the impressing-ladies department.
I looked at loads further on and found something AMAZING. So amazing it caused me to shout out loud, "Holy flights-up-to-Fairbanks-Anchorage-and-various-towns-that-I've-heard-have-spectacular-approaches-and-landings-throughout-Alaska-are-amazingly-rather-empty-enough-to-make-me-comfortable-non-reving, Batman! Flights up to Fairbanks, Anchorage, and various towns that I've heard have spectacular approaches and landings throughout Alaska are amazingly rather empty enough to make me comfortable non-reving!"
Whodathunk?
Really, I was just looking to fly somewhere. Anywhere! Obviously, I love flying enough to do it for the sake of it. The adventure of non-revving is one of the greatest thrills I have offered to me, so if I have the benefits and I'm not hurting anyone by going on this insane-o trip, then why the eff not?
So my plan...
BOI-PDX-SEA-FAI-SEA (The purpose of flying to Fairbanks was because First Class was entirely empty according to loads at the time, and there were over 86 open seats in Coach, meaning that a chance to fly First Class on a long flight was really likely. As another preface, I never get to fly First Class anywhere. I'm always in Coach, Coach, Coach, everywhere I go. I only flew First Class once, and that was from SEA-BOI. Wahhhh wahhh wahhh wahhhhhhhhh....)
SEA-ANC-OTZ-OME-ANC-SEA-BOI
I guess I like to keep things simple.
I packed lightly, in case I'd have to go through security multiple times. I decided against taking my laptop. I only brought two things, a backpack with a pillow and blanket (which I now recommend any non-revver do), headphones so I could listen to some music, and my cell phone charger in case a certain airline who I'm hoping to get a job with called.
I also packed my camera, a Canon Digital Rebel XTi, otherwise known as my-baby-and-if-anyone-takes-it-I'll-unleash-a-godlike-wrath-that-makes-the-mighty-US-military-look-like-"Teletubbies: Silly Songs and Funny Dances."
And now, thus we begin, the most epic Non-rev adventure of my life so far...
Chapter I: The Beginning
I had stayed up all night the previous night after planning, because I was hyped up and jittery thanks to my best friend, Caffeine.
I get to the airport at 5:10am, for 6:25am BOI-PDX departure on QX. It's quiet, but things are getting prepped for the morning rush. I go to the self check-in kiosk and grab my boarding pass. Unfortunately, despite the loads being terrific on this Portland flight, I'm not able to select my seat. Darn.
Security's a breeze, for the most part. I don't consider security here to be a hassle, not because it isn't thorough, but because they do it quickly, effiicently, and with a smile and good attitude. Thumbs up.
Having a bit of time, I decided to head down through Concourse B to check out the action. IMO, the morning action in Boise isn't as cool as it used to be. Of course pax numbers here were hit pretty hard, so it's understandable. It wasn't that long ago that we had a nonstop to Houston on COex and a nonstop to Atlanta on DL. How I miss those days. Still, we're lucky to have what we get, and as my four-year-old niece says, "You get what you get, and you don't throw a fit!"
Ugh, I had to find somewhere to put that obnoxious phrase...it's been stuck in my head all day today.
UA A320 to Denver...

Ugh, curses to you United. You used to bring mainline equipment to Chicago and San Francisco. All RJs now. We used to have 4 mainline aircraft RONing, but no more... I was going to write a song for YouTube and call it "United doesn't care about Boise!" hoping for the success of "United Breaks Guitars" but then I remembered nobody cares about Boise. We're like the Zoidberg of U.S. cities in the west.
Boise's a great city, I swear!!

Some more spotting...there were 4 WN 737s, a Delta 737-800, and a metric f***ton of CRJ-900s.
Frontier A319 going to Denver in an hour.
US Airways A320 going to Phoenix. US is the only airline that has actually upped the equipment in Boise. Grazie, US!

After a...riveting...half hour checking out Concourse B. I decided to head down to Concourse C. A window revealed two QX CR7s, one going to PDX, and the other going to LAX, if I recall correctly. My aircraft was N601QX, the one further away.
Ever noticed the similiarites between the QX logo and the Obama logo?

I waltz down to Concourse C, otherwise known as "the basement." And manage to get my boarding pass. I sit down next to this really pretty girl who looks to be about my age. I pull out my iPhone to impress her with my hip and trendy Apple technology and she glances over and smiles. I put on my "Cool" look and "stunner shades", lookin all business-y and important with my iPhone. After all, nothing's cooler than wearing sunglasses at night.
"You're cute," she says. "What's your name?"
"Jammer. Max Jammer." I reply.
"Sounds sexy. What're you going to Portland for?" She cooly asks.
Staying smooth, I reply, "I can't tell you, it's classified. Only Xg5-ranked paygrades are allowed to know. But I can tell you that it involves the President of the United States."
She whips back her hair and says, "Oh, I guess you won't have time to make sweet love to me."
I reply, "Ever heard of the mile-high-club?"
"Take me there, Max Jammer!" She says...
"Oh, please, that's
Dr.
Max Jammer." I then proceed to put on another pair of sunglasses on top of the sunglasses I'm already wearing.
Then I hear a strange omnipresent voice...
"Annnnnnnnthoooonnyyyyy.......Annnnnnnnthoooonnyyyyy..."
I jolt!
"Would Portland passenger Anthony/Airport please come up to Gate C2 for your seat assignment?"
Ooops, I almost missed my flight. I guess I fell asleep and that was all a dream. The cute girl was no longer there. Oh well, I bet that's what WOULD'VE happened if I had not fallen asleep!
I go up to the podium and get my seat assignment. A window seat! I dig it!
Boise (BOI) to Portland (PDX)
Horizon Air 2502
CRJ-700
6:25am departure
N601QX
Seat: 6E
Gate: C2
April 1st, 2010
I walk down the walkway and board the plane...
Boarding the airplane...

I get to my seat, 6E awaiting my glorious window seat until...
Horizon Air: "APRIL FOOLS!"

Whiskey Tango Foxtrot?!
I mean, Horizon Air, I love you, but what the eff kind of window is this? It looked like Randy Johnson spent all night throwing baseballs at it! That's not a window, that's an April Fool's Joke! Which, I guess it is April Fool's Day, so...um...bravo?
Me attempting to snap a picture of the UA A320 from a different angle. Lousy window!

Bah! Oh well, I could look forward to many other window adventures ahead of me. This was but 1/13th of the whole trip, after all! We pushed back, de-iced, started the engines, taxiied and took off!
That damn window...

The flight to Portland was uneventful. It was a pretty sunrise, for what I saw of it. I ordered a Hot Chocolate, my beverage of choice when flying Horizon Air in the morning. Included where these standard biscoff cookies which were good and edible, something that some airlines' snacks can't claim.
By the way, I hope QX doesn't give up the free beer and wine before I turn 21. Quite amazing.
We started our descent into PDX.
Argh...

After a nice landing, we taxiied to the gate. We parked at the A concourse, and I deboarded, greeted by the fresh and beautiful morning Oregon sky.
Ahhhh, it's like a breath of fresh air...

Hey Chester, come visit PDX more s'il vous plait!

I went over to the Seattle shuttle area. For those not in the QX know, QX offers a multitude of daily flights between PDX and SEA. I knew that if the loads filled up on this flight, there'd be others in just a half-hour's time that I'd be able to catch. I waited for about 20 minutes, got my boarding pass.
Crud, 14B on a Q400. No window seat this time.
Portland (PDX) to Seattle (SEA)
Horizon Air 2042
Dash-8 Q400
7:30am departure
N423QX
Seat: 14B
Gate: A4
April 1st, 2010
I walked out the boarding gate and through the front exit...
Said front exit...

...crap.
I just realized that they were boarding through both the front door and the backdoor, and seeing as I was in row 14, I had to shimmy my way past people trying to get to rows 10-13 through the back exit, leading to awkwardness of the non-hilarious type.
Oh well, I am Anthony/Airport, reigning King of Awkward. Here me roar.
I plopped my fat-ass onto seat 14B, awaiting to depart Portland for this quick jaunt up to Seattle.
WARNING: This picture of me and my sexiness may cause you to spontaniously combust.

I did get pictures on this flight, but I opted not to post them, because they are incredibly self-indulgent and I don't want my readers to burst into flames before they can comment and add me to their respected users list. See, you should be thanking me for being such a nice guy!
Again, the flight was uneventful. I sincerely miss the biscottis that QX used to serve on this route. Oh em gee...they were so good.
We landed in Seattle. By now I was admittedly getting a little bit tired. Remember, I had pulled an all-nighter the previous night for no other reason than so Evening-Anthony/Airport could piss off Morning-Anthony/Airport. I swear the two have a grudge. I could feel the sting of exhaustion starting to hit, but alas! I must stay awake. I had lots of mileage and scenery to cover!
Boarding out of the right exit this time...

Now I had a long time to kill in SEA, about 4 hours. Luckily there's plenty of stuff to do. Plenty of aircraft to watch, and the concourses to cover. I walked through all the concourses and hit all the satellite terminals. There was tons to see, as usual.
Again, QX I love you, but that is comfortably the ugliest paint scheme ever...Just sayin...

Rant alert. I hate Concourse A in Seattle. Sure, it's more open, it's cleaner, it's glass-and-steelier than the other concourses, but it lacks the old seaport/pier-styled architecture of the other concourses which have so much character! Concourse A is extremely bland to me, it's just like any other new generic concourse in any other airport in the country. Borrrring. SEA, never renovate Concourse B, C, and D por favor. Sure, they may be a little bit darker, and a tad less airy, but they just SCREAM Seattle! It wouldn't be Sea-Tac International Airport without em.
/rant.
American 737-800 going to...Dallas? To quote Firefly, "Shiny..."

Down toward the end of Concourse A I found two Hawaiian 767-300s, both with winglets. This was the first time I had ever seen a wingletted 767-300. Yuck. I think the 737, 757, and 767 look a lot more natural and dignified without them.
Or maybe I just complain too much. Hey now, I love complaining! Complaining is fun! Now get off my lawn!
Please! Please! Take me with you! I'll do anything, I'll ride in the freaking cargo hold!

So I head back to Gate N3, where my flight to Fairbanks is scheduled to depart. I love the N Satellite for the big windows that give a tremendously wonderful view of arriving and departing aircraft. I wait for a while and snap some pics of aircraft in the vicinity.
Alaska 737-700 going to Santa Ana.

Alaska 737-800 going to Anchorage if I remember right. Definitely not Lei weather there.

Yeah, I'd say that Alaska has a decent presence in Seattle. I flew on N557AS to Las Vegas and back last year.

United, how do you do? Enjoy your flight to Syan Fryanceesko.

If Boise State and University of Washington ever face off, this could be a promo pic.

It sounded like this: bbbvrvrvorroroororooooororoooooshkshoksohhshkshskoh

THE SEXIEST PLANE OF ALL TIME. IF YOU SAY OTHERWISE I WILL PERSONALLY FIND WHERE YOU LIVE AND SMACK YOU UPSIDE THE HEAD.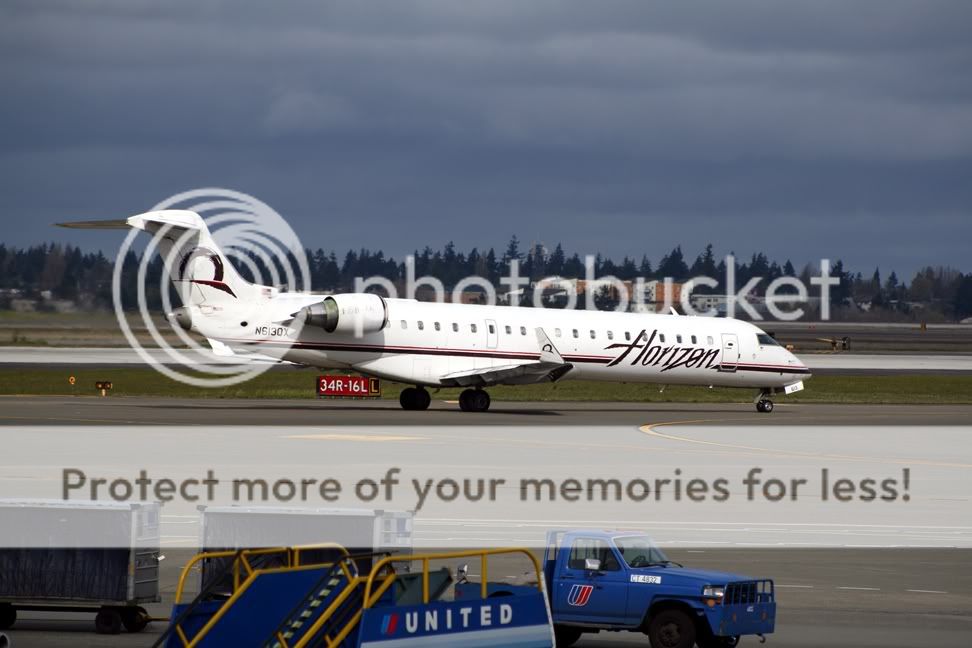 I hope you had better windows...psh!

Horizon should just paint all of their planes in the Boise State scheme...then God just might have mercy on mankind.

Suddenly I hear an announcement. I have it sort of tuned out in my head until I hear the word "Fairbanks" causing me to snap to attention. Gate change announcement. We will now be boarding out of Gate C15. Awesomesauce.
Yet another logojet. At this rate, pretty soon the logojets will outnumber the regular Alaska scheme. Not that I'm complaining...

This guy nose what he's doing.

I thought this was a cool shot.

So I schlep on down to Gate C15 only to hear "Fairbanks" and "Gate change announcement..."
Looks like we're now going to Gate D2. Sheesh, another gate change announcement and I'll bet we'll be departing out of Boeing Field! Oh well, I got time and my gut could use the exercise.
So I wait for a while, call my parents, who are getting ready to call the men in white coats after I tell them my full itinerary. I'm excited to board this 737-800 to Fairbanks. There's a near full load going up, but enough seats that I feel comfortable that I'll get on.
Until suddenly....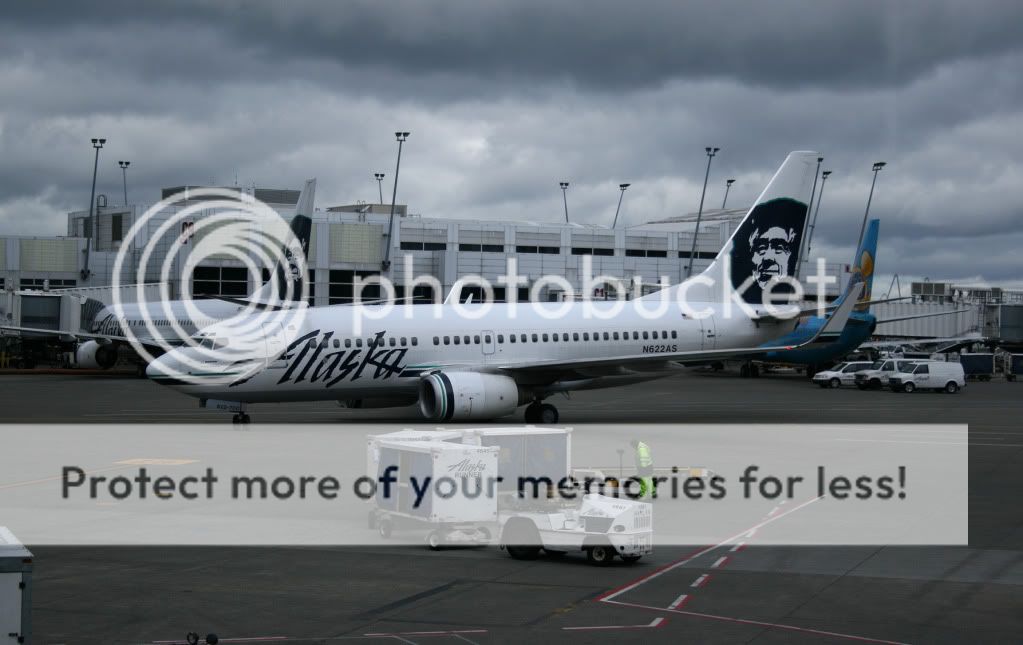 Uhhhhhh....

Uhhhhhhhhhhhhhh......

...crap.
Apparently they changed the aircraft on us. Damn you AS for wanting to make money! Sheesh, talk about no respect for us Non-revs! Non-revs BUILT this airline! Alaska wouldn't exist if it weren't for Non-revs! I mean think about it! Orville and Wilbur Wright were technically Non-Revs....technically...
...think about it!
No respect for us non-revs.
So now here I am worried that I might not get on this airplane.
Alaska Disney plane departing...

Gate area...I think I'm one of the very very very very very very very few that loves the D gates.

However, despite the fact that we are on a smaller aircraft, I manage to get a seat. An aisle seat, yes, but I'll gladly take it! The gate agent was incredibly nice and apologetic about it, and I told him that I understand that these things happen and that I'm just happy to be onboard.
Portait of a Chester...

I get in line and board the aircraft...
Seattle (SEA) to Fairbanks (FAI)
Alaska Airlines 123
737-700
1:00pm departure
N622AS
Seat: 9D
Gate: D2
April 1st, 2010
Going down the jetway

I put my backup in the overhead bin and my camera case below the seat quickly and sat down. Suddenly, a guy indicated that he was in the seat next to me. But this wasn't any ordinary guy, no no...this guy had THE most EPIC beard ever.
Okay, maybe it wasn't THIS epic. But still...

He was also incredibly nice! He saw my camera and asked if I wanted his window seat to take pictures. I graciously accepted and offered to buy him a meal/digEplayer on the way up if he wanted. He kindly said thank you but that he'll be sleeping on the way up. With any luck, me too.
Now I know this is going to be incredibly hard to believe, but rainclouds started forming over Seattle.
I think part of the reason I love flying is because I simply have this strange fascination with clouds and weather. And what better way to experience weather than plastering your face to a window while hurdling through the air at hundreds of miles per hour up in the air!
Seattle has beautiful clouds. In fact, I can't think of a city that so frequently has incredibly beautiful cloud formations. And today would be no exception. Beautiful rain-clouds started forming above.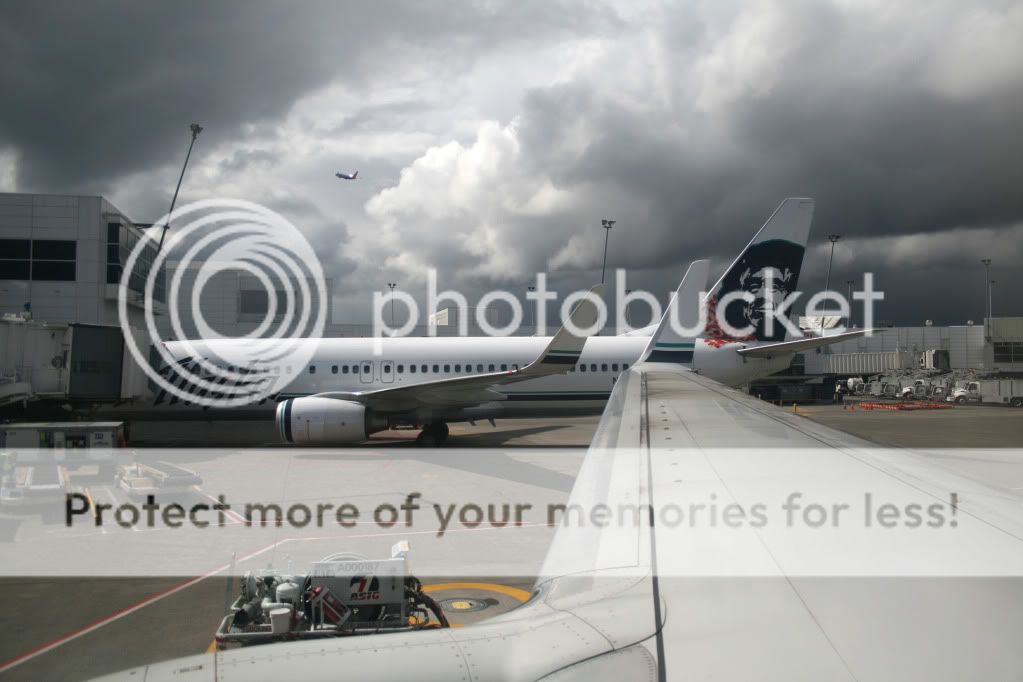 Amazing...

Amazinger...

We pushed back and proceeded our taxi to the runway for departure.
Being mooned by Chester...

I'm loving the logo-jets...

Okay, I'm starting to forget what the regular AS paint scheme looked like...

We turned onto the runway and did a rolling take-off, woohoo! I love the sound of the 737 engines.
Rolling take-off...

I can't think of a witty comment for this shot

Okay, now this is almost looking like we're in Hawaii...

Clouds!

Hmm, well I'd definitely say I'm in airplane right now...

Simply put, I crashed on this flight. Err, slept really hard... I didn't wake up till we began our approach into Fairbanks. A nice, lovely snooze. I heard that we passed Denali and had a great view of it...but was that possible? It didn't seem like it'd correlate with our flight plan. Hmm...
Approach into Fairbanks...

Classic Alaskan wilderness

Another reason I love flying into Alaska is for the insanely cool approaches that weave you through mountains and what-not, and runways that are so short that really hard landings with tons of brakes and full reversers are inevitable. To me that's thrilling and exciting stuff. Unfortunately, our landing this time was smooth as silk, in fact I didn't even feel it. It was smooth, there was hardly and lurching or jerking around. It was an excellent landing.
Alaska pilots: Quit being so damn good...

Classic! Another reason I love traveling up to Alaska

Fairbanks terminal. Not huge, but very nice and architecturally sound.

We taxiied to Gate 2 and deplaned. I called my Dad to let him know that I was in Fairbanks.
Turning to the gate.

Our plane!

But you know, I figure my chances at getting First Class are still good, right? I mean, Coach is still very empty, and First Class is totally empty. There probably won't be many upgrades and I should be fine.
Until suddenly...
"Ladies and Gentlemen, we do have First Class available on this flight..."
Shhhhhhh, quiet lady!
"...for those of you that would like to upgrade for only $100..."
I said QUIET! I'm trying to get First Class here! Sheesh!
"...we still have First Class available!"
Stop, stop it!!! Please, I'll do anything. I'll put on a monkey suit and dance for you if you want, just keep FC on the down-low!
And right as I'm thinking that, exactly 8 people walk up to the podium. The total amount of First Class available on the aircraft? 12 seats. The total amount requested by people upgrading...exactly 12.
NOOOOOOoOoOoOoOoOoOoOoOoooooooooo!!!!
I would've gotten on FC if it were a 737-800. I would've gotten on if that gate agent had any respect for us Non-revs. I mean seriously, we're the most important customer, amiright? The passengers just comfortably EXPECT service and EXPECT to get onboard. Us nonrevs are cruelly forced to wear out our nerves struggling to get a seat. We're the ones doing all the work here!
There's only one logical answer: this is one big conspiracy against non-revs like me. They intentionally gave me a smaller aircraft so they could toy with my fragile little mind...it's a conspiracy I tell ya!
...or they just want to...you know...make money...
No respect!

It's not fair. It's just not fair.
*sob*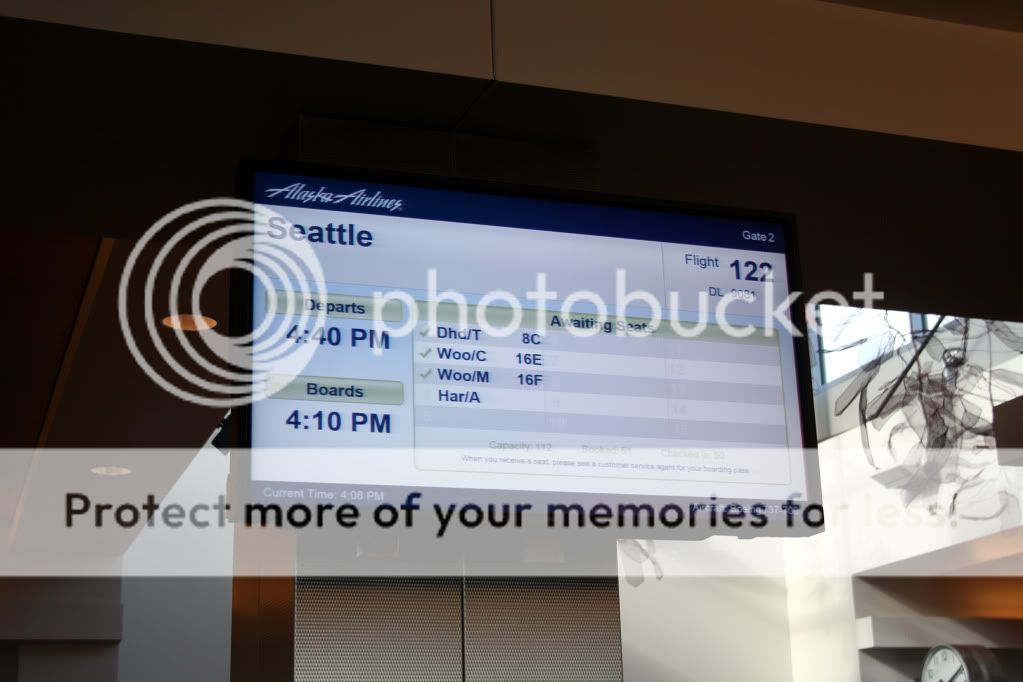 Alaska, eh? More like Harass-ka...cause...you know...they're always harassing us non-revs.......ya know? I said think about it!

And then I get my seat assignment. Ha, whaddya know, I get the same seat I sat in last time. 9D
So I mosey my way down the jetway...I don't know what kind of cruel act I did to deserve this punishment. I mean, a guy like me deserves first class, ya know? I can't sit in back, in "Coach" with the, ahem, peasants! I'm not cattle! I deserve to sit up front with my fellow astute snobs, and spend all day drinking overpriced booze and using $100 bills as toliet paper! I deserve it, honest!
I once helped an old lady cross the street a long time ago, and it wasn't because I was hoping her dementia would result in excessive monetary payment...not entirely anyway...well okay maybe that was part of the reason, but still! You know? When I go to the movies, I don't spike up my hair into a mohawk so that the people behind me can't see. And when I get seat assignments on airplanes I don't ever complain! See, I'm the good guy here, honest!
This is cruel and unusual punishment, I say!
I can't ride with these....things.....they're like mooing or something!

Walking down the jetway...

Fairbanks (FAI) to Seattle (SEA)
Alaska Airlines 122
737-700
4:40pm departure
N622AS
Seat: 9D (same seat)
Gate: 2
April 1st, 2010
Look at that dastardly Eskimo. He's smiling because he wants you to feel pain...

But then I notice...
Woah woah woah! Hold up now!
The boarding door closes......and I still have this whole row to myself! A whole row! No way!!
Alaska Airlines, you're my FAVORITE airline ever. Bar none! I would never say anything bad about you ever. Not in a million years!
What's that you say...? Oh, pish posh, I wasn't REALLY complaining! It was all a joke, an April Fool's Joke...see? See? That's what makes it
sooo
funny! I would NEVER EVER complain!
I love you Alaska. You're the best airline ever...

So we taxiied out to the runway and prompty took off over Fairbanks.
This could almost be monochrome...

Under the clouds...Alaska, you're still my favorite airline!

I got pretty hungry, so I opted to purchase a Cheeseburger buy-on-board meal...then I said why the heck not and shelled out $6 for a DigEplayer.
Alaska, I love you even if you only seem to serve Cheeseburgers, Cheeseburgers and more Cheeseburgers as BOB on every evening flight.

I sort of went into idle contemplation mode on this flight. To me, this is what makes flying flying. This is another element besides weather that causes me to go on ridiculous excursions like these. Because what better place to sit back, and meditate and think about life than at 35,000 feet?
That incredible sense of idle contemplation...
Thinking about life. Thinking about friends, and family. About love and happiness. About hate, and grudges. About jobs, careers, and philosophizing on a fulfilled life. Looking from above the clouds at the ground below. Examining our cities and towns, and streets and roads. Gazing at nature's wonderful creations. Monstrous mountains and heavenly waters. Thunderclouds and lazy cirrus wisping across the sky.
Amazing. Truly amazing.
It's why I fly.
I don't think a comment is necessary for the above shots...

We started our descent into Seattle. By now it had approached night time. So far this trip has been a success, but it does not end here. In fact, we have only started to reach the mid-point of the full journey. Aye, there is much more to see beyond this point. This is but the beginning. Maybe I am crazy for going on long excursions like these. But for me, this is truly what living is all about. That sense of adventure. That sense of excitement of going to far-off places that I've only seen in an Atlas. Places that could only be left to the imagination.
We landed in Seattle, and taxiied to our gate, D4.
Landing, reversers out...

After landing in Seattle, I would immediately head to Gate C11, where I'd take a night-flight up to Anchorage, where further adventures will await...
Ah, yes, there is so much more to see...
End of Part I
Cheers!
Anthony/Airport
[Edited 2010-04-06 08:43:31]