Feedback always appreciated.

I > Background:
My friend lives in Porto Alegre (or, the "other Brasil" as I call it) and I made a quick weekend to see him after visiting clients in Buenos Aires.
There are surprisingly few TR's of TAM – this is becoming common of newer Star carriers it seems! Anyways, I believe this will be the first review of TAM's regional J product; the first on the POA-EZE sector; and, the first featuring POA.
II > Pre-Flight:
a) Before Airport:
TAM Airlines is the biggest Brazilian airline and is headquartered in the city of São Paulo. Besides an extensive domestic operation, it has a growing international presence spanning to key markets in the Americas and Europe. It is supposed to be part of Star Alliance in 2011.
I bought my ticket on TAM's website at
www.tam.com.br.
It is a well-designed site which is neatly laid out and easy to use. However, it still has some ways before becoming a world class site. Several of the areas reverted back to Portuguese as I navigated around it. However, the booking engine was relatively seamless and I enjoyed the ability to choose my seat. I could also view my itinerary … but not modify it or change my seat assignment.
b) At Airport:
After a fun crazy weekend in the "other Brasil", I was ready to head back to BA. My friend dropped me at the rather calm Porto Alegre airport (the entire city seems to be obsessed with blue tinted glass) and I was the only one at the J class counter. The check-in agent was amused by my Liechtenstein passport and had to check TIMS several times before deeming me fit to fly to Argentina. She was super sweet and complied with my seat request and told me the flight load. Security did not open until 45 minutes prior to boarding and then immigration was quick. At POA, after immigration, there is basically one international gate with a little café and a little shop. So even the 40 minutes or so seemed long. Oh, there was no lounge access at POA. J class boarding was done first and I was welcomed on board by 2 flight attendants. They came by to offer water. Interestingly, they were not particularly chatty and there was no personalized welcome by name or anything.
J load was around 50%.
>Airport - External:
(Porto Alegre airport)
Check-in:
Airport - Internal:
(Internal)
(FIDS)
(Post Security @ POA's only international gate)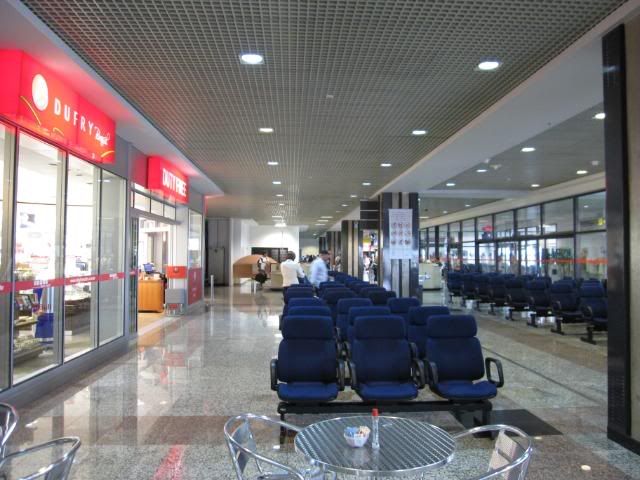 Scenes of the tarmac:
NONE
Lounge
NONE
Boarding:
III> In-Flight:
a) Service Schedule + Impressions:
Soon after take-off, service commenced with the skimpiest hot (more like luke warm) towel. Menu cards were distributed and orders taken. Shockingly, in what has to be a rare thing … amenity kits were distributed! I mean, this is a less than 2 hour day-time flight! Interesting. Finally, meal service.
b) Aircraft + Seats:
TAM's 320 looked smart outside and inside in the red corporate colors. The plush leather seats were extremely comfortable and perfect for the trip length. Recline was definitely average … though, seat legroom was rather modest. Bathroom amenities were almost absent in the J class cabin.
Aircraft:
(320 @ POA; photo courtesy as noted)
Views from Aircraft:
(POA)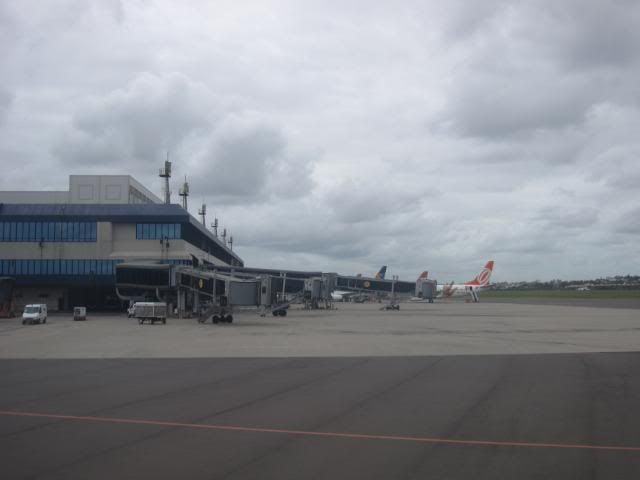 *
General Seat Views + Seat Legroom
(Seat controls)
(J Bulkhead seat)
(Blanket provided)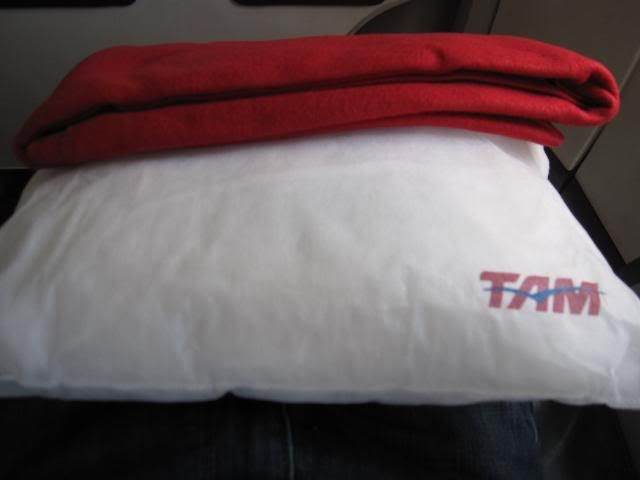 Seat Recline + Angle View:
*
Cabin:
(Bathroom Amenities)
c) Meal + Beverage:
For this flight, meal service consisted of lunch consisting of either salmon or pasta. For the lack of menu choices, I found the actual menu way too elaborate and unnecessary. TAM would be better served if they saved the money on this printing and improved the actual quality of the meal. I chose the salmon in black tea crust and it turned out to be nasty. I have eaten better "TV dinner" meals before! Accompanying the salmon was some mashed potatoes and vegetables … and I could not figure out if this was part of the meal itself or the combined appetizer and main. The flight attendants were clueless! A.Netters, what do you think? The saving grace of the meal service was the rather rich "ganache pie" served with nice juicy berry sauce. However, as soon as I had enjoyed the pie, I was left with a disappointing finalé which arrived in the shape of probably the crappiest black water (passed off as a café) I had encountered in a LONG time.
The entire affair could have been saved if TAM actually cared about the catering. I mean, instead of spending money on designing a fancy menu, how about focus on the food itself?
Beverage options of alcohol and non-alcoholic drinks were adequate for a flight of this stage length.
(Menu)
*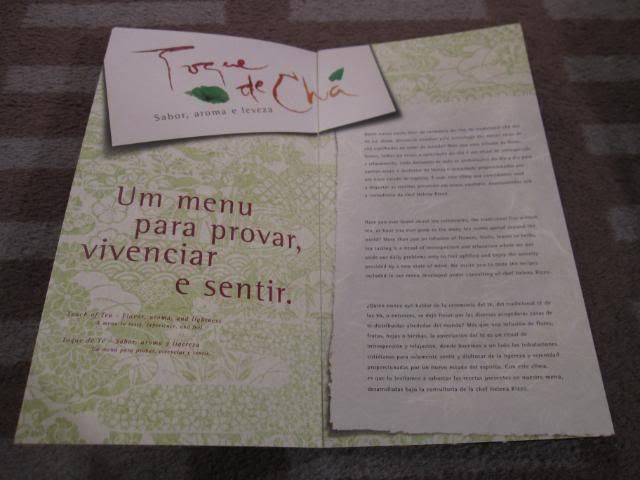 *
*
(Lunch service)
*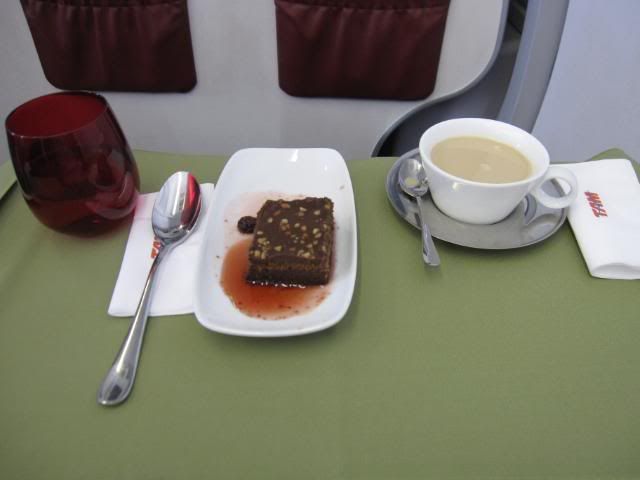 d) Inflight Entertainment:
IFE consisted of some unmemorable TV programs that kept on playing on loop on the several TV monitors across the cabin. This was complimented by an average in-flight magazine.
("In-flight magazines", Boarding Passes, etc. – These Brasilian "grocery receipt" type boarding passes need to go!)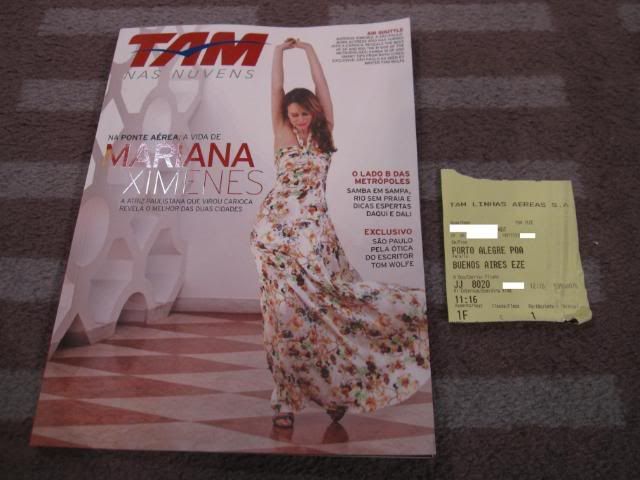 e) Crew:
Unremarkable. I think this is the best way to describe the JJ crew. They existed to do the basic duties such as greet passengers, distribute menu cards, take orders, do the meal service, respond to call buttons, and I am sure act in case of an emergency. However, I don't think any of them stood out. They did not go beyond the call of duty and I did not see much of smiles or warmth.
IV> Post-Flight:
Arrival in Buenos Aires was fairly easy ... though, as usual, immigration took forever @ EZE. It is amazing that while the departure area of Ezeiza looks OK, the arrival area (and, many people's first impression of Argentina) is so shoddy.
V> Impressions + Scores:
TAM was able to provide a stress-free way of getting me from Porto Alegre to Buenos Aires. In a continent where reliable airlines have been hard to find, TAM is going to succeed just because it can do the basics right. Just like LAN, it has developed a profitable model and has succeeded because it has not been challenged. As airlines such as Azul grow, I am convinced TAM needs to up their game. While everything was "good enough", nothing was spectacular. Both the hard product and the soft product can be improved ... with the crew showing genuine warmth; a better set of IFE; and definitely better meal service.
To get you from point A to B, I'd recommend TAM. However, it would never have my strict loyalty when booking a flight and price and schedule would play a major role. A big thumps sideways ... hehe.
VI> Other Trip Reports:
PREMIUM:
8.66:
Brussels Airlines (93): FIH-BRU: 01/2010
8.64:
Turkish Airlines (59): JFK-IST: 11/2008
8.63:
Jet Airways (88): JFK-BRU: 10/2009
8.61:
Air Canada (49): YYZ-SCL: 06/2008
8.54:
Turkish Airlines (77): GRU-DKR-IST: 04/2009
8.30:
Jet Airways (74): KWI-BOM: 04/2009
8.23:
United Airlines (72): SFO-SYD: 03/2009
8.11:
Aeroflot (33): MOW-DEL: 09/2007
8.05:
Air India (80): CCU-JFK: 06/2009
8.04:
Korean Air (40): NRT-ICN: 10/2007
8.02:
Delta Airlines (24): JFK-CDG: 08/2007
7.64:
Royal Jordanian (91): AMM-YUL: 12/2009
7.46:
LAN (55): YYZ-JFK: 09/2008
7.82:
Singapore Airlines (06): EWR-SIN: 09/2006
7.25:
Iran Air (88): BOM-IKA: 12/2009
7.23:
Virgin Atlantic (81): BOS-LHR: 07/2009
7.14:
Swiss (52): SCL-GRU: 06/2008
7.11:
Austrian (79): VIE-JFK: 06/2009
7.07:
Privatair (84): BOM-FRA: 08/2009
7.02:
Qatar (68): DOH-JFK: 01/2009
6.96:
Etihad (61): JFK-AUH: 12/2008
6.93:
Delta Airlines (18): SEA-JFK: 11/2006
6.84:
ConViasa (65): CCS-DAM: 01/2009
6.81:
Air Canada (17): ICN-YYZ: 10/2006
6.70:
KLM (32): EBB-AMS: 08/2007
6.36:
Privatair (60): MUC-BOS: 12/2008
6.29: TAM Brasil (96): POA-EZE: 01/2010
6.25:
Korean Air (45): NAN-ICN: 10/2007
6.21:
Iberia (87): BOS-MAD: 10/2009
6.11:
TAP Portugal (53): GRU-OPO: 06/2008
6.00:
Gulf Air (75): BOM-BAH: 04/2009
5.88:
African Express (89): DXB-NBO: 11/2009
5.75:
Singapore Airlines (16): CCU-SIN: 10/2006
5.64:
NorthWest (46): ICN-NRT-SEA: 10/2007
5.54:
Ethiopian Airlines (95): ADD-BOM: 01/2010
5.46:
Icelandair (83): KEF-BOS: 08/2009
5.39:
LOT (54): WAW-JFK: 06/2008
5.21:
Egypt Air (73): CAI-IST: 02/2009
5.07:
TACA (66): JFK-SAP: 01/2009
4.42:
Air France: CDG-JNB (25): 08/2007
ECONOMY: Long + Medium:
9.26:
Air India (48): JFK-DEL: 02/2008
7.38:
Avianca (01): BOG-LIM: 07/2006
7.07:
Sri Lankan (62): KWI-CMB: 12/2008
7.00:
LAN (94): IPC-SCL: 01/2010
6.41:
Avianca (78): JFK-BOG: 05/2009
6.41:
American Airlines (58): LHR-BOS: 11/2008
6.39:
Condor (85): SEZ-FRA: 09/2009
6.26:
Jet Blue (21): CUN-JFK: 02/2007
6.06:
Air Canada (04): YYZ-YVR: 09/2006
5.89:
USA 3000 (19): PUJ-BDL: 01/2007
5.85:
Spanair (69): MAD-LPA: 02/2009
5.79:
Air New Zealand (42): RAR-NAN: 10/2007
5.52:
Aerolineas (86): USH-AEP: 10/2009
5.46:
TAP Air Portugal (23): OSL-LIS: 05/2007
5.19:
Air Europa (70): LPA-MAD: 02/2009
5.16:
Iberia (71): MAD-BOS: 02/2009
5.11:
Air China (82): FRA-PEK: 08/2009
ECONOMY: Short
8.56:
Paramount Airways (38): BLR-MAA: 09/2007
8.56:
Kingfisher (64): HYD-CCU: 12/2008
8.24:
Kingfisher (14): IXA-GAU: 10/2006
7.87:
Indian (34): BOM-MAA: 09/2007
7.72:
Alliance Air (13): CCU-IXA: 10/2006
7.57:
Indian Airlines (10): DEL-CCU: 09/2006
7.23:
West Jet (03): YYC-YVR: 09/2006
7.15:
JetLite (37): BOM-GOI: 09/2007
6.70:
Spice Jet (09): CCU-DEL: 09/2006
6.63:
Air Fiji (44): NAN-SUV: 10/2007
6.63:
Jazeera (67): DAM-KWI: 01/2009
6.58:
Air Tran (02): EWR-MDW: 08/2006
6.48:
Air India Express (63): CMB-MAA: 12/2008
6.44:
CO Micronesia (39): ROR-YAP: 10/2007
6.41:
Pacific Sun (43): NAN-SUV: 10/2007
6.37:
Skybus (47): SWF-CMH: 02/2008
6.33:
Kenya Airways (29): NBO-BJM: 08/2007
6.33:
Sky Europe (56): LTN-BTS: 10/2008
6.31:
Indigo (15): GAU-CCU: 10/2006
6.31:
easyJet (57): BUD-LTN: 11/2008
6.22:
Air Link Swazi (28): MTS-JNB: 08/2007
6.22:
Air India (36): HYD-BOM: 09/2007
6.13:
Adam Air (07): SIN-CGK: 09/2006
6.13:
Air Rarotonga (41): RAR-AIT: 10/2007
6.00:
Transairways (27): INH-MPM: 08/2007
5.95:
Air Canada (05): ALB-YYZ: 09/2006
5.85:
SAS Norge (22): OSL-AES: 05/2007
5.81:
LAM Mozambique (26): JNB-MPM: 08/2007
5.69:
Air Deccan (12): IXZ-CCU: 10/2006
5.67:
Rwanda Air Exp (30): KGL-NBO: 08/2007
5.37:
Felix Airways (92): SCT-SAH: 12/2009
5.11:
Aero Republica (76): BOG-CCS: 04/2009
5.07:
Go Air (35): MAA-HYD: 09/2007
5.00:
Sky Airline (51): IQQ-SCL: 06/2008
4.96:
Valuair (08): CGK-SIN: 09/2006
4.78:
Air Comet Chile (50): SCL-IQQ: 06/2008
4.74:
Fly 540 (31): MYD-LAU: 08/2007
4.33:
Viva Aerobus (20): ELP-MTY: 02/2007
4.11:
Air Sahara (11): CCU-BOM: 09/2006
(Note on Codes: Y – Economy, J – Business, F – First :: I/D – International/Domestic :: SR/MR/LR – Short/Medium/Long Haul)
(Note on Date: Dates are modified to be +/- 3 days from actual flight date to not reveal actual flight pattern)
VII> Other Pictures:
(Not only was the amenity kit surprising, it was also rich in content)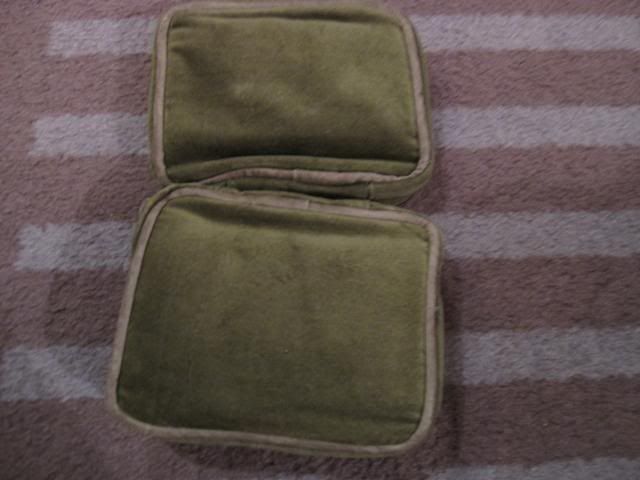 *