UAE and Oman with BA and Air Arabia. Y & Y+
This was a trip that I hadn't originally planned on taking. I've been to Dubai before, and had very little holiday leave left. However, due to a change in working schedules, I ended up with an extra two days holiday to use before Easter. My aunt and uncle moved out to Dubai (Abu Dhabi originally) a few years ago, and I had yet to go and visit. We decided that I should go out in February to make the most of getting away from the British winter, but due to my work load, ended up changing to late March. I decided to add in a few days in Oman whilst I was out there, seeing as I'd never been there before, and the flights were the same price as returning from Dubai.
I headed off to Heathrow on the tube (which spent 20 minutes in a siding somewhere near Hounslow) straight after work on Friday to Terminal 5. This is the second time I've used T5 after I flew with BA to Rome last year. This time, the terminal was nearly empty, with only a handful of longhaul flights heading out the night before the strike.
Despite the very nice architecture, using the Terminal isn't overly user friendly. From the tube, you have to go up 3 escalators, go outside, turn around, go inside, then take a lift to the departure hall (none of which is very well signposted). From there you go though security, down an escalator, then another, then another, take a train, up two escalators, then down one more to get to the plane – whoever won the escalator and lift contracts from BAA must have made a fortune.
People mover to the B Pier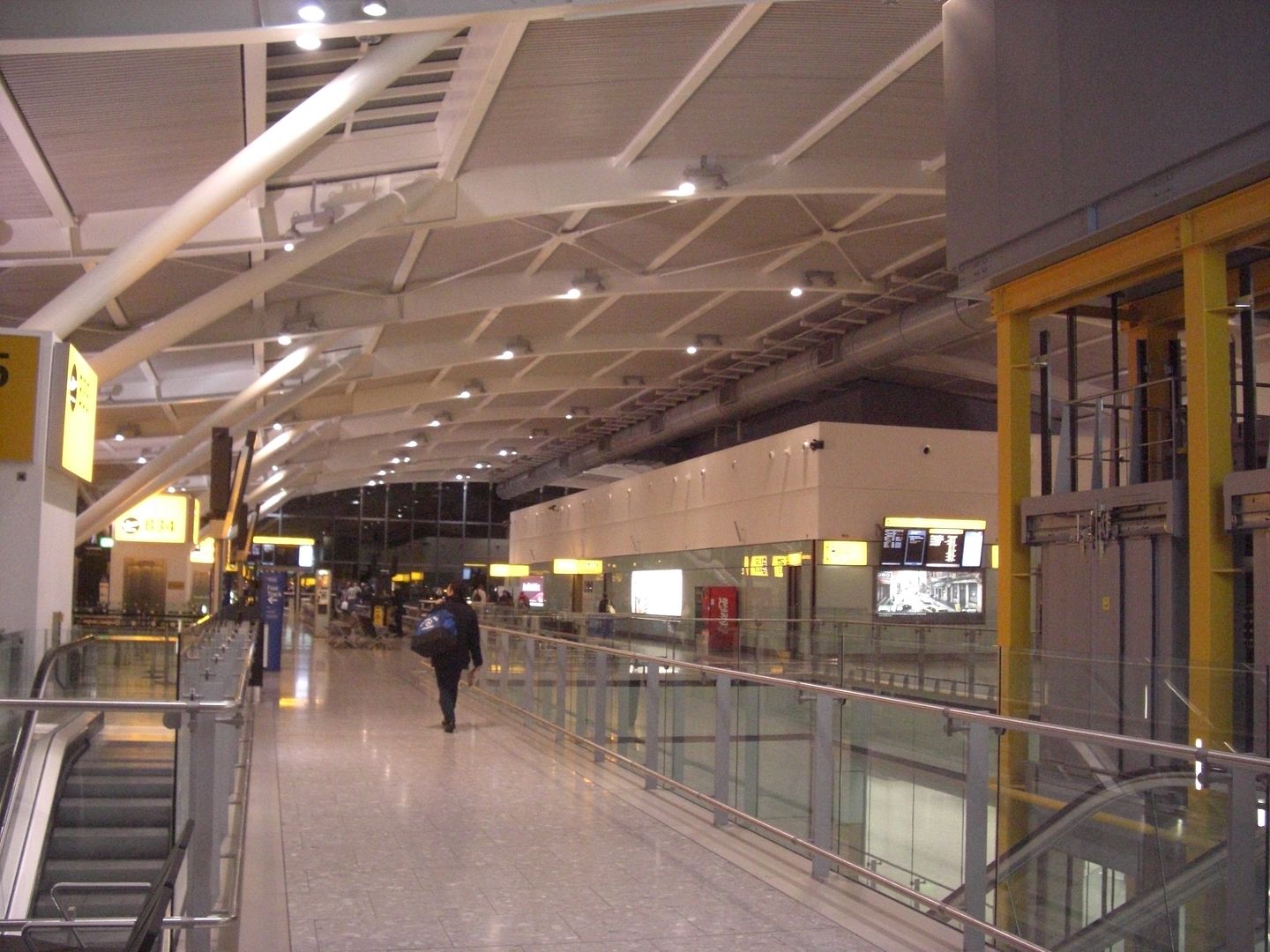 BA
BA interloper
Departures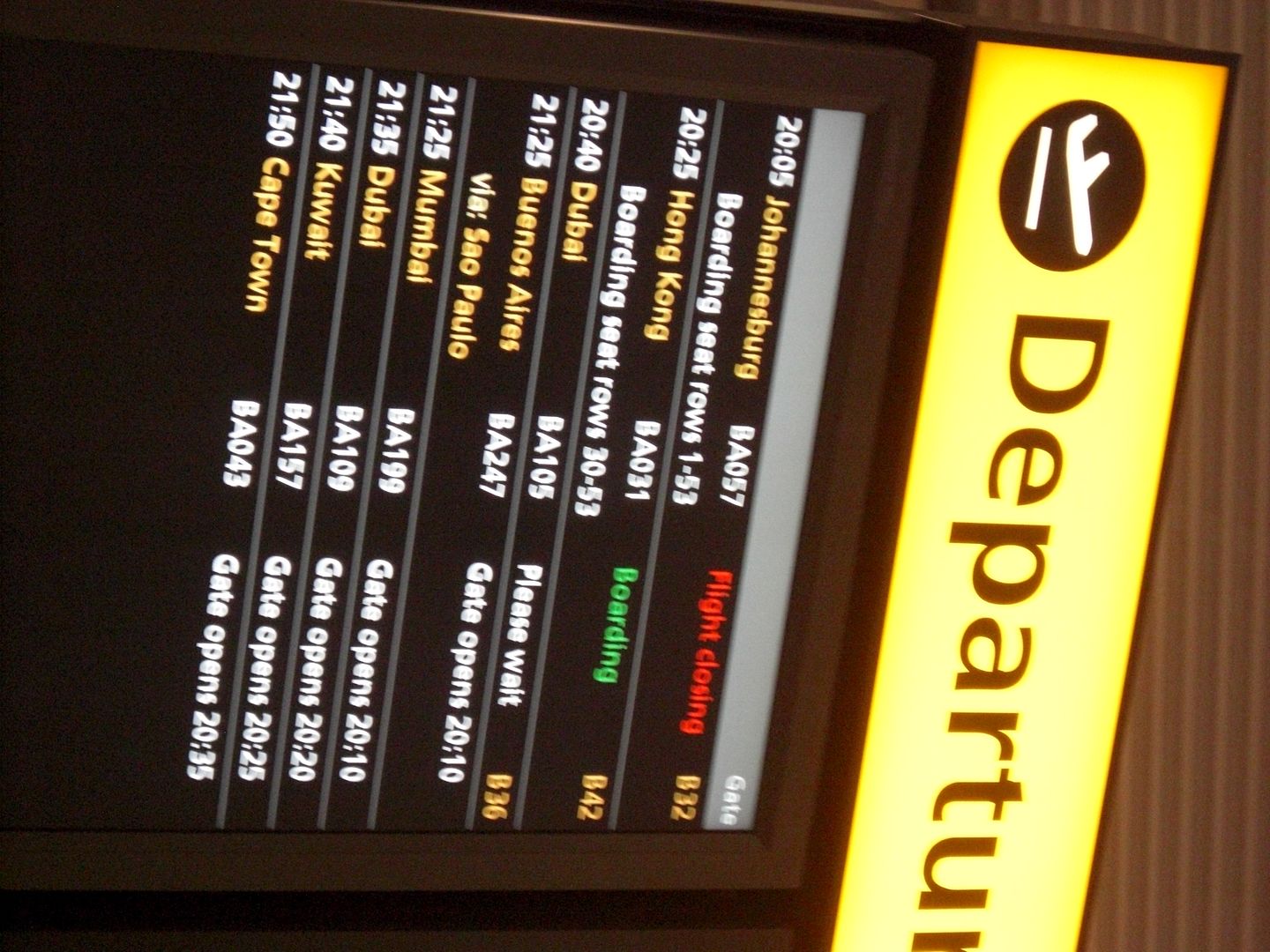 Buildings and lifts aside, I used the self service check in (no queue), then dropped my bags (long queue), then went though security (no queue) and into the main departures lounge. Thanks to the delayed tube, I had just enough time to take the shuttle to Pier B (longhaul departures). As some of you may have noticed, that Friday night there were quite a few unusual aircraft floating round T5 to cover during the cabin crew strike. I only saw one, a B767 Euroatlantic parked at the end of the pier.
London Heathrow (LHR) – Dubai (DXB)
British Airways BA 105
Scheduled: 2040-0755 (7h15m)
Actual: 2110-0744 (6h34m)
G-BNWI (ex. City of Madrid)
B767-300 ER
Despite there being a full load, and lots of people crowding around the gate, when the ground crew started boarding, no one moved. Not wanting to hang around for no particular reason, I went to the desk, and was first on. Gradually everyone else followed me. The guy at the aircraft door welcomed me by name (always nice), and pointed me down the aisle. I'd selected a window seat, but ended up swapping to accommodate a couple. When they first asked me I said no (I booked the window for a reason – to look out!), but then saw the person in the middle block of seats and decided that I wanted to sit next to them. They were rather hot! Despite this, I was a bit annoyed in the morning, as the views arriving into DXB was amazing (from what I could see from the middle aisle).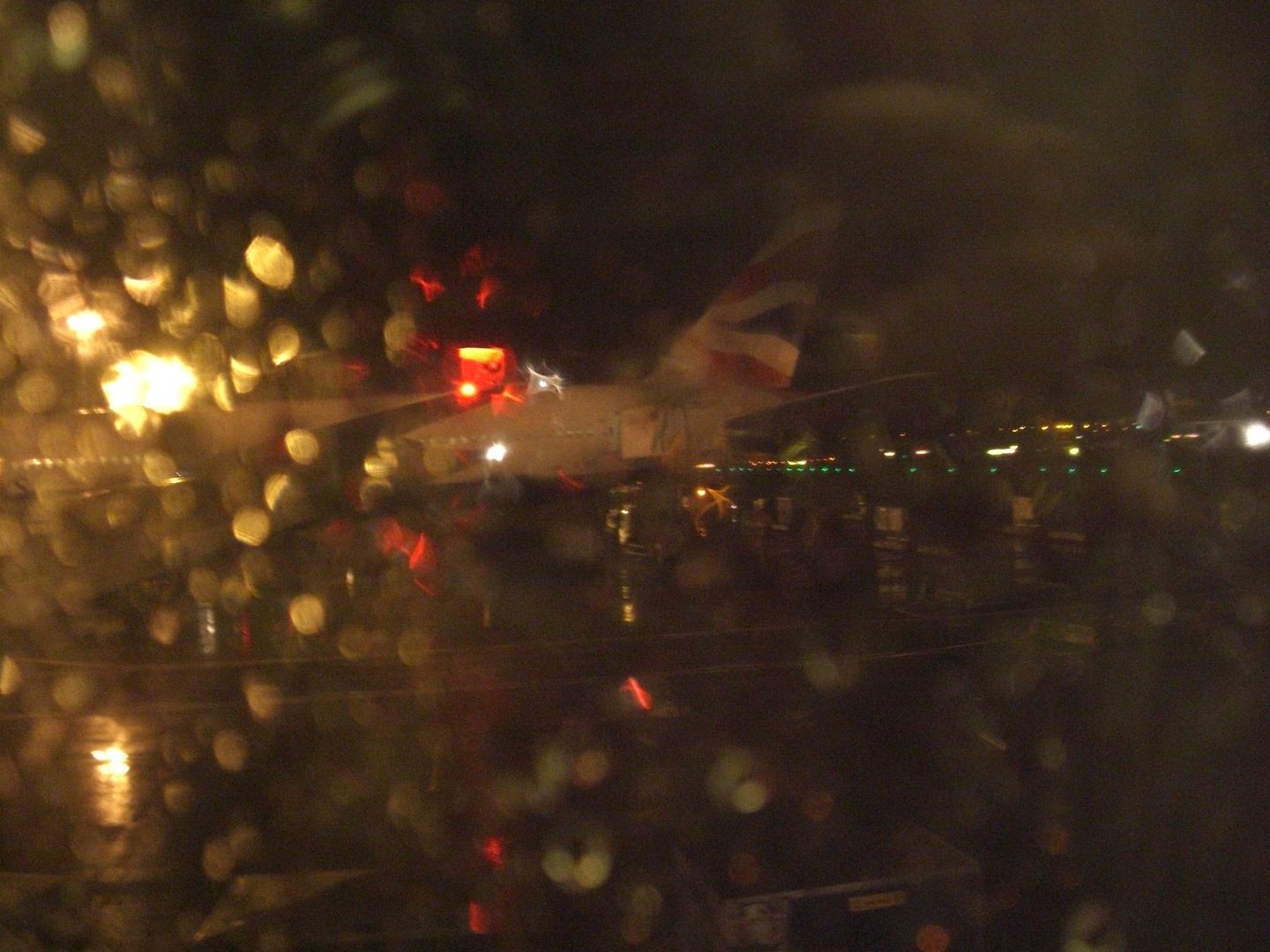 View from my window seat
The vast majority of the passengers seemed to be Spanish, which was a shame as they were very loud, and had an annoying habit of standing up in the aisles, leaning over the seats, and having long chats to their friends in the middle of the night.
We pushed back late (can't remember if a reason was given) and ended up taking off half an hour late. Dinner choices were some sort of beef, or Chicken Tagine. The Tagine was pretty tasty, and the dessert (some sort of chocolate mousse), very nice. Everything was washed down with a few double G&Ts.
Up in the Air
Despite being squashed down the back in economy, I managed to sleep until about an hour before arrival when we were served a very unappetising tomato sandwich.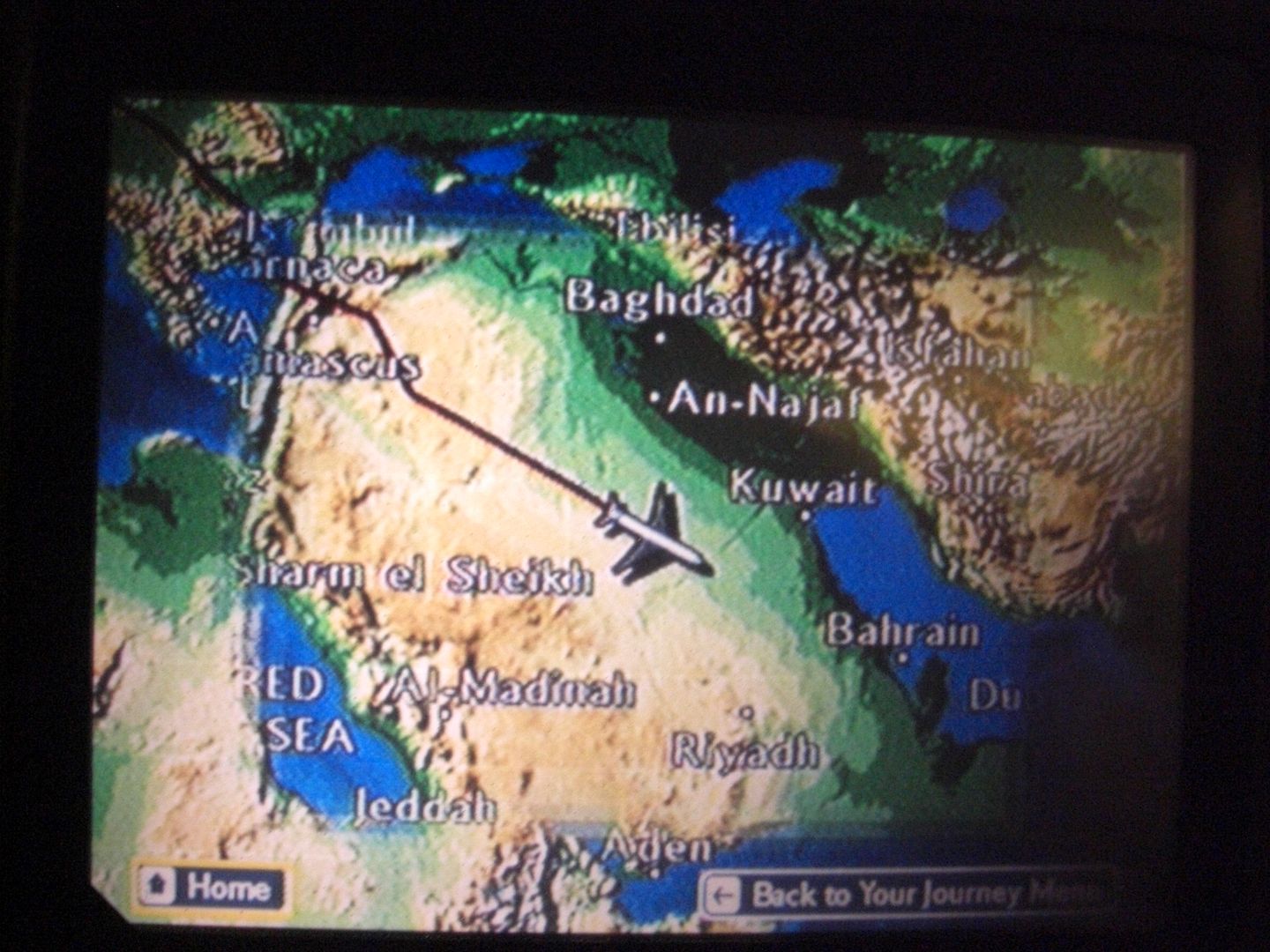 We touched down a few minutes early, and after a very long walk to arrivals, I picked up my bag and met up with my aunt and uncle. Below are a few photos from the UAE (United Arab Emirates) part.
Ski Dubai
Burj Al Arab and Burg Khalifa (world's tallest building, closed when I was there)
Dubai Fort
Dubai Creek
Dubai Souq
Aquarium in Mall of the Emirates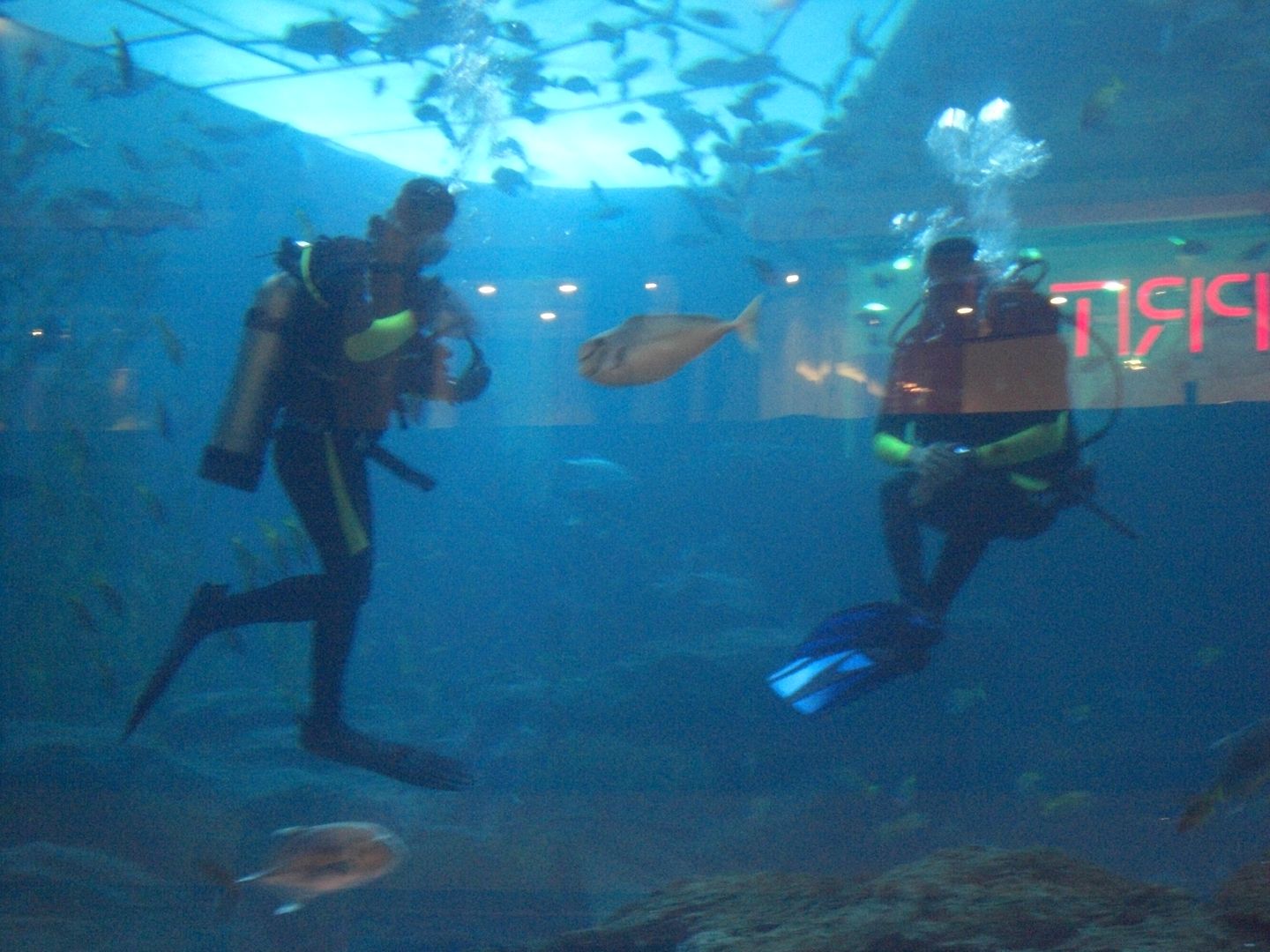 And the Mall Fountains beneath the Burj Khalifa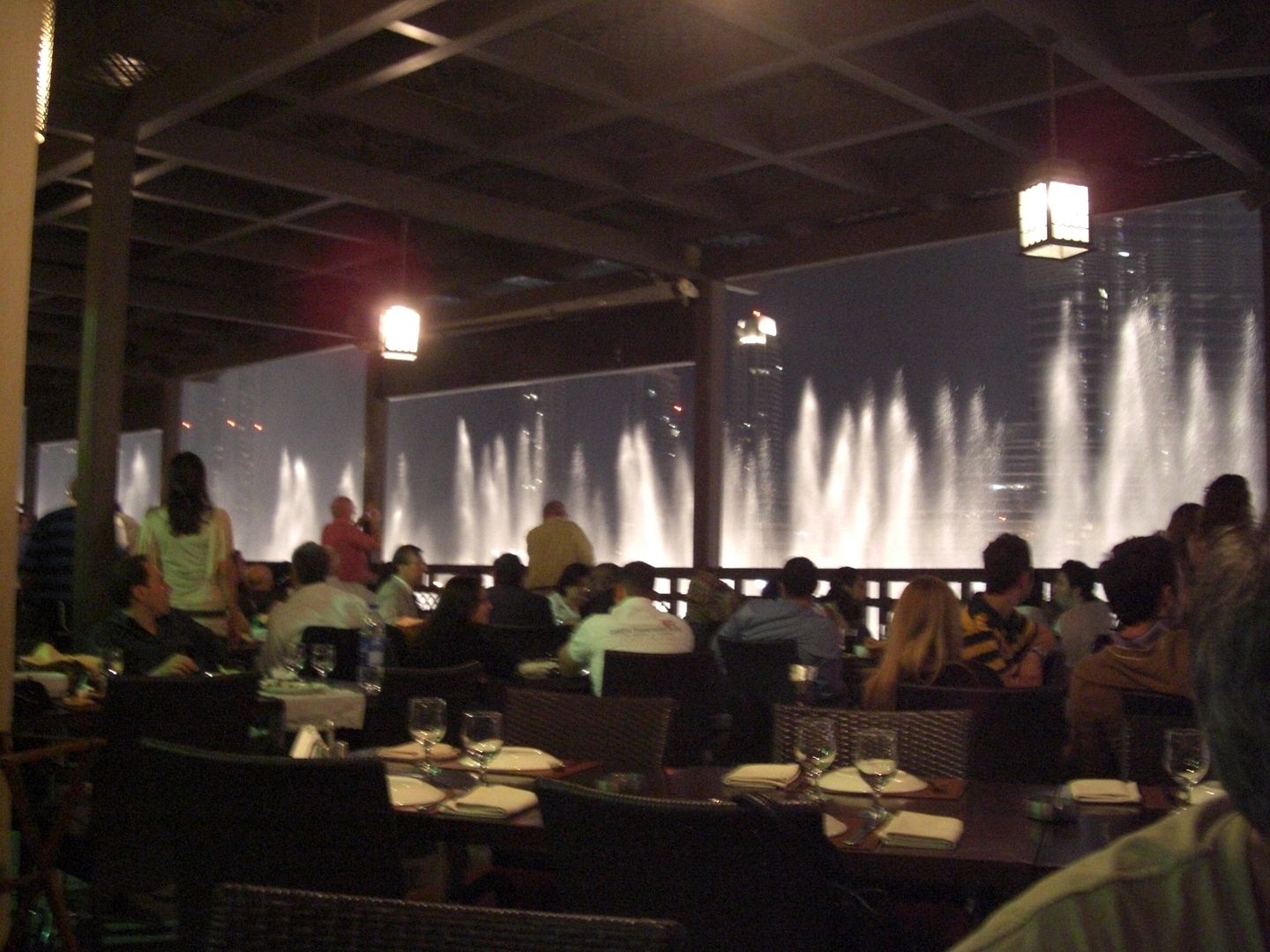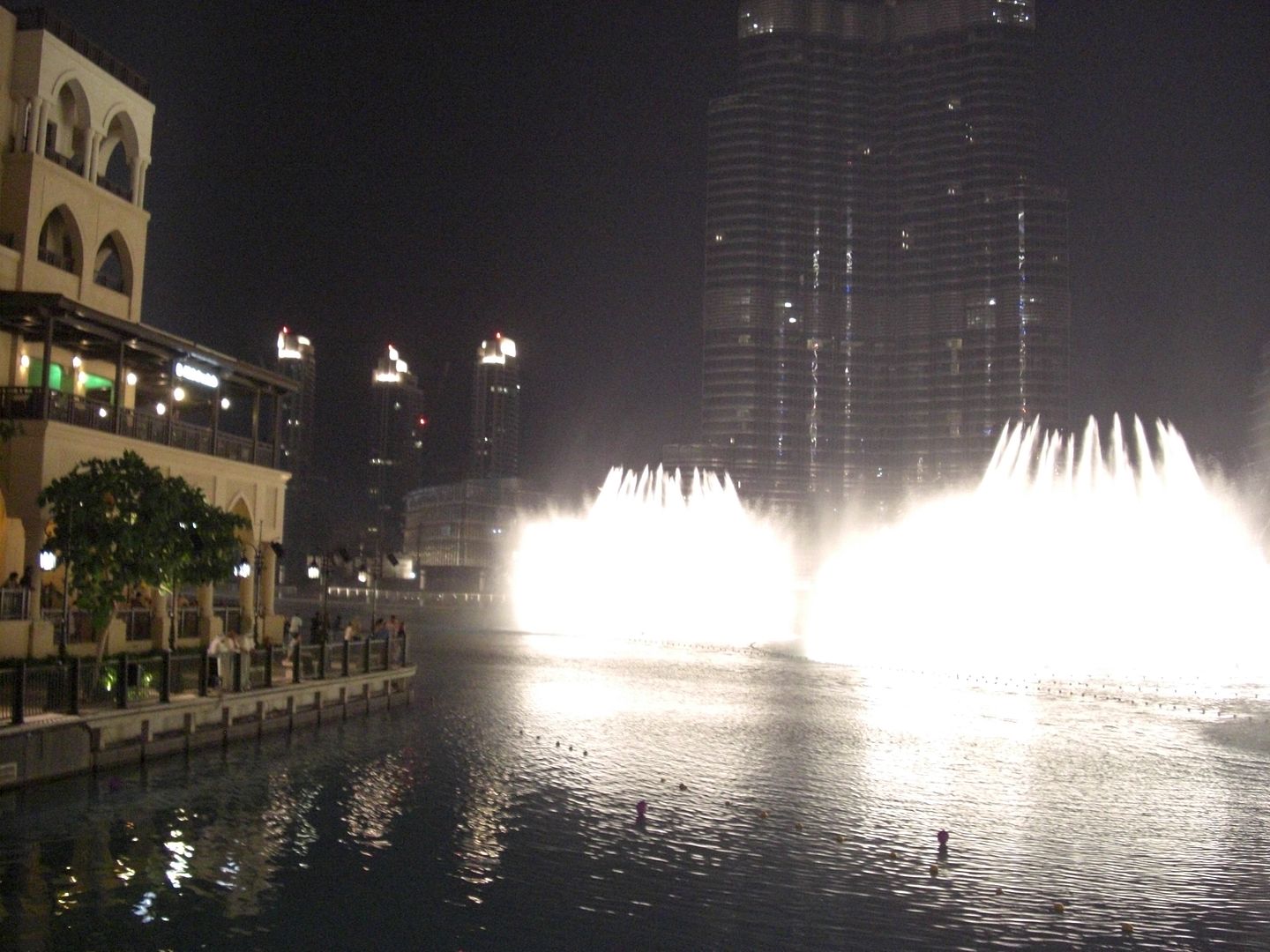 Day trip to Abu Dhabi to see the Mosque (very beautiful building)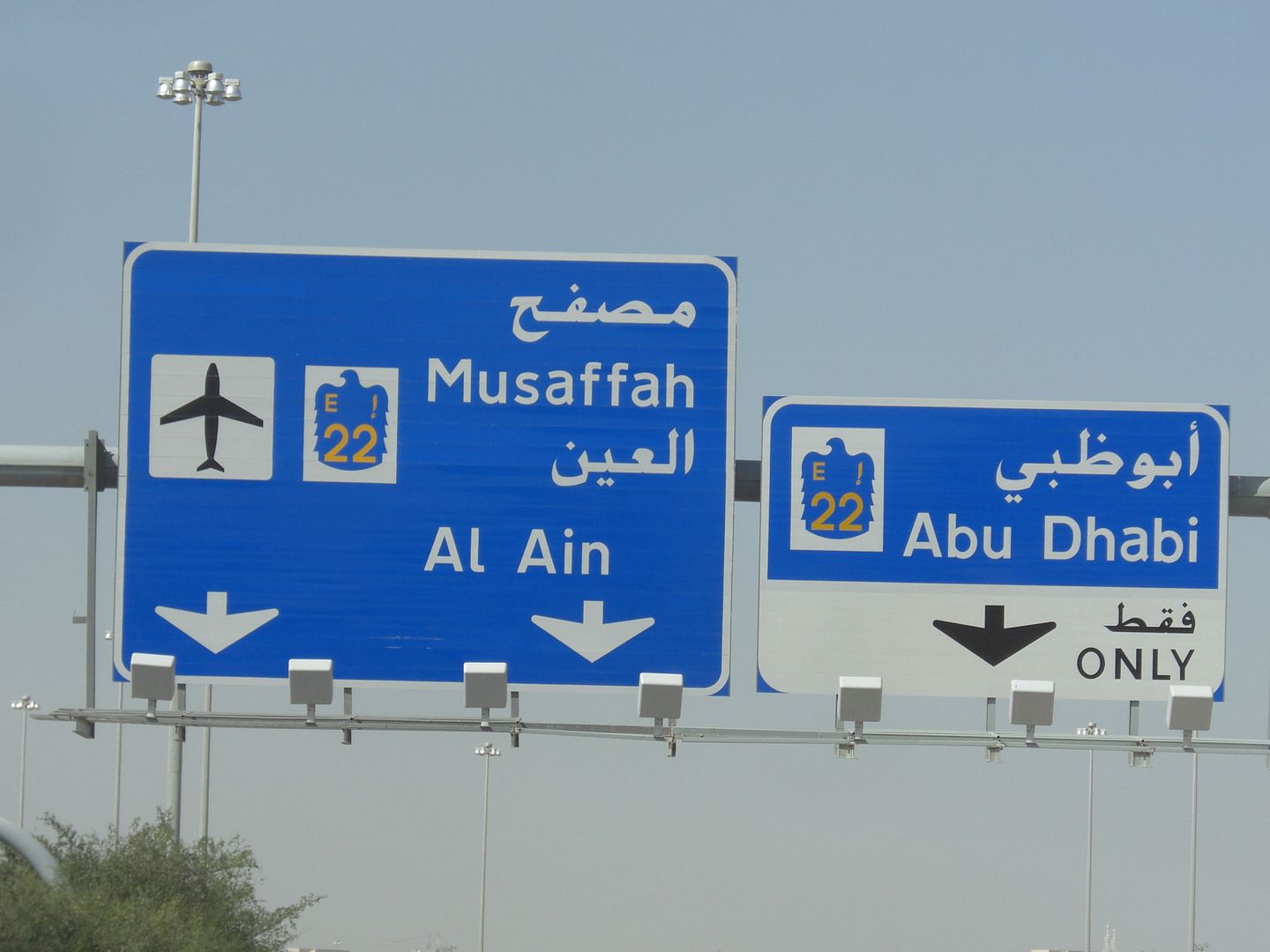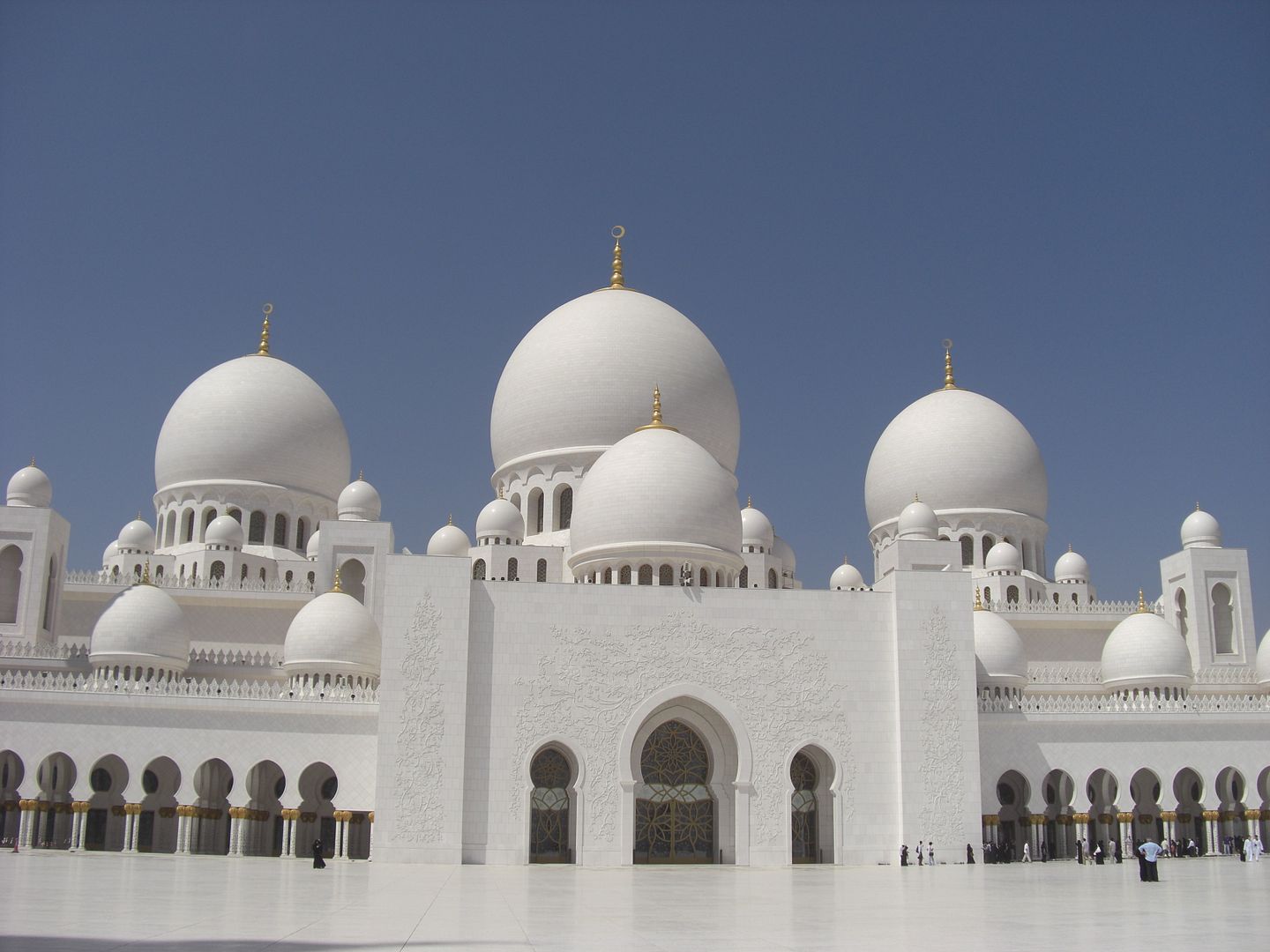 UAE National Car Museum. This place is in the middle of nowhere an hour outside Abu Dhabi in the desert, and is the private collection of one of the ruling Sheiks. Quite a weird and wonderful selection. He was also known as the Rainbow Sheik. Unfortunately, I couldn't get very close to the Lockheed (ex. Loch Fyne of B Cal).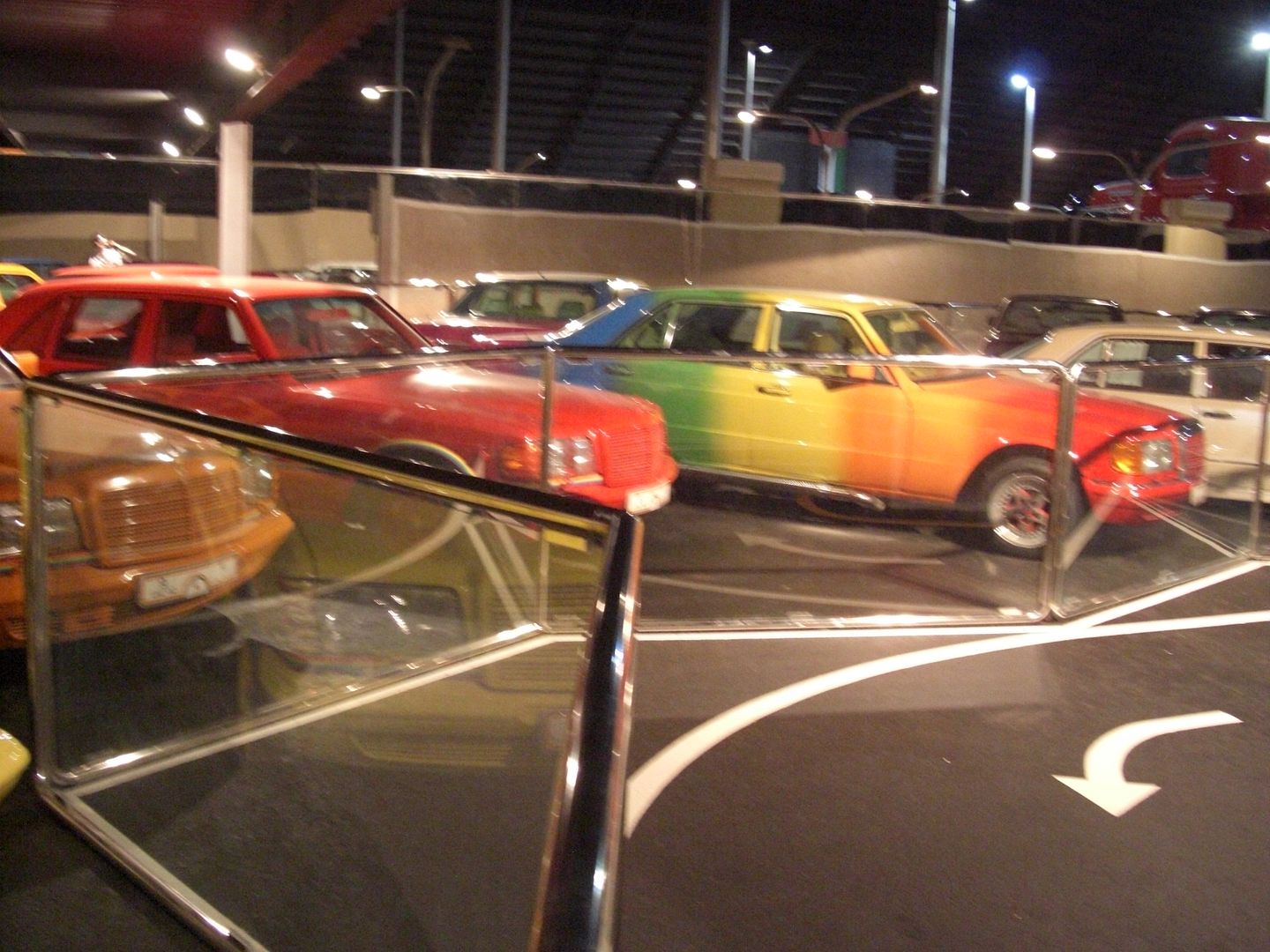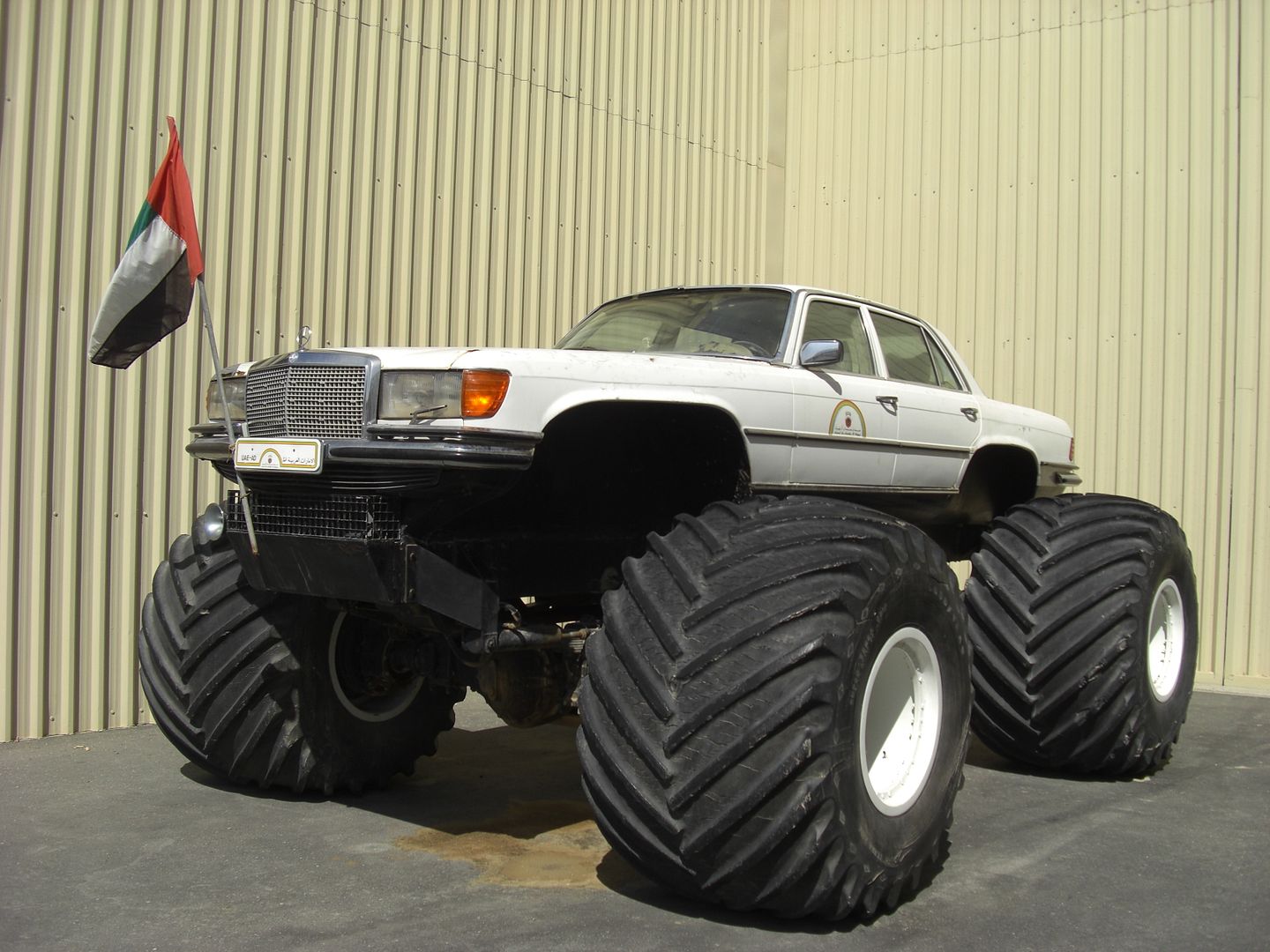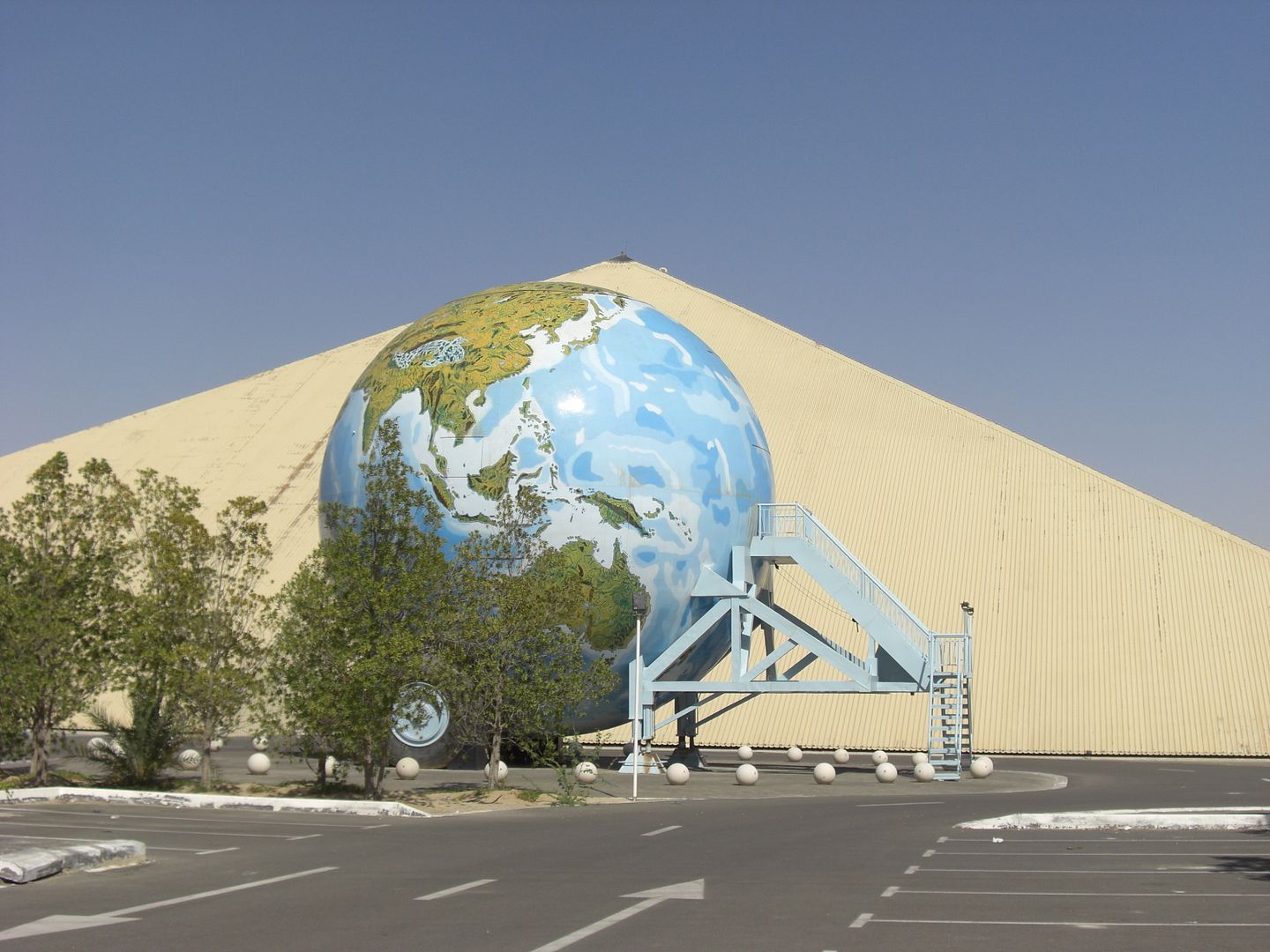 World's largest Caravan (8 ensuite bedrooms!)
Ex-Bcal Loch Fyne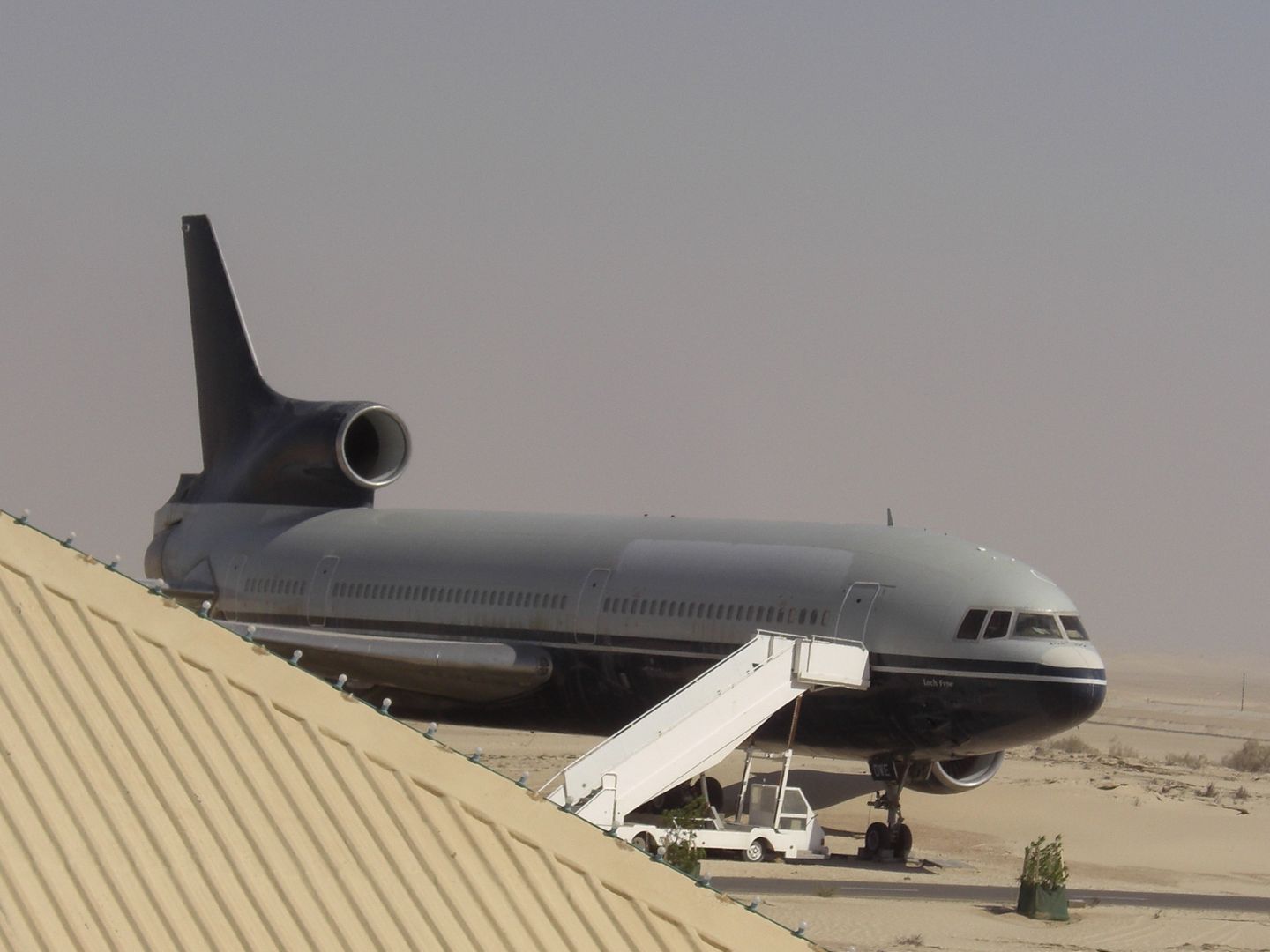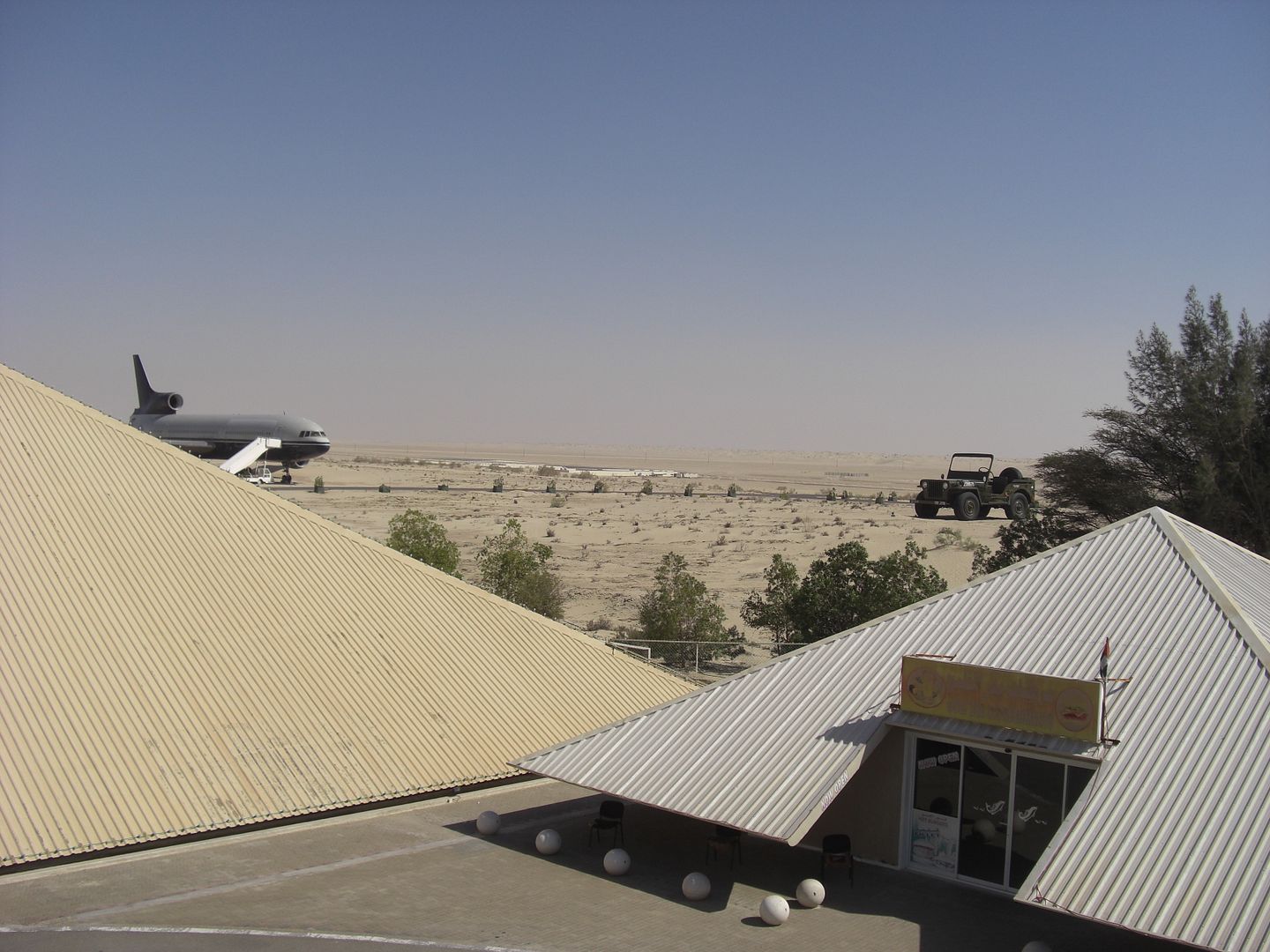 Abu Dhabi - 7* Emirates Palace Hotel
To get from Dubai to Muscat there is a choice of multiple daily flights on Emirates and Oman Air, or Air Arabia from Sharjah (a few miles from Dubai). When I booked the BA flights I was offered an add-on with Emirates to Muscat, but at that time my aunt and I were planning on driving, so didn't take it. In the end we decided to fly, so went with Air Arabia as EK and Oman Air were too expensive.
This would be my 3rd flight on Air Arabia, the first being Sharjah – Beirut, and second Damascus – Sharjah, bit back in 2004. They were pretty good, with cheap buy onboard, and good legroom. Since then their operations have increased dramatically, and so the once quiet Sharjah airport is now a mad house. I ended up waiting half an hour for a bag drop. Not very impressed. On the other hand, the lady at immigration was very pleasant, asking me questions about where I enjoyed Dubai etc, which was a pleasant change from the stereotypical immigration agents in the Middle East.
Sharjah (SHJ) – Muscat Seeb (MCT)
Air Arabia G9 115
Scheduled: 0815-0910 (0h55m)
Actual: 0821-0908 (0h47m)
A6-ABN
Airbus A320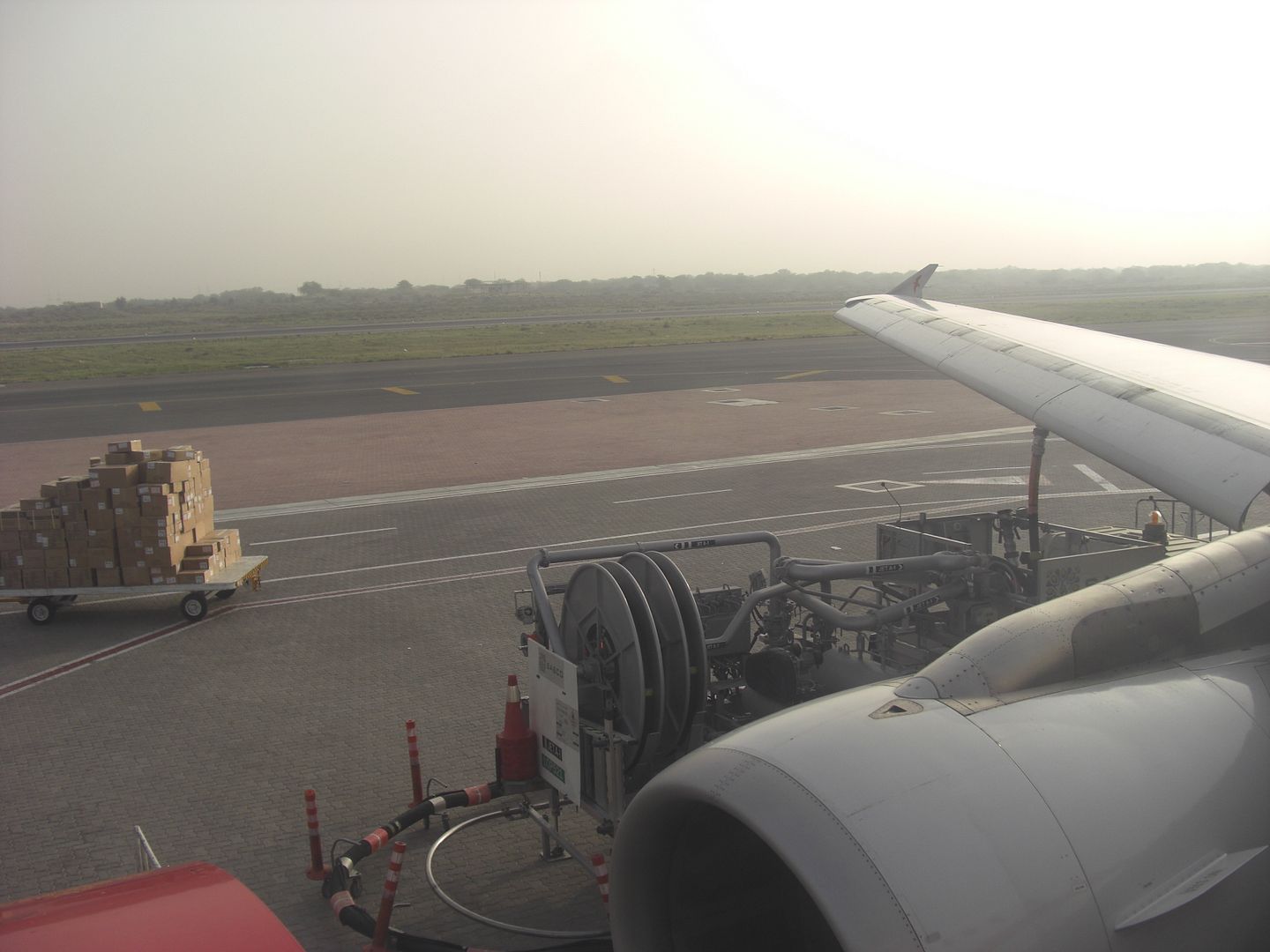 After waiting so long to check in, by the time I was though immigration and security, I didn't have much time left before boarding. We were bussed out to the aircraft (an ex-Spanish one), and took off just a few minutes late. The load was pretty good, but there was an empty seat next to me.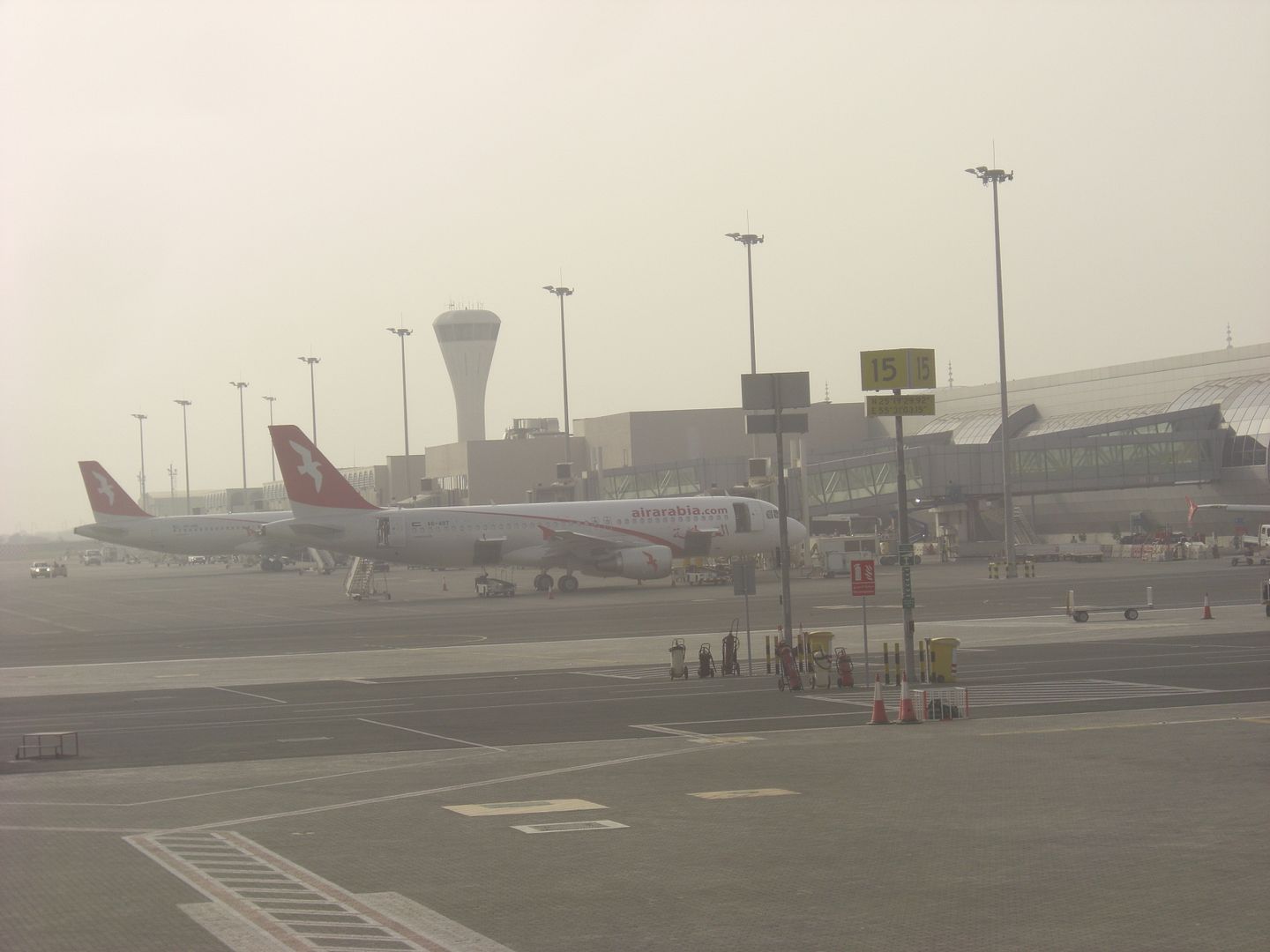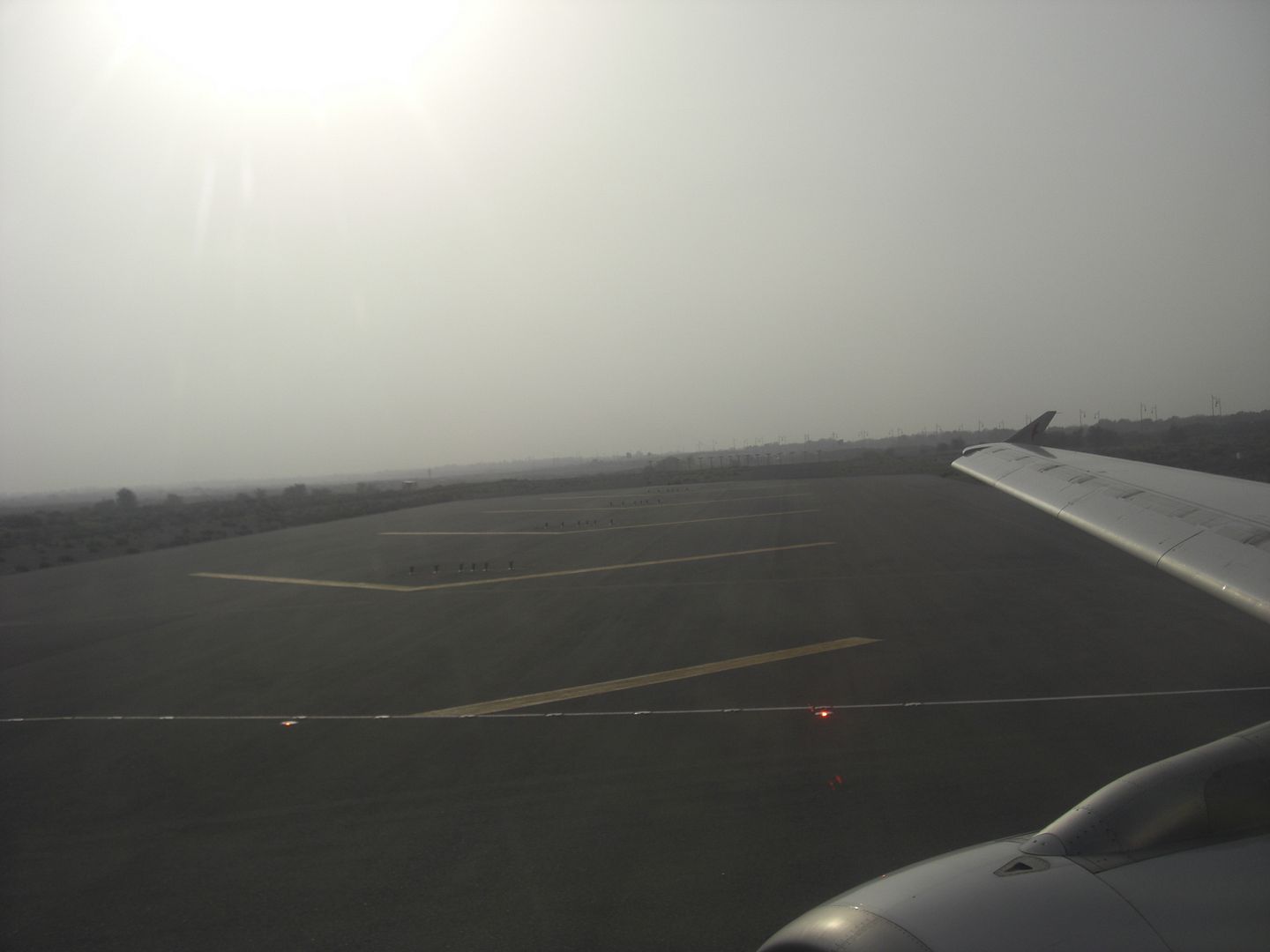 The views enroute were pretty good, with views of Dubai (and the Pearl and The World developments), as well as the mix of desert and mountains.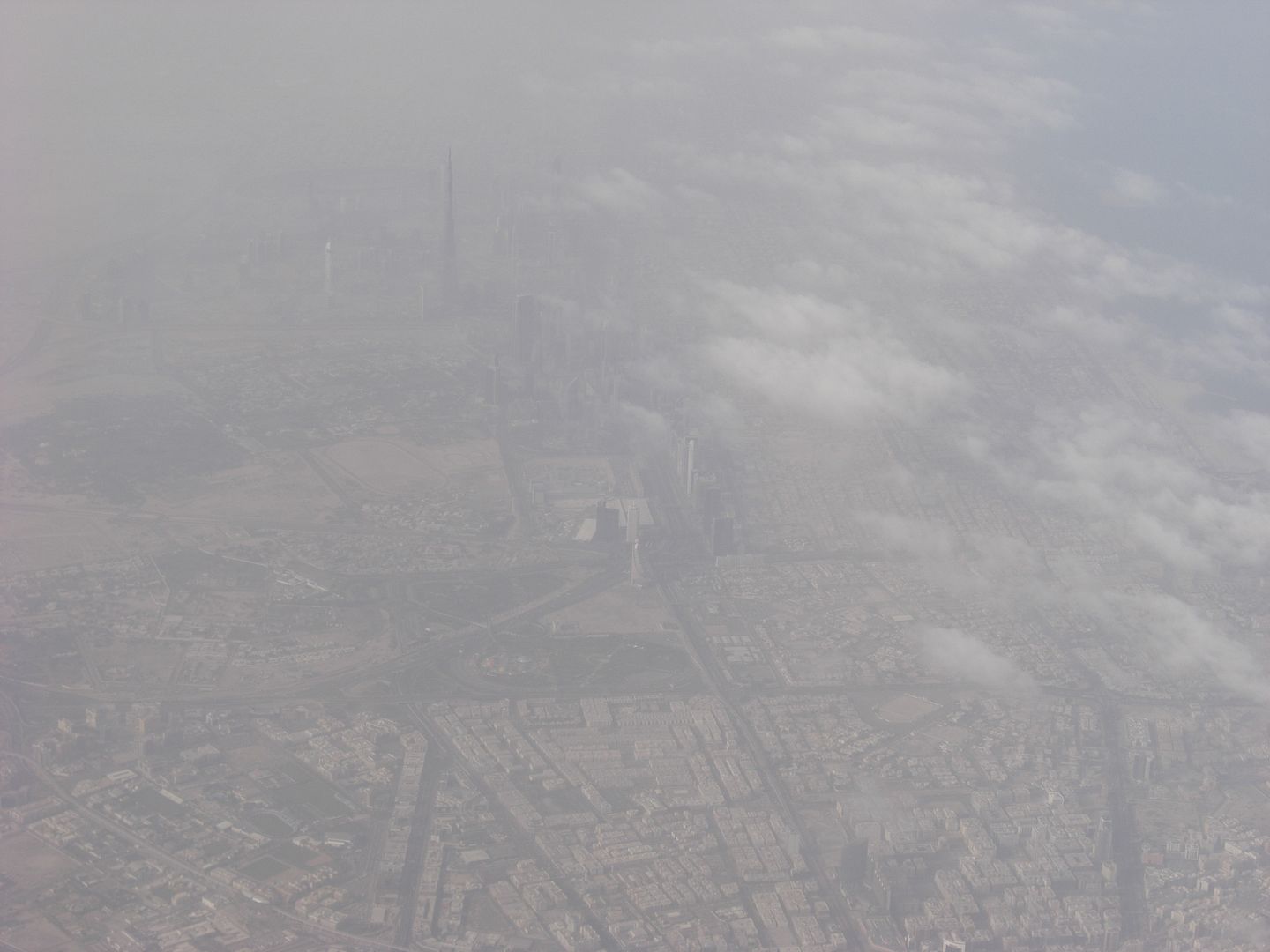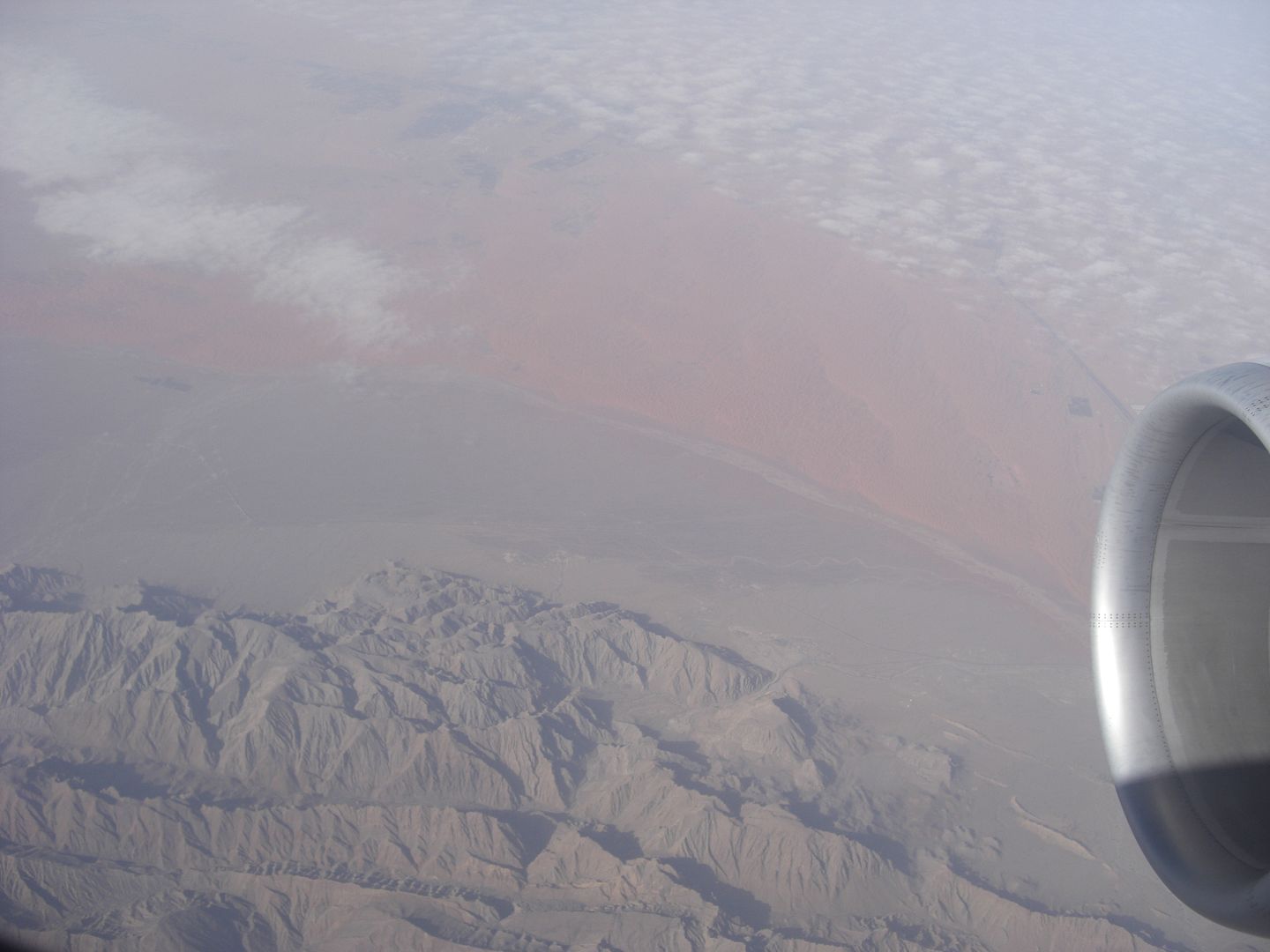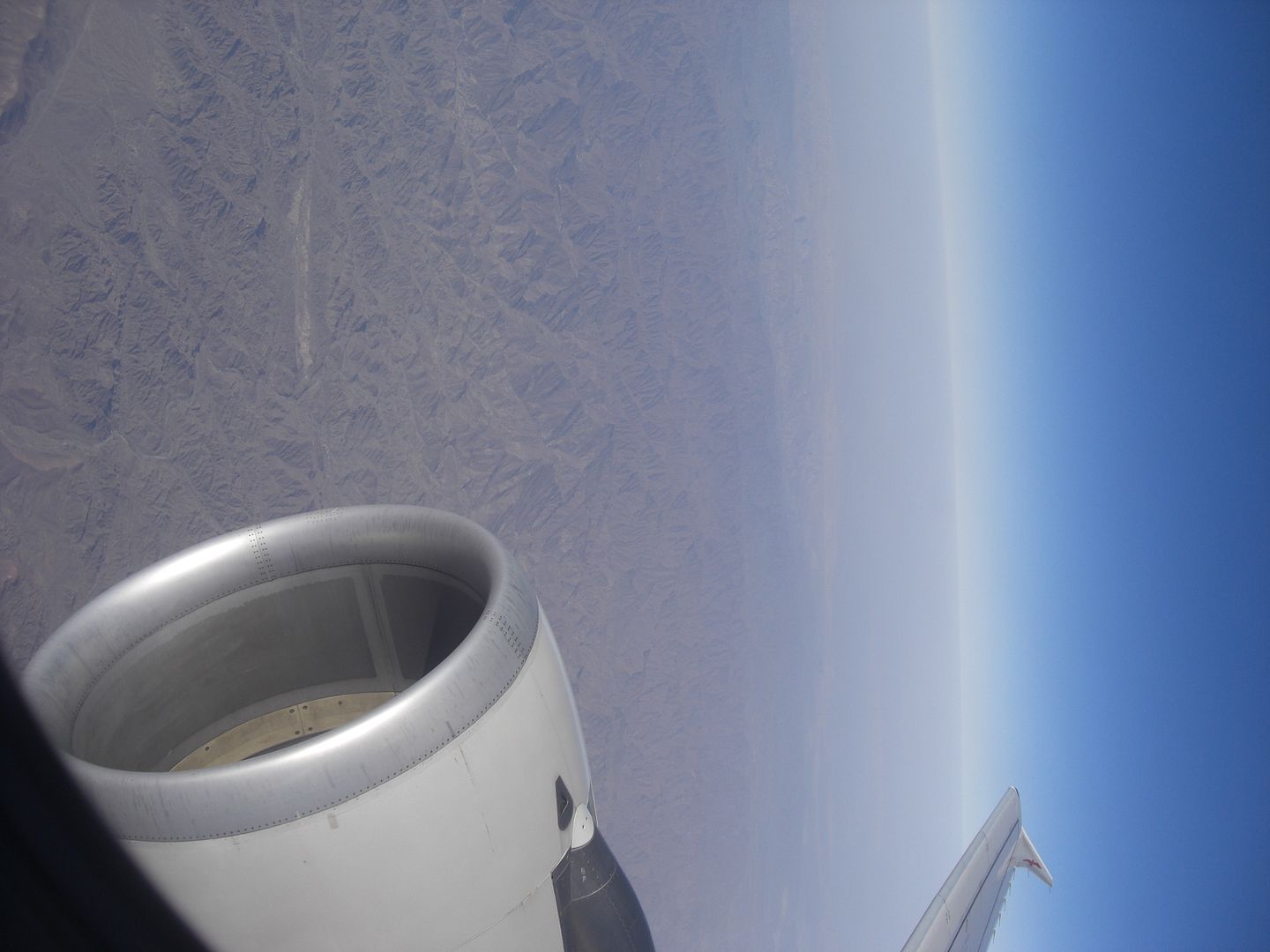 Muscat Airport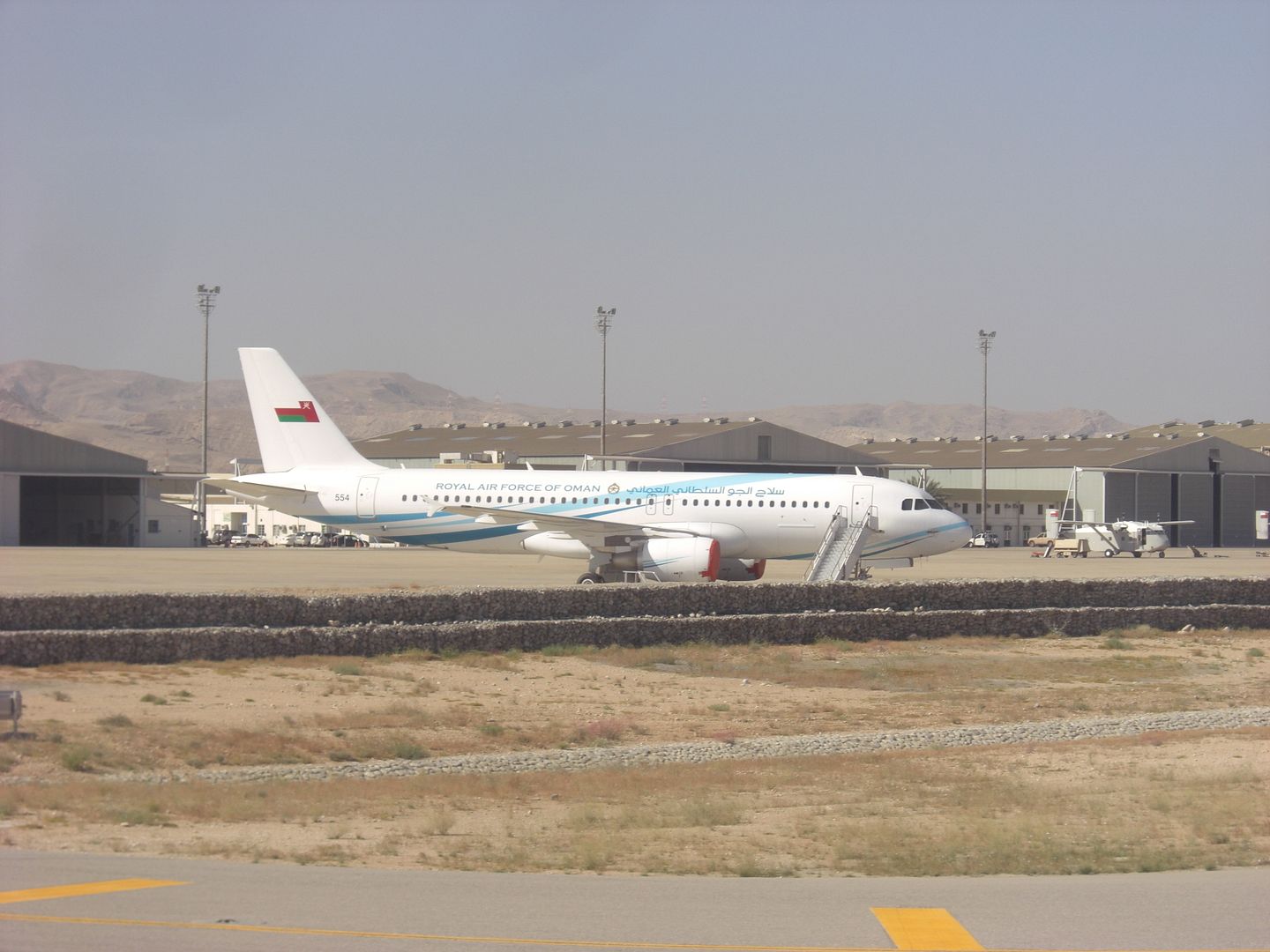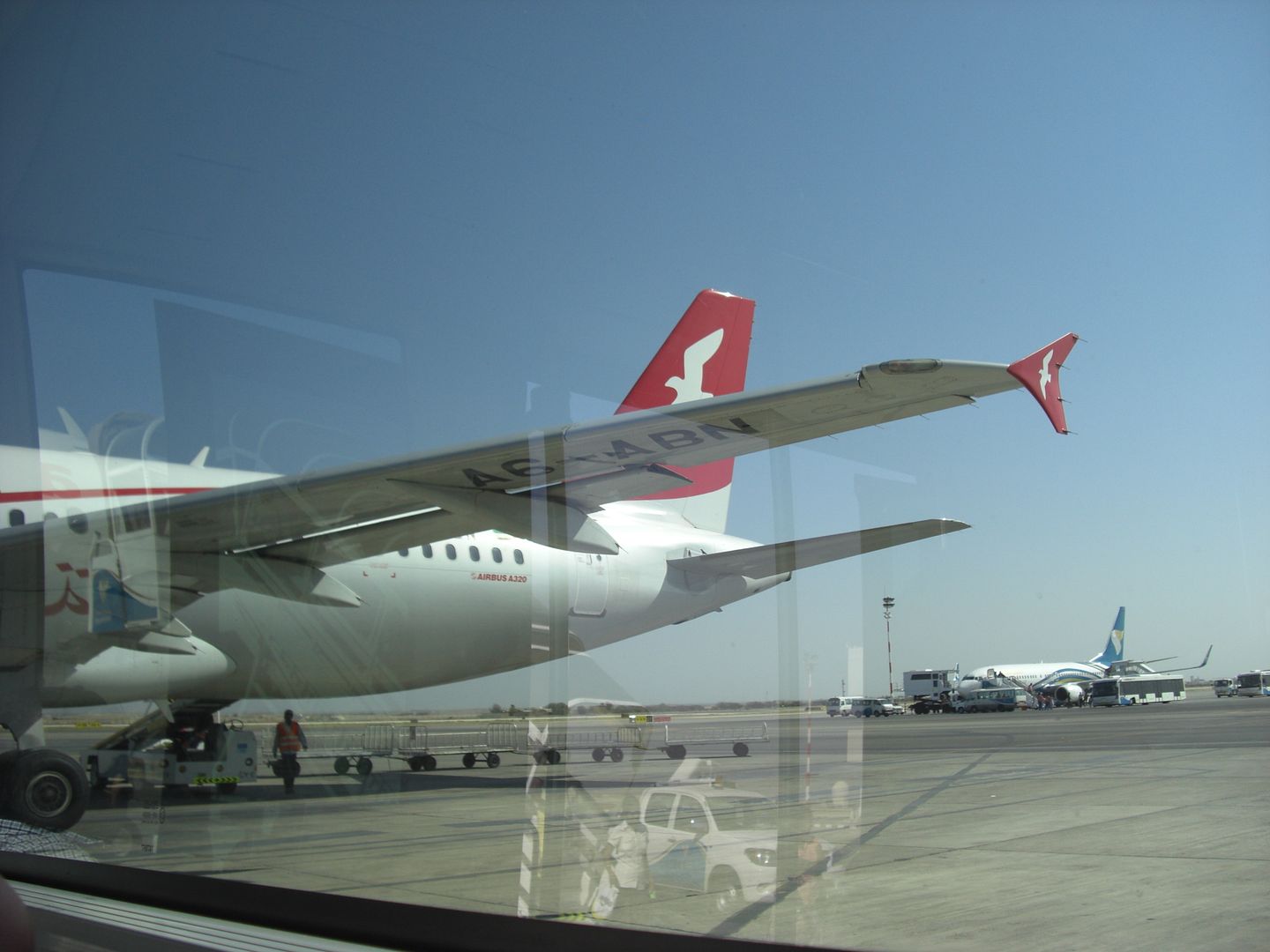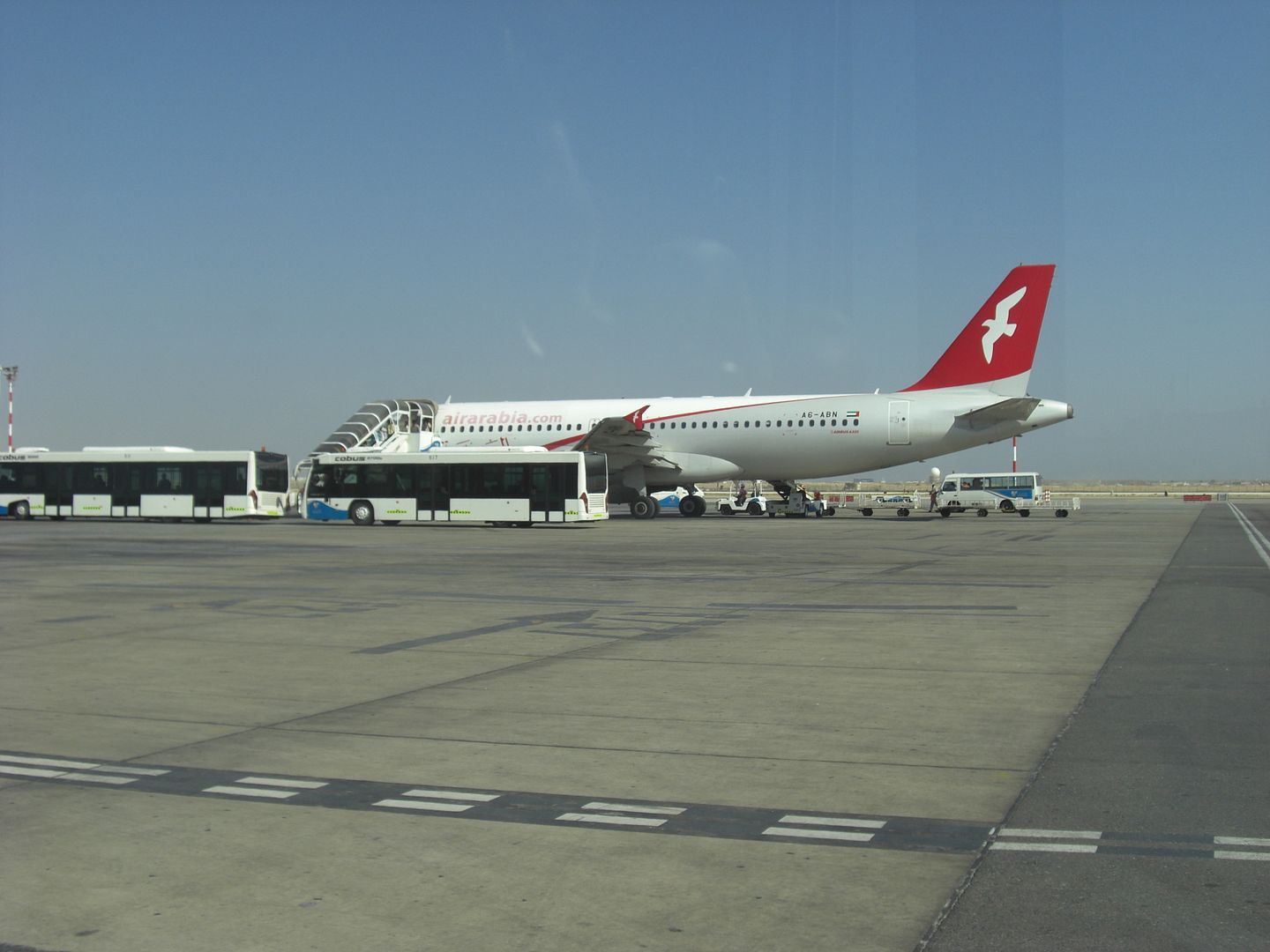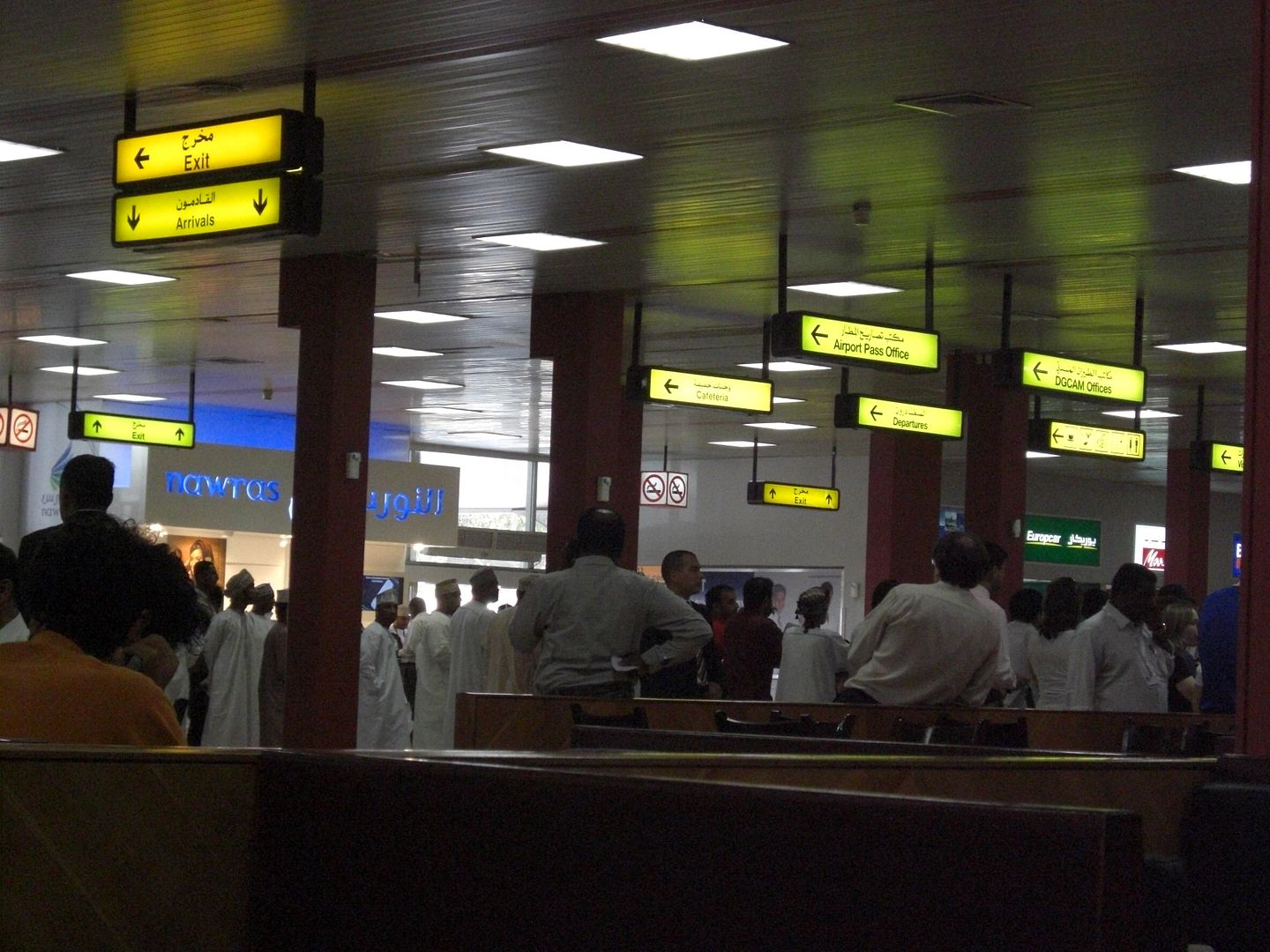 The crew did a buy on board service, but I didn't buy anything. After doing a loop of the city, we touched down a few minutes early. Muscat doesn't have any airbridges, so we were bussed to the terminal. Interestingly, visas are only sold from the Travelex in the arrivals area, not from actual immigration staff. My bag was sitting next to the carousel once I had cleared immigration.
I met up with my aunt (who had arrived on the EK service), and we picked up our hire car (my first left hand drive AND automatic, all at the same time!) and headed to our hotel (via the Souq).
The Souq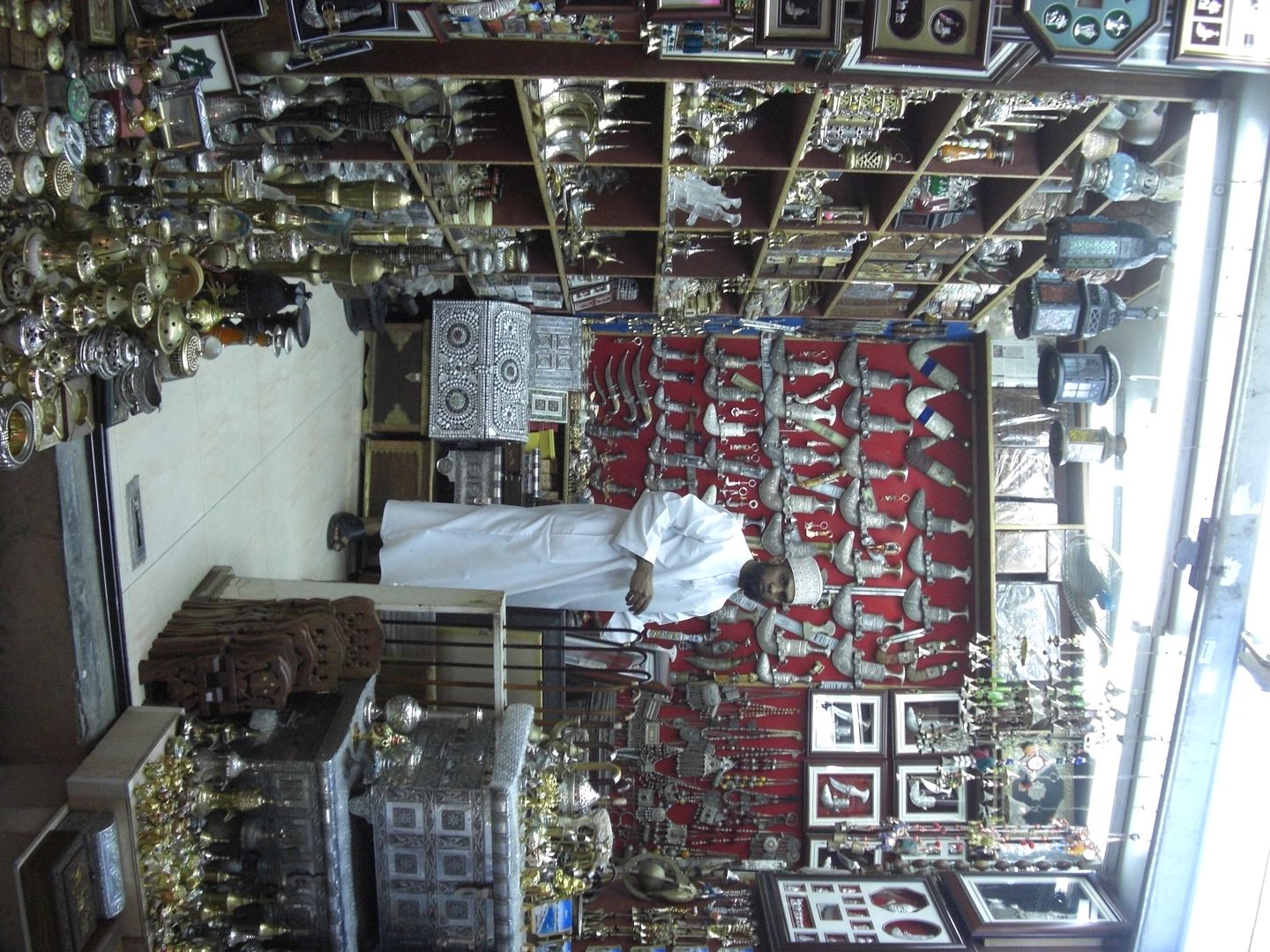 Presidential Palace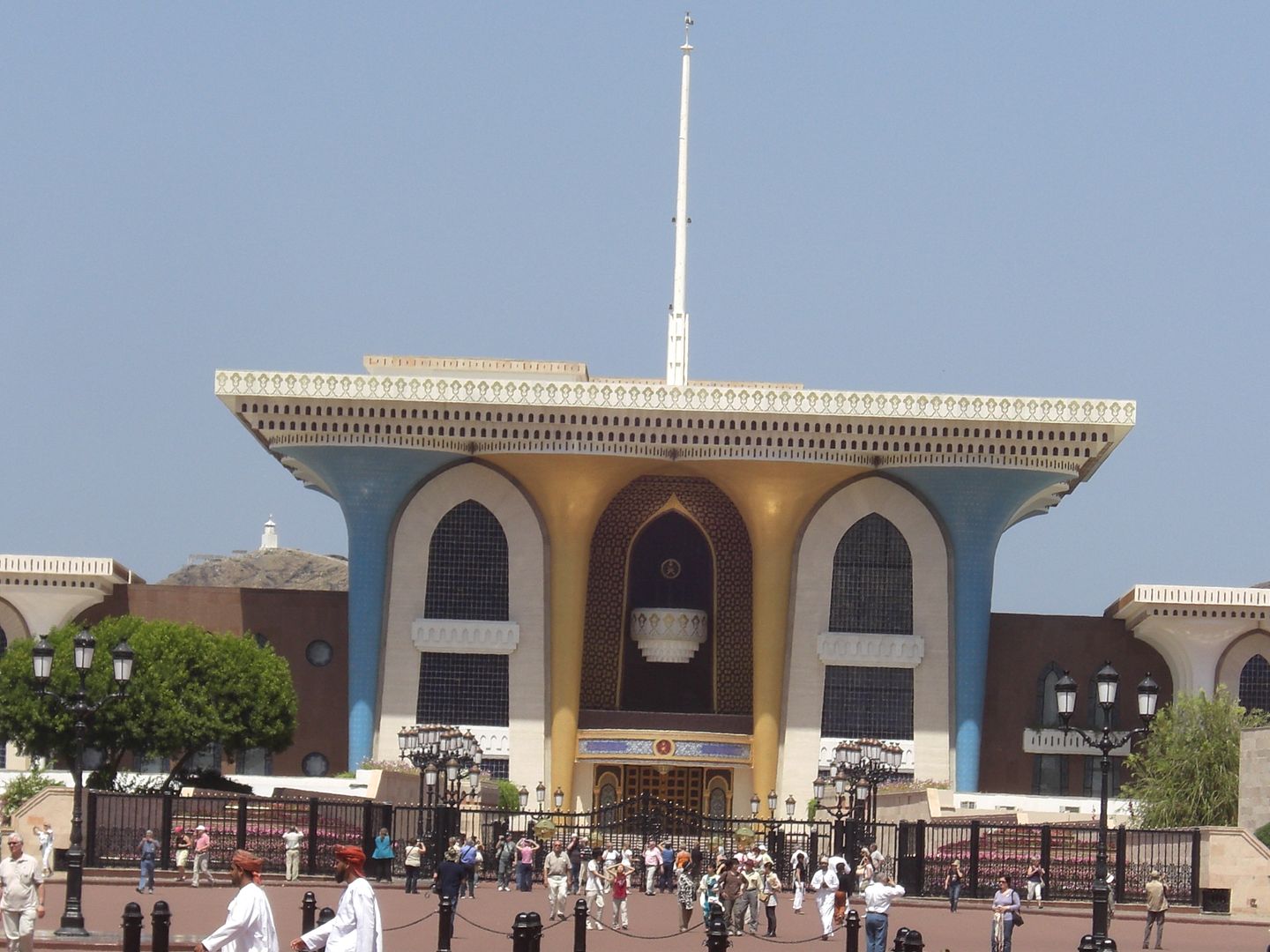 The Oman Dive Centre beach
Camel Burger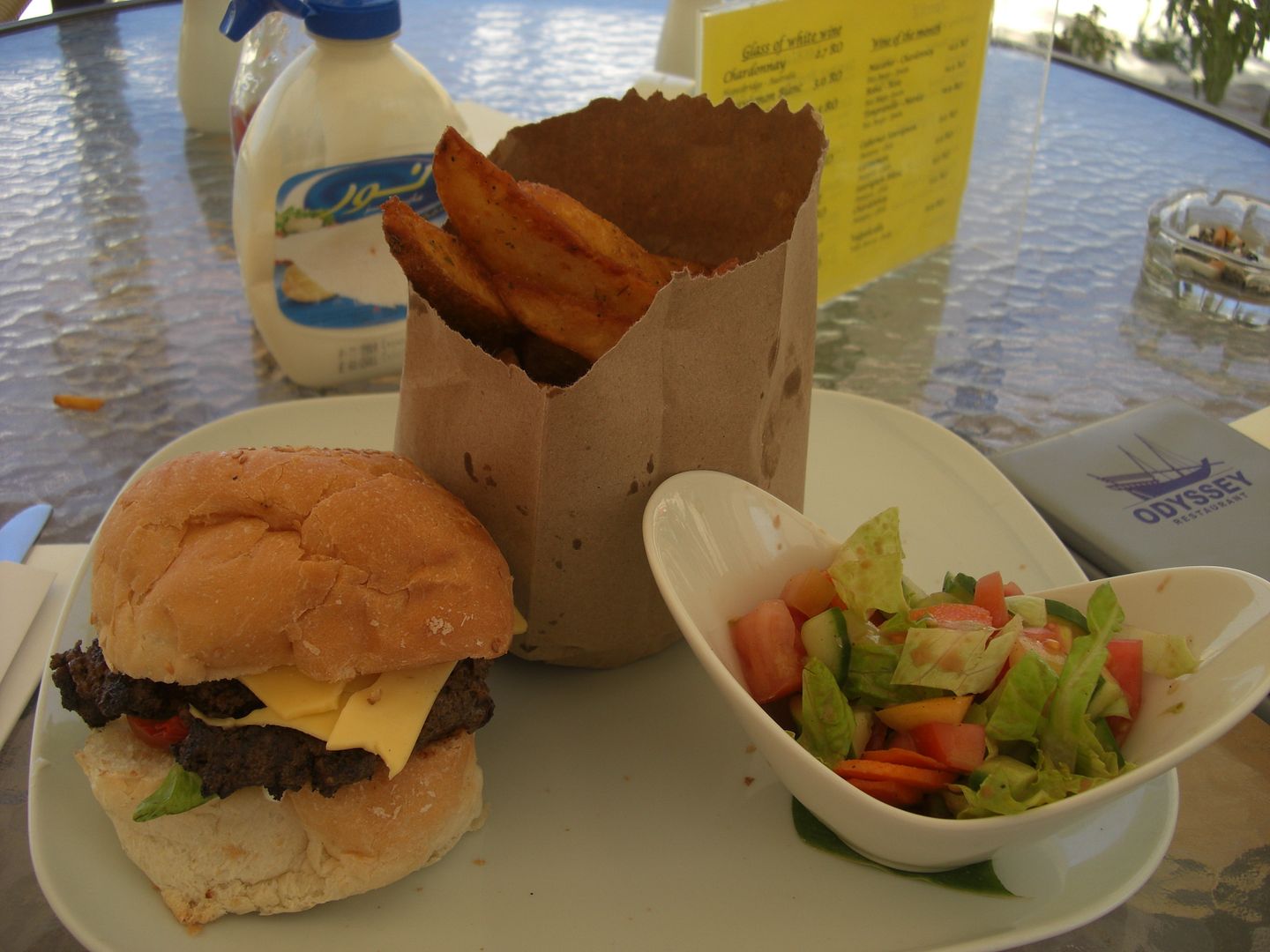 Nizwa Fort (old capital of Oman)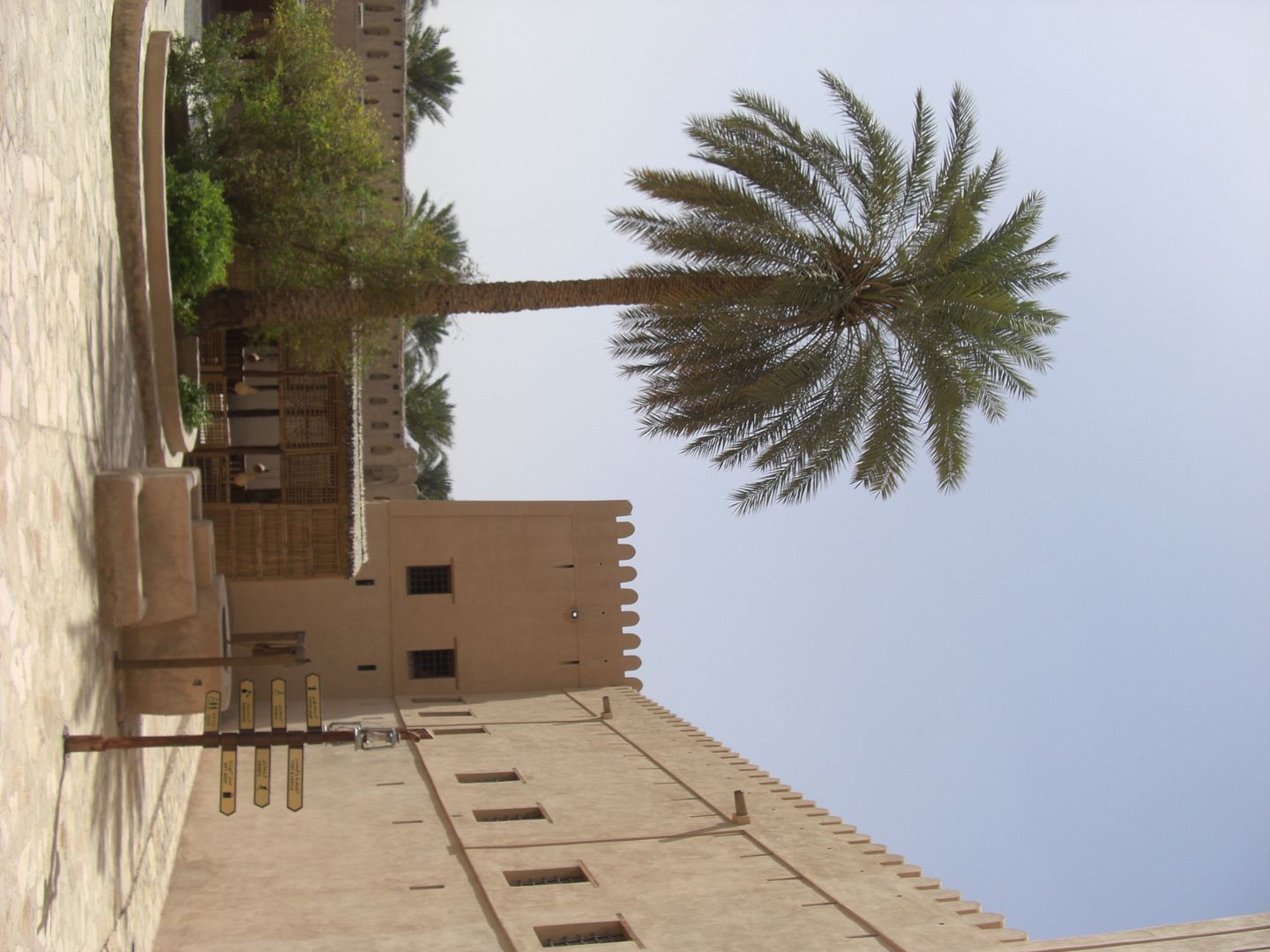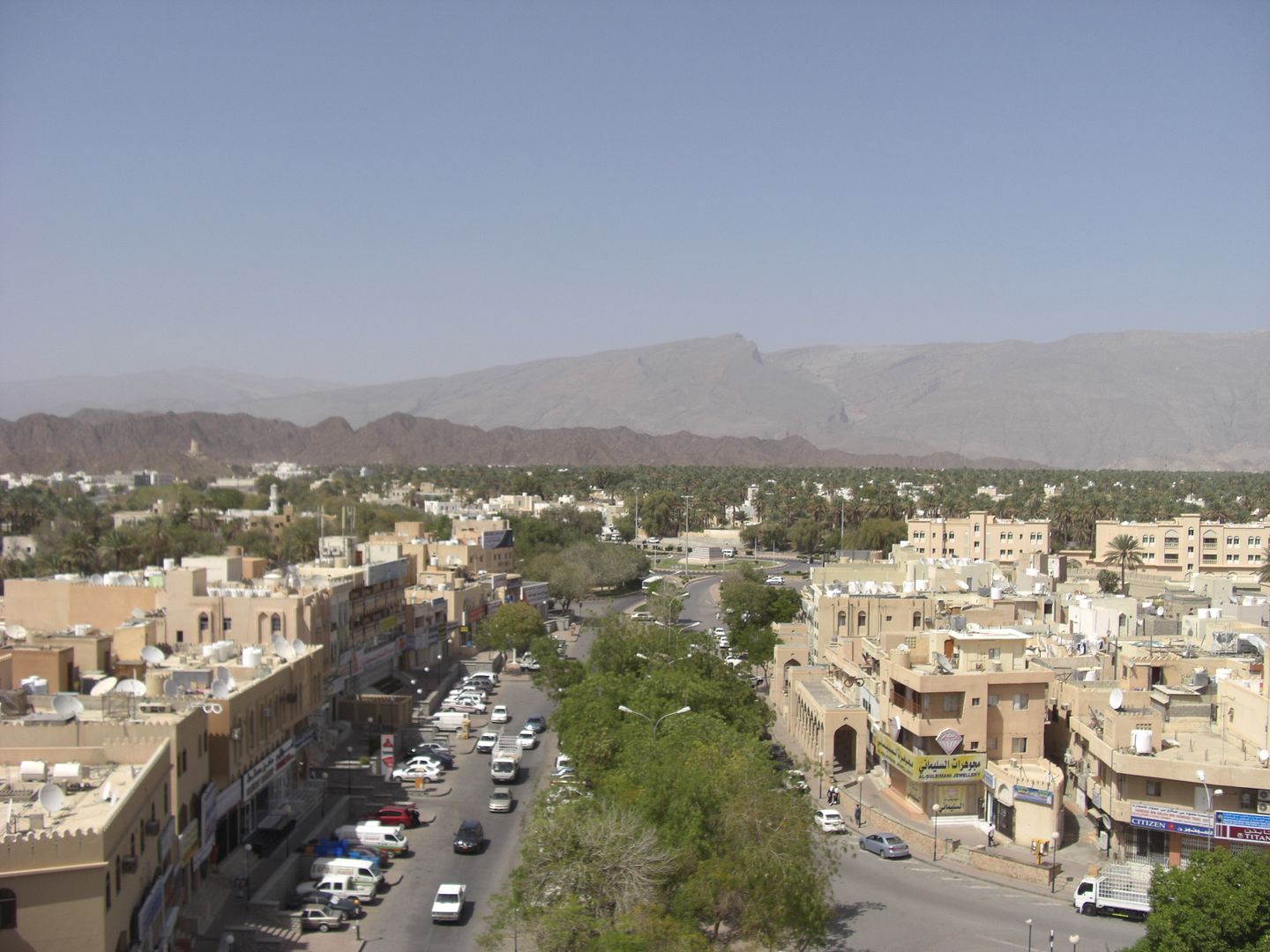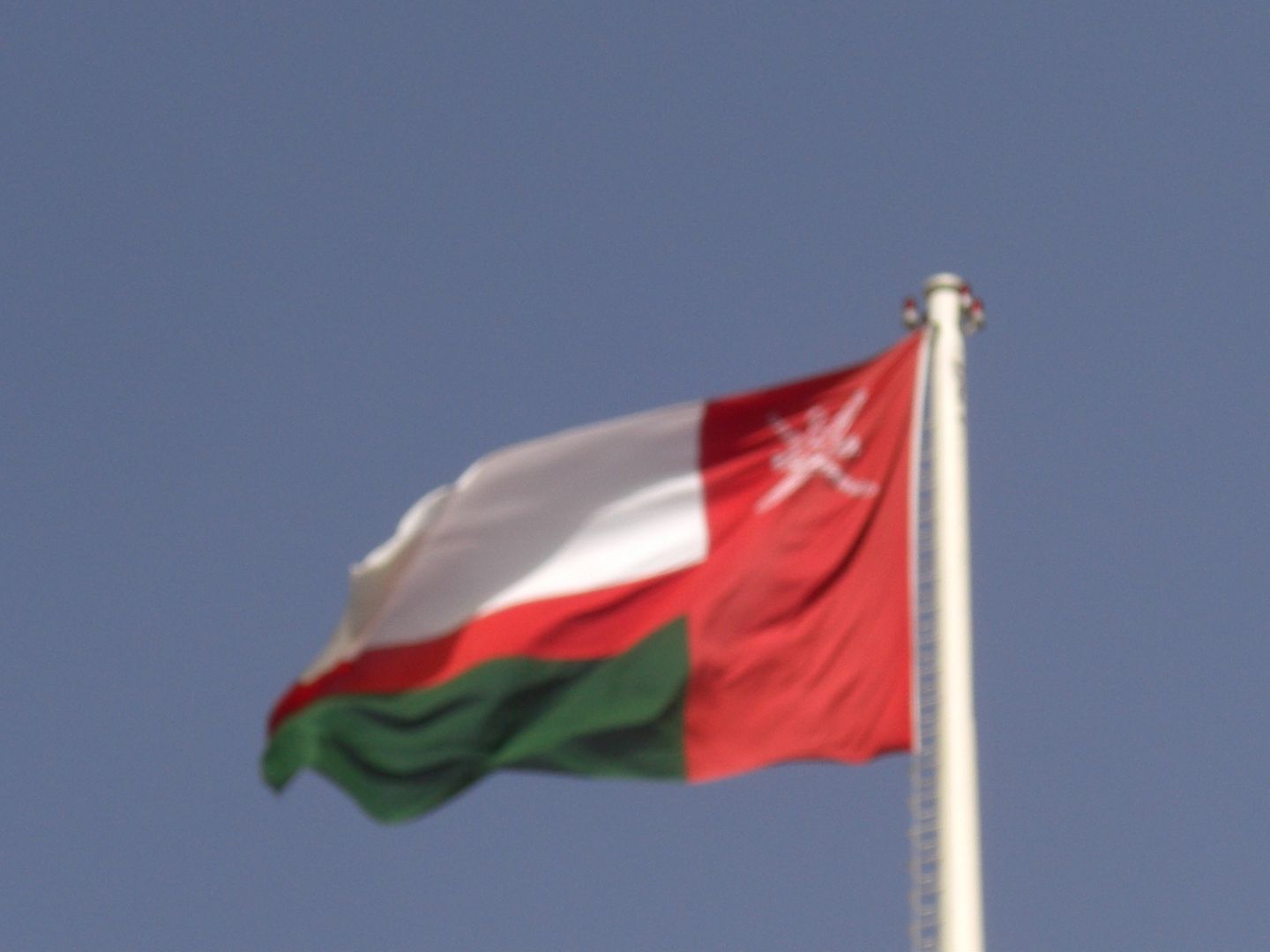 It was hot (although the car was parked in the sun….)
After an all too brief stay in Oman it was time to head back to London. The BA flight operates via Abu Dhabi (my 3rd UAE airport in 5 days), with a 1 hour scheduled stopover.
I was dropped at Muscat Airport around quarter to eleven. The LH crew (operating to FRA via AUH) arrived just before I did. They took the 'First and Business' queue for the baggage screening, which was twice as long as the Economy one. There were two BA desks open, and no one else queuing so I was checked in in less than a minute.
Security and immigration we both fast, with hardly anyone else waiting. Muscat airport, like many in the Middle East, get busy during the eveing. KLM had their daily flight to Amsterdam (via Abu Dhabi), Swiss to Zurich (via Dubai), and Lufthansa to Frankfurt (via Abu Dhabi), as well as short hops around the Middle East on Gulf carriers (Qatar to Doha, Etihad to Abu Dhabi and Gulf Air to Bahrain). Oman Air of course are also well represented, although their European flights (London, Frankfurt, Munich and Pairs), leave during the day.
Muscat Airport – clean, small and not too glitzy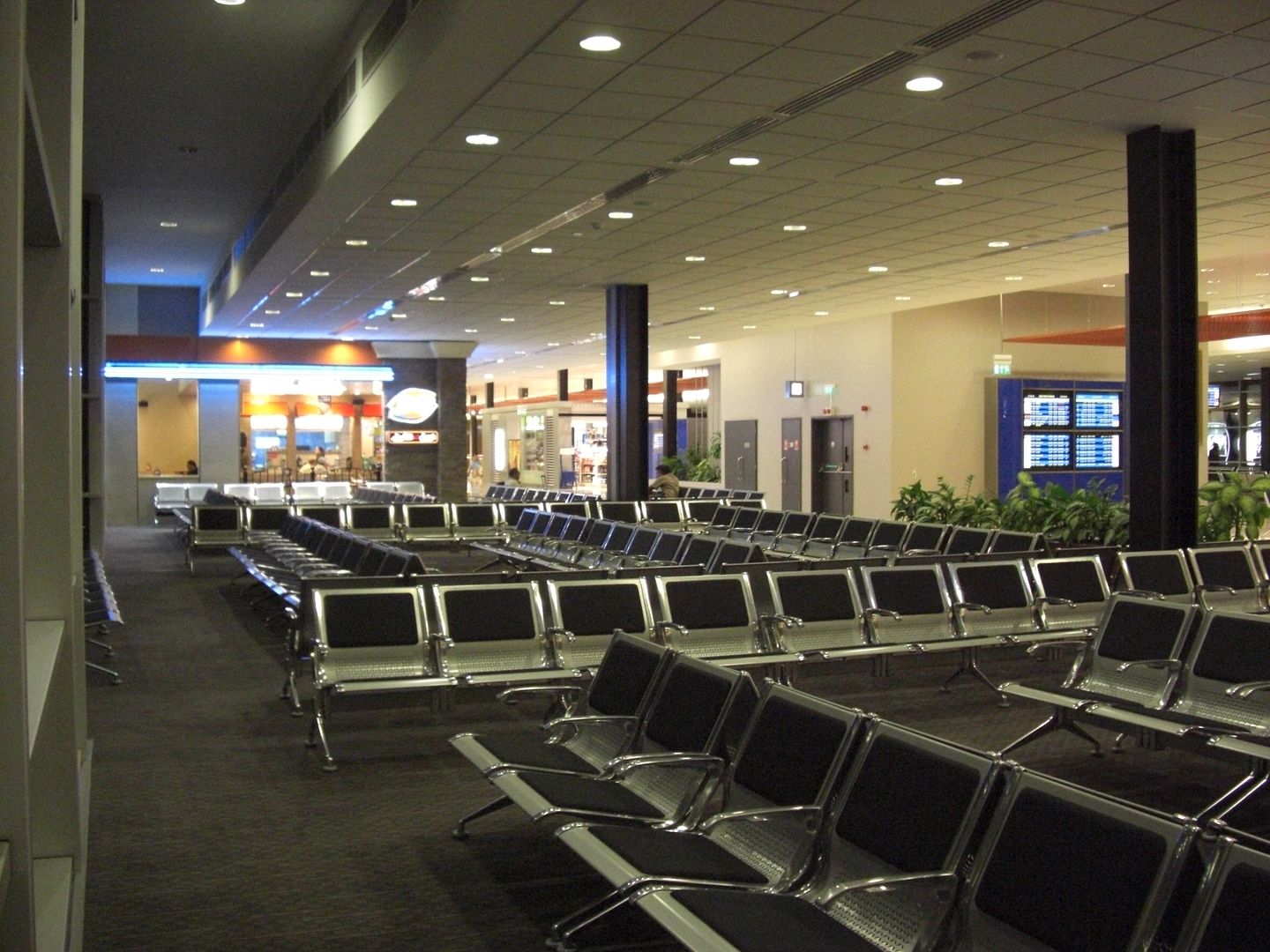 Muscat Seeb (MCT) – Abu Dhabi (AUH)
British Airways BA 72
Scheduled: 0015-0120 (1h05m)
Actual: 0019-0100 (0h41m)
G-YMMI
B777-200 ER
The flight was called an hour before departure – thankfully I didn't go down straight away as there was an additional screening point beyond which lay….;a small room full of chairs. Nothing to do there whatsoever. Around 2345, the crew came though security too, and headed out to the crew bus. Not long after we followed, with a First and Business bus, then an economy one. The drive to the plane only took a minute. Hoping to get a few photos, I got off the bus last. There were a few ground staff mooching around, but no one paid me any attention, so a took a few craft shots (hence not very well composed!).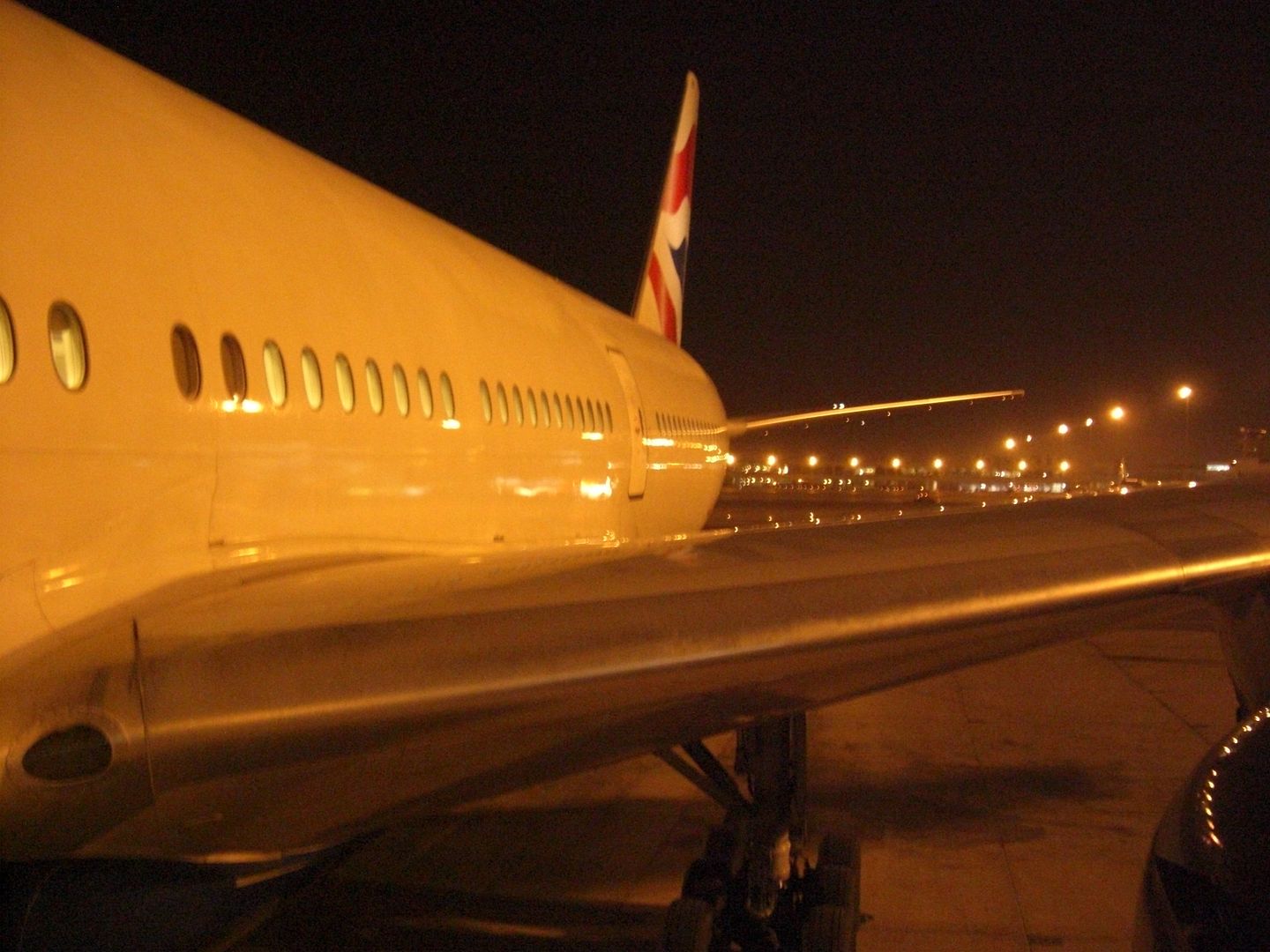 Whilst nowhere near full, the majority of World Traveller Plus customers boarded here, rather than in Abu Dhabi, which was the opposite for the other 3 classes. From Muscat, 10 out of 28 seats were taken. In Abu Dhabi, four more people boarded, so there was plenty of space for everyone to stretch out.
Safety Card including New First
VIP Terminal
We took off into the dark a few minutes behind schedule for the short hop across the desert to Abu Dhabi. I was hoping to be able to get a couple of G&Ts in, so I'd be able to get to sleep, but unfortunately on this sector there was only a choice of juice or water.
As this flight was being operated the day after the end of the strike, the crew were actually not standard crew – not that it was obvious. The only give away (other than their name badges) was the fact that I noticed a First Officer going though security with the rest of the crew (complete with hat) in Muscat – then he was the one serving drinks (less hat). Thumbs up to him! He was actually one of the best FAs I've ever had – friendly, polite and genuine. I completed a compliment form on the BA website about him, but as he isn't actually cabin crew I'm not sure it'll do much to further his flight deck career!
We touched down twenty minutes early into Abu Dhabi. My view, however, was limited for most of the stopover to a long line of assorted Etihad aircraft. The captain originally announced a stop of "hopefully less than an hour", which ended up being nearly 2 – not what you want when you want to sleep.
RJ next to us in AUH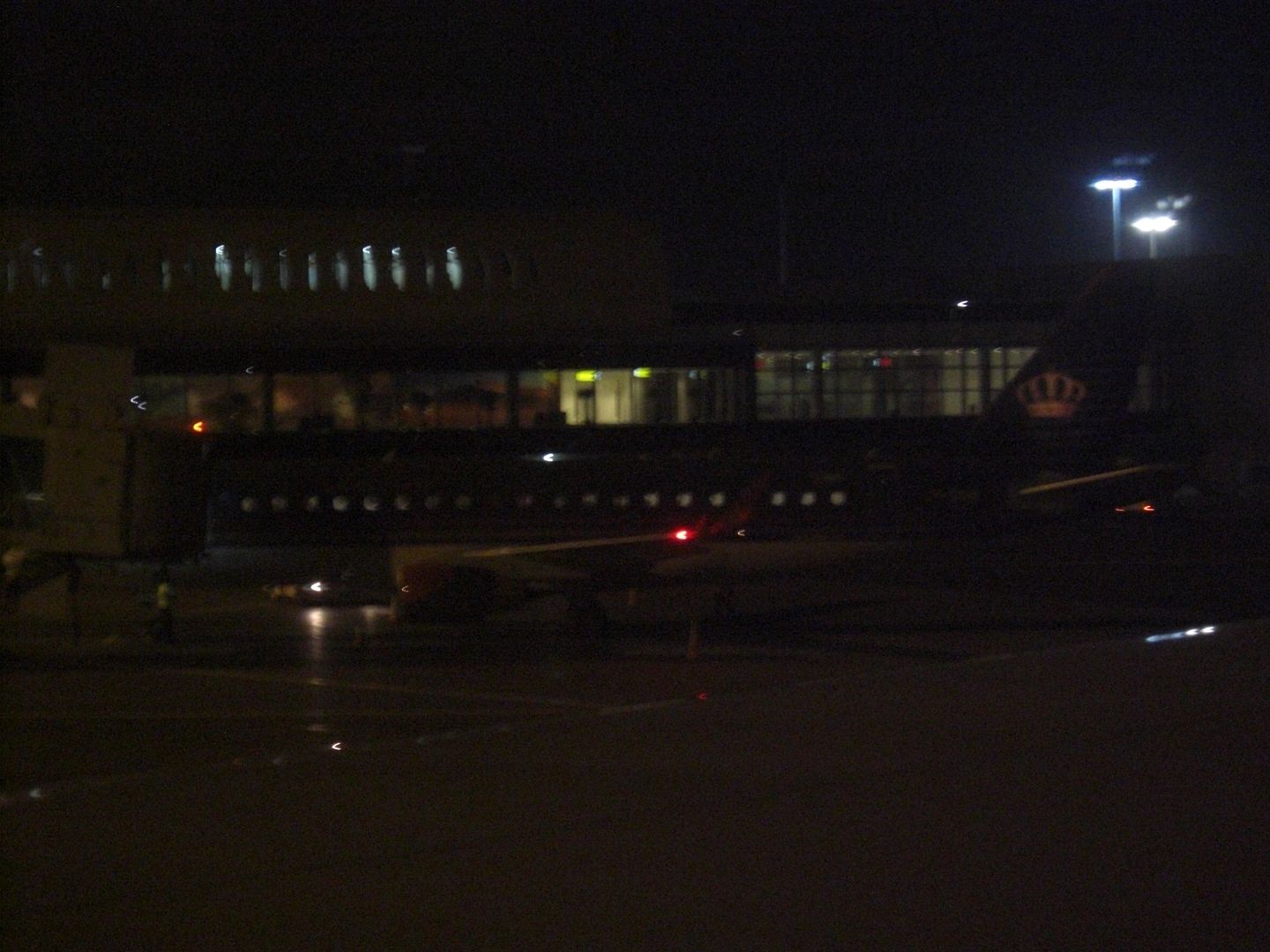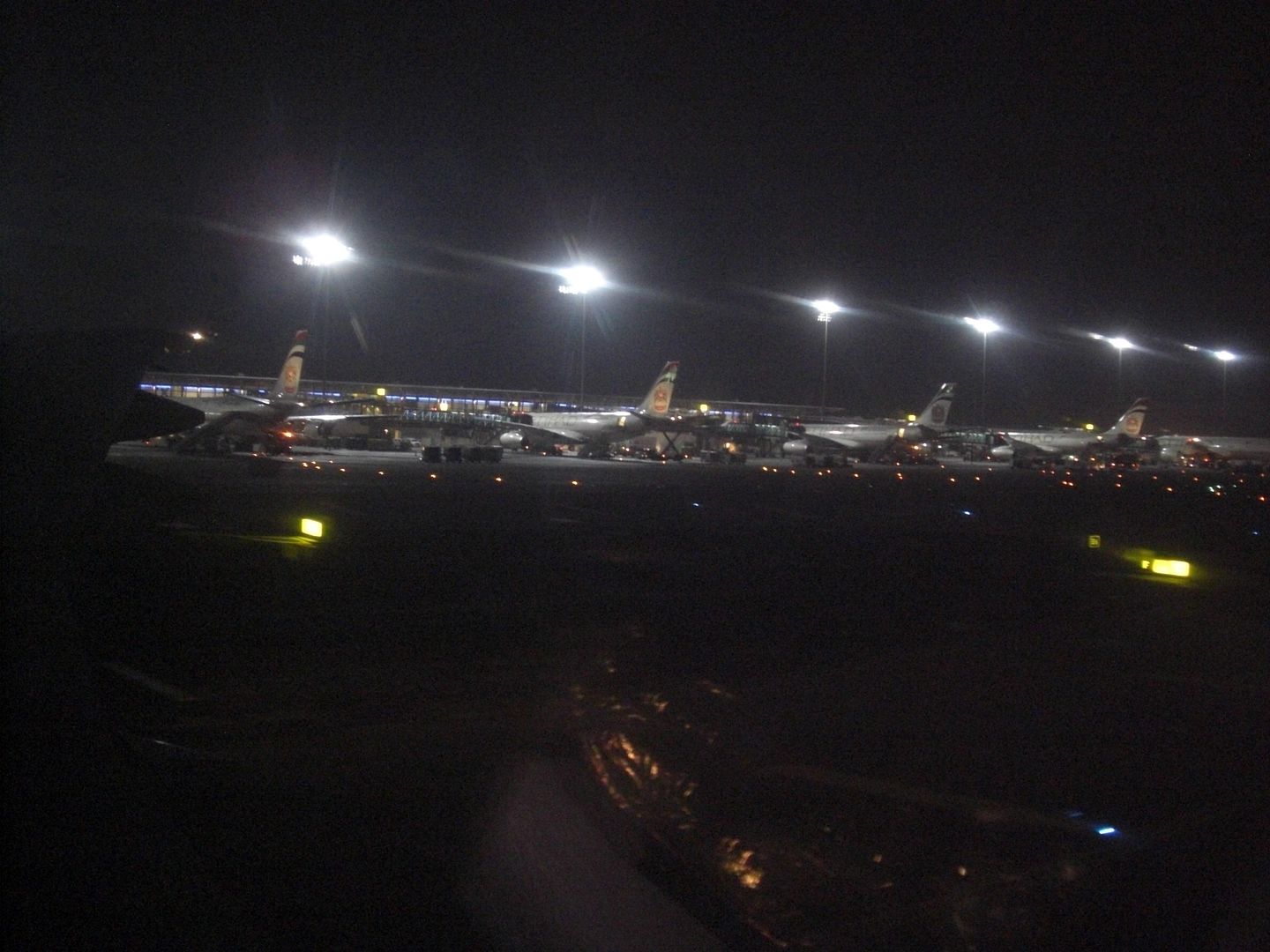 Abu Dhabi (AUH) – London Heathrow (LHR)
British Airways BA 72
Scheduled: 0235-0625 (7h50m)
Actual: 0251-0603 (7h12m)
G-YMMI
B777-200 ER
Once the new Abu Dhabi passengers had boarded, the crew did their safety announcements again, and we were off. As I was still waiting for my G&Ts, I ordered a few when the trolley came around which helped induce some sleep. This was my first time on BA's Premium economy, having previously flown on Air New Zealand's only. The BA seats were pretty comfortable, pretty much on par with NZ. NZ, of course, trumps BA hands down in terms of catering, however, as they serve Business class food versus BA's economy food.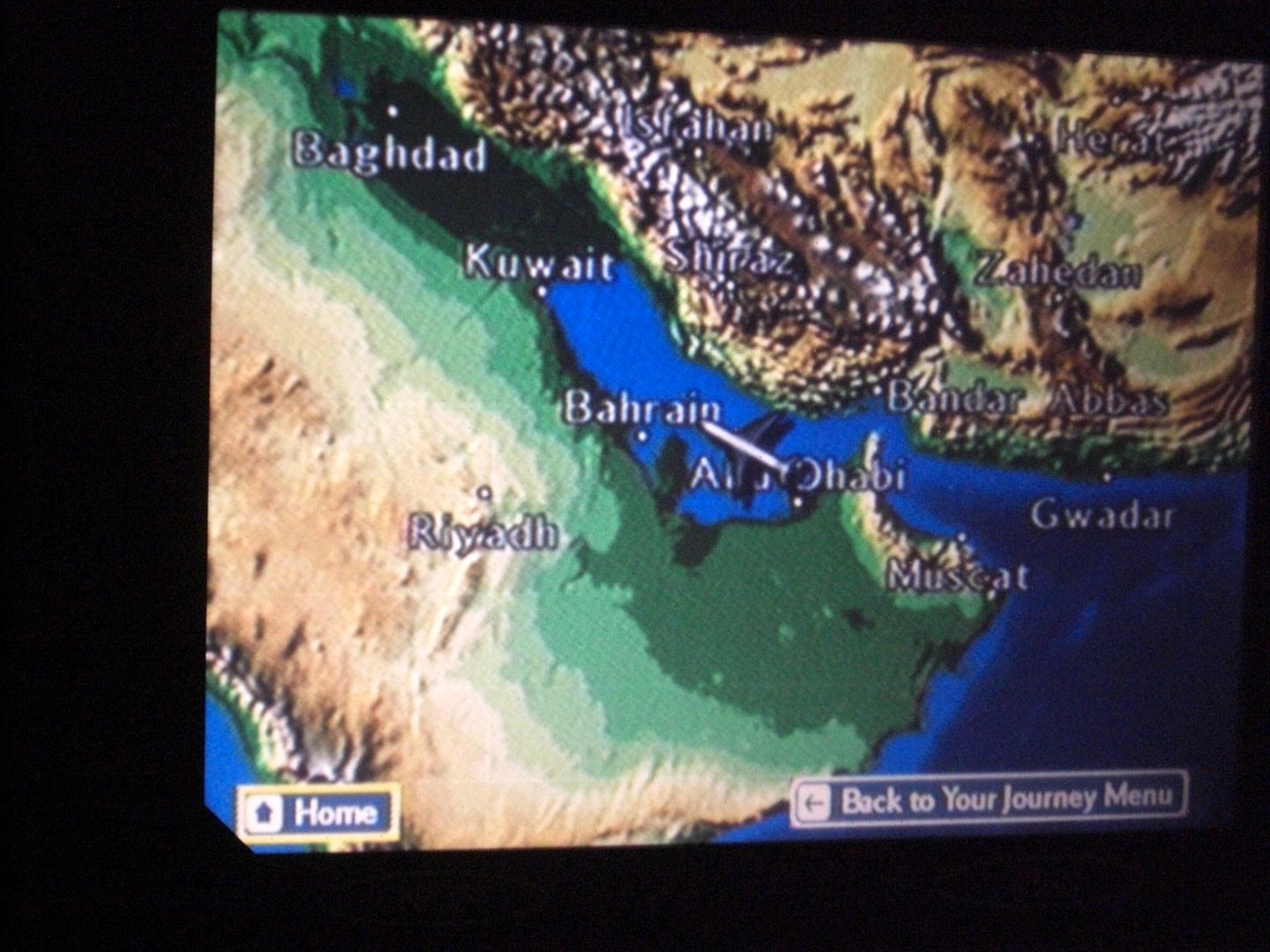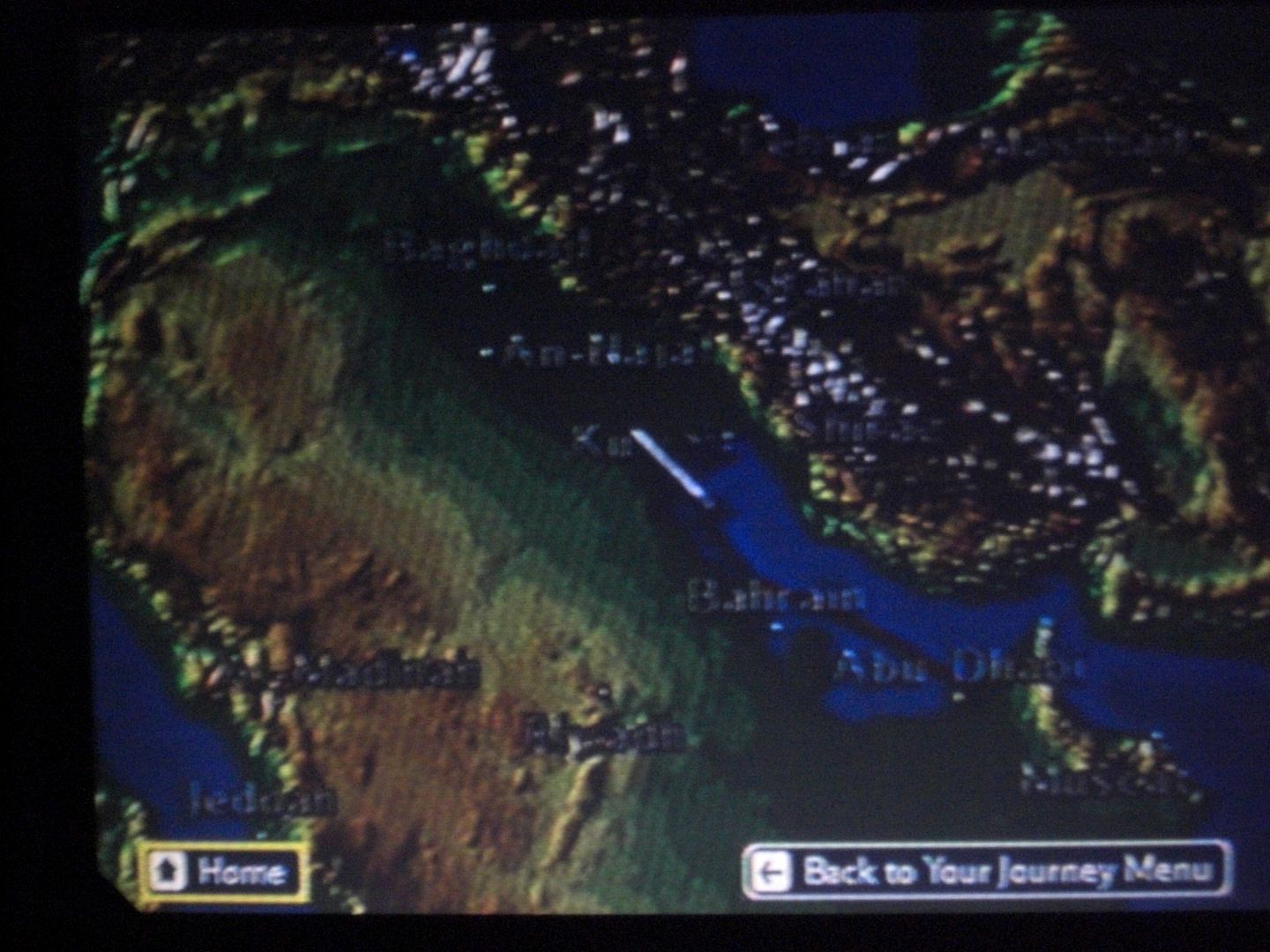 An hour before landing a horrible assortment of sugar-loaded rubbish (for lack of better words) was served. The croissant was full of cheese, the orange juice undrinkable, and the fruit bars first ingredient was high glucose corn syrup (or similar). Yuck. I appreciate (but disagree with the fact) that the hybrid crew couldn't serve proper hot meals, but this was just pain disgusting. A choice of fruit, normal bread and a bowl of corn flakes would have been a world better. Never mind. At least the outbound food was ok.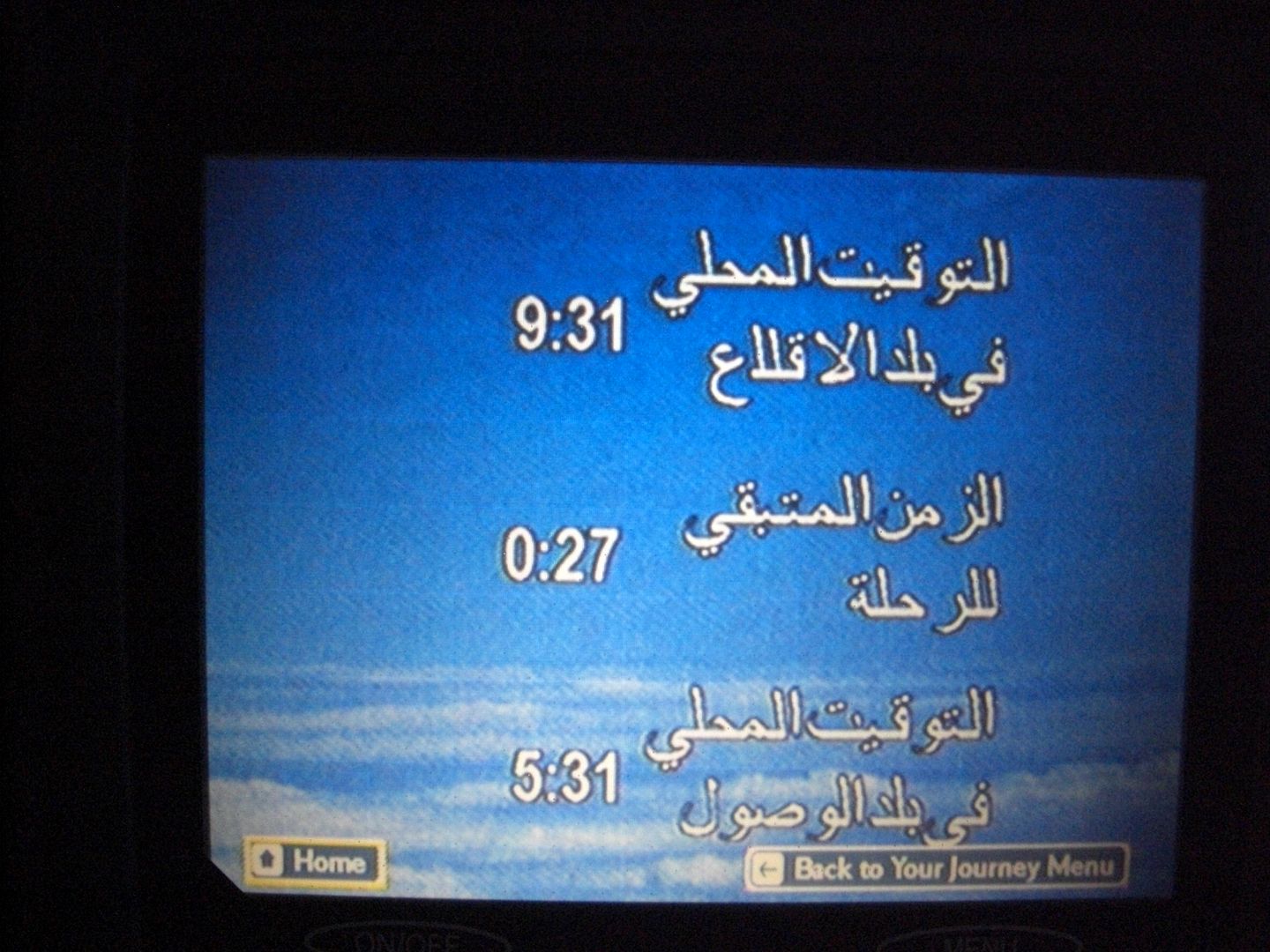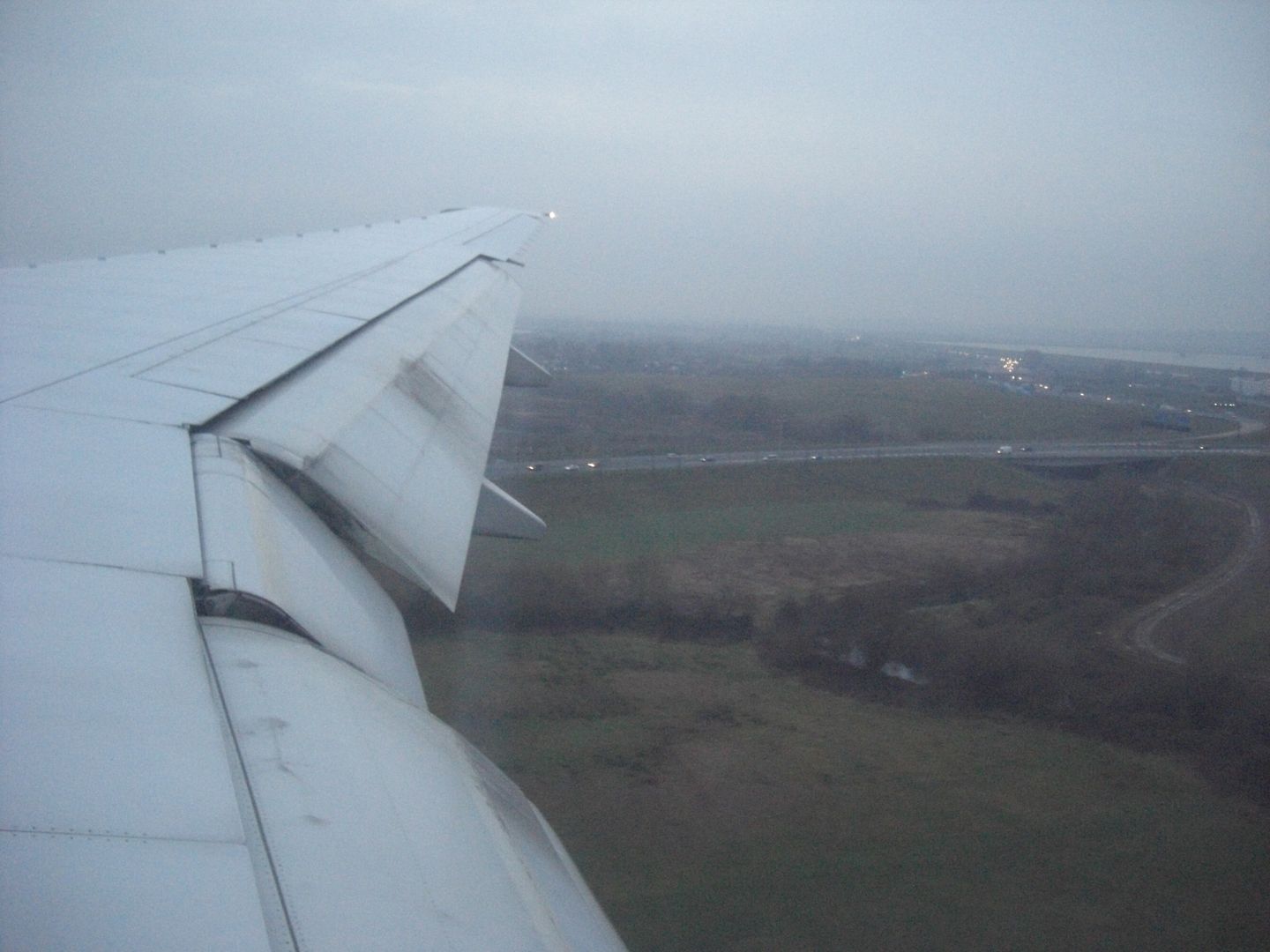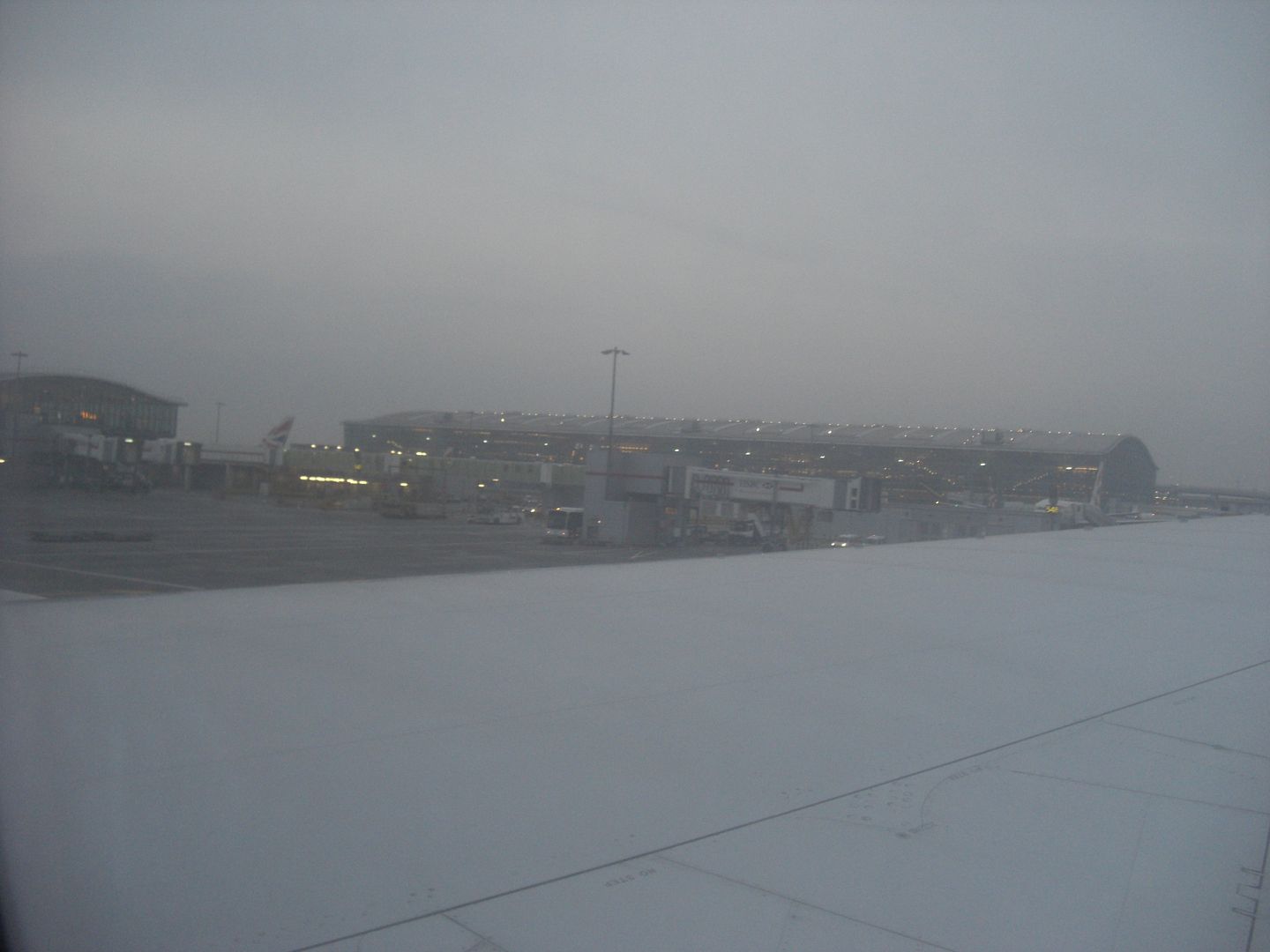 We touched down just a few minutes after six, and I was though immigration and standing by the carousel by 0625, the original landing time. The bags took a while to come off despite there being no other arrivals at the same time.
I felt that BA did a pretty good job overall. I haven't flown BA longhaul for a long time, and for the price, I thought the product was pretty good. It was nice being able to upgrade to WTP for only £100 on the way back – the extra space really does make a difference.
Terminal 5 is nice and clean, but hideously poorly designed – hopefully in the newer piers they'll rely a little less on escalators, but I doubt that that will happen.
Dubai is somewhere everyone should visit at least once – it has to be seen to be believed. And Oman – don't go there – it's fabulous just as it is and shouldn't be overrun by tourists! The Middle East's best kept secret.