I have been reading a.net forums and particular the brilliant trip reports for quite a while now and finally decided to join the a.net community and contribute my first trip report.
For various reasons I couldn't travel a lot last summer and therefore the destination of this trip is not too exotic. However the Airline I used was Air Seychelles and as far as I can see there hasn't been a trip report on Air Seychelles. So I decided to write my first report and give an impression of Air Seychelles, albeit only on a short European hop and not their long haul service.
I have planned to visit a friend who is living in Zurich for some time. When I found out that Air Seychelles had traffic rights on its once weekly LHR to ZRH service and was also offering reasonable priced one way tickets for that sector it was an easy decision to book HM instead of the standard boring options. To make it even better Air Seychelles was leaving LHR at 18.20 on a Friday evening thus making it a perfect flight for a weekend break. Tickets were sold on the usual websites for around £100, I booked my ticket on Opodo in the end, but not on the Air Seychelles site. Admittedly you can get flights to ZRH a bit cheaper on Aer Lingus, EZY and even BA but £100 is a fair price to add another exotic airline to the log. In addition that fare is basically a fixed price bookable until departure and considering that £100 is not bad at all. Even when I booked my flight about 4 weeks before departure all other flights on a Friday evening were more costly.
As I had a couple of days holiday left I decided to take the train over to Munich, Germany after the weekend and visit my parents for a few days. For the flight back to London I decided to use the new Ryanair flights from Memmingen to STN. I add a few lines on that flight at the end of the report.
So here we go.
I left work a bit early on Friday and took the bus to reach LHR in good time. Air Seychelles was handled by Air France in Terminal 2.
Although Star Alliance Airlines have moved to into Terminal 1…
…T2 is less crowded but the low ceilings still make it a terrible claustrophobic place. I still don't know which architect could design this nightmare and even worse who could give the planning permission.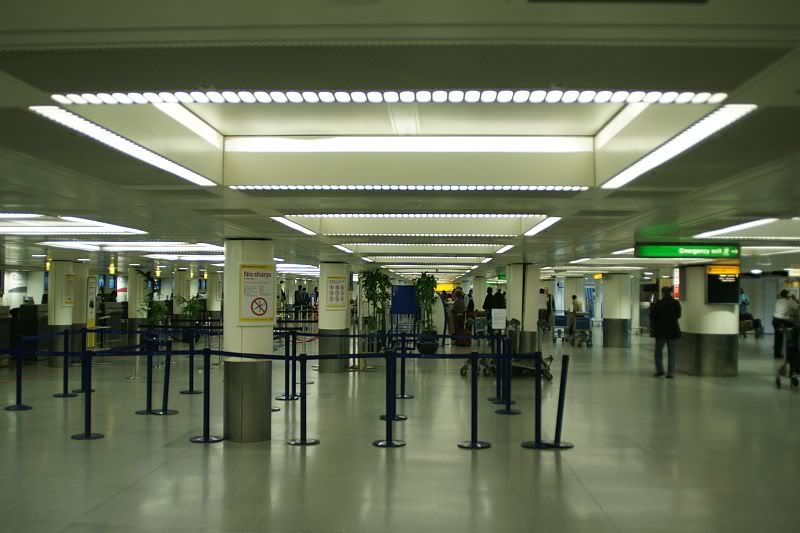 Anyway now T2 is history and this flight was my last departure from there. I somehow will miss T2 in a weird sort of way. Having its used so often on LH flights the cramped and crowded corridors and the low ceilings made it quite distinctive and somehow gave me the feeling of being back in London.
Air Seychelles doesn't offer online check in so I arrived at T2 around 2 hours before departure to join the queues. In the days of online check in you're not really used to queuing anymore. The queue wasn't too long but moved very slowly. If you think of the Seychelles probably the first thing that comes to mind is "Island paradise" and therefore you would expect the majority of the passengers to be tourists. But of course in a multicultural metropolis like London there would be a sizable Seychellois' community and so the majority of the passengers in the queue in front of me were ethnic vfr passengers. As I should find out later quite a few of the passengers were actually transit passengers to Mauritius, another country with a big community in London. The passengers gave a nice impression of the interesting ethnic diversity on the islands: Christians, Hindus, Muslims, people of all ages and colours, aunties in traditional India saris to Rastafarians. But of course as common with vfr passengers all over the world there were big families with loads of luggage so the queue moved quite slowly. But anyway I wasn't in a rush and it was nice to watch.
Finally when it was my turn the check in agent just looked at my German ID card and turned to her supervisor who was sitting on the next desk: "Is he allowed to enter the Seychelles with a German ID card only?"
Without hesitating for a second the supervisor replied: "Today we have one passenger going to Zurich only!!! A certain Mr.XX." You could hear the surprise and misbelieve in her voice.
Yep, that's me. I don't think my name was ever known to the supervisor like this before.
Within a second I had my boarding pass to Zurich. I wasn't asked for a seat preference but I was given seat 7a which was a window on the side a wanted and also before the wing.
Arik Air is providing their passengers with an own scales for repacking the luggage although they have quite a generous luggage limit. I always used to call the area with the BAA scales in LHR where all the frantic repacking is happening Nigeria corner
– Any Nigerians no offence please!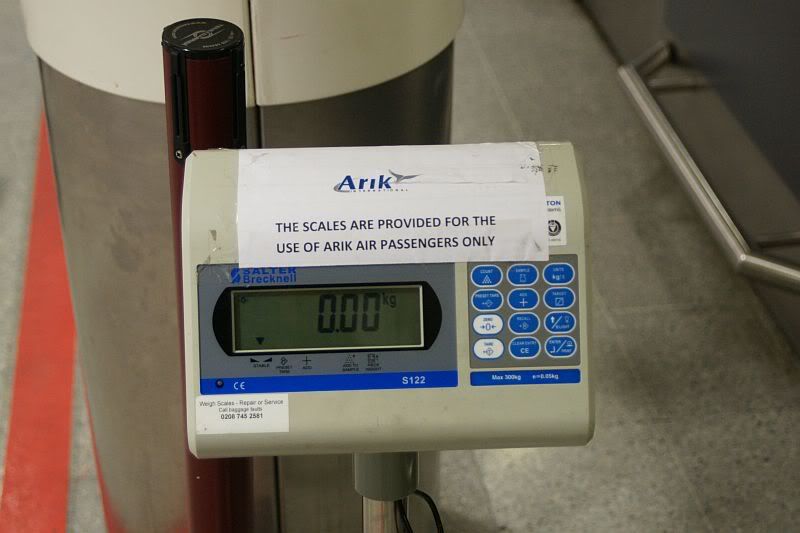 As I still had plenty of time I went over to see the redesign T1, now home of the Star Alliance.
Everything pretty blue here now and less crowed compared to the days when this was the home of BMI and most of BA's European departures alongside a few other airlines.
Afterwards I headed back to T2 and went through security. Again much more pleasant and less crowded now that the number of airlines was reduced in T2.
Boarding was on the last gate of Terminal 2, one of the few wide body stands of T2.
The waiting room was shared with the AZ flight to Milan Linate. Quite a different crowd to the Seychelles flight, Italian business men, stylish as ever and only a few tourists.
The screens only showed Zurich as destination of HM009 confusing a couple of passengers. I am sure quite a few were not aware of the extra stop on route. I heard some of the transit passengers saying: "So we are going from here to Zurich and then Seychelles and then on to Mauritius..."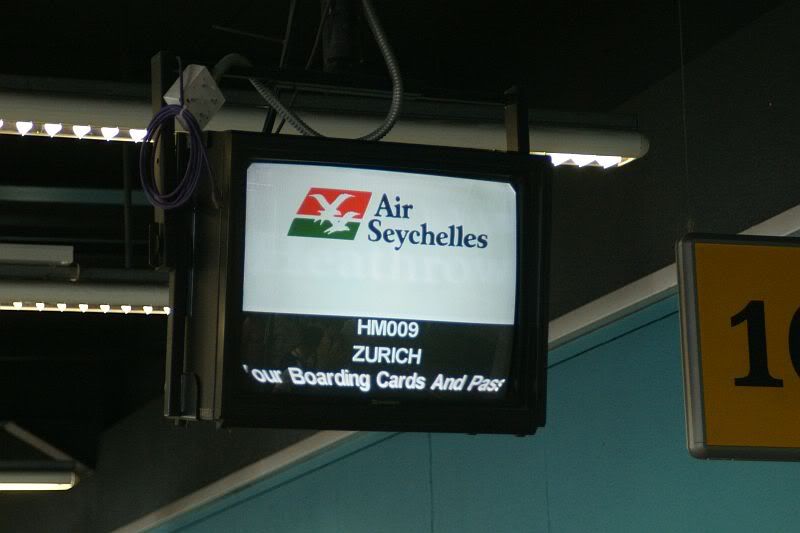 28th August
HM009
B767-300ER S7-AHM
LHR-ZRH 18.40-21.00
Unfortunately this is the best shoots I could get of the beautiful B767.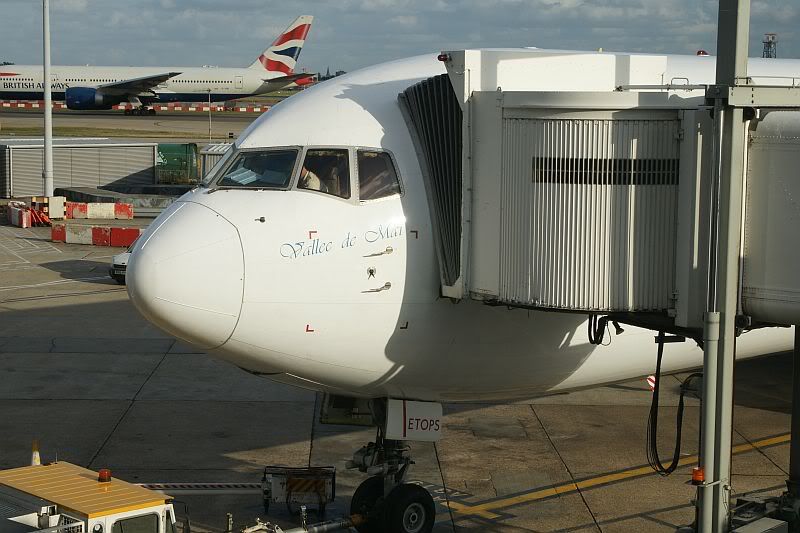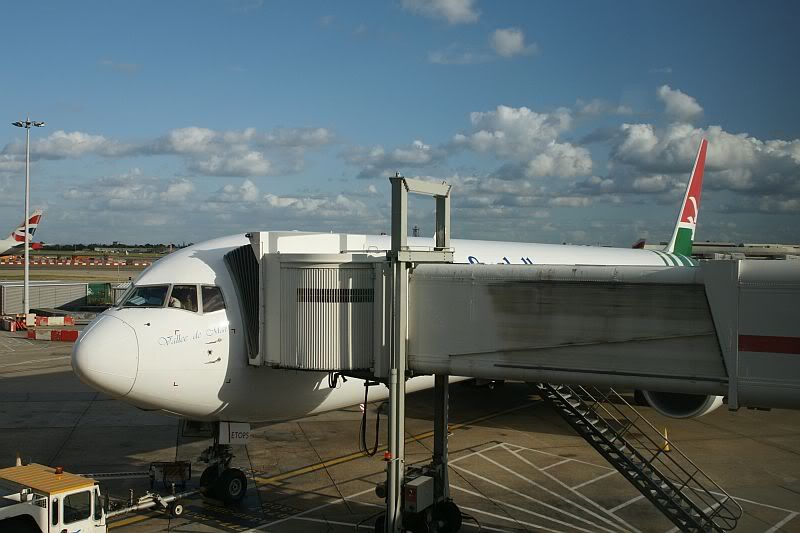 Boarding started around 30 minutes before departure and strictly by seat rows. So I was about the last to board with seat 7a.
7a turned out to be the first row with economy class. A bulkhead seat with plenty of headroom. If you go all the way to the Seychelles that must be surely one of the best seats in Economy.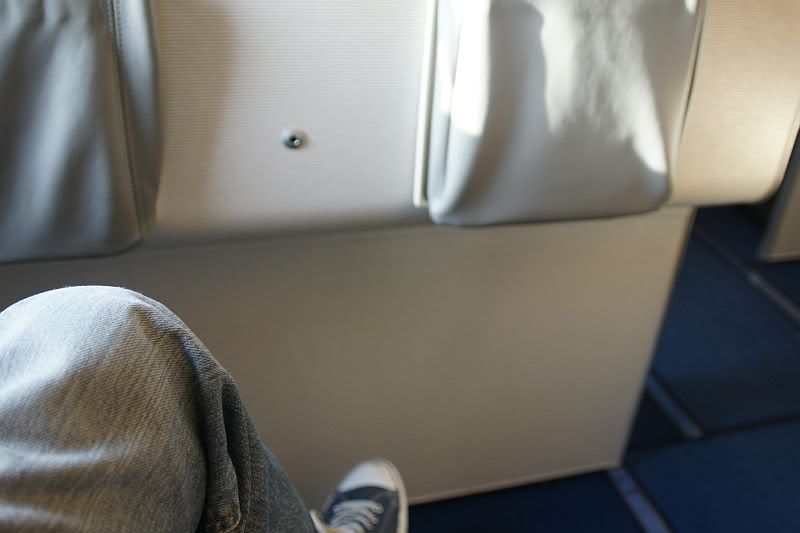 The joy's of boarding a long haul flight even for a short hop in Europe: a nicely prepared seat with a pillow and a blanket.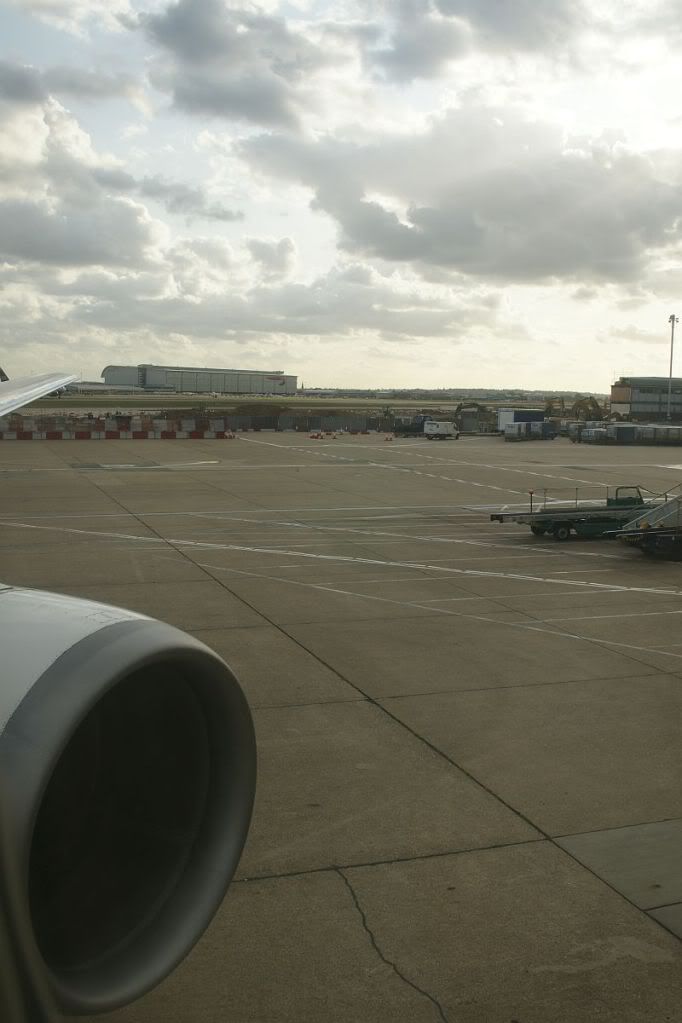 In-flight entertainment. The in-flight magazine was quite a nice read. Fittingly enough this issue had an article introducing the destination Zurich.
Business class section
About ten minutes before departure time the captain made his announcement. He first introduced himself and the crew (both Captain and co-pilot sounded very British to me) and then thanked us for the speedy boarding which was already completed. Unfortunately the bad news was that due to air traffic restrictions there would be a 50 minute delay and we would remain at the gate for the time being. So some more time to look around. Many people started phoning their relatives in London to have a chat and children started playing in the aisle. It was quite a relaxed atmosphere.
S7-AHM is the original Air Seychelles delivered new to the airline in 1996 so it had some bespoke fittings. The paintings on the walls add some nice Seychelles flavour but also show the age of the bird.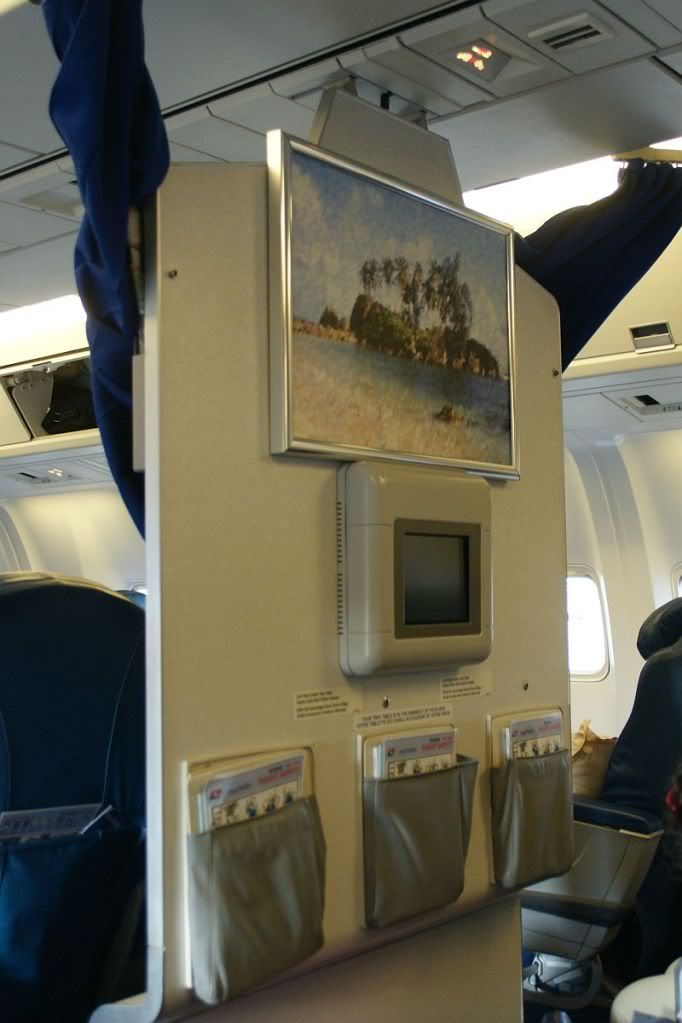 After around 20 minutes the pilot announced that we will be starting from the gate in around 10 minutes. And that's what we did.
Star Alliance Longhaul at T1.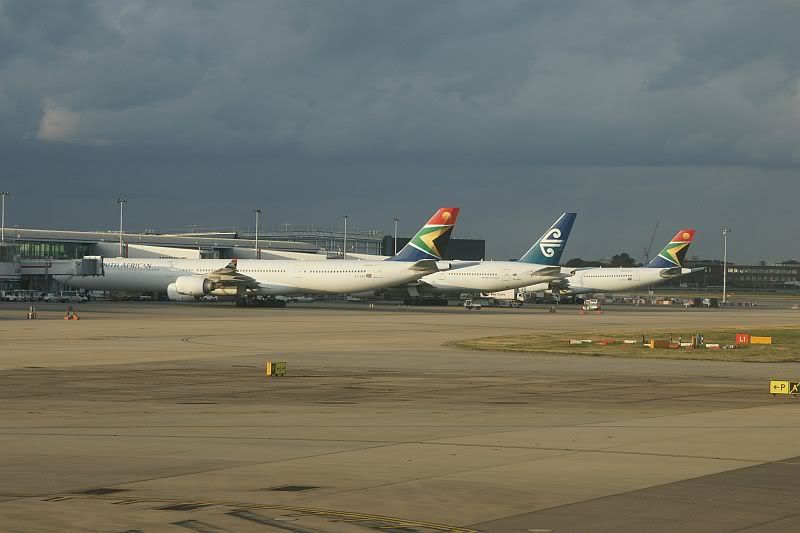 Apologies for the bad picture but I thought this relatively new airline to LHR might be of interest. So far I have seen Arik Air only on approach to LHR from central London. Behind the Arik A340-500 an Air Italy B757-200 operating for Bellview to Lagos at the time just pulled to the gate.
No surprise that we had to wait looking at this massive queue for take off in the Friday evening rush hour.
Finally after a Virgin A340-300 we were ready for take off.
Obviously we only had half a load from LHR but apparently the bulk of the fuel must be taken on in ZRH as well as the B767 was beaming into the sky after an impressively short take off run.
The usual water reservoirs near Staines during the turn left/south just after take off.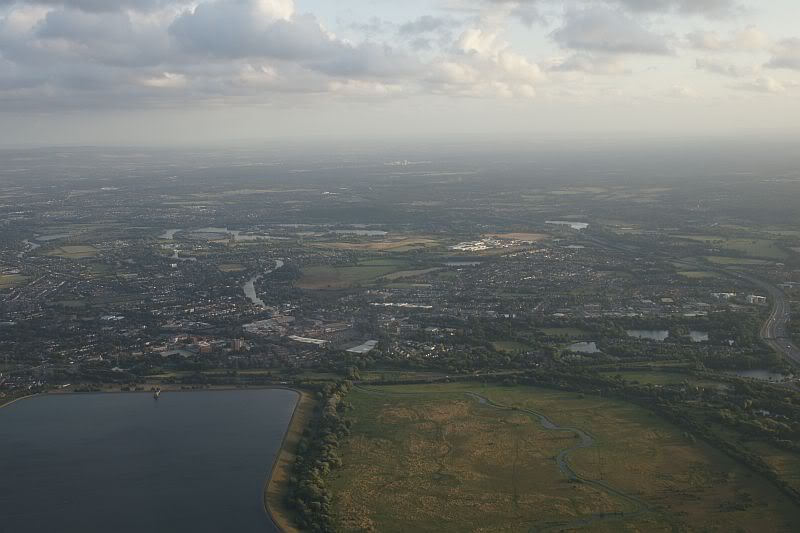 The M25 wasn't too busy for the start of a bank holiday weekend.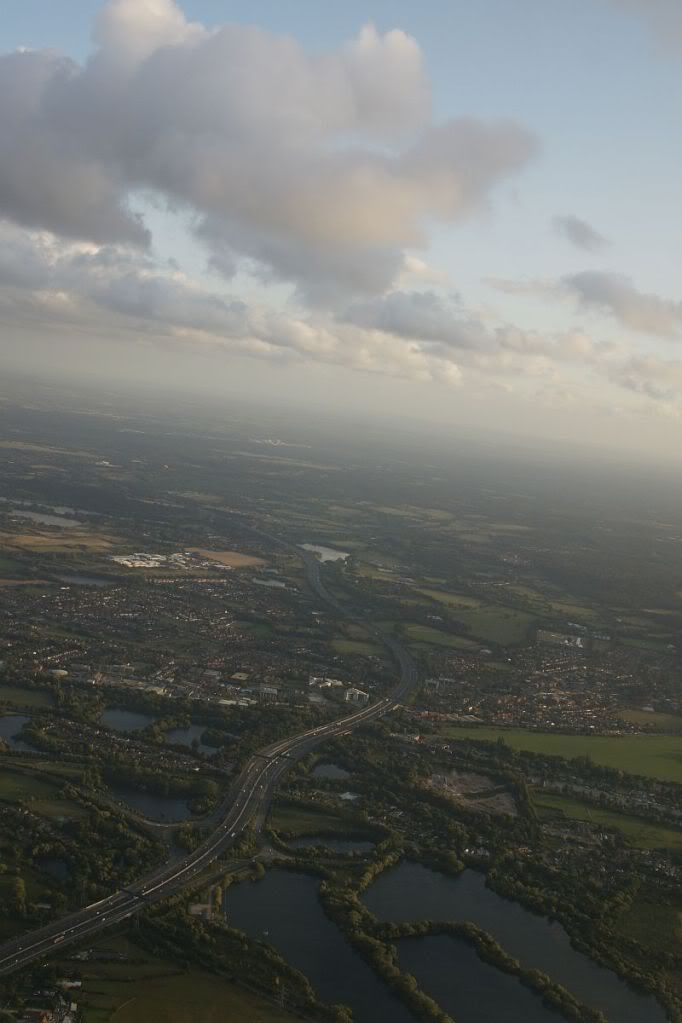 Afterwards we headed south passing above Gatwick.
And shortly after that there was an amazing view of the coast near Hastings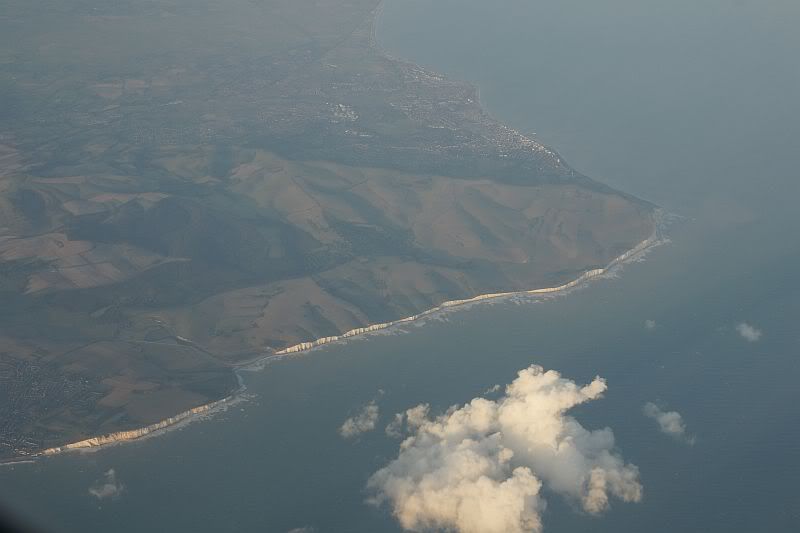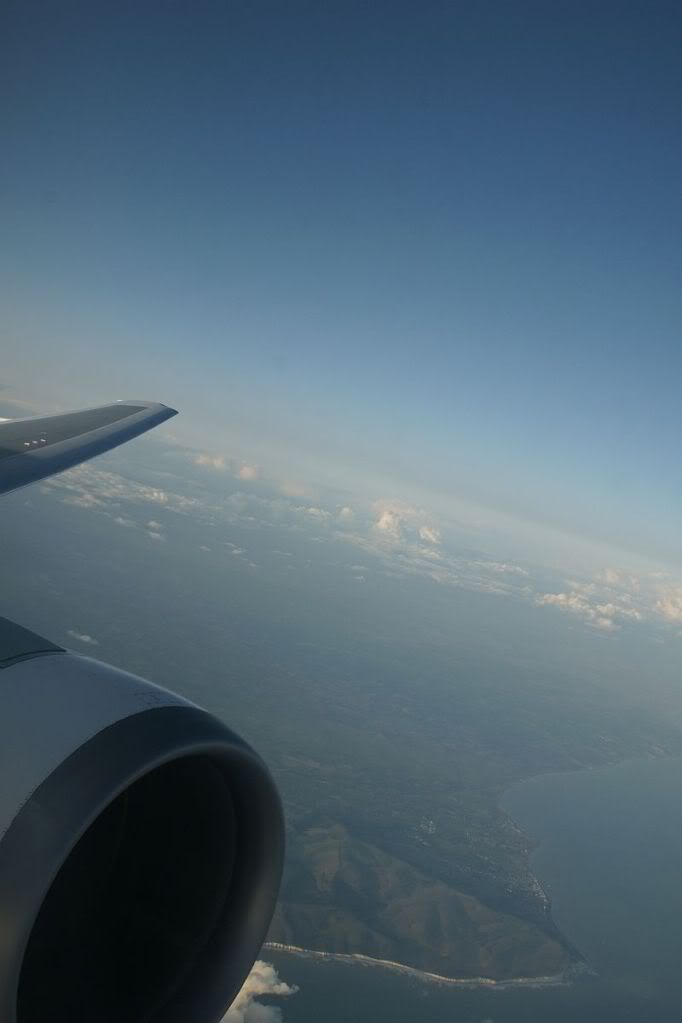 The only draw back of my seat was that there is no window right next to the seat, only one a bit in front so you had to lean forward quite a bit. As this became a bit uncomfortable after a while I asked the crew if I could move to one of the many empty rows towards the back once in flight.
Well of course the seat pitch wasn't as good anymore but still quite agreeable.
The middle bit of the cabin was mainly empty for the passengers boarding at Zurich. The LHR passengers where mainly seated in the front and in the last few rows.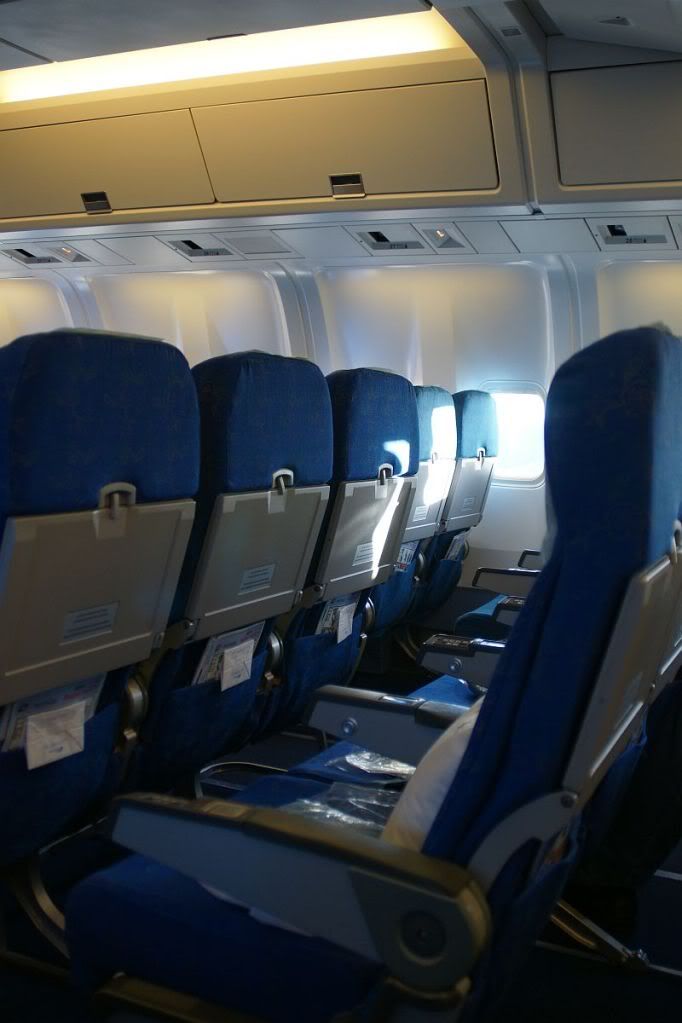 Shortly afterwards I could see Paris Le Bourget.
We continued right over the centre of Paris. Unfortunately clouds blocked the view of the sights in central Paris.
On the southern outskirts of Paris we turned towards the east and crossed Eastern France in a beautiful sunset.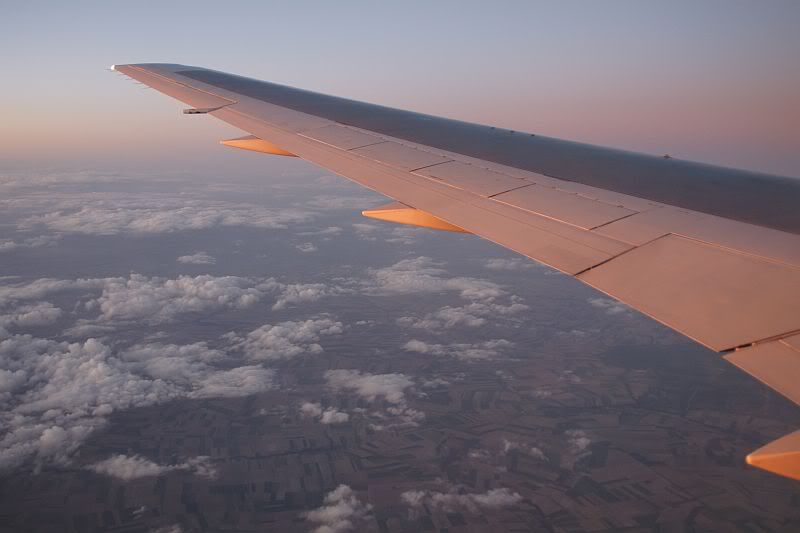 I believe this is what BA will serve on short haul flights in the future. Well this was the first leg of a long haul and not a standalone, so it was ok.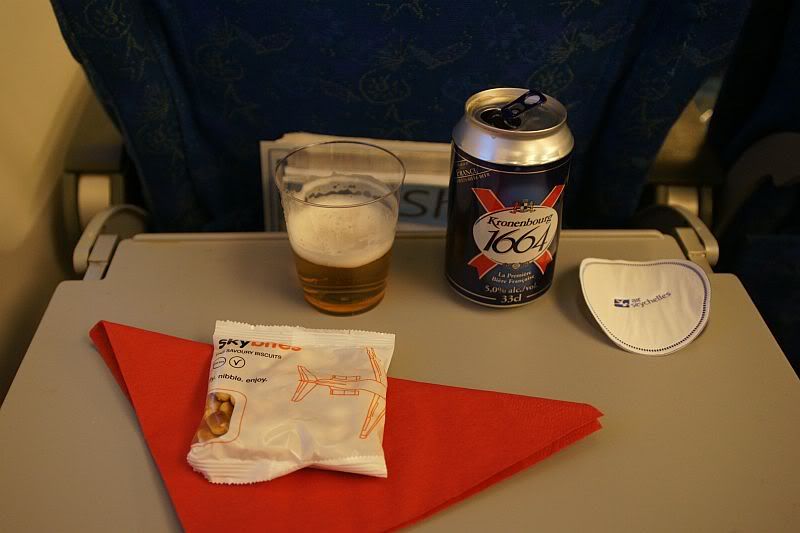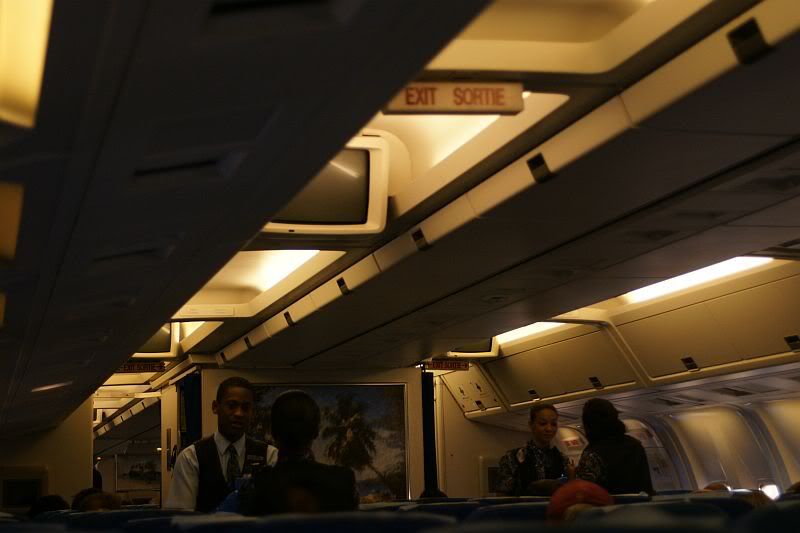 For the reminder of the flight I was listening to Creole music from the Seychelles and reading the in-flight magazine. Somehow I didn't feel like going to Zurich anymore at all.
Unfortunately it was already completely dark when we started our approach to Zurich. Therefore the next pictures are sort of more modern art
Can you feel the shake of touchdown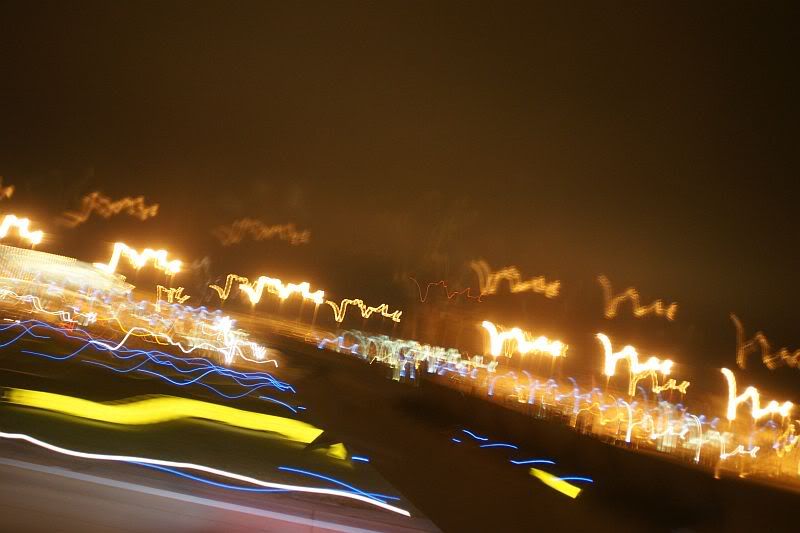 In the evenings landing traffic in ZRH is mainly handled on the shortest runway 25, coming in from the east. I only knew this runway as the main departure runway for short haul flights during daytime.
We taxied back towards the "new", well new for me at least, Dock Midfield. Among some Swiss A330/A340 a Singapore B777 was still at the gate getting ready for its late evening departure to SIN.
The crew welcomed us to ZRH, announced that the time on ground would be approximately 1 hour and said goodbye as a new crew would take over in ZRH for the onward flight to Mahe. Transit passengers were asked to remain in their seats.
After the "Fasten seatbelt" signs were switch off I went back to my original seat where I left my bag in the overhead bin. While I was doing so I saw the ground handler coming in and heard her telling the purser that today there is one person getting off at ZRH and if he knows who that is? Again you could hear the disbelieve and surprise in their voice. So well that was it then with my plan just staying on and going to the Seychelles instead
They were already looking for me…
But being the only one leaving a flight is quite a different feeling as well.
There weren't many other arrivals at ZRH at this hour and the Terminal was completely deserted.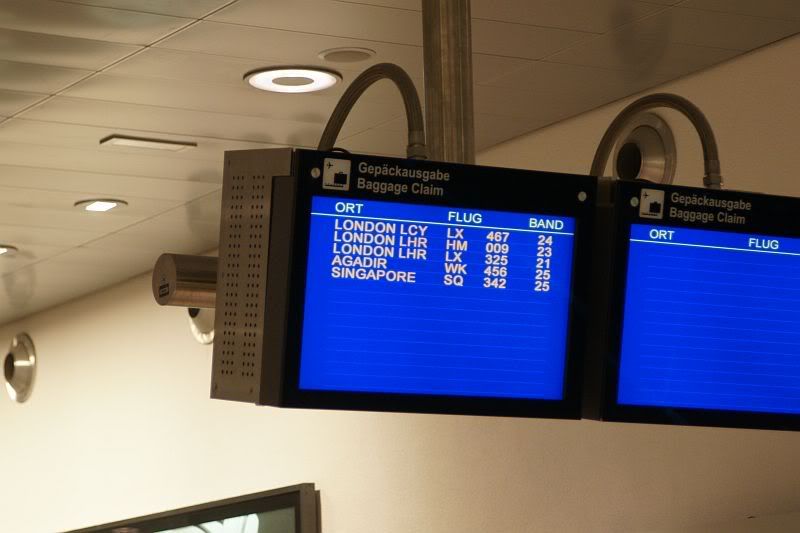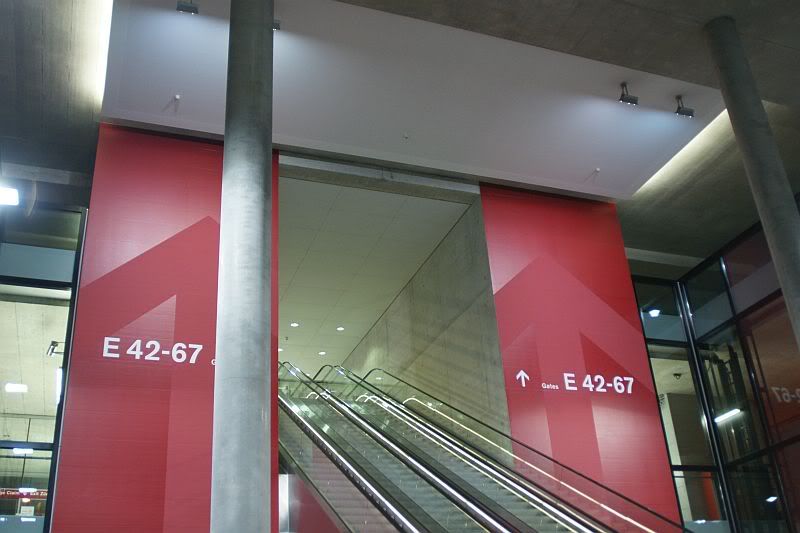 I made my way to the underground transit for the arrivals area. Apart from a cleaner I had the train completely for myself.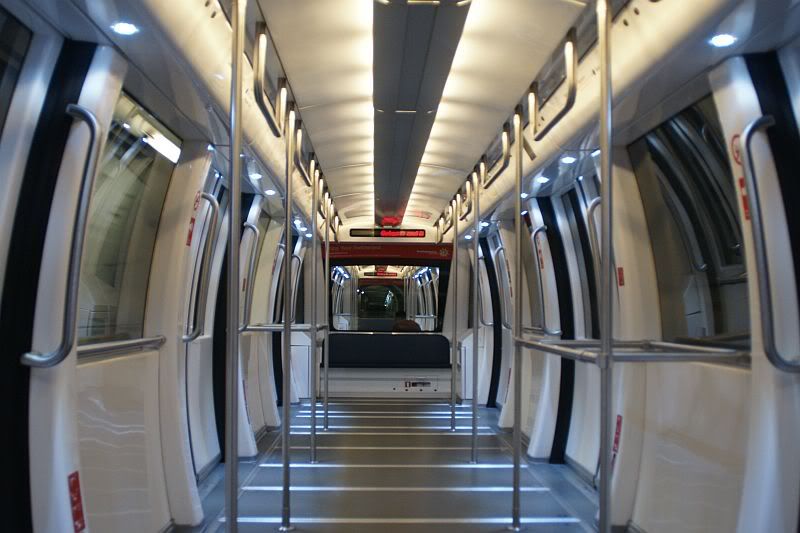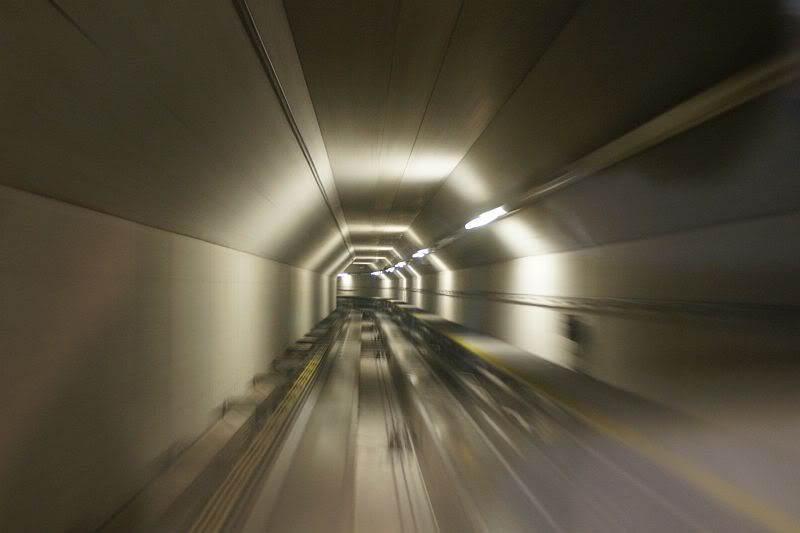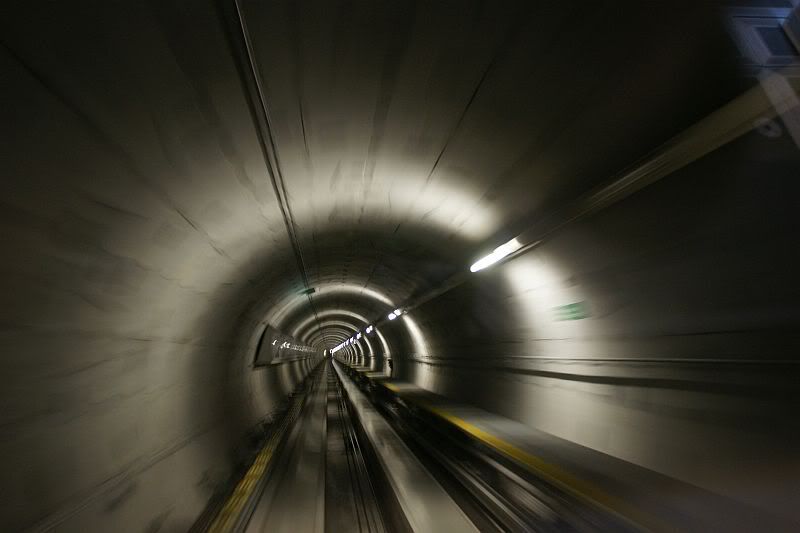 Immigration wasn't really interested in my passport and as I didn't have any luggage I could pass the empty baggage reclaim area, only minutes later I was down in the train station to meet my friend.
ZRH did change quite a bit since I have been here last time.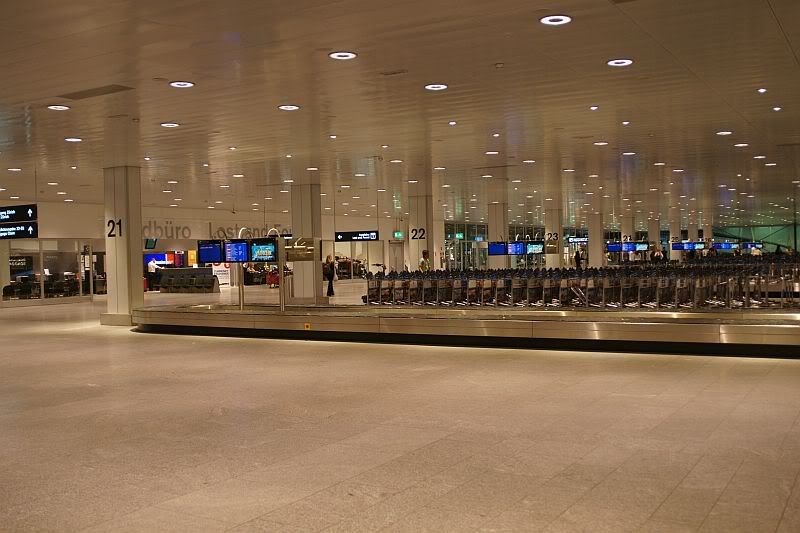 As this is an aviation forum and Zurich is not the most exotic destination you can think of I will focus on the flights in this report and won't write a lot about Zurich. However just a few pictures to give an impression of this really beautiful city. I can upload more if anybody is interested.
View over the city from the University-ETA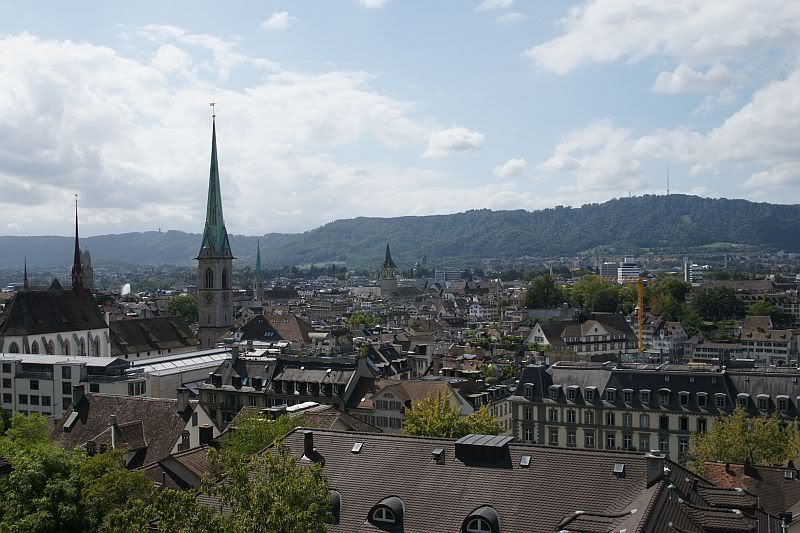 Limnat river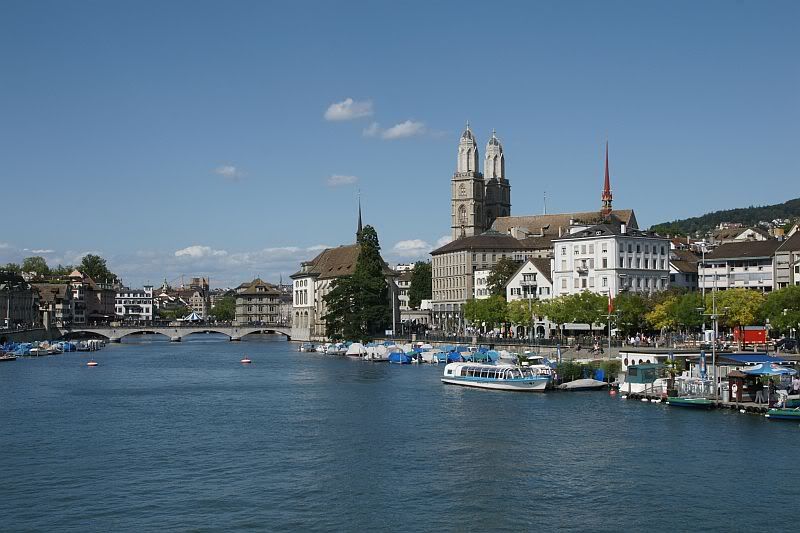 The old town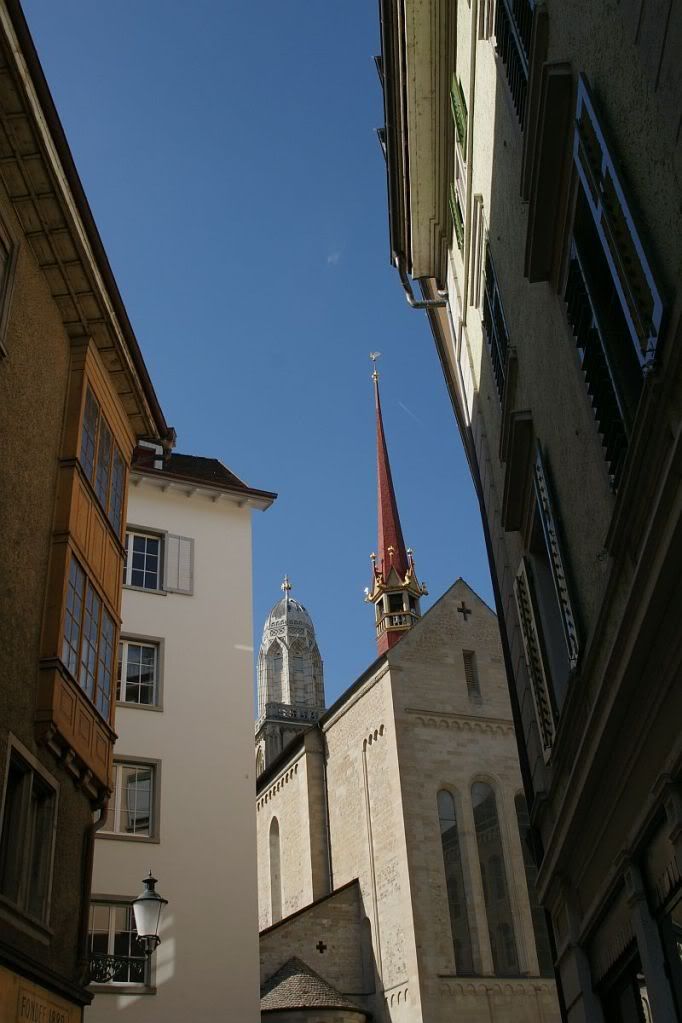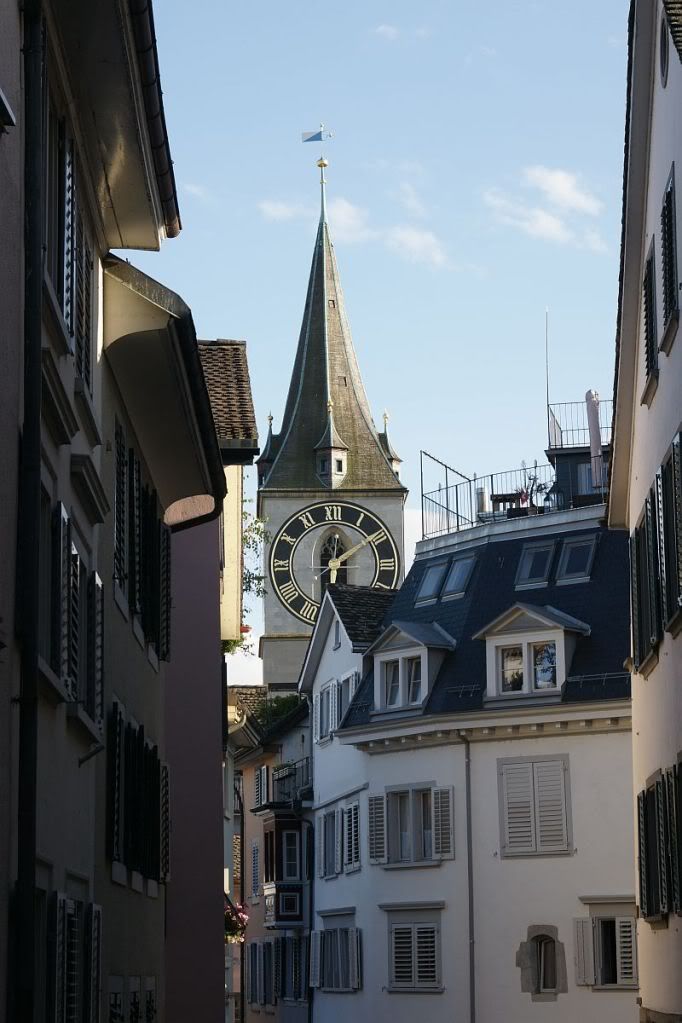 View from the Uertliberg (in the background on the first picture)
City Center and ZRH airport on the upper left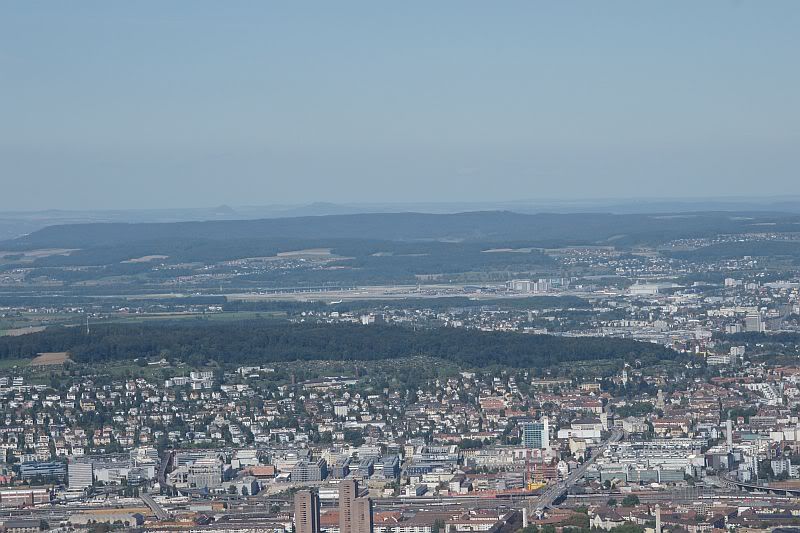 Lake Zurich
On Monday morning before I left to Munich I spent a couple of hours at the airport. I used to visit ZRH at least once a year for the annual WEF weekend for spotting but haven't been back since I moved to London. Therefore I haven't seen the new dock midfield and its terrace. The terrace provides a nice overview but it is not perfect for photography since it's facing south and west and also you miss quite a bit of the traffic landing on runway 14 and taking off on 18. However as I didn't have a lot of time and no car I decided to spend some time there.
Here a few impressions. Apologies in advance if the quality is not exactly a.net standard but I switched to digital for aviation photography fairly recently and didn't have time yet to get into raw conversion and editing etc. Any links to useful tutorial sites are welcome.
The standard fare but in brilliant sunshine.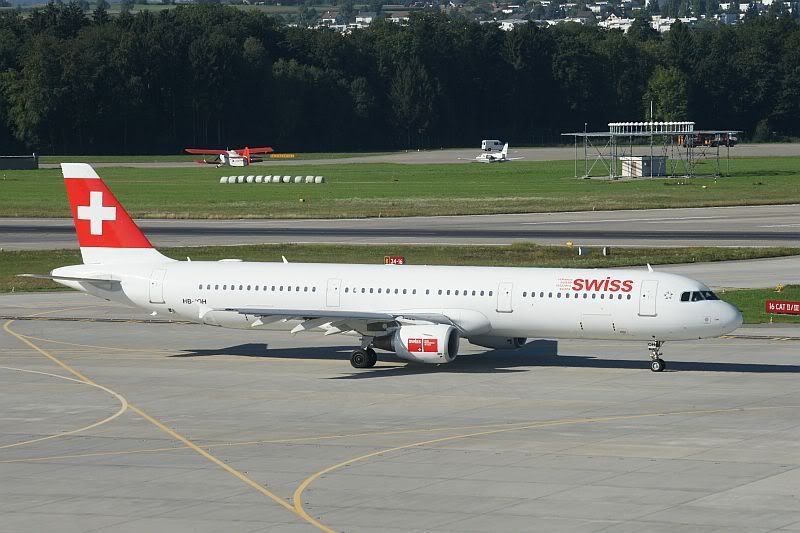 I was hoping to get this one at its homebase. Luckily it was the only Avro to take off on runway 16.
Some of the visitors from the Eastern Europe and the Balkans. Not too exotic but just nice on such a sunny day.
Long Haul take offs on runway 16 are the best from the terrace as they tend to rotate in front of you.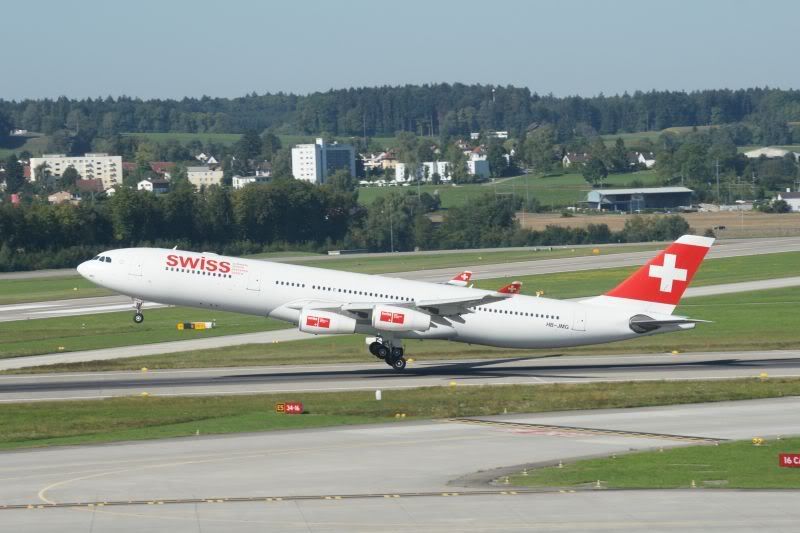 Highlight of the day was certainly this rare An26 of UT Air Cargo. You have to take a picture of this even if the angle of the sun is less than perfect to say the least. Enjoy take off in typical Antonov style.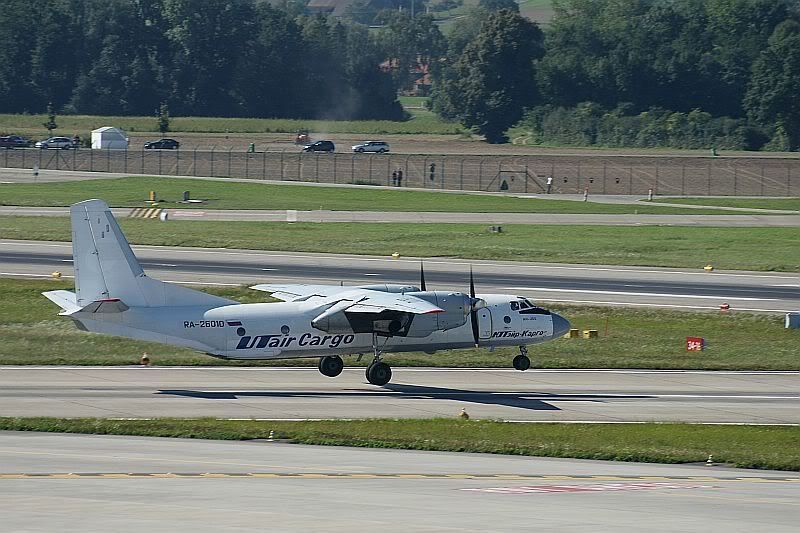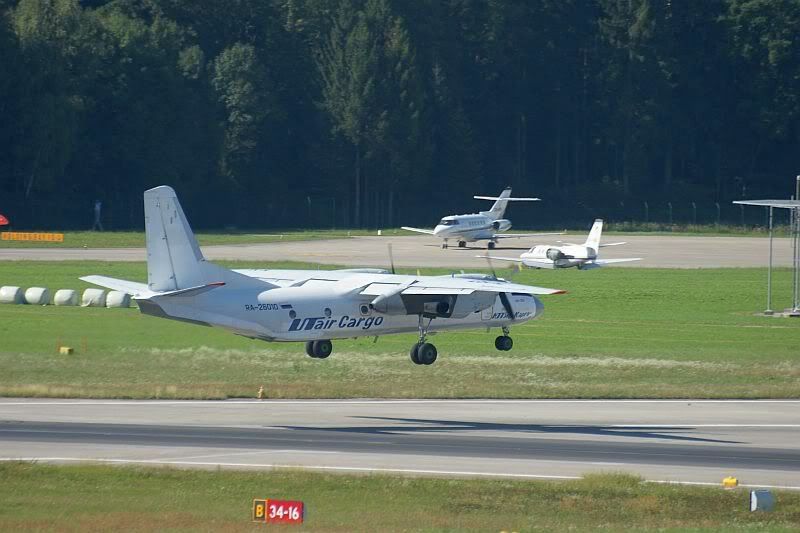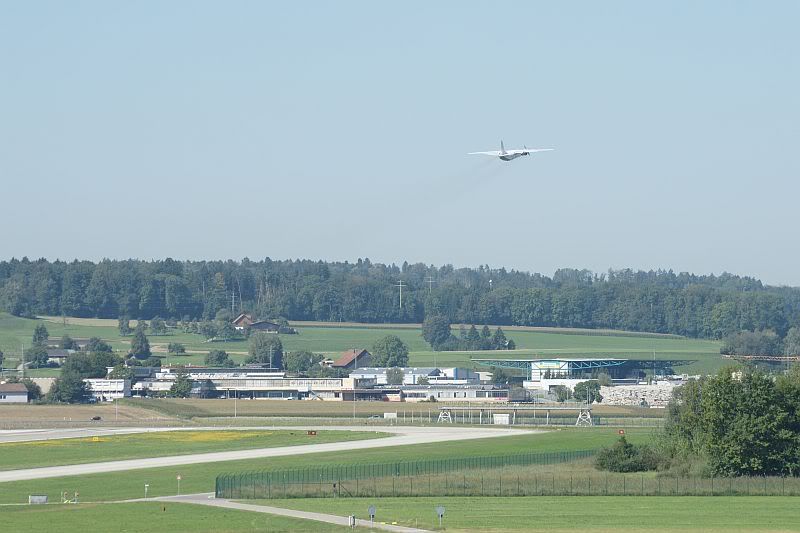 US outbound rush hour around noon.
In Zurich security regarding ELAL is quite relaxed and the B738 got a gate right in front of the terrace.
From the airport I boarded the train to Munich, a nice rather scenic 4.5 hours ride with nice views of the Alps and Lake Constance. From the train I already could get an impression of the aviation revolution that has reached the Allgaeu with Memmingen. Several miles to the west of Memmingen I saw the afternoon FR flight to London STN climbing away. Just when were pulling into the station the HF B737-800WL in the retro Kreuzfahrten c/s passed on short final overhead. And finally a few minutes later a Ryanair suddenly appeared in the fields. Actually quite a funny sight as you couldn't see the terminal, the runway or any fence from the train, just a B737-800 in a field. Well you didn't see any planes in this part of Bavaria in the past.
No pictures of Munich either, you don't tend to do sightseeing in your hometown.
However I managed to spend an afternoon spotting at the airport, again for the first time since I moved to London as normally visits are too short and busy with seeing family and friends. So my main targets were the various liveries and aircraft types of Air Berlin incuding the machines from LTU, DBA and Germania.
A small selection with the same disclaimer as for the Zurich pictures above.
The old livery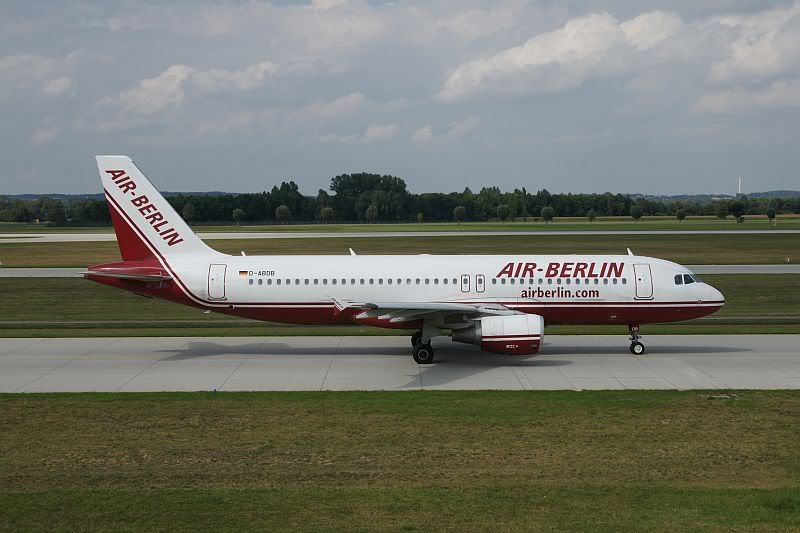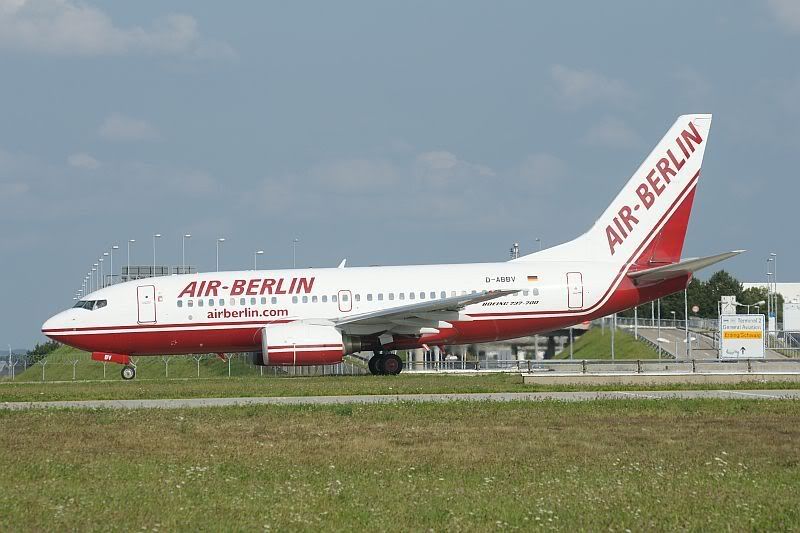 The new livery but with the old titles that have since been modified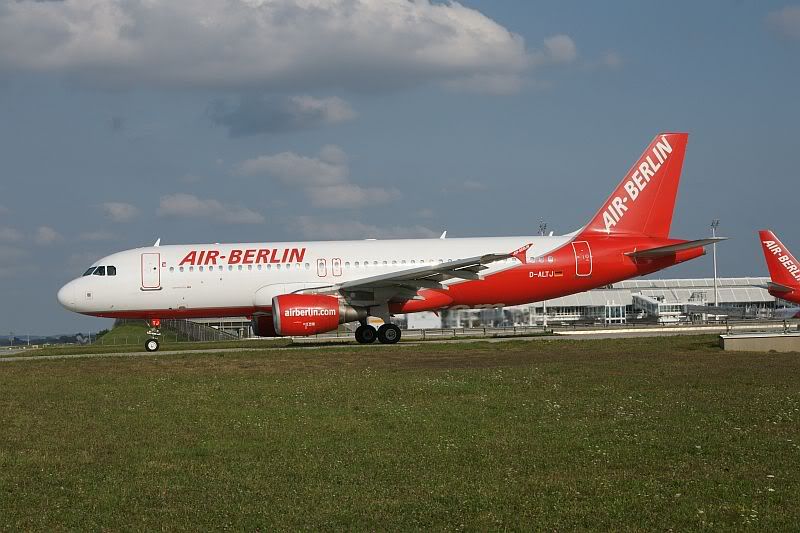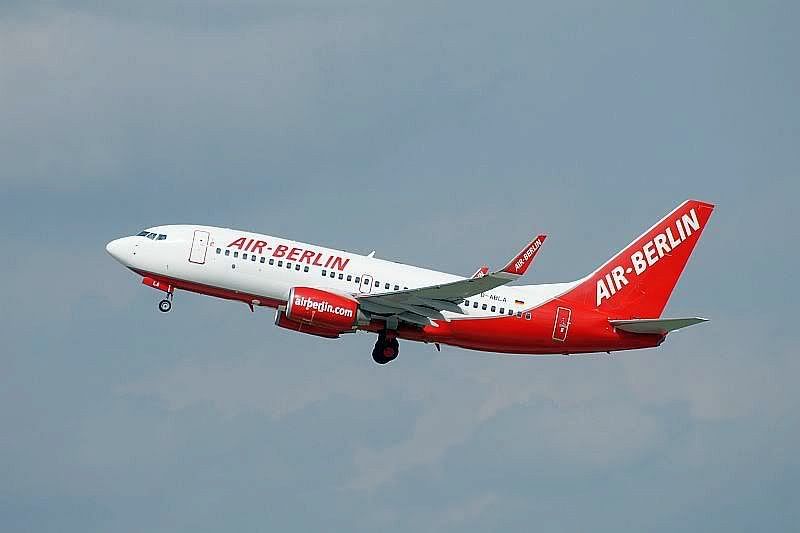 Finally the current livery: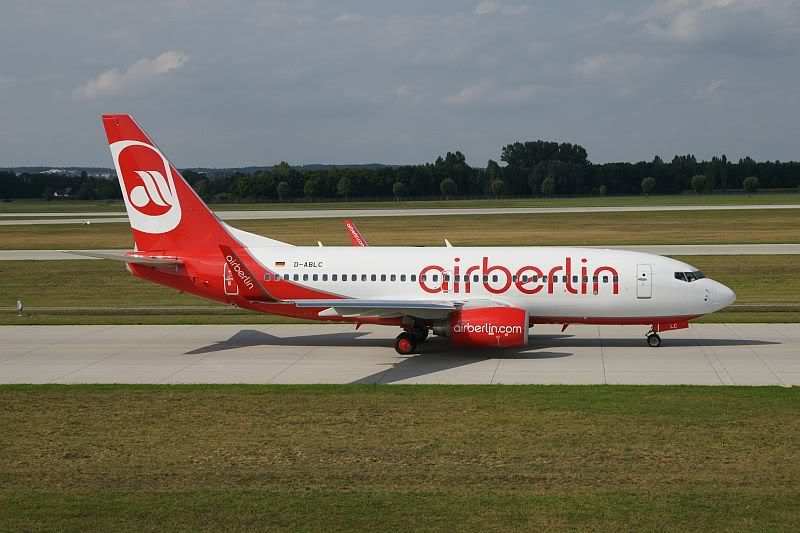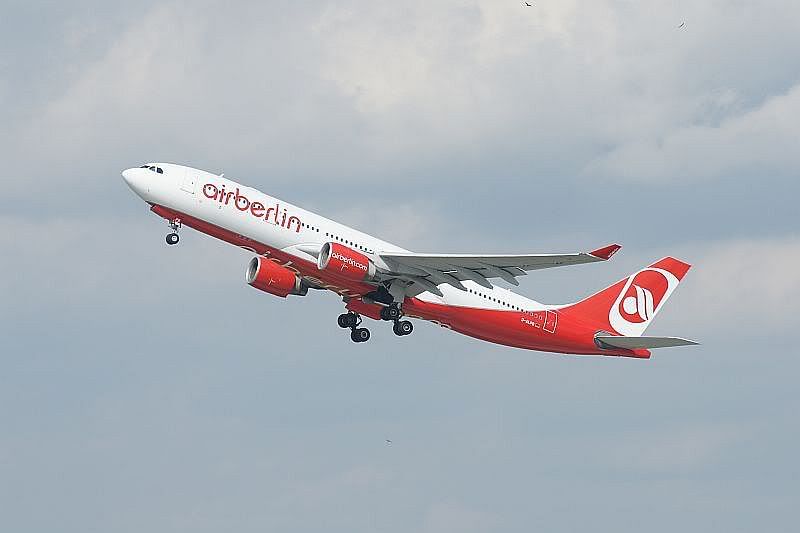 Plus a few other interesting movements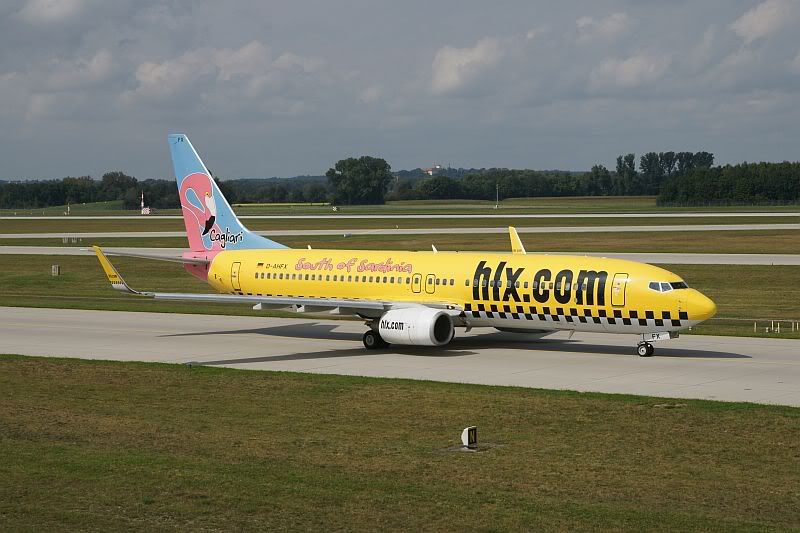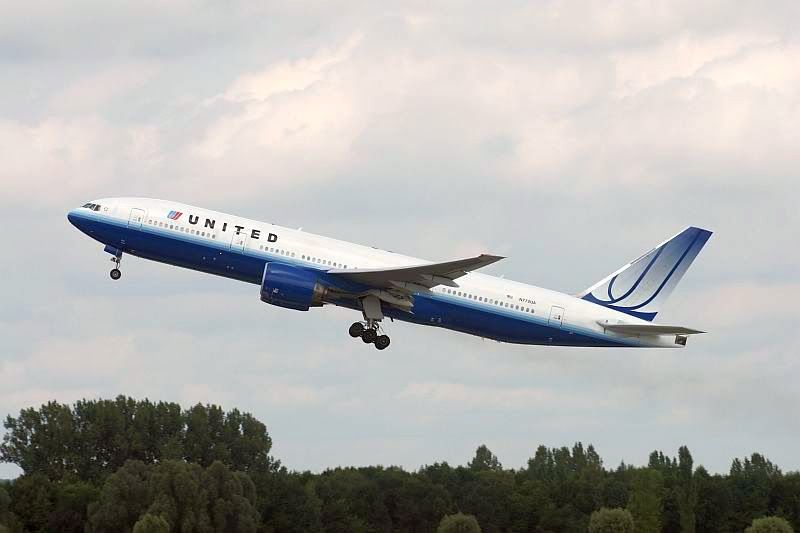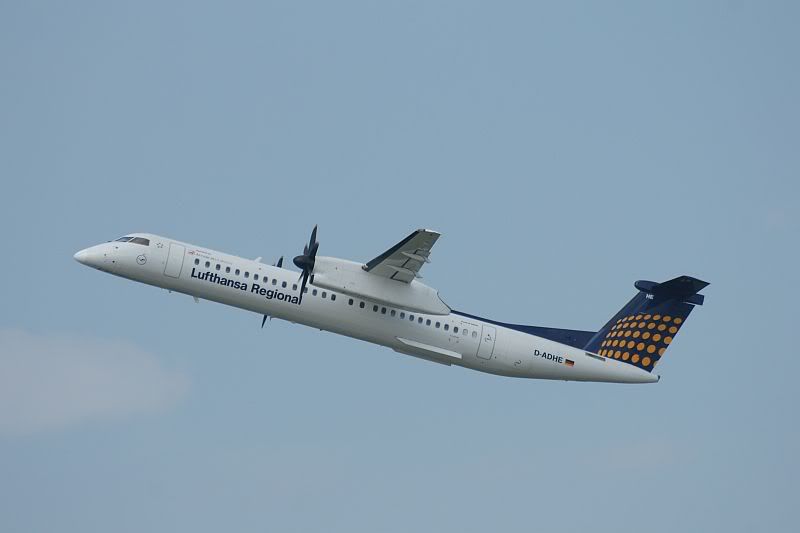 As the day draw to an end and the clouds became thicker I was packing up and almost missed this one. Hence only a last minute shot.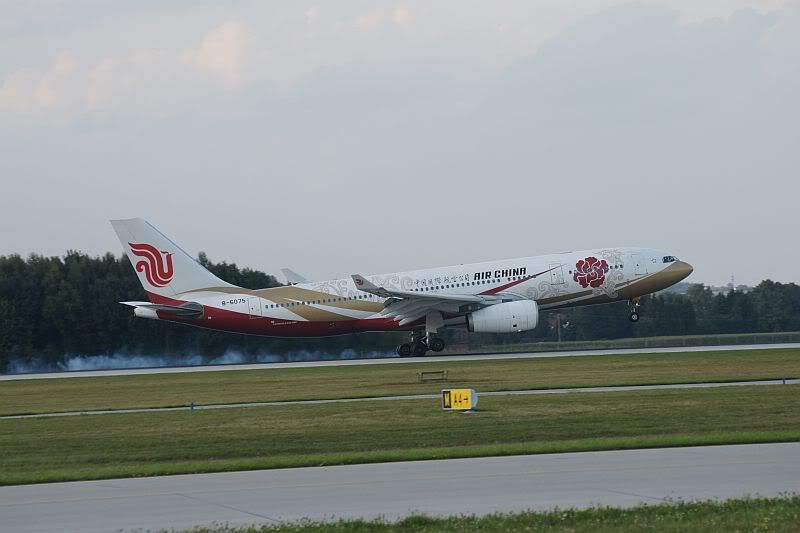 For the way back to London I decided to use the new connection from Memmingen to Stansted recently launched by Ryanair in 2009. I have never been to the airport and only passed it on the motorway in the past when it was still a German Airforce base. So I was keen to add a new airport in Bavaria to my log. That the flight was only €10 all inc. about 3 weeks before departure obviously helped as well.
Also my wife used the airport back in may on a short notice trip and I obviously had to close the gap in the log compared to hers 
Until recently Munich was one of the harder places to reach from London for a reasonable fare. Easyjet had two well established flights to STN per day (inherited from GO, being among the first GO destinations back in 1998) which usually were fairly costly compared to other EZY destinations. The AB flights to STN only lasted about a year so we usually ended up flying LH or BA which were cheaper and more convinient than EZY. Actually there was more competition on the Munich London route in the late 1990s when the Loco boom just started with fights by Air UK, GO, Debonair and BMI, operating for LH to STN. However in 2009 everything changed when Aer Lingus entered the market with their new flights to LGW. Easyjet didn't wait long to go head to head with EI and started their own MUC flights from LGW. A fare war was the obvious result. Together with Ryanair now serving Memmingen 2009 was a good year for the consumer.
Until Memmingen, Bavaria and Southeast Germany was one of the few remaining blank spots on the Ryanair map. The next airports being served by FR were Friedrichshafen further away on the Lake Constance and Salzburg across the border in Austria, both around 2 hours from Munich.
Normally I wouldn't write a report about a normal Ryanair flight but as this was the return leg of the journey and I don't think there has been a report on the relatively new airport of Memmingen I thought I add a few lines.
On the way to Memmingen we made a quick stop at the small grass airfield of Bad Wörrishofen. Although it is literally just a field with a restaurant and a small hangar, there is a very nice AN-2 in historic Deutsche Lufthansa (DDR) cs based here for scenic flights over the Alps. After a quick enquiry in the kitchen cum control room I was allowed to cross the runway and take some nice close up shoots. While I am used to that friendliness and relaxed attitude from various other countries including the UK I don't think that ever happened to me in Germany.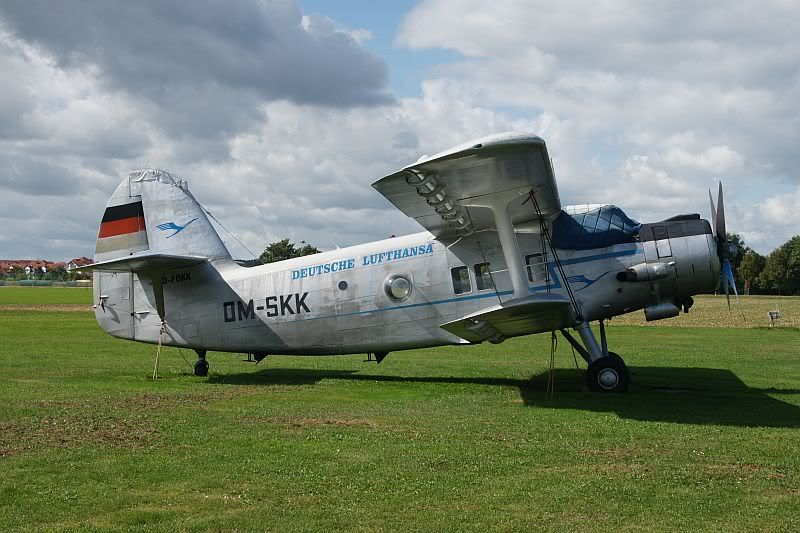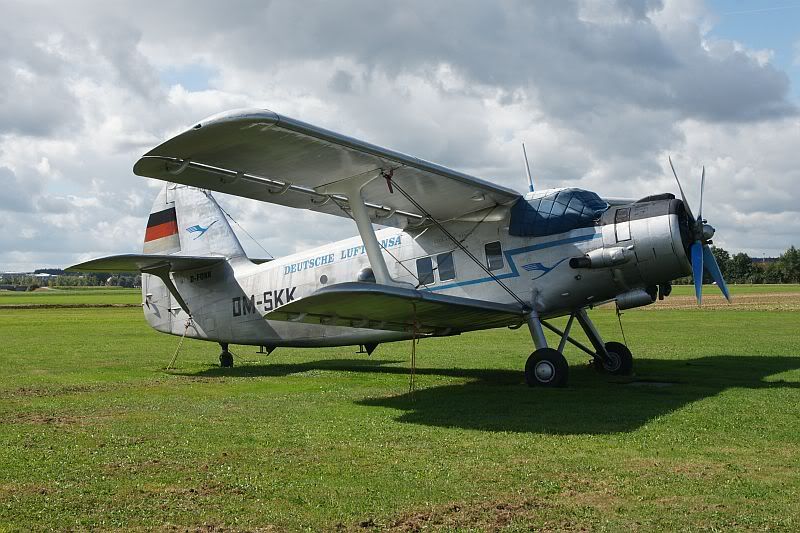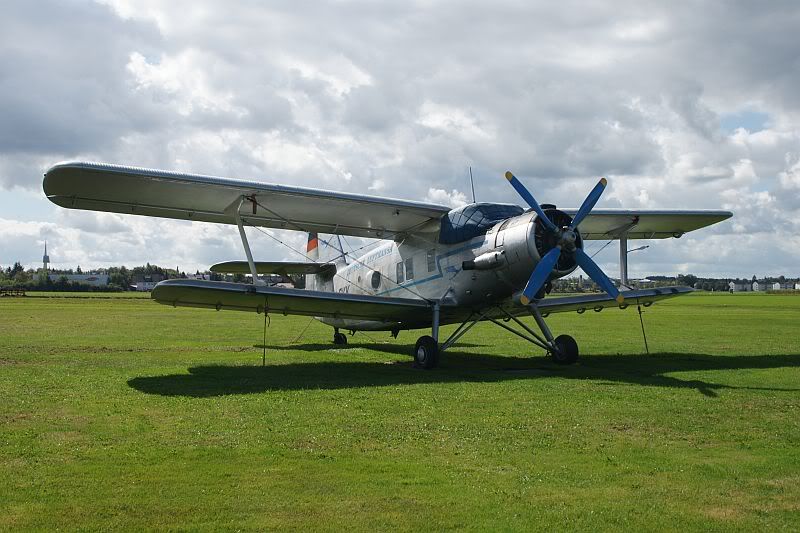 Memmingen – or Memmingen Allgaeu Airport how it is now called – is the old German Airforce base of Memmingerberg, which was converted into a civilian airport about 2 years ago.
The first and still major airline to serve Memmingen has been German loco airline TUIFLY which operates to the main domestic destinations, a number of European cities like Rome and Naples plus a few standard holiday destinations around the Mediterranean. Since this visit Air Berlin took over the city routes of TuiFly and reduced FMM dramatically only leaving a route to Berlin TXL:
In the Terminal a big aircraft model of an A310-300 in Tuifly cs is displayed. Interestingly enough the A310s never had the new livery and have left the fleet since.
In mid 2009 Ryanair finally announced flights to the Memmingen, thus finally covering Bavaria and the South of Germany. Predictable Ryanair calls Memmingen Munich West, however it is fairly accessible from Munich with a journey time of a bit over an hour and for particular for people like me who are based in the west of Munich it is a true alternative with a travel time of 1h compared to 45 minutes to Munich airport. I wish I could reach any of the London airports in 1 hour
Although Memmingen is not a new base Ryanair operates already quite a few routes from its other bases around Europe. In the winter they will be joined by Bremen, Stockholm Skavsta and Edinburgh.
Of course MOL received a local welcome. 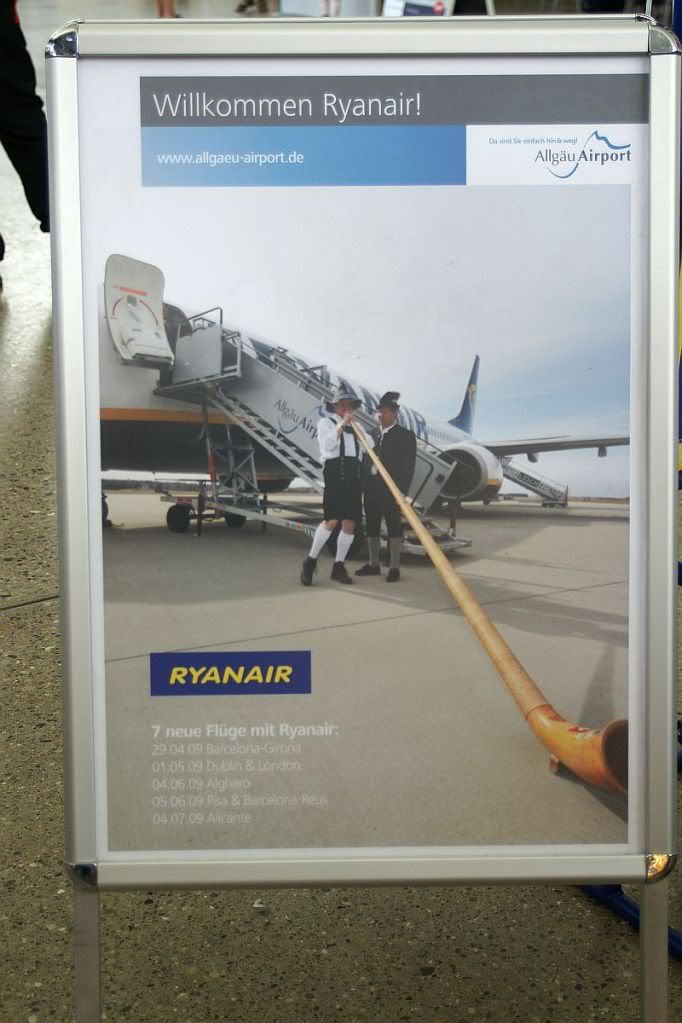 Again kind of predictable the next new airline attracted by the airport management will be Wizz Air.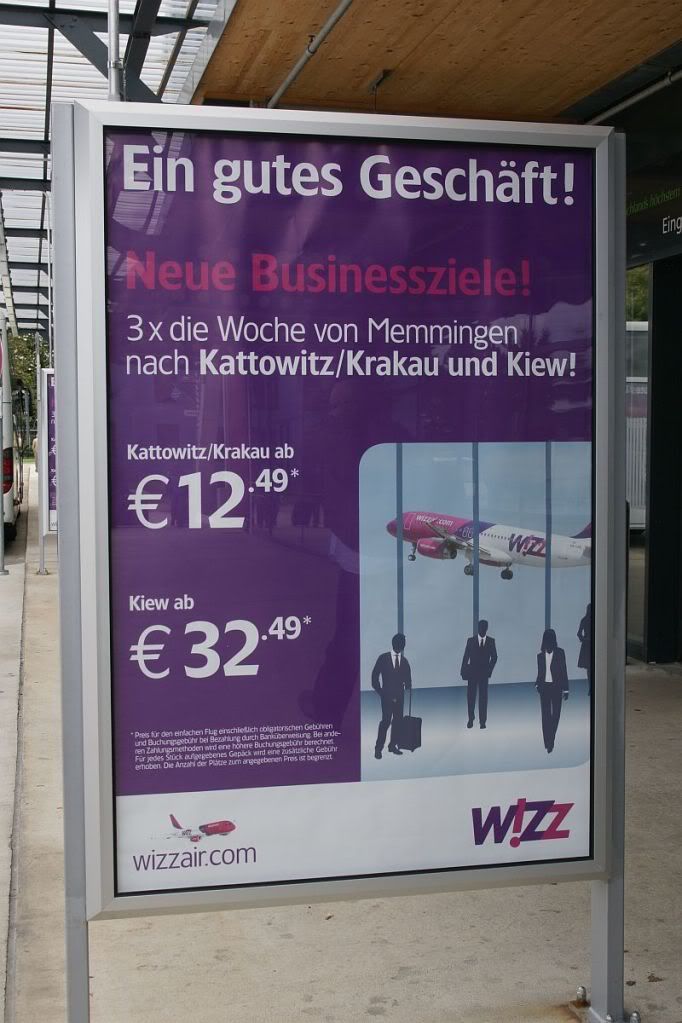 Among the old military barracks a gigantic yogurt pot is advertising for one of the many local dairy companies on the airport approach road. Slightly different to what you would expect outside an airport but well this is dairy country after all, Mueller is not originally from Shropshire
Some views from the Terminal.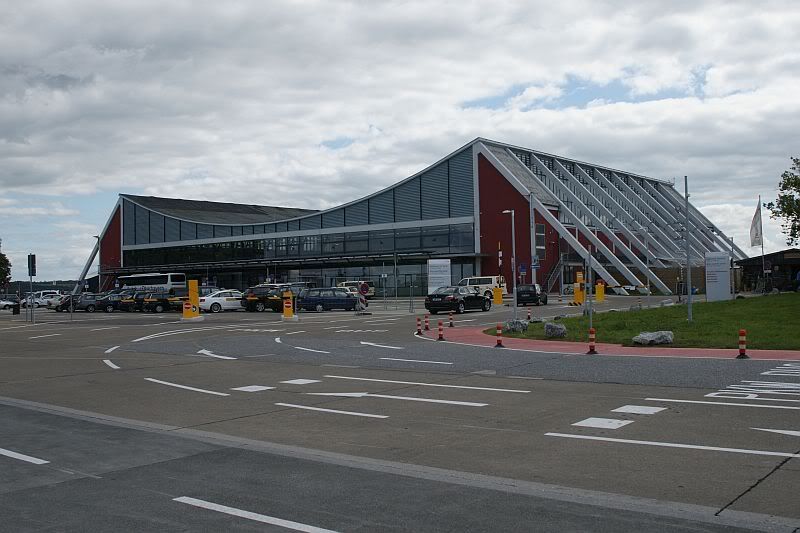 A Bavarian restaurant next to the terminal with a traditional Maibaum but the short stay car park is called "Kiss and Fly" zone. 
Germania is one of a few holiday airlines operating to Memmingen, here arriving from Antalya.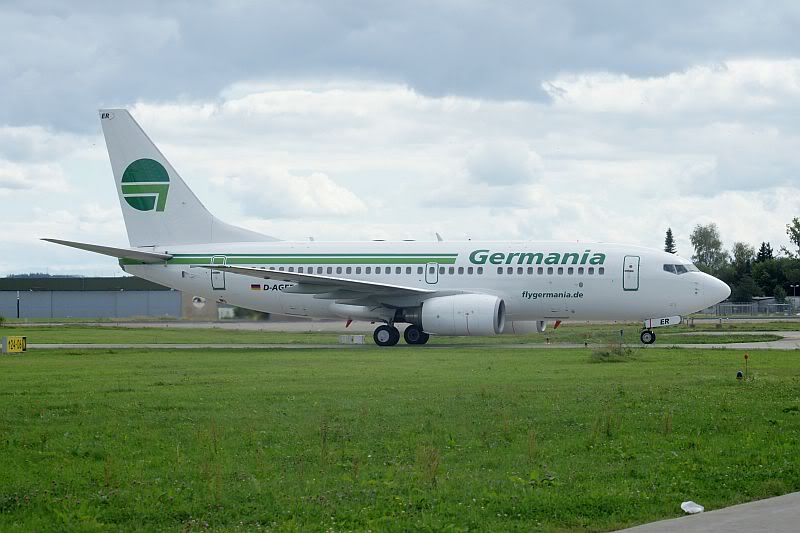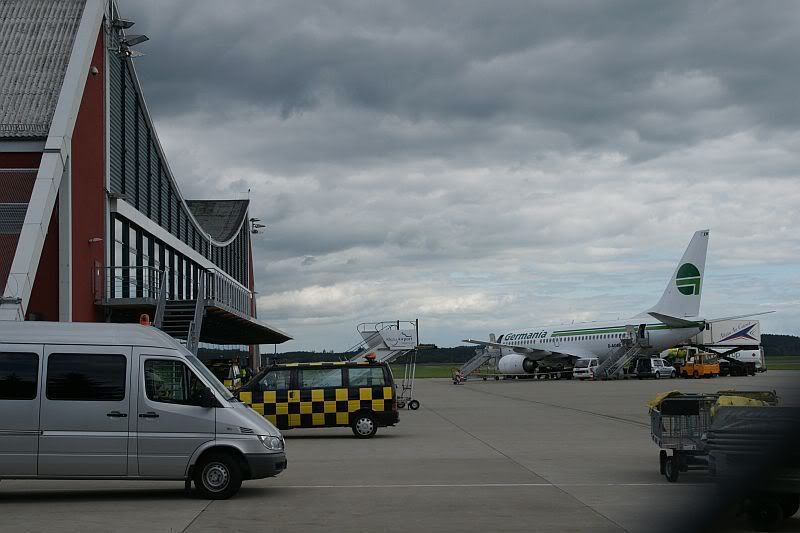 The apron is easily viewable form both sides of the terminal building. My grandma actually loved the fact that you don't just disappear into a big Terminal after security like in Munich but that there are big glass windows to the departure lounge and afterwards you can see people boarding the plane.
Travelling only with hand luggage I didn't have to join the surprisingly long check in queue.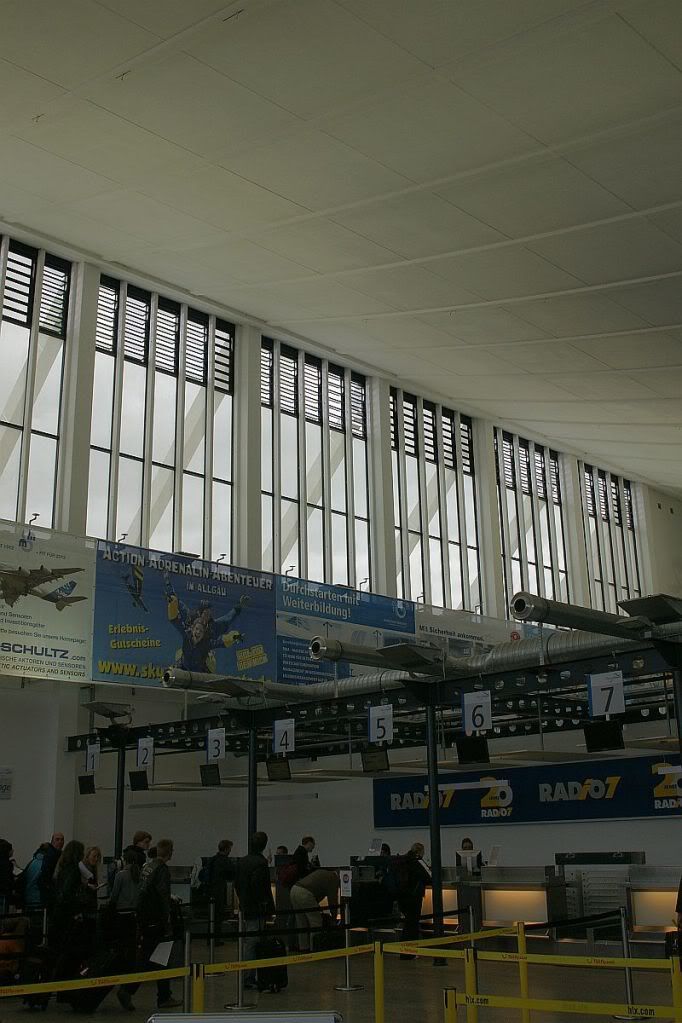 But even for hand luggage Ryanair has an extra queue for the security and there is a counter where the online boarding passes, id and the weight of the hand luggage is checked. As I read before that the staff in Memmingen is quite strict I cheated a bit and put my DSLR over my shoulder so that the suitcase came to 9.4kg.
Airside there is a small duty free and 2 non shengen and one shengen gate. Quite interesting