Continued from Part 1: Away We Go - China Southern SIN-CAN-WUH Vv (1/2) (by initious Apr 2 2010 in Trip Reports)
Background
While I was in Guangzhou in March 2009 (I did a trip report for that), my friends contacted me and asked if I would like to go to an overseas immersion trip to Wuhan, Hubei, China for 6 weeks. Before actually setting off to Guangzhou for that trip, I met my other friends who were actually setting off for that city in China (the batch before us). It's not very far from my hometown in China, but definitely very far from Singapore. After some discussion with my parents, I finally decided to have a go at the trip. 6 weeks is long, but it will pass by very quickly with friends around, isn't it?
After sending in our application forms, we had to go through a rigorous selection process. The first step was to write an essay on why we want to go on the immersion trip. Other criteria was not revealed to us, but I guess it was according to results, attitude and performance in class. Finally after a 2-month selection process, all of us got chosen for the trip which got me elated.
Booking
Booking was done by the school for a special student price (including a 30kg baggage allowance in Y class) but I heard the price was roughly $850 SGD. Our routing for this trip will be SIN-CAN-WUH-CAN-SIN on China Southern Airlines. I knew about which airline we were going to take before even signing up so the flight was not something I really look out for, but I'm still interested to see what CZ has to offer.
The Actual Day
This is the day when I am stuck in a psychological dilemma. As much as I miss Singapore, I wanted to extend my days in Wuhan as it holds too much memories in these 42 days. All the fun and laughter the whole group had and the times we spent together. Oh, how time flies! Despite not willingly to go off, we had to pack our luggage and embark on our journey back home.
Flight 3 - 12th October 2009
Origin: Wuhan Tianhe International Airport (WUH/ZHHH)
Destination: Guangzhou Baiyun International Airport (CAN/ZGGG)
Flight Number: CZ 3345
Aircraft: Boeing 737-81B
Registration: Unknown
Seat: Unknown
Class: Economy
Scheduled Departure: 1.35pm
Actual Departure: Unknown
Scheduled Arrival: 3.15pm
Actual Arrival: Unknown
Flight Duration: 1 hour and 40 minutes (scheduled)
View Large
View Medium


Photo © Xu Zheng
With a heavy heart, we dragged our heavy luggage which is the aftermath of 6 weeks of endless shopping down from our hostel to the bus that will bring us to the airport. It takes at least 2 hours from our hostel to the airport so we are all prepared for a long ride ahead.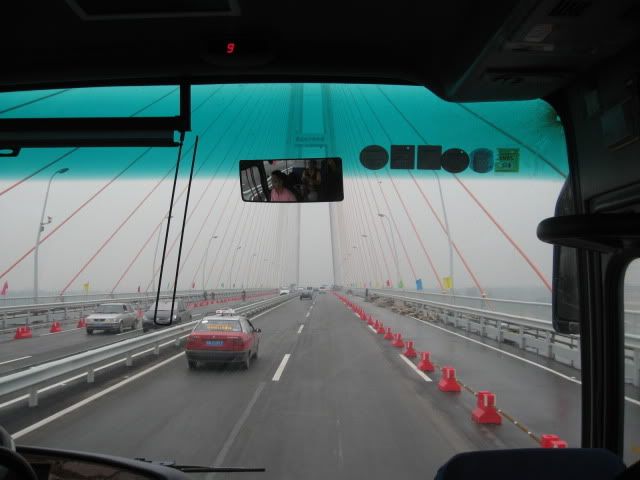 On the way to the airport

Domestic Departures, Guangzhou here we come!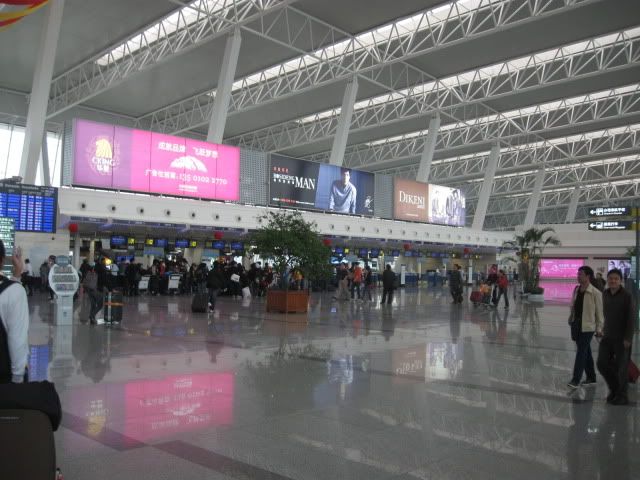 Very clean and modern Wuhan Tianhe International Airport!
Check-in at the counter was fast despite having a group check-in. After checking in, we had lunch at a local KFC and off we were into the airside of the terminal. Sure enough, it was already boarding when we reached.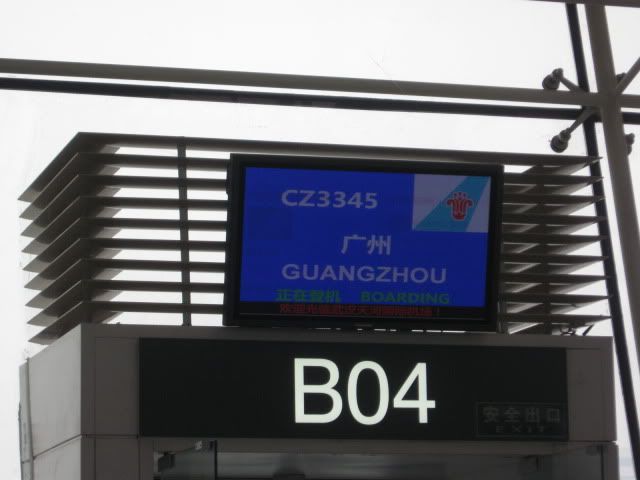 CZ 3345 to Guangzhou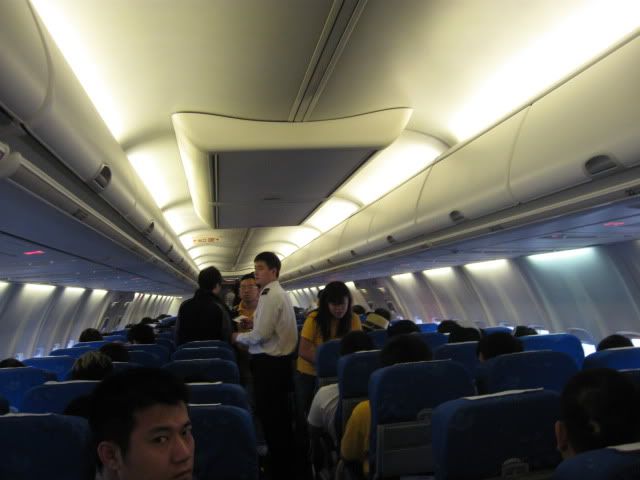 During boarding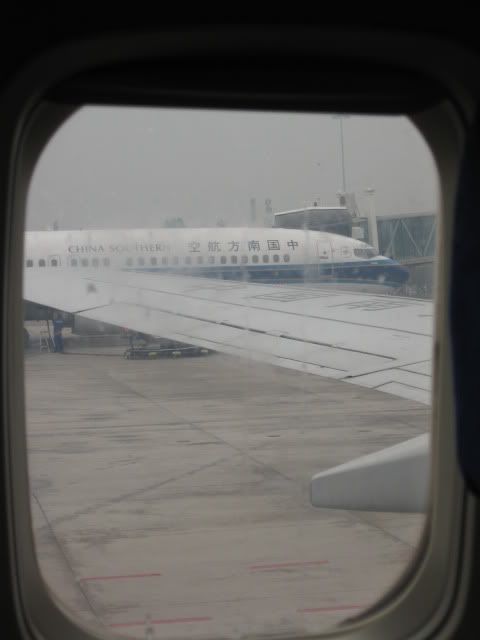 My initial view from my aisle seat
After settling down, I was approached by a flight attendant mentioning that I had to switch places as there was a box under the lady's leg at the window seat. I understood the situation and I switched to a seat right next to the lavatory, assigned to me by the flight attendant. As this is a short flight, I did not care too much about it. However, what I did not understand was why the lady refused to put the box on the overhead lockers. It was just a normal carton box...? I did not manage to take too many photos of the flight as I was also in an aisle seat and the man at the window seat seem quite fierce. xD The plus point was that the middle seat was empty for the flight.
Shortly after settling down in my new seat, we taxied and took off on time. When cruising altitude was reached, snack boxes were handed out quickly.

The snack box, no main dish this time
We touched down hard in Guangzhou and we disembarked the plane, glad that we are nearer to Singapore now. There was a 4-hour transit time for us again so all we could do was walk around and have some quick bites. Shortly, it was time to proceed for boarding!
Flight 4: 12th October 2009
Origin: Guangzhou Baiyun International Airport (CAN/ZGGG)
Destination: Singapore Changi Airport (SIN/WSSS)
Flight Number: CZ 351
Aircraft: Airbus A321-231
Registration: Unknown
Seat: Unknown
Class: Economy
Scheduled Departure: 7.10pm
Actual Departure: Unknown
Scheduled Arrival: 11.05pm
Actual Arrival: 10.39pm
Flight Duration: 3 hours and 19 minutes (estimated)
View Large
View Medium


Photo © Jian Tan

Can you spot my flight, CZ 351 to Singapore?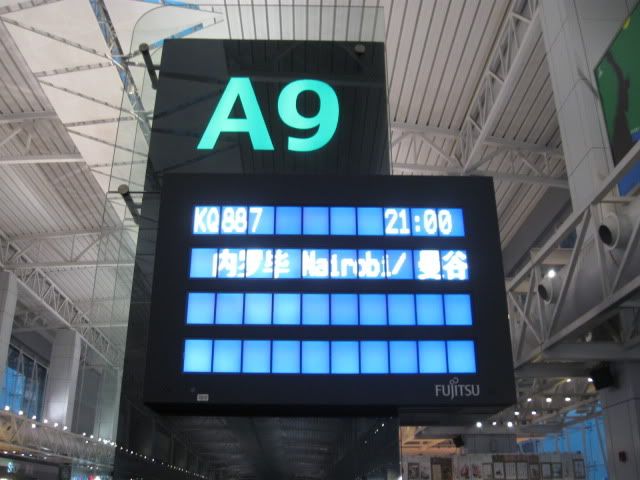 The gate which I used 7 months ago to depart from Guangzhou back to Singapore on SQ! Now serving a Kenya Airways flight to Nairobi via Bangkok

I could not explain the excitement when I took this photo, I am very very near to home!!
This time, we had to wait for 20 minutes or so before boarding began. Since it was night time and the reflection was deadly, I did not take any photos of the aircraft at the gate. Something to note though, this plane just arrived from Shenyang.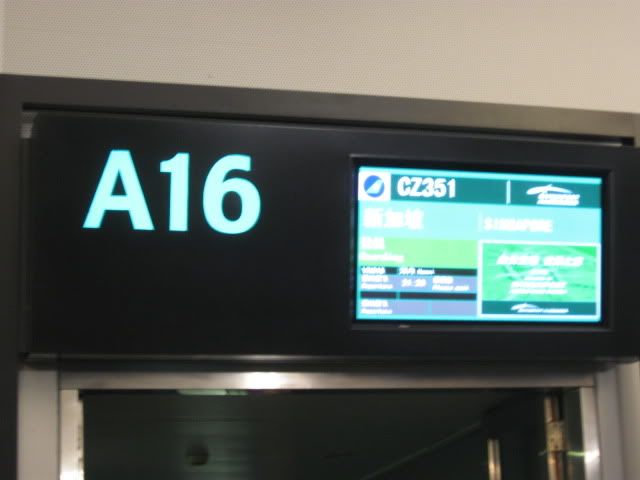 We are boarding!
I was initially assigned an aisle seat but I switched seats to a window seat. However seeing that my friends are just at the back row, I switched to the back row to an aisle seat again. Shortly after everyone was on board, it was time to taxi and takeoff. The takeoff roll was powerful and I could feel that we were in an intense climb. Probably to avoid some storm clouds? A post-takeoff drink was offered and I chose Chinese Tea again. Unlike the outbound flight, the service was much better.

My post-takeoff drink, Chinese Tea!
As usual, it's time for dinner after the drinks service. They had 2 choices this time, chicken and seafood. The seafood option was out by the time they reached me so I chose the chicken option. I must say that the food this time was VERY delicious! I wiped everything off my plate.

The delicious meal! Don't be fooled by the green tangerine, it was sweet!
After our meals, it's time to get some shut eye! I am not someone who falls asleep easily so I ordered some red wine with a couple of my friends. When it arrived, the flight attendant put the tray in front of me. I told her that my side ordered 1 and the other side ordered 2. What did she reply? "Take it yourself!" Another big minus for CZ!

My "sleeping pills" on flights
When I woke up, we were beginning our descent to Singapore. Man, I didn't know I could sleep in such a tight seat pitch! Saying that I was excited was just an understatement. 6 weeks of not seeing my hometown and I will be at my home sleeping in my comfortable bed in less than 2 hours! All of us literally peeped out the window when we saw the first glimpse of Singapore from the window. Yes, we were like little kids.
At 10.39pm the wheels touched down smoothly on the Singapore tarmac and the whole group burst into applause and cheers! This is one of the most memorable flight I've had. Well, because of my friends, not CZ! Finally, we took some last group pictures and bade farewell to my friends who have been with me for 42 days, our friendship never dies!

My friend's luggage and my luggage, prepared to go on a taxi home
==========================
Due to popular demand, I will post some more photos of Wuhan! This time, I will be focusing on the surroundings of my hostel and the living conditions. Enjoy!

Our comfortable beds!
Though a tad too hard...

The toilet bowl that served (and tortured) us for 6 weeks!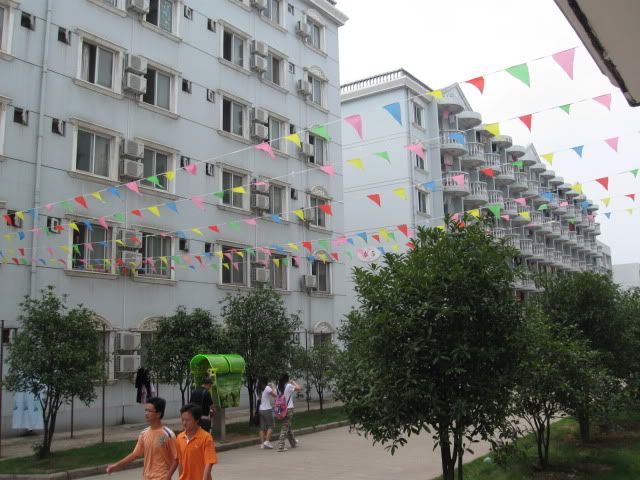 Hostel surroundings

The signage of my school in Wuhan!

Endless shelves of drinks!

The shopping centre that we frequented most. It has an open air concept instead of being fully air conditioned

Smelly tofu, I fell in love with this ever since I tried it in Taiwan!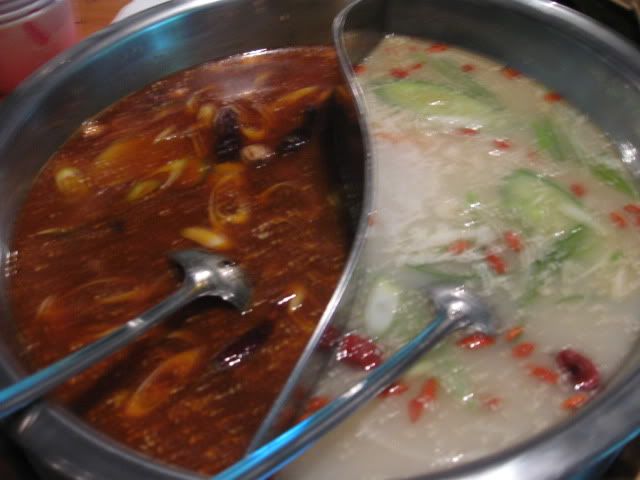 Steamboat, anyone?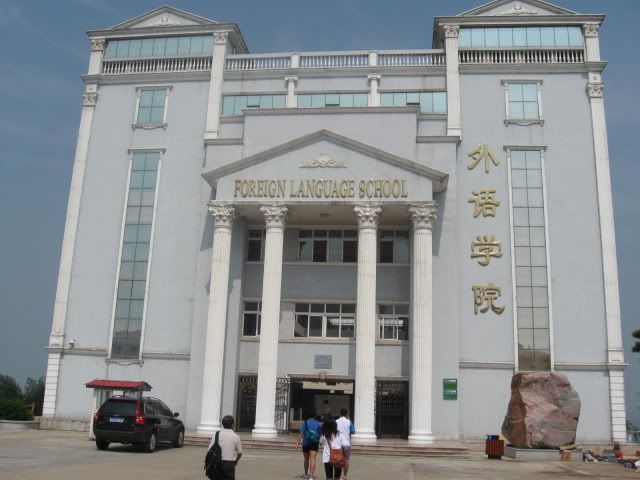 The building where we have our lessons. English is considered a foreign language there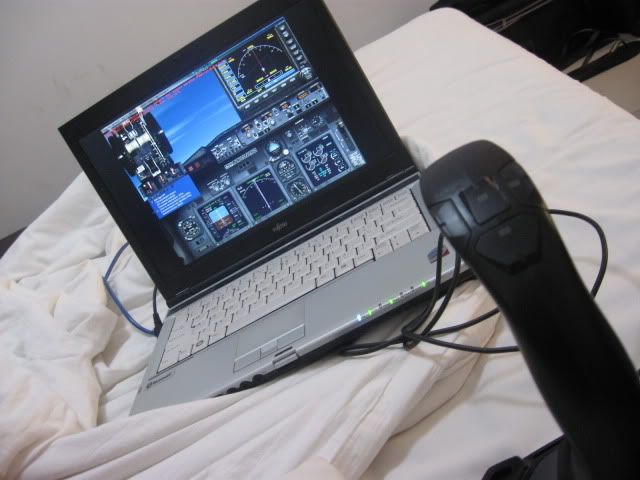 Not forgetting to play some flight simulator while overseas!



Thanks for reading!
Previous Trip Reports:
Flying 5 Star - SQ SIN-CAN-SIN (2009)
(by
Initious
Mar 26 2010 in Trip Reports)
Sardines In A Can - Jetstar Asia SIN-HKG-SIN
(by
Initious
Mar 29 2010 in Trip Reports)
Away We Go - China Southern SIN-CAN-WUH Vv (1/2)
(by
initious
Apr 2 2010 in Trip Reports)
[Edited 2010-04-14 10:24:46]
[Edited 2010-04-14 10:28:36]