Easter in Ukraine with Austrian
Hi Everyone!
Less than two weeks after I got back from Oman and the UAE I was off on another trip. Whilst the Middle Eastern trip was arranged at fairly short notice, I booked this trip a few months ago. As normally I don't go on too many trips, I like to spread them out so I was a bit perturbed by having these two so close together. However, not long after I arranged the Oman trip, however, I ended up organising another trip to Asia (Korea, China, Hong Kong and Malaysia) – I'm doing this trip in late April/early May, so I'll go into more detail about that next month. It seems like my self control for buying flights has been completely lost as yesterday I booked to go to Helsinki for the second May bank holiday (outbound on BA, back on Blue1). I'm also off to Romania with Blue Air (why are there so many airlines with Blue in their name?) in late June – this is definitely the most leisure travel I've ever done in a short time. Anyway, back to the subject matter – Austrian Airlines to Kiev….
Perhaps it was growing up in Tokyo in the late '80s that I first became interested in the USSR and communism. My old school was next to the Russian Embassy so I always saw lots of Russian guards standing around. However, it wasn't until I was twelve that I finally stepped over the ex-Iron Curtain with a trip to Prague. My parents tales of taking travelling around Berlin certainly drew my attention. Since then I've ticked off a fair few ex-USSR countries including (Russia of course!), Latvia, Lithuania, Armenia, Slovenia, Slovakia, Hungary, Croatia, Serbia, Montenegro, Macedonia, Romania, Kazakhstan and the Kyrgyz Republic. I'm not sure if the Cyrillic script, the cheap vodka, or the expressions of people's faces when I say where I'm going on holiday, but I just love it! So Ukraine, Europe's largest country (after Russia) was of course always on the 'to-do' list somewhere. After reading 'Eva's Story' I became a bit obsessed with going to Odessa, but up until now I hadn't got round to going. Kiev, however, was a bit more accessible for a short trip, and so now that the visa restrictions on EU citizens are no more, Easter 2010 turned out to be the perfect time for this trip.
As well as getting a good fare, I really quite fancied another trip to the BMI Great British Lounge at Heathrow. To do this I'd have to fly on a Miles and More airline (LOT, Lufthansa, Swiss or Austrian). LOT was my preference as I'd never flown them before, but their flights were really expensive. Much like the last couple of times I've headed into Eastern Europe (Tirana, Yerevan and Timisoara) Austrian and their superb Vienna hub came to the rescue with a fare of just over GBP150 return. In order to give myself time for a lie in, and time in the lounge, I booked an evening flight out of Heathrow and a night stop in Vienna for Good Friday. I was planning on staying in the NH hotel in Vienna Airport, but as you'll see that didn't work out.
To the Flights!
As always, I took the tube down to Heathrow. Surprisingly for a bank holidays all the tubes seemed to be running smoothly, and my local station, Warren Street, was open (it's always shut at the weekends for "refurbishment". An hour after leaving home I was in the main departures area of Terminal 1. Lufthansa, Austrian, LOT and possibly a couple of other airlines have moved to a new check in area (Area K?), which is a bit of a hike. Luckily, there was no queue at all for the business class desk, and the slighltly weird guy behind the desk printed my boarding cards. I'd been following the loads closely over the previous few days. Both this flight and the one just before had been zero-ed out in all classes. The morning flight was also subbed for a B767 instead of a B737, so I was expecting an Easter oversell situation. I had prepared a list of possible diversions (hey, I'm on holidays, and I like flying!) including routing though ZRH, FRA, WAW and HAM, but when I asked, the guy looked completely confused. I said I'd was interested in being VDBed (voluntary denied boarding), and he said he'd never heard of it. After explaining he said that I had a confirmed seat and shouldn't worry about being bumped. Doh! A night in Vienna it would be!
I headed for security, which for the firs time ever was completely empty. Of course BAA wouldn't let me get though that easily so the x-ray machine was stopped and staff changed when my bag was inside. Seriously!?! It was almost as if BAA has a charter giving the minimum security check times! Never mind. I headed off though the particularly busy shopping mall (sorry, departure lounge) and headed for the airplane spotter heaven that is the BMI lounge.
The last time I was here before flying to ZRH on LX it had been dark. This time, however, the sun was shining, and I managed to get a day bed right in the corner with fantastic views over the departing runway. In got myself a couple of beers and a scone (don't really go, but I rarely get the chance to eat scones!), and settled in for a pleasant few hours drinking and plane spotting – the perfect bank holiday afternoon!
My spot in the lounge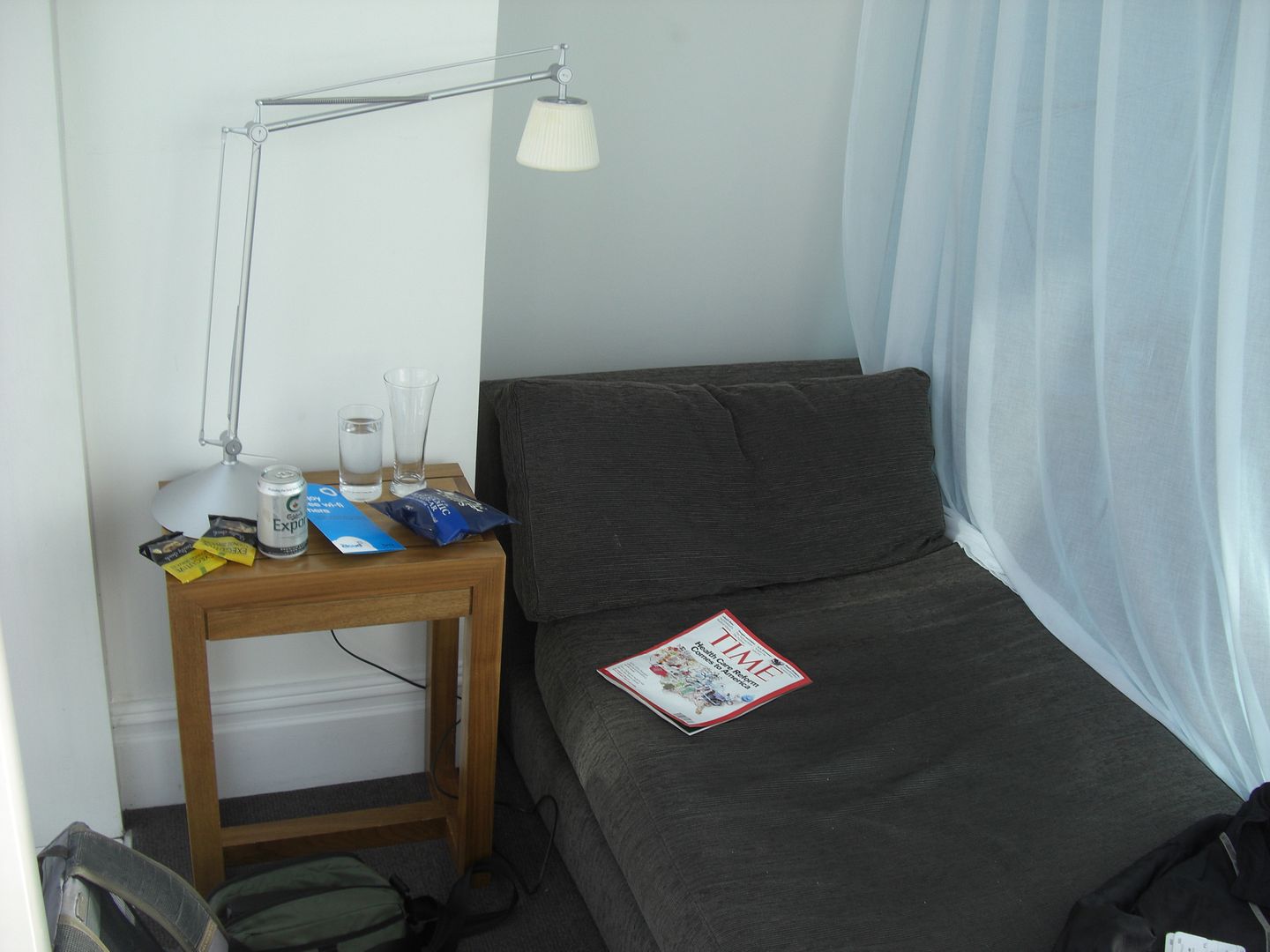 Departures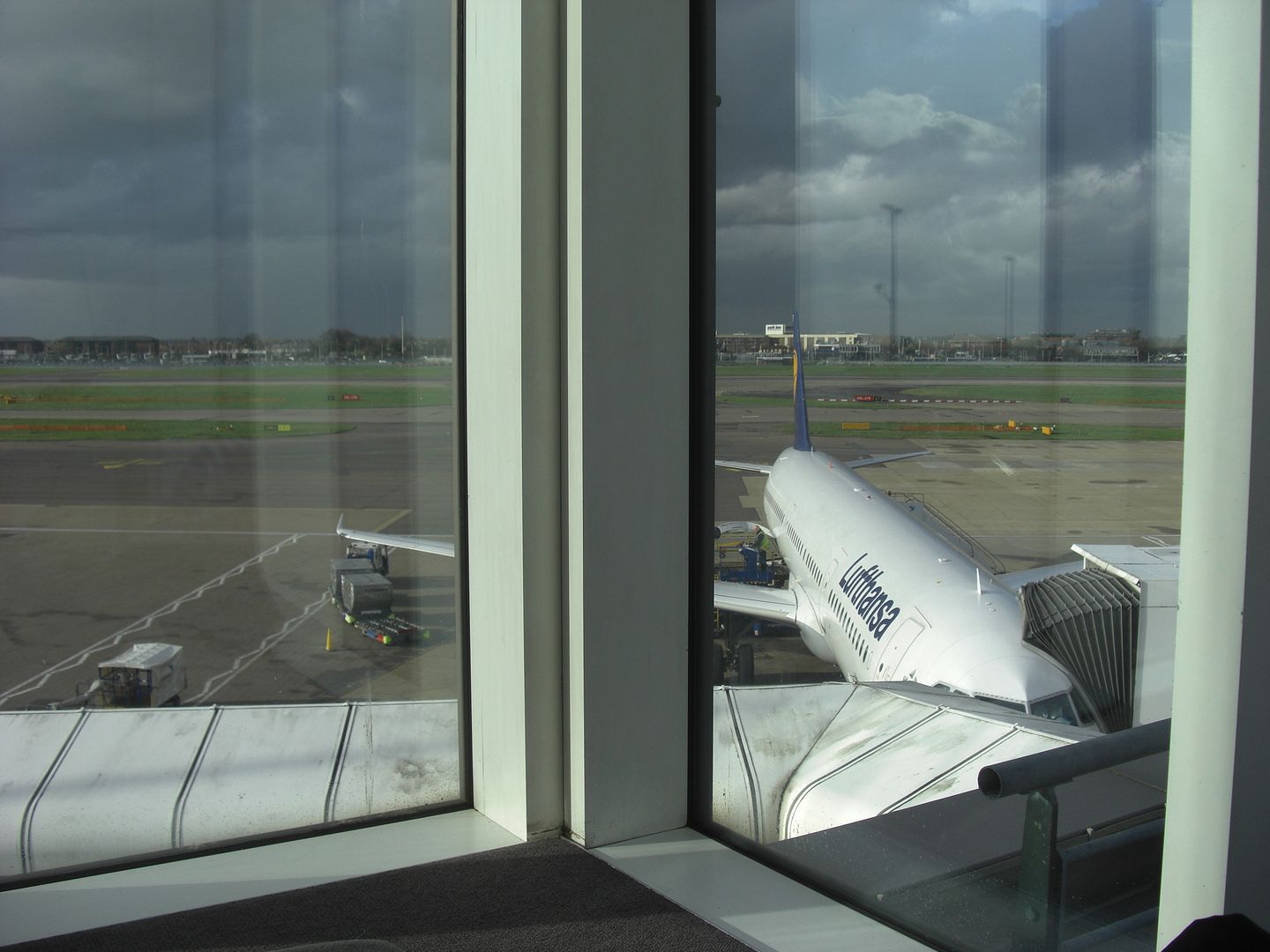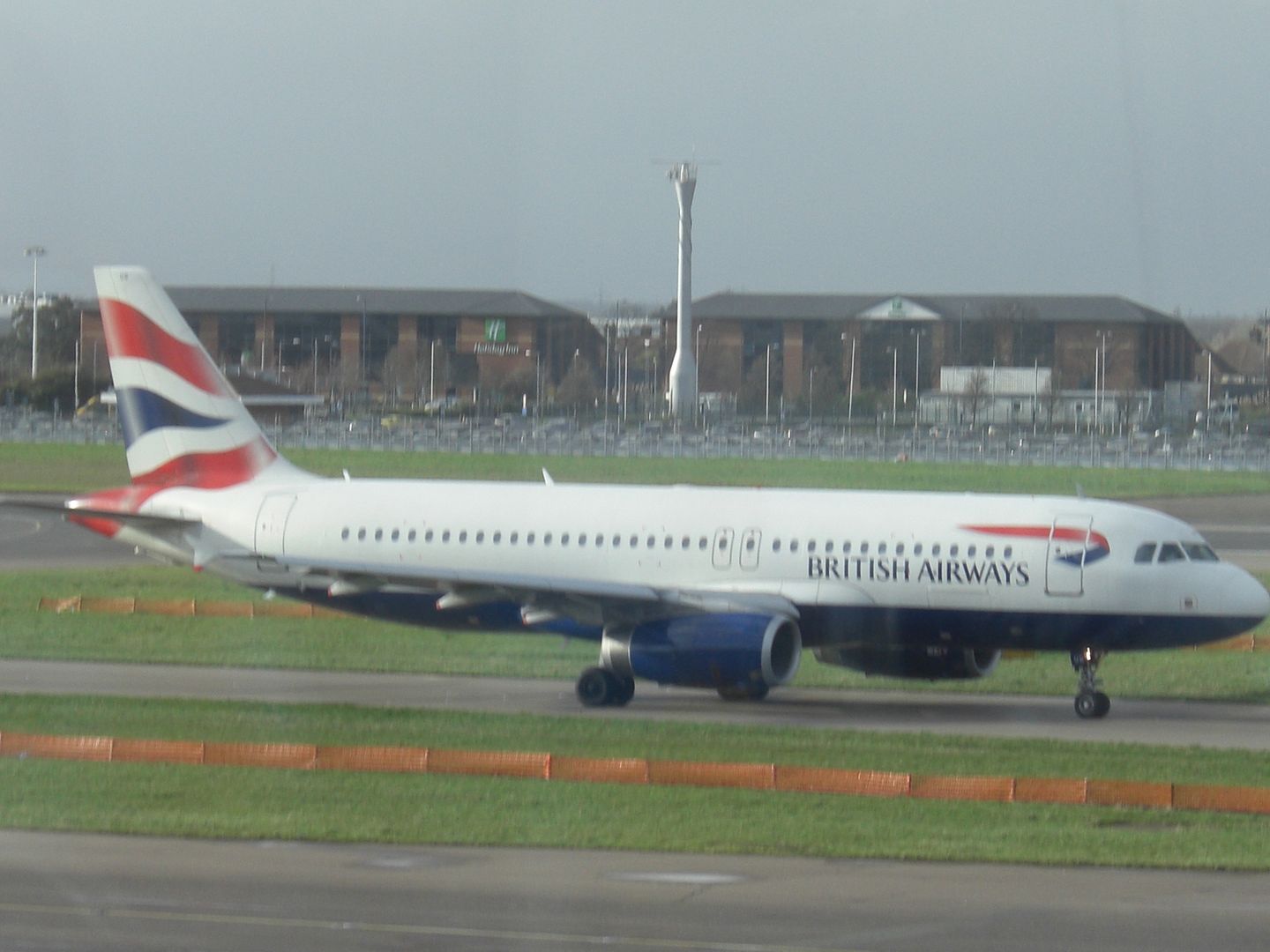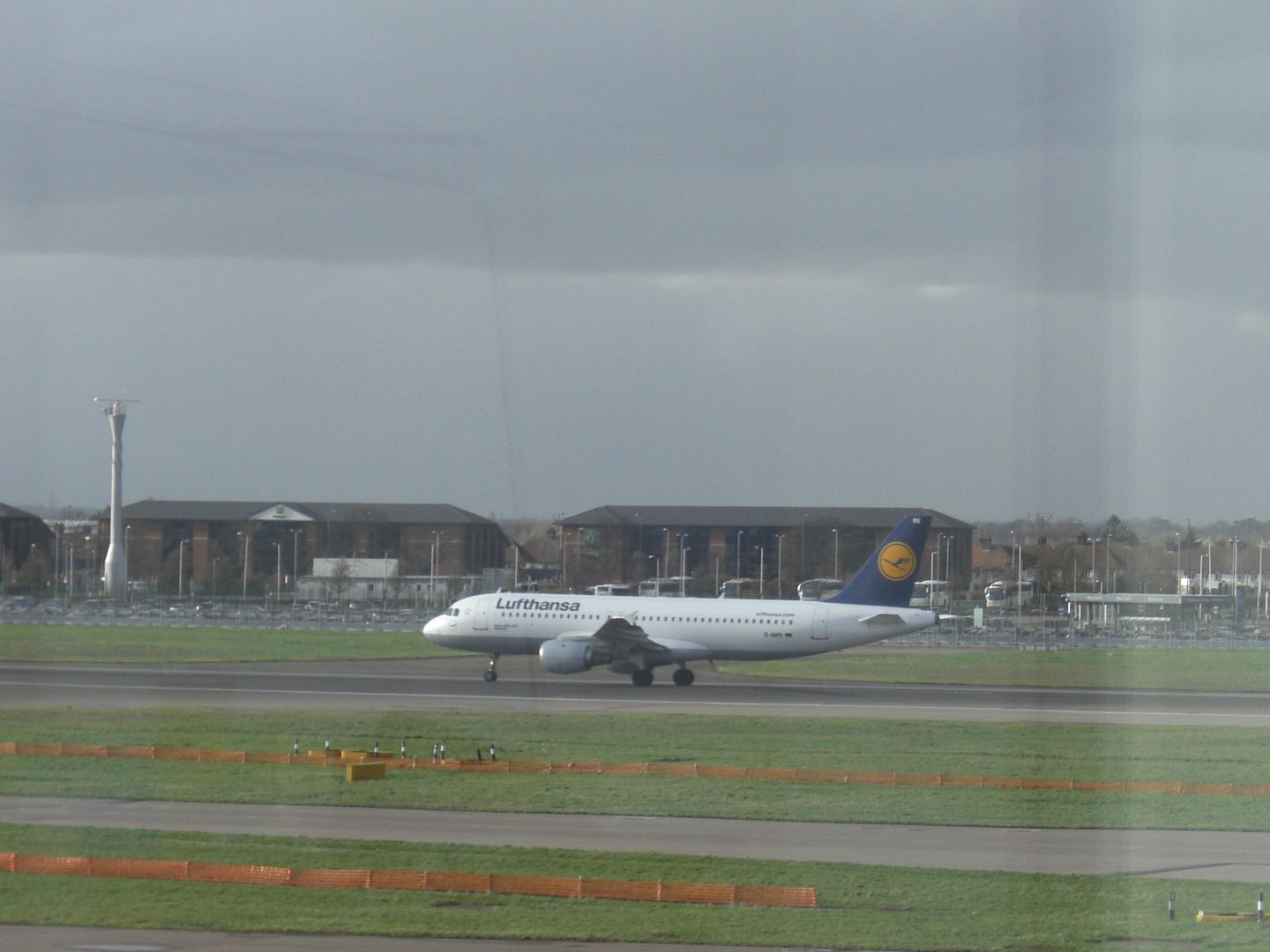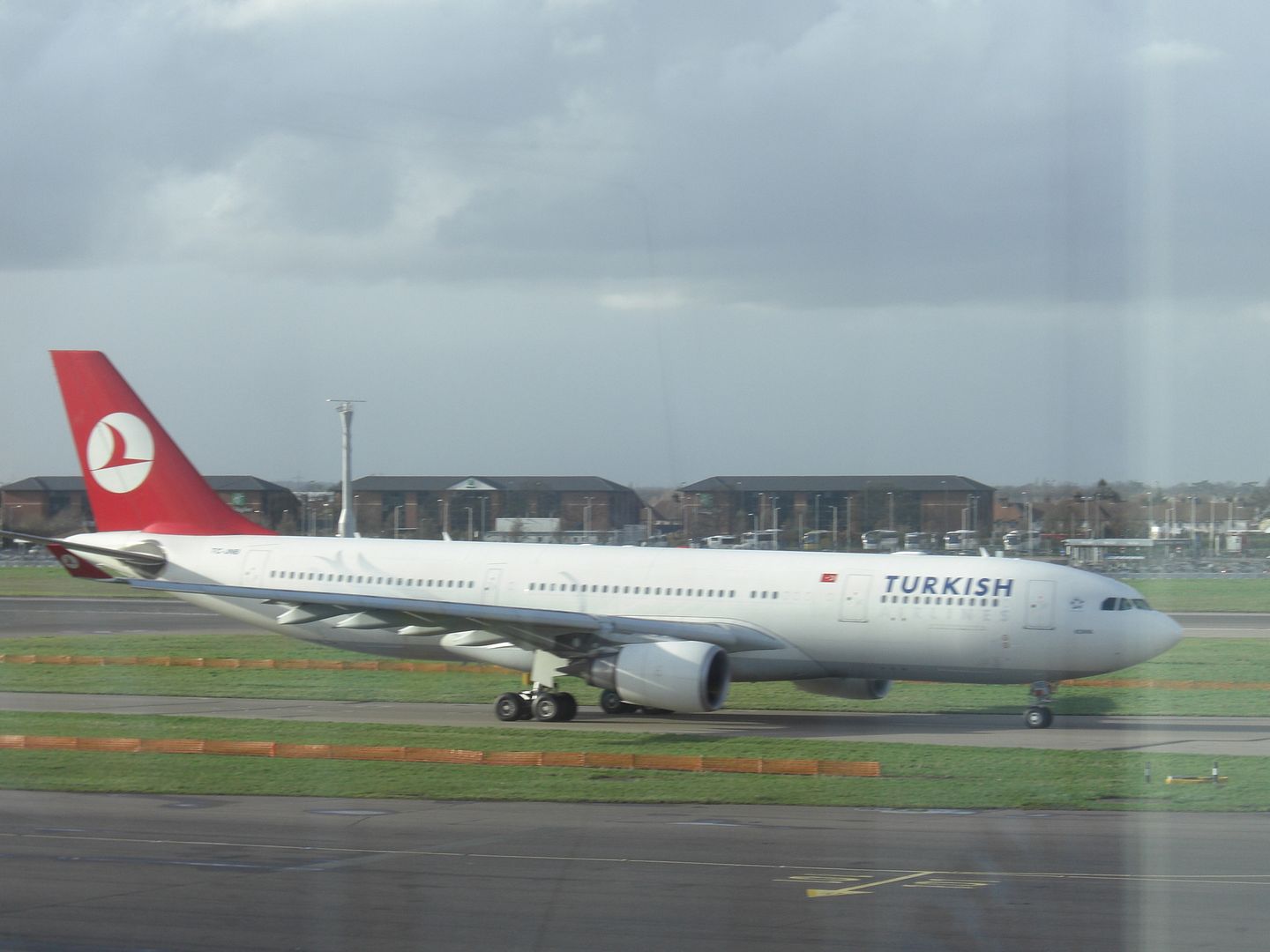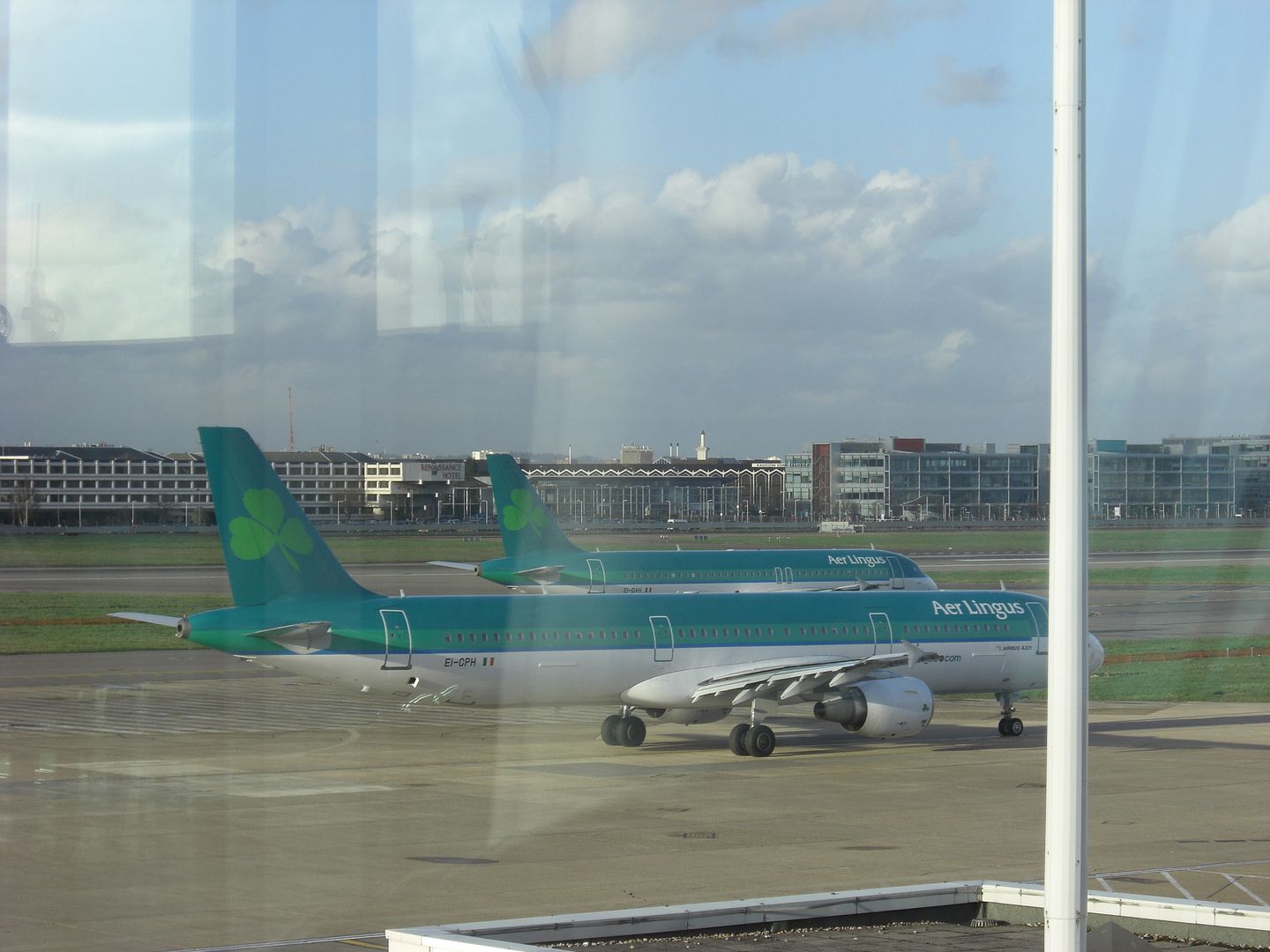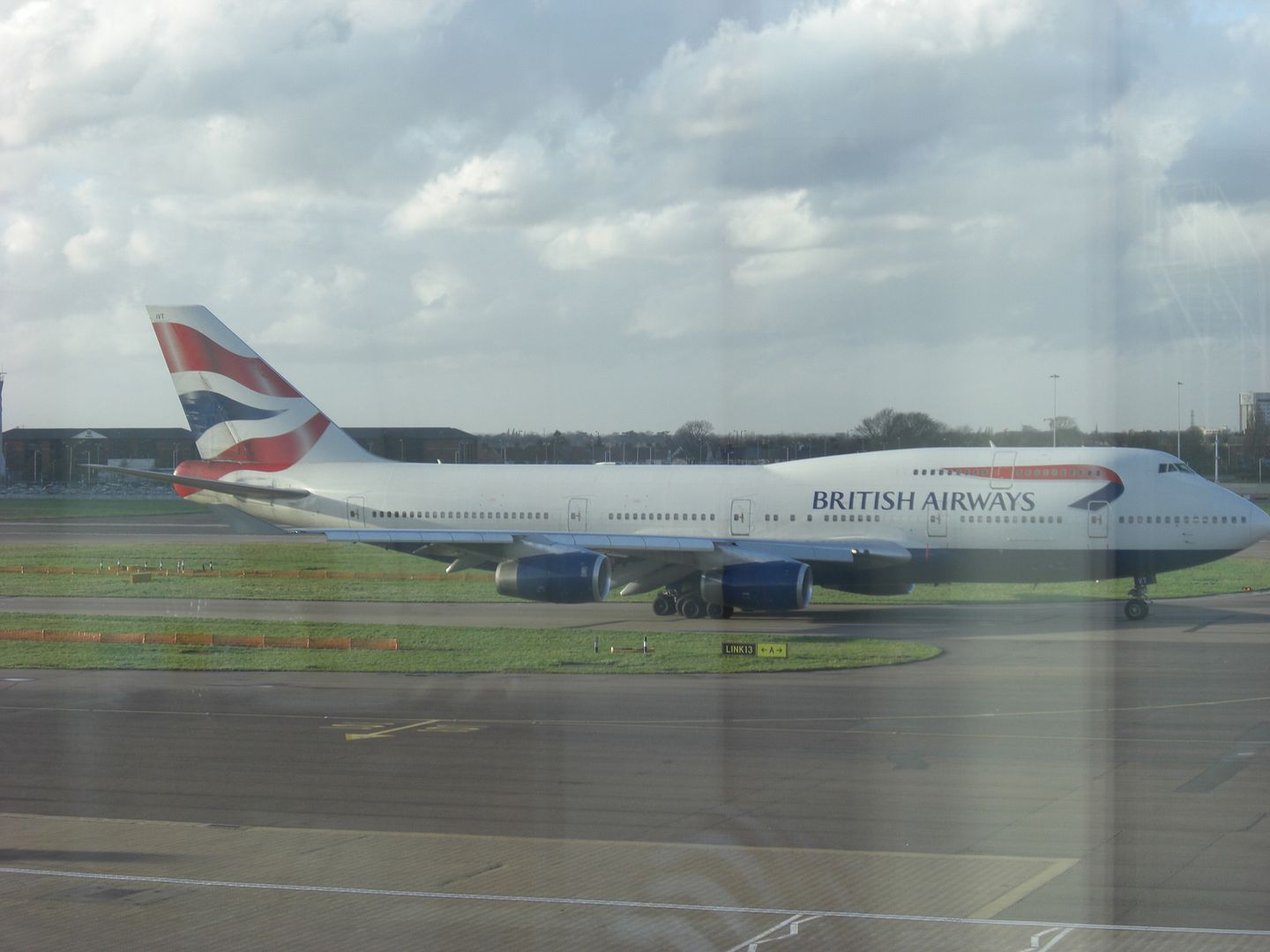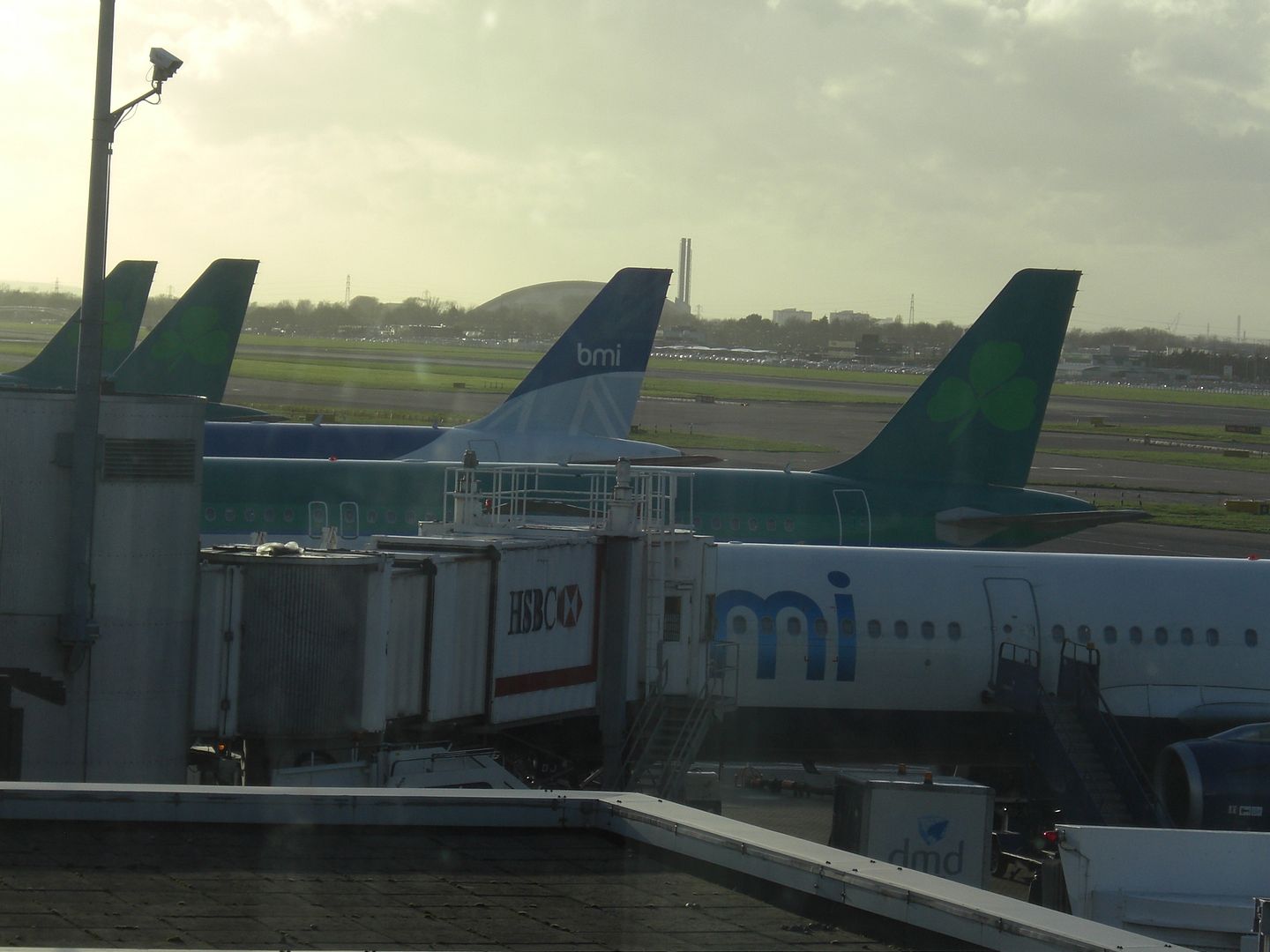 Poor paintjob of the old Star Alliance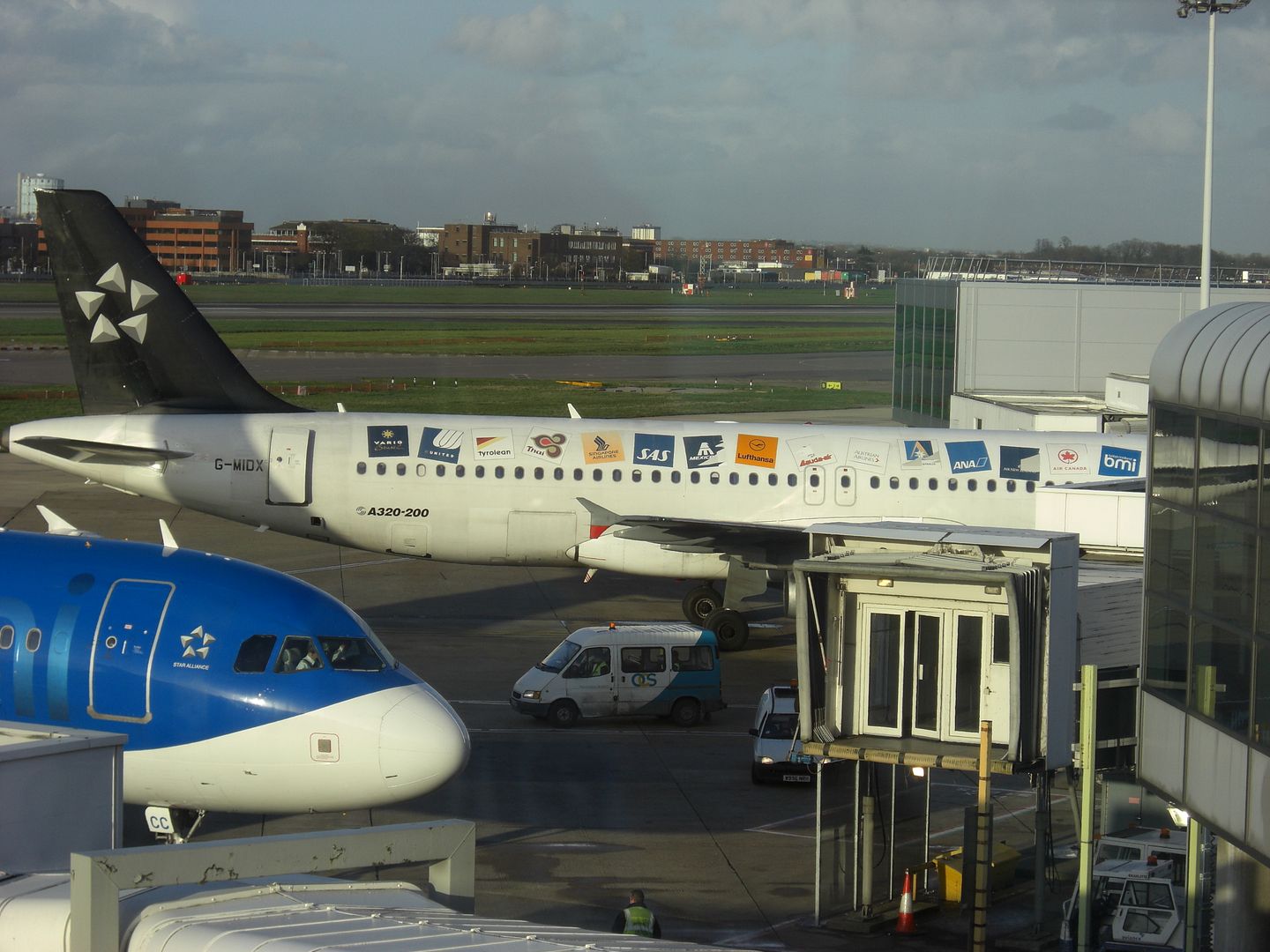 My A321 taxiing in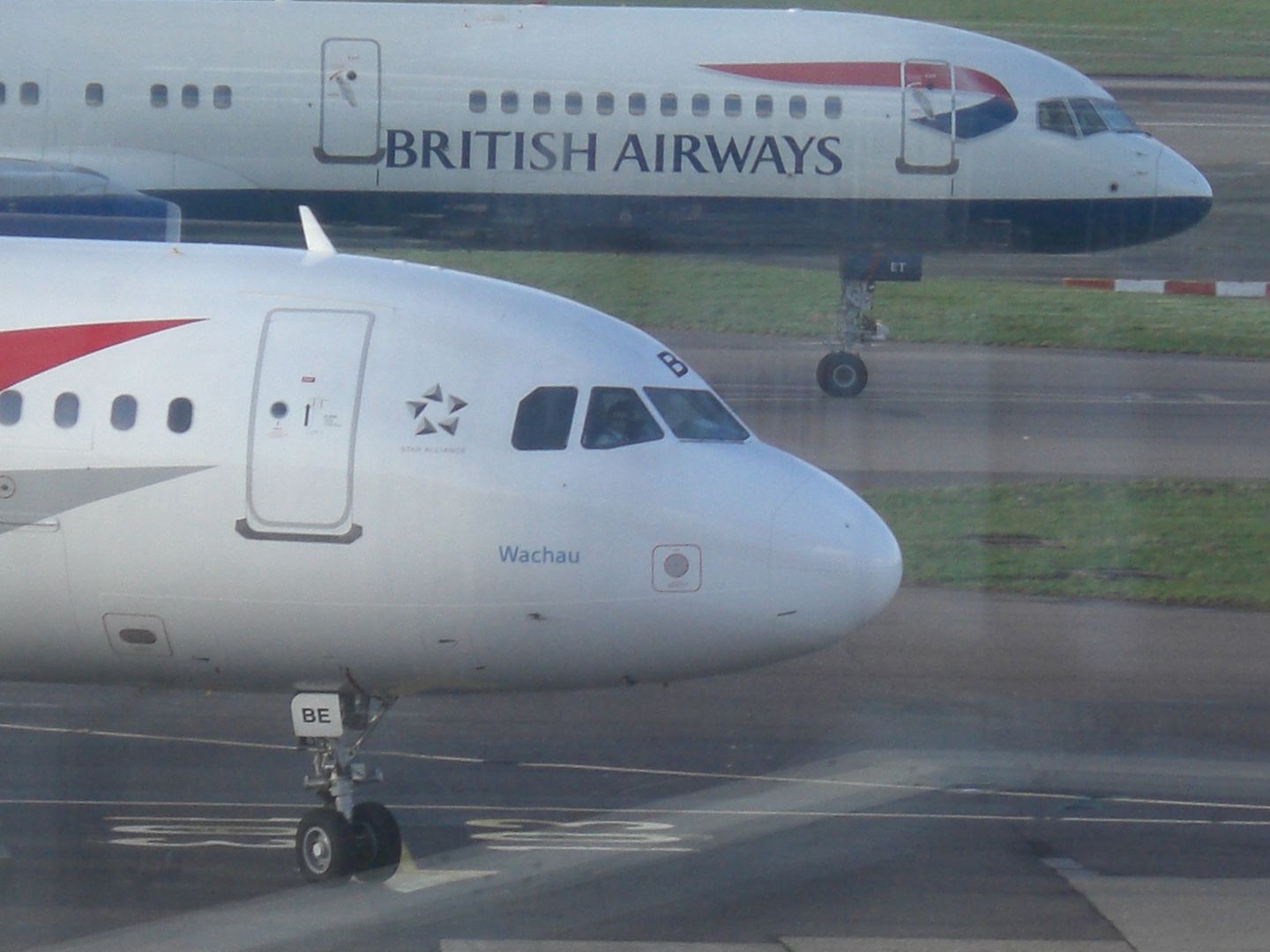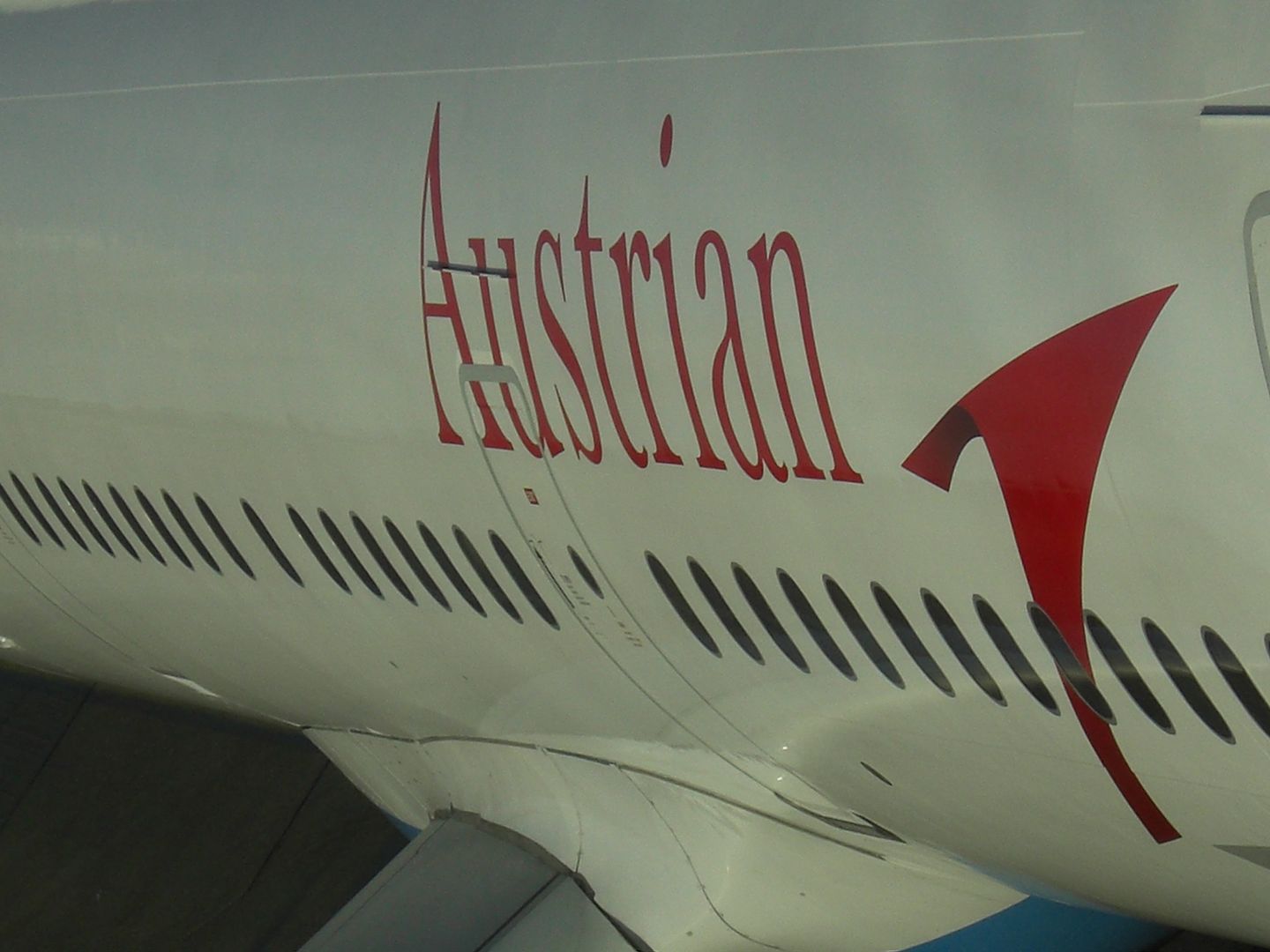 Unfortunately, after probably one beer too many my flight flashed up as boarding. Thankfully, the gate was just a minutes walk away. If it had docked at the gate I was going to arrive back into on Monday then it would have been a good 20 minute slog across to the other side of the terminal.
Once boarding had got underway (a good five minutes after I arrived, and probably 20 minutes after the first people started queuing), the queue moved quite fast condisering the full load.
April 2010
London Heathrow (LHR) – Vienna (VIE)
Scheduled: 1925-2240 (2h15m)
Actual: 1948-2228 (1h40m)
Austrian OS 456
Airbus A321 (OE-LBE)
My window seat in the rear part of the plane wasn't too comfy (a bit tight on the legroom), but it was ok for the relatively short flight (as long as the person in front doesn't recline).
We taxied out a few minutes late and took off into the last of the sun's rays. Service consisted of a sandwich and drinks service. The crew started at the front of the cabin, so it took a while to get served.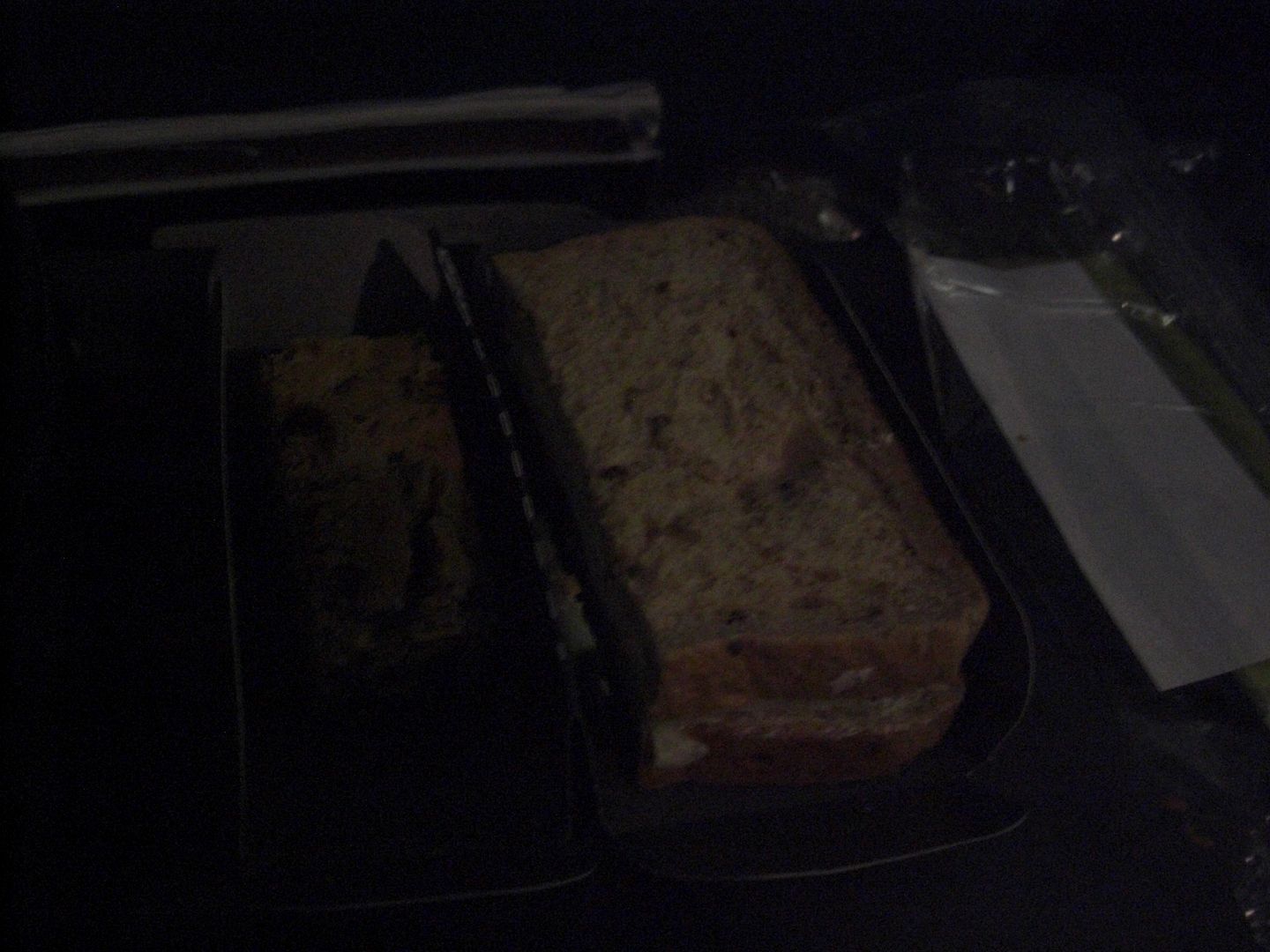 Sorry, the photo wasn't very good – I was trying to not draw attention to myself!
The Belgian Coast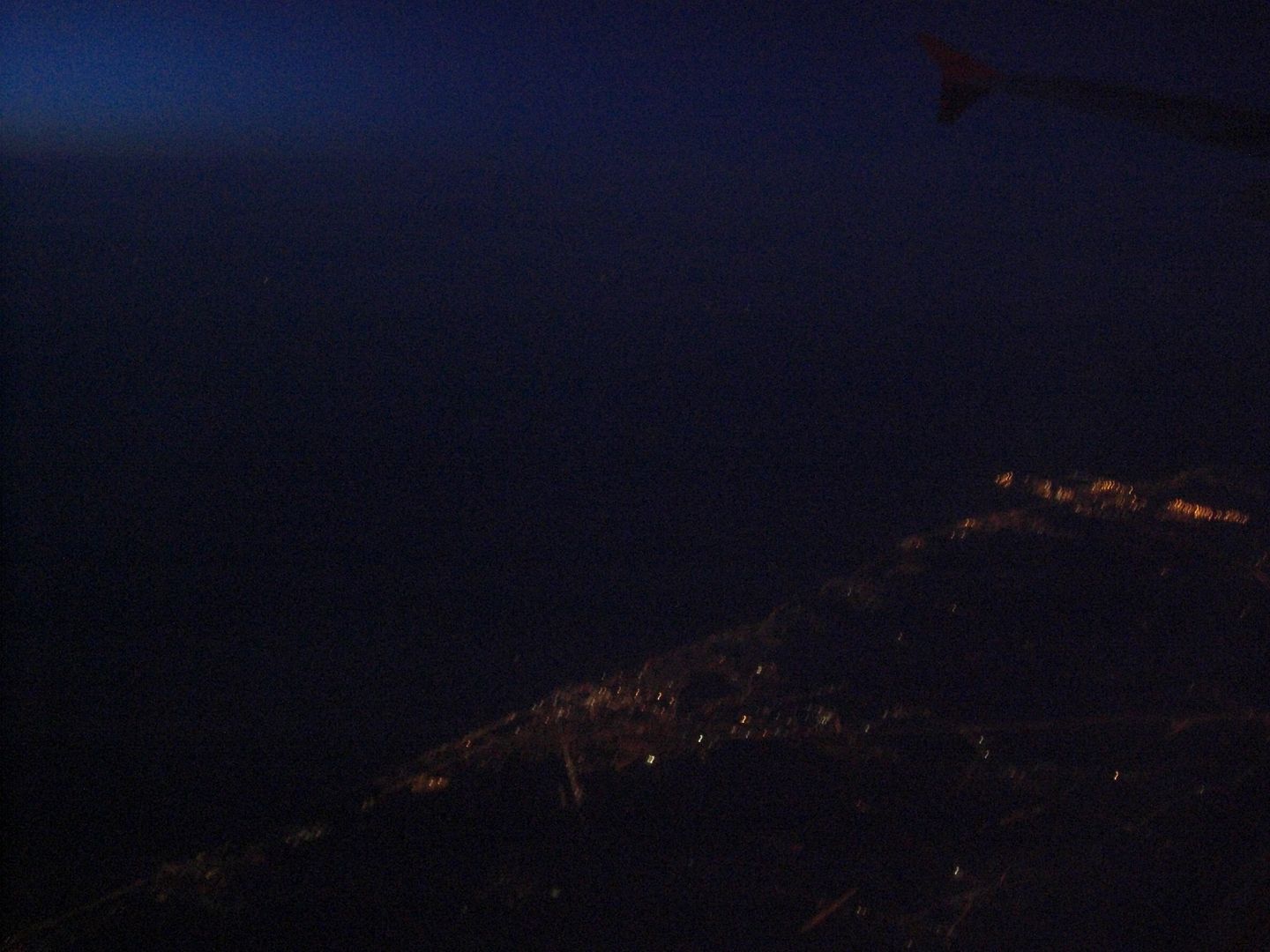 Despite the delay, we landed early. We taxied to a remote stand behind what will (hopefully) shortly become the new international terminal. I disembarked from the rear door, and was happy to see that the back bus left before the front one.
After a little tour of the tarmac, we were deposited by the arrivals area. Instead of joining the crowds to get though immigration, I went upstairs into the non-Schengen area to try and use the lounge before I shut for the night. Despite saying open until 2330, at 2300 the agent was very unhappy at letting me in. I grabbed a drink and headed to the service desk. I asked about a hotel room – the guy there told me to ask in arrivals.
I went though immigration, and asked at the arrivals desk and was told that they didn't have any 'transit' deals for the hotels, so I walked over the road to the NH Hotel myself to enquire about any last minute rooms. Unfortunately their last minute deals were more than my plane ticket cost, so I decided to stay the night in the terminal instead.
A few scenes of an empty VIE Airport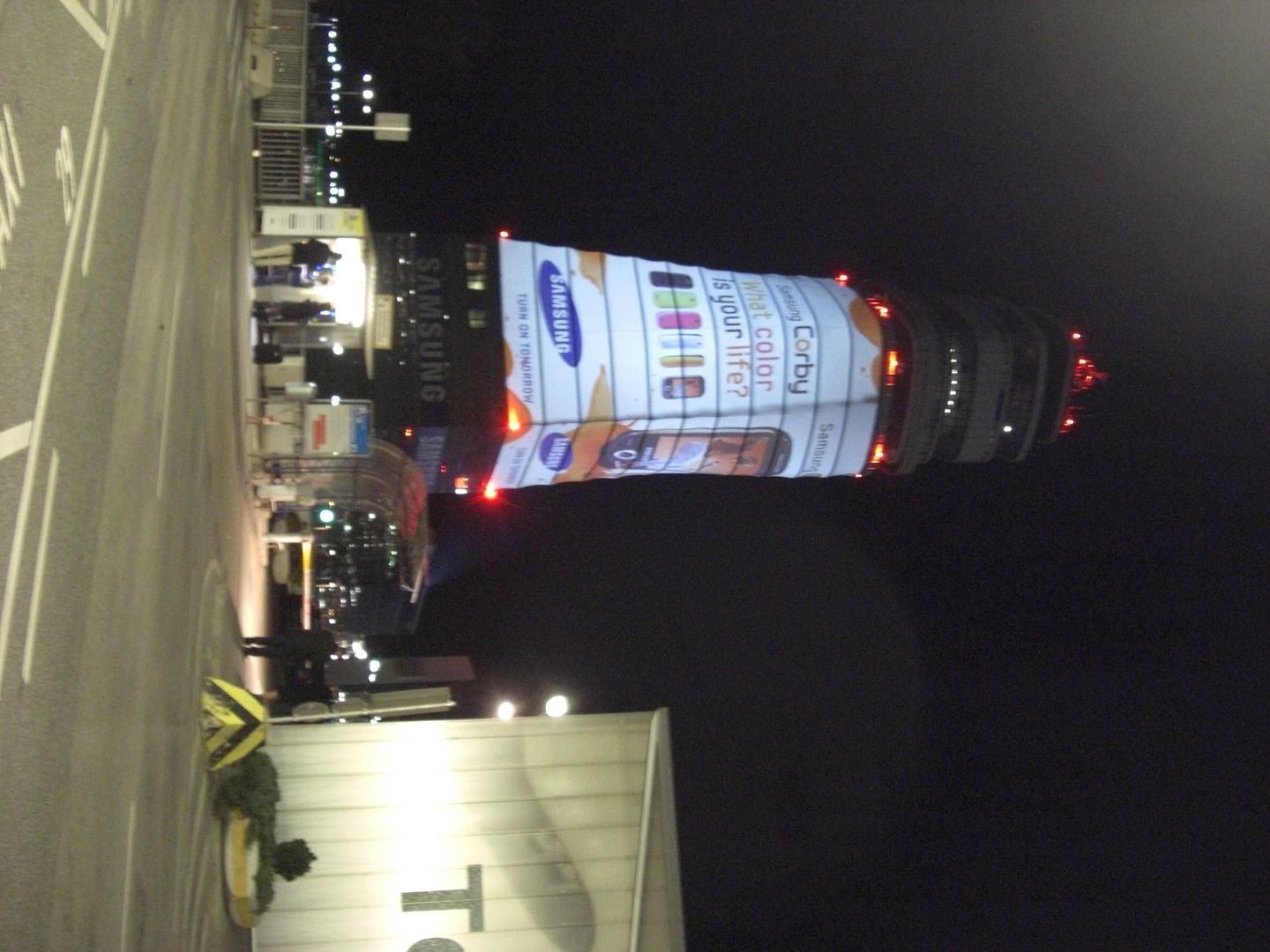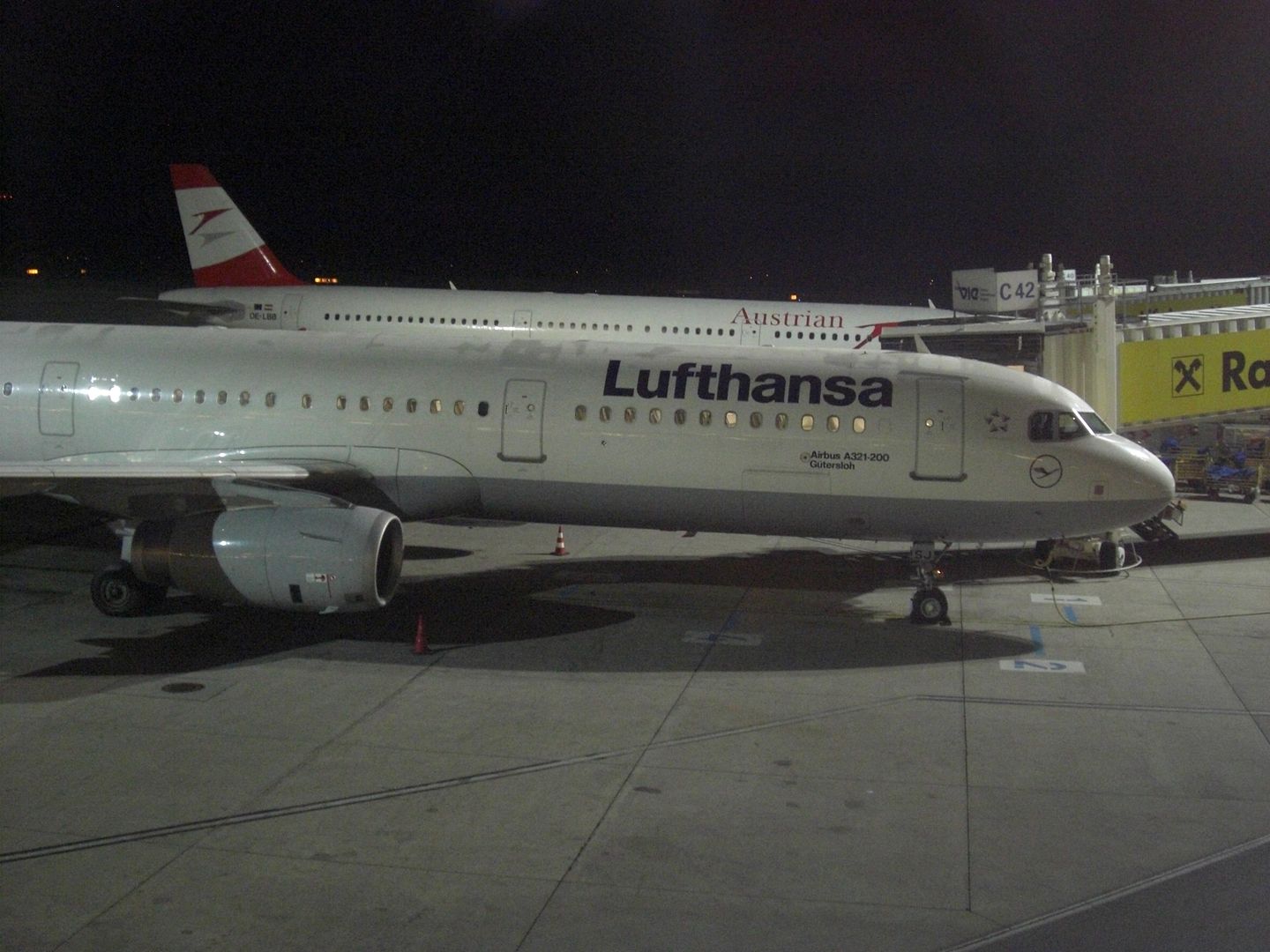 How many airports have a sex shop?
I went back though to the departures area and found a nice metal bench to spend the night on. Unfortunately sleep was evasive, so around 2am I went for a wander. I found Starbucks (which was closed), but their trademark couches did just the job. I was awoken at five by the guy setting up the seating area for Starbucks. I got my stuff together an wondered over to the lounge (scheduled to be opening at 5.30).
I was the first person though the doors of the lounge when it opened. I wasn't very impressed with the morning selections – there were apples, croissants and rye bread. That's it. They didn't even have any hot chocolate on offer from the machine. I took a stack of croissants and some tea and settled down waiting for sunrise.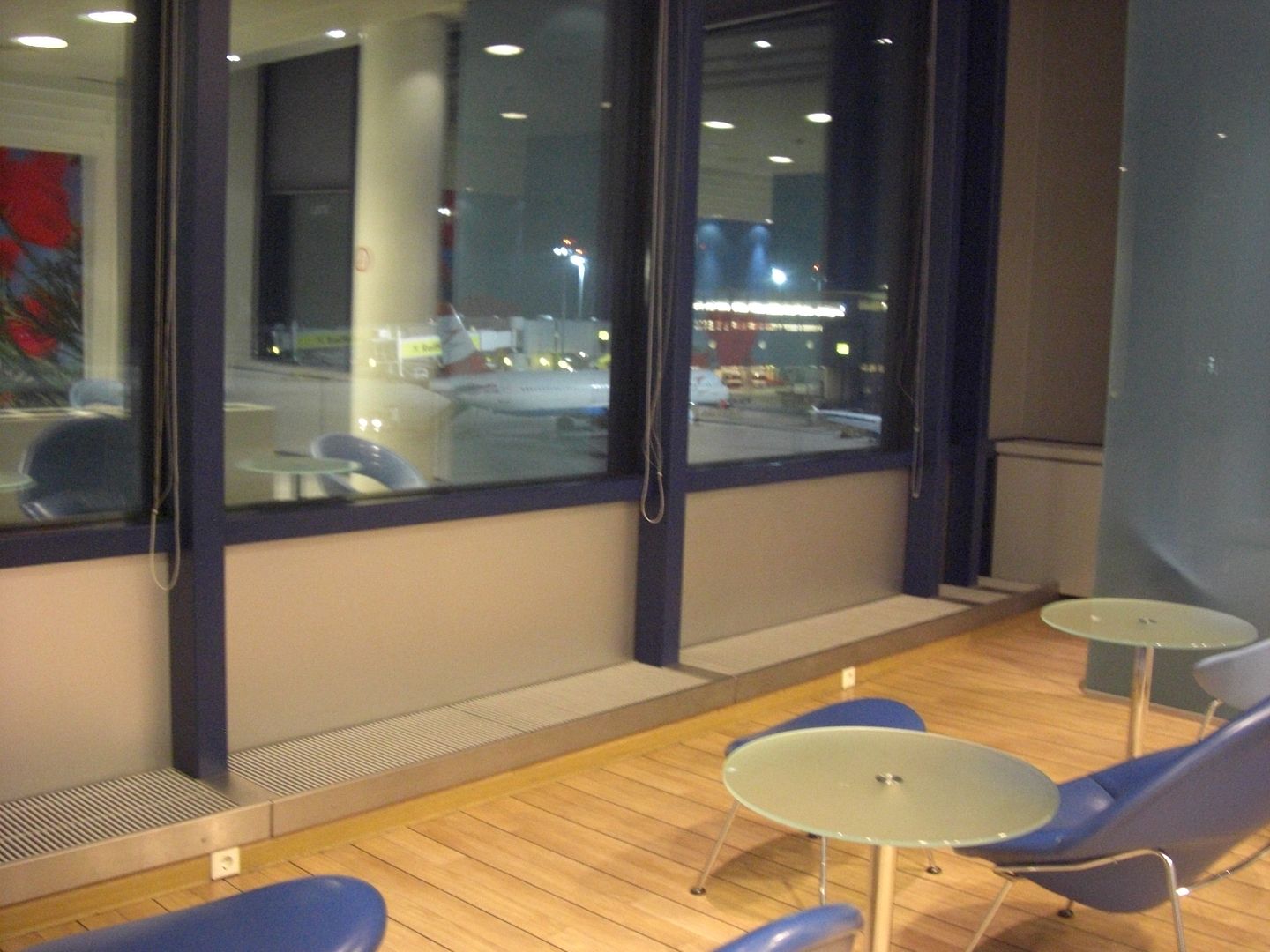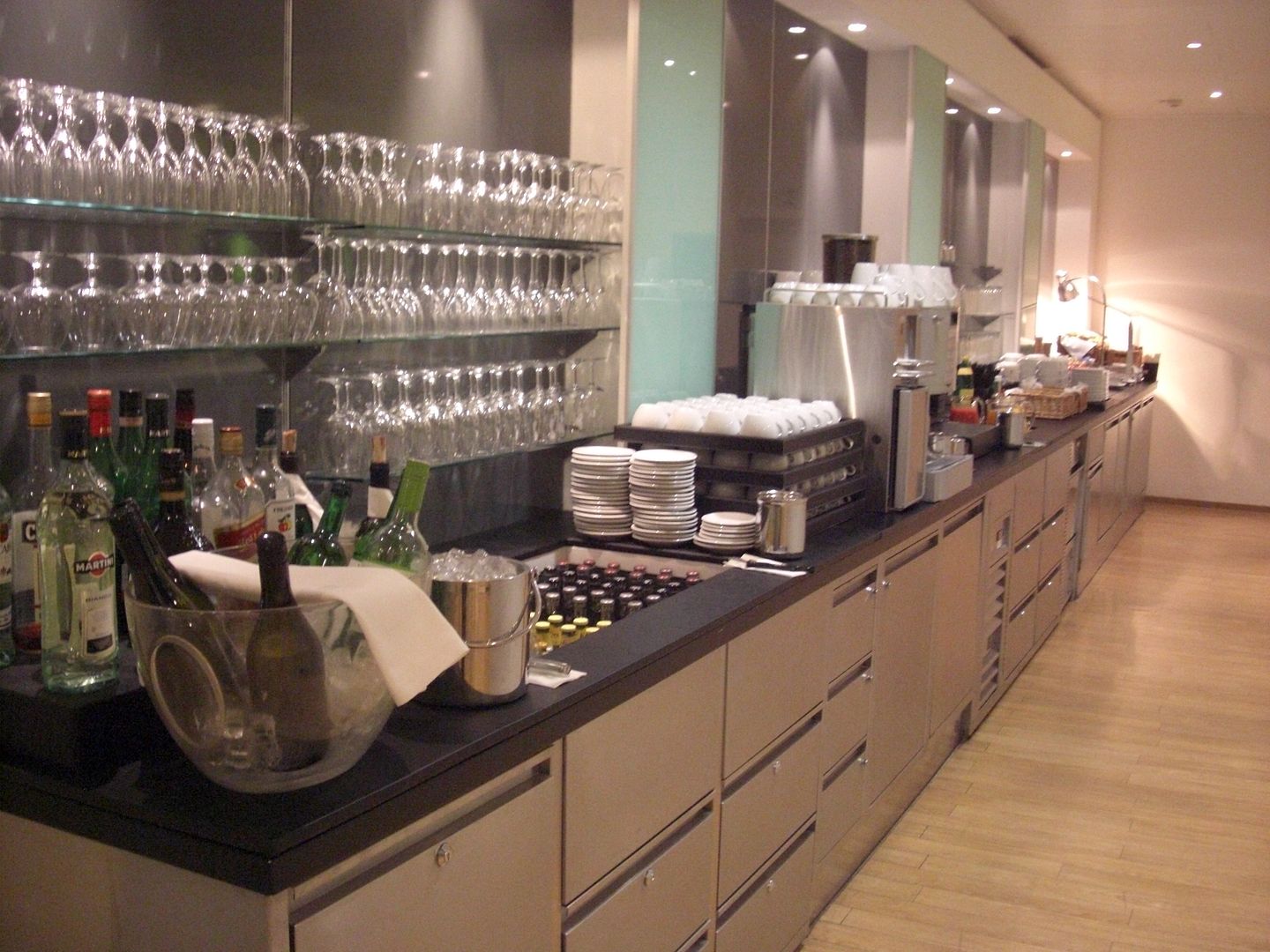 Around 7 I packed my stuff up and headed though immigration to the Schengen lounge. This is the only Business lounge with a shower (only one though). This lounge is quite a bit smaller than the Schengen lounge, but the views were a bit better (especially in the morning on a clear day). After waiting for an Indian family to finish with the shower (they were in there for over an hour), it was my turn. I must say after a night on a bench/Starbuck, a shower feels great.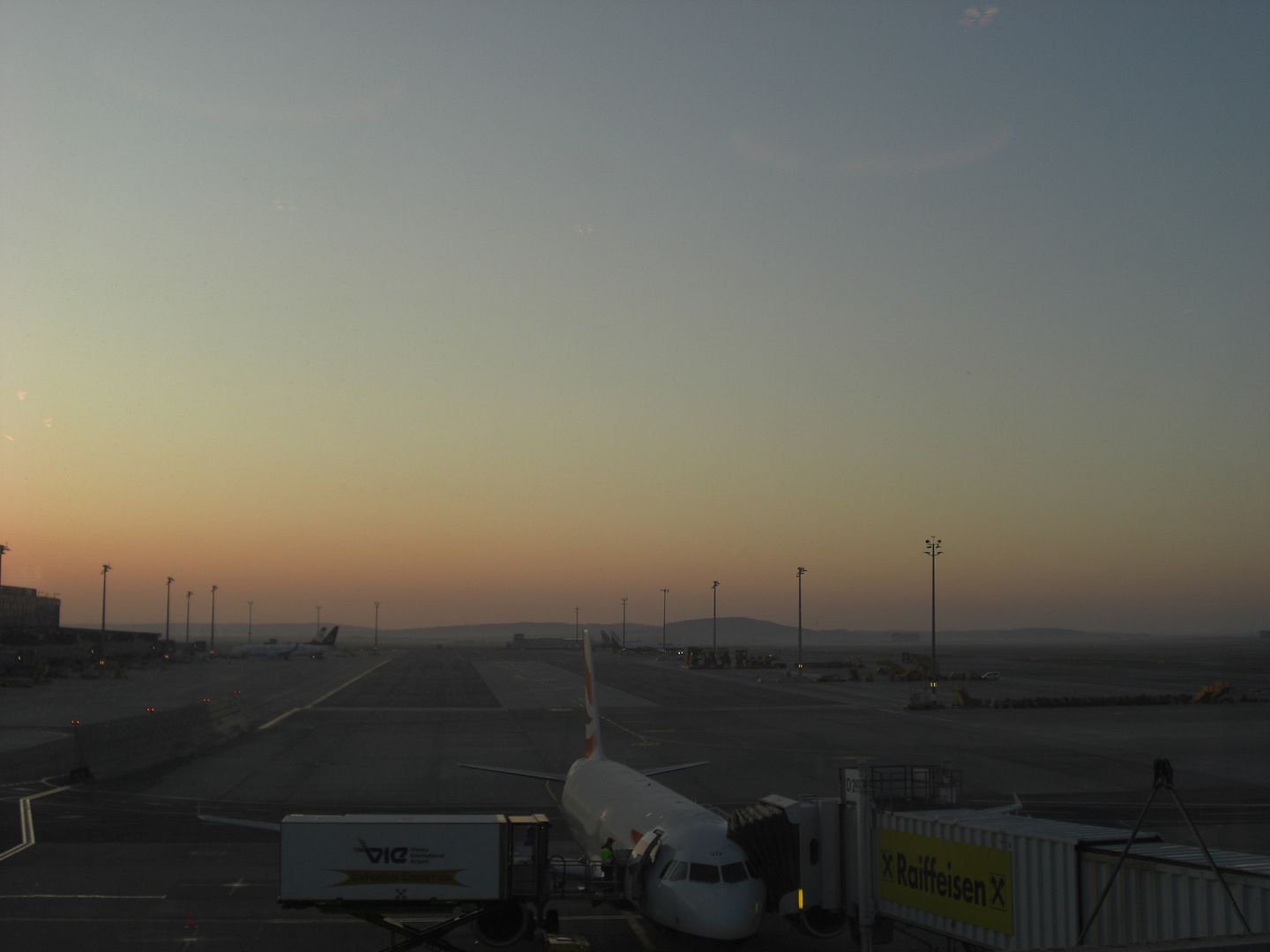 After a bit longer in the lounge, I headed down to the very depressing 'D' gates – these are all bus gates for destinations in Eastern Europe. Luckily I didn't have to wait too long before our bus was ready for boarding.
April 2010
Vienna (VIE) – Kiev Boryispol (KBP)
Scheduled: 1035-1330 (1h55m)
Actual: 1044-1324 (1h40m)
Austrian OS 661
Fokker F100 (OE-LVB)
Poorly painted BMI again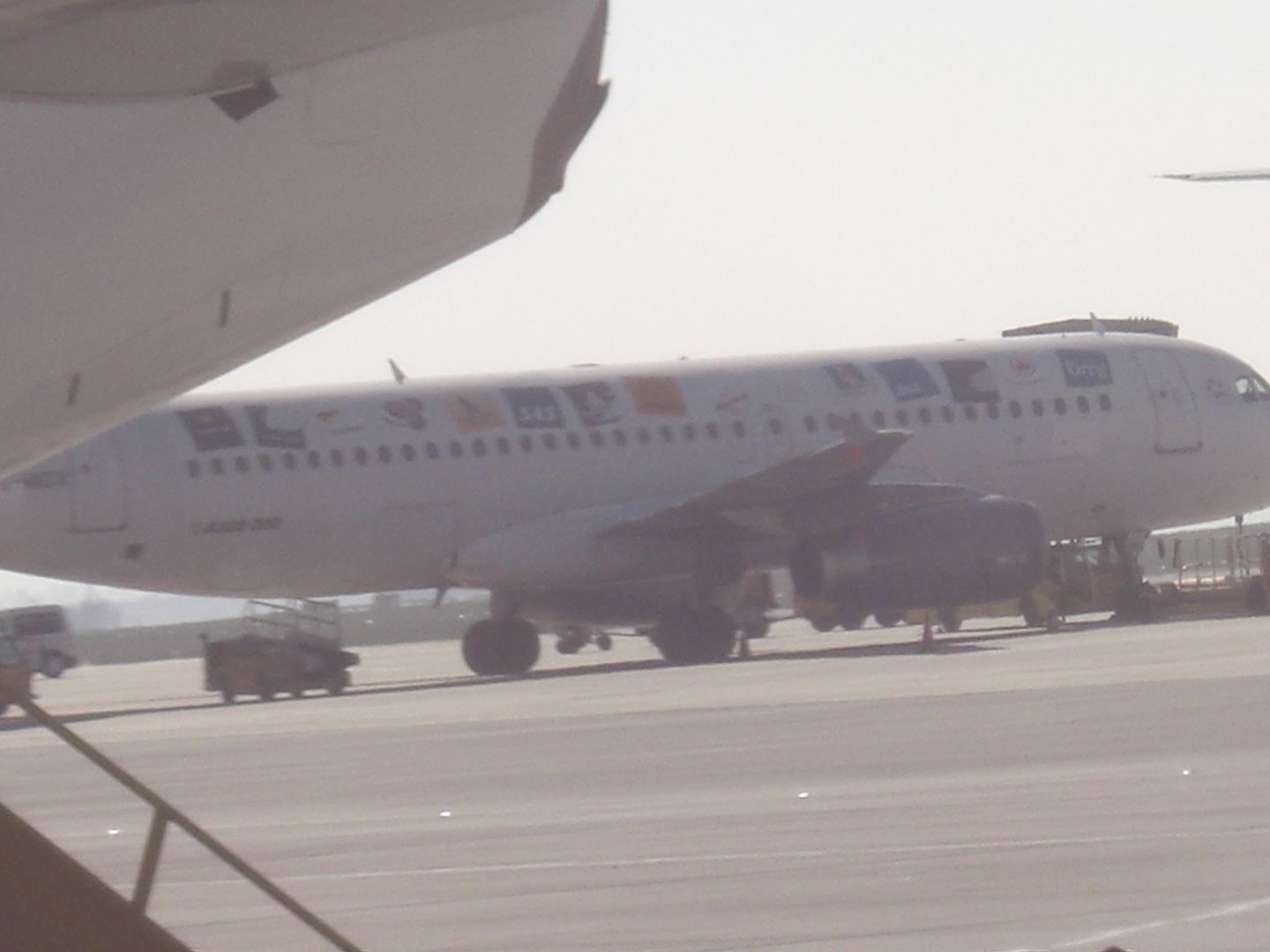 I managed to hop off the bus pretty quickly and was the third person onboard. My seat was the first behind the curtain. The cabin gradually filled up, but thankfully there was no one in the middle seat. Business Class was empty until two people in the row behind decided they wanted more room so moved to the row in front. The FA said that they weren't allowed to do this – after a few sentences between the two parties, the FA said that they could stay there "for this flight only as a favour". Of course these two proceeded to make themselves confirmable, with BOTH of them reclining their seats all the way back before we had even moved (one of them onto me). Once the FA had got them to out their seats up, we moved off, only for the woman in the aisle to out here seat back down again. Some people.
The FA said that the guy in the aisle could move to some other spare seats in Business so he didn't have to have anyone reclining onto him. I, on the other hand, moved into the middle of the row, so had three seats to myself.
On this sector, two tasty open sandwich were served, along with drinks. Once everyone else was served I enquired about having another sandwich, but the FA said that they were all out. A few minutes later, however, she returned with three pieces of bread rolled up in a napkins – not sure where she got them from (spare C-class or crew meals?!), but it very much appreciated. Thumbs up!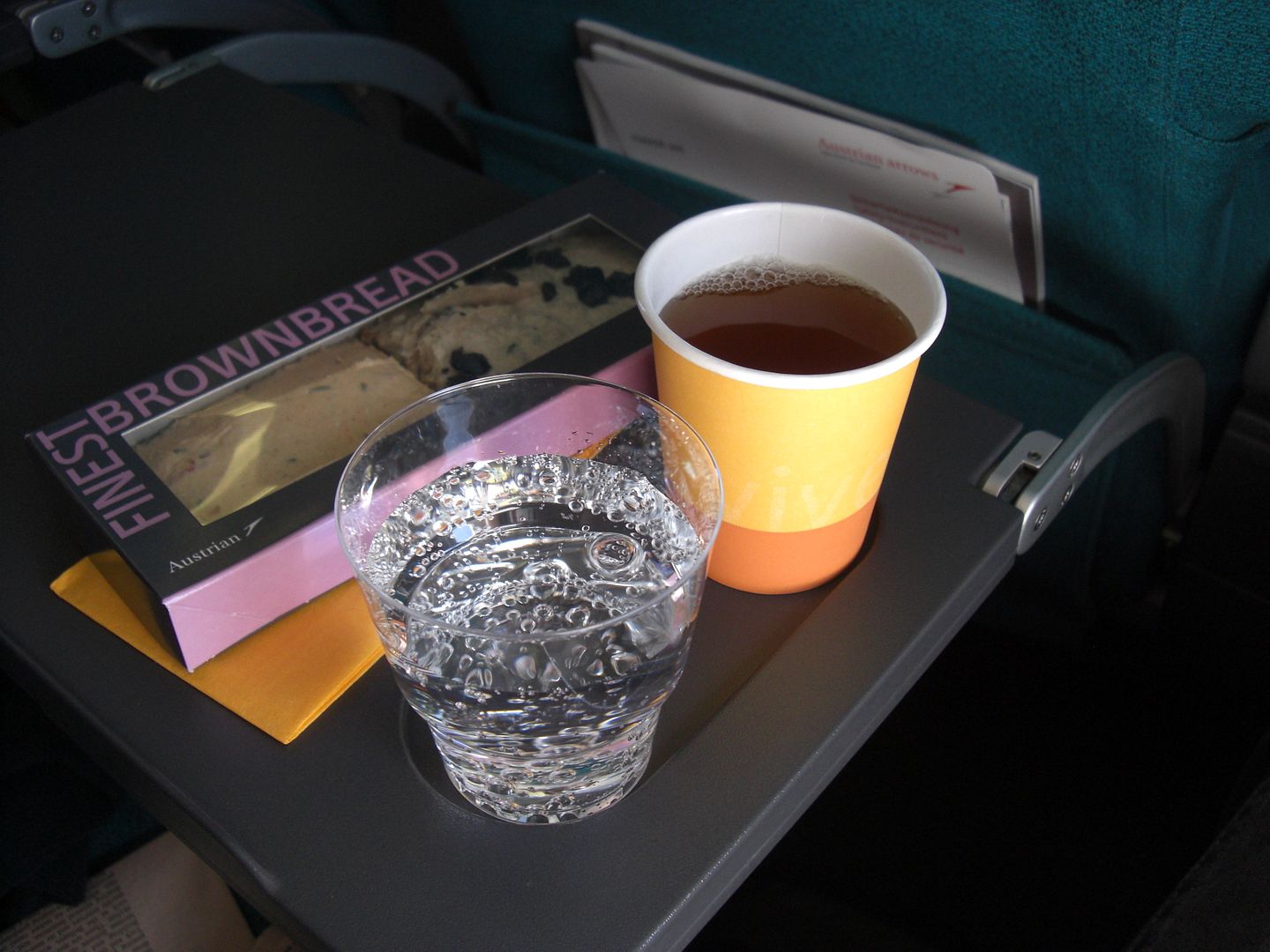 We began our descent into a very dark and murky Kiev. The ground was nearly completely obscured until a minute or two before landing.
Kiev airport was full of random Western and Russian built machines, most of which looked like they were parked for the long term. On the tarmac in front of the small terminal was a ERJ from DniproAvia, and then not long after we arrived, an E190 from LOT, as well as a B767 from Aerosvit.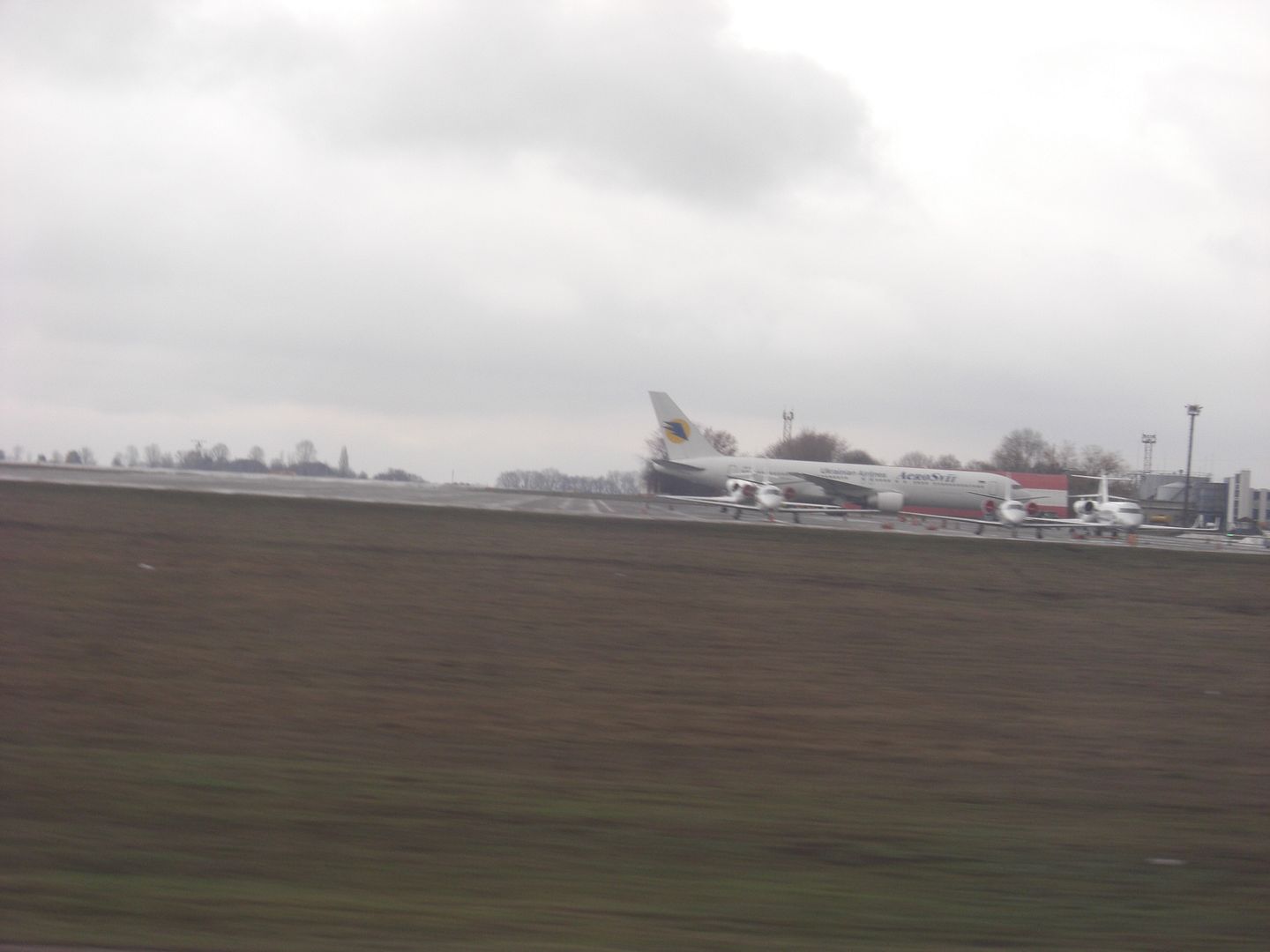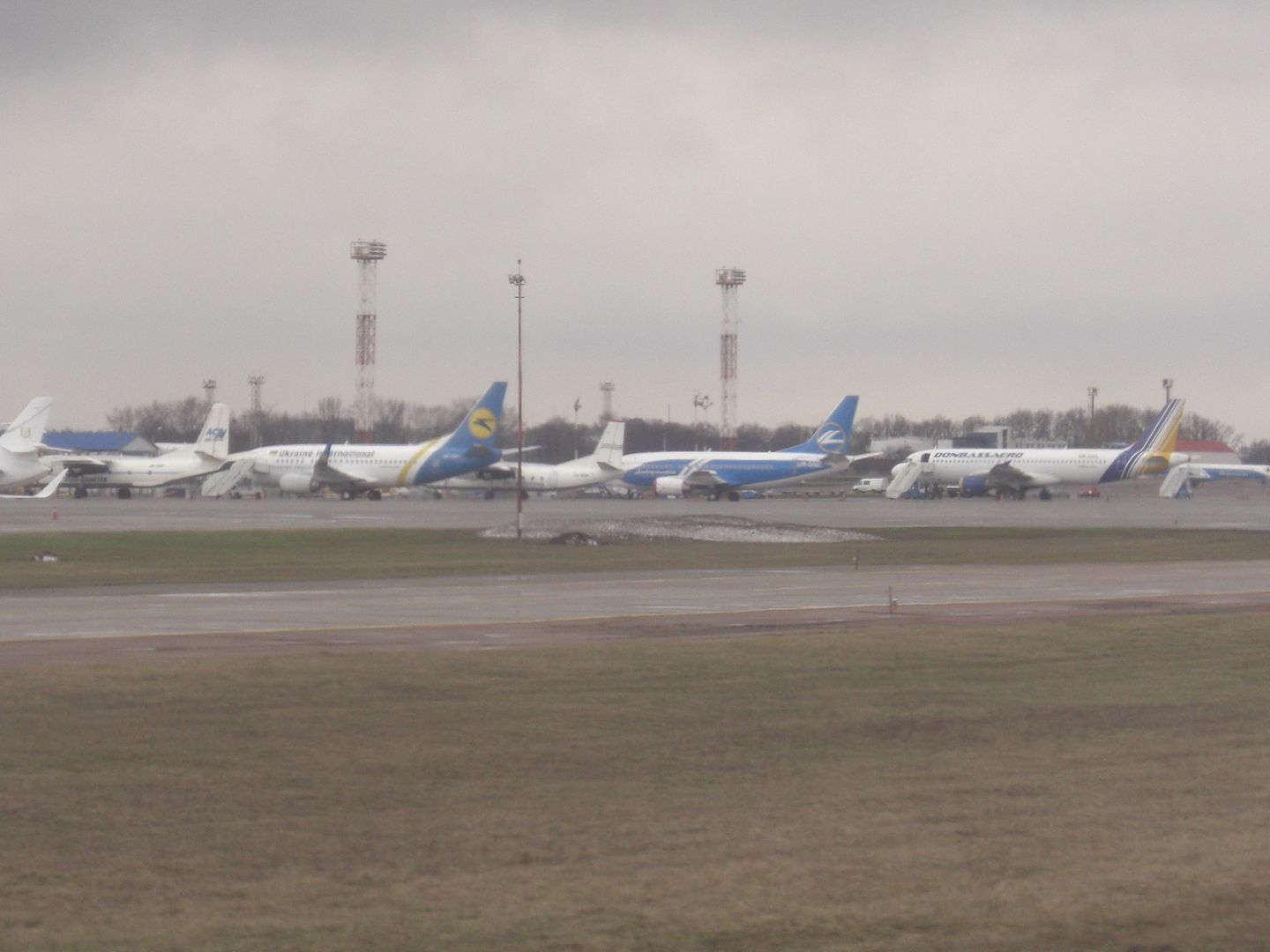 Kiev airport has just one air bridge (well, there are two, but the other is not linked to the terminal, starting and finishing in mid-air), which was being occupied by Air Arabia. We were therefore bussed to the arrivals area. Immigration was fairly fast (maybe took 10 minutes), and before I knew it I was in the extremely busy and crowed arrivals area. After tracking down an ATM to get some Hyrvnias, I went outside and located the bus into the city.
A few pictures from Kiev….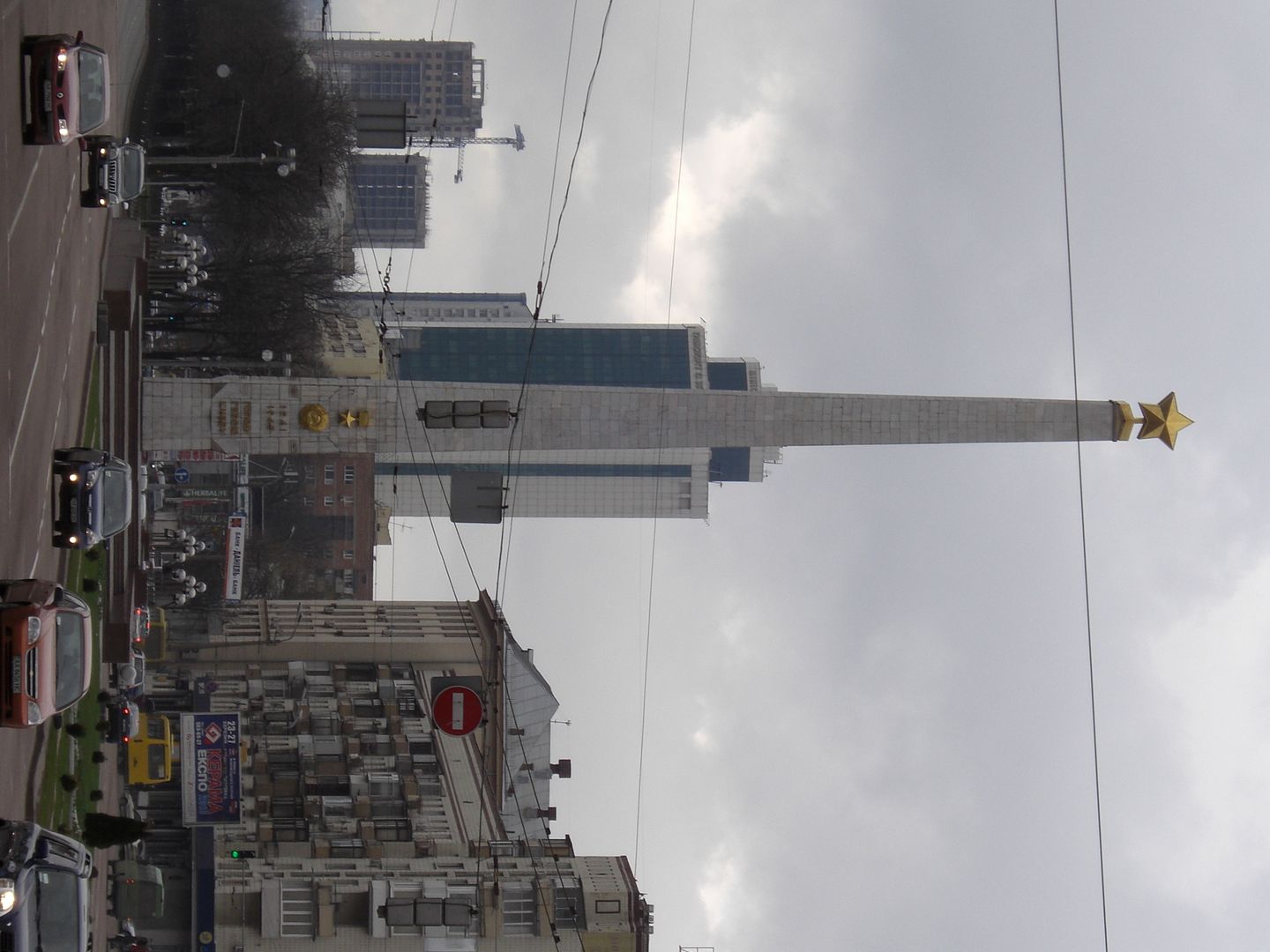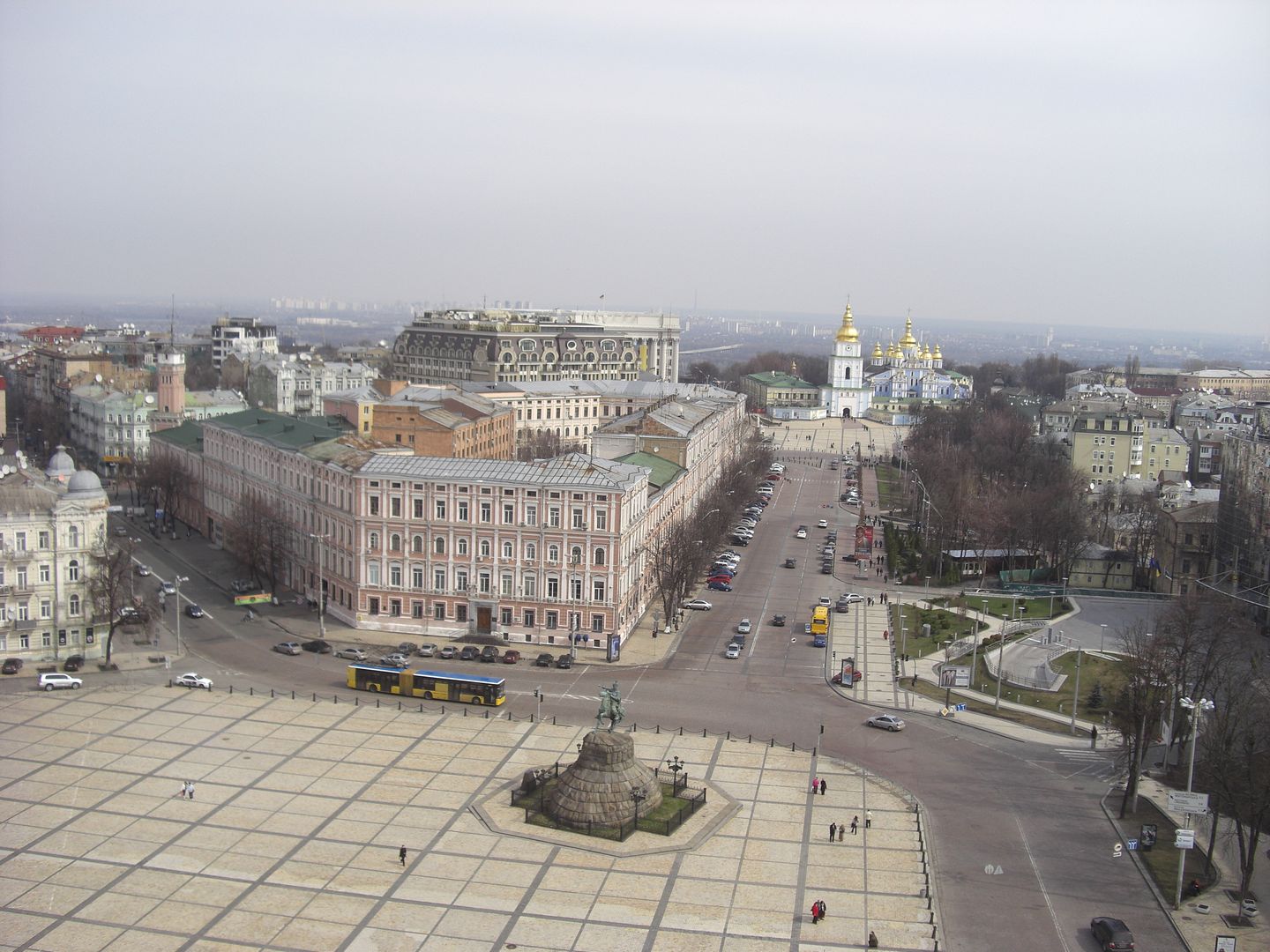 A piece of the Berlin Wall outside the German Embassy
Local Bastardo wine and Borjomi water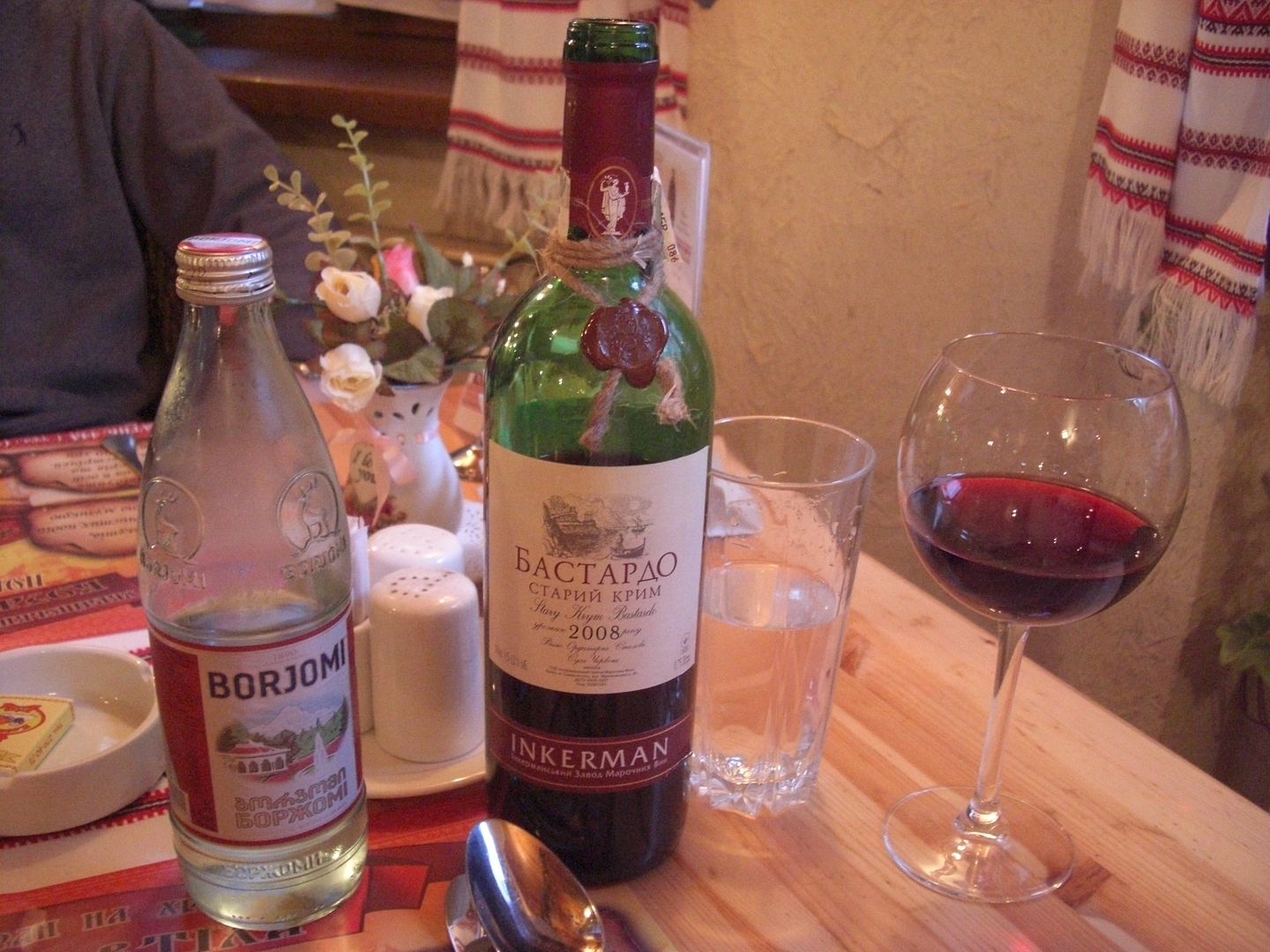 Local Ukrainian Fayre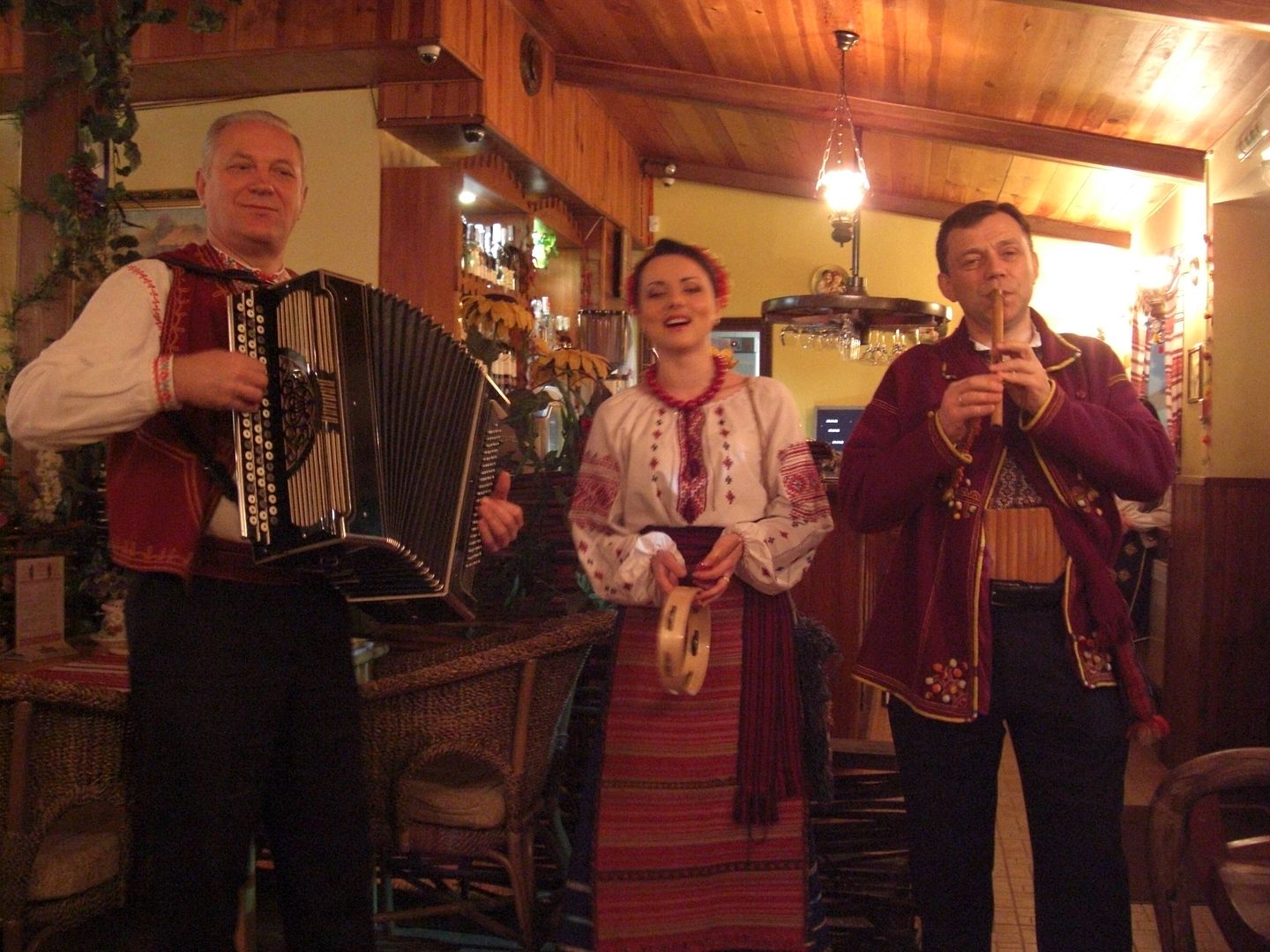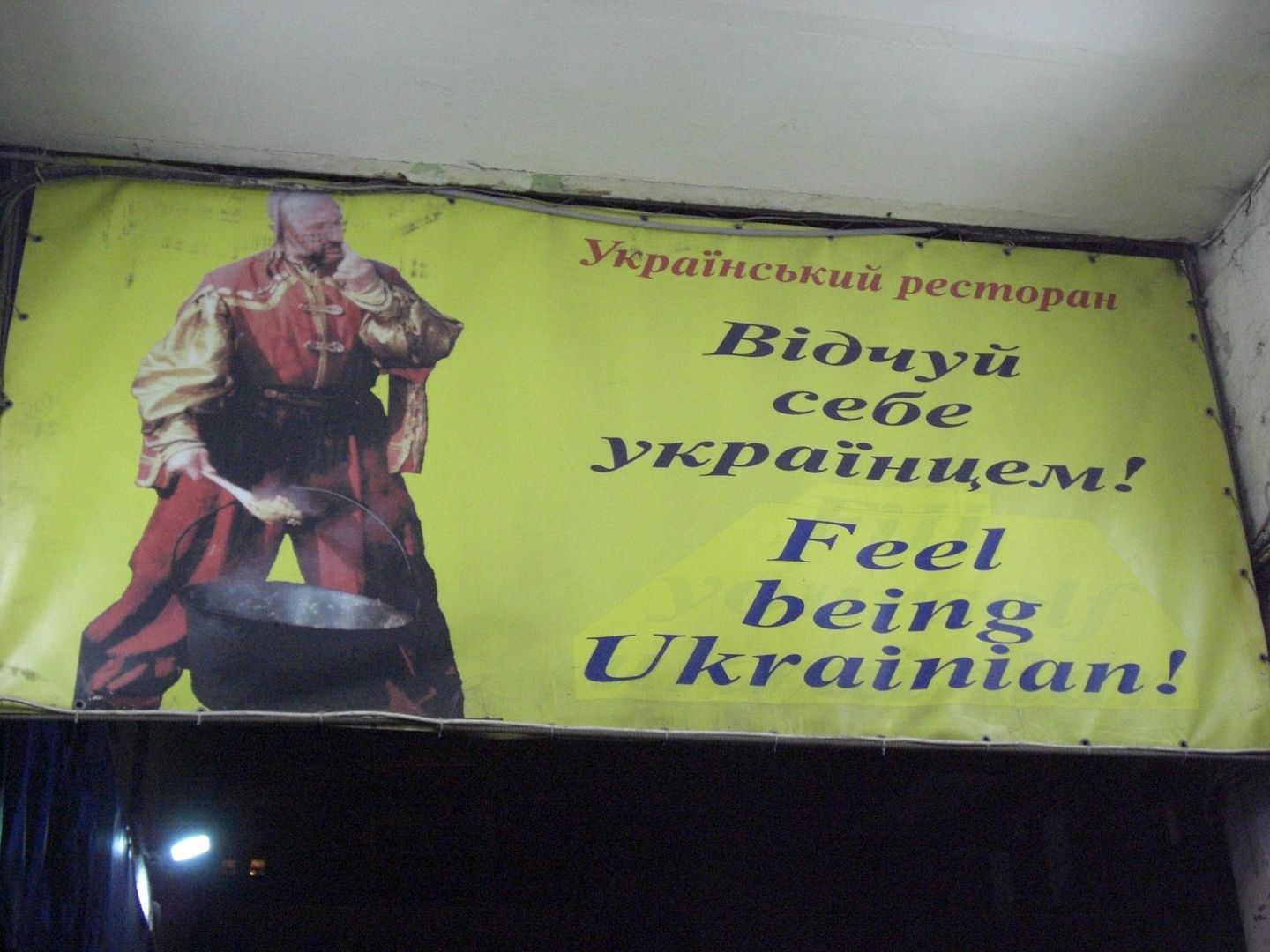 The Very deep Metro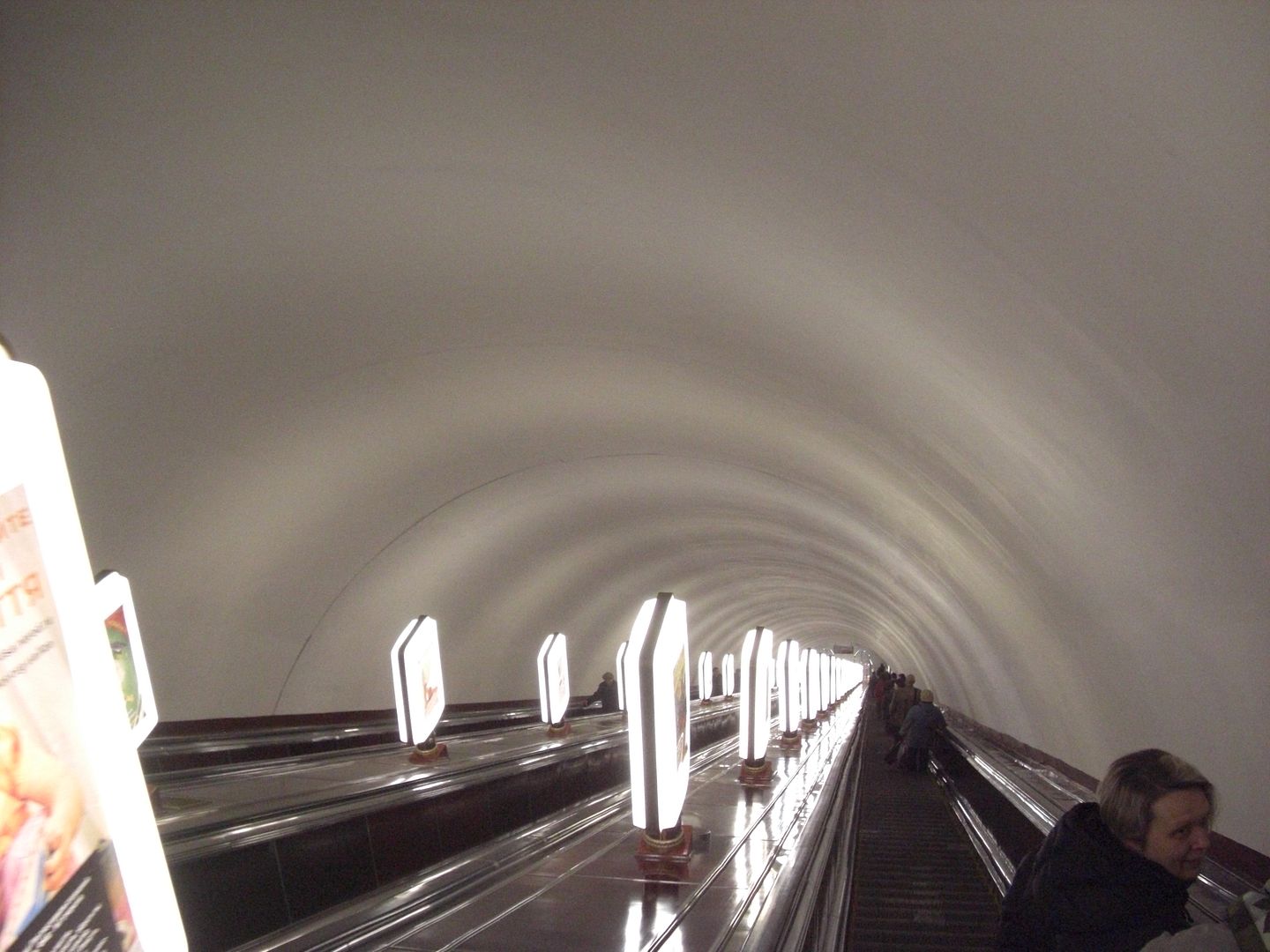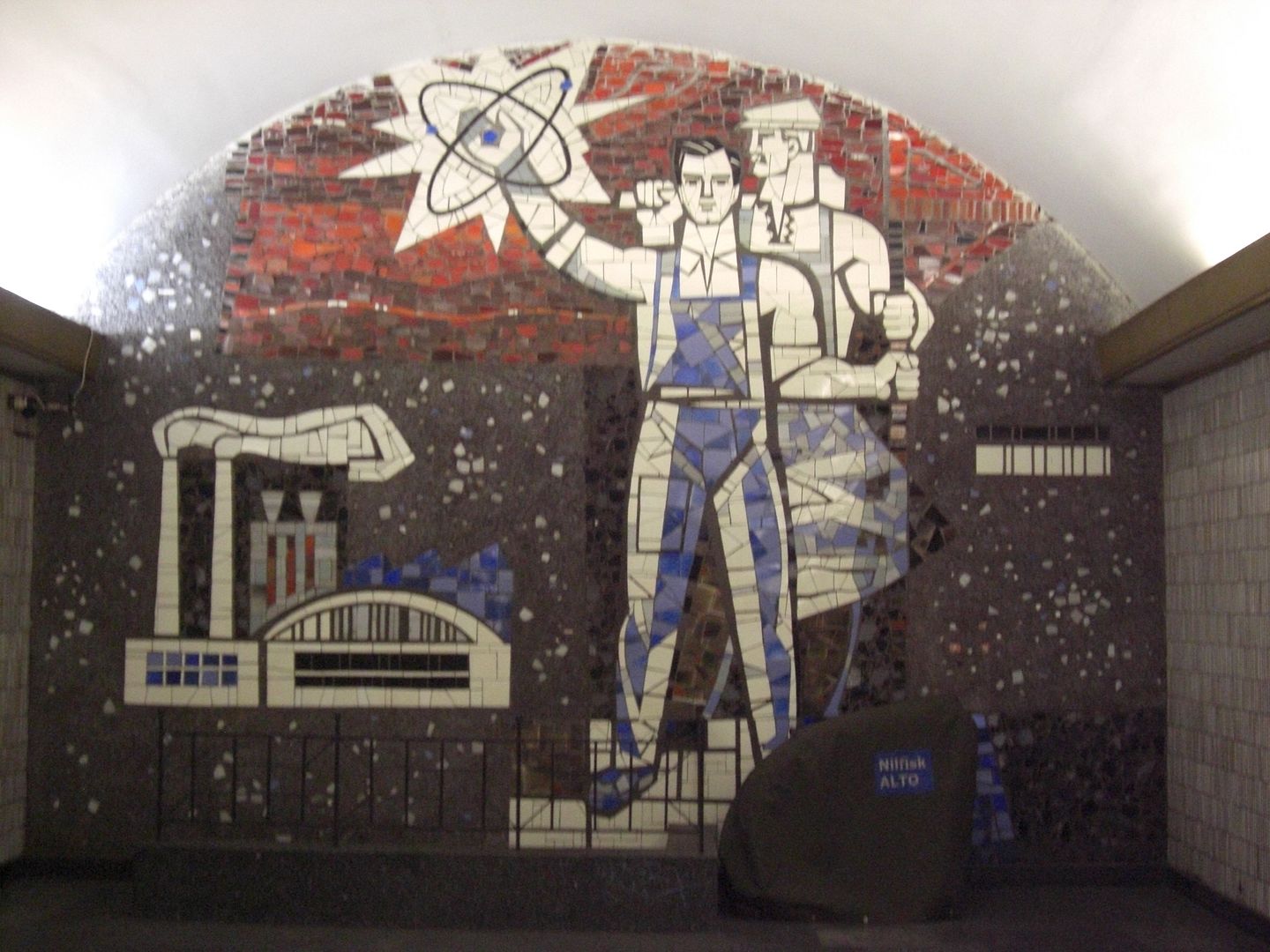 The Monastery
Giant Easter Eggs
This sign says 'Entrance to the Caves' I think – my Ukrainian isn't too hot
The War Musuem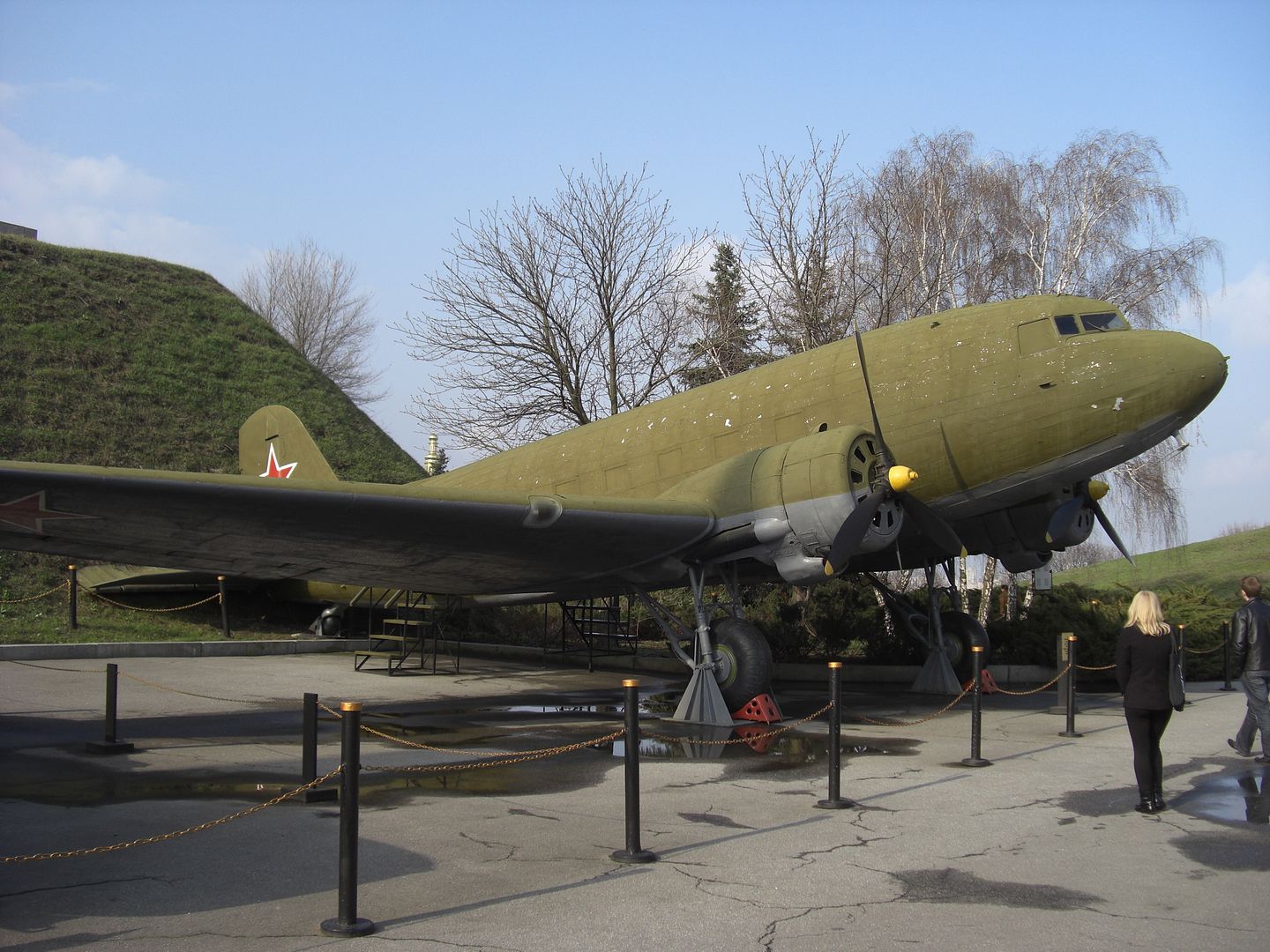 Dynamo Kiev Football Grounds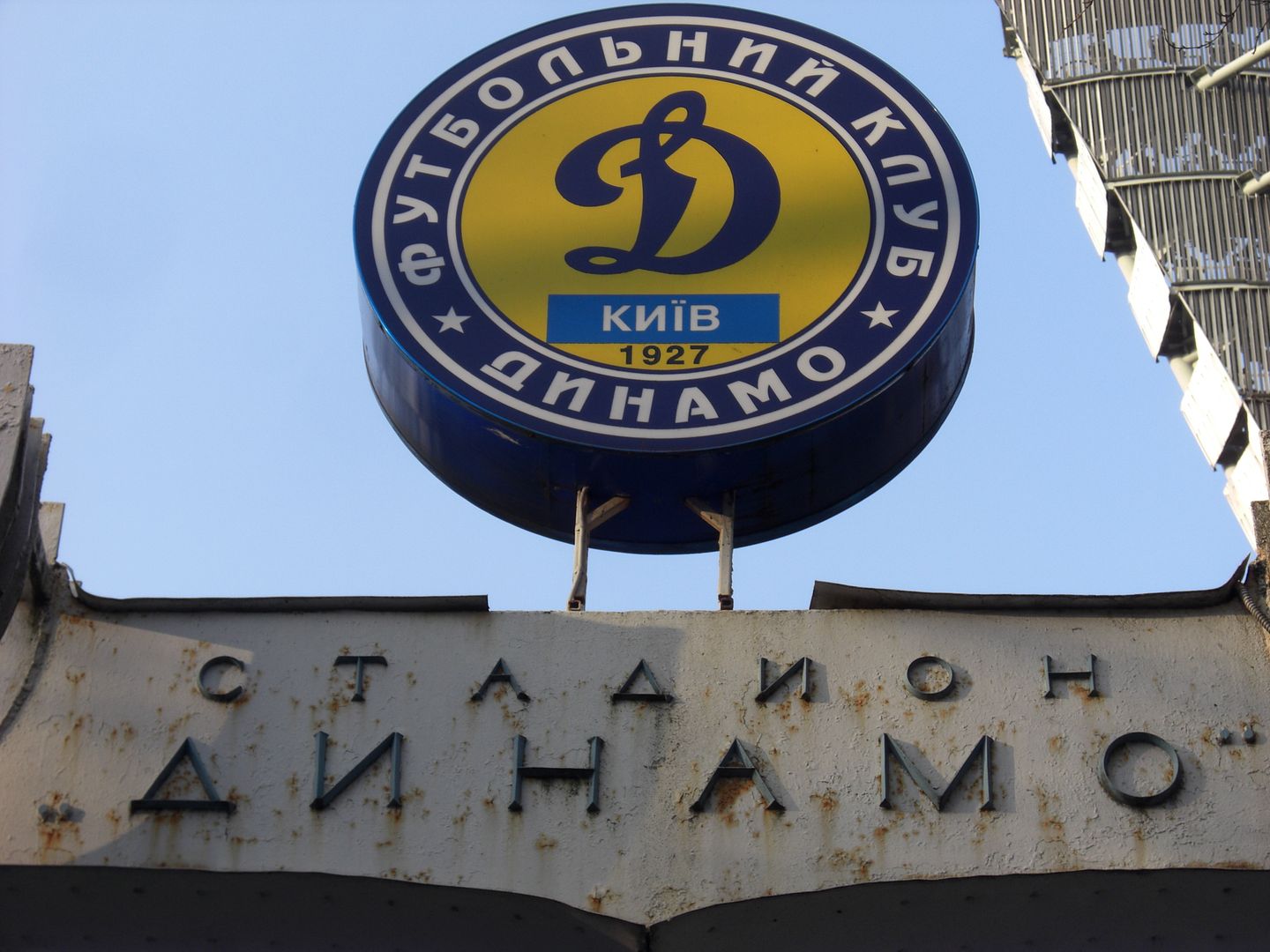 Baltica Beer (from St.Peteresburg)
Menus caused some issues….
I did understand the Vodka bit though! Russian Standard please!
Vehicles outside the Chernobyl Museum (closed unfortunately)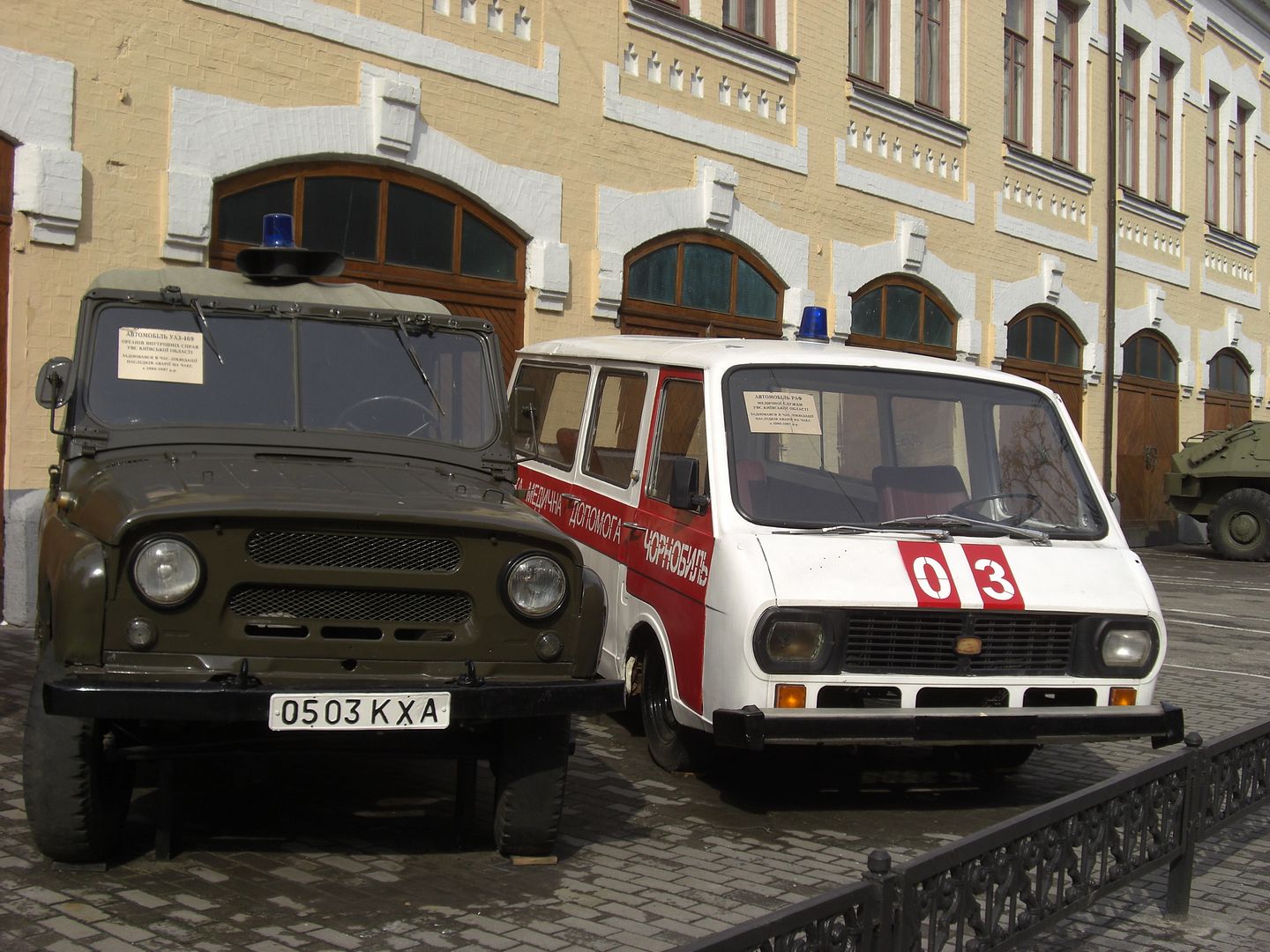 St.Sophia Church (?)
After an all too brief stay in Kiev it was time to head home. Instead of getting the bus I managed to negotiate a taxi to the airport, arriving about 90 minutes before the flight. I went a bit wild in the supermarket in Kiev and bought 4 bottles of Borjomi water, and a few bottles of wine so had to check my bag in (hand luggage only on the way over).
I tried to find a post box to send my postcard that I had dutifully completed, but there were none to be seen. The Austrian check in desks were swamped with people. The Business class desk was marginally less busy, and I was seen in around 10 minutes. My bag tagged, and boarding cards in hand, I went upstairs and joined a long and occasionally rowdy line for security, then an even longer line for immigration.
Once though immigration, I was in the very boring departure lounge. I have 42 Hyrvnias left (about USD 5), so I went into the duty free to see if there was anything – unfortunately everything was priced in Euros (why do some countries not left you spend the rest of your local currency?), so didn't buy anything. I found a bar near the gate though, so enjoyed a couple of Stellas before boarding.
Departures Board (in Ukrainian)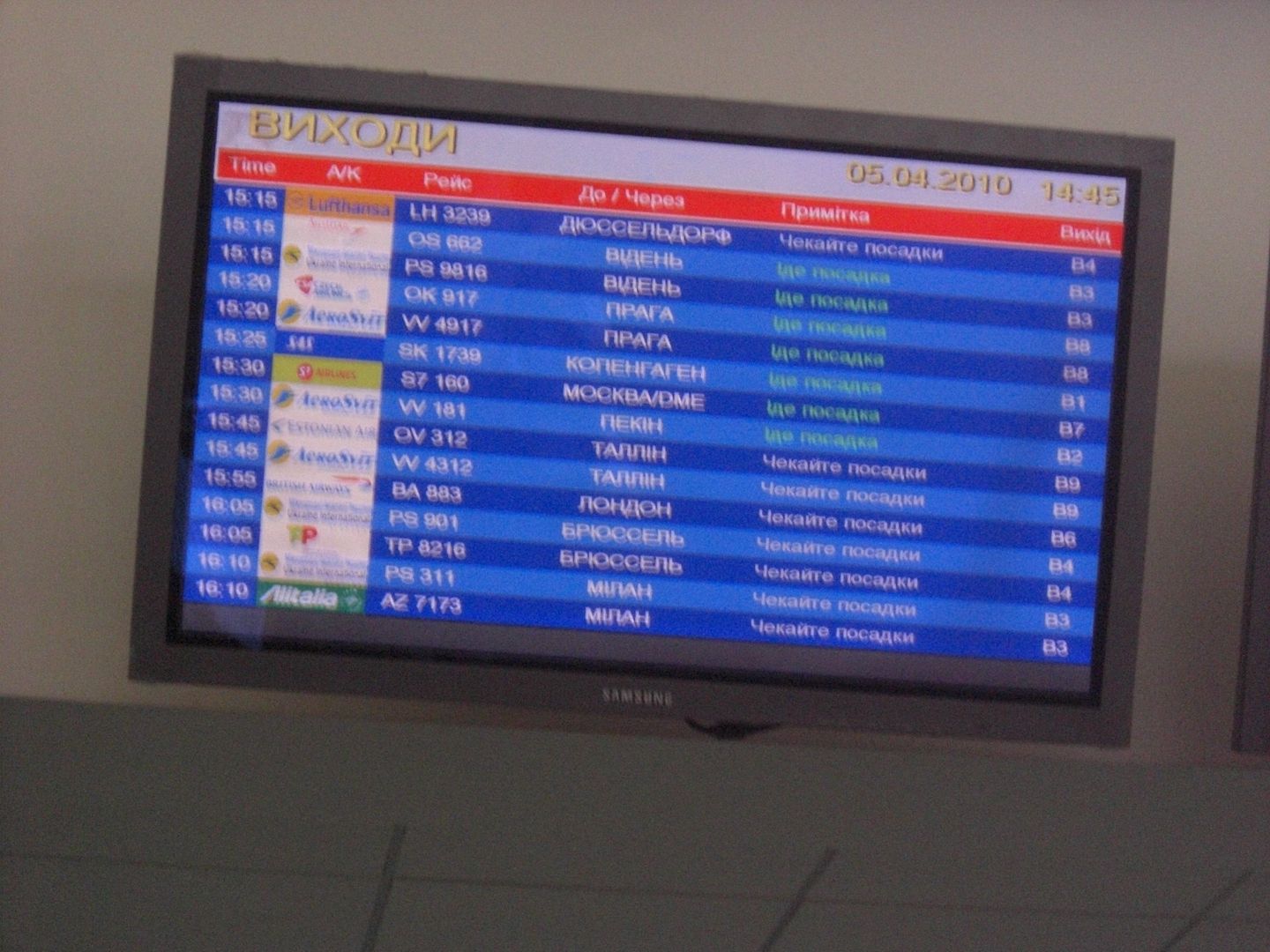 Views from the terminal of the tarmac are very limited – I could make out the lucky aircraft that got allocated the sole air bridge – a CSA A320 to Prague. I missed the first bus out to the aircraft, so followed on the second.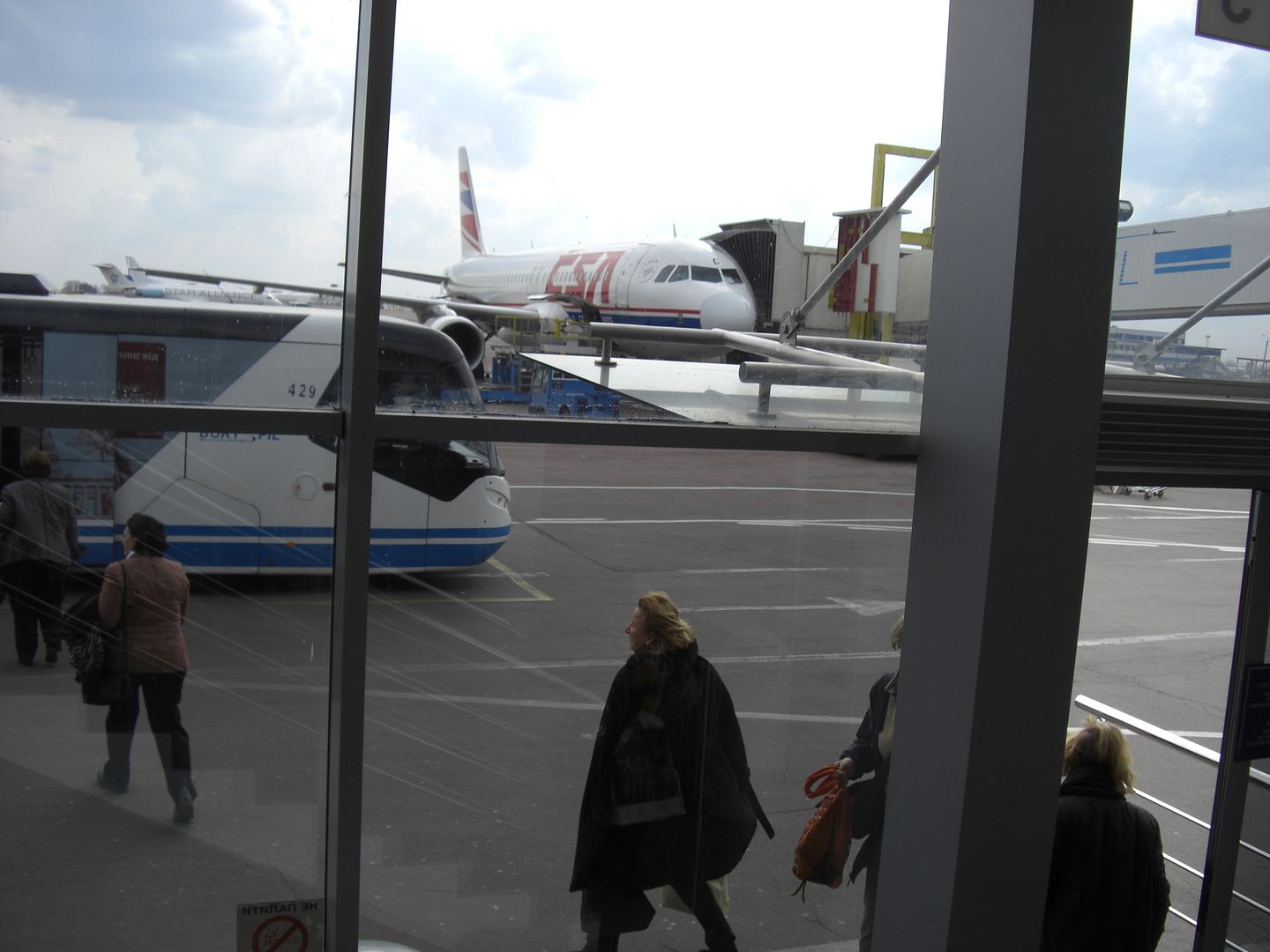 SK to CPH
LH to DUS
New Terminal?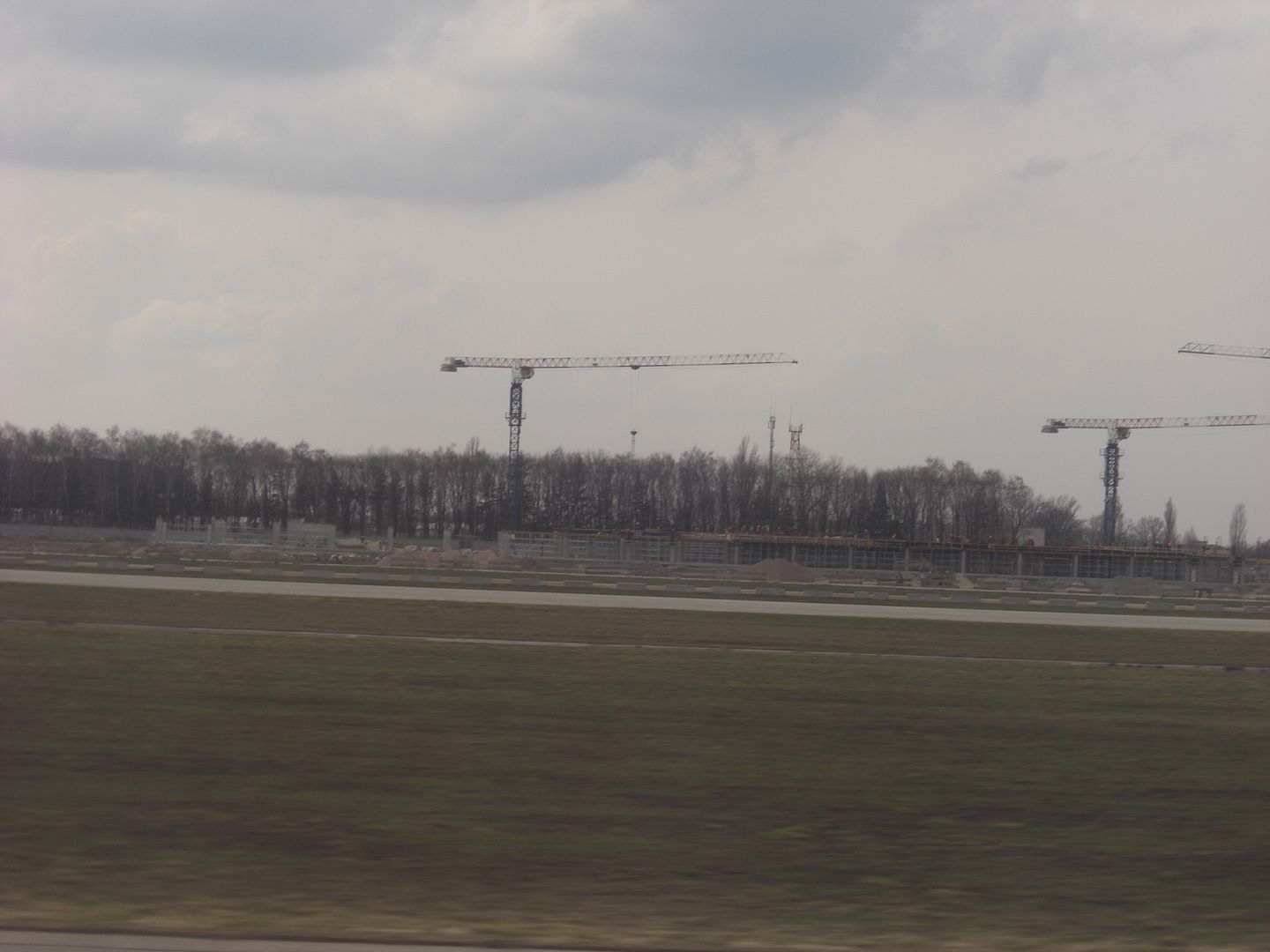 April 2010
Kiev Boryispol (KBP) – Vienna (VIE)
Scheduled: 1515-1625 (2h10m)
Actual: 1518-1627 (2h09m)
Austrian OS 661
Fokker F100 (OE-LVE) Star Alliance Livery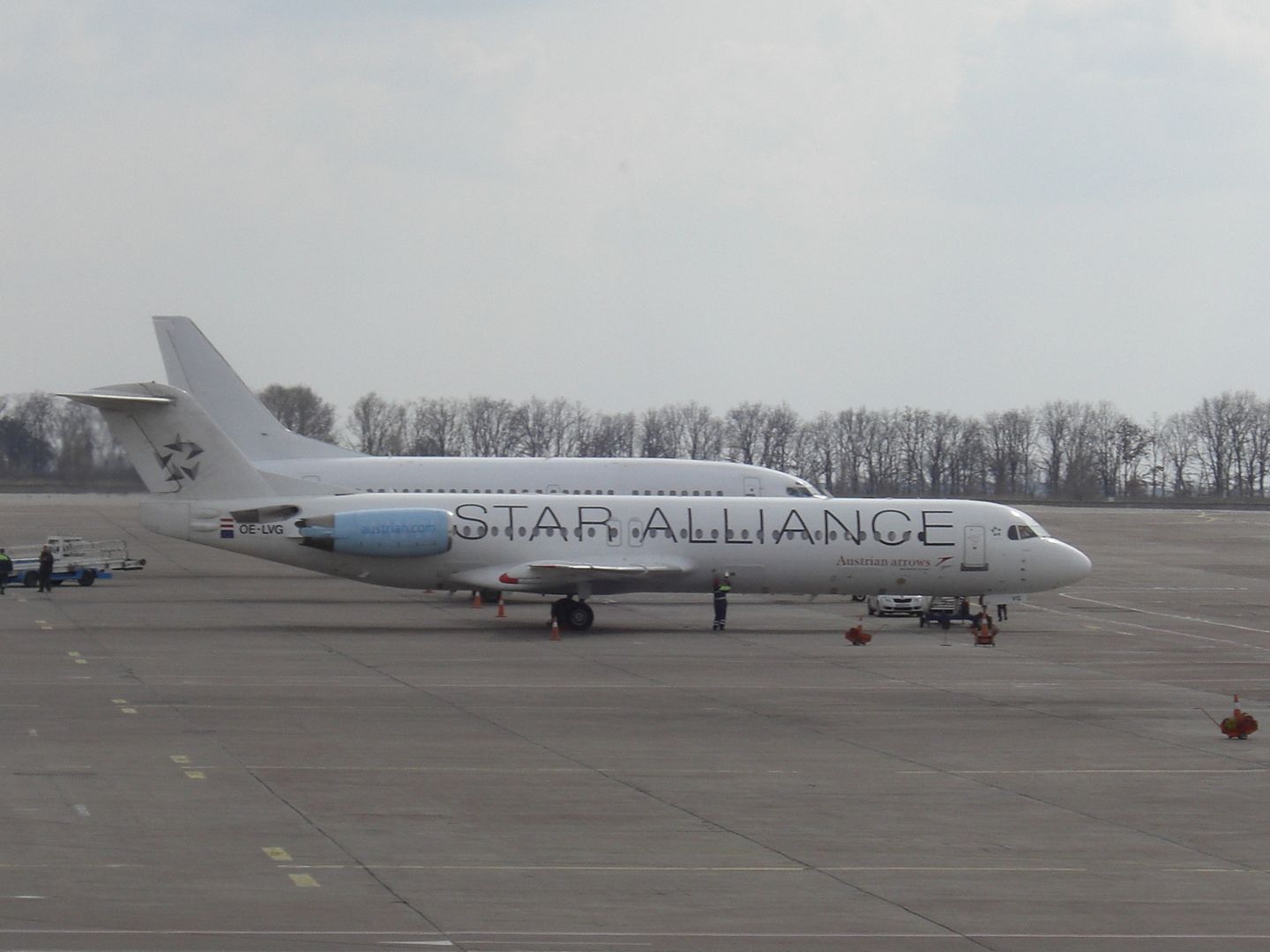 This flight seemed a bit fuller than the last, and there were even people booked in Business (including one guy that was in the same row as me on the way out). We departed a few minutes late into another overcast sky.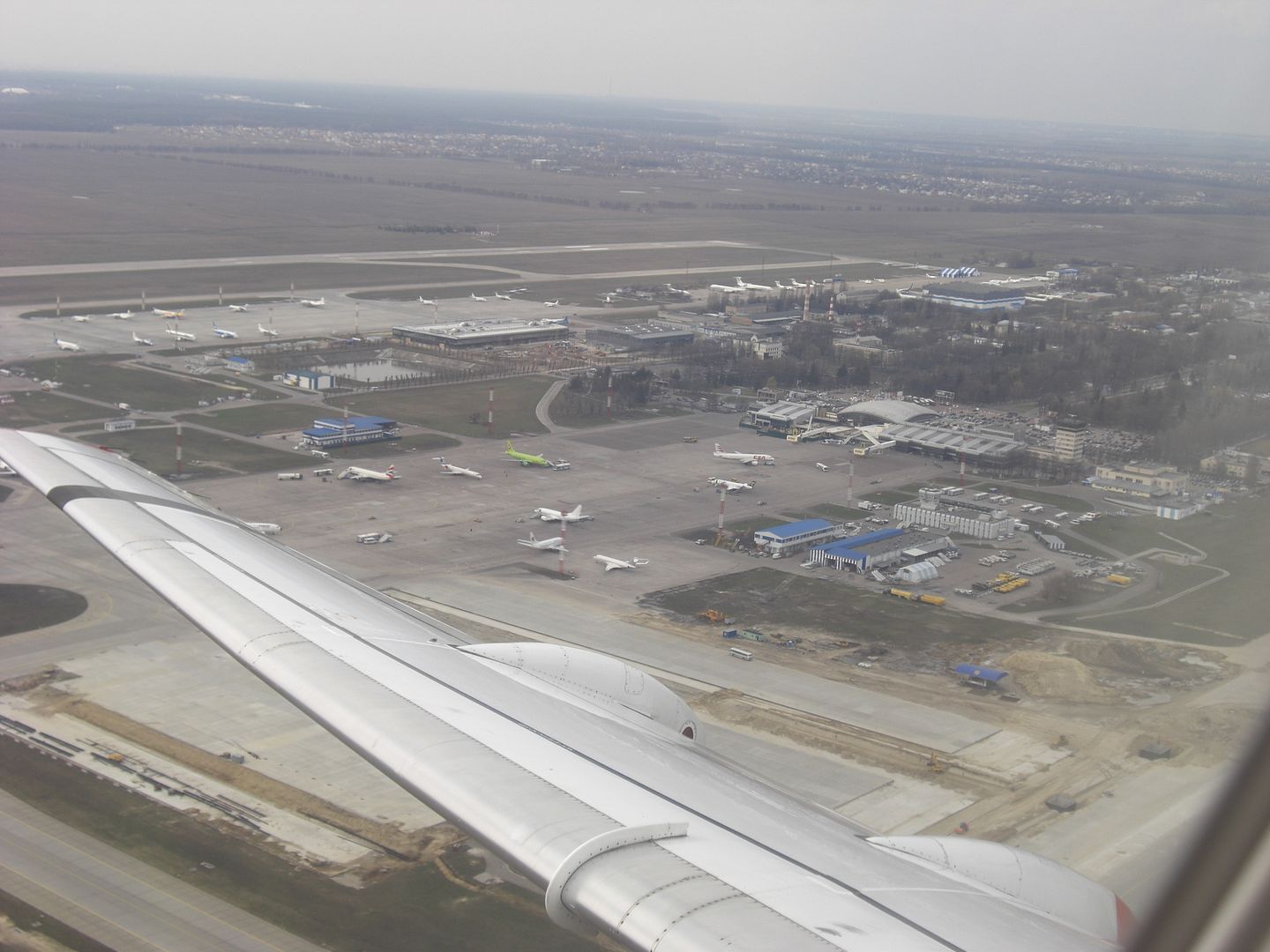 Views of Kiev from the air
The service on this sector consisted on drinks (more Austrian beer), and some Do&Co cakes.
Unlike the beautiful weather in Vienna when I left, this time Vienna was freezing cold. Everyone ran from the plane into the relative warmth of the bus. On the way back to the terminal we past the B738 that would be taking me to London.
I had just enough time between flights to go up to the lounge, where I indulged in some very nice chocolate pear cake, and a glass of Prosecco.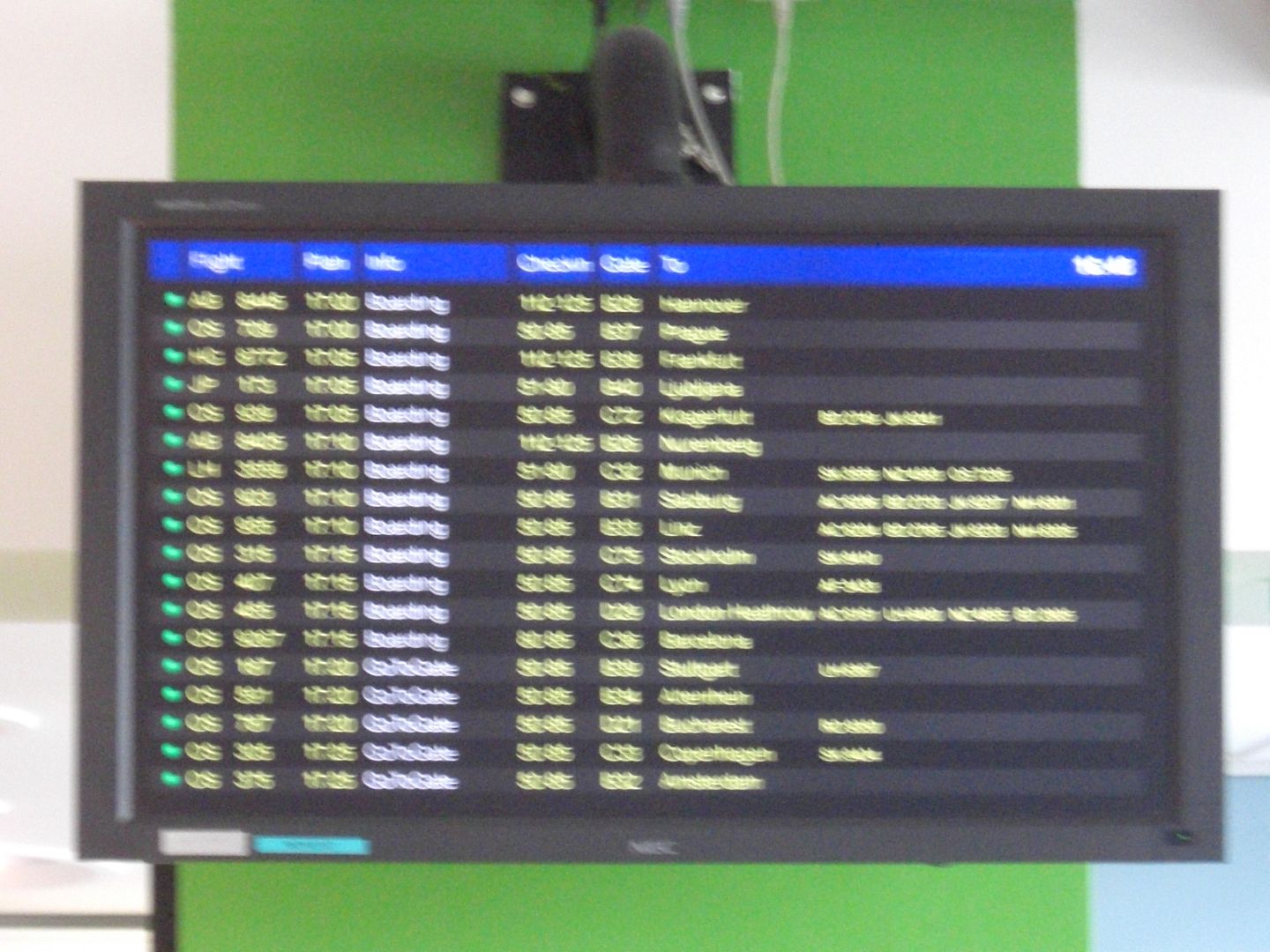 April 2010
Vienna (VIE) – London Heathrow (LHR)
Scheduled: 1715-1835 (2h20m)
Actual: 1729-1834 (2h5m)
Austrian OS 455
Boeing B737-800 (OE-LNS)
This flight, like the LHR-VIE leg, would be going out full. The incredibly small departure lounge was completely full, with not a single seat left, and people standing in every conceivable space. The new terminal can't come quick enough.
Walkaround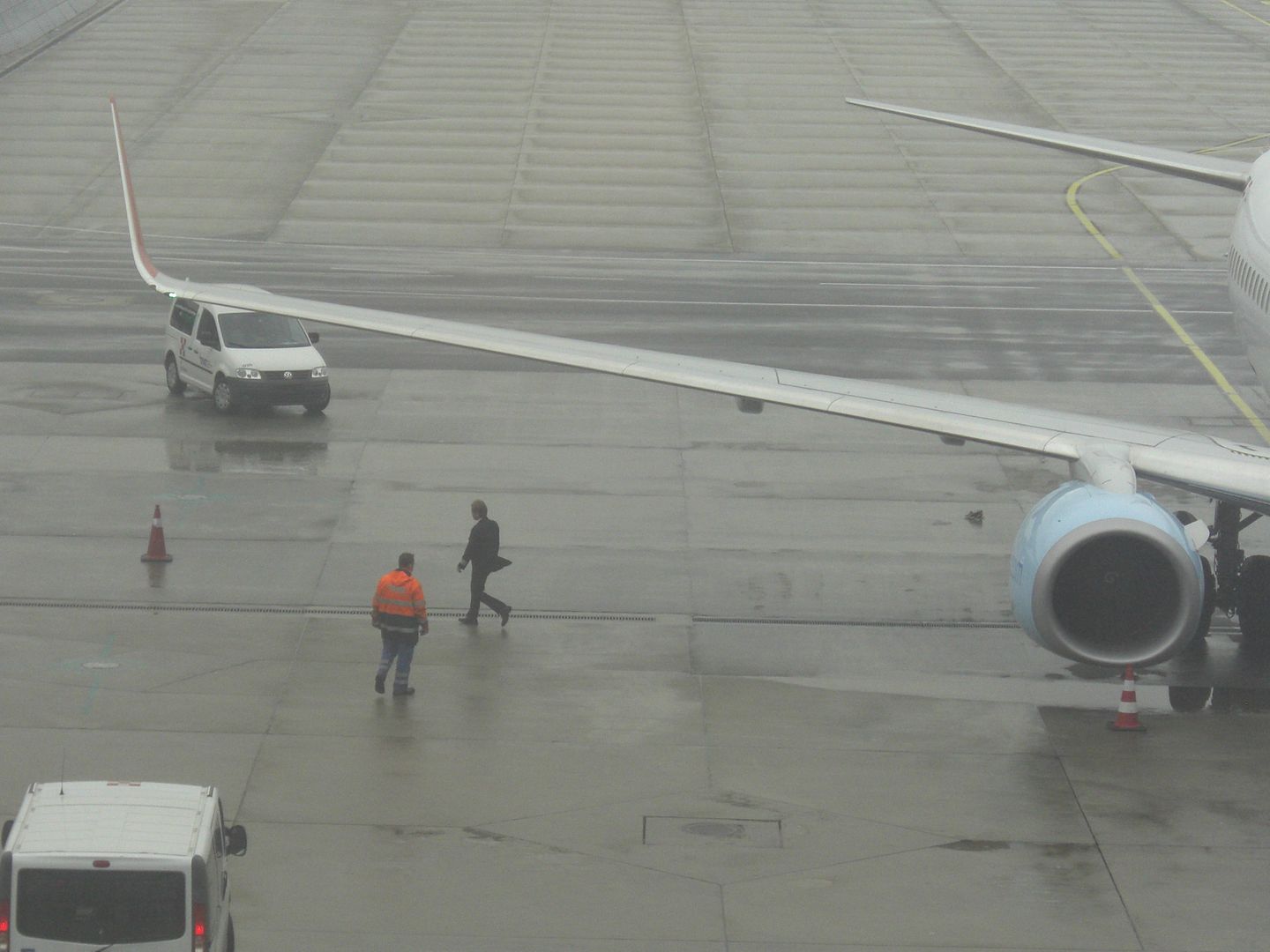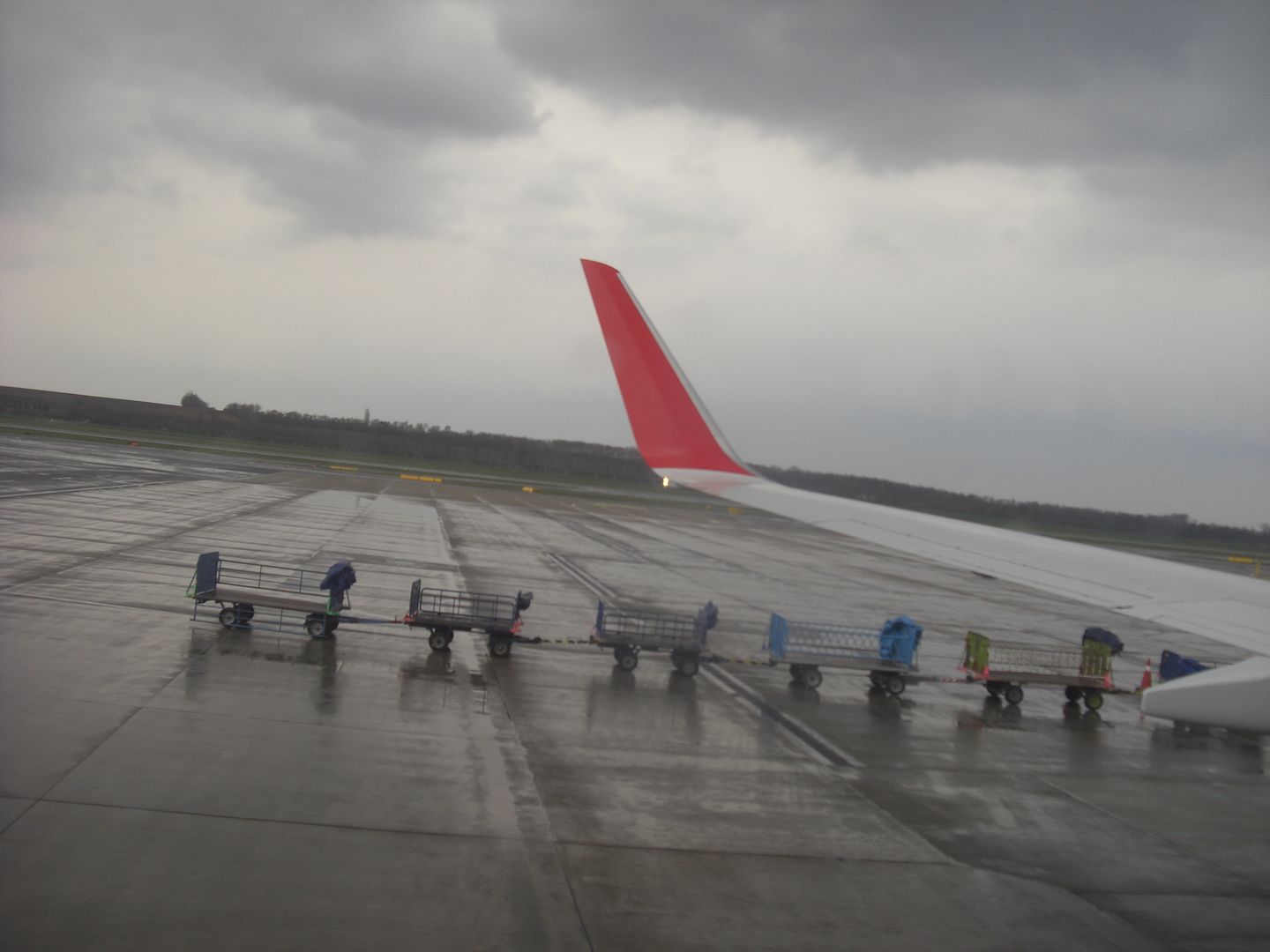 I like the Niki paintjob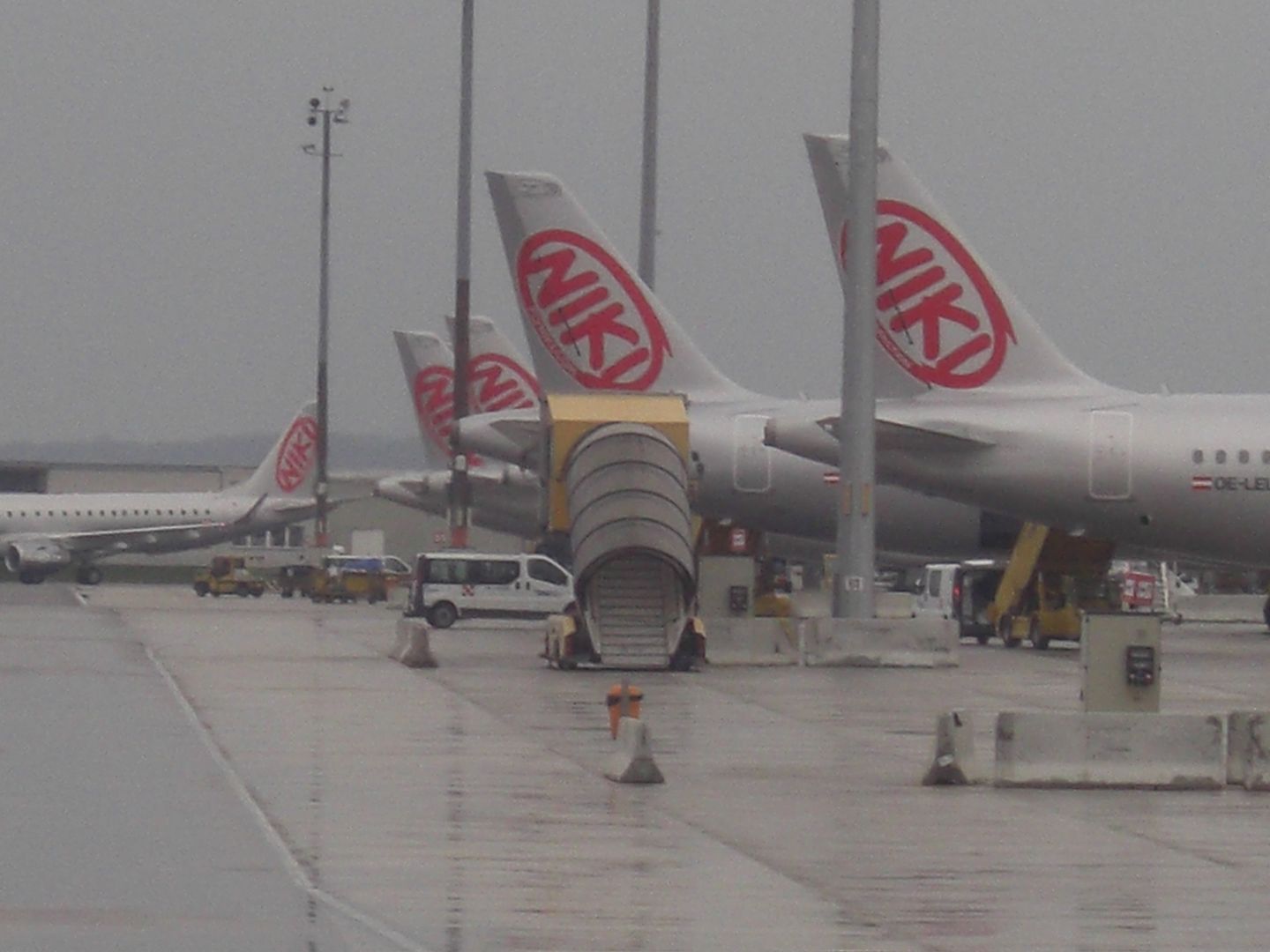 The BMI flight that now codeshares with OS – part of the LH bigger picture.
We took off a little behind schedule into the cold grey skies. The snack, once the crew had worked their way down the length of the plane, was a chicken sandwich and chocolate mousse, which was pretty tasty.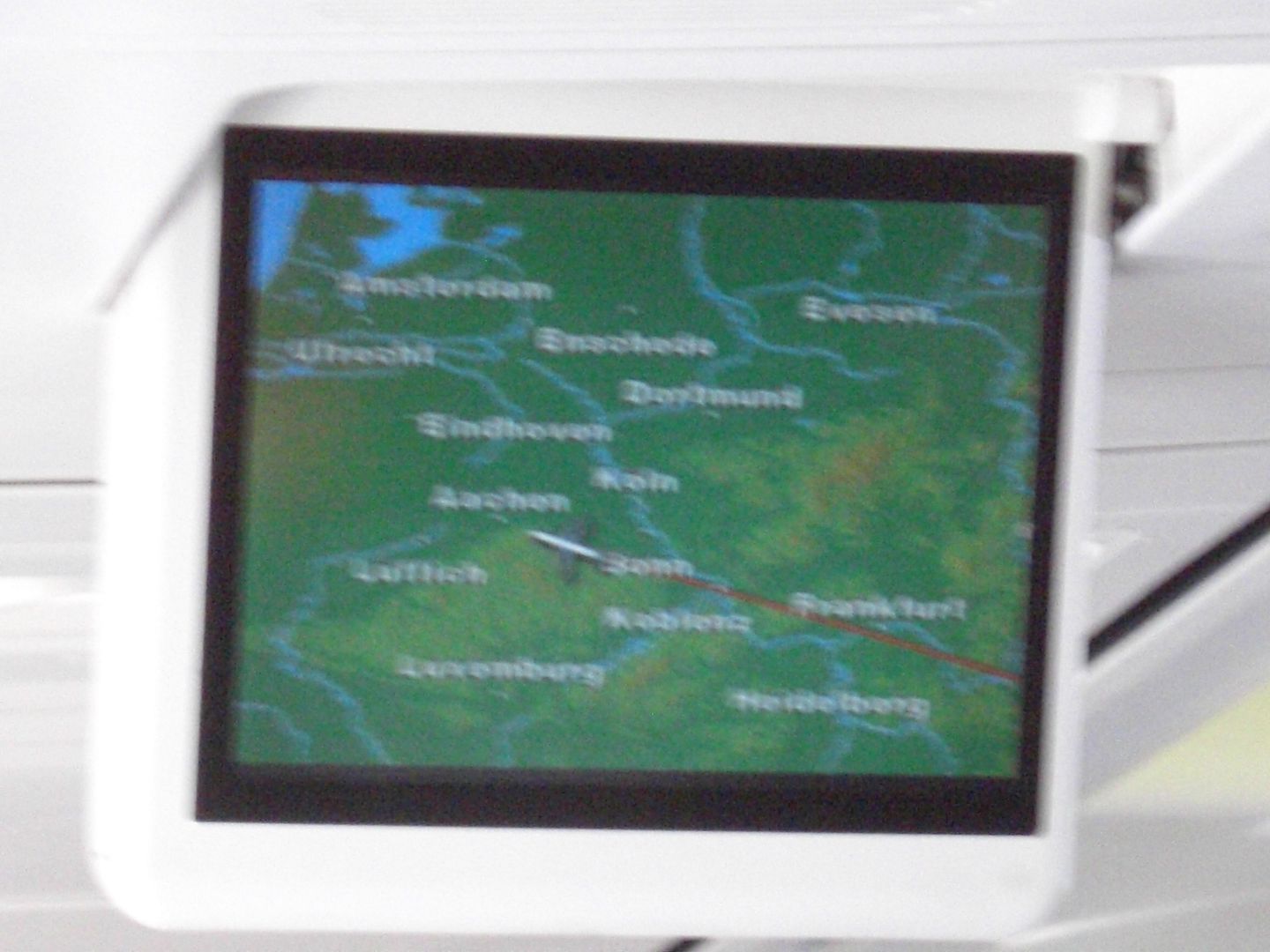 The cloud line stopped abruptly as we left the continent – England was enjoying a very sunny Spring evening.
http://my.flightmemory.com/shefgab
Upcoming flights: AMS-RIX-BUD-VDA,ETH-TLV-FCO-LHR,STN-TXL-LCY,LTN-CPH-LTN,LGW-SZG,MUC-LHR