Hello! Welcome to my tripreport. In early April this year I was on a short vacation in Austria. At first we planned to visit Vienna only, but after seeing some stunning pictures from Innsbruck, we decided to make a daytrip there. That´s also gave me the opportunity to fly on a new aircraft type for me, the Dash 8-300. I don´t hesitate! I love turboprops:D
The journey began on Saturday the 3th of April with a 3hour trainjourney to Stockholm from my hometown Karlstad. We arrived in STHLM 7pm and took the Arlanda Express train to the airport were we stayed at the Radison Arlandia Hotel. The hotel is located 1 kilometer from Arlanda and have much better prices then the Radison in terminal 5. A free every 15min shuttle-bus operates from the main entrance. The room was nice and the hotel have a sauna and swimmingpool. We paid 1095 SEK for a double room with a large breakfeast bufé include. I´m guessing that´s around 85-90 euros
After a early start we headed for the bus and after a 5 minute ride we arrived at Arlanda terminal 5 at around 8 am. Our flight was scheculed to 10.15.
Outside Arlanda: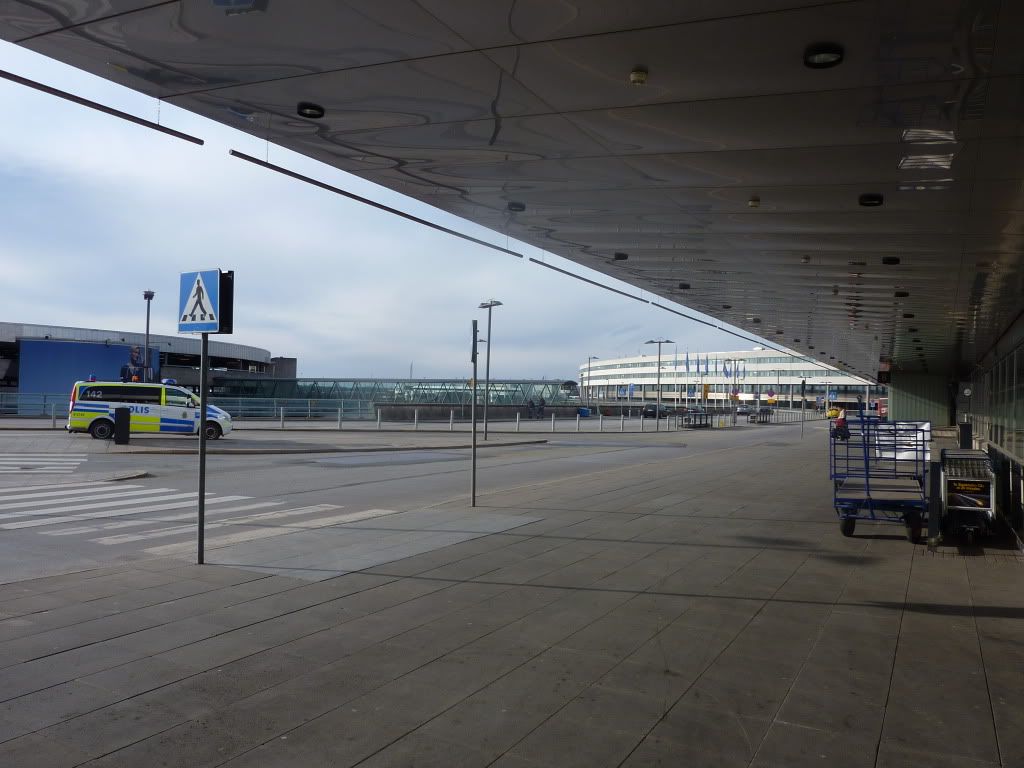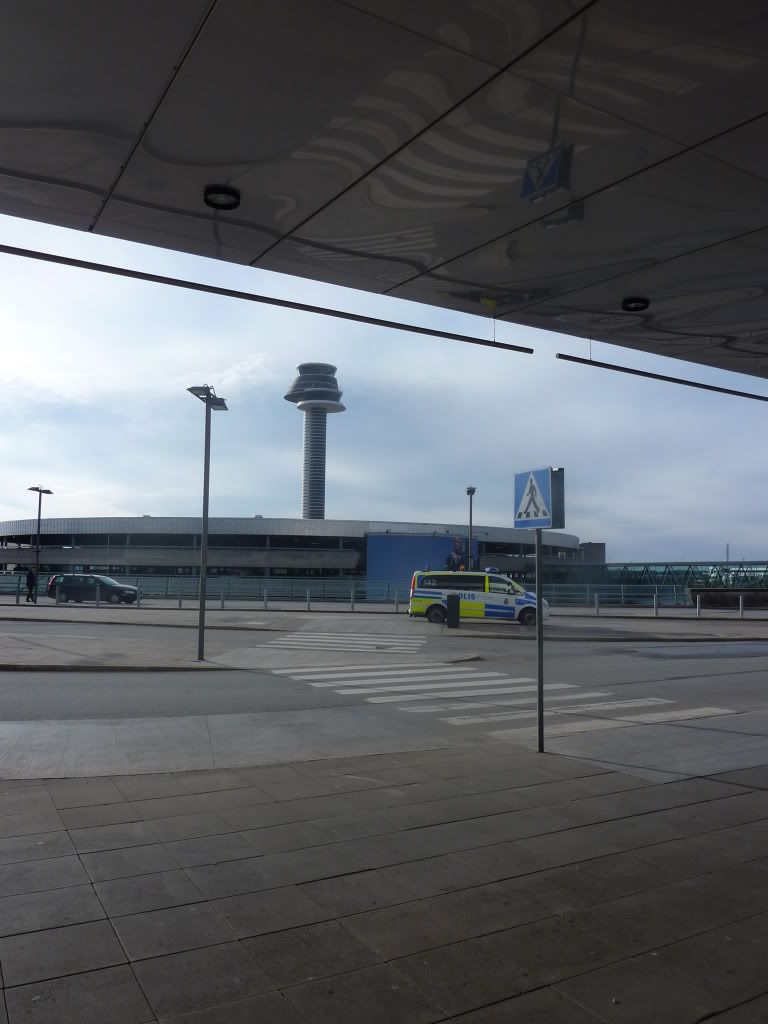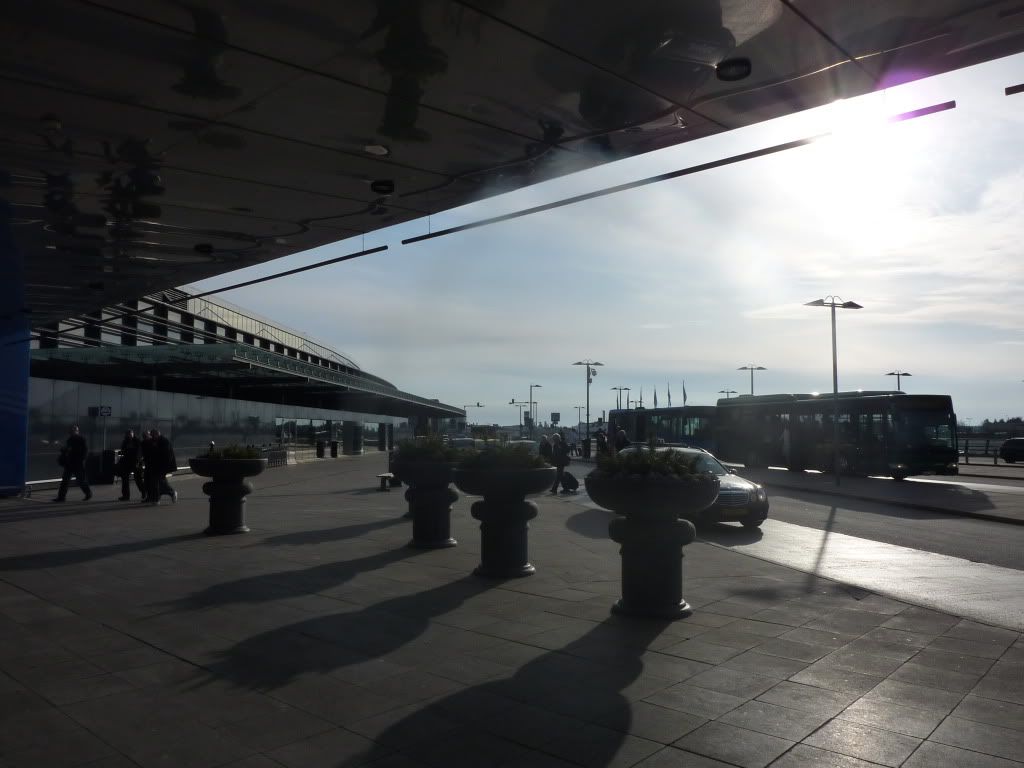 We used Star Alliance self service machines to check-in for our flight with Austrian. Then drop our bagage at SK bagagedrop. All done in 10 min. Not so many people this early easter-sunday morning.
Security was quick and we headed for gate. After some spotting and a quick coffee it was time for boarding.
Some aircraft´s at Arlanda:
BA A319
SAS Norway 737 and Swiss A320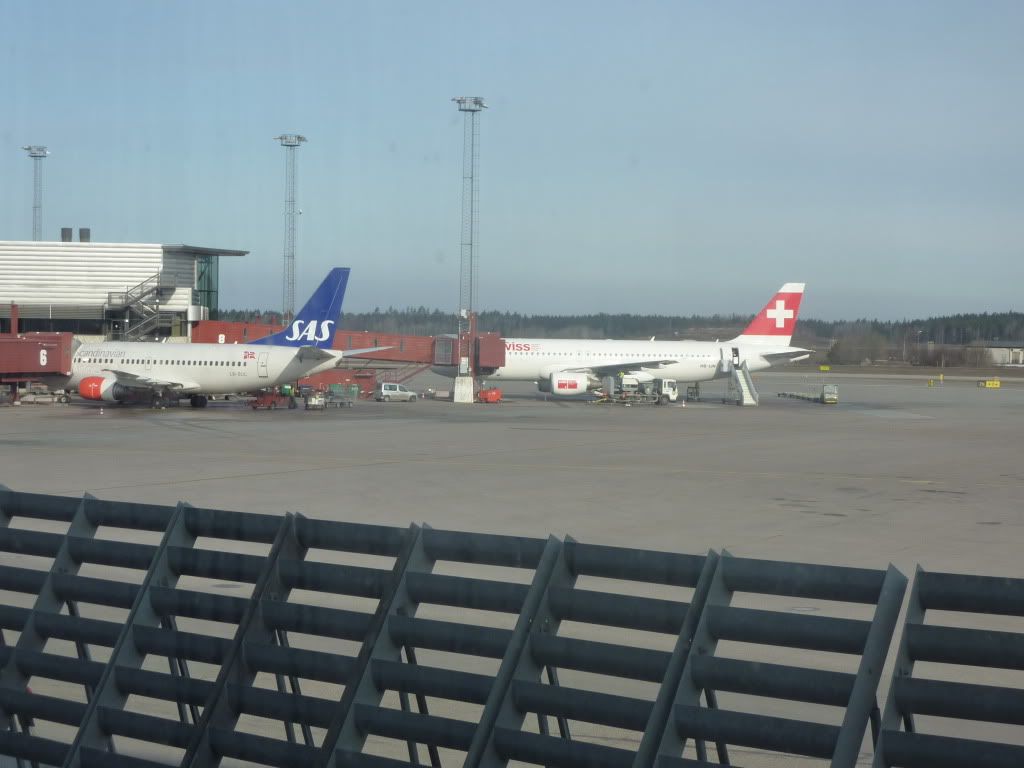 SAS 737´s and CO´s 757 for EWR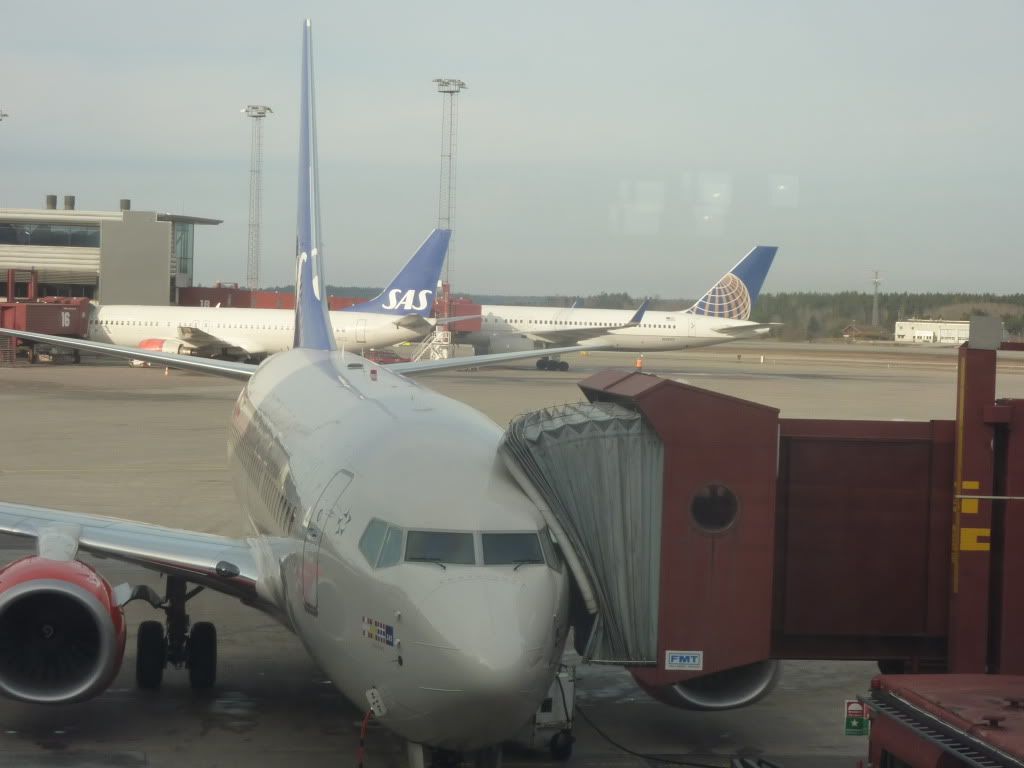 KLM 737
CO´s 757 again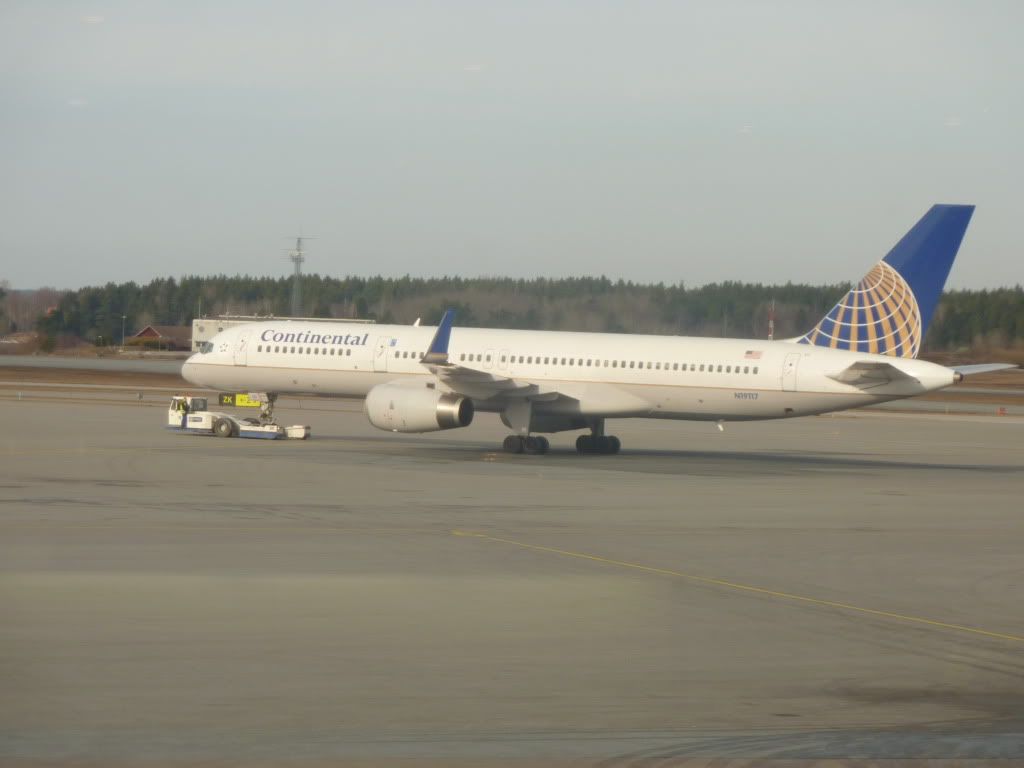 Boarding started on time at Gate 05A
Our A/C from the gate: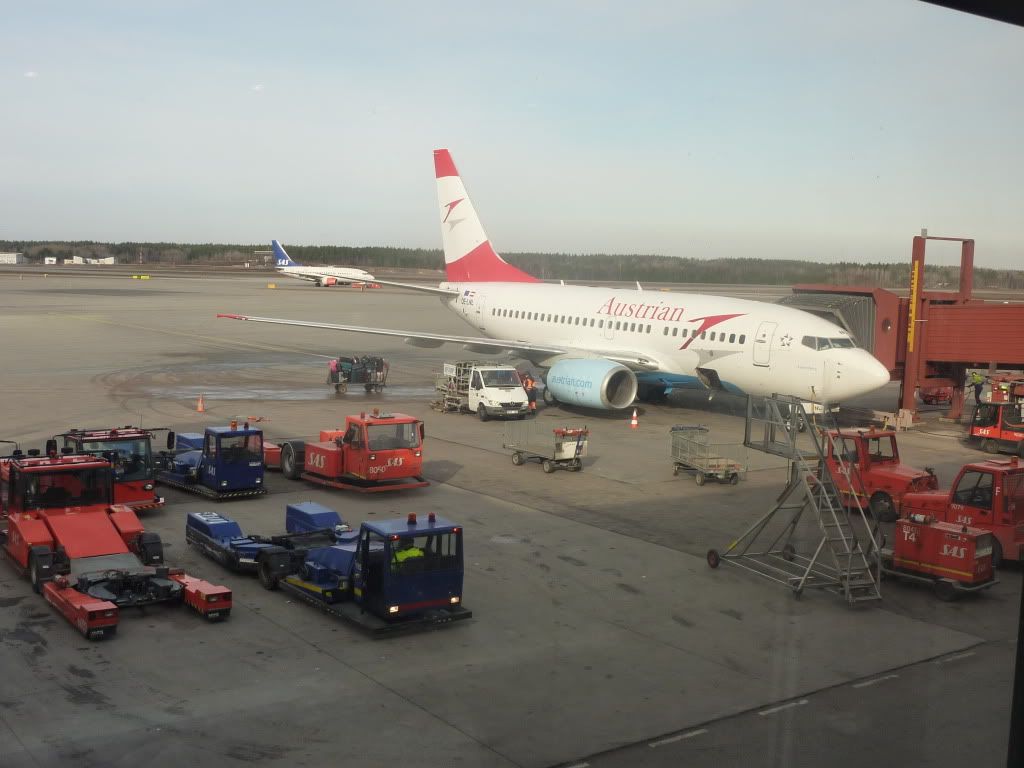 We were greethed by Purser Silvia and her 2 colleagues Julia and Sonia. All very friendly.
Flight details:
Flight: OS312
A/C: Boeing 737-700 OE-LNL "Kahlenberg"
Dep time:10.15
Arr time:12.40
Fl time:2h 15min
Load: 105 of 132 ca 80% load
Wiew from my seat, 14A
Cabin:
We took-off ontime and made a sharp turn to the south and quickly reached our cruising altitude of 12 400m. Our crusing speed was 811km/h
Our route was Stockholm-Malmö-Berlin-Dresden-Prag-Brno-Vienna
After a couple of minutes in flight the seatbelt-sign was turned off and the F/A´s started their service. On todays flight we were served a sandwich with cold and hot drinks. All for free, nice!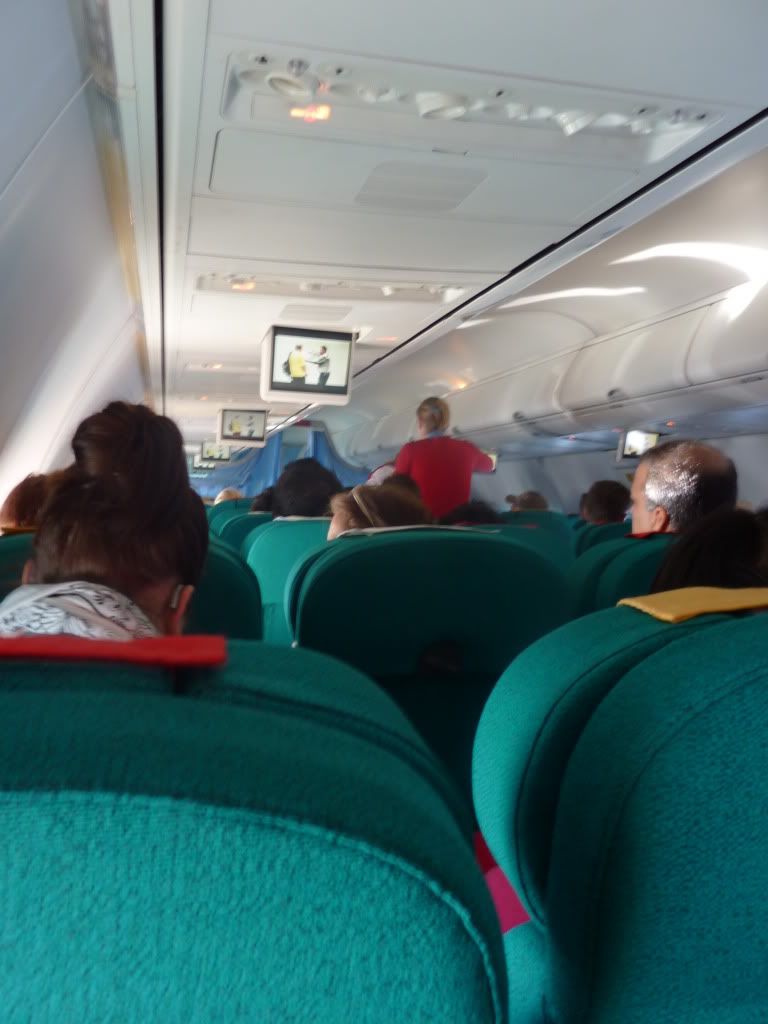 A/C passing below us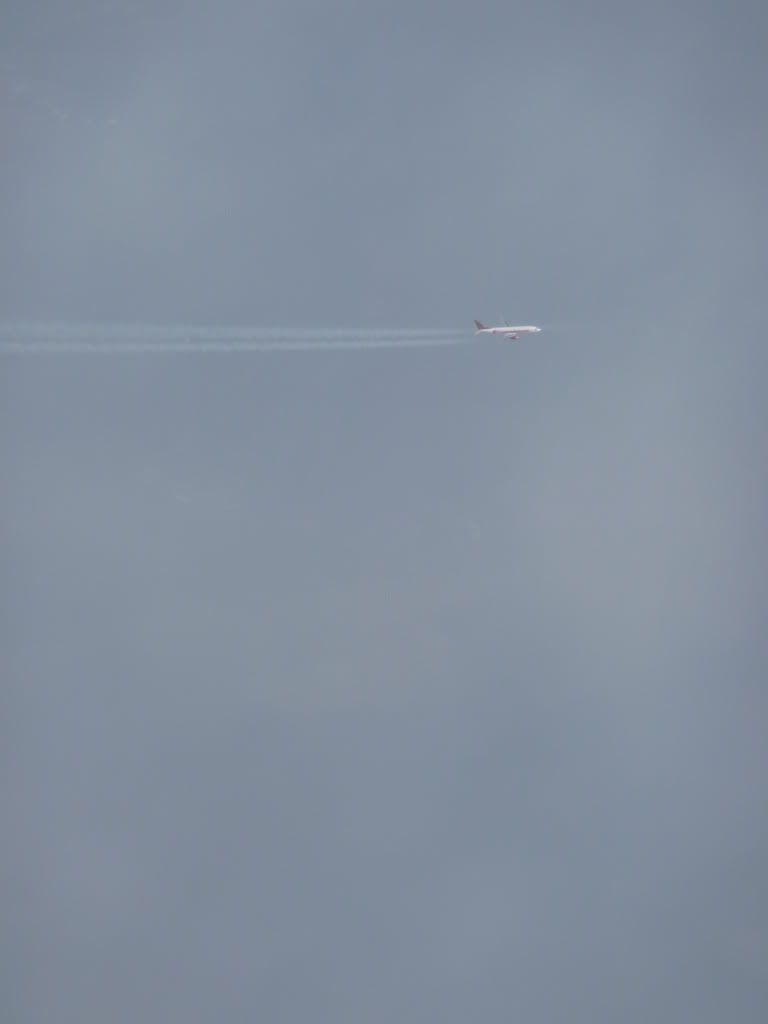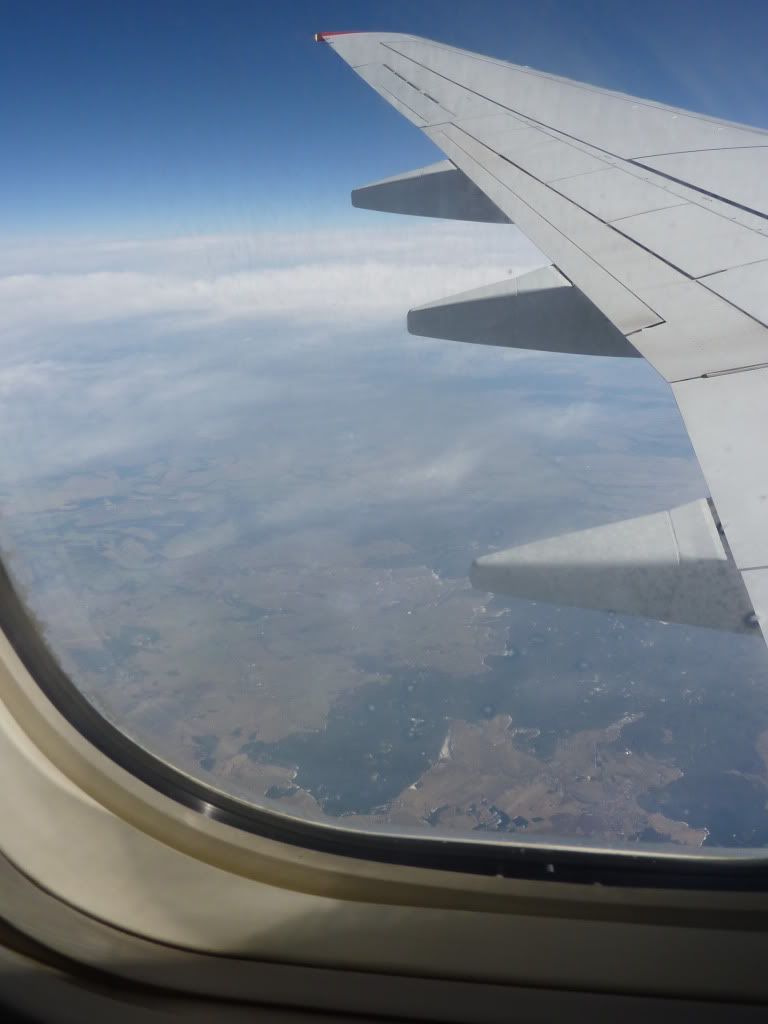 The flight was smooth and soon we were decending towards Vienna Schwechat Airport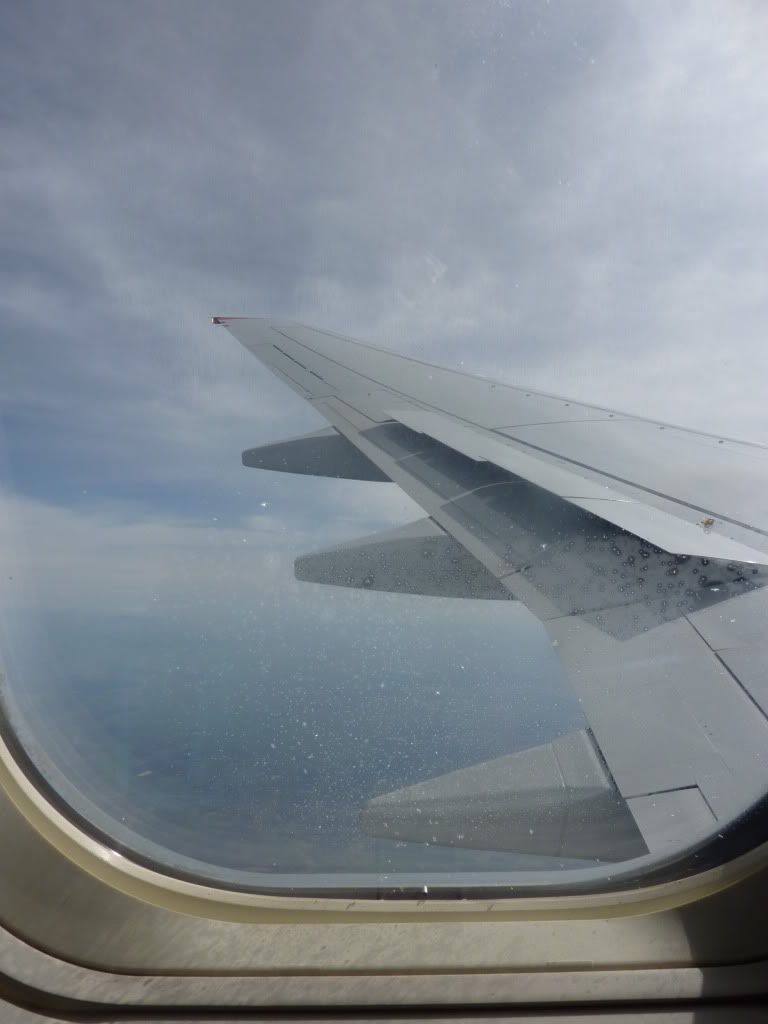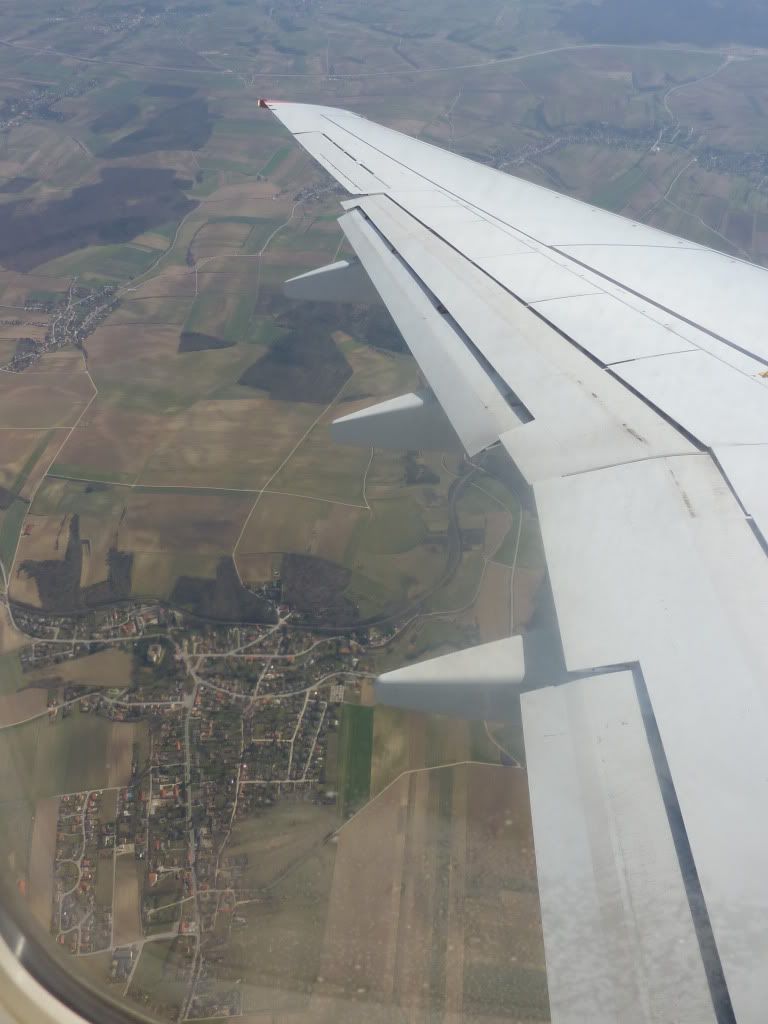 We landed on time at VIE runway 16 and made a quite long taxing to Gate C30
On the ground
Passing a company F100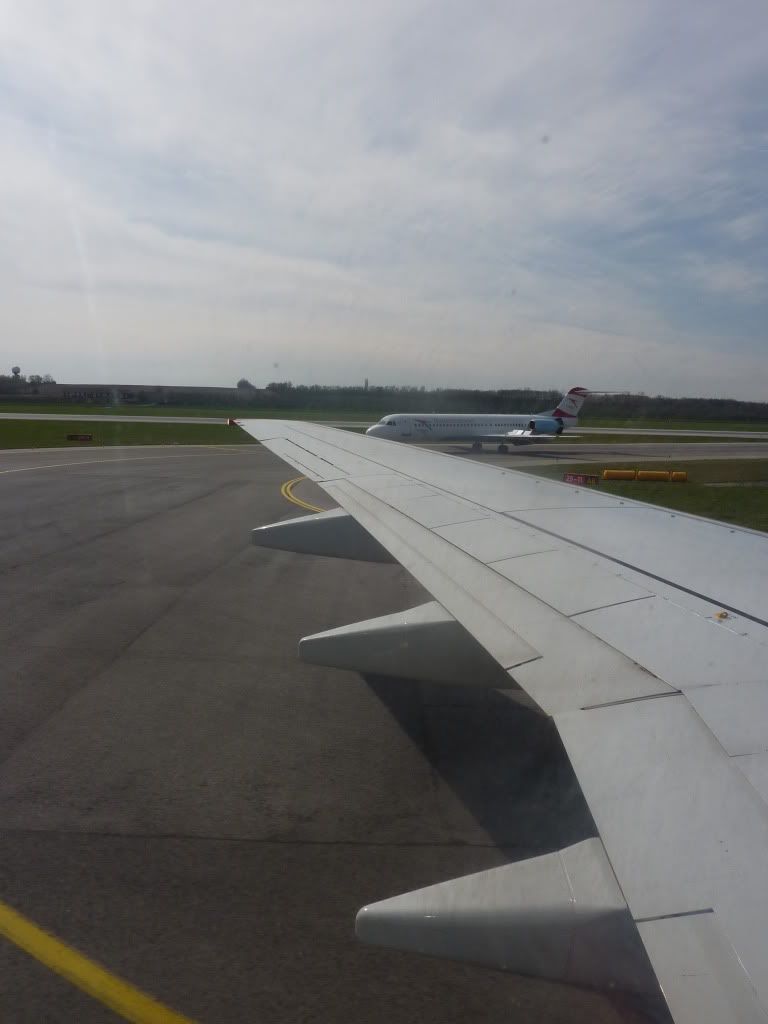 Dash8-300
A Fokker 100 approachong runway 16 that we just landed on.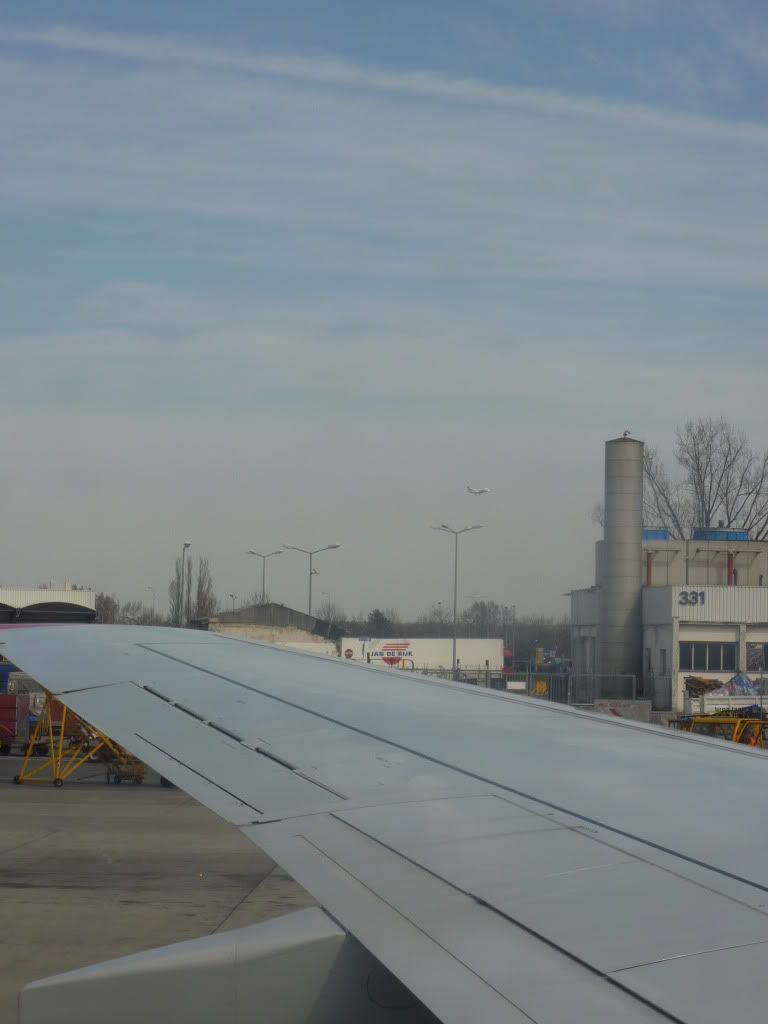 Parked next to a Lufthansa A319
Some OS-aircraft: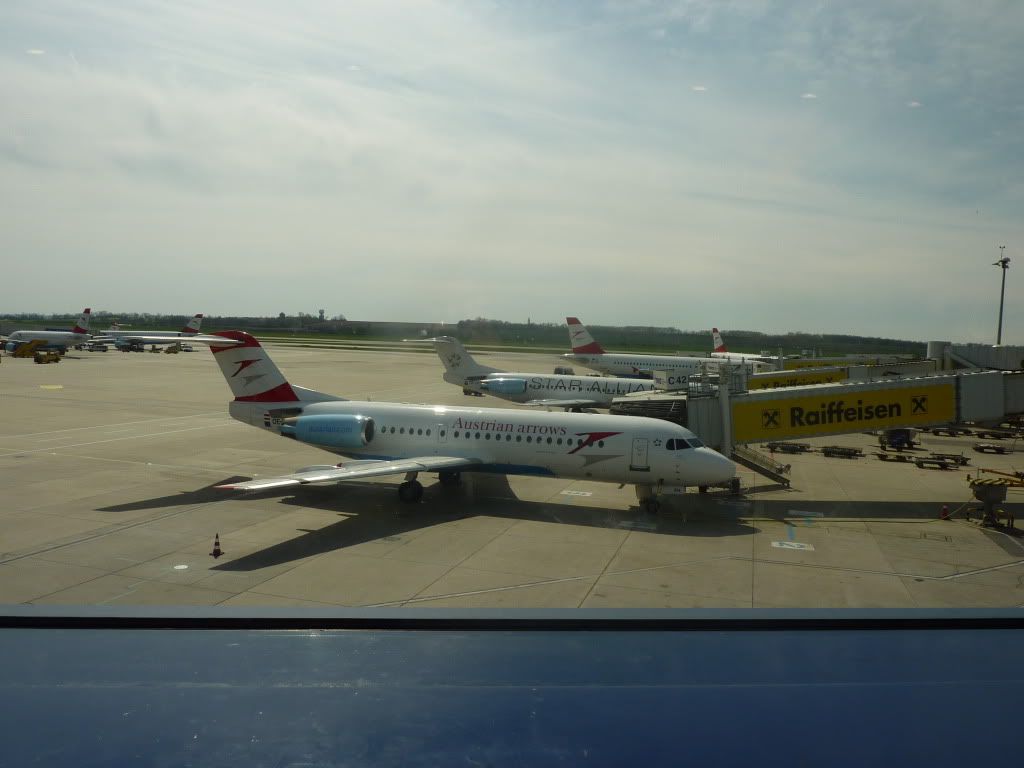 We took the City Airport Express train to the city centre and stayed at the Mariott hotel.
Two days later we headed for Innsbruck, continued below