Introduction
Norway and "low cost" are two things one would not expect to use together in the same sentence - after all we are talking about a country that constantly ranks among the most expensive ones in the world (especially now after the great Icelandic economic meltdown has dropped Iceland's position on that list). Still, they have their own homegrown low cost carrier, Norwegian (officially still known as Norwegian Air Shuttle from its roots as a regional domestic carrier). DY isn't a "heavy duty" LCC like Ryanair, Wizz or (to a lesser extent) Ezy, it's more akin to Air Berlin since it offers some amenities the regular carriers do like assigned seating, some limited connecting flights and its flights are bookable using the traditional GDS systems as well. Fares usually aren't ultra low like on FR and can get quite high on popular routes - I saw some fares over 500 EUR for LPA-OSL one way! Anyway they have been very successful, initially in their home market Norway and have since expanded in the Nordic market, opening bases in ARN (via the acquisition of FlyNordic) and CPH, flying to a wide variety of European destinations. They even tried entering the Polish market by flying a number of routes from the major Polish airports to various destinations in Europe but apparently that operation wasn't too successful and it has been scaled down.
In the Nordic market Finland was the blank spot on their route map, no doubt helped by AY owning a minor share of their stocks (again from the FlyNordic deal, AY owned a chunk of that company) trying to protect their home market and high prices. This spring it all changed as DY added HEL to their route map, and they did it with guns blazing - opening both OSL and ARN routes on the same day with two daily frequencies on workdays and Sundays and one on Saturdays.
The opening day would be 29th of April. I had almost given up on the hope of catching any of the inaugural flights and actually have another booking on the HEL-ARN route for late May. But as I mentioned in my last trip report: suddenly things changed and I had some time off in late April, including the inaugural day. I set my plans so that I would catch the inaugural OSL-HEL as the last leg of my Canaries trip, booked for 31 EUR.
I hadn't planned on doing the ARN flight on the inaugural day, but a bit later DY came up with a super offer for the initial week of both routes (not available on weekends) - seats for only 1 EUR (or 10 NOK/SEK in the other direction) all-in. Frankly that was an offer I couldn't refuse, so I booked the second HEL-ARN flight of the day for that price - paying with a Visa Electron there were no credit card surcharges or anything, it really cost only an Euro! I've had my fair share of cheap flights on various carriers, but this is still the cheapest flight I've ever bought.
To get home from ARN I booked the evening flight on BT via RIX, which cost around 90 times as much
.
29.4.2010
The story picks up where the previous trip report
Quick Canaries Trip: HEL-MAN-TFS/TFN-LPA-MAD-RYG
(by
FlyingFinn76
May 4 2010 in Trip Reports) left me - sleeping on the floor on a quiet corner of the Oslo Gardermoen airport. The experience wasn't actually that bad, I caught a bit over five hours of sleep, but around 4.30 I have to get up as it is getting quite cold on the floor, my back is killing me and the sounds of people arriving to the airport for their early morning flights wake me up. I try to wake myself with ice cold water in a bathroom which sort of works before heading to the security checkpoint which is almost completely empty, looks like the morning rush is yet to start.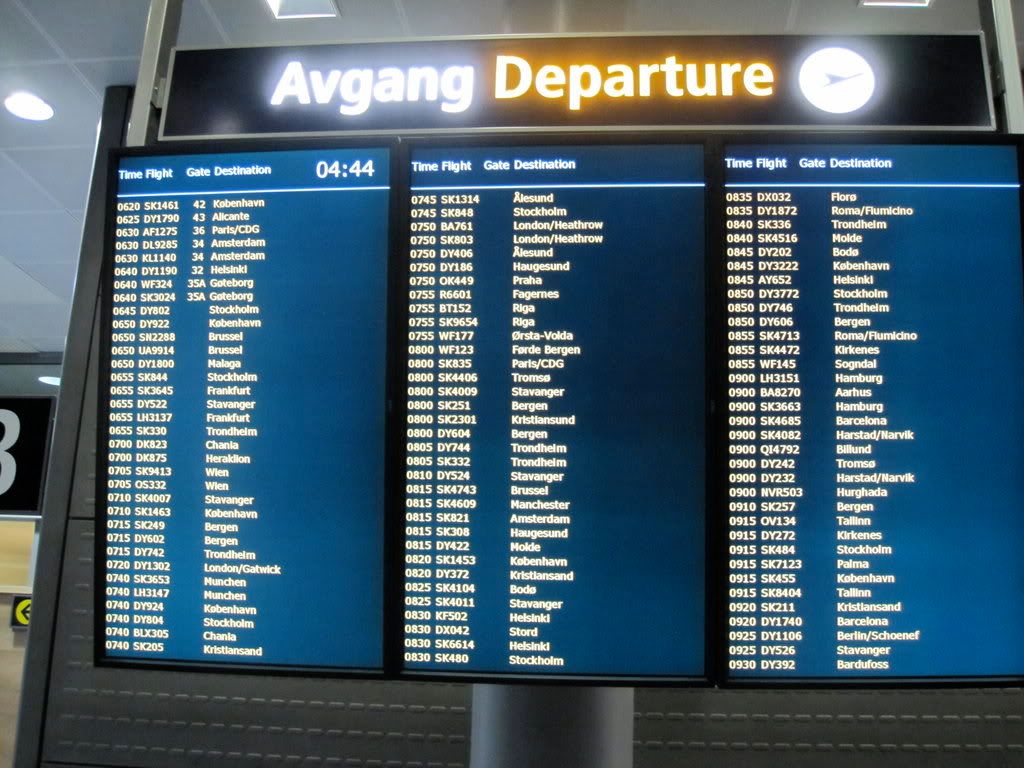 Looks like they have done away with the boarding pass check between the domestic and international parts of the terminal since I was last here - now there are just automatic doors to prevent one from getting back from the international side. I walk around a little, but can't really be bothered to browse through the duty free store - usually I pick up some tax free whiskey whenever I'm in Norway but not today.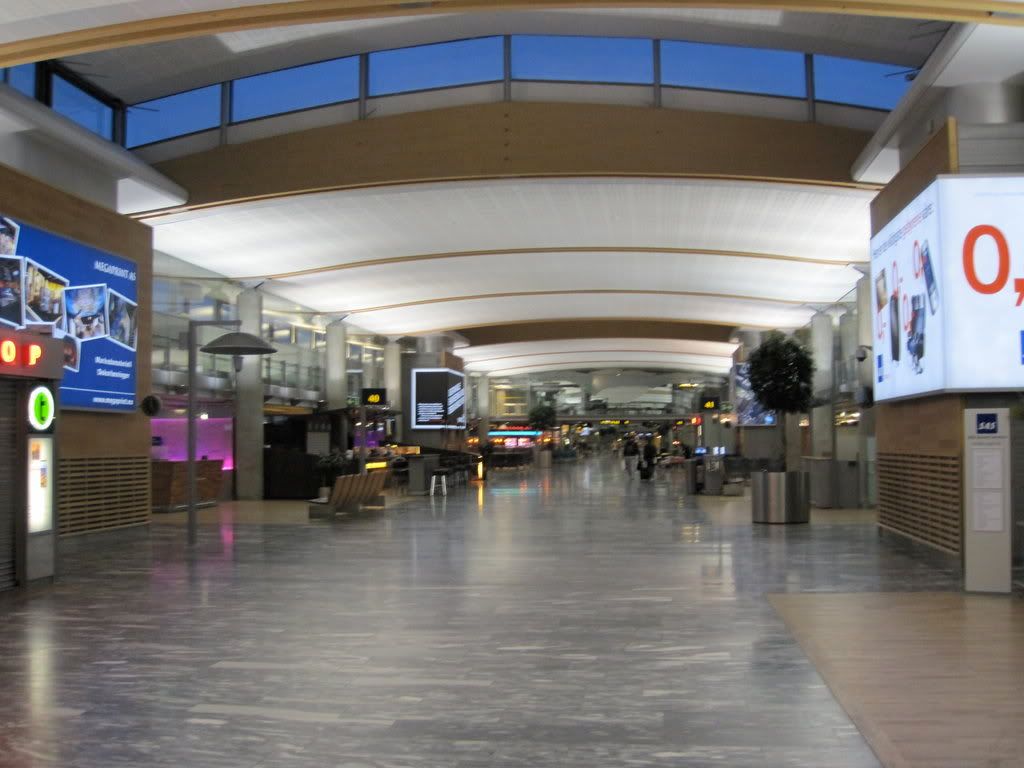 The 6000th 737: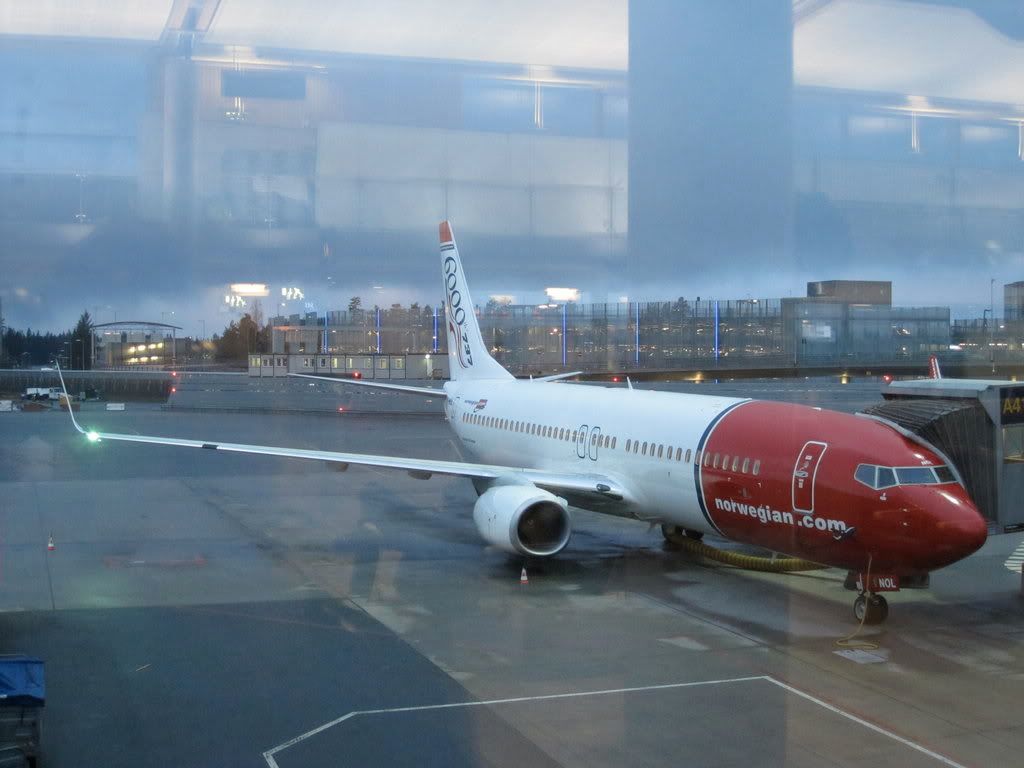 The assigned gate is 32, which is one of the gates that is shared between the domestic and international parts and thus has doors to prevent access from the "wrong" side. The door to the gate is still closed, so I lay down on a bench close by to try to catch some last minute sleep, unsuccessfully I might add. At the gate I spot a familiar shape of a 737-800, looks like this will become my first flight on a DY example - I've flown a couple of times on their -300s but not with these birds yet.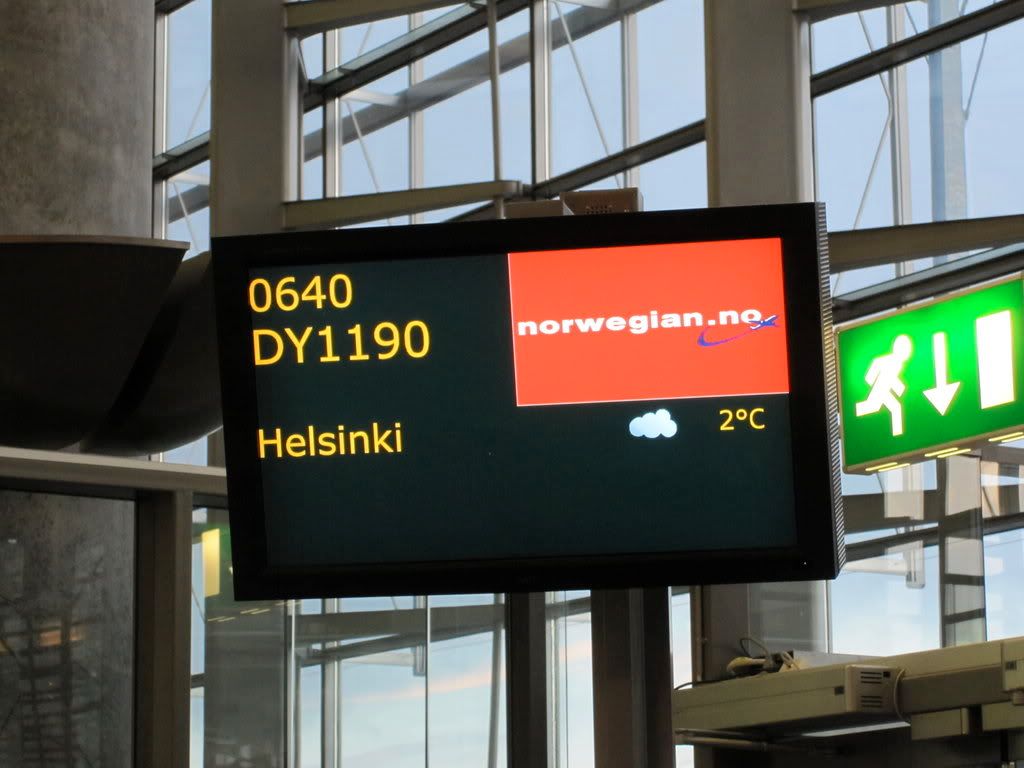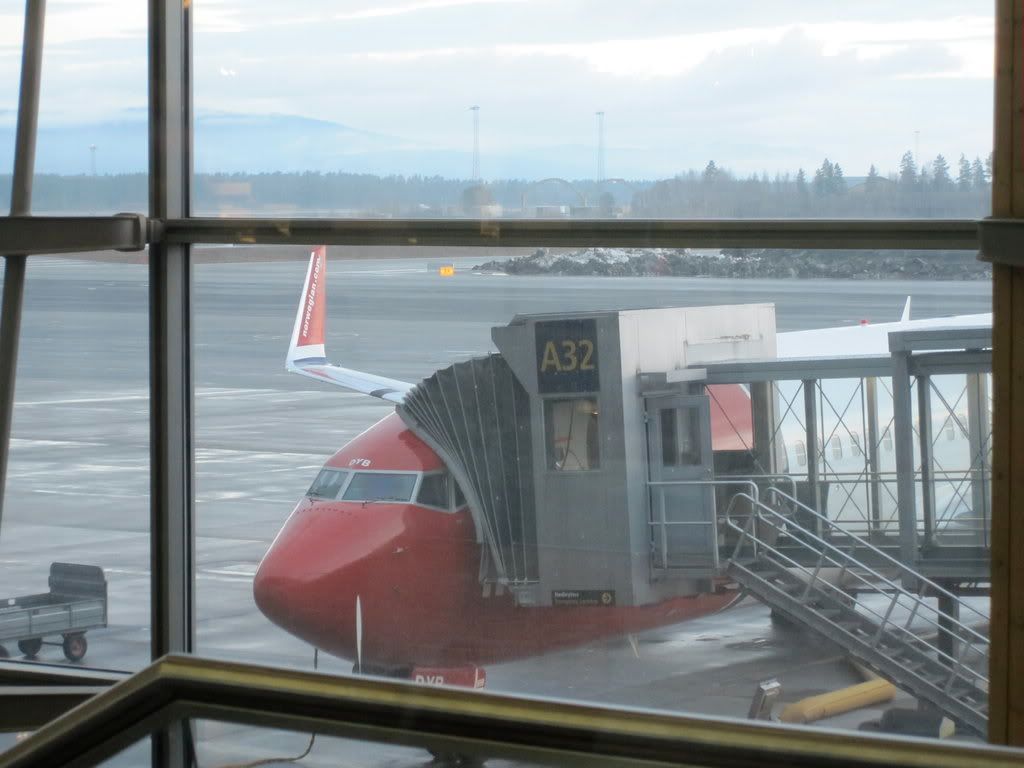 Some time later the door opens and I and a bunch of other waiting passengers march to the real gate. I ask the gate agent where the celebrations are - apparently there are none today. "Well, Norwegian is opening so many new routes and getting so many new planes that they just don't do it anymore.". We chat a few minutes about Norwegian, the Finnair ownership and other things. Boarding starts at 6.10, I'm the very first one to get through to the jetway where the actual walkway to the plane is still cordoned off and we form a queue there. The whole jetway has a sort of moldy or musky smell in it, do they have some problems with water insulation?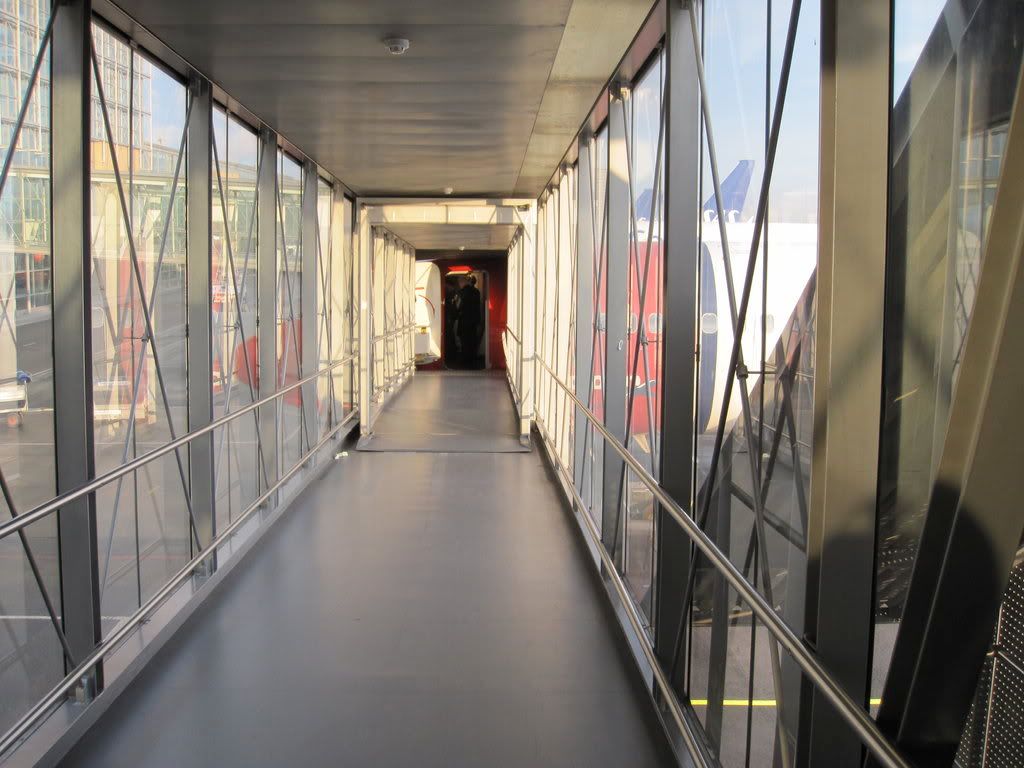 Less than five minutes later one of the FAs comes and opens the way to the plane, I tell her "Thanks, we've been expecting you" which gets me a radiant smile and "Welcome".
OSL-HEL
DY1190
B737-800 LN-DYB
Seat 31F
6.35 - 8.44
While checking in with the self service machine the night before I picked the window seat on the last row (who taught me that?
) so I march there.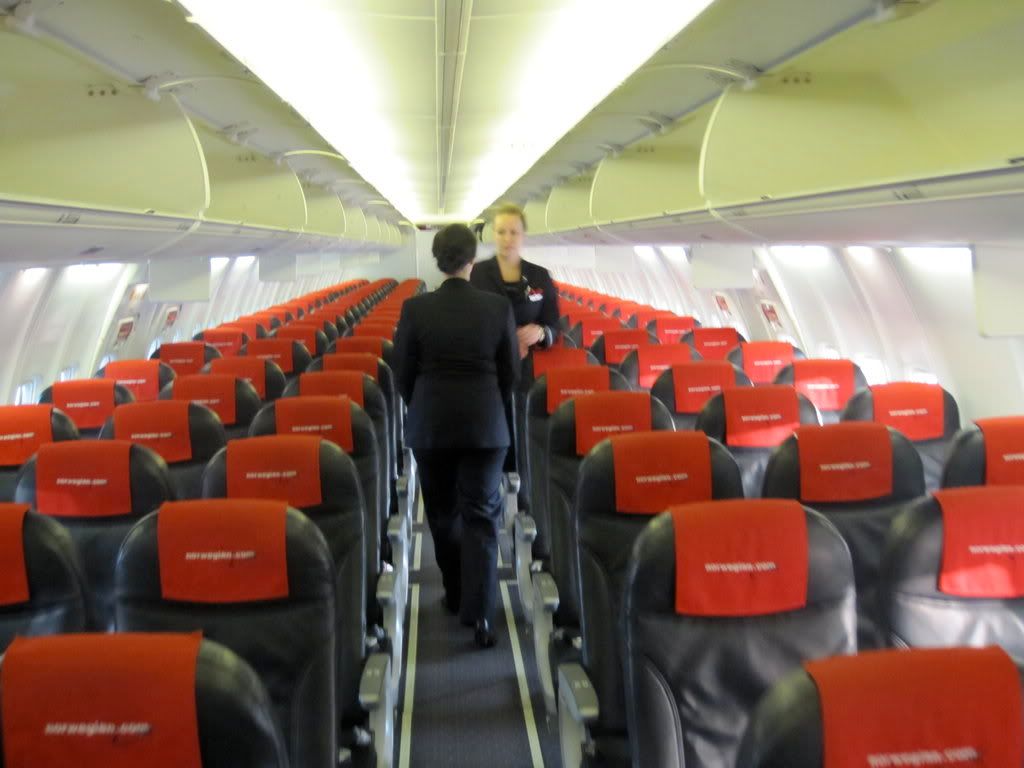 Before sitting down I exchange a few words with the friendly young steward in the back cabin - apparently there are some celebrations in Helsinki airport, both the Norwegian ambassador to Finland and Norwegian's CEO are there and will do some speeches and stuff. The guy is real friendly and comes back for some more chat a few times during the flight, he also asks me how to say "Good morning", "Welcome" and "Good bye" in Finnish - it is funny watching him writing them down in the form he pronounces them. At the same time I spy his itinerary for the day from his scrap of paper - after the roundtrip to HEL he (and the other crew?) is doing another roundtrip to MXP. He does use the words I taught him in his announcements and I have to say does a damn fine job with them - a nce touch.
Seat pitch is tight: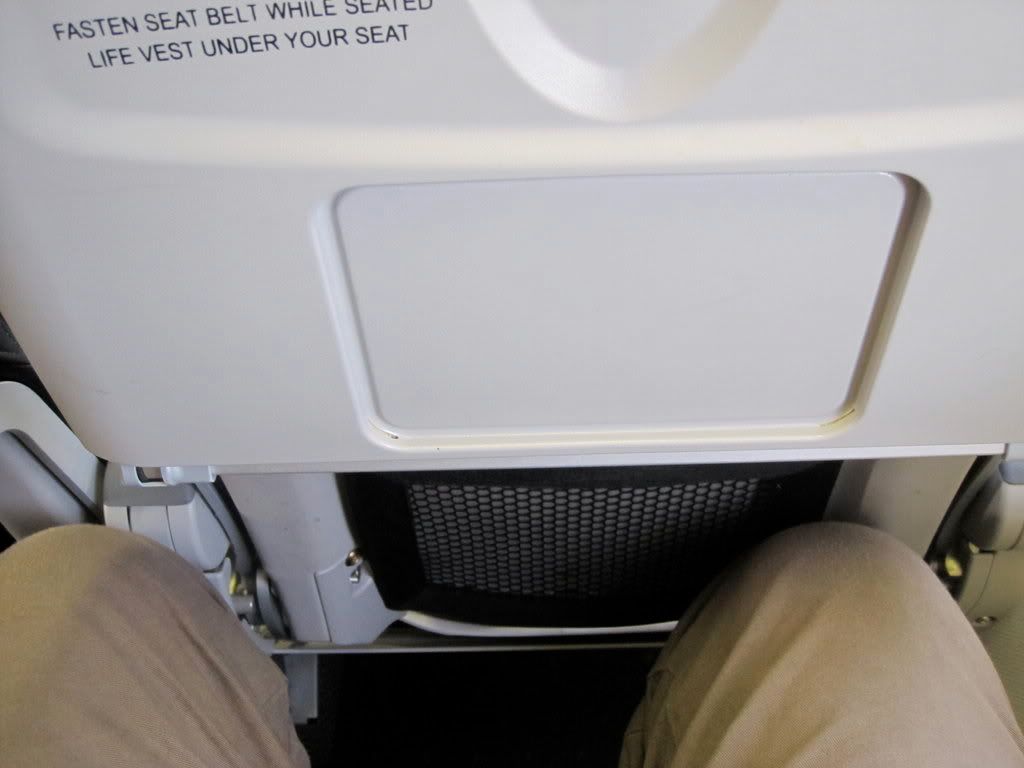 Luckily there are no other persons on my block of three seats - even though the overall load is very good for an inaugural route, over 80% I'd say.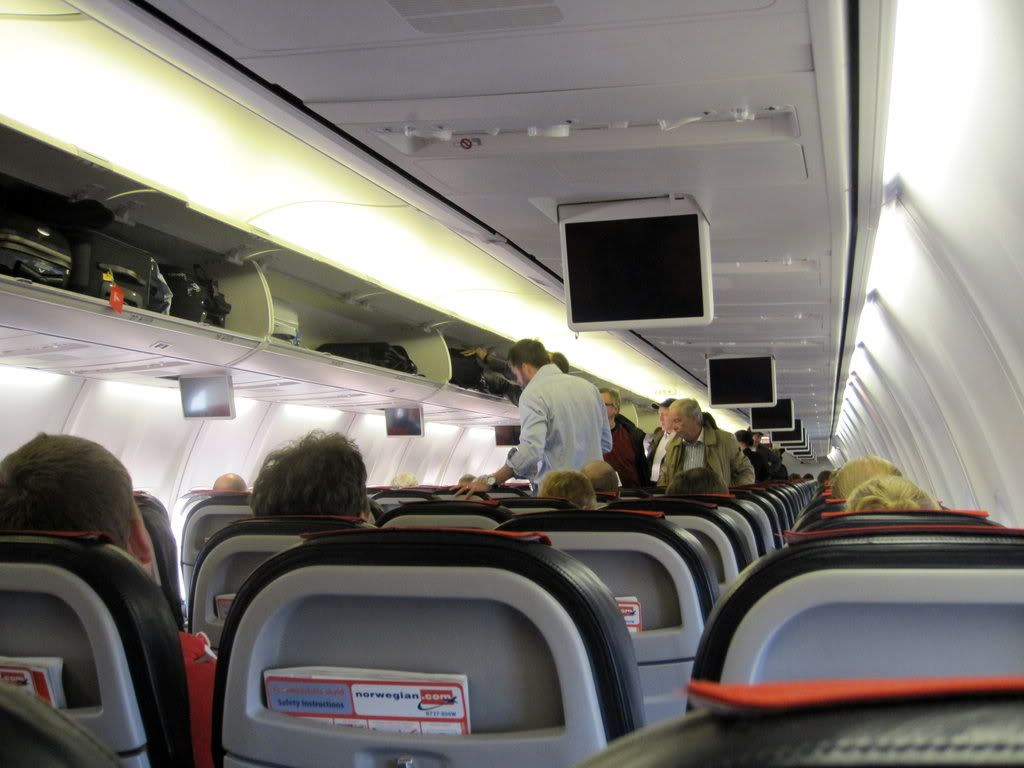 Still haunting me: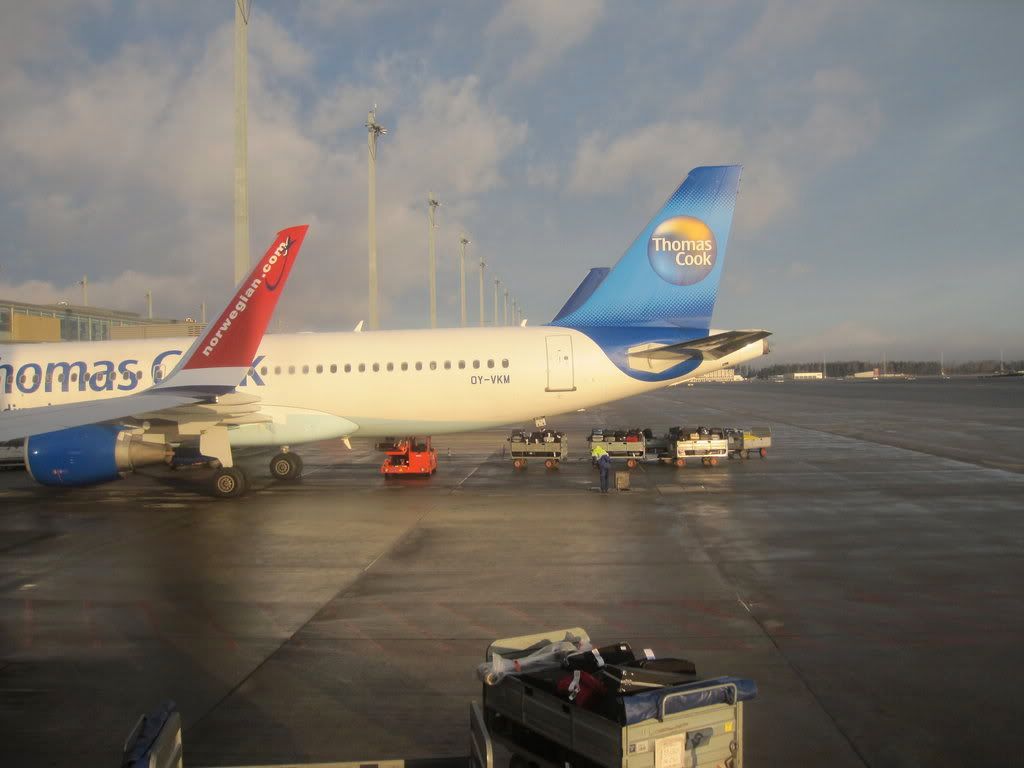 Hmm, I don't think they carry cargo on this sector. I assume these contain some Norwegian-branded material for the Helsinki station: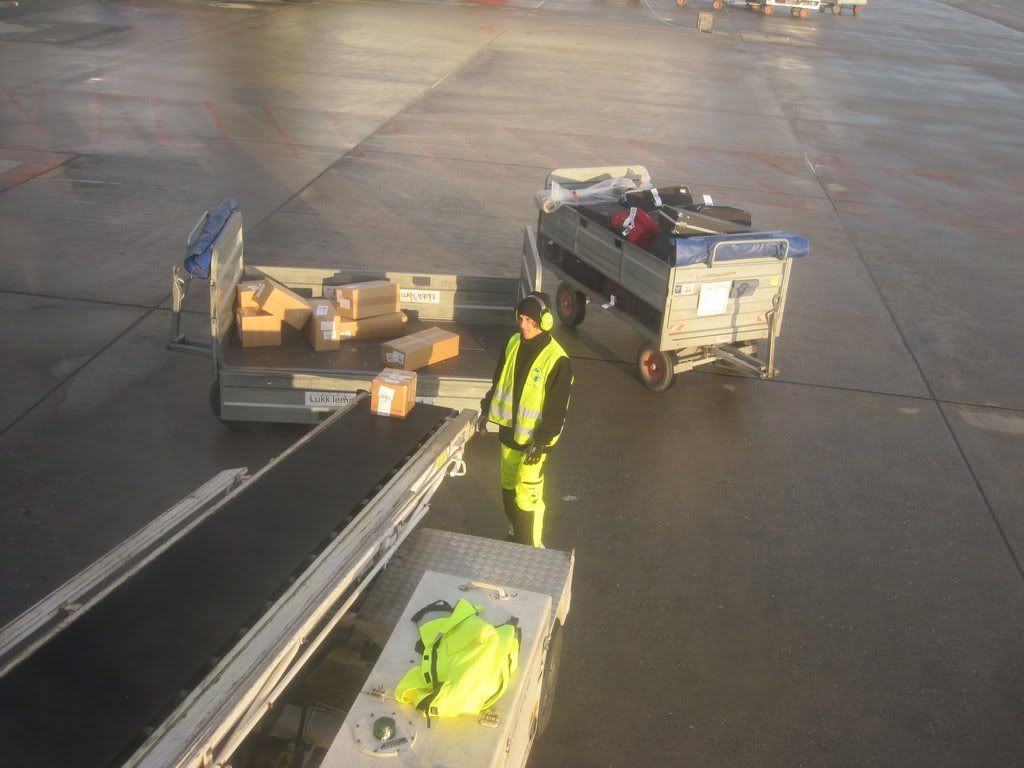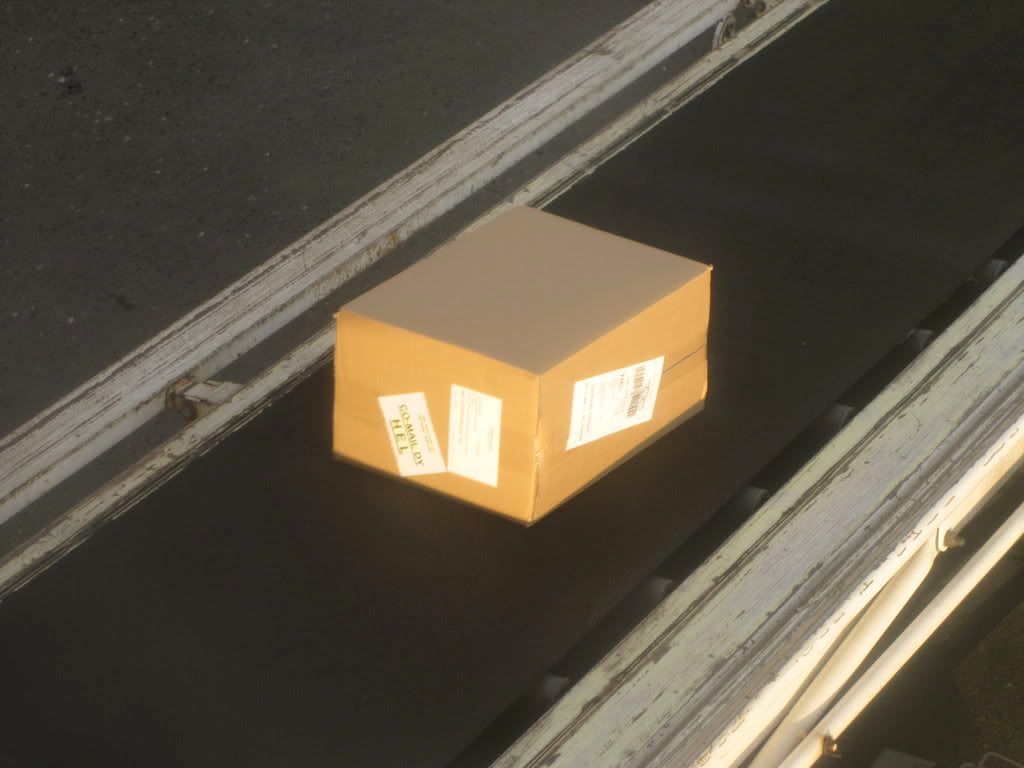 We push back five minutes early, taxi fast to runway 19L and perform a rolling take off.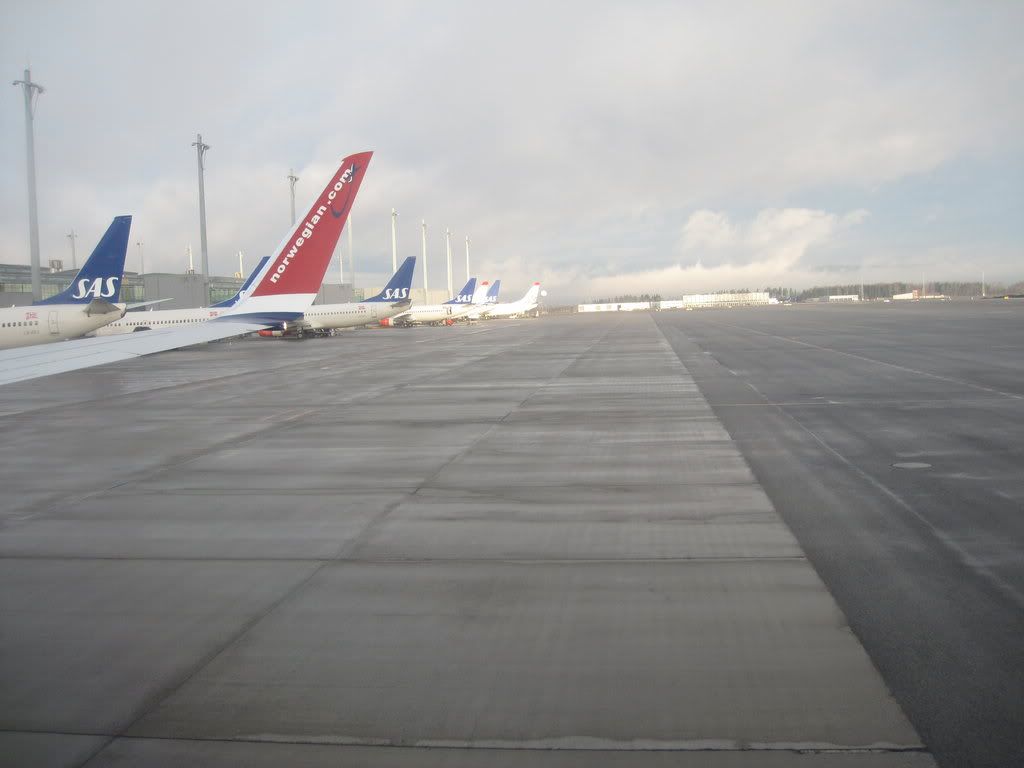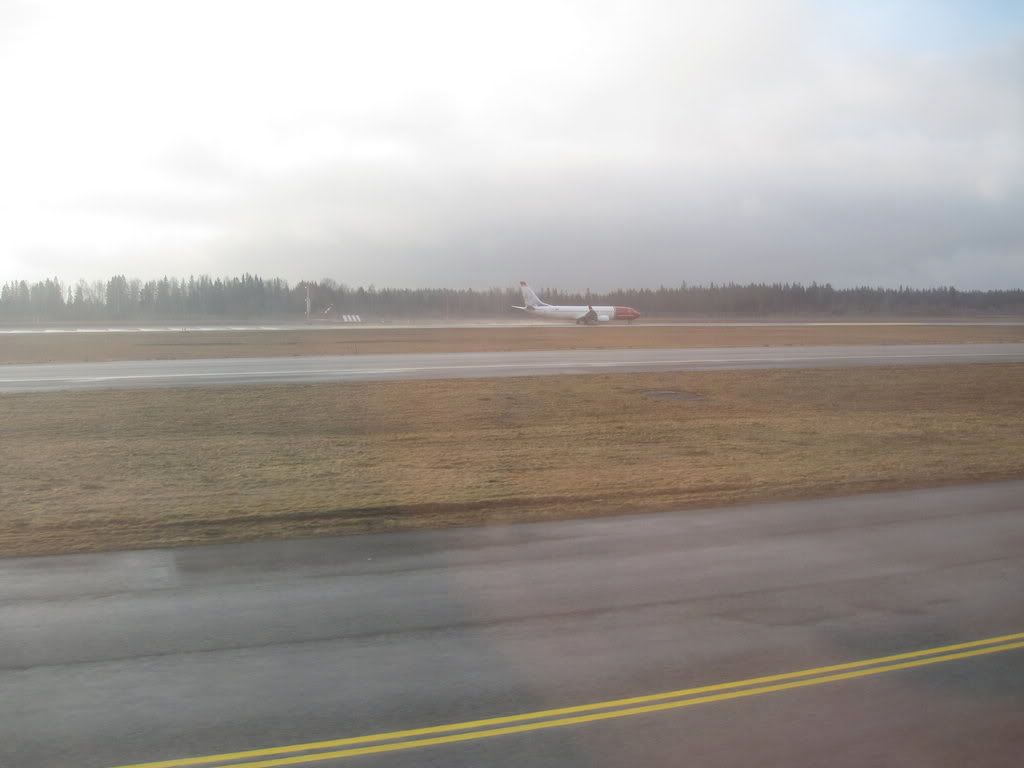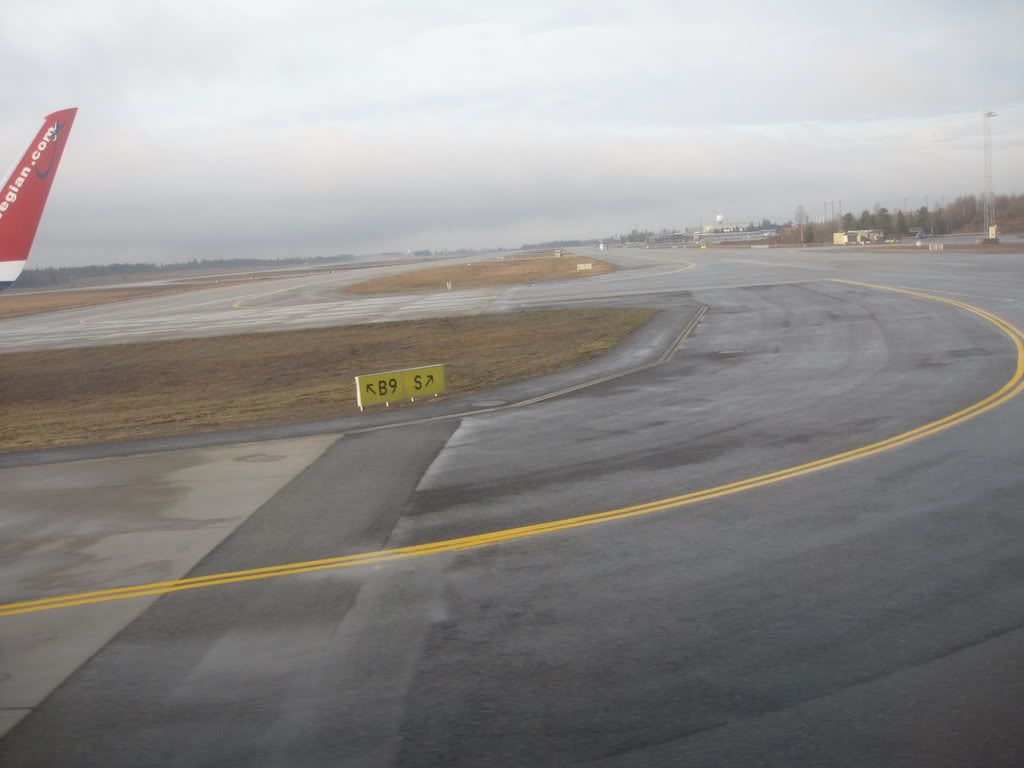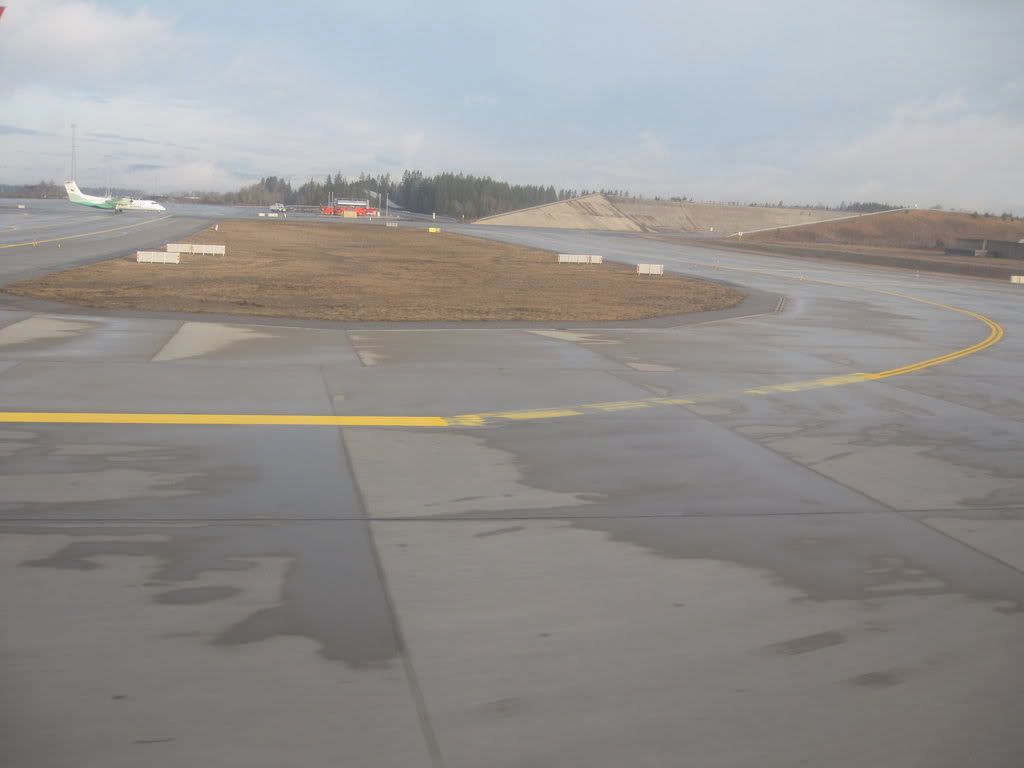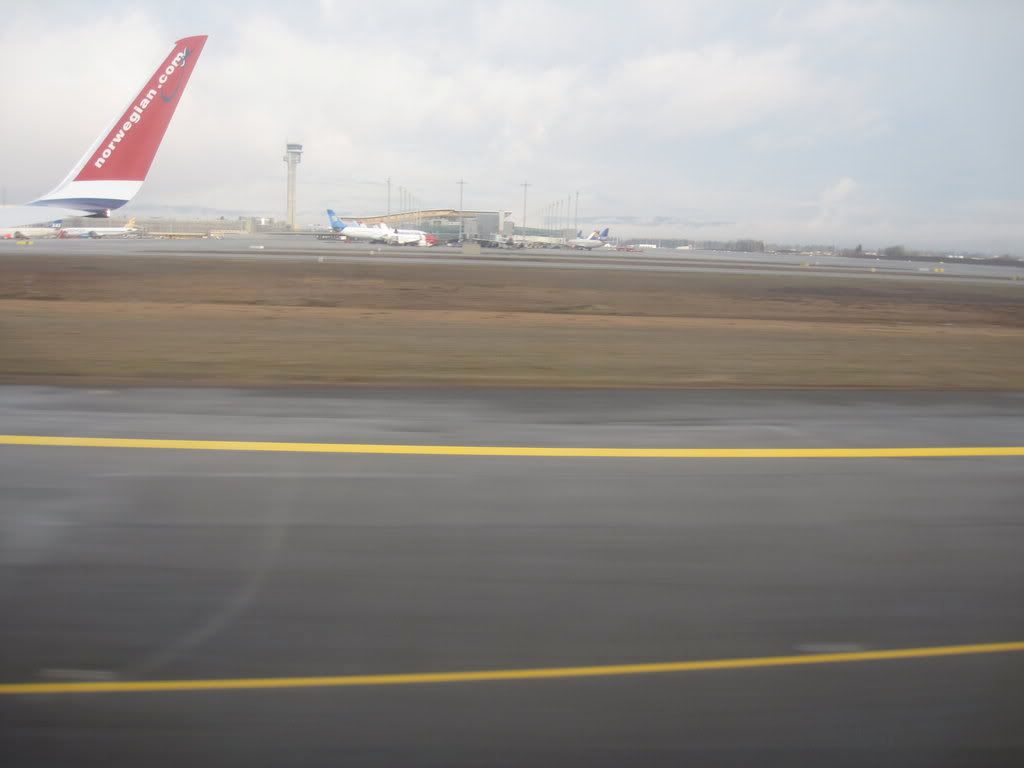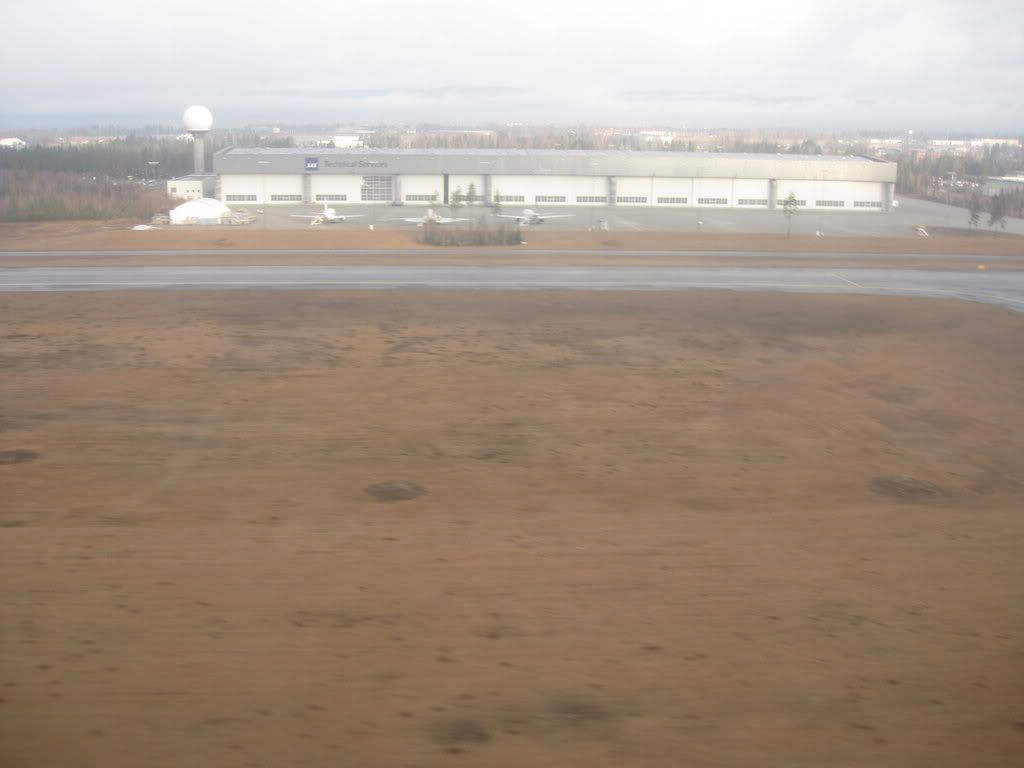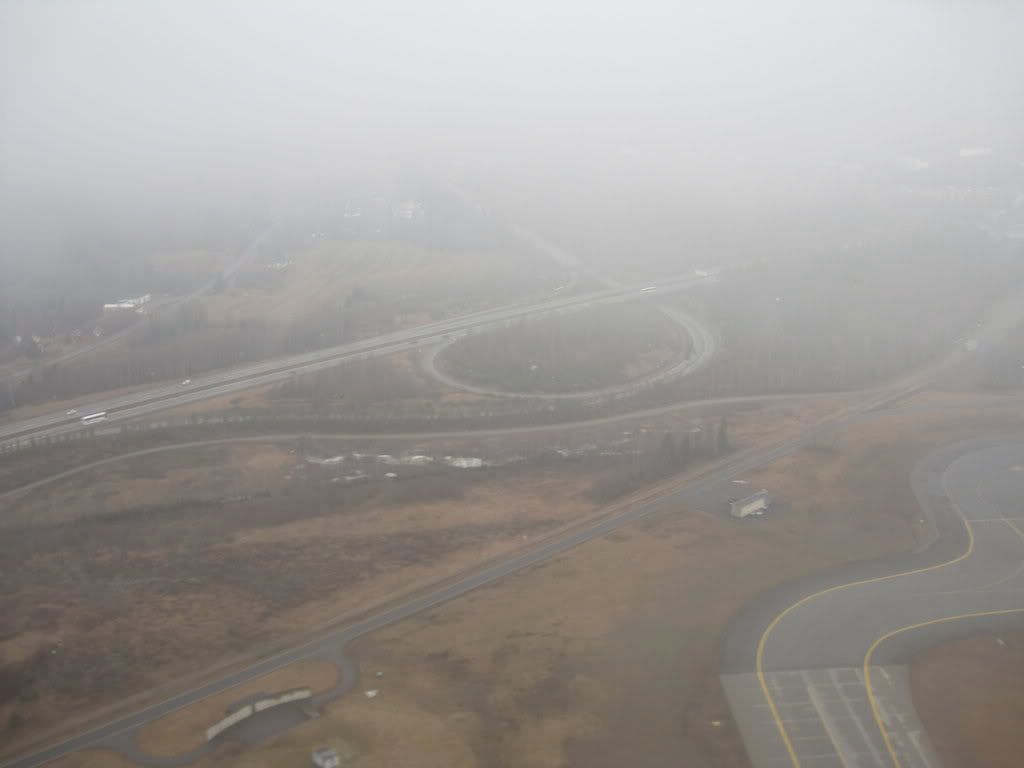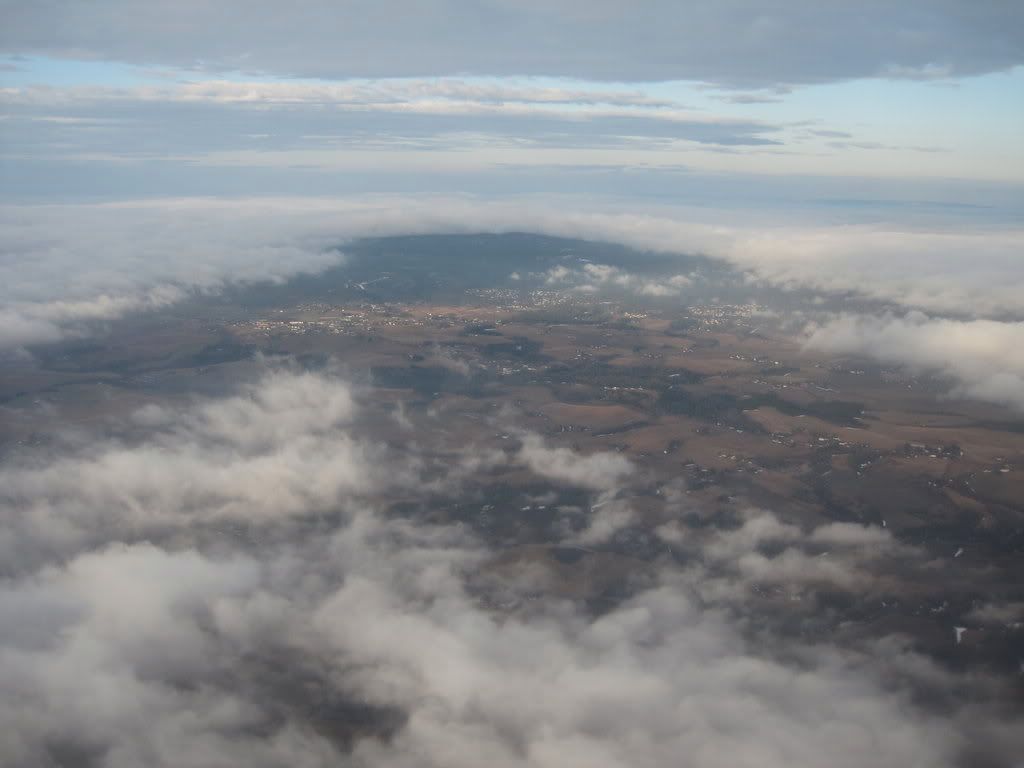 Right after take off it gets overcast.
I'm dying for a coffee so get one from the BOB cart. I half expected them to hand out free coffee or something to celebrate the inaugural flight but apparently not.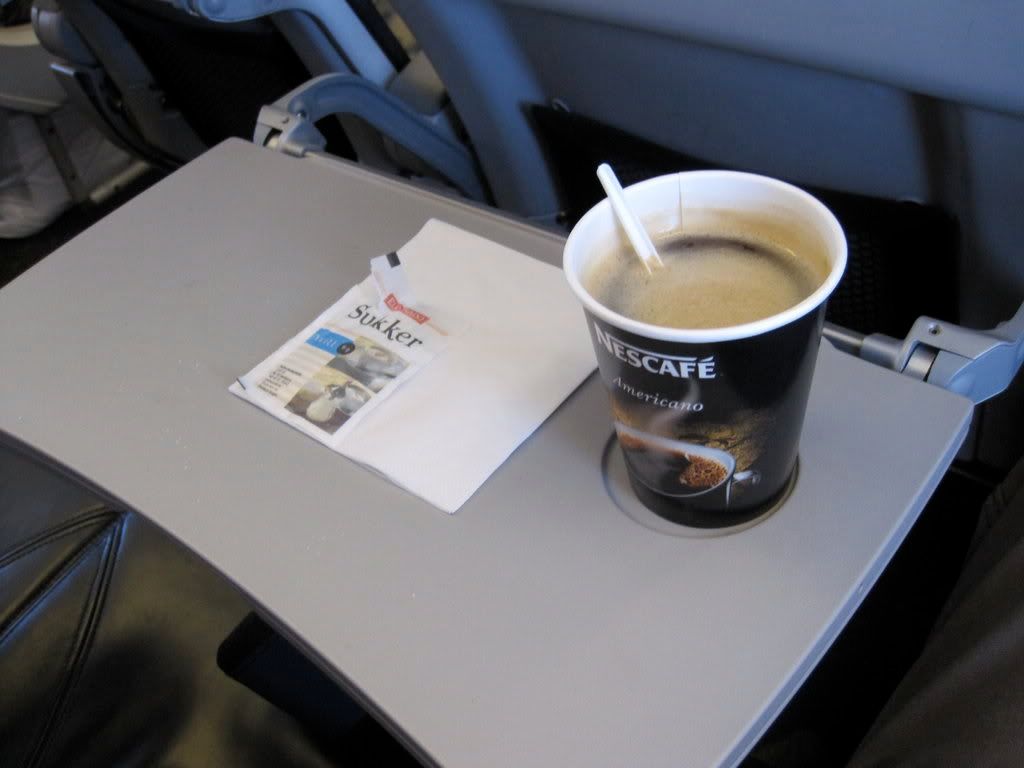 This plane featured on the inflight mag: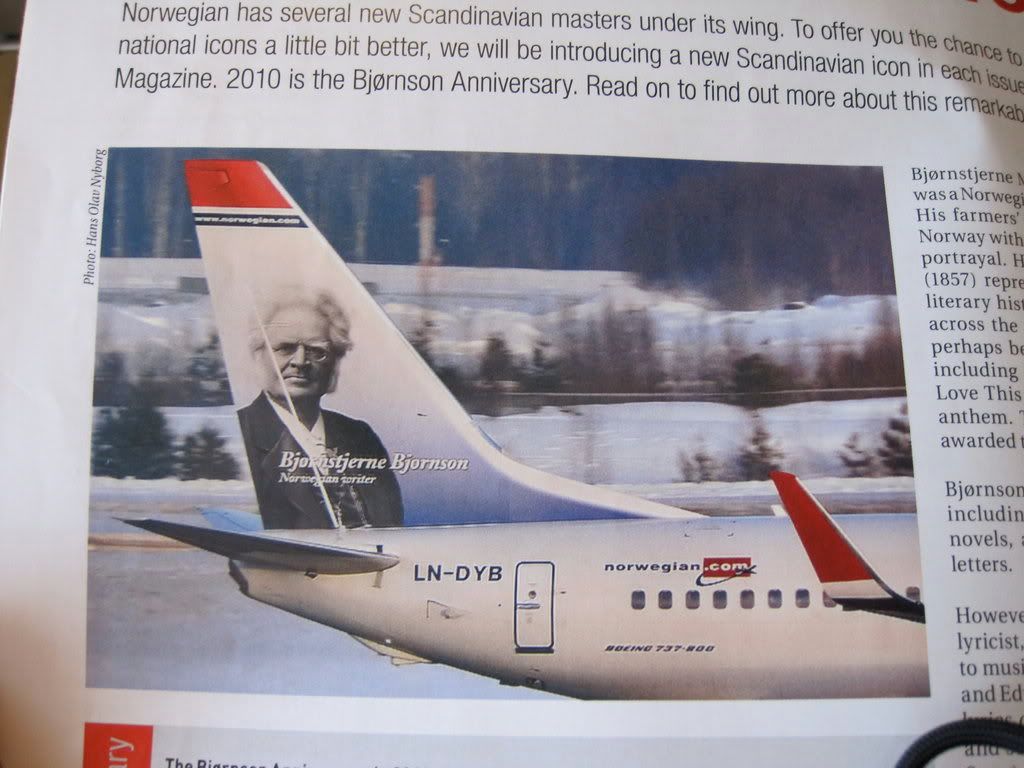 Somewhere over Sweden our Swedish (I actually understand pretty much everything from his Swedish announcement) comes on, welcoming us onboard and tells us that we should be landing a good 15 minutes early at Helsinki. The weather there is rather depressing with grey skies, rain and a temperature of two degrees.
Descent starts around 40 minutes after departure, and we land 20 minutes later, 16 minutes before schedule on runway 15 at a very grey and sad looking HEL. A short taxi to gate 24 follows. The ARN flight got here before us and is parked a few gates over, looks like another 738.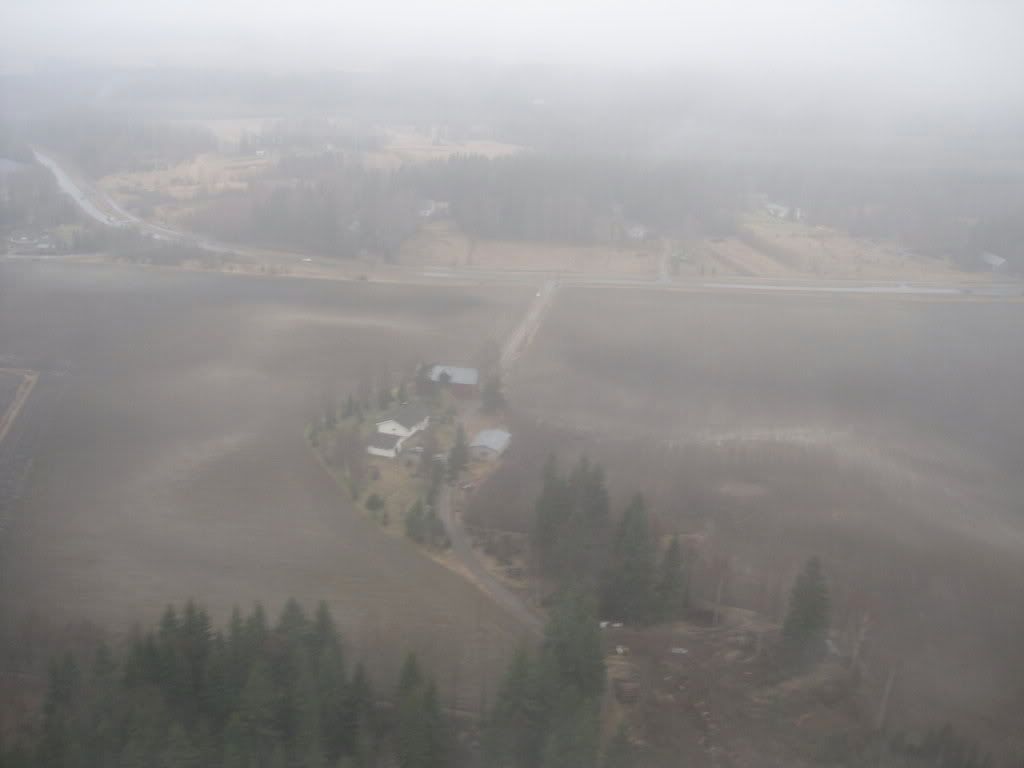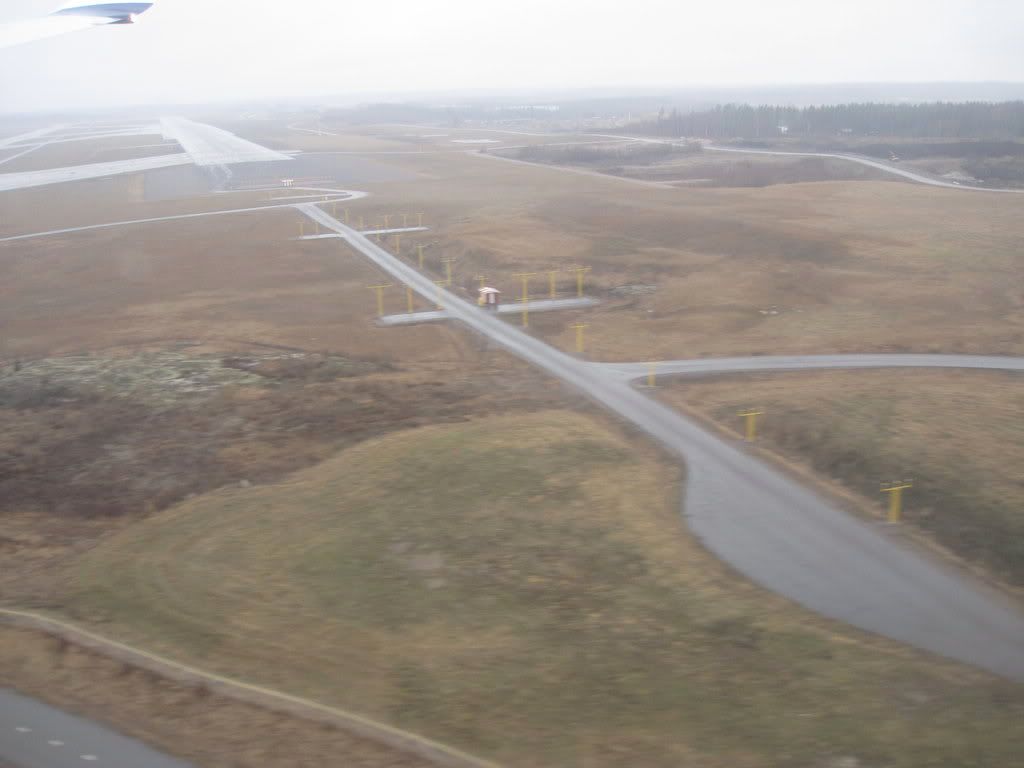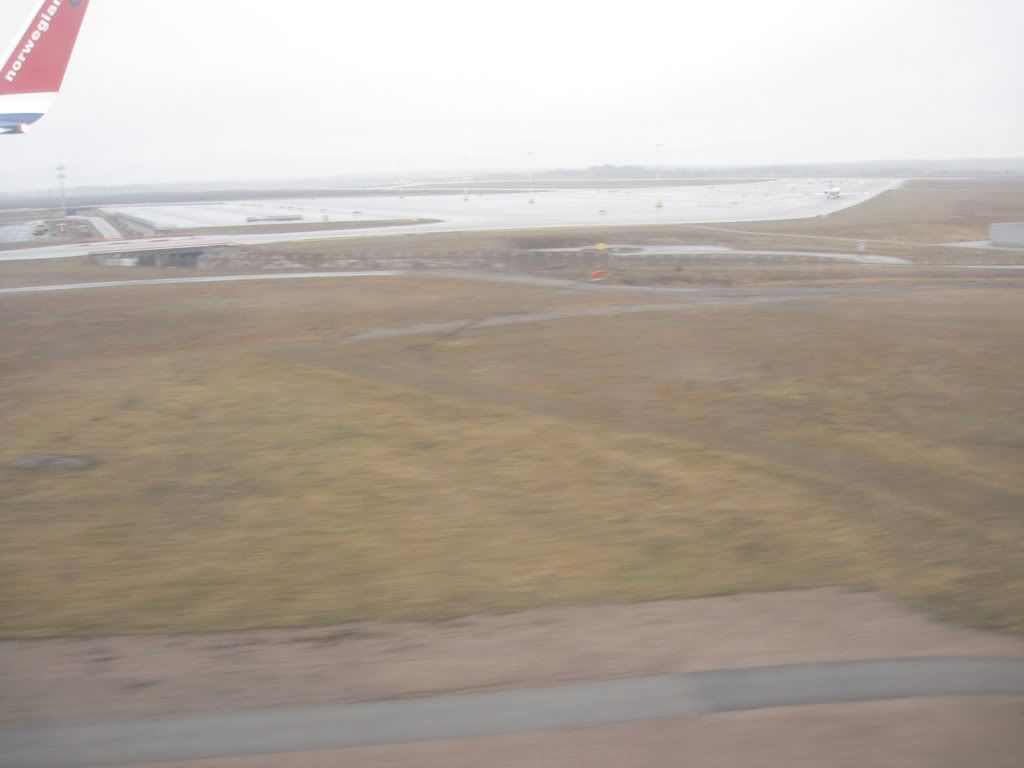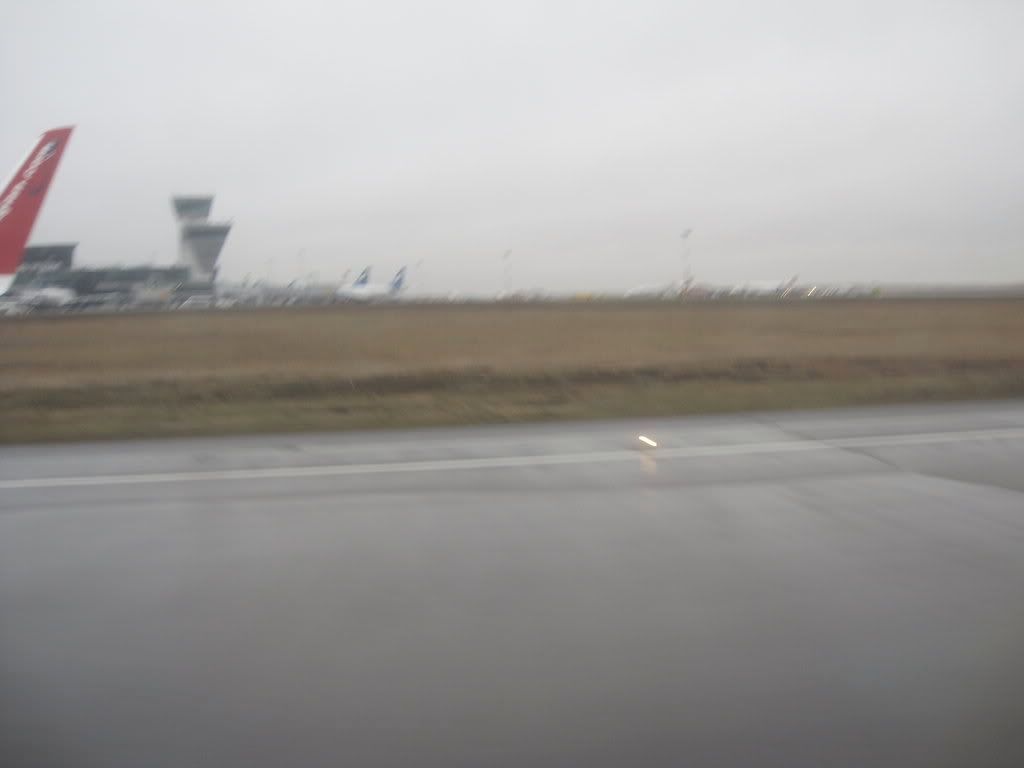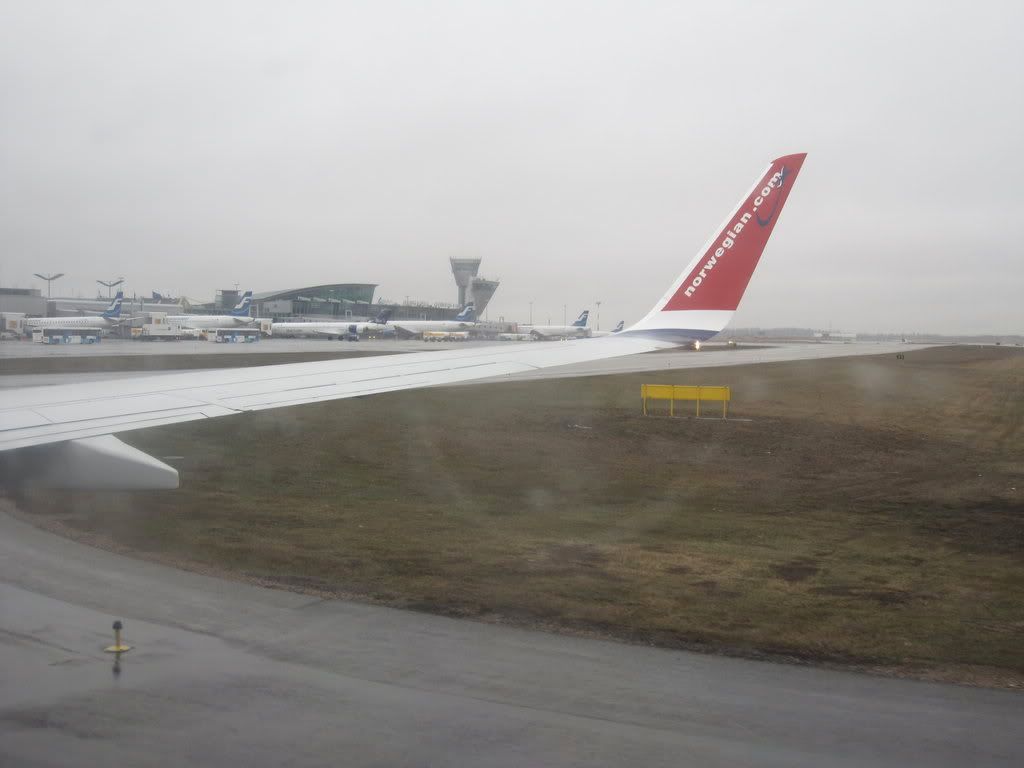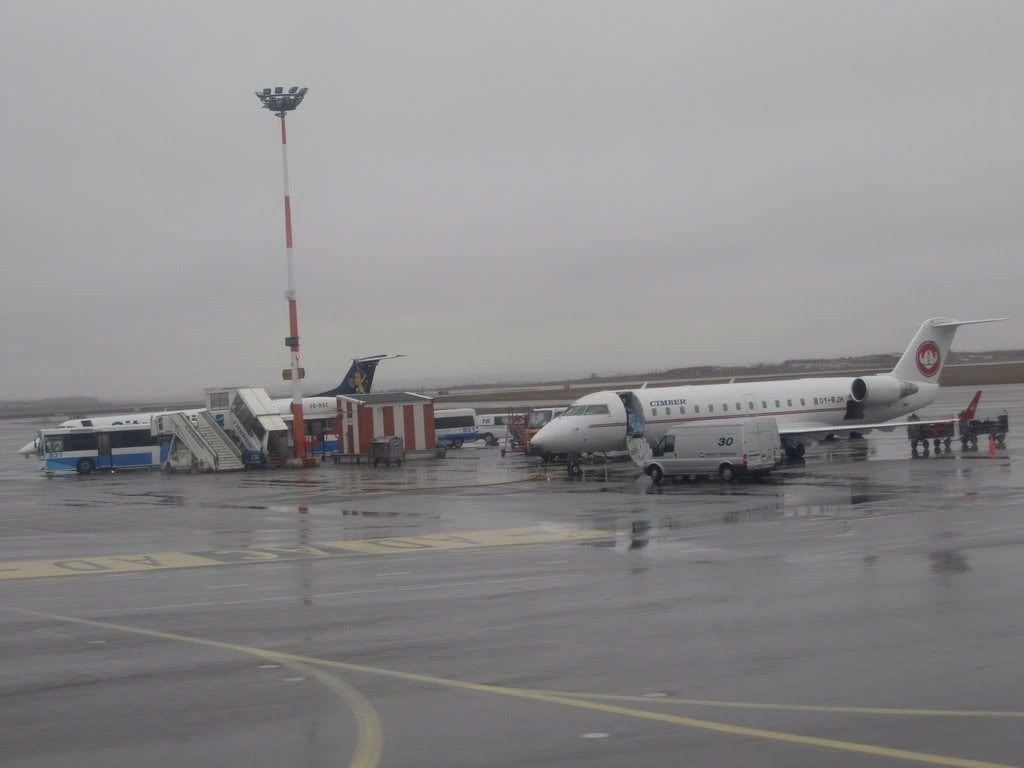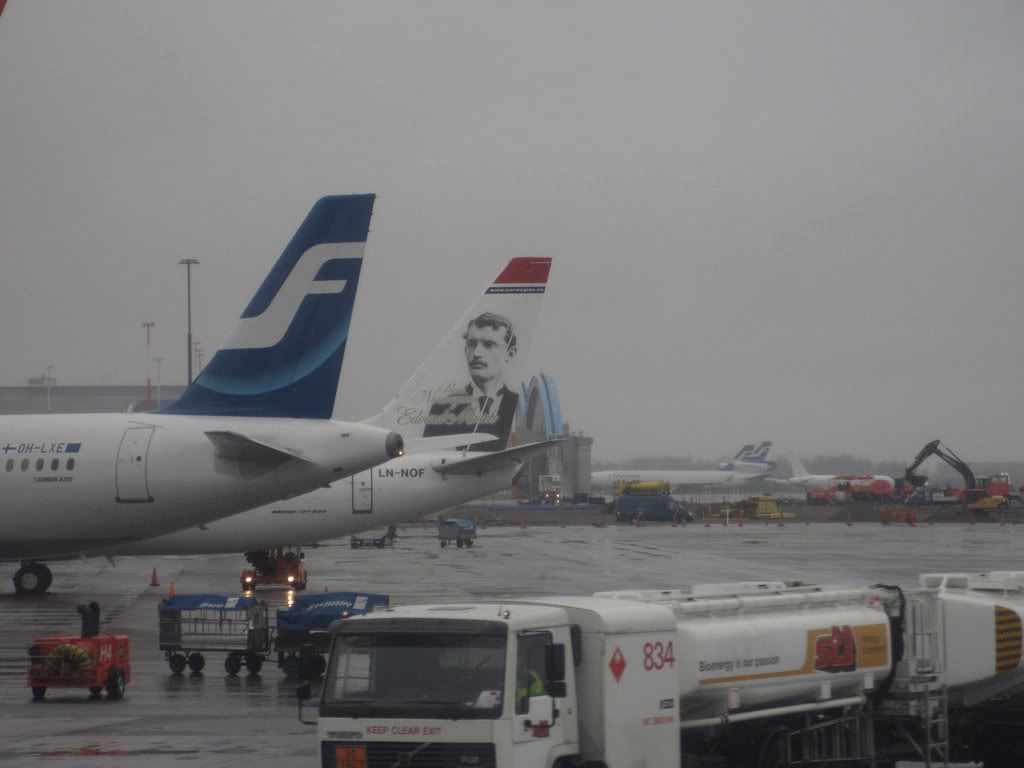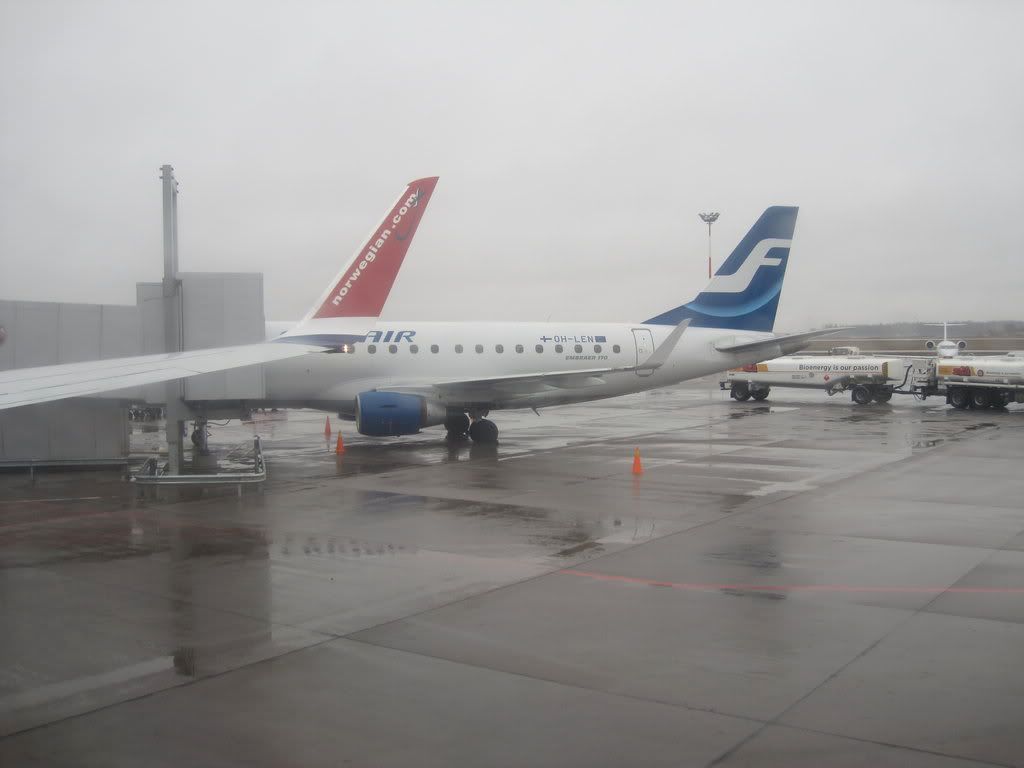 Helsinki-Vantaa Airport, take 1
Deboarding from the last row takes some time. While stepping off the jetway I'm being filmed by a cameraman from a TV station so I wave at the camera - no idea if I made the news or not that night as I was traveling some more
. There are lots of people on the gate area, including several photographers and TV crew. They also have a buffet table set up: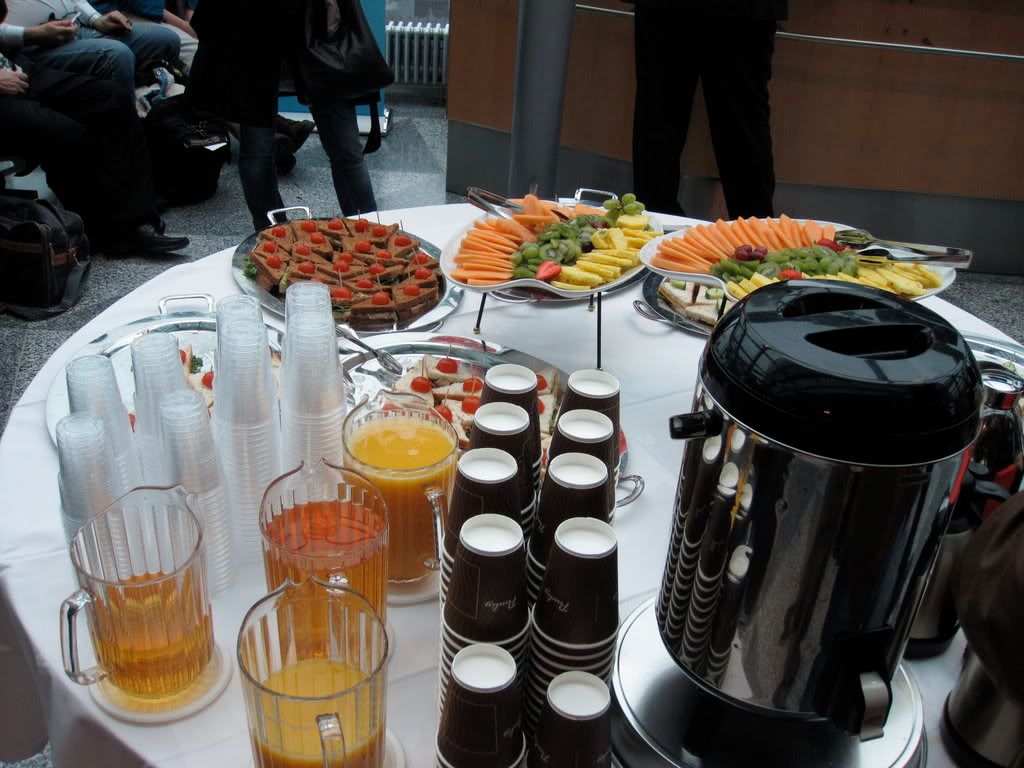 Being interviewed: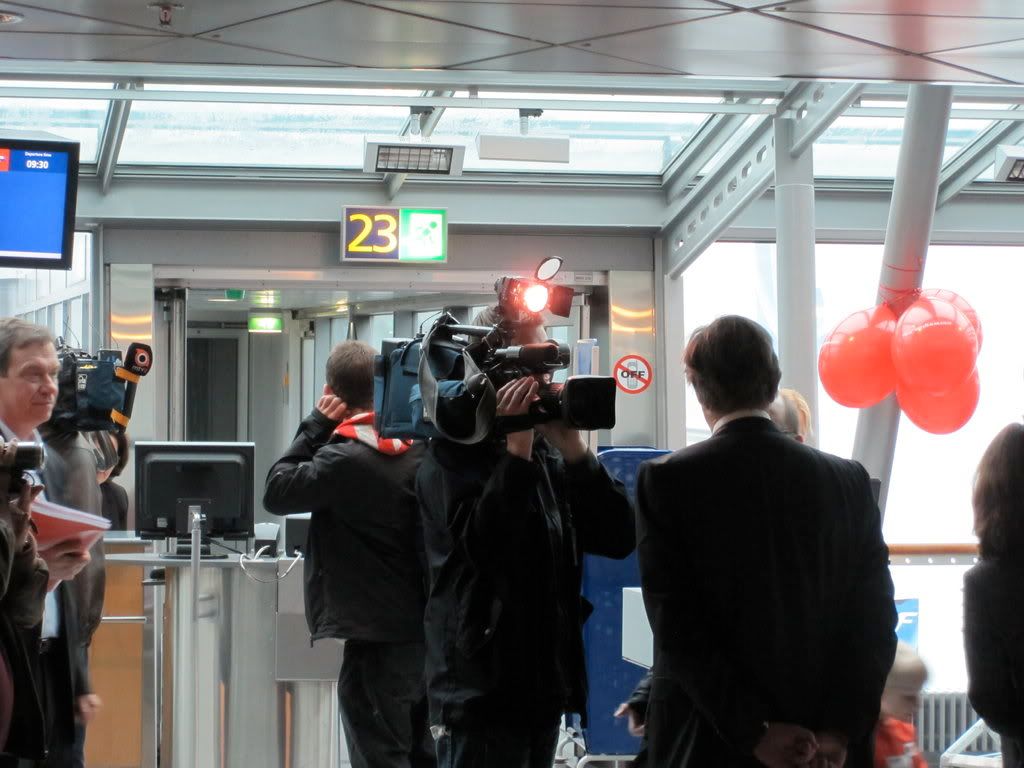 I'm too tired to hang around here for longer so I make my way out to the depressing rain, catch a bus home and fall in the bed for some more comfortable sleep.
Helsinki-Vantaa Airport, take 2
Ahh, what a difference a few hours of sleep, a shower, a shave, a change of clothes and other creature comforts of your home make! I arrive back at HEL terminal 1 a bit over two hours before the departure feeling very much like a human being again. The Norwegian counters are just being opened with some Norwegian (the nationality) Norwegian (the airline) staff explaining the procedures to the Finnish agents. Remember the cardboard boxes being loaded to the plane in the morning? Well, my guess was spot on - they make a reappearance behind the counters, some being opened and the normal DY bag tags etc. accessories spread out on the counters.
I end up being the very first person to be checked in. I ask the agent if the celebrations will still continue, mentioning that I came in on the first flight from OSL in the morning but she just started her shift and doesn't really know. I head upstairs, through security to grab something to eat. I decide to try the recently opened Seasons restaurant in Terminal 1 - the bar/cafe side is packed but the sit down restaurant side on the back is quite empty. I do some long overdue trip report work taking advantage of the free wifi while eating the great chicken Caesar salad: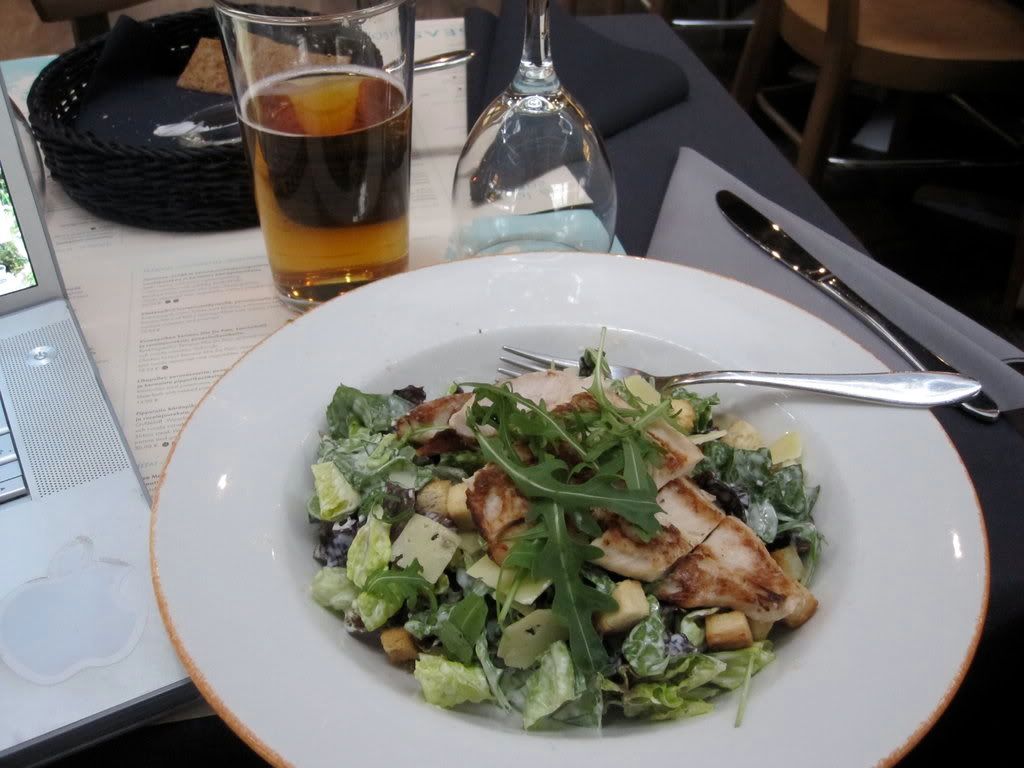 As in the morning, the gate for the ARN flight is far away in T2 so I head there. I check the gate but there are no special provisions or celebrations anymore there, so I head for a beer while watching the afternoon rush hour traffic outside. This Thursday is the last real working day before the May Day celebrations so the airport is packed with travelers.
A beer with a view: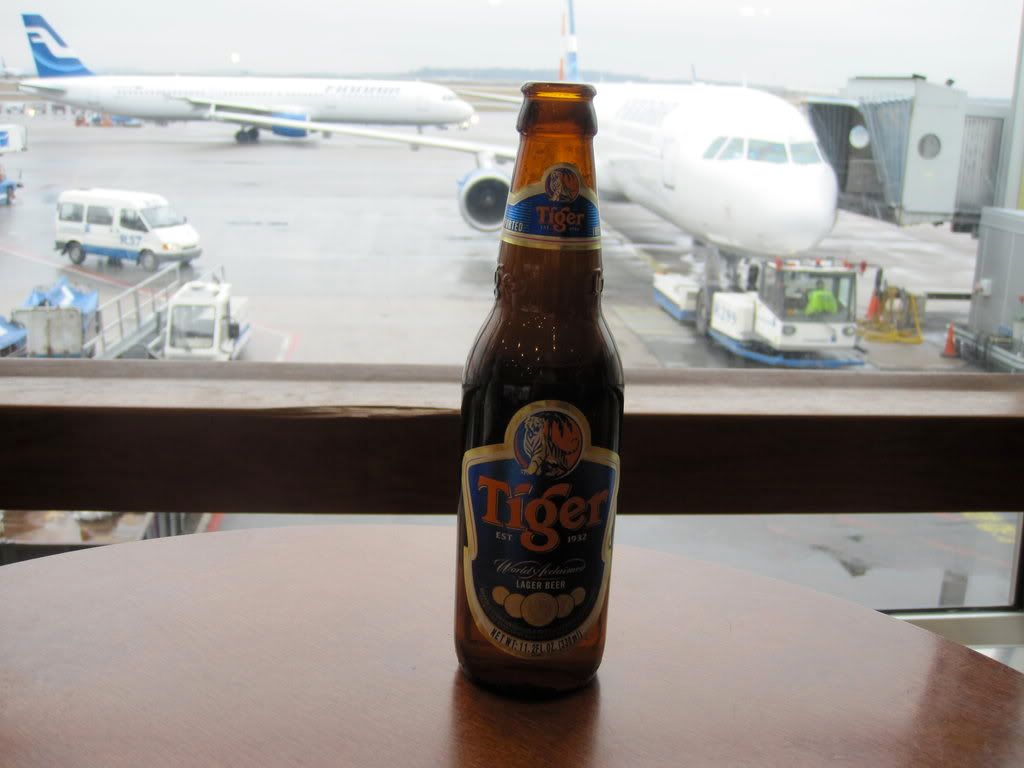 Around 17.25 or half an hour before the scheduled departure time the plane arrives, this evening flight is operated by a 737-300 instead, LN-KKY, another new one for me.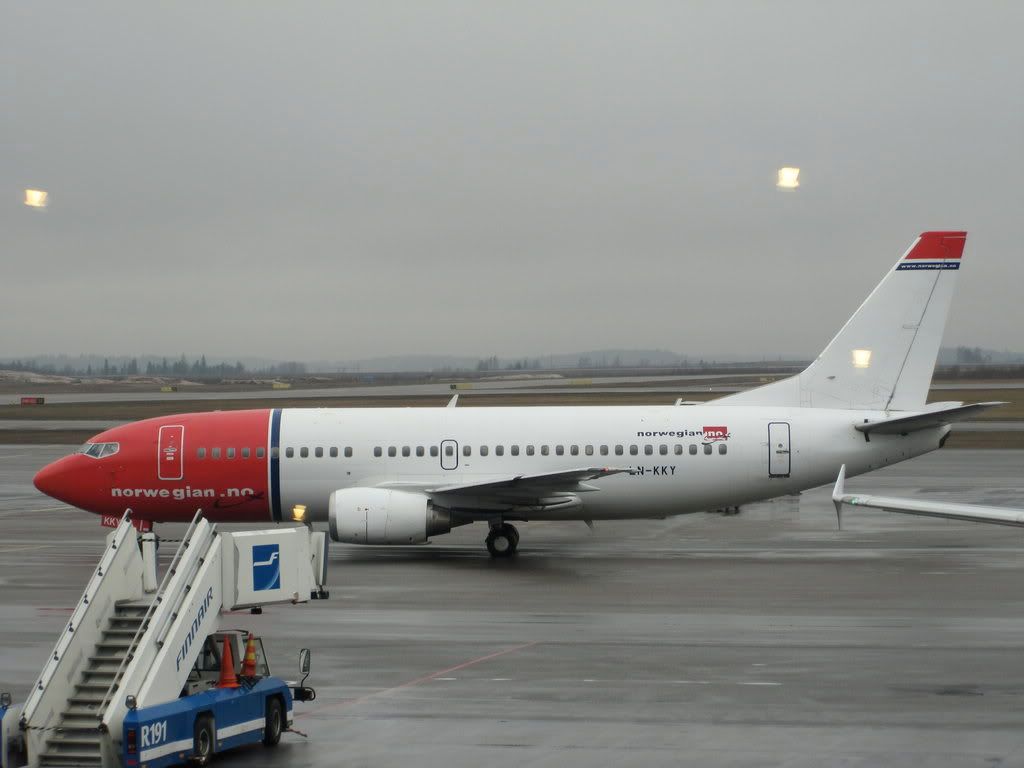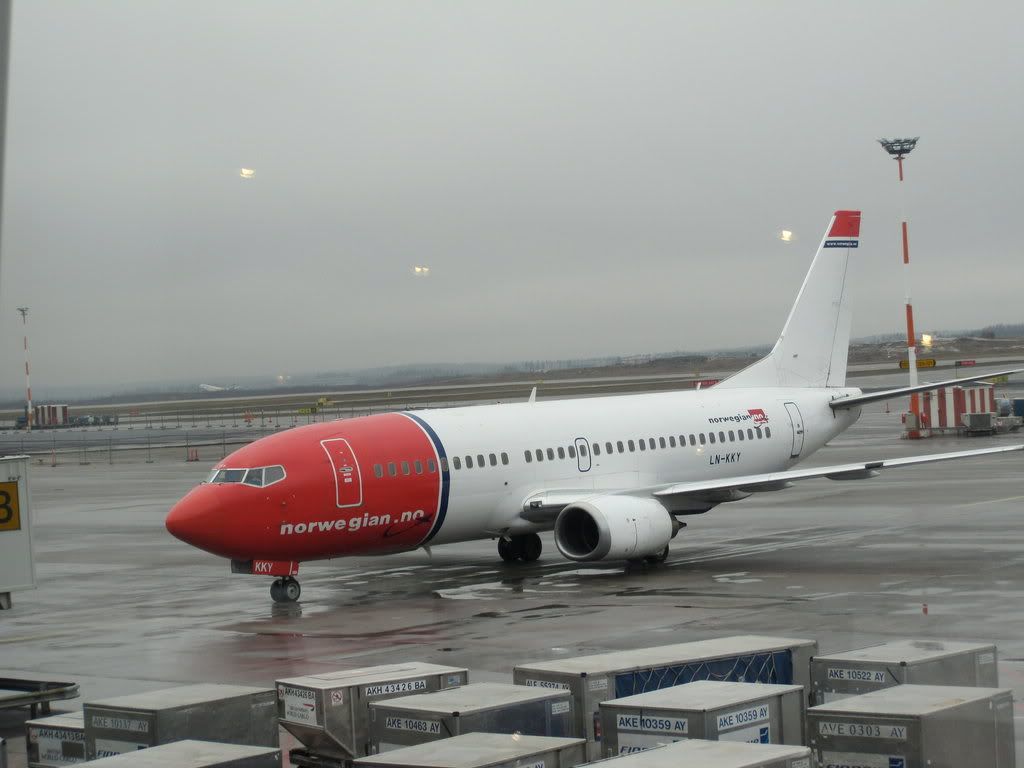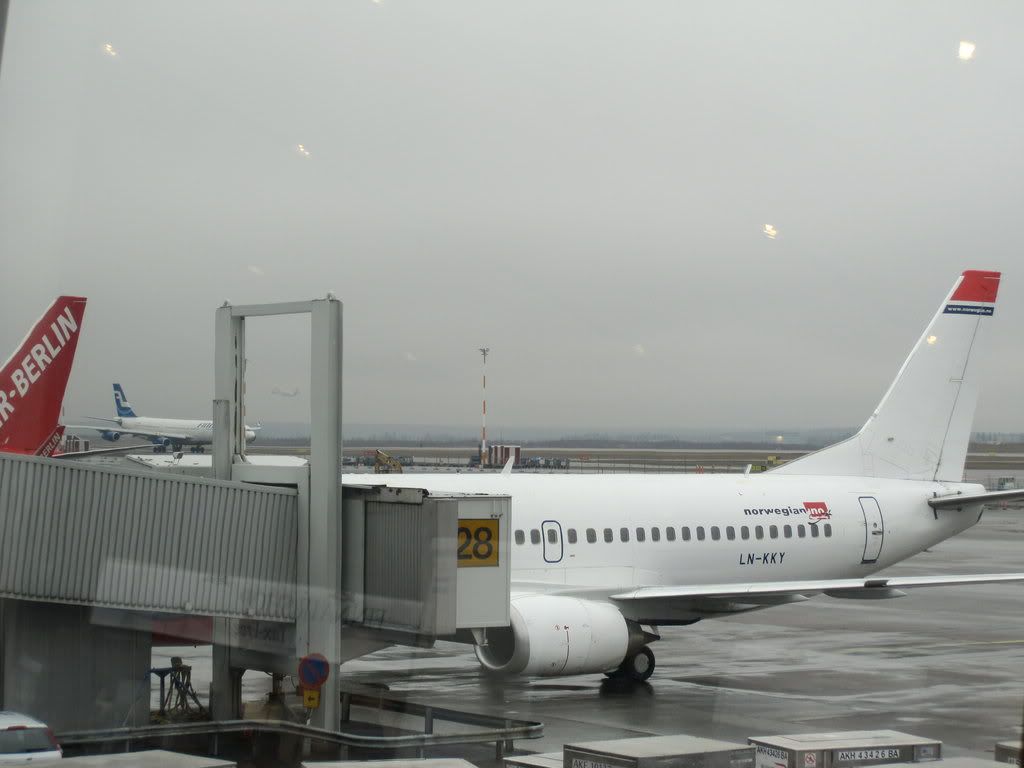 An interesting visitor doing a charter to Turkey: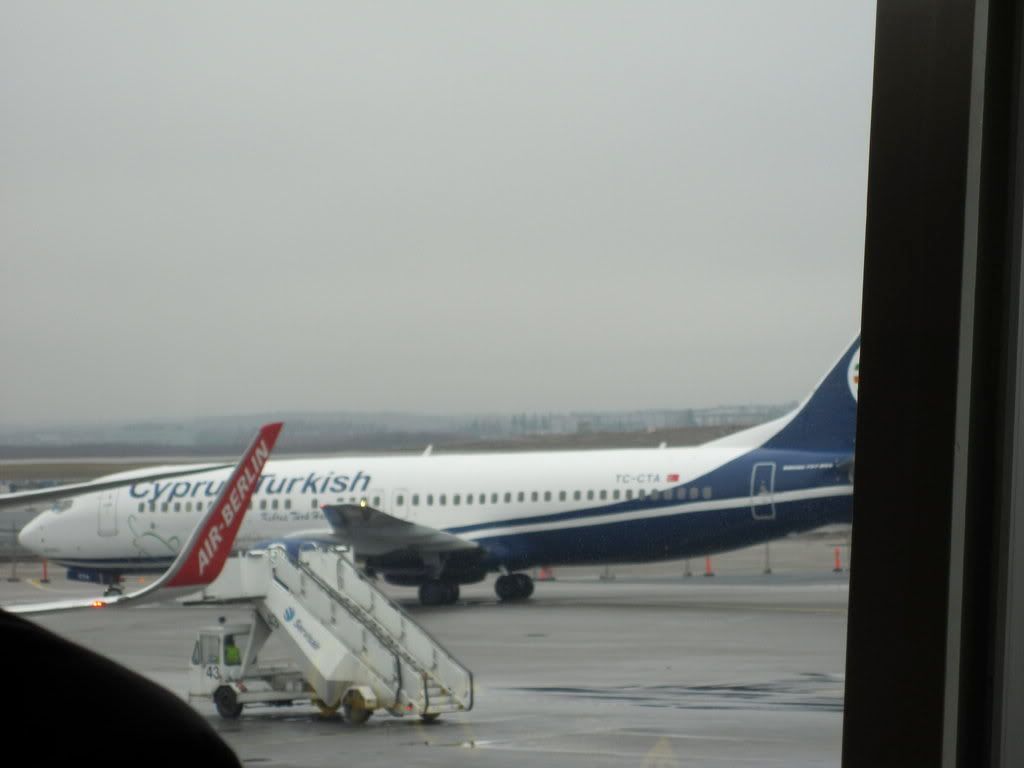 Boarding starts only fifteen minutes later.
HEL-ARN
DY3874
B737-300 LN-KKY
Seat 24A
18.11 - 17.55
The legroom on the -300 feels slightly better than on the -800, although maybe it's just me who's feeling better. Another flight with rather good load of over 80% - luckily an empty middle seat next to me. The aisle seat is occupied by a weird older Swedish woman who does nothing during the whole flight, just stares blankly at the seat in front of her.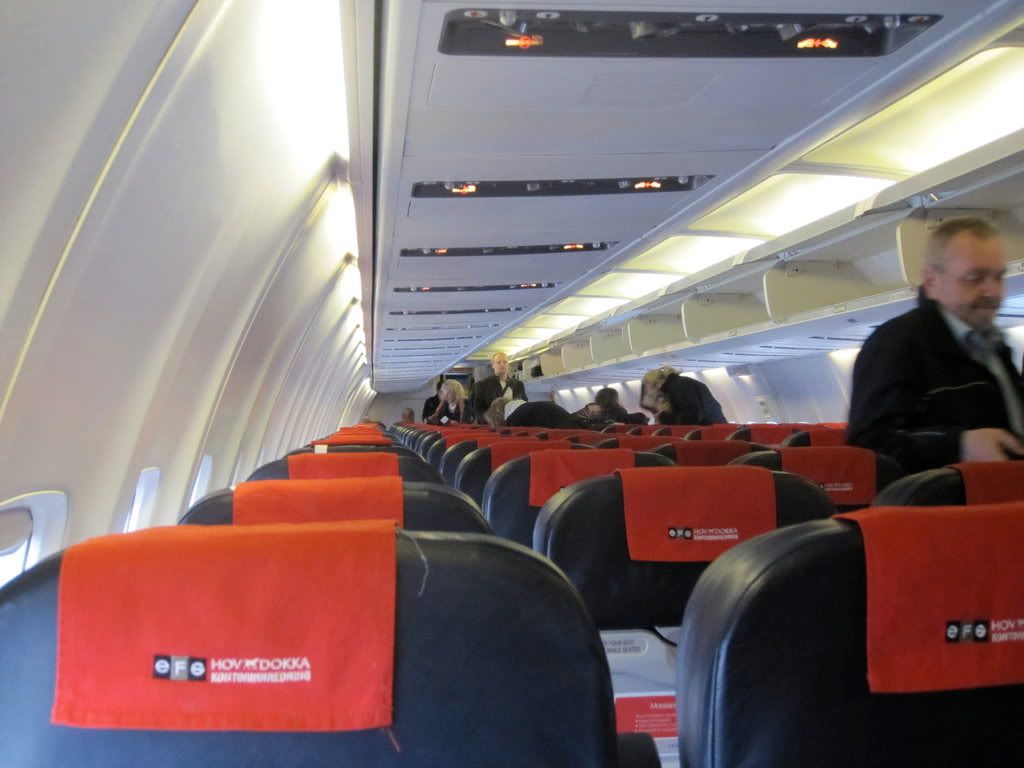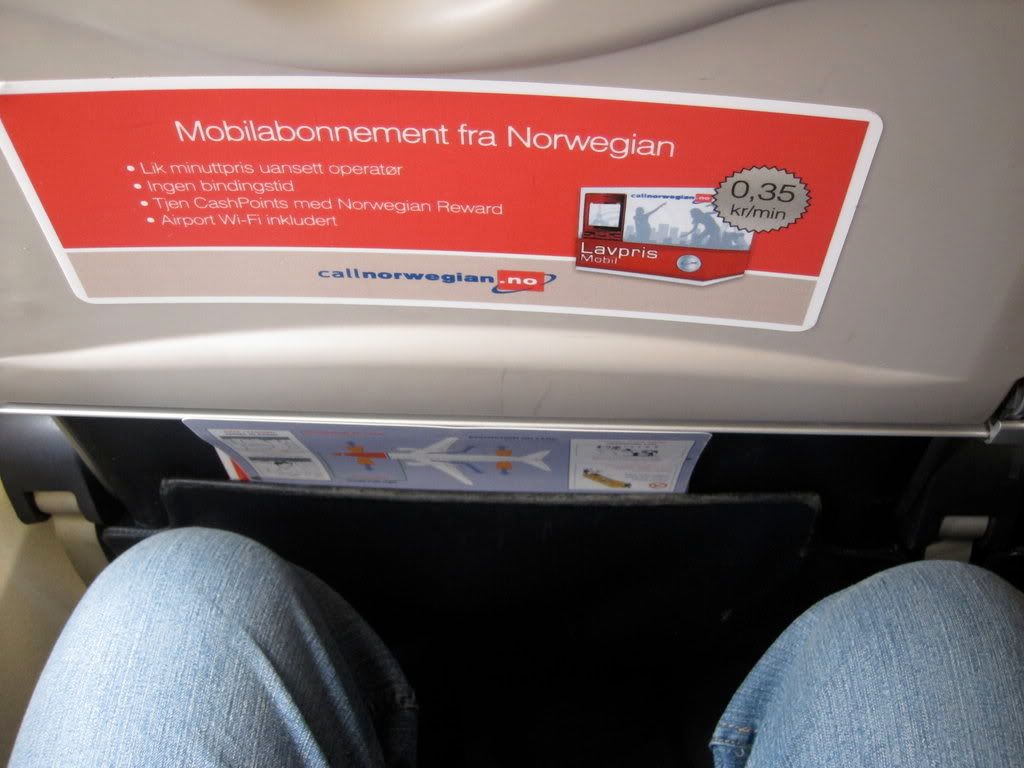 Ads:
Seven minutes after our scheduled departure time the captain announces a flight time of 45 minutes and that we are still waiting for the baggage loading to be finished before we can depart. Surprisingly the Stockholm weather is much better with sunshine and ten degrees.
We push back 16 minutes late, taxi to the far runway 22R and take off.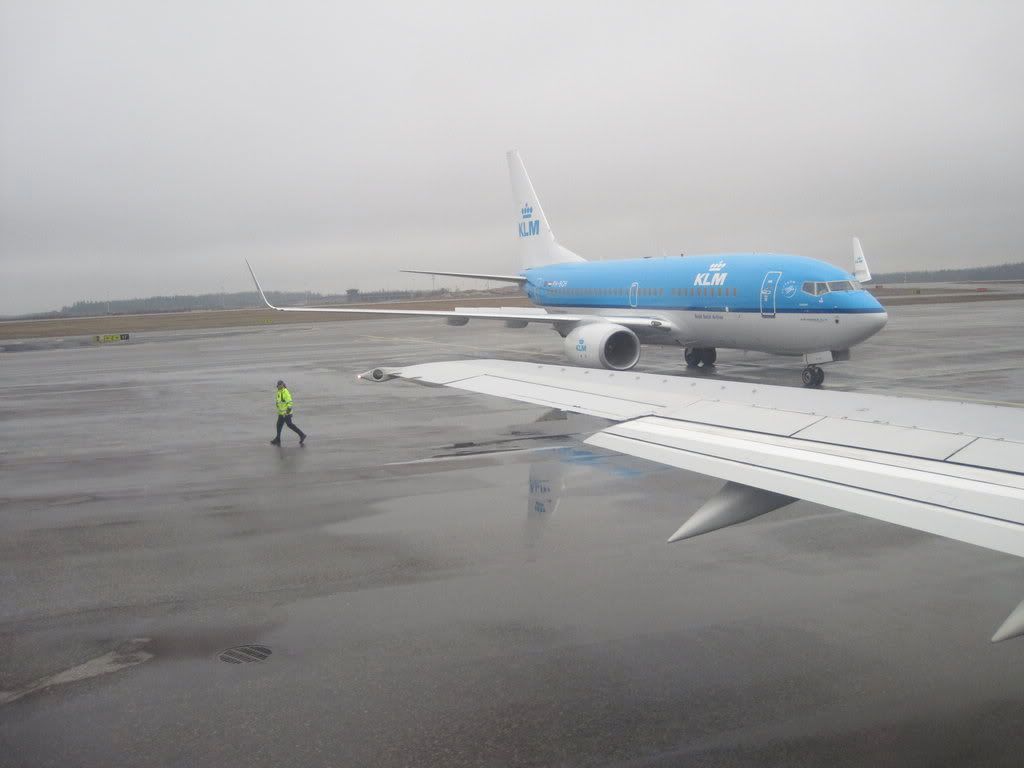 A TNT Bae-146 taking off before us: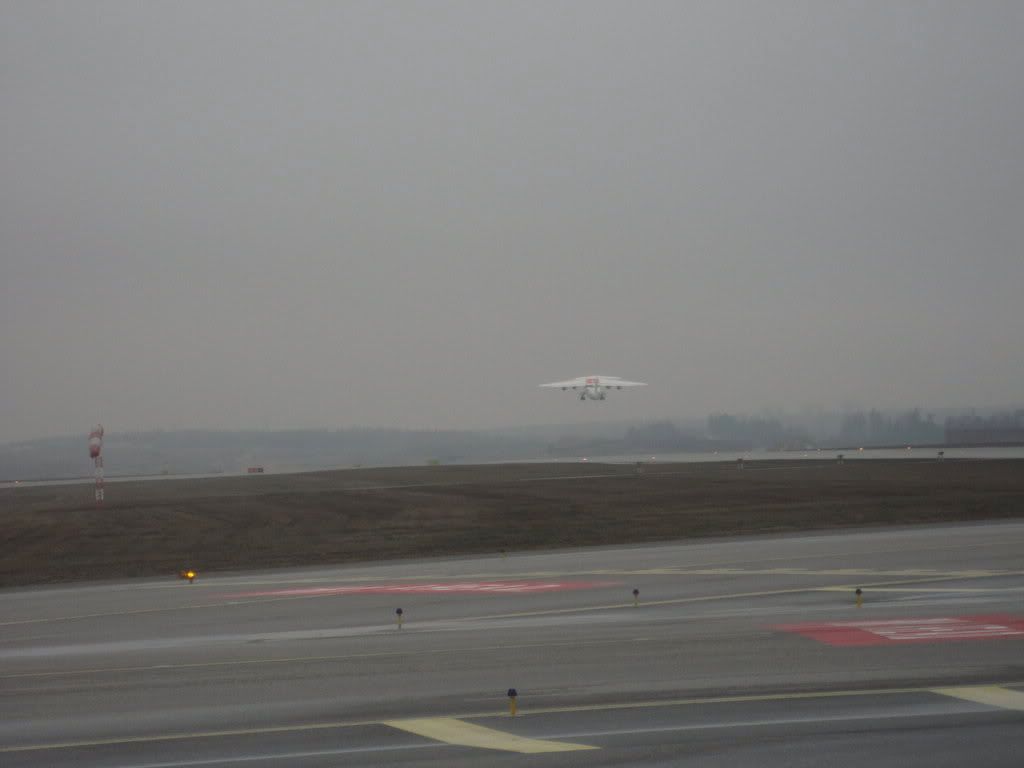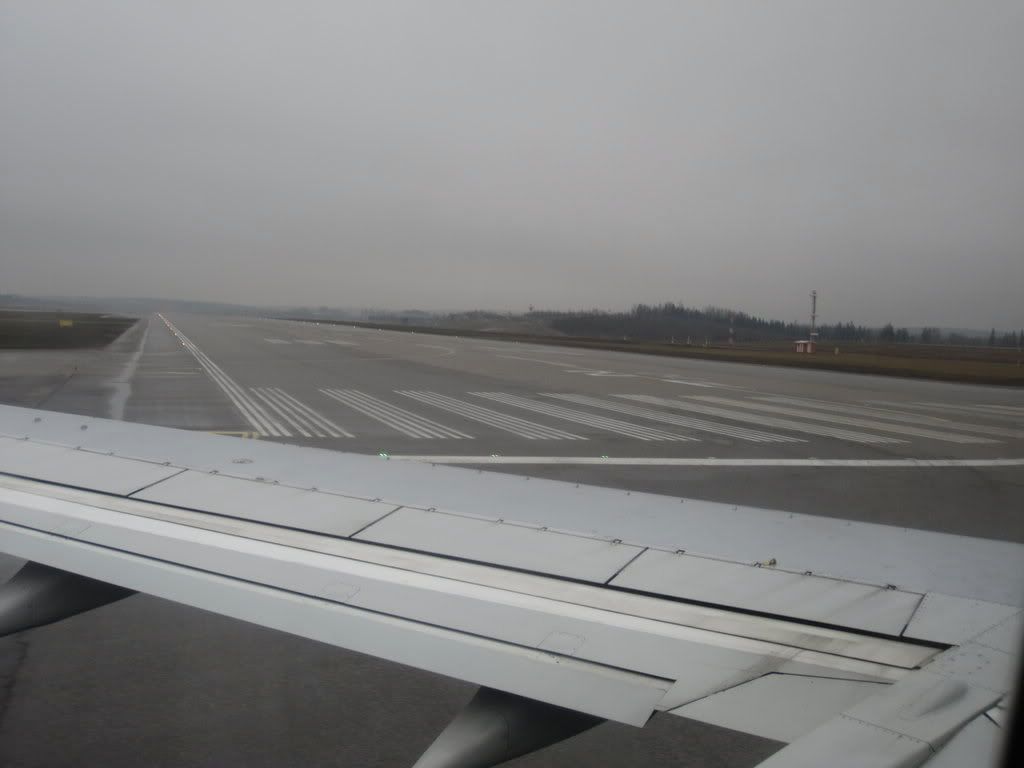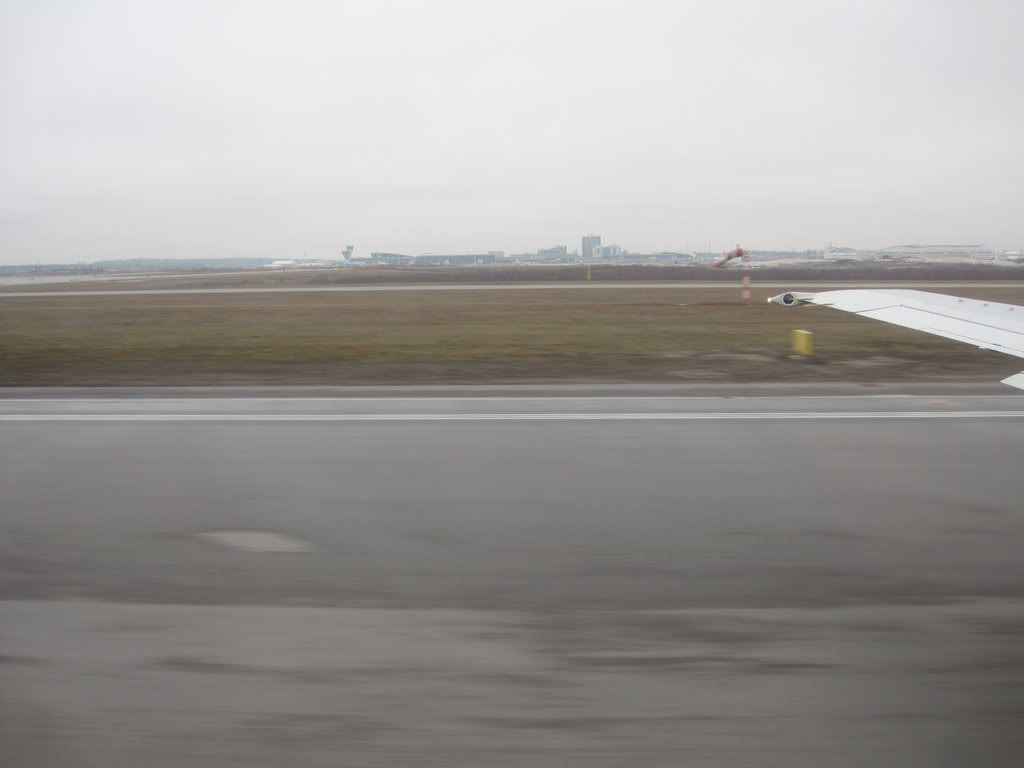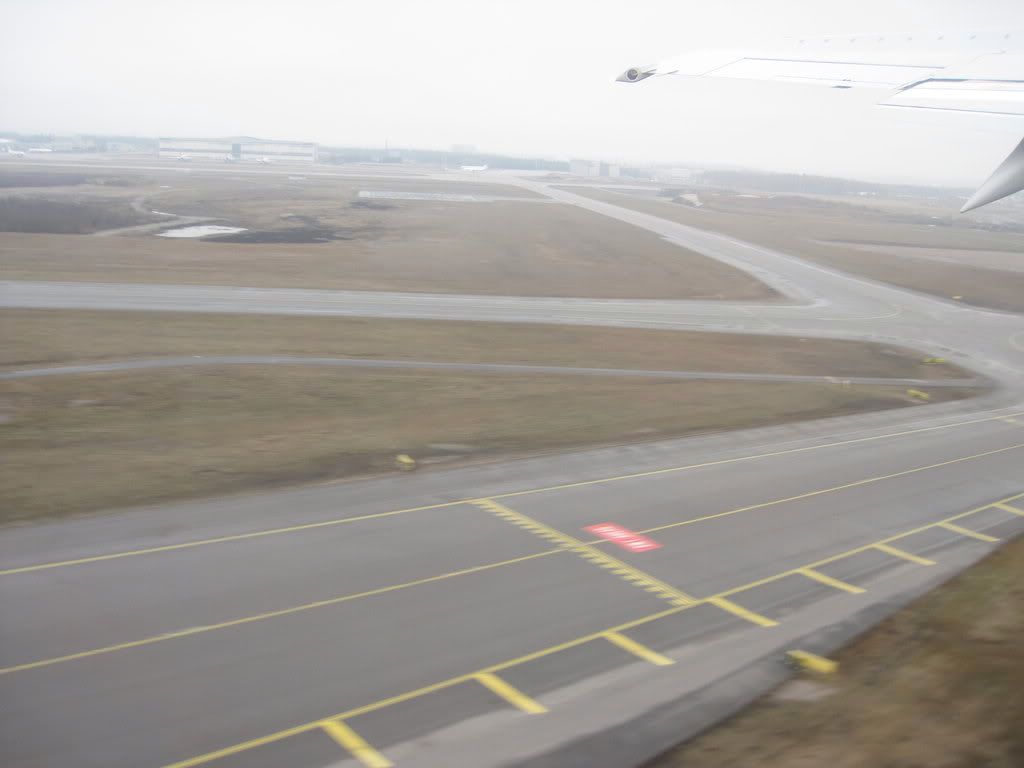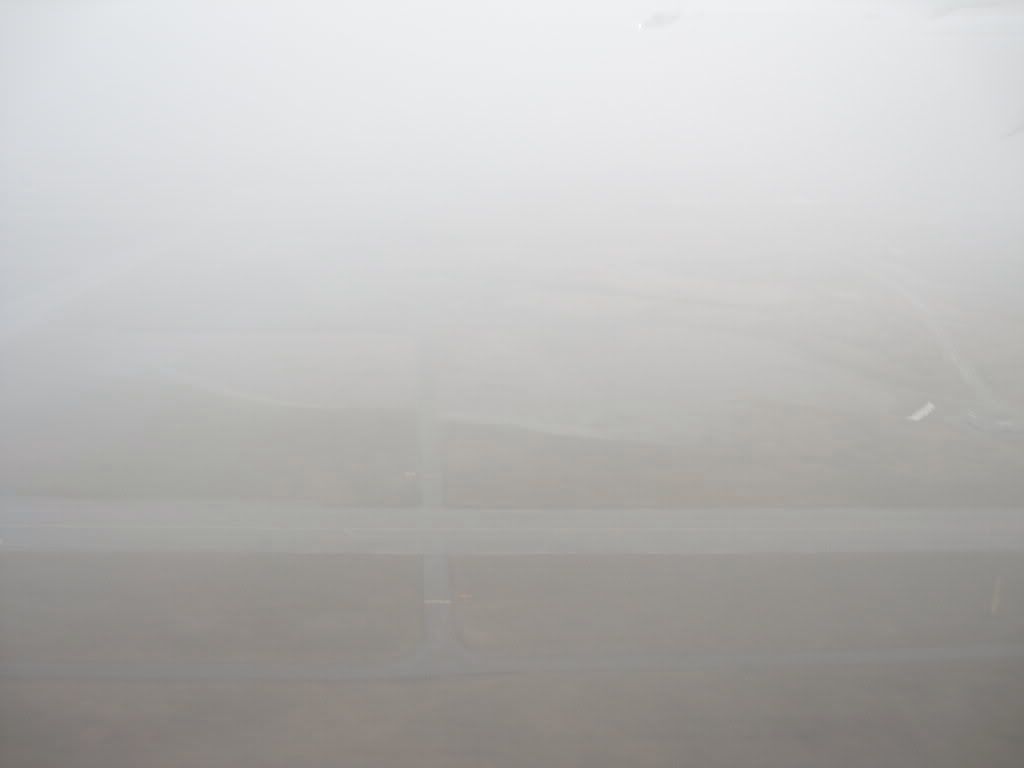 I don't bother to get anything from the BOB service.
When nearing Stockholm the weather gets noticeable better with nice views over the Stockholm archipelago during our descent. When the captain announces landing in ten minutes he also mentions that the weather is getting better all the time, it is now up to 17 degrees warm!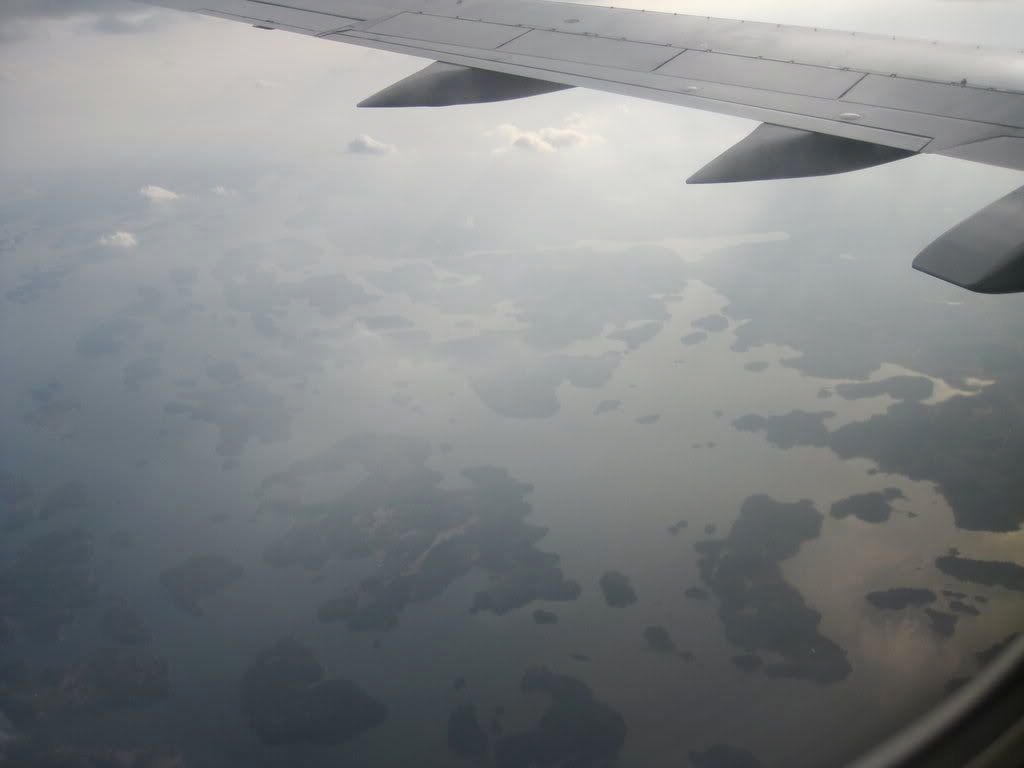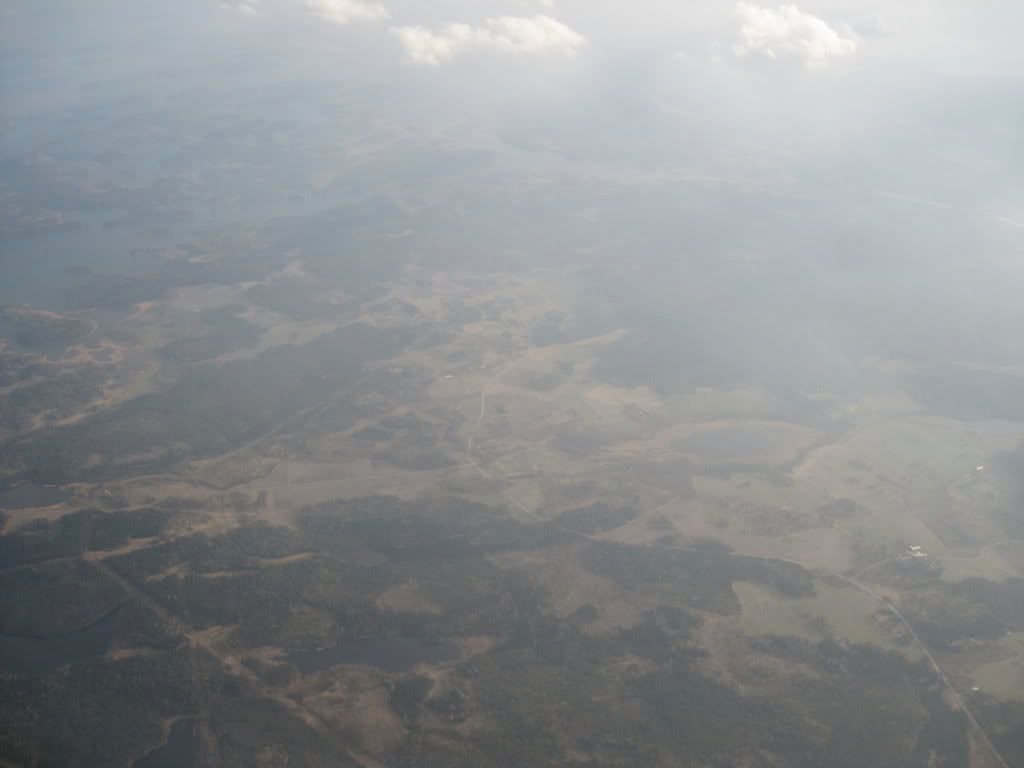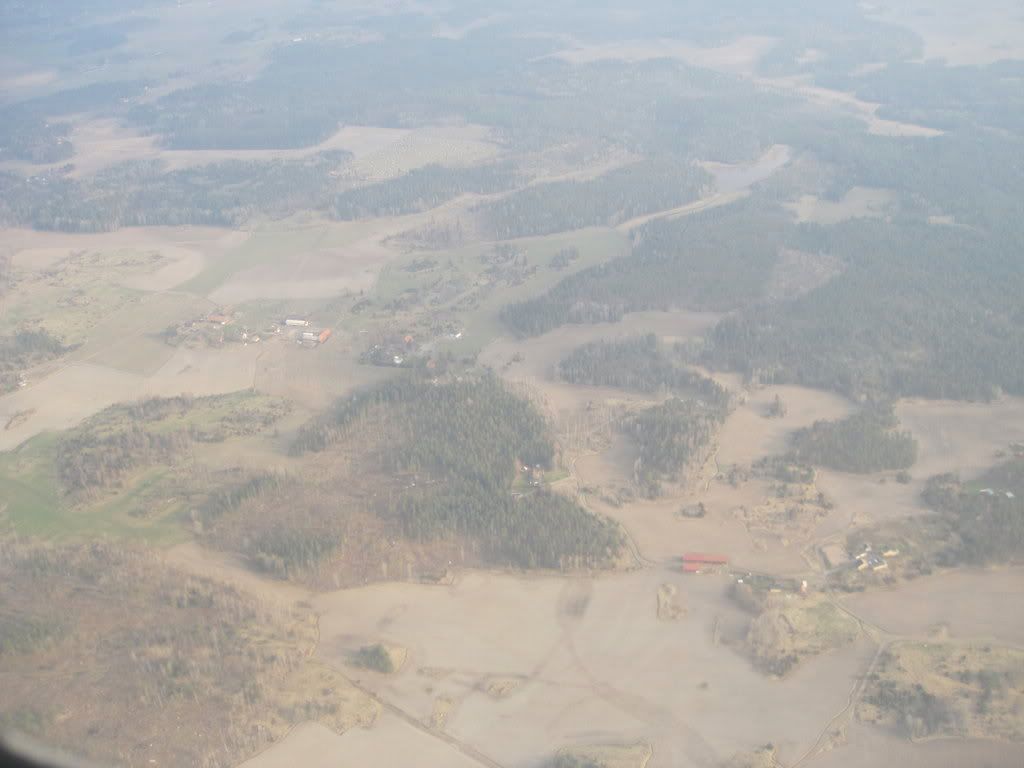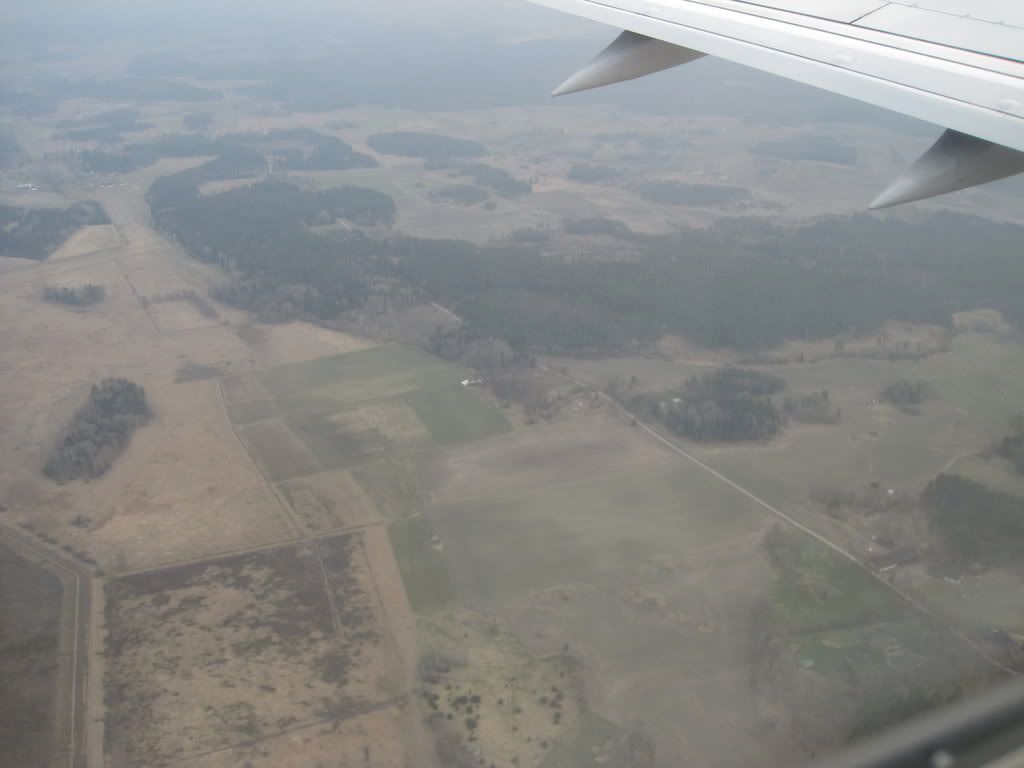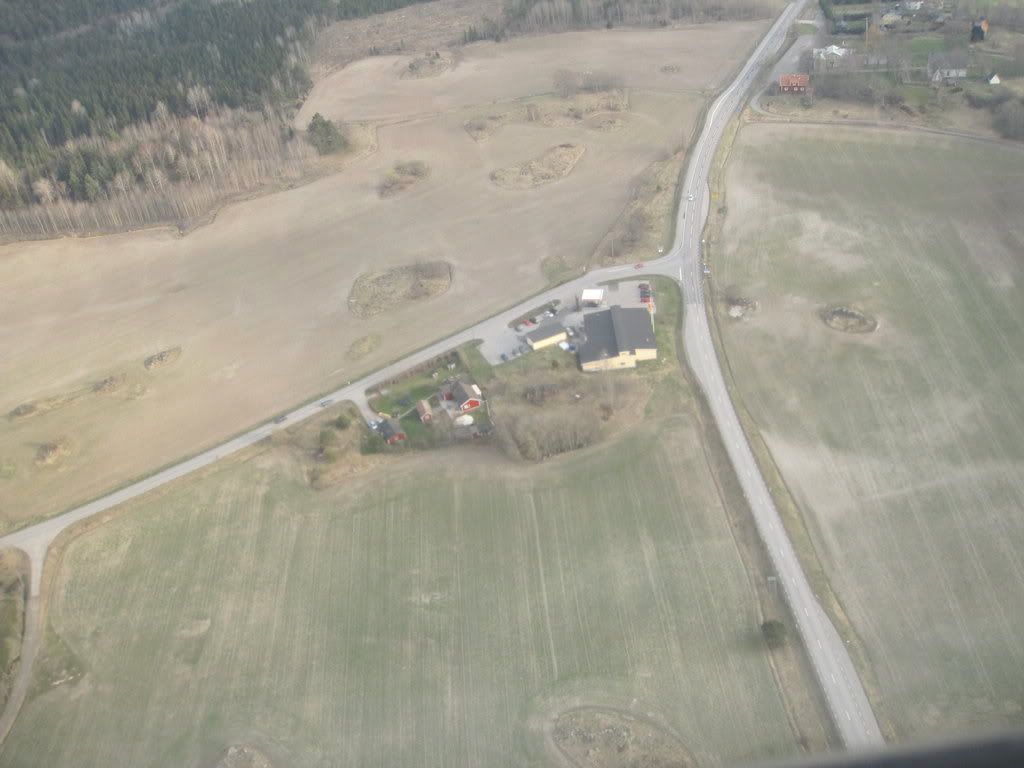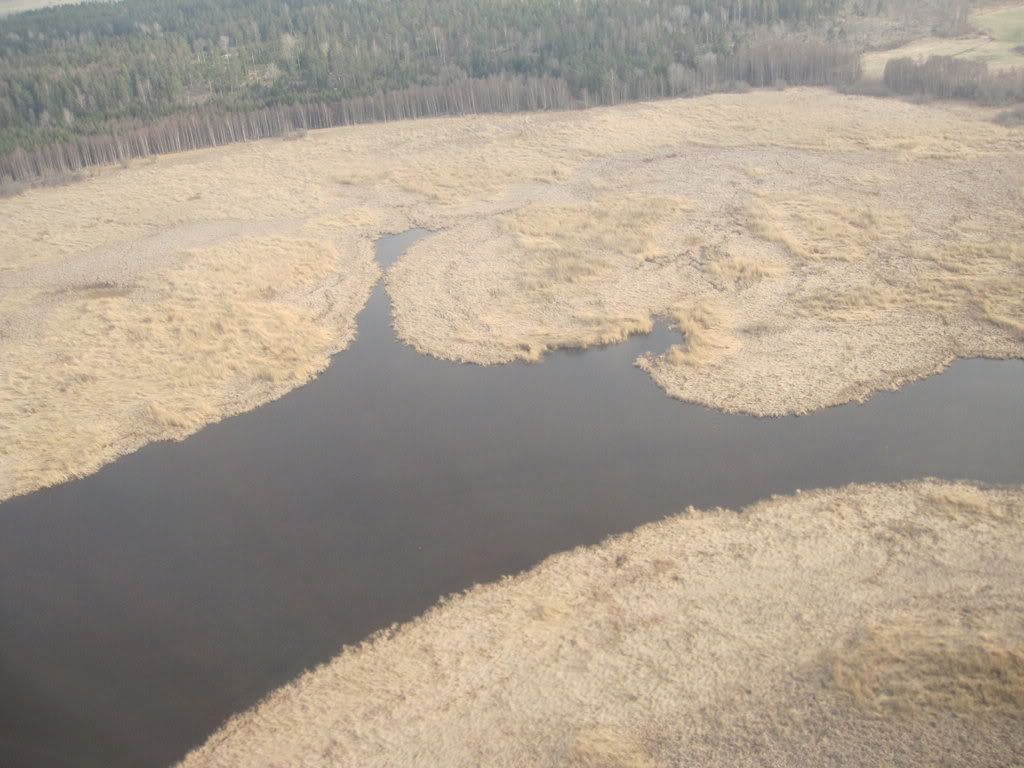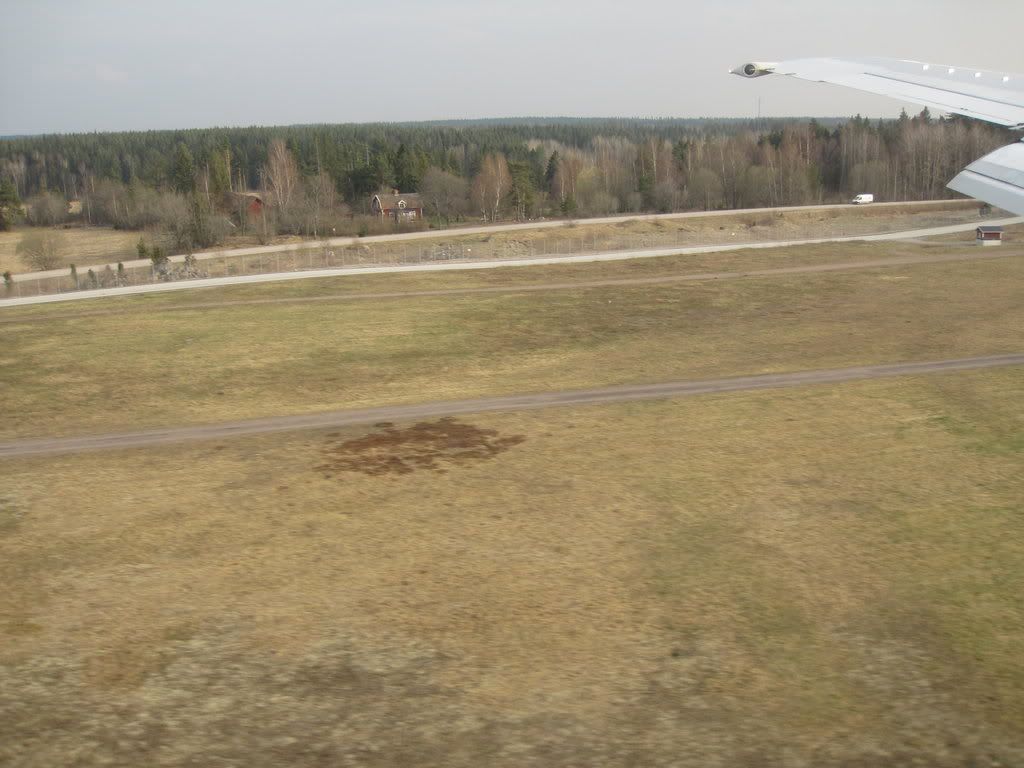 We land on runway 26 after less than 40 minutes of flight, 16 minutes before we left the gate at Helsinki
. During taxi to the T2 we get a nice overview of all the Arlanda terminals.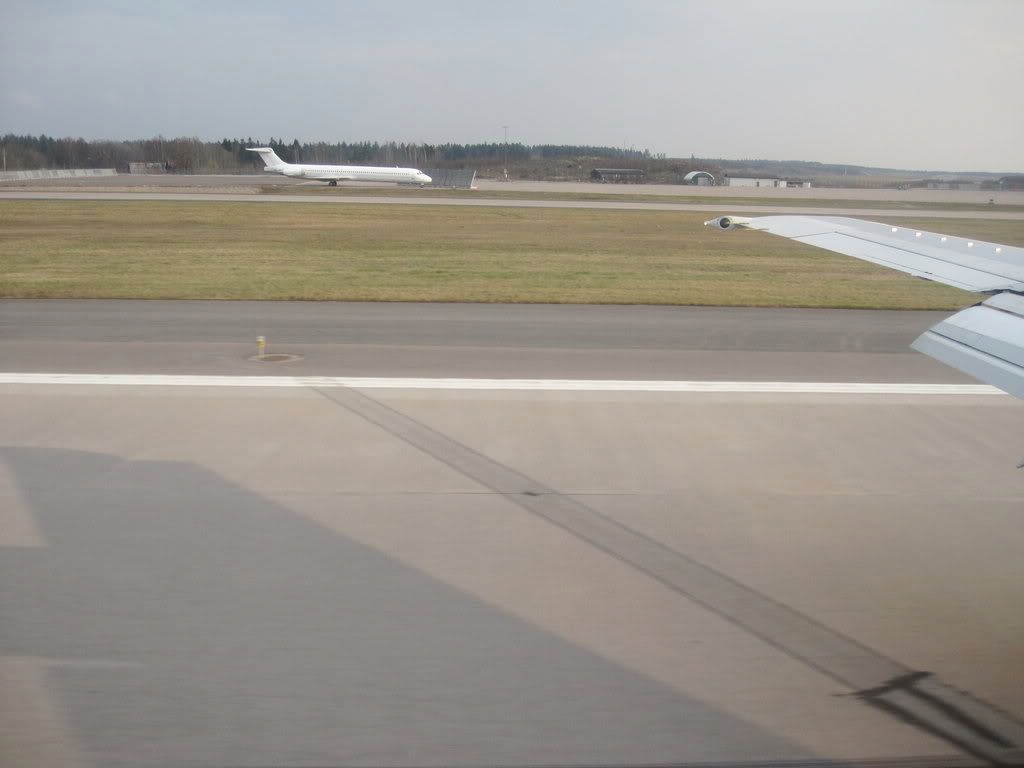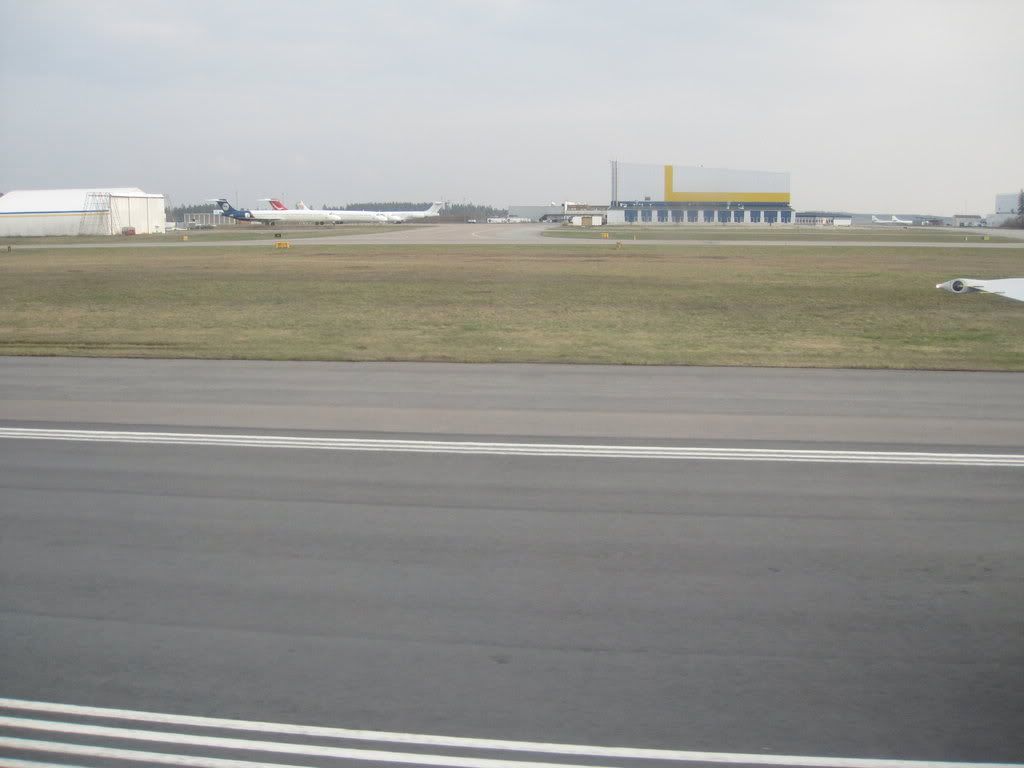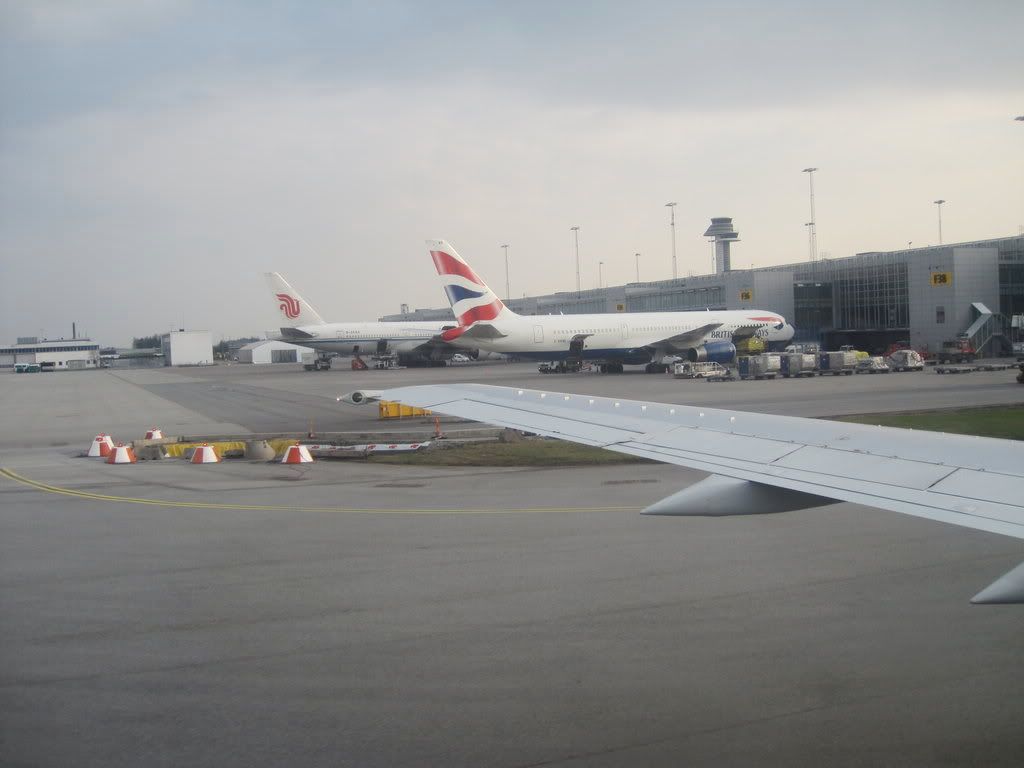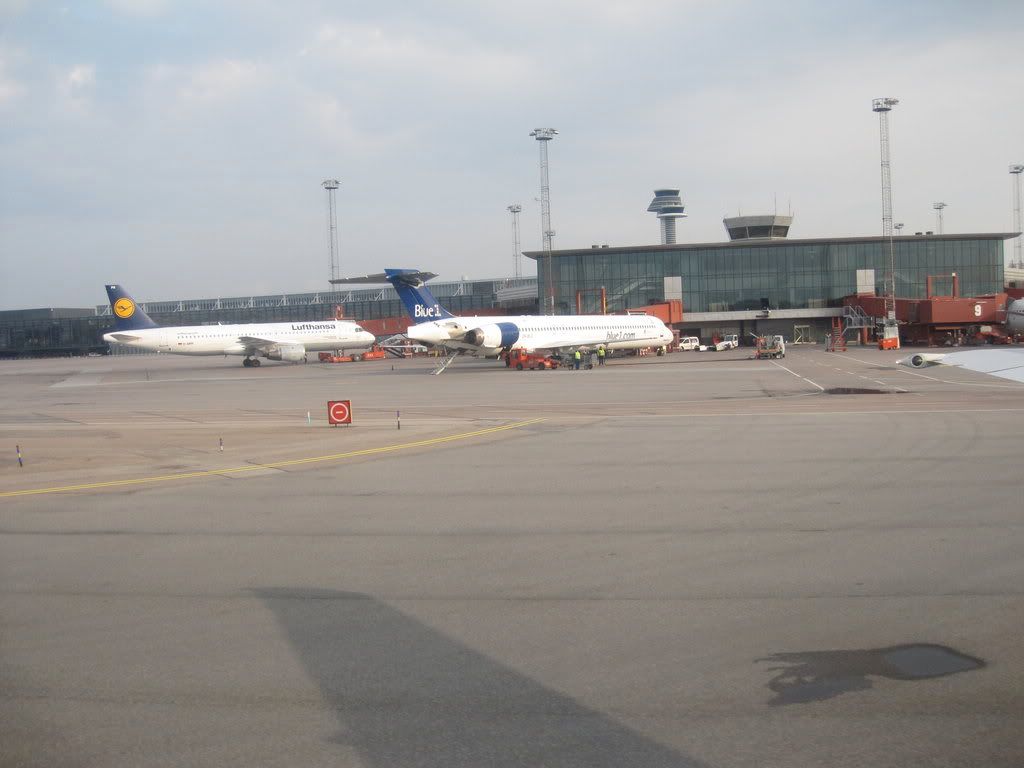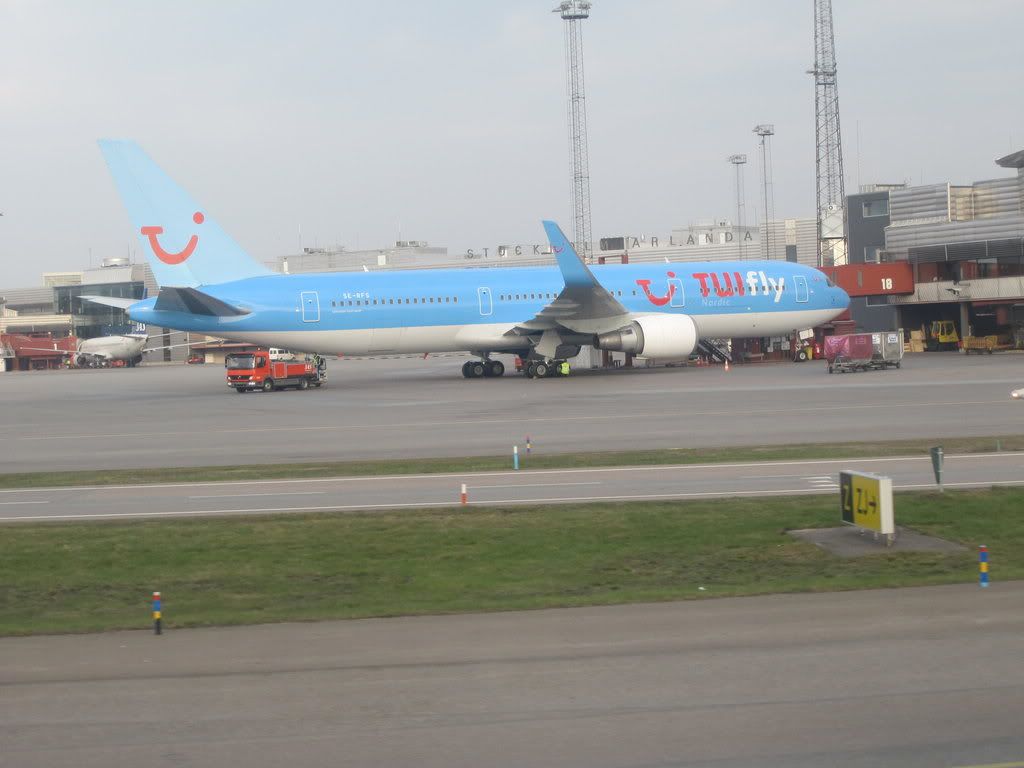 The domestic terminal 4: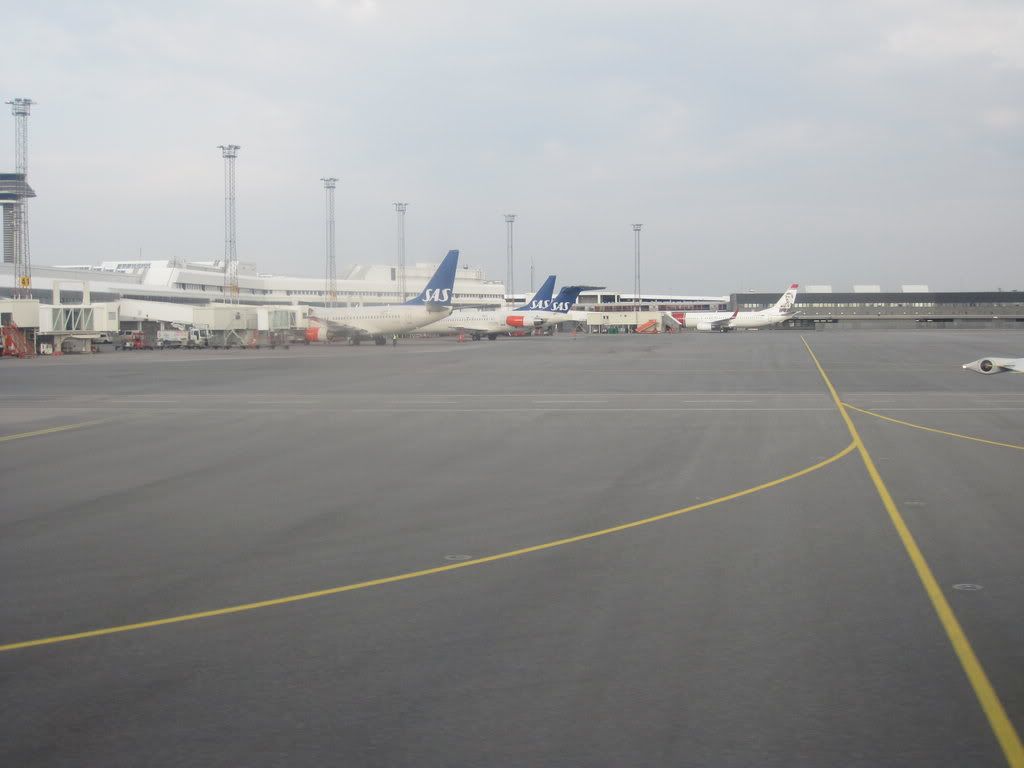 The (domestic) commuter terminal 3: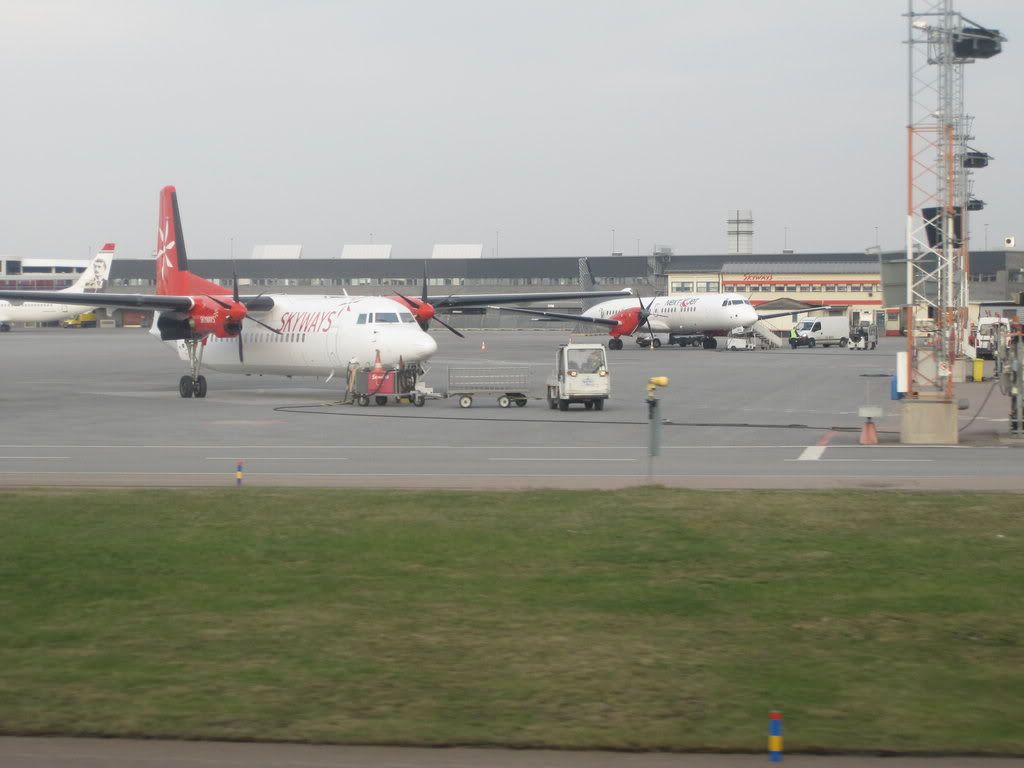 The Jumbo Hostel: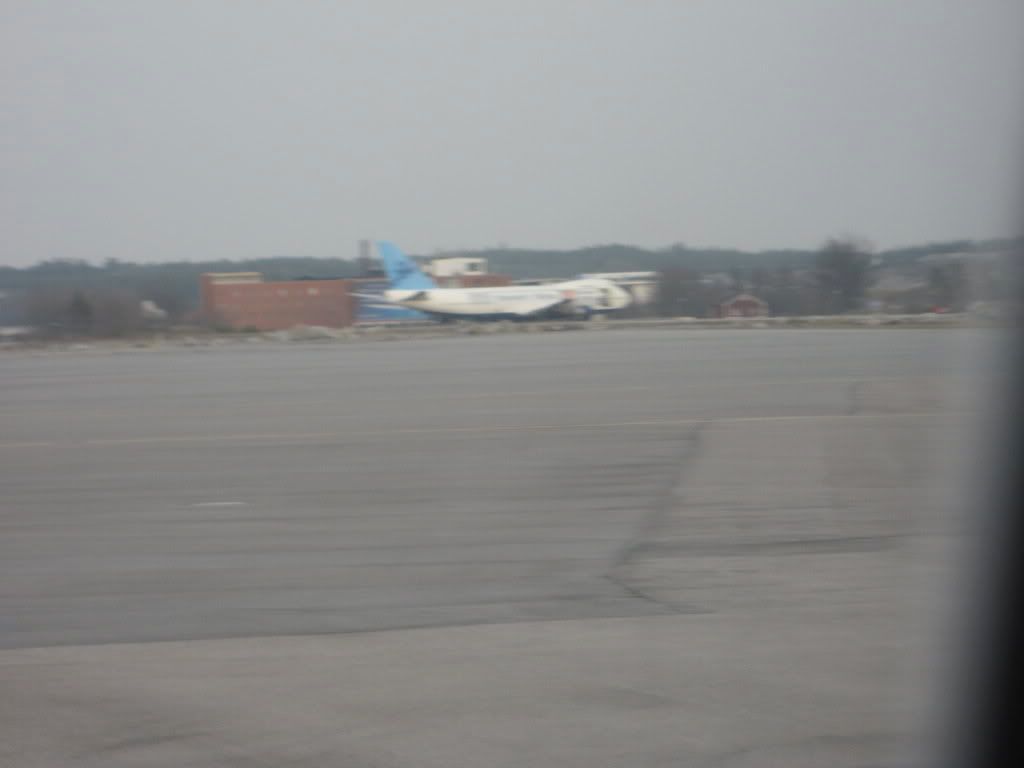 Approaching terminal 2, now used exclusively by the LCCs: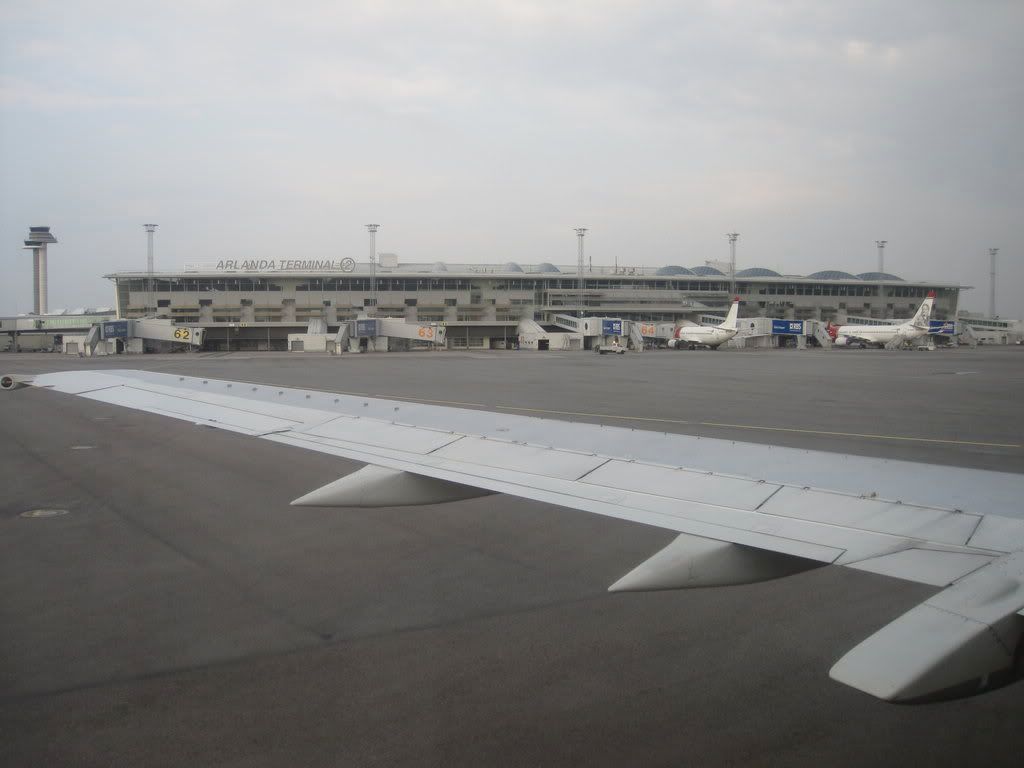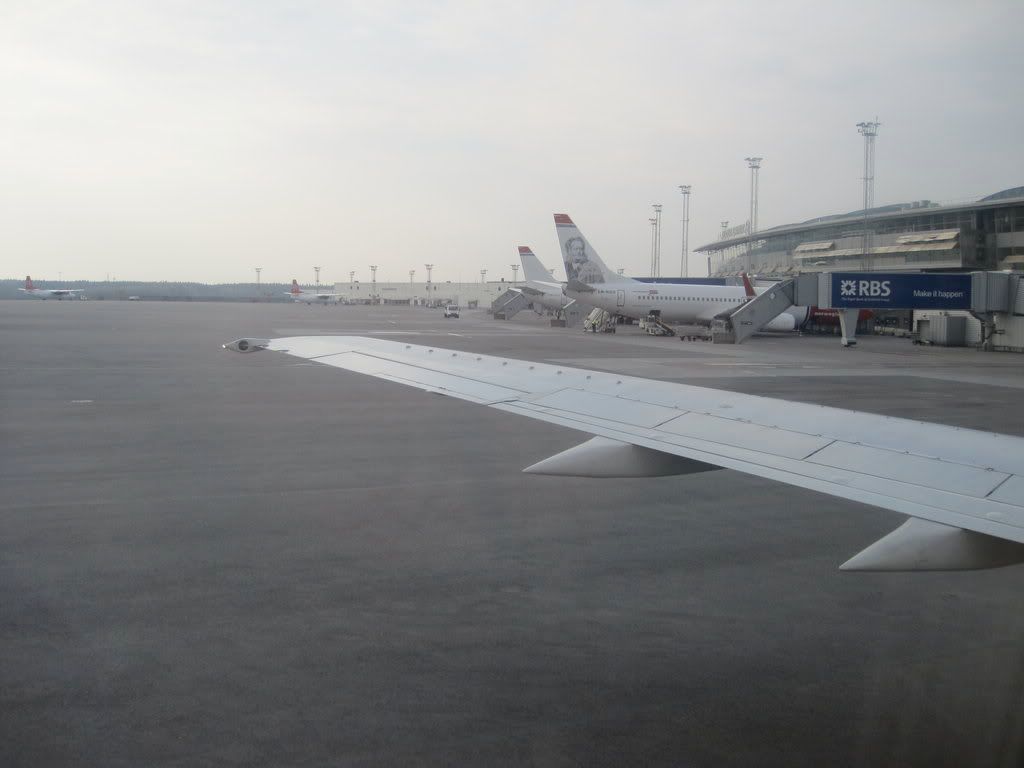 Deboarding is done through both doors, there's a stairway on the bottom of the jetway for us who use the back door to get up to the jetway.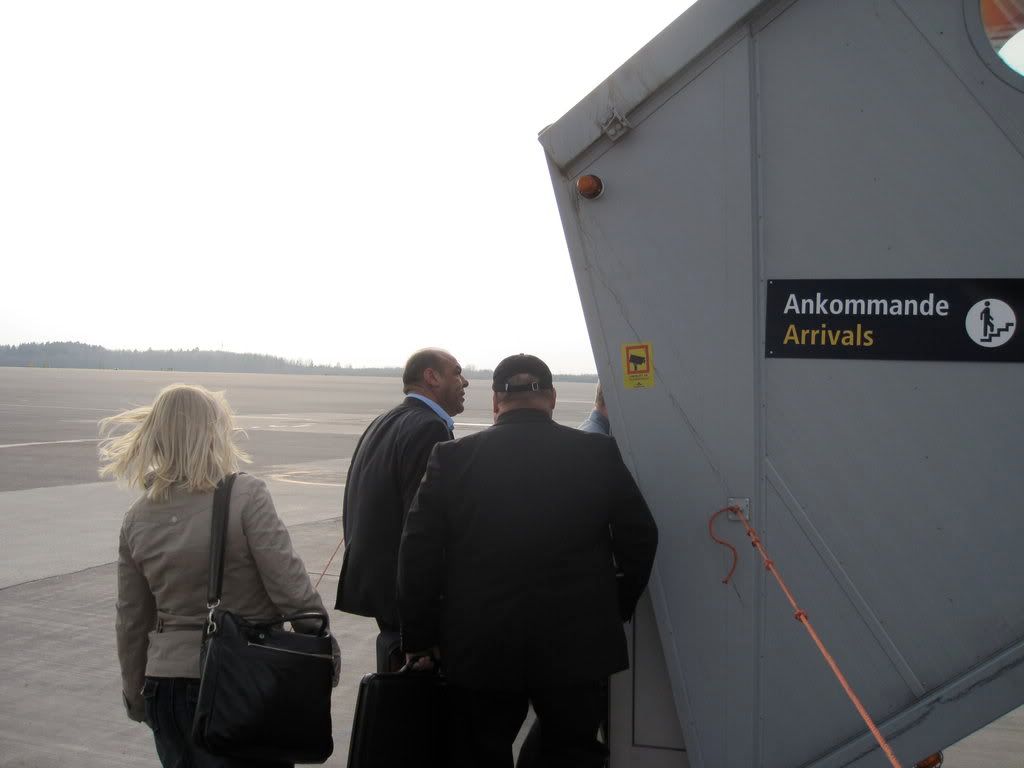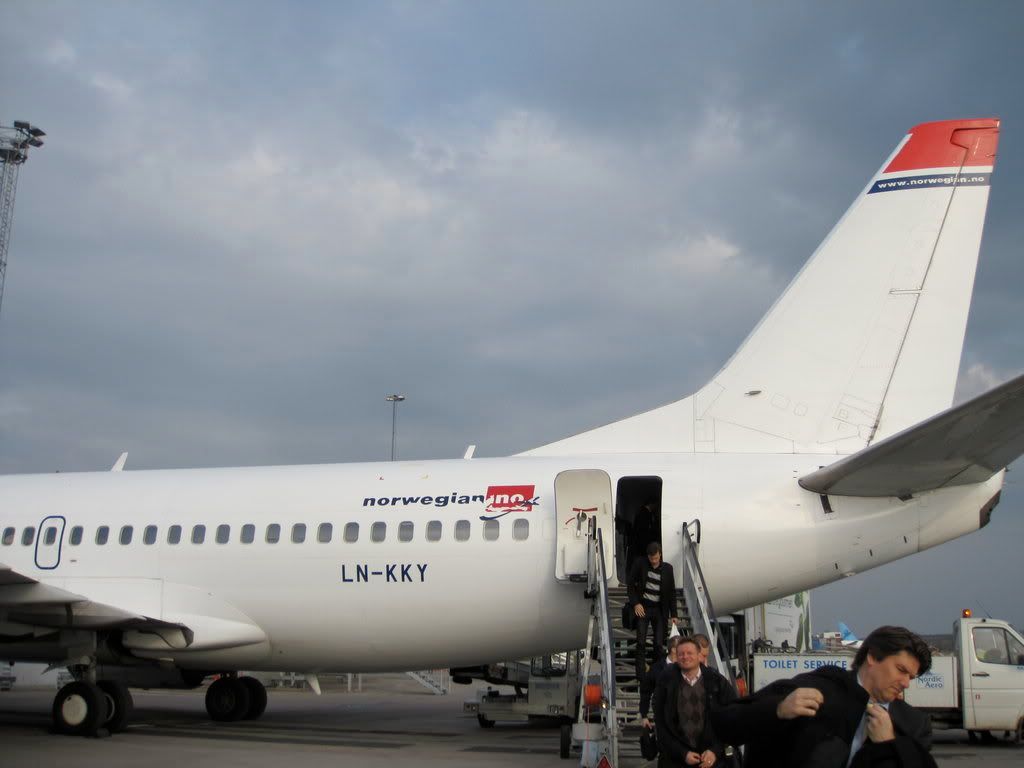 Stockholm Arlanda Airport
I wonder if they had a similar counter for Maddy before things turned for the worse: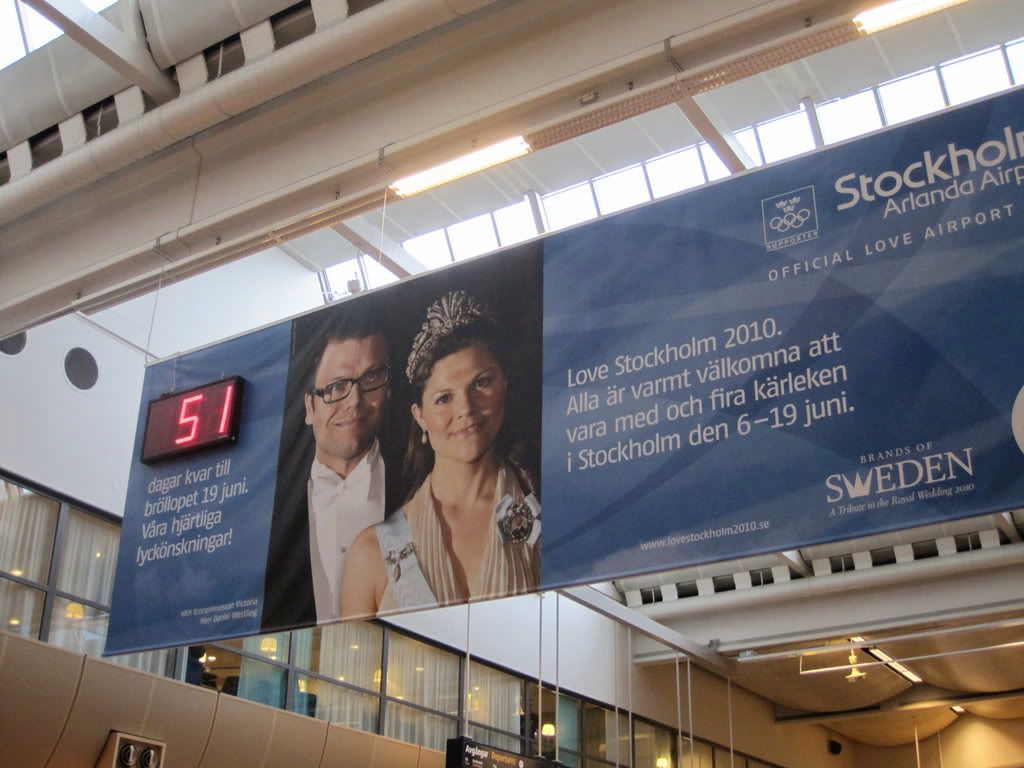 This chapter should really be subtitled "The quest for Starbucks" - Arlanda airport has the first (and still the only?) Starbucks in Sweden and I'm determined to find it. Somehow I thought it would be in Skycity - a shopping and dining area between terminals 4 and 5, but I can't find it despite going around the whole area a couple of times. I sort of give up on the hope, head to T5 where my BT flight is leaving and go through security (I hate how the T5 North security nowadays dumps you in the middle of the duty free store in true BAA-style, I would've used the south security point but it was packed) and head to my gate, only to find the Starbucks right opposite my assigned gate 6! Happy as a bee I sit down for a nice frappuchino and put some more work towards some overdue trip reports.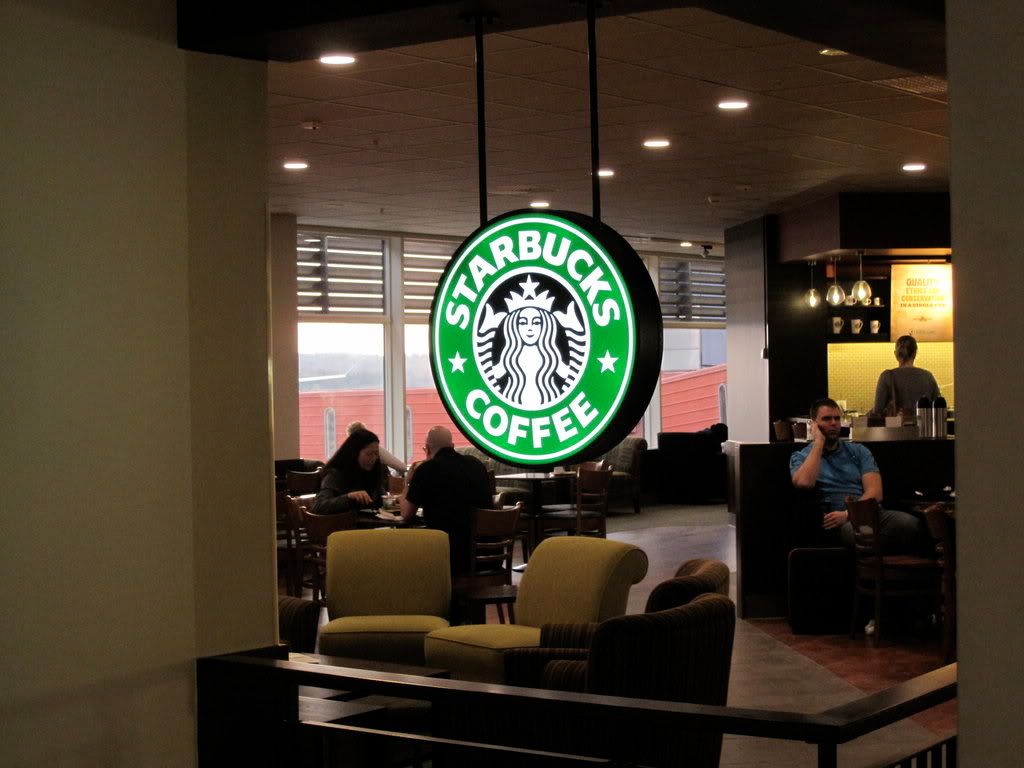 Mission accomplished: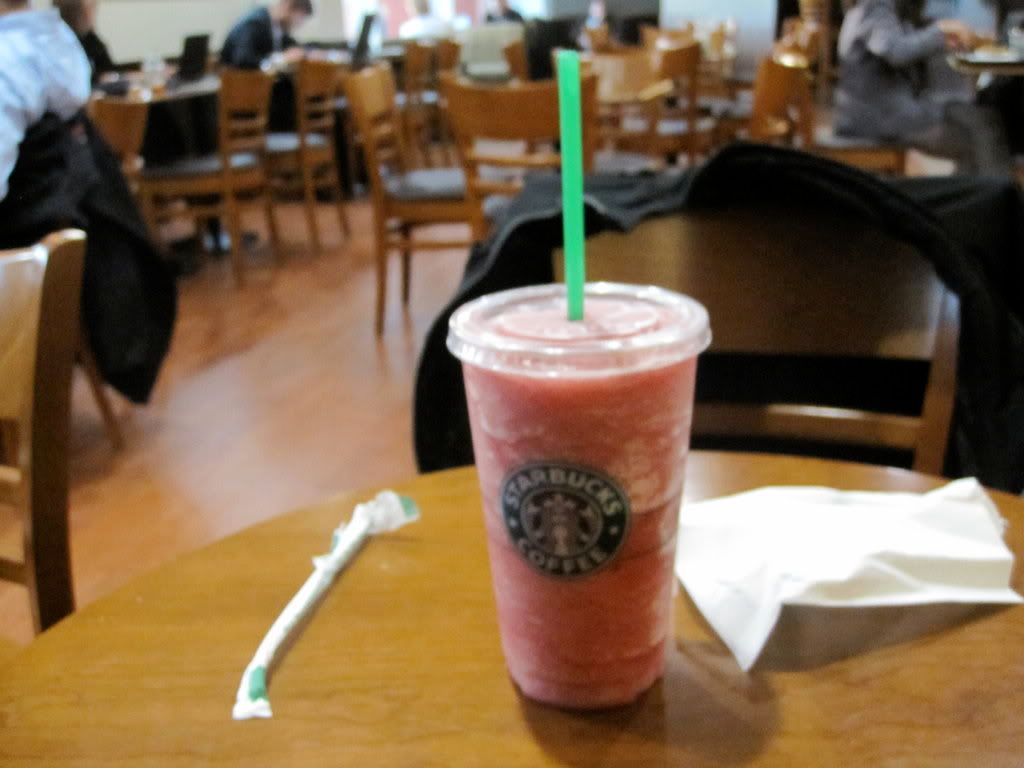 The trip home aboard BT via RIX is nothing to mention about, standard flights on a 735 and F50 I've covered here already many times, so I won't bother to write about it.
Conclusions
More competition is always a good thing, I heartily welcome DY to HEL and hope they can turn the route profitable. It is a rather nice airline, seat pitch is a bit tight so for flights longer than an hour or so I recommend an exit row.
I realized something funny during the approach to ARN on the second flight - despite this being my 480th time taking off from or landing at HEL, 113th time landing at or taking off from ARN and 33rd time flying this route (and the fifth carrier I'm doing it on) I still enjoyed it very much. I guess it is a testimony to how much I really love and enjoy flying, aviation and most things related to it!
The next trip is early next week - a quick overnight at my parent's place doing LPP-KUO-HEL to catch the inaugural flight of a new domestic route by airBaltic - and it looks like it might just become my first flight on the new BT Dash-8 as well!
Happy contrails!