Background:
Visiting the Singapore Airshow 2010 was on my mind for quite some time. However, I could not really make concrete plans in advance because of a hectic work schedule. Only towards the end of December 2009, did I start thinking seriously about doing a trip to Singapore.
First and the most important aspect was choosing a carrier. There is a variety of airlines – both Indian and foreign operating between Mumbai & Singapore. I could choose from Singapore Airlines, Qantas, Air India, Jet Airways and Kingfisher. Kingfisher Airlines is a relatively new operator on this sector and flies daily between BOM & SIN using an A330-200.
Thus began a process of selection or rather elimination. Air India was out first – with its reputation of inconsistent service, delays and the use of the narrow-body A319 for this five hour sector. SQ was tempting, but there have been so many reports and reviews on this airline that I feel I have flown them already without even stepping on-board
Qantas was too pricey and offered nothing spectacular in terms of their product or service. The finalists were Jet Airways & Kingfisher. Both operate the A330-200 and leave BOM at more or less the same time. I am a Frequent Flier member of both airlines, but I hold Gold status on Kingfisher – which meant Lounge access, Priority baggage, etc even while flying Economy. A quick comparison of the fares on their respective websites revealed that IT was cheaper by around INR 2.5K. This was really a no-brainer and I quickly booked my tickets on IT.
1) BOM-SIN
Reaching the airport:
A departure time of 2300 hours meant that I had to leave my place at around 1930. This was to allow for potential traffic snarls and a leisurely completion of formalities at the airport. My cab arrived at the designated time, and after bidding farewell to the family, I was on my way.
As expected, the traffic was slow during the evening rush hour, but even then it took me not more than 45 minutes to reach the airport. The scene at the drop-off area was chaotic as usual, and with some difficulty, I made my way inside the terminal.
Check-In:
Kingfisher operates from Terminal 2-B at Mumbai. After the mandatory check of travel and identity documents at the entrance gate, I walked towards the Kingfisher Check-in counters. Because of my King Club Gold status, I could check-in at the dedicated King Club counter. Upon enquiring, the check-in agent told me that the flight was quite full. She quickly tagged my bags, and handed me the boarding pass and a lounge card.
Check-in completed, I decided to walk around a bit and click photos of the terminal and the Kingfisher check-in counters.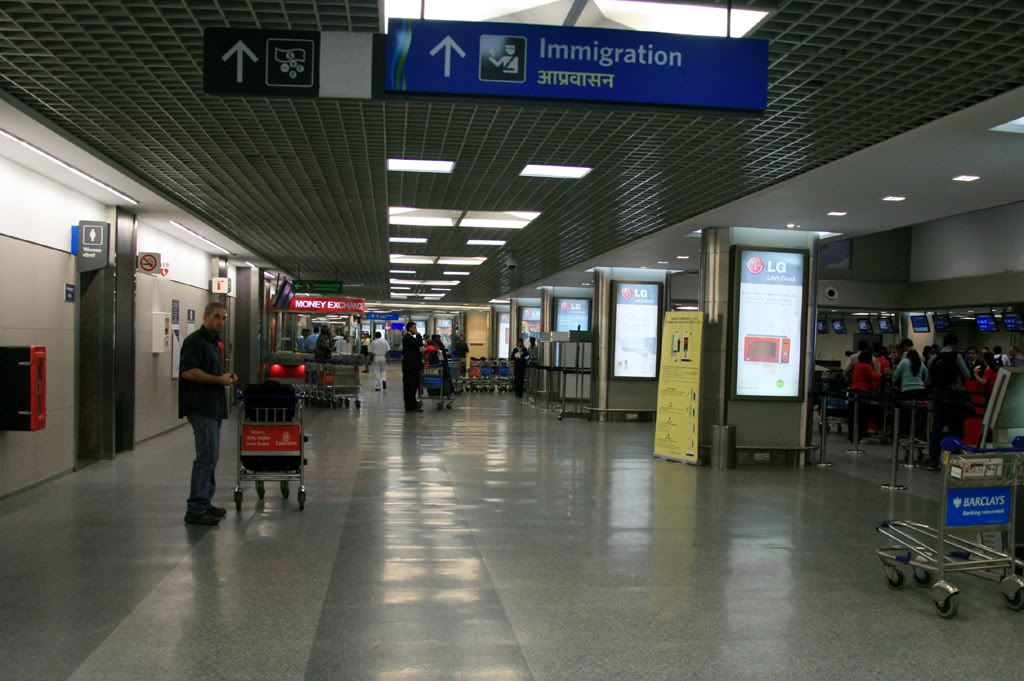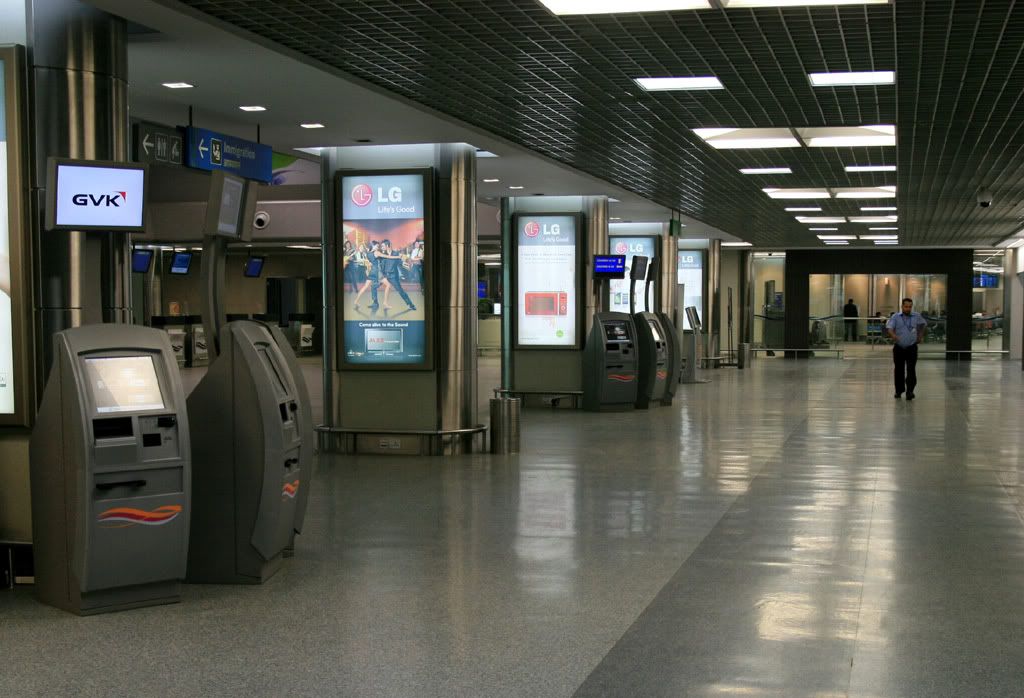 Now, the El Al check-in counters were located next to the Kingfisher ones, and as soon as I had finished clicking the shot above, an El Al "security agent" approached me, and said that photography was not allowed inside the airport. With a sense of déjà vu (please refer to my HKG Trip Report), I told him saying that photography was indeed allowed and showed him the relevant Indian DGCA order. After studying the document, he smiled at me and said, "Alright Sir, No problems at all"
El Al is extremely sensitive about security, and understandably so, considering the constant threat to their planes from certain extremists. However, they do not own the whole airport, and their employees should be aware of the local rules and regulations.
Anyway, after clicking a few more photos, I filled up the Indian departure card and queued up for Immigration. The whole process took nearly 20 minutes, and after another 20-25 minutes for Security, I walked down one level to the Departure area.
As many of you know now, the BOM terminal has undergone a complete transformation. From a barely usable terminal a few years ago, it has metamorphosed into a beautiful place to eat, drink, shop and relax. The following photos will give you an idea.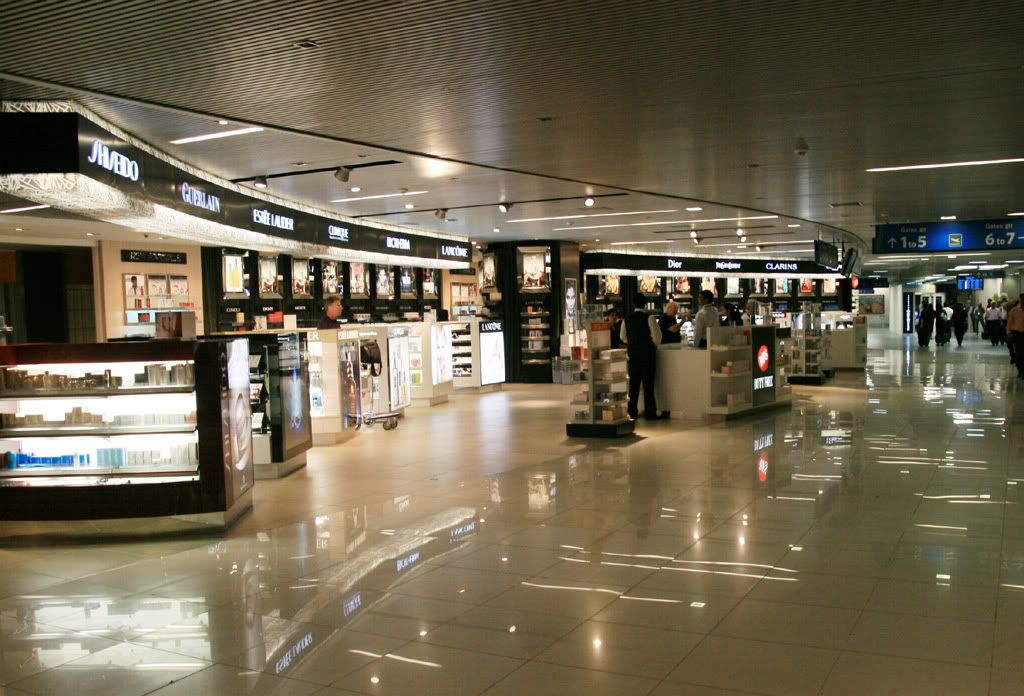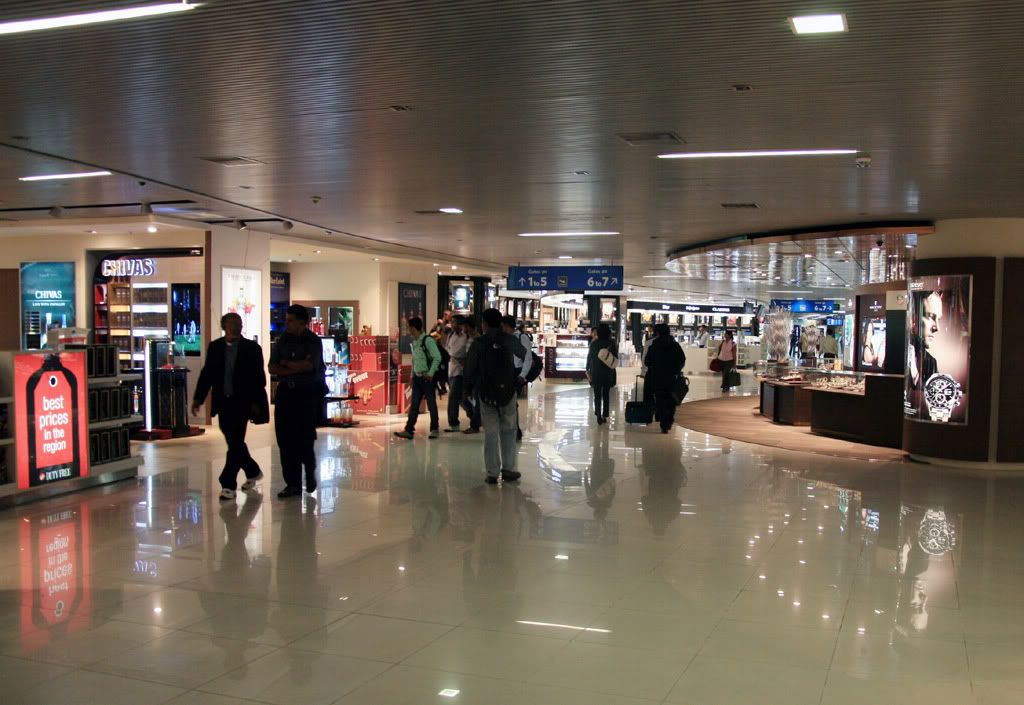 The Wait:
Kingfisher uses the Clipper Lounge at Terminal 2, and it was a walk of around 50 metres to the lounge. The lounge itself was not too huge, and was packed with passengers travelling on Jet Airways, Kingfisher and El-Al (sigh!)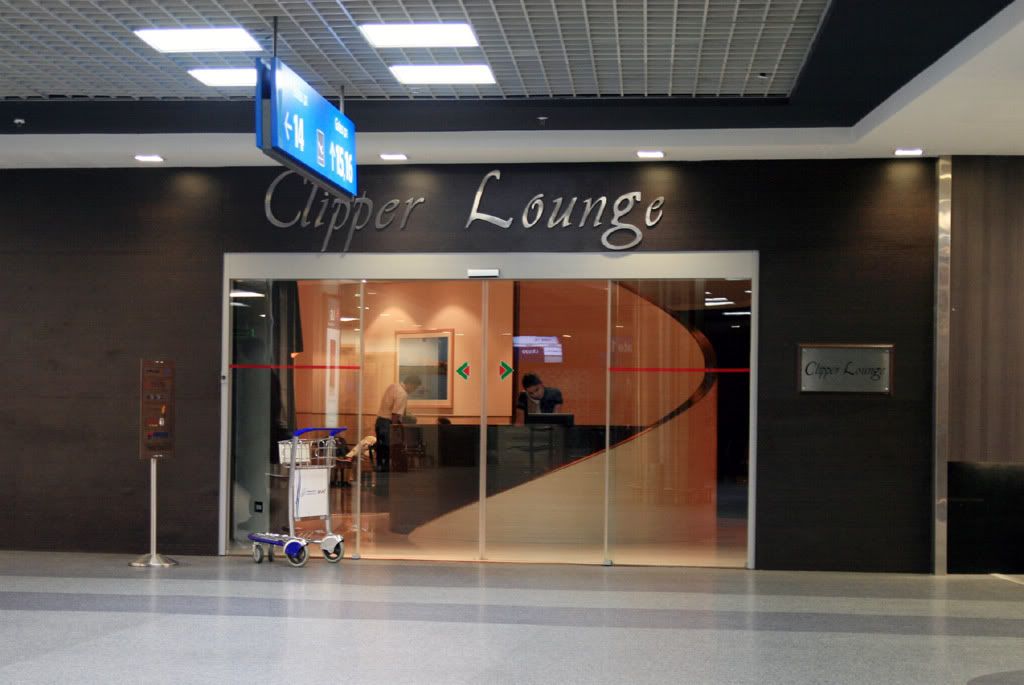 I explored the lounge a bit, and then settled down to have a quick snack.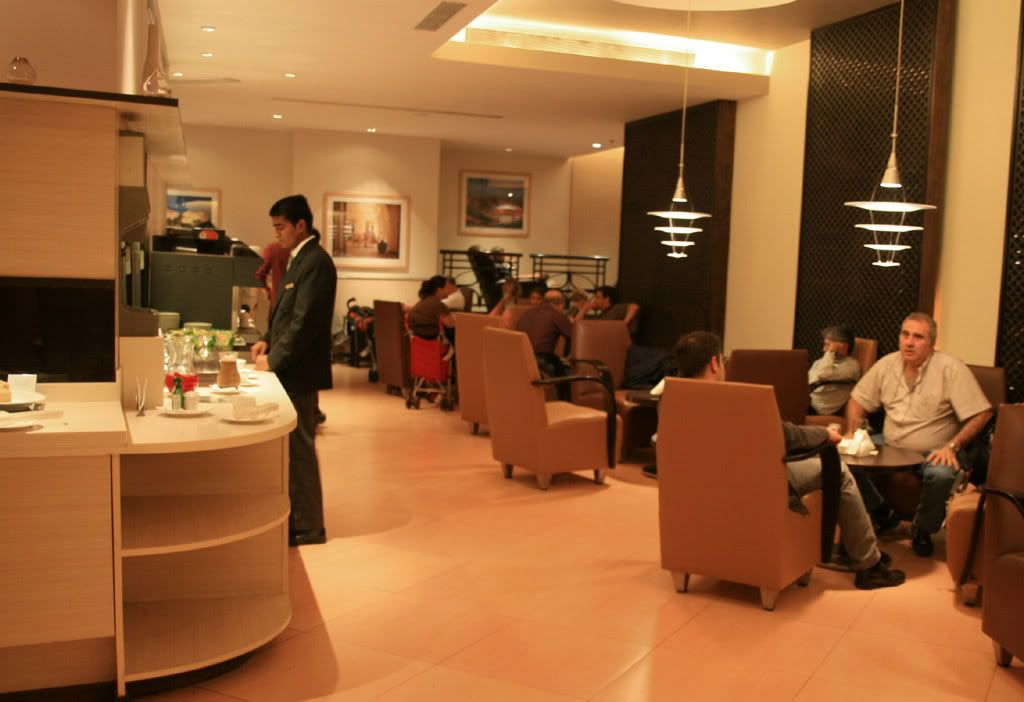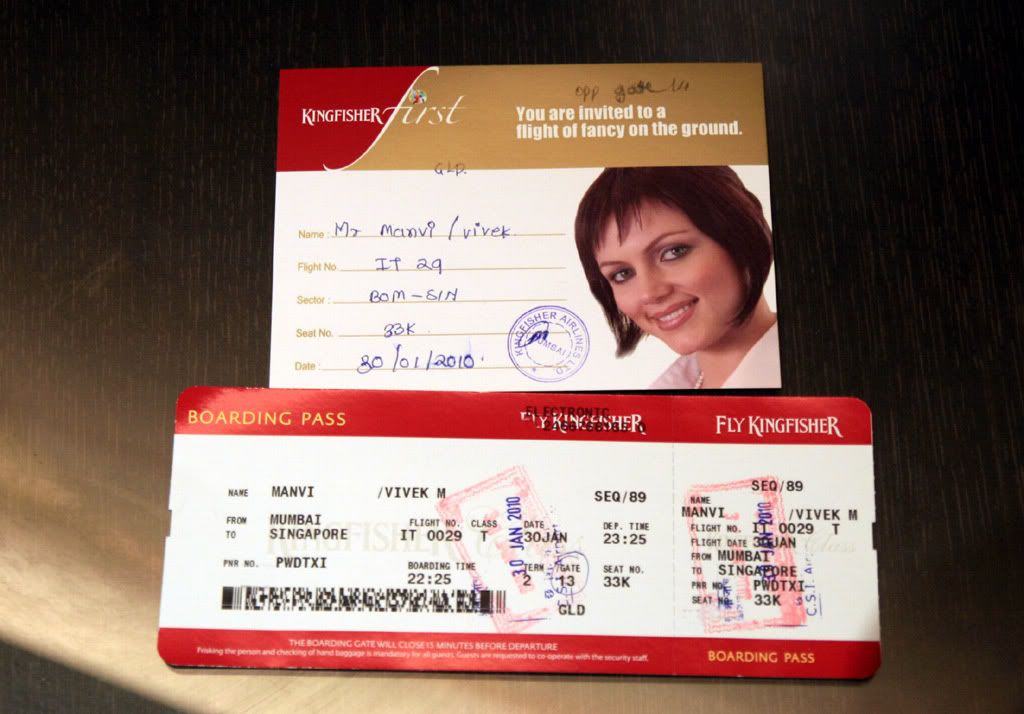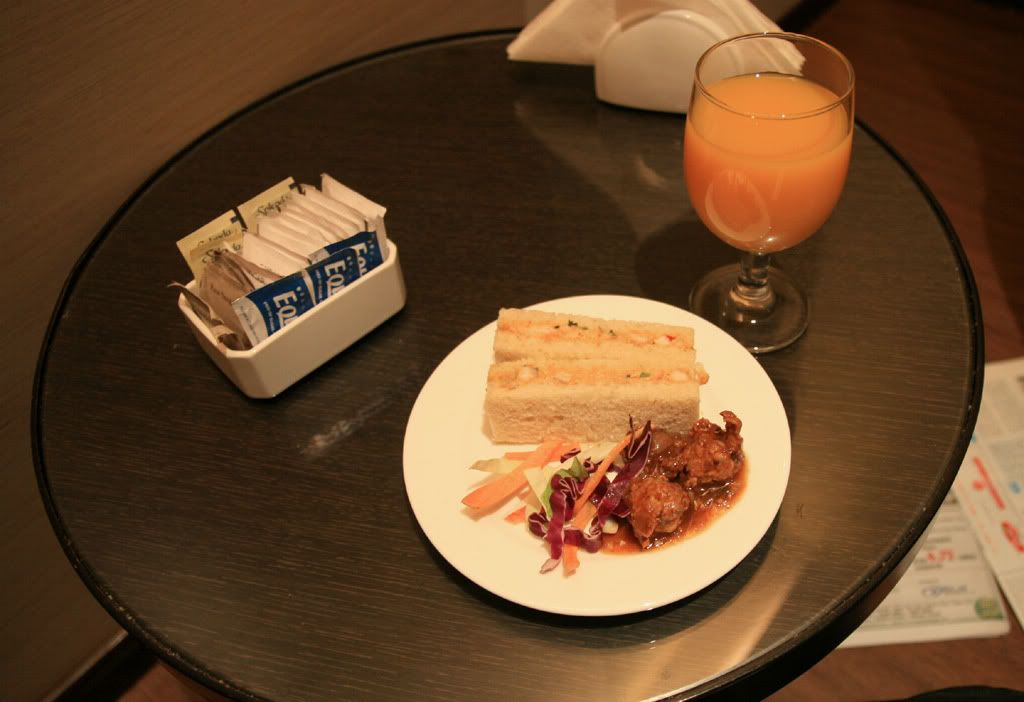 Sector: BOM-SIN
Airline: Kingfisher Airlines
Flight: IT 029
Aircraft: Airbus A330-200
Registration: VT-VJP
Scheduled Departure: 1125 Actual Departure: 2315
Scheduled Arrival: 0725 Actual Arrival: 0648
Seat: 33F
Boarding:
After relaxing in the comfy leather recliners for another 30 minutes or so, I walked out to the departure area. It was around 2230, and the boarding for our flight had just begun. I was surprised to see that our aircraft was parked at a remote bay, and we were to board through buses. I was told that this was a regular phenomenon with this flight. Hmmm!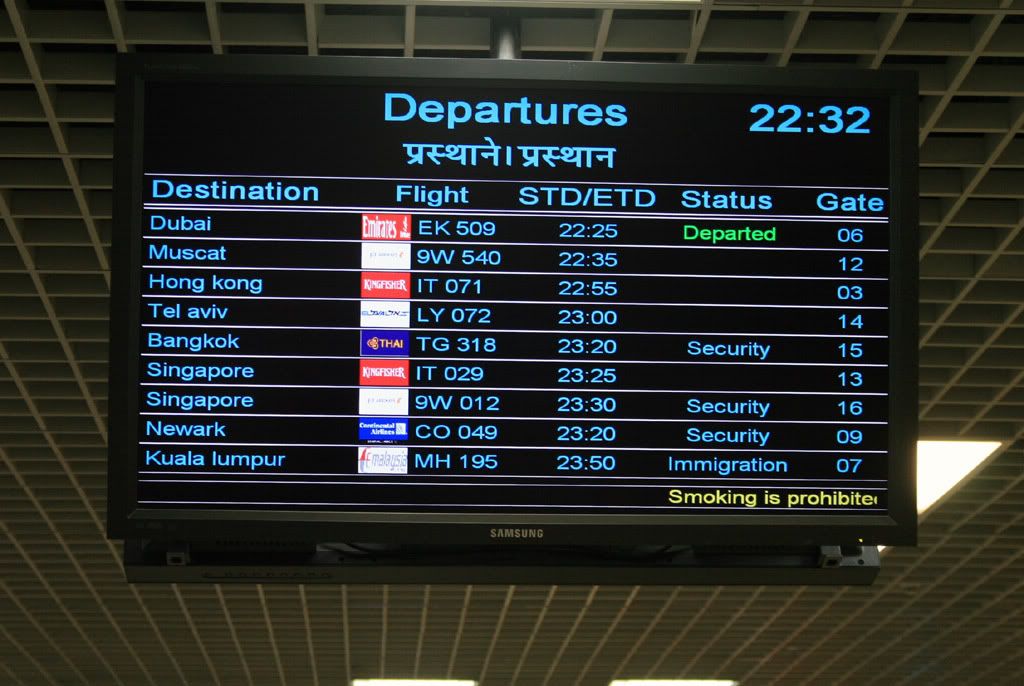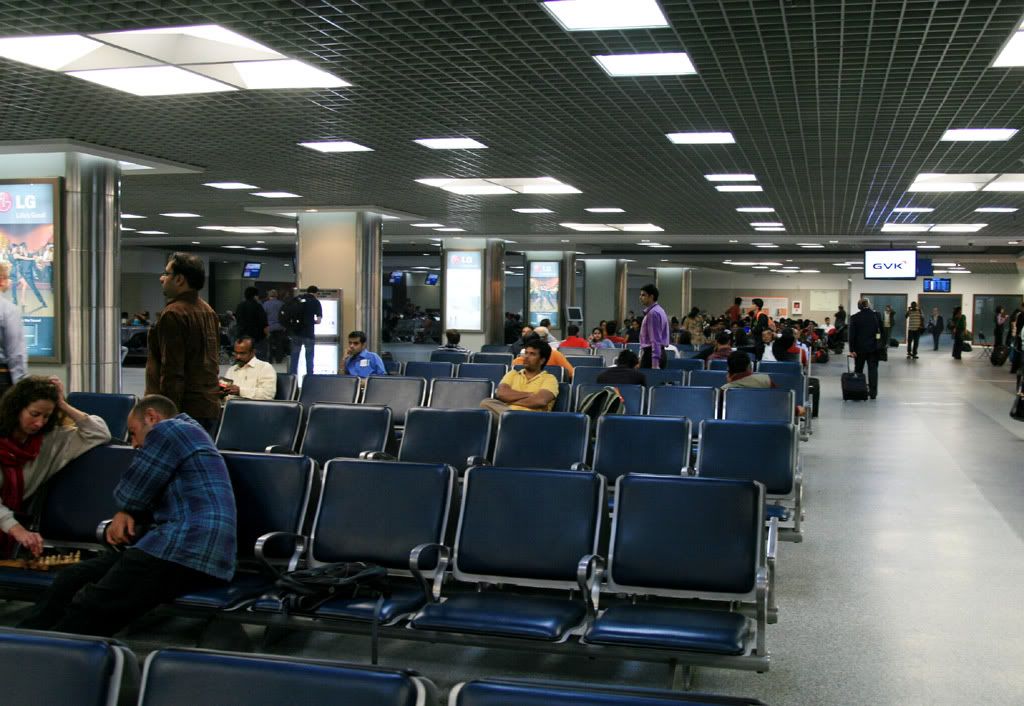 The bus ride took approx. five minutes, and soon we stopped next to our beautiful Airbus A330-200. I boarded the aircraft through the rear door, and found my seat. I was hoping that the seat next to me would be empty, but within minutes, an Aussie gentleman in his early thirties occupied it.
There was a slow stream of people coming on board, and towards the end, we could see that there were two rows of seats in our section were empty. My seat mate and I reached and agreement that he would shift to one of the empty rows the moment the doors were closed. This way, both of us could stretch out comfortably. Unfortunately, one of the rows was occupied by a couple of people who were the last ones to board. The other row was snatched away by someone else who was seated in the middle row. There went my chance of having both the seats to myself.
The FAs distributed "comfort kits" consisting of an eye-shade, ear plugs, socks, tooth paste and tooth brush in a nice little pouch. Pretty neat for a five hour flight, isn't it?
The Flight:
Pushback began at 2315, and the IFE came alive with the screening of the Safety Demo video. It was hilarious to watch Yana Gupta speak in her heavily accented Hindi.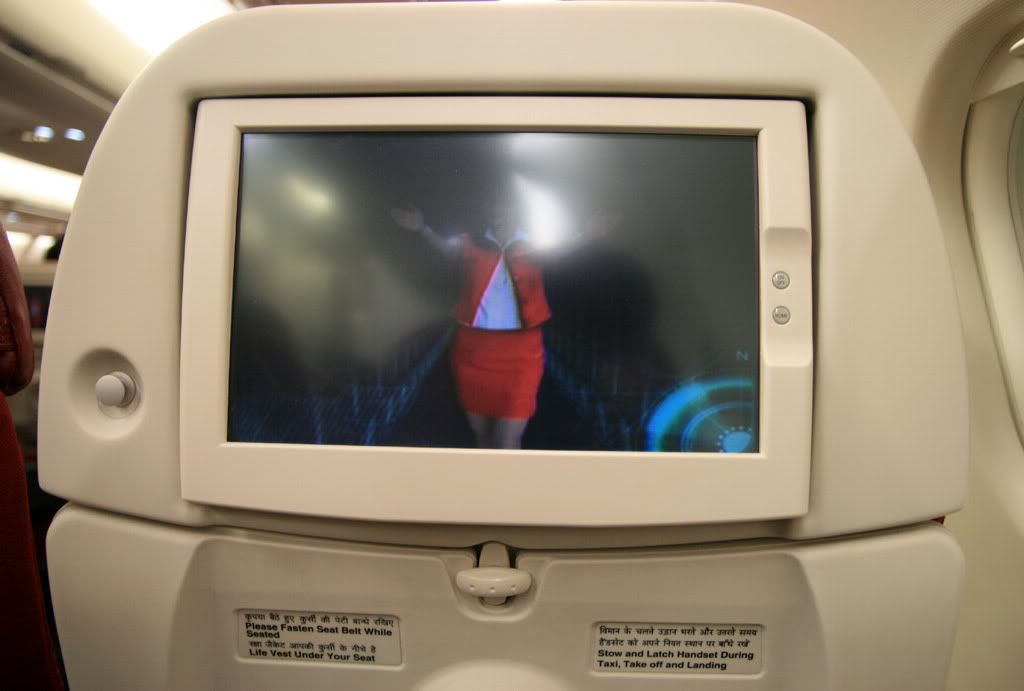 We made our way quickly to the holding point on taxiway N1, earlier designated as A4 and lined up on Runway 27. Within 30 seconds, the two P&W power plants spooled up to take-off thrust and we rocketed down the runway. The take-off was quite powerful and we lifted off into the slightly hazy night sky. After what seemed like an eternity, we banked left and set course for Singapore.
The moodlighting had been switched on during taxi, and it took on a deep pink hue at this time. I decided to explore the IFE to see if there was anything interesting. I first checked out the Flight Map section. This was pretty good, with a variety of views available to track the flight.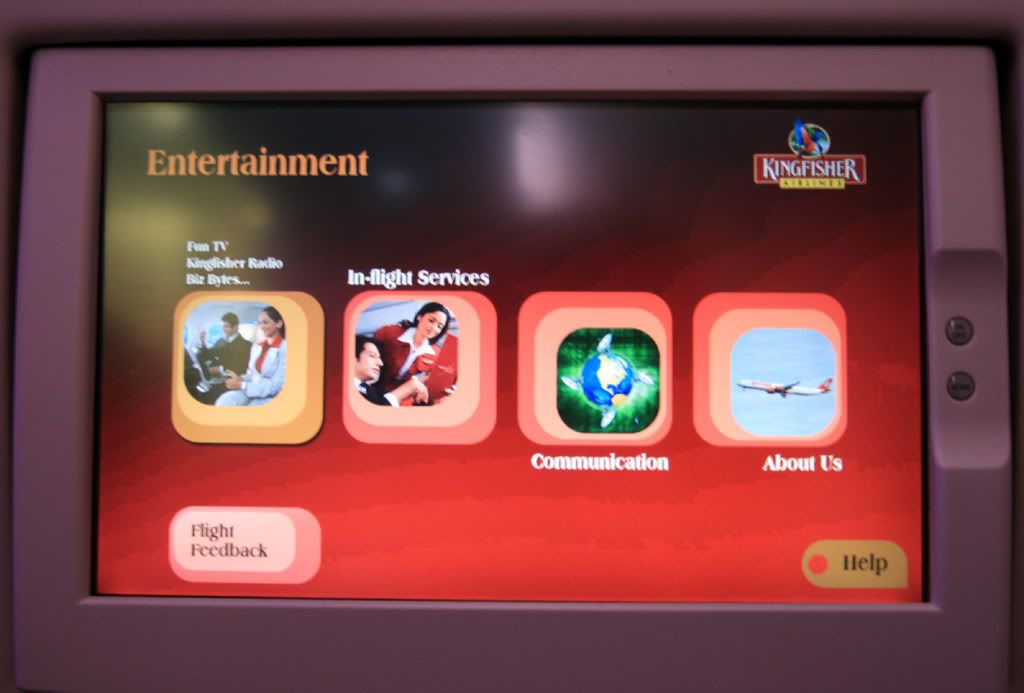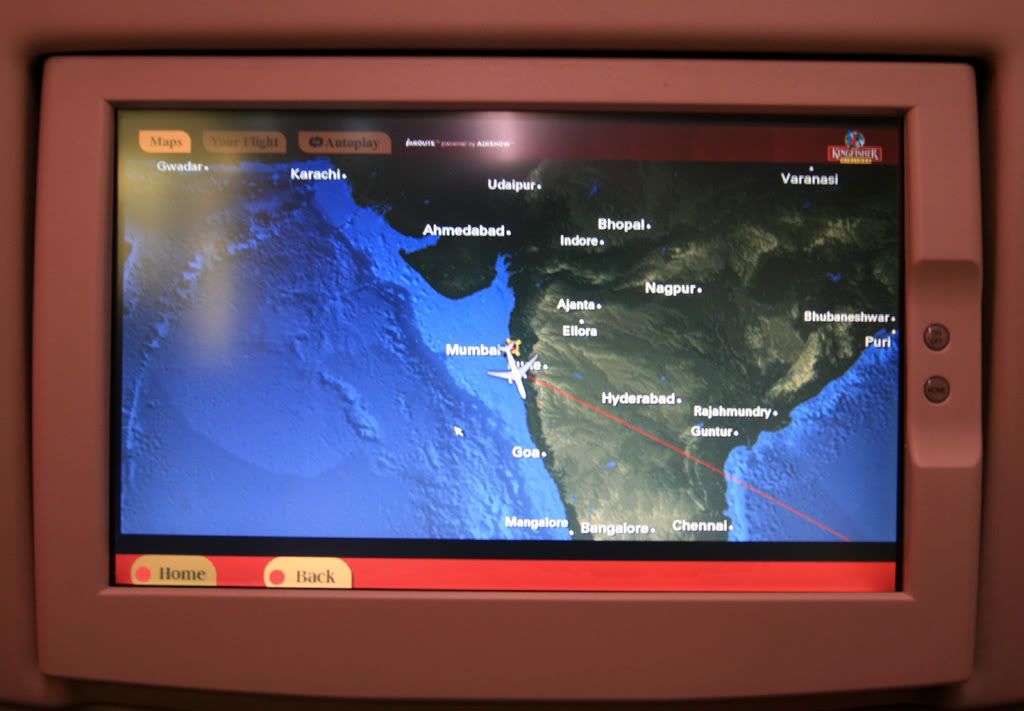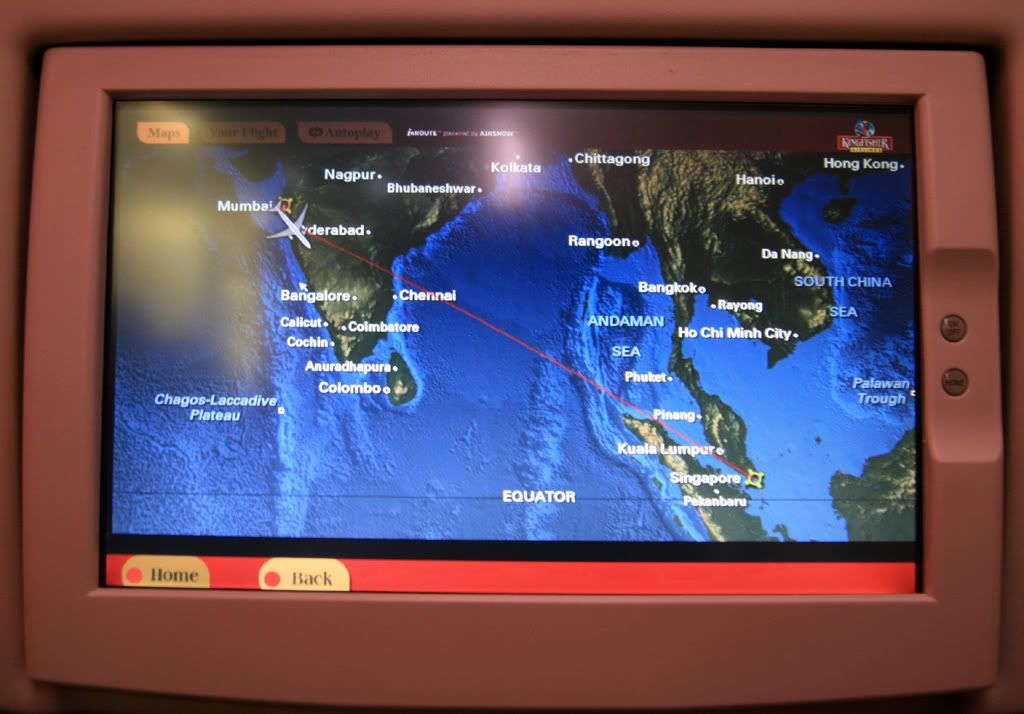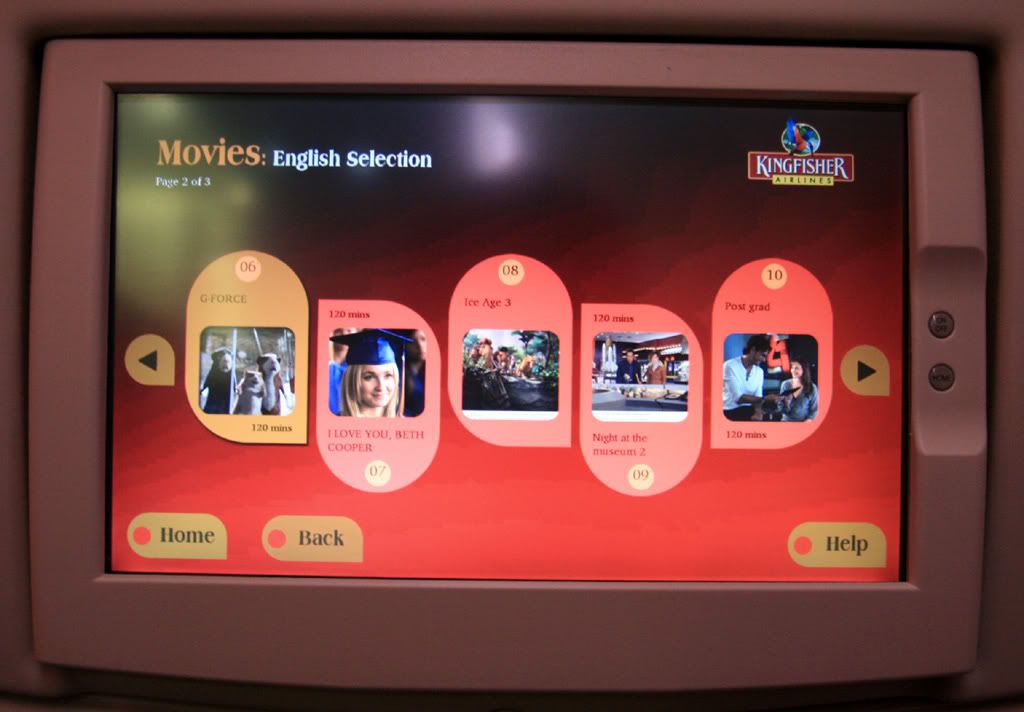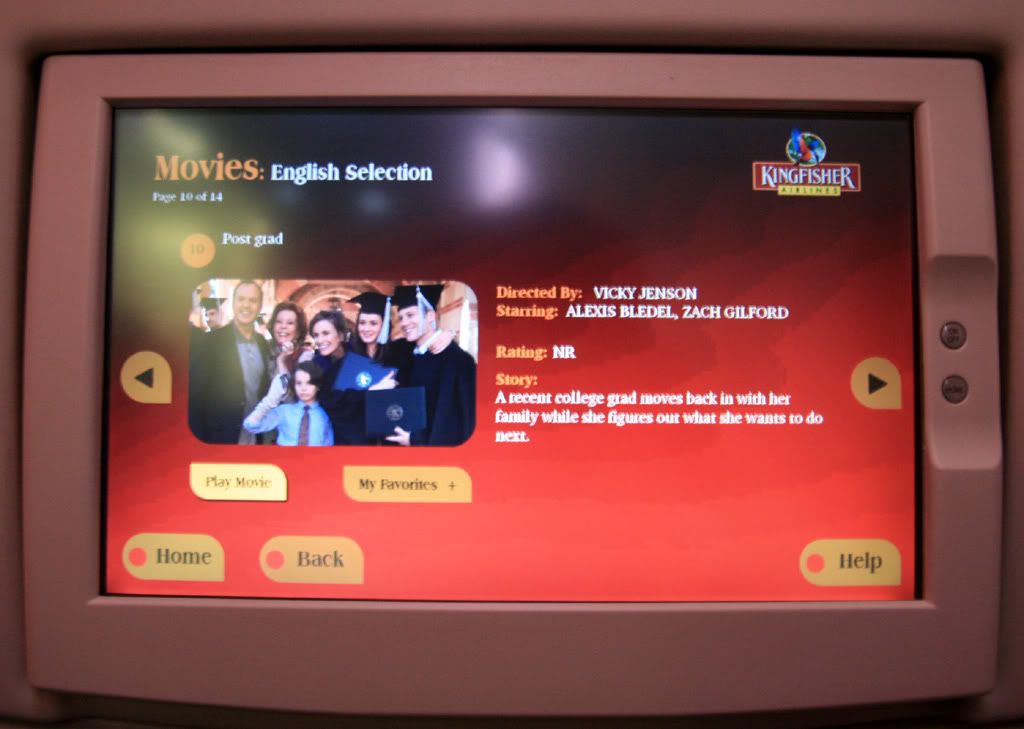 It was now time to see the choice of programming. There were around 14 Hollywood movies on offer, and I decided to watch "Post Grad" starring Alexis Bledel and Zach Gilford. The FAs then went around, distributing the menus for the dinner service.
The Meal:
The dinner service began soon, and I opted for the Indian Non-Vegetarian meal consisting of a Murgh Mughlai gravy, paratha, yellow rice, potato kofta curry, corn and pepper salad, raita and a chocolate-almond torte for dessert. I asked for a vodka and Sprite to go along with the meal.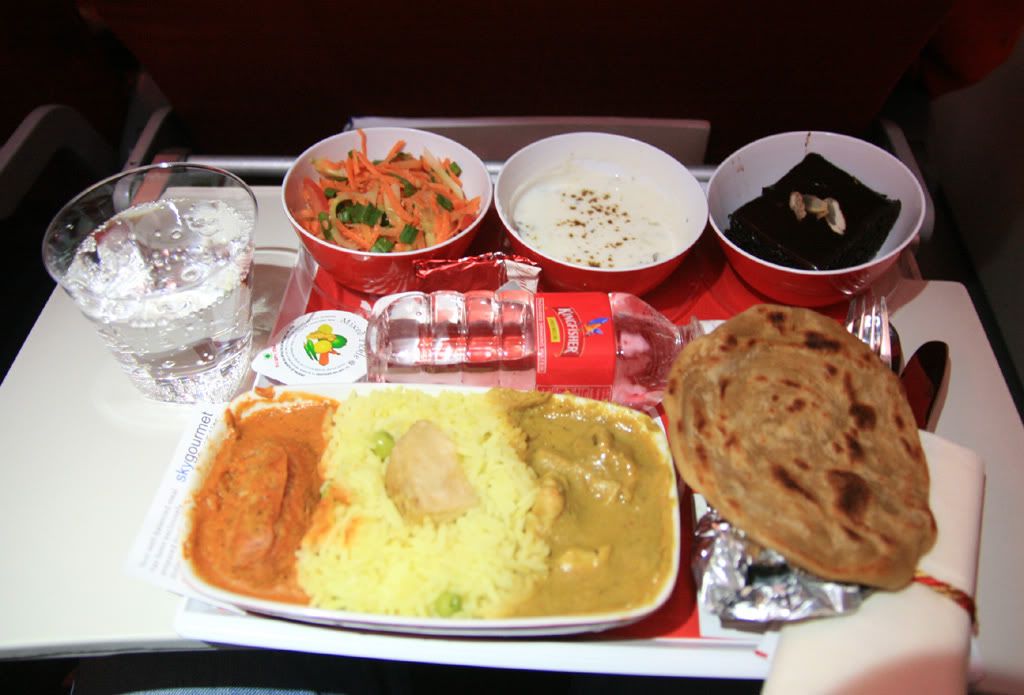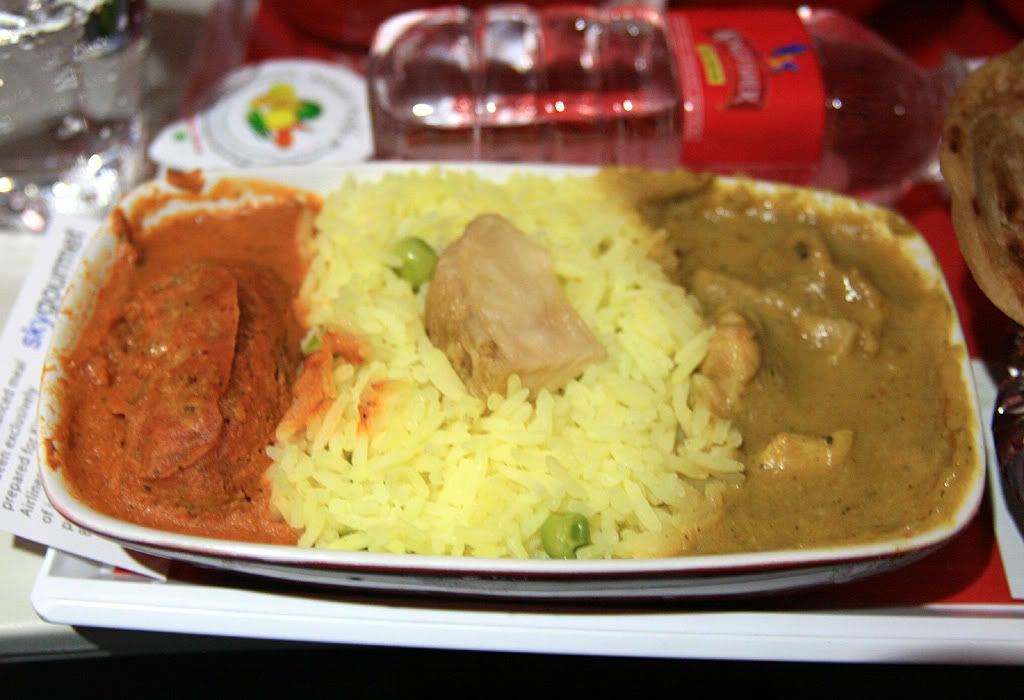 After finishing my meal, I settled down to watch the remainder of the movie.
I wanted to click a cabin shot with the mood lighting on, so I excused myself and walked to the back of the cabin. There were a couple of people moving around and FAs clearing the last of the meal trays, so I had to wait for some time. One of the FAs asked me to sit down on the crew seats at the rear till the cabin cleared up. As I sat there, browsing through a magazine, we started experiencing turbulence and the fasten seat-belt sign came on. I had to return to my seat, apologizing to my seat mate for the inconvenience.
By the time the turbulence had cleared up, the mood lighting had turned to dark purple and now there was no point in trying to click a photo. I asked the FA to let me know when they would start the reverse cycle, so that I could attempt a shot. We were now approaching the coast of Malaysia.
With nothing to do, I tried to catch a nap. But sleep was hard to come by in the cramped seat, and I twisted and turned to find the best position to catch a few winks. I could barely manage to sleep for 20 minutes before waking up again. I then switched on the IFE once more. This time, I chose to watch "Highway On My Plate", a nice little show about two guys exploring the road-side restaurants and food joints all over India. It was a good watch and made me kinda hungry
The FAs then began a drink service, and I chose an orange juice. Soon, the mood lighting started brightening up, and I excused myself to my seat mate one more time and attempted another cabin shot.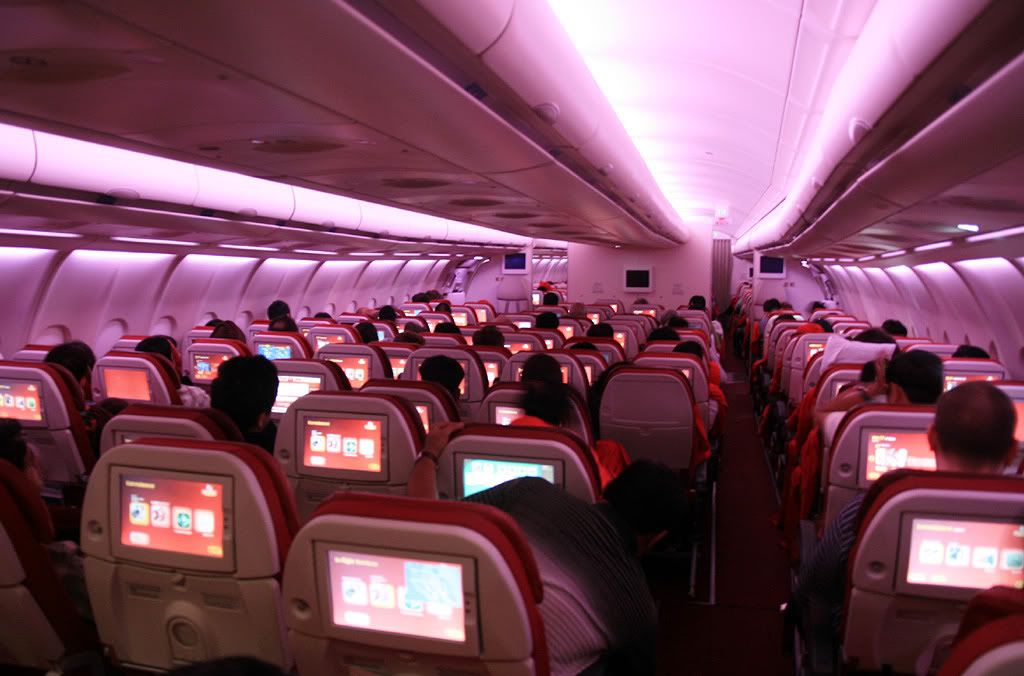 This was all I could manage before people started waking up and moving around. I had no other choice then but to return to my seat.
The captain came on line and announced the beginning of our descent into Singapore. We were overflying southern Malaysia at this point of time, and it was completely dark outside. I could see a few random bolts of lightning amidst heavy clouds in the distance. I hoped that this was not an indicator of things to come at Singapore. The FAs went around distributing arrival cards for Singapore.
The fasten seat-belts sign came on, and people slowly settled down in their seats for arrival. Out of the blue, one of the FAs from the rear came up to me and said, "Sir, you can take a cabin shot now if you would like to. Everyone has settled down!" I asked her if she was sure as the seat-belt sign was on, and she said, that since I would take just a minute, it was alright. I then asked my seat mate if he was fine with it, and he kindly agreed too!
I quickly clicked a few shots and returned to my seat, thanking the FAs and my seat mate again. He had to get up and move around six times for me, so I was quite grateful!
We descended through a layer of clouds and lined up with the runway. The lights of the ships reflecting off the dark, black sea looked really beautiful. Soon, we made a perfect touch-down on Runway 02L, and made a quick exit. As we began our taxi towards Terminal 3, I could see atleast three pairs of lights on the approach path. What amazing traffic, even at this hour. An SQ A380 landed after us – SQ 333 from Paris, maybe?
I could also see the Crowne Plaza Changi Airport Hotel just behind the terminal – where I would be checking-in in the next few hours. We finally docked at Gate B9 at Terminal 3 at exactly 0648 - 35 minutes before time!
Arrival:
Since I was in the rear section of the aircraft, and the fact that the flight was full; the de-boarding process was taking quite long. I started chatting with my Aussie seat mate, and he told me that he was to take a connecting (Qantas?) flight to Melbourne.
It was still quite dark outside, as I stepped into the brightly lit Terminal 3 at Changi Airport. The beige and black patterned carpet was soothing to the eyes as well as the feet. I freshened up and rode the moving walkways to the Arrivals area.
There was a huge queue at the Immigration counters, and it took me not less than 30 minutes to clear Immigration. This was a record for me in recent times. Not even during the chaotic times had it taken me this long at BOM. Is this a regular phenomenon, or just a one-off thing?
My bags had by then done multiple rounds on the conveyor belt, and I picked them up and made my way out of the terminal.
First thing I did was buy a pre-paid mobile SIM card, after which I sat down at "Killiney Kopitiam" to have a breakfast of some delicious hot "Kaya Toast" and coffee.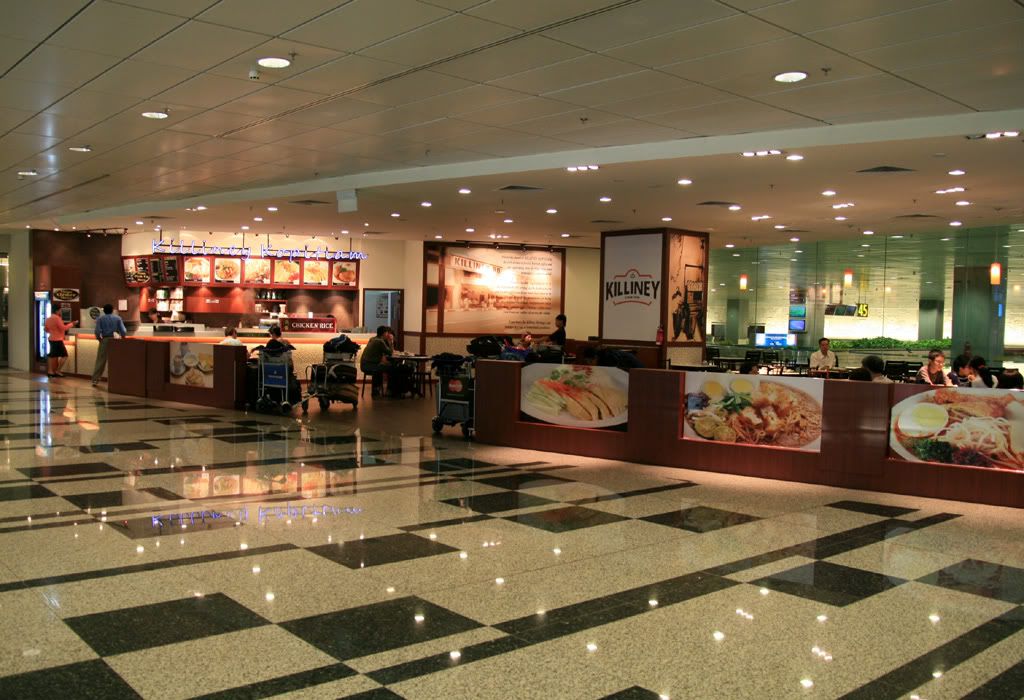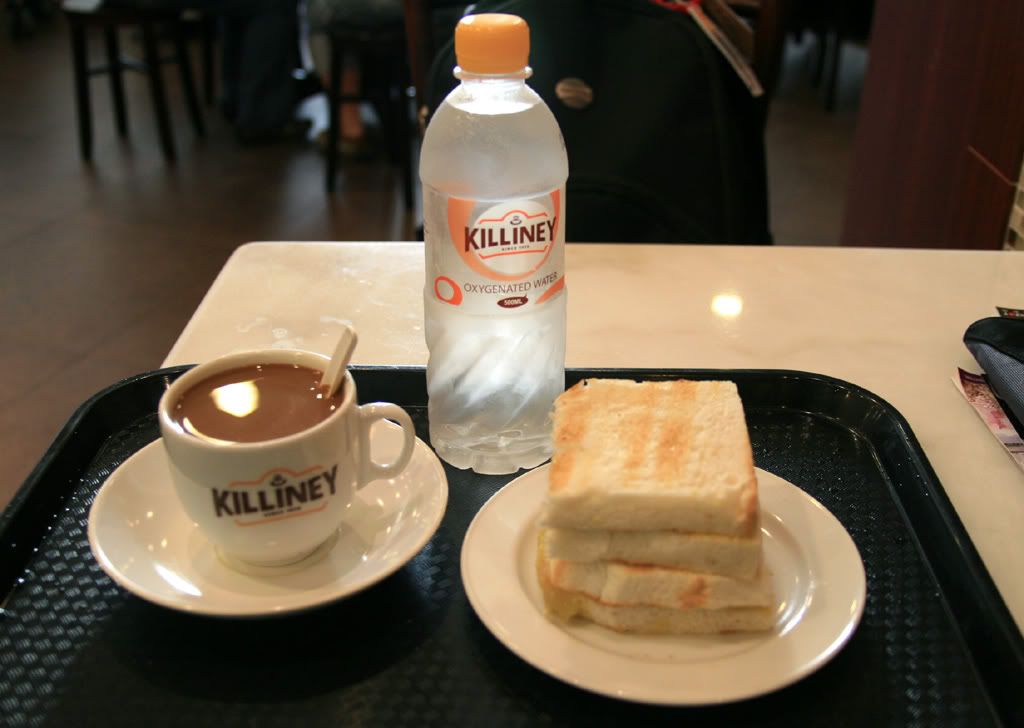 2) SIN-BOM
Reaching the airport:
My flight back to BOM departed at 1015 hrs, which meant an extremely early start for me. A late night shopping excursion meant that I could hardly get a few hours of sleep. I left my hotel situated at Outram Park at 0715, and after a drive of around 25-30 minutes, reached Changi Airport Terminal 3.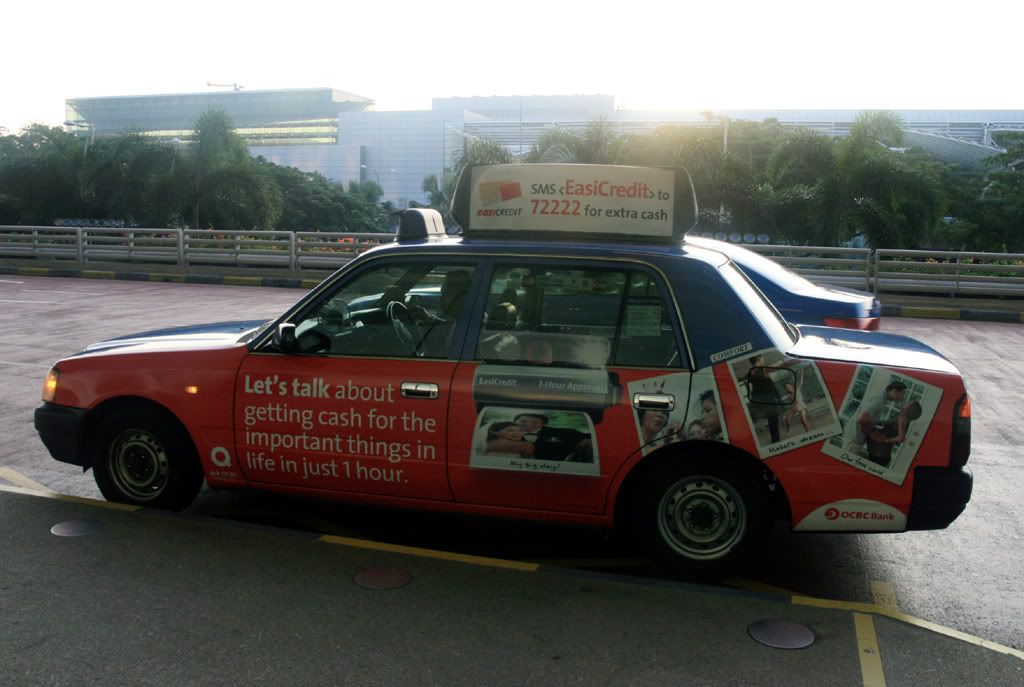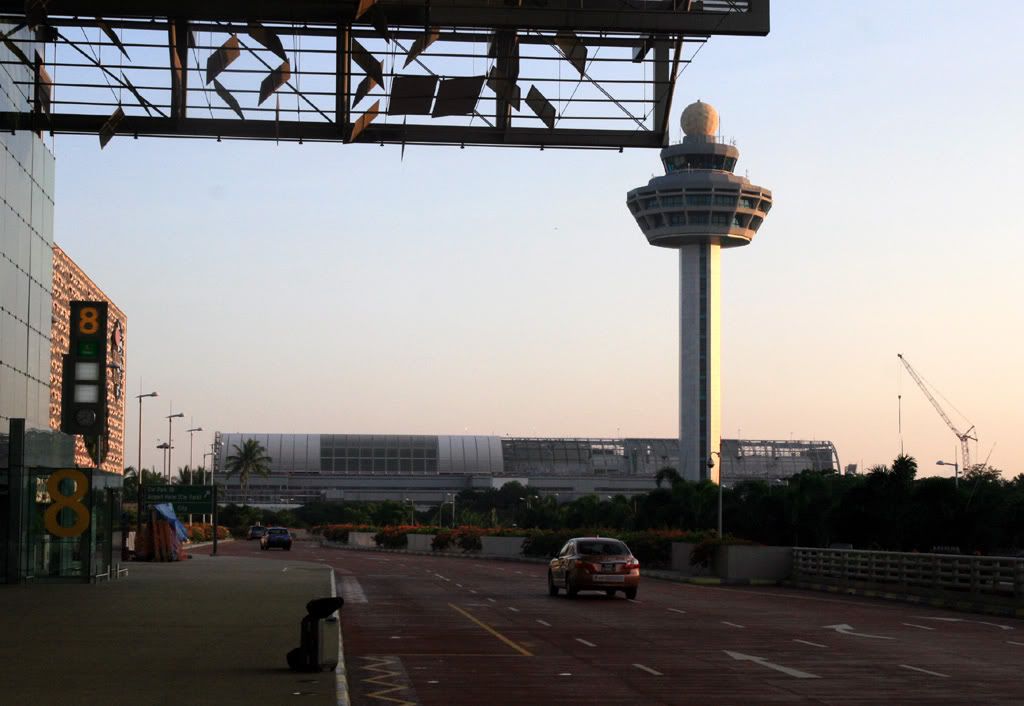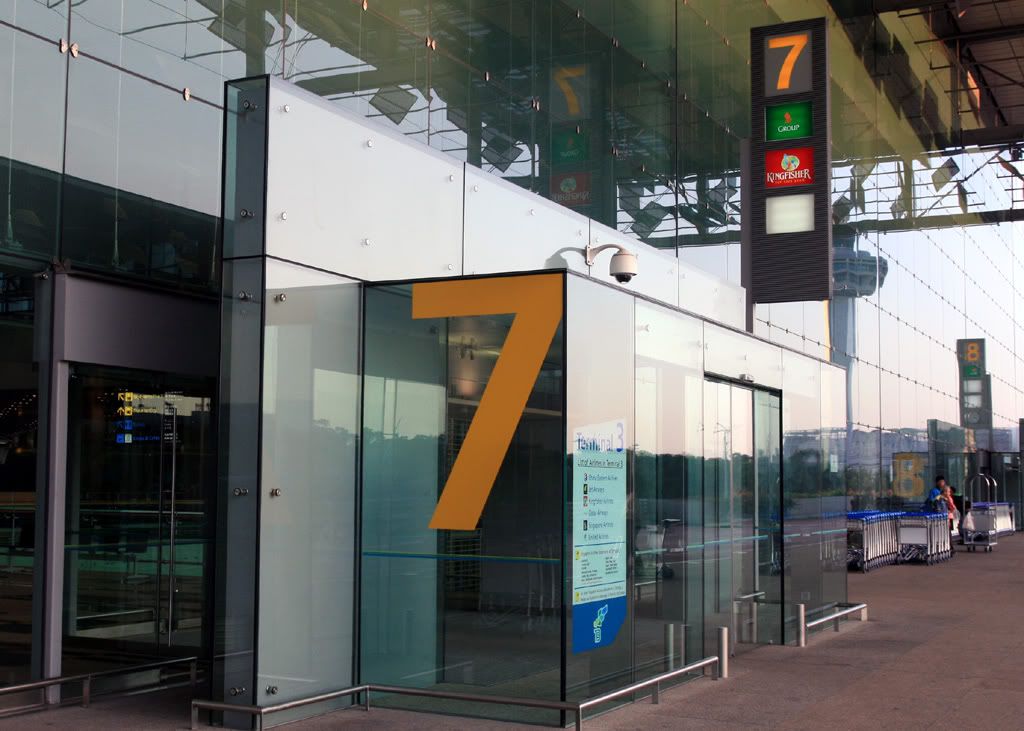 Check-In:
T-3 was quiet at this hour, and the IT Check-In counters had barely two-three people in the queue.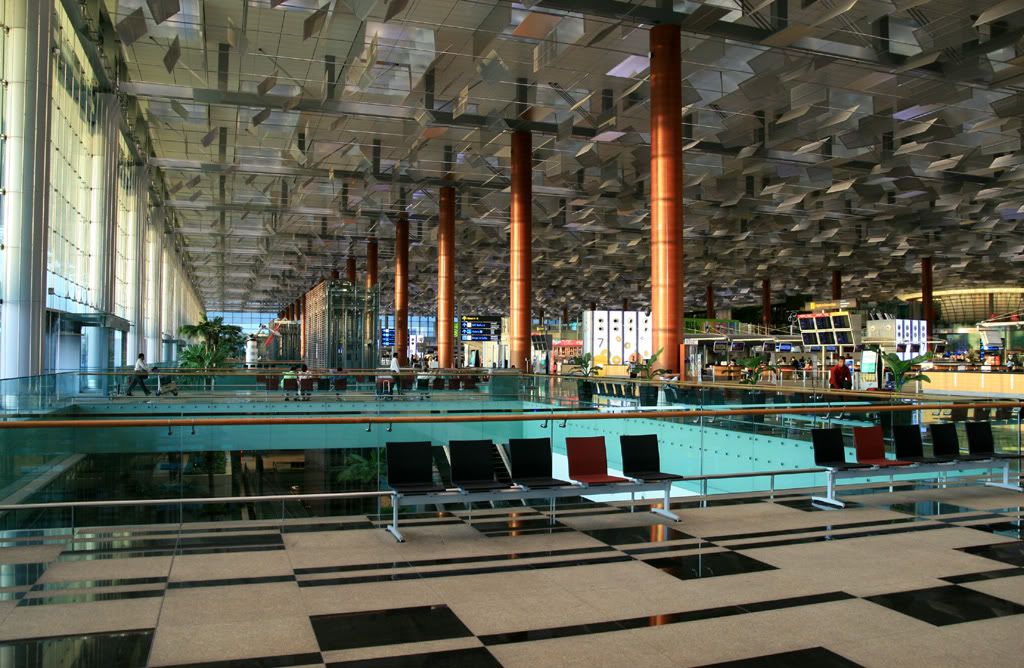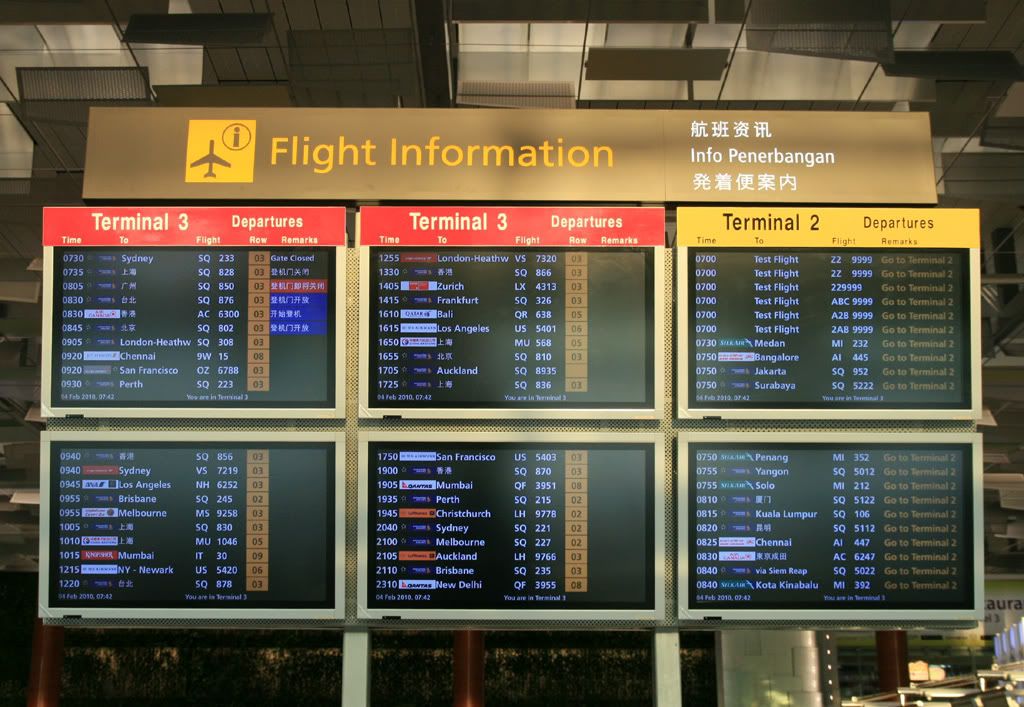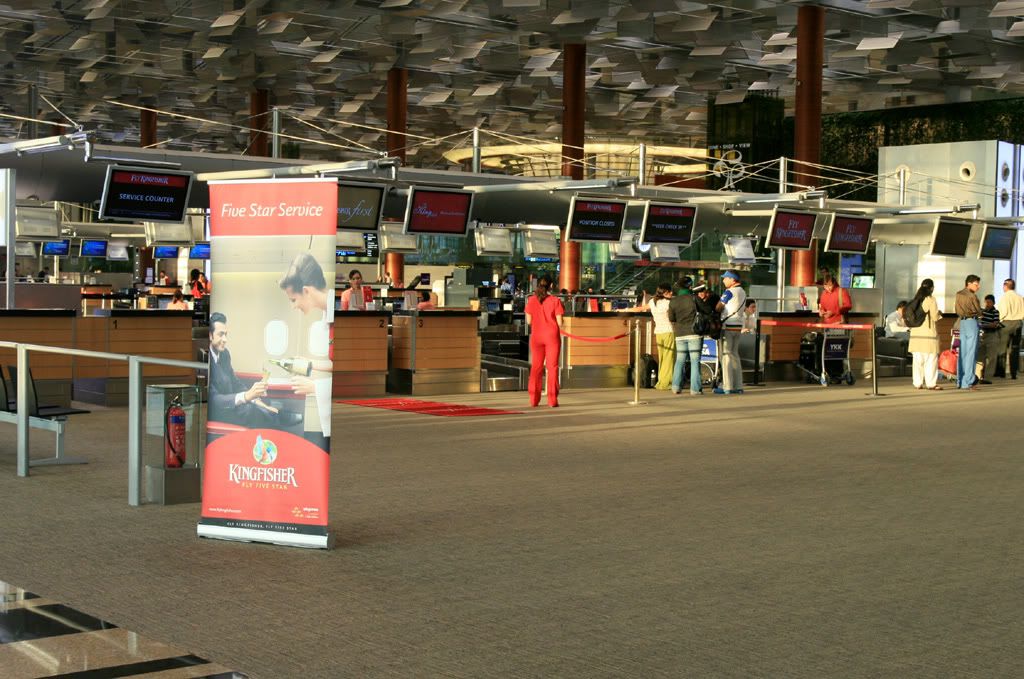 I decided to first go to the GST Refund counter to claim a tax refund for all the shopping I had done the previous night. The process was quite efficient and took no more than five minutes. After this, I proceeded towards check-in. There was no queue at the dedicated King Club counter, and the agent quickly handed me my boarding pass and a lounge invite. Kingfisher along with Jet Airways uses the SATS lounge at Terminal 3. The lounge is located post Immigration & Security Check.
There was a very short queue at Immigration, and my passport was stamped in five minutes. Security check took another two minutes, and I was at the entrance of the lounge in another five minutes.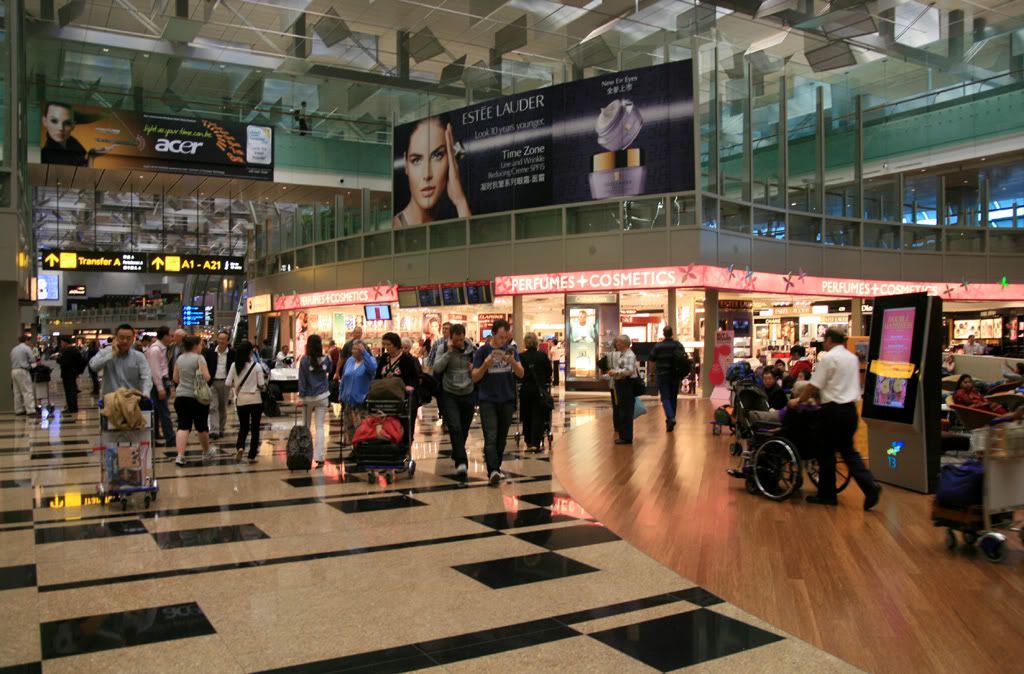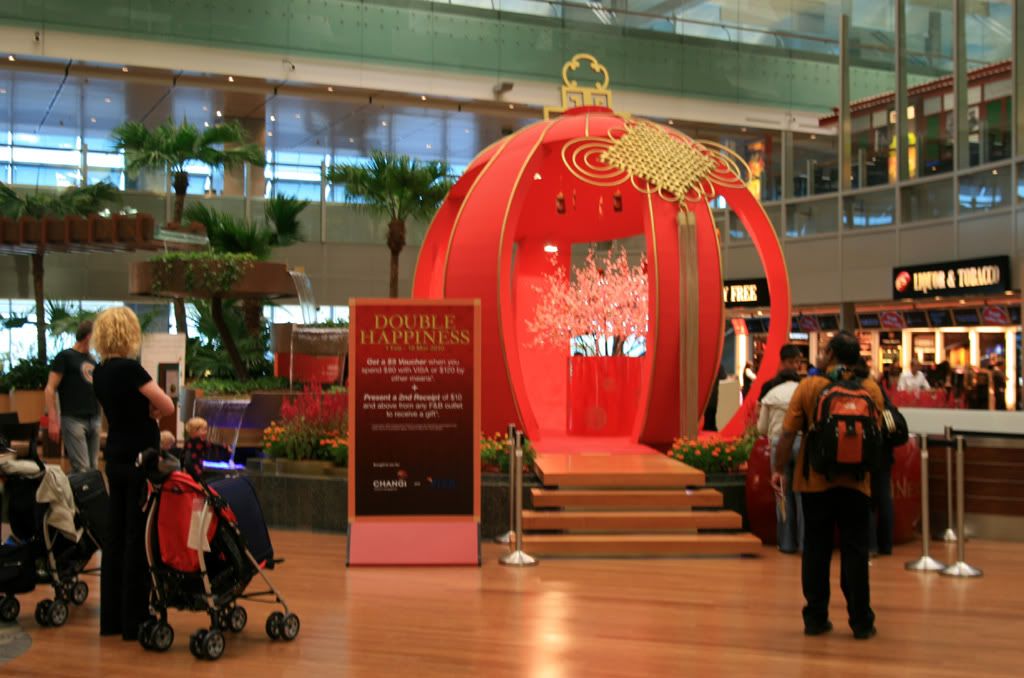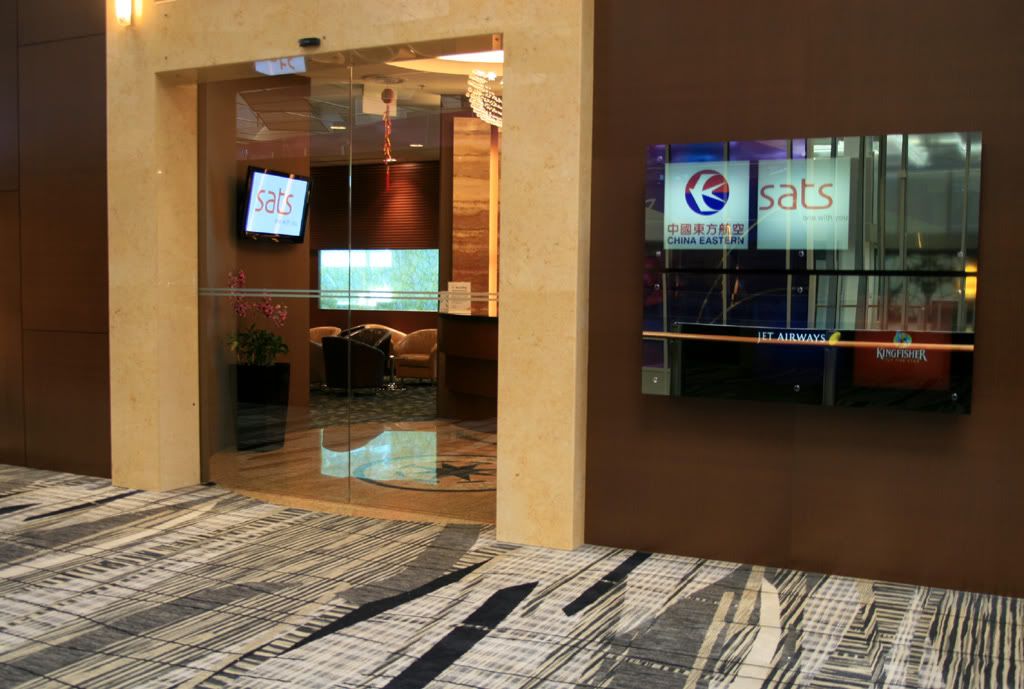 The Wait:
The lounge itself was pretty decent – nothing spectacular but had all the basic facilities including Internet workstations.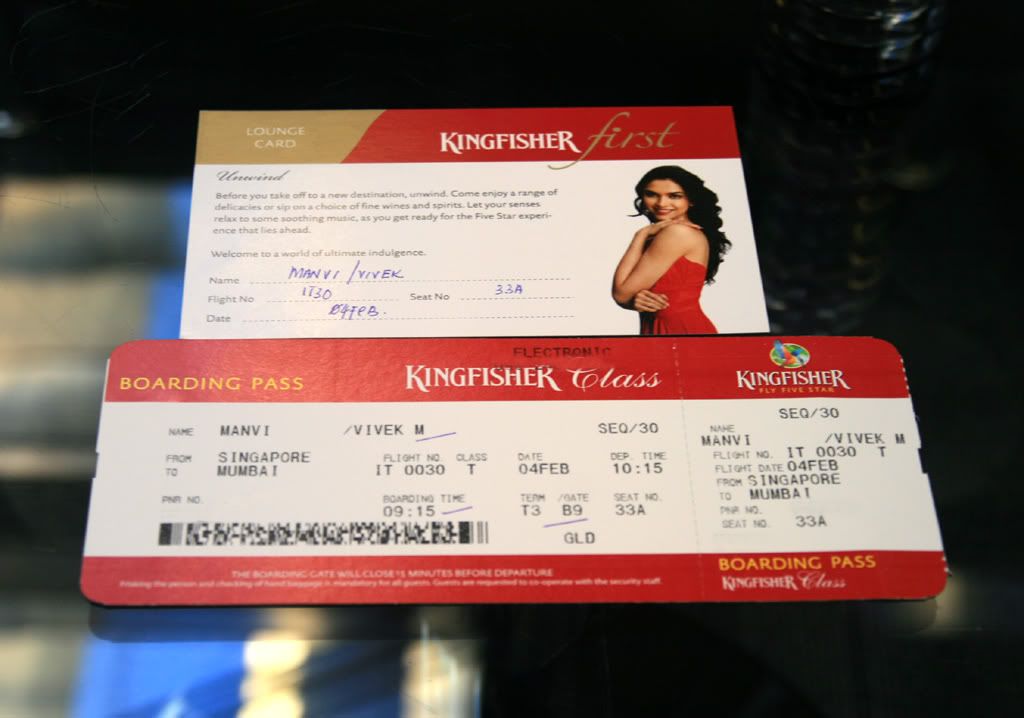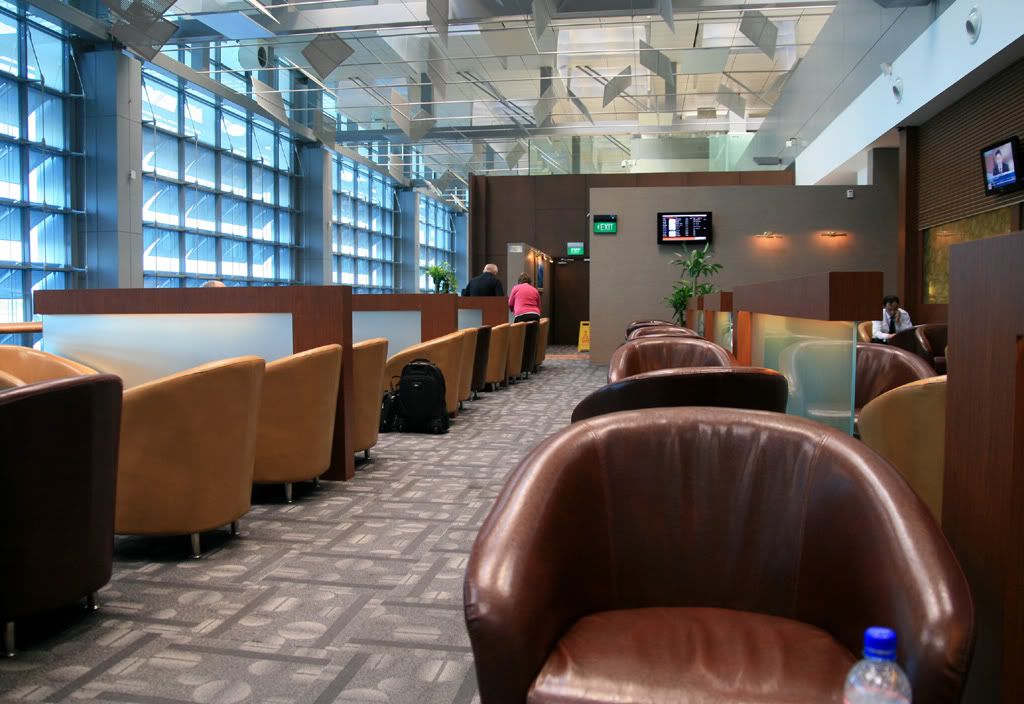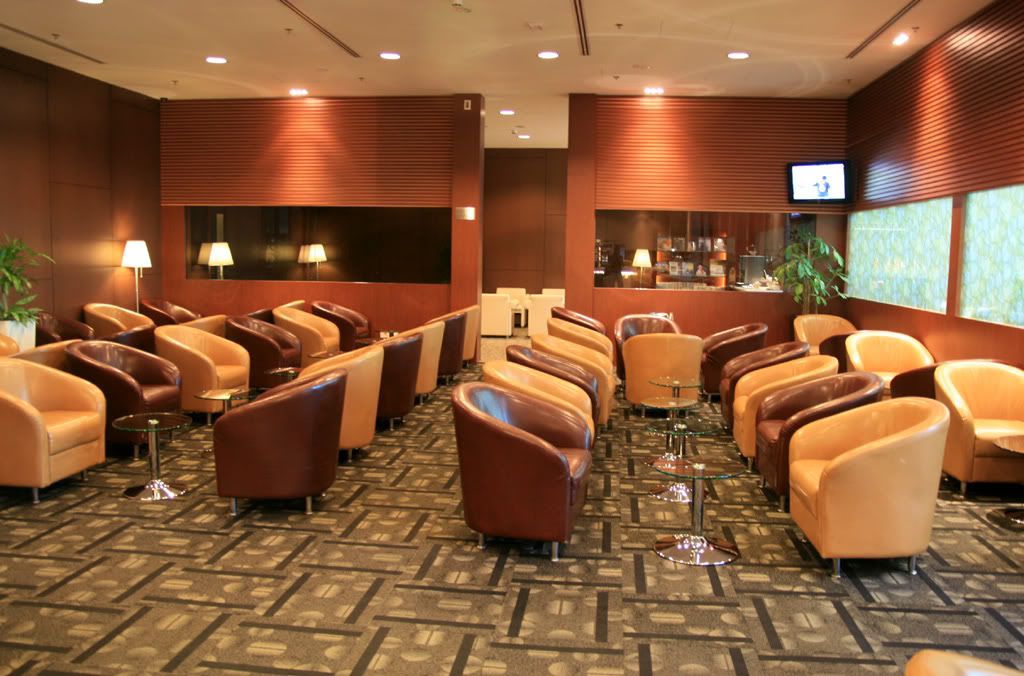 The food and drink selection was quite nice, and I was pleasantly surprised to find 'Upma', a South Indian breakfast snack.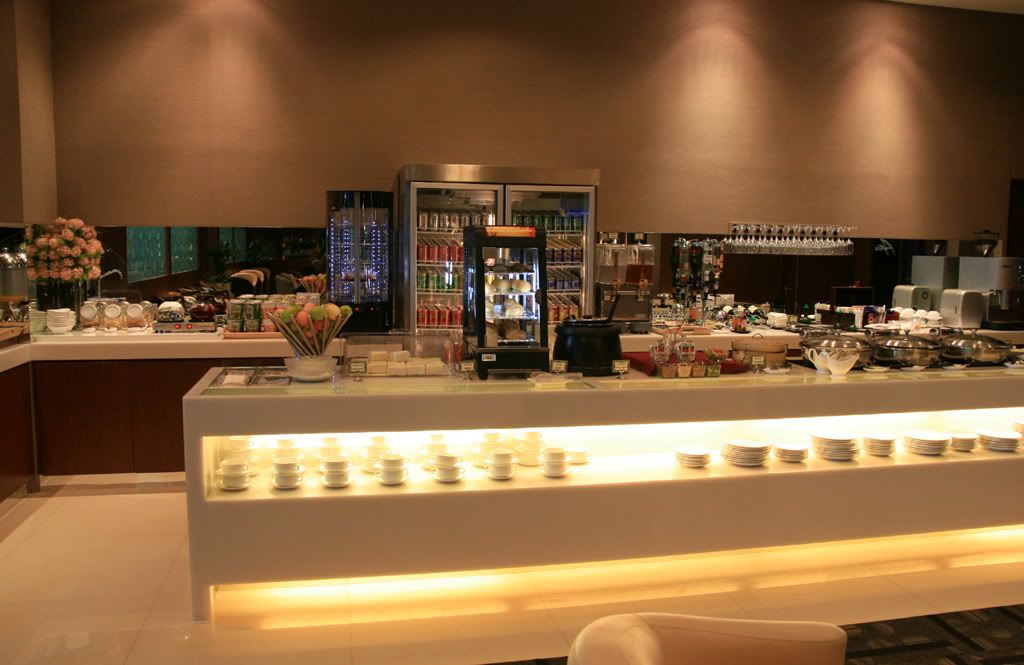 After having a filling breakfast, I freshened up, and sat at one of the workstations to check my e-mail and stuff. At around 0915, I thought it would be good to head towards our gate - Gate B9 (again!) as it involved a ten minute walk atleast. I walked around the numerous Duty Free shops, and finally towards the moving walkways. Boarding had not commenced when I reached the gate. After a quick X-ray scan of my hand baggage, I sat down in the departure hold.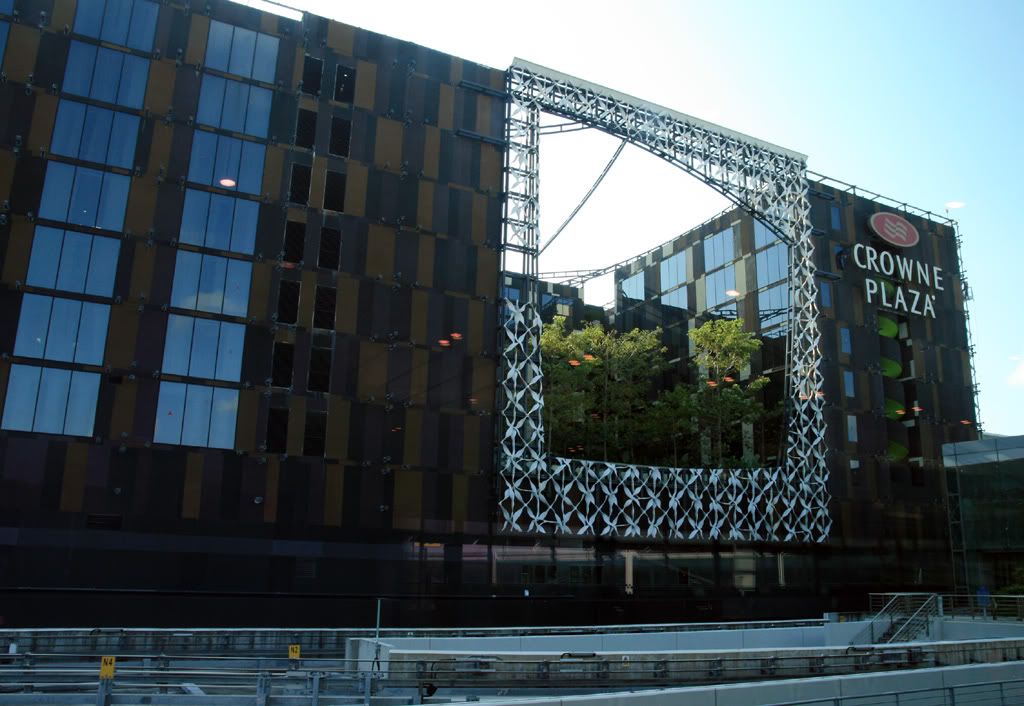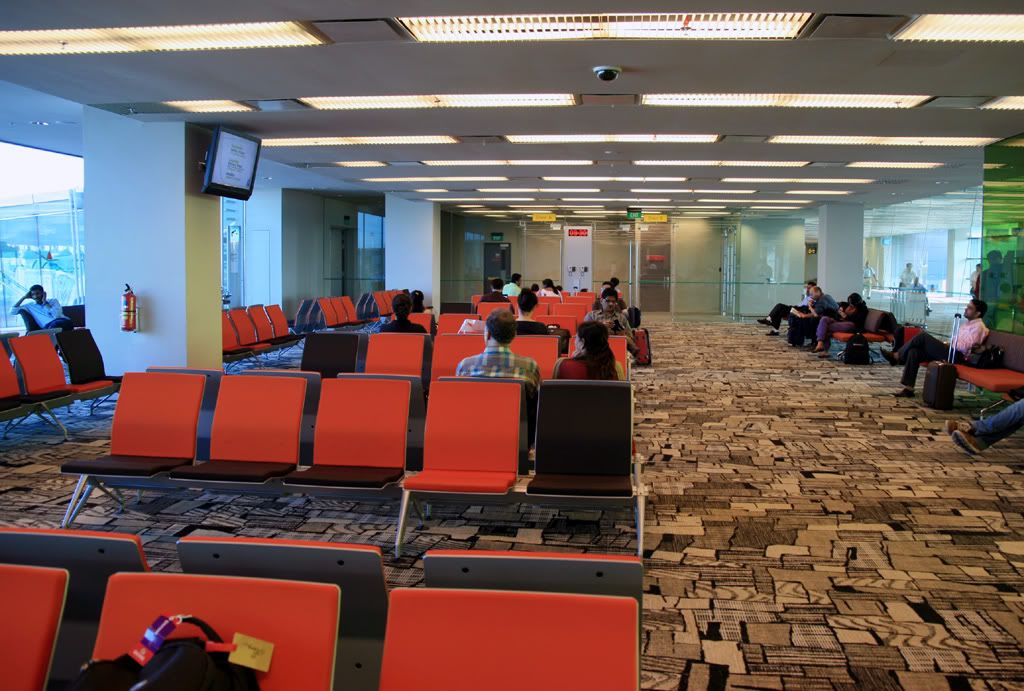 I looked out to see which registration I would be flying on, and saw that it was VT-VJP again!

Sector: SIN-BOM
Airline: Kingfisher Airlines
Flight: IT 030
Aircraft: Airbus A330-200
Registration: VT-VJP
Scheduled Departure: 1015 Actual Departure: 1009
Scheduled Arrival: 1305 Actual Arrival: 1315
Seat: 33A
Boarding:
It was quite clear from the number of passengers in the departure hold that the load was going to be pretty light. Boarding was announced soon, and I made my way to the aircraft. A lovely Kingfisher FA greeted me at the door, looked at my boarding pass, and showed me the way to my seat.
Our load today to BOM was a total of 110 passengers – 21 in Kingfisher First and 89 in Economy. This meant that boarding was finished quickly and we waited for pushback clearance. We were parked next to the Star Alliance liveried SQ 747-400.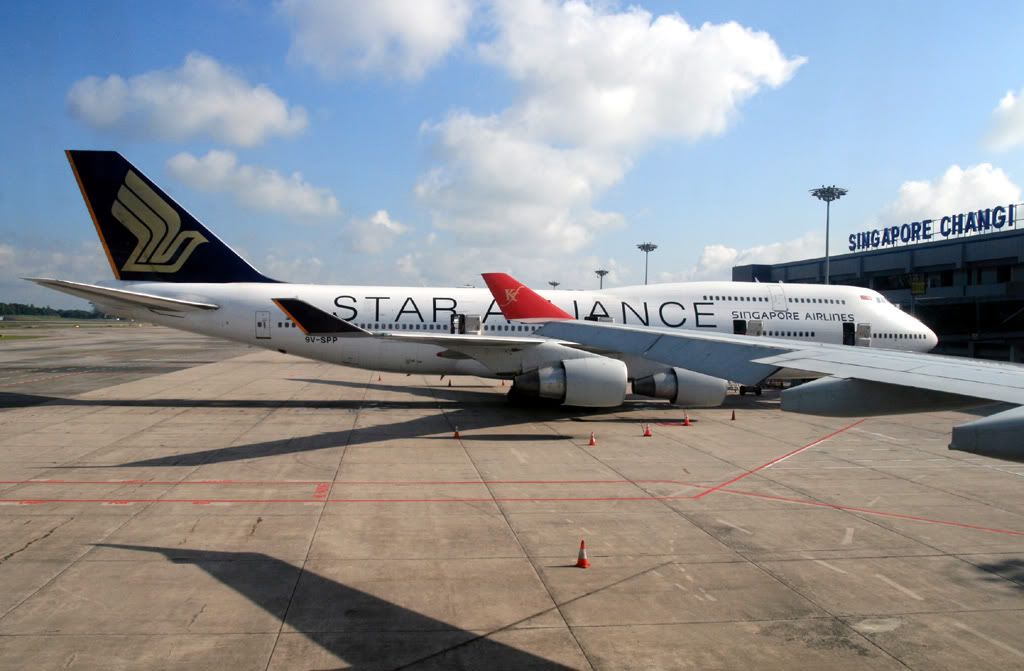 The Flight:
We pushed back at around 1010. One by one, the engines of the A330-200 were spooled up and we began our short taxi to the threshold of Runway 02L.
I saw a couple of SQ A380s and an A345 on the way. We waited for an SQ 777 to take-off before us and then lined up on the runway. With a mighty roar, the twin P&W engines propelled us down the runway, and we lifted off powerfully into the clear blue sky.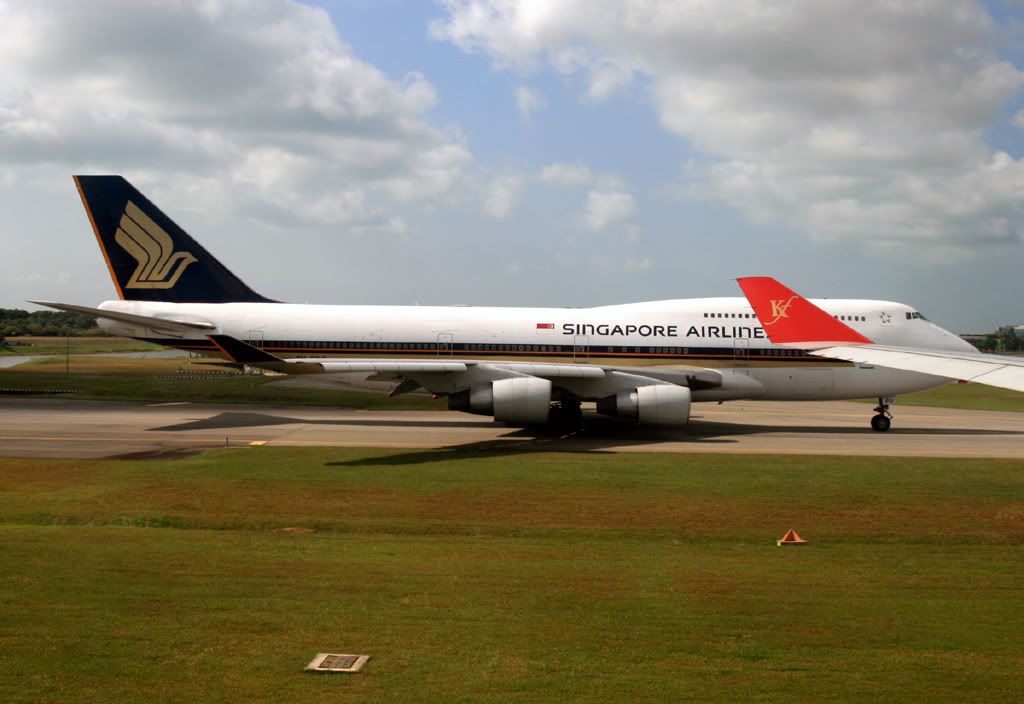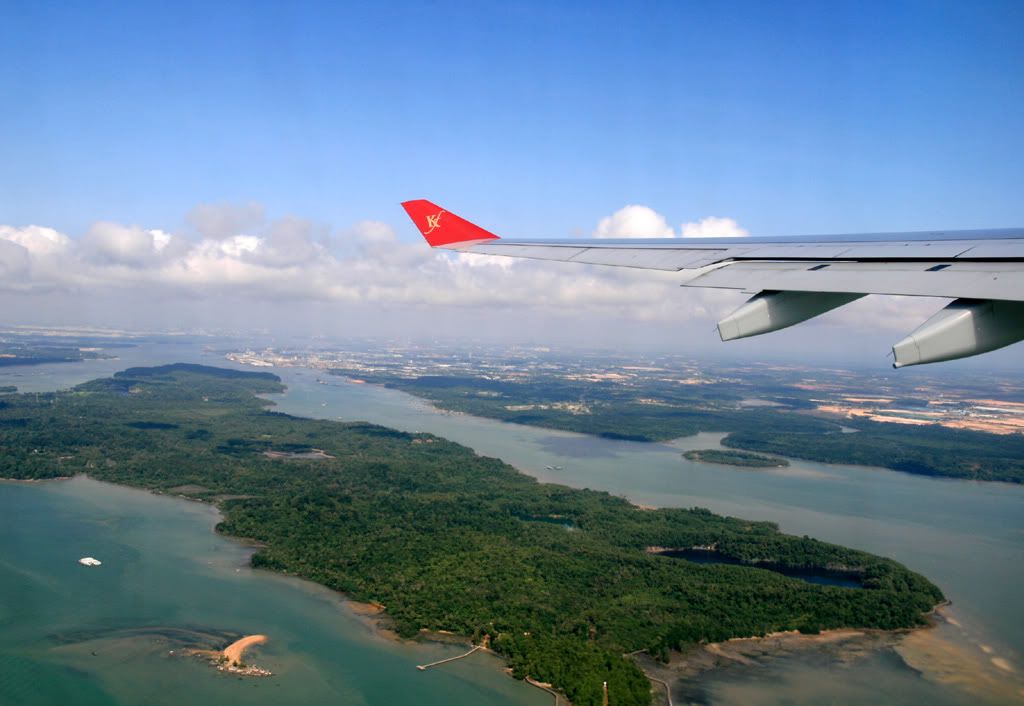 With a neat bank to the left, we set course in a north-westerly direction over the southern part of the Malaysian peninsula.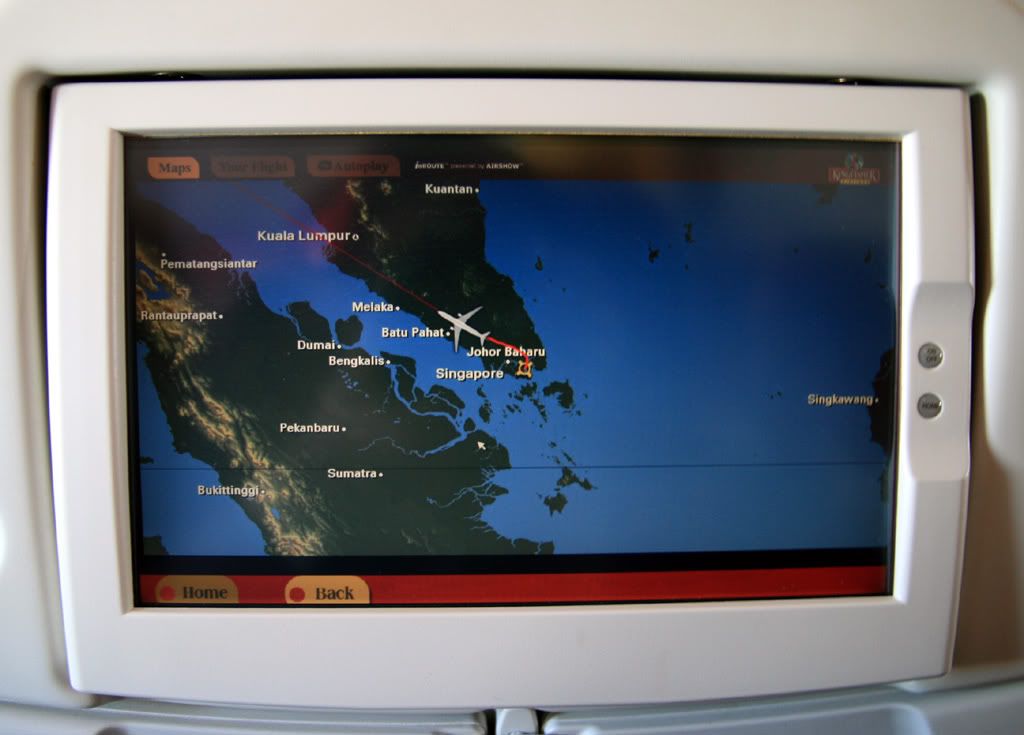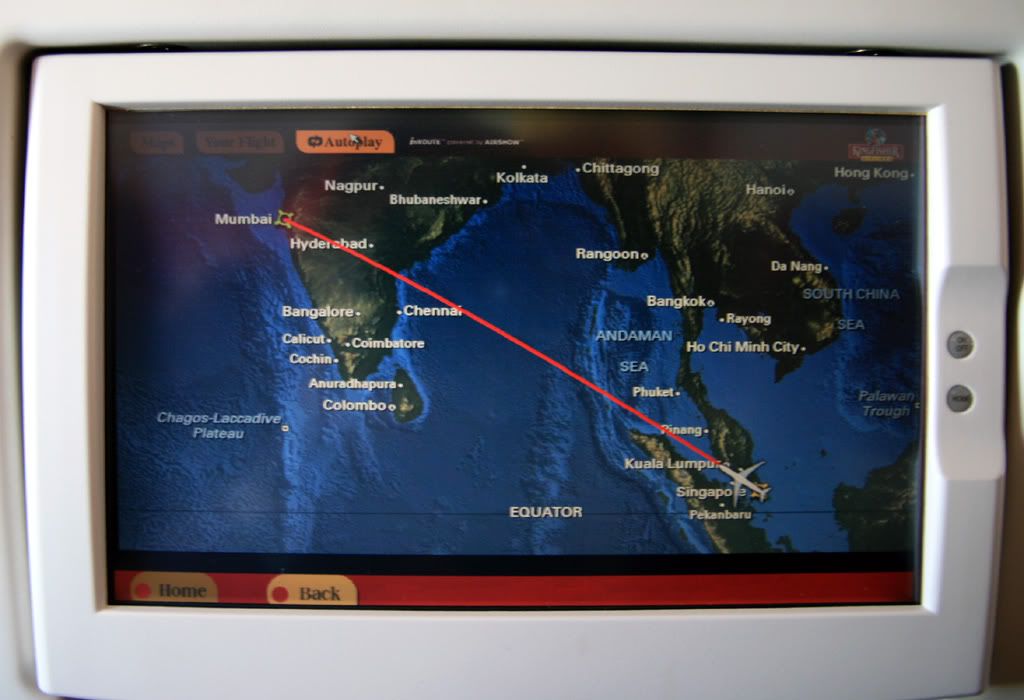 I switched on the IFE, and decided to watch the movie, "The Proposal" starring Sandra Bullock and Ryan Reynolds. I had already explored the IFE on the outbound flight, so there was no point in doing so again.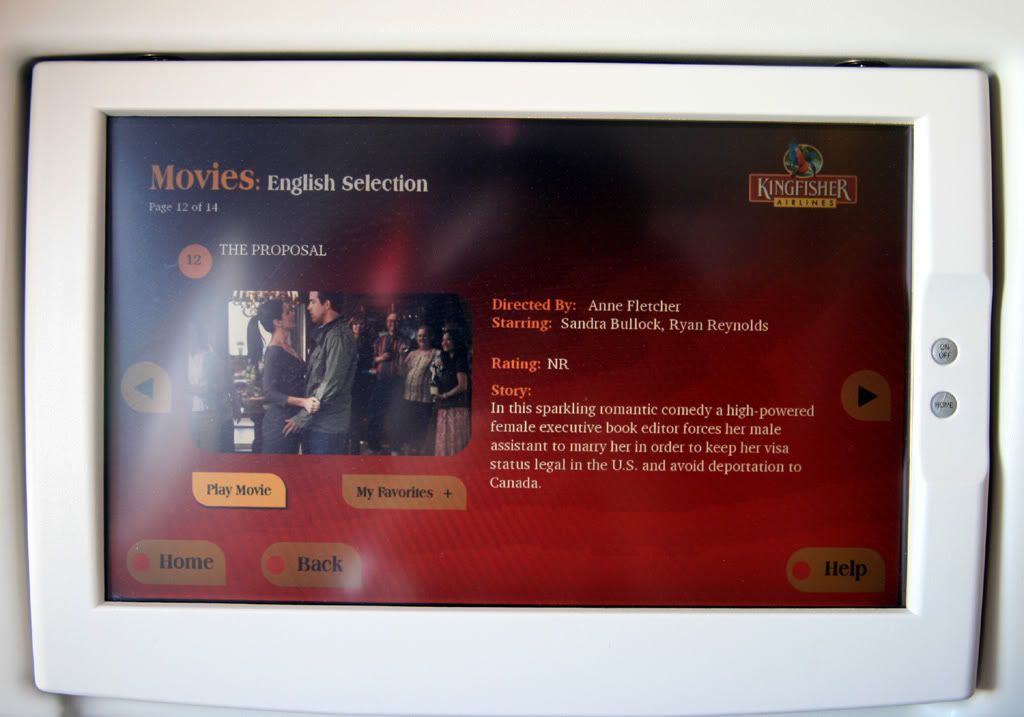 The FAs went around distributing the menus for today's flight – and I was shocked to see that it was exactly the SAME as the outbound flight. There was nothing different even though this was a day flight as opposed to the outbound which was an overnighter.
This makes me think that the food for the return flight is also loaded at BOM. Very Bad – Kingfisher!
The Meal:
So now, I decided to go for the only option – the Thai non-vegetarian meal consisting of Thai Chicken Red Curry served with fried rice, garlic bread and stir fried green veggies. I opted for a chilled Kingfisher beer to accompany the meal.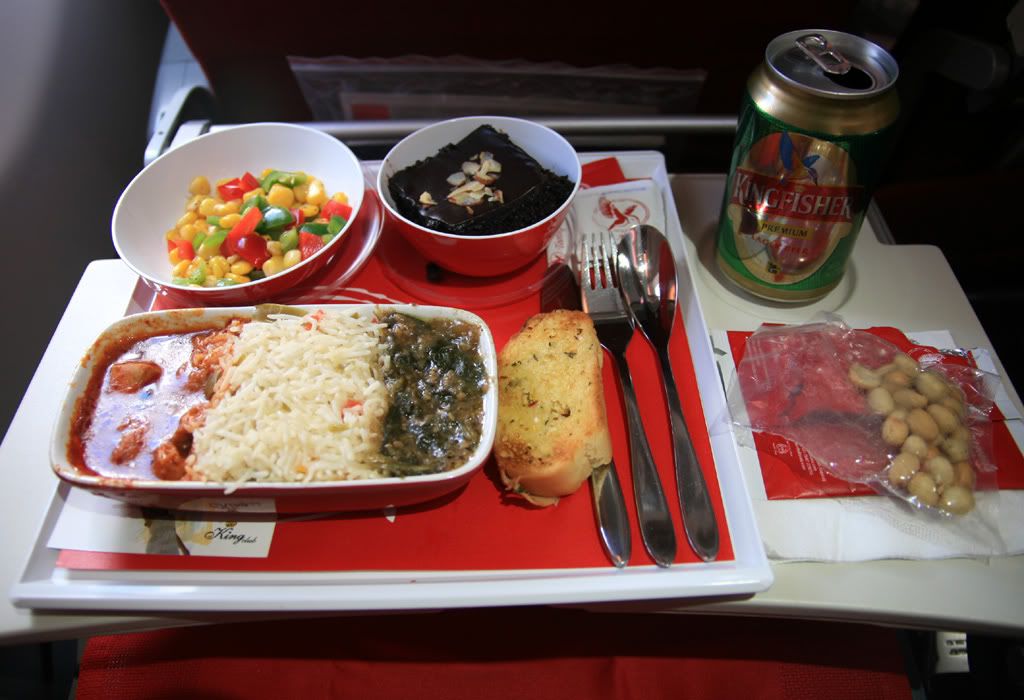 The meal quality was average and not quite upto IT's usually high standards. However, it was quite filling.
Meal over, I settled down to watch the remainder of the movie. The FAs had asked passengers to lower the window blinds, and the aircraft cabin was bathed in the pink moodlighting.
After finishing the movie, I tried to check our current position, but for some strange reason, the map & route information section had simply conked off. Although the rest of the IFE system functioned normally, one could not view the current position of the flight.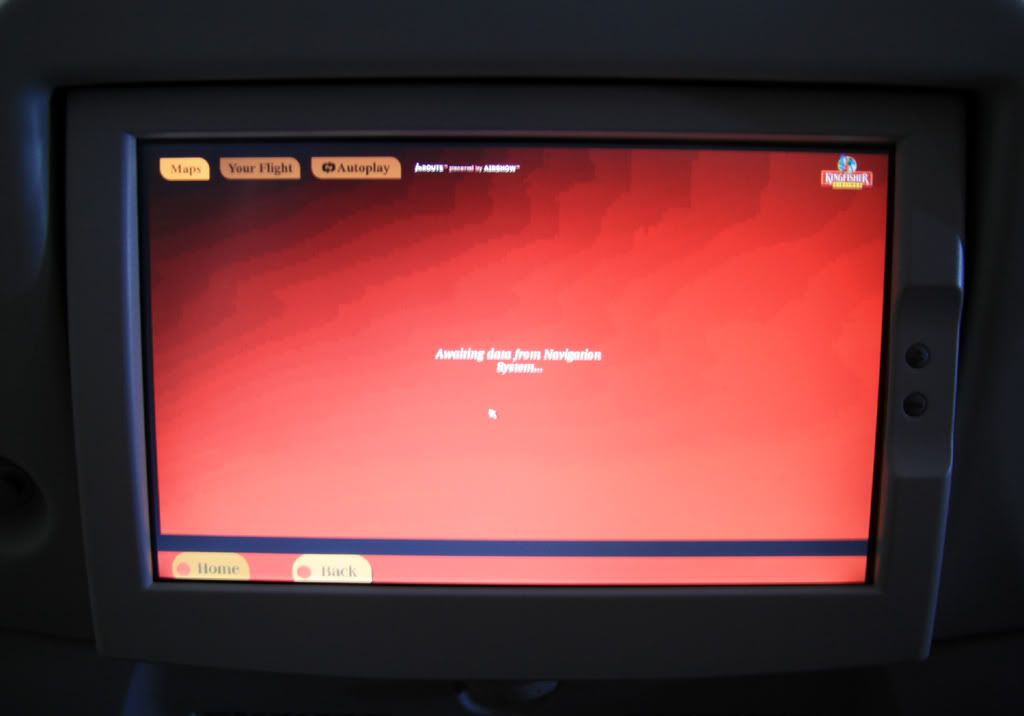 With nothing else to do, I decided to take a nap. I woke up when the FAs were doing a drinks service. I chose a glass of orange juice and tried to make sense of where we were from the scenery outside. However, I could not make out anything because of a thick haze cover.
Arrival:
Soon enough, the captain announced our descent into BOM. People queued up to make a last visit to the washrooms before landing. The FAs went around the cabin spraying what I call the "Arrival spray". The haze grew thicker as we lined up on Runway 27 approach. I could barely make out the buildings in the Navi Mumbai area.
At 1305, we made a smooth touchdown on Runway 27, and then braked extremely hard. I have never seen such extreme braking in dry weather conditions. After a long and slow taxi all the way back to Terminal 2, we finally docked next to a Jet Airways 77W.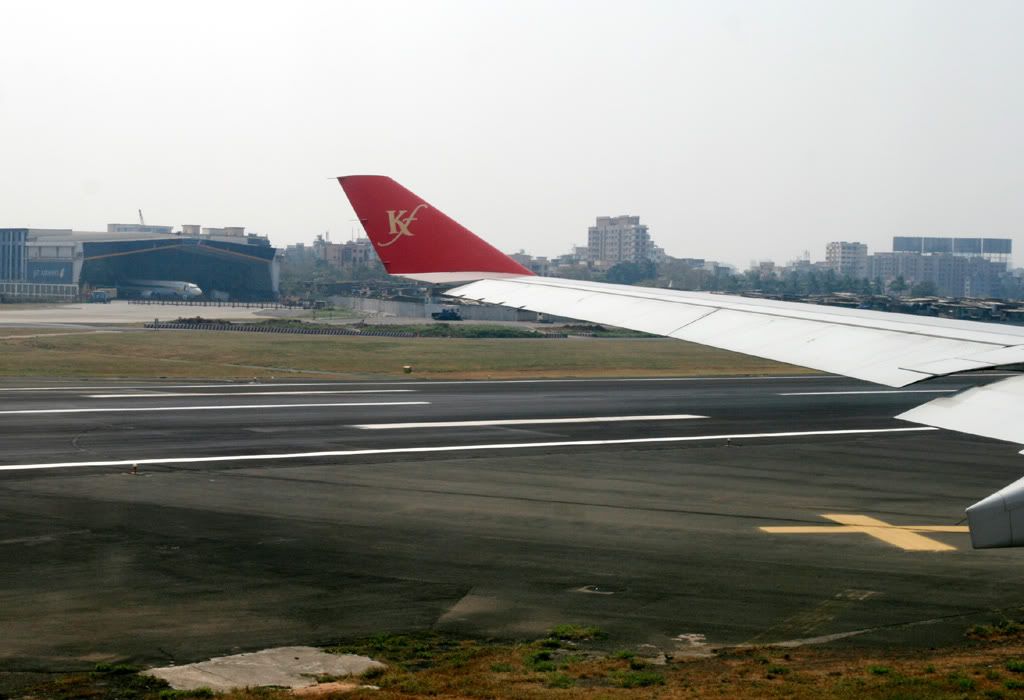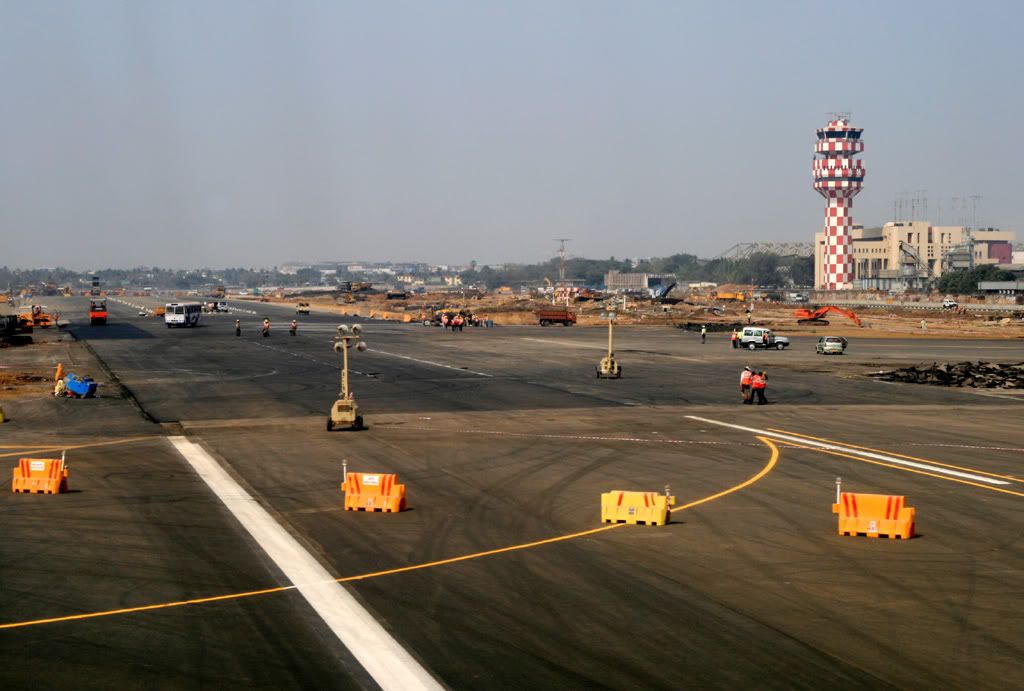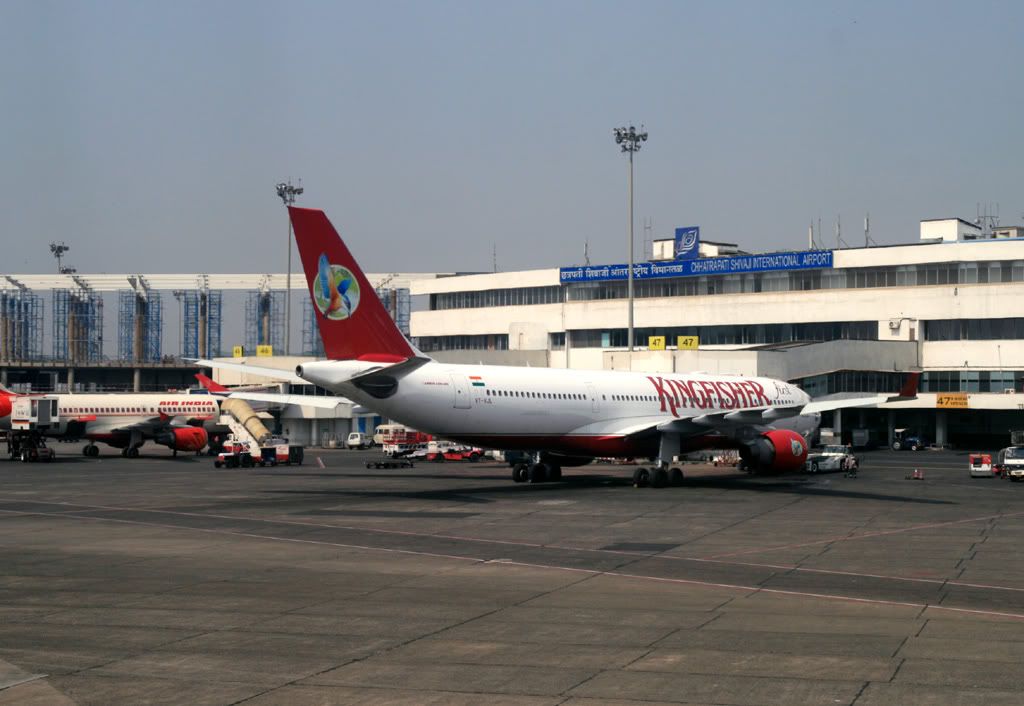 Because of the light load, de-planing was relatively quick. I clicked a quick shot of the bar area before thanking the crew and making my way out. In summary, it was a very comfortable flight, helped by the fact that the load was quite low.
On my way to the baggage claim area, I overheard the pilots chatting with an IT staffer. According to them, IT was planning to shift the departure from SIN to an evening slot. This would hopefully help them get more loads on this flight.
Thank you all for reading. Your comments are most welcome!
My Previous Trip Reports:
BOM-HKG-BOM Cathay Pacific B744/A333
Voyage To Nepal: Nepal Airlines/Buddha Air
BOM-HYD-BOM On Kingfisher + Spotting At HYD
BOM-DEL On Air India, Brand New A321
BOM-GOI-BOM On IC. A320/A300B4
BOM-DEL-BOM On IC A320/AI 743 Combi DEL Fog
BOM-KUL-PEN-KUL-BOM On MH/Air Asia
BOM-AMD On Air India 743 Combi Upper Deck
BOM-CMB-BKK-CMB-BOM On SriLankan Airlines
- Vivek