Introduction
After my quick trip up to Kittilä late last February (see trip report here:
Northern Exposure: TKU-KTT-HEL
(by
FlyingFinn76
Feb 28 2010 in Trip Reports) ) I once again was in the position having flown all the current Finnish domestic routes with commercial air service. It didn't really last long, though, as airBaltic, nowadays being heavily focused on the Finnish market announced a bunch of new services connecting Riga with various cities in Finland. Most of these routes would be operated as one stop services via cities that already have a connection to RIX, thus they count as domestic routes in my books (and BT will happily sell you a ticket on the domestic sectors) so I had to start planning how to log these routes. The new routes were TMP-RVN, LPP-KAO and last but not least LPP-KUO. I now have bookings for all of these segments, and by early July should have flown them all.
Anyway this report concerns the first of these flights, which is the route from Lappeenranta in Southeastern Finland near the Russian border up to my hometown of Kuopio or LPP-KUO. I managed to fit the inaugural flight on 3rd of May into my schedule - actually it was easy since the flight has an evening departure from LPP and an early morning departure from KUO, meaning that it could be done during the normal workweek taking advantage of free accommodation at my parent's place
.
So I booked the inaugural flight from LPP for around 30 EUR and to get back to work from KUO the next morning the 9.05 Finncomm flight was available for less than 40 EUR so it would have to do.
Originally the equipment was scheduled to be yet another Fokker 50, some time later it changed to the new Dash-8 Q400, but for whatever reason those still haven't entered BT service, despite the first one having been painted in BT livery and delivered (?) already a couple of months ago. Because of this I was very curious about the equipment, and kept checking the flight information - on the day of departure it suddenly changed to F100 with a remark "Operated by airBaltic parner airline". I assumed it would be a Carpatair plane as BT now has wetleased both F100 and F70 from V3 to cover for the Dash routes - I was moderately happy about this even though I've already flown on V3 before...
3.5.2010
To get to Lappeenranta I board the 18.18 Intercity train at Pasila station in Helsinki - as a side note the 2 hour train journey cost more than either of my flights. I booked a seat in a working compartment - basically a small, quiet cabin with a small table and power sockets for people wanting to work during the journey - this is what I had in mind and what I also do with my laptop. The train gets in Lappeenranta almost 20 minutes late due to laying of some new tracks and other track improvement work being carried out on the stretch between Kouvola and Lappeenranta, I guess this is in anticipation of the upcoming fast train connection to St. Petersburg.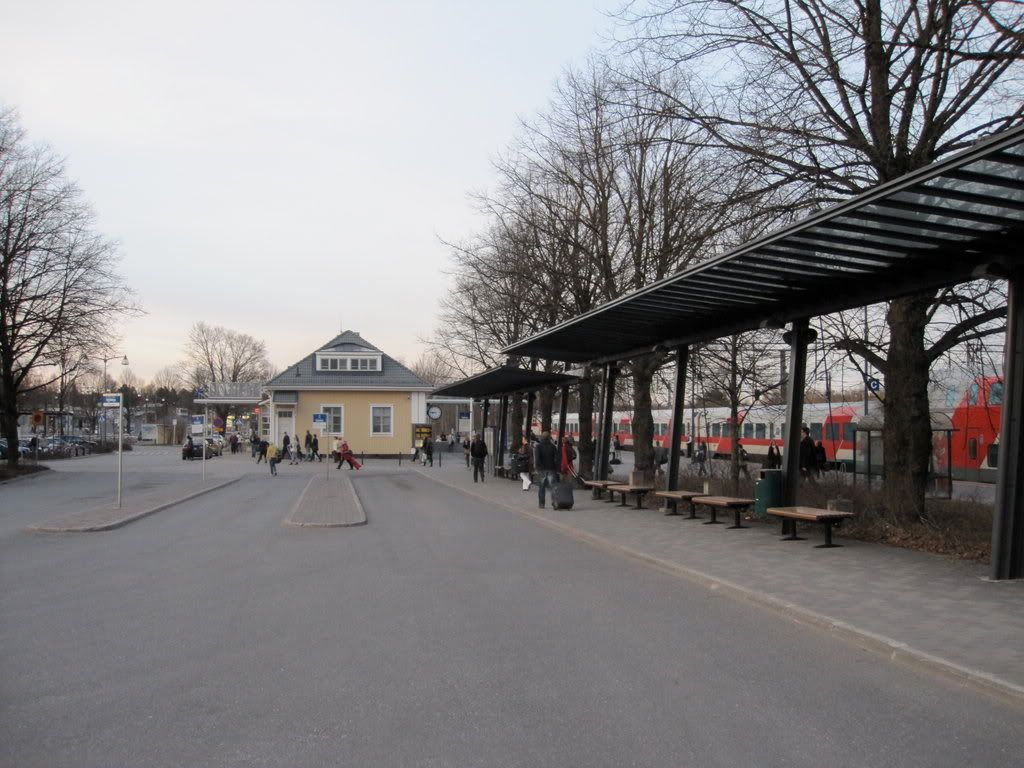 Anyway once in Lappeenranta I walk to the airport which is nearby - apart from an expensive taxi that is really the only alternative. The two and half kilometer journey takes around 25 minutes.
Some ads on the way: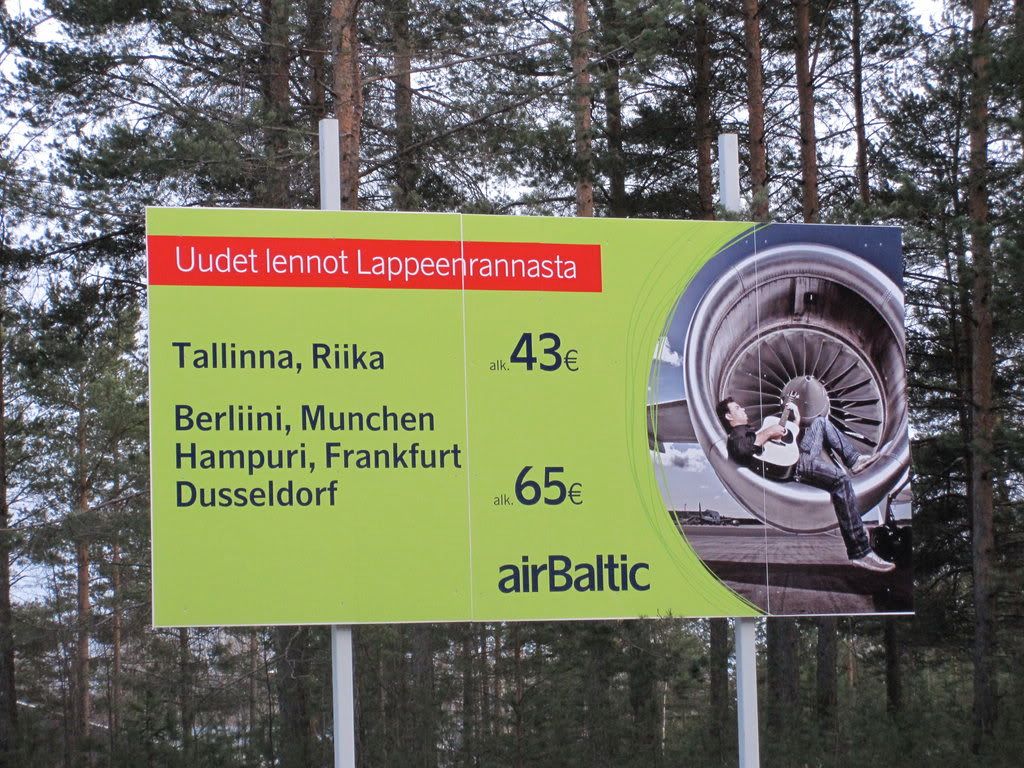 More: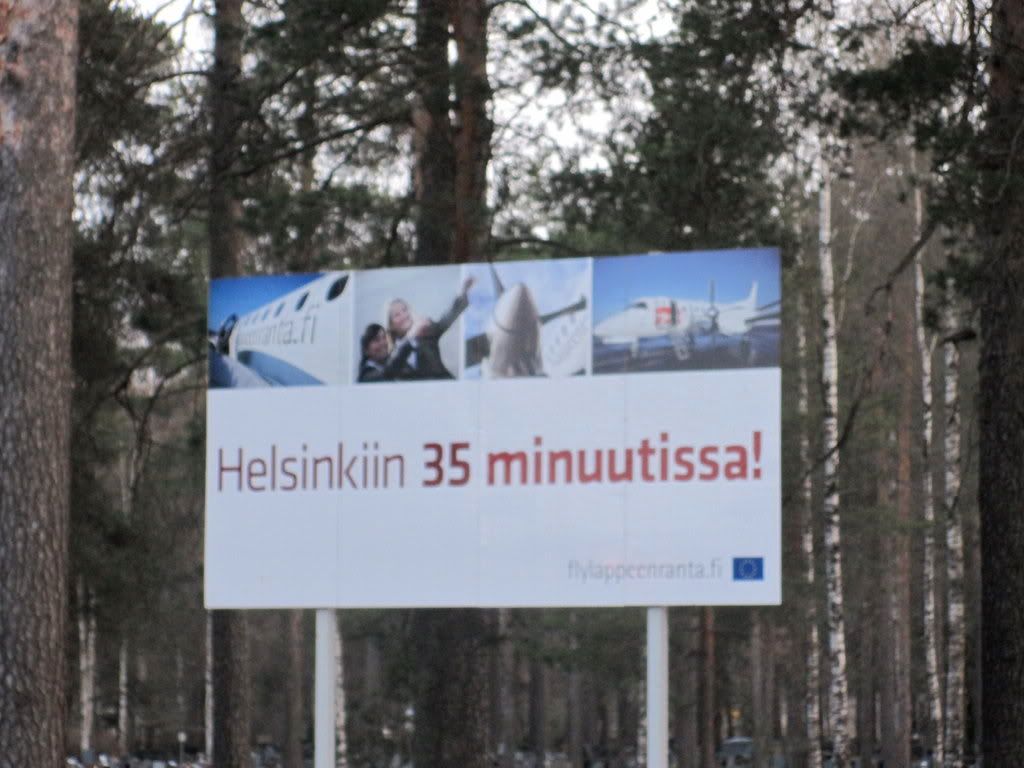 The right way: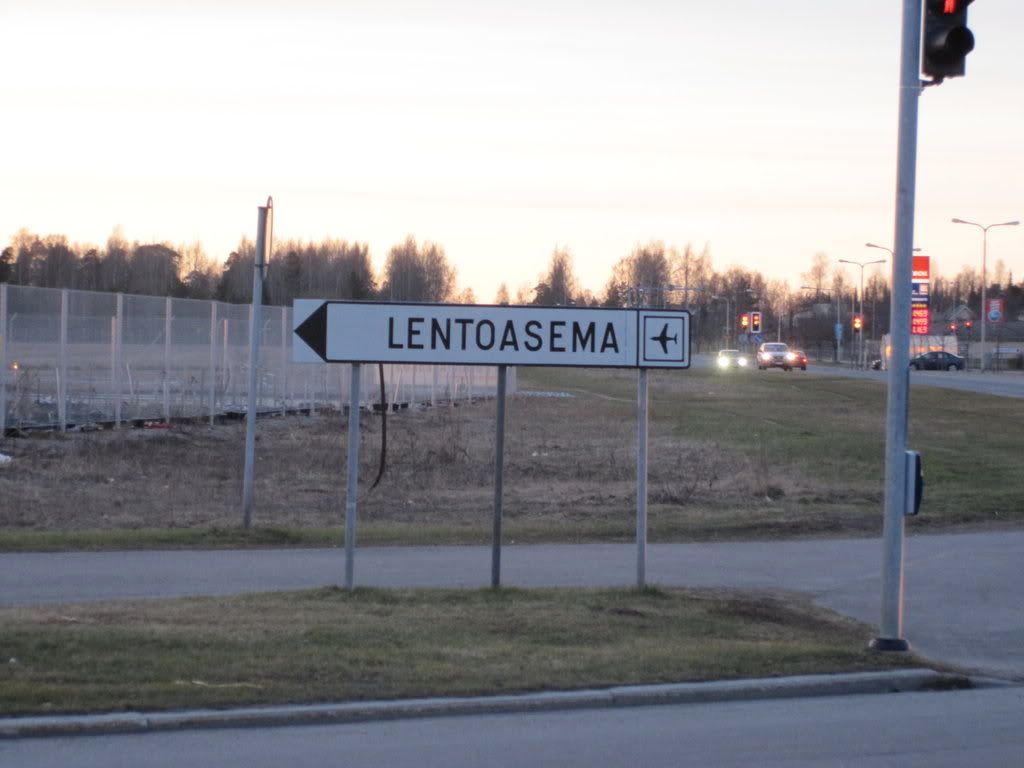 And yet more: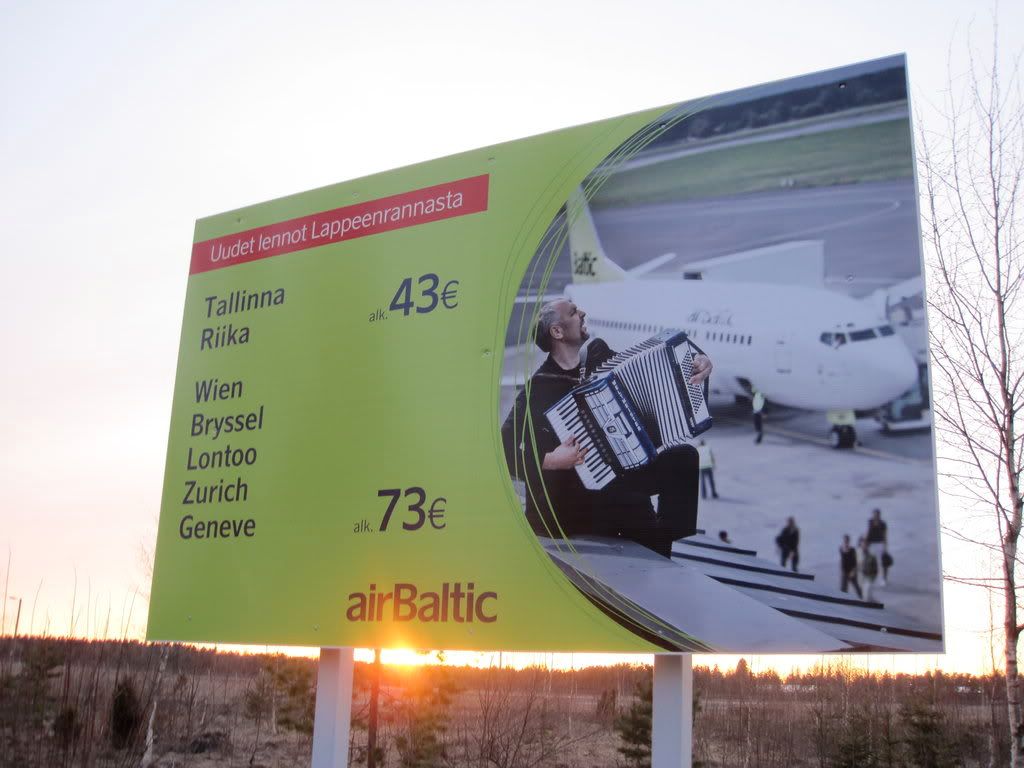 Ok, I get the point, please stop: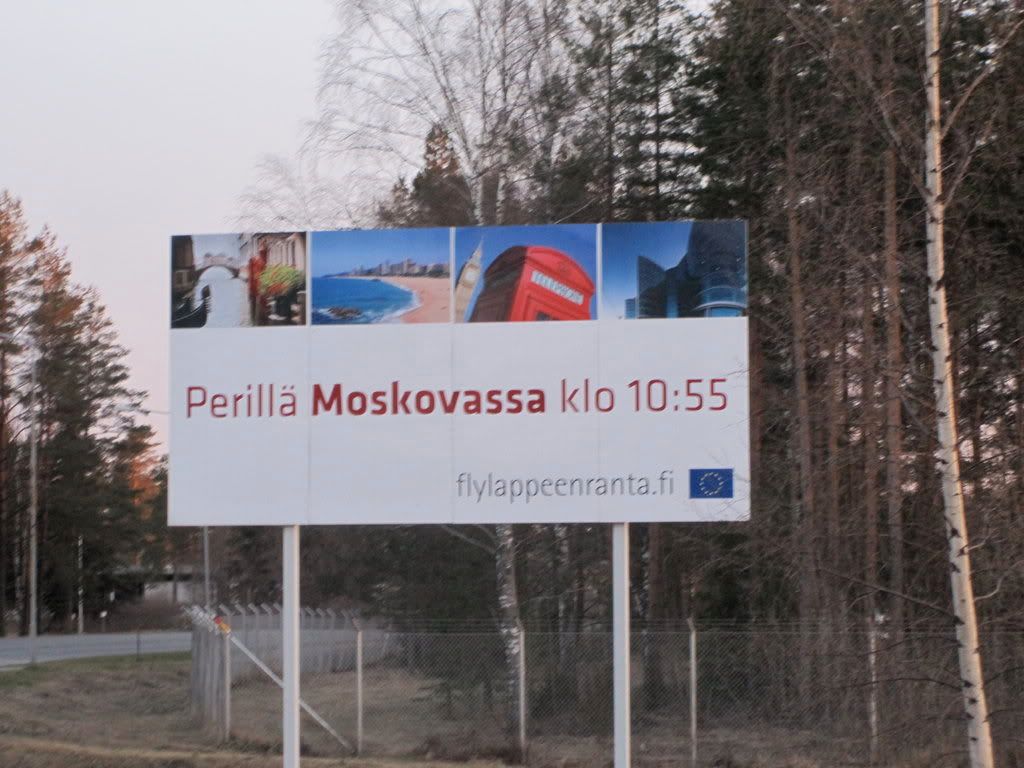 The terminal building: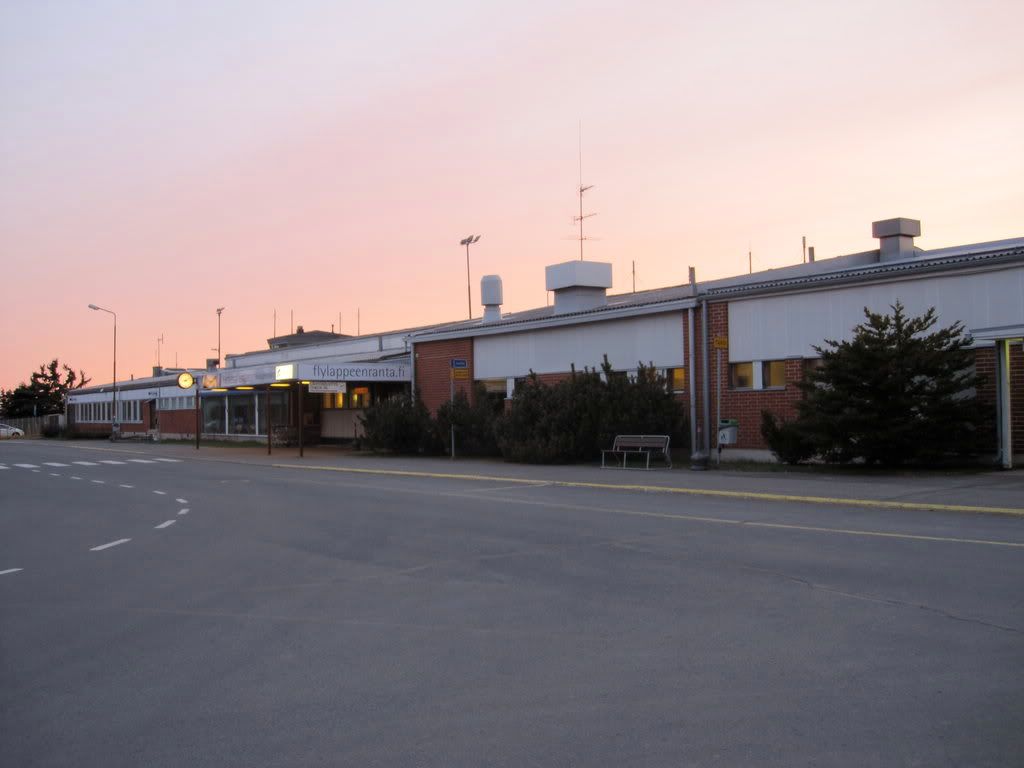 Once there I head inside and try to check in with an agent - I start by asking if there are any celebrations for the inaugural flight. He answers with a smirk "What, on the inaugural flight to *Kuopio*?!" - there's a certain tone on his voice like the whole idea sounded so ridiculous... Anyway the next I ask if it is the Carpatair Fokker, he looks it up from the computer and answers "No, let's see... it says Blue Line on the computer. It is a Fokker 100.". Hmm, that certainly got my curiosity. I ask for a window seat on the left hand side for the good views during landing but computer refuses to check me in, he mutters something like "Closed - What an earth are they doing in Riga?!". I ask if the plane has left Riga - "Yes, it will land in a few minutes.". I tell him that I'll head outside for a while and try the check in again a bit later.
Outside I make a guess on which direction it will land from - later my guess proves to be right - and find a spot with decent visibility of the runway and apron. As expected, lots of Russian cars in the parking lot - the FR route to NRN is very popular with the Russians, the border being only 20 kilometers away from here.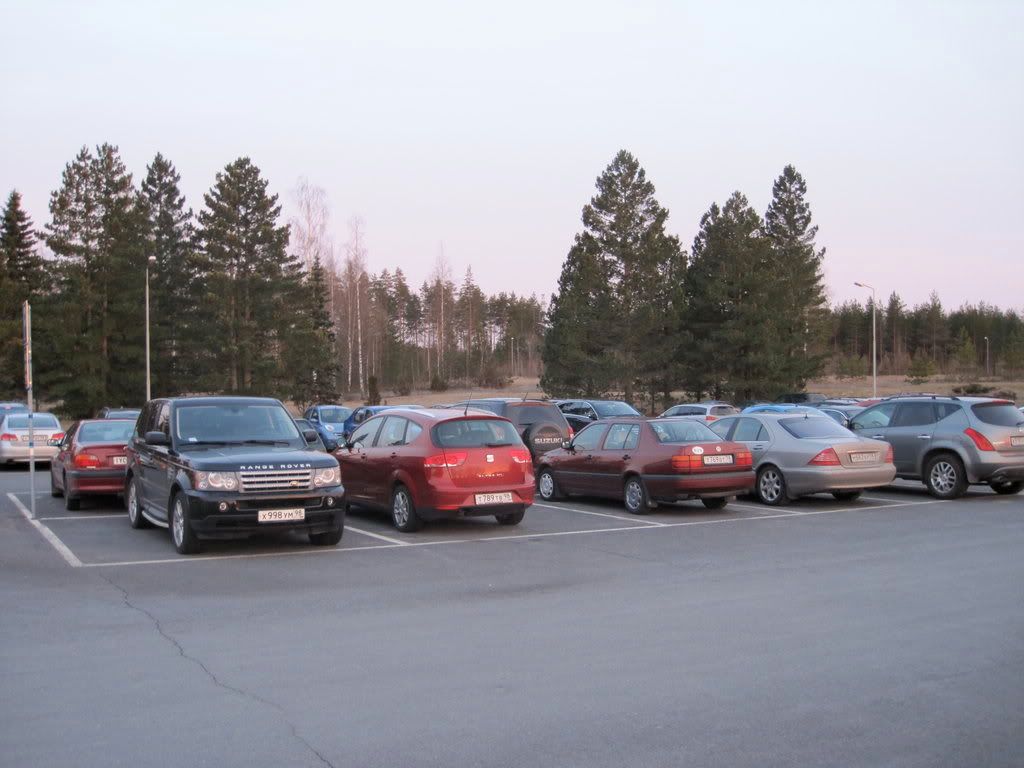 It takes a bit more than a few minutes - ten or so, but finally I see the familiar shape of a Fokker jet approaching and landing on runway 06 around 21.25. I snap a few photos: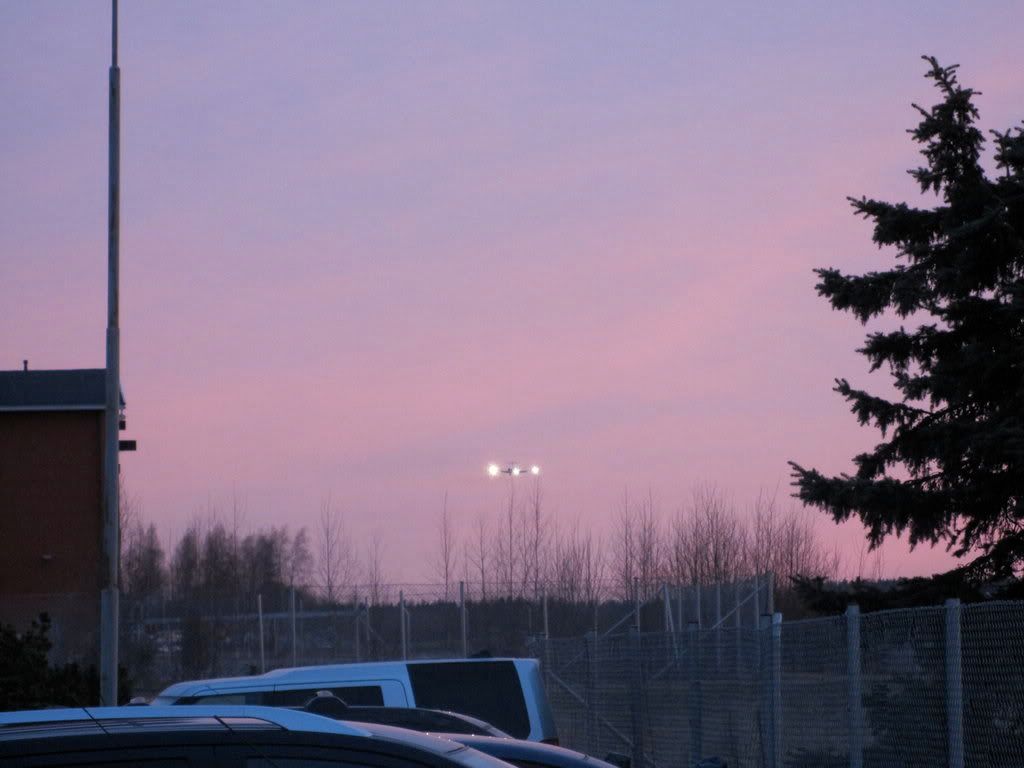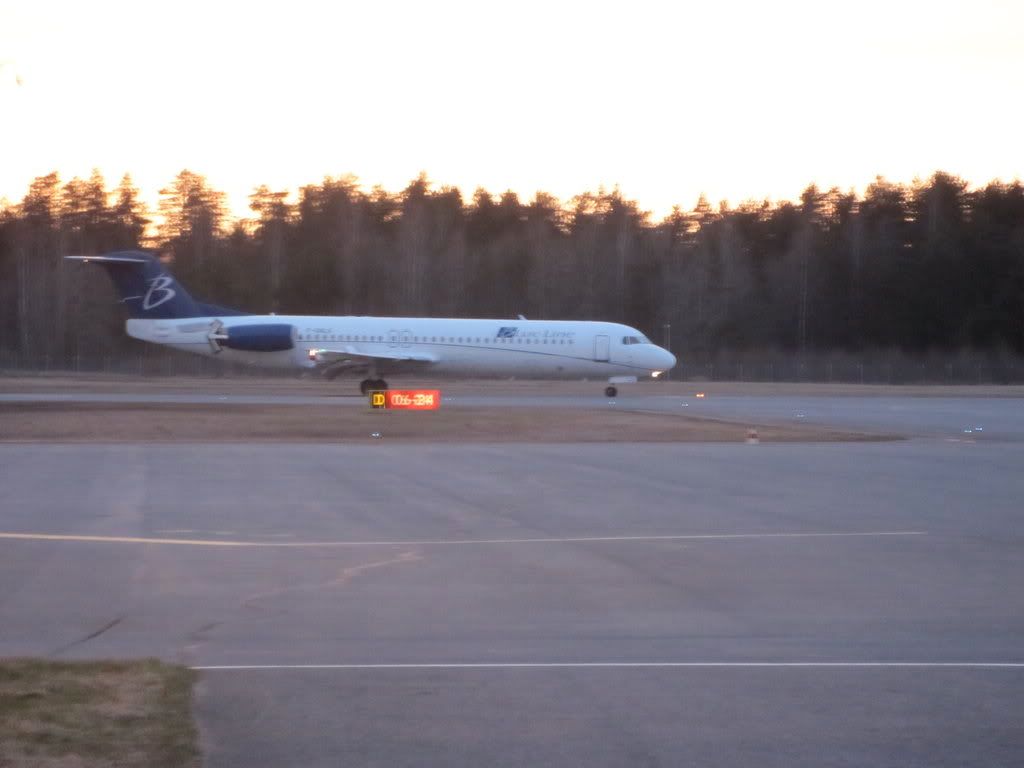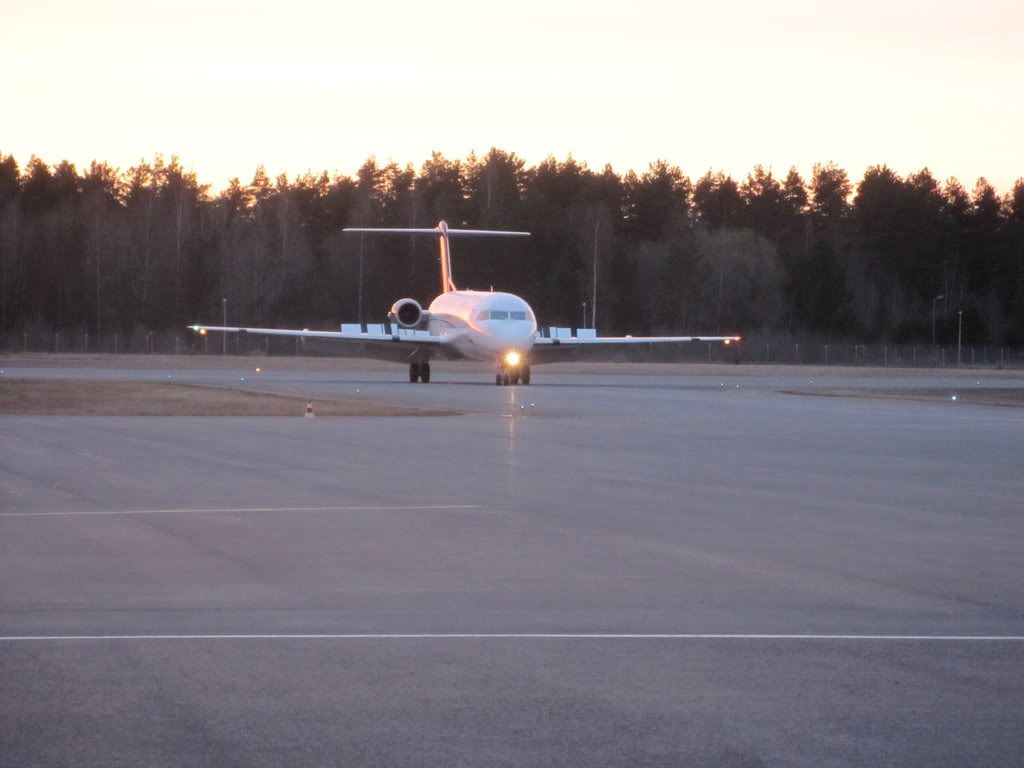 F-GNLG: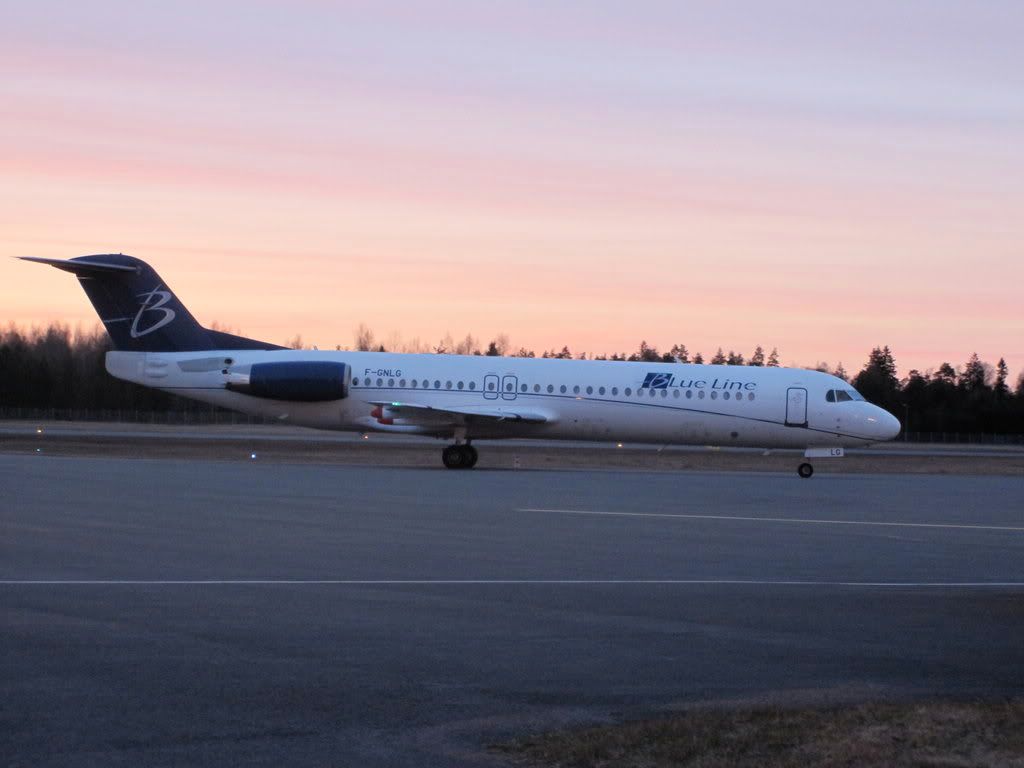 Once I get inside the boarding pass is waiting for me - I ask if I'm the only one boarding here but apparently there's another pax who has already gone through security, with around 40 pax in the plane coming from RIX to KUO. Interestingly my boarding pass is printed on old SAS boarding pass stock - they have never served this airport, the closest thing here was Air Botnia years before it was bought by SK and turned into today's Blue 1... Maybe they bought some old stock from SK when they migrated to the current "multiple flights in one" boarding passes...
Check in area: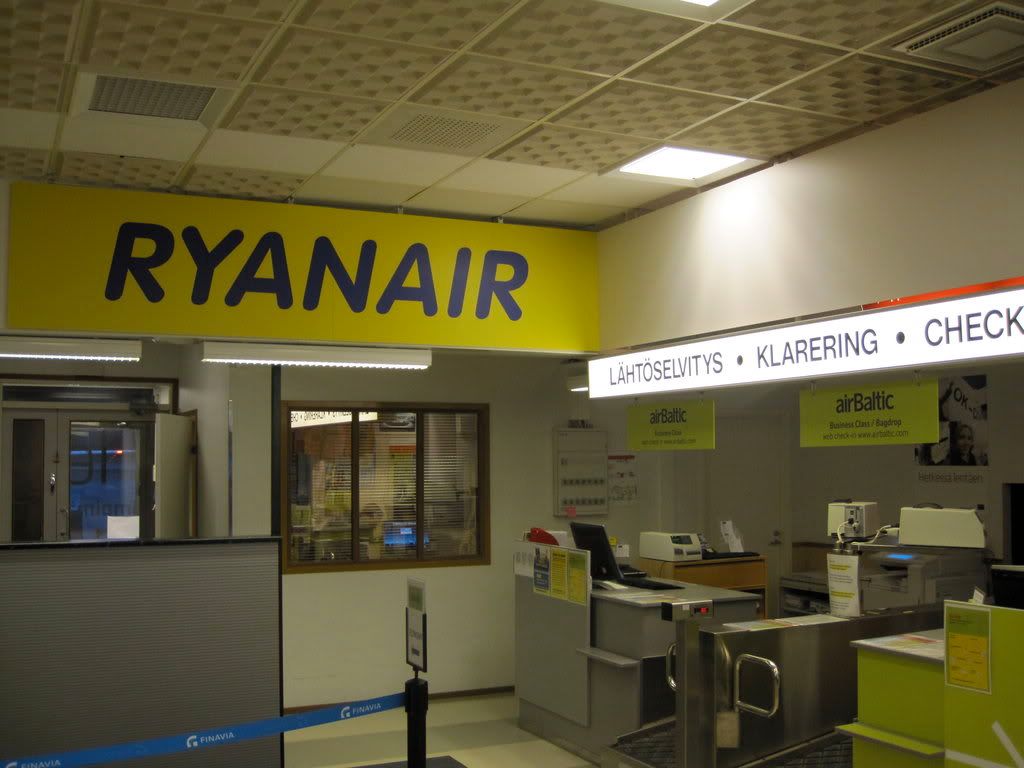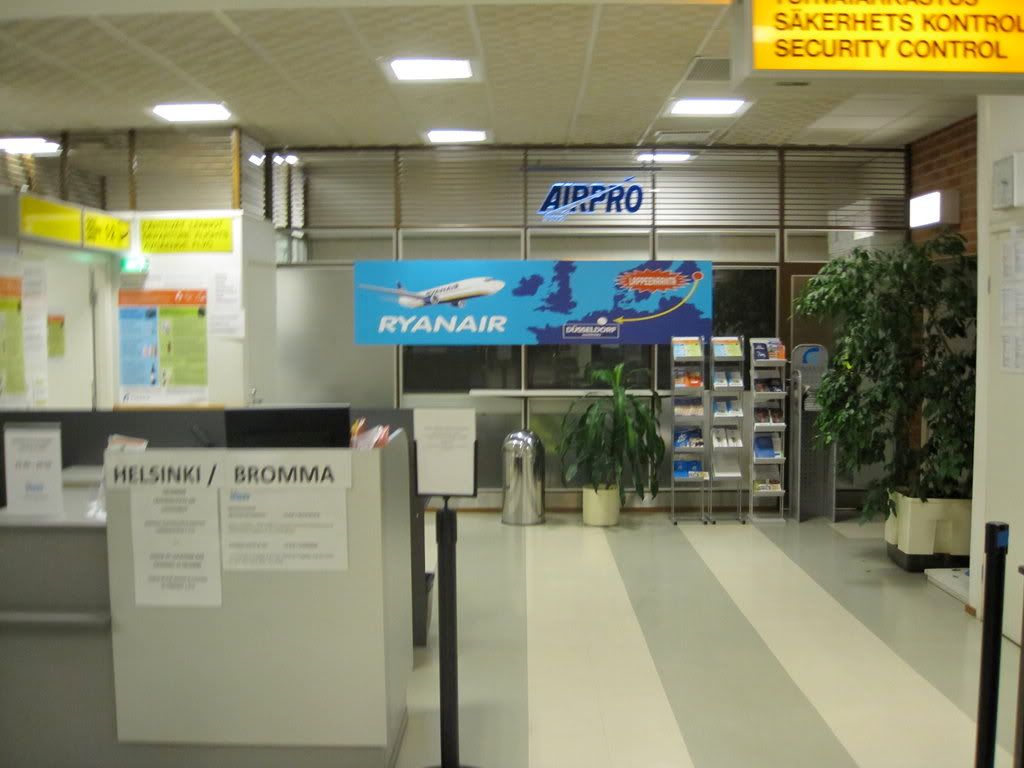 I head through security, exchanging a few words with the friendly male agent there about my laptop. The departure lounge has gotten a huge makeover, there used to be a very sorry duty free store which to my knowledge was never open and not much else - now it has been replaced by a very stylish bar and seats. Still the area is very small - I imagine it can get very cramped when all 189 pax on a FR 738 are here... Too bad (or maybe not!) I missed such an experience in April, let's see when I can catch that flight...
I chat with the bartender for a while about Ryanair, the Russian passengers, airBaltic and the Lappeenranta airport, but our chat is cut short by the boarding announcement around 21.40. Well, there's no announcement actually, the gate agent just comes personally to me and the other pax (who is not Finnish) and invites us to board
. I comment to the watching ground agent that it feels like a private plane when walking across the apron.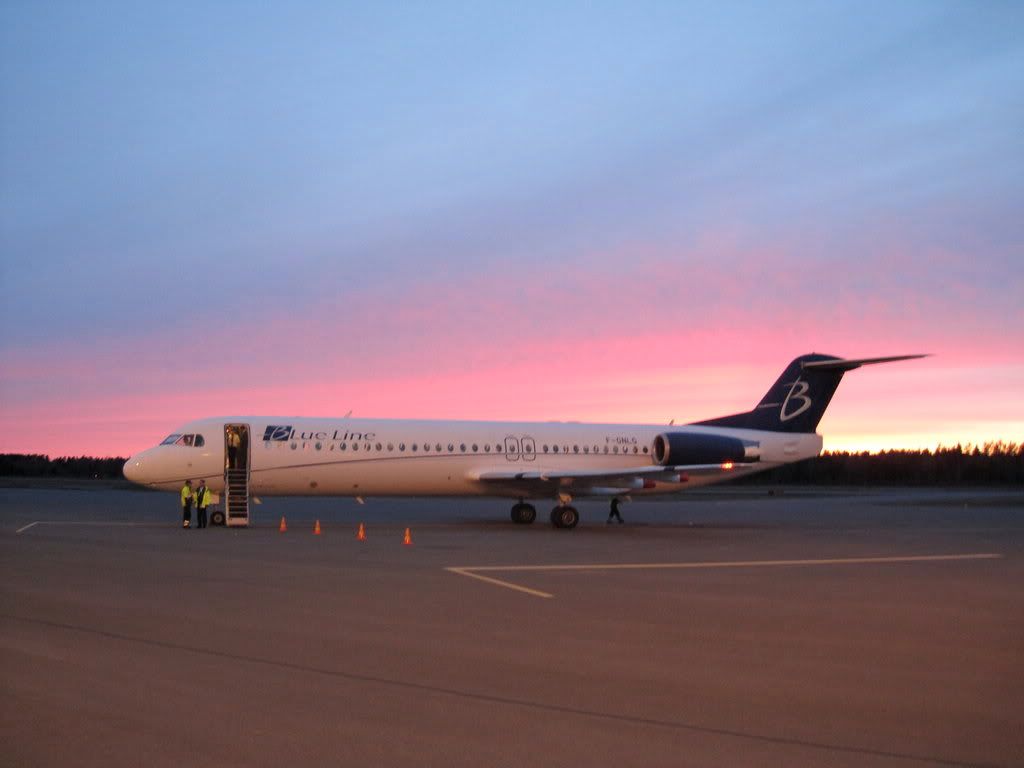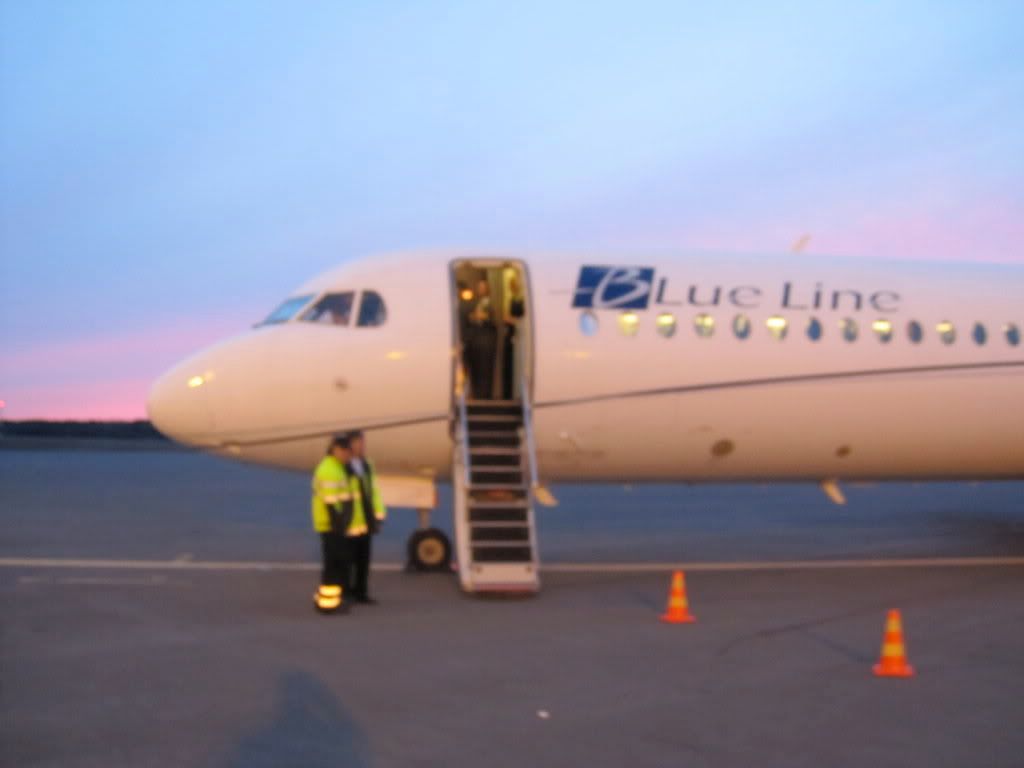 LPP-KUO
BT1383 Operated by Blue Line
F100 F-GNLG
Seat 14A
21.59 - 22.32
In the front galley two young French stewards greet me with a smile. They are looking rather good in their grey suits and ties, definitely a bit smarter than your usual airline uniform. In the back galley there is a Latvian steward in the regular airBaltic uniform.
The plane is equipped with dark blue cloth seats. My seat 14A turns out to be the forward exit row, although the seat pitch isn't that generous even here.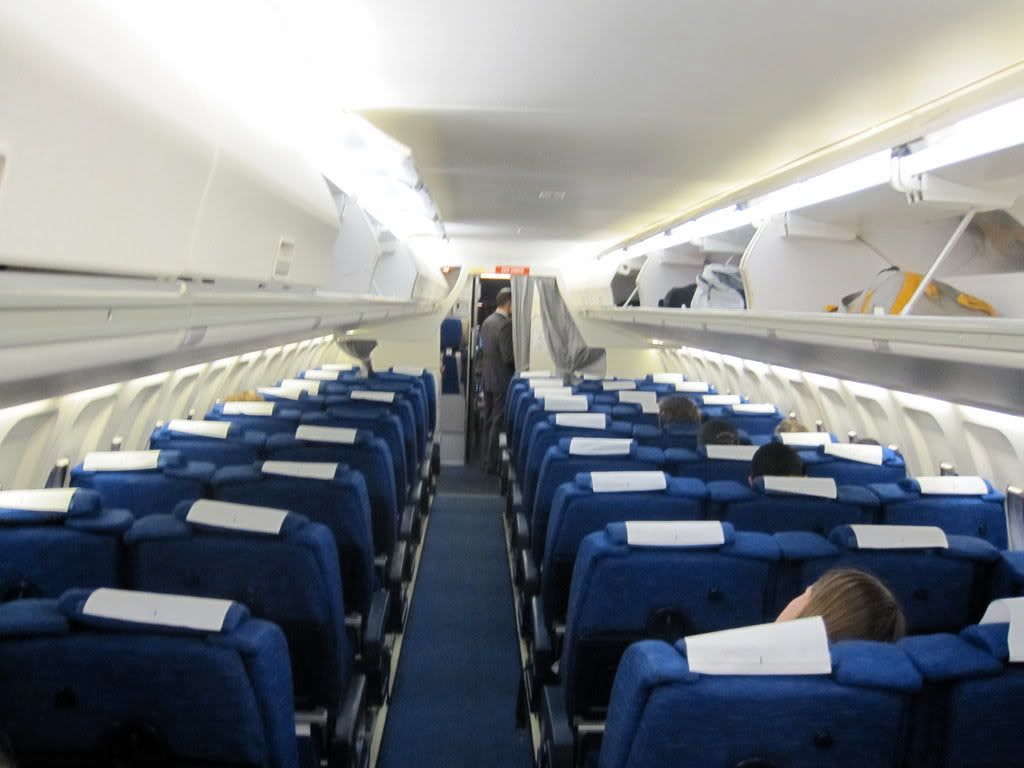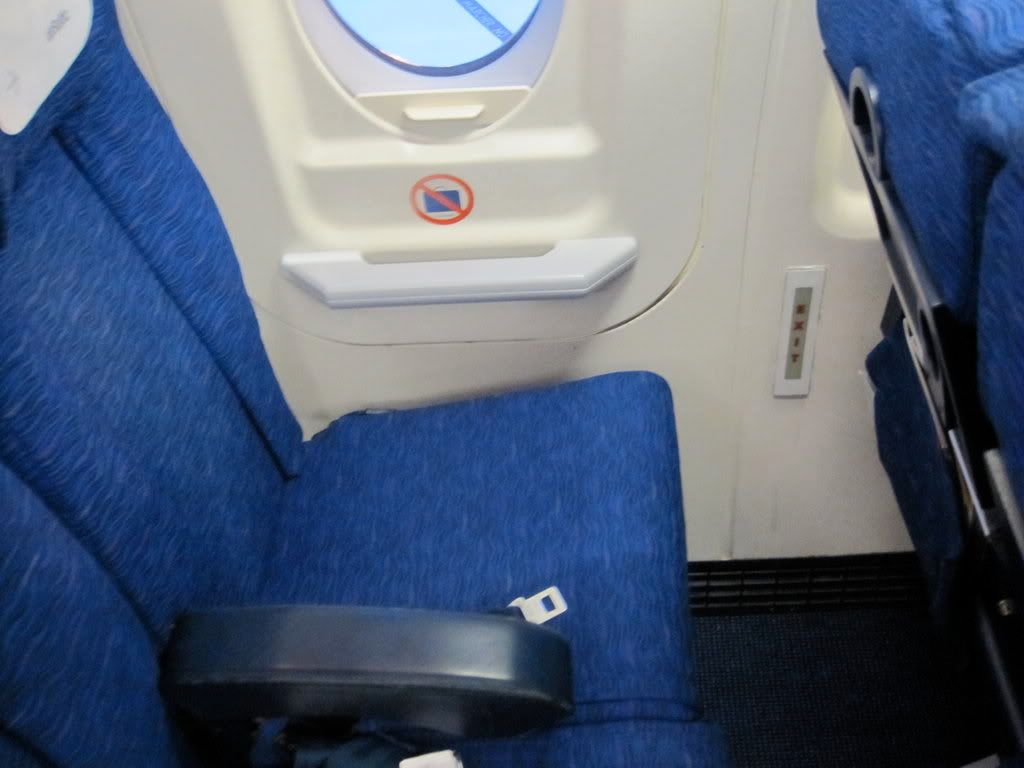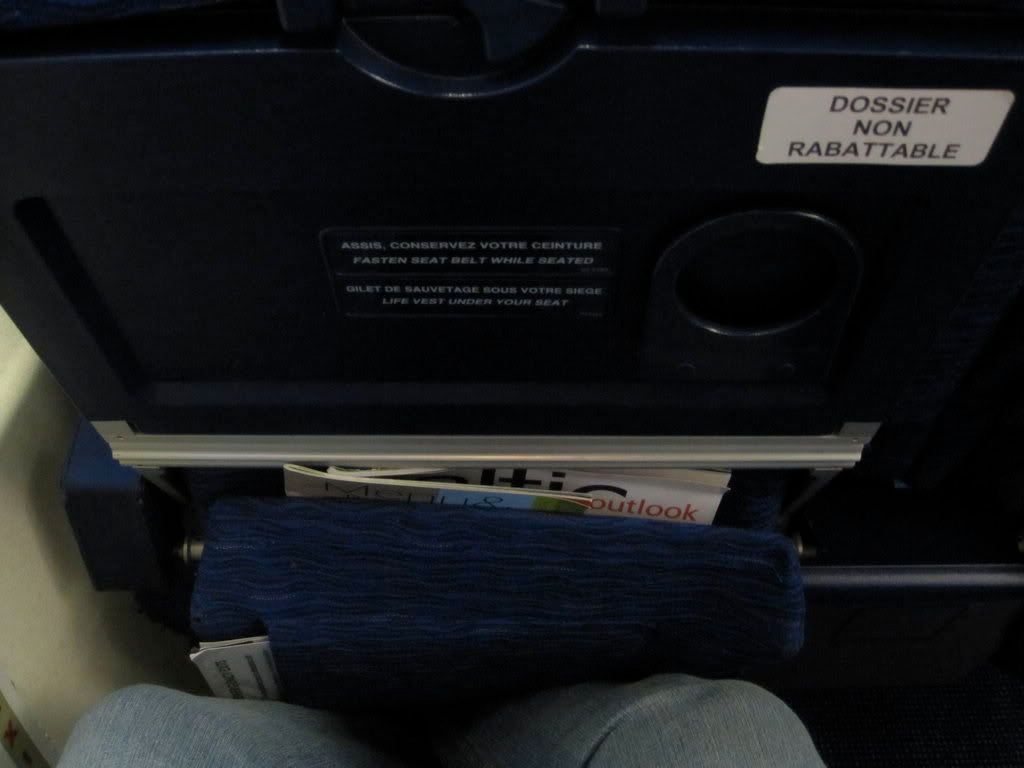 Old fashioned controls: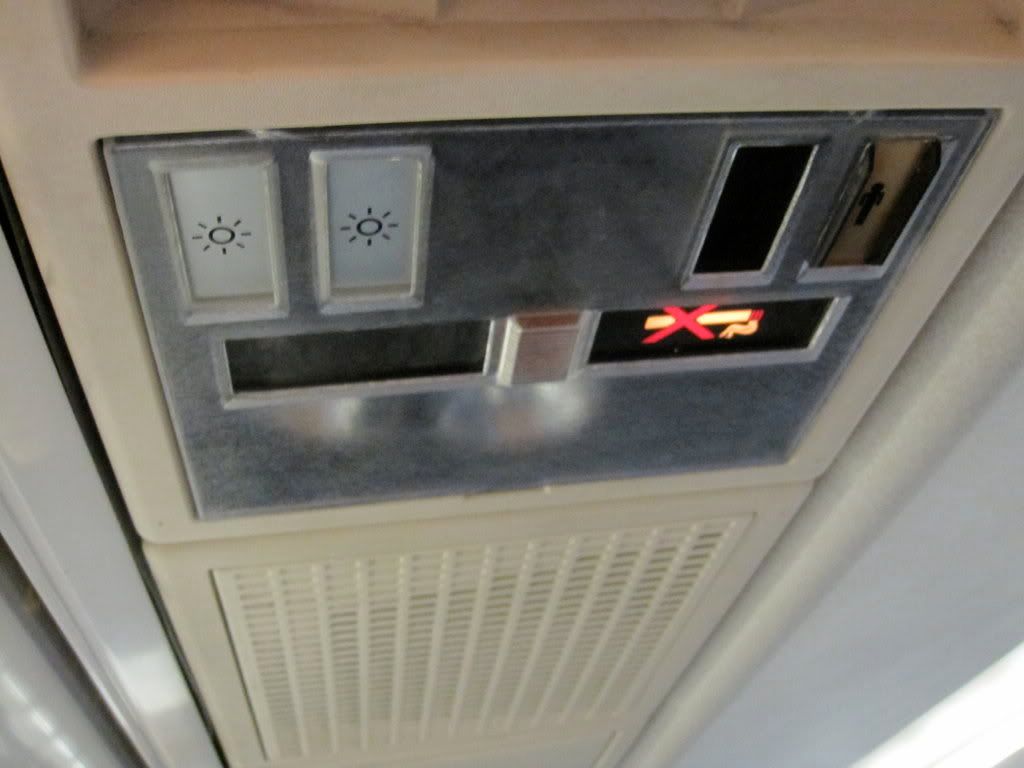 That Fokker wing is a bit weird - it feels almost like I'm sitting backwards: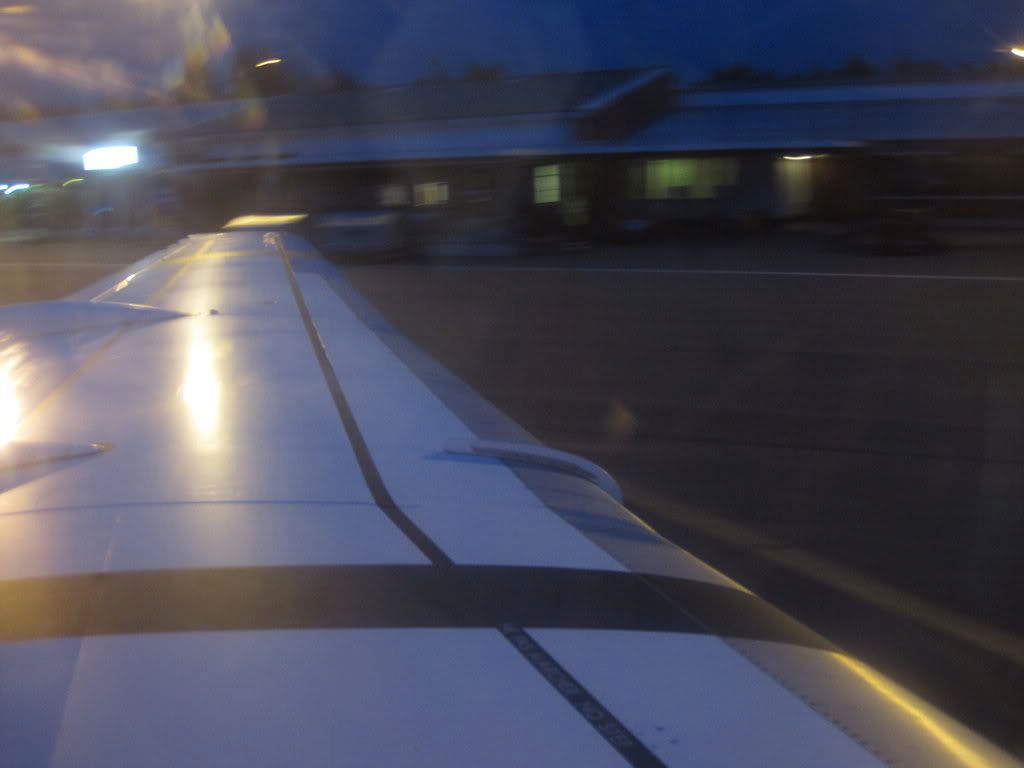 The captain welcomes us onboard with a very thick French accent in his English, announcing the flight time on "This airBaltic flight to Kuopio" as 27 minutes.
After boarding is completed (well, how long does it really take to board two pax?) it still takes a good 15 minutes before we start our engines, the ground crew members spend quite some time in the cockpit sorting out some paperwork and issues. Finally we depart, still 11 minutes early, taxi to the runway and backtrack (no taxiways here) all the way to the end of the runway before turning around for a runway 24 take off.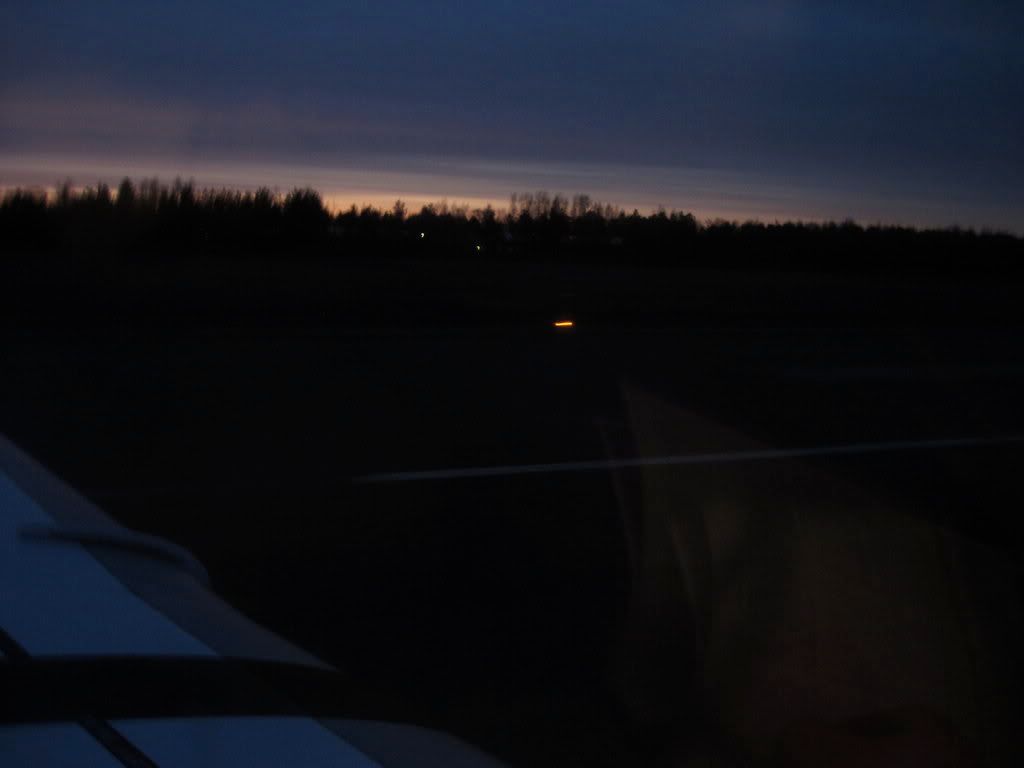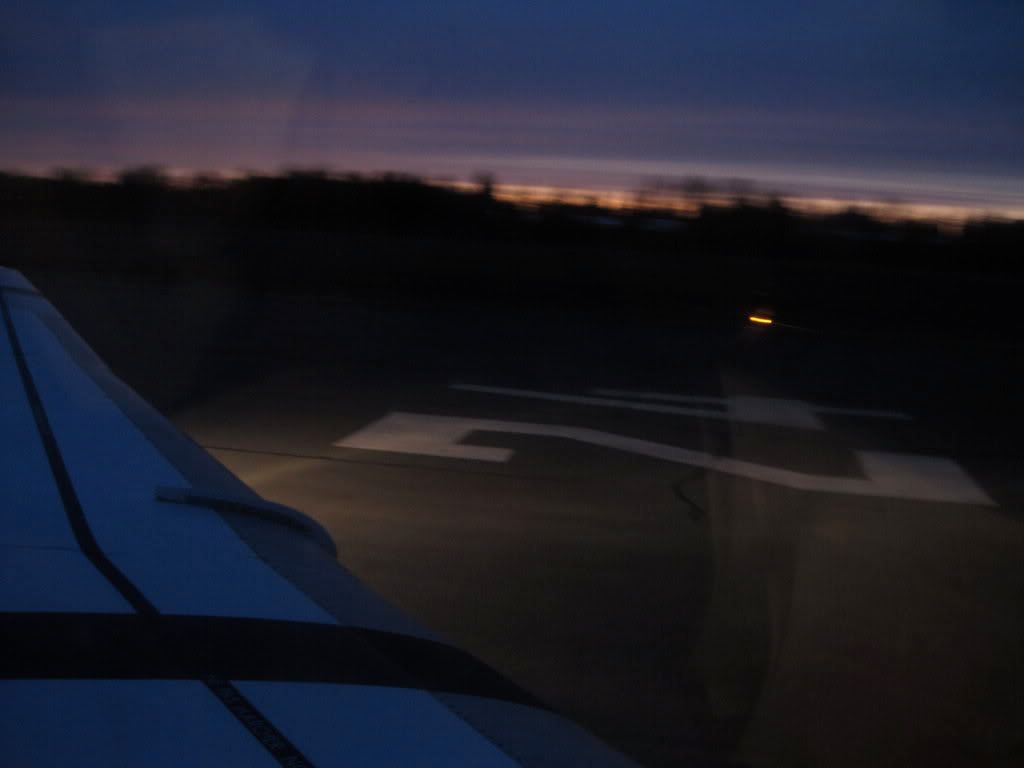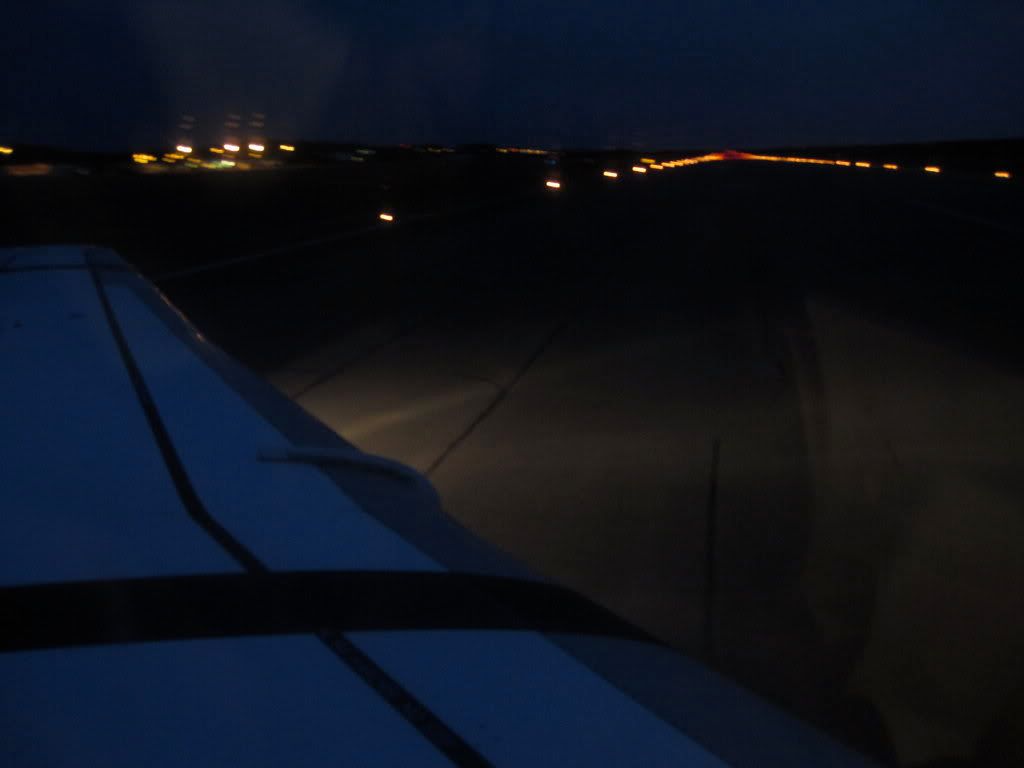 I'm expecting a rocketlike take off given our low load but apparently the captain wants to save the engines as our acceleration is not that fast, very quiet and our angle of ascent is quite low. After taking off we turn right towards the northwest for our short 130-mile hop to Kuopio.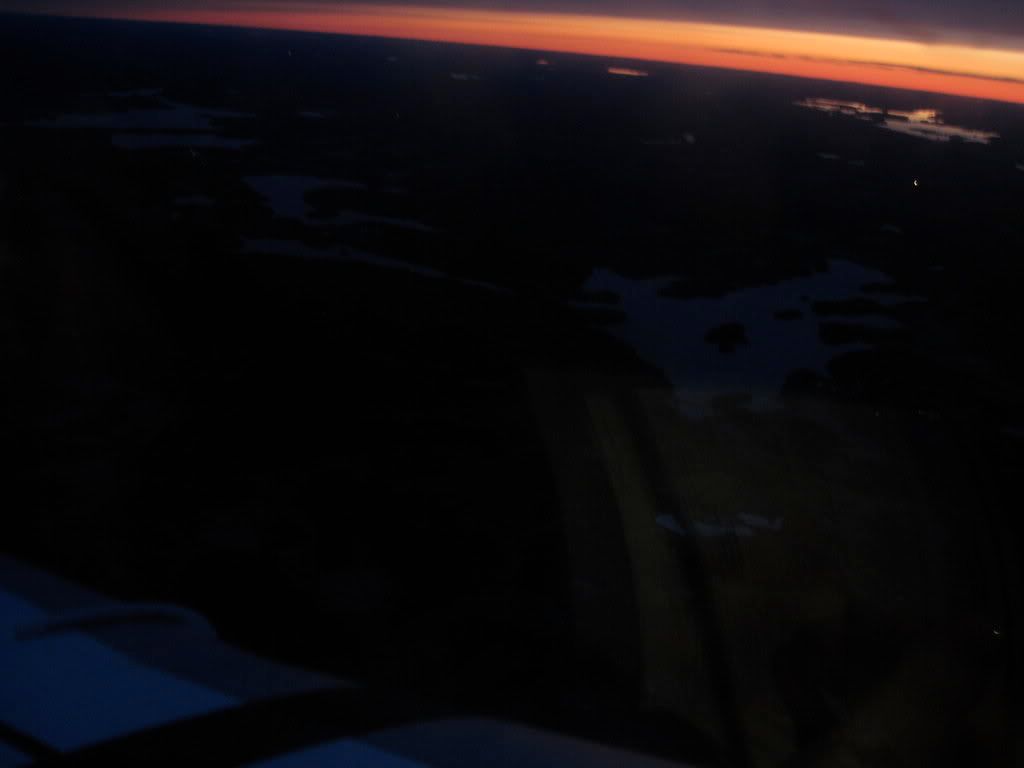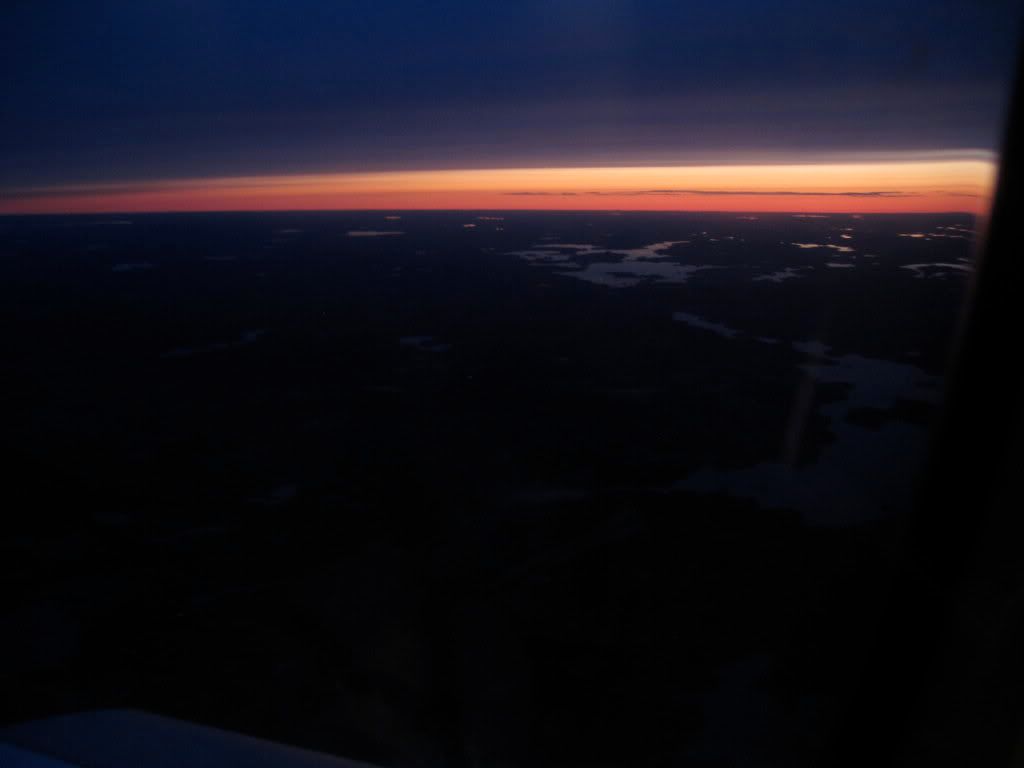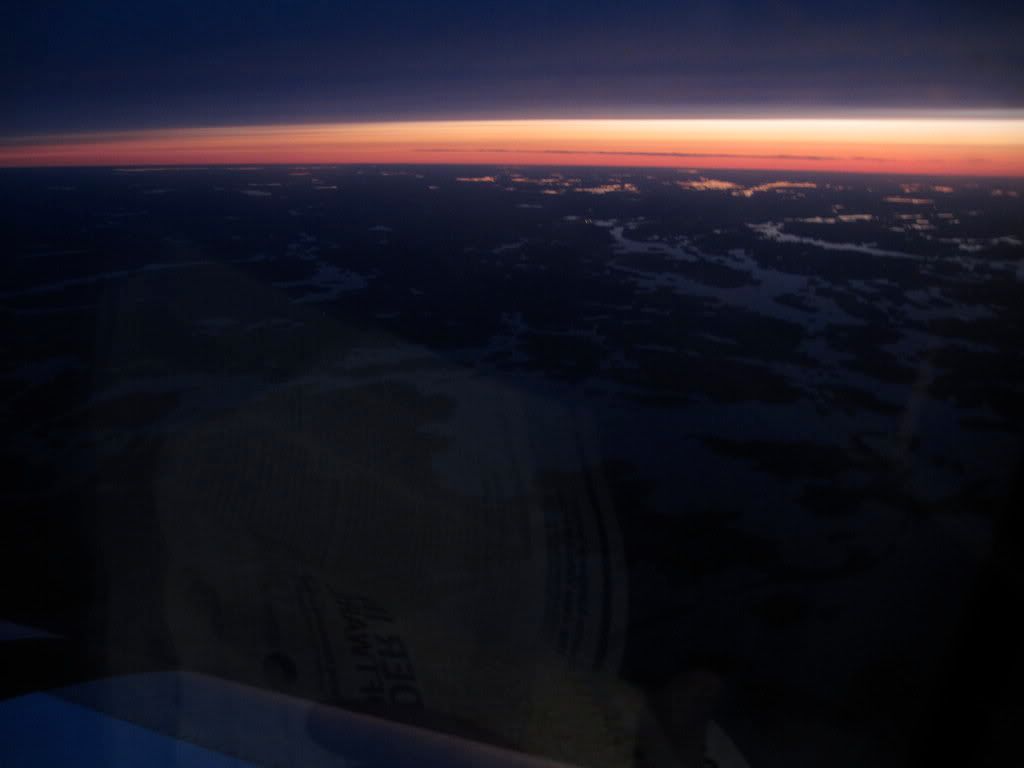 The route takes us directly across the largest lake in Finland, the Saimaa and over the area of the country with a very high density of lakes - the views are very pretty even at this hour when the sun is setting.
The seat belt sign stays on during the whole flight, actually right after starting our descent while passing the city of Varkaus, at the routes halfway point the captain announces "landing in 10 minutes" and turns OFF the seat belt sign, by accident I assume. It is turned back on during our final approach when the crew is instructed to take their seats for landing.
Those tiny dots of light are Varkaus: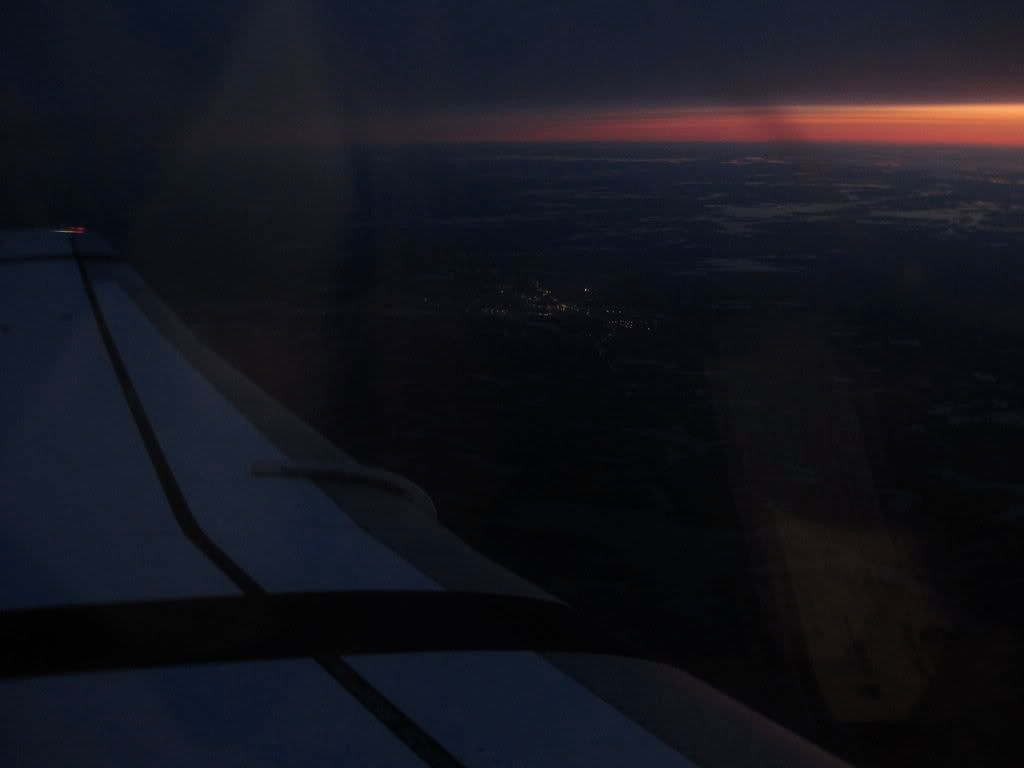 No service whatsoever on this leg.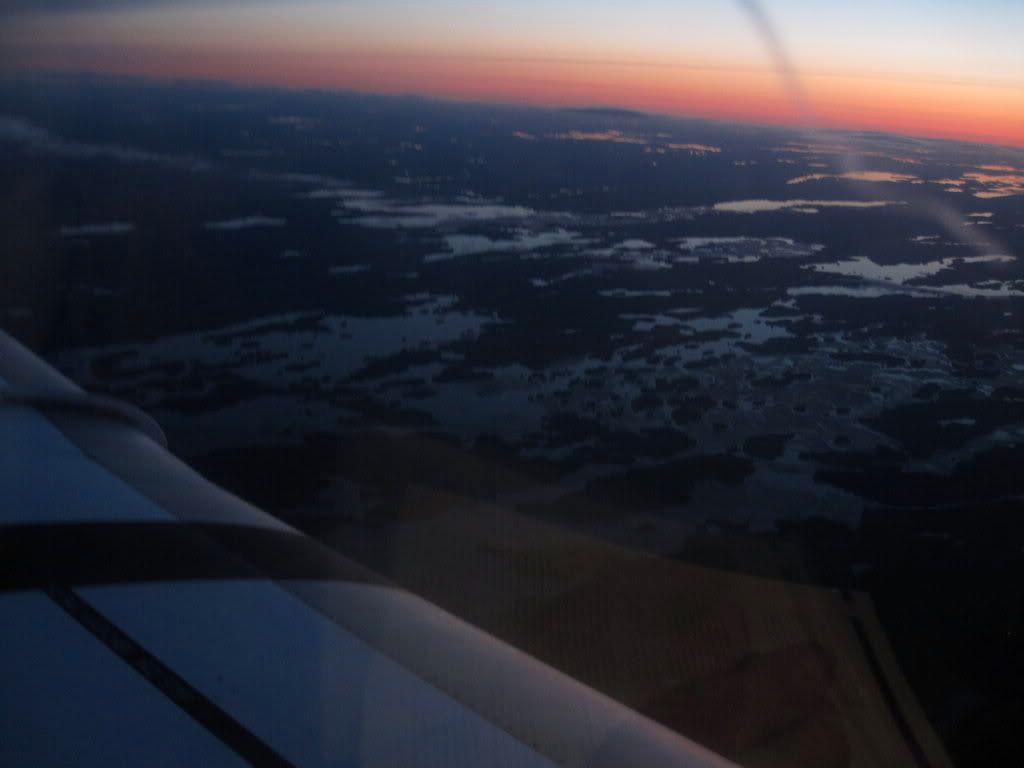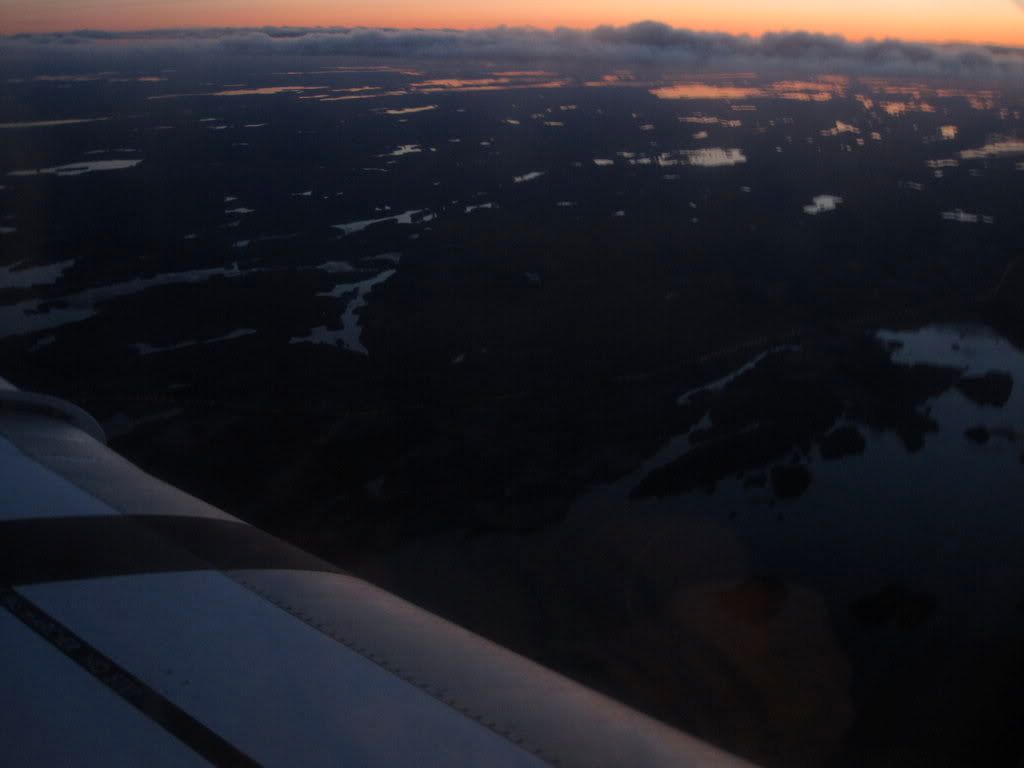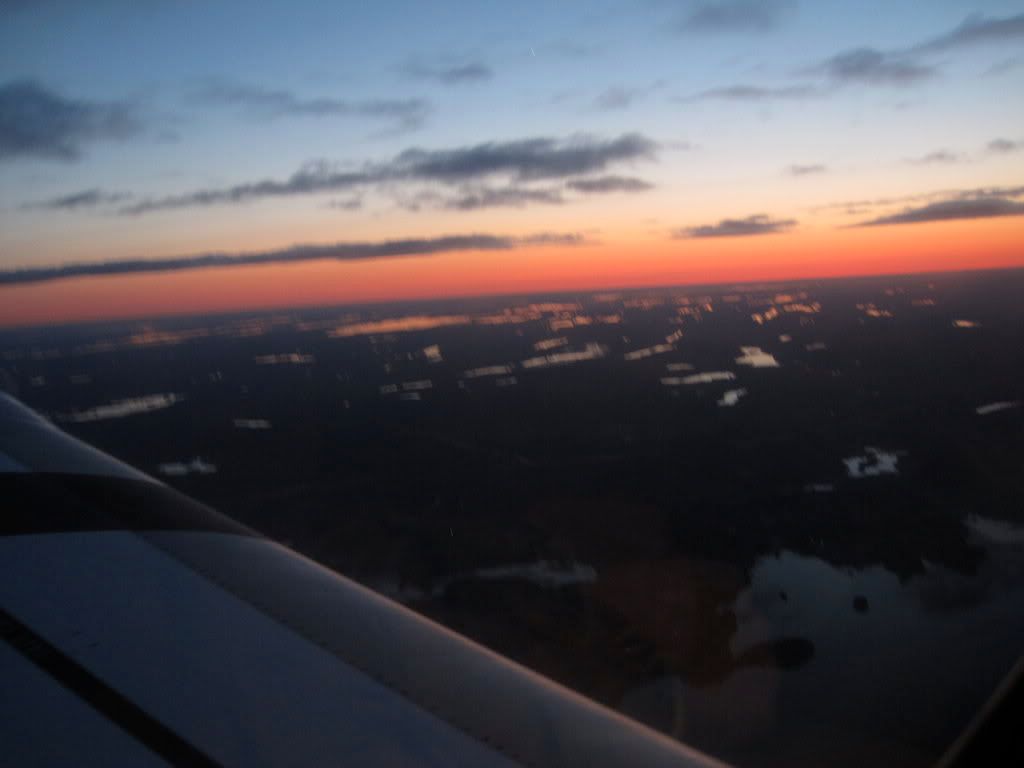 Approach to Kuopio runway 33 is always nice when sitting on the left hand side of the plane as the whole city is visible on your side when descending over the Kallavesi lake, today is no exception although I'm not sure if the photos make it justice.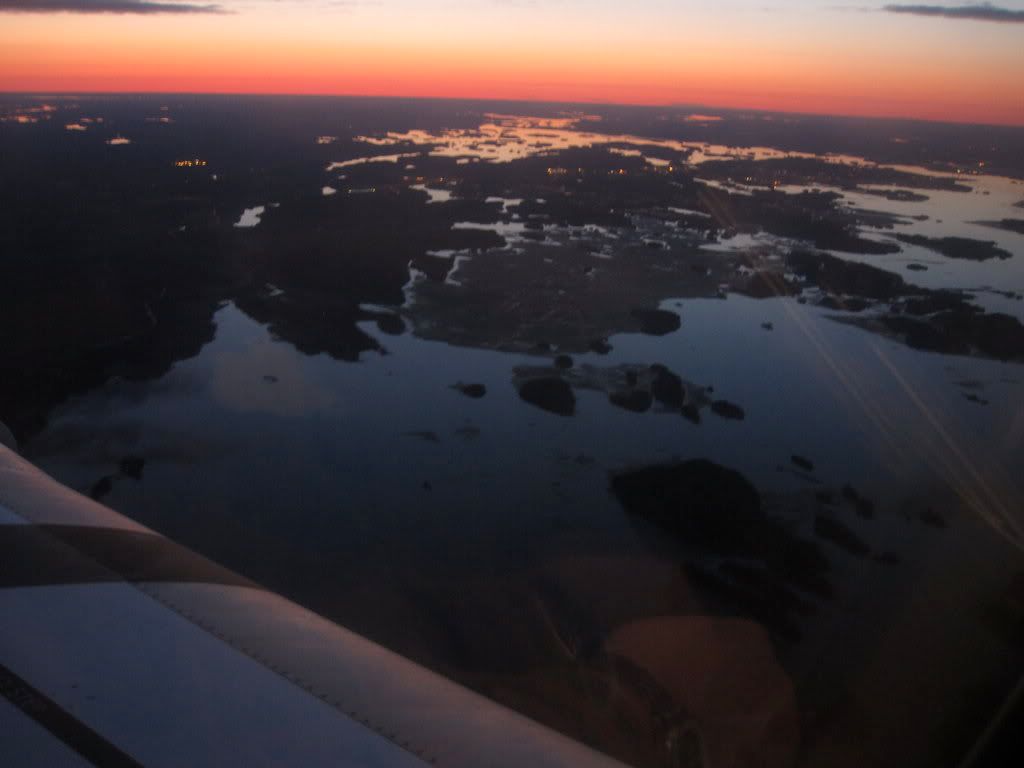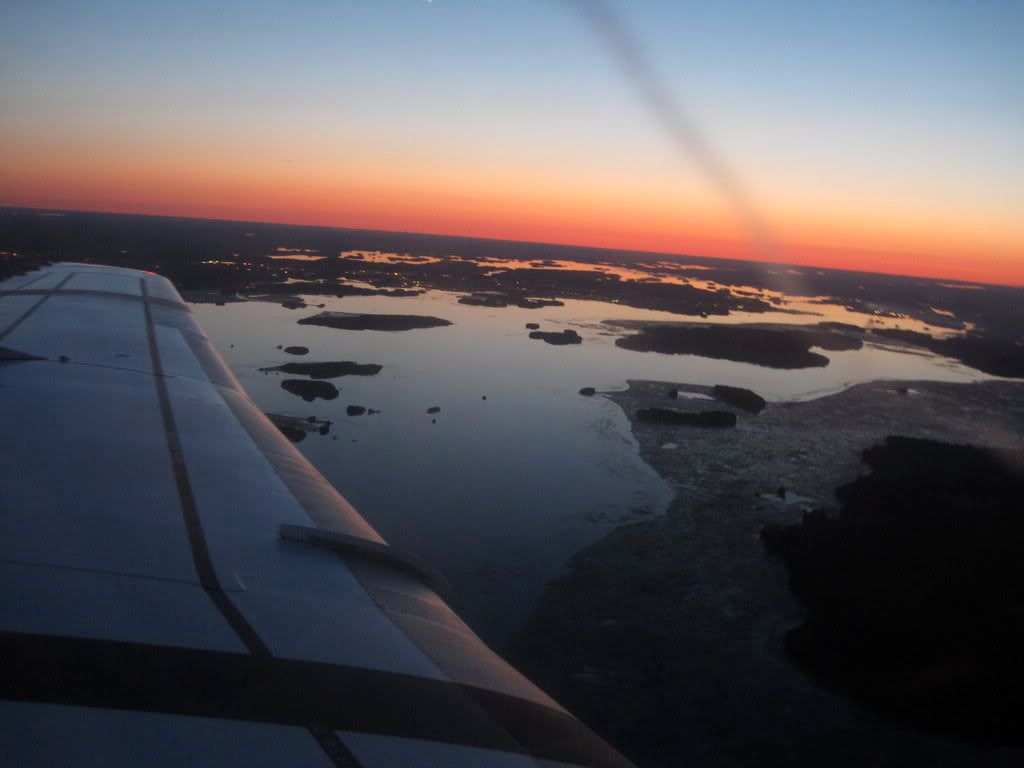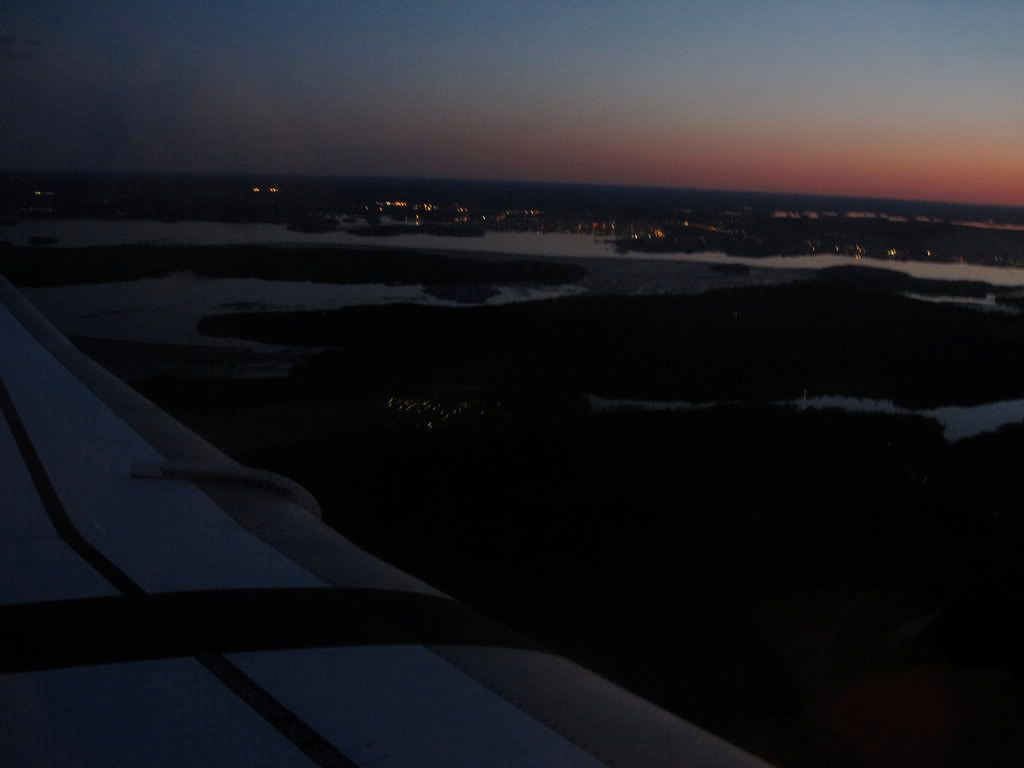 Those bright lights belong to the Savon Sellu pulp factory - famous for making the whole city smell bad when the wind is from the north: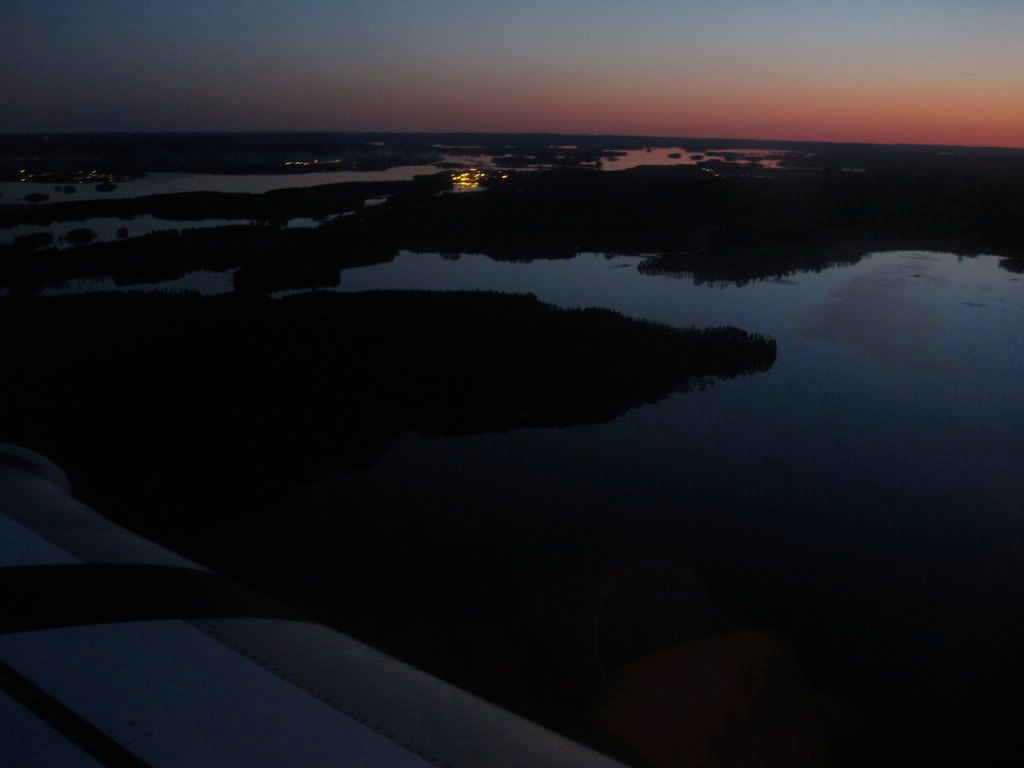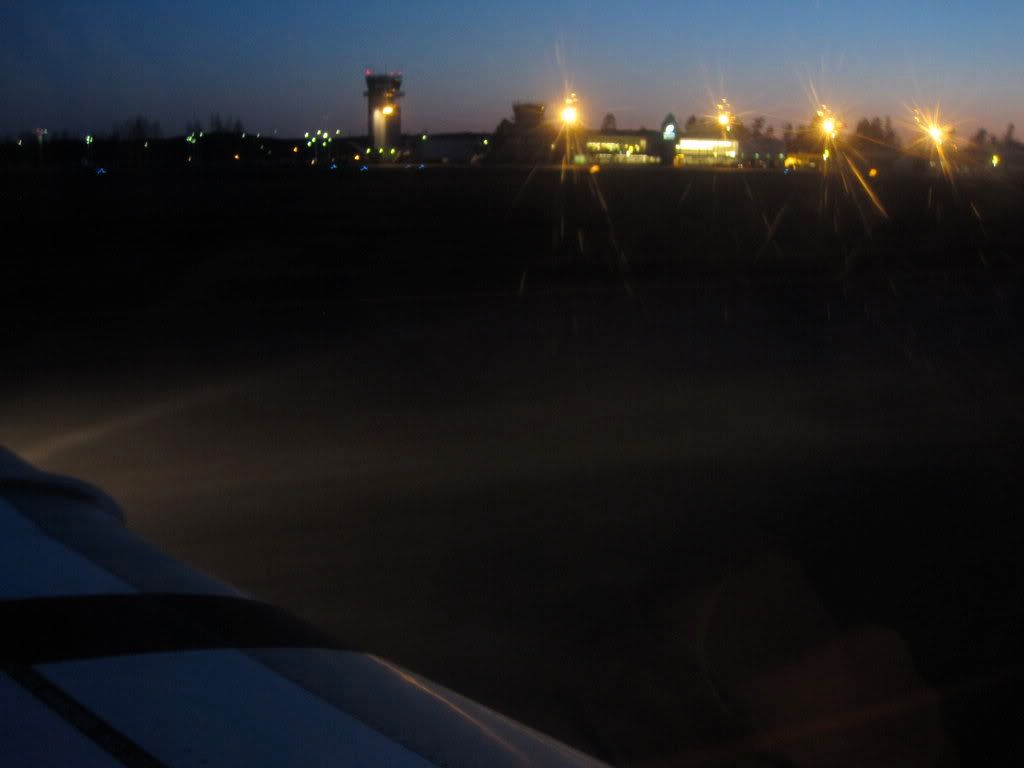 Landing is 28 minutes early after less than half an hour of flight, followed by quick taxi to the apron. I spot the evening KF flight from HEL approaching after us, a good 20 minutes early as well.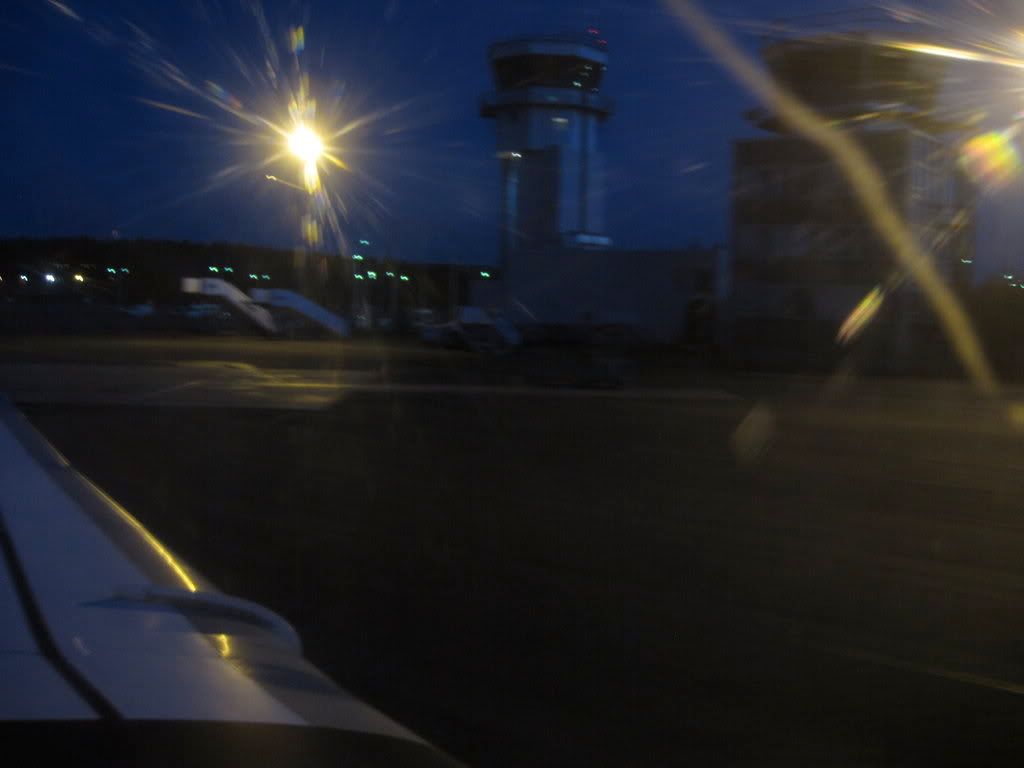 During deboarding I tell the French stewards "Merci. Au revoir!" - they seem to appreciate my effort to speak French. While taxiing to the apron I spotted my dad through the arrival hall windows, but now I don't see him anymore. Inside the terminal I find him sitting on a bench, he's real surprised to see me as I told him I was flying airBaltic and he thought this was a Blue 1 plane (well, it does have "Blue" in its title
). We get in the car and are at my parent's place by 11, my original arrival time.
That guy in the window on the right hand side is my dad: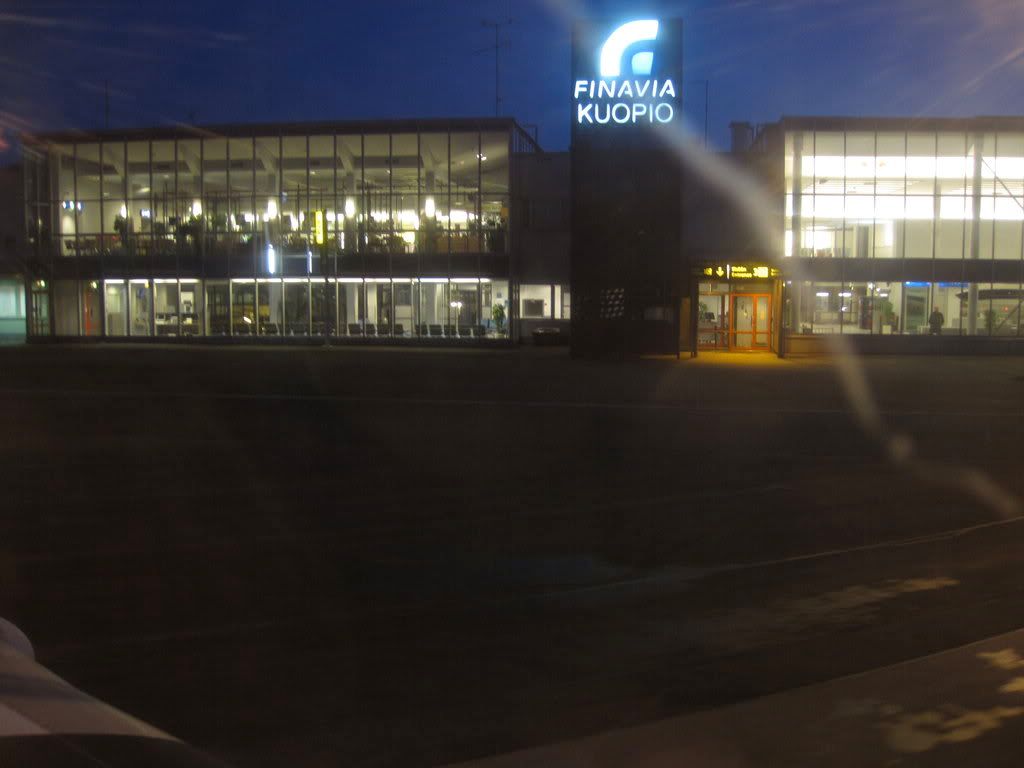 The next morning I flew back home on FC, that was another very standard flight with not much to it - apart from landing in Helsinki where it was almost zero degrees and SLEETING - come on, it's May for crying out loud! Actually when at the Kuopio airport I overheard some ground staff talking about the morning BT flight to LPP - apparently the airport had provided a cake and some other celebratory material - looks like I should've flown on the other direction!
Conclusions
Like they say in Forrest Gump: "Life is like airBaltic - you never know what plane you fly". Very happy about my flight being operated by this relatively rare carrier and plane - sure beats a boring F50. Too bad there weren't any celebrations at Lappeenranta, at least my hometown folks put a bit better effort judging from the ground staff talk... I have a bunch of bookings in May that are scheduled to be on the Dash, let's see what planes I will end up.
The next trip is about more new BT routes from Finland, doing VAA-RIX-HEL and TMP-RIX-TLL-TMP during one weekend, all scheduled on F50s at the moment.
Happy contrails!