I just finished up school for the semester so I decided to go home for a few days via LAX for some In-N-Out and plane spotting. My first two legs were MCO-DFW-LAX, both on MD-80s in coach. The flights were your typical non-rev AA MD-80 experience, non-eventful and predictable
.
On approach to LAX
In-N-Out was, of course, delicious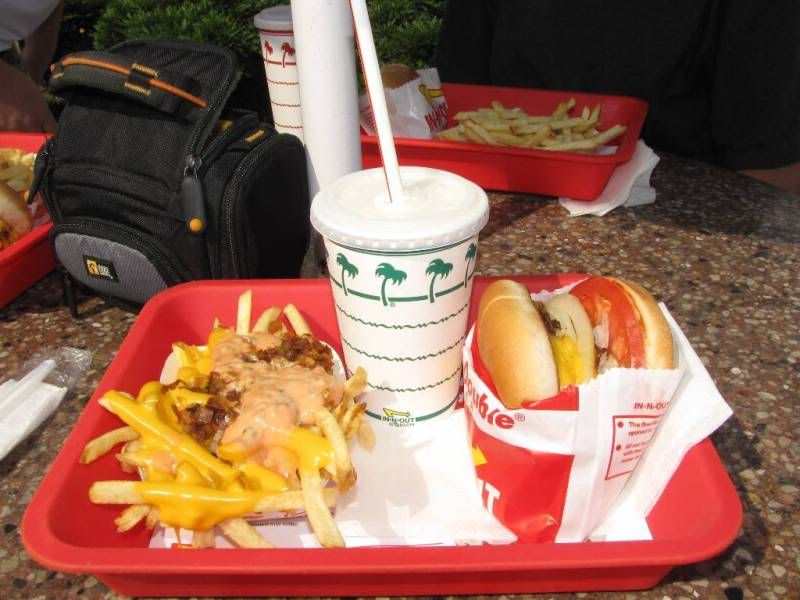 I didn't take any pictures of aircraft because I was only there for about an hour. Some interesting things seen:
Oneworld Cathay Pacific 777-300
C-GWSZ, a WestJet 737-800 with a special paint scheme.
American Airlines Flight 22
Boeing 767-200
JFK - LAX
May 6, 2010
First Class, Seat 2H
Originally I was standing-by for J, but as I expected it filled up and I really didn't want to fly in Y after flying all day. Just prior to my flight I was in the non-rev lounge checking the flight and I met a retired mechanic and his wife who lived in my hometown in New York. It really is a small world! They had just come from JFK and were on their way to KOA later that evening.
I spent so much time chatting, I got to the gate for JFK as they were boarding and they had already given D3s (lower priority stand-bys) all the seats in F. Needless to say I was a little upset, but flight 180 was leaving in another two hours, so I would just wait for that flight. The gate agent informed me that there was one seat open in F but the passenger had not checked in and she couldn't release the seat until the flight was ready to leave.
After waiting, the passenger didn't show and i got on
I took my seat and the door was closed behind me. This was the first time I had been in the refurbished F seats and they were very nice. Of course me being, 5''1', my feet were dangling and I couldn't touch the floor sitting all the way back
. I had quick glass of OJ before takeoff and in a couple minutes we were airborne. Above 10,000 the flight attendants issued out the entertainment units (I love the bose headsets) and began the meal service. The purser was very professional and polite and addressed everyone by their name.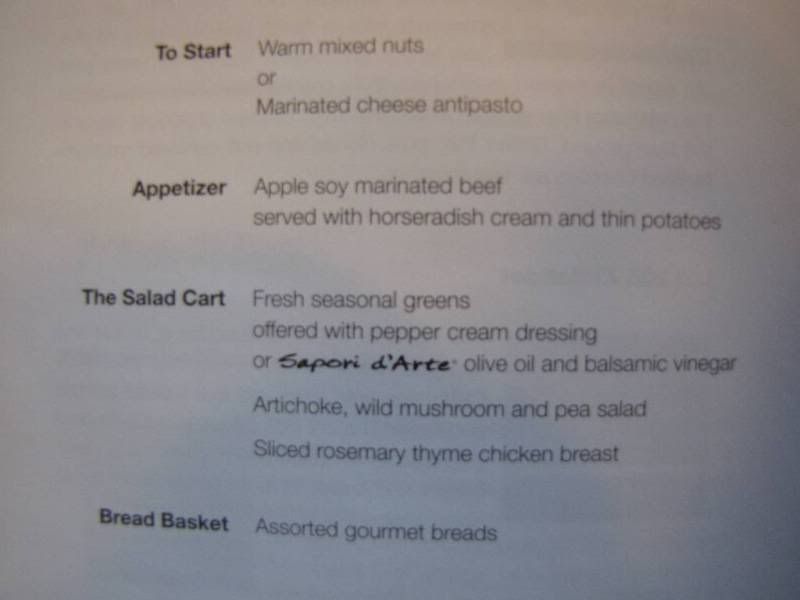 Enjoying a rum & coke and some warm mixed nuts (I had already eaten the cheese antipasto)
Also, having internet on this flight is very convenient and definitely worth the $12.95.
Appetizer: Apple soy marinated beef served with horseradish cream and thin potatoes
Salad and bread
Three choices for the main course. I chose the Beef fillet.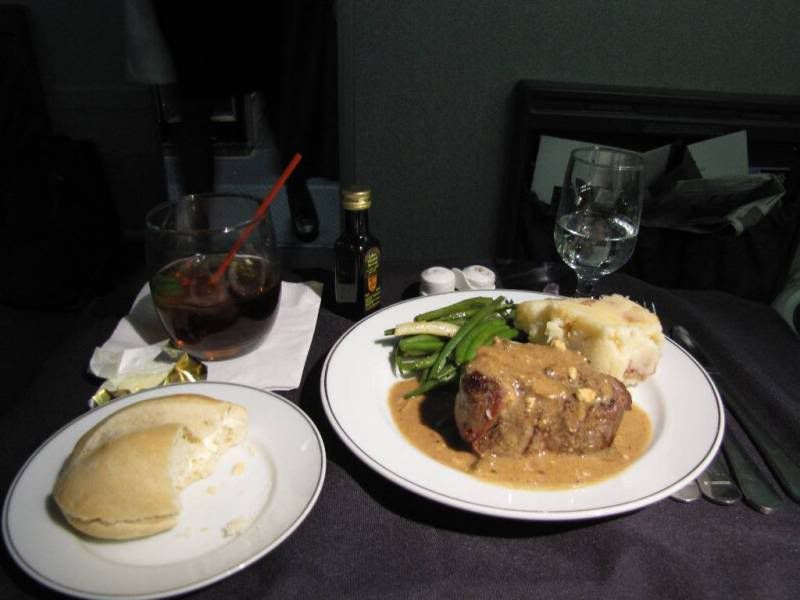 Main course. The meat and sauce was delicious, however I know a certain someone who can make a better mushroom sauce (Mrs. Bühler
)
By this point in time I was already beyond full and about 4 rum & cokes deep.
It was time for dessert...the best thing at American Airlines.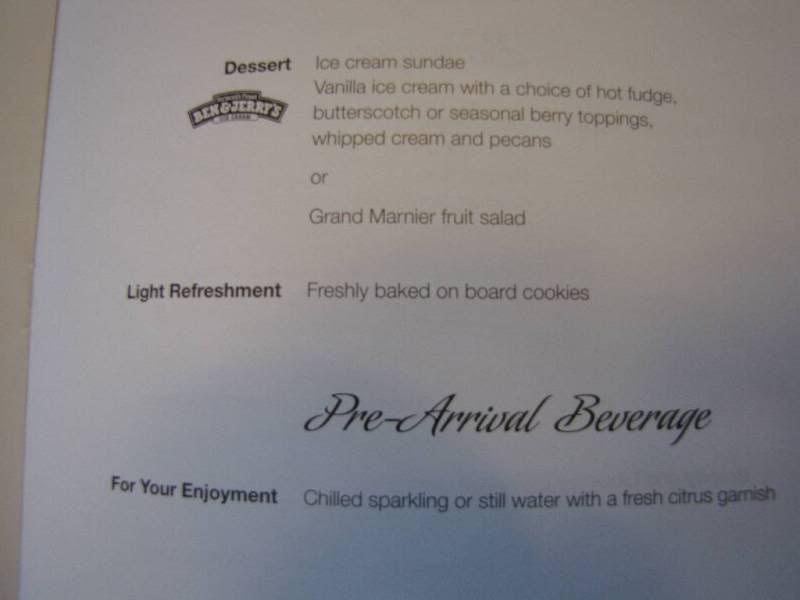 A little bit of heaven
I finished off desert with some coffee with baileys and watched a movie. Sitting there with the seat reclined, massage function on, beyond full, and slightly intoxicated I thought I definitely made the right choice not to fly Y.
Somewhere near Chicago, I was served a chocolate chip cookie with some cold milk. I was offered another and of course, I would never decline another cookie! I forgot to take a picture because the cookies were right there screaming eat me now!
After that I sipped another rum & coke.
Before I knew it, we were descending and the attendants passed out sparkling water. We landed on 4R and taxied quickly to the gate. At the gate I realized I didn't take a picture of the seat so I waited for everyone to deplane a snapped a picture.
The flight was a very enjoyable experience. I feel that there is still a level of prestige in flying a transcon in style on a widebody that AA pulls off very well. Thank you all for taking the time to read my report.