Introduction
Another new airBaltic destination in Finland to Riga still missing from my log was Vaasa. Back in March I flew the tag on route across the Gulf of Bothnia to UME in Sweden on the inaugural flights, see report here:
A Night In Prison: HEL-VAA-UME-VAA-HEL
(by
FlyingFinn76
Apr 1 2010 in Trip Reports) I didn't do the actual continuation flight VAA-RIX back then, so its turn was now. The flight was booked a long ago, actually before the UME stop was announced, back in December 2009 for around 50 EUR. A bit later I added a RIX-HEL flight to get my home for another 50 EUR.
The flight schedules were such that I needed to overnight in Vaasa as there was no flight that would get me there in time for the 7.35 departure. I had the option of flying or taking the train - both cost roughly the same at around 60 EUR. I decided to go for the train as it gets you right in the city centre, avoiding a 20 EUR taxi trip from the airport - the bus connections to VAA airport are very limited.
7.5.2010
On this depressing gray and rainy Friday I nip out of work a bit early around 15.00, walk to the nearest train stop and take a local train to Pasila, where I board a Pendolino train bound for Oulu a bit later: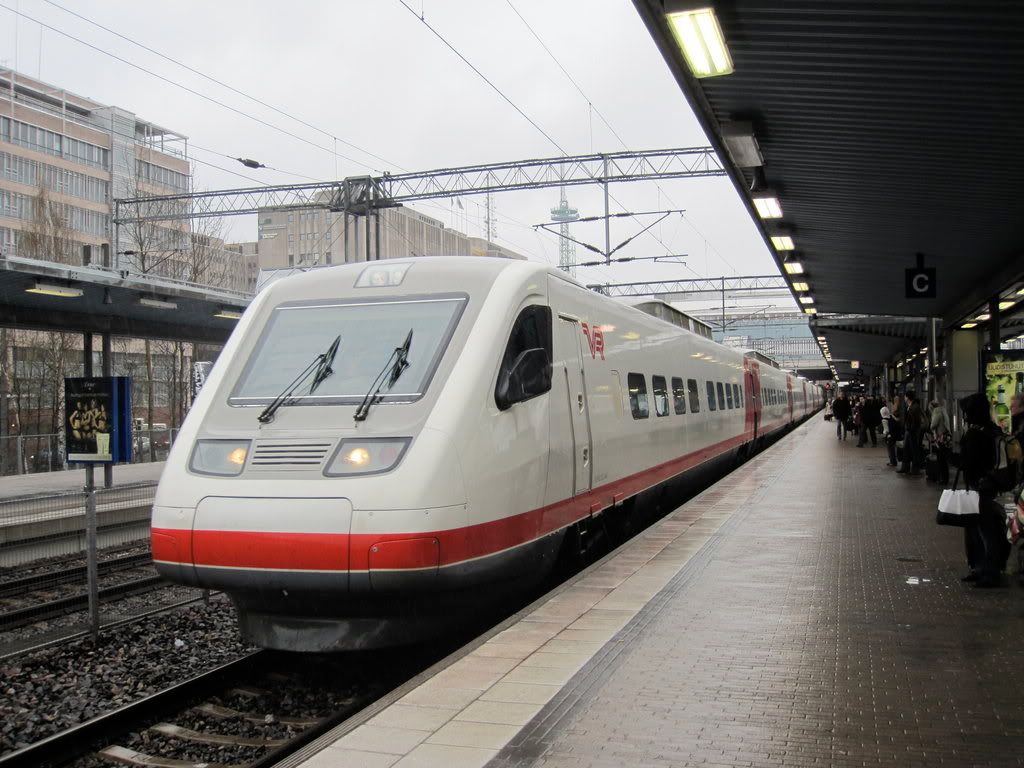 As it is Friday night the train is absolutely packed, actually they have combined two single train units to make one larger train and yet there aren't too many vacant seats. I try to drink some beer at the restaurant car but it is not very comfortable as there are so many people around here. Two and half hours later I step off the train in Seinäjoki, the "Dallas of Finland" to connect to a regional train to Vaasa which takes a bit over an hour.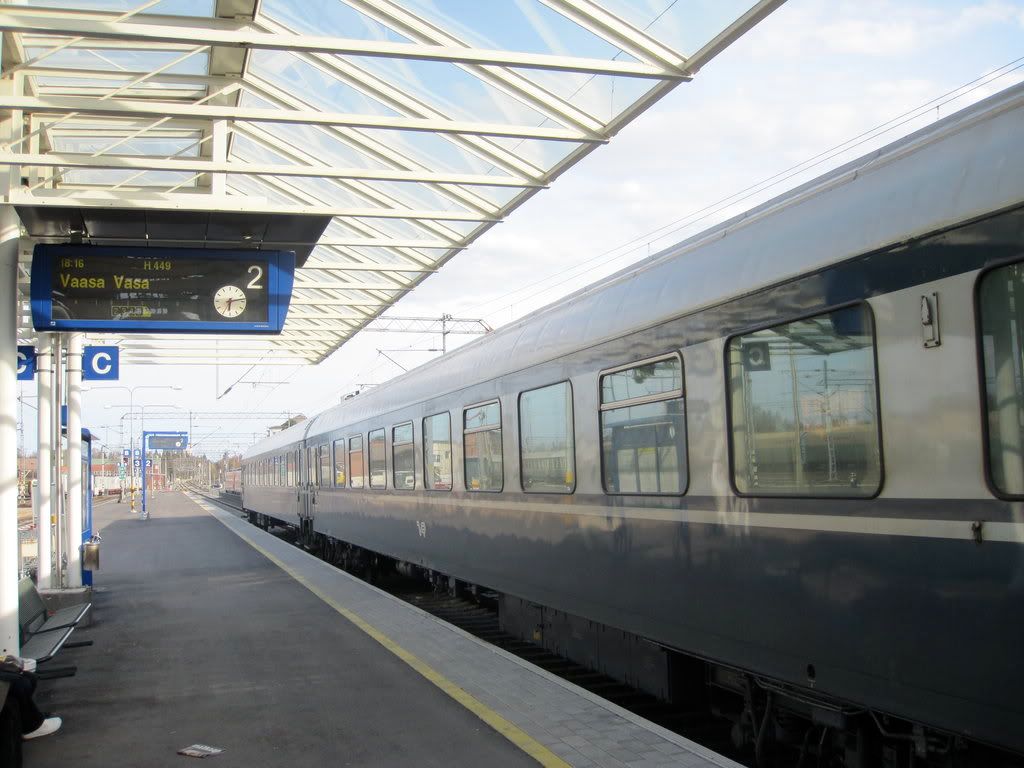 In Vaasa it is a short walk to the main market square where my hotel, the Sokos Hotel Vaakuna is located.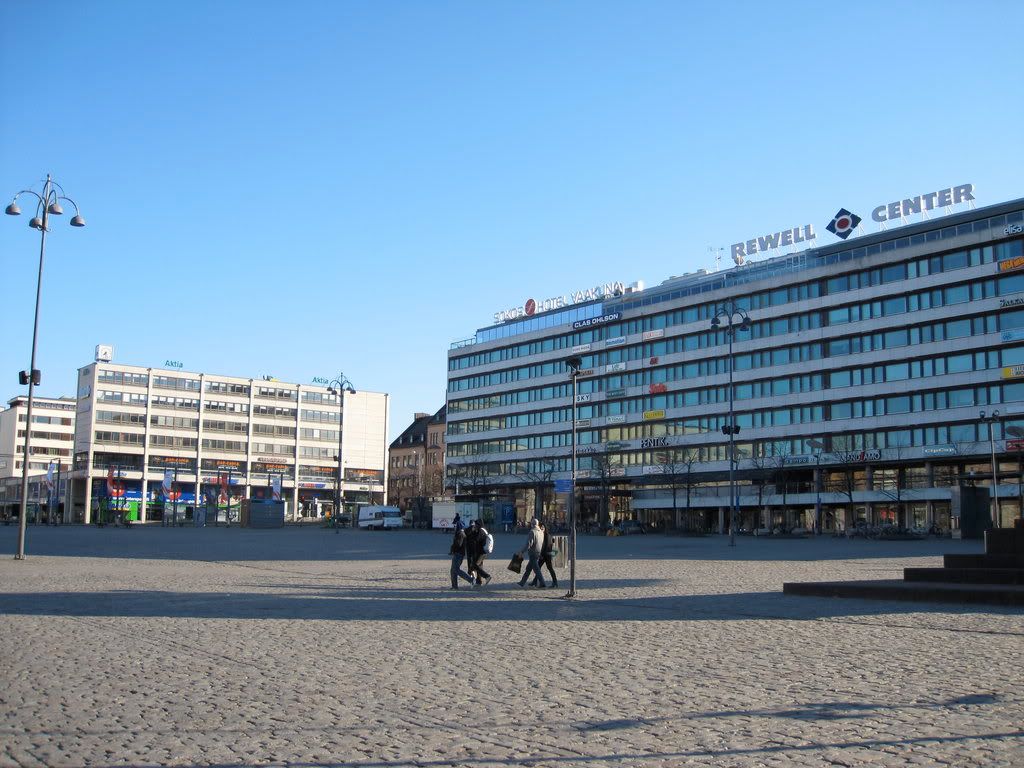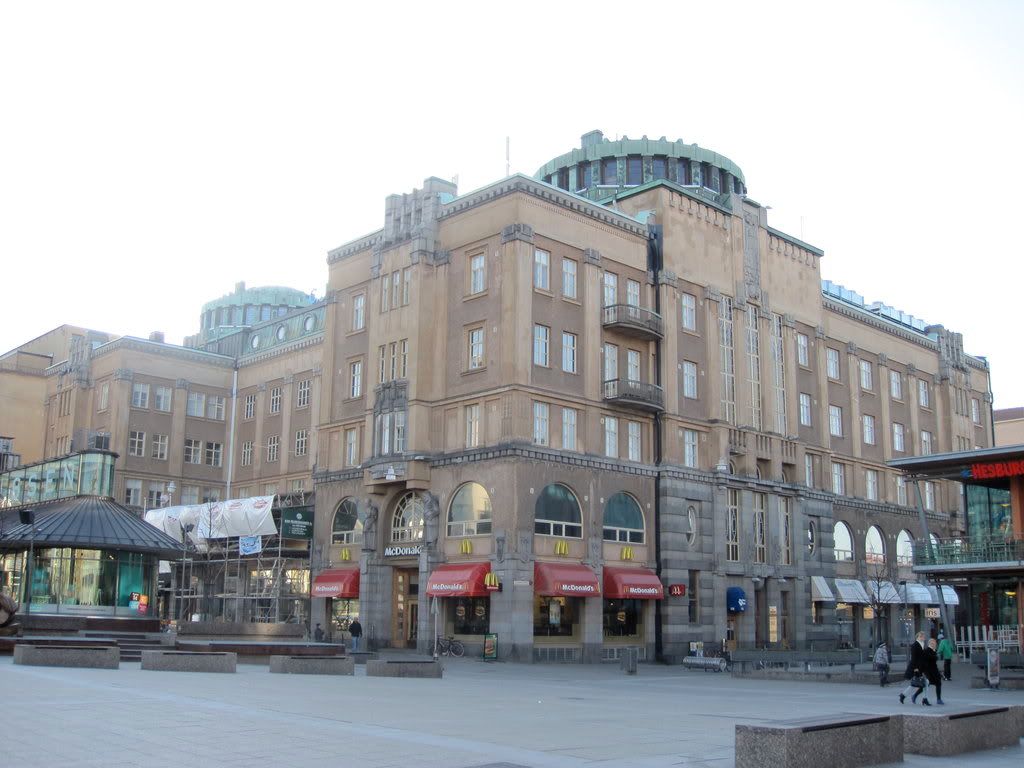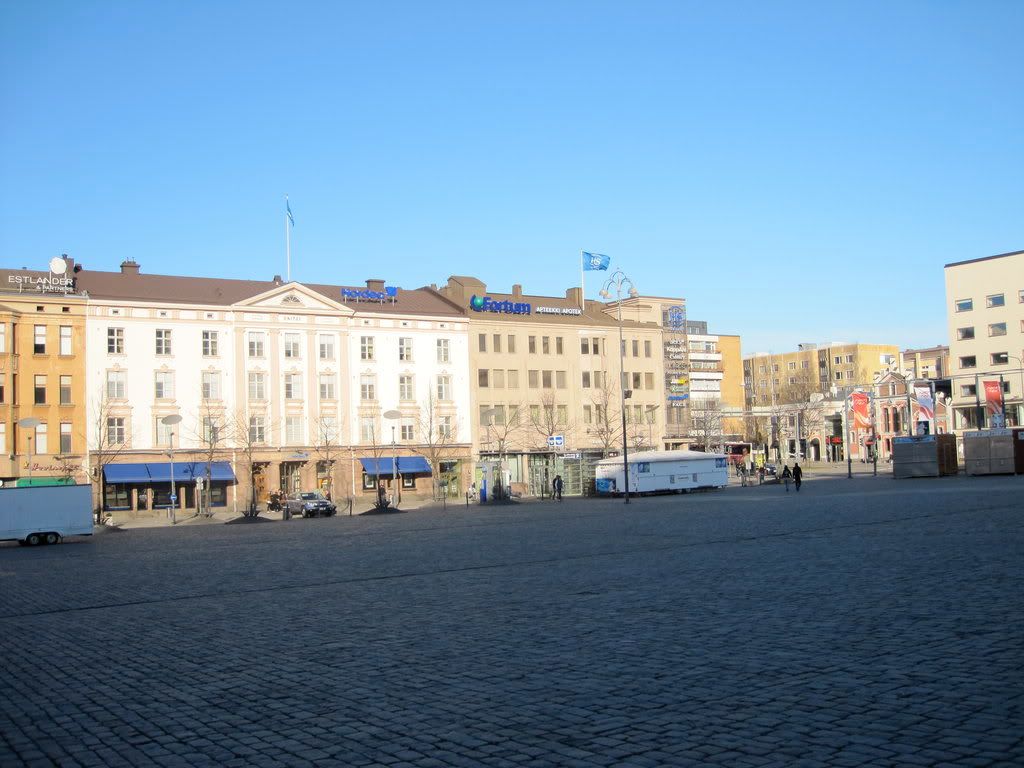 I found a great online rate for only 59 EUR for this very standard but comfortable enough example of this ubiquitous Finnish hotel chain. My room is a bit on the small side and the weird concrete pillar in the middle makes for a claustrophobic feeling, but with free wifi it's fine for a short one night stay.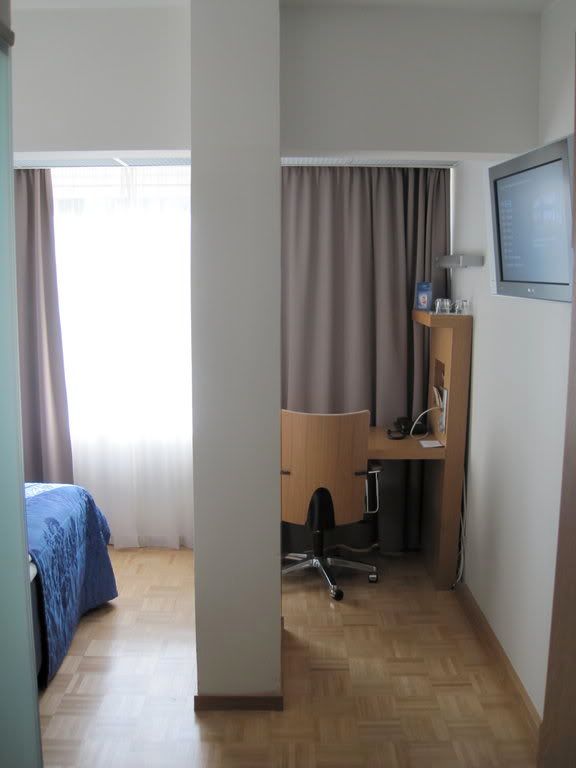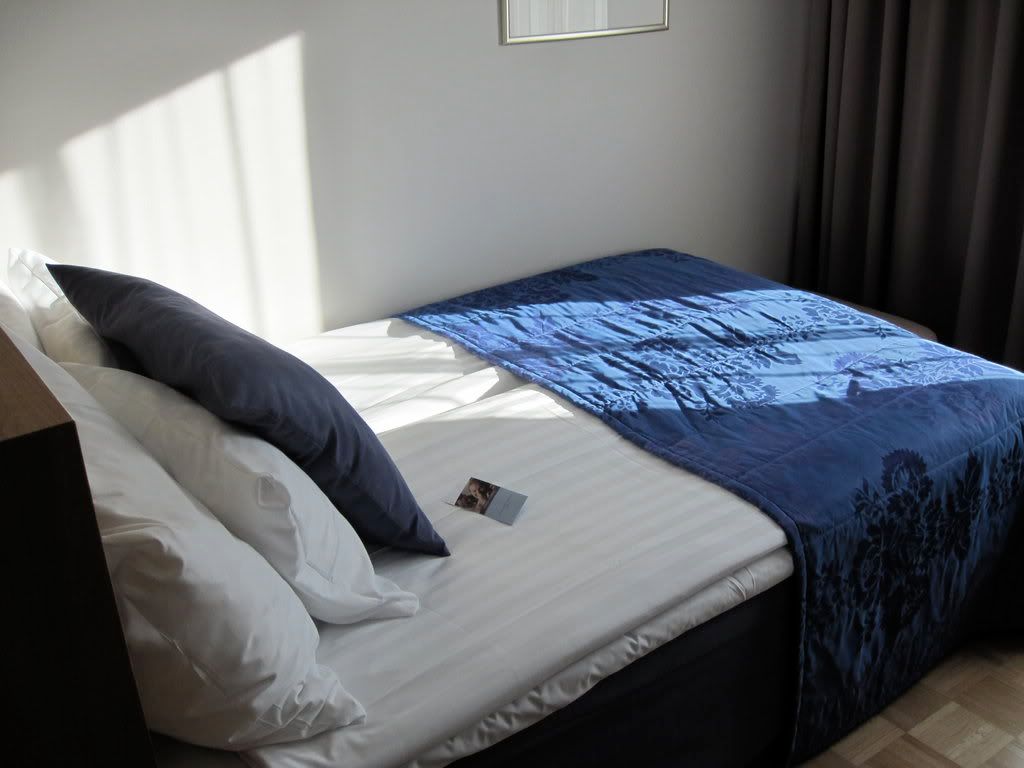 I eat some vaguely Mexicanish supper at the hotel's Amarillo chain restaurant before taking a small walk around Vaasa - you gotta love Finland in the summertime, it is past nine and the sun is just setting.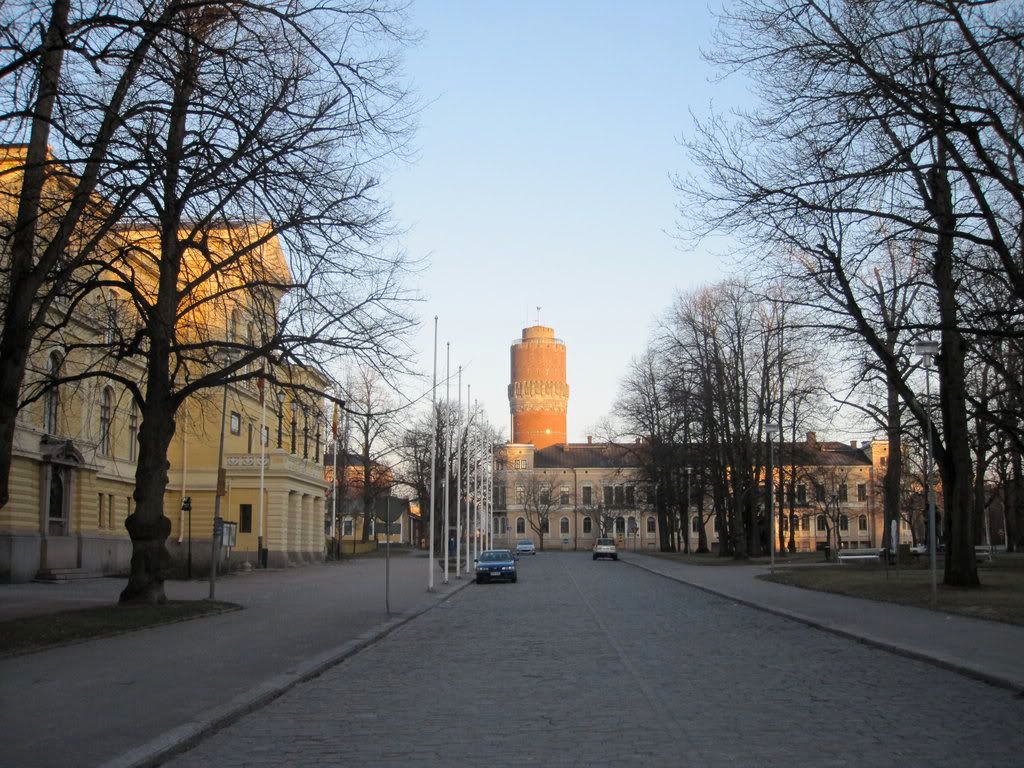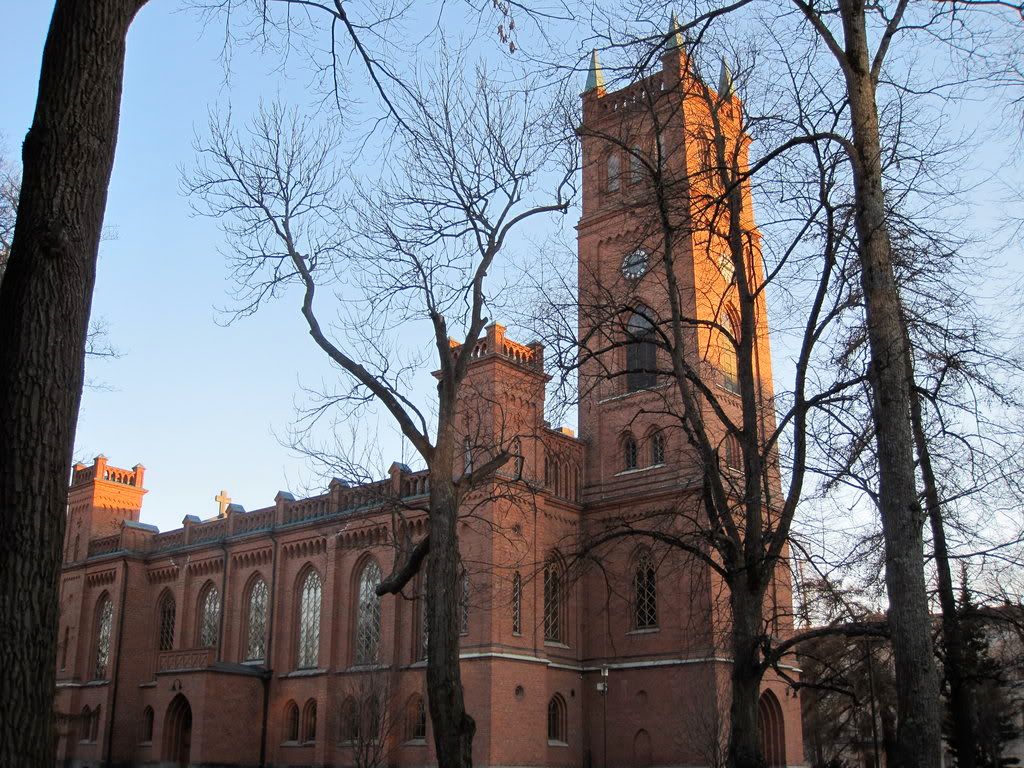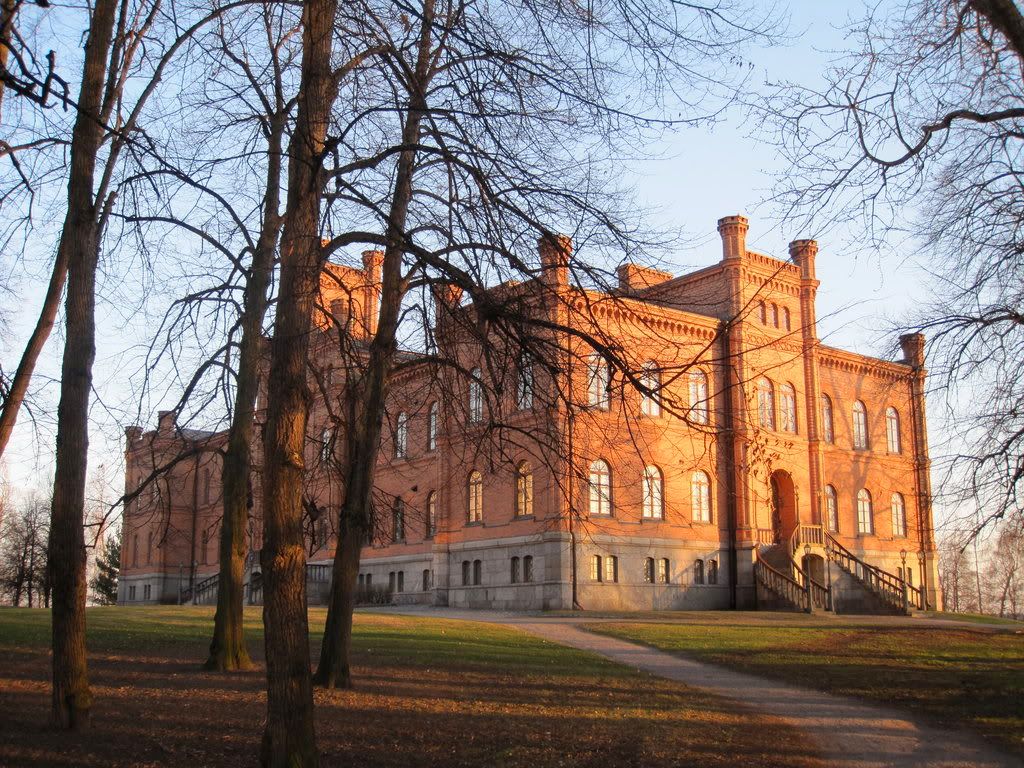 They used to claim that Vaasa was the sunniest city in Finland before proven wrong - Mariehamn in the Åland Islands officially has a few more sunnier days per year on average, but then again calling Åland Finnish is always a bit dodgy...
. Anyway the weather up here is sunny:
I retire early to the hotel to get some sleep (yeah right, more time in front of the laptop) in anticipation of the early wake up call the next morning.
8.5.2010
Woken up by my mobile around 6.00 I am completely disoriented by some deep dreams - it takes a while before I figure out where the heck am I and what an earth am I supposed to do next. Quick shower, pack up the stuff, nick the hotel pen and stationery (my wife keeps complaining about this habit of mine!) and down to the lobby to checkout and have the friendly reception guy call me a taxi, out to the taxi and arrive at the airport around 6.45 or so. The taxi driver was quite a jolly guy, I think I managed to overtalk him into flying with BT to RIX for a summer break
. There's a sizeable bunch of folks queuing at the airBaltic/Blue 1 check in counters so I use the self-service machine instead. I smell something fishy as it doesn't let me choose my seat, instead spitting out a boarding pass with "GATE" in place of the seat number.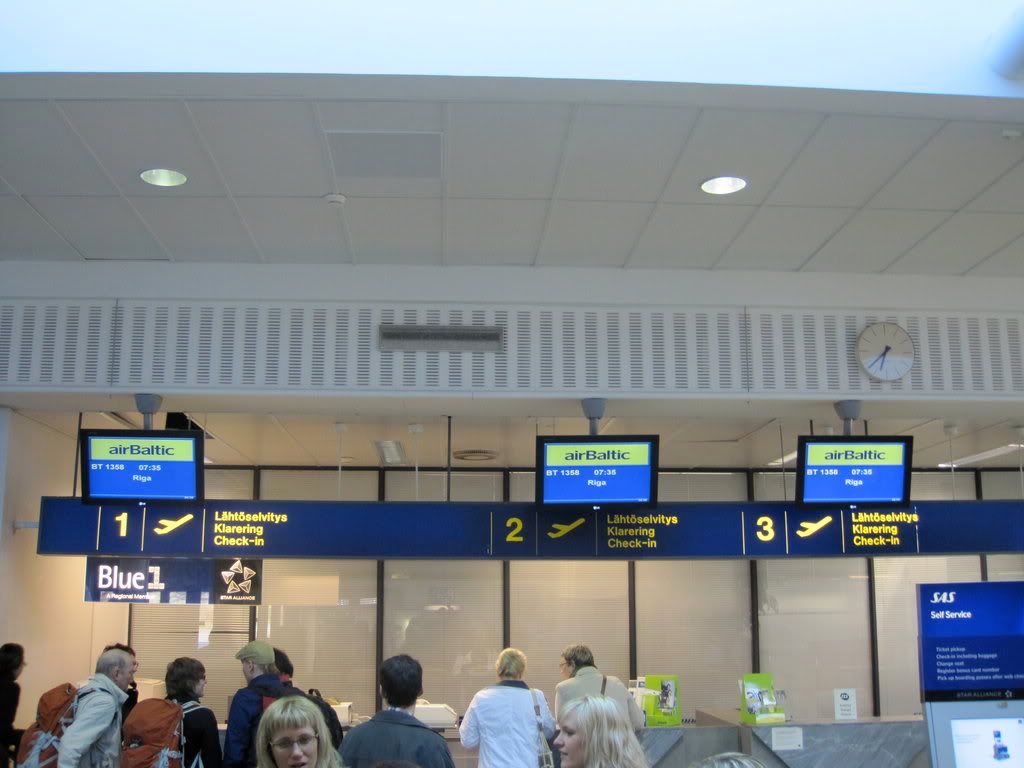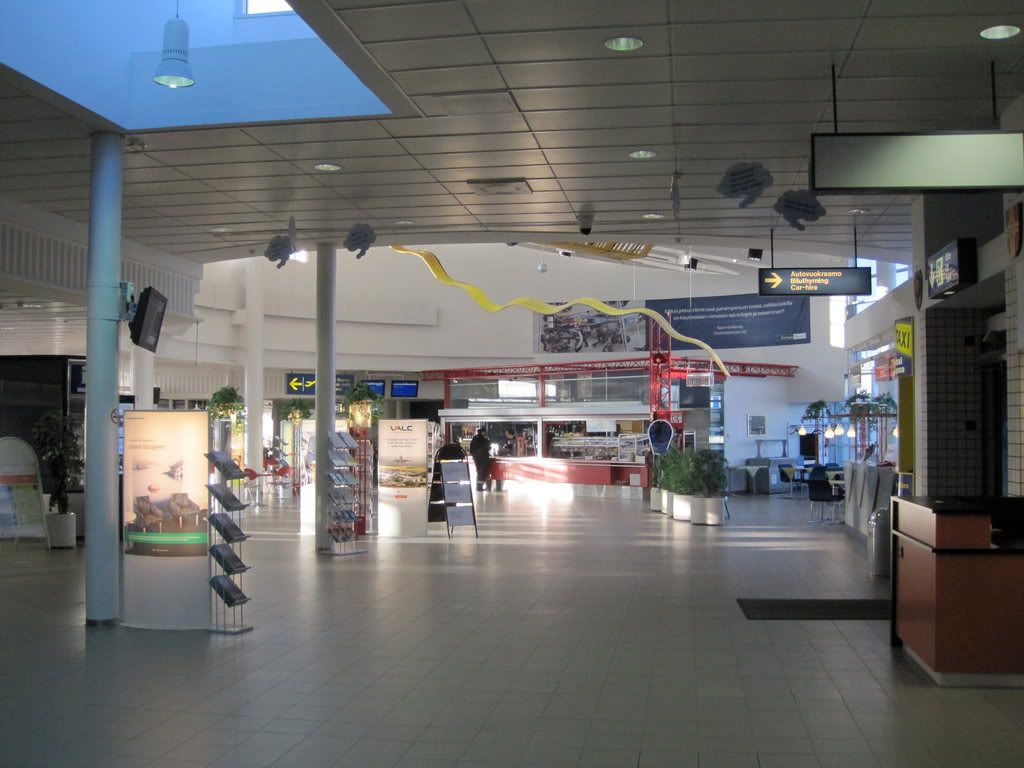 Oh well, I'll deal with it a bit later, first order is to get some caffeine into my system and luckily the coffee shop is already open. One cup of coffee and a Karelian pastry (a Finnish thing) later I head back to the now deserted check in counter to ask the lovely young lady there about a seat assignment. She looks at me funnily - I sense something is going on here. She asks if I'm going just to Riga - I answer that yes, adding that I'm actually going to Helsinki a few hours later, on a separate ticket. That certainly made a beep at her radar and she decides to drop the bomb: "Actually, the flight to Riga is overbooked - would you mind flying directly to Helsinki instead?". I tell her that no, I wouldn't mind at all if we can agree on the terms (comp*cough*ensa*cough*tion) - she says that she needs to call Riga to get approval. Fine, take your time, I'm going to visit the little boys room while you do so.
After I come back she offers me 500 EUR in BT travel vouchers (exchangeable for 250 EUR cash should I decide to do so) and a seat on the 10.25 Finncomm flight to HEL. I contemplate this offer for around two milliseconds before telling her "Let's do it!". She explains that there's still one person who hasn't checked in so I'll need to go to the gate and they will call me if my seat is indeed needed.
Ok, I head to the gate, chatting for a bit with the friendly security agents who for once are actually happy to speak Finnish with me - and right when I get there the gate agent (who is not very fluent in nor happy to speak Finnish) tells me that the last passenger checked in and that I should head back. I do this - the security people get a chuckle out of me going back and forth - heading for the girl at the check in counter again. She tells me that airBaltic doesn't normally overbook flights here, but for some strange reason the Umeå station had still sold one last minute ticket on the flight this morning - and since it was already 100% full from VAA onwards they ended up being overbooked by one. I say that fine, that last minute booking probably cost so much that it will cover my rebooking and denied boarding compensation... As a bonus she gives me a 6 EUR refreshment voucher for the cafe and tells me to go there and she will come back with the vouchers and paperwork when done. Just for the heck of it I ask whether it would be possible to get rebooked to HEL via ARN - I certainly wouldn't mind another ride on a Saab 2000 but she's only authorized to rebook me on the direct FC flight.
Ålandsbanken, a bank based in the Åland Islands (nice work, Sherlock!) recently unleashed some PR about opening of various "lounges" at some regional airports around (mostly the Swedish-speaking part) Finland. One of these airports was Vaasa. Here's the result: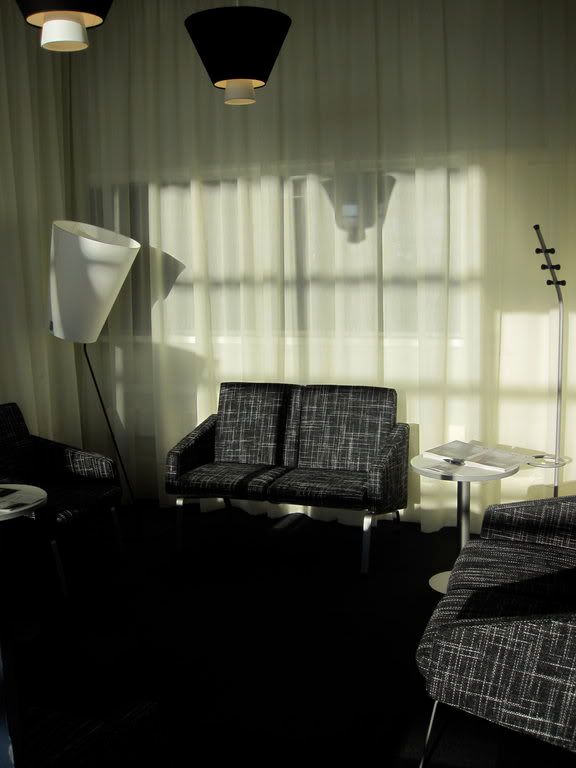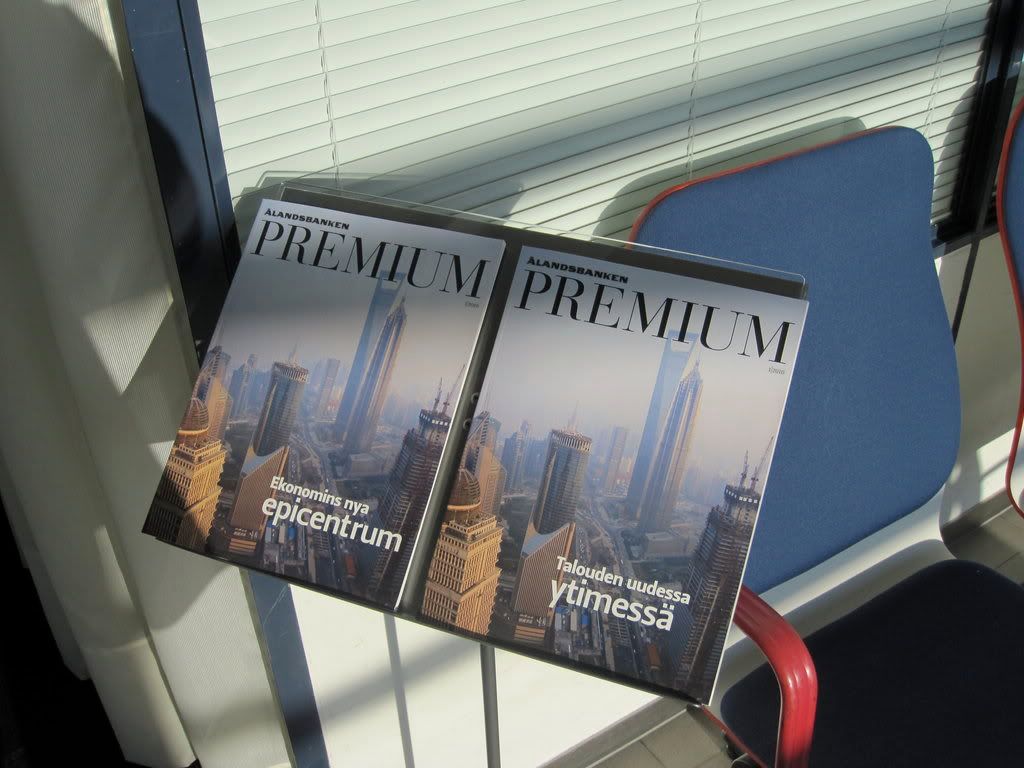 My idea of a lounge is a bit different.
So to the cafe I head to get a bit more substantial breakfast - I had actually planned on having one onboard the flight but this will have to do. I watch TF-JMN, the Air Iceland F50 leased to BT arriving from UME a minute ahead of schedule. Three passengers seem to deboard here. I have three hours to wait, but with free wifi, my laptop, abundant power sockets and lots of reading material with me I can easily manage - that 500 EUR in vouchers sure helps
.
A bit later the agent comes to me, handing me the precious vouchers and a FIM printout for rebooking on the FC flight. Another added bonus: she booked me on the AY codeshare instead of the FC flight number - that means I'll get some AY Plus miles as well, the FC flight numbers no longer qualify for any. I thank her but she thanks me instead
. In the FIM she filed me as "Involuntary Denied Boarding", I tell her that she can change it to "Voluntary" to make the statistics look a bit better but she doesn't bother...
Sometime later I head back to the check in to ask her to unload me from my RIX-HEL flight as I had done OLCI for that the previous day - she cannot undo the actual check in but can delete the whole reservation which should have the same effect. I say that "As I won't be taking that flight there's no reason why I wouldn't let airBaltic sell a last minute ticket for my seat".
I go outside to watch the Golden Air Saab 2000 operating the 9.25 KF departure to ARN: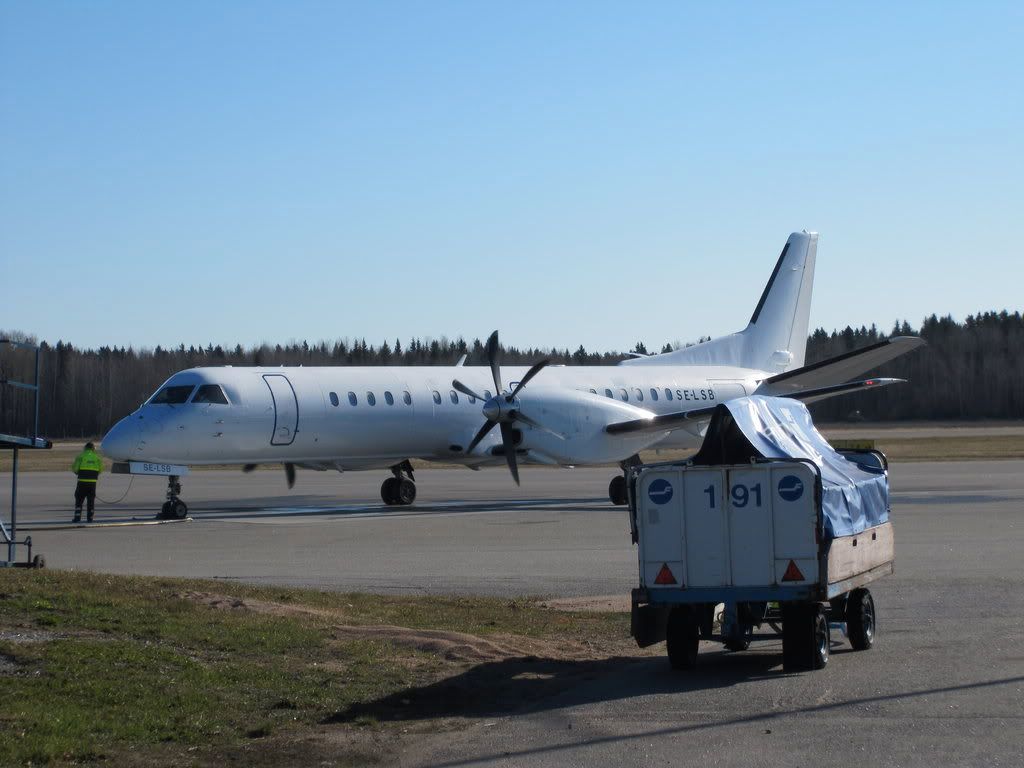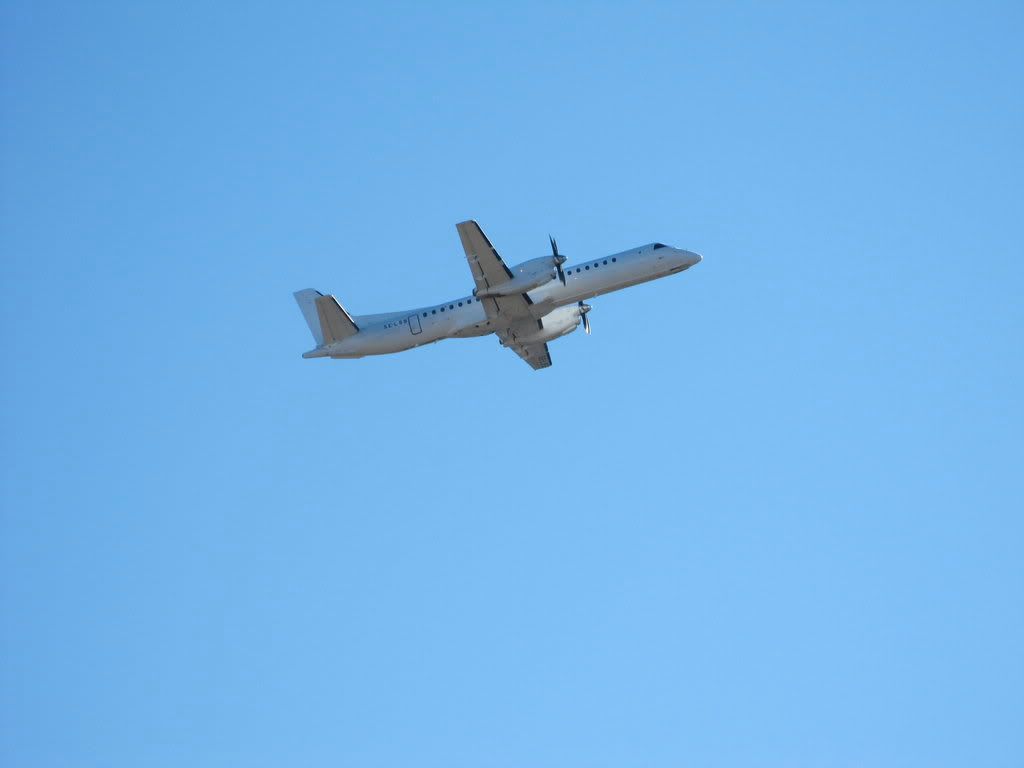 Back inside to hand in the FIM to the FC check in lady and to get my frequent flier number in. That done I sit in a quiet corner to watch the happenings - there's a group of ten or so Spanish passengers on my flight, probably connecting to the MAD flight in the afternoon - the BCN one leaves in the morning. A bit later three guys who look like Hell's Angels arrive with a blindfolded woman - apparently this is her hen party and she is going on a private Cessna flight to Sweden! She is very surprised when she realizes this...
Meanwhile I see my FC ATR landing from Helsinki ten or so minutes early and head through security to the gate area. The security people are surprised to see me again - I explain what happened and the lady is like "Oh, that's so terrible." I answer "No, it's actually great. I was going to Helsinki anyway, and besides I didn't walk empty handed out of it!". She doesn't really seem to get my point and looks at me a bit weirdly.
Boarding starts a bit later, the gate agent makes the effort to speak Spanish with the group of Spaniards - I ask if she can speak Savo (my native dialect, a twisted version of Finnish) with me but apparently she can't do it - I answer that "It's very close to Finnish anyway"
.
VAA-HEL
FC232
ATR72-500 OH-ATH
Seat 16D
10.23 - 11.18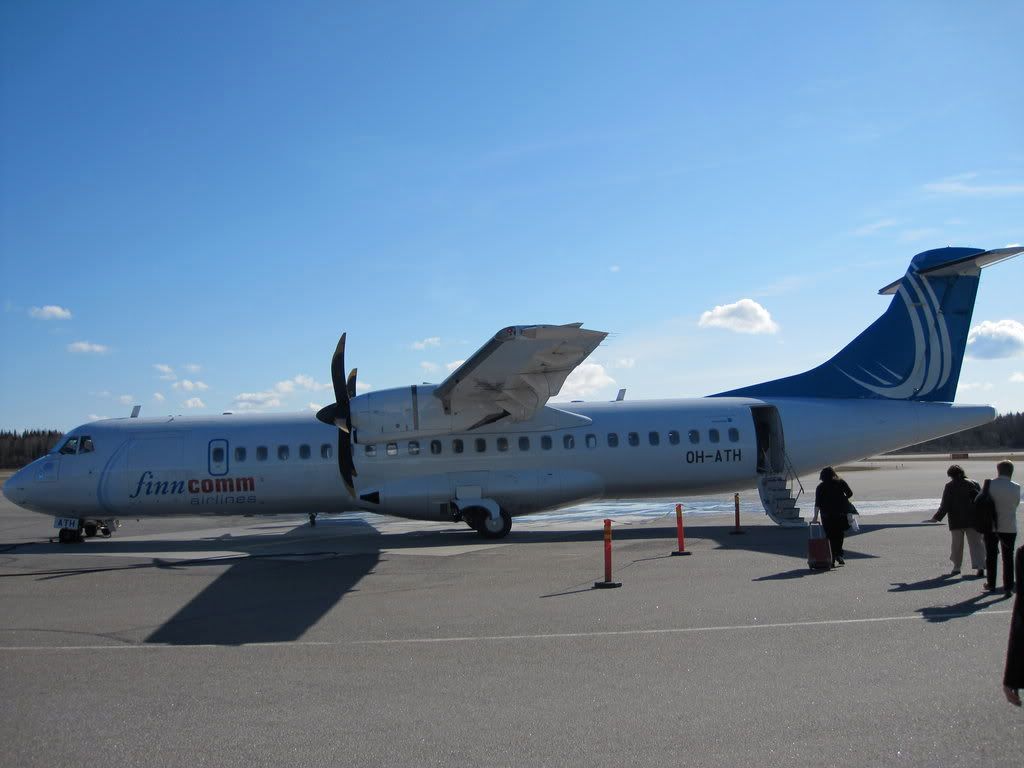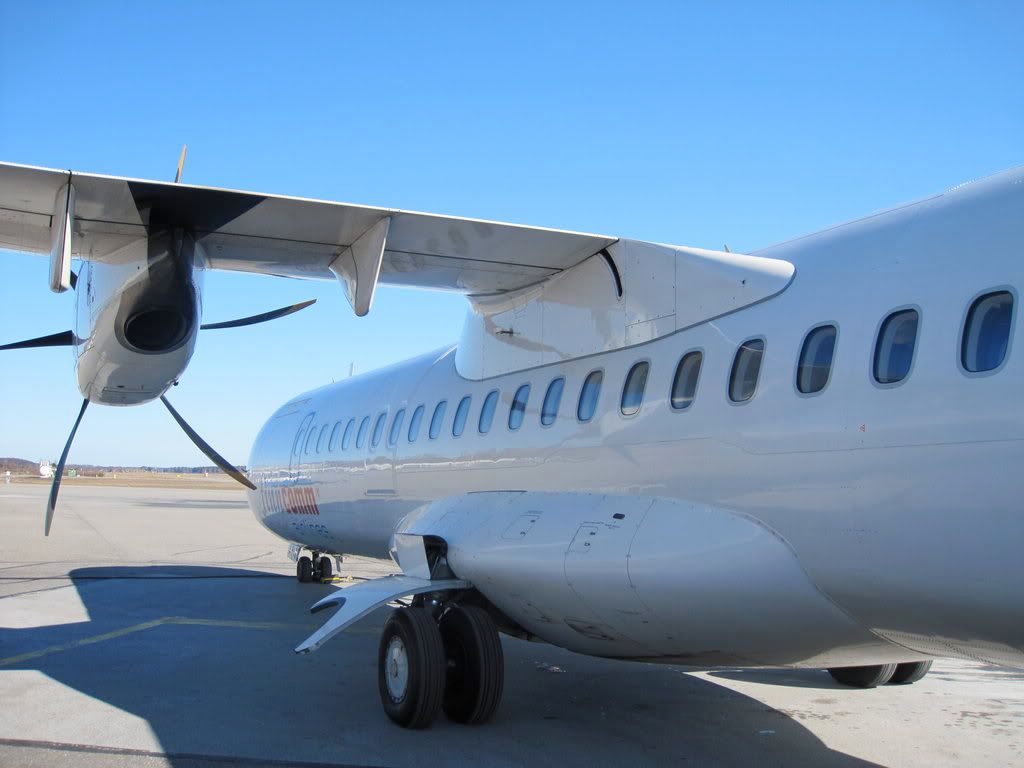 The ride is OH-ATH, my fourth flight on this one. After boarding is completed I overhear the passenger load being 32.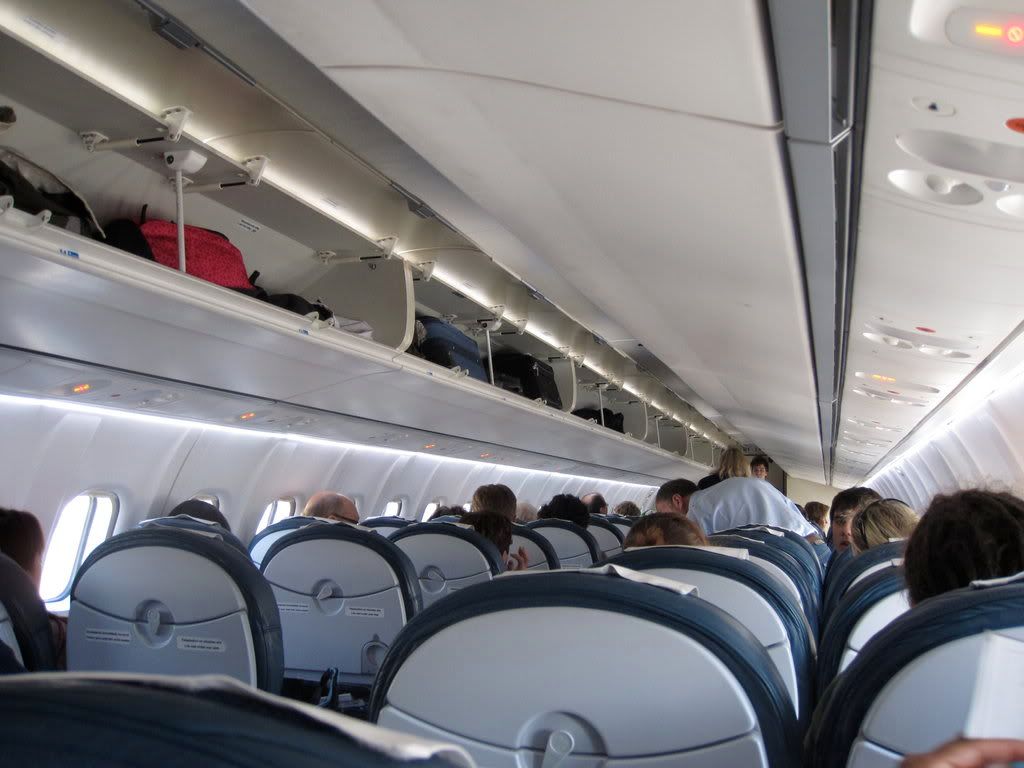 Our flight time is announced as 50 minutes and we depart two minutes before schedule, taxiing all the way to the end of the runway before turning around for a runway 16 departure.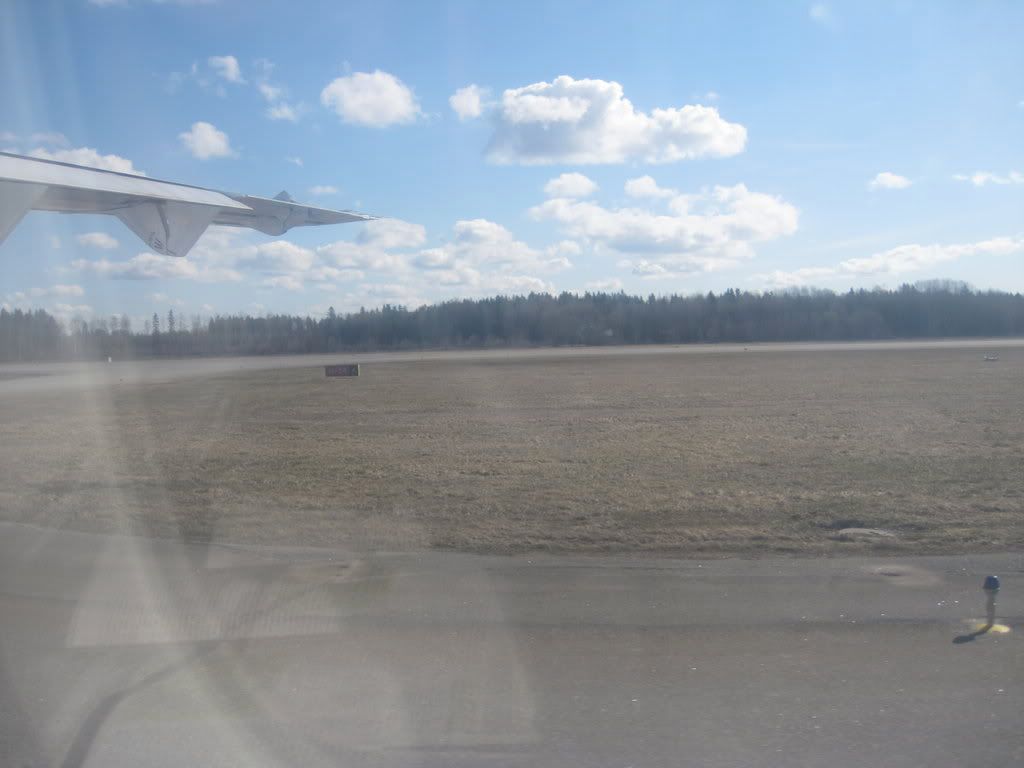 With Finland being so densely populated that it is hard to find any new farming ground, there has recently been an experiment to use the grass areas of airports for crops. Here's the preparation work taking place: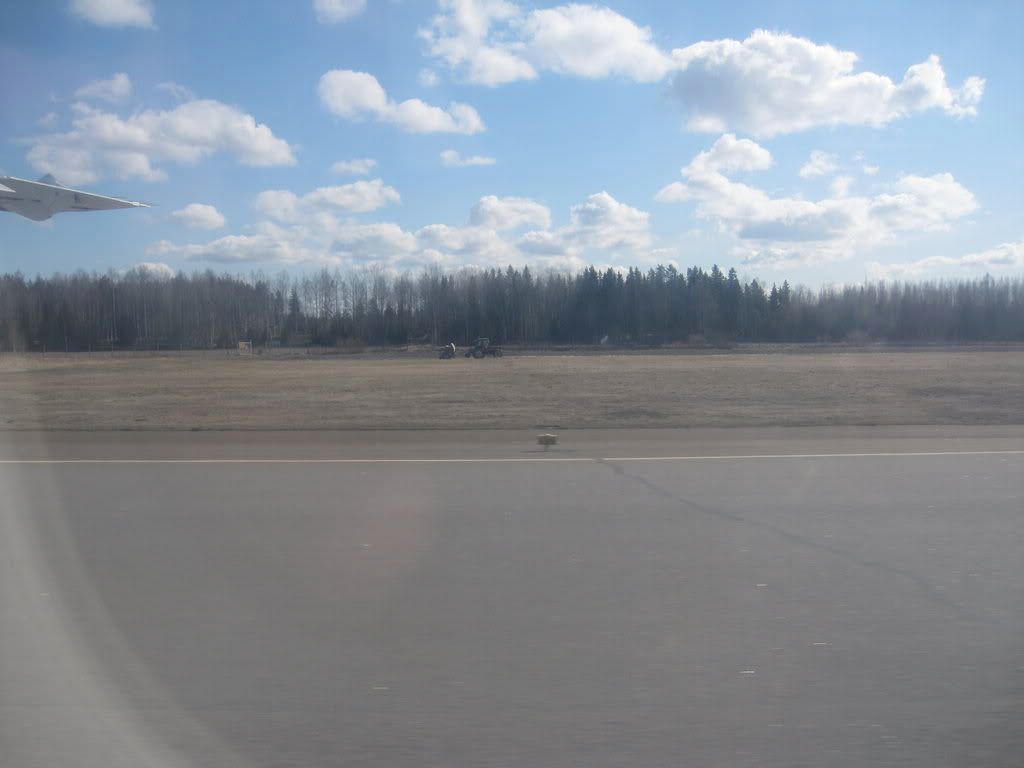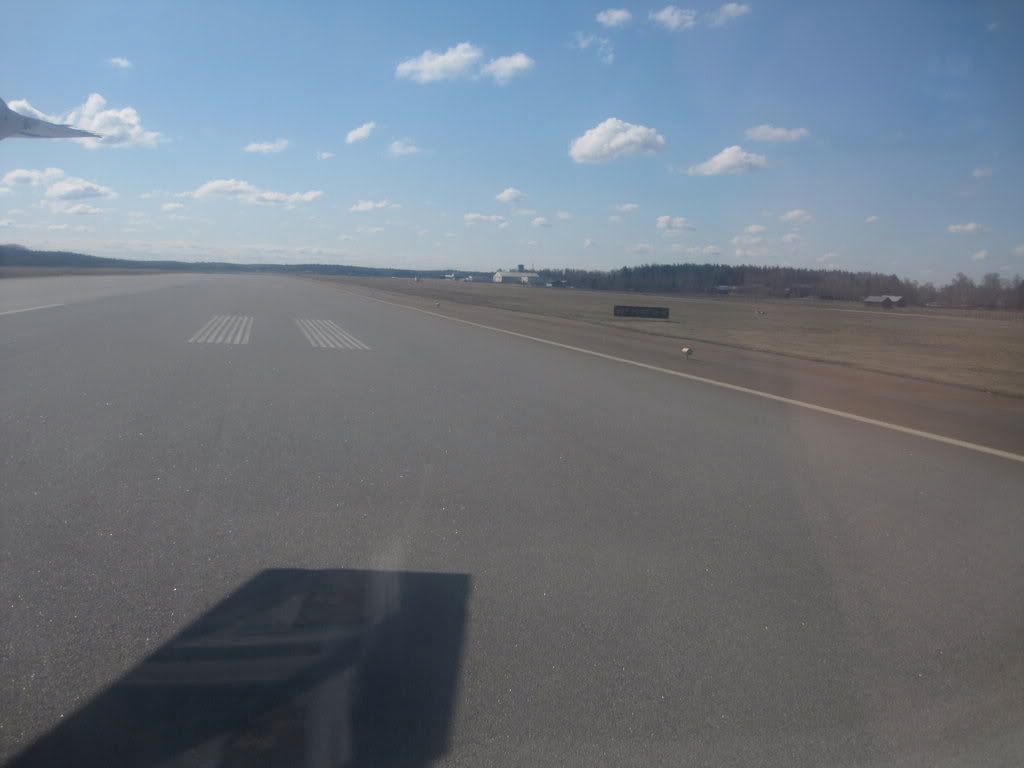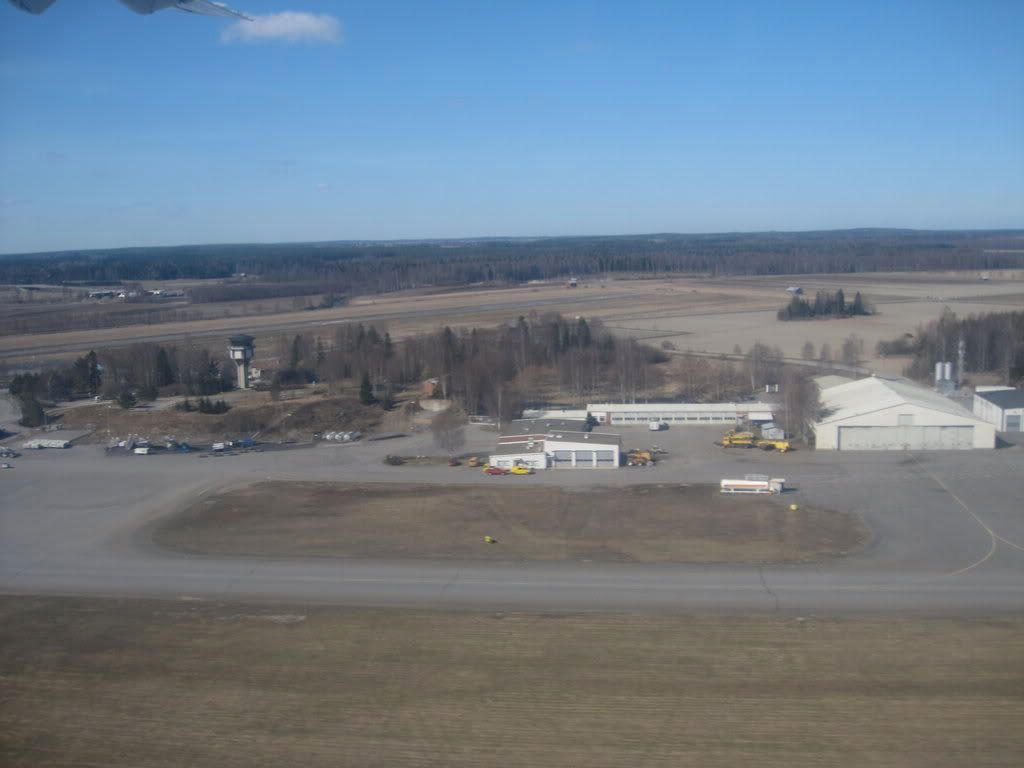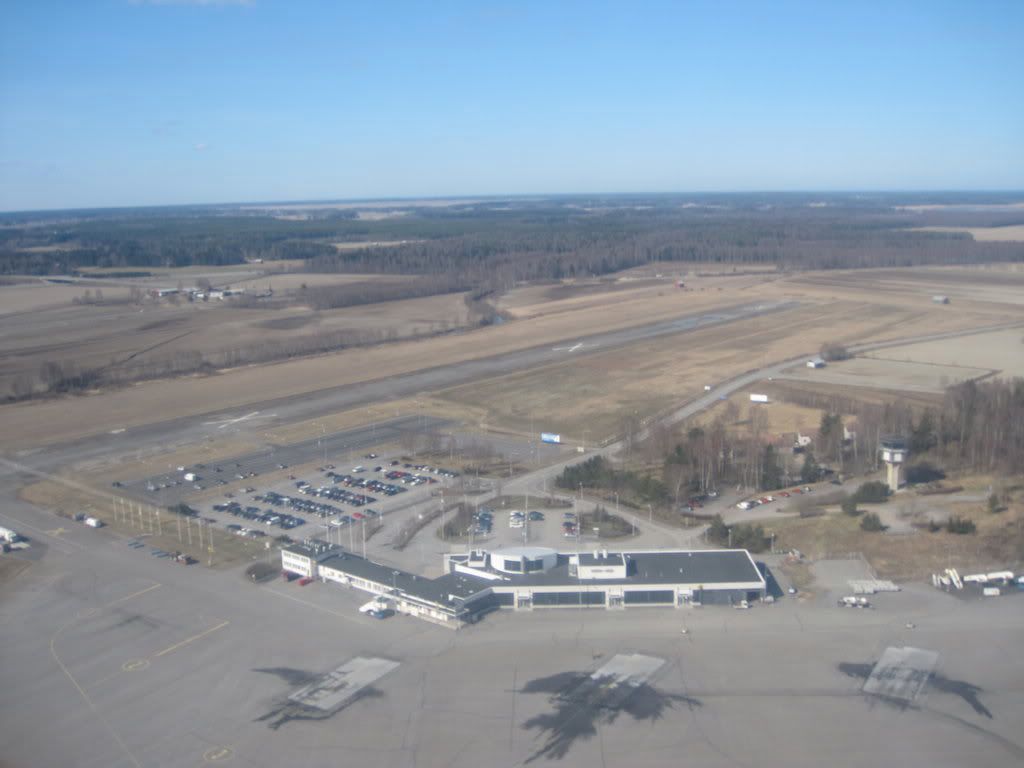 The crosswind runway that hasn't been in use for years now: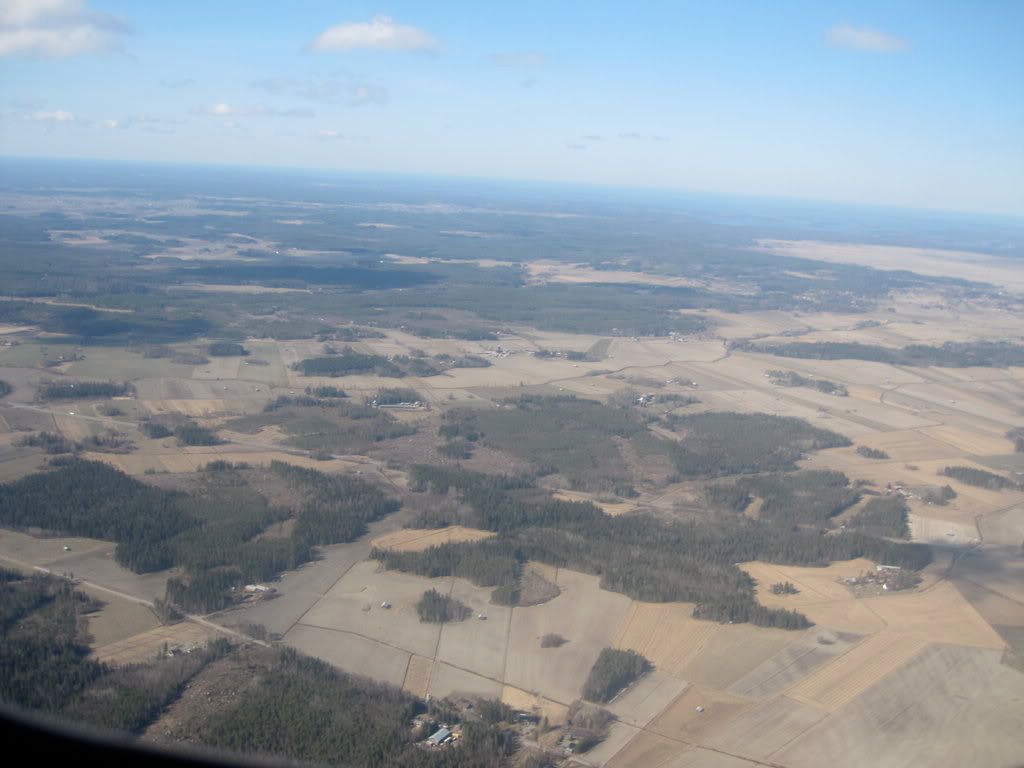 That straight line is a right-of-way for some heavy duty power lines belonging to the national grid: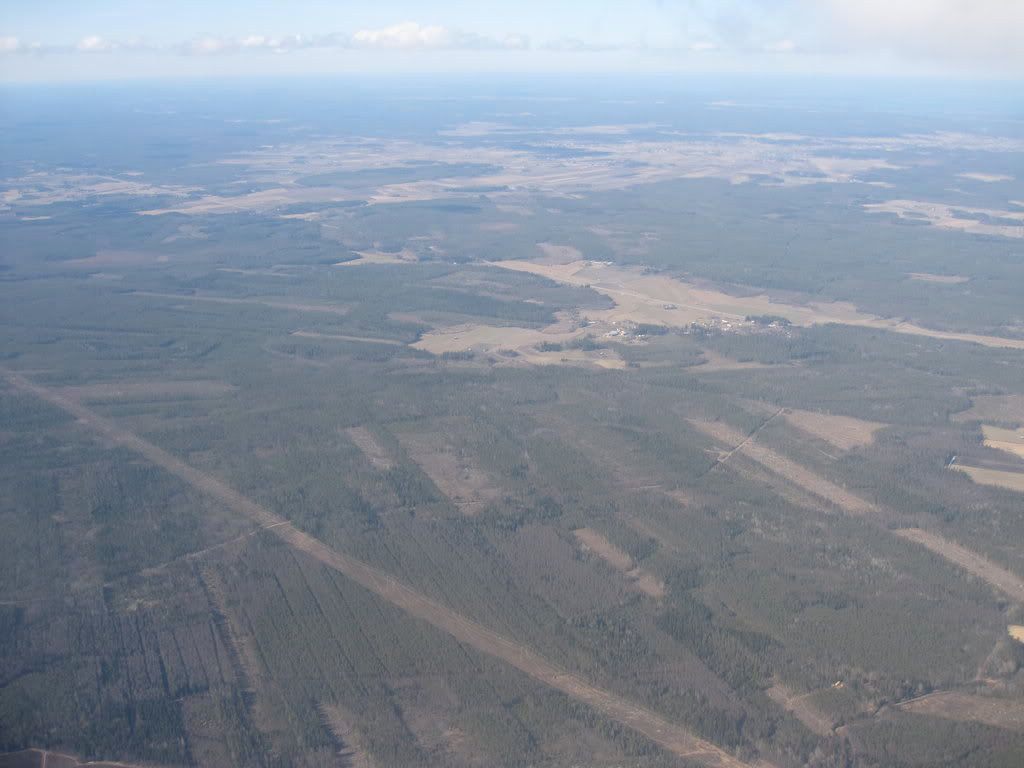 An interesting hill near Jurva: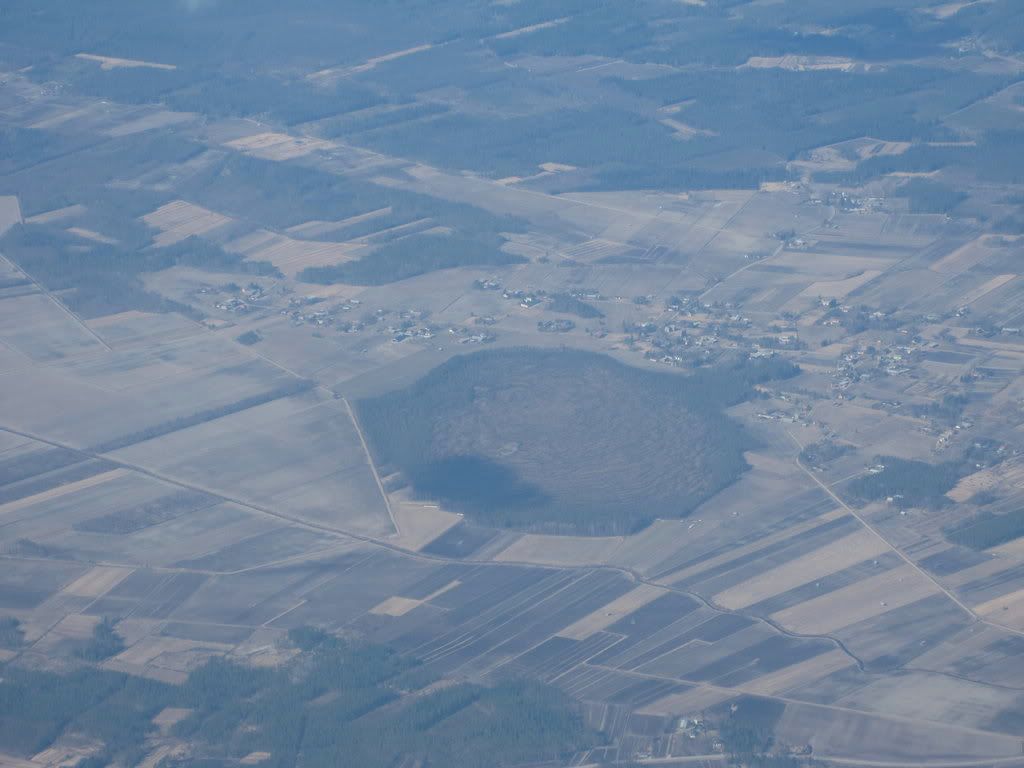 The service is standard for the FC domestic hops - a small sandwich, with cheese this time and drinks. I go for a cup of apple-grape juice.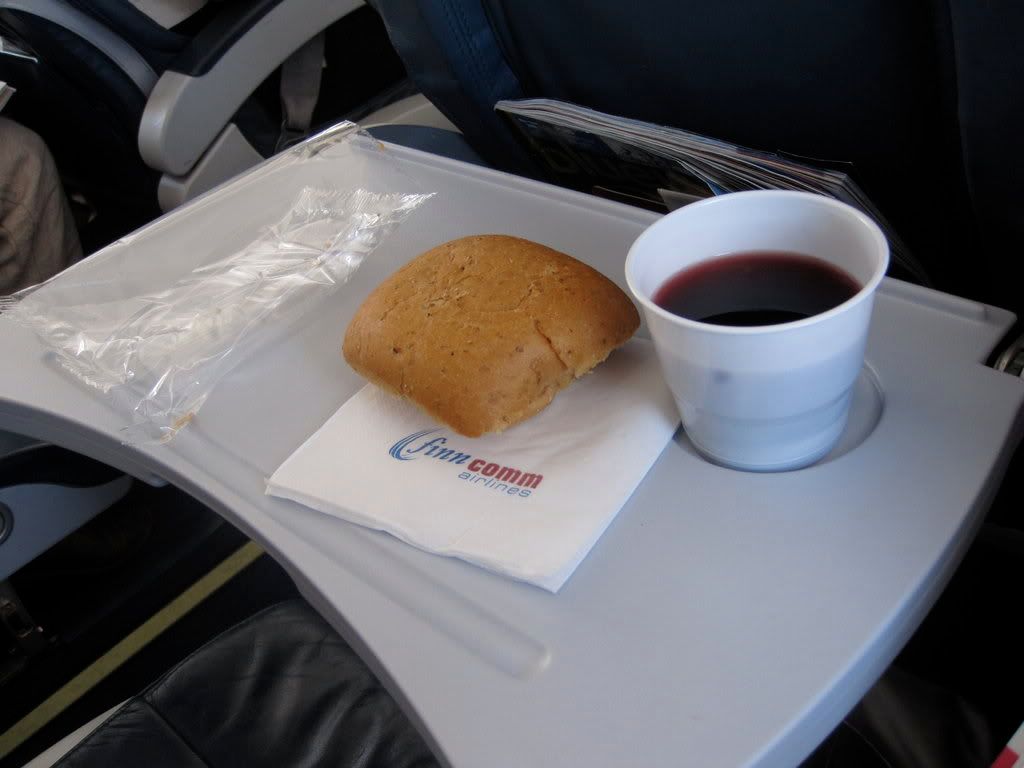 Just before passing Tampere the FO comes on, explaining that we are about to enter a weather front with some light chops to be expected. Landing will be on the far runway (assume 04L) at HEL with a lengthy 5-10 taxi time, but still arriving on time. Helsinki weather is grey with low clouds and a temperature of six degrees.
The weather front - the chops aren't bad at all: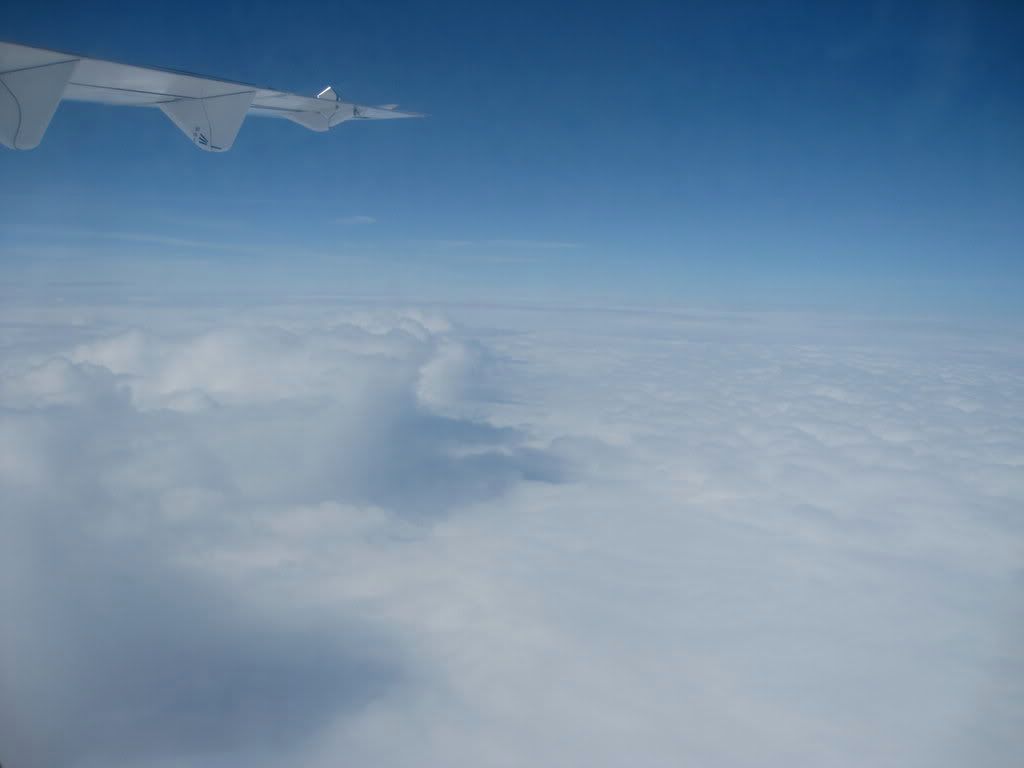 The weather in Helsinki is definitely grey, the first glimpse of ground is mere seconds before touchdown.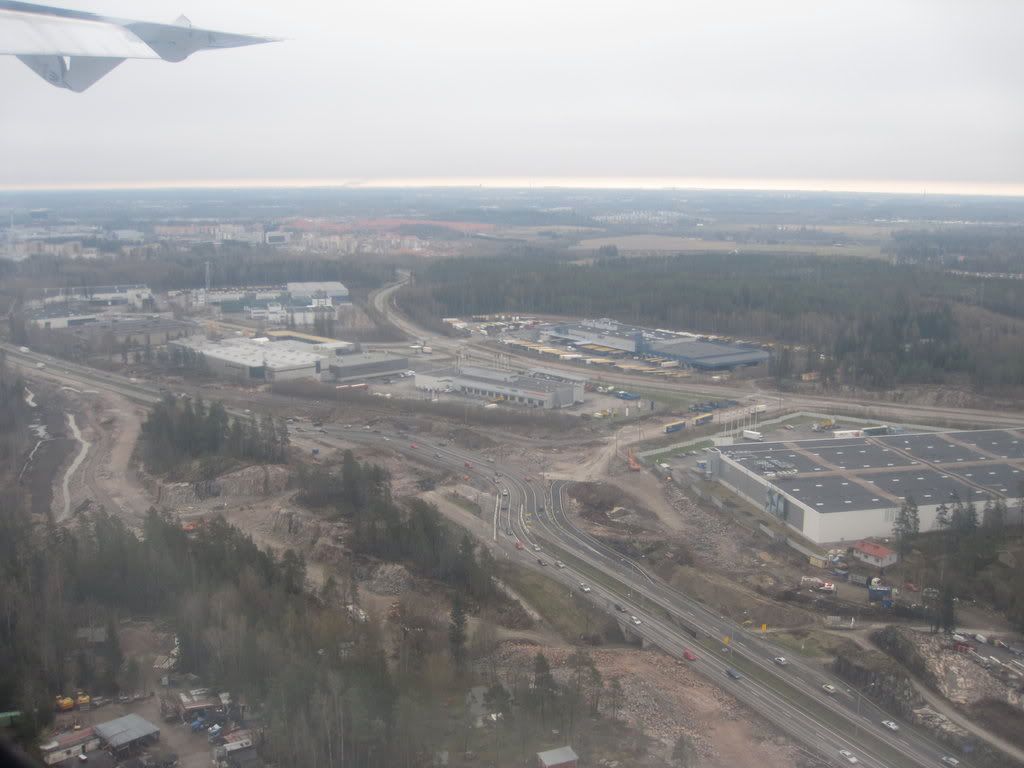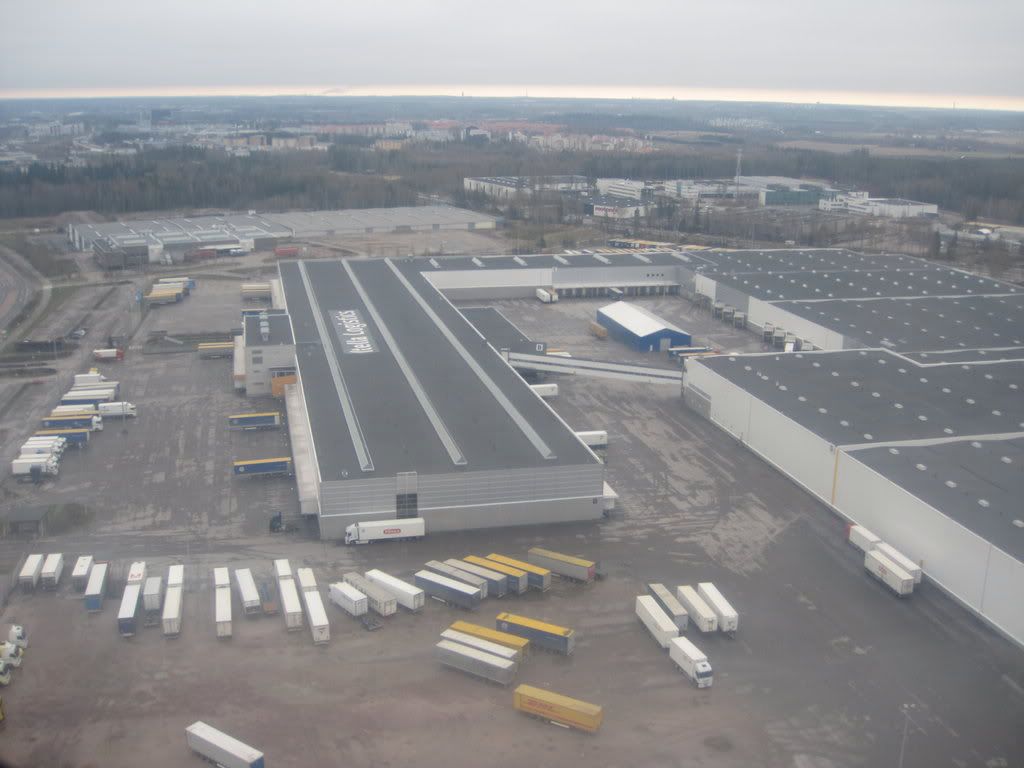 The long-term parking area recently moved here: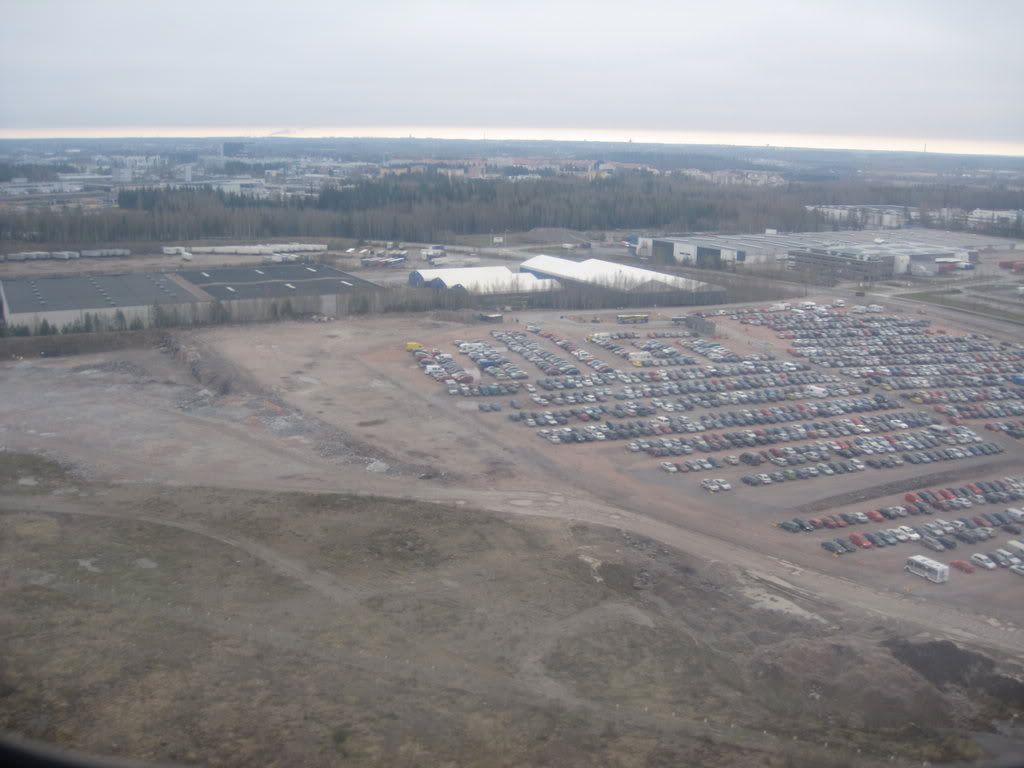 It looks like Helsinki Approach had pity on us as we land on the runway 04R instead which is right next to the terminal building, so taxi time is short.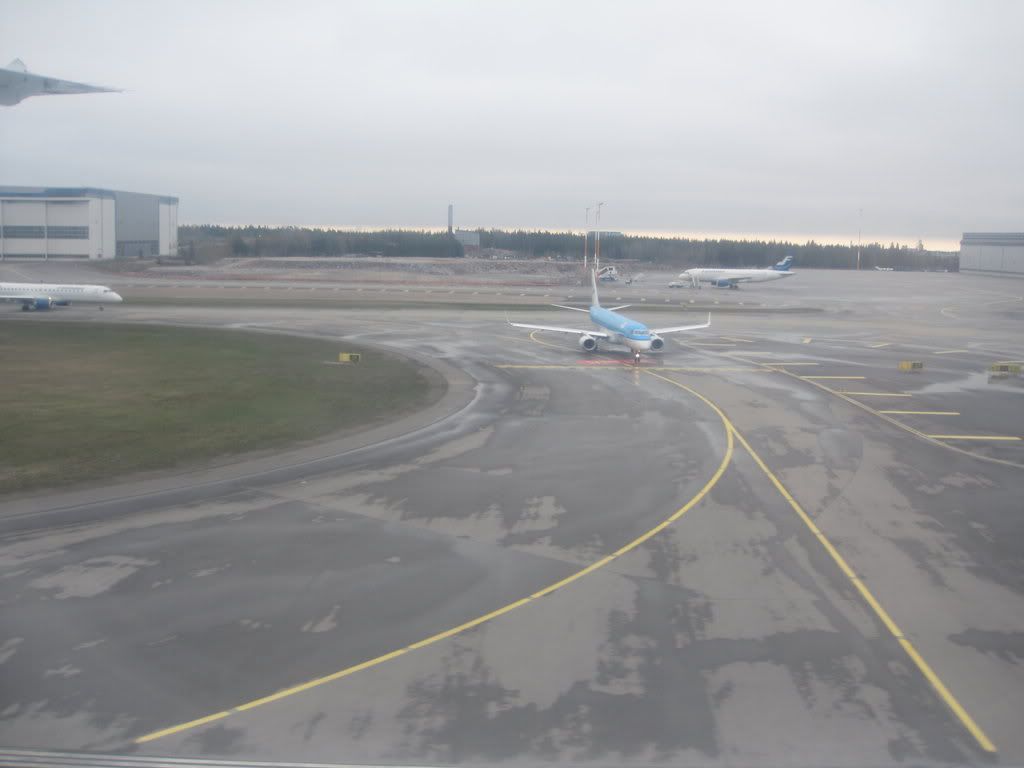 Seeing these ex-AY MD-11s always makes me sad: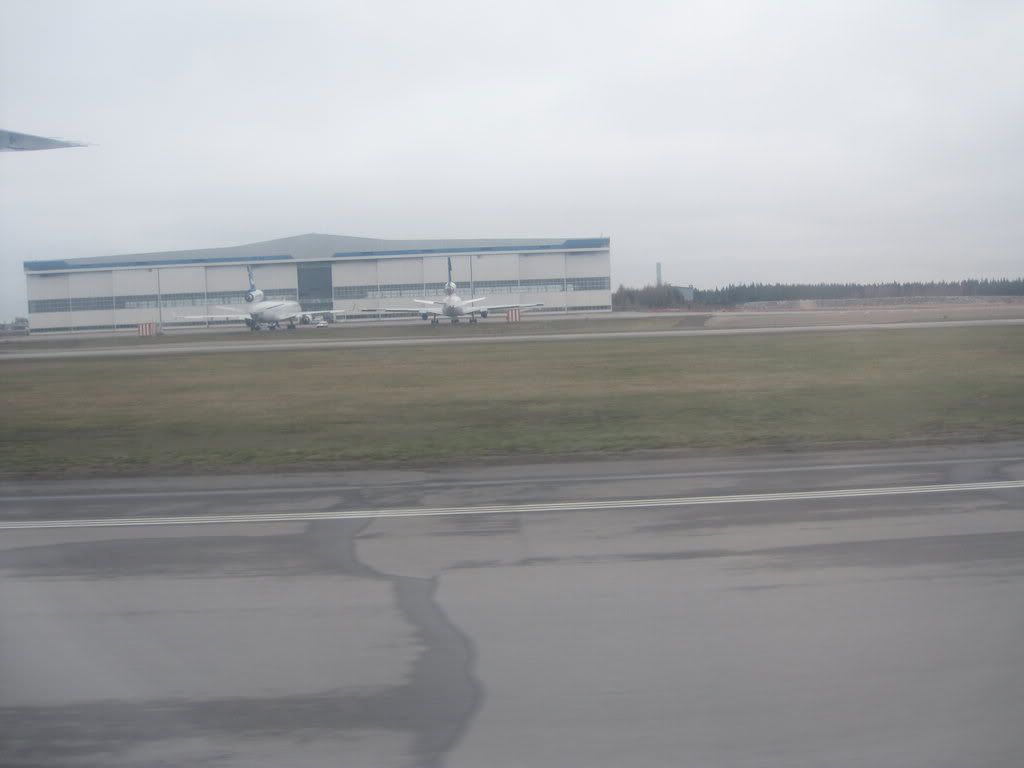 Finncomm E170 - due to fly one of these babies next week!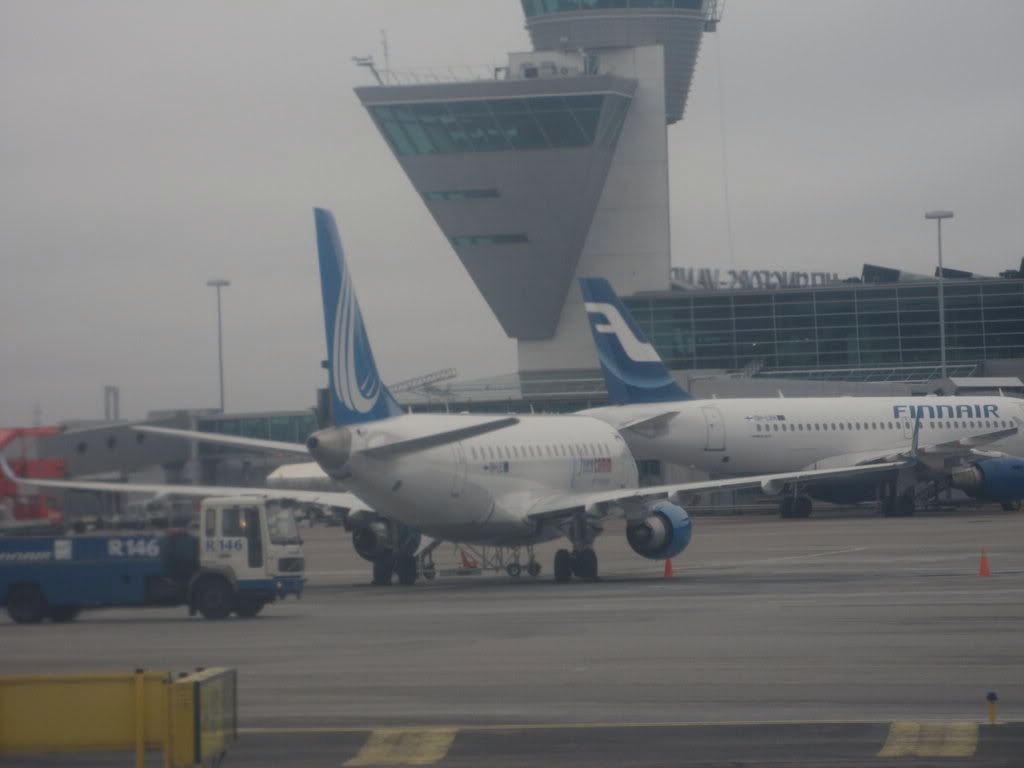 Sorry mate, no flight with your company today: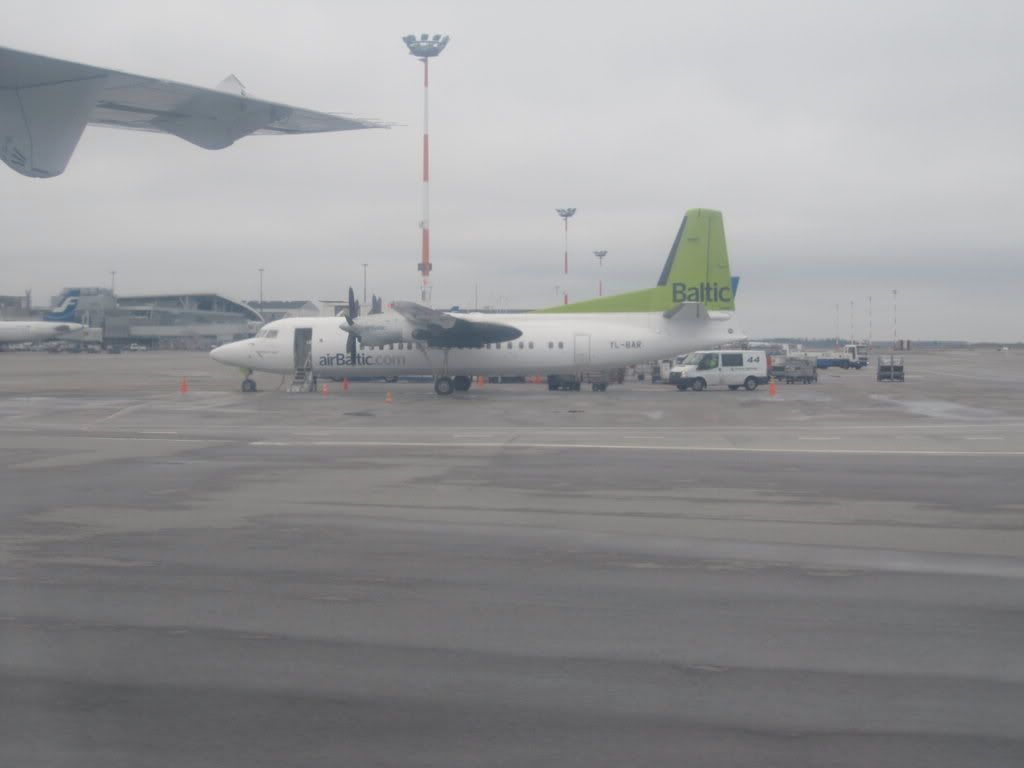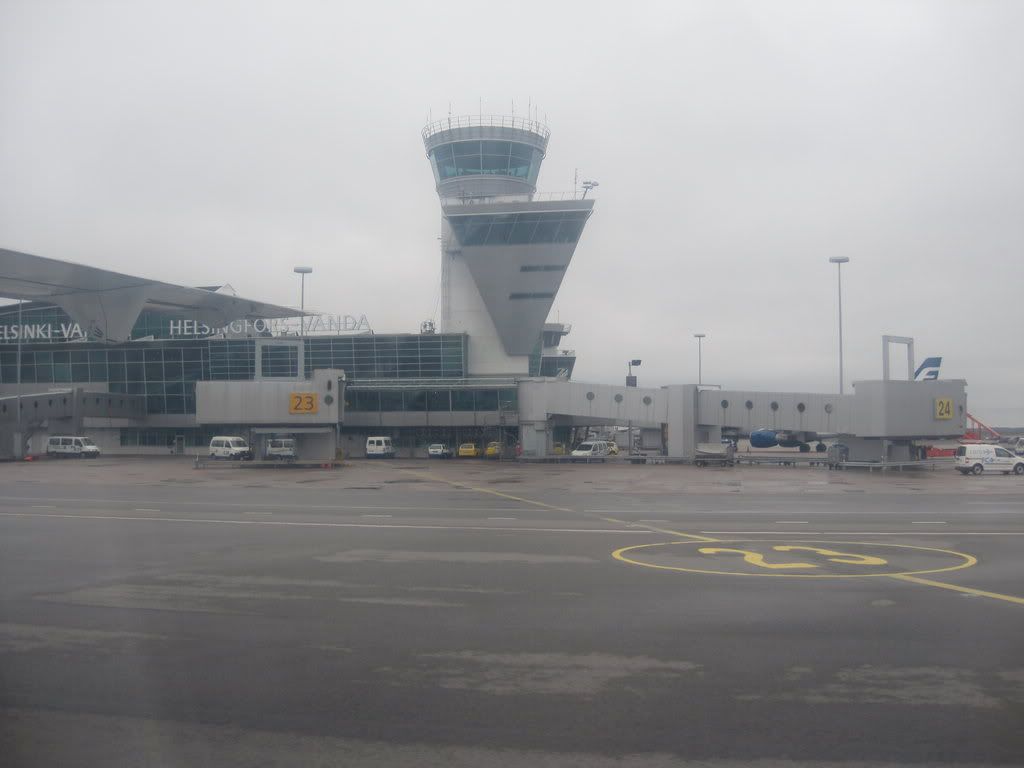 Alpha Romeo, will leave the fleet shortly: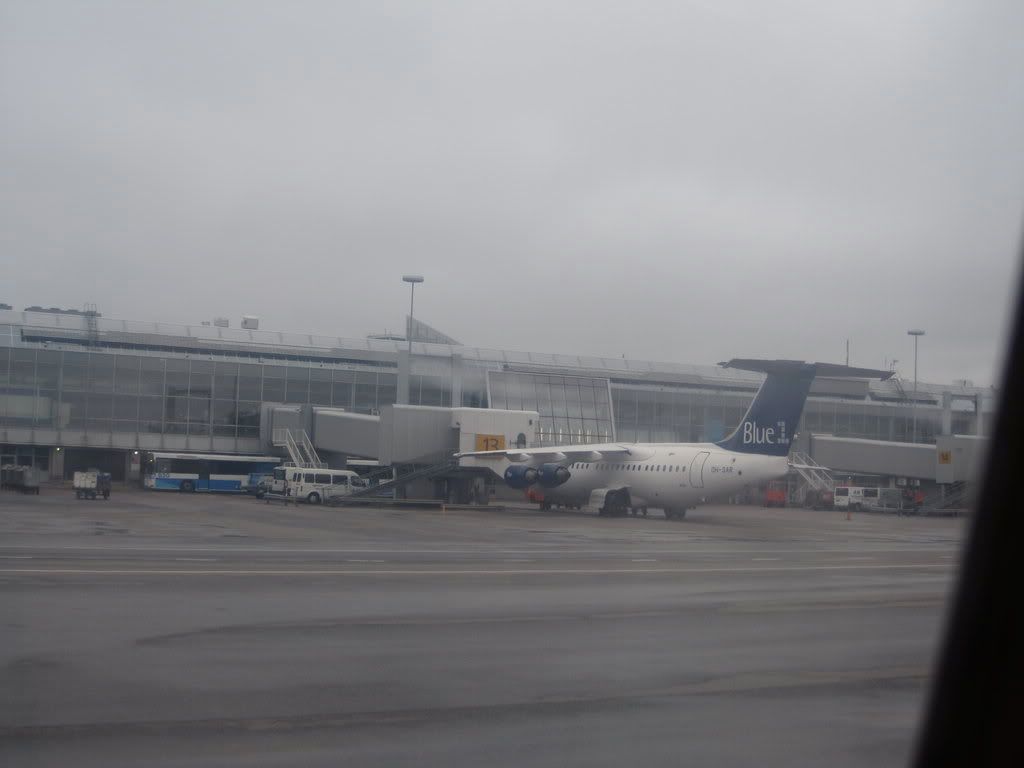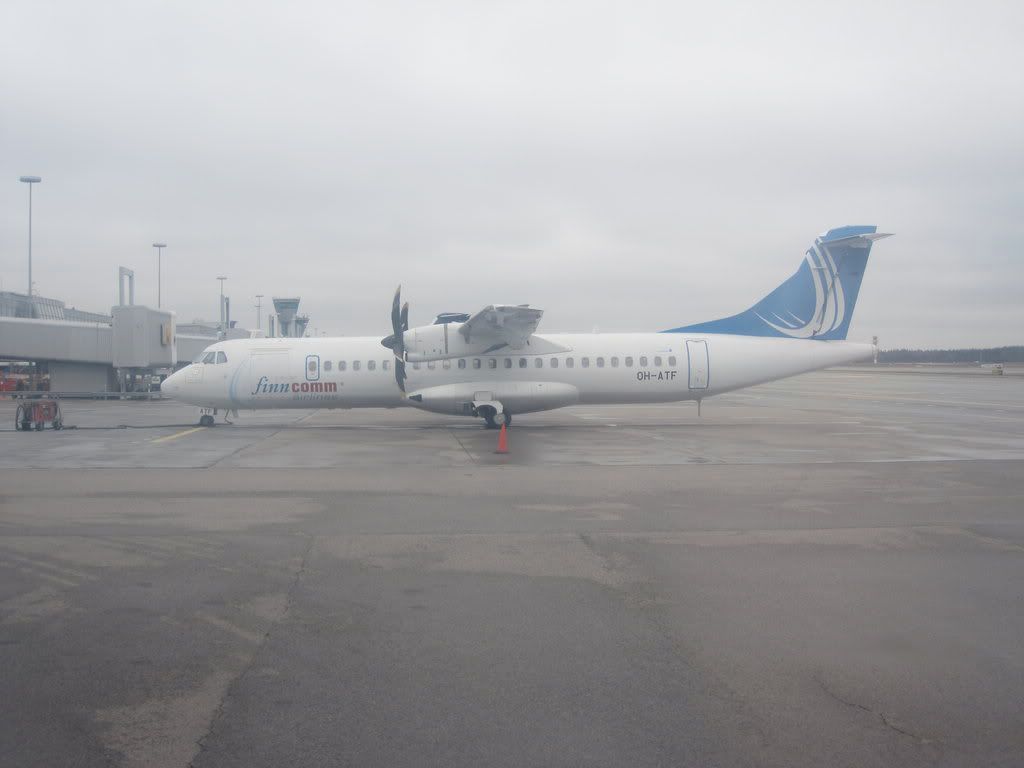 Deboarding to a bus, I run through the airport to catch the next bus home leaving in just a minute and easily make it, ready to start daydreaming about the endless exciting possibilities on how to use my travel vouchers!
The precious - I censored the number with a Finavia propaganda sticker: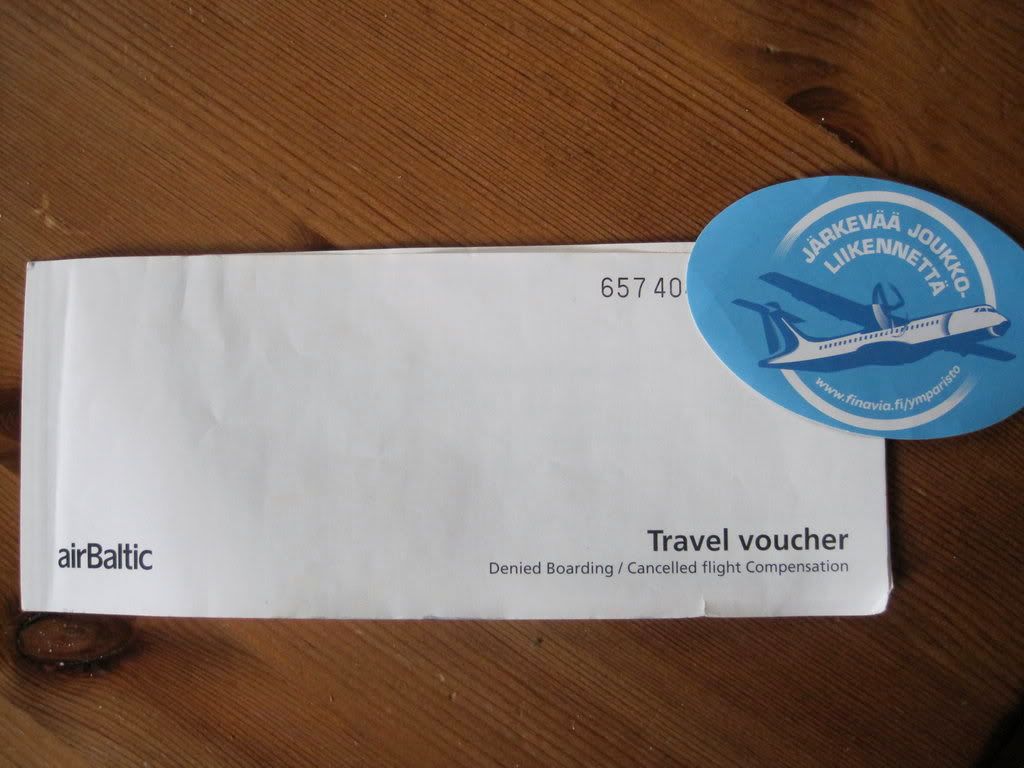 Conclusions
I haven't had a bump since 2005 - that was on LH and another 500 EUR of vouchers and a nice room at the Steigenberger Airport Hotel in FRA. I used to have quite a few during my golden years with SAS but those times are long gone. Certainly appreciated, I spent around 100 EUR on these two BT flights I didn't take and walked away with five times that much to spend on new tickets. Sure, the LH and SK vouchers were more useful as they fly to some much more exotic destinations than airBaltic, but I'm not complaining at all.
I'm regretting a bit that I mentioned that I'm actually going to HEL - it would've been interesting to know what kind of routing she'd offered to get to RIX, probably the same FC flight to HEL and BT onwards, or maybe the KF/DC S2000 to ARN and BT from there...
Let's see when I can schedule another attempt at the VAA-RIX route.
The next trip is tomorrow with another new BT route and a few hours in Tallinn: TMP-RIX-TLL-TMP.