"Sur le pont d´Avignon..." on YS/A5/BE/BA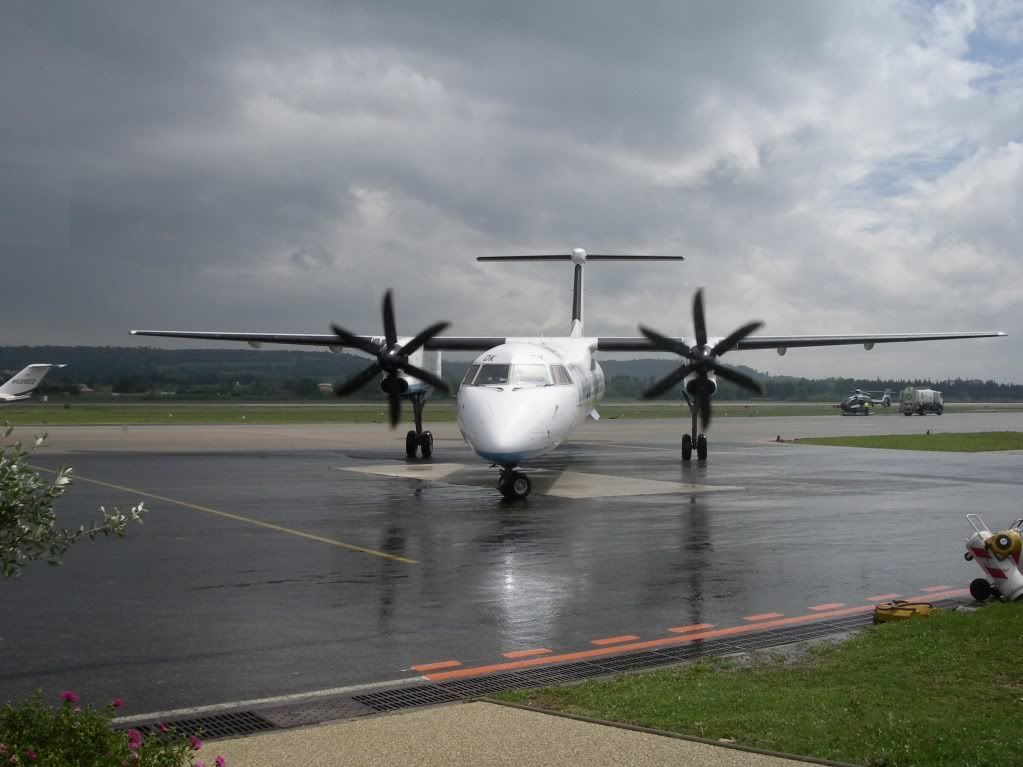 Bonjour, dear readers,
what do you expect from a nice spring trip to the Provence and the return through some UK airports?.
We know, life is sometimes not as scheduled, this time it seems I need to escape rainy southern France and enjoy the sunny UK.
Well, my calendar shows not the Africa trip on Tunisair as the last report:
The Missed Connection On Tunisair To Tunis
(by
FLIEGER67
Apr 4 2010 in Trip Reports)
No, the 19th of April means a trip to Italy on the F100/A319, the Meridiana MD80 and another A319.
But, we all know what happens around this date, the icelandic fate obstruct most of Europe to fly and also me.
So it is long four weeks now since my last flight.
Here is one new airport and also one new airline for my log, enough reasons to go.
Tuesday, 04.05.2010
.
.
.
Service Air France AF 5581 operated by Regional Compagnie Aerienne Europeenne
Scheduled: 06.35 // 07.45
It is 3.25 am when I wake up, as often my internal clock help me to step off the bed before the external clock rings, 3.30 am.
I leave my house at 04.45 am, traffic, yes, but nothing serious, at the airport at 05.30 am, the boarding time will be 06.05 am.
OLCI help me, this time with the seat selection mode, to secure my seats of choice, any idea where this is in the cabin?.
AF offers to print the boarding pass at the airport, my choice to get the real stuff.
Lots of self service kiosks nowadays at STR, also for several different airlines at one kiosk, but you know, no one at the kiosks,
queues at the desks.
The security check is good loaded with travellers today, but finally no more than 5 minutes to wait.
The usual gate 312 for AF to LYS, it seems they dont need a monitor here to switch between destinations!.
Clean, well designed and good views to the apron, well done STR.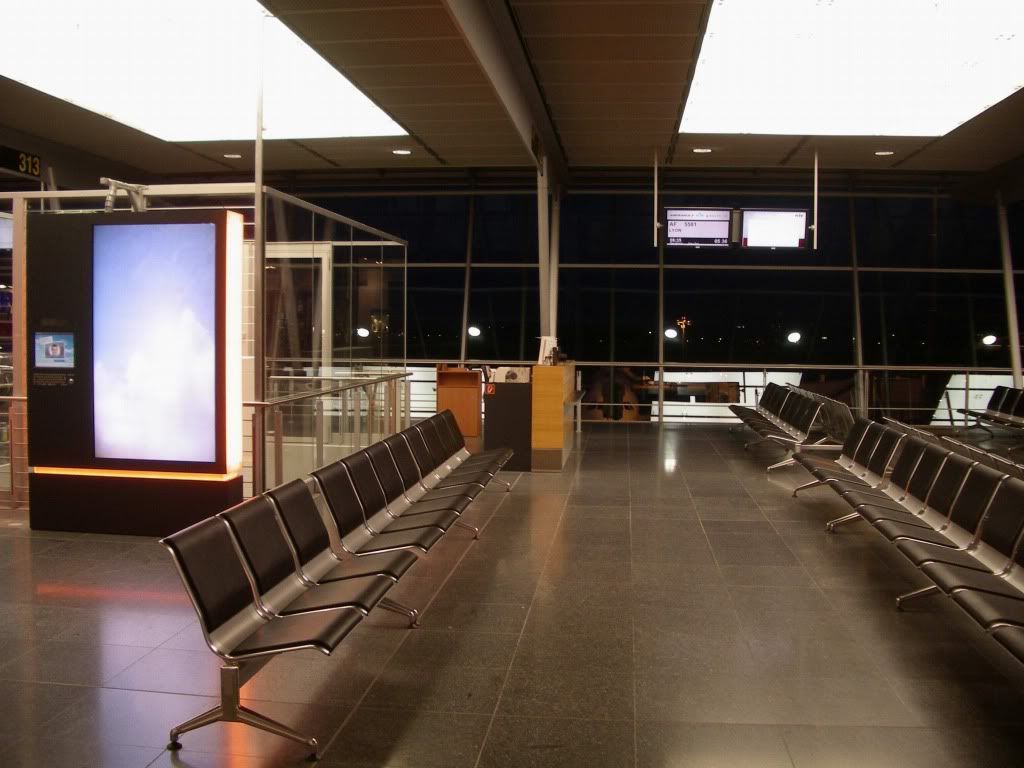 Opodo wins my business for leg 1 and 2, some 40.-- Euros per flight.
I walk around to catch a view to my plane on the apron, but also from the ground level no chance to do so.
Not a minute to late I am back at the gate to join the small group of biz travellers heading for LYS.
Down the stairs to the bus, the seatmap shows the E135, a warm welcome to that plane type here.
Leg two only for me and with F-GOHF a new registration.
Proteus Airlines operates that plane from 19.12.2000 and with Regional since 01.04.2001.
One of total 8 in the fleet.
AF is the fully owner of Regional CAE and operates a fleet of, coincidence, regional aircraft on behalf of AF.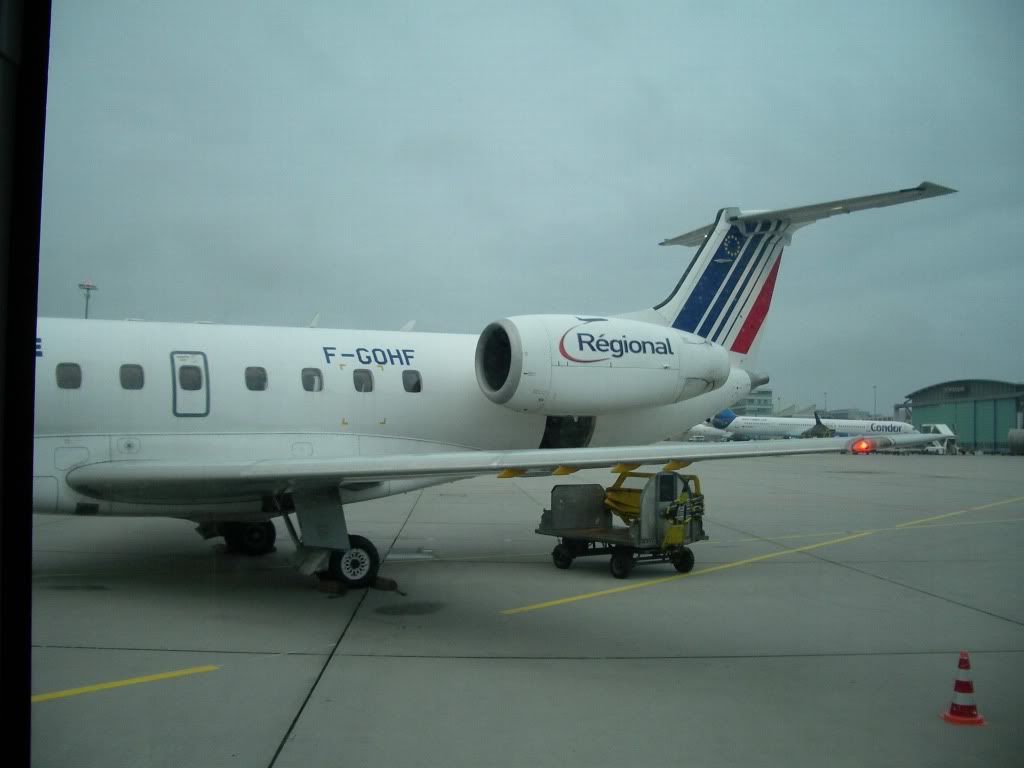 It looks like really cute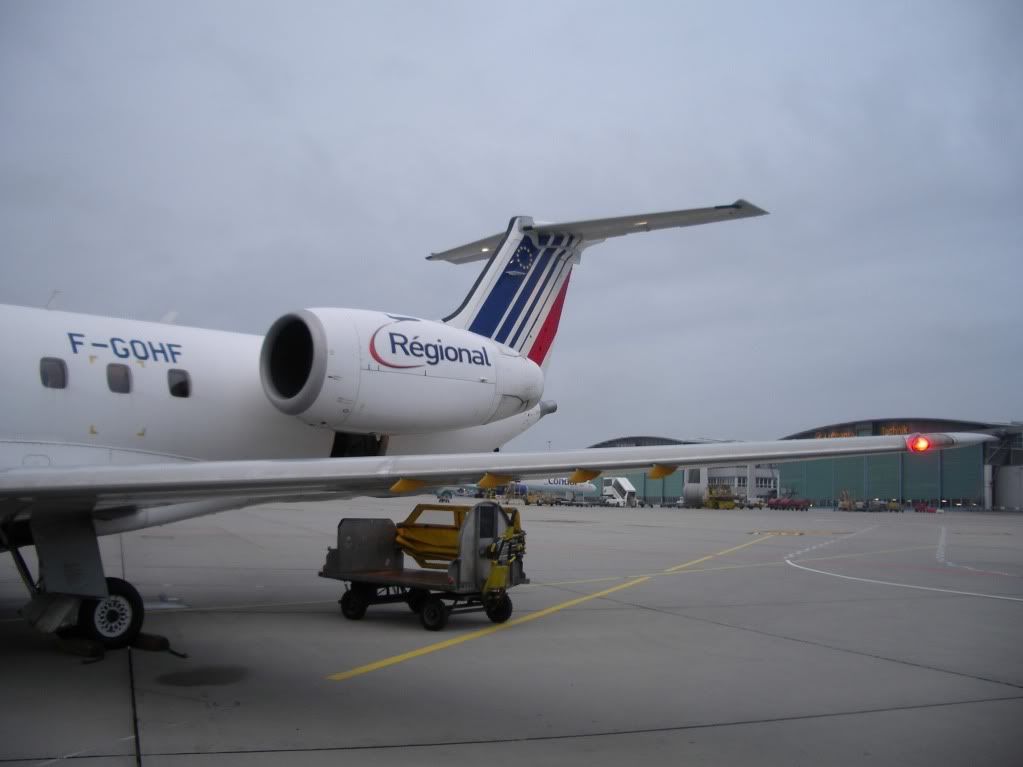 Air France by Regional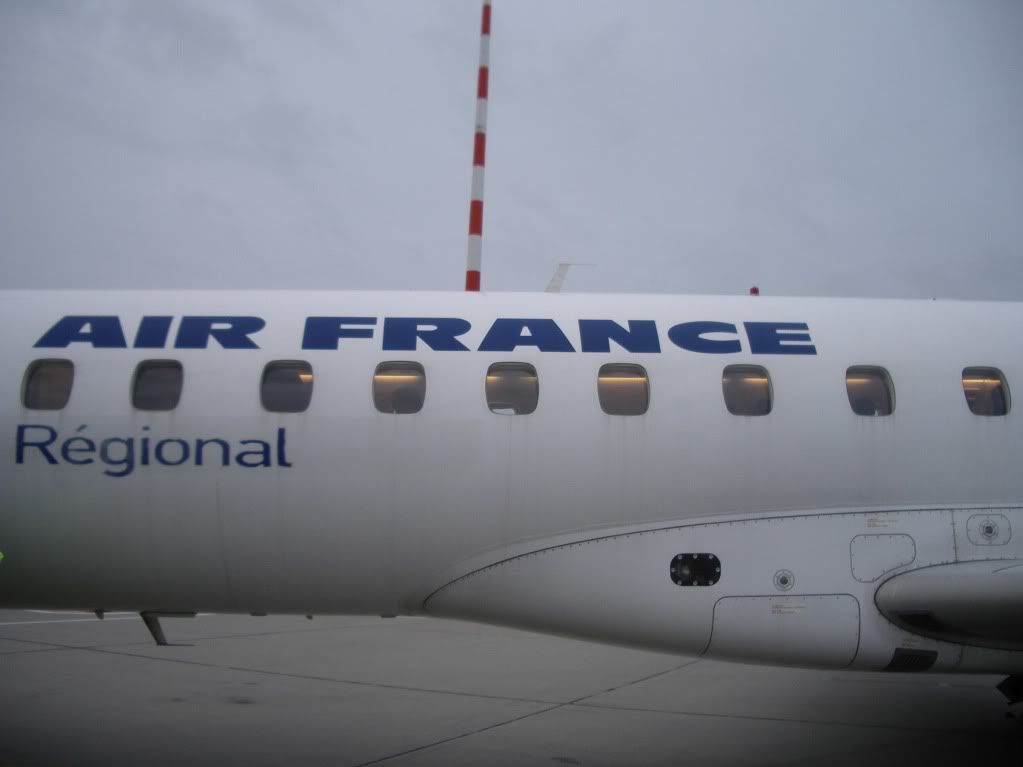 The nose close up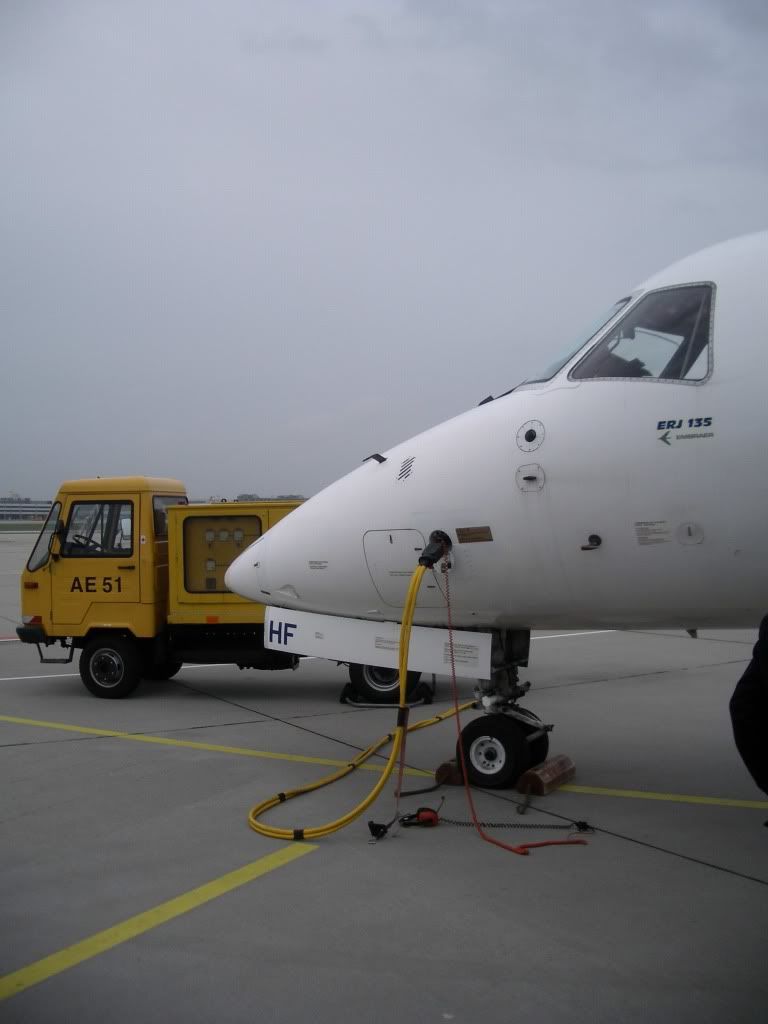 "Bonjour" to the single middle aged female FA, well she is neutral friendly, it seems it is not more than a job for her.
Dark blue leather seats in the cabin, clean, legroom ok and quiet during the flight.
The french pilot with a nice welcome during boarding, flight and weather informations.
Well, the weather, more about it later.
Stuttgart is + 8 degrees, cloudy and dry.
I spot only one female passenger on this flight, the load with some 70%.
And one of these arrogant german biz flyers in my seat, 14A, window and aisle, last row.
The other side aisle and window is not occupied, I take 14F, you´re lucky, only for today!.
Runway 07, 3345 meters, is the way to depart for France at 06.45 am, ten minutes behind schedule.
1 hour is the flighttime for LYS.
I like this view with the engine and traffic above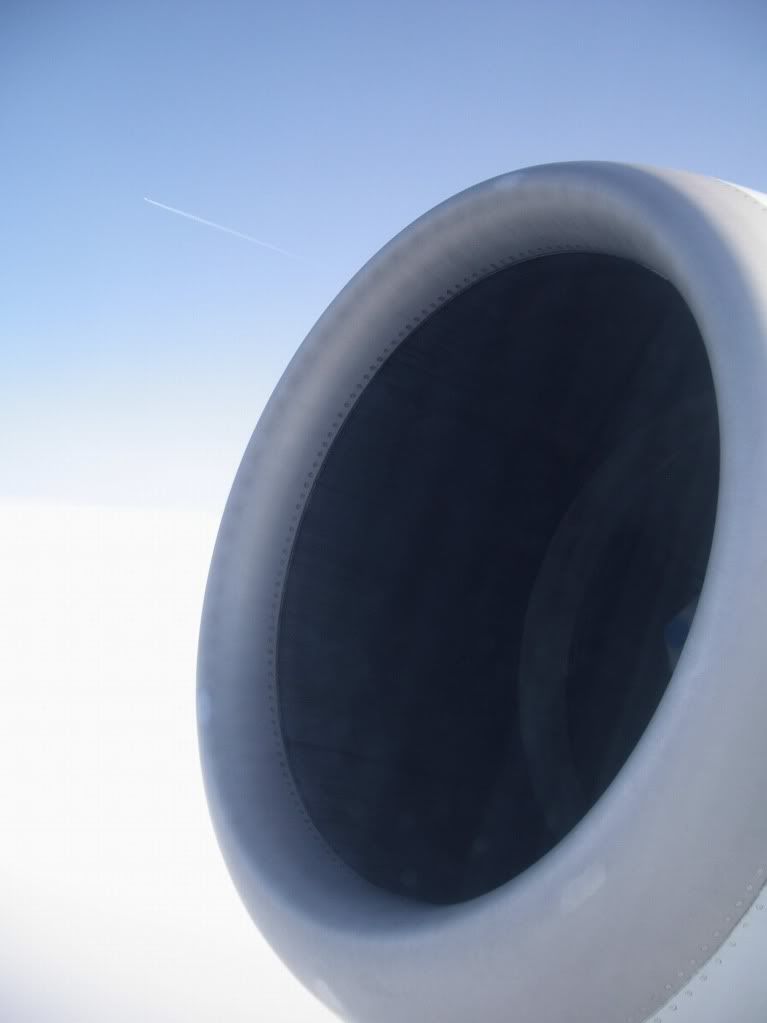 A safety card for both the E135 and E145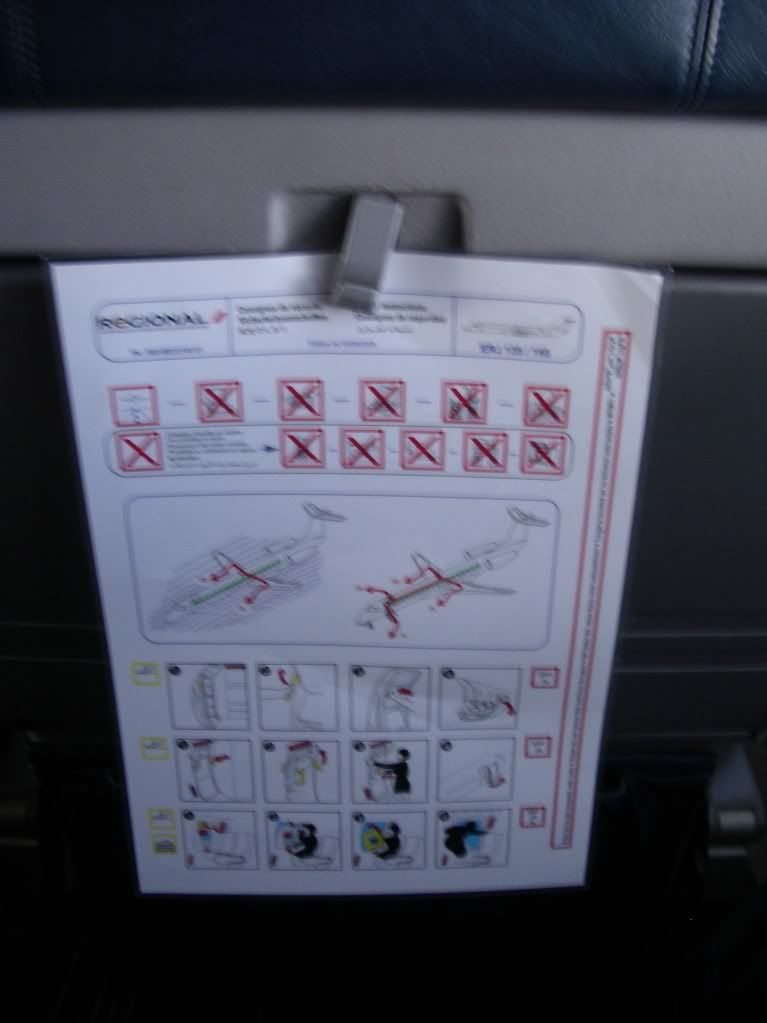 And the actual AF magazine, Hongkong, why not?.
Water/coffee and a brioche today in service for free. at least till now.
Low cabin ceiling here, my impression
Clouds all the way to the southwest and a somewhat shaky flight.
I hear the pilot again during the approach, detailed and friendly.
His weather information was not as friendly as his style,
wind, rain and +6 degrees.
Touchdown on french soil at the 2670 meters runway 36R, it is 07.55 am, ten minutes behind schedule.
My comfortable seat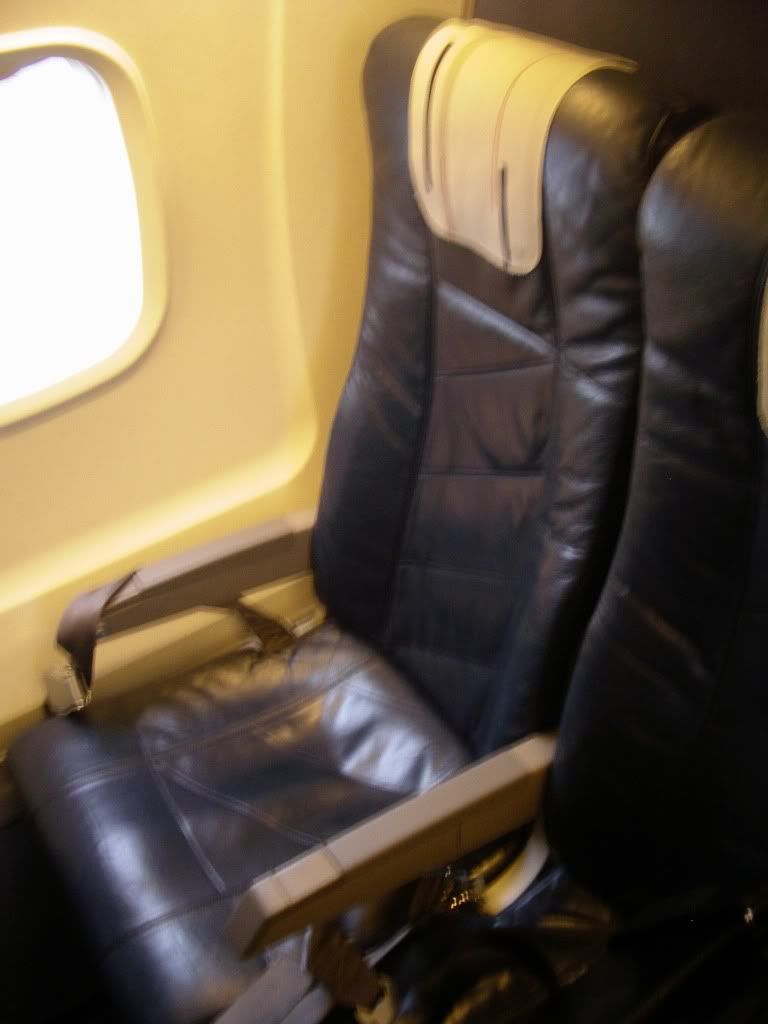 My jacket is my rain protection here for the only some ten meters to walk to the gate entrance.
And don´t miss the chance for a last view to my plane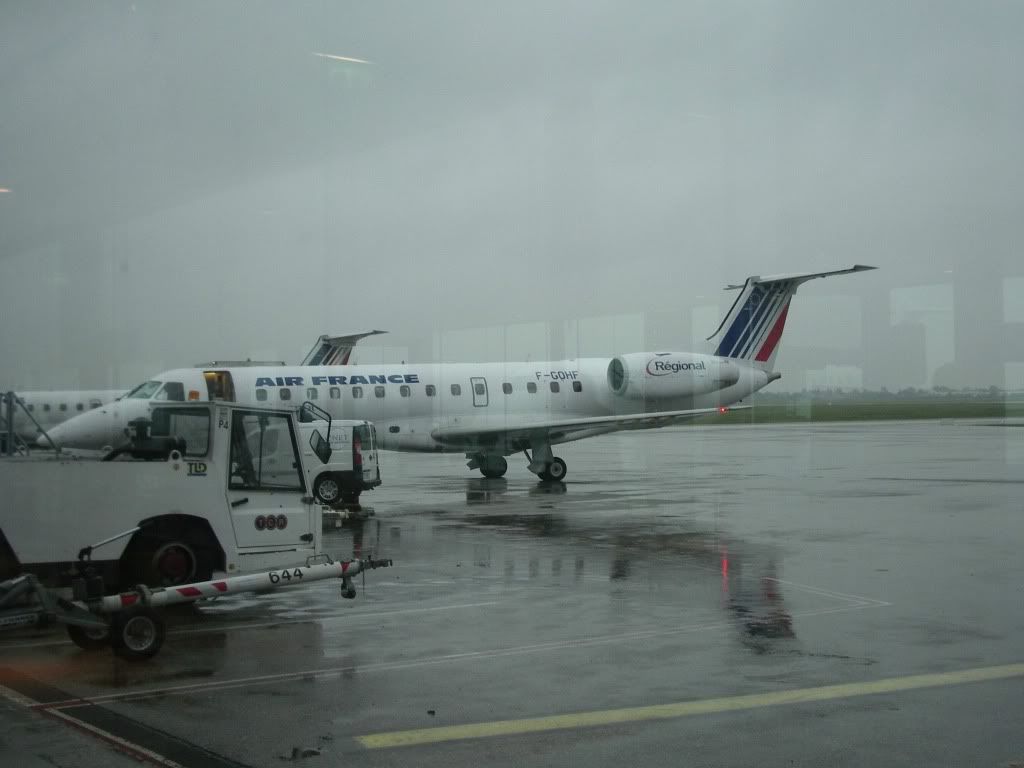 Tuesday, 04.05.2010
.
.
.
Service Air France AF 7822 operated by Airlinair
Scheduled: 08.35 // 09.35
A first view to the screen to check my next flight.
12 departures within 10 minutes, not bad.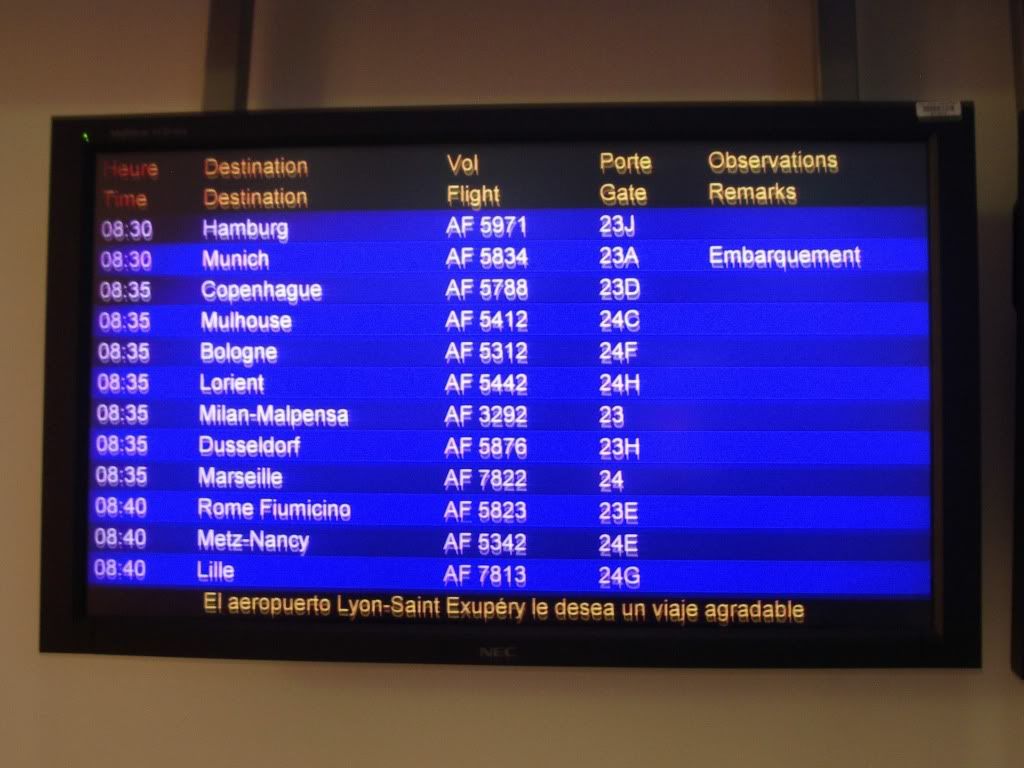 But only one departure more during 6 hours along the day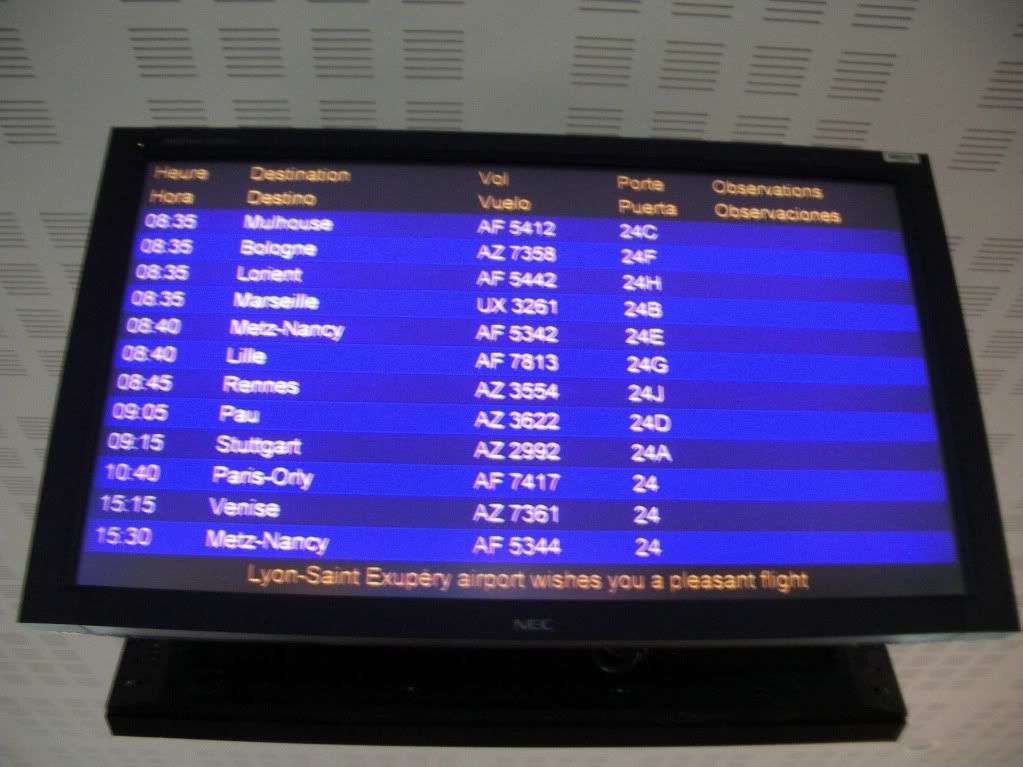 No plane to board in sight at 08.05 am, the original boarding time.
Ah, here it is, a good chance for a new registration.
F-GVZG, all white, a new machine?.
No way, a real oldy here, at first with Karair from 09.11.1989, to Finnair at 01.12.1995, at 15.02.2005
to Aero Airlines and further to Atlantic Airways at 07.10.2005.
Since 03.04.2007 with Airlinair, that´s the new airline for my log.
A fleet of 24 ATR´s serve mainly French domestic destinations on behalf of AF and on own risk.
The owners are private with 20% by Britair.
Leg no. 12 for me ontype and yes it is a new registration.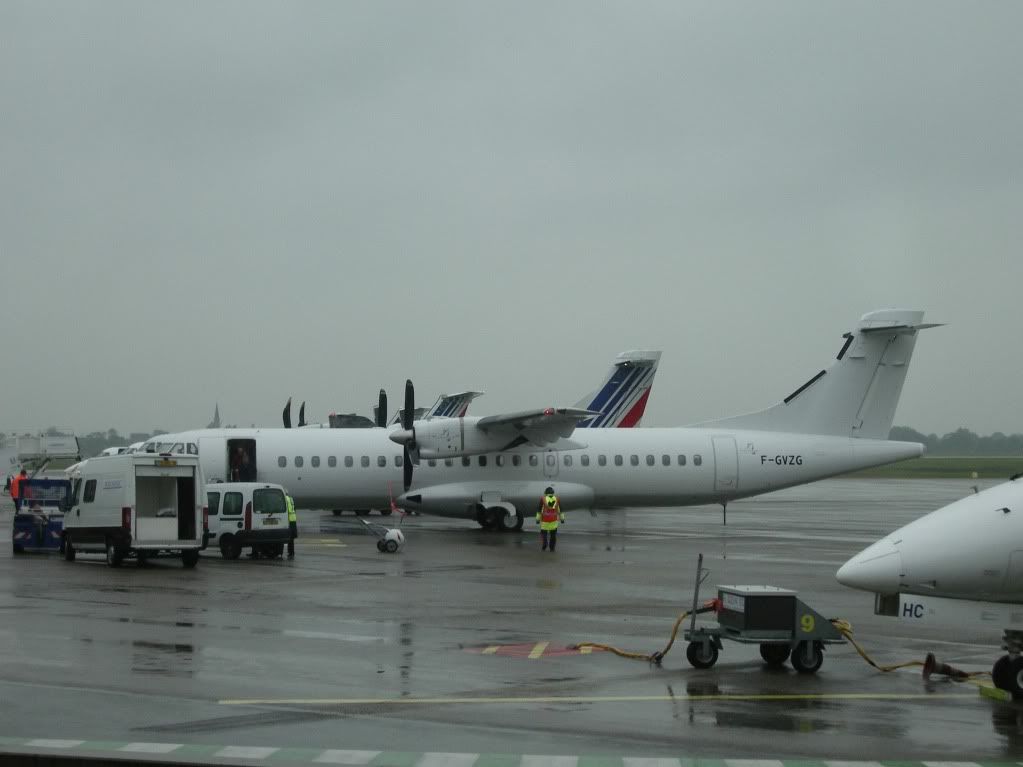 A picture from above to the AF regional operations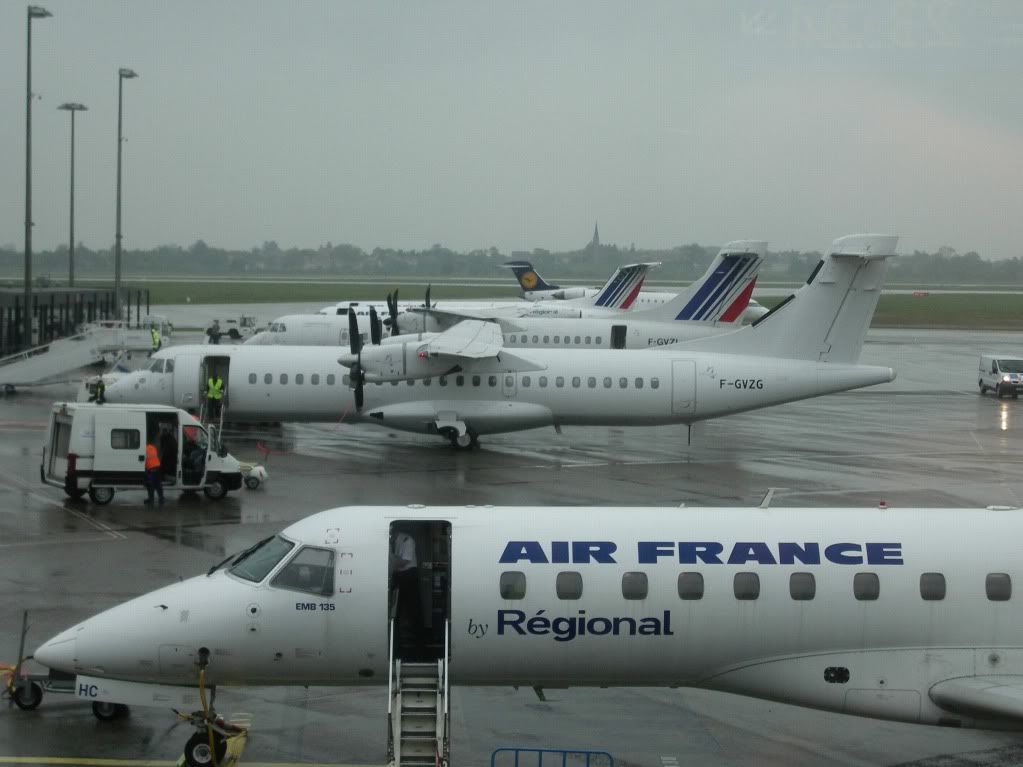 This terminal at LYS is a real good place to connect with only short ways to go.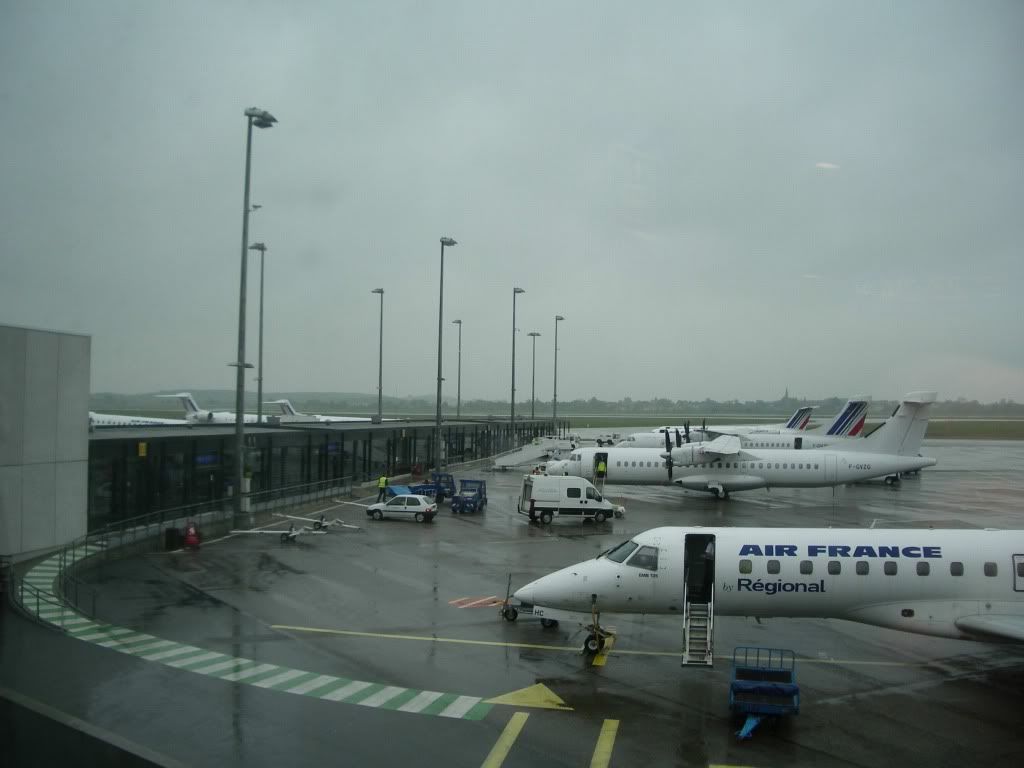 The gate agent told us that the plane is here now, what a surprise, and we will board soon from 24B.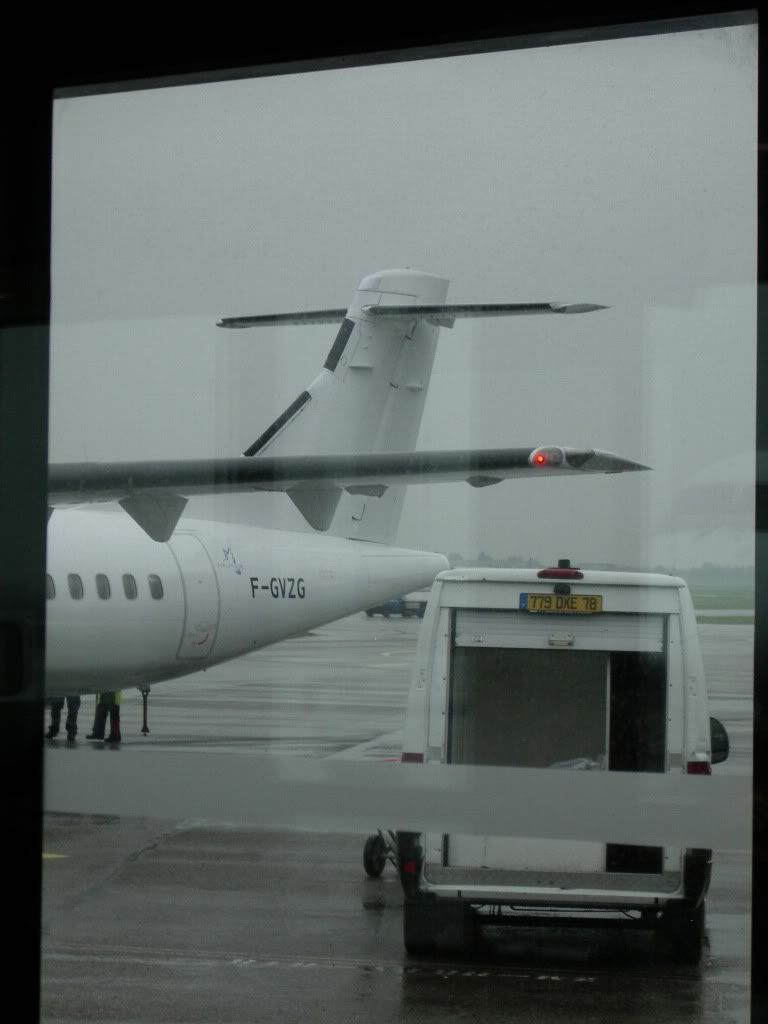 Through the pouring rain, will it be better down the south?.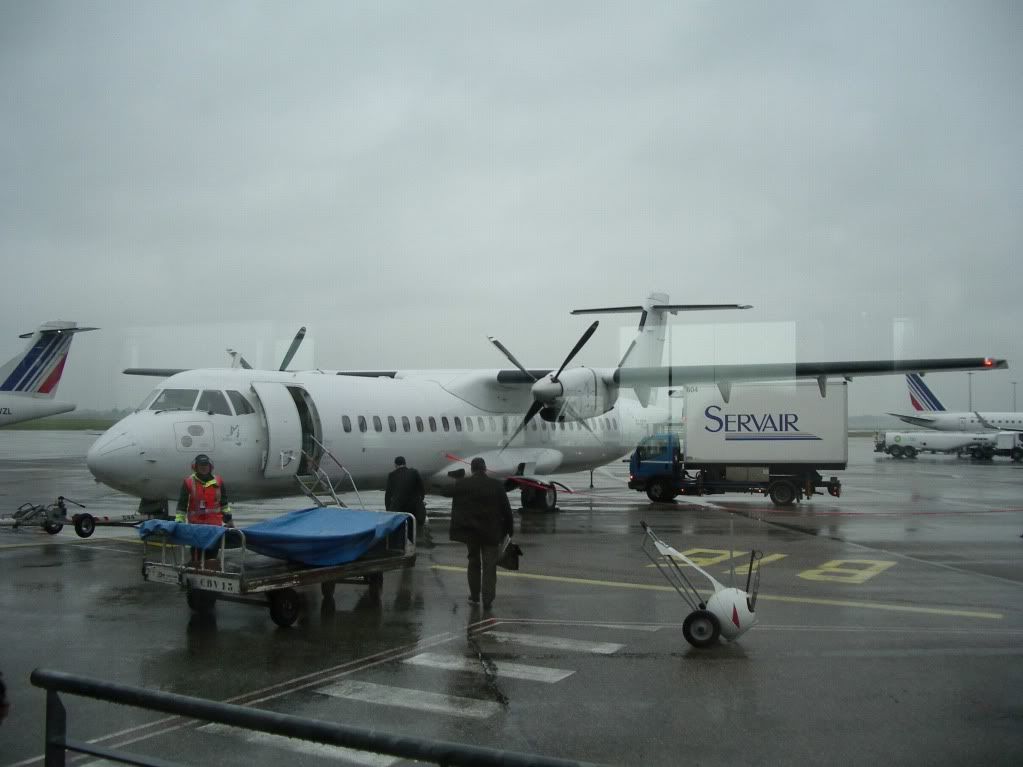 Do you see how we board this plane?.
It´s the very first ATR flight that I remember boarding through the front door, usually the baggage/cargo door.
It seems high density configuration, no need for much cargo space.
Once again "Bonjour" during boarding, one less interested young female and another much nicer young female in the rear cabin. The last row, you know.
I see blue fabric seats, looks like secondhand with different fabrics, really oldfashioned and also not that clean. Legroom ok.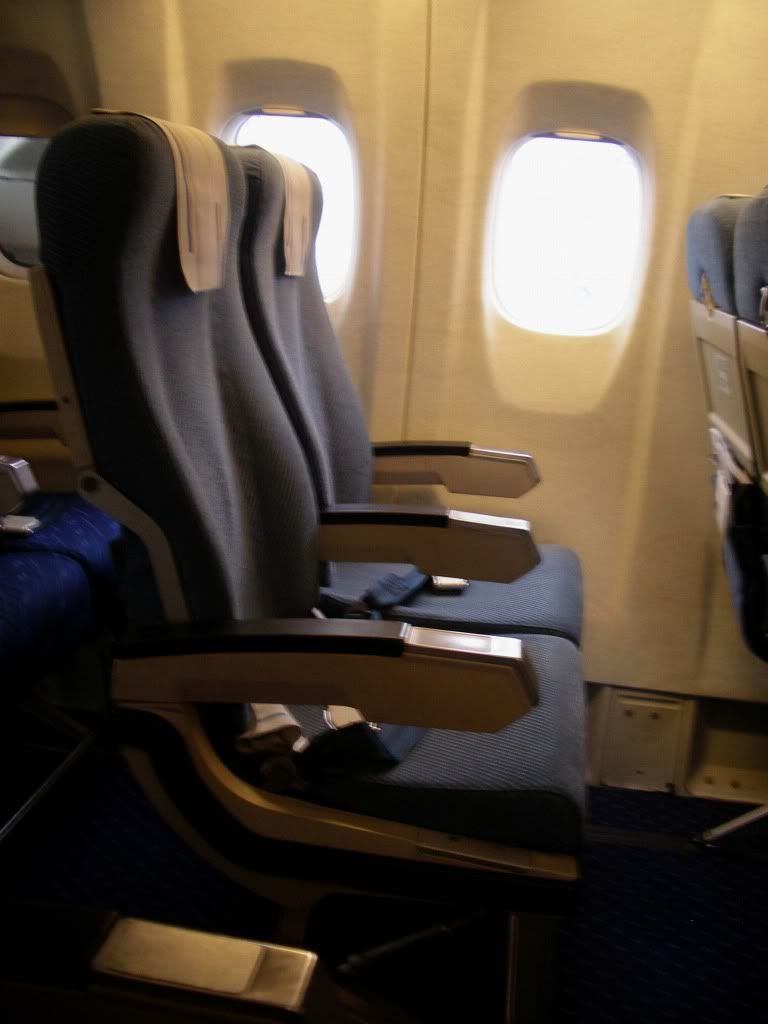 19F is also on that flight the last row and the aisle remains free, ok, with a load of around 40%, not the real deal.
08.45 am is finally our time to leave the gate, not a big gap for me at MRS, ok so far.
Lifting off from the 4000 meters runway 36L with 6 degrees and more rain.
Only a very short welcome from the french pilot this time during boarding.
Again it was a free brioche and water/coffee in service.
Cloudy from immediate after departure, a heavy shaking flight, the seat belt sign was on for the whole duration of 55 minutes.
The plane jumped up and down, better miss the free coffee this time, I tell myself.
ATR 72 "Porte pax avant"?.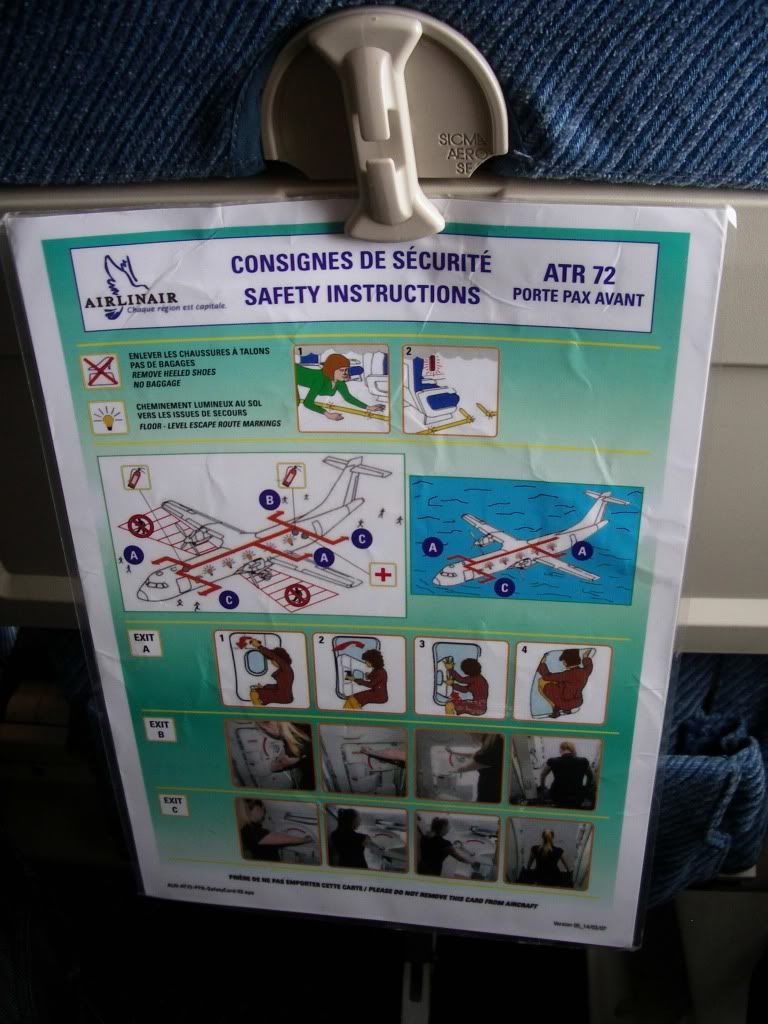 Some sort of Airlinair magazine
"Vehicule nouveau", 21 years, thats indeed "nouveau"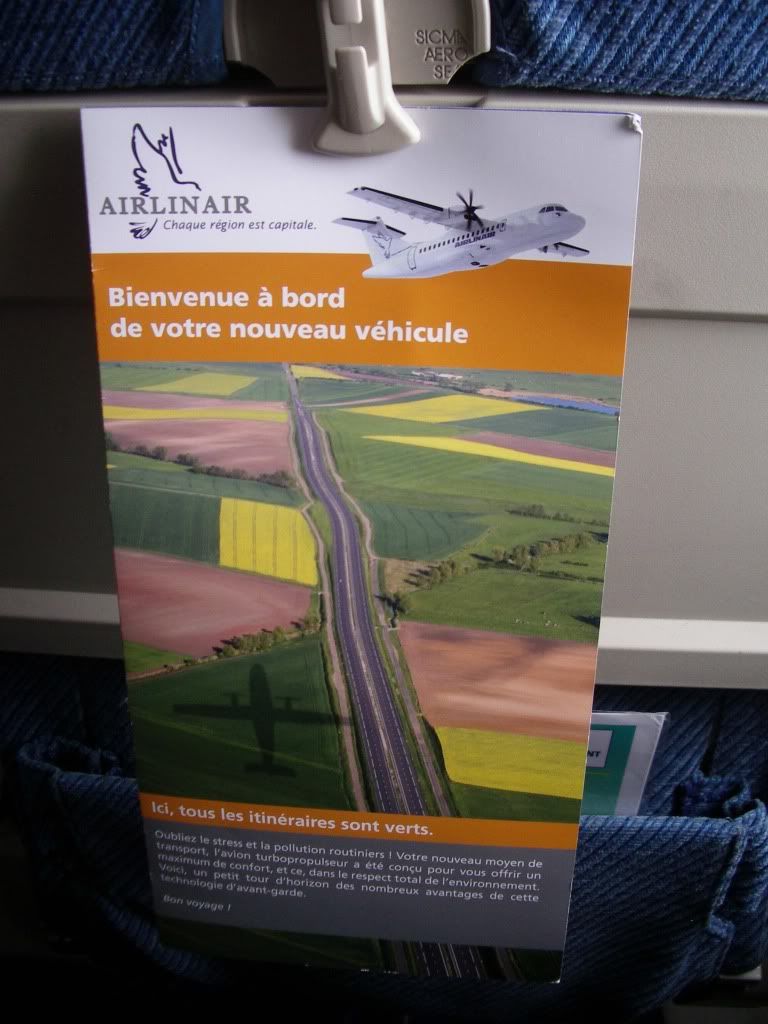 Oldfashioned cabin and ceiling
Between the clouds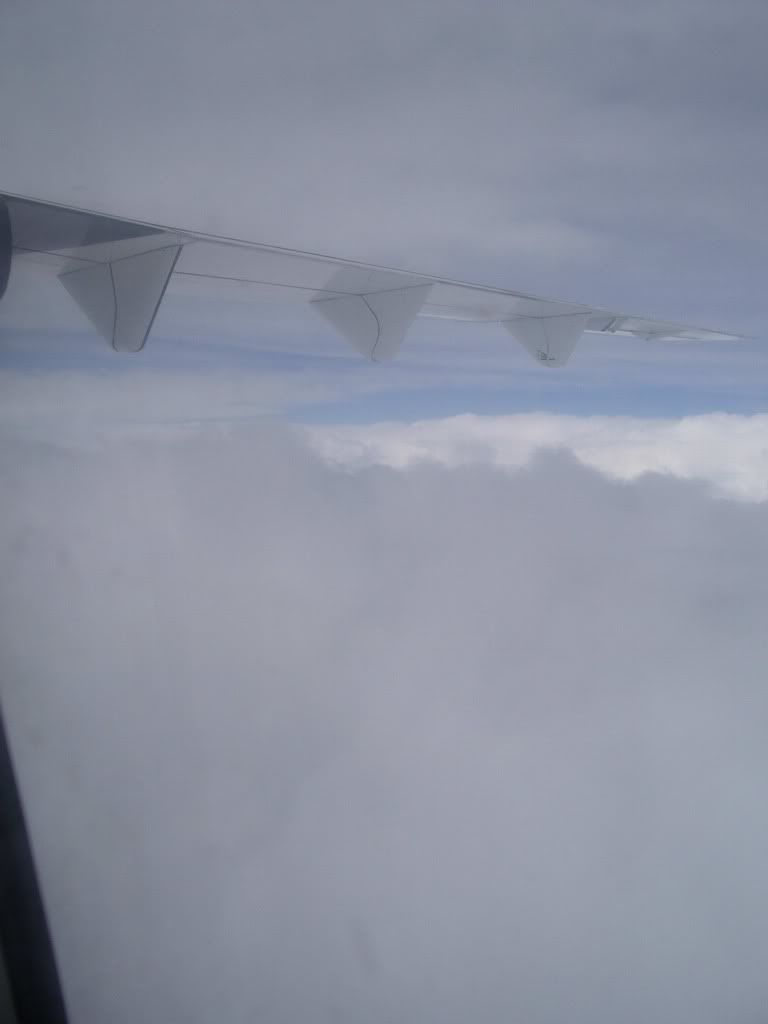 Breaking through the clouds above the "Etang de Berre"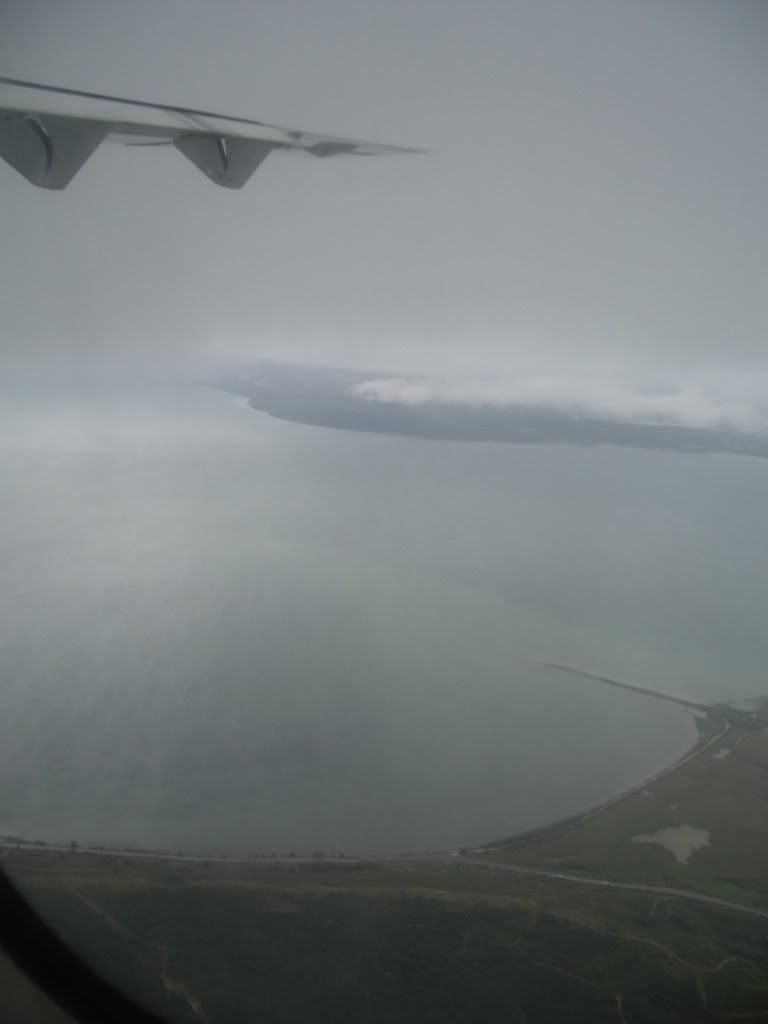 A first for me in this direction and we made it finally to the 3500 meters runway 13L.
14 degrees, heavy rain and wind till level 5 to 6.
The seats again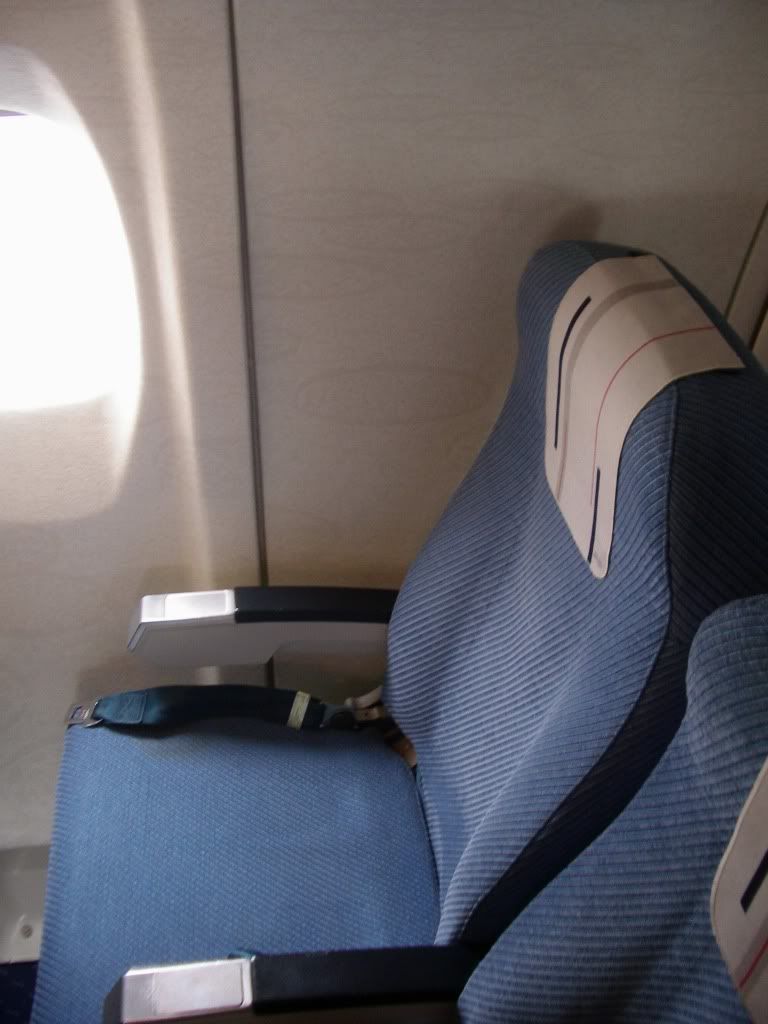 It was a good time for a shorty chat with the nice FA in the back while deboarding.
"I´am sorry for the weather, all that rain and storm", her true and warm words.
A last view to the plane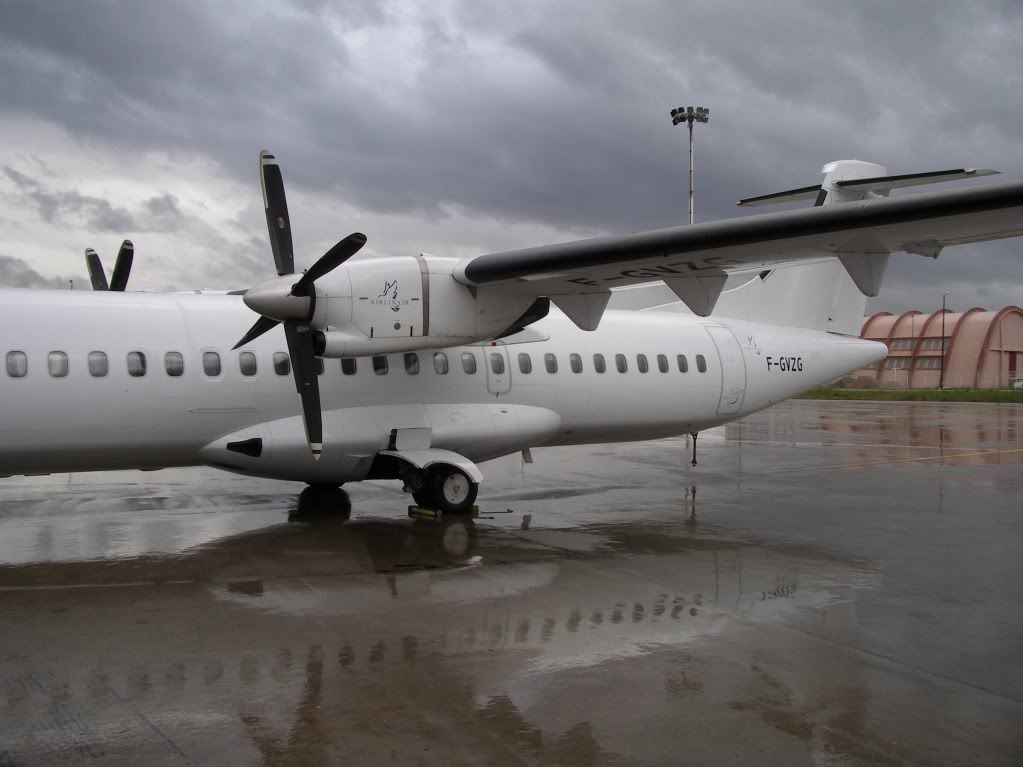 It is now 09.40 am, five minutes late, the airport bus service to Aix-en-Provence TGV will go at 10.00 am.
Not easy to find a rain protected place around the bus stop, not the usual weather here, it run´s ontime,
3,50 Euros.
Aix TGV is located between MRS airport and Aix, new and well designed
The train is arriving
10.27 am is the departure time for Avignon, 20 minutes for 22.80 Euros, but also ontime.
This is the connection with the most possible time to spend in Avignon for some city pix.
But with this weather, the irish guys know what I mean, when I say, it´s raining not from above, no, from every possible direction.
You got soaking wet immediatelly after you step outside Avignons TGV station.
Ok, looking for a place to rest in the station and read my book, that was my visit to Avignon.
Enough for me at around 12.00 am, running to the taxi stand, yes, got soaking wet and spent some 30 euros this way to the airport.
Tuesday, 04.05.2010
.
.
.
Service BE 1778 operated by Flybe
Scheduled: 13.45 // 14.50
This is the new airport for my log, looks like more like a general aviation and business station,
but also well designed and friendly staff.
Also for the less frequent travellers this departure board shows a good chance to catch you´re
original flight. Btw, no other scheduled service today.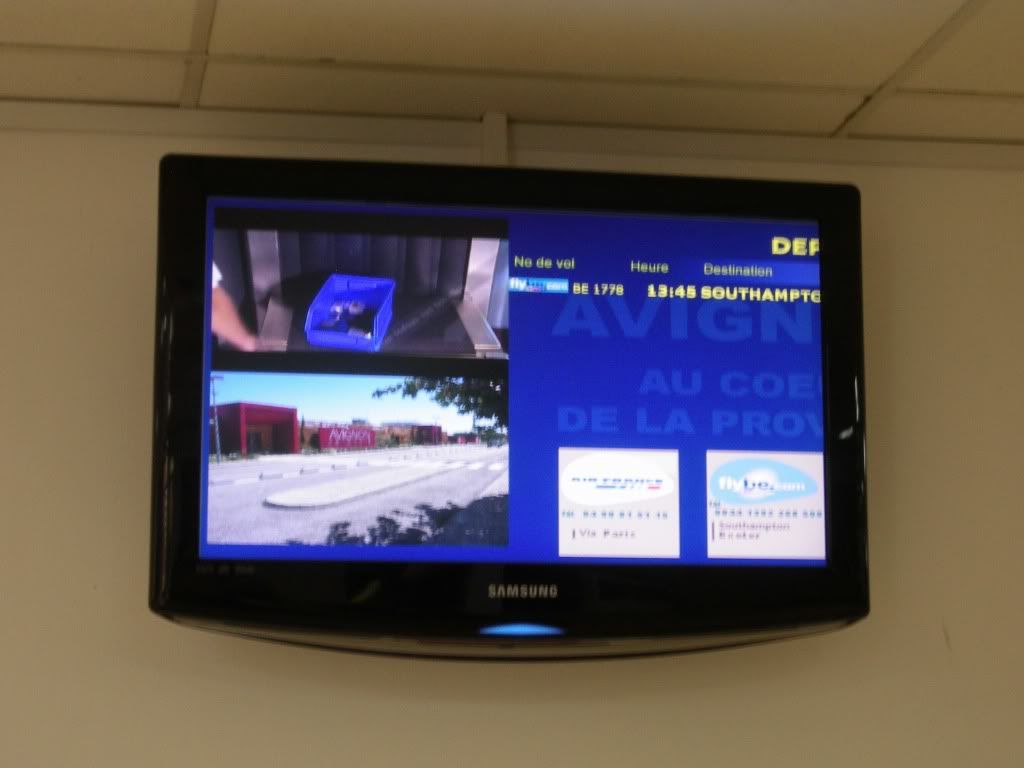 Some ten other pax in front, two desks open.
A friendly older female agent secured exactly my seat of choice this time, 21D last row window.
Btw load will be some 80% and no one in the aisle seat.
No OLCI here for Flybe services from Avignon.
The fare with some 50.-- Euros acceptable, booking done at Flybe´s website.
The terminal is small with a good view to the apron, for example this Swiss Jet D0328Jet
And a pretty small baggage area
More Swiss Jet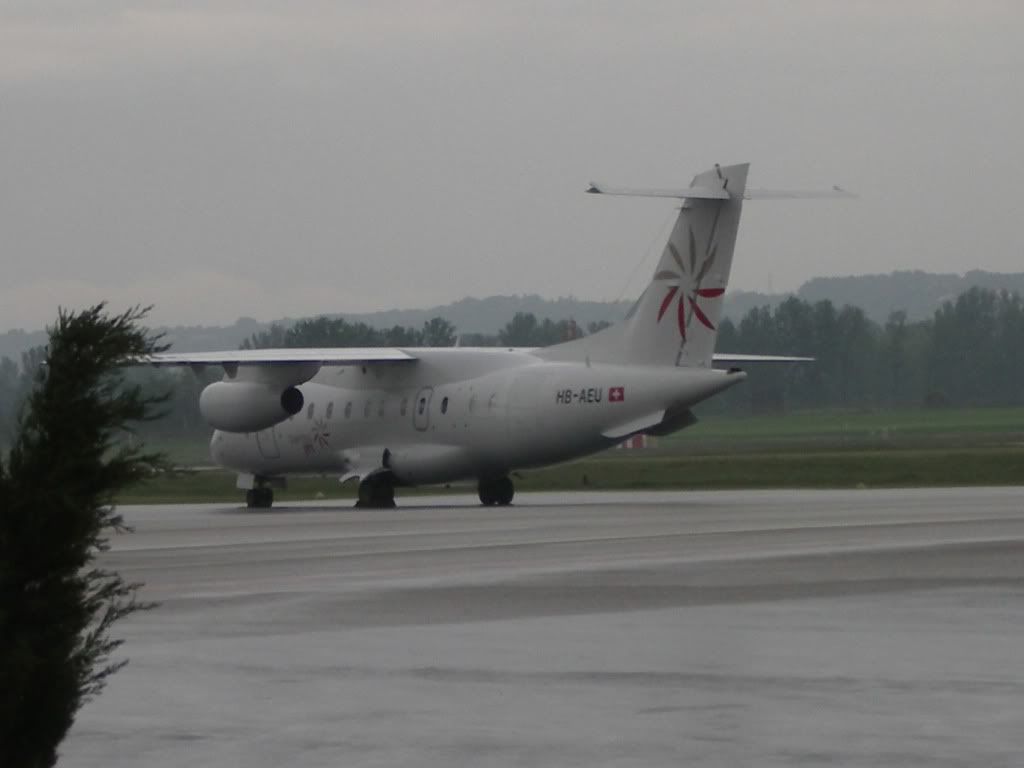 A good view from my place to the check-in action.
Unbelievable how many pax dont ordered baggage online and need to go to the counter for some extra Euros.
Also lots of people with overweight bags to pay extra.
One hour prior to departure security is clear with a long line of pax there immediatelly.
No problem for me to join the small waiting room.
Interesting when we know that Jet2 run the 733 also to Avignon during the summer months.
Rainy arrival from SOU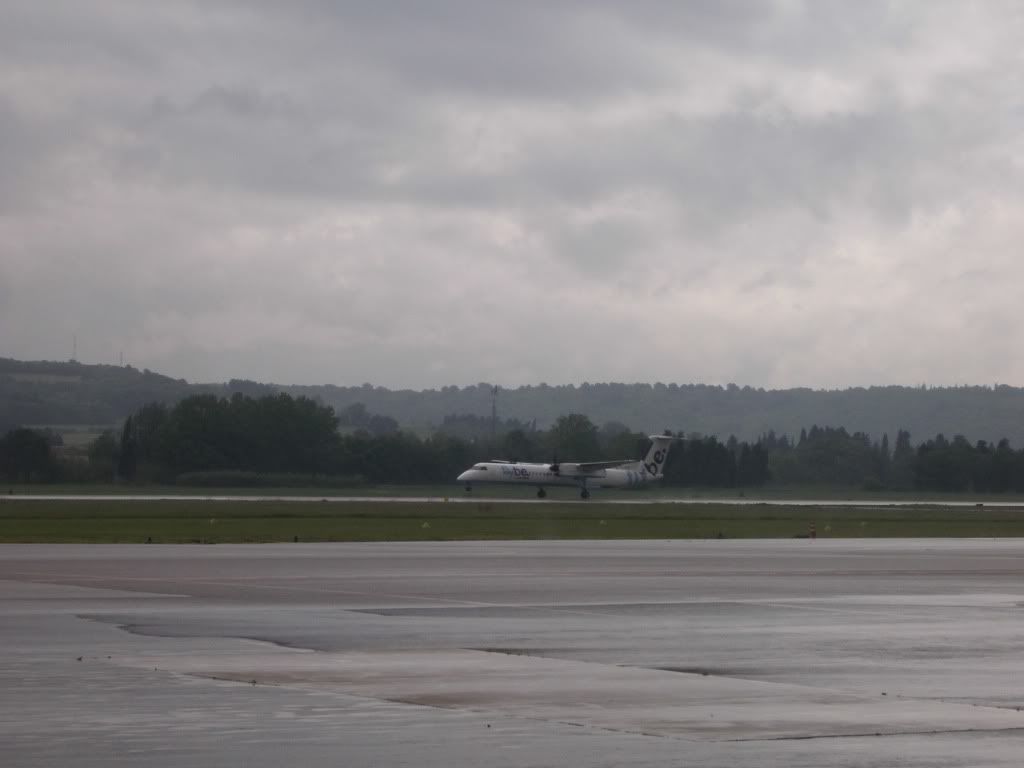 Pick up follow me spotting
Backtracking on the runway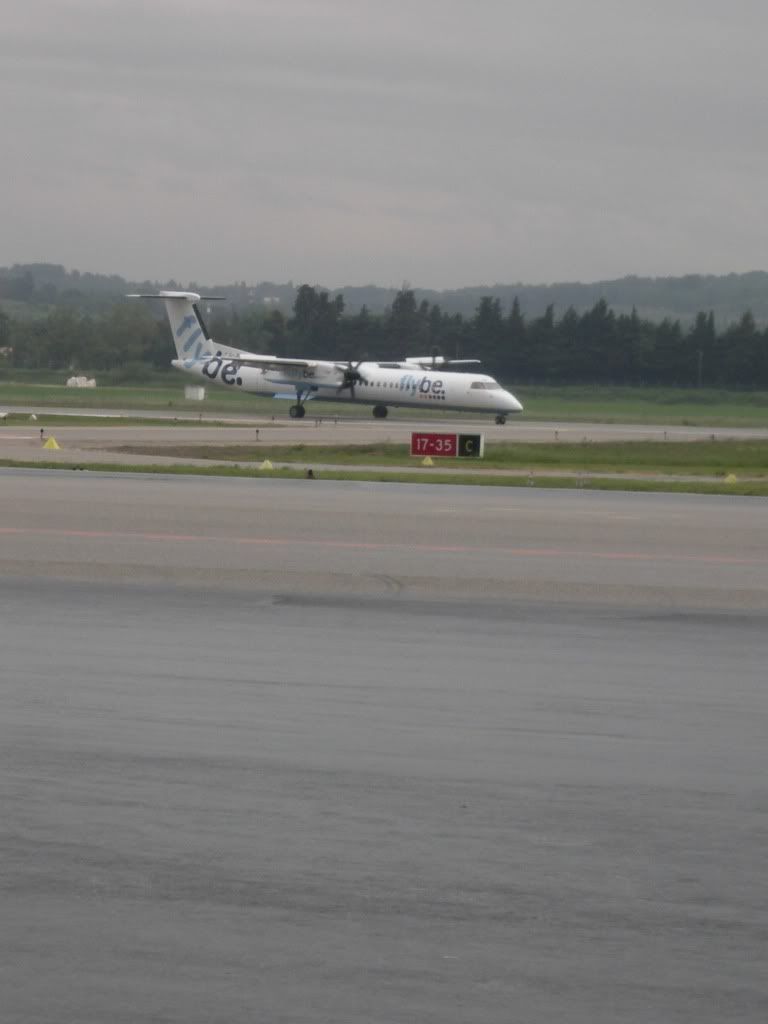 Taxi to the apron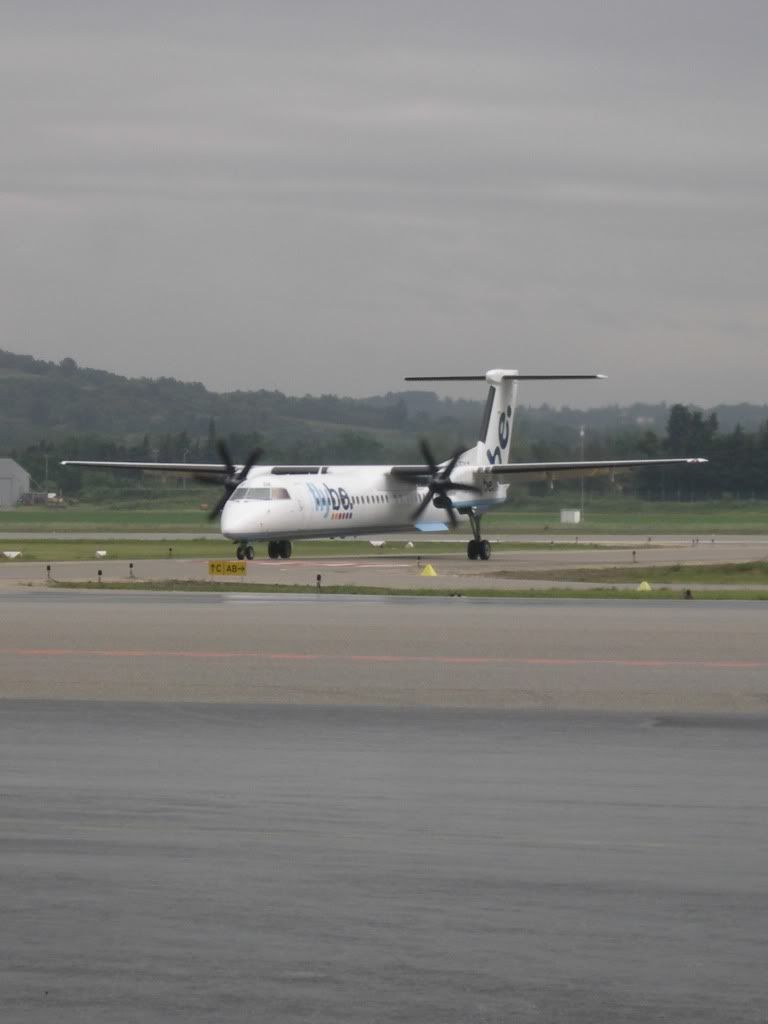 Really close by
US biz jet behind
Another turn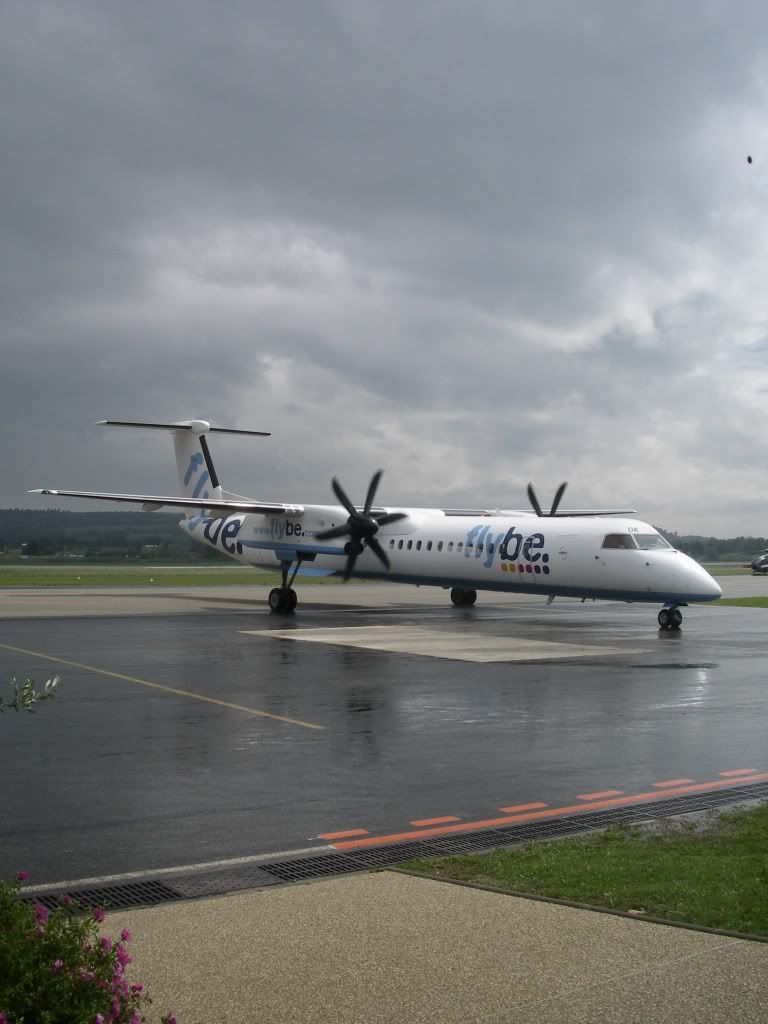 Going closer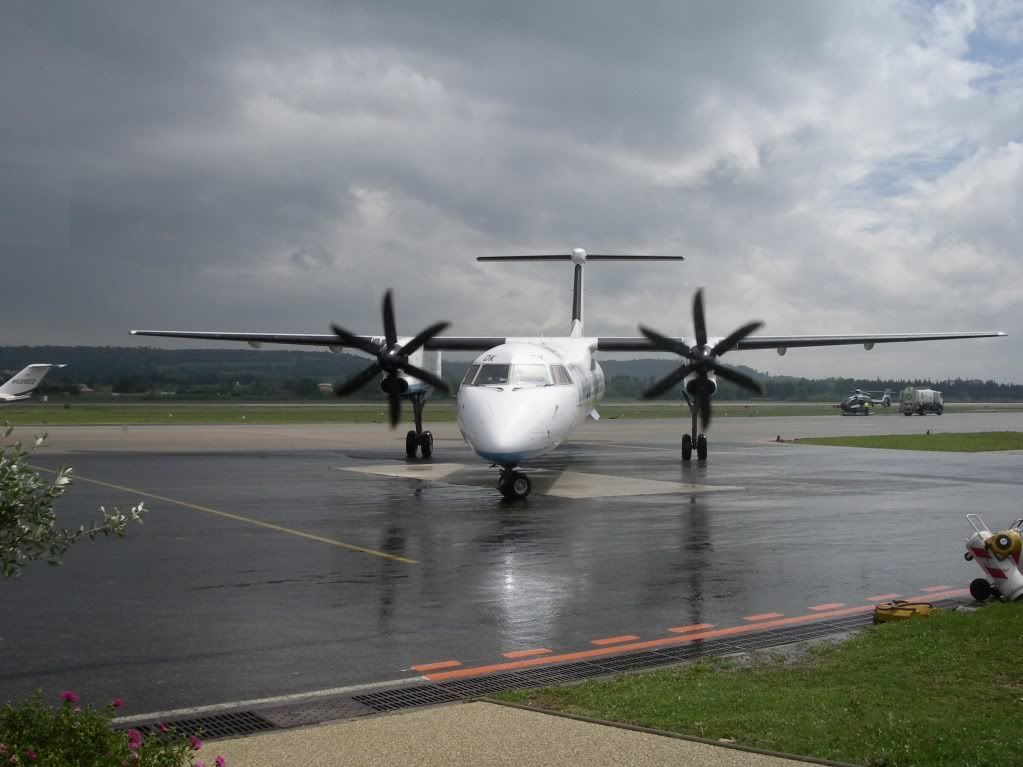 Now finally on stand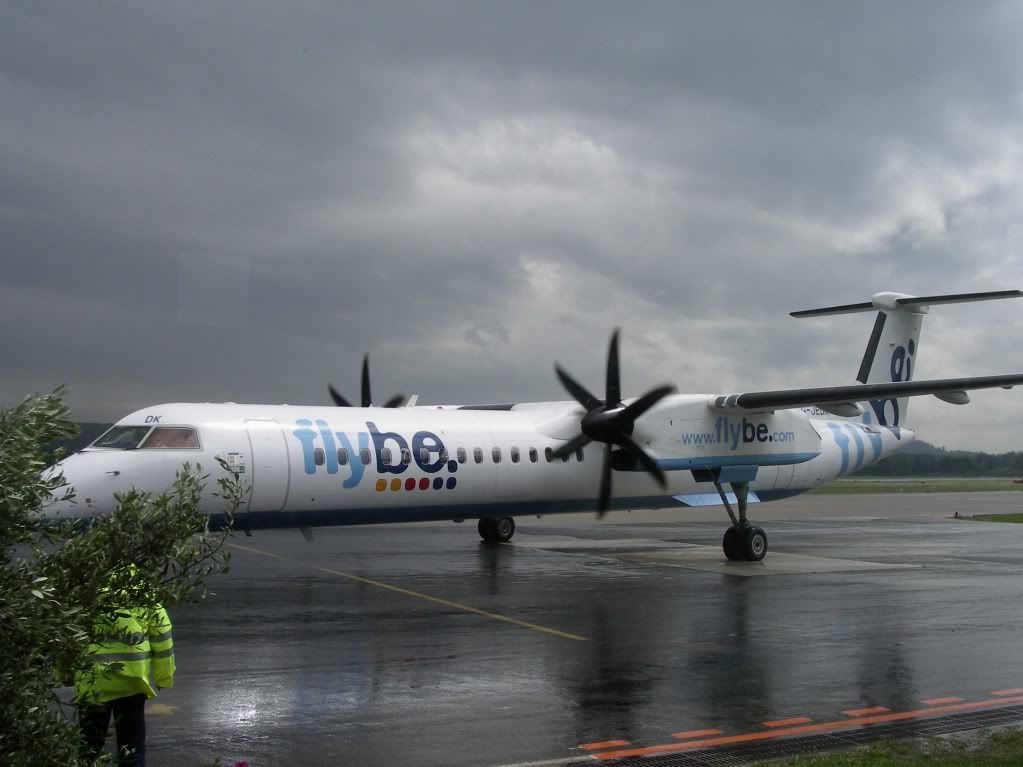 Registration shot
It is G-JEDK, one of "only" 63 examples in the fleet, with Flybe since 23.04.2002.
AFAIK the biggest Dash 8-400 fleet around the world.
Leg no. 8 for me ontype and another new registration.
Like other experiences all the pax at the front door and me, so it seems, the only one for the rear door.
Hey, welcome, the good looking FA girl is real nice and chatty with no other pax around.
The other female FA in the front cabin is more standard friendly, but here in the back superb nice service
along the whole flight.
Thin bright blue leather seats, the cabin is clean, the legroom ok.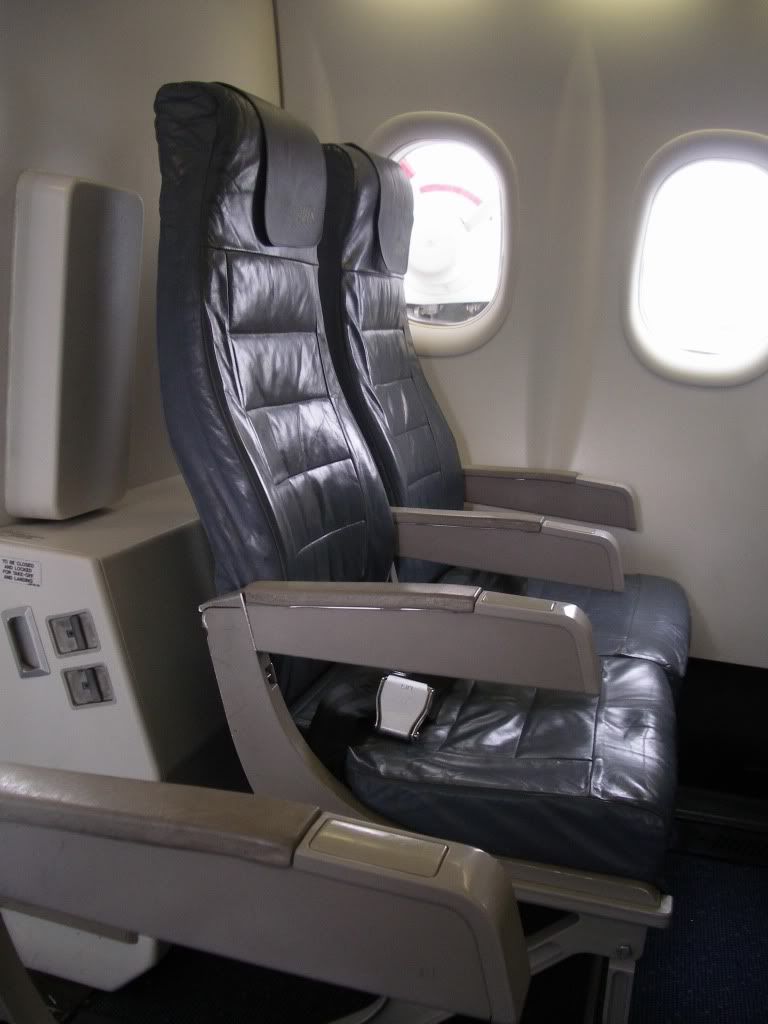 The small terminal in the middle of this picture
35 will be the runway with 1880 meters to leave rainy France and escape to the UK.
It is 1.30 pm, 15 minutes prior to scheduled departure, the wind helps to shuffle the clouds.
Rain showers only now and 12 degrees.
1 hour 45 minutes up to the island.
The UK captain is on the speakers during boarding with a very nice welcome, some weather and flight details, some turbulences on the way.
Also in french
The actual magazine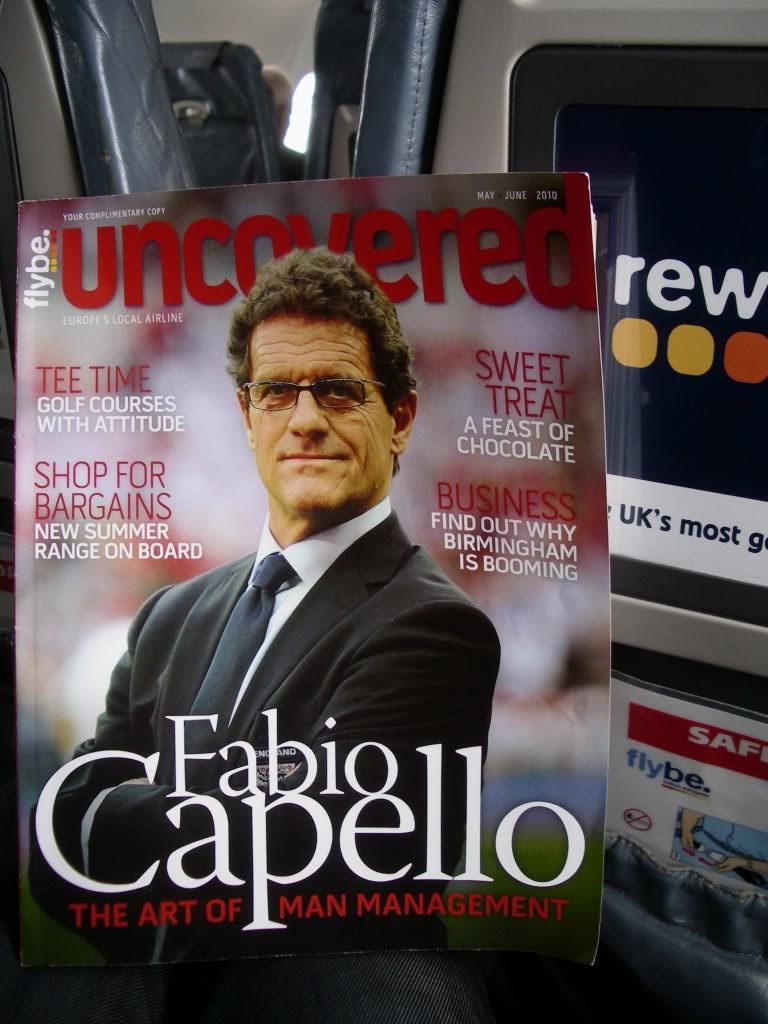 Cloud cruising
Clean ceiling and cabin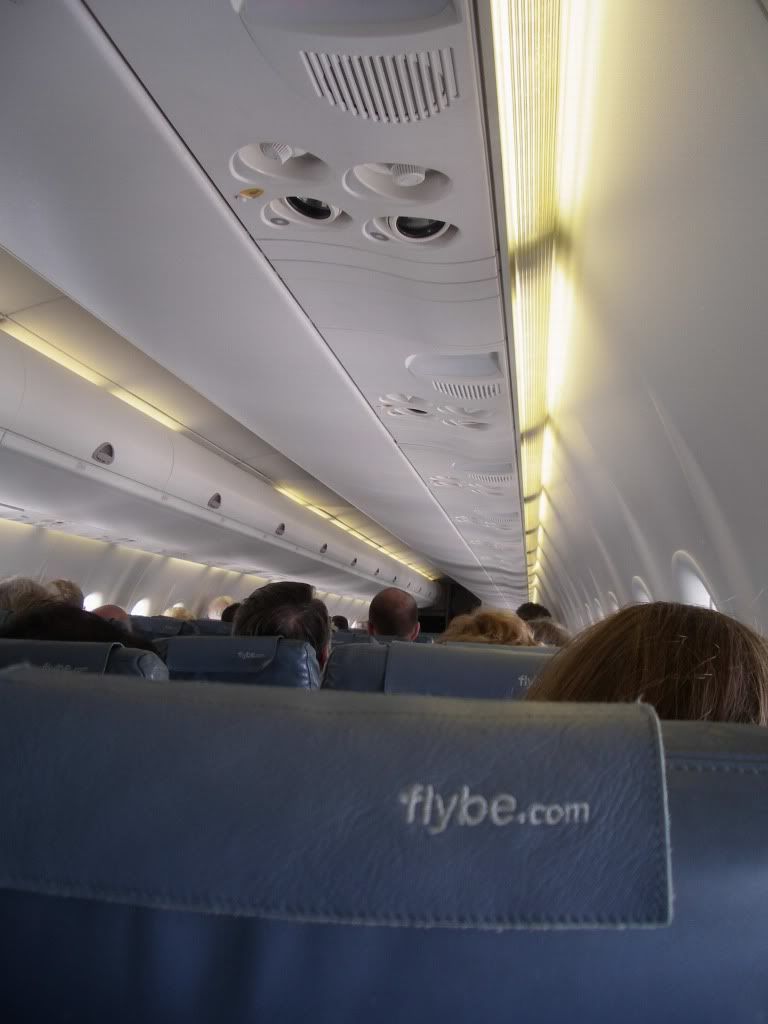 Engine view
Service is BOB.
The captain is on the speakers once more during cruise at 25.000 feet with route and flight details.
Going above Lyon-Paris-Calais.
Above the coastline
To the water
And finally the UK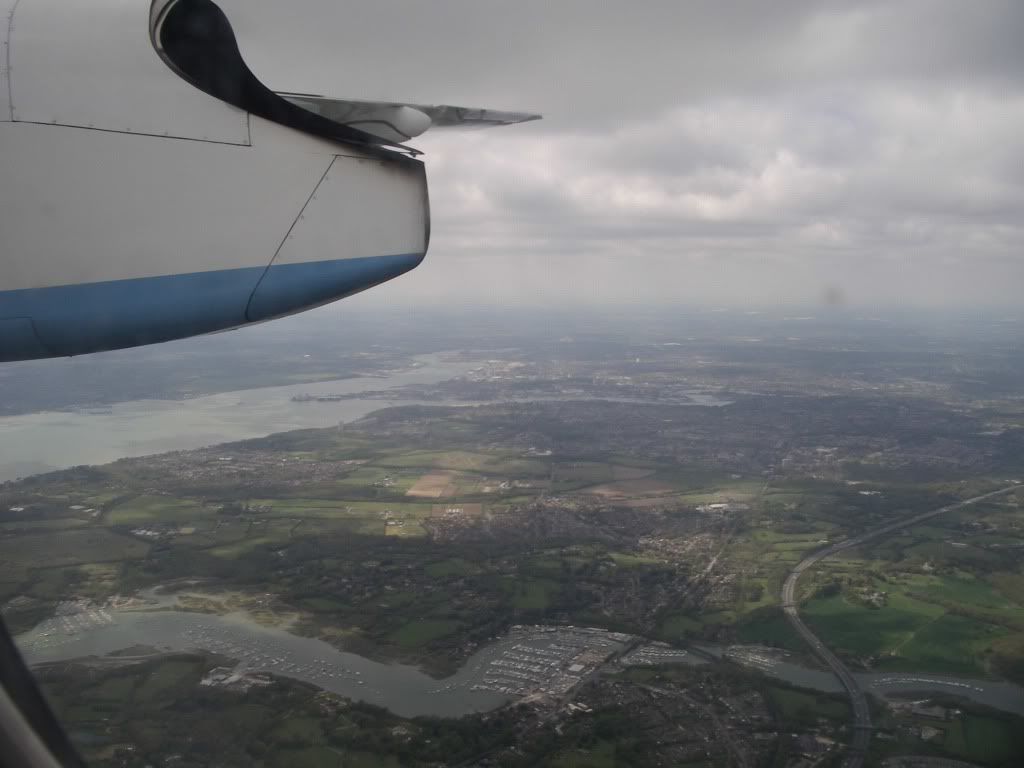 Turning near Southampton harbour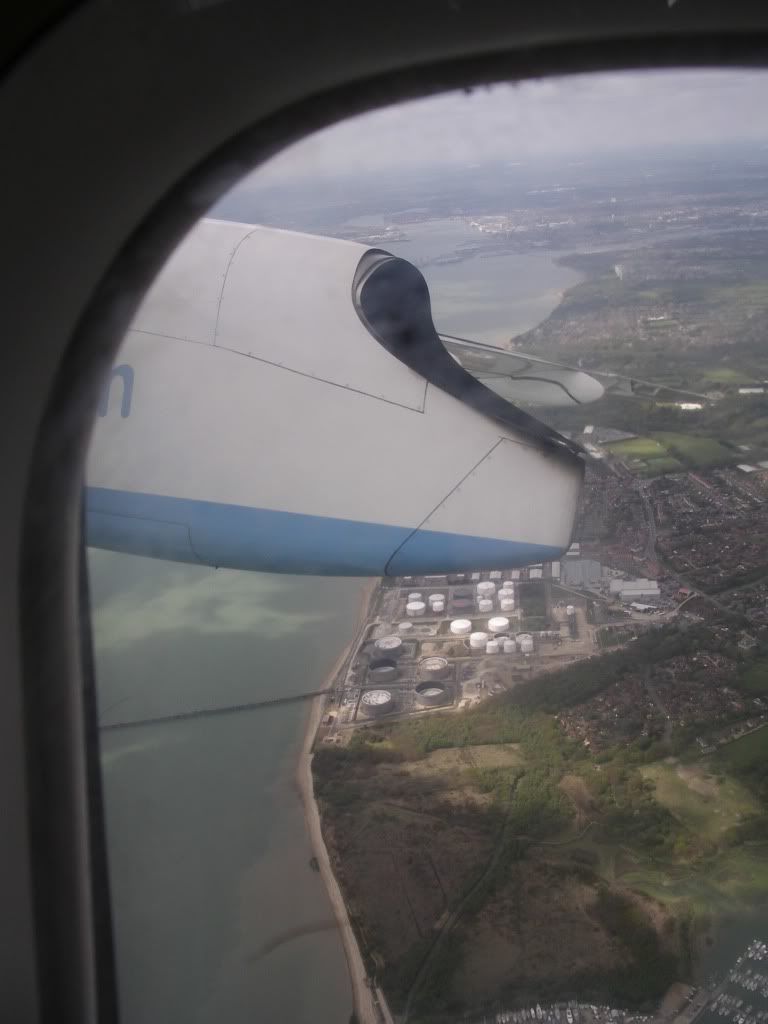 Along the river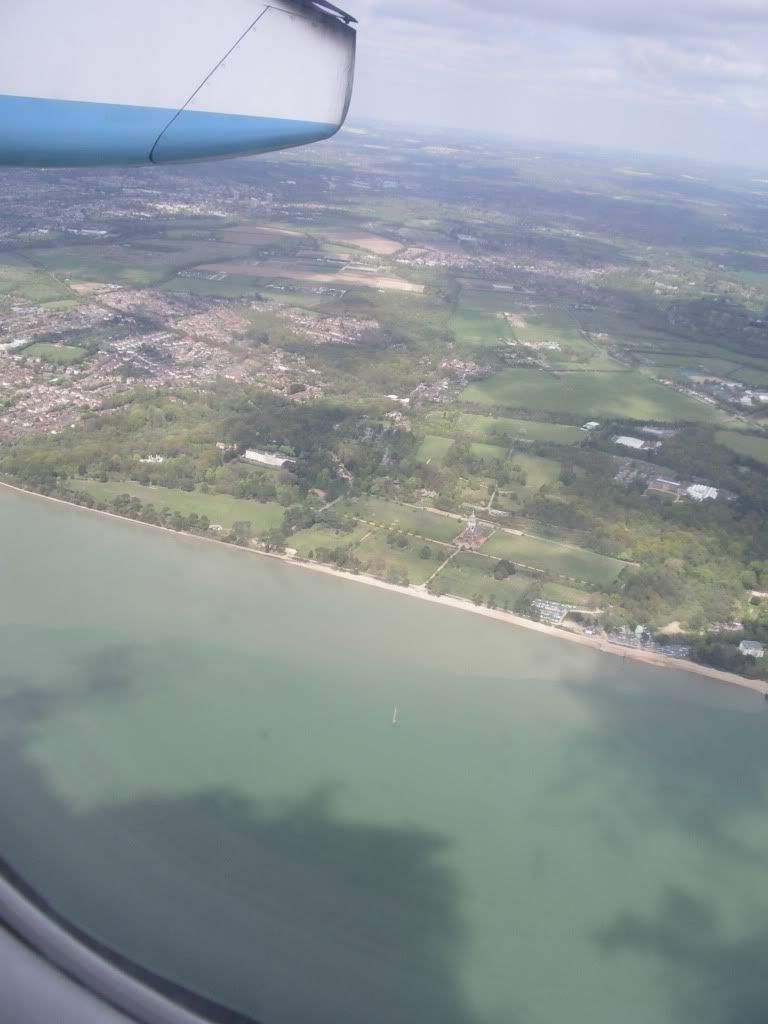 Lower the undercarriage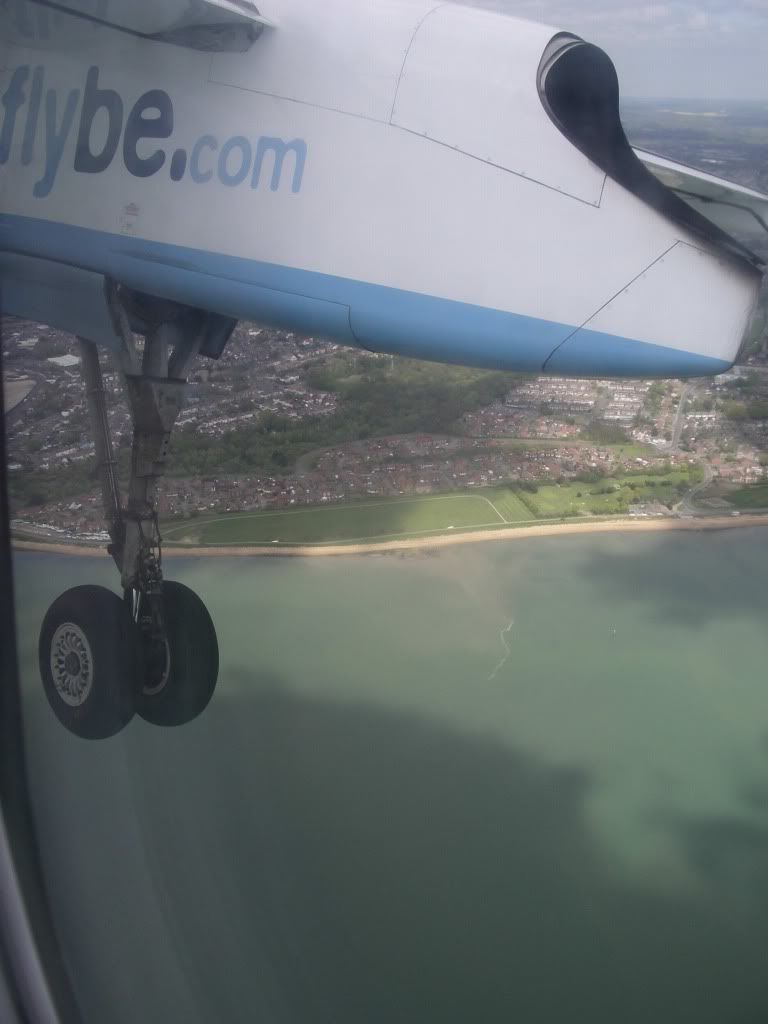 It is 02.30 pm local, that means 03.30 german time and finally some 20 minutes ahead to schedule
at arrivals into Southampton on the shorty 1723 meters runway 02.
16 degrees and only light clouds, thanks god, reaching sunny UK.
Parking at the far outern stand, it seems no direct flight again for this machine now.
Bus deboarding from the front door only. The chance for some more chatty with the nice FA here,
really well done Flybe.
On stand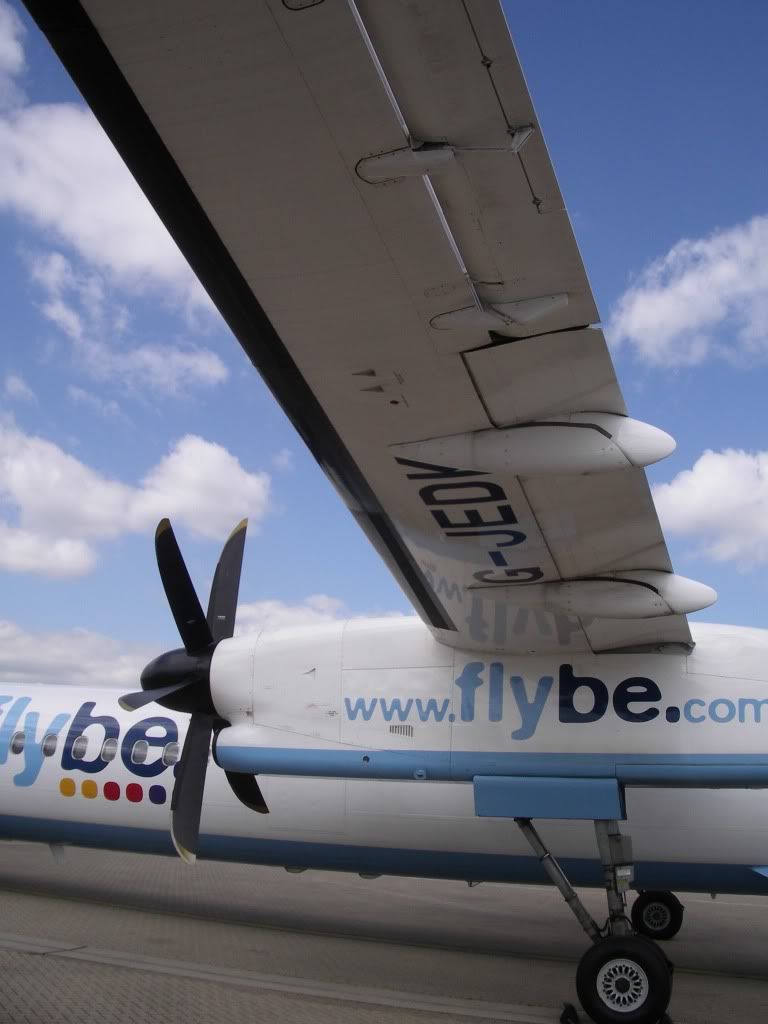 Bye now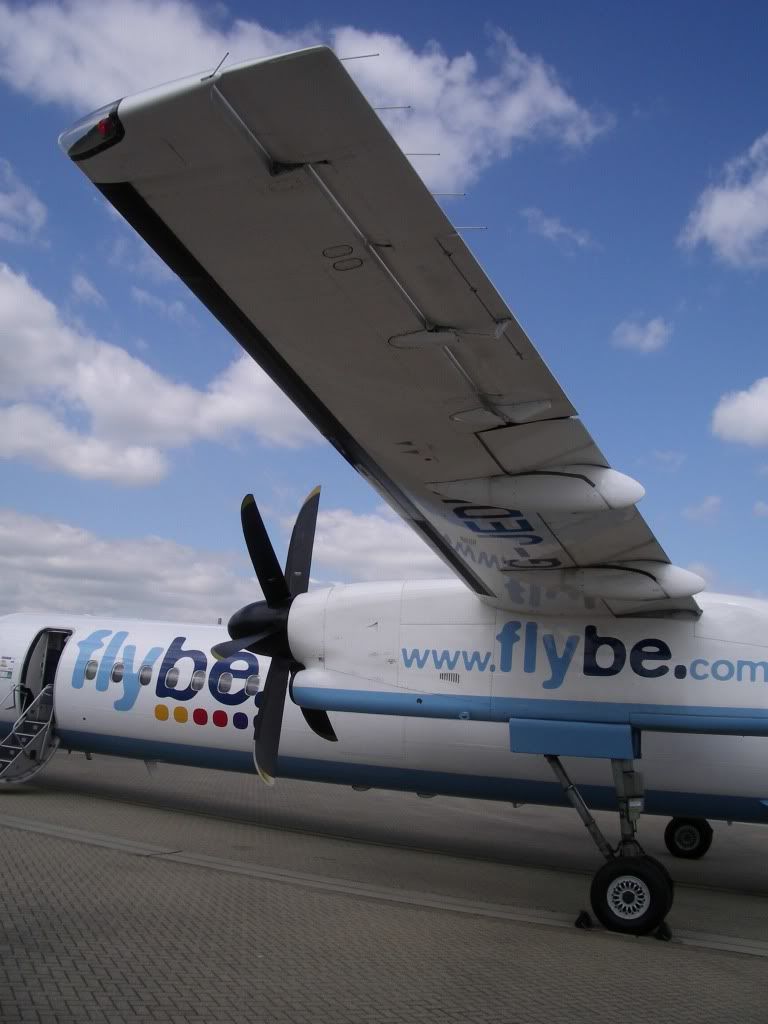 Only some meters from the terminal above the road is Southampton parkway train station.
South-West Trains runs direct services frequently to London Waterloo, 30.70 pounds and some two hours later I´am in central London.
The tube on the Bakerloo line to Paddington, one zone 4 pounds and
on the Heathrow connect service for 7,90 pounds to Heathrow central, further on the heathrow express for free to T5.
Tuesday, 04.05.2010
.
.
.
Service BA 922 operated by British Airways
Scheduled: 20.10 // 22.45
OLCI is ok here with BA, seat 22 A for me, last row window and also here, three for me, with a
90% load.
Booking done at BA´s website, the fare around 70.-- Euros.
No queues, no time to wait, trough security in a minute.
Departures from 9R, my favourite runway whenever I´am in T5,
espresso a chocolate bar, spotting and pictures from comfortable leather seats,
that saves the day!.
BA heavy on taxi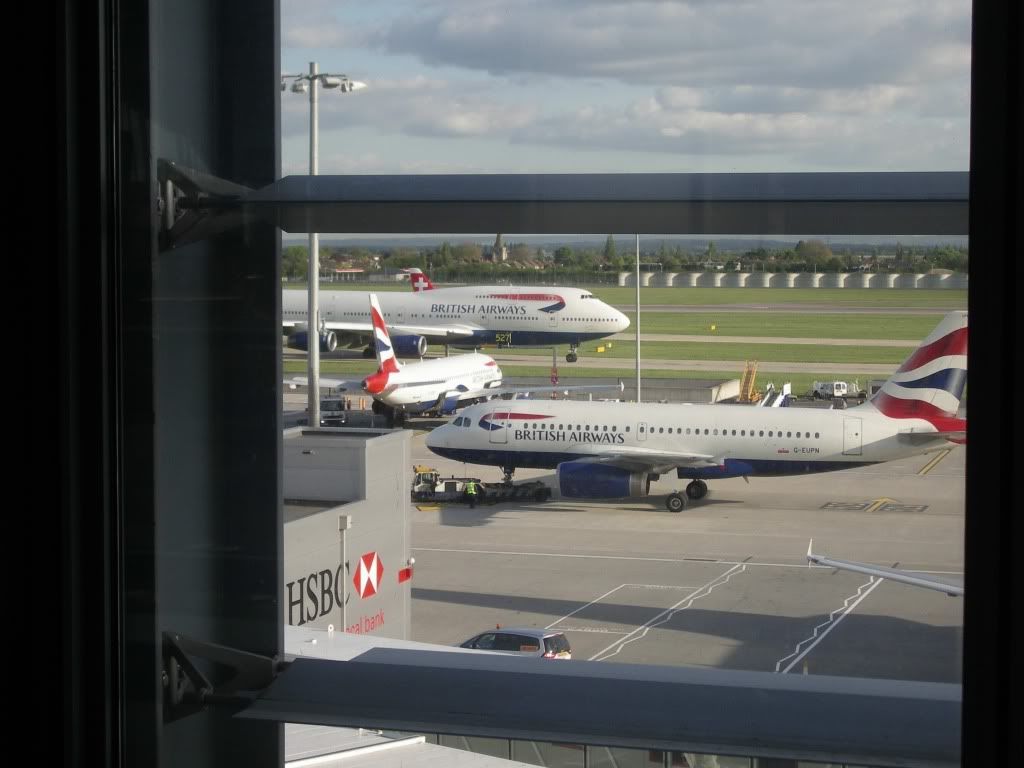 Turning to departures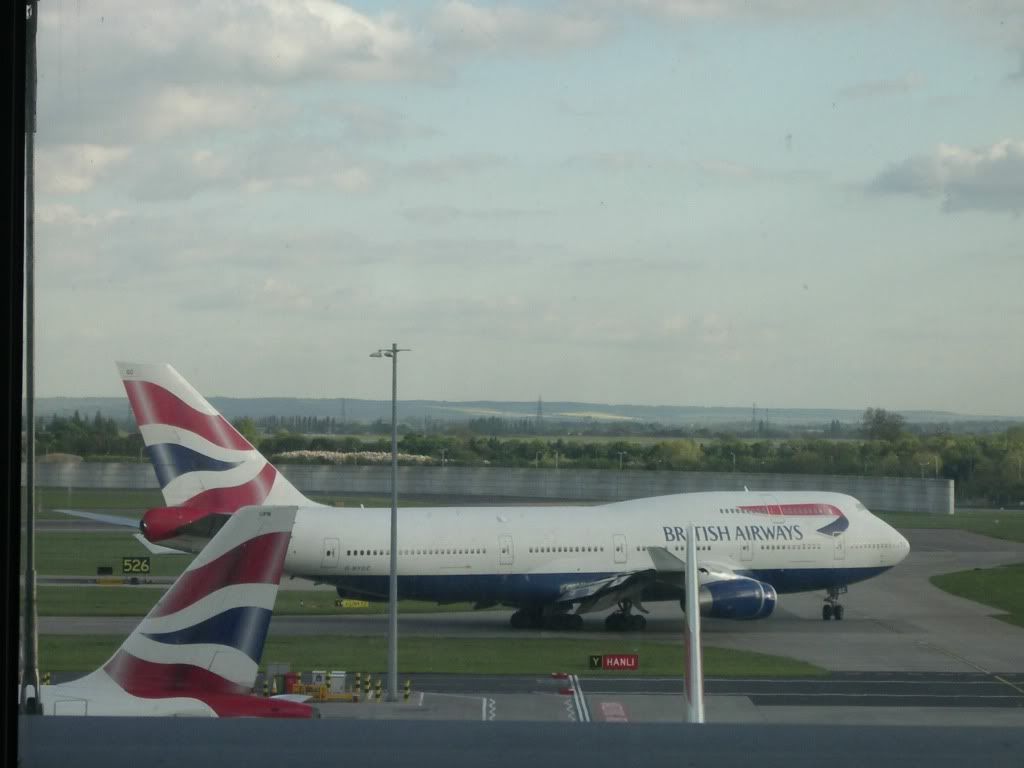 American on the go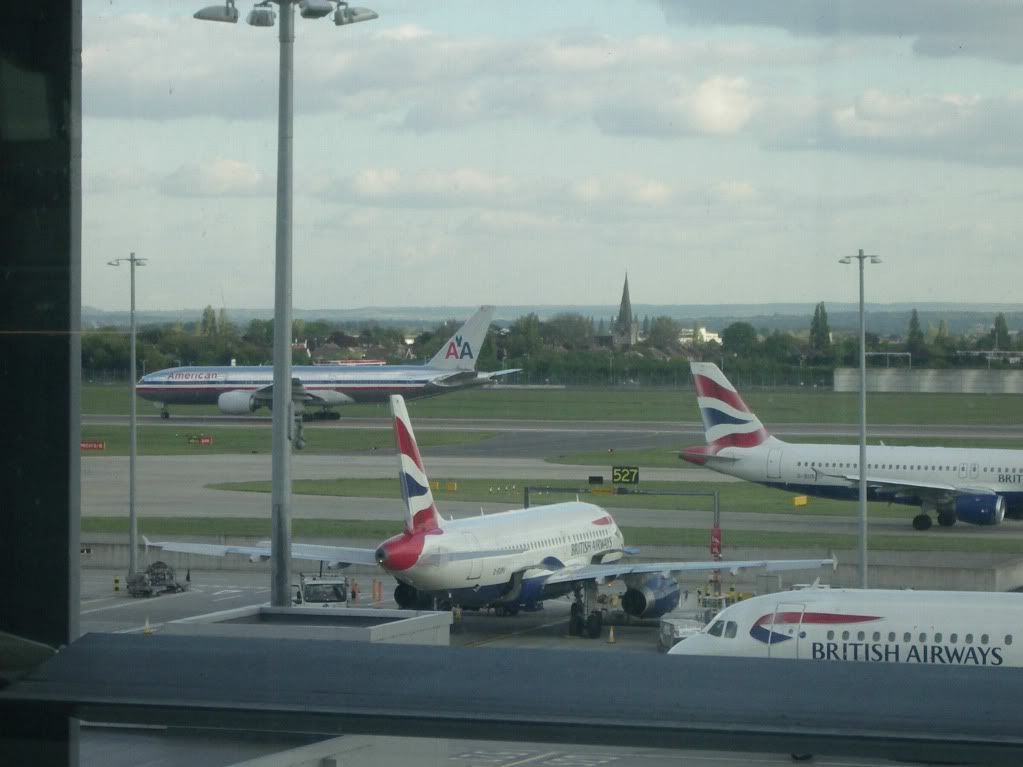 SIA triple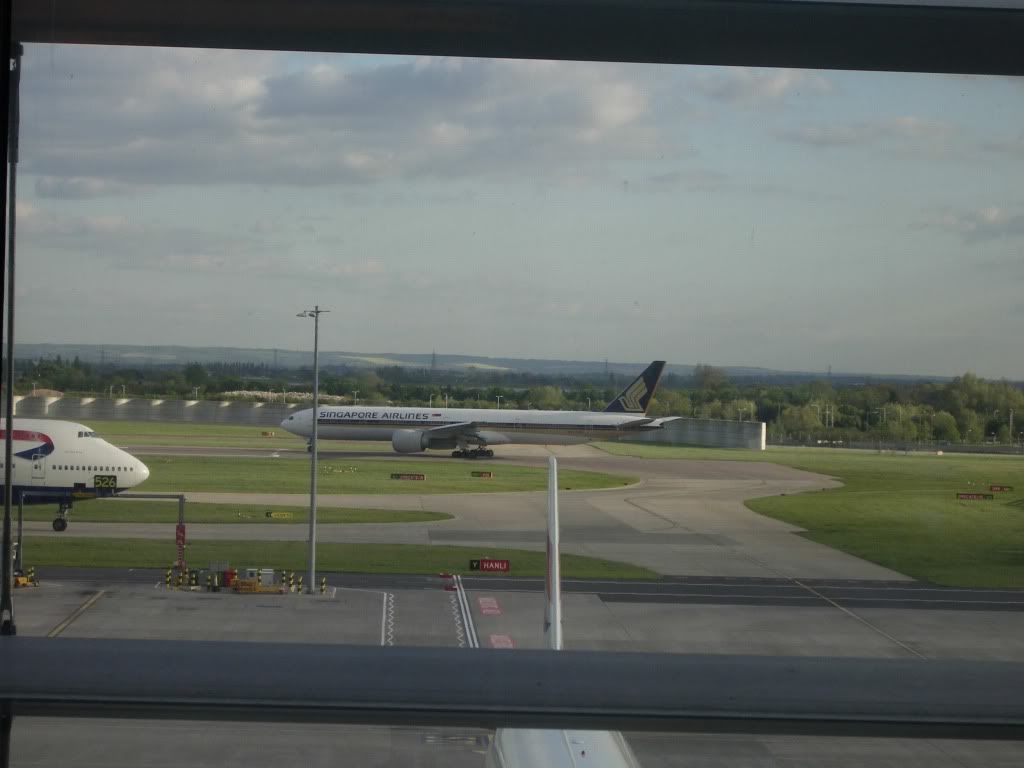 Classic SK maddog
Heavy on finals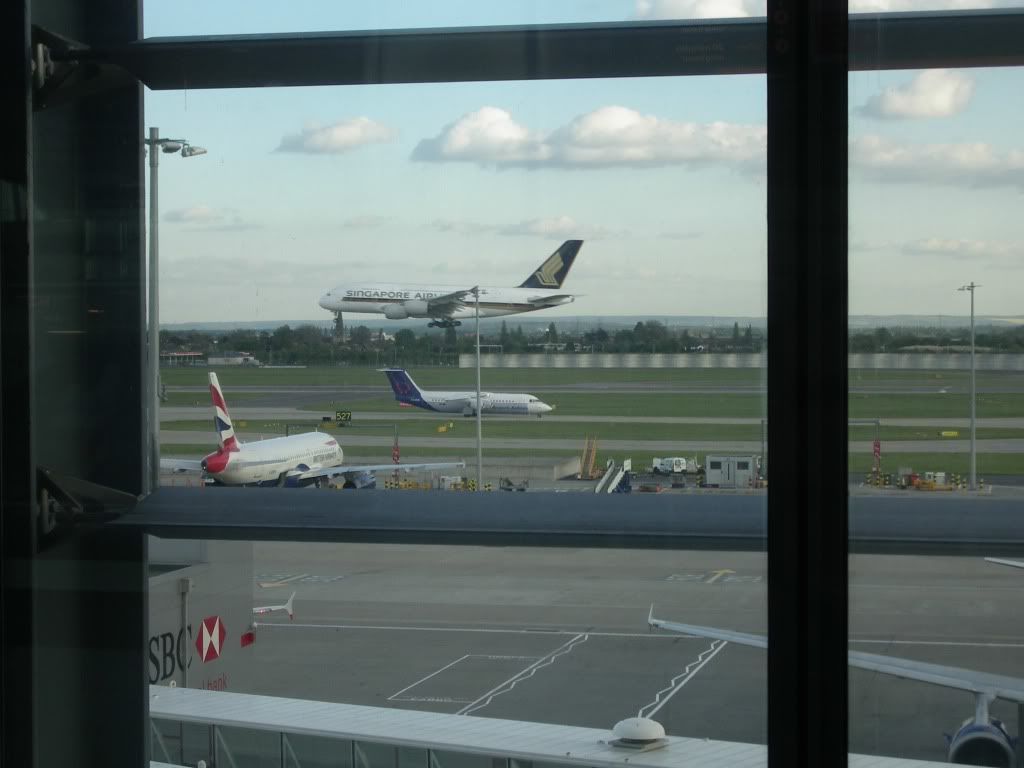 Something from China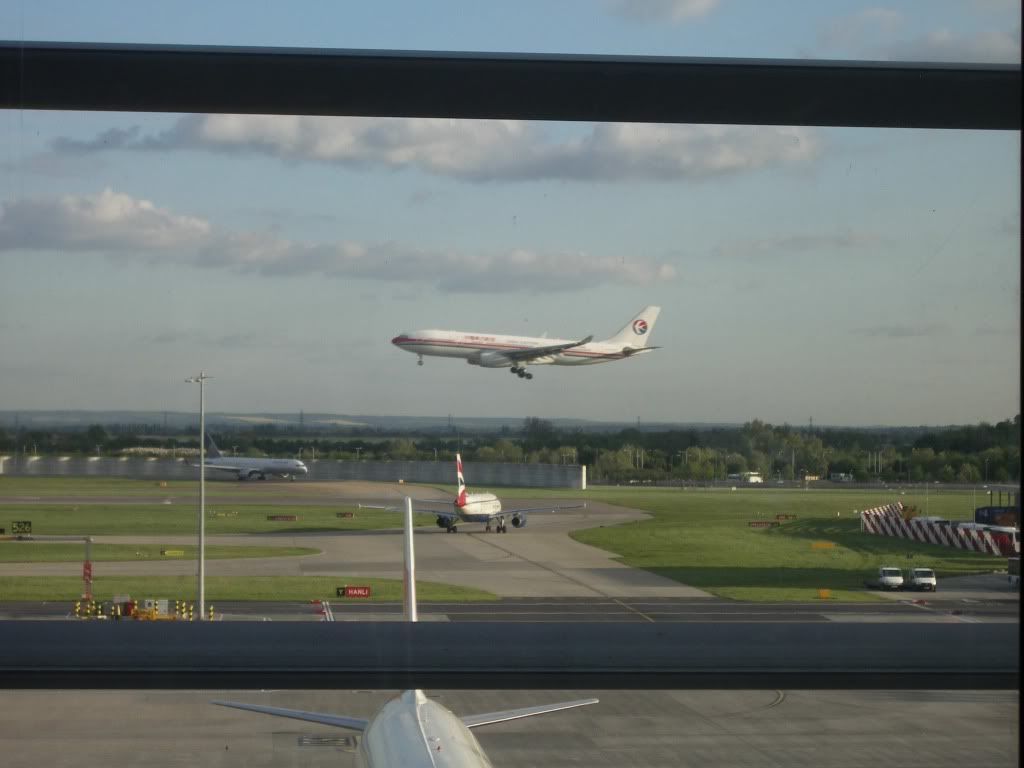 Four planes to go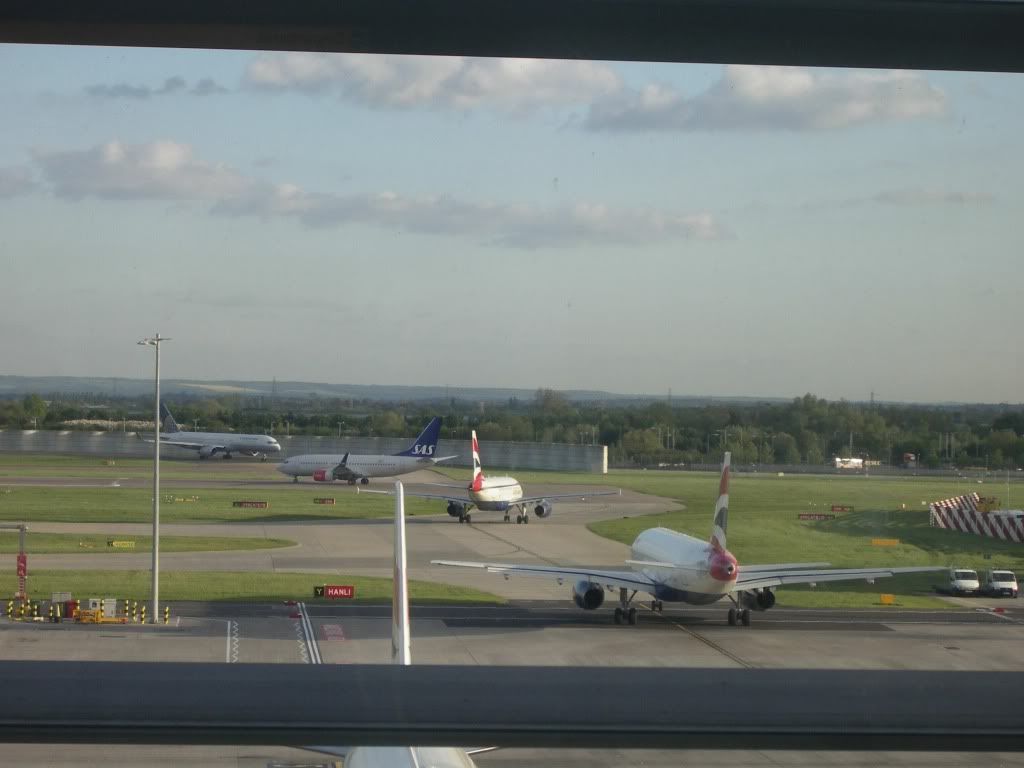 Three more
BA B767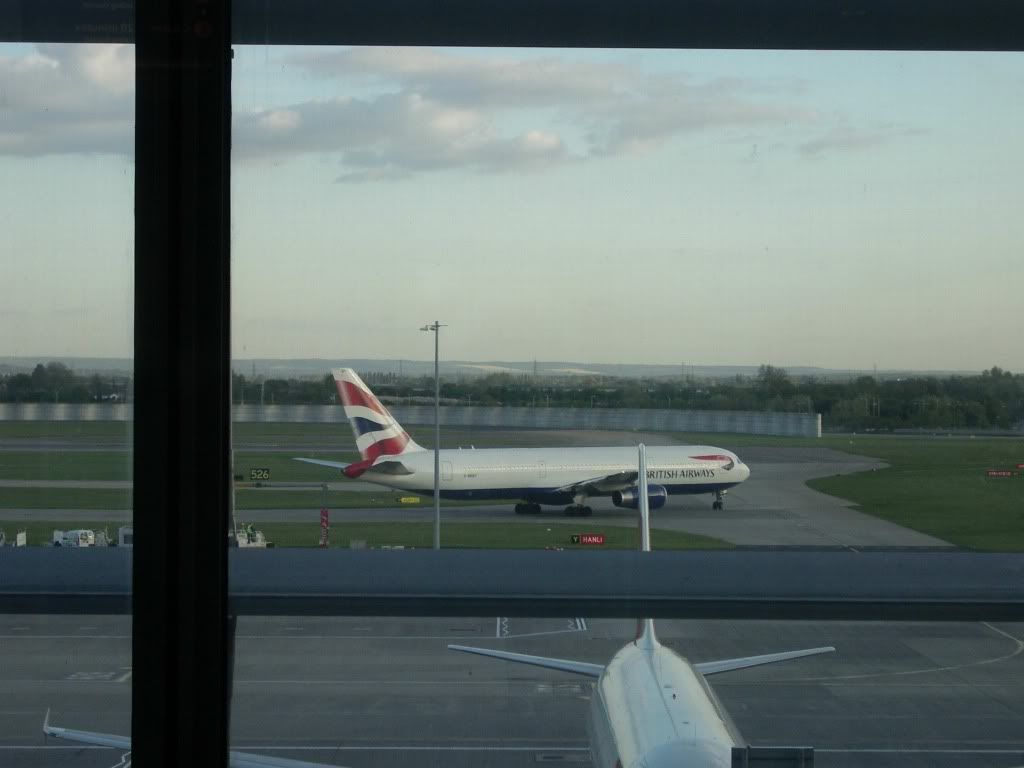 Dedicated to Eric (Airbuseric)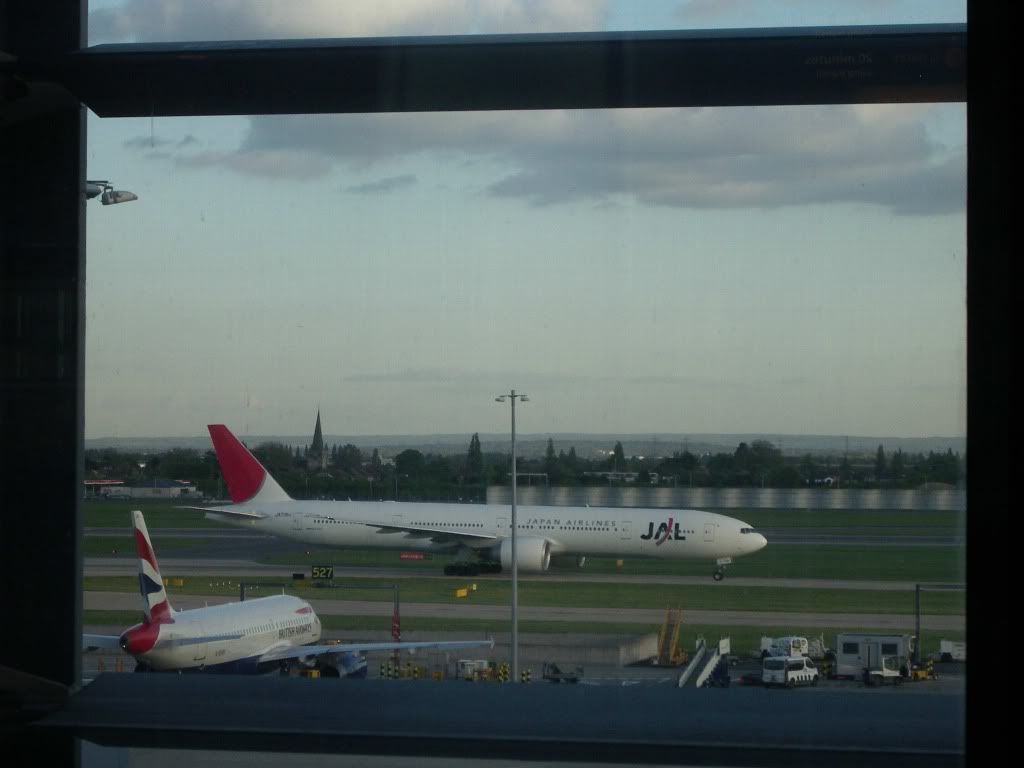 A13 shows up, time to go for the gate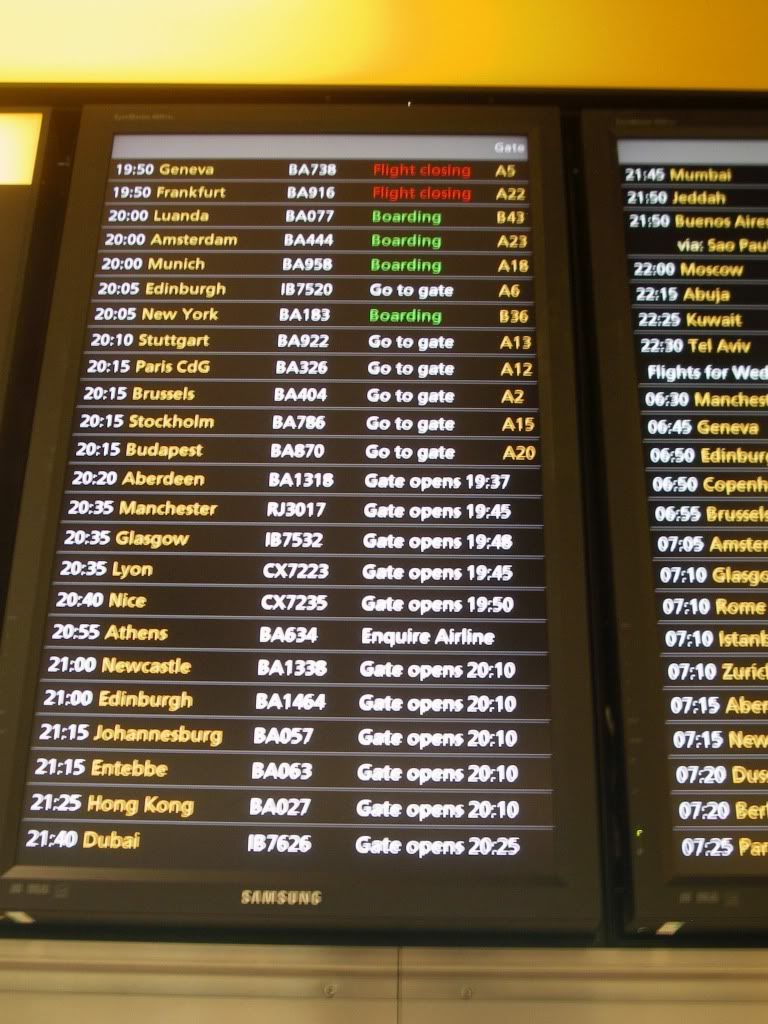 It seems my machine
Service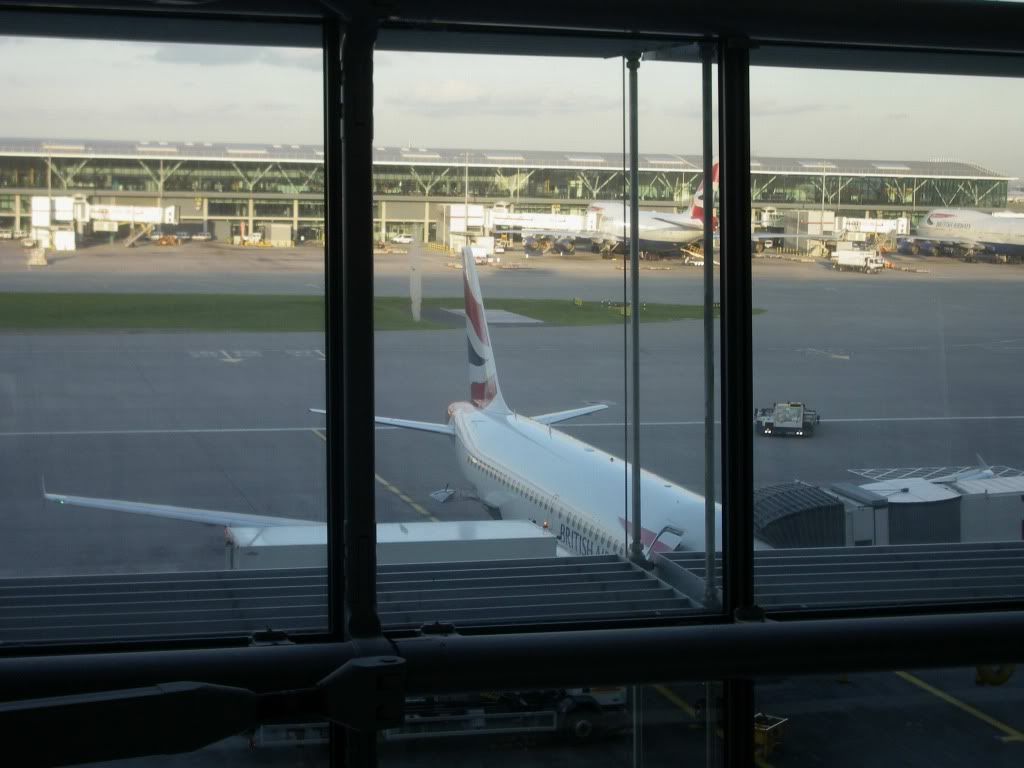 Boarding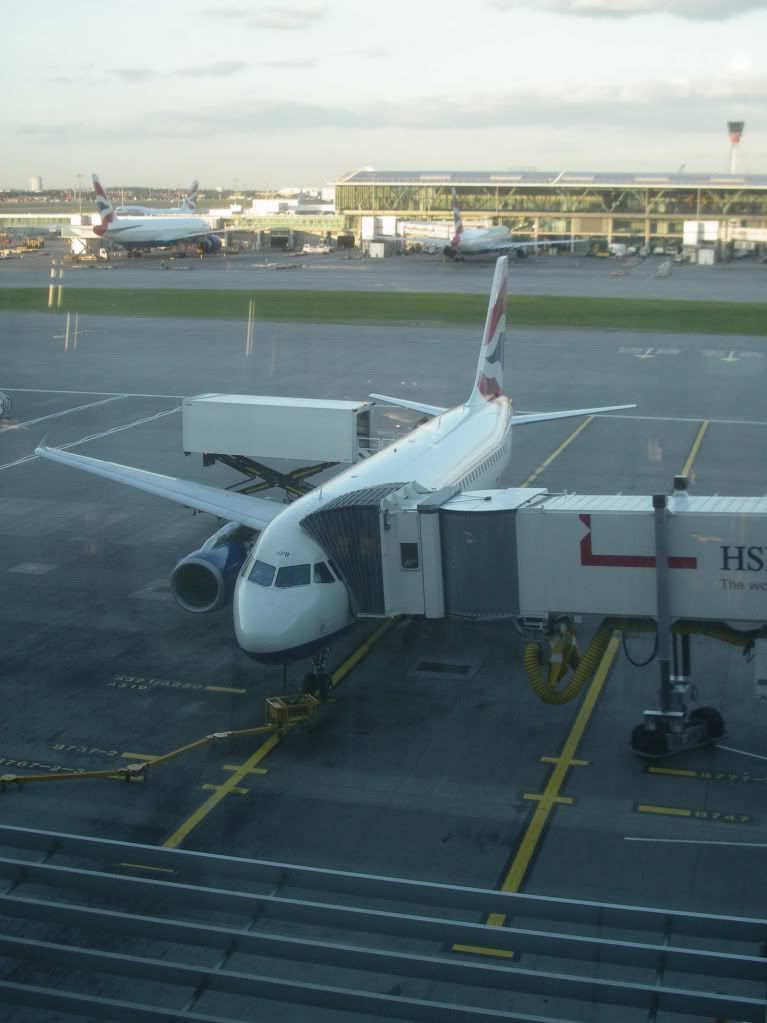 A friendly welcome with flight and weather details from the UK FO during boarding.
Two female and one male FA on this service, also ok so far, especially the elder female serving the rear cabin.
It is G-EUPR an A319, with BA since 09.10.2000.
Leg no. 50 for me on type and a new registration.
BA´s A319 fleet is 33 examples strong.
Stylish safety card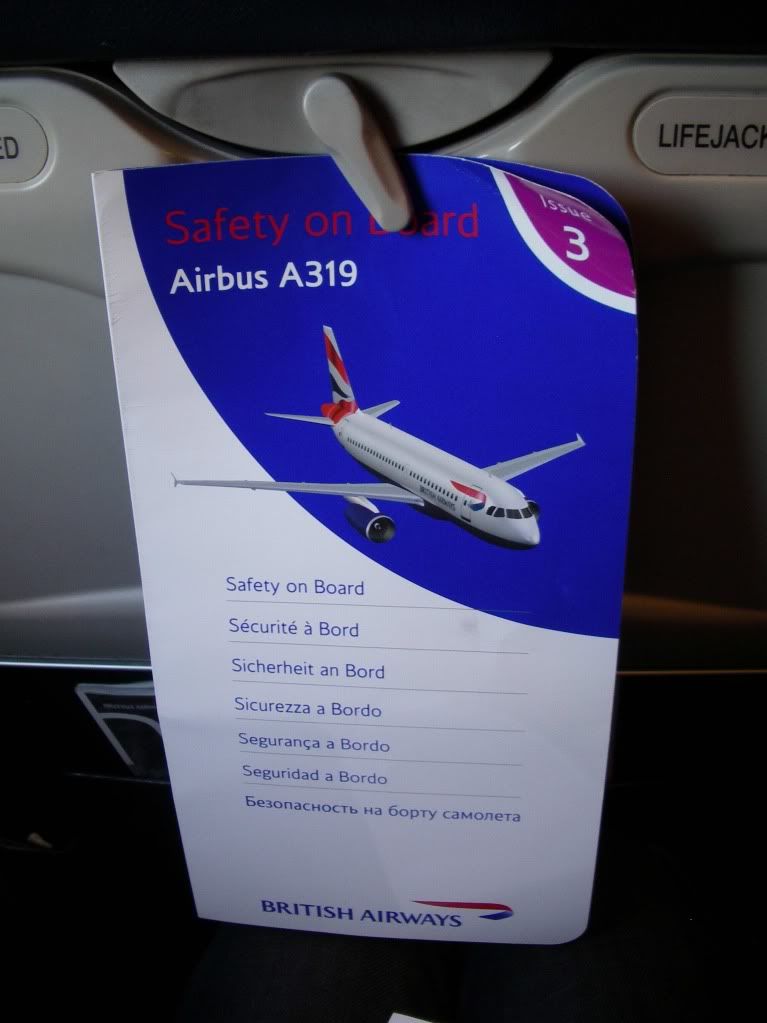 And no, this is not the latest zoo advertising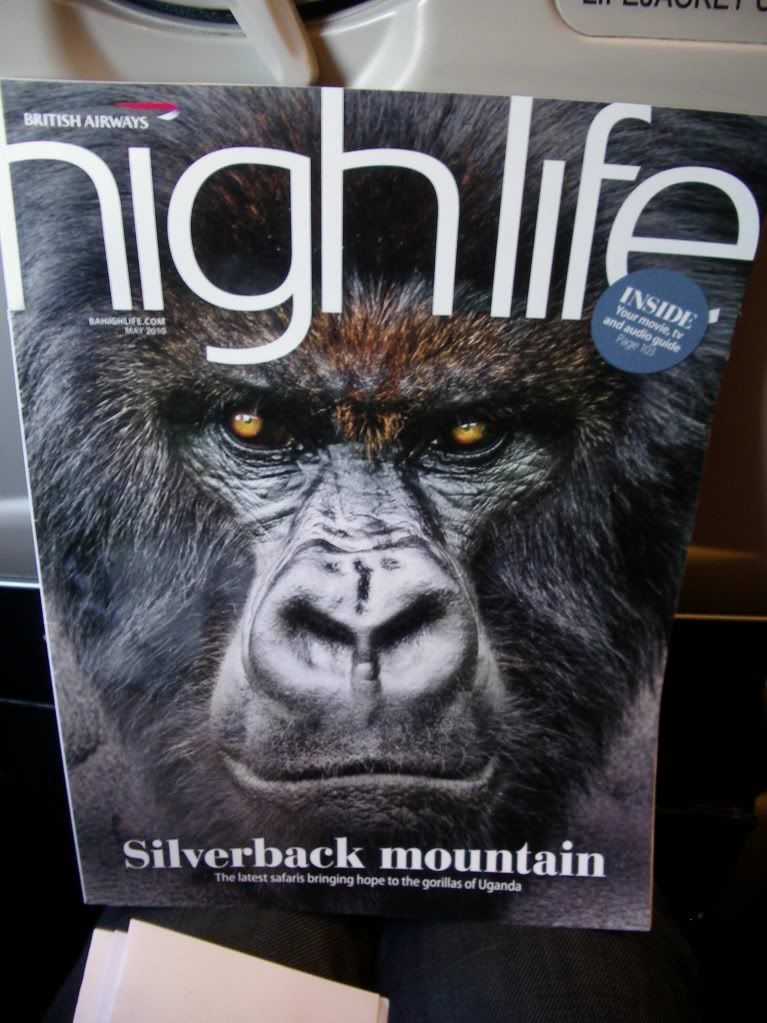 T5 in the afternoon, ready to go, it is now 20.10 perfectly ontime, 12 degrees, clear sky.
It seems the southern french people should look for some
appartements in the UK now.
Cabin with dark blue leather seats, clean, good legroom.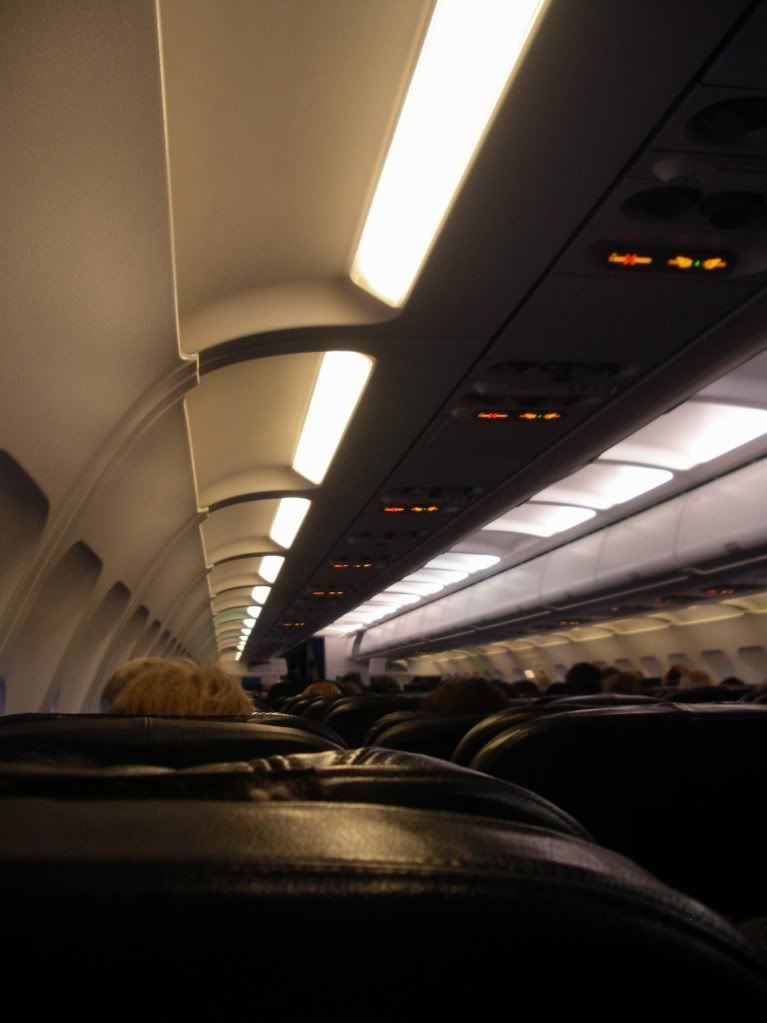 Waiting for departure clearance from the 3658 meters runway 09R
for the 1 hour 25 minutes to STR, above Dover-Brussels-Luxemburg and Karlsruhe
at 35000 feet.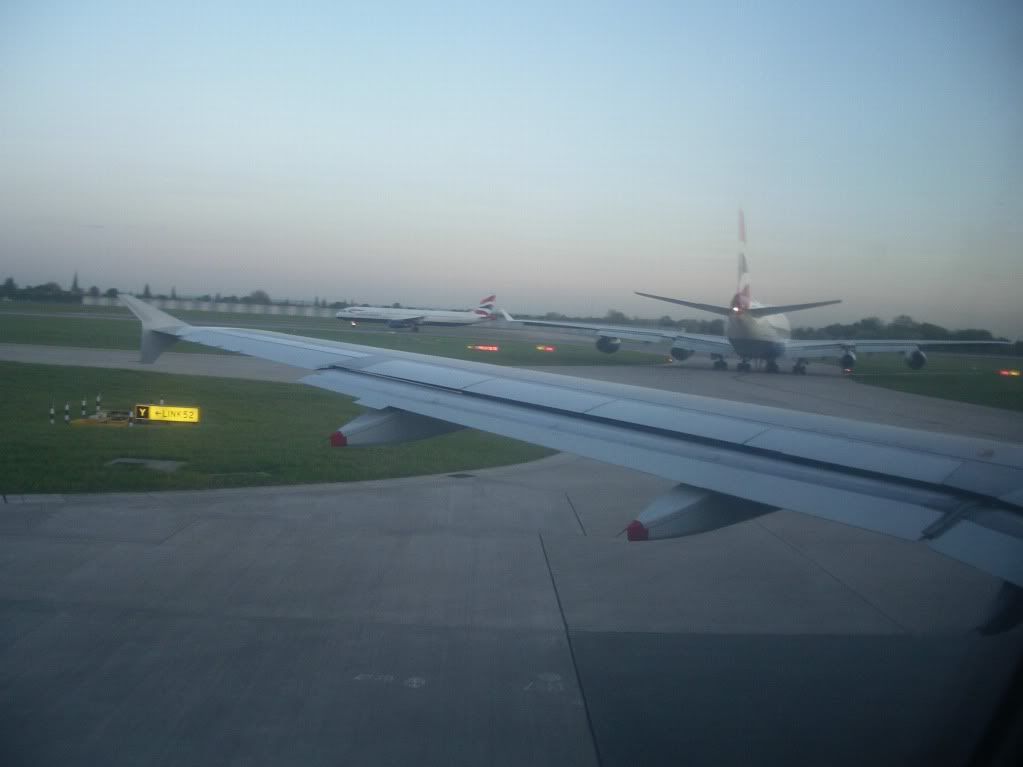 We´re not the only plane here
Above central London
Service ok for me.
"Sweet or salty?. I give you both", nice service from the female FA.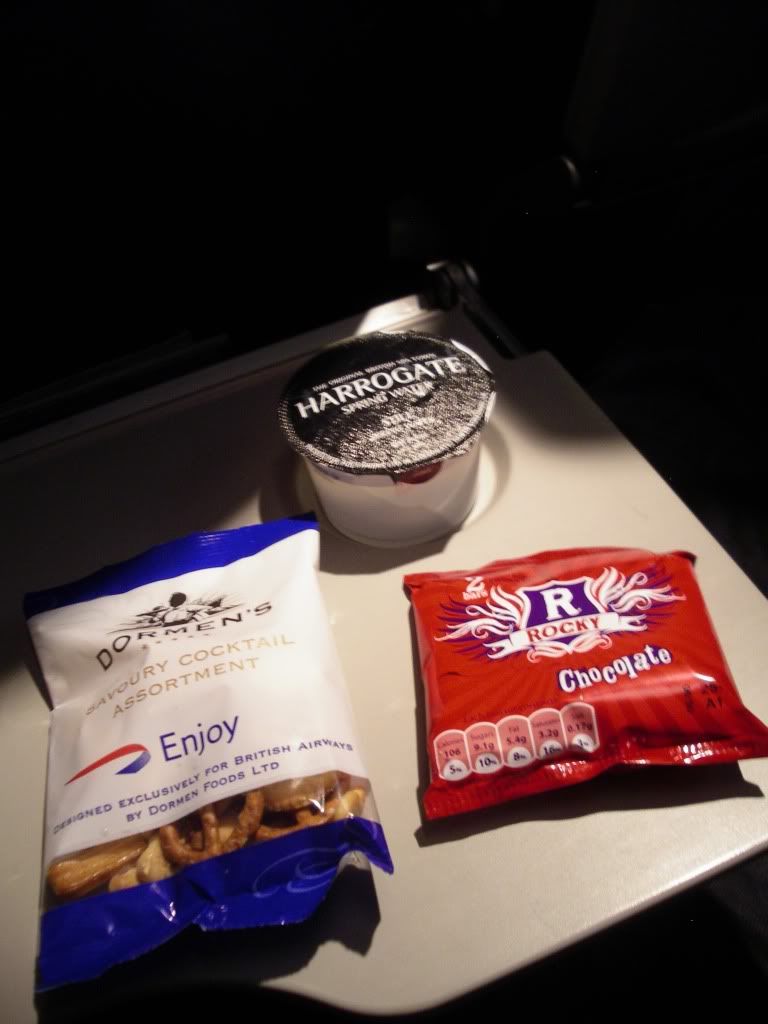 Blurry cabin picture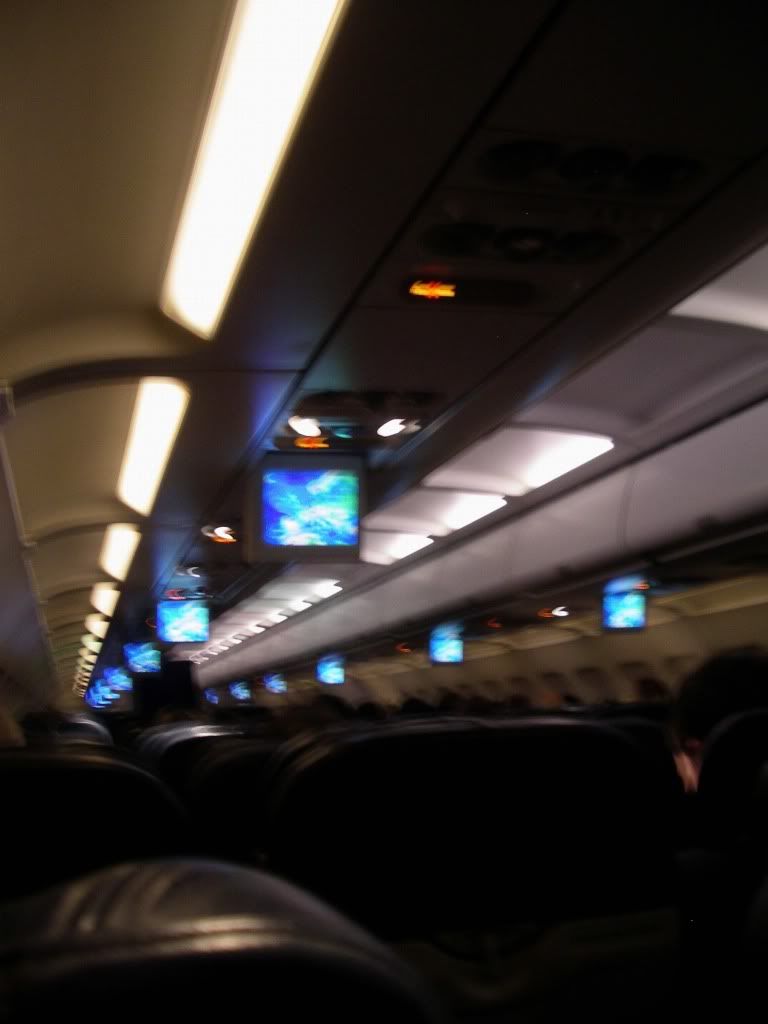 The FO is once more to hear during approach with arrivals information.
He wishes us a good night later at the gate.
It is 10.40 pm, five minutes ahead to schedule and I´am back at STRs runway 07.
The weather is cloudy, temperature 9 degrees, what a grandious improvement with + 1 degree during the day,
spring in Germany!.
One new airline, one new airport, superb nice staff with Flybe
and interesting planes at LHR, thats how I like to travel.
And better dont ask me about the weather!.
Around two weeks to go now for the next trip
"Six legs and Fred Olsen to La Gomera".
And further 53 legs to go in various directions:
Spain
Poland
France
Bosnia
UK
Denmark
Sweden
UK
Lithuania
Serbia
France
UK and
Switzerland.
Comments welcome, as always,
Markus (FLIEGER67)