Introduction
Another day, another bunch of airBaltic flights. The purpose of this trip was mainly to log the newly introduced Tampere-Tallinn route. I actually had a booking for 19th of April, but the Icelandic volcano and overreacting aviation authorities wrecked that plan. Still waiting for my refund for those flights, though...
Anyway I booked for May, deciding to drive to Pirkkala airport in the morning, fly to TLL via RIX on the morning flight and come back on the direct afternoon flight. All three flights would be on Fokker 50s this time. Total cost was less than 100 EUR.
9.5.2010
A 5 AM wake up alarm on a Sunday morning is always so pleasant. Oh well, I don't linger for two long and by 5.45 I'm ready to fire up the trusty Ford and hit the road. As expected the roads are pretty much deserted at this hour and almost the whole route is motorway with 120 km/h speed limit (or my generous interpretation of it
) so I make good time despite some nasty fog and rain along the way. In 1h20mins I'm pulling to the Tampere ring road and ten minutes later arrive at the parking lot at TMP. The weather is quite depressing, grey skies, some drizzle and cold.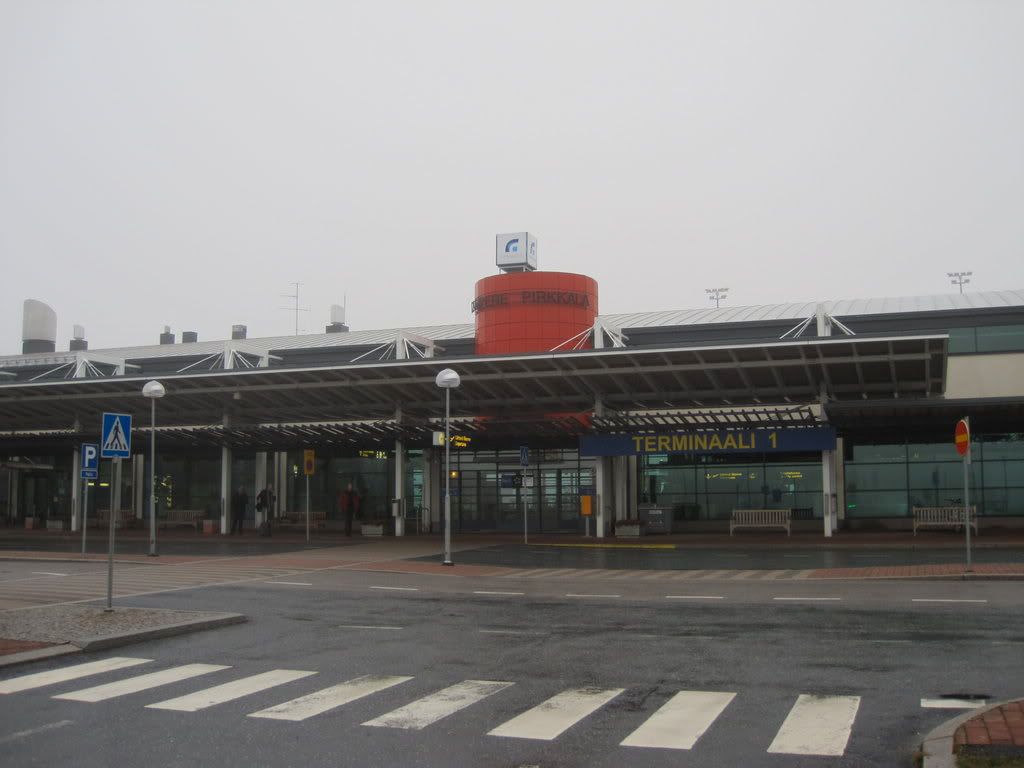 Just so you know: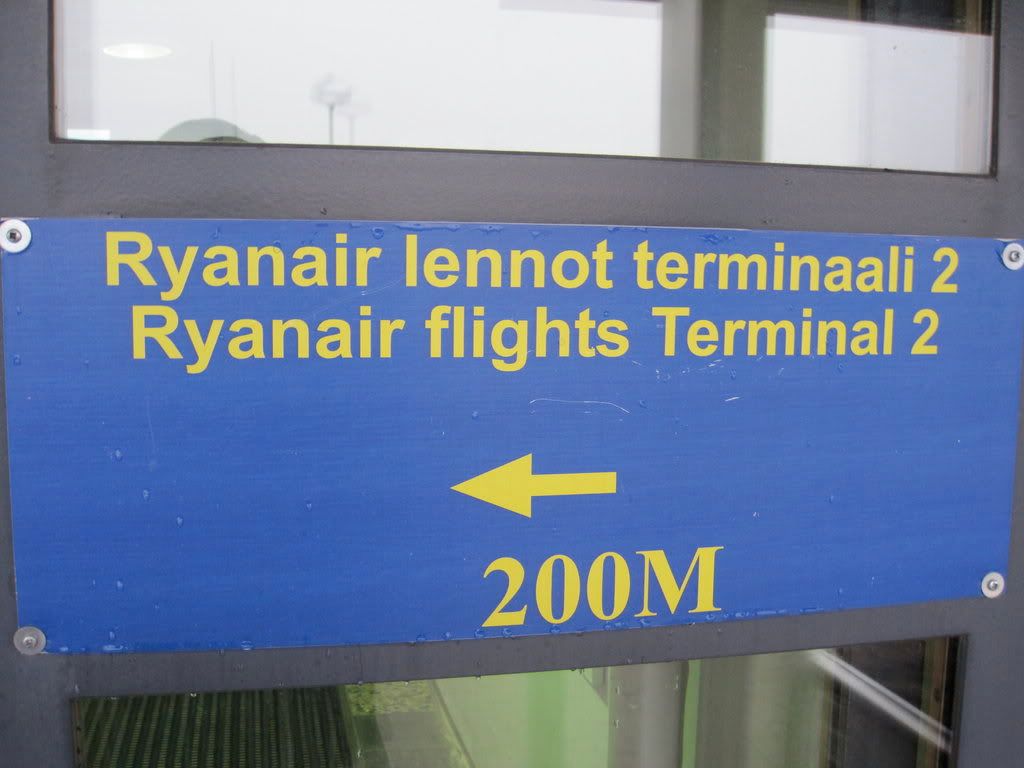 Inside there are two desks serving only one passenger so I get checked in right away and exchange a few words with the nice female agent about the new route to RVN, from where this plane will soon be arriving. Then it is time to go through security - it's been a while since I was last departing from here and they have enlarged the security check point to have a total of three lanes instead of only one like the old had. Not that more than one of them is open, though. I notice something weird about my seat assignment for the RIX-TLL leg - the boarding pass shows 8E, while the BT Fokkers only have AB/CD seats... let's see what this means.
Where this nice enough airport falls short is airside amenities - there's only a small shop (closed at this hour) and a tiny bar that I've never seen open. I'm dying for a coffee but can't buy any from anywhere. They should at least have a vending machine... There's another one of these Ålandsbanken "lounges" here - basically a corner of the waiting area where the regular seats have been replaced by a couple of nice couches, some reading lamps and a carpet. I'd otherwise taken a picture, but there are people sitting there and I don't want to distrub there. The departure lounge is quite packed, so it looks like a good load this morning.
The incoming plane lands a bit late at 7.47 and stops in front of the terminal a few minutes later. It is YL-BAC, a relatively new F50 for BT, it joined the fleet only a bit over a year ago. I've logged two flights on this one before - RIX-KUN-RIX last summer. A surprisingly large number of passengers from RVN deboard here - around 20 or so.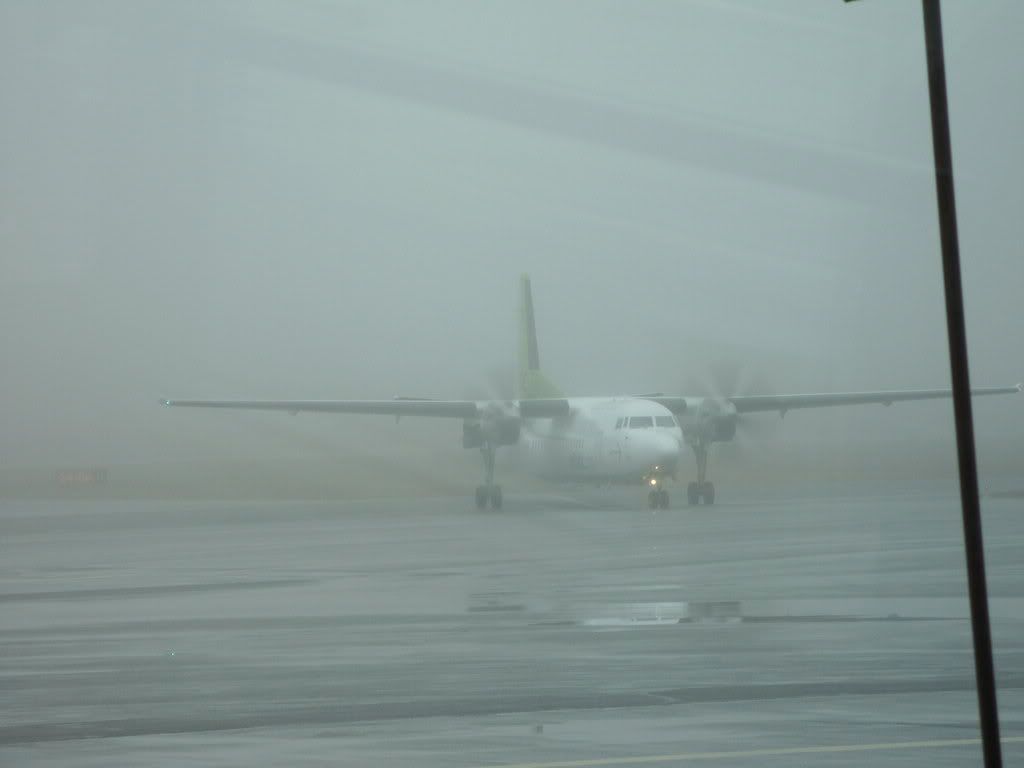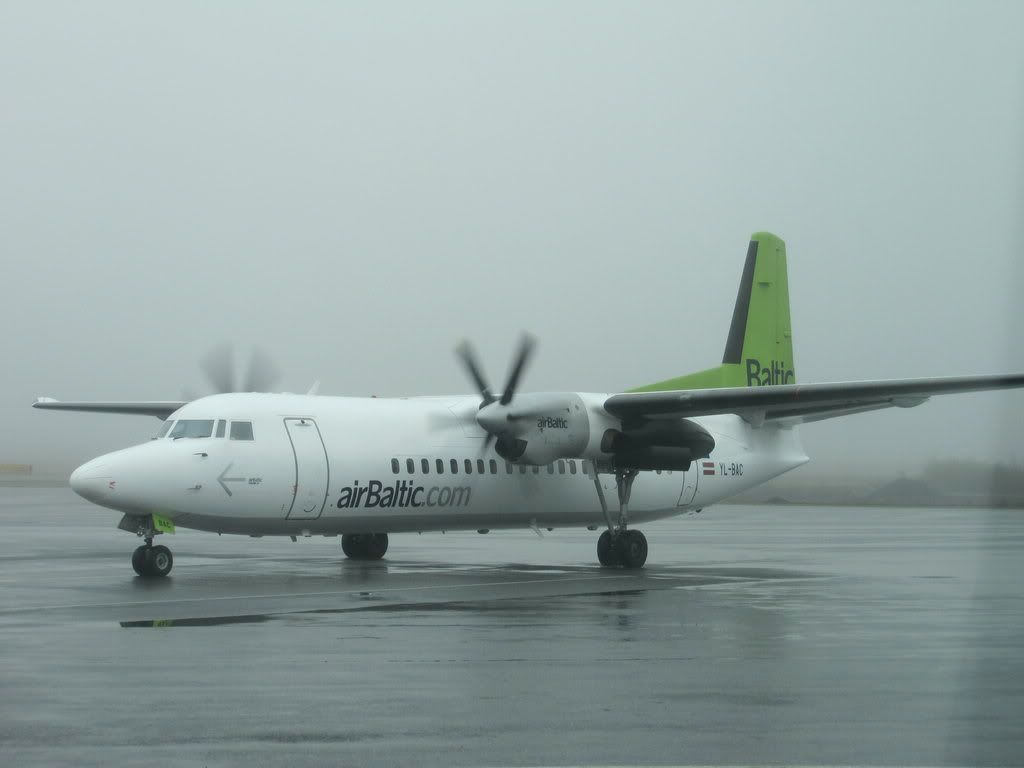 Boarding starts a few minutes later, I joke with the gate agent that they don't really need to make the announcements any more as everybody stands up and forms a queue right when they hear the announcement ding - kinda like the Pavlov dogs... I manage to be the first one to board.
TMP-RIX
BT1368
F50 YL-BAC
Seat 5A
8.16 - 9.36
I say "Lovely weather" to the Latvian FA waiting on the front galley who looks like she's freezing. Her smile is not freezing, though.
There are maybe 15 passengers from RVN already sitting - everybody seems to have been assigned seats on the back half of the plane. When sitting down on my seat I notice that this plane has different seat numbers (or rather letters) - they are AB/EF, I guess due to the plane's earlier operator Skyways of Sweden. Funny, I don't remember noticing this when I last flew her - but it and the scheduled 40 minute connection at RIX means that I'll most probably be flying this plane all the way to Tallinn...
As mentioned the load is good, almost 90%, all in economy though. Boarding is completed in good time, but the late incoming arrival delays our departure a bit and we leave the parking position just over ten minutes late for our 1h25min hop down to Riga. Departure is from runway 24 - my camera's battery runs out just when we are rotating, but then again with the cloud base at around five meters (or so it seems) there's not much to take photos of.
Terminal 2 in the distance, handling Ryanair and soon Wizz as well: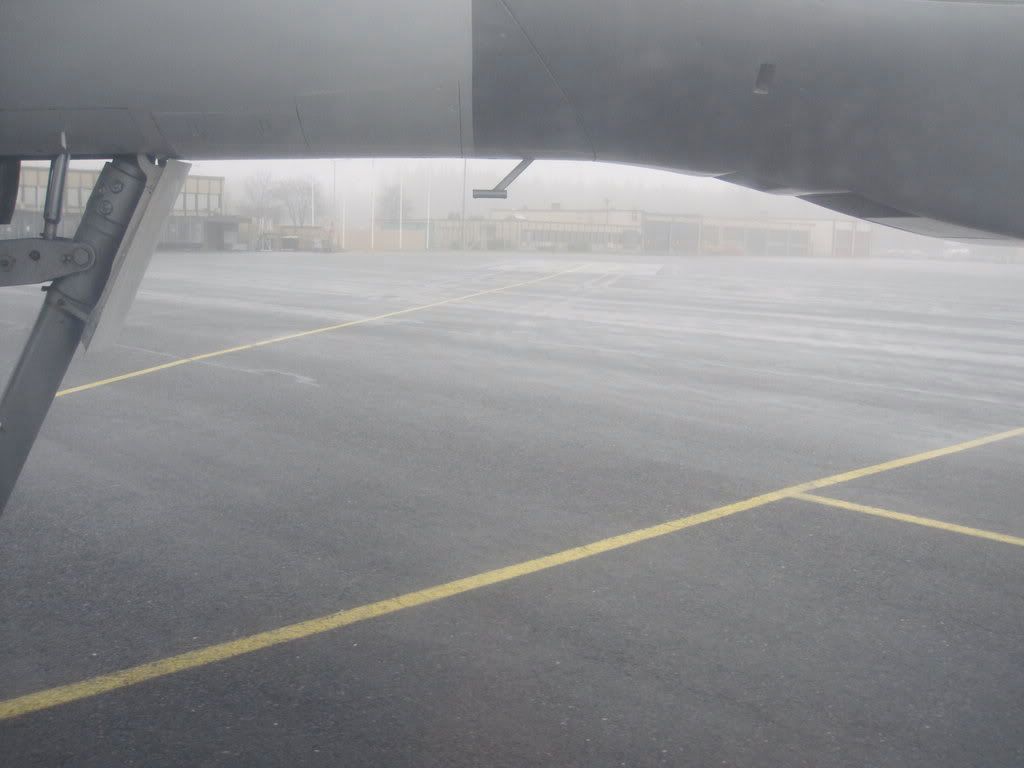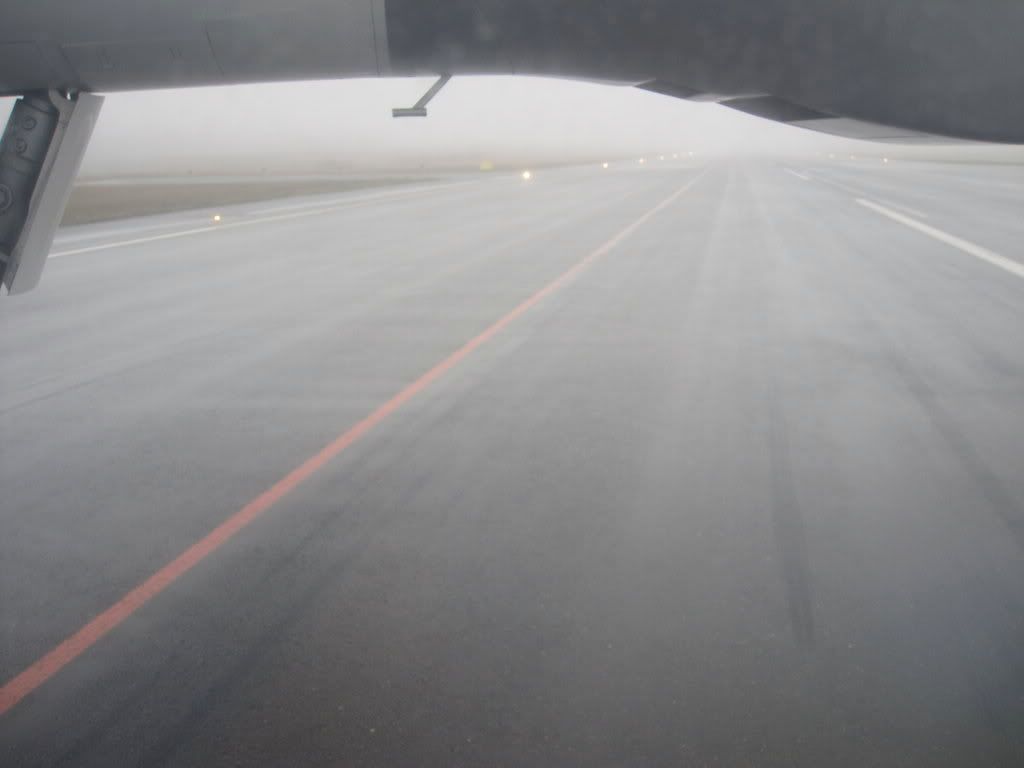 Our Danish FO announces that we are battling some strong headwinds so they can't really catch up the delay and we will be a bit late in Riga. Weather there sounds similar to here.
Finally I get my coffee - too bad they have run out of their bagels with ham - I like those things. I have to settle for a muffin which is fine but I would've preferred something salty.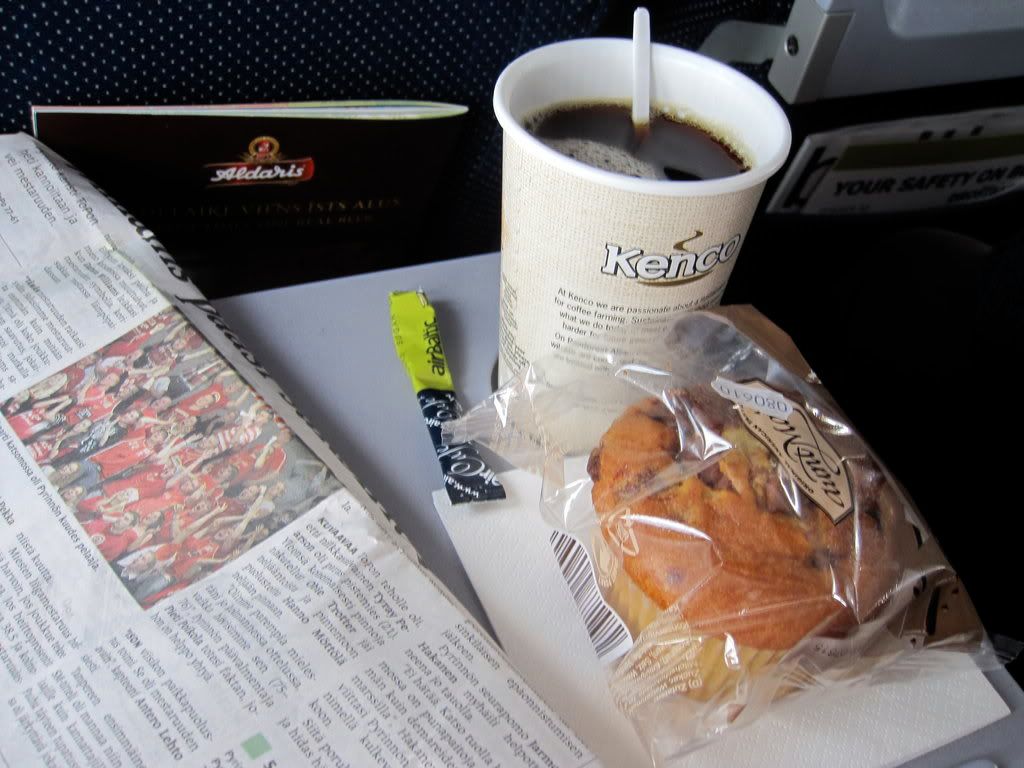 Due to the longer flight time I manage to finish the whole of the Sunday paper - actually my seat mate finishes it as well since I keep feeding her the parts one at a time
.
Not many views on descent either, we are on short finals when finally breaking through the clouds for a landing on runway 18 seven minutes late, after around 1h20mins in the air. Connecting gate info is read out when descending - only two flights, my flight to TLL and a 757 flight to BCN.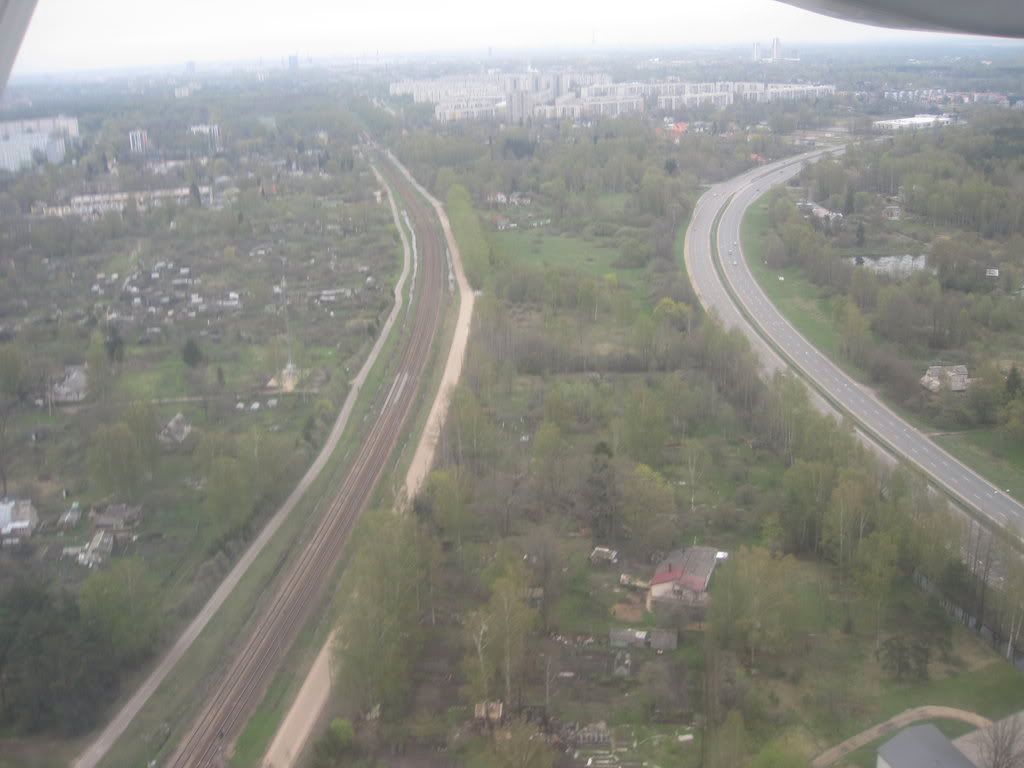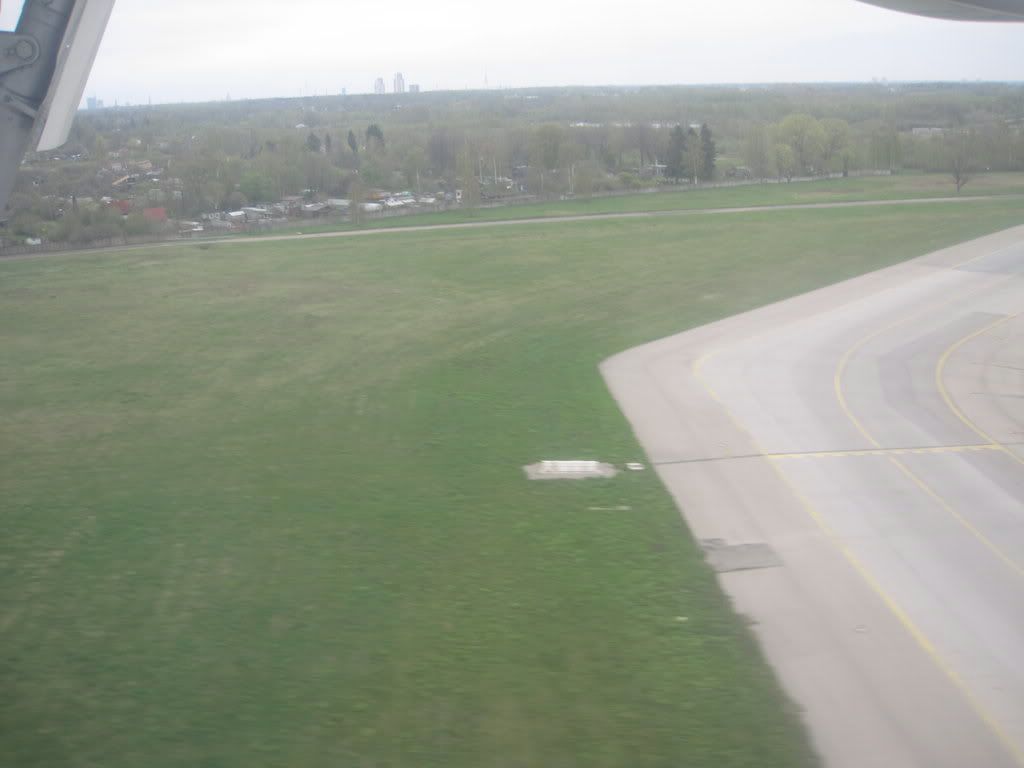 Riga Airport
We get an apron position on the northern apron, close to the two wetleased Fokker 100s: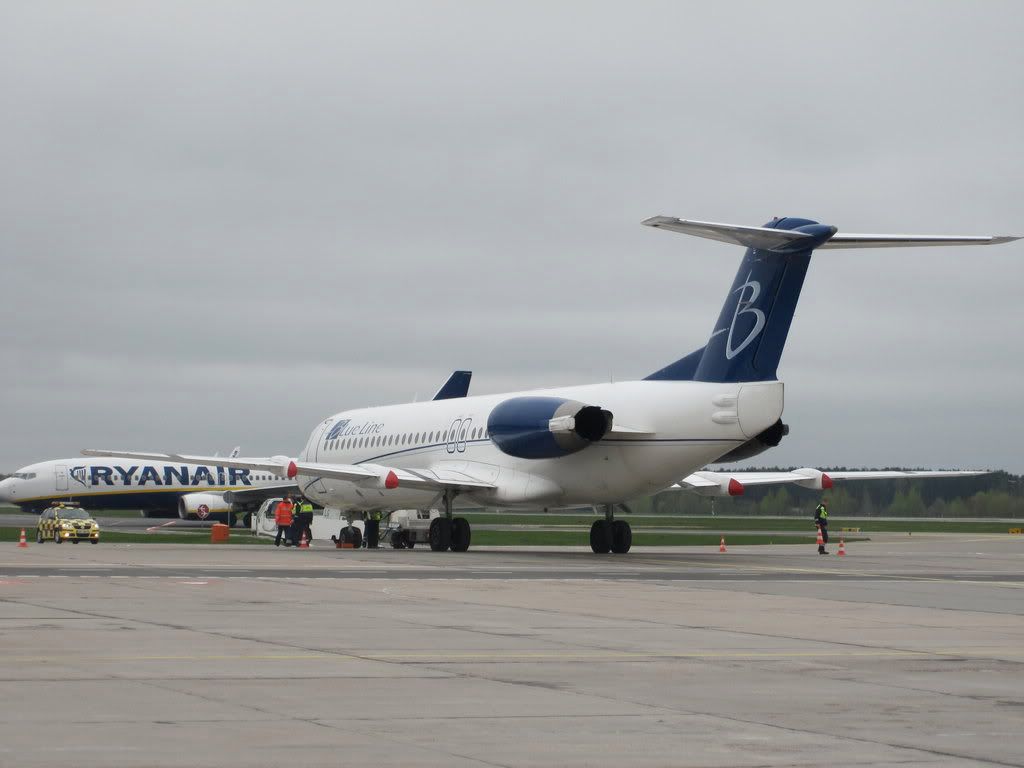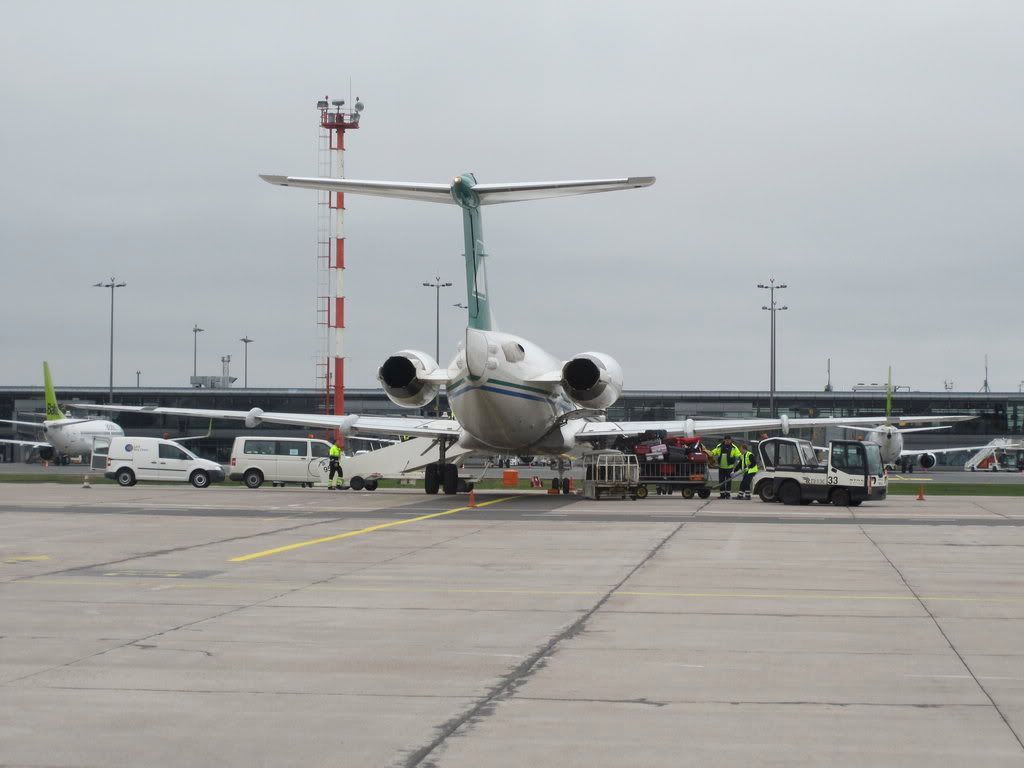 While deboarding I ask the older senior FA if they are flying to TLL next, she looks shocked, shakes her head and says "The overnight trip to Finland was enough - we go home!". I had forgotten that it was the same crew that spent a short night up in RVN before flying back this morning...
A short bus ride to the terminal where a lovely Latvian blonde, Anna, is asking for passengers going to Tallinn. I raise my hand and she offers to escort me to the gate A3 as they are already boarding. I tell her "Trust me, I fly through here so often that I know it just fine, its's down there..." and point with my hand. After walking halfway she realizes that I'm indeed telling the truth and asks me if I really know where to go - I point at the correct direction again and say sure and she stays behind. Down to the gate where almost all the other passengers are already in the bus, straight through to the bus which leaves a while later after another last minute passenger arrives and drives to the same plane I just left, as expected. This was my fastest Riga connection ever, I think around fifteen minutes from plane to plane (the same one, unfortunately
).
RIX-TLL
BT313
F50 YL-BAC
Seat 8E
10.10 - 10.56
Hello again: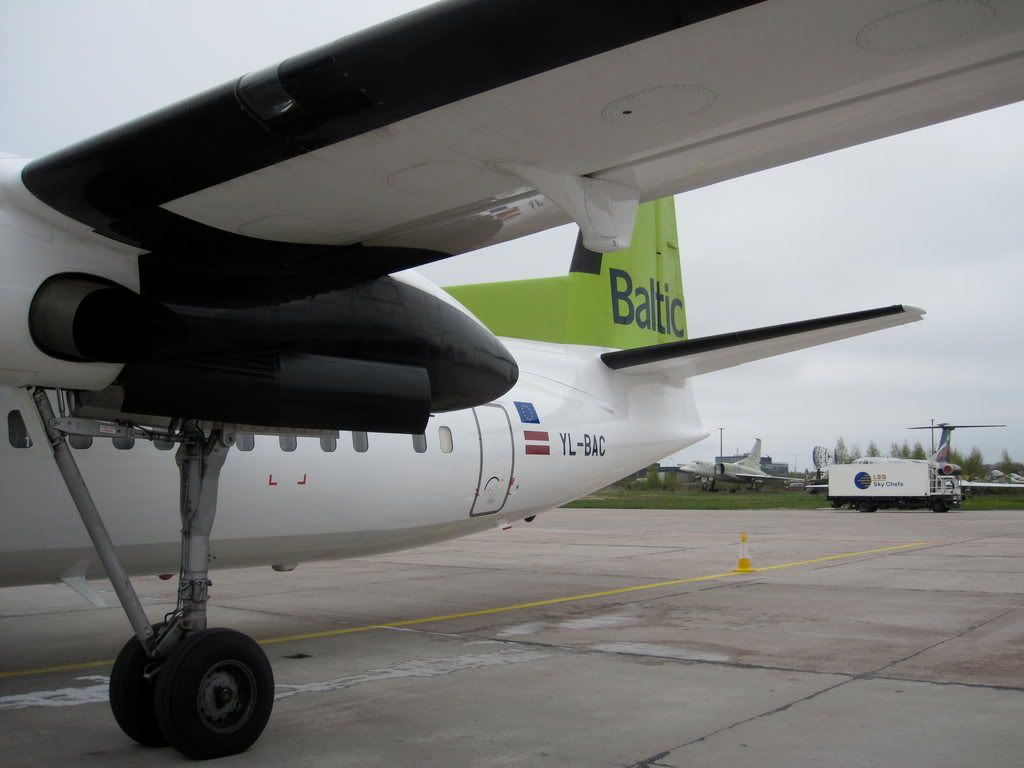 A fresh crew on this flight, when greeting the FA in the front galley I tell here "I just left this plane less than twenty minutes ago" - "Oh really, did you?". The E seat is indeed a window seat. I get a large, older man sitting next to me. After boarding is completed the whole row in front of us stays completely empty - load is around 50% or so, and I tell him that he could move there if he wants to give us both some space. Well, he answers to me in Russian so I mutter "Njet Ruskii" and decide to roll with it. Too bad the guy has a really bad body odor.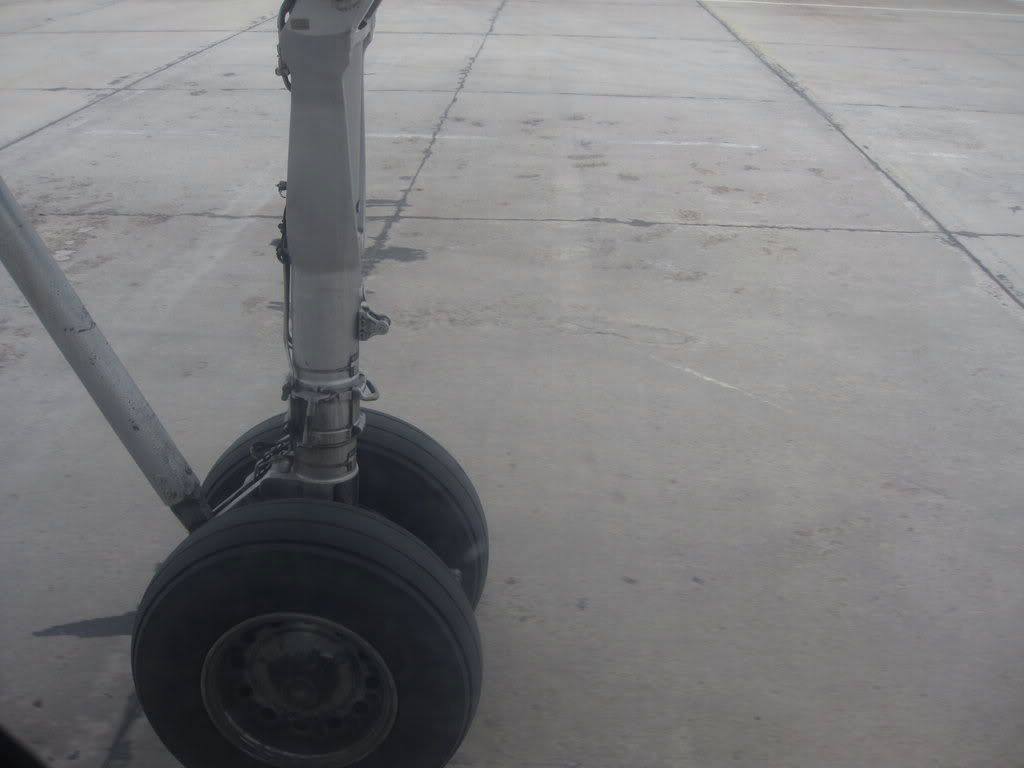 Flight time is announced as 50 minutes and we push back under our own engine power ten minutes past the scheduled time of departure. I love turboprops for having a reverse gear - try that on a jet plane! Actually at least the DC-9 series is capable of doing it by using the thrust reflector shields - never been on one doing it though. Take off is from runway 18 and we disappear into the murk right away.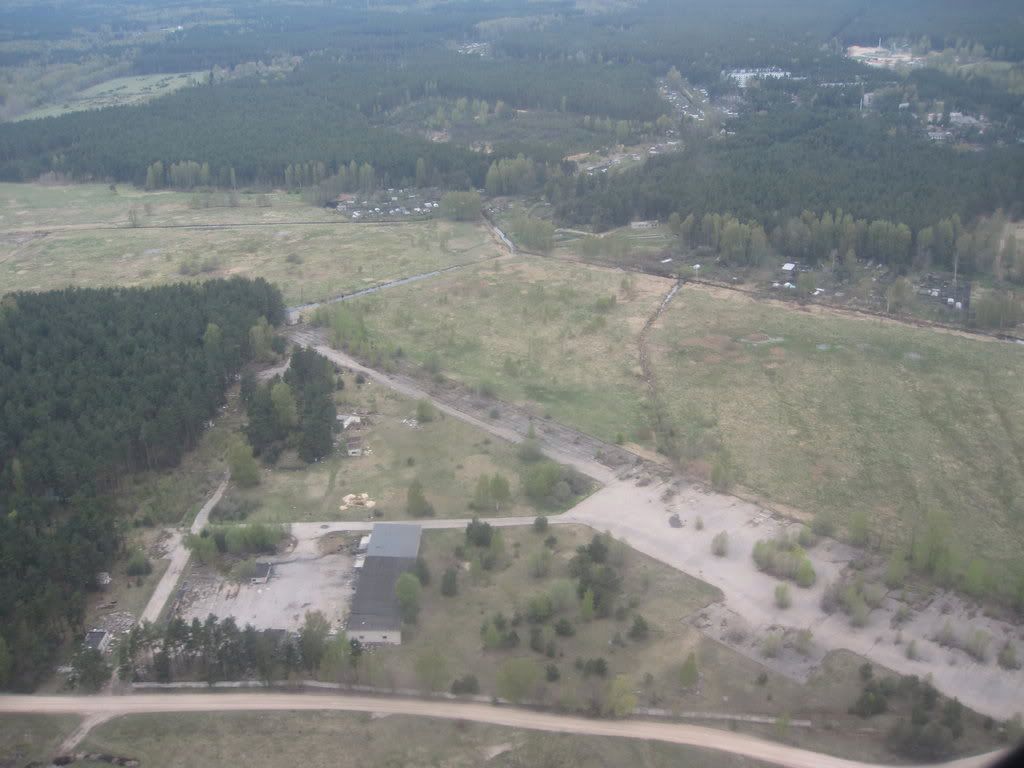 This flight is the pinnacle of uneventful flights: right after take off I close my eyes and the next time I come to my senses the gear is just being lowered and we are on short finals to Tallinn, landing on runway 26 after a flight time of less than 45 minutes.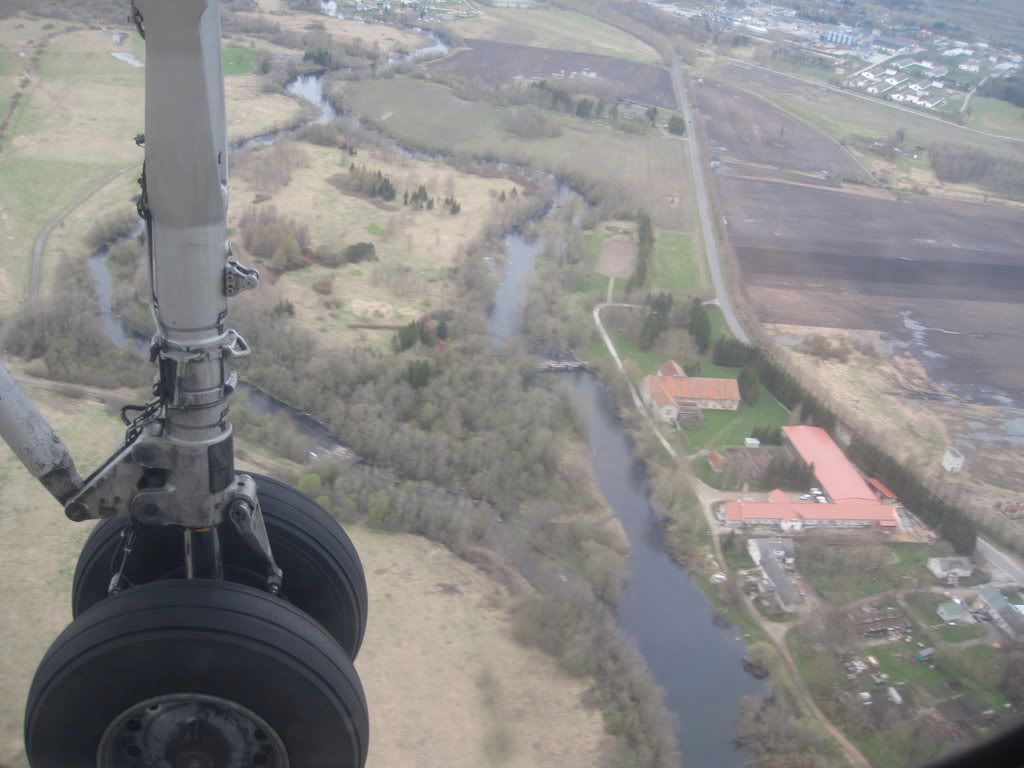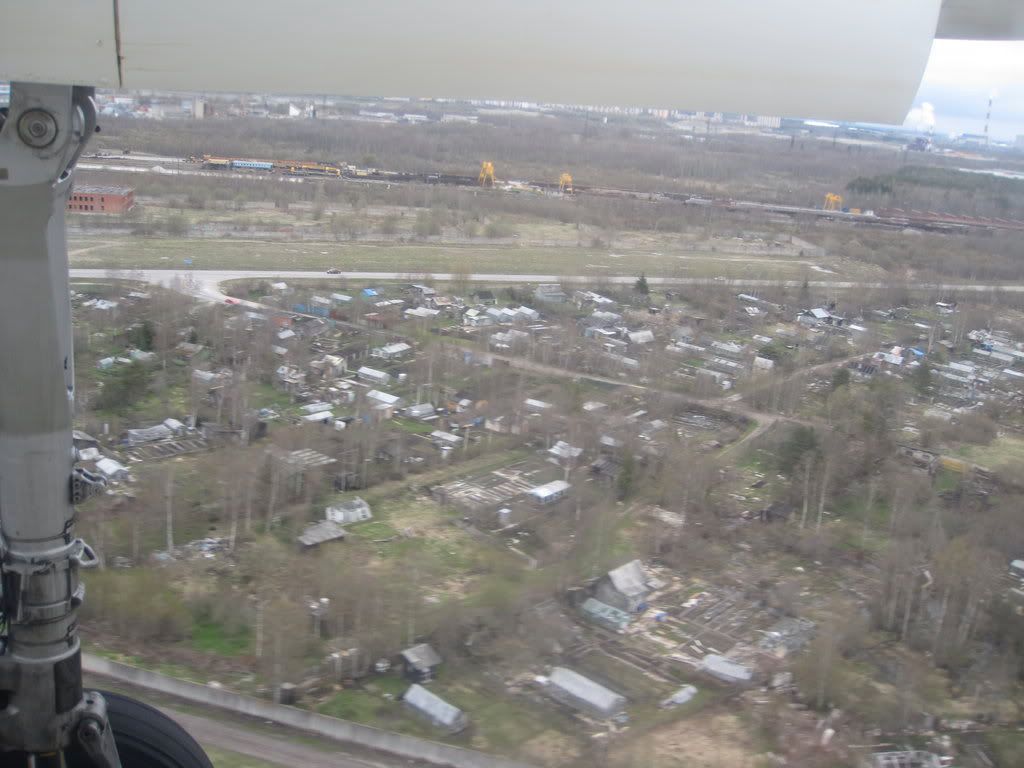 I tried capturing a "smoky tires" shot but failed miserably - here's the result half a second too late: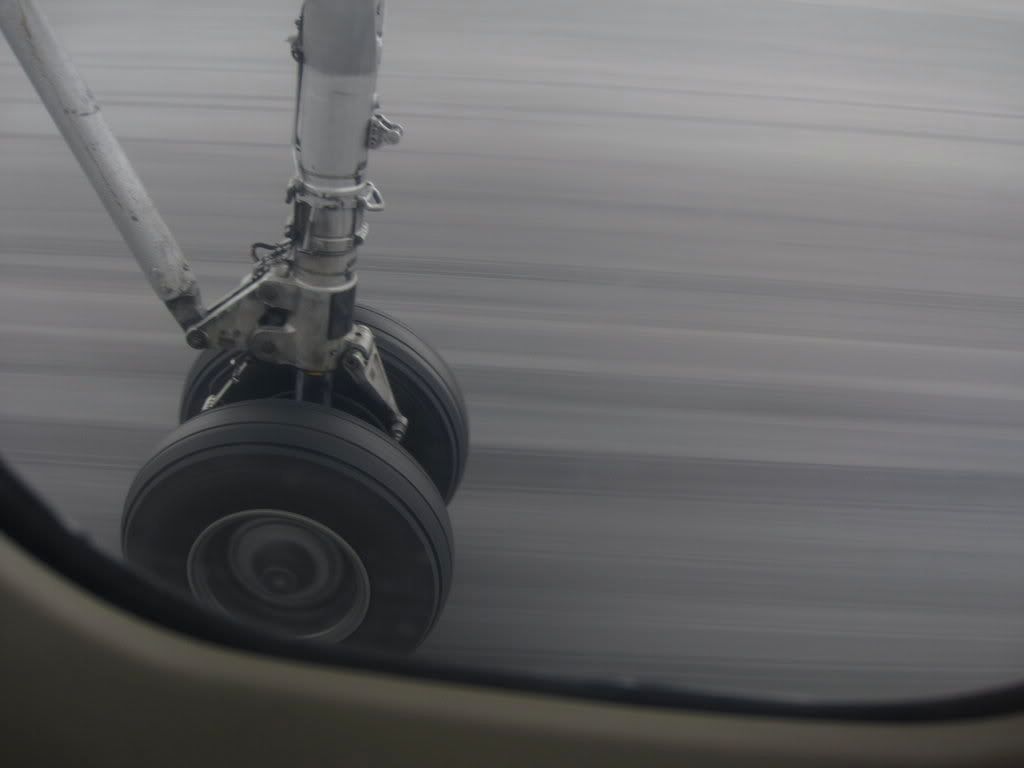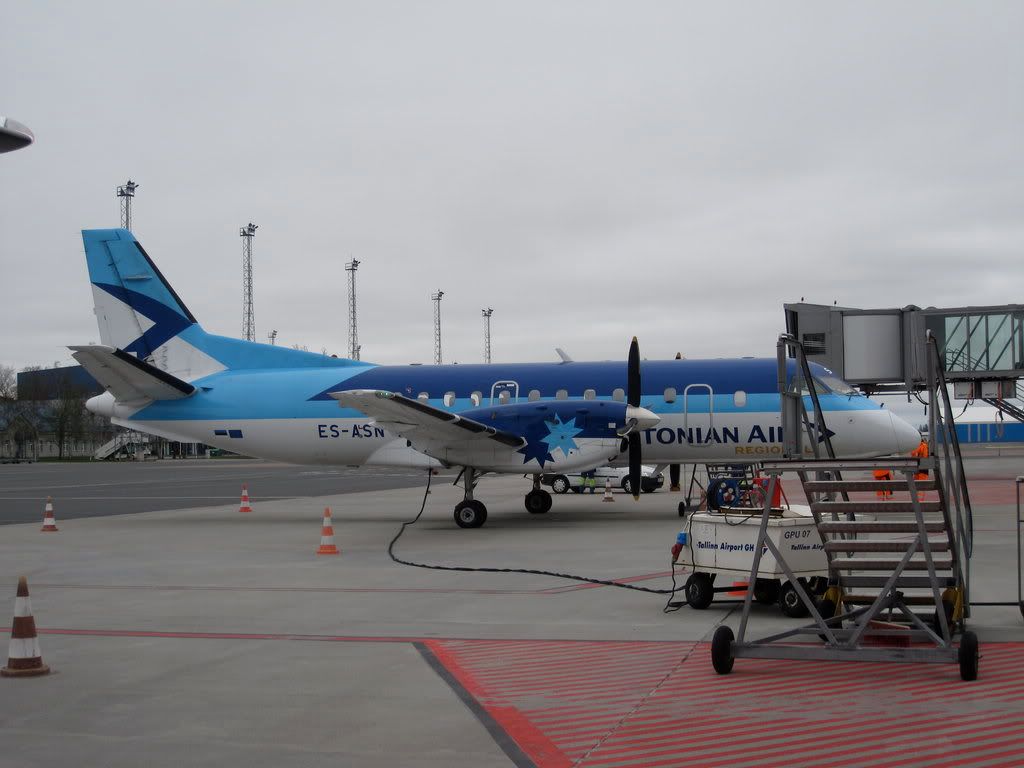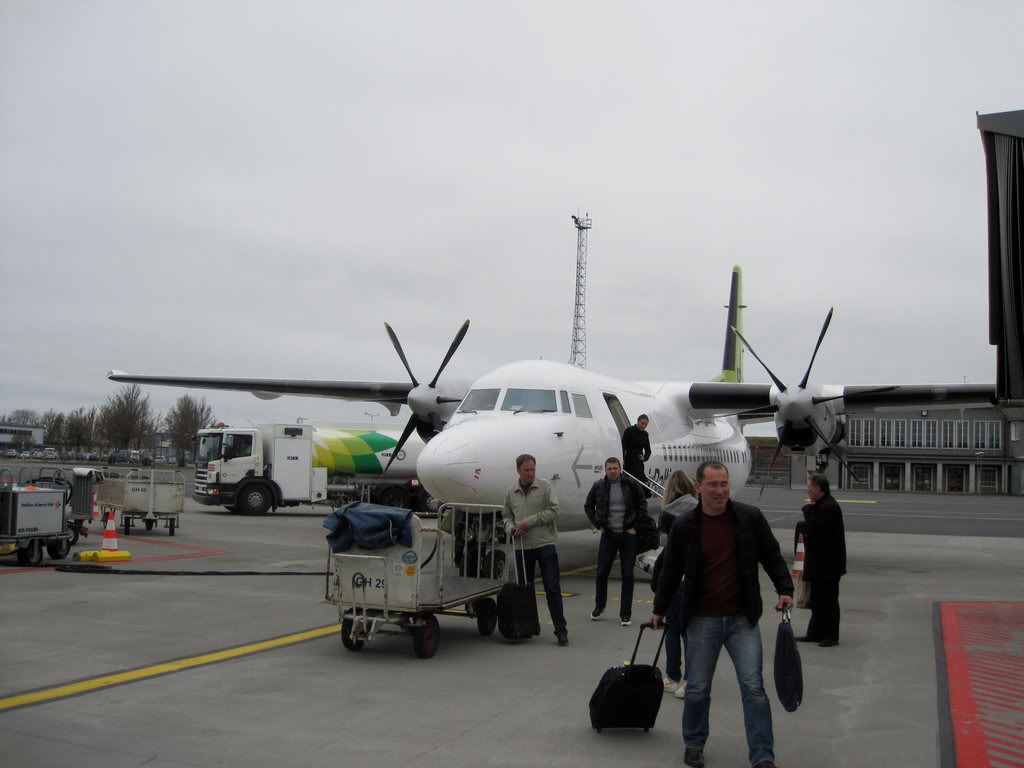 Tallinn
Once through the terminal I hit the ATM for some Krooni and the kiosk for a pair of bus tickets. The next bus is 40 minutes away, though so I have to hang around for a while. Finally the number 2 bus arrives and 15 minutes later I step off in the city centre.
Despite visiting Tallinn dozens of times (I commuted here almost weekly for a while some years ago) I still like the city a lot. I'm always amazed at the speed it is evolving and all the new buildings, projects and businesses going up (and sometimes down as well). I spend some time walking around, taking lots of photos: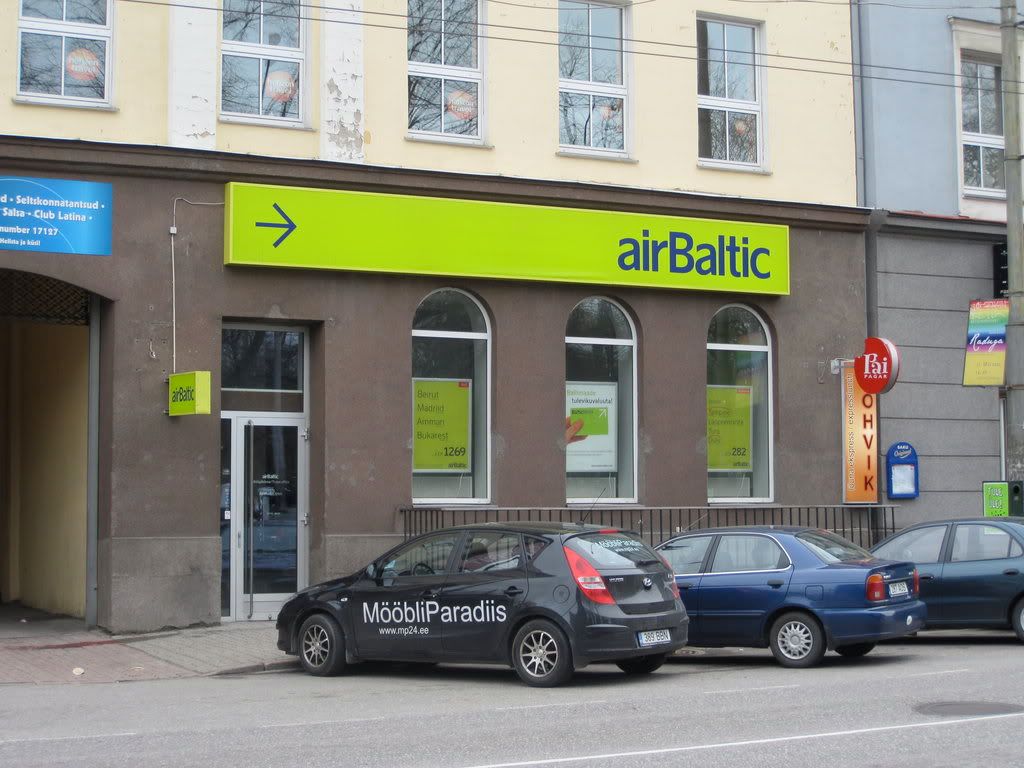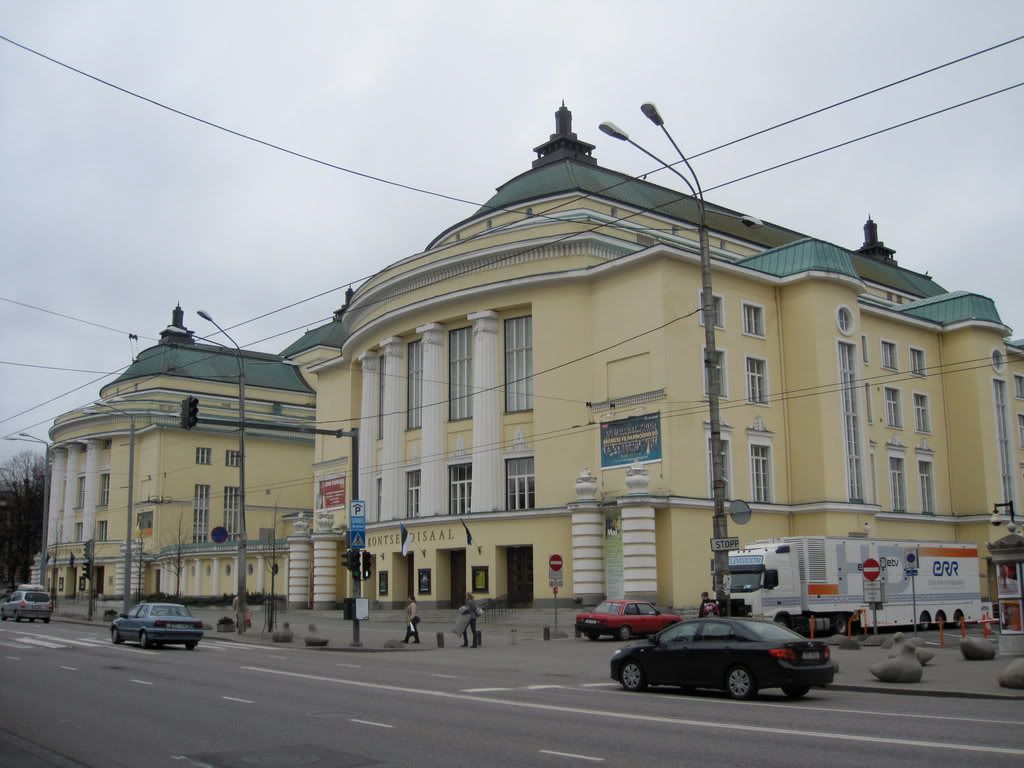 The Viru Hotel, built during the Soviet times, now a completely renovated property belonging to the Finnish chain Sokos Hotels: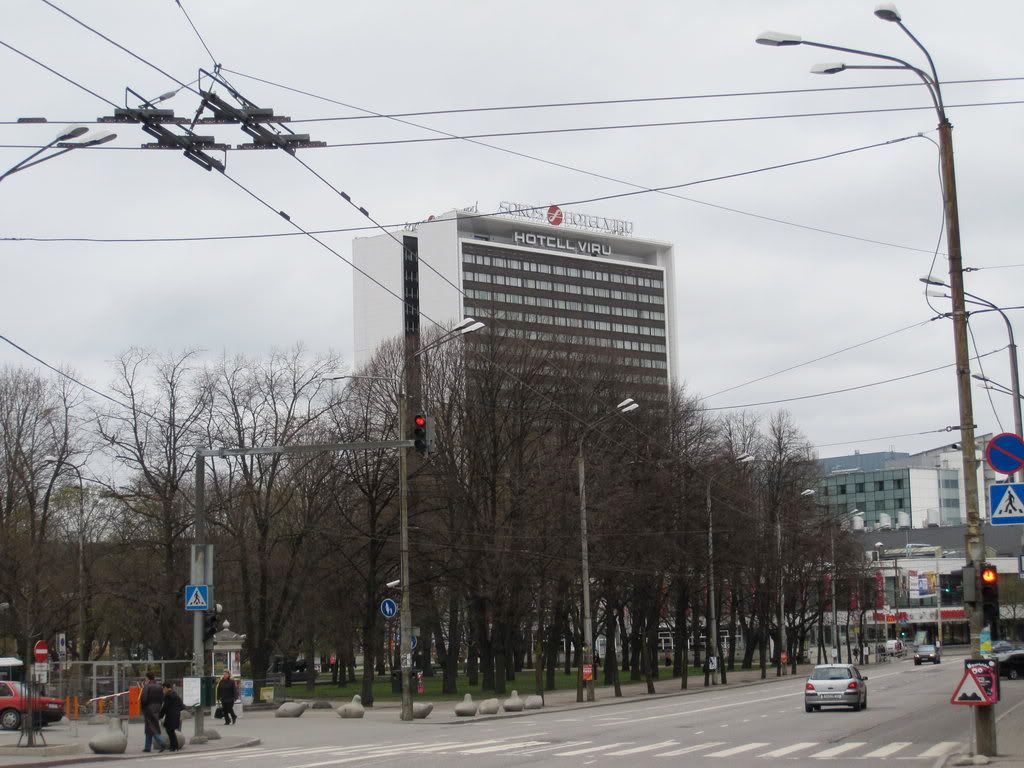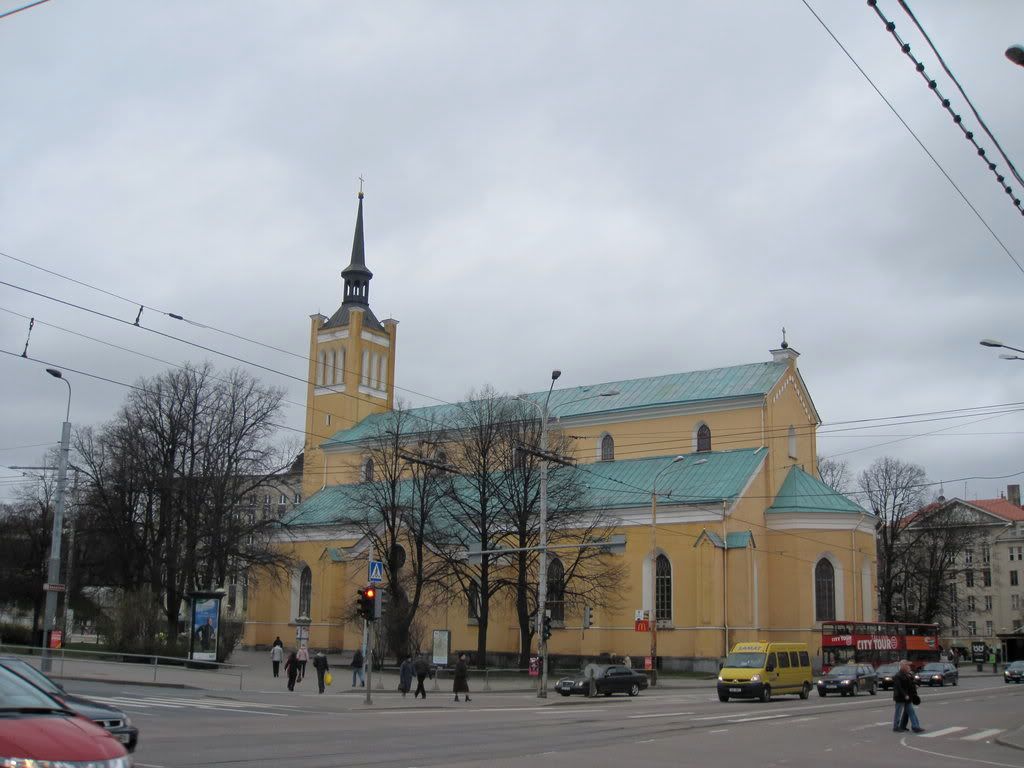 The Independence Square, the nucleus of the pro-Russian demonstrations three years ago:
I really like this house on stilts: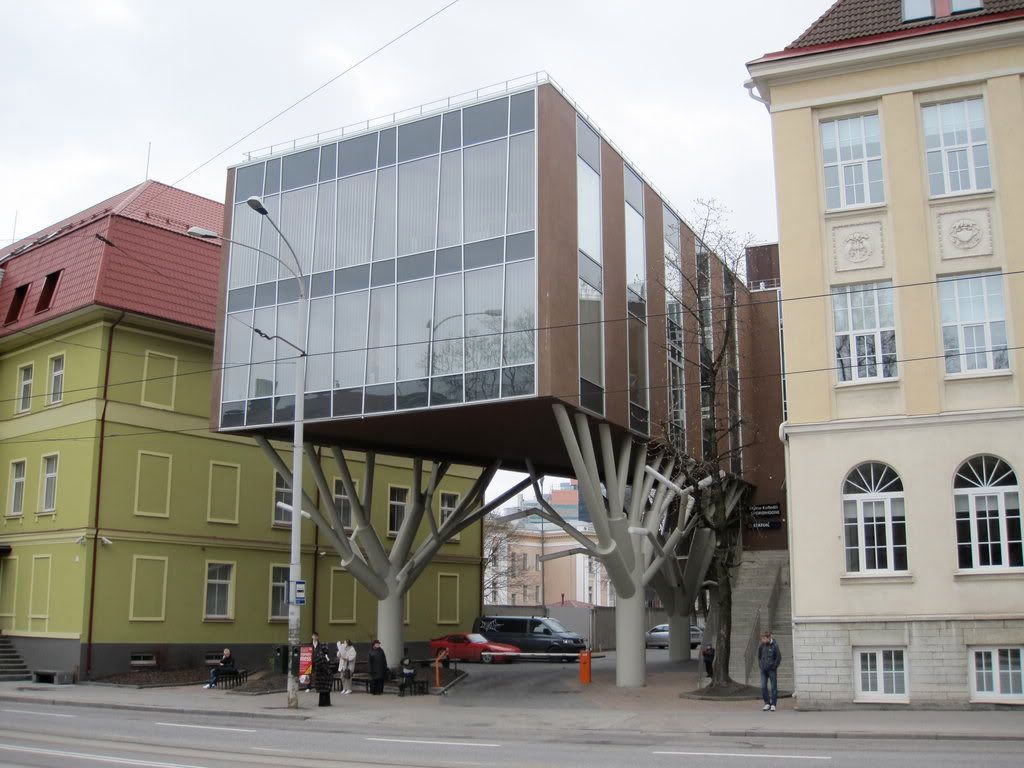 Too bad the weather stays grey, on a sunny day the Old City is even more attractive.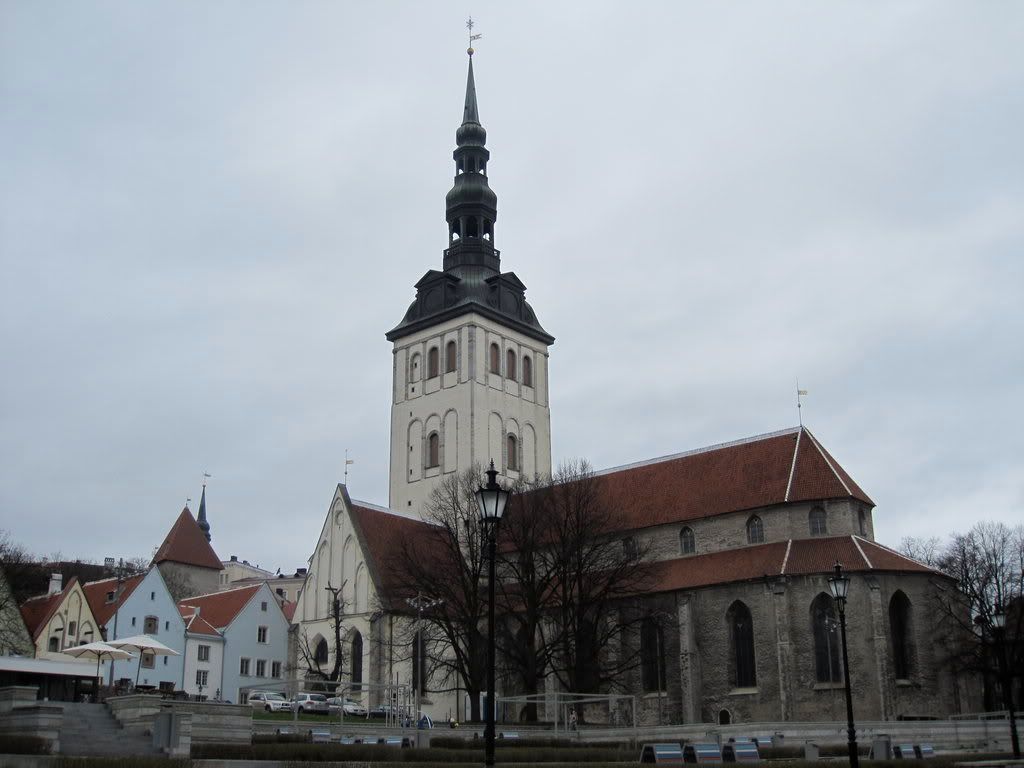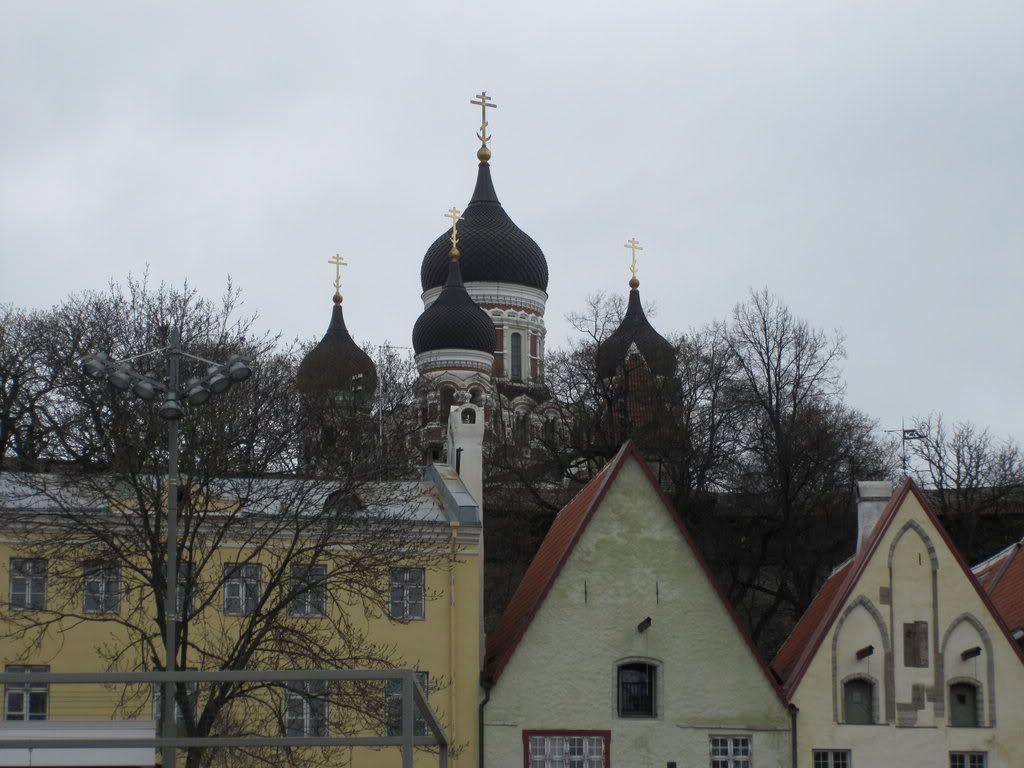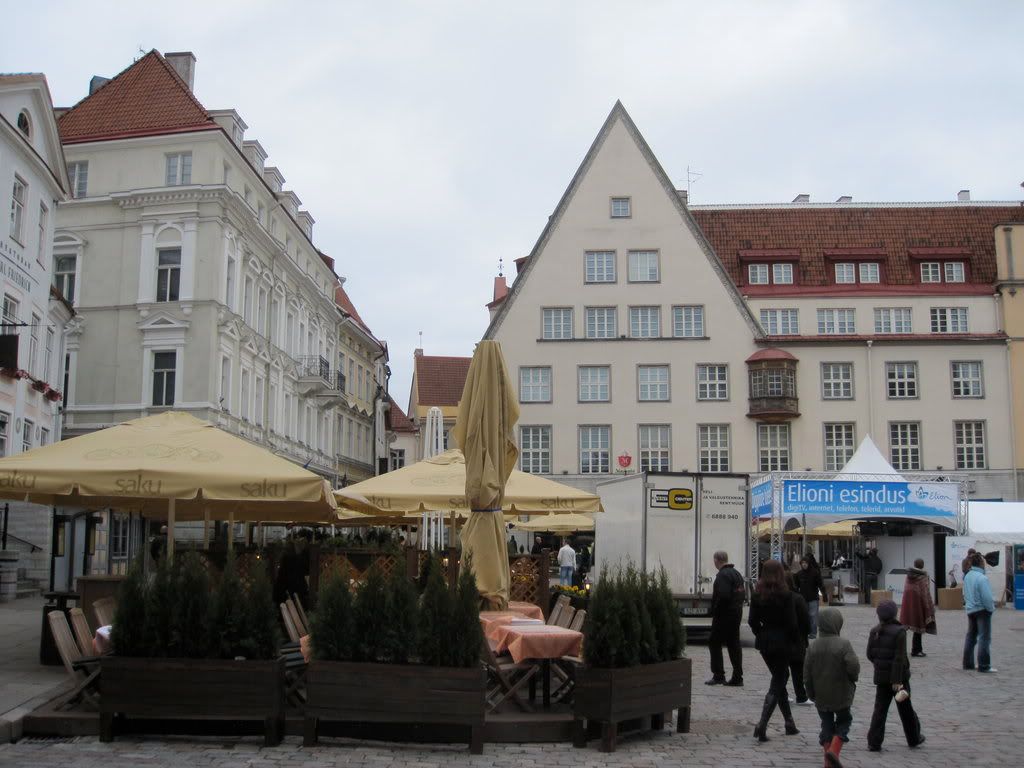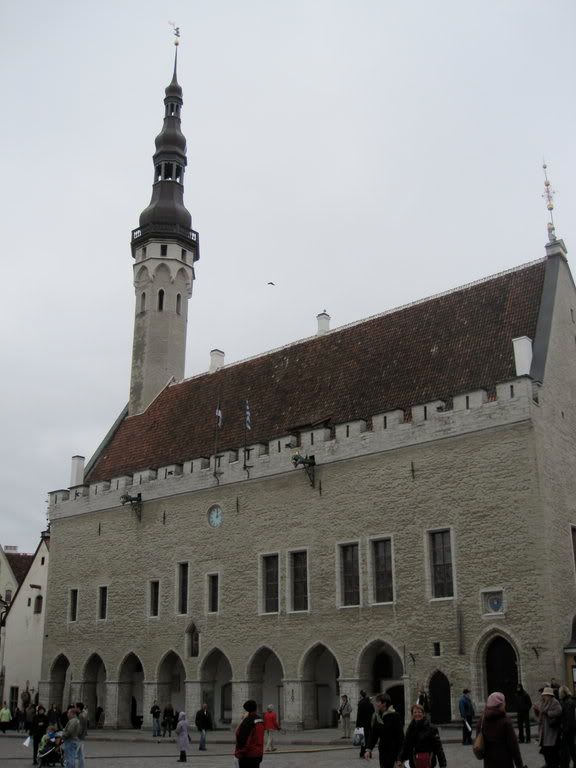 I like the concept of selling "everything":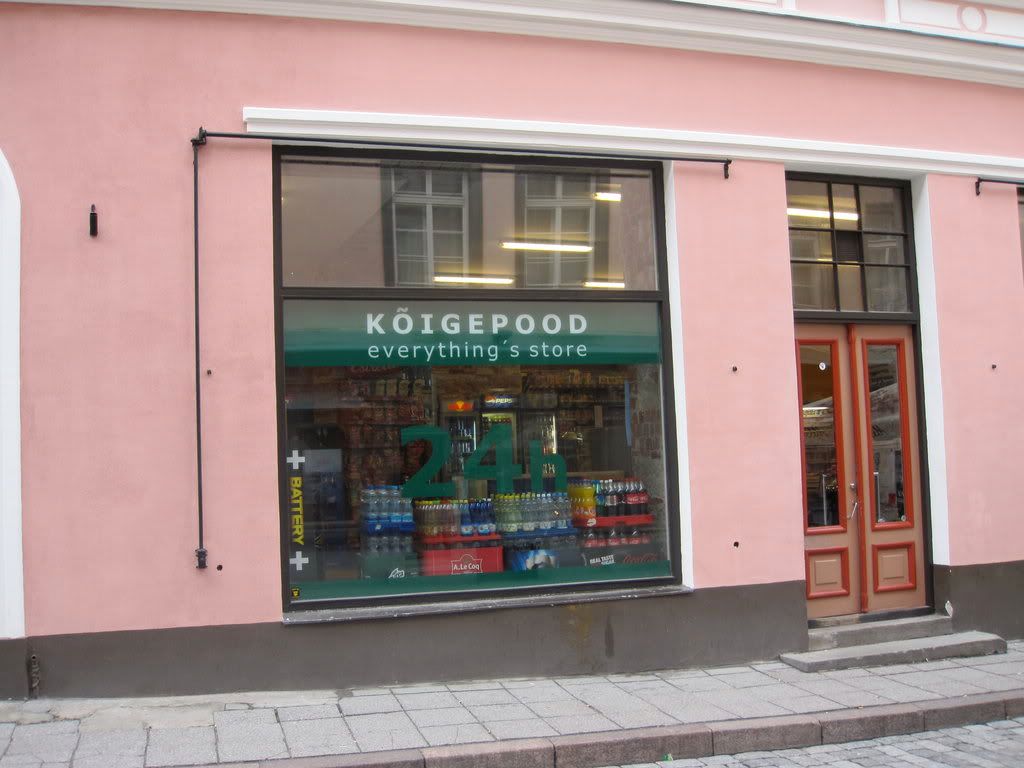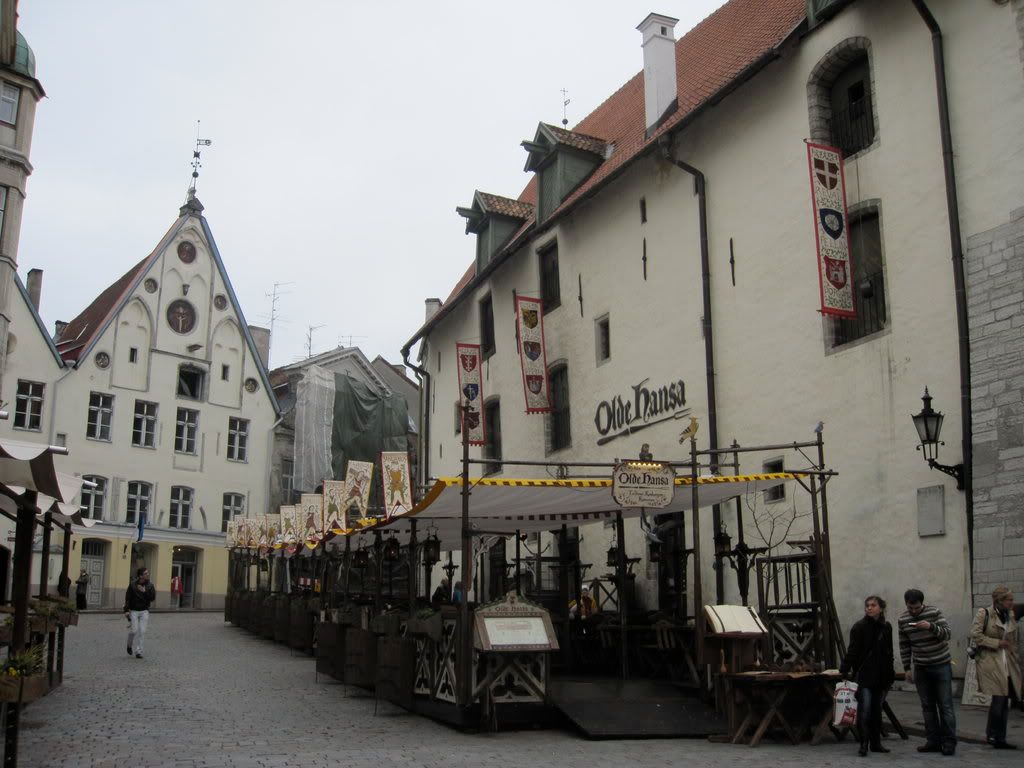 A reminder of what the tourism here was originally (and still a lot) for: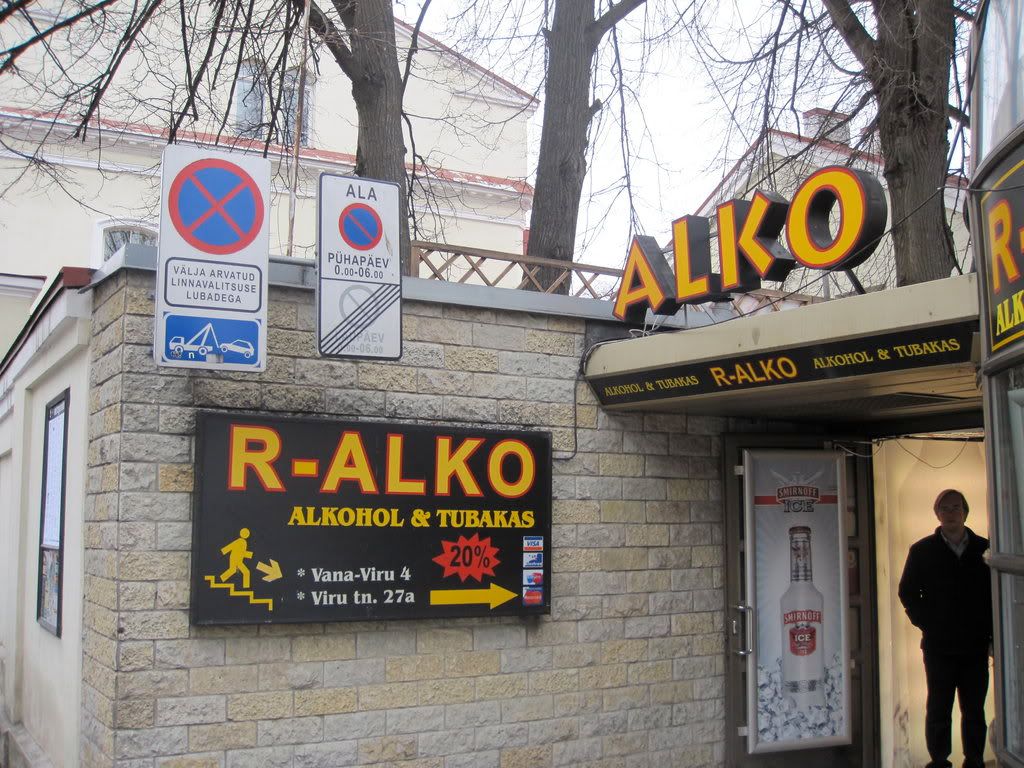 Later on I head to one of my favorite restaurants here, Texas. I discovered this gem last year - they serve the best damn Texas Chili I've ever had outside of Texas! Okay, to be honest even though I've been to Texas I've never had chili there, but it must be good, after all you get great hamburgers in Hamburg and errr.... great Brussels Sprouts in Brussels or something...
Of the six flags over Texas, here are the two most recent: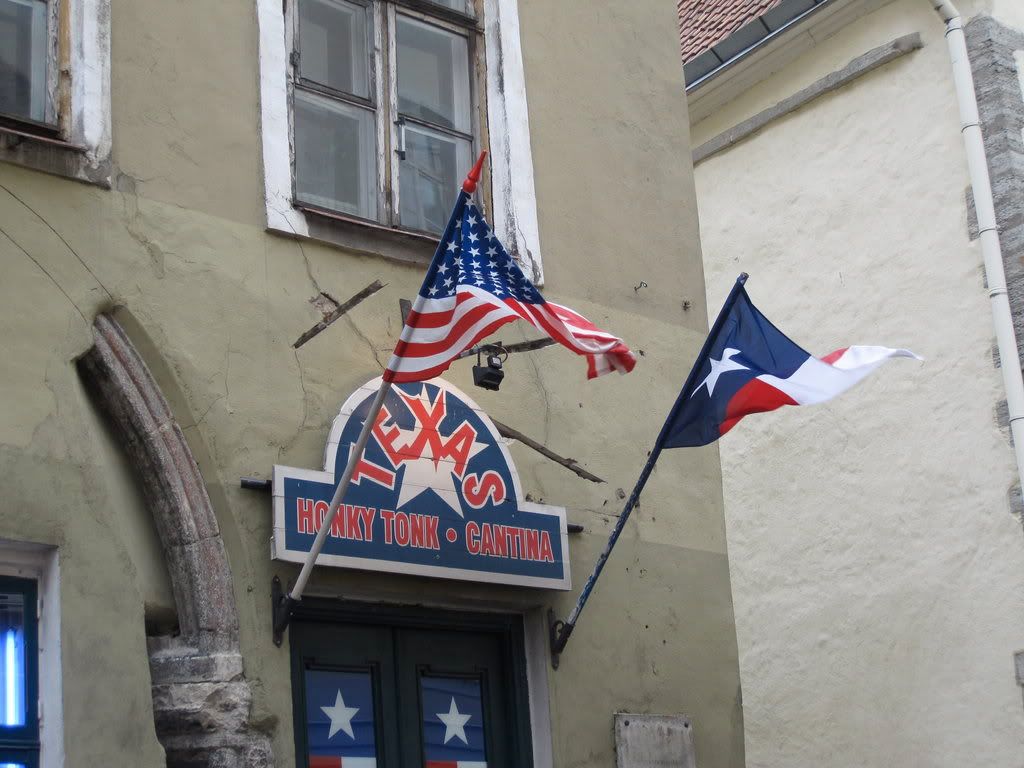 Here we go - pure spicy bliss and very affordable as well: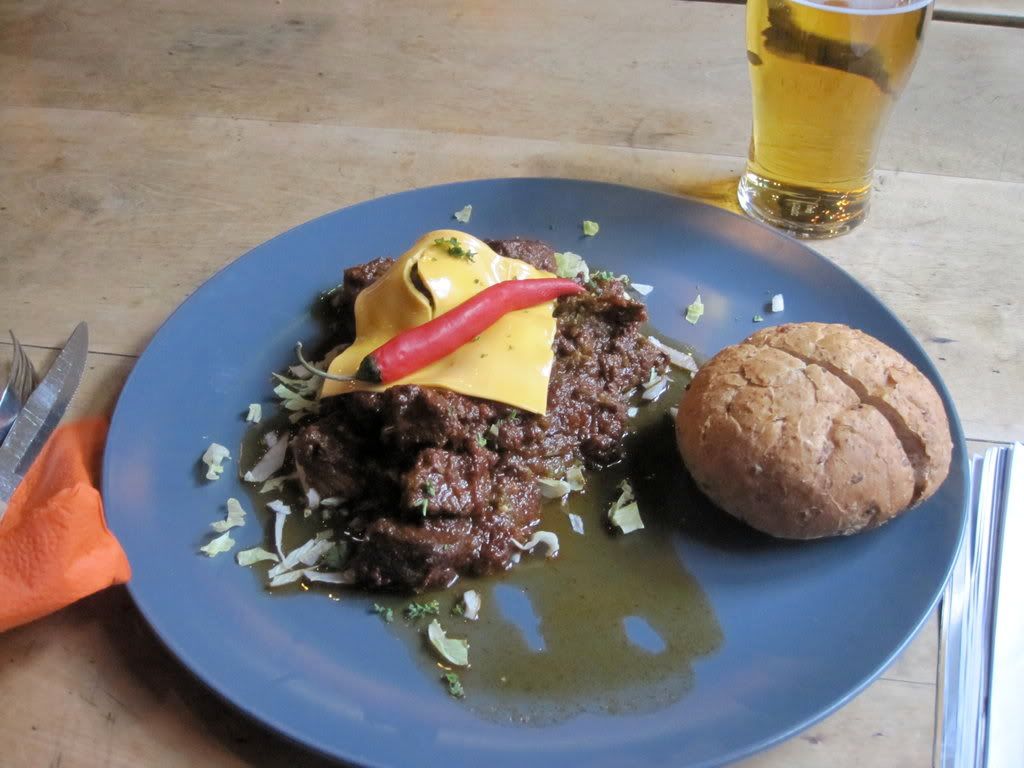 Satisfied I do some shopping before heading back to the airport with the bus - this ride takes a bit longer as the main street towards the airport can get very congested and this Sunday is no exception...
Lennart Meri Airport
I did OLCI the previous day but stupidly forgot my A4 boarding pass home so need a new one. I try the self service machine, but there's no option for reprinting the boarding pass, it just says "Pax FlyingFinn already checked in.". No shite, Sherlock? The check in agent is more successful and hands me a boarding pass with my OLCI seat assignment in it.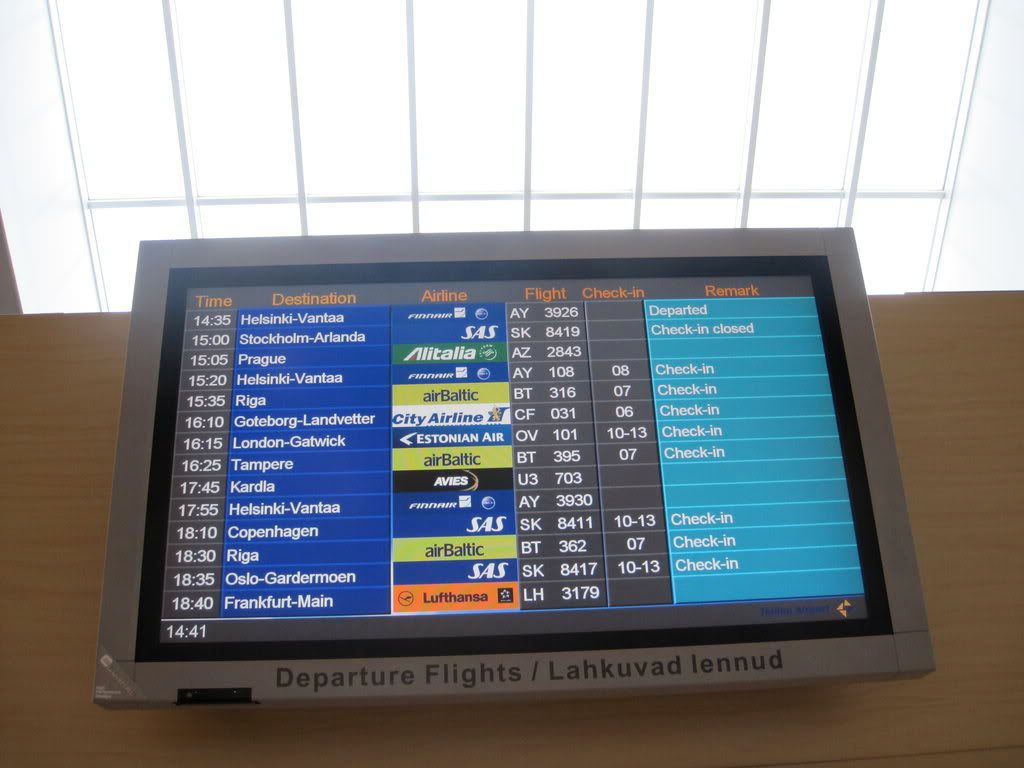 Lennart Meri, the previous president of Estonia after whom this airport is nowadays named: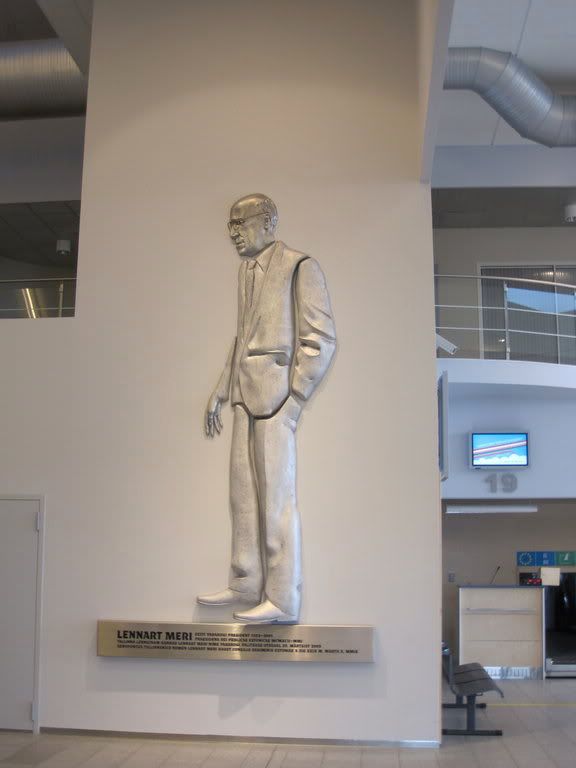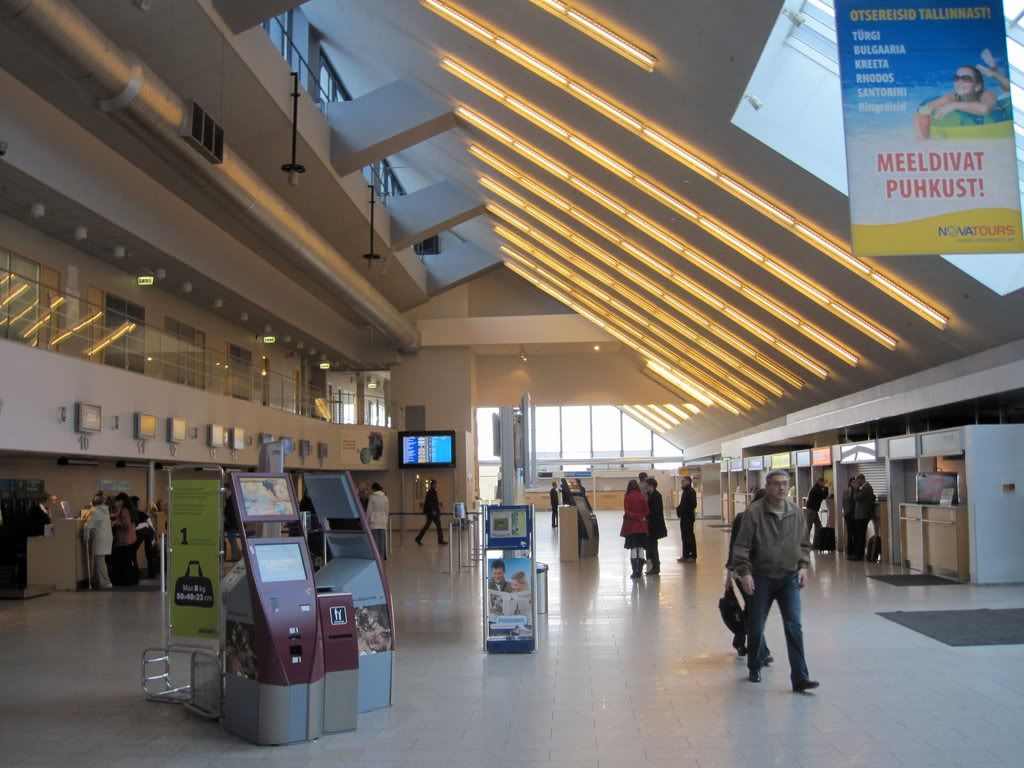 I head airside, stock up on booze at the Travel value store - it is far less value than before though as the prices have gone up - the Estonian government keeps on increasing the alcohol duty just like their Finnish counterpart.
Finnair still operates one weekly flight on Sundays on mainline equipment - it used to be an A319 but is nowadays an E190 - I guess they have some sort of lucrative cargo contract. That F50 will be my ride to TMP: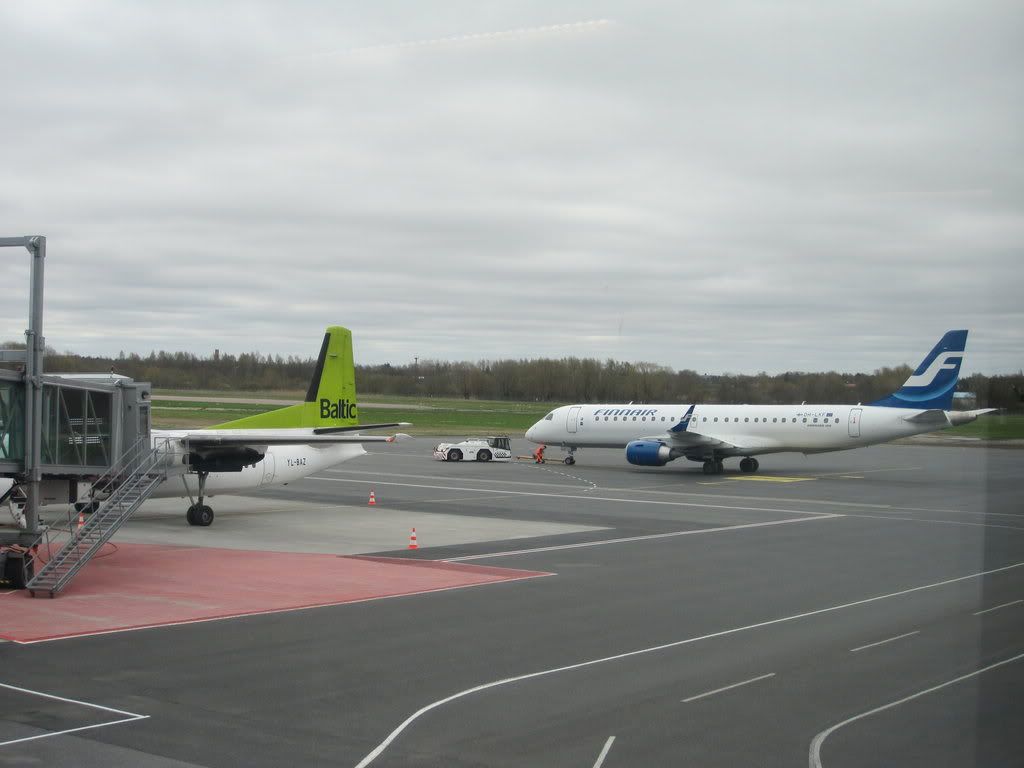 The new part of the airport, very deserted today:
I grab a small beer (and only one - after all I still need to drive home from Tampere) from a bar and soon enough it is time to board, 30 minutes ahead of departure. The F50 sitting at gate 2 turns out to be our ride - YL-BAZ, my third flight with this one. Boarding is down some bare concrete stairs to the apron - if Ryanair ever starts flying here (or rather if the airport company gives in to their demands) these will form a part of the quintessential FR experience - queuing in a damp, cold, smelly corridor. Luckily we can board right away.
TLL-TMP
BT395
F50 YL-BAZ
Seat 10D
16.05 - 16.48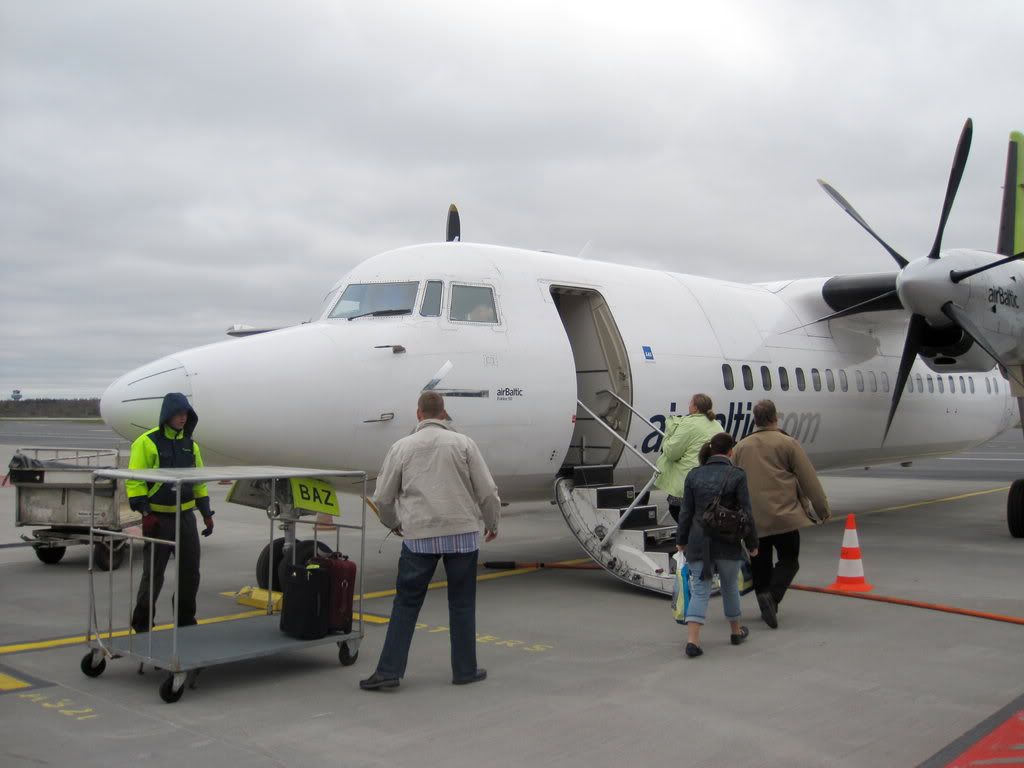 Not a terrific load today, I count exactly 20 pax. The steward welcomes us "On this airBaltic flight to Turku... Tampere!". This causes a burst of laughter from all the Tampere people on board - after all these cities have a long standing rivalry for being the "second city" in Finland (which they both have theoretically lost to Espoo
).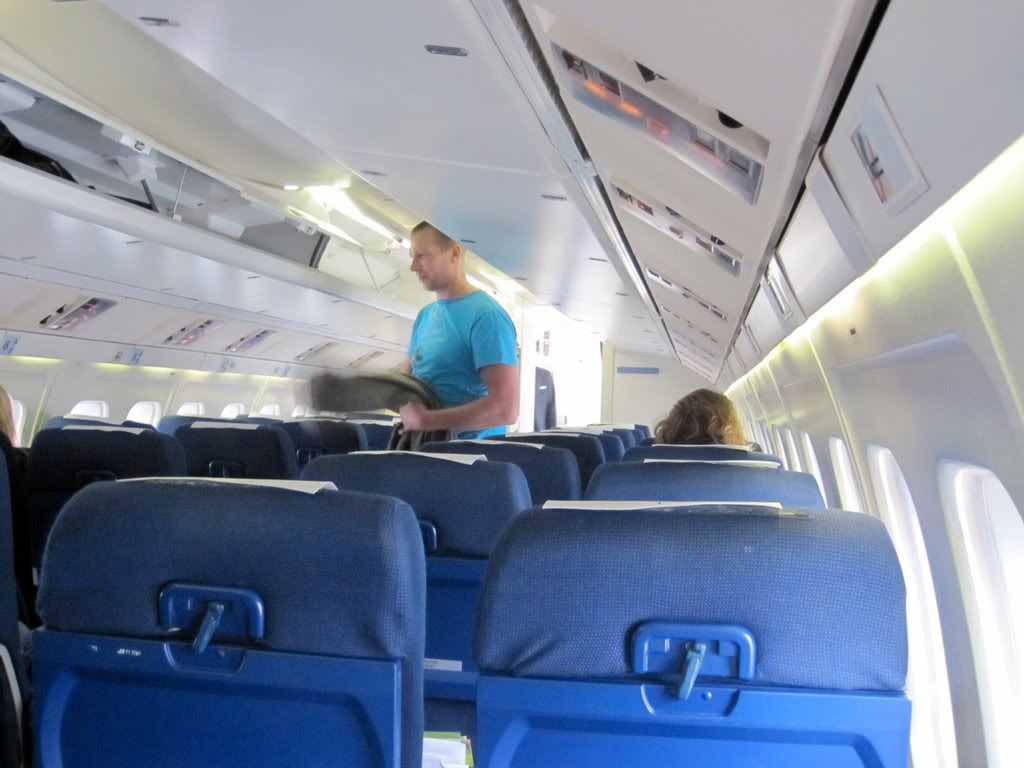 Departure is an impressive 20 minutes ahead of time, too bad we are taking off from runway 26 which means a lengthy taxi of over five minutes. Departures on this runway overfly the city and offer great views: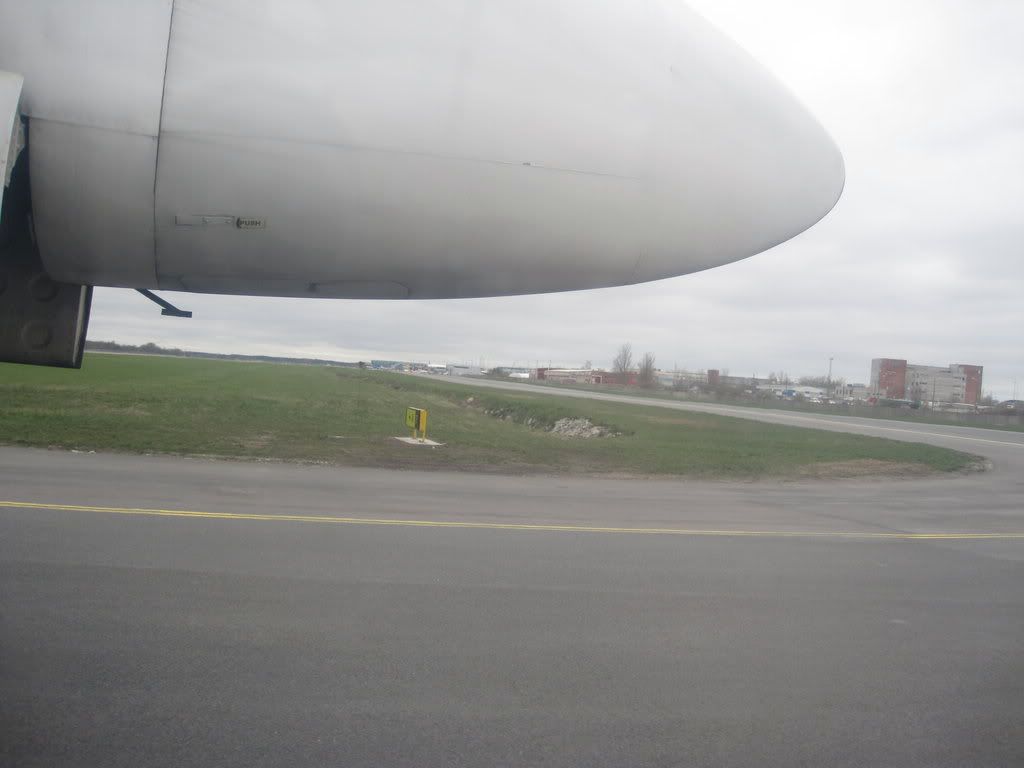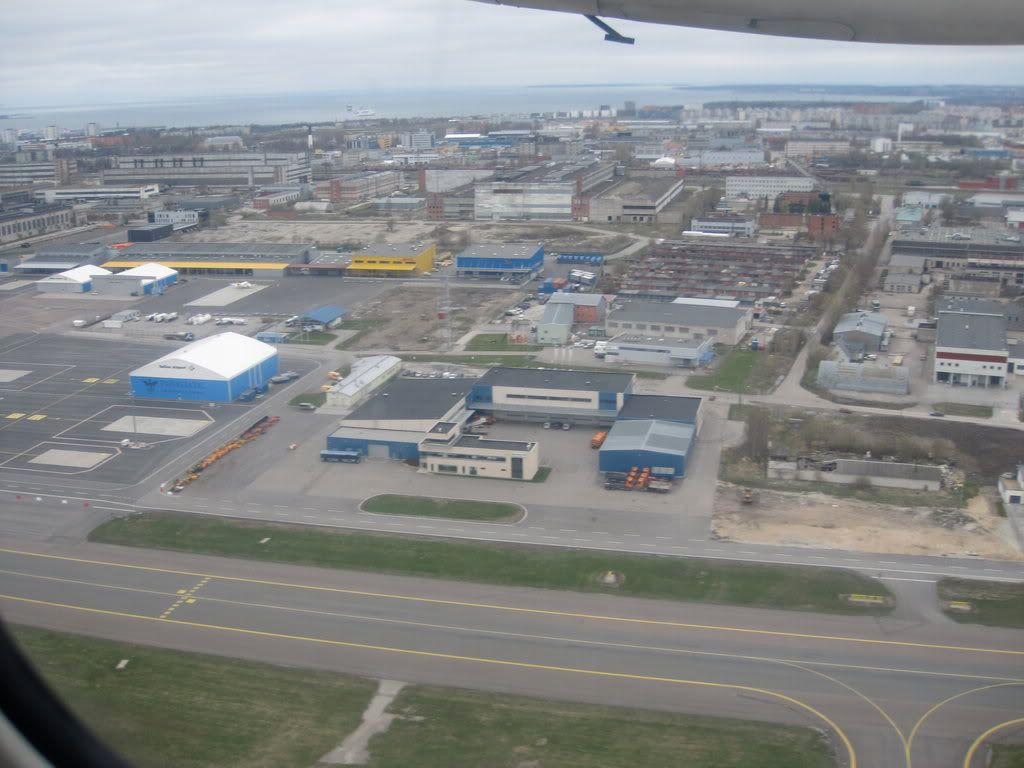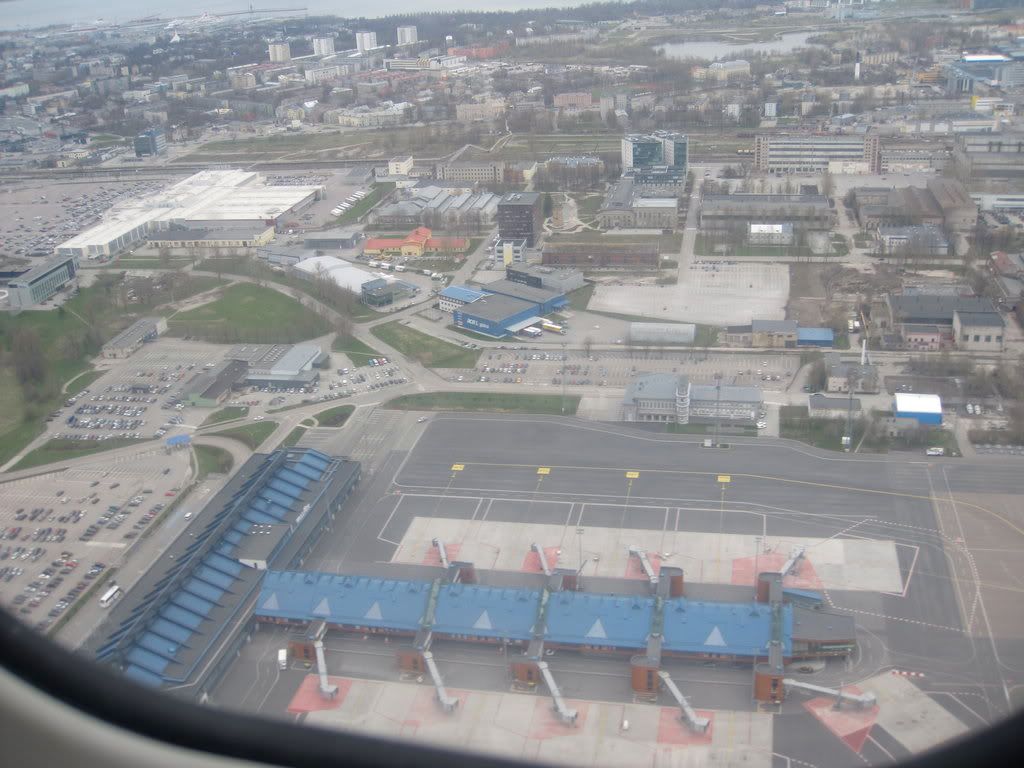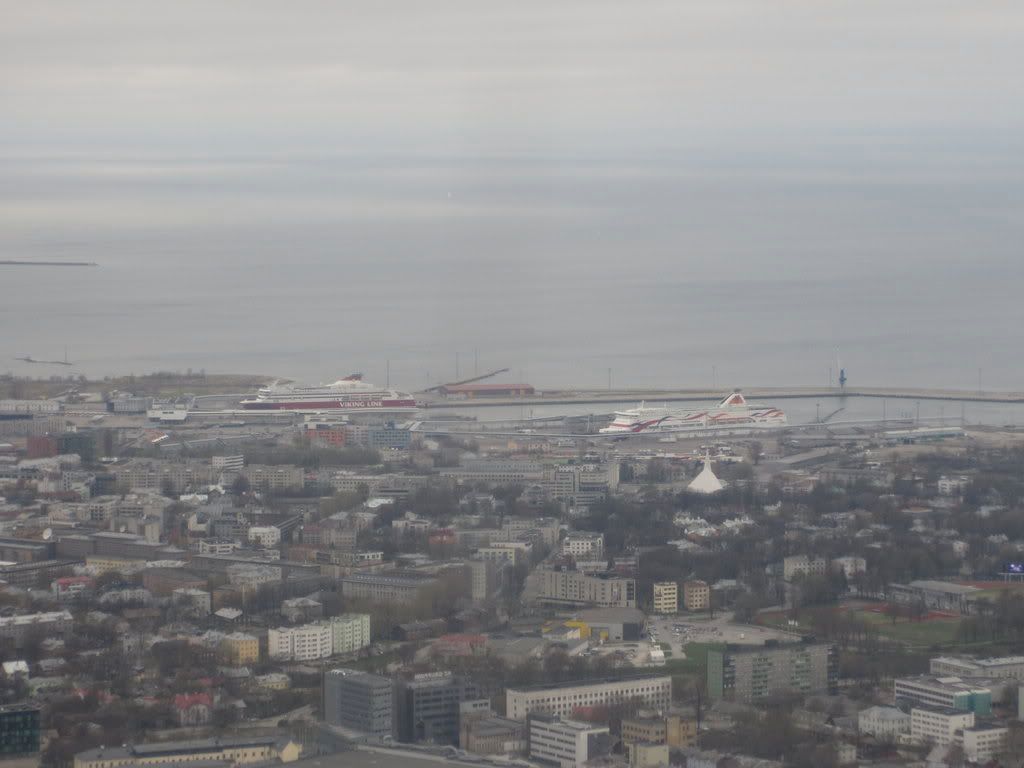 Too bad the cloudbase is so low so I miss the old town views.
Interestingly the onboard menu is already an Estonian version with prices in EEK and some Estonian specialties - I guess it is in anticipation of the new base in Tallinn opening in a month. The cabin crew is Latvian, though. I grab another coffee to help with the drive - due to the short flight I don't even get to finish it before we have to buckle up for landing and put the tray tables away.
The weather here is just as ugly as in the morning, so views are once again very limited. Landing is on runway 24 after 35 minutes of flight, 27 minutes early.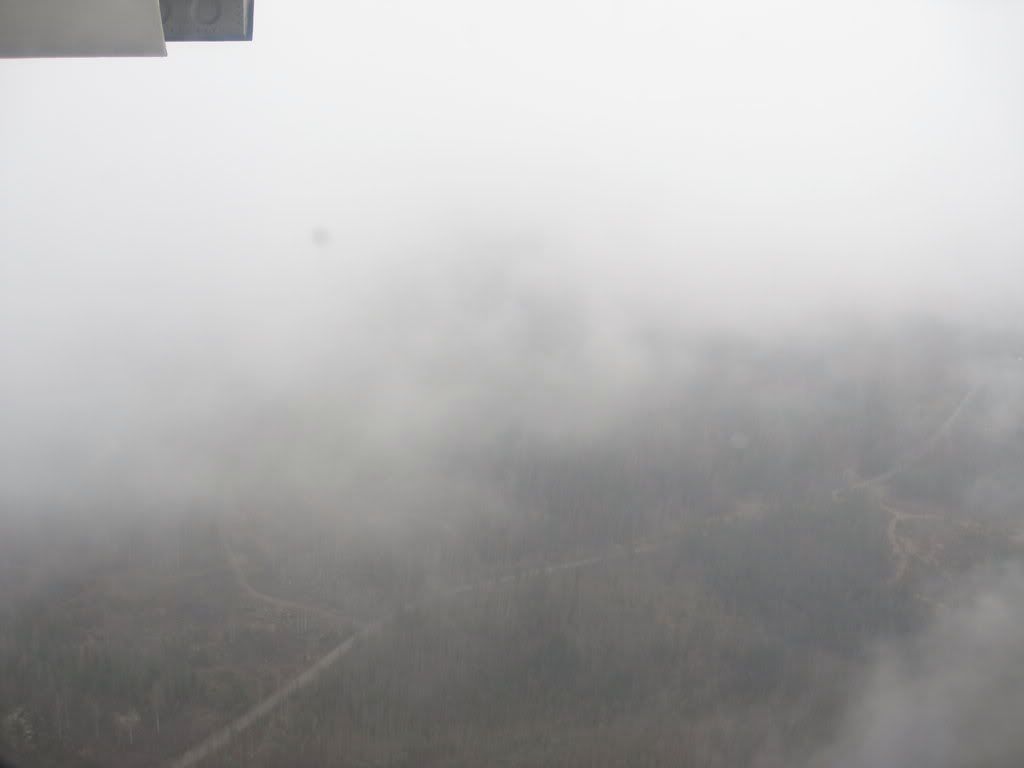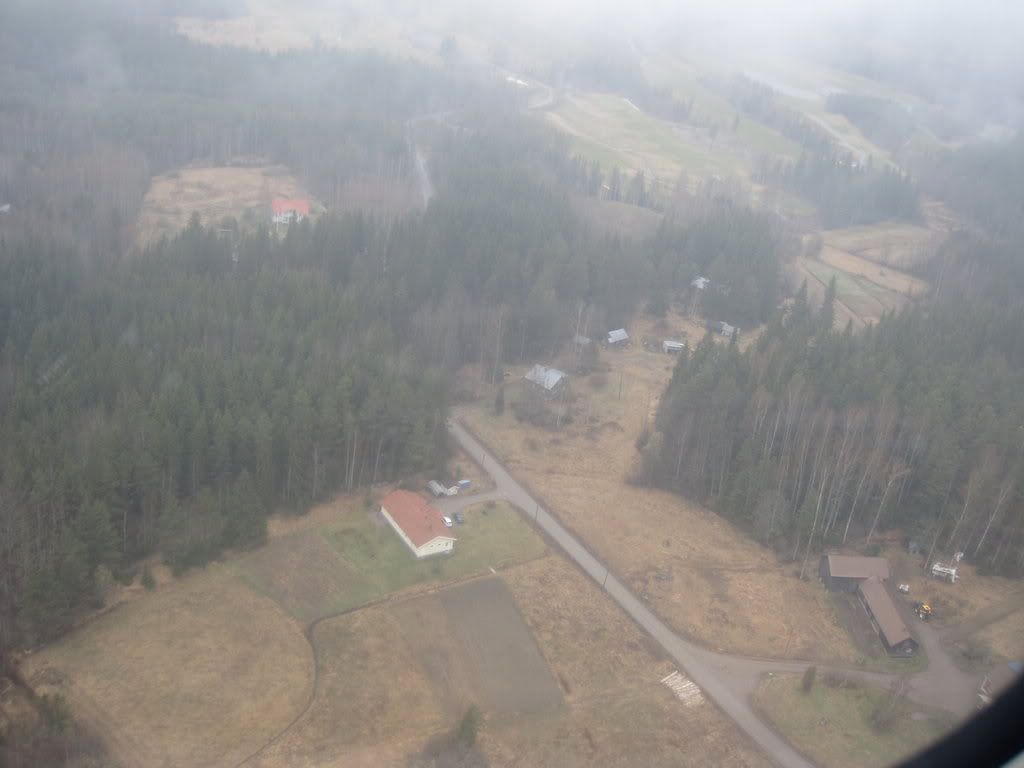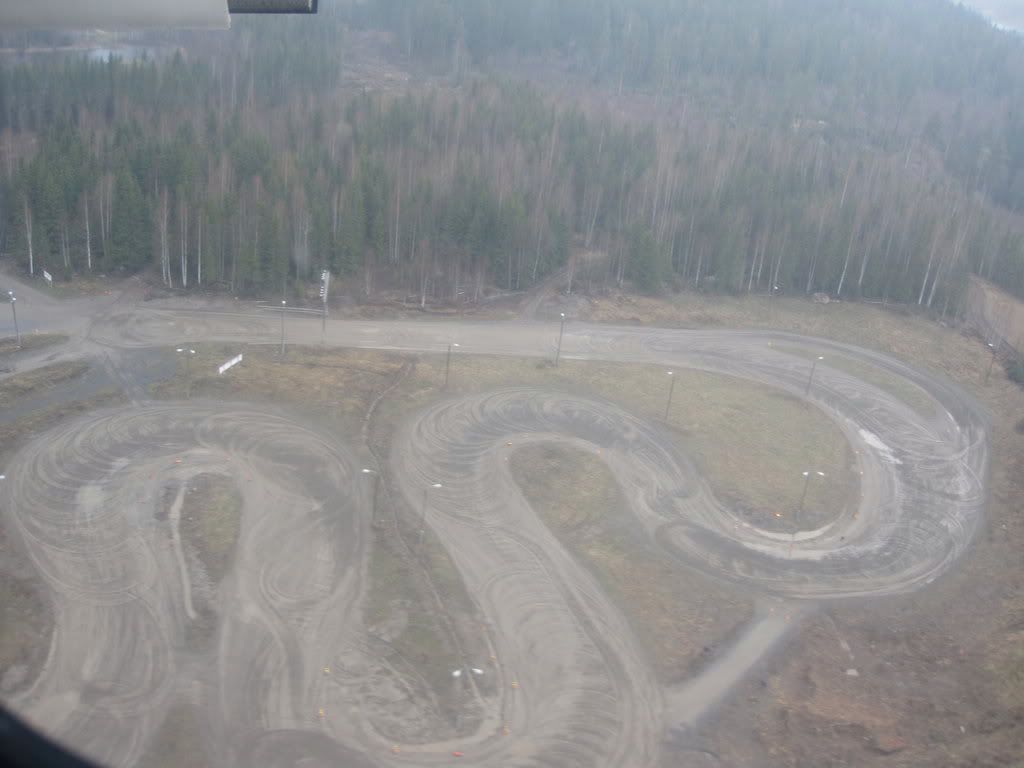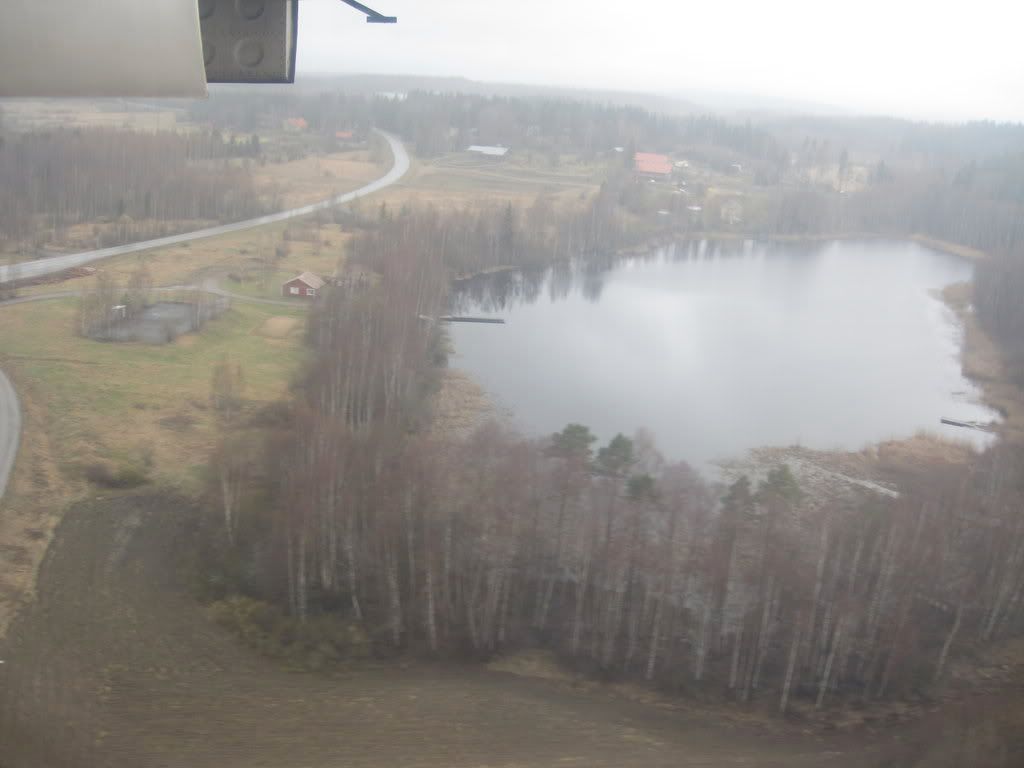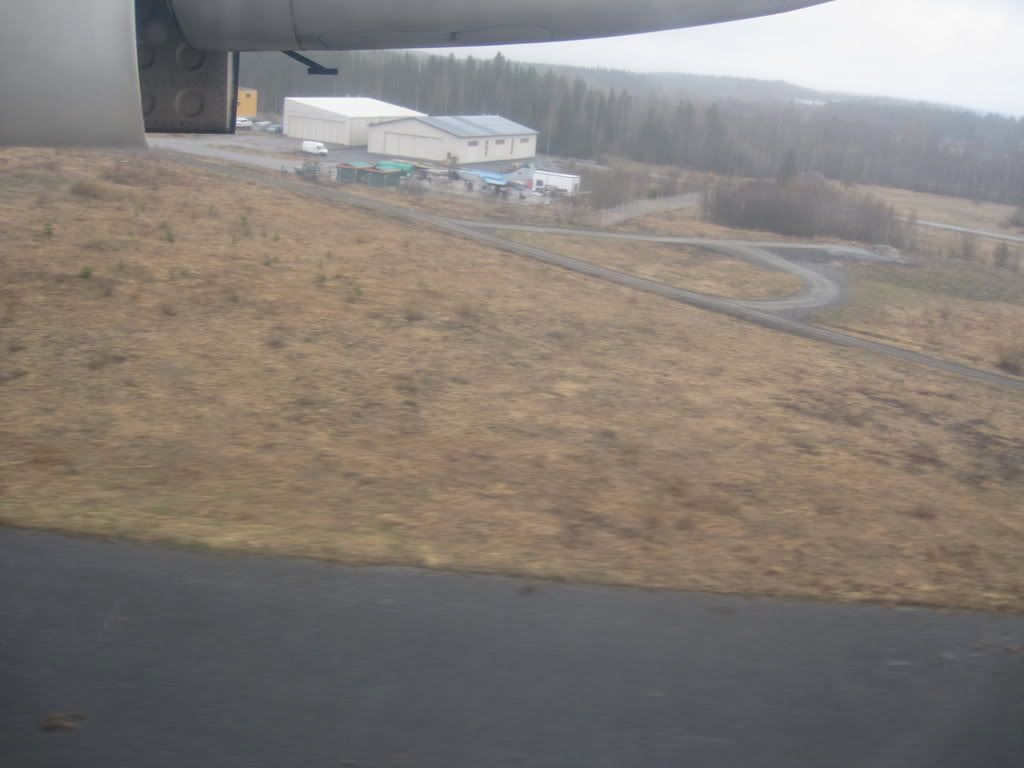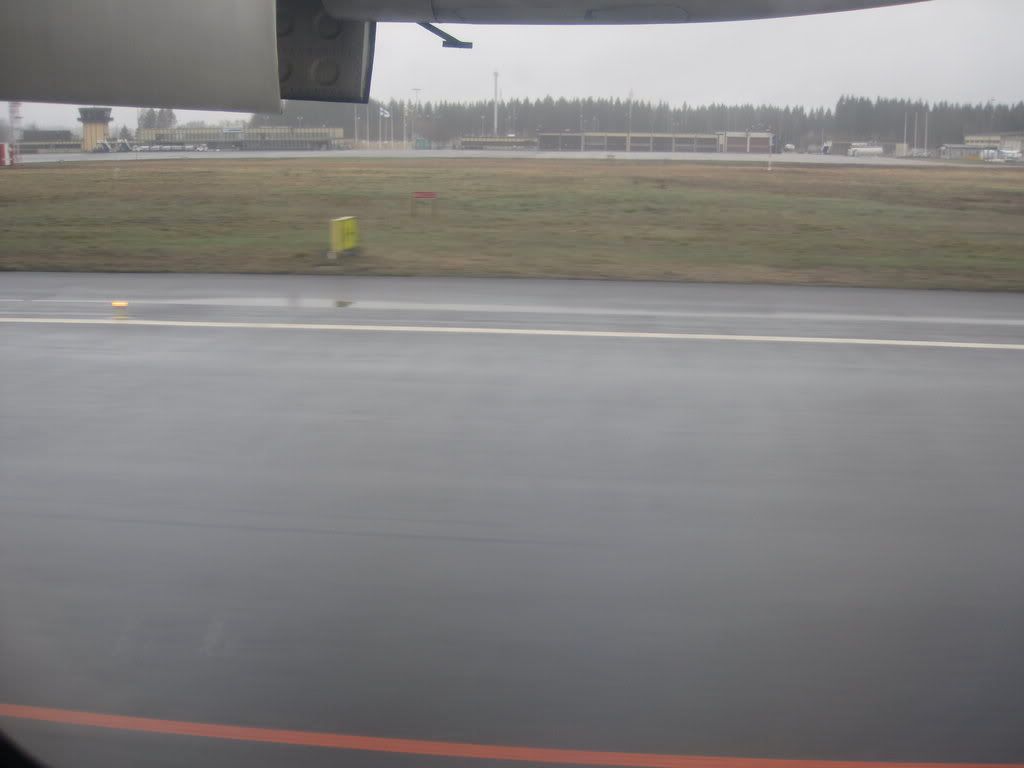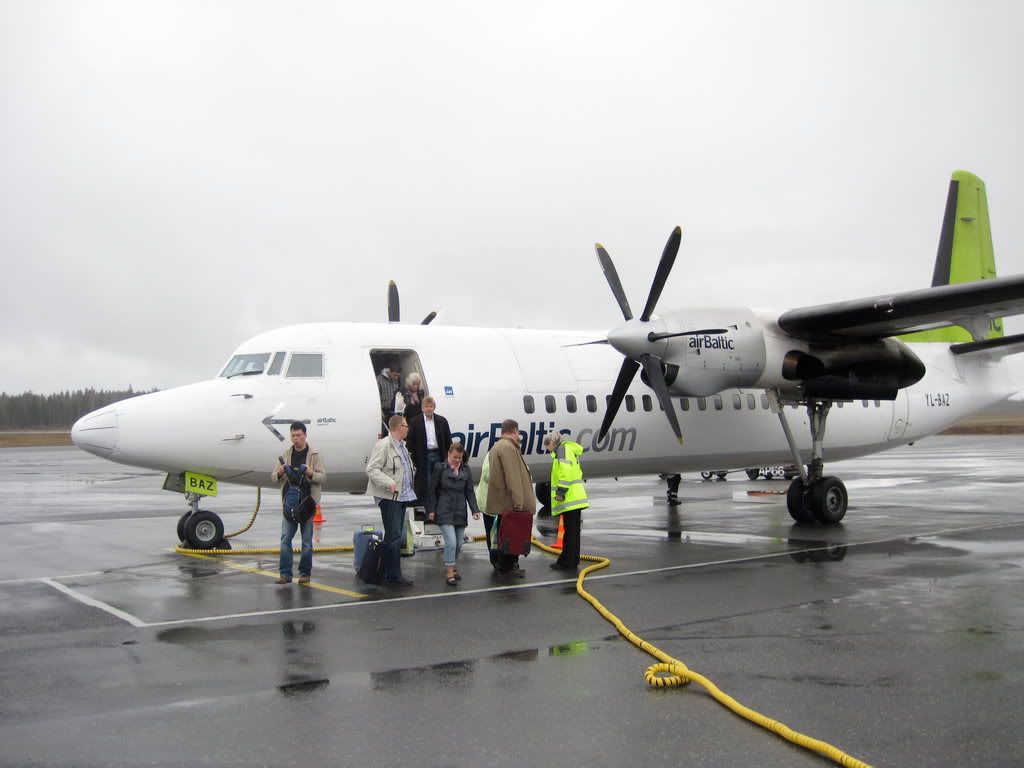 When deboarding the same agent from the morning is there, she remembers me as well. For some reason the passport booths are manned by some policemen (not even border guards) inside the terminal but they just wave all the people through - maybe there's a charter flight arriving soon?
I hop in the car, hit the nearest gas station to fill her up before hitting the motorway. There's far more traffic so the drive takes around two hours this time.
Conclusions
A very standard set of Fokker flights on BT, yet nice as well. A couple of enjoyable hours in Tallinn and a terrific meal at a great restaurant - not a bad way to spend a Sunday.
Next trip is yet another short hop to and from RIX, this time with a couple of interesting planes though. Stay tuned.