Feedback always appreciated.
I > Background:
As some of you know, I had been in Nepal on a ground engagement involving a certain airline. And, since I don't fancy KTM's nightlife, it was time to look to get-a-way. I had not been to HKG (a city I LOVE) in a while and thought it would be a good time for 3-day extended weekend. Both RA and KA offers direct flights (KA stops @ DAC), but let's just say I had "ethical" issues using either of them … anyways, IT had just introduced their HKG flight and I thought it would be a nice way to try their J product. They were offering ridiculously low fares from KTM to HKG via BOM.
IT holds the 2nd and 3rd spots in my short-distance economy class trip reports and I was wondering if it could replicate its "success" and take over as the #1 from the surprise J-class "leader", SN Brussels. The suspense was worthy to make the storyline of a Nepali movie (hehe)! Anoosh had written an excellent report giving them positive reviews (http://www.airliners.net/aviation-forums/trip_reports/read.main/162627) which remain as the only IT JCL review on A.Net.
II > Pre-Flight:
a) Before Airport:
Kingfisher Airlines is the airline owned by liquor baron Vijay Mallya. It is a premier airline whose low-cost brand (erstwhile Air Deccan) is now called Kingfisher Red. It is one of the 6 airlines in the world with a five-star Skytrax rating (not saying much I know) and now has ventured internationally with flights with a network that looks like it was copied and pasted from Jet Airways. The economic viability of these routes are yet to be seen of course, and the oneWorld alliance membership may just be a small panacea for them.
Ticketing for the flight was done using the excellent Kingfisher website (http://flykingfisher.com/). The site is a delight to use both visually and in terms of ease. I was able to book my flight and make seat selections online. Additionally, I am able to make changes to the reservation and to my seating. This is one of my most important requirements and I was happy that IT's IT (am I funny or what?) lived up to her 5-star moniker.
b) At Airport:
Kingfisher uses Gate C @ terminal 2B at BOM. I was let in to the terminal by a nice security guy who was genuinely pleased to welcome his "first time new passport". Aaw. Anyways, prior to the dedicated IT JCL counter, my passport was quickly glanced over and a stamp put on the back. Check-in was a breeze and my pre-booked 1A was instantly made available. Interestingly, I got no assistance from the red porters. I wonder if that service has been taken offline. The beautiful check-in agent handed me my boarding pass and an invitation to the Clipper lounge. BTW, I was very impressed with the distinct purple/gold branding of my KF First ("Redefining Business") boarding pass and bag tags. It is also different from the domestic KF First (which is red/gold). And, I do like the tag line!
Anyways, boarding card and departure card in hand, I made it past security and immigration. BOM's terminal has improved tremendously. When I first started flying to India, I would never have ventured that immigration (using the premium lines) would take less than a minute! I was again impressed by the amount of food and duty-free options that had cropped up. Kingfisher also uses the "Clipper Lounge" which I have used on several previous flights. The peaceful Clipper lounge was busy this evening and I had a quick chance to check e-mail. Lots of staff were around to bring café and food, but I declined.
I left the lounge early to hang out in front of the boarding gate – it was called on time and I was welcomed personally by the gate agent who walked up to me seeing my purple/gold boarding pass. Immediately after I entered, I was amazed at how "posh" the J class felt. The striking red with the mood lights went well and created an aura of a night-club (or, a W hotel) more than a plane. The lead purser took my boarding pass and walked the entire length to seat 1A. I was immediately offered a choice of exotic drinks (choose lime) and a bottle of branded water placed next to me. Now interestingly, my picture taking gathered suspicion (for the first time in India), and the purser requested it was "against policy to take pictures at Indian airport." She was stunned when I said, "that isn't true unless it is a defense airport." She then said something about "company policy" and said she would check with her "security personnel." Whatever. On a side note, she never told me what the "security personnel" told her. Totally unnecessary IMHO. Anyways, J load was 50%; Y load was 70%.
>Airport - External:
(Gate C: Terminal 2C, Bombay)
*
Check-in:
Airport - Internal: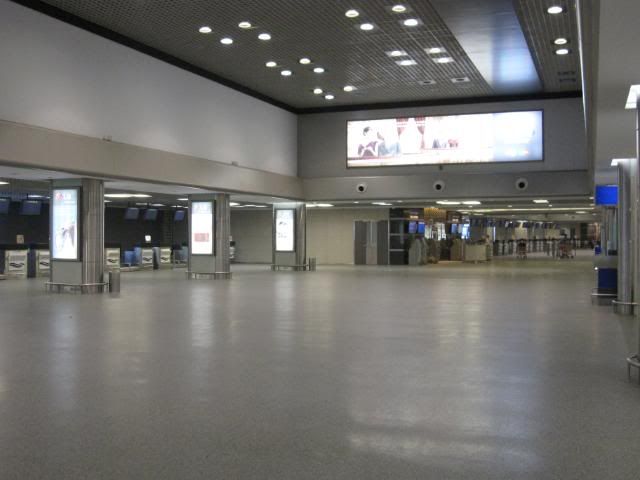 (FIDS)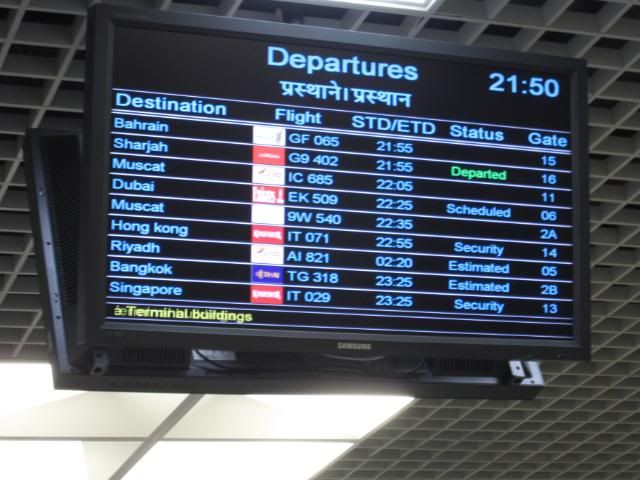 (Post Security @ BOM)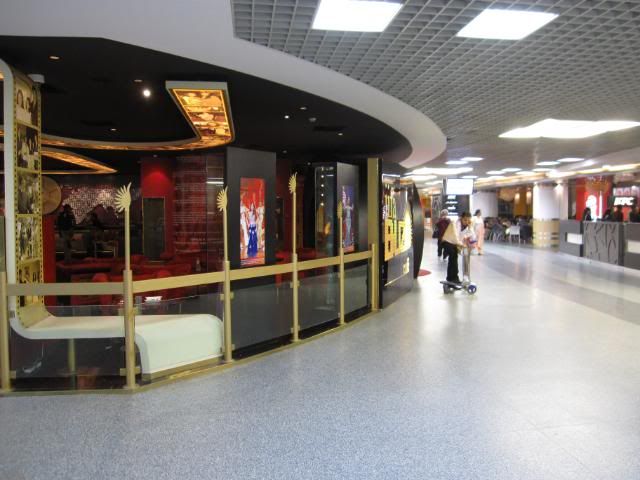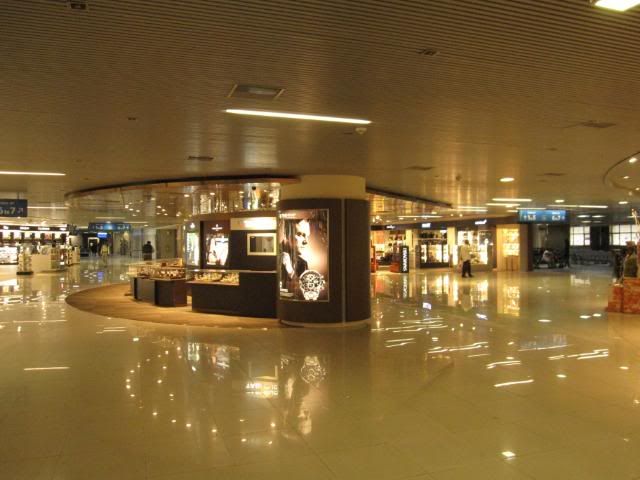 Scenes of the tarmac:
NONE
Lounge
(Clipper Lounge @ BOM)
*
*
*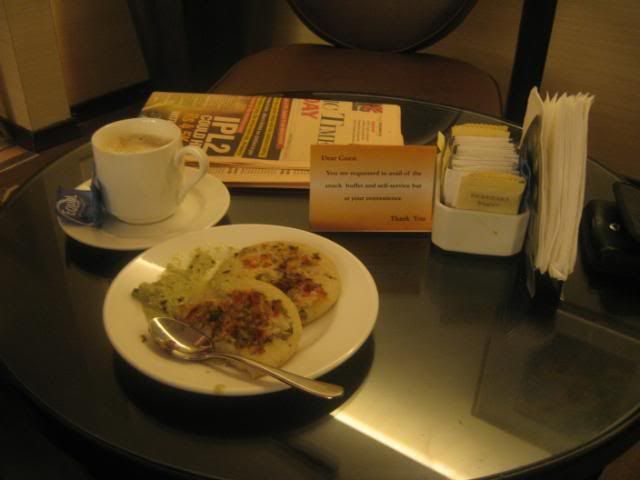 Boarding:
(Where is "ILBST"?)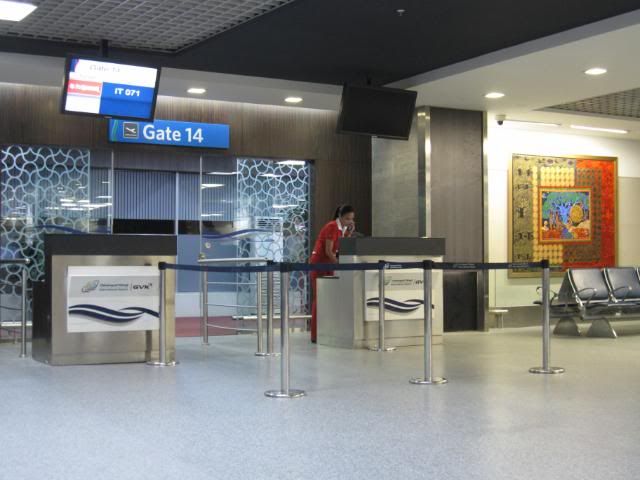 III> In-Flight:
a) Service Schedule + Impressions:
While on the ground, water bottles were distributed and an exotic variety of pre-take off drinks offered. These included the sweet lemon-lime drink Indian carriers offer and which I am obsessed with. Also while on the ground, menus were distributed, orders taken, Bose noise-canceling headsets placed on my seat rest (nice touch and unique), skimpy eye shades and slippers offered (from tray), and hot/cold towels given. I was pretty impressed by the hot/cold towels, and how much was accomplished while on the ground. Major props slow service is one of my biggest pet peeves on red-eye intercontinental flights. They were of thick nice cloth, scented, and refreshing. I wasn't impressed by the lack of an amenity kit … and when asked, the crew said passengers never used them. I have a hard time believing her. Though, if you ask … you do get the pajama.
After take-off, dinner was quick. Prior to landing, the Kingfisher girls come with an uniquely Kingfisher experience, the offer to clean your glasses. Along with the Indian thali, something that sets Kingfisher apart.
b) Aircraft + Seats:
Kingfisher's J class cabin looked very inviting and the mood lighting complimented the plush red interiors very well. Throughout the cabin, there was an air of sophistication and panache and it felt like a premium product. The seats themselves were outstanding and went to a very comfortable full-flat bed. They were also very good in seated and comfort positions, and one could significantly customize the position. While it did not have the privacy of an Etihad JCL and I did not like having to go over a sleeping person next to me, it still was extremely comfortable seats where I would have no problems getting a good night's sleep. Oh, and nice touch includes the turn-down service which all Indian carriers seem to offer in JCL. Good job!
Controls for the seat were advanced and intuitive through a central console. Unlike many in-seat massage functions, this was actually useful and the ability to control the myriad of settings uniquely appealing.
Another highlight of JCL was the really cool and spacious bar area with the dedicated F&B guy. Quite impressive overall! However, what about getting the basics right? Like having a little more amenities in the bathroom? The views could only make up so much
…
Aircraft:
(330 @ HKG)
Views from Aircraft:
NONE
General Seat Views + Seat Legroom
(Seat controls)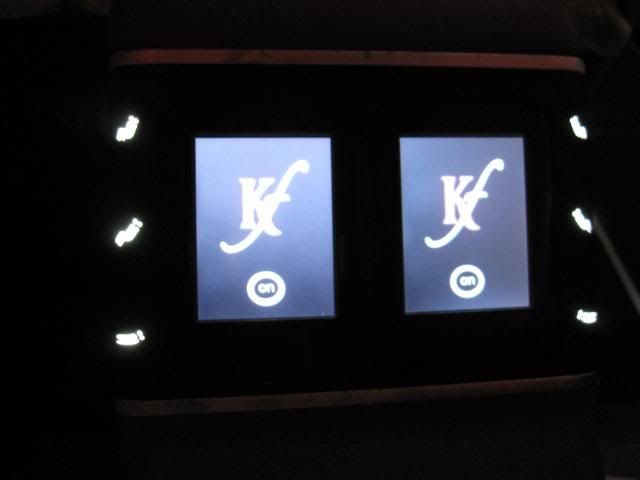 *
*
*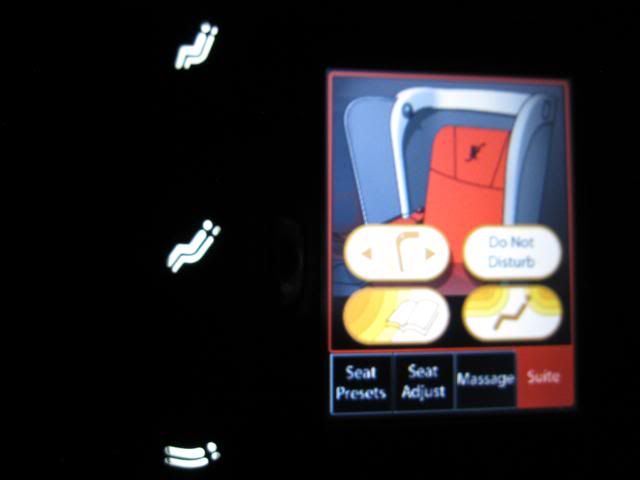 *
*
*
(Legroom)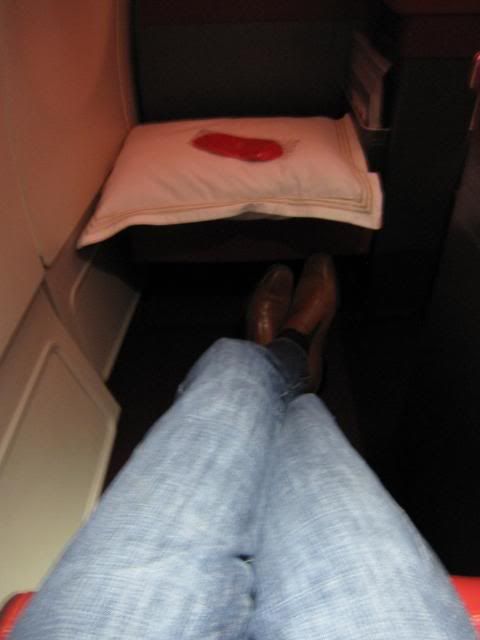 (Seat Partition)
(Blanket)
NONE
Seat Recline + Angle View: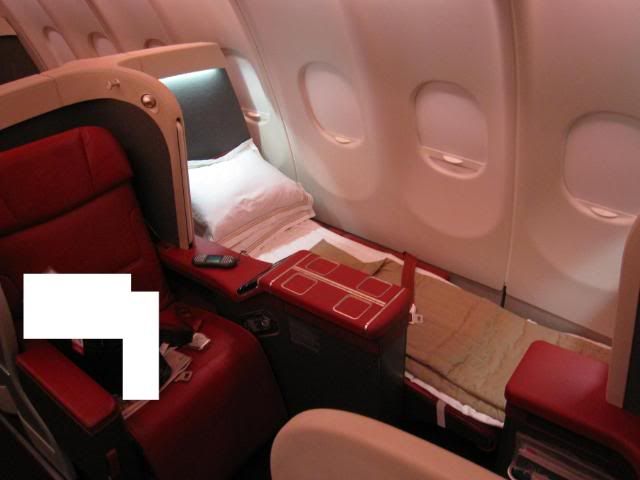 *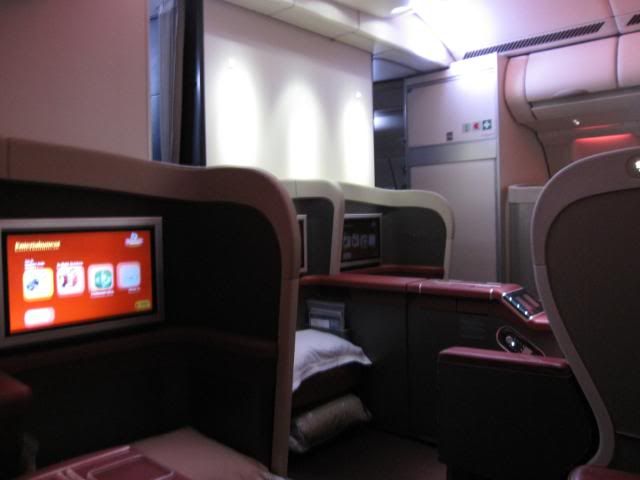 Cabin: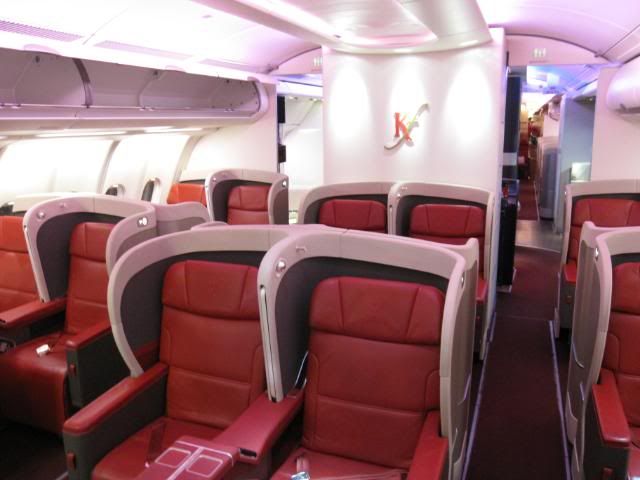 *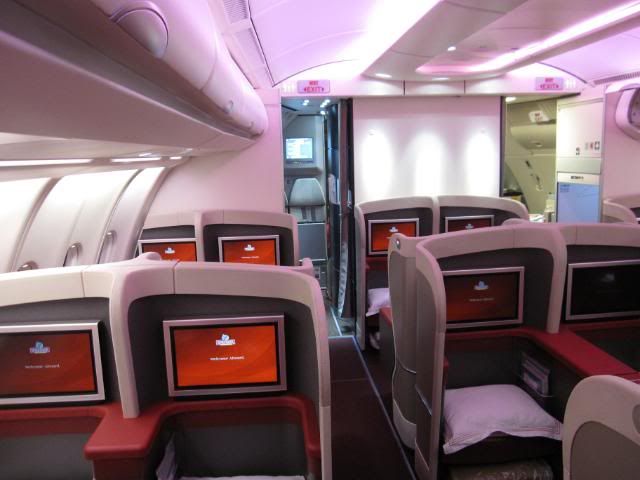 (Bathroom Amenities)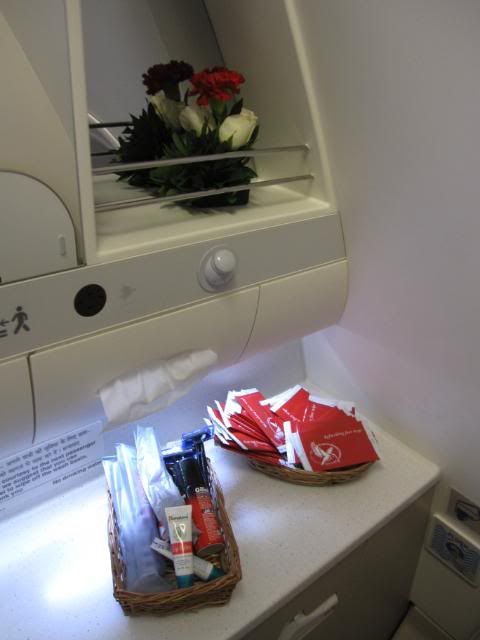 (View)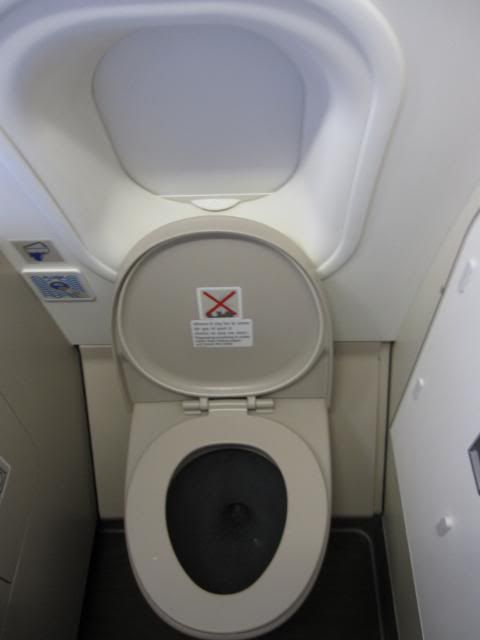 (The sexy bar)
*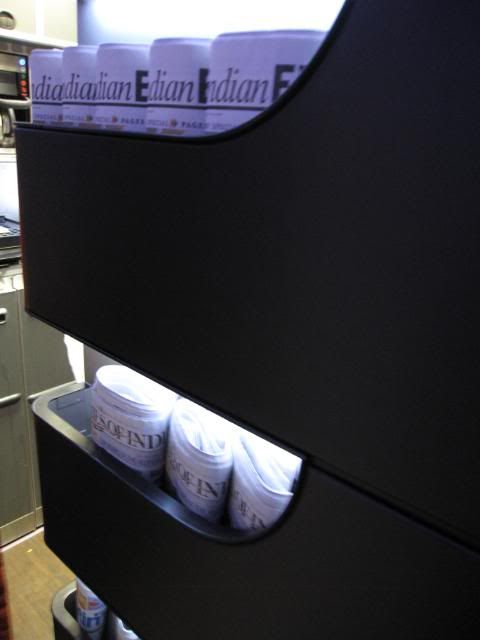 *
(Starry skies)
c) Meal + Beverage:
I must make a comment on how much I appreciated the specialized F&B guy who doubled up as the bar man. While costly, I think it is a nice touch and if airlines can do it, I think premium customers enjoy it. My bar-man was great – with an interesting background in the industry, he whipped up some delicious cocktails including a delicious coffee martini!
I chose the Indian "thali" for dinner. This was actually a very unique offering and I truly appreciated Kingfisher's ability to think outside-the-tray and offer something reflecting her heritage. While the side dishes were all wonderful and tasty (and very restaurant quality), I did not care much for the main chicken tikka. As you can tell from the picture (see the piece in the middle of others), it seemed to be an after-thought of the F&B Manager. Not only did it look skimpy, it was also dry and tasteless. Other than that, the food was excellent and the portions generous. It was sort of like having 3 Lufthansa J class meals! Indian dessert was offered in the end and was a tad too sweet for my non-Indian tongue. I have no idea what it was. Perhaps Indian A.Netters can help tell me the name?
Besides the meal service, the crew would constantly check on the passengers and offer beverages (alcoholic, water, etc.). Nicely done on a red-eye. Perhaps, airlines such as Iberia and Air France whose crew disappear soon after the main service should spend time at Kingfisher to learn how it is done!
Since I had a bunch of emails to send out, I settled out at the bar and had the bar-man make me all kind of exotic drinks – including the aforementioned delicious coffee martini. Unlike the Emirates bar where some passengers just get obnoxious, the Kingfisher bar was a relaxed area with much refined conversations.
(Menu)
-> I can't seem to find it – apologies!
(Lemonade @ Take-off)
(Dinner service)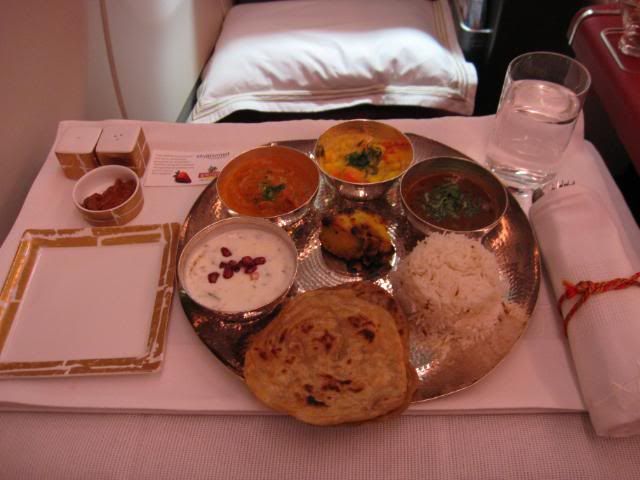 *
*
(Drink @ bar)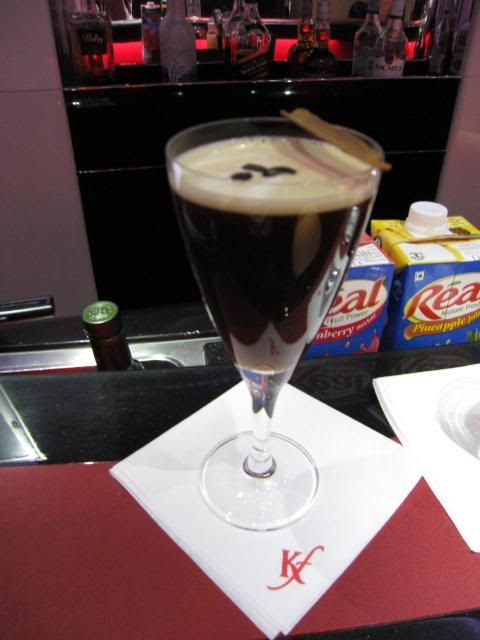 d) Inflight Entertainment:
What's the point of buying a brand new Lexus if you can't afford fuel? What's the point of having huge screens, wonderful Bose noise-canceling headsets, nice remote controls, if the quality of movies/tv shows/etc. offered is so abysmal? Around 16 AVOD movies were offered … nothing spectacular in terms of quality or quantity. For an average J class, this is fine … but we are talking about an airline that is proud of its "5-star" "achievement" (quotation emphasized…). Very disappointing. Thankfully, the in-flight magazine was of relatively good quality.
(Screen and headphones – they are hung by the seat and kept outside the Bose box by the cabin crew)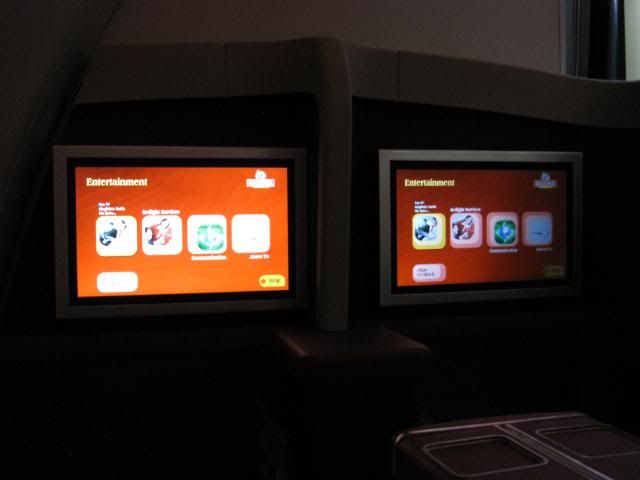 *
*
(Poor selection and tacky duty-free)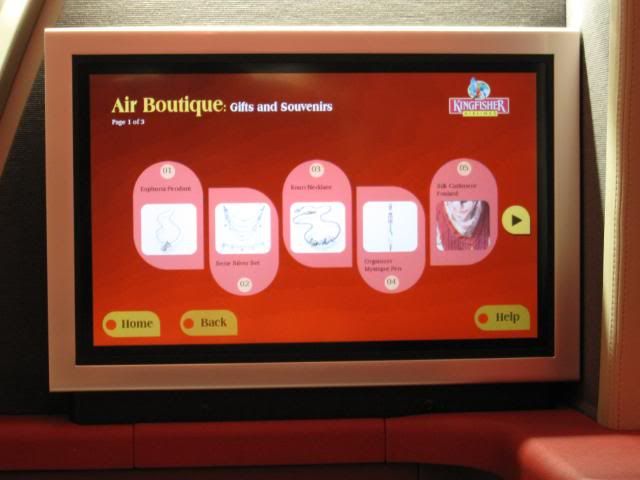 *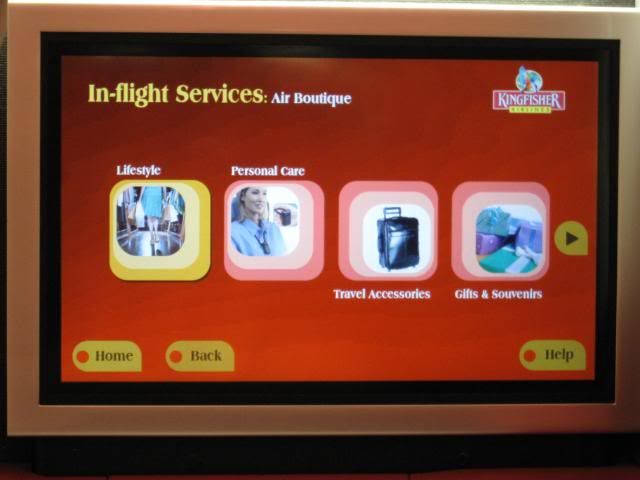 *
*
*
*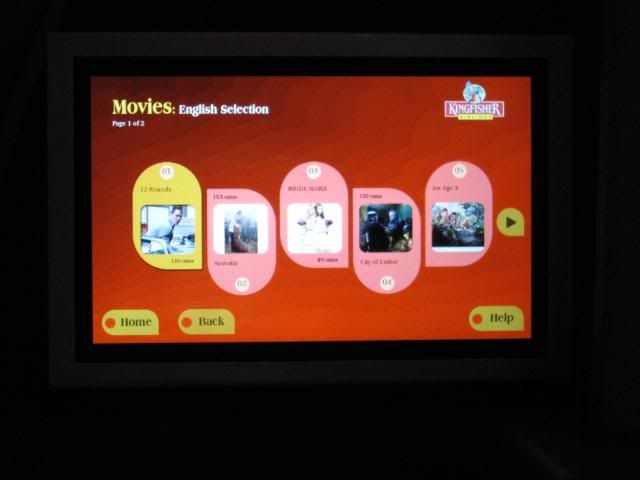 *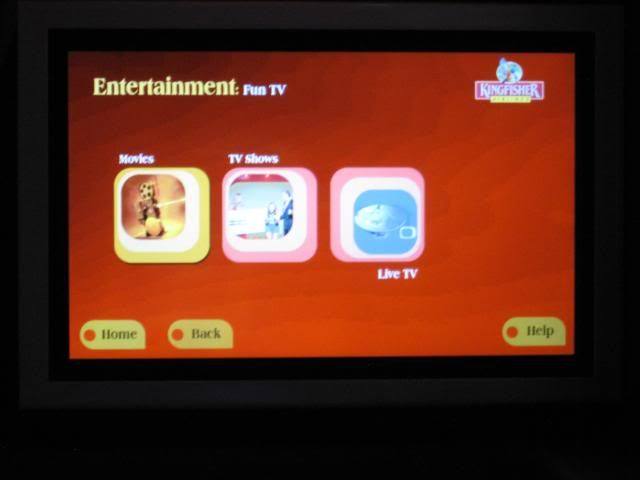 *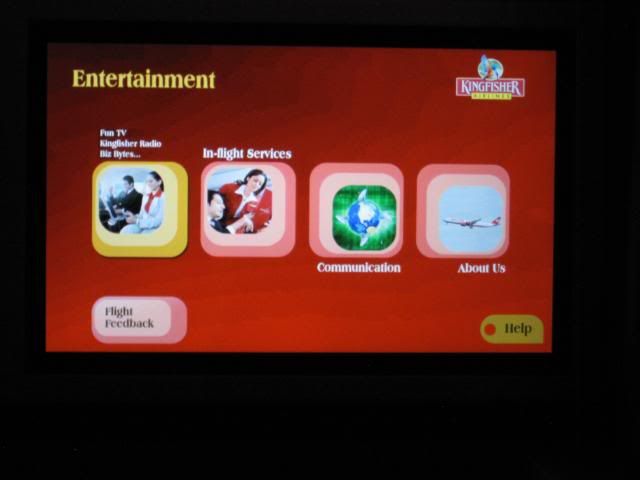 ("In-flight magazines", Boarding Passes, etc.)
(I love their Gold and Purple color scheme)
e) Crew:
Kingfisher must have the hottest looking crew out there … but hotness does not always translate to exemplary service. I must note that my 2 previous TR's had seen IT cabin crew score a respectable 9,0. This crew simply did not have it. Forget the overzealous purser at boarding, the rest of the crew seemed remarkably robotic. The fact that the cabin crew training keeps them on a tight "lash" was obvious as they could never deviate from service protocol. It translated into an extremely superficial service which left much to be desired. While they looked pretty and did everything as requested immediately (orders met, meals given, fake smiles displayed), their own individual personality had just gone out of the door. If Kingfisher was so hell-bent on creating these robots, they should just drop humans and use the cost savings to buy robots instead! Seriously, I have always thought South Asian crew to be the best in the world … and these girls had none of the charm of their heritage. After watching them do their job, I burst out laughing at awkward deliveries such as (when delivering my dessert): "here is to your sweet ending". Or, "I hope your dreams take flight" after turning down my "bed". Hahahahahaha … if you're going to read the manual and say such a trite line, please look at my eyes! Seriously, Kingfisher cabin crew director … let these girls be themselves! Who knows? Perhaps, this will all change as Kingfisher flies more internationally and their crew garners experience?
IV> Post-Flight:
Landing in Hong Kong was smooth and the always efficient immigration people at the airport meant that I could see my favourite
(Spotting @ HKG)
*
*
*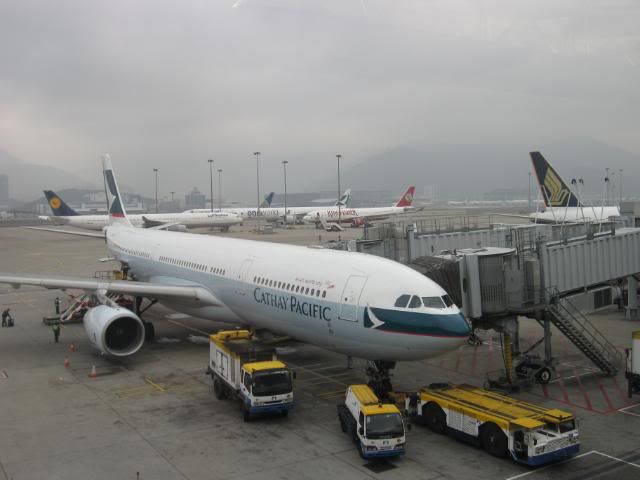 *
*
V> Impressions + Scores:
In my last Kingfisher report, I wrote:
"If the hallmark of a great airline is consistent service, IT definitely makes the cut. From an excellent ground experience through the fantastic new HYD airport, to great crew, excellent meals, and good IFE, IT checked all the boxes needed to make it a great airline. For the sake of the traveling public, I do hope IT stays. It would be a shame if it did not."
I still maintain Kingfisher to have an excellent product that can truly become a serious global player from a very important emerging market. However, its international product has some ways to go before becoming truly great. While the hardware they brought from the shelf (seats, AVOD system, aircraft, etc.) is top class, the soft product to go with it has tremendous scope for improvement. Pretty crews do not always leave lasting memories and Kingfisher has a long way to go on this. They could take a leaf out of Jet's or Air India's book to see how it is done. Moreover, some of the soft products seem to feel "ad hoc". While glossy on the surface, the lack of depth in IFE programming and the lack of attention to detail in the food service stand out.
Don't get me wrong. Kingfisher is an excellent airline that is better than most others out there. It has unique products that shows it can innovate (unlike Jet which does everything top class, but no innovation). However, it is no benchmark setting airline as its CEO claims it to be. I highly recommend Kingfisher and will fly them again. However, it is like a great one-night stand ... you smile thinking about it, you wish once in a while to recreate it, but you never seriously pursue it because of the lack of true substance. Two thumps up.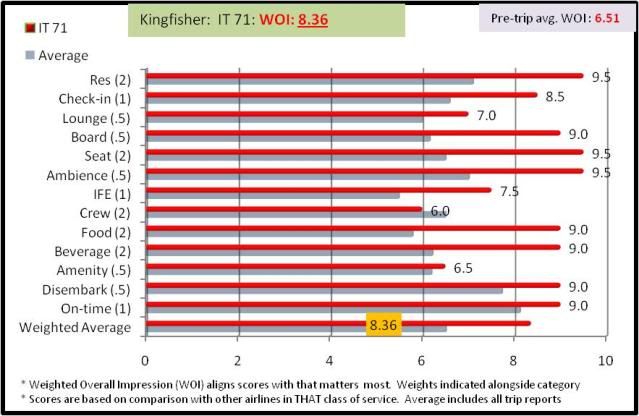 VI> Other Trip Reports:
PREMIUM:
8.66:
Brussels Airlines (93): FIH-BRU: 01/2010
8.64:
Turkish Airlines (59): JFK-IST: 11/2008
8.63:
Jet Airways (88): JFK-BRU: 10/2009
8.61:
Air Canada (49): YYZ-SCL: 06/2008
8.54:
Turkish Airlines (77): GRU-DKR-IST: 04/2009
8.36: Kingfisher (98): BOM-HKG: 01/2010
8.30:
Jet Airways (74): KWI-BOM: 04/2009
8.23:
United Airlines (72): SFO-SYD: 03/2009
8.11:
Aeroflot (33): MOW-DEL: 09/2007
8.05:
Air India (80): CCU-JFK: 06/2009
8.04:
Korean Air (40): NRT-ICN: 10/2007
8.02:
Delta Airlines (24): JFK-CDG: 08/2007
7.64:
Royal Jordanian (91): AMM-YUL: 12/2009
7.46:
LAN (55): YYZ-JFK: 09/2008
7.82:
Singapore Airlines (06): EWR-SIN: 09/2006
7.25:
Iran Air (88): BOM-IKA: 12/2009
7.23:
Virgin Atlantic (81): BOS-LHR: 07/2009
7.14:
Swiss (52): SCL-GRU: 06/2008
7.11:
Austrian (79): VIE-JFK: 06/2009
7.07:
Privatair (84): BOM-FRA: 08/2009
7.02:
Qatar (68): DOH-JFK: 01/2009
6.96:
Etihad (61): JFK-AUH: 12/2008
6.93:
Delta Airlines (18): SEA-JFK: 11/2006
6.84:
ConViasa (65): CCS-DAM: 01/2009
6.81:
Air Canada (17): ICN-YYZ: 10/2006
6.70:
KLM (32): EBB-AMS: 08/2007
6.39:
South African (97): EZE-JNB: 01/2010
6.36:
Privatair (60): MUC-BOS: 12/2008
6.29:
TAM Brasil (96): POA-EZE: 02/2010
6.25:
Korean Air (45): NAN-ICN: 10/2007
6.21:
Iberia (87): BOS-MAD: 10/2009
6.11:
TAP Portugal (53): GRU-OPO: 06/2008
6.00:
Gulf Air (75): BOM-BAH: 04/2009
5.88:
African Express (89): DXB-NBO: 11/2009
5.75:
Singapore Airlines (16): CCU-SIN: 10/2006
5.64:
NorthWest (46): ICN-NRT-SEA: 10/2007
5.54:
Ethiopian Airlines (95): ADD-BOM: 01/2010
5.46:
Icelandair (83): KEF-BOS: 08/2009
5.39:
LOT (54): WAW-JFK: 06/2008
5.21:
Egypt Air (73): CAI-IST: 02/2009
5.07:
TACA (66): JFK-SAP: 01/2009
4.42:
Air France: CDG-JNB (25): 08/2007
ECONOMY: Long + Medium:
9.26:
Air India (48): JFK-DEL: 02/2008
7.38:
Avianca (01): BOG-LIM: 07/2006
7.07:
Sri Lankan (62): KWI-CMB: 12/2008
7.00:
LAN (94): IPC-SCL: 01/2010
6.41:
Avianca (78): JFK-BOG: 05/2009
6.41:
American Airlines (58): LHR-BOS: 11/2008
6.39:
Condor (85): SEZ-FRA: 09/2009
6.26:
Jet Blue (21): CUN-JFK: 02/2007
6.06:
Air Canada (04): YYZ-YVR: 09/2006
5.89:
USA 3000 (19): PUJ-BDL: 01/2007
5.85:
Spanair (69): MAD-LPA: 02/2009
5.79:
Air New Zealand (42): RAR-NAN: 10/2007
5.52:
Aerolineas (86): USH-AEP: 10/2009
5.46:
TAP Air Portugal (23): OSL-LIS: 05/2007
5.19:
Air Europa (70): LPA-MAD: 02/2009
5.16:
Iberia (71): MAD-BOS: 02/2009
5.11:
Air China (82): FRA-PEK: 08/2009
ECONOMY: Short
8.56:
Paramount Airways (38): BLR-MAA: 09/2007
8.56:
Kingfisher (64): HYD-CCU: 12/2008
8.24:
Kingfisher (14): IXA-GAU: 10/2006
7.87:
Indian (34): BOM-MAA: 09/2007
7.72:
Alliance Air (13): CCU-IXA: 10/2006
7.57:
Indian Airlines (10): DEL-CCU: 09/2006
7.23:
West Jet (03): YYC-YVR: 09/2006
7.15:
JetLite (37): BOM-GOI: 09/2007
6.70:
Spice Jet (09): CCU-DEL: 09/2006
6.63:
Air Fiji (44): NAN-SUV: 10/2007
6.63:
Jazeera (67): DAM-KWI: 01/2009
6.58:
Air Tran (02): EWR-MDW: 08/2006
6.48:
Air India Express (63): CMB-MAA: 12/2008
6.44:
CO Micronesia (39): ROR-YAP: 10/2007
6.41:
Pacific Sun (43): NAN-SUV: 10/2007
6.37:
Skybus (47): SWF-CMH: 02/2008
6.33:
Kenya Airways (29): NBO-BJM: 08/2007
6.33:
Sky Europe (56): LTN-BTS: 10/2008
6.31:
Indigo (15): GAU-CCU: 10/2006
6.31:
easyJet (57): BUD-LTN: 11/2008
6.22:
Air Link Swazi (28): MTS-JNB: 08/2007
6.22:
Air India (36): HYD-BOM: 09/2007
6.13:
Adam Air (07): SIN-CGK: 09/2006
6.13:
Air Rarotonga (41): RAR-AIT: 10/2007
6.00:
Transairways (27): INH-MPM: 08/2007
5.95:
Air Canada (05): ALB-YYZ: 09/2006
5.85:
SAS Norge (22): OSL-AES: 05/2007
5.81:
LAM Mozambique (26): JNB-MPM: 08/2007
5.69:
Air Deccan (12): IXZ-CCU: 10/2006
5.67:
Rwanda Air Exp (30): KGL-NBO: 08/2007
5.37:
Felix Airways (92): SCT-SAH: 12/2009
5.11:
Aero Republica (76): BOG-CCS: 04/2009
5.07:
Go Air (35): MAA-HYD: 09/2007
5.00:
Sky Airline (51): IQQ-SCL: 06/2008
4.96:
Valuair (08): CGK-SIN: 09/2006
4.78:
Air Comet Chile (50): SCL-IQQ: 06/2008
4.74:
Fly 540 (31): MYD-LAU: 08/2007
4.33:
Viva Aerobus (20): ELP-MTY: 02/2007
4.11:
Air Sahara (11): CCU-BOM: 09/2006
(Note on Codes: Y – Economy, J – Business, F – First :: I/D – International/Domestic :: SR/MR/LR – Short/Medium/Long Haul)
(Note on Date: Dates are modified to be +/- 3 days from actual flight date to not reveal actual flight pattern)
VII> Other Pictures:
(Pyjama & Eyeshade)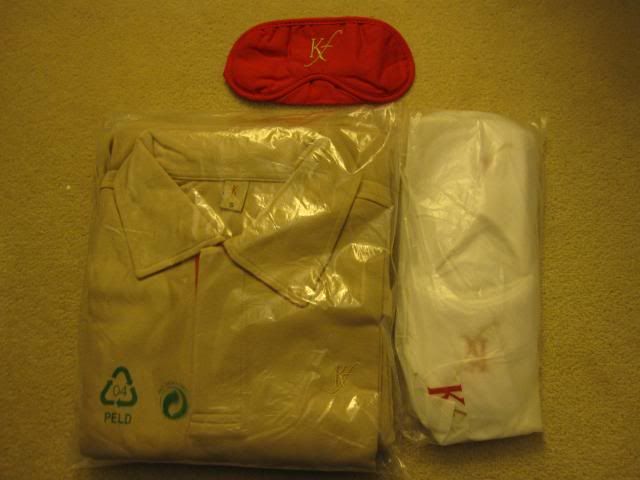 (Pad)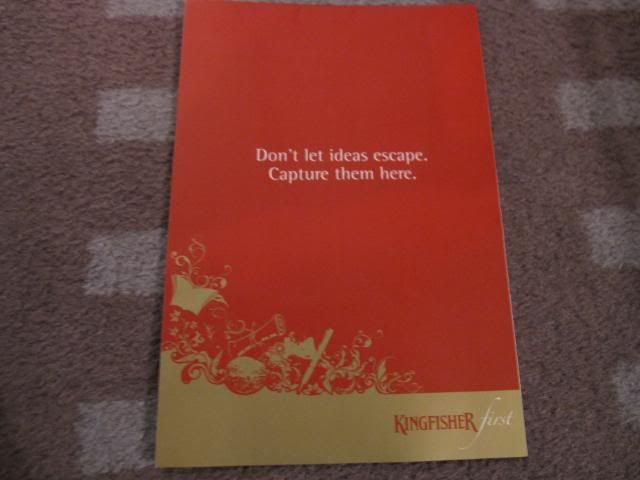 *
*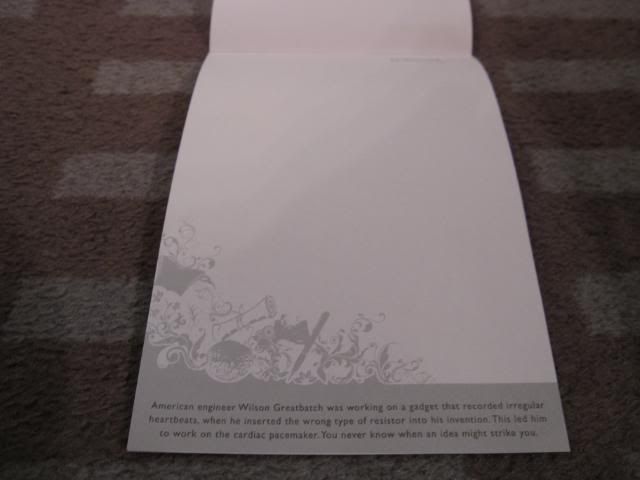 *
(Wonderful lounge @ BLR with the most amazing food I have seen in a lounge in a while)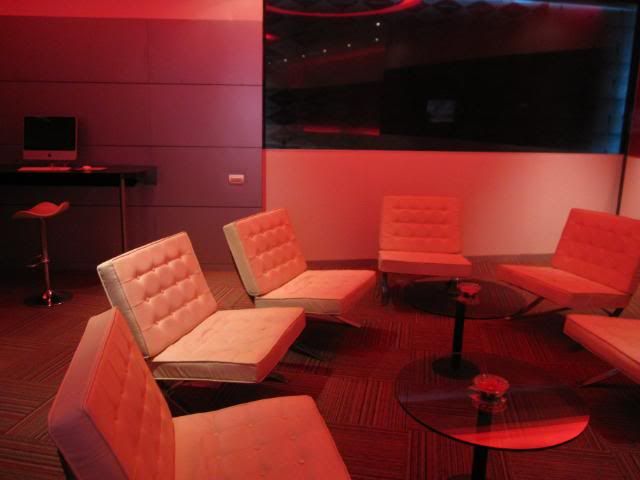 *
*
*
*
*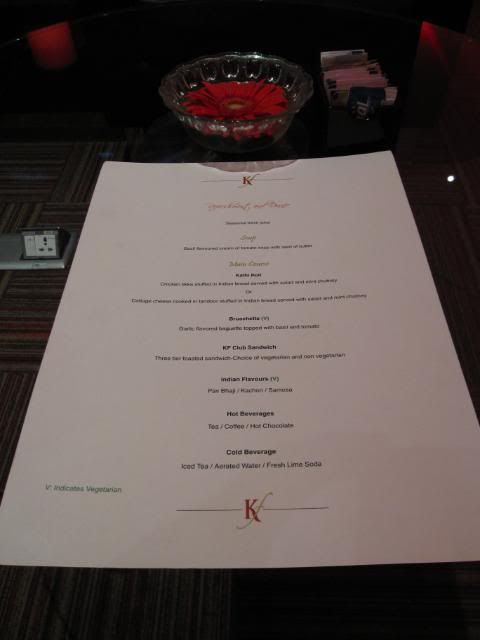 *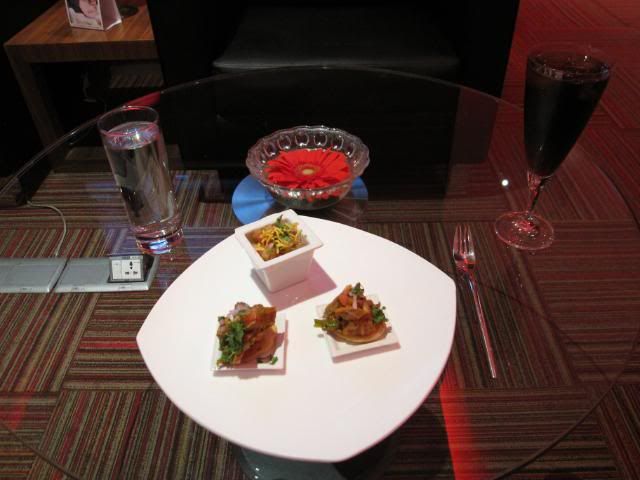 *