Date: 8May10
Route: Los Angeles – Sydney
Distance: 7488 miles
Flight: VA 2
Flight Time: 14:30h
Dep. Time: 22:17
Aircraft: Boeing 777-3ZG/ER
Registration: VH-VPF
Dep. Gate: 38
Seat: 43A
Movies: The Hurt Locker, Amelia, Leap Year
173rd flight on a 777
9th flight on 777-300/ER
First flight on V Australia
43rd 777 carrier flown
I finally took the plunge and purchased a ticket on V Australia. I'm not sure why I have waited so long to take this trip. Seeing VA's 77Ws here at LAX every day was being a bit frustrating after a while since I hadn't flown them yet. Due to medical reasons, I can only be away from Saturday at noon until 9 in the morning on Tuesday. Therefore, this was a very easy trip for me since I could leave Saturday night and be back Monday morning.
Purchased the ticket online on V Australia's website about ten days before departure and it was very easy. It was not possible to assign a seat but a quick call to VA took care of that.
I arrived at Terminal 3 about two and half hours before departure and the lobby was very nice and cozy. The lights were somewhat dimmed and dance music was playing. My wait was about ten minutes so not too long. The counters were also much lower than regular check in counters. The check in agents had a nice casual uniform with khaki pants and a white shirt with a VA pin. Virgin America's check in area was right next to VA's but they had rock music playing….. You'd think that they could coordinate the music; it was a bit annoying hearing that cacophony, as my friend Plane Hunter would say.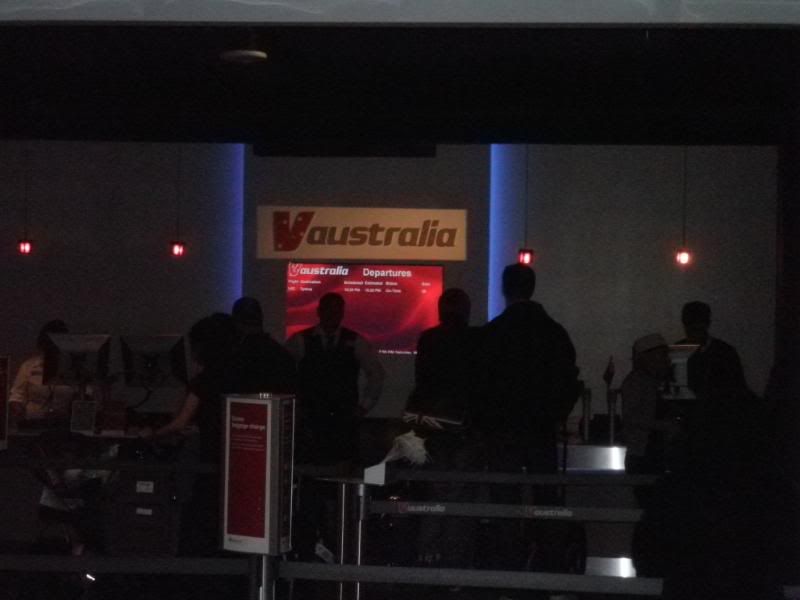 I went thru security and the wait was short; less than five minutes. Once thru, I decided to have a look around the terminal since I haven't been there since my last flight as a TWA employee in May 1994. I've read a lot about how poor shape the terminal is in but after walking around for about 20 minutes to check things out, I don't think it's that much worse than terminal 6 or 7 that I'm more accustomed to. The rotunda area for VX and VA is a bit old but very nice that they have a really nice sit down restaurant like Gladstone's.
I sat down by a window and watched arriving and departing traffic on 24R/L. Impressive that AF had three 777s on the ground at the same time; one departing and one had just arrived.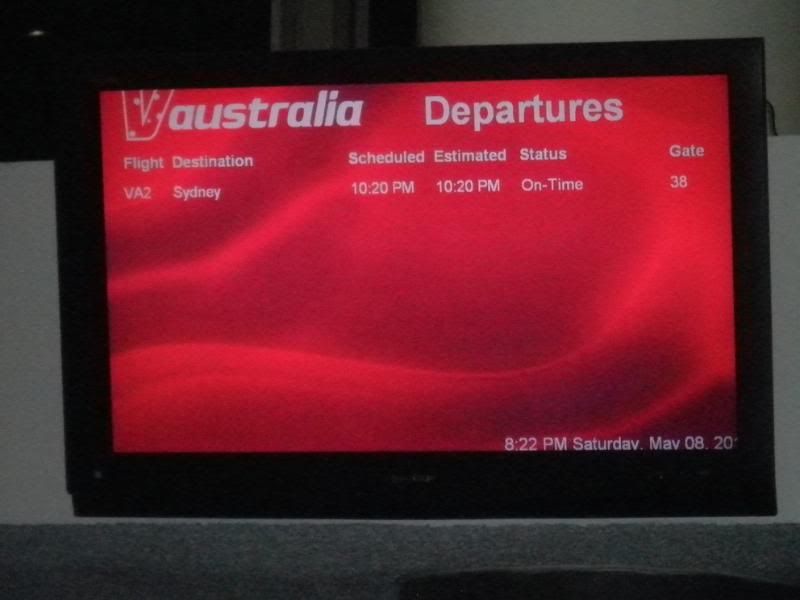 Boarding started at 40 minutes before departure, first with passengers in Business class and then people travelling with young children. After that, boarding was done by row numbers and as I suspected, my row was in the first group to be called. I wanted to board early so that I could take some pictures undisturbed. I was greeted by a male and a female flight attendant. The flight attendants had the same nice casual uniform as the ground staff. To note was that ALL female flight attendants had skirts. Interior was nice and bright and there was a headset, eye shades, pillow and blanket on each seat. Mood lightning was also on and pop music playing while I made my way to my seat.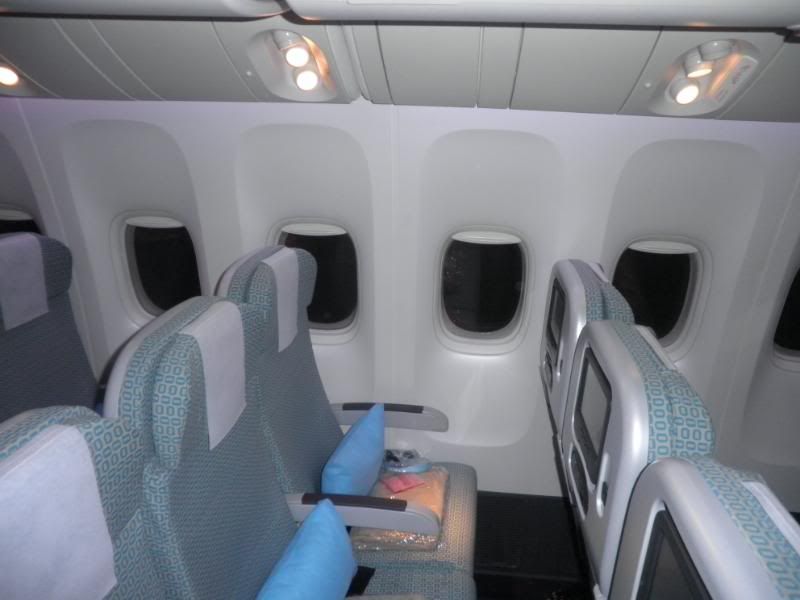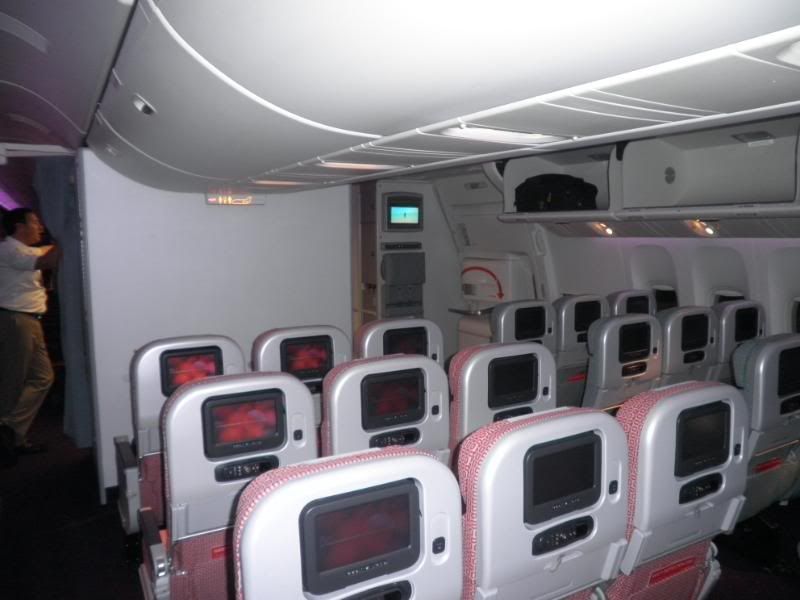 The seat was very comfortable and had a winged headrest. There was a large, wide screen in front of me with the remote under the screen. Next to the screen was a USB port. I could tell from the remote that the system was Panasonic, just like DL on the 77L and UA's new system. Screen was clearly wider though than DL's on the 77L. Also noted was the "Electronic Devices Off" sign seen next to the fasten seat belt sign from the overhead bins. This is the first time that I have seen this but it makes much more sense rather than having the non-smoking sign in the same place since almost all carriers are non-smoking these days. Legroom was very good but not sure on what seat pitch they have, perhaps 32 in ?
We pushed back a few minutes early and I was very happy since both the seats next to me remained unoccupied. To me, having empty seats next to me makes a huge difference in comfort during the flight. The safety video was shown and it was a cartoon and a bit funny with one character looking very much like Richard Branson. Load factor was probably about 70 % in J but only about 40 % in Y. This also meant I would be able to get some good sleep lying down on all three seats.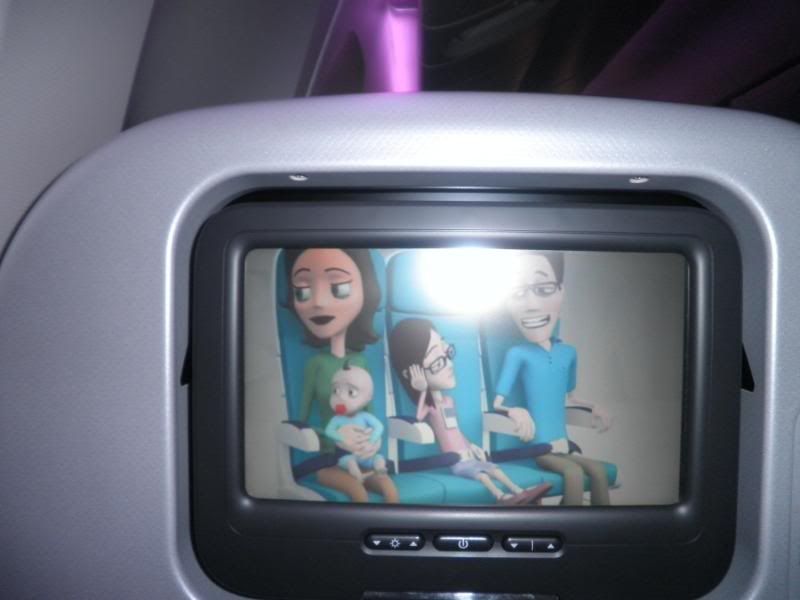 There was a very short taxi and then a powerful take off, as always on a 777, from 24L. Surprisingly, the seat belt sign came off after only about five minutes (!!!), by far the earliest I ever experienced. Time to explore the seat pocket and there was a entertainment guide but no in-flight magazine; I guess they have so few routes that there's no point but still a first for me. The audio jack was a double prong jack which is not so good when one wants to use ones own headset. It sorted of worked anyway by not inserting the prong all the way. Water bottles were passed out to each passenger after take off which was nice although I have to be very strict with my intake of fluids.
The entertainment system is called Red, is AVOD and I assume is the same (similar?) that VX has. The system has a nice selection of movies including classic movies from the 1930s like Gone WithThe Wind. There are also music videos available to watch from different decades. Some parts of the system weren't operational yet like duty free items and books to read, They also mentioned that "soon" you will be able to use cell phones on VA flights thru special new technology. There were also video games available along with info on different destinations and about VA. Air show map was of course available and was the newer version where you can zoom in. I put the air show map on at the seat next to me so that I could glance while I watched the movies.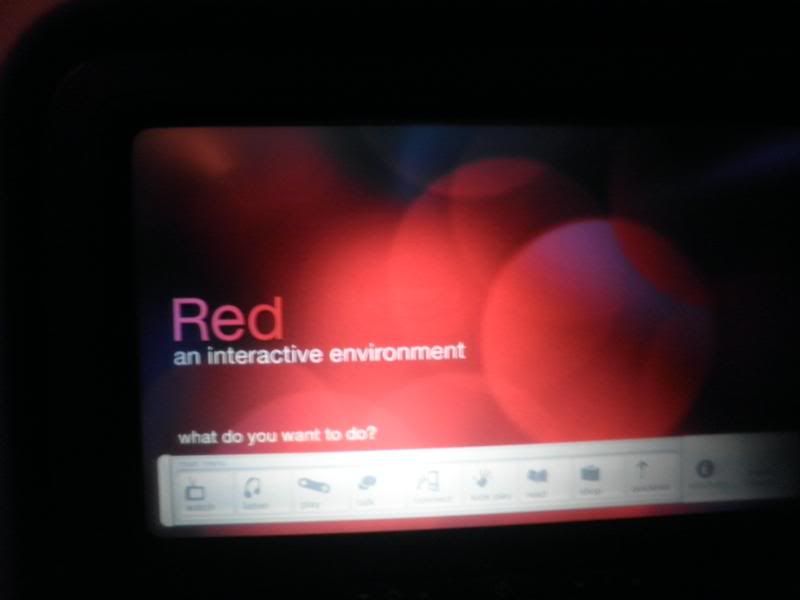 Dinner was served about an hour after take off and there were three choices; beef, chicken and pasta. No menus were given out but I had the chicken curry with steamed rice which came in a good size portion along with a pasta salad, bread and apple cake for desert. I had a Coca-Cola with the meal and it was about two-thirds the size of a regular bottle at about 22cl and about twice as large as the mini-cans you get on a lot of European carriers. The meal was a bit perfectly spicy and is one of the best meals I've had in economy class, along with the meals on NG, AF, UU and AI. Coffee and teas was served later but I didn't have any. One thing I look for is to see if there's a tooth pick which I think is a nice, necessary utensil but no tooth pick on VA.
I started to watch the first movie which was very intensive but very good. A change of pace with the second movie and then I was tired and decided to sleep. After about a 5 h sleep (!!!) I woke up and started the third movie, which was okay. It's the most I've slept on a flight since I flew in First PEK-ORD on UA in Oct01.
Breakfast was served about 2h before arrival in SYD and I had scrambled eggs with ham, potatoes and a croissant. It was very tasty and I had half a cup of tea to go with which was great too.
Routing was basically east of Hawaii, over Tonga and Fiji, then over New Caledonia and into Sydney. We landed from the ocean straight in to the airport. First we stayed at an altitude of 32 000 feet, later climbing to 36 000 feet. There were slight turbulence a few times but nothing major. Crew was nice and was in the background to make you relax rather than in your face. They did come by with water several times, probably about every 90 minutes. There was a also a snack bar with potato chips and candy bars along with a pitcher of water where one could go and help one self during the flight between meals.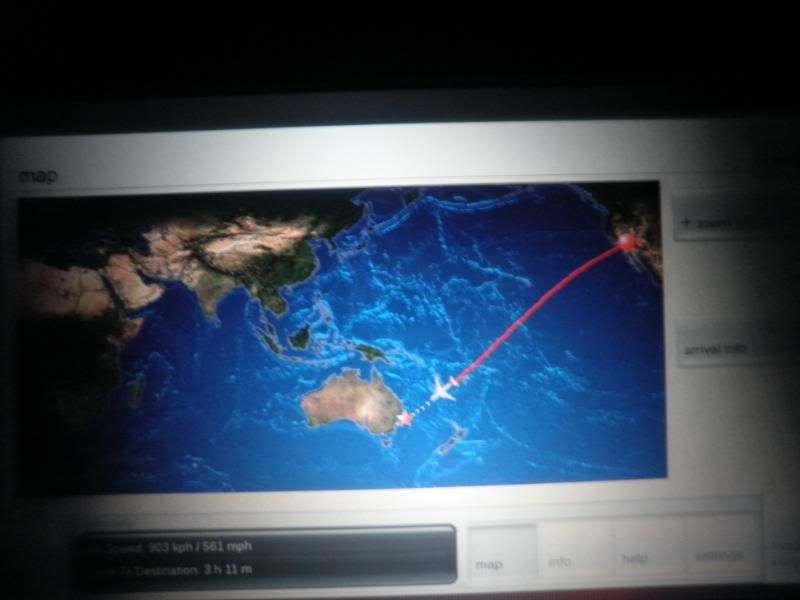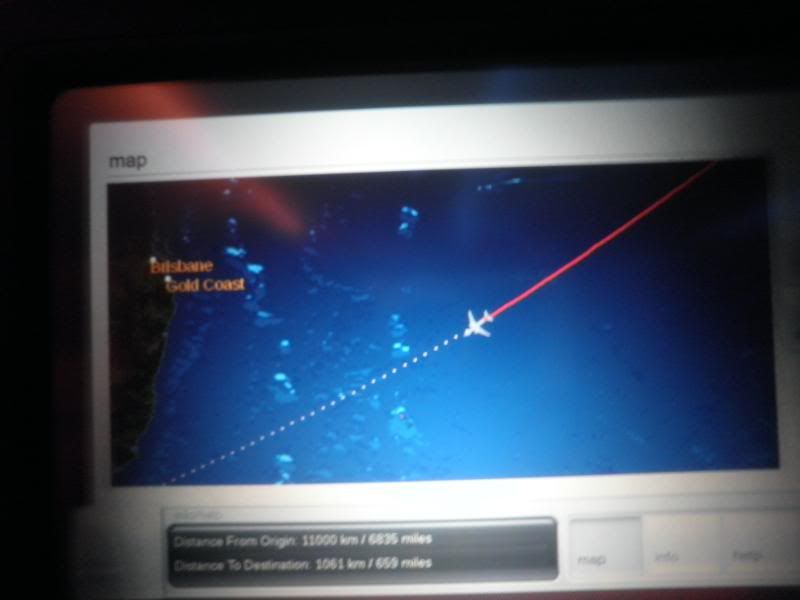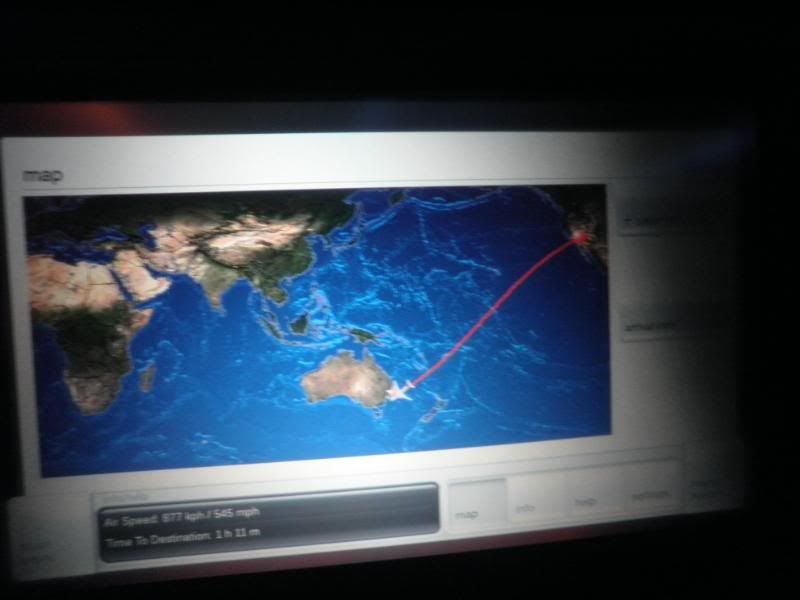 All in all, a great flight on V Australia and I highly recommend flying them if you have a chance. It's probably one of the better long haul flights on a 777 carrier that I have had, similar to AI and RG.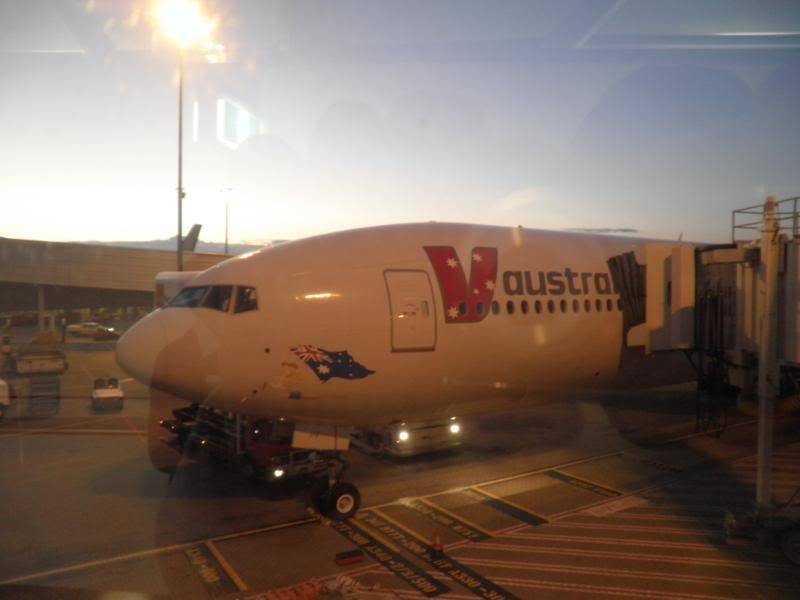 Next 777 carrier for me? Probably TAM Brasil, perhaps already in July.
Comments or questions?
The777Man