To Bangalore on Jet Airways B737-800
Background:
I occasionally have to travel from BOM to BLR on business. There are a variety of carriers – both low cost and full service that operate on this route. However, the types of aircraft operated are either the Airbus A319/A320 or the Boeing 737. The full service carriers operating on the route are Air India, Jet Airways & Kingfisher Airlines. On this occasion, I would be flying on Jet Airways.
The ticket booking was done through the Travel Desk of my company, along with the airport transfer and stay arrangements at the destination. Let me take you through a journey on a typical flight on board one of India's leading domestic (as well as International) airlines.
Reaching the airport:
Jet Airways uses Terminal 1B at Mumbai airport. I reached the airport after a quick 20 minute drive from the office. Thankfully, I did not encounter heavy traffic, as the evening rush hour had not begun yet. After showing my ticket and identity proof to the security guard at the gate, I entered the terminal, and proceeded to get my check-in bags screened.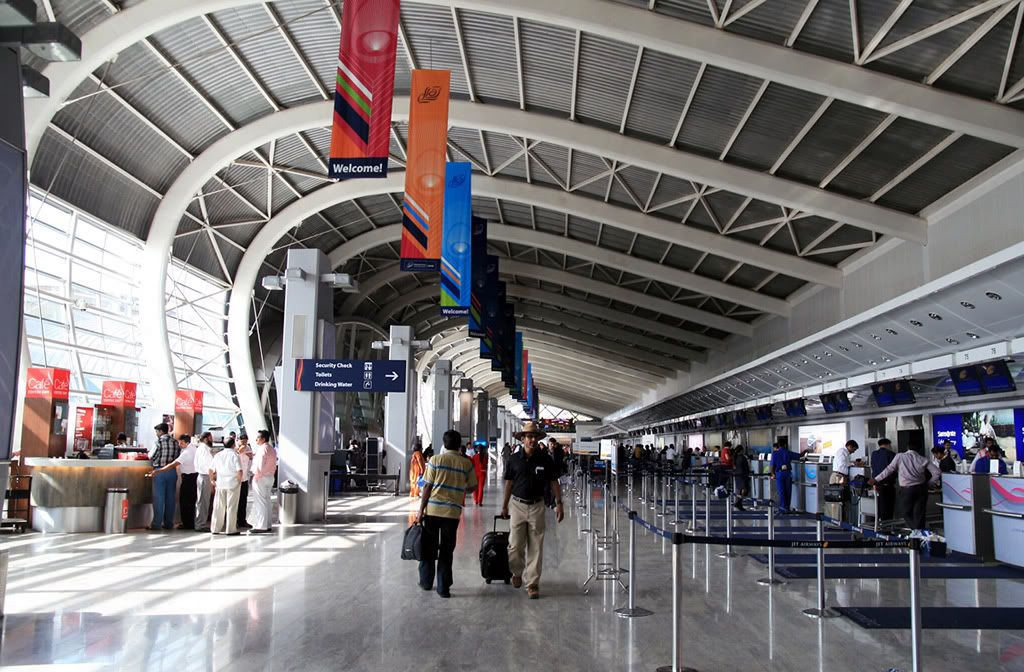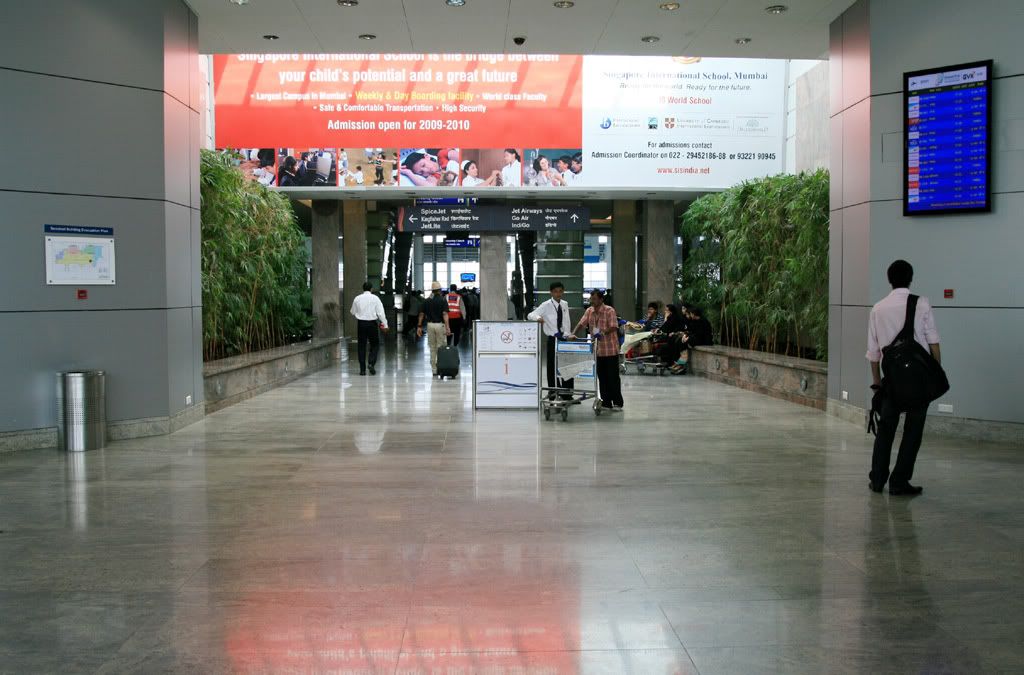 Check-In:
I had checked-in online, selected my seat, and printed out the boarding pass. I had selected the window seat on the second last row of the Y cabin i.e. row 29. Looking at the seat-map of our aircraft, it was more or less certain that it would be a 737-800 in the new/international configuration. The domestic only 737-800s have seats till row 31, whereas the new/international ones have seats up to row 30. This also meant that the aircraft would have IFE. Yay!
The Wait:
After depositing my check-in bags, I proceeded to the Café Coffee Day outlet on the mezzanine floor of Terminal 1B. The café is strategically located, and gives you a good overview of the entire check-in area.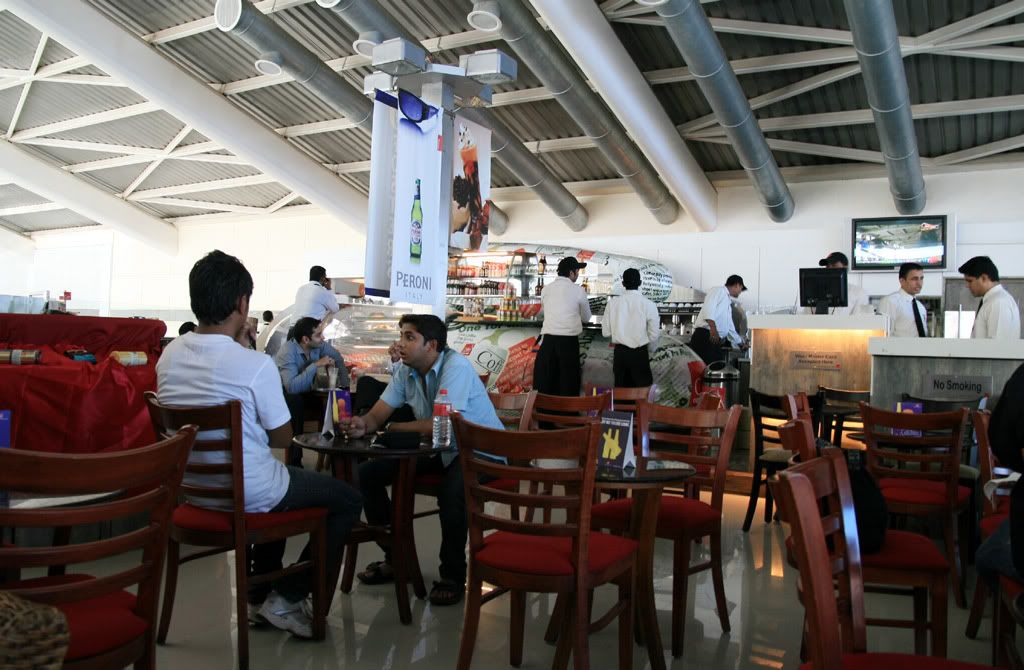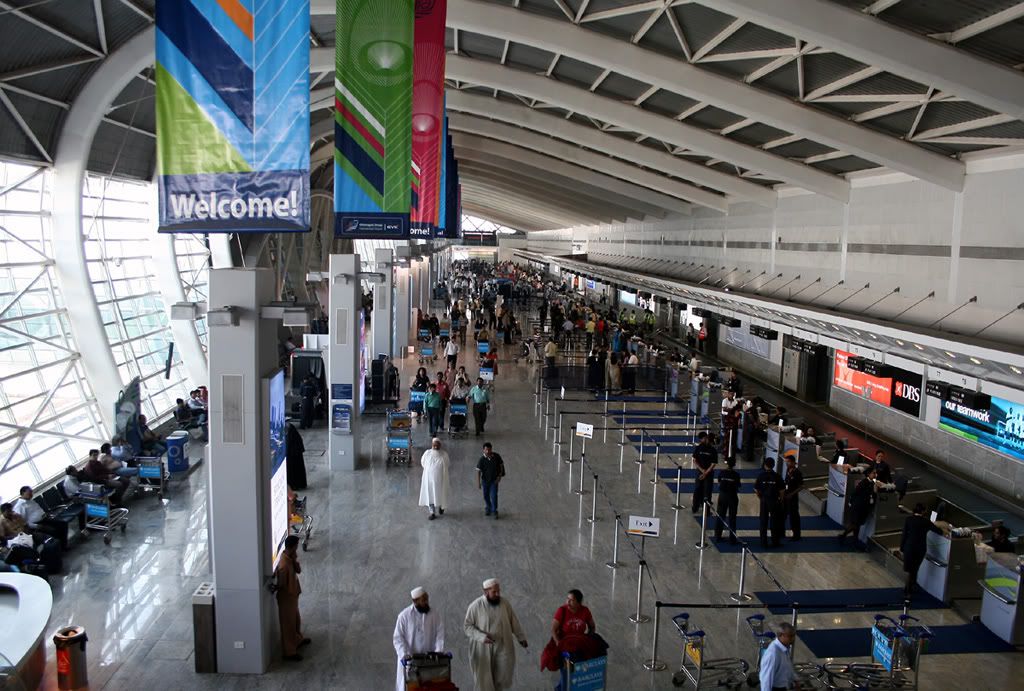 It was 1645, and I had another 60 minutes till boarding. I ordered coffee and whiled away the time planning for my activities at the office for the next couple of days.
At around 1720, I proceeded towards Security Check, which took nearly 10 minutes to complete. The departure hall was pretty crowded as it was the beginning of the evening peak hour for departures.
Our boarding announcement came soon, and I queued up for boarding the bus which would take us to the aircraft.

Sector: BOM-BLR
Airline: Jet Airways
Flight: 9W 441
Aircraft: Boeing 737-800
Registration: VT-JBB
Scheduled Departure: 1810 Actual Departure: 1830
Scheduled Arrival: 1945 Actual Arrival: 2010
Seat: 29A
Boarding:
I was on board by 1745, and the boarding process was progressing slowly.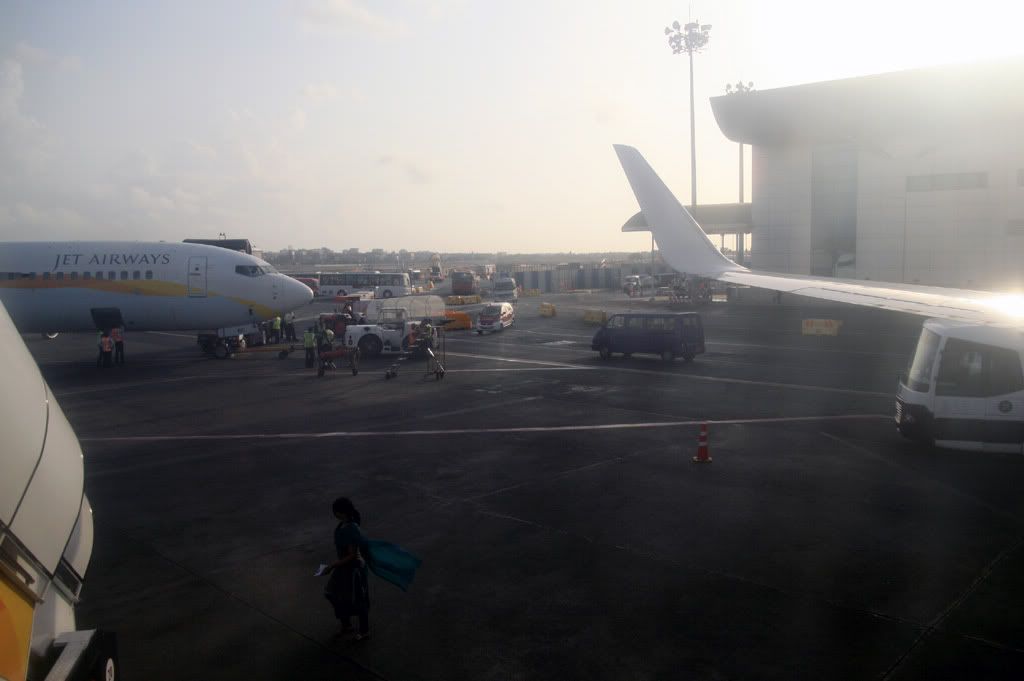 By 1800, everyone was on board. The crew went around distributing bottles of water and lime juice, which was a welcome relief from the heat outside.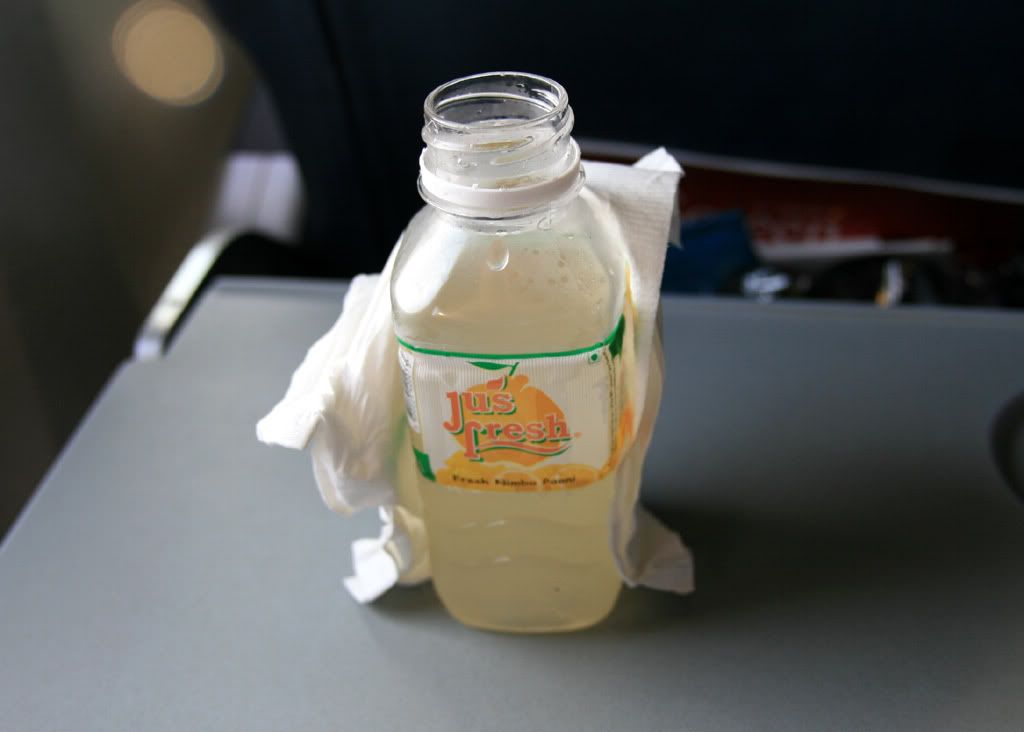 Our scheduled departure time of 1810 arrived, and there were no signs of the doors being closed!
The First Officer finally came online and announced that we would have a 15 minute delay in departure because of airport congestion at BOM! This has become a routine occurrence during the peak hours. In the meanwhile, I chatted with one of the cabin crew about the delays and other things regarding Jet Airways. He offered me a cup of coffee, which I gladly accepted.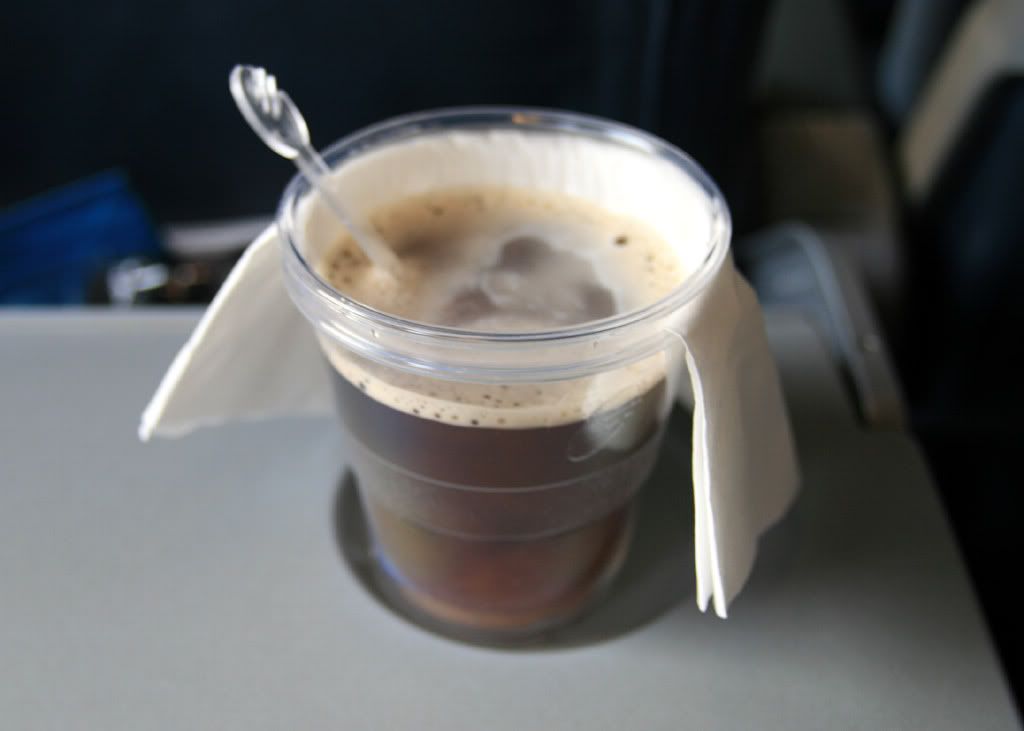 The doors were finally closed and we pushed back at 1830. Dual runway operations were in progress at that time. I had a feeling we would take off from the secondary Runway 14 as our parking bay was quite close to it.
The Flight:
Soon enough, we started taxiing towards Runway 14. This runway does not have a parallel taxiway, so we had to backtrack right till the end of the runway and then line up. With a roar, we started our take off roll, and were soon airborne.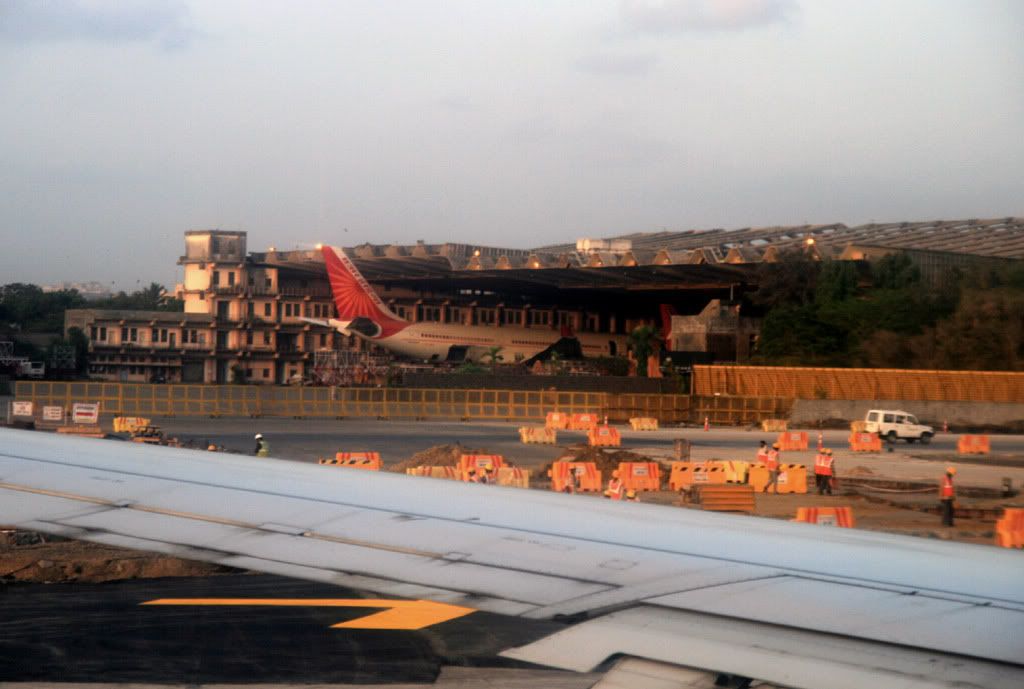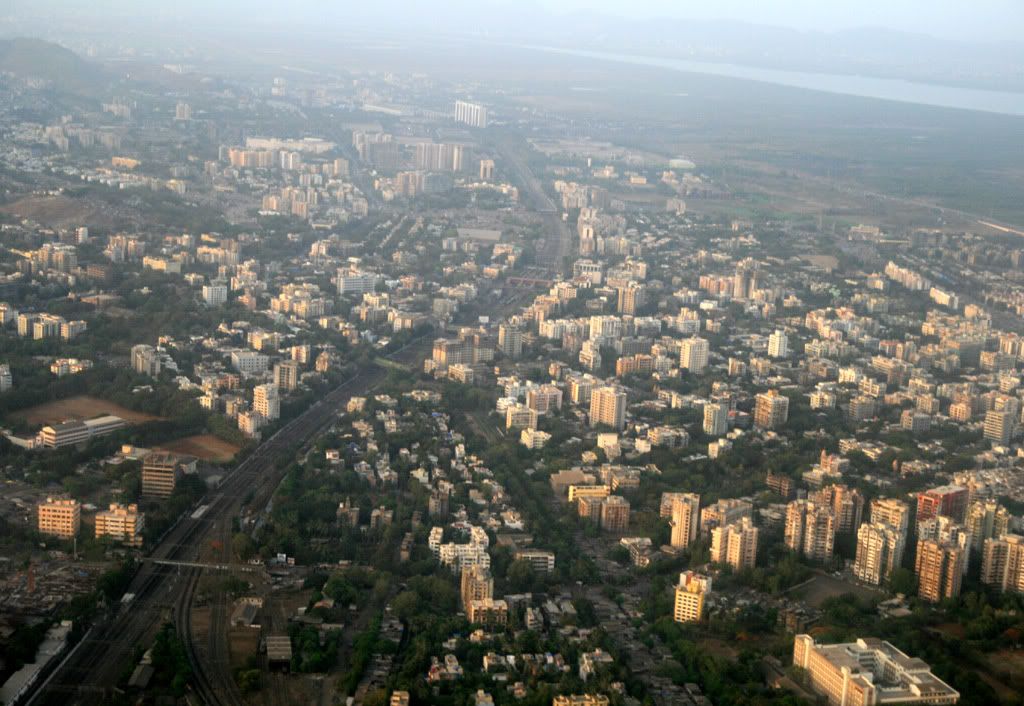 There was some mild turbulence as we climbed through a thick layer of cumulus clouds. The view outside was beautiful.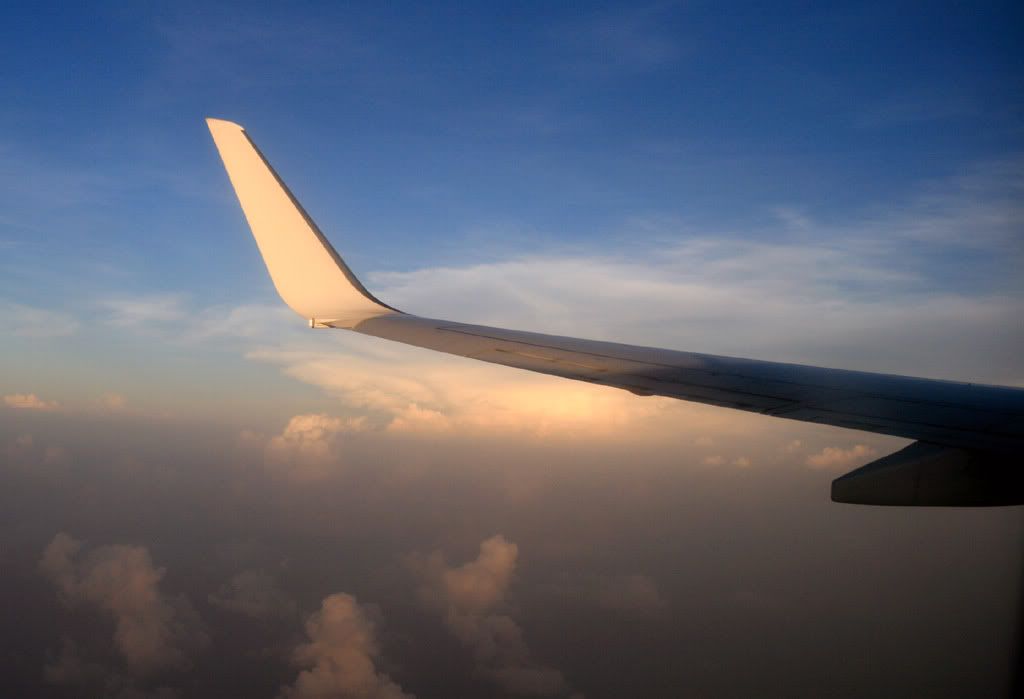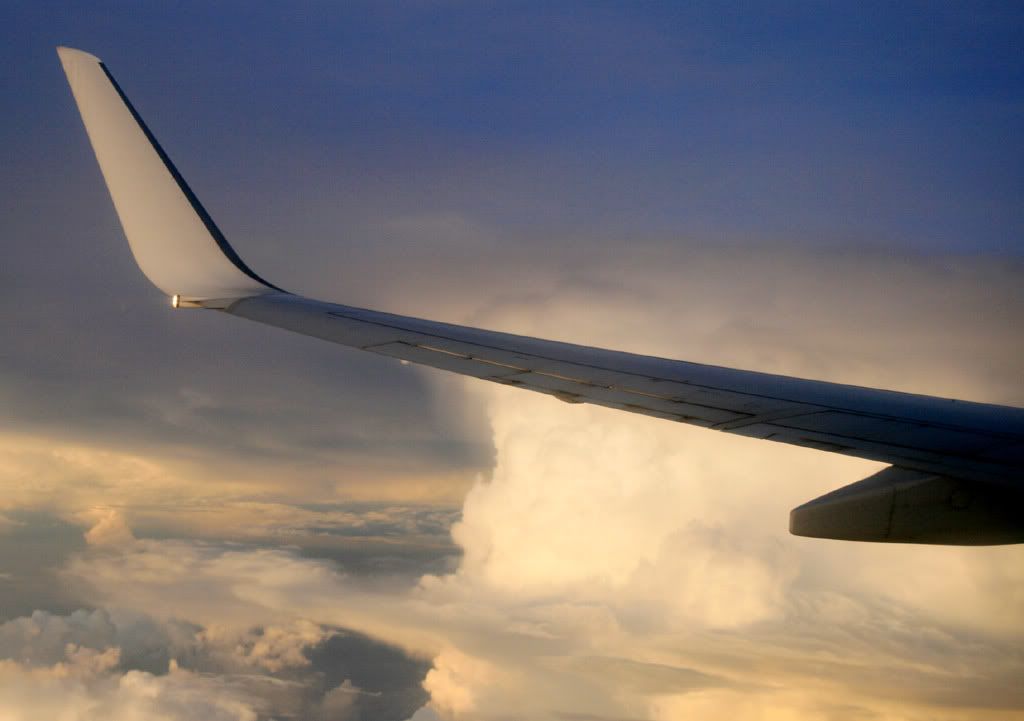 As the seat belt sign was switched off, I decided to check out the IFE. The IFE on Jet Airways 737-800s consists of a 10 inch touch-screen based PTV with full AVOD. I looked at the flight statistics at first.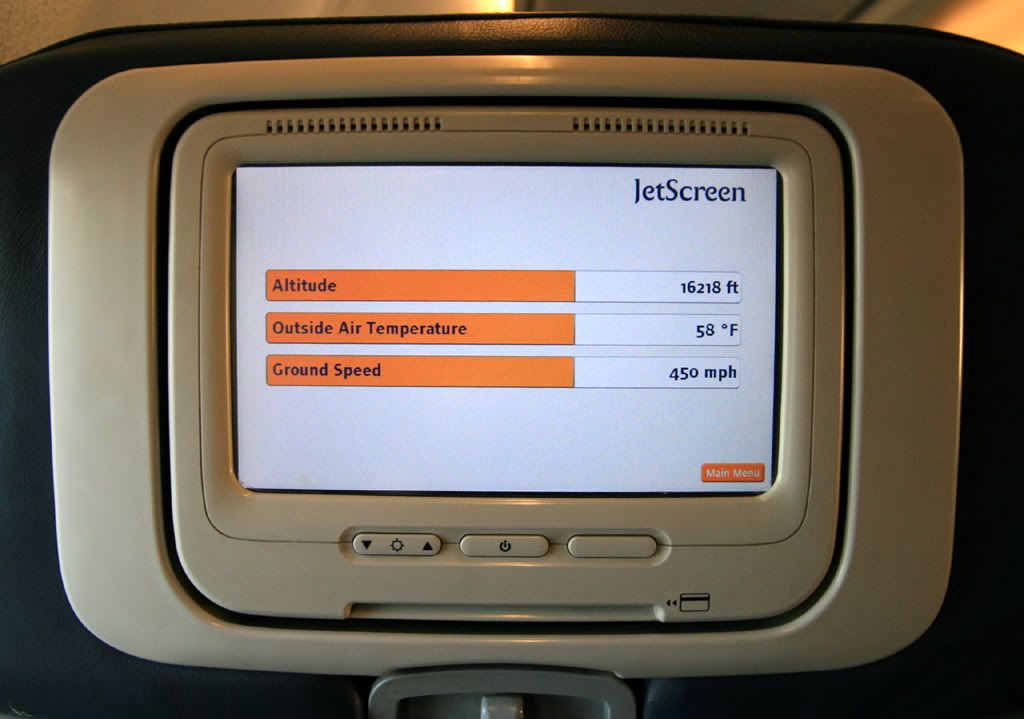 With not enough time for a full movie on this sector, I decided to look at a TV series instead. The Simpsons it would be this evening!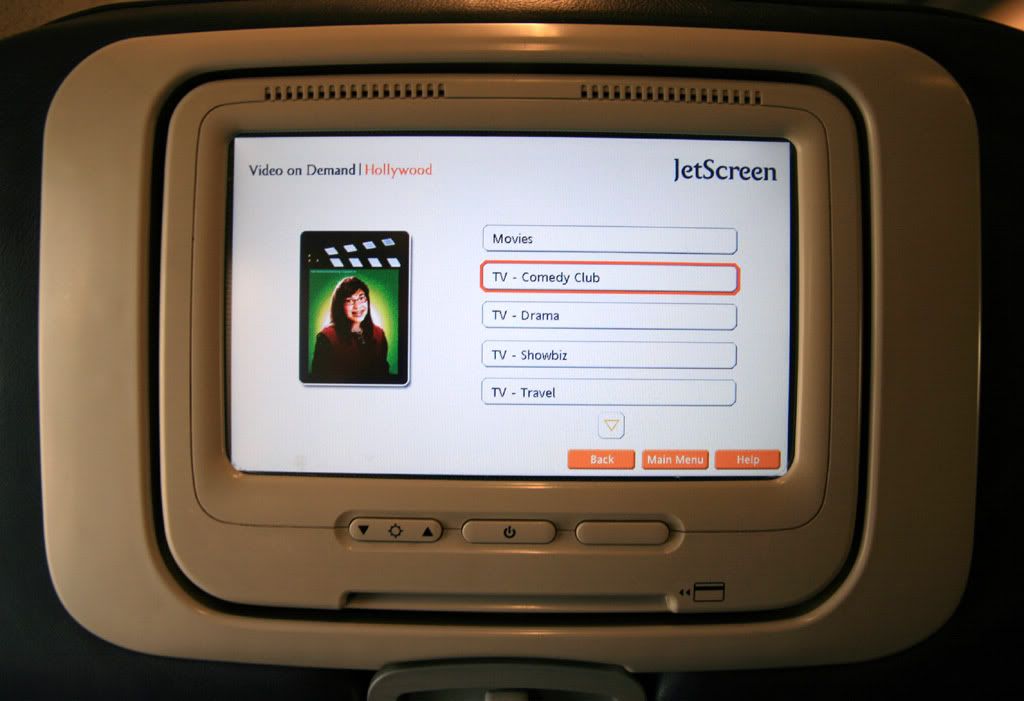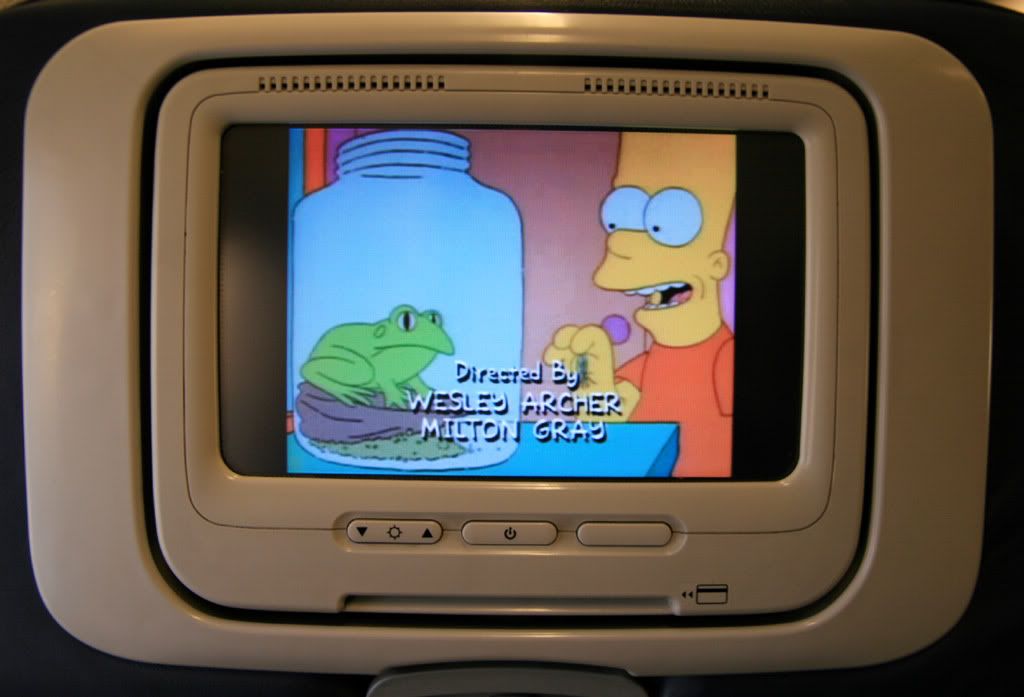 The Meal:
For an evening flight such as this, Jet Airways serves light snacks along with tea or coffee. I chose the non-vegetarian option, which consisted of a chicken croissant served with a potato-mint salad and a pastry.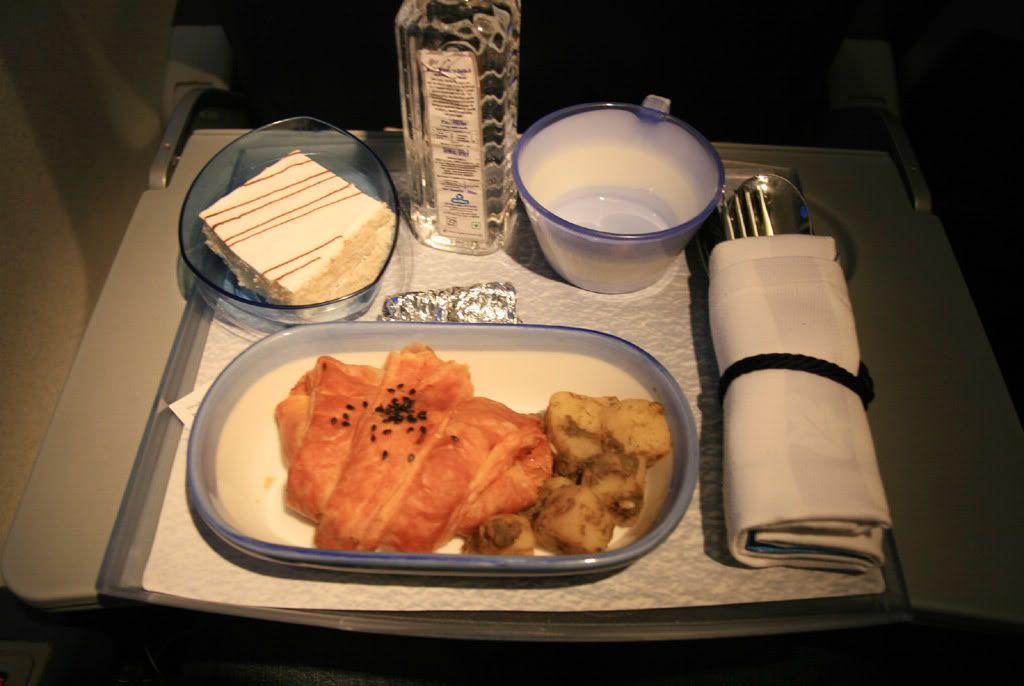 After finishing the meal, I looked at the map to see where we were.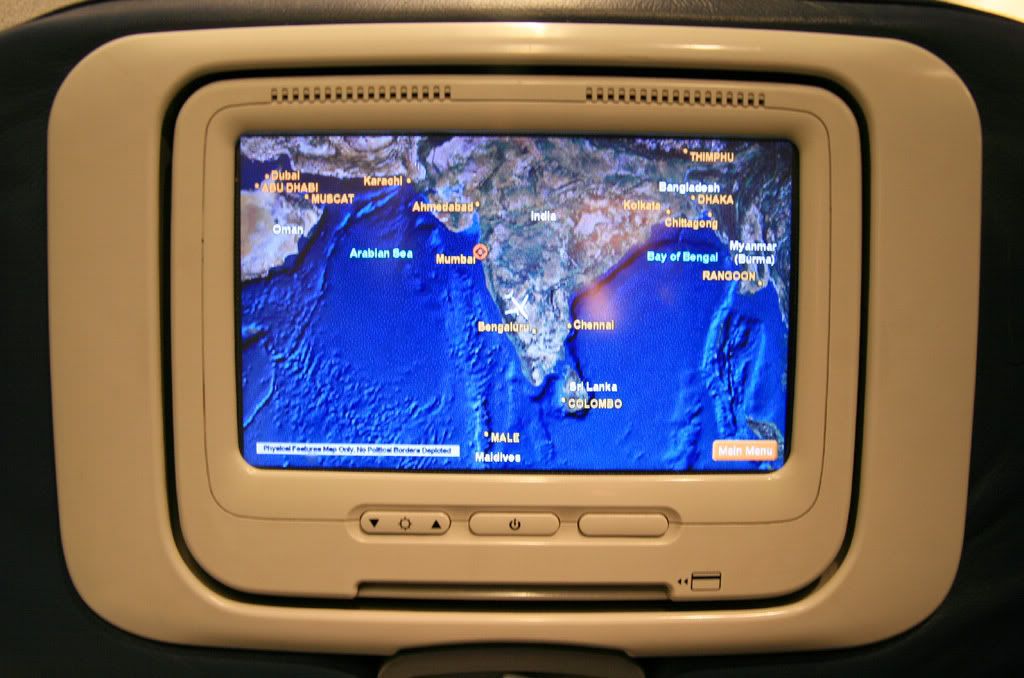 With some more time to go before our landing, I explored the audio section of the IFE. I chose to listen to "Death Magnetic" by Metallica. The captain soon came on line and announced our descent into Bangalore.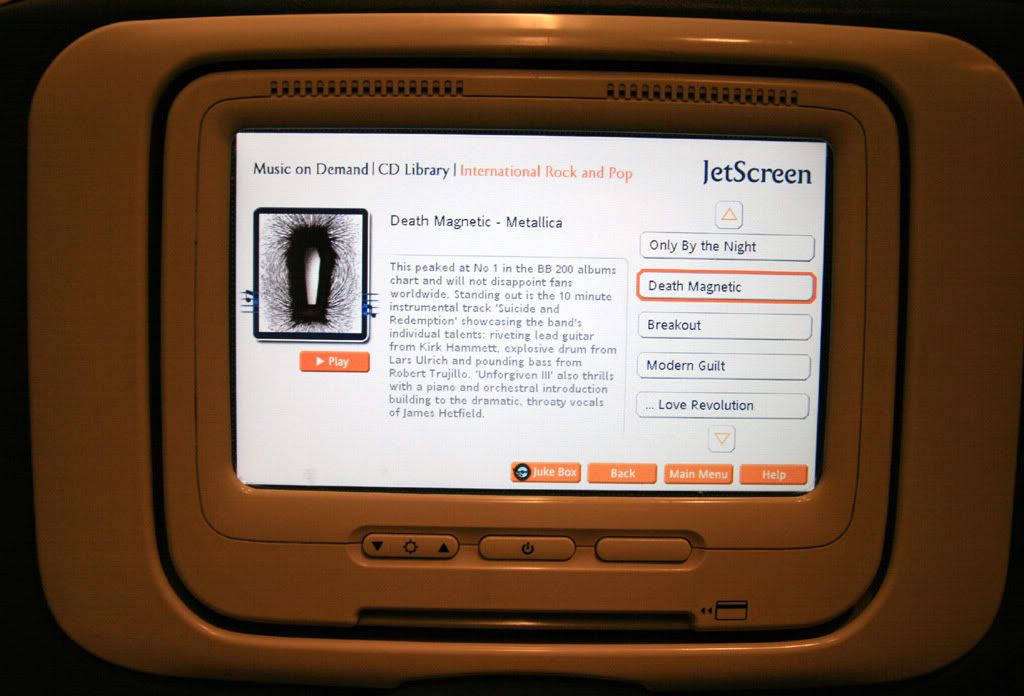 Arrival:
We made a smooth touchdown on Runway 27 and quickly exited the runway. At exactly 2010, we docked at an aerobridge at the "Bengaluru International Airport"
The BLR terminal is a pleasure to arrive at, and I was at the baggage reclaim within five minutes. My bag arrived in another two minutes, and I was outside the terminal in no time at all.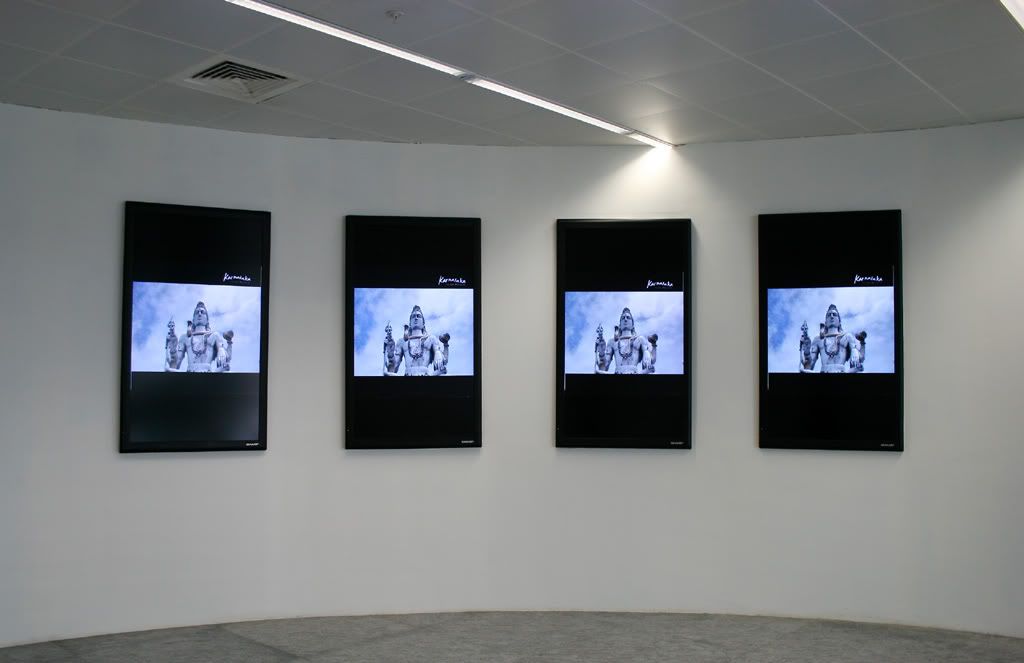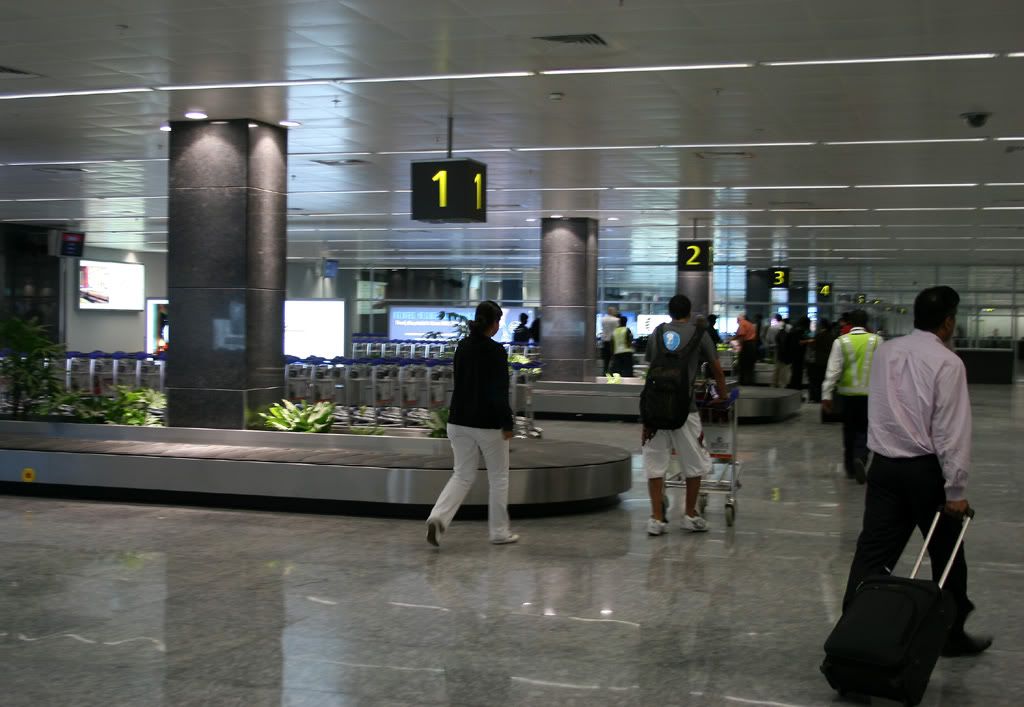 So in all, it was a typical, uneventful Jet Airways flight. Except for the delayed departure out of BOM, everything else worked perfectly well. No wonder that Jet Airways is the preferred carrier of a majority of business travelers. I think it is high time that 9W gets into an alliance, so that its frequent fliers benefit from increased connectivity and tie-ups.
Thank you for reading. Your comments are most welcome!
My Previous Trip Reports:
The Kingfisher Experience: BOM-SIN-BOM A330-200
BOM-HKG-BOM Cathay Pacific B744/A333
Voyage To Nepal: Nepal Airlines/Buddha Air
BOM-HYD-BOM On Kingfisher + Spotting At HYD
BOM-DEL On Air India, Brand New A321
BOM-GOI-BOM On IC. A320/A300B4
BOM-DEL-BOM On IC A320/AI 743 Combi DEL Fog
BOM-KUL-PEN-KUL-BOM On MH/Air Asia
BOM-AMD On Air India 743 Combi Upper Deck
BOM-CMB-BKK-CMB-BOM On SriLankan Airlines